Myers Fine Art to host Feb. 17 auction of 20th century decorative arts
Pair of Finn Juhl NV 53 teak lounge chairs, original wool upholstery and horsehair stuffing, signed and branded with manufacturer's mark to underside of each chair. Estimate $8,000-$12,000 the pair.
ST. PETERSBURG, FLA
.-
For more than 30 years,
Myers Fine Art
has welcomed its loyal clientele to white-glove specialty auctions of art and antiques in a landmark Art Deco building in St. Petersburg's arts district. One of Myers' most popular events is its annual 20th Century Decorative Arts Auction, which draws design aficionados and private collectors from all over the world. Co-owners Mike Myers and Mary Dowd have just announced details of the 2019 edition of their 20th Century sale, which will take place on Sunday, February 17, with all forms of remote bidding available, including live via the Internet. The 600-lot auction showcases a number of important artworks, led by a premier 1956 oil painting by Mikulas Medek (Czech Republic, 1926-1974). Medek's thought-provoking surrealistic works were banned by the Communist regime, which considered them too radical, but through non-public exhibitions, they served to inspire the generation o ...
More
The Best Photos of the Day
Dulwich Picture Gallery opens the first major UK show of the work of Harald Sohlberg
Eli Wilner & Company reframes Thomas Cole's Genesee Scenery for the RISD Museum
Historical poster returns to Rotterdam


Harald Sohlberg, Street in Rřros, 1902, The National Museum of Art, Architecture and Design, Norway.



LONDON.- Dulwich Picture Gallery presents the first major UK show of the work of Harald Sohlberg (1869–1935), one of the greatest masters of landscape painting in the history of Norwegian art. Timed to coincide with the 150th anniversary of Sohlberg's birth, it brings together over 90 works, including archive material, to reveal the importance of colour and symbolism in his art as well as his unwavering passion for the Nordic landscape. Harald Sohlberg: Painting Norway has been arranged chronologically, tracing the breadth of Sohlberg's artistic career, from his earliest production as a twenty-year-old in 1889 through to the last year of his life, and reveals influences such as Norwegian Naturalism and Neo-romanticism. It showcases his most accomplished works including the atmospheric Fisherman's Cottage (1906) on loan from the Art Institute of Chicago, and arguably his most ambitious work, widely conside ... More



A master artisan in the Eli Wilner & Company studio gilds rows of beads that will later be applied to a replica of an 1870 American picture frame.



NEW YORK, NY.- In December of 2018, Eli Wilner & Company reframed an important painting by Thomas Cole in the collection of the​ Rhode Island School of Design's Museum of Art. In early 2019, upon installing the artwork into the frame and returning it to the gallery, the RISD Curator of Painting and Sculpture, Maureen O'Brien, stated: "​I cannot begin to describe the way in which the Wilner frame has transformed Thomas Cole's Genesee Scenery...It is as if we had rediscovered a major American painting that had been hiding in plain sight in the collection. It is now monumental in its presentation -- every aspect of the frame enhances and honors the art and the landscape." Thomas Cole's "Genesee Scenery (Mountain Landscape with Waterfall)", 1847, 51 ˝ x 39 Ľ inches, is one of the most import​ant American paintings in the museum's collection. Prior to this reframing ... More



A.M. Cassandre (1901 - 1968), Statendam poster.



ROTTERDAM.- At a recent specialized poster auction, the Droom en Daad Foundation managed to get its hands on the world-famous Statendam poster. The French designer, A.M. Cassandre (1901 - 1968), is regarded as the leading poster artist of the twentieth century. Originally from Cassandre (pseudonym for Adolphe Jean-Marie Mouron), he studied painting at the École des Beaux Arts in Paris. His designs for the railways, shipping companies and luxury drinks from the period 1923 - 1936 have become the icon of the Art Déco. Cassandre worked between 1927 and 1931 for Dutch clients with Oranjeboom, Droste, Gazelle, Philips and Van Nelle. The Rotterdam advertising agency Nijgh & Van Ditmar introduced Cassandre in the Netherlands. Here his designs were immediately appreciated. It was in the Netherlands where Cassandre was honored in 1932 in De Lakenhal in Leiden with a first oeuvre exhibition. With his exhibition ... More
Phillips announces highlights from the first New York auction of 2019
Drawings Week at Christie's France to include works from the collection of Jean Bonna
PROYECTOSMONCLOVA opens 'Helen Escobedo: The Potential of Sculpture'


Awol Erizku, Tell Me The Price, 2017. Estimate: $12,000-18,000 © Awol Erizku.



NEW YORK, NY.- Phillips announced highlights from the New Now sale on 27 February, the company's first New York auction of 2019. The sale will feature over 170 works of art that span decades of artistic creativity. Among the artists being offered in the auction are Mary Weatherford, Jenny Holzer, Kehinde Wiley, Andy Warhol, and Sam Gilliam, among others. "Phillips' New Now auctions have become a staple of the auction season, with collectors all over the globe eager to acquire works by both established and emerging artists alike," said Samuel Mansour, Head of New Now Sales, New York. "This season, we are thrilled to have the opportunity to present an exceptional group of works, with some examples that are are solidly and deservedly established within in the art historical canon, such as Jenny Holzer's Truisms and Andy Warhol's Toy Paintings, as well some that serve as a new and exciting opportunity ... More



Jean-Baptiste Greuze, La Petite boudeuse. Estimate: €70.000-100.000. © Christie's Images Ltd 2019.



PARIS.- Over 300 drawings will be offered at Christie's during the Drawing Week on 27 and 28 March including a remarkable selection of works coming from the famed collection of Jean Bonna and covering 500 years of European art history. This selection, composed of nearly 100 works, exhibited in part at the Ecole des Beaux-Arts in Paris in 2006-2007 and at the Metropolitan Museum of Art in New York in 2009, will be sold at Christie's over several auctions. In Paris in March, then in London in July during the Master Week and finally in New York in January 2020. This bibliophile, drawings collector and patron who was born in 1945 in a family of bankers first started a collection of French literature before discovering a true passion for the graphic arts. Numerous prints are present in his collection as well as a wide-ranging ensemble of old master and modern drawings among which the first - a Hubert Robert - was purchased in 1985. In ... More



Helen Escobedo, Eclipse, from the series Muros Dinámicos, 1968. Lacquered wood Dimensions: 79.13 x 29.92 x 28.74 in. 201 x 76 x 73 cm. Courtesy of The Estate of Helen Escobedo and PROYECTOSMONCLOVA. Photo: Ramiro Chaves.



MEXICO CITY.- The drawings and models that Escobedo conceived over several decades, particularly during the seventies, revealed her experimental capacity and her intelligence to transform the conventions of an artistic process. This becomes evident in her series of photomontages (a project in collaboration with the photographer Paolo Gori) and three-dimensional collages in which her sculptural proposals appear inserted into an urban - or natural environment, places where she would have liked to imagine her interventions. In Helen's own words: "If until now my research has led me to propose sculptural solutions within a specific environment, of which 10 percent succeeded in executed works and 90 percent exist as models, implying an in-depth investigation, (...) today they ... More
New Museum opens the first New York survey by Nari Ward
James Cohan now represents Teresa Margolles
Freeman's to offer the Jeff Hunter Collection of Antiquities & Tribal Art


Nari Ward, Crusader, 2005. Plastic bags, metal, shopping cart, trophy elements, bitumen, chandelier, and plastic containers, 110 x 51 x 52 in (279.4 x 129.5 x 132.1 cm). Installation view: "Nari Ward: Re-Presence," Nerman Museum of Contemporary Art, Overland Park, KS, 2010. Collection Brooklyn Museum; Purchased with funds given by Giulia Borghese. Courtesy the artist and Lehmann Maupin, New York, Hong Kong, and Seoul.



NEW YORK, NY.- The New Museum presents "Nari Ward: We the People," on view from February 13 to May 26, 2019. The first museum survey in New York of the work of Nari Ward (b. 1963, St. Andrew, Jamaica), the exhibition brings together works spanning Ward's twentyfive-year career, installed across the three main floors of the Museum. "Nari Ward: We the People" is curated by Gary Carrion-Murayari, Kraus Family Curator; Massimiliano Gioni, Edlis Neeson Artistic Director; and Helga Christoffersen, Associate Curator. The exhibition features over thirty sculptures, paintings, videos, and large-scale installations from throughout Ward's career, highlighting his status as one of the most important and influential sculptors ... More



Teresa Margolles, , Vaporización (Vaporization), 2001-2018. Vaporized water from the morgue that was used to wash the bodies of murder victims after the autopsy, 1-2 fog machines. Installation view: YA BASTA HIJOS DE PUTA. TERESA MARGOLLES, PAC Padiglione d'Arte Contemporanea, Milan, Italy, March 28 - June 10, 2018. Photo by Rafael Burillo. Copyright Teresa Margolles 2019. Image courtesy of the artist and James Cohan, New York.



NEW YORK, NY.- James Cohan announced their representation of Mexican artist Teresa Margolles. For over twenty-five years, Teresa Margolles (b. 1963, Culiacán, Sinaloa, Mexico) has investigated the social and aesthetic dimensions of conflict, creating sculptural installations, photographs, films, and performances imbued with material traces of death. The artist's work most often incorporates physical remnants of violent crimes resulting from political corruption and social exclusion—blood-stained sheets, glass shards from shattered windshields, bullet-ridden walls, or used surgical threads—whose victims are otherwise rendered invisible. Tapping into the restrained sensibilities of conceptualism and minimalism, ... More



A particular highlight of this single-owner sale is a sensitively rendered 1st century AD Roman depiction of the "Spinario" (Lot 23, estimate: $30,000-50,000), that of the nude youth about to pull a thorn from his foot.



PHILADELPHIA, PA.- On March 13, Freeman's will offer selected antiquities and tribal art from the collection of New York and Hollywood talent agent Jeff Hunter (1926-2018). Totaling just shy of fifty lots, The Jeff Hunter Collection represents a remarkable lifetime collecting ancient art. There is a spread across the millennia and across continents, but whether Greek idealism, the implied shapes of an ancient Anatolian idol, or the transformative qualities of an African Hemba mask, a constant theme is an interest in the human form. Hunter bought from high quality sources and the emergence of his collection represents an exciting moment for the market. A particular highlight of this single-owner sale is a sensitively rendered 1st century AD Roman depiction of the "Spinario" (Lot 23, estimate: $30,000-50,000), that of the nude youth about to pull a thorn from his foot. The "Boy With Thorn" or "Spinario" is a cel ... More
The Phillips Collection opens the first museum retrospective of Cuban artist Zilia Sánchez
Pace/MacGill Gallery opens an exhibition by renowned fashion photographer Paolo Roversi
Hayward Gallery opens the first major survey in the United Kingdom of Kader Attia's work


Zilia Sánchez, Afrocubano, 1957. Oil on canvas 27 ˝ × 21 ˝ in., Private collection, Madrid.



WASHINGTON, DC.- The Phillips Collection presents Zilia Sánchez: Soy Isla (I Am an Island), the first museum retrospective of the prolific, innovative, and yet largely unknown Cuban artist Zilia Sánchez (b. 1926, Havana). The exhibition features over 60 works from the early 1950s to the present, including paintings, works on paper, shaped canvases, sculptural pieces, graphic illustrations, and ephemera. Zilia Sánchez: Soy Isla (I Am an Island) will be on view February 16–May 19, 2019, and will be accompanied by a major publication and newly commissioned artist's documentary about her life and work. The retrospective traces Sánchez's artistic journey from her early days in Cuba to her extended travels in Europe in the 1950s and residence in New York in the 1960s, and finally her move to Puerto Rico, where she has lived and worked since the early 1970s. "We hope that this exhibition will not only share the dynamic work o ... More



Sara, Paris, 2017. Pigment print on baryta paper image, 20 1/2 x 15 3/4 inches. © Paolo Roversi; courtesy Pace/MacGill Gallery, New York.



NEW YORK, NY.- Pace/MacGill Gallery is presenting an exhibition by renowned fashion photographer Paolo Roversi. Featuring striking portraits that eloquently bridge the spheres of commercial photography and fine art, alongside interior studio scenes, Paolo Roversi | Doubts offers an intimate look at over two decades of Roversi's career as one of fashion's preeminent image-makers from both sides of the camera. The exhibition will be on view from February 14 through March 23, 2019 and coincides with New York Fashion Week. Whether made with his trademark Deardorff 8 x 10 camera and Polaroid film or as carbon, chromogenic or pigment prints, Roversi's photographs reveal a deep and direct connection between his heart, his eye, and the camera lens. He likens the act of opening the shutter to exposing one's heart, referring to the photographic process as "giving ... More



Installation view of Kader Attia: The Museum of Emotion at Hayward Gallery. © the artist, courtesy Hayward Gallery 2019. Photo: Linda Nylind.



LONDON.- Opening 13 February 2019, Hayward Gallery's new exhibition presents the first major survey in the United Kingdom of one of today's leading international artists: Kader Attia. The Museum of Emotion highlights several strands of Kader Attia's thought-provoking and influential art from the past two decades. Offering a trenchant post-colonial perspective, Attia's work often pushes the boundaries of traditional museum presentation whilst it raises questions about the hegemony of Western cultural models. Spanning a wide range of media, the works in this exhibition inventively explore the ways in which colonialism continues to shape how Western societies represent and engage with non-Western cultures. At the core of the exhibition, a key group of artworks explore the idea of repair as both a physical and symbolic act, relating to individual as well as ... More
Buck Ellison Interview: Images of the Middle Class
Flashback
On a day like today, French fashion designer Hubert de Givenchy was born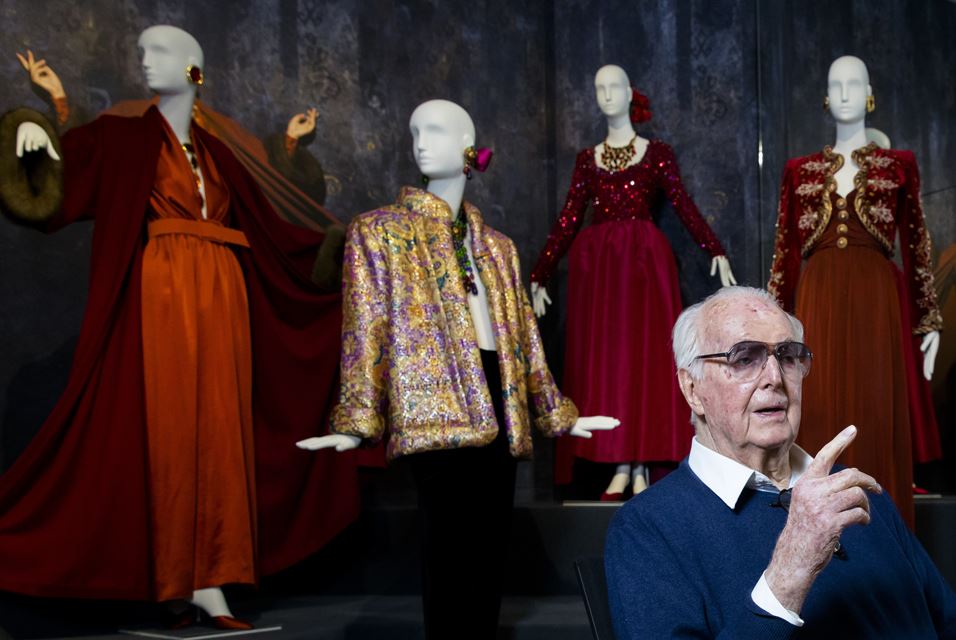 February 21, 1927. Count Hubert James Marcel Taffin de Givenchy (born 21 February 1927) is a French fashion designer who founded The House of Givenchy in 1952. He is famous for having designed much of the personal and professional wardrobe of Audrey Hepburn, as well as clothing for clients such as Jacqueline Bouvier Kennedy. In this image: French fashion designer Hubert de Givenchy poses at the Gemeentemuseum in The Hague, on November 23, 2016 during a retrospective of the designer's work at the exhibition To Audrey With Love. Bart Maat / ANP / AFP.
---

Museums, Exhibits, Artists, Milestones, Digital Art, Architecture, Photography,
Photographers, Special Photos, Special Reports, Featured Stories, Auctions, Art Fairs,
Anecdotes, Art Quiz, Education, Mythology, 3D Images, Last Week,
.
---
Royalville Communications, Inc
produces: