H&ocirctel de Caumont Art Centre displays masterpieces from the Thannhauser Collection
Claude Monet, Le Palais ducal vu de Saint-Georges-Majeur, 1908. Huile sur toile 65,4 x 100,6 cm. Solomon R. Guggenheim Museum, New York, Thannhauser Collection, legs Hilde Thannhauser, 91.3910.
AIX-EN-PROVENCE
.-
After holding an exhibition devoted to Marc Chagall, the
Hôtel de Caumont Art Centre
is presenting masterpieces from the Justin K. Thannhauser Collection, bequeathed in 1963 to the Solomon R. Guggenheim Foundation in New York. For the first time, around fifty major works from this prestigious collection are being presented in Europe in an itinerant exhibition that began in the Guggenheim Bilbao Museum: paintings and sculptures by the masters of Impressionism and post- Impressionism, as well as the major figures of modern art, from Manet to Picasso, and Degas, Gauguin, Cézanne, Van Gogh, Braque, and Matisse. Justin K. Thannhauser (1892–1976), a leading figure in the dissemination of European modern art, was the sponsor, friend, and promoter of innovative artists who transformed Western art at the end of the nineteenth century and the first half of the twentieth century. In his youth, he helped his father, Heinrich Th ...
More
The Best Photos of the Day
'Easy Rider' star Peter Fonda dead at 79
Ai Weiwei fears 'Tiananmen' crackdown in Hong Kong
"The Little Prince" sketches found in Switzerland


In this file photo taken on October 22, 2003 Actor Peter Fonda attends a ceremony honoring him with a star on the Hollywood Walk of Fame in Hollywood, California. VINCE BUCCI / GETTY / AFP.



LOS ANGELES (AFP).- US actor Peter Fonda, whose starring role in classic road movie "Easy Rider" made him a symbol of 1960s counterculture, died Friday aged 79 at his Los Angeles home following a battle with lung cancer, his family said. Fonda was the son of famed Hollywood actor Henry, and the brother of activist and actress Jane, who described him as "my sweet-hearted baby brother" in a statement sent to AFP. "I am very sad ... I have had beautiful alone time with him these last days. He went out laughing," she said. Fonda co-wrote and produced 1969's "Easy Rider," in which he appeared alongside its director Dennis Hopper and a young Jack Nicholson. The wildly successful film about two bikers travelling through the great outdoors of the American Southwest in a quest for freedom became an anti-establishment ... More



Berlin-based Chinese dissident artist Ai WeiWei poses outside his studio in Berlin on August 15, 2019. John MACDOUGALL / AFP.



BERLIN (AFP).- Watching the Hong Kong protests from afar, Chinese dissident-artist Ai Weiwei fears the worst, warning of a repeat of the 1989 Tiananmen Square crackdown in Beijing. "I don't think any prediction is too big," the 61-year-old told AFP in an interview in his Berlin studio. China "is a society which sacrifices anything to maintain its control," he warned. "In 1989, the whole world was watching and the tanks crushed the students, ... a peaceful demonstration." Ai's bleak warning comes after two months of protests that have turned increasingly violent, and as Beijing has massed security forces nearby on the mainland in a show of force. Although most analysts consider a full-blown crackdown unlikely, fears of worse to come have hovered over the former British colony that was returned to China in 1997. Ai, a long-time and outspoken government critic, says ... More



The sketches include an image of The Little Prince talking to a fox, "The Tippler" sitting on his planet, and the iconic image of a boa constrictor that has just eaten an elephant.



GENEVA (AFP).- Early sketches of "The Little Prince," the world famous creation of French writer Antoine de Saint-Exupery, have been found in storage in northern Switzerland, local media and an art expert said Thursday. The drawings were purchased at auction some three decades ago by Bruno Stefanini, a real estate magnate and major collector who died last year, said Elisabeth Grossmann, curator of the Cultural Foundation of Winterthur. She said "The Little Prince" sketches were found in good condition in a folder with other works in a building in Winterthur. "The Little Prince" ("Le Petit Prince"), a novella charting the fantastical interstellar voyage undertaken by the eponymous hero, has sold 145 million copies worldwide and been translated into 270 languages. Saint-Exupery escaped to the US after Germany's invasion of France ... More
The Met's Rock & Roll exhibition reaches a milestone 500,000 visitors
Meet the Ercolines, the Woodstock lovebirds whose hug made history
Folk mainstay Arlo Guthrie reflects on 'transformative' Woodstock experience


A reporter takes a photo of "Frankenstein", a guitar used by Eddie Van Halen, during a media preview for an exhibit called "Play It Loud: Instruments of Rock and Roll" at the Metropolitan Museum of Art in New York on April 1, 2019. Don Emmert / AFP.



NEW YORK, NY.- Attendance at The Metropolitan Museum of Art's acclaimed exhibition Play It Loud: Instruments of Rock & Roll topped 500,000 visitors—an attendance milestone—during the afternoon of August 14. In the 18 weeks since it opened on April 8, 2019, the exhibition has drawn many visitors to the Museum for the first time. Surveys conducted by The Met's market research team showed that, of the 500,000 total visitors to the exhibition to date, 12% (or 60,000) were first-time visitors to the Museum who came specifically to see the exhibition. The exhibition is on view through October 1—just 48 more days. To celebrate the attendance milestone, a catalogue of the exhibition was presented to a visitor by the show's curators, Jayson Kerr Dobney, Frederick P. Rose Curator in Charge of the Department of Musical Instruments at The Met, and Craig J. Inciardi, Curator and Director of Acquisitions of the Rock & Roll Hall of Fame. Dedicate ... More



Bobbi and Nick Ercoline, the couple featured on the Woodstock album cover, pose on the grounds 50 years later at Bethel Woods Center for the Arts. Angela Weiss / AFP.



BETHEL, NY (AFP).- Nick and Bobbi Ercoline had only been dating three months when they joined flocks of their peers for the 1969 Woodstock blow-out that would become emblematic of their generation. Months later and still falling for each other, the lovers realized they too had become symbols: their heartstring-tugging image had gone down in history on the cover of the live album compiling highlights of the milestone music festival. "We were like, are you kidding us? It was total shock," Nick said, recalling the moment the couple saw themselves embracing on the now iconic album art, wrapped in a blanket amid the sea of humanity flowing over the alfalfa fields of Max Yasgur's farm in upstate New York. Fifty years on they're regulars -- rock stars even -- at the Bethel Woods Center of the Arts that today runs the grounds where greats like Jimi Hendrix and Janis Joplin jammed in torrential rain. "We did not realize what we had really witnessed or had been part of until we got quite a distance from it," Bobbi ... More



American singer-songwriter Arlo Guthrie speaks about Woodstock during an interview with AFP on August 13, 2019 at The Guthrie Center and Foundation in Great Barrington, Massachusetts. Angela Weiss / AFP.



GREAT BARRINGTON (AFP).- Performer Arlo Guthrie doesn't remember sleeping or eating during 1969's Woodstock festival, nor does he remember whether he took any drugs. He does remember walking onstage in upstate New York, seeing hundreds of thousands of hyped-up youth gathered before him, and thinking, "We can't hear ourselves. I wonder if anybody else can?" "But it didn't seem to matter," said the mainstay of America's folk scene. "You just keep playing." The now 72-year-old singer -- son of folk music revolutionary Woody Guthrie, who inspired legions of socially conscious stars after him including Bob Dylan, Joan Baez and Bruce Springsteen -- played on the first day of the legendary festival, which is celebrating its 50th anniversary this weekend. "Most people couldn't hear the concert, most people couldn't even see it," he told AFP outside his center for cultural and spiritual exchange in rural western Massachusetts. "They were just there because everybody else was there." "We ... More
Nirvana artist finds a new canvas in Serbia
Krannert Art Museum acquires complete works of conceptual gay photographer Hal Fischer
Hollis Taggart now represents André Hemer


American artist Jeff Ross designed and printed the first Nirvana tour posters as well as many other T-shirts and posters for the Sub Pop label during the heyday of the Seattle scene in the 1990s. Photo: AFP.



BELGRADE (AFP).- After making his name designing and printing posters for Nirvana and other bands at the height Seattle's grunge scene, American artist Jeff Ross has since been wandering the globe in search of inspiration. Now he is finding it in Serbia, where the 58-year-old recently set up studio outside of Belgrade and is taking part in the gritty capital's vibrant street art scene. "I sense there is something here, there is a ball of something happening and I want to be here for it, and collaborate, teach people how to screen print, make art, make music, noise," he told AFP of the "energy" that drew him to Serbia. On a recent night Ross could be seen spray-painting loopy, brightly coloured designs on the walls of Maniac, one of Belgrade's underground -- literally beneath a street -- late-night alternative music clubs. He also works on private pieces for sale in the studio he has set up in Pancevo, a smaller city just across the ... More



Hal Fischer, Street Fashion: Jock from Gay Semiotics: A Photographic Study of Visual Coding Among Homosexual Men, 1977. Carbon pigment print, 20 x 16 inches. Courtesy the artist.



CHAMPAIGN, ILL.- Photographer and University of Illinois alumnus Hal Fischer documented the gay community in 1970s San Francisco, creating a visual ethnography of that time. Krannert Art Museum recently acquired the three portfolios of photographs Fischer produced It is the first museum with a complete set of his work. One portfolio will be featured in "Art Since 1948," a new long-term installation of works from KAM's collection of modern and contemporary art that will open Aug. 29. Fischer will return to campus Sept. 12 to receive a distinguished alumni award from the School of Art and Design. "There was a historical moment between Stonewall in 1969 and the beginning of gay liberation, and the moment at the beginning of the '80s when AIDS appears and decimates the gay community," said Tim Dean, an Illinois English professor who researches in gender and sexuality studies. "Fischer is working in the decade ... More



André Hemer, Sky Painting #6, 2018. Acrylic and pigment on canvas, 47 x 33 inches. Courtesy the artist and Hollis Taggart, NY.



NEW YORK, NY.- Hollis Taggart announced representation of artist André Hemer, whose tactile abstract works explore the confluence of digital and analog techniques within contemporary painting. Hemer joins Hollis Taggart as part of the gallery's recently formed contemporary division—Hollis Taggart Contemporary—which is led by director Paul Efstathiou. To mark the new collaboration, the gallery will present a selection of Hemer's recent paintings as part of its presentation at Untitled art fair in Miami in December. A solo presentation of Hemer's work is also being planned for 2020. In addition to his new relationship with Hollis Taggart, Hemer will continue to be represented by LUIS DE JESUS LOS ANGELES (Los Angeles), Kristin Hjellegjerde Gallery (London and Berlin), Yavuz Gallery (Singapore & Sydney), and Gow Langsford Gallery (Auckland). Hemer's practice is grounded in an exploration of the ways in which our e ... More
Montreal Museum of Fine Arts presents Omar Ba's first Canadian monographic exhibition
Mudam Luxembourg presents a major retrospective exhibition dedicated to the visual work of Etel Adnan
Jan Fabre presents a new and unique monumental work at the Venice Biennale


Omar Ba (born in 1977), Eternal Resemblance 1, 2017, oil, pencil, acrylic, ink and gouache on kraft paper with polyester foam. Image courtesy of the artist and Hales Gallery, London and New York. Photo Charles Littlewood. © Omar Ba. Courtesy of the artist and Hales Gallery.



MONTREAL.- In collaboration with Toronto's Power Plant Contemporary Art Gallery, the Montreal Museum of Fine Arts is presenting the first Canadian monographic exhibition dedicated to Omar Ba, one of the most influential artists of his generation. Omar Ba: Same Dream showcases a selection of Ba's major works from different periods in his career. As for what he would like the public to take away from his work and this exhibition, Omar Ba says: "I'd like people to see that we need to give African artists their rightful place, and I also hope they come away with a more positive image of humankind. That we realize that beyond conflict, religion and culture, we are all one. That there are no blacks, yellows or whites – only humans. I also want to convey the idea of an Africa that's reasserting ... More



Etel Adnan, Low Tide, 1967-73, 2017 © Etel Adnan / Courtesy Galerie Lelong & Co.



LUXEMBOURG .- The summer season at Mudam Luxembourg – Musée d'Art Moderne Grand-Duc Jean continues with a major retrospective exhibition dedicated to the visual work of Etel Adnan. Since the 1960s, the poet, writer and painter Etel Adnan (b. 1925, Beirut) has built up a body of work that makes significant links between the image and text; Eastern and Western cultures; Modernism and contemporary art. Her work reflects a sensitive, dynamic relationship with the world, exploring questions of landscape, abstraction, colour, writing, memory and history. Her exhibition at Mudam, which is hosted across two galleries on the upper floor of the museum, assembles a broad spectrum of her work, including paintings, works on paper and tapestries. These are shown together in dialogue with works by Modernists and contemporary artists, shedding fresh light on her multifaceted oeuvre. Developed in partnership with the Zentrum Paul Klee in Bern, who prese ... More



Jan Fabre, The Man who Measures the Clouds (Monument to the Measure of the Immeasurable), silicon bronze and gold leaf, ca. 9m high, including plinth, unique piece. Installation view at Garden of Palazzo Balbi Valier, Venice, 2019. © Angelos bvba. Photo Floriana Giacinti.



VENICE.- On the occasion of the 58th International Art Exhibition of the Venice Biennale, the great artist Jan Fabre returns to the lagoon with a special project of public art, a unique open-air installation. Installed in the Garden of Palazzo Balbi Valier and visible from the Grand Canal, The Man Who Measures the Clouds (Monument to the Measure of the Immeasurable) appears as a towering golden man rising to a height of nine metres. The project stems from the collaboration of Angelos (Antwerp, BE), EdM Productions and the Fondation Linda et Guy Pieters (Saint-Tropez, FR) and is curated by Joanna De Vos. It will remain in place until the end of the 2019 Art Biennale, on Sunday 24 November. It is over the tenth time that Jan Fabre contributes as an active part in the great Venetian ... More
This Waistcoat Offers Clues to George III's Mental State
Flashback
On a day like today, American painter Jean Leon Gerome Ferris was born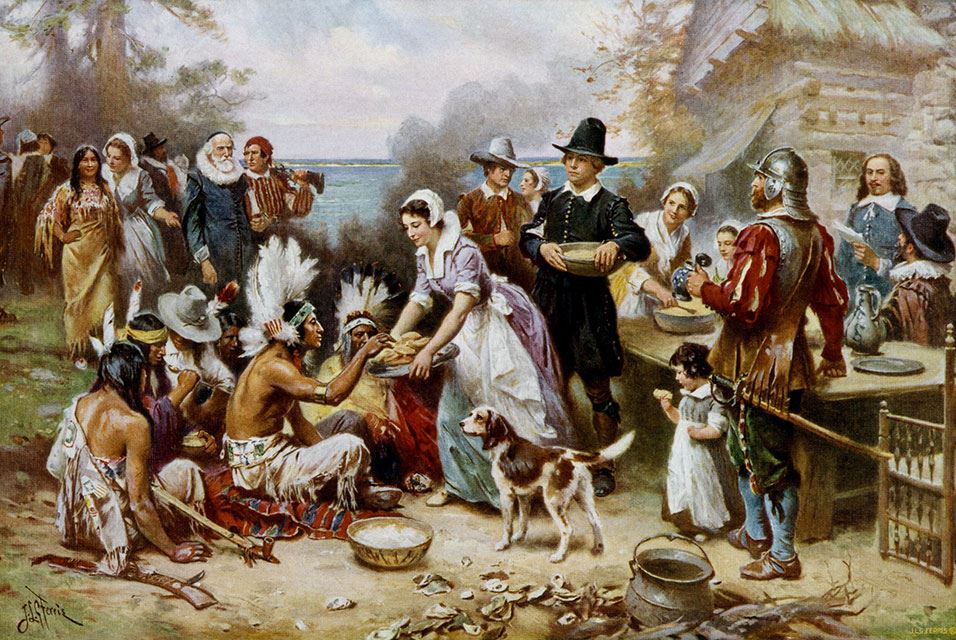 August 18, 1863. Jean Leon Gerome Ferris (August 18, 1863 - March 18, 1930) was an American painter best known for his series of 78 scenes from American history, entitled The Pageant of a Nation, the largest series of American historical paintings by a single artist. In this image: The First Thanksgiving 1621.
---

Museums, Exhibits, Artists, Milestones, Digital Art, Architecture, Photography,
Photographers, Special Photos, Special Reports, Featured Stories, Auctions, Art Fairs,
Anecdotes, Art Quiz, Education, Mythology, 3D Images, Last Week,
.
---
Royalville Communications, Inc
produces: