Exhibition at the McNay Art Museum celebrates rare work of U.S. stage designers
Franco Colavecchia, Front cloth design for Treemonisha, 1975. Collage and watercolor on paper. Collection of the McNay Art Museum, Gift of the artist.
SAN ANTONIO, TX
.-
Organized by the
McNay Art Museum
and drawn from the renowned Tobin Collection of Theatre Arts, America on Stage celebrates the vision of the nation's 20th- and 21st-century master designers on stages across the U.S. and around the world. From the windswept plains of Rodgers and Hammerstein's Oklahoma! to densely packed apartments in New York City's Washington Heights featured in Lin-Manuel Miranda's In the Heights, our country's growing diversity remains a continuous source of inspiration for landmark musicals, plays, ballets, and operas. America on Stage offers bursts of awe, wonder, and nostalgia at every turn. The artistry of designing for the stage is reflected in innovative ballet and opera productions, musicals, dance, film, video, drawings, and paintings. Interactive opportunities throughout the exhibition invite visitors to take center stage in a recreated stage set—and even tap dance. ...
More
The Best Photos of the Day
Christie's Design Sale includes the last work of Diego Giacometti
Image of crying toddler on US border wins World Press Photo
600 books lost in World War II returned to Bonn University


Diego Giacometti (1902-1985), Chauve-souris. Patinated bronze. H 11,6 x l 15,1 x P 14,1 cm. Estimate: €60,000-80,000. © Christie's Images Ltd 2019.



PARIS.- On 21 May, Christie's will present its Design sale, always very selective, gathering nearly 110 lots around the greatest creators and designers of the 20th and 21th centuries: Diego Giacometti (1902-1985), Jean Dunand (1877-1942), Claude Lalanne (1924-2019), Jean Prouvé (1901-1984), Charlotte Perriand (1903-1999), Jean Goulden (1878-1946), Georges Jouve (1910-1964), Line Vautrin (1913-1997), Goudji (1941-) and many others. The sale should attract savvy collectors and young connoisseurs, lots ranging from 1,000 to 400,000 euros. Flavien Gaillard, Specialist of the Design department and Head of the sale: "We are very proud to present our next sale which will be punctuated by some artists' iconic creations from prestigious collections and historical pieces such as the latest work by Diego Giacometti. Our auction will also feature pieces from the 1950's which come back up-to-date as well as rediscoveries ... More



In this file photo taken on June 12, 2018 a two-year-old Honduran asylum seeker cries as her mother is searched and detained near the US-Mexico border in McAllen, Texas. JOHN MOORE / GETTY IMAGES NORTH AMERICA / AFP.



AMSTERDAM (AFP).- The haunting image of a little girl crying helplessly as she and her mother are taken into custody by US border officials Thursday won the prestigious World Press Photo Award. Judges said veteran Getty photographer John Moore's picture taken after Honduran mother Sandra Sanchez and her daughter Yanela illegally crossed the US-Mexico border last year showed "a different kind of violence that is psychological". The picture of the wailing toddler was published worldwide and caused a public outcry about Washington's controversial policy to separate thousands of migrants and their children. US Customs and Border Protection officials later said Yanela and her mom were not among those separated, but the public furore "resulted in President Donald Trump reversing the policy in June last year," the judges said. ... More



A manuscript, containing a prayer book of the 17th centry, beautiful scripted and richly decorated. Courtesy Sotheby's.



BONN.- The University and Regional Library of Bonn is celebrating the return of more than 600 volumes from its collection that have been lost since the Second World War. Among them are numerous historical works of high cultural and material importance, including medieval and modern manuscripts, medieval documents, historical maps, early 15th-century prints, rare prints of the 16th century and numerous colored bird books. The repatriation will be celebrated in an official ceremony by the ULB this afternoon. This is the most significant return of lost books in the 200-year history of the University Library, and one of the largest singular returns of items lost in the War or the postwar period. The most notable items returned to ULB include: a manuscript of the "Comoediae" of Terenz, written in the 13th century; a manuscript, containing a prayer book of the 17th century, beautifully scripted and richly decorated; an incunabula ... More
After Montreal, the Museum of Fine Arts opens first Calder retrospective in Australia
David Zwirner shows colour photographs from the 1970s by American photographer William Eggleston
The Fenix, the migration museum acquires video film Bill Viola


Installation view.



MELBOURNE.- After delighting more than 150,000 visitors at the Montreal Museum of Fine Arts (MMFA), the exhibition Alexander Calder: Radical Inventor start its run at the National Gallery of Victoria in Melbourne, Australia. On display since April 5 and until August 4, 2019, this retrospective of a giant of modern art is the first to be presented in Australia. The Calder retrospective is the second MMFA-produced exhibition to be presented at the National Gallery of Victoria, Australia's oldest public art gallery, which attracts more than three million visitors annually. The NGV also presented the Australian premiere of The Fashion World of Jean Paul Gaultier: from the Sidewalk to the Catwalk in 2014. "We are delighted to have the opportunity to bring the first major Calder retrospective to Australia, a collaboration that brings together the NGV, known for its innovative programming, with one of the most inventive sculptors of the 20th centu ... More



William Eggleston, Untitled, c. 1977. Courtesy Eggleston Artistic Trust and David Zwirner © Eggleston Artistic Trust.



LONDON.- David Zwirner presents 2¼, a series of square-format colour photographs from the 1970s by American photographer William Eggleston. On view at 24 Grafton Street in London, the show marks the artist's first presentation at the gallery's UK location and his second solo exhibition with David Zwirner since joining the gallery, in 2016. Over the course of nearly six decades, Eggleston has established a singular pictorial style that deftly combines vernacular subject matter with an innate and sophisticated understanding of colour, form, and composition. His vividly saturated photographs transform the ordinary into distinctive, poetic images that eschew fixed meaning. A pioneer of colour photography, Eggleston helped elevate the medium to the art form that it is recognised to be today. He took the 2¼ photographs in California and throughout the American South ... More



"For me the essential basis of video is the movement — something that exists at the moment and changes in the next moment." --Bill Viola



ROTTERDAM.- Stichting Droom en Daad (Foundation Dream and Do) has acquired the video film Ancestors by the American artist Bill Viola (1951). This work will be on display in the future in the Fenix, the migration museum that the Foundation is preparing in Rotterdam. Bill Viola is an American video artist whose work is characterized by time and movement, spirituality and human relationships. In 23 minutes, Ancestors shows the slow approach of two people walking towards the viewer in a landscape, sizzling with the heat. The work will be given a central place in the future museum because it represents human movement and displacement and evocatively depicts the timeless and universal theme of emigrants. Viola himself says about his work: "For me the essential basis of video is the movement — something that exists at the moment and changes in the next moment." ... More
Brazilian Modernism at S│2 London: Carvalho and Lorenzato
Vienna's Secession opens an exhibition of paintings by Peter Doig
Led Zeppelin fully signed self-titled debut album sold for USD $32,156 at auction


Amadeo Luciano Lorenzato, Untitled, 1986.



LONDON.- From 12 April to 24 May, Sotheby's S|2 London will present two brand new solo exhibitions of works, by two artists associated with the rise of Brazilian modernism in the 20th century. Gallery One will comprise the first UK exhibition of iconoclastic Brazilian multimedia artist and 'romantic revolutionary' Flávio de Carvalho (1899-1973), and will be co-curated by acclaimed curator, editor and writer Kiki Mazzucchelli. Born in Rio de Janeiro in 1899, Carvalho was an influential painter, sculptor, scenographer, designer, architect, journalist, writer and playwright, whose high-profile and often provocative investigations into performance art, and determination to attract interest from the media and press, became a key part of his oeuvre. This exhibition is organised in collaboration with Leme/AD Gallery, São Paulo. On view concurrently in Gallery Two will be a solo exhibition of works by Brazilian artist Amadeo Lucian ... More



Peter Doig, Spearfisher (Red Moon), 2019, installation view Secession 2019, photo: Hannes Böck, Courtesy the artist and Michael Werner Gallery, New York and London / Bildrecht Vienna, 2019.



VIENNA.- Peter Doig paints representational pictures as though they were abstractions. His spellbinding works combine planar forms and a palette that is as bold as it is subtle with vivid painterly gestures. His distinctive visual idiom interweaves personal recollections and found imagery with references to art history and pop culture in compositions that unfold into complex narratives. With the new paintings on view at the Secession, Doig continues to explore recurring motifs that have appeared throughout his recent work, drawing from the physical and cultural landscape that surrounds him in Trinidad, where these works were made. Doig returns to his 2017 homage to the American modernist painter, Marsden Hartley – a depiction of Robert Mitchum on a beach in Trinidad – but now Mitchum is nearly ... More



The album is corner-mounted, matted, and framed with a postcard and ticket stub for Led Zeppelin at the Fillmore in April 1969.



BOSTON, MASS.- Led Zeppelin fully signed album sold for $32,156 at auction, according to Boston-based RR Auction. The self-titled debut album is signed by each of the bands four members and is inscribed on the back cover in felt tip, "To Jim, Rock On! Robert Plant," "John Bonham," and "Jimmy Page," and signed on the front cover, "John Paul Jones," with Plant signing again, "Robert Plant," and drawing an arrow to Jones's signature, adding, "Spot the looney." The album is corner-mounted, matted, and framed with a postcard and ticket stub for Led Zeppelin at the Fillmore in April 1969. The record is included in a sleeve applied to the frame's backing. The consignor notes that this signed album came from a road-crew member that worked for Led Zeppelin on their tours in the late 1960s into the 1970s. Led Zeppelin's eponymous debut released on Atlantic ... More
Freeman's announces highlights included in the Bi-Annual American Furniture, Folk and Decorative Arts Auction
Entang Wiharso awarded 2019 Guggenheim Fellowship
Aspen Art Museum opens exhibition of new works by Gabriel Rico


A Portrait of Baron Friedrick Wilhelm von Steuben (1730-1794).



PHILADELPHIA, PA.- On April 30, 2019, Freeman's will hold its bi-annual American Furniture, Folk & Decorative Arts auction, which will feature property from four East Coast institutions, several estates and numerous private collections. Coinciding with the renowned Philadelphia Antiques & Art Show, the exhibition opens on Friday, April 26 and will be open all weekend, running through Monday, April 29. Lots to be sold on behalf of The Brooklyn Historical Society will include an early New Jersey Kas (Lot 20), a Renaissance Revival suite (Lot 312), and a rare Neoclassical marble bust of George Washington attributed to Boston sculptor Horatio Greenough (1805-1852) (Lot 91). Presented to the Society in 1915, the bust is the only known example by Greenough that shows a fully-draped first president. Deaccessioned property from regional institutions includes a group of 18th and 19th century furniture, including ... More



Entang Wiharso with his work. Photo: Boris Kirpotin, Bernier/Eliades.



NEW YORK, NY.- Entang Wiharso, whose artwork is exhibited in galleries and museums throughout the world, has received a 2019 Guggenheim Fellowship. The announcement was made Wednesday by the John Simon Guggenheim Memorial Foundation in The New York Times. In a statement, the foundation writes, "This year, after considering the recommendations of panels and juries consisting of hundreds of distinguished artists, scholars, and scientists, the Board of Trustees has granted 168 Fellowships to a diverse group of scholars, artists, and scientists. Appointed on the basis of prior achievement ad exceptional promise, the successful candidates were chosen from a group of almost 3,000 applicants in the Foundation's ninety-fifth competition." Wiharso is one of 25 artists selected from the United States and Canada. Guggenheim Fellowships are awarded by the John Simon Guggenheim Memorial ... More



Installation view: Gabriel Rico: The Discipline of the Cave, Aspen Art Museum, 2019. Photo: Tony Prikryl.



ASPEN, CO.- The Aspen Art Museum is presenting the solo exhibition of Guadalajara, Mexico–based sculptor and installation artist Gabriel Rico. Gabriel Rico: The Discipline of the Cave, is on view in AAM Galleries 2 & 3 through Sunday, June 16, 2019. Combining aesthetic traditions associated with the Arte Povera movement and influenced by scientific, philosophical, and geometric principles, Rico collects the fragments, found objects, and materials of contemporary existence. Using culturally manufactured items like neon, taxidermy, concrete, and coins, as well as such natural elements as tree branches, stones, and fruit, he recontextualizes and arranges each in ways that both captivate and confound viewers through their poetic, wry, jarring relationships. Through juxtapositions of objects and an artistic process that fuses the the natural and kitsch, Rico elicits a further investigation of our human environment ... More
The EY Exhibition: Van Gogh and Britain | Tate
Flashback
On a day like today, French painter Robert Delaunay was born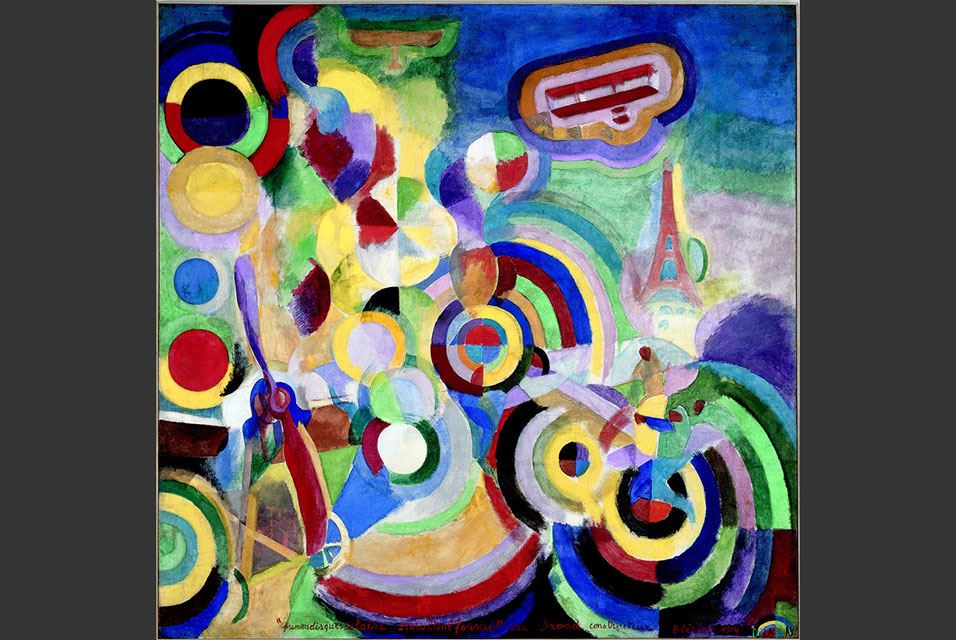 April 12, 1885. Robert Delaunay (12 April 1885 - 25 October 1941) was a French artist who, with his wife Sonia Delaunay and others, co-founded the Orphism art movement, noted for its use of strong colours and geometric shapes. His later works were more abstract, reminiscent of Paul Klee. His key influence related to bold use of colour and a clear love of experimentation with both depth and tone. In this image: Robert Delaunay (1885-1941). Hommage à Blériot, 1914. Kunstmuseum Basel. Leimtempera auf Leinwand. HxB : 250 x 250 cm. Photo : Martin P. Bühler © L&M Services B.V.
---

Museums, Exhibits, Artists, Milestones, Digital Art, Architecture, Photography,
Photographers, Special Photos, Special Reports, Featured Stories, Auctions, Art Fairs,
Anecdotes, Art Quiz, Education, Mythology, 3D Images, Last Week,
.
---
Royalville Communications, Inc
produces: