That banana on the wall? At Art Basel Miami it'll cost you $120,000
Maurizio Cattelan's piece titled "Comedian," and offered at a price of $120,000, at Art Basel Miami Beach in Miami, Dec. 4, 2019. Stampeding billionaires took over Miami Beach for the annual art fair where everybody is VIP. John Taggart/The New York Times.

by Robin Pogrebin
MIAMI
(NYT NEWS SERVICE )
.-
Remember when Morley Safer famously — controversially — asked on "60 Minutes" whether Marcel Duchamp's urinal and Jeff Koons' vacuum cleaners were really art? Now, in the spirit of such questions, comes Maurizio Cattelan's (somewhat overripe) banana pinned to the wall with gray duct tape. For three buyers at Art Basel Miami, who paid between $120,000 and $150,000 each for such pieces this week, the answer was, unquestionably, yes. And two additional artist proofs (also bananas) are going to museums. Needless to say, the bananas have prompted the buzz that Cattelan has long been a master at generating (his golden toilet — recently stolen — being only the most immediate example). "Bananas! Art world gone mad, ...
More
The Best Photos of the Day
MOCA announces agreement to proceed to voluntary recognition of union
Merkel voices 'deep shame' on first visit to Auschwitz
Kulturstiftung Basel H. Geiger to open new permanent exhibition space in Basel in June 2020


MOCA Grand Avenue, courtesy of The Museum of Contemporary Art, Los Angeles, photo by Elon Schoenholz.



LOS ANGELES, CA.- The Museum of Contemporary Art (MOCA) and The American Federation of State, County and Municipal Employees reached agreement this week to proceed with voluntary recognition of an AFSCME District Council 36 union at MOCA based on a majority of signed union cards, without requiring staff members to vote in a formal National Labor Relations Board election. Two weeks ago, MOCA staff presented museum leadership with a statement of intent to unionize with AFSCME. The new agreement formalizes a bargaining unit that will be the subject of forthcoming negotiations between MOCA and AFSCME. "We have spent the last two weeks thoroughly considering the staff's initiative through the lens of MOCA's vision of being a civic-minded institution, and we concluded that we want to be supportive of this effort," said MOCA Director Klaus Biesenbach. "Our valued and engaging staff ... More



German Chancellor Angela Merkel (2nd L) is flanked by Polish Prime Minister Mateusz Morawiecki (2nd R) and the Director of the Auschwitz-Birkenau State Museum Piotr Cywinski (L) as she walks through the gate during her visit at the former German Nazi death camp Auschwitz-Birkenau. Janek SKARZYNSKI / AFP.



OSWIECIM (AFP).- Angela Merkel visited the former Auschwitz Nazi death camp on Friday for the first time as chancellor and said admitting Nazi crimes was a key part of Germany's identity that could combat growing anti-Semitism. "Remembering the crimes... is a responsibility which never ends," Merkel said during the visit in a message aimed at calls from the German far right for a shift away from a culture of remembrance and atonement. "To be aware of this responsibility is part of our national identity, our self-understanding as an enlightened and free society," she added. Merkel is only the third chancellor ever to visit a place that has come to symbolise the Holocaust. She expressed Germany's "deep shame" at what happened in Auschwitz and neighbouring Birkenau, where ... More



The foundation is headed by former cultural journalist Raphael Suter.



BASEL.- The Kulturstiftung Basel H.Geiger, a new cultural foundation, will open a permanent exhibition space in Basel, Switzerland in June 2020. Located in the heart of the city in the former factory for micromotors, the foundation will organise a rotating annual programme of temporary exhibitions on a variety of cultural themes. As a new part of Basel's already rich cultural landscape, KBHG aims to show content that fits the foundation's mission to engage and educate a broad audience, offering a platform for different artistic perspectives. Founded by philanthropist Sibylle Piermattei Geiger in 2018, the foundation is named after the late Swiss pharmacist and entrepreneur, Sibylle's paternal grandfather, Hermann Geiger. The foundation is headed by former cultural journalist, Raphael Suter and all exhibitions will be free of charge and accompanied by a complimentary visitor catalogue. The inaugural exhibition will be an international group exhibition organised by the Caribbean Art Initiative ... More
New Art Dealers Alliance and Pérez Art Museum Miami announce third annual Acquisition Gift selection
Dressing "The Irishman': Polyester pantsuits and capo collars
Superlative works by Bertoia, Prouvé, Tiffany Studios and more highlight Sotheby's December Auctions of 20th Century


Kenny Rivero. New Hat, 2019. Acrylic and flashe on canvas. 72 1/4 x 54 in (183.5 x 137.2 cm). Courtesy the Artist and Charles Moffett.



MIAMI, FLA.- New Art Dealers Alliance and Pérez Art Museum Miami announced the selection of the third annual NADA Acquisition Gift for PAMM, an acquisition gift for the museum's permanent collection. PAMM Associate Curator María Elena Ortiz and Assistant Curator Jennifer Inacio have selected New Hat (2019), by New York-based, Dominican-American artist Kenny Rivero from Charles Moffett. "We are thrilled to have acquired Kenny Rivero's exceptional painting into our collection as it dialogues with PAMM's commitment to Latinx and Caribbean artists. We are grateful for NADA's support and for presenting another great fair this year with groundbreaking art," said Jennifer Inacio​​, PAMM Assistant Curator and​ María Elena Ortiz​​, PAMM Associate Curator. Rivero is known for his drawings, paintings, and sculptures that explore identity, the body, and masculinity through narrative images, collage, a ... More



One of Sandy Powell and Christopher Peterson's costume designs for "The Irishman." Sandy Powell via The New York Times.



NEW YORK (NYT NEWS SERVICE ).- The women of "The Irishman," Martin Scorsese's somewhat true story of the mob hit man and Teamster, initially look sparkly and refreshing, an oasis in a desert of suit jackets. But their bloom and innocence are a mirage, these aging Barbie dolls in polyester pantsuits, dutifully getting rid of their husbands' bloodstained shirts. "The Irishman," now streaming on Netflix, follows Frank Sheeran (Robert De Niro) from his entree into organized crime in 1950s Philadelphia — guided by his mentor, Russell Bufalino (Joe Pesci) — through his promotion to body man for Jimmy Hoffa (Al Pacino) in the '70s. As Sheeran rises, so does the number of wiseguys in this epic tale. "It was a lot of ties," said Sandy Powell, a three-time Oscar winner for costume design, and practically a perpetual nominee. (Last season, she was up for both "The Favourite" and "Mary Poppins Returns.") To handle ... More



Joris Laarman, "Bone" Chair, circa 2007. Estimate $500/700,000. Courtesy Sotheby's.



NEW YORK, NY.- Sotheby's is presenting highlights from their December sales of Important Design and Dreaming in Glass: Masterworks by Tiffany Studios, to be held in New York on 12 December 2019. Featuring a curated survey of design masterworks from the last century, the Important Design auction will be anchored by an icon of modern architecture, Paul Rudolph's Walker Guest House (estimate $700,000/1 million), as well as an outstanding collection of works by Alexandre Noll, and important pieces by Jean Royère and Harry Bertoia. Additional highlights include an Important Chair by Carlo Mollino (estimate $100/150,000), masterpieces of French Modernism by Jean Prouvé and Line Vautrin, as well as contemporary design by Joris Laarman, Marc Newson, Martin Szekely and the Campana Brothers. A dedicated chapter of pre-war design comprises Art Nouveau masterworks from the private collection of renowned New York gallerists ... More
Ron Leibman, Tony winner for 'Angels,' is dead at 82
Pele's last Brazil jersey sells for 30,000 euros in Italy
Win a Martian night at the Design Museum


Ron Leibman in the play "A Dybbuk Or, Between Two Worlds" at the Public Theater in New York, on Oct. 27, 1997. Sara Krulwich/The New York Times.

by Neil Genzlinger



NEW YORK (NYT NEWS SERVICE ).- Ron Leibman, an actor whose career of more than six decades in film, television and the theater was highlighted by a Tony Award in 1993 for his electrifying performance as Roy Cohn in the first part of "Angels in America," died Friday in Manhattan. He was 82. A spokeswoman for actress Jessica Walter, his wife, said the cause was pneumonia. Leibman already had Drama Desk Awards for "We Bombed in New Haven" (1969) and "Transfers" (1970) as well as an Emmy for the short-lived CBS series "Kaz" (1979) when he took on the role of Cohn in "Angels in America," Tony Kushner's monumental two-part play about homosexuality and the age of AIDS. Cohn, a conservative lawyer and closeted gay man who was once chief counsel to Sen. ... More



The shirt was the highlight of objects which went under the hammer at the Bolaffi auction house in Turin on Thursday.



MILAN (AFP).- The jersey worn by Brazilian football legend Pele during his final match for the five-time world champions has sold for 30,000 euros ($33,000) in an auction in Italy. The three-time World Cup winner wore the jersey in a friendly against Yugoslavia at the Maracana Stadium in Rio de Janeiro in July 1971, the last time he played for Brazil. Pele, 79, regarded as among the greatest footballers of all-time, scored 77 goals for Brazil in 92 appearances. The shirt was the highlight of objects which went under the hammer at the Bolaffi auction house in Turin on Thursday. Other sporting memorabilia included the yellow jersey won by Italian cycling star Fausto Coppi on his way to victory in the 1952 Tour de France, which sold for 25,000 euros. A rare blue Juventus jersey worn by Italian defender Luciano Spinosi in the final of the 1971 UEFA Cup sold for 9,400 euros. ... More



Mars Sleepover. Photo: Felix Speller for the Design Museum.



LONDON.- Ever wondered what it would be like to sleep on another planet? The Design Museum invites you to experience one extraordinary night on Mars in an exclusive stay that's out of this world in its new blockbuster exhibition. It takes around eight months to reach Mars – and you'll be greeted by freezing temperatures, unbreathable air and cosmic radiation. Cut out the travel and inhospitable surroundings and keep all the magic as you explore the untouched beauty of the Martian landscape and the innovative designs that will be needed to get us there. For the very first time, one lucky winner and their guest will go behind the scenes for a whole night at the Design Museum on 17 January 2020. The one of a kind sleepover experience begins with a VIP guided tour of the Moving to Mars exhibition – featuring a full scale model of the European Space Agency's ExoMars rover before it travels to Mars in 2020; the NDX-1 spacesuit, ... More
New York's subway map like you've never seen it before
Galerie Emanuel Layr Rome opens an exhibition of works by Plamen Dejanoff
Artadia and NADA announce the 2019 NADA Artadia awardee


A 1998 Metropolitan Transportation Authority map of the New York City subway system, with many of the design elements from the 1979 map incorporated into the new version. Tony Cenicola/The New York Times.

by Antonio de Luca and Sasha Portis



NEW YORK (NYT NEWS SERVICE ).- New York City was on the brink of bankruptcy in the 1970s. Crime was on the rise, and subway ridership had dropped to its lowest level since 1918. In 1979, responding to complaints from riders that the subway map was difficult to use, the Metropolitan Transportation Authority hired the Manhattan design firm, Michael Hertz and Associates, to create a new map. The goal was to develop an accessible geographical map that would provide the information that commuters and tourists needed to navigate the city. The Hertz firm's map was digitized in 1998, with many of the design elements from the 1979 map incorporated into the new version. The MTA subway map is a record of how graphic design, politics and geography have shaped the city over the last ... More



Plamen Dejanoff, 2019, Installation view, Galerie Emanuel Layr Rome, Photo: Giorgio Benni.



ROME.- Veliko Tarnovo is a small town in the centre of Bulgaria with a turbulent history. It was the scene of numerous battles between the Slavs and Ottomans and the site where the nation's first democratic constitution was drawn up in 1879. Le Corbusier came to Veliko Tarnovo in 1911 to study the architecture of the town, lined up along the foothills of the Balkan Mountains with the houses connected to one another like a modular system. The Slav Palace stands in the town centre. Built around 1720, it remains the tallest building in town (excepting the churches, of course). The forty closely staggered window arches on the top floor are clearly visible from afar. During the communist era the palace was owned by the state and interior walls were erected to divide the spacious rooms into smaller residential units. For many years plasterboard fixtures concealed the stucco, historic structure and in some cases, entire rooms. Plamen Dejanoff's family, following a restitution ... More



Daniel Lind Ramos, Armario de la Conciencia, 2012. Courtesy of Embajada.



MIAMI, FLA.- New Art Dealers Alliance and Artadia announced Daniel Lind-Ramos as the recipient of the 2019 NADA Artadia Award, a $5,000 unrestricted, merit-based Award granted to one artist exhibiting at the fair. Lind-Ramo's work is exhibited at Embajada, booth 9.10 at NADA Miami 2019. A jury comprising two curators, Alexandra Cunningham Cameron, Curator, Contemporary Design, Hintz Secretarial Scholar, Cooper Hewitt, Smithsonian Design Museum, and Gean Moreno, Curator of Programs, Institute of Contemporary Art, Miami, selected Lind-Ramos. This is the thirteenth time NADA and Artadia have partnered to present the Award. In a joint statement, Cunningham Cameron and Moreno noted: "Comparing artists from so many places is always a challenge. But Daniel Lind-Ramos's looming sculpture Armario de la Conciencia stood out to us for its visceral materiality and impressive range of references. It transcends its immediate context, reminds us of long and ... More
Conserving one of the oldest photographs in MoMA's collection
Flashback
On a day like today, Spanish-Mexican surrealist painter Remedios Varo was born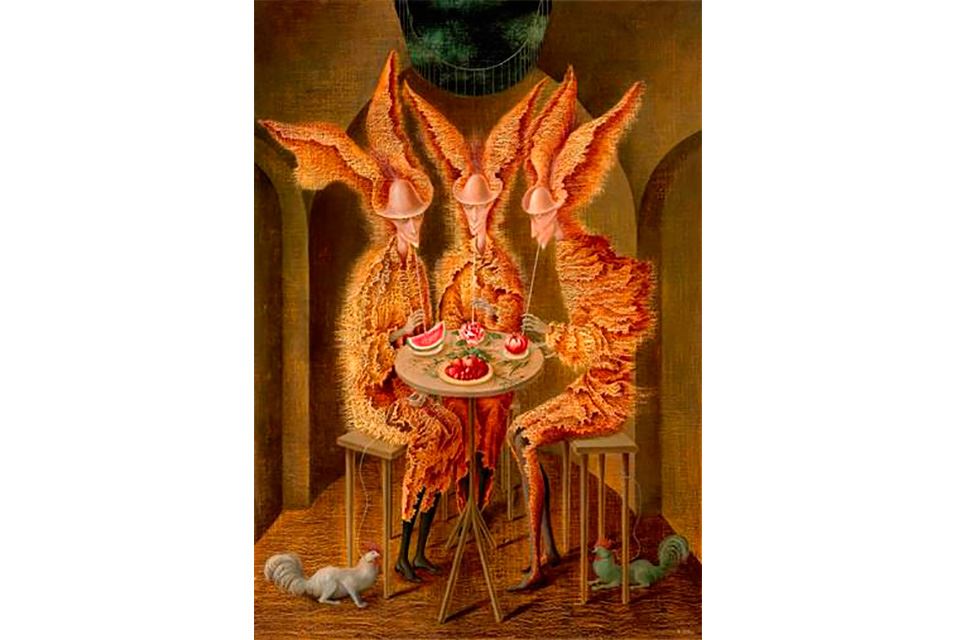 December 16, 1908. Remedios Varo Uranga (16 December 1908 - 8 October 1963) was a Spanish-Mexican para-surrealist painter and anarchist. Born in Girona, Spain in 1908, she studied at the Real Academia de Bellas Artes de San Fernando, Madrid. She is known as one of the world famous para-surrealist artists of the 20th Century. During the Spanish Civil War she fled to Paris where she was greatly influenced by the surrealist movement. She met her second husband, the French surrealist poet Benjamin Péret, in Barcelona. In this image: Remedios Varo (Spanish/Mexican 1908-1963), Vampiros vegetarianos. Oil on canvas. Painted in 1962. Estimate: $1,500,000 - 2,000,000. Photo: Christie's Images Ltd 2015.
---

Museums, Exhibits, Artists, Milestones, Digital Art, Architecture, Photography,
Photographers, Special Photos, Special Reports, Featured Stories, Auctions, Art Fairs,
Anecdotes, Art Quiz, Education, Mythology, 3D Images, Last Week,
.
---
Royalville Communications, Inc
produces: