The first-ever exhibition devoted to the portraits of Paul Gauguin on view in London
Paul Gauguin, Portrait of the Painter Slewinski, 1891. Oil on canvas, 53.5 × 81.5 cm. National Museum of Western Art, Tokyo. Matsukata Collection © National Museum of Western Art, Tokyo.
LONDON
.-
This landmark exhibition of major loans from museums and private collections throughout the world shows how Gauguin used portraits primarily to express himself and his ideas about art. Although he was fully aware of the Western portrait tradition, Gauguin was rarely interested in exploring his sitters' social standing, personality, or family background, which had been among the main reasons for making portraits in the past. From sculptures in ceramics and wood to paintings and drawings, an extraordinary range of media for a
National Gallery
exhibition, visitors will see how Gauguin interpreted a specific sitter or model over time, and often in different guises. A group of self portraits in the exhibition, for example, show how Gauguin created a range of personifications including his self-image as Jesus Christ. Together with his use of intense colour and his interest in non-Western subject matter, his approach had a ...
More
The Best Photos of the Day
Norwich council estate named UK's best new building
Gagosian opens an exhibition of black-and-white paintings and prints by Simon Hantaï
Tate announces the largest-ever grant to Tate Archive from the Marie-Louise von Motesiczky Charitable Trust


Goldsmith Street. © Tim Crocker.



LONDON.- The Royal Institute of British Architects has named Goldsmith Street in Norwich, designed by Mikhail Riches with Cathy Hawley, as the winner of the 2019 RIBA Stirling Prize. The annual prize, presented since 1996, is awarded to the UK's best new building. Goldsmith Street is comprised of almost 100 ultra low-energy homes for Norwich City Council. In contrast to the higher-rise flats dominating the surrounding area, Goldsmith Street is arranged in seven terrace blocks, modelled on the Victorian streets of the nearby 'Golden Triangle' district. Rows of two-storey houses are bookended by three-storey flats, each with their own front door, generous lobby space for prams and bikes, and a private balcony. The back gardens of the central terraces share a secure 'ginnel' (alleyway) for children to play together, and a wide landscaped walkway for communal gatherings runs perpendicularly through ... More



Simon Hantaï, Laissée, 1981–84. Acrylic on canvas, 87 3/8 x 72 7/8 in. 221.9 x 184.9 cm. © Archives Simon Hantaï/ADAGP. Courtesy Gagosian.



PARIS.- Gagosian announced the representation of the Estate of Simon Hantaï (1922–2008). To inaugurate Hantaï's representation, LES NOIRS DU BLANC, LES BLANCS DU NOIR, an exhibition of black-and-white paintings and prints dating between 1951 and 1997, is being presented at Gagosian Le Bourget. Hantaï is best known for originating the technique of pliage (folding), in which a canvas is crumpled and knotted, uniformly painted over, and then spread out to reveal a matrix of abstract alternations between pigment and ground. Born in Bia, Hungary, Hantaï studied at the Budapest School of Fine Arts from 1941 to 1946 before moving to Paris in 1948 to study and then—in the wake of the escalating Sovietization of his homeland—deciding to stay. In Paris, he joined André Breton's circle of Surrealists, ... More



Marie-Louise von Motesiczky, Old Woman, Amersham, 1942. © Marie-Louise von Motesiczky Charitable Trust.



LONDON.- The Archive Gallery at Tate Britain has been renamed in perpetuity as the Marie-Louise von Motesiczky Archive Gallery, in recognition of the largest gift from a private trust to Tate Archive. The newly named Marie-Louise von Motesiczky Archive Gallery at Tate Britain opened on 7 October with a unique display of over 350 items, drawing on the personal papers of émigré painter, Marie-Louise von Motesiczky (1906-1996), as well as related Tate Archive collections and paintings, generously supported by the Marie-Louise von Motesiczky Charitable Trust. The display is part of the regular six-monthly changing programme in the Archive Gallery. Born into a wealthy Jewish family in Vienna, on her mother's side, Motesiczky left school in 1920, and subsequently attended art classes in The Hague, Vienna, Paris, and Berlin. In 1927/8 she was invited by Max Beckmann to ... More
Lights. Camera. Prayer. A mini-Hollywood grows in Utah
Millon auction house to hold the first art auction featuring only Vietnamese fine art
Has Hans Haacke been forgiven?


Becky Swasey, the director of hair and makeup for the "Book of Mormon Videos" project, in her trailer at a studio owned by the Church of Jesus Christ of Latter-day Saints, in Provo, Utah, Sept. 3, 2019. Movies made by the church are an important part of a film and TV ecosystem in northern Utah — and there's not an R-rating in sight. Kim Raff/The New York Times.



PROVO, UT (NYT NEWS SERVICE).- In the heavy quiet of the Utah desert, past fields of alfalfa and fruit trees, past the Goshen trailer park and a big, sprawling dairy farm, the domes of Jerusalem rise up from the patchy grass. Set way back from the road, this maze of open-air passageways and courtyards is about the size of two football fields, an unusual vision of limestone bumping up against the Utah Rockies. It has played host to Mary and Joseph, John the Baptist and Jesus — as well as Lehi, Amulek and Alma the Younger. This is the Motion Picture Studio South Campus, owned by the Church of Jesus Christ of Latter-day Saints. The Jerusalem set, ... More



Bol en porcelaine à décor 'Bleu de Hué'.



PARIS.- Following the success of their record breaking Asian art auction in June, Millon auction house will host their next auction Arts Du Vietnam this fall at the Hotel Drouot. Spearheaded by expert and Asian art specialist, Jean Gauchet, this is the first art auction featuring only Vietnamese fine art. Under Gauchet's procuration, the sale boasts an impressive display of artistic traditions pre and post revolution. Highlighting ancient and modern works of art, the auction showcases over 200 rare artworks from private collections.. The exhibition features important imperial porcelain, remarkable lacquerware, woodcarvings, rare books, as well as a series of paintings from modernists Henri Mege, Vu Cao Dam, Nguyen Van Ro and Tran Huu Chat. The auction exposes influential works of art during Vietnam's historical and modern period, which have not only enriched the Vietnamese culture but have also shaped ... More



Hans Haacke, Gift Horse, 2015. Haus der Kunst 2017. Installation view. Photo: Maximilian Geuter © VG Bild-Kunst, Bonn.



NEW YORK, NY (NYT NEWS SERVICE).- Anyone who knows much about the defiantly political art of Hans Haacke, filling the New Museum in New York later this month, is bound to feel anxious before meeting the famous firebrand. But when Haacke showed up for an interview at his dealer's gallery in Manhattan, what was shocking was his quietude: In sensible sandals, roomy jeans and a staid plaid shirt, the 83-year-old New Yorker answered questions with an amiable, unflappable calm. Asked about what seems to have been almost an embargo against him among U.S. curators, despite his huge reputation in Europe, he replied, "before they make a move — one that is not quite the norm — they need to consider (and I don't blame them for that) whether this is good for their personal career." Queried on the power of museum donors, a group ... More
Hudson Valley MOCA presents a selection of works from the Marc & Livia Straus Family Collection
The Next ENTERprise-Architects to design new museum for the Heidi Horten Collection
Exhibition offers a view into one of the most significant archaeological regions in the world


Dan Flavin, Monument for V. Tatlin, 1966.



PEEKSKILL, NY .- Hudson Valley MOCA is presenting How We Live: Selections from the Marc and Livia Straus Family Collection​. The exhibition is on view from October 12, 2019 to July 19, 2020. How We Live​ is a sculpture and video exhibition from the Marc and Livia Straus Family Collection. It includes artists from around the globe who explore the particularities of their individual cultures through art. 34 sculptures by 31 artists along with six video artists showcase unique heritages, and in doing so enrich our understanding of the world. The Strauses have always been interested in art that fosters cross-cultural dialogue. They started collecting at age 20, taking risks to buy work that was not yet understood, often being amongst the first collectors for many artists. Their collecting practice extended beyond just purchasing, as they underwrote the fabrication of some of the works included. In each instance their choices were ... More



Following this top-drawer competition for ideas, the museum founder has opted for the ambitious design drafted by The Next ENTERprise–Architects, represented by Ernst J. Fuchs and Marie-Therese Harnoncourt.



VIENNA.- Over a period of three months, three internationally renowned architectural firms, Ortner & Ortner, Kuehn Malvezzi, and the firm of The Next ENTERprise–Architects, were invited to develop concepts for the design of a new museum in the Hanuschhof to house a world-famous art collection. The winner, who will oversee the conversion of the buildingthat will be known as the "Palais Goëss-Horten," has now been determined. Following this top-drawer competition for ideas, the museum founder has opted for the ambitious design drafted by The Next ENTERprise–Architects, represented by Ernst J. Fuchs and Marie-Therese Harnoncourt. In their vision, the architect duo masterfully merge past and present. Their design seeks to ... More



A funeral stele representing a camel herder dating from the first-third century, is displayed during the exhibition "AlUla: Wonder of Arabia" at the l'Institut du monde arabe (IMA) in the French capital Paris on October 7, 2019. FRANCOIS GUILLOT / AFP.



PARIS.- A magical place where extraordinary landscapes meet: the AlUla region is an exquisite sight, from the deep green of the oasis to the ochre of the sand, from the red of the sandstone canyons to the black tones of the volcanic rocks. This enchanting setting, which is imprinted in the memory of all those who have visited it, also shelters the multiple and spectacular traces inscribed by generations of men and women attracted by the riches of one of the most fertile valleys of the Arabian Peninsula, for over 7000 years. In AlUla, numerous societies and civilizations have followed one another: Neolithic peoples, kingdoms of Dadan and Lihyan, Nabataean civilization, Roman empire, Umayyad and Abbasid caliphates, Ottomans ... More
Shortlist announced for Max Mara Art Prize for Women 2019 - 2021
Andrew Rafacz Gallery to relocate to new 2,000-square-foot space in Chicago's West Town neighborhood
Rachel Whiteread's work on display at the Georgia Museum of Art


Emma Talbot, Your Own Authority, 2019. Art Night commission. Acrylic on Silk. Dimensions variable. Courtesy the artist.



LONDON.- The Whitechapel Gallery, Collezione Maramotti and Max Mara are delighted to announce the five shortlisted artists for the 8th edition of the Max Mara Art Prize for Women: Allison Katz, Katie Schwab, Tai Shani, Emma Talbot and Hannah Tuulikki. This weekend the artists travelled to Collezione Maramotti in Reggio Emilia, Italy, for the announcement, and to celebrate the opening of the major art work Che si può fare, by the seventh winner of the prize, Helen Cammock. Che si può fare tours from the Whitechapel Gallery where it was unveiled this summer. The artists shortlisted for the 2019 - 2021 iteration of the prize were selected by a judging panel chaired by Iwona Blazwick OBE, Director of the Whitechapel Gallery, joined by gallerist Florence Ingleby, artist Chantal Joffe, collector Fatima Maleki and art critic Hettie Judah. The Max Mara Art Prize for Women was established by Whitechapel Gallery in ... More



Rendering of 1749 W. Chicago. Image Courtesy of Andrew Rafacz Gallery.



CHICAGO, IL.- Andrew Rafacz Gallery today announced that the gallery will be relocating to a new 2,000-square-foot space on the street level of 1749 W. Chicago, a building constructed in 1916 in Chicago's West Town neighborhood. The space, designed by Chicago-based architect Paul Preissner, will open November 8 with two exhibitions featuring new work by Julia Bland and Robert Burnier. Additionally, artist Cody Hudson will unveil a large-scale, multi-story mural on the eastern façade of the building in Spring 2020. "This move is the culmination of my experience in this business and an evolving and inspired approach to how a space can function to better serve the art, the viewer and the community at large," said founder Andrew Rafacz. "With almost double the exhibition space, our new location will provide substantial growth opportunities for our existing artists as well as the opportunity to expand our roster with several incre ... More



Rachel Whiteread (English, b. 1963), untitled sculptures. Portland, Ancaster, Blue Forest Dean, and Exhill stone. Courtesy of Gagosian.



ATHENS, GA.- Rachel Whiteread's sculpture gives shape to the nothingness of space. As she uses the negative space in and around domestic objects, the air becomes the subject of her study. She captures the essence of familiar spaces and "mummifies the air," preserving the history of the space. Her work investigates the relationship between place and memory. It redefines the role of sculptural casting in artistic expression. For Whiteread, the process of creating a sculpture is as important as the work itself. Whiteread's work is on display in the Jane and Harry Willson Sculpture Garden at the Georgia Museum of Art at the University of Georgia through March 7, 2020. The exhibition "Rachel Whiteread" presents a series of five cast-stone sculptures reinterpreting her earlier resin castings of the space beneath chairs. The works are arranged in a table setting, reinforcing their domestic nature and origins. Variatio ... More
Jasper Johns: Repeat, Revise, Reflect
Flashback
On a day like today, American fashion designer Ralph Lauren was born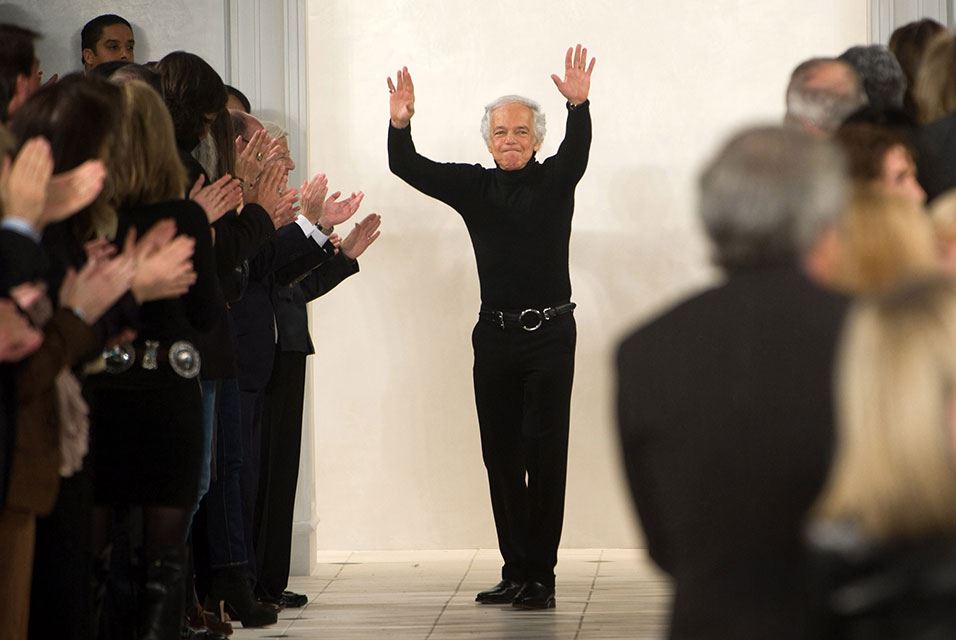 October 14, 1939. Ralph Lauren (born Ralph Lifschitz, October 14, 1939) is an American fashion designer and business executive, best known for his Polo Ralph Lauren clothing brand. In this image: Designer Ralph Lauren walks the runway to audience applause after his fall 2010 collection was presented in New York, Thursday, Feb. 18, 2010.
---

Museums, Exhibits, Artists, Milestones, Digital Art, Architecture, Photography,
Photographers, Special Photos, Special Reports, Featured Stories, Auctions, Art Fairs,
Anecdotes, Art Quiz, Education, Mythology, 3D Images, Last Week,
.
---
Royalville Communications, Inc
produces: