Gold bar found in Mexico was Aztec treasure: study
The 1.93-kilogram bar was found by a construction worker during excavations for a new building along the Alameda. Photo: MNA-INAH.
MEXICO CITY
(AFP)
.-
A gold bar found in a Mexico City park in 1981 was part of the Aztec treasure looted by Hernan Cortes and the Spanish conquistadors 500 years ago, a new study says. The 1.93-kilogram bar was found by a construction worker during excavations for a new building along the Alameda, a picturesque park in the heart of the Mexican capital. For 39 years, its origins remained a mystery. But thanks to specialized X-rays, Mexico's National Institute of Anthropology and History (INAH) says it has now confirmed where the bar came from: the Spaniards' hasty, though temporary, retreat during the so-called "Noche Triste," or "Sad Night." That night -- June 30, 1520 -- the Aztecs, furious over the slaughter of their nobles and priests, drove the Spanish invaders from their capital, Tenochtitlan. The conquistadors escaped with as much looted Aztec treasure as they could carry, including, apparently, the gold bar in question. ...
More
The Best Photos of the Day
Schantz Galleries presents works by Lino Tagliapietra at Palm Beach Modern + Contemporary
William Shakespeare's First Folio to be auctioned at Christie's
Jan Lievens masterpiece featuring Rembrandt as model to be offered at Sotheby's


Lino Tagliapietra. Photo: Jacopo Vecchiato.



WEST PALM BEACH, FLA.- Schantz Galleries is presenting LINO 2O2O | La Dolce Vita, at Palm Beach Modern + Contemporary, in West Palm Beach, Florida. Lino Tagliapietra has exhibited with Schantz Galleries in over 25 solo shows. This exhibition is a testimony to the Maestro's love for his glass and the importance it holds in his life. Utilizing his classic forms and a full spectrum of color, each work is seems to be filled with gratitude for La Dolce Vita—the sweet life—which, through his creations, he reminds us to see in the world. In addition to the blown glass sculptures, and a Masai wall installation, Schantz Galleries is exhibiting two large scale Totemic installations to be premiered for the first time in the USA., arriving directly from Murano. This exhibition, Lino's 26th solo show with Schantz Galleries, will feature a new "Totem" structure alongside his spectacular pedestal and wall mounted artworks. Utilizing his class ... More



William Shakespeare (1564-1616) Comedies, Histories, & Tragedies. Published According to the True Originall Copies. London: Printed by Isaac Jaggard and Ed. Blount, 1623. Estimate: $4,000,000-6,000,000. © Christie's Images Ltd 2020.



NEW YORK, NY.- Christie's announced the auction of William Shakespeare's Comedies, Histories, & Tragedies, often referred to as the "First Folio," as part of the Exceptional Sale during Classic Week at Christie's New York on 24 April 2020 (estimate $4,000,000 - 6,000,000). The First Folio, bringing together for the first time the collected plays of Shakespeare, ranks as the greatest work of the English language and, indeed, of world literature. Already celebrated on its first publication, it has remained a highly sought-after masterpiece over four centuries. Only six complete copies are known in private hands. Shakespeare's First Folio is being sold on behalf of Mills College in Oakland, California. The First Folio will be toured to ... More



Jan Lievens's A Woman Embraced by a Man, depicting friend and rival Rembrandt van Rijn as model, highlights Sotheby's Master Paintings Evening Sale in New York on 29 January. Courtesy Sotheby's.



NEW YORK, NY.- On offer from the private collection of J.E. Safra, A Woman Embraced by a Man, is an early masterpiece by one of the most fascinating and enigmatic Dutch painters of the 17th century and is now believed to feature none other than Rembrandt van Rijn as the model for the man. The oil on canvas was painted in 1626-1627, when Lievens was only around 20 years old, yet already established as a fully-fledged and commercially successful artist working in his native Leiden. Despite his youthful age, he was developing as a highly skilled and inventive technician at a rapid pace – so much so that he was largely considered to be more talented than his principal rival, Rembrandt. Born in Leiden just over a year apart, both artists studied with the same master and lived near one another, yet ... More
The Museum of Modern Art launches free online course titled What Is Contemporary Art?
303 Gallery opens its second solo exhibition of new work by Kim Gordon
Neil Peart, drummer for Rush, dies at 67


Still from Artist Story film with Sheila Hicks. © 2019 The Museum of Modern Art.



NEW YORK, NY.- The Museum of Modern Art launches the free massive open online course What Is Contemporary Art?, available now on Coursera. This course offers an in-depth look at over 70 works of art from MoMA's collection—many of which are currently on view in the expanded Museum—from 1980 to the present, with a focus on art produced in the last decade. Learners will hear directly from artists, architects, and designers from around the globe about their creative processes, materials, and inspiration. What Is Contemporary Art? can be found at mo.ma/whatiscontemporaryart. What Is Contemporary Art? is organized around five themes: Media from Television to the Internet, Territories & Transit, Materials & Making, Agency, and Power. These themes are explored through artworks drawn from every curatorial department at MoMA. Examples include 3-D–printed glass and fiber sculptures, performances in a factory and a ... More



Kim Gordon, The Bonfire 13, 2018. Glazed ceramic 3 x 14 1/2 x 5 inches (7.6 x 36.8 x 12.7 cm). © Kim Gordon, courtesy 303 Gallery, New York.



NEW YORK, NY.- 303 Gallery is presenting its second solo exhibition of new work by Kim Gordon. In a series of new works on canvas, Gordon presents a world of safety and familial intimacy surreptitiously undermined by insidious, unseen forces. Photographs of a group of revelers huddling around a beach bonfire are softened and overlaid with digital framing marks around the human figures, suggesting surveillance technology or facial recognition software. These images are emblematic of a new reality where no moment goes uncaptured, and where even the most ordinary events are packaged and sold, like an Airbnb listing promising a branded experience of intimacy. Gordon amplifies this phenomenon, referencing iconography from the world of music as it dovetails with youthful rebellion. The various crops and crosshairs allude to the logos of both Black Flag and Public Enemy, two groups emblematic of questioning ... More



In this file photo taken on April 17, 2013 Inductee Neil Peart of Rush poses in the press room at the 28th Annual Rock and Roll Hall of Fame Induction Ceremony. Jason Merritt / GETTY IMAGES NORTH AMERICA / AFP.

by Jon Pareles



NEW YORK (NYT NEWS SERVICE ).- Neil Peart, the pyrotechnical drummer and high-concept lyricist for the Canadian progressive-rock trio Rush, died on Tuesday in Santa Monica, California. He was 67. The cause was brain cancer, according to a statement by the band's spokesman, Elliot Mintz. Rush was formed in 1968 but found its long-term identity — as the trio of Geddy Lee on vocals, keyboards and bass, Alex Lifeson on guitars and Peart on drums — after Peart replaced the band's founding drummer, John Rutsey, in 1974. Peart's lyrics transformed the band's songs into multi-section suites exploring science fiction, magic and philosophy, often with the individualist and libertarian sentiments that informed songs like "Tom ... More
Anne Mosseri-Marlio Galerie presents "Patterns": A group show
State Museum transfers ownership of cornplanter's pipe tomahawk to Seneca Nation of Indians
French court orders 52mn euro payout in 'Mona Lisa' Ferrari battle


Sheila Hicks, Joie Capturée, 2019. Synthetic Fibers, cotton, 61 cm. Diameter x 10 cm. Depth ( 24 in. x 3 7/8 in. ).



BASEL.- The work included in PATTERNS are comprised of compositional arrangements that create equilibrium, predictabilities, and cohesion. The repetitive tempos and aesthetic rhythms at play in the paintings, textiles, drawings, and sculpture create integrated unified experiences. Originating their own system of repetition, each artist embraces the affordances of pattern to articulate knowingness and foreseeability, forms of stability, and compositional strength. The work in this group exhibition reaches beyond the decorative and activates patterns that offers alternatives to the disorganization and the commotion defining a shapeless social and political contemporaneity. Deploy the quintessential modernist grid, Dan Walsh's paintings evoke inexhaustible compositional variations within the limitations of the two-dimensional structure. Stephen Westfall's co-mingles the warp and weft anatomy of textiles with the tenets of hard-edge ... More



The 18th-century pipe tomahawk was gifted to Cornplanter by President Washington. Photo Courtesy: New York State Museum.



ALBANY, NY.- The New York State Museum and the Seneca Nation today announced that a pipe tomahawk originally given to the respected Seneca leader and diplomat Cornplanter by President George Washington has been officially returned to the Seneca Nation. The announcement took place at the Nation's Onöhsagwe:de' Cultural Center, where the pipe tomahawk has been on loan since March 2019. The 18th-century pipe tomahawk was gifted to Cornplanter by President Washington at one of several meetings between United States and Iroquois Confederacy leaders in the years 1792 – 1794. The Cornplanter pipe tomahawk entered the New York State Museum's collection in 1851 from Seneca diplomat Ely Parker. Sometime between 1947 and 1950 the object went missing from the Museum and for nearly 70 years was in the hands of private collectors. Thanks to the generosity of an anonymous donor, the pipe tomahawk was returned to the State Museum in June ... More



A Ferrari 250 GTO, similar to a rare model whose sale is being disputed by the children of a storied French leather and fur company A Ferrari 250 GTO, similar to a rare model whose sale is being disputed by the children of a storied French leather and fur company AFP/File.



LIMOGES.- A French appeals court has ordered the son of a renowned Ferrari collector to pay his siblings millions of euros over the disputed sale of a coveted racer considered the storied Italian automaker's "Mona Lisa". Patrick Bardinon was sued for breach of trust after auctioning off the rare 1964 Ferrari 250 GTO to a Taiwanese buyer in 2014 for 38 million euros ($42 million at current rates) -- a record at the time. He says it was a gift from his father Pierre Bardinon, a descendent of the family behind luxury fur and leather house Chapal, after Patrick was in an horrendous racing accident. "My father thought I had died that day," he said last March when the lawsuit first came to court. But Anne and Jean-Francois Bardinon claim their brother secretly removed the car from their father's collection and unlawfully sold the crown ... More
'Elliot Norquist: Mail Room' opens at Charlotte Jackson Fine Art
Gagosian opens an exhibition of ceramic works by the late John Mason
Pinakothek der Moderne announces the death of Florian Hufnagl


Elliot Norquist, Forever, 2019. Painted steel, 36 x 27 x 6 inches.



SANTA FE, NM.- You know what they are as soon as you walk into the gallery: windowed security envelope, "sign here" tab, file folder, manila envelope. Except, not quite. The two foot by three foot manila envelope is writ large, its perfect recreated folds, the metal hasp, the circular window – they simultaneously are and are not quite familiar. What is going on here? Those familiar with Elliot Norquist's work, his metal wall sculpture in particular, will recognize at once the attitude of seriousplay at work here. And while these "representative" pieces may at first feel like a radical departure for someone who has devoted himself almost wholly to the study of minimal geometries, a little time, a bit longer spent with these "Mail Room" pieces, sets off an "aha" of recognition. There is the triangle, the rectangle, the circle. There are the interacting planes, subtly highlighted by the faintly shadowed folds that recreate an envelope's clever cons ... More



Orange Cross, 1963. Glazed stoneware, 64 x 49 x 16 inches, 162.6 x 124.5 x 40.6 cm © 1963 Estate of John Mason. All Rights Reserved. Courtesy Gagosian.



NEW YORK, NY.- Gagosian is presenting Geometric Force, an exhibition of ceramic works by the late John Mason. One of the most visionary ceramic artists of the last century, Mason brought his medium into conversation with Abstract Expressionism by extending the physical and spatial properties of clay. He began his career on the West Coast in the 1950s, as part of a group of artists who studied with the pioneering ceramist Peter Voulkos at the Otis Art Institute, Los Angeles. Mason and his contemporaries challenged conventional ideas about ceramics, making large, abstract, subversive works. Mason worked at scale, his wall reliefs and expressionistic sculptural works matching the ambitious painting and sculpture of the era. In his Los Angeles studio, which he shared for a time with Voulkos, they began employing industrial techniques and technologies: humidifiers from ... More



From 1998 to 2013 Florian Hufnagl was Chairman of the Board of Directors of the Bavarian State Museums. Photo: Hannes Magerstaedt.



MUNICH.- As the son of an architect who grew up in Munich the later museum director was well placed to make the topic of design the major focus of his life. Florian Hufnagl studied Classical Archaeology, Modern and Contemporary History, and History of Art at the LMU Munich (Ludwig-Maximilians-Universität). In 1976, with Norbert Lieb as his supervisory, he was awarded a doctorate for his dissertation on Munich-based architect Gottfried von Neureuther (1811-1887). After completing a stint as a trainee at the Bavarian National Office for the Preservation of Monuments Hufnagl initially freelanced as an art historian. He then embarked on a museum career in 1980 when he was appointed to work as a curator under Hans Wichmann, who was Director of Die Neue Sammlung at the time, which was then still known as the State Museum of Applied Arts and Design. In ... More
The Bill Traylor Painting Steven Spielberg Gave to Alice Walker
Flashback
On a day like today, French painter Paul Cézanne was born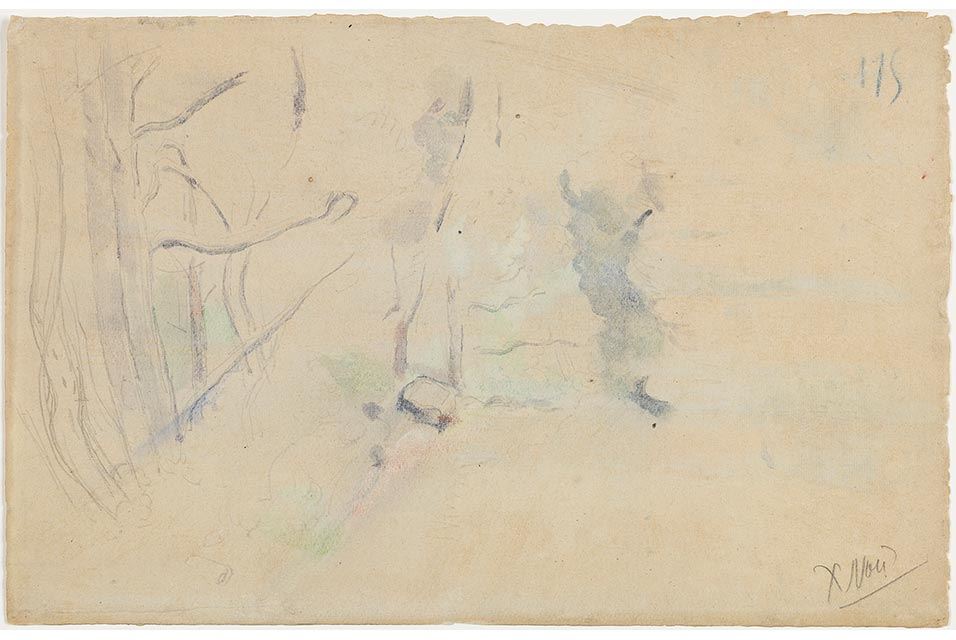 January 19, 1839. Paul Cézanne (19 January 1839 - 22 October 1906) was a French artist and Post-Impressionist painter whose work laid the foundations of the transition from the 19th-century conception of artistic endeavor to a new and radically different world of art in the 20th century. In this image: Paul Cézanne (French, 1839 - 1906). Recto: The Chaîne de l'Etoile Mountains (La Chaîne de l'Etoile avec le Pilon du Roi), 1885 - 1886. Watercolor and graphite on wove paper; Verso: Unfinished Landscape, undated. Watercolor and graphite on wove paper, Sheet: 12 3/8 x 19 1/8 in. (31.4 x 48.6 cm). BF650. Photo © 2015 The Barnes Foundation.
---

Museums, Exhibits, Artists, Milestones, Digital Art, Architecture, Photography,
Photographers, Special Photos, Special Reports, Featured Stories, Auctions, Art Fairs,
Anecdotes, Art Quiz, Education, Mythology, 3D Images, Last Week,
.
---
Royalville Communications, Inc
produces: