Domaine de Chantilly exhibits Leonardo da Vinci's 'Nude Mona Lisa'
A charcoal drawing known as the "Monna Vanna", also dubbed "The Nude Mona Lisa" (La joconde nue), during the artwork's presentation to the press at the Domaine de Chantilly, north of Paris. The Nude Mona Lisa, which experts found was created in Leonardo da Vinci's studio and may be the work of the master himself, is being displayed from June 1 to October 6, 2019, at the Domaine de Chantilly, as part of events to mark the 500th anniversary of his death. KENZO TRIBOUILLARD / AFP.
CHANTILLY
.-
For the 500th anniversary of Leonardo da Vinci's the
Domaine de Chantilly
, this great artist's genius is being celebrated with a new exhibition dedicated to one of the highlights of the Musée Condé's collection, the little known and enigmatic Nude Mona Lisa. The Musée Condé at Chantilly owns a large cartoon (a full size drawing that has been pricked to transfer a composition onto a panel) showing a nude half-length woman in a pose that is largely the same as the world famous Mona Lisa at the Louvre: known as the Nude Mona Lisa, this masterpiece raises endless questions. Thanks to highly ambitious international loans, the exhibition which runs from 1 June to 6 October 2019 attempts to solve the mystery of this true icon. ...
More
The Best Photos of the Day
Pace Welcomes Jo Baer
Richard Prince is the world's first artist to have his own line of marijuana
Exhibition celebrates Helmut Newton's 50-year career through a rare and unseen collection of vintage prints


Jo Baer, Untitled Diptych, 1966-68. Oil on canvas. Two panels, 60" × 42-7/8" × 1-7/8" (152.4 cm × 108.9 cm × 4.8 cm), each 60" × 88-3/4" × 1-7/8" (152.4 cm × 225.4 cm × 4.8 cm), overall © Jo Baer.



LONDON.- Pace Gallery announced its representation of Amsterdam-based, American-born painter Jo Baer. Over her six-decade-long career in painting, Baer has embraced and advanced a broad range of formal and conceptual pursuits after first emerging as a key figure among the Minimalists working in New York in the 1960s and 70s. In 1975, Baer left New York for Europe and began to introduce images to her paintings, pursuing a self-coined approach of "radical figuration," which the artist has continued to advance in her work for over thirty years. "It is with great pleasure that we announce our representation of Jo Baer. Jo is one of the pioneers who staked everything on a new vision of art in the late 1950s in reimagining the purpose and potential of painting." said Marc ... More



Prince's cannabis brand takes its name from John Dogg, one of Prince's known pseudonyms. Prince's desire to create a cannabis line dates back to at least 2005, when the first book of Hippie Drawings debuted.



LOS ANGELES, CA.- Richard Prince announced the debut of Katz + Dogg, his elite cannabis brand, which was created in partnership with the award-winning 710 Labs. Katz + Dogg now available in flowers, vape pens, and pre-rolled joints at high-end dispensaries across America starting May 30, making Prince the world's first artist to have his own line of marijuana. Katz + Dogg packaging features signature drawings from Prince's celebrated Hippie Drawings and High Times paintings series. Inside, the products contain 710 Labs' Shire strain, alongside its Ice Cream Cake and OG. "Best thing about the cannabis plant is how it brings people together. The fact that it brought us to working with such an iconic artist as Richard Prince is a blessing," said Brad Melshenker, 710 Labs founder. ... More



Man Kissing Woman in Hall.



LONDON.- This remarkable, rare collection of thirteen framed, vintage silver gelatin prints are from the archives, considered Newton's best work, and are now on show together for the first time at Box Galleries, London. Celebrating fashion, style, and sexuality, this special exhibition depicts the legend's work from 1967 – 1984 and includes previously unseen work. Famed for his erotically charged, black and white photos that featured regularly in Vogue, Newton's photographs portray fearless, liberated female power and inner strength. Helmut Newton was one of the most prolific photographers of the 20th century, chanelling the sensuality and erotic power of his subjects with panache, precision, and impact. He established a new way of photographing fashion and glamour which often attracted controversy. As a friend of Yves Saint Laurent and Karl Lagerfeld, Newton was at the forefront of a new wave of designers and photog ... More
La Brea Tar Pits begins master planning to reimagine the LA landmark & research site
Sotheby's celebrates the 50th anniversary of the Apollo 11 Moon landing with an auction
Marlborough Fine Art opens an exhibition of recent works by Bill Jacklin


Three architecture firms will compete to lead creative teams in process for the Los Angeles landmark and research site. Courtesy of La Brea Tar Pits.



LOS ANGELES, CA.- Dr. Lori Bettison-Varga, President and Director of the Natural History Museums of Los Angeles County, today announced the beginning of a long-term initiative to reimagine and renovate one of the institution's most prized components: its 12-acre campus in Hancock Park, encompassing the world-renowned La Brea Tar Pits and the George C. Page Museum. The project for a comprehensive reimagining of this uniquely important campus will begin with the development of a creative master plan, undertaken to advance NHMLAC's scientific research and public engagement for the next half-century. Dr. Bettison-Varga announced the inauguration of master planning at an "ideas incubator" held today at La Brea Tar Pits and the nearby El Rey Theatre, where NHMLAC convened more than seventy leading figures from the fields of science, the arts, design, entertainment, education, technology, communications, philanthropy, ... More



Flown Apollo 11 Command Module "Columbia" Boost Cover Release Label. Estimate $125/150,000. Courtesy Sotheby's.



NEW YORK, NY.- Sotheby's presents their third-annual Space Exploration auction in New York on 20 July 2019 – the 50th anniversary of the historic Apollo 11 lunar landing. The sale will feature a wide variety of material from the Mercury, Gemini, and Apollo missions, featuring direct consignments from astronauts including: Apollo 13 Mission Commander James Lovell; Apollo 9 Lunar Module Pilot Russell Schweickart; and the Estate of John Young, who enjoyed the longest career of any astronaut. The sale also offers an impressive collection of flown mission artifacts and hardware, the finest single owner collection of flown Robbins medallions, early contractor's models, spacesuits, maps, charts and much more. Exhibitions will open to the public on 15 July alongside Omega Speedmaster: To the Moon and Back – an auction dedicated to the official watch of NASA. The sale is led by a collection of 20 original Apollo Firing Room Control Pan ... More



Bill Jacklin, 'Dance of the Clouds and Breezes I', 2019 (detail), oil on canvas, 50 x 55 inches. Photo: Boris Apple.



LONDON.- Marlborough Fine Art is presenting an exhibition of recent works by Bill Jacklin, an artist who has shown with the gallery for almost 40 years. On show are 20-25 paintings and a selection of monotypes. Although mainly figurative in presentation, many of the works show underlying systems and abstractions of design, harking back to Jacklin's earlier style which focused on the structures within natural orders. In his work there is a coexistence of representation and abstraction, provoking a tension which results in an augmented viewing experience. The artist seeks to avoid stylistic categorisation, stating 'I choose not to define myself to working in just one way'. Jacklin came to prominence in the 1960s in London as an abstract artist producing works made of grids and dots. Despite his success, Jacklin felt impelled to return to figuration, and since moving to Manhattan in 1985 has painted numerous scenes of the pulsating ene ... More
Nunzio Di Stefano's first solo exhibition in London opens at Mazzoleni
Lothar Götz transforms Towner's exterior walls into s large-scale artwork
Pace opens 'At the Edge of Things: Baer, Corse, Martin'


Nunzio, Mercurio, 1990. Lead and combustion on wood, 128 x 119 x 3 cm. Courtesy Mazzoleni, London – Torino.



LONDON.- Mazzoleni is presenting The Shock of Objectivity, curated by Kenneth Baker. This is Nunzio's first solo exhibition in London and displays a new site-specific work, Avvoltoio, (Vulture), alongside a series of grand and imposing sculptures spanning from the late eighties to the most recent years, which reveal his inventive and inspiring approach to form. From the beginning of his career, Nunzio played an instrumental role configuring a different vision of sculpture structured around his personal conception exploring the language of shape and its interrelation with space. Thus, he pushed the boundaries of appearance – the results being magnificent architectural works interweaving substance, body and void in a stunning balance of rhythm. Throughout his artistic research, Nunzio develops a dialogic and personal relationship with culture and history, praising a subtle and filtered approach to the past. In his work the artis ... More



Lothar Götz, Brewers Towner Commission: Dance Diagonal, 2019. Photo: Eva Eastman, Courtesy Towner Art Gallery.



EASTBOURNE.- German artist Lothar Götz transformed the exterior walls of Towner Art Gallery, Eastbourne, into a large-scale, colourful geometric mural this summer. Götz, who is based in the U.K., was chosen from 60 artists and designers from an open call for The Brewers Towner Commission to create an artwork to mark the 10th anniversary of the gallery's move from its original home in Eastbourne's Old Town. Drawing on its architecture, angles and unique exterior recesses and alcoves, Götz's mural - his largest to date - envelops the length and width of three sides of the award-winning building. Götz's work – typically large-scale paintings, drawings and installations that respond to existing architectural structures – has included commissions for South Bank Centre, London (2014) and Leeds Art Gallery (2017). This is his first major public commission on the south coast and the first ... More



Mary Corse, Untitled (White Inner Band, Beveled), 2019, glass microspheres in acrylic on canvas, 243.8 cm × 182.9 cm (96" × 72") © Mary Corse, courtesy Kayne Griffin Corcoran, Lisson Gallery, and Pace Gallery.



LONDON.- Pace Gallery is presenting At the Edge of Things: Baer, Corse, Martin, an exhibition of works by three generations of American abstract artists, and the first for these artists presented by the gallery in London. The exhibition, at 6 Burlington Gardens, is on view from 7 June to 14 August 2019. The exhibition explores the phenomenological possibilities of abstraction in the work of Jo Baer, Mary Corse and Agnes Martin over the past sixty years. Focused on the artists' deep engagement with notions of dimensional space and perception, the exhibition establishes an implicit conversation between these artists and their engagement with Minimalism, radicality, and the metaphysical in painting. At the Edge of Things explores the phenomenological possibilities of abstraction in the work of three artists over the past sixty years. Focused on the ... More
Gropius Bau opens an exhibition of works by Bani Abidi
Rare Jackie Kennedy romantic note, a WWII prison diary, George Gershwin caricature and more go to auction
Animation art: Original artwork from Lady and the Tramp may lead Heritage Auctions' June 15-16 auction


Bani Abidi.



BERLIN.- Bani Abidi is known for her distinctive approach to filmmaking, which derives from the dark absurdities of everyday life. They Died Laughing is an extensive presentation of Abidi's works, bringing together moving image and print-based works that span two decades. Over the past years Abidi has developed a characteristic filmmaking language – quietly humorous, often engaging non-actors, choreographing crowds, examining security infrastructure in daily life, recording the ridiculous gestural routines of bureaucracy, power and nationalism through moments that are scripted and directed. Abidi often uses video as her tool for mnemonic recall while embedding the medium with a poetic function and layers of fiction. Currently based in Berlin and Karachi, she assumes the role of a storyteller and urban archaeologist in telling the stories of cities she has lived in. Fictional narratives traverse individual experiences and ask complex questions on patriotism, ... More



Federico Fellini. A rare letter written by the celebrated Italian film director and screenwriter discussing an opera adaptation of his 1954 film La Strada, music, film rights, and his hectic filming schedule. Estimate $300/$400.



NEW YORK, NY.- Lion Heart Autographs, Inc., for more than forty years an internationally recognized dealer of autographs and manuscripts specializing in art, history, literature, music, and science, has announced an extraordinary live auction to take place on Wednesday, June 12, 2019 beginning at 1:00 p.m. which will feature over 175 lots of some of the world's most rare and valuable manuscripts, autographs and memorabilia to date. The auction will offer some extraordinary documents, autographs, letters and photographs from the world's most famous entertainers, composers, personalities and playwrights. Among some of the most intriguing entertainment items is a letter written by JACKIE KENNEDY (Estimate $750/$900) on her blue Fifth Avenue stationery card ... More



Lady and the Tramp "Bella Notte" Production Cel Setup with Custom Painted Background (Walt Disney, 1955).



DALLAS, TX.- The largest offering of artwork from the 1955 Walt Disney classic film Lady and the Tramp ever brought to market will be among the items in highest demand at Heritage Auctions' Animation Art auction June 15-16 in Dallas, Texas. The sale includes more than 75 lots from Lady and the Tramp, including one-of-a-kind hand-painted production cels, animation drawings, concept art, storyboards, backgrounds and the Holy Grail of animation art collecting: Key master and Master cel and background setups. Nearly 1,300 lots from every major animation studio will be featured in this auction showcasing the "Art of Animation." Among the legendary artists whose works will be featured are Mary Blair, Eyvind Earle, Gustaf Tenggren, David Hall, Mel Crawford, Chuck Jones, Ken Anderson, Mel Shaw, Ub Iwerks, Mike Ploog and Tim Burton. "With Aladdin breaking box office records this summer and The Lion King also ... More
BARD & VAROZZA - Fondation Herman Krikhaar
Flashback
On a day like today, American painter Jacob Lawrence died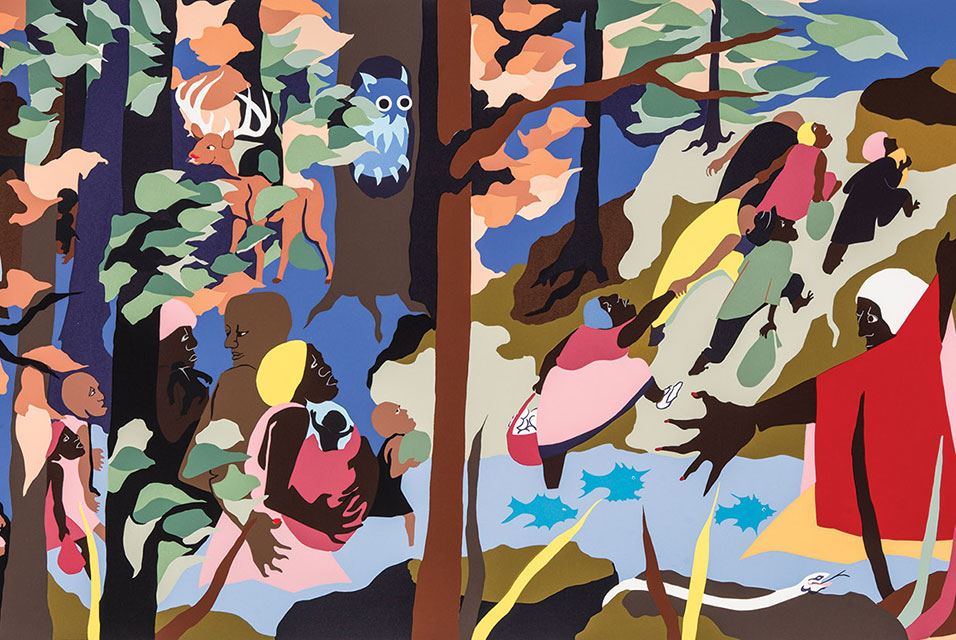 June 09, 2000. Jacob Lawrence (September 7, 1917 - June 9, 2000) was an African-American painter known for his portrayal of African-American life. As well as a painter, storyteller, and interpreter, he was an educator. Lawrence referred to his style as "dynamic cubism", though by his own account the primary influence was not so much French art as the shapes and colors of Harlem. In this image: Jacob Lawrence, "Forward Together," silkscreen on paper, 25.5" x 40.125", 1997. © 2018 The Jacob and Gwendolyn Knight Lawrence Foundation, Seattle/Artists Rights Society (ARS), New York.
---

Museums, Exhibits, Artists, Milestones, Digital Art, Architecture, Photography,
Photographers, Special Photos, Special Reports, Featured Stories, Auctions, Art Fairs,
Anecdotes, Art Quiz, Education, Mythology, 3D Images, Last Week,
.
---
Royalville Communications, Inc
produces: