An exceptional Gravettian "Venus," some 23,000-years-old, was discovered by Inrap
his picture taken on December 4, 2019 shows a 4 centimeters high paleolithic statuette named "Venus of Renancourt", in Amiens. A small paleolithic statuette, from the series called "Venus of Renancourt", exceptionally well preserved, was discovered last July in a prehistoric site in Amiens (northern France), constituting a rare testimony of the gravettian art typical of hunters - gatherers, revealed the Inrap on December 4. DENIS CHARLET / AFP.
PARIS
.-
The prehistoric site of Renancourt, in Amiens, has been known for many years and long remained one of the few sites providing evidence for human presence in northern France during the Early Upper Paleolithic (35,000 – 15,000). Discovered in 2011, during an
Inrap
diagnostic operation, the site of Amiens-Renancourt 1 has been under full excavation since 2014. During the 2019 season, an exceptional Gravettian "Venus," some 23,000-years-old, was discovered. Near the confluence of the Selle and Somme Valleys, in a neighborhood of southwest Amiens, the site is sealed within Eolian silts (loess) attributed to the end of the last glacial period (between 40,000 and 10,000 years ago). Four meters below the current ground level, a concentration of very well-preserved artifacts was discovered. This concentration has been dated by Carbon 14 to 23,000 years ago (21,000 BC) and is attributed to a late phase of the Gravettian culture, wh ...
More
The Best Photos of the Day
Egyptian archaeologist Hawass sees role as 'custodian' of antiquities
Exhibition explores nineteenth-century travel imagery
What's the point of the Turner Prize, anyway?


Zahi Hawass, Egyptian archaeologist and former antiquities minister, stands before the Great Sphinx of Giza during a lecture with a tourist group on ancient Egyptian history, at the Giza Necropolis on the southeastern outskirts of the capital. Khaled DESOUKI / AFP.



CAIRO (AFP).- Standing at the foot of the towering Great Sphinx of Giza, Zahi Hawass revels in his reputation as an indefatigable yet controversial figure in the enigmatic world of Egyptology. With the early morning sun-kissed pyramids behind him, the 72-year-old dubbed "the Egyptian Indiana Jones" posed casually for photos sporting his trademark cowboy hat. "This is a real archaeologist's hat. Harrison Ford's was a fake," he joked with AFP, referring to the American actor and star of the Indiana Jones movies. Hawass, who has appeared in dozens of documentaries about ancient Egypt, is himself a star attraction for a luxury archaeological tour organised by an operator based in Poland. A larger-than-life character, who sees himself as "the custodian of Egyptian antiquities", he evokes in the same breath ancient deities and Pharaohs as well as his own name. Regaling tour participants with stories of his archaeological ... More



Alexandre-Gabriel Decamps, (French, 1803–1860), Cypriot Woman Smoking a Chibouk, after 1828. Watercolor, gouache, and touches of pen and black and brown ink, 5 13/16 x 4 3/16 in. Clark Art Institute, 1955.1638



WILLIAMSTOWN, MASS.- For centuries, travelers have made visual records of their journeys and eagerly shared their views of distant lands and unfamiliar locations. In addition to their souvenir value for the person who makes them, such images often fuel an appetite for travel among the people who see them—as advertisers and tourist bureaus well know. Travels on Paper, on view at the Clark Art Institute November 16, 2019 through February 9, 2020, explores travel pictures—drawings, prints, and photographs—that capture the experience of being a traveler and image maker. With works drawn primarily from the nineteenth century, the exhibition provides a look at the power and influence of images long before the Instagram age. The exhibition includes forty-three works by artists Camille Corot (French, 1796–1875), Robert Macpherson (Scottish, c. 1815–1872), Alexandre-Gabriel Decamps (French, 1803–1860), John La Farge ... More



Nominated Artists, Turner Prize 2019. Photo: © Stuart Wilson / Getty Images.

by Jason Farago



NEW YORK (NYT NEWS SERVICE ).- It was a conclusion as sappy-sweet as the climax of "Mean Girls," when Lindsay Lohan's character breaks apart her homecoming queen tiara and divides the pieces among her classmates. Assembled in Margate, England, to discover the winner of the 2019 Turner Prize, members of the British art world discovered that the long-in-the-tooth award would go to … all four nominated artists. "I have great pleasure in announcing the winner," said Edward Enninful, the editor of British Vogue, as he opened the envelope. But inside was an unprecedented result: The shortlisted artists, Lawrence Abu Hamdan, Helen Cammock, Oscar Murillo and Tai Shani, had proclaimed themselves a collective, "to make a strong statement of community and solidarity." And the jury had "unanimously agreed to award the 2019 Turner Prize to the collective formed by the four nominees," said Enninful, eliciting both startled laughter and a standing ovation. Abu Hamdan, Cammock, Muri ... More
Was this 18,000-year-old Siberian puppy a dog or a wolf?
Historic Gold Rush-era shipwreck reveals rare San Francisco coin
Sprüth Magers exhibits Gilbert & George's PARADISICAL PICTURES in Los Angeles


The fur, skeleton, teeth, head, lashes and whiskers of the pup, named Dogor, are still intact. Photo: Love Dalén.



NEW YORK (NYT NEWS SERVICE ).- An 18,000-year-old puppy buried for centuries in a lump of frozen mud was unveiled on Monday by scientists who hope it can help bridge the connection between dogs and wolves. The puppy, which was male, was discovered 18 months ago, preserved in a layer of permafrost in Siberia's Far Eastern reaches, according to Dave Stanton, a research fellow at the Center for Palaeogenetics in Stockholm and one of the scientists who examined its DNA. The fur, skeleton, teeth, head, lashes and whiskers of the pup, named Dogor, are still intact, he said. But scientists don't know whether it is a dog or wolf. Stanton said more DNA research would be conducted in the coming months. "We need to put this information into context," he said in an interview. Many scientists say dogs evolved about 15,000 years ago from a species of extinct wolves. Others suggest ... More



This 1856 large S over small s mint mark quarter dollar is one of nine examples of the rare variety recently discovered in the California Gold Rush-era sunken treasure recovered from the fabled "Ship of Gold," the S.S. Central America. Image courtesy of Professional Coin Grading Service. Actual coin size: 24.3 mm diameter.



BREA, CA.- The legendary SS Central America, the famous "Ship of Gold" that sank in 1857 carrying tons of California Gold Rush treasure, continues to surprise and delight collectors and historians. Nine rare 1856-dated San Francisco Mint silver quarter dollars with a large S mint mark struck over a small s have been discovered in the latest recovered sunken treasure from the fabled ship. They're valued at thousands to tens of thousands of dollars each. "This is a major numismatic finding! We've nick-named this latest SS Central America discovery as the S over s Central America," said Dwight Manley, Managing Partner of California Gold Marketing Group LLC (CGMG) of Brea, ... More



Gilbert & George GREENLY, 2019. Mixed media, 151 × 127 cm. © Gilbert & George. Courtesy Sprüth Magers.



LOS ANGELES, CA.- Gilbert & George have created art together as one visionary, artistic entity since 1967, when they met at Saint Martins School of Art in London. Recognized by institutions and collections worldwide for their groundbreaking, fiercely independent and influential art across diverse mediums, they continue to produce confrontational, richly emotive and thought-provoking art that, more than fifty years later, pushes into ever-new territory. Sprüth Magers presents Gilbert & George's PARADISICAL PICTURES, a new group of thirty-five major pictures that mark the artists' first solo exhibition in Los Angeles in nearly two decades. In the late 1960s and early 1970s, Gilbert & George conceived an approach to art-making that explored modern morality, human frailty, the city and the natural world through commonplace yet intensely emotional imagery—an ART FOR ALL, in their terms, that could resonate with ... More
Small galleries assess the benefits of big art fairs
Exhibition of seminal works by Richard Tuttle on view at Pace Gallery
Christie's Paris Post-War and Contemporary Art department achieves €79M in 2019


"Untitled, 2019" by Alex Da Corte, which is being shown by the Karma gallery of New York at Art Basel Miami Beach. Alex Da Corte/Karma, New York via The New York Times.

by Ginanne Brownell Mitic



LONDON (NYT NEWS SERVICE ).- There is nothing quite like the buzz of a big, glamorous international art fair. For larger, more well-established galleries with big-name artists on their rosters, there is a nonchalant air to their booths — they know the drill. But for galleries that are showing for the first time, it can be a nerve-racking experience that can feel like an enormous gamble in terms of expense, but also a huge opportunity in exposure. "A gallery's position is often measured by the level of fair that it is present at," Orsolya Hegedus, the director of Budapest's Acb Gallery, wrote in an email, "and the axiom 'context is everything' is peculiarly true for the art world." The gallery will be showing for the first time at Art Basel Miami Beach. There are a number of galleries, including High Art in Paris; Revolver ... More



Richard Tuttle, basis45, late 1970s. Watercolor on paper, 9-3/8" × 6-5/8" (23.8 cm × 16.8 cm) No. 71952 © Richard Tuttle, courtesy Pace Gallery. Photo: Christine Ann Jones.



NEW YORK, NY.- Pace Gallery is presenting in its newly opened headquarters in New York an exhibition of seminal works by pioneering conceptual and Postminimalist artist Richard Tuttle. The exhibition is split into two bodies of work from the early and late 1970s—a decade marked by the birth of many new art forms, ranging from process-based art to land art and institutional critique. Always a maverick, Tuttle was at the forefront of these experimental practices. His works of this period defied categorization and went against the monumentalizing aesthetic and austere industrial precision of much art at the time—most notably Minimalism—through their modest scale, emphasis on the artist's idiosyncratic touch, and embrace of everyday, humble materials. Bringing together his series of ninety-four "basis" drawings and the sculptural piece 8th Wood Slat (1974), this exhibition offers a unique glimpse into ... More



Lucio Fontana (1899-1968), Concetto Spaziale, Attese. Sold for €2,650,000. © Christie's Images Ltd 2019.



PARIS.- The Post-War and Contemporary Art department has realised €79M for the year 2019 in France, making it one of the highest result for the department. Laetitia Bauduin, Director of the department: "These very strong results prove that our strategy to offer three milestones during the year is rewarding. The highlight of the year is with no doubt our Paris Avant-Garde sale which attracts more and more international collectors and which is getting stronger over the years. We are particularly pleased to have established a new world auction record for Nicolas de Staël for which Parc des Princes was sold for 20,000,000 euros, and becomes the highest price achieved for a post-war and contemporary work sold in France this year". The top lot of these two sales was Concetto spaziale [Attese] by Lucio Fontana which sold for €2,650,000. The international bidders coming from 20 countries registered in last night's sale paid a beautiful tribute to Jean Dubuffet through three of his ... More
Rare objects in Argent Haché acquired by Nationalmuseum
For Faith Ringgold, the past is present
Questions arise over Black Art in a new show


Eric Nyström, Sugar sprinkler, 1780–1790. Silver plated brass. NMK 87–88/2019. Photo: Linn Ahlgren/Nationalmuseum.



STOCKHOLM.- Nationalmuseum has recently acquired a number of rare objects made of silver plated brass, known as argent haché, from the late 18th century. Few of these objects have survived to the present day, and the museum's collections had thus previously lacked examples of this important part of Swedish design history. Several of the objects are from the unique collection of the antiques dealer Lars-Yngve Johansson. Objects of silver plated brass, known as argent haché, were manufactured only in the late 18th century. Few objects of this type have survived to the present day, and those produced in Sweden are of particular interest for Nationalmuseum. The antique dealer and TV personality Lars-Yngve Johansson possessed extensive knowledge of argent haché, as well as a unique collection of such objects. After his death, many of these items were auctioned off in the spring of 2019, and the museum was able to enrich its collections wit ... More



Faith Ringgold has works from the 1970s and 1990s on view at Art Basel Miami Beach in December 2019. Faith Ringgold/Pippy Houldsworth Gallery, London via The New York Times.

by Farah Nayeri



LONDON (NYT NEWS SERVICE ).- Artist Faith Ringgold was visiting the Rijksmuseum in Amsterdam in 1972 when a museum guard pointed her in the direction of a display that would transform her career. The guard urged her to head downstairs and see a collection of Tibetan thangkas — delicate paintings on cotton or silk that are used in Buddhist meditation. This new form enabled her to roll up her paintings and move them around without the help of her husband. Three of her earliest thangkas — "Slave Rape #1," "Slave Rape #2" and "Slave Rape #3" — will be exhibited in the Survey sector at Art Basel Miami Beach by London-based Pippy Houldsworth Gallery. The brightly colored paintings, which are also her last oil paintings (she switched to acrylic) represent three nudes in verdant surroundings. Their ... More



The artist and curator Eilen Itzel Mena with her painting "Aje," which is being exhibited at the show "Who Owns Black Art?," in Miami, Dec. 2, 2019.

by John Eligon



MIAMI (NYT NEWS SERVICE ).- Eilen Itzel Mena's painting "Aje" pays homage to an ancient Yoruba religious goddess of wealth and prosperity. It features an upside-down face surrounded by money, and the words "spend" and "save" connected with a double-sided arrow. Achieving prosperity, Mena believes, requires a balance in spending and saving. If you give, she said, you will receive. To Mena, 25, that dynamic also should serve as a metaphor for black artists like herself: By putting work into the world (giving), she said, they can receive abundance for themselves and their communities, not just in the capitalistic sense, but more important, in cultural and spiritual ways. But she and other black artists fear that things don't often work out like that for them. At a time when black creators are being celebrated as much as ever — from Hollywood to the fine ... More
Paul Rudolph and the Dynamic Genius of The Walker Guest House
Flashback
On a day like today, photojournalist Alfred Eisenstaedt was born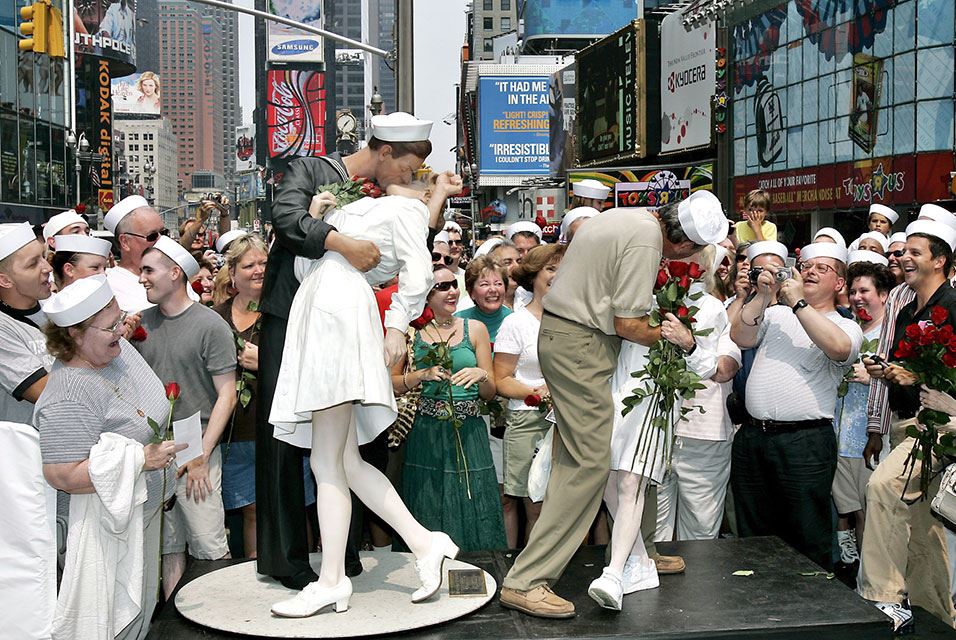 December 06, 1898. Alfred Eisenstaedt (December 6, 1898 - August 24, 1995) was a German-American photographer and photojournalist. He is renowned for his candid photographs, frequently made using various models of a 35mm Leica rangefinder camera. He is best known for his photograph capturing the celebration of V-J Day. In this image: 86 year-old Edith Shain and 78 year-0ld Carl Muscarello recreate the Famous 'Kiss Picture', Sunday 14 August 2005. The original couple in the iconic image, Edith Shain the nurse and Carl Muscarello the sailor was taken by Alfred Eisenstaedt 60 years ago do the day in Times Square on Victory Japan Day in 1945 to signify the end of World War Two. The Artist Seward Johnson created a life-sized sculpture of the kiss Unconditional Surrender for the event.
---

Museums, Exhibits, Artists, Milestones, Digital Art, Architecture, Photography,
Photographers, Special Photos, Special Reports, Featured Stories, Auctions, Art Fairs,
Anecdotes, Art Quiz, Education, Mythology, 3D Images, Last Week,
.
---
Royalville Communications, Inc
produces: