Artemis Gallery to auction important classical antiquities, Asian and ethnographic art
Rare Egyptian wood mummiform sarcophagus depicting Falcon Bird Horus, Late Dynastic Period, circa 26th to 31st Dynasty, circa 664 to 332 BCE. Est. $25,000-$35,000
BOULDER, COLO
.-
On Thursday, February 21,
Artemis Gallery
will conduct a nearly 400-lot auction featuring museum-worthy examples of classical antiquities, Asian and ethnographic art. This highly significant sale showcases investment-grade art and artifacts from Egyptian, Greek, Roman, Etruscan, Near and Far Eastern, Pre-Columbian and African cultures. Additionally, there are Spanish colonial, Native American and Russian artworks and objects, as well as beautiful gold and silver jewelry, some with semiprecious stones. Absentee and Internet live bidding will be available through LiveAuctioneers. The top-estimated lot of the sale is an incredible Urartu bronze helmet from the eastern Anatolia region of modern-day Armenia, Turkey, Iran, Azerbaijan and Georgia. Exhibiting astonishing artistry and iconography, the circa-8th-7th century BCE (Iron Age III) helmet is composed of bronze that has been skillfully hammered into a conical form to fit snugg ...
More
The Best Photos of the Day
Revolutionary Chagall offered at Bonhams Impressionist and Modern Art Sale in London
The Albertina Museum opens exhibition of watercolors by Rudolf von Alt
Exhibition at Lower Belvedere explores female artists in Vienna from 1900 to 1938


Detail of Autour de 'La Revolution 1937' by Marc Chagall. Estimate: £300,000-500,000. Photo: Bonhams.



LONDON.- Autour de 'La Revolution 1937', a remarkable, and joyous work painted in the aftermath of the Second World War by the Russian-French artist Marc Chagall, leads Bonhams Impressionist and Modern Art Sale in London on Thursday 28 February. It is estimated at £300,000-500,000. The 1917 Revolution and subsequent Russian Civil War were key events in Chagall's artistic development. 20 years later – having moved to Paris in 1923 from his home town of Vitebsk – he embarked on his Révolution series. Over several, similarly structured, works, Chagall juxtaposes political upheaval, represented by the revolutionaries on the left side of the canvases, with artistic and domestic harmony in the form of musicians, roof tops, animals and lovers on the right. Separating these two worlds, the figure of Lenin is shown performing a handstand on a table, at which sits a rabbi contemplating the Torah. Chagall ... More



Rudolf von Alt, The Staircase of the k. k. Court Opera Theater, 1873. Watercolor © LIECHTENSTEIN. The Princely Collections, Vaduz–Vienna.



VIENNA.- This presentation, which is the second part of the celebratory exhibition marking the Principality of Liechtenstein's Tricentennial, is devoted to the Viennese watercolor from the Biedermeier era to realism. Nearly 100 of the most beautiful watercolors point to the vast knowledge underlying the princely collecting passion while providing a correspondingly overview of the watercolor artistry of this era. In the Viennese tradition of watercolor painting, the spontaneous handling of light and coloration plays a central role, conveying an intensity and presence that can hardly be achieved in other media. One sees this in how the brilliant magnificence of aristocratic home decor is reflected by Rudolf von Alt in his depictions of the Viennese Liechtenstein palaces' representative interiors that that the family commissioned from over a period of several decades. The Princely Family maintained numerous estates ... More



Helene Funke, Nude Looking in the Mirror, 1908-1910 © Belvedere, Wien. Photo: Johannes Stoll © Belvedere, Vienna.



VIENNA.- At the beginning of the twentieth century, women were firmly anchored in Vienna's art scene. They exhibited on equal footing with Gustav Klimt and Egon Schiele and made notable contributions to the era of Viennese Modernism. With the 1938 Anschluss (annexation), they were banished from art history and seemingly forgotten. City of Women takes an important step in bringing these artists back into focus and paying tribute to their enduringly impressive achievements. According to Stella Rollig, artistic director of the Belvedere: "The Belvedere is famous for its collection of works from the period of Viennese Modernism. It is therefore all the more important to me to make the forgotten female side of this epoch visible in its full dimension. The artists of those years were and still are a great inspiration, and their works have been wrongly ignored for almost a century." With works by around sixty artists ... More
Michael Hoppen Gallery exhibits legendary sports images shot by Gerry Cranham
Galerie Thaddaeus Ropac opens the largest solo exhibition in the UK to date of the work of Erwin Wurm
The V&A acquires theatrical archive of Ivan Kyncl


Untitled (Horse Race) © Gerry Cranham. Courtesy of Michael Hoppen Gallery.



LONDON.- Over the course of a career which spanned half a century, British photographer Gerry Cranham led the field of sports photography, defining how we understand this genre today. Now in his 90th year, this ground-breaking artist's legacy is being exhibited at the Michael Hoppen Gallery, in the first exhibition of its kind to honour this sporting icon. Cranham's reputation rests on his legendary sports images, but he also recorded some of the 20th Century's most dramatic moments, from documenting the funeral of JFK to capturing Steve McQueen at the height of his celebrity. Cranham has also been widely credited with pioneering innovative photographic practises, including his use of long- lead cable remote techniques, and his introduction of colour action shots. "I had to do it discreetly, hide the camera and then collect it later" Cranham commented, after he became ... More



Erwin Wurm.



LONDON.- Galerie Thaddaeus Ropac London presents Erwin Wurm: New Work, the largest solo exhibition in the UK to date of works by the Austrian artist (b.1954), who has expanded conceptions of sculpture and the human form over the last thirty years. The exhibition encompasses the artist's new group of ceramic works, which take the form of bodily abstractions; new works on paper; a new work in his Fat Car series; the latest in his humanoid Stone sculptures, which stand upright on legs; Polaroids recording recent One Minute Sculptures and live performances of a One Minute Sculpture on loan from Tate's permanent collection.Throughout the show's run, visitors are invited to participate in creating their own One Minute Sculpture according to the artist's instructions, which will be recorded in a photograph for them to keep. Erwin Wurm's sustained interest in the varied intersections of the physical and psychological ... More



Alan Rickman in Tango at the End of Winter, 1991, Piccadilly Theatre, London © Ivan Kyncl. Courtesy of the V&A, London.



LONDON.- Today the V&A announces that it has acquired the extraordinary theatre photography archive of Czech-born photographer, Ivan Kyncl (1953 – 2004). Kyncl arrived in the UK as a political refugee in 1980. After a series of ad-hoc commissions, including work for Harold Pinter, it was his rehearsal images for a play by Czech dissident (and later President) Václav Havel that earned him his first significant job with the Royal Shakespeare Company in 1985. Acquired directly from Kyncl's family, The Ivan Kyncl Theatrical Archive comprises 100,000 negatives and several prints. As one of the most revered theatre photographers of the late 20th century, Kyncl captured actors from Fiona Shaw to Alan Rickman and Antony Sher, as well as playwrights Arthur Miller, Harold Pinter and Tom Stoppard. He travelled the UK ... More
The Sammlung Moderne Kunst opens exhibition of works by Franz Radziwill
Christie's announces the second edition of Masterpieces of Design and Photography
"Kissing sailor" in iconic NY picture dies age 95


Franz Radziwill, Polder Road to Varel Harbour, 1938 (detail). Oil on canvas on wood, 72 x 97 cm. Bayerische Staatsgemäldesammlungen, Sammlung Moderne Kunst at the Pinakothek der Moderne, Munich, acquired in 2018 from a private collection with the support of Theo Wormland Foundation © VG Bild-Kunst, Bonn 2019.



MUNICH.- The Sammlung Moderne Kunst is presenting a recently acquired work of Classical Modernism that significantly expands the New Objectivity section. 'Grodenstraße nach Varelerhafen' (Polder Road to Varel Harbour) by Franz Radziwill was bought in 2018 – the first work by the artist to be purchased by the Bayerische Staatsgemäldesammlungen. The landscape was painted in 1938 when Radziwill's involvement within the Nazi art network was particularly ambivalent. The north German painter Franz Radziwill (1895–1983) is one of the most important representatives of Magic Realism in Germany. 'Polder Road to Varel Harbour' of 1938 is an outstanding example of Radziwill's atmospheric ... More



The Orgone Stretch Lounge by Marc Newson. Estimate: £300,000 - £500,000. © Christie's Images Ltd 2019.



LONDON.- As part of its season of curated sales in London this March, Christie's will offer the second edition of Masterpieces of Design and Photography, which will follow the Post-War and Contemporary Evening sale in London on 6 March. Building on the success of the first edition of this sale in 2017, this season will present collectors and design enthusiasts with exceptional works of 20th and 21st centuries photography and design. Highlights range from El Lissitzky's iconic self-portrait from 1924, The Constructor, (estimate: £800,000 – £1,200,000) to Italian mid-century rarities by Gio Ponti and Carlo Mollino. Further masterworks by Edward Weston, Diane Arbus, Bernd & Hilla Becher and Wolfgang Tillmans are presented alongside a key mid-century works by Charlotte Perriand, Marc du Plantier, Poul Henningsen and Carlo Scarpa, through to contemporary works by the leading designers of today, including ... More



In this file photo John Seward Johnson II's "Unconditional Surrender" stands in the center of Times Square on August 14, 2015 in New York City. The sculpture was part of a celebration of the 70th anniversary of Victory in Japan Day that also included a recreation of the famous kiss by Ray and Ellie Williams, Navy veterans celebrating their 70th wedding anniversary. Bryan Thomas/Getty Images/AFP.



WASHINGTON (AFP).- The sailor pictured kissing a woman in Times Square as people celebrated the end of World War II has died at age 95, his daughter told the Providence Journal. George Mendonsa had a seizure Sunday after falling at an assisted living facility in Middleton, Rhode Island, his daughter Sharon Molleur said. In the famous image, one of four taken by Alfred Eisenstadt for Life magazine, Mendonsa is seen ecstatically bending over and kissing a woman in a white nurse's uniform. The picture was published by Life as "V-J Day in Times Square." Mendonsa, who served in the Pacific during World War II, was on home leave when the ... More
Gagosian opens an exhibition of paintings and works on paper by John Currin
Forget Saoirse Ronan - this is what Mary, Queen of Scots really looked like
Rarer than a Sumatran rhino: a woman composer


John Currin, Crystal's Friend, 2011. Oil on canvas, 24 x 18 in., 61 x 45.7 cm © John Currin. Photo: Rob McKeever. Courtesy Gagosian.



GENEVA.- Gagosian is presenting an exhibition of paintings and works on paper by John Currin, made between 1989 and 2014. Throughout his career, Currin has searched for the point at which the beautiful and the ugly are held in perfect balance. With his mastery of graphic and painterly techniques, combined with a predilection for the extreme, the humorous, and the ribald, his subjects challenge social and sexual taboos while subverting the historical linearity of artistic genres. References to Old Master portraits, pinups, pornography, and B-movies are channeled into ideational yet perverse images of women, from lusty nymphs to dour matrons. Several paintings in this exhibition from different junctures in Currin's trajectory reveal evolutions in technique and ... More



Mary, Queen of Scots, Studio of François Clouet, c.1560 © Hever Castle & Gardens.



HEVER.- 432 years after she died in 1587 - a portrait of Mary, Queen of Scots has gone on display at Hever Castle, in Kent. The extremely rare painting of the monarch – whose life story has been dramatized in the hit movie, Mary Queen of Scots, with actress Saoirse Ronan portraying her - was officially unveiled in the castle's Staircase Gallery by one of the world's leading experts on Tudor history, Dr David Starkey. Paintings of Mary created during her lifetime are few and far between, as Dr Starkey explains: "In Scotland, which she ruled in person as queen-regnant from 1561 to 1568, there were few painters of talent; while in England, where she spent the rest of her life, she was a political prisoner - though in 1578 she did manage to sit for an important portrait miniature by Nicholas Hillyard, which is the basis of almost all her subsequent ... More



French music composer Camille Pepin poses in her studio in Paris on February 11, 2019. Thomas SAMSON / AFP.



PARIS (AFP).- Camille Pepin is part of a very rare breed. She is a female composer. Women have conquered space, risen in the military ranks, but some professions remain resolutely and bewilderingly masculine. When Pepin turned up for her first day at the Paris Conservatoire -- as usual the only woman in a class of men -- an official told her that her name wasn't on the list. But when she insisted that she was and that he look again, he cried, "Ah, you're a woman!" Camille is also a man's name in France. "I would never have thought," he apologised. "There are so many men..." With so few female composers in the classical music repertoire, it was an easy mistake to make. Pepin has never let everyday sexism get her down though, laughing it off like water off a duck's back. "One male composer ... More
Agnes Gund and Oprah Winfrey Join Forces to Support Tomorrow's Women
Flashback
On a day like today, Romanian-French artist Constantin Brâncusi was born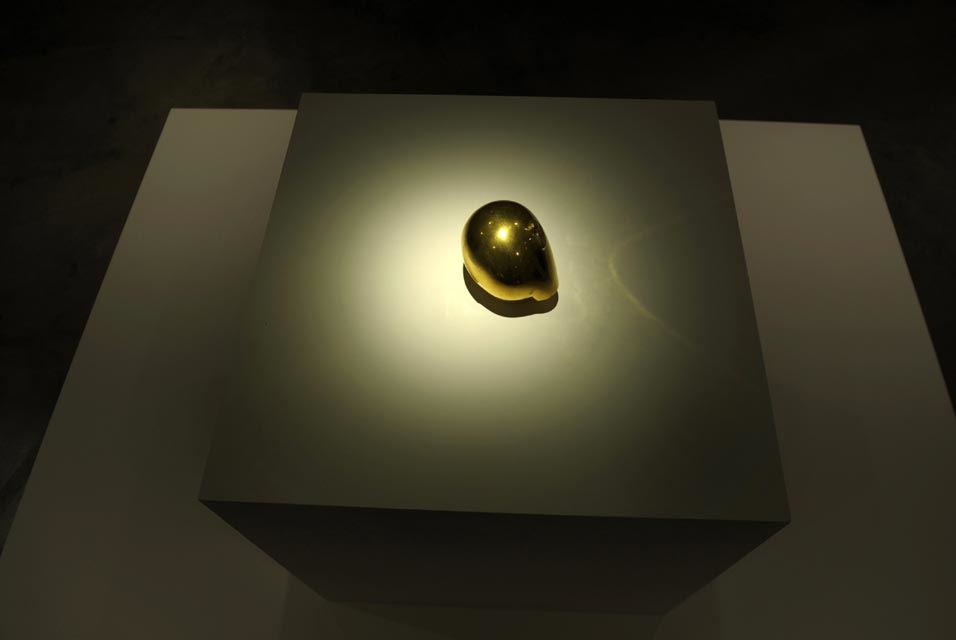 February 19, 1876. Constantin Brâncusi (February 19, 1876 - March 16, 1957) was a Romanian sculptor, painter and photographer who made his career in France. Considered a pioneer of modernism, one of the most influential sculptors of the 20th-century, In this image: The 1911 gilded bronze sculpture "Prometheus" by Constantin Brancusi is displayed during a preview of "Brancusi Serra" at the Guggenheim Museum in Bilbao October 7, 2011. Curator Oliver Wick described the third element of the interaction between the two sculptors as Frank Gehry, architect of the museum.
---

Museums, Exhibits, Artists, Milestones, Digital Art, Architecture, Photography,
Photographers, Special Photos, Special Reports, Featured Stories, Auctions, Art Fairs,
Anecdotes, Art Quiz, Education, Mythology, 3D Images, Last Week,
.
---
Royalville Communications, Inc
produces: