Bruce Museum opens science exhibition about sharks
Hammerhead Skull. Bruce Museum Collection.
GREENWICH, CONN
.-
Few creatures inspire so much fascination – and fear – as sharks. However, sharks are far from the mindless killing machines that they are commonly portrayed to be. Worldwide, biologists have identified about 470 species of sharks, a cartilaginous fish in the class of Elasmobranchii. Some live peaceful lives skimming plankton from the water with specialized gill rakers. Others have robust social lives and remember their favored companions year after year. A few turn the phrase "cold-blooded killer" on its head even more thoroughly and actually have warm blood pumping through their veins. On view at the
Bruce Museum
in Greenwich, CT, a new exhibition, Sharks!, poses this question: How much of what is commonly "known" about sharks is fact, and how much is fiction? ...
More
The Best Photos of the Day
The Musée Maillol exhibits masterpieces from the Emil Bührle Collection
Self-Portrait by William Blake to be exhibited in the UK for the first time
Tutankhamun's priceless treasures return to Paris for the first time in a generation


Paul Cézanne, Le Garçon au gilet rouge, 1888-1890. Huile sur toile, 79,5 x 64 cm. Collection Emil Bührle, Zurich © SIK-ISEA, Zurich (J.-P. Kuhn).



PARIS.- The Musée Maillol is exhibiting masterpieces from the Emil Bührle Collection, one of the most prestigious private collections in the world. Exhibited for the first time in France, this ensemble, which was assembled between 1936 and 1956 in Zurich, provides a panorama of French art from the nineteenth century and the beginning of the twentieth century. The manufacturer Emil Georg Bührle (1890–1956), who was born in Germany, settled in Switzerland in 1924 and collected—mainly between 1951 and 1956—more than 600 artworks. For the first time in Paris, some of these masterpieces are presented and brought together within the same exhibition. Featuring around fifty works from the Emil Bührle Collection, the exhibition includes several modern art movements: works by the major Impressionists (Manet, Monet, Pissarro, Degas, Renoir, and Sisley) and ... More



William Blake (1757-1827), Portrait of William Blake 1802. Pencil with black, white, and grey washes, 243 x 201 mm. Collection Robert N. Essick.



LONDON.- A portrait of William Blake, thought to be his only self-portrait, will be exhibited in the UK for the first time in a major survey of his work at Tate Britain. In the 200 years since its creation, the detailed pencil drawing only been shown once before and never in the artist's own country. It offers a unique insight into the visionary painter, printmaker and poet responsible for some of Britain's best loved artwork and will be displayed alongside a sketch of Blake's wife Catherine from the same period, highlighting her vital contribution to his life and work. Created when Blake was around 45 years old, the work is thought to present an idealised likeness. Rather than showing Blake as a painter or engraver, signs of his creative intensity are conveyed in his direct hypnotic gaze. This compelling image was produced after 1802, at a turning-point in Blake's life. Having lived in Sussex for three ... More



The exhibition's curated collection features more than 150 original artefacts from Tutankhamun's tomb.



PARIS.- Celebrating the 100-year anniversary of the discovery of his tomb, the new Tutankhamun, Treasures of the Golden Pharaoh exhibition is currently on view in Paris. More than 50 years after his treasures attracted more than 1.2 million visitors to the 'exhibition of the century' in Paris in 1967, this is a unique opportunity to rediscover the legend, before the artefacts are permanently housed in the Grand Egyptian Museum in Cairo. Presented by the Egyptian Ministry of Antiquities and IMG at the Grande Halle de la Villette, in collaboration with the Louvre in an advisory role, the exhibition's curated collection features more than 150 original artefacts from Tutankhamun's tomb including a number of the young sovereign's personal objects that accompanied him in both life and death: gold jewellery, sculptures and ceremonial objects. FedEx, the tour's official logistics provider, utilised its global network to ... More
Exhibition features large-scale paintings from two new series of works by Zhou Li
Remarkable results at Rago, including Asian art works, important silver, and fine decorative objects
MoMA surveys gender representation, sexual identity, and feminism in movie marketing posters


Zhou Li in her studio, Shenzhen 2018 © Zhou Li Studio. Courtesy White Cube.



LONDON.- White Cube is presenting an exhibition by Zhou Li at Bermondsey. Featuring large-scale paintings from two new series of works, it marks the artist's first solo exhibition in the UK. The title of the exhibition, 'Original State of Mind', relates to the unique position that Zhou Li occupies when making art. Throughout her practice, she seeks to question the relationship between herself and her surroundings, explaining: 'The way people normally view the world is as through a window, from inside out or outside in, but I try to stand in the middle. I see myself from a neutral point of view, and I see the world from a neutral point of view at the same time.' In her abstract paintings, Zhou attempts to position herself outside of the usual parameters of perception – a process that is normally accepted as either subjective or objective. Attempting to access an unhindered way of observing and understanding, she ... More



Lot 441: KPM Porcelain Mantle Clock. Sold for: $46,875.



LAMBERTVILLE, NJ.- Rago Auctions April 13-14 auction series brought in a total of $1,643,875 across three segments. The two-day auction series saw strong prices achieved for a wide range of property, with the most impressive results coming from the Sunday sessions: Selections from the Estate of Hellen + Joe and Darion and Remix: American, English and Continental Silver. The auction series kicked-off on Saturday at 10 a.m. with Remix: Classic + Contemporary, featuring 655 lots of design, furniture, lighting and decorative objects spanning centuries and styles. The star of the segment, and the top lot of the weekend, was lot 441, an impressive KPM porcelain mantle clock from Austria, which sold for $46,875. The ca. 1900 clock, surmounted by the Greek Titan Chronos and flanked by Sphinx and Cupid, was appraised at $25,000 - $35,000 last year on the hit PBS series, Antiques Roadshow, appearing ... More



Johanna Enlists. 1918. Ira M. Resnick Collection.



NEW YORK, NY.- The Museum of Modern Art opened What Price Hollywood, an exhibition exploring the gender roles and relationships displayed in studio-era movie posters, on view from April 8 through June 16, 2019. Taking inspiration from George Cukor's 1932 film of the same name, the exhibition and an accompanying film series demonstrate how masculine and feminine stereotypes were employed in the marketing of classical-era films. Featuring some 138 posters and lobby cards from collector Ira Resnick and the Museum's own collection, dating from the silent cinema era through the 1970s, the exhibition highlights ways in which graphic and photographic representation on film posters shaped the movie-going public's understanding of romance and sex. What Price Hollywood is organized by Ron Magliozzi, Curator, and Brittany Shaw, Curatorial Assistant, Department of Film. Beyond the nostalgia for cinema history that traditionally frames today's ... More
Tate acquires installation, The British Library, by Yinka Shonibare
Exceptional Marini sculpture highlights Bonhams Impressionist and Modern Art sale
Prince memoir to be released in October


The British Library, 2014, by Yinka Shonibare. Tate Modern 2019. © Yinka Shonibare. Photograph. Oliver Cowling, Tate. Purchased with Art Fund support and funds provided by the Tate International Council, the Africa Acquisitions Committee, Wendy Fisher and THE EKARD COLLECTION, 2019.



LONDON.- Highlighting the impact of immigration on British culture, The British Library is a site-specific installation with a digital platform for visitors to join in the discussion. Open to the public for free as part of Tate Modern's collection displays. Tate today announced that it has acquired the installation The British Library by Yinka Shonibare CBE, originally commissioned by HOUSE 2014 and Brighton Festival and shown in the Old Reference Library at Brighton Museum and Art Gallery. The British Library is a celebration of the diversity of the British population, containing 6,328 books bound in 'Dutch wax print', a fabric characteristically used by the artist in his work. The installation, in which the books are arranged on rows of shelves, also contains an area for audiences ... More



Marino Marini, Studio per Miracolo, conceived and cast in 1953-54 (estimate: $500,000-700,000). Photo: Bonhams.



NEW YORK, NY.- Bonhams New York upcoming sale of Impressionist and Modern Art on May 14 is led by Marino Marini's Studio per Miracolo, an exceptionally rare example of the artist's important and enduring theme: the horse and rider (estimate: $500,000-700,000). Conceived and cast in 1953-54 during the artist's lifetime, this work is remarkable for its dramatic depiction of a precise and critical moment in which the horse has fallen and its rider is thrown backward. Throughout his career, Marini's equestrian sculptures grew increasingly stylized and abstract, and Studio per Miracolo is a powerful reflection of the artist's dramatic view of the world. Other casts from the Studio per Miracolo edition reside in the permanent collections of the Marino Marini Museum in Florence and the Kunstmuseum Winterthur in Switzerland. This sculpture was first owned by Walter Fontana (1919-1992), an Italian Senator and esteemed art ... More



This photo taken on May 4, 1994 shows musician Prince performing onstage during the World Music Awards ceremony in Monaco. Patrick HERTZOG / AFP.



WASHINGTON.- Prince's unfinished memoir, "The Beautiful Ones," will be released in October, its publisher announced Monday -- three years after the singer's sudden death in April 2016. The "Kid from Minneapolis," who died of an accidental fentanyl overdose aged 57, had announced a month before his death he would tell his story in his own words in a book originally set for release in 2017. Publisher Penguin Random House said the book -- now to be released on October 29 -- would contain previously unseen photos, scrapbooks and lyric sheets, as well as the memoir Prince had started to write. "This work is not just a tribute to Prince, but an original and energizing literary work, full of Prince's ideas and vision, his voice and image, his undying gift to the world," Penguin Random House said of the book, which will be published by its imprint Spiegel and Brau. The memoir will also feature an introduction by ... More
Phillips to offer artworks benefiting Artadia
Exhibition at Mucem questions notions of identity and identification through different motif
Group show inaugurates Tim Van Laere Gallery's new space


Shara Hughes, Cliffhanger, 2018. Estimate: $5,000-7,000. Courtesy of the Artist and Rachel Uffner Gallery, New York.



NEW YORK, NY.- Phillips announced that proceeds from fourteen works of art in the Day Sale of 20th Century & Contemporary Art on 15 May will benefit Artadia in a celebration of the non-profit organization's twentieth anniversary. The works, which will be included in the Afternoon Session of the Day Sale, have been donated by some of the most significant artists working today, including Shara Hughes, Jonas Wood, Cecily Brown, and Larry Bell. Proceeds from the sale of these works of art will support and expand Artadia's vital mission of supporting artists through unrestricted grants. In addition to offering works in the Day Sale in May, Phillips will also host Artadia's annual benefit on 29 April. Carolyn Ramo, Artadia's Executive Director, said, "This partnership with Phillips comes at a time when Artadia's mission has never been so transformational or imperative. Artists are the integral fabric of our communities and cu ... More



Priest's mask, Galati, Moldovan Romania, 20th century, Ethnology of Europe collection, Musée national d'histoire naturelle, deposited at the Mucem © MNHN, photo Mucem.



MARSEILLE.- The exhibition "Persona. Works by Romanian artists" questions notions of identity and identification through different motifs, such as the mask. It first considers the links between ethnographic heritage and rites of folklore and mythology, before proposing a broad critical examination of national, cultural, and ethnic affiliations. The Latin term "persona" has had an ambiguous development, from its original meaning to its current semantic applications in Latin languages, leaving the field wide open to a broad interpretation of what "person" and "character" can mean today, especially given the virtual avatars of new technologies. Made up of different stories that question the nuances between local particularity and universal character, the exhibition "Persona" presents a panorama of the most significant artistic engagements of Romanian art today. Artists of the ... More



Jonathan Meese, DIKTATUR der Kunstknüppel aus dem Sack: Übung Macht den Meisterz (Daddy d'Ahab is back), 2019. 5 panels, acrylic on canvas, 360 x 950 cm. Courtesy Tim Van Laere Gallery, Antwerp.



ANTWERP.- Tim Van Laere Gallery opened the doors of its new gallery space, designed by architects OFFICE Kersten Geers David Van Severen. The opening exhibition, entitled KUNST KUNST KUNST (ART ART ART), presents new work by Adrian Ghenie, Jonathan Meese and Rinus Van de Velde. Van de Velde reveals for the first time a new series of color drawings and new sculptures in ceramics. The exhibition title immediately reveals the essence of the gallery. For Tim Van Laere Gallery, art and artists are the most important elements. The new building also makes this statement in its immediate surroundings, and will make art visible and accessible to everybody in the city. But this new step also shows the ambition of the gallery. The building itself is impressive: it is 1000m2 in size (5 times the size of the previous gallery space) and has ceilings of 5 and 8 meters high. Brussels-based ... More
Princess Cecilie of Prussia's Fabulous Fabergé Tiara
Flashback
On a day like today, American model and photographer Lee Miller was born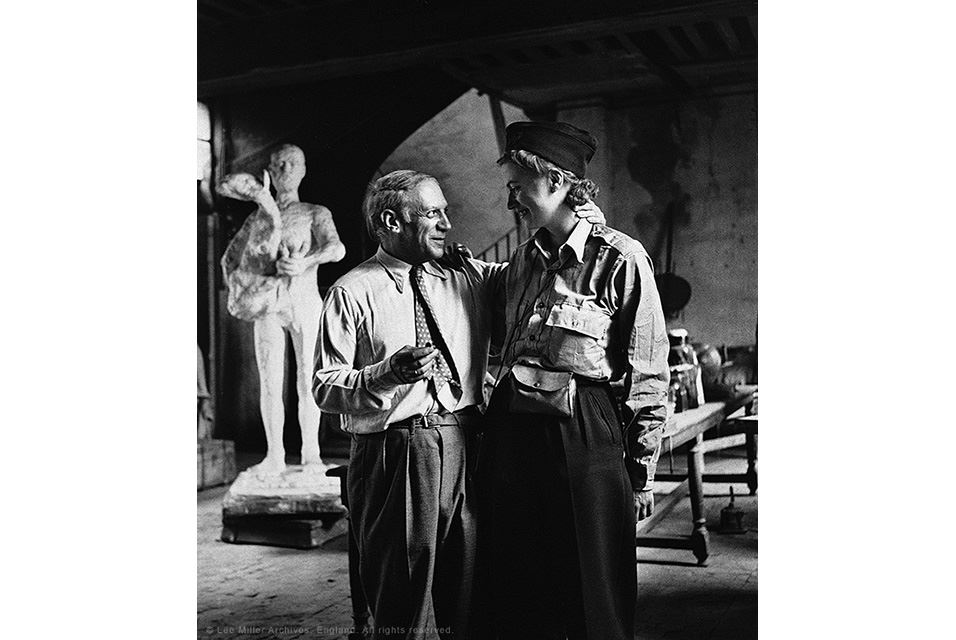 April 23, 1907. Elizabeth "Lee" Miller, Lady Penrose (April 23, 1907 - July 21, 1977), was an American photographer. She was a fashion model in New York City in the 1920s before going to Paris, where she became a fashion and fine art photographer. In this image: Lee Miller, Pablo Picasso and Lee Miller after the liberation of Paris, Rue de Grand Augustins, Paris, France, 1944. Photographer: Lee Miller. Negative Number: NC0002-1. Notes: DF VB>BW © Lee Miller Archives, England 2015. All rights reserved. ©Succession Picasso/DACS, London 2015.
---

Museums, Exhibits, Artists, Milestones, Digital Art, Architecture, Photography,
Photographers, Special Photos, Special Reports, Featured Stories, Auctions, Art Fairs,
Anecdotes, Art Quiz, Education, Mythology, 3D Images, Last Week,
.
---
Royalville Communications, Inc
produces: