Art expert stakes reputation on 'lost' $170 million Caravaggio
Workers carry a painting believed by some experts to be Caravaggio's "Judith Beheading Holofernes" for its public presentation at the Drouot auction house in Paris on June 14, 2019 before it goes under the hammer on June 27 in Toulouse, the city where it was discovered five years ago. FRANCOIS GUILLOT / AFP.

by Jean-Louis De La Vaissiere
PARIS
(AFP)
.-
Art expert Eric Turquin is not only convinced that a canvas found in the attic of an old house in southwest France is a Caravaggio -- he believes it is a revolutionary masterpiece. France's leading authority on Old Masters paintings has staked his reputation on the assertion that the work -- left forgotten under an old mattress for 100 years -- is the fiery Italian artist's lost "Judith and Holofernes". The painting depicting a grisly biblical scene of the beautiful Jewish widow Judith beheading a sleeping Assyrian general will be displayed in Paris on Friday before it goes under the hammer on June 27 in Toulouse, the city where it was discovered five years ago. Turquin said it should sell for between 100 and 150 million euros (up to $170 million). "Not only is it a Caravaggio, but of all the Caravaggios that are known today, this is one of the great pictures," he insisted. ...
More
The Best Photos of the Day
Old Masters rare at auction
Berlin Jewish Museum head quits after controversial tweet
Hauser & Wirth to open an arts centre on Menorca


Leonardo da Vinci (1452-1519), Salvator Mundi, c. 1500 Oil on walnut panel, 25 13/16 X 17 7/8 inches (65.6 X 45.4 cm) © 2011 Salvator Mundi llc. Photo: Robert Simon, Tim Nighswander.



PARIS.- The sale at auction of old masterpieces is extremely rare, with most such works already held by museums or public collections. Of 311 pieces ever to have surpassed the $30 million (26.6 million euro) mark at auction, only 13 were by Old Masters, the leading painters in Europe before 1800, according to an AFP database. These include paintings by Leonardo da Vinci, Raphael, Rembrandt and Vermeer. A painting believed by some experts to be Caravaggio's "Judith Beheading Holofernes" is being presented in Paris on Friday ahead of its auction in the southern city of Toulouse. It was discovered in a Toulouse attic in 2014 and is could join this elite club. In comparison, 142 of those that fetched more than $30 million are by Impressionist or modern artists and 132 are contemporary. They include 32 paintings by Pablo Picasso, 27 by Andy ... More



Director of the Jewish Museum in Berlin Peter Schaefer quit on June 14, 2019 following mounting pressure over a tweet he made. John MACDOUGALL / AFP.



BERLIN (AFP).- The director of Berlin's Jewish Museum resigned on Friday amid controversy over a tweet sent linking to an article that criticised the German parliament for passing legislation against the BDS movement, which demands a boycott of Israel. Professor Peter Schaefer proposed his resignation "to avoid further damage" to the Jewish Museum, a statement on its website said. It was accepted, the statement added, but no specific reason for his departure was given. The German parliament last month condemned the BDS movement -- which stands for Boycott, Divestment, Sanctions -- as anti-Semitic. Lawmakers said the group uses anti-Semitic methods to promote its political goals -- a claim firmly rejected by the movement, which calls for a cultural boycott of Israel over its policies towards Palestinians. BDS recently called for artists to boycott the Eurovision ... More



Isla del Rey. Courtesy Hauser & Wirth. Photo: Hélène Binet.



MENORCA.- Hauser & Wirth today announced plans to open an arts centre on Isla del Rey, located in the port of Mahon in Menorca. The centre's programme will span ambitious new commissions by gallery artists across all media and exhibitions of 20th-century modern masters, underpinned by a robust series of educational activities. The annual series of changing exhibitions will be presented from April to October and, to contextualise works on view, some will include major loans from museums. Isla del Rey, one of three islands in Mahon port, is home to an architecturally imposing decommissioned naval hospital and a group of disused outbuildings built in the 18th-century. La Fundación Hospital de la Isla del Rey has spearheaded the ongoing restoration of the hospital buildings and creation of a museum celebrating their illustrious history. Working closely with La Fundación Hospital de la Isla del Rey, the President of its board Luis Alejandr ... More
Only 9% of millions pledged for Notre-Dame handed over
Phillips announces highlights from the London Sales of 20th Century & Contemporary Art
Muhammad Ali's autographed gold glove fails to sell at Turin auction


This aerial picture taken on June 12, 2019 in the French capital Paris shows the Notre Dame de Paris cathedral under repair after it was badly damaged by a huge fire on April 15. Lionel BONAVENTURE / AFP.



PARIS (AFP).- Less than a tenth of the hundreds of millions promised to help rebuild Notre-Dame cathedral in Paris has been donated, the French culture ministry said Friday. Only 80 million euros of the 850 ($955 million) pledged to reconstruct the iconic monument has been handed over -- and most of that has come in small sums given by ordinary people. Two of France's richest men, fashion moguls Bernard Arnault and Francois-Henri Pinault, were quick to promise 300 million euros between them after the medieval landmark was devastated by a fire which shocked the world two months ago. The cathedral's vaulted roof "could still collapse" at any moment, Culture Minister Franck Riester warned Friday as he confirmed the slow pace at which pledges were turning into cash. The Bettencourt family, who own the cosmetics giant L'Oreal, also said they would put 200 million euros into the pot. But Riester ... More



Roy Lichtenstein, The Conductor, 1975. Oil and Magna on canvas, 188 x 137.2 cm (74 x 54 in.). Estimate £4,000,000 - 6,000,000. Image courtesy of Phillips.



LONDON.- Phillips' June sales of 20th Century & Contemporary Art will offer works from a number of private collections, including the Miles & Shirley Fiterman Collection, property from the Estate of Ryan Brant, and property from the collection of American baseball star Alex Rodriguez. The Evening Sale, taking place on 27 June, will present 36 lots of Modern, Post-War, and Contemporary Art, and will be followed by the Day Sale on 28 June, comprising 160 lots. Luc Tuymans's Schwarzheide, 1986, leads this season's Evening Sale with unparalleled conceptual and historical significance. The painting – essentially a landscape depicting a line of sparse pine trees – appears to present an innocuous subject. However, taking its name after a World War II concentration camp, Schwarzheide belongs to a cycle of works that Tuymans commenced in the latter half of the 1980s, touching on themes of loss and violence in the context of t ... More



An auction employee displays a boxing glove autographed by late US boxer Muhammad Ali (In green ink Below Everlast Made in USA), one of the gold leather gloves produced by Everlast to promote the fight against Joe Frazier on March 8, 1971 in New York's Madison Square Garden, on the eve of its auction at Sala Bolaffi on June 12, 2019 in Turin. MARCO BERTORELLO / AFP.



TURIN (AFP).- A rare gold boxing glove made to commemorate Muhammad Ali's "Fight of the Century" against Joe Frazier in Madison Square Garden nearly 50 years ago failed to find a buyer in an auction in Turin on Thursday. The glove was produced by Everlast to promote the world heavyweight title fight on March 8, 1971 during which Ali suffered his first defeat. But it failed to get an offer for the 5,000-euro ($5,637) asking price at Sala Bolaffi in Turin. The glove returns to the collection of its Italian owner, Ezio Scime, a former record company owner, who was in the front row of the fight in New York. "We had ringside seats, between Woody Allen and Frank Sinatra," recalled Scime. "We were so close that when they punched each other we were ... More
Exhibition at Foam unites ten years of Alex Prager's photographic and film works
Latvian National Museum of Art opens an exhibition of works by artist Hilda Vīka
Wide-ranging exhibition reveals how three generations of artists revolutionized the arts in Britain


Crowd #9 (Sunset Five), from the series Long Week-End, 2013 © Alex Prager. Courtesy Alex Prager Studio and Lehmann Maupin, New York, Hong Kong and Seoul.



AMSTERDAM.- In 2012, the American artist Alex Prager (1979, Los Angeles) won the Foam Paul Huf Award for her series Compulsion. Seven years later, Prager returns to Foam with an exhibition entitled Silver Lake Drive, in which she unites ten years of her photographic and film works. Prager's work is cinematic, drawing inspiration from her surroundings, personal experiences, street photography, pop culture and film. She utilises a range of style elements reminiscent of early film genres such as film noir, thriller, melodrama and crime fiction. Women have frequently been the protagonist in Prager's work, driven by emotion. Through the use of saturated colours and familiar imagery, Prager is able to create her own unique world where she explores darker topics in a seductive and unsettling way. Prager's work ... More



Hilda Vīka. Self-Portrait. Ca. 1934. Oil on canvas. Collection of the Latvian National Museum of Art. Photo: Normunds Brasliņš.



RIGA.- An exhibition of paintings and drawings by well-known Latvian artist Hilda Vīka (1897–1963) will be presented in the 4th Floor Exhibition Halls of the main building of the Latvian National Museum of Art in Riga from 15 June to 25 August 2019. Hilda Vīka's peculiarly charming oeuvre was a bright light in the Latvian art scene of the 1920s–30s, in naive sincerity fusing sense and sensibility, natural and imagined subjects and images. Hilda Vīka (Hildegarde Natālija Vīka-Eglīte, 1897–1963) was born in Riga, studied at the Girls' School of Crafts of the Riga Maidens' Union (1911–1916) and Lapsenit's Bookkeeping Course (1916). During World War I, she worked as a nurse, servant and nanny in different corners of the former Russian Empire (1917–1920). In 1920, having returned to Riga, Hilda Vīka studied at the Poeple's University of Latvia ... More



Frederick Sandys, Morgan le Fay, 1864, oil on wood, 24 3/4 × 17 1/2 in., Lent by Birmingham Museums Trust on behalf of Birmingham City Council, Presented by the Trustees of the Feeney Charitable Trust, 1925P104, © Birmingham Museums Trust, Courtesy American Federation of Arts.



SEATTLE, WA.- The Seattle Art Museum presents Victorian Radicals: From the Pre-Raphaelites to the Arts & Crafts Movement (June 13–September 8, 2019), exploring how three generations of rebellious British artists, designers, and makers responded to a time of great social upheaval and an increasingly industrial world. Organized by the American Federation of Arts and the Birmingham Museums Trust, the exhibition features 150 works from the collection of the Birmingham Museum of Art—many of which have never been shown outside of the United Kingdom—including paintings, drawings, books, sculptures, textiles, stained glass, and other decorative arts. They reveal ... More
First major retrospective of Paula Rego's work in England for over 20 years opens at MK Gallery
Silent Beauty invites you to admire the interplay of visual arts, ceramics and kimonos
The Barber Institute celebrates Cassiano dal Pozzo's remarkable contribution to art and science


Paula Rego, Angel, 1998. Pastel on paper mounted on aluminium, 180 x 130 cm © Paula Rego, Courtesy Marlborough Fine Art.



MILTON KEYNES.- The first major retrospective of Paula Rego's work in England for over twenty years will open at MK Gallery in Milton Keynes on Saturday 15 June and will run until 22 September 2019. The exhibition, Paula Rego: Obedience and Defiance, will span Paula Rego's entire career since the 1960s with more than 80 works, including never-before-seen paintings and works on paper from the artist's family and close friends. Paula Rego: Obedience and Defiance, curated by the distinguished art historian and former director of Whitechapel Gallery, Catherine Lampert, presents paintings, pastels, drawings and prints related to political injustices and cultural clichés in broad subjects from dictatorship to backstreet abortion and female genital mutilation. Exhibition highlights include; Abortion Series (1998-9), Rego's response to the failure of the 1998 referendum in Portugal and the government's decision ... More



Zao Wou-Ki, Painting (1959). Finnish National Gallery / Ateneum Art Museum. Photo: Finnish National Gallery / Hannu Aaltonen.



HELSINKI.- From 14 June to 6 October 2019, the Ateneum Art Museum presents the exhibition Silent Beauty – Nordic and East-Asian Interaction. The exhibition delves into the simplified aesthetic that connects the Nordic countries and East Asia, especially in post-World War II art. The exhibition celebrates Finland's and Japan's continued active interaction: in the year 2019, one hundred years will have passed since diplomatic relations were established between the two countries. The Silent Beauty exhibition juxtaposes visual art, ceramics, textile art and architecture by Finnish, Swedish, Japanese, Korean and Chinese artists. The works display a simplified and dynamic aesthetic: geometric shapes, sophisticated colours, and an appreciation of materials link the pieces exhibited. The exhibits include beautiful and functional everyday objects, such as sophisticated Asian ceramics and ... More



Unknown artist, Italian 17th century, A mosaic of birds (now in the Church of S.Maria in Trastevere, Rome).late 1620s Royal Collection Trust / © Her Majesty Queen Elizabeth II, 2019.



BIRMINGHAM.- During the 17th century, Cassiano dal Pozzo and his younger brother, Carlo Antonio, embarked upon an epic attempt to document and record the major fields of knowledge of their day. They assembled a 'Paper Museum' consisting of over 10,000 watercolours, drawings and prints illustrating subjects as diverse as antiquities, architecture, zoology, botany and geology, social customs and ceremonies, costumes, portraits, topography and military maps. Their collection represents one of the most significant attempts before the age of photography to embrace human knowledge in visual form - in many respects, the brothers were proto Instagrammers, creating a visual record of the material world around them. Most of the dal Pozzo collection was acquired by George III in 1762, and is still part of the Royal Collection today. This exhibition – the first ... More
5 Things That Inspire Zarina Bhimji | Artist Interview | TateShots
Flashback
On a day like today, painter Paul Georges was born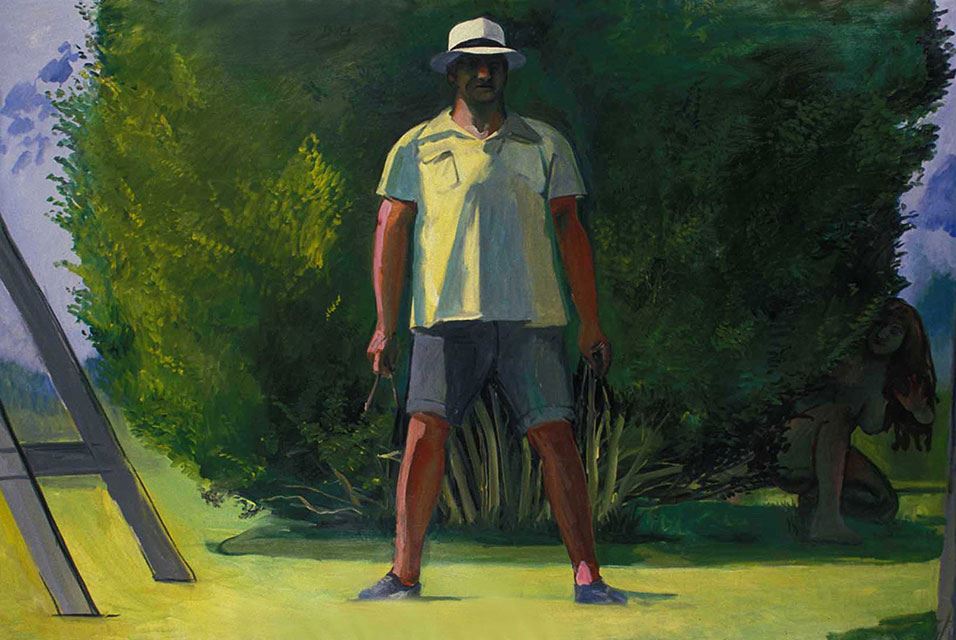 June 15, 1923. Paul Georges (June 15, 1923 - April 16, 2002) was an American painter. He died at his home at Isigny-sur-Mer, Normandy, France, aged 77. He painted large-scale figurative allegories and numerous self-portraits. In January 1966, the cover of Art News featured "In The Studio" now in the collection of the Whitney Museum of American Art. Works were included in Whitney Museum Annuals of 1961, 1963, 1967 & 1969. In this image: Muse Comes to Consult, 72 x 120 w, 1983.
---

Museums, Exhibits, Artists, Milestones, Digital Art, Architecture, Photography,
Photographers, Special Photos, Special Reports, Featured Stories, Auctions, Art Fairs,
Anecdotes, Art Quiz, Education, Mythology, 3D Images, Last Week,
.
---
Royalville Communications, Inc
produces: