Ancient monkey skull reveals secrets of primate brain evolution
An exceptional fossil skull of Chilecebus carrascoensis, a 20-million-year-old primate from the Andes mountains of Chile. © AMNH/N. Wong and M. Ellison.
NEW YORK, NY
.-
It has long been thought that the brain size of anthropoid primates—a diverse group of modern and extinct monkeys, humans, and their nearest kin—progressively increased over time. New research on one of the oldest and most complete fossil primate skulls from South America shows instead that the pattern of brain evolution in this group was far more checkered. The study, published today in the journal Science Advances and led by researchers from the
American Museum of Natural History
, the Chinese Academy of Sciences, and the University of California Santa Barbara, suggests that the brain enlarged repeatedly and independently over the course of anthropoid history, and was more complex in some early members of the group than previously recognized. "Human beings have exceptionally enlarged brains, but we know very little about how far back this key trait started to develop," said lead author Xijun Ni, a research associate ...
More
The Best Photos of the Day
See grand vistas and spectacular sights without leaving the city at New-York historical Society
Akron Art Museum adds work by Jenny Holzer to its collection
The personal passions and public causes of Prince Albert are revealed in new online exhibition


John Frederick Kensett (1816–1872), View from Cozzens' Hotel, near West Point, N.Y., 1863. Oil on canvas. Robert L. Stuart Collection, the gift of his widow Mrs. Mary Stuart, S-189.



NEW YORK, NY.- Grand waterfalls. Sweeping river views. Majestic cities. Gritty streetscapes. New-York Historical Society's new exhibition is a feast for the eyes. Panoramas: The Big Picture, on view August 23 – December 8, 2019, explores wide-angle, bird's-eye imagery from the 17th to the 20th century, revealing the influence that panoramas had on everything from mass entertainment to nationalism to imperial expansion. Through more than 20 panoramas, the exhibition presents the history of the all-encompassing medium in New York City, San Francisco, and beyond. "The outstanding works from our collection displayed in Panoramas: The Big Picture bring us back to a time before IMAX or virtual reality, when immersive artworks transported viewers to grand vistas that transformed our vision of the world," said Dr. Louise Mirrer, president and ... More



Jenny Holzer, All Fall, text: Truisms (1977 – 79); Living (1980 – 82) and Survival (1983 – 85), array of five double-sided LED signs with stainless steel housings: blue and green diodes on front, red and yellow diodes on back, 103 ½ x 95 x 103 ½ in., Collection of the Akron Art Museum, Museum Acquisition Fund 2018.14, ©Jenny Holzer, member Artists Rights Society (ARS), NY, Photo: Xavier Duran, Courtesy Sprüth Magers.



AKRON, OH.- A signature artwork by groundbreaking, internationally celebrated artist Jenny Holzer is coming to the Akron Art Museum, for keeps. The museum has acquired All Fall (2012), a sculptural installation consisting of LED signs that broadcast classic texts written by the artist in the late 1970s through the mid-1980s. Holzer, an Ohio-born and educated artist, is a major figure in late 20th and early 21st century art. Her work explores new possibilities in digital-based sculpture and she pioneered the use of information technology as social intervention. Museum staff will install All Fall in the museum's Sandra L. and Dennis B. Haslinger ... More



After Roger Fenton, Prince Albert, May 1854, 1889 copy of the original. Royal Collection Trust/ © Her Majesty Queen Elizabeth II 2019.



LONDON.- More than 17,500 photographs, prints and private and official papers relating to Prince Albert, consort of Queen Victoria, are published online today, 23 August 2019, the majority publicly available for the first time. The new website 'Prince Albert: His Life and Legacy' (albert.rct.uk) sheds fresh light on Albert's contribution as Queen Victoria's unofficial Private Secretary, a guide and mentor to some of the greatest national projects of his day, university chancellor, art historian, collector, and patron of art, architecture and design. It gives new insight into Albert's achievements before his premature death at the age of 42, his impact on Victorian society and his influence on our world today. As part of the Prince Albert Digitisation Project, by the end of 2020 some 23,500 items from the Royal Archives, the Royal Collection and the Royal Commission for the Exhibition of 1851 will be published online. ... More
MoMA announces publication on Japanese structural design from 1950 through today
Major new film on Leonardo da Vinci in cinemas from October 2019
Rare Flemish painting comes to market at Cheffins


Kawaguchi Mamoru (architect and engineer). Fuji Pavilion, Expo '70, Osaka. Exterior view. Completed 1970. Courtesy Kawaguchi & Engineers.



NEW YORK, NY.- The Museum of Modern Art announced the publication of Structured Lineages: Learning from Japanese Structural Design. Originally delivered as talks at a symposium held at The Museum of Modern Art in 2016, on the occasion of the exhibition A Japanese Constellation: Toyo Ito, SANAA, and Beyond, the 10 essays gathered in this volume offer insight into the collaborations between architects and structural engineers that engendered many of the most important buildings erected in Japan after 1945, with special focus on the work of Kawaguchi Mamoru, Kimura Toshihiko, Matsui Gengo, Saitō Masao, Sasaki Mutsurō, and Tsuboi Yoshikatsu. Charting a largely unexplored history in a manner at once scholarly and accessible, these conversations ... More



Filming Leonardo at the Uffizi. © Exhibition on Screen.



LONDON.- Beginning its much anticipated seventh season, Exhibition on Screen offers an unprecedented look at arguably the world's most celebrated artist: Leonardo da Vinci. Premiering in cinemas for a strictly limited run from 29th October 2019 Leonardo: The Works is part of the global celebration marking the 500th anniversary of the artist's death. Many feature films have showcased the genius of Leonardo but none have ever examined in such detail the most crucial element of all: his art. Leonardo's peerless paintings will be at the core of Leonardo: The Works, captured in staggering high-definition as never seen in cinemas – until now. Notably, the film presents every single painting attributed to Leonardo, offering unparalleled access for the first time. Amidst this collection of masterpieces, cinema-goers will marvel at The Last Supper, Lady with an Ermine, Ginevra de' Benci, ... More



Huybrecht Beuckelaer painting of a fruit and vegetable, poultry and game seller with the Old Church of Delft beyond.



CAMBRIDGE.- A painting bought at a provincial auction in the early 1960s by an art-savvy Essex GP is expected to be one of the star lots at Cheffins' Fine Sale in Cambridge on 11th and 12th September. The oil painting, by Flemish painter Huybrecht Beuckelaer (born circa 1535/40 – 1605/1624), has been given a pre-sale estimate of £20,000 to £30,000. Dr Ted Palmer, who died ten years ago, was a lifelong collector of paintings, and recognised the quality of the early Flemish painting despite its condition and secured it inexpensively under the noses of many local dealers. Once the painting was cleaned, Dr Palmer was puzzled somewhat to unearth the signature 'Huberius Beuckelaer 15 (?8)5', and the only reference he could find was for a Joachim Beuckelaer, so he assumed it must be by him. ... More
Exhibition at Boca Raton Museum of Art invites viewers to honor the women astronomers
Mobile cinema brings movie magic to Syria Kurd children
Berlin's Museum of Decorative Arts explores the world of fashion design and hairstyling of African origin


Maria Mitchell Looking Through a Telescope, painting by Herminia B. Dassel, circa 1851.



BOCA RATON, FLA.- As the world celebrates the 50th anniversary of the first landing on the moon, the Boca Raton Museum of Art pays tribute to this milestone year by charting a different course that stands out from the rest, with the new exhibition Carol Prusa: Dark Light. On this journey, the artist invites viewers to honor the women astronomers who originally helped map the stars as she takes flight across the mysteries of deep space. Her new exhibition is curated by Kathleen Goncharov, the Senior Curator of the Museum, and features never-before-seen works created specifically for this show - meticulous creations handmade by the artist using her signature silverpoint technique. The exhibition opens August 20 and remains on view until January 19. The artist, Carol Prusa, lives in Boca Raton and currently teaches painting as a Professor of Art at Florida Atlantic University. "When we get too distracted by the details ... More



Men watch as children attend a film screening as part of the mobile cinema "Komina Film" initiative. DELIL SOULEIMAN / AFP.



SANJAQ SAADUN (AFP).- In a schoolyard of rural northeastern Syria, boys and girls break out into giggles watching Charlie Chaplin's pranks, a rare treat thanks to a mobile cinema roving through the countryside. In Kurdish-held areas of the northeast, filmmaker Shero Hinde is screening films in remote villages using just a laptop, projector and a canvas screen. "We've already shown films in towns but we wanted children in the villages to enjoy them too," said the bespectacled 39-year-old with thick greying curly hair. With some films dubbed into Kurdish and others subtitled, he and a team of volunteers want to spread their love of cinema across Rojava, the Kurdish name of the semi-autonomous northeast of war-torn Syria. "Our goal is that in a year's time, there won't be a kid in Rojava who hasn't been to the cinema," the Kurdish filmmaker said. Sitting ... More



Ken Aïcha Sy, Baadaye, Awa, 2019, © Yannik Ntap.



BERLIN.- For the first time Berlin's Kunstgewerbemuseum (Museum of Decorative Arts) is dedicating an exhibition to the complex and versatile world of fashion design and hairstyling of African origin. "Connecting Afro Futures. Fashion – Hair – Design" opens the museum up to decolonial fashion discourses and at the same time takes a position in the current discussion about the direction of museums and their collections. Fashion is a system with rules of its own and is regarded as a pacemaker of social change. An innovative generation of designers of African origin is currently rethinking contemporary African fashion and hairstyling beyond the (neo)colonial patterns of thought and beauty norms. The continent and its diaspora are in the process of breaking up the still existing hegemony of the Western fashion system and establishing new design hubs throughout Africa. The dynamic engagement of the protagonists in the v ... More
Art Gallery of South Australia presents its most expansive display of Islamic art
Painting of William Wilberforce is Coming Home
Vivian Suter's first Boston exhibition features a gallery-sized installation


Installation view: Curator James Bennett in No god but God: The art of Islam, Art Gallery of South Australia, Adelaide, 2019; photo: Saul Steed.



ADELAIDE.- From 24 August 2019, the Art Gallery of South Australia will present its largest and most expansive collection display of Islamic art to date. Spanning the past twelve centuries and including pivotal works from across the globe, No god but God: The art of Islam dissects the intimate connection between faith and art in Islam across the ages. Presented as part of the Adelaide Festival Centre's OzAsia Festival 2019, No god but God takes its title from the Muslim Declaration of Faith, 'There is no god but God and Muhammad is his messenger.' The display encompasses the geographical distance between Morocco and Australia and includes numerous recent acquisitions and works of art shown to the public for the first time. Key elements of Islamic art such as manuscripts, miniatures, coins, jewellery, costumes and textiles will be included in the exhibition. No god but God draws on AGSAs collection, ... More



William Wilberforce by Sir Thomas Lawrence, 1828 © National Portrait Gallery, London.



HULL.- Sir Thomas Lawrence's famous portrait of William Wilberforce will be exhibited in Hull as part of a major project, Coming Home, launched by the National Portrait Gallery. The Coming Home project sees the National Portrait Gallery lend 50 portraits of iconic individuals to places across the UK where they are most closely associated. This country-wide initiative will enable the Gallery to work with local museums, galleries and other venues and provide communities across the country with the opportunity to celebrate their local heroes. William Wilberforce was born in 1759, the son of a Hull merchant. In 1780, Wilberforce was elected MP for Hull, and through tireless efforts, became the parliamentary spokesperson for the campaign to abolish the Transatlantic Slave Trade. In 1833, just weeks after Wilberforce died; the Slavery Act was passed which abolished slavery in the British colonies. Sir Lawrence's unfinished portrait of Wilberforce holds a special place in the history of Br ... More



Installation view, Vivian Suter, The Institute of Contemporary Art/Boston, 2019. Photo by Mel Taing. © Vivian Suter.



BOSTON, MASS.- On August 21, The Institute of Contemporary Art/Boston opened the first Boston presentation of Argentine-Swiss artist Vivian Suter (b. 1949, Buenos Aires, Argentina), who has been living and working Guatemala since the 1980s. Comprised of dozens of individual mixed-media paintings, this exhibition features a single installation by Suter in which unstretched canvases flood the gallery, creating a canopy of color and shape evocative of the natural environment surrounding her home and studio in Panajachel, Guatemala. On view from August 21 through December 31, 2019, Vivian Suter is organized by Ruth Erickson, Mannion Family Curator. "Vivian Suter's approach to installing her paintings is incredibly unique," says Erickson. "She layers, suspends, and rotates her canvases, inviting visitors to meander through her work and its sumptuous gestures and colors." Suter works in ... More
Apollo 13's Intense Comms Blackout
Flashback
On a day like today, German-born photographer Alfred Eisenstaedt died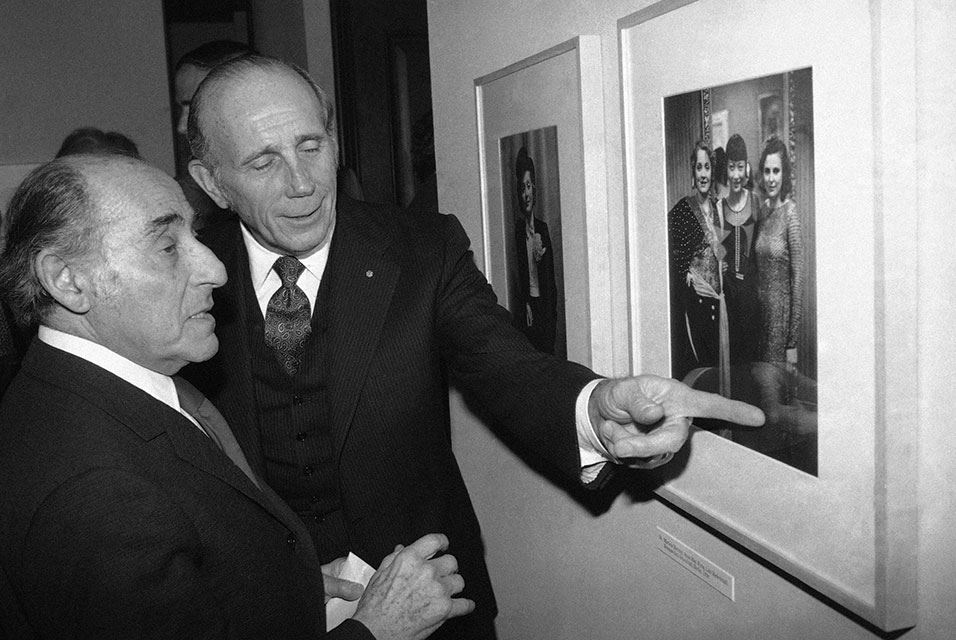 August 24, 1995. Alfred Eisenstaedt (December 6, 1898 - August 24, 1995) was a German-born American photographer and photojournalist. He is best known for his photograph of the V-J Day celebration and for his candid photographs, frequently made using a 35mm Leica camera. In this image: Harold Gray, chairman of the board of United Technologies Corp., points to a print as he discusses the photo with photographer Alfred Eisenstaedt at Manhattan's International Center for Photography in New York on Jan. 22, 1981. The display of photographs titled "Eisenstaedt Germany" was organized by the Smithsonian Institution of Washington and made possible by United Technologies
---

Museums, Exhibits, Artists, Milestones, Digital Art, Architecture, Photography,
Photographers, Special Photos, Special Reports, Featured Stories, Auctions, Art Fairs,
Anecdotes, Art Quiz, Education, Mythology, 3D Images, Last Week,
.
---
Royalville Communications, Inc
produces: