Claremont Rug Company Reports Significant Increases In Sales of "High-End" Antique Oriental Rugs
An extremely rare 175-year-old Mohtahsam Kashan rug that was among the 50 best-of-the-best pieces sold by Claremont Rug Company in 2019.
OAKLAND, CA
.-
Claremont Rug Company founder/president Jan David Winitz, in his annual letter to clients, today reported sales increases ranging from 68 percent to over 250 percent of
high-end antique Oriental rugs
from the "Second Golden Age of Persian Weaving," ca. 1800 to ca. 1910. Defining "high-end" carpets as High-Collectible and Connoisseur-Caliber pieces on the Gallery's proprietary "Oriental Rug Market Pyramid" ™, Winitz said, "What transpired exceeded our most optimistic expectations! Sales of High Collectible rugs, which are the finest available, increased by a whopping 68%. During 2019, 65 percent of our clients included at least one Level 2 or Level 3 rug among their purchases." At Claremont, Level 2 pieces are designated "High-Collectible" and Level 3 are "Connoisseur-Caliber." Level 1 rugs, woven during the First ...
More
The Best Photos of the Day
VMFA receives more than 8,000 photographs from the Aaron Siskind Foundation
Spanish banker gets jail term for trying to smuggle out Picasso work
In Afghanistan, being an artist is a dangerous job


Aaron Siskind (American, 1903-1991), Gloucester, 1944, Gelatin silver print, Virginia Museum of Fine Arts, Gift of the Aaron Siskind Foundation, 2019 © Virginia Museum of Fine Arts, Richmond, VA.



RICHMOND, VA.- The Virginia Museum of Fine Arts has been given an extraordinary gift of more than 8,000 photographs by Aaron Siskind (1903–1991) from the Aaron Siskind Foundation in New York. Established by the artist in 1984, the foundation's mission has been to preserve and protect Siskind's artistic legacy, as well as to foster knowledge and appreciation for photography through research, publications, exhibitions and an annual fellowship prize for individual artists. The foundation recently decided to dissolve its operations and transfer the collection to an American art museum that would be willing to administer the annual fellowship prize and care for, interpret, and display the foundation's core collection of Siskind's photographs. VMFA was awarded this major gift thanks to the museum's demonstrated commitment to photography and its outstanding fellowship program. The transfer of the collection to ... More



The yacht Adix, owned by Spanish Santander banking group and flying a British flag, sails off Testa beach on August 4, 2015, in Pianottoli Caldarello, Corsica, four days after French customs seized a Picasso on board considered a national treasure by Spain.



MADRID (AFP).- A Spanish court has sentenced a former top banker to 18 months in jail for trying to smuggle a Picasso painting deemed a national treasure out of the country on a sailing yacht. The court also fined ex-Bankinter head Jaime Botin 52.4 million euros ($58.4 million), according to the Madrid court ruling issued on January 14 which was made public on Thursday. It awarded ownership of the work, "Head of a Young Girl", to the Spanish state. Botin, 83, is unlikely to go to prison as in Spain first offenders for non-violent crimes are usually spared jail time for sentences of less than two years. French customs seized the work, which is estimated to be worth 26 million euros, in July 2015 on the Mediterranean island of Corsica, halting what they said was an attempt by Botin to export it to Switzerland to sell it. His lawyers argued at the time that he was sending it for ... More



The artist Kubra Khademi in a street performance in Kabul, Afghanistan, in 2015. A crowd of men appeared "insulting me and making fun of me," Ms. Khademi said. Photo: Naim Karimi.

by Farah Nayeri



NEW YORK (NYT NEWS SERVICE ).- On the afternoon of Feb. 26, 2015, artist Kubra Khademi strapped a suit of metal armor over her clothes and headed outside. The armor, which she had cobbled together in the workshop of a local blacksmith, had bulbous breasts and an ample bottom. It was the centerpiece of a carefully planned street performance. Only this wasn't just any street: It was a busy thoroughfare in Kabul, the capital of Afghanistan. Sheathed in her bulging suit, Khademi walked along the road in a silent eight-minute performance. By the time she left, traffic had stopped, and a mob of menacing men had formed. "They were insulting me and making fun of me, saying, 'She's crazy; she's a foreigner; she's lost her mind; she's a prostitute,' " the artist recalled in a telephone interview from Paris, where she ... More
Christie's announces highlights included in its Impressionist and Modern Art Evening Sale
Vancouver Art Gallery announces major gifts of art for its permanent collection
Louis Vuitton gets huge lump of coal for Christmas, upending tradition


Pablo Picasso, Intérieur au pot de fleurs (1953, estimate: £7,000,000-10,000,000) © Christie's Images Ltd 2020.



LONDON.- Christie's Impressionist and Modern Art Evening Sale will be followed by The Art of the Surreal Evening Sale, together launching '20th Century at Christie's' on 5 February 2020. Tamara de Lempicka's Portrait de Marjorie Ferry (1932, estimate: £8,000,000-12,000,000) and Alberto Giacometti's Trois hommes qui marchent (Grand plateau) (1948, estimate: £8,000,000-12,000,000) will both lead the Impressionist and Modern Art Evening Sale. Further highlights include George Grosz's politically charged Gefährliche Straße (1918, estimate: £4,500,000-6,500,000), which has remained in a private collection for 50 years and will appear at auction for the first time. A group of three still lifes by Pablo Picasso demonstrate his career-long dedication to evolving the genre with exceptional examples from the 1940s, 50s and 60s: La cafetière (1943, estimate; £1,000,000- ... More



Zhijie Qiu, Tattoo II, 1994, chromogenic print, Collection of the Vancouver Art Gallery, Promised Gift of the Adelaar Family.



VANCOUVER.- In December, the Vancouver Art Gallery received significant donations of artwork to its permanent collection that build on its strengths in photo-based, Indigenous, Asian and Conceptual works of art. Internationally-recognized photography collectors Claudia Beck and Andrew Gruft donated 36 artworks by 26 artists from their private collection. Beck and Gruft have developed a remarkable collection of photography over the course of several decades, considered one of the most important photography collections in Canada. The expansive holdings of these Vancouver-based collectors span a period of time from the invention of the medium in the nineteenth century to the present, and include works by national and international artists. Cumulatively, the couple has donated 552 artworks to the Gallery to date, including their recent gift of 36 artworks. Their gift enhances the Gallery's photography collection in a ... More



In an undated image provided by the fashion house, the 1,758-carat Sewelo diamond, which has been purchased by Louis Vuitton. Grégoire Vieille/Louis Vuitton via The New York Times.

by Vanessa Friedman



(NYT NEWS SERVICE ).- The largest rough diamond discovered since 1905, the 1,758-carat Sewelo, was revealed with great fanfare last April, named in July and then largely disappeared from view. Now it has resurfaced with a new owner — and it's not a name you might expect. It is not, for example, Jeff Bezos, the richest man in the world on the hunt for a trophy asset. It is not a royal family, searching for a centerpiece for a new tiara. It is not the De Beers Group, arguably the creator of the diamond market, which owns the Millennium Star diamond, a 770-carat pear-shaped stone. It is not even diamond specialist Graff, owner of the Graff Lesedi La Rona, a 302.37-carat diamond that is the world's largest emerald-cut sparkler. It is Louis Vuitton, the luxury brand better known for its logo-bedecked ... More
Christopher Tolkien, son of J.R.R. Tolkien and keeper of his legacy, dies at 95
Edith Wharton's 'The Age of Innocence' comes home
The Andy Warhol Foundation announces fall 2019 grantees


J.R.R. Tolkien's "The Silmarillion" was edited by his son, Christopher, and published posthumously in 1977.

by Alan Yuhas and Emily S. Rueb



NEW YORK (AFP).- Christopher Tolkien, the son of the writer J.R.R. Tolkien who guarded his legacy and edited posthumous works like "The Silmarillion," died Wednesday in France at age 95. His death was confirmed by Daniel Klass, Tolkien's brother-in-law. Long after his father died in 1973, Tolkien worked to keep the stories that he created in "The Hobbit" and "The Lord of the Rings" — the spiders of Mirkwood, the Eye of Mordor, the elves of Rivendell and thousands of pages of others — alive for readers. As literary executor for the Tolkien estate, he compiled and edited much of his father's work, including "The Silmarillion" and the collection "The History of Middle-earth." He is also credited with creating the 1954 map of Middle-earth, the land in which the sprawling stories were set, that is now held by the British Library. Like his father, ... More



Edith Wharton's signature on the flyleaf page by Dennis Kahn.



NEW YORK (NYT NEWS SERVICE ).- Edith Wharton kept restlessly editing her bestsellers even through numerous print runs. In 1921, she finished fine-tuning "The Age of Innocence" upon its sixth printing and tucked one edition onto the shelves at her chateau in Southeastern France. That copy, with her signature and bookplate, has resurfaced in time for the centennial of the Pulitzer Prize-winning novel. It has been donated to the library at another of her palatial homes, the Mount, a museum in Lenox, Massachusetts. This is the only known English-language version of "The Age of Innocence" that belonged to Wharton, said Susan Wissler, executive director of the museum. (Examples of the writer's copies of many of her works are already at the Mount; gaps include her collected teenage poems.) Wissler added that the museum's book collection, as it grows, powerfully evokes Wharton's interests and presence: "The library very ... More



Steve Parker, Sirens, 2018. Brass, steel, conduit, plastic, recorded voices, 7' x 3' x 3' – 84 x 36 x 36 inches. Photo: Sarah Frankie Linder.



NEW YORK, NY.- The Andy Warhol Foundation for the Visual Arts announced the recipients of its Fall 2019 grants. $3.93 million will be awarded to 46 organizations from 19 states to support their visual arts programs, exhibitions, and curatorial research. This group of grantees was selected from a competitive pool of over 250 applicants bringing the foundation's grants total for the fiscal year to $7.94 million, with support going to a total of 92 organizations in 23 states, the District of Columbia, and Canada. The foundation's overall annual grants budget is approximately $14 million. "The fall 2019 grant list reflects the foundation's unwavering commitment to supporting experimental artistic practice around the country," states Joel Wachs, the foundation's President, "We are proud to further the important work that each of these organizations does to give artists a platform from which to meaningfully ... More
Affordable art offered in Shannon's online sale now through January 23rd
Galeria Joan Prats exhibits recent works made between 2012 and 2018 by Chema Madoz
Museum reunites celebrated painting series by Jacob Lawrence for nationally-touring exhibition


Jenness Cortez, American (b. 1944), "Saratoga II," signed and dated, 14 x 12 inches, Estimate: $6,000-8,000



MILFORD, CONN.- Shannon's is kicking off the year with an exciting Online Fine Art Auction featuring over 200 paintings by an international roster of listed artists. Bidding is available by absentee and through Invaluable.com. Works in the auction are priced to sell, with many items available for under $2,500 with attractive estimates and reserves. The star of the sale is a recently rediscovered Italian modernist work by Surrealist artist, Enrico Prampolini. The painting was featured in the 1934 Vennice Biennale and is pictured in a photograph from that exhibition. It recently resurfaced in an institutional collection highlighted in the sale. The leading American painting in the sale is a Jenness Cortez horse racing scene of Saratoga. In the composition the speed, movement and excitement of the race are captured as four horses race towards the finish. Contemporary prints ... More



S/T, 2017. Fotografía b/n sobre papel baritado, virado al sulfuro. Ed. 15. 60 x 50 cm.



BARCELONA.- The seventh exhibition of Chema Madoz at the Galeria Joan Prats opened in Barcelona. The exhibition presents recent works made between 2012 and 2018. The black and white photographs by Chema Madoz are characterized by their sharpness and fineness. Simple objects of everyday life appear in his pictures. The photographer has manipulated them, often combining two objects, looking for associations or paradoxes. These sculptures created by the artist are born only to be photographed, always with natural light. The change of scale and the absence of color allow us to establish a distance and at the same time distort reality, questioning ideas such as the true and the possible. In the images of Chema Madoz, therefore, two points of view converge, the one from the photographer himself and the one from the viewer, who faces photography from the same place from where he faced the object. In the words of Chema ... More



Jacob Lawrence, ​And a Woman Mans a Cannon ​ , Panel 12, 1955, from ​Struggle: From the History of the American People ​ , 1954–56, egg tempera on hardboard. Collection of Harvey and Harvey-Ann Ross. © 2019 The Jacob and Gwendolyn Knight Lawrence Foundation, Seattle / Artists Rights Society (ARS), New York. Photo by Bob Packert/PEM.



SALEM, MASS.- This January, the Peabody Essex Museum, debuts Jacob Lawrence: The American Struggle, the first museum exhibition to feature the celebrated series of paintings, Struggle: From the History of the American People (1954–56), by Jacob Lawrence. Painted during the civil rights era by one of the best-known black American artists of the 20th century, the series of 30 intimate panels depicts pivotal moments in early American history with an emphasis on the contributions that black people, Native Americans, and women made in shaping our nation's founding and identity. The exhibition, organized by PEM and touring nationally through 2021, tackles a question central to Lawrence's ... More
The Curse of the Lady of Shalott | TateShots
Flashback
On a day like today, American stained glass artist Louis Comfort Tiffany died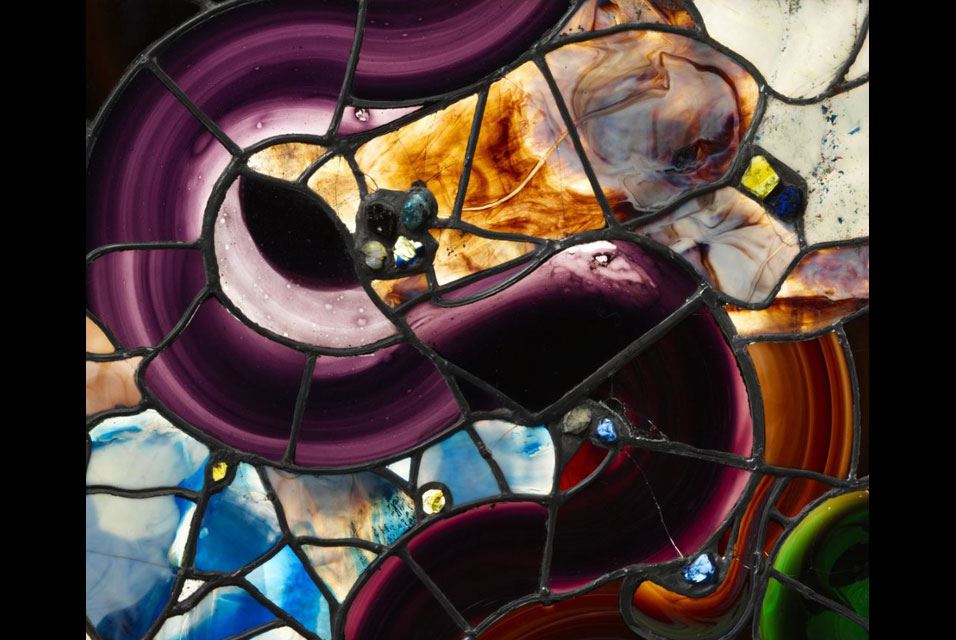 January 17, 1933. Louis Comfort Tiffany (February 18, 1848 - January 17, 1933) was an American artist and designer who worked in the decorative arts and is best known for his work in stained glass. He is the American artist most associated with the Art Nouveau[1] and Aesthetic movements. He was affiliated with a prestigious collaborative of designers known as the Associated Artists, which included Lockwood de Forest, Candace Wheeler, and Samuel Colman. In this image: Louis C. Tiffany, Fenêtre du "Bella Apartment", c.1880. Verre, plomb. New York, The Metropolitan Museum of Art, Don de Robert Koch, 2002 ©Photo : The Metropolitan Museum.
---

Museums, Exhibits, Artists, Milestones, Digital Art, Architecture, Photography,
Photographers, Special Photos, Special Reports, Featured Stories, Auctions, Art Fairs,
Anecdotes, Art Quiz, Education, Mythology, 3D Images, Last Week,
.
---
Royalville Communications, Inc
produces: