Which way to 'Starry Night'? A reimagined MoMA opens to the public
Liz Bejarano, foreground, and her mother, Beatriz Cautillo, view Claude Monet's "Water Lilies," (1914-26) at the Museum of Modern Art in New York, Oct. 20, 2019. The museum reopened to the public after having been closed for four months to complete a $450 million expansion and reorganization. Karsten Moran/The New York Times.
NEW YORK, NY
(NYT NEWS SERVICE)
.-
Tania Thomas, one of the first visitors to see the renovated and expanded Museum of Modern Art, had the new floor map in hand and an audio guide. It wasn't enough. "We're walking in the wrong direction," Thomas, of Larchmont, New York, said to her daughter Eliana, 11, as they wandered the fifth floor. "Should we go to the beginning and start over?" Jeff Madrick, a longtime museum member, said he was surprised by some of the artworks he hadn't seen before. "I don't remember the small Légers or the Stuart Davis," he said, referring to work by French painter Fernand Léger and the American modernist painter. His wife, Kim Baker, was pleased to see a roomful ...
More
The Best Photos of the Day
A jewel heist at the museum: How the beach boy burglars stole the Star of India
An immersive sound installation at MoMA introduces the Studio
With the Guggenheim, Frank Lloyd Wright built a soaring and intimate sanctuary for art


A police property clerk puts the recovered Star of India, now evidence and in a sealed container, inside a safe, which was inside a wire-enclosed vault, in New York, Jan. 1, 1965. For its 150th anniversary, the Museum of Natural History is celebrating many historic moments, but one milestone not on the the list: the "heist of the century," when three sharply dressed "beach boys" broke into the museum in late 1964 and made off with the Star of India, a 563-carat sapphire, and other precious gems. Patrick Burns/The New York Times.



NEW YORK, NY (NYT NEWS SERVICE).- For its 150th anniversary, the American Museum of Natural History is celebrating its many historic moments, from its 1869 founding, to the 1902 discovery of the first T. rex skeleton, to the creation of the Teddy Roosevelt statue erected out front in 1940. One milestone not on that list: the biggest jewel heist in New York history, when the Star of India, a 563-carat sapphire the size of a golf ball, was snatched from its display case, along with the rare Eagle Diamond, the DeLong Star Ruby and some 20 other precious gems from a collection donated to the museum by J.P. Morgan. For several months beginning in October 1964, the city was transfixed by the brazen robbery that the tabloids immediately labeled the heist of the century. The culprits were not ... More



David Tudor's "Rainforest V (variation 1)" at the Studio at the Museum of Modern Art, in New York, Sept. 27, 2019. The Studio will serve as a dedicated space for performances, screenings, residencies and more — starting with Tudor's piece, made with everyday objects and electronics. Jeenah Moon/The New York Times.



NEW YORK, NY (NYT NEWS SERVICE).- It's an ambiguous name, open to interpretation and possibility: the Studio. Perhaps that's the point. As part of the Museum of Modern Art's expansion and curatorial reboot — designed by Diller Scofidio + Renfro in collaboration with Gensler, and opening to the public Oct. 21 — the Studio will serve as a dedicated space for performances, screenings, residencies and more. Sleekly modular, the room — seamlessly integrated with its neighboring fourth-floor galleries, yet set off with black end-grain wood flooring and the dark walls of a black-box theater — can be adapted for an expansive variety of uses. In the future, it will host a commission by choreographer Adam Linder and artist Shahryar Nashat; Shuzo Azuchi Gulliver's film-based installation "Cinematic Illumination"; and a residency with multidisciplinary MacArthur fellow Okwui Okpokwasili. For now, the Studio is where visitors can seek or stumble upon ... More



The architect Frank Lloyd Wright inspects the Solomon R. Guggenheim Museum under construction in New York on Sept. 6, 1957. The building, one of modern architecture's transcendent achievements, turns 60 this month. Sam Falk/The New York Times.



NEW YORK, NY (NYT NEWS SERVICE).- Frank Lloyd Wright's Solomon R. Guggenheim Museum is still a shock on Fifth Avenue. The architecture declines to fade into the background or get old, never mind the building turns 60 this month. Happy birthday to one of modern architecture's transcendent achievements! Its spiral ramp has defeated generations of curators trying to figure out how to install exhibitions on it. The building has gone through ham-fisted additions, hostile restorations, lousy paint jobs and too many bad imitations to count. But it endures everything, a testament to what critic Ada Louise Huxtable once called its "unified space and structure." Neither Wright nor the man who commissioned him to design the building, Solomon R. Guggenheim, saw it finished. Guggenheim had died a decade earlier, Wright shortly before the building opened. He was 91. The two of them cooked up a plan for the museum back in the mid-1940s; it was to be a purpose-built container for Guggenheim's private ... More
At MoMA, home movies that reveal the world
The Broad launches unprecedented survey of groundbreaking artist Shirin Neshat
Cuban ballet legend Alicia Alonso dead at 98


Father & Kid NYC. Unidentified filmmaker. USA. c. 1940s. Digital preservation of 16mm film. Courtesy The Museum of Modern Art.



NEW YORK, NY (NYT NEWS SERVICE).- The reopening of the Museum of Modern Art on Monday will bring new film retrospectives and the return of regular moviegoers to their favorite seats. But good luck entering the theaters without stopping short. "Private Lives Public Spaces," the new video exhibition at the galleries outside the two main movie auditoriums, boasts around 47 hours of footage running on loops on 102 screens. The installations constitute a season of programming on their own. Drawn from MoMA's archives, the loops are of home and amateur movies — "the largest body of unseen and underappreciated moving-image work on film," in the museum's formulation. These movies were for the most part not intended for viewing by the public, let alone alongside other works, and taken together they run the gamut from amateurism to outsider art, from arcana to valuable additions to the oeuvres ... More



Shirin Neshat, Ilgara, from The Home of My Eyes series, 2015. © Shirin Neshat/Courtesy the artist and Gladstone Gallery, New York and Brussels.



LOS ANGELES, CA.- This fall, The Broad launched a new survey—the largest held to date—of internationally acclaimed artist Shirin Neshat's work. The exhibition, Shirin Neshat: I Will Greet the Sun Again, is on view from October 19, 2019, through February 16, 2020, and is the renowned multidisciplinary artist's first major exhibition to take place in the western United States. The artist has been in the Broad collection for 20 years, beginning with the 1999 acquisition of Rapture (1999)—the first multiscreen video installation to enter the collection. Originated by The Broad, this exhibition surveys approximately 30 years of Neshat's dynamic video works and photography, investigating the artist's passionate engagement with ancient and recent Iranian history, the experience of living in exile and the human impact of political revolution. Taking its title from a poem by Iranian poet Forugh Farrokhzad ... More



Cuban National Ballet Director Alicia Alonso (C) receives a homage from members of the UK Royal Ballet on July 15, 2009 at Garcia Lorca Theater in Havana. Alonso passed away on October 17, 2019 at 98. YAMIL LAGE / AFP.



HAVANA (AFP).- Cuban ballet legend Alicia Alonso, who developed a new Latin-influenced style and taught well into her 90s despite being practically blind for most of her dancing career, died on Thursday. She was 98. Known for her strong character and strict discipline, and revered in Cuba as one of its most important personalities, Alonso impressed audiences with her dramatic leaps and sensual style. Even at 40, she was still able to perform the 32 fouettes of "Swan Lake." She was the only Latin-American ever to have been recognized as a "prima ballerina assoluta" -- a rare honor awarded to the most exceptional female ballerinas of their generation "Alicia Alonso is gone and leaves a huge void, but also an insurmountable legacy," President Miguel Diaz-Canel said on Twitter. "She placed Cuba on the altar of the world's best dancing. ... More
Betye Saar at MoMA: Prelude to a revolutionary breakthrough
Christie's announces La Ménagerie Design Sale
The Chrysler Museum of Art explores the architectural design practices and conflicting ideals of Thomas Jefferson


Betye Saar. Anticipation. 1961. Screenprint, image: 18 1/8 × 14 7/16″ (46.1 × 36.7 cm); sheet: 21 11/16 × 16 15/16″ (55.1 × 43.1 cm). The Museum of Modern Art, New York. The Candace King Weir Endowment for Women Artists. © 2019 Betye Saar, courtesy the artist and Roberts Projects, Los Angeles. Digital Image © 2018 The Museum of Modern Art, New York, Photo by Rob Gerhardt.



NEW YORK, NY (NYT NEWS SERVICE).- In 1969, Betye Saar made an artwork that would prove pivotal in her career. Taking an old window frame, she filled its 10 sections with a constellation of images. Across the top three panels, she placed colorful printed moons and stars, evoking the night sky. In each of the six squares that follow she set symbolic figures, including an eagle bearing a shield with the word "love," a map of a human head according to the pseudoscience phrenology, and a pair of skeletons, one white and one black. Below these, in the bottom half of the window, Saar painted the silhouette of a black girl, her eyes made from lenticular lenses and her hands — marked with astrological signs ... More



Diego Giacometti, Porte-manteaux au hibou. Estimate: $300,000 – 500,000. © Christie's Images Ltd 2019.



NEW YORK, NY.- Offered as part of Christie's marquee 20th Century Week in November, Christie's announced La Ménagerie, which will take place on Tuesday, 12 November 2019. The curated auction includes 31 works of sculpture and design based on artists' interpretations of animals and wildlife from the powerful and elegant to the playful and irreverent. This exceptional cross-category sale follows on last year's incredibly successful Alberto and Diego Giacometti: Masters of Design. Featuring a dynamic breadth of artists spanning the 20th century to present day, La Ménagerie includes works by 12 artists including Diego Giacometti, Alexander Calder, Claude and François-Xavier Lalanne, Rembrandt Bugatti, François Pompon, Fernando Botero, and David Wiseman. Auction highlights include the exceptional brass Unique 'Hippopotame I' Bathtub, 1969 by François-Xavier Lalanne ($1,000,000 – 1,500,000). Measuring more than nine feet long a ... More



Hubert Robert (French, 1733–1808), Landscape with a Temple, ca. 1765–1800. Oil on canvas. Chrysler Museum of Art, gift of Walter P. Chrysler, Jr. 81.1.



NORFOLK, VA.- This fall, the Chrysler Museum of Art examines the many facets of the most important architectural thinker of the young American republic. Thomas Jefferson, Architect: Palladian Models, Democratic Principles and the Conflict of Ideals on view Oct. 19, 2019-Jan. 19, 2020. The Chrysler-curated exhibition was organized in collaboration with the Palladio Museum in Vicenza, Italy. In addition to authoring the Declaration of Independence and serving as Governor of Virginia, Secretary of State and President of the United States, Thomas Jefferson (1743-1826) created groundbreaking architectural designs that conveyed ideals of liberty and democracy. In contrast to his architectural values, he also enslaved people. This exhibition focuses on the ideas, formation and key monuments of the Founding Father who dramatically influenced the architectural profile of America. It also confronts ... More
Vinik Family Foundation makes historic gift to the Tampa Museum of Art
Export bar placed on unique 18th century work by Joseph Wright of Derby
Frank Strausser's debut novel "Plastic" now in Amazon's top 5 best sellers in two categories


$5 million endowment dedicated to support sustainable leadership; Largest gift ever made to institution's foundation.



TAMPA, FLA.- The Tampa Museum of Art today announced that the Vinik Family Foundation will make a $5 million gift to the Museum's endowment. The landmark gift will name and endow the position of Executive Director, whose title will be known as the Penny and Jeff Vinik Executive Director of the Tampa Museum of Art. This, the largest gift made to the Museum's endowment fund in the institution's history, is made possible by the Vinik Family Foundation (VFF), founded by Penny and Jeff Vinik, long-time patrons and donors of the Tampa Museum of Art. Penny, who has held various board positions throughout the years, has also co-chaired the Museum's strategic planning committee and led the executive search committee during the hiring of Executive Director, Dr. Michael Tomor. Currently, Penny serves as ... More



Two Boys with a Bladder by Joseph Wright of Derby (1734 - 1797), oil paint on canvas, 927 x 730 mm, probably 1768-70.



LONDON.- Arts Minister Helen Whately has placed an export bar on Joseph Wright of Derby's 'Two Boys with a Bladder'. The work, completed between 1768 and 1770, is valued at £3,500,000 plus VAT and is at risk of being lost abroad unless a UK buyer can be found. Joseph Wright of Derby (1734 - 1797) was an English painter and one of the most important artists of the 18th century. He is best known for his paintings of candle-lit subjects and scientific and industrial subjects and was a frequent contributor to the exhibitions of the Society of Artists and the Royal Academy. His works are reflective of a period when the nature of childhood and education were being debated. Wright's paintings demonstrate his masterful treatment of light effects and the work at risk of export features two boys blowing a bladder by candlelight - bladders were a ... More



"Edgy. Pretty shocking. You wonder what the heck is going to happen!"- NPR



NEW YORK, NY.- Acclaimed playwright/author Frank Strausser, who gained much praise during the very successful three month run of his stage comedy Physcho Therapy at The Cherry Lane Theater in New York City, has now broken into Amazon's "Top 5" sellers in multiple categories this week with his debut novel "Plastic", which brings together various high-level players in the art world with the high-profile Beverly Hills plastic surgery culture in this edgy tale of psychological suspense that explores the ephemeral and diabolical world inside Hollywood as "the Capital of Good Looks". Strausser officially became an Amazon best-selling author this month , with "Plastic" quickly climbing up to the #3 position in the "Best Selling in Satires" category and the "Best Selling in Medical Thrillers" category just this past week; a very impressive accomplishment for a ... More
Tatiana Bilbao Interview: Architecture and Nature
Flashback
On a day like today, Italian painter Domenico Zampieri was born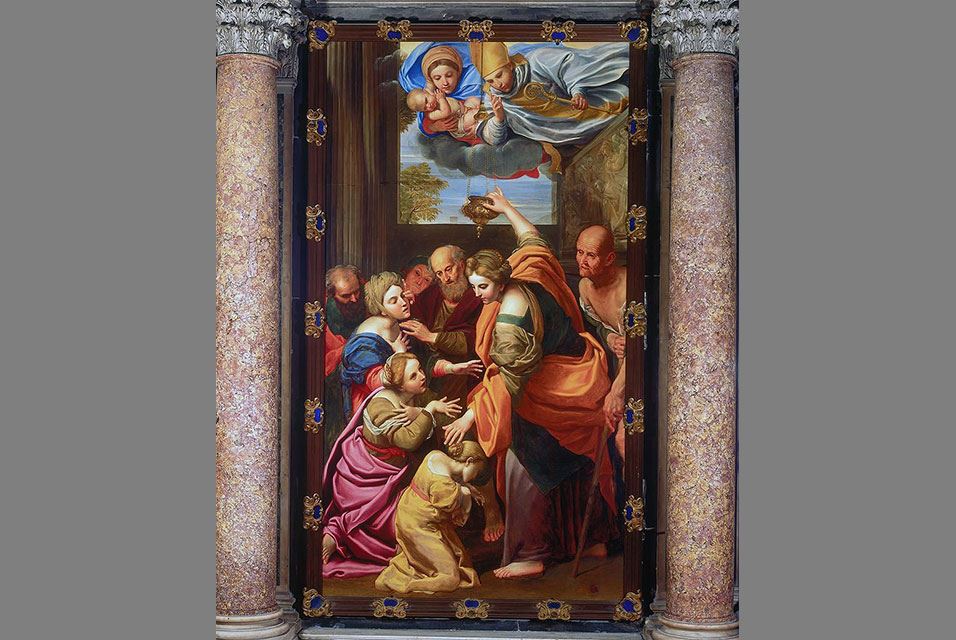 October 21, 1581. Domenico Zampieri (or Domenichino; October 21, 1581 - April 6, 1641) was an Italian Baroque painter of the Bolognese School, or Carracci School, of painters. Domenichino's work, developed principally from Raphael's and the Carracci's examples, mirrors the theoretical ideas of G. B. Agucchi, with whom the painter collaborated on a Treatise on Painting (Domenichino's portrait of Agucchi in York occasionally has been attributed to Annibale Carracci). In this image: Apparition of the Virgin and Child and San Gennaro at the Miraculous Oil Lamp, 1637–38, Cathedral of Naples.
---

Museums, Exhibits, Artists, Milestones, Digital Art, Architecture, Photography,
Photographers, Special Photos, Special Reports, Featured Stories, Auctions, Art Fairs,
Anecdotes, Art Quiz, Education, Mythology, 3D Images, Last Week,
.
---
Royalville Communications, Inc
produces: