Using Oriental Rugs to Create the First Impression in a Residence
Antique 19th century ivory Persian Sultanabad carpet greets visitors to 4-story traditional home whose owners mix modern art, antiquities, and connoisseur carpets in the public areas.
OAKLAND, CA
.-
"You never get a second chance to make a good first impression." While this quotation has been attributed both to Will Rogers and Oscar Wilde, it is less important which of them first used it than is the truth of the insight. And it is particularly apropos when discussing the entry halls of elite homes and residences. When Jan David Winitz, president/founder of
Claremont Rug Company
, is involved in a multi-rug project with a client, the axiom often becomes the inspirational guideline as he advises on the choice of the foyer carpet to set the scene and create the ethos which represents the individual taste and artistic eye of the homeowner. "Invariably", he says, "I guide clients to keep in mind what happens when the front door is opened and a visitor is invited in." ...
More
The Best Photos of the Day
Sotheby's to offer iconic contemporary Chinese masterpieces from the Gillion Crowet Collection
Christie's announces Asian Art Week
US marks the arrival of Angela, the 'Eve' of enslaved Africans


Zeng Fanzhi, Mask Series No.16, 1997, oil on canvas, 150 by 130 cm. Est: HK$6,000,000 - 8,000,000 / US$765,000 - 1,020,000. Courtesy Sotheby's.



HONG KONG.- This October, Sotheby's will present Moutarderie Nationale: The Gillion Crowet Collection, which brings together iconic works by the foremost contemporary Chinese artists of our generation including Zeng Fanzhi, Zhang Xiaogang, Liu Ye, Yue Minjun, Fang Lijun, Zhou Chunya and Wang Guangyi. Assembled by the discerning vision of Baroness Gillion Crowet, the Collection features important and exemplary works that define contemporary Chinese art of the last two-and-a-half decades. The auction will present 30 masterworks estimated over HK$73,000,000 / US$9,000,000 on 6 October 2019 during Sotheby's Hong Kong Autumn Sale series. The distinguished Gillion Crowet Collection, the brainchild of Baron and Baroness Gillion Crowet, dates back to the 1960s. After an official sovereign visit to China in 2004, the Baroness Gillion Crowet assembled highly representative works by the most influential contemporary Chinese artists from the 199 ... More



A Large and Magnificent Gilt-Bronze, Figure of Vajrasattiva, Tibet, 14th-15th Century. Estimate: $600,000—800,000. © Christie's Images Ltd 2019.



NEW YORK, NY.- Christie's announces Asian Art Week, a series of auctions, viewings, and events, from September 6-13. This season presents nine auctions—six live and three online—featuring over 1,000 lots spanning all epochs and categories of Asian Art from classical Chinese paintings, ceramics, jades, bronzes, and furniture, to impressive Tibetan gilt-bronzes and contemporary Indian painting. Featured this season are two impressive collection sales, Masterpieces of Early Chinese Gold and Silver and Chinese Art from The Art Institute of Chicago, featuring works of art with exceptional provenance. The week of sales begins with Fine Chinese Paintings (September 10), spanning classical, modern, and contemporary paintings, with highlights including an early work by Zhang Daqian (1899-1983), Hibiscus, dated 1948 ($300,000-500,000). The Indian, Himalayan and Southeast Asian Works of Art sale (September 11) features an array of fine bronze ... More



An archaeologist cleans what he believes is part of a drinking glass at a dig site associated with Angela on the grounds of the Colonial National Historical Park August 19, 2019, in Jamestown, Virginia. Brendan Smialowski / AFP.



JAMESTOWN (AFP).- Carefully raking through soil in suffocating heat at an archeological dig site in historic Jamestown, Charde Reid is working hard to retrace bits of the life of Angela, who arrived here from Africa 400 years ago. After a terrifying crossing of the Atlantic, Angela was one of the first African slaves known to reach the first permanent English settlement in North America, which would later be part of the United States. "I see a lot of connections with my own family's background, and what began here, in 1619," said Reid, a 32-year-old African-American Virginia native. She calls the first slaves to reach the state "our foremothers and our forefathers -- of not only African-American culture, but American culture in general." Reid herself says her family tree includes a white indentured servant and a black slave. As she works, bricks begin to appear -- the remnants of more recent buildings erected ... More
The Institute of Contemporary Art Los Angeles to become first art museum to run entirely on solar power
Unprecedented $10 million USA exhibit of historic, rare French coins in Long Beach
Christie's to auction the collection of Broadway producer Terry Allen Kramer


ICA LA's Kickstarter fundraising goal is $25,000, which supports the installation of 206 solar panels and 6 inverters over the museum's 12,000 square feet of rooftop space.



LOS ANGELES, CA.- Today, the Institute of Contemporary Art, Los Angeles announced plans to become the first fully solar-powered art museum and has partnered with Kickstarter Arts to launch a crowdsourcing campaign that will cover upfront capital costs. ICA LA's Kickstarter fundraising goal is $25,000, which supports the installation of 206 solar panels and 6 inverters over the museum's 12,000 square feet of rooftop space. This will produce 100,000 kWh of power annually, allowing the museum to remove itself completely from the Los Angeles Grid. The project's total cost is estimated at $156,000, but much of this will be offset by a one-time a rebate from the Los Angeles Department of Water and Power and the $30,000 per annum that the ... More



One of the first ancient coins made in what is now France. Photo: Lyle Engelson/Goldberg Coins & Collectibles.



LONG BEACH, CA.- A $10 million exhibit of rare, historic French coins, described as the best and most comprehensive ever displayed in the United States, will be on public view in Long Beach, California, September 5-7, 2019. Entitled "Tyrants of the Seine," the nearly 400 coins in the exhibit are a small portion of the extensive Tyrant Collection, the world's most valuable rare coin collection in private hands. The display will be publicly shown at the Long Beach Coin, Currency, Stamp & Sports Collectible Expo. "This exhibit will have coins dating from 59 B.C. with the invading French tribes after the fall of Rome in 476 A.D. up to modern coinage shortly before World War II. I can't recall ever seeing a better exhibit of French coins outside of France," stated Ira Goldberg President of ... More



Pablo Picasso (1881-1973), Buste d'homme, painted on 12 October 1968. Estimate: $9,000,000-12,000,000. © Christie's Images Ltd 2019.



NEW YORK, NY.- Christie's announces a series of sales from the Collection of Terry Allen Kramer, a philanthropist and esteemed producer who lived as colorfully as the celebrated shows she brought to the Broadway stage. Known as the 'grande dame' of Palm Beach, Florida, Kramer played host to cultural and civic luminaries at La Follia, her sprawling waterfront estate decorated by Pauline Pitt. Her remarkable collection of fine art and decorative art from La Follia together with her penthouse apartment on Manhattan's Upper East Side, will be offered on October 16. Her vast collection of Impressionist and Modern Art will be sold across the Evening, Day, Works on Paper and Online sales in November, in addition to works included in Post-War to Present sale on September 27, Prints & Multiples ... More
Simon Preston joins Pace Gallery
The Knoxville Museum of Art opens 'Whistler & Company: The Etching Revival'
Friends of the Ateneum centenary exhibition 'One Hundred Years of Friendship' opens in Helsinki


Simon Preston, Courtesy Pace Gallery.



NEW YORK, NY.- Pace Gallery announced that Simon Preston is joining the gallery as Senior Director beginning in August 2019. Based in the gallery's new global headquarters in Chelsea, New York, Preston will work closely with Pace's international leadership team led by President and CEO Marc Glimcher, and alongside the gallery's expanding curatorial department. In his new role, Preston will work with the curatorial team to manage new artist representation at the gallery and spearhead new initiatives for Pace's growing roster of contemporary artists, with the recent additions of Sam Gilliam, Lynda Benglis, and Jo Baer to its expansive roster of artists. Additionally, he will oversee a range of artist activities across the gallery's worldwide locations, including institutional partnerships, art fairs and other special projects, commencing with Trevor Paglen's exhibition titled The Shape of Clouds, which opens at Pace ... More



James Abbott McNeill Whistler (Lowell, Massachusetts 1834-1903 London), Billingsgate, 1859 (detail). Etching, museum purchase, Reading Public Museum, Reading, Pennsylvania.



KNOXVILLE, TN.- The Knoxville Museum of Art presents Whistler & Company: The Etching Revival August 23-November 10, 2019. Whistler & Company includes nearly a dozen works by Whistler accompanied by more than 50 etchings by some of his most accomplished American and European contemporaries. Whistler's gritty images of the River Thames, views of Venice, and Parisian scenes are among works featured in the exhibition. Other artists who participated in the etching revival include Francis Seymour Haden, James McBey, Edwin Edwards, David Young Cameron, Muirhead Bone, Mortimer Menpes, Charles Meryon, Maxime Lalanne, Joseph Pennell, and Frank Duveneck, among others. Although best known for innovative paintings such as Arrangements in Gray and Black ... More



Jusepe de Ribera: Ecce Homo (1644). Finnish National Gallery / Sinebrychoff Art Museum, Friends of Ateneum Collection. Photo: Finnish National Gallery / Matti Janas.



HELSINKI.- The Friends of the Ateneum, which is Finland's oldest and largest museum friends association, was founded in 1919 to support the Ateneum Art Museum. In honour of the association's centenary, an exhibition entitled One Hundred Years of Friendship presents works of art donated and funded by the association. The exhibition is being staged in one gallery on the third floor of the Ateneum, and it will run until 6 October 2019. The Friends of the Ateneum donations lecture series, to be held in August and September, will dig deeper into the works featured in the exhibition. Over a period of one hundred years, from 1919 to 2019, the Friends of the Ateneum have donated more than 130 works and sketches to the Ateneum Art Museum. One Hundred Years of Friendship, ... More
The James Museum names new Executive Director
From Anker to Zaugg: 150 Years of Swiss Art in 150 Works to be offered at Christie's
Ars Fennica Prize awarded to Ragnar Kjartansson


Laura is a graduate of the United States Naval Academy with a degree in Aerospace Engineering.



ST. PETERSBURG, FLA.- The James Museum of Western and Wildlife Art announced today the appointment of Laura Hine as Executive Director to lead the museum in its next stage of strengthening and growth. A year ago in April, Tom and Mary James founded the museum with their personal collection as a celebration of art, as well as a contribution to the cultural and economic life of their beloved St. Petersburg. "Laura oversaw the development of The James Museum coordinating the architecture, construction and development of the commercial spaces on Central Avenue. Laura possesses important leadership qualities including business sense, common sense, and strong interpersonal skills. Now that the museum is in a strong position when it comes to daily operations, we will broaden our team with a board of trustees, engage in strategic planning and take actions necessary to ensure the long-term vitality of the museum. Laura's skills will ... More



Cuno Amiet, Blühender Baum, 1916. Estimate: CHF500,000-600,000. © Christie's Images Ltd 2019.



ZURICH.- Christie's 37th Swiss Art Auction on 17 September will return to the Kunsthaus Zürich, Grosser Vortragssaal, where the museum's renovation work has now been completed. In Spring 1994, Christie's conducted its Swiss Art auction for the first time in this location and we are delighted to be back at the Kunsthaus. The upcoming Swiss Art auction will offer 141 lots, of which 100% have been consigned by private international collectors and 64% of which are offered at auction for the first time. The sale represents the auction debut for the Swiss artist trio Mickry 3, and is led by 20 works from the former collection of Bruno Giacometti, the youngest of the four Giacometti siblings, showcasing works by Alberto, Augusto, Giovanni and Diego Giacometti. The Contemporary Swiss Art section is highlighted by Peter Fischli & David Weiss's Kerze (1986, estimate: CHF80,000-120,000), an early multiple-sculpture by the artists a ... More



With his presentation of The Boat, one of nine videos from the Scenes from Western Culture series (2015), Kjartansson addresses core subjects of his versatile artistic practice, which centres around topics and interrelations in music and theatre.



REYKJAVÍK.- i8 Gallery congratulates Ragnar Kjartansson on winning this years Ars Fennica Prize. The prize is awarded by the Henna and Pertti Niemistö Art Foundation. The Director of the Museum Tinguely in Basel, Roland Wetzel, selected the prize winner. Wetzel refers to Kjartansson's artistic practice as well as the topics he explores trough art: New forms of reconfiguring established modes of representation, humour and irony in questioning conventions, and the relevance of sound and music as 'auratic' aspects in creating specific space-time and collaborative experiences. "With his presentation of The Boat, one of nine videos from the Scenes from Western Culture series (2015), Kjartansson addresses core subjects of his versatile artistic practice, which centres around topics and interrelations in music and theatre. ... More
Warhol Portraits: Fashion with Jackie Edwards
Flashback
On a day like today, German-born photographer Alfred Eisenstaedt died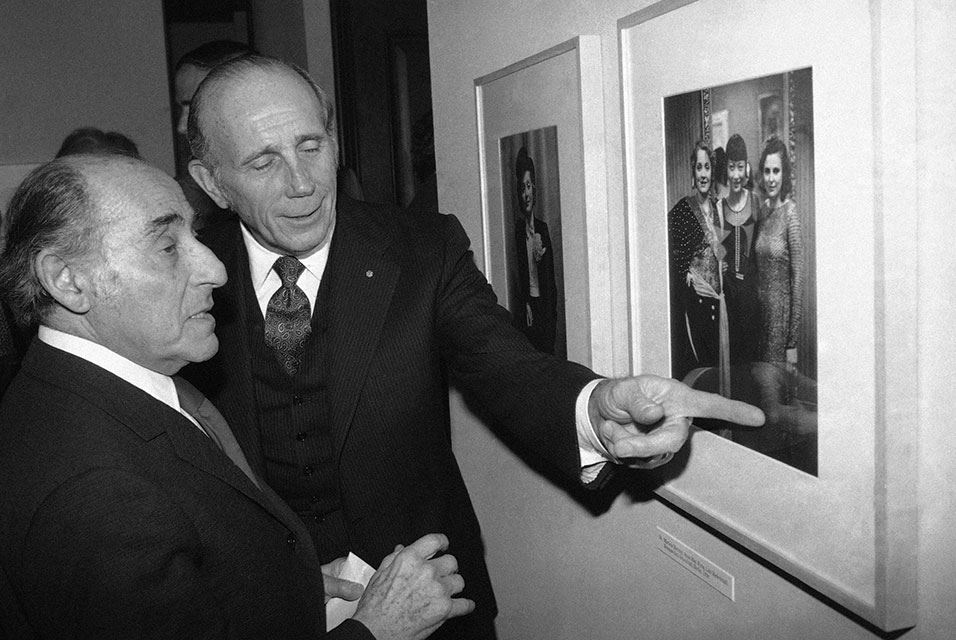 August 24, 1995. Alfred Eisenstaedt (December 6, 1898 - August 24, 1995) was a German-born American photographer and photojournalist. He is best known for his photograph of the V-J Day celebration and for his candid photographs, frequently made using a 35mm Leica camera. In this image: Harold Gray, chairman of the board of United Technologies Corp., points to a print as he discusses the photo with photographer Alfred Eisenstaedt at Manhattan's International Center for Photography in New York on Jan. 22, 1981. The display of photographs titled "Eisenstaedt Germany" was organized by the Smithsonian Institution of Washington and made possible by United Technologies
---

Museums, Exhibits, Artists, Milestones, Digital Art, Architecture, Photography,
Photographers, Special Photos, Special Reports, Featured Stories, Auctions, Art Fairs,
Anecdotes, Art Quiz, Education, Mythology, 3D Images, Last Week,
.
---
Royalville Communications, Inc
produces: