Tate Modern opens a major exhibition of the work of visionary artist Nam June Paik
Internet Dream 1994. Install view, Tate Modern 2019. Ten 20-inch cathode-ray tube televisions, forty-two 13-inch cathode-ray tube televisions,custom-made video wall system, steel frame and three video channels, colour, sound, 2870 x 3800 x 800 mm. ZKM Centre for Art and Media, Karlsruhe.
LONDON
.-
Tate Modern
presents a major exhibition of the work of visionary Korean-born artist Nam June Paik. Renowned for his innovative use of emerging technologies, Paik's playfully entertaining work remains an inspiration for artists, musicians and performers across the globe. Over 200 artworks, photographs, films and archive objects are brought together in a mesmerising riot of light and sound, from rarely seen early experiments to large-scale immersive installations. Nam June Paik (1932-2006) developed a collaborative and interdisciplinary practice that foresaw the importance of mass media and new technologies, coining the phrase 'electronic superhighway' to predict the future of communication in an internet age. He has become synonymous with the electronic image through a prodigious output of manipulated TV sets, live performances, global television broadcasts, single-channel videos, and video installations. ...
More
The Best Photos of the Day
Textiles designed with warp, woof and wit at MoMA
Trilobite fossils show conga line frozen for 480 million years
MoMA's art treasure, no longer buried


In an undated image provided by The Museum of Modern Art and Denis Doorly, an installation view of "Taking a Thread for a Walk" at the Museum of Modern Art in New York. The exhibition reveals the museum's underappreciated collection of fiber art and industrial design. The Museum of Modern Art; Denis Doorly via The New York Times.



NEW YORK, NY (NYT NEWS SERVICE).- For every visitor impassioned by the new collection galleries at the Museum of Modern Art, someone else will lament the elimination of distinct realms for each department's holdings — above all for architecture and design, the MoMA department with the strongest institutional character. This is the museum that, literally, defined the International Style in its first architecture exhibition in 1932. Let's clear something up! MoMA no longer encloses a mini-design museum that you can enter and exit with blinders on. But architecture and design (like photography, like film) still have dedicated galleries within the collection floors, and the museum has also reopened with a bounteous exhibition of textiles, fiber art and industrial design that should impress both specialists and omnivores. Organized by Juliet Kinchin and Andrew Gardner, "Taking a Thread for a Walk" takes its title from a famous admonition by Paul Klee, the ... More



In an undated handout photo, a line of Ampyx priscus from the Moroccan Lower Ordovician Fezouata Shale. The orderly collection of ancient arthropods suggests that complex social behavior goes way back in the history of life on Earth. Jean Vannier, Laboratoire de Geologie de Lyon via The New York Times.



NEW YORK, NY (NYT NEWS SERVICE).- You probably don't think twice when you queue up at the grocery store or join a conga line at a wedding. But this type of single-file organization is a sophisticated form of collective social behavior. And as suggested by the children's song "The Ants Go Marching One-By-One," humans are not the only animals that appreciate the value of orderly lines. But how far back in the history of living things on Earth does this behavior go? At least 480 million years, according to a study published Thursday in Scientific Reports. It points to evidence of fossilized marine animals called trilobites lining up one-by-one during a time when complex life was still coming of age on Earth. "Probably, collective behavior developed very early among various groups of arthropods," said Jean Vannier, a paleontologist at the Université Claude Bernard Lyon 1 in France, and the study's lead author. Vannier and his colleagues examined specimens of Ampyx priscus found ... More



While still very much in progress, the Museum of Modern Art could be on its way to its second round of greatness, to judge by the new presentation of the core collection and, even more, a series of inaugural satellite shows drawn from the permanent collection along with five new commissions. Illustration by Jeff Hinchee/The New York Times.



NEW YORK, NY (NYT NEWS SERVICE).- The Museum of Modern Art, which opens on Oct. 21, is not what it used to be — and not yet what it may become. While still very much in progress, the museum could be on its way to its second round of greatness, to judge by the new presentation of the core collection and, even more, a series of inaugural satellite shows drawn from the permanent collection along with five new commissions. Together they underscore the vastness of the museum's holdings, a sight that is staggering, possibly unprecedented and probably won't recur until its next expansion. It now has a new building with a new wing added almost seamlessly to its 2004 Taniguchi expansion. This is the largest home it's ever had — a place, like the Metropolitan Museum of Art, where you can get lost. A psychological benefit is that the large (despised) Taniguchi atrium is de-emphasized. It doesn't seem so big when you can get farther away from it. The new MoMA ... More
Dubliners seek to repatriate James Joyce's remains from Zurich
Exhibition examines the transformative influence of the culture of feasting on the visual arts of China
El Greco, Goya and Sorolla at the Meadows this fall


The sculpture depicting Irish author James Joyce is seen behind his grave in Fluntern cemetery in Zurich on October 17, 2019. According to the Guardian, a plan to repatriate the remains of James Joyce and his wife Nora Barnacle and finally observe their last wishes, has been proposed by Dublin city councillors more than 70 years after the author's death. Fabrice COFFRINI / AFP.



DUBLIN (AFP).- A group of Dubliners are campaigning to bring home the remains of celebrated author James Joyce, whose grave in Zurich is far from the Irish capital chronicled in his modernist masterpieces. On Monday a Dublin council committee, covering the Rathgar neighbourhood where the novelist was born in 1882, backed a motion asking their lord mayor to petition Ireland's government to repatriate Joyce's remains from Switzerland. The aim is to "give official acknowledgement to somebody who we didn't acknowledge very well in the past", councillor Dermot Lacey, who brought the motion, told AFP. The Irish government, at the time gripped by the influence of the Catholic Church, denied Joyce repatriation after his death in January 1941 owing to his outspoken criticism of the institution. ... More



Chinese Tang dynasty, 618–907 Court Lady, 8th century Sancai ware; earthenware with mulcolored lead glazes and traces of pigment 35.9 × 14.6 × 13 cm. Asia Society, New York. Mr. and Mrs. John D. Rockefeller 3rd Collecon, 1979.113.



PRINCETON, NJ.- The feast has existed at the core of culture in China for thousands of years and remains a vital part of life in East Asia today. As an important social and ritual activity, feasts commemorated major life events, served as political theater and satisfied religious obligations. The Eternal Feast: Banqueting in Chinese Art from the 10th to the 14th Century traces the art of the feast through more than 50 exceptional objects from three transformative dynasties – the Liao, Song and Yuan. Focusing on a rare group of surviving paintings from the period – along with ceramic, lacquer, metal and stone objects as well as textiles – the exhibition reveals the singular influence China's culture of feasting had on the formation of the artistic traditions of China. The Eternal Feast: Banqueting in Chinese Art from the 10th to the 14th Century is on view exclusively at the Princeton University Art Museum from Oct. 19, ... More



Francisco José de Goya y Lucientes (Spanish, 1746–1828), Portrait of Juan Antonio Meléndez Valdés, 1797. Oil on canvas. The Bowes Museum, Barnard Castle, County Durham, UK, B.M. 26.



DALLAS, TX.- This fall, the Meadows Museum, SMU, presents two new exhibitions that bring exemplary works by masters of Spanish painting to the US. The Meadows is presenting 11 paintings produced by some of Spain's most celebrated artists, drawn from the collection of England's The Bowes Museum. Curated by Amanda Dotseth, El Greco, Goya, and a Taste for Spain: Highlights from The Bowes Museum marks the first time that works from that museum traveled to the US. Then, on October 18, the Meadows opened Sorolla in the Studio: An Exceptional Loan from an Important Spanish Collection, which examines the development of Joaquín Sorolla y Bastida's distinctive modern approach. The exhibition is anchored by the artist's 1902 painting Female Nude, which is privately-owned and being brought to the US for the first time in more than 100 years. Curated by Meadows Curatorial Fellow Daniel Ralston, Sorolla in the Studio also includes ... More
James Cohan now represents Jordan Nassar
Exhibition presents characteristic examples from Jesús Rafael Soto's most important series
American gives his art collection to Scotland


Jordan Nassar, Tired of Forgiving, 2018, hand-embroidered cotton on cotton. 36 x 35 in. (91.4 x 88.9 cm). Framed: 37 x 35 3/4 in. Copyright Jordan Nassar 2019. Image courtesy the artist and James Cohan, New York.



NEW YORK, NY.- James Cohan announced its representation of New York-based artist Jordan Nassar. Nassar's hand-embroidered works address intersecting fields of craft, ethnicity and the embedded notions of heritage and homeland. Treating traditional craft more as medium than topic, he examines conflicting issues of identity and cultural participation. Nasser uses geometric patterning adapted from symbols and motifs present in traditional Palestinian hand embroidery. The meticulously hand stitched compositions root his practice in a geopolitical field of play characterized by both conflict and unspoken harmony. Nassar uses geometric patterns characteristic of Palestinian cross-stitch—most often found on pillows, clothing, and other domestic arts—to hand-embroider pictures that he stretches and frames, bringing this embroidery practice into a dialogue with painting. He grew ... More



Jesús Rafael Soto, Sin título (Untitled) 1961. Wood, metal, paint, and nails, 75 x 18 x 25 cm. Patricia Phelps de Cisneros Collection © Jesús Rafael Soto, ADAGP, Paris / VEGAP, Bilbao, 2019.



BILBAO.- The Guggenheim Museum Bilbao presents Soto. The Fourth Dimension, a retrospective exhibition of the works of Jesús Rafael Soto (b. 1923, Ciudad Bolívar, Venezuela; d. 2005, Paris). Organized by the Guggenheim Museum Bilbao in collaboration with the Atelier Soto in Paris, the show brings together over 60 works, including several of Soto's large-scale participatory sculptures called Penetrables, some of his most iconic and important contributions to the recent history of art. In addition, the show includes a large number of historic paintings and mural works, which help to understand the fundamental role Soto played in the development of Kinetic Art from the early 1950s to the end of the 1960s, and to appreciate the development of his artistic practice up to the first decade of the 21st century. Soto. The Fourth Dimension also presents characteristic examples from his most important series, such as Virtual ... More



Phillip Bruno spent the majority of his illustrious career as co-director of the Staempfli Gallery, and later Marlborough Gallery, both important venues for contemporary art.



GLASGOW.- A new exhibition at The Hunterian, University of Glasgow, celebrates the gift of over 70 works from the collection of distinguished gallery director and art collector Phillip A. Bruno. A Gift to Glasgow from New York: The Phillip A. Bruno Collection opened at the Hunterian Art Gallery in October and coincides with Bruno's 90th birthday. The exhibition presents a selection of works including paintings, sculptures, drawings and prints, formed in New York over a period of 70 years, and presented to The Hunterian, University of Glasgow in 2019. Phillip Bruno spent the majority of his illustrious career as co-director of the Staempfli Gallery, and later Marlborough Gallery, both important venues for contemporary art. He was born in Paris and studied art history and architecture at Columbia. His career took off quickly with visits to see Matisse, Brancusi and Giacometti in Paris, and a stay with the Van ... More
The Jewish Museum presents 'Edith Halpert and the Rise of American Art'
Hindman brings in major industry players to helm business development and fine jewelry
The Frick Pittsburgh presents 'Katharine Hepburn: Dressed for Stage & Screen'


Henry Leach for Cushing & White Co., Liberty weathervane pattern, 1879, carved and painted wood. Shelburne Museum, Vermont, museum purchase, 1949, acquired from Edith Halpert, the Downtown Gallery.



NEW YORK, NY.- The Jewish Museum is presenting Edith Halpert and the Rise of American Art, the first exhibition to explore the remarkable career of Edith Gregor Halpert (1900-1970), the influential American art dealer and founder of the Downtown Gallery in New York City. A pioneer in the field and one of New York's first female art dealers, Halpert propelled American art to the fore at a time when the European avant-garde still enthralled the world. The artists she supported — Stuart Davis, Jacob Lawrence, Georgia O'Keeffe, Yasuo Kuniyoshi, Ben Shahn, and Charles Sheeler key among them — became icons of American modernism. Halpert also brought vital attention to overlooked nineteenth-century American artists, such as William Michael ... More



Alyssa Quinlan, Courtesy of Hindman LLC.



CHICAGO, IL.- Hindman today announced two key leadership appointments, adding to the auction house's growing team of experts who are advancing the firm's ambitious growth strategy. Alyssa Quinlan has been named Chief Business Development Officer and Kimberly Burt has been appointed as Director of the Fine Jewelry and Timepieces Department. This continued growth follows Hindman's previously announced acquisition of Leslie Hindman Auctioneers (est.1982) and Cowan's Auctions (est.1995), which together operate more US salerooms than any other auction house in the country. Alyssa Quinlan returns to Hindman following nearly two decades of experience in wealth management, art advising and appraisal with nationally renowned firms. Quinlan held the position of Director of Business Development and head of Trusts & Estates for Leslie Hindman Auctioneers in 2003. After joining the Chicago office of J.P. Morgan ... More



Katharine Hepburn, 1907–2003, received 12 Best Actress nominations from the Motion Picture Academy, taking four awards home for performances in Morning Glory, 1933, Guess Who's Coming to Dinner, 1967, The Lion in Winter, 1968, and On Golden Pond, 1981.



PITTSBURGH, PA.- The Frick Pittsburgh will present Katharine Hepburn: Dressed for Stage & Screen at The Frick Art Museum from October 19, 2019 through January 12, 2020. Drawn from the collection at the Kent State University Museum this exhibition presents an exciting look at a range of costumes and fashions that were instrumental in shaping some of the most memorable characters Hepburn portrayed over her long career. Included are costumes from the stage productions of The Philadelphia Story (1939), Without Love (1942), and Coco (1969), as well as the classic films Stage Door (1937), Adam's Rib (1949), and Long Day's Journey Into Night (1962), and television movies such as Love Among the Ruins (1975). ... More
Makes a Difference (S2, E6) | AT THE MUSEUM
Flashback
On a day like today, Dutch painter Aelbert Cuyp was born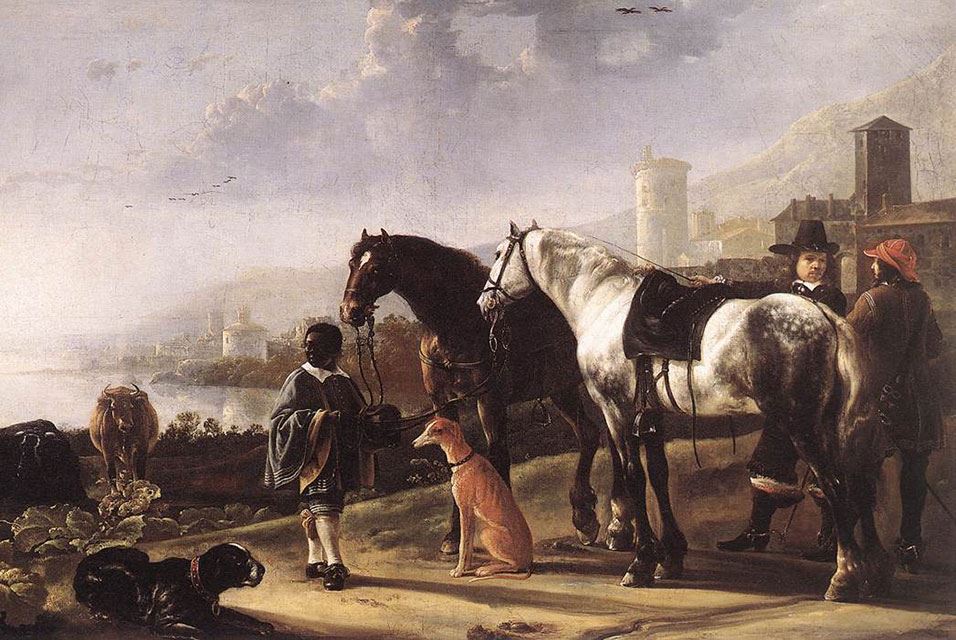 October 20, 1620. Aelbert Jacobsz Cuyp (October 20, 1620 – November 15, 1691) was one of the leading Dutch landscape painters of the Dutch Golden Age in the 17th century. The most famous of a family of painters, the pupil of his father Jacob Gerritsz. Cuyp (1594–1651/52), he is especially known for his large views of the Dutch countryside in early morning or late afternoon light. In this image: The Negro Page circa 1652, oil on canvas; Royal Collection.
---

Museums, Exhibits, Artists, Milestones, Digital Art, Architecture, Photography,
Photographers, Special Photos, Special Reports, Featured Stories, Auctions, Art Fairs,
Anecdotes, Art Quiz, Education, Mythology, 3D Images, Last Week,
.
---
Royalville Communications, Inc
produces: