New York museum says ancient coffin was looted, will go back to Egypt
Gilded Coffin Lid for the Priest Nedjemankh (detail) Late Ptolemaic Period (150–50 B.C.) Cartonnage, gold, silver, resin, glass, wood The Metropolitan Museum of Art, Purchase, 2017 Benefit Fund; Lila Acheson Wallace Gift; Louis V. Bell, Harris Brisbane Dick, Fletcher, and Rogers Funds and Joseph Pulitzer Bequest; Leona Sobel Education and The Camille M. Lownds Funds; and 2016 Benefit Fund, 2017 (2017.255b) Image: © The Metropolitan Museum of Art, New York.
NEW YORK
(AFP)
.-
The Metropolitan Museum of Art will return an ancient gilded coffin to Egypt after New York prosecutors determined that it had been looted from that country, the museum said. The museum had purchased the prized coffin, dating from the first century BCE, in July 2017 from a Paris art dealer for a price of nearly four million dollars. But the Manhattan district attorney's office determined that the mummy-shaped golden coffin had been sold with fake documentation, including a forged 1971 Egyptian export license. It was not clear what had sparked the district attorney's investigation. The statement Friday quoted Met CEO Daniel Weiss as apologizing to the Egyptian people and specifically to Antiquities Minister Khaled El-Enany. "After we learned that the Museum was a victim of fraud and unwittingly participated in the illegal trade of antiquities, we worked with the DA's office for its return to Egypt," Weiss said. ...
More
The Best Photos of the Day
Monet - Reinventions of Impressionism in a new large-scale exhibition
Hayward Gallery presents nearly 100 photographs by Diane Arbus
Exhibition offers comprehensive insights into the artistic and thematic breadth of the Renaissance in Venice


Claude Monet (French, 1840-1926), "Water Lilies," ca. 1914-1917. Oil on canvas, 65 3/8 x 56 in. (166.1 x 142.2 cm). Fine Arts Museums of San Francisco, Museum purchase, Mildred Anne Williams Collection, 1973.3 Image courtesy of the Fine Arts Museums of San Francisco.



SAN FRANCISCO, CA.- The Fine Arts Museums of San Francisco and the Kimbell Art Museum announce Monet: The Late Years, the first exhibition in more than 20 years dedicated to the final phase of Monet's career. About 60 paintings, the exhibition traces the evolution of Monet's practice from 1913, when he embarked on a reinvention of his painting style that led to increasingly bold and abstract works, up to his death in 1926. Assembled from major public and private collections in Europe, the United States, and Asia, including the holdings of the Fine Arts Museums and the Kimbell, Monet: The Late Years includes more than 20 examples of Monet's beloved water lily paintings. In addition, the exhibition showcases many other extraordinary and ... More



Installation view of diane arbus: in the beginning at Hayward Gallery, 2019. Photo: Mark Blower.



LONDON.- Hayward Gallery presents diane arbus: in the beginning, including nearly 100 photographs that redefine the achievement of one of the most prominent and influential artists of the 20th century. The exhibition takes an in-depth look at the formative first half of Diane Arbus' career, from 1956 to 1962, when the American master developed the direct, psychologically acute style for which she later became so widely celebrated. Presented across the upper floor of the Hayward Gallery, this solo show includes some fifty photographs which have never been shown in Europe, all vintage prints from the Diane Arbus Archive at The Metropolitan Museum of Art, New York. diane arbus: in the beginning features arresting portraits of individuals across the spectrum of American society. Arbus discovered the majority of her subjects in New York City, from Fifth Avenue to the Lower East Side, from Times Square to Cone ... More



Titian (c. 1488/90–1576), Portrait of a Young Man, ca. 1510. Oil on poplar, 20 x 17 cm. Frankfurt am Main, Städel Museum © Städel Museum – ARTOTHEK.



FRANKFURT.- The Städel Museum is devoting a major special exhibition to one of the most momentous chapters in the history of European art: Venetian painting of the Renaissance. Entitled "Titian and the Renaissance in Venice", the show unites more than a hundred masterpieces – In the early sixteenth century, artists of the "City of Water" developed an independent strain of the Renaissance relying on purely painterly means and the impact of light and colour. One of their most important exponents was Titian (ca. 1488/90–1576), who would hold the key position in the Venetian art scene all his life. The Frankfurt show assembles more than twenty examples by Titian alone – and thus the most extensive selection of his works ever before on display in Germany. It also presents paintings and drawings by Giovanni Bellini (ca. 1435–1516), Jacopo Palma ... More
With 'Roma,' Alfonso Cuaron reinvents how he makes films
The Museo del Prado is making more than 400 audiovisual archives available, spanning 100 years of its history
Bauhaus at 100: Celebrating the artists & their legacy at Sotheby's


Alfonso Cuaron attends the 71st Annual Writers Guild Awards New York ceremony at Edison Ballroom on February 17, 2019 in New York City. Jamie McCarthy/Getty Images for Writers Guild of America, East/AFP.



MEXICO CITY (AFP).- Mexican filmmaker Alfonso Cuaron has experimented before with styles and genres, from space epic "Gravity" to road trip coming-of-age tale "Y Tu Mama Tambien" to fantasy flick "Harry Potter and the Prisoner of Azkaban." But with "Roma," his highly acclaimed autobiographical love letter to his childhood, he flipped the script, so to speak -- a lot of the time, the actors didn't even have the whole script. He filmed chronologically, in black and white, and did the filming himself. Sometimes he gave the cast contradictory instructions to see what would happen, and if it would yield movie magic. Based on the 10 nominations his film earned for the Oscars on February 24 -- including four for Cuaron alone, for best picture, director, original ... More



"Opening of the new galleries", 1956. News extracted from NODO. Images courtesy of Filmoteca Espańola.



MADRID.- The Museo del Prado, in collaboration with the Filmoteca and Radio Televisión Espańola (RTVE) and with the generous participation of private companies and individuals, has created a new documentary archive which, for the first time and during its Bicentenary year, offers a survey of the audiovisual history of the Museo del Prado. Among the results is the new availability of the previously unseen documentary "Introduction to the Museo del Prado" (1985) by Basilio Martín Patino with photographic direction by Juan Maríne, as well as the restoration of five short films that required urgent conservation: "Velázquez" (1937) by Ramón Berreiro; "Mythology in the Prado: Rubens" (1948) by José María Elorrieta; "The lost Paradise" (1948) by Luciano Emmer and Enrico Gras (pioneers in the production of art documentaries); "Goya in the ... More



Wassily Kandinsky, Vertiefte Regung (Deepened Impulse), oil on canvas, 1928 (est. Ł5,500,000- 7,500,000). Courtesy Sotheby's.



LONDON.- Marking the 100th anniversary of the founding of the influential German school of art and design, Sotheby's Impressionist and Modern Art Evening and Day Sales will present artworks by those who taught at the Bauhaus and those whose outputs were transformed by its teachings. Founded in 1919 by the architect Walter Gropius, the Bauhaus – which resided in Weimar, Dessau and Berlin until it was closed down under pressure from the Nazis in 1933 – aimed to unite the disciplines of crafts, art and architecture. This core objective was conceived as a reimagining of the material world that would reflect unity in all the arts as a response to the rapid modernisation of life. The auctions on 26 and 27 February will comprise works by key proponents of the emblematic movement, including Wassily Kandinsky, Paul Klee, Oskar Schlemmer, László Moholy-Nagy ... More
Glenn Murcutt announced MPavilion 2019 architect
Claudia Comte creates an immersive installation for Copenhagen Contemporary's largest hall
Mudam Luxembourg opens the most significant retrospective to date dedicated to the paintings of Jutta Koether


Glenn Murcutt AO is often referred to as Australia's most famous architect.



MELBOURNE.- The Naomi Milgrom Foundation today announced the commission for the sixth annual MPavilion has been awarded to Pritzker Prize-winning Australian architect Glenn Murcutt AO. The announcement comes as MPavilion 2018, designed by Barcelona's Carme Pinós of Estudio Carme Pinós closed on Sunday 17 February, having received an overwhelming public response with 133,000+ visitors and 520 free events over 139 days. Naomi Milgrom AO, founder of the Naomi Milgrom Foundation commented: "I'm thrilled to be working with Glenn Murcutt. He's been at the forefront of contemporary architecture for decades with groundbreaking designs that are sensitive to landscape and cross-cultural collaboration. "Quintessentially Australian and ahead of his time, Glenn's thoughtfulness about people, place making and the environment continues to inspire us all." Glenn Murcutt, commented on his commission for MPavilio ... More



Claudia Comte, I Have Grown Taller from Standing with Trees (2019). Installation view at Copenhagen Contemporary. Photo: Roman März.



COPENHAGEN.- For her first exhibition in Denmark, the Swiss artist Claudia Comte has created an immersive installation for Copenhagen Contemporary's largest hall. The presentation brings together sculpture, sound and 3D prototyping with the artist's interest in archaeology, biodiversity and forestry. Inside the hall, rows of six-metre-tall debarked spruce trees are positioned along a grid of millimetric precision that directly corresponds to a digitally printed graphic carpet. A large ceramic sculpture sits at the centre of this seemingly peaceful forest, which is enveloped by filtered light, sound and the mild scent of resin released by the pale spruces. Moving through the exhibition, however, a collapse of order becomes apparent. The trunks have been struck by a powerful force and are suspended in a state of disorder. The geometrical grid of the carpet evokes the root system of the trees, which, via underground fungi ... More



Mčde, 1992. Courtesy Galerie Buchholz, Berlin/Cologne/New York © Jutta Koether.



LUXEMBOURG.- Mudam Luxembourg – Musée d'Art Moderne Grand-Duc Jean continues its winter-spring season with the most significant retrospective to date dedicated to the paintings of Jutta Koether (b. 1958, Cologne). The exhibition presents four decades of Koether's paintings produced between 1983 and 2018, several of which have rarely been shown previously. Tour de Madame is a collaboration with the Brandhorst Museum in Munich and was listed as one of the top 10 exhibitions of the year in Artforum magazine. At Mudam, the exhibition is organised as three moments. In the West Gallery, a retrospective view of paintings created between 1983 and 2016 is presented in a "salon" style that references collectors' cabinets, and the memory of the first retrospective exhibition staged by Pablo Picasso in Zurich in 1932. Presented in the East Gallery is the eponymous Tour de Madame, a cycle of 15 paintings made by Koether for the exhi ... More
Paul Pretzer returns to portraiture with his signature dark humor in new exhibition at MARC STRAUS
Bertoia's announces its 700-lot Spring Signature Sale
Kewenig opens the exhibition "The Palace of Perfect" with works by James Lee Byars


Installation view.



NEW YORK, NY.- MARC STRAUS opened Paul Pretzer's fourth solo exhibition of new paintings. Pretzer returns to portraiture with his signature dark humor. Pretzer frequently references famous Renaissance paintings and we are encouraged to make the associations amid his oddities and allusions to contemporary popular culture. For example, Pretzer's depiction of hands, as in the gesticulations of Blender (2018) or the fondling touch of the tattooed Hasenmann (2018)—evoke Zurbaran and Da Vinci, yet these are pure inventions and wonderfully contemporary. Pretzer's use of symbolism largely invokes the surrealists but his quixotic choices of characters and narrative is very much his own. He loves to play with historical genres. Portrait (2018), composed in the classical manner, cropped at mid-torso, is a strange yet captivating figure straight out of Blaxploitation culture-her Afro hair could easily replace the halos from 15th century ... More



Marklin's largest boat, the Ocean Liner Augusta Victoria, made from 1909-1915, 45in. long, ex Malcolm Forbes collection. Est. $50,000-$80,000.



VINELAND, NJ.- How does an auction house match a sale like the one Bertoia's held last September, with its blockbuster lineup of pristine early American clockwork toys, rare French Martin toys and still banks from long-held collections? The answer is, by offering more of the same. On March 9-10, Bertoia Auctions will present its 700-lot Spring Signature Sale showcasing Part II of Frank Mohr's incomparable 60-year collection of Fernand Martin and early American tin and clockwork toys; as well as Part II of the superb 40-year still bank collection of Douglas Jackman. In addition, the auction lineup features the revered multi-generation estate collection of Sam Downey Jr., and approximately 100 rare and exceptional penny toys from the Michael Bertoia collection. "We think this is going to be one of those ... More



James Lee Byars, The Touched Sphere, 1988. Marble 40 x 40 x 40 cm | 15 3/4 x 15 3/4 x 15 3/4 in. The Estate of James Lee Byars, courtesy Kewenig, Berlin. Photo: Stefan Müller.



BERLIN.- Kewenig is presenting the exhibition "The Palace of Perfect" with works by James Lee Byars (1932 – 1997). James Lee Byars is considered one of the most distinguished personalities of 20th century art. In particular with his performances, he opened up new terrain for his time and ahead of present-day contemporary art, crossing artistic boundaries that had thitherto prevailed. Comparable only to Andy Warhol or Joseph Beuys, his work was inextricably linked to the appearance of his person. Byars, the man in the gold suit, with black gloves and a black top hat, his eyes - sometimes his whole face - cloaked behind the veil of a black silk scarf; the artist as a magician, as a magician of things in a world of everyday life, a strange solitaire who, in the dazzling exposition of himself, not ... More
The Monumental Intimacy of Jenny Saville's Female Nude
Flashback
On a day like today, Romanian-French artist Constantin Brâncusi was born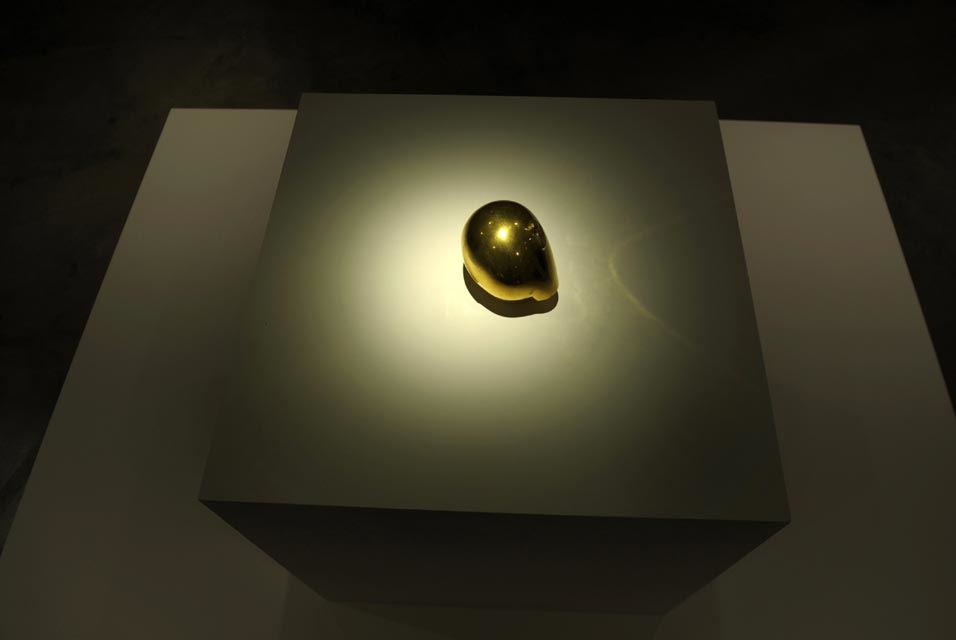 February 19, 1876. Constantin Brâncusi (February 19, 1876 - March 16, 1957) was a Romanian sculptor, painter and photographer who made his career in France. Considered a pioneer of modernism, one of the most influential sculptors of the 20th-century, In this image: The 1911 gilded bronze sculpture "Prometheus" by Constantin Brancusi is displayed during a preview of "Brancusi Serra" at the Guggenheim Museum in Bilbao October 7, 2011. Curator Oliver Wick described the third element of the interaction between the two sculptors as Frank Gehry, architect of the museum.
---

Museums, Exhibits, Artists, Milestones, Digital Art, Architecture, Photography,
Photographers, Special Photos, Special Reports, Featured Stories, Auctions, Art Fairs,
Anecdotes, Art Quiz, Education, Mythology, 3D Images, Last Week,
.
---
Royalville Communications, Inc
produces: