The complete painted works and unique miniatures of Jan Van Eyck now online
Turin Manuscript Study. Photo: © KIK-IRPA Brussels.
BRUSSELS
.-
Thanks to the VERONA project (Van Eyck Research in OpeN Access) of the Royal Institute for Cultural Heritage (KIK-IRPA), the complete painted works, plus the unique miniatures of Jan Van Eyck, can now be admired online in
ultra-high resolution
. During the presentation of the European Heritage Awards / Europa Nostra Awards 2019 for Research to the VERONA project, photos and scientific images of several of Jan Van Eyck's top works, plus miniatures from the manuscript Turin-Milan Hours, were added to the website Closer to Van Eyck. Almost the entire oeuvre of Jan Van Eyck is now accessible online. And thanks to the entirely updated viewer with optimized zoom function you will not miss a single detail. Last but not least, the digitalized art works will feature in an interactive exhibition this fall in BOZAR – Centre for Fine Arts: Facing Van Eyck. The Miracle of the Detail ...
More
The Best Photos of the Day
Asia Week New York presents panel discussion at The Winter Show
Hauser & Wirth announces representation of George Condo
Tamara de Lempicka, leading highlight of Impressionist and Modern Art Evening Sale at Christie's


A Ming Blue and White Porcelain Vase, 16th century, Height 20 1/2 inches, courtesy of J.J. Lally & Co.



NEW YORK, NY.- Americans have a long tradition of collecting Asian art, and through their support have made our cultural institutions world leaders in the fields of Chinese, Japanese, Indian, and Himalayan art. With interest surging in these areas, it is most timely that Asia Week New York will present an important panel discussion entitled Opportunities and Perspectives in Collecting Asian Art at The Winter Show on Sunday, January 26th at the Park Avenue Armory, in New York, at 2:30 p.m. Matthew Welch, Deputy Director and Chief Curator, Minneapolis Institute of Art, will moderate the panel of five prominent experts, who will explore the current market dynamics and provide insights into the remarkable opportunities for collecting Asian art. The participants are: • Dessa Goddard, Vice President, Head, U.S. Asian Art Group, Bonhams • Jeffrey Horvitz, collector and museum patron • James J. Lally, gallery owner, J.J. Lally & Co. and ... More



George Condo, Spanish Head Composition, 1988. Oil and collage on canvas, 299.7 x 248.9 cm / 118 x 98 in. Collection of The Museum of Modern Art, New York. © George Condo. Courtesy the artist and Hauser & Wirth.



NEW YORK, NY.- Marc Payot, President of Hauser & Wirth, today announced the gallery's worldwide representation of George Condo. George Condo is a defining figure of contemporary American painting. Over the past four decades, he has forged a relentlessly inventive path, deploying technical skill and canonical art historical knowledge to channel the painterly modes of American and European art history into works of astonishing originality. Condo synthesizes past pictorial languages and motifs to create, as he has put it, 'composites of various psychological states painted in different ways.' Oftentimes, the influence of multiple historical moments can be felt in a single work. Most of Condo's paintings are portraits, not of living individuals but of invented characters, captured in ways that reveal the humanity inherent in their fractured psychological states. Condo collapses ... More



Tamara de Lempicka, Portrait de Marjorie Ferry, signed 'LEMPICKA.' (lower left). Oil on canvas, 39¡ x 25¬ in. (100 x 65 cm.). Painted in 1932. Estimate: £8,000,000-12,000,000 / US$10,400,000-15,700,000 / €9,400,000-14,100,000. © Christie's Images Ltd 2020.



LONDON.- Tamara de Lempicka's Portrait de Marjorie Ferry (1932, estimate: £8,000,000-12,000,000) will be a leading highlight of Christie's Impressionist and Modern Art Evening Sale on 5 February 2020, co-leading the auction. The painting was commissioned by the husband of the British-born cabaret star Marjorie Ferry at the height of Lempicka's fame in Paris where she was the most sought-after and celebrated female modernist painter. She was also recognised as an influential socialite who was determinedly independent. By 1930 Lempicka had become the première portraitist in demand among both wealthy Europeans and Americans, specifically with those who had an eye for classicised modernism. Keith Gill, Head of Evening Sale, Impressionist and Modern Art Christie's: "Tamara de Lempicka's striking ... More
Will Big Ben chime for Brexit? It's a $650,000 question
Andy Warhol through the lens
Forum Auctions to sell Banksy's first ever print


The Union flag flutters near the clockface of Big Ben during ongoing renovations to the Tower and the Houses of Parliament, in central London on January 7, 2020. Adrian DENNIS / AFP.

by Stephen Castle



LONDON (NYT NEWS SERVICE ).- When Britain leaves the European Union at the end of the month, it must secure trade ties to the Continent, revamp its migration rules and reset relations with global partners like the United States, to name just a few looming challenges. But the question gripping Brexit supporters is whether the moment of departure will be marked by the familiar chimes of Big Ben. Inconveniently, the country's most famous clock tower is under repair, like much of the crumbling parliamentary estate, yet that has not stopped a vigorous campaign to bring it back to life for a brief moment of history. "Big Ben Must Bong For Brexit," screamed a front-page headline in the British tabloid ... More



Wicker Chair, 1982. Unique gelatin silver print, 10 x 8 inches (print) 16 1/4 x 13 5/8 x 1 3/4 inches (framed) FL13.02271. Dated 'JUL 06 1982' on the reverse.

by Philip Gefter



NEW YORK (NYT NEWS SERVICE ).- Andy Warhol brought his camera with him everywhere he went — first a Polaroid, and then his treasured 35 mm compact Minox. "Having a few rolls of film to develop gives me a good reason to get up in the morning," he said. In his lifetime, he produced nearly 130,000 images with the Minox alone, only 17% of which had been printed at the time of his death. Like other major artists of the 1960s, including Warhol's contemporary, Robert Rauschenberg, he was creating a new visual language from a photographic vocabulary, long before the art world understood the significance of the medium. Warhol's preoccupation with photography is a meaty subject for a show. That show is "Andy Warhol ... More



Banksy, Rude Copper.



LONDON.- On Tuesday 21st January Forum Auctions is offering a unique hand sprayed variant numbered 1/250 of Banksy's iconic Rude Copper image. The work is signed and further embellished with Banksy's trademark red ink tag. Printed by Pictures on Walls in 2002, Rude Copper is recognised as the artist's first commercially produced screen-print and introduced Banksy's work to the fine art market for the first time. Of the 250 examples, only c.50 were signed and fewer still hand sprayed with the 'FUCK THE POLICE' tagline. Acquired by the seller at Sydney's inaugural Semi Permanent exhibition in 2003 for only $400 AUD, the work is estimated to sell for £70,000 - £90,000 and promises to be keenly contested by collectors. Rude Copper's blunt messaging questions the traditionally romanticised image of the friendly neighbourhood bobby on the beat, instead warning us to be wary of authority. ... More
Whitney Houston and Nine Inch Nails make the Rock & Roll Hall of Fame
Budget blowouts and delays blight Germany's major arts projects
Betty Pat Gatliff, whose forensic art solved crimes, dies at 89


Pop diva Whitney Houston at the 42nd Annual Grammy Awards at the Staples Center in Los Angeles February 23, 2000. AFP.

by Joe Coscarelli



NEW YORK (NYT NEWS SERVICE ).- The pop singer Whitney Houston, the '90s industrial-alternative experimentalists Nine Inch Nails and the Brooklyn rapper the Notorious B.I.G. are among the latest inductees into the gradually broadening tent that is the Rock & Roll Hall of Fame, according to an announcement Wednesday. Rounding out the class of 2020, which will be feted by the Rock Hall on May 2 in Cleveland, are the gothy synth-pop group Depeche Mode, which had hits throughout the '80s and '90s; the Doobie Brothers, who brought soul, country and jazz sounds into its top-selling '70s soft rock; and T-Rex, the English glam-rock band fronted by Marc Bolan until his death in 1977. All told, the latest honorees — which were voted in by a group of more than 1,000 artists, industry professionals and historians, as well as a fan vote that counts as one ballot — cover a wide swath of genres and generations, in line with recent Rock Hall classes that have welcomed Tupac Shakur, Radiohead, the Cure a ... More



Christopher Braun, a spokesman for Cologne's city-run theaters, gives a tour of the opera complex in Cologne, Germany, during renovations, Dec. 4, 2019. Ilvy Njiokiktjien/The New York Times.

by Catherine Hickley



COLOGNE (NYT NEWS SERVICE ).- "A fiasco," said a local lawmaker, shaking his head grimly. "A shipwreck," said a former head of construction for the city. The people of Cologne, known across Germany for their friendly cheer, lose their bonhomie when it comes to the renovation of their opera house and main theater. Running eight years late and now more than twice over budget, the city building authorities now say they expect to hand over the keys in 2023. "It's a shambles," said Ulrich Wackerhagen, the Free Democrats party's spokesman on cultural matters in City Hall. The project has been rumbling on since 2011, when the city approved plans to revamp the 1950s concrete complex that houses both institutions, adding a new studio space and a stage for children's opera. But a report by the City Council outlined how rushed, inadequate planning and an oversight structure that left no one clearly in charge spawned a monster in the bowels of the building: a tangle ... More



Betty Pat Gatliff with her facial reconstruction of Tutankhamen, which she created in 1983 at the request of an orthopedic surgeon curious about the pharaoh. Florida Gulf Coast University Library via The New York Times.

by Richard Sandomir



NEW YORK (NYT NEWS SERVICE ).- Betty Pat Gatliff, a forensic sculptor who helped law enforcement identify scores of people who went missing or had been murdered by deftly reconstructing their faces, died Jan. 5 in a hospital in Oklahoma City. She was 89. Her nephew James Gatliff said the cause was complications of a stroke. Gatliff's artistic skills and intimate understanding of facial architecture led many police departments, coroners and medical examiners to send her the skulls of people whose faces — their visual identities — had decomposed or been rendered unrecognizable by acts of violence. Gatliff advanced the niche field of facial reconstructions well before the advent of modern forensics and television shows like "CSI: Crime Scene Investigation." Over more than 40 years, first as a government employee and then as a freelancer, she sculpted about 300 faces and produced an ... More
Ukiyo-e prints return from Japan for major exhibition a The Allen
Exhibition of new Self-Portraits by Alex Israel opens at Gagosian
Colleen Russell Criste appointed Deputy Director and Chief Philanthropy Officer at the Cleveland Museum of Art


Utagawa Kunimasa (Japanese, 1773–1810), The Actor Iwai Kumetaro as the Kamuro Tayori from the Shimbara District in Kyoto, 1796. Mary A. Ainsworth Bequest, 1950.473.



OBERLIN, OH.- In 1950, the Allen Memorial Art Museum received a surprise gift of more than 1,500 Japanese woodblock prints featuring actors, courtesans, and landscapes of the "floating world" of 17th- to 19th-century Japan. This bequest became a cornerstone of the Allen's renowned Asian art collection, and 200 of the works traveled back to Japan last year for a tour of museums in Chiba (near Tokyo), Shizuoka, and Osaka. Now more than 100 of these prints are on view in Ukiyo-e Prints from the Mary Ainsworth Collection, an Oberlin exhibition that runs through June 14, 2020. Mary Andrews Ainsworth (1867–1950) graduated from Oberlin College in 1889 and made her first sea voyage to Japan in 1906. The country had recently emerged from centuries of isolation and was beginning a period of rapid industrial development. Ainsworth, however, was attracted to an earlier Japan: that of the Edo period ... More



Alex Israel, Self-Portrait (Wheel of Fortune), 2017. Acrylic and bondo on fiberglass, 96 x 84 x 4 in 243.8 x 213.4 x 10.2 cm. © Alex Israel Photo: Jeff McLane Courtesy Gagosian



LONDON.- Gagosian is presenting Always On My Mind, an exhibition of new Self-Portraits by Alex Israel. This is his first solo exhibition in the United Kingdom. A native of Los Angeles, Israel mines the cultural mythos of his hometown with polished optimism and calculated cool, melding nostalgic feelings with lucid perceptions of California living and the American Dream. Israel has cultivated a close partnership with Warner Bros. Studios, beginning in 2010 when he rented Hollywood props from the studio's warehouses and exhibited them as readymade sculptures. He has also collaborated with the studio's scenic painting department on numerous large-scale series, including his dreamy, pastel-tinted Sky Backdrops, architecturally inspired Flats, and slick, vibrant Waves. The film industry has continued to play a central role in Israel's work; in 2017, he made his directorial debut with SPF-18, a feature-length teen rom-com that pays t ... More



Ms. Criste comes to the Cleveland Museum of Art from Los Angeles, where she has served in a consulting role with nonprofits and cultural organizations across Southern California.



CLEVELAND, OH.- The Cleveland Museum of Art announced the appointment of Colleen Russell Criste as deputy director and chief philanthropy officer. Following an extensive national search, Ms. Criste will join the museum's executive leadership team reporting to and working closely with the museum director. She will be charged to broaden community connections and encourage philanthropic investment in the museum. Ms. Criste will assume her duties at the CMA in early 2020. "As we work to achieve the ambitious goals outlined in our strategic plan, Colleen's extensive fundraising experience, passion for philanthropy and experience building institutional and community partnerships are all assets to the museum," said William Griswold, director of the Cleveland Museum of Art. As deputy director and chief philanthropy officer, Ms. Criste will be the guiding architect of the museum's ... More
Selena Forever/ Siempre Selena: Behind The Scenes
Flashback
On a day like today, American stained glass artist Louis Comfort Tiffany died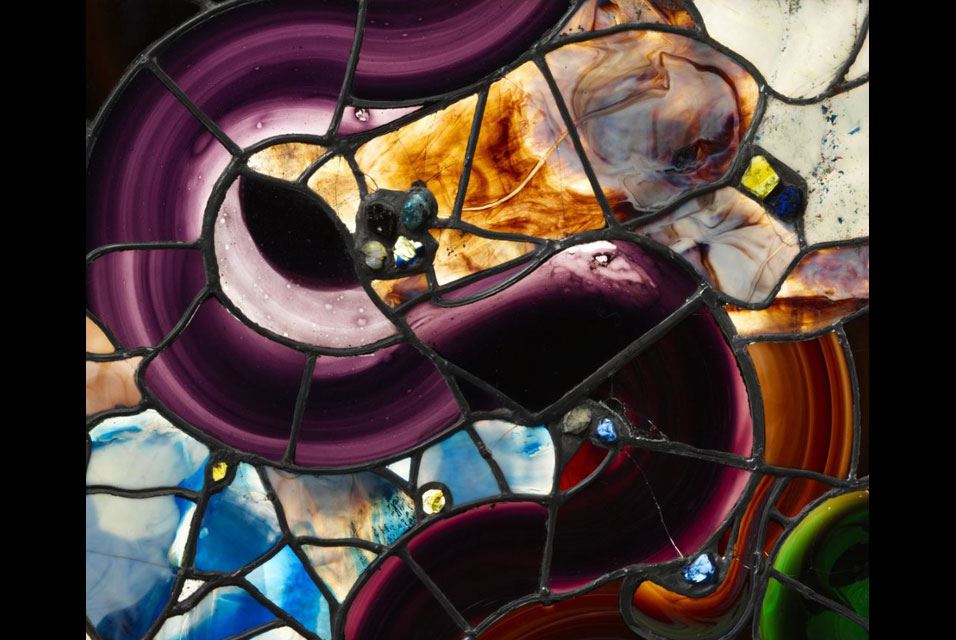 January 17, 1933. Louis Comfort Tiffany (February 18, 1848 - January 17, 1933) was an American artist and designer who worked in the decorative arts and is best known for his work in stained glass. He is the American artist most associated with the Art Nouveau[1] and Aesthetic movements. He was affiliated with a prestigious collaborative of designers known as the Associated Artists, which included Lockwood de Forest, Candace Wheeler, and Samuel Colman. In this image: Louis C. Tiffany, Fenêtre du "Bella Apartment", c.1880. Verre, plomb. New York, The Metropolitan Museum of Art, Don de Robert Koch, 2002 ©Photo : The Metropolitan Museum.
---

Museums, Exhibits, Artists, Milestones, Digital Art, Architecture, Photography,
Photographers, Special Photos, Special Reports, Featured Stories, Auctions, Art Fairs,
Anecdotes, Art Quiz, Education, Mythology, 3D Images, Last Week,
.
---
Royalville Communications, Inc
produces: