Mexico unearths what may be historic recording of Frida Kahlo
This file picture taken on October 31, 2017 shows a detail of an altar dedicated to Mexican artist Frida Kahlo at the Frida Kahlo Museum in Mexico City. Cultural authorities in Mexico said on June 12, 2019 that they believe -though not 100 percent sure- they have found the first recording of the iconic painter Frida Kahlo (1907-1954) reading a text she wrote in 1949 for her husband, muralist Diego Rivera. Culture Minister Alejandra Frausto said the discovery of the recording is part of the collection of Alvaro "El Bachiller" Galvez y Fuentes, an important figure of the "Golden Age" of Mexican radio. Yuri CORTEZ / AFP.
MEXICO CITY
(AFP)
.-
Iconic 20th-century artist Frida Kahlo has one of the best-known faces on the planet, but the world at large has never heard the Mexican painter's voice -- until, possibly, now. Kahlo, who is instantly recognizable with her convention-defying unibrow, spent her life as a painter in the daunting artistic shadow of her husband, the muralist Diego Rivera. And while there are many silent films of her, the Mexican culture ministry says there are no known audio recordings. But one may just have been found in the private collection of a legendary host from Mexico's "golden age of radio" in the 1950s, it says. "Frida's voice has always been a great enigma, a never-ending search," the head of the national audio archives, Pavel Granados, told a press conference at which the ministry unveiled the newly discovered recording. "Until now, there had never been a recording of Frida Kahlo," he added. The tape was found in the archives of late radio personality ...
More
The Best Photos of the Day
Women artists bring #MeToo reckoning to Basel fair
Art of early man found in the greatest meteor crater on earth
Phillips to offer works from the collection of baseball star Alex Rodriguez


Art Basel in Basel 2019 © Art Basel.



BASEL (AFP).- Mannequins display inflatable, white airbag dresses created to protect women from workplace harassment, while nearby details of the alleged sexual misdeeds of 170 public figures cover four long walls, splashed in red. The #MeToo movement that exploded on the global stage in late 2017 has inspired several works exhibited at this year's Art Basel, the world's biggest contemporary art fair, which opens to the public on Thursday. Women artists have taken centre stage at the show's 50th edition, with in-your-face installations expressing disgust and exasperation at persisting gender inequalities and culturally condoned abuse and harassment of women. Spanish artist Alicia Framis has filled a room with delicate, white mannequins wearing different styles of dresses made from airbag material, which inflate to protect different parts of the female body. The piece called "Life Dress" consists of dresses "to protect women in all work situations where there is some kind of abuse," Framis told AFP. ... More



Granophyre dyke.



BLOEMFONTEIN.- Leading South African scientists from the University of the Free State are about to undertake research into the destruction caused by a huge ancient meteorite that could hold clues critical to the history, mechanisms and consequences of meteorite strikes on earth and elsewhere in the Solar System. The results of this work could mean a better understanding of the effects of such impacts and the greater safety of the earth. The vast crater is also fascinating for its human interest from early man who used it as a centre of cultural importance and left rock carvings as proof of their presence. The site was of great spiritual significance, comparable to the stone circles of Stonehenge in the UK. The Khoi-San patently understood that the rock remains found on the surface were unique and important. The University of the Free State is fortunate to be situated only 180 miles from the largest meteorite crater, which has an initial diameter of 300 kilometers (186.4 miles) and at over two billion ... More



Jean-Michel Basquiat, Pink Elephant with Fire Engine. Acrylic, oil and silkscreen on canvas, 218.4 x 172.7 cm (86 x 68 in.) Executed in 1984. Estimate: £3,000,000 - 4,000,000.



LONDON.- Phillips will offer works from the private collection of American baseball star and art collector Alex Rodriguez, in the upcoming Evening Sale of 20th Century & Contemporary Art in London on 27 June. Considered one of the greatest players in Major League Baseball—setting numerous records for the Seattle Mariners, Texas Rangers, and New York Yankees—Rodriguez has employed his passionate spirit and acute eye to pursue new ventures within the realm of art. Two works which have resided in his Florida home will figure prominently in the Evening Sale – Richard Prince's Mustang Painting, 2014-16, and Jean-Michel Basquiat's Pink Elephant with Fire Engine, 1984. Alex Rodriguez has said, "I have been collecting for a decade. A number of gallerists and advisors pointed me in the right direction, and I have been in conversation with several artists, whose studio practice ... More
A single-owner collection of rare and historical maps will be sold at Crescent City Auction Gallery
Getty Research Institute presents online exhibition Bauhaus: Building the New Artist
High spirits: study finds cannabis first used in C. Asian funerals


Two maps (one shown) by Willem Janszoon Blaeu (1571-1638): Virginiae partis australis et Florida partis orientalis and India Quae Orientalis Diktur et Insulae (est. $500-$1,000).



NEW ORLEANS, LA.- An important single-owner collection of rare, historical maps – many of them hundreds of years old and colorful, beautiful renderings of the world, the United States and portions of the United States – will be sold in a two-part online-only auction by Crescent City Auction Gallery. Bidding is being done exclusively through the platform LiveAuctioneers.com. Part 1 of the sale will start on Friday, June 14th, with lots 1-317, at 10 am Central time. Part 2 will begin a week later, on Friday, June 21st, also at 10 am, with lots 318-693. All lots have a starting bid of $25. That modest amount is designed to spur bidding, expected to be brisk. A star lot of Part 1 is expected to be a 1642 hand-colored copper engraving by Willem Janszoon Blaeu (1571-1638), titled Nova Virginia Tabula, a 17 ½ inch by 22 ½ inch depiction of Virginia, with Native American vignettes (est. $1,000-$2,000). Blaeu was a Dutch ... More



Entrance hall of the Sommerfeld House with wood carvings, door, radiator covers, and stained glass windows. Building: Walter Gropius and Adolf Meyer, 1920–1921. Wood carvings: Joost Schmidt, ca. 1920–1921. Windows: Josef Albers, ca. 1920–1921. Photographer unknown, ca. 1920–1921. 19.5 x 15.5 cm. Bauhaus Student Work, 1919–1933. The Getty Research Institute, 850514.



LOS ANGELES, CA.- Considered one of the most influential schools of art and design of the 20th century, the Bauhaus forged a unique vision that blended theory with practice to cultivate a new generation of artists and designers. Marking the 100th anniversary of the founding of the Bauhaus school, the Getty Research Institute launches an online exhibition that explores that vision in new ways, allowing users to learn about the techniques of the Bauhaus masters and to test their theories with three interactive exercises inspired by lessons that students in the school were given. "The Bauhaus's tremendously influential legacy of artistic experimentation is rooted in its radical teaching which makes it the perfect subject for a new type of exhibition," said Mary ... More



Dr. Meng Ren works with GCMS in Beijing. © Yimin Yang.



WASHINGTON (AFP).- At a burial site high in the Pamir Mountains, music from an ancient harp and the smell of burning cannabis and juniper incense fill the air, part of an elaborate ceremony to commune with the divine -- and the dead. These rituals took place 2,500 years ago and represent the oldest known use of marijuana for its psychoactive properties, according to scientists who analyzed archeological remains in China's western Xinjiang province using forensic technology. Their findings were published in the journal Science Advances on Wednesday and place cannabis among the growing number of crops, from apples to walnuts, that researchers believe developed into their modern form along the Silk Road, said Robert Spengler, the study's lead archaeobotanist. "The exchange routes of the early Silk Road functioned more like the spokes of a wagon wheel than a long-distance road, placing Central Asia at the heart of the ancient world," said Spengler, ... More
Sperone Westwater to represent artist Rochelle Feinstein
Mecca Clock turns into tourist draw
Baltimore Museum of Art adds more than 70 historic and contemporary works to collection


Rochelle Feinstein, Horizontal Hold, 1994. Oil, Velcro, fabric on linen, 62 x 62 inches (157,5 x 157,5 cm).



NEW YORK, NY.- Sperone Westwater announced its representation of American artist Rochelle Feinstein. Born in 1947, Rochelle Feinstein is a longstanding and deeply respected member of the New York art community. Her work navigates the charged terrain of modernist painting with wry humor and sharp intelligence, unfolding across diverse and thematically interwoven bodies of work which incorporate painting, drawing, photography, printmaking, sculpture, video, and installation. In its social and autobiographical reference and attention to language and contemporary culture, Feinstein's work raises trenchant questions about authorship and the role of the artist as public and private figure. A major survey exhibition of Feinstein's work originated at the Centre d'Art Contemporain, Geneva (2016), and subsequently traveled to Städtische Galerie im Lenbachhaus, Munich (2016), Kestnergesellschaft, Hanover (2017), and the Bronx Museum of ... More



A picture taken on June 3, 2019, shows a replica of four-face Mecca clock at the Clock Tower Museum in the Saudi holy city of Mecca. Bandar ALDANDANI / AFP.



MECCA (AFP).- Like millions of other Muslims, Cory Ireza from Indonesia travelled to Mecca to pray in the Grand Mosque. But she also found a new attraction just a stone's throw away from Islam's holiest shrine. After performing the pilgrimage, Ireza, her husband Dodi and their two children were among the first visitors to a museum built inside the world's largest clock at the top of the globe's third tallest building. Overlooking the Kaaba, a black structure inside the Grand Mosque towards which Muslims around the world turn to pray, the four-storey Clock Tower Museum opened a month ago. It is filled with models and structures on astronomy and galaxies, as Saudi authorities aim to lure more Muslim tourists to the country. "This museum allows us to bring the family not only for prayers but also for some extra activity... and recreation," Ireza said. Looking down from a height of around 600 metres (almost 2,000 feet) as thousands of worshippers walked around the ... More



Mary Lovelace O'Neal. Running Freed More Slaves Than Lincoln Ever Did. 1995. The Baltimore Museum of Art: Purchase with exchange funds from the Pearlstone Family Fund and partial gift of The Andy Warhol Foundation for the Visual Arts, Inc., BMA 2019.27. © Mary Lovelace O'Neal.



BALTIMORE, MD.- The Baltimore Museum of Art announced today that it has added to its collection this year more than 70 historic and contemporary works by a range of national and international artists. Among the new acquisitions are 17 objects purchased with proceeds from the auction of recently deaccessioned works. These include mixed-media works by Charles Gaines, Ebony G. Patterson, and Wilmer Wilson IV; prints by Emma Amos, Geta Brătescu, and Faith Ringgold; drawings by David Driskell and Clio Newton; a film by Ana Mendieta; photography by Elle Pérez; and a painting by Mary Lovelace O'Neal, among others. The BMA, through gift and purchase, has also acquired a range of historic works, including a rare 18th-century miniature by Anna Maria Werner; 19th-century prints by Manuel Orazi; and ... More
Paweł Althamer's first solo exhibition in the Nordic region on view at the Helsinki Art Museum
British Museum and Samsung renew partnership for further 5 years
New book chronicles Andy Warhol and Jean-Michel Basquiat's relationship in previously unpublished photographs


Paweł Althamer, MAMA III, 2016 © Photo: Jens Ziehe, Berlin.



HELSINKI.- Internationally acclaimed Polish artist Paweł Althamer's (b. 1967) extensive solo show in HAM showcases his diverse and surprising work from three decades. Althamer also created a new collaborative artwork for the show that invites visitors to explore, be inspired and seek freedom of mind, body and soul. Paweł Althamer: I (am) is the artist's first solo exhibition in the Nordic countries. The title of Althamer's exhibition I (am) epitomises the core questions of his art: Who am I? Who are we together? Collaboration is a key component of Althamer's artistic practice. He regularly involves his family, neighbours, museum visitors, as well as disadvantaged citizens in the creation of his works. These collaborations result in sculptures—totems as Althamer calls them—that are traces of this process. The important thing for Althamer is not the end-result but sharing the creative ... More



Thanks to Samsung's generous support, expertise and technology the SDDC schools and family programmes have transformed the Museum's digital learning provision into a world class, sector leading and award-winning programme. © Josh Redman.



LONDON.- The British Museum and Samsung today announced a further five-year partnership, which will take their longstanding and award winning collaboration through to its 15th anniversary in 2024. As part of the new agreement, the Museum's Samsung Digital Discovery Centre (SDDC) will undergo a major refit and there are ambitious plans to further increase the number of schools and families who engage with the Centre both on site and online. The SDDC, which is based at the Museum in Bloomsbury, was created to provide a state-of-the-art technological hub for children and young people to learn about and interact with the British Museum's collection. This past year, the Centre welcomed its highest ever number of visitors, with 25,000 ... More



Warhol on Basquiat. The Iconic Relationship Told in Andy Warhol's Words and Pictures.



NEW YORK, NY.- Andy Warhol and Jean-Michel Basquiat's complex relationship captivated the art world then and now. At a time when Warhol was already world famous and the elder statesman of New York cool, Basquiat was a downtown talent rising rapidly from the graffiti scene. Together, they forged an electrifying personal and professional partnership. As a prolific documentarian of his own world, Warhol extensively photographed and wrote of his friendship with Basquiat, all played against the backdrop of 1980s downtown New York City. It reveals not only the emotional depth of their relationship but also its ambiguities, extremities, and complexities. Produced in collaboration with The Andy Warhol Foundation and Jean-Michel Basquiat's estate, this book chronicles the duo's relationship in hundreds of previously unpublished photographs of Basquiat along with a dynamic cast of characters ... More
In the Studio with Rachel Rossin | Phillips x Daata
Flashback
On a day like today, painter Paul Georges was born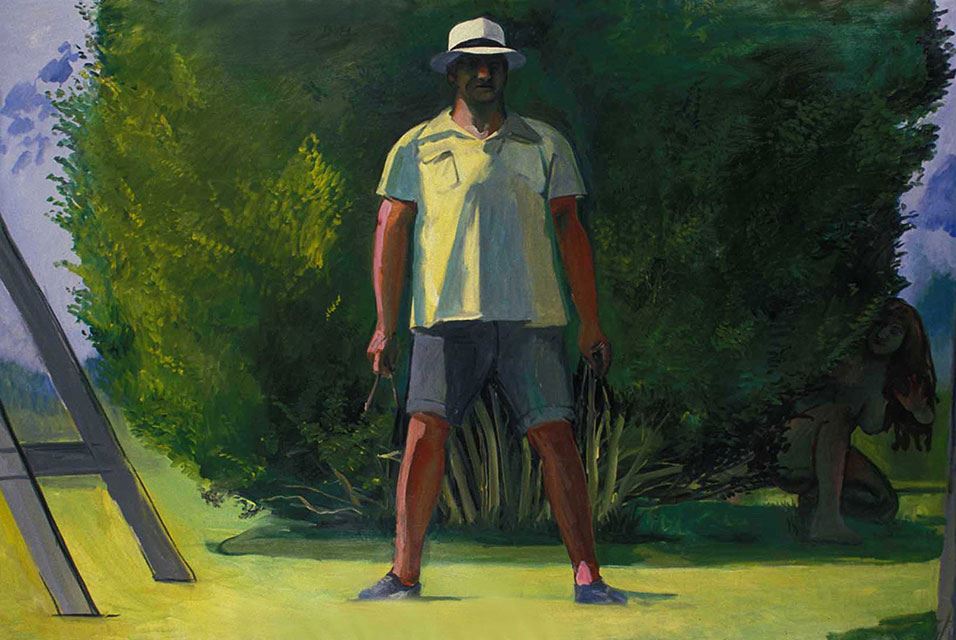 June 15, 1923. Paul Georges (June 15, 1923 - April 16, 2002) was an American painter. He died at his home at Isigny-sur-Mer, Normandy, France, aged 77. He painted large-scale figurative allegories and numerous self-portraits. In January 1966, the cover of Art News featured "In The Studio" now in the collection of the Whitney Museum of American Art. Works were included in Whitney Museum Annuals of 1961, 1963, 1967 & 1969. In this image: Muse Comes to Consult, 72 x 120 w, 1983.
---

Museums, Exhibits, Artists, Milestones, Digital Art, Architecture, Photography,
Photographers, Special Photos, Special Reports, Featured Stories, Auctions, Art Fairs,
Anecdotes, Art Quiz, Education, Mythology, 3D Images, Last Week,
.
---
Royalville Communications, Inc
produces: