Thinking Bigger at Art Basel Miami Beach
Guests attend the Art Basel Miami Beach VIP Preview 2019 at Miami Beach Convention Center on December 04, 2019 in Miami Beach, Florida. Cindy Ord/Getty Images/AFP.

by Ted Loos
MIAMI
(NYT NEWS SERVICE )
.-
Art fairs evolve like any other event, but the changes can be subtle. Even if you are told that striking, thematically linked treasures are on offer in a special sector, rows of gallery booths have a way of blending together. So the organizers of Art Basel Miami Beach, taking place Thursday through Sunday for its 18th edition, are making an effort to create a palpably different atmosphere for a new sector, Meridians. Overall, 269 galleries will be on hand in the Miami Beach Convention Center, from places as far-flung as Tokyo and Toronto. The new sector will have 33 projects arranged in the center's Grand Ballroom and one outside the convention center. Last year, the ballroom had only been recently completed at the time of the fair, after a three-year renovation of the center, and it held a special multidisciplinary work. ...
More
The Best Photos of the Day
UK art prize winners launch attack on British government
Gianguan Auctions December 16th sale is a wonderland of gifts
For Cecilia Vicuña, 'consciousness is the art'


Winners on stage. Photo: Stuart Wilson Getty Images.



LONDON (AFP).- The Turner Prize has stoked controversy again after the joint winners attacked the British government and the rise of far-right politics across the world. Oscar Murillo, Lawrence Abu Hamdan, Helen Cammock and Tai Shani were handed the coveted visual arts award at the Turner Contemporary gallery in the seaside town of Margate on Tuesday night. The four shortlisted artists sent a plea to the judges to award the prize to them all jointly, explaining they had formed a collective to show solidarity at a time of global "political crisis". Cammock, whose submission examined women in the civil rights movement in 1960s Northern Ireland, said the four had decided among themselves that they were all winners. She said after accepting the award they were "all engaged in forms of social or participatory practice", which, taken together, were "incompatible with the competition format". "Placing in contention the issues ... More



18th c., Qing silk summer robe, embroidered with dragon and Twelve Symbols of Imperial Royalty.



NEW YORK, NY.- A specially curated collection of Chinese paintings and art designed to express the importance of a gift - be it personal or business related - will grace Gianguan Auctions' Holiday Sale on Monday, December 16. The auction opens with fifty lots of desirable carved jade pendants, bracelets and necklaces in lustrous white, apple green, lavender, coral red, yellow and classic suffusions. Many are carved with auspicious Chinese symbols. Others make a strong statement in form alone. Serious jewelry collectors will appreciate Lot 140, a court necklace that features 108 pink jade beads evenly interspersed with larger lapis lazuli rounds. In the center, a lapis lazuli double-gourd floats above a beiyun, "back cloud". The iconic piece. weighted with three strands of blue jade beads above droplets of lapis lazuli, is expected to reach $15,000. ... More



The artist Cecilia Vicuña at the Museum of Contemporary Art in North Miami, Fla., Nov. 23, 2019. Angel Valentin/The New York Times.

by Ray Mark Rinaldi



MIAMI (NYT NEWS SERVICE ).- Cecilia Vicuña's current retrospective, "About to Happen," has been promoted by curators far and wide as the "first major, U.S. solo exhibition by the influential Chilean-born artist." But that is not completely accurate. Vicuña, 71, had a solo show in 1992 at the University of California Art Museum, in Berkeley. She was the subject of another one-person exhibition in 1999 that traveled to top galleries in New York City, Houston and Buffalo, New York. And she headlined yet another exhibition three years later that filled the Boulder Museum of Contemporary Art in Colorado. But as the sculptor, poet and activist explained, none of those efforts turned out to be as "major" as their presenters had hoped. ... More
Gladstone Gallery opens an exhibition of new work by artist Anne Collier
A graffiti museum where the writers are in charge of history
Ketterer Kunst ensures lost work by Christian Rohlfs returns to Kunstmuseum Moritzburg


Anne Collier, Woman Crying (Comic) #11, 2019. C-print, 64 7/8 x 49 3/4 inches (164.8 x 126.4 cm) © Anne Collier. Courtesy the artist and Gladstone Gallery, New York and Brussels.



BRUSSELS.- Gladstone Gallery is presenting an exhibition of new work by the New York-based artist Anne Collier. Over the past two decades, Collier has developed an expansive body of work that considers the nature of photographic images, our relationship with photographs' transmission and objecthood, and the discipline of photography itself. Informed as much by technical and commercial aspects of the medium as by the work of the 'Pictures' generation artists, Collier's work explores photography's self-reflexivity and examines its fraught histories with gender. Her practice traffics in the subtle tensions between an objective, almost-forensic approach to image-making and the often highly emotive and psychologically-charged content her work depicts. For this exhibition, Collier introduces a new series of photographic triptychs ... More



Aerosol cans of spray paint on display at the Museum of Graffiti in Miami, Nov. 23, 2019. Melanie Metz/The New York Times.

by Jon Caramanica



MIAMI (NYT NEWS SERVICE).- When Alan Ket was a teenager growing up in the Williamsburg section of Brooklyn in the 1980s, he fell hard for the graffiti that still decorated New York City trains. Sometimes he was the one painting, but more often, he was a detective, figuring out the best locations to snap pictures of the art. On weekends, he'd meet up with friends at a one-hour photo shop on Canal Street to trade negatives and prints of the graffiti photos they'd taken that week. Preservation was the key. "So many beautiful works of art were being destroyed every week," he said recently. "It was horrifying." At the time, he would cut school to spend afternoons at the studio of Henry Chalfant, who had been the crucial documentarian of 1970s train graffiti. Chalfant had largely stopped ... More



Christian Rohlfs, Studie nach einem Baumstamm, Watercolor, around 1911, 49 x 63 cm.



MUNICH.- New records and sharp price increase are the aim of every auction, but that did not matter at all in the case of a very special work by Christian Rohlfs. A work that was confiscated by the Nazis in 1937 finally came home to the Kunstmuseum Moritzburg in Halle, Germany. It all began as a standard procedure in context of which the work from a renowned Western German private collection was examined: a large-size watercolor by the Expressionist artist Christian Rohlfs that still was in its old frame. The surprise was revealed when a covering board was removed from the reverse side of the frame and experts at Ketterer Kunst discovered a stamp of what today is known as the Kunstmuseum Moritzburg in Halle an der Saale, as well as an old label with more information on this work in typescript. The suspicion that this might be one of the 147 artworks removed by the Nazis from the "Städtisches Museum für Kunst ... More
Landmark travelling exhibition presents important works by Maria Helena Vieira Da Silva
Anglo-Saxon hoard found by metal detectorist in Suffolk sells for £90,000 - Three times its low estimate!
An Ethiopian gallery enriches a global art conversation


Maria Helena Vieira da Silva in her studio. Courtesy Galerie Jeanne Bucher Jaeger Paris © Wölbing-Van Dyck, Bielefeld et Ida Kar.



LONDON.- Waddington Custot in London, Jeanne Bucher Jaeger in Paris, and Di Donna Galleries in New York are presenting a landmark travelling exhibition of important works by the Portuguese-born painter Maria Helena Vieira da Silva, in a first-of-its-kind collaboration between the three international galleries. Bringing together key paintings and works on paper from throughout the artist's career, the exhibition explores Vieira da Silva's unique approach to depicting space through poetic, semi-abstract compositions. There is a labyrinthine quality to her paintings' imaginary grid-like structures which play with space and perspective and disorient the viewer by pulling the gaze in multiple directions, both inviting us deeper and shutting us out. As the artist described: "Perspective is a way of playing with space. I take a lot of pleasure in looking at space and its rhythms. The ... More



Hoard of Anglo Saxon 99 Silver pennies in Suffolk. Sold for £90,000.



LONDON.- Builder, Don Crawley has been a keen metal detectorist for over 30 years and in March 2017 found a hoard of Anglo Saxon 99 Silver pennies in Suffolk. Today (Wednesday, December 4, 2019), they sold at Dix Noonan Webb, the international coins, medals, banknotes and jewellery specialists for £90,000 in their two-day auction of Coins, Tokens and Historical Medals on Wednesday & Thursday, December 4 & 5, 2019. The provisional estimate for the hoard is £30,000-£50,000. As Don explains: "It was my first visit to this farmers land in Suffolk. After walking up an incline in the field, my Deus detector gave off a strong signal and within a short space of time I had recovered 93 coins." He continued: "The Finds Liaison Officer was called in and they investigated the site which turned out to be a long forgotten Saxon church which had been dismantled by the Normans in the 11th century. Excavating around they uncovered ... More



In an undated photo provided by Addis Fine Art, Mesai Haileleul, left, and Rakeb Sile, the proprietors of Addis Fine Art, with works by Merikokeb Berhanu. Addis Fine Art via The New York Times.

by Ginanne Brownell Mitic



LONDON (NYT NEWS SERVICE ).- How Addis Fine Art got off the ground is a tale of happenstance built on the back of good timing. Rakeb Sile, 39, who was born in Philadelphia and raised in London, had always been interested in the arts, having even flirted with the idea of working in the music industry before settling on a career in management consulting. But whenever she traveled back to Addis Ababa, Ethiopia, where she had lived for most of her early childhood until her family moved to Britain because of political unrest in the early 1990s, she spent time investigating the city's growing but globally undiscovered contemporary art scene. She started collecting paintings and sometimes bought works directly from the artists because there ... More
Major retrospective "Chiura Obata: American Modern" celebrates influential Japanese American painter
The Norton announces nominees for biennial Rudin Prize for Emerging Photographers
Newly discovered portrait of Elizabeth I reigns supreme at Bonhams Old Master Paintings Sale


Chiura Obata, Grand Canyon, May 15, 1940 (detail), watercolor on silk, 17 1/2 x 21 3/4 inches, Amber and Richard Sakai Collection.



WASHINGTON, DC.- Chiura Obata (1885–1975) ranks among the most significant California-based artists and Japanese American cultural leaders of the 20th century. Best known for his majestic views of the American West, Obata brought a distinctive trans-Pacific style to the arts community of California as an artist and teacher. The major traveling retrospective "Chiura Obata: American Modern" presents the most comprehensive survey to date of his acclaimed and varied body of work, from bold landscape paintings of the Grand Canyon and Yosemite National Park to intimate drawings of his experiences of the mass incarceration of Japanese Americans during World War II. "Chiura Obata: American Modern" is on view at the Smithsonian American Art Museum from Wednesday, Nov. 27, through Monday, May 25, 2020. This showing concludes ... More



Lina Hashim. Courtesy of the artist.



WEST PALM BEACH, FLA.- The Norton Museum of Art announced the nominees for the Rudin Prize for Emerging Photographers, a biennial international award that grants $20,000 to a photographer who is on the leading edge of the field but who has not yet had a solo museum exhibition. The 2020 nominees were selected by a distinguished panel of artists comprised of Cindy Sherman (American), Dawoud Bey (American), Trine Søndergaard (Danish), and Ori Gersht (Israeli). "Each of this year's nominees applies a visual language that explores place, tradition, and identity," said Tim B. Wride, William and Sarah Ross Soter Curator of Photography. "The range of imagery and conceptual approaches in the nominees' work offers a perfect way to revitalize the Rudin Prize in our newly re-configured campus." Works by each of the nominees will be presented in a group exhibition, opening on February 28, 2020. The winner will be selected by the Norton ... More



Portrait of Elizabeth I from the workshop of Steven van der Meulen. Sold for £337,563. Photo: Bonhams.



LONDON.- A previously unknown portrait of Queen Elizabeth I sold at Bonhams Old Master Paintings Sale in London today, Wednesday 4 December for £337,563. The work which was painted around 1562 came from a Californian collection and had been estimated at £150,000-250,000. The 70-lot sale made a total of £2,115,375. Andrew McKenzie, the Director of Bonhams Old Masters department, commented, "This hugely significant early portrait of the young Queen is one of the first paintings to depict Elizabeth in an officially approved, sophisticated way. It excited a great deal of attention during the pre-sale viewing both from collectors and from members of the public who took the opportunity to see this rare depiction of one of our most popular monarchs. I am not surprised that the bidding was so fierce, nor that the painting sold for such a healthy sum." The painting dates from 1562, four years after Elizabeth came ... More
When the Drummer Met the Art Dealer: Fabrizio Moretti x 2
Flashback
On a day like today, photojournalist Alfred Eisenstaedt was born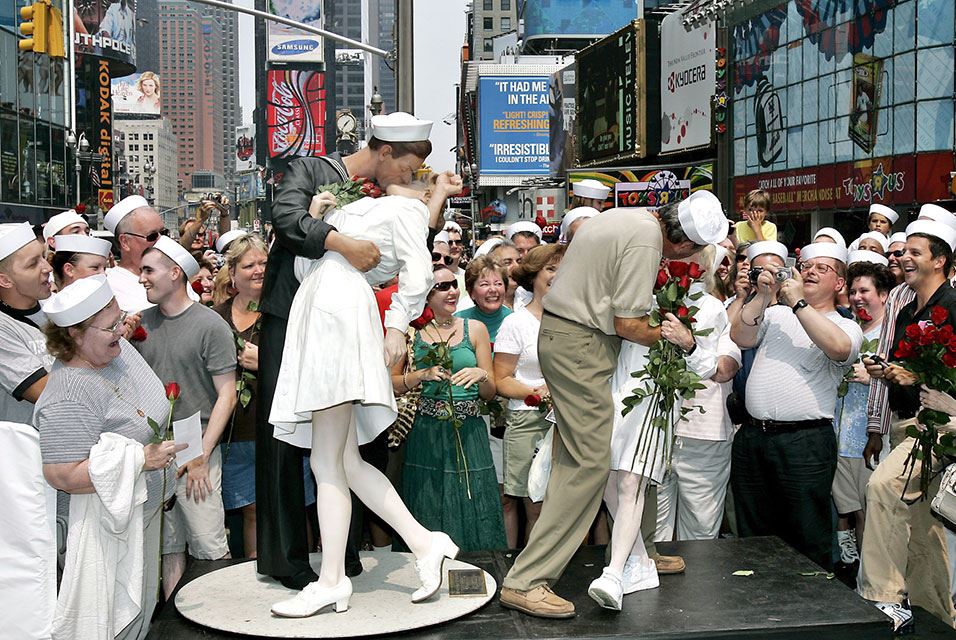 December 06, 1898. Alfred Eisenstaedt (December 6, 1898 - August 24, 1995) was a German-American photographer and photojournalist. He is renowned for his candid photographs, frequently made using various models of a 35mm Leica rangefinder camera. He is best known for his photograph capturing the celebration of V-J Day. In this image: 86 year-old Edith Shain and 78 year-0ld Carl Muscarello recreate the Famous 'Kiss Picture', Sunday 14 August 2005. The original couple in the iconic image, Edith Shain the nurse and Carl Muscarello the sailor was taken by Alfred Eisenstaedt 60 years ago do the day in Times Square on Victory Japan Day in 1945 to signify the end of World War Two. The Artist Seward Johnson created a life-sized sculpture of the kiss Unconditional Surrender for the event.
---

Museums, Exhibits, Artists, Milestones, Digital Art, Architecture, Photography,
Photographers, Special Photos, Special Reports, Featured Stories, Auctions, Art Fairs,
Anecdotes, Art Quiz, Education, Mythology, 3D Images, Last Week,
.
---
Royalville Communications, Inc
produces: