Turner Prize exhibition opens as a highlight of Hull UK City of Culture 2017
Andrea Büttner, Phone Etching, 2015-17 Phone Etching, 2015-17 Phone Etching, 2015-17 Etching, Unique Loaned from Hollybush Gardens.
HULL
.-
The Turner Prize will be presented at the
Ferens Art Gallery
in Hull for the first time, with an exhibition of work by this year's shortlisted artists: Hurvin Anderson, Andrea Büttner, Lubaina Himid and Rosalind Nashashibi. The exhibition will run from 26 September 2017 to 7 January 2018, and will be a highlight of Hull UK City of Culture 2017. One of the most important art prizes in the world, the Turner Prize was established in 1984 and aims to promote public debate around new developments in contemporary British art. The winner of the Turner Prize 2017 will be announced on Tuesday 5 December 2017 at an award ceremony in Hull, broadcast live on the BBC, the broadcast partner for the prize. The exhibition features work by the four nominated artists (in alphabetical order): Hurvin Anderson was born in Birmingham in 1965. He studied at Wimbledon School of Art and the Royal College of Art, London. Selected solo exhibitions incl ...
More
The Best Photos of the Day
Rarely seen sculptures by John Chamberlain on view at Gagosian
La Monnaie de Paris: The last secret in the heart of Paris finally opens its doors
Auction explores the breadth of the artistic endeavour undertaken at and inspired by the Bauhaus


John Chamberlain, Opus 16, 1998 Painted and chrome-plated steel 13 x 8 3/4 x 7 1/2 inches (33 x 22.2 x 19.1 cm) © 2017 Fairweather & Fairweather LTD/Artists Rights Society (ARS), New York. Photo by Rob McKeever. Courtesy Gagosian.



NEW YORK, NY.- Gagosian presenting rarely seen sculptures by John Chamberlain. Following the New York showings of "New Sculpture" at Gagosian in 2011, as well as "Choices," his 2012 retrospective at the Guggenheim, the current exhibition highlights a series of steel masks, the majority of which are on view for the first time since their creation in the 1990s, as well as abstract wall sculptures made between the 1970s and 2000s. Best known during his lifetime for his distinctive metal sculptures, often made of crushed and torqued automobile steel, Chamberlain used the detritus of American industry to create works that contain the bold energy of Abstract Expressionism, the pre-manufactured elements of Pop and Minimalism, and even the provocative curves and swells of the High Baroque. His multidimensional ... More



The treasure of Hue, colonial warfare of French troops to the expenses of the empire Annam, which gathers 62 gold bullion, 86 gold medals and 4 silver bars.



PARIS.- After 6 years of work, the transformation works at the Parisian site of Monnaie de Paris concluded to give birth to 11 Conti - Monnaie de Paris. Completely renovated, Monnaie de Paris reveals its ambitious project and invites visitors to discover a museum dedicated to the theme of minting, artisan crafts, but also dedicate to exceptional heritage collections. Since 1775, the Parisian site of Monnaie de Paris site has been established at 11 Quai de Conti in the heart of the 6th arrondissement. Taking the name of its historic location, the Monnaie de Paris opens 11 Conti - Monnaie de Paris. The site thus becomes a new and welcoming living space that is open to the city, offering new cultural options. A new circuit: the 11 Conti Museum allows visitors to discover the artisan workshops where nearly 150 craftsmen work, as well as the heritage collections, the hidden treasures of Monnaie de Paris. ... More



Marcel Breuer, Lattenstuhl, model no.TI 1a, 1922-23, Estimate £60,000-80,000. Courtesy Sotheby's.



LONDON.- Sotheby's presents Bauhaus_Defining a Century, an auction which demonstrates the breadth of the artistic endeavour undertaken at and inspired by the Bauhaus. Comprising painting, design, photography and metallurgy the sale intends to use the interdisciplinary nature of the school to avow the importance and influence that the Bauhaus still has on visual culture today. Bauhaus_Defining a Century heralds the wave of international events planned in celebration of the forthcoming Bauhaus centennial in 2019; honouring its creativity, innovation and legacy in the 20th century and beyond. Through 34 lots, the sale on 6 October at Sotheby's in London, will tell the story a movement that came to define arts and design the 20th Century. Auction highlights include landmark works by legendary members of the Bauhaus faculty including Wassily Kandinsky, László Maholoy-Nagy, Josef and Anni Albers, Marianne Brandt, Paul Klee, ... More
Fundación Sandretto Re Rebaudengo Madrid to open in 2019
Haus der Kunst presents a new site-specific installation by Sarah Sze
Block Museum explores 'William Blake and the Age of Aquarius'


Patrizia Sandretto Re Rebaudengo.



MADRID.- On September 25th 2017, at Matadero Madrid, Manuela Carmena Castrillo, Mayor of Madrid; Patrizia Sandretto Re Rebaudengo, President of Fondazione Sandretto Re Rebaudengo; Luìs Cueto, Coordinator of the City Council of Madrid, announced the birth of Fundación Sandretto Re Rebaudengo Madrid. Chiara Appendino, Mayor of Turin; Carlota Álvarez Basso, Director of Matadero; and Hans Ulrich Obrist, Director of the Serpentine Gallery were also there. The Fundaciòn reflects the aim of enlarging the horizons of both Fondazione Sandretto Re Rebaudengo's (established in 1995 and with more than 20-years of experience) exhibition programme and education activities, and will position itself in Madrid's art and cultural system thanks to the dialogue with the local public institutions, communities, associations and firms. The Fundaciòn's venue will be the Nave 9 of the Centre for Contemporary Creation Matadero Madrid, the ... More



Sarah Sze, Centrifuge, Haus der Kunst 2017. Installation view. Photo: Mike Barnett. Courtesy of Tanya Bonakdar Gallery and Victoria Miro Gallery © Sarah Sze.



MUNICH.- For the fifth edition of Der Öffentlichkeit - Von Den Freunden Haus der Kunst American artist Sarah Sze created "Centrifuge", a new site-specific installation that radically transforms visitors' perception and experience of the museum's Middle Hall. "Centrifuge" commences at a fixed point. Sze has carefully organized constructed and off-the-shelf objects into a series of sculptural groupings. These objects, arranged around the installation's centre, recall subatomic particles morphing and evolving within a quantum field, while also mimicking the transmutation of cells and organisms within biological life. Arranged as agglomerations, the material dynamically morphs outwards into the surrounding space, literally exploding the perceptual field within the Middle Hall. Yet, the installation seems to be caught between growth and decay ... More



Clyfford Still, 1946 PH-69, 1946, oil on canvas. © 2017 City & County of Denver, Courtesy Clyfford Still Museum / Artists Rights Society (ARS), New York.



EVANSTON, ILL.- The Block Museum of Art is presenting a major exhibition on British poet and artist William Blake (1757–1827) and the 20th century counterculture artists he inspired. "William Blake and the Age of Aquarius" runs Sept. 23, 2017, through March 11, 2018, at the Block Museum, 40 Arts Circle Drive on Northwestern University's Evanston, Illinois campus. The first exhibition to consider the impact of Blake on American artists from the end of World War II through 1970, the show features more than 150 paintings, drawings, photographs, films, posters and other medium from the 50s, 60s and 70s and more than 50 rare Blake rare engravings and pages from illuminated books which have been loaned from major collections including The Rosenbach in Philadelphia and the Yale Center for British Art. In his own lifetime, William Blake was a relatively unknown, ... More
Famed Ausrox gold nugget, third largest in existence, returns to Perot Museum
Gagosian Rome opens exhibition of new works by Davide Balula
Loring Randolph appointed Artistic Director of the Americas of Frieze Art Fairs


Three prospectors in Australia uncovered this "rock star" treasure in 2010 using a metal detector.



DALLAS, TX.- It's back!! One of the world's most famous gold nuggets has returned to the Perot Museum of Nature and Science in Dallas, Texas. The Ausrox Gold Nugget, a true rock star in the gem and mineral world, was on loan as part of the original collection that debuted in the Lyda Hill Gems and Minerals Hall when the Museum opened to the public in December 2012. In 2015, the precious mineral headed south to the Houston Museum of Natural Science but is now back in all its glittering glory. Incredibly, this treasure, found in the Eastern Goldfield of Australia, was discovered by three prospectors using a hand-held metal detector. "This is the remarkable story of three miners who, back in 2010, were in the wilderness of Australia armed with just a metal detector and a small tractor. Imagine their shock coming upon a piece of gold about the size of a basketball and weighing over 50 pounds ... More



Davide Balula, BPiBP (Unrolled for Rome 16-1718), 2017. Charred wood, charcoal dust on linen. Overall Dimensions Variable. © Davide Balula. Photography by Matthew Booth. Courtesy Gagosian.



ROME.- Gagosian is presenting "Iron Levels," new works by Davide Balula. This is his first exhibition in Rome. At once surreal, comical, and critically engaged, Balula's works examine the intersection of philosophy, phenomenology, and physics. For the Rome gallery, he has created an experiential trajectory that responds directly and specifically to the architecture. On entering the exhibition, visitors pass through a sculptural metal detector. A ubiquitous instrument of search and verification, the metal detector makes private belongings into objects of suspicion or potential threat. Its purpose is to reveal the metal, non-bodily material we carry with us each day—keys, coins, cell phone—that which we habitually treat as extensions of the self. The metal detector functions as a portal, further separating the idealized ... More



Randolph joins Frieze from the New York-based gallery Casey Kaplan, where she was partner. Photo by Hannah Whitaker.



NEW YORK, NY.- Frieze Art Fairs announced today the appointment of Loring Randolph as the Fairs' new Artistic Director (Americas), effective mid-October. In her new role, Randolph will play a key role in determining the vision, strategic goals, and content of Frieze New York, in coordination with Frieze Fairs Director Victoria Siddall. Randolph will act as a liaison for galleries, collectors and curators from throughout the Americas. Randolph joins Frieze from the New York-based gallery Casey Kaplan, where she was partner. At the gallery, she was integral in determining the strategy, concept and implementation of the gallery program; cultivating and maintaining client, curator, and artist relationships; and generating sales to private and public collections. She also coordinated and facilitated gallery exhibitions, solo exhibitions ... More
Phillips announces a December auction dedicated to the works of Henri Cartier-Bresson
Artcurial Motorcars to sell 1964 Le Mans winning Ferrari 275P at Retromobile 2018
Works by artist who was close to Andrew Jackson join the Colonial Williamsburg Collections


Henri Cartier-Bresson, Bolshoi Ballet, Moscow, 1954. Estimate: $15,000-25,000. Image courtesy of Phillips.



NEW YORK, NY.- On 12 December, Phillips will conclude the fall sale season with Henri Cartier-Bresson: The Eye of the Century, Personal Photographs from the Collection of Peter Fetterman, an auction dedicated to the career of the legendary photographer. The auction will offer 120 works from the personal collection of Peter Fetterman, Cartier-Bresson's last dealer, who worked with the artist from 1990 until his death in 2004. An international tour of the collection will take place with highlights traveling to London (29 Sept – 6 Oct), Los Angeles (12-14 October) and Paris (7-17 November). The works will be on view in New York from 5-12 December in advance of the auction. Vanessa Hallett, Phillips' Worldwide Head of Photographs and Deputy Chairman, Americas, said, "We are delighted to offer these spectacular images in our final auction of 2017. Peter ... More



Ferrari 275 P Le Mans 1964 © The Cahier Archive.



PARIS.- On 9 February 2018, at Retromobile in Paris, Artcurial Motorcars will offer one of the most significant cars ever to come to auction: the Le Mans winning 1964 Ferrari 275 P #0816 from the Bardinon Collection. The car will take centre stage at Artcurial Motorcars' renowned annual Retromobile sale. It will be the first time #0816 has been seen in public since it joined the Bardinon Collection at Mas du Clos, in France. Artcurial's motoring department has established a reputation for offering the most valuable and important collectors' cars at their annual sale in Paris. In 2016 Artcurial Motorcars achieved the highest price, in euros and sterling, for a car sold at auction, with another iconic race car from the Bardinon Collection: the 1957 Ferrari 335 S Scaglietti, which sold for 32 075 200 M€ / 24 693 782 M£ / 35 711 359 M$, including premium. During the second half of the 20th century, Pierre Bardinon assemb ... More



Ralph E.W. Earl (c. 1788-1838), Thomas Claiborne, Jr. c. 1825, oil on canvas, Museum Purchase, 2017-300.



WILLIAMSBURG, VA.- While the Art Museums of Colonial Williamsburg are filled with extraordinary collections of works of fine, decorative and folk art, a common thread connects them: they each help to tell the story of America and its people, especially in the nation's early days. Furthering this mission is the acquisition of two oil-on-canvas portraits from Nashville , Tennessee , c. 1825, by the artist Ralph E.W. Earl (c. 1788-1838) marking the first illustration of any kind from Tennessee to join the Colonial Williamsburg collections. Especially notable is that the subjects of the portraits were leaders and associates of Andrew Jackson painted by a notable artist from the region. "It is exciting to add these fine examples of portraiture to the Foundation's collections," said Mitchell B. Reiss, president and CEO of Colonial Williamsburg. "Owning pieces of material culture from ... More
Quote
Painting comprises three principal parts: drawing, proportion and color. Piero della Francesca
More News
---
Portraits and propaganda of Queen Elizabeth I of England
---
Flashback
On a day like today, French painter Théodore Géricault was born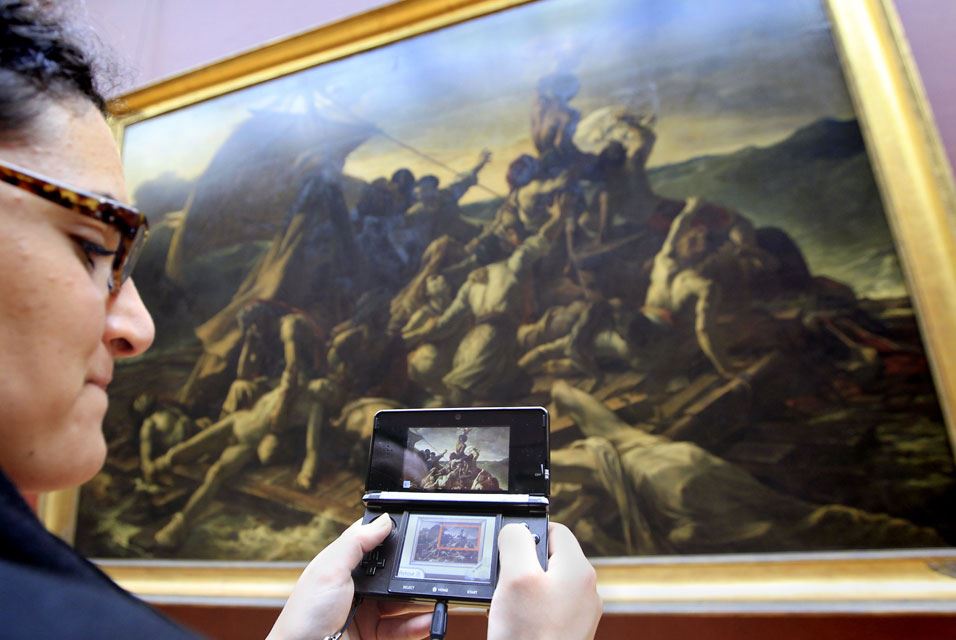 September 26, 1791. Jean-Louis André Théodore Géricault (26 September 1791 - 26 January 1824) was a profoundly influential French artist, painter and lithographer, known for The Raft of the Medusa and other paintings. Although he died young, he became one of the pioneers of the Romantic movement. In this image: A visitor studies a painting "The Raft of the Medusa" by French artist Theodore Gericault 1791 - 1824 with the help of the new audio guide at the Louvre Museum in Paris Thursday April 12, 2012.
---

Museums, Exhibits, Artists, Milestones, Digital Art, Architecture, Photography,
Photographers, Special Photos, Special Reports, Featured Stories, Auctions, Art Fairs,
Anecdotes, Art Quiz, Education, Mythology, 3D Images, Last Week,
.
Royalville Communications, Inc
produces:







Tell a Friend
Dear User, please complete the form below in order to recommend the Artdaily newsletter to someone you know.
Please complete all fields marked *.
Sending Mail

Sending Successful