Exhibition celebrates emerging and mid-career New Mexican women photographers
Abbey Hepner, Hanford Site 2, Hanford, Washington, 2014. Formatting. Archival pigment print from Uranotype, 9 x 13 in., 23 x 33 cm. 1 of 3 edition. Framed. Hanford Site 2, Hanford, Washington, Radioactive waste shipped to WIPP: 1,336,919 Gallons.
SANTA FE, NM
.-
HISTORY / HER STORY presents the work of Abbey Hepner, Jessamyn Lovell, Delilah Montoya, Cara Romero, Kali Spitzer and Laurie Tumer, six artists who take innovative approaches to their chosen mediums and engage with themes of ethnicity, identity, land use, and the environment. The exhibition includes more than 60 objects showcasing a range of early and new works by each artist selected by the New Mexico State Committee 20th Anniversary Committee and David Richard Gallery. The exhibition is on view June 23 through July 29, 2017 at
David Richard Gallery
. HISTORY / HER STORY is an opportunity to celebrate emerging and mid-career New Mexican women photographers," said Eva Borins, President of the New Mexico State Committee. "We are delighted to showcase these six exceptional artists and to bring their works into the greater consciousness of New Mexico and the national stage." ...
More
The Best Photos of the Day
Aspects of Abstraction: Group exhibition at Lisson Gallery features the work of American painters
Brandywine River Museum of Art opens first career retrospective of Andrew Wyeth's work
The Museum of Fine Arts, Houston, is the final venue for survey of Modern Mexican art


Leon Polk Smith, Constellation C, 1969. Paint on canvas, 95 x 95 inches (241.3 x 241.3 cm) © Leon Polk Smith Foundation; Courtesy Lisson Gallery.



NEW YORK, NY.- Lisson Gallery is presenting Aspects of Abstraction, a group exhibition which features the work of American painters Marina Adams, Paul Feeley, Joanna Pousette-Dart and Leon Polk Smith. On view are selections of paintings and drawings by the artists, each highlighting their innovative use of color and composition. While Adams and Feeley share an affinity for ancient architecture and appreciation of the pattern and hue in ceramic tile in the ornate Moorish style, and Pousette-Dart and Polk Smith take inspiration first in the curved forms—mountains, plateaus, canyons and basins—evocative of the Southwestern United States, all four artists prioritize light and hue in their work, articulating their interest in shape and rhythm through bold abstract form. In her paintings, Marina Adams creates a push and pull between color and form. While entirely abstract in their ... More



Andrew Wyeth circa 1935, Courtesy Wyeth Family Archives.



CHADDS FORD, PA.- On June 24, the Brandywine River Museum of Art opened Andrew Wyeth: In Retrospect, the first career retrospective of the artist since his death in 2009. The exhibition features over 100 works, spanning the entirety of the artist's career: from the early watercolors that established his reputation to his final painting, Goodbye, completed just a few months before his death. The show also includes many of Wyeth's studies, which were rarely exhibited in the artist's lifetime and offer new insights into his creative process and approach. Co-organized by the Brandywine and the Seattle Art Museum, Andrew Wyeth: In Retrospect commemorates the centennial of the artist's birth in July, and provides the most in-depth presentation of the renowned artist's diverse and prolific practice to date. Wyeth's life extended from World War I—a period that sparked the imagination of the artist as a young boy—to t ... More



Alfredo Ramos Martínez, Zapatistas, c. 1932, oil on canvas, San Francisco Museum of Modern Art, Albert M. Bender Collection, gift of Albert M. Bender. © The Alfredo Ramos Martínez Research Project, LLC.



HOUSTON, TX.- This summer, the Museum of Fine Arts, Houston, presents Paint the Revolution: Mexican Modernism, 1910–1950, an exhibition that charts the development of Modern art in Mexico and the social, political, and cultural forces that shaped it over the course of nearly half a century. Featuring some 175 works—including easel paintings, large-scale portable murals and mural fragments, prints, photographs, books, newspapers, and broadsheets—Paint the Revolution is unprecedented for its breadth and the variety of visual materials on display. Organized by the Philadelphia Museum of Art and the Museo del Palacio de Bellas Artes in Mexico City, the exhibition will be on view in Houston from June 25 to October 1, 2017, following presentations at each organizing venue. The most comprehensive exhibition of Modern ... More
Exhibition explores how The Empire State modernized America
Letters show Einstein's marriage formula was off beam
Scottish National Portrait Gallery exhibition looks at 500 years of men's fashion, image and identity


RCA Manufacturing Company, manufacturer. Alfred Weiland, designer. Portable Phonograph, RCA Victor Special, Model M, ca. 1935. Aluminum, chromium-plated steel, velvet, and plastic, Yale University Art Gallery, John C. Waddell Collection, Gift of John C. Waddell, B.A. 1959, 2010.158.2.



UTICA, NY.- During the 10 years that took America from glittering heights to the depths of economic devastation, New York State transformed the nation. The exhibition Roaring into the Future: New York 1925-35, on view June 18 through October 9 at Munson-Williams-Proctor Arts Institute Museum of Art, is a pioneering exploration celebrating the Empire State as the driving force behind the creation of 20th-century modernism. From Buffalo to Brooklyn, artists, designers, and manufacturers generated avant-garde art, fashion, technology, and music that resulted in the century's most important artistic revolution. Lori Zabar, based in New York City and working with the Museum of Art staff, is the curator of this exhibition, originated by MWPAI. Roaring into the Future features more than ... More



Albert Einstein, Autograph letter signed ('A.E.') to Michele Besso, [Princeton], 10 August 1954. In German, 2 2/3 pages, 278 x 215mm, the date alone added in typescript. Envelope. Partial transcription by Besso on a separate leaf. Provenance: by descent from Michele Besso. £100,000 - GBP 150,000. © Christie's Images Limited 2017.



LONDON (AFP).- Albert Einstein may have been a genius when it came to the world of physics -- but the magic formula for marriage eluded him, according to letters up for auction at Christie's. The man behind the theory of relativity was on less solid ground when it came to relationships, according to a series of letters to his lifelong friend and collaborator Michele Besso. "What I admired most in him as a man was the manner in which he managed to live for so long peacefully but also durably with a spouse -- an enterprise in which I piteously failed twice," Einstein wrote to Besso's family on March 21, 1955, just after his friend's death, which preceded his own only by weeks. In an emotional final paragraph, Einstein wrote of Besso: "Now he has again preceded ... More



Lucian Freud (1922-2011), Self-portrait, 1963. Oil on canvas © The Lucian Freud Archive / Bridgeman Images.



EDINBURGH.- The evolution of men's fashion, masculine identity and the male self-image over the last 500 years is the subject of a provocative and engrossing new exhibition which opened at the Scottish National Portrait Gallery in Edinburgh this summer. While many investigations into the themes of beauty, image and fashion have focussed on women, Looking Good: The Male Gaze from Van Dyck to Lucian Freud explores the ways in which men have, to an equal degree, indulged their enthusiasm for fashionable clothes, careful grooming and elaborate hair styling, and in doing so, have projected seductive and impressive images of themselves to the world. Looking Good features portraits of 'stylish' men – from elaborately attired courtiers of the 16th- and 17th centuries to icons of our own image-saturated and celebrity-obsessed age, such as David Beckham and Tinie Tempah – whose carefully composed appearance ... More
Crocker Art Museum shows works by renowned San Francisco painter Raimonds Staprans
Milwaukee Art Museum exhibits new paintings and sculptures from Chicago-born artist Rashid Johnson
Groundbreaking exhibition of Memento Mori from the Renaissance opens at Bowdoin College Museum of Art


Raimonds Staprans, Road to Redondo Shores, 2010. Oil on canvas, 48 x 36 inches. From the Collection of Carol and Gerry Parker.



SACRAMENTO, CA.- This June, the Crocker Art Museum opens a vibrant exhibition of works by Raimonds Staprans, a Latvian-born painter of landscapes, architectural elements, and still lifes with ties to California's Bay Area figurative movement and Pop art. With more than 55 paintings on view, Full Spectrum: Paintings by Raimonds Staprans affords many opportunities to appreciate Staprans' bold color and richly layered technique. Born and raised in Riga, Latvia, Staprans created art at a young age, and was encouraged by his parents to develop his drawing skills in the hope that they might prove useful to a career in medicine. When Russia advanced on his homeland during World War II, his family fled. In Germany, Staprans entered the Esslingen Art School, and in 1947, he immigrated to the United States. A graduate of the University of Washington in Seattle, he studied ... More



Rashid Johnson, Falling Man, 2016. Courtesy of the artist and Hauser & Wirth.



MILWAUKEE, WIS.- Hail We Now Sing Joy, on view at the Milwaukee Art Museum June 23–September 17, shows new paintings and sculptures from Chicago-born artist Rashid Johnson. The exhibition features 14 large-scale works that fill the Museum's entire feature exhibition space. Using his signature materials of white ceramic tile, red oak flooring, shea butter, black soap, and wax, Johnson examines themes of race, history, yearning, anxiety, and escape and investigates the relationship between art, society, and personal identity. "Rashid Johnson's work is on everyone's radar right now as he tackles contemporary issues, including the complexities of living as a black American, that are especially important in today's political and cultural climate," said Margaret Andera, the Museum's curator of contemporary art. "Hail We Now Sing Joy gives visitors the unique opportunity to see a significant body of work from one of ... More



Portrait of a Surgeon, Netherlands, 1569, oil on wood. Theodore M. Davis Collection, Bequest of Theodore M. Davis, Metropolitan Museum of Art, New York.



BRUNSWICK, ME.- The Bowdoin College Museum of Art opened a groundbreaking exhibition on the visual culture of mortality and morality in early Renaissance Europe. On view from June 24 to November 26, 2017, The Ivory Mirror: The Art of Mortality in Renaissance Europe reveals how, in an increasingly complex and uncertain world, Renaissance artists sought to address the critical human concern of acknowledging death while striving to create a personal legacy that might outlast it. Curated by Stephen Perkinson, Peter M. Small Associate Professor of Art History at Bowdoin College, The Ivory Mirror brings together exceptional examples of memento mori, a genre of artistic and literary imagery that emerged in the early Renaissance to remind viewers of their inevitable death, to question how art historians have conventionally interpreted these objects and ... More
New Orleans Museum of Art celebrates art collector and gallery owner Arthur Roger
High Museum of Art opens first major museum exhibition in the Southeast for Paul Graham
Winsor & Newton announces new creative partnership with Royal Academy of Arts


Willie Birch, An American Family, 1991. Papier-mache and mixed media, 68 x 26 ½ x 23 ½ inches. Gift of Howard and Judy Tullman in honor of Arthur Roger, EL.2016.123 © Willie Birch.



NEW ORLEANS, LA.- Pride of Place: The Making of Contemporary Art in New Orleans celebrates art collector and gallery owner Arthur Roger's transformational gift of his entire personal art collection to the New Orleans Museum of Art. Spotlighting one of the city's most groundbreaking contemporary art collections, the exhibition explores the rise of modern and contemporary art in New Orleans. Since its founding in 1978, the Arthur Roger Gallery has been one of New Orleans most exciting venues for contemporary art. Roger's personal collection of more than eighty paintings, photographs and sculptures reflects the gallery's storied forty-year history as well as Arthur's skill and sophistication as an art collector. Bringing together artworks Roger has collected from the 1970s through today, Pride of Place unfolds as an evolving ... More



Paul Graham, Man walking with blue Bags, Augusta, American Night, 2002 (detail). © Paul Graham; courtesy Pace/MacGill Gallery, New York.



ATLANTA, GA.- The High Museum of Art presents "Paul Graham: The Whiteness of the Whale" (June 24 through Oct. 22, 2017), the first major museum exhibition in the Southeast for the British photographer. Organized by Pier 24 Photography in San Francisco, the exhibition brings together three of Graham's most celebrated bodies of work, which he made in the United States over more than a decade: "American Night" (1998–2002), "a shimmer of possibility" (2004–2006) and "The Present" (2009–2011). The nearly 40 photographs in the exhibition are tied together by themes of racial and social inequality, the texture of everyday life in America and the nature of sight, perception and photography itself. The works range from singular, large-scale photographs to sequences of up to 15 images. Focusing on the people and built environments of the United States led Graham ... More



This film is part of the 2017 collaboration between Winsor & Newton and the Royal Academy of Arts.



LONDON.- Winsor & Newton, the world's leading supplier of fine art materials and the Royal Academy of Arts have today announced a new creative and digital partnership for 2017. The collaboration will see two films created, which will illuminate the m​edium and materiality of paint, revealing the techniques of painting masters past and present and the contemporary practice of artists today. The first will be on Exploring Water colour and the second on History & Heritage. Ever since chemist, William Winsor, and artist, Henry Newton, formed their invaluable partnership in 1832, bringing together scientific knowledge and artistic prowess, Winsor & Newton has been dedicated to inventing the finest quality materials in direct response to the needs of artists. Sharing a desire to support artistic endeavour and excellence, the Royal Academy and Winsor & Newton will build on a long heritage of equipping artists with ... More
Quote
No statue has ever been put up to a critic. Jean Sibelius
More News
---
Kandinsky's Vibrant and Visionary Landscape
---
Flashback
On a day like today, Spanish architect Antoni Gaudí was born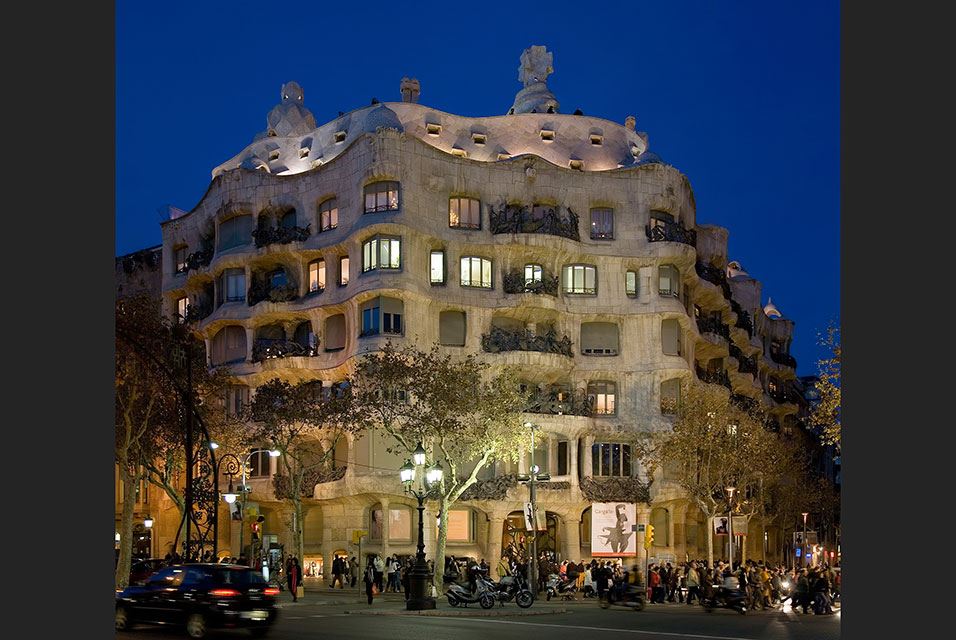 June 25, 1852. Antoni Plàcid Guillem Gaudí i Cornet, often referred to by the Spanish translation of his name, Antonio Gaudí -- was a Spanish Catalan architect who operated in the same time period as the Modernist style (Art Nouveau) movement but was famous for his unique and highly individualistic designs and thus is not categorized as such. In this image: The Casa Milà, in the Eixample, Barcelona.
---

Museums, Exhibits, Artists, Milestones, Digital Art, Architecture, Photography,
Photographers, Special Photos, Special Reports, Featured Stories, Auctions, Art Fairs,
Anecdotes, Art Quiz, Education, Mythology, 3D Images, Last Week,
.
Royalville Communications, Inc
produces:







Tell a Friend
Dear User, please complete the form below in order to recommend the Artdaily newsletter to someone you know.
Please complete all fields marked *.
Sending Mail

Sending Successful