Rembrandts targeted again at theft-prone London gallery
Rembrandt's Light at Dulwich Picture Gallery. Lighting by ERCO. Photography by Gavriil Papadiotis.
LONDON
(AFP)
.-
A thief made what police said was an "audacious" attempt to steal two Rembrandt paintings from a London museum but fled without them after being confronted, authorities said Thursday. The suspect broke into Dulwich Picture Gallery at about 11:30 pm (2330 GMT) on Wednesday, police said, targeting "Rembrandt's Light", a new exhibition showing 35 of the Dutch master's paintings, etchings and drawings. A gallery spokeswoman declined to identify the two paintings which were briefly taken. But she told AFP that Rembrandt's portrait of Jacob de Gheyn III -- dubbed the "takeaway Rembrandt" as it has been stolen four times from the gallery -- was not involved. "An intruder appears to have forced entry ...
More
The Best Photos of the Day
New world record for Ruscha in Christie's $325.2 million evening sale
Fall art auctions see double-digit declines
Van Gogh Museum and Drents Museum jointly acquire painting by Van Gogh


"You can turn on the radio and the radio becomes the soundtrack for what you see out the window. And somehow I get more from doing this in Los Angeles than I do in another city." – Edward Ruscha © Christie's Images Ltd 2019.



NEW YORK, NY.- The Post-War and Contemporary Art Evening Sale in New York totalled $325,259,750 / £253,317,562, to take the running total for the 20th Century season to $564.4 million. The auction was 89 per cent sold by lot and 96 per cent by value. Leading the sale was Hurting the Word Radio #2, an important early example of Ruscha's 'text' paintings. Painted in 1964, the same year it was first exhibited at Los Angeles' Ferus Gallery, the picture was acquired from the artist by Joan and Jack Quinn in the early 1970s. The couple became friends with the gallery's stable of artists and keen collectors of their work. They were the only previous owners of Hurting the Word Radio #2, which sold for $52,485,000 (including buyer's premium) — a new auction record for a work by Ruscha. 'This evening was a tribute to the great artist Ed Ruscha and to my beloved husband ... More



Dana Schutz's 2016 canvas, "Shooting on the Air," inspired by the on-air murder of two television journalists, sold for $1.1 million against an estimate at $600,000 to $800,000. © Christie's Images Ltd 2019.



NEW YORK (NYT NEWS SERVICE).- What a difference a season makes. Back in May, a $91.1 million Jeff Koons sculpture and $110.7 million Monet created the impression that business at top-end art auctions was booming. But this week, against a backdrop of presidential impeachment hearings, Brexit and other geopolitical distractions, numbers at New York's marquee fall sales of impressionist, modern and contemporary art were significantly down. The change in mood was clear on Monday and Tuesday evening as sales of impressionist and modern art dipped at both Christie's and Sotheby's over their equivalent sales last May. By Wednesday, Christie's fall auction of contemporary art raised $325.3 million, versus the $539 million it achieved in the spring, when the Koons and other pieces from the S.I. Newhouse collection were included. In the absence of a prestigious estate, and with owners reluctant ... More



Vincent van Gogh (1853-1890), Peasant Burning Weeds, 1883 (detail), oil on panel, 30.5 × 39.7 cm, Van Gogh Museum, Amsterdam / Drents Museum, Assen.



AMSTERDAM.- The Van Gogh Museum and the Drents Museum have jointly acquired an early painting by Vincent van Gogh: Peasant Burning Weeds from 1883. The small yet powerful work shows a solitary figure on a deserted plain at twilight, illuminated by a fire. Van Gogh painted the work in Drenthe, where he stayed in the autumn of 1883 and captured the landscape in paintings and drawings. This is one of the few paintings from the period to have survived. The work will be exhibited alternately at the two museums. In 1883, Van Gogh spent nearly three months in Drenthe, where he was deeply impressed by the landscape with heath- and moorland. In his drawings and paintings, he attempted to capture the mood of the countryside in autumn. He painted numerous landscapes in dark colours, sometimes with figures at work. His letters reveal that he painted at least 18 studies during his stay, but the majority of these have been lost. There ... More
Art Deco takes it away: Cartier bracelet sells for CHF/$ 6.1 million in Geneva
Shoji Sadao, quiet hand behind two visionaries, dies at 92
Hauser & Wirth announces representation of Nicole Eisenman


A 1927 Sapphire and Diamond Bracelet by Cartier soars to CHF / US$ 6.1m. Courtesy Sotheby's.



GENEVA.- In the wake of the many strong results already seen this year for Art Deco jewels, demand remained strong today in Geneva for pieces from the 1920s and 30s, widely recognised as the golden era of jewellery. Six months after the benchmark price of $3.6 million achieved for the "Beaumont Necklace" at Sotheby's in May, a Cartier sapphire and diamond bracelet realised one of the highest prices at auction for an Art Deco bracelet when, pursued by six bidders, it sold to an Asian collector for CHF 6,072,900 / $6,135,451 (Lot 453, est. CHF/$ 2-3m). Created in 1927 and coming from an Asian-American collection, the bracelet is set with a sensational Burmese cabochon sapphire weighing 46.07 carats. It was one of the highlights of a sale totalling CHF 53,382,275 / $53,932,112, characterised by strong global interest in Art Deco, along with a number of healthy results for single diamonds. ... More



A photo provided by Southern Illinois University Edwardsville shows Shoji Sadao, left, and Buckminster Fuller in front of the geodesic dome at the Center for Spirituality & Sustainability located on the university's campus. Southern Illinois University Edwardsville via The New York Times.



NEW YORK (NYT NEWS SERVICE).- Shoji Sadao, an architect whose behind-the-scenes talent helped bring to life the innovations of two 20th-century visionaries, R. Buckminster Fuller and Isamu Noguchi, died on Nov. 3 in Tokyo. He was 92. His family said the cause was heart and kidney failure. Sadao met Fuller, the noted designer, author and theorist who died in 1983, while studying at Cornell University, and the two were soon collaborating. Fuller was pursuing out-there ideas in design and architecture, and it often fell to Sadao to do the practical work of implementing them. One particularly high-profile Fuller design was the U.S. pavilion at Expo 67, the international exposition held in Montreal in 1967. It was a striking 20-story geodesic dome, ... More



Portrait of Nicole Eisenman. Photo: Nathan Perkel.



NEW YORK, NY.- Hauser & Wirth announced today that the gallery now represents artist Nicole Eisenman. Considered one of the most important painters of her generation, Eisenman (b. 1965, Verdun, France) has developed a powerful and timely new figurative language that combines elements both factual and fictive, mainstream and countercultural. Her oeuvre is distinctive in its emphasis upon the allegorical and its deft mingling of autobiographical elements with historical and fictional narratives that draw attention to contemporary sociopolitical conflicts. Since moving to New York City in 1987, she has emerged as a central figure in the resurgence of painting in America, and a singular voice for identity and culture at the margins. Eisenman's art has attracted critical admiration for its skillful, subversive appropriation of compositional and stylistic elements of the great painterly traditions, including Old Master and Italian ... More
Stunning Goncharova at MacDougall's
Whitney announces works acquired from 2019 Whitney Biennial and other recent acquisitions
Unveiling timeless treasures from the collection and library of Count & Countess de Ribes


Natalia Goncharova, Spanish Ladies (detail). Estimate: 800,000 to 1,200,000 pounds.



LONDON.- MacDougall's will present a highly significant example of Natalia Goncharova's 'Spanish Ladies', one of the most celebrated themes within her entire œuvre, as part of the Important Russian Art Auction on 27 November. Impressive in scale, standing life-size, the subject of L'Espagnole exhibits some of the most distinctive of Goncharova's painterly skills, including her tendency to monumentality and sophisticated decoration. The depiction of the fabric on the shawl and the exquisitely rendered lace mantilla contrast to elegant effect with the flowering magnolias in the background, another one of Goncharova's most essential motifs. The Spanish theme first occurred to Goncharova in 1916 whilst she was working on designs for the ballets Triana and Spain for Sergei Diaghilev's productions. In company with Diaghilev, Massine and Larionov, Goncharova journeyed around ... More



Iman Issa, detail of Heritage Studies #20, 2016. Bronze, painted box, and vinyl text, 49 1/4 x 9 1/8 x 15 in. (125 x 23 x 38 cm). Image courtesy the artist and Rodeo, London; Piraeus, Greece; and carlier gebauer, Berlin. Photograph by Gunter Lepkowski.



NEW YORK, NY.- The Whitney Museum of American Art announced today that it has acquired more than 250 works of art since last April. Among these acquisitions are 88 works by 40 artists who were featured in the 2019 Whitney Biennial. Other recent acquisitions include works by artists who are joining the collection for the first time, including Laura Aguilar, John Ahearn, Maria Berrio, Jonathan Lyndon Chase, ektor garcia, Ajay Kurian, Wendy Red Star, Wallace & Donahue, and others. Scott Rothkopf, Senior Deputy Director and Nancy and Steve Crown Family Chief Curator commented: "Through the Biennial and our emerging artist program, the Whitney is committed to adding new voices to our collection, but we're also deepening ... More



Marguerite Gérard & Jean-Honore Fragonard, L'élève intéressante. Oil on canvas, 64,6 x 55 cm ; 25½ by 21⅔ in. Estimate: 300,000 € - 400,000 €. Courtesy Sotheby's.



PARIS.- The name "de Ribes" resonates internationally with a timeless sense of style – the essence of French chic and elegance. On 11 and 12 December, Sotheby's Paris will offer for sale a selection of historical pieces from the collection of the Count and Countess de Ribes. Held over two sessions, the auction will present artworks, fine books and manuscripts from the family's ancestral home in Paris – covering three centuries of French history. In the exquisite setting of their "Hotel Particulier", built in 1865, Edouard de Ribes and his wife Jacqueline, née de Beaumont, were custodians of an exquisite collection of objects that had entered the family in the 18th century. They were also keen collectors, acquiring works of the highest-quality to enhance the sumptuous and sophisticated décor of their ... More
Croatia's 'Schindler's List' producer dies aged 87
Works by the great names of Modern, Contemporary & Swiss Art featured in Koller's December auctions
Tempers flare over rebuilding of Notre-Dame spire


Apart from "Schindler's List", he also won an Oscar with fellow producers David Franzoni and Douglas Wick for Ridley Scott's "Gladiator" in 2000.



ZAGREB (AFP).- Croatian film producer and Holocaust survivor Branko Lustig, who won Oscars for "Schindler's List" and "Gladiator", died Thursday in Zagreb aged 87, state-run HINA news agency reported. Lustig was born into a Croatian Jewish family in the eastern town of Osijek in June 1932. He was held as a child in the notorious Auschwitz and Bergen-Belsen death camps with the number A3317 tattooed on his arm, and most members of his family died in Nazi camps throughout Europe. "It is a long way from Auschwitz to this stage," he said as he accepted an Oscar as producer for Steven Spielberg's "Schindler's List" in 1993. "The dying ones left me the legacy to tell -- if I survive -- how it was." Lusting studied at a Zagreb acting academy in the 1950s before finding work in the movies, first as an organiser and later as a director and producer. He directed and produced more ... More



Pablo Picasso's coloured chalk and felt-tip pen drawing "Trois personnages" is dated twice. CHF 280,000/350,000.



ZURICH.- Works by the most celebrated artists of the Modern era will be offered in the 6 December auction: Picasso, Matisse, Chagall and Cézanne and Renoir are among the modern masters represented. "Nymphs" by Henri Matisse is an entrancing charcoal drawing from circa 1945 (lot 3241, CHF 120,000/180,000). Here the artist takes up a theme that permeated his work throughout his career, and his creative process is visible in the partially effaced traces of the underlying charcoal strokes. In "Bol, boîte à lait et bouteille" (lot 3225, CHF 300,000/500,000), Paul Cézanne experiments with the shifts in perspectives that made him a pioneer of modern art for many later artists. Still lifes by Cezanne are rare on the market: in the past ten years, only 13 have come to auction. Pablo Picasso's coloured chalk and felt-tip pen drawing "Trois personnages" is ... More



In this file photo taken on May 29, 2019 French Army General Jean-Louis Georgelin, in charge of Notre-Dame Cathedral's reconstruction, gestures as he leaves the Elysee presidential palace in Paris after attending the weekly cabinet meeting. ludovic MARIN / AFP.



PARIS (AFP).- The French army general charged with overseeing the rebuilding of Paris' fire-mangled Notre-Dame, has caused astonishment by publicly telling the cathedral's chief architect to "shut his mouth" in a sign of tension over the monument's future look. General Jean-Louis Georgelin and chief architect Philippe Villeneuve are at odds over whether to replace the cathedral's spire -- which was toppled in the April 15 blaze -- with an exact replica, or mix things up with a modern twist. President Emmanuel Macron, who appointed Georgelin to head the massive reconstruction project, has said he is in favour of adding a "contemporary" touch. But Villeneuve insists the tower must be redone exactly as it was before. Tensions ... More
Quote
Do not think that it is possible to repeat another period. Pierre-Auguste Renoir
---
The Honest Appraisals of Alice Neel
---
Flashback
On a day like today, American painter Georgia O'Keeffe was born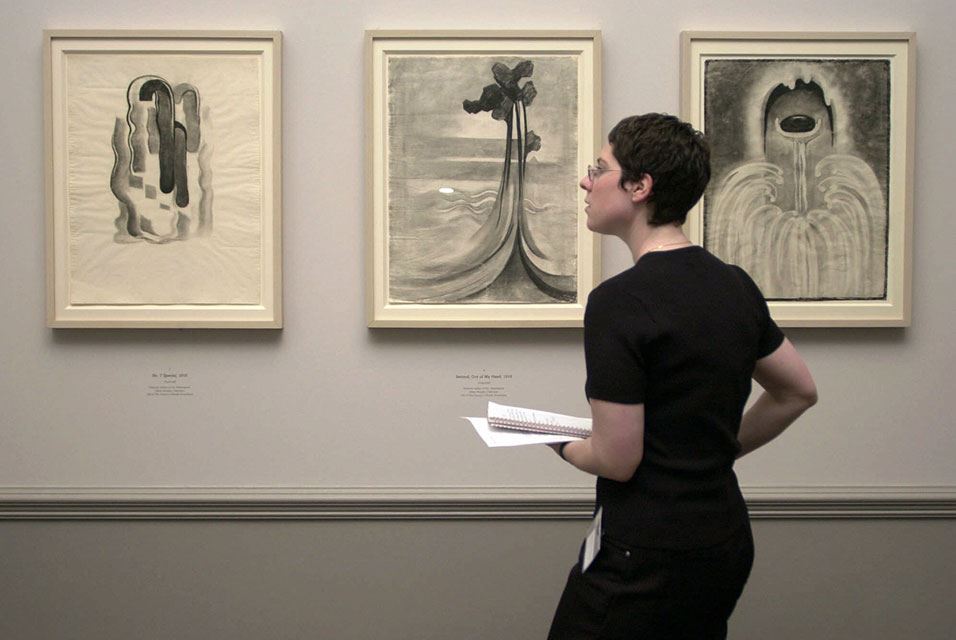 November 15, 1887. Georgia Totto O'Keeffe (November 15, 1887 - March 6, 1986) was an American artist. Born near Sun Prairie, Wisconsin, O'Keeffe first came to the attention of the New York art community in 1916, several decades before women had gained access to art training in America's colleges and universities. In this image: Jennifer Shapira views three of Georgia O'Keeffe's works, from left, "No. 7 Special, 1915," "Second, Out of My Head, 1915," and "No. 2-Special, 1915" on display at Washington's National Gallery of Art during a press preview of the "O'Keeffe on Paper" exhibit Friday, April 7, 2000.
---

Museums, Exhibits, Artists, Milestones, Digital Art, Architecture, Photography,
Photographers, Special Photos, Special Reports, Featured Stories, Auctions, Art Fairs,
Anecdotes, Art Quiz, Education, Mythology, 3D Images, Last Week,
.
Royalville Communications, Inc
produces: