Interdisciplinary solo show by artist Kathryn Hart on view at Politechnika Krakowska
Kathryn Hart's Daunting Transitions solo show at Kotlownia Galerie, Politechnika Krawkoska, Krakow.
KRAKOW
.-
Politechnika Krakowska presents Daunting Transitions, an interdisciplinary solo show by artist
Kathryn Hart
, on view September 17-October 17, 2018 in 'Kotlownia' Exhibition Hall, Warszawa 24, 31-155 Krakow, Poland. In this solo exhibition, Hart explores the burden, responsibility and fear of choice in the face of a daunting transition. Featured are an installation, ink drawings and small sculptures related to her continued dialogue with evolving feminine identity and the hope for new starts during a period of turmoil, emotional conflict, and uncertainty. Her visual language in this show is rooted in line, space, and gesture to indicate humanoid or 'entity' energy and pathways. Her work also comments on the myriad of female roles as engineer, builder, janitor, sustainer, caretaker and explorer. This exhibition on display in Krakow debuted in NYC in May 2018 at the School of Visual Arts Project Spaces CE and has continued to ...
More
The Best Photos of the Day
October Art Week announces blue-chip gallery roster
The Stanley Field Early Ming bowl realizes over $1.4 million, setting auction record at Leslie Hindman Auctioneers
All-video Turner Prize nominees take political stance


Jan Brueghel the Younger (Antwerp, 1601 - 1678), A wooded landscape with horse-drawn carts, riders and peasants on a hillside path in the foreground. Oil on panel, 11 x 13 ½ inches (28 x 34.5 cm) Signed, lower right center: BRVEGHEL (Courtesy Robert Simon Fine Art).



NEW YORK, NY.- Coinciding with TEFAF New York and Christie's Classic Art Week of auctions and selling exhibitions, the third edition of October Art Week will kick off on Thursday, October 25th. On that evening, from 5 to 9 p.m., more than a dozen of the world's pre-eminent galleries will be hosting open houses and receptions on Manhattan's Upper East Side. Open to the public and within walking distance from one another, the October Art Week events, which runs through November 1st, confer a festive atmosphere to the neighborhood and contributes to the overall excitement of autumn in New York. Participating galleries, several of which are also exhibiting at TEFAF, include: • Didier Aaron, Inc., Old Master and 19th-century ... More



A Rare Blue and White Porcelain Hexafoil Bowl sold for $1,452,500.



CHICAGO, IL.- On September 17 the Asian Works of Art auction at Leslie Hindman Auctioneers featured The Stanley Field Early Ming Bowl, a blue and white porcelain hexafoil bowl once belonging to Stanley Field of the iconic Field family. It sold for $1,452,500 after a number of bidders competed by phone, eventually selling to a buyer in the United States. This is the highest price realized globally, outside of Hong Kong and Mainland China, for a bowl of this type offered at auction. Responsible for developing Chicago's Field Museum of Natural History in the early 19th century, Stanley Field approved numerous international expeditions that sent renowned anthropologists to remote locations on every continent to gather archaeological and cultural relics. Around the same time, Stanley built a personal collection, which included the early Ming bowl. The September 17 Asian Works of Art auction at Leslie Hindman ... More



The Enforced Disappearance of the 43 Ayotzinapa Students, Iguala, Mexico, 26-27 September 2014.



LONDON (AFP).- A turbulent global political environment has helped inspire the finalists in this year's Turner Prize for contemporary art, which includes only video submissions for the first time. The works shown at the Tate Britain gallery on Monday tackle themes such as immigration, racism and queer identity and are set in locations as varied as the Scottish countryside, the Negev region of southern Israel and the streets of urban America. "I think the political nature of the show is a sign of the times and how artists can react to the context in which they're making the works," Elsa Coustou, a co-curator, told AFP. She said the four artists were responding to "urgent questions" and opening themselves to other disciplines such as documentary film-making and journalism with their use of video. One of the nominees, London-based Forensic Architecture, uses architectural rendering software to investigate potential war crimes. ... More
Two exhibitions at the Ashmolean explore LGBTQ+ histories
Christie's sale celebrates pioneering Italian identity with masterpieces of 20th century Italian art
Palmer Museum opens retrospective exhibition of Pennsylvania artist G. Daniel Massad's intricate still-lifes


Cast of two parts of a bust of Antinous (Ludovisi-Chicago bust) Original face: Art Institute of Chicago; original bust: Palazzo Altemps, Rome AD 130–138 Height: 71 cm © Art Institute of Chicago.



OXFORD.- No Offence is a British Museum partnership touring exhibition commemorating the 50th anniversary of the Sexual Offences Act (1967) which partially decriminalised homosexuality in England and Wales. First shown in 2017, and developed in consultation with community partners, the exhibition is inspired by A Little Gay History: Desire and Diversity Across the World written by Oxford's Professor of Egyptology, Richard Bruce Parkinson. The exhibition explores the often overlooked and under-represented stories that are to be found in museum collections and art and artefacts from across the globe. It includes the Ain Sakhri Lovers, the world's earliest known representation of two people having sex. Discovered near Bethlehem, the tiny calcite sculpture dates to c. 9000 BC and shows two figures with their legs and arms wrapped around each other. They have ... More



Lucio Fontana, Concetto spaziale, La fine di Dio. Oil and glitter on canvas, 178 x 123cm. Executed in 1963. Estimate on request. © Christie's Images Limited 2018.



LONDON.- During London's Frieze week, Christie's will present the second year of Thinking Italian, a sale concept that celebrates the eclecticism, rebellious iconoclasm, and sheer creativity of Italian art. This is the second edition of Thinking Italian, a showcase of the very best Italian Art of the 20th Century, which will follow Christie's Post-War and Contemporary Art Evening Auction on 4 October 2018, and preludes the sale Thinking Italian: Design, scheduled in London on 17 October, which will explore the eclecticism, rigour, and creativity of 20th Century Italian design. From Umberto Boccioni and Giorgio Morandi to Alberto Burri, Lucio Fontana and Salvatore Scarpitta, the sale presents a tightly curated selection of artists who paved the way for many of the artistic developments in the latter decades of the 20th century. Furthermore, this auction ... More



G. Daniel Massad, Six Wooden Blocks, 2007, pastel on paper, 24 x 23½ inches. Private collection.



UNIVERSITY PARK, PA.- The Palmer Museum of Art announces the opening of A Small Radius of Light: G. Daniel Massad, A Retrospective. This major loan exhibition, featuring seventy-two works spanning five decades, is on view from September 25 through December 9. Massad has dedicated much of his career to depicting the world around him. His poetic, meticulously detailed still lifes, rendered in the medium of pastel, call to mind the work of the Old Masters. His work can be found in numerous private collections across the United States as well as in major museum collections, including the Art Institute of Chicago, Metropolitan Museum of Art, Philadelphia Museum of Art, Pennsylvania Academy of the Fine Arts, National Gallery of Art, and the Palmer Museum of Art. "Dan is widely recognized as one of the most important contemporary artists working in the pastel medium," said Palmer Director Erin Coe. "This is the first retrospective dedicated ... More
Exhibition at Museum de Fundatie includes more than 150 works by Alberto Giacometti and Lynn Chadwick
gimhongsok returns to Japan for his first solo exhibition at Perrotin Tokyo
New exhibition marking 100 years since the death of Russia's last Tsar opens at the Science Museum


Alberto Giacometti, Tête de Diego au col roulé 1951/52. Bronze, 34 x 13.5 x 13 cm. Collection Fondation Marguerite et Aimé Maeght, Saint-Paul-de-Vence, France. Photo: Claude Germain – Archives Fondation Maeght.



ZWOLLE.- Museum de Fundatie is presenting a new exhibition entitled Giacometti-Chadwick, Facing Fear, running from 22 September 2018 to 6 January 2019. The sculptures of Alberto Giacometti (1901-1966) and Lynn Chadwick (1914-2003) are manifestations of the sense of fear and disillusionment that pervaded Europe during the Cold War period. Their work bids a final farewell to pre-war romanticism and aestheticism, and lands with both feet in the raw reality of the post-war world. While Giacometti reduced the human form to its bare essentials, Chadwick created powerful archetypal images of both people and animals. The exhibition includes more than 150 works. Never before has the work of Giacometti and Chadwick been so explicitly brought together. Their paths first crossed in 1956, when Chadwick became the youngest ... More



gimhongsok, View of the exhibition "EVERY, DAY, ACTS, LIKE, LIFE" at Perrotin Tokyo. September 21 – November 10 © Photo: Kei Okano. Courtesy of the artist & Perrotin.



TOKYO.- Perrotin Tokyo is presenting a solo exhibition by the Korean conceptual artist gimhongsok. Showcasing seven artworks, the exhibition offers an overview of the artist's core interests and recent creations. gimhongsok returns to the Japanese capital for his first solo exhibition at Perrotin Tokyo. He is presenting three sculptures from the Inadequate (EVERY, DAY, ACTS, LIKE, LIFE) series, each a bronze work cast in the form of clustered modelling balloons. The artist continues his career-long examination of mistranslation and cultural translation. In these sculptures, the balloons remain untwisted—contrary to their typical use for making balloon animals. Instead, the balloons lean on each other in a haphazard manner, slanted or roughly parabolic, all painted black. Deception and humor are found in the textural juxtaposition between form and material, while the artist continues ... More



Diamond and Emerald cross belonging to the Empress Alexandra Fyodorovna, before 1918. Photo: Russian History Foundation, Jordanville, NY.



LONDON.- The Science Museum opened its new exhibition The Last Tsar: Blood and Revolution. Investigating the role of science in the lives and deaths of Tsar Nicholas II and his family, this exhibition takes visitors behind the scenes of one of the greatest mysteries of the 20th century. Set against a turbulent backdrop of social upheaval and war between 1900 and 1918, The Last Tsar: Blood and Revolution explores the significant influence of medicine on the private lives of the imperial family during this period and the advances in medicine and forensic science over 70 years later that transformed the investigation into their sudden disappearance. Rare artefacts, including the family's personal diaries, private possessions and jewellery found at the scene of their murder, and two Imperial Fabergé Easter Eggs presented by the Tsar to his wife just a year before the fall of the imperial house, help bring the personal lives of aut ... More
Patrick Nagel among featured artists in Heritage Auctions' October Illustration Art Auction
Kelvingrove Museum hosts a WWI centenary exhibition of serving soldiers artists' work
Eric Clapton's Ferrari 612 Scaglietti F1 for sale with H&H Classics


The top lot in the group could be Nagel's 48-by-40-inch acrylic-on-canvas Untitled, 1984 (estimate: $60,000-80,000).



DALLAS, TX.- Five works by Patrick Nagel are expected to be among the most heavily pursued offerings in Heritage Auctions' Illustration Art auction Oct. 12 in Dallas. Nagel is known for his unique interpretation of women, often depicted with black hair and red lips juxtaposed against white skin, painted in a style that descended from Art Deco. His works regularly appeared in a number of publications – he frequently contributed images to Playboy – and on album covers, the best known of which was Duran Duran's Rio album. "Patrick Nagel was one of those artists whose style was so unique, so distinct, that his works are recognized instantly by collectors everywhere," Heritage Auctions Senior Vice President for Fine & Decorative Arts Ed Jaster said. "He remains one of the primary reasons why Heritage has been so firmly established as the premier auction house for hard- ... More



Most of the art presented in the exhibition is from the private collection of Joel Parkinson, owner and director of the World War History & Art Museum (WWHAM) in Alliance, Ohio.



GLASGOW.- To commemorate the centenary of World War I, Kelvingrove Art Gallery and Museum hosts a major new temporary exhibition Brushes with War; Art from the Front Line 14-18 from 21 September 2018 to 6 January 2019. Glasgow Museums marks this significant anniversary with the European debut of a world-class exhibition of 219 original paintings and drawings by the troops who served in World War I. Following a chronological narrative Brushes with War; Art from the Front Line portrays most major battles and all aspects of the First World War. Depicted in oils, watercolours and drawings the artworks were created by frontline soldiers from numerous countries from 1914 to 1918. Most of the art presented in the exhibition is from the private collection of Joel Parkinson, owner and director of the World War History ... More



The car is a four-seater with a fiery dynamic look that breathes power.



LONDON.- Rock Music Legend, Eric Clapton's Mirabeau Blue right-hand drive 2004 Ferrari 612 Scaglietti F1 with 29,700 miles on the clock, will be sold by H&H Classics on October 17th at the Imperial War Museum, Duxford. The great musician and car collector specified a number of options on this Ferrari which contributed to its seven-week build time from Thursday 17th June to Tuesday 27th July 2004. Adding to the Prancing Horse's £177,500 'on the road' price were: red brake callipers (£520), rear parking sensors (£575), heated front seats (£540), Scuderia enamel wing shields (£1,045), passenger airbag off system (£305), leather headlining (£275) and dedication plate in silver (£210). The London Ferrari agents, HR Owen first registered 'RX54 BCK' on the 8th September 2004 to Mr Eric Clapton. The dashboard of the 612 has a plaque fitted by the Factory that says Built for Eric Clapton. He plainly enjoyed ... More
Quote
Art is constitutive. Johann Wolfgang von Goethe
More News
---
Michelangelo Pistoletto on his Mirror Paintings
---
Flashback
On a day like today, Latvian-American painter Mark Rothko was born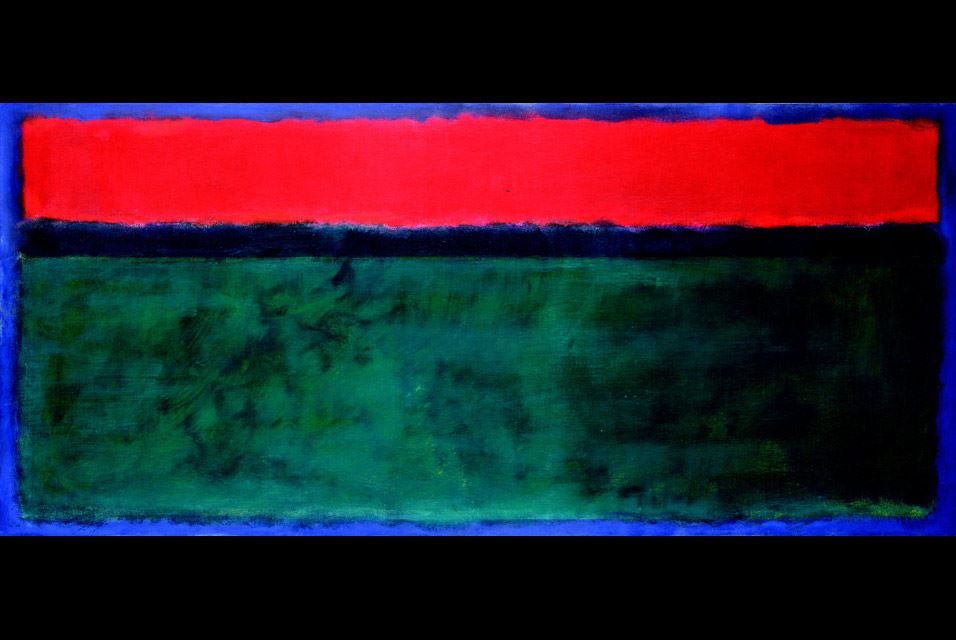 September 25, 1903. Mark Rothko (September 25, 1903 - February 25, 1970), was an American painter of Russian Jewish descent. Although Rothko himself refused to adhere to any art movement, he is generally identified as an abstract expressionist. In this image: Mark Rothko, Untitled, 1952, Oil on canvas, National Gallery of Art, Washington, Gift of The Mark Rothko Foundation, Inc. Copyright © 1997 Christopher Rothko and Kate Rothko Prizel, Image courtesy of the National Gallery of Art, Washington, 1986.43.161
---

Museums, Exhibits, Artists, Milestones, Digital Art, Architecture, Photography,
Photographers, Special Photos, Special Reports, Featured Stories, Auctions, Art Fairs,
Anecdotes, Art Quiz, Education, Mythology, 3D Images, Last Week,
.
Royalville Communications, Inc
produces:







Tell a Friend
Dear User, please complete the form below in order to recommend the Artdaily newsletter to someone you know.
Please complete all fields marked *.
Sending Mail

Sending Successful