Major exhibition of prints, paintings and drawings by Rembrandt opens in Norwich
Exhibition curators examine a painting by Rembrandt on loan from HM The Queen.
NORWICH
.-
The internationally revered Dutch artist Rembrandt Harmenszoon van Rijn (1606-1669) is the subject of a major exhibition presented by
Norwich Castle Museum & Art Gallery
from Saturday 21 October until Sunday 7 January 2018. Rembrandt: Lightening the Darkness focuses specifically on one of the less well-known aspects of Rembrandt's output, namely his fascination with print-making, in particular his use of this medium to explore innovative tonal gradations to produce evocative images of the Dutch landscape, biblical scenes full of drama and pathos, as well as sensitive portraits, including many introspective self-portraits. Not many people today know that during his lifetime, Rembrandt was as famed for his etchings as for his paintings. In Britain, for example, he was far better known as a printmaker. Forming the core of this compelling exhibition is the nationally important but little known collection of Rembrandt etch ...
More
The Best Photos of the Day
Detroit Institute of Arts opens two major painting exhibitions
Einstein's theory of happy living emerges in Tokyo note
Duchamp's moustachioed Mona Lisa sells for $750,000


Claude Monet, Rounded Flower Bed (Corbeille de fleurs), 1876 (detail). Oil on canvas. Detroit Institute of Arts



DETROIT, MICH.- Art lovers are getting a two-for-one treat with the Detroit Institute of Arts' two new major exhibitions. "Church: A Painter's Pilgrimage" will be on view through Jan. 15, 2018 and "Monet: Framing Life" will run through March 4, 2018. "We are fortunate to be able to open two separate exhibitions by two major artists side-by-side," said Salvador Salort-Pons, DIA director. "The works we have assembled by Church and Monet will transport visitors to distinct places and time in history, allowing them to experience the world as the artists did." "Church: A Painter's Pilgrimage" focuses on American artist Frederic Church's paintings done in the Middle East, Athens and Rome. Church was the most popular and financially successful painter in mid-19th-century America, best known for his large paintings of wild places in North and South America, the North Atlantic and ... More



A picture taken on October 19, 2017, shows Gal Wiener, owner and manager of the Winner's auction house in Jerusalem, displaying one of two notes written by Albert Einstein. MENAHEM KAHANA / AFP.



JERUSALEM (AFP).- A note that Albert Einstein gave to a courier in Tokyo, briefly describing his theory on happy living, has surfaced after 95 years and is up for auction in Jerusalem. The year was 1922, and the German-born physicist, most famous for his theory of relativity, was on a lecture tour in Japan. He had recently been informed that he was to receive the Nobel Prize for physics, and his fame outside of scientific circles was growing. A Japanese courier arrived at the Imperial Hotel in Tokyo to deliver Einstein a message. The courier either refused to accept a tip, in line with local practice, or Einstein had no small change available. Either way, Einstein didn't want the messenger to leave empty-handed, so he wrote him two notes by hand in German, according to the seller, a relative of the messenger. "Maybe if you're ... More



This file photo taken on June 2, 2005 shows "L.H.O.O.Q", a moustachioed Mona Lisa (La Joconde) by dadaist painter Marcel Duchamp painted in 1930, displayed at the Centre Pompidou National Museum of Modern Art. DAMIEN MEYER / AFP.



PARIS (AFP).- One of Marcel Duchamp's reproductions of Leonardo Da Vinci's "Mona Lisa", on to which he pencilled a beard and moustache, has sold for 632,500 euros ($750,000) at Sotheby's in Paris. It was part of the sale of a collection of surrealist works owned by American Arthur Brandt, with 110 pieces fetching 3.9 million euros, including commission. However, some standout pieces, including a work by Francis Picabia, which was estimated at 700,000 euros, did not find a buyer. Duchamp's version of the "Mona Lisa" was one of nine works in the sale by the French artist, who is seen as the father of conceptual art. The "Mona Lisa" works are entitled "L.H.O.O.Q", which in French sounds like the phrase "elle a chaud au cul", roughly translated as "she's horny". ... More
Exhibition at Aurel Scheibler focuses on Alice Neel's social and political commitment
Exhibition presents new research into the art history of religions
Sotheby's to offer Sir Winston Churchill's final painting


Alice Neel, Grimaldi, 1955. Oil on canvas !91,9 x 69,3 cm / 36 3/16 x 27 5/16 in. © The Estate of Alice Neel / Courtesy Aurel Scheibler, Berlin.




BERLIN.- Aurel Scheibler is presenting "The Great Society", the third solo exhibition of Alice Neel at the gallery. The selection for this exhibition focuses on the artist's social and political commitment and thus complements the retrospective exhibition which is currently on view at the Deichtorhallen in Hamburg, after several stops in Europe. The exhibition depicts street scenes, observations of the lower-class milieu, as well as portraits of politically active personalities. The paintings encompass the period from 1933 to 1965, when Alice Neel painted The Great Society, from which our exhibition takes its title. The dismal facades, the people rummaging in trash cans, the exhausted dock workers on their way home, the gatherings of political activists or the views of tired faces all present diffrent facets of a nation which Alice Neel documented ... More



Christ enthroned. Carved ivory, c.500-600, Eastern Mediterranean. Private Collection UK.



OXFORD.- The Ashmolean, Oxford, is staging the first major exhibition to explore the visual cultures of Buddhism, Christianity, Hinduism, Islam, and Judaism as these five religions spread across Asia and Europe in the first millennium. Imagining the Divine: Art and the Rise of World Religions (19 October 2017 – 18 February 2018), curated by Jaś Elsner and Stefanie Lenk, presents the culmination of new research into the art history of religions undertaken by the Empires of Faith project based at the British Museum and the University of Oxford. The project explores the different visual cultures of the major world religions and brings to light the processes of constant dialogue between faiths. The exhibition considers images and objects not as fixed and inevitable consequences of a religion's theological point of origin but, rather, as the results of a long history of visual evolution relating to the encounter and ... More



Sir Winston Churchill, The Goldfish Pool at Chartwell (detail), oil on canvas, circa 1962 (est. £50,000-80,000) © Sotheby's.



LONDON.- Appearing on the market for the first time since it was gifted by Sir Winston Churchill to his bodyguard Sergeant Edmund Murray, The Goldfish Pool at Chartwell is the final work that Britain's greatest war-time leader ever painted. The work depicts the beloved goldfish pool in the garden of Churchill and his wife Clementine's home at Chartwell – the place most closely linked to his development as a painter. A unique and moving insight into his final years, The Goldfish Pool at Chartwell will be offered with an estimate of £50,000-80,000, as part of Sotheby's Modern & Post-War British Art Evening Sale in London on 21 November. "Painting is a friend who makes no undue demands, excites no exhausting pursuits, keeps faithful pace even with feeble steps, and holds her canvas as a screen between us and the envious eyes of time or the sultry advances of decrepitude. Happy are the ... More
Reel Art Press publishes a complete retrospective of Neal Preston's incredible career
New York-based artist Daniel Arsham opens exhibition at Perrotin in Paris
Mitchell-Innes & Nash opens exhibition of works by conceptual artist Mary Kelly


The Who.



LONDON.- Neal Preston is one of the most prolific and highly regarded rock photographers of all time. Exhilarated and Exhausted is a complete retrospective of an incredible career spanning almost 50 years. Produced in collaboration with Neal, with unrestricted access to his legendary archive – considered one of music's most extensive and significant photography collections. A who's who of rock royalty, this stunning book of over 300 photographs is a breathtaking visual feast and fascinating memoir. Neal is the true insider and his images are brought alive by his outrageous insights into life as a rock and roll photographer. Glimpses of life backstage, stressful deadlines, a 47-year-case of permanent jetlag, live performances, post-performance highs and lows, photo shoots gone awry and outtakes – many photos which have never been seen before ... More



Portrait of Daniel Arsham. View of the exhibition "Angle of Repose" at Perrotin Paris (October 14 – December 23, 2017). Photo: Claire Dorn / Courtesy Perrotin.



PARIS.- For his new exhibition at Perrotin in Paris, New York-based artist Daniel Arsham revisits permanency while continuing to expand on his interest in Asian cultures, planetary cycles, and his own mortality—a subject inherent to his artistic practice. Arsham, whose work has been widely exhibited internationally, questions not only the reception of a piece, but the influence a culture may have on new bodies of work. Since the very beginning, Arsham has worked with the notion of memory and time, intertwining his interest with architecture, while storytelling and science fiction have always held a significant importance in his work. The artist's personal memories of surviving a hurricane in 1992 made Arsham more sensitive to this idea of finiteness and is something we ... More



Mary Kelly, 7 Days, 10-16 November, 1971, 2014. Compressed lint, 41 by 34 by 2 inches.



NEW YORK, NY.- Mitchell-Innes & Nash presents conceptual artist Mary Kelly's inaugural exhibition, The Practical Past, a project-based work that considers the meaning of an era concurrent with the artist's lifetime and deeply influenced by the events of 1968. The installation combines "Circa Trilogy," large-scale works that reference iconic representations of the historical past, with two series that focus on the more intimate and pragmatic politics of the everyday: "News from Home" and "7 Days." Concerned with affect as much as fact, Kelly's reworking of archival images is intensely involved with both material process and duration. All of the works in the exhibition are made of compressed lint, a material Kelly has been working with for almost two decades. Individual units of compressed lint are cast in the filter screen of a ... More
Marc Straus announces inaugural solo exhibition of American sculptor Jeanne Silverthorne
Modernist works from the Herbert Read Collection to be offered at Bonhams
Christie's New York announces highlights from its sales series: Fall Classics


Installation view.



NEW YORK, NY.- Marc Straus presents the inaugural solo exhibition of American sculptor Jeanne Silverthorne at the gallery. For more than three decades, Silverthorne has taken the studio as her subject. For Silverthorne the worksite and its contents, including herself, become inextricable metaphors of existence, age and decay. Silverthorne creates sculptures almost invariably in industrial-grade rubber, favoring a laborious, old-fashioned process that requires numerous separate casts for a single work. Her sculptures of everyday items mimic reality, but colored and/or changed in scale they acquire new meaning and unexpected associations. Thus wires and conduits may now suggest arteries or veins flowing with life, light-bulbs symbolize creativity, and chairs that are worn out evoke human presences. Yet her bulbs do not light and her chairs are not supportive —they are the apotheoses of the dysfunctional. Such is the case with Wrapped Task Cha ... More



Paul Nash (British, 1889-1946), The Peacock Path, 45.7 x 38.1 cm. (18 x 15 in.). Photo: Bonhams.



LONDON.- Works by leading names in British Modernism from the collection of art historian and founder of the Institute of Contemporary Art, Herbert Read, are to be offered for sale at Bonhams Modern British and Irish Art on Wednesday 22 November. A towering figure in the story of British art in the mid-20th century, Read was a tireless champion of emerging artists struggling to make their mark against prevailing orthodoxies. In gratitude for Read's support, many artists gave him works as tokens of their appreciation. As Herbert's son, the celebrated novelist, Piers Paul Read, writing in the Autumn 2017 edition of Bonhams Magazine, recalls, "There were around a hundred works in his collection…almost all of it given to my father by artist whom he had encouraged and defended at a time when modern are was widely despised." Three of these works, eventually inherited by the Reads' youngest son Benedict, feature in Bo ... More



Jacques-Émile Blanche, Henriette Chabot au Piano. © Christie's Images Limited 2017.



NEW YORK, NY.- Christie's announces Fall Classics, a series of sales comprised of Antiquities, Old Masters, and 19th Century European Art, that align with the TEFAF art fair in New York for a second year. Auction highlights include paintings by, Vigée Le Brun, Jacques-Émile Blanche and Albrecht Bouts. Sculptural highlights include an Egyptian greywacke portrait head of Amenhotep III from the estate of William Kelly Simpson, the world-renowned Egyptologist, and a Roman marble portrait head of the empress Livia. The exhibitions at Christie's Rockefeller Center Galleries open to the public for the Antiquities auction on October 20 and Old Masters and 19th Century European Art on October 27. The Antiquities sale offers works of art from across the ancient Mediterranean world, including ancient Greece, Rome, and Egypt, ranging in date from 2300 B.C. to the 7th century A.D. Featuring an impressive selection ... More
Quote
Bernini's design for the Louvre I would have given my skin for. Sir Cristopher Wren
More News
---
Mirrors in Pre-Raphaelite paintings
---
Flashback
On a day like today, Andy Warhol "superstar" Baby Jane Holzer, was born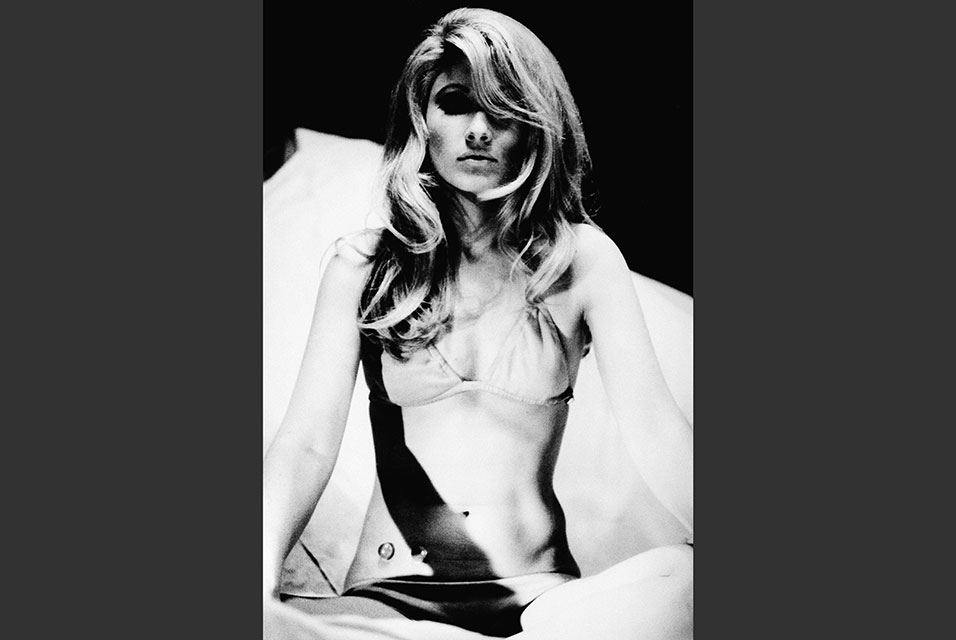 October 23, 2017. Jane Holzer (née Bruckenfeld; born 23 October 1940) is American art collector and film producer who was previously an actress, model, and Warhol superstar. She was often known by the nickname Baby Jane Holzer. Movies she appeared in included Soap Opera, Warhol's Couch (1964), and Ciao! Manhattan (1972). She co-produced the 1985 film Kiss of the Spider Woman. Holzer is the subject of "Girl of the Year" in Tom Wolfe's The Kandy-Kolored Tangerine-Flake Streamline Baby (1965) and is referenced twice in the 1972 Roxy Music song Virginia Plain from the album Roxy Music.
---

Museums, Exhibits, Artists, Milestones, Digital Art, Architecture, Photography,
Photographers, Special Photos, Special Reports, Featured Stories, Auctions, Art Fairs,
Anecdotes, Art Quiz, Education, Mythology, 3D Images, Last Week,
.
Royalville Communications, Inc
produces:







Tell a Friend
Dear User, please complete the form below in order to recommend the Artdaily newsletter to someone you know.
Please complete all fields marked *.
Sending Mail

Sending Successful