Princess Diana's iconic dresses on show at Kensington Palace for anniversary
A dress by the designer Gianni Versace, and worn by Britain's Diana, Princess of Wales at her Harper's Bazaar photo-shoot, is pictured during a press preview of the forthcoming exhibition entitled "Diana: Her Fashion Story", at Kensington Palace in London on February 22, 2017. Glittering gowns, elegant suits and bold mini-dresses worn by the late Princess Diana will go on show from Friday on the 20th anniversary of her death in a unique exhibition charting her style reign. "Diana: Her Fashion Story" follows her evolution from the demure outfits of her first public appearances to the glamourous gowns of her later life and is being hosted in Kensington Palace, her London residence. Daniel LEAL-OLIVAS / AFP.

by Alice Tidey
LONDON
(AFP)
.-
Glittering gowns, elegant suits and bold mini-dresses worn by the late Princess Diana have gone on show on the 20th anniversary of her death in new exhibition charting her style reign. "Diana: Her Fashion Story", hosted in her London residence Kensington Palace, follows her evolution from the demure outfits of her first public appearances to the glamorous gowns of her later life. The show charts how she not only rewrote the rules of royal dressing with a more informal style but also expressed herself through her fashion choices, before her 1997 death in a car crash in Paris. "Each of the dresses is like a mini biography... They're not just what she wore but they tell stories," Libby Thompson, a curator, told AFP. Fellow curator Eleri Lynn said: "We see her growing in confidence throughout her life, increasingly taking control of how she was represented". Some of the highlights include the discreet pale pink Emanuel blouse ...
More
The Best Photos of the Day
Archaeologists hunt for long-lost tomb of Scottish king
Sistine chapel photographed in unprecedented detail
Stolen 'Work will set you free' gate returned to Dachau


King of Scotland James I. Photo: Scottish National Portrait Gallery, Edinburgh.



EDINBURGH (AFP).- The tomb of a medieval king whose murder changed the course of Scottish history in a real-life "Game of Thrones" could be unearthed in a new hi-tech project launched Saturday. Archaeologists and virtual reality artists want to digitally recreate the court of King James I of Scotland in Perth, around 40 miles (64 kilometres) from Edinburgh, and try to find the king's tomb buried beneath the modern-day city. They are also looking for the remains of his queen, Joan Beaufort, and of Margaret Tudor, sister of Henry VIII of England and wife of James IV of Scotland, who was also buried there a century later. The team has been inspired by the discovery of King Richard III of England beneath a car park in Leicester. "It's like 'Game of Thrones' and 'Outlander' all rolled into one -- except this story is real," said Paul Wilson, who is leading the digital visualisation ... More



The frescoes were given a new lease of life in 2014 when they were illuminated with a revolutionary new lighting system. Photo: Snowdog/wikipedia.org.



VATICAN CITY (AFP).- The famous frescoes of the Sistine Chapel, whose ceiling was painted by Michelangelo, can now be examined in minute detail thanks to an unprecedented photographic venture, the Vatican Museums have said. By combining innovative digital technology and special LED lamps which aimed to reproduce daylight, photographers were able to make images measuring 43 centimetres (17 inches) tall by 1.2 metres (four feet) wide. The work includes 220 life-sized images from the chapel, including elements of The Last Judgement as well as frescoes painted on the walls by Perugino and Botticelli. The three works, of which 1,999 copies have been made and will be sent to the world's most important libraries, all give a perfect rendition of the colours used by the Renaissance masters, said Italian ... More



Workers hold the original iron gate with the slogan "Arbeit macht frei" (work will set you free) in front of journalists at the former Nazi concentration camp in Dachau. UWE LEIN / AFP.



DACHAU (AFP).- An iron gate with the infamous slogan "Arbeit macht frei" ("Work will set you free"), stolen from the former Nazi concentration camp of Dachau in Germany two years ago, was returned to the site Wednesday. The theft of the 100-kilo (220-pound) gate was reported in November 2014, sparking uproar, with German Chancellor Angela Merkel calling the crime "appalling". It was recovered outside Bergen in southwestern Norway last December following an anonymous tip-off. At a ceremony marking the return of the gate, the president of the International Dachau Committee, Jean-Michel Thomas, urged investigators to press on with the probe into the theft. He said he was "deeply shocked by the desecration of the site dedicated to the memory of all the victims of the camp". ... More
Body of tortoise 'Lonesome George' returned to Galapagos Islands
China photography provocateur Ren Hang dies at 29
Taiwan's Chiang Kai-shek hall removes souvenirs of former leader


Lonesome George. RODRIGO BUENDIA / AFP.



QUITO (AFP).- The embalmed body of the giant tortoise known as Lonesome George -- the last known survivor of a species that died out in 2012 -- returned home to the Ecuadoran Galapagos Islands. The body arrived in Puerto Ayora, the capital of the archipelago's Santa Cruz Island, on an Ecuadoran military plane after undergoing taxidermy work at New York's American Museum of Natural History, the Galapagos National Park said. The giant tortoise -- thought to be around a century old when he died in June 2012 -- was the last known member of the subspecies Geochelone nigra abingdoni. He failed to reproduce despite a decades long conservation effort that earned him the moniker "Lonesome George." His body is now on display at the park after having starred in an exhibition at the New York museum from September 2014-January 2015. The Pacific island chain is famous ... More



Ren's self-titled photobook -- his first -- featuring major works from 2008 through 2015 was published by Taschen on January 20.



BEIJING.- One of China's most promising and provocative young photographers, Ren Hang, has died aged 29, his gallery confirmed Saturday. The artist was known for racy nude shots of his friends in which genders blur and limbs intertwine. His gallery, Hong Kong-based Blindspot, confirmed the death to AFP. Born 1987 in Changchun city of northeastern Jilin province, the Beijing-based, self-taught artist gained recognition abroad even while his work was censored at home, where the ruling Communist party bans what it deems "pornographic". Ren had long grappled with depression, a struggle that he chronicled in poetry and prose online. "Every year, the wish I make is the same: to die earlier," he said in one of his final Weibo posts, published last month on the eve of the Chinese lunar ... More



The Chiang Kai-shek memorial hall was built after the leader's death in 1975.



TAIPEI (AFP).- A Taiwanese memorial hall named after Chiang Kai-shek has stopped selling souvenirs depicting the former nationalist leader, authorities said Saturday, as the island deals with the "deep scar" left by his rule. The decision comes as Taiwan prepares to mark the 70th anniversary of a brutal massacre of protesters by troops from his Kuomintang (KMT) party, when the now democratic island was still under martial law. The massacre was followed by decades of political purges under Chiang and his son, known as the "White Terror". "Many of the victims and their families suffered long-term discrimination and pain. It is a deep scar hidden in the hearts of all Taiwanese," Culture Minister Cheng Li-chun said of the announcement. The Chiang Kai-shek memorial hall, which was built after the leader's ... More
Exhibition restores pioneering light artist to his rightful place in history of modern art
First retrospective in 20 years of master photographer Irving Penn opens at Nashville's Frist Center
Exhibition brings together exquisite Surrealist paintings by Rita Kernn-Larsen


Thomas Wilfred, Unit #50, Elliptical Prelude and Chalice, from the First Table Model Clavilux (Luminar) series, 1928. Metal, fabric, glass, and electrical and lighting elements on a maple table. Yale University Art Gallery, New Haven, Conn., Gift of Thomas C. Wilfred, 1983.66.1.



NEW HAVEN, CONN.- The Yale University Art Gallery is presenting Lumia: Thomas Wilfred and the Art of Light, the first exhibition devoted to this pioneering artist in more than 40 years. Beginning in the 1920s, the Danish-born American artist Thomas Wilfred (1889–1968) forged an international reputation as a radical innovator by creating kinetic abstractions with light. Wilfred designed and built an array of sophisticated mechanical sculptures to produce vibrant, multicolored displays, realizing a new art form—which he collectively called lumia—that was among the first successful fusions of modern art and technology. Recognized as a pioneering mode of artistic expression throughout Wilfred's decades-long career, lumia has been a critical touchstone for later generations ... More



Irving Penn. Frozen Foods, New York, 1977, printed 1984. Smithsonian American Art Museum, Gift of The Irving Penn Foundation. © The Irving Penn Foundation.



NASHVILLE, TENN.- Irving Penn (1917–2009), known for his iconic fashion, portrait, and still life images that appeared in Vogue magazine, ranks as one of the twentieth century's most prolific and influential photographers. The first retrospective of his work in 20 years, Irving Penn: Beyond Beauty conveys the extraordinary breadth and legacy of the American artist and is on view at the Frist Center for the Visual Arts from February 24 to May 29, 2017. Organized by the Smithsonian American Art Museum and Merry Foresta, the museum's curator of photography from 1983 to 1999, the exhibition contains more than 140 photographs, including the debut of 100 photographs recently donated by The Irving Penn Foundation and several previously unseen or never-before-exhibited photographs. Penn's renown as a fashion photographer is matched by the recognition of his innovative and insightful portraits, still lifes, ... More



Rita Kernn-Larsen (1904 – 1998), The Apple from Normandy / The Apple, 1934. Oil on canvas, 97 x 74 cm. Kunsten Museum of Modern Art, Aalborg @ Rita Kernn-Larsen, by SIAE 2017.



VENICE.- From 25 February to 26 June 2017, the Peggy Guggenheim Collection presents the exhibition Rita Kernn-Larsen. Surrealist Paintings, curated by Gražina Subelytė, Curatorial Assistant of the Collection. Rita Kernn-Larsen (Hillerød, 1904–Copenhagen, 1998), a prominent Danish Surrealist artist, whom Peggy Guggenheim met in Paris in 1937, was invited by Peggy the following year to exhibit her paintings at Guggenheim Jeune, Peggy's London gallery a show which inaugurated Peggy's career with Surrealist art. This new exhibition brings together exquisite Surrealist paintings by Kernn-Larsen, to this day too little known outside Denmark, inaugurating two new exhibition rooms at the Peggy Guggenheim Collection. This is the first important presentation of Kernn-Larsen's Surrealist period outside of her native Scandinavia since her one-woman ... More
First comprehensive exhibition on the work of Cesare Leonardi opens in Genova
Mitchell-Innes & Nash opens exhibition of new works by Monica Bonvicini
Major and historic works by this legendary ceramic artist Don Reitz on view at Lacoste Gallery


P14, serie Solidi, 1998–1999. Composizione di provini a contatto, 30 x 24 cm. Courtesy Archivio Architetto Cesare Leonardi. Foto Cesare Leonardi.



GENOVA.- The Villa Croce Museum of Contemporary Art presents the first comprehensive exhibition on the work of Cesare Leonardi (b. 1935, Modena, Italy). An architect and photographer, in the course of a career that spanned more than four decades Leonardi has continuously challenged the boundary between design and artistic practice. In spite of the recognition gained by his early furniture design – such as the Rocking chair, designed with Franca Stagi in 1967 and featured in the foundational MoMA exhibition Italy: The New Domestic Landscape – most of Leonardi's oeuvre has remained little known, even within Italy. The exhibition Cesare Leonardi: Strutture, organized in close cooperation with Leonardi's archive, sheds light on a body of work that is at once intimate and multifaceted. The exhibition uses the historical backdrop of Villa Croce to explore three broad topics — chairs, shadows, ... More



Monica Bonvicini, Bent and Winded, 2017. LED light tubes, wire, steel, 91 by 64 by 10 in. 231.1 by 162.6 by 25.4 cm. Photo: Adam Reich.



NEW YORK, NY.- Mitchell-Innes & Nash is presenting RE pleasure RUN, an exhibition of new works by Berlin-based, Italian artist Monica Bonvicini. The exhibition includes painting, photography, neon works and a large-scale installation, showcasing the artist's interest in the relationships between gender, architecture and the power dynamics that shape our world. The exhibition is Bonvicini's debut at Mitchell-Innes & Nash. Best known for her large-scale sculptural installations that engage architectural space and the viewer through dry humor, Monica Bonvicini rejects categorization and questions elements of control, gender, and power embedded in images, language and physical space. The exhibition at Mitchell-Innes & Nash is anchored around an installation titled Structural Psychodramas #2, in which the artist uses temporary walls in the gallery to create a new architectural environment. The walls are bare and slightly lifted, supported by sm ... More



Don Reitz, Through the Interface, 2011. 19 x 11 x 10. Woodfired stoneware.



CONCORD, MASS.- Lacoste Gallery announces Don Reitz: The Expressive Genius, February 25 – March 25 featuring major and historic works by this legendary ceramic artist who never stopped making art until his passing in 2014. Don Reitz is one of the great geniuses of contemporary ceramics and was devoted to clay, color and expression throughout his career. This exhibition presents works from his three great periods: the Sara series--in which he used color to narrate stories on earthenware clay; his wood-fire period using fire and ash for expression; and his color with wood-fire and salt which was a summation of the many elements in his life works. There are also connector pieces that led from one period to the next such as the colorful plates that preceded the use of color in the Sara series and earthenware with expressive brushwork that came at the end of his life. In addition an oil painting by the artist when he was in grad school at A ... More
Quote
Art is an effort to create, beside the real world, a more human world. André Maurois
More News
---
Time lapse video of Lee Bontecou's installation Untitled (Sandbox) at Gemeentemuseum
---
Flashback
On a day like today, French painter, illustrator, and sculptor Honoré Daumier was born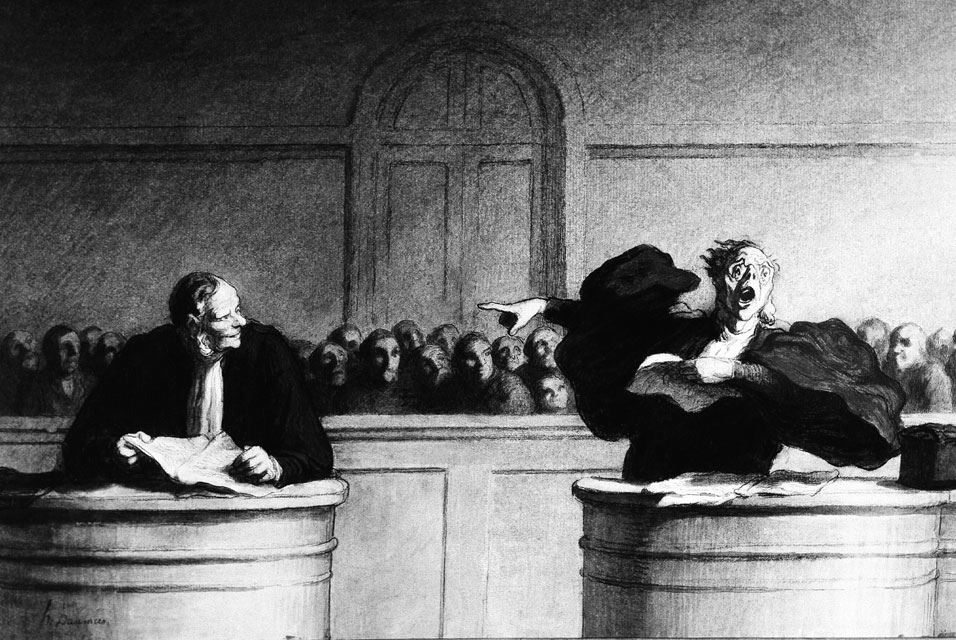 February 26, 1808. Honoré Daumier (February 26, 1808 - February 10, 1879) was a French printmaker, caricaturist, painter, and sculptor, whose many works offer commentary on social and political life in France in the 19th century. In this image: "The Pleader", one of Daumier's most famous court scenes, lent anonymously to the Pennsylvania Museum of art and show for the first time in this country in the comprehensive exhibition of the artist's work at the Philadelphia Museum.
---

Museums, Exhibits, Artists, Milestones, Digital Art, Architecture, Photography,
Photographers, Special Photos, Special Reports, Featured Stories, Auctions, Art Fairs,
Anecdotes, Art Quiz, Education, Mythology, 3D Images, Last Week,
.
Royalville Communications, Inc
produces:







Tell a Friend
Dear User, please complete the form below in order to recommend the Artdaily newsletter to someone you know.
Please complete all fields marked *.
Sending Mail

Sending Successful