One million expected at blockbuster Paris Tutankhamun show
This file photo taken on September 28, 2015 shows a detail of the golden sarcophagus of King Tutankhamun in his burial chamber in the Valley of the Kings, close to Luxor, 500 kms south of Cairo. The exhibition dedicated to the famous Pharaoh Tutankhamun, with 150 original objects from his tomb, will take place in the Grande Halle de la Villette in Paris from March 23 to September 15, 2019. Khaled DESOUKI / AFP.

by Jean-Louis De La Vaissiere / Fiachra Gibbons
PARIS
(AFP)
.-
At least one million people are expected to flock to a "once in a generation" exhibition about the Egyptian pharaoh Tutankhamun which opens in Paris this weekend. More than 150 treasures from the boy king's tomb -- including 60 which have never left Egypt before -- have been assembled for the blockbuster show. The Egyptian Ministry for Antiquities said this is the largest number of Tutankhamun artefacts ever to have left Cairo, and may never happen again. Ticket sales for "Tutankhamun: Treasures of the Golden Pharaoh" topped 130,000 last week as curators began the delicate task of installing the spectacular 3,400-year-old exhibits. Almost all come from the Egyptian Museum in Cairo's Tahrir Square, and are never likely to leave the country again. Its unparalleled collection is being transferred to the enormous new Grand Egyptian Museum near the pyramids at Giza, which is due to open next year. ...
More
The Best Photos of the Day
US woman sues Harvard over 'slave ancestor' pictures
Christie's announces highlights from the Art of the Islamic and Indian Worlds Including Oriental Rugs and Carpets
Library acquires trove of letters from Georgia O'Keeffe and Alfred Stieglitz


A sample image of "Papa" Rnety and his daughter Delia, taken in 1850, during a press conference announcing a lawsuit against Harvard University on March 20, 2019 in New York City. Kevin Hagen/Getty Images/AFP.



NEW YORK (AFP).- A US woman who says she is descended from slaves who were photographed in 1850 by a racist Harvard University professor on Wednesday sued the university over the "exploitation" of the images of her ancestors. Tamara Lanier filed suit in the northeastern state of Massachusetts over the photographs taken in South Carolina of a slave and his daughter, known only by their first names: Renty -- the patriarch of her family -- and Delia. The images, thought to be the earliest known photographs of American slaves, are currently in a museum at the university near Boston. They were commissioned by Swiss-American Harvard scientist Louis Agassiz, a white supremacist theorist who also worked on glaciers. Renty and Delia were forced to pose naked, "without consent, dignity or compensation" as the professor sought to "'prove' black ... More



The mid to high six-figure estimates and great attention surrounding Christie's "Art of the Islamic and Indian Worlds" exhibition and upcoming auction clearly emphasize the continually growing interest in Museum-Level and High-Collectible Oriental Rugs (Levels #1 and #2 on my "Oriental Rug Market Pyramid"), which as yet are extremely undervalued in today's Fine Arts market. Jan David Winitz, Founder/President of Claremont Rug Company , an eminent expert of antique Oriental rugs.



LONDON.- Ahead of the auction in London on 2 May, highlights from the Art of the Islamic and Indian Worlds Including Oriental Rugs and Carpets are touring to Dubai from 19-23 March. This is a chance for discerning collectors and art enthusiasts to view the exquisite craftsmanship and diversity of works from this category. Highlights include a monumental Imperial Mamluk Qur'an, complete with the name and date of the scribe, with a hugely impressive full page dedication to Sultan Qaytbay (estimate: £500,000-800,000). Remarkable for its elegant script and richly gilded illumination on an extraordinarily large scale, this manuscript was ... More



A letter with a passage about the Pedernal mountain, which she calls "my mountain". Photo: Shawn Miller, Library of Congress.



WASHINGTON, DC.- The Library of Congress has acquired a trove of letters from American artist Georgia O'Keeffe and her husband, the photographer and art promoter Alfred Stieglitz, shedding new light on art history as the correspondence is being made available to the public for the first time. The collection is a set of mostly handwritten letters dating from 1929 to 1947, totaling 157 items. O'Keeffe and Stieglitz wrote the letters separately to their friend and artistic colleague, the filmmaker Henwar Rodakiewicz. The letters were preserved in private hands for decades in Santa Fe, New Mexico, never before seen by the public. Now the collection is available to researchers in the Library's Manuscript Division – in time to mark O'Keeffe's important role in art history during Women's History Month – after the letters were acquired through a purchase and gift agreement in late 2018. O'Keeffe's letters make up the bulk of the materials. She pens the correspo ... More
New York philanthropist is accused of sexual harassment
Basquiat and the photocopier, on exhibit in New York
The Gropius Bau debuts the newly transformed building and 2019 exhibition programme


In this file photo taken on August 11, 2010, philanthropist Michael Steinhardt attends the premiere of "A Film Unfinished" at MOMA - Celeste Bartos Theater in New York City. Jason Kempin / GETTY IMAGES NORTH AMERICA / AFP.



NEW YORK (AFP).- A New York billionaire and philanthropist, Michael Steinhardt, has been accused of sexual harassment by a series of women working for organizations that depended on his generosity, The New York Times and ProPublica reported on Thursday. Steinhardt, 78, who made a fortune through hedge funds created in the 1960s, is a major donor to institutions like New York University and the Metropolitan Museum, which named a gallery after him. Six women who spoke to the Times and ProPublica said Steinhardt asked them for sex on multiple occasions, and often remarked on their physiques or sex lives. He is the latest high-profile figure accused of sexual misconduct since the downfall of Hollywood mogul Harvey Weinstein in late 2017 galvanized the #MeToo movement to quash pervasive sexual harassment in ... More



King of the Zulus, 1984-­85. Acrylic, oilstick, and Xerox collage on paper mounted on canvas, 86 x 68 x 1.5 inches (218.5 x 173 x 4  cm) [MAC] Museé d'Art Contemporain, Marseille.



NEW YORK (AFP).- Amid the success in New York of a major Basquiat exhibition from Paris, a gallery in the painter's hometown is paying homage to the late American artist's intensive use of the photocopier and collage in his work. "Jean-Michel Basquiat / Xerox," at Nahmad Contemporary, shows that the Brooklyn-born artist of Haitian and Puerto Rican descent integrated the machine into his creative process from his first attempts to transition from the world of street art and graffiti to contemporary art. The famous postcard that Basquiat sold in the streets in 1979, and which were his first point of contact with Andy Warhol, were color photocopies of collages that integrated painting, text and found objects. Later, when he turned to larger media, he used photocopies to add density to his works, covering his collages with small drawings, phrases and names, as evidenced ... More



Exterior view detail. Photo: Mathias Völzke.



BERLIN.- The public opening of the newly conceived building will take place from 23 - 24 March: a new commission by Chiharu Shiota in the atrium will, as part of the new vision, be freely accessible to the public, the new restaurant Beba and the redesigned Walther König Bookshop will also be open. Coinciding with the opening of the exhibition And Berlin Will Always Need You. Art, Craft and Concept Made in Berlin on the evening of 21 March, the weekend marks the debut of a day-ticket scheme that allows all of the Gropius Bau shows and events to be explored in a single visit. There will be various events taking place on Saturday 23 March and Sunday 24 March: guided tours, workshops, performances, a talk by artist in residence Otobong Nkanga and an exhibition of artist books curated by the Walther König Bookshop. A coordinated events programme responds to the exhibitions and activates the restaurant, bookshop and foyer as spaces for conversation and discussion, opening up the institution as ... More
View of Venice by Thomas Moran highlights Doyle's March 27 Americana Auction
Largest survey of Huma Bhabha's work to date opens at The Institute of Contemporary Art/Boston
Häusler Contemporary exhibits ceramics made by American painter Judy Ledgerwood


Thomas Moran (1837-1926), Venice (The Splendor of Venice), 1899 (detail), Signed and dated, Oil on canvas, 20 x 30 1/8 inches. Est. $100,000-150,000.



NEW YORK, NY.- On Wednesday, March 27 at 10am, Doyle will hold an auction of American Paintings, Furniture & Decorative Arts. The sale showcases 18th and 19th century American furniture and decorative arts, including silver, ceramics, mirrors, folk art, Chinese Export porcelain and rugs. This auction category is Doyle's premier venue for 19th and early 20th century American paintings, with the current sale showcasing over 140 examples. Included are Hudson River School landscapes, Western and Regional art, still lifes, portraits, nautical scenes and Folk paintings. Thomas Moran (1837-1926) is one of America's most revered artists of the western landscape. While at the height of his creative powers in the 1880s and 90s, he traveled to Venice. The views of that brilliant city would inspire him for the rest of his career. Property from the Estate of Joan Harmon Van Metre features an 1889 work that captures the dramatic light and vibrant colors of Venice (est. $100,000-150,000). In his day Edwa ... More



Huma Bhabha, With Blows, 2015. Cork, Styrofoam, acrylic paint, oilstick, nail polish, and wood, 76 × 12 × 14 inches (193 × 30.5 × 35.6 cm) (sculpture); 28 × 30 × 3 inches (71.1 × 76.2 × 7.6 cm) (base). Private collection, Boston. Courtesy the artist and Salon 94, New York. © Huma Bhabha.



BOSTON, MASS.- The Institute of Contemporary Art/Boston presents Huma Bhabha: They Live, the largest survey of the artist's work to date. Spanning over two decades of Bhabha's work, this major exhibition features sculpture, drawing, and photography, and considers the artist's engagement with the human figure. Best known for her sculptures, Bhabha uses a wide variety of materials ranging from clay, Styrofoam, bronze, bricks, wood, construction materials, and other found material, to make compelling works that engage the arts and histories of diverse cultures. Tending towards the grotesque, Bhabha's sculptures feature hybrid bodies or figures that appear human, animal, or alien, and evoke life in a post-apocalyptic or ruined landscape. Her work transcends a singular time and place, instead creating an exploration of what the artist describes as the "eternal ... More



Large Ball Flower Motif Vase with Red, Cobalt Blue + Golden Yellow + Metallic Gold, 2018. Majolika Produktion: Prozellan Manufaktur Nymphenburg Unikat 61 x 41 cm / 24 x 16 1/8 inches.



ZURICH.- Häusler Contemporary Zürich is presenting ceramics made by American painter Judy Ledgerwood at Porzellan Manufaktur Nymphenburg in 2018. Along with new paintings by the artist who unites different facets of art and cultural history in her work, a highly sensual exhibition comes into being, offering in-depth insight into Ledgerwood's conceptual artistic approach. The powerful color and opulent ornamentation of the works of Judy Ledgerwood (born 1959, Brazil, US, lives in Chicago and Sawyer, US) are deeply rooted in the tradition of painting. Ever since the beginning of her career, the artist consciously takes her own position within recent art history and challenges its prevailing, supposedly fixed premises and role assignments. She adopts influences from color-field and action painting and combines them with simple geometric patterns reminiscent of popular culture and textile design, often assigned to femininity. Severa ... More
Sotheby's announces fourth Sale of Contemporary African Art
'Antiques Roadshow' discovery sells for $2.1 million in New York
GRI appoints LeRonn Brooks, Curator of Modern and Contemporary African American Art


Nnenna Okore, Memory Lane, est. £6,000-8,000. Courtesy Sotheby's.



LONDON.- This April, Sotheby's dedicated sale of Modern and Contemporary African Art will return to London for a fourth consecutive season, following a pre-sale exhibition which will run from March 29 – April 2. Since the inauguration of the series in 2017, Sotheby's sales in the category have achieved fifty world records, championing the work of artists from across the African diaspora and underscoring the rising global interest. The international market for Modern and Contemporary African Art is certainly heating up, with exciting conversations igniting across the field, fuelled by milestones including the opening of Zeitz Museum of Contemporary African Art and the Norval Foundation in Cape Town, growth of international art fairs such as 1-54 Contemporary African Art Fair in London, New York and Marrakech, Art X Lagos, and of course the highly-anticipated Ghana Pavilion at this year's Venice Biennale. ... More



A gilt-bronze figure of the Chinese Buddhist deity Cintamanicakra Avalokiteshvara dating to the late Tang Dynasty / Five Dynasties sold for $2.1 million. Photo: Sotheby's.



NEW YORK, NY.- Yesterday during Sotheby's New York auction of Important Chinese Art, a gilt-bronze figure of the Chinese Buddhist deity Cintamanicakra Avalokiteshvara dating to the late Tang Dynasty / Five Dynasties sold for $2.1 million, following a seven-minute bidding battle. The seller had brought the piece to an Antiques Roadshow appraisal event in St. Louis, recalling that she had purchased the work at a garage sale some 20 years prior for approximately $75–100. The work came to auction with a pre-sale estimate of $60/80,000. Perhaps the most popular and well-known Buddhist deity in China, Avalokiteshvara, or Guanyin, is known by worshippers in many forms, among them Ekadashamuka, Amogopasha, Shadakshari, Water Moon Guanyin, and more rarely, Cintamanicakra. As Buddhism ... More



Dr. Brooks will specialize in African American art. Photo: Kay Hickma.



LOS ANGELES, CA.- The Getty Research Institute announced today the appointment of LeRonn P. Brooks as Associate Curator for Modern and Contemporary Collections, specializing in African American art. Brooks fills a position newly created as part of the Getty Research Institute's African American Art History Initiative, an ambitious program launched last year to establish the Getty Research Institute as a major center for the study of African American art and art history. "LeRonn P. Brooks brings an informed, critical voice to the Getty Research Institute's curatorial department and is a welcome addition to our scholarly community," said Mary Miller, director of the Getty Research Institute. "I am looking forward to working with him as he helps build collections for research on 20th-21st century American art history. His mandate – to help develop our research and resources on African American ... More
Quote
Art is nothing more than the shadow of humanity. Henry James
More News
---
From Bouguereau's Studio to Manhattan: How to Ship a Monumental Masterpiece
---
Flashback
On a day like today, Flemish-English painter Anthony van Dyck was born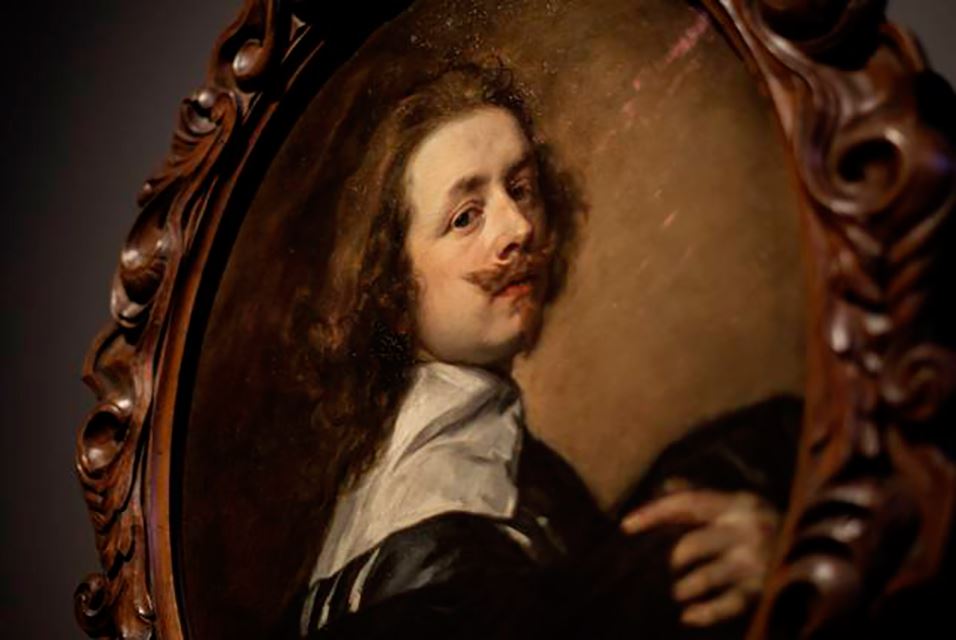 March 22, 1599. Sir Anthony van Dyck (22 March 1599 - 9 December 1641) was a Flemish Baroque artist who became the leading court painter in England, after enjoying great success in Italy and the Southern Netherlands. He is most famous for his portraits of Charles I of England and his family and court, painted with a relaxed elegance that was to be the dominant influence on English portrait-painting for the next 150 years. In this image: The self-portrait was commissioned by the English King Charles I
---

Museums, Exhibits, Artists, Milestones, Digital Art, Architecture, Photography,
Photographers, Special Photos, Special Reports, Featured Stories, Auctions, Art Fairs,
Anecdotes, Art Quiz, Education, Mythology, 3D Images, Last Week,
.
Royalville Communications, Inc
produces:







Tell a Friend
Dear User, please complete the form below in order to recommend the Artdaily newsletter to someone you know.
Please complete all fields marked *.
Sending Mail

Sending Successful