Gold rush as artist buries bullion on British beach as part of Folkestone Triennial
People search a beach in Folkestone, southeast England, on August 29, 2014 for gold bullion buried there by German artist Michael Sailstorfer as part of the Folkestone Triennial. Thirty gold bars have been buried on a beach in Britain by a German artist, prompting a flood of bounty hunters with metal detectors to seek their fortune on August 29. The gold bars, worth a total of 10,000 GBP (13,000 euros, 17,000 USD), were buried in Folkestone, by Berlin-based Michael Sailstorfer as part of an arts festival. The bars, worth around 300GBP each, are a few centimetres long. Members of the public will be allowed to keep any of the 24-carat bullion which they find. AFP PHOTO / JACK TAYLOR.
LONDON
(AFP)
.-
Thirty gold bars have been buried on a beach in Britain by a German artist, prompting a flood of bounty hunters with metal detectors to seek their fortune Friday. The gold bars, worth a total of £10,000 (13,000 euros, $17,000), were buried in Folkestone, southern England, by Berlin-based Michael Sailstorfer as part of an arts festival. Members of the public will be allowed to keep any of the 24-carat bullion which they find. "There are 30 gold bars buried there, along with a lot of washers, so if you bring your metal detector you will find a lot of washers before you find any ...
More
The Best Photos of the Day
Triceratops skull may bring $200,000+ at Heritage Auctions' Nature & Science Signature Auction
'Fatal Laughs: The Art of Robert Arneson' opens at the Cantor Arts Center
The National Gallery of Canada pays tribute to the first woman to lead the institution




Measuring an impressive 7 x 6 x 5 feet, the rare Triceratops skull fossil retains much of the original fossil material.





DALLAS, TX.- A 2,100 pound Triceratops Prorsus skull — 80 percent complete and roughly 66 million years old — may sell for $200,000+ in Heritage Auctions' Sept. 28 Nature & Science Signature Auction in Dallas. The massive skull was discovered on private land in Montana and is one of five stunning dinosaur skulls in the auction, in addition to the only known complete skeleton of a prehistoric swordfish (est. $110,000+). "The skull speaks to the inner child in all of us who love Dinosaurs," said Craig Kissick, Associate Director for Nature & Science at Heritage Auctions. "This incredible skull from the popular Late Cretaceous herbivore is superlative for its size, completeness and aesthetic appeal." Measuring an impressive 7 x 6 x 5 feet, the rare Triceratops skull fossil retains much of the original fossil material and includes the first two fused vertebrae attached to the brain case (occipital condyle). The Triceratops ... More





Robert Arneson, Primary Discharge, 1990. Earthenware and glaze. Cantor Arts Center Collection, Given in Memory of Professor A. L. Schawlow by John F. and Barbara L. Holzrichter, 2009.75. © Estate of Robert Arneson/Licensed by VAGA, New York, NY.





STANFORD, CA.- American sculptor Robert Arneson (1930–1992) revolutionized the medium of clay, transforming it from a "craft" into "fine art." For more than 40 years, frequently using himself as a subject, he explored controversial ideas outside the conventional art repertory, including many that were sexual, racial or political in nature. "I want to make high art that is funny, outrageous and also reveals the human condition, which is not always high," he once said. The Cantor Arts Center at Stanford University presents an exhibition of some of Arneson's most acclaimed works. Fatal Laughs: The Art of Robert Arneson, running August 20, 2014 through September 28, 2015, features the 1964 Funk object His and Hers, which irreverently explores sexual and scatological subject matter while also considering the traditional function ... More





Dr. Jean Sutherland Boggs was appointed director of the National Gallery on June 1, 1966. Photo: David Barbour.





OTTAWA.- In the wake of the death of Jean Sutherland Boggs on August 22, at age 92, the National Gallery of Canada offers its heartfelt condolences to her family and salutes her outstanding contribution to the advancement of the visual arts. She will be remembered as one of the NGC's most effective leaders. "Jean Sutherland Boggs is a key personality in the history of the National Gallery. The acquisitions of international art that she championed are among the most beloved of Canada's national collection. She established photography as a new collecting area for the Gallery, initiating a collection that is now among the finest in the world. Moreover, Jean Boggs was given the responsibility to deliver a grand new home for Canada's national collection; the success of that project was such that its architect, Moshe Safdie went on to build many more art museums. She is among my heroes and we strive daily to maintain the standar ... More
National Gallery of Art launches interactive NGAkids Art Zone app inspired by the collection
Annely Juda Fine Art announces the death of artist Alan Reynolds at the age of 88
Honeybee genome throws up survival clues: study published in journal Nature Genetics




The NGAkids Art Zone app for iPad contains eight new interactive activities and an array of art-making tools that will inspire artists of all ages.





WASHINGTON, DC.- The National Gallery of Art recently released a new children's app for iPad, NGAkids Art Zone, now available for free download on iTunes. Echoing the style of the popular NGAkids online interactives, this dynamic app contains eight new hands-on activities inspired by works in the collection, as well as a sketchbook for freehand drawing and a personal exhibition space where users can save and display art they create with the program. The child-friendly interface emphasizes creativity, discovery, careful observation, and artistic self-expression, making the NGAkids app educational and fun for the whole family. Each activity offers various levels of complexity, making the app suitable for all age groups. It is optimized for ages 9 through 11, but younger children, as well as ... More





Alan has been with the gallery since 1978.





LONDON.- It is with great sadness that Annely Juda Fine Art has to announce that Alan Reynolds has died at the age of 88. Alan has been with the gallery since 1978 and it has been a real honour and pleasure to work with him, both as a wonderful artist and friend. Alan was an artist whose career falls into two halves: the landscape and abstract painter of the 1950s and 1960s, and the constructive artist of the last 45 years. The quest for equilibrium has been at the centre of Alan's art since he emerged from the Royal College of Art in 1953. Alan's work from that time, which earned him early recognition and success, was influenced by the landscape of his native Suffolk and the hop gardens and orchards of his adoptive Kent. From 1968 onwards depiction was firmly set aside in favour of the 'concrete' image. For more than 45 years, Alan has been working entirely as a concrete artist, making tonal modular drawings ... More





A file picture taken on July 23, 2009 shows a Kosovo Albanian beekeeper presenting his honeybees. AFP PHOTO/ARMEND NIMANI.





PARIS (AFP).- Honeybees probably originated in Asia, not Africa, said scientists Sunday who had teased interesting tidbits from the busy little pollinators' genome that they hope can be used to protect it. They sequenced the genomes of 140 honeybees from 14 populations from Europe, Africa, the Middle East, United States and Brazil, looking for DNA clues as to how the insects responded to survival threats throughout their 300,000-year history. Honeybees, responsible for pollinating a large chunk of the fruits, nuts and vegetables we eat, are in decline in many parts of the world, raising concerns for food security. An international expert team reported in the journal Nature Genetics that they had found evidence of evolutionary adaptation on some 3,000 individual genes of the Apis mellifera species, that boosted functions ... More
DNA shows Paleo-Eskimos' isolation lasted 4,000 years in North American Arctic
Monumental Fencai vase leads Chinese Art Auction at Skinner on September 17
Solo exhibition of work by American artist Peter Halley opens at Art Plural Gallery




Origins and continuity of Paleo-Eskimos and Neo-Eskimos. Photo: Courtesy of Raghavan et al., Science/AAAS.





WASHINGTON (AFP).- A long-gone group of ancient people known as Paleo-Eskimos lived in isolation in the North American Arctic for more than 4,000 years, said a study on Thursday. They trekked from Siberia across the Bering Strait to their new home, and made no contact with other cultures who'd made the same journey at different times in history, including Native Americans and the Inuit people. These Paleo-Eskimos eventually disappeared about 700 years ago, around the time when the ancestors of the modern-day Inuit moved eastward from Alaska, researchers said in the US journal Science. "They were, in a sense, sitting ducks and either they were pushed out into the fringes of the Arctic area where they couldn't survive economically or else they may simply have been annihilated in some strange way," said William Fitzhugh, director of the Arctic study center at the Smithsonian's ... More





The Imperial Qianlong period vase. Photo: Courtesy of Skinner, Inc.





BOSTON, MASS.- Skinner will hold an Asian Works of Art auction on September 17, 2014 in Boston, focusing on rare and important Chinese art, and featuring a monumental, Fencai, Imperial Qianlong period vase. In addition to the auction preview in Boston from September 14th through 17th, collectors are welcome to a preview on September 12th from noon to 7PM during the New York fall Asia Week. Formerly in the collection of Ton-ying and Company, the Imperial Qianlong period vase (Lot 96) is a tour-de-force of ceramic techniques employed by the Jingdezhen imperial potters. Judith Dowling, Director of Asian Works of Art, states: "This important vase was likely made for the Emperor so he could appreciate the technical achievements illustrated in the vase. It required multiple firings of the fifteen different glazes and enamels that resulted in the exquisite floral and landscape designs." A vase of similar size and decoration is currently in the collect ... More





Peter Halley, Raising Hope I, 2013, acrylic, Day-Glo acrylic, and Roll-a-Tex on canvas, 121.9 x 99.1 cm. Photo: courtesy of Art Plural Gallery.





SINGAPORE.- Art Plural Gallery announces the solo exhibition of world renowned American artist, Peter Halley. Featuring more than 15 years of creation, the retrospective exhibition will run from 29 August to 3 October, 2014 on the first floor of the gallery. Born in New York in 1953, Peter Halley is acclaimed for his geometric colourful abstract paintings that have travelled across the globe to join the most prestigious institutions such as the Guggenheim, New York, the Museo Nacional Centro de Arte Reina Sofia, Madrid and the Stedelijk Museum, Amsterdam. Obsessively playing with rectangular shapes linked with a quantity of tubes, the artist reinterprets the structure of prison cells or computer chips through constructive and highly organized juxtapositions anchoring his work in contemporary issues. Peter Halley's work is dense in colour and texture. From ... More
Smithsonian Castle gardens and gate covered with yarn to mark opening of Sackler Gallery Art installation
William Morris Hunt portrait of Lincoln among highlights in Quinn's Sept. 13 Fine & Decorative Arts Auction
Columbus Museum of Art and Pizzuti Collection partner to present exhibition of works by Ori Gersht




Visitors examine the art exhibit called "Perspectives" that is on display at the Smithsonian's Arthur M. Sackler Gallery, August 21, 2014 in Washington, DC. Perspectives transforms over 400 shoes attached to red yarn and handwritten notes into a dramatic and emotionally charged installation. Mark Wilson/Getty Images/AFP.





WASHINGTON, DC.- One of the Smithsonian's most iconic and photographed scenes has been blanketed with bright red yarn, revealed early in the morning of Friday, Aug. 29. In front of the Smithsonian Castle on Independence Avenue, the entrance gates to the Enid A. Haupt Garden and the lightpoles, benches and guide ropes leading to the Arthur M. Sackler Gallery have been "yarnbombed," or swathed under layers and webs of yarn, to promote the Gallery's new exhibition, "Perspectives: Chiharu Shiota." Using more than 6 miles of the same fire-proofed yarn used in the art installation, more than 120 volunteers and knitting enthusiasts from around the Smithsonian and the Washington region assembled the "yarnbomb" under ... More





Late-19th-century oil-on-canvas portrait of Abraham Lincoln by William Morris Hunt (American, 1824-1879). Est. $25,000-$35,000. Quinn's Auction Gallery image.





FALLS CHURCH, VA.- Quality estate merchandise from a wide array of categories will be offered at Quinn's Auction Galleries' Fine & Decorative Arts Catalog Auction slated for Saturday, Sept. 13 at 11 a.m. (EST), at Quinn's gallery located at 360 South Washington Street in Falls Church. Internet live bidding will be facilitated by two platforms: LiveAuctioneers.com and Invaluable.com. A strong candidate for top lot of the auction is neither a fine artwork nor a decorative accessory, but a rare 1960 Gibson Les Paul Sunburst electric guitar expected to bring $20,000-$30,000. The solid body guitar (serial #0-0234), with factory-installed Bigsby (vibrato tailpiece device) and pick guard, has a mahogany back and neck; painted headstock, original dark cherry sunburst finish and Les Paul model logo. Staying with music, another lot expected to play a sweet tune is ... More





Ori Gersht, Blow Up #1, 2007. C-print mounted to acrylic. Pizzuti Collection. Photo courtesy of the Pizzuti Collection and CRG Gallery.





COLUMBUS, OH.- In its first partnership with the Pizzuti Collection, the Columbus Museum of Art presents an installation of work by acclaimed artist Ori Gersht. Ori Gersht: Still Life on view at CMA August 29, 2014 – January 4, 2015. Born in Israel and based in London, Gersht has created a body of photographic and video work that combines exquisite beauty with memories of violence and historical trauma. Recalling romantic landscapes and eighteenth-century still life paintings, the work is rich with art-historical allusions, but also suggests ongoing political conflicts. "I'm very excited that this inaugural partnership between Columbus Museum of Art and the Pizzuti Collection is such a meaningful collaboration," said CMA Executive Director Nannette V. Maciejunes. "Ron has been part of our Museum family for years and has always been a huge supporter of the arts community in Columbus. It's been incredible to wa ... More
Quote
The art world can no more be corrupted than Don Juan could be seduced. Philip Toynbee
More News
---
Houghton Hall: Portrait of an English Country House
---
---
Flashback
On a day like today, Swiss painter and sculptor Jean Tinguely died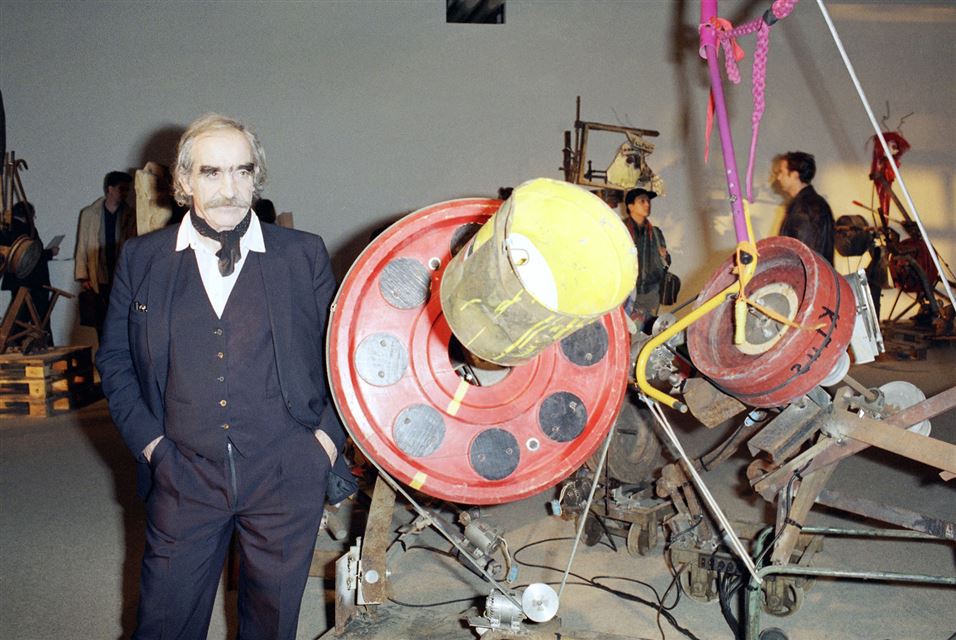 August 30, 1991. Jean Tinguely (22 May 1925 in Fribourg, Switzerland - 30 August 1991 in Bern) was a Swiss painter and sculptor. He is best known for his sculptural machines or kinetic art, in the Dada tradition; known officially as metamechanics. Tinguely's art satirized the mindless overproduction of material goods in advanced industrial society. In this image: Swiss painter and sculptor Jean Tinguely poses next to one of his sculptural machines at a retrospective exhibition of his kinetic art works on December 6, 1988 at the Centre Beaubourg (Centre Georges Pompidou) in Paris, France.
---
---

Museums, Exhibits, Artists, Milestones, Digital Art, Architecture, Photography,
Photographers, Special Photos, Special Reports, Featured Stories, Auctions, Art Fairs,
Anecdotes, Art Quiz, Education, Mythology, 3D Images, Last Week,
.
Royalville Communications, Inc
produces: