Schaulager opens a large-scale retrospective of artist Bruce Nauman's work
Installation view of Bruce Nauman: Disappearing Acts, 17 March to 26 August 2018 © Bruce Nauman / 2018, ProLitteris, Zurich, photo: Tom Bisig, Basel.
BASEL
.-
From 16 March 2018 on,
Schaulager
is presenting a comprehensive retrospective of the work of Bruce Nauman. Born in 1941 and based in New Mexico, Nauman is widely acknowledged as one of the seminal artists of our time. The exhibition brings together rarely exhibited pieces alongside renowned key works. The show includes the world premiere of the artist's most recent works, the monumental sculpture Leaping Foxes (2018) and a 3D video titled Contrapposto Split (2017), as well as the European debut of the monumental video projection Contrapposto Studies, i through vii (2015 / 2016). In addition, three works of Nauman's from the Emanuel Hoffmann Foundation will be presented at Kunstmuseum Basel. The exhibition "Bruce Nauman: Disappearing Acts" is organized in collaboration with The Museum of Modern Art, New York. As the first comprehensive retrospective of Bruce Nauman's work in 25 years, the exhibition spans some five decades o ...
More
The Best Photos of the Day
The Morgan receives gift from Sean Kelly of major collection of works by James Joyce and plans exhibition in 2022
Banksy mural backs jailed Turkish artist Zehra Dogan
Generous bequest leaves museum with important works by Max Beckmann and Hans Purrmann


Berenice Abbott (1898-1991), Portrait of James Joyce, 1928. The Sean and Mary Kelly Collection.



NEW YORK, NY.- The Morgan Library & Museum announced today that is has received the gift of one of the foremost private collections of works by the iconic Irish author James Joyce (1882-1941). The collection was assembled by New York gallery owner Sean Kelly and his wife, Mary Kelly. Totaling almost 350 items, it includes many signed and inscribed first editions of Joyce's publications, as well as important manuscripts and correspondence, photographs, posters, publishers' promotional material, translations, and a comprehensive reference collection. Among its many highlights are Joyce's first stand-alone publication, the broadside The Holy Office (1904); four copies of the first edition of Ulysses (1922) on three different papers, one of which is inscribed; a fragment of the Ulysses manuscript; Joyce's typed schematic outline of the novel; and photographs of Joyce by Man Ray and Berenice Abbott. Also of note ... More



Pedestrians walk by the latest work by the elusive British street artist Banksy along a wall on Houston street in Manhattan on March 16, 2018 in New York City. Spencer Platt/Getty Images/AFP.



NEW YORK (AFP).- After taking a stand in support of Palestinians and migrants, British street artist Banksy is now showing solidarity with imprisoned Turkish-Kurdish artist and journalist Zehra Dogan with a giant mural in Manhattan. The famed graffiti artist's 20-meter (yard) work features a series of tally marks such as those prisoners use to keep track of the time they have been confined, one of which doubles as the bars of Dogan's cell. "Free Zehra Dogan" appears in the bottom right corner of the mural, located at the crossroads of Houston Street and Bowery. Dogan was jailed for a painting picturing the Kurdish-majority town of Nusaybin in southeastern Turkey, which suffered heavy damage during a Turkish military operation. "Sentenced to nearly three years in jail for painting a single picture. #FREEzehradogan," Banksy wrote in an Instagram post accompanying ... More



Max Beckmann, Selbstbildnis in der Bar, 1942. Öl auf Leinwand, 90 x 70 cm © Staatliche Museen zu Berlin, Kupferstichkabinett / Andres Kilger.



BERLIN.- The Staatliche Museen zu Berlin has received an important collection comprising two paintings, 46 drawings and 52 prints by Max Beckmann, as well as one painting by Hans Purrmann. The accessions will now enrich the collections of the Nationalgalerie and the Kupferstichkabinett. The works were bequeathed to the Staatliche Museen zu Berlin in the last will and testament of the art historian and Max-Beckmann expert Barbara Malwine Auguste Göpel (1922–2017), with the specific request that they go on display in Berlin. The bequest was facilitated by Eugen Blume, long-serving director of the Hamburger Bahnhof – Museum für Gegenwart – Berlin and a close friend of Barbara Göpel. The two Beckmann paintings are Self-Portrait in the Bar (1942) and Portrait of Erhard Göpel (1944). The drawings, dating from the period 1900 to 1947, include scenes of Beckmann's service at the front during World War I and portraits ... More
Dali remains finally re-buried after paternity test
King of spectacle Balich puts Sistine Chapel on stage
Smithsonian American Art Museum opens first major exhibition of Do Ho Suh's work on East Coast


Spanish national Pilar Abel Martinez, 61, who claimed to be Salvador Dali's daughter, speaks during an interview in Barcelona, on June 26, 2017. LLUIS GENE / AFP.



MADRID (AFP).- The remains of Salvador Dali, exhumed last summer to test a psychic's claims she was his daughter, were finally re-buried in his museum in northeastern Spain, the foundation that manages his estate said Friday. The remains were put back in the tomb of the surrealist artist at the Dali Theatre-Museum in Figueras overnight Thursday to Friday in the presence of a solicitor and forensic pathologist, the foundation said. A court had ordered Dali's exhumation to settle a paternity suit lodged by Pilar Abel. Abel, who long worked as a psychic in Catalonia, claimed to be the daughter of the artist known as much for his paintings as his trademark moustache, which -- because the corpse was embalmed -- the exhumation revealed remained in its "ten past ten" position. But DNA samples from Dali's skin, nail and bones proved she was not his biological daughter, and she was ... More



Marco Balich, artistic director of the show "Universal Judgment: Michelangelo and the Secrets of the Sistine Chapel," poses on March 13, 2018 at the auditorium via della Conciliazione near the Vatican. Alberto PIZZOLI / AFP.



ROME (AFP).- The producer of the Rio Olympics opening ceremony, Marco Balich, is used to making flashy spectacles, but entering into the artistic world of Michelangelo and his frescos of creation on the ceiling of the Sistine Chapel may be his most ambitious project yet. Described as "artainment", Balich's show, which premiered on Thursday, aims to take a new audience inside the Vatican's Sistine Chapel, one of Rome's most famous sites that is so swamped by camera-clicking tourists it can hardly be fully appreciated. Balich has taken over Rome's former symphony hall in the hope of giving the art masterpiece back to the people of the eternal city. "Rome is the only major European capital that doesn't have a permanent show about its own history," Balich told AFP. Using the techniques learned during his Olympic experiences he makes ... More



Installation shot of Do Ho Suh: Almost Home, Smithsonian American Art Museum, 2018, courtesy of the Smithsonian American Art Museum, photo by Gene Young.



WASHINGTON, DC.- Do Ho Suh (b. 1962) is internationally renowned for his immersive, architectural fabric sculptures that explore the global nature of contemporary identity. "Do Ho Suh: Almost Home" transforms the museum's galleries through Suh's captivating installations, which recreate to scale several of his former homes from around the world. Through these works, Suh investigates the nature of home and memory and the impact of migration and displacement on an individual's sense of self. A new work depicting the artist's childhood home in Seoul will debut in "Almost Home," which is the first major exhibition of the artist's work on the East Coast. The exhibition is on view at the Smithsonian American Art Museum from March 16 through Aug. 5 and is organized by Sarah Newman, the James Dicke Curator of Contemporary Art. It is the latest in a series of projects at the museum that ... More
Compton Verney exhibition focuses on Eric Ravilious and his relationships with luminary British artists
Walker Art Center opens major retrospective Allen Ruppersberg: Intellectual Property
Exhibition of work by Polish artist Andrzej Wróblewski on view at David Zwirner


Eric Ravilious, Commander looking through periscope (detail).



COMPTON VERNEY.- Ravilious and Co: The Pattern of Friendship brings to life the significant relationships and collaborations within one of the most widely influential - though largely unexplored - English artist designer networks of the 20th century. In recent years Eric Ravilious has been recognised as one of the most important British artists of the 20th century. Based on new research and telling a previously untold story, Compton Verney's exhibition focuses on Ravilious and his personal and professional relationships with luminary British artists, including Paul Nash, John Nash, Enid Marx, Barnett Freedman, Eileen 'Tirzah' Garwood, Edward Bawden, Thomas Hennell, Douglas Percy Bliss, Peggy Angus, Helen Binyon and Diana Low. The exhibition has been created to mark the 75th anniversary of Ravilious' tragic death in Iceland during the Second World War. Ravilious & Co brings together over 400 paintings, ... More



Allen Ruppersberg, The Singing Posters: Allen Ginsburg's Howl by Allen Ruppersberg (Parts I–III), 2003/2005. Installation view at Skirball Museum, Skirball Cultural Center, Los Angeles, 2015. Photo: Robert Wedemeyer.



MINNEAPOLIS, MN.- The Walker Art Center announces the presentation of a major retrospective on the work of American artist Allen Ruppersberg (b. 1944), who has not been the subject of a comprehensive US survey for over 30 years. Allen Ruppersberg: Intellectual Property 1968-2018 is an opportunity to experience the artist's work with unprecedented breadth and depth. Many of the works included, from private and public collections in Europe and elsewhere, have never before been exhibited in US museums. On view at the Walker from March 17 – July 29, 2018, the exhibition will travel to the Hammer Museum, Los Angeles from February 10 – May 12, 2019. One of conceptual art's most rigorous and inventive practitioners, Ruppersberg is among the first ... More



Andrzej Wróblewski, Head of a Girl no.1025, Undated. Watercolour on paper, 29.7 x 21 cm. Private Collection © Andrzej Wróblewski Foundation.



LONDON.- David Zwirner is presenting an exhibition of work by Polish artist Andrzej Wróblewski (1927–1957) at the gallery's 24 Grafton Street location in London. This is the first solo presentation of his work in the United Kingdom. Now considered a leading figure in postwar Polish art, Wróblewski's short but prolific career encompassed painting, works on paper, and prints. Often drawing from Poland's sociopolitical atmosphere in the wake of the Second World War, Wróblewski's singular practice is characterized by a unique blend of figuration and abstraction. On view is a group of key paintings and a wide-ranging selection of works on paper detailing recurring subjects throughout the artist's oeuvre. Shortly after moving from his hometown of Vilnius to Kraków in 1945, Wróblewski concurrently enrolled in the painting and sculpture program at the Kraków Academy of Fine Arts and ... More
Belgian theatre sorry for 'you fought for IS?' audition ad
Adel Abidin's exhibition 'History Wipes' opens at the Ateneum Art Museum
Paula Cooper Gallery opens exhibition of works by Zoe Leonard and Kayode Ojo


Swiss theatre director Milo Rau poses set at the Theatre National de Bretagne (National Theatre of Brittany) in Rennes, western France, on December 6, 2015. AFP PHOTO.



BRUSSELS (AFP).- A Belgian theatre apologised Friday for placing newspaper advertisements which sought actors for a new play who had fought for the Islamic State jihadist group or killed their siblings. The theatre in the city of Ghent was looking for recruits for a show by Swiss director Milo Rau -- who attracted controversy last year by casting children in a play about a notorious Belgian paedophile. "Have you fought for your convictions? For God? Have you fought for IS or other religions? Get in touch," read one of the adverts for the NTGent theatre, which was published in a Dutch-speaking free weekly newspaper. Another with the same NTGent email address said: "Have you killed or seriously injured your brother (or sister)? Perhaps metaphorically? Do you want to talk about it?" The play, to be performed in September, is called "Mystic ... More



Adel Abidin: Archive (2018). Photo: Finnish National Gallery / Jenni Nurminen.



HELSINKI.- From 14 March to 22 April 2018, the Ateneum Art Museum hosts History Wipes, a major solo exhibition by the contemporary artist Adel Abidin (born 1973, Baghdad, Iraq). The exhibition presents video installations and sculptures by the internationally recognised artist, many of which have been completed especially for the exhibition. The works deal with the painful aspects of our history and human existence in an increasingly unstable world. History Wipes challenges us to look at what is happening around us right now – and what has happened over the previous decades and centuries. The exhibition deals with uncomfortable issues that we prefer to shut out from our minds. The subjects include ethnic cleansing, war, refugees, and manipulation exercised by the machinery of power. The artist is interested in what is being wiped from sight: what we seek to blot out and what we keep quiet about. The works are on display in different parts of t ... More



Kayode Ojo, Party to Benefit International Rescue Committee, Madame X, New York, NY, 2017. Archival pigment print, 10 x 8 in. (25.4 x 20.3 cm). © Kayode Ojo. Courtesy Paula Cooper Gallery, New York.



NEW YORK, NY.- Paula Cooper Gallery presents Zoe Leonard, Kayode Ojo opening March 17 at 529 West 21st Street. This is the fourth in a series of two-person presentations at Paula Cooper Gallery's 529 West 21st Street space curated by Laura Hunt, the gallery's archivist. Both Zoe Leonard and Kayode Ojo have regarded the camera as a surrogate for the artist's body, enacting, examining, and resisting desire. With the medium of photography both artists explore what society designates as private versus public, as well as why these designations persist or dissolve. Since the late 1980s, Zoe Leonard has investigated with sensitivity and acuity how point of view drives visibility. On view by the artist are "Wax Anatomical Model" photographs made in 1990. Taken at The Josephinum, a medical museum in Vienna, Austria, the black and white photos document from ... More
Quote
When love and skill work together expect a masterpiece. John Ruskin
More News
---
Bruce Nauman – 'The True Artist Helps the World' | TateShots
---
Flashback
On a day like today, English fashion designer Alexander McQueen was born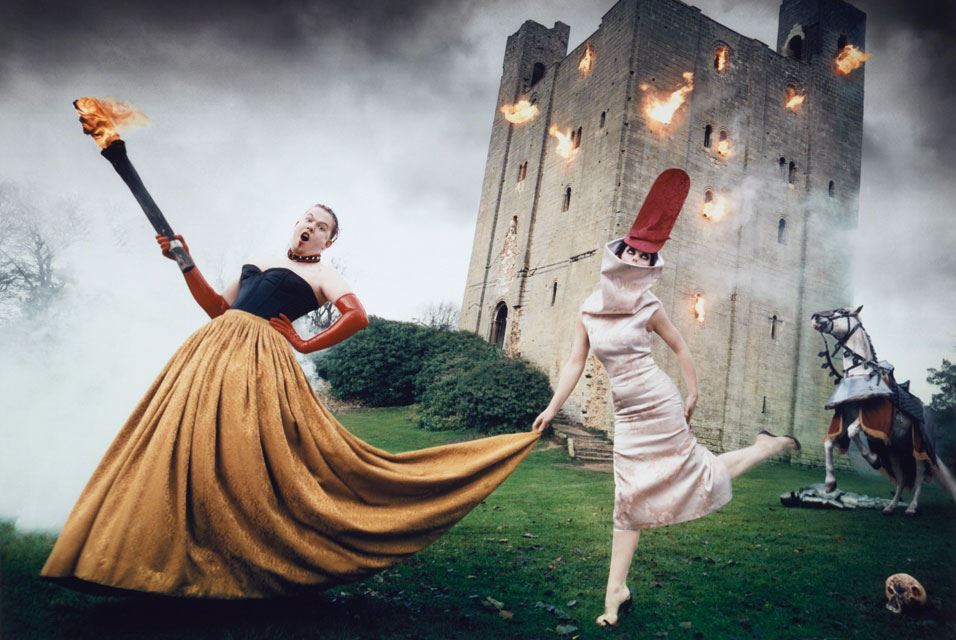 March 17, 1969. Lee Alexander McQueen, CBE (17 March 1969 - 11 February 2010) was a British fashion designer and couturier. He is known for having worked as chief designer at Givenchy from 1996 to 2001 and for founding his own Alexander McQueen label. His achievements in fashion earned him four British Designer of the Year awards (1996, 1997, 2001 and 2003), as well as the CFDA's International Designer of the Year award in 2003. McQueen died by suicide in 2010, at the age of forty, at his home in Mayfair, London. In this image: Burning Down the House, 1996 by David LaChapelle. ©David LaChapelle Studio.
---

Museums, Exhibits, Artists, Milestones, Digital Art, Architecture, Photography,
Photographers, Special Photos, Special Reports, Featured Stories, Auctions, Art Fairs,
Anecdotes, Art Quiz, Education, Mythology, 3D Images, Last Week,
.
Royalville Communications, Inc
produces:







Tell a Friend
Dear User, please complete the form below in order to recommend the Artdaily newsletter to someone you know.
Please complete all fields marked *.
Sending Mail

Sending Successful