'Unparalleled' number of dinosaur tracks found in Australia's remote coastline
Dinosaur tracks in the Walmadany area.
SYDNEY
(AFP)
.-
An "unprecedented" 21 different types of dinosaur tracks have been found on a stretch of Australia's remote coastline, scientists said Monday, dubbing it the nation's Jurassic Park. Palaeontologists from the University of Queensland and James Cook University said it was the most diverse such discovery in the world, unearthed in rocks up to 140 millions years old in the Kimberley region of Western Australia. Steve Salisbury, lead author of a paper on the findings published in the Memoir of the Society of Vertebrate Paleontology, said the tracks were "globally unparalleled". "It is extremely significant, forming the primary record of non-avian dinosaurs in the western half of the continent and providing the only glimpse of Australia's dinosaur fauna during the first half of the Early Cretaceous Period," he said. "It's such a magical place -- Australia's own Jurassic Park, in a spectacular wilderness setting." He added: "Among the tracks is the only ...
More
The Best Photos of the Day
Internationally renowned sculptor Bruno Romeda dies at 87
BOZAR Centre for Fine Arts opens monographic exhibition devoted to the French artist Yves Klein
Christie's to offer highlights from the collection of Greta Garbo


Bruno Romeda portrait by Bernard Touillon.



NEW YORK, NY.- Bruno Romeda, the internationally renowned sculptor, whose artworks exhibited a touching hand-worked beauty in a simplicity of forms, has died in the South of France. He was 87. The announcement was made by his New York representatives Stephen Haller Gallery. Born in Brescia, Italy, Romeda maintained residences in Italy, France, and the US. Energized with creativity he continued to work with a foundry in Brescia to fabricate his artworks until just before his death. Best known for a simple alphabet of forms, his work stripped to the essentials: most often the circle, rectangle and triangle expressing universal themes. There was in his work the tension of high and low, of a minimalism but with hard-worked elements that gave a humanity, a vitality to his work. Bruno Romeda's sculpture is found in major collections internationally and in museums such as the Metropolitan Museum of Art in New York, the Kasama Nichido in ... More



Klein's short but spectacular career shook the European art world to its foundations.



BRUSSELS.- This spring, in cooperation with Tate Liverpool, BOZAR Centre for Fine Arts presents a monographic exhibition devoted to the French artist Yves Klein (1928–1962). Klein created paintings and sculptures, influenced the development of performance art, wrote works for the theatre and music and also experimented with radical architecture. He became renowned, above all, for his use of a vivid ultramarine pigment (International Klein Blue – IKB). His monochrome paintings in this characteristic deep blue shade gave expression to his ideas about Zen and spiritual infinity. Klein sought to express absolute immateriality and infinite space through pure colour. Klein's short but spectacular career shook the European art world to its foundations. Even though he died at just 34 years of age from a heart attack, he left behind a groundbreaking body of work. The exhibition pays tribute to his pioneering work, ... More



Chaim Soutine, Femme à la poupée. Oil on canvas, 31 7/8 x 25 5/8 in. Painted in 1923-1924. Estimate: $3,500,000 - 4,500,000. © Christie's Images Limited 2017.



NEW YORK, NY.- On May 15, Christie's will offer Property from the Collection of Greta Garbo in its Evening Sale of Impressionist and Modern Art, including prime examples from artists including Jan Alexej Von Jawlensky, Chaim Soutine and Robert Delaunay. In the history of cinema, few individuals remain as enigmatic and iconic as the actress Greta Garbo. "Of all the stars who have ever fired the imaginations of audiences," film historian Ephraim Katz wrote, "none has quite projected a magnetism and a mystique equal to [hers]." Derek Reisfield, Greta Garbo's great nephew, remarked: "Greta Garbo had a real love of art and paintings, and she was very passionate about certain artists and pictures. She was particularly enamored with these three canvases, which offer a particularly modern representation of women, especially ... More
Wall Street's 'Fearless Girl' statue to stay until 2018
Exhibition at Galerie Thaddaeus Ropac brings together a set of rare and unique works by Robert Mapplethorpe
Charles Darwin handwritten page from "The Origin of Species" to be auctioned


Visitors pose for photos with the 'Fearless Girl' statue, March 27, 2017 in New York City. Drew Angerer/Getty Images/AFP.



NEW YORK (AFP).- The popular bronze statue of a young girl staring down a bull on Wall Street will stay in place until March 2018, New York Mayor Bill de Blasio announced Monday. Initially installed on March 7 for one week, the "Fearless Girl" sculpture appeared in media around the world, seen by many as a defiant symbol of women's rights under the new administration of President Donald Trump, who has bragged about sexually assaulting women. The exhibit of artist Kristen Visbal's work was first extended until April 2 and is now set to run until next year's International Women's Day on March 8. De Blasio, an outspoken Trump critic, said the statue "means so much to the people of New York," especially the city's women and girls. "She spoke to the moment," he told reporters in front of the defiant girl. ... More



Robert Mapplethorpe Jay - Kiss, 1973. Vintage silver print in custom stained wood frame, small glass door knob, pressed flower in resin and printed silk scarf, 119.4 x 43.2 x 5.5 cm. © The Robert Mapplethorpe Foundation. Used by permission Courtesy Galerie Thaddaeus Ropac, London/Paris/Salzburg.



PARIS.- Galerie Thaddaeus Ropac is presenting Objects, an exhibition of Robert Mapplethorpe that brings together a set of rare and unique works on display for the first time in Paris. From the late sixties onwards, Mapplethorpe began to create three-dimensional objects, photographic montages and to a very personal creative approach that he has developed throughout his life. They reveal his fascination with topics such as mysticism, esotericism and fetishism. In terms of style and iconography, they are an unexpected mix between Duchamp's ready-mades and Dali's psychosexual divagations. Drawn to symbols and ... More



Darwin wrote the handwritten page from the conclusion chapter from the book's first edition in 1859.



LOS ANGELES, CA.- A signed manuscript from the landmark "The Origin of Species" by Charles Darwin will be auctioned by Nate D. Sanders Auctions on March 30. Interested bidders may participate in the auction online. Darwin wrote the handwritten page from the conclusion chapter from the book's first edition in 1859. It presented his arguments for the theory of natural selection and evolution. The page reads in full, "have now recapitulated the chief facts and considerations, which have thoroughly convinced me that species have been modified, during a long course of descent, by the preservation on the natural selection of many successive slight favourable variations. I cannot believe that a false theory would explain, as it seems to me that the theory of natural selection does explain, ... More
San Antonio Museum of Art receives major gift of art from local collector Larry Sheerin
Four decades of Antoni Tàpies on view at Nahmad Contemporary
France's classic 2CV car gets special edition -- in wood


Detail of Lavanderas (Wash Day on San Pedro Creek), ca. 1860, oil on canvas, 16x19½".



SAN ANTONIO, TX.- The San Antonio Museum of Art announced today the expansion of its Texas art holdings as the result of a major gift from local collector Larry Sheerin. The gift by Mr. Larry Sheerin and his family includes more than 80 works of art by the French-born, Texas-based painter Theodore Louis Gentilz. This gift enhances the study and display of early Texas art at the Museum. "Our vision has long been to highlight the dynamic connections between local and regional artists and those from across the country and abroad, emphasizing the importance of San Antonio to global artistic dialogues," said Katherine Luber, the Kelso Director of the San Antonio Museum of Art. "We are so fortunate to be the beneficiaries of this important collection. San Antonio, in particular, has a rich and diverse artistic and cultural history, and we are delighted to share it with our audiences." The Sheerin family has long been ... More



Door-Wall, 1970. Sand and mixed media on canvas, 63 3/4 x 51 1/4 in. Image Courtesy Nahmad Contemporary.



NEW YORK, NY.- Nahmad Contemporary is presenting Tàpies: Paintings, 1970–2003, on view March 20 through April 22, 2017. Presenting a selection of major paintings by Antoni Tàpies (1923–2012) from the last four decades of his life, this exhibition is a comprehensive meditation on the postwar master, illuminating the many connections between his influential body of work and contemporary art history. Born in 1923 in Barcelona, Tàpies was a painter, sculptor, and writer whose artistic practice largely anticipated progressive postwar movements such as Arte Povera, neo-Dada, and Fluxus. He was a close friend of artist Joan Miró and co-founded the surrealist group of Catalan artists and writers Dau al Set with poet Joan Brossa in 1948. Summoning the material emphasis of French Art Informel and the untamed gestures of American Abstract Expressionism, ... More



French cabinetmaker Michel Robillard poses in his handbuilt wooden 2CV Citroen Car built as an exact one/one replica. GUILLAUME SOUVANT / AFP.



PARIS (AFP).- A wooden replica of Citroen's iconic "2CV", crafted by a French cabinetmaker using a mix of lumbers including apple, pear and cherry, is ready to hit the road. Pensioner Michel Robillard took six years to complete his most ambitious creation to date: a fully operational version of the car dubbed the "Umbrella on Wheels", built completely by hand and almost entirely out of wood. The undulating hood was carved out of a single block, and its requisite 22 ridges were honed with a wood chisel and sandpaper, the man who brought the once ubiquitous car to life in wooden form told AFP. The 2CV -- which stands for "deux chevaux", meaning "two horsepower" -- was launched in 1948 as Citroen's answer to the Volkswagen Beetle. Robillard keeps his smooth, shiny creation in his workshop in central France, along with 15 detailed mock-ups for the project. ... More
25 Blythe Road announces auction of pictures from a private London club
The 26th annual Salon du Dessin in Paris is 4 percent up with 13,000 visitors over six days
Desert X exhibition reflects earth, sky, state of world


Ivan Pavlovich Pokhitonov (1851-1924), Duck Hunters on a Lake. signed and dated l.r.: J. Pokhitonov 85, oil on panel, 15 cm by 25 cm; 6 in by 9 3/4 in. Framed. Estimate: £60,000-£80,000.



LONDON.- A first-ever opportunity to acquire pictures from the elegant interiors of a private London club is coming to 25 Blythe Road in April 2017. The Auction of Pictures from a Private London Club will comprise of 100 lots which includes a strong core of good quality Victorian paintings. A small Russian masterpiece by Pavlovich Pokhitonov (1851 – 1924) with an estimate of £60,000-£80,000 leads this interesting group. 'Duck Hunters on a Lake', 1885 is typical of the highly detailed hunting and shooting scene for which the artist is best known. A trained zoologist, Pokhitonov had by 1856 dedicated himself wholly to painting and later moved to France and then Belgium, although he remained a quasi-nomad, travelling with a carriage of his own design that served as a studio. Among the Victorian pictures, highlights from the ... More



Signac, La Rochelle, 1924 (detail), lavis, 46,7 x 61,8 cm. Photo: Galerie de la Présidence.



PARIS.- With a growth of more than 4 percent to 13,000 visitors in 6 days, the 26th Salon du Dessin proved to be a great success. The Salon welcomed more visitors than ever during the preview. As a yearly meeting point for many international collectors and amateurs, the Salon has once again established that Paris is the place to be for drawings. More and more people are interested in the medium that was long considered inferior. Over the last 10 years sales figures have multiplied six times to over 3 billion Euros and according to Challenges Magazine, one in five works of art sold at auctions is a drawing (23th of March 2017) Jean-Luc Baroni sold two drawings by Giovani Battista Piranesi, two drawings by Pillement, one by Ribera, a small drawing of a young man wearing a grotesque mask by Parmigianino and a charcoal drawing of a nude young man by Degas. Emmanuel Marty de Cambiare immediately sold an important ... More



This is Doug Aitken's "Mirage". One of the showstoppers of Desert X. Photo: Dakota Higgins. Courtesy of Doug Aitken Workshop.



LOS ANGELES (AFP).- A house clad in mirrors pops out of the California desert. It blends into the landscape, reflecting a kaleidoscope of the urban grid and arid valley of Palm Springs -- to the delight of photographers and selfie-seekers. This is Doug Aitken's "Mirage," one of the showstoppers of Desert X, an exhibition of 16 site-specific monumental works by international artists that spans southern California's Coachella Valley. The works are mostly "land art," massive installations in nature. The exhibition includes a replica of assassinated president John F. Kennedy's nuclear shelter, a mirrored fence, a wall of optical effects, a traditional earthen shelter... and an antisocial robot. Desert X runs through April -- with "Mirage" set to remain in place for six months. The show has attracted tens of thousands of people since ... More
Quote
You've got to be a fool to want to stop the march of time. Pierre-Auguste Renoir
More News
---
Rome and Rivalry | The Credit Suisse Exhibition: Michelangelo & Sebastiano | National Gallery
---
Flashback
On a day like today, French painter and draftsman Georges Seurat died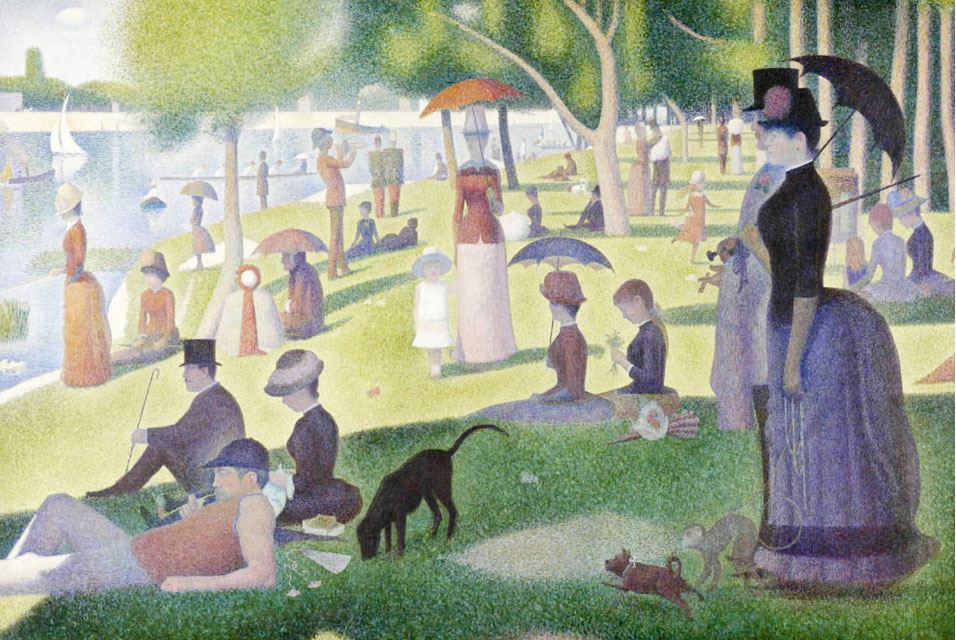 March 29, 1891. Georges Pierre Seurat (2 December 1859 - 29 March 1891) was a French Post-Impressionist painter and draftsman. He is noted for his innovative use of drawing media and for devising the technique of painting known as pointillism. His large-scale work A Sunday Afternoon on the Island of La Grande Jatte (1884-1886) altered the direction of modern art by initiating Neo-impressionism. It is one of the icons of late 19th-century painting. In this image: "A Sunday on La Grande Jatte -- 1884" by artist Georges-Pierre Seurat.
---

Museums, Exhibits, Artists, Milestones, Digital Art, Architecture, Photography,
Photographers, Special Photos, Special Reports, Featured Stories, Auctions, Art Fairs,
Anecdotes, Art Quiz, Education, Mythology, 3D Images, Last Week,
.
Royalville Communications, Inc
produces:







Tell a Friend
Dear User, please complete the form below in order to recommend the Artdaily newsletter to someone you know.
Please complete all fields marked *.
Sending Mail

Sending Successful