First Canadian retrospective of Alexander Calder opens in Montreal
Alexander Calder (1898-1976), Aluminum Leaves, Red Post, 1941, sheet metal, wire and paint. The Lipman Family Foundation. © 2018 Calder Foundation, New York / Artists Rights Society (ARS), New York / SOCAN, Montreal. Photo courtesy Whitney Museum, New York.
MONTREAL
.-
The Montreal Museum of Fine Arts
presents the first Canadian retrospective of Alexander Calder (1898-1976), showcasing the full scope of the career of the American who set art in motion. The fruit of in-depth research, this major exhibition sheds new light on Calder's work, as seen through the perspective of innovation. Developed, organized and circulated by the MMFA, the exhibition Alexander Calder: Radical Inventor brings together over 150 works (paintings, sculptures, jewellery and other graphic works) to give the public an appreciation of the true extent of Calder's extraordinarily innovative multidisciplinary practice: from his wire portraits to his paintings, and from his invention of the mobile to his monumental sculptures. Over the course of an international career that spanned half a century, this artist exhibited on five continents and worked in an astonishing array of fields, including drawing, sculpture, paintin ...
More
The Best Photos of the Day
Exhibition of photographs from the late 1950s to the mid-1970s by Fred W. McDarrah on view at Steven Kasher Gallery
Rare collection of Ansel Adams photography donated to the Yosemite Museum in Yosemite National Park
Perrotin New York presents 3018, an exhibition of new work by Daniel Arsham


Fred W. McDarrah, Andy Warhol at the opening of his exhibition, "The Personality of the Artist," at the Stable Gallery, 33 East 74th St., April 21, 1964 (detail). Vintage gelatin silver print, printed ca. 1964.



NEW YORK, NY.- Steven Kasher Gallery is presenting Fred W. McDarrah: New York Scenes. The exhibition features 100 vintage black and white prints that span the late 1950s to the mid-1970s. The show features McDarrah's most iconic images alongside never-before-seen work from his extensive archive. The exhibition launches the publication of the most comprehensive survey on the photographer, Fred W. McDarrah: New York Scenes, published by Abrams, which includes more than 270 illustrations and an introductory essay by Sean Wilentz. This is the gallery's fourth solo exhibition of McDarrah's work. The work of Fred W. McDarrah is having a massive resurgence. In addition to our exhibition and the new monograph, a solo exhibition Into the Artist's World: Photographs by Fred W. McDarrah will open at the Parrish Art Museum in November 2018. Three additional ... More



Bridalveil Fall, Yosemite National Park. Courtesy of The Ansel Adams Publishing Rights Trust © 2018.



YOSEMITE NATIONAL PARK.- A rare collection of 45 photographs by acclaimed 20th century photographer Ansel Adams (1902-1984) has been donated to the Yosemite Museum in Yosemite National Park. The Museum Sets were originally created in three size groups of 25, 45 and 75 prints. It is estimated that about half of the original edition of 100 sets were completed before Adams passed away. This 45-print set is a gift by Don and Susan Fuhrer, who are residents of Montecito, Calif. and Foresta, Calif. (within Yosemite National Park) and Yosemite Conservancy council members. The set will be shown at the Yosemite Museum Sept. 21-Nov. 25 thanks to a grant by donors to Yosemite Conservancy. "I've always felt a Museum Set belonged in Yosemite given Adams' love for the park," said Don Fuhrer, who purchased the set in 2003. "There's an entire generation that is unaware of Adams, a true American icon, that will be able to see his w ... More



Daniel Arsham, Welcome to the Future (detail), 2015. Volcanic ash, glacial rock dust, obsidian fragments, rose quartz fragments, steel fragments, pulverized glass, sand, crushed marble, hydrostone, metal, h. 670.6 × L. 670.6 × l. 457 cm | h. 22 ft × l. 22 ft × w. 179 15/16 in. Photo courtesy of Contemporary Art Center, Cincinnati, Ohio.



NEW YORK, NY.- Perrotin New York is presenting 3018, an exhibition of new work by Daniel Arsham. This is his fifteenth exhibition with Perrotin since joining the gallery in 2005. Though the exhibition contains pieces never before seen in New York, visitors will recognize strains of previous works by Arsham, as signature forms and strategies recur, unifying Arsham's involvement in different disciplines—sculpture, architecture, film, performance—into a total oeuvre. 3018 continues Arsham's dystopian vision of the future, one in which culture as we know it today is eroded, and the objects of modern life have fallen into aestheticized obsolescence. The ground floor of the gallery is transformed into a provisional garage, as two storied cars occupy ... More
The Arts Council Collection Touring exhibition, Criminal Ornamentation opens at Attenborough Arts Centre
Tanya Bonakdar Gallery opens exhibition of works by Olafur Eliasson at the recently inaugurated Los Angeles location
Auction of American paintings, furniture & decorative arts at Doyle


Simon Martin, Zigzag, 1992. Arts Council Collection, Southbank Centre, London. © the artist.



LEICESTER.- Yinka Shonibare MBE curates a new Arts Council Collection Touring exhibition opening at Attenborough Arts Centre, Leicester, this September. Criminal Ornamentation features a number of celebrated artists including Timorous Beasties, Susan Derges, Laura Ford, Ed Lipski, Alexander McQueen, Milena Dragicevic, Lis Rhodes, Bridget Riley, Yinka Shonibare MBE, Caragh Thuring and Bedwyr Williams. Reflective of Yinka's own practice, this exhibition explores the cultural and social dimensions of the use of pattern in modern and contemporary art. The title of the show is taken from Adolf Loos' 1908 influential essay 'Ornament and Crime'. In this essay Loos' examines the notions of good and bad taste and condemns the use of decoration and craft as an indication of the lowest level of cultural development, to the extent of stating 'the modern man who tattoos himself is a criminal.' Yinka Shonibare MBE ch ... More



Flare reflection assembly, 2018. Silvered colored glass (shades of red, yellow, and blue), mirror glass, aluminum, 70 7/8 x 70 7/8 x 1 3/8 inches; 180 x 180 x 3.5 cm.



LOS ANGELES, CA.- Tanya Bonakdar Gallery is presenting Olafur Eliasson: The speed of your attention , on view from September 15 through December 22, 2018. This is the first solo exhibition dedicated to Eliasson at the recently inaugurated Los Angeles location. The gallery has represented the internationally renowned artist in the United States since 1995. The phrase "the speed of your attention" was introduced to Eliasson by Joe Dumit, an anthropologist at UC Davis who conducted a movement experiment during a workshop at Eliasson's Berlin studio this summer. Dumit learned the phrase from Nita Little—one of the pioneers of contact improvisation, a contemporary dance technique in which movements arise through contact between two or more dancers—in the form of the instruction to "move at the speed of your attention." For more than two ... More



William Trost Richards (1833-1905), Stormy Seas with Whitecaps, 1904 (detail). Est. $100,000-150,000.



NEW YORK, NY.- On Wednesday, October 3 at 10am, Doyle will hold an auction of American Paintings, Furniture and Decorative Arts. Featured in the fine art section of the sale is a broad range of works, including 19th century portraits, Hudson River School views, Western-themed landscapes and sculpture, fine examples of naïve painting, and still lifes. A native of Philadelphia, William Trost Richards (1883-1905) studied with such noted landscape painters Paul Weber and William Stanley Haseltine and exhibited at the Pennsylvania Academy of the Fine Arts. He traveled widely and painted and sketched the landscapes of the Adirondacks and the coasts of New England, as well as Germany, Italy and France. Stormy Seas with Whitecaps from 1904 is a superb example of the late coastal scenes for which he is best known (est. $100,000-150,000). From a Prominent Connecticut Estate is a beautiful bronze plaque by Paul Manship (1885-1966) that ... More
Winners of the ING Unseen Talent Award 2018 announced
Freeman's to offer British & European furniture & decorative arts including Silver & Russian works of art
Waddington Custot opens an exhibition of new paintings by British artist Ian Davenport


All Play Every Day, from the series Nature Like Capital, 2018 © Jaakko Kahilaniem.



AMSTERDAM.- ING and Unseen announced that Jaakko Kahilaniemi (1989, Finland), has won the ING Unseen Talent Award Jury Prize with Nature Like Capital, and will receive € 10,000 to invest in a new project. Alexey Shlyk (1986, Belarus), has won the Public Prize and will receive a commission to create new work for the ING Collection. The ING Unseen Talent Award is an initiative of ING and Unseen and was created to provide exceptional European photography talent with a platform to present work on an international level. The winners were announced by Erik Van Den Eynden (CEO, ING Belgium) on the 20th of September at the opening of Unseen Amsterdam 2018. The winners of the ING Unseen Talent Award were chosen from a group of five finalists. In addition to Jaakko Kahilaniemi and Alexey Shlyk, Dávid Biró (1992, Hungary), Pauline Niks (1982, The Netherlands) and Eva O'Leary (1989, Ireland) were also part ... More



A Charles II Chinese lacquered cabinet on Stand from the 17th century (estimate: $12,000-18,000).



PHILADELPHIA, PA.- Freeman's October 16 sale of British & European Furniture & Decorative Arts including Silver & Russian Works of Art offers a wealth of theatrical, high style pieces from the 18th and 19th centuries. The auction is anchored by several large private collections, including nearly 100 lots from the connoisseur R.M. Barokh, as well as a dramatic assemblage of 19th century objects and furniture from a Virginia Gentleman. There are fine examples of Georgian silver and works by Tiffany & Co., and the Russian section is highlighted with Russian Imperial Ephemera, works by Fabergé, and an important selection of Russian and Soviet porcelain from the private "Ode to Joy" Collection. For more than 40 years, Ronnie Barokh has been known as one of the great "eyes" of the decorative arts trade. Lots 169-262 reflect his special interest in early furniture, the decorative arts of Italy, and in particular the furnitur ... More



Ian Davenport, 'Colourscapes' installation view, 20 September - 8 November 2018, Courtesy Waddington Custot.



LONDON.- Waddington Custot is presenting an exhibition of new paintings by British artist Ian Davenport, shown in the UK for the first time. The works presented in the exhibition further extend Davenport's careerlong investigation of chance, colour and the innate qualities of paint. For the first time, works on paper are being shown at the gallery, offering a multi-faceted view of Davenport's working process. The show in London coincides with a major new exhibition of Davenport's work at Dallas Contemporary, opening in September 2018. The main gallery space houses Davenport's large-scale Puddle Paintings, which follow on from his 14-meter-wide installation at the 2017 Venice Biennale and introduce a sculptural element to the pictureplane. Using a schematic colour-palette, Davenport meticulously applies paint from a height, allowing it to ebb and ... More
The Salon Art + Design announces 2018 exhibitors
Fondation d'entreprise Hermès opens a solo exhibition of works by artist Ismaïl Bahri
ICA/Boston opens Jason Moran, the interdisciplinary artist's first museum show


Sarfatti. © Fabrice Gousset. Courtesy Galerie Kreo.



NEW YORK, NY.- The Salon Art + Design, which presents historical, modern and contemporary furniture, groundbreaking design and late 19th through 21st century art, announced the 2018 exhibitors for its forthcoming seventh edition, November 8 - 12, 2018 at the iconic Park Avenue Armory. The fair, produced by Sanford Smith + Associates, will showcase 56 galleries representing 11 countries, including 30 international galleries. Following its landmark sixth installment last November, which welcomed more than 12,000 visitors, the 2018 edition of The Salon Art + Design will bring together a diverse and international group of art and design dealers showcasing exceptional global material for every taste. In addition to 26 U.S. exhibitors, this year will include a selection of European and international galleries hailing from Belgium (3), France (12), Germany (1), Italy (3), Monaco (1), the Netherlands (1), South Africa (1), Spain (1), Sweden (1) and the ... More



Ismaïl Bahri, « Des gestes à peine déposés dans un paysage agité » exhibition view, La Verrière, Brussels, 2018. Courtesy of the artist © Isabelle Arthuis. Fondation d'entreprise Hermès.



BRUSSELS.- Franco-Tunisian artist Ismaïl Bahri presents a solo exhibition as part of the "Poésie balistique" ("Ballistic Poetry") season, launched by curator Guillaume Désanges in 2016 at La Verrière, the Brussels art space of the Fondation d'entreprise Hermès. "Since the late 2000s, Franco-tunisian artist Ismaïl Bahri has developed a body of work based on minimal situations and gestures whose inexorable logic ultimately generates a kind of magic, a state of grace captured in the essence of his materials. Balling and smoothing out the pages of magazines, until the ink has transferred completely from the paper to the hands, gradually obliterating the printed image ¹. stretching an invisible thread, materialised only by the droplets running along its length, which gradually form a puddle of water in the exhibition space ². Filming a clear ... More



Jason Moran, STAGED: Three Deuces, 2015. Mixed media and sound. 96 x 120 x 156 inches (243.8 x 304.8 x 396.2 cm). Courtesy the artist and Luhring Augustine, New York. Photo by Farzad Owrang. © Jason Moran.



BOSTON, MASS.- The Institute of Contemporary Art/Boston launched the tour of interdisciplinary artist Jason Moran's first museum exhibition. Moran's work is grounded in musical composition, yet bridges the visual and performing arts through stagecraft. Moran, who has taught at the New England Conservatory of Music in Boston since 2010, is known for using personal experience to create dynamic musical compositions that challenge the conventional form of the medium. His experimental approach to artmaking embraces the intersection of objects and sound, pushing beyond the traditional staged concert or sculpture and drawing to amplify ways that both are inherently theatrical. This exhibition features the range of work Moran has explored, from his own sculptural pieces ... More
Quote
Blessed are they who see beautiful things in humble places where other people see nothing. Camille Pissarro
More News
---
Hans Hartung - "A constant storm"
---
Flashback
On a day like today, Belgian painter Paul Delvaux was born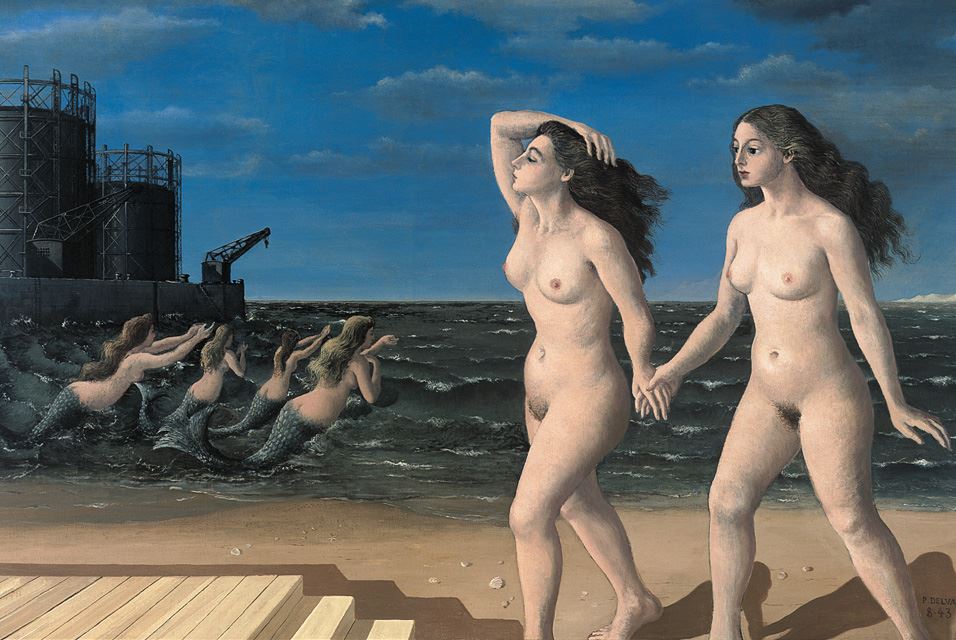 September 23, 1897. Paul Delvaux (23 September 1897 - 20 July 1994) was a Belgian painter famous for his paintings of female nudes. He was influenced by the works of Giorgio de Chirico, and was also briefly associated with surrealism. In this image: Paul Delvaux, Les femmes devant la mer, Oil on canvas, 105.5 by 166.5 cm, Painted in 1943 © Paul Delvaux Foundation, Belgium. Photo: Courtesy of Blain|Di Donna and the Paul Delvaux Foundation, Belgium.
---

Museums, Exhibits, Artists, Milestones, Digital Art, Architecture, Photography,
Photographers, Special Photos, Special Reports, Featured Stories, Auctions, Art Fairs,
Anecdotes, Art Quiz, Education, Mythology, 3D Images, Last Week,
.
Royalville Communications, Inc
produces:







Tell a Friend
Dear User, please complete the form below in order to recommend the Artdaily newsletter to someone you know.
Please complete all fields marked *.
Sending Mail

Sending Successful