Bellotto's The Fortress of Königstein from the North acquired by the National Gallery
Bernardo Bellotto, The Fortress of Königstein from the North, About 1756-8 (detail). Oil on canvas, 132.1 x 236.2 cm © The National Gallery, London.
LONDON
.-
The Fortress of Königstein from the North by Bellotto, which was due to be exported from Britain, has been saved for the nation and went on display in Trafalgar Square today (Tuesday 22 August 2017). Bernardo Bellotto's works are among the very greatest of 18th-century view paintings, and The Fortress of Königstein from the North is undoubtedly one of the finest examples. It stands out as a highly evocative and beautiful depiction of a fortified location within an extensive panoramic landscape, and has no real parallel in European painting. If Bellotto was once overlooked in favour of his more famous uncle, Canaletto, today he is recognised as one of the most distinctive artistic personalities of his century. The acquisition of this masterpiece by the
National Gallery
will cement Bellotto's reputation with both British and international visitors, giving him a significant place on the walls at Trafalgar Square ...
More
The Best Photos of the Day
Sotheby's unveils photographs from the Mario Testino Collection
'Missing link' bolsters bold theory on dino evolution
Sotheby's Hong Kong announces highlights from its Chinese Works of Art 2017 Autumn Sale


Rineke Dijkstra, 'Hilton Head Island, SC, USA', 1992. Est. Ł6,000-8,000. Courtesy Sotheby's.



LONDON.- This September, Shake It Up at Sotheby's in London will cast a first, fully-embracing light on Mario Testino's artistic journey with an exhibition, and ultimate sale, of over 300 works which form part of his personal collection. An imaginatively installed exhibition – directed and designed by Testino himself - will reveal the constant and lively dialogue the legendary Peruvian photographer enjoys with some of the greatest artists of our time. Over a series of live and online auctions, a curated group of paintings, photographs, works on paper and sculpture, will be offered to benefit the Museo MATE, Peru. Alongside two auctions of international contemporary art on the 13 and 14 September Sotheby's will stage an online sale of 88 photographs that have inspired and influenced Testino's own work in the medium. "I always wanted to collect things that weren't like me. I've always been excited by eve ... More



New research co-authored by Museum scientists explains why the dinosaur Chilesaurus diegosuarezi has a bizarre mix of anatomical features.



PARIS (AFP).- An oddball, vegetarian dinosaur with the silhouette of a flesh-ripping velociraptor, whose fossilised remains were unearthed in southern Chile 13 years ago, is a missing link in dino evolution, researchers said Wednesday. A revised assessment of the kangaroo-sized Chilesaurus, reported in the journal Biology Letters, bolsters a theory unveiled earlier this year that threatens to upend a long-standing classification of all dinosaurs. Dinosaurs were the monarchs of Earth for 160 million years until a space rock collided with the planet 65.5 million years ago and wiped out those confined to land. The survivors, which could fly, are the direct ancestor of today's birds. "Chilesaurus genuinely helps fill an evolutionary gap between two big dinosaur groups," said co-author Paul Barrett, president ... More



A Highly Important and Extremely Rare Ru Guanyao Brush washer. Northern Song Dynasty. Diameter 13 cm Expected to fetch in excess of HK$100 million / US$13 million. Courtesy Sotheby's.



HONG KONG.- This autumn, Sotheby's Hong Kong Chinese Works of Art Autumn Sales 2017 will be held on 3 October at Hall 1, Hong Kong Convention and Exhibition Centre. The sale will be led by a highly important and extremely rare Ru guanyao brush washer from the Le Cong Tang collection, which dates back to the Northern Song Dynasty, one of only four known heirloom Ru wares in private hands. Other major highlights include an exceptional Xuande-marked porcelain jar painted in rich tones of cobalt-blue with a pair of makaras which was part of the 1968 Oriental Ceramics Society Exhibition, an extremely fine and rare blue and white 'bajixiang' bowl which has not been seen in the market for thirty years and an important documentary Tibetan gilt-inscribed jade river pebble 'kapala' box which ... More
RM Sotheby's sets numerous world records in Monterey
National Portrait Gallery to open 'Victorian Giants: The Birth of Art Photography' in 2018
Poster House, new arts institution opens at former TekServe Space


1959 Aston Martin DB4GT, the father of the GT family, set for RM Sotheby's Monterey sale. Tim Scott Fluid Images © 2017 Courtesy RM Sotheby's.



MONTEREY, CA.- RM Sotheby's Monterey auction will be one for the record books after selling the most important Aston Martin ever produced during Friday night's festivities. Part of a grouping of absolutely stunning competition Aston Martins, the 1956 Aston Martin DBR1/1 crossed the block to achieve $22,550,000, setting a world record for any British automobile sold at auction. While the DBR1 was certainly the highlight of the Monterey sale, numerous vehicles exceeded estimates and in total generated $133 million in sales atop an 88% sell-through rate. These results contributed to one of the most successful Monterey auctions for RM Sotheby's to date and it the highest grossing auction during 2017 Monterey Car Week, firmly demonstrating buyer and seller confidence in RM Sotheby's global market leadership. At the Pebble Beach Concours d'Elegance, ... More



Mountain Nymph, Sweet Liberty ) by Julia Margaret Cameron, 1866 © Wilson Centre for Photography.



LONDON.- The National Portrait Gallery is to stage an exhibition of photographs by four of the most celebrated figures in art photography, including previously unseen works and a notorious photomontage, it was announced today, Tuesday 22 August 2017. Victorian Giants: The Birth of Art Photography (1 March – 20 May 2018), will combine for the first time ever portraits by Lewis Carroll (1832–98), Julia Margaret Cameron (1815–79), Oscar Rejlander (1813–75) and Lady Clementina Hawarden (1822-65). The exhibition will be the first to examine the relationship between the four ground-breaking artists. Drawn from public and private collections internationally, it will feature some of the most breath-taking images in photographic history, including many which have not been seen in Britain since they were made. Victorian Giants: The Birth of Art Photography will be the first exhibition in London to feature the work ... More



Poster House is dedicated to presenting the impact, culture, and design of posters.



NEW YORK, NY.- Posters have charted the course of political movements, marketed products, disseminated propaganda, branded films, and inspired revolutions. They are iconic, powerful, and ubiquitous, bridging the worlds of art and design on every street corner. Yet with hundreds of cultural institutions in New York City, none have ever been dedicated to posters until now. Poster House, due to open in late 2018, will present lively, rotating exhibitions of international posters from all time periods and cultures, exploring how this ephemeral medium came to become the people's art. Poster House is dedicated to presenting the impact, culture, and design of posters, both as historical documents and methods of contemporary visual communication. Through temporary exhibitions, a growing permanent collection, and a rich selection of public programs, Poster House will explore the enormous impact of posters on society and culture, ... More
Whyte's announces highlights from the Eclectic Collector sale
Univision donates art collection to Frost Art Museum FIU in Miami
MCA and Sydney Airport partner to showcase new contemporary Australian art


Football, 1938 Ireland v. Switzerland, programme. Programme for Ireland's match against Switzerland held at Dalymount Park, 18 September, 1938. Provenance Collection of Fergus Reid. Estimate €250-€350.



DUBLIN.- First Editions of Brian O'Nolan's 1939 novel At Swim Two Birds are rare. Written under the pseudonym Flann O'Brien, the book was originally published by Longmans in March 1939. Disappointingly for O'Nolan, it was a commercial failure with less than 240 copies sold by the outbreak of the war the following September. Hitler's Luftwaffe then added to the future scarcity of first editions by bombing Longman's warehouse and destroying all the unsold copies in 1940, presumably the masterpiece of metafiction didn't fit in with der Fuhrer's vision for the literature of the new Reich. Most of the 240 copies of the novel which sold, appear to have been circulated among artists and writers, who were largely enthusiastic, Joyce declared O'Nolan a writer with 'true comic spirit'. A signed ... More



Wifredo Lam – Pleniluna, Lithograph.



MIAMI, FLA.- The Patricia & Phillip Frost Art Museum FIU announces a major donation by Univision Communications Inc. (UCI) of 57 artworks from its collection, featuring serigraphs, paintings and mixed media works by forty artists and masters from throughout Latin America and the United States, including: Cundo Bermudez, Coqui Calderon, Humberto Calzada, Antonia Guzman, Wifredo Lam, Rafael Soriano, Fernando De Szyszlo. The artists in this collection are from Argentina, Bolivia, Chile, Colombia, Costa Rica, Cuba, Guatemala, Mexico, Nicaragua, Panama, Puerto Rico, Santo Domingo, the United States, Uruguay and Venezuela. The museum will showcase many of the gifted works in the new exhibition Reflections of the Americas: New Acquisitions from the Collection of Univision (Sept. 23-Jan. 3, including Art Basel season). The opening reception is free and open to the public on Saturday, September 23 from 4:00-7:00 p.m. "The Frost Art M ... More



Elizabeth Ann Macgregor (MCA) and Kerrie Mather (Sydney Airport). Photo: Anna Kučera.



SYDNEY.- A bold new partnership between the Museum of Contemporary Art Australia and Sydney Airport will see the arrival of a large-scale contemporary art commission for the T1 International terminal's Marketplace in 2018. The commission will support an Australian artist to create a new work on a large-scale, creating a unique and memorable statement for passengers as they depart Australia. Sydney Airport Managing Director and Chief Executive Officer Kerrie Mather said the work would build on the recent transformation of the terminal which now boasts soaring 17m high ceilings and floor length windows at T1's Marketplace, located in the departures area. 'We're proud to announce this unique and exciting collaboration as we continue to strengthen our commitment to the arts, connecting the airport to Sydney's vibrant arts culture,' Ms Mather said. 'The MCA is an iconic part of Sydney's arts and cultural comm ... More
Artist Adam Pendleton joins prominent business and community leaders on the Baltimore Museum of Art's Board
SF Camerawork announces highlights from its Benefit Auction 2017
Jools Holland/Squeeze drummer and artist Gilson Lavis to present first New York City art exhibit


Adam Pendleton is a New York-based artist whose work examines and questions the freedom of abstraction in relationship to language, politics, and identity.



BALTIMORE, MD.- The Baltimore Museum of Art announced today seven new trustees have joined its board: Heidi Berghuis, Maya Rockeymoore Cummings, Brooke Lierman, David H. Milton, Adam Pendleton, Scott Schelle, and Wilma Bulkin Siegel. These will join Board Chair Clair Zamoiski Segal and Dorothy Wagner Wallis Director Christopher Bedford and 40 other active trustees in leading the BMA. The Board of Trustees is responsible for the governance and oversight of the museum, fostering ongoing support for the BMA's ambitious mission and vision. This diverse group is comprised of regional and national leaders in art, philanthropy, and business who are deeply engaged and committed to ensuring the long-term strength of the museum. "I am delighted ... More



Herb Ritts, Prince (Hat with Chains), 1991.



SAN FRANCISCO, CA.- SF Camerawork, San Francisco's premier alternative venue for photography, will hold its annual fundraising auction on Saturday, October 28, 2017, benefitting the non-profit organization's celebrated exhibitions, publications, and programs dedicated to emerging artists and experimental directions in the photographic arts. This signature event--now in its 38th year and a favorite among serious photography collectors nationwide--will feature 90 exceptional, highly curated lots representing a range of work by both emerging and internationally distinguished artists, including Richard Misrach, Walker Evans, Imogen Cunningham, Danny Lyon, Herb Ritts, Erica Deeman, Lucas Foglia, Joel Meyerowitz, and Elinor Carucci, to name a few. "This year's sale presents a strong mix of classic 20th century works with cutting-edge contemporary photography from national and ... More



Ray Charles, c. 1986, 18 Ľ" x 22 ˝", acrylic on canvas board, signed by artist.



NEW YORK, NY.- Highly respected British drummer and artist Gilson Lavis will present his first ever New York City art exhibit "Gilson Lavis: In Tune With The Portraits" at the Salomon Arts Gallery at 83 Leonard Street in Tribeca from September 15th through October 5th, 2017. His paintings have become very much sought after in British music and art world inner circles. This unique collection of acrylic on canvas board paintings and ink drawings by the veteran rock and R & B drummer are now making their U.S. debut after becoming popular in and around London. Best known currently as the superbly versatile drummer with Jools Holland's Rhythm & Blues Orchestra and the original drummer for the British band Squeeze, Gilson Lavis is now shining the spotlight on his second career as an artist, after enjoying acclaim as one of the most sought after drummers in the UK over the last 40 years. Lavis started the ... More
Quote
Tanguy was the Watteau of surrealism. Sarane Alexandrian
More News
---
Allan Wexler - Plein Air Studio
---
Flashback
On a day like today, American sculptor Alexander Milne Calder was born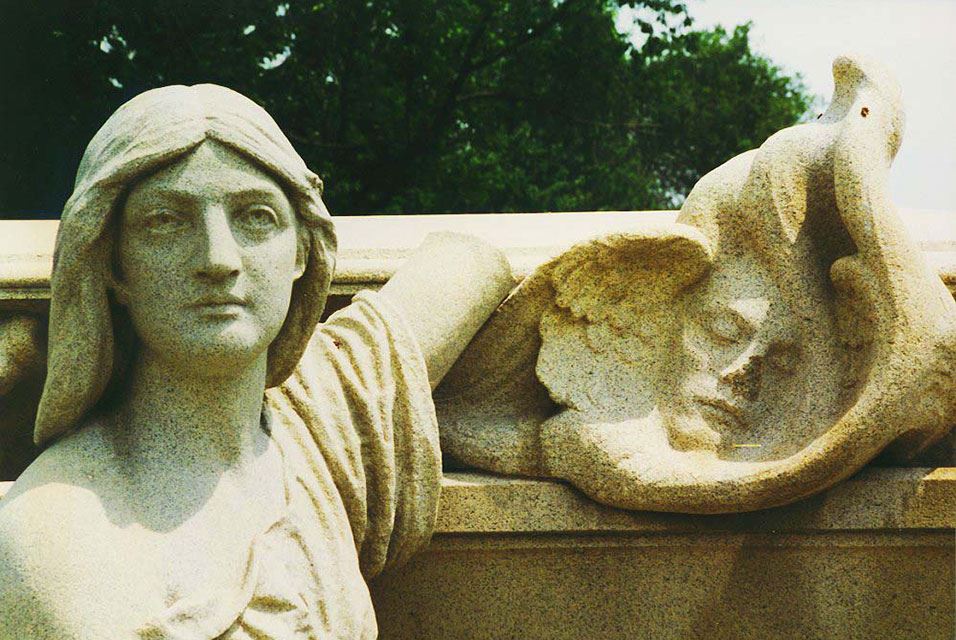 August 23, 1846. Alexander Milne Calder (August 23, 1846 - June 4, 1923) was an American sculptor best known for the architectural sculpture of Philadelphia City Hall. Both his son, Alexander Stirling Calder, and grandson, Alexander "Sandy" Calder, would become significant sculptors in the 20th century. In this image: William Warner Tomb, Laurel Hill Cemetery (1889).
---

Museums, Exhibits, Artists, Milestones, Digital Art, Architecture, Photography,
Photographers, Special Photos, Special Reports, Featured Stories, Auctions, Art Fairs,
Anecdotes, Art Quiz, Education, Mythology, 3D Images, Last Week,
.
Royalville Communications, Inc
produces:







Tell a Friend
Dear User, please complete the form below in order to recommend the Artdaily newsletter to someone you know.
Please complete all fields marked *.
Sending Mail

Sending Successful