The Photography Show presents more than 115 exhibitors from around the world
The Photography Show will feature more than 115 galleries from across the U.S. and around the world, including Europe, Asia, Canada, Mexico, the Middle East, and South America. Four new sections – Salon, Gallery, Positions, and Discovery – will offer work from established and new AIPAD members and first-time exhibitors, as well as younger galleries.
NEW YORK, NY
.-
In its new location at Pier 94,
The Photography Show
will be held from Thursday, March 30 through Sunday, April 2, 2017, with an expanded program of exhibitions and events. More than 115 galleries from around the world will offer contemporary, modern, and 19th-century photographs as well as photo-based art, video, and new media. Presented by AIPAD (the Association of International Photography Art Dealers), the 37th edition of the Show commenced with a Vernissage on Wednesday, March 29. One of the world's most highly-anticipated annual art fairs, the Show is the longest-running and foremost exhibition dedicated to the photographic medium. The 2017 Show will include more than a dozen AIPAD Talks featuring prominent curators, collectors, artists, and journalists as well as special exhibitions on loan from the noted collections of Artur Walther, Martin Z. Margulies, and Madeleine P. Plonsker. New projects will in ...
More
The Best Photos of the Day
Paul Kasmin Gallery exhibits three-dimensional sculpture by Max Ernst
Christie's New York to offer the Collection of Hunt Henderson
Frank Gehry archives acquired by the Getty Research Institute


Max Ernst, Seraphine-Cherubin, 1967. Bronze, 79 x 30 x 31 inches ©2017 Artist Rights Society (ARS), New York/ADAGP, Paris. Photo: Christian Baraja.



NEW YORK, NY.- Paul Kasmin Gallery announces Max Ernst Big Brother: Teaching Staff for a School of Murderers on view at 515 West 27th Street, March 30 – May 13, 2017. At various moments throughout Ernst's career, from his Cologne Dada period in the 1920s onwards, the artist turned to three-dimensional materials and sculpture in intense bursts of activity. The exhibition will feature Max Ernst's Corps enseignant pour une école de tueurs (Teaching Staff for a School of Murderers), conceived in 1967 at a pinnacle moment in Ernst's career in which he fully committed himself to sculpture with fresh rigor. Comprised of three monumental bronze figures, the sculptures synthesize Ernst's iconic use of language and sharp witticism that in turn transcend personal significance and make pointed commentary on the modern social and political climate. The trio's central figure is Big Brother, taking its title from ... More



Paul Cézanne (1839–1906), La côte Saint-Denis ŕ Pointoise, oil on canvas, 25 3/4 x 21 3/8 in. Painted circa 1877. Estimate: $5,000,000-7,000,000. © Christie's Images Limited 2017.



NEW YORK, NY.- Christie's presents works formerly from The Collection of Hunt Henderson, which comprises one of the earliest important groupings of Impressionist & Post-Impressionist Art privately held in the Southern region of the United States. The collection will be sold across Christie's sales of Impressionist & Modern Art on May 15-16, and American Art sale on May 23. Two highlights from the collection will be unveiled at Christie's Hong Kong from March 30-April 6 with additional works to be first exhibited at the opening of the Christie's Los Angeles Flagship in April 2017. The full collection will be on view at Christie's Rockefeller Plaza from May 6-17. Christie's has been entrusted with this extraordinary collection and to have the opportunity to share these works with our global audience. Never has there been a time when the appetite for important ... More



Frank Gehry (Canadian-born American, b. 1929), Norton House Model, 1982-1984. Venice, California. Frank Gehry Papers at the Getty Research Institute, © Frank O. Gehry.



LOS ANGELES, CA.- The Getty Research Institute announced today the acquisition of a major archive of the world-renowned architect Frank Gehry. The Frank Gehry Papers cover more than thirty years of his singular career and includes comprehensive material on some of his best-known projects. The acquisition is part purchase and part gift. "Frank Gehry is undoubtedly the world's most famous living architect. This extensive archive, covering the first three decades of his illustrious career, offers an in-depth look at the genesis of Gehry's distinctive style and includes many of the projects for which he is internationally known," said Thomas W. Gaehtgens, director of the Getty Research Institute. "The Getty Research Institute's architectural holdings, especially in modern and contemporary architecture and design from the West Coast, are unparalleled and widely ... More
Lévy Gorvy present first London exhibition of Italian artist Vincenzo Agnetti
Exhibition surveys the work of African American women artists from the nineteenth century to now
Sperone Westwater exhibits new work by Helmut Lang


Vincenzo Agnetti, La macchina drogata, 1968. Olivetti divisumma 14. Courtesy Lévy Gorvy. Photo: Stephen White.



LONDON.- Lévy Gorvy presents the first exhibition in London of Vincenzo Agnetti, one of the most significant and influential Italian conceptualists of the twentieth century. The exhibition focuses on three bodies of work from the artist's diverse oeuvre—Axioms, Feltri (Felts), and Macchina Drogata (Drugged Machine)— which are key nodes of a sprawling practice that engaged the supple pliability of language with intensity and humor. Agnetti approached language as both content and material, depicting linguistic propositions and language-based abstractions with a signature esoteric streak. Seen as a whole, the artist's work shed light on new possibilities for art's engagement with philosophy and knowledge production: rather than illustrating theories and ideas, Agnetti sought to fully integrate idea and form. As an artist and writer, Agnetti was an active participant in various Italian ... More



Rosie Lee Tompkins, String, 1985. Velvet, velveteen, backed with chenille, 100 x 86 inches. Courtesy of Mark & Jenny Hurth.



LOS ANGELES, CA.- Sprüth Magers, Los Angeles, presents POWER, an exhibition curated by Todd Levin that surveys the work of African American women artists from the nineteenth century to now. Titled after the 1970 gospel song by Sister Gertrude Morgan, the exhibition begins with artists born soon after the Civil War and continues to the present, weaving together fine and folk art traditions to explore how artists have engaged issues of race, gender, and class against our evolving cultural and artistic landscape. The 37 artists in POWER draw into focus their struggle to establish themselves as equal players on the uneven field of the American republic. The exhibition traces two artistic threads that entwined to produce groundbreaking and evocative works across a range of mediums, which continue to influence artistic dialogue today. The first approach, rooted ... More



Helmut Lang, untitled, 2016.



NEW YORK, NY.- Sperone Westwater presents new work by Helmut Lang in the artist's second solo exhibition at the gallery. Since 2007, Lang has worked with found objects and readily available materials to create a dense, raw, and enigmatic body of work. Lang's work is process-oriented, and the residue of his experimentation is left visible in the final product. The objects he creates have an intense physicality that evokes the human body and human condition while remaining essentially abstract. This exhibition showcases three new bodies of work created between 2015 and 2017. A series of floor sculptures and wall reliefs utilizing memory foam is displayed on the main ground-floor. These eccentric forms hover between abstraction and figuration, physical presence and absence, amputated or erased memories, as the materials he employs also often retain the impression of the human body. Knotted around themselves, the floor sculptures hint at ... More
Foam exhibits works by 24 young artists shaping the future of photography
N.W.A, Bowie to be preserved by US Library of Congress
Bob Dylan finally to receive Nobel prize in Stockholm


Untitled 2014 from the series Empire © Samuel Gratacap.



NEW YORK, NY.- Foam presents Foam Talent at Red Hook Labs in Brooklyn, New York. A group exhibition bringing together 24 innovative image makers under the age of 35. It's the first time that Foam brings its selection of Foam Talents to New York. The exhibition will take place during the 37th edition of The Photography Show (presented by AIPAD). Every year Foam organises the Foam Talent Call to identify young and international talents. From a total of 1494 submissions from 75 different countries across 6 continents, 24 photographers were selected to be featured in the annual Foam Magazine Talent Issue. The exhibition Foam Talent, developed with work from the latest Talent Issue, brings together the work of an international young generation of artists. With this exhibition Foam presents its views on the current state of photography and creates a platform that introduces emerging talents in the international world of photography. Photo-objects, insta ... More



This file photo taken on June 5, 2007 shows musician David Bowie speaking onstage while accepting the Webby Lifetime Achievement award. Bryan Bedder / AFP.



WASHINGTON (AFP).- Gangsta rappers N.W.A's seminal debut, David Bowie's "Ziggy Stardust" album and the signature song from "The Wizard of Oz" will be preserved for posterity by the US Library of Congress. The world's largest library selected another 25 titles Wednesday for its National Recording Registry, which preserves original copies of works found to have historical importance. Among the recordings was "Straight Outta Compton," the 1988 first album by California rappers N.W.A who set off a nationwide storm with their protest song "Fuck tha Police." The Library of Congress in a statement said the album "signaled not only a seismic shift in rap from East Coast to West Coast sensibilities, but also a startling socio-political shot across the bow of the culture." Also entering the registry were two recordings of "Lift Every Voice and Sing," which in 1919 was declared the "Black ... More



This file photo taken on June 30, 2012 shows US musician Bob Dylan performing during the second day of the Hop Farm music festival in Paddock Wood, Kent. BEN STANSALL / AFP.



STOCKHOLM (AFP).- Music icon Bob Dylan will finally receive his Nobel Literature Prize this weekend at a meeting with the Swedish Academy in Stockholm, it announced Wednesday. But no media will be allowed to cover the meeting, and the famously-reclusive Dylan will only give a lecture required of him in a taped version at a later date. The 75-year-old kept silent for weeks after he was announced as the Nobel literature laureate in October, and snubbed a ceremony in December to receive the prize. "The good news is that the Swedish Academy and Bob Dylan have decided to meet this weekend," Sara Danius, permanent secretary of the Academy, wrote in a blog post. "The Academy will then hand over Dylan's Nobel diploma and the Nobel medal, and congratulate him on the Nobel Prize in Literature." She added: "The setting will be small and intimate, and no media ... More
Collectors push Sandy Koufax mint rookie to top of Heritage Auctions' PSA Set Registry Auction
Exhibition of new work by Ciprian Muresan opens at David Nolan Gallery
Exhibition of new works by Teresita Fernández on view at Lehmann Maupin


1955 Topps Sandy Koufax #123 PSA Mint 9.



DALLAS, TX.- The Topps Company redefined the trading card collecting hobby during the 1950s, and two of the most coveted sets from that era were heavily pursued by the most condition-conscious hobbyists at Heritage Auctions' PSA Set Registry Auction in Dallas, which closed March 23. The 1955 and 1958 Topps sets, which rank second and fourth, respectively, on the PSA Set Registry, were sold as individual single-card lots in the Extended Bidding format sale. "It's a lot of hard work to build a top-five set," Heritage Sports Director Chris Ivy said, "but the joy is in the journey, and this auction stayed true to that principle." While set-builders played a leading role in the bidding, important rookie cards and Hall of Fame-condition rarities also drew considerable attention from collectors interested only in elite singles. Debut cards from such baseball immortals as Brooklyn/Los Angeles Dodgers pitcher Sandy Koufax, Pittsburgh Pirates outfielder Roberto ... More



Ciprian Muresan, All Images from a December 2016 issue of ART PAPERS magazine, 2016-17. Graphite on paper, 28 7/8 x 21 3/4 in., 73.3 x 55.2 cm © Ciprian Muresan, Courtesy David Nolan Gallery, New York.



NEW YORK, NY.- David Nolan Gallery announces All Images from a Book…, an exhibition of new work by Ciprian Mureşan, the artist's second solo show with the gallery. Bringing together a thematically interrelated group of works – albeit in characteristically diverse media – the exhibition will include a suite of recent drawings, a floor-bound sculpture, and a wall-mounted brass relief. Mureşan (b. 1977, Romania) is best known for his subtly subversive and darkly humorous work often touching on the failed ideals in the aftermath of Communist rule in Eastern Europe. In recent years, his conceptually oriented practice has involved drawing, printmaking, video, found-object sculpture and puppetry performance. In his newest body of work, the artist takes on the highly charged topic of artistic reproduction. For ... More



Fire (America) 5, 2017. Detail view, glazed ceramic, 96 x 192 x 1.25 inches. 243.8 x 487.7 x 3.2 cm. Photo: Elisabeth Bernstein Courtesy the artist and Lehmann Maupin, New York and Hong Kong.



NEW YORK, NY.- Lehmann Maupin is presenting Fire (America), an exhibition of new works by Teresita Fernández. The exhibition debuts a 16-foot glazed ceramic wall panel depicting a nocturnal landscape engulfed in flames, as well as a new series of abstract landscapes made from burned paper. Fernández is best known for her immersive installations and public projects that explore the various historical and psychological implications of the genre of landscape. In the Fire (America) series, Fernández uses images of fire to refer to contemporary American violence, as well as the technique of slash and burn used by indigenous people throughout the Americas to shape and cultivate the land. Contrary to the common fictitious narrative that the New World was a wilderness at the time of European contact, the technique ... More
Quote
Art is all that cannot be supressed. anonymous
More News
---
Contemporary Curated with Choreographer Michael Clark
---
Flashback
On a day like today, Spanish painter Francisco Goya was born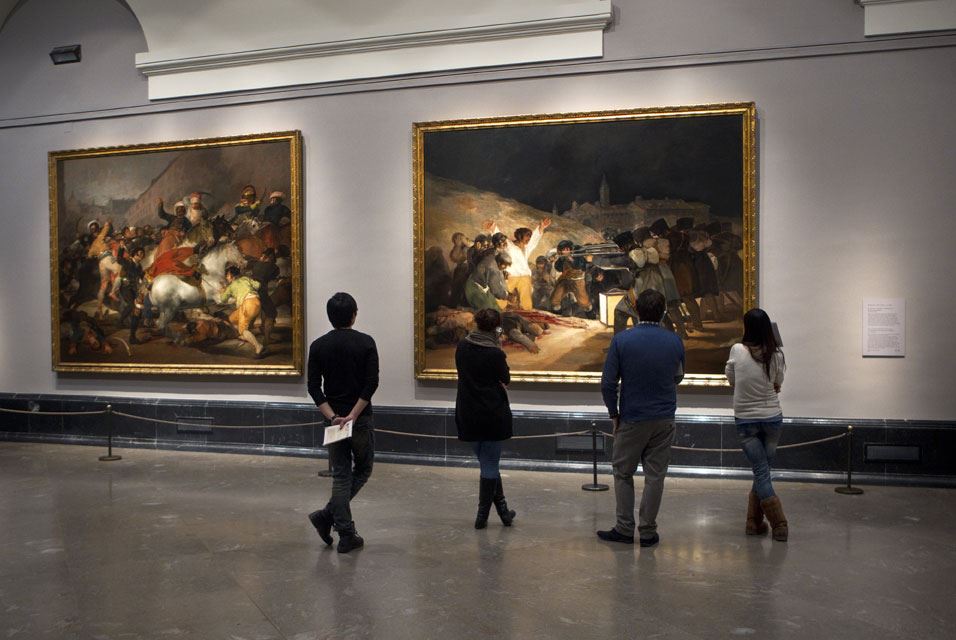 March 30, 1746. Francisco José de Goya y Lucientes (30 March 1746 - 16 April 1828) was a Spanish romantic painter and printmaker regarded both as the last of the Old Masters and the first of the moderns. Goya was a court painter to the Spanish Crown, and through his works was both a commentator on and chronicler of his era. The subversive imaginative element in his art, as well as his bold handling of paint, provided a model for the work of later generations of artists, notably Manet, Picasso and Francis Bacon. In this image: Goya Galleries, 2nd and 3rd of May ©Museo Nacional del Prado.
---

Museums, Exhibits, Artists, Milestones, Digital Art, Architecture, Photography,
Photographers, Special Photos, Special Reports, Featured Stories, Auctions, Art Fairs,
Anecdotes, Art Quiz, Education, Mythology, 3D Images, Last Week,
.
Royalville Communications, Inc
produces:







Tell a Friend
Dear User, please complete the form below in order to recommend the Artdaily newsletter to someone you know.
Please complete all fields marked *.
Sending Mail

Sending Successful