Mauritshuis acquires painting by Rembrandt's most influential teacher
Pieter Lastman, St John the Baptist Preaching, 1627. Panel, 60 x 92 cm. Mauritshuis, The Hague. Acquired by the Friends of the Mauritshuis with the support of a private donor.
THE HAGUE
.-
The Mauritshuis
has for many years had an engaging and high-quality painting by Pieter Lastman (1583-1633), Rembrandt's most influential teacher, on its wish list. This dream has now been fulfilled with the acquisition of St John the Baptist Preaching of 1627. The painting was purchased from an American owner by the Friends of the Mauritshuis Foundation with the support of a private donor. Emilie Gordenker, Director Mauritshuis: 'The timing of the acquisition of this painting by Lastman, at the beginning of a national Rembrandt Year, is ideal. We have been on the lookout for an outstanding example of Lastman's work, due to the impact he had on the young Rembrandt. We are extremely grateful to everyone who made our wish come true, especially the private donor and the Friends of the Mauritshuis.' In his day the Amsterdam artist Pieter Lastman was one of the leading painters of history paintings (works that d ...
More
The Best Photos of the Day
Banksy in Tokyo? City launches probe
Israeli museum removing 'McJesus' after Christian protests
Pace Gallery opens the first exhibition of works by Richard Pousette-Dart in London


"We noticed there is a drawing of a rat painted with spray" on the door near the Hinode station in central Tokyo, government official Koji Sugiyama told AFP.



TOKYO (AFP).- Tokyo is trying to verify if a drawing of a rat holding an umbrella that has been sprayed near a monorail station is the work of the famous and mysterious street artist Banksy. "We noticed there is a drawing of a rat painted with spray" on the door near the Hinode station in central Tokyo, government official Koji Sugiyama told AFP. "We think there's a possibility it has been done by Banksy." A rat holding an umbrella is one of Banksy's most famous artworks. Tokyo Governor Yuriko Koike posted photos of the painting on Twitter, saying, "There's a painting of cute rat in Tokyo which could be Banksy's work! A gift to Tokyo?" The government removed the door, which is designed to prevent flooding during high tides, and placed it in storage Wednesday night to ... More



The controversy involves "McJesus", a statue of a crucified Ronald McDonald by Jani Leinonen on display at the Haifa Museum of Art.



JERUSALEM (AFP).- An art exhibit depicting a fast-food clown nailed to a cross is to be taken off display at an Israeli art museum following protests and demands for its removal by Christians. The mayor of the northern port city of Haifa, where the artwork has been on display at the Museum of Art since August, wrote on Facebook Wednesday that the controversial exhibit would be removed "as soon as possible". Contacted by AFP, a municipal spokesman declined to say if it was still on display Thursday. "Beyond what the mayor wrote, we have nothing to say," he said. The work, entitled "McJesus", is a statue of a crucified Ronald McDonald by Finnish artist Jani Leinonen. It is part of "Sacred Goods", an exhibition about religion and faith in the culture of consumerism. A copy of the loan ag ... More



Richard Pousette-Dart, Time's Chasm of Sun, circa 1940's. Graphite, ink, and gouache on paper 23" × 29" (58.4 cm × 73.7 cm). © Estate of Richard Pousette-Dart / Artists Rights Society (ARS), New York, Courtesy Pace Gallery.



LONDON.- Pace Gallery presents the first exhibition of works by Richard Pousette-Dart in London. Organized with the Pousette-Dart Estate, Richard Pousette-Dart: Works 1940-1992 will be on view from 18 January 2019 to 20 February 2019. Pace's exhibition in London follows Richard Pousette-Dart: Beginnings, at Kettle's Yard in Cambridge which is on view until 6 January 2019. Pace's exhibition will reveal a selection of never seen works on paper from the 1940s. Richard Pousette-Dart was the youngest member of the first generation of Abstract Expressionists; the artist, along with several of his important contemporaries, took part in the formative meeting of Studio 35 and is included ... More
Victoria Miro announces representation of Howardena Pindell
Newly-discovered work by Raphael and rare drawing by Rubens to lead Sotheby's Sale of Old Master Drawings
Bidding opens for Lark Mason Associates and Everard Auctions Decorative Art Sales


Portrait of Howardena Pindell Photography © Nathan Keay, 2018 Courtesy the artist, Garth Greenan Gallery, New York, and Victoria Miro, London/Venice.



LONDON.- Victoria Miro announced representation of US artist Howardena Pindell in collaboration with Garth Greenan Gallery, New York. The first solo exhibition by the artist in the UK will be held at Victoria Miro Mayfair in June 2019. Working across figuration, abstraction and conceptualism, Howardena Pindell has since the 1970s examined a wide range of subject matter, from the personal and diaristic to the social and political. Hers is a complex and nuanced body of work, a fusion of sensuality and intellectual enquiry in which texture, colour, structure and process are employed to mine history (and hidden histories) and address intersecting issues such as racism, feminism, violence and exploitation. 'It is a pleasure to be working with Howardena Pindell,' said Victoria Miro. 'Deeply principled, daringly innovative and boldly incisive, Pindell truly embodies the dictum "the personal is political". Over the pas ... More



Sir Peter Paul Rubens, Nude Study of a Young Man with Raised Arms (detail). Estimate: $2.5/3.5 Million. Courtesy Sotheby's.



NEW YORK, NY.- A newly-discovered drawing by Raphael and an exceptionally rare figure study by Peter Paul Rubens will lead Sotheby's auction of Old Master Drawings in New York on 30 January. The discovery of Raphael's Standing Soldier in Armor adds an important and beautiful work to the artist's oeuvre. Peter Paul Rubens's Nude Study of a Young Man with Raised Arms offers a fascinating look at the process by which the artist arrived at the final composition for one of key figures in the great altarpiece representing The Raising of the Cross, which Rubens painted for the Antwerp church of Saint Walburga in 1608. Gregory Rubinstein, Head of Sotheby's Old Master Drawings Department, commented: "This immensely powerful study shows Rubens actually working out the pose of his figure as he goes along. The sense of looking over the artist's shoulder as he develops one of the most important ... More



George Sugarman, American (1912-1999), Small Sanctuary, Painted Aluminum, 1987 (Lark Mason Associates).



NEW BRAUNFELS, TX.- Over 700 lots are up for bidding on iGavelAuctions.com through Lark Mason Associates and Everard Auctions & Appraisals in January and early February, with exhibitions in New York, Texas, and Savannah. The Everard Auctions & Appraisals sale is open for bidding from January 17- February 5, while Lark Mason Associates sale opens for bidding on January 29 - February 12. "There are some incredible gems in both sales," says Lark Mason. "Our low estimates will certainly warm the hearts of anyone looking for attractive pieces to enhance their interiors." Among the 20th century and contemporary highlights offered by Lark Mason Associates are a striking sculpture by George Sugarman, Small Sanctuary expected to realize $10,000-15,000; a Polychrome Wood Female Bust, Temptress by Alan Clark (1896-1950) dating to circa 1925 with an estimate of $8,000-10,000; and a rare Tiffany and Company 18k Gold ... More
Peter Blum Gallery opens an exhibition of works on paper by David Rabinowitch
A new exhibition at The Morgan presents innovative contemporary drawings
Exhibition presents an overview of nearly two decades of Richard Slee's career


Untitled (Périgord Construction of Vision), 2012 (detail). Beeswax, crayon, oil and oil based ink on paper, 21 x 21 inches (53.3 x 53.3 cm). Image courtesy of the artist and Peter Blum Gallery, New York.



NEW YORK, NY.- Peter Blum Gallery will open an exhibition of works on paper by David Rabinowitch entitled Périgord Construction of Vision Drawings at 176 Grand Street, New York. This is the artist's seventh solo show with the gallery. The exhibition runs through March 9, 2019. David Rabinowitch started visiting the Périgord region in southern France in 2008. Périgord has some of the best preserved 10th - 12th Century Romanesque churches in Europe and has become a place that Rabinowitch has been revisiting and making sketches of since his first vist. These ecclesiastical structures serve as a conceptual framework which the ongoing series of Périgord Construction of Vision Drawings has emerged from. Rather than literal representation, this ... More



Gavin Turk (b. 1967), ​Rosette, 2013, exhaust emission on paper, mounted on linen. The Morgan Library & Museum, 2013.10; Gift of Monaghan. Image courtesy of Gavin Turk.



NEW YORK, NY.- A new exhibition of contemporary drawings from the Morgan's collection asks, what can drawing do? For many artists, drawing represents an attitude of experimentation and open-endedness more than a devotion to specific materials or techniques. By Any Means: Contemporary Drawings from the Morgan presents twenty-four innovative works on paper, including many recent acquisitions, by artists such as John Cage, Sol LeWitt, Vera Molnar, Robert Rauschenberg, Betye Saar, Gavin Turk, and Jack Whitten. Opening January 18, 2019, the show presents works from the 1950s to today by artists who have absorbed and built upon the legacy of their Cubist, Futurist, Dada, and Surrealist predecessors. Drawing ... More



Installation view of Richard Slee: Perfect Pie.



NEW YORK, NY.- Hales New York is presenting Richard Slee: Perfect Pie. This is Slee's third solo exhibition with Hales Gallery. Richard Slee is deemed to be one of Britain's most significant and influential ceramic artists. Merging humor and irony with profound technical ability, Slee challenges the conventions of the studio pottery tradition, transcending its utilitarian roots and paving the way for a new genre of ceramic art. Perfect Pie presents an overview of nearly two decades of the artist's career (the exhibition's centerpiece Hammers remains ongoing). This selection highlights themes that recur across Slee's substantial oeuvre: the great outdoors and the domestic interior (or "the great indoors," as he prefers to call it). Slee integrates fabricated references to the decorative, the ornamental, and the symbolic—both from past histories and within contemporary culture. These ... More
Exhibition of four monumental works by Georges Mathieu on view at Nahmad Contemporary
Sarah Watson joins Kayne Griffin Corcoran as President
Michael Hilsman's first solo show with Almine Rech opens in New York


Installation view. © Comité Georges Mathieu - 2019 Artists Rights Society - ARS New York - ADAGP Paris.



NEW YORK, NY.- Nahmad Contemporary is presenting Georges Mathieu: Monumental Paintings, an exhibition of four monumental works by one of France's most celebrated 20th-century abstract painters. On view January 11 through February 23, 2019, these impressive paintings were created by Georges Mathieu (1921–2012) at age 57, at the pinnacle of his career and on the occasion of the artist's 1978 retrospective at the Grand Palais in Paris. Each spanning over 19-feet wide and commandeering the gallery walls, the paintings are emblematic of the immense canvases for which he is most admired. Featuring dynamic lines thrusting outward in all directions and streaks of vivid paint, the four paintings embody the artist's signature gestural style that is predicated on harnessing intuitive expression through speed and spontaneity. ... More



Watson will be coming from Sprüth Magers where she served as Senior Director and was responsible for opening and running their Los Angeles branch since 2015.



LOS ANGELES, CA.- Kayne Griffin Corcoran announced the appointment of Sarah Watson to President of the gallery. Watson will be coming from Sprüth Magers where she served as Senior Director and was responsible for opening and running their Los Angeles branch since 2015. In her new role Watson will focus on further expanding the gallery's program starting with the additions of Los Angeles based artist Llyn Foulkes and NY based artist Hank Willis Thomas. Prior to joining Sprüth Magers Watson opened the Los Angeles outpost of NY based gallery L&M and was previously a Director at Gagosian, Los Angeles. "We are thrilled to welcome Sarah to Kayne Griffin Corcoran and know the gallery will tremendously benefit from ... More



Installation view.



NEW YORK, NY.- Almine Rech Gallery is presenting the exhibition, Pictures of 'M.' and Other Pictures, Michael Hilsman's first solo show with the gallery. A recurring figure in Hilsman's large-scale paintings shows a marked sense of vulnerability: With graying beard and balding head, the man hides himself from the viewer, lurking behind oversize foliage or covering his face with a gingham napkin. Only pieces of his body are visible, sometimes surrounded by other human parts—a buried bone lies below the man's supine figure in 'M.' with Laundry; an extracted molar floats next to his head in 'M.' with Idioms (Tooth and Nail). Like Bolańo's fictional painter who enshrines his own amputated hand in a self-portrait, the fragmented figure of "M.," a painted character in close proximity to Hilsman himself, underscores the body's frailty, its awkwardness and mortality, and the disarming ... More
Quote
A painting in a museum hears more ridiculous stories than anything else in the world. Goncourt
More News
---
Max Bill and Georges Vantongerloo: A Lasting Friendship
---
Flashback
On a day like today, English fashion designer and photographer Cecil Beaton died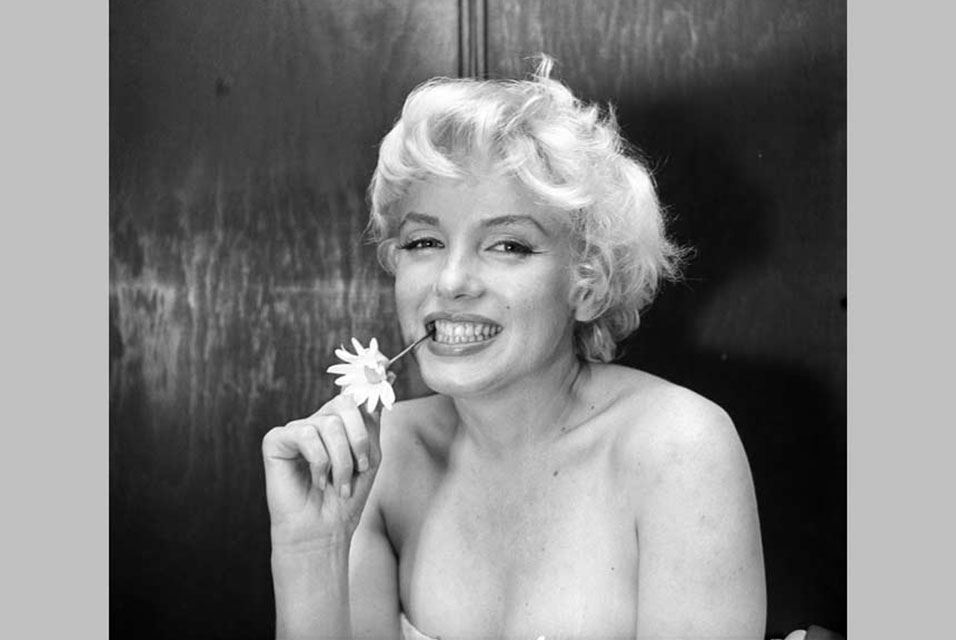 January 18, 1980. Sir Cecil Walter Hardy Beaton CBE (14 January 1904 - 18 January 1980) was an English fashion, portrait and war photographer, diarist, painter, interior designer and an Academy Award–winning stage and costume designer for films and the theatre. In this image: Marylin Monroe. © Sotheby's Cecil Beaton Archive.
---

Museums, Exhibits, Artists, Milestones, Digital Art, Architecture, Photography,
Photographers, Special Photos, Special Reports, Featured Stories, Auctions, Art Fairs,
Anecdotes, Art Quiz, Education, Mythology, 3D Images, Last Week,
.
Royalville Communications, Inc
produces:







Tell a Friend
Dear User, please complete the form below in order to recommend the Artdaily newsletter to someone you know.
Please complete all fields marked *.
Sending Mail

Sending Successful