Israel uncovers Roman structure at foot of Jerusalem's Western Wall
Joe Uziel, an archeologist from the Israeli Antiquity Authority, works on a recently discovered ancient roman theatre from the second sanctuary that was found at the foot of the Western Wall tunnels in Jerusalem's Old City on October 16, 2017. Excavations conducted by the Israel Antiquities Authority have uncovered large portions of the Western Wall that have been hidden for 1,700 years. MENAHEM KAHANA / AFP.

by Stephen Weizman
JERUSALEM
(AFP)
.-
Israeli archaeologists in Jerusalem's Old City on Monday unveiled a newly unearthed section of the Western Wall and the first Roman public structure ever discovered in the city, they said. Archaeologist Joe Uziel said he and his colleagues knew the wall section was there and had expected to find a Roman street at its base. "But as we excavated and excavated we realised we weren't getting to the street. Instead we have this circular building," he told reporters at the underground site. "Basically we realised that we were excavating a theatre-like (Roman) structure." He said that carbon-14 and other dating methods indicated it came from the second or third centuries AD and appeared to be unfinished. The Israel Antiquities Authority (IAA), which conducted the two-year dig, said that historical sources mentioned such structures but in 150 years of modern archaeological research in the city none had been found. ...
More
The Best Photos of the Day
Spain court orders pyschic to pay for Dali exhumation
'Inspiration' Marrakesh hosts Yves Saint Laurent museum
Kunsthistorisches Museum opens a major exhibition entitled "Rubens: The Power of Transformation"


Spanish national Pilar Abel Martinez, 61, who claimed to be Salvador Dali's daughter, speaks during an interview in Barcelona, on June 26, 2017. LLUIS GENE / AFP.



MADRID.- A Spanish court has dismissed a paternity lawsuit brought by a psychic who claimed to be Salvador Dali's illegitimate daughter and ordered her to pay for the exhumation of the surrealist painter's remains. DNA tests prove that Salvador Dali, who died in 1989 aged 84, was not the biological father of Pilar Abel, a 61-year-old who claims her mother had a covert relationship with the artist, according to a Madrid court ruling dated October 13 published on Monday. The court also ordered Pilar to pay for the exhumation of Dali's remains in July without specifying how much the operation cost. The arduous task involved removing a slab weighing more than a tonne that covered his tomb at the Dali Theatre-museum in Figueras where the eccentric artist was born in 1904. Forensics experts then removed DNA samples from Dali's skin, fingernails and two long bones. Contacted by AFP, the Dali ... More



This picture taken on October 12, 2017 shows a view inside the new Yves Saint Laurent museum in the Moroccan city of Marrakesh. FADEL SENNA / AFP.



MARRAKESH.- A fusion of Moroccan traditions and contemporary flair that inspired Yves Saint Laurent, a museum to the famed fashion designer was unveiled Saturday in his beloved Marrakesh. Following three years of work, technicians carried out final checks in a minimalist exhibition hall at the venue in the city that helped shape Saint Laurent's imagination after he first arrived in the 1960s. Iconic creations -- from the black "Le Smoking" tuxedo to the Mondrian dress -- have gone on display, with the museum hoping to attract 300,000 visitors in its first year after it opens its doors on October 19. "Marrakesh was a place of inspiration for Yves Saint Laurent," said director Bjorn Dahlstrom as he surveyed the last touches being made. The legendary French couturier was entranced by the "ochre city" when he discovered the vibrancy and easy-going atmosphere of its busy streets, overlooked by the Atlas mountains, with his partner Pierre Berge in 1966. ... More



Peter Paul Rubens (1577 Siegen - 1640 Antwerp), Self-Portrait, c.1638, oil on canvas, 110 x 85.5 cm. Vienna, Kunsthistorisches Museum, Gemäldegalerie, inv. no. GG 527 © KHM-Museumsverband.



VIENNA.- Peter Paul Rubens (1577–1640) was a star during his lifetime, and he remains a star today. His name is synonymous with an entire period, the Baroque. But his novel pictorial inventions continue to influence and appeal to artists. Now two leading museums, the Kunsthistorisches Museum Wien and the Städel Museum in Frankfurt, are hosting a major exhibition entitled "Rubens. The Power of Transformation". The exhibition focuses on some little-studied aspects of Rubens' creative process, illustrating the profound dialogue he entered into with works produced by other great masters, both precursors and contemporaries, and how this impacted his work over half a century. His use or referencing of works by various artists from different periods is generally not immediately apparent, and the exhibition invites visitors to discover these sometimes surprising correlations and connections by directly comparing ... More
Exhibition at Groeningemuseum focuses on the last of the Flemish Primitives: Pieter Pourbus
Exiled Russian artist torches central bank branch in Paris
Ai Weiwei on art, exile and refugee film 'Human Flow'


Gillis Claeissens, Portret van een onbekende edelman, ca. 1575, olieverf op paneel, Stockholm, Hallwylska Museet. © Hallwylska Museet, Stockholm.



BRUGES.- In 1998, the exhibition 'Bruges and the Renaissance, from Memling to Pourbus' was held in the Sint-Janshospitaal. The exhibition covered a period starting with the last decades of the glorious 15th century, with works by Hans Memling and Gerard David, and ended with 'the last of the Flemish Primitives', Pieter Pourbus. Artists who were active in the second half of the 16th century, such as the various members of the Claeissens family, were hardly mentioned. This effectively confirmed the existing view of the time that Pourbus was the only Bruges artist of importance during that period. As a result, the opportunity to interest a wider public in the art of Bruges in the second half of the 16th century was missed. In the aftermath of the exhibition, a number of scholars took several important steps forward in the research of these forgotten Bruges masters. That research now forms the basis for a new exhibition, 'Pieter Pourbus and the forgotten masters', whic ... More



This file photo taken on January 16, 2017 shows Russian artist Piotr Pavlenski (R) and his wife Oksana Chaliguina posing in Paris. MARTIN BUREAU / AFP.



PARIS (AFP).- Controversial Russian performance artist Piotr Pavlensky, who was granted asylum in France in May, was taken into custody early Monday after setting fire to the outside of a Banque de France branch in central Paris, police said. Firefighters arrived the scene at around 4:00 am (0200 GMT) to put out two fires outside of the building in Bastille square, a spokesman said, adding that the incident was of "criminal origin". Photos on social media show the 33-year-old dressed in black, standing in front of the shuttered front door flanked by fires burning outside two windows. Pavlensky, a recipient of the Vaclav Havel award for creative dissent, was taken into custody along with his partner Oksana Shalygina for causing "damage by fire", police said. Pavlensky once memorably nailed his scrotum to Red Square to denounce state power. In November 2015, he doused the doors of the FSB -- the successor to the Cold War-era KGB, or secret police -- in ... More



This file photo taken on September 1, 2017 shows Chinese artist and producer Ai Weiwei attending the photocall of the movie "Human Flow". Tiziana FABI / AFP.



LOS ANGELES (AFP).- In the most tender moments of "Human Flow," Ai Weiwei's epic documentary on the worldwide migrant crisis, he is seen hugging, cooking with and cutting the hair of refugees. An ordinary filmmaker might be accused of getting too close to his subject but, as far as the Chinese dissident and internationally renowned artist is concerned, he is the subject. "When I look at people being pushed away from their home because of war, because of all kinds of problems, because of environmental problems, famine, I don't just have sympathy for them," he tells AFP. "I do feel that they are part of me and I am part of them, even with very different social status." Ai, 60, opened up about his own displacement as a child in a recent interview with AFP, his trademark beard cut short and his blue and white sneakers color-coded to match his casual shirt and loose-fitting slacks. The venue, a plush office in Beverly ... More
The personal archive of Shaun Leane to be offered at Sotheby's New York
FIAC and the Centre Pompidou announce the installation of Domestikator
2018 World Monuments Watch announced


Shaun Leane for Alexander McQueen 'Skeleton' corset 'Untitled' collection, Spring-Summer, 1998 Estimate $250/350,000. Courtesy Sotheby's.



NEW YORK, NY.- Sotheby's announced Couture Fashion Jewellery – The Personal Archive of Shaun Leane as a highlight of their inaugural A Life of Luxury* auction series this December in New York. Created by London-based designer Shaun Leane over the course of more than 20 years, the Evening Sale will feature over 45 bespoke pieces he produced for beacons of the fashion industry, including legendary houses Alexander McQueen and Givenchy, as well as style icons the Honourable Daphne Guinness, Isabella Blow, Kate Moss and Sarah Jessica Parker. From the immaculate Contra Mundum Evening Glove, a special commission for Ms. Guinness that was inspired by her fascination with armor, to the iconic Crown of Thorns, from McQueen's Autumn/Winter 1996 'Dante' collection that appeared in The Metropolitan Museum of Art and the Victoria & Albert Museum's blockbuster retrospective in 2011 and 2015, respectively, the hauntingly beautiful s ... More



The work of Atelier Van Lieshout Domestikator will be on show from Tuesday 17 October onwards. It is presented by Carpenters Workshop Gallery.



PARIS.- Domestikator is shown within the context of FIAC's Hors les Murs artistic programme, which counts over 70 pieces exhibited in public spaces and is specifically conceived for the 44th edition of the fair. « We are delighted to have found a prominent and emblematic venue for Atelier Van Lieshout's Domestikator, which will be installed on the square in front of the Centre Pompidou; a site which falls under the aegis of the museum whose aim is to preserve, display and support contemporary creation. This has been made possible thanks to the energetic support of our partner institutions. The Domestikator joins the FIAC artistic programme, conceived for the 44th edition of the fair and counting over 70 pieces exhibited in public spaces. Its installation on the square begins a new chapter of the Hors les Murs programme and reinforces an already fruitful collaboration with the Centre Pompidou » Jennifer Flay, Director of FIAC. « The work of Atelier Van Lieshout is a beautiful ... More



American Express, the founding sponsor of the World Monuments Watch, continues to fund the Watch, as well as other initiatives taken on by WMF.



NEW YORK, NY.- World Monuments Fund today announced the 2018 World Monuments Watch, presenting a diverse group of cultural heritage sites that face daunting threats, including human conflict, natural disaster, climate change, and urbanization, or present unique conservation opportunities. The list features 25 sites spanning more than 30 countries and territories, dating from prehistory to the twentieth century. Among the sites, the 2018 Watch includes areas affected by the recent string of hurricanes and earthquakes that will need emergency assessment and conservation for damaged cultural heritage (Disaster Sites of the Caribbean, the Gulf, and Mexico); a collection of little-known homes, churches and community centers in Alabama where pivotal events of the Civil Rights Movement took place (Alabama Civil Rights Sites, United States); a once-vibrant marketplace burned amid fighting between the Syrian government and insurgents ... More
Bonhams Los Angeles to offer 400 works in curated auctions of contemporary art and design
iGavel Auctions rolls out robust fall schedule of Asian works of art
Calvert 22 Foundation opens the first posthumous solo presentation of Dmitri Prigov's work in the UK


Le Corbusier (1887-1965) and Pierre Jeanneret (1986-1967) 'Diabolo' Standard Floor Lamp circa 1964 steel and aluminum (estimate: $18,000-25,000). Photo: Bonhams.



LOS ANGELES, CA.- This October, Bonhams will present a West Coast series of curated sales, offering lots from Contemporary Art, Prints & Multiples, and Design together for the first time. More than 440 pieces will be on view from October 20 to 24 alongside highlights from upcoming sales of Latin American and Contemporary Art before going under the hammer. The preview will span both Bonhams buildings on the historic Sunset Blvd, including the newly renovated contemporary galleries at 7575 West Sunset Blvd. and its main auction and gallery space at 7601 West Sunset Blvd. Highlights from the October 24 Prints & Multiples sale at 10:00 PDT span works by quintessential artists such as Pablo Picasso, Joan Miró, ten lots by Andy Warhol, as well as two important Richard Diebenkorn works, and pieces by contemporary icons David Hockney and Wayne Thiebaud. Works by ... More



Chinese Huanghuali Canopy Bed dating to the early Qing Dynasty.



NEW BRAUNFELS, TX.- Lark Mason Associates 2017 fall Asian art sales on the iGavel Auctions platform are now underway through the end of November with five specialized sales spanning all the arts of Asia. The season got off to an excellent start in New York during September Asian Art week with an exhibition of Snuff Bottles, Jades, and Ceramics from a Southern Collector. The sale's closing on October 3rd realized a total of $267,550 well above the high estimate of $160,100. In addition, visitors from around the world poured over selections from four other fall Asian art auctions. Japanese Prints and Asian Works of Art, which closes on October 17th with 74 lots, includes 12 Tsukioka Yoshitoshi prints from the 100 Aspects of the Moon series, and other works by masters of Japanese print making. Also open for bidding through October 25th, is iGavel Associates' sale of Asian Works of Art featuring a select group of 58 lots, headlined by Lark Mason Asso ... More



Dimitri Prigov. Theatre of Revolutionary Action, Installation view, 2017. Courtesy Calvert 22.



LONDON.- Calvert 22 Foundation is presenting the first posthumous solo presentation of Dmitri Prigov's work in the UK. Prigov (1940 – 2007) was one of the leading figures of Moscow Conceptualism and is known for his varied and prolific work as a poet, performer and artist using installation, video, typewritten books and other media. The exhibition Dmitri Prigov. Theatre of Revolutionary Action at Calvert 22 Space reflects on the different ways theatricality and performance influenced Prigov's oeuvre, focusing primarily on his work after the fall of the Soviet Union. Part of the The Future Remains: Revisiting Revolution season at Calvert 22 Foundation marking the centenary of 1917, the exhibition looks back on the Soviet experiment and the ways Prigov harnessed ideological, philosophical and mystical languages to address themes of chaos, change and death. Organised in collaboration with the State Hermitage Museum, ... More
Quote
Art is a form of catharsis. Dorothy Parker
More News
---
The final touches | Restoring the Armada Portrait
---
Flashback
On a day like today, Italian painter Cristofano Allori was born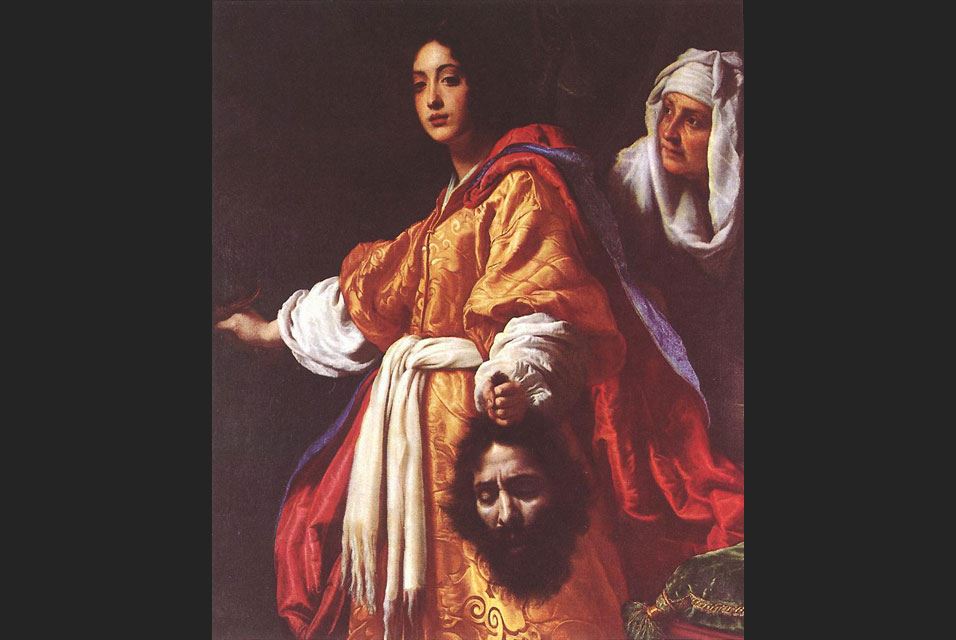 October 17, 1577. Cristofano Allori (17 October 1577 - 1 April 1621) was an Italian portrait painter of the late Florentine Mannerist school. Allori was born at Florence and received his first lessons in painting from his father, Alessandro Allori, but becoming dissatisfied with the hard anatomical drawing and cold coloring of the latter, he entered the studio of Gregorio Pagani, who was one of the leaders of the late Florentine school, which sought to unite the rich coloring of the Venetians with the Florentine attention to drawing. Allori also appears to have worked under Cigoli. In this image: Judith with the Head of Holofernes (1613). Oil on canvas, 139 x 116 cm. Galleria Palatina (Palazzo Pitti), Florence.
---

Museums, Exhibits, Artists, Milestones, Digital Art, Architecture, Photography,
Photographers, Special Photos, Special Reports, Featured Stories, Auctions, Art Fairs,
Anecdotes, Art Quiz, Education, Mythology, 3D Images, Last Week,
.
Royalville Communications, Inc
produces:







Tell a Friend
Dear User, please complete the form below in order to recommend the Artdaily newsletter to someone you know.
Please complete all fields marked *.
Sending Mail

Sending Successful