Evidence of Babylonian destruction of Jerusalem found at the City of David
Joe Uziel, of the Israel Antiquities Authority (IAA), who is the director of an excavation project where evidence of the destruction of Jerusalem by the Babylonians has recently been unearthed, holds the head of a ceramic figure at the site in the City of David archeological park near Jerusalem's Old City on July 26, 2017. The structures dating to more than 2,600 years ago have been unearthed after having been covered over by collapsed layers of stone revealing many findings such as charred wood, grape seeds, pottery, fish scales and bones, and unique, rare artifacts including dozens of storage jars which served to store both grain and liquids. GALI TIBBON / AFP.
JERUSALEM
.-
Evidence of the destruction of Jerusalem at the hands of the Babylonians is currently being unearthed in the City of David in excavations conducted by the
Israel Antiquities Authority
at the Jerusalem Walls National Park, funded by the City of David Foundation (Elad). In the excavations – concentrated on the eastern slope of the City of David, dwelling places 2,500 years old, once covered by a rockslide, have been revealed. Nestled within the rockslide many findings have surfaced: charred wood, grape seeds, pottery, fish scales and bones, and unique, rare artifacts. These findings depict the affluence and character of Jerusalem, capital of the Judean Kingdom, and are mesmerizing proof of the city's demise at the hands of the Babylonians. Among the excavation's salient findings were dozens of jugs which served to store both grain and liquids, a stamp seal appearing on some of them. Furthermore, one of the seals discovered ...
More
The Best Photos of the Day
Basquiat: A darling of pop culture, but not museums
Banksy work comes top of poll of UK's favourite artworks
Major exhibition of works by Henri de Toulouse-Lautrec on view at AMO-Palazzo Forti


Jean Michel-Basquiat, Untitled, 1982. Oilstick, acrylic and spraypaint on canvas, 72 1/8 by 68 1/8 in. Estimate in excess of $60 million © 2017 The Estate of Jean-Michel Basquiat / ADAGP, Paris / ARS. Courtesy Sotheby's.



NEW YORK (AFP).- Jean-Michel Basquiat enjoys a stratospheric following -- earlier this year, a 1982 oil painting by the late 20th century great became the most expensive work by a US artist ever sold at auction. But 29 years after his death, his legacy is largely a triumph of popular culture over museums, which have been accused of downplaying his stature. New York is where the black artist -- son of a Haitian father and Puerto Rican mother -- was born and raised, spent most of his life and drew most of his inspiration. On May 18, it was in the Big Apple that one of his paintings fetched $110.5 million at Sotheby's, jettisoning him into a pantheon of high-selling greats like Picasso. Yet America's cultural capital has no public monument to him, no institution named after him and has preserved none of his famous graffiti -- signed "SAMO". Other than a plaque nailed to ... More



The "Balloon Girl" stencil painting, which appeared on the side of shop in east London in 2002, topped the shortlist of best British artworks, as voted on by 2,000 people.



LONDON (AFP).- A graffiti work of a girl losing a heart-shaped balloon by notorious artist Banksy is Britain's favourite artwork, according to a poll out Wednesday. The "Balloon Girl" stencil painting, which appeared on the side of shop in east London in 2002, topped the shortlist of best British artworks, as voted on by 2,000 people. The artwork was removed and sold in 2014 for around £500,000 (560,000 euros, $651,000). John Constable's 1821 pastoral landscape "The Hay Wain" came in second, with Jack Vettriano's 1992 painting "The Singing Butler" coming in third. JMW Turner's 1839 "The Fighting Temeraire," which depicts a boat being tugged along the Thames, came fourth in the poll, conducted for Samsung TV, while Antony Gormley's 1998 sculpture "The Angel Of The North", which looms over a major road to the south of Newcastle, was voted fifth. Three album covers were in the top 20, including Peter Blake's cover ... More



Henri de Toulouse-Lautrec, Aristide Bruant, dans son Cabaret (Before Letters) 1893. Color Lithography, 127,3x95 cm © Herakleidon Museum, Athens Greece.



VERONA.- Paris, end of the 19th century; la vie bohémienne, the artists of Montmartre, the Moulin Rouge, the brothels, the theatres and the prostitutes. This was the life Henri de Toulouse-Lautrec (1864–1901) led and depicted, becoming its most famous exponent. Toulouse-Lautrec was only 4 feet 8 inches tall – he had a form of dwarfism – and died at the age of 36 from the ravages of syphilis and alcoholism, but he became famous, above all, for his advertising posters and portraits of personalities of the day. His images of the dancers at the Moulin Rouge, Aristide Bruant and the scantily-clad prostitutes in the maisons closes, where he had his atelier, are fixed in the collective imagination. This major exhibition is on view until 3 September at AMO-Palazzo Forti celebrates Toulouse-Lautrec's artistic trajectory with 170 works from the Herakleidon Museum in Athens. Posters, lithographs, drawings, illustrations, watercolours, as well as videos, and photographs and furnishings o ... More
Quirky US-French museum to offer night on Orient Express
V&A appoints new Keeper of Design, Architecture and Digital
Heart rate study tests emotional impact of Shakespeare


Dating from 1948, Marshall's Orient Express carriages include a luxurious restaurant car -- which features a cylinder phonograph among its period highlights -- where guests will dine. AFP/PHILIPPE DESMAZES. by Olivier Devos



DRACY-SAINT-LOUP (AFP).- Visitors to a quirky rail museum in France's Burgundy region, the brainchild of US entrepreneur Gregory Marshall, will have a new opportunity to spend a night on the legendary Orient Express. Two carriages and a locomotive from the line created in 1883 to carry the well-heeled from Paris to Constantinople, as Istanbul was then called, are the jewel of Marshall's growing collection of steam trains for a hotel-cum-museum he hopes to open next year. The Orient Express stopped serving Istanbul in 1977 when the service was shortened and the fabled train made its last journey in December 2009. Dating ... More



Christopher Turner. Image © London Design Biennale.



LONDON.- The V&A announced that Dr Christopher Turner, Director of the London Design Biennale and Deputy Director of the London Design Festival, will join the Museum in October 2017 as Keeper of Design, Architecture and Digital (DAD). The department represents the Museum's collections, expertise and programming for architecture and urbanism, product and digital design. Christopher will lead a department that is only a few years old but builds upon the V&A's industrial design heritage dating back to the Great Exhibition of 1851. It is dedicated to enhancing the V&A's reputation as the UK's leading public resource for the study of contemporary design and its impact on society, and for stimulating new modes of collection, curation and public engagement. The department is also responsible ... More



Portrait of William Shakespeare.



STRATFORD-UPON-AVON (AFP).- In a world where on-screen violence has become commonplace, Britain's Royal Shakespeare Company is turning to science to discover whether the playwright can still make our hearts race more than 400 years on. The renowned theatre company has started measuring the pulse of audience members as they are confronted by some of the most harrowing scenes ever written by Shakespeare in the Roman tragedy "Titus Andronicus". The play, believed to have been written between 1588 and 1593, is a tale of murderous revenge and savagery. In one scene, a bloodied Lavinia writhes on stage after rapists cut off her hands and tongue. Audience members have been known to pass out or vomit at the play's shocking cruelty during performances. Becky Loftus, head of audience insight ... More
Phillips hosts 'The Sky in a Room' a private selling exhibition of contemporary art
Jack and Sandra Guthman donate major gift to honor 50th anniversary of MCA Chicago
First space 'selfie' to be offered by Bloomsbury Auctions


Rodney Graham, Main Street. Image courtesy of Phillips.



NEW YORK, NY.- This summer, Phillips New York hosts The Sky in a Room, a private selling exhibition curated by the celebrated Francesco Bonami. The exhibition, which will run through 11 August at 450 Park Avenue and feature works by Alighiero Boetti, Francis Alÿs, Louise Lawler, Sherrie Levine, Robert Longo, Cindy Sherman, and Rudolf Stingel, among others. According to Francesco Bonami, Phillips' Senior Consultant and Advisor to the CEO & Chairman, "Each work in the exhibition comes from a single owner collection and is presented, not as a singular work of art, but as part of a group. These groupings create autonomous constellations within a very specific universe: the mind of a collector. Cruising in and out of different spaces, always searching, discovering and uncovering art, creating with it a new and imaginary and personal planet. The goal of any collection should never be the simple accumulation of artifacts but it should strive to ... More



MCA Building exterior at night. Photo: Peter McCullough, © MCA Chicago.



CHICAGO, IL.- In honor of the 50th anniversary of the Museum of Contemporary Art Chicago, MCA Trustee and Collection Committee member Jack Guthman and his wife Sandra have donated a significant gift of 50 photographs by contemporary women photographers to the MCA Collection. Sharing the MCA's commitment to actively collect the work of female artists, a selection from this landmark donation is presented in the exhibition Woman with a Camera, on view through January 14, 2018. Woman with a Camera looks at the ways women across different generations and backgrounds collectively address facets of identity, politics, and history through their images, demonstrating the remarkable breadth of the Guthman collection. Celebrating the Guthmans' largest-ever gift, the exhibition Woman with a Camera presents a selection of 18 works from their collection, featuring work by established masters Marina Abramovic, Sophie ... More



Buzz Aldrin, First self-portrait in space, Gemini 12, November 1966. Vintage chromogenic print on fibre-based Kodak, est. £800-£1,200.



LONDON.- This Autumn Bloomsbury Auctions celebrates the study and observation of the physical and natural world in The Glory of Science. The auction will take place on 14th September at 24 Maddox Street, London W1S 1PP and will include striking photographs, maps prints and autographs. A single owner collection of vintage NASA photographs from the Gemini missions 1965-1966 will be on offer. The Gemini program was the bridge between the Mercury and Apollo programs and was created in order to test equipment and mission procedures in Earth orbit and to train astronauts and ground crews for future Apollo missions. There were also 14 scientific, medical and technological experiments on board. Astronauts Jim Lovell and Edwin "Buzz" Aldrin were part of the Gemini Missions and an auction highlight is a photograph of Buzz Aldrin from 1966 (pre-selfie sticks), thought to be the first self-portrait taken space ... More
Exhibition focuses on one of the most important and influential cinematographers in cinema
Rosenberg & Co. opens exhibition of works by contemporary artist Tom H. John
Latino portraits given to San Antonio Museum of Art


Nastassja Kinski, Paris, Texas. F/FRG, 1984, directed by Wim Wenders. © Wim Wenders Stiftung.



BERLIN.- The Deutsche Kinemathek is presenting the exhibition "Robby Müller - Master of Light" from 6 July to 5 November 2017, turning its attention to one of the most important and influential cinematographers in international cinema. Robby Müller (1940 - ) is considered one of the best known of all cinematographers - internationally as: "Director of Photography." The Dutchman has won numerous awards for his camerawork and has contributed considerably to the success of an entire generation of independent film authors since the 1970s. His international career started soon after he graduated from the Nederlandse Filmacademie in Amsterdam in 1964. In Germany, he not only shot numerous early films by Wim Wenders, but also worked alongside such directors and authors as Edgar Reitz, Hans W. Geissendörfer and Peter Handke. Müller would eventually be responsible for the cinematography of fourteen ... More



Tom John, Untitled, 2017. Watercolor on paper, 12.88 x 11 in.



NEW YORK, NY.- Rosenberg & Co. is presenting the first solo exhibition of works by the contemporary artist Tom H. John. Tom H. John is a polymath who applies his creativity to numerous fields, but is first and foremost a visual artist. Throughout his illustrious career in set design and production, the compulsion to produce fine art persisted. This exhibition brings to public view a selection of John's creative inventory. Georges Braque, František Kupka, the Bauhaus artists, Paul Klee and Julius Bissier inspire his artwork. Primarily working on paper and canvas, John frequently applies gouache to the surface, upon which he builds up his designs. Working in pencil, marker, and watercolor, he sometimes adds newspaper collage to brown paper, or gold and silver foil to rice paper. Series reveal themselves in John's many sketchbooks, some of which have subsequently been translated to larger scale, such as the four ... More



Timothy Greenfield-Sanders (American, born 1952), Eva Longoria, 2011, Pigmented inkjet print, 58 x 44 in. Portrait © Timothy Greenfield-Sanders.



SAN ANTONIO, TX.- The San Antonio Museum of Art today announced that it will receive 31 portraits from noted American photographer Timothy Greenfield-Sanders' Latino List series. Known for his large-format portraits, the group of Greenfield-Sanders works includes images of accomplished Latinos who span the worlds of culture, business, politics, and sports. The Latino List continues work Greenfield-Sanders has done previously to document the struggles and the accomplishments of different communities, including his Black List series of portraits of notable African-Americans. A promised gift from Houston-based art dealer and collector Hiram Butler and his spouse Andrew Spindler-Roesle, the works will go on view at the Museum in October 2017 as an exhibition titled The Latino List: Photographs by Timothy Greenfield-Sanders. "Giving ... More
Quote
To send light into the darkness of men's hearts, such is the duty of the artist. Schumann
More News
---
Living with Art- Lydia
---
Flashback
On a day like today, American photographer William Eggleston was born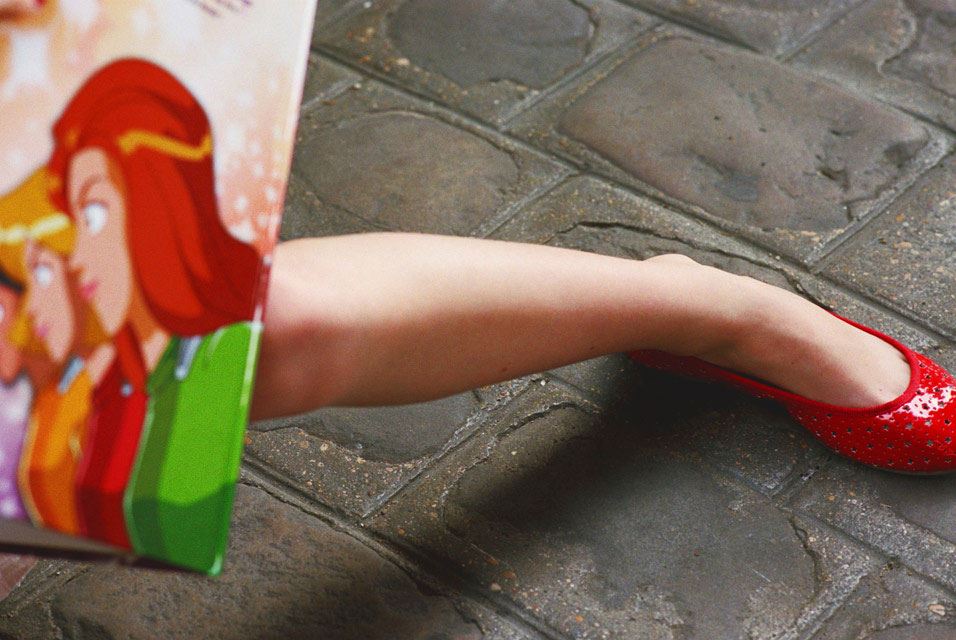 July 27, 1939. William Eggleston (born July 27, 1939) is an American photographer. He is widely credited with increasing recognition for color photography as a legitimate artistic medium to display in art galleries. Eggleston's mature work is characterized by its ordinary subject-matter. In this image: William Eggleston. Untitled (Leg with Red Shoe, Paris), 2007. Pigment print, 22 x 28 in. Edition of 7. © Eggleston Artistic Trust. Courtesy Cheim & Read, New York.
---

Museums, Exhibits, Artists, Milestones, Digital Art, Architecture, Photography,
Photographers, Special Photos, Special Reports, Featured Stories, Auctions, Art Fairs,
Anecdotes, Art Quiz, Education, Mythology, 3D Images, Last Week,
.
Royalville Communications, Inc
produces:







Tell a Friend
Dear User, please complete the form below in order to recommend the Artdaily newsletter to someone you know.
Please complete all fields marked *.
Sending Mail

Sending Successful