Unusual finds on one of Van Dyck's largest oil sketches
Wax seal on the reverse of the Charles I and the Knights of the Garter.

by Justin Davies
BRUSSELS
.-
In July we had the opportunity to examine Van Dyck's glorious Charles I and the Knights of the Garter in Procession at the Ashmolean Museum in Oxford. As the late Sir Oliver Millar wrote in the 2004 Van Dyck. A Complete Catalogue of the Paintings, 'There is no finer, or larger, example of Van Dyck's ability as a painter of oil sketches.' The sketch was made as a model for a projected but never executed series of tapestries to decorate the Banqueting House in Whitehall. Van Dyck included this oil sketch is his autumn 1638 'Memoire pour Sa Majestie' which original can be found on our
website
. The panel is constructed from four separate planks, not two as recorded in the Van Dyck literature. It's overall size is 29.4 cm x 131.9 cm. There are two brand marks of the collection of Charles I on the reverse of the panel, the first we have encountered. There ...
More
The Best Photos of the Day
Pinault Collection presents a selection of works in the Couvent des Jacobins
Mucem exhibits fifty artworks, 2 of which are new creations, by Ai Weiwei
World's oldest cheese found in Egyptian tomb


Maurizio Cattelan, Him, 2001. 101 x 41 x 53 cm © Maurizio Cattelan — Pinault Collection.



RENNES.- This summer, the Pinault Collection has been invited by Nathalie Appéré, mayor of Rennes, to present a selection of works in the Couvent des Jacobins, city's new convention center, and an installation at the musée des Beaux-Arts. Within these two institutions, the Pinault Collection presents the exhibition "Debout !" ("Stand up!"). François Pinault commissioned Caroline Bourgeois, curator for the Pinault Collection, to curate the show. It brings together works by internationally renowned artists, including Maurizio Cattelan, Marlene Dumas, Bertrand Lavier, and Thomas Schütte, as well as emerging artists such as the French painter Vincent Gicquel or the Brazilian painter Lucas Arruda, who is currently participating in the Pinault Collection artist-residency program in Lens. The exhibition, presented by the city of Rennes in collaboration with the Pinault Collection, benefits from the support of the ... More



Ai Weiwei, 2017 © Judith Benhamou-Huet.



MARSEILLE.- The Mucem is hosting Chinese artist Ai Weiwei, one of the major actors on the international art scene. The work of the photographer, architect, sculptor, performer, filmmaker and social media activist combines Chinese thought with contemporary art, namely drawing inspiration from Marcel Duchamp and Andy Warhol. His creations are able to challenge our societies with such force through his transformation of everyday objects into works of art. Ai Weiwei is the son of the great Chinese poet Ai Qing (1910-1996), who discovered the West in 1929 on disembarking at Marseille, on the docks of La Joliette, near the Mucem. This connection motivated the artist to take us on a voyage through time and through his art, which he links back to his paternal lineage. Through the new resonances that emerge in this exhibition, we are able to view Ai Weiwei's work in a new light. Fifty artworks, 2 of which are new creations, (comprising photos, sculptu ... More



Old cheese: The archaeological find ( University of Catania and Cairo University )



NEW YORK, NY.- Aging usually improves the flavor of cheese, but that's not why some very old cheese discovered in an Egyptian tomb is drawing attention. Instead, it's thought to be the most ancient solid cheese ever found, according to a study published in ACS' journal Analytical Chemistry. The tomb of Ptahmes, mayor of Memphis in Egypt during the 13th century BC, was initially unearthed in 1885. After being lost under drifting sands, it was rediscovered in 2010, and archeologists found broken jars at the site a few years later. One jar contained a solidified whitish mass, as well as canvas fabric that might have covered the jar or been used to preserve its contents. Enrico Greco and colleagues wanted to analyze the whitish substance to determine its identity. After dissolving the sample, the researchers purified its protein constituents and analyzed them with liquid chromatography and mass spectrometry. The peptides detected by these ... More
Soviet army nearly 'battled' US filmmakers in Prague Spring
Rush to visit Franco's tomb before his remains are moved
Journey back to early 20th-century Italy in TASCHEN's 'Italy around 1900. A Portrait in Color '


In this file photo taken in August 1968 in Prague, a tank drives on a street during confrontations between demonstrators and the Warsaw Pact troops and tanks, who invaded Czechoslovakia to crush the so-called Prague Spring reform and re-establish a totalitarian regime. Czechs mark on August 21, 2018, 50 years since Soviet invasion crushed Prague Spring. AFP.



DAVLE (AFP).- Propaganda-fuelled Soviet soldiers were ready to take on American and German armies during the 1968 invasion of former Czechoslovakia -- before they realised the "enemies" were filmmakers. "I remember the noise made by a tank unit on August 21, 1968," said Kvetoslava Dufkova, a pensioner from the small town of Davle just south of Prague, who was 14 at the time. "The Soviets then arrived in the centre of Davle and there they came across, to their big surprise, an army they thought was German," she told AFP. Like many locals, Dufkova had been acting as an extra in "The Bridge at Remagen", a John Guillermin war film starring George Segal and Robert Vaughn that was shot in Davle. "The guys in the tanks were stunned to suddenly see 'a German army' in front of them. They began negotiations, which lasted ... More



In this file photo taken on July 15, 2018 people wait to enter the basilica at the Valley of the Fallen in San Lorenzo del Escorial near Madrid. JAVIER SORIANO / AFP.



SAN LORENZO DE EL ESCORIAL (AFP).- "Since they are going to remove Franco, I wanted to see it. It's morbid curiosity," says Antonio Nevado, one of thousands of Spaniards who have rushed to visit the late dictator's tomb before his remains are moved. Francisco Franco, who ruled Spain with an iron fist from the end of the 1936-39 civil war until his death in 1975, is buried in an imposing basilica carved into a mountain-face just outside Madrid with a 150-metre (490-feet) cross towering over it. Visitor numbers to the site -- known as the Valley of the Fallen -- have soared since Spain's new Socialist government announced shortly after it came to power in June that it will remove Franco's remains from the basilica. Spain's national heritage agency that runs the monument said 38,269 people visited in July compared to 23,135 in June and 25,532 in July last year. Javier Botia, 40, and his partner Angeles Abellan, 42, two agricultural engineers from the ... More



Discover the rapturous charms and historical grounds of newly formed Italy in this fascinating collection of photochromes and vintage colored prints from the turn of the century.



NEW YORK, NY.- "You may have the universe," composer Giuseppe Verdi once said, "if I can have Italy." Back in the mid-19th century, Verdi's emotive language appealed to the patriotic sentiments of an emergent nation state. After decades of struggle and bloodshed, the movement known as Risorgimento triumphed with the 1861 proclamation of Italian Unity, assembling disparate kingdoms, territories, and borders that had hitherto been ruled by Austria, the Kingdom of Sardinia, and the Papal States. Today, Verdi's call to Italy resounds not only for its native patriots, but for the millions around the world who look upon this peninsula shaped like a boot and delight in a land of light, art, and sensuality. This collection is a fascinating visual document of Italy at the turn of the century, gathering photochromes and vintage colored prints. From coast to coast, through classical sites and Renaissance wonders, down beguiling Venetian waterways and along the dappled ... More
Anke Van Wagenberg publishes catalogue raisonné: Jan Baptist Weenix and Jan Weenix: The Paintings
Migrants unseen in Israeli photographer's exhibition
Sotheby's unveils highlights from the extraordinary cellar of Robert Drouhin


Anke A. Van Wagenberg-Ter Hoeven, Jan Baptist Weenix & Jan Weenix: The Paintings, Zwolle: Waanders & De Kunst, 2018.



EASTON, MD.- In Spring 2018, Anke A. Van Wagenberg-Ter Hoeven, Ph.D. published her two-volume tome entitled Jan Baptist Weenix and Jan Weenix: The Paintings. It is the result of many years of scholarly art-historical research on the works of the Dutch, seventeenth-century painters Jan Baptist Weenix (1621–1659)—a contemporary of Rembrandt and Vermeer—and his son Jan Weenix (1641– 1719). These important Dutch masters painted Italianate landscapes, portraits and still lifes and are represented in most principal museums with Dutch collections. The publication fills a lacuna in the art history of the Golden Age and provides a broader base for the appreciation of Dutch art. From the beginning it has been the purpose to study and publish the art of father Weenix and son Weenix because the authorship ... More



Israeli art photographer Ron Amir pose next to his pictures from the exhibition on migrants, "Somewhere in the Desert," at the Israel Museum storage room in Jerusalem. MENAHEM KAHANA / AFP.



JERUSALEM (AFP).- Photographer Ron Amir spent years visiting African migrants in the Israeli desert to understand the new world they had created. He came back with a provocative set of pictures -- without people in them. The human-less photographs include objects such as a makeshift bench and gym or a mud oven, composed in a way that hints at the migrants' desperation and their attempts to manufacture new lives. The exhibition, previously on display in Israel, is set to move to the Museum of Modern Art of the City of Paris, where it will open on September 14 and run until December 2. Amir said recently at the Israel Museum, where the exhibition appeared in 2016, that keeping people out of the pictures was a way to stimulate questions about what the viewer sees. It was a means to "open another ... More



Robert Drouhin. Courtesy Sotheby's.



NEW YORK, NY.- Sotheby's will present Rare Domaine de la Romanée-Conti from the Personal Cellar of Robert Drouhin in a dedicated auction of 100 lots on 13 October 2018 in New York. This historic offering of Domaine de la Romanée-Conti is emerging precisely after more than 50 years in the cellar of Mr. Robert Drouhin, patriarch of the family-run Maison Joseph Drouhin, who is internationally recognized as one of the wine industry's most renowned figures. The sale will offer DRC vintages spanning from 1937 through to 1964, acquired by Mr. Drouhin and his father, Maurice, directly from DRC, mostly during their time as the exclusive distributors in France and Belgium for the Domaine – a highly-covetable attribute that amplifies the collection's pristine provenance. Superlative bottles of Maison Joseph Drouhin from Grands Crus will also be on offer from 1959, 1961 and 1962. The sale this October will ... More
'Design Storytellers: The Work of Broached Commissions' opens at the National Gallery of Victoria
Daelim Museum opens the first solo exhibition in Asia by the 'Young Art Star' Coco Capitán
Utopian plastic house known designed by Finnish architect Matti Suuronen celebrates its 50th anniversary


Chen Lu (Taiwan born 1975, arrived Australia 1990), U-P Graphic Design Studio (Australia est 2004), Dream lantern set of three from the Broached Colonial collection 2011. Timber, marblo, glass, brass. Photo: Scottie Cameron © Chen Lu.



MELBOURNE.- Stories of Australian identity and history will be narrated through a rich display of design objects as part of Design Storytellers: The Work of Broached Commissions. From Chen Lu's lantern inspired by the life of female convict Mary Bryant to a free-standing whisky bar designed by Naihan Li in response to the influx of Chinese migrant workers to the goldfields, this exhibition reveals design's ability to engage with Australia's history, mythology and the human condition. Showcasing the work of renowned designers including Charles Wilson, Trent Jansen, Adam Goodrum, Max Lamb, John Warwicker and Ma Yangsong, the exhibition draws from the collection of Broached Commissions, a design production house that commissions designers to produce ambitious and finely ... More



Boy in socks, Part of the series: Bums & Tums, first published in Dust magazine, London, 2017. C-type Print, 72 x 93cm.



SEOUL.- Daelim Museum presents Is It Tomorrow Yet?, the first solo exhibition in Asia by the "Young Art Star," Coco Capitán, whose work has drawn international recognition. Running from August 2, 2018 to January 27, 2019, the exhibition features over 150 artworks spanning across various media including photography, painting, handwriting, video, and installation. Capturing seemingly casual scenes from the world she inhabits, the works presented in the show reveal Capitán's acute sensitivity to the politics of contemporary society, and weave them together into a narrative that examines the relationship between reality and perception as well as beauty and subversion. The exhibition presents Capitán's concerns and endeavors in search of her own identity, both as an artist and as an individual. Her work conveys encouraging words to us all living in the present. ... More



Futuro designed by Finnish architect Matti Suuronen celebrates its 50th anniversary this year.



ESPOO.- The utopian plastic house known as the Futuro designed by Finnish architect Matti Suuronen celebrates its 50th anniversary this year. Back in the day, roughly 100 replicas of this ellipsis-shaped modular construction were assembled to serve as transportable ski cabins and other recreational accommodation. Futuro #001 is owned by the City of Espoo and is currently on display in the outdoor exhibition space of the Exhibition Centre WeeGee in Tapiola district, Espoo, Finland. Over the years, the Futuro has captured the imagination of artists, designers and the public at large all around the world. To celebrate this icon's jubilee year, artist and filmmaker Mika Taanila has been invited to create a new artwork based on the Futuro. Taanila has a special relationship with the Futuro. He directed the documentary Futuro: A New Stance for Tomorrow (1998), and many of his other works similarly reflect on the relationship ... More
Quote
Painting is a way of being. Jackson Pollock
More News
---
A short history of James Cook and his voyages
---
Flashback
On a day like today, English orientalist James Prinsep was born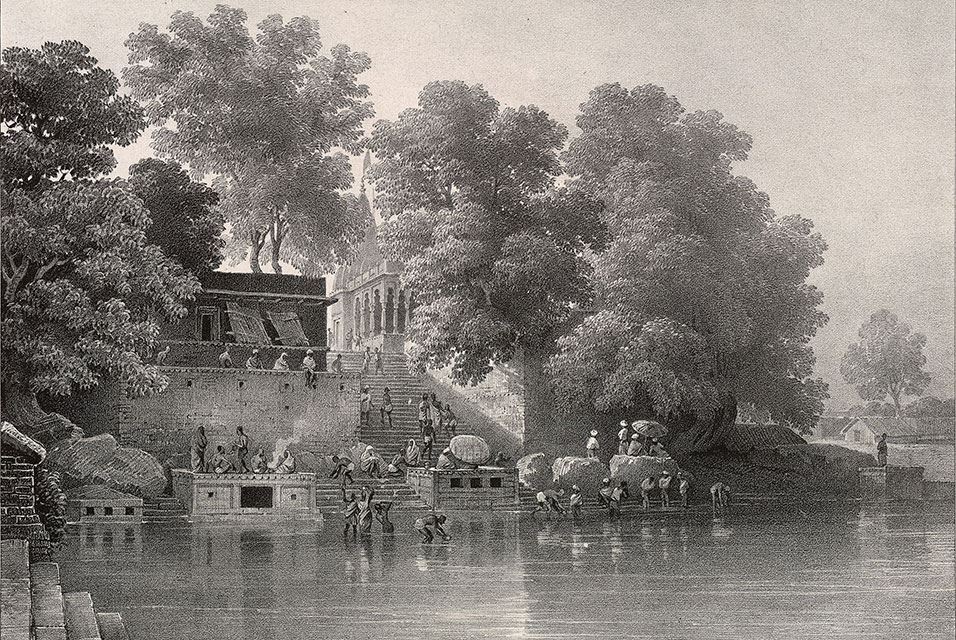 August 20, 1799. James Prinsep (20 August 1799 - 22 April 1840) was an English scholar, orientalist and antiquary. He was the founding editor of the Journal of the Asiatic Society of Bengal and is best remembered for deciphering the Kharosthi and Brahmi scripts of ancient India. In this image: Lithograph of Kupuldhara Tulao, Benares by Prinsep (1834)
---

Museums, Exhibits, Artists, Milestones, Digital Art, Architecture, Photography,
Photographers, Special Photos, Special Reports, Featured Stories, Auctions, Art Fairs,
Anecdotes, Art Quiz, Education, Mythology, 3D Images, Last Week,
.
Royalville Communications, Inc
produces:







Tell a Friend
Dear User, please complete the form below in order to recommend the Artdaily newsletter to someone you know.
Please complete all fields marked *.
Sending Mail

Sending Successful