Andy Warhol and Jean-Michel Basquiat lead Sotheby's Contemporary Sale in London
Oliver Barker fields bids at Sotheby's Evening Sale of Contemporary Art, 28 June 2017. Courtesy Sotheby's.
LONDON
.-
Sotheby's
Evening Auction of Contemporary Art in London this evening exceeded its pre-sale high estimate to total £62,325,750 / $79,783,193 / €70,403,354 – an increase of 20% (GBP) / 15% (USD) on the equivalent sale last year. · 95.1% sold by lot, this was the fifth consecutive Contemporary Art Evening Sale at Sotheby's worldwide with a sell-through rate of over 90%. · An auction record was achieved for British artist Cecily Brown – for the second time this year. · 50% of lots sold for prices above their pre-sale high estimates. · 70% of the works had never previously been offered at auction. · The pre-sale estimates for the sale were £44.3-60.6m / $56.7-77.6m / €50-68.5m. Tonight's total brings combined sales of Contemporary Art so far this season – including the 11 contemporary works sold in last week's 'Actual Size' sale – to £68,751,000 / ...
More
The Best Photos of the Day
Wagner opera proof stars in 1.7m euro Paris auction
MoMA receives $50 million gift from the Steven & Alexandra Cohen Foundation
Large-scale LEGO installation "Trace" and 700-foot graphic works by Ai Weiwei debut at the Hirshhorn


This file photo taken on February 11, 2015 shows French businessman Pierre Berge posing at his office in Paris. STEPHANE DE SAKUTIN / AFP.



PARIS (AFP).- A proof of Richard Wagner's opera "The Mastersingers of Nuremberg", copiously corrected by the composer himself, sold for more than twice its estimate in Paris Tuesday. The book was part of the ongoing auction of fashion magnate Pierre Berge's famous library -- one of the richest in private hands -- which has already raised 17.2 million euros ($19.5 million). Sotheby's said the proof copy of the German composer's comic opera, which at around five hours is the longest commonly performed, went for 124,690 euros. It was among 260 items from the poetry and musical section of the library, which Berge, co-founder of the Yves Saint Laurent label, amassed over the decades. A first edition of the first-known musical encyclopaedia, "Musurgia Universalis", written in Latin in 1650 by the German Jesuit Athanasius Kircher sold for £62,660, a record for the author, a polymath known as the "last Renaissance man". ... More



People walk by the Museum of Modern Art (MoMA) in New York City. Spencer Platt/Getty Images/AFP.



NEW YORK, NY.- The Museum of Modern Art announced today that the Steven & Alexandra Cohen Foundation has made a gift of $50 million in support of the Museum's capital campaign. The unrestricted gift will support the Museum's ongoing renovation and expansion project, which will add 50,000 square feet of gallery space, allowing the Museum to reconceive the presentation of its collection and exhibitions, and will provide greater visitor accessibility through the enhancement of the Museum's public areas. In recognition of their extraordinary generosity, the Museum will create the Steven and Alexandra Cohen Center for Special Exhibitions, MoMA's largest contiguous gallery. Located on the sixth floor, the Cohen Center will present a dynamic exhibition program that draws audiences and artists from around the world. The Center's vast open spaces and adaptable floor plan will enhance the scope and impact of these exhibitions, providin ... More



Ai Weiwei, installation view of Ai Weiwei: Trace at Hirshhorn at the Hirshhorn Museum and Sculpture Garden, 2017. Photo: Cathy Carver.



WASHINGTON, DC.- The Hirshhorn Museum and Sculpture Garden is presenting "Ai Weiwei: Trace at Hirshhorn," a solo project by Ai Weiwei featuring new and recent works by the renowned Chinese artist June 28–Jan. 1, 2018. The presentation marks the East Coast debut of "Trace," one of the artist's most significant U.S. installations in recent years, and features the addition of two graphic wallpapers to accompany the work, one never before seen. Together, the massive installation spans 700 feet around the entirety of the museum's second-floor galleries, responding to the building's unique circular architecture. "Trace" features 176 portraits of people around the world whom the artist considers activists, prisoners of conscience or advocates of free speech. Each of the portraits is made of thousands of plastic LEGO bricks, assembled by hand and laid out on the floor. Originally commissioned in 2014, " ... More
Paddington Bear author Michael Bond dies aged 91
BAMPFA mounts first Bay Area exhibition of work by Ugo Rondinone
Museum Brandhorst offers a fresh, in-depth look at the legacy of Andy Warhol


This file photo taken on November 23, 2014 shows Michael Bond, the creator of Paddington the bear, posing for pictures. JUSTIN TALLIS / AFP.



LONDON (AFP).- British children's writer Michael Bond, the creator of the much-loved character Paddington Bear, has died at the age of 91, his publisher HarperCollins said on Wednesday. Bond's famous series about a friendly teddy bear from "deepest, darkest Peru" sold more than 35 million copies worldwide and was turned into a blockbuster film in 2014. "He was a true gentleman, a bon viveur, the most entertaining company and the most enchanting of writers," Ann-Janine Murtagh, executive publisher at HarperCollins Children's Books, said in a statement. "He will be forever remembered for his creation of the iconic Paddington, with his duffle coat and Wellington boots, which touched my own heart as a child and will live on in the hearts of future generations," she said. The inspiration for the character came on Christmas Eve 1956 when Bond, a writer and BBC cameraman, ... More



gone, 2006. Artificially aged leather clown shoes, wooden nail, and paint. Shoes: 7 7/8 x 17 3/4 x 6 3/4 in. Installed: 39 3/8 x 23 5/8 x 8 7/8 in. ProWinko Pro Art Collection, Amsterdam; courtesy Sadie Coles HQ, London.



BERKELEY, CA.- This summer, the UC Berkeley Art Museum and Pacific Film Archive presents a major exhibition of work by Ugo Rondinone, marking the artist's first solo exhibition in the Bay Area. Ugo Rondinone: the world just makes me laugh showcases some of Rondinone's most celebrated and iconic works, which capture the artist's distinctive blend of colorful whimsy and melancholic undertones. The exhibition centers on an immersive, gallery-wide installation consisting of forty-five life-size sculptures of festively attired clowns. On view from June 28 through August 27, the exhibition features multiple works that highlight Rondinone's interest in the visual iconography of childhood, including four pairs of clown shoes, a series of eight rainbow "sun paintings," a massive lightbulb ... More



Jeff Koons, Amore, 1988. Porzellan, 80 x 50 x 50 cm. Udo und Anette Brandhorst Sammlung © Jeff Koons.



MUNICH.- Andy Warhol (1928–1987) is back at the Museum Brandhorst. Alongside solo exhibitions by Kerstin Brätsch (until 17 September) and Seth Price (starting 21 October 2017), this new exhibit offers a fresh, in-depth look at the legacy of the Pop Art icon. "POP PICTURES PEOPLE" presents around 60 pieces, juxtaposing works by Andy Warhol from the 1960s through the 1980s with those of such artists as Alex Katz (b. 1927), Cady Noland (b. 1956) and Jeff Koons (b. 1955). These collection highlights and several new acquisitions by Michel Auder (b. 1945), Monika Baer (b. 1964), Keith Haring (1958–1990), Louise Lawler (b. 1947), Elaine Sturtevant (1924–2014) and Christopher Wool (b. 1955) – now on show at Museum Brandhorst for the first time – illustrate Pop Art's influence and importance from the 1960s to the present. Mass-produced images from magazines, newspapers, music and television ... More
Arts Minister steps in to prevent rare study from export
Renowned artist Jeff Koons donates artwork to the School of the Art Institute of Chicago
8th edition of Masterpiece London opens


The Schmadribach Waterfall by Joseph Anton Koch.



LONDON.- A drawing of the Schmadribach Waterfall is at risk of being exported from the UK unless a buyer can be found to match the asking price of £68,750. Arts Minister John Glen has placed a temporary export bar on the drawing, by Austrian Romantic artist Joseph Anton Koch, to provide an opportunity to keep it in the country. The preparatory study was made for J.A. Koch's most celebrated composition, The Schmadribach Waterfall near Lauterbrunnen, which is famed for its spectacular scenery. Dating from around 1793, the work is typical of the highly precise studies Koch made for compositions, using black chalk and heightening the contours in black ink. The drawing is an important work by a major figure of early 19th century painting. Koch's depictions of Switzerland were extremely influential and helped to popularise Alpine scenery among European artists. He was especially popular with British ... More



Gazing Ball (Stool), 2013–2016.



CHICAGO, IL.- The School of the Art Institute of Chicago announced that renowned artist and SAIC alum Jeff Koons donated a piece of artwork to the School, which will be sold to establish the Jeff Koons Scholarship Fund. The piece, titled "Gazing Ball (Stool), 2013–2016," is made of polychromed stainless steel, wood, glass and aluminum. Koons' Gazing Ball series has been exhibited among some of history's most famous paintings and sculptures, reinterpreted by the artist. A bright blue bauble was also featured on the cover of Lady Gaga's 2013 album ArtPop. The piece, valued at $1 million, will be sold at a later date. The proceeds from the sale will provide need-based and merit-based scholarships, to be known as Jeff Koons Scholarships, to undergraduate students. Koons' gift will contribute to the more than $46 million raised to date as part of Beautiful/Work: The Campaign for SAIC. Coming off of a year-long celebratio ... More



Steinitz at Masterpiece London 2015.



LONDON.- Masterpiece London announces the exhibitors joining the 2017 edition of the fair, which runs from 29 June - 5 July at the Royal Hospital Chelsea. Bringing together 150 galleries and specialists, Masterpiece launched in 2010 with a unique focus on cross-collecting. Over the past seven years it has established itself as one of the leading international art fairs, attracting approximately 40,000 visitors. Exceptional works offered for sale span Impressionist and modern art, post-war and contemporary art, master paintings from 15th to 18th century, modern and contemporary design, decorative arts, furniture, photography, ethnographic and folk art, antiquities, ceramics, silver, rare books and jewellery. This year Masterpiece London launches MASTERPIECE PRESENTS, a new specially created exhibition space that will transform the Fair's entrance. For the 2017 edition, Masterpiece London will showcase a large-scale site-specific ... More
Exhibition at Proyectos Monclova proposes a review of contemporary formalist aesthetics
Gary Moore guitar achieves 10 times estimate at Bonhams Entertainment sale
Throckmorton Fine Art opens an unusual show of Polaroid images


Leo Marz Monolito, 2017. Acrylic on linen, 60 x 70 cm. Courtesy of PROYECTOSMONCLOVA. Photo: Rodrigo Viñas.



MEXICO CITY.- The exhibition FORMASOBREFONDO proposes a review of contemporary formalist aesthetics. This group exhibition is grounded in the dissolution of the formalism/conceptualism dichotomy. The title is a play on the schematics of modernist visuality of figure and ground, in this sense it is a tautological text in that it illustrates the exhibition's conceptual framework when the letters in the title organize themselves into "formas sobre fondo" [forms on a ground]. Through this wording, the exhibition reveals the thinness of distinction between forms and concepts—abstraction and syntax. As much in philosophical currents as in artistic ones, formalism has been linked to romanticism, the aesthetics of idealism, and the dictum l'art pour l'art [art for art's sake]—coined by Victor Cousin and Edgar Alan Poe—as well as diverse trends in geometric abstraction. ... More



This Fender Floyd Rose Classic Stratocaster sold for £23,750. Photo: Bonhams.



LONDON.- Today, 28 June 2017, saw a 1996 Fender Floyd Rose Classic Stratocaster guitar originally owned by Gary Moore achieve an astonishing £23,750 at Bonhams Entertainment Memorabilia Sale, more than 10 times its pre-sale estimate of £1,800-2,000. Items from the Thin Lizzy rocker's collection made up nearly half of the top lots sold today – the collection had an 100% sell through rate at the sale, totaling £133,000. Top lots included: - 1982 Fender '57 Reissue Stratocaster achieved £22,500 against an estimate of £3,000-5,000 - 2008 Gibson Les Paul Gary Moore/Dark Fire prototype guitar achieved £12,500 against an estimate of £3,000-5,000 - 2012 Gibson Gary Moore 2013 Tribute Les Paul Prototype guitar achieved £10,625 against an estimate of £2,000-2,500. An outstanding range of memorabilia from some of the most celebrated British bands in the world was on offer at the sale, including an important ... More



Bianchi documented the gay community at play in one of the few places where they then could openly be gay men -- Fire Island Pines.



NEW YORK, NY.- Throckmorton Fine Art in New York will present an unusual show of Polaroid images as its summer presentation, from June 29 through September 16. Fire Island Pines: Polaroids 1975-1983, by the celebrated lawyer-turned-artist Tom Bianchi, contains dozens of exuberantly playful and homoerotic SX-70 Polaroid images taken between 1975 and 1983. Bianchi documented the gay community at play in one of the few places where they then could openly be gay men -- Fire Island Pines. The images in the exhibition are color, limited edition, enlarged prints of the Polaroids. The photographs are whimsical and playful. Yet they also harken to the long tradition in art of celebrating the male physique. The Pines is a mile-long sliver of some 600 modest and grand houses on a 36-mile long barrier island 60 miles east of Manhattan along the Long Island ... More
Quote
The image... becomes, as it were, the soul's plastic embodiment. Oskar Kokoshka
More News
---
First Look: Contemporary Living Online
---
Flashback
On a day like today, Swiss painter and illustrator Paul Klee, died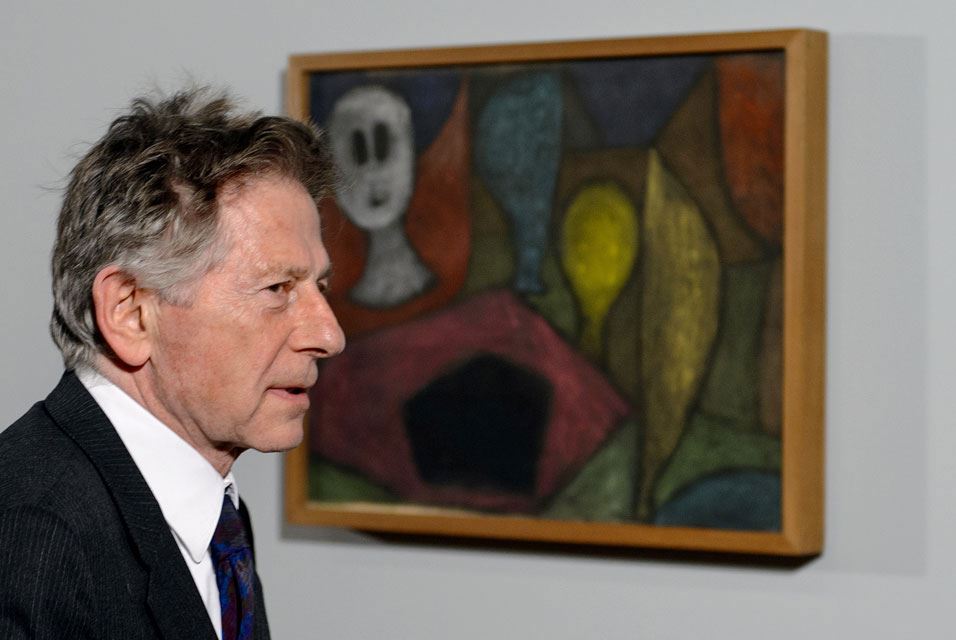 June 29, 1940. Paul Klee (18 December 1879 - 29 June 1940) was a Swiss-German artist. His highly individual style was influenced by movements in art that included Expressionism, Cubism, and Surrealism. He and his colleague, Russian painter Wassily Kandinsky, both taught at the Bauhaus school of art, design and architecture. His works reflect his dry humor and his sometimes childlike perspective, his personal moods and beliefs, and his musicality. In this image: Oscar-winning director Roman Polanski walks past Paul Klee's painting "Untitiled (Angel of death)"
---

Museums, Exhibits, Artists, Milestones, Digital Art, Architecture, Photography,
Photographers, Special Photos, Special Reports, Featured Stories, Auctions, Art Fairs,
Anecdotes, Art Quiz, Education, Mythology, 3D Images, Last Week,
.
Royalville Communications, Inc
produces:







Tell a Friend
Dear User, please complete the form below in order to recommend the Artdaily newsletter to someone you know.
Please complete all fields marked *.
Sending Mail

Sending Successful