National Gallery of Art presents The Dying Gaul: An ancient Roman masterpiece
The sculpture "Dying Gaul," an ancient Roman sculpture after it was unveiled at the National Gallery of Art in Washington, DC on December 12, 2013. Created in the first or second century AD, the Dying Gaul is one of the most renowned works from antiquity. This exhibition marks the first time it has left Italy since 1797, when Napoleonic forces took the sculpture to Paris, where it was displayed at the Louvre until its return to Rome in 1816. The sculpture will be on display from December 12 through March 16, 2014. AFP PHOTO / Karen BLEIER
WASHINGTON, DC
.-
The National Gallery of Art
, Roma Capitale, and the Embassy of Italy in Washington, DC, present one of the most famous works from antiquity, the Dying Gaul, an ancient Roman sculpture created during the first or second century AD, traveling outside of Italy for the first time in more than two centuries. On view from December 12, 2013, through March 16, 2014, The Dying Gaul: An Ancient Roman Masterpiece from the Capitoline Museum, Rome celebrates the marble masterwork and the cultural connections between Italy and the United States. The Dying Gaul portrays a Gallic warrior in his final moments, his face contorted in pain as he falls from a fatal wound to the chest. "We are delighted to share this illustrious work with visitors to the Gallery. A universally acknowledged masterpiece, the Dying Gaul is a deeply moving tribute to the human spirit," said Earl ...
More
The Best Photos of the Day
After exploring the possibility of developing an art fair in China, TEFAF Beijing not viable at the present time
Sales of African, Oceanic & Pre-Columbian Art total $23.4 million at Sotheby's France in 2013
Alte Pinakothek gets new frame for Italian painter Raphael's 'The Canigiani Holy Family'




Looking at jewellery at the stand of Van Gelder Jewellery at TEFAF 2013 Photo: Loraine Bodewes.





HELVOIRT.- In March 2013 TEFAF announced that it had entered into exclusive discussions with Sotheby's to explore the possibility of developing a high-end art fair in China via Sotheby's Joint Venture in Beijing with GeHua. Over the past few months TEFAF, with Sotheby's assistance, was able to develop a detailed proposal for exhibitors to consider, which had the support and co-operation of the Chinese authorities and fulfilled all the local requirements. Although the art market in China is growing rapidly and there is considerable belief in its potential, the feedback from many dealers indicates that the majority feels that exhibiting in mainland China is something that they would consider at a later date. While the interest in and the appetite for Western art is undoubtedly growing, there is a belief that the market for many of the specialisations represented at Maastricht is still evolving. The Executive Committee and the Board o ... More





Figure de reliquaire, Fang, Gabon, haut. 47,5 cm, bois. Estimate: 500,000 - 700,000 EUR. Sold for: 1,441,500 EUR (1,990,553 USD). Photo: Sotheby's.





PARIS.- The African & Oceanic Art Department's final sale of the year yielded €3.7m, to bring total sales in the field at Sotheby's Paris to €17.7 million/$23,4 million for 2013. The year saw Sotheby's – the only auction house to stage specialist sales in Paris and New York – offer an exceptional ensemble in each venue: the Barbier-Mueller Collection of Pre-Columbian Art in Paris, and the Allan Stone Collection of Tribal Art in New York. These collections, alongside works of varied provenance, ensured total sales in Paris/New York of a combined $42.1 million in 2013. This final sale of the year centred on pioneering connoisseurs who made titanic efforts to promote African Art in France and America during the first half of the 20th century. Georges de Miré built up one of the most remarkable collections of African Art in 1920s Paris; it included a Fang maste ... More





Raphael's 'The Canigiani Holy Family' has been on show for a few days now in its new frame.





MUNICH.- Following a considerable amount of artistic craftsmanship – carpentry, carving and gilding – preceded by detailed planning and design work, it's now ready: Raphael's 'The Canigiani Holy Family', a major work from his creative period in Florence , has been on show for a few days now in its new frame. As in the case of most works by Old Master's, the painting's original frame had been lost. In Florence during the Renaissance, altar and devotional pictures were generally surrounded by decorative architectural frames; the large-format devotional image painted by Raphael around 1506 for the merchant Domenico Canigiani of Florence was also probably encased in a so-called tabernacle frame. The masterpiece was a present from the Medici's around 1700 to the Court at Düsseldorf from where it finally made its way to Munich in 1806. An historical frame in the depot of the Alte Pinakothek and original models ... More
National Air and Space Museum anniversary projects span the aerial age to the digital age
J. Paul Getty Museum announces retirement of Scott Schaefer, senior curator of Paintings
Ancient St. Lawrence Island artifact leads Bonhams Native American Art Auction in San Francisco




Wilbur, left, and Orville Wright sit on the porch steps of their Dayton, Ohio, home in June 1909. Photo: Courtesy of Smithsonian's National Air and Space Museum.





WASHINGTON, DC.- On Dec. 17, 2003, America looked back a century to celebrate the first successful flight of a powered airplane. Ten years after the Centennial of Flight, Orville and Wilbur Wright's achievement at Kitty Hawk is still inspiring creativity and provoking discussion. In time for this year's anniversary, the Smithsonian's National Air and Space Museum is introducing 21st-century projects that relate to the brothers and their 1903 Flyer, one of the Smithsonian's most iconic artifacts, and shining a light on its popular exhibition, "The Wright Brothers & The Invention of the Aerial Age." The exhibition, which opened in conjunction with the centennial and features the Flyer as its centerpiece, reveals how two seemingly ordinary people accomplished a feat that eluded others. Wilbur (1867-1912) and Orville (1871-1948) Wright's creative process and inventive method are presented in comprehensive ... More





Over the course of his career at the Getty, he contributed greatly to the growth of the Paintings collection.





LOS ANGELES, CA.- Timothy Potts, director of the J. Paul Getty Museum, announced today that Scott Schaefer, the Museum's senior curator of Paintings since 1999, will retire on January 21, 2014. Schaefer joined the Museum in February 1999, following a distinguished career at Sotheby's, Los Angeles County Museum of Art, the Museum of Fine Arts in Boston, the Fogg Museum at Harvard, and the Philadelphia Museum of Art, among others. Over the course of his career at the Getty, he contributed greatly to the growth of the Paintings collection, adding a total of 70 paintings and pastels, plus five sculptures during his four-year oversight of that department. "Through his acquisitions, Scott has made an impact on every one of the Museum's paintings galleries and, in particular, transformed our eighteenth-century French collection," said Potts in announcing Schaefer's retirement. "We will miss his discerning ... More



A magnificent and important Okvik Eskimo ivory head, 200 BC-100 AD. Length 3in.
Sold for $197,000. Photo: Courtesy of Bonhams.



SAN FRANCISCO, CA.- The Native American Art auction at Bonhams, December 9 in San Francisco, brought $2.1 million. Leading the sale was an important Okvik Eskimo carved fossilized walrus ivory human female head, 200 BC-100 AD, that achieved $197,000. A second rare and important Okvik Eskimo ivory head, that of a man, and also dating to 200 BC–100 AD, brought $87,500. These phenomenal art objects were consigned by two St. Lawrence Island families who discovered them where their ancestors left them 2,000 years ago. Apart from these, weavings stood out as the major strength of the sale. From the Hicks Family collection of Okla., were classic Navajo examples, including a manta that realized $125,000 (est. $80,000-120,000), a third phase variant chief's blanket that claimed $100,000 (est. $40,000-60,000) and a second phase chief's blanket that took in $93,750. Other Navajo highlights included a classical sarape that drew in ... More
New Director for the Kunstgewerbemuseum of the Staatliche Kunstsammlungen Dresden
Koller Auctions in Zurich closes December auctions with seven results in the millions
Vintage and modern black and white photographs by Roxanne Lowit on view at Steven Kasher Gallery




Tulga Beyerle (b. 1964) studied Industrial Design at the University of Applied Arts in Vienna.





DRESDEN.- Tulga Beyerle is to be the new Director of the Kunstgewerbemuseum [Museum of Decorative Arts] in Schloss Pillnitz, where she will head one of the leading museums of regional and international applied arts. In response to the appointment, Hartwig Fischer, Director General of the SKD, declared, 'I am particularly pleased to welcome Tulga Beyerle as the new Director of the Kunstgewerbemuseum of the Staatliche Kunstsammlungen Dresden. In Ms Beyerle we are gaining a outstandingly competent, highly regarded figure in the field of design history. We are sure that she will apply her considerable wealth of experience to great effect in Dresden, and that under her leadership the Kunstgewerbemuseum will develop dynamically over the coming years.' Tulga Beyerle (b. 1964) studied Industrial Design at the University of Applied Arts in Vienna. She has curated exhibitions for the Museums of ... More





Albert Anker, Drei Mädchen beim Kränzewinden. 1868. Oil on canvas. Signed: Anker. 65,5x51 cm. Sold for CHF 1,86 Mio.





ZURICH.- With an outstanding result of CHF 3.45 million for «St. Tropez. La ville et les pins» Koller honoured the pointillist Paul Signac on his 150th Birthday. At their Swiss art auction four of five works by Albert Anker could be sold for over a million Swiss Francs each. The newly launched auctions for PostWar & Contemporary brought a top result for James Rosenquist with CHF 572 000. "This is a very special painting. I would have loved to keep it myself," Cyril Koller says about the work of Paul Signac. Two ambitious private collectors struggled on the telephone, after bidders in the room dropped out of the bidding contest, in CHF 50 000 steps to the top result of CHF 3.45 million. Koller achieved further results in the millions in the field of classical Modern art with the paintings of Claude Monet and Pierre-Auguste Renoir. The beach view "Pourville près Dieppe" by Claude Monet was bought by a British ... More





Kate Moss, Paris, 1994. ©Roxanne Lowit, courtesy Steven Kasher Gallery, New York.





NEW YORK, NY.- Steven Kasher Gallery welcomes Roxanne Lowit among its represented artists with the exhibition Roxanne Lowit: Be Fabulous. This mini-retrospective includes over 40 vintage and modern black and white photographs and over 20 large-scale color photographs. Roxanne Lowit is a premier photographer of the strange world of the rich, famous and beautiful. Her work provides the most in-depth coverage of backstage fashion over the last four decades. In the 1970s and 80s, Lowit was one of the first fashion photographers allowed entrée behind the scenes, elevating the snapshot to high art with her candid realism. She has amassed an archive of over 200,000 negatives and color slides taken at hundreds of fashion events in Paris, New York, Milan, and London. Due to her great fascination with what she calls "people with magic," Lowit is our era's chronicler of the fabulous. Karl Lagerfeld calls Lowit ... More

Chemould Prescott Road celebrates 50 years of art with third of five exhibitions curated by Geeta Kapur
Jewels celebrating the lives of The Duke and Duchess of Windsor soar above estimate
New Director of Artes Mundi reveals shortlist for the UK's biggest contemporary art prize




Phantomata - L.N.Tallur - Display view.





MUMBAI.- There are phantoms in the gallery. These are persons, ghosts, machines. That is to say, there are performative photographs, slow-time videos, objects and apparatus that work or make you work to known and unknown ends. Phantoms manoeuvre the uncanny, and artists are eager for such enchantment. Phantoms may be shape-shifting devils; they can be intimate, reclusive, diligent. They may be tormented by mythical decree; they also act out surveillance, trigger counterfeit wars. Phantoms are of course our own compulsive projections and almost all cultures translate these into trickster 'machines' – automaton or automata – tuned to perform real and absurd tasks. There are civilizational legends and continued production of automata through the ages. In our time they appear as robots, cyborgs. Phantom and Automata make up the eccentric fabrication: Phantomata. A monumental photograph condenses Nikhil Chopra's five-day 'pilgrimage' where the artist, dressed in a ... More





Sapphire and diamond bracelet, Cartier, circa 1945. Est. £ 130,000-180,000/ € 153,000-211,000/ US$ 211,000-292,000. Sold for £230,500 (€274,503/ $377,697). Photo: Sotheby's.





LONDON.- Today a fascinating group of jewels and precious objects celebrating the lives and tastes of the Duke and the Duchess of Windsor soared above estimate, selling for £620,125 ($1,016,137) at Sotheby's London (est. £351,500-506,700/ $575,968-830,279). The majority of the pieces were presented some 26 years after they were last auctioned in the legendary sale of "The Jewels of the Duchess of Windsor" at Sotheby's Geneva*. Speaking after the sale, Bryony Meredith, Head of Sotheby's London Jewellery Department said: "Today's results show the longstanding fascination for the Duke and Duchess of Windsor, their lives, their lifestyle and their exceptional taste. On the rare occasions when they have surfaced on the market in the last 30 years, jewels from their collection have consistently set new benchmarks and today was no ... More





Ragnar Kjartansson. Photo: Nielsen Omvik.





CARDIFF.- The shortlist for the sixth Artes Mundi Prize was announced today (12 December 2013) by Karen MacKinnon, Artes Mundi's new Director & Curator. It includes outstanding artists from eight countries: Carlos Bunga (Portugal), Karen Mirza and Brad Butler (UK), Omer Fast (Israel), Theaster Gates (USA), Sanja Iveković (Croatia), Ragnar Kjartansson (Iceland), Sharon Lockhart (USA), Renata Lucas (Brazil), Renzo Martens (The Netherlands). Two invited selectors, Adam Budak, an independent curator currently based in Washington and Sabine Schaschl, Director and Curator of Museum Haus Konstruktiv, Zurich, reviewed 800 nominations from 70 countries before choosing the shortlist. They particularly looked for artists whose work explores and comments on the human condition and lived experience. This year's shortlist is a diverse selection of international artists spanning different generations and ... More
Quote
Perhaps some day everyone will have neurosis. Vincent van Gogh
More News
---
| | | |
| --- | --- | --- |
| | | The Fashion World of Jean Paul Gaultier |
---
---
Flashback
On a day like today, Canadian artist Emily Carr, was born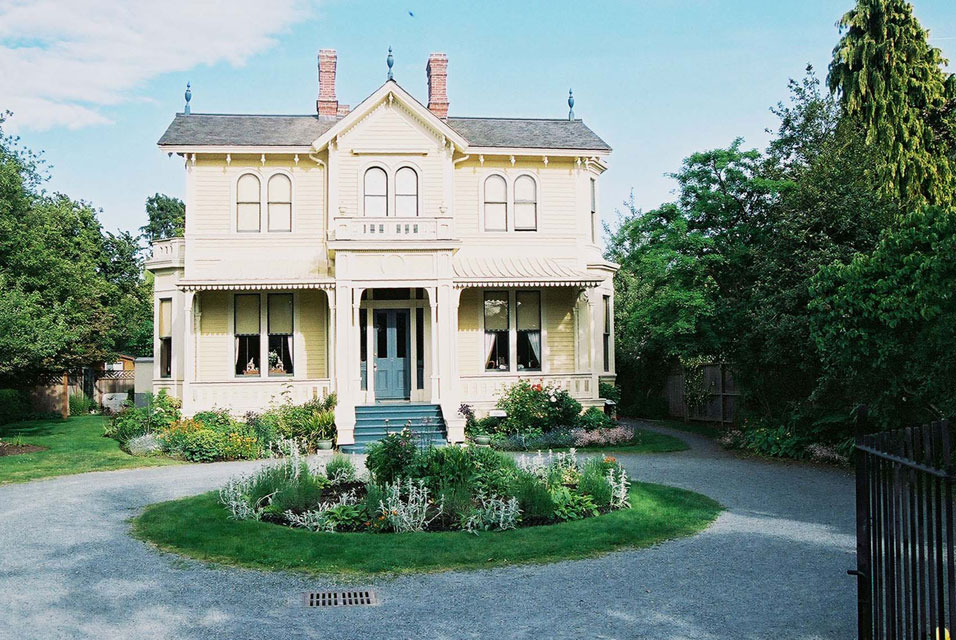 December 13, 1871.- Emily Carr (December 13, 1871 – March 2, 1945) was a Canadian artist and writer heavily inspired by the indigenous peoples of the Pacific Northwest Coast. One of the first painters in Canada to adopt a modernist and post-impressionist painting style, Carr did not receive widespread recognition for her work until later in her life. As she matured, the subject matter of her painting shifted from aboriginal themes to landscapes, and in particular, forest scenes. As a writer, Carr was one of the earliest chroniclers of life in British Columbia. The Canadian Encyclopedia describes her as a "Canadian icon". In this image: This home once owned by early 20th century poet and artist Emily Carr is seen in the James Bay section in Victoria, Canada, May, 2006. James Bay section is one of Vancouver Island's oldest residential neighborhoods, featuring restored Victorian and Queen Anne-style homes.
---

Museums, Exhibits, Artists, Milestones, Digital Art, Architecture, Photography,
Photographers, Special Photos, Special Reports, Featured Stories, Auctions, Art Fairs,
Anecdotes, Art Quiz, Education, Mythology, 3D Images, Last Week,
.
Royalville Communications, Inc
produces: