Exhibition at the Vero Beach Museum of Art features Pre-Raphaelite masterpieces
Dante Gabriel Rossetti, Proserpine, 1881–82 (detail). Oil on canvas, 39 9/16 x 24 3/16 in. Presented by the Trustees of the Public Picture Gallery Fund, 1927 © Birmingham Museums Trust. Courtesy American Federation of Arts.
VERO BEACH, FLA
.-
The Vero Beach Museum of Art
is presenting Victorian Radicals: From the Pre-Raphaelites to the Arts & Crafts Movement, an exhibition organized by the American Federation of Arts and Birmingham Museums Trust, on view February 9 – May 5, 2019. In the second half of the nineteenth-century, three generations of artists and designers revolutionized the visual arts in Britain by engaging with and challenging the new industrial world around them. The Pre-Raphaelite Brotherhood and the champions of the Arts & Crafts Movement offered a radical artistic and social vision that found inspiration in the pre-industrial past and came to deeply influence visual culture in Britain and beyond. Drawn from the outstanding collection of the city of Birmingham, United Kingdom, Victorian Radicals: From the Pre-Raphaelites to the Arts & Crafts Movement brings together an extensive array of works—many of which have never been exhibited outs ...
More
The Best Photos of the Day
The Estate of Eduardo Chillida will reopen Chillida Leku
Solo exhibition of the legendary American Minimalist Dan Flavin opens at Cardi Gallery Milan
Major UK sculpture project launches online


Eduardo Chillida, Lotura XXXII (Weathered Steel, 1998) ©Zabalaga Leku. San Sebastián, VEGAP, 2019. Estate of Eduardo Chillida and Hauser & Wirth. Photo Courtesy Iñigo Santiago.



SAN SEBASTIÁN.- Chillida Leku will open its doors to the public on Wednesday 17th April, inviting audiences to experience this important cultural site in the Basque Country. The museum, comprising a sculpture park and exhibition space inside a converted sixteenth century farmhouse, was founded by Eduardo Chillida in 2000. It has been open by appointment only since 2011. The inaugural exhibition, entitled Eduardo Chillida. Echoes, features works from throughout Chillida's career dating from the late 1940s through to 2000. Curated by the sculptor's son Ignacio Chillida and the museum's research team, the exhibition provides insights into the artist's creative development, his use of materials and the evolution of his ideas throughout his lifetime. Works in iron, corten steel, granite, plaster and paper will be exhibited ... More



Dan Flavin, Untitled (to Anne), 1987. Daylight, cool white, and warm white fluorescent light. Height 244 cm, height 96 1/8 in. Edition 4 of 5.



MILAN.- Cardi Gallery Milan is presenting a solo exhibition of the legendary American Minimalist Dan Flavin. The exhibition is organized in collaboration with the Estate of Dan Flavin and is accompanied by a fully illustrated catalogue that includes an essay by the esteemed Italian art critic Germano Celant. The American artist Dan Flavin (1933–1996) is internationally renowned for his installations and sculptural works made exclusively of commercially available fluorescent light. The exhibition at Cardi Gallery Milan will feature fourteen light works from the late 1960s through the 1990s that show the evolution over four decades of the artist's investigations into notions of colour, light and sculptural space. In the summer of 1961, while working as a guard at the American Museum of Natural History in New York, Flavin started to make sketches for sculptures that incorporated ... More



Unknown artist, Benin Head with Headdress. Photo: Towner.



LONDON.- Today sees the launch of Art UK's unique sculpture project. The first thousand sculptures are now available online, free of charge, to people in the UK and all over the globe via www.artuk.org. An estimated 150,000 more will follow by the end of 2020. These first images, and their associated digital records, form part of the largest sculpture cataloguing project ever undertaken in the UK. Most sculptures in the national collection have never been photographed before. By the project's conclusion, the UK will become the first country in the world to create a free-to-access online photographic showcase of its publicly owned sculpture, for everyone's enjoyment, learning and research. Seeing the nation's sculpture collection online will prompt a re-examination of some of the burning issues affecting society today, raising complex questions. Why are there so few sculptures of women, and what is being done to redress the ... More
Folk musician Peter Tork of Monkees fame dies at 77
The birth of modern business: Christie's to auction Pacioli's Summa de arithmetica
Bank Austria Kunstforum Wien opens exhibition dedicated to female positions in Art Brut


In this file photo taken on June 1, 2016, musician Peter Tork of The Monkees performs in New York City. Matthew Eisman / GETTY IMAGES NORTH AMERICA / AFP.



NEW YORK (AFP).- Peter Tork, the offbeat folk artist who found fame with 1960s pop band the Monkees, has died, his team announced Thursday. He was 77 years old. "It is with beyond-heavy and broken hearts that we share the devastating news that our friend, mentor, teacher, and amazing soul, Peter Tork, has passed from this world," the team posted on his official Facebook page, without specifying a cause of death. The musician in 2009 had been diagnosed with adenoid cystic carcinoma, a rare form of cancer that affected his tongue. "There are no words right now...heart broken over the loss of my Monkee brother," tweeted drummer-singer Micky Dolenz, one of the band's two surviving members. ... More



Luca Pacioli (1447-1517). Somma di arithmetica, geometria, proporzioni e proporzionalità. Venice: Paganinus de Paganinis, November 1494. Estimate: $1,000,000 – 1,500,000. © Christie's Images Ltd 2019.



NEW YORK, NY.- Christie's announced the auction of Luca Pacioli's Summa de arithmetica as a single-lot auction titled Summa de Arithmetica: The Birth of Modern Business directly preceding the Fine Books & Printed Manuscripts sale on 12 June 2019 at Christie's New York (estimate: $1,000,000-1,500,000). Pacioli's book, published in 1494, codified the mathematical foundations of our modern and technological world. It includes mathematics, computing, and is the first published description of double-entry book-keeping. Pacioli was among the earliest to recognize the study of economics as a liberal art and this work is the first practical how-to book on succeeding in business. The Summa ... More



Installation view.



VIENNA.- "Flying High" is the first exhibition that is devoted "globally" to female positions in Art Brut produced from 1860 until the present. The exhibition "flies high" in every sense: it has gathered together 316 works by 93 women artists from 21 countries, which in many aspects of content and aesthetics challenge our idea of what art is. The exhibition adopts the term Art Brut – "raw art or outsider art" – defined by Jean Dubuffet in 1945 as starting point for the primordial, non-academic art produced outside the cultural mainstream. The diversity and heterogeneity of the works being presented in the Bank Austria Kunstforum Wien demonstrate clearly that the scope of the Art Brut concept today has over time encompassed far more than works of the mentally ill; it also includes the production of "mediumistic" (spiritualist) women ... More
Christie's announces highlights included in its mid-season Contemporary Auctions in New York
Los Angeles Modern Auctions sets new world auction records by Noland, Eversley, Ruscha, and Haring
Exhibition of paintings is a visual history of Jörg Immendorff's career


Cecily Brown (b. 1969), The Park in the Dark (detail), signed and dated 'Cecily Brown 2012' (on the reverse), oil on linen, 23 x 31 in. (58.4 x 78.7 cm.) Painted in 2012. Estimate: $400,000-600,000. © Christie's Images Ltd 2019.



NEW YORK, NY.- Christie's will present three contemporary sales this February in New York, Contemporary Edition on 27 February, Post-War to Present on 28 February, and the online only sale, On Paper, which will run 20 - 26 February. Combined, the sales will encompass 500 lots, which span from emerging artists to established masters with estimates ranging from $700 to $1,000,000. The works will be on view and open to the public in Christie's New York galleries beginning 23 February though 28 February. Coinciding with the Contemporary Edition Sale, is the online-only auction Matisse on Paper: Prints and Drawings from the Estate of Jacquelyn Miller Matisse running 21 February through 1 March. The Contemporary Edition auction features over 150 lots from classic Post-War prints by artists such as Roy Lichtenstein and Andy Warhol, to emerging contemporary ... More



Kenneth Noland, Songs: Yesterdays. Lot 197. Est.: $100,000-150,000. Realized $550,000.



LOS ANGELES, CA.- Los Angeles Modern Auctions held another record-breaking auction of fine art, furniture, and design on Sunday, February 17, 2019 at their Van Nuys, California showroom. Along with several new world auction records for Kenneth Noland, Fred Eversley, Ed Ruscha, and Keith Haring, the auction was among the company's best results to date, with 81% sold by lot. While the value exceeded 166% of the expected pre-auction value, the average lot prices hit $22,670 per item, which was also a company record. Several important works of art by American artists surpassed expectations and set new records, including a painting by Kenneth Noland which soared to $550,000 against a pre-auction expected range of $100,000-150,000. The price paid for this example is now the highest ever achieved at auction for a work from this series, and also the highest for any of his work from this period (the 1980s and 1990s). The previous record ($407,251) was se ... More



So...Besuch bei einem Künstler (So…Visit to an Artist), 1976. Acrylic on canvas, 78 3/4 x 59 inches, 200 x 150 cm. Image: Courtesy Michael Werner Gallery, New York and London.



NEW YORK, NY.- Michael Werner Gallery, New York is presenting Jörg Immendorff: Questions from a Painter Who Reads. This exhibition of paintings is a visual history of one of the most important artists to emerge from post-war Germany and spans four decades of the artist's career from 1974 to 2007. Jörg Immendorff (1945-2007) is known for an oeuvre that challenged both artistic and political establishments, all with a particular focus on the role of the artist in contemporary society and within history at large. The title of this exhibition, taken from a 1980 painting, recalls a 1935 poem by Bertolt Brecht called "Questions from a Worker Who Reads," which asks if ancient victories were the result of a single hero or a legion of unacknowledged supporters. The exhibition begins in the 1970s, when Immendorff grew disillusioned with politics and increasingly dissatisfied with his role as an artist and sought to produce ... More
Exhibition at Mitchell-Innes & Nash celebrates the work of Nancy Graves
Swann Galleries' spring offering of early printed books comes across the block for NYC's Rare Book Week
Exhibition at David Zwirner examines the mind and career of R. Crumb


Untitled #127 (Drawing of the Moon), circa 1972. Watercolor, gouache and pencil on paper, 30 by 22 1/2 in. 76.2 by 57.2 cm. © 2019 Nancy Graves Foundation, Inc / Licensed by VAGA at ARS, New York. Courtesy of the Nancy Graves Foundation and Mitchell-Innes & Nash, New York.



NEW YORK, NY.- Mitchell-Innes & Nash is presenting an exhibition celebrating the work of Nancy Graves, one of the key figures of post-war art. Titled Mapping, this exhibition is timed to coincide with the 50th anniversary of the first manned mission to land on the Moon, a subject Graves explored as part of her artistic and conceptual investigation of maps. This exhibition provides an in-depth look at this aspect of her art; one that she returned to throughout her career. The exhibition is accompanied by a fully illustrated catalogue with an essay by Robert Storr, curator of the Museum of Modern Art's pioneering 1994 group show of the same name, which included Graves as one of the thirty artists whose work highlighted cartography as both source material and inspiration. Focusing ... More



Pietro Carrera, Il Gioco de gli Scacchi, first edition, Militello, 1617. Estimate $4,000 to $6,000



NEW YORK, NY.- Early manuscripts, incunabula and post-incunabula lead Swann Galleries' sale of Early Printed, Medical, Scientific & Travel Books on March 7. Illuminated manuscripts make an impression with a Prayer Book in Latin and French on vellum, France, 1530s-40s, featuring 20 large and 15 smaller miniature illustrations in color and gold. The prayer book was possibly executed for a Benedictine abbess shown in one of the miniatures, and leads the sale with an estimate of $20,000 to $30,000. Additional decorated works include a mid-fifteenth-century Book of Hours in Latin on vellum, France, with full floral borders surrounding each of 12 miniatures, and a mid-fifteenth-century Book of Hours in Dutch on vellum, Northern Netherlands, (Estimate: $15,000-20,000 and $8,00-12,000, respectively). Science and medical publications include first editions of George Agricola's most important writings on geology, mineralogy and mining, and ... More



Page from R. Crumb, Sketchbook, 1979-1981 © Robert Crumb, 1979-1981. Courtesy the artist, Paul Morris and David Zwirner.




NEW YORK, NY.- David Zwirner is presenting an exhibition organized by Robert Storr that examines the mind and career of R. Crumb. The exhibition features a wide array of printed matter culled from the artist's archive: tear sheets of drawings and comics, taken directly from the publications where the works first appeared, as well as related ephemera. These often fragile works on paper have been installed across the walls of the gallery's 519 West 19th Street space in New York. Further illuminating Crumb's practice, the show also features a selection of rare sketchbooks and original drawings by the artist. Instrumental in the formation of the underground comics scene in the 1960s and 1970s, Crumb has helped challenge and expand the boundaries of the graphic arts and redefined comics and cartoons as countercultural art forms. Widely circulated, often celebrated, ... More
Quote
William Blake is damned good to steal from! Henry Fuseli
More News
---
HOW TO SEE | The Academy Awards
---
Flashback
On a day like today, American painter and curator Rembrandt Peale was born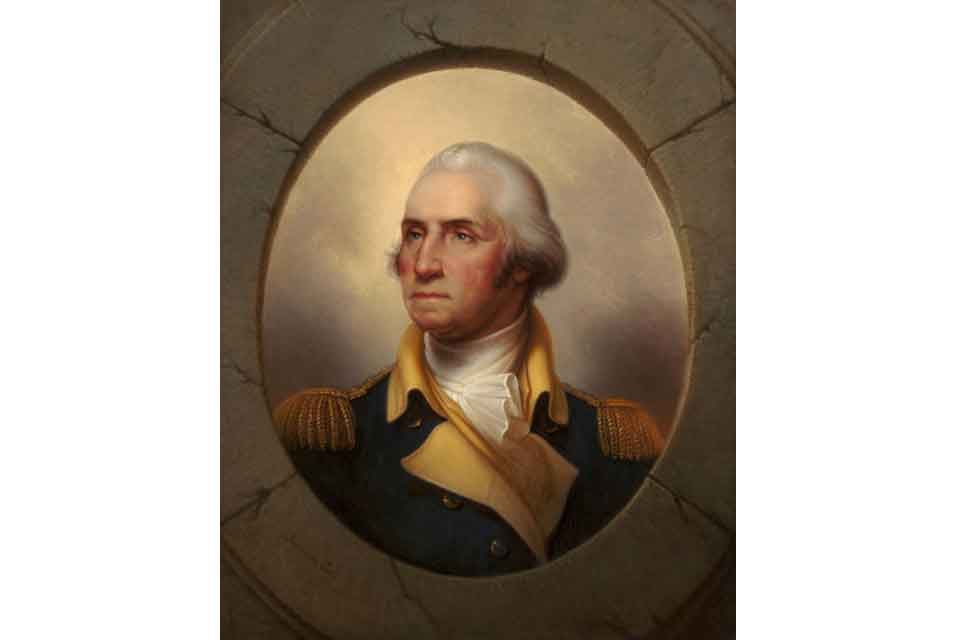 February 22, 1778. Rembrandt Peale (February 22, 1778 - October 3, 1860) was an American artist and museum keeper. A prolific portrait painter, he was especially acclaimed for his likenesses of presidents George Washington and Thomas Jefferson. Peale's style was influenced by French Neoclassicism after a stay in Paris in his early thirties. In this image: Rembrandt Peale (American, 1778-1860), George Washington, circa 1856. Oil on canvas, 36-1/2 x 29 in.
---

Museums, Exhibits, Artists, Milestones, Digital Art, Architecture, Photography,
Photographers, Special Photos, Special Reports, Featured Stories, Auctions, Art Fairs,
Anecdotes, Art Quiz, Education, Mythology, 3D Images, Last Week,
.
Royalville Communications, Inc
produces:







Tell a Friend
Dear User, please complete the form below in order to recommend the Artdaily newsletter to someone you know.
Please complete all fields marked *.
Sending Mail

Sending Successful