National Gallery of Canada opens first-ever exhibition devoted to portraits by Gauguin
Paul Gauguin, Portrait of Madame Roulin, 1888 (detail). Oil on canvas, 50.5 × 63.5 cm. Saint Louis Art Museum. Funds given by Mrs. Mark C. Steinberg (5:1959).
OTTAWA
.-
From May 24 to September 8, 2019, the
National Gallery of Canada
presents Gauguin: Portraits, offering the opportunity to see the work of French artist Paul Gauguin (1848 – 1903) from a unique perspective, bringing new insights into his vision of portraiture. Gauguin's work has been the subject of many exhibitions, but Gauguin: Portraits is the first exhibition dedicated to his portraiture. One of the most important and fascinating artists of the nineteenth century, Gauguin expanded the traditional practice of portraiture in groundbreaking ways and had a fundamental influence on the art of the 20th and the 21st centuries. The exhibition highlights the way in which the artist used self-portraits and portraits of others to construct his own narrative, express himself and his ideas about art, and to pursue his ambitions as a leader of the avant-garde in Paris. Gauguin challenged the traditional functions of portraiture, giving ...
More
The Best Photos of the Day
Dorit Margreiter transforms mumok exhibition space into an artistic installation
JR's large-scale digital mural capturing a portrait of San Francisco presented in museum's free public space
Gallery Wendi Norris opens 'Leonora Carrington: The Story of the Last Egg'


Dorit Margreiter Mirror Maze, 2019. 2-channel video installation. Color, silent, 10 min each, loop Videostill © Dorit Margreiter.



VIENNA.- Dorit Margreiter's artistic interest is motivated by the correlations between visual systems and spatial structures as well as the consequences of these correlations in our daily social lives. At the heart of her explorations lie modern and contemporary architectures and various forms of media representation. For years, Dorit Margreiter has been investigating the relation between history and the present and that between reality, representation, and fiction. In so doing, she pays particular attention to gender roles and to popular and artistic displays. Film has a special place in this endeavor. For her solo exhibition at mumok, Dorit Margreiter transformed the entire exhibition space in an artistic installation involving display and architectural components, films, mobiles, and photographs. A central element of the installation is a new filmic work that was shot in a hall of mirrors ... More



JR and Roberto de Angelis at work in San Francisco, 2018; photo: Camille Pajot, courtesy JR-art.net



SAN FRANCISCO, CA.- TED Prize winner, Oscar nominee and one of Time's 100 most influential people of 2018, French artist JR began tagging buildings in Paris as a teenager. Eventually shifting from graffiti to photo-based work after finding a camera in the Paris Metro, JR is known for creating large-scale portraits that he pastes on buildings, streets, rooftops, trains and trucks, in projects that have taken him around the world. The artist's first major digital installation in California, an animated mural entitled The Chronicles of San Francisco opened at the San Francisco Museum of Modern Art on May 23, 2019 in the museum's free-to-visit Roberts Family Gallery. "For several years I have been contemplating how the work of a contemporary artist who started in the streets might be brought into our galleries," said Neal Benezra, Helen and Charles Schwab Director of SFMOMA. "From 1930, when our founding director, Grace McCann ... More



Quería ser pájaro, 1960. Oil on canvas, 47 x 35 1/2 inches. © Estate of Leonora Carrington / Artists Rights Society (ARS), New York.



NEW YORK, NY.- In its first New York exhibition since changing its gallery model from a single location in San Francisco to mounting exhibitions all over the world, Gallery Wendi Norris presents Leonora Carrington: The Story of the Last Egg. At a time when art historians and the market are re-examining the role of women in the story of Modern art, this landmark exhibition invites a new, more contemporary examination of Leonora Carrington and her legacy. Assembling more than 20 paintings and six sculptures by the British-born Mexican-exile, Leonora Carrington: The Story of the Last Egg displays the artistic and literary imagination of one of Modern art's most original voices. The exhibition includes paintings and sculpture from the 1940s to the 1970s, and culminates with a display of six masks she made for her unrealized play, Opus Siniestrus: The Story of the Last Egg. The magical tragi- ... More
Ethiopian multidisciplinary artist Elias Sime exhibits works at James Cohan
Galerie Nathalie Obadia opens Shahpour Pouyan's second solo exhibition in Paris
Sotheby's & RM Sotheby's exceed expectations with first online only collector car auction


Elias Sime, Tightrope: Noiseless 16, 2019. Reclaimed electrical wires and components on panel, 100 x 77 in. © Elias Sime. Image courtesy the artist and James Cohan, New York.



NEW YORK, NY.- James Cohan is presenting NOISELESS, an exhibition of new work by Elias Sime, at the gallery's Chelsea location from April 27 through June 29. NOISELESS is Sime's third solo exhibition at James Cohan. Ethiopian multidisciplinary artist Elias Sime creates intricate, wall-mounted works on a monumental scale from discarded technological components—including salvaged motherboards and electrical wires—that have traveled from far-reaching locations across the globe to his hometown of Addis Ababa. Sime meticulously weaves, layers and assembles these found materials into abstract compositions. Sometimes his idea dictates the material, while other times the material dictates the idea. Sime titles this body of work "Tightropes," in reference to the precision and discipline required to walk across a tightrope, as well as the tenuous balance ... More



Untitled, 2019. Glazed ceramic, phosphorescent pigment and cement, 101/4 x 51/8 x 423/32 inches. Courtesy of the artist and Galerie Nathalie Obadia Paris/Brussels Photo: Bertrand Huet/tutti image.



PARIS.- Galerie Nathalie Obadia is presenting After examining the logbook, the doctors assume they are dealing with the plague, Shahpour Pouyan's second solo exhibition in Paris after the gallery's first show dedicated to the artist in 2017. Considered as one of the most important Iranian artists in the contemporary scene, Shahpour Pouyan reflects on notions of power and domination in his multi-facetted and poetic oeuvre, articulating various influences from Persian culture, historical symbols and contemporary socio-political issues. Through an ensemble of recent miniatures and ceramics, Shahpour Pouyan proposes a dialogue between the mediums of painting and sculpture, poeticism and functionality, and the elements of water and light. In this project, the artist continues his practice of using history and tradition in conversation with the present ... More



The series kicked off on 10 May with a beautifully restored 1967 Austin-Healey 3000 Mk III BJ8. Courtesy RM Sotheby's.



NEW YORK, NY.- Sotheby's and RM Sotheby's launched a new series of online-only, single-lot automobile auctions with the sale of a 1967 Austin-Healey 3000 MKIII BJ8 for a final $92,000 in the first Online Only collector car auction ending on 23 May. Offered without reserve, the Austin-Healey well-surpassed its pre-sale estimate of $60,000-$70,000. Offered through Sotheby's newly developed digital auction platform, the car drew strong global bidding activity from day one of the nearly two-week auction. Beautifully restored by marque specialists and fully sorted, the numbers-matching Austin-Healey joins its new owner presented in its original combination of Ivory White over black, true to the way it left the factory, save for a couple of tasteful modifications. Sotheby's and RM Sotheby's continue the Online Only collector car auction series with a 2005 Porsche 911 Turbo S Cabriolet, now live at ... More
Blain│Southern opens first exhibition with Los Angeles-based artist, Enrique Martínez Celaya
Exhibition of black and white prints by British-based photographer Chris Simpson opens at Atlas Gallery
Former manager of Marvel's Stan Lee arrested for elder abuse


Enrique Martinez Celaya, The Second Sign, 2019 (detail). Courtesy the artist and Blain│Southern. Photo: Jeff McLane.



(LONDON).- Blain|Southern is presenting The Mariner's Meadow, the gallery's first exhibition with Los Angeles-based artist, Enrique Martínez Celaya. Here in sixteen new, previously unseen, paintings Martínez Celaya focusses on the sea, a recurring motif in his work, and its relation to the subconscious. Although the paintings betray Martínez Celaya's island upbringing and his deep and lasting interest in literature, they elude any specific biographical or narrative interpretation. Despite leaving the Caribbean in 1982, the sea has remained with Martínez Celaya as a 'stowaway'. 'The sea', he writes, 'was the end of all paths and the edge of all comings and goings, the reference point for conversations, and the all-absorbing witness of a history of colonialism and longing.' In this new body of work, Martínez Celaya considers the sea as an accomplice and judge of ... More



Chris Simpson, Allee des Baobabs - Madagascar, 1997 (detail).



LONDON.- Atlas Gallery is presenting a selection of black and white prints by British-based photographer Chris Simpson. The photographs, selected from his book, Carnet de Voyage, are works Simpson made during his years travelling the globe from 1987 to 2008. His images distil the visual essence of people and places in Australia, California, Mauritius, Cuba, Mali, England, Namibia, Madagascar, New Zealand, Argentina. With each photograph, the viewer is immersed in an exquisite landscape or comes face to face with the character of an individual in images of timeless freshness, grandeur and vitality. The pared back quality of Simpson's photographs is the hallmark of his work. The strong lines, high contrast, clean cut almost austere compositions lend his subject matter a gravity that addresses the power of the natural landscape. Simpson's ability to create compositional tension ... More



Fans leave tributes on Stan Lee's star on the Hollywood Walk of Fame shortly after the news that the Marvel founder died aged 95 was made public on November 12, 2018 in Los Angeles, California. Gabriel Olsen/Getty Images/AFP.



LOS ANGELES (AFP).- Late Marvel Comics legend Stan Lee's former manager was arrested in Arizona on Saturday in connection with allegations of elder abuse, fraud, theft and false imprisonment, Los Angeles police said. Keya Morgan "will go before a judge and eventually (be) extradited to Los Angeles to face charges," according to a statement released by the Los Angeles Police Department. Lee, who revolutionized pop culture as the co-creator of iconic superheroes such as Spider-Man and Black Panther, died last November at the age of 95 after suffering multiple illnesses over the years, and had been the victim in an elder abuse investigation that began in March 2018. His former attorney, Tom Lallas, last year sought a restraining ... More
Over the Influence opens Flagrant Foul: An exhibition of new works by Devin Troy Strother
Diop makes history as first black woman to win big at Cannes
Largest solo presentation of Ericka Beckman's work to date opens at the MIT List Visual Arts Center


Devin Troy Strother, Photo: Monica Nouwens.



HONG KONG.- Over the Influence is presenting Flagrant Foul, a major new exhibition of Los Angeles-based artist Devin Troy Strother in Hong Kong. Flagrant Foul opened on May 23 and runs until June 28, 2019. Southern California-native and multidisciplinary artist Devin Troy Strother hasn't been able to avoid discussing race and its prominent role in American life. As a black kid growing up in a predominantly white neighborhood in the 1980s, Strother had a much different experience with his black identity than generations before him. Strother found that it was nearly impossible to be a black artist and not make work that was interpreted as being about the black experience; so he chose to celebrate black culture with comedy rather than take the more heavy-handed approach of some of the most well-known black American artists such as Kara Walker or Glen Ligon. Strother's work acknowledges the foundation of "American Culture" in t ... More



French actress and film director Mati Diop poses during a photocall with her trophy after she won the Grand Prix for her film "Atlantics (Atlantique)" on May 25, 2019 during the closing ceremony of the 72nd edition of the Cannes Film Festival in Cannes, southern France. LOIC VENANCE / AFP.



CANNES (AFP).- The first black women director ever to compete for the top prize at Cannes in its 72-year history took its second prize Grand Prix Saturday for her haunting ghost story about African migrants. Mati Diop, 36, grew up in France and belongs to a Senegalese artistic dynasty that includes her uncle, acclaimed director Djibril Diop Mambety, and her father, musician Wasis Diop. She told AFP after the red-carpet premiere of "Atlantics" that it was while she was making a short film in Senegal a decade ago that she began to wrestle with the tragic push-and-pull factors leading Africans to flee the continent. "I was spending time in Dakar at the time and was struck by the complex and sensitive realities of the phenomenon we called at ... More



Ericka Beckman: Double Reverse opened at MIT List Visual Arts Center.



CAMBRIDGE, MASS.- The MIT List Visual Arts Center is presenting Ericka Beckman: Double Reverse, on view from May 24-July 28, 2019. With selected films spanning over thirty years of Beckman's career, this is the largest solo presentation of the artist's work to date at a US institution. Since the mid-1970s, Ericka Beckman (b. 1951, United States; lives and works in New York and Boston) has forged a signature visual language in film, video, installation, and photography. Often shot against black, spatially ambiguous backdrops, her moving image works are structured according to the logic of child's play, games, folklore, or fairy tales, and populated by archetypical characters and toy-like props in bright, primary colors. Throughout her work, Beckman engages profound questions of gender, role-playing, competition, power, and control. The four films comprising this tightly focused survey underscore ... More
Quote
I do not literally paint that table, but the emotion it produces upon me. Henri Matisse
---
The African Treasures of Legendary Dealer Marceau Rivičre
---
Flashback
On a day like today, French painter Georges Rouault was born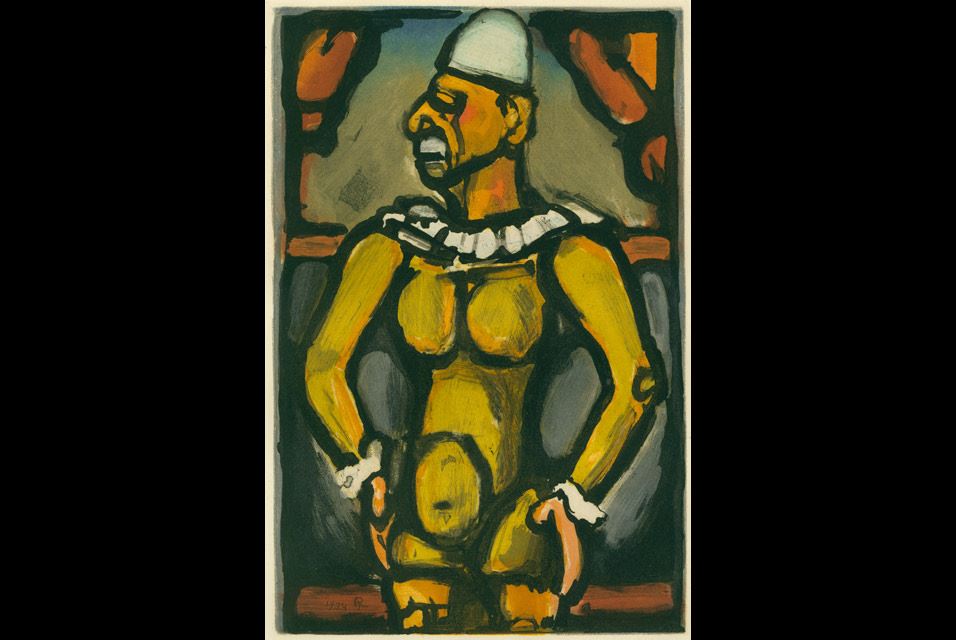 May 27, 1871. Georges Henri Rouault (27 May 1871, Paris - 13 February 1958) was a French painter, draughtsman, and printer, whose work is often associated with Fauvism and Expressionism. In this image: Georges Rouault (French 1871-1958), Tristes Os, 1934. Color etching and aquatint wove paper, 12 1/4" x 7 7/8". SUAC 1975.22.08
---

Museums, Exhibits, Artists, Milestones, Digital Art, Architecture, Photography,
Photographers, Special Photos, Special Reports, Featured Stories, Auctions, Art Fairs,
Anecdotes, Art Quiz, Education, Mythology, 3D Images, Last Week,
.
Royalville Communications, Inc
produces: