Dutch scientists use smell to recreate JFK, Princess Diana and other famous deaths
A visitor is pulled out after testing one of the "Famous Deaths" installations in Breda on November 25, 2014. With odors and sounds that last about five minutes, the dark coffin-like installation that consists of a cabinet often used in mortuaries, narrates the last moments of US president John Fitzgerald Kennedy (1963), Princess Diana (1997), Libyan dictator Moamer Kadhafi (2011) and US singer Whitney Houston (2012). AFP PHOTO / NICOLAS DELAUNAY.

By: Nicolas Delaunay
BREDA
.-
Dutch scientists are recreating the deaths of some of the world's most famous personalities by reconstructing their last moments using scents and sounds. From the sweet smell of Jacqueline Kennedy's perfume mingled with the scent of John F. Kennedy's blood to Whitney Houston's last drug-fuelled moments in a Beverly Hills bathtub, scientists at Breda university say they offer visitors a unique, if somewhat macabre, historical snapshot. "We all have seen the images of JFK's assassination, but what did it smell like?" asks Frederik Duerinck, from the communication and multimedia design faculty of Breda's Avans university of applied sciences. To find out, visitors with a sense of the morbid are invited to lie in a series of four silver metal boxes similar to those found in a morgue. The boxes, which are pitch-dark inside, are rigged with pipes leading to bottles containing pressurised smells. A soundtrack is played and on queue different scents are released into the box to recreate a speci ...
More
The Best Photos of the Day
Important paintings by Mattia Preti and Gilbert Stuart acquired by the Virginia Museum of Fine Arts
British government posts 41 million wills; Including Princess Diana, A. A. Milne, and George Orwell
Santa Barbara Museum of Art is only West Coast venue for exhibition of Glasgow Museums' Italian holdings




Gilbert Stuart (American, 1755-1828), Portrait of Rebecca White Pickering (Mrs. Timothy Pickering), 1817-18, oil on wood. J. Harwood and Louise B. Cochrane Fund for American Art.





RICHMOND, VA.- Two important paintings, one by 17th-century Italian painter Mattia Preti and the other by 19th-century American portraitist Gilbert Stuart, have been acquired by the Virginia Museum of Fine Arts and are on view in the galleries in time for the holidays. The Visitation is an exceptional religious scene by the Baroque master Mattia Preti, whose work illustrates the realistic tendencies perfected by fellow Italian artist, Caravaggio (Michelangelo Merisi). Preti is generally described as the last great exponent of Caravaggesque naturalism, and here he revels in the tenderness of the scene unlike the coarse treatments of some of his counterparts. Especially appropriate to the Christmas season, this painting depicts the meeting of the Virgin Mary and her cousin Elizabeth, the first episode in the life ... More





Previously the archives had only been publicly available to search in person.





LONDON (AFP).- Some 41 million British wills dating back to 1858, including those of Winston Churchill and Princess Diana, were made available in an online database Saturday. The government's full archive of wills from England and Wales, stretching back more than 150 years, has been put on the probatesearch.service.gov.uk website. It includes the wills of World War II prime minister Churchill; novelist Charles Dickens; Diana, princess of Wales; children's writer A. A. Milne; code-breaker Alan Turing; writer George Orwell and author Beatrix Potter. The digital copies of the wills cost £10 ($15.50, 12.75 euros) but basic details for some of them are available online. "This fascinating project provides us with insights into the ordinary and extraordinary people who helped shape this country, and the rest of the world," said Courts Minister Shailesh Vara. "It is a fantastic resource not ... More





Giovanni Bellini, Virgin and Child, ca. 1480–85. Tempera and oil on panel, 24 1/2 x 18 1/4 in. (62.3 x 46.2 cm). Glasgow Museums; Bequeathed by Mrs. John Graham-Gilbert, 1877 (575). © CSG CIC Glasgow Museums Collection, Courtesy American Federation of Arts.





SANTA BARBARA, CA.- This beautiful and important exhibition explores the evolution of Italian art and reflects the outstanding quality and remarkable 500-year range—from the late 14th to the 19th centuries—of the Glasgow Museums' Italian holdings. Included are works by some of the greatest masters of the Italian Renaissance and Baroque periods, such as Giovanni Bellini, Sandro Botticelli, Domenichino, Francesco Guardi, Salvator Rosa, Luca Signorelli, and Titian, many of which have never before been exhibited outside Glasgow. Several have been newly restored for the exhibition, among them, the southern Italian Adoration of the Magi by the unknown artist known as the Master of the Glasgow Adoration. This ... More
American monotypes from the Baker/Pisano Collection on view at the Chazen Museum of Art
British photographer Jane Bown who snapped royalty and rockstars for The Observer dies
Two gifts in one: Joachim von Sandrart's 'Mystic Marriage' on view at Kunsthistorisches Museum




Red Grooms (American b. 1937), Corot, n.d., color monoprint, Chazen Museum of Art, gift of D. Frederick Baker from the Baker/Pisano Collection, 2014.6.7.





MADISON, WI.- American Monotypes from the Baker/Pisano Collection is an exhibition of unique prints from the permanent collections of the Chazen Museum of Art and the Heckscher Museum of Art in Huntington, NY; all gifts from the Baker-Pisano Collection. The exhibition's 56 monotype prints span the twentieth century and include work by Georgia O'Keeffe, Mary Cassatt, Red Grooms, Maurice Prendergast, and William Merritt Chase. A monotype is literally unique. While the goal of printmaking—whether intaglio, relief, silkscreen, or lithograph—is to create a number of identical impressions, monotype creates a single, unrepeatable impression. A monotype is created by painting or drawing with pigment on a plate (copper, zinc, Plexiglas, or any impermeable surface), which is then printed using a printing press or other printing technique. Monotypes possess a spontaneous, painterly quality with a combination ... More





Jane Bown, Self-Portrait. © Jane Bown/The Observer.





LONDON (AFP).- British photographer Jane Bown, who captured Samuel Beckett, John Lennon and Queen Elizabeth II in iconic black and white portraits, has died aged 89, her former employer The Observer reported on Sunday. The newspaper employed Bown in 1949, and she came to the office each week for over half a century, continuing to work with 35mm film and becoming part of the "DNA" of the newspaper, according to editor John Mulholland. "She produced some of the most memorable and insightful images of prominent cultural and political figures taken during the 20th century," Mulholland said. "Her beautifully observed pictures have become part of our cultural landscape." Her first assignment for the newspaper was to capture the philosopher Bertrand Russell at breakfast in 1949, a task which reportedly "terrified" her. She went on to capture French writer Jean Cocteau, US actor and director Orson Welles, The Beatles, Rolling Stones frontman Mick Jagger, singer Bjork, and Queen Elizabeth II on her 80th birth ... More





Joachim von Sandrart, Mystical Marriage of Saint Catherine with Saints Leopold and William. 1647/49, Maplewood. Inv.no. GG 1117 © KHM.





VIENNA.- To commemorate the 400th birthday of Archduke Leopold William (1614-1662), the founder of the Picture Gallery, the Kunsthistorisches Museum is showcasing a small panel dedicated to him by Joachim von Sandrart (Frankfurt/Main 1606 – 1688 Nuremberg), the celebrated German painter and writer on art. In many ways this is a highly sophisticated and exceptional present: unusually, the panel is painted both on the ob- and the reverse, combining two different genres – one depicts a religious scene, the other is a trompe l'œil still life. In a complex play on illusion and reality, Sandrart elevates the back of the painting to its subject matter, offering a virtuoso rendering of the actual support (a wooden panel) augmented by a painted joint and a (painted) piece of parchment – apparently attached with sealing wax – bearing the work's dedication to the Archduke. In the course of his life Sandrart worked in a nu ... More
Robert Indiana and American pop exhibitions on display at the Allentown Art Museum
New paper based on museum collections identifies virus that is devastating sea stars on Pacific Coast
The CAC Málaga presents the first solo exhibition in Spain of Adrian Ghenie's work




Roy Lichtenstein (1923–1997), Sweet Dreams, Baby!, 1965, serigraph on wove paper. Allentown Art Museum of the Lehigh Valley, gift of Ralph S. Hughes, 1982 © Estate of Roy Lichtenstein.





ALLENTOWN, PA.- In anticipation of hosting the special exhibition Robert Indiana from A to Z, curators at the Allentown Art Museum of the Lehigh Valley went into the vault to select a medley of complementary Pop hits from the Museum's permanent collection. American Pop: The Prints features works on paper by some of the most recognizable names in Pop Art, including Indiana, Roy Lichtenstein, Andy Warhol, Jasper Johns, James Rosenquist, Larry Rivers, Mel Ramos, Ed Ruscha, and Robert Rauschenberg. Two additional Pop works are on loan from the Martin Art Gallery at nearby Muhlenberg College. American Pop is on display in Trexler Hall and Fowler Gallery during the same period as Indiana: from October 12, 2014, to January 25, 2015. Pop artists, inspired by the look of advertisements, cartoons, road signs, and other overly familiar objects, were interested in the mass-produced, the ... More





Specimens from the Natural History Museum of Los Angeles County have helped explain the mysteriously sudden appearance of a disease.





LOS ANGELES, CA.- Museum biological collections are the records of life on Earth and as such, they are frequently used to investigate serious environmental issues. When public health officials were concerned about the levels of mercury in fish and birds, for example, scientists studied museum specimens to assess historical changes in mercury contamination. Eggs in museum collections were analyzed to establish the connection between DDT, thinning eggshells, and the decline in bird populations. And now, specimens from the Natural History Museum of Los Angeles County have helped explain the mysteriously sudden appearance of a disease that has decimated sea stars on the North American Pacific Coast. In a paper published in the journal Proceedings of the National Academy of Sciences, Cornell University microbiologist Ian Hewson and colleagues identify the Sea Star Associated Densovirus (SSaDV) virus as the ... More





The CAC Málaga is now offering the first presentation of the work of this Rumanian artist in Spain.





MALAGA.- The Centro de Arte Contemporáneo de Málaga is presenting the first solo exhibition in a Spanish museum on the work of Adrian Ghenie. Curated by Fernando Francés, it includes around 30 large and small format paintings and is the most significant exhibition on Ghenie in a European museum to date. The artist's work conveys an atmosphere comparable to that of film, which is one of his principal sources of inspiration, while other references include different episodes in European history, particularly that of the 20th century, for which Ghenie makes use of archives and old books. Ghenie interprets the Cold War, World War II and leading personalities from those periods from his unique and distinctive viewpoint, introducing and making use of psychoanalytical and autobiographical elements. Adrian Ghenie currently lives and works in Cluj (Rumania) and Berlin (Germany). "For me the issue is how to create a painting that offers us the in ... More
Van Gogh Museum's 'Touch Van Gogh' app for tablets wins two international awards
Exhibition at the Phillips Collection in Washington pays tribute to art collector Anita Reiner
Syndicat national des Antiquaires announces new annual antiques and art fair for Paris starting April 2015




The app is designed for tablets and uses multi-touch functions to enable users the playfully discover information that is hidden in and underneath the paint.





AMSTERDAM.- The app 'Touch Van Gogh' is the winner of the World Summit Award Mobile in the 'm-Tourism & Culture' category and has been awarded 'Gold' in the 'Best App' category of the International Design and Communication Award (IDCA). The international competition World Summit Awards takes place every two years and focuses on the selection and promotion of apps that are most innovative and offer the most excellent interactive content. Herman van Oorschot, international expert on behalf of the World Summit Award Mobile, states that the Touch Van Gogh app has successfully past a critical test: "We selected four apps from the Netherlands that can compete on an international platform. After the 18 members of the jury from 18 countries of all the continents came to their decision, Touch Van Gogh was selected as one of the five winners in the m-Tourism & Culture ... More





Anselm Kiefer, Dein blondes Haar, Margarete, 1981 (detail). Gift from the Family of Anita Reiner in her Memory.





WASHINGTON, DC.- This exhibition pays tribute to Anita Reiner, one of Washington's most passionate contemporary art collectors, who passed away on August 15, 2013. A serendipitous encounter at The Phillips Collection in the early years of her quest to learn about modern art was instrumental in shaping the open-minded attitude that ultimately guided her collecting philosophy. Following a visit to the newly installed paintings by Mark Rothko, she replied indifferently to an elderly gentleman's inquiry about her response to the work. The stranger—who she subsequently learned was museum founder Duncan Phillips—countered, "Young lady, you always have to meet new art half way." She never forgot those words. At the center of the exhibition is Anselm Kiefer's Dein blondes Haar, Margarete (Your golden Hair, Marguerite) (1981), a recent gift to The Phillips ... More





Lo Spagnoletto, St James the Younger. Photo: Courtesy of Ana Chiclana.





PARIS.- The SNA (Syndicat national des Antiquaires) has announced an exciting new annual art and antiques fair for Paris. Paris Beaux-Arts will represent a new departure from the capital's existing fairs in that it will mix all categories – from classic art, drawings, sculpture, jewellery and furniture to modern and contemporary art – and all eras. Aiming to attract a new, younger public, the fair will fill a gap in the market for French and international dealers and collectors. The SNA will continue to run the Biennale at the Grand Palais in parallel with the new event. Paris Beaux-Arts will take place in the prestigious Carrousel du Louvre in the heart of the French capital, with some 80 dealers, both French and international, taking stands. Those already announced include the following Paris galleries: Steinitz; De Jonckheere, specialist in Flemish painting; Dumonteil; Berès; Taménaga; De Bayser; Univers du Bronze; Clau ... More
Quote
If you were to show Raphael a Daumier he would admire it. Edgar Degas
More News
---
Object Lessons: Revisiting the '70s with Warhol
---
---
Flashback
On a day like today, German astronomer Johannes Kepler, was born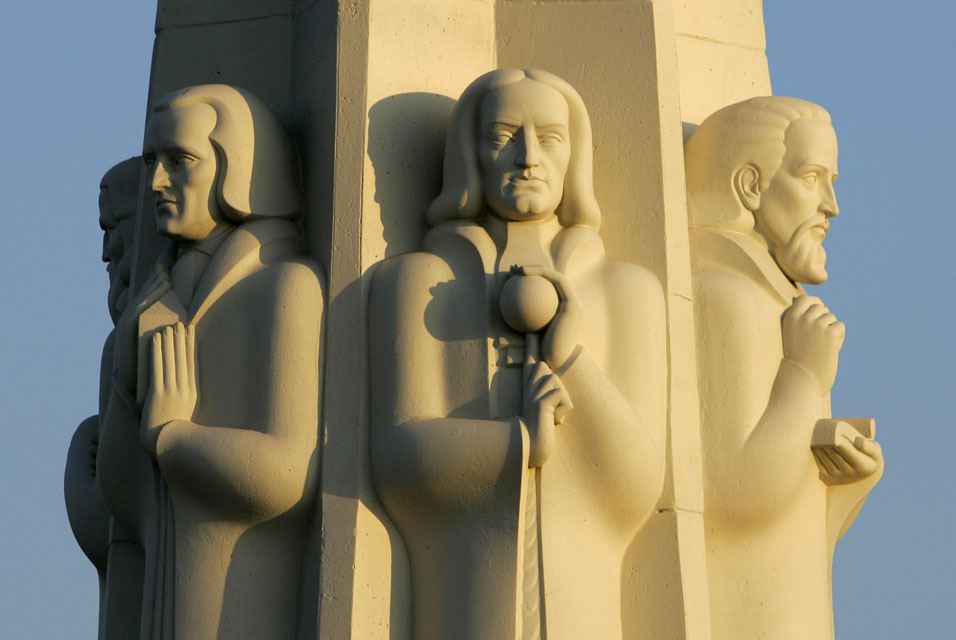 December 27, 1571. Johannes Kepler (December 27, 1571 - November 15, 1630) was a German mathematician, astronomer and astrologer. A key figure in the 17th century scientific revolution, he is best known for his eponymous laws of planetary motion, codified by later astronomers, based on his works Astronomia nova, Harmonices Mundi, and Epitome of Copernican Astronomy. These works also provided one of the foundations for Isaac Newton's theory of universal gravitation. In this image: A monument that sits in front of the Griffith Observatory shows British astronomer Sir William Herschel, left, Sir Isaac Newton, center and German astronomer Johannes Kepler at the Observatory's re-opening gala, Sunday night, Oct. 29, 2006, in Los Angeles.
---
---

Museums, Exhibits, Artists, Milestones, Digital Art, Architecture, Photography,
Photographers, Special Photos, Special Reports, Featured Stories, Auctions, Art Fairs,
Anecdotes, Art Quiz, Education, Mythology, 3D Images, Last Week,
.
Royalville Communications, Inc
produces: