Richard III's new visitor centre on the site where his remains were discovered opens
A replica of the skeleton of King Richard III, created using 3D printing, is displayed in the new visitor's centre on the site where his remains were discovered, in Leicester, central England, on July 24, 2014. The centre tells the story of his rise to power, his death in battle and the discovery of his bones, as well as raising questions on how his disability should be portrayed in theatre and film. Exhibits include a remarkably detailed facial reconstruction, and a replica of Richard's skeleton that clearly shows his curved spine, as well as his battle injuries, including the fatal blow. Opened on July 26, 2014, the centre hopes to attract up to 100,000 visitors in it's first year. AFP PHOTO/Leon Neal.

By: Anne Laure Mondesert
LONDON
(AFP)
.-
The grave of King Richard III, immortalised by Shakespeare as one of history's great villains, was opened up to the public on Saturday in central England. The remains of the infamous ruler were found in 2012 under a car park in the city of Leicester. Around a hundred visitors were on hand to watch city mayor Peter Soulsby cut the ribbon on the £4 million ($6.8 million, 5 million euro) new visitor centre at the discovery site. Early arrivals at the building, in an abandoned school close to Richard's grave, were able to examine a replica of his skeleton made using a 3D printer. One floor guides visitors through the epic story of the king's life and brutal death in the 1485 Battle of Bosworth that ended the War of the Roses, the 32-year conflict between two rival branches of the royal House of Plantagenet. Another tells of the momentous and painstaking work carried out by ...
More
The Best Photos of the Day
Ukraine rebels go to the museum: To steal World War II tanks and two howitzers
Childhood 'behaviour book' reveals the conduct of the future Queen Victoria, aged 12
Jewish museums in Norway close after imminent terrorist attack by jihadists coming from Syria




A Ukrainian serviceman inspects an unexploded missile of the type of salvo fire used by pro-Russian militants against Ukrainian forces. AFP PHOTO/ GENYA SAVILOV.





DONETSK (AFP).- Visiting a museum may be the last thing on the minds of hardened insurgents in east Ukraine, but a group of them turned up at one in Donetsk -- only to make off with a World War II tank and two howitzers. "They had written authorisation to take them away," said a bewildered guard from his sentry post outside the immense World War II museum in the insurgent-held city. "They loaded them into a big truck. They took the tank that was least damaged. I think they're going to use them to fight," he said, refusing to give his name. When an AFP journalist visited the museum Friday there were still markings on the ground from where the separatist fighters had revved up their vintage loot and made off. A father and son -- the only visitors to the normally bustling complex -- gaped on in disbelief. "Can you believe it? They're even stealing ... More





Princess Elizabeth and Princess Margaret on a rocking horse, August 1932. Royal Collection Trust / © Her Majesty Queen Elizabeth II 2014.





LONDON.- Often 'very good', occasionally 'rather impertinent' and sometimes 'very naughty' – all descriptions of 12-year-old Queen Victoria from a previously unseen 'behaviour book', one of over 100 items from 250 years of royal childhood that went on display this month at the Summer Opening of Buckingham Palace (26 July – 28 September 2014). Written in Princess Victoria's own hand, probably under the command of her German governess, Baroness Lehzen, the behaviour book records the 12-year-old's daily conduct, ranging from 'very good' to 'very naughty'. It reveals that although the Princess was largely well behaved, like any child she was occasionally mischievous and broke the rules. Among the many 'goods' and 'very goods' in the week of 3 November 1831, the young Princess also notes that she had been 'very thoughtless and foolish' and 'impertinent'. The ... More





The Jewish Museum in Oslo has closed to the public, because of a possible terror attack by jihadists returning from Syria. AFP PHOTO / NTB SCANPIX / AUDUN BRAASTAD.





OSLO (AFP).- Jewish museums in Norway remained closed to the public on Friday, the day after Norway stepped up security as it announced a possible imminent terrorist attack by jihadists coming from Syria. The Jewish community seems like a probable target for Islamist militants who have fought in the war-torn country, as underscored by the deadly attack on Brussels' Jewish Museum in May. "We are closed until Sunday," Oslo Jewish Museum education head Vidar Paulsen told AFP. "It's a preventive measure we're taking in light of the shooting in Brussels." The museum should reopen on Tuesday, since it is usually closed on Mondays. "That's what is expected for now. We will decide later," Paulsen added. According to Norwegian news agency NTB, the Jewish Museum of Trondheim, in western Norway, will also remain closed until ... More
Museo Reina Sofia shows largest retrospective held to date of the work of Richard Hamilton
Fragile adolescent beauty: Vee Speers photographs on view at Galerie Huit, Arles
NYPL explores the American home front in new exhibition commemorating the 100th anniversary of World War I




Richard Hamilton, Dieter Roth, 1993. 75 x 75 cm. Private Collection.





MADRID.- Madrid is hosting the largest retrospective held to date on the British artist Richard Hamilton. The exhibition, organized by the Reina Sofía, was designed specifically for the Madrid museum by Hamilton himself, who became directly involved with the work when he visited the city in the early months of 2010. The exhibition on view at the Museo Reina Sofía includes some 270 works created in the course of more than sixty years (1949 to 2011), and shows both the extraordinary variety of media, techniques and genres that characterizes Hamilton's production, and the importance, influence and relevance of his revolutionary work. It is curated by Vicente Todolí and Paul Schimmel. This is the last project in which this pioneer of Pop Art and prophet of postmodernism was directly involved before his death in September 2011. A large part of the show – about 160 works was on ... More





Vee Speers eternalizes this moment of fragile adolescent beauty.





ARLES.- A young, bare-chested sailor, his hands in the pockets of his white pants. His skin is smooth, pale, perfect. The nose is straight, the lips flush. Underneath the cap, his hair is short, black, strong. He is looking to the East; life lies before him. His beauty is unfathomable, sublime because it will last but an instant – a few months, maybe a few hours. Vee Speers eternalizes this moment of fragile adolescent beauty. She photographs the time before first loss, the time of childhood. She captures this in the bodies and faces. And she creates a world layered upon a world, of characters upon children who are no longer children. She dresses, styles, costumes, sometimes masks them. (...) Each and every one, in their manner and in their costume, is invincible. Each and every one holds the reins, dictates the rules. All is done. Certainly, Vee Speers has already photographed this band of heroes and ... More





"I Didn't Raise My Boy to Be a Soldier." Music by Al Piantadosi; lyrics by Alfred Bryan. New York: Leo Feist, 1915. The New York Public Library, Music Division.





NEW YORK, NY.- The "war to end all wars" may have been fought on foreign soil, but a fierce battle raged in the United States as well, as the nation's citizens and leaders vigorously debated the country's relationship with the conflict. The New York Public Library's new free exhibition, Over Here: WWI and the Fight for the American Mind, explores this home front debate and examines the manner in which public relations, propaganda, and mass media — including the relatively new technologies of motion pictures and recorded sound — were used to influence and shape Americans' opinions about the war. The exhibition opens in the Sue and Edgar Wachenheim III Gallery of the Stephen A. Schwarzman Building on July 28 — exactly 100 years after Austria-Hungary declared war on Serbia, sparking the Great War and heated discussions within the ... More
Vivid landscapes highlight Bonhams California and Western Paintings Auction
Unique handmade jewellery by Esther Brinkmann on view at Chemould Prescott Road
Museum exhibitions feature Chicago architecture, illustrate political expression




Alson Skinner Clark (1876-1949), The locks at Panama. Oil on canvas, overall: 62 3/4 x 49 3/4in. Painted in 1913. Estimate: $70,000-100,000. Photo: Courtesy of Bonhams.





LOS ANGELES, CA.- Bonhams celebrates summer with a top quality offering of landscape works in its California and Western Paintings & Sculpture Auction on August 5 at Sunset Boulevard and simulcast with its San Francisco saleroom. William Wendt's "Vibrant Coast (Dana Point)," recently exhibited at a prestigious museum, is on offer for an estimate of $150,000-200,000. Wendt captures the California coastline in his most emblematic and recognized style, showcasing the vibrancy of the Pacific tides breaking upon the rocky shoreline of Dana Point near Laguna Beach. From the coast to the mountains, the diverse California landscape was an endless source of visual appeal, particularly for Edgar Payne, the poet-painter of the Sierras. His work entitled "Mount Alice" (estimate $50,000-70,000) was inspired by the numerous trips he ... More





Esther Brinkmann, Fragments of Flowers, 2014. Double ring. Enamel on gold 916.





MUMBAI.- Esther Brinkmann (b) 1953, the Swiss born celebrated jewellery designer will showcase her new works in the exhibition Renewable Pleasures: The India Chapter, at Chemould Prescott Road, Mumbai, India, this July 28, 2014. The exhibition presenting unique handmade neckpieces, rings and brooches complimented in precious material, will run until August 23, 2014. Professionally trained in Geneva, Esther's latest solo exhibitions include, East West - DONG XI, Feigallery, Guangzhou, 2010 Clouds and other dreams of Jewels, GOELIA 225 Space, Guangzhou, 2009, Not for your body only, Feigallery, Guangzhou, 2008. Her works have been presented in Entfesselt – Schmuck ohne Grenzen, Museum Bellerive, Zurich, CH, 2012, Décor, Design et Industrie, les arts appliqués à Genève, Musée d'Art et d'Histoire, Genève, CH, 2010/11, from hand to hand, mudac, Museum of contemporary design and art, Lausanne, CH, 2008. From ... More





Using modified IKEA products, the Linear Accelerator by Jeff Carter was built using an electric motor and light fixtures. Image courtesy of Jeff Carter.





CHICAGO, IL.- DePaul Art Museum features a selection of works from the museum's permanent collection, as well as sculptures in the form of architectural models based roughly on former Chicago structures in two exhibitions that opened in July. Drawing on DePaul's own collection, this exhibition surveys a wide range of political expression, touching on racial prejudice, immigration issues and opposition to war. It includes Diego Rivera's painting of the Mexican Revolution; John Wilson's searing "Down by the Riverside," a suite of etchings about slavery; and Gerda Meyer Bernstein's powerful installation of "The Justice Chair." Also included in this exhibition is a seldom-seen portfolio of prints by Chicago artists protesting the Vietnam War. Although the works vary widely in subject, scale and medium, the artists share the conviction that visual images can help to bring about social chan ... More
Parrish Platform features nine ecologically inspired works by Maya Lin
'The Great War: Printmakers of World War I' opens at the Virginia Museum of Fine Arts
Design Museum Holon opens new exhibition 'Gathering: From Domestic Craft to Contemporary Process'




Maya Lin in front of Pin River—Sandy, 2013. Photo by Joe Schildhorn/BFANYC.com.





WATER MILL, NY.- In the third iteration of its Platform series, the Parrish Art Museum presents artist Maya Lin, whose ecologically inspired works exist at the intersection of art, architecture, and environmental science. Platform: Maya Lin, on view through through October 13, 2014, reveals the artist's exploration of how humans experience and influence the landscape. Platform: Maya Lin features Lin's Pin River–Sandy (2013), an intricate geographical installation depicting the boundaries of Hurricane Sandy's flood plain, composed of thousands of straight pins. Installed on the east wall of the Norman and Liliane Peck/The Peter Jay Sharp Foundation Lobby, the work has a span of 12 feet. Lin's three marble sculptures, Arctic Circle (2013), Latitude New York City (2013), and Equator (2014), representing the typographies at each of these positions on the globe, have been installed in concentric rings in the ... More





Frederick Childe Hassam, American, 1859–1935, Avenue of the Allies, 1918, lithograph. Promised Gift of Frank Raysor.





RICHMOND, VA.- This exhibition marks the centenary of the start of World War I—July 28, 1914—which involved more than 40 nations before the conflict ended on November 11, 1918. For the first time, efficient, mechanized, and chemical weapons—a horrific product of the growing industrialization of Europe—barraged soldiers and civilians from land, air, and sea, producing an unprecedented nine million casualties and devastation. Rather than presenting a chronology of events, this exhibition focuses on how artists—many of whom witnessed combat firsthand as official War Artists—represent the moods and transformative experiences particular to this global conflict. The European and American printmakers included here created an invaluable visual record of the war as conducted on the frontlines and the mobilized home front. The role of art (particularly prints) in telling ... More





Julian Mayor, General Dynamic.





HOLON.- Disdain for a boring global market coupled with a fear of the virtualisation of society has inspired designers to create work that is linked to the humanisation of the making process and the contextualisation of a more responsible lifestyle. Craft has therefore become one of the major movements of our time and can be understood as the repetition of skills that belong to our common past, exuding a sense of belonging and continuity. In this exhibition, Edelkoort and her co-curator Philip Fimmano, bring together contemporary design themes that reflect traditional domestic crafts in an attempt to remain connected to authenticity: pleating, draping, layering, ribboning, smocking, wrapping, folding, needlework, felting, quilting and baking. However, the designers in Gathering apply new technologies and techniques to completely transform their actions. Their interventions celebrate the possibilities that lie in front of us, ever more creative than in the recent past. These ... More
Quote
Patriotism is the last refuge of the sculptor. William Plomer.
More News
---
Edward Biberman, Abbott Kinney and the Story of Venice
---
---
Flashback
On a day like today, French painter Marcel Duchamp was born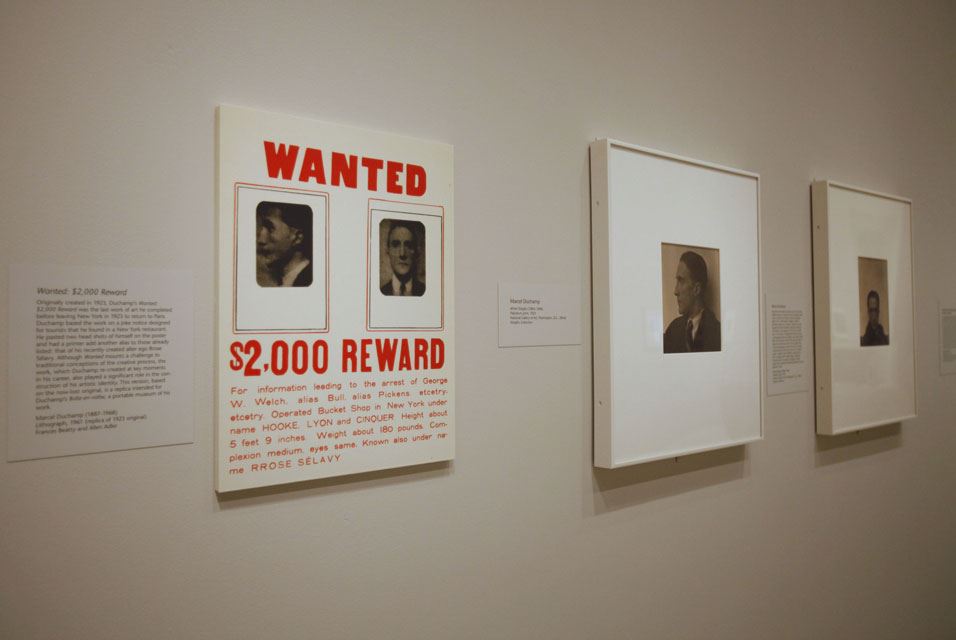 July 28, 1887. Marcel Duchamp (28 July 1887 - 2 October 1968) was a French artist whose work is most often associated with the Dadaist and Surrealist movements. Considered by some to be one of the most important artists of the 20th century, Duchamp's output influenced the development of post-World War I Western art. He advised modern art collectors, such as Peggy Guggenheim and other prominent figures, thereby helping to shape the tastes of Western art during this period. In this image: Marcel Duchamp's wanted poster is seen as part of the exhibit, "Inventing Marcel Duchamp:The Dynamics of Portrature," at the National Portrait Gallery in Washington, on Tuesday, March 24, 2009
---
---

Museums, Exhibits, Artists, Milestones, Digital Art, Architecture, Photography,
Photographers, Special Photos, Special Reports, Featured Stories, Auctions, Art Fairs,
Anecdotes, Art Quiz, Education, Mythology, 3D Images, Last Week,
.
Royalville Communications, Inc
produces: