British Museum opens first exhibition in the UK to focus on the later years of Hokusai
Under the wave off Kanagawa (The Great Wave) from Thirty-six views of Mt Fuji. Colour woodblock, 1831. Acquisition supported by the Art Fund. © The Trustees of the British Museum.
LONDON
.-
Katsushika Hokusai (1760-1849) has long enjoyed a strong international reputation and is considered by many to be Japan's greatest artist.
The British Museum
is staging the first exhibition in the UK to focus on the later years of the life and art of Hokusai, featuring his iconic print 'The Great Wave' of c. 1831 and continuing to the sublime painted works produced right up to his death at the age of 90. Supported by Mitsubishi Corporation, Hokusai: beyond the Great wave provides new insight into the prodigiously productive last thirty years of Hokusai's life and art from around 1820 to 1849. The exhibition adopts a new approach to explore Hokusai's later career in thematic as well as chronological terms. The exhibition sheds light on Hokusai's personal beliefs and his spiritual and artistic quest through major paintings, drawings, woodblock prints and illustrated books. Many have never been seen ...
More
The Best Photos of the Day
Gagosian in Athens opens exhibition of Cy Twombly's photography
Pioneers of photography Hill and Adamson celebrated in a new exhibition
Painting by Picasso will be highlight of Christie's Impressionist & Modern Art Evening Sale in London


Brushes (Lexington), 2005. Color dry-print, 17 x 11 inches, 43.2 x 27.9 cm (unframed), 6/6 © Nicola Del Roscio Foundation. Courtesy Gagosian.



ATHENS.- Gagosian is presenting an exhibition of Cy Twombly's photography, to coincide with "Divine Dialogues" at the Museum of Cycladic Art. Curated by Nikolaos Stampolidis from the Cycladic Art Museum and Jonas Storsve, curator of the recent Twombly retrospective at Centre Georges Pompidou, Paris, "Divine Dialogues" shows Twombly's work alongside classical antiquities. The gallery exhibition comprises more than twenty photographs of natural subjects—tulips, strawberries, cabbages, lemons—taken in Rome and Gaeta between 1985 and 2008, and a bronze sculpture. From his days as a student at Black Mountain College during the early 1950s until his death in 2011 at the age of 83, Twombly captured his daily life in photographs. He recorded the verdant landscapes of Virginia and the coasts of Italy; close-up details of ancient buildings and sculptures; studio interiors; and still lifes of objects ... More



David Octavius Hill and Robert Adamson, The Sir Walter Scott Monument under Construction, 1843. Calotype print, 20.10 x 14.90 cm. Scottish National Portrait Gallery.



EDINBURGH.- The Scottish National Portrait Gallery explores the captivating images produced by the unique partnership of Scottish photographic pioneers David Octavius Hill (1802-1870) and Robert Adamson (1821-1848). A Perfect Chemistry comprises over 100 photographic works dating from just four short years in the 1840s, when these two men changed the path of photography and created a remarkable body of work that has had an unparalleled impact on the medium. This is the first time in 15 years that these treasured photographs are the subject of a large exhibition in the UK. The artistic partnership between the painter Hill and the engineer Adamson was remarkable in many respects: only four years after the invention of photography was announced to the world in 1839, the Scottish pair had not only mastered and improved upon the new medium, ... More



Pablo Picasso, Femme écrivant (Marie-Thérèse), 1934. Estimate: £25,000,000 -40,000,000. © Christie's Images Limited 2017.



LONDON.- Pablo Picasso's tender portrait Femme écrivant (Marie-Thérèse) (1934, estimate: £25,000,000-40,000,000) will be a leading highlight of Christie's Impressionist & Modern Art Evening Sale, in London on 27 June 2017 as part of 20th Century at Christie's, a series of sales that take place from 17 to 30 June 2017. Painted on 26 March 1934, Pablo Picasso's Femme écrivant (Marie-Thérèse) is a joyous, colour-filled and deeply personal portrayal of Marie-Thérèse Walter, the young, blond-haired woman who, when she entered the artist's life in January 1927, influenced the course of his art in an unprecedented manner. Femme écrivant is one of the greatest portraits of Marie-Thérèse, a radiant and intimate depiction of Picasso's lover, which, along with the preceding paintings of the early 1930s, epitomises one of the finest phases in the artist's career. The painting will be on view in Hong Kong from 5 to 9 o ... More
The Museum of Contemporary Art, Los Angeles premieres commissioned video installation by Patrick Staff
Handbags offer top investment potential say Barnebys
Yorkshire Sculpture Park opens exhibition exploring childhood, developing identity and family relationships


Installation view of Patrick Staff: Weed Killer, March 12–July 3, 2017 at MOCA Grand Avenue, courtesy of The Museum of Contemporary Art, Los Angeles, photo by Zak Kelley.



LOS ANGELES, CA.- Patrick Staff: Weed Killer is the premiere of a MOCA-commissioned video installation by Patrick Staff. Staff's newest work was inspired by artist-writer Catherine Lord's memoir The Summer of Her Baldness (2004)—a moving and often irreverent account of the author's experience of cancer. At the heart of Weed Killer (2017) is a monologue—adapted from Lord's moving and often irreverent book—in which an actress reflects upon the chemically induced devastation of chemotherapy. This monologue is intertwined with comparatively otherworldly sequences, including choreographic gestures shot with high-definition thermal imaging. Presented as an immersive installation, Weed Killer suggests a complex relationship to one's own ... More



Current world record holder at £208,250.



LONDON.- The value of branded women's handbags have gone through the roof and today are one of the most collectable alternate investment categories at auction say Barnebys the art auction search engine. "So next time your partners says that she wants a handbag and the price horrifies you, just think that it may in fact prove to be an investment," says Pontus Silfverstolpe, co-founder of Barnebys, the art and collectables search engine and aggregator which tracks trends in this sector. Barnebys hosts 2,000 auction houses on its website and every day it carries some one million objects for sale, making it easy to find what you are looking for in the auction world. He adds: "The value of these bags are linked to their limited availability, the rare quality of their materials, the elegance of their design and the condition they are in and also at times who owned them previously. Specialists at the auction ... More



Edward Barber, One Parent Family, N London 1976 (1976), Arts Council Collection, Southbank Centre, London © Polytechnic of Central London.



WAKEFIELD.- Yorkshire Sculpture Park presents Tread Softly, an exhibition exploring childhood, developing identity and family relationships, through artists revisiting and reassessing defining moments and people in their lives. Selected largely from the Arts Council Collection by YSP, as part of the National Partners Programme, Tread Softly features over 30 works of sculpture, film, photography, and sound within the historic Bothy Gallery. Shown alongside the selection are specially commissioned poems by acclaimed poet and Scottish Makar, Jackie Kay. Early experiences in life leave indelible marks on our evolving characters. Childhood and early adulthood are seldom entirely comfortable or idyllic, and this exhibition illustrates some of the complexities ... More
Fabulous collection of art to be sold in Dublin
Dorotheum announces highlights of design auction
Exhibition brings together paintings and sculptures from one of Jamaica's most important historical artists


William Conor OBE RHA RUA ROI (1881-1968), Three Singers. Oil on canvas 30 by 25in. Estimate: €20000-€30000 (£17000-£25500 approx.)



DUBLIN.- A William Scott (1913-1989) painting from the 1960s is the most valuable to appear in an Irish art auction. Entitled Blue Still Life it is a large work – six feet wide and four feet high – and will attract bids from Ireland, Britain and America. Scott was born in Scotland to an Irish father, spent most of his childhood in Enniskillen where he was encouraged to paint by his art teacher, Kathleen Bridle, studied at the College of Art, Belfast and the Royal Academy, London. Scott is regarded – along with Henry Moore and Francis Bacon - as one of the foremost British artists of the 20th Century, but was proud of his Irish heritage and carried an Irish passport. The painting [Lot 58], is expected to sell for €400,000 to €600,000. It comes from the estate of George and Maura McClelland, famous Irish collectors, and was on loan to The Irish Museum of Modern Art for the past eight years. The auction features several other valuable works from the ... More



A "Kassena horseman" cabinet object, designed by Dokter and Misses (Adriaan Hugo & Katy Taplin), 2015, South Africa, No. 1 from the limited editoin of eight, all of which are hand-painted, estimate €20,000 - 30,000



VIENNA.- Radical design of the 1960s, Vienna Modernism, contemporary design and Zaha Hadid. These will be the founding principles of the first design auction of a new kind called "Design First". The auction will be curated by specialist Gerti Draxler and is set to premier at Dorotheum on 20th June 2017, where it will cast a spotlight on various objects that stand out in the history of design. On the same date, at 2:00 pm, the classic design auction will also be held, and on this occasion there will be an emphasis on Scandinavian and Austrian design. The "Design First" auction will have strong links with art, for example it will be offering seats, screens and beds by the Austrian holistic artist Heimo Zobernig, a lamp by Alberto Giacometti's and a shelf by Dadamaino. The declared ambition of Superstudio, who were spiritual successors to the anti-bourgeois, emancipatory- ... More



John Dunkley. The Kangaroo, n.d. Cedar, 11 inches. Courtesy the Wallace Campbell Collection, Jamaica. Photo: Randall Richards.



MIAMI, FLA.- Pérez Art Museum Miami presents John Dunkley: Neither Day nor Night, on view May 26, 2017 – January 14, 2018. The exhibition, on view in the museum's Rose Ellen Meyerhoff Greene and Gerald Greene Gallery, presents the work of John Dunkley (b. 1891, Savanna-la-Mar, Jamaica; d. 1947, Kingston), widely considered to be one of Jamaica's most important historical artists. Neither Day nor Night includes paintings from the 1930s and '40s alongside a smaller selection of carved-wood and stone sculptures. Dunkley's paintings are defined by their distinctive dark palette, detailed imagery—often landscapes––and psychologically suggestive underpinnings. His intimate sculptures reflect more figurative elements—people and animals—and offer insights into his unique iconography. His oeuvre spans little more than a decade, and only approximately 50 paintings are known to exist today, alongside ... More
Middelheim Museum opens an exhibition of works by Richard Deacon
Striking David Jagger portrait offered at Bonhams Modern British and Irish Art Sale
Sotheby's to hold a dedicated sale of furniture & design from New York gallery WYETH's coveted collection


Richard Deacon, Never Mind, 1993–2017. Copyright and courtesy of the artist. Photo: Werner J. Hannappel.



ANTWERP.- Middelheim Museum is presenting Some Time, an exhibition of works by Richard Deacon. The exhibition features 31 works by this master of contemporary sculpture, including monumental and small-scale pieces, which have been installed in the renowned sculpture park and museum. Some Time is focused around a major new commission, the resurrection of Deacon's Never Mind, a key work from the collection acquired by the museum in 1993. This work has now been refabricated in stainless steel by Deacon for this landmark exhibition. The title, Some Time, refers to both the provisional nature of time and, more literally, to a short period of time. The exhibition explores several key themes which Richard Deacon has revisited throughout his oeuvre over a period of more than 40 years. One artistic strategy which is central to the exhibition is the technique of refabrication. Deacon calls himself a fabricator and tests the resilience of m ... More



David Jagger R.O.I. (British, 1891-1958) Self Portrait 40.6 x 30.5 cm. (16 x 12 in.) (Painted in 1928). Estimated at £20,000-30,000. Photo: Bonhams.



LONDON.- The face of David Jagger stares out defiantly from his oil on board Self-Portrait of 1928. Estimated at £20,000-30,000, the painting is to be offered at Bonhams Modern British and Irish Art sale in London on Wednesday 14 June at 3pm. David Jagger was born in 1891 in Kilnhurst, a mining village in South Yorkshire. Inspired by his elder sister, Edith, and in the company of his elder brother Charles Sargeant, Jagger began attending evening art classes from a young age. His success as an apprentice in a lithographic printing company led him to win a scholarship to attend Sheffield Technical School of Art. He later began working as a commercial artist, and became particularly well-known for his society portraits. In 1958, David Jagger died at his Chelsea home, aged 67, leaving unfinished his final portrait of HRH Prince Philip, the Duke of Edinburgh. Self-Portrait is a fine example of Jagger's work in the late 1920s. ... More



Kay Bojesen Large Monkey branded KAY BOJESEN/DENMARK teak, limba 18 in. (45.7 cm.) length head to foot designed 1951, executed circa 1965 Est. $2/3,000. Photo: Sotheby's.



NEW YORK, NY.- Sotheby's June Design season culminates with WYETH: The Art of Timeless Design on 6 June 2017 in New York. In response to this sale's resounding success in June 2016, Sotheby's is collaborating with WYETH once again to curate another design collection that speaks to the unique aesthetic vision of WYETH's Sagaponack gallery located in the East End of Long Island. The full contents of the sale will be on public exhibition in Sotheby's New York galleries beginning 2 June, alongside Sotheby's auctions of Important Design and The Estate of Carol Ferranti: Masterworks by Tiffany Studios. Hand built by WYETH's owners in 2008, the modernist post and beam structure set within 3 acres of verdant woodland represents the ultimate vision of WYETH's owners where the tenets of good design, architecture and nature converge. The auction and ... More
Quote
Painting is no problem. The problem is what to do when you're not painting. Jackson Pollock
More News
---
Conserving Dürer's Triumphal Arch
---
Flashback
On a day like today, The Golden Gate Bridge was officially opened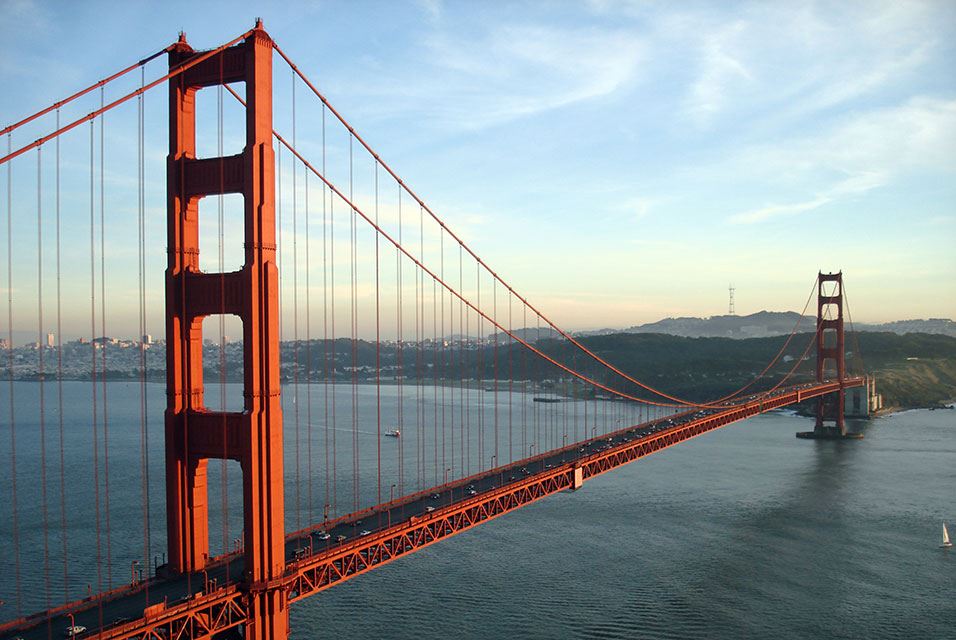 May 28, 1937. SAN FRANCISCO.- The Golden Gate Bridge is a suspension bridge spanning the Golden Gate, the opening of the San Francisco Bay into the Pacific Ocean. As part of both U.S. Route 101 and California State Route 1, it connects the city of San Francisco on the northern tip of the San Francisco Peninsula to Marin County. The Golden Gate Bridge was the longest suspension bridge span in the world when it was completed during the year 1937, and has become one of the most internationally recognized symbols of San Francisco, California, and of the United States. Since its completion, the span length has been surpassed by eight other bridges. It still has the second longest suspension bridge main span in the United States, after the Verrazano-Narrows Bridge in New York City.
---

Museums, Exhibits, Artists, Milestones, Digital Art, Architecture, Photography,
Photographers, Special Photos, Special Reports, Featured Stories, Auctions, Art Fairs,
Anecdotes, Art Quiz, Education, Mythology, 3D Images, Last Week,
.
Royalville Communications, Inc
produces:







Tell a Friend
Dear User, please complete the form below in order to recommend the Artdaily newsletter to someone you know.
Please complete all fields marked *.
Sending Mail

Sending Successful