Exhibition displays around sixty figure-based works by Jean-Baptiste Camille Corot
Jean-Baptiste Camille Corot, Le Repos dit aussi Bacchante au tambourin, 1860, repris vers 1865-1870 (detail). Oil on canvas, 57, 8 × 101, 6 cm. Washington D.C., National Gallery of Art, collection William A. Clark, Corcoran Gallery of Art © Washington, National Gallery of Art.
PARIS
.-
Under the curatorship of Sebastian Allard, General Heritage Curator and Director of the Department of Paintings in the Musée du Louvre, the exhibition 'Corot. Le peintre et ses modèles' ('Corot: the painter and his models') is the first Parisian event devoted to the artist's work since the major retrospective held in 1996 in the Grand Palais. On view in the
Musée Marmottan Monet
between 8 February and 8 July 2018, the exhibition brings together an exceptional ensemble of figurative paintings and highlights the most intimate, secret, and modern aspects of the artist's works. Primarily famous for his landscapes and studies of motifs, which opened the way for the modernism of the Impressionists, Camille Corot also painted figures. However, the master preferred to keep these works in his studio, from where they rarely departed, and even then they only went to a few friends, dealers, and collectors. ...
More
The Best Photos of the Day
Sugimoto gives Washington's Hirshhorn a facelift with ancient tree
Hunting for the woman in the 'African Mona Lisa'
The Museo del Prado takes an exhibition on Velázquez to Japan


Japanese artist Hiroshi Sugimoto speaks about his redesign of the Smithsonian's Hirshhorn Museum lobby and cafe at the Museum in Washington, DC. SAUL LOEB / AFP.



WASHINGTON (AFP).- For years, it sat in the corner of a Tokyo lumberyard, a tangled, muddy mess of roots no one wanted. That was until Hiroshi Sugimoto came along. Now, the Japanese photographer has taken what was once the life support system of a medieval tree to help transform the ground floor of Washington's museum of modern and contemporary art into an airy game of light and space. The 700-year-old roots form the base of twin glass-top semicircle tables that are part of Sugimoto's redesign of the Hirshhorn Museum and Sculpture Garden lobby that opened Friday, echoing the donut shape of the brutalist building conceived by Gordon Bunshaft. "If people ask me to do this again, it's impossible," said Sugimoto, who has spent the better part of his lifetime documenting the "history of history" in pensive black and white reflections on the passage of time. "Someone cut the tree and then found these roots are ... More



Oliver Enwonwu, president of the Society of Nigerian Artists and son of late Professor Ben Enwonwu, speaks during an interview at his Omenka studio in Lagos. PIUS UTOMI EKPEI / AFP.



ILE-IFE (AFP).- She's been described as "the African Mona Lisa", the subject of a long-lost series of three paintings by the artist considered the father of Nigerian modernism. But like Leonardo da Vinci's most famous portrait, finding out more about the woman in Ben Enwonwu's "Tutu" has so far been elusive, even for her extensive extended family. One of the missing works, which was discovered in a north London flat, goes on sale in the British capital on Wednesday and is expected to fetch 250,000 pounds ($347,000, 282,000 euros). Enwonwu was professor of fine arts at the university in Ile-Ife, the cradle of the Yoruba people in southwest Nigeria, when he met Adetutu Ademiluyi and painted her in 1973 and 1974. The painting of the Yoruba princess by an ethnic Igbo artist became a symbol of national reconciliation at a delicate time in Nigeria's history. A brutal civil war had ended just four years earlier between ... More



Diego Rodríguez de Silva y Velázquez, Prince Baltasar Carlos, on Horseback, ca. 1635. Oil on canvas, 211.5 x 177 cm. Madrid, Museo Nacional del Prado.



MADRID.- While Velázquez is generally located within the context of Spanish painting, his art can be related to a broader context. The Spanish monarchy was global in nature as in addition to the Iberian Peninsula, it also governed in Flanders, in important overseas territories in Italy, Central and South America and in some parts of Asia, such as the Philippines. This cosmopolitan nature is reflected in the royal collections, which were particularly rich in Flemish and Italian artists. At the court of Philip IV painting was clearly an international language that scarcely recognised local boundaries. It is within this international context that Velázquez's art can best be appreciated, particularly from 1623 onwards. The works that most influenced him were by the artists so outstandingly represented in the Spanish royal collections, such as Titian, Tintoretto and Rubens, and one of his principal formative experiences was his trip to Rome in 1629 where he encountered ... More
Exhibition at The FLAG Art Foundation focuses on Ellsworth Kelly's mastery in black and white
Romanian sex docudrama 'Touch Me Not' wins Berlin Golden Bear
Musée Yves Saint Laurent Marrakech exhibits work by Moroccan couturier Noureddine Amir


Ellsworth Kelly, Broad Street Studio, New York, 1956. © Onni Saari, courtesy Ellsworth Kelly Studio.



NEW YORK, NY.- On the occasion of its 10th anniversary, The FLAG Art Foundation is presenting Ellsworth Kelly, curated by Jack Shear, President of the Ellsworth Kelly Foundation, on view February 23-May 19, 2018, on its 9th floor. The exhibition focuses on Kelly's mastery in black and white, and includes rarely-seen drawings, paintings, photographs, and sculptures made in the first and last decade of the artist's career. Renowned for his use of bold, monochromatic planes of color, Ellsworth Kelly (1923-2015) created a fifth of his oeuvre in black and white. Art historian and critic David S. Rubin noted that Kelly is "[…] essentially a color painter who considers black and white to be colors."1 This limited, high-contrast palette allows for an increased focus on form and spacial relationships, which "intensifie[s] the abstraction by further removing the image from its natural coloration."2 Organized in in ... More



Romanian director Adina Pintilie poses with the Golden Bear for Best Film award she received for her film "Touch Me Not". John MACDOUGALL / AFP.



BERLIN (AFP).- "Touch Me Not", an experimental Romanian docudrama exploring sexual intimacy and the fears around it, won the Golden Bear top prize at the Berlin film festival Saturday. First-time director Adina Pintilie, 38, clutching the trophy after her surprise win, said the movie was intended to "invite you the viewer to dialogue" with its frank portrayals of sex, disability and inhibitions. US filmmaker Wes Anderson clinched the best director Silver Bear prize for "Isle of Dogs", an animated allegory with political bite. Actor Bill Murray, who voices one of the pack of pooches in Anderson's first animated feature since 2009's "Fantastic Mr Fox", picked up the award for Anderson. "I never thought that I would go to work as a dog and come home with a bear," he quipped. "Ich bin ein Berliner Hund (I am a Berlin dog)," he added, riffing on John F. Kennedy famous speech. In a ... More



Installation view. © Luc Castel.



MARRAKECH.- From February 23 through April 22, 2018, the Fondation Jardin Majorelle presents an exhibition of work by the Moroccan couturier, Noureddine Amir, being held in the temporary exhibitions hall at the musée Yves Saint Laurent Marrakech. The Fondation pays homage to this artist who has distinguished himself through his unique creative work involving the transmutation of artisanal Moroccan crafts. The couturier immerses himself in an ancestral Moroccan savoir-faire and heritage. He adjusts and renews them in his work, as manifested in his sculptural dresses born from the raw, organic materials—native to Morocco—that determine their forms. "Wool, raffia, burlap and silk are carefully chosen, then harnessed thread by thread before undergoing a metamorphosis. The material and fabrics are dyed with henna, dried pomegranate rind or indigo. Noureddine Amir breathes life into the material while restructuring the precep ... More
'If So, What?': A new fair pairing art and innovation arrives in the Bay Area
La maison rouge opens exhibition of black dolls from the Deborah Neff Collection
PinchukArtCentre opens an exhibition by Dineo Seshee Bopape, the winner of the Future Generation Art Prize 2017


Linda Helen Gieseke is an international senior strategy advisor specializing in business development, sales and growth strategies for multinational companies, focusing on expansion into the US market.



SAN FRANCISCO, CA.- If So, What?, a new annual cultural event pairing art and design with sound and innovation in the Bay Area, including the Silicon Valley, is delighted to announce its inaugural edition, which will take place from April 26-29, 2018 at the Palace of Fine Arts in San Francisco. Transcending the traditional art fair model, ISW will create an immersive, multidisciplinary event that invites people to engage with art and design and encounter new experiences that connect people. For its first edition, ISW will feature art, design and technology exhibitions as well as cross-industry panel discussions with visionary leaders, and immersive environments featuring music performances will round up the innovative program. ISW Founders Sho-Joung Kim-Wechsler and Linda Helen Gieseke were interested in creating a new way to engage the Silicon Valley and the Bay ... More



Author Unknown, Woman in Paisley Coat Dress, United States, Circa 1st quarter 20th century Cotton. Photo : Ellen McDermott, New York City.



PARIS.- "Black Dolls" is the first time the Neff Collection is shown outside the United States. Comprising an outstanding ensemble of several hundred handmade African-American dolls and a set of photographs from the 1840s to the 1940s, this collection is of interest not only for the diversity and remarkable beauty of the dolls themselves, but also as an insight into the history of America's Black population and of perceptions of childhood in America. In fact, these dolls could serve a variety of purposes, and some are quite enigmatic in this respect. For nearly a century, between 1840 and 1940, African-American women designed and made ragdolls for their own children, or the children they looked after. Over a period of twenty-five years, Deborah Neff, a lawyer living in Connecticut, assembled the most extensive and rigorously selected collection of ragdolls anywhere. Where most people dismissed such objects as domestic artifacts ... More



The new monumental earth piece reminds, in form, of ancient spiritual places and draws upon traditional fertility iconography.



KYIV.- The PinchukArtCentre presents the 1st solo exhibition in Eastern Europe by Dineo Seshee Bopape (South Africa), the Main Prize Winner of the 4th edition of the Future Generation Art Prize. The show includes a major soil installation and a series of drawings specially produced for the PinchukArtCentre. The new monumental earth piece reminds, in form, of ancient spiritual places and draws upon traditional fertility iconography. Ukrainian soil is used in a systematic formal transformation. The earth moves from suggesting human architectural construction into the natural flow of a topographical landscape, evoking the lost presence of water, to finally glide into a quiet bed of soil. On top of that Bopape plays with herbs, crystals, clay, gold-leaf and special collected samples of earth coming from a dozen of spiritual places around the world. The Ukrainian Soil becomes a host for synergies of signs, ... More
1950 race car with competition history for sale with H&H Classics at Duxford March 21
The International Center of Photography announces 2018 Infinity Award winners
Kopeikin Gallery presents photographs, video, and a Twitter-based project by Kevin Cooley


The Jupiter achieved competition success with a record-breaking class win at the 1950 Le Mans 24 Hour race.



LONDON.- The Jowett Jupiter was a successful British race and touring car produced by Jowett Cars Ltd of Idle near Bradford. It is estimated to sell for £38,000 to £42,000 at the next H&H Classics sale in Duxford, the Imperial War Museum March 21. The Jupiter achieved competition success with a record-breaking class win at the 1950 Le Mans 24 Hour race, a class one-two in the 1951 Monte Carlo International Rally. an outright win in the 1951 Lisbon International Rally, and a class one-two in a gruelling four-hour sports car race on the public road circuit at Dundrod in Northern Ireland in September 1951. Damian Jones, Head of Sales for H&H Classics says of this car: "In the Jowett Jupiter you are buying a rare and classy piece of British car racing history. This car was a winner in its day against the toughest ... More



Samuel Fosso.



NEW YORK, NY.- The International Center of Photography, the world's leading institution dedicated to photography and visual culture, today announced the 2018 honorees of its annual Infinity Awards, widely considered the leading honor for excellence in the field. The 34th annual ICP Infinity Awards will be held in New York City on the evening of Monday, April 9 at Spring Studios. "Every year, the Infinity Awards give us a chance to highlight the significant talents of photographers, artists, and creative innovators," said ICP Executive Director Mark Lubell. "These extraordinary individuals are producing work that is not just documenting the world—but helping to create change. We are excited to celebrate their vision and their impact." 2018 INFINITY AWARD CATEGORY AND RECIPIENTS: • Lifetime Achievement: Bruce Davidson • Applied: Alexandra Bell • Art: Samuel Fosso • Artist's Book: Dayanita Singh, Mus ... More



LA Freeway Bouquet.



LOS ANGELES, CA.- Kevin Cooley is a multi-disciplinary artist who works with elemental forces of nature to question systems of knowledge as they relate to our perceptions and experience of everyday life. Using photography, video, and installation, he creates frameworks though which to observe experimental and performative gestures to decipher our complex, evolving relationships to nature, to technology, and ultimately to each other. Still Burning centers on work created before, during, and after the recent La Tuna Canyon Fire that nearly destroyed his house, studio, and entire photographic archive. As both personal catharsis and as continuation of an ongoing exploration of the physical and symbolic properties of fire, motivated by the 2016 election, this show is both his most personal, and political, to date. The exhibition consists of photographs, video, and a Twitter-based project which collectively ... More
Quote
I am old and ill, and I have sworn to die painting. Paul Cézanne
More News
---
Titian's Early Portraits | Titian's First Masterpiece: The Flight into Egypt | National Gallery
---
Flashback
On a day like today, French painter and sculptor Pierre-Auguste Renoir was born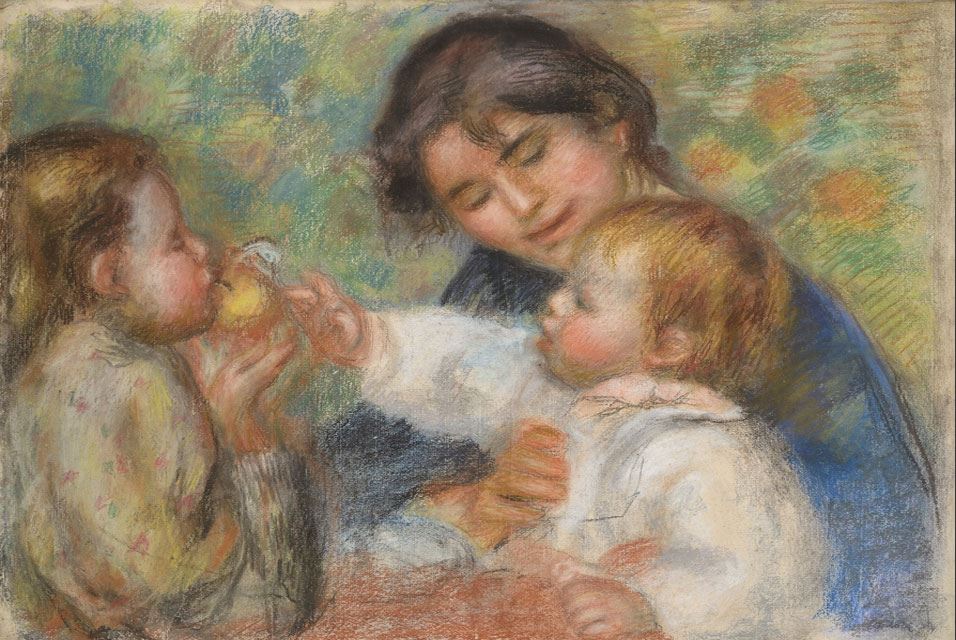 February 25, 2018. Pierre-Auguste Renoir (25 February 1841 - 3 December 1919), was a French artist who was a leading painter in the development of the Impressionist style. As a celebrator of beauty and especially feminine sensuality, it has been said that "Renoir is the final representative of a tradition which runs directly from Rubens to Watteau." In this image: Pierre-Auguste Renoir, Child with an Apple or Gabrielle, Jean Renoir and a Little Girl, circa 1895-1896. Pastel sobre papel. 560 x 760 mm. Mrs. Léone Cettolin Dauberville.
---

Museums, Exhibits, Artists, Milestones, Digital Art, Architecture, Photography,
Photographers, Special Photos, Special Reports, Featured Stories, Auctions, Art Fairs,
Anecdotes, Art Quiz, Education, Mythology, 3D Images, Last Week,
.
Royalville Communications, Inc
produces:







Tell a Friend
Dear User, please complete the form below in order to recommend the Artdaily newsletter to someone you know.
Please complete all fields marked *.
Sending Mail

Sending Successful