Three Flemish Baroque masters featured in a new exhibition at The Morgan
Jacob Jordaens (1593-1678), Mother and Child, ca. 1638-40 (detail), black, red, and white chalk, The Morgan Library & Museum, Thaw Collection, 2017.133. Photography by Steven H Crossot, 2014.
NEW YORK, NY
.-
In a letter from September 13, 1621, describing a large painting of a lion hunt that he had just completed, Peter Paul Rubens expressed what he believed to be essential to his art: it had to be powerful and graceful. A constant quest to achieve an equilibrium of these two qualities lay at the heart of his work. The same can be said of Anthony van Dyck and Jacob Jordaens, who studied with Rubens and whose lives and careers were entwined with—and influenced by—the senior artist. A new exhibition at the
Morgan Library & Museum
, Power and Grace: Drawings by Rubens, Van Dyck, and Jordaens, brings together an extraordinary selection of twenty-two works on paper by these three giants of Flemish Baroque art, demonstrating the crucial role the medium of drawing played in their individual practice and highlighting their graphic styles. The show, which includes work from the Morgan's collection supplemented with a small number ...
More
The Best Photos of the Day
Mitchell-Innes & Nash opens two concurrent exhibitions of new work by Eddie Martinez
Morocco probes dinosaur tail sold in Mexico auction
Christie's to offer the JF Chen Collection


Eddie Martinez, Yard Work #2 (Jester), 2017. Oil, spray paint, small insects and grass on canvas, 40 by 30 in. 101.6 by 76.2 cm. © Eddie Martinez; Courtesy of the artist and Mitchell-Innes & Nash, NY.



NEW YORK, NY.- Mitchell-Innes & Nash is presenting Love Letters and Yard Work, two concurrent exhibitions of new work by Eddie Martinez at the gallery's Chelsea and Madison Avenue locations. These two shows mark the first time Martinez's work has been exhibited in New York following the opening of his solo exhibitions at the Davis Museum at Wellesley College and at The Drawing Center, New York in Fall 2017. Love Letters and Yard Work is on view from Thursday, January 18 to Saturday, February 24. Love Letters is being exhibited at 534 West 26th Street and Yard Work at 1018 Madison Avenue. The Love Letter series expands upon Martinez's recent practice of utilizing enlarged silkscreens of small Sharpie drawings as a starting point for works on canvas. Martinez's daily drawing practice has long been a significant source of ... More



The four-metre-long (13-foot) fragment of an "Atlasaurus tail from the Jurassic period" was sold on Tuesday for 1.8 million pesos ($96,000).



RABAT (AFP).- Moroccan authorities have opened an inquiry into the origins of a dinosaur tail from the North African country sold at auction in Mexico, the culture ministry said Saturday. The four-metre-long (13-foot) fragment of an "Atlasaurus tail from the Jurassic period" was sold on Tuesday for 1.8 million pesos ($96,000), according to Mexican auctions website Morton. It said the fossil came from the Atlas mountains in Morocco after which the dinosaur is named. Abdellah Alaoui, the head of Morocco's cultural heritage department, said Rabat would seek to enforce international conventions against trafficking of items of cultural heritage. The skeleton of an Atlasaurus, a species which dates back 160 million years and is estimated to have measured 18 metres in length and 10 metres in height, is on display at the natural history museum in the Moroccan capital ... More



Joel Chen pictured in his Los Angeles gallery. Photo: © Yoshihiro Makino.



NEW YORK, NY.- Christie's will auction the JF Chen Collection to take place on February 13, 2018 in a dedicated auction at Christie's Rockefeller Center with an online auction taking place from February 7-14. The selection offered presents over 300 lots spanning Asian art, decorative objects, and contemporary design, representative of Joel Chen's unique style and discerning eye. Among the objects included in the sale are iconic pieces by mid-century and contemporary designers including Dan Johnson, Georges Jouve, Finn Juhl, Carlo Mollino, Ettore Sottsass, Hans Wegner, and emerging artist Michael Wilson, interspersed with traditional Asian art, spanning 18th-to-19th-century Chinese furniture, bronzes, hardstonecarvings, porcelains, and ceramics, as well as Japanese screens, inlaid objects, and bronzes. In business for 40 years, Joel Chen is renowned for refined taste, design intelligence, and innovation. As ... More
Exhibition at Friedman Benda offers an exploration into aporetic architectural furniture
Borzo Gallery opens exhibition of works by Jeroen Henneman
Exhibition showcases Bay Area multidisciplinary creative practice from 19th through 21st centuries


architecten de vylder vinck taillieu, Kamer Frank, 2017. Plywood, chipboard, color-coated MDF, DOKA, phenolic plywood Daybed 2: 48 x 63 x 58.5 inches, 122 x 160 x 149 cm Edition of 3, 3AP. Courtesy of Friedman Benda and Architecten de vylder vinck taillieu
Photography by Filip Dujardin.



NEW YORK, NY.- Friedman Benda presents No-Thing, an exhibition curated by Juan García Mosqueda, with newly commissioned works from nine emerging architectural practices. No-Thing runs from January 18 to February 17, 2018, in Friedman Benda's project space. No-Thing examines the prevalence of authoritative domestic practices embedded in our collective unconscious that guides behavior towards our personal possessions. Some of these works are composed of a seemingly ordinary construction that relies on the user's autonomous self for meaning through postulated use. The title alludes to a state of egalitarian "in-betweenness," a term defined by R.D. Laing in The Politics of Experience—a reference to their makers' non-dogmatic approach to object creation. "It ... More



Jeroen Henneman, Firth of forth IX, 1994. 70 x 60 cm.



AMSTERDAM.- Jeroen Henneman surveys his surroundings. He is probably taking note of an anecdote: a decorative and vivid figure hovering before his eyes that sometimes becomes a persistent chimera staying in his mind for days on end. But for a long time now such a carefree look around has been impossible. The artist no longer starts each work with a clean slate. Looking follows a trail of previous experiences: the other work produced over the years. He therefore knows, more or less, which anecdotes and themes are usable within the familiar method of formal manipulation and the techniques he uses to design them. This sometimes creates a formulation that is gratifyingly enigmatic and surprising; sometimes the theme is reformulated in a subsequent variation. Although over the course of time an oeuvre will achieve a universal openness, it also seems that most artists find their themes within a relatively small area. They remain in that area because they feel at home there; ... More



Daniel Higgs and Kyle Ranson: Morph Traits, 2007-2010; drawings on paper; dimensions variable; University of California, Berkeley Art Museum and Pacific Film Archive; Museum purchase: Bequest of Phoebe Apperson Hearst, by exchange.



BERKELEY, CA.- The UC Berkeley Art Museum and Pacific Film Archive opens its 2018 exhibition program with a sweeping exploration of the creative energies that have emerged from the San Francisco Bay Area over the past 200 years. An innovatively organized exhibition of art and film, plus poetry, performance documentation, and archival materials, Way Bay features nearly 200 works that reveal the depth and diversity of artists' engagement with the region's geographic, social, and cultural landscape. The exhibition includes dozens of recent acquisitions, many of them never before exhibited in a museum setting. A second iteration of the exhibition featuring dozens of additional works runs June 13–September 2. The historical scope of Way Bay ranges from precolonial works by the Bay Area's indigenous Ohlone culture, ... More
Meticulously rendered oil paintings depicting interiors by Patti Oleon on view at Edward Cella Art & Architecture
Sex, drugs, activism, and war take center stage in New York Public Library's new exhibition
Magasin III Museum & Foundation for Contemporary Art opens satellite space in Tel Aviv


Patti Oleon, Sideways, 2017, Oil on hardwood, 40 x 30 in.



LOS ANGELES, CA.- Edward Cella Art & Architecture is presenting an exhibition of new paintings by Patti Oleon. This is the San Francisco-based artist's first solo exhibition with the gallery and includes meticulously rendered oil paintings depicting interiors. Upon receiving a Guggenheim Fellowship in 2013, Oleon traveled to Budapest, Prague, Venice, Berlin and Istanbul to photograph grand spaces rich in history, and devoid of human presence, such as theaters and museums. Working from multiple views of the same location, Oleon then re-constructs these places using Photoshop to alter light, transparency, color and focus. She then brings these composite images to the studio where she precisely translates the image in oil, counting Flemish painters and Germanic medieval works among her technical influences. Viewers are presented with environments that appear startling in their verisimilitude, ... More



Oracle City of Los Angeles 1, no. 5 (August 1967). NYPL, Henry W. and Albert A. Berg Collection of English and American Literature.



NEW YORK, NY.- History repeats itself at The New York Public Library. Timothy Leary's first-hand account of an LSD trip; Tom Wolfe's notes about Haight-Ashbury for his book The Electric Kool-aid Acid Test; Gloria Steinem's letter to the New York Times' Abe Rosenthal; John Updike's opinion on the Vietnam War: The contemplative and divergent themes of the 1960s can be rediscovered through over 125 artifacts in The New York Public Library's (NYPL) new exhibition, You Say You Want a Revolution: Remembering the 60s. Featuring material from three of the Library's research centers – The Stephen A. Schwarzman Building, the Schomburg Center for Research in Black Culture and the Library for the Performing Arts – the free exhibition is curated by Isaac Gewirtz of NYPL's Berg Collection of English and American Literature. ... More



Installation view, Magasin III Jaffa. Courtesy Magasin III Jaffa, Photo Youval Hai.



TEL AVIV.- Magasin III Museum & Foundation for Contemporary Art in Stockholm, presents zerubbabel by Haim Steinbach, the inaugural exhibition in its new satellite space in Jaffa, greater Tel Aviv. zerubbabel is the Israeli-born American artist's first solo show in his home country, and it marks the launch of a diverse program at Magasin III Jaffa that will feature both international and local artists. Since the late 1970s, Steinbach's practice has focused on selecting and arranging everyday objects from a spectrum of social and cultural contexts. Engaging them in the play of 'display', the objects are staged in their own right, emphasizing their identities, inherent meanings and associations. zerubbabel, curated by David Neuman, includes ten works by Steinbach from the last 5 years, ranging from recent wall paintings, which focus on the essence of text, imagery and color, to objects ... More
Drawing Room in Hamburg presents an exhibition by Maya Schweizer
New exhibition at Newcomb Art Museum features contemporary Mexican ceramicists
Solo exhibition of sculptures by Brian Tolle on view at C24 Gallery


Maya Schweizer, A Tall Tale. Installation view.



HAMBURG.- In recent years the artist Maya Schweizer (b. 1976), a resident of Berlin, has been dealing with questions such as perception and memory, identity and homelessness, narrative fiction and everyday life, and migration and integration in her multimedia works. In her films – hybrid mixtures between documentaries and staged accounts – the artist combines images, sound and text into subtle analyses of the present, which always have a historical level, or a concrete link to a collectively remembered location. In Schweizer's film A Tall Tale, produced in 2017, various levels of time and narration coalesce into a collective memory. Initially, the camera explores the real setting of a green summer landscape, interspersed with the ruins of World War II bunkers. Suddenly the voice of Orson Welles resonates from off-camera, inviting the viewer into a "short story, straight from the haunted land of Ireland", for, ... More



Installation view. Photo: Jeff Johnston.



NEW ORLEANS, LA.- Pulling from the heritage of the Newcomb Pottery enterprise, Newcomb Art Museum of Tulane University is presenting two concurrent exhibitions examining the use of clay as medium. Running through March 25, 2018 Clay In Transit: Contemporary Mexican Ceramics and Clay in Place: Highlights from the Collection showcases works from a myriad of artists who use clay to examine notions of tradition, time, and locality. In the exhibition Clay In Transit: Contemporary Mexican Ceramics, presented in collaboration with the Consulate of Mexico and AMEXCID, the work of seven artists disrupt the viewer's sense of time. With their return to an antediluvian medium, clay, these artists utilize contemporary techniques or approaches to make profound connections with the past. Works range from Ana Gómez's tongue-in-cheek talavera fast food containers and María José de la Macorra's frozen rain crafted from clay ... More



Brian Tolle, Jerusalem Ave., 2009. Plastic nativity set, metal shopping cart, platinum silicone rubber, 60 x 40 x 28in. (152.4 x 101.6 x 71.1cm). Photo: Courtesy C24 Gallery and the artist.



NEW YORK, NY.- C24 Gallery is presenting a solo exhibition of sculptures by Brian Tolle marking his inaugural exhibition with the gallery. The exhibition brings together Tolle's iconic public work, Eureka, on view for the first time in the United States and in a gallery setting, paired with his Levittown sculptures. Bent ise on view through February 27, 2018 at 560 West 24th Street. A highlight of the exhibition is the monumental installation Eureka. At approximately 36 feet high, when standing, the sculpture is a 3D rendering of the façade of a 17th-century Flemish canal house as it might exist in wave form. Thus, it becomes an uncanny reflection of the kinetic water below it. Originally commissioned by curator Jan Hoet for his landmark exhibition Over the Edges (2000), as a site-specific public ... More
Quote
Artists in England are paid too much. Prince Albert
More News
---
Mysterious René Magritte painting offered at BRAFA Art Fair 2018
---
Flashback
On a day like today, Fahion designer Christian Dior wa born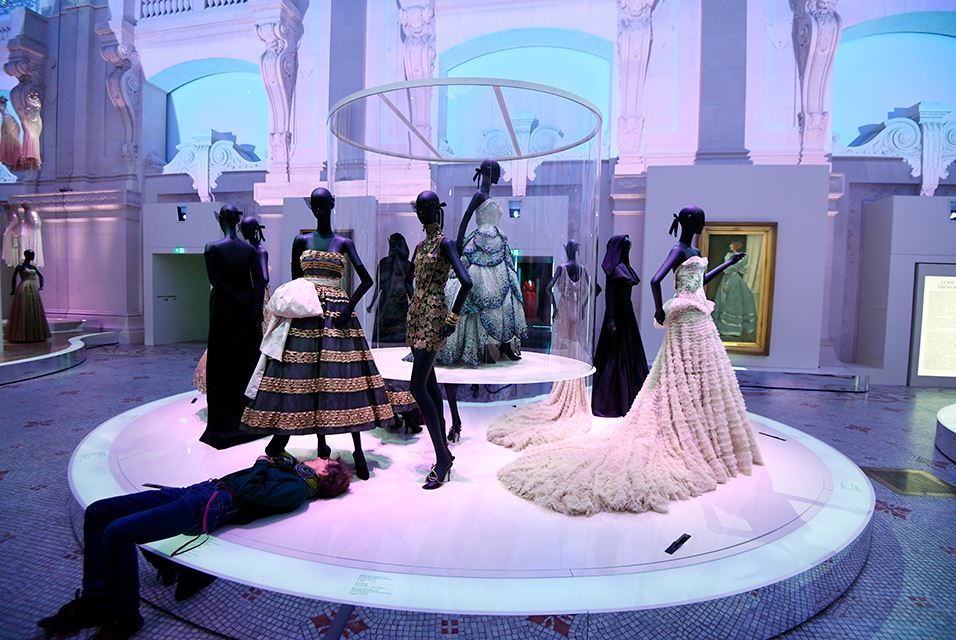 January 21, 1905. Christian Dior (21 January 1905 - 24 October 1957) was a French fashion designer, best known as the founder of one of the world's top fashion houses, also called Christian Dior, which is now owned by Groupe Arnault. His fashion houses are now all around the world. This file picture taken on July 3, 2017 shows a man adjusting a dress prior to the opening of the Dior exhibition that celebrates the seventieth anniversary of the Christian Dior fashion house, at the Museum of Decorative Arts (Musee des Arts Decoratifs) in Paris. 708 000 people visited the exhibition dedicated to Christian Dior from July 5, 2017 to January 7, 2018 in Paris. ALAIN JOCARD / AFP.
---

Museums, Exhibits, Artists, Milestones, Digital Art, Architecture, Photography,
Photographers, Special Photos, Special Reports, Featured Stories, Auctions, Art Fairs,
Anecdotes, Art Quiz, Education, Mythology, 3D Images, Last Week,
.
Royalville Communications, Inc
produces:







Tell a Friend
Dear User, please complete the form below in order to recommend the Artdaily newsletter to someone you know.
Please complete all fields marked *.
Sending Mail

Sending Successful