Bacon, Freud and the School of London explored at Museo Picasso Málaga
Installation view. Photo: Jesús Domínguez © Museo Picasso Málaga
MALAGA
.-
In the 1950s a small group of painters who shared the same artistic concerns and were connected by ties of friendship and mutual admiration explored the appearance and vulnerability of the body, with the city of London as their surrounding context. Through the depiction of the figure and their own everyday landscape, these artists conveyed the delicacy and vitality of the human condition while simultaneously developing new approaches and styles, reinventing their manner of representing life with pronounced individuality and imbuing painting with a rare intensity. While most of the artists achieved critical recognition from the outset, public recognition was slower to arrive, primarily because art centred on the human figure was underestimated from the 1960s to the 1980s, years when abstraction and conceptual art were the prevailing forms of artistic expression. As the exhibition's curator Elena Crippa has observed, for many years the work of these painters seemed to clash overtly ...
More
The Best Photos of the Day
In a milestone gift, The Kimbell Art Museum receives a major sculpture by Modigliani
600-year-old rare lacquer dish leads Sotheby's Chinese Art Sales in London
Lisson Gallery presents the work of Susan Hiller for the first time at its main gallery space in New York


Amedeo Modigliani, Italian (1884--1920), Head, c. 1913. Limestone, 20 5/8 x 9 3/4 x 14 3/4 in. Collection of the Kimbell Art Museum. Given in honor of Ted and Lucile Weiner by their daughter Gwendolyn.



FORT WORTH, TX.- The Kimbell Art Museum announces today the gift of a masterpiece of modern sculpture, a carved limestone Head (c. 1913), by the Italian artist Amedeo Modigliani (1884--1920). This important work was given in honor of Ted and Lucile Weiner by their daughter Gwendolyn Weiner. It is one of about 27 surviving sculptures by the artist, and among his finest. Head is currently on view in the Kimbell's permanent collection galleries. "This is one of the most significant gifts the Kimbell has ever received," said Eric M. Lee, director of the Kimbell Art Museum. "I will be forever grateful to Gwen Weiner for her extraordinary generosity, which will enrich the visitor experience at the Kimbell Art Museum for generations to come." The Kimbell has great works of modern painting in its collection by artists such as Picasso, Matisse and Mondrian, but until now it has had no work in any medium by Modigliani. ... More



A Magnificent and Extremely Rare Large Carved Cinnabar Lacquer Dish (Lot 138) Late Yuan/Early Ming Dynasty 44.5cm Est. £400,000-600,000 / HK$3,860,000-5,790,000. Photo: Sotheby's.



LONDON.- Following an outstanding year in Chinese art, Sotheby's Important Chinese Art auction in London on 10 May 2017 showcases a selection of notable Chinese ceramics and works of art across the disciplines of imperial porcelain, lacquer, jade and Buddhist sculpture. Skilfully crafted and spanning China's long and rich history, they offer a glimpse into the evolving tastes of both the imperial court of China and international markets. Leading the sale is an exceptionally rare and large carved cinnabar lacquer dish from the late Yuan/early Ming period. Featured in the Oriental Ceramic Society exhibition 'The Arts of the Ming Dynasty' in 1957, the dish also boasts an enviable provenance, having been owned by a series of distinguished collectors including Sir Percival and Lady David and Percy D. Krolik. The auction is preceded by Menagerie, a delightful English private collection of animals, birds and sea creatures carved and ... More



Susan Hiller, Homage to Gertrude Stein: Lucidity & Intuition, 2011. Art Deco writing desk containing a collection of modified books on automatism and related issues, on round plinth, 28 3/8 x 18 3/4 inches (72 x 47.5 cm) © Susan Hiller; Courtesy Lisson Gallery.



NEW YORK, NY.- Lisson Gallery is presenting the work of Susan Hiller for the first time at its main gallery space in New York. The exhibition includes a selection of work from over four decades of her career focusing on themes to which she has often returned, encapsulated in the title 'Paraconceptual,' which sites her work "just sideways of conceptualism and neighboring the paranormal." Hiller has committed her practice to examining the cultural undercurrrents of society and its belief systems. Using a method she describes as "a kind of archaeological investigation, uncovering something to make a different kind of sense of it," Hiller probes the unseen, unheard, unspoken and unexplained, and in the process has explored subjects such as lost languages, telepathy, dreams and automatic writing. The exhibition in New York includes the multi-channel video ... More
Sprüth Magers Berlin opens solo exhibition of works by Pamela Rosenkranz
Influential New York City photographer Berenice Abbott prints offered by Heritage May 18-19
The Speed Art Museum opens "Southern Accent: Seeking the American South in Contemporary Art"


Installation view, Pamela Rosenkranz, 'She Has No Mouth', Sprüth Magers, Berlin, April 29 - June 17, 2017 Photography by Timo Ohler.



BERLIN.- She Has No Mouth is Pamela Rosenkranz's inaugural solo exhibition at Sprüth Magers, Berlin, for which she has developed a new series of paintings and an installation with light, scent, and sound. The works continue her longstanding engagement with the biological and evolutionary underpinnings of art, her investigation of materiality and immateriality, pigments and pheromones, microbes, colors, and scents. Rosenkranz probes the sensory stimulations that have triggered "hard-wired" responses in humans since prehistoric times. She mines these malleable codes that have been manipulated in contemporary consumer culture, by commercial enterprises such as the fashion and perfume industries. Rosenkranz starts, in a series of new paintings, with the tabby patterns of cats. Often evoking images of "sexiness" and sensual attraction, their stripes and patterns have emerged through complex evolutionary processes ... More



Berenice Abbott (American, 1898-1991), New York Stock Exchange II, 1934. Gelatin silver, 9-1/8 x 7-1/8 inches. Estimate: $3,000 - $5,000.



NEW YORK, NY.- Remembered as one of the most independent, determined and respected photographers of the 20th century, Berenice Abbott chronicled the evolution of New York City for decades beginning with the Great Depression. Almost 80 original prints will be available with 61 prints being offered without reserve to collectors during Heritage Auctions' Photographs Signature Auction May 18-19 in New York City. Images of iconic New York City landmarks such as the New York Stock Exchange (est. $3,000-5,000), the construction of Rockefeller Center (est. $1,500-2,500) and Broadway to the Battery ($1,000-2,000) highlight this collection of original prints. "Berenice Abbott spent years chronicling the evolution of New York City. She captured the architecture, the people and the spirit of one of the busiest, most dynamic and influential cities in the world. Many of these prints capture iconic images of the New York City from Abbott's creative perspective but sti ... More



Barkley L. Hendricks, Down Home Taste, 1971. Oil and acrylic on linen, 48 x 48 inches (121.92 x 121.92 cm). Courtesy of the Office of the Dean of Students, Cornell University.Gift of Michael Straight to the Willard Straight Hall Collection.



LOUISVILLE, KY.- The Speed Art Museum presents Southern Accent: Seeking the American South in Contemporary Art, the Speed's largest and most ambitious contemporary art exhibition to date, which opens at the Speed on April 30, 2017. Co-organized with the Nasher Museum of Art at Duke University, the Speed is the second stop in this national exhibition, which opened at the Nasher in September 2016. Southern Accent will be on view at the Speed through October 14, 2017. Southern Accent: Seeking the American South in Contemporary Art questions and explores the complex and contested space of the American South. Presenting a wide range of perspectives, from both within and outside of the region, the exhibition creates a composite portrait of southern identity through the work of 60 artists. The art reflects upon and pulls apart the dynamic nature ... More
Lund Humphries to publish the first book to consider the V&A as a work of art
Strong session of Tiffany and Paul Newman Dayton Rolex among top results of sale
Exhibition at White Cube brings together works from Larry Bell's extensive career


Designing the V&A: The Museum as a Work of Art (1857-1909) by Julius Bryant.



LONDON.- Lund Humphries will be publishing the first book to consider the V&A as a work of art in itself, to coincide with a related V&A display of original 19th-century plans and designs, and the opening of the V&A's new Exhibition Road extension, opening this summer. The building of the Victoria and Albert Museum, begun in 1857, is the most elaborately designed and decorated museum in Britain. This book is the first to consider the V&A as a work of art in itself, presenting drawings, watercolours and historic photographs relating to the Museum's 19th-century interiors. Much of this visual material is previously unpublished and is outside the canon of Victorian art and design. A related display, Designing the V&A, explores through drawings and photographs the history of the V&A's buildings, from the 1850s to the present day. This free display will run from 6 May - 31 December 2017 in the ... More



A green gold, emerald and pearl pendant/brooch by Paulding Farnham for Tiffany & Co. sold for $21,250, well above its $5,000 ­ 7,000 estimate.



CHICAGO, IL.- The April 23 ­ 25 auctions at Leslie Hindman Auctioneers included a two-day Important Jewelry auction followed by Fine Silver Jewelry and Fine Timepieces. The auctions realized over three million in sales with international participation, especially online and in the room. The Important Jewelry sale featured sessions from top designers such as Tiffany & Co., Van Cleef & Arpels and Bulgari. Among designer highlights, Tiffany performed particularly well. Other items that were highly in demand included diamonds, of fancy shapes, and coral. Among top selling diamonds was a platinum marquise cut Golconda-type diamond ring that sold for $227,000 against an estimate of $175,000 ­ $225,000. Overall, results for diamonds showed renewed enthusiasm and strong prices realized, especially for fancy shapes. Diamond buyers participated globally, most of the top lots selling to national ... More



Larry Bell, LNVF 5, 1979 (detail). Aluminium with silicon monoxide on Stonehenge paper, 65 13/16 x 42 1/2 in. © Larry Bell. Photo © White Cube (George Darrell)



LONDON.- White Cube is presenting an exhibition by Larry Bell in the South Galleries at Bermondsey. This exhibition brings together works from Bell's extensive career, from early paintings and works on paper to recent collages, centring on the large-scale installation 6 x 6 An Improvisation (1989-2014), Bell's largest standing wall work to date. Since 1968, Bell has been developing his series of freestanding glass wall sculptures in varying scales and configurations. 6 x 6 An Improvisation is the culmination of this series. First shown at the Chinati Foundation in Marfa, Texas in 2014, it consists of 40 panels, each measuring 72 x 72 inches or approximately 6ft square, a measurement relational to the artist's own height. Bell has reconfigured the panels for White Cube Bermondsey, creating what he terms an 'Improvisation', combining ... More
Exhibition explores the connection between movement, the body, and light in art
First ever US installation of Nancy Spero's sculpture "Maypole: Take No Prisoners" on view in New York
Post-War American artists lead Modern & Contemporary Art Auction in New York


Man Ray, Rayogramm, 1922–1926. Gelatin silver print after rayograph (print 1966–1972) Museum der Moderne Salzburg—FOTOGRAFIS Bank Austria Collection © Museum der Moderne Salzburg / Bildrecht, Vienna, 2017, Photo: Rainer Iglar.



SALZBURG.- A new thematic presentation showcasing the rich collections of the Museum der Moderne Salzburg is being staged on level [2] at Mönchsberg. The selected works complement each other perfectly and, in addition to pieces from the museum's own holdings, have been compiled from the following collections: Generali Foundation Collection—Permanent Loan to the Museum der Moderne Salzburg, the Austrian Federal Photography Collection, and the Bank Austria FOTOGRAFIS Collection. The exhibition includes recent acquisitions as well as a room dedicated to the art of Gustav Metzger, the founder of Auto-Destructive art, who recently died at the age of ninety. The invention of the photographic and film camera opened up new opportunities to record and reflect ... More



Nancy Spero, Female Bomb, 1966. Gouache and ink on paper, 34 x 27 inches (86.4 x 68.6 cm).



NEW YORK, NY.- Galerie Lelong is presenting the first ever US installation of Nancy Spero's large-scale, three-dimensional sculpture Maypole: Take No Prisoners. Initially created for the grand entryway of the 52nd Biennale di Venezia in 2007, Maypole: Take No Prisoners provokes critical discussion about the cyclical nature of history, war, and its victims. Lelong's smaller gallery room features an early inspiration for the Maypole sculpture, Kill Commies / Maypole (1967), alongside additional works on paper from The War Series, many of which have never been shown in New York. Maypole: Take No Prisoners was Spero's final major work before her death in 2009. It synthesizes several themes that Spero explored throughout her influential, 50-year career and embraces the productive coexistence of anger and celebration. As a familiar centerpiece of traditional folk festivals, the maypole is presented as a ... More



Robert Motherwell (1915-1991), Nemesis, 1981-82. Acrylic on canvas, 60 x 44 inches. Estimate: $500,000 - $700,000.



NEW YORK, NY.- Heritage Auctions will present iconic works by leading modern and contemporary artists in its Spring Modern and Contemporary Art sale in New York City on May 22. Collectors of Robert Motherwell will be presented with two diverse works. Nemesis, 1981-82 (Est. $500,000-$700,000), which bears witness to his long relationship with the color black and gestural drawing and Cor Anglais, 1976 (Est. $100,000-$150,000), Motherwell's collage and ode to Beethoven. Motherwell highlighted Beethoven's music only three times in his collage series, making Cor Anglais that much more unique. Ed Ruscha's Evolution/Revolution from 2013 will be offered with an estimate of $300,000-$500,000, as well as his 1981 depiction of the Hollywood sign, estimated at $80,000-$120,000. Hollywood is striking for its logo-like simplicity. Unlike other works by the LA-based artist, this ... More
Quote
There is something ghostly in all great art. Lafcadio Hearn
More News
---
William Dobson the court painter of the civil war
---
Flashback
On a day like today, French painter Édouard Manet died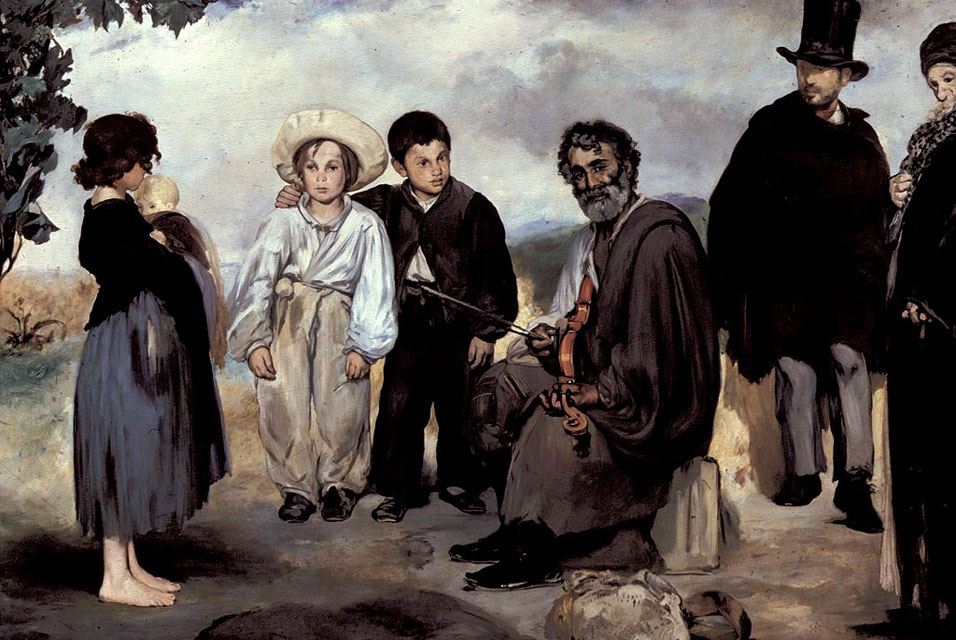 April 30, 1883. PARIS.- Édouard Manet was a French painter. One of the first nineteenth century artists to approach modern-life subjects, he was a pivotal figure in the transition from Realism to Impressionism. His early masterworks The Luncheon on the Grass and Olympia engendered great controversy, and served as rallying points for the young painters who would create Impressionism. Today these are considered watershed paintings that mark the genesis of modern art. In this image: Old Musician, National Gallery of Art, Washington, DC 1862.
---

Museums, Exhibits, Artists, Milestones, Digital Art, Architecture, Photography,
Photographers, Special Photos, Special Reports, Featured Stories, Auctions, Art Fairs,
Anecdotes, Art Quiz, Education, Mythology, 3D Images, Last Week,
.
Royalville Communications, Inc
produces:







Tell a Friend
Dear User, please complete the form below in order to recommend the Artdaily newsletter to someone you know.
Please complete all fields marked *.
Sending Mail

Sending Successful