Exhibition at National Gallery marks the centenary of Edgar Degas's death
Hilaire-Germain-Edgar Degas, The Rehearsal, about 1874. Oil on canvas, 58.4 × 83.8 cm. The Burrell Collection, Glasgow (35.246) © CSG CIC Glasgow Museums Collection.
LONDON
.-
This autumn, visitors to the
National Gallery
have the rare opportunity to see a stunning group of artworks by Hilaire-Germain-Edgar Degas from the Burrell Collection in Glasgow. This is the first time that most of them are being seen outside Glasgow since they were acquired at the beginning of the 20th century. Marking the centenary of the artist's death on 27 September 1917, Drawn in Colour: Degas from the Burrell is also a fitting tribute to one of the greatest creative figures of French art. Shipping magnate Sir William Burrell (1861–1958) amassed one of the finest collections of Degas pastels in the world; encompassing works from every period of his career and representative of some of his favourite subjects: the ballet, horse racing, and the private world of women at their toilette. They form part of the collection of 9,000 objects including tapestries, stained glass, sculpture, and paintings that Burrell ...
More
The Best Photos of the Day
David Zwirner presents largest number of Ad Reinhardt's "blue" paintings ever shown together
A century on, royal family's letters return to Russia
Hidden no more: Clyfford Still Museum launches online collection and research database


Blue Painting, 1951-1953. Oil on canvas, 80 x 59 7/8 inches (203.2 x 152.1 cm). Private Collection, Europe © 2017 Estate of Ad Reinhardt/ Artists Rights Society (ARS), New York. Courtesy David Zwirner, New York/London.



NEW YORK, NY.- Ad Reinhardt: Blue Paintings, organized by the Ad Reinhardt Foundation, presents the largest number of the artist's "blue" paintings ever shown together. Drawn exclusively from museum and private collections, this is the first exhibition devoted entirely to this body of work since the artist's 1965 solo show at the Stable Gallery, New York, over fifty years ago. This presentation focuses on works made between 1950 and 1953, in addition to related earlier canvases from the 1940s. The perceptual demands of these compelling works are intense and reward sustained looking: the blues in Reinhardt's paintings appear to change before one's eyes, influenced by subtle shifts in color within each canvas and in neighboring works. Reinhardt paired tones of blue that are so similar that it may take minutes to see they are ... More



A picture taken on September 4, 2017 shows an employee of a museum in Tsarskoye Selo displaying part of the collection of documents revealing the everyday life of the imperial Romanov family. Olga MALTSEVA / AFP.



SAINT PETERSBURG (AFP).- From telegrams about hunting parties to anguished letters over the Bolshevik takeover, a trove of documents detailing the private lives of Russia's Romanov family has returned home 100 years after the 1917 revolution. The archive, containing letters, photographs and drawings, was taken to Europe by members of the royal family who fled the chaos and persecutions of the revolution. In July, the state-owned Russian bank Sberbank bought the archive for 70,000 euros ($84,000) after its owner, who did not want to be identified, put them up for sale. Now, as the country marks the centenary of the end of royal rule, the collection has gone on display at a museum in Tsarskoye Selo, the former summer residence of the tsars on the outskirts of Saint Petersburg. "These letters and ... More



Clyfford Still, PH-950, 1950. Oil on canvas, 92 x 70 in. (233.7 x 177.8 cm) Photo: Ben Blackwell. Courtesy of the Clyfford Still Museum © City and County of Denver / ARS, NY.



DENVER, CO.- Home to the world's most intact public collection of a major American artist, the Clyfford Still Museum launched two new online discovery tools today. More than 2,200 works of art—approximately 470 paintings and 1,750 works on paper by Still—are now available in high-resolution reproductions at collection.clyffordstillmuseum.org. More than 1,900 objects from the Clyfford Still Archives are also now public for the first time in the Museum's new research database at clyffordstillmuseum.org/database. The launch was first reported by the New York Times. "This occasion is especially momentous in light of the fact that Denver's collection of Still's work—one of the last great treasures of 20th century American art, donated directly from the estates of Clyfford and Patricia Still—was hidden from public and scholarly view for 60 ... More
Exhibition highlights the impact of Arte Povera on the work of British artists
Exhibition at Los Angeles County Museum of Art focuses on design in California and Mexico
Exhibition at Paul Kasmin celebrates the friendship between Sir Anthony Caro and Jules Olitski


Tony Cragg, Runner, 1985. Plastic Courtesy the artist.



LONDON.- 'Arte Povera' is internationally recognised as the most famous and influential development in Italian art of the late twentieth century. It was introduced as a loose term in 1967 to describe the practices of a number of Italian artists. This exhibition highlights the impact of Arte Povera on the work of some of the British artists for whom it has been a source of inspiration. It shows work by the movement's key artists, including Alighiero Boetti, Mario Merz, Giuseppe Penone and Giulio Paolini alongside that of British artists such as Tony Cragg, Ceal Floyer, Mona Hatoum, Gavin Turk and Richard Long. Poor Art | Arte Povera runs at the Estorick Collection from 20 September until 17 December 2017. Arte Povera emerged in the years following the rapid economic and technological growth that transformed Italian post-war society, when the economy began to slow and social tensions grew. ... More



Dora De Larios, Warrior, mid-1960s, Collection of the Gralnik Family, © Dora De Larios, photo by Robert Wedemeyer.



LOS ANGELES, CA.- The Los Angeles County Museum of Art presents Found in Translation: Design in California and Mexico, 1915–1985, the first exhibition to explore the full range of design and architecture dialogues between California and Mexico from 1915 to 1985. Found in Translation features more than 250 objects including furniture, metalwork, ceramics, costume, textiles, paintings, sculpture, architectural drawings and photographs, mural studies, posters, ephemera, and film by over 200 artists, architects, designers, and craftspeople. Found in Translation is one of five exhibitions presented by LACMA as part of the Getty's Pacific Standard Time: LA/LA initiative, and is organized by Wendy Kaplan, curator and head of the Decorative Arts and Design ... More



Installation view.



NEW YORK, NY.- Paul Kasmin is presenting Caro & Olitski: 1965 – 1968, Painted Sculptures and The Bennington Sprays, an exhibition that celebrates the dialogue, exchange of ideas and lasting friendship between British sculptor, Sir Anthony Caro and American painter, Jules Olitski. The exhibition features painted steel sculptures by Caro and never-before exhibited Spray paintings by Olitski, paintings that art critic Clement Greenberg considered to be among the artist's finest. Caro & Olitski is on view from September 7 through October 25 at 515 West 27th Street. Caro and Olitski's decades-long friendship took root in 1963 when, after years of mutual admiration, both artists joined the faculty of the Art Department at Bennington College in Vermont, an area also home to David Smith and Kenneth Noland. During their time teaching in Bennington, the Fire Department ... More
American sculpture: Beyond Limits opens at Chatsworth House
Nasher Sculpture Center announces Theaster Gates as winner of the 2018 Nasher Prize
Metropolitan Museum named #1 museum in the world by TripAdvisor


This is the first prominent open-air exhibition devoted exclusively to American post-war sculpture in the United Kingdom. Courtesy Sotheby's.



LONDON.- This year's edition of Sotheby's annual Beyond Limits show brings the searing abstract vision of post-war American art to the rolling hills of Derbyshire in a one-off American-themed exhibition. In one of the most iconic settings in Britain, monumental sculpture by some of the foremost post-War American artists have been brought together to celebrate a revolutionary moment where freedom of expression met with unprecedented scale and ambition. The first prominent open-air exhibition devoted exclusively to American post-war sculpture in the United Kingdom, the outdoor show will trace the ways in which leading artists have boldly experimented with new materials and techniques – from Abstract Expressionism and Pop Art to the rise of Minimalism and Conceptual Art. This follows on from the zenith of enthusiasm for ... More



Theaster Gates. Image courtesy of Sarah Poole.



DALLAS, TX.- The Nasher Sculpture Center announces American artist Theaster Gates as the recipient of the 2018 Nasher Prize. In its third year, the Nasher Prize is the most ambitious international award in sculpture, established to honor a living artist who elevates the understanding of sculpture and its possibilities. Theaster Gates maintains an artistic practice that incorporates sculpture, painting, music, performance, architecture, urban planning, and social engagement. His projects cull from the material history of a place—physical, political, or cultural—in order to manifest a work that speaks to both the artist's personal narrative and to the particular story of a building, a site, an object, or a people. As such, Gates' method of using architecture, music, extant archives, and human interaction as material for his work creates dynamic ecosystems wherein everything—from the objects that ... More



The Met welcomed 7 million visitors across its three locations.



NEW YORK, NY.- The Metropolitan Museum of Art has been named the world's #1 museum in the TripAdvisor Travelers' Choice® awards for an unprecedented third consecutive year, making it the only museum to receive the valued ranking for three years in a row. TripAdvisor highlights the top museums around the world based on the quantity and quality of reviews and ratings, gathered over a 12-month period. "We're incredibly honored to receive this recognition from our visitors," said Daniel H. Weiss, President and CEO of The Met. "We care deeply about the experience our visitors have at the Museum, and strive every day to present our collection, exhibitions, and programs in an exciting and engaging manner, and to provide amenities that make everyone feel at home here." "Everyone should go to The Met at least once in their lifetime, and travelers can take advantage of the insightful ... More
New photographs and sculpture by Roe Ethridge on view at Gagosian
'Bharti Kher: Sketchbooks and Diaries' debuts in the Gardner Museum's Fenway Gallery
Crawford Alexander Mann III is new Prints and Drawings Curator at the Smithsonian American Art Museum


Roe Ethridge, Deer, 2017. Dye-sublimation print, 49 1/2 × 33 inches (125.7 × 83.8 cm) © Roe Ethridge. Courtesy Gagosian.



SAN FRANCISCO, CA.- Gagosian is presenting "Innocence II," new photographs and sculpture by Roe Ethridge. This is his first solo exhibition in San Francisco. In Ethridge's photographs the real is used to suggest, or disrupt, the ideal. Through commercial images of fashion models, products, and advertisements as well as intimate moments from his own daily life, he reveals the fine line between the generic and the personal, merging art-historical genres with the image culture of today. "Innocence II" includes a new series of large-scale, layered photographs printed on brass. Multiple exposures and transparencies synthesize on the gleaming metallic surface, producing near-alchemical effects, as if each detail were made of light itself. Thus Ethridge echoes the very mechanics of photography, enhancing the medium's ability to evoke the passing of time. Seven of the brass works feature photographs of model ... More



Bharti Kher, Untitled, 2013, mixed media on paper, 42cm x 30cm.




BOSTON, MASS.- While living at the Isabella Stewart Gardner Museum as an Artist-in-Residence, Bharti Kher spent time wandering the galleries, contemplating the works of art, feeling enriched and recharged, and, in response, created a portfolio of drawings which is now on view in the Fenway Gallery. For the exhibition called "Bharti Kher: Sketchbooks and Diaries," Kher has installed a series of drawings taken from her 42cm x 30cm sketchbook as well as notebooks, writings, and reflections created during her month-long residency in 2013. Featured are 11 framed drawings and one framed mixed media work on paper as well as four unframed drawings, various notebooks, and photographs presented in a long case. "Kher seems to have had just the right amount of affection and irony for the objects she was looking at in the galleries," said Pieranna Cavalchini, the Tom and Lisa Blumenthal Curator of Contemporary Art ... More



Before joining the museum staff, Mann was the Joan and Macon Brock Curator of American Art at the Chrysler Museum of Art in Norfolk, Va.



WASHINGTON, DC.- Crawford Alexander Mann III has joined the curatorial staff at the Smithsonian American Art Museum as the curator of prints and drawings. He began work April 3. Mann joins 12 curators currently on staff for contemporary art, photography, sculpture, contemporary craft, folk and self-taught art, Latino art, 19th-century painting, a chief curator who specializes in 20th-century art and a curator of contemporary interpretation. Mann's responsibilities include research, exhibitions and acquisitions related to the museum's collection of prints, drawings and watercolors dating from the 18th century to the present. His research interests include Italian American artistic exchange on the Grand Tour, artists of the American South, the impact of East Asian watercolor and printmaking traditions on American art and the evolving visual constructions of masculinity, femininity and gender. "Alex brings a global ... More
Quote
Christ was the greatest of all artists. Vincent van Gogh
More News
---
Alexander Hamilton & DeWitt Clinton Statue Conservation Underway #amexpr...
---
Flashback
On a day like today, Italian artist Maurizio Cattelan was born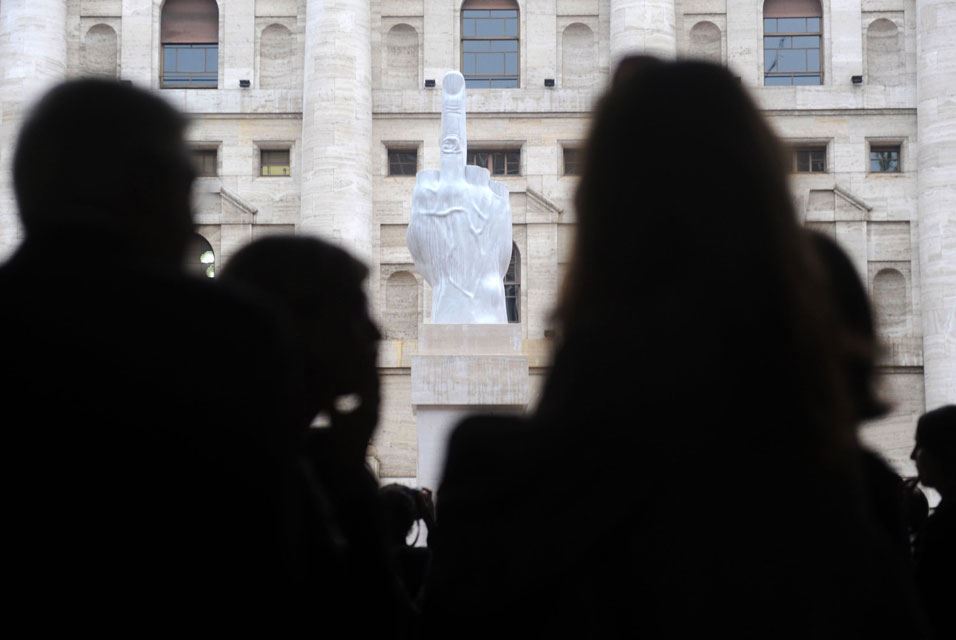 September 21, 1960. Maurizio Cattelan (born 21 September 1960, Padua, Italy) is an Italian artist. He is known for his satirical sculptures, particularly La Nona Ora (1999) (The Ninth Hour, depicting Pope John Paul II struck down by a meteorite), Him (2001), and Love Lasts Forever (1997). In this image: The sculpture middle finger by Italian artist Maurizio Cattelan during the inauguration in front of the Stock Exchange building in Milan, Italy.
---

Museums, Exhibits, Artists, Milestones, Digital Art, Architecture, Photography,
Photographers, Special Photos, Special Reports, Featured Stories, Auctions, Art Fairs,
Anecdotes, Art Quiz, Education, Mythology, 3D Images, Last Week,
.
Royalville Communications, Inc
produces:







Tell a Friend
Dear User, please complete the form below in order to recommend the Artdaily newsletter to someone you know.
Please complete all fields marked *.
Sending Mail

Sending Successful