Vincent van Gogh's inner circle explored in new exhibition in the artist's homeland
Under the watchful eye of curators Helewise Berger and Sjraar van Heugten, the last painting for 'Van Gogh's Inner Circle' is installed at the Het Noordbrabants Museum, Den Bosch, Netherlands. © photo: Jan-Kees Steenman.
DEN BOSCH
.-
With the exhibition of Van Gogh's Inner Circle. Friends, Family, Models Het
Noordbrabants Museum
counters the persistent notion that Van Gogh (1853-1890) was a lonely, tormented soul who received little credit, respect or recognition for his work in his own age. In actual fact, this is beyond the facts. Vincent van Gogh was by no means an easy person and his abruptness, almost obsessive commitment and critical eye could ward off those around him. Yet, many also greatly appreciated him. All his life he kept in close and often long-lasting contact with his friends, family, models, fellow artists and lovers. Van Gogh's Inner Circle offers a host of information about Vincent's friends and family by presenting 99 well-known and lesser-known paintings, sketchbooks, works on paper, photos and letters. The exhibition has been curated by guest curator and Van Gogh expert Sjraar van Heugten, in close collaboration ...
More
The Best Photos of the Day
Dresses worn by Hollywood star make $85,000 at Hindman Auction and return to Dior in Paris
The Cleveland Museum of Art features more than 50 drawings by Italian Renaissance artist Michelangelo
Audain Art Museum presents a fresh look at Emily Carr


All of the 37 lots sold, exceeding estimates and realizing a total of $85,000.



CHICAGO, IL.- Hindman's September 17 Haute Couture and Luxury Fall Fashion was highlighted by a collection of 37 Parisian haute couture and Hollywood designs worn by Dame Olivia de Havilland from 1954 to 1989. Dame Olivia is 103. All of the 37 lots sold, exceeding estimates and realizing a total of $85,000. The collection was popular with private collectors and museums alike with Dior Heritage, the archive of the fashion house of Christian Dior in Paris taking home nearly all of the lots. The top selling highlight from the sale, a Christian Dior by Marc Bohan haute couture dress, inner bodice and shoes, Spring-Summer 1964 worn by Dame Olivia de Havilland in the 1964 movie 'Hush...Hush, Sweet Charlotte,' surpassed its presale estimate of $2,000- $3,000, selling for $8,125. Another highlight from the auction was a Christian Dior by Marc Bohan haute couture ensemble, Spring-Summer 1961 worn by de Havilland in the photograph on the co ... More



Seated male nude, separate study of his right arm (recto), 1511. Michelangelo Buonarroti (Italian, 1475–1564). Red chalk, heightened with white; 27.9 x 21.4 cm. Teylers Museum, Haarlem, purchased in 1790. © Teylers Museum, Haarlem.



CLEVELAND, OH.- The Cleveland Museum of Art displays a selection of some of the finest and most celebrated drawings by Michelangelo Buonarroti (1475–1564) in the extraordinary exhibition, Michelangelo: Mind of the Master. Organized by the Cleveland Museum of Art and the J. Paul Getty Museum in conjunction with the Teylers Museum, Haarlem, the Netherlands, Michelangelo: Mind of the Master is on view first at the Cleveland Museum of Art from September 22, 2019, to January 5, 2020, before traveling to the J. Paul Getty Museum in Los Angeles. The centerpiece of the exhibition is a group of drawings with an illustrious provenance from Queen Christina of Sweden (1626–1689), on loan from the Teylers Museum. The museum is the oldest in the Netherlands, having opened in ... More



Emily Carr, Le Paysage (Brittany Landscape), 1911. Oil on board, 45.7 x 64.8 cm. Audain Art Museum Collection. Purchased with funds provided by the Audain Foundation 2017.012



WHISTLER, BC.- Opening to the public on September 21, Emily Carr: Fresh Seeing – French Modernism and the West Coast reveals compelling new details about Carr's early French period and its profound influence on her extraordinary career. As the most ambitious exhibition in its three-and-a-half-year history, the Audain Art Museum has gathered over 50 works by Canada's most influential female artist. Added to many gems from the Museum's collection, important historical works from across Canada and rare paintings by Carr's French instructors provide a captivating new look at Carr's evolution. In 1911, Carr returned from a 16-month trip to France with a new understanding of French Modernism and a radically transformed painting style. This sojourn was the catalyst, pulling Carr away from conformity, and resulting ... More
Avant-garde rocker John Cale revisits his classics
Disabled Poles take their struggles to the stage
Hauser & Wirth exhibits drawings by Eva Hesse from the Allen Memorial Art Museum


Welsh musician John Cale poses during a photo session in Los Angeles on September 15, 2019. VALERIE MACON / AFP.



LOS ANGELES.- A maestro of avant-garde rock who co-founded the famed Velvet Underground with Lou Reed and hobnobbed with Andy Warhol, Welsh musician John Cale is not one for a traveled path. "No matter where I go, I was more interested in how I get there," he says. "I wanted to take part in the natural evolution of music." Cale is still at it as a 77-year-old with an imposing stature -- set to play three shows at the Philharmonie de Paris next week -- and met with AFP at his rehearsal studio hidden in a labyrinthian building in downtown Los Angeles. Surrounded by his instruments -- piano, guitar and violin -- Cale describes the high-octane New York of his youthful career in the early 1960s. "It was a cultural revolution going on," he says. "Everybody was doing something, everybody's making films, or making concerts or whatever, on the street, you know, in homes, in lofts." "It was the heart of the artistic reactor." A fan of French composer Erik Satie ... More



Actress of Teatr 21 Maja Kowalczyk presents her costume for "The Revolution That Never Was", a play about the protest of disabled people and their families in the Polish Parliament, at the Soho Theater in Warsaw. Wojtek RADWANSKI / AFP PHOTO / AFP.



(AFP).- A troupe of actors with Down Syndrome in Poland is taking the fight for disabled rights to the stage in a new play that lashes out at politicians, accusing them of neglecting the welfare of citizens with disabilities. Titled "The Revolution That Never Was", the play recounts how a group of young Poles with disabilities staged an unprecedented sit-in protest in the Polish parliament last year. They slept on the floor of a corridor for 40 nights in a bid to persuade the right-wing Law and Justice (PiS) government to boost their meagre living allowance and benefits for their caregivers. Known for generous social spending on child allowances and retirement pensions, the government has moved to improve benefits for Poland's estimated 272,000 citizens with disabilities ahead of October's general election. Down Syndrome is the most common genetic form ... More



Eva Hesse, No title, 1958. Photogram (gelatin silver print), 35.1 x 27.9 cm / 13 7/8 x 11 in. Allen Memorial Art Museum. Gift of Helen Hesse Charash, 1981.40.1.



NEW YORK, NY.- An icon of American art, Eva Hesse produced a prodigious body of work that collapsed disciplinary boundaries and forged innovative approaches to materials, forms, and processes. 'Forms Larger and Bolder: Eva Hesse Drawings from the Allen Memorial Art Museum at Oberlin College,' on view 5 September – 19 October 2019 at Hauser & Wirth New York, 69th Street, illuminates the important role that drawing played throughout Hesse's career. The works on view range from early figurative sketches to experimental geometric compositions and studies for the sculptural works for which she is best known. Organized by Barry Rosen and Allen Memorial Art Museum Assistant Curator, Andrea Gyorody, the two-part exhibition will travel from Hauser & Wirth to mumok, Vienna in November 2019 and from Museum Wiesbaden to the Allen Memorial Art Museum in September 2020. 'Forms Larger and Bolder' encompasses approximately 70 work ... More
Rago announces highlights included in its 'Outsider and Fine Art. Curious Objects' sale
Timothy Taylor to represent Richard Forster
Exhibition features 197 works celebrating the achievements and contributions of black Americans


Lester Johnson, Street Scene: A Group. Estimate: $5,000 - 7,000.



LAMBERTVILLE, NJ.- Rago announced the auction "Outsider and Fine Art. Curious Objects." on October 20, 2019 at 11am. "Outsider and Fine Art. Curious Objects." is Rago's best sale of outsider art to date, with 207 total lots on offer. The auction features stunning examples by masters in the category from Bartlett to Zinelli, many with provenance directly to the artists and/or celebrated collectors. The auction also features some exceptional works of fine art including paintings, works on paper, and sculpture. As in years past, trade figures, articulated artist mannequins, and devotional figures are among the offerings, as is a winning selection of vernacular photography, carnival knock downs and vaudeville dummies, signage, canes, and erotica. "Outsider & Fine Art. Curious Objects." Sunday, October 20 at 11:00 a.m., 207 lots Among the "who's who" of artists in this sale are Butch Anthony, Morton ... More



Richard Forster, Notes on Architecture: The Times Business Pages, June 18 2018, 2018.



LONDON.- Timothy Taylor announced representation of British artist Richard Forster (b.1970, UK). The gallery will present Forster's first solo show, Notes on Architecture in London this November, which was first shown earlier this year at FLAG Art Foundation in New York. Forster's meticulously detailed drawings appear as trompe l'oeil newspaper clippings and photographs, referencing diverse themes of nostalgia, the socio-political climate and architecture. Although almost photo-realistic upon first inspection, on closer viewing, the compulsively rendered works break down into abstract mark-making, combining collaged elements such as masking tape, gouache and watercolour with found surfaces to create subtle tonal shifts and textures. Presented both chronologically and within grid sequences, Forster's small-scale works reflect his own personal experience of the world, carefully documenting the nature of time ... More



Robert Scott Duncanson, Landscape, Autumn, ca 1865. Oil on board.



DALLAS, TX.- The African American Museum, Dallas in Fair Park will present the widely acclaimed exhibition, The Kinsey African American Art & History Collection, celebrating the achievements and contributions of black Americans from 1595 to present times. Considered one of the most comprehensive surveys of African-American history and culture outside the Smithsonian Institution, the exhibition will feature 197 of the shared treasures amassed by Shirley and Bernard Kinsey during their five decades of marriage. The collection includes masterful paintings and sculpture, photos, rare books, letters, manuscripts and more. Presented by Toyota Motor North America, the exhibition will run Sept. 21, 2019-March 1, 2020. The Museum is located at 3536 Grand Ave. in Dallas' historic Fair Park. Garnering national media attention and experienced by more than 15 million people, the groundbreaking ... More
Yorkshire Sculpture Park unveils Alfredo Jaar for UN International Day of Peace
Maurice Car Collection of Arts and Sciences, Featuring Rare Books & Manuscripts, soars above $1.2 million
'Mudlarks' unearth the past on London's riverbanks


Alfredo Jaar, The Garden of Good and Evil, 2017. Courtesy the artist, New York, a political and YSP. Photo © Jonty Wilde.



WAKEFIELD.- Yorkshire Sculpture Park presents The Garden of Good and Evil, a new permanent installation by pioneering Chilean artist Alfredo Jaar, which will be unveiled in the open air on 21 September 2019 – United Nations International Day of Peace. The unveiling coincides with the launch of a publication of the same name, which features essays that explore Jaar's artistic practice, positioning the work at YSP as a critical element of his ongoing investigation into the power of imagery. The Garden, a work that Jaar wanted to realise for some years and that YSP is uniquely placed to house, is a significant permanent commission for the Park and for the UK. It features ten elegantly fabricated steel cells, which reference 'black sites', the secret detention facilities operated by the United States Central Intelligence Agency (CIA) around the world. The cells, which have been sited within the woodland and partially submerged in ... More



Sir Isaac Newton's Autograph Manuscript, Notes on Physics and Solid Geometry, with Two Diagrams soared to nearly eight times its pre-auction estimate when it sold for $399,000.



DALLAS, TX.- A collection of exceptionally rare documents from renowned scientists and artists led the results for Heritage Auctions' The Maurice Car Collection of Arts and Sciences, Featuring Rare Books & Manuscripts to climb to $1,261,070 Sept. 4 in New York. Car was an engineer and former scientist who was a dedicated collector of the arts, sciences and humanities. The lots offered in the sale included works by some of the most famous names in science, including Marie Curie, Albert Einstein, Sigmund Freud, Sir Isaac Newton and Louie Pasteur; and artists like Paul Cézanne, Henri Matisse, Pablo Picasso, Raymond Radiguet and Tristan Tzara. "Maurice Car was a serious collector with an appreciation for excellence in each of the three disciplines," Heritage Auctions Rare Books Director James Gannon said. "He moved his family from Paris to Washington, D.C., but even moving to a new country did not dissuade him from ... More



Lara Maiklem, a mudlark searches for treasure at low tide along the river Thames in central London on May 29, 2019. TOLGA AKMEN / AFP.



LONDON (AFP).- Treading her way along the muddy banks of the River Thames, Lara Maiklem spots a 16th-century clothespin which she wipes and adds to a row of others puncturing her coat pocket. She treasures these handcrafted metal pins and other discoveries along the shore for the insight they give into those who walked there before her. "Mudlarks" have scoured the foreshores of London's rivers for centuries, searching out lost or discarded items to sell, and the tradition lives on today in a small band of devotees. Over the past two decades, 48-year-old Maiklem has found pottery, a silver coin from the 1600s from the era of king Charles I, ivory combs and 18th-century clay pipes, some still bearing the makers' fingerprints. "These little snapshots of everyday London life, that you find coming out of the mud, every tide -- it's like a giant history book," said Maiklem, who works in the publishing industry. Many of the rivers, streams and brooks that cut through London ... More
Quote
I want to murder painting. Joan Miró
---
Artist Dóra Maurer at Tate Modern | TateShots
---
Flashback
On a day like today, Italian artist Maurizio Cattelan was born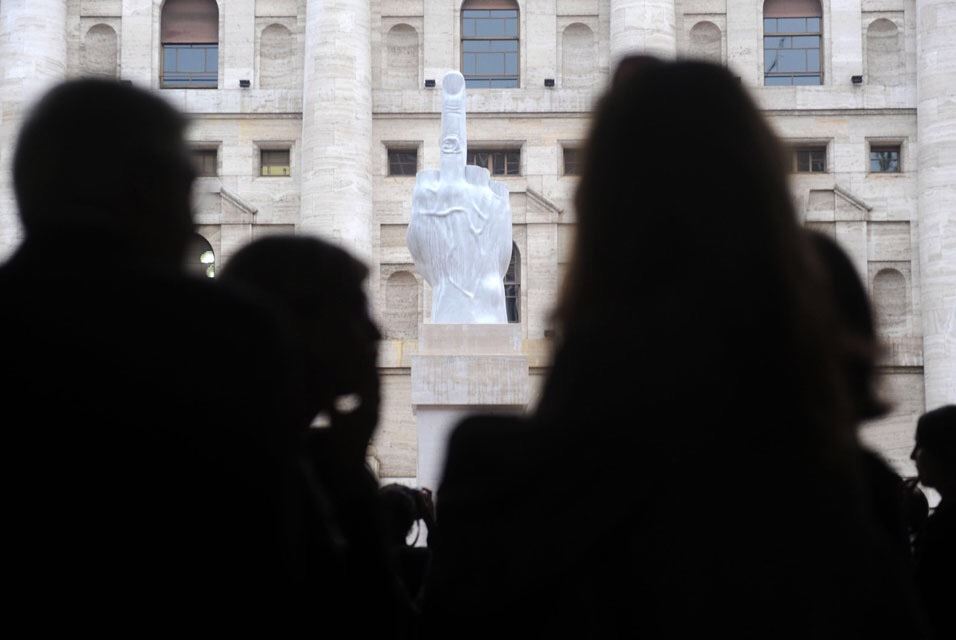 September 21, 2019. Maurizio Cattelan (born 21 September 1960, Padua, Italy) is an Italian artist. He is known for his satirical sculptures, particularly La Nona Ora (1999) (The Ninth Hour, depicting Pope John Paul II struck down by a meteorite), Him (2001), and Love Lasts Forever (1997). In this image: The sculpture middle finger by Italian artist Maurizio Cattelan during the inauguration in front of the Stock Exchange building in Milan, Italy.
---

Museums, Exhibits, Artists, Milestones, Digital Art, Architecture, Photography,
Photographers, Special Photos, Special Reports, Featured Stories, Auctions, Art Fairs,
Anecdotes, Art Quiz, Education, Mythology, 3D Images, Last Week,
.
Royalville Communications, Inc
produces: