Exhibition presents works that have undergone lengthy and complex restoration
In Lapide Depictum: Italian painting on stone, 1530-1555, shown in Room D of the Jerónimos Building until 5 August, brings together a selection of nine paintings on monochrome stone (slate and white marble) by Italian painters such as Sebastiano del Piombo, Titian, Daniele da Volterra and Leandro Bassano, which reflect the consolidation of a new approach to artistic techniques that emerged in the early decades of the 16th century. Photo © Museo Nacional del Prado.
MADRID
.-
For the first time, the
Museo del Prado
is presenting an exhibition (curated by Ana González Mozo, Senior Restorer in the Museum's Restoration Department) devoted to Italian painting on stone with the aim of disseminating the result of the analyses undertaken on these works and focusing on little-studied issues to date. A carefully selected group of works from the Museum's collection, together with others from Naples, reveal the new approach to artistic techniques that emerged in the early decades of the 16th century. These paintings also reflect aesthetic and philosophical concepts of the time: the reproduction of new pictorial effects involving the control of the fall of light on the painting's surface; the perception of the natural world as codified in classical texts; the paragone with sculpture; and the desire to produce eternal creations. ...
More
The Best Photos of the Day
Kunsthaus Zürich presents 'Fashion Drive. Extreme Clothing in the Visual Arts'
Charles Riva Collection celebrates its tenth anniversary with George Condo exhibition
Exhibition of works by Rose Wylie spans three floors of David Zwirner's London location


Joos van Cleve, Lucretia, 1515–1518. Oil on oak, 47.7 x 35.3 cm. Kunsthaus Zürich, Ruzicka Foundation 1949.



ZURICH.- From 20 April to 15 July 2018, visitors to the Kunsthaus Zürich can look forward to 'Fashion Drive. Extreme Clothing in the Visual Arts'. More than 230 works – including everything from slashed clothing and codpieces to haute couture and street wear – testify the many ways artists have viewed, commented on and shaped the world of fashion through the centuries. The exhibition spans art in multiple media from the Renaissance to the present day, with paintings, sculptures, installations, prints and watercolours, photographs, films, costumes and armour by some sixty artists. Curators Cathérine Hug and Christoph Becker have secured the loan of some truly eye-catching exhibits, including a set of Austrian folded skirt armour from around 1526 that has never before been seen in Switzerland. Works by the English School are also leaving their homeland for ... More



George Condo, Atlanta, 2002, Gilded bronze, 15 x 11 x 13 cm. © Hugard & Vanoverschelde, photography.



BRUSSELS.- With the occasion of it's ten years anniversary Charles Riva Collection is presenting a selection of works by American artist George Condo, a master of contemporary painting. Aiming to present the multiplicity of styles and the exceptional skillfulness of his artistic practice, the exhibition Charles Riva Collection includes several significant works - drawing, painting and sculpture - spanning from his grotesque portraits to more abstract and expressionist pieces. George Condo (b.1957) started his career more than 30 years ago, in an effervescent New York, with Basquiat, Warhol, and many others young - soon to become famous artists- as neighbours and friends. His prolific artistic production between the 80's and late 2000's exploring numerous pictorial languages and drawing on countless historical and contemporary references was highlighted in George Condo: Mental States a first retrospective that to ... More



Rose Wylie: Lolita's House at David Zwirner, 24 Grafton Street, Mayfair, 20 April – 26 May 2018. Private View and Installation Photography. © Rose Wylie. Courtesy the artist and David Zwirner, London. Photo: Dan Weill.



LONDON.- David Zwirner is presenting an exhibition of new paintings and works on paper by British artist Rose Wylie spanning three floors of the gallery's London location. Loosely referencing a house that was constructed in the 1970s in the prevalent style of the period across the street from Wylie's residence in Kent, and the neighbor's teenage daughter who would often wash their car in the driveway, Lolita's House continues the artist's ongoing fascination with the shifting nature of memory and the wide-ranging external associations that become attached to it over time. Wylie creates paintings and drawings that at first glance appear aesthetically simplistic, not seeming to align with any recognizable style or movement, but on closer inspection are revealed to be wittily observed and subtly ... More
Victoria Miro announces representation of The Estate of Ilse D'Hollander
Paul Kasmin Gallery opens an exhibition of sculpture by Barry Flanagan
Lionel Barber appointed Chair of Tate


Ilse D'Hollander Untitled, 1995. Oil on canvas 48 x 54 cm, 18 7/8 x 21 1/4in © The Estate of Ilse D'Hollander Courtesy The Estate of Ilse D'Hollander.



LONDON.- Victoria Miro announced representation of The Estate of Ilse D'Hollander. The first London exhibition of works by the Belgian artist will be held at Victoria Miro Mayfair in November 2018. Paintings by D'Hollander are featured as part of the gallery's exhibition of abstract painting by women, Surface Work. In her short life, Ilse D'Hollander (1968 – 1997) created an intelligent, sensual and highly resonant body of work. Born in Sint-Niklaas, Belgium, in 1968, graduating from the Hoger Instituut voor Beeldende Kunsten, St Lucas, Gent, in 1991, D'Hollander was steadfastly committed to painting as an intellectual and emotional endeavour. Her often small-scale canvases and works on paper are charged with references to the everyday. Yet, enlivened by an expressive, though always economical, touch, ... More



Barry Flanagan, "Juggler" 1994. Bronze, 87 1/2 x 37 3/4 x 26 1/2 inches, 222.3 x 95.9 x 67.3 cm. Edition of 8 + 3 APs. © 2018 Barry Flanagan. Courtesy the Estate of Barry Flanagan / Plubronze Ltd. / Waddington Custot.



NEW YORK, NY.- Paul Kasmin Gallery opened an exhibition of sculpture by Barry Flanagan (1941 - 2009). The presentation, on view between April - June, 2018, brings together a selection of the artist's iconic bronze hares from the 1980s - 1990s alongside his lesser-known works made with rope, sand, cloth, stone, ceramics and light as a sculptural component (largely from the 1960s - 1970s). A series of small paper collages, drawings, prints and film are also included. The exhibition, curated by Dr Jo Melvin, offers new insights into the interconnectedness of seemingly distinct periods of Flanagan's 40-year career, demonstrating an ongoing experimentation with materials and their properties and a symbiosis between abstraction and figuration. It challenges the supposition that ... More



Lionel Barber is the editor of the Financial Times.



LONDON.- Tate Trustees have appointed Lionel Barber to be Chairman of the Board of Trustees. Lionel Barber has served as a Trustee of Tate since 31 January 2011 and has served as interim Chair since 1 August 2017. In accordance with the Museums and Galleries Act, the Trustees choose the chair from one of their number. The process for the appointment was overseen by Tim Davie as Interim Senior Independent Trustee. The Prime Minister has agreed to extend Lionel Barber's term until 30 January 2021. Lionel Barber is the editor of the Financial Times. Since his appointment as editor in 2005, Barber has helped solidify the FT's position as one of the first publishers to successfully transform itself into a multichannel news organisation. During Barber's tenure, the FT has won numerous global prizes for its journalism, including Newspaper of the Year, Overseas Press Club, Gerald Loeb and Society of Publishers in Asia awards. Barber ha ... More
Jérémy Demester presents his work in the Grande Galerie of the Château Malromé
Jerwood Gallery opens first major retrospective since Paul Feiler's death
Reel Art Press to publish a captivating portrait of 1960s America by Mario Carnicelli


Jérémy Demester, La Bonne Porte. Courtesy of the artist and Galerie Max Hetzler, Paris I Berlin. Photo: ©def-image.com



SAINT-ANDRÉ-DU-BOIS.- After the Nobuyoshi Araki/Daido Moriyama exhibitions, the Théâtre de la vie (Summer-Autumn 2017) and then Nicolas Delas - Costumes (Winter 2017), Jérémy Demester (born 1988) is presenting his work in the Grande Galerie of the Château from 21 April to 24 June 2018. Demester takes an experimental approach to art, painting in oil, on bronze, in abstract and figurative styles, using each as a potential means to give form to the light on a landscape, biographical event and a spirituality tinged with esotericism. He draws on the history of art - including ancient statues - and sometimes reinterprets stereotypical representations to examine which elements make an image likely to survive through the centuries. This latest exhibition is a digression, a pause, an oscillation between several different worlds which are explored through ten ... More



Aduton LIV, 1990 (detail). Oil on canvas laid on wood, 41 cm x 41 cm. Courtesy of Paul Feiler Estate.



HASTINGS.- Paul Feiler was one of the foremost figures of the Modern Art movement emanating from the South West of England, fascinated by the architecture of space and the ambiguities of visual experience. The British artist's primary inspiration was the meditative landscape and unique light of Cornwall; his lyrical abstract works from the 1950s and 1960s relate to the natural forms he was surrounded by. From the late 1960s onwards Feiler's work became more geometric, setting himself a series of technical parameters by which to work under and subsequently allowing for more creative freedom. He began creating thinly-glazed surfaces in which squares and circles gave a subtle interplay of projection and recession through gradations of tone. A sense of enclosure within his paintings was intended to evoke the sacred areas of classical temples, often incorporating gold or silver leaf dispersed between the quiet movement of ... More



Book Front Cover 'Fashion students, New York, 1966'. Ó Mario Carnicelli.



LONDON.- Rediscovered after 50 years and published here for the very first time, American Voyage is a captivating portrait of 1960s America from Italian photographer Mario Carnicelli. Featuring over 100 black-and-white and colour images, the collection takes in the people, fashion, colours and textures of sixties American street life, capturing the mood and undercurrent of a changing country. In 1966, Mario Carnicelli won first place in a national Italian photography competition sponsored by Popular Photography magazine, Mamiya and Pentax. On submitting an image of a demonstration in his hometown of Pistoia, Tuscany, Carnicelli won a scholarship to photograph America. He travelled to the US during the 1960s, and this beautiful book and accompanying exhibition documents his trips across the United States and time spent in cities including Detroit, San Francisco, Buffalo, New York and Chicago. Approach ... More
'Mini-Me' actor Verne Troyer dead at 49
Christie's announces highlights from its London Handbags & Accessories auction in June
France's Ritz hotel smashes record with furniture sell-off


In this file photo taken on May 22, 2011, actor Verne Troyer arrives at the 2011 Cedars Sinai Sports Spectacular, in Los Angeles. Valerie MACON / AFP.



LOS ANGELES (AFP).- Verne Troyer, best known for his role as Mini-Me in the "Austin Powers" movies, has died, according to a post on his official social media accounts Saturday. He was 49. While no cause of death was revealed, the post spoke of the diminutive actor's "recent time of adversity" with depression, noting he recently got baptized. "Over the years he's struggled and won, struggled and won, struggled and fought some more, but unfortunately this time was too much," it added. "Depression and Suicide are very serious issues. You never know what kind of battle someone is going through inside. Be kind to one another. And always know, it's never too late to reach out to someone for help." Troyer was taken to hospital early this month for unknown treatment. ... More



Hermès, 1996, executed in 2009. A Rare and Unique Painted White & Red Ardennes Leather NASA Retourne Kelly 35 with Gold Hardware by Tom Sachs. Estimate: £20,000-30,000. © Christie's Images Limited 2018.



LONDON.- Following the success of the inaugural Handbags & Accessories auction in June 2017, Christie's will indulge handbag enthusiasts once again. On 12 June 2018, Christie's will present a selection of exquisite pieces in their Handbags & Accessories Sale at the London, King Street headquarters. From the exotic and precious to vintage varieties and sought after limited editions there is something for every type of buyer. A collection of iconic artist collaboration handbags will also be offered from famed masters including: Tom Sachs. A highlight of the sale will be a 2008 Hermès, Matte Himalaya Niloticus Crocodile Birkin 30 with 18k White Gold & Diamond Hardware. Matthew Rubinger, ... More



This file photo shows furniture from "La Suite Imperiale" of Paris' Ritz Paris. GERARD JULIEN / AFP.



PARIS (AFP).- Luxury furniture auctioned off by the legendary Ritz hotel in Paris sold for 7.3 million euros ($9 million), a world record in the industry, auction house Artcurial said Saturday. The Paris hotel, home for a while to Ernest Hemingway, Marcel Proust and Coco Chanel, sold off all 10,000 pieces of furniture and decor. They included stools from the Hemingway Bar, a 19th-century bathtub, and sofas and a harp from the Proust Lounge. The Ritz sale outperformed other hotels around the world, the auction house said. In 2013 in Paris, Hotel de Crillon made 5.9 million euros from a furniture sale while Plaza Athenee made 1.4 million euros. The 3,400 lots that were up for grabs were on sale between April 17 and 21. Buyers bid on objects ranging from velvet security cordons and curtain ties, to rugs, bedframes and sets of bathrobes ... More
Quote
I refuse to have the surface impersonally painted. Robert Motherwell
More News
---
Shipping & Receiving (Episode 1) | AT THE MUSEUM
---
Flashback
On a day like today, Australian painter Sidney Nolan was born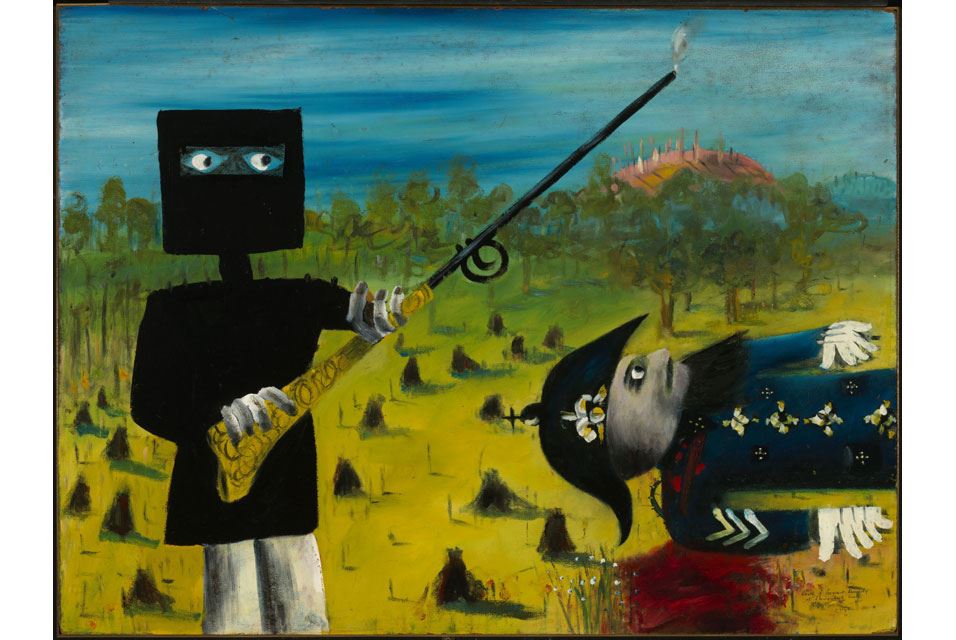 April 22, 1917. Sir Sidney Robert Nolan OM, AC (22 April 1917 - 28 November 1992) was one of Australia's leading artists of the 20th century. His oeuvre is among the most diverse and prolific in all of modern art. He is best known for his series of paintings on legends from Australian history, most famously Ned Kelly, the bushranger and outlaw. Nolan's stylised depiction of Kelly's armour has become an icon of Australian art. In this image: Sidney Nolan, Death of Sergeant Kennedy at Stringybark Creek, 1946, enamel on composition board, 91.0cm x 121.7cm, Purchased 1972, Courtesy National Gallery of Australia.
---

Museums, Exhibits, Artists, Milestones, Digital Art, Architecture, Photography,
Photographers, Special Photos, Special Reports, Featured Stories, Auctions, Art Fairs,
Anecdotes, Art Quiz, Education, Mythology, 3D Images, Last Week,
.
Royalville Communications, Inc
produces:







Tell a Friend
Dear User, please complete the form below in order to recommend the Artdaily newsletter to someone you know.
Please complete all fields marked *.
Sending Mail

Sending Successful