Archaeologists find burial of unusual characteristics in the Mexican State of Sinaloa
Figures representing turtles were found. Photo: INAH.

Translated by Cristina Perez Ayala
MEXICO CITY
.-
In the southern parts of Sinaloa, a burial of unusual characteristics was discovered, made up of elements from old Occidental Mexico and rich offerings deposited around bone remains. As the excavation advanced, never seen before archeological traces surged; informed archeologist Victor Joel Santos Ramírez, director of the project. First, there were dozens of miniature figurines. "In no other excavation in Chametla have we found figurines in such numbers and with such rare characteristics, which made us believe that this was an important offering, to wit, we decided to begin a systematic investigation," he said. The archeologist of the
National Institute of Anthropology and History
(INAH) explained that as the excavation continued they ran into ceramic pots and figurines, along with a great amount of beads and necklaces of turquoise or green stone, a turquoise hoop, a spindle, a hollow fragment of a miniature, and chipp ...
More
The Best Photos of the Day
Cantor Arts Center unveils 3 transformative gifts: Works by Warhol, Diebenkorn, and Lawrence
AGO to present major retrospective of NYC art-world legend Jean-Michel Basquiat in winter 2015
Suspected works by Degas, Rodin recently found in German art collector Cornelius Gurlitt's flat




Richard Diebenkorn, Untitled (Potted plant with buildings), c. 1955-67. Watercolor and graphite on paper. Gift of Phyllis Diebenkorn. ©The Richard Diebenkorn Foundation.





STANFORD, CA.- The Iris & B. Gerald Cantor Center for Visual Arts at Stanford University today announced three transformative gifts of work by Andy Warhol, Richard Diebenkorn, and Jacob Lawrence. The gifts include: · 3600 of Andy Warhol's Contact Sheets and Corresponding Negatives from the Andy Warhol Foundation for the Visual Arts · 27 of Richard Diebenkorn's Never-Before-Seen Sketchbooks, his "Portable Studio" containing 1400-1600 drawings, from his widow, Phyllis G. Diebenkorn, daughter, Gretchen Diebenkorn Grant, and son-in-law Richard Grant · Private Collection of Works by Jacob Lawrence, creating the largest collection of his work on the West Coast, from the Gabrielle Reem & Herbert Kayden Collection Each gift is transformational in its own way. Stanford will present these works in exhibitions, digitize their records for public access, incorporate them into existing curriculums, and create new classes ... More





Jean-Michel Basquiat, Irony of a Negro Police Man, 1981 (detail). Acrylic and crayon on canvas, 183 x 122 cm. Private Collection © Estate of Jean-Michel Basquiat / SODRAC (2014).





TORONTO.- Famous by age 20 for his groundbreaking drawings and paintings, Jean-Michel Basquiat (1960–1988) took the cultural hotbed of the New York art world by storm in the early 1980s. Basquiat gained international recognition by creating powerful and expressive works that confronted issues of racism, politics and social hypocrisy. Although his career was cut short by his untimely death at age 27, his works remain hugely influential. Opening Feb. 7, 2015, at the Art Gallery of Ontario, Basquiat marks the first-ever major retrospective of the artist's work in Canada and will feature more than 140 large-scale paintings and drawings from private collections and public museums across Europe and North America. Described by the artist himself as a "springboard to deeper truths about the individual," Basquiat's vivid and poignant works were always highly conceptual in their exploration of race, class and fame using the motifs o ... More





The house in Munich's Schwabing district, where art masterpieces stolen by the Nazis were discovered in a flat. AFP PHOTO / CHRISTOF STACHE.





BERLIN (AFP).- Sculptures thought to be by masters Degas and Rodin have been found in the flat of the late German art collector whose priceless hoard included Nazi-looted works, investigators said Thursday. Images of the works, once their origins are verified, will be published in the online inventory www.lostart.de to help trace their rightful owners in case they were once plundered by the Nazis, said the task force in charge of the investigation. The sculptures were only recently found in the Munich flat of Cornelius Gurlitt, the reclusive son of a Nazi-era art dealer. Gurlitt died in May at age 81, after the discovery of his vast collection drew worldwide attention last year. Before his death, Gurlitt struck an accord with the German government to help track down the rightful owners of pieces in his trove of 1,280 paintings, drawings and sketches, including Jews whose property was stolen or extorted under the Third Reich. The works -- including masterpieces by Picasso and Monet ... More
Elizabeth E. Barker appointed Stanford Calderwood Director of the Boston Athenæum
J. Paul Getty Trust announces Lord Jacob Rothschild to receive second annual J. Paul Getty Medal
Portrait of lead Suffragette Christabel Pankhurst goes on display for the first time in eighty years




Dr. Barker is currently director of the Mead Art Museum.





BOSTON, MASS.- The Trustees of the Boston Athenæum announced today the appointment, by unanimous vote, of Elizabeth E. Barker as Stanford Calderwood Director of the Boston Athenæum. Dr. Barker will assume her position on October 1, 2014. She succeeds Paula D. Matthews, who retired as Stanford Calderwood Director and Librarian in July 2013. Deborah Hill Bornheimer, President of the Boston Athenæum's Board of Trustees said, "In Elizabeth Barker, the Boston Athenæum has found an executive of brilliance, scholarship, and infectious charm. Her deep reverence for the Athenæum's historic place in American cultural life is clear, while her youthful vision and vitality promise fresh eyes on opportunities ahead. Those of us who love the Athenæum feel Dr Barker is an exceptional person who can lead the institution to new heights." Dr. Barker is currently director of the Mead Art Museum and lecturer, history of art, at Amherst ... More





Lord Rothschild OM GBE.





LOS ANGELES, CA.- Getty President and CEO James Cuno announced today that the 2014 J. Paul Getty Medal, honoring extraordinary achievement in the fields of museology, art historical research, philanthropy, conservation and conservation science, will go to Lord Rothschild OM GBE. "No one embodies the ideals of the Getty medal more than Lord Rothschild," Cuno said. "Having led many of the world's most important arts institutions, revived the public purpose of distinguished historic buildings, and supported the excavation and conservation of an important archaeological site, he is without question the most influential volunteer cultural leader in the English-speaking world." Lord Rothschild has served as Chairman of the National Gallery of Art, London, 1985-1991 and 1992- 1998, during which the Gallery was expanded with the addition of the renowned Sainsbury Wing; Chairman of the National Heritage Memorial Fund, 1994-1998 ... More





Dame Christabel Pankhurst by Ethel Wright, exhibited 1909 (detail). ©National Portrait Gallery, London.





LONDON.- A newly acquired portrait of Christabel Pankhurst, a leading Suffragette, has gone on public display for the first time in eighty years, the National Portrait Gallery announced today, Thursday 24 July. The portrait accompanies a new display of photographs and archive material marking 100 years since the campaigners staged their final and most violent protests, including an attack on National Portrait Gallery paintings, just before the outbreak of the First World War. The striking, full-length portrait of Christabel Pankhurst by Ethel Wright shows the sitter in a flowing green dress and boldly wearing a sash with the distinctive coloured stripes adopted by many Suffragettes – purple for dignity, white for purity and green for hope. Depicted in a theatrical pose, and illuminated against a dark background, Pankhurst is portrayed as though she could be marching or speaking passionately on a stage. ... More
Crisis engulfs the Metropolitan Opera in New York, world's richest opera company
Yale Center for British Art to conserve iconic Louis I. Kahn building, and close temporarily in 2015
Bonhams to offer ex-1930 Mille Miglia class winning OM 665 SS MM Superba at Goodwood Revival




File picture taken May 18, 2009 shows guests taking their seats at the Metropolitan Opera House in New York City. AFP PHOTO / TIMOTHY A. CLARY.





NEW YORK (AFP).- Proposed pay cuts, declining ticket sales, dire reviews and threatened strike action, the Metropolitan Opera in New York is embroiled in perhaps its ugliest crisis in 30 years. As the wealthiest opera company on the planet and the biggest classical music organization in the United States, the Met dwarfs counterparts in Europe with a budget of nearly $327 million. Yet staff are locked in a bitter dispute with the company's managing director of eight years, Peter Gelb, over proposed pay cuts of 16 percent that threaten to delay the start of the new season. If no resolution is found by July 31 in the dispute over pay -- which represents $200 million of the Met's budget -- the company has threatened to order the first work stoppage since 1980. Gelb turned up the pressure on Wednesday, telling The Wall Street Journal that staff should prepare for union workers to be ... More





Yale Center for British Art fourth-floor galleries. Photo: Richard Caspole.





NEW HAVEN, CONN.- In January 2015, the Yale Center for British Art will close for a year to implement the second phase of the interior conservation of its landmark building, designed by Louis I. Kahn (1901–1974). When complete, the renovation will allow the Center's renowned collection of more than five centuries of British art to be experienced in the building as Kahn originally envisioned it, and will bring vital systems, spaces, and amenities within the Center to state-of-the-art standards. While the Center undergoes this transformation, works from the collection will be presented across Chapel Street at the recently expanded Yale University Art Gallery, from March 6 to July 26, 2015, in The Critique of Reason: Romantic Art, 1760–1860, the first major exhibition to be co-organized by the Gallery and the Center. Additional highlights from the Center will be integrated into the European displays at the Gallery, allowing British a ... More





1930 OM 665 SS MM Superba. Photo: Bonhams.





LONDON.- The historically significant 1930 OM 665 SS MM Superba is to be offered at Bonhams Goodwood Revival auction on Saturday 13th September 2014. Boasting an impeccable competitive career, the pre-war sports racing car began life with class winning success in the gruelling Mille Miglia 1000 mile race around Italy in 1930. It continued with entries in a number of the most noted endurance races of its day including the Targa Florio and Tourist Trophy. Perhaps lesser known than other Italian thoroughbreds, OM, which stood for Officine Meccaniche and translates as 'Mechanical Workshops' brought its engineering expertise from the manufacture of locomotives and rolling stock into motor car production in 1917 with the acquisition of Brescia based car builder Zust. The four and six cylinder cars that they built through the 1920s and 1930s were proven to be particularly competitive, achieving numerous wins in National and Regional events, firmly e ... More
Two rare Aboriginal shields realize over $45,000 and two new global fine records set at Clars
Winterthur announces book: 'Printed Textiles: British and American Cottons and Linens, 1700=1850'
Nelson-Atkins Alexander Gardner exhibition documents vanishing frontier




Competitive bidding on this painting, in the manner of Fu Baoshi (Chinese, 1904-1965) drove the final sale price to $9,200, over eight (8) times its high estimate.





OAKLAND, CA.- On July 12, 13 and 14, Clars Auction Gallery hosted their monthly fine art, jewelry and decorative art auction. The sale would become their largest July auction in the firm's history realizing just over $1 Million. The success of the sale was fueled by both exceptional estate property and Clars' global marketing on several platforms. The excitement began on Saturday when two (2) Aboriginal Peoples Northern Australia shields came up for sale. The shields came to auction as part of the ethnographic collection of a prominent San Francisco (CA) estate. They were both made of fig tree wood, had carved handles and carved bosses to the front. They measured 34.5" long x 14.25" wide. Prior to the sale, because of the difficulty of putting an age on the shields, they were conservatively projected to likely be post WWII by Clars and another major ... More





Printed Textiles is considered the authoritative sourcebook for textiles.





WINTERTHUR, DE.- After more than four decades as the gold standard on the history of furnishing fabrics, Printed Textiles: British and American Cottons and Linens, 1700 – 1850, has been comprehensively updated by Winterthur's Linda Eaton, the John L. & Marjorie P. McGraw Director of Collections and Senior Curator of Textiles, reflecting a universe of new information since the book's original publication in 1970. "Take the 'bones ' of a classic volume, rewrite with updated and newly research material, add 600 glorious color images, and you have the makings of a new standard in the field," said Thomas Savage, Director of Museum Affairs at Winterthur. Long considered the authoritative sourcebook for textiles influencing the social and political worlds of two continents, Printed Textiles offers rare insights into the fascinating – and sometimes surprising -- origins of designs, textures, patterns, and colors tod ... More





Alexander Gardner, American, b. Scotland (1821-1882). Mushroom Rock on Alum Creek, Kansas, 1867. Albumen print, 13 3/16 x 18 11/16 inches. The J. Paul Getty Museum, Los Angeles.





KANSAS CITY, MO.- Two series of extremely rare photographs documenting a last look at a rapidly disappearing frontier are on view at The Nelson-Atkins Museum of Art in Kansas City beginning July 25. Across the Indian Country: Photographs by Alexander Gardner, 1867-68 opens July 25 and was curated by Jane L. Aspinwall, Associate Curator of Photography at the Nelson-Atkins. The exhibition includes photographs from two extraordinary bodies of work created by Gardner, Across the Continent on the Kansas Pacific Railroad, 1867-68 and Scenes in the Indian County, 1868 which depict the transformation of the American West by the railroad and the subsequent effect it had on the American Indians in the region. The exhibition is accompanied by a catalogue written ... More
Quote
The artist draws what he has to make others see. Edgar Degas
More News
---
"Underwater: Michael Dweck"
---
---
Flashback
On a day like today, American artist Thomas Eakins was born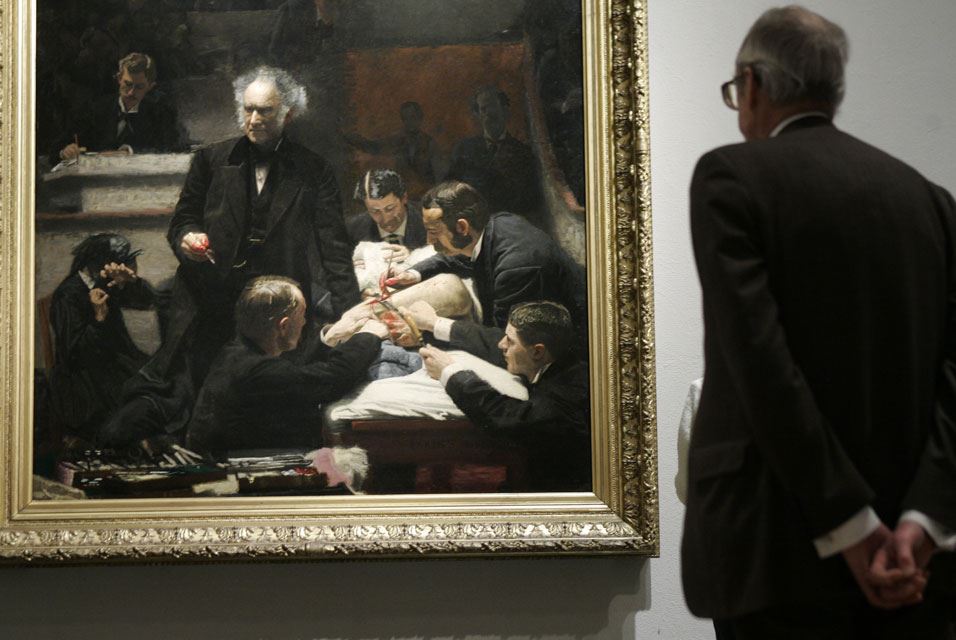 July 25, 1844. Thomas Cowperthwait Eakins (July 25, 1844 - June 25, 1916) was an American realist painter, photographer,[2] sculptor, and fine arts educator. He is widely acknowledged to be one of the most important artists in American art history. In this image: A person views Thomas Eakins' "The Gross Clinic," at the Philadelphia Museum of Art in Philadelphia, on Jan. 5, 2007. To help finance a $68 million deal to keep the masterpiece in Philadelphia, the Pennsylvania Academy of the Fine Arts said Wednesday, Jan. 31, 2007, that it has sold another Eakins painting, "The Cello Player."
---
---

Museums, Exhibits, Artists, Milestones, Digital Art, Architecture, Photography,
Photographers, Special Photos, Special Reports, Featured Stories, Auctions, Art Fairs,
Anecdotes, Art Quiz, Education, Mythology, 3D Images, Last Week,
.
Royalville Communications, Inc
produces: