'Utrecht, Caravaggio and Europe' presents 70 masterpieces at the Centraal Museum
A woman stands in front of Italian painter Caravaggio's master piece "The burial of Christ" (C) is displayed at the exhibition "Utrecht, Caravaggio and Europe" at the Centraal Museum in Utrecht on December 13, 2018. Robin van Lonkhuijsen / ANP / AFP.
UTRECHT
.-
At the start of the Dutch Golden Age, Rome was the centre of the world. Young painters from across Europe made their way to the Eternal City, where – so the rumour went – the painter Caravaggio had caused a revolution. A new realism in the art of painting, unparalleled drama, grand gestures and mysteries of light: everyone wanted to see it for themselves. Among them were the Utrecht painters Dirck van Baburen, Hendrick ter Brugghen and Gerard van Honthorst. During the heyday of European Caravaggism, between 1600-1630, some 2700 artists were listed in Rome, of which 572 were foreigners. They all visited the same churches and viewed the same collections. They conversed with each other, and of course they painted! And they painted the same themes, used the same sources of inspiration, but the works they produced were nonetheless very different. Utrecht, Caravaggio and Europe examines precisely these differences between the European followers of Caravaggio. By presenting the work ...
More
The Best Photos of the Day
Kunsthaus Zürich stages Oskar Kokoschka retrospective
Bethlehem church mosaics sparkle in time for Christmas
French luxury dynasty in court battle over 'Mona Lisa' of Ferraris


Oskar Kokoschka, Self-Portrait with Crossed Arms, 1923. Oil on canvas, 110 x 70 cm. Kunstsammlungen Chemnitz, loan. Photo: © Kunstsammlungen Chemnitz / PUNCTUM / Bertram Kober © Fondation Oskar Kokoschka / 2018 ProLitteris, Zurich.



ZURICH.- The Kunsthaus Zürich presents Oskar Kokoschka – Expressionist, migrant and pacifist – in the first retrospective of his work in Switzerland for 30 years. The highlights among the more than 200 exhibits include the monumental 'Prometheus Triptych' and the 'Mural for Alma Mahler', which have never before been seen in Switzerland. Oskar Kokoschka (1886–1980) is, along with Francis Picabia and Pablo Picasso, one of a generation of artists who retained their allegiance to figurative painting after the Second World War, even as abstract art was consolidating its predominance. It is also thanks to them that non-representational painting and figurative art can now be practised side by side without partisan feuding. Artists of the present day acknowledge their debt to Kokoschka in particular. For Nancy Spero, Georg Baselitz, Herbert Brandl and Denis Savary, his expressionistic style is an ... More



Italian artists clean and restore pebble mosaics at the nave of the Church of the Nativity in the occupied West Bank biblical city of Bethlehem on November 30, 2018. THOMAS COEX / AFP.



BETHLEHEM (AFP).- Masked for centuries by the soot of candles and lately by scaffolding, the mosaics of Bethlehem's Church of the Nativity have been restored to their Crusader-era splendour in time for Christmas. Over the past 15 months, experts have cleaned and repaired surviving fragments of the 12th century masterworks, preserving 1,345 square feet (125 square metres) of what was once 21,528 square feet (2,000 square metres) of glittering gold and glass. The rest has been eaten away by wear, humidity, wars and earthquakes. Now the restored remains shine against the white walls above the heads of visitors to the church in the Israeli-occupied West Bank city of Bethlehem that marks the traditional birthplace of Jesus. Overlooking the nave are seven angels framed in gold who appear to have landed on a carpet of vivid green grass. Each is placed between windows symbolising divine light. One of the angels was discovered during the restoration ... More



A Ferrari 250 GTO, similar to a rare model whose sale is being disputed by the children of a storied French leather and fur company A Ferrari 250 GTO, similar to a rare model whose sale is being disputed by the children of a storied French leather and fur company AFP/File



GUÉRET (AFP).- The descendants of a French luxury leather dynasty sparred in a bitter court case on Friday over the ownership of a vintage Ferrari racer described as a "Mona Lisa", valued at tens of millions of euros. On the second and final day of the case in which Patrick Bardinon is being sued for betrayal of trust by his brother and sister, the proceedings, however, came to an abrupt end when he was taken ill in court. The case was adjourned while paramedics attended the scene and the case adjourned for a ruling on March 7. "My brother and sister have never accepted that (my father) gave this car to me," Patrick Bardinon, 61, told the court as proceedings opened Thursday in Gueret, not far from the family's estate in central France. According to his younger brother Jean-Francois and older sister Anne, he sold the prized 1964 Ferrari 250 GTO for a record 38 million ... More
Dutch court dismisses Chinese plea for mummy's return
Iraq lays cornerstone to rebuild iconic Mosul mosque
Ai Weiwei launches new Zodiac (2018) LEGO portrait series


Missing for two decades, villagers in 2015 recognised the precious artefact as part of a display at the "Mummy World Exhibition" at Budapest's Natural History Museum. Photo: Zoltan Korsos/wikipedia.org.



THE HAGUE (AFP).- A court in Amsterdam on Wednesday dismissed a case brought by Chinese villagers who sought the return of a stolen 1,000-year-old mummified monk they said had been obtained by a Dutch collector. The small eastern Chinese village of Yangchun has accused Oscar van Overeem of having bought the Buddha statue containing the remains of a monk in Hong Kong in 1996. The human-sized Buddha in a lotus position, called the "Zhanggong Patriarch", disappeared from a temple in Yangchun in late 1995 after being worshipped there for centuries. Missing for two decades, villagers in 2015 recognised the precious artefact as part of a display at the "Mummy World Exhibition" at Budapest's Natural History Museum. The statue was subsequently withdrawn. A scan of the statue revealed a skeleton inside -- said to be that of the monk who lived nearly a millenium ago during China's Song dynasty. ... More



A picture taken on December 16, 2018, shows the cornerstone placed as part of a ceremony for the rebuilding of the Great Mosque of Al-Nuri and "Al-Hadba" leaning minaret in Mosul's war-ravaged Old City. Zaid AL-OBEIDI / AFP.



MOSUL (AFP).- Iraqis on Sunday laid the cornerstone in rebuilding Mosul's Al-Nuri mosque and leaning minaret, national emblems destroyed last year in the ferocious battle against the Islamic State group. The famed 12th century mosque and minaret, dubbed Al-Hadba or "the hunchback," hosted Abu Bakr al-Baghdadi's only public appearance as IS chief, when he declared a self-styled "caliphate" after the jihadists swept into Mosul in 2014. The structures were ravaged three years later in the final, most brutal stages of the months-long fight to rid Iraq's second city of IS. On Sunday, dozens of government officials, religious figures, United Nations representatives and European ambassadors gathered in the large square in front of the battered mosque to see the foundation laid. Abdullatif Al-Humaym, the head of Sunni Muslim endowments in Iraq, set down the stone in a simple ceremony. ... More



Ai Weiwei began thinking about yet another version of the zodiac animals shortly after his creation of the sculptures.



LOS ANGELES, CA.- Ai Weiwei has launched his Zodiac (2018) LEGO portrait series at the new Jeffrey Deitch space in Los Angeles (on view through January 5, 2019). These colorful works are made entirely of small LEGO pieces and demonstrate the artist's continued interest in the zodiac animal concept. This latest body of work also builds on the success of his internationally acclaimed Circle of Animals/Zodiac Heads: Bronze and Gold sculpture series. The Zodiac (2018) LEGO portraits feature the twelve traditional Chinese zodiac animal heads in the foreground with select scenes from his Study of Perspective (1995 – present) series of photographs in the background. The Zodiac LEGO series will also be featured as part of the solo exhibition Ai Weiwei: Unbroken at the Gardiner Museum in Toronto, Canada (on view February 28 – June 2, 2019). Ai Weiwei began thinking about yet another version of the zodiac animals shortly after his creation of th ... More
'Ink, Paper, Silk: One Hundred Years of Collecting Japanese Art' opens at BAMPFA
Skira publishes 'Contemporary Voices From The Asian And Islamic Art Worlds'
Exhibition on Screen's new film, Young Picasso, will be in cinemas in February 2019


Attributed to Nagasawa Rosetsu: Chinese Children and White Elephant, 18th century; pair of six-fold screens: ink and gold on paper; 67 x 147 in. eachz; BAMPFA, Gift of Mr. and Mrs. C. D. Carter.



BERKELEY, CA.- BAMPFA's Japanese art collection began in 1919 with a remarkable donation of more than a thousand woodblock prints from the estate of UC Berkeley Professor of English William Dallam Armes. This exhibition features a selection of these exceptional prints, as well as hanging scroll paintings, screens, lacquerware, and ceramics that have entered the collection over the century since this transformative gift changed the small, mostly regional art collection of the University forever, creating a foundation for what would become BAMPFA's extensive holdings of Asian art and helping catapult the museum into a new era of international art collecting. A remarkable group of surimono prints—small, privately published prints made for special occasions and intended as gifts—is on view, for the first ... More



The book provides a relevant snapshot of this area's developments.



LONDON.- The first comprehensive book to cover the Asian and Islamic contemporary art scene featuring more than 85 interviews and 250 color illustrations, published by Skira. Over the past twenty years, no other part of the world has undergone as many changes as the Asian and Islamic regions. Since 1997, the London-based Asian Art Newspaper has been covering on a monthly basis the world of Asian and Islamic art. Each issue has featured an interview with a contemporary artist, providing the reader with the opportunity to discover an artist through his own words and not through the lens of a curator, an art historian or a dealer. The featured illustrations allow the reader to have a clear understanding of what the artist's practice and vision are whether dealing with painting, sculpture, installation, photography, performance, video, film or music. Contemporary Voices compiles ... More



Pablo Picasso, The Acrobat Family, 1905 (gouache on paper). Goteborgs Konstmuseum, Sweden _ Bridgeman Images © Succession Picasso DACS, London 2018.



LONDON.- Pablo Picasso is one of the most famous names in art history, his image and his art are everywhere, yet few know the remarkable story of his rise to greatness. ​Young Picasso takes an in-depth look at the journey of Picasso's life and traces his path to genius. EXHIBITION ON SCREEN, the award-winning and much-loved cinematic series that explores the biographies of history's most revered artists, returns with ​Young Picasso in cinemas from​5February 2019​​. Directed by Phil Grabsky (​The Boy who Plays on the Buddhas of Bamiyan, In Search of Beethoven, I, Claude Monet) this extraordinary detective story looks in detail at the elements that drove one small boy from southern Spain to such heights. Three cities play a key role: Málaga, Barcelona and Paris. ​Young Picasso explores ... More
Curitiba: Brazil's once model city, now frozen in the past
Exhibition places emphasis on the intricacy of Jonas Burgert's character studies in black and white
Exhibition of photographs by Bhupendra Karia on view at sepiaEYE


Brazilian former Mayor of Curitiba and former Governor of Parana state, Architect and Urbanist Jaime Lerner, poses during an interview with AFP in Curitiba, Brazil. Heuler Andrey / AFP.



CURITIBA (AFP).- There was a time when Curitiba, a city in southern Brazil of 1.7 million inhabitants, was a model town heralding a future of durable development and urbanism. But that was 20 years ago. Today, although it features ample green spaces and a public transport system replicated in many other parts of the world, "Curitiba has ceased to innovate," says Jaime Lerner, an architect behind much of the city's layout. Lerner, who served three terms as Curitiba's mayor from the 1970s to the 1990s, oversaw the creation of numerous parks, an integrated transport system that featured bus stops in the form of tubes, and a recycling system that was advanced for its time. In the 1980s, residents learned the basics of sorting their household waste under the slogan "Trash Is Not Trash," becoming among the first in Brazil to do so. Curitiba also ... More



Jonas Burgert, schlagen und bleiben, 2018, Installation view, Courtesy the artist and BlainSouthern, Photo Peter Mallet.



LONDON.- schlagen und bleiben is the first exhibition to focus solely on Jonas Burgert's drawings as an independent body of work. While the artist is best known for intensely coloured, large-scale paintings, this intimate exhibition focuses solely on intricate drawings on paper, each subtly rendered in pencil. Densely populated tableaux are how Burgert explores non-linear storytelling. Often created at the same time as these expansive pictorial dramas, the subjects of his individual portraits are exiles from the main story, isolated within their own frame. This exhibition explores Burgert's portraits as entities in their own right. Untethered from a central narrative, they become newly enigmatic, each alluding to its own particular mysteries. Burgert is interested in the personification of psychology through figurative painting and it is his ongoing close observation of human emotion ... More



Sadhu Beggar Boy, Jana Gadh, February 1968. 5.75 x 9 inches/ 8 x 10 inches. Silver Print NI.171 Vintage.



NEW YORK, NY.- sepiaEYE is presenting Bhupendra Karia: Small Box with selected work from the Karia Estate. The majority of work within this exhibition is taken from one small box found in the archive, a box unusual in both subject matter and size. Printed by Karia in the mid 1970s, the fifty photographs within the exhibition cover eleven years, 1959-1970, and include work from his three major series, Old India, New India and Bombay. The photographs are steeped in both deep cultural awareness and unique personal vision, reflecting Karia's ethereal yet formally rigorous photographic eye. Bhupendra Karia (1936-1994) was known not just as a photographer, but also as an artist, teacher, theorist and curator. Following his graduation in 1956 from Sir J.J. School of Art in Bombay, where he concentrated on painting, graphics, and history, he studied history and aesthetics at Tokyo University of Fine Arts. It was in Japan that ... More
Quote
Architecture should produce true realisations of solified desires. Salvador Dalí
More News
---
Auction highlights of 2018 -- the year in art and objects
---
Flashback
On a day like today, American painter and illustrator Paul Cadmus was born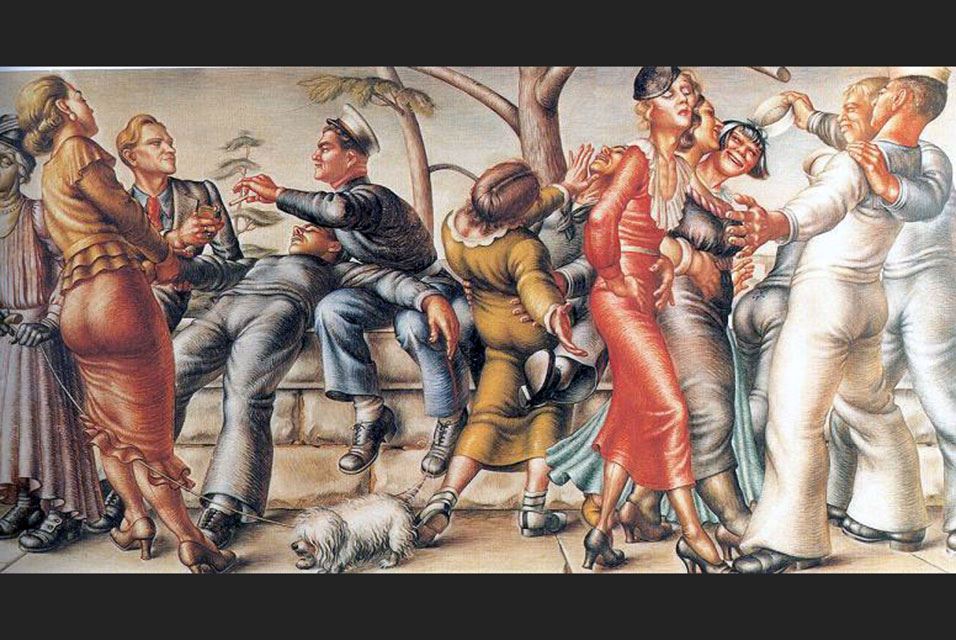 December 17, 1904. Paul Cadmus (December 17, 1904 - December 12, 1999) was an American artist. He is best known for his egg tempera paintings of gritty social interactions in urban settings. He also produced many highly finished drawings of single nude male figures. His paintings combine elements of eroticism and social critique in a style often called magic realism. In this image: The Fleet's In!, 1934 (cropped view).
---

Museums, Exhibits, Artists, Milestones, Digital Art, Architecture, Photography,
Photographers, Special Photos, Special Reports, Featured Stories, Auctions, Art Fairs,
Anecdotes, Art Quiz, Education, Mythology, 3D Images, Last Week,
.
Royalville Communications, Inc
produces:







Tell a Friend
Dear User, please complete the form below in order to recommend the Artdaily newsletter to someone you know.
Please complete all fields marked *.
Sending Mail

Sending Successful