Skeletons and scares at Dino Park in one of the most fossil-rich regions in Europe
An archeologist works in a laboratory inside the museum of the Dino Park, an outdoor museum with more than 120 models of dinosaurs, in Lourinha on July 9, 2018. This town of 25,000 inhabitants, located 70 km north of Lisbon, was already among the world's leading palaeontology thanks to its deposit of dinosaur fossils, with a dozen species discovered since the end of the 19th century. JOSE MANUEL RIBEIRO / AFP.

by Bruno Cravo
LOURINHÃ
(AFP)
.-
Eyes popping in astonishment, his mouth hanging mutely open, seven-year-old Joel approaches the four-metre-high monster and stands nose-to-nose with one of the deadliest killing machines the world has ever known. The full-scale Tyrannosaurus rex is just one of the prehistoric highlights on display at Portugal's self-proclaimed "dinosaur capital", a new theme park in one of the most fossil-rich regions in Europe. "We have 120 large-scale reproductions of 70 different species, spread over 10 hectares (24.7 acres)," Simao Mateus, Dino Park's scientific director told AFP. Although only recently opened, the park sits in a part of Portugal long famous among palaeontologists for its extraordinary array of fossilised remains. The nearby town of Lourinha, an hour's drive north of Lisbon, has been dinosaur-mad ever since the remains of a dozen of the creatures were discovered in the late 19th century. It already has a dino ...
More
The Best Photos of the Day
Christie's announces sale of estate of renowned collector & art dealer Eugene V. Thaw
Eric Shiner joins White Cube as Artistic Director, New York
Jack Shainman Gallery exhibits previously unseen photographs by Malick Sidibé


Estate's sale proceeds will benefit the Eugene V. and Clare Thaw Charitable Trust. © Christie's Images Limited 2018.



NEW YORK, NY.- Christie's announces the sale of property from the estate of one of the most renowned and influential art collectors and dealers of the 20th Century, Eugene V. Thaw. A dedicated Collection sale of fine and decorative art will take place on October 30 in New York, during Christie's Classic Week series of sales, and various individual highlights will be offered across Post-War & Contemporary, Impressionist & Modern, American Art and Prints and Multiples sales in London and NY. The Estate's sale proceeds will benefit the Eugene V. and Clare Thaw Charitable Trust, which supports the arts, the environment and animal welfare. In total, the Collection is comprised of more than 200 lots and is expected to exceed $10 million. Noël Annesley, Christie's Honorary Chairman, UK, comments, "Christie's is honored to be entrusted with the sale of the Collection of one of the most influential Americans to shape the art ... More



A respected curator and senior art figure in the US, Eric joins White Cube from Sotheby's. Photo: Walker Olesen. Courtesy White Cube.



LONDON.- White Cube announced the appointment of Eric Shiner as Artistic Director, New York. A respected curator and senior art figure in the US, Eric joins White Cube from Sotheby's, New York, where he was Senior Vice President of Contemporary Art. Previously he was Director at The Andy Warhol Museum, Pittsburgh, having joined in 2008 as Milton Fine Curator of Art. Eric will be responsible for steering White Cube's artistic strategy in the US, focusing on enhancing the gallery's global network through outreach with institutions and artists. He will start the new role in autumn 2018, based at White Cube's New York office. Susan May, Global Artistic Director, White Cube said: "Eric's extensive experience with artists, collectors and museums over several decades made him the ideal candidate to lead in the development of White Cube's activities in the US. With his knowledge of the cultural landscape, his profound passion ... More



Malick Sidibé, Au cours d'une soirée, les positions, 1964/2013. Silver gelatin print, 8 1/4 x 8 1/4 inches, image size 12 x 9 1/2 inches paper size signed, titled, and dated on front



NEW YORK, NY.- Jack Shainman Gallery is presenting Love Power Peace, Malick Sidibé's seventh solo show with the gallery, which includes previously unseen photographs. Throughout the 1960s, Sidibé championed visual representation of the pulse of a modernist Mali, newly free from colonial constraints and ardently joining a global, diasporic youth movement. Much of this political expression took shape through individual and collective presentation – in fashion, music, and dance – something made palpable in Sidibé's rhythmic compositions. Capturing his subjects in the midst of ceremonial action, Sidibé builds the narrative of a specific time and space that empowered a culture to dictate their own stories. There is a distinct sense of chronicle felt in the movement of Sidibé's subjects, who boldly occupy both the photograph's frame and their ... More
Davis Museum acquires Rosa Rolanda Covarrubias collection
Major group exhibition extending across White Cube's London galleries in Bermondsey and Mason's Yard
The Chrysler Museum of Art opens its first interactive gallery for families


Rosa Rolanda, Self-Portrait Photogram, late 1920s or early 1930s.



WELLESLEY, MASS.- The Davis Museum at Wellesley College has acquired a collection of 40 photographs including 14 unique photograms by Rosa Rolanda (1895-1970), an American-born photographer, painter, and dancer (she is also known by her married name, Rosa Covarrubias). Highlights of the collection include semi-abstract photographs of the new Rockefeller Center from her Skyscraper series, and still life compositions inspired by the work of Edward Weston. In addition, the collection includes Surrealist abstract compositions using photograms that operate as self-portraits. Works from the acquisition will be on view in an upcoming major exhibition called Art__Latin__America, which opens in February 2019 at the Davis Museum. "Rosa Rolanda was a fascinating cultural figure of wide-ranging talents, and an ingenious and experimental artist who seemed to thrive in the eye of the modernist storm," says Lisa Fischman, Ruth Gordon Shapiro ... More



Miroslaw Balka, Hanging Soap Women, 2000. Soap Length: 163 3/8 in. (415 cm) © Miroslaw Balka. Photo © Todd-White Art Photography. Courtesy White Cube.



LONDON.- 'Memory Palace' is a major group exhibition extending across White Cube's London galleries in Bermondsey and Mason's Yard. Featuring more than 90 recent works by over 40 artists, 'Memory Palace' seeks to inspire reflections on the forms and themes of memory. The exhibition's architecture leads the viewer through six aspects of memory: Historical (at White Cube Mason's Yard), Autobiographical, Traces, Transcription, Collective and Sensory (at White Cube Bermondsey). Autobiographical - Featuring Franz Ackermann, Etel Adnan, George Baselitz, Tracey Emin, Gilbert & George, Magnus Plessen, Raqib Shaw, Christine Ay Tjoe and Liu Wei As history began to be defined as a discipline, so the sense grew that memory was subjective and concerned with the inner life. During the Enlightenment and Romantic period, the concept of memory emerged as something personal and bound up with identity. ... More



Visitors become artists with interactive digital easels in The Studio that show children how they can use works from the Chrysler's collection to make something new. Photo: Ed Pollard, Museum Photographer.



NORFOLK, VA.- Children and families can explore, play and create in the Chrysler Museum's Wonder Studio, a free asset for the community. Located adjacent to Huber Court, the Museum's primary gathering area, the family-friendly interactive space is a new step for the Museum in imagining how to engage visitors through unique and immersive experiences. "The combination of digital technology with the works from the Chrysler collection places us at the forefront of museums. Museum guests will have the opportunity to experience our collection in a way that will help them discover their own creativity. We are grateful for the gift from a generous anonymous donor that made this innovative space possible," said Museum Director Erik H. Neil. The Wonder Studio is creative, fun and experimental. Visitors are encouraged to linger with comfortable ... More
Frenchman at centre of Nobel scandal to face trial in September
'Growing Up Kurt Cobain' exhibition opens in Ireland
New £600,000 initiative to support future of curators and museum collections


In this file photo taken on December 11, 2011 A picture taken on December 11, 2011 shows Swedish Academy member Katarina Frostenson and her husband Jean-Claude Arnault arriving for the Kings Nobel dinner at the Royal Palace in Stockholm. Henrik MONTGOMERY / TT NEWS AGENCY / AFP.



STOCKHOLM (AFP).- The man at the centre of a sexual assault scandal that shook the Nobel Literature Prize giving body, which postponed this year's award, will go on trial in September on rape charges, a Swedish court said. French cultural figure Jean-Claude Arnault, who is married to a former member of the Swedish Academy which selects Nobel literature laureates, has been charged with raping a woman in Stockholm on two occasions in 2011. The Stockholm district court told AFP his hearings will take place on September 19, 20 and 24. According to the charge sheet, seen by AFP, the 71-year-old allegedly forced the victim -- who was in a state of "intense fear" -- to have oral sex and intercourse ... More



Frances Bean Cobain with her father's collection.



NEWBRIDGE.- Kurt Cobain and Nirvana fans packed the Museum of Style Icons in Newbridge Ireland yesterday (July 17th), some in tears and some laughing, overwhelmed to meet his daughter, Frances Bean Cobain, his sister, Kim and mother Wendy who arrived to open the exhibition of Kurt's personal items, never previously seen in public. A friendship between William Doyle, owner of the Museum of Style Icons in Newbridge, Ireland and Kurt Cobain's mother, sisters and daughter has brought to Ireland never exhibited intimate items of the rock legend's life. The exhibition runs till September 30th in Newbridge, Ireland. Cobain's Irish roots are well known. He believed that his family originated in County Cork but in fact his Irish ancestors emigrated from Carrickmore, County Tyrone, in 1875. Cobain's family has specially curated some of his very personal items for this once in a lifetime commemoration. The Museum o ... More



The Hepworth Wakefield, 2017. Photo © Andy Smith.



LONDON.- The Headley Trust and Art Fund announced today a new £600,000 funding programme to give curators the time and resources to develop specialist knowledge relating to their collections. Headley Fellowships with Art Fund will invest in UK museums and their curators, to enable them to realise ideas for engaging audiences with the breadth of their collections. It also aims to broker new relationships and share knowledge between museums and curators across the country. The scheme comes at a time when public spending on museums and galleries in England has declined in real terms by 13% over the last decade, and museums reliant on local authority funding have been hit the hardest, with cuts averaging 30% over the last 5 years. According to the Museum Association's 2018 study, 34% of local authority museums reduced the number of full-time staff in the past year alone, and Art ... More
Samuel Dorsky Museum of Art at SUNY New Paltz accepts gift of 29 photographs from collection of Howard Greenberg
'Pussy, King of the Pirates' on view at Maccarone unifies 20 non-male artists
Whitney Ferrare joins Pace Gallery


Aaron Siskind, Street Scene 2, Harlem, 1940. 1940; printed 1981. Collection of Samuel Dorsky Museum of Art.



NEW PALTZ, NY.- SUNY New Paltz has received a donation of photographs by two of the most significant New York-based photographers of the 20th century, which will be added to the permanent collection of the Samuel Dorsky Museum of Art. The works come from the collection of Howard Greenberg, a longtime friend of the College and The Dorsky Museum, and have been accepted by the SUNY New Paltz Foundation, which coordinates philanthropic contributions for the enrichment of academic activities at the College. Greenberg's gift includes 14 images from Aaron Siskind's "Harlem Document," and 15 images from Joel Meyerowitz's "Cape Cod" series. "We are thrilled to be able to add these beautiful photographs to our collection," said Sara Pasti, the Neil C. Trager Director of the Samuel Dorsky Museum of Art. "They are certain to be used by faculty and students on a regular basis in the years to come and will be included in museum exhibitions. ... More



Jennifer West, Nipple Film Quilt, 2018, 70mm filmstrips, dye, acrylic, 96 x 35.5 inches. Image courtesy of the artist and Maccarone, LA. Photo: Coley Brown.



LOS ANGELES, CA.- Pussy, King of the Pirates unifies 20 non-male artists who engage in and question the physical and conceptual use of the body in form, medium, and identity politics. The works represent a contemporary reclamation of the female figure, the depiction of which has historically been from the heteronormative male perspective. While the latter has both defined and composed the canon of figuration and formalism heretofore, their compositions of female figures are now more vulnerable to criticisms of objectification. Those who do not self-identify with that status quo – whether female, non-binary, queer, or transgender – may be released from a stigmatic history of a specific oppression. The question remains whether or not they are absolved from the act of objectifying, should that be the ultimate desire at all. Kathy Acker's irreverent novel, Pussy, King of the Pirates, intertwines the carnal and cerebral ... More



Most recently, Ferrare served in sales at Gagosian Gallery in Hong Kong, shaping collections informed by her distinct cross-cultural perspective and engaging the region's institutional leaders with the gallery's artists and estates.



HONG KONG.- Pace Gallery announced that Whitney Ferrare will join the gallery as a Senior Director beginning in September 2018. Based in Hong Kong, Ferrare will support primary and secondary market activity for Pace's artists and estates, as well as contribute to the gallery's exhibition and art fair programming across the Asia Pacific region. Ferrare will spearhead Pace's inaugural participation in Sydney Contemporary, Australia's Premier International Art Fair on view September 13 – 16, 2018. "When we opened our second gallery in Hong Kong this past March, it was clear that it wasn't the culmination of Pace's work in Asia; but rather, the commencement of a new level of engagement across the region; and Whitney will play a pivotal role in this next phase," said Marc Glimcher, Pace Gallery President and CEO. "Through her career in auction houses and galleries and her broad ... More
Quote
Oil colors will not do. William Blake
More News
---
Joel Meyerowitz - 'What you put in the frame determines the photograph'
---
Flashback
On a day like today, French painter Edgar Degas was born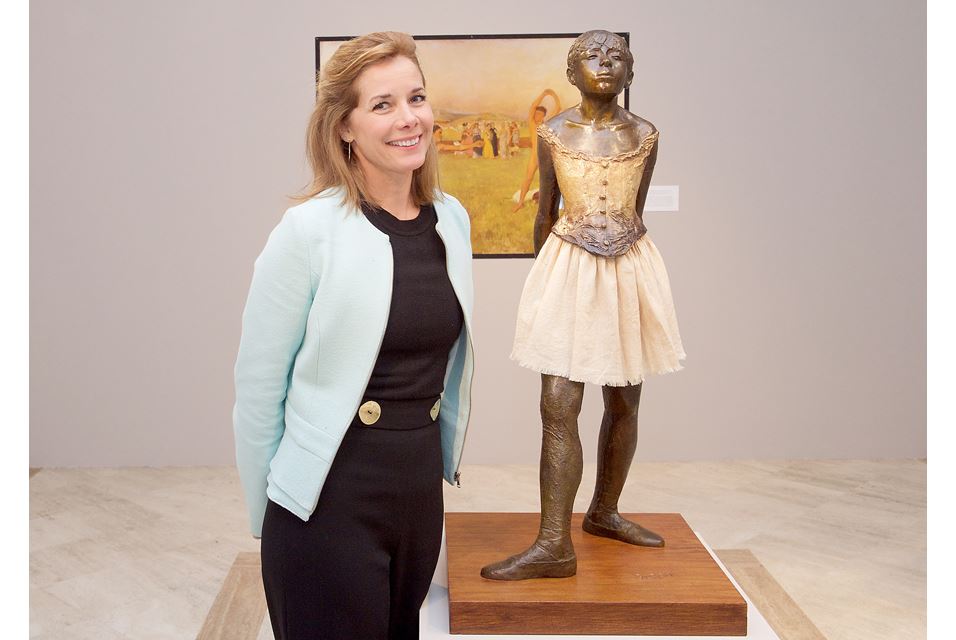 July 19, 1834. Edgar Degas (19 July 1834 - 27 September 1917) was a French artist famous for his paintings, sculptures, prints, and drawings. He is especially identified with the subject of dance; more than half of his works depict dancers. He is regarded as one of the founders of Impressionism, although he rejected the term, preferring to be called a realist. In this image: Darcey Bussell poses with Little Dancer Aged Fourteen.
---

Museums, Exhibits, Artists, Milestones, Digital Art, Architecture, Photography,
Photographers, Special Photos, Special Reports, Featured Stories, Auctions, Art Fairs,
Anecdotes, Art Quiz, Education, Mythology, 3D Images, Last Week,
.
Royalville Communications, Inc
produces:







Tell a Friend
Dear User, please complete the form below in order to recommend the Artdaily newsletter to someone you know.
Please complete all fields marked *.
Sending Mail

Sending Successful