Still lifes by Pissarro, Cézanne, Manet & friends on view at the Toledo Museum of Art
Paul Cézanne (French, 1839–1906), Still Life With Bread and Eggs. Oil on canvas, 1865. Cincinnati Art Museum, Gift of Mary E. Johnston, 1955.73.
TOLEDO, OH
.-
ONE EACH: Still Lifes by Pissarro, Cézanne, Manet & Friends opened Saturday, Jan. 18, at the
Toledo Museum of Art
. Organized in partnership with the Cincinnati Art Museum, the exhibition promises to be a focused but rewarding experience of a selection of richly evocative still lifes painted by French artists in the 1860s. ONE EACH: Still Lifes by Pissarro, Cézanne, Manet & Friends is on view through April 12, 2020. It will then travel to Cincinnati, where it can be seen from May 15 to Aug. 9, 2020. The exhibition is curated by TMA's Lawrence W. Nichols, the William Hutton senior curator, European & American painting and sculpture before 1900, and Peter Jonathan Bell, Cincinnati's associate curator of European paintings, sculpture and drawings. One Each invites a dialogue with the past, exploring the impact that the still lifes of the 1860s had on art movements in the 20th century, including, and perhaps most importantl ...
More
The Best Photos of the Day
National Archives apologizes for altering image of 2017 Women's March
Forum Gallery opens an exhibition of works by Andrew Wyeth
Benin welcomes back 28 antique royal artefacts


The National Archives and Records Administration, which calls itself the country's record keeper, has reportedly admitted to altering a photo of protesters at the 2017 Women's March to blur out references critical of President Donald Trump. Leigh Vogel/The New York Times.

by Maria Cramer



NEW YORK (NYT NEWS SERVICE ).- The National Archives and Records Administration, which calls itself the country's record keeper, apologized Saturday for altering a photo of protesters at the 2017 Women's March that blurred out references critical of President Donald Trump. "We made a mistake," began a statement the archives released Saturday. The photo of protesters holding signs was part of an exhibit, "Rightfully Hers: American Women and the Vote," which examined the struggle of women to gain the right to vote. But signs critical of the president that appeared in the photo — including one that said "God Hates Trump" ... More



Installation view.



NEW YORK, NY.- Forum Gallery, New York, is presenting an exhibition of works by Andrew Wyeth (1917-2009), who set the standard for American figurative art in the second half of the Twentieth Century. Working in pencil, watercolor, egg tempera and his much-beloved personal medium of drybrush, Wyeth, throughout his life, was a resolute champion of the universal life force of each person he chose to paint, and of the unique, difficult, ever-changing rural American world in which he chose to live. His art was controversial as it was popular, and he remains one of very few living artists to be celebrated by important single-person exhibitions at The Metropolitan Museum of Art in New York (1976) and the National Gallery of Art, Washington, DC (1987). Andrew Wyeth's 1966-67 exhibition, at the Pennsylvania Academy of Fine Art in Philadelphia, the Art Institute of Chicago and New York's Whitney Museum of American Art, was one of the best-a ... More



Dominique Zinkpe, a Beninese contemporary artist and director of the Centre for arts and culture, pose for a portrait outside the the Petit Musée de la Récade. Prosper Dagnitche / AFP.

by Josué Mehouenou



ABOMEY-CALAVI (AFP).- Ambassadors from France and Japan mingled with presidential officials, royalty and schoolchildren as Benin celebrated the return of dozens of colonial-era antique artefacts looted by France more than a century ago. Guests clustered around a magnificent 19th-century sword decorated with animal figurines once wielded by one of the Amazons, the female warriors who served as royal bodyguards. Other items include royal sceptres in the shape of an axe or a crosier. But while France has agreed in recent years to return some of Benin's looted treasures, this collection came home thanks to a private initiative. Earlier this year, the Collective of Saint-Germain-des-Pres Antiquarians, a group of specialists based near Paris, managed to acquire them -- ... More
Unique 300 year old scientific drawings at risk of leaving the UK
Louvre reopens after being blocked by strikers
Masterworks from the collections of Marylou Whitney and J.E. Safra lead Sotheby's auction


From Mark Catesby, The Natural History of Carolina, Florida, and the Bahama Islands (2 volumes) and William Bartram and others, A Commonplace Book.



LONDON.- An export bar has been placed on a group of 18th century albums containing what experts claim are amongst the finest examples of botanical drawing in existence. The works, 'The Natural History of Carolina, Florida and the Bahama Islands' and 'A Commonplace Book' are valued at £2,500,000 and were completed in the mid 1700s. They are at risk of being lost abroad unless a UK buyer can be found. The two volumes of Mark Catesby's 'The Natural History of Carolina, Florida and the Bahama Islands' are a first edition set published in 1731 and 1743 . They were owned by Peter Collinson and contain printed text and hand-coloured etched plates, depicting indigenous plants, birds and animals. Unique to this edition, the high-quality illustrations include an additional frontispiece, illustrations and watercolours by William Bartram and Georg Ehret - the most renowned botanical watercolourist of his time. Catesby ... More



This picture shows a partial view of the ceilings of Apollon's Gallery on January 14, 2020 at the Louvre museum in Paris after the reopening of the Gallery following ten months of renovations. STEPHANE DE SAKUTIN / AFP.



PARIS (AFP).- The Louvre in Paris, the world's most visited museum, reopened on Saturday after being shut down by workers striking over government plans to overhaul France's pension system. On Friday, hundreds of disappointed visitors had massed outside the Louvre, some hurling insults at strikers who had blocked the entrance. It was the first time since the strike began on December 5 that the museum had shut completely although it was forced to close some galleries last month. Union leaders are seeking to widen opposition to the pension reforms proposed by President Emmanuel Macron's government, which have triggered the longest transport strike in France in decades. The unions are looking for a second wind as the movement starts to flag, with the proportion of striking workers at national railway operator SNCF ... More



Jean-Léon Gérôme, The Grand White Eunuch. Oil on canvas, 24¾ by 19¾ in. 62.9 by 50.2 cm. Estimate $120/180,000. Courtesy Sotheby's.



NEW YORK, NY.- Sotheby's will unveil highlights from the 19th Century European Art sale on 31 January in New York. Highlighted by a major group of paintings from the collection of J.E. Safra, the 95 paintings, drawings and sculpture on offer will open for public exhibition in Sotheby's York Avenue galleries beginning 24 January, alongside Sotheby's Masters Week auctions. Highlighting the auction is a series of exceptional paintings from the extraordinary private collection of J.E. Safra. The group is led by August Strindberg's masterpiece, Översvämning vid Donau (Flood on the Danube) (estimate $600/800,000), in which the ancient Danube river overtakes the shoreline at right and the trees at center, which rise above the tempestuous water. The present work is a stunning display of abstracted color and light, a central focus of the paintings from Strindberg's Austrian period. Översvämning vid Donau was in the collection of th ... More
Frida Kahlo could barely walk. In this ballet, she dances
New-York Historical Society offers new perspectives on commemorative traditions in two winter exhibitions
Exhibition surveys more than 30 years of Salvo's artistic practice


Annabelle Lopez Ochoa, a choreographer whose new work "Frida" is based on the life of Frida Kahlo, in Amsterdam, Dec. 20, 2019. Ilvy Njiokiktjien/The New York Times.

by Nina Siegal



NEW YORK (NYT NEWS SERVICE ).- Frida Kahlo's vibrant art, turbulent life and tragic death at age 47 are certainly operatic. But the Mexican surrealist painter, who was left disabled by polio and a bus accident, might seem an unlikely subject for a ballet. But that's the medium Annabelle Lopez Ochoa, a choreographer who has also worked in flamenco, hip-hop and contemporary dance, has for her newest work, "Frida," which will have its world premiere at the Dutch National Ballet on Feb. 6. The ballet, which is based on the painter's life — including her tempestuous relationship with her husband, Mexican muralist Diego Rivera — does not linger on Kahlo's physical disability, Lopez Ochoa said in a recent interview. Instead, it will animate her emotional world and artistic legacy, using dance. "For me, it's not a biopic ... More



William Bache (1771–1845), Alexander Hamilton (ca. 1755–1804), ca. 1800. Black ink with touches of white gouache on ivory paper. New-York Historical Society, Z.2459.



NEW YORK, NY.- This winter, the New-York Historical Society presents an exhibition and a special installation that take a fresh look at traditions of remembrance. The exhibition In Profile: A Look at Silhouettes (January 17 – April 5, 2020) traces the development of the late 18th- and 19th-century art form and how artists are reinventing the silhouette today. The special installation Life Cut Short: Hamilton's Hair and the Art of Mourning Jewelry (December 20, 2019 – May 10, 2020) displays jewelry featuring human hair that was used as tokens of affection or memorials to lost loved ones. "New-York Historical is taking a deep dive into our expansive collection to explore 19th-century traditions of portraiture and remembrance," said Dr. Louise Mirrer, president and CEO of the New-York Historical Society. "The art of silhouettes has long been popular, and this exhibition traces both its history and how gifted, contempo ... More



Salvo, Notte d'inverno, 1995. Oil on canvas, 39 3/8 x 31 1/2 inches (100 x 80 cm). © Archivio Salvo. Courtesy of Gladstone Gallery, New York and Brussels. Photo: David Regen.



NEW YORK, NY.- Gladstone Gallery is presenting an exhibition of paintings by Salvo (1947 – 2015). Focusing on the artist's compositions of landscapes and cities, this show surveys more than 30 years of Salvo's artistic practice and highlights his early conceptual art and his astounding aptitude for portraying the complexities of light and the passage of time. Organized in collaboration with Archivio Salvo, the works in this show solidify Salvo's singular and ever explorative approach to artmaking and his lasting impact on Italian modernism. Salvo, whose given name was Salvatore Mangione, was born in Leonforte, Sicily, in 1947. After permanently relocating to his adoptive city of Turin in 1968, he quickly became involved in the blossoming Arte Povera movement, which was born as a response to the social and political unrest in Italy throughout the 1960s. During this period, Salvo shared a studio with ... More
Newcomb Art Museum opens solo exhibition of work by Brandan "Bmike" Odums
Exhibition of new sculptures by Erwin Wurm opens at Lehmann Maupin
She's your guide to the sound world of Fluxus


Brandan "Bmike" Odums, Black Joy.



NEW ORLEANS, LA.- Newcomb Art Museum of Tulane University announced its exhibition, NOT Supposed 2-Be Here, the first solo show in a museum setting by artist Brandan "BMike" Odums. The exhibition runs through May 23, 2019. Widely known and celebrated for his post-Katrina art interventions that disrupt public spaces with messages of resiliance and resistance, over the past 15 years Odums' practice has resulted in video art, painting, design, murals, and sculptures that strategically challenge the status quo, using crowdsourced creativity to bring attention to legacies of urban blight, civil rights, family and racial dynamics. Engaging narratives of unsung heroes, fantasy and parody, the New Orleans' native's work skates a line at the edge of pedagogy, street art, and pop-culture. NOT Supposed 2-Be Here, which features brand new site-specific installations, as well as past work, is part retrospective ... More



Erwin Wurm, One Minute Forever (hands/fruits), 2019. Concrete, 15.35 x 7.87 x 5.91 inches. 39 x 20 x 15 cm. Courtesy the artist and Lehmann Maupin, New York, Hong Kong, and Seoul.



NEW YORK, NY.- Lehmann Maupin is presenting Yes Biological, an exhibition of new sculptures by Erwin Wurm. For the last two decades, the Austrian artist has redefined the ways we understand and look at absurdity in his sculptural, performative, and engaging works. For this exhibition, Wurm combines biological effects to create a new series that pushes the boundaries of sculpture even further. Featured in the exhibition is a work from Wurm's now-iconic One Minute Sculpture series, which highlights the artist's interest in the absurdity that can be found in mundane scenarios of daily life―a theme that was the focus of Wurm's presentation for the Austrian Pavilion at the 57th Venice Biennale. For a full minute, audience members actively become a part of the work, as choreographed ... More



Gelsey Bell, who has starred on Broadway as well as in conceptual operas, at the Museum of Modern Art in New York, Jan. 16, 2020. Nathan Bajar/The New York Times.

by Seth Colter Walls



NEW YORK (NYT NEWS SERVICE ).- On a recent afternoon in the newly reopened and reconceptualized Museum of Modern Art, about a dozen visitors gathered around a table to listen to an old tape recording with singer, composer and scholar Gelsey Bell. The recording documented a 1959 concert of works by students of John Cage at the New School. Students in that class would go on to become important members of Fluxus, an interdisciplinary collective of artists who — inspired by Cage to focus on open-ended instruction-based text works and the music of everyday objects — created influential drawings, publications and compositions in the 1960s. While visual artifacts from ... More
Quote
I would like to see line back in painting. Robert Motherwell
---
The Pioneering Women of British Modernism | With Katy Hessel
---
Flashback
On a day like today, French painter Paul Cézanne was born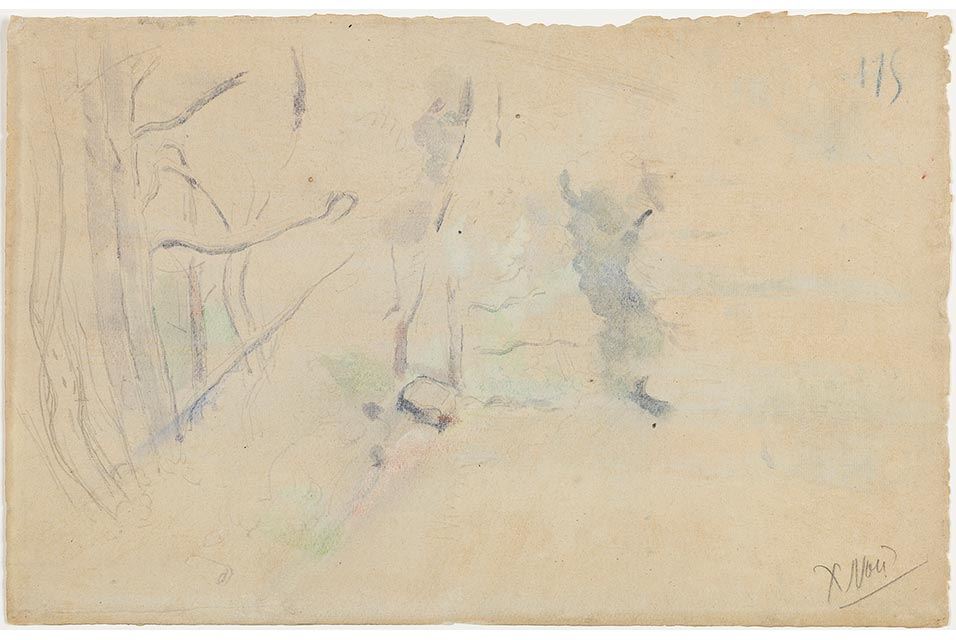 January 19, 1839. Paul Cézanne (19 January 1839 - 22 October 1906) was a French artist and Post-Impressionist painter whose work laid the foundations of the transition from the 19th-century conception of artistic endeavor to a new and radically different world of art in the 20th century. In this image: Paul Cézanne (French, 1839 - 1906). Recto: The Chaîne de l'Etoile Mountains (La Chaîne de l'Etoile avec le Pilon du Roi), 1885 - 1886. Watercolor and graphite on wove paper; Verso: Unfinished Landscape, undated. Watercolor and graphite on wove paper, Sheet: 12 3/8 x 19 1/8 in. (31.4 x 48.6 cm). BF650. Photo © 2015 The Barnes Foundation.
---

Museums, Exhibits, Artists, Milestones, Digital Art, Architecture, Photography,
Photographers, Special Photos, Special Reports, Featured Stories, Auctions, Art Fairs,
Anecdotes, Art Quiz, Education, Mythology, 3D Images, Last Week,
.
Royalville Communications, Inc
produces: