Research team uncovers hidden details in Picasso Blue Period painting
X-ray fluorescence instrument set up for the scan of La Miséreuse accroupie, with Emeline Pouyet of Northwestern University (left) and Sandra Webster-Cook of the Art Gallery of Ontario. © Art Gallery of Ontario (AGO).
EVANSTON, ILL
.-
An international partnership of the
Northwestern University
/Art Institute of Chicago Center for Scientific Studies in the Arts (NU-ACCESS), the Art Gallery of Ontario (AGO) and the National Gallery of Art, Washington, has used multiple modes of light to uncover details hidden beneath the visible surface of Pablo Picasso's painting "La Miséreuse accroupie" (The Crouching Woman), a major work from the artist's Blue Period. The 1902 oil painting, owned by the AGO in Toronto, Canada, depicts a crouching and cloaked woman, painted in white, blues, grays and greens. With knowledge of an underlying landscape revealed long ago by X-ray radiography at the AGO, researchers used non-invasive portable imaging techniques, including infrared reflectance hyperspectral imaging adapted by the National Gallery of Art and then an X-ray fluorescence imaging instrument developed at Northwestern, to detail buried images connected ...
More
The Best Photos of the Day
French, Dutch teams unveil two newly restored Rembrandts
First look at works coming to TEFAF Maastricht 2018
Hauser & Wirth opens first gallery exhibition in Mark Bradford's hometown of Los Angeles in over 15 years


Rembrandt van Rijn (1606-1669), Portrait of Marten Soolmans, 1634 (detail). Oil on canvas, 210 x 135 cm. Acquired by the Dutch State for the Rijksmuseum.



AMSTERDAM (AFP).- Dutch and French art historians on Monday unveiled the surprising results of 18 months of painstaking restoration work on a pair of 17th century portraits by Dutch master Rembrandt. The portraits of a newly married Dutch couple were jointly bought in 2015 by the Netherlands and France for 160 million euros ($174 million) from the wealthy Rothschild banking family in an unprecedented deal. Teams from the Louvre in Paris and the Rijksmuseum in Amsterdam spent the past 18 months researching the paintings, before carefully removing at least six layers of old varnish as part of "an exciting adventure" to restore the canvases. "They are undoubtedly completely painted by Rembrandt up to the smallest detail," Rijksmuseum general director Taco Dibbits told reporters Monday, adding they were Rembrandt's first and only full-length portraits of a married couple. Wrangling over the portraits, captured around the time of the couple's wedding in 1634, had ... More



Jan Weenix (1642 - Amsterdam - 1719), A grouse, kingfisher, and other game birds with a hare and a basket of fruit. Oil on canvas 123 x 99.8 cm (48.5 x 39.3 in.) Signed and dated center right 'J. Weenix. f / 1706' 1706.



HELVOIRT.- TEFAF Maastricht will present more than 280 of the world's finest art, antiques and design dealers, who will bring their very best pieces to the 2018 edition of the Fair. The Fair provides an unrivalled draw for private collectors, museum curators, art market professionals and art lovers from many different countries. TEFAF Maastricht is the world's leading art and antiques fair, and its international reputation is reflected in the range and quality of the rare works of art for sale at the Fair, which is held in the MECC (Maastricht Exhibition & Conference Centre) from 10 – 18 March 2018. Dealers that participate in TEFAF Maastricht are leaders in their respective fields which means that often newly discovered and re-discovered works come to market for the first time. This is the case for Kollenburg Antiquairs (Stand 182), who will exhibit Saint Albinus and Saint Bernardus, ... More



Mark Bradford, Bird of Paradise (Detail), 2018. Mixed media on canvas, 213.4 x 274.3 cm / 84 x 108 in © Mark Bradford. Courtesy the artist and Hauser & Wirth. Photo: Joshua White.



LOS ANGELES, CA.- Hauser & Wirth is presenting 'Mark Bradford. New Works,' the artist's first gallery exhibition in his hometown of Los Angeles in over 15 years. The ten new works on view find Mark Bradford furthering his investigations into the technical and sociopolitical potentials of abstract painting, deploying the profound insight and inventiveness that have established him as one of the most significant and influential artists of his generation. 'New Works' opens on the heels of a year in which Bradford received acclaim for 'Tomorrow Is Another Day,' his searing exhibition for the US Pavilion at the 2017 Venice Biennale, which will travel to The Baltimore Museum of Art (BMA), and unveiled 'Pickett's Charge,' a monumental commission for the Hirshhorn Museum and Sculpture Garden in Washington, D.C., inspired by artist Paul Philippoteaux's nineteenth-century cyclorama in Gettysburg Nationa ... More
PIASA to offer a unique private collection of decorative art by Sonia Delaunay
Solo exhibition by Carlo Ciussi on view at A arte Invernizzi gallery
Christie's to auction Daniel Craig's Aston Martin sold to benefit the Opportunity Network


Sonia Delaunay (1885-1979), Automne - circa 1965. Lithographie en couleurs signée et numérotée 10/75, 113,2 x 79,9 cm - est : 3 000 / 4 000 €.



PHILADELPHIA, PA.- On 26 April 2018, PIASA's Editions department will offer a unique private collection of decorative art by Sonia Delaunay (1885-1979), following on from the successful first sale of her work – featuring a rare collection of rugs and tapestries – at PIASA in 2017. Fashion will be the focus this April, with an exceptional ensemble of scarves, hand bags, handkerchiefs, tablecloths and prints. "She could do everything - painting, fashion, textiles, theatre costumes, rigs, plates, posters, furtiture - and everything she did was as modern as jazz." – Diana Vreeland in Sonia Delaunay: Art Into Fashion Decorative art was an important part of Sonia Delaunay's œuvre, doubtless reflecting her Russian origins. She was born in Odessa in 1885, and was unquestionably influenced by Russian popular art with its painted furniture, gilded mosaics, icons and brightly coloured fabrics, ... More



Installation view of the exhibition at A arte Invernizzi, Milan, 2018.



MILAN.- The A arte Invernizzi gallery opened a solo exhibition by Carlo Ciussi, with works from the 1960s and 1970s in an interesting dialogue with those of the 1990s. The exhibition highlights the key aspects of his artistic research, showing how they persist, while constantly being renewed. As Francesca Pola writes: "Carlo Ciussi interpreted art as the active vision of the world and as the physicalness of a thought that accepted neither any kind of neutrality of content nor decorativeness but proposed itself as the possible positive vision of reality, constantly recreating new spaces of human expression. It is by way of this paradox that his work lives, intentionally ideated to elude being categorized in accordance with current schemes or preestablished canons, instead being the inexorable and inexhaustive transformation of the universe giving body to thought as action that interprets the world. Without ... More



Daniel Craig with the Aston Martin. © Christie's Images Limited 2018.



NEW YORK, NY.- Christie's announces that Daniel Craig's personal Aston Martin, a 2014 'Centenary Vanquish' numbered 007, will be auctioned in New York on April 20 in The Exceptional Sale. All sale proceeds will benefit The Opportunity Network, a nonprofit organization of which Mr. Craig is on the board. Daniel Craig worked with the Chief Creative Director of Aston Martin to customize his limited-edition car. Estimated at $400,000- $600,000, the car is left-hand (U.S.) drive and street ready. The Aston Martin will first be on public view at Christie's Los Angeles gallery from February 27 – March 3, before the preview and auction in New York. The winning bidder will also receive the unique opportunity to visit the Aston Martin Headquarters in Gaydon, Warwickshire and meet with Marek Reichman, Aston Martin's Chief Creative Director for a behind-the-scenes tour of the production facilities. Daniel ... More
Historically important 18th C. American Chippendale-period bureau/desk turns up in UK auction
Virginia Museum of Fine Arts offers first exhibition featuring ancient Greek art in more than 20 years
Peter Gorschlüter appointed new Director of Museum Folkwang


Major General John Adams Dix, circa 1862, photo by Mathew B. Brady, public domain.



EPPING.- Although no one knows exactly how or when it made its way across the Atlantic, a very rare 18th-century American bureau/desk has emerged as the furniture highlight of a February 28 Greater London auction. Boningtons auction house in Epping, Essex, immediately identified the private consignment as an American Chippendale-period piece. Made of mahogany with secondary white poplar, the desk is a magnificent example of furniture craftsmanship, with a well-carved shell motif below the central drawer, three drawers at either side, and elaborate original brass escutcheons. It stands on four masterfully carved ball-and-claw feet. The bureau/desk is offered by Boningtons with a $28,000-$42,000 estimate. While it easily stands on its own merit, the bureau/desk also comes with intriguing provenance. By repute, it was formerly the property of John Adams Dix (1798-1879), a US Civil War (Union) major general, ... More



Knob-handled Patera, ca. 320 B.C., Greek, attributed to the White Saccos-Chariot Group, terracotta. Virginia Museum of Fine Arts; Adolph D. and Wilkins C. Williams Fund.



RICHMOND, VA.- From myth and legend to warfare, transportation, and sport, the horse was integral to ancient Greek life. This winter, the Virginia Museum of Fine Arts presents The Horse in Ancient Greek Art, a ground-breaking exhibition that explores the Greeks' fascination with an animal that served as a symbol of wealth, power, and status in ways that are recognizable and familiar even today. The Horse in Ancient Greek Art features 78 Greek vases, sculptures, and coins from the 8th through the 4th centuries BC. The objects—some on public view for the first time—are drawn from private collections and museums such as VMFA, the Metropolitan Museum of Art, and the Tampa Museum of Art. The Horse in Ancient Greek Art, curated by Dr. Peter J. Schertz, VMFA Jack and Mary Frable Curator of Ancient Art, and Nicole Stribling, ... More



Peter Gorschlüter. Photo Axel Schneider.



ESSEN.- Peter Gorschlüter (born 1974, Mainz) has been named as the new Director of Museum Folkwang in Essen. The curator and art historian, who has been acting director of the MMK Museum für Moderne Kunst in Frankfurt since 2010, will make the move to Essen on July 1st 2018. His eight-year term fills the vacancy left by Dr Tobia Bezzola, who moved to Lugano at the beginning of the year to take over the Museo d'arte della Svizzera italiana. The decision was a reflection of the recommendation of the selection committee, which the board of trustees approved unanimously. Mayor Thomas Kufen: "I am certain that with his expertise, Peter Gorschlüter will contribute to a revitalization of the museum. Museum Folkwang is a real drawcard for our city, with a profile that extends well beyond the confines of our region. I think this international reputation is in good hands, and at the same time, I am convinced that the people of Essen ... More
Museum of Contemporary Art Kiasma commissions work by Finnish artist Maija Luutonen
The Museum of Russian Icons opens "Rushnyky: Sacred Ukrainian Textiles"
Cummer Museum of Art & Gardens presents 'Thomas Hart Benton and the Navy'


Maija Luutonen, Patch, 2018. Part of the installation. Photo: Finnish National Gallery / Pirje Mykkänen.



HELSINKI.- Finnish artist Maija Luutonen has filled Museum of Contemporary Art Kiasma's Studio K, a 9-meter high gallery room with a new commission work. She is the first artist in the series called Kiasma Commission by Kordelin, lauched to promote Finnish contemporary artists. The first Kiasma Commission by Kordelin artist Maija Luutonen works primarily with painting mainly on paper-based materials by exploring and expanding its boundaries and potential. Considering the surface as something transient, Luutonen addresses the relation between time and movement, treating the works as moving images, though ones that shift too slowly for the human eye or lifetime. Her practice often concerns spatial immersion, our relation to the built environment, and nature, at every scale. Reflecting on spatiality through a flat surface, the artist deals with notions of seemingly enclosed spaces and rooms. ... More



Rushnyky stack



CLINTON, MASS.- The Museum of Russian Icons presents Rushnyky: Sacred Ukrainian Textiles, an exhibition celebrating and exploring Ukrainian culture through one of its most ancient and valued traditions. Rushnyky are ornately embroidered woven textiles that function at the core of many life-cycle ceremonies and rituals of the Ukrainian people. On view February 15-June 3, 2018, the exhibition features more than 80 rushnyky, Ukrainian icons, and related artifacts. A rushnyk is a long rectangular cloth, typically handwoven in one solid piece from white linen or hemp, measuring 6-8 feet long by 1-2 feet wide. Often adorned with brightly colored patterns, the symbolic decoration preserves archaic magical signs, symbolic colors and motifs, as well as Slavic artistic folk styles. Some cloths are decorated with intricate white-on-white satin stitch, cutwork, lace, and drawn thread work embroidery. Rushnyk have distinctive regional characteristics. ... More



Thomas Hart Benton, Up Periscope, 1943. Oil on canvas.



JACKSONVILLE, FLA.- The newest exhibition at the Cummer Museum of Art & Gardens, Thomas Hart Benton and the Navy, is on view February 16 through June 3, 2018 and features a series of 24 paintings and drawings that capture the heroic actions and moments of respite that made up life aboard submarines and around shipyards during World War II. As World War II escalated in the early 1940s, American painter Thomas Hart Benton (1889 – 1975) joined the fight by creating dozens of works in support of the nation's military. This exhibition presents a series he developed behind the scenes as an artist-correspondent in the U.S. Navy. Thanks to Benton's signature style — bold colors, elongated figures, and rhythmic elements — these paintings, watercolors, and drawings present an optimistic and inspiring narrative of America's readiness for battle at sea. This story captures the construction of an LST — an ... More
Quote
I would like not to reproduce but to reinvent the structure of light in a way pertinent to painting rather than to optics. Piero Dorazio
More News
---
Amar'e Stoudemire Teams Up with Sotheby's
---
Flashback
On a day like today, Dutch painter Jan de Baen was born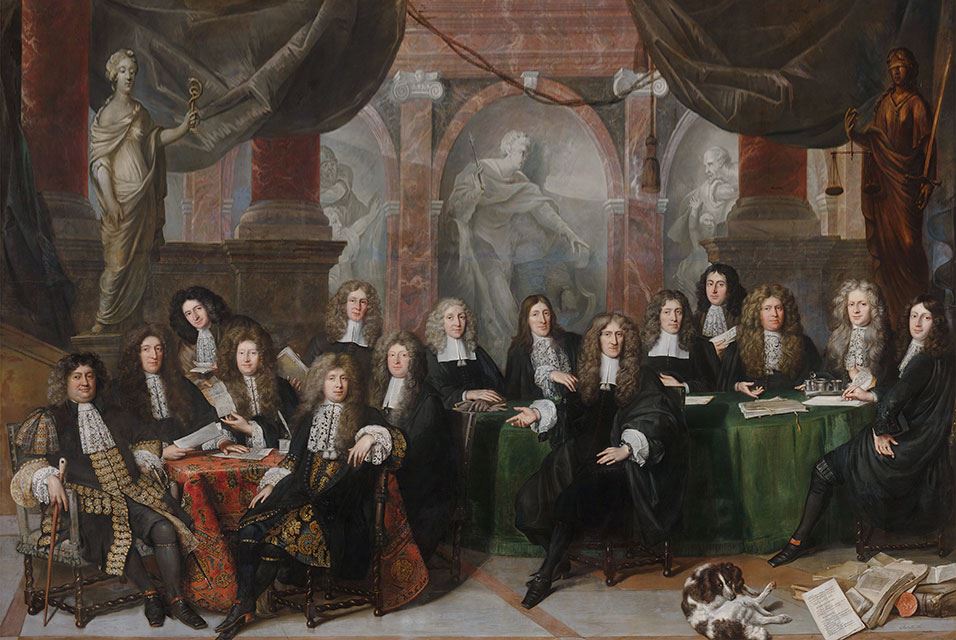 February 20, 1633. Jan de Baen (20 February 1633 - 1702) was a Dutch portrait painter who lived during the Dutch Golden Age. He was a pupil of the painter Jacob Adriaensz Backer in Amsterdam from 1645 to 1648. He worked for Charles II of England in his Dutch exile, and from 1660 until his death he lived and worked in The Hague. His portraits were popular in his day, and he painted the most distinguished people of his time. In this image: Members of the magistrate of The Hague, 1682.
---

Museums, Exhibits, Artists, Milestones, Digital Art, Architecture, Photography,
Photographers, Special Photos, Special Reports, Featured Stories, Auctions, Art Fairs,
Anecdotes, Art Quiz, Education, Mythology, 3D Images, Last Week,
.
Royalville Communications, Inc
produces:







Tell a Friend
Dear User, please complete the form below in order to recommend the Artdaily newsletter to someone you know.
Please complete all fields marked *.
Sending Mail

Sending Successful