Stolen in France, 1.5 mn-euro Impressionist work found in Ukraine
A Ukrainian police officer guards the painting "Port de la Rochelle" (1915) by French artist Paul Signac (1863-1935) during its presentation at the ministry of Internal Affairs of Ukraine in Kiev on April 23, 2019. The painting, which costs 1,5 million dollars, was stolen a year before from the Museum of Fine Arts of Nancy, France, and found by the police in Ukraine and is to be returned to France after the end of the police investigation. Sergei SUPINSKY / AFP.
KIEV
(AFP)
.-
Ukrainian authorities said Tuesday they had found an oil painting by the French Impressionist Paul Signac, valued at 1.5 million euros ($1.68 million), which was stolen last year from a museum in France. Police chief Sergiy Knyazev said the painting was discovered at the home of a Kiev man who was also wanted on suspicion of murdering a jeweller. He added that the suspects in the theft, all Ukrainian, had been arrested. The painting would shortly be returned to the Museum of Fine Arts in Nancy in northeast France, Ukraine's interior minister Arsen Avakov said as he presented the work at an event with French ambassador Isabelle Dumont. The 1915 oil painting, which was cut from its frame during the theft, depicts boats at the entrance to the French port of La Rochelle. "We received information about a group of people looking for buyers for paintings stolen in Europe last year," said another police official, Sergiy Tykhonov. "Several works of art have been discovere ...
More
The Best Photos of the Day
Exhibition features 10 contemporary artists exploring material aspects of self
Nelson-Atkins mourns loss of Henry Bloch
Rare, late work by J.M.W. Turner to highlight Sotheby's July Old Master Evening Sale


Yoshie Sakai, Koko's Love: About Yuki 'Daydream Reality', 2019; mixed media. The Autotopographers installation view at the John Michael Kohler Arts Center, 2019. Photo courtesy of John Michael Kohler Arts Center.



SHEBOYGAN, WI.- Through September 15, the John Michael Kohler Arts Center presents The Autotopographers—a group exhibition featuring works by Joianne Bittle, Sarah Braman, Andy Coolquitt, Beatriz Cortez, iris yirei hu, Benjamin Larose, Azikiwe Mohammed, Yoshie Sakai, Becky Suss, and Ray Yoshida. In a 1995 essay, art historian Jennifer A. González coined the term "autotopography" to articulate the ways in which biography is revealed in the creation of one's environment. The personal objects comprising an autotopography are extensions of the maker's self, of life events, and cultural identity. González writes "...just as a written autobiography is a series of narrated of events, fantasies and identification, so too an autotopography forms a spatial ... More



Bloch's vision, leadership and commitment integral to museum's success.



KANSAS CITY, MO.- The Nelson-Atkins Museum of Art joins the Bloch family and Bloch Family Foundation in profound sadness with news of the death of Henry Wollman Bloch, who died peacefully, surrounded by his family, at the age of 96. The Nelson-Atkins was honored to be among the many organizations and civic efforts that benefited from Mr. Bloch's philanthropic leadership. Mr. Bloch founded the Business Council at the Nelson-Atkins in 1985. It is the most successful Business Council of any art museum in the country. "This is an enormous loss to the community and to the Nelson-Atkins," said Richard C. Green, Chair of the museum's Board of Trustees. "Henry Bloch had an unfailing vision and enthusiasm that was borne of genuine gratitude. The Nelson-Atkins was truly fortunate to benefit from Henry's leadership, guidance, and passion for the arts. It is now our responsibility to reflect his wonderful example as we move into the ... More



J.M.W. Turner, Landscape with Walton Bridges (detail). Estimate: £4-6 million. Courtesy Sotheby's.



LONDON.- A rare, late work by Britain's favourite artist, J.M.W. Turner, will be unveiled in Moscow today ahead of its sale at Sotheby's Old Master Evening Sale on 3 July. One of an important group of works painted by the artist in the last ten years of his life, Landscape with Walton Bridges, comes to the market for the first time in over 35 years with an estimate of £3-4 million. One of the preeminent figures that mark the pages of history – like da Vinci, Darwin, Picasso or Einstein – who changed the way we see and think about the world, Turner is an artist rooted in the aesthetic philosophy and culture of his time. Perpetually engaged with the art of both his predecessors and contemporaries, he was at the same time possibly the first 'modern' painter; who directly inspired the Impressionism of the nineteenth century, and presaged the Abstract Expressionism of the twentieth. Seemingly inspired by a sense of ... More
Galerie Thaddaeus Ropac opens an exhibition dedicated to Robert Rauschenberg's Borealis series
Thieves steal 35 rare saxophones from Italian collector
Taschen releases updated edition of 'Leonardo. The Complete Paintings and Drawings'


Keyhole (Borealis), 1992. Tarnish and silkscreen ink on brass, 61,1 x 45,8 cm. © Robert Rauschenberg Foundation / VBildrecht, Vienna 2019 Photo: Glenn Steigelman. Courtesy of Galerie Thaddaeus Ropac, London · Paris · Salzburg.



SALZBURG.- In collaboration with the Robert Rauschenberg Foundation, Galerie Thaddaeus Ropac Salzburg is presenting an exhibition dedicated to Robert Rauschenberg's Borealis series. Made between 1988 and 1992 in Captiva, Florida, the Borealis are considered to be one of Rauschenberg's most experimental and innovative series. In these works, he characteristically silk-screened photographs taken during his ROCI tour (Rauschenberg Overseas Culture Interchange, 1984–91) onto brass, copper and bronze plates, adding tarnishing agents which would produce chemical reactions on the surface and alter the perception of the motifs. With their subtly reflective surfaces, the Borealis paintings change according to each viewpoint, alluding to the ever-changing landscape of modernity. Between 1984 and 1991 Robert Rauschenberg embarked on the ROCI project, ... More



Berni estimated the total value of the instruments stolen over the weekend at 300,000 euros ($340,000), but noted that it was hard to sell them



ROME (AFP).- Thieves have stolen 35 rare saxophones from an well-known Italian collection but missed the crown jewel: one which belonged to jazz great Sonny Rollins. Attilio Berni told AFP Tuesday that his collection of 600 saxophones, which has been exhibited at the Louvre museum in Paris, had been built up over 25 years. "They did not touch the Sonny Rollins saxophone... which suggests that they did not really know what they were doing," he said. "Thank God, eight of the 35 stolen instruments have already been found by police," abandoned in a poor Rome neighbourhood, he added. Berni estimated the total value of the instruments stolen over the weekend at 300,000 euros ($340,000), but noted that it was hard to sell them. The stolen saxophones include those made in the 19th century, or others that had belonged to well-known saxophonists such as US big band leader Adrian Rollini. Berni already planned to open what he says will be the ... More



The catalogue raisonné of paintings covers both surviving and lost works, while full-bleed details allow us to inspect even the subtlest brushstrokes that came to revolutionize art history.



NEW YORK, NY.- Unmatched in his ingenuity, technical prowess, and curiosity, Leonardo da Vinci (1452–1519) epitomizes the humanistic ideal of the Renaissance man: a peerless master of painting, sculpture, cartography, anatomy, architecture—and more. Simultaneously captivating art historians, collectors, and the millions who flock yearly to admire his works, Leonardo's appeal is as diffuse as were his preoccupations. His images permeate nearly every facet of Western culture—The Vitruvian Man is engraved into millions of Euro coins, The Last Supper is considered the single most reproduced religious painting in history, and the Mona Lisa has entranced countless artists and observers for centuries. On the occasion of the 500th anniversary of his death, this updated edition of Taschen's XL title is an unrivaled survey of Leonardo's life and work, including a catalogue raisonné encompassing both his ... More
Fresh-to-market property from private collections anchors Freeman's Modern & Contemporary Art auction
Rago Auctions announces sales of early 20th century design, modern design and modern ceramics and glass
The Fondation Carmignac opens its second exhibition at Villa Carmignac on the island of Porquerolles


The sale includes fine works by Martin Lewis.



PHILADELPHIA, PA.- On Wednesday, May 8, Freeman's will hold its Modern and Contemporary Art auction, consisting of 145 lots and featuring exciting and fresh-to-market property from numerous private collections. The sale will include paintings, sculpture, works on paper, and ceramics, amongst other media by famed artists such as Pablo Picasso, Zao Wou-Ki, Sybil Andrews, George Rickey, Alexander Calder, Sam Francis, Bo Bartlett, and Andy Warhol. One of the prominent highlights is a painting by Sam Francis entitled "Red and Blue" (Lot 61). The piece hails from a private collection of which it has been a part for the past 35 years. Previously, it had been a part of famed collection of Leigh Block, former chairman of the board at the Art Institute of Chicago. "Red and Blue" was executed between 1958 and 1959 and is an important example from a seminal period of the artist's career. It was included in major ... More



Harry Bertoia, Untitled Sculpture (Sonambient). Estimate: $15,000 - 20,000.



LAMBERTVILLE, NJ.- On Saturday, May 18 and Sunday, May 19, Rago Auctions hosts sales of Early 20th Century Design, Modern Design and Modern Ceramics and Glass. Highlights include: an exceptional and rare Cobra console table by Albert Cheuret and the Collection of Stephen Engel, comprising fifty-five lots of works by René Buthaud including pottery, works on paper, paintings, and verre églomisé panels, as well as Fulper, Grueby, Van Briggle, Dedham, Zsolnay, and more from a single-owner collection out of New York. Sarah Cutler, Specialist: "Among the many highlights in this sale, I am most excited about lot 1131 - a remarkable Albert Cheuret Cobra console with mirror. Its sinuous and exotic design reflects the renewed interest in ancient Egyptian art sparked by the 1922 discovery of Tutankhamun's tomb. His work does not appear often on the secondary market ... More



Roy Lichtenstein, Reflections on Jessica Helms, 1990. Huile et magna sur toile, 160 x 124,6 cm © Collection Carmignac © Estate of Roy Lichtenstein New York / Adagp, Paris, 2019.



PORQUEROLLES ISLAND.- The Fondation Carmignac on the island of Porquerolles announced its new exhibition taking place from 13 April to 3 November 2019. For the site's second year of existence, the foundation has invited Chiara Parisi as a guest curator. Both the architecture of the Villa and the island itself have provided inspiration for La Source (The Source), the resulting show. Emerging from the woods, visitors are invited to take off their shoes before plunging beneath the surface of the Provençal farmhouse, where they can discover over sixty artworks from the collection, as well as important loans and new productions. Alice aux Pays des Merveilles (Alice in Wonderland) – a lithograph by Max Ernst and Édouard Carmignac's first acquisition – is the starting point of a wall ... More
The Hamburger Kunsthalle devotes a comprehensive exhibition to the German artist KP Brehmer
Miró prints expected to fetch huge prices at auction in New York
Artcurial to host an auction dedicated to Urban Art


KP Brehmer; Korrektur der Nationalfarben, gemessen an der Vermögensverteilung (Version I), 1970. Fahne: Textilgewebe, Textilband, Metallringe, Stange, 414,5 x 202,5 cm. Tafel: Lack auf Metall, 100 x 80 cm. Hamburger Kunsthalle, Dauerleihgabe. KP Brehmer Sammlung und Nachlass, Berlin © VG Bild-Kunst, Bonn 2019.Photo: Christoph Irrgang.



HAMBURG.- The Hamburger Kunsthalle is devoting a comprehensive exhibition to the German painter, graphic artist and filmmaker KP Brehmer (1938–1997). Brehmer dealt in his complex work with visual media in the Federal Republic of Germany and the conditions under which image production and reception take place in its capitalist economy. For KP Brehmer, graphic art was not just a technique but an instrument and metaphor for rendering transparent the conventions of social and political representation. More radically and consistently than any other artist he used graphics as a tool for visual political agitation. By appropriating the aesthetics of advertising displays in department stores, of stamps as symbol of state values, and ... More



Joan Miró, Danseuse Créole, colour aquatint and etching, 1978. Estimate $30,000 to $50,000. Courtesy of Swann Auction Galleries.



NEW YORK, NY.- A selection of colour prints by the internationally acclaimed Surrealist artist Joan Miró (1893-1983) is expected to make up to $200,000 at auction on May 2. With a top estimate of $50,000 for a single print, the dozen works are part of an even bigger sale of Old Master Through Modern Prints at Swann Auction Galleries where etchings by leading artists of the Renaissance, as well as the outstanding British animal artists, George Stubbs, should fetch from $50,000 to $150,000 each. Miró, who won the Grand Prize at the Venice Biennale in 1954, as well as the Guggenheim International Award in 1958 and the Gold Medal of Fine Arts in Spain in 1980, is hailed as one of the most important influences on the leading abstract expressionist artists of the 20th century. Here, his signed and numbered 1978 colour aquatint and etching, Danseuse Créole, from a limited edition of 50, is estimated at $30,000 to ... More



A private urban collection entitled Don't believe the hype, a nod to American hip-hop giant Public Enemy will be dispersed on Sunday 5th May. © Artcurial.



PARIS.- On May 5th, Artcurial will host an auction dedicated to Urban Art, auctioning off the works of the greatest names in graffiti and street art. Among them, the tireless invader with Vienna, one of the largest mosaics ever up for auction on the art market, measuring over 2 m in height. Older graffiti will be represented by Dondi White, Rammelzee, Lee Quinones and A-One. The new urban scene will be particularly illustrated by young Portuguese artist Vhils with a set presenting all the materials with which he works (polystyrene, wood, metal...). In closing, a private urban collection entitled Don't believe the hype, a nod to American hip-hop giant Public Enemy will be dispersed on Sunday 5th May. Comprising 127 lots, it will present works by Kaws, including one of his first Companions, vinyl characters, Supreme objects or canvases by street artists. Three years after an Alias PA_1030 measuring over a meter-high set a world record r ... More
Quote
No architecture is so haughty as that which is simple. John Ruskin
More News
---
Princess Cecilie of Prussia's Fabulous Fabergé Tiara
---
Flashback
On a day like today, Dutch-American painter Willem de Kooning was born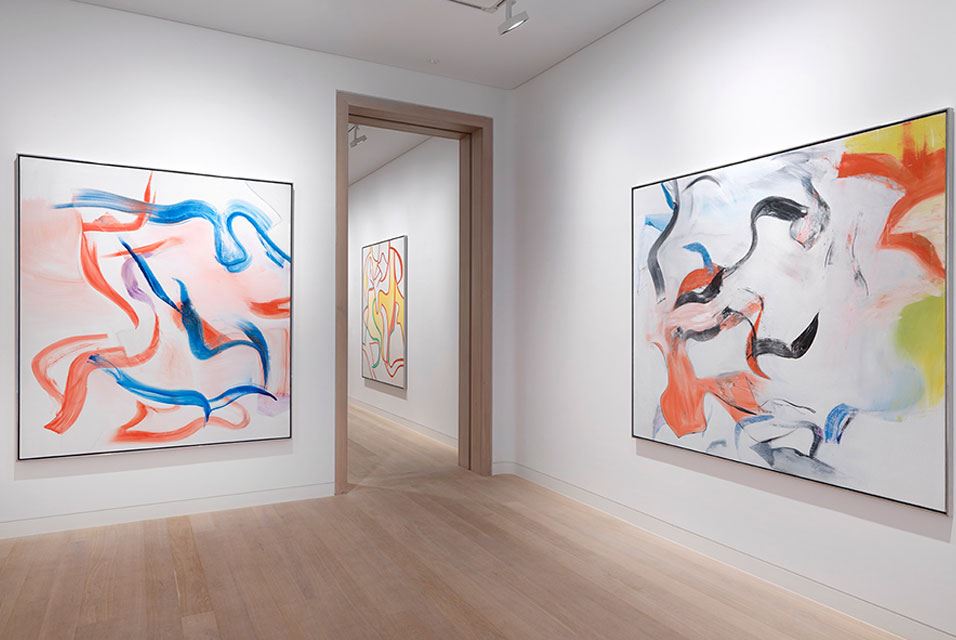 April 24, 1904. Willem de Kooning (April 24, 1904 - March 19, 1997) was a Dutch abstract expressionist artist. He was born in Rotterdam, in the Netherlands. He moved to the United States in 1926, and became an American citizen in 1962. On December 9, 1943, he married painter Elaine Fried. In this image: Installation view.of exhibition of Willem de Kooning's late paintings at Skarstedt. © The Willem de Kooning Foundation Artists Rights Society (ARS), New York and DACS, London 2017.
---

Museums, Exhibits, Artists, Milestones, Digital Art, Architecture, Photography,
Photographers, Special Photos, Special Reports, Featured Stories, Auctions, Art Fairs,
Anecdotes, Art Quiz, Education, Mythology, 3D Images, Last Week,
.
Royalville Communications, Inc
produces:







Tell a Friend
Dear User, please complete the form below in order to recommend the Artdaily newsletter to someone you know.
Please complete all fields marked *.
Sending Mail

Sending Successful