Auction record for Wassily Kandinsky broken twice in one night at Sotheby's London
Wassily Kandinsky, Murnau - Landschaft mit grunem Haus (Murnau - Landscape with Green House), oil on board, 1909. Sold ffor: £20,971,250 ($26,442,649) (€23,882,019). Courtesy Sotheby's.
LONDON
.-
Sotheby's
Evening Sales of Impressionist & Modern Art and Actual Size at Sotheby's London totalled a combined £148,877,000 / $187,719,009 (est. £129.9-170.5m). The total for the Impressionist & Modern Art Evening Sale represented an increase of 24% over the equivalent auction last year. The auction record for Wassily Kandinsky was broken twice in the space of six lots. First to go under the hammer was Murnau – Landschaft mit grünem Haus from 1909, which sold for £21 million / $26.4 million / €23.9 million. One of the finest early works by Kandinsky left in private hands, this painting made its auction debut having remained in the private collection of the same family since the 1920s. A major Expressionist painting of blazing colour, it captures the moment of transition in the artist's career when he was on the cusp of moving from figuration to abstraction. That record was broken minutes later by Kandinsky ...
More
The Best Photos of the Day
Lucian Freud's actual-size strawberries fetch £1.2 million
IS blows up Mosul mosque where Baghdadi became 'caliph'
The Cleveland Museum of Art acquires German Expressionist painting at auction


Lucian Freud, Strawberries. Oil on copper, 10.2 by 12cm. Painted circa 1950. Estimate: £550,000-750,000. Courtesy Sotheby's.



LONDON.- A small group of luscious strawberries, painted by Lucian Freud at the height of his fascination with the still-life paintings of the Old Masters, sold moments ago in Sotheby's saleroom for £1,208,750, or £120,875 a strawberry. The painting is just the seventh work to fall under the hammer at Sotheby's so far this evening, with some 50 major works still to be offered, including three works set to fetch over £20 million. Although known first and foremost as a portrait painter, Freud's rare still-lifes speak most clearly of his passion for Old Masters, for which he was dubbed "the contemporary old master". Indeed - such was his fascination that he was given 24 hour access to the National Gallery by its director Neil MacGregor, so he could roam the galleries after midnight with his models and friends, or alone with his easel. These actual-size strawberries were painted in 1950 and given as a gift to Ann Rotherm ... More



This file photo taken on June 19, 2017 shows the leaning Al-Hadba minaret as the Iraqi forces advance towards the Old City. MOHAMED EL-SHAHED / AFP.



BAGHDAD (AFP).- Jihadists on Wednesday blew up Mosul's iconic leaning minaret and the adjacent mosque where their leader Abu Bakr al-Baghdadi in 2014 declared himself "caliph" in his only public appearance, Iraqi officials said. The Islamic State group swiftly issued a statement via its Amaq propaganda agency blaming a US strike, but the US-led coalition condemned the destruction as a crime against "the people of Mosul and all of Iraq". Iraqi Prime Minister Haider al-Abadi said the destruction of the sites was "an official declaration of defeat" from the jihadists in the eight-month-old battle for Mosul. "Our forces were advancing toward their targets deep in the Old City and when they got to within 50 metres (yards) of the Nuri mosque, Daesh (IS) committed another historical crime by blowing up the Nuri mosque and the Hadba" mosque, Staff Lieutenant General Abdulamir Yarallah, the overall commander of the Mosul offensive, ... More



In this painting, Davringhausen imagines war as an apocalyptic vision of tiny black figures—some apparently armed—engulfed in a collapsing vortex of burning buildings.



CLEVELAND, OH.- The Cleveland Museum of Art recently acquired a painting by Heinrich Maria Davringhausen called Der Krieg (War) from the auction house Ketterer Kunst in Munich, Germany. Painted in 1914, the first year of World War I, the artwork is a historically significant and powerful depiction of conflict, and is a rare surviving work from Davringhausen's early years as an avant-garde painter (c. 1914–19). In 1920, the artist joined the Neue Sachlichkeit (New Objectivity) movement and developed a more realistic style. Condemned as a "degenerate" by the Nazis, the majority of Davringhausen's early works were lost or destroyed during World War II. In this painting, Davringhausen imagines war as an apocalyptic vision of tiny black figures—some apparently armed—engulfed in a collapsing vortex of burning buildings. The artist intensified the painting's impact ... More
Photographer Sally Mann's first exhibition in Rome opens at Gagosian Gallery
London's pre-eminent decorative arts sale presents masterpieces with outstanding provenance
Unknown image of Thoreau's sister discovered


Sally Mann, Remembered Light, Untitled (Open Book), 2012. Gelatin Silver Print - Tea Toned, 10 x 8 inches. © Sally Mann. Courtesy Gagosian.



ROME.- Gagosian is presenting "Remembered Light: Cy Twombly in Lexington," an exhibition by photographer Sally Mann. This is her first exhibition in Rome. Mann is known and regarded for her images of intimate and familiar subjects rendered both sublime and disquieting: children, landscape, family, and the nature of mortality. In previous projects, she explored relationships between parent and child, husband and wife, brother and sister, nature and history. In her latest exhibition of color and black-and-white photographs, taken between 1999 and 2012, she records in fleeting impressions the Lexington, Virginia studio of the late Cy Twombly, her close friend and mentor. Following presentations at Gagosian New York and Paris, this exhibition has special resonance in Italy, Twombly's adopted and imaginative home for several decades. Twombly and Mann were ... More



The Wanstead House Shields (Lot 36). A monumental pair of George III silver-gilt sideboard dishes, after a design by Thomas Stothard, Paul Storr of Storr & Co., for Rundell, Bridge and Rundell, London, 1813. Estimate: £500,000 - 700,000. Courtesy Sotheby's.



LONDON.- On 5 July, Sotheby's will present an extraordinary selection of the finest and most celebrated works of art as part of the annual Treasures sale. London's pre-eminent decorative arts auction, the sale brings together the very best furniture, silver, vertu, and sculpture, selected for their outstanding quality, rarity, beauty and Royal and aristocratic provenance. Constituting 44 works all at the pinnacle of their categories, the sale is further distinguished by the inclusion of the property of the Prince of Prussia – a particular highlight among an illustrious list of consignors involved in the sale. Discussing the forthcoming sale, Henry House, Head of Sotheby's Furniture and Decorative Arts Department, said: "The Treasures sale is undoubtedly one of the true highlights of our auction calendar, ... More



Sophia Thoreau was a gifted amateur botanist at a time when the field was dominated by amateurs.



CONCORD, MASS.- A few days ago, the Concord Museum was bequeathed an unknown rare daguerreotype of Sophia Thoreau (1819-1876), the younger sister of Henry David Thoreau. David Wood, Curator of the Concord Museum, explained, "It really is extraordinary that this previously unknown image of Sophia Thoreau should turn-up at just this moment, the Bicentennial of her brother's birth. It is especially remarkable that her image should come to the Concord Museum, since all the great Thoreau objects in our collection came through her hands. Sophia gave her brother's desk to Cummings Davis, the founder of the collection that became the Concord Museum. And of course Thoreau's journal went through Sophia's hands to H.G.O. Blake, who first edited substantial portions of it for publication." The Concord Museum's Henry David Thoreau Collection, numbering 250 artifacts, is the largest collection of objects ... More
The Lumiere Brothers Center for Photography exhibits photographs taken in North Korea
Jackie Kennedy watch fetches nearly $380K in New York
Galerie Lelong opens first in-depth U.S. exhibition of Grupo Frente


Eric Laforgue. Pyongyang Subway, North Korea, 2014.



MOSCOW.- The best contemporary photographers from around the world present their works at The Lumiere Brothers Center for Photography's exhibition (Im)possible to see: North Korea. More than 70 photos selected specifically for exhibition in Russia are united by one main idea — to show the possibilities of photography in the study of the image of one of the most secretive states. The exhibition has been complemented with chronicle photos taken by Soviet photographers in the middle — second half of the XX century, giving the opportunity to show the range of the DPRK perception in different cultural and temporal contexts. "Photography is a way to explore the world, including its inaccessible parts. It has always performed this function and even today, in spite of the ability to quickly cover distances, we learn a lot of things only through the images and accompanying texts. This is especially true for closed states access to which is r ... More



A Signed Cartier, Tank Model, Manufactured in 1962 belonging to Jacqueline Kennedy Onassis dubbed the "The Jacqueline Kennedy Onassis Cartier Tank" is display at Christie's in New York. TIMOTHY A. CLARY / AFP.



NEW YORK (AFP).- An engraved gold Cartier watch given to Jacqueline Kennedy and a reciprocal thank-you painting from the former first lady sold for $379,500 at auction in New York on Wednesday, Christie's said. The Tank watch was given to Kennedy by her brother-in-law, Prince Stanislaw "Stas" Radziwill, in February 1963 to commemorate a 50-mile hike in Palm Beach championed by former president John F. Kennedy in a drive to make Americans fitter. The back of the timepiece is engraved: "Stas to Jackie, 23 Feb. 1963. 2.05am to 9.35pm" -- the start and finish of what turned into a 19-hour, 30-minute hike. In exchange the first lady gave Radziwill a painting she made of him and Chuck Spalding, a close friend of the president's, with the dedication: ... More



Hélio Oiticica, Grupo Frente 23, 1955 (detail). Gouache on board, 18.9 x 18.1 inches (47.9 x 46 cm) © César and Claudio Oiticica. Courtesy Galerie Lelong, New York.



NEW YORK, NY.- Galerie Lelong is pleased to present Grupo Frente, the first in-depth U.S. exhibition of the historic Rio de Janeiro-based artist group. The exhibition includes works by Lygia Clark, Hélio Oiticica, Abraham Palatnik, Lygia Pape, and Ivan Serpa, and will shed light on lesser known members such as Aluísio Carvão, João José Costa, Rubem Ludolf, César Oiticica, and Décio Vieira. Grupo Frente was at the forefront of artist collectives in the region from 1954-56, approaching art through a rigorous commitment to experimentation and social mission. Grupo Frente's founder, Ivan Serpa, was an emerging abstract painter and art educator at the Museu de Arte Moderna do Rio de Janeiro when he formed the group in 1954. The collective's core mission was a strict dedication to experimentation with ... More
Exhibition at Morgan Lehman explores the margins of painterly process
Friedman Benda opens exhibition of sculptures by Wendell Castle
The Frick Pittsburgh announces adoption of five-year strategic plan and initiation of new acquisition program


Nathan Green, SSS Tube (Aerial Perspective), 2017. Acrylic and paper pulp on canvas, 57 h x 46 w in., 144.78h x 116.84w cm. Courtesy the artist and Morgan Lehman Gallery.



NEW YORK, NY.- Brushless is a summer group exhibition that explores the margins of painterly process. It features artists who choose to apply paint using non-brush tools and techniques with idiosyncratic and often surprising results. Though each artist's ends remain unique, paint's fickle and fertile materiality is at play throughout. Nathan Randall Green's site-specific paintings are created by rolling latex paint directly onto the wall, mixing hues wet-into-wet and sometimes masking off certain areas to achieve tighter boundaries and contrast. These wall-based works are comically jazzy riffs on geometric abstraction that activate interior space through bold color and formal directionality. Using a homemade atomizer, Halsey Hathaway deploys his own breath to propel colored inks onto masked, cut, and collaged paper surfaces. These quasi-pointillist paintings gain their power from subtle chromatic shifts ... More



Wendell Castle [American, b. 1932], Dante's Heaven, 2015. Bronze, 2 parts: 89 x 75.5 x 52.75 inches, 226 x 192 x 134 cm. 87.75 x 58.25 x 41.75 inches, 223 x 148 x 106 cm. Edition of 8, AP 1/4.



NEW YORK, NY.- Friedman Benda presents Wendell Castle, America's most influential and iconic living designer, in his 5th solo exhibition at the gallery, opening June 22nd, 2017. Embracing Upheaval is a fearless exploration, encompassing two groups: Block and Freeform. Each can be seen alone or as elements of a larger story, both familiar and a departure. Lyrical and unexpected, the new series continue Castle's life-long interest in pushing the boundaries of furniture making, and represent Castle's latest formal exploration into the convergence of sculpture and design. Free Form series, inspired and informed by the music that has accompanied Wendell throughout his career, recall an abstract line drawn in space. The connection is evident in titles referencing cities known for music, including, Big Easy, Motown and Gotham. With the Block series, chairs and tables emanate from solid slab-like constructions ... More



Manufacture de Monsieur le duc d'Angoulême, France (Paris), 1781-1793. Vases, c. 17855. Porcelain with enamel and gilded decoration. 9 x 5.5 x 5.25 in. each. The Frick Pittsburgh Collection.



PITTSBURGH, PA.- The Board of Trustees of The Frick Pittsburgh announces the adoption of a new five-year strategic plan, 2017-22 and Beyond, and the activation of a new acquisition program, resulting in the recent acquisition of new collection objects. On Tuesday, June 20, Frick Board of Trustees Chair Charles R. ("Chip") Burke, Jr. and Executive Director Robin Nicholson presented the museum's recently adopted strategic plan to more than 20 representatives from regional foundations assembled at The Duquesne Club in Downtown Pittsburgh. 2017-22 and Beyond is the result of a two-year planning process which began shortly after the late 2014 appointment of Mr. Nicholson as the institution's third executive director. The process was led by the Board's Strategic Planning Task Force, under the leadership of Chair, Trustee Louis L. Testoni. The new strategic plan features a revised ideology for the organization, ... More
Quote
America is a pioneer in throw away art. Brian O'Doherty when referring to Pop Art
More News
---
Gauguin: Artist as Alchemist
---
Flashback
On a day like today, Eastman Kodak Company discontinued Kodachrome Color Film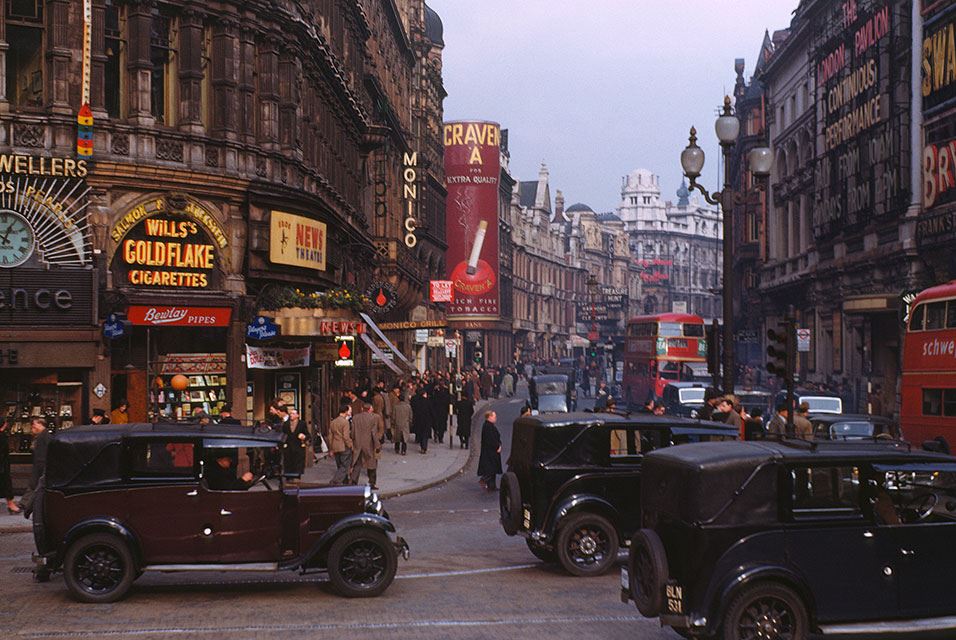 June 22, 2009. Kodachrome is the trademarked brand name of a type of color reversal film that was manufactured by Eastman Kodak from 1935 to 2009. Kodachrome was the first successfully mass-marketed color still film using a subtractive method, in contrast to earlier additive "screenplate" methods such as Autochrome and Dufaycolor, and remained the oldest brand of color film. In this image: Kodachrome photo of Shaftesbury Avenue from Piccadilly Circus, in the West End of London, circa 1949. Photo by Chalmers Butterfield.
---

Museums, Exhibits, Artists, Milestones, Digital Art, Architecture, Photography,
Photographers, Special Photos, Special Reports, Featured Stories, Auctions, Art Fairs,
Anecdotes, Art Quiz, Education, Mythology, 3D Images, Last Week,
.
Royalville Communications, Inc
produces:







Tell a Friend
Dear User, please complete the form below in order to recommend the Artdaily newsletter to someone you know.
Please complete all fields marked *.
Sending Mail

Sending Successful