Palmer Museum opens intriguing exhibition on American lithography
Louis Lozowick, Steel Valley, 1936, lithograph, 9 3/8 x 13 3/8 inches. Gift of Steven and Stephanie Wasser, 2017.74. Printed by George C. Miller, published by Associated American Artists.
UNIVERSITY PARK, PA
.-
The Palmer Museum of Art
at Penn State announced the opening of a third special exhibition for the summer, George Miller and American Lithography, which opened June 18. The exhibition is selected entirely from the museum's expansive permanent collection and features thirty-eight prints by an impressive roster of artists who worked with master printer George Miller (1894-1965) to create some of their most memorable and recognizable works. "We are dedicated to bringing our audiences exhibitions that unearth new research and this is the first in-depth study of George Miller and his decades-long collaboration with American artists in nearly half a century," said Erin M. Coe, Director of the Palmer Museum of Art. Organized and curated by Charles V. Hallman Senior Curator Patrick McGrady, George Miller and ...
More
The Best Photos of the Day
Picasso leads in London: Monumental late work takes top billing as 20th Century Week total passes £59 million
Rare 18th-century Thai Buddhist manuscripts and Books go on display following restoration.
Lowry's Cricket Match sells for £1.2 million


Pablo Picasso, Homme et femme nus, leads the Impressionist and Modern Art Evening Sale, realising £12,464,250. © Christie's Images Ltd 2019.



LONDON.- Painted during the winter of 1968, Pablo Picasso's Homme et femme made the top price in the Impressionist and Modern Art Evening Sale at Christie's in London. The monumental composition, which articulates Picasso's passion for painting and lust for life during the twilight years of his career, sold for £12,464,250 / $15,617,705 (including buyer's premium), leading an auction that totalled £36,413,750 / $45,626,429. The auction opened with Egon Schiele's Liegender Mädchenakt from 1909, a breakthrough year in the short yet eventful life of the artist. The painting, delicately rendered in watercolour, India ink and pencil, sold for £1,271,250, more than four times its high estimate. Homme à la pipe, a 1919 limestone sculpture by Henri Laurens, also cruised past its high estimate before selling for £1,691,250, ... More



Life of the Buddha illustrated in miniature paintings.



DUBLIN.- The Chester Beatty has opened an exhibition of Thai Buddhist manuscripts dating to the 18th and 19th centuries. The world-renowned collection of beautifully illustrated books provides a rare opportunity to explore the Buddhist tales depicted within. Presented as colourful illustrations alongside sacred texts, some of the most popular Buddhist stories within the books are the birth tales of the Buddha and the legend of the monk Phra Malai. Handsomely decorated folding books were used by monks as teaching aids and for chanting during religious ceremonies. Many were commissioned following the death of a relative and then donated to a temple. This earned religious merit for the donor as well as the deceased. The Buddha had many past lives, but stories of his last ten are particularly important in Thai culture. Known as jatakas, or 'birth tales', these stories tell of the Buddha's moral evolution over countless incarn ... More



A highlight of Sotheby's Modern & Post-War British Art Evening Sale, the painting was offered alongside beautiful examples by some of the century's most significant artists. Courtesy Sotheby's.



LONDON.- This evening, in the midst of the Cricket World Cup fixtures, L.S. Lowry's charming depiction of a backstreet cricket match in Salford from 1938 sold for £1,155,000 / $1,447,562. A wonderful example of Lowry at his very best, A Cricket Match made its first appearance on the market since it sold at Sotheby's in June 1996 for £282,000. One of only a handful of occasions when the beloved British artist turned his hand to the sport, the rare work gives children the centre stage, as both enthusiastic players and spectators – a counterpoint to the burdensome life of the adults and their dilapidated surroundings. A highlight of Sotheby's Modern & Post-War British Art Evening Sale, the painting was offered alongside beautiful examples by some of the century's most significant ... More
London gallery chief quits after Israel spyware report
Gagosian opens an exhibition of works by Ed Ruscha and Louis Michel Eilshemius
Artist Robert Therrien passes away at the age of seventy-one


In this file photo taken on November 4, 2018, Hans Ulrich Obrist (L) and Yana Peel attend the 2019 Breakthrough Prize at NASA Ames Research Center. Miikka Skaffari / GETTY IMAGES NORTH AMERICA / AFP.



LONDON (AFP).- The head of London's Serpentine Galleries, Yana Peel, resigned on Tuesday following a newspaper report about her links to a controversial Israeli spyware firm. The board of trustees of the contemporary art galleries announced "with a mix of gratitude and regret" that it has accepted Peel's resignation, adding that she would be "sorely missed". In a separate statement carried by The Guardian newspaper, Peel referenced a "concerted lobbying campaign against my husband's recent investment". The Guardian reported last week that Yana Peel co-owns NSO Group, a spyware company based in the Israeli seaside high-tech hub of Herzliya, near Tel Aviv. It has faced questions over its Pegasus software, which can reportedly switch on a target's cell phone camera and microphone, and access data on it, effectively turning the phone into a pocket ... More



Eilshemius & Me, Installation view, 2019 © Ed Ruscha. Photo: Joanna Fernandes. Courtesy Gagosian.



LONDON.- Gagosian is presenting Ed Ruscha: Eilshemius & Me, an exhibition of works by Ed Ruscha and Louis Michel Eilshemius (1864–1941). In 2017, Ruscha began Spied Upon Scene, a series depicting majestic mountainscapes that resemble the idyllic ranges of travel books, postcards, adventure movies, or the Paramount Pictures logo. The series descends from his earlier Mountain Paintings, in which inscrutable phrases, laid over the mountain images, become a wry and physical presence in the landscape. The mountains of Spied Upon Scene, however, are partially restricted from view, visible only through oval-shaped lenses or window grids. Like the Mountain Paintings, they seem to refer to the nineteenth-century tradition of the American Sublime; in fact, their lineage includes an obscure American painter from the turn of the century, Louis Michel Eilshemius, whose use of painted frames became an influence on Ruscha's own approach. In the l ... More



Robert Therrien (American, born 1947). No title (snowman), 1989. Silver on bronze. Overall: 34 x 16 x 16 inches (86.3 x 40.6 x 40.6 cm). Collection Albright-Knox Art Gallery, Buffalo, NY. The Panza Collection and George B. and Jenny R. Mathews Fund, by exchange, George B. and Jenny R. Mathews Fund and Charles Clifton Fund, by exchange, 2008. © 1989 Robert Therrien. Photograph by Tom Loonan.



NEW YORK, NY.- Over the past four decades, Robert Therrien (1947-2019) cultivated an expansive vernacular of forms drawn from memory and the everyday. Seemingly simple subjects-including snowmen, bows, and oilcans-acquire multiple levels of reference and association, while outsized sculptures of stacks of plates, tables and chairs, and beards shift between the ordinary and the surreal. The repetitive perfecting of chosen motifs is central to his work, imbuing objects and images with intentionality and a latent sense of the unattainable. Born in Chicago, Therrien emerged on the burgeoning Los Angeles art scene in the late 1970s after completing graduate school at the University of Southern California, Los Angeles, ... More
Door to legendary Berlin techno club gets museum digs
Tate Liverpool opens first UK Keith Haring show
Huntington acquires works by several African American artists, early abstract oils, and a Tiffany chair


Dimitri Hegemann, founder of the Tresor and lender of the door walks through the former door of Berlin's legendary techno club Tresor at the Humboldt Forum on June 18, 2019. John MACDOUGALL / AFP.



BERLIN (AFP).- The giant metal entrance door to a legendary techno club in post-Wall Berlin moved into a museum Tuesday as a symbol of the city's rebirth after its Cold War division. The rusty portal to the original Tresor nightclub became the first object for a display about the city at a museum still under construction. The door's journey mirrors Berlin's own turbulent 20th century history. It once sealed the massive bank safe rooms of the pre-war Jewish-owned department store Wertheim, whose family proprietors were stripped of their assets by the Nazis and either sent to the camps or forced into exile. The elegant shopping centre was demolished in Allied bombing during World War II but the heavy metal door survived nearly unscathed. It languished for decades in the no-man's land at the highly militarised border. But after the Wall fell in 1989, dozens of the city's abandoned industrial spaces, particularly ... More



Keith Haring (1958-1990), Crack Down!, 1986. Poster, 608 x 481 mm. Collection Noirmontartproduction, Paris. © Keith Haring Foundation.



LIVERPOOL.- Tate Liverpool presents the first major exhibition in the UK of American artist Keith Haring (1958–1990). Keith Haring, 14 June – 10 November 2019, brings together more than 85 works exploring a broad range of the artist's practice including large-scale drawings and paintings, most of which have never been seen in the UK. Haring was a unique presence in 1980s New York, playing a key role in his generation's counterculture and creating an immediately recognisable style. Best known for his iconic motifs, such as barking dogs, crawling babies and flying saucers, Haring's work was politically charged and motivated by activism. As an openly gay man, Haring's work as an AIDS activist and educator remains his most essential legacy. Elsewhere, he responded to equally critical and relevant issues, contributing to nuclear disarmament campaigns, creating a famed Crack is Wack mural, and designing anti-apartheid pos ... More



Louis Comfort Tiffany (1848-1933), Side Chair, ca. 1891–93. Primavera and American ash, varicolored wood and metal micro-mosaic marquetry, glass balls in brass claw feet, 35 1/4 x 18 1/4 x 18 1/2 in. The Huntington Library, Art Collections, and Botanical Gardens.



SAN MARINO, CA.- The Art Collectors' Council of The Huntington Library, Art Collections, and Botanical Gardens funded the purchase of several notable American works at its annual meeting last month, signaling a commitment to grow and diversify The Huntington's holdings of works by modern and contemporary artists while continuing to build its collection of historical art. The Huntington acquired a group of 32 colorful etchings made between 2005 and 2014 by four artists—Louisiana Bendolph, Mary Lee Bendolph, Loretta Bennett, and Loretta Pettway—who are part of the Gee's Bend group of quilters. Also acquired was a collage, Blue Monday (1969), made by celebrated African American artist Romare Bearden at the height of his career. Two paintings (1910-1916) from the seminal Weehawken Sequence by John ... More
Exhibition explores personal visions of reality in 20th and 21st-Century America
Christie's announces the sale of the collection: Paul Destribats, Bibliothèque des avant-gardes
Opening date announced for Aberdeen Art Gallery


John Moore (b. 1941), Vacationland, 2019. Oil on canvas, 45 x 36 in.



NEW YORK, NY.- Hirschl & Adler is presenting its summer exhibition, Reinventing the Real. Featuring over 20 paintings by American artists, Reinventing the Real explores personal visions of reality in 20th and 21st-century American life. With the end of the Victorian era and the ascendancy of the machine age, and with the dark clouds of two world wars and countless international conflicts threatening on the horizon, 20th-century artists actively searched for ways to represent a society confronted with an uncertain future. As their desire to reproduce the human experience unfolded, subject matter transitioned from the ideal to the commonplace to offer fresh observations of everyday life. Looser lines, experimental forms, and shifts in color came to define the era. In this incessantly changing world, the need to create an art accessible to the masses has persisted. This yearning still emboldens 21st-century artists working in America's co ... More



Blaise Cendrars (1887-1961), La prose du transsibérien. Estimate: €200,000-300,000. © Christie's Images Ltd 2019.(3)



PARIS.- Christie's' Books department announced the sale of the collection: Paul Destribats, Bibliothèque des avant-gardes in partnership with the experts Jean-Baptiste de Proyart and Claude Oterelo. This remarkable collection of books and manuscripts was jealously preserved for sixty years – only a few researchers and close friends had access to it. Some books were regularly lent to institutions. The Bibliothèque des avant-gardes comprises 6,000 books, leaflets and manifestos and ephemera from the 20th century. The first three sales, constituting the part 1, include more than 600 lots dating from the 1910s to 1945. They will take place on the 3, 4 and 5 July at Christie's Paris. The entire collection will be sold at Christie's in three sessions, spread over a year, from July 2019 to July 2020. Jean-Baptiste de Proyart, expert of the sale: "Paul Destribats created his collection as an avant-garde's antholo ... More



Installation work is continuing at Aberdeen Art Gallery in the build-up to the November 2 opening.



ABERDEEN.- Aberdeen Art Gallery will re-open to the public on Saturday 2 November, it was announced today. The date will mark the completion of a redevelopment project which has brought the most significant investment since it first opened in 1885. Aberdeen Art Gallery is home to one of the finest collections in the UK, including works by important Scottish artists, designers and makers such as Henry Raeburn, Joan Eardley, Samuel Peploe, Rachel McLean, Bill Gibb and James Cromar Watt, as well as nationally and internationally-acclaimed artists including Barbara Hepworth, Francis Bacon, Tracey Emin and Claude Monet. A key element of Aberdeen City Council's City Centre Masterplan, the project is transforming the Art Gallery, Cowdray Hall and Remembrance Hall into a major cultural attraction which is expected to attract around 250,000 visits annually - making it one of Scotland's most-visited galleries. Since work began in 2015, the Scho ... More
Quote
I am unable to make a servile copy of nature. Henri Matisse
---
Transamerica/n: Nicki Lucio
---
Flashback
On a day like today, American painter Lee Krasner died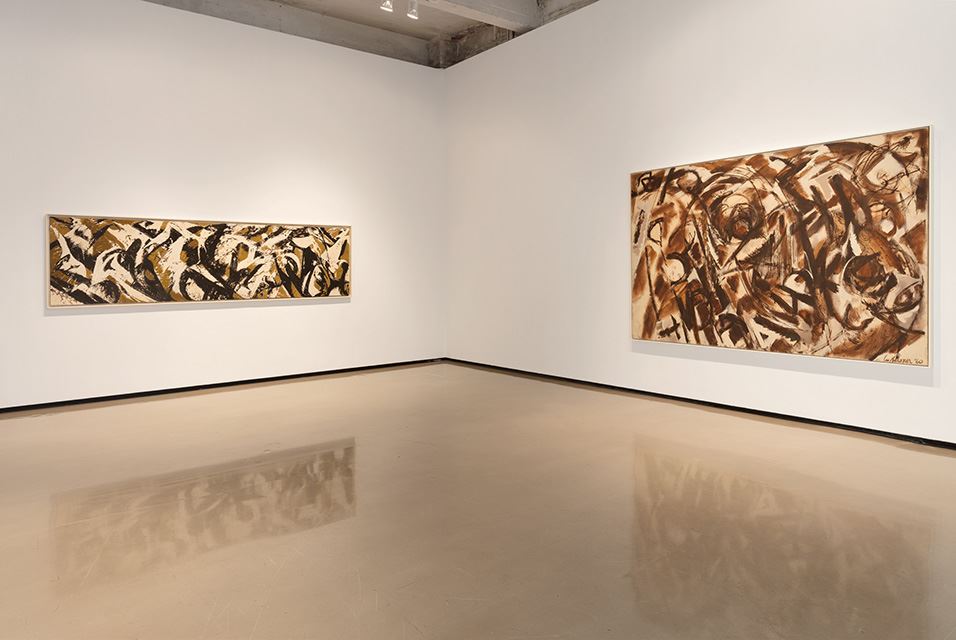 June 19, 1984. Lenore "Lee" Krasner (October 27, 1908 - June 19, 1984) was an American abstract expressionist painter in the second half of the 20th century. She is one of the few female artists to have had a retrospective show at the Museum of Modern Art. In this image: Installation view. Photo by: Diego Flores / Paul Kasmin Gallery. © 2017 The Pollock-Krasner Foundation / Artists Rights Society (ARS), New York.
---

Museums, Exhibits, Artists, Milestones, Digital Art, Architecture, Photography,
Photographers, Special Photos, Special Reports, Featured Stories, Auctions, Art Fairs,
Anecdotes, Art Quiz, Education, Mythology, 3D Images, Last Week,
.
Royalville Communications, Inc
produces: