Alte Pinakothek opens 'Florence and its Painters: From Giotto to Leonardo da Vinci'
Piero Pollaiuolo, Portrait of a Woman in Profile, c. 1475/80. Panel, 54.5 × 34.8 cm. Florence, Galleria degli Uffizi © Gabinetto Fotografico delle Galleria degli Uffizi. Photo: Haydar Koyupinar, Bayerische Staatsgemäldesammlungen.
MUNICH
.-
The first presentation in the newly renovated exhibition space in the
Alte Pinakothek
is dedicated to the painters of Florence from the 15th century. With some 120 masterpieces, the show presents the groundbreaking artistic innovations at the birthplace of the Renaissance, with an exemplary juxtaposition of paintings, sculptures and drawings. A comprehensive selection of exquisite panel paintings, made for the churches and palaces of the Tuscan trading centre, transports visitors back to the time of the Medici and traces the development of painting in the modern age, from its beginnings with Giotto's work to Leonardo da Vinci's creations. Thanks to numerous international loans – especially from major collections in Florence, London, New York, Washington, Vienna and Berlin – together with highlights from the holdings in Munich, characteristic works are represented in the exhibition by the most prominent Florentin ...
More
The Best Photos of the Day
'The Ladies of the Baroque: Women painters in 16th and 17th century Italy' opens at Museum of Fine Arts Ghent
Christie's to offer 27 lots by Alberto and Diego Giacometti
Joslyn Art Museum announces expansion; international firm Snøhetta selected as architect


Artemisia Gentileschi, Judith and her maid, ca. 1613. Gallerie degli Uffizi, Firenze.



GHENT.- What was the role of women artists in Late Renaissance and Baroque Italy? How did they come into their own artistically in a male-oriented world? Such is the premise of the fall exhibition of the Museum of Fine Arts Ghent. Featuring some fifty paintings, the exhibition sheds light on the critical role of women painters in Italy from 1580 to 1680. Artemisia Gentileschi (1593–1652), arguably the most famous woman of 17th-century Italian art, figures prominently in the exhibition. Her work is compared with that of her female contemporaries, as the visitor is taken back to a pivotal moment in art history. During the 16th and 17th centuries, women artists in Venice, Rome, Naples, and Bologna undeniably shared a common ground that earned them their own place in the Baroque aesthetics. These women chose to dedicate themselves to painting and, consequently, to compete with male ... More



Diego Giacometti, 'Arbre Au Hibou' Table. Estimate: $200,000-300,000. © Christie's Images Limited 2018.



NEW YORK, NY.- In conjunction with the Impressionist & Modern Art department, Christie's Design announced, Alberto and Diego Giacometti: Masters of Design, which will take place during the marquee 20th Century Week on Monday, 12 November 2018. This sale includes 27 lots of design created by both Giacometti brothers, representing their crucial contribution to the field of decorative objects, lighting, and furniture. In the Stampa valley of Switzerland at the turn of the 20th century, the Giacometti brothers were born only a year apart and were raised in a family that valued creativity and originality. Their father was a painter who also designed all the furniture in the family's home, and their younger brother would go on to become an architect. The brothers shared a very close relationship and shortly after Alberto settled in Paris in the early 1920s, Diego joined him there ... More



Joslyn Art Museum building



OMAHA, NEB.- Joslyn Art Museum announced today that it has selected Snøhetta to lead an expansion that will be transformative for the Museum, the city of Omaha, and Nebraska. Central to the architecture and landscape design project is a new building that will complement and enhance Joslyn's original 1931 Memorial Building and 1994 Walter and Suzanne Scott Pavilion addition, designed by Sir Norman Foster. Introducing a new Joslyn for the twenty-first century, the expansion will add new galleries to showcase more art in an architecturally inspiring space; support greater breadth and depth of public programming and art education opportunities offered by Joslyn; and create an environment that heightens the Museum experience and exceeds visitors' expectations. A selection committee comprising Joslyn staff and Omaha community leaders conducted an expansive search for an architect with multiple international firms ... More
Artcurial announces highlights from the Old Master and 19th century art auction
Exhibition at Jeu de Paume focuses on the extraordinary emotional power of Dorothea Lange's work
Legendary Istanbul photographer Ara Guler dies aged 90


Attribué à Jan Cornelisz Vermeyen, Portrait de l'empereur Charles Quint, huile sur panneau © Artcurial.



PARIS.- Artcurial's Old Master & 19th century art department will host its prestigious second semester auction for the second half of 2018, on 13th November, during the Paris Fine Arts Fair. It gathers 120 lots, for a total estimate of more than 4 M€. « We are very pleased to once again present new discoveries, including the large canvas version of Portrait of Charles Perrault by Charles Le Brun, recovered thanks to the re-appearance of the pastel of the writer by Le Brun, pre-empted by the Chateau de Versailles museum during our auction on 21 March. » --Matthieu Fournier, Director Old Master & 19th century art, Artcurial. A selection of works will be presented in Artcurial's Brussels office from 23rd to 25th October 2018. Northern countries Renaissance art is represented by two extremely rare paintings. The first, Composition au livre ouvert, is an oil on panel created in the Netherlands in the sixteenth century (estimate: ... More



Dorothea Lange, Damaged Child, Shacktown, Elm Grove, Oklahoma, 1936 © The Dorothea Lange Collection, the Oakland Museum of California.



PARIS.- The Politics of Seeing features major works by the world famous American photographer Dorothea Lange (1895, Hoboken, New Jersey–1966, San Francisco, California), some of which have never before been exhibited in France. The exhibition focuses on the extraordinary emotional power of Dorothea Lange's work and on the context of her documentary practice. It features five specific series: the Depression period (1933-1934), a selection of works from the Farm Security Administration (1935-1939), the Japanese American internment (1942), the Richmond shipyards (1942-1944) and a series on a Public defender (1955-1957). Over one hundred splendid vintage prints taken between 1933 and 1957 are enhanced by the presence of documents and screenings broadening the scope of an oeuvre often familiar to the public through images such as White Angel Breadline (1933) and Migrant Mother ... More



Legendary Turkish photographer Ara Guler poses as he celebrates his 90th birthday on August 16, 2018 in Istanbul. OZAN KOSE / AFP.



ISTANBUL.- Legendary Turkish photographer Ara Guler, famed for iconic images of Istanbul which captured almost three quarters of a century of the city's history, has died aged 90, state media said. Guler passed away after being rushed to hospital in Istanbul for emergency treatment for heart failure, state-run Anadolu news agency said. He won fame with extraordinary images of Istanbul in black-and-white that admirers believe capture the soul of the city more than any other photographer. His work ranged from images of the city's best known mosques and landmarks, pictures of workers going about their daily lives to rare pictures of Istanbul covered in a blanket of snow. In a city that is now changing at a frenetic pace, Guler's work preserved facets of Istanbul that have now become irrevocably lost. Celebrated Turkish writer and Nobel Literature Prize winner Orhan Pamuk famously used Guler's images in his book ... More
Galerie Thaddaeus Ropac opens a group exhibition dedicated to American Minimal art
Exhibition celebrates the wealth of color and diversity of styles in the geometric art of Latin America
V&A Dundee welcomes 100,000th visitor


Dan Flavin, "Monument" for V. Tatlin, 1967. Cool white fluorescent lights, 244 x 57,5 x 12 cm (96 x 22,5 x 5 in) (DFL 1002.1) © Stephen Flavin / ADAGP, Paris, 2018.



PARIS.- Galerie Thaddaeus Ropac presents in its Pantin space a group exhibition dedicated to American Minimal art. Featuring over 20 major monumental sculptures and paintings by Carl Andre, Dan Flavin, Donald Judd, Sol LeWitt, Robert Mangold and Robert Morris, Monumental Minimal covers the scope of the many aesthetic questions raised by the main protagonists of this artistic revolution. Started in New York in the 1960s as a reaction to Abstract Expressionism, Minimal art is characterised by a formal radicalism that breaks the traditional codes of sculpture. Seriality and the emphasis put on the concept, as well as the use of industrial materials, constitute the common base from which different individual practices stemmed. The works presented have been selected to interact with the architecture of the space. Whether placed on the wall, in a corner, or directly on the floor, the sculptures dialogue ... More



Installation view.



PARIS.- The exhibition Southern Geometries, from Mexico to Patagonia celebrates the wealth of color and diversity of styles in the geometric art of Latin America, bringing together 250 artworks made by over 70 artists from the Pre-Columbian period to present. Including modernist abstract art, sculpture, and architecture as well as ceramics, weaving, and body painting, the exhibition explores the wide range of approaches to geometric abstraction in Latin America, whether influenced by Pre-Columbian art, the European avant-garde or Amerindian cultures. Southern Geometries weaves visual relationships among diverse cultures and regions across time, inviting visitors to discover the vibrant patterns and designs of Latin American art. The exhibition opens with a spectacular ballroom designed by the Bolivian-born architect of Aymara origin, Freddy Mamani, whose work is inspired by the geometric motifs characteristic of Tiwanaku culture, as well as by the spirit of Andean village festivals. In his h ... More



Sheila Harkness from Monifieth was the 100,000th person to visit Scotland's first design museum and was joined by her daughter Sharron McAllister and grandchildren James (10) and Kirsty (8) from Dunfermline.



DUNDEE.- V&A Dundee has welcomed its 100,000th visitor to the new museum. Sheila Harkness from Monifieth was the 100,000th person to visit Scotland's first design museum and was joined by her daughter Sharron McAllister and grandchildren James (10) and Kirsty (8) from Dunfermline. They arrived at the museum on Monday 8 October at 11.17 and were given a one-year V&A Dundee Family and Friends Membership, a Kengo Kuma print and Living Room for the City book and bag to celebrate the occasion. Philip Long, Director of V&A Dundee, said: "I'm very proud and delighted that in just over three weeks 100,000 people have already visited the museum. The feedback we have received from visitors has been fantastic and means so much to all of the team here at V&A Dundee. "It's been a joy to see people enjoying the galleries, ... More
Bonhams Los Angeles announces highlights from its Modern Decorative Art + Design sale
Bertoia's Annual Fall Auction, Nov. 9-11, features wonderful toys, trains, banks and more
WNET launches ALL ARTS, a streaming platform and broadcast channel dedicated to arts and culture


The sale includes a collection of works by the legendary interior designer, Tony Duquette. Photo: Bonhams.



LOS ANGELES, CA.- Bonhams presents the Modern Decorative Art + Design sale on October 25, which will offer over 300 inspiring lots spanning from the 1940s through the 1990s and ranges in style from stark, modern design to high-style Hollywood. The sale includes a collection of works by the legendary interior designer, Tony Duquette, a collection of 1990s works from a Swiss commission by Tom Dixon and Mark Brazier-Jones, and ten works by Peter Voulkos whose ceramics are widely sought after by collectors in the Fine Arts and Design world. Additional artists featured include Dale Chihuly, Ida Kohlmeyer, Ralph Bacerra, Sam Maloof, Pierre Jeanneret, Herbert Bayer, among others. The full sale will be on public view at Bonhams Los Angeles October 19-24. Jason Stein, Director of Modern Decorative Art + Design, Los Angeles, remarks: "This auction has a wide array of compelling works by the most celebrated makers of ... More



Extremely rare Halloween vegetable man holding jack-o-lantern, circa 1920s, est. $3,000-$3,500. Image courtesy of Bertoia Auctions.



VINELAND, NJ.- Many view the Macy's Thanksgiving Day Parade as the starting point for the holiday shopping season, but antique toy collectors are known for their love of "early buying." To them, the "most wonderful time of the year" begins when the Bertoia family opens its gallery doors to guests who've come for their always-festive Annual Fall Auction. This year's edition, slated for November 9-11, features more than 1,400 high-quality lots across many dozens of categories. The uncataloged bonus session (Nov. 11) presents a wide range of excellent toys similar to the types offered year round in the popular Bertoia Basics auction series. The 500-lot Friday session is brimming with cast-iron toys and banks. A fleet of transportation toys is led by a rare Hubley Say It With Flowers delivery motorcycle and other coveted 'cycles, including a Crash Car, Traffic Car and other classics. Additionally, there a ... More



Diane Masciale, Vice President & General Manager, WLIW21. Executive in Charge, ALL ARTS. Photo: © WNET/Joseph Sinnott.



NEW YORK, NY.- WNET, parent company of New York's PBS stations THIRTEEN and WLIW21 and operator of NJTV, announced the launch of ALL ARTS – an unprecedented streaming platform and broadcast channel that offers access to all forms of creative expression from New York and around the world. Presenting exceptional cultural content, ALL ARTS is a place for creators to learn from one another and for artists from all disciplines to reach audiences across the tri-state area. Select programming is now available on the Web, Facebook, Twitter and Instagram. The full network, including the TV channel and streaming apps on iOS and Android smartphones and tablets, Roku, Apple TV and Amazon Fire TV, will launch on January 28, 2019. WNET has appointed Jörn Weisbrodt as ALL ARTS Artistic Director to help curate special events, develop an artist-in-residence initiative and conceptualize ... More
Quote
Art is all that cannot be supressed. anonymous
More News
---
Installation Tour of Art of Native America: Polacca Polychrome Water Jar
---
Flashback
On a day like today, Italian painter Luca Giordano was born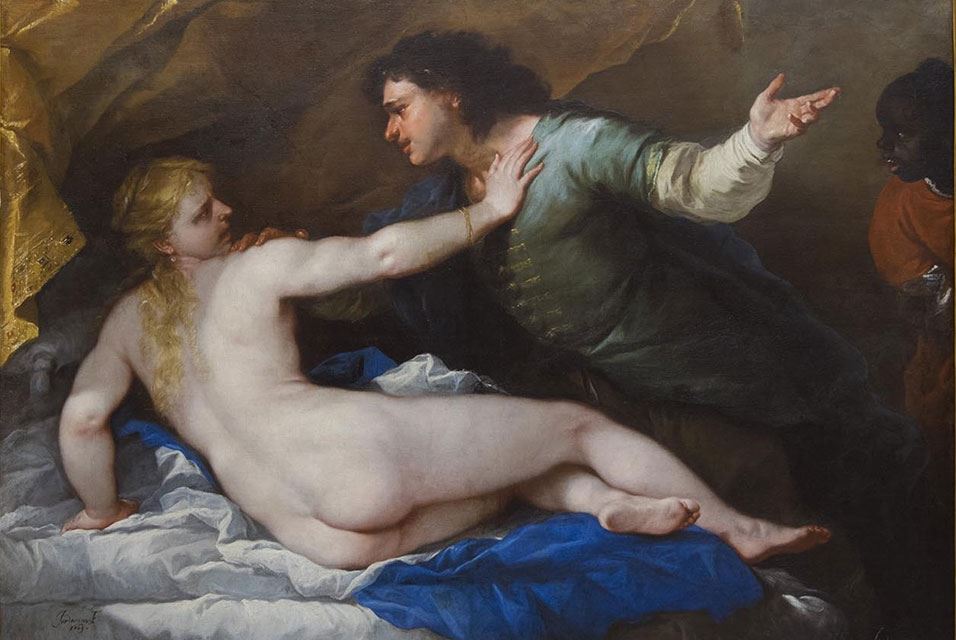 October 18, 1634. Luca Giordano (18 October 1634 - 12 January 1705) was an Italian late Baroque painter and printmaker in etching. Fluent and decorative, he worked successfully in Naples and Rome, Florence and Venice, before spending a decade in Spain. In this image: The Rape of Lucretia, 1663.
---

Museums, Exhibits, Artists, Milestones, Digital Art, Architecture, Photography,
Photographers, Special Photos, Special Reports, Featured Stories, Auctions, Art Fairs,
Anecdotes, Art Quiz, Education, Mythology, 3D Images, Last Week,
.
Royalville Communications, Inc
produces:







Tell a Friend
Dear User, please complete the form below in order to recommend the Artdaily newsletter to someone you know.
Please complete all fields marked *.
Sending Mail

Sending Successful