The Met shows rarely seen treasures from its collection of American works on paper
Thomas Eakins (American, 1844-1916). The Dancing Lesson, 1878 (detail). Watercolor on off-white wove paper. 18 1/8 x 22 5/8 in. (45.9 x 57.3 cm). The Metropolitan Museum of Art, New York, Fletcher Fund, 1925 (25.97.1)
NEW YORK, NY
.-
More than three dozen rarely seen treasures from
The Metropolitan Museum of Art
's collection of late 19th-century American works on paper will be featured in the exhibition Gilded Age Drawings at The Met, opening August 21. Created primarily during the 1870s to '90s—America's so-called Gilded Age—shortly after the founding of the Museum, many of these innovative drawings in watercolor, pastel, and charcoal were acquired during the artists' lifetimes and represent the beginnings of The Met's collecting of American examples of this art form. On view will be iconic works by some of the leading American artists of the period, including Mary Cassatt, Thomas Eakins, Winslow Homer, John La Farge, and John Singer Sargent, along with striking examples by artists who are less well-known today. A highlight of the exhibition will be three works by Cecilia Beaux, La Farge, and Sargent that are recent promised gifts to The Met. Arrange ...
More
The Best Photos of the Day
Freeman's to offer at auction works from the Patricia and John Roche Collection
400 Viking objects stolen in Norway museum heist
Comedy legend Jerry Lewis dies at 91


Waayne Thiebaud (American, B. 1920), Glassed Candy. Watercolor over etching on Rives. Estimate: $150,000-250,000.



PHILADELPHIA, PA.- On September 18, Freeman's will present at auction works from the Patricia and John Roche Collection, including 100 paintings, prints and watercolors from highly regarded European and American artists. Proceeds from the sale of the collection will go to fund the Patricia Kelly Roche Scholarship at St. John's University in New York. Mrs. Roche was herself the beneficiary of a scholarship to St. John's, awarded by the Catholic Diocese of Brooklyn. She was the first of her family to go to college, an opportunity that would not have been possible without the financial assistance her scholarship provided. Patricia and John Roche were married just out of college in 1957. After graduating from Harvard Law School, Mr. Roche began his legal career at the firm of Shearman & Sterling in New York in 1963. He became a partner in 1971, specializing in banking law. In 1989, Mr. Roche left Shearman & Sterling ... More



The stolen objects had been temporarily placed there ahead of a planned transfer to a more secure location on August 14. © University Museum.



OSLO (AFP).- Some 400 Viking objects were stolen from a Norwegian museum at some time over the weekend of August 11-13, the museum's director said Sunday, describing the loss as "immeasurable". "If the stolen objects are not returned, this is by far the most terrible event in the 200 years of Norwegian museum history," the director of the University Museum of Bergen in southwestern Norway, Henrik von Achen, told AFP. The items, most of them small metal objects like jewelry, "do not have monetary value attached to them" and the value of the metal itself "is also quite small," he said. "Yet the great and immeasurable loss is connected to the cultural history value of the items, which exceeds the monetary value many times over," he added. Thieves were able to enter the museum on the seventh floor via scaffolding on the building's facade. The stolen objects had been temporarily placed there ahead of a planned transfer to a ... More



This file photo taken on February 22, 2009 shows comedian Jerry Lewis celebrating after being awarded the Jean Hersholt Humanitarian Award in Hollywood. Gabriel BOUYS / AFP.



WASHINGTON (AFP).- Veteran Hollywood comedian Jerry Lewis, who died Sunday aged 91, perfected a goofy brand of slapstick that endeared him to millions over the course of a career spanning six decades. One of the most popular American entertainers of the 1950s and '60s, Lewis made his name as the clown behind such quirky comedies as "The Nutty Professor" but also won acclaim as a writer, actor and philanthropist. The comedy legend, who at the peak of his popularity was among the world's biggest movie draws, died at his home in Las Vegas early Sunday morning. "I can sadly confirm that today the world lost one of the most significant human beings," said his publicist Nancy Kane. "Jerry died peacefully at home of natural causes surrounded by family and friends." Fans were leaving flowers at the comedian's two stars on the Hollywood Walk of Fame. Hollywood's iconic TCL ... More
Trove of 66 original Polaroid photos of Madonna from 1983 for sale at Manhattan Rare Books
Ramon Boixados Malé, President of the Fundació Gala-Salvador Dalí Foundation, dies
The Mennello Museum of American Art presents the work of William Eggleston


Even though she's still weeks away from the launch of her debut album, the Material Girl is already showing the look that sparked a fashion revolution.



NEW YORK, NY.- A complete set of 66 original Polaroid photos of Madonna, taken in 1983 by the noted portrait photographer Richard Corman (Am., b. 1954), just six weeks before the release of the young singer's debut album and eventual skyrocket to fame, is for sale through Manhattan Rare Books, located inside Gallery 90 in New York City, at 1050 Second Avenue. The sale price of the set is $350,000. "We are offering these unique Polaroids of Madonna until September 5th," said Michael DiRuggiero owner of Manhattan Rare Books. "After that, if there is no buyer, the set will be dispersed and the images offered individually." The photos are featured in Corman's limited-edition fine art book Madonna 66, which was released in November 2016. Harper's Bazaar said of the book, "Corman's Polaroids prove with utter certainty that Madonna was destined for icon status." Mr. DiRuggiero added, "This ... More



Under his mandate, the Foundation has contributed to the intellectual and artistic world through the study and research of the work and life of Salvador Dalí, projecting Dal'i's heritage around the world.



FIGUERES.- The Board of Trustees and the Executive Committee of the Gala-Salvador Dalí Foundation, with great sorrow announce the passing of His Excellency Mr. Ramon Boixadós Malé, President of the Foundation. Born in Figueres on the 31st of December, 1927. PhD in Industrial Engineering by the Higher Technical School of Industrial Engineering of Barcelona, year 1952. From 1973 to 1984 was Professor of Business at the Higher Technical School of Industrial Engineers of Madrid. With a long, dense and successful professional career, he was President of Renfe (Spanish railways) from 1983 to 1985 as well as of Ibermutuamur, Exel logistics (Iberia) Group, S.L. and of Cálculo y Tratamiento de la Información, S.A. Worth pointing out was his outstanding task as General Coordinator of all construction projects of the Olympic Games of Barcelona from 1989 to 1992. ... More



William Eggleston, Untitled, 1973 (detail), color photograph. Collection of the University of Mississippi Museum and Historic Houses, gift of Dr. William R. Ferris.



ORLANDO, FLA.- The Mennello Museum of American Art is presenting the work of William Eggleston in their solo exhibition, The Beautiful Mysterious: The Extraordinary Gaze of William Eggleston. The exhibition is on view from June 23 through September 3. The Beautiful Mysterious: The Extraordinary Gaze of William Eggleston is guest curated by American novelist, Megan Abbott, and includes 36 color and black-and-white photographs from The University of Mississippi Museum's remarkable permanent collection, including some photos never before exhibited. Eggleston, a renowned American photographer, is acclaimed for elevating color photography and transforming ordinary scenes into fine art. Through the eye of Eggleston, nothing is ordinary, despite his photographs' apparent depiction of ordinary things and ordinary people doing ordinary things. Eggleston once said, "I ... More
Denver Art Museum to kick off initial stage of North Building Project in November 2017
Phillips hosts works from the collection of Jeffrey M. Kaplan
Freeman's announces highlights from the September 9 Asian Arts auction


Interior rendering of flexible event and programming space inside the planned Anna and John J. Sie Welcome Center at the Denver Art Museum. Courtesy of Fentress Architects and Machado Silvetti.



DENVER, CO.- After five years of planning, design work and fundraising, including inclusion in the General Obligation Bond up for approval by Denver voters this fall, the Denver Art Museum today announced it will begin preparations for the North Building renovation work on Nov. 20, 2017. The landmark building will be open to visitors through Sunday, Nov. 19, and then will close to the public in order to remove collections and prepare the space for construction. Starting Monday, Nov. 20, the Hamilton Building, south of 13th Avenue, will be open to the public seven days a week to provide additional opportunities for visitor access during the renovation project. The museum will continue to present a robust program in the Hamilton Building throughout the duration of construction, including complimentary general admission ... More



Terry O'Neill, Paul McCartney at Ringo Starr's Wedding, London. Image courtesy of Phillips.



NEW YORK, NY.- Phillips announced Flash: British Photographers, Works from the Collection of Jeffrey M. Kaplan, Washington D.C. On view in Phillips' Park Avenue Galleries from 17 – 29 August, this exhibition brings together works by some of the most well-recognized British photographers, whose photographs graced the pages of publications such as The Sunday Times, British Vogue, Queen, and Harper's Bazaar . The entirety of the exhibition was generously loaned by Jeffrey M. Kaplan of Washington D.C. and includes the photographers Terence Donovan, Cecil Beaton, Terry O'Neill, and Lord Snowdon, among others. Vanessa Hallett, Phillips' Deputy Chairman and Worldwide Head of Photographs, said, "We are delighted to host Flash: British Photographers in our Park Avenue galleries and we are grateful for Mr. Kaplan's generosity in loaning these photographs. The artists included in this exhibition have ... More



A rare and impressive Chinese blue and white porcelain hexagonal vase Qianlong six-character mark and of the period. Estimate: $30,000-$40,000.



PHILADELPHIA, PA.- Freeman's September 9 Asian Arts auction will offer collectors a wide array of Asian fine and decorative arts. A highlight of the sale is the collection of Mr. and Mrs. Gaylord and Pamela Watkins—including a fine group of Song to Ming dynasty ceramics and related wares of Southeast Asia— and a complementary private Pennsylvania collection, giving collectors and connoisseurs the rare opportunity to bid on a range of wares not often brought to auction. Additional highlights include Chinese paintings from private collections by such masters as Pu Ru (Lot 556, "Scholar Seated in a boat," $10,000-15,000), Fan Zeng (Lot 569, $50,000-80,000, acquired directly from the artist's studio at the suggestion of Robert Ellsworth in 1979), and Liu Dan (Lot 577, $20,000-30,000). Also on offer are a rare and large Chinese blue and white porcelain hexagonal vase, ... More
Leonard Joel to offer the collection of Australian media tycoon James Fairfax
TBA21 opens major exhibition in Lima exploring concepts of placelessness and heritage in contemporary practice
'The Presence of Absence: Medieval Art and Artifacts' opens at the Williams College Museum of Art


Chinese imperial yellow dragon robe, (Longpao Jifu), Qing Dynasty (1644-1911), Daoguang Period (c1820). Estimate: AU$40,000-60,000.



SYDNEY.- Leonard Joel will present The Decorative Arts Collection of The Late James O. Fairfax, featuring superb Asian works of art and textiles, European furniture, porcelain, silver and photography - the collection reflects the mind and eye of a distinguished collector with an unpretentious, yet grand and meticulous collecting methodology. The auction will take place in two parts at The National Art School, Sydney on Thursday 31 and Friday 1 September 2017. A former director of the media and publishing empire founded by his grandfather, John Fairfax in 1841, James Fairfax was also a passionate collector, philanthropist and supporter of the arts. He travelled extensively – for business, and between his residences in the U.K. and Australia – often stopping for extended periods in Asia and it was his travels, as much as his family's publishing business, that influenced and informed his collection. ... More



Do Ho Suh I Staircase-V, 2008 Works from the TBA21 Collection, Museo de Arte Moderno Bogota, Colombia.



LIMA.- Drawing exclusively from its extensive collection of contemporary art, Thyssen-Bornemisza Art Contemporary opened a major exhibition exploring the concept of the atopic—or "without place"—at the Museo de Arte Contemporáneo in Lima, Peru, this August. Atopia. Migration, Heritage and Placelessness – Works from the Thyssen-Bornemisza Art Contemporary Collection addresses questions of spatialized artistic practices and relationships through the work of 15 contemporary artists and artist collectives, including Allora & Calzadilla, Los Carpinteros, Walid Raad/The Atlas Group, and Do Ho Suh, among many others. Following presentations in Mexico, Colombia, and Ecuador, the exhibition is presented in Lima from August 15, 2017, through November 26, 2017, in a newly adapted form. "Atopia incorporates some of the most significant works from the TBA21 Collection to explore issues of localization versus globalization, t ... More



Byzantine, Michael III, "the drunkard" and his mother Theodora, regent, 842-867 CE. Gold coin, 3/4 in. Gift of S. Lane Faison, Jr., Class of 1929.



WILLIAMSTOWN, MASS.- Williams College Museum of Art opened The Presence of Absence: Medieval Art and Artifacts on August 18, 2017. The exhibition employs object-oriented ontology to recast the relationship between humans and nonhumans. Instead of passive objects installed simply for the pleasure of human viewers, the works of art and artifacts shape the physical interactions people have with them. The Edwin Howland Blashfield Gallery was originally constructed in the 1930s to evoke the Medieval era, and to hold WCMA's Medieval and Early Renaissance collections. It was boarded up for over a decade, when the gallery was turned into a "white cube" space. Now newly restored, leaded and stained glass windows have been revealed, the tiled floor refurbished, and the beamed ceiling brought back into its original context. Light plays a significant role, both metaphorically and physically. The desire to illuminate ... More
Quote
I live on the fringe of society. Tamara de Lempicka
More News
---
First Look – Design: Living in a Material World
---
Flashback
On a day like today, American designer and architect Charles Eames died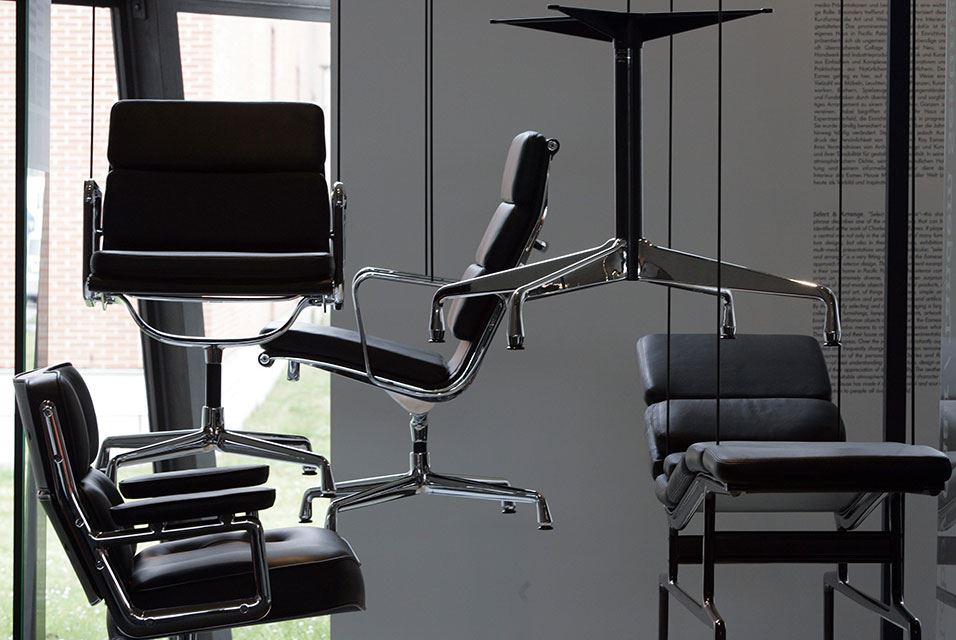 August 21, 1978. Charles Ormond Eames, Jr (1907 - 1978) was an American designer, who worked in and made major contributions to modern architecture and furniture. He also worked in the fields of industrial and graphic design, fine art and film. In this image: "Lobby Chair" models by U.S. designers Charles Eames (1907 - 1978) and his wife Ray (1912 - 1988) are on display during the exhibition "The furniture of Charles and Ray Eames - Products, Processes, Prototyps", in the Vitra Design Museum in Weil am Rhein, Germany, Thursday, March 22, 2007.
---

Museums, Exhibits, Artists, Milestones, Digital Art, Architecture, Photography,
Photographers, Special Photos, Special Reports, Featured Stories, Auctions, Art Fairs,
Anecdotes, Art Quiz, Education, Mythology, 3D Images, Last Week,
.
Royalville Communications, Inc
produces:







Tell a Friend
Dear User, please complete the form below in order to recommend the Artdaily newsletter to someone you know.
Please complete all fields marked *.
Sending Mail

Sending Successful