21 works ranging from the Asuka period to the Kamakura period on view in Rome
A person looks at scultures during the press visit of the exhibition "Masterpieces of Japanese Buddhist sculpture" at the Scuderie del Quirinale in Rome on July 28, 2016. TIZIANA FABI / AFP.
ROME
.-
Twenty-one absolute masterpieces (totalling thirty-five items), stretching from the Asuka (7th – 8th centuries AD) to the Kamakura periods (1185 – 1333), are on public display in Italy for the very first time. Traditionally considered to be cult objects, many of these items are difficult to move and are not easy to access even in Japan, either because they are displayed in the semi-darkness of temples and shrines or because they are heavily protected in the collections of the country's leading national museums. Wooden sculpture, an art form which also flourished in the West, is the supreme technique in the Buddhist tradition, allowing sculptors a matchless expressiveness unparalleled in any other season of art in the world. These are works that speak to us of a culture that was both extremely solid in its beliefs and astonishingly powerful in its creativity. For the Italian visitor they take on the significance of an encounter and of a close dialogue: each item appeals to ...
More
The Best Photos of the Day
Exhibition of artists' books by and after Ed Ruscha opens at Gagosian in Beverly Hills
Robert Rauschenberg's Goat to travel to United Kingdom for first time in over 50 years
Charles Lindbergh's flying hat, worn during the first New York-Paris flight, to go under the hammer


Ed Ruscha, Various Small Fires, 1970. Lithograph on white Arches paper, 16 × 20 inches (40.6 × 50.8 cm) Edition of 30. © Ed Ruscha. Courtesy Gagosian Gallery.



BEVERLY HILLS, CA.- Gagosian Gallery presents "Ed Ruscha Books & Co.," an exhibition of artists' books by and after Ed Ruscha. The exhibition is organized by Gagosian director Bob Monk. In the 1960s, Ruscha was credited with reinventing the artist's book, producing and self-publishing a series of slim volumes of photography and text. By turning away from the craftsmanship and luxury status that typified the livre d'artiste in favor of the artistic idea or concept, expressed simply and in editions that were unsigned and inexpensively printed, Ruscha opened the genre to the possibilities of mass-production and distribution. "Ed Ruscha Books & Co." presents Ruscha's iconic books together with those of more than one hundred artists from all over the world—from Russia to Japan ... More



Robert Rauschenberg, Monogram, 1955-59. Combine: oil, paper, fabric, printed paper, printed reproductions, metal, wood, rubber shoe heel, and tennis ball on canvas with oil and rubber tire on Angora goat on wood platform mounted on four casters, 106.7 x 160.7 x 163.8 cm. Purchase 1965 with contribution from Moderna Museets Vänner/The Friends of Moderna Museet.



LONDON.- Robert Rauschenberg's iconic work Monogram 1955-59 is to travel to the UK for the first time in over half a century as part of Tate Modern's upcoming retrospective of the artist, opening 1 December 2016. Monogram is a classic example of one of the artist's famous Combines. These works were hybrids between a painting and a sculpture which Rauschenberg developed in the 1950s and which were arguably his greatest achievement. Made when the artist was barely in his 30s, they marked a clear break with an older generation of abstract expressionist painters such as Barnett Newman and Mark ... More



It is a soft brown leather sheepskin lined helmet realized in two parts.



PARIS.- It is a high-flying sale that Drouot Estimations will offer at the beginning of next term. An historical piece will be presented at auction: Captain Charles Lindbergh's (1902-1974) flying hat, worn during the first New York – Paris flight in May 20th and 21st, 1927. (60 000 / 80 000 €). Captain Charles Lindbergh, an American air and sea pilot, begins the Atlantic crossing of the West-East alone. Thanks to the help of Saint Louis inhabitants, he acquires a small Ryan monoplane, especially revised and equipped, which he christens The Spirit Of Saint Louis.

New York, morning of May 20th, 1927
The morning of 20th May 1927, Lindbergh takes off along Long Island not far from New York. After that follows a 30 hours flight above the Atlantic sea. Charles Lindbergh, known as the lone eagle, lands in Le Bourget airport in May 21st. Welcomed by a giant crowd, he ... More
Costume Institute's fall 2016 exhibition to focus on recently collected works
Van Gogh Museum recreates Yellow Brick Road of The Wizard of Oz
Whey to go: 17th-century cheese found in Baltic wreck


Ball Gown, Viktor & Rolf (Dutch, founded 1993), spring/summer 2010; The Metropolitan Museum of Art, Purchase, Friends of The Costume Institute Gifts, 2011 (2011.8) © The Metropolitan Museum of Art, by Anna-Marie Kellen.



NEW YORK, NY.- The Costume Institute's Fall 2016 exhibition, Masterworks: Unpacking Fashion, on view in the Anna Wintour Costume Center from November 8, 2016, through February 5, 2017, will feature significant acquisitions of the past 10 years. The show, curated by Assistant Curator Jessica Regan with support from Curator in Charge Andrew Bolton, will explore how the department has honed its collecting strategy to amass masterworks of the highest aesthetic and technical quality, including iconic works by designers who have changed the course of fashion history and advanced fashion as an art form. "Our mission is to present fashion as a living art that interprets history, becomes part of the historical process, and inspires subsequent art," said Mr. Bolton. "Over the seven decades since The Costume Institute became part of The Met in 1946, our collecting ... More



Axel Rüger (Director of the Van Gogh Museum) walks along the Yellow Brick Road to the Van Gogh Museum together with The Wizard of Oz characters Dorothy and her dog Toto. Photo: Jan-Kees Steenman.



AMSTERDAM.- Axel Rüger (Director of the Van Gogh Museum) today unveiled the Yellow Brick Road: a 3D reproduction of the iconic yellow road that featured prominently in The Wizard of Oz (1939). The celebrated Hollywood musical has been a household name in the international LGBTQI community for generations. This year's EuroPride is held in Amsterdam from 23 July to 7 August. Axel Rüger said, 'The Van Gogh Museum is proud of the rich diversity of visitors that are drawn to the museum every year, and wishes everyone a fantastic Amsterdam Gay Pride and EuroPride!' Axel Rüger said, 'With the 3D reconstruction of the Yellow Brick Road, which runs from the ticket office area to the Entrance Hall, the Van Gogh Museum shows that its doors are wide open to all visitors, including, of course, those from the LGBTQI community. With our Yellow Brick Road, we would like to ensure that this group is firmly at centre stage this ... More



This 26 July, 2016 hand out picture shows a clay pot with cheese at the Kalmar Museum, southern Sweden. Divers exploring the historic royal shipwreck "Kronan" off the south-east coast of Sweden have discovered 340-year-old cheese buried in the sea bed below the wreckage. HO / Kronanprojektet/Kalmar laens museum / AFP.



STOCKHOLM (AFP).- Divers searching the wreck of an 17th-century Swedish warship on the bed of the Baltic say they have found de Brie. Sifting through the ancient timbers of the Kronan, a ship that sank in 1676 off the Swedish coast, they found not diamonds as they had hoped... but a cheese. Inside a watertight pot was a semi-firm 340-year-old "dairy product" smelling of yeast and Roquefort cheese, expedition leader Lars Einarsson told AFP on Thursday. "Unlike the others, I find its smell is quite pleasant," he said. "It smells of life." The unusual find is being sent to the Swedish University of Agricultural Sciences for tests. The Kronan (Crown) sank off the island of Oeland, southeastern Sweden on June 1, 1676 in a battle with a Danish-Dutch fleet. Squabbling officers and too much ... More
On the Road: Artcurial to offer 80 automobiles this October
Prints for Team GB at the Rio 2016 Olympic Games to go on sale
BOZAR introduces the Pieter Paul art guide app


On the Road, 9 Octobre, 2016. Weber Collection Garages. ©Artcurial.



PARIS.- Artcurial Motorcars invites all those with a passion for American cars to attend the On the Road sale on 9 October. The 80 automobiles in the collection will be offered at very attractive prices, and with no reserve ! This special collection was set up by the pioneer André Weber who, over a period of some fifty years, sought out particular American vehicles so loved by Europeans. « Rarity, authenticity, history... these are the criteria that give a collection its value. However it is the extra measure of passion that makes Mr Weber's collection so special. In recent years he has been able to house his collection in one place. This location has been designed and decorated for the purpose, giving a feel more of a museum than simply an enthusiast's collection of cars. This collection takes us back to the good old days of rock 'n' roll and is a fantastic tribute to this golden age ... More



Tracey Emin, True Love Always Wins, 2016. Counter Editions.



LONDON.- The official limited edition prints for Team GB at the Rio 2016 Olympic Games will be released on Tuesday 2 August to coincide with the opening if the Games. The eight artists chosen to make the prints are Tracey Emin, Anne Hardy, Howard Hodgkin, Sarah Jones, Eddie Peake, Benjamin Senior, David Shrigley, and Sam Taylor-Johnson. The artists were asked to create unique images in celebration of Rio and Brazil, with the spirit of Team GB as their inspiration. The artists were asked to create unique images in celebration of Rio and Brazil, with the spirit of Team GB as their inspiration. Since 1912, prints and posters have been commissioned for each of the Games, creating celebratory and inspiring meetings of art and sport. The editions will be available individually and in special cloth-bound box sets exclusively from CounterEditions.com. Print prices range from £475 to ... More



Facing the Future. Art in Europe 1945-68 sheds light on 180 works created between 1945 and 1968 by artists from Europe and the former Soviet-Union.



BRUSSELS.- BOZAR is launching the Pieter Paul app, a free digital art guide that accompanies the visitor around the exhibition Facing the Future: Art in Europe 1945-68. Facing the Future features some 180 works of art from the period 1945-1968, with works from Europe and the former Soviet Union and by major artists including Fernand Léger, Vladimir Tatlin, Gerhard Richter and Pablo Picasso. As a visitor to Facing the Future you can use your smartphone to log onto the free Wifi network Guests@BOZAR, entering "bozar" (small letters) as ID and "picasso" (small letters) as the password. You can then use the Pieter Paul app as your personal guide to the exhibition: simply take a photo with your smartphone of the Pieter Paul logo displayed next to an artwork to receive more information right away. Information videos on the exhibition ... More
Artist Tehching Hsieh to represent Taiwan at Venice Biennale 2017
Walters Art Museum launches investment manager diversity initiative
Holocaust Survivor Band returns home to Poland


Tehching Hsieh, Photo by Hugo Glendinning.



TAIPEI.- Taipei Fine Arts Museum and Sean Kelly today announced Tehching Hsieh as the sole artist, representing Taiwan with an exhibition to be curated by Adrian Heathfield at the 57th International Art Exhibition, Venice Biennale 2017. About Hsieh's representation, Ping Lin, Director of TFAM states: "With high anticipation, Taiwan's nominating committee recommend Hsieh's vital and richly metaphorical performance art projects. Hsieh's work not only bears witness to a visionary perspective, but also sheds light on universal human conditions through his critical enactment of a biopolitics of existence." Hsieh remarks: "It is a great honor to represent Taiwan at the 57th Venice Biennale. This exhibition is a rare opportunity to show previously unseen early works that I made in Taiwan, and to develop new understandings of my 'One Year Performances' in New York. I am grateful for the support of the nominating committee, the Director of TFAM Ping Lin, Chief Curator Chaoying Wu, and for the opportunit ... More



The Walters used an objective process to identify the best-in-class independent money managers to oversee a portion of the funds.



BALTIMORE, MD.- As part of a commitment to diversity and inclusion, the Walters Art Museum has launched a new initiative to hire diverse-owned investment firms to manage a portion of the Walters' endowment portfolio, which is valued at $116 million. The Investment Committee of the Walters led the initiative, which was strongly supported by the museum's Board of Trustees. "I am excited that the Walters has been able to take this critical step in aligning investment policy with inclusive practices and excellence in performance," said Board President Ellen Bernard. "We made it a priority to engage more minority and women-owned investment management firms. "By doing this, we are adding a group of high performing managers to the Walters' investment portfolio." The Walters used an objective process to identify the best-in-class independent money managers to oversee a portion of the funds. In partnership ... More



Saul Dreier (C) and Reuwen 'Ruby' Sosnowicz (L) from the Holocaust Survivors Band perform. JAKUB KAMINSKI / PAP / AFP.



WARSAW (AFP).- They survived the Holocaust, and held on to their love of life despite their childhood ordeal -- and in their twilight years, now living in the United States, they started a band. This week, the two grandfathers returned to their homeland Poland to pay their respects to the victims of the Nazi German genocide, and to perform at the site of Warsaw's wartime Jewish ghetto. Peering at the crowd from behind his drum set on Wednesday night in the capital, 91-year-old Saul Dreier yelled into the mic: "Is everybody happy?" The crowd cheered. The dynamic duo came to "play for the people that perished and to play for the peace of the world. As simple as that," the retired building contractor told AFP. Dreier, who welcomed his first great-grandchild last week, survived three concentration camps and lost most of his family in World War II. "My parents were burned in Treblinka. Either Treblinka, Majdanek or Belzec. ... More
Quote
Balthus is a painter of whom nothing is known. Balthus
More News
---
The Ming Dynasty 'Dragon' jar that was used as an umbrella stand
---
Flashback
On a day like today, Dutch painter Vincent van Gogh, died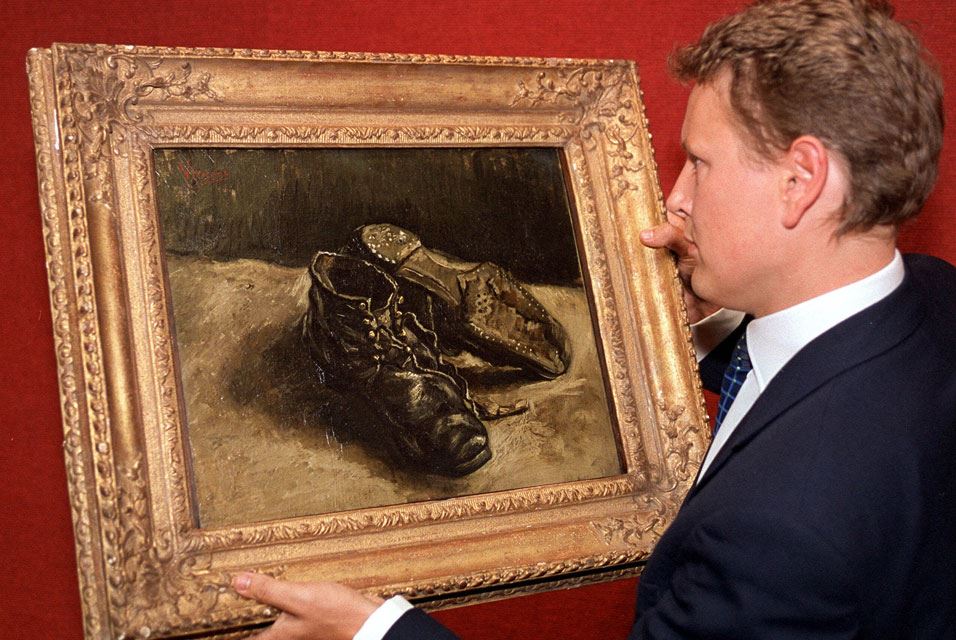 July 29, 1890. Vincent Willem van Gogh (30 March 1853 - 29 July 1890) was a Dutch post-Impressionist painter whose work, notable for its rough beauty, emotional honesty, and bold color, had a far-reaching influence on 20th-century art. After years of painful anxiety and frequent bouts of mental illness, he died at the age of 37 from a gunshot wound, generally accepted to be self-inflicted (although no gun was ever found).[3][note 2] His work was then known to only a handful of people and appreciated by fewer still. In this image: Jussi Pylkkanen, the senior director of 19th Century Art at Christie's, views Van Gogh's "A Pair of Shoes," as it went on display in the Christie's auction rooms in London, Friday, September 10, 1999. The rarely exhibited and little known painting is the missing link in an important series of five closely related pictures by Van Gogh between 1886 and 1887.
---
---

Museums, Exhibits, Artists, Milestones, Digital Art, Architecture, Photography,
Photographers, Special Photos, Special Reports, Featured Stories, Auctions, Art Fairs,
Anecdotes, Art Quiz, Education, Mythology, 3D Images, Last Week,
.
Royalville Communications, Inc
produces:







Tell a Friend
Dear User, please complete the form below in order to recommend the Artdaily newsletter to someone you know.
Please complete all fields marked *.
Sending Mail

Sending Successful