First North American survey of the work of Ai Weiwei opens at Brooklyn Museum
A general view of atmosphere during the media preview for Ai Wei Wei: According To What? at Brooklyn Museum on April 16, 2014 in the Brooklyn borough of New York City. Andrew Toth/Getty Images/AFP.
BROOKLYN, NY
.-
Ai Weiwei: According to What?—the first North American survey of the work of the provocative Chinese conceptual artist, sculptor, photographer, filmmaker, and activist—will be presented at the
Brooklyn Museum
from April 18 to August 10, 2014. This will be the first large-scale museum exhibition of Ai's work in New York and the final presentation on the exhibition's tour. The Brooklyn Museum will include several major works not seen in previous venues. Included among the new material is S.A.C.R.E.D., making its first appearance in North America since it debuted to critical acclaim during the Venice Biennale in 2013. Ai created this monumental work in response to his 81-day imprisonment by Chinese authorities in 2011. Each of the six iron boxes that make up the piece contains lifelike fiberglass dioramas of detailed scenes painstakingly reproduced ...
More
The Best Photos of the Day
Jonathan Yeo painting of Malala Yousafzai to be sold at auction in May to benefit the Malala Fund
U.S. pavilion at La Biennale di Venezia to feature new installation by Joan Jonas
The importance of sky studies in landscape art is the subject of the first exhibition in a new Morgan series




Jonathan Yeo (B. 1970), Girl Reading (Malala Yousafzai), 2013. Oil on canvas, 89cm x 89cm. Estimate: $60,000-80,000. Photo: Christie's Images Ltd 2014.





NEW YORK, NY.- On the heels of the Jonathan Yeo Portraits exhibition at the London National Portrait Gallery, Christie's will offer at auction the portrait of Malala Yousafzai, the Pakistani schoolgirl shot by the Taliban for courageously campaigning for girls' education. Generously offered by the artist, the painting, estimated $60,000-80,000, will be sold during the day sale of Post -War and Contemporary Art, to benefit the Malala Fund, a charity set up by Malala to support the fight for girls' right to education. Called the "Bravest Girl in the World" by President Barack Obama, she recently awarded the International Children's Peace Prize for her inspirational work and courage. "I was honoured that Jonathan asked to paint me for his exhibition in the National Portrait Gallery and am grateful that Christie's has agreed to auction the portrait to help girls go to school around the world. The funds raised ... More





Joan Jonas, Organic Honey's Vertical Roll, Musee Galliera, Paris, 1972/1973.





CAMBRIDGE, MASS.- The Massachusetts Institute of Technology announces that the MIT List Visual Arts Center will present Joan Jonas as the representative for the United States at La Biennale di Venezia 56th International Art Exhibition, the world's most prestigious contemporary art event. Jonas is a pioneering figure in performance art and video and is one of the most important contemporary artists today. She will create a new multimedia installation specifically for the U.S. Pavilion in Venice, Italy, to be on view May 9–November 22, 2015. Jonas' art developed out of her art history studies, and then expanded to performance and film in the 1960s through her involvement with the New York avant-garde scene. Her work has been a major influence on contemporary art. Jonas has taught at the Massachusetts Institute of Technology since 1998 and is currently Professor Emerita. The U.S. Pavilion is curated by Ute Meta Bauer, a former colleag ... More





Jean-Michel Cels (1819–1894), Cloud Study, ca. 1838–42 (detail). Oil on cardboard. Thaw Collection, jointly owned by the Metropolitan Museum of Art and the Morgan Library & Museum; gift of Eugene Thaw, 2009.





NEW YORK, NY.- During the second half of the eighteenth century, the practice of using oil paint on paper while working outdoors became popular among landscape artists. In a treatise offering advice to students of landscape painting, Pierre-Henri de Valenciennes (1750-1819) advocated that artists start with the sky, which determines the palette of the entire composition, and then complete their sketches swiftly, preferably in less than two hours. Working quickly to capture changing effects of light, the subtle hues of the atmosphere, and the evanescent shapes of clouds, artists developed and refined their techniques in sky studies. The Morgan Library & Museum explores the work of a number of artists from France, Germany, and Scandinavia active largely in the first half of the nineteenth century. The inaugural exhibition in a planned new series, the show's fourteen works highlight the innovative approaches ... More
Sotheby's Geneva to sell an impressive selection of magnificent jewels and noble jewels
Exhibition of Modern British prints at Osborne Samuel commemorates centenary of WWI
I Am a Drop in the Ocean: Protest art from Kiev's Maidan on show at the Kuenstlerhaus in Vienna




The spectacular 'Graff Vivid Yellow'. Est. CHF 13,400,000 – 22,300,000 / $15,000,000 – 25,000,000. Photo: Sotheby's.





GENEVA.- On 13 May 2014, Sotheby's Geneva auction of Magnificent Jewels and Noble Jewels will present an impressive selection of signed and period jewels from private collections, some with noble provenance. The array of important diamonds in the sale includes the 'Graff Vivid Yellow', an exceptional 100.09 carat daffodil yellow diamond ring and the Victory Diamond, named in honour of the Allied victory in World War II. Coloured stones include an important 121.00 carat Burmese sapphire and an exquisite 12.46 carat Burmese ruby. Collectors of jewels from the 20th century will be captivated by the Belperron jewels from the collection of Mme Picha-Eisenstein, a close friend of the celebrated designer Suzanne Belperron. David Bennett, Chairman of Sotheby's Switzerland and Chairman of the Jewellery Department for Europe and the Middle East commented: "It is a very interesting and varied sale featuring fine coloured gemsto ... More





Edward Wadsworth, Invention/Mudros, 1917. Woodcut. Printed in two shades of grey and black on grey wove paper with margins, 105. x 8.1 cm.





LONDON.- Osborne Samuel announces an exhibition of Modern British Prints, on view at the gallery and again at The London Original Print Fair at the Royal Academy of Arts. Celebrating its 29th year in 2014, the event is the world's longest-running fair devoted exclusively to prints. To commemorate the centenary of the outbreak of World War One, Osborne Samuel is presenting an important collection of prints produced between 1914-1918. The years of conflict and horror served as a backdrop for some of the most poignant images of the 20th Century: works by CRW Nevinson, Paul Nash and Edward Wadsworth show the impact of war on the avant-garde. Nevinson's Banking at 4000 Feet was part of a set of six lithographs commissioned by the Ministry of Information on the subject of Britain's Efforts and Ideals: Building Aircraft. Also in the collection is a rare set from the same series by Eric Kennington titled Making Soldiers. Wadswort ... More





Artworks from Ukraine presented at the 'I am drop in the ocean' exhibition at the Kuenstlerhaus in Vienna. AFP PHOTO / PATRICK DOMINGO.





VIENNA (AFP).- Tyres "burn" in a corner, gas masks and truncheons hang from the ceiling: as unrest rocks Ukraine, art from Kiev's Maidan is already making its debut in a Vienna museum. The exhibit is titled "I Am a Drop in the Ocean" after a slogan used by the protesters on the Maidan, or Independence Square. Thrown together in just five weeks, the works by some 40 Ukrainian artists were inspired by or eerily prescient of the clashes that helped topple the government in February. Protesters with grimy faces, wearing balaclavas and camouflage jackets, stare out of photographs; oil paintings show lines of riot police with shields; a collection of blurry black-and-white pictures taken during the clashes recalls combat pictures from World War I. "Some of the artists created the art directly on Maidan," said Alisa Lozhkina, one of the two Ukrainian curators of the exhibit, which opened last week at Vienna's Kuenstlerhaus. "It was not something where they were sitting at home... They were at Maidan, they c ... More
Exceptional selection of ceramics by Pablo Picasso to be offered at Sotheby's London
Exhibition of sculpture and found-object based work by John Salvest opens at Morgan Lehman
Sharon Lockhart's first large-scale solo exhibition in Scandinavia opens at Bonniers Konsthall




Lot 334 and Lot 335: Pablo Picasso, Vase azteque aux quatre visages. Terre de faïence vase. 1957. Photo: Sotheby's.





LONDON.- Sotheby's is to offer an exceptional selection of ceramics by Pablo Picasso in London on 7 May 2014. This follows Sotheby's auction in March 2013 of Important Ceramics by Pablo Picasso from a Private Collection, in which all the ceramic lots sold. The comprehensive group of over 170 works represents an opportunity for collectors to acquire their own work of art by one of the 20th century's most famous artists. The sale includes plates, vases, jugs, bowls and tiles designed by Picasso, depicting a range of classical and mythical forms alongside portraits of animals and people, as well as linocuts from this period. The individual pieces range in estimate from £400 to £60,000. Picasso constantly explored opportunities to break creative boundaries and challenge himself in innovative ways. A chance encounter with the owners of the renowned Madoura pottery in Vallauris in the ... More





Cage A, 2013. Used Wooden Crutches, Hardware, 64h x 56w x 56d in.





NEW YORK, NY.- Morgan Lehman Gallery presents Object Lessons, an exhibition of sculpture and found-object based work by John Salvest. This will be Salvest's third solo exhibition with the gallery. A reception for the artist will be held on April 23 from 6-8pm. Salvest believes that the beauty, courage, sadness, humor, and absurdity of the world are reflected in the physical evidence of our human needs and shortcomings – specifically in the detritus of our daily lives. In this most recent body of work, Salvest further mines the evocative power of everyday objects, continuing to challenge our pre-conceived notions of their inherent value. He revisits business cards, reclaimed medicine cabinets, and pills and also introduces new materials such as secondhand romance novels and used crutches. The found objects are recontextualized, often with the assistance of the written word, to create works that both communicate personal realiza ... More





Sharon Lockhart, I, Jodłówka, 2014. 198 x 333 cm. Hand-blown coated glass, float glass, lead cames, solder, glass paint, grisaille, MDF, steel, polyurethane. Glass panel: 198 x 333 cm.





STOCKHOLM.- Bonniers Konsthall presents the first large-scale solo exhibition in Scandinavia of American artist Sharon Lockhart. The exhibition is accompanied by a screening program and public talks. For the past two decades, Sharon Lockhart has developed a working method sensitive for capturing communities and individuals in their everyday life. Her working process involves long periods of research in a given location, where she familiarizes herself with the local community, often forging deep friendships and initiating a strong collaboration. Her meticulous fieldwork is then transformed into painterly tableaux of still and moving imagery informed by anthropological research. Lockhart´s oeuvre is characterized by turning space, time and bodily movement of the everyday into rigorously composed photographic works as ... More
Greek artist Georgia Sagri's first institutional exhibition opens at Kunsthalle Basel
Artists Ahmet Oran and Işil Eğrikavuk open exhibitions at Rampa gallery in Istanbul
Lund Humphries & Sotheby's Institute of Art publish The Art Collector's Handbook




Georgia Sagri, Mona Lisa Effect, installation view. Photo: Courtesy the artist, Anthony Reynolds Gallery (London), Helena Papdopoulos & Andreas Melas (Athens) und/and Lars Friedrich (Berlin). Kunsthalle Basel 2014, Photo: Gina Folly.





BASEL.- The first ever institutional solo exhibition by the Greek artist Georgia Sagri (*1979) opened at Kunsthalle Basel. Born in Athens, Sagri today lives and works in New York. Sagri is always the protagonist of her performances, which she stages in installations and environments specifically created for each venue. She regularly challenges, provokes and at times taxes the viewer with her works, insofar as she explores political and social themes from a critical perspective. While representing social, historical and economic relationships, the artist is interested in the mode whereby today's society generates, communicates and distributes imagery through media. Sagri, whose practice is rooted in performance, has ... More





Ahmet Oran, Untitled, 2014. Oil on canvas, 188 x 160 cm. Courtesy the Artist and Rampa © Photo: Reha Arcan.





ISTANBUL.- Rampa is welcoming viewers with two exhibitions. On the ground floor exhibition space of the Gallery, Rampa hosts Ahmet Oran's new exhibition, while in the project space on the upper level, Işıl Eğrikavuk presents "Infamous Library". The exhibitions can be visited between April 17 and May 24. Ahmet Oran meets viewers with his second solo exhibition at Rampa after a four-year interval. This exhibition brings together new works by Ahmet Oran realized over the last four years together with some of his early works. The almost entirely monochrome canvasses we encounter in Oran's early work reveal the artist's mastery of the volume and texture of his material. The viewers will witness the changing and evolving relationship of a painter with painterly space through the opportunity ... More





Rozell''s book is a superb resource for art collectors to have on hand.





BURLINGTON, VT.- As the global economy spawns a growing number of art collectors, Lund Humphries and Sotheby's Institute of Art publish on April 20th an essential and timely guide to the pleasures, pitfalls and practicalities of owning art "Rozell's book is a superb resource for art collectors to have on hand … It is exhaustively researched and extremely well-presented and is a must for any art professional to have in their library." --Agnes Gund, President Emerita of MOMA, art patron and Founder, Studio in a School The Art Collector's Handbook, written from the privileged insider-perspective of an experienced, legally trained art consultant, provides the ultimate guide to art collection management and care in the 21st century – for private collectors and art professionals alike. Mary Rozell draws on her long experience as both an art ... More
Quote
Sketch everything and keep your curiosity fresh. John Singer Sargent
More News
---
A conversation between Malala and Jonathan Yeo
---
---
Flashback
On a day like today, American sculptor Louise Nevelson died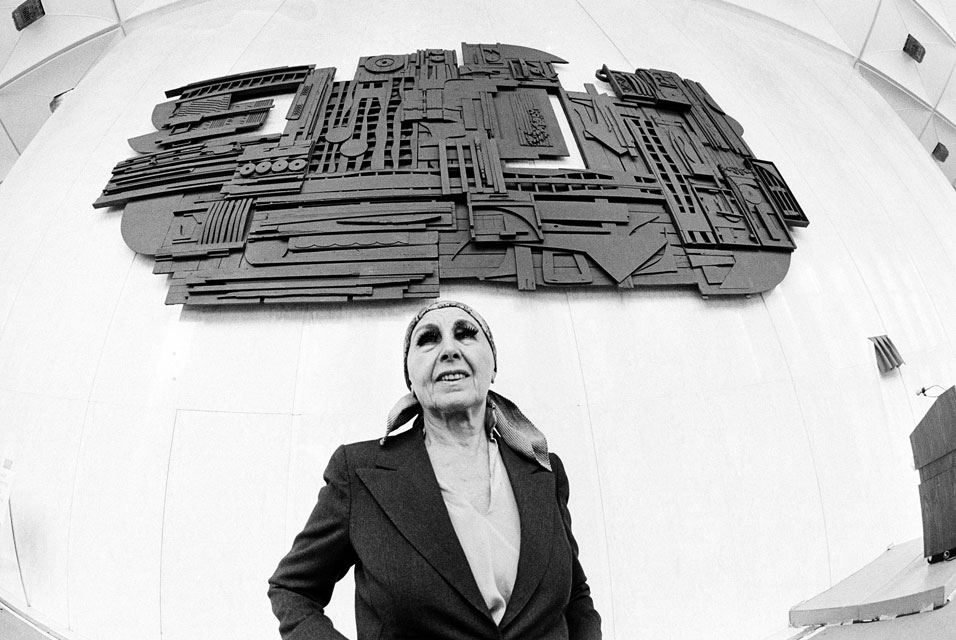 April 17, 1988. Louise Berliawsky Nevelson (born Leah Berliawsky; September 23, 1899 - April 17, 1988) was an American artist. Nevelson is known for her abstract expressionist "crates" grouped together to form a new creation. She used found objects or everyday discarded things in her "assemblages" or assemblies, one of which was three stories high: "When you put together things that other people have thrown out, you're really bringing them to life – a spiritual life that surpasses the life for which they were originally created." In this image: Artist Louise Nevelson poses beneath her work "Sky Gate, New York" during its unveiling at New York's World Trade Center in lower Manhattan on Tues. Dec. 12, 1978. The sculpture, formed of black wood and measuring 17 feet high, 32 feet wide and one foot deep, was created for the trade center.
---
---

Museums, Exhibits, Artists, Milestones, Digital Art, Architecture, Photography,
Photographers, Special Photos, Special Reports, Featured Stories, Auctions, Art Fairs,
Anecdotes, Art Quiz, Education, Mythology, 3D Images, Last Week,
.
Royalville Communications, Inc
produces: