Leading international galleries show work from masters at Art Basel Miami Beach
Eugene Sadovoy attends Art Basel Miami Beach 2013 VIP Preview at the Miami Beach Convention Center on December 4, 2013 in Miami Beach, Florida. Gustavo Caballero/Getty Images/AFP.

By: Paula Bustamante
MIAMI
(AFP)
.-
Hotels, building terraces, restaurant entryways and even Biscayne Bay itself will be transformed this week as Art Basel Miami Beach comes ashore with one of its most eccentric contemporary shows yet. Artists, dealers, collectors and art aficionados from around the world are converging on Miami for the December 5-8 fair, one of the biggest of the season. This will be the 12th year that the Swiss art franchise has shown its wares in Miami Beach, transforming the beach resort into a cultural capital for a week. "We have passed the first decade of a cultural movement, winning renown in the country and the world," Miami Mayor Tomas Regalado told AFP. On Wednesday, he inaugurated the Perez Art Museum, a lavish new venue in the center of the city designed by Swiss architecture firm Herzog & de Meuron. Art Basel's presence since 2002 in Miami Beach, a separate municipality with its own mayor, "contributed to developing other areas of Miami that today are modern cultural capitals," the Cuban-bo ...
More
The Best Photos of the Day
One million dollar Pablo Picasso painting yours for just $135 in online charity raffle
Sotheby's American Art Auction totals $84 million, led by record price for Rockwell painting
Okwui Enwezor appointed as director of the Visual Arts Sector for the 56th Biennale di Venezia




In an effort to raise money to save the ancient and historical city of Tyre, Lebanon, French TV host Peri Cochin has teamed with Olivier Picasso, to create a lottery like none before. AFP PHOTO / TIMOTHY CLARY.





NEW YORK (AFP).- Still stumped for a Christmas present? Then what about an exquisite $1 million Picasso for the living room, yours for just $135 at an online charity raffle. The perfectly preserved Cubist gouache was bought by an anonymous donor from a New York gallery and given to a charity working to save the ancient city of Tyre in southern Lebanon. The UNESCO-registered charity has issued 50,000 tickets at 100 euros ($135) each for the first-of-its-kind tombola on December 18 at Sotheby's in Paris, hoping to raise $5 million. It wants the money to develop a traditional handicraft village giving young people, women and the disabled jobs in Tyre and to set up an institute for Phoenician studies in Beirut. Hopefuls have snapped up 40,000 ... More





Saying Grace sells for $46 million, a new record for any work sold in an Americn auction. Photo: Sotheby's.





NEW YORK, NY.- Sotheby's American Art auction concluded today in New York with an exceptional total of $83,915,500* – well in excess of its $62.1 million high estimate – and a strong sell-through rate of 88.2% by lot (see 'Notes & Highlights' below). The centerpiece of the auction was a selection of seven paintings by Norman Rockwell from the family of Kenneth J. Stuart, Sr. – the artist's longtime friend and art editor at The Saturday Evening Post – all of which sold for a stunning total of $59,663,000. The group was led by Rockwell's masterpiece Saying Grace, which set a new record for any work sold in an American Art auction** and nearly tripled the previous auction record for the artist*** when it achieved $46,085,000 – soaring past its $20 million high estimate. The painting, which was voted by Post readers as their favorite cover, was sought after by two determined phone bidders who ... More





Okwui Enwezor© Jeff Weiner.





MUNICH.- The Board of Directors of la Biennale di Venezia, chaired by Paolo Baratta, after thanking and expressing its gratitude to Massimiliano Gioni for the excellent results of the 55th International Art Exhibition, appointed Okwui Enwezor Director of the Visual Arts Sector. Enwezor has been granted the specific responsibility of curating the 56th International Art Exhibition, to be held in 2015 (Venice, Giardini and Arsenale, May 9 - November 22, 2015). At the end of the meeting of the Board, President Baratta stated: "We have closed an extraordinary research exhibition, which was brought to term with great success by Massimiliano Gioni, and had the record number of visitors, particularly young visitors. This success demonstrates the ever-widening range of people that directly enjoys the cultural and the emotional experience that the Biennale can provide. For the next edition, we now turn to a person who has a great many ... More
Art dealer Barry Friedman retires from Barry Friedman Ltd. at the end of March 2014
Six years after wreck was raised, China to recover ancient shipwreck's treasures
An extraordinary collection of modern German drawings given to the British Museum




Friedman will continue his partnerships in his two other galleries.





NEW YORK, NY.- Legendary dealer Barry Friedman has announced his retirement from Barry Friedman Ltd. after nearly 50 years in business. He will close the gallery at the end of March 2014 with a number of auctions of artworks, from the various periods and mediums in which he has dealt, at Christie's under the title, "Barry Friedman, The Eclectic Eye." There will be an evening sale on Tuesday, March 25, followed by morning and afternoon sales on Wednesday, March 26, and ending Thursday, March 27 with an Italian Vintage Glass sale in the morning and a Contemporary Glass sale in the afternoon. "I turned 70 earlier this year, and as I am in good health with lots of energy, I would like to take advantage of this and spend more time with my family and travel the world," explains Friedman. "In addition, I am looking forward to having the time to work on a project that I have been talking about for ... More





Workers sealing-off a steel container housed in a specially built glass-walled exhibition hall where the wooden merchant ship Nanhai 1 has been kept in Yangjiang. AFP PHOTO.





BEIJING (AFP).- China is to start removing treasures from its greatest ever marine archaeological discovery, six years after the wreck was raised from the seabed in a giant metal box, reports said Friday. The wooden Nanhai 1 sank near Yangjiang in the southern province of Guangdong during the Southern Song Dynasty of 1127-1279, with an estimated 60,000 to 80,000 items on board. For centuries it was preserved under the sea by a thick covering of silt, and it was discovered accidentally by a British-Chinese expedition looking for a completely different vessel, the Rhynsburg from the Dutch East India Company (VOC). The Nanhai 1 was salvaged in 2007, and its cargo of porcelain, lacquerware and gold objects is "more than enough to stuff a provincial-level museum", said the ... More





A.R. Penck (b.1939), Untitled (Self-portrait), 1975. Grey and black ink wash on paper. Presented to the British Museum by Count Christian Duerckheim. © A.R. Penck/DACS 2013.





LONDON.- The British Museum announced a very generous gift of 34 important works on paper by 20th-century German artists to the collection. The works have been given by Count Christian Duerckheim who holds one of the world's finest private collections of contemporary German and English art. Count Duerckheim has presented the Museum with key works by Georg Baselitz, Markus Lüpertz, Blinky Palermo, A.R. Penck, Sigmar Polke and Gerhard Richter. The gift, plus an additional loan of around 60 prints and drawings from the Duerckheim collection, will go on display at the British Museum in February 2014. The gift includes a group of eleven drawings by Baselitz from 1960 to the late 1970s, together with prints from the same period. They cover the principal phases of his career from the ... More
New Museum appoints Julia Kaganskiy as Director of Incubator for Art, Technology, and Design
PULSE Miami opens with ninety United States and international galleries exhibiting
Rare Frank Lloyd Wright desk and chair leads Sotheby's Important 20th Century Design Sale




Julia Kaganskiy is a recognized cultural producer across the art and technology fields. Photo: Alexander Porter.





NEW YORK, NY.- Lisa Phillips, Toby Devan Lewis Director of the New Museum, announced today the appointment of Julia Kaganskiy as Director of the institution's new incubator for art, technology, and design. Opening in summer 2014 in the Museum's adjacent building at 231 Bowery, this not-for-profit initiative will create a hybrid educational and professional workspace—a dynamic 24/7 center where creative start-up entrepreneurs and artists will form a vibrant interdisciplinary community geared toward collaboration and innovation. The initiative is a first for the museum field. As the director of the incubator, Kaganskiy will oversee a community of over sixty full-time and part-time members working in close proximity with anchor member Studio-X, part of Columbia University's Graduate School of Architecture, Planning and Preservation. She will be responsible for member recruitment, partnerships, and programs, and will report to the ... More





Moris, Heavy is the Crown, 2013, collage, wood, concrete, metal, rubber, 23.6 x 11.8 x 19.9 in, courtesy of Arróniz Arte Contemporáneo and PULSE Contemporary Art Fairs.





MIAMI, FL.- Photographers, digital media artists, painters, sculptors, online DJs, and performance artists, presented by 90 U.S. and international galleries and partners, will be featured at the 9th edition of PULSE Miami, opening on December 5th at The Ice Palace Studios. "Our visitors will notice several big changes the moment they walk in the grounds, from a new layout in the garden and a new floor plan inside the Ice Palace, to spectacular new PULSE Projects and dynamic new partners. We have overhauled the exhibition from top to bottom to engage our visitors with the best art experience in Miami - again making PULSE Miami a mustsee event," notes Fair Director Cornell DeWitt. "This year our PULSE Projects are more diverse than ever with socially-engaged performances, sound art, large-scale installations and sculptures, videos, ... More





The sale includes several masterworks of the American Arts and Crafts movement, led by an important and rare "Eastwood" Armchair designed by Gustav Stickley, from the collection of Gregg Seibert. Photo: Sotheby's.





NEW YORK, NY.- Sotheby's sale of Important 20th Century Design, held in New York on 18 December 2013, will offer a curated selection of European and American decorative arts and design spanning 100 years. Leading the sale is an important and rare desk and armchair designed by Frank Lloyd Wright for the S.C. Johnson and Son Administration Building in Racine, Wisconsin (desk est. $400/600,000, armchair est. $80/120,000). These rare works exemplify Wright's design principles and stand today as defining icons of American Modernism. This particular desk design from the Johnson Commission has not appeared at auction in almost 30 years. Also highlighting American Modernism from the 1920s and 1930s is a wide breadth of works by Paul T. Frankl, including rare examples from his famous "Skyscraper" series. The exhibition will be open to ... More

Miami Dade College's Museum of Art + Design presents exhibition of photographs by Cristina García Rodero
Marking Time: Exhibition of drawings by artist Doug Navarra opens in Cincinnati
The Audains donate rare Emily Carr self-portrait to the Vancouver Art Gallery




Cristina García Rodero's (Spanish, b. 1949) graphic series Rituales en Haití first debuted at the 2001 Venice Biennale in Venice, Italy.





MIAMI, FL.- Miami Dade College's (MDC) Museum of Art + Design presents Rituales en Haití, an exhibition of photographs by Spanish-born photographer Cristina García Rodero, opening in conjunction with Art Basel Miami Beach 2013. Organized in partnership with Spanish Agency for International Development Cooperation (AECID), the Consulate General of Spain in Miami and Centro Cultural Español, the exhibition opened to the public on Wednesday, Dec. 4. Rituales en Haití is García Rodero's first exhibition at the College's flagship institution dedicated to the presentation and exhibition of visual art and design, housed at the National Historic Landmark Freedom Tower at Miami Dade College in Downtown Miami. The exhibition is free and open to the public. Cristina García Rodero's (Spanish, b. 1949) graphic series Rituales en Haití first debuted at the 2001 Venice Biennale in Venice, Italy. Her ground-breaking work and expansive care ... More





Doug Navarra (St. Remy, New York), Untitled, 2012. Gouache, pen, pencil, found paper, 15 1/2" x 10".





CINCINNATI, OH.- This solo exhibition of over a dozen of Doug Navarra's drawings in gouache, graphite, and ink on antique found paper is one of six selected from among 165 proposals submitted for consideration for Manifest's tenth season. Manifest showcases an intimate look at this award-winning veteran artists's recent work. Navarra's book-sized drawings are reminiscent of Christian and Islamic manuscripts, Indian Mughal painting, and perhaps Medieval cartography. With a nod to graphic design combined with a pinch of postmodern appropriation his works mesmerize, seeming purposeful and systematic, mysterious and whimsical, and at once vandalous and playful. Of his work Navarra states: "I have always defined drawing as making marks on a surface, which leaves the door open for what is a mark and what is a drawing surface? In my case, I have chosen to work on old 'found paper' documents. Being more than 100 years old, I inherit a history of mark ... More





Emily Carr, Emily and Lizzie, circa 1913 (detail), oil on hardboard, 48.5 x 87.5 cm, Collection of the Vancouver Art Gallery , Donated by Michael Audain and Yoshiko Karasawa, VAG 2013.15.1





VANCOUVER, BC.- Vancouver Art Gallery announced the latest acquisition for its growing permanent collection. This work by Emily Carr, titled Emily and Lizzie, is generously donated by philanthropists and long-time Gallery supporters Michael Audain and Yoshiko Karasawa, making it the fifth Emily Carr portrait in the Gallery's holdings. "We are thrilled to receive this extraordinary gift. This painting fills a gap in the Gallery's representation of Emily Carr's work as her figurative works are extremely rare," said Kathleen S. Bartels, the Director of Vancouver Art Gallery, "With such generous help from Michael and Yoshi, we are proud to continue to build Emily Carr's legacy for our city and province, and our audiences from around the world." The Vancouver Art Gallery currently has 254 works by Emily Carr and is proud to hold the world's most significant collection by this internationally celebrated ... More
Quote
I have handled color as a man should have. Josef Albers
More News
---
| | | |
| --- | --- | --- |
| | | Jewels Formerly the Property of the Duke & Duchess of Windsor |
---
---
Flashback
On a day like today, French impressionist painter Claude Monet, died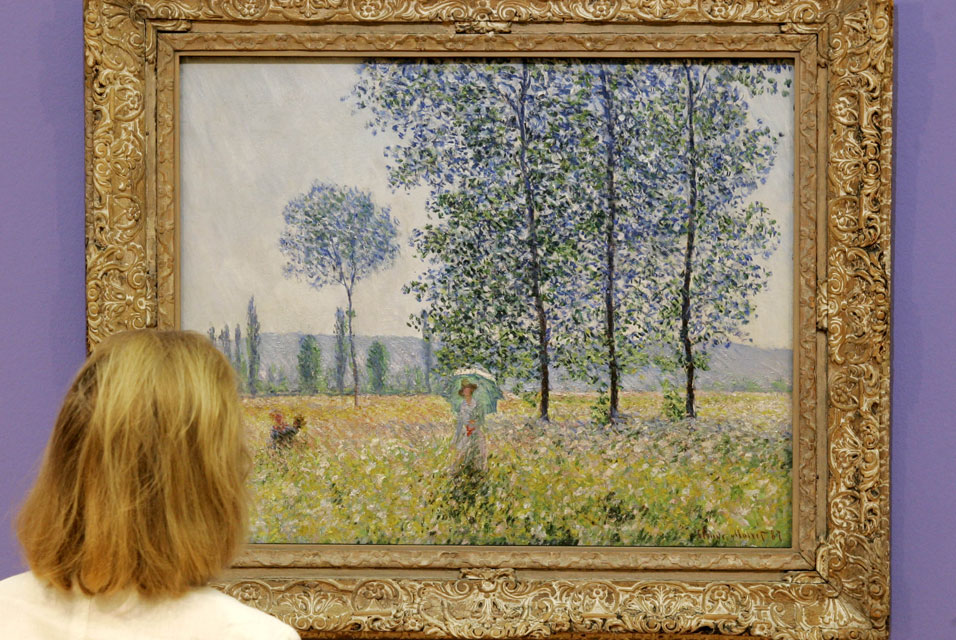 December 5, 1926.- Claude Monet (14 November 1840 – 5 December 1926) was a founder of French impressionist painting, and the most consistent and prolific practitioner of the movement's philosophy of expressing one's perceptions before nature, especially as applied to plein-air landscape painting. The term Impressionism is derived from the title of his painting Impression, Sunrise (Impression, soleil levant). In this image: A woman looks at the painting "Fields in Springtime" from 1887 by Claude Monet in the art museum Staatsgalerie in Stuttgart, southwestern Germany, Thursday, May 18, 2006.
---

Museums, Exhibits, Artists, Milestones, Digital Art, Architecture, Photography,
Photographers, Special Photos, Special Reports, Featured Stories, Auctions, Art Fairs,
Anecdotes, Art Quiz, Education, Mythology, 3D Images, Last Week,
.
Royalville Communications, Inc
produces: