100 years of the discovery of the Great Temple celebrated with an exhibition in Mexico
Some documents that this exhibition contains show proof that between May 6th and 16th of 1914, Gamio identified the first ruins of the main temple of the sacred site of Tenochca. Photo: INAH.
MEXICO CITY
.-
The exhibition "100 Years of the Great Temple: History of a Discovery" reconstructs, through never before published information, the first investigations begun a century ago by the archeologist and anthropologist Manuel Gamio at the site of the Templo Mayor (Great Temple) of México-Tenochtitlan. "This exhibition emphasizes his human facet and his passion for archeology," said Teresa Franco, the General Director of the
Instituto Nacional de Antropología e Historia
(INAH) (The National Institute of Anthropology and History) during the inauguration of the event. "Some documents that this exhibition contains show proof that between May 6th and 16th of 1914, Gamio identified the first ruins of the main temple of the sacred site of Tenochca. Those findings began a labor that continues on through to today and that comprises a part of the main activities of the works ...
More
The Best Photos of the Day
A series of tremors has Florence concerned for Michelangelo's "David" statue
New exhibition sheds light on the rivalry and friendship between two giants in Danish art
Tomasso Brothers to unveil an exquisite pair of portrait miniatures at TEFAF




Michelangelo's famous marble statue of "David" bathed in natural light streaming through the dome of Florence's Accademia Gallery. AFP PHOTO / VINCENZO PINTO.





ROME (AFP).- More than 250 minor tremors have rattled the Florence region over the past three days, sparking alarm in Italy over the safety of Michelangelo's "David" statue. According to the National Institute of Geophysics and Volcanology, the two strongest shocks in the Chianti region between Florence and Siena Friday measured 3.8. and 4.1 on the Richter scale, though many others recorded early Saturday reached three to 3.5. No one was hurt in the quakes, and fire fighters reported only minor structural damage near the epicentre about 30 kilometres (18.6 miles) south of Florence. Still, media reports said some 200 residents of the area preferred sleeping in campers, cars or tents in neighbouring areas Friday night rather than shaking at home. The multitude of shocks has raised concerns for Florence's invaluable architectural and cultural patrimony. On Saturday, Italian Culture ... More





P.S. Krøyer, At the victualler's when there is no fishing, 1882. Den Hirschsprungske Samling, Copenhagen. Photo: Den Hirschsprungske Samling.





COPENHAGEN.- Arken launched a major exhibition that, for the first time ever, focuses on the relationship between two giants in Danish art, Michael Ancher (1849–1927) and P.S. Krøyer (1851–1909). The focal point are the scenes painted of their beloved Skagen. Michael Ancher was a permanent resident in Skagen and married to Anna, the local innkeeper's daughter. P.S. Krøyer arrived in town eight years after Ancher and later married the stylish Marie Triepcke. It was Ancher's fishing paintings that lured Krøyer to Skagen, and it was Krøyer's pictures of summer light and artists' parties that rubbed off on Ancher's sceneries. But Ancher and Krøyer also battled with one another. Krøyer strived for an artistic community where inspiration could flow freely and scenes could be shared among colleagues under the open sky. But the down-to-earth and very particular Ancher preferred ... More





Prince Charles Edward Stuart 1720-1788 by Jean-Etienne Liotard c.1736-8, watercolour and gouache on vellum, 7.4cm high by 5.5cm wide (excluding frame).





LONDON.- Recognised as leading dealers in the field of European sculpture, Tomasso Brothers Fine Art also specialises in Old Master paintings and objets d'art. At TEFAF 2015 the gallery unveils an exquisite pair of portrait miniatures by one of the most sought-after masters of the genre Jean-Etienne Liotard (1702-1789) which depict Princes Charles Edward Stuart (1720-1788) and Henry Benedict Stuart (1725-1807), last in the lineage of Stuart Kings in Scotland and England. The asking price for these miniature masterpieces is €275,000. Born to French parents in Geneva, Jean-Etienne Liotard trained in Paris under the miniaturist and printmaker Jean-Baptiste Massé. While in Rome between 1736 and 1738, Liotard was commissioned by the exiled 'Old Pretender' James Edward Stuart (1688-1766) also known as "the king across the water", to paint portraits of his young sons Princes Charles ... More
Israel Antiquities Authority launches its first app featuring archaeology games and puzzles for kids
Daniel Crouch Rare Books will exhibit rare sea charts of the United States and the Caribbean in Miami
Artist Ugo Rondinone's first exhibition in China on view at the Rockbund Art Museum




Dig Quest Israel Lod Mosaic iPad





JERUSALEM.- The Dead Sea Scrolls, the most important archaeological discovery of the 20th century, are now available on your iPhone and iPad as the Israel Antiquities Authority launches its first App featuring archaeology games and puzzles for kids. Genesis 1:1 (the account of creation), the Ten Commandments, Psalms, and 11 other 2,000 year old manuscripts are featured in this App that introduces kids ages 7-11 to archaeology with a suite of unique games, featuring beautiful artifacts from the National Treasures of the Israel Antiquities Authority. Dig Quest: Israel for iPhone and iPad is now available to download from the App Store for free. The App transforms a kid's iPhone or iPad into an archaeological tool and lets them play games to hone their skills, discover secret meanings, solve puzzles, and piece the past together like true archaeologists. Along the way they unlock ancient artifacts and create their own personal collection. The games were developed ... More





De Cust can Westindien, from his publication Het Brandende Veen. c.1680, £20,000. ©Daniel Crouch Rare Books.





MIAMI, FLA.- Leading map and atlas dealer, Daniel Crouch, will bring a selection of rare and historic sea charts to the Miami International Map Fair, 7th-8th February 2015. Highlights will include a set of rare Dutch sea charts by the renowned cartographer, Arent Roggeveen, who taught the art of navigation at both the Dutch East and West India Companies. This set includes the first Dutch sea chart of the Texan coastline and the first large-scale Dutch charts of the Bahamas, Florida's East Coast and of the Lesser Antilles, Cuba and Jamaica – all part of Roggeveen's rare publication 'Het Brandende Veen', made in Amsterdam around 1680. In addition to the Roggeveen charts, Crouch will also showcase a rare hand-coloured and engraved chart of Southern Florida, the Keys, the North Coast of Cuba and the Bahamas by Scottish engineer and surveyor George Gauld. Gauld was commissioned by the ... More





Forty clown figures with colorful costumes, white masks, black eyelashes, and rainbow wigs are positioned in different places of the museum.





SHANGHAI.- The Rockbund Art Museum is showing the very first exhibition in China of the internationally acclaimed artist Ugo Rondinone, born in 1964 in Brunnen, Switzerland, and living in New York since 1997. Ugo Rondinone's oeuvre takes up a unique position in the contemporary art scene and his contribution in revisiting the codes and the histories of the visual arts has been exceptional. Having developed very precise and obsessive series—from clown sculptures to stone figures, target paintings, masks, oversized wax light bulbs, stripe paintings, landscape ink drawings, bronze still-life objects, video and sound installations—Ugo Rondinone advances extremely diverse techniques, combining concepts with performative figures, abstract forms with raw materials, exploring themes of fantasy and desire, branching out in literature and poetry, contemporary cinema and ... More
Sergej Jensen presents a new group of works in second solo show at Regen Projects
Christmas in China, with saxophones, Smurfs and steam trains to get shoppers to open their wallets
Maxxi in Rome opens exhibition celebrating the centennial of the birth of Lina Bo Bardi




Sergej Jensen, Untitled, 2014. Acrylic on linen, 115 x 95 inches (292.1 x 241.3 cm).





LOS ANGELES, CA.- Regen Projects is presenting its second solo exhibition with Danish-born, New York-based artist Sergej Jensen. Primarily known for his minimalistic works, in which non-painterly materials and textile supports were employed as the main subject, Sergej Jensen for the first time presents a new group of works that entirely shows a figurative type of painting. While referring to motifs drawing back to old etchings and classical canvases, the works combine these sources in an unconventional way. Using unsaturated acrylic paint that is applied in an either plastic or fluid manner the paintings deal with art history and its reception at the same time. Where the self-reflexive gesture of his former paintings established a comment on modernism and its negation these new works take up an involvement with the construction of painting again that fully embraces ... More





A Santa Claus poses with a girl at the Intercontinental hotel of Beijing, on December,19, 2014. AFP PHOTO / FRED DUFOUR.





BEIJING (AFP).- Christmas -- once banned in China -- has exploded in the atheist nation in recent years, with marketeers using everything from saxophones and Smurfs to steam trains to get shoppers to open their wallets. Anyone walking into a shopping mall is welcomed by an orgy of festive cheer: shop windows are bedecked with plastic Christmas trees, garlands and baubles, while the strains of "Jingle Bells" fill the air. On the streets, banners reading "Happy Christmas" adorn schools and hotels, while festive messages are splashed across adverts and the media. In many restaurants, staff wear ubiquitous Santa Claus hats topped with felt reindeer antlers. Christmas is celebrated widely across Asia, particularly in commercial centres like Japan and Hong Kong, where it has become a major shopping holiday shorn of most religious trappings. It ... More





Attributed to De Chirico, Portrait of Lina Bo Bardi, 1940-1945. Private Collection





ROME.- A "small" exhibition dedicated to a "great figure," Lina Bo Bardi, a pioneer of Italian architecture, who became famous after emigrating to Brazil in 1946. The exhibition Lina Bo Bardi in Italia. "Quello che volevo, era avere Storia" has been organized by MAXXI Architettura on the occasion of the centennial of the architect's birth on December 5. The exhibition opened to the public from December 19 and is on view until March 15, 2015. The event, curated by Margherita Guccione, traces the years Lina spent in Italy, her debut, her graduation from university in 1939 in Rome, where she was born, her publishing activity in Milan during the war years, and her voyage by ship, with her husband Pietro Maria Bardi, to their new home, Brazil. An emblematic photo tells the story of Lina Bo Bardi's arrival in Brazil: her eyes gaze at the new world – "I felt as though I were in a country beyond one& ... More
Retrospective exhibition to explore life's work of New Zealand's most important conceptual artist
New York Ceramics and Glass Fair announces loan exhibition featuring contemporary Czech ceramicists
Exhibition at Victoria & Albert Museum examines the relationship between architecture and art




Billy Apple. Photo: Mary Morrison.





AUCKLAND.- High-performance racing cars, human cells and branded products mix with paintings, sculptures, drawings, photographs, videos, and neon light works in Billy Apple®: The Artist Has to Live Like Everybody Else, the retrospective exhibition coming up at Auckland Art Gallery Toi o Tāmaki. To coincide with the Auckland Arts Festival, Billy Apple®: The Artist Has to Live Like Everybody Else opens at Auckland Art Gallery on Saturday 14 March 2015. The most substantial survey of Billy Apple's work to be seen in New Zealand, it runs until 21 June 2015. New Zealander Billy Apple was 'born' in London in 1962, the same year he graduated from the Royal College of Art (RCA), when the 26-year-old artist changed his name and bleached his hair. By reinventing himself, Apple sought to establish a new relationship between the artist and everyday life by exploring how he could be redefined as a ... More





Vera Panková for Artel, Forest Folly, 2014 Collection of 6 Colored Glasses and Barware Decanter, 100% Lead-Free Crystal, Mahogany Color, Mouth-Blown and Hand-Engraved, Each Glass: 3,2 inches, 270ml/9.1 oz Barware Decanter: 10.2" /26cm, 1500ml/ 38,9oz.





NEW YORK, NY.- Organized by the Czech Center New York in collaboration with the New York Ceramic and Glass Fair and the Bohemian Benevolent and Literary Association It's Always Teatime in Wonderland, will be on view at the Bohemian National Hall, 321 East 73rd Street, from January 21 through January 25, 2015. It features Czech and Slovak designers who use everyday objects as a starting point of their explorations to re-create and reimaging the world of fairytales and fantasy. The exhibition combines established designers, such as Jakub Berdych, Radka Kovačiková, Věra Panková and Maxim Velčovský, with an emerging younger generation of artists who make their U.S. debut: Kristýna Bratránková, Lucie ... More





William Walcot, Egyptian temple Antony in Egypt, 1928. RIBA Library Drawings and Archives Collection.





LONDON.- From the Renaissance to the current day, architects have made drawings for study and pleasure, to represent their projects, document their travels and supplement their income. Architects as Artists examines the relationship between architecture and art. From work by Raphael to a project by contemporary Brazilian architect Isay Weinfeld, it presents examples of the many ways in which architects use and create art. Drawing on the collections of the V&A and RIBA, this display of about 50 works includes a pair of striking digital renderings for 'A House for Essex', a project between FAT Architecture and the artist Grayson Perry. These images sit alongside designs for an artist's house by E.W. Godwin, a drawing by Raphael of the Pantheon in Rome, a lithograph by Cyril Power depicting the staircase of Russell Square tube station, a ... More
Quote
Art addresses itself only to an exceptionally small
handful of people. Paul Cézanne
More News
---
---
---
Flashback
On a day like today, American artist Jean-Michel Basquiat was born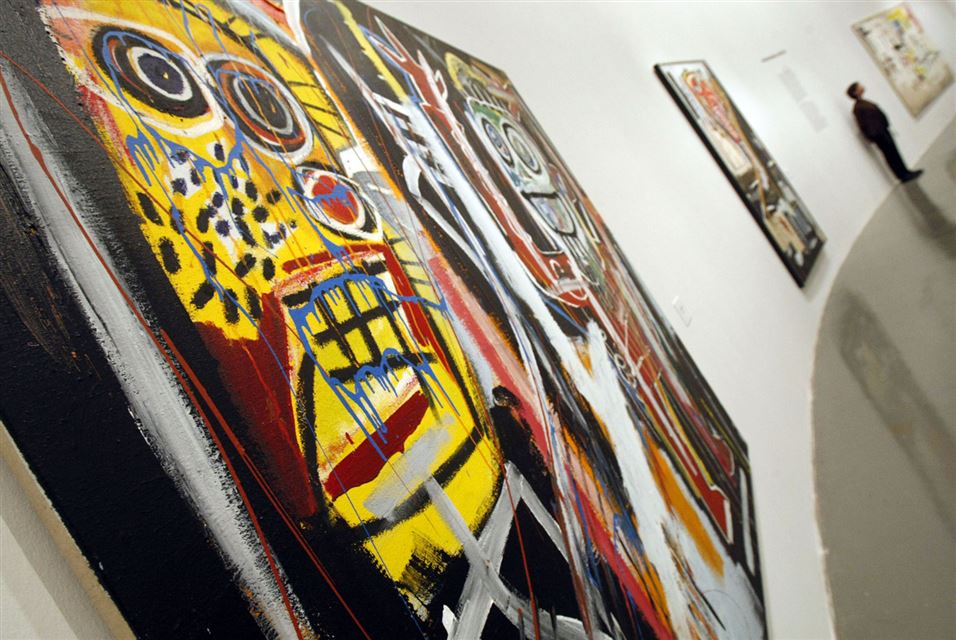 December 22, 1960. Jean-Michel Basquiat (December 22, 1960 - August 12, 1988) was an American artist. He began as an obscure graffiti artist in New York City in the late 1970s and evolved into an acclaimed Neo-expressionist and Primitivist painter by the 1980s. In this image: "Dusthead", foreground, a 1982 painting by American artist Jean-Michel Basquiat was part of an exhibition of 150 works of art by Basquiat, shown from Oct. 15, 2010 to Jan. 30, 2011 at the Museum of Modern Art in Paris, Thursday Oct. 14, 2010.AP Photo/Remy de la Mauviniere.
---
---

Museums, Exhibits, Artists, Milestones, Digital Art, Architecture, Photography,
Photographers, Special Photos, Special Reports, Featured Stories, Auctions, Art Fairs,
Anecdotes, Art Quiz, Education, Mythology, 3D Images, Last Week,
.
Royalville Communications, Inc
produces: