Jeff Lincoln Art + Design opens exhibition of late works by Frederic Matys Thursz
"The Light Within" brings together a large group of his late work not seen in one exhibition in many years and representing the most influential period of his career, including a seminal work exhibited at Documenta 9 in 1992.
SOUTHAMPTON, NY
.-
Frederic Matys Thursz was a co-founder of the Radical Painting Group founded in New York City in the late '70s. The exhibition coincides with the recent publication of a comprehensive monograph on the life and work of this influential artist who died at the height of his career. Subsequently, the artist has largely slipped from public recognition. Born in Germany, Thursz arrived in New York in 1941. He received a BA from Queens College and an M.F.A from Columbia University. In 1956-7 he studied in Paris on a Fulbright Scholarship. He died in Cologne, Germany in 1992. "The Light Within" brings together a large group of his late work not seen in one exhibition in many years and representing the most influential period of his career, including a seminal work exhibited at Documenta 9 in 1992. The Radical Painting Group set out to re-establish the relevancy of painting at a time when the act of painting was fully out of favor. Thursz was a believer in paint itself as the conv ...
More
The Best Photos of the Day
Ferens Art Gallery acquires work created for Hull by Ron Mueck
The Museum of Fine Arts, Boston acquires 37 photographs of Mexico by Graciela Iturbide
Africa is the protagonist in a major project at MAXXI


Ron Mueck, Poke, 2017.



HULL.- The Ferens Art Gallery in Hull has acquired a striking contemporary sculpture by Ron Mueck with support from Art Fund. It is one of the first works by the artist to be acquired by a museum in the UK, with the only other examples belonging to Tate and National Galleries Scotland. Poke, a striking male nude, was created specifically for an exhibition at the gallery called SKIN and was displayed as part of Hull's year as UK City of Culture in 2017. The piece will now return to Hull as part of the gallery's permanent collection. The Australian-born artist is best known for creating hyperrealist sculptures of human figures either in enlarged or miniature forms. Focusing on the human experience from birth until death, his sculptures are formed in painstaking detail, replicating pores and minute hairs on the figure's skin. Rachael Browning, acting head of programmes for Art Fund, said: 'The Ferens Art Gallery's acquisition of Ron Mueck's ... More



Graciela Iturbide, ¡Mexico, Quiero Conocerte!, Chiapas, Mexico, 1975. Photograph, gelatin silver print. Gift of the artist © Graciela Iturbide. Courtesy, Museum of Fine Arts, Boston.



BOSTON, MASS.- The Museum of Fine Arts, Boston, has acquired an important group of 37 photographs by Graciela Iturbide (born 1942, Mexico City), one of the most influential photographers active in Latin America today and considered one of Mexico's greatest living artists. The rare, vintage prints and select recent works span Iturbide's entire career, which has focused on capturing and understanding the beauty, rituals, challenges and contradictions of her native country. The acquisition comprises 35 photographs purchased by the Museum and two donated by the artist—all of which will be on view in Graciela Iturbide's Mexico, a major exhibition of her work, opening at the MFA in January 2019 and accompanied by an illustrated catalogue produced by MFA Publications. ... More



Lavar Munroe, Midnight Predator, 2017. Courtesy of Jack Bell Gallery.



ROME.- With two major exhibitions and a rich programme of events exploring their themes, Africa is the protagonist in a major project at MAXXI presenting the vitality of its artistic and cultural scene and proposing a reflection on a continent in expansion amidst contradictions and open wounds. The project, strongly supported by Giovanna Melandri, president of the Fondazione MAXXI, is integral to the museum's strand of research that sees art and culture as instruments of dialogue and cultural diplomacy and, as Melandri explains, "is for us an opportunity to meet and work with the African communities present in Rome, to which it is symbolically dedicated and which have been involved an intensive programme of intercultural mediation, interpreting the works on show on the basis of their personal experiences." Curated by Simon Njami and co-curated by Elena Motisi, the ... More
Exhibition celebrates artist who never compromised on style
Louis Stern Fine Arts opens exhibition of recent paintings and drawings by Mark Leonard
UK's best new buildings: 2018 RIBA National Awards announced


Elisabeth Frink, Harbinger.



KENDAL.- One of the most exciting sculptors of the twentieth century, Frink ignored commercial fashions, creating works that combine the fragile nature of humanity with its power. Kerri Offord, Lakeland Arts' Head of Curatorial said: "Frink was uncompromising in her creative output, creating exciting and emotive works that were both autobiographical and politically charged. "Her individual style and unique subjects bucked the main trends of the twentieth century, and yet her work was always in style." It is the first time Abbot Hall has dedicated an entire exhibition to Frink and the first large scale show of her work in northern England. The exhibition is presented in collaboration with The Ingram Collection. There will also be a number of works on loan from private collectors. Fragility and Power coincides with increased attention on the sculptor who was born in Suffolk in 1930 and died in Dorset on 18 April 199 ... More



Leonard, Mark, (b. 1954), Diptych I, December, 2010. Gouache and synthetic resin on panel, 24 x 16 in. (61 x 40.6 cm).



LOS ANGELES, CA.- Louis Stern Fine Arts is presenting "Mark Leonard: Myths and Old Masters." The exhibition of recent paintings and drawings evinces the artist's skill and expertise cultivated over his long career as a preeminent paintings conservator. After decades spent dissecting and reconstructing the anatomy of paintings, Leonard wields his brush as a surgeon might a scalpel – not a stroke is out of place in these economical, precise compositions. The works, however, are anything but clinical; supported on a scaffolding of logical grids, they are given the space to breathe, unencumbered, with frank emotion and pure directional energy. At the crux of Leonard's work lies the interdependence of equal and opposite forces: order and chaos, logic and feeling, love and loss. This focus is apparent in the ... More



Kings Crescent Estate. Karakusevic Carson Architects with Henley Halebrow © Peter Landers.



LONDON.- The Royal Institute of British Architects (RIBA) has today (21 June 2018) announced the 49 winners of the 2018 RIBA National Awards for architecture. The RIBA awards, which have been presented since 1966, recognise the best new buildings and provide an insight into the UK's cultural, design and construction trends. This year's winners range in scale from significant major cultural buildings (Tate St Ives and Royal Birmingham Conservatoire) and striking additions to the London skyline (Bloomberg and The Leadenhall Building), to tiny projects and hidden gems, such as the sculptural Bethnal Green Memorial which commemorates the 173 people who died in the Bethnal Green tube disaster of 1943, and Lochside House, an exemplary sustainable home set in the West Highlands. Key trends illustrated by the 2018 RIBA National Award winners ... More
The Phillips Collection re-opens historic house after year-long renovation project
Galerie Miranda opens exhibition of works by Marina Berio
The most valuable car ever offered at auction - 1962 Ferrari 250 GTO to headline RM Sotheby's Monterey sale


Installation view. Photo by Lee Stalsworth.



WASHINGTON, DC.- The Phillips Collection's historic house galleries officially opened to the public after being closed for a year-long renovation project. The original home to Phillips Collection founder, Duncan Phillips, reopened with a housewarming celebration on Thursday, June 21. Since May 2017, the original 1897 building of The Phillips Collection has been undergoing renovations designed to preserve and enhance the building's historic character and migrate the house gallery spaces to a fully digitized temperature and humidity control system. A penthouse level with a mansard roof which mirrors that of the original building was added to house the new HVAC equipment, enhancing its anticipated useful life. The architectural design for the project was developed by Bowie Gridley Architects, and Mueller Associates served as mechanical engineers. The general contractor was Consigli Construction Co. Inc., the firm which also renova ... More



Marina Berio, Series Family Matter, 2008/2013. Gum bichromate print with the artist's blood, 10 x 10 inches / 25.5 x 25.5 cm. © Marina Berio / Galerie Miranda.



PARIS.- Galerie Miranda in Paris is presenting the exhibition by Marina Berio, Family Matter. Marina Berio uses the physical properties of photography and drawing to convey the complex, intermingled layers of her own life. Love, doubt, grief and solitude are expressed in her photographs and drawings that capture fleeting moments of intense emotion. Boundaries are blurred and what appear to be negative photographic images are in fact charcoal drawings; likewise, what appear to be life drawings are in fact photographs, printed using a 19th century process, gum bichromate, whose pigment – the artist's own blood - lends a painterly aspect to the photographic image. This is the series Family Matter: Over five years the artist photographed her husband and young son alternately play, tease, wrestle and rest. In this series of 'family snapshots', the ballet of limbs captures the growing ... More



A look into the 1962 Ferrari 250 GTO set for RM Sotheby's Monterey (Patrick Ernzen © 2018 Courtesy of RM Sotheby's)



BLENHEIM.- RM Sotheby's announced that it has secured a 1962 Ferrari 250 GTO, perhaps the ultimate collector car, for what is set to be its most exciting Monterey auction offering to date. Ferrari's 250 GTO was effectively the final evolution of the marque's famous 250 model, which debuted in 1953 and ended with the last GTOs in 1964. In total, a mere 36 examples of the 250 GTO were ever produced, all of which have survived. Widely considered the most beautiful Ferrari design, the model was one of the most successful road/racing cars that the marque ever built, claiming overall victory or 1st in class in nearly 300 races worldwide. Decades down the road, the Ferrari 250 GTO has become the car collector's "holy grail", thanks not only to its incredible pedigree, but to a group of French collectors who organized the first gathering of GTO owners in 1982. Occurring every five years ... More
The Museum of Contemporary Art Chicago opens 'I Was Raised on the Internet'
Phillips announces a charity auction with works personally donated by leading contemporary artists
Loredana Nemes' first major personal show in an art museum opens at Berlinische Galerie


Installation view, Sophia Al-Maria: The Litany, Whitney Museum of American Art, New York, Jul 26–Oct 31, 2016. Photo: Ronald Amstutz.



CHICAGO.- This summer, the Museum of Contemporary Art Chicago presents the landmark exhibition I Was Raised on the Internet, an immersive and participatory show examining the impact of the internet and how it has changed the way we experience the world. With nearly 100 interactive artworks from 1998 to the present, I Was Raised on the Internet spans photography, painting, sculpture, film and video, as well as emerging technologies, interactive computer works, and virtual reality. The exhibition presents a global range of artists working in new media such as Oculus Rift and platforms like Facebook and Snapchat, looking at culture and 'trending' content and how interacting with the world has shifted through constant exchange on the internet. I Was Raised on the Internet runs from June 23 to October 14, 2018 and is supported by a lead grant from the Carl & Marilynn ... More



David Hammons, Untitled. Image courtesy Phillips.
.



NEW YORK, NY.- In partnership with Phillips Auction House, international water foundation One Drop is pleased to announce Art for One Drop, a contemporary art charity auction that will raise funds for One Drop's safe water initiatives in Latin America. In an exclusive collaboration with the Sprüth Magers gallery, and under the direction of renowned curator and critic Philipp Kaiser, Art for One Drop will kick off Phillips' fall sale season on September 21. Fifty of some of the most recognized and admired artists worldwide have graciously donated works of art to the auction. Established in 2007 by Cirque du Soleil founder Guy Laliberté, the One Drop foundation has 13 active water access projects in Latin America, Africa and India that will reach over 1.3 million beneficiaries once completed. But providing access to safe water is only the first step. One Drop's unique approach to international development is ... More



Loredana Nemes, ohne Titel (02), aus der Serie: 23197, 2017–2018 © Loredana Nemes.



BERLIN.- Loredana Nemes (*1972) takes chances – and the time for discoveries. Exploration and women artists are both high on the Berlinische Galerie's agenda. Ulrich Domröse, head of the Photography Collection, has been engaged in a dialogue with Nemes for some time. Berlin's museum of modern art, photography and architecture already has 23 works by the German art photographer with Romanian roots. Her first major personal show in an art museum also fulfils an important wish for Nemes. After she moved to Berlin from Aachen in 2001, she first visited the Berlinische Galerie in 2004 – and she knew at once: "I want to exhibit here". Initially Loredana Nemes studied mathematics and German. Then in Berlin she opted for a radical new departure: a career as an independent photographer. Cartier-Bresson, Friedlander, Sugimoto and Frauke Eigen were important inspirations for the autodidact. By now there have be ... More
Quote
Indifferent pictures, like dull people, must absolutely be moral. William Hazlitt
More News
---
In the Studio with Suzan Frecon
---
Flashback
On a day like today, Polish-American painter Ed Paschke was born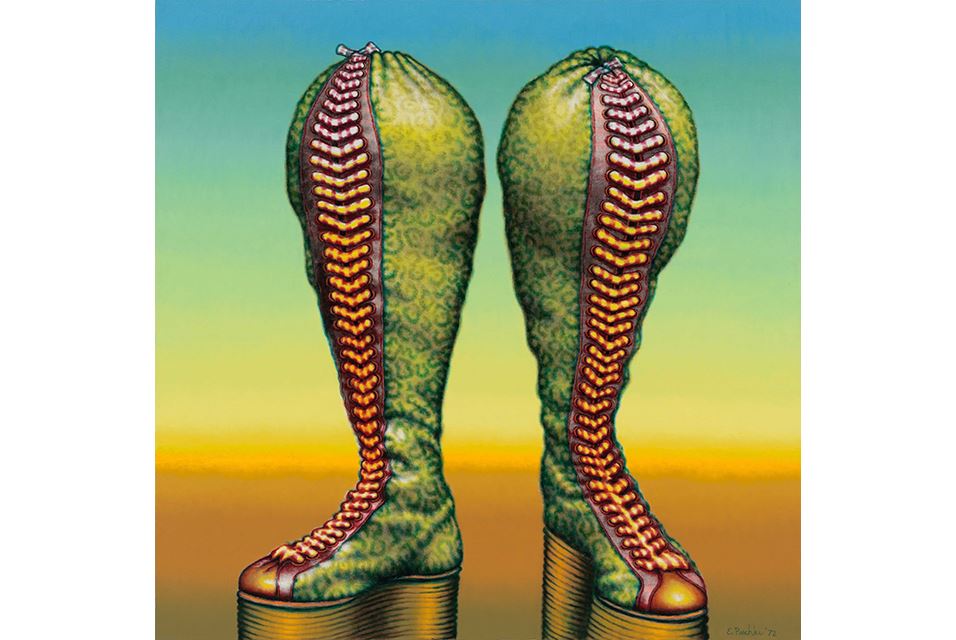 June 22, 1939. Edward Francis Paschke (June 22, 1939 - November 25, 2004) was an American painter of Polish descent. His childhood interest in animation and cartoons, as well as his father's creativity in wood carving and construction, led him toward a career in art. In this image: Ed Paschke (1939-2004), Bag Boots, 1972. Oil on canvas, 132 x 132 cm. Hall Collection, courtesy of Hall Art Foundation © Ed Paschke.
---

Museums, Exhibits, Artists, Milestones, Digital Art, Architecture, Photography,
Photographers, Special Photos, Special Reports, Featured Stories, Auctions, Art Fairs,
Anecdotes, Art Quiz, Education, Mythology, 3D Images, Last Week,
.
Royalville Communications, Inc
produces:







Tell a Friend
Dear User, please complete the form below in order to recommend the Artdaily newsletter to someone you know.
Please complete all fields marked *.
Sending Mail

Sending Successful