First ever exhibition devoted to a crucial period in Paul Gauguin's career opens
This is the first time that Paul Gauguin's 1887 painting The Mango Trees, Martinique (Van Gogh Museum, Vincent van Gogh Foundation) is being reunited with the large, elaborate preparatory study in pastel, Martinican Women (1887, private collection). Photo: Jan-Kees Steenman.
AMSTERDAM
.-
The Van Gogh Museum
presents Gauguin & Laval in Martinique. This is the first ever exhibition devoted to a crucial, but up until now neglected period in the artistic career of Paul Gauguin: the four months that he spent in Martinique in 1887, together with Charles Laval. The colourful, innovative artworks that the two friends created on the island proved to have a huge impact on their artistic development and future careers. Gauguin & Laval in Martinique unites a large number of the paintings, drawings and sketches that the two French artists created on the Caribbean island for the first time. Many of the loans are part of private collections and are otherwise rarely exhibited or published, if ever at all. The Van Gogh Museum is home to several significant works by Gauguin and Laval from their Martinican period. Vincent van Gogh and his brother Theo made the initial acquisitions for this collection as early as 1887. As a pa ...
More
The Best Photos of the Day
Norway makes rare discovery of Viking ship traces
'Holy Grail of Islamic Art': Most important Iznik rediscovery in decades appears at auction
Exhibition in Berlin is first to spotlight the enormous influence of Otto Mueller


The outline of the Viking ship can clearly be seen in this image from the radar data. Image: NIKU.



OSLO (AFP).- Archaeologists said on Monday they have found what they believe are traces of a Viking ship buried in southeast Norway, a rare discovery that could shed light on the skilled navigators' expeditions in the Middle Ages. The boatlike shape was detected about 50 centimetres underground in a tumulus, a burial mound, with the use of a ground-penetrating radar in Halden, a municipality located southeast of Oslo. "In the middle of the mound, we discovered what is called an anomaly, something that is different from the rest and clearly has the shapes and dimensions of a Viking ship," Knut Paasche, an archaeologist at the Norwegian Institute for Cultural Heritage Research (NIKU), told AFP. "What we cannot say for sure is the condition of the conservation. Yes there was a boat there, but it's hard to say how much wood is left," Paasche said. The Vikings, Northern European warriors and merchants who sailed the seas between the 8th and 11th century, ... More



A highly important blue and white Iznik pottery charger, Turkey, circa 1480. Est. £300,000-500,000. © Sotheby's.



LONDON.- One of the most important pieces of Iznik pottery remaining in private hands, this large and intact dish, or charger, represents a significant discovery in the field of Ottoman art. It belongs to the earliest group of Iznik – produced at the very advent of the art form during the reign of Mehmet II ('the Conqueror') – the finest examples of which are almost all held in museum collections across the globe. This small, and exceptionally rare, group of Iznik pottery is characterised by an intense, inky, blue-black colouring, which reflects the embryonic stage of firing control – roughly two decades before a brighter cobalt blue was accomplished. This special piece encapsulates a symbiosis of influences, both local and foreign, as well as a flair for invention. The 'Debbane Charger' is a lost sibling to four other large dishes, all of which are held in museum collections – including Paris' Musée du Louvre – and are published in Nurhan Ataso ... More



Otto Mueller, Self Portrait with Pentagram, around 1924. Distemper on hessian, 120 x 75.5 cm. Von der Heydt-Museum Wuppertal © Von der Heydt-Museum Wuppertal / photo: Antje Zeis-Loi, Medienzentrum Wuppertal.



BERLIN.- The exhibition Painter. Mentor. Magician. is the first to spotlight the enormous influence of the former Brücke artist and expressionist Otto Mueller (1874–1930): for over ten years the artist was engaged as a teacher at the State Academy of Arts and Crafts in Wrocław, which at that time was one of the most progressive schools of art in Europe. Particularly from the 1920s onwards, the Wrocław Academy had a reputation for cosmopolitanism and liberality, thanks to the numerous new appointments made by the director at that time, Oskar Moll. This was a place where the many-faceted movements in modern art stood side by side as equals: Expressionism with Otto Mueller, French Peinture of the Académie Matisse with Oskar Moll, New Objectivity (Neue Sachlichkeit) with Alexander Kanoldt and Carlo ... More
Hard sell? Met Opera aims to lure millennials
Exhibition marks first fashion-focused presentation in Vancouver Art Gallery's history
Immersive, site-specific exhibition explores the geology and topography of the Hudson River


View of the Metropolitan Opera at Lincoln Center for the Performing Arts on October 5, 2018 in New York City. Angela Weiss / AFP.



NEW YORK (AFP).- The Metropolitan Opera is digging deep into its bag of tricks as it attempts to lure in younger generations more familiar with "Mozart in the Jungle" than its long-dead inspiration. At a "Fridays Under 40" party earlier this month, young opera prospects, some donning tuxedos and gowns, took selfies with cast extras and mingled over wine and cheese in a space set below one of the Met's signature Marc Chagall murals. Others gathered on a terrace overseeing Lincoln Center as an anticipatory buzz built ahead of an opulently-staged performance of "Samson et Dalila" moments later. The parties, 10 in all throughout the season and offered at a discounted ticket price for a performance, are part of the Met's efforts to reposition itself as it rethinks its artistic vision under a new music director. The initiatives are meant to put the 135-year-old organization on ... More



Installation view of Guo Pei: Couture Beyond, exhibition at the Vancouver Art Gallery, October 13, 2018 to January 20, 2019. Photo: Rachel Topham, Vancouver Art Gallery.



VANCOUVER.- For the first time in its history, the Vancouver Art Gallery presents an exhibition dedicated to the art of fashion with the Canadian premiere of Guo Pei: Couture Beyond, October 13, 2018 to January 20, 2019. Organized by the Vancouver Art Gallery in collaboration with Atlanta's SCAD FASH Museum of Fashion + Film, this exhibition features more than forty breathtaking designs by China's foremost couturière. Rife with symbolism, Guo's avant-garde silhouettes seamlessly fuse contemporary design with pre-republic opulence. The only Chinese national designer invited to join Paris' prestigious Chambre Syndicale de la Haute Couture, she is revered for combining China's rich aesthetic tradition with modern sensibilities. This includes the imperial yellow cape—constructed from fifty-five pounds of embroidered ... More



Folding the Hudson, 2018 (detail). Glass marbles, adhesive. Courtesy of the artist. Photo: Kris Graves.



YONKERS, NY.- Recognized as one of the most innovative artists working today, Maya Lin (born 1959) sees the world unlike any other artist. A deeply committed environmentalist, Lin interprets the natural world through art, science, history, and culture. Maya Lin: A River Is a Drawing is an ambitious, site-specific exhibition that explores nature's lasting power and reveal its fragility through Maya Lin's unique language of art. The acclaimed artist and designer presents new works in a variety of media, from bamboo reeds to glass industrial marbles, all created in response to the Hudson River, activating the Museum both inside and out in new and exciting ways. The exhibition is on view at the Hudson River Museum from October 12, 2018 through January 20, 2019, and is guest curated by Miwako Tezuka, a modern and contemporary Asian art specialist. Maya Lin was first introduced to international audiences at age 21 with the 1982 ... More
Frist Art Museum opens exhibition of architectural sculptures by artist Do Ho Suh
Galerie Jeanne Bucher Jaeger opens exhibition of works by Dani Karavan
The Carnegie International opens with crowds and revelry


Do Ho Suh. Boiler Room, London Studio, 2015. Polyester fabric and stainless steel tubes, 90 1/2 x 63 x 74 3/8 in. Collection of Yale Art Gallery. © Do Ho Suh.



NASHVILLE, TENN.- The Frist Art Museum presents Do Ho Suh: Specimens, an exhibition of astonishingly detailed sculptures, installations, and drawings that poetically reflect on the meanings and messages contained in domestic spaces, both real and imagined. The exhibition is on view in the Frist's Gordon Contemporary Artists Project Gallery from October 12, 2018, through January 6, 2019. Having lived in Seoul, New York, London, and Berlin, Do Ho Suh (b. 1962, Seoul) is particularly interested in the subjects of home, belonging, and identity. Works in this exhibition related to the idea of home document an emotional history of interaction between domestic architecture and the body, while linking the artist's personal experience of dislocation to a broader reflection on migration in the 21st century. To create his sculptures, Suh combines traditional Korean sewing techniques with 21st-century ... More



Knisa (Entrée), 2014. Edition of 7. Earth sculpture, 160 x 55 x 50 cm. Courtesy Galerie Jeanne Bucher Jaeger, Paris.



PARIS.- The gallery presenting an exhibition of the artist Dani Karavan entitled ADAMA, "Earth" in Hebrew, a new tribute to the Israeli artist whose work has been exhibited and supported by the gallery since the exhibition Questions d'urbanité in the 80s, in which the gallery presented, alongside Jean-Pierre Raynaud's and Gérard Singer's works, his very first Plastilin model and drawings of his Axe Majeur. A 3km-long urban and environmental sculpture, on the cusp of sculpture, landscape, urbanism, and architecture, the Axe Majeur was conceived to link the new city of Cergy-Pontoise to one of the most beautiful landscapes of Ile-de-France, in the central axis of Paris and its landmark areas of La Défense, the Arc de Triomphe and the Pyramide of the Louvre. Axe Majeur consists of 12 stations — a highly symbolical number — 11 of which are completed today. In order to attract audiences' attention to this major work, infused ... More



Postcommodity, 2018. Installation View. Photo: Bryan Conley.



PITTSBURGH, PA.- After three years of preparation, Carnegie International, 57th Edition, 2018 opened on Saturday with great fanfare, presenting a lavish array of artist projects and programs to the public. The day began with coffee service by Art Labor in their immersive Hammock Café, followed by a Karen Kilimnik Programme featuring a collage of ballet scenes and a video pastiche of the artist's favorite musical moments from World War I and II films. Both days featured performances by the jazz musician Dr. Aaron Johnson, interpreting Postcommodity's monumental installation in the Hall of Sculpture, and screenings of Tacita Dean's seamlessly edited 16mm film of actor Stephen Dillane's Event for a Stage (screening every Monday). A Tam O'Shanter Drawing Session with painter Lynette Yiadom-Boakye on stage with flamenco dancers and musicians gave around 150 participants the opportunity to make their own work in the museum's opulent Music Hall. On Friday, October ... More
Exhibition of new paintings by Albert Oehlen on view at Galerie Max Hetzler
Judy Garland's ruby red rehearsal slipper from "Wizard of Oz' to be offered at auction
Galería de Arte Mexicano exhibits works by the Welsh artist Pedro Noigandres


How You Keep A Dance, 2018 (detail). Laquer and oil on alubond, 260 x 260 cm 2 parts, each 260 x 130 cm. © Albert Oehlen. Photo Simon Vogel. Courtesy of the artist and Galerie Max Hetzler, Berlin l Paris l London.




PARIS.- Galerie Max Hetzler is presenting an exhibition of new paintings by Albert Oehlen at the Paris gallery. Since the 1980s Oehlen has been probing the possibilities of painting through an ever-evolving style and technique. At the core of his practice are the limitations he imposes on himself as a point of departure, in order to have 'something to push against' and thereby expand and redefine our understanding of painting. In this new body of work, Oehlen demonstrates the consistency of his approach in setting narrow parameters to create stark and powerful imagery that highlight his will for constant renewal. "Freedom for me means playing. It does not mean to be in a void and make crazy moves. It means to play with your own rules." In the new paintings eccentric shapes and forms float untethered ... More



This is the only red slipper that is for sale in the world at this time. The others remain in private collections and museums.



LOS ANGELES, CA.- GWS Auctions, the renowned auction house who has set multiple records with the sale of iconic entertainment and music memorabilia, has announced their biggest Hollywood and Music Memorabilia auction to date – Legends: Iconic Hollywood and Music Auction – to take place on Saturday, November 3, 2018 beginning at 10am PT in Los Angeles. "I have been in this business my entire life. I must say that the paramount provenance of these Hollywood and Music artifacts makes this auction substantial. We have over 250 items that will, without question, make history on auction day. We are known for our signature, boutique auctions from Elvis Presley to Judy Garland and everything in between. This auction has it all and represents many of the most defining moments in entertainment history." – Brigitte Kruse, Founder of GWS Auctions, ... More



"Miodesopsias", by the Welsh artist Pedro Noigandres, is the inaugural exhibition of this new room.



MEXICO CITY.- For 83 years, the Galería de Arte Mexicano has been responsible for disseminating the national production of art as one of its fundamental pillars of diffusion, through more than 1,500 exhibitions in Mexico and abroad. In order to continue with this task, Sala:GAM was created within the gallery, a space focused on those disruptive and contemporary expressions connected to our plastic past. This new room is undoubtedly a key to the Gallery's reinvention and revitalization, whose contribution has been essential for the art history in our country, leading the aesthetic guidelines and plastic explorations, integrating them to the Mexico's cultural life and strengthening dialogues with other latitudes. "Miodesopsias", by the Welsh artist Pedro Noigandres, is the inaugural exhibition of this new room. Born in Wales in 1967, Noigandres dedicated the first part of his artistic career to explore other ... More
Quote
Whoever wishes to devote himself to painting should begin by cutting out his own tongue. Henri Matisse
More News
---
Why Study Art? | TateShots
---
Flashback
On a day like today, Italian sculptor Rembrandt Bugatti was born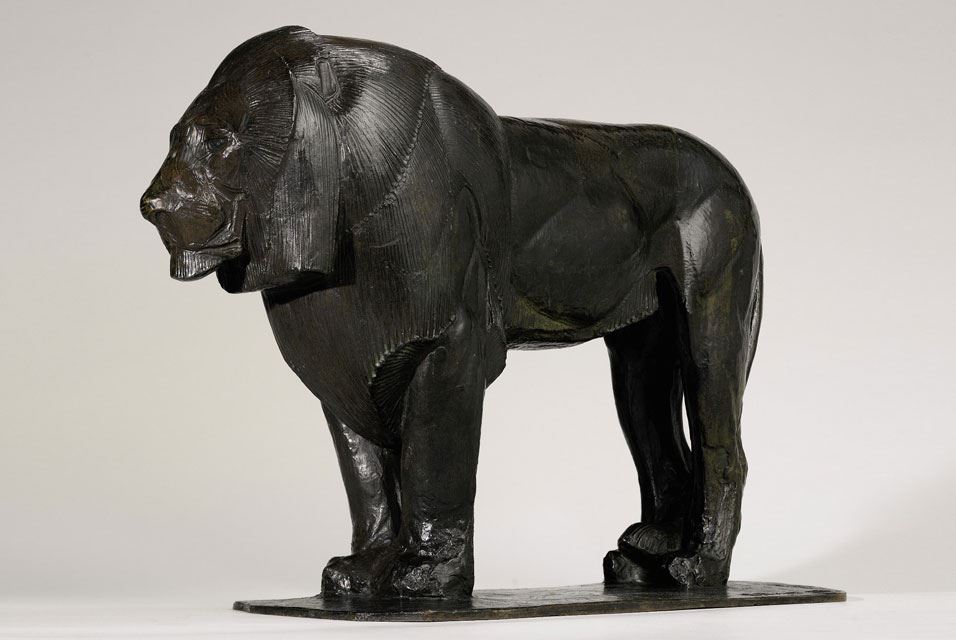 October 16, 1884. Rembrandt Bugatti (16 October 1884 - 8 January 1916) was an Italian sculptor, known primarily for his bronze sculptures of wildlife subjects. During World War I he volunteered for paramedical work at a military hospital in Antwerp, an experience which triggered in Bugatti the onset of depression -- aggravated by financial problems -- which eventually caused him to commit suicide on 8 January 1916 in Paris, France. He was only 31 years old. In this image: Rembrandt Bugatti, Lion de Nubie. Bronze. Conceived circa 1909-10 and cast between 1909 and circa 1934 in an edition of only 3 examples. Length 26 1/4 in., 66.8 cm. Est. $1.5/2 million. Photo: Sotheby's.
---

Museums, Exhibits, Artists, Milestones, Digital Art, Architecture, Photography,
Photographers, Special Photos, Special Reports, Featured Stories, Auctions, Art Fairs,
Anecdotes, Art Quiz, Education, Mythology, 3D Images, Last Week,
.
Royalville Communications, Inc
produces:







Tell a Friend
Dear User, please complete the form below in order to recommend the Artdaily newsletter to someone you know.
Please complete all fields marked *.
Sending Mail

Sending Successful