French President Francois Hollande opens new Lascaux prehistoric art cave replica
French President Francois Hollande and French Culture Minister Audrey Azoulay (R) visit Lascaux 4, a new replica of the prehistoric paintings of the Lascaux cave, in Montignac, on December 10, 2016. It will be open to the public on December 15, 2016. REGIS DUVIGNAU / POOL / AFP.

by Laurent Banguet
MONTIGNAC
(AFP)
.-
A new replica of the stunning Lascaux cave paintings was unveiled Saturday in the Dordogne region of southwest France, more than seven decades after the prehistoric art was first discovered. "This is more than a copy, it's a work of art!" said French President Francois Hollande as he visited the centre in Montignac, the village at the foot of the hills where the original cave complex is located. The new project dubbed "Lascaux 4", which opens to the public on Thursday, aims to recreate the sensations experienced by the four teenage boys who found the cave on September 12, 1940. The last of the boys still alive is Simon Coencas, now 89, who was a special guest at Saturday's event. With World War II raging and the Nazis already in Paris, a friend of Coencas had enlisted him and the other boys to explore a hole in the ground in the hills above their village that his dog had found a few days earlier. ...
More
The Best Photos of the Day
The youth of Impressionism: Works by Frédéric Bazille on view in Paris
LOVE sculpture temporarily off view for conservation
1,300 British Library Hebrew manuscript treasures now online


Frédéric Bazille,Summer Scene, also known as Bathers, detail, 1869-1870, oil on canvas, 160 x 160.7 cm, Cambridge, Harvard Art Museums/Fogg Art Museum Photo: Harvard Art Museums, © President and Fellows of Harvard College.



PARIS.- How should we view the work of Frédéric Bazille, an artist born in Montpellier in 1841 and killed in action in 1870 during the Franco-Prussian war, just a few days before his 29th birthday? Born into a bourgeois Protestant family in Montpellier, he was depicted as indolent by his family circle. A dandy with a sharp intellect, a pianist and music lover with a fondness for theatre, a Republican who fell on the battlefield: Bazille's personality, which is revealed through the abundant correspondence he left behind, cannot be reduced to that of a mere dilettante, companion and sometimes benefactor to the future impressionists. "Bazille was the most gifted and the most pleasant in every sense of the word", said his friend Edmond Maître after his death. Although his first paintings are clearly those of a developing artist ... More



Robert Indiana, LOVE, 1970, 75.174 © 2016 Morgan Art Foundation / Artists Rights Society (ARS), New York.



INDIANAPOLIS, IN.- Next month, Robert Indiana's LOVE sculpture will temporarily go off view from the IMA's Dudley and Mary Louise Sutphin Mall to undergo conservation treatment. When treatment concludes in spring 2017, LOVE will debut in its new home inside the Pulliam Family Great Hall, where it will welcome guests into the galleries as it has welcomed guests to the IMA campus for the past decade. The sculpture is a beloved landmark of both the IMA and city of Indianapolis, and also holds a significant place in art history. Completed in 1970 and accepted as the original version of Robert Indiana's LOVE sculptures, the work represents the beginning of the artist's foray into large-scale works and helped establish the Hoosier native as a major player in the international pop art movement. The IMA's LOVE is fabricated in Cor-Ten steel—a trade name for weathering steel—which gives the sculpture its rough, worn appearance. Indiana was one of the ... More



16th-century CE Scroll of Esther digitised at the British Library's Imaging Studio (Egerton MS 67a).



LONDON.- A major project to digitise some of the British Library's most spectacular Hebrew manuscripts has just completed its first phase. Generously funded by The Polonsky Foundation, the Hebrew Manuscripts Digitisation Project aims to provide free online access to the Library's collection of Hebrew manuscripts – one of the finest anywhere in the world. Among the many highlights are the lavishly illustrated 14th century Golden Haggadah and a 16th century Pentateuch scroll 52 metres in length. The project has involved the photographing, description and, where necessary, meticulous conservation of 1,300 items ranging from illuminated service books to Torah scrolls, from scientific and astronomical treatises to great works of theology and philosophy. They bear witness to the full flowering of culture, thought and artistry in the Eastern and Western Jewish communities across more than a thousand years. The project makes ... More
New, large-scale installation, sculpture and painting by Anselm Kiefer on view at White Cube
Musée d'Art moderne de la Ville de Paris presents a career retrospective of the work of Carl Andre
Dylan notably absent as Nobel laureates accept prizes


Anselm Kiefer, Rorate caeli desuper, 2016 (detail). Oil, acrylic, emulsion, shellac and clay on canvas, 3 panels, each: 149 5/8 x 74 13/16 in. (380 x 190 cm). Overall dimensions: 149 5/8 x 224 7/16 in. (380 x 570 cm) © Anselm Kiefer. Photo © White Cube (Charles Duprat).



LONDON.- White Cube is presenting an exhibition by Anselm Kiefer featuring new, large-scale installation, sculpture and painting. Titled 'Walhalla', the exhibition refers to the mythical place in Norse mythology, a paradise for those slain in battle, as well as to the Walhalla neo-classical monument, built by Ludwig I King of Bavaria in 1842 to honour heroic figures in German history. Throughout his career, Kiefer has interwoven themes of history, politics and landscape into his work, revisiting imagery and symbolism through different forms and media. His work conflates and connects themes, resonating with the idea of history as one continuous cycle. In the past, for example, Kiefer has employed the symbolism of Norse mythology alongside the forms of National Socialist architecture, ... More



Installation view, Carl Andre: Sculpture as Place, 1958–2010 at Musée d'Art moderne de la Ville de Paris. © Pierre Antoine.



PARIS.- The Musée d'Art Moderne is presenting a tribute to the major 20th-century American artist Carl Andre (b. 1935 in Quincy, Massachusetts). The exhibition Sculpture as Place, 1958–2010 covers the full spectrum and inner consistency of the Andre oeuvre, with 40 monumental sculptures, numerous poems and photographs, works on paper and various objects that defy pigeon-holing. His iconic works appear alongside pieces never shown together before, such as his Dada Forgeries. A leading Minimalist figure together with Donald Judd and Robert Morris, Andre now stands out as one of the 20th century's greatest sculptors. This retrospective reveals how Andre, working with standard, unmodified industrial elements, redefined sculpture as a means for experiencing space, form and matter. He also produced poems that made use of words for their visual as well as their semantic and sound value. The overt simplicity of his work ... More



Nobel Peace Prize laureate Colombian President Juan Manuel Santos poses with the medal and diploma. Haakon Mosvold Larsen / NTB SCANPIX / AFP.



STOCKHOLM.- Dressed in tails and white ties, this year's Nobel laureates in medicine, economics, physics and chemistry accepted their prizes at a gala ceremony in Stockholm on Saturday, marked by the notable absence of the literature prize winner, US music icon Bob Dylan. Earlier in the day, the Nobel Peace Prize was presented to Colombian President Juan Manuel Santos for his bid to end a five-decade conflict with Marxist rebels FARC. At the Stockholm ceremony, the nine laureates on hand received their prizes from King Carl XVI Gustaf, in a concert hall decked with thousands of pink roses and red amaryllis, all donated by the Italian town of San Remo, where prize creator Alfred Nobel died on December 10, 1896. But literature prize laureate Bob Dylan was not in attendance. He declined, citing "pre-existing commitments" -- a move that created a stir in Sweden where it was seen as a slight towards the Swedish Academy, ... More
Exhibition of recent sculpture by Bhuvanesh Gowda on view at Chemould Prescott Road
Monica Bonvincini's first UK survey exhibition on view at BALTIC Centre for Contemporary Art
Steven Holl Architects' library and campus masterplan approved for Malawi, Africa


The Perfect Square Lacks Corners, 2016. 40 x 16 x 16 inches (HWD). Carving on found wood, acrylic paint. Courtesy: Chemould Prescott Road. Photo: Anil Rane. © Bhuvanesh Gowda.



MUMBAI.- Chemould Prescott Road announces its solo exhibition titled Otah Protah by Bhuvanesh Gowda. The show features a set of his recent sculptures made of discarded (and often decaying) pieces of wood salvaged from dismantled houses and elsewhere. Breathing new life into seemingly redundant objects, Bhuvanesh conceptually attempts to reconnect the past with the present. In his skilled hands, old and worn out matter attain the affluence of afterlife. In the course of this transformation, new meanings and suggestions emerge; often carrying cultural associations with the past, and softly hinting at the shape of things to come. With wood as his primary material, Bhuvanesh's approach to creating forms continues to be that of a proficient carpenter – strict, scrupulous, precise, dexterous and diligent. He gleans ... More



Monica Bonvicini (b. Italy, 1965) creates powerful work that investigates and challenges the relationships between architecture, control, gender, space, and power.



GATESHEAD.- BALTIC Centre for Contemporary Art, Gateshead is presenting the first UK survey exhibition and a major new commission by Monica Bonvicini, one of the most vital artists to have emerged during the mid-1990s. Monica Bonvicini (b. Italy, 1965) creates powerful work that investigates and challenges the relationships between architecture, control, gender, space, and power. She is best known for works including her video installation Wallfuckin' 1995/6, architectural installations like Plastered 1998, sculptures such as Never Again 2005 and public works including the mirrored glass Don't Miss a Sec'. 2004. Some permanently sited public works include She Lies 2010, floating on the water in the Oslo Opera House harbour, and the 2012 light installation RUN in the Queen Elizabeth Olympic Park ... More



The construction will utilize local stone and bamboo and local labor.



NEW YORK, NY.- Steven Holl Architects' design for a new library at the center of a new campus plan has been approved by The Miracle for Africa Foundation. The 66,000 sq. ft. library is organized via a section that provides maximum reflected light to the interior with optimum solar PV collection on the roofs. Natural light bouncing off curved prefabricated roof structures made of Ductile concrete form space like a "field within a field." The free plan library has meeting rooms and archives encased in glass for humidity control. A central rain collecting pool demarks the main circulation desk and ripples through the roof geometry like a wave field in cloud-like light. The construction will utilize local stone and bamboo and local labor. Screens of locally crafted bamboo define the building perimeter leaving a shaded arcade space all around. This library will be the initial construction of a new campus whose plan morphology ... More
Pérez Art Museum Miami celebrated Feminism with largest photograph of South Florida female artists
Foam exhibits the monumental and mysterious work of Brazilian artist Sofia Borges
Photographic rebels at the Museum Folkwang: National exhibition kicks off in Essen


305 artists braved the inclement weather to make history. Photo: Amanda Bradley.



MIAMI, FLA.- On the morning of December 10, 2016, Pérez Art Museum Miami partnered with Los Angeles-based artist Kim Schoenstadt to organize a historic event – Now Be Here #3 – a gathering and photograph of South Florida female and female identifying contemporary artists. 305 artists braved the inclement weather to make history. This community gathering comes at a time when issues of gender equality and identity are at the forefront of cultural discourse in the United States. "This event is about showing up and being accounted for as a working artist in the South Florida arts community," said artist and curator Jane Hart, who worked with Schoenstadt to serve as the local artist invited, helping to engage South Florida's broad and diverse artist population. "It is an idea realized upon the notion of our collective diversity and the inclusiveness of our community. Let's be together and fully present with ... More



Black Chalk and White Charcoal or the Myth of the Absent Matter is on view from 2 December 2016 – 22 January 2017 at Foam.



AMSTERDAM.- Black Chalk and White Charcoal or the Myth of the Absent Matter is an exhibition of the monumental and mysterious work of Brazilian Sofia Borges (b. Ribeirão Preto, 1984). In her own intuitive manner, Borges photographs paintings, drawings, sculptures, maps, fossils, stuffed animals and dioramas, all of which are models of reality that we use as ways of trying to get a grip on the world around us and, by doing so, to give it meaning. Borges photographs details and carefully selects the angles from which she makes her photographs. The objects portrayed are freed from their specific meaning, so that they stand by themselves. As a result these are not documentary records but part of a poetic, surreal and somewhat gloomy whole. Myths, fabulous creatures and philosophical questions about representation, mimicry and imitation play a major part in her work. Led ... More



Gosbert Adler, Ohne Titel, 1982. C-Print, 38,4 x 29 cm © VG-Bild-Kunst, Bonn 2016.



ESSEN.- The exhibition The Rebellious Image (December 9, 2016 – February 19, 2017) – part of the three-part collaborative project Werkstatt für Photographie 1976 – 1986 , held in association with C/O Berlin and Sprengel Museum Hannover – sheds light on this period of upheaval and generational change within German photography, focusing on the photography scene in Essen. Towards the end of the 1970s, two developments took place in Essen: the first was a revolt, a search for a new path, for a 'free' form of artistic photography beyond the confines of photojournalism and commercial photography; the second was the institutionalisation of photography which occurred with the foundation of the Museum Folkwang's Photographic Collection. Some 300 photographs and a range of filmic statements and documentary material help to bring this era of change and flux in the medium of photography back to life: showing ... More
Quote
When love and skill work together expect a masterpiece. John Ruskin
More News
---
Cuban bandleader and composer Dámaso Pérez Prado was born 100 years ago
---
Flashback
On a day like today, Che Guevara spoke at the United Nations in New York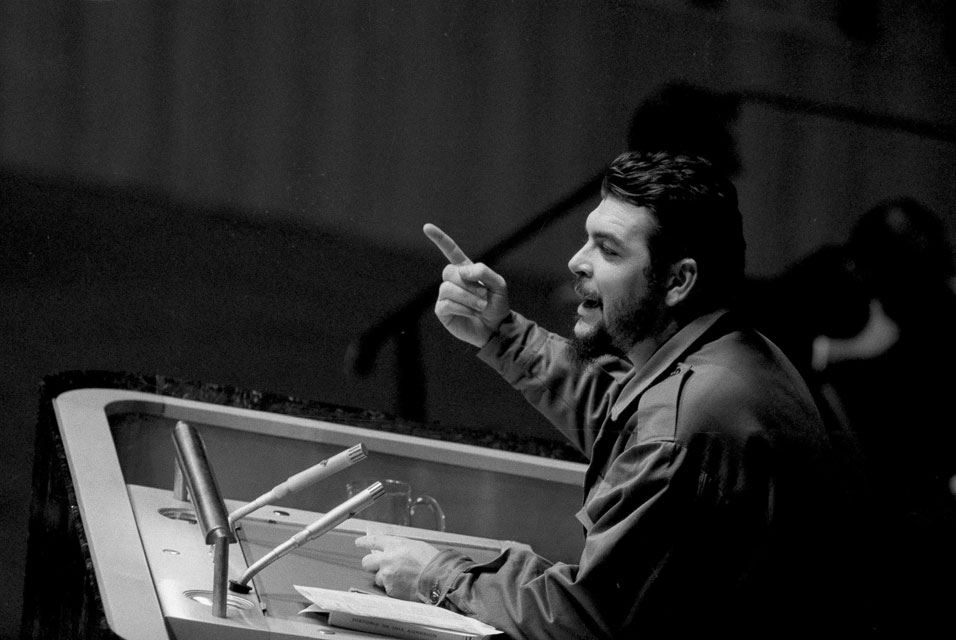 December 11, 1964. Cuban Industry Minister Ernesto "Che" Guevara speaks before the United Nations General Assembly in New York, Dec. 11, 1964. Guevara charged the U.S. with violating Cuba's territory, and attacked U.S. actions in the Congo, Vietnam, Cambodia, and Laos
---

Museums, Exhibits, Artists, Milestones, Digital Art, Architecture, Photography,
Photographers, Special Photos, Special Reports, Featured Stories, Auctions, Art Fairs,
Anecdotes, Art Quiz, Education, Mythology, 3D Images, Last Week,
.
Royalville Communications, Inc
produces:







Tell a Friend
Dear User, please complete the form below in order to recommend the Artdaily newsletter to someone you know.
Please complete all fields marked *.
Sending Mail

Sending Successful