Skull find shows young women were sacrificed in China more than 4,000 years ago
A grave protected by plaster after it was found in what appears to have been a mass grave at the Shimao Ruins. AFP PHOTO.
BEIJING
(AFP)
.-
Archaeologists in China have unearthed the skulls of more than 80 young women who may have been sacrificed more than 4,000 years ago, state media reported Monday. The skulls were found in what appears to have been a mass grave at the Shimao Ruins, the site of a neolithic stone city in the northern province of Shaanxi. The women's bodies were not present, the official news agency Xinhua said, adding that archaeologists concluded that the skulls were "likely to be related to the construction of the city wall" in "ancient religious activities or foundation ceremonies" before construction began. There may have been an outbreak of mass violence or ethnic conflict in the region at the time since "ancient people were prone to use their enemies or captives as sacrifices", it added. The discovery is not the first instance of researchers unearthing remains related to human sacrifice in early China. Kings and emperors were regularly buried along with their servants and concubines, who were someti ...
More
The Best Photos of the Day
Chinese dissident artist Ai Weiwei commissioned to create new site-specific works on Alcatraz Island
Artcurial Impressionist & Modern Art sale establishes records for works by Aristide Maillol
A building dating to the Hasmonean Period was discovered in excavations in the City of David




This picture shows a scene of the Disposition event by Chinese artist Ai Weiwei in the Sant'Antonin church. AFP PHOTO / GABRIEL BOUYS.





SAN FRANCISCO.- Chinese artist and rights advocate Ai Weiwei will create a new body of site-specific artwork on Alcatraz Island, the notorious former federal penitentiary in the center of San Francisco Bay, now a national park welcoming more than a million visitors annually. Organized by the San Francisco–based nonprofit FOR-SITE Foundation in partnership with the National Park Service and the Golden Gate National Parks Conservancy, Ai Weiwei on Alcatraz will include a series of large-scale installations occupying several buildings on Alcatraz. Funded entirely through individual and foundation donations, the exhibition will be part of the regular Alcatraz admission ticket and accessible to anyone visiting the island. On view September 27, 2014, through April 26, 2015, Ai Weiwei on Alcatraz will respond to the island and its ... More





La Rivière (1938-43) sold to an American bidder in the room for €6,177,266 ($8,370,300).





PARIS.- The Impressionist & Modern Art sale on December 2 totalled €12.8m ($17.4m) and saw collectors and connoisseurs pay a superb tribute to Dina Vierny at Artcurial who, in association with Sotheby's Paris, were offering a selection of ten historic works from Dina Vierny's private collection. This collection attracted keen international interest, especially from America, pulverizing its €3.4-5m estimate to bring a total of €9,326,800 ($12,637,814) premium, under the gavel of Francis Briest. Bruno Jaubert, Head of the Modern Art Department at Artcurial, said that the sale is a 'tremendous success for Aristide Maillol, whose works have set new auction records on a par with those achieved by the great 20th century masters. It is also a success for the art market in France, confirming Paris as a major auction venue in the eyes of collectors from around the globe.' Three important works by ... More





Dr. Doron Ben Ami of the the Israel Antiquities Authority shows the remains of a building dating to the Hasmonean Period. AFP PHOTO/MENAHEM KAHANA.





JERUSALEM.- In recent months remains of an impressive building from the Hasmonean period (second century BCE) are being unearthed in excavations the Israel Antiquities Authority is directing in the Giv'ati parking lot, located in the City of David in the Walls Around Jerusalem National Park. The excavations are sponsored by the "Friends of City of David". The building stands c. 4 meters high and covers an area of c. 64 sq. m. The building's broad walls (more than one meter thick) are made of roughly hewn limestone blocks that were arranged as headers and stretchers, a construction method characteristic of the Hasmonean period. Although numerous pottery vessels were discovered inside the building, it was mainly the coins that surprised the researchers. These indicated the structure was erected in the early second century ... More
Christie's London Evening Sale of Old Master & British Paintings realises $35.8 million
Detroit Institute of Arts statement regarding City of Detroit's eligibility to file for bankruptcy
Resnicks loan Renaissance masterpiece to Huntington Library, Art Collections, and Botanical Gardens




The sale was led by the most important rediscovery of a painting by Claude Lorrain (1600-1682) in more than a generation, The Embarkation of Saint Paula which realised £5 million/ $8 million / €6 million. Photo: Christie's Images Ltd 2013.





LONDON.- Christie's evening auction of Old Master & British Paintings realised £21,858,250/ $35,803,814/ €26,382,908. The sale attracted buyers from 14 countries across 4 continents. The top price was paid for the most important rediscovery of a painting by Claude Lorrain (1600-1682) in more than a generation, The Embarkation of Saint Paula from the Smith collection at Hambleden Manor, Buckinghamshire, which realised £5,066,500/ $8,298,927/ €6,115,266, setting a world record price for the artist at auction (estimate: £3-5million). Georgina Wilsenach, Head of Old Master & British Paintings at Christie's London: "The strong and consistent bidding in this sale came from around the globe, continuing the trend of growing interest in Old Masters seen in recent years. Each season we ... More





Museum patrons leave the Detroit Institute of Arts. AFP PHOTO/MIRA OBERMAN.





DETROIT, MICH.- The DIA supports the Emergency Manager's efforts to address the City's current financial crisis. The DIA hopes that Judge Rhodes' ruling today, which confirms that the City is eligible to proceed in its Chapter 9 bankruptcy case, will lead to a quicker and more effective resolution of the crisis. As it has since the beginning of this matter, the DIA will continue to support the City and all responsible attempts to develop and implement a plan that will contribute to the revitalization of Detroit. Through the support of museum donors and the residents of Macomb, Oakland, and Wayne counties, the DIA will continue to operate the museum without City financial support, saving Detroit $350 million in expenses over the next 10 years and giving the people of Michigan ready access to world-class artistic and educational experiences. The DIA will maintain its position as a cornerstone of the vibrant economic and social community that ... More





Hans Memling, Christ Blessing (ca. 1480–85), oil on Baltic oak panel. Lynda and Stewart Resnick Collection.





SAN MARINO, CA.- From Dec. 13 until the close of the show on Jan. 13, 2014, a very special painting will be added to the installation of 35 resplendent master works on loan from some 20 different collections: a previously unknown version of Christ Blessing by Hans Memling (ca. 1430–1494) that was recently acquired by Los Angeles collectors Lynda and Stewart Resnick. The work had been hidden in the private collection of one family for more than 150 years. "We can't thank the Resnicks enough for lending this painting," said Kevin Salatino, Hannah and Russell Kully Director of the Art Collections. "Its significance in the context of this exhibition is immeasurable. How fitting that it will go on view alongside another version of the same work. This is an extraordinary moment for art lovers, scholars, and visitors alike." On loan especially for "Face to Face," Christ Blessing (ca. 1480–85) will dramatically enhance the exhibition's ... More
Christie's New York to offer rare first edition of Isaac Newton's Principia Mathematica
"Harry handcuff Houdini": A magical auction of ephemera at Dreweatts & Bloomsbury Auctions
Ryan O'Neal defends taking ex-lover's Warhol picture in University of Texas lawsuit




First edition of Sir Isaac Newton's Philosophiae naturalis principia mathematica, or Mathematical Principles of Natural Philosophy. Estimate: $400,000 - $600,000. Photo: Christie's Images Ltd 2013.





NEW YORK, NY.- On December 6, Christie's New York will present nearly 200 works for sale in Fine Printed Books & Manuscripts, including Americana, led by an extremely rare first edition of Sir Isaac Newton's Philosophiae naturalis principia mathematica, bound for King James II in 1687 with his royal cypher "JR" (estimate: $400,000 - $600,000), and a detailed, hand-drawn map of the attack on Pearl Harbor by flight commander Mitsuo Fuchida for a post-battle briefing (estimate: $400,000 - $600,000). The sale offers a rare opportunity to own the Albion printing press (estimate: $100,000 - $150,000) used by William Morris's Kelmscott Press to produce the 1896 edition of Chaucer's Works, esteemed as "the finest book since Gutenberg." The Americana portion of the sale includes George Washington's personal letter seal in a gold fob setting (estimate: $200,000 - $250,000) and a detailed account of ... More





The Hungarian-American escape artist prepared the pictured handcuffs specially to ensure a fool-proof escape.





LONDON.- Handcuffs and other props belonging to one of the world's most famous illusionists and escape artists, Harry Houdini, are among a selection of 260 lots of conjuring books, prints, memorabilia, decorative objects and apparatus in Dreweatts & Bloomsbury Auctions Bibliophile sale on Thursday 12th December. Known at the beginning of his career as "Harry Handcuff Houdini", the Hungarian-American escape artist prepared the pictured handcuffs specially to ensure a fool-proof escape. Houdini would normally use unprepared apparatus, so the rare pair was probably for use in his particularly risky Chinese Water Torture, or other underwater acts. They are accompanied by a typed letter from magician Billy McComb, detailing how he acquired them. McComb explains how he found them amongst a large collection of rusty props purchased from the widow of Houdini's brother, Theo Hardeen. Better known as 'Dash' Houdini's ... More





This April 10, 2003 file photo shows actors Farrah Fawcett (L) and Ryan O'Neal. Files/Kevin Winter/Getty Images/AFP.





LOS ANGELES (AFP).- Veteran actor Ryan O'Neal defended Monday taking an Andy Warhol painting from the home of ex-lover Farrah Fawcett just after her 2009 death, as he gave evidence at a trial over the disputed canvas. The 72-year-old said the portrait of Fawcett belonged to him, but he had left it at her home because his new girlfriend "was uncomfortable with Farrah staring at her" from the wall at his own home. The University of Texas, where the "Charlie's Angels" star studied as a young woman, is suing O'Neal after the painting was spotted in the actor's home during an episode of reality TV show "Ryan and Tatum: The O'Neals." The university says Fawcett bequeathed all her artwork to her alma mater when she died, and it insists the Warhol painting should be displayed in a museum next to a near-identical portrait of the late actress. O'Neal's lawyer says Warhol gave one portrait to Fawcett and the other to O'Neal. ... More

Sotheby's London to auction a unique and personal charm bracelet based on designs by J.K. Rowling
Morphy's Dec. 13-14 holiday auction lineup includes antique toys, marbles, banks, robots & space toys
Swann Galleries to auction selections from the restituted Julius Paul Collection of Posters




Estimated to fetch £15,000-20,000, this unique piece of jewellery will be auctioned on the 10th of December 2013. Photo: Sotheby's.





LONDON.- Sotheby's London presents the Lumos Maxima bracelet, a bespoke sterling silver charm bracelet based on designs by J.K Rowling and inspired by her Harry Potter books. It features eleven charms, each handcrafted in the silver workshops of Edinburgh jeweller Hamilton & Inches. The charms have been cast in sterling silver before being finished by hand with gold highlights and precious stones, eleven in total, with a twelfth, the wand acting as a fastener. The idea of the charm bracelet was inspired by one the author had herself been given previously by her editor and the head of Bloomsbury children's books, on the day that the seventh and final Harry Potter book was published. For J.K. Rowling charm bracelets are imbued with memory and sentiment - "they have meaning beyond the mercenary. They are personal amulets." Estimated to fetch £15,000-20,000, this unique piece of jewellery ... More





Tin litho and painted Diamond Planet Robot, Yonezawa, Japan. Est. $6,000-$9,000. Morphy Auctions image.





DENVER, PA.- As the landscape begins to reflect the first signs of the holiday season, with twinkling lights and snow-flocked trees visible through windows everywhere, collectors know it's time for their favorite buying event of the year: Morphy's December toy auction. This year the event is slated for December 13-14 and includes a colorful 1,750-lot array of antique toys, rare marbles, banks, trains and Part II of the incomparable Enzo Pertoldi robot and space toy collection. All forms of bidding will be available during the sale, including live via the Internet. The Friday session will open with 300 lots of antique and vintage marbles. A prized selection gathered by Morphy's marble expert Brian Estepp includes Lot 165, a rare maglight Indian marble measuring 2 3/8 inches in diameter. This remarkable piece with spotting reminiscent of end-of-the-day glass appears to have a black ground, but under a black light, it turns red ... More





Willy Stieborsky, Blumenkorso Sommernachts Redoute, 1928. Estimate: $1,200 to $1,800.





NEW YORK, NY.- On December 18, Swann Galleries will offer works from the restituted Julius Paul Collection of Posters, an outstanding collection of scarce images in remarkable condition—the likes of which are rarely seen at auction. The collection was formed between 1900 and 1935 by Julius Paul, a Hungarian-born Viennese distributor of cigarette papers, who died two months before the takeover of Austria by the Nazis in March of 1938. Paul was a meticulous man and a passionate collector who amassed more than 6300 posters. He kept careful track of each piece in his collection and stored them in a custom-built, oak storage cabinet. His was not a "working" collection, meaning that the contents were not loaned out to institutions or used by students or scholars for research. Rather, Paul's intention from the outset was for the collection to be appreciated but not used commercially: a collector's collection. Upon Paul's death, the ... More
Quote
It has bothered me all my life that I do not paint like everybody else. Henri Matisse
More News
---
| | | |
| --- | --- | --- |
| | | IPad Art - Morgan Freeman Finger Painting |
---
---
Flashback
On a day like today, Russian painter and photographer Alexandr Rodchenko, died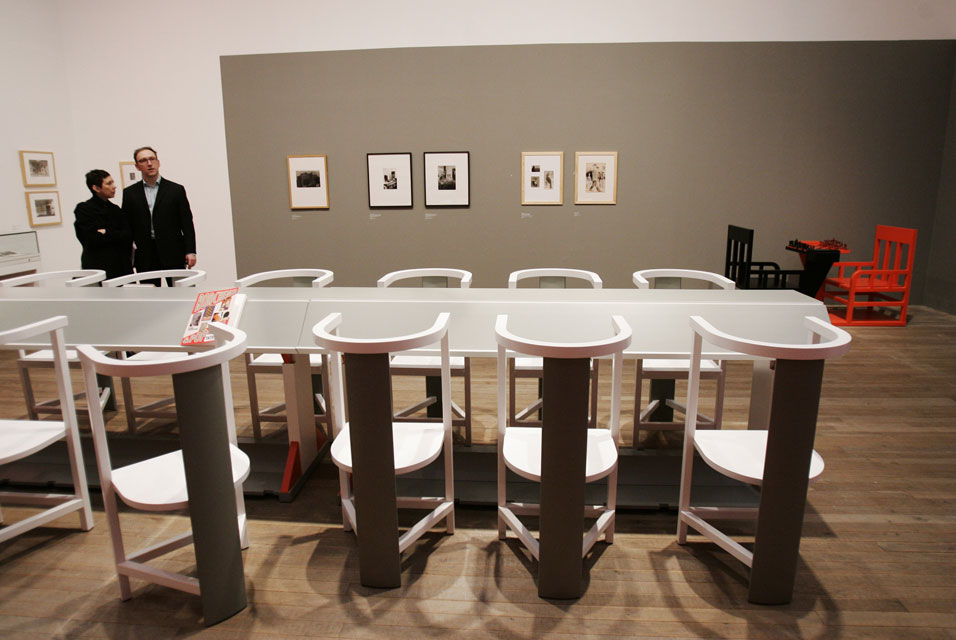 December 4, 1956.- Aleksander Mikhailovich Rodchenko (5 December [O.S. 23 November] 1891 – December 3, 1956) was a Russian artist, sculptor, photographer and graphic designer. He was one of the founders of constructivism and Russian design; he was married to the artist Varvara Stepanova. In this image: Visitors look at a full-scale reconstruction of 'Workers Club' by Russian artist Aleksandr Rodchenko on display in an exhibition 'Rodchenko and Popova: Defining Constructivism' at the Tate Modern art gallery in London, Tuesday, Feb. 10, 2009.
---

Museums, Exhibits, Artists, Milestones, Digital Art, Architecture, Photography,
Photographers, Special Photos, Special Reports, Featured Stories, Auctions, Art Fairs,
Anecdotes, Art Quiz, Education, Mythology, 3D Images, Last Week,
.
Royalville Communications, Inc
produces: