A tragic story unfolds in brilliant moving images at the Neuberger Museum of Art
Isaac Julien, Western Union Series No. 9 (Shipwreck—Sculpture for the New Millennium), 2007 Duratrans image in lightbox 471⁄4 x 1181⁄8 (120 x 300 cm) Courtesy of the artist and Metro Pictures, New York Photograph by Isaac Julien.
PURCHASE, NY
.-
Western Union: Small Boats, one of the most important video installations by acclaimed artist Isaac Julien, is on view at the
Neuberger Museum of Art
, Purchase College, SUNY, February 12–May 31, 2020. Western Union, made in 2007, addresses migration across the Mediterranean from Africa to Europe in the early years of the twenty-first century. The work, which has received dozens of accolades and awards, powerfully evokes the trauma of clandestine passage – what it means to journey illegally from one place to another, from one culture to another. Western Union presents the story of men, women, and children who crossed the ocean in small overcrowded boats that promised escape from Africa to Europe. While the installation explicitly focuses the experience of migrants who attempted to cross the Mediterranean in and before 2007, it resonates in today's world as nations attempt to enforce their borders against refugees escaping the ravag ...
More
The Best Photos of the Day
6 Cooper Hewitt trustees resign after Director's removal
Kunstmuseum Den Haag acquires early work by Friedrich Vordemberge-Gildewart
The Morgan explores the captivating Book of Ruth


Judy Francis Zankel at a gala for Carnegie Hall, in New York, June 20, 2017. Rebecca Smeyne/The New York Times.

by Robin Pogrebin



NEW YORK (NYT NEWS SERVICE ).- Six trustees, among them the prominent designer David Rockwell, have resigned from the board of the Cooper Hewitt, Smithsonian Design Museum to protest the removal of the museum's director, Caroline Baumann, following an investigation into issues including her 2018 wedding. Baumann was forced to resign Feb. 7 after an investigation by the Smithsonian's inspector general into how Baumann procured her dress and the venue for the ceremony. It was unclear whether there were additional allegations. According to two people familiar with the Smithsonian's decision-making, the inspector general found the appearance of a conflict of interest, but several board members said they believed the punishment was unwarranted. "Caroline's treatment violates every principle of decency, and I feel that remaining on the board tacitly condones this behavior," board secretary, Judy Francis Zankel, wrote Sunday ... More



Friedrich Vordemberge-Gildewart, Konstruktion No. 5, 1924, oil on canvas and wood, 89 x 85 cm, Kunstmuseum Den Haag © Vordemberge-Gildewart Foundation, Rapperswil / Schweiz.



THE HAGUE.- In 1925 German artist Friedrich Vordemberge-Gildewart (1899 - 1962) gave two of his paintings to Theo van Doesburg in exchange for his Counter-Composition VI. One of these paintings, Konstruktion No. 5, was recently added to Kunstmuseum Den Haag's collection. The purchase was assisted by the Mondrian Fund and the Rembrandt Association, courtesy of its E.A. and C.M. Alkema-Hilbrands Fund and its Modern Art Fund. The painting will be on display in the museum's Mondrian & De Stijl wing from 29 February, as part of the exhibition Friedrich Vordemberge-Gildewart - Between Constructivism and De Stijl. At the same time, the neighbouring GEM museum of contemporary art will be showcasing work by the artists nominated for the Vordemberge Gildewart Award 2020, a European prize for artists under the age of 35. Friedrich Vordemberge-Gildewart did not paint his canvases, he constructed them, using pencil sketches and paper cut-ou ... More



Tree of Jesse; David Proclaimed King; David Battling Zion; Episodes from the Life of John the Baptist; Nativity of Christ. Leaf from the "Eadwine Psalter" England, Canterbury, Christ Church Priory, ca. 1150 MS M.724v Purchased, 1927 The Morgan Library & Museum. Photography by Janny Chiu, 2018.



NEW YORK, NY.- The Morgan Library & Museum is presenting The Book of Ruth: Medieval to Modern, running through June 14, 2020. The exhibition celebrates the gift made in 2018 by Joanna S. Rose of The Joanna S. Rose Illuminated Book of Ruth to the Morgan. The accordion-fold vellum manuscript, measuring nine inches tall and an astonishing eighteen feet long, was designed and illuminated by New York artist Barbara Wolff, who worked on the project for two years (2015–17). The Rose Book of Ruth is presented in conversation with twelve manuscripts, drawn from the Morgan's holdings, that unfold the Christian traditions for illustrating the story of Ruth during the Middle Ages. Through the juxtaposition of the modern manuscript with these ancient works, which date from the twelfth to the fifteenth century and include three leaves from the Morgan's famed Crusader Bible, the exhibition ... More
Groundbreaking exhibition at the Saint Louis Art Museum explores Millet's legacy
Ai Weiwei releases Safety Jackets Zipped the Other Way: An artwork that anyone can build themselves
Pair facing charges over France sex-tape scandal


Jean-François Millet, French, 1814–1875; "The Sower", after 1850; oil on canvas; 41 1/2 × 33 3/4 inches; Carnegie Museum of Art, Pittsburgh: 19th Century or Earlier Painting Purchase Fund and with funds provided by Mr. and Mrs. Samual B. Casey and Mr. and Mrs. George L. Craig, Jr. 2020.117.



ST. LOUIS, MO.- The Saint Louis Art Museum opened "Millet and Modern Art: From Van Gogh to Dalí," an exhibition that examines, for the first time, the international legacy of the 19th-century French painter, Jean-François Millet. Millet (1814-1875) was a pioneer in developing innovative imagery of rural peasantry, landscapes and nudes, and his work had a deep impact on later generations of artists. In the late-19th century, he was arguably the best-known modern painter, and his works sold for the highest prices of any modern pictures at auction. Today, he is less well known, and "Millet and Modern Art" explores Millet's original importance and the international range of artists he influenced. The exhibition is organized by the Saint Louis Art Museum and the Van Gogh Museum, Amsterdam. It opened in St. ... More



Safety Jackets Zipped the Other Way consists of industrial high-visibility safety jackets joined together by means of their zips.



BERLIN.- Following HORNBACH's invitation, the Chinese artist Ai Weiwei has created a work of art using materials that can be found in any DIY store. He immediately loved the idea. DIY stores and bookshops are among his favourite places because they unite craftsmanship and intellectual activity. The resulting piece is a typical Ai Weiwei: simple, direct and unpretentious. And it democratises art, as anyone can create their very own contemporary sculpture in museum format with materials from HORNBACH. The work represents a clear statement in the current discussion concerning the contemporary art market. As Ai Weiwei states: "Art belongs to everybody. Everybody can be an artist or has the opportunity or ability to make art." Safety Jackets Zipped the Other Way consists of industrial high-visibility safety jackets joined together by means of their zips. Removed from their original function, they merge into a shapeless soft sc ... More



Russian artist Pyotr Pavlensky poses after setting fire to the doors of the headquarters of the FSB security service, the successor to the KGB, in central Moscow. NIGINA BEROEVA / AFP.



PARIS (AFP).- A Russian artist and his girlfriend will face a judge over a sex-video scandal that damaged the career of an ally of French President Emmanuel Macron, prosecutors said Monday. Pyotr Pavlensky and Alexandra de Taddeo could be charged on Tuesday with invasion of privacy and publishing images of a sexual nature without consent. Pavlensky has already admitted publishing a video showing a man masturbating, along with racy text messages sent to a woman. The video prompted Benjamin Griveaux, a married father of three, to pull out of the race to be Paris mayor a month before the first round of voting. Griveaux has filed a complaint and politicians from across the spectrum have come to his defence, portraying the 42-year-old as a victim of a hatchet job. Pavlensky, 35, told AFP last Friday that he wanted to expose the "hypocrisy" of Griveaux and his campaign pledges to uphold family values. Taddeo, ... More
Coronavirus empties European cities of Chinese tourists
Monroe Gallery of Photography opens first posthumous retrospective exhibition of photographs by Ida Wyman
Frieze Los Angeles 2020 builds on the success of inaugural year with energetic attendance and exceptional sales


This picture taken on February 14, 2020 shows two men wearing face masks walking through a nearly empty terminal at Daxing international airport in Beijing. NICOLAS ASFOURI / AFP.

by Norimitsu Onishi



NEW YORK (NYT NEWS SERVICE ).- The line in front of the Louis Vuitton store was barely a line by Paris standards: only 10 people. All were Asian, and many spoke in Chinese, with one couple dictating Mandarin into a smartphone and waiting for the answers in French. "Sometimes, the line's been even shorter recently," Yasmine Ben, who works at a kiosk directly facing the store, said on a recent morning. "Usually, it's wider, much, much longer, and it snakes around the back.'' Louis Vuitton, in the Galeries Lafayette department store in central Paris, is a favorite stop inside one of the favorite shopping destinations of Chinese tourists to France. And the line there is prime evidence of the growing ... More



Girl in Curlers © Ida Wyman.



SANTA FE, NM.- Monroe Gallery of Photography opened the first posthumous retrospective exhibition of photographs by Ida Wyman, who passed away in 2019. The exhibit continues through April 19, 2020 and includes several photographs from Ida Wyman's archive being exhibited for the very first time. Although not as famous as some of her contemporaries, Ida was one of the defining artists of early street photography that helped shape how we look at our world. Wyman's photographic vignettes of life in urban centers and small towns in the United States, taken during the mid-twentieth century, illuminate the historical moment while providing a deeply humanist perspective on her subject. Ida strived to capture everyday life of everyday people in all its frustrating, illogical and banal glory. From her classic Girl with Curlers photograph of a little girl on the street in LA staring defiantly at the viewer to the delicate ... More



Channing Hansen, Frieze Projects Los Angeles.



LOS ANGELES, CA.- Frieze Los Angeles ushered in its second edition as part of an expanded Frieze Week that celebrated Los Angeles' art community at Paramount Pictures Studios and throughout the city. Running from an invitation-only Opening Preview on Thursday, February 13 through Sunday, February 16, Frieze Los Angeles brought together galleries, institutions, artists and organizations to encourage and increase the possibilities of arts discovery and patronage. Opening with major placements made on Thursday, February 13, sales remained strong throughout the week, with widespread reports of brisk sales, sold out booths and top collector attendance from Los Angeles, United States and from around the world. Launched in 2019, Frieze Los Angeles is supported by global lead partner Deutsche Bank for the second consecutive year. The fair attracted 35,000 visitorsduring its four days at ... More
Bruce Museum opens "Under the Skin" science exhibition
Jenny Waldman to be next director of Art Fund
Georgia Museum of Art wins award for "Richard Hunt" exhibition


Dr. Daniel Ksepka, Curator of Science, with a CT scan rendering of a miniature frog, revealing an ant inside its digestive tract.



GREENWICH, CONN.- A fascinating new exhibition that explores the intersection of art and science opened in the newly renovated and enlarged Science Gallery at the Bruce Museum in Greenwich, CT. Under the Skin highlights a dozen recent scientific discoveries through a combination of stunning imagery and real biological specimens. The exhibition, on view through July 19, 2020, showcases images made possible by a remarkable array of technologies – CT scanning, infrared and UV imaging, scanning electron microscopy, and more – that reveal the extraordinary beauty of nature that often lies just below the surface. All of the images presented in the exhibition, from a section of a dinosaur bone photographed in cross-polarized light, to a CT scan of a hog-nosed snake engorged with prey, were captured in the last five years, thus representing the cutting edge of modern imaging. A number of the images in Under the Skin highlight new scientific disc ... More



Jenny Waldman CBE was Director of 14-18 NOW, the UK's official arts programme for the First World War Centenary.



LONDON.- Art Fund Chair Lord Smith of Finsbury announced today that Jenny Waldman, formerly Director of 14-18 NOW, will succeed Stephen Deuchar as Director of Art Fund, who steps down on 3 April after ten years in post. Jenny Waldman CBE was Director of 14-18 NOW, the UK's official arts programme for the First World War Centenary. Working in partnership with arts and heritage organisations across the UK, 14-18 NOW commissioned over 100 new works from leading UK and international contemporary artists including Jeremy Deller's Somme tribute 'we're here because we're here', Peter Jackson's film 'They Shall Not Grow Old' and new works by John Akomfrah, William Kentridge, Susan Philipsz, Yinka Shonibare CBE, and Rachel Whiteread. She was Creative Producer of the London 2012 Festival, the finale of the Cultural Olympiad for the London 2012 Olympic and Paralympic Games, and from 1999-2011 she was Public P ... More



Richard Hunt (American, b. 1935), Minor Monument #1, 1963. Welded chromed steel, 50 x 32 x 18 inches. Courtesy of the artist and Kavi Gupta. Photographer: John Lusis.



ATHENS, GA.- This January, the Georgia Museum of Art at the University of Georgia received the award for exhibition of the year at the Georgia Association of Museums Conference for the exhibition "Richard Hunt: Synthesis." The conference was held in Columbus, Georgia, January 26 – 29, 2020. "Richard Hunt: Synthesis" was on view at the Georgia Museum of Art October 20, 2018 – February 3, 2019. Shawnya Harris, Larry D. and Brenda A. Thompson Curator of African American and African Diasporic Art at the Georgia Museum of Art, organized the exhibition to fill a notable gap in critical evaluation of Hunt's career. Hunt, born in 1935, is an African American sculptor whose career has spanned more 60 years so far. His art helped redefine public sculpture in the late 20th and early 21st century through his 130-plus public commissions in more than 24 states. The exhibition featured ... More
Quote
One is never satisfied with the portrait of a person one knows. Goethe
---
David Hockney Explains How L.A. Inspired His 20th Century Icon
---
Flashback
On a day like today, stained glass artist Louis Comfort Tiffany was born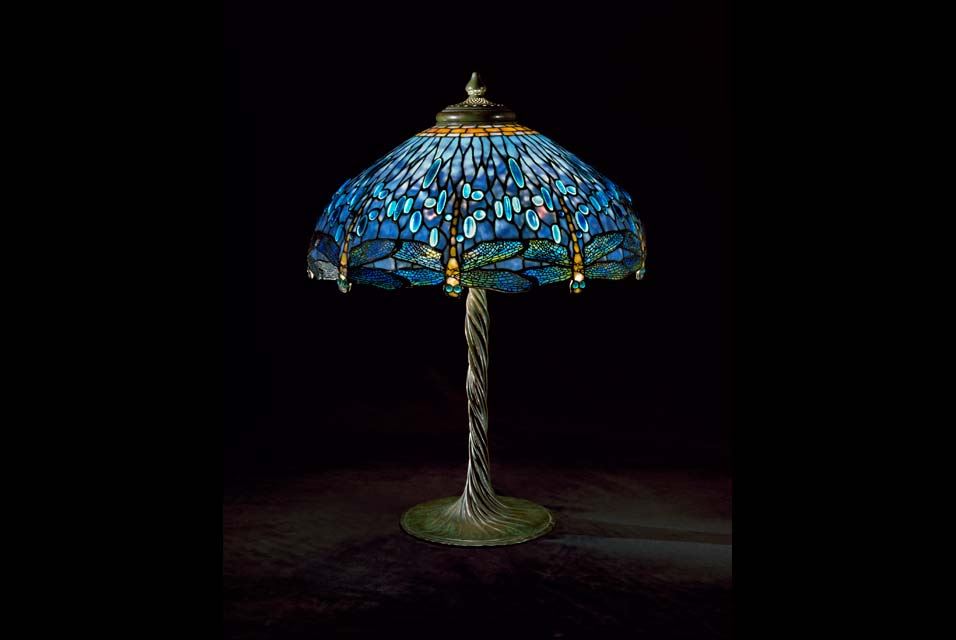 February 18, 1848. Louis Comfort Tiffany (February 18, 1848 - January 17, 1933) was an American artist and designer who worked in the decorative arts and is best known for his work in stained glass. He is the American artist most associated with the Art Nouveau and Aesthetic movements. In this image: Tiffany Studios (New York), Dragonfly Library Lamp, ca. 1905–10 Leaded glass; cast bronze Gift of Walter P. Chrysler, Jr.
---

Museums, Exhibits, Artists, Milestones, Digital Art, Architecture, Photography,
Photographers, Special Photos, Special Reports, Featured Stories, Auctions, Art Fairs,
Anecdotes, Art Quiz, Education, Mythology, 3D Images, Last Week,
.
Royalville Communications, Inc
produces: