Michael Jackson art show opens in Finland despite controversy
US based artist Todd Gray poses in front of his work Cosmic Speakers during the press visit of the exhibition titled "Michael Jackson: On the Wall" that was inspired by late US iconic pop star on August 20, 2019 at Espoo Museum of Modern Art in Finland. The show of 90 works first hung in London's National Portrait Gallery in 2018 to widespread critical acclaim. It then toured in Paris and Bonn. It runs in Espoo until January 26, 2020. Irene Stachon / Lehtikuva / AFP
HELSINKI
(AFP)
.-
An exhibition of art inspired by Michael Jackson opened Tuesday in Helsinki with organisers insisting it was not a "celebration" of the singer, still dogged by abuse allegations a decade after his death. "Michael Jackson: On the Wall" brings together old and new works depicting the iconic pop star and his impact on popular culture, by artists including Andy Warhol, American photographer David LaChapelle and British potter Grayson Perry. The show of 90 works first hung in London's National Portrait Gallery in 2018 to widespread critical acclaim. It then toured in Paris and Bonn before coming to Helsinki. The German and Finnish shows come after a new raft of allegations that Jackson groomed and sexually assaulted children, detailed in the 2018 documentary "Finding Neverland". The exhibition will nevertheless run in the Finnish capital "as planned", organisers said, with a text at the entrance acknowledging that "current conversations may have changed the way the exhibition is interprete ...
More
The Best Photos of the Day
Butler Institute of American Art celebrates centennial with exhibition
English town celebrates local hero Ed Sheeran
Facelift of Cairo's Baron Palace sparks outcry


William McGregor Paxton (1869-1941), Sylvia, 1908. Oil on canvas. 49 x 39 1/2 inches. The Butler Institute of American Art Permanent Collection.



YOUNGSTOWN, OH.- The Butler Institute of American Art is exhibiting William McGregor Paxton and Elizabeth Okie Paxton: An Artistic Partnership through November 10, 2019 as the highlight exhibition of its 2019 schedule celebrating 100 years of great American Art. Organized by Dixon Gallery and Gardens, Memphis, William McGregor Paxton and Elizabeth Okie Paxton: An Artistic Partnership is the first examination of the complex and highly detailed work of William McGregor Paxton in nearly four decades and is the first comprehensive study of Elizabeth Oakie Paxton and her career. The exhibition of over 40 paintings, rich in detail and mostly large in scale, focuses on Paxton's consistent explorations of femininity. A selection of works by Elizabeth Paxton reveals how ... More



A childhood photograph of British musician Ed Sheeran is pictured during a press preview of the exhibition 'Ed Sheeran: Made in Suffolk' in Ipswich, east England on August 19, 2019. Daniel LEAL-OLIVAS / AFP.



IPSWICH (AFP).- The little-known town of Ipswich in eastern England has historically prided itself on farming and football, but is now celebrating the stellar pop career of its most famous son, Ed Sheeran. The global hit machine's journey to stardom began in the nearby town of Framlingham, where he played his first gig in front of around 30 people. Fourteen years later, the singer is capping off a two-year international tour, on which he played for almost nine million people, with four homecoming shows in Ipswich. An exhibition entitled "Made in Suffolk", will mark the event, tracing the career of the singer/songwriter responsible for hit singles such as "Shape of You", which helped him amass ... More



This picture taken on August 18, 2019 shows restoration works ongoing at the historic "Le Palais Hindou". Khaled DESOUKI / AFP.



CAIRO (AFP).- Egyptian authorities have defended renovation works at a historic Cairo palace after the site's new look sparked mockery on social media. The site, dubbed the Baron Palace, was built between 1907 and 1911 by wealthy Belgian industrialist Edouard Empain. The baron also spearheaded the development of the surrounding upmarket neighbourhood of Heliopolis. Built in a style reminiscent of the Cambodian Hindu temple of Angkor Wat, the striking building set amid lush gardens has long since fallen into disrepair. But work to restore the building has sparked outcry. Many have taken issue with white marble additions to the building's rosy pink stone exterior, saying the materials are of poor quality and not in keeping with the original style. One Twitter user asked: "Who is the fool ... More
First sale from film fan's amazing rare poster collection - worth up to £100,000
Julien's Auctions announces Property from the Life and Career of Marilyn Monroe
Maurice Car Collection brings works by iconic artists, scientists to Heritage Auctions


Starting at the age of 16, Anthony would visit the cinema up to 200 times a year to catch his favourite films, from action adventures to thrillers, horror and comedies.



LONDON.- When Anthony Duggan died two years ago at the age of 63, the Everyman cinema chain placed a replica Oscar in every one of its foyers with his name on it to celebrate the life of London's greatest film fan. Now Ewbank's Auctions is to hold the first of a number of auctions to disperse Anthony's unique collection of movie posters – worth up to £100,000 and all collected as gifts from cinemas around the capital over several decades – in their Movie Posters sale on August 23. Born in 1954 and growing up in Uxbridge, the former London Underground electrician's love affair with the silver screen started early and soon became the abiding passion of his life alongside that for his family. Starting at the age of 16, Anthony would visit the cinema up to 200 times a year to catch his favourite films, from action adventures to thrillers, horror and comedies. His wife Helen tells how, even when she first met ... More



Marilyn Monroe Gown and Headdress from "Gentlemen Prefer Blondes", 20th Century Fox, 1953. Estimate: $60,000.00-80,000.00.




LOS ANGELES, CA.- Julien's Auctions announced Property from the Life and Career of Marilyn Monroe featuring some of the star's film costumes and clothing worn in her most iconic roles and dazzling, star-making moments will happen on Day One of Julien's Auctions' Legendary Women of Hollywood auction extravaganza on Friday, November 1 and Saturday, November 2, 2019 at The Standard Oil Building in Beverly Hills and live online at www.juliensauctions.com. The top highlights of the auction event will be three costumes worn in the Hollywood screen legend's biggest films – Gentlemen Prefer Blondes, There's No Business Like Show Business and River of No Return – as well as her signature style black cocktail dress likely worn to the 1958 press conference for her blockbuster film, Some Like It Hot. This glamourous collection of 115 items also includes a wide array of artifacts from her personal life and will all b ... More



Sir Isaac Newton's Autograph Manuscript, Notes on Physics and Solid Geometry, with Two Diagrams (estimate: $50,000+) contains notes on physics and solid geometry.



DALLAS, TX.- An array of extraordinary rare documents is headed to the auction block when Heritage Auctions presents The Maurice Car Collection of Arts and Sciences, Featuring Rare Books & Manuscripts Sept. 4 in New York. Car (1908-68) was an engineer who was a dedicated collector of the arts, sciences and humanities. The lots presented in the sale represent his focus on highpoints and seminal works of key participants in the three academic disciplines. Even after he and his family moved in 1940 to Washington, D.C., he remained an active participant in Parisian and international auctions. His background in science bolstered his interest in obtaining items with substantive content spanning centuries of discovery in astronomy, mathematics, physics, chemistry, biology and archaeology. The 243-lot collection includes work by some of the most famous names in science, including Sir Isaac Newton, Louis Pasteur, Marie Curie, Albert ... More
MCA Denver announces Nora Burnett Abrams as next Director
Lisson Gallery now representing Bernard Piffaretti in New York
Bonhams Australia offers the collection of Sir Warwick and Lady Fairfax AC OBE


Since moving to Denver in 2010, she has organized over 30 exhibitions and authored or contributed to more than a dozen accompanying publications. Photo: Josie Skinner.



DENVER, CO.- The Museum of Contemporary Art Denver announced today that Nora Burnett Abrams will be the next Mark G. Falcone Director of the museum. The announcement was made by Mike Fries, Board Chair of the influential contemporary art museum that in the past five years has seen an increase in attendance of more than 200%, in large part due to Abrams' contributions as the Ellen Bruss Curator and Director of Planning. She will begin her new role August 20th and at 41, is among the youngest directors in the country and joins a rising class of new museum leadership. "After an extensive international search, the Board was unanimous in selecting Nora," said Fries. "Over the last ten years, she has been instrumental in bringing MCA Denver to where it stands today as one of the most important cultural institutions in ... More



Untitled, 2016, Acrylic on canvas, 150 x 150 cm (59 x 59 in). © Bernard Piffaretti, Courtesy Lisson Gallery.



NEW YORK, NY.- Lisson Gallery announced representation of Paris-based artist Bernard Piffaretti in New York. For his first exhibition in the Tenth Avenue location, Piffaretti will present new paintings alongside a small selection of earlier work, all composed using the signature duplication method in which the artist has worked for nearly four decades. After first dividing a canvas into halves with a central vertical strip of paint, Piffaretti creates a typically graphic, abstract composition in bold color on one side, and then repeats the pattern on the other. The viewer's ensuing challenge of trying to ascertain which painterly act occurred first strikes at the heart of Piffaretti's conceptual concerns. By highlighting our aesthetic and emotional tendencies for problem-solving and resolution the artist both affirms and restrains the narrative power of painting. Through this technique of mirroring or doubling an image, the artist ... More



A Large Pair of Italian Maiolica Istoriato Snake-Handled Vases. 19th century. 60cm high. Estimate: $3,000 - 5,000. Photo: Bonhams.



SYDNEY.- It is with great privilege that Bonhams announces the forthcoming auction of the Collection of Sir Warwick and Lady Fairfax on Sunday 22 September 2019 in Sydney. The sale is entitled Fairwater after the Fairfaxs' highly distinguished home. One of the most comprehensive private collections ever to be offered at public auction in Australia, the sale will feature important works of Australian art, many of which have never been offered on the open market, along with significant decorative arts and furniture. With close to 400 lots encompassing fine art, decorative arts, English, French and Italian furniture, the auction details a history of collecting by one of Australia's great media dynasties. Amassed by the Fairfax family over the last century, the sale will also include pieces from their Harrington Park colonial homestead and the family's New York penthouse. Director of ... More
Dune Buggy driven by Steve McQueen in The Thomas Crown Affair to be auctioned by Bonhams
Principal contents of Mawley Hall to be offered at September Fine Sale
Bruce Museum receives grant for preservation and restoration of historic educational films


The customized Meyers Manx will star at the Amelia Island auction next spring. Photo: Bonhams.



NEW YORK, NY.- Bonhams – the auction house most associated with the King of Cool – will be offering for sale the very car in which Steve McQueen took Faye Dunaway on an exhilarating, white-knuckled ride in the 1968 movie The Thomas Crown Affair. Like the car chase on the streets of San Francisco in Bullitt, the ride on the beach of Massachusetts in Thomas Crown is the stuff of legend. The Hollywood film captivated global audiences and brought the Meyers Manx – the first true "dune buggy" – to the attention of the world. Not only that, but the movie reaffirmed McQueen's affinity for and capability in motoring, as well as helped catapult the talented and beautiful Dunaway to A-list stardom. To simply say this movie influenced popular culture would be a gross understatement indeed. First, Bonhams sold the Rolls-Royce Silver Shadow ... More



A mid-18th century Altona Padouk and parcel gilt bombe secretaire cabinet, 271 cm high, estimate £15,000-£25,000.



CAMBRIDGE.- The principal contents that once adorned one of Britain's finest privately-owned country houses will be sold at Cheffins in September. Over 200 lots from the Grade I listed Mawley Hall in Shropshire will be offered at The Fine Sale, held on Wednesday 11th and Thursday 12th September at Cheffins' Cambridge salesroom. The high-quality consignment includes paintings, furniture, Chinese ceramics, decorative items and carpets. Mawley Hall was commissioned to be built in the 18th century by Sir Edward Blount and has changed hands only twice since, most recently in September 2018 by a family who wish to remain private when the guide price was set at £10 million. Following the purchase of Mawley Hall, Cheffins Fine Art have been instructed to sell the principal ... More



Paul Griswold Howes.



GREENWICH, CONN.- The Bruce Museum announced that it has received a grant for $18,290 from the National Film Preservation Foundation. The funding will be used for the preservation and restoration of four 16 mm films from its collection created by the Bruce Museum's former curator, Paul Griswold Howes (1892-1984). Produced in the 1940s and 1950s, these films were central to the educational mission of the Museum for decades, says Timothy J. Walsh, Collections Manager. The films, ranging in length from 10 to 25 minutes, were shown at the Museum to generations of local students and special groups. They include: · Canyons in the Making (circa 1948-50). A 10-minute long color film with sound that uses the Grand Canyon to teach the story of geologic processes. · Let the Birds Tell it All (1957-1958). A 25-minute long color film with sound in which many ... More
How to Start a Vintage Film Poster Collection
Flashback
On a day like today, American designer and architect Charles Eames died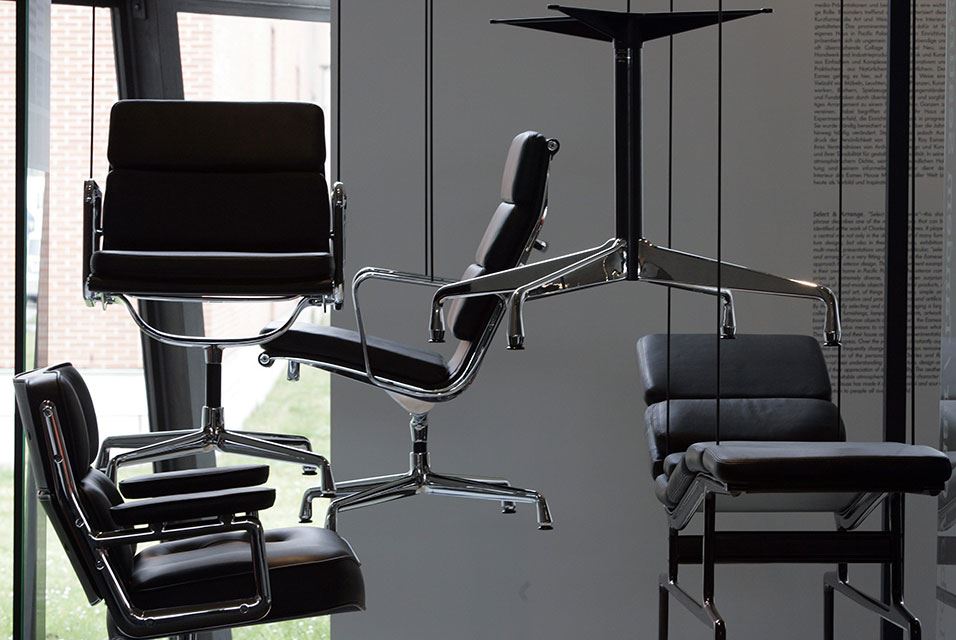 August 21, 1978. Charles Ormond Eames, Jr (1907 - 1978) was an American designer, who worked in and made major contributions to modern architecture and furniture. He also worked in the fields of industrial and graphic design, fine art and film. In this image: "Lobby Chair" models by U.S. designers Charles Eames (1907-1978) and his wife Ray (1912-1988) are on display during the exhibition "The furniture of Charles and Ray Eames - Products, Processes, Prototyps", in the Vitra Design Museum in Weil am Rhein, Germany, Thursday, March 22, 2007.
---

Museums, Exhibits, Artists, Milestones, Digital Art, Architecture, Photography,
Photographers, Special Photos, Special Reports, Featured Stories, Auctions, Art Fairs,
Anecdotes, Art Quiz, Education, Mythology, 3D Images, Last Week,
.
---
Royalville Communications, Inc
produces: