Man in black: Soulages gets Louvre tribute for 100th birthday
French painter Pierre Soulages poses during a photo session at the Louvre museum in Paris on December 10, 2019. JOEL SAGET / AFP.
PARIS
(AFP)
.-
They call him art's man in black. Artist Pierre Soulages has painted primarily in black for eight decades -- foreswearing all other colours since 1979. Now the Louvre museum in Paris is marking his 100th birthday with a rare tribute to a living artist. Twenty works -- out of more than 1,700 canvasses he has produced over his long career -- will be shown in a special three-month show, which opens Wednesday. The French master, still working despite turning 100 on Christmas Eve, may yet make the opening in the face of a national strike which has paralysed France's rail network. The Pompidou Centre in Paris, which staged a huge Soulages retrospective in 2009, is also getting in on the celebrations by showing 14 of its collection of 25 paintings. ...
More
The Best Photos of the Day
Banana-eating performance artist was 'hungry'
Vero Beach Museum of Art appoints new Museum Art School Manager
'It must have been love' Roxette singer dies aged 61


David Datuna, the performance artist who ate a banana Saturday afternoon in Miami at Art Basel, speaks during a press conference on December 9, 2019 in New York. Eduardo Munoz Alvarez / AFP.



NEW YORK (AFP).- Performance artist David Datuna waited two hours until "I was hungry" before eating a pricey banana artwork in Miami, he explained with laughter on Monday after returning to New York. "It's the first time one artist eats art of another artist," he said in a mirth-filled press conference. The Tbilisi-born Datuna, who has lived in New York for 22 years, shook up the Art Basel Florida modern art show Saturday when he ate the real banana that had been plastered to the wall as part of a work by Italian artist Maurizio Cattelan. The work had been sold for $120,000. In spite of the price, "it tasted like a regular banana," Datuna said. Datuna added that he didn't need the publicity. But he basked in his latest exploit, boasting that a video of his "performance" had generated 40,000 to 50,000 messages on Instagram, many of them congratulatory. Georgian-born artist Datuna ... More



For the past year, Kathie Elías worked as the Curator of Education at the Foosaner Art Museum in Melbourne, Florida.



VERO BEACH, FLA.- The Vero Beach Museum of Art announced today the appointment of Kathie Elías as Museum Art School Manager effective December 2, 2019. For the past year, Kathie Elías worked as the Curator of Education at the Foosaner Art Museum in Melbourne, Florida. Her relationship with the Foosaner began earlier in 2017, when she worked as a Guest Curator of Education, designing and executing educational programming that centered on diverse audiences, accessibility, and outreach. Previously to working and residing in Florida, she worked as the Educator at Museo de Arte de Ponce in Puerto Rico since 2006. "I am delighted to be a part of the Vero Beach Museum of Art team. The Museum Art School has a long and respected history within the community. I'm looking forward to continuing the robust programming, as well as strengthening ties to the wider arts community, ... More



This file photo taken on October 11, 2011 shows singer Marie Fredriksson of Swedish band Roxette performing during a concert in Munich, southern Germany. FRANK LEONHARDT / DPA / AFP.

by Gaël Branchereau



STOCKHOLM (AFP).- The lead singer of Swedish pop duo sensation Roxette, Marie Fredriksson, who shot to global fame in the 1990s with hits like "It Must Have Been Love", has died aged 61 after a long fight with cancer, her manager said Tuesday. The mother of two, who died on Monday, had been diagnosed with a brain tumour in 2002 but went into remission and made a musical comeback a few years later. By 2016, however, the illness had taken its toll and doctors advised her to stop touring. Announcing her death, Dimberg Jernberg Management described Fredriksson as "a wonderful person with a huge appetite for life". "Marie leaves us a grand musical legacy," the company said in a statement. "Her amazing voice -– both strong and sensitive -– and her magical live performances will ... More
Collection gift expands Saint Louis Art Museum's holdings of American modernism
Princess Diana's 'Travolta' dress brushed off at auction
The Holy Family, separated and caged, in church protest


Walt Kuhn, American, 1877–1949; "Gold and Blue Bolero", 1946; oil on canvas; 24 x 20 inches; Saint Louis Art Museum, Gift of John and Susan Horseman 101:2019; © Estate of Walt Kuhn, Courtesy of DC Moore Gallery, New York.



SAINT LOUIS, MO.- John and Susan Horseman have given the Saint Louis Art Museum a major gift of 20th-century American art. The gift includes excellent examples of American surrealism, American Scene, and modernist painting—all areas with significant gaps in the Museum's collection. John Horseman, the managing partner and chief executive of St. Louis-based Horseman Group, is a member of the Museum's Board of Commissioners and the chair of the Collections Committee. Susan Horseman is a member of the Museum's Friends Board. Together, they are members of the Leadership Circle. "I am deeply grateful to John and Susan Horseman, whose generosity enables a richer and more complex representation of American ... More



Princess Diana's Victor Edelstein midnight-blue velvet evening gown. Estimate:£250,000- £350,000 ( +25% BP ).



LONDON (AFP).- A midnight blue velvet gown worn by Princess Diana as she danced with John Travolta at the White House got the cold shoulder at auction, the Kerry Taylor house said Monday. Diana wore the off-the-shoulder Victor Edelstein dress when she and then husband Prince Charles attended a state dinner hosted by the late president Ronald Reagan on November 9, 1985. Diana was photographed dancing with Travolta to the song "You Should be Dancing" from his film "Saturday Night Fever". Estimated at £250,000-£350,000 ($324,000-$454,000), the dress did not even attract a reserve, or minimum, bid of £200,000. Two other dresses owned by Diana fared much better however. A long-sleeved dress from 1986 by Katherine Cusack, also in midnight-blue velvet, was snapped up for £60,000, or £71,000 with fees, ... More



A Christmas nativity scene depicts Jesus, Mary, and Joseph separated and caged, as if asylum seekers detained by U.S. Immigration and Customs Enforcement, at Claremont United Methodist Church on December 9, 2019 in Claremont, California. David McNew/Getty Images/AFP.



CLAREMONT (NYT NEWS SERVICE ).- The Mylar blanket glitters like tinsel, but wrapped around the figure of the baby Jesus, it looks hostile and stark. His parents, Mary and Joseph, look on from their own chain-link cages. Barbed wire hovers overhead. This is no typical Nativity scene. Over the weekend, Claremont United Methodist Church, 30 miles east of Los Angeles, erected the display in protest of the treatment of migrants and refugees in the United States. The church's leaders say they hope it will spark conversation about compassion and the tenets of Christian faith. "This is a sacred family to us," the Rev. Karen Clark Ristine said Monday, speaking in front of the cages. "We hold this ... More
Revered by Aztecs, Mexican hairless dog in style again in hipster era
Exhibition of new works by Richard Tuttle on view at Pace Gallery
Chris Newth named Associate Director for Collections and Exhibitions at the Princeton University Art Museum


Xoloitzcuintles (Ancient Mexican hairless dogs) rest at the garden of the Dolores Olmedo Museum in Mexico City, Mexico, on November 13, 2019. Omar TORRES / AFP.



MEXICO CITY (AFP).- At a stately museum in Mexico City, priceless paintings by Frida Kahlo and Diego Rivera share pride of place with an unruly pack of hairless black dogs: Mexico's prized xoloitzcuintle. The 13 dogs who reside on the leafy grounds of the Museo Dolores Olmedo are the direct descendants of ones that belonged to Kahlo and Rivera, whose searingly intimate portraits (her) and sprawling murals (him) made them the towering power couple of 20th-century Mexican art. Kahlo and Rivera were proud of their Mexican heritage, which made the xoloitzcuintle -- a tongue-twister pronounced something like show-low-eats-QUEEN-t-lay -- an obvious choice for the family dog. They even put their dogs in their paintings -- some of them now on display at the museum where their great-great-grandpuppies reside. "Xolos," as they are known for short, are a quintessentially Mexican dog. The ancient species goes back 7,000 ... More



Richard Tuttle, Euterpe (music), 2019. Fir plywood, pine lattice stripping, wood glue, nails, spray paints, plastic spoons, plastic container, canvas, 33" × 30" × 9" (83.8 cm × 76.2 cm × 22.9 cm) No. 73898 © Richard Tuttle, courtesy Pace Gallery.



NEW YORK, NY.- Pace is presenting an exhibition of new works by Richard Tuttle at 510 West 25th Street. Coinciding with Tuttle's exhibition of ninety-four drawings from the 1970s on view at Pace's neighboring headquarters at 540 West 25th Street, this exhibition features over twenty new works produced over the summer of 2019 at the artist's new studio in Maine. Split into three series, Days, Muses, and Stars, these works explore the relationship between what is directly portrayed through picture making and the act of perception. Like all of Tuttle's work, these new pieces reveal his continuous ability to create a unique visual language that defies categorization and blurs the boundaries between drawing, sculpture, and painting. Richard Tuttle: Days, Muses and Stars is on view through December 21, 2019. The genesis for Richard Tuttle: Days, Muses ... More



He joins Princeton from the Museum of Fine Arts, Boston, where he has served most recently as senior director for exhibitions strategy and gallery display.



PRINCETON, NJ.- The Princeton University Art Museum has appointed Chris Newth as associate director for collections and exhibitions. He joins Princeton from the Museum of Fine Arts, Boston, where he has served most recently as senior director for exhibitions strategy and gallery display. As a member of the Princeton University Art Museum's senior management team, Newth will be responsible for the strategic oversight and implementation of the museum's curatorial, collections and exhibition activities, including exhibition planning and execution, art conservation, collections management, research and budget planning. Newth begins his position at Princeton Jan. 27, 2020. "Chris's deep experience in leading complex teams and projects in a leadership institution makes him ideally qualified for this essential role at the Princeton University Art Museum," said James Steward, Nancy A. Nasher–David J. Haemisegger, Clas ... More
Ansel Adams and The American West Photographs from the Center for Creative Photograohy total: $1,098,250
Rare whiskey collection expected to fetch $10 million at auction
Jacqueline de Jong's first solo exhibition in the UK on view at Pippy Houldsworth Gallery


Ansel Adams, Clearing Winter Storm, Yosemite Valley, California, 1938 (detail). Gelatin silver print, mounted on board, printed 1978-1984, titled in ink in photographer's Carmel credit stamp [BMFA Stamp I], with Center for Creative Photography & AAPRT stamps (mount, verso) Price Realized: $60,000. © Christie's Images Ltd 2019.



NEW YORK, NY.- The top lot of the 10 December live auction of works by Ansel Adams (1902–1984) was Moonrise, Hernandez, New Mexico, 1941, which realized $75,000. Another highlight of the sale to benefit The Center for Creative Photography at the University of Arizona included Clearing Winter Storm, Yosemite Valley, California, 1938, which realized $60,000, The Tetons and the Snake River, Grand Teton National Park, Wyoming, 1942, which realized $58,750, and Thunderstorm over the Great Plains near Cimarron, New Mexico, c. 1961, which realized $40,000. Proceeds from the sale will benefit a new acquisition endowment for The Center for Creative Photography. When Adams co-founded the Center, he wanted ... More



Whisky Auctioneer Founder, Iain McClune, at The Gleneagles Hotel American Bar.

by Laura M. Holson



NEW YORK (NYT NEWS SERVICE ).- For more than two decades, Richard Gooding traveled the world in search of his favorite whiskeys. Next year, the more than 3,900 bottles he collected will be sold in two auctions, including rare offerings from storied distilleries such as Macallan, Bowmore and Stromness. Whisky Auctioneer, an online auctioneer based in Scotland, announced the sale Monday and expects the collection to fetch more than $10 million. Gooding, a Colorado businessman, was a frequent traveler to Ireland and Scotland, where he attended auctions and purchased whiskeys directly from distilleries, according to a video about the collection. As well as buying rare vintages, he bought one-of-a-kind whiskeys for tasting with friends. Gooding, who died in 2014, was the scion of a distribution and bottling empire; his grandfather started the Pepsi Cola Bottling Co. of Denv ... More



Jacqueline de Jong, Drôle de la chasse frustrée, 1987. Oil on marouflé paper on canvas, 130 x 100 cm, 51.2 x 39.4 in. Photo: Todd White. Courtesy the artist and Pippy Houldsworth Gallery London.



LONDON.- Pippy Houldsworth Gallery is presenting Resilience(s), Jacqueline de Jong's first solo exhibition in the UK, running from 28 November 2019 to 18 January 2020. The exhibition focuses on paintings made in the 1980s and early 1990s, bringing together key works from her Upstairs Downstairs and Paysages Dramatiques series. Exuberant, sensual, violent and contradictory, Resilience(s) manifests the defiance and adaptability inherent in de Jong's practice. Towards the middle of the 1980s de Jong began to return to a more expressionist style of painting, her work having become increasingly figurative in the 1970s. Here the grotesque figures from her 1960s paintings make a reappearance with a more overtly animal form. The Upstairs Downstairs series, originally commissioned for the Amsterdam Town Hall, places its protagonists in the liminal ... More
The Words That Revived the Olympic Games
Flashback
On a day like today, Spanish-Mexican surrealist painter Remedios Varo was born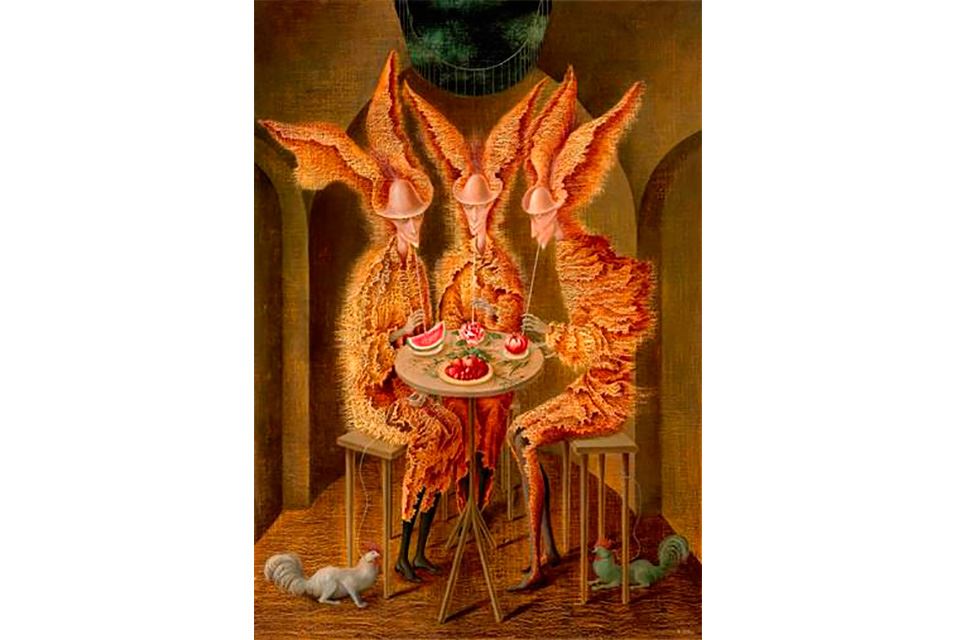 December 16, 1908. Remedios Varo Uranga (16 December 1908 - 8 October 1963) was a Spanish-Mexican para-surrealist painter and anarchist. Born in Girona, Spain in 1908, she studied at the Real Academia de Bellas Artes de San Fernando, Madrid. She is known as one of the world famous para-surrealist artists of the 20th Century. During the Spanish Civil War she fled to Paris where she was greatly influenced by the surrealist movement. She met her second husband, the French surrealist poet Benjamin Péret, in Barcelona. In this image: Remedios Varo (Spanish/Mexican 1908-1963), Vampiros vegetarianos. Oil on canvas. Painted in 1962. Estimate: $1,500,000 - 2,000,000. Photo: Christie's Images Ltd 2015.
---

Museums, Exhibits, Artists, Milestones, Digital Art, Architecture, Photography,
Photographers, Special Photos, Special Reports, Featured Stories, Auctions, Art Fairs,
Anecdotes, Art Quiz, Education, Mythology, 3D Images, Last Week,
.
---
Royalville Communications, Inc
produces: