Restituted artworks by Pissarro and Signac to make auction debut in London
Paul Signac, Quai de Clichy. Temps Gris, 1887, oil on canvas, 46 by 65.5cm. (est. £600,000 – 800,000). Courtesy Sotheby's.
LONDON
.-
Sotheby's
Impressionist & Modern Art Evening Sale on 4 February will include three works recently restituted to the heirs of Gaston Lévy, one of the most notable patrons and art collectors living in Paris in the 1920s and 1930s. A highly successful businessman and property developer, Lévy and his family lived in a magnificent apartment on the Avenue de Friedland, which he filled with books, paintings and works of art, many of which he bought from the great dealers of his day, including BernheimJeune, Paul Durand-Ruel and Ambroise Vollard. Lévy's art collection was dispersed under the Nazi occupation, and two of the works to be offered in February were lost to the 'Einsatztab Reichsleiter Rosenberg' (an organisation dedicated to receiving looted cultural property) in October 1940. After the war, the works were repatriated to the French state, and have recently been restituted by the French Government to Lévy' ...
More
The Best Photos of the Day
Jitish Kallat opens solo exhibition at the Famous Studio in Mumbai
Maria Hummer-Tuttle and Robert Tuttle make transformative gift to Getty Museum
Exhibition rethinks mid-century abstract art in Middle East and beyond


This is Jitish Kallat's first solo exhibition in his home city of Mumbai after a gap of five years.



MUMBAI.- Jitish Kallat's solo exhibition at the Famous Studio in Mumbai titled ​Terranum Nuncius premiers two new major works: a photographic-and-sound installation titled ​'Covering Letter (terranum nuncius)' ​and ​'Ellipsis' ​ , ​ his largest painting to date. Co-presented by Nature Morte and Chemould Prescott Road, this is Jitish Kallat's first solo exhibition in his home city of Mumbai after a gap of five years. 'Covering Letter (terranum nuncius)' will be part of Kallat's solo exhibition at the Frist Museum of Art, Nashville, Tennessee in March 2020. The work commemorates and re-invokes select sounds and images that were composed for expedition into interstellar space as a planetary message to extra-terrestrial life. Continuing his interest in the epistolary mode, the work uses the "letter" sent out to deep space by the Nasa Space Agency, where Kallat has previously used speeches and letters by world ... More



Maria Hummer-Tuttle and Robert Tuttle. Photo by Sean Twomey / 2me Studios.



LOS ANGELES, CA.- A transformative gift from Los Angeles philanthropists Maria Hummer-Tuttle and Robert Tuttle will establish a permanent endowment fund for the Getty Museum, and will name the Museum directorship the Maria Hummer-Tuttle and Robert Tuttle Director of the J. Paul Getty Museum, Getty announced today. The gift, along with the couple's previous gifts to Getty, make Maria Hummer-Tuttle and Robert Tuttle among the most generous donors to Getty since its founding. Maria Hummer-Tuttle and her husband, Robert Tuttle, are longtime supporters of Getty. Hummer-Tuttle has served on the Getty Board of Trustees for over a decade, including four years as chair of the Board. She has been a strong advocate of the importance of the visual arts throughout the Los Angeles region, and of the significance of Pacific Standard Time, Getty's regional arts initiative. Hummer-Tuttle served ... More



Mohamed Melehi (Morocco), Composition, 1970. Acrylic on wood, 47 1/4 x 39 3/8 in. Collection of the Barjeel Art Foundation, Sharjah, UAE.



NEW YORK, NY.- Taking Shape: Abstraction from the Arab World, 1950s–1980s explores the development of abstraction in the Arab world via paintings, sculpture, and works on paper dating from the 1950s through the 1980s. By looking critically at the history and historiography of mid-20th century abstraction, the exhibition considers art from North Africa and West Asia as integral to the discourse on global modernism. At its heart, the project raises a fundamental art historical question: How do we study abstraction across different contexts and what models of analysis do we use Examining how and why artists investigated the expressive capacities of line, color, and texture, Taking Shape highlights a number of abstract movements that developed in the Middle East, North Africa, and West Asia, as well as the Arab diaspora. Across these regions, individual artists and ... More
Exhibition at the Estorick Collection of Modern Italian Art explores Tullio Crali's entire career
David Zwirner opens an exhibition of work by artist Ruth Asawa at the gallery's London location
Critical financial situation at the Museu de Arte do Rio


Tullio Crali, Tricolour Wings, 1932 (Ali tricolori). Oil on plywood, 72 x 56 cm.



LONDON.- For Tullio Crali (1910-2000) Futurism was not just a school of painting, but an attitude to life itself. Reflecting the movement's enthusiasm for the modern world, his powerful imagery embraced technology and the machine as key sources of creative inspiration. Crali's work focused on "the immense visual and sensory drama of flight", and is most closely associated with the genre of 'aeropainting', which dominated Futurist research during the inter-war years. A new exhibition of works by this towering figure of Italian modernism explores his entire career, and features over 60 rarely seen pieces from the artist's family collection, dating from the 1920s to the 1980s. A Futurist Life is the first show in the United Kingdom to be dedicated to Crali, and runs from 15 January until 11 April 2020 at London's Estorick Collection of Modern Italian Art. Crali grew up in the ... More



Ruth Asawa, Untitled (S.142, Hanging Five-Lobed, Multi-Layer Continuous Form within a Form), 1990 © The Estate of Ruth Asawa. Courtesy The Estate of Ruth Asawa and David Zwirner.



LONDON.- David Zwirner is presenting an exhibition of work by American artist Ruth Asawa at the gallery's London  location. This is the first major presentation of her work outside the United States and includes a number of  key forms spanning more than five decades of the artist's career, focusing in particular on the relationship between  Asawa's wire sculptures and her wide-ranging body of works on paper. An influential artist, devoted activist, and tireless advocate for arts education, Asawa is best known for her extensive  body of hanging wire sculptures. These intricate, dynamic, and sinuous works, begun in the late 1940s, continue to challenge conventional notions of sculpture through their emphasis on lightness and transparency. Relentlessly experimental across a range of mediums, ... More



Museu de Arte do Rio (MAR). Photo: Thales Leite.



RIO DE JANEIRO.- The Museu de Arte do Rio, a public museum founded by the Rio de Janeiro City Government, has achieved worldwide recognition by combining an international artistic vision with educational programmes and by focusing on lower-income local communities. As a city Rio de Janeiro is currently in dire financial straits. One of the many effects of this has been the endangering of its limited but crucial structural public funding to the Instituto Odeon, the organisation that has managed the MAR's operations since its foundation. Throughout the MAR's history, the Instituto Odeon has been responsible through its fundraising activities for securing the budget for the MAR's exhibitions and educational programmes. The public funding, which is in the order of R$1 million reals – approximately US$200,000 – per month, is exclusively for salaries and maintenance costs. The loss of this public base would almost ... More
Gerald Peters Contemporary exhibits works by Clay Vorhes and Roger Winter
RR Auction to offer The Ronnie Paloger JFK Memorabilia + Photograph Collection
Leading London silver dealer Koopman Rare Art exhibits for the first time at the Winter Show


Clay Vorhes, Trapeze #54, 2015-2019.



SANTA FE, NM.- Gerald Peters Contemporary is presenting an exhibition of new oil paintings by Clay Vorhes. Featuring his signature motif of circus performers, the exhibition highlights the artist's colorful and exuberant works. Employing the subject of trapeze as a way to explore the balance and tension of representation and abstraction, Vorhes creates a vibrant atmosphere, deploying the thrills of the circus in a sophisticated subversion of the eye and mind. Large swathes of color are interrupted by strong diagonals lyrically dotted with the trapeze performers, bringing both geometric precision and optical fantasy to these playful scenes. "When seen from afar, these arresting images seem like non-objective compositions. The network of lines that thrust across each canvas harks back to the taunt, haunting geometries of Richard Diebenkorn's Ocean park series. As one moves closer, however, it soon becomes clear that these pain ... More



John F. Kennedy's Personally Worn Back Brace. Courtesy: The Ronnie Paloger JFK Collection / RR Auction.



BOSTON, MASS.- The Ronnie Paloger JFK Memorabilia + Photograph Collection is arguably the finest, most comprehensive, and historically significant JFK Collection assembled by a private collector in the 21st Century. It's an Exhibit Waiting to Happen! The two major components of the collection (memorabilia and photographs including original negatives) individually would stand alone as the finest ever assembled and this combination separates this collection from any other JFK collection in the world today. Paloger assembled this collection as a 'tribute' to John F Kennedy. Ronnie would have to be included on any short list of the greatest memorabilia collectors in the United States over the past 30 years. The Paloger Collection will be the first major JFK collection to be offered intact, which was Paloger's intention when he started assembling this collection as a ... More



The American Independence Gold Box. Made in Paris in 1789 by Jacques Felix Vienot (in excess of $200,000).



LONDON.- Koopman Rare Art, London's pre-eminent antique silver dealer will be exhibiting at The Winter Show in New York City for the first time (Booth E3). Lewis Smith, Director of Koopman Rare Art said: "We are very excited to be participating at the Winter Show. It is undoubtedly "the" antique Fair in the United States and is held in great esteem by dealers and collectors alike. With its focus on superlative antiques of the highest quality and emphasis on traditional values it fits extremely well with our own ethos. "Among the many unique and fabulous pieces we will be showing is an exceptionally rare, historically interesting gold box commemorating the recognition of the Independence of the United States of America by the King of France, Louis XVI. Made in Paris in 1789 by Jacques Felix Vienot, it is beautifully decorated with miniature views expertly executed in watercolour by the ... More
Gray appoints Sharon Kim as Partner in New York
This festival could alter your sense of film history
Sean Kelly is now representing Su Xiaobai


Sharon Kim. Photo: Weston Wells.



NEW YORK, NY.- Gray announced the appointment of Sharon Kim as Partner. Sharon Kim joins Gray following a 26-year tenure at Christie's New York where she currently serves as International Director of Impressionist & Modern Art. Commencing at Gray in the summer of 2020, Kim will join gallery principals Valerie Carberry and Paul Gray, and will be based out of the gallery's Upper East Side location. "Sharon's expertise in the field of Impressionist and Modern art and her long experience placing museum quality works by Modern masters such as Picasso and Giacometti align beautifully with the legacy and identity of Gray," stated Valerie Carberry. "Her vision and leadership for our New York space come at the perfect time as we build toward the future in both Modern and Contemporary." "I've deeply admired, respected, and enjoyed working with Sharon during her years at Christie's—a business tha ... More



La belle de nuit. 1934. France. Directed by Louis Valray. Courtesy Lobster Films.



NEW YORK (NYT NEWS SERVICE ).- Just because movies spent more than a century as physical objects — as strips of film, not the digital files of the 21st century — doesn't mean they can't disappear. And their loss, to decomposition or to memory, inevitably leaves gaps in knowledge. Did you know that three sisters made independent features in Australia in the 1920s and '30s with a sophistication to rival the Paramount comedies of the early '30s? That a Frenchman who ended his career in obscurity, working for a chemical company, deserves to be mentioned in the same breath as his contemporary Jean Renoir? That George A. Romero's oeuvre includes a public-service feature on behalf of the elderly To Save and Project, the Museum of Modern Art's annual festival of film preservation, offers those lessons and more. The series, which started Thursday ... More



Su Xiaobai, 冰裂 -6, 2019. Oil, lacquer, linen and wood, 45 1/4 x 43 5/16 x 5 1/8 inches (115 x 110 x 13 cm) © Su Xiaobai. Courtesy: the artist and Sean Kelly, New York.



NEW YORK, NY.- Sean Kelly announced that as of January 1, 2020 the gallery represents Su Xiaobai. Su Xiaobai is one of China's foremost contemporary artists, recognized for a sensuous yet rigorous body of painting inspired by both the artistic heritage of his native China and Western developments in modern abstraction. Born in 1949 in Wuhan, Hubei province, China, Su joined the School of Arts and Crafts in Wuhan in 1965. From 1985 to 1987, he studied oil painting at the Central Academy of Fine Arts in Beijing and in 1987, he moved to Germany to pursue his postgraduate studies at the Kunstakademie Düsseldorf (Düsseldorf State Arts Academy), returning to China in 2003. Throughout his early years as an artist, Su's work tended towards social realism. However, exposure ... More
Divine Art by Sister Gertrude Morgan: The Self-styled 'Nurse of Dr Jesus
Flashback
On a day like today, French painter Paul Cézanne was born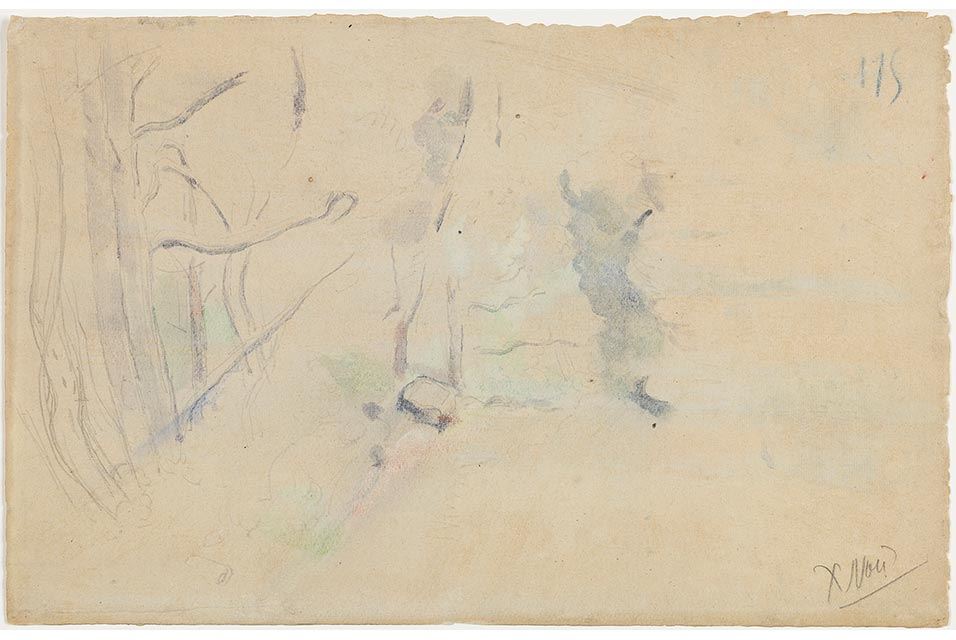 January 19, 1839. Paul Cézanne (19 January 1839 - 22 October 1906) was a French artist and Post-Impressionist painter whose work laid the foundations of the transition from the 19th-century conception of artistic endeavor to a new and radically different world of art in the 20th century. In this image: Paul Cézanne (French, 1839 - 1906). Recto: The Chaîne de l'Etoile Mountains (La Chaîne de l'Etoile avec le Pilon du Roi), 1885 - 1886. Watercolor and graphite on wove paper; Verso: Unfinished Landscape, undated. Watercolor and graphite on wove paper, Sheet: 12 3/8 x 19 1/8 in. (31.4 x 48.6 cm). BF650. Photo © 2015 The Barnes Foundation.
---

Museums, Exhibits, Artists, Milestones, Digital Art, Architecture, Photography,
Photographers, Special Photos, Special Reports, Featured Stories, Auctions, Art Fairs,
Anecdotes, Art Quiz, Education, Mythology, 3D Images, Last Week,
.
---
Royalville Communications, Inc
produces: