Frescoes and faeces as Nero's palace opens in Rome
Visitors use 3D virtual reality goggles as they sit in a room in the Domus Transitoria, Roman Emperor Nero's first palace, destroyed in the Great Fire of Rome in 64 AD on April 12, 2019. The Domus Transitoria was replaced by his Domus Aurea (or Golden House). Alberto PIZZOLI / AFP.

by Ella Ide
ROME
(AFP)
.-
Razed to the ground by the Great Fire of Rome, Emperor Nero's original palace opened to the public for the first time on Friday after a painstaking 10-year restoration. The ruins of the sumptuous "Domus Transitoria", once decorated with gold leaf, precious stones and mother of pearl, lie next to a well-preserved 50-seat latrine used communally by builders and slaves. Nero claimed to be a descendant of Aeneas -- a legendary hero of the Trojan War, as Homer tells it in the Iliad -- and was a big fan of Trojan heroics. He had the ceilings of his palace adorned with mythical scenes from the Trojan War, some of which are now on display at the Palatine Museum next door. The palace was designed to provide respite from baking summer heat, and the emperor would likely have sat on a marble throne facing a line of fountains, under the shade of a silken ...
More
The Best Photos of the Day
Spruth Magers opens the first solo exhibition of Thea Djordjadze's work in Los Angeles
Exhibition investigates in depth the achievements of Jean (Hans) Arp
The Los Angeles County Museum of Art celebrates significant building project milestones


Installation view, Thea Djordjadze, 'if I were an early person', Sprüth Magers, Los Angeles, April 9 - June 1, 2019. Courtesy Sprüth Magers © Thea Djordjadze / VG Bild-Kunst, Bonn. Courtesy Sprüth Magers. Photography: Robert Wedemeyer.



LOS ANGELES, CA.- The work of Thea Djordjadze concerns itself, first and foremost, with the poetics and particularities of space. She combines a variety of artistic, industrial, and unconventional materials to produce works full of contrasts and complexity, which she puts into conversation with the architecture and atmosphere of her exhibition spaces through intimate, considered arrangements. Each of her projects is thus ephemeral in nature, open to future reconfiguration. Monika Sprüth and Philomene Magers are presenting the first solo exhibition of Djordjadze's work in Los Angeles, if I were an early person, which extends the artist's investigations into the ways in which context affects the viewing, understanding and experience of art. The core of the exhibition comprises a series of sleek steel vitrines, fronted with Plexiglas panes, which the artist originally designed for her 2017 project at the graphic arts collection of the Pina ... More



Jean (Hans) Arp, Marital Sculpture, 1937. Executed with Sophie Taeuber-Arp. Lathe-turned and sawed wood, 15 3/8 x 10 1/2 x 10 5/16 in. Stiftung Arp e.V., Berlin/Rolandswerth © 2019 Artists Rights Society (ARS), New York/VG Bild-Kunst, Bonn / © Jean Arp, by SIAE 2019. Photo: Delfanne Photography/ Stiftung Arp e.V., Berlin/Rolandswerth.



VENICE.- From April 13 through September 2, 2019 the Peggy Guggenheim Collection presents The Nature of Arp, curated by Catherine Craft and organized by the Nasher Sculpture Center, Dallas, first venue of the show. The Peggy Guggenheim Collection is particularly pleased to host the exhibition in light of their close relationship dating from 1995 when the Venice garden was named the Nasher Sculpture Garden in recognition of the Nashers' generous support towards its renovation. This exhibition investigates in depth the achievements of Jean (Hans) Arp (1886-1966), one of the most important and multifaceted artists of the modern era, whose experimental approach to creation, radical rethinking of traditional art forms, and collaborative proclivities resonate with the wide-ranging character of art today. Over ... More



Los Angeles County certifies Final Environmental Impact Report for the museum's Peter Zumthor-designed permanent collection building. Courtesy Atelier Peter Zumthor & Partner / The Boundary.



LOS ANGELES, CA.- The Los Angeles County Museum of Art announced this week that the County of Los Angeles Board of Supervisors has certified the Final Environmental Impact Report (FEIR) for the museum's new building for the permanent collection and approved the project. The Board of Supervisors also authorized the issuance of the $117.5 million balance on its $125 million contribution for the project. The new building, The David Geffen Galleries, is part of a long-term plan to expand and improve LACMA's galleries and public space. As the final component of a decade-long transformation of the campus that nearly doubled exhibition space, programs, and more than doubled attendance, the new building, which has approximately 110,000 square feet of galleries, will replace four aging buildings (Ahmanson, Art of the Americas, Hammer, and Bing). Composed of seven semi-transparent pavilions that support a single elevated, ... More
SP-Arte 15th edition welcomed 36,000 visitors
Victoria Miro opens a solo exhibition by NS Harsha featuring new and recent works
'Ai Weiwei. Resetting memories' opens at Museo Universitario Arte Contemporáneo


SP-Arte 15th edition welcomed 36,000 visitors and had a record number of artwork donations to museums and cultural institutions.



SAO PAULO.- SP-Arte closed its fifteenth edition on Sunday, 7 April, attracting 164 art and design exhibitors from 14 different countries to São Paulo's Bienal Pavilion. With works by over 2,000 artists, SP-Arte hosted 36,000 visitors during the five days of the event – a record number during its 15 years of existence. SP-Arte is delighted to confirm its 16th edition for next year's cultural calendar, which is set to take place from 1 to 5 April 2020. "Celebrating our 15th anniversary, this edition was very special to us and SP-Arte surpassed all expectations. Many galleries exceeded their sales goals and the outcome was very positive. Additionally, our record number of visitors is a reflection of how the wider public sees SP-Arte as an essential platform for culture in Brazil," comments Fernanda Feitosa, SP-Arte's founder and director. In its 15th edition, SP-Arte had a powerful donation programme, ... More



NS Harsha, Reclaiming the Inner Space, 2017 (detail). Aluminum composite panel mirror, aluminium, acrylic paint, carved teak wood elephants, found carton boxes, steel hooks and pellets, 365.8 x 1188.7 cm. 144 x 468 in © NS Harsha. Courtesy the artist and Victoria Miro, London/Venice. Photo: Mallikarjun Katakol.



LONDON.- One of the most acclaimed artists of his generation, NS Harsha draws on a broad spectrum of Indian painting traditions and popular arts, as well as the western canon, to create quietly philosophical works that reflect on structures, borders and barriers as a series of ever-shifting concepts. A focal point of this exhibition is the major work Reclaiming the Inner Space, 2017. This three-dimensional, wall-mounted work features a 'herd' of approximately 1400 hand-carved wooden elephants that appear to roam a plain made from recycled cardboard packaging, flattened and attached to acrylic mirror. While the elephants refer to the ornaments that one might find in Indian souvenir shops, they also recall the elephant processions of Dasara festivities in Mysore, the artist's ... More



Chinese contemporary artist and activist Ai Weiwei listens to a question during a press conference on his new exhibition at the University Museum of Contemporary Art (MUAC) in Mexico City on April 11, 2019. ALFREDO ESTRELLA / AFP.



MEXICO CITY.- Ai Weiwei. Resetting Memories explores the traumas of the experiences in both China and Mexico in a narrative that appeals to the obligation to construct social memory. Curated by Cuauhtémoc Medina, this exhibition brings together concerns represented by the destruction of cultural heritage and our relationship to our ancestors with the trauma that is the attack on the future, which supposes violence against young people. The shows presents the Wang Family Ancestral Hall (2015), the largest of the politically inflected readymades that define Ai Weiwei's work, and the most significant of his interventions into historical artifacts. It involves the ruined structure of the Wang clan's family temple, dating back to the Ming dynasty, 400 years ago. After the agrarian reform ... More
Hall Art Foundation opens exhibition of works by Jonathan Meese, Albert Oehlen and Daniel Richter
First ever exhibition to focus on the relationship between magic and psychology opens in London
Art Paris announces record attendance, a critical success and good sales results


Jonathan Meese, DAS Schlupfrige, wie EiVAMPYR "ich" raus… , 2008. Oil, mixed media on canvas, 82 ¾ x 55 in. (210 x 140 cm). Hall Collection. Courtesy Hall Art Foundation © the artist.



HOLLE.- The Hall Art Foundation is presenting a group exhibition, Jonathan Meese, Albert Oehlen, Daniel Richter: Works from the Hall Collection, being held at its Schloss Derneburg location. Organized in collaboration with the artists, the exhibition includes over fifty paintings, sculptures and works on paper by Jonathan Meese, Albert Oehlen and Daniel Richter from the Hall and Hall Art Foundation collections. Jonathan Meese's (b. 1970) multidisciplinary practice encompasses painting, drawing, sculpture, performance, writing, stage design, and directing within the fields of theater and opera. Using a lexicon of personal hieroglyphs mixed with historical, political and cultural references, Meese explores such themes as revolution, the failures of ideology, and the role ... More



Original artwork for magic trick advertisements, 20th century. © Wellcome Collection, object to be attributed to British Magic Museum.



LONDON.- From the seduction of the 19th-century séance through to the sensationalist stunts of contemporary mentalists, we cannot resist the lure of the seemingly impossible. But why? What can magic and conjuring tell us about the human mind? 'Smoke and Mirrors: The psychology of magic', a major new exhibition at Wellcome Collection, is the first ever to focus on the relationship between magic and psychology. It seeks the truth about deception, ask how bias and suggestion affect our senses and decisions, and consider what it is about the human condition that means many of us believe in magic and the supernatural, even in the face of logical explanations. Why are our senses so easily fooled? Why do we get a thrill from experiencing a simple trick? What has science and psychology learned from magic? 'Smoke and Mirrors' ... More



Art Paris 2018 © Marc Domage.



PARIS.- Playing host to 150 galleries from 20 countries from April 4th-7th 2019, the 21st edition of Art Paris received a record number of 63,257 visitors from 45 different countries, an 8% increase compared to 2018. There was a lot of enthusiasm for this 2019 edition that paid tribute to women artists and Latin America and it was apparent right from the opening night as some 18,575 guests descended upon the fair including numerous celebrities: actresses (Monica Bellucci, Gong Li, Catherine Frot), figures from the worlds of politics (Benjamin Griveaux, Brigitte Macron, Franck Riester) and business (Henri-François Pinault, Laurent Dassault), collectors, curators and museum directors (Caroline Bourgeois, Chris Dercon, Sandra Hegedus, Marin Karmitz, Laurent Lebon, Patricia Marshall, Suzanne Pagé and Alfred Pacquement to name but a few). The fair was also pleased to welcome 94 friends of museum groups and art circles ... More
Peana opens a solo exhibition presenting works by Tomás Díaz Cedeño
Bergman actress Bibi Andersson dies, aged 83
The Drawing Center opens an exhibition of works in multiple mediums


Tomás Díaz Cedeño, Usando este cuerpo, 2019. Concrete, copper, 110 x 80 x 50 cm. 43.3 x 31.4 x 19.6 in.



MONTERREY.- The proportion between the natural and the artificial, as well as the continuous interaction between empirical belief systems and scientific methodologies, constitute the central axis of the artistic production of Tomás Díaz Cedeño (Mexico City, 1983). "Using this body, thinking of the fountain." is part of this dichotomy, providing a compendium of seven sculptural installations whose physical approach is based on the artist's drawings and studies, transformed through the use of different materials, textures, objects and images that offer keys to reflect on the artist's relationship with three main arguments: landscape, architecture and textiles. What circumstances and attitudes can be adopted in favor of the guarantee of nature from the perception of the creative genesis? What relevance does this interaction acquire in the current local and international production? Díaz Cedeño appropriates these ... More



This file photo taken on November 24, 1981 in Paris shows Swedish actress Bibi Andersson. Swedish actress Bibi Andersson, best known for her roles in legendary director Ingmar Bergman's films, passed away on April 14, 2019 at age 83, her daughter Jenny Grede Dahlstrand told AFP. Philippe WOJAZER / AFP.



STOCKHOLM (AFP).- Swedish actress Bibi Andersson, best known for her roles in legendary director Ingmar Bergman's films, died on Sunday aged 83, her daughter Jenny Grede Dahlstrand told AFP. Andersson is perhaps best known for starring in many of Bergman classics including "The Seventh Seal" (1957), "Wild Strawberries" (1957) and "Persona" (1966). Andersson first started working with the director at the age of 15, when she was cast in several commercials for the Swedish soap brand "Bris", directed by Bergman. She received several awards including the Silver Bear for Best Actress at the Berlin international film festival in 1963 for her role in Vilgot Sjoman's "The Mistress" (1962). From early film credits in 1951, she continued working and starring in movies ... More



Huma Bhabha, Untitled, 2010. Ink on C-print. Courtesy of the artist and Salon 94, New York.



NEW YORK, NY.- As If: Alternative Histories from Then to Now opened in The Drawing Center's Lab gallery on April 12, 2019. The works in multiple mediums in this exhibition offer examples of how we might reimagine historical narratives in order to contend with the traumas of contemporary life. These works of consummate draftsmanship exemplify the skill of drawing and the imagination of artists at work turning fantasies into plausible realities—absurd, amusing, and sometimes terrifying. Whether exacerbating the contradictions of present society or imagining genuinely alternative utopias, the participating authors and artists traverse science fiction, popular culture, and genuine aesthetic thought-experiments. Spanning a historical era transformed by war, racial and economic inequity, authoritarianism, and the persistent fear of imminent apocalypse, these works offer alternative understandings of our present by rewiring the past. As If ... More
The Collection of Drue Heinz | A Legendary Patron of the Arts | Christie's
Flashback
On a day like today, French painter Odilon Redon was born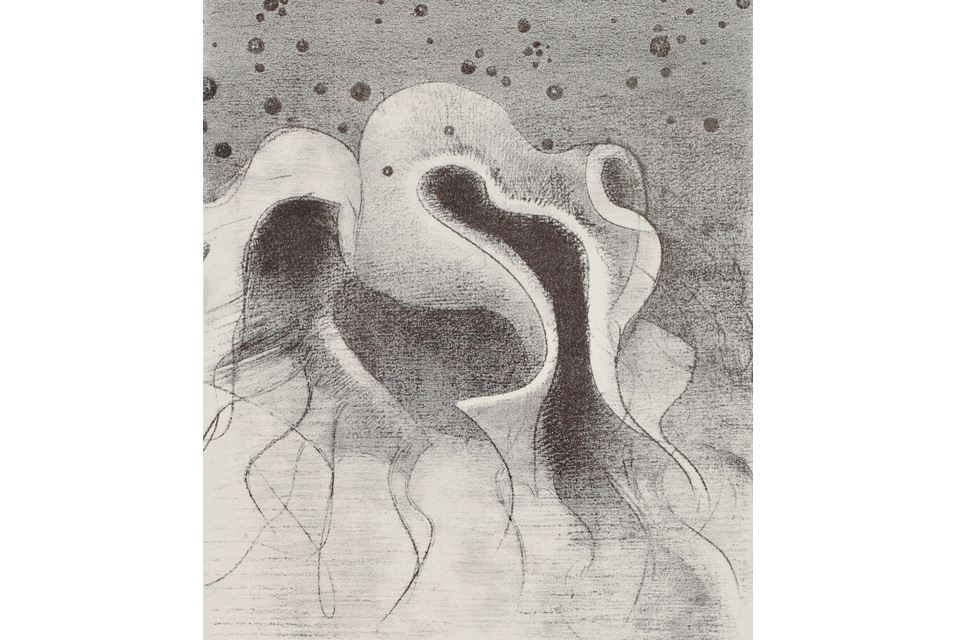 April 20, 1840. Odilon Redon (born Bertrand-Jean Redon (April 20, 1840 - July 6, 1916) was a French symbolist painter, printmaker, draughtsman and pastellist.In this image: Odilon Redon, The beasts of the sea, round like leather bottles, (detail). Plate 22 of The Temptation of Saint Anthony, 1896. Lithograph. The Kirk Edward Long Collection, 2010.60.22. Plate size: 8-3/4" x 7-1/2".
---

Museums, Exhibits, Artists, Milestones, Digital Art, Architecture, Photography,
Photographers, Special Photos, Special Reports, Featured Stories, Auctions, Art Fairs,
Anecdotes, Art Quiz, Education, Mythology, 3D Images, Last Week,
.
---
Royalville Communications, Inc
produces: