First retrospective in Europe for over 50 years of Lee Krasner opens in London
Lee Krasner : Living Colour. Installation View with Another Storm, 1963. Barbican Art Gallery 30 May – 1 September 2019 © Tristan Fewings/Getty Images.
LONDON
.-
Barbican Art Gallery
is staging the first retrospective in Europe for over 50 years of American artist Lee Krasner (1908 – 1984). One of the pioneers of Abstract Expressionism, Krasner made work reflecting the feeling of possibility and experiment in New York in the post-war period. Lee Krasner: Living Colour features nearly 100 works – many on show in the UK for the first time – from across her 50-year career, and tells the story of a formidable artist whose importance has often been eclipsed by her marriage to Jackson Pollock. The exhibition celebrates Krasner's spirit for invention – including striking early self-portraits; a body of energetic charcoal life drawings; original photographs of her proposed department store window displays, designed during the war effort; and her acclaimed 'Little Image' paintings from the 1940s with their tightly controlled ...
More
The Best Photos of the Day
Galerie Thaddaeus Ropac brings together 49 artists, some of whom have never been shown in the UK
World's most costly painting on Saudi prince's yacht: report
Exhibition is the first time that Picasso is exhibited in a dual dialogue with a female sculptor


Jean-Michel Basquiat, Self Portrait, 1983. Oil on paper and wood, 91.5 x 61 cm (36.0 x 24.0 in) (JMB 1018) Collection Thaddaeus Ropac.



LONDON.- Artists I Steal From is an exhibition about looking at art through the eyes of an artist. Artists have always borrowed from one another; however, few are as candid about their sources – about who they steal from and why – as the artist Alvaro Barrington (b. 1983, Caracas, Venezuela). The summer exhibition at Thaddaeus Ropac London brings together works by 49 artists, some of whom have never been shown in the UK before, some who are considered to be among the greatest artists of our time. All have directly influenced the way Barrington creates, thinks and sees, and all have perfected techniques or solutions that he has been inspired to 'steal'. "Artists always look at how other artists have solved the problems they are wrestling with, or have achieved the results they aspire to. The artists in this exhibition are those I look to, and steal from. It's the particular inventiveness of their ... More



Leonardo da Vinci (1452-1519), Salvator Mundi, c. 1500 Oil on walnut panel, 25 13/16 X 17 7/8 inches (65.6 X 45.4 cm) © 2011 Salvator Mundi llc. Photo: Robert Simon, Tim Nighswander.



WASHINGTON (AFP).- Since its sale for a record $450 million, the whereabouts of the "Salvator Mundi," said to be painted by Leonardo da Vinci, has become one of the art world's greatest mysteries. On Monday, London-based art dealer Kenny Schachter, writing for the website Artnews, offered answers: the painting now resides on the gargantuan yacht owned by powerful Saudi Crown Prince Mohammed bin Salman. Since its record-setting sale at Christie's in 2017, the painting, in which Jesus Christ is depicted emerging from darkness blessing the world with one hand while holding a transparent globe in the other, has never been exhibited in public, triggering doubts about its ownership, whereabouts and authenticity. Many art experts are split over whether the painting is genuine, saying it was not painted by the Italian ... More



Pablo Picasso, La Famille, 1970. Oil on canvas, 116 x 89 cm / 45 5/8 x 35 in. Private collection © Succession Picasso / 2019, ProLitteris, Zurich. Photo: Zarko Vijatovic.



ZURICH.- Hauser & Wirth Zürich is presenting 'Louise Bourgeois & Pablo Picasso: Anatomies of Desire' which opened during Zurich Art Weekend on 8 June 2019. The exhibition is the first time that Picasso is exhibited in a dual dialogue with a female sculptor and brings together over 90 works including paintings, sculptures and works on paper from important public institutions and private collections such as the Fondation Beyeler (Riehen/Basel), Nasher Sculpture Center (Dallas), and Kunstmuseum Den Haag (The Hague). Curated by highly renowned specialist Marie-Laure Bernadac, former curator at the Louvre, Musée Picasso (Paris), and Centre Pompidou, the exhibition is organised in close collaboration with the Louise Bourgeois Studio. The aim of the exhibition is to foster a discourse on the work of Bourgeois and Picasso ... More
Tanya Bonakdar Gallery opens Living in a Lightbulb: A two-part exhibition in NY and LA
Exhibition at Sprüth Magers presents an overview of Senga Nengudi's work
Leonardo da Vinci's notebooks displayed together in the UK for the first time


Installation view of Living in a Lightbulb, curated by Jenny Jaskey and Mia Locks, Tanya Bonakdar Gallery, New York, June 6–July 26, 2019. Photo: Pierre Le Hors Courtesy of the artist and Tanya Bonakdar Gallery, New York / Los Angeles.



NEW YORK, NY.- Tanya Bonakdar Gallery is presenting Living in a Lightbulb, curated by Jenny Jaskey and Mia Locks, a two-part exhibition in the gallery's New York and Los Angeles locations. Artists in the exhibition make use of light and heat —the sensoria of summer — to emphasize the slow, dynamic process of our encounter with these phenomena. Some artists employ sunlight as raw material to make images. Others point to the way energy directs and regulates time and behavior. Orienting sight, even survival, within the vagaries of the cosmos, "living in a light bulb" is a precarious and fundamentally interdependent proposition. Works in the New York exhibition include a site-specific installation by Bill Jenkins that redirects daylight from the gallery's front window to a back room. This sculpture of light ... More



Senga Nengudi, A.C.Q. III, 2016-2017 (detail). Refrigerator parts, nylon pantyhose 335,3 × 243,8 cm. 132 × 96 inches. © Senga Nengudi. Courtesy of the Artist, Sprüth Magers, Thomas Erben Gallery, and Lévy Gorvy.



LONDON.- The work of Senga Nengudi has been at the forefront of sculptural, performative, and photographic practices for over forty years. Using simple materials in innovative, unexpected ways, Nengudi's compositions evoke a rich array of references, from subtle allusions to the body, to feminist considerations of space and movement, to the confluence of different cultural and religious rituals. With equal parts rigor and grace, they encourage us to rethink our relationship to the people and world around us. Monika Sprüth and Philomene Magers are presenting an overview of Nengudi's work at Sprüth Magers, London, which has evolved from the artist's recent exhibition at Henry Moore Institute, Leeds, and highlights the scope of her wide-ranging, influential oeuvre. After ... More



Leonardo da Vinci: A Mind in Motion at the British Library.



LONDON.- Marking 500 years since his death, Leonardo da Vinci: A Mind in Motion at the British Library reveals how Leonardo believed motion to be the 'cause of all life'. Leonardo da Vinci is known first and foremost as an artist but the British Library's exhibition focuses on his notebooks and the unique and compelling insight they offer into the workings of his mind and his scientific investigations. Leonardo's notebooks reveal his close observations, detailed recording and systematic analysis of natural phenomena, with a particular emphasis on water in motion. Leonardo believed motion was a fundamental key to understanding the natural world and that water was the driving force of nature. The exhibition also looks at how the scientific exploration of nature and motion found in his notebooks, which will help visitors to see his famous paintings with fresh eyes. ... More
VOLTA opens its 15th Basel fair
Birds of a feather flock to Rago Auctions
Hauser & Wirth announces worldwide representation of Annie Leibovitz


Mio Yamato, exhibiting artist with Cohju Contemporary Art (Kyoto), performs a live painting action during the opening preview. Yamato collaborated with Aesop in a site-specific intervention at the skincare brand's Spalenberg Basel boutique.



BASEL.- VOLTA opened its 15th Basel fair on Monday with the mature triumvirate of quality: the artworks on view, the guests in attendance, and the sales recorded. Returning to Elsässerstrasse 215 for its second consecutive edition, near the Voltaplatz neighborhood and site of the inaugural VOLTAshow in 2005, VOLTA welcomed 1,800 visitors, retaining and reasserting its position as Basel's destination for new international art. "I'm especially thrilled at this year's fair, for a number of reasons, the first of which is that making it to 15 with this stellar turnout is extremely gratifying. We're still here—against many predictions—and stronger than ever, even after the unfortunate events surrounding our New York edition, which simply affirms how much trust there is in our brand from our gallerists, artists, and ... More



Martin Brothers, 13.75" Tall Wally Bird Vessel. Est. $50,000 - 75,000.



LAMBERTVILLE, NJ.- On September 21, 2019 Rago will bring to auction a fabulous and finely curated single-owner collection of Martin Brothers pottery. The 27-piece grouping, which includes over 20 single, double, and triple bird-form humidors and vessels, represents one of the largest single-owner collections of Martin Brothers ever offered at auction and comes to Rago via UK-based dealer, AD Antiques. Martin Brothers (1873 – 1923) was a London-based pottery manufacturer owned and operated by four brothers, Wallace, Walter, Charles, and Edwin, whose productions bridged the gap between the Victorian design sensibilities of the late 19th century and the English studio pottery movement of the early 20th century. Martin Brothers produced stoneware pottery, broadly referred to as Martinware, including bowls, vessels, tiles and novelties that were often rendered in a whimsical yet highly skillful style. While all Martinware is highly ... More



Self portrait of Annie Leibovitz. © Annie Leibovitz. Courtesy the artist and Hauser & Wirth.



NEW YORK, NY.- Hauser & Wirth today announced its exclusive worldwide representation of celebrated American photographer Annie Leibovitz. Following her early training at the San Francisco Art Institute, Leibovitz honed her talent into an acclaimed career in photojournalism and portraiture. Over the course of the past five decades, through a poetic body of far-reaching work Leibovitz has become an avatar of the changing cultural role of photography as an artistic medium. Her immense and varied output reveals a singular ability to merge the tactics of portraiture with profound humanism and sly wit. On the heels of a major survey of Leibovitz's early photographs presented at Hauser & Wirth Los Angeles this spring, the gallery will celebrate its representation of the artist by presenting a 63-part work by Leibovitz on its stand at Art Basel, opening 13 June. At almost two meters wide and one meter tall, 'Driving Series, ... More
Helmut Newton Foundation opens new exhibition
Superlative auction opening of Ketterer Kunst's anniversary year with Kandinsky record
Olana advances vision for the future by welcoming two new members to senior management team


George Holz, Madonna, Hollywood, 1983. © George Holz.



BERLIN.- A legendary photo book, a private photo collection, and three former assistants – these are the ingredients for the new exhibition at the Helmut Newton Foundation. Twenty years ago in 1999, TASCHEN published its first monumental art book: Helmut Newton's SUMO. It came out on the market in the exceptionally large format of 70 x 50 cm, with a large print run, all personally signed by the photographer, and was delivered with a metal stand designed by Philippe Starck. Later, a copy of SUMO that had been signed by numerous celebrities at a charity auction would become the most expensive book of the 20th century. Ten years ago in 2009, the Helmut Newton Foundation staged an unusual yet compelling exhibition dedicated to this legendary publication: all 464 pages of the book hung framed on the wall, side by side, in three rows one above the other. Exhibition visitors were literally able to see everything at once. T ... More



Robert Ketterer realizes the new record of € 2.5 million for a work by Wassily Kandinsky sold in the German language region.



MUNICH.- The seven auctions that opened the 65th Anniversary Year of Ketterer Kunst yielded total proceeds of more than € 28 million. It is both the house's best result ever realized in a spring sale, as well as the best result of the German auction season by far. While the magic € 100,000 line was reached or crossed 44 times last spring, a total of 55 six-figure results were accomplished this time. The undisputed star of both the Evening Sale and the German Auction Season is Wassily Kandinsky. He and Andy Warhol provided the only two results in the millions for the first term of the auction year 2019 in Germany. After the two Auctions of 19th Century Art and Rare Books had already provided excellent proceeds of more than € 3.3 million a couple of days earlier, the Auctions of Art of the 20th/21st Century made for the brilliant finale of the first part of the Anniversary Year by ... More



Will Coleman comes to Olana from the Newark Museum.



NEW YORK, NY.- The Olana Partnership announced the appointment of William L. Coleman as Director of Collections & Exhibitions, and, earlier this month, New York State Office of Parks, Recreation and Historic Preservation announced the appointment of Amy Hausmann as Director of The Olana State Historic Site. TOP welcomes Amy and Will, as key members of Olana's public-private senior management team. They will work to realize our shared vision to make Frederic Church's OLANA the most widely recognized artist's home and studio in the world, vibrant with the activity of visitors, students, scholars, and artists. Will Coleman comes to Olana from the Newark Museum, where he served as Associate Curator of American Art since 2017, with responsibility for that institution's world-class collection of 19th-century American paintings and sculpture. Among other projects, he made major acquisitions through gift ... More
How Monet's Garden Inspired His Greatest Achievement
Flashback
On a day like today, Dutch illustrator M. C. Escher was born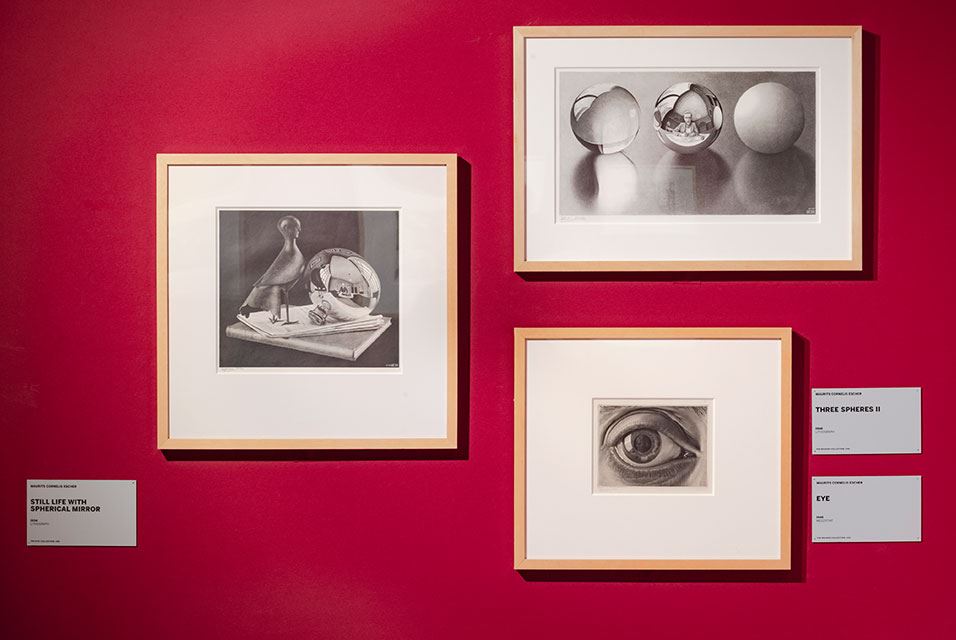 June 17, 1898. Maurits Cornelis Escher (17 June 1898 - 27 March 1972) was a Dutch graphic artist who made mathematically-inspired woodcuts, lithographs, and mezzotints. In this image: Installation view, ESCHER. The Exhibition & Experience at Industry City, June 8, 2018 - February 3, 2019. Photo by Adam Reich. Courtesy Arthemisia.
---

Museums, Exhibits, Artists, Milestones, Digital Art, Architecture, Photography,
Photographers, Special Photos, Special Reports, Featured Stories, Auctions, Art Fairs,
Anecdotes, Art Quiz, Education, Mythology, 3D Images, Last Week,
.
---
Royalville Communications, Inc
produces: