"Picasso to Hockney" explores visual artists' designs for performance
Rarely-seen scenic and costume designs will highlight innovative collaborations between modern artists such as Pablo Picasso, Henri Matisse, Fernand Léger, Natalia Gontcharova, Joan Miró, Robert Indiana, Louise Nevelson, Robert Wilson, and David Hockney and thought-provoking writers, musicians, directors, and choreographers of their day.
SAN ANTONIO, TX
.-
As museums expand their role in the world and cultivate new audiences,
The McNay
engages a broad spectrum of art, music, dance, and theatre lovers through its fall exhibition Picasso to Hockney: Modern Art on Stage. This presentation explores how visual artists designed for performance, challenged conventional theatre practices, and often redefined their own work in the process. "Picasso to Hockney reinforces the McNay's commitment to engaging absolutely everyone," said Richard Aste, McNay Director. "By defining the arts broadly to incorporate everything from painting to performance to fashion, we can speak to even more backgrounds, identities, and interests in our community and around the world." The unique exhibition features more than 100 unique artworks from one of the McNay's great strengths: the world-renowned ...
More
The Best Photos of the Day
Thief walks out of gallery with a $20,000 Salvador Dalí etching
Italy rejects bid to stop iconic Da Vinci loan to Louvre
The Morgan Library & Museum receives unparalleled collection of 18th-century French manuscripts and bindings


The artwork, a limited-edition hand-colored 1960s surrealist etching titled "La Girafe en Feu," or "The Giraffe on Fire," had been sitting on an easel at the gallery, Dennis Rae Fine Art, when it was taken Sunday.



SAN FRANCISCO (NYT NEWS SERVICE).- For an art heist, it was a simple affair. A man ducked into a San Francisco gallery and walked out less than a minute later holding one of its best pieces: a $20,000 Salvador Dalí etching. "I was alone at the gallery and turned my back for a minute, and when I looked, it was gone," Rasjad Hopkins, an associate director of the gallery, said Tuesday. "I never saw the person." The artwork, a limited-edition hand-colored 1960s surrealist etching titled "La Girafe en Feu," or "The Giraffe on Fire," had been sitting on an easel at the gallery, Dennis Rae Fine Art, when it was taken Sunday. Normally, the Spanish artist's work would be tethered to the easel, Hopkins said, but on the day of the theft it was not. A security camera in the gallery was not turned on at the time. But surveillance footage of the ... More



The sun sets behind the Pyramid of The Louvre Museum (Pyramide du Louvre) in Paris on July 3, 2019. Ludovic MARIN / AFP.



ROME (AFP).- An Italian court on Wednesday rejected a last-minute bid to halt the loan of Leonardo da Vinci's iconic Vitruvian Man drawing and other works to France's Louvre museum, ending a bitter cultural row. The court last week suspended the loan of the world famous artwork, due to appear later this month in an exhibition at the Paris museum to mark the 500th anniversary of the artist's death. It did so after the group Italia Nostra (Our Italy) filed a complaint saying the drawing was too fragile to travel. The drawing is insured for at least one billion euros, Italian media have said. The court in Venice cited "the exceptional global relevance of the (Louvre) exhibition and (Italy's) desire to maximise its heritage potential" in overturning the bid to stop the loan of several Da Vinci works. The Vitruvian Man is kept in a climate-controlled vault in the Accademia Gallery in Venice and is rarely displayed to the public. ... More



Binding by Jacques-Antoine Derome for Marie Leczinska, with the queen's arms under mica. Le Pseautier de David, traduit en francois, avec des notes courtes, tirées de S. Augustin, & des autres Peres. Nouvelle edition, Paris: Chez Louis Josse et Charles Robustel, 1725. W 1028. Photo: Janny Chiu, 2019.



NEW YORK, NY.- The Morgan Library & Museum announced today the acquisition of an unparalleled collection of eighteenth-century French manuscripts and bindings bequeathed earlier this year by Mrs. Jayne Wrightsman in honor of her dear friend and longtime Morgan board member Mrs. Annette de la Renta. This gift builds on J. Pierpont Morgan's original holdings and complements other important collections, such as the French illustrated books bequeathed to the Morgan by Gordon N. Ray and the French literary classics donated by the Heineman Foundation. Beginning in the late 1960s, Jayne Wrightsman assembled one of the greatest collections of eighteenthcentury French bindings in private hands, perhaps second only to the Rothschild Collection at Waddesdon Manor. Her achievements ... More
Vivid gladiator fresco discovered at Pompeii
Emilie Gordenker appointed General Director of the Van Gogh Museum
Beverly Sackler, 95, dies; Philanthropist and Purdue Pharma director


It was found in what excavators believe was a basement room. PRESS OFFICE OF THE POMPEI ARCHAEOLOGICAL PARK/AFP / Handout.



ROME (AFP).- A vivid fresco depicting an armour-clad gladiator standing victorious as his wounded opponent stumbles gushing blood has been discovered in the ancient Roman city of Pompeii, Italy's culture ministry said Friday. The striking scene in gold, blue and red was uncovered in what experts think was a tavern frequented by gladiators, who fought each other, prisoners and wild animals for the public's entertainment. "We do not know how this fight ended. Gladiators were killed or shown mercy," Pompeii's director Massimo Osanna said. A "Murmillo" fighter wearing a plumed, wide-brimmed helmet with visor, holds aloft his large rectangular shield in his left hand, as he grips his short sword in the right.
On the ground next to him lies the shield of the defeated "Thraex", who has suffered deep wounds and is on the point of collapse. "What is particularly interesting is the extremely realistic representation of the wounds, such as the one on the wrist and chest ... More



Emilie Gordenker (1965, Princeton, New Jersey, United States) has been Director of the Mauritshuis since 2008. Photo: Frank van der Burg.



AMSTERDAM.- The Supervisory Board of the Van Gogh Museum announced today that Emilie Gordenker has been appointed General Director of the Van Gogh Museum. As of 1 February 2020 she will succeed the former General Director Axel Rüger, who is – as of 1 June 2019 - Secretary and CEO at the Royal Academy of Arts in London. Emilie Gordenker: 'After 12 wonderful years at the Mauritshuis, it is time for a new challenge. I am absolutely thrilled to move to the Van Gogh Museum. It will be an honour to lead such a successful museum and I look forward to build on that success in the future. The Mauritshuis, its collection, its building and its staff will always have a special place in my heart.' Emilie Gordenker (1965, Princeton, New Jersey, United States) has been Director of the Mauritshuis since 2008. She holds a B.A. in Russian and East European Studies (Yale University) and a Ph.D. in the History of Art, specialising in 17th-centu ... More



In this file photo a visitor to the Arthur M. Sackler Gallery looks at portrait of China's Empress Dowager Cixi in Washington, DC on March 26, 2019. MANDEL NGAN / AFP.



NEW YORK, NY (NYT NEWS SERVICE).- Beverly Sackler, a philanthropist and matriarch of the family that owns Purdue Pharma, whose painkiller OxyContin has been blamed for the opioid epidemic, died on Monday. She was 95. Her death was disclosed in a legal filing by Purdue Pharma's lawyers in U.S. Bankruptcy Court, where last month state and local jurisdictions and other plaintiffs reached a settlement that would require the family to relinquish the company and pay at least $3 billion in claims. Purdue Pharma filed for bankruptcy; suits from 25 states are pending. Last week a judge in bankruptcy court in White Plains, New York, citing the mounting legal costs, ordered a pause in those states' action and urged the parties to work toward a compromise. Sackler had been a board member of Purdue Pharma since 1993. The court filing did not say where she died, give the cause of death or list her survivors. ... More
Celebrating 30 years ahead of the curve in art
Sotheby's to offer Judaica from the Arthur and Gitel Marx Collection
The British Museum and Google Arts&Culture bring the museum's Maya collections to a wider audience


ZKM | Center for Art and Media Karlsruhe, Photo: Uli Deck.



KARLSRUHE (NYT NEWS SERVICE).- Many of the artworks at ZKM are not so much viewed as braved. One installation on show at the interdisciplinary center for arts and technology is designed to trick visitors into thinking there are security cameras filming inside the bathrooms. (There are not.) But the illusion of surveillance, part of the "Safe Zones" series by artist Jonas Dahlberg, sets the tone for a visit to ZKM, a thrillingly destabilizing institution that smudges the boundaries between life and art. ZKM, which has a reputation for spotting new and risky ideas, promoted, collected and exhibited digital and interactive art long before most major museums did. This year, the institution is celebrating 30 years of being ahead of the curve. Housed in a former munitions factory in the small German city of Karlsruhe, ZKM contains an art museum, a research and development arm, a publishing operation, and a conservation studio ... More



The Marx collection is led by Isidor Kaufmann's painting of the Son of the Miracle-Working Rabbi of Belz (estimate $550/750,000). Courtesy Sotheby's.



NEW YORK, NY.- Sotheby's announced that they will present Sacred Splendor: Judaica from the Arthur and Gitel Marx Collection in a dedicated auction on 20 November in New York. The exceptional and rare objects that comprise the Marx Collection illustrate the expansiveness of Jewish history from the 15th century through the 20th century across Europe, the Middle East, North Africa and the Americas. The approximately 300 lots in the auction – comprising Judaica books and manuscripts, paintings and metalwork – touch every aspect of Jewish life and constitute one of the most significant collections to come to market in the past two decades. Carefully assembled over five decades, the Marx Collection began as one of Judaica silver and paintings, and expanded into an ever-widening search for Jewish books and manuscripts of the utmost rarity. The result is a wide- ... More



Chichen Itzá in Mexico © Trustees of the British Museum.



LONDON.- Today sees the launch of the final stage of the British Museum's collaboration with Google Arts and Culture to digitise and disseminate the Ancient Maya collection of Alfred Maudslay. This important collection is made up of photographs, casts and related documents created during early archaeological research at Maya sites in the late 19th century. In cooperation with colleagues from the Mexican National Institute of Anthropology and History (INAH) people can now virtually explore the Maudslay collections and better understand the sites from which they came. The dedicated project page on Google Arts and Culture showcases special content with a series of online stories presenting the work of the project, the life of Victorian explorer Alfred Maudslay, and the contemporary context of the British Museum's Maya collections more broadly. Alongside these, new Virtual Reality Poly Tours are available, which ... More
Jackie Kennedy's vacation memories on the auction block
Christie's to offer David Hockney's Sur la Terrasse, 1971 unseen by the public for 46 years
Work by visionary Natalia Goncharova leads Bonhams Russian sale


In India, crowds gathered to see Kennedy in Jaipur, New Delhi and Fatehpur Sikri. © Christie's Images Ltd 2019.



NEW YORK, NY (NYT NEWS SERVICE).- When Jacqueline Kennedy and her younger sister, Lee Radziwill, began a tour of India and Pakistan in March 1962, the first lady was described in Life magazine as "arguably the most famous woman in the world." In India, crowds gathered to see Kennedy in Jaipur, New Delhi and Fatehpur Sikri. In Pakistan, she was welcomed by people lining the streets of Lahore, Karachi and the Khyber Pass. The sisters spent two weeks in the countries and were photographed riding camels and elephants, on a boat ride along the Ganges, at a horse and cattle show and at black-tie dinners with politicians, diplomats and other dignitaries. Beginning Friday, Radziwill's personal photo albums of the trip will be on display at Christie's New York, a week ahead of an auction of jewelry, fine art, books, decorative arts and other memorabilia (including the albums) from her home in New ... More



David Hockney, Sur la Terrasse, 1971 (Estimate: $25-45 million). Now on view to the public at Christie's Los Angeles for the first time since 1973. © Christie's Images Ltd 2019.



NEW YORK, NY.- On November 13, Christie's will offer David Hockney's Sur la Terrasse, 1971 ($25-45 million) as a central highlight of its Evening Sale of Post-War and Contemporary Art. A glowing sun-drenched vision rendered on a spectacular life-sized scale, Sur la Terrasse stands among David Hockney's most poignant works. Begun in March 1971, and completed that summer, it was painted during the decline of his relationship with Peter Schlesinger: his first love and greatest muse. This turn of events became a milestone in the artist's personal life, precipitating an intense period that resulted in heart-wrenching expression in his paintings. The present work has occupied a single private collection for nearly half a century and has never appeared at auction. On October 15, Sur la Terrasse will go on view at Christie's Los Angeles, marking the first time ... More



Detail of Landscape Birch Trees by Natalia Goncharova (Russian, 1881-1962) Estimate: £120,000 -150,000. Photo: Bonhams.



LONDON.- A rare early work by Natalia Goncharova (Russian, 1881-1962) Landscape Birch Trees estimate: £120,000-150,000 will lead Bonhams Russian sale on 27 November in London. Goncharova's work, which dates from her Moscow period, will be offered alongside a later painting by her husband Mikhail Fedorovich Larionov (Russian/ French, 1881-1964); Portrait of a Lady, estimate: £20,000-30,000. Both works are from the same private collection. Natalia Goncharova was a visionary who challenged artistic, social and gender conventions. Alongside her life-long partner, Larionov, she was one of the leaders of the Russian avant-garde. Her artistic output was exceptionally wide-ranging - from parading the streets of Moscow in Futurist body paint, to designing costumes and book covers. In 1913, at only 32, she had her first solo exhibition in Moscow, displaying a diverse collection of more than 800 works. This led Larionov ... More
Betye Saar: The Legends of Black Girl's Window | MoMA EXHIBITION
Flashback
On a day like today, Italian painter Cristofano Allori was born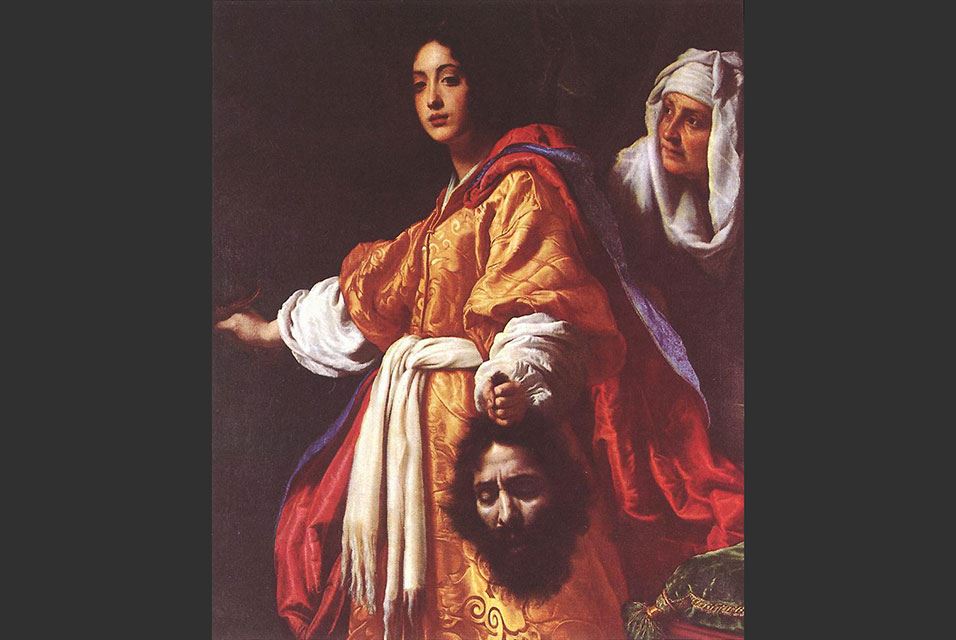 October 17, 1577. Cristofano Allori (17 October 1577 - 1 April 1621) was an Italian portrait painter of the late Florentine Mannerist school. Allori was born at Florence and received his first lessons in painting from his father, Alessandro Allori, but becoming dissatisfied with the hard anatomical drawing and cold coloring of the latter, he entered the studio of Gregorio Pagani, who was one of the leaders of the late Florentine school, which sought to unite the rich coloring of the Venetians with the Florentine attention to drawing. Allori also appears to have worked under Cigoli. In this image: Judith with the Head of Holofernes (1613). Oil on canvas, 139 x 116 cm. Galleria Palatina (Palazzo Pitti), Florence.
---

Museums, Exhibits, Artists, Milestones, Digital Art, Architecture, Photography,
Photographers, Special Photos, Special Reports, Featured Stories, Auctions, Art Fairs,
Anecdotes, Art Quiz, Education, Mythology, 3D Images, Last Week,
.
---
Royalville Communications, Inc
produces: