Exhibition presents the most outstanding works from the Princely Collections
Quentin Massys der Ältere, The Tax Collectors, late 1520s (detail). Oil on panel © LIECHTENSTEIN. The Princely Collections, Vaduz–Vienna.
VIENNA
.-
On the occasion of the 300th anniversary of the founding of the Principality of Liechtenstein in 2019, the
Albertina Museum
is presenting a comprehensive selection of the most outstanding works from the Princely Collections under the title From Rubens to M akart. The museum is also devoting a simultaneous, separate jubilee exhibition to the Viennese watercolor, an important and central category of works within the Princely Collections, in an exhibition entitled Rudolf von Alt and his Time. Well over 100 of the most important paintings and sculptures from the exquisite collection of this family, rich in tradition like few others in Europe, span an impressive range from the Early Renaissance in Italy to the Baroque period, from Viennese Biedermeier to the historicism of the Makart era. Iconic works such as Antico's Bust of Marcus Aurelius, which was acquired for the Princely Collections just recently, the life-size bronze sculptures o ...
More
The Best Photos of the Day
Monet and Pissarro's fascination with a changing Paris revealed at Art Gallery of Ontario exhibition
Sotheby's to offer Rothko painting on behalf of SFMOMA this May in New York
New Jenness Cortez exhibition pays homage to Johannes Vermeer and Childe Hassam


Maximilien Luce, Factory in the Moonlight, 1898. Courtesy of the AGO.



TORONTO.- Pulsing with life, Paris in the 1870's was transforming – thanks to wider streets, increased traffic, an explosion of factories in the suburbs, and faster and more frequent steam-powered trains. No one in France was immune to the rapid pace of change, least of all artists. This winter the AGO presents a groundbreaking new exhibition, exploring how French Impressionist artists and their contemporaries, famous for their lush landscapes and sea vistas, were equally obsessed with capturing the spirit of the industrial age. Impressionism in the Age of Industry: Monet, Pissarro and More features over 120 artworks, including numerous loans from across Europe and North America. The exhibition is curated by Dr. Caroline Shields, Assistant Curator, European Art. "This exhibition invites us to journey ... More



Mark Rothko, Untitled. Oil on canvas, 69 by 50 1/8 in. 175.26 by 127.33 cm. Executed in 1960. Estimate $35/50 million © 1998 Kate Rothko Prizel and Christopher Rothko / Artists Rights Society (ARS), New York.



NEW YORK, NY.- Sotheby's announced that they will offer Mark Rothko's Untitled, 1960 on behalf of the San Francisco Museum of Modern Art (SFMOMA) this May in New York, sold to benefit the institution's Acquisitions Fund. An important work completed at the apex of Rothko's artistic powers, Untitled, 1960 is one of just 19 paintings completed by the artist in 1960. This year marks a critical juncture in the iconic Abstract Expressionist's career, following his defining commission of the Seagram Murals (1958-59) and his representation of the United States in the XXIX Venice Biennale (1958) – organized by the Museum of Modern Art, New York, which would subsequently hold Rothko's first and only major lifetime ... More



"Alluring" by Jenness Cortez.



NAPLES, FLA.- A new exhibition by internationally acclaimed painter Jenness Cortez will honor a group of illustrious artists including Johannes Vermeer, Pierre-Auguste Renoir, John Singer Sargent, Childe Hassam and Winslow Homer. On view February 17 through March 8, 2019 at the Harmon-Meek Gallery in Naples, Florida, this one-person show represents the latest installment in the Cortez series of thought-provoking paintings depicting art in art. Historically, the tradition of "art in art" was most notably employed by such 17th-century Dutch artists as Johannes Vermeer. In her own painting "Alluring," Cortez pays homage to the genius of Vermeer by incorporating his iconic "Girl with a Pearl Earring" into her own original composition. In "Alluring" Cortez continues to reexamine the classic paradox of realism: the painting both as a "window" into an imagined space ... More
LACMA opens the first major exhibition of the artist Charles White in over 30 years
Christie's France announces highlights included in the Impressionist and Modern Art Sale
Thames & Hudson publishes 'Seven Keys to Modern Art' by Simon Morley


Charles White, Sojourner Truth and Booker T. Washington (Study for Contribution of the Negro to Democracy in America), 1943, pencil on illustration board. 37 × 27 1/2 in., collection of the Newark Museum, purchase 1944 Sophronia Anderson Bequest Fund, © The Charles White Archives, photo courtesy Michael Rosenfeld Gallery LLC, New York.



LOS ANGELES, CA.- The Los Angeles County Museum of Art presents the West Coast premiere of Charles White: A Retrospective, the first major exhibition of the artist Charles White (1918–1979) in over 30 years. Charles White created powerful interpretations from African American history and culture throughout his 40-year career. A gifted draftsman and printmaker as well as a talented mural and easel painter, White almost exclusively portrayed black subjects. A lifelong social activist, he championed racial pride and condemned the institutionalized racism faced by African Americans in all areas ... More



Leading the sale is an impressive Projet pour un monument à Gabriel Péri by Alberto Giacometti (1901-1966), conceived in 1946 and estimated at €1,200,000 - 1,500,000. © Christie's Images Ltd 2019.



PARIS.- The Impressionist and Modern Art department will host its next sale on Friday March 29th. Around 100 works of art will be offered at auction which will take place during the Salon du Dessin (that will be held from Wednesday March 27th to Monday April 1st). This sale will occur in parallel with the Old Master Drawings and the Impressionist and Modern Works on Paper auctions, which both include a selection of works from the remarkable collection of Jean Bonna. Led by a seminal sculpture by Alberto Giacometti, and a 1917 oil on canvas by Pablo Picasso, this auction will offer artworks from all the main artistic movements of the turn of the 20th century such as Impressionism, Fauvism, Divisionism, Pointillism, Nabis, ... More



Seven Keys to Modern Art by Simon Morley, published by Thames & Hudson. Price: £19.95 hardback.



LONDON.- Seven Keys to Modern Art explores modern and contemporary masterpieces – from Matisse's Red Studio to Louise Bourgeois' Maman – in terms of seven different approaches: Historical, Biographical, Aesthetic, Experiential, Theoretical, Skeptical and Market. Together, these 'keys' represent different ways of looking at the same work of art. The goal of this innovative new illustrated publication is to suggest that there is never a 'right' way to understand a work of art: the richly varied, and sometimes contradicting, approaches presented through the seven 'keys' invite active collaboration in an on-going process of understanding and appreciation. Rather than proceeding on the basis of art 'movements' or individual artist's careers, Simon Morley focusses on only twenty works of art. Each chapter begins with ... More
New Bouguereau exhibition at Milwaukee Art Museum explores artist's popularity in Gilded Age America
Stedelijk Museum Schiedam opens an extensive retrospective of Piero Manzoni's work
Swiss actor Bruno Ganz, who played Hitler, dies at 77


William Adolphe Bouguereau (French, 1825–1905), Portrait of Frances and Eva Johnston, 1869. Oil on canvas, 40 × 31 7/8 in. (101.6 × 80.96 cm) Private Collection California.



MILWAUKEE, WIS.- The work of French academic painter William-Adolphe Bouguereau (1825–1905), who enjoyed remarkable popularity throughout America's Gilded Age, is the focus of a new exhibition co-organized by the Milwaukee Art Museum and the Memphis Brooks Museum of Art. Bouguereau & America is the first major exhibition of the artist's work in nearly 30 years. "Bouguereau is a defining figure in the history of French art, and an extraordinary painter whose masterful canvases evoke delight and wonder. In addition to that, however, Bouguereau's work can teach us much more," said Tanya Paul, Isabel and Alfred Bader Curator of European Art, Milwaukee Art Museum and co-curator of the exhibition. "The story of Bouguereau is the story of the way art rises and falls in popularity; the role dealers, collectors and patrons play in shaping art and taste; and, in many ways, the way art was collected as members ... More



Piero Manzoni, Merda d'Artista n. 63, 1961. Fondazione Piero Manzoni, Milano. ® Fondazione Piero Manzoni. Fotografie Agostino Osio © Pictoright Amsterdam 2019.



SCHIEDAM.- Why use paint when there are so many other materials? So Piero Manzoni did the latter. In the sixties he made art with his breath, canned his own crap, autographed bodies and invited people to stand on a pedestal. On that magic plinth everyone became a work of art, a living sculpture. His revolutionary approach made him one of the great innovators of the 20th century and his can of crap became an icon of avant-garde art. Manzoni (1933-1963) died of a heart attack at the age of 30. For the first time in this country in 50 years the Stedelijk Museum Schiedam presents an extensive retrospective of his work under the title Manzoni in Holland. Not only does the exhibition - from 16 February to 2 June 2019 – examine his artistic development, but Manzoni's collaboration with artists in the Netherlands and other countries also receives ample treatment. An exceptional feature is that visitors are welcome to stand ... More



In this file photo taken on February 02, 2014 Swiss actor Bruno Ganz poses with his prize during the awarding ceremony of the 49th Golden Camera in Berlin. BRITTA PEDERSEN / POOL / AFP.



GENEVA (AFP).- Bruno Ganz, the Swiss actor who gave masterful performances as Adolf Hitler in "Downfall" and an angel seeking mortality in divided Berlin, died Saturday aged 77, his agent said. Ganz, who was suffering from cancer, died "in the early hours of the morning" at his home in Zurich, the agent said. Considered one of the greatest German-speaking actors in the post-World War II era, Ganz had a distinguished career on screen and stage before his 2004 appearance in "Downfall", which unfolds over the final, suffocating days inside Hitler's underground bunker. For many critics, his nuanced portrayal of the fascist tyrant that veers between explosive and sombre was unparallelled. Hitler is a figure that German-speaking actors have historically been reluctant to take on and the Zurich-born Ganz conceded that being Swiss provided a necessary buffer. Ganz won acclaim, and some criticism, ... More
David Moreno opens his first solo show in Paris at Danysz Gallery
Parrasch Heijnen Gallery opens an exhibition of new works by New York-based artist Alteronce Gumby
Drama on fractured Israeli identity scoops Berlin filmfest top prize


David Moreno, Floating favelas V, 2019. Carbon Steel, Silver, Paint, 17 x 11 x 25. Unique artwork.



PARIS.- Danysz gallery's latest discovery, the young Barcelona artist David Moreno, creates delicate floating cities composed of steel rods and piano strings. From February 16th, Moreno presents his first solo show in Paris at Danysz Gallery. Moreno's works are light and seem to float in the air, as if they were levitating against the wall. His work is meticulous : each line is welded with finesse and precision. The piano strings blend with the metal rods in a clever balance between flexibility of the curve and straightness of the structure. Depending on the perspective, the lines are either crossing or simply juxtaposed. Moreno shares that through his art he "aims at drawing sculpture". Moreno strongly believes that sketch and sculpture are similar ; he creates fully graphic three-dimensional works that could be reminiscent of architects' sketches. He uses metal as one would use pencil to draw on paper, yet adding a third dimension ... More



Installation view.



LOS ANGELES, CA.- Parrasch Heijnen Gallery is presenting Alteronce Gumby / Al Loving: Catching the Holy Ghost, an exhibition of new works by New York-based artist Alteronce Gumby (b.1985, Harrisburg, PA) in direct conversation with historic paper collage material from 1976 to 1993 by the late Abstract Expressionist painter Al Loving (b. 1935, Detroit, MI, d. 2005, New York, NY). Alteronce Gumby paints dynamic works subverting traditional understanding of light and color through nuanced application of pigment applied to his surfaces directly with his palms and fingers. The artist's intensely textured works balance shadow with light and form with material. Using nonobjective expression, Gumby's ethereal objects are abstractions of emotions given tangible form where colors vanish and reappear. The lustrous tetraptych paintings are filled with subtle distinctions in color with each added shade mirroring unique moments that become part o ... More



Israeli director Nadav Lapid poses with the Golden bear for best film for "Synonymes" during a press conference following the awards ceremony of the 69th Berlinale film festival on February 16, 2019 in Berlin. Odd ANDERSEN / AFP.



BERLIN (AFP).- A critical drama about an Israeli expatriate in Paris wrestling with his identity, "Synonyms" by director Nadav Lapid, won the Golden Bear top prize at the Berlin film festival Saturday. Lapid said the sexually explicit, semi-autobiographical movie, which deals with a young man who has fled Israel over its fraught political situation, might "scandalise" many in his home country as well as France. "I hope that people will not look only at this film as a kind of harsh or radical political statement because it's not," he told reporters after accepting the prize from jury president Juliette Binoche. "First of all, it's a human and existential and artistic statement. The film is also a celebration and a party, a celebration of cinema." The runner-up jury prize went to French filmmaker Francois Ozon ... More
First Look: Mark Rothko at the Apex of his Career
Flashback
On a day like today, German-American painter Hans Hofmann died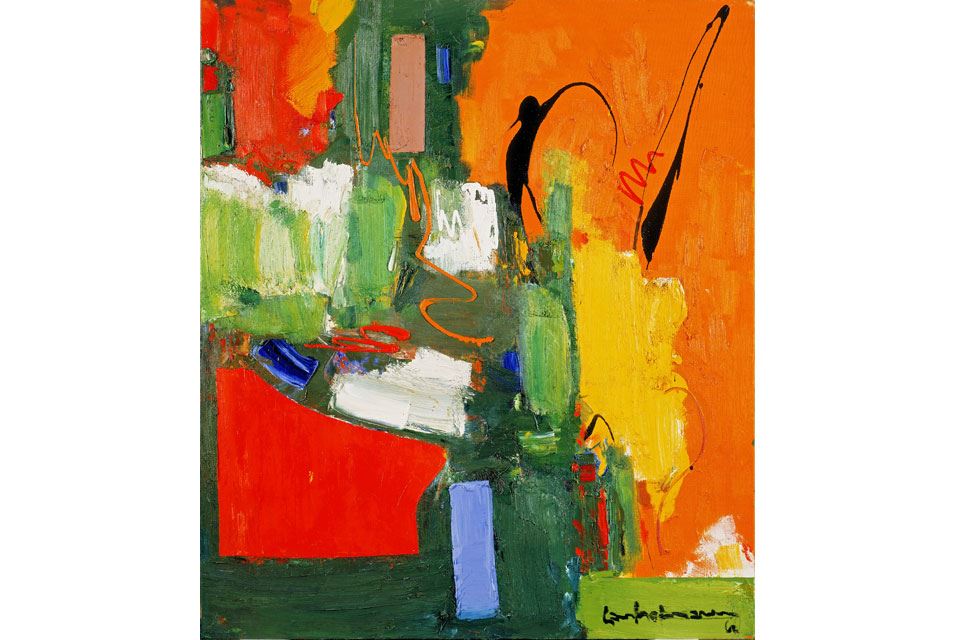 February 17, 1966. Hans Hofmann (March 21, 1880 - February 17, 1966) was a German-born American abstract expressionist painter. Hofmann's art work is distinguished by a rigorous concern with pictorial structure, spatial illusion, and color relationships. He was also heavily influenced in his later years by Henri Matisse's ideas about color and form. In this image: Hans Hofmann, The Lark, um 1960. Öl auf Leinwand, 152,7 x 133 cm. University of California, Berkeley Art Museum und Pacific Film Archive. Schenkung von Hans Hofmann, 1965 © JPMorgan Chase Bank, N.A., and Patricia A. Gallagher, Trustees of the Renate, Hans and Maria Hofmann Trust.
---

Museums, Exhibits, Artists, Milestones, Digital Art, Architecture, Photography,
Photographers, Special Photos, Special Reports, Featured Stories, Auctions, Art Fairs,
Anecdotes, Art Quiz, Education, Mythology, 3D Images, Last Week,
.
---
Royalville Communications, Inc
produces: