National Gallery of Denmark features finest of Danish painting from 1807-1864
Frederik Vermehren, A Jutland Shepherd on the Moors, 1855 SMK.
COPENHAGEN
.-
The Danish Golden Age of art is currently attracting plenty of attention from museums and art collectors all over the world, and paintings from the period are fetching large amounts at auctions in Denmark and abroad. From August 2019,
SMK
will welcome visitors to the largest exhibition – supported by two foundations – ever staged about the Golden Age of Danish art. The exhibition will offer opportunities for revisiting familiar classics and discovering rarely shown works. N.F.S. Grundtvig, Hans Christian Andersen, Johanne Louise Heiberg and Sřren Kierkegaard. Even though Denmark's very existence was threatened on several occasions during the nineteenth century, the period also brought forth some of Denmark's greatest cultural figures ever, becoming one of the most creative eras in Danish art and culture. We got a Danish Golden Age. And in many ways, the artists of the Golden Age created the image of Denmark and Da ...
More
The Best Photos of the Day
Royal Ontario Museum celebrates opening of Bloor St Terrace and Plaza
Two breakthrough sculptors intertwine at Boca Raton Museum of Art
Exhibition brings together twenty mid- to large-scale works from the 1970s to the present by Lynda Benglis


The Helga and Mike Schmidt Performance Terrace and Reed Family Plaza. Photo: Matt Forsythe © Matt Forsythe Photography.



TORONTO.- Today, the Royal Ontario Museum opened the Helga and Mike Schmidt Performance Terrace and the Reed Family Plaza to the public, offering a new way for visitors to enjoy the ROM. The Museum's new terrace and plaza on Bloor Street, overlooking Philosopher's Walk, feature a welcoming place to gather with garden-side seating and an open-air space for music, theatre, discussion, and performances. This revitalization project was generously made possible by lead donors Helga Schmidt and her late husband Mike Schmidt, and Nita and Don Reed. Additional generous donations were made by Hatch, Nancy Lockhart and the late Murray Frum, Richard Wernham and Julia West, and Flavia Redelmeier. The opening of the Museum's new outdoor spaces is part of the ROM's larger strategic vision to create an engaging streetscape and greater access, while enhancing the ROM's role as a cultural and community anchor. The initiative ... More



Michael Dean, LOLLOLLOL (working title), 2018, Concrete, steel reinforcement, plastic, padlocks, bike locks, cable ties, publications, stickers, grass. Courtesy of the artist, Andrew Kreps, New York; Herald St, London and Mendes Wood, Săo Paulo. Photography: Kevin Todor.



BOCA RATON, FLA.- The exhibition Contemporary Sculpture: Sam Anderson and Michael Dean features two breakthrough contemporary sculptors presented by Boca Raton Museum of Art. Featuring evocative works that are actively in sync and play off each other, the exhibition was curated by the Museum's Assistant Curator, Lanya Snyder and is on view now through October 6th. Bonded through unspoken language, these two artists form a complex relationship that synthesizes within the Museum's gallery. Although the works were created by two artists with different trajectories, shown together these works powerfully engage to create the effect of viewing a dynamic dialogue. The works of the two artists, juxtaposed to one another cause a swirling experience of sculpture: 13 works by American artist Sam Anderson ... More



Lynda Benglis, Siren, 1978. Chicken wire, cotton bunting, plaster, gesso, oil based size, gold leaf, 58" × 19-3/4" × 9-3/4" No. 71530. Photo courtesy Pace Gallery © 2019 Lynda Benglis / Artists Rights Society (ARS), New York.



PALO ALTO, CA.- Pace Gallery is presenting Lynda Benglis, on view from August 21 to October 23, 2019, the artist's first exhibition with the gallery since joining in January this year. Bringing together twenty mid- to large-scale works from the 1970s to the present, this exhibition highlights Benglis's ceaseless investigation of materiality, form, and weight throughout her highly prolific career. Ranging from her earlier use of latex, foam, and aluminum to her more recent investigations with polyurethane, bronze, and handmade paper, the works in this exhibition provide an overview of Benglis's expansive creative output, showcasing her voracious ability to push the boundaries of sculpture time and time again. In conjunction with her exhibition at Pace, on October 22, 2019, Benglis will participate alongside writer, curator, and activist Kimberly Drew as part of Stanford University's ... More
New book offers a treasure trove of 100 carefully selected letters written by great artists
Newcomb Art Museum opens two exhibitions examining environmental pollution across America
On September 8, 'Rembrandt to Yoshida ' goes up for vid at Turner Auctions + Appraisals


Rembrandt van Rijn (1606–69) to Constantijn Huygens.



LONDON.- An Artists' Letters (White Lion Publishing | October 1, 2019 | $30) is a treasure trove of 100 carefully selected letters, written by great artists, providing the read with a unique insight into their characters and a glimpse into their lives. Arranged thematically, it includes writings and musings on love, happiness, work, daily life, money, travel and the creative process, and shows us the treasures to be found in a simple letter. On the theme of friendship, letters provide evidence of a creative community between peers, with support and mutual appreciation that helps to dispel the myth of the artist as solitary genius. Letters between Vincent van Gogh and Pail Gauguin show an ongoing conversation and exchange of ideas. Mutual admiration between Claude Monet and Berthe Morisot, and Picasso's quick notes to Jean Cocteau illustrate their closeness. Correspondence ... More



Hannah Chalew, Abundance Undermined, 2019. Iron oak gall ink on handmade paper pulped from sugarcane and found plastic waste. Courtesy of the artist.



NEW ORLEANS, LA.- Newcomb Art Museum of Tulane University announced its exhibitions LaToya Ruby Frazier: Flint is Family and The American Dream Denied: The New Orleans Residents of Gordon Plaza Seek Relocation, the latter organized by Tulane's environmental studies students. On view August 21, 2019 with a scheduled run through December 14, 2019, these two exhibitions explore the lived experiences of communities impacted by pollution, and its concomitant effects on health and environment. In 2016, artist, activist, and MacArthur genius awardee LaToya Ruby Frazier spent five months living in Flint, Michigan with three generations of women–the poet Shea Cobb, her mother Renee, and daughter Zion–observing their day-to-day lives as they endured one of the most ... More



Rembrandt Van Rijn (1606 - 1669). Self Portrait in a Flat Cap, circa 1602. Later state. Paper size: 5 inches high x 3 ľ. Image size: 4 inches high x 2 3/4. Condition: Good. Date: 17th century. Later state. Estimate: $2,000-4,000.



SAN FRANCISCO, CA.- Turner Auctions + Appraisals will present "Rembrandt to Yoshida," on Sunday, September 8, 2019, at 10:30 am PDT, featuring over 160 lots – an intriguing selection of artworks, sculptures, decorative arts and more that span more than two millennia. Highlights include etchings by Rembrandt van Rijn, an original engraving by Albrecht Dürer, Japanese woodblock prints, ancient Roman or Greek and Etruscan antiquities; a 19th-century folio of 36 color lithographs of ancient Greek ceramics; and letters signed or written by U.S. presidents. Among items in the September 8 sale from ancient times are an Etruscan chalice and ewers, and a two-handled Greek pottery bowl from Gela (Sicily) from the 4th- ... More
Prinseps will host online auctions of rare books and prints this September, alongside the launch of their online store
Martin Parr Foundation opens an exhibition of photographs taken on the North East coast of England
Bonavista Biennale 2019 - FLOE features artworks by Jordan Bennett, Wanda Koop, D'Arcy Wilson


Map of the lands of Tipoo Saheb, 1792.



MUMBAI.- For their upcoming ​online Rare Books Auction ​on 4-5 September​, Prinseps brings a selection of rare books covering an array of fascinating historical subjects, as well as maps and manuscripts. This will be followed by a second online ​auction of prints on 11-12 September. Lots in the ​Rare Books Auction cover a period of nearly 400 years, with the oldest book dated 1605 - ​De Vita Caesarum or​The Twelve Caesars, a biographical chronicle of the Caesars of Rome and considered to be a text of historic importance. The lots have been primarily obtained from the  collection of renowned collector Mr. Sunil Baboo, whose meticulously documented collection developed from his travels across Europe and the United States of America and includes his 'Tipu Sultan collection' which carries books, maps and manuscripts from the twilight years of the Indian ruler. Also of note is ​The Works of ... More



Whitley Bay, 1978 © Markéta Luskačová.



BRISTOL.- Photographs by Markéta Luskačová, taken on the North East coast of England in the late 1970s, have gone on display at the Martin Parr Foundation to coincide with the first publication of this series of work by RRB Photobooks. Czech-born Luskačová has lived in the UK since 1975 and first went to North East England in 1976 when visiting photographer Chris Killip, who at that time lived there. region when spending time with photographer Chris Killip in 1976, who at the time lived there. She fell in love with Whitley Bay, and with the people there who, in spite of the harsh weather, enjoyed their time at the seaside. When Amber, a film and photography collective, invited her in 1978 to photograph the North East of England alongside Martine Franck, Henri Cartier-Bresson and Paul Caponigro, she was drawn back to photograph the seaside. "I was very touched ... More



Meagan Musseau, Me'ki'tetmek na Maqmikewminen, 2019. Photo: Brian Ricks.



BONAVISTA PENINSULA.- Bonavista Biennale, a bi-annual month-long art event, adopts contemporary artwork as a lens to interpret the historical structures and cultural exchanges of the Northeast Atlantic coastline. Taking place August 17 - September 15, Bonavista Biennale 2019 — FLOE highlights the works of 21 leading Canadian, Indigenous, and international artists through a multi-site art experience across the Bonavista Peninsula's coastal landscape. The sites of the Biennale trace the migratory and trade routes that connected North America to Europe — Ktaqmkuk, the Mi'kmaq word for Newfoundland, is traditional unceded Mi'kmaw territory, and FLOE (re)considers this history and the obscuring of cultures by systems of colonialism. Artworks examine the relationships among the architecture of heritage buildings, ... More
Back to school: New online materials based on accurate and comprehensive native peoples history
Western Front welcomes Susan Gibb as new Executive Director
Technology and data fuel the work of three prominent artists featured in the Moss Arts Center's latest exhibition


Middle school students using the NK360° educational resources. Photo by Alex Jamison.



WASHINGTON, DC.- The Smithsonian's National Museum of the American Indian is looking to change the narrative about American Indians in classrooms, transforming how teachers are teaching history to achieve a more inclusive, accurate and complete education. As part of its national education initiative, Native Knowledge 360 Degrees (NK360°), the National Museum of the American Indian has launched new online educational resources about the Pawnee Treaties and the Inka Empire that will expand teachers and students' knowledge and understanding of the contributions and experiences of Native Peoples of the Western Hemisphere. Between websites, teacher guides, teaching posters and digital lessons, there are about 30 classroom resources and numerous related materials available for educators and students that embrace a richer and more inclusive discourse about American Indians. "The Pawnee Treaties of 1833 and 1857: Why Do Some Treat ... More



She comes to the position after six years as Curator at If I Can't Dance, I Don't Want To Be Part Of Your Revolution, a curatorial production house for performance related art and research based in Amsterdam.



VANCOUVER.- The Board of Directors of Western Front announced the appointment of Susan Gibb as Executive Director. Susan Gibb brings broad international experience and expertise in multidisciplinary artistic practice to Western Front. She comes to the position after six years as Curator at If I Can't Dance, I Don't Want To Be Part Of Your Revolution, a curatorial production house for performance related art and research based in Amsterdam, The Netherlands. Previously, Susan ran the independent curatorial initiative Society, and held curatorial positions at the art centres Carriageworks and Campbelltown Arts Centre in Sydney, Australia. Susan will be the second Executive Director at Western Front in the centre's 46-year history and will commence her appointment in late August 2019. "Western Front is an iconic artist-run centre. Its program across artistic disciplines and formats ... More



Jim Campbell, "Repixelated 2," 2017. Custom electronics, 300 LEDs, aluminum, and acrylic, 27 1/8 x 16 ľ x 22 ˝ inches. Edition of 3. Image courtesy of Hosfelt Gallery, San Francisco.



BLACKSBURG, VA.- The Moss Arts Center at Virginia Tech explores the enormous and sometimes overwhelming amount of information that permeates the world with "DATAFORM," an exhibition suite featuring three artists who incorporate technology-based media in their work, transforming data into three-dimensional form. Daniel Canogar (Madrid), Yorgo Alexopoulos (Los Angeles), and Jim Campbell (San Francisco) incorporate various technologies such as electronics, LEDs (light emitting diodes), computer-generated algorithms, video, and real-time online data to deliver intriguing sculptural works steeped in color, light, movement, and a range of significant ideas. Each artist is represented with a selection of significant works in a gallery of their own resulting in three independent but inter-related one-person art exhibitions. "DATAFORM" opens with a distinguished artist talk by Canogar at 6 p.m. in the ... More
This Abandoned Medieval Village Holds a Grisly Secret
Flashback
On a day like today, French photographer Henri Cartier-Bresson was born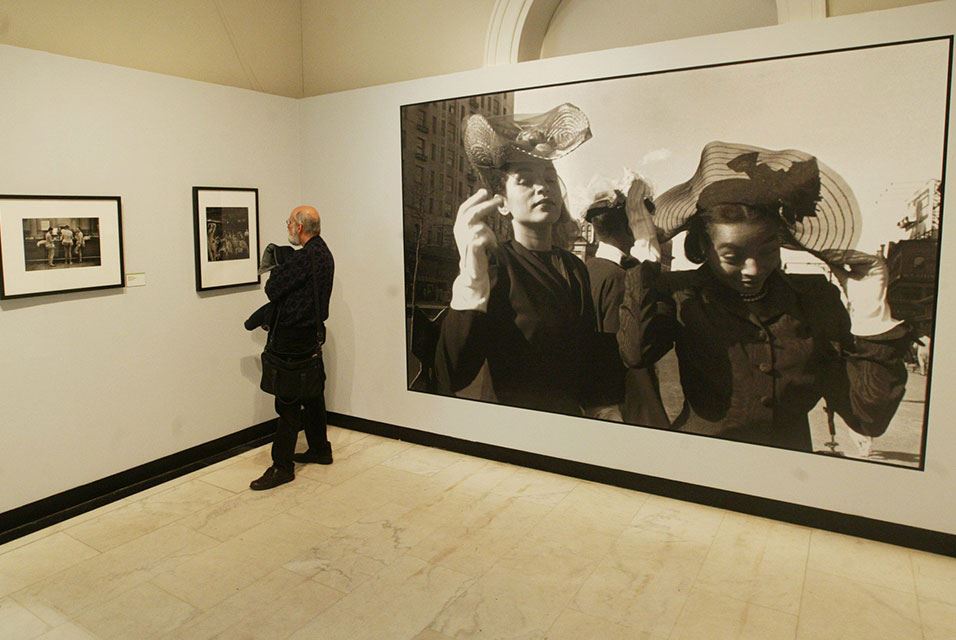 August 22, 1908. Henri Cartier-Bresson (August 22, 1908 - August 3, 2004) was a French photographer considered to be the father of modern photojournalism. He was an early adopter of 35 mm format, and the master of candid photography. He helped develop the "street photography" or "life reportage" style that has influenced generations of photographers who followed. In this image: A man looks at images at the opening of a photo exhibit Wednesday, Feb. 4, 2004, at The Museum of The City of New York, which features the work of photographers from the Magnum photo agency. At right is Harlem,1947 (Easter Sunday) by Henri Cartier-Bresson.
---

Museums, Exhibits, Artists, Milestones, Digital Art, Architecture, Photography,
Photographers, Special Photos, Special Reports, Featured Stories, Auctions, Art Fairs,
Anecdotes, Art Quiz, Education, Mythology, 3D Images, Last Week,
.
---
Royalville Communications, Inc
produces: