Painting of naked Zapata stirs uproar in Mexico
View of a painting called 'La Revolucion, 2014' by Fabian Chairez part of the exhibition 'Emiliano Zapata after Zapata', at the Museum of Fine Arts, in Mexico City, on December 10, 2019. CLAUDIO CRUZ / AFP.
MEXICO CITY
(AFP)
.-
A controversial painting of Mexican revolutionary leader Emiliano Zapata has pitted his family and supporters against the work's artist and the LGBT community in a contentious dispute that erupted in heated protests Tuesday. The divisive image shows the iconic figure naked and wearing a pink hat and high heels shaped like guns, while perched suggestively on a horse that has an erection. Some hundred protesters stormed the Palacio de Bellas Artes -- Mexico's premier cultural center -- chanting "Burn it! Burn it!" and threatening to set the painting on fire Tuesday. They said the painting, called "La Revolucion," "denigrates" the revolutionary's likeness. The protesters, many of them campesinos, or peasant tenant farmers who are sympathetic to the message of Zapata -- himself a campesino from Morelos state -- demonstrated outside the museum for hours. Some shouted homophobic slurs, which prompted a small group of LGBT community members and supporters to gather ...
More
The Best Photos of the Day
Asia Week New York announces 2020 roster
The Montreal Museum of Fine Arts exhibits photographs from the Collection of Carol and David Appel
A Picasso for 100 euros: Draw gives art lovers a rare chance


Royal betel nut cutter, kacip, Java. Iron, gold inlay, 17th–19th century. Ex Tri Heriyanto collection, 5.5 in / 14 cm. Courtesy of Thomas Murray.



NEW YORK.- The Asia Week New York Association announces that 37 international galleries and six auction houses —Bonhams, Christie's, Doyle, Heritage Auctions, iGavel, and Sotheby's will participate in the 2020 edition of Asia Week New York, the week-long celebration of Asian art and culture that spans the metropolitan region from March 12 through 19, 2020, with some participants remaining open until March 21st. Says Asia Week New York chairwoman Katherine Martin: "After celebrating our 10-year milestone last year, we are excited to continue our success into the next decade." According to Ms. Martin, a vital new goal of Asia Week New York is to increase and invigorate educational initiatives by tapping into the vast knowledge of our exhibitors and coordinating additional programing with some of New York City's finest cultural institutions. "It makes perfect sense," she adds, "that with the best-informed minds in Asia ... More



Cindy Sherman (born in 1954), Untitled no. 378, 1976–2000, gelatin silver print, 15/20. Carol and David Appel Collection. Courtesy of the artist and Metro Pictures, New York



MONTREAL.- The Montreal Museum of Fine Arts is presenting About Face, an exhibition of more than sixty photographs by Cindy Sherman, Laurie Simmons and Rachel Harrison, three major American artists whose practice is deeply engaged with the history of the representation of women. Works in the exhibition are drawn from the collection of Carol and David Appel, who are prominent collectors of international contemporary art in Canada. Two representatives from the Pictures Generation, Sherman and Simmons, deconstruct how mass media infiltrates the construction of the female identity. The exhibition features Simmons' major work Walking Camera (Jimmy the Camera) II (1987), which ironizes the relationship between photography and the representation of the female body. Also on view is a rare complete set of Sherman's "Murder Mystery" ... More



Pablo Picasso, Nature Morte, 1921 (detail) © Succession Picasso, Paris, 2019. www.1picasso100euros.com



PARIS (AFP).- It is the closest that anyone outside the super rich is ever likely to get to owning a painting by Picasso. A canvas by the Spanish master worth more than one million euros ($1.1 million) is to be raffled off for charity. Anyone buying a 100-euro ticket in the international draw has a one-in-200,000 chance of winning a still life of a stylised glass of absinthe and a newspaper Picasso created in 1921. The draw, whose proceeds will go to the charity CARE to combat poverty in Africa, was launched at the Picasso Museum in Paris Tuesday. The last time the organisers held one, six years ago, Picasso's "Man with Opera Hat" was won by a 25-year-old Pittsburgh fire safety official, Jeffrey Gonano, who was looking for something to decorate his home. The five million euros raised went to help preserve ancient city of Tyre in Lebanon. "Art and charity usually come together at gala dinners, where a few [wealthy] people fork out ... More
National Portrait Gallery presents "Portraits of the World: Denmark"
A Chinese Imperial bell to go under the hammer
Royal treasure on display at the Rijksmuseum


Zum Brauhaus, artist: George Biddle. Oil on canvas, 1933. National Portrait Gallery, Smithsonian Institution © Estate of George Biddle.



WASHINGTON, DC.- The Smithsonian's National Portrait Gallery will present "Portraits of the World: Denmark," the next installment in the museum's international series highlighting the global context of American portraiture. The new exhibition will feature "Kunstdommere" (Art Judges), Michael Ancher's monumental 1906 group portrait of his colleagues in a Danish artists' colony. On loan from The Danish Museum of National History in Hillerød, Denmark, the painting will be placed in dialogue with works from the Portrait Gallery's collection that trace the development of American modernism in artists' communities in New York City during the first half of the 20th century. The works on view will testify to the ways community, friendship and rivalry fueled artistic progress. This exhibition celebrates the latest collaboration between the Smithsonian's National Portrait Gallery and ... More



Chinese Imperial gilt-bronze bianzhong bell from the Qing dynasty (16441912). The bell is estimated to reach €200,000 to €300,000.



PARIS.- During the traditional Asian arts week at Drouot, auction house Tessier & Sarrou will present its sale on Monday 16 December. It includes a major work of art: a Chinese Imperial gilt-bronze bianzhong bell from the Qing dynasty (16441912). The bell is estimated to reach €200,000 to €300,000. This auction marks the first appearance of this bell on the art market, as is has been kept within the family since Robert de Semallé's return in France in 1884. Robert de Semallé (1849-1936) was sent to China to pacify the political tensions between France and China that the "Tonkin Affair" generated. He worked at the Beijing embassy from 1880 and 1884, as illustrated by the photographs he brought back – which sold for €640,000 last June also by Tessier & Sarrou. During his stay in China, Semallé wrote Four years in Beijing, in which he writes about his journeys, his missions in the South ... More



Paulus van Vianen Bokaal with Diana and Actaeon, 1610, Prague.



AMSTERDAM.- Paul van Vianen's greatest masterpiece has gone on display in the Rijksmuseum. This solid gold cup is regarded as the most important of all the treasures ever to belong to the Dutch royal family. It was made in 1610 by the most famous gold- and silversmith in the history of the Netherlands. Since 1881 it has been part of a German private collection. In view of its origin, last year the cup has been offered to the Rijksmuseum. The Wessels family was willing to buy the cup and place it on long-term loan to the Rijksmuseum. The gold cup is on display in the Rijksmuseum's Gallery of Honour for all to admire and enjoy. Taco Dibbits, director of the Rijksmuseum: Paul van Vianen is to gold- and silversmithing what Rembrandt is to painting. It is wonderful that the Wessels family has made it possible for everyone to see this gold treasure, and this marks the fulfilment of a long-cherished dream of the ... More
Babuino Auction House to offer a collection of important old master paintings and drawings
Clark Art Institute installs Le foglie delle radici (The Leaves of the Roots) by sculptor Giuseppe Penone
Rebecca Salter elected new President of the Royal Academy of Arts


Antiveduto Gramatica (Siena 1571 - Roma 1626), La Visitazione (detail). Oil on canvas, 115 x 149 cm. Estimate: € 12000-18000.



ROME.- The Babuino Auction House will present an event not to be missed by collectors of Ancient Art. The sale taking place December 17th to 20th presents a collection of important old master paintings and drawings, antique furnishings, ancient sculptures and majolica, 19th century paintings and furnishing, crib art, silver, jewels, in its historic Roman location in Via dei Greci 2a . Among the paintings there is the important discovery of the original of the Visitation of Antiveduto Gramatica (€ 12,000-18,000), a work attribution by Prof. Gianni Papi. The painting is followed by The Four Seasons of a 17th century Roman Painter, referring to the painting by Bartolomeo Manfredi (€ 8000-12000), a splendid Ink of Giulio Romano's style, a Mary Magdalene attributed to Sebastiano Mazzoni, two important still lifes of a Flemish Painter from the seventeenth century, and a work by Giuseppe Bonito Family Portrait. These ... More



Giuseppe Penone (Italian, b. 1947). Le foglie delle radici (The Leaves of the Roots), Fourth version, 2011. Bronze, steel, tree, soil. © 2019 Giuseppe Penone / Artists Rights Society (ARS), New York / ADAGP, Paris. Photo: Clark Art Institute, Amy Coon.



WILLIAMSTOWN, MASS.- The Clark Art Institute announces the first American installation of Le foglie delle radici (The Leaves of the Roots) (2011) by sculptor Giuseppe Penone (Italian, b. 1947, Garessio, Italy). The thirty-foot-tall cast bronze, steel, and soil sculpture of an upturned tree with a live eastern red cedar sapling growing from its inverted roots is a long-term installation on loan from a private collection and is situated on the lawn of the Clark's 1955 Museum Building. "The Clark is pleased to accept the long-term loan of this important sculpture by leading artist Giuseppe Penone," said Hardymon Director Olivier Meslay. "The form of a tree—encountered in a very unexpected way—resonates deeply with the Clark's commitment to stewardship of our grounds and natural setting." Le foglie delle radici is the ... More



Rebecca Salter studied at Bristol Polytechnic and then at Kyoto City University of the Arts in Japan, where she lived for six years. © Getty Images / Tristan Fewings.



LONDON.- The Royal Academy of Arts announced today that Rebecca Salter has been elected the 27th President of the Royal Academy. She succeeds Christopher Le Brun PPRA who has stepped down after serving eight years in the role. Salter was elected by her fellow Royal Academicians at a General Assembly meeting. Her appointment has received formal approval from Her Majesty The Queen. Salter is the first female President in the Royal Academy's 251-year history. Rebecca Salter PRA was elected Royal Academician in 2014 in the category of Printmaker. In 2017 she became Keeper of the Royal Academy with the responsibility of guiding the RA Schools. Rebecca Salter, President of the Royal Academy said: "I am so honoured to have been elected President of the Royal Academy. The RA is unique, a place shaped by artists and architects. Its exhibitions are world-class and we teach ... More
KAWS elected to the American Folk Art Museum's Board of Trustees
Howard Cruse, whose cartoons explored gay life, dies at 75
John Michael Kohler Arts Center announces new senior curator


KAWS gained notoriety for his advertising interventions and has since built a successful career with work that consistently shows his formal agility as an artist. © Nils Mueller.



NEW YORK, NY.- The Board of Trustees of the American Folk Art Museum announced the election of four new members: KAWS (the artist Brian Donnelly), Dr. Sabiha Al Khemir, Jane A. Shallat, and Joanne Siegmund. The election took place at the December 10 meeting of the board and was announced by Elizabeth V. Warren, the museum's board president. All four will serve as elective trustees. "It gives me great pleasure to welcome to our board four notable individuals," said Warren. "In addition to their wide-ranging and diverse interests, they each cherish the American Folk Art Museum and its mission. I know they will contribute to a lasting and successful future for the museum." Director Jason T. Busch commented, "As we approach the sixtieth anniversary of AFAM in 2021, I am looking forward to working with our new board members on the many exciting ... More



In an undated photo, Howard Cruse in 2019. Ed Sedarbaum via The New York Times.

by Richard Sandomir



NEW YORK (NYT NEWS SERVICE ).- Howard Cruse, a gay underground cartoonist who mined his life in "Wendel," a comic strip that ran for several years in The Advocate, and "Stuck Rubber Baby," a poignant graphic novel set in the South in the 1960s, died on Nov. 26 in Pittsfield, Massachusetts. He was 75. His husband, Ed Sedarbaum, said the cause was lymphoma. While Cruse was not as famous as underground comics stars like R. Crumb and Art Spiegelman, his artistic influence was nonetheless felt strongly, especially among other gay cartoonists. In the early 1980s he was the first editor of Gay Comix, a series of occasional comic books that showcased his work and that of women like Roberta Gregory and Mary Wings. He then developed "Wendel," an adventurous strip about a man and his lover navigating the early years of the AIDS epidemic. The cartoonist Alison ... More



Johnson is currently the Bruce Kamerling curator at the San Diego History Center.



SHEBOYGAN, WI.- The John Michael Kohler Arts Center in Sheboygan, Wis., has named Kaytie Johnson as senior curator. Johnson will assume her duties at the Arts Center in early February. "Kaytie comes to us with a wealth of experience in curatorial leadership areas that will help propel the Center forward," said JMKAC Associate Director Amy Horst. "Under her guidance, I am confident that our talented and creative team will continue to develop exhibitions that are relevant to and engage in meaningful dialogue with all our audiences." Johnson currently serves as the Bruce Kamerling curator at the San Diego History Center. She has over twenty years' experience curating and a solid record of developing ambitious, reflective and timely exhibitions, publications and public programs. Johnson fills the Arts Center position vacated by Karen Patterson, who left in June to become the curator at The Fabric Workshop in Philadelphia, PA. ... More
Survival on the Sea: The Story of the 'Bee'
Flashback
On a day like today, Spanish-Mexican surrealist painter Remedios Varo was born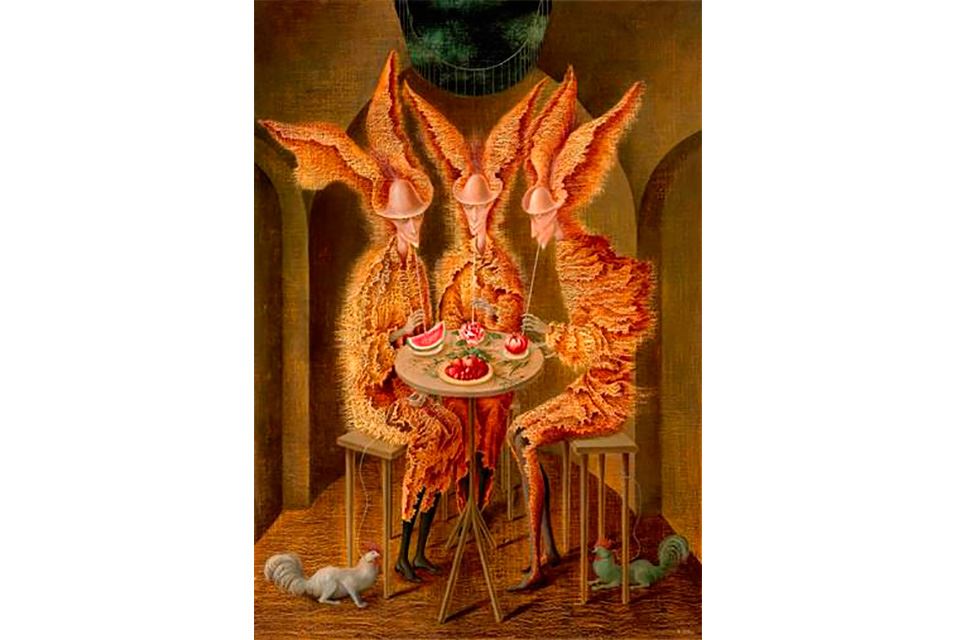 December 16, 1908. Remedios Varo Uranga (16 December 1908 - 8 October 1963) was a Spanish-Mexican para-surrealist painter and anarchist. Born in Girona, Spain in 1908, she studied at the Real Academia de Bellas Artes de San Fernando, Madrid. She is known as one of the world famous para-surrealist artists of the 20th Century. During the Spanish Civil War she fled to Paris where she was greatly influenced by the surrealist movement. She met her second husband, the French surrealist poet Benjamin Péret, in Barcelona. In this image: Remedios Varo (Spanish/Mexican 1908-1963), Vampiros vegetarianos. Oil on canvas. Painted in 1962. Estimate: $1,500,000 - 2,000,000. Photo: Christie's Images Ltd 2015.
---

Museums, Exhibits, Artists, Milestones, Digital Art, Architecture, Photography,
Photographers, Special Photos, Special Reports, Featured Stories, Auctions, Art Fairs,
Anecdotes, Art Quiz, Education, Mythology, 3D Images, Last Week,
.
---
Royalville Communications, Inc
produces: