'Paris is disfigured': Tears and shock as Notre-Dame burns
The landmark Notre-Dame Cathedral, engulfed in flames, burns on April 15, 2019, in central Paris. A huge fire swept through the roof of the famed Notre-Dame Cathedral in central Paris on April 15, 2019, sending flames and huge clouds of grey smoke billowing into the sky. The flames and smoke plumed from the spire and roof of the gothic cathedral, visited by millions of people a year. A spokesman for the cathedral told AFP that the wooden structure supporting the roof was being gutted by the blaze. Geoffroy VAN DER HASSELT / AFP.

by Clare Byrne and Joseph Schmid
PARIS
(AFP)
.-
Crowds of stunned Parisians and tourists -- some crying, others offering prayers -- watched in horror in central Paris on Monday night as firefighters struggled for hours to extinguish the flames engulfing the Notre-Dame Cathedral. Flames ravaging the roof illuminated the outline of the monument's two square towers in a fiery glow, and were reflected in the waters of the Seine. Along the Pont au Change bridge, which connects the Ile de la Cite with the Right Bank, the atmosphere was one of a vigil as hundreds of people watched in hushed silence as smoke rose into the night sky. Many were quietly singing an Ave Maria in Latin, including Stephane Seigneurie, 52, who said he has lived in Paris for the past 25 years. "I come often, and go in even where there's no mass because it's an extraordinary place, entwined in the history of France," he said. "Politically, intellectually and spiritually, it's a symbol of France." When Seigneurie says that he's very sad, an eleg ...
More
The Best Photos of the Day
Alte Pinakothek exhibits 75 of the finest paintings by the most eminent 'Caravaggisti'
Books and manuscripts from aviation to exploration to be sold by Hindman LLC
Harvard Art Museums receive significant gift of Otto Piene sketchbooks from Elizabeth Goldring


Hendrick ter Brugghen (1588 - 1629), St. Sebastian Tended by Irene, 1625. Oil on Canvas, 150.2 x 120 cm © Allen Memorial Art Museum, Oberlin College, OH. R. T. Miller Jr. Fund, 1953.256.



MUNICH.- Caravaggio's paintings must have seemed both breathtaking and unorthodox to Hendrick ter Brugghen (1588–1629), Gerard van Honthorst (1592–1656) and Dirck van Baburen (c. 1592/93–1624) when the three young painters from Utrecht encountered his works for the first time in Rome. With their innovative realism and mysterious lighting, Caravaggio's works broke with existing traditions and exerted a powerful formative influence on many artists from Italy, France, Spain and the Netherlands. The exhibition at the Alte Pinakothek shows 75 of the finest paintings by the most eminent 'Caravaggisti', including Orazio Gentileschi, Bartolomeo Manfredi, Jusepe de Ribera, Valentin de Boulogne and Caravaggio himself. The works were created during the height of European Caravaggism, from 1600 to 1630, either by artists who had direct contact with Caravaggio in Rome or arrived in the Eternal City shortly after his de ... More



Galileo Galilei (1564-1642). Systema cosmicum... in quo quatuor dialogis, de duobus maximis mundi systematibus, Ptolemaico et Copernicano. Estimate: $6,000-8,000.



CHICAGO, IL.- Hindman LLC announces the May 1 Fine Books and Manuscripts auction, featuring significant collections of presidential and first lady free frank covers, important aviation manuscripts, and a selection of science and medical books. These sessions, along with additional items in the categories of literature, including a collection of works by Dickens, artist's books, travel and exploration, and other exceptional Americana, books and manuscripts will be offered in the auction and on preview in Chicago from April 26 to April 30. The collection of free frank covers most significantly features notes from George and Martha Washington. The free frank note from Mrs. Washington (estimated at $30,000 - $40,000) is exceptionally rare, as she died shortly after her franking privileges were granted. This example is one of only four of her franking signatures that are known to exist. The cover from George Washington dates to the year 1779 ... More



Otto Piene, Sketchbook: Groton, 2012 (detail). Mixed media. Harvard Art Museums/Busch-Reisinger Museum, Gift of Elizabeth Goldring Piene, 2019.69. Photo credit: ©2019 Charles Sternaimolo.



CAMBRIDGE, MASS.- The Harvard Art Museums announced an extraordinary gift of 70 sketchbooks by internationally renowned artist Otto Piene (1928–2014); the gift was made by poet and author Elizabeth Goldring, the artist's wife. Dating from 1935 to 2014, the largely unpublished sketchbooks reflect interdisciplinary, cross-media experiments from Piene's long career in the Boston area and abroad, including both realized and unrealized projects. In keeping with the museums' history and ongoing commitment to training and research, the next Stefan Engelhorn Curatorial Fellow in the Busch-Reisinger Museum (2019–21) will soon be appointed to study and catalog this new gift. The gift also includes a selection of pens, the primary medium Piene used for his sketches, including the Magic Marker brand; these will be held in the Center for the Technical Study of Modern Art (CTSMA) and will play a key role in the long-term preserva ... More
LACMA announces eight new acquisitions during the 33rd Annual Collectors Committee Weekend
Trix the T. rex arrives in Glasgow
Shout it from the Rooftops! Palmer Museum's dynamic annual Gala planned for Saturday, May 18


Luchita Hurtado,​ Untitled, c. 1951, ​gift of Janet Dreisen Rappaport and Herb Rappaport through the 2019 Collectors Committee, ​© Luchita Hurtado, photo courtesy of the artist and Hauser & Wirth.



LOS ANGELES, CA.- The Los Angeles County Museum of Art announced the addition of eight new acquisitions during the museum's 33rd annual Collectors Committee fundraiser. The annual Collectors Committee Weekend—led for the 10th year by LACMA trustee, Collectors Committee Chair, and Acquisitions Committee Chair Ann Colgin—was a two-day affair, which included curator-led art presentations, private dinners at the homes of major LACMA supporters, and a gala dinner where members voted on artworks to add to the museum's permanent collection. This year, the 81 voting members raised over $2.4 million. The 2019 event was generously sponsored by Cartier for the second year in a row. "I'm so thrilled by the success of this year's Collectors Committee," said Ann Colgin. "Over its 33-year history, the event has added 236 works of art to LACMA's collection and it would not be possible without the support of many people. ... More



With her ferocious teeth and short arms, the Tyrannosaurus rex is probably the most well-known dinosaur in the world.



GLASGOW.- After a road and ferry journey which took her across Europe, Trix the T. rex has arrived in Scotland. For 15 weeks from Thursday 18 April, Glasgow's Kelvin Hall will host the world's only real touring Tyrannosaurus rex skeleton. It takes five days for experts to painstakingly unpack and assemble the massive dinosaur skeleton, which weighs a colossal 5,000 kg, the same as four Mini Cooper cars. And organisers gave access to the dinosaur build on Friday 12 April 2019 for an exciting preview of the T. rex skeleton. With her ferocious teeth and short arms, the Tyrannosaurus rex is probably the most well-known dinosaur in the world. The 39ft long skeleton is an incredibly rare and important fossil. At Kelvin Hall it forms the centrepiece of T. rex in Town, a major interactive exhibition that will engage and educate visitors on the history of this iconic and ferocious dinosaur species. The public can also marvel at a painted r ... More



Guests to the Gala will enjoy a lively evening complete with dinner, dancing, and silent and live auctions hosted by entertaining master of ceremonies and veteran Gala emcee, Jeff Brown.



UNIVERSITY PARK, PA.- Tickets are still on sale for the 2019 Friends of the Palmer Museum of Art annual Gala and auction on Saturday, May 18, from 6:00 to 11:00 p.m. The fundraising event will be held at the Penn Stater Hotel and Conference Center for the first time in nearly two decades. This year's theme, "Shout it from the Rooftops!" is borrowed from the major spring exhibition organized by the Palmer, From the Rooftops: John Sloan and the Art of a New Urban Space, a vibrant exploration of the urban rooftop by notable American artists, on view at the museum through May 12. Guests to the Gala will enjoy a lively evening complete with dinner, dancing, and silent and live auctions hosted by entertaining master of ceremonies and veteran Gala emcee, Jeff Brown. Later in the evening, revelers will take to the dance floor when Tommy Wareham & the Intrigues take to the stage. "Every year, we look forward to the Gala as the community ... More
Bauhaus School & Moon Landing anniversaries celebrated in Sotheby's Prints & Multiples Auction
Bertoia's Spring Signature Sale rings up $2.3 million
Phillips announces an auction presented with gallerist and collector Peter Fetterman


Willem de Kooning's Litho #1 (Waves #1) (Graham 2) marks the first time that an impression of this print will appear at auction in over two decades (estimate
$300/500,000). Courtesy Sotheby's.



NEW YORK, NY.- Sotheby's shared highlights from their upcoming spring auction of Prints & Multiples in New York on 29 & 30 April 2019. The auction brings together pivotal examples of 20th Century printmaking, illustrating every medium and beautifully representing seminal genres such as Expressionism, Minimalism and Pop across the 250+ works and over a dozen complete sets on offer. Sotheby's will hold a public exhibition in their New York galleries, opening 25 April. Heralded as a vital contribution to post-war American prints, Willem de Kooning's Litho #1 (Waves #1) (Graham 2) marks the first time that an impression of this print will appear at auction in over two decades (estimate $300/500,000). The present masterwork is de Kooning's first serious foray into ... More



Marklin cruiser Bremen, circa 1915, live steam, 25in. long, $57,000.



VINELAND, NJ.- Whoever said 'history never repeats itself' might have had a change of heart, had they attended Bertoia's March 9-10 Spring Signature Sale. Many who were there commented that the atmosphere felt like an auction of the go-go 1990s and early 2000s, when collectors would travel halfway around the world to bid on toys from fabled collections. "You could feel the electricity. There was a larger crowd than we've seen over the past few years, and so much enthusiasm," said Michael Bertoia, president of Bertoia Auctions. "Many international bidders took part. Some came weeks in advance to privately preview particular toys they wanted to bid on, but after viewing all of the pieces on display, they would discover other toys they liked and ended up bidding on them, as well." The $2.3 million auction (inclusive of buyer's premium) featured four premier collections: Frank Mohr's ... More



Alex Prager, Ellen, 2007. Estimate: $30,000-40,000. Image courtesy of Phillips.



NEW YORK, NY.- Phillips announced the sale of Artist | Icon | Inspiration: Women in Photography, an auction presented with gallerist and collector Peter Fetterman that will explore the role of women as artists, subjects, and innovators. The auction on 7 June in New York will offer approximately 100 works by Dorothea Lange, Alex Prager, Lillian Bassman, Cindy Sherman, and more. The sale will also showcase portraits of iconic 20th century women, including Ruth Bader Ginsburg, Georgia O'Keeffe, Coco Chanel, Jackie Kennedy, and Audrey Hepburn. The photographs featured in the sale, the title of which encompasses three major intersecting and overlapping concepts of the auction, will highlight and celebrate every aspect of women's historic and continuing involvement in photography. Vanessa Hallett, Deputy Chairman, Americas, and Worldwide ... More
Artpace spring resident artists open new exhibitions
White Cube opens an exhibition of new sculptures by David Altmejd
Exhibition at Ballroom Marfa features works by Beatriz Cortez, Candice Lin, and Fernando Palma Rodríguez


Installation view of thick by San Antonio-based Jennifer Ling Datchuk. Photo: Seale Photography Studios.



SAN ANTONIO, TX.- Artpace announced the opening of new exhibitions by the Spring International Artists-in-Residence, who began their residencies on January 23. Now that their eight-week residency has concluded, they revealed exhibitions of the work each created at Artpace. The exhibitions that opened on March 21st are: Until Total Liberation, Sama Alshaibi (Tucson, AZ); thick by San Antonio-based Jennifer Ling Datchuk; and Like Gold Dust, Roshini Kempadoo (London, UK). Incorporating elements of printmaking, photography, sculpture, installation, video, and sound, the three resident artists work will be on display through May 19th. The artists were selected for the program by New York-based guest curator Deborah Willis. At the conclusion of the exhibition, all work will be returned to the resident artists. Much of the work produced through Artpace residencies goes on to be shown around the world or sold into public or private collections. Deborah Willi ... More



David Altmejd 'The Vibrating Man', White Cube Hong Kong, 26 March – 18 May 2019 © David Altmejd. Photo © White Cube (Kitmin Lee).



HONG KONG.- White Cube is presenting an exhibition of new sculptures by David Altmejd, his inaugural exhibition with the gallery and first in Hong Kong. Altmejd has described his practice as one grounded in a 'fascination with nature, a taste for the uncanny and an excitement for unpredictable things, things that transform and that are difficult to describe.' Like living organisms, his works appear always in flux, transforming and metamorphosing, radiating an animistic energy. Altmejd collapses different narrative strands and visual points of reference to allow for multiple simultaneous readings and thematic associations. 'I am much more interested in the object being alive and being able to develop its own intelligence and generate meaning', he has said. 'I do not want to use the piece as a tool to communicate meaning. I want it to be able to generate its own meaning.' Drawing on science, religion, magic, psyched ... More



Beatriz Cortez, Shields, 2019. Installation view. Courtesy the artist, Ballroom Marfa, and Commonwealth and Council All commissioned by Ballroom Marfa. Photo by Alex Marks.



MARFA, TX.- Ballroom Marfa announces Candelilla, Coatlicue, and the Breathing Machine, an exhibition with newly commissioned and existing works by Beatriz Cortez, Candice Lin, and Fernando Palma Rodríguez. The title refers to a facet of each artist's sculptural contribution to the show, which range from wax pours to robotic storytellers to provisional shelters and beyond. The disparate installations and objects from these three artists weave together a multivalent conversation about the animate qualities of land; the coexistent simultaneities of past, present and future; as well as human and non-human migrations, cross-contaminations, and porousness – all while forwarding their own individual investigations. Each artist spent time in Marfa and around the Big Bend, and these particular experiences and responses are reflected in various aspects of the ... More
Immaculate Diamonds, Impeccable Rubies and Royal Emeralds
Flashback
On a day like today, Mexican architect Pedro Ramírez Vázquez was born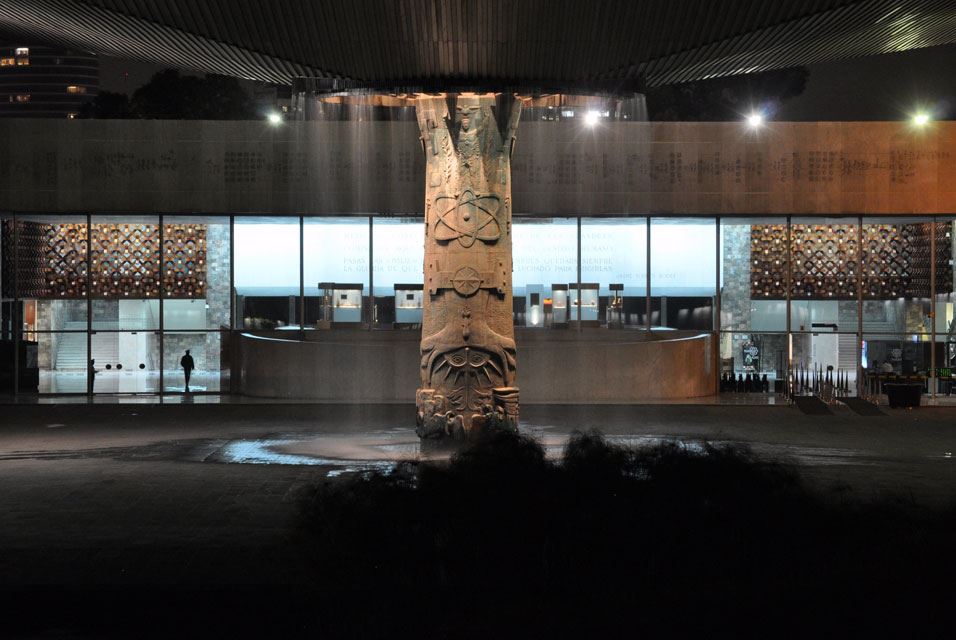 April 16, 1919. Pedro Ramírez Vázquez (April 16, 1919 - April 16, 2013) was a late twentieth century Mexican architect. He was born in Mexico City. He was persuaded to study architecture by writer and poet Carlos Pellicer. In this image: National Museum of Anthropology in Mexico City.
---

Museums, Exhibits, Artists, Milestones, Digital Art, Architecture, Photography,
Photographers, Special Photos, Special Reports, Featured Stories, Auctions, Art Fairs,
Anecdotes, Art Quiz, Education, Mythology, 3D Images, Last Week,
.
---
Royalville Communications, Inc
produces: