Summer Exhibition 2019 opens at the Royal Academy of Arts in London
The Summer Exhibition is the world's largest open submission contemporary art show which has taken place every year without interruption since 1769. Photo: © David Parry/ Royal Academy of Arts.
LONDON
.-
Acclaimed British painter, Jock McFadyen RA is the co-ordinator of the 251st Summer Exhibition. McFadyen, alongside the Summer Exhibition Committee intends to build on the exhibition's success, recognising that it continues to provide a unique platform for artists at all stages of their career to present recent work. Highlights within the Main Galleries include a 'menagerie' in the Central Hall curated by Jock McFadyen RA, with works by artists including Polly Morgan, Charles Avery and Mat Collishaw. Jane and Louise Wilson RA organised two gallery spaces, one of which showcases light and time based work. Spencer de Grey RA curated the Architecture Gallery, which explores the theme of sustainability. The celebrated artist Thomas Houseago is showing a group of large-scale sculptural works in the Royal Academy's Annenberg Courtyard that respond to the Academy's statue of Joshua Reynolds, which has stood in the courtyard since 1931. This is the first time that the ...
More
The Best Photos of the Day
The Colour Palace is revealed
Sotheby's announces an auction coinciding with WorldPride NYC & Stonewall Uprising anniversary
The most famous car in the world: RM Sotheby's presents James Bond Aston Martin DB5


The Colour Palace by Pricegore x Yinka Ilori © Adam Scott.



LONDON.- 'The Colour Palace' has been unveiled as the second edition of the Dulwich Pavilion at Dulwich Picture Gallery. The outcome of an open design competition organised by Dulwich Picture Gallery and the London Festival of Architecture, The Colour Palace serves as a temporary outdoor structure for summer 2019, gracing the lawns outside Sir John Soane's iconic gallery. This summer, the London Festival of Architecture explores 'boundaries' while Dulwich Picture Gallery celebrates 'innovation'. These themes converge in The Colour Palace; a riotous, bold architectural fusion that crosses boundaries between cultural traditions, integrating art and architecture. The innovative timber structure is a feat of engineering using just one small size of timber with all the joints on show revealing the craftsmanship and structural logic. For Dulwich Picture Gallery, the Colour Palace will act as a ver ... More



Catherine Opie, Dyke. Courtesy Sotheby's.



NEW YORK, NY.- Sotheby's announced BENT., a live auction on 27 June 2019 in New York celebrating the LGBTQ experience through a diverse and wide-ranging selection of art and artists. The exhibition and auction not only coincide with New York's annual Pride celebration, which this year includes WorldPride as well, but also the 50th anniversary of the Stonewall Uprising – six days of rolling street protests by gay, lesbian and transgender individuals that became one of the defining moments of the modern gay rights movement. Comprised of works spanning photographs, Contemporary art, antique and rare books, prints and drawings, the sale offers outstanding pieces dating from the 19th Century to today by both celebrated and lesser-known artists alike who made significant contributions to the representation of LGBTQ artists in the public sphere, including Andy Warhol, Catherine Opie, David Wojnarowicz, David Hockney, Francis Bacon, Gillian ... More



A look at the interior gadgets in the Bond DB5. Photo: Simon Clay © 2019 Courtesy of RM Sotheby's.



BLENHEIM.- RM Sotheby's, the official auction house of Aston Martin, has announced "the most famous car in the world" and perhaps the most iconic Aston Martin of all time to lead 'An Evening with Aston Martin', a special single-marque sale session at the company's 2019 Monterey auction on 15 August. RM Sotheby's will present a 1965 Aston Martin DB5, one of just three surviving examples commissioned in period by Eon Productions and fitted with MI6 Q Branch specifications as pictured in Goldfinger. No one could have predicted the fabulously successful multi-decade synergy that would develop when production designer Ken Adam and special effects man John Stears visited Aston Martin's Newport-Pagnell plant in late 1963. The two men were on a mission to source a pair of the latest Aston Martin models for use in Eon Productions' third adaptation of an Ian Fleming novel, again about the MI6 superspy with ... More
Freeman's sets a new world auction record for Philadelphia artist Cecilia Beaux
Rago and Wright are joining forces
The J. Paul Getty Museum opens 'Reading Between the Lines: Drawing Illustrations'


Cecilia Beaux, Ethel Page as Undine, oil on canvas. Sold for $454,000.



PHILADELPHIA, PA.- On June 9, Freeman's held its ever popular, semi-annual American Art & Pennsylvania Impressionists auction, a strong sale that boasted an impressive array of works by many well-known artists. The auction was well attended, with a full house (despite the very tempting beach weather) and many national and international phone bidders, including prominent private collectors and several institutions. The sale totaled $2.47 million (BP inclusive) with 81% of the lots sold. Most notably, a stunning, early portrait by artist Cecilia Beaux (1855-1942) depicting her life-long friend dressed as the mythological water nymph, Undine (Lot 19) soared above its initial estimate of $60,000-80,000, eventually selling to a New England institution for a record-breaking $454,000. After spirited bidding between numerous phone bidders, private collectors and institutions around the country, Ethel Page as Undine established ... More



David Rago, President.



LAMBERTVILLE, NJ.- Two great independent auction brands, Rago in Lambertville, NJ and Wright in Chicago and New York are pleased to announce the merger of their business operations. Both houses will continue to operate under their individual names while sharing technology, expertise and marketing efforts. In the increasingly competitive auction market, the joint entity will have stronger reach and a broader team of specialists. With $65+ million in consolidated annual sales, the combined company has a team of 75 and more than a century of business experience. Rago's broad expertise in art, jewelry, ceramics and estates and Wright's focus on design and innovative presentation will be combined to better serve their clients and maintain a strong voice in the world of art and design. As CEO of the combined companies, Richard Wright will work in tandem with Rago's specialists to continue to bring new concepts to our auction platform. "I ... More



Gustave Doré, After the Shipwreck - Design for an Illustration of Coleridge's The Rime of the Ancient Mariner, about 1875. Gouache, 20 × 15 15/16 in. 2008.30. The J. Paul Getty Museum, Los Angeles.



LOS ANGELES, CA.- Today, illustrated books are generally associated with children's literature, but pictures have long played a role in all sorts of reading matter. Reading Between the Lines: Drawing Illustrations (on view at the J. Paul Getty Museum at the Getty Center through September 15) explores illustration during the eighteenth and nineteenth centuries, highlighting the flourishing of book art in France during the Enlightenment and revealing the role of literary inspiration for European artists of the Romantic era. Works on view derive primarily from the Getty Museum's collection, along with loans from local private collections and the Getty Research Institute. "This exhibition showcases some of the most beautifully finished eighteenth and nineteenth-century French drawings and watercolors in the ... More
Solo, yet tutti: App puts orchestra in your living room
photo basel brings together 41 exhibitors from both emerging and established galleries
Edwynn Houk Gallery opens a solo exhibition of recent work by Gail Albert Halaban


French violinist Renaud Capucon practices with the new application "NomadPlay", created by the French start-up Digital Music Solutions, which can replace virtually every orchestral musician. Christophe SIMON / AFP.



AIX-EN-PROVENCE (AFP).- It's a musician's dream -- rehearse alongside a full orchestra, but in your own living room. And the immersive experience is possible because, yes, there's an app for that, courtesy of a French start-up, Digital Music Solutions. "NomadPlay" is all down to an algorithm which separates out the sound components of a score to remove any instrument as desired, fading out an oboe or piano part for instance, and allowing the home musician to join the fray. "When we were young we all practised with records to get the impression we were playing along with the Vienna or Berlin philharmonic. That was very gratifying," internationally-renowned French violinist Renaud Capucon, 43, told AFP. "But it was a nightmare when our parents heard us play because it just wasn't the same thing!" Now, thanks to the app, "you're ... More



Michael O'Brien, Donald Trump, 1989, image courtesy the artist and Arte Giani.



BASEL.- photo basel, Switzerland's first and only art fair dedicated to the display and promotion of photography, returns to the Volkshaus Basel for its fifth anniversary edition. Curated by Daniel Blochwitz, an expert in photography, the fair runs from June 11 - 16, 2019 coinciding with the modern and contemporary art fair, Art Basel. This year the fair has expanded to span two floors of the Volkshaus Basel for the first time. photo basel brings together 41 exhibitors from both emerging and established galleries across 15 countries including France, Japan, Israel and the United Kingdom. Newcomers to the fair include Atlas (United Kingdom), Galerie Clairefontaine (Luxembourg), Grob Gallery (Switzerland), Torch (The Netherlands), 29 Arts in Progress (Italy), Benrido (Japan) and Rothamel (Germany). Returning galleries include, Flatland (The Netherlands), Baudoin Lebon (France), Fabian & Claude Walter (Switzerland), Ira Stehmann (Germa ... More



Gail Albert Halaban, Out My Window, Arriving home after the theater, San Marco, Venice, October, 2017. © Gail Albert Halaban / Courtesy Edwynn Houk Gallery, New York.



NEW YORK, NY.- Edwynn Houk Gallery is presenting a solo exhibition of recent work by Gail Albert Halaban, from her ongoing series Out My Window. The show is composed of eleven photographs, selected primarily from her 2018 George Eastman Museum exhibition, many of which have never before been presented by the gallery. It features an array of international destinations from Paris to Istanbul, as well as several cities illustrated in Albert Halaban's newly published book, Italian Views, including Venice, Rome, and Naples. Out My Window originated in 2007 after Albert Halaban moved to Manhattan. Fascinated by the interpersonal dynamics of urban dwelling and the unspoken social contract between neighbors who observe each other's domestic lives through their apartment windows yet appear to be strangers in public, she anticipated experiencing the ... More
'ART On The Mind': Leading contemporary artists donate work to help homeless charity
Exhibition celebrates the beginning years of historic San Francisco gallery.
ArtTech-Innovation: Award-winning Swiss app leads the art world in the age of the smartphone


Antony Gormley, Bodies in Space, 2017.



LONDON.- Leading Contemporary artists including; Sir Anish Kapoor, Sir Antony Gormley, Chris Levine, Jeremy Deller, Ian Davenport, Julie Verhoeven, Kristjana S Williams, Harland Miller, Patrick Hughes, Ann-Marie James and Meredith Ostrom have generously donated work to the 2nd 'ART on the Mind' exhibition, which will raise funds for UK homeless charity Cardboard Citizens. Art on the Mind brings together Art World A-listers for an exhibition & auction in aid of Cardboard Citizens, a charity that specialises in using the arts to help people affected by homelessness. All of the contributing artists have kindly donated work to support the campaign. The exhibition is on public view until Saturday 15th June at Proud Central Gallery in London, and people can bid on the auction at Paddle 8 until June 19th. Adrian Jackson MBE, Founder of Cardboard Citizens commented: "Our year-round workshop programme ... More



Wally Hedrick, Heroic Image, 1959/1990. Oil on shaped canvas over panel, 62 1/2 x 71 1/2 inches.



SAN FRANCISCO, CA.- Brian Gross Fine Art announced the opening of Dilexi Gallery: The Early Years, an exhibition celebrating the beginning years of this historic San Francisco gallery. On view are paintings, sculptures, and constructions by important Bay Area and Southern California artists, including John Altoon, Wallace Berman, Joan Brown, Jay DeFeo, Roy De Forest, Sonia Gechtoff, Wally Hedrick, Craig Kauffman, James Kelly, Robert Morris, Ed Moses, Manuel Neri, and Leo Valledor, that highlight the groundbreaking exhibitions held at the gallery during its 12-year run from 1958-1969. The exhibition will be on view through July 27, 2019. Founded in 1958 by Jim Newman and Bob Alexander (who left after the first year) in San Francisco's North Beach neighborhood, Dilexi Gallery played a critical role in the development of San Francisco's, emerging post-war ... More



The application seeks to identify and expand target audiences, as well as facilitate the presentation of works from the comfort of one's home via augmented reality (AR).



ZURICH.- iazzu, the Swiss technology company tailored to serving the art world, has launched the first integrated and scalable digital appearance for art institutions, organizations, as well as artists and collectors worldwide. The application seeks to identify and expand target audiences, as well as facilitate the presentation of works from the comfort of one's home via augmented reality (AR). Leading up to the launch, iazzu's unique approach has been recognized and commended by the École Polytechnique fédérale de Lausanne (EPFL) and the Vienna Business Agency. iazzu's app has been available to the art world since April 1st 2019. According to Romana Müller, the co-founder and CEO of iazzu, "We support galleries, institutions, artists and collectors ... More
The Energy and Invention of Picasso's 'Homme à la pipe'
Flashback
On a day like today, artists Christo and Jeanne-Claude were born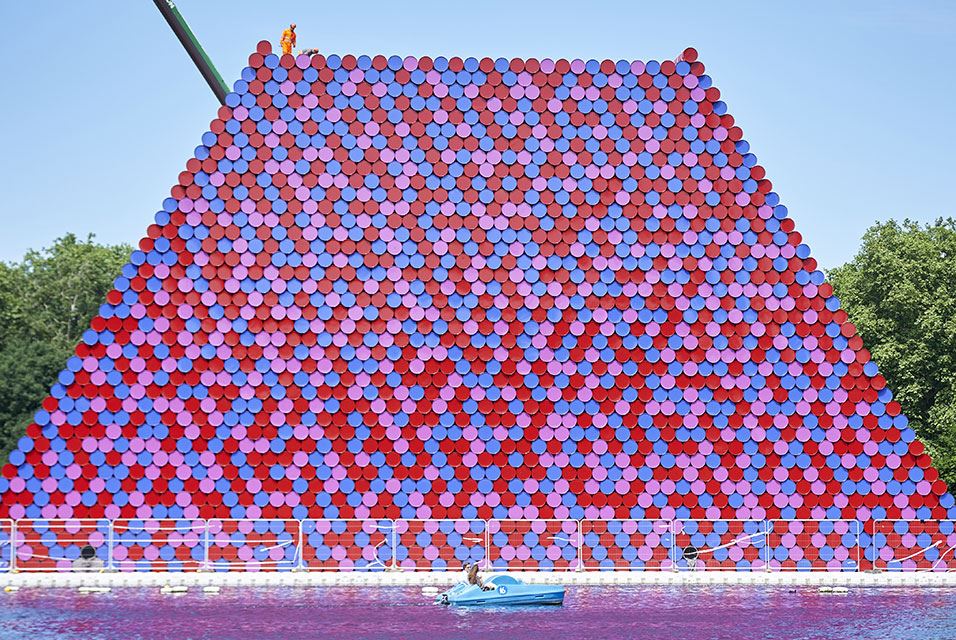 June 13, 1935. Christo Vladimirov Javacheff and Jeanne-Claude were a married couple who created environmental works of art. Christo and Jeanne-Claude were born on the same day, June 13, 1935; Christo in Gabrovo, Bulgaria, and Jeanne-Claude in Morocco. They first met in Paris in October 1958 when Christo painted a portrait of Jeanne-Claude's mother. They then fell in love through creating art work together. In this image: Workers build 'The Mastaba', an outdoor work made up of over 7000 stacked barrels by Bulgarian artist Christo on the Serpentine lake in Hyde Park in London on June 11, 2018. Niklas HALLEN / AFP
---

Museums, Exhibits, Artists, Milestones, Digital Art, Architecture, Photography,
Photographers, Special Photos, Special Reports, Featured Stories, Auctions, Art Fairs,
Anecdotes, Art Quiz, Education, Mythology, 3D Images, Last Week,
.
---
Royalville Communications, Inc
produces: