New exhibition honors San Antonio arts visionary Robert L.B. Tobin
Robert L. B. Tobin with works by Eugene Berman at the exhibition of Tobin's collection at the Grolier Club, New York, 1983.
SAN ANTONIO, TX
.-
The McNay
honors the legacy of San Antonio arts advocate Robert Lynn Batts Tobin (1934­­­–2001) in its latest exhibition, Robert L. B. Tobin: Collector, Curator, Visionary. This presentation reintroduces Robert L. B. Tobin to new generations of San Antonians through a mix of beloved artworks and theatre designs he acquired expressly to share with the public. Throughout his life, Tobin amassed an eclectic collection of important artworks, theatre arts masterpieces, and books dating from the 15th century through the 21st century, now known as The Tobin Collection of Theatre Arts. "Robert was truly visionary," said Richard Aste, McNay Director and CEO. "He saw before so many public and private US collectors the equal value of the theatre arts and fine arts, and he used his influential collecting practice to remove any artistic hierarchies that privileged one over the other." Tobin's lifelong love of art, ...
More
The Best Photos of the Day
Sixty European masterworks from the IMA collection exhibited in China for the first time
Arts Minister launches call to save a Medieval guide for hermits
Museum Director forced out amid harassment complaints


Rembrandt van Rijn (Dutch, 1606–1669), Self-Portrait, about 1629, oil on panel, 17-1/2 × 13-1/2 × 3/4 in. (panel). Indianapolis Museum of Art at Newfields, Courtesy of The Clowes Fund, C10063.



INDIANAPOLIS, IND.- For the first time in history, 60 European masterworks from the Indianapolis Museum of Art's collection traveled to China in the exhibition, Rembrandt to Monet: 500 Years of European Painting from the Clowes Collection and the Indianapolis Museum of Art. The exhibition encompasses the most influential periods and schools of European art history. Highlights include works by Titian, Rubens, Rembrandt, Goya, Gauguin and Monet, among others. This international exhibition is curated by Kjell Wangensteen, PhD., Assistant Curator of European Art at Newfields. The paintings were selected for their exceptional quality and for their ability to clearly convey the broader narrative of European art history, from the early Italian Renaissance through nineteenth-century French Impressionism. Among the most notable works in the show are, Rembrandt van ... More



Written in Middle English, the work is a guide for hermits, anchorites and religious recluses.



LONDON.- Arts Minister Helen Whately has placed an export bar on a 15th century Middle English decorated manuscript designed to act as a guide for those entering the life of a religious hermit. 'The Myrowr of Recluses' is believed to have been written in the early 1400s in London by an unknown scribe and is a translation of the Latin 'Speculum inclusorum'. It is designed to be a guide for anchorites or hermits who were religious recluses that retreated from society in order to dedicate their lives to prayer and contemplation. It is estimated that there were around 200 anchorites or hermits in England in the 13th century with more women entering the life than men, however there is little evidence as to how many were living at the time the manuscript was written. The work details the reasons - both virtuous and in some cases misguided - that people seek to become an anchorite, the activities of an anchorite's life - principally prayer, meditation and ... More



In an undated image provided by "Articulate with Jim Cotter," Joshua Helmer, who became one of the country's youngest museum directors when he took over the Erie Art Museum in 2018. Articulate with Jim Cotter via The New York Times.

by Robin Pogrebin and Zachary Small



NEW YORK (NYT NEWS SERVICE ).- The director of a Pennsylvania museum was forced out of his job Monday in the wake of allegations about a pattern of misconduct at his former job as a manager at the Philadelphia Museum of Art. The director, Joshua Helmer, "is no longer employed at the Erie Art Museum," the Erie museum's board said in a statement. It did not elaborate on whether Helmer was fired or asked to resign. The action against the museum director, who had been appointed to the Erie post in 2018, followed a New York Times article Friday that reported that multiple women had accused Helmer of making advances toward them in the workplace while he was at the Philadelphia museum and that an intern had made a similar complaint ... More
Exhibition of works by Man Ray opens at Gagosian
Keno Auctions celebrates Americana Week with blockbuster sale
Sotheby's announces Hong Kong Spring Sales 3-8 April 2020


Man Ray, Film still from L'étoile de mer, 1928 (detail). Gelatin silver print, 9 1/16 x 11 13/16 in. 23 x 30 cm © May Ray Trust/Artists Rights Society (ARS), New York/ADAGP, Paris 2019.



SAN FRANCISCO, CA.- Gagosian is presenting The Mysteries of Château du Dé, an exhibition of works by Man Ray. During his storied career, Man Ray, a multidisciplinary artist with a rare breadth, worked in a variety of mediums, including painting, photography, sculpture, printmaking, film, poetry, and prose. While for him photography and painting were paramount, his work in early film and cinema is often overlooked. Man Ray's first experience in making film was in New York, in 1920, when he worked with Marcel Duchamp on an unsuccessful attempt to create a three-dimensional film. After moving to Paris, in 1921, his diverse experimentation in the medium of photography eventually led him back to the moving image. The film Emak Bakia (1926), with its dreamlike distortions and tilted camera angles, veers toward Surrealism, which Man Ray had embraced, as the Dada ... More



The Samuel Gardner Important Queen Anne Walnut and Walnut-Veneered Bonnet Top Highboy; Salem, MA; ca. 1740; Estimate: $50,000-100,000.



NEW YORK, NY.- Keno Auctions announced its upcoming sale of American Furniture and Folk Art at 3 p.m. on Friday, January 24, 2020, at the Keno Auctions headquarters, at 127 East 69th Street. Over 45 lots will be offered, dating back to the mid-18th century. Says Leigh Keno, "I'm thrilled to return to Americana Week with a sale of this importance. On a scale of 1 to10, in terms of quality, rarity, condition and provenance, the majority of lots in this sale rank a 10. Conservative estimates are a consignor's best friend with the best always rising to the top. Happily, our consignors agree that great pieces and low estimates are a winning combination for exceptional results." This single-owner sale includes three truly remarkable examples of Salem, Massachusetts craftsmanship. Earliest and perhaps most important is a rare Queen Anne Salem Bonnet-Top Walnut and Walnut-Veneered Highboy, circa 1745. Originally owned by Samuel ... More



Yoshitomo Nara, Keep Your Chin Up 2001 (detail), acrylic on canvas, 194 by 259.3 cm Estimate: HK$18,000,000 – 28,000,000. Courtesy Sotheby's.



HONG KONG.- Sotheby's announces its Hong Kong Spring Sales to take place on 3 – 8 April 2020 at the Hong Kong Convention and Exhibition Centre. Leading up to the six-day sales, a major exhibition of Contemporary Art, Evening Sales and New York highlights will be hosted at Grand Hyatt during Hong Kong Art Basel week, offering an early preview of top-quality masterpieces that will lead Sotheby's auctions this Spring. Kevin Ching, CEO of Sotheby's Asia, comments: "Following a stellar year as Asia's market leader for the fourth year in a row, Sotheby's is keeping up the momentum with another exceptional Spring sales series. The consistently robust performance of our Modern and Contemporary Art sales truly speaks for our unrivalled sourcing and curatorial capabilities. We are particularly excited to showcase some of the remarkable works from the forthcoming sales in a public exhibition in March, in ... More
Freeman's to offer European Art and Old Masters in February
A photographer's search for his mother in Nazi concentration camps
Trove of new bird species found on remote Indonesian islands


On offer will be Bald-Headed Orphan Man, Facing Right by Vincent van Gogh (Lot 32; $120,000-180,000).



PHILADELPHIA, PA.- On February 18th, Freeman's will hold its inaugural auction of European Art and Old Masters at its brand new 2400 Market Street location. The tightly-curated 50-lot sale will showcase Continental and British works spanning from the 16th to the early 20th century. A variety of mediums will be featured, including early prints and works on paper, paintings, and sculpture – some being important rediscoveries by celebrated artists such as Niccolò Codazzi (1642-1693), women artists Giovanna Garzoni (1600-1670) and Emilie Preyer (1849-1930), Max Liebermann (1847-1935), Armand Guillaumin (French, 1841-1927) and Montague Dawson (British, 1890-1973). One of the highlights of the sale will be Berthe Morisot's Apollon Révélant sa Divinité à la Bergère Issé (after François Boucher) (Lot 37; $150,000-250,000) – a striking late work completed in the fall of 1892. The painting is one of two paintings that Morisot copied a ... More



In this file photo taken on April 29, 1945, a US soldier looks at a sign in front of the door of a gas chamber at the Nazi concentration camp of Dachau, upon the liberation of the camp by Allied troops. ERIC SCHWAB / AFP.



PARIS (AFP).- Piles of skeletal bodies, the doors to a crematorium, emaciated faces -- an AFP photographer documents the full horror of the Nazi extermination camps in the spring of 1945, as he searches for his deported mother. One-time fashion photographer and having escaped as a prisoner from a train bound for Germany, later joining the Resistance, Eric Schwab was one of the first photographers to work for AFP after it was refounded in August 1944 in a liberated Paris. As a war correspondent, he follows the Allied troops as they advance, becoming a witness to the horrors discovered as the forces progressively liberate the German death camps. A painful quest to find his mother drives him. Elsbeth, a Jewish German, was deported in 1943. Since then, he has not heard anything. One of Schwab's first published photographs ... More



A photo provided by James Eaton/Birdtour Asia shows a Togian jungle-flycatcher, one of several new bird species found in the Wallacean islands off Indonesia's east coast. James Eaton/Birdtour Asia via The New York Times.

by Karen Weintraub



NEW YORK (NYT NEWS SERVICE ).- One day in 2009, Frank Rheindt was wandering up a forested mountainside on an Indonesian island when the skies opened up. He had spent months planning this trip, days finding a charter boat that would carry him to this remote place, and hours plodding uphill, but the local tour guides insisted that the rain would make the search impossible. Reluctantly, Rheindt agreed to head to lower ground. But on the way down, even with the deluge, he was startled by the sight of a thrush sitting on a log. Rheindt, an ornithologist, knew that a thrush shouldn't have been on that island and that the species would normally seek shelter from the rain. A little farther along, he heard the distinctive call of a grasshopper ... More
Auction of American Folk Art & Toys at Doyle on January 23
The Arts House in Singapore hosts an immersive, site-specific installation by Yinka Shonibare
A Jimi Hendrix Experience in London


Ruth Whittier Shute and Samuel Addison Shute, Portrait of Two Children from the Prescott Family with a Dog, circa 1831, Watercolor and pencil on paper. Est. $100,000-150,000.



NEW YORK, NY.- Doyle will present the auction of Cherished: American Folk Art and Toys from the Estate of a Private Collector on Thursday, January 23 at 10am. Scheduled during Americana Week in New York, this landmark single-owner collection comprises over 400 lots, including tin and other toys, mechanical banks, samplers, decorative art, paintings and works on paper. The collector had a keen interest in childhood, as seen by the myriad objects that were made by or treasured and cherished by children in the 18th, 19th and 20th centuries. Together they weave a tale of the delights and education of the child throughout American history. The sale begins with toys and mechanical banks. These objects developed during the Industrial Revolution when toys began to be mass produced in metal instead of the traditional homemade toys of cloth and wood. Cast iron mechanical banks were a novel way to promote savings among children. Often ... More



Yinka Shonibare CBE, 'Justice for All', 2019. Fibreglass sculpture, hand-painted with Batik pattern, brass, hand-painted globe and steel baseplate. Overall: 292 x 206 x 70cm. © Yinka Shonibare CBE. Courtesy the artist and Stephen Friedman Gallery, London.



SINGAPORE.- The Asian Art Institutum, together with The Arts House and Stephen Friedman Gallery, London, are presenting Justice for All, an immersive, site-specific installation by acclaimed British-Nigerian artist Yinka Shonibare CBE, RA. The exhibition has been curated by Dr Zehra Jumabhoy, Courtauld Institute of Art, London, to coincide with Singapore Art Week and the Singapore Biennale 2020. Shonibare's work references the venue's own morphing heritage. In 1827, the building was rented by British colonial authorities for use as a courthouse, later it was turned into the Legislative Assembly. Finally, it was here that Singapore's first parliamentary session as a newly independent nation was opened in 1965 by then President Yusof bin Ishak. Shonibare's monumental sculptural installation re-configures British sculptor F.W. Pomeroy's Lady Justice (1905 ... More



The "bedsit," the apartment's main gathering place, at the former London home of Jimi Hendrix on Brook Street in Mayfair, London. Andy Haslam/The New York Times.



LONDON (NYT NEWS SERVICE ).- As the story goes, one fateful night in the late 1960s, Jimi Hendrix, best known for changing the music world with his guitar playing, set free two ring-necked parakeets on Carnaby Street and that's why thousands of the nonnative birds haunt London's parks to this day. "Absolute rubbish," Christian Lloyd, a musicologist at Queens University, said in an interview. "It's the kind of thing people want to be true, but it's just not true." Lloyd would know. His research, along with relics that Hendrix fans would drool over, like his broken Fender Stratocaster from a 1969 Royal Albert Hall performance, is on display at Handel & Hendrix in London, a residence-turned-museum dedicated to the two musical giants who once lived there: Hendrix and German composer George Frideric Handel. Parakeets may not be part of Hendrix's legacy in London, but he nevertheless left his mark. The several months he spent there, spread throughout the final ... More
Studio Visit: Tadaaki Kuwayama and Rakuko Naito
Flashback
On a day like today, German photographer Andreas Gursky was born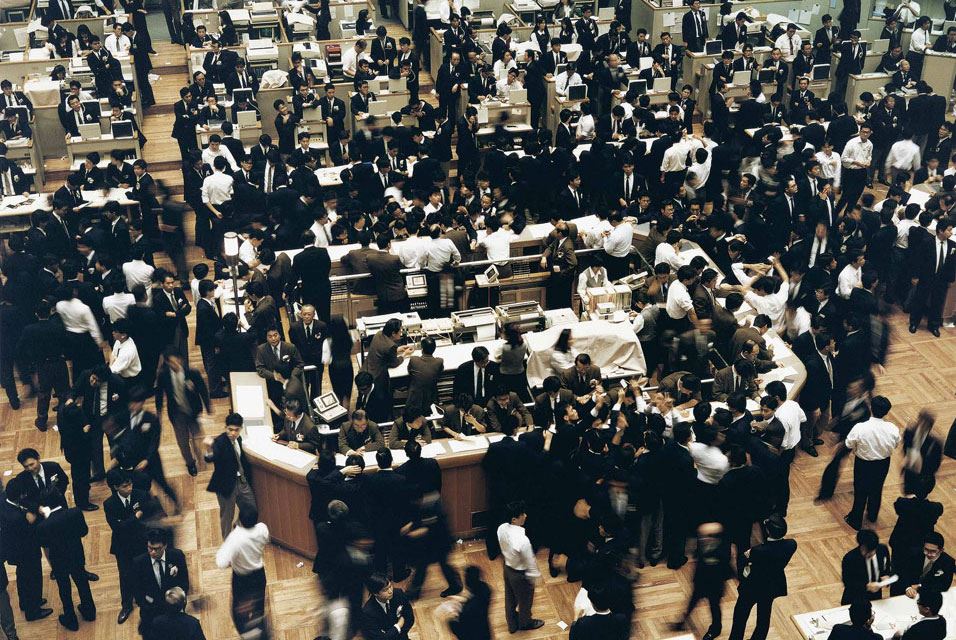 January 15, 1955. Andreas Gursky (born 15 January 1955) is a German photographer and professor at the Kunstakademie Düsseldorf, Germany. He is known for his large format architecture and landscape colour photographs, often employing a high point of view. In this image: Andreas Gursky, Tokyo Stock Exchange 1990. C-Print 205.0 x 260.0 x 6.2 cm © Andreas Gursky /VG Bild-Kunst. Licensed by VISCOPY, Australia. Courtesy: Monika Sprüth / Philomene Magers, Berlin London.
---

Museums, Exhibits, Artists, Milestones, Digital Art, Architecture, Photography,
Photographers, Special Photos, Special Reports, Featured Stories, Auctions, Art Fairs,
Anecdotes, Art Quiz, Education, Mythology, 3D Images, Last Week,
.
---
Royalville Communications, Inc
produces: