Degas and his dancers: New show at Musee d'Orsay demolishes myth
Victoire Anquetil, a dancer of the Paris Opera Ballet performs during the dancing show "Degas Danse" on the sidelines of the exhibition "Degas at the Opera" at the Orsay museum in Paris on October 9, 2019. Martin BUREAU / AFP.

by Rana Moussaoui / Fiachra Gibbons
PARIS
(AFP)
.-
It has always been assumed that Edgar Degas worked in the wings and rehearsal rooms of the Paris Opera to produce his staggering pictures of its dancers. But, like the ballets themselves, it turns out that his behind-the-scenes masterpieces were a brilliant illusion. "All his scenes of the Opera are phantasmagoric," said Henri Loyrette, former head of the Louvre and Musee d'Orsay in Paris. A huge new show at the Orsay put together by the French art historian reveals that Degas hardly ever sketched in the theatre, never mind backstage. While "the painter of dancers" haunted the opera and its ballet for nearly 40 years, drinking in all the glamour and the grime, the socially awkward introvert remained mostly in the shadows. It was from there that he observed dancers and their predatory "patrons" as well as the mothers who often pimped their daughter ...
More
The Best Photos of the Day
Artcurial to offer a Tahitian masterpiece by Paul Gauguin
David Zwirner expands his reach to Paris
Oxford professor is accused of selling ancient texts to Hobby Lobby


Paul Gauguin, Te Bourao II (detail). Oil on canvas. Signed, dated and titled on the lower right "97 TE BOURAO P.Gauguin", 73 X 92 cm. Estimate: 5-7 M €.



PARIS.- From 3 to 31 October 2019, Artcurial is offering a preview of a Tahitian masterpiece by Paul Gauguin: Te Bourao II. Set to be auctioned by Artcurial for the very first time on 3 December 2019, during its Impressionist & Modern Art sales, it is estimated at €5-7M. Painted in Tahiti in 1897, this oil on canvas is a legacy piece that encapsulates the artist's Tahitian themes and obsessions from a period when he was plagued by multiple torments. Te Bourao II comes from a major cycle of nine paintings that Paul Gauguin produced in Tahiti and sent back to Paris in 1898, for a solo exhibition at the Ambroise Vollard gallery. Amongst these masterpieces was his iconic piece Where Do We Come From? What Are We? Where Are We Going?. Te Bourao II is the only work in this set that is still privately owned; the eight others hang in the world's most prestigious institutions: the Boston Museum of Fine Arts, the Hermitage Museum i ... More



David Zwirner at his gallery on West 19th Street in New York, in front of works by Raymond Pettibon, Sept. 26, 2019. Now representing more than 60 artists and estates, David Zwirner Gallery has grown significantly since its 1993 debut in New York City, where Zwirner, who attended NYU, has been based ever since. James Estrin/The New York Times.



PARIS (NYT NEWS SERVICE).- A good art dealer finds a way to combine earnestness with polished savvy, and the success of German-born gallerist David Zwirner demonstrates the potency of such a mixture. Now representing more than 60 artists and estates, David Zwirner Gallery has grown significantly since its 1993 debut in New York City, where Zwirner, who attended NYU, has been based ever since. This month, timed to the yearly FIAC art fair, he opens his first Paris gallery, in a historic Marais district space. Zwirner has three galleries in New York — a fourth, in Chelsea and designed by architect Renzo Piano, is slated to open in two years — and one each in London and Hong Kong. But Zwirner, 54, is ambivalent about ... More



A Hobby Lobby store in Laurel, Md., March 22, 2014. An investigation found that Bible fragments in a museum started by the owners of the arts-and-crafts chain had been illegally taken from Oxford University. Drew Angerer/The New York Times.



LONDON (NYT NEWS SERVICE).- A trans-Atlantic investigation conducted by a Washington museum and a London-based archaeological group has accused a prominent Oxford University professor of stealing and selling fragments of ancient texts to Hobby Lobby, the arts-and-crafts chain. The fragments come from the Oxyrhynchus Papyri, a prized collection of more than half a million pieces of papyrus and parchment dating from the third century B.C. to the seventh century A.D. discovered in Egypt by two archaeologists in the late 19th century. The collection is held at Oxford University and overseen by the Egypt Exploration Society of London. Thirteen fragments from the collection were found in the Museum of the Bible, a Washington institution founded by Hobby Lobby's evangelical Christian owners, the Green family. ... More
Harold Bloom, critic who championed western canon, dies at 89
A fair with a French accent, inside and out
Swiss exhibit catalogues draw of war, desire for peace


Harold Bloom in New York on March 12, 2011. Bloom, the prodigious literary critic who championed and defended the Western canon in an outpouring of influential books, died on Monday, Oct. 14, 2019, at a hospital in New Haven, Conn. He was 89. Mark Mahaney/The New York Times.



NEW YORK (NYT NEWS SERVICE).- Harold Bloom, the prodigious literary critic who championed and defended the Western canon in an outpouring of influential books that appeared not only on college syllabuses but also — unusual for an academic — on bestseller lists, died Monday at a hospital in New Haven, Connecticut. He was 89. His death was confirmed by his wife, Jeanne Bloom, who said he taught his last class at Yale University on Thursday. Bloom was frequently called the most notorious literary critic in America. From a vaunted perch at Yale, he flew in the face of almost every trend in the literary criticism of his day. Chiefly he argued for the literary superiority of the Western giants like Shakespeare, Chaucer and Kafka — all of them white and male, his own critics pointed out — over writers favored by what he called "the School of Resentment," by which he meant multiculturalists, feminists, Marxists, ... More



In an image provided by Marc Domage, the 45th edition of the International Contemporary Art Fair, or FIAC, in Paris in October 2018. At FIAC, galleries set up shop in the Grand Palais, and Paris reasserts its importance as an art capital. Marc Domage via The New York Times.



PARIS (AFP).- The physical environments of art fairs tend to be utilitarian convention halls, although there are some — like the Frieze fairs in London, New York and Los Angeles, with their light-filled, architect-designed tents — that try to boost the appeal of the surroundings. The Grand Palais in Paris, however, is a building of a different order. Built for the Exposition Universelle in 1900, the structure has a glass roof and the largest nave in Europe, which have helped to make it an architectural and civic icon. It epitomizes beaux-arts style. It's one of the premier selling points — other than Paris itself in the fall, that is — for the International Contemporary Art Fair, or FIAC, taking place there Thursday through Sunday for its 46th edition. "We're the largest user of the Grand Palais," said Jennifer Flay, the fair's director. "We've annexed every nook and cranny we could. "I'd love to have more galleries, and that will be t ... More



An autographed original edition of Adolf Hitler's "Mein Kampf" book is displayed at Martin Bodmer Foundation during the "War and Peace" exhibition on October 11, 2019 in Cologny near Geneva. Hitler's "Mein Kampf" and a 5,000-year-old peace treaty -- the world's oldest -- represent opposite poles in the eternal human struggle between the propulsion to war and the desire for peace. FABRICE COFFRINI / AFP.



COLOGNY (AFP).- Hitler's "Mein Kampf" and a 4,500-year-old peace treaty -- the world's oldest -- represent opposite poles in the eternal human struggle between the propulsion to war and the desire for peace. They are among 135 priceless manuscripts, books, documents and other items on display at a new exhibit near Geneva, housed in the sprawling basement of the Martin Bodmer Foundation. The dimly lit show features several pages of Leo Tolstoy's original manuscript for "War and Peace", permitted to leave Russia for the first time since he wrote the book in the 1860s. Each of the yellowed pages, filled with Tolstoy's tight, elegant Cyrillic cursive, with crossed-out words and margin notes, has been insured for $800,000 (725,000 euros). Curator Pierre Hazan told AFP he was thrilled that "this treasure, which belongs to Russia ... More
Giuseppe Penone exhibits his monumental work Matrice di Linfa in Paris
African American art quilts find a museum home in California
Christie's to offer five nudes by Sanyu, leading the masterpiece market this season


Giuseppe Penone, Matrice di linfa, Palais d'Iéna, Octobre 2019. Rebecca Fanuele © Palais d'Iéna, architecte Auguste Perret, UFSE, SAIF /Courtesy Archivio Penone et Marian Goodman Gallery, New York, Paris, London.



PARIS.- During FIAC this year, the Palais d'Iéna – the French Economic, Social and Environmental Council has invited Giuseppe Penone to exhibit his work in its great hypostyle hall. For his first exhibition in Paris since 2013, organized in collaboration with Marian Goodman Gallery, the artist is presenting his monumental work Matrice di Linfa accompanied by two new sculptures created especially for the exhibition. In the making of Matrice di Linfa Penone intervened in the history of a fir tree by removing eighty rings of its growth. This work is emblematic of the CESE's commitment to the environment and celebrates the 80th anniversary of Auguste Perret's architectural masterpiece. Giuseppe Penone considers Matrice di Linfa as a shape with an animal force, it also evokes an open book, a "long sacrificial altar" or "a long and thin boat sailing back and forth in the space, pushed ... More



Lee Wanda Jones: Road to Nowhere, 1988; quilted by Willia Ette Graham and Johnnie Wade, 1988. Robe velour; 63 in. x 81 in. Photo: Sharon Risedorph.



BERKELEY, CA (NYT NEWS SERVICE).- Almost 3,000 quilts by African American artists — including more than 500 by Rosie Lee Tompkins, a quilt maker whose formally inventive work has helped elevate the standing of the discipline in the art world — are heading to the Berkeley Art Museum and Pacific Film Archive as a bequest by Eli Leon. Leon, who died last year, was a voracious collector and champion of African American quilting. "It's hard to overestimate the importance and power of this gift," Lawrence Rinder, the museum's director and chief curator, said. "The scale of it and the depth of it is mind-blowing." The bequest, which includes the pieces by Tompkins and works by more than 400 artists from across the country, will account for about 15% of the art collection at the Berkeley Art Museum and Pacific Film Archive, which is affiliated with the University of California. Leon's collection will help introduce the public to African American quilt makers ... More



Sanyu, Five Nudes (detail), signed 'Sanyu' and signed in Chinese, oil on masonite, 120 x 172 cm. Painted in 1950s. © Christie's Images Ltd 2019.



HONG KONG.- Joining the strong line-up of masterpieces this season by Zao Wou-Ki, Léonard Tsuguharu Foujita and Kim Whanki, Christie's will present for auction one of the most important works of 20th century art by Chinese-French artist Sanyu. The offering of this groundbreaking masterwork, Five Nudes, will mark a defining moment for the auction market, and will be presented as the leading highlight of the 20th Century and Contemporary Art Evening Sale. Five Nudes is the largest painting featuring female nudes that Sanyu ever created, and features the greatest number of figures within a single composition; no other piece by Sanyu depicts as many human subjects. The depiction of standing figures within Sanyu's oeuvre is also exceedingly rare. According to the artist's catalogue raisonne, there are 56 known oil paintings by Sanyu that feature the female nude, and of these, only seven depict standing figures; aside from Five Nude ... More
Freeman's to offer rare historical portrait of southern general at auction
Threewalls receives $1.2 million, three year award from Surdna Foundation to expand program supporting ALAANA artists
Nicolas de Stael painting sold for record 20 million euros


An important Portrait of Major General Thomas Pinckney (1750-1828) of Charleston, South Carolina, circa 1820, by the artist/ inventor Samuel Finley Breese Morse (1791-1828) (Lot 99; $60,000-100,000).



PHILADELPHIA, PA.- Freeman's November 12 auction of American Furniture, Folk & Decorative Arts will feature, by direct descent in the Pinckney family, an important Portrait of Major General Thomas Pinckney (1750-1828) of Charleston, South Carolina, circa 1820, by the artist/ inventor Samuel Finley Breese Morse (1791-1828) (Lot 99; $60,000-100,000). A lawyer, planter, military leader and politician, Pinckney served in the Revolutionary War and the War of 1812. He was a Governor of South Carolina, a member of the U.S. House of Representatives, and served as Minister to Britain, and special envoy to Spain-negotiating the important Treaty of San Lorenzo. Pinckney is shown in uniform wearing the insignia of the Society of the Cincinnati of which he was a founding member and 4th President General. Also coming to auction by direct ... More



Jeffreen Hayes. Image by Milo Bosh.



CHICAGO, IL.- Threewalls announced that the organization has received a $1.2 million award from Surdna Foundation, enabling the non-profit organization to dedicate $300,000 per year for three years to further develop its already expansive programs helping to fund and develop projects from ALAANA (African, Latinx, Asian, Arab, Native American) identifying artists based in Chicago. Threewalls' social justice fellowship, RaD Lab+Outside the Walls, will expand to support 12 artists per year with grants of $25,000, focusing on community-oriented research and public projects that reimagine racial justice and equity. The program was founded in 2017 to address the disproportionally inadequate funding and artistic support ALAANA artists typically receive. The multi-year nature of the grant opens up an expansive realm of possibilities for Threewalls to invest in artists and creatives who use radical imagination to practice a racially just society. Th ... More



Nicolas de Staël, Parc des Princes (Les grands footballeurs) detail. Oil on canvas, 200 x 350 cm. Painted in Paris in 1952. Estimate: €18-25 millions © Christie's Images Ltd, 2019.



PARIS (AFP).- A monumental painting by Nicolas de Stael was sold for 20 million euros at Christie's auction on Thursday, in what could be the most paid for a painting of a football match. It was certainly the highest price obtained for a painting by the French artist of Russian origin who died in 1955 at the age of 41. "Parc des Princes", painted in 1952, was estimated to be worth between 18 and 25 million euros ($20 and $27 million) and was on the market for the first time. The piece was owned by the artist's family and was exhibited only a handful of times. Between 1953 to 2003 it was displayed in New York, various galleries in Paris, such as the Pompidou Centre, as well as in London and Madrid. The painting, which features a rich array of colours from teal to bright white, depicts an international friendly match between Sweden and ... More
Henry H. Arnhold and the Miracle of Meissen Porcelain
Flashback
On a day like today, Flemish painter Jacob Jordaens died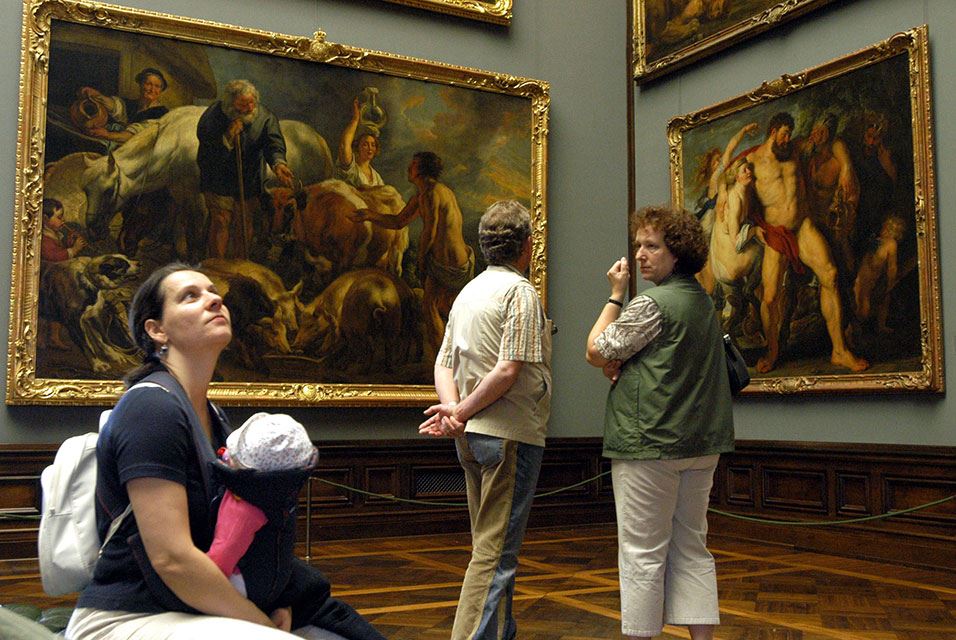 October 18, 1678. Jacob Jordaens (19 May 1593 - 18 October 1678) was one of three Flemish Baroque painters, along with Peter Paul Rubens and Anthony van Dyck, to bring prestige to the Antwerp school of painting. Unlike those contemporaries he never traveled abroad to study Italian painting, and his career is marked by an indifference to their intellectual and courtly aspirations. In fact, except for a few short trips to locations in the Low Countries, he remained in Antwerp his entire life. As well as being a successful painter, he was a prominent designer of tapestries. Like Rubens, Jordaens painted altarpieces, mythological, and allegorical scenes, and after 1640 -- the year Rubens died -- he was the most important painter in Antwerp for large-scale commissions and the status of his patrons increased in general.
---

Museums, Exhibits, Artists, Milestones, Digital Art, Architecture, Photography,
Photographers, Special Photos, Special Reports, Featured Stories, Auctions, Art Fairs,
Anecdotes, Art Quiz, Education, Mythology, 3D Images, Last Week,
.
---
Royalville Communications, Inc
produces: