'Significant' number of artifacts recovered from gutted Brazil museum
A researcher clean artefacts found amid the debris of Brazil's National Museum as journalists make their first visit since the building burnt down last September, in Rio de Janeiro, Brazil, on February 12, 2019. Brazil's historic National Museum was gutted by fire last year. The 200-year-old institution was considered the main natural history museum in Latin America, and was known for its paleontology department and its 26,000 fossils. Mauro PIMENTEL / AFP.
RIO DE JANEIRO
(AFP)
.-
A "significant" number of artifacts has been recovered from Brazil's National Museum which was gutted by fire five months ago, devastating one of Latin America's most important natural history collections, according to the team of experts picking through the debris. While the exact quantity saved "is difficult to establish" at this point, the team was encouraged by the finds, its leader, archeologist Claudia Carvalho, told reporters on Tuesday. The museum's director, Alexander Kellner, said 2,000 items had been recovered and registered, but explained many were fragments of one item. "Thanks to this success, we have an agreable problem: we need a lot more containers because we don't have a lot of space" to store the finds, Kellner said. He added that the museum, located in a park in northern Rio de Janeiro, soon planned ...
More
The Best Photos of the Day
Early masterpiece by Paul Gauguin to be unveiled at Sotheby's Paris
From the Tower of Babel to Brexit, Bodleian Libraries exhibition explores the power of translation
Galerie Thaddaeus Ropac announces global representation of the estate of pioneering artist Rosemarie Castoro


Paul Gauguin, Le Jardin de Pissarro, Quai du Pothuis ŕ Pontoise, 1881 (recto), Deux esquisses d'autoportrait (verso). Oil on canvas, 65 x 54 cm. Estimate: €600.000-900.000. Courtesy Sotheby's.



PARIS.- Sotheby's today unveiled an early masterpiece by Paul Gauguin: Le Jardin de Pissarro, Quai du Pothuis ŕ Pontoise, 1881, a highlight of the Impressionist and Modern Art sale in Paris on 29 March. Having remained in the same family collection since the 1920s, the painting has rarely been exhibited: in 1964 in Pont-Aven and, more recently, at a hugely popular exhibition at the Cleveland Museum of Art (Painting the Modern Garden: Monet to Matisse, 2015-2016). The work is rare in more than one respect: Gauguin's paintings from this period hardly ever appear on the market, and the two self-portraits by the artist on the back of the canvas make it truly unique. Aurélie Vandevoorde, Head of the Impressionist and Modern Art Department at Sotheby's France, explains: "While it is always an event to see major works by the great pioneers ... More



The Book of Ezra. Photo: Bodleian Libraries, University of Oxford.



OXFORD.- Babel: Adventures in Translation, a new exhibition at the Bodleian Libraries, explores the power of translation from the ancient myth of the Tower of Babel to the challenges of modern-day multicultural Britain in light of Brexit. Featuring a stunning range of objects from the Libraries' collections, the exhibition shows how ideas and stories have travelled across time and territory, language and medium. Babel explodes the notion that translation is merely about word-for-word rendering into another language, or that it is obsolete in the era of global English and Google Translate. It shows how translation is an act of creation and interpretation, and has been part of our daily lives since time began. Katrin Kohl, Professor of German Literature at the University of Oxford, and co-curator of the exhibition said: "Babel explores the tension between the age-old quest for a universal language, like Latin, Esperanto ... More



Rosemarie Castoro, Orange Ochre Purple Yellow Y, 1965 (detail). Acrylic on canvas. 212.09 × 210.82 cm (83 1/2 × 83 in) (RC 1075). © The Estate of Rosemarie Castoro. Courtesy of Anke Kempkes Art Advisory / Galerie Thaddeus Ropac, London • Paris • Salzburg.



PARIS.- Coinciding with the 80th anniversary of the birth of pioneering artist Rosemarie Castoro (1939-2015), Galerie Thaddaeus Ropac announced that it will represent the artist's estate globally. "One of the few women associated with Minimalism and a central figure of the New York art scene in the 1960s, Rosemarie Castoro broke the artistic boundaries of the period through her visionary engagement with scale and experimental use of materials, subverting the mathematical rigour of Minimalism. It is an honour to work with the estate of Rosemarie Castoro, building the momentum of overdue appreciation for the contribution she made to developments in both Minimalism and post-Minimalism." Thaddaeus Ropac Represented in the collection of The Museum of Modern Art, New ... More
Simon Lee Gallery opens the first solo show in Asia by New York artist Sarah Crowner
Morphy's to host exceptional March 13-14 antique toy, bank, doll and train auction
Blum & Poe opens a selected survey exhibition of Japanese art of the 1980s and '90s


Sarah Crowner, Rotating Wings, 2019. Acrylic on canvas, sewn, 208.3 x 198.1 cm (82 x 78 in.) Courtesy the artist and Simon Lee Gallery.



HONG KONG.- Simon Lee Gallery, Hong Kong, presents the first solo show in Asia by New York artist Sarah Crowner. The exhibition comprises a series of new stitched canvas paintings by the artist, as well as a collaboration with the Hong Kong-based scenic painter and theatre set designer, Pink Lam. Paintings For The Stage is a continuation of the artist's architectural and scenographic interventions, as seen most recently in her works at the 57th edition of The Carnegie International at the Carnegie Museum of Art, scenery and costume design for Jessica Lang's Garden Blue for the American Ballet Theatre Company, and the commission she created for the Wright restaurant at the Guggenheim Museum of Art, New York. Crowner's multi-disciplinary practice draws on art, fashion, graphic design, theatre and performance to create dynamic works that recall 20th century geometric abstraction and re-examine the principles of geometry, prop ... More



Masudaya 'Machine Man' tin-litho battery-operated robot from Gang of Five series. Near mint, one of the finest examples known; consigned by original owner. Estimate: $50,000-$80,000.



DENVER, PA.- Although Morphy Auctions is a full-service auction house that has achieved world-record prices for decorative art, fine jewelry and firearms, its roots are deeply embedded in the antique toy and bank community. Since opening its doors in 1997, Morphy's has represented scores of premier collections, including the Stephen and Marilyn Steckbeck bank collection (Oct. 2007), whose $7.7 million total set a new record for the highest-achieving one-day single-owner toy collection ever sold at auction. Morphy's will continue the tradition of bringing fresh, superior-quality toys, banks and dolls to the marketplace on March 13-14 with a 1,590-lot sale at their southeastern Pennsylvania gallery. All forms of remote bidding will be available, including live via the Internet through Morphy Live. Prices for cast-iron mechanical banks have remained robust at Morphy sales over the past two decades, whether the ... More



Kazumi Nakamura, Broken Hermitage 15 (Mt. Okusenjyu), 1996. Oil on cotton canvas, 94 1/2 x 71 1/2 x 1 1/2 inches (240 x 181.6 x 3.8 centimeters) © Kazumi Nakamura / Courtesy of Blum & Poe, Los Angeles/New York/Tokyo.



LOS ANGELES, CA.- Blum & Poe announces Parergon, a selected survey exhibition of Japanese art of the 1980s and '90s, curated by Mika Yoshitake. Focusing on the themes of abject politics, transcending media, performativity, and satire and simulation, this show presents the work of over twenty-five visual artists including Kodai Nakahara, Tatsuo Miyajima, Kazumi Nakamura, Yukie Ishikawa, Tsuyoshi Ozawa, and Yukinori Yanagi in an array of media spanning painting, sculpture, duration performance, noise, video, and photography. The exhibition title makes reference to the gallery in Tokyo (Gallery Parergon, 1981-1987) that introduced many artists associated with the New Wave phenomenon, its name attributed to Jacques Derrida's essay from 1978 which questioned the "framework" of art, influential to artists and critics during the period. ... More
Swann Galleries announces the Ismar Littmann Family Collection of German Expressionism and European Avant-Garde
Museum Tinguely opens an exhibition of works by Cyprien Gaillard
Exhibition of the artists who fled Nazi occupation opens at Abbot Hall Art Gallery


Otto Mueller, Lagernde Zigeunerfamilie mit Ziege, color lithograph, 1926-27. From the Ismar Littmann Family Collection. Estimate $30,000 to $50,000.



NEW YORK, NY.- Swann Galleries' March 5 auction boasts property from the Ismar Littmann Family Collection, a 160-lot offering of German Expressionism and European Avant-Garde. The afternoon session of 19th & 20th Century Prints & Drawings features an array of works from notable Modern, nineteenth-century and American artists. Compiled in a separate catalogue, the Littmann offering celebrates a singular collector. Ismar Littmann began collecting in the 1910s, and his habits and tastes were individual and contemporary to the time–a parallel to the independent spirit of the Breslau art scene. The personal relationships he held with the artists, particularly Otto Mueller, had a deep influence on him and resulted in a collection with depth and insight, consisting of not only works of art, but correspondence between the collector and artists. By the end of the 1920s Littmann had acquired more than 6,000 ... More



Cyprien Gaillard, Captain Blood's Moorhen, 2013, 78,7 x 94 x 111,8 cm © Cyprien Gaillard; Courtesy the artist, Sprüth Magers & Gladstone Gallery.



BASEL.- With his films, photographs, and sculptures, Cyprien Gaillard (born 1980 in Paris) describes and evokes the perpetual destruction, preservation, and reconstruction of urban spaces. From 16 February to 5 May 2019 the exhibition «Cyprien Gaillard. Roots Canal» puts on display works capturing the incessant transformation of the urban landscape, as well as that of nature and humankind. Close to tipping point, his works evoke the imminence, or the coming, of a metamorphosis. They intercept the moment of falling or remain suspended in the instability of becoming. Installed at the heart of Museum Tinguely and presented for the first time in Europe, a series of excavator heads precisely embodies this moment of suspension. A metaphor for human voracity, in the museum context these tools commonly found on building sites become fossils from the future. They are contrasted with a flight of exotic ... More



Kurt Schwitters, Portrait of Edward Driscoll, 7 January 1941, Oil on panel of tea chest, Private Collection.



KENDAL.- Artists who found safe haven in Britain after being displaced by war are the subject of a new exhibition at Abbot Hall Art Gallery. Refuge: The Art of Belonging (15 February to 29 June 2019) tells the story of artists who entered Britain as a result of Nazi occupation. The exhibition is part of Insiders/Outsiders - a nationwide arts festival taking place throughout 2019 to celebrate refugees from Nazi Europe and their contribution to British culture. Refuge: The Art of Belonging runs over three galleries, and features works from Lakeland Arts' collection including Kurt Schwitters, Hilde Goldschmidt, Hans Coper, Lucie Rie, Lucian Freud, and Frank Auerbach. The show examines displacement within artists' work and the adoption of new landscapes. Helen Watson, Director of Programming at Lakeland Arts said: "With recent WW1 commemorations and ongoing troubles in the Middle East, the issues of conflict, loss and displ ... More
The Jewish Museum of Florida-FIU announces new Director of Development: Amy Borman Somek
Important items signed by Lincoln, Washington, others offered in University Archives sale
Exhibition of new and recent paintings by artist John Kørner on view at Victoria Miro


Amy Borman Somek, the new Director of Development at the Jewish Museum of Florida-FIU.



MIAMI, FLA.- The Jewish Museum of Florida-FIU, part of Florida International University, announces that Amy Borman Somek has been appointed as the museum's new Director of Development. Prior to joining the museum, Somek was the Director of Development at the Greater Miami Hebrew Academy, the oldest Jewish day school in the state of Florida (founded in 1947). Her career includes experience in designing comprehensive development programs, annual campaign plans and strategies, corporate sponsorships, cultivation of prospective donors, and directing fundraising programs and events. She has a broad knowledge of the Jewish Communities, and the business and philanthropic arena. The Jewish Museum of Florida-FIU is located in the heart of Miami Beach's historic Art Deco District. The museum serves as a major cultural attraction and source of information for a wide audience of residents, tourists, students and scholars of all ages and ... More



Autographed letter, written and signed by Abraham Lincoln, on Executive Mansion stationery, dated May 24, 1864, to Secretary of War Edwin Stanton (est. $13,000-$15,000).



WESTPORT, CONN.- A signed copy of Franklin D. Roosevelt's first book, authored before he became President, a newly discovered handwritten and signed letter by Alexander Hamilton, and a typewritten letter by J. Robert Oppenheimer regarding the development of the atomic bomb are expected top lots in University Archives' next online-only auction on Wednesday, February 27th. Live bidding for the 266-lot auction is scheduled to start promptly at 10:30 am Eastern time. As with all University Archives auctions, this one is loaded with rare, highly collectible autographed documents, manuscripts, books, photos and relics. The full catalog can be viewed online now, at www.UniversityArchives.com. Online bidding is via Invaluable.com and LiveAuctioneers.com. "Our last auction was the best one yet, with over 3,000 registered bidders from over 50 countries ... More



John Křrner, Leaving the sun, 2018. Acrylic on canvas, 180 x 150 cm, 70 7/8 x 59 1/8 in © John Křrner. Courtesy the artist and Victoria Miro, London/Venice.



LONDON.- Victoria Miro presents Life in a Box, an exhibition by the Copenhagen-based artist John Křrner, featuring new and recent paintings, and sculptural elements including a climbing frame that also functions as a bar. A painter of erudite, questioning canvases in which topical content is tackled with various degrees of abstraction and metaphor, John Křrner has developed a wide-ranging practice that speaks beyond the boundaries of the painted image to include installations that transform the viewer's experience of three-dimensional space. He is celebrated for his ongoing 'problems' – egg-shaped forms that appear in his paintings and as sculptures created in a variety of materials, sizes and colours, which allude not to specific problems per se but to the nature of problems as they emerge, are represented and comprehended in the world. The title of this exhibition, the Danish artist's fifth solo show at the g ... More
Henry Geldzahler: Curator and Influencer
Flashback
On a day like today, French fashion designer Hubert de Givenchy was born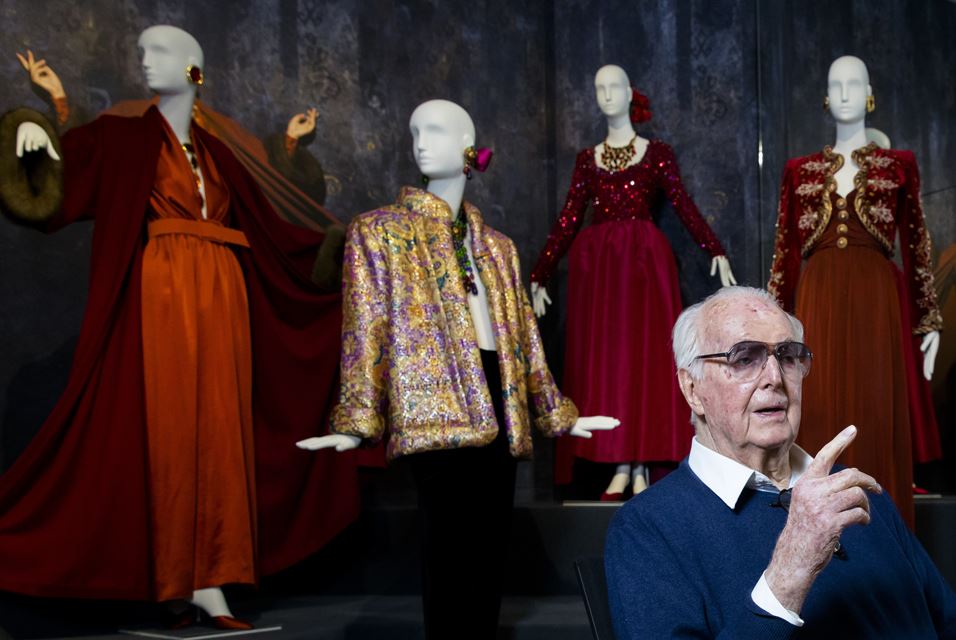 February 21, 1927. Count Hubert James Marcel Taffin de Givenchy (born 21 February 1927) is a French fashion designer who founded The House of Givenchy in 1952. He is famous for having designed much of the personal and professional wardrobe of Audrey Hepburn, as well as clothing for clients such as Jacqueline Bouvier Kennedy. In this image: French fashion designer Hubert de Givenchy poses at the Gemeentemuseum in The Hague, on November 23, 2016 during a retrospective of the designer's work at the exhibition To Audrey With Love. Bart Maat / ANP / AFP.
---

Museums, Exhibits, Artists, Milestones, Digital Art, Architecture, Photography,
Photographers, Special Photos, Special Reports, Featured Stories, Auctions, Art Fairs,
Anecdotes, Art Quiz, Education, Mythology, 3D Images, Last Week,
.
---
Royalville Communications, Inc
produces: