Egypt unveils colourful Fifth Dynasty tomb
Mohamed Mujahid (L), head of the Egyptian mission which discovered the tomb of the ancient Egyptian nobleman "Khewi" dating back to the 5th dynasty (2494–2345 BC), inspects the tomb's walls inside at the Saqqara necropolis, about 35 kilometres south of the capital Cairo on April 13, 2019. Mohamed el-Shahed / AFP.
CAIRO
(AFP)
.-
In a major archaeological discovery, Egypt on Saturday unveiled the tomb of a Fifth Dynasty official adorned with colourful reliefs and well preserved inscriptions. The tomb, near Saqqara, a vast necropolis south of Cairo, belongs to a senior official named Khuwy who is believed to have been a nobleman during the Fifth Dynasty, which ruled over Egypt about 4300 years ago. "The L-shaped Khuwy tomb starts with a small corridor heading downwards into an antechamber and from there a larger chamber with painted reliefs depicting the tomb owner seated at an offerings table," said Mohamed Megahed, the excavation team's head, in an antiquities ministry statement. Flanked by dozens of ambassadors, Antiquities Minister Khaled al-Enani said the tomb was discovered last month. It is mostly made of white limestone bricks. Ornate paintings boast a special green resin throughout and oils used in the burial process, the ministry said. ...
More
The Best Photos of the Day
Tampa Museum of Art celebrates Abstract Expressionism with two new exhibitions
The Hall Art Foundation opens a survey exhibition of works by Keith Sonnier
Guggenheim Bilbao opens a survey exhibition of the great 20th-century Italian painter Giorgio Morandi


Willem de Kooning (American, b. the Netherlands 1904–1997), Woman II, 1961. Oil on paper mounted on canvas. 29 x 22 1/2 inches. The Haskell Collection. © 2018 The Willem de Kooning Foundation / Artists Rights Society (ARS), New York.



TAMPA, FLA.- Abstract Expressionism: A Social Revolution, Selections from the Haskell Collection presents twenty-five works from the Haskell Collection indicative of Abstract Expressionism as a unifying direction in Post-World War II art. The exhibition highlights artists associated with the influential first and second generations of Abstract Expressionist painters including Willem de Kooning, Hans Hofmann, Helen Frankenthaler, Franz Kline, Morris Louis, Joan Mitchell, Robert Motherwell, Kenneth Noland, Mark Rothko, and Theodoros Stamos. Later works by Gerhard Richter, Jack Goldstein, Robert Rauschenberg, and Frank Stella respond or reflect on the lasting legacy of Abstract Expressionism in both the US and abroad. Viewed together, the works in Abstract Expressionism: A Social Revolution address how individual artistic expression ... More



Keith Sonnier, Lit Circle Blue with Etched Glass (Lit Circles Series), 1968. Neon, glass, wire/transformer, 58 x 61 x 25 inches (147 x 155 x 64 cm). Hall Collection. Courtesy Hall Art Foundation © Keith Sonnier.



HOLLE .- The Hall Art Foundation announced an exhibition by American artist Keith Sonnier being held at its Schloss Derneburg location. Organized in collaboration with the artist, this survey brings together over a dozen neon works from 1968 – 2011. The use of neon has become a defining element in Sonnier's sculpture, forming a signature and important body of work. A rare early floor sculpture from 1967 that has not been publicly exhibited in over thirty years will also be featured. Beginning in the late 1960s, Sonnier radically called into question the traditional concept of sculpture by incorporating unconventional and industrial materials in his work. For example, Untitled (1967) consists of a long wooden box with a satin-covered top that lies under a large piece of cheesecloth. Sonnier's "non-art" materials also included neon light, ... More



Giorgio Morandi, Flowers (Fiori), 1950. Oil on canvas, 35 x 26.5 cm. Fondation Mattioli Rossi, Switzerland © Giorgio Morandi, VEGAP, Bilbao, 2019.



BILBAO.- The Guggenheim Museum Bilbao presents A Backward Glance: Giorgio Morandi and the Old Masters . This survey of a great 20th-century Italian painter explores the relationships between his still lifes and some of his main art historical sources. This exhibition brings together, for the first time, an extensive selection of Morandi's exceptional paintings and works by the Old Masters who impacted his artistic practice, which spanned over four decades, from post-World War I to the early 1960s. "I felt that only an understanding of the most vital works that painting had produced through the past centuries could guide me in finding my own way." Giorgio Morandi
Morandi was an insightful student of art history who had multiple referents in mind when developing his artistic practice. The exhibition explores historical influences, all of which precede the 19th century, from three different European countries: 17th-ce ... More
Scaffolding or modern art? Jury out on new Paris fountains
Burt Reynolds auction heads to Julien's Auctions
Exhibition investigates image and data circulation as a ubiquitous hallmark of contemporary culture


The fountains, which resemble a rocket taking off, were inaugurated on March 21 by Paris mayor Anne Hidalgo AFP/File.



PARIS (AFP).- Expensive decorative scaffolding, or a welcome addition to the French capital's most famous avenue? New designer fountains on the Champs-Elysees have reopened a debate in Paris about how to add modern twists to the city's beloved classic architecture. Located at a roundabout around halfway between Tuileries Garden and the Arc de Triomphe, the fountains were inaugurated by Paris mayor Anne Hidalgo on March 21, and have divided opinion in the City of Light. "When you're close up, it's original, but when you go down the Champs-Elysees and you look at them all together, you might think that it's a bunch of scaffolding that's been put up and needs to come down at some point," one long-time resident grumbled to AFP as she walked past. The six shiny fountains, which rotate to mimic the swirling traffic at the busy intersection, resemble oversized pencils jutting into the air. Each fountain is comprised of a four-storey-high, bronze-alloy ... More



A pair of red leather cowboy boots applied with Seminole Arrow decoration and engraved sterling and 14k gold BR arrowhead marked "D.A. Harris." Estimate: $1,000-$2,000.



LOS ANGELES, CA.- Julien's Auctions has announced its highly anticipated event Property from the Estate of Burt Reynolds to take place on Saturday, June 15 and Sunday, June 16, 2019 at The Standard Oil Building in Beverly Hills and live online at juliensauctions.com. This special two-day event offers some of the most iconic and personal items of Hollywood legend, Burt Reynolds, the Emmy and Golden Globe winning and Oscar nominated actor who was Hollywood's top-grossing star in the late 70's-early 80's. Born Burton Leon Reynolds on Feb. 11, 1936, in Lansing, Michigan, and raised in Florida's Palm Beach County, Reynolds first made a name for himself as a football star and earned an athletic scholarship to Florida State University. But his promising football career ended with injuries and Reynolds turned his sights to acting. After appearing in summer stock and plays, Reynolds moved to New York ... More



Siebren Versteeg, Free Inside, 2016. Algorithmically generated image printed on canvas with resin coating, 85 x 54 in / 215.9 x 137.2 cm.



LOS ANGELES, CA.- bitforms gallery opened their second Los Angeles exhibition at the ROW DTLA. Extract investigates image and data circulation as a ubiquitous hallmark of contemporary culture. Works by Petra Cortright, Theo Triantafyllidis, Siebren Versteeg, and Addie Wagenknecht instantiate information overflow through painterly gestures in an effort to translate software into a corporeal experience. Technology as a medium foregrounds this inquiry towards surface abstraction and performative mediation. Petra Cortright considers attributes of screen-based imagery as a phenomenological encounter. Her paintings thrive off of the dissonance of digital aesthetics situated in physical space. Exhibited works are printed on aluminum and gloss paper, yet do not abandon the authenticity of the screen. Cortright achieves this expression by layering flattened, figurative imagery. Artworks titles, such as www.galaxy.com_aba + personalservice_01.jpg (2018) ... More
Almine Rech opens an exhibition of works by Chloe Wise
Paula Cooper Gallery opens a one-person exhibition of work by Walid Raad
Exhibition is the first for over a decade in Spain devoted to artist Christian Marclay


Chloe Wise, Which lake do I prefer, 2018. Oil on linen, 182,9 x 152,4 cm | 72 x 60 inches / Courtesy the Artist and Almine Rech. Photo: Logan Jackson.



LONDON.- In Not That We Don't, Wise continues her exploration into portraiture, landing on the unspoken dynamics that maintain the individual's participation amongst the group, allowing for their seemingly fluid existence in society. Placed within a space of ambiguity, Wise's subjects flirt with legibility; their gathering suggesting a familiar event such as a party, theatrical production, or a yearbook photo, only to deny the grounds for any such staged communion. The new suite of paintings examine the vital and voluntary social rituals permitting collective harmony. Populated portraits are composed in rainbow hues, cheekily calling to mind the aesthetics of performed inclusivity that colored Benetton ads and scholastic material of the artist's childhood. A recurrent cast of sitters appears and disappears in dynamic poses, across multiple canvases and compositions. Within the confines of these paintings, ... More



Walid Raad, Appendix 137, 2018 (detail). Archival inkjet print mounted on Sintra. 11 prints, each: 34 5/8 x 29 1/4 in. (87.9 x 74.3 cm) frame, each: 35 1/2 x 30 1/4 x 1 3/4 in. (90.2 x 76.8 x 4.4 cm) © Walid Raad. Courtesy Paula Cooper Gallery, New York.



NEW YORK, NY.- A one-person exhibition of work by Walid Raad opened at Paula Cooper Gallery on April 13th, 2019. The presentation includes a number of recent photographic, video and print works from the artist's ongoing project titled Sweet Talk—a set of self-assigned documentary commissions that study the city of Beirut. The exhibition will be on view through May 18th, 2019 at 521 West 21st Street. Capturing a composite truth that stretches beyond historical fact, the works on view explore Beirut's constant physical transformation during the protracted wars. In the early 1990s, Beirut's ravaged downtown embarked on vast reconstruction, launching the largest urban redevelopment project of the city's history with the establishment of the Beirut Central District. Examining the persistent effects of the war, as well as the ... More



Actions: Plish, Plip! Plap!!! Plop...(No. 2), 2013. Fundación Helga de Alvear, Madrid/Cáceres, España.



BARCELONA.- This exhibition is the first for over a decade in Spain devoted to the Swiss-American artist Christian Marclay (b. 1955), who currently lives and works in London, and includes a selection focusing on his sonic compositions, from graphic scores to video installations. Marclay has consistently focused on the relationship between sound and vision, exploring the ways that sound can be manifested visually. As the artist himself said, 'music runs through almost everything I do'. This exhibition examines Marclay's work through his engagement with composition, understood as the ordering of sounds in time and space. Each piece shown will reveal the ways in which Marclay approaches the creation of a composition, and how this relates to other aspects of his work such as his deployment of the techniques of appropriation and montage, together with his engagement in performance and his tendency towards inviting participation and collaboration. While Marclay ... More
First museum exhibition of its kind explores California's LGBTQ+ history and culture
Gladstone Gallery opens its first exhibition with Argentine-Swiss artist Vivian Suter
Two-person exhibition featuring the work of David Hendren and Sami Korkiakoski opens at Lowell Ryan Projects


Julio Salgado, ​Give Me All Your Reds, 2017. Digital prints, 16" x 16". Courtesy of the artist.



OAKLAND, CA.- the Oakland Museum of California is presenting a major exhibition combining art and history to tell the untold and under-recognized stories of California's LGBTQ+ communities. Going beyond mainstream narratives, Queer California: Untold Stories is the first museum exhibition of its kind to deepen and expand our understanding of this history through a multifaceted and interactive experience, providing the opportunity for museum visitors and members of the LGBTQ+ community to add their voices and stories to the conversation. "At this very tumultuous time in our country, many marginalized communities feel that threats to their basic rights are on the rise. This exhibition is needed now more than ever not only to share messages of hope and change, but also provide a deeper understanding of the complex history and important lesser-known stories of LGBTQ+ communities in California," said Christina Linden, Exhibition Curator. ... More



Vivian Suter, Untitled, Undated. Mixed media on canvas, 93 x 71 inches (236.2 x 180.3 cm) © Vivian Suter. Courtesy the artist and Gladstone Gallery, New York and Brussels.



NEW YORK, NY.- Gladstone Gallery is presenting its first exhibition with Argentine-Swiss artist Vivian Suter. Comprised exclusively of mixed media paintings, this show furthers Suter's singular style of installation, in which canvases flood the gallery space, creating an enveloping mise-en-scène of visual characters that intermingle, juxtapose, and cavort with one another. Composed individually, the works on view – through their unique display – inevitably become an interconnected painterly biome, openly inviting gallery-goers into the artist's cosmos. A testament to Suter's decades-long career, these paintings run the canonical gamut, from Abstract Expressionist to Color Field to Art Informel. However, eschewing any artistic predecessors, Suter draws her inspiration directly from her natural surroundings, most deeply the Guatemalan rainforest where the artist has ... More



David Hendren, Veiled Figure, 2018 (detail), Oil and wax on carved Douglas Fir, sewn fabric, enamel on aluminum, enamel on copper, dyed cotton string, 59 h x 18 w x 11 d in.



LOS ANGELES, CA.- Lowell Ryan Projects is presenting The Fourth Wall, a two-person exhibition featuring the work of David Hendren and Sami Korkiakoski. The show is named for the performance convention that imagines a wall––or, more aptly, a one-way mirror––separating actor from audience, where the former stays absorbed in its fiction, seemingly unaware of the very existence (let alone gaze) of the latter. An interesting power dynamic results: the object of the gaze maintains the power to interrupt it, to break the imagined distance between actor and audience and, by doing so, to renew that well-turned Shakespearean verse. Much like that of a stage designer, Los Angeles based artist David Hendren's multisensory approach to artmaking takes into account the space, body, form, color, light, sound, movement, and tone of each sculpture. In this way, every work ... More
Reminiscing in American Dreams with Director Rich Aste
Flashback
On a day like today, French photographer Robert Doisneau was born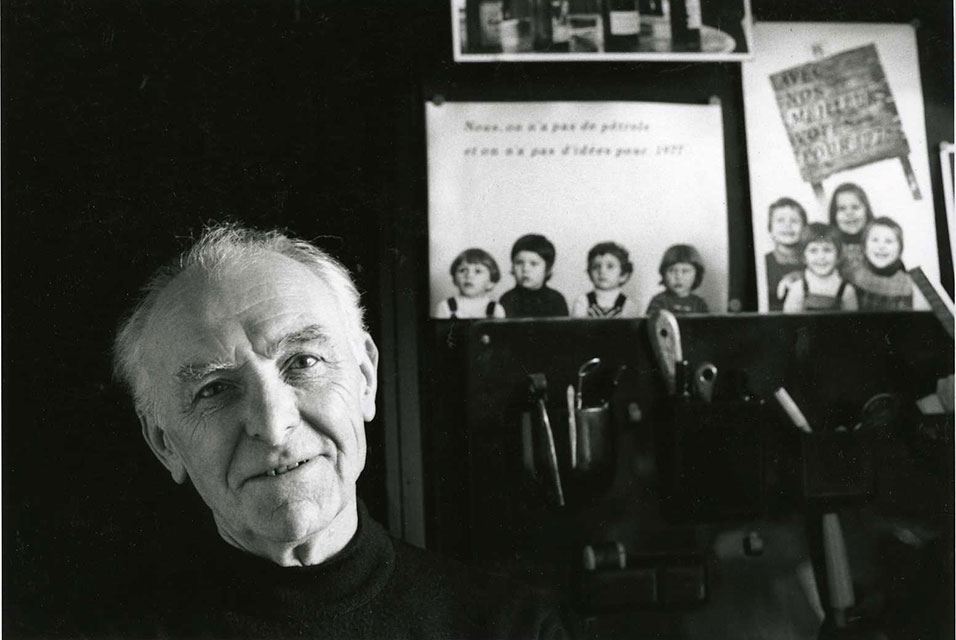 April 14, 1912. Robert Doisneau (14 April 1912 - 1 April 1994) was a French photographer. In the 1930s he made photographs on the streets of Paris. He was a champion of humanist photography and with Henri Cartier-Bresson a pioneer of photojournalism. In this image: French photographer Robert Doisneau photographed by Bracha L. Ettinger in his studio in Montrouge, 1992. Photo © Bracha L. Ettinger.
---

Museums, Exhibits, Artists, Milestones, Digital Art, Architecture, Photography,
Photographers, Special Photos, Special Reports, Featured Stories, Auctions, Art Fairs,
Anecdotes, Art Quiz, Education, Mythology, 3D Images, Last Week,
.
---
Royalville Communications, Inc
produces: