Toomey & Co. Auctioneers announces its largest annual sale on December 8
Christo & Jeanne-Claude, Packed Coast (Project for Little Bay, at Prince Henry Hospital, Sydney, Australia), 1969. Estimate $60,000-80,000.
OAK PARK, IL
.-
On Sunday, December 8,
Toomey & Co. Auctioneers
will conclude its 2019 schedule by presenting Art & Design with Tradition & Innovation. The auction includes close to 600 lots representing a variety of artistic movements and media by top painters, sculptors, ceramicists, furniture makers, designers, and architects who have helped define the world of art and design for more than a century. This combined sale will build upon the success of last year's inaugural Tradition & Innovation auction, a carefully curated offering of quintessential works from the 19th century through the present. On December 2, 2018, Art & Design and Tradition & Innovation together realized $2.2 million. The auction on December 8 is open to the public and will take place beginning at 10:00 a.m. CST, onsite (Toomey & Co. Auctioneers, 818 North Boulevard, Oak Park, Illinois), by phone (708-383-5234), and via two live digital bidding platforms (LiveAuctioneers ...
More
The Best Photos of the Day
Burglars hit East German secret police museum in Berlin
Export bar placed on Liss masterpiece
Degas: A superfan at the opera, where art tips into obsession


This file photo taken on November 7, 2006 shows the entrance of the documentation centre of the former east Germany's Ministry for State Security, better known by its acronym STASI, in Berlin. John MACDOUGALL / AFP.



BERLIN (AFP).- Burglars broke into Berlin's Stasi Museum, which showcases items of East Germany's hated secret police, making off with collectible medals and gold jewellery, authorities said Sunday, days after a spectacular diamond heist in Dresden. The robbers broke in through a window on the first floor, "smashed several showcases, and stole medals and jewellery", said police in a statement. They made off with their spoils undetected. The time of the raid was unclear but a museum employee found showcases smashed in the exhibition rooms on Sunday morning. Museum director Joerg Drieselmann told the Tagesspiegel daily that among the medals taken were a gold Patriotic order of Merit, an Order of Karl Marx -- the highest honour awarded in the former communist East Germany and an Order of Lenin. ... More



The Old Master painting, from the height of Liss's career, has been valued at £5.6 million.



LONDON.- An export bar has been issued for Johann Liss's 'The Temptation of Mary Magdalene' in a bid to provide the opportunity for a UK gallery to acquire it. Johann Liss (c. 1595-1631) was one of the leading painters in the Baroque style and a major force in the re-energisation of Venetian painting. The work, valued at £5.6 million, depicts Mary Magdalene turning away from a figure offering symbols of earthly riches towards an angel, in an ambiguous representation of the common theme of vice versus virtue. Although this painting has been in the UK for over 250 years, 'The Temptation of Mary Magdalene' was not known to scholars until 1994 and had not been exhibited publicly before that time. Due to his death at the age of 36 in 1631, there are very few surviving works completed by Liss, making this work a rare example. The painting at risk of export demonstrates Liss's strong command of original composition and distinct painterly skill. The work combines eleme ... More



Detail of "The Curtain," circa 1880 by Edgar Degas. National Gallery of Art via The New York Times.



PARIS (NYT NEWS SERVICE).- You'll find them up in the balcony, or in standing room, silently mouthing the libretto or humming along with the score. These are the superfans: the compulsive lovers of opera or ballet or theater who see every performance; who travel from city to city for Marilyn Horne or Mikhail Baryshnikov; who know every downbeat of "Così Fan Tutte" or "A Chorus Line." Most are harmless admirers. Some become lay experts. But the superfan can be conniving, as in "All About Eve," or even murderous: the Tejano sensation Selena was killed by her fan club president. If great art stimulates the heart and the head, the superfan has the ratio out of whack: Passion wins out over reason, and appreciation tips into obsession. In the annals of French art history, the superfan par excellence is Edgar Degas: the most Parisian of all the impressionists, and an obsessive of the first magnitude over the opera and ballet. For decades, he watched the leading ... More
Hirshhorn opens exhibition examining the life and legacy of pioneering artist Marcel Duchamp
Looking for Frederick Douglass in Savannah
Palace of Versailles opens "Versailles Revival (1867-1937)"


Marcel Duchamp, Self-Portrait in Profile (Autoportrait de profil), 1958/1963. Torn origami paper on paper. Edition: 1/25. Promised Gift of Barbara and Aaron Levine. Hirshhorn Museum and Sculpture Garden, Washington, D.C.; photo: Cathy Carver © Association Marcel Duchamp / ADAGP, Paris / Artists Rights Society (ARS), New York 2019.



WASHINGTON, DC.- The Hirshhorn Museum and Sculpture Garden has opened a two-part exhibition on the life and legacy of Marcel Duchamp, commencing with "Marcel Duchamp: The Barbara and Aaron Levine Collection," on view Nov. 9–Oct. 15, 2020. This first part of the exhibition features the recent gift of over 50 major historical artworks, including more than 35 seminal works by Duchamp, promised to the museum by Washington, D.C., collectors Barbara and Aaron Levine. The second stage of the exhibition, on view April 18, 2020–Oct. 15, 2020, will examine Duchamp's lasting impact through the lens of the Hirshhorn's permanent collection, including significant works by a diverse roster of modern and contemporary artists. Both exhibitions are organized ... More



Walter Evans, who has a remarkable archive of letters, manuscripts, and other documents, by Frederick Douglass and by members of his family, at his home in Savannah, Ga., Oct. 23, 2019. Savannah is a pilgrimage destination for those interested in the abolitionist's life, with artists interpreting his legacy in riveting shows and a film. Dylan Wilson/The New York Times.

by Siddhartha Mitter



SAVANNAH (NYT NEWS SERVICE).- Frederick Douglass passed through this elegant Southern city only once, for the briefest of visits — a half-hour whistle-stop on his rail journey to a speaking engagement in Jacksonville, Florida. It was April 1889, just the second foray into the Deep South for the great orator, five decades after his escape from Maryland as a fugitive slave. Douglass was now a major political figure, with an elegant hilltop home in Washington, D.C. Across the South, Jim Crow laws and racial terror were demolishing the gains of Reconstruction. In Savannah, Douglass greeted the cheering crowd and reviewed a company of ... More



Alexandre Benois, Le bain de la marquise, 1906. Gouache sur papier, 51 x 47,5 cm.
Moscou, La Galerie d'État Tretiakov © FineArtImages / Leemage © ADAGP, Paris, 2019.



PARIS.- At the turn of the 20th century, the Palace of Versailles was at a crucial time in its history. One hundred years after the French Revolution and at the dawn of the Belle Epoque, a remarkable sense of fondness, nostalgia, curiosity and enthusiasm developed around Versailles in its Ancien Régime persona. With almost 350 works on display, including documents and photographs, the exhibition traces this surprising period in the history of art when Versailles played a leading role in the great literary, pictorial and musical motifs of the time, just at the moment when it was embarking on an extensive programme of restoration and refurbishment. People were dreaming of Marie-Antoinette at the same time that the French Republic was holding its Assemblies at Versailles and receiving foreign dignitaries. In the gardens there were aristocratic parties and popular tourism. Artists, painters, photographers, illustrators ... More
Exhibition at Galerie Thaddaeus Ropac features new large-scale paintings and graphic works by Marcin Maciejowski
National Gallery of Ireland presents 180 years of iconic international photography in latest exhibition
Solo exhibition of new work by Su-Mei Tse on view at Peter Blum Gallery


Marcin Maciejowski, It Certainly Has A Fairly Intriguing Strange Composition, 2019. Oil on canvas, 190 x 150 cm (74,8 x 59,06 in). © Marcin Maciejowski Courtesy Galerie Thaddaeus Ropac, London • Paris • Salzburg.



LONDON.- Marcin Maciejowski's first London exhibition with the gallery illuminates the Polish artist's continued exploration of his immediate surrounds, including scenes from the art world, fragments from art history and the often-overlooked moments that permeate urban culture and daily life. Private View features new large-scale paintings and graphic works on paper that uniquely merge a comic-book aesthetic with Old Master traditions to present an intimate, enigmatic form of contemporary social commentary. Minor personal concerns are mixed with universal political themes, and Maciejowski often equates political rhetoric with the platitudes of an art critic. He draws from a range of influences and inspirations – literature and poetry, the art historical canon and the work of friends, scenes both real and imagined, convivial and anecdotal, personal and political – consistently executed with a meticulous attention to detail and an acute ... More



Dorothea Lange (American, 1895–1965), One Nation Indivisible, 1957 negative, printed in 1967. Gelatin silver print. Bank of America Collection.



DUBLIN.- Iconic American landscapes, scenes of daily life from interwar Europe, and experimental, abstract impressions of both the natural and manmade worlds are among the subjects found in the National Gallery of Ireland's latest exhibition, Moment in Time: A Legacy of Photographs | Works from the Bank of America Collection, which opened on Saturday, 30 November 2019. The exhibition draws on Bank of America's extensive private collection, which is one of the largest corporate holdings of photography in the world. This is the first time that the exhibition travels to Europe. Featuring almost 120 works from photographers including Ansel Adams, Brassaï, Henri Cartier-Bresson, Dorothea Lange, and Man Ray, the exhibition places a special emphasis on works created between the mid-nineteenth to the mid-twentieth century, and offers a survey of the full range of the photographic medium from that period. Works are arranged according ... More



Cube Studies, 2019. Installation, inkjet on fine art paper mounted on Dibond, oak wood frame, wood sticks and steel frame pedestal. Dimensions variable. Edition of 3.



NEW YORK, NY.- Peter Blum Gallery is presenting a solo exhibition of new work by Su-Mei Tse entitled, In the (very) beginning at 176 Grand Street, New York. This is the artist's fifth solo show with the gallery, and first exhibition following her acclaimed 2017-2019 traveling exhibition entitled, Nested at Mudam Luxembourg, the Aargauer Kunsthaus in Switzerland, the Taipei Fine Arts Museum, and the Yuz Museum in Shanghai. Su-Mei Tse is a visual artist whose multidisciplinary work contemplates existence, notions of time, and rhythm. She expresses life questions by capturing fleeting moments of memories and feelings through various media including photography, sculpture, film, and installation. Impressions in everyday existence whether they be a passing thought, transitory state, or a visual or auditory experience are lyrically translated in her work. Tse was initially trained as a classical cellist before completing ... More
Two new exhibitions highlight work from museum's vast permanent collection
Export bar placed on rare bronze sculpture by François Girardon
Renowned Latvian conductor Mariss Jansons dies aged 76


Graciela Iturbide, Marcha Política, Juchitán, Oaxaca, 1985. Gelatin silver print
20 x 16 in. (50.8 x 40.6cm) Collection Museum of Contemporary Art San Diego. Gift of Susan Steinhauser and Daniel Greenberg, 2012.34 © Graciela Iturbide.



SAN DIEGO, CA.- The Museum of Contemporary Art San Diego is presenting two exhibitions this fall that highlight work from the Museum's vast permanent collection. México quiero conocerte: Photographs by Graciela Iturbide and Manuel Álvarez Bravo and Bound to the Earth: Art, Materiality, and the Natural World both opened on Thursday, November 21. The exhibitions will remain on view through March 15, 2020. México quiero conocerte: Photographs by Graciela Iturbide and Manuel Álvarez Bravo features work by two of the most celebrated photographers in Latin America. The images that Graciela Iturbide (b.1942) and Manuel Álvarez Bravo (1902 –2002) produced of their native Mexico have actively contributed to shaping Mexican visual identity while concurrently offering representations ... More



17th-century bronze figure of Apollo.



LONDON.- An export bar has been placed on a 17th-century bronze figure of Apollo in a bid to keep the work in the UK. The £1.2 million sculpture by François Girardon (1628-1715), depicts the mythological sun god Apollo. The figure is holding a lyre, representing his association with music, and is crowned with a laurel, alluding to his pursuit of the nymph Daphne. Girardon defined the sculptural style of French Baroque and made a significant contribution to the decoration of the Palace of Versailles which was the principal royal residence of the French kings from the late 1680s until the French Revolution. This particular piece epitomises the tastes of the French 'Sun King' Louis XIV and may have been made for him personally. The figure is a rare statuette and one of only two known extant bronzes based on an earlier terracotta model made by Girardon. The decision follows the advice of the Reviewing Committee on the Export of Works of Art and Objects of Cultural Interest (RCEWA). The C ... More



This file photo taken on January 1, 2016 shows Latvian conductor Mariss Jansons conducting the traditional New Year Concert with the Vienna Philharmonic Orchestra at the Vienna Musikverein. Jansons died on December 1, 2019 at the age of 76. HERBERT NEUBAUER / APA / AFP.



SAINT PETERSBURG (AFP).- Renowned Latvian maestro Mariss Jansons, who conducted some of the world's most prestigious orchestras, has died at his home in Saint Petersburg, Russian authorities said on Sunday. He was 76. Jansons, who had suffered from heart problems, died of cardiac arrest, according to people close to his family quoted by Russian media. "Sincere gratitude for his great art will always remain with us," Saint Petersburg Governor Alexander Beglov said in a statement, calling him "an outstanding conductor". Considered one of the leading conductors to emerge from the former Soviet Union, Jansons was born in the Latvian capital Riga in 1943, the son of the renowned conductor Arvid Jansons, who died in 1984. The family moved to Leningrad, ... More
Tim Marlow's Must-See Museum Shows: December 2019
Flashback
On a day like today, French painter Georges Seurat was born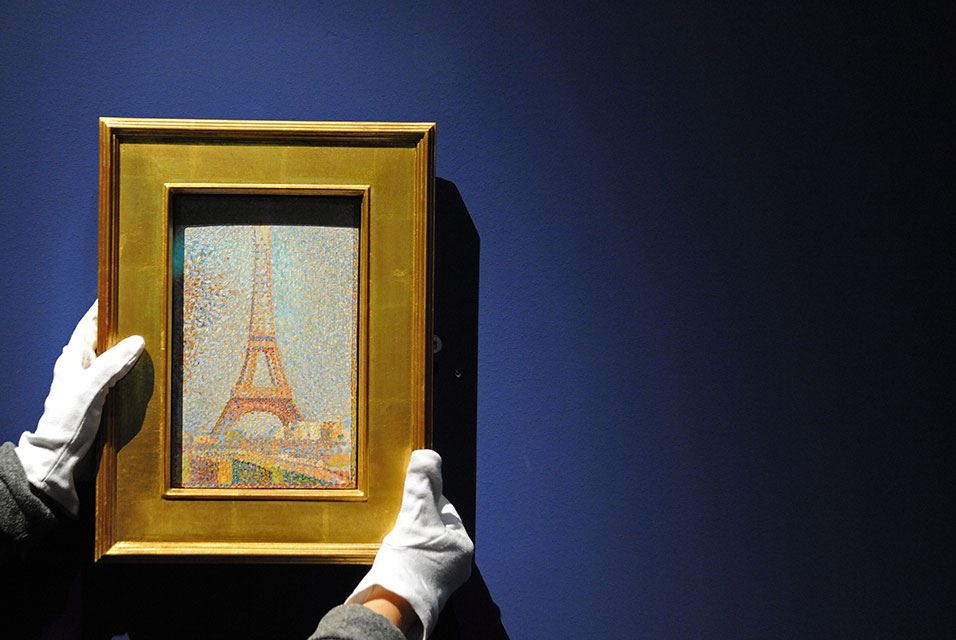 December 02, 1859. Georges-Pierre Seurat (2 December 1859 - 29 March 1891) was a French Post-Impressionist painter and draftsman. He is noted for his innovative use of drawing media and for devising a technique of painting known as pointillism. His large-scale work A Sunday Afternoon on the Island of La Grande Jatte (1884–1886), Seurat's most famous painting, altered the direction of modern art by initiating Neo-impressionism, and is one of the icons of 19th century painting. In this image: A staff member holds the artwork titled 'La Tour Eiffel' (The Eiffel Tower) by French painter Georges Seurat at the Schirn Kunsthalle in Frankfurt-am-Main, Germany, 01 February 2010.
---

Museums, Exhibits, Artists, Milestones, Digital Art, Architecture, Photography,
Photographers, Special Photos, Special Reports, Featured Stories, Auctions, Art Fairs,
Anecdotes, Art Quiz, Education, Mythology, 3D Images, Last Week,
.
---
Royalville Communications, Inc
produces: