The Tasteful Effect of Top-Level Oriental Rugs Enhances the Dining Experience
Persian Art Carpet Brings Richness and Depth to a Traditional Dining Room.
OAKLAND, CA
.-
The pleasure and individual character that art-caliber 19th century antique Persian rugs bring to a home is no more apparent than as an enhancement to the dining experience. Whether placed in a formal dining room or a cozy breakfast room, savvy connoisseurs find the myriad of colors and the mesmerizing patterns create the perfect for a family meal and for grand entertainment. At Claremont Rug Company (
www.claremontrug.com
), with more than 2500 elite antique Persian and tribal rugs in its collection, collectors and lovers of beauty can find styles, weaving groups and color groups that fit their tastes and lifestyles. This soft-hued, exquisitely refined antique Persian Tehran carpet makes a major contribution to the symphony of surfaces in this innovative contemporary space. As the sole textile element in the dining room, this circa 1900 Persian city rug adds an entirely unique and welcome avenue of expression. ...
More
The Best Photos of the Day
Sotheby's to offer Francis Bacon's 'Pope' on behalf of the Brooklyn Museum this November in NYC
New Mark Rothko monograph to be released on Nov. 5
Nigerian painting fetches £1.1 million after Google search


An exceedingly rare witness to a critical period in Bacon's life and career, Pope is estimated to sell for $6/8 Million. Courtesy Sotheby's.



NEW YORK, NY.- Sotheby's announced that we will offer Francis Bacon's Pope on behalf of the Brooklyn Museum this November in New York. Proceeds from the sale will be used to support the museum collection. Executed during a particularly turbulent and emotional moment of Bacon's life, Pope offers a rare glimpse into the psychology of the artist and the influences behind the works he created during a passionate yet volatile love affair with Peter Lacy. In the mid-1950s, Lacy moved to Tangier, prompting Bacon to make frequent and extended trips to Morocco to spend time with his lover, among a group of important creative figures such as Allen Ginsberg and William Burroughs. Perceived as exotic and more tolerant of homosexuality, the Tangier lifestyle offered an escapism that was liberating for both Bacon and Lacy. Despite this, their romance ultimately devolved into violence, which characterized a period of ... More



An advance deluxe edition debuted on September 10 at the opening of Pace's new flagship Chelsea location. Photograph by Guy Ben-Ari, courtesy Pace Gallery.



NEW YORK, NY.- Pace Gallery announced the release of Mark Rothko: The Exhibitions at Pace, published by Callaway Arts & Entertainment. The highly anticipated monograph traces the arc of production of one of the most celebrated artists of the twentieth century, presented chronologically through eleven groundbreaking Rothko exhibitions organized by and held at Pace Gallery from 1978 through 2017. An advance deluxe edition debuted on September 10 at the opening of Pace's new flagship Chelsea location. This special edition of 300 copies is signed by Arne Glimcher, the founder of Pace Gallery, and Rothko's children. On November 5, 2019, the trade edition of Mark Rothko: The Exhibitions at Pace will be released in bookstores nationwide. "Our relationship was close enough for me to step into the studio, on my way home, if the light was on in his doorway," Glimcher ... More



Ben Enwonwu, Christine, est. £100,000-150,000. Sold for: £1.1 million. Courtesy Sotheby's.



LONDON (AFP).- A painting by the Nigerian artist responsible for the "African Mona Lisa" sold at auction in London on Tuesday for £1.1 million after the family who owned it googled the signature and realised its importance. "Christine", by 20th century master of African modernism Ben Enwonwu, had been in the sitter's family home ever since it was painted in Lagos in 1971. "The family were unaware of the significance of the painting or the importance of the artist, until a chance "googling" of the signature led them to Sotheby's free Online Estimate Platform," said the London auction house. The painting fetched over seven times the pre-auction estimate, finally going under the hammer for £1.1 million (1.3 million euros, $1.4 million). The work precedes the artist's 1974 painting of Ife royal princess Adetutu "Tutu" Ademiluyi, which recently turned up in a London flat after not being seen in decades. The portrait is a national icon in Nigeria, with Booker Prize-winning novelist Ben ... More
Sale at Drouot features 130 meteorites
Rare early black paint Leica M3 will be offered at auction in London in November
Meeting the 'Mona Lisa' for an intimate (virtual) rendezvous


Siderite-type meteorite, Mont-Dieu, France. Estimate: €80,000 – 120,000. © Lucien-Paris / Drouot.



PARIS.- Drouot shared a fantastic auction that will be offered on 21 October, commemorating the 50th anniversary of Man's first steps on the Moon. Titled "Space to Paris" this sale is presented by Lucien Paris auction house. Among a selection of 130 meteorites, a fragment weighting 364 kg from the famous Mont-Dieu meteorite will be featured. This specific meteorite was found in the Ardennes (North-East of France), in the smallest village of the region where only 17 people live. In 2010, a professional gold-panner named Mr. Billard got the authorisation to research the area. With the help of a metal detector, Billard discovered the gigantic fragment, buried 70 cm. deep in the soil. The original weight of the entire meteorite is estimated around 1 ton. Though Billard technically discovered the fragment, its existence was known since 1994. The situation generated legal proceedings to establish who the rightful owner ... More



This particular camera was delivered to the famous Magnum Photo Agency in Paris in 1958 as it was the chosen camera of top photojournalists at the time.



LONDON.- Chiswick Auctions will offer an extremely rare and very early double-stroke, black paint Leica M3. This type of camera was used professionally by some of the best photojournalists of the 20th century and are extremely rare. The camera, which includes all of the features of these highly sought-after unofficial pre-series cameras, will go under the hammer in a sale of Photographica on Thursday 14th November, 2019. This particular camera was delivered to the famous Magnum Photo Agency in Paris in 1958 as it was the chosen camera of top photojournalists at the time. Factory delivery records show that only 90 of these pre-series cameras were sent before the first official batch of black M3 rangefinders in 1959, of which this is a survivor. It is not known how many others are still in existence from such a small production number. The majority of them were delivered ... More



Leonardo da Vinci, Portrait of Lisa Gherardini, spouse of Francesco del Giocondo, La Joconde or Mona Lisa, Paris, Musée du Louvre, courtesy RMN-Grand Palais (Musée du Louvre) / Michel Urtado.



PARIS (NYT NEWS SERVICE).- Mona Lisa's lingering smile remains the same, but she is getting a first-of-its-kind virtual makeover from the Louvre Museum, which has struggled this year with the popularity of Leonardo da Vinci's masterpiece and the throngs of selfie-snapping tourists. With a blockbuster Leonardo exhibition fast approaching, the Louvre and its production partners are fine-tuning a virtual reality tour with three-dimensional views of the portrait that look beyond the jostling crowds, the shatterproof glass case and the layers of varnish from restorations and the fading green patina. The real oil on wood "Mona Lisa" was returned last week to the skylit Salle des États, to coincide with the Oct. 24 opening of an exhibition marking the quincentennial of the death in 1519 of Leonardo, master of the Italian Renaissance. During ... More
Simon Lee Gallery opens an exhibition of works by Paulina Olowska
The shock of the old: Rousseau discovery heads a new-look auction for the capital
Nearly 1billion euros raised, pledged for Notre-Dame rebuild


Paulina Olowska, Julie's Confession (after Talia Chetrit), 2019. Oil on canvas, 170 x 120 x 2.5 cm. (66 7/8 x 47 1/4 x 1 in.). Image courtesy the artist and Simon Lee Gallery.



LONDON.- Paulina Olowska's exhibition at Simon Lee Gallery constitutes the latest chapter in the artist's continuous and fertile research into image-making, exploring the ways in which she interprets painting as a vehicle for her idiosyncratic visions and as a facilitator for the exchange of feelings and sensations with the viewer. Spanning the gallery's three floors, Destroyed Woman puts forward a visual and emotional landscape through which to contemplate the self and the other, provoking our consideration of themes such as womanhood, ageing, the power of tradition and the spectator's gaze. With this exhibition Olowska invites us to thoroughly re-contemplate representations of women, particularly within an art historical context, and to redefine the purpose of their portraiture; how, she asks, can we reformulate ... More



This portrait by French artist François Guérin (fl.1751-91) of Jean-Jacques Rousseau (1712-78) will be sold with an estimate of £10,000-15,000.



LONDON.- A recent rediscovered portrait of a great Enlightenment Age thinker comes for sale in London later this month. The portrait by French artist François Guérin (fl.1751-91) of Jean-Jacques Rousseau (1712-78) shows the political philosopher in his pomp, seated at a desk with quill pen and envelope in hand. It forms part of The Classic Tradition: European Art from 15th to 19th Centuries, a new auction of traditional paintings held in the heart of St James's by Lyon & Turnbull on October 30. The 76cm x 61cm (30in x 24in) oil on canvas is one of only a handful of lifetime portraits of Rousseau that are known. It probably dates from the 1760s, around the time of the publication of two of his most famous works, The Social Contract and Emile, or On Education. It comes for sale from a collection in London and has a provenance that can be traced back through the Rousseau ... More



This picture taken on October 15, 2019 shows wood structures supporting buttress and vault, protection nets and scaffolding outside the Notre-Dame Cathedral in Paris. Philippe LOPEZ / AFP.



PARIS (AFP).- Six months after a blaze caused devastating damage to Paris' Notre-Dame cathedral, nearly one billion euros have been paid or pledged to rebuild the edifice, France's culture minister said Tuesday. Of the total, 104 million euros have already been paid over by 350,000 donors, Franck Riester told journalists in Paris. "It is far too early to say whether the amount will be enough," the minister said, adding "the government will assume its responsibilities; we will not leave Notre-Dame in the lurch." Riester said the total had reached 922 million euros (just over $1 billion). Three foundations and France's National Monuments Centre have been charged with raising money for rebuilding the cathedral, which saw a fire tearing through its roof on April 15, toppling its historic spire. There is no consensus on how ... More
Smithsonian's Anacostia Community Museum reopens
Whitney Houston, Notorious B.I.G. and Dave Matthews Band nominated for Rock Hall
Tulips from Amsterdam? A blooming scam, says new probe


Smithsonian's Anacostia Community Museum's updated exterior landscaping. Image by Michael Barnes, Smithsonian Institution.



WASHINGTON, DC.- The Smithsonian's Anacostia Community Museum reopened to the public Sunday, Oct 13, after seven months of construction and $4.5 million of exterior and interior improvements and repairs to enhance the visitor experience. "We are thrilled to show off the changes we've made to make the facility more engaging to the community while supporting both our curatorial research and educational work in environmental stewardship," Adams said. Adams joined the museum Aug. 5 from the Minnesota Historical Society. Featuring plants native to the area and developed with Smithsonian Gardens, the redesigned museum landscape hosts a permanent living, teaching installation with narrative panels on the Anacostia Watershed history, including the first inhabitants—the Nachotchtank—and on local river-restoration efforts. A demonstration vegetable garden to support the museum's urban ... More



Whitney Houston.



NEW YORK (AFP).- First time Rock and Roll Hall of Fame nominees Whitney Houston and the Notorious B.I.G. topped this year's short-list of potential inductees, the institution announced Tuesday. The late music icons are among 16 acts vying for a coveted spot, joined by performers and groups including Soundgarden, Depeche Mode, Dave Matthews Band, Motorhead, Pat Benatar and The Doobie Brothers. This year's field is marked by three legendary artists who died young. The Notorious B.I.G. -- a pride of New York, widely considered one of the greatest rappers of all time -- was nominated in his first year of eligibility, which comes 25 years after the release of an act's first commercial recording. The artist born Christopher Wallace and colloquially known as Biggie was murdered in 1997 in Los Angeles at age 24, in a still-murky shooting that some speculated was part of a feud between East Coast and West Coast rappers. Houston, the most awarded female artist of all time, died at 48 years ... More



This file photo taken on March 6, 2003 shows bulbs at the flower market in Amsterdam. COR MULDER / AFP.



THE HAGUE (AFP).- Tourists are being ripped off at Amsterdam's famous flower market, with just one percent of all bulbs sold at the floating bazaar ever producing a blossom, investigators said Tuesday. A probe commissioned by the Dutch capital's municipality and tulip growers also found that often only one flower resembled the pictures on the packaging like colour, and that there were fewer bulbs than advertised. "The probe showed that there is chronic deception of consumers," at the sale of tulip bulbs at the flower market, the Royal General Bulb Growers' Association (KAVB) said. "Millions of tourists and day-trippers are being duped," KAVB chairman Rene le Clercq said in a statement. Amsterdam and the KAVB have now referred the matter to the Dutch consumer watchdog. The Amsterdam flower market is one of the city's most famous landmarks and dates from around 1862, when flower sellers sailed their barges up the Amstel River and ... More
The Only Surviving Drawing from Mantegna's Triumphs of Caesar
Flashback
On a day like today, American photographer Paul Strand was born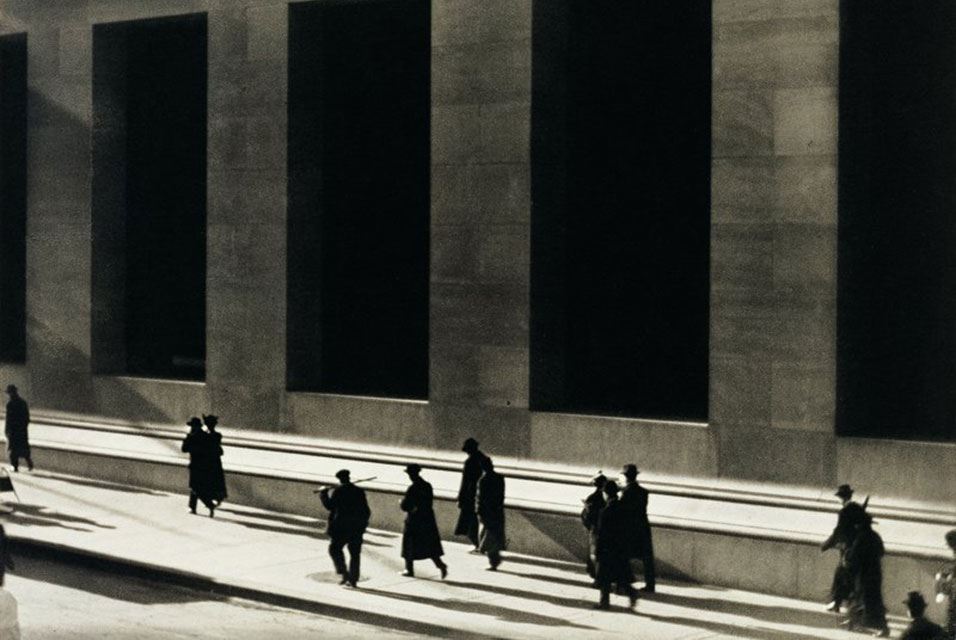 October 16, 1890. Paul Strand (October 16, 1890 - March 31, 1976) was an American photographer and filmmaker who, along with fellow modernist photographers like Alfred Stieglitz and Edward Weston, helped establish photography as an art form in the 20th century. His diverse body of work, spanning six decades, covers numerous genres and subjects throughout the Americas, Europe and Africa. In this image: Wall Street, 1915.
---

Museums, Exhibits, Artists, Milestones, Digital Art, Architecture, Photography,
Photographers, Special Photos, Special Reports, Featured Stories, Auctions, Art Fairs,
Anecdotes, Art Quiz, Education, Mythology, 3D Images, Last Week,
.
---
Royalville Communications, Inc
produces: