Dallas Museum of Art re-opens European Galleries after total reinstallation
Edvard Munch, Thuringian Forest, 1904, oil on canvas, Dallas Museum of Art, The Eugene and Margaret McDermott Art Fund, Inc.
DALLAS, TX
.-
The Dallas Museum of Art
's Second Floor European art galleries re-opened to the public on August 17 after closing earlier this summer for a total reinstallation. Visitors can look forward to a fresh interpretation of the Museum's European collection, featuring works from the collection rarely previously shown that have been restored for exhibition, a new presentation of Old Master paintings and sculpture, and Impressionist and Modern masterworks gifted by Margaret and Eugene McDermott to benefit the DMA. The final bequest of 32 nineteenth- and early twentieth-century artworks to the Museum following Mrs. McDermott's death last May prompted the reinstallation of the European art collection to integrate the McDermotts' magnificent gift. Strengths of the McDermott Collection, such as works by Claude Monet, Pierre-Auguste Renoir, Paul Cézanne, Edgar Degas, Edvard Munch, Pablo Picasso, and Georges Braque, amongst many othe ...
More
The Best Photos of the Day
Sotheby's to offer Chinese Art from the Metropolitan Museum of Art: The Florence & Herbert Irving Gift
Meadows Museum announces new acquisitions encompassing three centuries of Spanish art
Gianguan Auctions celebrates 17th Annual September Sale with Artistry of the Ages


A Finely Carved Large Spinach-Green Jade 'Immortals' Brushpot, Qing Dynasty, Qianlong Period. Estimate $500/700,000. Courtesy Sotheby's.



NEW YORK, NY.- Sotheby's will offer 300+ Chinese works of art originally gifted by philanthropists and renowned Asian art collectors Florence and Herbert Irving to The Metropolitan Museum of Art in New York, as a highlight of their Asia Week sale series in September 2019. In March 2015, The Met announced the gift of 1,275 Asian works of art from Florence and Herbert Irving – a donation that fundamentally transformed the holdings of the museum's Department of Asian Art, on the occasion of its centennial. At the time of their gift, the Irvings realized that a full assessment of their collection would take time, and that there would undoubtedly be many pieces that would unnecessarily duplicate works already in the collection. For that reason, they agreed that The Met could sell any of the works in their gift so long as the proceeds would go towards future acquisitions. The present sale is a fulfillment of that visionary goal. The full ... More



Salvador Dalí (Spanish, 1904–1989), Venus de Milo with Drawers, 1936 (cast 1971). White paint on bronze, 15 x 3 1/8 x 3 7/8 in. (38 x 8 x 10 cm). Meadows Museum, SMU, Dallas. Gift of Daniel Malingue, MM.2019.03. Photo by Kevin Todora.



DALLAS, TX.- The Meadows Museum, SMU, announced that it has acquired four works that reflect the richness and depth of Spanish art across period, style, and mode of production. Among the new acquisitions is Our Lady of Solitude (1769) by Manuel Ramírez de Arellano, which represents both a critical expansion of scholarly knowledge on the artist's creative output and an important enhancement of the Meadow's holdings of terracotta sculpture, building on other acquisitions in that medium over the last several years. Further, following the Meadows's 2018 exhibition Dalí: Poetics of the Small, 1929–1936, which focused on Salvador Dalí's small-scale paintings, the museum has been given Venus de Milo with Drawers (1936, cast 1971), the first sculptural work by Dalí to enter the museum's collections. Also ... More



A fine gilt bronze luduan censer, incised and decorated with a tootie mask of coral, lapis, jade, malachite and glass. Lot 75.



NEW YORK, NY.- On September 9th, Gianguan Auctions will celebrate the 17th running of its annual fall sale. Dovetailing with Asian Art Week, the auction offers fine paintings, carved jades, ceramics, teapots and religious items rich in aesthetics and craftsmanship. This year, works by early 21st c. Chinese avant garde artists working the traditional manner will be included. Sale highlights begin with the cover lot, a fine gilt bronze censer in the form of ferocious luduan, incised and further decorated with a tootie mask of coral, lapis, jade, malachite and glass. A favorite of Qing emperors, luduan were said to detect truth. This fabulous animal has all the hallmarks of its station: sharp clawed hooves, bulging eyes, fanged teeth, a single horn. This lavish expression of royal protection is Lot 75, of the Qianlong period, and valued at more than $60,000. Symbolic imagery overflows onto a dragon encrusted, gilt-incised ... More
Poster House receives donation of rare and iconic posters from graphic design legend Paula Scher
"Photographing the Street" and "Fireworks (Archives)" on view at Oklahoma City Museum of Art
Six pioneering women photographers featured in summer exhibition at New-York Historical Society


Described as the "master conjurer of the instantly familiar," Scher straddles the line between pop culture and fine art.



NEW YORK, NY.- Poster House announced that legendary graphic designer and Pentagram partner Paula Scher will be donating 55 posters from her personal archive to the museum's permanent collection. These posters include rare prints of Scher's award-winning and hugely influential works for The Public Theater from the mid-1990s, along with a number of personal and other commercial projects. "These posters are a landmark addition to our permanent collection," says Poster House Director Julia Knight. "Paula Scher is among the most renowned graphic designers in the world and we are honored to be housing such incredible examples of her innovative typography and unparalleled sense of design." The first museum in the United States dedicated exclusively to the global history of posters, Poster House opened its doors for the first time this past June. Currently still on view are its two opening ... More



Ian Wallace, Untitled, 1986. Lithograph and chromogenic print. Oklahoma City Museum of Art. Gift of the Christian Keesee Collection © Ian Wallace. 20016.006.10



OKLAHOMA CITY, OKLA.- Visitors to OKCMOA's second floor can experience the single gallery exhibition, "Photographing the Street," and one of the Museum's newest acquisitions, "Fireworks (Archives)," in addition to the Museum's permanent collection exhibition, "From the Golden Age to the Moving Image: The Changing Face of the Permanent Collection." The Museum acquired "Fireworks (Archives)" last year following the groundbreaking moving image exhibition, "Apichatpong Weerasethakul: The Serenity of Madness." "As Weerasethakul's most popular work in 'The Serenity of Madness,' 'Fireworks (Archives)' was a significant and exciting acquisition for us," said Dr. Michael Anderson, director of curatorial affairs. "We have been waiting for the right moment to put it on view, and launching this immersive installation in conjunction with the opening ... More



Nina Leen, unpublished photograph from "American Woman's Dilemma," LIFE, June 16, 1947 © LIFE Picture Collection, Meredith Corporation.



NEW YORK, NY.- The New-York Historical Society is presenting the work of six prominent women photographers, whose iconic work for LIFE magazine helped create modern photojournalism as it depicted a quickly-evolving world. On view June 28–October 6, 2019, in the Center for Women's History's Joyce B. Cowin Women's History Gallery, the exhibition features more than 70 images by Margaret Bourke-White, Marie Hansen, Martha Holmes, Lisa Larsen, Nina Leen, and Hansel Mieth, who were among the few women photographers employed by LIFE between the late 1930s and the early 1970s. The exhibition was developed in partnership with the LIFE Picture Collection at the Meredith Corporation, who also loaned more than 75 vintage prints and other archival materials for the show. "These pioneering women photographers captured events international and domestic, wide-ranging and intimate, serious ... More
Works from a period of upheaval and change are combined with new works in exhibition at Kunsthaus Graz
Kunstforeningen GL STRAND features works by the German artist Hans Purrmann
Latest exhibition at National Gallery Singapore explores the intersections between art and social activism in Asia


Fernand Léger, "Deux papillons jaunes sur une échelle", 1951. Courtesy Musée national Fernand Léger, Donation of Lutèce Foundation, 1978, Photo: © Centre Pompidou, MNAM-CCI, Dist. RMN-Grand Palais - © Jacques Faujour, © Bildrecht Wien, 2019.



GRAZ.- From the 1920s on, artists such as the architect and activist Charlotte Perriand, painter and filmmaker Fernand Léger and musician George Antheil created a vision that defined the century, imagining an artistic and social synthesis in which art would become an instrument for shaping society and furthering progress. Since the 1980s, Peter Kogler has worked as a media artist between computer graphics, film, collage and architecture. Within the context of the digital influences on our everyday life today, his systematic consideration of the technological and reproducible image and the powerful influence of the media make him a natural successor, interpreter and ideal interlocutor of the generation of visionaries. Time and again Kogler's works have defined ... More



Hans-Purrmann-Blick-aus-der-Villa-Romana-View-from-the-Villa-Romana-1940-olie-paa-laerred-privateje



COPENHAGEN.- Colourful landscapes, still lifes executed with heavy brush strokes, azure-coloured walls and the relations between light, hue and colour in paintings of interior, harmonious colour contrasts, decorative nude studies and portraits are some of the works you will experience in the exhibition The Vitality of Colour featuring the German artist Hans Purrmann. The exhibition is on display in Kunstforeningen GL STRAND. It is the first time that the recognised German painter is being featured at an exhibition of this scale in Denmark. The exhibition is a retrospective of Purrmann's works, connecting them with a selection of the artists he collaborated with or was inspired by – artists such as Max Liebermann, Henri Matisse, Mathilde Vollmoeller, Oskar and Marg Moll, Emy Roeder as well as the writer Hermann Hesse, all of whom may also be experienced in the exhibition. Today, Hans Purrmann ... More



Drama of the Nations by Renato Habulan. Image courtesy of Renato R. Habulan.



SINGAPORE.- The period between the 1960s and 1990s was characterised by ideological confrontations, a rise in nationalism, rapid modernisation, and a wave of democratic movements across Asia. Significantly, it also gave birth to a multitude of experimental art practices as artists and the wider public were awakened to the emancipatory power of art to shape and assert their identities. Spotlighting this critical turning point is the latest exhibition at National Gallery Singapore, Awakenings: Art in Society in Asia 1960s-1990s, which is making its Southeast Asian premiere, following successful showings in Japan and Korea. Featuring 142 provocative artworks by more than 100 artists from 12 countries in Asia, the exhibition is jointly co-organised by the Gallery, Museum of Modern Art Tokyo (MOMAT), Museum of Modern and Contemporary Art Korea (MMCA) and the Japan Foundation Asia Center. It chronicles one of the ... More
The Forbidden Image: PinchukArtCentre presents a two-chapter project
BIG's MÉCA folds three arts institutions into one cultural loop for Bordeaux
Large-scale exhibition of artist Dan Mills' work on view at the Center for Maine Contemporary Art


Maksym Bilousov.



KIEV.- The PinchukArtCentre is presenting "The Forbidden Image", a two-chapter project in the framework of the PinchukArtCentre's Research Platform. The first chapter presents a solo exhibition by Boris Mikhailov, while the second entitled "Crossing Lines" is dedicated to the Kharkiv School of Photography and the continuation of its attitude and thinking with emerging artists. Both exhibitions draw upon three major themes that challenge the notion of The Forbidden Image: an image that lies beyond the boundaries (The nude, The performative), a "life-drunk" image of society (New humanism), and an intimate image that "flutters at night" (Personal romantics). The exhibition by Boris Mikhailov is a homecoming show offering a view on his oeuvre, from photography to conceptual art and performativity. Mikhailov's work moves along the edges of political and social ... More



Centrally located between the River Garonne and Saint-Jean train station, the new 18,000 m2 Maison de l'Économie Créative et de la Culture en Aquitaine, MÉCA, brings together three regional arts agencies. Image by Laurian Ghinitoiu.



BORDEAUX.- Designed by BIG-Bjarke Ingels Group and FREAKS freearchitects, MÉCA creates a frame for the celebration of contemporary art, film and performances, giving Bordeaux the gift of art-filled public space from the waterfront to the city's new urban room. Centrally located between the River Garonne and Saint-Jean train station, the new 18,000 m2 Maison de l'Économie Créative et de la Culture en Aquitaine, MÉCA, brings together three regional arts agencies – FRAC for contemporary art, ALCA for cinema, literature and audiovisuals, and OARA for performing arts – into a loop, cementing the UNESCO-listed city as the epicenter for culture. BIG and FREAKS were selected ... More



Dan Mills, What's in a Name? Maine (with the number of major geographic features named after indigenous people & words marked with red), 2018, acrylic and ink on printed map laid down on paper, 15 1/2 x 10 3/4 inches.



ROCKLAND, ME.- The Center for Maine Contemporary Art is presenting a large-scale exhibition of artist Dan Mills' work on view through October 13, 2019. The exhibition, Dan Mills | Human Topographies, is the first solo show of the artist's work in Maine since he moved to the state in 2010. Dan Mills makes work that is full of observations about historic and current events. He conducts extensive research on topics such as current wars and conflicts, colonialism, and life expectancy by state, and creates paintings and works on paper that visualize data and information on these subjects. Mills frequently uses maps as the space to explore his ideas. He began incorporating maps into his work ... More
A Private Tour of Inspired by Chatsworth: A Selling Exhibition
Flashback
On a day like today, Finnish architect Eero Saarinen was born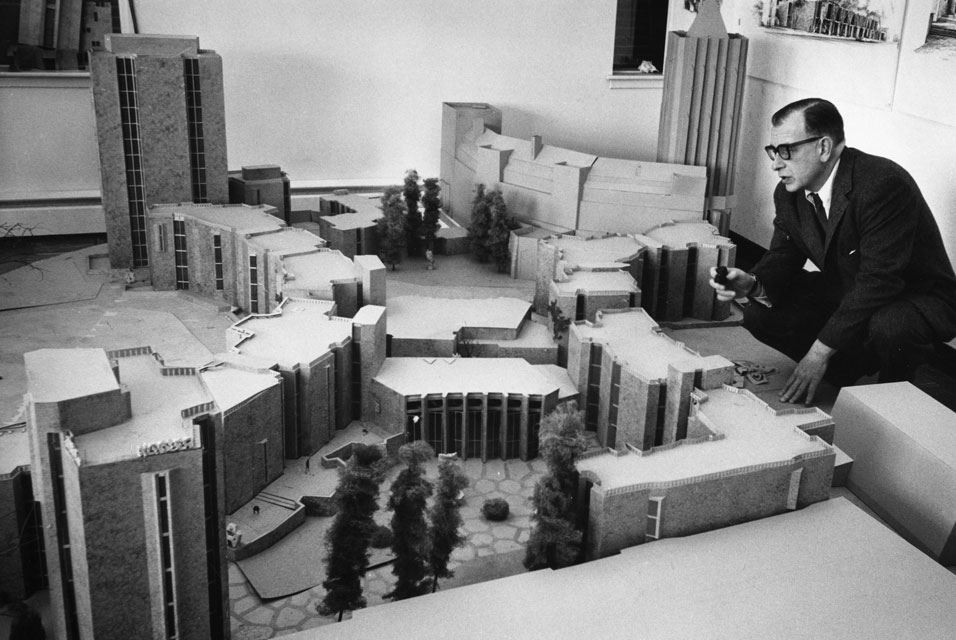 August 20, 1910. Eero Saarinen (August 20, 1910 - September 1, 1961) was a Finnish American architect and industrial designer of the 20th century famous for varying his style according to the demands of the project: simple, sweeping, arching structural curves or machine-like rationalism. In this image: Eero Saarinen (1910 - 61) was one of the most prolific, unorthodox, and controversial masters of twentieth-century architecture.
---

Museums, Exhibits, Artists, Milestones, Digital Art, Architecture, Photography,
Photographers, Special Photos, Special Reports, Featured Stories, Auctions, Art Fairs,
Anecdotes, Art Quiz, Education, Mythology, 3D Images, Last Week,
.
---
Royalville Communications, Inc
produces: