Poland urged to look for Nazi-looted art still held in its museums
Researchers say Jacob van Ruysdael's romantic 17th-century landscape with a ruin, taken from a Jewish publisher in Berlin, is one of the works in the Gdansk museum that should be restituted. Photo: National Museum in Gdansk.

by Nina Siegal
NEW YORK
(NYT NEWS SERVICE )
.-
The systemic looting of Poland by the Nazis during World War II still resonates today in that country, where officials continue to seek the return of more than 63,000 works of art and cultural properties, many of which were stolen from Jews there. But experts say Poland has done a poor job of providing the same justice to Dutch Jews and others whose art works were stolen during the war and ended up in German-occupied Poland and now are part of official museum collections. Seven Dutch works that researchers have identified as missing are held by one museum in Gdansk. Scholars say they suspect dozens more are in art institutions in other Polish cities where the Nazis stored cultural artifacts they had looted, or bought under dubious circumstances, from the Netherlands. "The Polish government wants to have as much as possible back," said Kamil Zeidler, a law professor at the University of Gdansk who has studied the issue, "but they don't want to give anything back to o ...
More
The Best Photos of the Day
Anish Kapoor exhibit brings together a selection of new mirror works
Britain moves to regulate its art trade. Bring your id
£20 million David Hockney to make a splash at Sotheby's London


Installation view of Anish Kapoor at Regen Projects, Los Angeles, January 11 - February 16, 2020. Photo: Joshua White, Courtesy Regen Projects, Los Angeles.



LOS ANGELES, CA.- Regen Projects opened an exhibition by renowned artist Anish Kapoor. Since the 1980s Kapoor's ambitious practice has continuously expanded the limits of sculptural form by investigating scale, volume, color, and materiality. With this exhibition, the artist's sixth solo presentation following his gallery debut in 1992, Kapoor brings together a selection of new mirror works that challenge optical perception and phenomenological experience through experiments in shape and form. The cornerstone of the exhibition is a monumental stainless-steel Double S-Curve. Expanding upon a singular work originally exhibited at Regen Projects in 2006, the sculpture's alternating concave and convex structure snakes through the center of the gallery. Simultaneously appearing both solid and liquid, its highly polished mirrored surfaces ... More



Visitors sit near a work by Georg Baselitz, at the Frieze art fair in London. Andrew Testa/The New York Times.

by Scott Reyburn



LONDON (NYT NEWS SERVICE ).- Britain's embattled art trade, already rattled by the potential fallout from Brexit, is bracing for new rules intended to tackle money laundering and terrorism financing that some fear could further hamstring dealers in the country. As of Friday, "art market participants" in Britain are subject to the regulations when conducting transactions worth more than 10,000 euros, or about $11,100. Under the rules, they have to register with the government's tax agency, and dealers and auctioneers must establish the identity of the "ultimate beneficial owner" — meaning both seller and buyer — before entering into a transaction. The legislation, ratified last month by the British Parliament, introduces largely without modification a European Union directive that is at various stages of implementation in other ... More



David Hockney, The Splash, 1966, acrylic on canvas, 72 x 72 inches. Courtesy Sotheby's.



LONDON.- A breath-taking realisation of David Hockney's Californian fantasy, The Splash is set to make waves in London this February when it stars in Sotheby's Contemporary Art Evening Auction. The painting will be offered with an estimate of £20-30 million – over six times the price achieved when the work last sold at auction for £2.9 million ($5.4 million) at Sotheby's London in 2006, where it made a record for the artist at auction at the time. Painted in 1966, The Splash immortalises a fleeting moment just seconds after a diver has broken the calm surface of a swimming pool. The painting's protagonist is present, yet absent, masked by a torrent of displaced water. The work is a quintessential example of Hockney's lifelong fascination with the texture, appearance and depth of water - a fascination which culminated in one of the most celebrated and instantly recognisable bodies of work ... More
Galerie Templon opens an exhibition of works by James Casebere
David Reed's first exhibition of new work with Gagosian opens in New York
Nicky Haslam's House of Commons


Bright Yellow House on Water, 2019. Framed archival pigment print mounted to dibond, 152,7 x 118,7 cm. Courtesy Galerie Templon, Paris - Bruxelles © James Casebere



PARIS.- For this new exhibition, James Casebere once again displays his mastery of staged photography with an original series that accurately lays bare major contemporary questions around climate change and the threat of environmental disaster. In 2016, in response to the alarming rise of populism in society, Casebere presented an exhibition in homage to Luis Barragán: an architectural ensemble paying tribute to a sense of spirituality. With this new work, On the Water's Edge, he sets his sights on the future with a series of novel hybrid structures, skilfully combining public spaces and private sanctuaries in coastal regions as he adopts a critical yet optimistic approach to the current disasters caused by rising sea levels. For the new show, the artist chose not to work with existing structures but to create new composite ensembles from scratch, their unfinished appearance turning them into sanctuaries of peace where every refugee ... More



#710, 2005–09/2018–19. Acrylic, oil, and alkyd on polyester, 121 x 55 in. 307.3 x 139.7 cm © 2020 David Reed/Artists Rights Society (ARS), New York. Photo: Rob McKeever. Courtesy Gagosian.



NEW YORK, NY.- Gagosian is presenting David Reed's first exhibition of new work with the gallery, following Painting Paintings (David Reed) 1975, a presentation of his early brushmark paintings curated by Katy Siegel and Christopher Wool at Gagosian New York in 2017. Since the outset of his career, Reed's central preoccupation has been to challenge and reinvent how to make a painting. Consistently, his paintings present a compelling tension between the gestural and the impersonal; in recent times this has been characterized by fluid, torquing, extended marks that reveal the viscosity of paint and the speed of color and light in a flattened manner that looks photographic or filmic. When Reed came to New York from Southern California in the 1960s, he entered an art scene skeptical about painting's ability to be progressive. The young artist sympathized with the humanist, even metaphysical impulse in the work of painters such as his te ... More



Nicky Haslam, now 80, at his flat in London, Dec. 30, 2019. Gioncarlo Valentine/The New York Times.

by Guy Trebay



LONDON (NYT NEWS SERVICE ).- Lunch, or perhaps late breakfast, for Nicky Haslam was eggs Benedict and two coffee martinis. The setting was the Wolseley, the Piccadilly institution that has lost little of its luster since restaurateurs Chris Corbin and Jeremy King transformed what had been an auto showroom and later a chop suey joint into a high-style brasserie in 2003. Perched at an adjacent table were billionaire Henry Kravis and his wife, Marie-Josée, a matte black crocodile Hermès Birkin beside her on a banquette. In 2018, an all but identical handbag was hammered down at a Hong Kong auction for $175,000, but never mind that. Wealth displays are, in Haslam's view, vulgar — or common, a term whose deployment he has parlayed into a personal franchise. At semiregular intervals, Haslam issues lists of things he disapproves of on the entirely arbitrary grounds of taste. The lists include — although are not limited to — scented candles, celebrity chefs, ... More
Shin Gallery opens exhibition of works by Joseph Cornell and Stephen Antonakos
Fossil reveals Earth's oldest known animal guts
New work by Teresa Margolles on view at James Cohan


Installation view.



NEW YORK, NY.- Shin Gallery is presenting together ten works of emotion and precision from master of enigma Joseph Cornell and lifelong "com-poser" of forms Stephen Antonakos. Both artists arrange found objects and art materials succinctly, in highly specific placements that define each work's meanings — or at least its questions. Both worked mainly in New York: Cornell in his mother's house on Utopia Parkway in Queens and Antonakos in Soho. Both had work in Martha Jackson's brilliant 1960 exhibition "New Forms — New Media I" and in the Byron Gallery's important 1965 show "Boxes." Cornell's boxes, and here his frames, have such a tight grip on their enclosed images they seem to exist outside time. In the 1930s engraving, the young legs pedal urgently, but the bicycle's wheels are slashed by the etching's left and right edges. The central, slightly tinted ... More



Illustrated views of Cloudina, a worm that lived about 550 million years ago. Stacy Turpin Cheavens, University of Missouri via The New York Times.

by Lucas Joel



NEW YORK (NYT NEWS SERVICE ).- They say you should trust your gut, which is what Emmy Smith did when she went hunting for fossils in 2016. Smith, a field geologist, had a hunch she would find something interesting at a site north of Pahrump, Nevada, and she did. But what her gut hadn't told her was that some of those fossils would turn out to contain the oldest known animal guts on the planet. "It was just really lucky," said Smith, who works at Johns Hopkins University in Baltimore and is part of the team that reported the find Friday in Nature Communications. The guts are those of an extinct animal called Cloudina, which looked like a worm made of a stack of ice cream cones and lived about 550 million years ... More



Teresa Margolles, Super Speed, El Paso, Texas, 2020. © Teresa Margolles 2020. Image courtesy the artist and James Cohan, New York.



NEW YORK, NY.- James Cohan is presenting an exhibition of new work by Teresa Margolles, on view from January 10 to March 1 at 48 Walker Street. This is the artist's debut solo exhibition at James Cohan. Teresa Margolles investigates the social and aesthetic dimensions of conflict by infusing artwork with material traces of violence and loss. For this exhibition, she has created a new body of sculpture, photography, and installation that contends with the underlying causes of death and ongoing trauma on both sides of the Mexico-U.S. border. Assembled in collaboration with communities affected by violence, the objects on view examine shared experience to underscore mutual accountability within a context of commemoration and collective mourning. Central to the exhibition ... More
Littlejohn Contemporary presents a group show at Bedford Playhouse
Group exhibition explores the idea of still life
Chemould Prescott Road exhibits works by N.S. Harsha


Tracy Fauver and Jacquie Littlejohn.



BEDFORD, NY.- Littlejohn Contemporary is presenting a group show of artworks by several of its gallery artists at Bedford Playhouse, Bedford, New York, January 6th through March 1st, 2020. A wine and cheese reception will be held on Thursday, January 16th, from 6pm until 8pm. A portion of the proceeds from sales of artwork in this exhibition will benefit future programming at the newly renovated Bedford Playhouse. Bedford Playhouse, home of the Clive Davis Arts Center, is an exciting resource for the community…a destination where Westchester and Connecticut residents gather for film, music, art, and events – or just good food and drink. Its mission is to provide a vibrant, state of the art cinema, cultural center and community hub, featuring outstanding films, arts-related programming, educational offerings and a fun, welcoming space to relax and socialize. Littlejohn Contemporary Art has more than a passing relationship w ... More



Karen Lederer, Popcorn, 2019. Acrylic and oil on panel, 40h x 30w in (101.60h x 76.20w cm).



NEW YORK, NY.- Morgan Lehman is presenting Stilleven, a group exhibition that explores the idea of still life and features the works of five artists working in an array of disciplines and conceptual modes. One might define still life, (or "stilleven" in Dutch), as the artistic depiction of an arrangement of objects generally inanimate, commonplace, and personal in nature. Traditionally, these objects are rendered within a shallow spatial field that mimics the way we might encounter objects in our daily lives. Still life has ancient origins, developing into a highly refined art-historical genre in the Netherlands by the 16th Century, and continues to be a format full of possibilities for artists working today. Adriana Farmiga's intimate views of everyday items reveal her ongoing interest in issues of monumentality, scale, and interstitial spaces. In these recent oil-on-panel paintings, bits of ... More



N. S. Harsha, Donkeys giving birth here and there, 2018. Acrylic and gold foil on canvas, 190 X 150 cms.



MUMBAI.- N.S. Harsha's work has a rarity; his gallery exhibitions are few and far between. Indeed his work is laboured, his process slow. The fact is that Harsha has a rigorous practice. Recent museum exhibitions, biennales have left a footprint from 2016 to 2019 from the Kochi Biennale, Japan, Sydney Biennale in Sydney, Wales, and more recently in Hong Kong. In 2017 Mami Katoka chief curator from the Mori Museum in Tokyo curated 7 to 8 rooms filled with paintings, installations and sculptures of the last 25 years by the artist. This in itself is testimony to the tremendous repertoire of the artist. Harsha comes back to his gallery, to Bombay, after a gap of 13 years! His last exhibition, Charming Nation was one of the last to be held in the old space of Chemould at Jehangir in 2006. This exhibition therefore is much awaited by those who hold his work close to their heart. His band of followers ... More
What Is Contemporary Art? | New Course from The Museum of Modern Art
Flashback
On a day like today, Belarusian-French painter Chaim Soutine was born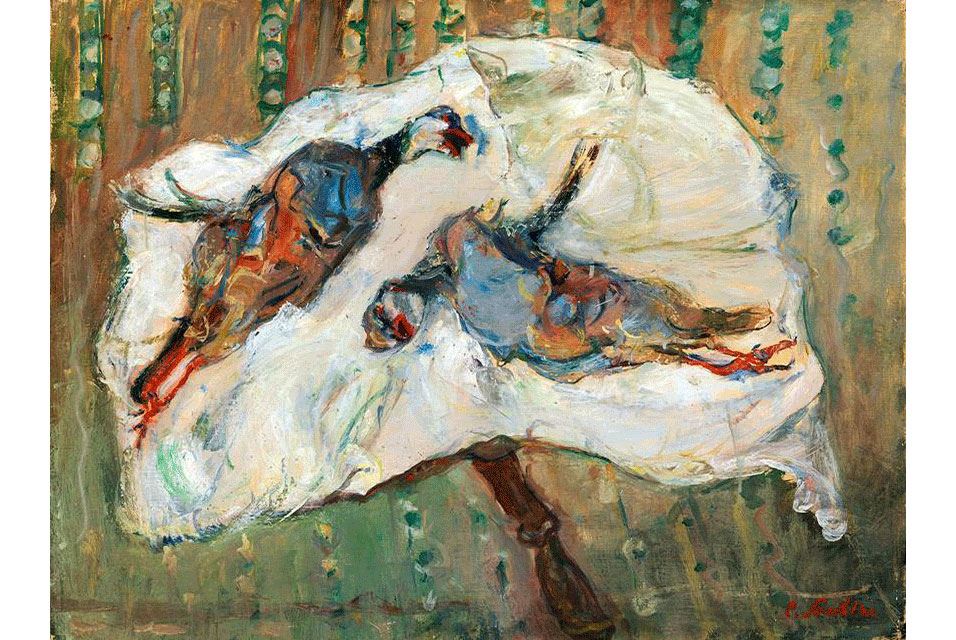 January 13, 1893. Chaïm Soutine (13 January 1893 - 9 August 1943) was a Russian-French painter of Jewish origin. Soutine made a major contribution to the expressionist movement while living in Paris. Inspired by classic painting in the European tradition, exemplified by the works of Rembrandt, Chardin and Courbet, Soutine developed an individual style more concerned with shape, color, and texture over representation, which served as a bridge between more traditional approaches and the developing form of Abstract Expressionism. In this image: Chaim Soutine, Two Pheasants.
---

Museums, Exhibits, Artists, Milestones, Digital Art, Architecture, Photography,
Photographers, Special Photos, Special Reports, Featured Stories, Auctions, Art Fairs,
Anecdotes, Art Quiz, Education, Mythology, 3D Images, Last Week,
.
---
Royalville Communications, Inc
produces: