The symphonic effect of antique Oriental carpets in the home
This immersive 175-year-old Hadji Jallili Tabriz is an example of the one-of-a-kindkind antique Persian weavings that become even more enjoyable when experienced within today's modern home environment. This oversize 19th century Persian Hadji Jallili Tabriz Court carpet is part of a collection of High-Collectible and Connoisseur-Caliber rugs throughout this reinterpreted traditional English country home. Surrounded by understated contemporary furniture and the typical technological accessories of a family room, this luxurious floor covering embraces the old and the new.
OAKLAND, CA
.-
Speaking from 39 years of experience guiding his clients to integrate antique carpets into their homes, Jan David Winitz, president and founder of
Claremont Rug Company
, explains his approach. "An analogy that I often use is that of a symphony orchestra," he says. "Rugs, antiques and other art forms are employed much in the same way that musicians perform in an orchestra. Each instrument makes its own unique contribution to create a unified sound. Working with the home owner, my role is that of the conductor to create the harmony of the symphony in the residence." Whether architecturally traditional, contemporary or transitional, a home's features and the homeowner's vision help to dictate the choice of antique Persian and tribal rugs for Winitz. Among the considerations are the height of ceilings, the amount of natural light as well as the furniture and other art. Large residences often ha ...
More
The Best Photos of the Day
Egypt asks UK to halt auction of Tutankhamun sculpture
Missing for over 80 years lost Moholy-Nagy experimental short film ABC IN SOUND rediscovered
National Portrait Gallery announces the winner of the BP Portrait Award 2019


An Egyptian brown quartzite head of Tutankhamen as the God Amen. Estimate on request. © Christie's Images Ltd 2019.



CAIRO (AFP).- The Egyptian embassy in London requested that Britain prevent the planned sale by Christie's of an ancient sculpture representing King Tutankhamun's head and return it to Egypt, Cairo said. "The Egyptian embassy in London requested the British foreign affairs ministry and the auction hall to stop the sale," Egypt's foreign ministry said. Christie's has announced that the brown quartzite head of the pharaoh -- measuring 28.5 centimetres high and more than 3,000 years old -- would take place on July 4. It said it expected the sale, from the Resandro Collection -- one of the world's "most renowned private collections of Egyptian art" -- to fetch more than four million pounds (4.5 million euros, $5.1 million). The foreign ministry also requested the sale of all Egyptian items planned by Christie's during auctions on July 3 and July 4 be stopped, stressing the importance of securing valid ... More



Newly scanned at 4K the restoration of Tönendes ABC /ABC in Sound (1933) will receive its world premiere at BFI Southbank on 18 June.



LONDON.- The BFI announced the rediscovery of Bauhaus teacher and artist László Moholy-Nagy's long 'lost' optical sound film, Tönendes ABC / ABC in Sound (1933), missing for over 80 years. The experimental film, from one of the most influential figures of the avant-garde, was found at the BFI National Archive and correctly identified by BFI Curators. László Moholy-Nagy (1895-1946) was a tenacious, restless creative who associated with various early twentieth century vanguard art movements. Teaching at the legendary Bauhaus school, which this year sees its centenary, his early optical sound films experimented with the formal properties of film and blurred the lines between sound and image and the act of hearing and seeing sound. Newly scanned at 4K the restoration of Tönendes ABC /ABC in Sound (1933) will receive its world premiere at BFI Southbank on 18 June before being made available to view online ... More



First Prize Winner Charlie Schaffer with his portrait Imara in her Winter Coat. Photograph by Jorge Herrera.



LONDON.- The winner of the BP Portrait Award 2019 was announced this evening at the National Portrait Gallery, London. The prestigious first prize was won by Brighton based artist, Charlie Schaffer for Imara in her Winter Coat, a portrait of his close friend. The winning portrait was selected from 2,538 submissions from 84 countries. The judges admired the mannerist style of this portrait, which has a strong sense of a living presence in Schaffer's composition. The judges went on to say, 'the skilful depiction of a combination of several different textures including faux-fur, hair and skin are revealed by prolonged looking and together these produce an image that is traditional, but clearly contemporary.' Sandi Toksvig presented Charlie Schaffer with Ł35,000 and a commission, at the National Portrait Gallery Trustees' discretion, worth Ł7,000 (agreed between the National Portrait Gallery and the artist). Born in Londo ... More
Goodman Gallery announces opening in London
Museum of Fine Arts, Boston acquires rare silver from Sotheby's $2.7 million Important Judaica auction
Almine Rech now represents Allen Jones


Liza Essers. Courtesy Goodman Gallery and Anthea Pokroy.



LONDON.- Goodman Gallery announced the opening of a London gallery in Autumn 2019. Globally renowned as the pre-eminent art gallery on the African continent, Goodman Gallery's new location at 26 Cork Street will complement its two existing spaces in Cape Town and Johannesburg, South Africa. Goodman Gallery will be the first permanent gallery to activate the Cork Street redevelopment in W1S. The historic street which brought exhibitions by Francis Bacon and Joan Miró to London for the first time, will be enlivened by the gallery's cutting-edge programme. Goodman Gallery's roster of top artists from South Africa and beyond includes Candice Breitz, Alfredo Jaar, William Kentridge, Shirin Neshat and the late David Goldblatt. They also bring to London a new generation of core contemporary names from Africa and the Diaspora, such as Nolan Oswald Dennis, Kiluanji Kia Henda, Grada Kilomba, Kapwani Kiwanga, and Tabita Rezaire. ... More



A Pair of German Parcel-Gilt Silver Torah Finials Jurgen Richels, Hamburg, circa 1688-9. Sold for $500,000. Courtesy Sotheby's.



NEW YORK, NY.- Driven by demand from private collectors and cultural institutions, Sotheby's Important Judaica auction totaled $2.7 million in New York. From ceremonial silver to important manuscripts and fine art, below is a look at some of the exceptional items that drove these results. The Museum of Fine Arts, Boston acquired two of sale's top offerings of silver – a Pair of German Parcel-Gilt Silver Torah Finials from Hamburg circa 1688-89 which sold for $500,000 and A Pair of Large English Parcel-Gilt Silver Torah Finials by British Silversmith Edward Aldridge from 1764 sold for $187,500. Both pair of finials stand out for their exceptional rarity and notable provenance, the latter of which were sold to benefit The Central Synagogue, London and were formerly in the famed collection of Philip Salomons – brother of the first Jewish Lord Mayor of London – who was one of the first collectors of antique Judaica in ... More



British artist Allen Jones poses next to his his work of art entitled "Enchanteresse" on display at the Royal Academy of Arts in London on October 2, 2012. AFP PHOTO / JUSTIN TALLIS.



LONDON.- Almine Rech announced the representation of iconic British pop artist Allen Jones in France, Belgium and China. His first exhibition with the gallery will take place at Almine Rech Paris from October 12 to November 16, 2019. Almine Rech will also present works by Allen Jones on the occasion of Art Basel, from June 11 to 16, 2019 - Booth F6. Allen Jones is one of Britain's most distinguished artists from the pioneering Pop Movement, with paintings and sculptures in many important international collections, including the Tate Gallery and the Victoria & Albert Museum in London, the Museum of Modern Art in New York, the Hirshhorn Museum and Sculpture Garden in Washington DC, the Museum of 20th-Century Art in Vienna, the Wallraf-Richartz Museum in Cologne, the Moderna Museet in Stockholm and the Stedelijk Museum in Amsterdam. He1 ... More
Seattle Art Museum appoints Amada Cruz as new Director and CEO
Grapevine timeline: DNA shows France's oldest grape varieties
Stunning Pre-Columbian, Tribal art from private collections offered in Heritage Auctions' Ethnographic Art auction


Since February 2015, Ms. Cruz has served as the Sybil Harrington Director and CEO of the Phoenix Art Museum in Arizona. Photo: Airi Katsuta.



SEATTLE, WA.- The Board of Trustees of the Seattle Art Museum announced today that Amada Cruz has been chosen as the museum's new Illsley Ball Nordstrom Director and CEO following an extensive international search. Since February 2015, Ms. Cruz has served as the Sybil Harrington Director and CEO of the Phoenix Art Museum in Arizona, the largest art museum in the Southwestern United States. She will assume her position at SAM in September, succeeding Kimerly Rorschach who will be retiring. In her role at SAM—comprising the downtown Seattle Art Museum, the Asian Art Museum in Volunteer Park, and the Olympic Sculpture Park on the downtown waterfront—Cruz will oversee the institution's wide-ranging artistic and education programs and manage a staff of more than 300. "I am so excited about moving to one of the most progressive, innovative, and fastest-growing ... More



Waterlogged Roman grape seeds like these were genetically tested to investigate grape varieties in the past.



PARIS (AFP).- Grape varieties brought to France by the Romans are identical to those grown for wine in some of the most famous appellations today, a new analysis of ancient vine DNA showed Monday. Researchers unearthed evidence that one grape -- from which well-known varieties such as chenin and riesling are derived -- had been grown continuously for 900 years, long enough for a good many vintages. Unlike many agricultural crops, which grow annually from seed, grapevines are normally propagated by replanting trimmings from an existing vine. This saves both time and the risk of producing an inferior wine, and the new plants are genetically identical to their predecessors. This means that a single generation of a grape variety can last for hundreds of years. Written records suggest viniculture in France dates back to the sixth century BCE, introduced by the ... More



The Important Olmec Mask (estimate: $50,000-75,000) comes from the Robert and Carolyn Nelson Collection. Estimate: $50,000 - $75,000.



DALLAS, TX.- A rare, Olmec mask headlines a trove of Pre-Columbian art featured in Heritage Auctions' Ethnographic Art: American Indian, Pre-Columbian and Tribal Auction June 25 in Dallas, Texas. The Important Olmec Mask (estimate: $50,000-75,000) comes from the Robert and Carolyn Nelson Collection, and is life-sized, with finely carved facial features in high relief. The Olmecs were the earliest known major civilization in Mesoamerica, living in 1,200-400 B.C. in south-central Mexico, in the region that stretches over modern states of Veracruz and Tabasco. "This is an extraordinary piece from Robert and Carolyn Nelson, who have assembled a world-class collection," Heritage Auctions Senior Ethnographic Art Specialist Delia Sullivan said. "Olmec art is very distinctive and in high demand among collectors. The Olmecs often worked in stone, specifically ... More
Toomey & Co. Auctioneers sells painting for $35,000 to help local resale shop
Exhibition at Sims Reed Gallery showcases 31 vibrant drawings by Aaron Kasmin
David Hill Gallery opens first exhibition dedicated to Werner Bischof's USA series


Proceeds from the sale of a Charles Courtney Curran work will increase funding for the Oak Park-based Economy Shop's six partner agencies.



OAK PARK, IL.- On June 9, Toomey & Co. Auctioneers held its second successful Art & Design sale of 2019. One of the highlights of the auction was an oil on canvas by American Impressionist Charles Courtney Curran, Three Women on Hilltop, 1919 (image attached below), which had a $10,000-15,000 estimate. With active competition among telephone and online bidders, the lot achieved $35,000 including buyer's premium. This Curran painting was originally donated to the Economy Shop, a charity reseller in Oak Park, Illinois celebrating its 100th anniversary this year. Given Toomey & Co.'s impressive result for the Curran, the Economy Shop will be able to offer additional bonuses to each of its six partner agencies in the area: Animal Care League, Children's Clinic of Infant Welfare Society, Oak Park River Forest Day Nursery, ... More



Aaron Kasmin, Fish and Chips.



LONDON.- Aaron Kasmin returns to Sims Reed Gallery with his third exhibition inspired by American feature matchbooks. Bold. Dynamic. Energetic. Nostalgic. Showtime! Is the British artists largest show to date, showcasing 31 vibrant drawings that depict a more diverse range of subject matter than his earlier work, transporting viewers back to the dynamism of a bygone America. After the success of Up in Smoke, 2017 and Lucky Strike, 2016, Kasmin is hosting an exhibition of new works that take a look at themes ranging from restaurants and nightlife to sports and travel, nostalgically shedding light on early to mid-twentieth century American life. Celebrating both the every day and glitz and glamour of the time, his drawings hark back to the post-prohibition era, a period filled with movie stars and opulent parties as described in the novels of F. Scott Fitzgerald and Raymond Chandler. Kasmin began collecting Lion Match Company's ... More



Werner Bischof, Painter of the Golden Gate Bridge, San Francisco, USA 1953.



LONDON.- Renowned Magnum photographer Werner Bischof brought early 1950s America vividly to life through his series of enigmatic and expansively composed images, yet his tragic death at the age of 38 meant that this work was never printed in his lifetime. A true innovator, Bischof was one of the first documentary photographers to approach colour seriously. At the time most of his celebrated contemporaries were still predominantly working in monochrome and would continue to do so until the mid 1960s. Now this fascinating collection of both black and white and colour images, taken during his travels around America, many shown here for the first time, will be unveiled in a landmark exhibition that celebrates the legendary photographer's work. Werner Bischof is recognised as one of history's most influential photographers. During his lifetime ... More
Richard Bell - 'My Art is an Act of Protest' | Artist Interview | Tate
Flashback
On a day like today, Dutch illustrator M. C. Escher was born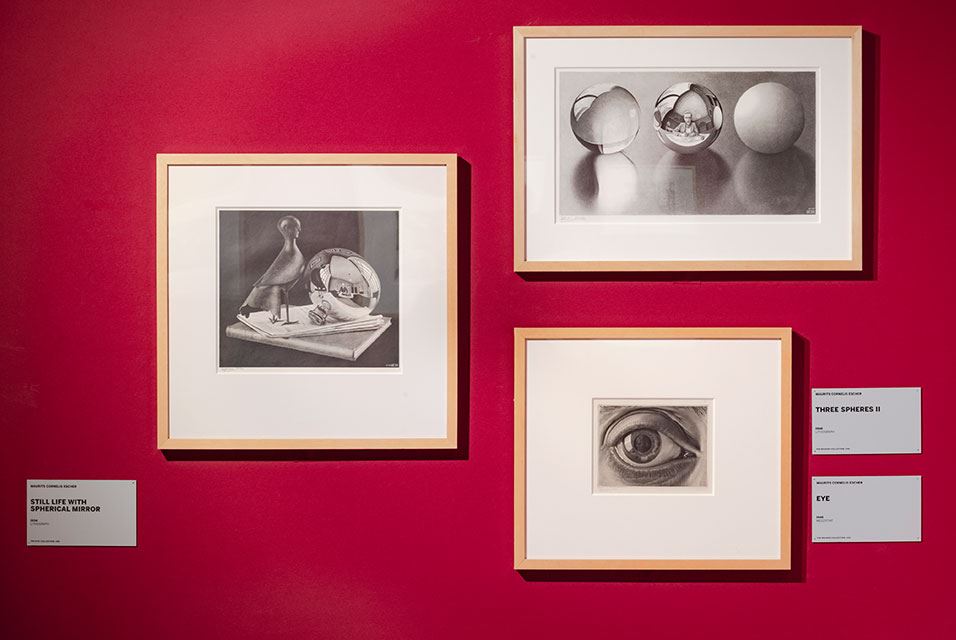 June 17, 1898. Maurits Cornelis Escher (17 June 1898 - 27 March 1972) was a Dutch graphic artist who made mathematically-inspired woodcuts, lithographs, and mezzotints. In this image: Installation view, ESCHER. The Exhibition & Experience at Industry City, June 8, 2018 - February 3, 2019. Photo by Adam Reich. Courtesy Arthemisia.
---

Museums, Exhibits, Artists, Milestones, Digital Art, Architecture, Photography,
Photographers, Special Photos, Special Reports, Featured Stories, Auctions, Art Fairs,
Anecdotes, Art Quiz, Education, Mythology, 3D Images, Last Week,
.
---
Royalville Communications, Inc
produces: