Egypt unveils trove of ancient coffins excavated in Luxor
A photograph taken on October 19, 2019 shows a detail of a sarchphagus displayed in front of Hatshepsut Temple in Egypt's valley of the Kings in Luxor Egypt revealed today a rare trove of 30 ancient wooden coffins that have been well-preserved over millennia in the archaeologically rich Valley of the Kings in Luxor. The antiquities ministry officially unveiled the discovery made at Asasif, a necropolis on the west bank of the Nile River, at a press conference against the backdrop of the Hatshepsut Temple. Khaled DESOUKI / AFP.

by Farid Farid
LUXOR
(AFP)
.-
Egypt revealed Saturday a rare trove of 30 ancient wooden coffins that have been well-preserved over millennia in the archaeologically rich Valley of the Kings in Luxor. The antiquities ministry officially unveiled the discovery made at Asasif, a necropolis on the west bank of the Nile River, at a press conference against the backdrop of the Hatshepsut Temple. "This is the first discovery in Asasif by dedicated Egyptian hands, comprised of archaeologists, conservationists and workers," the head of the Supreme Council of Antiquities, Mostafa al-Waziri, told reporters. The 30 ornately decorated coffins of men, women and children were found only a metre (three feet) underground, stacked in two rows. They are believed to belong to family members of high priests. Waziri explained that excavations of the site in the 19th century had revealed royal tombs, but this latest discovery had yielded a collection of priests' burials. ...
More
The Best Photos of the Day
Elizabeth Taylor's personal treasures set for auction block
Keith Haring mural cut out of New York stairwell heads to auction
Ed Clark, pioneering Abstract Expressionist painter, dies at 93


A person holds a necklace, part of a collection of items owned by late US-British actress Elizabeth Taylor, during a Julien's Auctions press preview aboard the Cunard ocean liner "Queen Mary 2" on October 18, 2019 in Brooklyn, New York. Angela Weiss / AFP.



NEW YORK, NY (AFP).- Internationally known for her lavish lifestyle and glam taste, silver screen siren Elizabeth Taylor also boasted a playful side, and now some of her personal effects that bared it are hitting the auction block. Items including a gold vermeil link belt, a sumptuous silk caftan and a studded black leather Versace biker jacket belonging to the late Hollywood legend will travel across the Atlantic on the famed Queen Mary 2 ocean liner, giving guests a first glimpse at Taylor's treasures. Following the actress' death in 2011 at age 79, a week-long Christie's auction in New York of her vast collection of luxury dresses, jewels and fine art saw total sales topping $156 million. But this time the items anticipated to go for a wide range of price points show the side of a larger-than-life woman -- known for starring roles in classics like "Cleopatra" and "Cat on a Hot Tin Roof" -- her closest friends and ... More



Keith Haring (American, 1958-1990), Untitled (The Grace House Mural), circa 1983-1984 (detail). Estimate: $3-5 million. Photo: Bonhams.



NEW YORK, NY (NYT NEWS SERVICE).- For a time, a crucifix hung on the wall of the Grace House lobby. Then, in the early 1980s, something else took its place: the stark black outline of a crawling infant, in thick strokes of paint beaming outward. In the decades at Grace House, a Catholic youth center on Manhattan's Upper West Side, the image was a tag: Keith Haring was here. The radiant baby, one of Haring's most recognizable symbols, was the beginning of a three-story mural by the artist, who in one evening painted a dozen more figures dancing up the stairs. The characters he brought to life were quintessential Haring — the barking dog, a person with a corkscrew torso, conjoined figures with a hole in their shared chest. "When new kids came to that building and they saw all that stuff, they said, 'Oh my god, this is Keith Haring. Is this real?'" said Gary Mallon, who was the director of the youth center. But Grace House would eventually close, ... More



Ed Clark, Vertical Movement, 2002. Acrylic on canvas, 181.6 x 144.8 x 2.5 cm / 71 1/2 x 57 x 1 in. © Ed Clark. Courtesy the artist and Hauser & Wirth. Photo: Thomas Barratt.



NEW YORK, NY (NYT NEWS SERVICE).- Ed Clark, an African American expressionist painter who used a broom and bold colors to capture the natural world and to convey emotions about the racial injustice of the 1960s, earning him international acclaim, has died. He was 93 and lived in Detroit. His death was announced Friday by Hauser & Wirth, which represents Clark and exhibits his paintings at its Chelsea gallery in New York City. Clark was known for his experimentation with vibrant colors, paint application and medium — he was among the first artists to use a shaped canvas — over a career that spanned seven decades. His works are in the collections of some of the most prestigious arts museums in the world, including the Museum of Modern Art in New York, the Smithsonian National Museum of African American History & Culture in Washington and the Art Institute of Chicago, the city where he trained. ... More
A passion for drawing: The Albertina Museum exhibits drawings from the Guerlain Collection
The Phillips Collection features projections and sculptural portraits by the Los Carpinteros collective
Christie's announces highlights included in its Fine Chinese Ceramics and Works of Art auction in London


Joyce Pensato, Flying Home, 2010. Kohle auf Papier. Donation de la Collection Florence et Daniel Guerlain, 2012 Centre Pompidou – Musée National d'Art Moderne, Paris © Joyce Pensato, Courtesy Petzel, New York.



VIENNA.- Drawing has never been so multifaceted and diverse as today. Never have artists resorted to so many different formats and techniques, never has the genre been reconsidered and redefined in so many directions. Artists devise and use their own methods to address their themes: ink is extracted from root beer; drawings are covered with beeswax; their surfaces are treated with an electric sander. Drawing on paper has long ceased to be a prerequisite. One can just as well draw on the wall, or a line may be drawn with wire instead of a pencil. Formally, anything is possible: from delicate and meticulous to gestural and expressive, from geometric abstraction to photorealism. Drawings are inspired by construction plans and architectural sketches, by children's book ... More



Marco Castillo, Dagoberto Rodriguez_Courtesy of Estudio Dagoberto Rodriguez.



WASHINGTON, DC.- In its 10th year of Intersections contemporary art projects, The Phillips Collection presents the 28th installation: Cuba Va! by Los Carpinteros, an artist collective best known for merging architecture, sculpture, design, and drawing. On view October 10, 2019–January 12, 2020, the project features two single-channel HD video projections—Comodato and Rétractil—and a group of sculptural portraits. Together, the films and portraits outline social transformations in post-revolutionary Cuba, offering critical commentary of dominant ideologies and power structures. Cuba Va! is Los Carpinteros's first museum presentation as a collective since their separation in summer 2018. "We are thrilled to host Los Carpinteros's Cuba Va! as our 28th Intersections exhibition. Their decadeslong collaborative work, characterized by formal and conceptual ambiguity and implicitly political narratives, plays into Du ... More



Headlining the auction is a magnificent Imperial gilt-bronze bell, bianzhong, dated to the eighth year of the Qianlong reign, 1743, from an Important European Collection. Estimate £800,000 - 1,200,000. © Christie's Images Ltd 2019.



LONDON.- On 5 November, Christie's Fine Chinese Ceramics and Works of Art auction will present 227 lots spanning three millennia of Chinese art from the Shang Dynasty to the Republic period. The sale features private collections of archaic bronzes, jade carvings, cloisonné enamel works of art, paintings, Song ceramics and imperial Ming and Qing dynasty porcelain from the UK, Europe and Asia. The auction will be complemented by an online sale of The van Daalen Collection of Chinese Art, which offers over 100 lots from the Estate of Albert and Leonie van Daalen, Geneva, Switzerland, and showcases the breadth of their collecting tastes from Song Dynasty Chinese ceramics to Ming and Qing dynasty blue and white, coloured enamelled porcelain and cinnabar lacquer works of art. ... More
Marc-Arthur Kohn to sell the interior of a castle whose decor was designed in the 1950-60s by Erté
Phillips to offer Norman Rockwell's 'Before the Shot' on 14 November
US-French comic book tackles mass shootings with superheroes


This house illustrates the connection between an extravagant collector and an artist fitted with a fanciful and eccentric spirit. Estimates range from €2,000 and €50,000.



PARIS.- On 6 and 13 November, auction house Marc-Arthur Kohn will disperse the interior of a castle located near Paris whose decor was designed in the 1950-60s by Roman de TIRTOFF (1892-1990), also known as Erté. Celebrated for his fashion sketches, costume designs, magazine issues and theater, music-hall and opera sets, he also put his creativity at the service of personalities and interiors like this very one. Born in Saint Petersburg in an aristocrat family, Erté grew up during the last years of tsarist Russia. In 1912, aged 15, during the golden age of Russian ballets, he moved to Paris to study drawing. He chose the pseudonym of Erté as a reference to the French pronunciation of his initials (R.T.). As soon as 1915, he signs his first contract as a designer for Harper's Bazaar magazine. This collaboration with the magazine, a major fashion influencer of the early ... More



Norman Rockwell, Before the Shot, 1958 (detail). Estimate: $2,500,000-4,500,000. Image courtesy of Phillips.



NEW YORK, NY.- On 14 November, Phillips will offer Norman Rockwell's Before the Shot, marking the first time that a work by the iconic American illustrator will appear in an Evening Sale of 20th Century & Contemporary Art, as well as the first time that one of his paintings will be offered at Phillips. The work has never before been sold publicly, having remained in just two families' collections since it was painted, the first of which was Rockwell's own doctor and the model for the painting. Elizabeth Goldberg, Senior International Specialist of American Art and Deputy Chairwoman, Americas, said, "We are honored to introduce Norman Rockwell's paintings to Phillips' auctions by including this masterwork in our November Evening Sale. While Rockwell has traditionally been offered in sales of American Art, we are eager to break down the barriers that separate these collecting categories and reexamine the way that these ... More



French comic book illustrator Phil Briones displays his comic book "Ignited" in his home office in Los Angeles, California on September 18, 2019. Robyn Beck / AFP.



LOS ANGELES (AFP).- Two US authors have found a novel way to address the mass shootings that regularly plunge their country into mourning -- comic-book superheroes. The daring "Ignited" series, penned by former Marvel and DC writers Mark Waid and Kwanza Osajyefo and released by legendary French publisher Humanoids Associates, tackles the politically controversial topic head-on. It tells the fictional but tragically familiar story of six teenagers who survive a shooting at their high school in Phoenix, Arizona. Under immense shock and stress, the teens develop superpowers. They view their newfound strengths as an opportunity to "make a difference" in their violent world, "because otherwise we went through all our pain for nothing." In addition to giving a voice to real-life shooting survivors, "Ignited" was a chance for scriptwriters Waid and Osajyefo to address a range of sensitive, highly topical ... More
National Gallery of Australia launches new learning gallery and studio
Two solo exhibitions of new work by Vik Muniz on view at Sikkema Jenkins & Co.
Art Deco & Beyond: A celebration of 20th century jewellery at Sotheby's Geneva this November


The Tim Fairfax Learning Gallery and Studio are open 7 days a week, free of charge.



CANBERRA.- The National Gallery of Australia officially launched its new Tim Fairfax Learning Gallery and Studio on Friday, 11 October 2019, as a central part of its commitment to expand learning opportunities for Australians across the country, particularly children and young adults. The new facilities have been made possible by a major gift from National Gallery of Australia Foundation Board director Tim Fairfax AC, a champion of arts education and arts accessibility. The Tim Fairfax Learning Gallery will host two dedicated exhibitions a year and the Tim Fairfax Studio has been developed as a flexible workspace that supports students, families and people of all ages and abilities in hands-on arts activity. As part of a broader Learning Strategy, the National Gallery is also expanding its digital education footprint and growing its travelling learning programs. National Gallery of Australia Director Nick Mitzevich said the ... More



Vik Muniz, Beetle, Museum of Ashes, 2019. Archival inkjet print, 10.5 x 8 inches (26.7 x 20.3 cm). Edition of 10. © Vik Muniz, courtesy of Sikkema Jenkins & Co., New York.



NEW YORK, NY.- Sikkema Jenkins & Co. is presenting two solo exhibitions of new work by Vik Muniz. Surfaces and Museum of Ashes is on view October 10 through November 16, 2019. It was only after moving to the US in 1983 that Vik Muniz was able to physically engage with the art he had known exclusively through reproductions in Brazil. The separation between these two distinct experiences has become the core of a multi-faceted oeuvre spanning the course of three decades. Muniz' work invites the viewer to wander in an ambiguous and somewhat disorienting territory between the image and its physical counterpart, between mind and matter, perception and phenomenon. This "metaphysical fitness," as he calls it, awakens both the intellect and the senses to continuously chart new paths through ... More



Colombian emerald and diamond pendant-brooch combination, Cartier, 1927. Courtesy Sotheby's.



GENEVA.- Sotheby's upcoming auction of precious jewels and gemstones in Geneva will be a celebration of jewellery design, showcasing exceptional Art Deco jewels, complemented by stunning signed jewels from the latter part of the 20th century. Ahead of the sale on 13 November, the global team of Jewellery specialists has gathered a selection of extraordinary jewels which tell the story of jewellery design through the 20th century. The autumn selection will showcase emblematic designs from the seminal period of the 1920s and 1930s, as well as more contemporary pieces, bringing jewellery design up to the present day. Speaking ahead of the sale, David Bennett, Chairman of Sotheby's International Jewellery Division, said, "This season's auction will offer a walk through the most important themes of 20th century jewellery. There are exquisite Cartier pieces from the Art Deco era - a period which we have seen time ... More
TNT, a Film for Sotheby's by T.J. Wilcox
Flashback
On a day like today, Dutch painter Aelbert Cuyp was born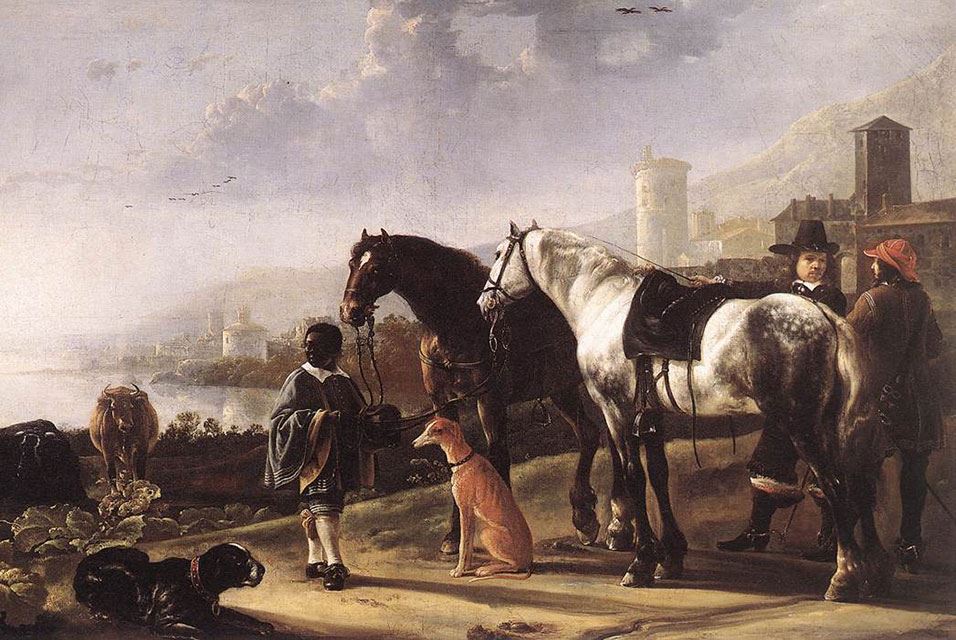 October 20, 1620. Aelbert Jacobsz Cuyp (October 20, 1620 – November 15, 1691) was one of the leading Dutch landscape painters of the Dutch Golden Age in the 17th century. The most famous of a family of painters, the pupil of his father Jacob Gerritsz. Cuyp (1594–1651/52), he is especially known for his large views of the Dutch countryside in early morning or late afternoon light. In this image: The Negro Page circa 1652, oil on canvas; Royal Collection.
---

Museums, Exhibits, Artists, Milestones, Digital Art, Architecture, Photography,
Photographers, Special Photos, Special Reports, Featured Stories, Auctions, Art Fairs,
Anecdotes, Art Quiz, Education, Mythology, 3D Images, Last Week,
.
---
Royalville Communications, Inc
produces: