Van Gogh Museum reveals conservation details for stolen paintings
Restorer Kathrin Pilz consolidates small loose flakes of paint on Congregation Leaving the Reformed Church in Nuenen. Photograph: Maartje Strijbis.
AMSTERDAM
.-
Van Gogh's works View of the Sea at Scheveningen (1882) and Congregation Leaving the Reformed Church in Nuenen (1884-1885) are back on display at the
Van Gogh Museum
. After being stolen from the museum in 2002, the paintings were recovered in Italy in 2016. The works returned home soon after, but have spent the last two years in the conservation studio being examined and restored. Axel Rüger, Director of the Van Gogh Museum: 'We are delighted to be able to put these significant works in our collection back on display in the museum, where they belong. The conservators have done a brilliant job and the paintings will now go back on permanent display in their full glory, for everyone to see. Having the opportunity to see this happen before the end of my Van Gogh Museum career is a dream come true'. ...
More
The Best Photos of the Day
Donations for gutted Brazil museum a fraction of Notre-Dame's
Sotheby's to offer the S&OslashR Rusche Collection of Old Master Paintings
Lightning strike at Acropolis, Greece, injures four


This file picture taken on February 12, 2019 shows an aerial view of Brazil's National Museum taken as journalists make their visit since the building burnt down last September, in Rio de Janeiro, Brazil. Mauro PIMENTEL / AFP.



RIO DE JANEIRO.- As donations for the restoration of the Notre-Dame cathedral top $900,000, the director of Brazil's devastated National Museum can only hope for such deep pockets in his own country. Nearly eight months after a faulty air conditioning system sparked a fire that gutted Latin America's main natural history museum and destroyed most of its collection, just $280,000 or so has been raised for its reconstruction. "We are very happy for the extremely positive reaction of French society and we hope that following this example Brazilian businesses and millionaires will start to send us their donations," Alexander Kellner, director of the Rio de Janeiro-based museum, told AFP. "It is not a question of obtaining amounts of this magnitude, but the National Museum really needs donations. "With a million reais ($255,000) more, we can solve ... More



Jan Miense Molenaer, Young musicians with dancing dwarf. Estimate: £40,000 – 60,000. Courtesy Sotheby's.



LONDON.- This year, Sotheby's will offer for sale 225 works from the esteemed SØR Rusche collection. Amassed over four generations, most recently by businessman and collector Thomas Rusche, the collection comprises an unrivalled selection of the finest works by some of the more minor masters of the Dutch and Flemish 17th centuries. Presenting the entire group of Old Master paintings from the collection across four auctions in London this year, the sales will feature works by lesser-known artists whose contributions to the Golden Age of Dutch art have often been overlooked. Earlier this year, a highlight from the collection, a rare and elegant still-life by Flemish artist Michaelina Wautier, sold at Sotheby's in New York for $471,000 - more than triple it's low-estimate. Spurred by the ethos 'the best of the smallest', four generations of the Rusche family built a collection of works by artists, many ... More



Tourists take selfies in front of the ancient Acropolis after it was closed following a lightning storm injuring four people on April 17, 2019. LOUISA GOULIAMAKI / AFP.



ATHENS (AFP).- A lightning strike injured four people Wednesday at the Acropolis in Athens, which was closed for the rest of the day, the Greek culture ministry said. The bolt hurt two tourists and two Greeks when it struck a lightning rod near the small Erechtheion temple to the north of the famous Parthenon, a ministry spokeswoman told AFP. A local ambulance service official had said earlier that the bolt struck a ticket booth. The two tourists, a Korean man and a Scandinavian woman, both under 30, suffered light injuries and were checked briefly at a hospital, the ministry spokeswoman said. Two Greek staff members who were in a guard booth suffered cuts from flying glass, and were hospitalised as a precautionary measure, she added. The Acropolis itself suffered no damage, but the site was closed for the rest of the day since the strike knocked out electricity and ... More
Notebooks of Charles Darwin's mentor at risk of export
NY museum scraps Bolsonaro event after complaints
Military careers spanning three millennia offered at 79th Auction of Hermann Historica GmbH


Resource includes letters from Darwin on his developing theory of evolution.



LONDON.- Arts Minister Michael Ellis has prevented the sale of notebooks by Sir Charles Lyell - the renowned Scottish geologist who influenced Charles Darwin - in a bid to keep the important archive in the UK. Sir Charles Lyell (1797 - 1875) was a key figure in the history of geology and science. He is best known for writing the Principles of Geology, which presented the idea of uniformitarianism - the theory that changes in the earth's crust during geological history resulted from the action of continuous and uniform processes. The 294 notebooks and manuscripts, valued at £1,444,000, contain Lyell's conversations with fellow scientists including his transcribed correspondence with the father of evolution, Charles Darwin. The archive also contain Lyell's notes for his printed works and record his developing ideas about the uniformity of nature including early ideas on climate change, extinction, and biodiversity. Arts Minister Michael Ellis said: This archive ... More



Brazilian President Jair Bolsonaro is drenched with rain during a downpour as he attends a ceremony to mark Army Day, in Brasilia on April 17, 2019, two days ahead of the actual celebration date. Sergio LIMA / AFP.



NEW YORK (AFP).- New York's Museum of Natural History announced Monday it had canceled a private function booked to take place there that would honor Brazilian President Jair Bolsonaro. The leader, who has been attacked at home and abroad for policies that critics say threaten the environment and indigenous communities, was due to receive an award at the museum from the Brazilian-American Chamber of Commerce. "With mutual respect for the work & goals of our individual organizations, we jointly agreed that the Museum is not the optimal location for the Brazilian-Am. Chamber of Commerce gala dinner," the museum tweeted. "This traditional event will go forward at another location on the original date & time." The statement was also posted on the chamber's website. Bolsonaro was chosen to receive the "Person of the Year" award from the chamber at a May ... More



A beautiful, homogeneous German cuirassier's armour for an officer, circa 1620/30. SP: 30000 Euros. © Hermann Historica GmbH 2019.



MUNICH.- This year's large Spring Auction at Hermann Historica GmbH will take place in Munich from 20 to 24 May 2019. In addition to unequalled armour and helmets or sumptuous artefacts of royal and imperial provenance, the programme showcases superlative masterpieces of the finest craftsmanship among the approximately 3650 lots from all periods and regions. From time immemorial, a military career has been a source of aspiration in every profession, with combat both an honour and a duty that engenders pride for ruler and citizens alike. Even in the ancient world, serving members of the armies enjoyed a high social standing. Accordingly, no effort was spared in protecting the highly trained warriors of antiquity and the early armourers dedicated their entire range of skills to creating helmets and breastplates with exquisite workmanship. Particular emphasis was placed on the elaborate helmets, which ... More
Leonardo da Vinci's 'Horse and Rider' coming to auction, now in USA for 500th anniversary of master
Hirshhorn opens largest U.S. museum survey of Italian artist Enrico David
ICA Miami launches new biannual exhibition initiative with major Ettore Sottsass exhibition


A single bronze figure was able to be meticulously cast from the ancient wax in 2012.



NEW YORK, NY.- Following a 1995 exhibit in Stockholm, Sweden, the media was ablaze with the announcement that a small, centuries-old beeswax figure of a man on horseback was authenticated by leading scholars as having been the work of none other than the great master, Leonardo da Vinci. A single bronze figure was able to be meticulously cast from the ancient wax in 2012. Believed to be the model for what was to have been a monument honoring Leonardo's patron Charles d'Amboise, the historic casting was titled simply Horse and Rider. The beautiful 28 cm bronze, the only casting to emerge directly from Leonardo da Vinci's c. 1510 beeswax figure, along with the original mold made from the wax figure, will be sold by Guernsey's at auction on November 1, 2019. This year marks the 500th anniversary of Leonardo da Vinci's death (May 2, 1519) with celebrations, events and exhibits around the world honoring the ... More



Enrico David, Tools and Toys III, 2014 © Enrico David. Courtesy Michael Werner Gallery, New York and London.



WASHINGTON, DC.- The Hirshhorn Museum and Sculpture Garden has opened the largest U.S. museum survey of works by London-based Italian artist Enrico David, on view April 16–Sept. 2, 2019. Named after his sculpture of the same name, "Gradations of Slow Release" characterizes the circular process commonly used in David's practice. Activating themes of interiority, multiplicity, privacy, introspection and disembodiment, the artist's work vacillates between feeling extremely contemporary in its expression while simultaneously appearing archaic. The presentation at the Hirshhorn is organized by Stéphane Aquin, Hirshhorn Chief Curator. David has distinguished himself as one of the most original artists working today, fashioning a universe of imagery that revolves around the human figure and its many states of being. Using a wide range of media— ... More



Ettore Sottsass, Superbox Cupboard, designed 1966. Plywood, plastic laminate. Philadelphia Museum of Art, Gift of Abet Laminati S.p.A., 1983-40-2.



MIAMI, FLA.- The Institute of Contemporary Art, Miami announces the launch of a new biannual exhibition initiative committed to exploring significant advances in postwar and contemporary design and its relationship to contemporary art. To kick off the initiative and its spring 2019 exhibitions program, ICA Miami will mount a major exhibition dedicated to renowned and radical Italian architect and designer Ettore Sottsass (1917-2007). Opening April 18 with exhibition design by Mexican architect Frida Escobedo, Ettore Sottsass and the Social Factory considers the practice of the influential designer beyond his place in the history of design, and places Sottsass' work within the social and economic contexts in which it was produced. The exhibition reflects ICA Miami's dedication to offering new perspectives on significant contemporary figures and ... More
Michael Werner Gallery opens an exhibition of sculptures, paintings and works on paper by Markus Lüpertz
France launches global contest to replace Notre-Dame spire
The Neil Armstrong Family Collection™ Part II of Personal and Space Memorabilia returns May 9-11


Uranos III (Uranus III), 2017. Plaster, wax, 29 x 13 3/4 x 8 inches, 74 x 35 x 20 cm. Courtesy Michael Werner Gallery, New York and London.



NEW YORK, NY.- Michael Werner Gallery, New York will present Markus Lüpertz: Dans l'Atelier, opening 18 April. The exhibition was originally conceived for the Musée de la vie Romantique in Paris, where it was on view last year. Comprising over two dozen plaster and wax sculptures completed between 2016 and 2018 as well as paintings and works on paper, Dans l'Atelier presents viewers with an intimate look at Lüpertz's conceptual process. Throughout his career, Lüpertz has sought balance in his art – a space between painting and sculpture, abstraction and figuration – and these new sculptures provide a striking new counterpoint to the artist's forty years of work in bronze. These primordial sculptures manifest a lightness and fragility seldom seen in Lüpertz's oeuvre and possess a delicate materiality and form that is entirely new. They continue to develop themes that have fascinated the artist throughout his care ... More



The steeple and spire collapses as smoke and flames engulf the Notre-Dame Cathedral in Paris on April 15, 2019. Geoffroy VAN DER HASSELT / AFP.



PARIS (AFP).- France on Wednesday announced it would invite architects from around the world to submit designs for replacing the spire of Notre-Dame cathedral after a devastating blaze, as the government braced for a mammoth restoration challenge. Prime Minister Edouard Philippe said the contest would decide whether the monument should have a new spire at all and if so, whether it should be identical to the fallen 19th-century model or be a wholly new design. The world looked on in horror Monday as flames engulfed the 850-year-old gothic masterpiece seen as encapsulating the soul of Paris and the spire came crashing down. Explaining that having no new spire at all was an option, Philippe noted that Notre-Dame had been without a steeple for part of its history. A descendant of the 19th-century architect Eugene Viollet-le-Duc, Jean-Marie Henriquet, 76, told AFP it would be a "great ... More



The Apollo 11 Lunar Module Flown Spacesuit Comfort Glove worn by Mission Lunar Module Pilot Buzz Aldrin, flown to "Tranquility Base" on the moon's surface during the first manned lunar landing, on July 20, 1969.



DALLAS, TX.- The Neil Armstrong Family Collection™ Part II, the second presentation of the private and professional treasures from the personal collection of the first man to walk on the moon, will be presented by Heritage Auctions May 9-11 in Dallas, Texas. The entire Space Exploration Auction will also feature one-of-a-kind rarities from several moonwalkers and NASA space pioneers, including: • The Apollo 11 Lunar Module Flown Spacesuit Comfort Glove worn by Mission Lunar Module Pilot Buzz Aldrin, flown to "Tranquility Base" on the moon's surface during the first manned lunar landing, on July 20, 1969. • A historically important copy of the July 21, 1969 edition of The New York Times, signed by Neil Armstrong, Buzz Aldrin and Michael Collins, below the blaring headline "MEN WALK ON MOON" • An Apollo 11 Flown Flight Plan ... More
Picasso's Idealized Portrait of His Final Muse
Flashback
On a day like today, German sculptor Otto Piene was born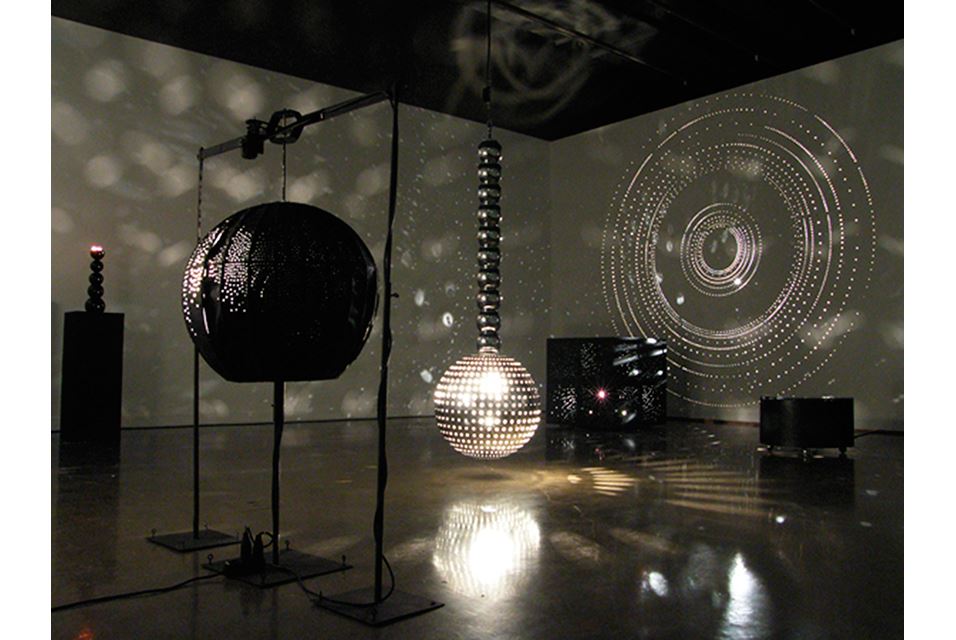 April 18, 1928. Otto Piene (18 April 1928 - 17 July 2014) was a German artist specializing in kinetic and technology-based art. He lived and worked in Düsseldorf; Cambridge, Massachusetts; and Groton, Massachusetts. In this image: MIT List Visual Arts Center exhibition "Otto Piene: Lichtballett." October 21, 2011 - December 31, 2011.
---

Museums, Exhibits, Artists, Milestones, Digital Art, Architecture, Photography,
Photographers, Special Photos, Special Reports, Featured Stories, Auctions, Art Fairs,
Anecdotes, Art Quiz, Education, Mythology, 3D Images, Last Week,
.
---
Royalville Communications, Inc
produces: