New photographs of India by Jan Serr featured in The Warehouse's fall exhibition
Woman/Bricks (2016) by Jan Serr. Courtesy the artist.
MILWAUKEE, WIS
.-
The exhibit Jan Serr: A Painter's Photographs of India, featuring her photographs from northern and southern India, opened at
The Warehouse
on Friday Sept. 13 and will run through Dec. 13, 2019. With a decades-long career exhibiting both nationally and internationally, Milwaukee-based painter and printmaker Jan Serr presents a new body of work in her show. Jan Serr: A Painter's Photographs of India is Serr's first solo exhibition dedicated to her photography. Photographs from northern and southern India depict painterly scenes filled with vivid colors and quiet moments. Like the landscapes, still lifes, and portraits she paints, Serr's eye designs striking images through the lens of her camera. Serr is a graduate and Distinguished Alumnus of the University of Wisconsin-Milwaukee, where she received her BA and MFA in painting and drawing. Her work is in public and private collections in the United States ...
More
The Best Photos of the Day
John Giorno, who moved poetry beyond the printed page, dies at 82
The Amelia Earhart mystery stays down in the deep
Christie's in association with Whyte's of Dublin will offer The Ernie O'Malley Collection


John Giorno and his husband, Ugo Rondinone, at the Palais de Tokyo setting up their exhibition "Ugo Rondinone: I Heart John Giorno," in Paris, Oct. 13, 2015. Giorno, who turned to the world of art and the mechanisms of mass media to shake poetry loose from the page and embed it more deeply in the fabric of everyday life, died on Oct. 12, 2019, at his home in New York. He was 82. Alex Cretey-Systermans/The New York Times.



NEW YORK, NY (NYT NEWS SERVICE).- John Giorno, who turned to the world of art and the mechanisms of mass media to shake poetry loose from the page and embed it more deeply in the fabric of everyday life, died Friday at his home in New York in a building that he had made into a gathering place for practically everyone from the avant-garde of his time. He was 82. His death, after a heart attack, was confirmed by artist Ugo Rondinone, his husband. Possessed of Greco-Roman good looks and a gregarious, benevolent spirit, Giorno played an important role early in his life as a muse and lover of other artists, among them Robert Rauschenberg and Andy Warhol, who created his seminal 1963 ... More



Earhart beneath the nose of her Lockheed Model 10-E Electra, March 1937, Oakland, California.



NEW YORK, NY (NYT NEWS SERVICE).- For two weeks in August, a multimillion-dollar search from air, land and sea sought to solve the 80-year mystery of Amelia Earhart's disappearance. Robert Ballard, the ocean explorer famous for locating the wreck of the Titanic, led a team that discovered two hats in the depths. It found debris from an old shipwreck. It even spotted a soda can. What it did not find was a single piece of the Lockheed Electra airplane flown in 1937 by Amelia Earhart and Fred Noonan, which vanished during their doomed voyage around the world. Ballard and his crew don't consider it a failure. For one thing, he says, they know where the plane isn't. And in the process, they may have dispensed with one clue that has driven years of speculation, while a team of collaborating archaeologists potentially turned up more hints at the aviator's fate. "This plane exists," Ballard said. "It's not the Loch Ness monster, and it's going to be found." Ballard had avoided ... More



The full pre-sale exhibition can be viewed at the Royal Dublin Society from 23 to 25 November 2019, with the auction held in the same location at 6pm on 25 November 2019.



DUBLIN.- Christie's, in association with Whyte's Auction House in Dublin, will offer works from The Ernie O'Malley Collection, highlighted by five paintings by Jack Butler Yeats. Comprised of 100 lots, including early sketches by Yeats and work by the artists Mainie Jellett, Evie Hone, Louis le Brocquy, Colin Middleton and Norah McGuinness, the auction will form an anthology of Irish art from the early 1900s to the 1950s. Ernie O'Malley was an experienced officer in Ireland from 1916-22 who went on to publish two books detailing his experiences. The sale and international exhibitions provide an opportunity to discover his private passion for art and the relationships he developed with artists he encountered in America and Ireland. Highlights will be on view in New York from 23 to 27 October 2019, and London from 16 to 18 November. The full pre-sale exhibition ... More
Kemper Art Museum reopens its renovated building with exhibition of works by Ai Weiwei
kamel mennour opens an exhibition of works by Ugo Rondinone
Important portrait from collection of late Queen of Jordan offered at Bonhams


Ai Weiwei: Bare Life, installation view, Mildred Lane Kemper Art Museum, 2019. Photo: Joshua White jwpictures.com.



ST. LOUIS, MO.- This fall, the newly expanded and renovated Mildred Lane Kemper Art Museum at Washington University in St. Louis reopened with a major exhibition of work by Ai Weiwei. The renowned Chinese dissident artist and activist is internationally known for rigorous, compassionate and complex artworks that address themes of political, ethical and social urgency. Designed by the artist and curated by Sabine Eckmann, William T. Kemper Director and Chief Curator of the Kemper Art Museum, Ai Weiwei: Bare Life is on view from September 28, 2019, through January 5, 2020. Ai Weiwei: Bare Life features roughly three dozen artworks created over the last two decades in a wide variety of mediums, among them sculptures, installations, photographs and films. A selection of new large-scale and site-specific projects—including the monumental wallpaper mural Bombs—have ... More



Ugo Rondinone, View of the exhibition "a wall. seven windows. four people. three trees. some clouds. one sun. In memory of John Giorno, the love of my life. Ugo", kamel mennour, Paris, 2019. Photo. Archives kamel mennour © Ugo Rondinone. Courtesy the artist and kamel mennour, Paris/London.



PARIS.- A wall. Seven windows. Four people. Three trees. Some clouds. And one sun, take over three places comprising spaces of complementary dimensions and configurations, some adjacent, others overlaid. Here and there contents and containers form a whole, signalling in the same way as Ugo Rondinone's previous exhibitions issues as dialectical and mnemonic as they are intertextual: objects and architectural components, solids and voids colliding with situations and contexts governed by a principle of instability. Near and distant. Opaque and transparent. Front and back. Top and bottom. Optic and haptic. There can be no equating – much less combining – Rondinone's works with any single state that would exhaust their potential. What is to be said ... More



The Portrait of Nur Al-Din Hussain Khan by James Wales. Estimate: £50,000-70,000. Photo: Bonhams.



LONDON.- An important Old Master portrait from the collection of the late Queen of Jordan, Sharifa Dina Bint Abdul-Hamid, is among the leading works to be offered at Bonhams Islamic and Indian Art sale in London on Tuesday 22 October. The Portrait of Nur Al-Din Hussain Khan by the British artist James Wales, is estimated at £50,000-70,000. Nur Al-Din Hussain Khan was the vakil or agent to Sir Charles Malet, the East India Company's Resident at the Court of the Maratha Empire in Poona in the last quarter of the 18th century. The painting was executed in 1792 by James Wales, who had arrived in India the previous year. Initially he worked in Bombay, but moved to Poona after an introduction to Sir Charles Malet. (Following his return to England in 1798, Sir Charles married Wales's daughter Susanna). Wales painted portraits of many members of the European community in Poona, as well as leading figures in the ... More
Carriageworks announces four major art installations to be unveiled in Summer 2020
Margaret Atwood and Bernardine Evaristo joint winners of Booker Prize
Turtle Island stone tool display debuts at Concord Museum


Rebecca Baumann, Radiant Flux, 2020. Commissioned by Carriageworks. Image Mark Pokorny.



SYDNEY.- Carriageworks will present four large-scale art installations by leading Australian contemporary artists that will be unveiled on 8 January, 2020 as part of Sydney Festival. Rebecca Baumann, Daniel Boyd, Kate Mitchell and Reko Rennie have been commissioned by Carriageworks to create immersive and participatory artworks at the Redfern-based multi-arts institution that will be accompanied by a public program of talks and workshops. While each presentation stands as a solo entity, they individually address a number of broad thematic ideas which include the concept of time, the use of light as a medium, the contrast of monumentality versus immateriality, and our basic interconnectivity as humans, collectively, the site specificity of the installations will engage audiences with the unique history and architecture of the Carriageworks precinct. ... More



Canadian author Margaret Atwood poses with her book 'The Testaments' during the photo call for the authors shortlisted for the 2019 Booker Prize for Fiction at Southbank Centre in London on October 13, 2019. Tolga AKMEN / AFP.



LONDON (AFP).- Judges tore up the rule book on Monday, awarding the prestigious Booker Prize for Fiction jointly to Canadian author Margaret Atwood for "The Testaments" and Anglo-Nigerian author Bernardine Evaristo for "Girl, Woman, Other". Atwood becomes only the second female author to win the award twice, sharing the £50,000 ($62,800, 60,000 euros) prize at the 50th anniversary ceremony at London's Guildhall. The award has been shared twice before, in 1974 and 1997, when the rules were changed to supposedly prevent it from happening again. The 79-year-old Atwood, who wore a badge of climate activist group Extinction Rebellion, held aloft the arm of her fellow winner as they walked to the podium together. "I'm very surprised, I would have thought I would have been too ... More



Installation photos by Laura B. Kozlowski.



CONCORD, MASS.- The Concord Museum is paying tribute to Indigenous people in the Concord area and everywhere with this weekend's opening of the People of Musketaquid gallery – Musketaquid is a word of antiquity and means Grassy Island suggesting the place now called Concord 12,000 years ago. The focal point of the gallery is Turtle Island, a 600-piece ancient stone tool display in the shape of a Turtle, chronicling Concord's human history to present day and showcasing the Museum's extraordinary archeological collection. Turtle Island was a collaboration between Elizabeth James-Perry, Aquinnah Wampanoag artist, who wrote the text and drew the turtle symbol which inspired the display, and Concord Museum archeologist, Shirley Blancke, who arranged the artifacts to show change through time and frequency from 10,000 years ago to the 1600's. Turtles are frequently featured in Native art, and to the Wampanoag represent the conn ... More
The Guggenheim Museum Bilbao offers a journey through five decades of Thomas Struth's work
Middelheim Museum opens a new collection pavilion
Helen Cammock, winner of the 7th Max Mara Art Prize for Women, opens an exhibition at Collezione Maramotti


Thomas Struth, Paradise 26, Palpa, Peru 2003. Chromogenic print, 211.5 x 168.6 cm © Thomas Struth.



BILBAO.- The Guggenheim Museum Bilbao is presenting the exhibition entitled Thomas Struth , a complete journey through five decades of one of the most influential European post-war photographers, whose evolution as an artist has been marked by social concerns. The images of Thomas Struth (b. 1954, Geldern, Germany) receive their signature character from the questions they raise about the relevance of public space, family ties, nature, culture, and the limits of new technologies. Thus, Struth addresses essential questions like the instability of social structures and the fragility of human existence through images whose formal elegance prompts the audience's participation and empathy towards these topics. This exhibition connects Struth's initial concepts—seen in the archival material that the artist has collected over the years—to his well-defined groups of finished ... More



Charles Despiau, Madame Stone, L'Américaine, 1927. Collection Middelheim Museum, Antwerp. Photo: Michel Wuyts.



ANTWERP.- Middelheim Museum is best known for its collection of modern and contemporary sculptures in the art park. However, since its creation, the museum has also collected a great deal of work to be displayed indoors. When founded, its mission was to provide an overview of international sculpture from the end of the nineteenth century to the museum's own time. In addition, the museum also brought together extensive supporting collections: models, drawings and prints, media art and photography. And sometimes works intended for outdoor use turned out to be more suitable for indoor use. Just over 80% of the works of art in the Middelheim collection are therefore stored in depots that are closed to the public. Because the museum wants to offer maximum access to the collections in all their diversity, ... More



Helen Cammock.



REGGIO EMILIA.- Helen Cammock, winner of the 7th Max Mara Art Prize for Women and nominee for the 2019 Turner Prize, after a premiere at Whitechapel Gallery in London (25 June – 1 September 2019) is presenting her new exhibition Che si può fare (What can be done) at Collezione Maramotti, which is acquiring the works on view. The show has been adapted to the different space and also includes an additional piece, an artist's book made in July at the Istituto Centrale della Grafica in Rome. These works by Helen Cammock interweave women's stories of loss and resilience with seventeenth-century Baroque music by female composers, exploring the concept of lament in women's lives across histories and geographies. In addition to the new artist's book, the exhibition includes a film, a series of vinyl cut prints, a screen-printed frieze, and a research room with books and objects that Cammock collected ... More
A new MoMA: Performance
Flashback
On a day like today, French artist James Tissot was born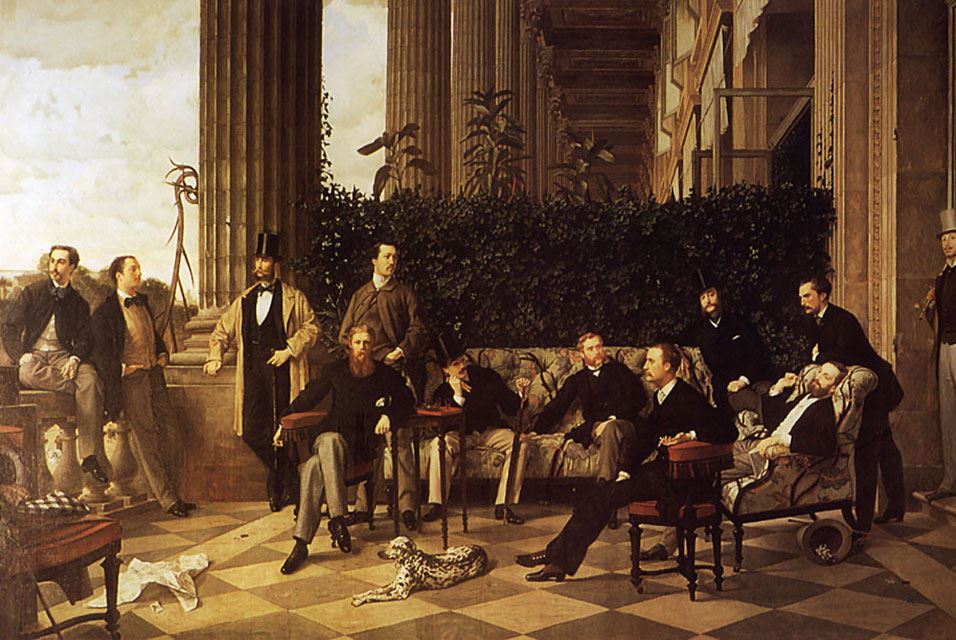 October 15, 1836. James Jacques Joseph Tissot (15 October 1836 - 8 August 1902) was a French painter, who spent much of his career in Britain. Tissot exhibited in the Paris Salon for the first time in 1859, where he showed five paintings of scenes from the Middle Ages, many depicting scenes from Goethe's Faust. These works show the influence of the Belgian painter Henri Leys (Jan August Hendrik Leys), whom Tissot had met in Antwerp in 1859, over his work. In this image: Le Balcon du Cercle de la rue Royale (The Circle of the Rue Royale), 1868.
---

Museums, Exhibits, Artists, Milestones, Digital Art, Architecture, Photography,
Photographers, Special Photos, Special Reports, Featured Stories, Auctions, Art Fairs,
Anecdotes, Art Quiz, Education, Mythology, 3D Images, Last Week,
.
---
Royalville Communications, Inc
produces: