Tainted by Nazism? Merkel returns two Nolde paintings
A visitor passes the entrance to the exhibition of German painter Emil Nolde (1867-1956) at the Hamburger Bahnhof museum in Berlin on April 12, 2019. Chancellor Angela Merkel's decision to strip two paintings by Emil Nolde from her office walls has touched off a heated German debate as an exhibition on the Expressionist painter and his links to the Nazis opened in Berlin. Tobias SCHWARZ / AFP.

by Hui Min Neo
BERLIN
(AFP)
.-
Chancellor Angela Merkel's decision to take down two paintings by Emil Nolde from her office walls has touched off a heated German debate as an exhibition on the Expressionist painter and his links to the Nazis opened in Berlin. Organisers of the show "Emil Nolde, a German Legend: The Artist During National Socialism," had asked Merkel for one of two paintings on loan to her. But she decided to send both -- a 1915 painting of flowers in a garden and the 1936 work "Breakers", her spokesman Steffen Seibert said. No explanation was given for the decision. Neither was an official reason offered as to why Merkel would not want them back when the exhibition closes in September. But the move was quickly interpreted by German media as a belated rejection by Merkel of the artist over his anti-Sem ...
More
The Best Photos of the Day
Tourists stunned as Notre-Dame cathedral statues fly above Paris
Bruce Museum names Robert Wolterstorff as new Executive Director
Christie's to offer works from the Collection of H.S.H. Princess 'Titi' von Fürstenberg


A crane lifts one of 16 copper statues, sitting 50 meters above the ground, off the Notre-Dame-de-Paris Cathedral to be taken for restoration on April 11, 2019 in the French capital Paris. BERTRAND GUAY / AFP.



PARIS (AFP).- Sixteen copper statues briefly took to the skies over Paris after they were removed from the Notre-Dame cathedral to undergo restoration work. Tourists at the world-famous landmark were left stunned on Thursday as the statues -- representing the 12 apostles and the four evangelists from the New Testament -- were lifted off the spire of the cathedral by crane. "What's unique is that it's the first time we've seen them up close since they were set up by Viollet-le-Duc in the 1860s," Marie-Helene Didier, who is in charge of the renovation work, told AFP. "It's an exceptional event because we've brought the 16 statues down in a single day. It's a magical moment for everyone," she said. Built between the years 1163 and 1345, Notre-Dame is one of the most popular tourist sites in Paris, drawing around 13 million people every year. Its spire, like the rest of the gothic ... More



Wolterstorff has served as Executive Director of the Bennington Museum in Vermont since 2012.



GREENWICH, CONN.- The Bruce Museum today announced that its Board of Trustees has appointed Robert Wolterstorff as The Susan E. Lynch Executive Director and Chief Executive Officer. This leadership appointment will take effect June 1 and follows the previously announced retirement of Peter C. Sutton after an 18-year career as Executive Director of the Bruce. Wolterstorff has served as Executive Director of the Bennington Museum in Vermont since 2012, leading the 167-year-old museum through a well-received curatorial makeover. In addition to overseeing improvements to its gallery spaces and innovative re-installations drawing from the museum's collection of 40,000 objects, Wolterstorff spearheaded a series of changing exhibitions that resonated with museum members and attracted new audiences. The 2016 exhibition, Milton Avery's Vermont, increased attendance by more than 40 percent, growth that was surpassed in 2017 with Grandma Moses: Ame ... More



Leading the sale is Pablo Picasso's Le Lettre (La Reponse), 1923 (estimate upon request). © Christie's Images Ltd 2019.



NEW YORK, NY.- On May 13, Christie's will present a dedicated selection of 11 works from A Family Vision: The Collection of H.S.H. Princess "Titi" von Fürstenberg in its Evening Sale of Impressionist and Modern Art. Incorporating a sweeping representation of 20th Century Art, the collection encompasses more than 30 works ranges from Pablo Picasso to Mark Rothko and Andre Derain to Lucio Fontana. Further works will be offered in the Day Sale of Impressionist and Modern Art on May 14, the Morning Sale of Post-War and Contemporary Art on May 16, and in a Paris sale of African Art in October 2019. The personal collection of H.S.H. Princess "Titi" von Fürstenberg reflects her international worldview and passion for culture. During her lifetime, she acquired numerous important examples by some of the greatest names in art history. It was a collection founded not only on Titi's astute connoisseurship, but ... More
New works by Sean Scully unveiled as part of a major exhibition at the National Gallery
Victoria Miro presents selected portraits from a series begun in January 2018 by Chantal Joffe's
Museum 'considering options' after discovering Bolsonaro date


Sean Scully, 2018, Photo: Liliane Tomasko.



LONDON.- One of the world's foremost contemporary artists, Sean Scully's work draws on the traditions of European painting, invigorated with the distinct character of American abstraction. His varied practice encompasses printmaking, sculpture, watercolours, and pastels, but he is best known for rich, monumental abstract paintings in which stripes or blocks of layered colour are a prevailing motif. Turner's masterpiece, a continuing influence and catalyst for new work by Scully, will be displayed in the first gallery. The painting was specifically identified by him as a source of inspiration after he was first approached by the National Gallery, following a critically acclaimed exhibition at the Venice Biennale in 2015. Featuring new and recent large-scale, multi-panel paintings that include his celebrated 'Landline' paintings, as well as works on paper, the exhibition will demonstrate Scully's distinctive approach to painting and a shared love of colour and ... More



Chantal Joffe, Coney Island, 2018. Oil on canvas, 213.5 x 152.5 cm. 84 1/8 x 60 1/8 in © Chantal Joffe. Courtesy the artist and Victoria Miro, London/Venice.



LONDON.- On view at Victoria Miro Mayfair are selected self-portraits from a series begun in January 2018, by the acclaimed British painter Chantal Joffe. Modest in scale, each is a depiction of the artist – full face or three-quarter view, in her painting clothes – titled with the date of its completion. The seriality of this display is immediately striking. Ordinarily, a single self-portrait, perhaps two, might be shown among a wider body of work. Here, what is true of any single self-portrait – that in embodying their work, the artist invites speculation about their innermost thoughts – is amplified as paintings, ostensibly similar in appearance, are installed throughout the gallery. Moving between the paintings, one might notice differences of light, shadow, or painterly touch; the minute changes that occur from day to day, as well as less quantifiable shifts of mood or atmosphere. ... More



Brazilian President Jair Bolsonaro attends a meeting with evangelical leaders at the Hilton Barra Hotel, in Barra da Tijuca neighborhood, Rio de Janeiro, Brazil on April 11, 2019. Mauro Pimentel / AFP.



NEW YORK (AFP).- New York's Museum of Natural History said it was "considering its options" after discovering a private function booked to take place there would honor Brazilian President Jair Bolsonaro. Bolsonaro, who has been attacked at home and abroad for policies that critics say threaten the environment and indigenous communities, is due to receive an award at the museum from the Brazilian-United States Chamber of Commerce. "The external, private event at which the current President of Brazil is to be honored was booked at the Museum before the honoree was secured," the museum tweeted on Thursday. "We are deeply concerned, and we are exploring our options." Bolsonaro was chosen to receive the "Person of the Year" award from the chamber at a May 14 gala dinner attended by more than a ... More
Museum of Contemporary Art Chicago opens an exhibition of works by Jonathas de Andrade
The Drawing Center opens Neo Rauch's first exhibition entirely devoted to his drawings in the U.S.
Sprüth Magers, Los Angeles opens an exhibition of new paintings by George Condo


Jonathas de Andrade, Suar a Camisa (Working up a sweat)(detail), 2014. Collection of 120 shirts negotiated with workers and wooden supports. Dimension variable. Adrastus Collection.



CHICAGO, IL.- This spring, the Museum of Contemporary Art Chicago presents Jonathas de Andrade: One to One, the next iteration of the MCA's Ascendant Artist series. De Andrade addresses history, labor, and language in the northeast region of Brazil around the central themes of communication - as in a 'one-to-one conversation' - and scale, as in a 'one-to-one reproduction.' Presenting four installations, each at a different scale, the exhibition showcases de Andrade's work across a range of mediums including photography, installation, and video, and explores ways to listen more intently to one another. The exhibition debuts three never-before-seen works including a new film commission, Jogos dirigidos (Directed games), that examines an exchange between members of a deaf community. Jonathas de Andrade: One to One is organized by former MCA Associate Curator José Esparza and runs from April 13 to August 25, 2019. Jonathas de Andrade lives and work ... More



Group: C3.03 Tantentäuscher, 2006. Oil, chalk, felt-tip pen on paper, 11 3/4 x 8 1/4 inches. Courtesy the artist, Galerie EIGEN + ART Leipzig/Berlin and David Zwirner © Neo Rauch, VG Bild-Kunst, Bonn / Artists Rights Society (ARS), New York.



NEW YORK, NY.- This spring, The Drawing Center presents Neo Rauch: Aus dem Boden / From the Floor, the first exhibition entirely devoted to his drawings in the United States. Neo Rauch is one of the best-known artists from the Leipzig school in Germany. His psychologically complex paintings have been widely collected and written about for more than twenty years. Featuring more than one hundred fifty never or rarely seen works that span over thirty years of Rauch's career, this exhibition presents drawing as an essential but often overlooked aspect of his oeuvre. A collaboration between The Drawing Center and the Des Moines Art Center, the show was presented first in Des Moines from September 27, 2018–January 6, 2019. Co-organized by Brett Littman, former Executive Director of The Drawing Center, and Jeff Fleming, Director of the Des Moines Art Center, with Amber Harper, former Assistant Curator at The ... More



George Condo, The Chef, 2019. Oil and pigment stick on linen, 208,3 × 190,5 cm / 82 × 75 inches, 211,6 × 193,5 × 6 cm / 3 5/16 × 76 3/16 × 2 3/8 inches (framed) © George Condo / ARS (Artists Rights Society), New York, 2019. Courtesy of the artist, Skarstedt and Sprüth Magers Photography: John Berens.



LOS ANGELES, CA.- Monika Sprüth and Philomene Magers are presenting What's the Point?, an exhibition of new paintings by George Condo at Sprüth Magers, Los Angeles. One of the most significant artists of the last several decades, Condo creates works that dramatically bridge an array of painterly approaches, moods, and influences from diverse fields such as art history, music, philosophy, and popular culture. The artist's compositions often begin with the human figure, rendered variously in fluid networks of black lines and interlacing planes of bold color that move seamlessly between controlled precision and unabashed exuberance. His canvases tap into the extremes of human emotion and, at a moment of crisis in American and global politics, a sense of mania and disorder that nonetheless holds out hope for progress and resolution. The paintings ... More
Most comprehensive exhibition to date of the work of Philippe Vandenberg opens at The Kunsthaus Pasquart
On April 28, The Bill Drake Collection of Model Trains goes up for bid
No Patience for Monuments: Exhibition at Perrotin Seoul brings together the work of a dozen artists


Philippe Vandenberg, Cycle «The Painter's Exile»). Oil and pastel on canvas, 50 x 40 cm © Philippe Vandenberg Foundation; Courtesy Estate Philippe Vandenberg and Hauser & Wirth; Photo: Joke Floreal and Guillaume Vandenberghe; © 2019, VG Bild-Kunst Bonn.



BIEL.- The Kunsthaus Pasquart is showing the most comprehensive exhibition to date of the work of the Flemish artist Philippe Vandenberg (1952-2009, BE), in collaboration with the Hamburger Kunsthalle, where the exhibition was presented from 16.11.2018 to 24.2.2019. It is the first institutional exhibition of his work in both Switzerland and Germany. Highly acclaimed in his home country of Belgium as one of the most important artists of the last few decades, Vandenberg produced a radical and uncompromising œuvre that is just now achieving greater international acclaim. The extensive retrospective comprises some 70 paintings and 80 drawings and prints from the period 1995 to 2009. Many of the works on loan come from the artist's estate ... More



AF S gauge 21573 New Haven Electric Locomotive, C7. Estimate: $150-300.



SAN FRANCISCO, CA.- Turner Auctions + Appraisals will present the Bill Drake Collection of Model Trains on Sunday, April 28, 2019, at 10:30 am PDT. Featuring 290 lots acquired over 65 years, the assemblage features an exceptional range of model trains, with something to tempt all collectors. While the collection is predominantly American Flyer S Gauge, there is wide diversity of manufacturers and eras – from pre-World War II, as early as the 1920s, to modern day. Several related items from other collectors and reference books round out the sale. Here is an overview of items in the auction: • American Flyer: Prewar Wide gauge and O gauge, HO gauge; postwar S gauge (both Gilbert and Lionel production]), • Lionel: Standard gauge and O gauge, postwar and modern O gauge • K-Line: O and S gauge • S-Helper, Des Plaines Hobbies, Hico: S gauge • European: Hornby, French Edobaud, Chad, Brimtoy, ... More



Jessie Makinson, Slippery Darling, 2019. Photographer: Guillaume Ziccarelli. Courtesy of the artist and Lyles and Kings, New York.



SEOUL.- In Ursula K. Le Guin's 1986 essay The Carrier Bag Theory of Fiction, she argues against a masculinist monumentalizing impulse of history, and offers up a different proposition for the way culture can exist and can be formed. This 'carrier bag theory' challenges that the first tool was in fact a vessel for gathering, and not an instrument of conquest, and that a male-centric society has conditioned us to negate the former in favor of a broader 'heroic' narrative. Le Guin takes this further, proposing the heroic narrative within literature (to vanquish, to conquer) is an obsolete form, and suggests that a more complex structure—based on the vessel—should develop instead. This, she posits, would allow for multiple points of view, and engender a more inclusive panoply of voices within the form. No Patience for Monuments, brings together the work of a dozen artists whose ... More
Kusama, KAWS, Zao and Zhang Soar at Hong Kong Spring Sales
Flashback
On a day like today, French painter Odilon Redon was born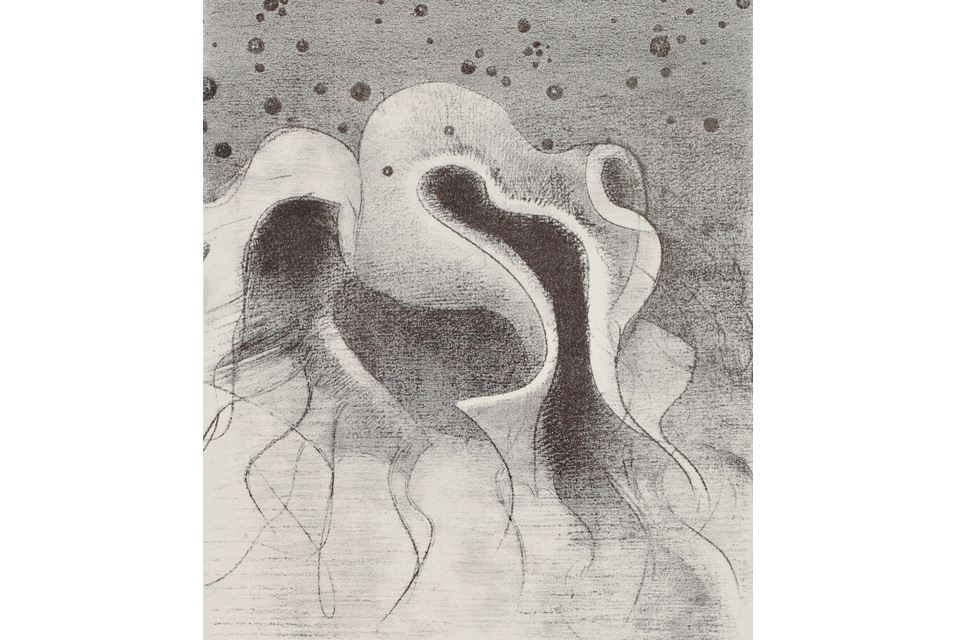 April 20, 1840. Odilon Redon (born Bertrand-Jean Redon (April 20, 1840 - July 6, 1916) was a French symbolist painter, printmaker, draughtsman and pastellist.In this image: Odilon Redon, The beasts of the sea, round like leather bottles, (detail). Plate 22 of The Temptation of Saint Anthony, 1896. Lithograph. The Kirk Edward Long Collection, 2010.60.22. Plate size: 8-3/4" x 7-1/2".
---

Museums, Exhibits, Artists, Milestones, Digital Art, Architecture, Photography,
Photographers, Special Photos, Special Reports, Featured Stories, Auctions, Art Fairs,
Anecdotes, Art Quiz, Education, Mythology, 3D Images, Last Week,
.
---
Royalville Communications, Inc
produces: