A new species of giant penguin has been identified from fossils
Drs Vanesa De Pietri, Paul Scofield and Gerald Mayr examine a Crossvallia waiparensis fossil at Canterbury Museum.
WELLINGTON
(AFP)
.-
The fossilised remains of a huge penguin almost the size of an adult human have been found in New Zealand's South Island, scientists announced Wednesday. The giant waddling sea bird stood 1.6 metres (63 inches) high and weighed 80 kilograms, about four times heavier and 40cm taller than the modern Emperor penguin, researchers said. Named "crossvallia waiparensis", it hunted off New Zealand's coast in the Paleocene era, 66-56 million years ago. An amateur fossil hunter found leg bones belonging to the bird last year and it was confirmed as a new species in research published this week in "Alcheringa: An Australasian Journal of Palaeontology". ...
More
The Best Photos of the Day
Peabody Essex Museum invites visitors to participate in a meditative sculptural installation by Kimsooja
Bonhams to offer an exceptionally rare vintage test model of the Sputnik-1 satellite
Arts Minister stops export of Pre-Raphaelite work


Kimsooja, Archive of Mind, 2017. Photography by JeanPierre Gabriel. Courtesy of Axel Vervoordt Gallery and Kimsooja Studio.



SALEM, MASS.- This summer, the Peabody Essex Museum invites you to roll up your sleeves and participate in a meditative sculptural installation by world-renowned Korean artist, Kimsooja. Archive of Mind transforms the simple, repetitive actions made by thousands of visitors into a monumental, texturally-complex sculpture. Sitting at a large work surface, Kimsooja encourages you to empty your mind of distraction and sink into the essentialized experience of forming a ball of clay with your hands. Over the course of the exhibition, thousands of clay spheres are generated, each revealing the emotional traces and individual signifiers of their makers. Kimsooja: Archive of Mind is on view at PEM from June 22, 2019 through January 19, 2020. "There is a mesmerizing quality to the work as you watch it slowly build and see individual gestures accumulate into something large and powerful," says PEM's Curator of the Present Tense, Trevor Smith, wh ... More



SPUTNIK-1 EMC/EMI LAB MODEL Full scale vintage test model of the Sputnik-1 satellite, Moscow, [February 1957]. Estimate: $400,000-600,000. Photo: Bonhams.



NEW YORK, NY.- On September 17, Bonhams will hold The Air and Space Sale, which is highlighted by an exceptionally rare vintage test mode of the Sputnik-1 satellite (estimate: $400,000-600,000). This model is one of only a few made to test ground electromagnetic compatibility (EMC) and electromagnetic interference (EMI). It was used by NII-885, a company under the Soviet Ministry of the Radio Industry, which, along with OKB-1, are responsible for the Sputnik-1 success. This example had been on loan and was displayed at Deutsches Technikmuseum in Berlin, Germany and was in the Collection of NII-885 director Dr. Mikhail Ryazansky. Adam Stackhouse, Bonhams specialist, commented: "We are honored to bring this world-changing piece of history to auction. There are only a handful of known working examples of the Sputnik-1 and this one comes with excellent provenance." The Sputnik-1 artificial satellite was launched into Earth orbit ... More



£9.5 million work by founder of Pre-Raphaelite Brotherhood John Everett Millais is now at risk of permanently leaving the UK.



LONDON.- Arts Minister Rebecca Pow has placed a temporary export bar on Millais' 'Ferdinand Lured by Ariel' to provide an opportunity to keep the painting in the country. Valued at £9,500,000 the painting was completed by John Everett Millais, the father of the Pre-Raphaelite movement. The work is at risk of export unless a UK buyer can be found to keep it in the UK where it would be put on public display. 'Ferdinand Lured by Ariel' is a key early work in the history of the Pre-Raphaelite movement, radical in its use of colour and its approach to detail, and was the artist's first work completed outdoors. The painting shows the character of Ferdinand from William Shakespeare's 'The Tempest'. Having been shipwrecked on Prospero's enchanted island, Ferdinand is lured by Ariel, the magician's servant, towards his master by whispering that the prince's father has been drowned. Arts Minister Rebecca Pow said: Millais is one of the most famo ... More
This summer at Storm King artist Mark Dion reimagines the landscape with "Follies"
Toronto Biennial of Art announces 2019 participating artists
Hippies young and old keep the 'real Woodstock' flame alive


Installation view. Photo: Dana Sherwood.



MOUNTAINVILLE, NY.- Storm King Art Center is presenting Mark Dion: Follies, through November 11, 2019, the first exhibition to unite Mark Dion's signature folly works into a major survey. Since the mid-1990s, Dion has frequently employed the form of the architectural folly—a compact, decorative structure intended to inspire meaning rather than serve a functional purpose—to create intricate tableaus and house displays of a wide range of delicate and specific objects. Dion's practice investigates intersections between culture and nature in myriad of ways, and the enclosures of his follies have allowed him to create works with a complexity of visual material that would otherwise not be possible in public or outdoor spaces. Mark Dion: Follies features 13 examples created throughout the past quarter of a century, many of which have been recreated in slightly altered forms to respond to their new site at Storm King. ... More



Dana Claxton, Headdress-Dana, 2019. Image courtesy of the artist.



TORONTO.- The Toronto Biennial of Art is launching September 21, 2019! For 72 days, Toronto and surrounding areas will be transformed by exhibitions, talks, and performances that reflect our local context while engaging with the most pressing issues of our time. In an effort to make contemporary art available to everyone, the Biennial's free, citywide programs aim to galvanize citizens, bridge communities, and contribute to global conversations from a variety of perspectives. The organizers announced the participation of 44 artists, collaborators, and collectives in the inaugural edition. Co-curated by Candice Hopkins and Tairone Bastien, the free, 72-day event includes 20 new commissions and more than 100 works installed across 10 sites on or near Toronto's waterfront. The Biennial brings together more than 90 local and international participants, hailing from over ... More



Robert Hicks attends the Yasgur Road Reunion-50th Woodstock Anniversary Celebration is held on August 16, 2019 in Bethel, New York. Angela Weiss / AFP.



BETHEL, NY.- The Woodstock name has become more brand than spirit for many hippies, but people spanning the generations continue to seek its aura, looking for more "authentic" ways to pay homage to the spot where it all began. People like visual artist and activist Christopher Peter Vanderessen shun "commercial" events like those held at Bethel Woods Center for the Arts, where the grounds that hosted the 1969 Woodstock stage are located and a handful of veteran acts like Santana are playing for the 50th anniversary weekend. The 45-year-old is among those in a generation too young to reminisce about that 1969's weekend of peace, love and music, but who value the ideals that Woodstock came to symbolize enough to carry them on. Wielding a walking staff etched with beaver teeth marks and wearing a long black cloak ... More
Virtual Reality immerses visitors at Norman Rockwell Museum
Corrine Colarusso's "Twilight: paintings on view at Georgia Museum of Art
The Museum of Decorative Arts and Design in Bordeaux hosts the exhibition Memphis - Plastic Field


Visitors can view the Four Freedoms archival War Bond posters in the galleries, and then take a deeper look with the VR stations in the Museum's classroom, donning special headsets to gain new perspectives on Rockwell's works.



STOCKBRIDGE, MASS.- A new virtual reality experience at Norman Rockwell Museum, Norman Rockwell in VR: The Four Freedoms, transports visitors back to the 1940s to explore the settings and history of each of the Four Freedoms paintings. Virtual Reality (VR) headsets allow users to interact with content to learn about the themes of the Four Freedoms and the stories behind Norman Rockwell's Freedom of Speech, Freedom of Worship, Freedom from Want, and Freedom from Fear. Visitors can view the Four Freedoms archival War Bond posters in the galleries, and then take a deeper look with the VR stations in the Museum's classroom, donning special headsets to gain new perspectives on Rockwell's works. The VR experience highlights Rockwell's attention to detail in each painting, enabling users to experience everyday ... More



Corrine Colarusso (American, b. 1952), "Shaking the Twilight, Reeds, Rain and Vapors," 2017. Acrylic on canvas. Collection of the artist.



ATHENS, GA.- The Georgia Museum of Art at the University of Georgia is currently displaying two large works by Georgia artist Corrine Colarusso in its permanent collection galleries. "Stack of Twilight" and "Shaking the Twilight, Reeds Rain and Vapors" are on view through November 17, in the museum's Barbara and Sanford Orkin Gallery. Colarusso received her undergraduate degree in painting from the University of Massachusetts and a master of fine arts, also in painting, from the Tyler School of Art of Temple University, in Philadelphia. She has received awards and grants including a Guggenheim Fellowship, a National Endowment for the Arts Grant and a Fulbright-Hayes research and travel grant to India and Nepal. She has been a visiting artist at the American Academy in Rome, the Cortona Program of the University of Georgia and the Ossabaw Island Project, Ossabaw Island, Georgia. She was a tenured ... More



Ettore Sottsass, Ashoka, 1981. Table lamp. Memphis Milano Collection © madd bordeaux Laurent Gueneau.



BORDEAUX.- The cultural season in Bordeaux is dedicated to Freedom. The Museum of Decorative Arts and Design (madd-bordeaux) is taking part in this by hosting, in the former prison, the exhibition Memphis – Plastic Field, which was presented in 2018 at the Berengo Foundation alongside the 16th Venice Architecture Exhibition. Ettore Sottsass founded the Memphis Group in 1981, bringing together young architects around his strong personality. They dreamt of shattering the codes of modernity and rationalism; the culture they established was a vitalistic, instinctive reaction to the gentrification of design. Their first collection was exhibited in Milan. The exhibition, that opened on 18 September 1981, had the effect of a bomb in the European design scene. It radically renewed the language of shapes and colours that up until then was based on the sense and presence of the object, rather than on its function. Artists of all nationalities cam ... More
Middle East Institute to launch gallery for contemporary Middle Eastern Art
Watts Gallery opens the first exhibition in more than 40 years to explore the art of John Frederick Lewis
New art center to launch at a renovated industrial heritage site on the shores of Tallinn Bay


Ayman Baalbaki, Al Mulathamm, 2011. Acrylic on fabric laid on canvas, 200 x 150 cm. Courtesy of the artist and Rose Issa Projects.



WASHINGTON, DC.- The Middle East Institute announced the launch of the MEI Art Gallery on September 14, 2019. Located near Dupont Circle, the new non-commercial space is the only gallery in the nation's capital dedicated to showcasing contemporary art from the Middle East. With a focus that spans from Morocco to Afghanistan, the gallery aims to support Middle Eastern artists and foster cross cultural dialogue. "We want to provide a platform for the Middle East's leading and emerging artists to engage with US audiences and the local DC community," said Kate Seelye, vice president for arts and culture at MEI. "With thoughtfully curated and accessible exhibitions, free talks and film screenings, it's a welcoming place for people to discover a new perspective on the region and to celebrate its rich culture." The inaugural exhibit, Arabicity|Ourouba, spans two decades of contemporary ... More



John Frederick Lewis, The Bezestein Bazaar of El Khan Khalil, Cairo, 1872. Watercolour and bodycolour on paper. Trustees of the Cecil Higgins Art Gallery (The Higgins Bedford).



GUILDFORD.- John Frederick Lewis: Facing Fame - on view at Watts Gallery – is the first exhibition in more than 40 years to explore the life, art and travels of this leading British Orientalist painter. Including many self-portraits and hidden likenesses, this exhibition explores Lewis's sustained and complex relationship with his own success over a long and distinguished career. John Frederick Lewis RWS RA (1804 – 1876) became a leading figure in the British art establishment, famed for his detailed depictions of the Mediterranean and Middle East. John Frederick Lewis: Facing Fame examines the ways in which Lewis's life and travels informed how he chose to present himself at different points in his career: from the young Regency dandy to the 'languid Lotus-eater' living in Cairo; a leader of the London art establishment to an eccentric recluse living in ... More



The more than 100-year-old heritage-protected building—a former submarine plant—will provide 450 m2 of top-floor exhibition space, presenting four main exhibitions each year. Photo: Martin Dremljuga / Stuudio Stuudio.



TALLINN.- Kai Art Center, a new cultural hub for local and international art, opens September 2019 in the historic and culturally-vibrant Noblessner area on Tallinn's waterfront. Spearheaded by the Estonian Contemporary Art Development Center, the more than 100-year-old heritage-protected building—a former submarine plant—will provide 450 m2 of top-floor exhibition space, presenting four main exhibitions each year. Let the field of your attention.... soften and spread out, an international group show curated by Hanna Laura Kaljo, will be open from September, 21 until December 1, 2019, and is part of the main program of the city's contemporary art biennial, Tallinn Photomonth. Artists: Marie Kølbæk Iversen, Sandra Kosorotova, Pia Lindman, Andrea Magnani, Elin Már Øyen ... More
The Aichi Triennale and Nakanojo Biennale, Japan
Flashback
On a day like today, French painter Gustave Caillebotte was born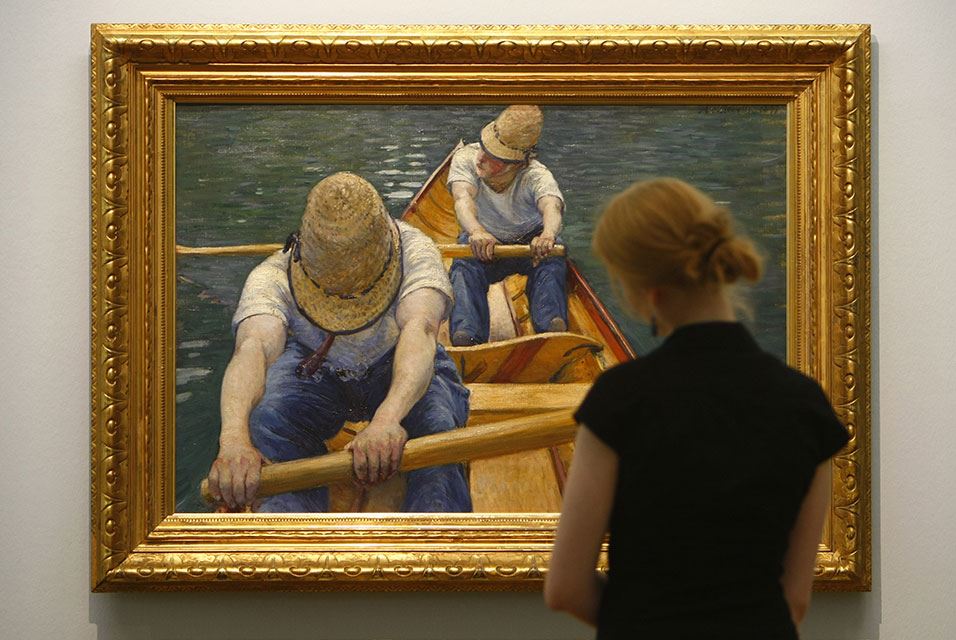 August 19, 1848. Gustave Caillebotte (19 August 1848 - 21 February 1894) was a French painter, member and patron of the group of artists known as Impressionists, though he painted in a much more realistic manner than many other artists in the group. Caillebotte was noted for his early interest in photography as an art form. In this image: An employee looks at a painting 'Oarsmen' of 1877 of French Impressionist Gustave Caillebotte (1848-1894) in the Kunsthalle Bremen, Germany, Thursday, June 26, 2008.
---

Museums, Exhibits, Artists, Milestones, Digital Art, Architecture, Photography,
Photographers, Special Photos, Special Reports, Featured Stories, Auctions, Art Fairs,
Anecdotes, Art Quiz, Education, Mythology, 3D Images, Last Week,
.
---
Royalville Communications, Inc
produces: