Exhibition of Pierre-Auguste Renoir's paintings marks centenary of his death
Pierre-Auguste Renoir (French, 1841–1919), The Bathers, 1918–19. Oil on canvas, 43 5/16 x 63 in. Musée d'Orsay, Paris. Gift of the artist's sons, 1923, RF 2795 Photo: Hervé Lewandowski © RMN-Grand Palais / Art Resource, NY.
WILLIAMSTOWN, MASS
.-
Over the course of his long career, Pierre-Auguste Renoir (French, 1841–1919) continually turned to the human figure for artistic inspiration. The body—particularly the nude—was the defining subject of Renoir's practice, from his days as a student copying the old masters in the Musée du Louvre to the early twentieth century, when his revolutionary style of painting inspired the masters of modernism. In recognition of the centenary of Renoir's death, the
Clark Art Institute
and the Kimbell Art Museum present Renoir: The Body, The Senses. This exhibition is the first major exploration of Renoir's unceasing interest in the human form, and it reconsiders Renoir as a constantly evolving artist whose style moved from Realism into luminous Impressionism and culminated in the modern classicism of his last decades. Co-organized by Esther Bell, Robert and Martha Berman Lipp Chief Curator at the Clark, and George ...
More
The Best Photos of the Day
Rehs Contemporary opens an exhibition of majestic landscapes by Ken Salaz
Monet: Impression Sunrise launches at the National Gallery of Australia
Andrew Jones Auctions to offer close to 400 lots in next auction to be held on June 16th


Detail of Ken Salaz's Moonrise over Sundial Peak, Utah. Oil on panel, 9 x 12 inches.



NEW YORK, NY.- Rehs Contemporary is presenting A Noble Pursuit: The Majestic Landscapes of Ken Salaz while celebrating the successful release of his book, Landscapes in Oil, a comprehensive guide to classical landscape painting. Salaz, author and painter, assembled a who's who of today's finest artists to accompany him on his mission to elevate the genre of contemporary landscape painting, while bringing awareness to a cause which has always been deeply engrained within him – the preservation of our environment. As a partial descendant of the Yaqui tribe, Salaz spent much of his childhood in the Southwestern United States and Mexico. His father's Native American roots were wholly responsible for instilling a reverence for nature; exposing him to the mystical aspects of their culture while allowing him to realize, through direct experience, that everything is alive and pulsating with meanings and lessons. ... More



Claude Monet, Impression, sunrise [Impression, soleil levant] 1872 (detail). Oil on canvas, 50 x 65 cm. Gift of Victorine and Eugène Donop de Monchy 1940. Musée Marmottan Monet, Paris © Christian Baraja SLB.



CANBERRA.- For the first time ever, Australian audiences have the opportunity to see Claude Monet's iconic masterpiece, Impression, sunrise – the highlight of the National Gallery of Australia's 2019 winter exhibition and the painting that gave Impressionism its name. Impression, sunrise, painted in 1872, shows a young Monet in his pioneering development as an artist. From his hotel window, he captures a passing moment at the harbour in Le Havre – an impression of the rising sun over the working port. In time, it changed the way the world viewed art. With a desire to bring the surrounding landscape to life, Monet used quick brushstrokes and well-chosen colour to convey the changing atmosphere, which he believed gave "subjects their true value". Visitors will experience a remarkable collection of paintings ... More



Vintage Mills 25-cent Golden Nugget slot machine with stand, circa 1950s, overall 59 ½ inches tall by 17 ½ inches wide (est. $800-$1,200).



LOS ANGELES, CA.- Andrew Jones Auctions next DTLA (Downtown Los Angeles) Collections & Estates auction on Sunday, June 16th, is packed with fun, quirky and out-of-the-ordinary accessories and furnishings, plus luxe décor and statement pieces for the home, loft, gallery and retail space. Buyers can re-design a room in an affordable and sustainable way. The sale will include nearly 400 lots of antiques, fine art, Asian works of art, fine estate jewelry, Modernist design, furnishings, rugs, vintage slot machines and other great finds, all from notable local private sources. Bidding will be available online and in the Andrew Jones gallery at 2221 Main Street in downtown Los Angeles. The auction will start promptly at 10:30 am Pacific time. "This sale offers a great mix of art, design, jewelry antiques and whimsey, with the accent on affordability, sustainability ... More
Tate Modern opens the UK's first ever retrospective of the Russian avant-garde artist Natalia Goncharova
An early 'Tintin' cover sells at auction for $1.1 million
Pace announces inaugural exhibition program for new flagship Chelsea gallery opening September 2019


Natalia Goncharova, Design with birds and flowers. Study for textile design for House of Myrbor 1925-1928. Gouache and graphite on embossed paper, 745 x 670 mm. State Tretyakov Gallery, Moscow. Bequeathed by A.K. Larionova-Tomilina, Paris 1989 © ADAGP, Paris and DACS, London 2019.



LONDON.- Tate Modern is presenting the UK's first ever retrospective of the Russian avant-garde artist Natalia Goncharova. This exhibition is a sweeping survey of a pioneering and radical figure, celebrated during her lifetime as a leading modernist artist. Throughout her varied career she challenged the limits of artistic, social and gender conventions, from parading through the streets of Moscow displaying futurist body art and scandalising newspapers of the day, to creating internationally acclaimed designs for fashion and the theatre. Goncharova's artistic output traces, influences and transcends the art movements of the 20th century. Born in 1881, she was inspired by the traditional customs and cultures of her native Central Russia – inspirations that pervade her life's work. By the age of 32, she had already established herself as a leader of the Moscow avant- ... More



The Adventures of Tintin Vol. 1: Tintin in the Land of the Soviets. Original Cover Art. Ink on paper (With gouache corrections), 27 x 29,5 cm (paper).



WASHINGTON (AFP).- An original drawing used for the first published "Tintin" cover was sold at auction on Saturday in Dallas for $1.12 million, the Heritage Auctions house told AFP. The identities of seller and buyer have not been released. The illustration, by Tintin creator Herge (the pseudonym of Belgian cartoonist Georges Remi), shows the plucky young reporter sitting on a tree stump carving a makeshift propeller for his plane after the original was damaged in a rough landing somewhere in the Soviet Union. His faithful dog Snowy (Milou in the original French) sits and watches, bandaged from tail to nose. The beloved Tintin books have been translated into more than 70 languages, but in 1929, 22-year-old Herge was still telling the young journalist's story in the pages of Le Petit Vingtieme (The Little Twentieth), a kids' supplement to the Belgian daily Le Vingtieme Siecle (The Twentieth Century). The serialized Tintin stories proved so popular that soon Le Petit Vingtieme published them in 16-page ... More



Pace's new flagship gallery in New York City, located at 540 West 25th Street, opens to the public on September 14, 2019. Courtesy of Bonetti / Kozerski Architecture.



NEW YORK, NY.- Pace Gallery announced its inaugural season of programming for its new flagship gallery in New York City, located at 540 West 25th Street. After almost six decades of history in Manhattan, Pace will cement its commitment to Chelsea with a new global headquarters in the heart of the neighborhood. Open to the public on September 14, 2019, Pace will present a series of exhibitions throughout the new building, including: an exhibition dedicated to Alexander Calder occupying the first floor gallery; a show of new paintings by New York-based artist Loie Hollowell on the second floor; an installation of new work by David Hockney on the third floor; and a presentation charting the evolution of Fred Wilson's chandelier sculptures installed on the seventh floor. The inaugural exhibition represents several firsts, including Loie Hollowell's premiere exhibition with Pace in New York. Additional details on each exhibition, accompany ... More
Georg Baselitz donates 7 works to the Bavarian State Painting Collections
Color lithograph exhibition evokes fin de siècle Paris
Simon Lee Gallery presents the European premiere of Marilyn Minter's video work My Cuntry 'Tis of Thee


Portrait of Georg Baselitz, 2018 © Matthias Willi.



MUNICH.- The donation is the expression of a decades-long bond between the internationally recognized German artist, one of his earliest collectors and long-time supporter, and the museum staff. Thanks to the donation, the Bavarian State Painting Collections now has an ensemble of 31 key works by the artist. Established in 1972, the collection of Baselitz works in the museum holdings exemplifies the artist's development from the early 1960s to the present day. This emphasis on Baselitz is anchored in the collection in the context of extensive holdings of Joseph Beuys, Dan Flavin, Donald Judd, Anselm Kiefer, Sigmar Polke, Arnulf Rainer, and Andy Warhol, which are regularly presented in the exhibition spaces. The origins of today's Baselitz collection, which is now crowned by the donation, date back around half a century and begin in 1972 with the museum's acquisition of the painting 'Seeschwalbe' ... More



Alphonse Mucha, Zodiac, 1896, color lithograph on silk, Photograph by John Faier, © 2015, The Richard H. Driehaus Museum.



CINCINNATI, OH.- As the 19th century was coming to a close, vivid, visually seductive artwork began appearing on the streets of Paris in the form of commercial posters – affiches – promoting everything from goods and services to events and entertainment. This new art-as-advertising hybrid was catalyzed by the expansion of France's laws governing freedom of speech coinciding with advances in color lithography. The result was a colorful, dramatic artform that epitomized La Belle Epoque. Parisians were captivated by the posters, and collecting them became all the rage. Nearly 140 years later, a collection of some of the best examples of the form are on exhibit in L'Affichomania: The Passion for French Posters, debuting at the Taft Museum of Art June 8 through Sept. 15. The exhibition is curated by Jeannine Falino, ... More



Marilyn Minter, My Cuntry 'Tis of Thee, 2018. Film still. HD Digital Video. Duration 9:46. Courtesy the artist and Simon Lee Gallery, London / Hong Kong and Salon 94, New York.



LONDON.- Simon Lee Gallery is presenting the European premiere of New York-based artist Marilyn Minter's video work My Cuntry 'Tis of Thee (2018). This is the artist's debut exhibition with the gallery and her first solo presentation in the UK in thirty years. For nearly four decades, Minter's provocative practice has dismantled the hierarchies of glamour, power, desire, beauty and sexuality that dominate contemporary consumer culture. Feminism and sexual politics provide the context for a body of work that encompasses painting, photography and video, amongst other visual and political tactics, in the creation of alluring images that unpack strategies of seduction appropriated from the media. Minter's hyperrealist paintings of magnified body parts in high-gloss enamel ... More
MLF │ Marie-Laure Fleisch exhibits work by Claire Milbrath, Tessa Perutz, Anna Torma, and Joana Vasconcelos
Lévy Gorvy with Rumbler open inaugural exhibition during Zurich Art Weekend
Almine Rech Paris opens Leelee Kimmel's first exhibition with the gallery


Tessa Perutz, Belgian Landscape with Lavendar Moon and Cream Reflection, 2019. Oil on canvas, 60 x 48 x 3 cm.



BRUSSELS.- For the exhibition Imagined Realities, MLF | Marie-Laure Fleisch is presenting work by Claire Milbrath, Tessa Perutz, Anna Torma, and Joana Vasconcelos. With practices spanning painting, sculpture and textile, these four artists have each carved out a unique vocabulary in their field. Their work is, however, related by their desire to envision a world beyond their own physical realities, taking elements of real life and pushing them to the point of fantasy or dream. Their work attests to the fact that art does not only allow us to investigate the world around us, but also to explore a world which we could only wish existed. Beyond being a space of creation, the artist's studio is a place of reflection, imagination and creativity. Things that are not possible in the outside world become tangible, and that which is invisible takes on material forms. This is a space in which the artist can be free to explore ideas that are beyo ... More



Terry Adkins, Barchiel, 2012. Nylon, rooster feathers, wood, and microphone stand, 90 x 10 x 10 inches (228.6 x 25.4 x 25.4 cm) © Terry Adkins. Courtesy of the Estate of Terry Adkins.



ZURICH.- Terry Adkins once described his method of repurposing found materials as "potential disclosure," a process in which the strategic arrangement of objects revealed latent historical or metaphorical associations. Experimenting with Materiality considers the ways that such gestures of recontextualization manifest in the multimedia work of Adkins, Sonia Gomes, Senga Nengudi, and Carol Rama—artists who, despite working in disparate contexts, found resonant approaches to materiality. Using quotidian objects as their primary media, each artist cultivated a historically-charged practice examining ongoing dialogues pertaining to race, gender, and industry. Engaging parallel assemblage techniques, each artist's work is rooted in deep spiritualism that allowed them to pursue an art that elevates the base substance of their media through its incorporation into ... More



Leelee Kimmel, Pinkilicious, 2018. Acrylic on canvas, 292,1 x 222,3 x 3,8 cm. 115 x 87 1/2 x 1 1/2 inches © Leelee Kimmel. Photo: Maris Hutchinson Courtesy of the Artist and Almine Rech.



PARIS.- Almine Rech Paris is presenting Nuwar, Leelee Kimmel's first exhibition with the gallery. "Stirring up a mass of dull grey plankton, again there came the shock of sheer color — like a blow to the body, or a crashing chord to the ear. I know of no other sensation which quite equals the effect on the eye — or the brain behind the eye — as that of a great, glowing, living, rich-scarlet-red shrimp, cold as ice, just raised through a half mile of water. No flower I have ever seen in any setting could vie with it for a moment. It is worth recalling that for countless ages this shrimp and its ancestors had been merely the blackest of beings in a jet-black world, and only for the past few minutes had its blazing color existed. This may partly explain its exciting quality, like the unused rods and cones inour own retina, when we stand on our heads and look out at the world." [1] "I am nature", Jackson Pollock ... More
BARD & VAROZZA - Fondation Herman Krikhaar
Flashback
On a day like today, Dutch illustrator M. C. Escher was born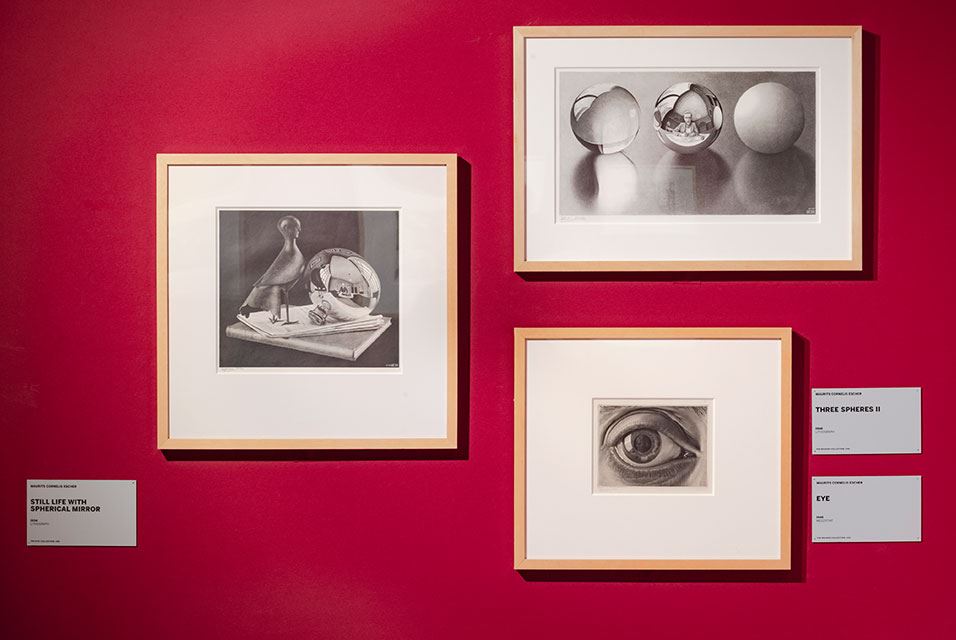 June 17, 1898. Maurits Cornelis Escher (17 June 1898 - 27 March 1972) was a Dutch graphic artist who made mathematically-inspired woodcuts, lithographs, and mezzotints. In this image: Installation view, ESCHER. The Exhibition & Experience at Industry City, June 8, 2018 - February 3, 2019. Photo by Adam Reich. Courtesy Arthemisia.
---

Museums, Exhibits, Artists, Milestones, Digital Art, Architecture, Photography,
Photographers, Special Photos, Special Reports, Featured Stories, Auctions, Art Fairs,
Anecdotes, Art Quiz, Education, Mythology, 3D Images, Last Week,
.
---
Royalville Communications, Inc
produces: