First exhibition of its kind pairs classic cars and Postwar paintings
"The unique visual 'conversations' that occur between paintings and cars in this exhibition reinforce the triumph of American art, design, and production beginning just after World War II," said René Paul Barilleaux, Head of Curatorial Affairs.
SAN ANTONIO, TX
.-
Organized by the
McNay Art Museum
, American Dreams: Classic Cars and Postwar Paintings will open to the public on February 14, 2019. Inspired by a 2016 Museum of Modern Art (MoMA) single collection gallery installation with a focus on 1961, this major exhibition will boldly pair magnificent examples of American fine art and design from the Golden Age. From the end of World War II through the mid-70s, Americans experienced the explosion of Abstract Expressionism, Pop art, and Op art; the mass production of automobiles; and an expanded market for luxury items. This exhibition captures this innovative moment in U.S. history by presenting 10 classic cars as modern sculpture paired with paintings from the McNay's collection and select loans. Rather than present a historical survey, postwar paintings and sculpture-on-wheels will be in dialogue with one another based on color, composition, dynamics, and design. The exhibition will be ...
More
The Best Photos of the Day
Axel Rüger leaves the Van Gogh Museum in Amsterdam
Gagosian presents selected photographs by David Bailey
Exhibition explores Botticelli's revolutionary narrative paintings


He will become the new Secretary and Chief Executive of the Royal Academy of Arts in London.



AMSTERDAM.- Director Axel Rüger will leave the Van Gogh Museum. Today he announced that starting in June 2019 he will become the new Secretary and Chief Executive of the Royal Academy of Arts in London. Axel Rüger: "With great pleasure and passion I have worked at the Van Gogh Museum in Amsterdam. It has been a privilege to lead this wonderful and successful institution. With great pride I look back at many interesting exhibitions, beautiful acquisitions, extraordinary milestones and colourful and ambitious events during my 13 years at the museum. I am very fortunate that I have been able to collaborate with so many loyal employees and professionals working for the museum. I am honored to have been asked to lead the Royal Academy of Arts alongside its President and carry forward this 250 year old institution with its rich history and heritage. I look forward to starting in London in June, knowing that I will leave the Van ... More



David Bailey, Andy Warhol, 1965. Silver Gelatin, 42 x 42 inches. Edition 1 of 10 © David Bailey. Courtesy Gagosian.



LONDON.- Bailey's bold and iconoclastic style has made him one of the world's most renowned living portrait photographers and earned him as much fame as his stellar subjects. Discarding the rigid rules of a previous generation of portrait and fashion photographers, he channelled and immortalized the energies of London in the s and beyond. Self-taught, his distinctive style comprises stark white backgrounds, uncompromising crops, and striking, seemingly spontaneous poses. From the beginning of his career, which now spans more than six decades, his arresting yet spare portraits and fashion images have conveyed a radical sense of youth and sexuality, often typifying the look of the times. Bailey's meteoric rise at British Vogue in the early '60s was followed by the publication, in 1965, of his first photography book, Box of Pin-Ups, which, as its title suggests, depicted media ... More



Sandro Botticelli (Italian, 1444 or 1445-1510), Virgin and Child with Saint Joseph and a Magus (fragment of The Adoration of the Magi), about 1500. Brush and brown egg tempera, heightened with white, over charcoal or chalk on prepared linen, 30.9 x 23.4 cm. The Fitzwilliam Museum, Cambridge. © The Fitzwilliam Museum, Cambridge.



BOSTON, MASS.- For the forthcoming Botticelli: Heroines and Heroes exhibition in early 2019, the Isabella Stewart Gardner Museum will be the sole venue in the United States to reunite Renaissance master Sandro Botticelli's The Story of Lucretia from the Gardner Museum collection with the painter's Story of Virginia, on loan from Italy for the first time. This presentation explores Botticelli's revolutionary narrative paintings and brings them into dialogue with contemporary responses. The exhibition opens Feb. 14, 2019 and runs through May 19, 2019. Painted around 1500, eight monumental works – including important loans from museums in Europe and the U.S. - demonstrate ... More
Getty Foundation announces grants to support digital mapping of important cultural heritage sites
Two-part exhibition is the first museum presentation of Roni Horn's drawings in the United States
Andrew Jones Auctions' Design for the Home & Garden Auction is full of curated collections


Virtual 3D reconstruction of San Pier Maggiore, by Donal Cooper in collaboration with The National Gallery and to be incorporated in Immersive Florence, supported by the Getty Foundation as part of its Digital Art History initiative. Image courtesy Faculty of Architecture and History of Art, University of Cambridge, Miguel Santa Clara and National Gallery, London.



LOS ANGELES, CA.- The Getty Foundation announced today four grants that will support a growing area of art historical research – the use of geospatial and digital mapping tools to document and analyze cultural sites around the world. As part of its Digital Art History initiative, the Foundation will support projects that are currently exploring the ancient sites of Pompeii in Italy and Çatalhöyük in Turkey, the social and urban evolution of Rio de Janeiro, Brazil, and the flourishing years of Florence during the Italian Renaissance. The grants also represent a new approach that moves digital art history practice away from standalone solutions and toward shared learning opportunities. "Technology is truly an area that benefits from collaboration, so ... More



Roni Horn, Brooklyn Red, 1985. Powdered pigment, graphite, charcoal, colored pencil, and varnish on paper. Sheet: 13 × 11 in. (33 × 27.9 cm). Courtesy the artist and Hauser & Wirth. © Roni Horn.



HOUSTON, TX.- The Menil Collection presents Roni Horn: When I Breathe, I Draw, opening to the public at the Menil Drawing Institute with a preview reception on Thursday, February 14, 2019 at 7 p.m. This is the first museum exhibition devoted to Horn's drawings in the United States and the second exhibition held in the Menil Drawing Institute since the new building opened to critically-acclaimed reviews last fall. The exhibition is curated by Michelle White, Senior Curator. For over thirty years, drawing has been fundamental to the practice of contemporary American artist Roni Horn (b. 1955), whose work revolves around the mutability of identity and the fragility of place, time, and language. Roni Horn: When I Breathe, I Draw, an exhibition in two parts, presents a selected survey of the artist's drawings from the early 1980s to her most recent work on paper. The exhibition ... More



British Modernist paintings by Frank Beanland (British, b. 1936) will include this oil on canvas titled Turquoise and yellow clusters, 1970 (est. $1,000-1,500).



LOS ANGELES, CA.- Andrew Jones Auctions' first Design for the Home and Garden auction of the New Year, on Sunday, March 3rd, will feature a selection of over 400 lots of market fresh fine furniture, art, jewelry, silver, ceramics, decorative arts, carpets and design from prominent local collections and estates. The auction will start promptly at 10:30 am Pacific. The sale will be held online (via Invaluable.com and LiveAuctioneers.com) and in Andrew Jones Auctions' spacious gallery, at 2221 South Main Street in downtown Los Angeles. "Sparkling diamonds, ancient artifacts, modern art, antique furniture and much more will be on display in our Design for the Home and Garden sale," said company president and CEO Andrew Jones. Featured will be properties from the Hope A. Copeland Trust and collections of connoisseur and interior designer Tom Buckley, Stuart Myers of Brentwood, Jeffrey and Eva Petersen, Michelle ... More
Schirn Kunsthalle Frankfurt presents monumental sculptures by Bruno Gironcoli
Opening Valentine's Day: House of the Sleeping Beauties at Sotheby's S│2 Gallery
Pirelli HangarBicocca opens a solo show of works by Giorgio Andreotta Calò


Bruno Gironcoli, Untitled, 1996, Iron, wood, plastic 460 x 220 x 410 cm, Gironcoli Museum, Herberstein, © the Estate Bruno Gironcoli, Photo: Hans Christian Krass.



FRANKFURT.- From February 14 to May 12, 2019, the Schirn Kunsthalle Frankfurt is presenting a selection of monumental sculptures from the late work of the artist Bruno Gironcoli (1936–2010) in a thought-provoking exhibition. The Austrian artist is considered to be one of the most important sculptors of his generation. Beginning in the early 1960s, he drew on his never-ending inventive voracity to create a highly idiosyncratic and remarkable oeuvre rendered in a very personal and individual visual language. In groups of ever-new works, he continually succeeded in finding an unmistakable and yet surprising voice. Wire sculptures gave way to hollow-body forms, polyester objects, and disconcerting environments. Gironcoli's work always focused on the individual and his abysses. The artist shared his existential questions and politically motivated avant-garde thought ... More



Běla Kolářová, Variation Two Triangles IV, 1968 (detail). Courtesy Sotheby's.



LONDON.- This Valentine's Day, S|2 London presents House of the Sleeping Beauties, an exhibition of thought-provoking works which touch upon the concepts of the erotic, the body, surrealism, performance, and theatricality in art from the nineteenth century to the present day. Occupying the entire gallery, the show brings together an eclectic host of artists for the very first time, placing them in an egalitarian dialogue with one another; from Marcel Duchamp, whose most famous work Fountain propelled him to international fame in 1917 and rendered him a figure of momentous art historical importance, to contemporary artists Issy Wood, whose work was recently shown in Virginia Woolf, An Exhibition Inspired by Her Writings at Tate St Ives and The Fitzwilliam Museum, and Diane Kotila, whose works were discovered by S2 on Instagram (@letterofresignation), but have never before been exhibited publicly. The show al ... More



Giorgio Andreotta Calň, Anŕstasis (ἀνάστασις), 2018. Installation view, Oude Kerk, Amsterdam, 2018. Courtesy Studio Giorgio Andreotta Calň, Venice. Photo: Maarten Nauw.



MILAN.- Pirelli HangarBicocca presents CITTŔDIMILANO, the solo show by Giorgio Andreotta Calň. Combining artworks from earlier stages in his career with more recent pieces, brought together for the first time, the show transforms and radically reconfigures the space. The exhibition flows in a way that generates stories and perspectives on a variety of different times and places, from Venice to Milan, from the depths of the sea to those of the subsoil. Giorgio Andreotta Calň (Venice, 1979; he lives and works in Italy and the Netherlands) is one of the most remarkable Italian artists of recent years and represented Italy at the 57th Venice Biennale (2017). His works include sculptures, large-scale site-specific installations and spatial works that transform both fragments of buildings and entire landscapes; they are often ... More
Michel Rein Gallery opens exhibition of works by Michel Rein Gallery
Exhibition presents collection highlights within five approaches to subject matter long explored by artists
One of London's oldest charities, The House of St Barnabas, sell part of Contemporary art collection


Installation view.



PARIS.- Michel Rein Gallery is presenting Michele Ciacciofera's first solo exhibition. The Library of Encoded Time is the third part of a trilogy devised by Ciaccofera, which questions the relation of signs to matter and memory. The first part, The Translucent Skin of the Present , made at the Vitamin Gallery in Guangzhou in 2018, was followed by A Chimerical Museum of Shifting Shapes , made at the Voice Gallery in Marrakesh. The works created for this show, planned as a whole, in which each piece resonates with the next, are the result of a twofold line of thinking about both the erosion and saturation of memory, as well as its creative rekindling. Sculptures placed on the floor and on shelves, mural grids, rods leaning against a wall, works on canvas and paper, all appear like fantasized archaeological objects, installed as if in a real excavation site, "edified" using local elements, like bricks ... More



Catherine Opie, Untitled #1-#14 (Icehouses) (detail); chromogenic prints; Collection Walker Art Center, Minneapolis; Gift of the Buddy Taub Foundation, Jill and Dennis Roach, Directors, and Justin Smith Purchase Fund, 2002.



MINNEAPOLIS, MN.- This exhibition, drawn from the Walker's world-renowned collections, looks backward and forward at contemporary art in our time, showcasing both cornerstone works that have built the collection and works by a younger generation that point to new strengths and directions. The exhibition presents collection highlights within five approaches to subject matter long explored by artists: portraiture; the interior scene; landscape and the observed environment; still life and the everyday; and abstraction, areas that serve as thematic sections for unexpected groupings of works from the collection. Featuring more than 100 works, the exhibition includes examples ranging from ... More



Annie Kevans, (b.1972) Sandra Dee, 2009, oil on paper, 50 x 40cm. Estimate: Ł1,000-2,000.



LONDON.- Contemporary art from the collection of one of London's oldest charities forms part of Lyon & Turnbull's inaugural Modern Made auction in London on 27 March. Around 15 works are being sold to raise funds for The House of St Barnabas. Based at a Grade I-listed townhouse in Soho, The House of St Barnabas has helped Londoners affected by homelessness since 1862. In 2013 the building became a private members club with a difference; combining a not-for-profit creative and cultural space at No. 1 Greek Street with an Employment Academy for people affected by homelessness in. Participants learn their craft in front of house, in the kitchen or in the charity's offices: 85% of those who take part graduate from the 12-week course and 68% of graduates secure lasting employment. Music and cultural events are key to ... More
Pierre Bonnard - The Colour of Memory | The C C Land Exhibition | Tate
Flashback
On a day like today, German sculptor Katharina Fritsch was born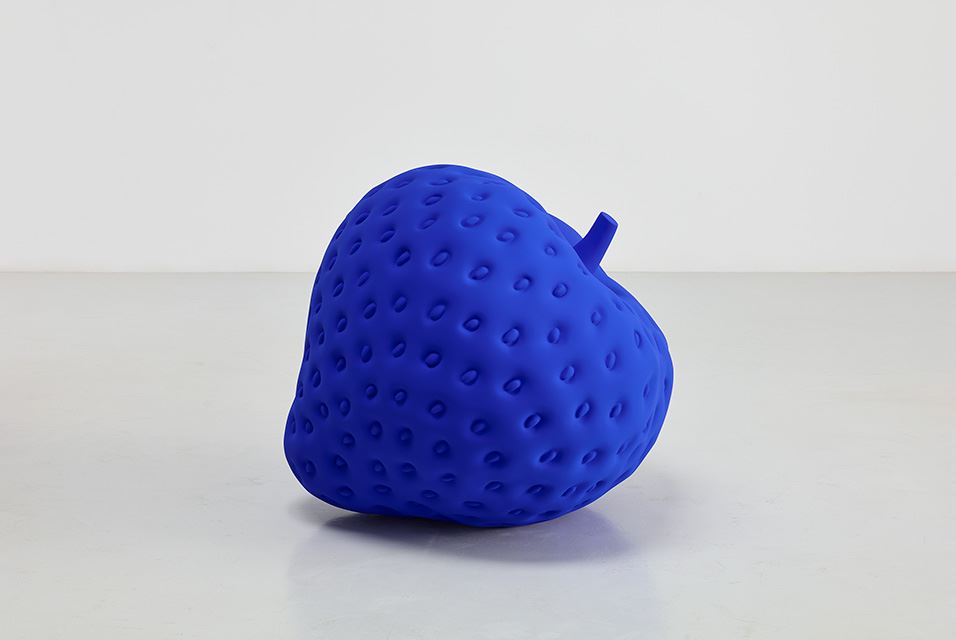 February 14, 1956. Katharina Fritsch (born 14 February 1956) is a German sculptor. She lives and works in Düsseldorf, Germany. Katharina Fritsch is known for her sculptures and installations that reinvigorate familiar objects with a jarring and uncanny sensibility. In this image: Katharina Fritsch, Erdbeere / Strawberry 2017. Polyester, paint, 31 1/2 x 31 1/2 x 31 1/2 inches, 80 x 80 x 80 cm. ©Katharina Fritsch / VG BildKunst, Bonn / Courtesy Matthew Marks Gallery. Photo: Ivo Faber, VG Bild-Kunst, Bonn.
---

Museums, Exhibits, Artists, Milestones, Digital Art, Architecture, Photography,
Photographers, Special Photos, Special Reports, Featured Stories, Auctions, Art Fairs,
Anecdotes, Art Quiz, Education, Mythology, 3D Images, Last Week,
.
---
Royalville Communications, Inc
produces: