He left a museum after women complained; His next job was bigger
In an undated image provided by "Articulate with Jim Cotter," Joshua Helmer, who became one of the country's youngest museum directors when he took over the Erie Art Museum in 2018. Helmer landed the job after leaving the Philadelphia Museum of Art; at both posts, his relationships with female co-workers spawned multiple complaints. Articulate with Jim Cotter via The New York Times.

by Robin Pogrebin and Zachary Small
NEW YORK
(NYT NEWS SERVICE )
.-
Gina Ciralli, an employee at the Philadelphia Museum of Art who dated Joshua Helmer, a young manager, said that he had made her feel as if he had the power to make or break her career — telling her she "wasn't smart enough to work at a museum" but that he could help her have "a great trajectory." Another woman, Alicia Parks, said he took her for drinks on her second day of work and told her that if she wanted to succeed she should "get to know him." "I worked in the NFL for five years," said Parks, a former Philadelphia Eagles cheerleader, "and no one spoke to me in a way that made me feel that uncomfortable." Neither of those women worked directly for Helmer, but they were his subordinates in rank, and three employees who were familiar with their accounts said they reported their concerns to museum ...
More
The Best Photos of the Day
Delaware Art Museum to display Schoonover painting featured on Antiques Roadshow
Hudson Yards promised a park. They didn't mention the giant wall
Travelers from an antique time


Frank Earle Schoonover (1877–1972), Claghorn at the Rail, 1923, Illustration for Privateers of '76 by Ralph D. Paine, (Philadelphia: Penn Publishing Company, 1923). Oil on canvas, 36 x 30 inches. Private Collection, Native Son of Delaware.



WILMINGTON, DE.- On January 6, a Delaware native and his gorgeous painting by American illustrator Frank Schoonover were featured on PBS's Antiques Roadshow, which was filmed at Winterthur last year. The painting, originally published with the caption "At a Hail from the Boat He Went to the Rail," is an illustration from the 1923 book Privateers of '76, a tale of Massachusetts boy Stephen Claghorn and his adventures at sea during the American Revolution. The painting pictures the moment toward the end of the story when Claghorn, alone and adrift aboard a derelict ship, is rescued, improbably, by his Salem schoolmaster. The Delaware Art Museum announced that it will display the painting in its American illustration gallery for the next six months. The owner's family purchased the painting directly from the artist for $300 in June 1960. During the Antiques Roadshow segment, the owner described his father's ... More



A view of Hudson Yards, the largest mixed-use private real estate venture in American history, in New York, Dec. 18, 2019. Mark Wickens/The New York Times.

by Michael Kimmelman



NEW YORK (NYT NEWS SERVICE ).- No real estate developer has profited more from the High Line than Related Cos., the global giant. Under its chairman, Stephen Ross, Related has, in recent years, become the biggest luxury developer in the neighborhood by a wide margin, erecting buildings designed by Zaha Hadid, Thomas Heatherwick and Robert A.M. Stern, among other marquee names, and last year completing the first phase of Hudson Yards, the largest mixed-use private real estate venture in American history. A blue-glass megadevelopment with a supersized shopping mall and trash-basket-shaped tourist attraction called the Vessel, by Heatherwick, Hudson Yards rose from a massive deck that Related built atop a dozen acres of working rail tracks where the High Line jogs west from 10th Avenue along West 30th Street toward the Hudson River. Now Related is undertaking the second phase of Hudson Yards, ... More



The artist Peter McGough in his Greenwich Village apartment in New York, Oct. 1, 2019. Vincent Tullo/The New York Times.

by Steven Kurutz



NEW YORK (NYT NEWS SERVICE ).- Once in the late 1970s, somebody insulted David McDermott's mother at a party, so he went to Tiffany & Co. and had a note engraved: "Mr. David Walter McDermott is pleased to announce the elimination of _______ from his guest list." The note, which was mailed out to the offender's friends, now hangs on the wall of Peter McGough's apartment in Greenwich Village. "Now, that's pretty brilliant, to insult someone at such a high level," he said, laughing at the memory. But it is now McGough's turn to be disinvited. Half of the Victorian-inspired art duo McDermott & McGough, McGough has written a memoir about his partnership with McDermott, "I've Seen the Future and I'm Not Going," in which he recounts their bizarre journey as time-traveling artists known as much for their retro lifestyle as for their pseudo-historical art. They dressed in Edwardian clothes, ... More
Exhibition of recent works by American artist Rashid Johnson on view at Hauser & Wirth
Record year for watches at Sotheby's
Exhibition of new work by British artist Rose Wylie opens at David Zwirner


Standing Broken Men, 2019. Ceramic tile, mirror tile, branded red oak flooring, spray enamel, oil stick, black soap, wax, 240.7 x 188.6 x 7.6 cm / 94 3/4 x 74 1/4 x 3 in. Photo: Martin Parsekian. © Rashid Johnson. Courtesy the artist and Hauser & Wirth.



NEW YORK, NY.- Hauser & Wirth is presenting 'The Hikers,' an exhibition of recent works by American artist Rashid Johnson. The exhibition brings together ceramic tile mosaics, collaged paintings, and a largescale sculpture that address Johnson's recurring interest in currents of anxiety and escapism created by the political and social turmoil felt across the United States and around the globe. The exhibition borrows its title from Johnson's latest film, a centerpiece of the exhibition, shot earlier this year on location in the mountains of Colorado. 'The Hikers' unfolds through five rooms on the gallery's second floor, in a formal arrangement that echoes the fragmentation and accumulation of Johnson's mosaics and collaged works on display. The viewer is first greeted by three monumental ... More



A possibly unique and previously unknown Cosmograph Daytona, reference 16528 in yellow gold with red dial and suspended logo, circa 1990 more than doubled the pre-sale low estimate to achieve US$ 541,200 in Hong Kong in October. Courtesy Sotheby's.



NEW YORK, NY.- "This has been an historic year for our team, reflective of the ever-growing fascination with watches around the world. Propelled by the sales of exceptional property, careful sourcing and fast-expanding online sales, these results prove that, for many collectors, watches transcend the pure function of timekeeping. The appearance of masterpieces by horological pioneers, such as George Daniels' record-breaking "Space Traveller", also has a spin-off effect on all levels of the market, bringing people to fully appreciate the vision, tradition, exceptional craftmanship and technical prowess that can be found in a watch. --Sam Hines, Worldwide Head of Sotheby's Watches "A collection such as "Masterworks of Time" is a barometer for the market, showing a deepening ... More



Rose Wylie, Serena (Clay Court), 2019 © Rose Wylie. Courtesy of the artist and David Zwirner.



HONG KONG.- David Zwirner is presenting an exhibition of new work by British artist Rose Wylie—her first solo presentation in Hong Kong. painting a noun…includes several groups of related paintings and drawings that collectively underscore the importance of memory—as both a fixed and a shifting concept—within the artist's practice. Drawing from such wide-ranging cultural arenas as film, fashion photography, literature, mythology, history, news images, and sports, Wylie paints colorful and exuberant compositions that are uniquely recognizable. Frequently using images as a prompt, the artist works primarily from memory, resulting in paintings and drawings that are replete with associative afterimages that remain only loosely tethered to their original referents, but tightly connected to the memories as they have developed over time. In this respect, drawing is an important aspect of Wylie's practice—once she ... More
The PlayStation... by Nintendo? Only known surviving prototype of the never-released console goes to auction
World-leading artists donate artworks to support Whitechapel Gallery
Christie's 'Dressing the Table: Contemporary Fine Dining' - now open to view online


Nintendo Play Station Prototype - Sony and Nintendo c. 1990-92.



DALLAS, TX.- The only remaining "Play Station" prototype, developed by Nintendo and Sony during the 1990s, is expected to rock the gaming world March 5-7 when the console comes to auction for the first time at Heritage Auctions, HA.com. "Most importantly, it works," said Valarie McLeckie, Director of Video Games at Heritage Auctions. The prototype is believed to be the only surviving example of 200 pre-production consoles that spawned from a once promising partnership between Sony and Nintendo. These companies are now two of the biggest competitors in the modern home console video game market, which makes this console's existence a bit of a head-scratcher. At one time, this reportedly single-surviving unit was owned by Olaf Olaffson, the founder, first president, and chief executive officer of Sony Computer Entertainment, Inc., and eventually found its way into the hands of a private owner by pure chance. "Reportedly, ... More



Laure Prouvost, IDEALLY THIS POSTER WOULD SHOW YOU THE WAY, 2019, Acrylic and varnish on board , 57.1 x 37.2 cm, Unique. Courtesy the artist and Lisson Gallery.



LONDON.- Whitechapel Gallery announced the donation of 14 exceptional original artworks to the Gallery by world-leading artists Francis Alÿs, Yto Barrada (b. 1971), Alvaro Barrington (b. 1983), Gareth Cadwallader (b. 1979), Andrew Cranston (b. 1969), Ayan Farah (b. 1978), William Kentridge (b. 1955), Sadik Kwaish Alfraji (b. 1960), Cathy de Monchaux (b. 1960), Laure Prouvost (b. 1978), Michal Rovner (b. 1957), Alexis Teplin (b. 1976), Francis Upritchard (b. 1976) and Richard Wentworth (b. 1947). All donated artworks will be auctioned in support of Whitechapel Gallery's education and community programmes, during a gala dinner on 21 January 2020, as part of the Gallery's prestigious Art Icon award in partnership with Swarovski. This year the auction forms part of a major new fundraising initiative, ... More



Estimates start from £800 up to £18,000. Selected highlights from the sale will be on view at Christie's Headquarters in London from 13 to 22 January. © Christie's Images Ltd 2020.



LONDON.- Welcoming the new year with fresh inspiration to reinvigorate tableware for 2020 – whatever the occasion – Christie's new online sale Dressing the Table: Contemporary Fine Dining is now open to view online, ahead of opening for bidding on 22 until 29 January. Providing dynamic opportunities to mix prints, patterns and one-of-a-kind objects for a thoroughly modern table this year – be it for afternoon tea, an alfresco breakfast, dinner or a home bar - this curated selection of 55 lots ranges from Versace and Dior-designed plates and cutlery to Baccarat glass, Chinese Export porcelain and grand silver candelabra. Estimates start from £800 up to £18,000. Selected highlights from the sale will be on view at Christie's Headquarters in London from 13 to 22 January, curated by homeware designer and style curator Petra Palumbo ... More
This Bond wears corduroy
CUE Art Foundation opens Steve Parker's first solo exhibition in New York City
Whipped cream and cherry sculpture to grace London square


Italian designer, Massimo Alba, in his Milan studio in Italy on Jan. 8, 2020. The super spy, James Bond, is getting a new look, corduroy, courtesy of Alba. Alessandro Grassani/The New York Times.

by Kerry Olsen



MILAN (NYT NEWS SERVICE ).- James Bond has an unexpected weapon in the forthcoming espionage flick, "No Time to Die." Corduroy. What? The famously slick Tom Ford tuxedo-clad super spy invented by Ian Fleming now wearing the fuddy-duddy fabric most often associated with 1970s literature professors? Yes, if the trailer for the April release, directed by Cary Joji Fukunaga ("True Detective") and with script tweaks by Phoebe Waller-Bridge ("Fleabag"), is anything to go by. But then, this cord is not exactly the look of the cord of yore. It comes courtesy of Italian designer Massimo Alba, and includes a two-button sand-tone suit, moss-hued coat and gray trousers. Opening scenes shot in the southern Italian town of Matera show Bond wearing the suit during a car chase with the mysterious ... More



Steve Parker, Ghost Box, 2018. Brass, wires, ink on paper, electronics, headphones, instrument case, 96 x 144 x 12 inches.



NEW YORK, NY.- CUE Art Foundation is presenting Futurist Listening, Steve Parker's first solo exhibition in New York City, curated by Marcela Guerrero. This series of work takes the form of sonic headwear, acoustic sculptures built from brass instruments, and graphic scores, all of which build upon World War II audio tactics such as jamming signals, coded messages, and warning sirens, reimagining them in sculptural form as vehicles for present-day protest and deception. These systems are mapped out across the gallery with trumpet pipes welded into sprawling abstract lines, diagrammed and layered on paper scores, or compiled into looming brass speakers and noise intoners. In the piece ASMR Étude, Parker recreates wearable acoustic locators through which one can hear popular Autonomous Sensory Meridian Response, or ASMR, recordings made to treat ... More



Heather Phillipson poses with "The End". Photo: © James O Jenkins.



LONDON (AFP).- A giant swirl of replica whipped cream, topped with a sculpted cherry, fly and drone, is to appear in London's Trafalgar Square for the next two years, the mayor's office said Tuesday. The artwork -- titled "The End" -- is the latest sculpture to be commissioned for the empty fourth plinth in the world-famous landmark. Created by British artist Heather Phillipson, who works in video, sculpture and drawing, the drone will also transmit a live feed of the square. It will be visible a dedicated website, "giving a sculpture's-eye perspective", curators said. "'The End' responds to Trafalgar Square as a site of mass gathering, celebration, protest and personal broadcast, shared with other forms of creaturely life," they added in a statement. Organisers described "The End" as "exuberant, uneasy and suggesting hubris and impending collapse", without elaborating on the inspiration for the symbolic disintegration. Its March 26 unveiling will come ... More
This Pendant is Britain's Oldest Piece of Iron Age Art
Flashback
On a day like today, French painter Paul Cézanne was born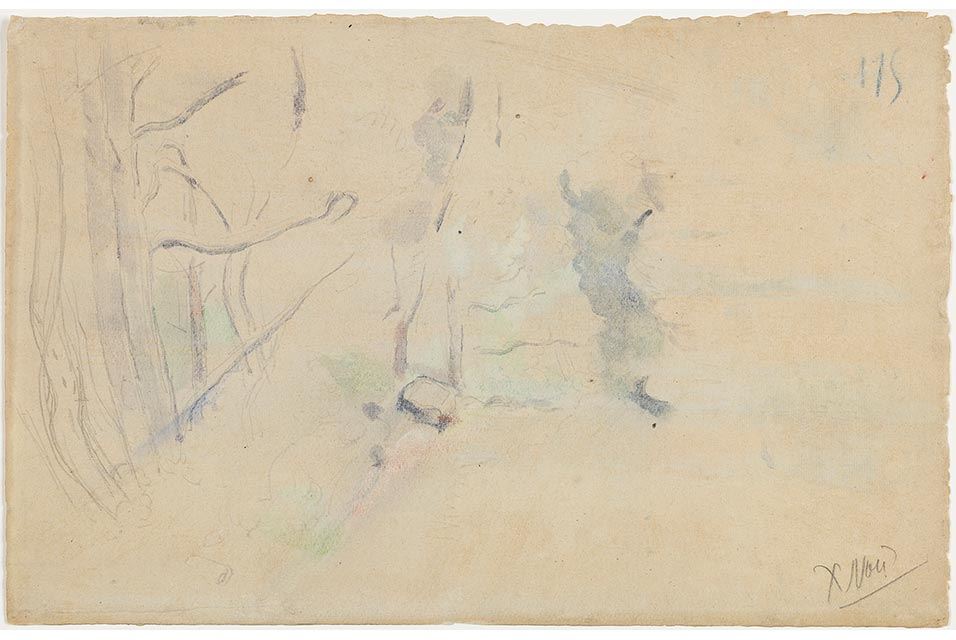 January 19, 1839. Paul Cézanne (19 January 1839 - 22 October 1906) was a French artist and Post-Impressionist painter whose work laid the foundations of the transition from the 19th-century conception of artistic endeavor to a new and radically different world of art in the 20th century. In this image: Paul Cézanne (French, 1839 - 1906). Recto: The Chaîne de l'Etoile Mountains (La Chaîne de l'Etoile avec le Pilon du Roi), 1885 - 1886. Watercolor and graphite on wove paper; Verso: Unfinished Landscape, undated. Watercolor and graphite on wove paper, Sheet: 12 3/8 x 19 1/8 in. (31.4 x 48.6 cm). BF650. Photo © 2015 The Barnes Foundation.
---

Museums, Exhibits, Artists, Milestones, Digital Art, Architecture, Photography,
Photographers, Special Photos, Special Reports, Featured Stories, Auctions, Art Fairs,
Anecdotes, Art Quiz, Education, Mythology, 3D Images, Last Week,
.
---
Royalville Communications, Inc
produces: