McNay Art Museum focuses on Minimalism, debuts never-before-seen prints
Donald Judd (American, 1928-1994), Untitled 1961-1979. Woodcut. Gift of John M. Parker Jr. 2017.121.1
SAN ANTONIO, TX
.-
The McNay Art Museum
's latest exhibition What You See is What You See celebrates the Museum's important collection of Minimalist and Conceptual prints, some of which are on view for the first time in McNay history. "This exhibition spotlights the simple and formal beauty of art in its barest essentials," said Lyle Williams, Curator of Prints and Drawings. "The artworks on view don't try to tell a story or convince us of anything other than simply what we see, which is the inspiration for the exhibition title." The McNay has collected Minimalist and Conceptual prints for more than 25 years, starting with the purchase of a suite of four woodcuts by Donald Judd, whose artistic vision made Marfa, Texas an international art mecca. In 2017, Austin collector John M. Parker, Jr. gifted his entire collection of Minimalist and Conceptual graphics ...
More
The Best Photos of the Day
A $120,000 banana is peeled from an art exhibition and eaten
Heard Museum in Arizona launches new exhibition series with Maria Hupfield
Lebanese donor hands Nazi artifacts to Israel, warns of anti-Semitism


Shortly before 2 p.m. Saturday, a New York City-based performance artist, David Datuna, peeled the taped banana from the wall and devoured it, an Instagram video posted by Datuna showed.

by Neil Vigdor



MIAMI (NYT NEWS SERVICE ).- In plain sight of art aficionados and influencers, a prankster removed a $120,000 banana from an Art Basel exhibition in Miami Beach, Florida, on Saturday, peeled it and then ate it. It happened on the second-to-last day of the art show, where much fuss and head scratching this week has been over a solitary banana — an overripe one — duct-taped to a wall. Three buyers paid between $120,000 and $150,000 for this week for limited-edition pieces featuring a single banana, created by artist Maurizio Cattelan and titled "Comedian." Each came with a certificate of authenticity and replacement instructions, which perhaps should have included a disclaimer: for display only. Shortly before 2 p.m. Saturday, a New York City-based performance artist, David Datuna, ... More



WOMAN. A Series, first in a five-year series of solo exhibitions of Indigenous women artists.



PHOENIX, AZ.- The Heard Museum announced the opening of Maria Hupfield: Nine Years Towards the Sun. This solo exhibition of Canadian/Anishinaabek artist Maria Hupfield features more than 40 works by the conceptual performance artist. The exhibition, curated by Heard Museum Fine Arts Curator Erin Joyce, takes place throughout several exhibition spaces and range in content from performance, sculptural installation, video and document. The works on view are activated through movement, sound, memory, documentation and collaboration. The exhibition functions as a living archive, which will continually replenish itself with content throughout its five-month run. The exhibition plays with notions of a continuum of culture, entering into conversation with thematic elements from major movements and artists within the 20th century art historical canon. Engaging materially, formally and often conceptually with the practices of artists like Robert Morris, Jimmie ... More



Lebanese-Swiss businessman Abdallah Chatila (L), who purchased items belonging to Adolf Hitler at a public auction in Europe to ensure that they do not get into neo-Nazi hands, receives from Sam Grundwerg, World Chairman of Keren Hayesod-UIA foundation, a certificate of appreciation at the Israeli fundraising association's headquarters in Jerusalem on December 8, 2019. AHMAD GHARABLI / AFP.



JERUSALEM (AFP).- A wealthy Lebanese-Swiss businessman said Sunday he had bought Adolf Hitler's top hat and other Nazi artifacts to give them to Jewish groups and prevent them falling into the hands of a resurgent far-right. Abdallah Chatila said he had felt compelled to take the objects off the market because of the rising anti-Semitism, populism and racism he was witnessing in Europe. He spent about 600,000 euros ($660,000) for eight objects connected to Hitler, including the collapsible top hat, in a November 20 sale at a Munich auction house, originally planning to burn them all. But he then decided to give them to the Keren Hayesod association, an Israeli fundraising ... More
Caroll Spinney, Big Bird's alter ego on 'Sesame Street,' is dead at 85
Galerie Thaddaeus Ropac presents an exhibition of new paintings and works on paper by Imi Knoebel
Rubell Museum opens in new home


Big Bird Pants in the home of Caroll Spinney, the longtime "Sesame Street" cast member, in Woodstock, Conn., Oct. 11, 2018. Cody O'Loughlin/The New York Times.



NEW YORK (NYT NEWS SERVICE ).- Sometimes he stood 8 feet, 2 inches tall. Sometimes he lived in a garbage can. He often cited numbers and letters of the alphabet, and for nearly a half century on "Sesame Street" he was Big Bird and Oscar the Grouch, opening magic doors for children on the secrets of growing up and the gentle arts of friendship. His name was Caroll Spinney — not that many people would know it — and he was the comfortably anonymous whole-body puppeteer who, since the 1969 inception of the public television show that has nurtured untold millions of children, had portrayed the sweet-natured, canary-yellow giant bird and the misanthropic, furry, green bellyacher in the trash can outside 123 Sesame Street. Spinney, who also performed his characters in live concerts around the world and at the White House many times and was featured in films, documentaries and record ... More



Imi Knoebel, Figura Delta, 2019. Acryl / aluminium. 177,8 x 241,7 x 4,5 cm. Image: © Imi Knoebel / Adagp, Paris, 2019. Photo: Ivo Faber.



PARIS.- Galerie Thaddaeus Ropac Paris is presenting an exhibition of new paintings and works on paper by Imi Knoebel in which the artist further explores the fundamentals of painting and sculpture. Revisiting the legacy of Minimal art and Colour Field painting, this new series is characterised by its focus on a unique figure and a more gestural approach to colour, retaining traces of the brush in the densely textured surfaces. A group of large Figura paintings are on display alongside new BIG GIRL paintings and a significant series of large-scale drawings, in which Imi Knoebel experiments with both form and colour. The exhibition highlights the creative process of the artist, whose work maintains a fine balance between improvisation and control. The Swiss art historian Dr. Max Wechsler, a close commentator of Imi Knoebel's work, shares his viewpoint on the exhibition: From the very moment an artist has made his work public, the perpetual ... More



Mera and Don Rubell in front of Kerstin Brätsch's artwork When You See Me Again It Wont Be Me (from BroadwaybratschCorporate Abstraction series), 2010.



MIAMI, FLA.- The Rubell Museum unveiled its new space on December 4, 2019. Its inaugural exhibition fills all 40 galleries with 300 works by 100 artists. Drawn from the Rubells' extensive holdings of over 7,200 works by more than 1,000 artists, the installation is one of the most far-ranging museum exhibitions of contemporary art ever presented. With defining and seminal works by artists whom the Rubells championed early in their careers, and by those who had been overlooked, the exhibition chronicles key artists, moments, and movements in vital art centers over the past 50 years, retracing the Rubells' collecting journey. Housed in six former industrial buildings, connected and transformed by Selldorf Architects, the Museum unfolds on a single level, with 40 galleries, flexible performance space, an extensive art research library, a bookstore, and an indoor-outdoor restaurant that opens onto a courtyard garden, on a 100,000 square-foot ca ... More
Lovers in Auschwitz, reunited 72 years later. He had one question
Unexpected delights
Mutli-channel video installation pays tribute to Ugo Rondinone's late husband, John Giorno


David Wisnia, an Auschwitz survivor who became an 101st Airborne trooper, at his home in Levittown, Pa. on Nov. 2, 2019. Danna Singer/The New York Times.



NEW YORK (NYT NEWS SERVICE ).- The first time he spoke to her, in 1943, by the Auschwitz crematory, David Wisnia realized that Helen Spitzer was no regular inmate. Zippi, as she was known, was clean, always neat. She wore a jacket and smelled good. They were introduced by a fellow inmate, at her request. Her presence was unusual in itself: a woman outside the women's quarters, speaking with a male prisoner. Before Wisnia knew it, they were alone, all the prisoners around them gone. This wasn't a coincidence, he later realized. They made a plan to meet again in a week. On their set date, Wisnia went as planned to meet at the barracks between crematories 4 and 5. He climbed on top of a makeshift ladder made up of packages of prisoners' clothing. Spitzer had arranged it, a space amid hundreds of piles, just large enough to fit the two of them. Wisnia was 17 years old; she was 25. They were both Jewish inmates in Auschwitz, both ... More



Vija Celmins' "House #2" (1965) in New York. Haruka Sakaguchi/The New York Times.

by Roberta Smith



NEW YORK (NYT NEWS SERVICE ).- From retrospectives to debut shows, and, yes, even the MoMA reopening, art held our attention with innovation and variety. For New York, the signal event of the year was October's reopening of the Museum of Modern Art with its newly expanded, improved building and more inclusive, historically accurate permanent collection, which fleshes out the epic of Modernism with works by women, artists of color and non-Westerners. There are more creature comforts: lots of chairs by Jean Prouvé and sofas by Charlotte Perriand in the lobby, for example. And for the occasion, all other exhibitions on view were also drawn from the permanent collection, with the latest show from the "Artist's Choice" series being especially notable. Titled "The Shape of Shape," it was chosen by New York painter Amy Sillman, who orchestrated a dense ... More



Installation view, Ugo Rondinone: thanx 4 nothing, 2015. © Ugo Rondinone. Courtesy the artist and Gladstone Gallery, New York and Brussels.



NEW YORK, NY.- Gladstone Gallery is presenting Ugo Rondinone's thanx 4 nothing, a mutli-channel video installation that pays tribute to the artist's late husband, John Giorno. Rondinone reconstructs the gallery into a black box theater, creating an immersive environment through the use of black-and-white film, minimalist score, and the rhythmic intonations of Giorno's own voice. This exhibition is a prismatic paean to the poet, raconteur, muse, cultural icon, and New York fixture. Curator Ralph Rugoff said of the work on the occasion of its installation at Hayward Gallery in 2016: In elegantly spectacular fashion, Ugo Rondinone's 20-screen video installation, thanx 4 nothing (2015), presents the American poet John Giorno reciting – though 'performing' might be a better word – the titular poem. Written on his seventieth birthday in 2006, and framed as an extended and wide-ranging expression of gratitu ... More
Rising US rap artist Juice WRLD dies at 21
Tracing lost New York through postcards
Donald B. Marron, financier, art collector and philanthropist, dies at 85


In this file photo taken on October 17, 2019 Juice WRLD performs during McDonald's Beat Of My City Chicago in Chicago, Illinois. Jeff Schear / GETTY IMAGES NORTH AMERICA / AFP.



NEW YORK (AFP).- Chicago-born rapper Juice WRLD, one of a wave of young artists who earned attention on streaming platforms before breaking out as chart-toppers and social media celebrities, died Sunday at the age of 21, according to local authorities. A spokeswoman from the Cook County Medical Examiner's Office in Illinois confirmed the death of the rapper, born Jarad Higgins, at 3:14 am (0914 GMT). An autopsy has been set for Monday. Police told AFP that a 21-year-old man had suffered a medical emergency at Chicago's Midway International Airport after getting off a private jet. Celebrity news outlet TMZ reported that Higgins had suffered a seizure. Juice WRLD's breakout single "Lucid Dreams," rose to number two on the Billboard Hot 100 in 2018, with his follow-up album "Death Race for Love" debuting in first place on the Billboard 200 earlier this year. "Juice made a profound impact on the world in such a short period of time," his label Interscope Records said in a statement. ... More



Postcards at the Metropolitan Postcard Club of New York City's annual Fall International Postcard Show at the Watson Hotel in Manhattan on Nov. 2, 2019. Bess Adler/The New York Times.

by John Freeman Gill



NEW YORK (NYT NEWS SERVICE ).- Some 300 eager collectors descended on a drab hotel conference room in Midtown Manhattan last month for the annual international show hosted by the Metropolitan Postcard Club of New York City. Over two days, as they rummaged through the roughly 800,000 cards of the 30 dealers, most were hunting for obscure, beautiful or intriguing postcards to add to their collections. But an impassioned subset was after something far more resonant and elusive. They were searching for lost New York. This quest meant different things to each of them, for every longtime lover of Gotham has his own, personal version of the vanished city. For Dan O'Neill, a retired history teacher, the streetscape he sought to revisit was that of his 1950s childhood in Bayside, Queens. ("I marched in the Little League parade for eight years," he said, "and if I come across a ... More



Marcel Ospel, UBS's chief executive, left, and Donald Marron, then chief executive of PaineWebber, in 2000. Don Hogan Charles/The New York Times.

by Mariel Padilla



NEW YORK (NYT NEWS SERVICE ).- Donald B. Marron, a prominent financier with decades of executive leadership and a major figure in the New York art world, died Friday in Manhattan. He was 85. Catherine Marron, his wife, said he had been en route to a colleague's holiday cocktail party and was getting out of a car when he had what appeared to be a heart attack. Catherine Marron said he had only planned to stop by the event for 30 minutes before returning to his home on the Upper East Side to watch a movie with his family. A lifelong resident of New York City, Marron was educated in city public schools and attended Baruch College in Manhattan but did not complete a higher degree, Catherine Marron said. "He was super smart and always had an entrepreneurial spirit," she said. "He went to one year of college and then left to create his own business and support his mother, brother and sister." Marron, who was 6-foot-6, was an entrepreneurial ... More
Largest Animation and Disneyanna Auction Ever!!!
Flashback
On a day like today, the Valentino Garavani Virtual Museum opened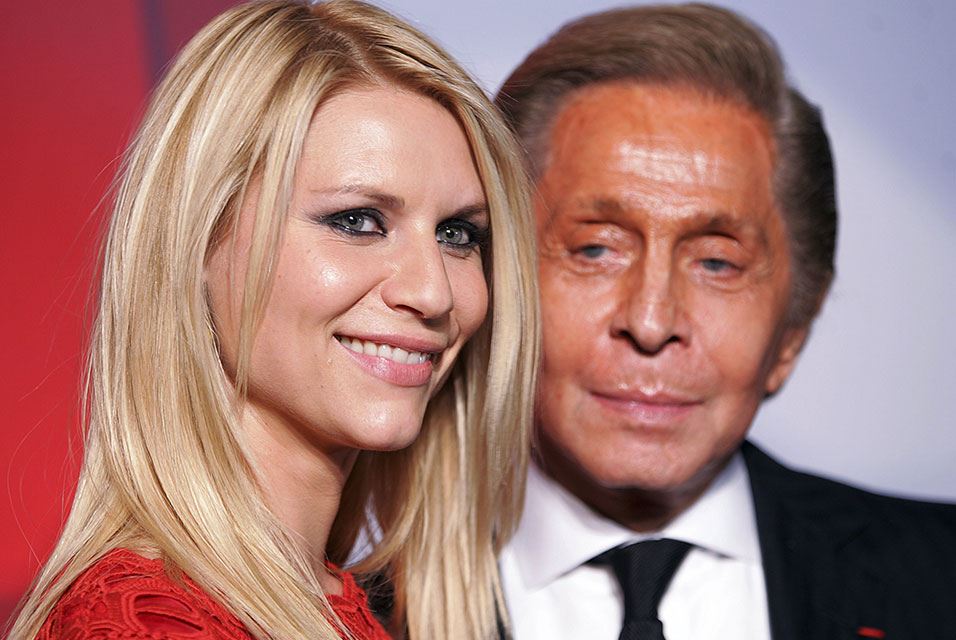 December 09, 2011. NEW YORK, NY.- U.S. actress Claire Danes and Italian fashion designer Valentino arrive at a party to celebrate the opening of a virtual museum dedicated to him, in New York, December 7, 2011.
---

Museums, Exhibits, Artists, Milestones, Digital Art, Architecture, Photography,
Photographers, Special Photos, Special Reports, Featured Stories, Auctions, Art Fairs,
Anecdotes, Art Quiz, Education, Mythology, 3D Images, Last Week,
.
---
Royalville Communications, Inc
produces: