Dutch Golden Age art wasn't all about white people. Here's the proof.
The show includes 56 paintings, prints and art objects from the Dutch Golden Age, including seven by Rembrandt.

by Nina Siegal
AMSTERDAM
(NYT NEWS SERVICE)
.-
Rembrandt's 1661 painting, "Two African Men," is one of the Dutch old master's more inscrutable works. One man, dressed in a Roman-style costume and shawl, seems to be giving a speech, while another man leans attentively over his shoulder. The canvas was painted with thin layers of earth tones and looks unfinished, but it bears the artist's signature. Why did Rembrandt paint it, and who were his subjects? These were some of the questions that came to mind for Stephanie Archangel in 2015 as she found herself lingering in front of the work at the Mauritshuis Royal Picture Gallery in The Hague. A sociologist by training, she had been searching in paintings "for black people in which I could recognized myself," said Archangel, ...
More
The Best Photos of the Day
Stone tools reveal humans survived a volcanic super-eruption
Judd Foundation announces new publication: Donald Judd Spaces
Plácido Domingo says he has the coronavirus


Previous claims stated that the eruption caused a 'volcanic winter' of around six years duration, resulting in a 1,000 year-long cooling of the Earth's surface and the near extinction of our own species.



BRISBANE.- The recent discovery of stone tools in India has revealed that humans survived and coped with one of the largest volcanic events in human history. The intensity and impact of the historic Toba super-eruption in Indonesia sparked a long-running debate among researchers involving climatic, geological, archaeological and genetic evidence, until now. In a study released in Nature, findings suggest Homo sapiens actually survived this natural disaster 74,000 years ago. Lead author Professor Chris Clarkson from The University of Queensland said that populations at Dhaba in India were using stone tools that were similar to the toolkits being used by Homo sapiens in Africa at the same time. "These toolkits were present at Dhaba before and after the Toba super-eruption, indicating that populations survived the so-called catastrophe," Professor Clarkson said. Previous claims stated that the eruption ... More



Donald Judd Spaces (Judd Foundation and DelMonico Books/Prestel, 2020). Kyle Knodell © 2020 Judd Foundation.



NEW YORK, NY.- Judd Foundation announced Donald Judd Spaces, the first visual survey of Judd Foundation spaces in New York and Texas. This publication includes newly commissioned and previously unpublished archival photographs alongside five essays by the artist. From 101 Spring Street in New York to Judd's ranch in the mountains of West Texas, the book details the interiors, exteriors, and landscapes of Judd's living and working spaces. Each space, thoroughly considered by Judd with attention to function and design, is presented in individual chapters and illustrated by photographs accompanied by building plans. Edited by Rainer Judd and Flavin Judd, this book includes images by more than thirty-five photographers, many from the Judd Foundation Archives. Donald Judd Spaces is the newest title from the set of publications by Judd Foundation with its publishing partners which includes: Donald Judd: Complete Writings 1959-1975 (Judd Fo ... More



Placido Domingo on stage at the Metropolitan Opera in New York, Nov. 23, 2018. The opera singer, who is 79, disclosed on Sunday, March 22, that he tested positive for the coronavirus. Karsten Moran/The New York Times.



NEW YORK (NYT NEWS SERVICE).- Opera star Plácido Domingo disclosed Sunday that he tested positive for the coronavirus. Domingo, 79, who was in Mexico, shared the news in a post on Facebook. "I feel it is my moral duty to announce to you that I have tested positive for Covid-19, the Coronavirus," he wrote. He said that he and his family were in self-isolation "for as long as it is deemed medically necessary." He wrote that he decided to get tested because he had symptoms of a fever and cough. He also offered advice to the public as the coronavirus pandemic intensifies. "I beg everyone to be extremely careful, follow the basic guidelines by washing your hands frequently, keeping at least a 6 feet distance from others, doing everything you can to stop the virus from spreading and please above all stay home if you can!" he wrote. "Together we can fight this virus and stop t ... More
Regen Projects opens an exhibition by New York-based artist Lawrence Weiner
Tim Van Laere Gallery opens its first solo exhibition by Tal R
Carbon 12 opens an exhibition of works by André Butzer


Installation view of Lawrence Weiner ON VIEW at Regen Projects, Los Angeles February 27 – May 2, 2020. Photo: Fredrik Nilsen, Courtesy Regen Projects, Los Angeles.



LOS ANGELES, CA.- Regen Projects is presenting by appointment only ON VIEW, an exhibition by New York-based artist Lawrence Weiner. This marks his tenth solo presentation at the gallery; his first, ASSUMING THE POSITION, was Regen Projects' inaugural show in 1989. Lawrence Weiner describes his exhibition as follows: IT'S ALL ABOUT THE THING ITSELF & HOW IT IS FIRST PERCEIVED & HOW IT IS USED A leading figure in the development of the Conceptual art movement in the 1960s, Lawrence Weiner's seminal and singular practice uses language as the core material in his work – a distinct challenge that redefined expectations of what an artwork is and can be. Questioning the fundamentals of sculpture and art-making itself, Weiner shifted his practice from object-making to producing text-based work ... More



TAL R, Kanel, 2019 - 2020. Oil on canvas, 254 x 200 cm.



ANTWERP.- Tim Van Laere Gallery is presenting its first solo exhibition by Tal R, entitled Home Alone. The exhibition includes a new series of paintings, gouaches and drawings. Tal R (°Tel Aviv, Israel. Lives and works in Copenhagen) transforms everything in his environment into art. His works are known for their daring colors and vivid imagery. Tal R works with a variety of techniques and media including painting, drawing, collage, sculpture, installation, print and furniture. Tal R is a keen observer, who takes inspiration from reality as well as his imagination. His work fits within the northern European tradition of Edvard Munch, Asger Jorn, Per Kirkeby and Georg Baselitz. Historical and art-historical references are abundant: threads of expressionism, fauvism and symbolism continue, as well as a nod to traditional Scandinavian art, art nouveau, outsider art and children's paintings. Tal R's enigmatic work offers intersections ... More



André Butzer, Untitled, 2019. Oil on canvas, 51 x 49 cm. Courtesy Carbon 12 © the artist, Photo: Anna Shtraus.



DUBAI.- Half of the world announced the 4th solo exhibition of acclaimed hobby painter André Butzer (born 1973) in Dubai, UAE. In his latest paintings Mr. Butzer made for Dubai, he is exploring the most beautiful color ranges, and produces an almost divine rhythm within the works, and within all the 9 or so works together being installed in the wonderful gallery space Kourosh and Nadine will open with their respective keys and mobile phones to their friends, and to the general audience. People will learn a lot about these works, nobody knows what exactly, because it's too early to say, and in general, it's not something about which you can say, rather you can experience as such and react to as a whole human being or leftover being. Butzer has always painted like that, so, nothing new. New is boring. This type of 22nd century Mondrianism that we are going to see now is instead, friendly, entertaining, groovy and reliable. Let's do ... More
Rijksmuseum appoints Friso Lammertse as Curator of 17th-Century Dutch Painting
Kendall Jenner embodies iconic artworks by Maurizio Cattelan for GARAGE Magazine cover
Franz Klainsek transforms a historic building into an immersive installation in the heart of Mexico City


Friso Lammertse.



AMSTERDAM.- Friso Lammertse started his new role as the Rijksmuseum's Curator of 17th-Century Dutch Painting on 1 March 2020. He and Curator Jonathan Bikker are co-managing the museum's 17th-century Dutch painting collection, the largest of its kind in the world. Lammertse will be involved in a variety of exhibitions as well as research projects such as Operation Night Watch. He succeeds Pieter Roelofs, who has been appointed as Head of Paintings and Sculpture at the Rijksmuseum in 2018. Taco Dibbits, director of the Rijksmuseum: We are delighted that Friso Lammertse is joining us at the Rijksmuseum. His many years of museum experience and his global network make him a key addition to the curatorial team. Lammertse, 57, studied Art History at the University of Amsterdam. From 1992 onwards he was Curator of Old Master Paintings and Sculpture at Museum Boijmans Van Beuningen in Rotterdam, where he worked on numerous major exhibitions, ... More



In a new portfolio for the magazine's 18th issue, Cattelan collaborates with photographer Campbell Addy to revisit some of the artist's most provocative works, starring Jenner.



NEW YORK, NY.- GARAGE Magazine recently revealed the cover of its eighteenth issue, featuring a collaboration between American model Kendall Jenner, Italian conceptual artist Maurizio Cattelan, and ascendent British-Ghanian fashion photographer Campbell Addy. Under the leadership of Editor-in-Chief Mark Guiducci, GARAGE's latest issue continues its tradition of pairing the boldest names in contemporary culture, resulting in unique collaborations between artists, photographers, actors, models, musicians, dancers, writers, and thinkers. Known for his playful and confrontational provocations towards institutions of power, Cattelan's oeuvre is a satirical commentary on the contradictions and absurdities of Western civilization. In the latest issue of GARAGE, the theme ... More



Franz Klainsek, Liberación. Copper Wall Sculpture.



MEXICO CITY.- The public art project is a three level art piece composed of 7 rooms of sculpture, installation, painting, and performance work. The work is an experience created by Franz Klainsek to interact with the people of Mexico City in the neighborhood of La Roma. The 3-floor art building located at Álvaro Obregón 182 Roma Nte., Cuauhtémoc, 06700 Mexico City, CDMX will be destroyed in a final performance by Franz Klainsek. Each of the rooms are individually interactive and immersive pieces of art. Franz Klainsek takes us through a story of self-discovery, bravery, liberation and evolution using contrasting feelings and subliminal messages within his conceptual work. The installation as a whole represents a revolution of today - Liberación. His multidisciplinary artistic expression transforms the building into a piece that is focused on the liberation from limitations: limitations of the individual and of the society. "Huge element to be free from ... More
A composer finds the old in the new
Record-setting Pogue Collection sells $15.354 million in single session
Skoto Gallery opens an exhibition of recent paintings by Wosene Worke Kosrof


Jorg Widmann, a composer, in Berlin, March 5, 2020. Widmann has risen to the top of his field with complex yet engaging music. Mustafah Abdulaziz/The New York Times.

by David Allen



NEW YORK (NYT NEWS SERVICE).- One of the most performed orchestral works written this century is a piece by Jörg Widmann. Commissioned by Mariss Jansons and the Bavarian Radio Symphony Orchestra and given its premiere in 2008, "Con Brio" has had over 200 performances. Before coronavirus-related cancellations, it was scheduled to be played 63 times by 28 orchestras this season alone. This is a surprise. "Con Brio" was written in a mad hurry, the score in such a state upon delivery that Jansons (who died last year) insisted that its composer, who had never before stood on a podium, conduct its first rehearsal. And the piece is hardly easy — so full of extended techniques that, just 12 minutes long, it comes with six ... More



1854-S Half Eagle, which sold for $1.92 million.



SANTA ANA, CA.- Against a backdrop of economic uncertainty and negative indicators, rare coins continued to shine tonight in California. Nearly three years after Part V of the D. Brent Pogue Collection hit the market, the most valuable coin collection ever sold cemented its grip on the record books with a white glove sale adding more than $15 million to the collection total. The two leading lots were among the most famous rarities in the whole realm of United States coinage. Leading all sales was the finest known example of the legendary 1854-S half eagle, the first $5 gold coin struck in the San Francisco Mint. The best example of the three confirmed to still exist, it realized $1.92 million. An example of the "King of American Coins," the rare 1804 dollar, brought $1.44 million. Among other lots, a high-quality example of the rarest early American half cent, struck in 1796, brought $336,000. Rare gold coins included a historic 1841 quarter eagle ($2.50 gold coin ... More



Wosene Kosrof, Sea of Words IV, 2018, acrylic on linen, 52x48 inches. Courtesy Skoto Gallery



NEW YORK, NY.- Skoto Gallery is presenting Words Matter, Two, an exhibition of recent paintings by the Ethiopian-born artist Wosene Worke Kosrof. This is his seventh solo exhibition at the gallery. The exhibition can be viewed on the gallery's website. Wosene Worke Kosrof's recent work continues his long-standing exploration of the interplay between language, identity, aesthetic beauty and material using the language symbols of Amharic – one of the few ancient written systems in Africa – as a core compositional element. His work is dense with visual complexity that reflects an awareness of a vast array of both formal and inherited traditions. He relieves words of conventional meanings and, instead, explores their aesthetic, sensual, and visual content to speak boldly and clearly to a universal audience. With Amharic calligraphy, Wosene explores the aesthetic dimensions of the script rather than producing ... More
Preview: The Value of Art, Presented by Sotheby's Financial Services
Flashback
On a day like today, English painter John Constable died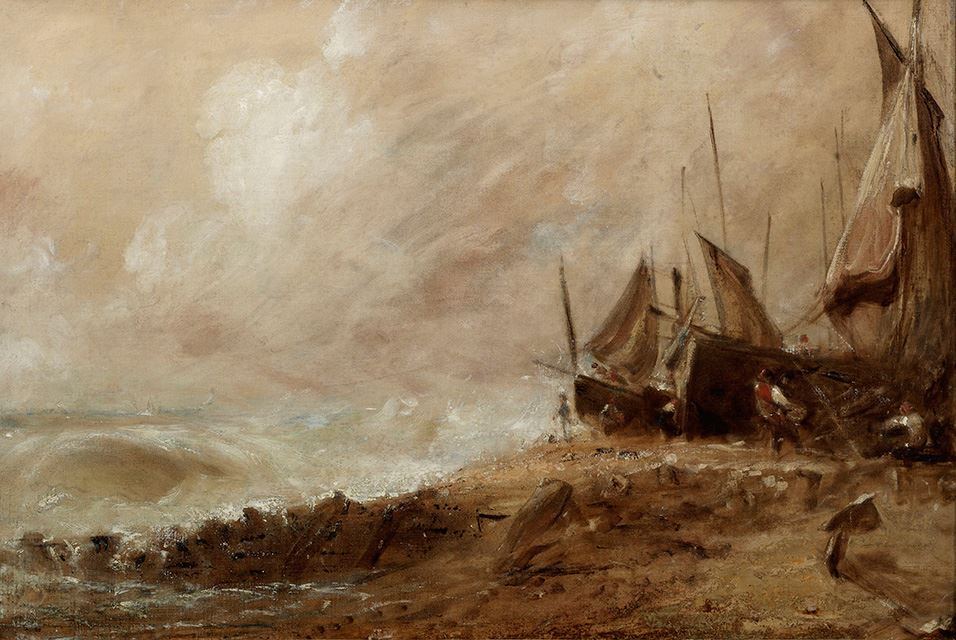 March 31, 1837. John Constable, RA (11 June 1776 - 31 March 1837) was an English Romantic painter. Born in Suffolk, he is known principally for his landscape paintings of Dedham Vale, the area surrounding his home -- now known as "Constable Country" -- which he invested with an intensity of affection. In this image: A Sea Beach - Brighton, Photo: Bonhams.
---

Museums, Exhibits, Artists, Milestones, Digital Art, Architecture, Photography,
Photographers, Special Photos, Special Reports, Featured Stories, Auctions, Art Fairs,
Anecdotes, Art Quiz, Education, Mythology, 3D Images, Last Week,

.
---
Royalville Communications, Inc
produces: