Art fairs come blazing back, precarious but defiant
"Abstract Futures Tarot," by artists Dannielle Tegeder and Sharmistha Ray, at the Armory Show in New York, Sept. 8, 2021. New and overlooked artists shine at the Armory Show, New York's largest in-person fair since the pandemic, and other shows across the city. Jeenah Moon/The New York Times.

by Will Heinrich
NEW YORK
(NYT NEWS SERVICE)
.-
Even before COVID, the art world was changing rapidly. Sales that used to happen in New York or Basel, via hushed conversation, now happen through Instagram all over the world. Large galleries are merging to keep up with mega-galleries, while small galleries, somehow, keep multiplying. From a strictly business point of view, this fall's Art Week — which was postponed from spring and runs through Sunday — represents an attempt to carry on with the way things used to be, albeit with some adjustments. The Armory Show, the first major American art fair since the pandemic, has become even more American as travel restrictions and complications knocked 55 mostly European exhibitors into the fair's new online-only component. Visitors to the sprawling Javits Center in Manhattan, the show's new home, will have to prove that they're vaccinated or have a recent negative coronavirus test, as they will at most of the week's venues. (Check health protocols beforehan ...
More
The Best Photos of the Day
Art Basel and UBS publish 'Resilience in the Dealer Sector: A Mid-Year Review 2021'
A blue-chip art bonanza: Macklowe Collection goes to Sotheby's
Why art struggled to address the horrors of 9/11


Julius von Bismarck, Die Mimik der Tethys, 2019 © Julius von Bismarck, VG Bild-Kunst, Bonn 2021 Courtesy of the artist, Sies + Höke (Düsseldorf), alexander levy (Berlin).



BASEL.- Art Basel and UBS today published 'Resilience in the Dealer Sector: A Mid-Year Review 2021,' written by renowned cultural economist and Founder of Arts Economics, Dr. Clare McAndrew. The survey presents an analysis of the global dealer sector in the first half of 2021 amidst the continued challenges of the COVID-19 pandemic, focusing on the employment structures and sales. The analysis is based on responses from over 700 dealers operating in art and antiques markets in 54 regions or countries. The report also presents the results of a survey of high-net-worth (HNW) collectors across five major art markets – the US, UK, Hong Kong SAR (China), Germany, and Switzerland – conducted by Arts Economics and UBS Investor Watch. The survey focuses on HNW collectors' interactions with dealers and galleries in 2021. The full Mid-Year report is free to download on the Art Basel and UBS websites. Key findings of 'Resilience in the Dealer Sector: A Mid-Year Review 2021 ... More



Mark Rothko, No. 7, 1951. Estimate on request. Courtesy Sotheby's.

by Robin Pogrebin



NEW YORK (NYT NEWS SERVICE).- With major pieces by artists like Andy Warhol, Cy Twombly, Gerhard Richter and Mark Rothko, the Macklowe Collection will be sold at Sotheby's with an estimated total value of more than $600 million, the auction house announced on Thursday, the highest estimate on a collection to come to auction. Calling it "one of the most significant and museum-quality collections of modern and contemporary art ever to come to market," Charles F. Stewart, Sotheby's chief executive, said at a livestream news conference from the auction house's New York galleries that the sale "will captivate top collectors from around the world and that it will make history as a defining moment in the art market." That market could use a boost, given the last 18 months of pandemic-dampened activity. Auction sales declined 30% to $17.6 billion in 2020 from $25.2 billion in 2019, according to the latest Art Market report, published by Art Basel and UBS, bringing the market ... More



"Tribute in Light" as seen from New Jersey on the 10-year anniversary of the Sept. 11 attacks, Sept. 11, 2011. Damon Winter/The New York Times.

by Jason Farago



NEW YORK (NYT NEWS SERVICE).- Weeks after the towers fell, Jennifer Bartlett started painting. She had watched them collapse from her roof that September, and in her studio in the West Village she began depicting what almost no one wanted to depict, in her style of solid dots daubed into a grid of little squares. Toward the edges the dots are that distinctive cloudless blue, but most squares she overlaid with two dots, or three, the gray of the smoke superimposed on the red or saffron of the fireball. The dots became embers of exploded airplanes, or TV screen pixels (we had no smartphones then); they were papers raining down on the financial district and the Battery. Across two squares Bartlett placed a figure, stylized like in a cave painting, feet over head. A diver. By year's end Bartlett had completed "Goodbye Bill" (2001) — titled in honor of Bill Biggart, a photographer who rushed downtown and died beneath the collapsed ... More
Hindman Auctions to present Native American Art Auction this month
New York exhibition celebrates Dior's American influence
The first Dutch Neanderthal now has a face


Early Algonquin Effigy Pipe, second half 17th century. Estimate: $30,000-40,000.



CHICAGO, IL.- On September 17, Hindman Auctions will present its Native American Art auction, which will feature one-of-a-kind items from tribes across North America in a wide range of collecting categories including basketry, pottery, textiles, beadwork, jewelry and more. Previously under the Cowan's brand, the auction marks the first live auction for Danica Farnand, Director and Senior Specialist of Native American, Prehistoric & Tribal Art, and her Cincinnati-based team under the Hindman brand. "We may have a new logo at the top of the catalogue, but the sale is still going to have the same great material we have always had," said Farnand. "I am proud of the department we have built at Cowan's and am excited for the new opportunities ahead under the Hindman name." Highlights include an early Algonquin effigy pipe (lot 5; estimate: $30,000-40,000) that is carved of fine grain limestone and appears to be withou ... More



Olivia Palermo attends the Christian Dior Designer of Dreams Exhibition cocktail opening at the Brooklyn Museum on September 08, 2021 in Brooklyn City. Ilya S. Savenok/Getty Images for Dior/AFP.

by Andréa Bambino



NEW YORK (AFP).- Christian Dior's hit exhibition tracing the history of the legendary French fashion house opens in New York this week with an American twist after record-breaking attendances in Paris and London. "Christian Dior: Designer of Dreams" premieres at the Brooklyn Museum on Friday and features more than 300 haute couture dresses as well as photos, videos and sketches from the museum's collection. The exhibition, which runs until February 20, charts Dior's 75-year-history, starting with the French couturier's dazzling success in Paris in 1947 with his very first Corolle collection. It was quickly renamed "New Look" by American magazine Harper's Bazaar and would revolutionize the fashion of the time with a redesigned silhouette of fitted waist and rounded skirt. ... More



The Kennis brothers, world-famous palaeo-artists with numerous reconstructions of Neanderthals to their name, interpreted the characteristics of the fossil. © RMO.



LEIDEN.- In 2009 a fragment of the skull of the first Neanderthal in the Netherlands was presented at the Rijksmuseum van Oudheden (National Museum of Antiquities). That Neanderthal now has a face. The Kennis brothers, world-famous palaeo-artists with numerous reconstructions of Neanderthals to their name, interpreted the characteristics of the fossil and other Neanderthal skulls to arrive at the reconstructed face of 'Krijn', a young man with a conspicuous lump over his right eyebrow. This lump is the result of a small tumour. Krijn was one of the inhabitants of Doggerland, the prehistoric landscape now under the sea off the Dutch coast. The fossil and the reconstruction will be on display together until 31 October in the museum's exhibition Doggerland: Lost World in the North Sea. The fossilized orbital bone of the 'first Neanderthal ... More
Artpace San Antonio announces a transformative gift from Janet Lennie Flohr
Royal Institute of British Architects announces 2021 National Award winners
Cao Fei wins the Deutsche Börse Photography Foundation Prize 2021


Glenn Ligon, Self-Portrait at Nine Years Old, 2008. Pigmented linen pulp on paper, Edition AP 2/5, Signed on front. 12 x 12 in.



SAN ANTONIO, TX.- Artpace San Antonio announced that in honor of Artpace's 25 Anniversary, Janet Lennie Flohr, collector, and friend of Artpace's late founder Linda Pace and an Artpace board member for 15 years, has donated 65 works by 27 artists from Hare & Hound Press's collection in support of Artpace's mission. Since 1997, Hare & Hound Press has worked with over 35 Artpace artists, including Wangechi Mutu, Isaac Julien, Vincent Valdez, Arturo Herrera, and Anne Collier, to name a few. Founded by Janet Lennie Flohr and Master Printer Gary Nichols, Hare & Hound has become renowned for its expertise in printmaking and a model for the creation of prints and multiples by artists. This gift represents over two decades of collaboration between Artpace's resident artists and Hare & Hound Press. Janet's wish for the Gift of Collaboration is for the artwork be sold with proceeds seeding the ... More



Floating Church. Denizen Works. Photo: Gilbert McCarragher.



LONDON.- The Royal Institute of British Architects has today (Thursday 9 September) announced the 54 winners of the 2021 RIBA National Awards for architecture. The awards, which have been presented since 1966, recognise the UK's best new buildings and provide an insight into the UK's design and economic trends. This year's projects showcase the extraordinary breadth and brilliance of UK architecture today. They include a church floating on an East London barge (Floating Church); Tottenham Hotspur's brand new 60,000 seat stadium (Tottenham Hotspur's Stadium); a house built within a steel water tower (The Water Tower); a council housing development for people displaced by HS2 (Caudale Housing Scheme); a small, cancer care centre that creates an oasis of hope and support (Maggie' Cardiff); and a semi-permanent structure protecting one of Scotland's architectural gems (The Hill House Box). In Bath, a 45-yea ... More



Cao Fei, Asia One, 2018 © Cao Fei. Courtesy of artist, Vitamin Creative Space and Sprüth Magers.



LONDON.- Cao Fei has won the Deutsche Börse Photography Foundation Prize 2021 for her solo exhibition Blueprints (2020). Cao Fei (b. 1978, Guangzhou), was announced as the 2021 winner of the prestigious £30,000 prize at a special ceremony at The Photographers' Gallery, London, by the British broadcaster, journalist and filmmaker, Bidisha, on Thursday 9 September 2021. The 2021 award, which also marks the 25th anniversary of this long-standing and prestigious annual prize, recognises artists and projects deemed to have made the most innovative and significant contribution to photography over the previous 12 months. Cao Fei was awarded the prize for her first large-scale UK solo exhibition, Blueprints (2020), at the Serpentine Gallery, London (4 March – 17 May 2020 and 4 August – 13 September 2020). This immersive, site-specific presentation brought together new and existing works, including Whose Utopia? (2006), Asia One (2018) ... More
'Our Secret Fire: Contemporary Artists and the Alchemical Tradition' opens at Hirschl & Adler
Funding gap forces British Council to scale back
National Museum of Women in the Arts announces new acquisitions


Sarah Braman (b. 1970), Her House, 2019. Desk parts, plywood and colored glass, 19 5/8 x 14 3/8 x 12 1/2 in. © Sarah Braman; Courtesy of the artist and Mitchell-Innes & Nash, New York.



NEW YORK, NY.- Transmutation is central to alchemy. This metamorphosis of matter requires pushing materials from one form into another in a succession until a final realization of purity is achieved. Purity is defined not as a "this" or a "that," but as something that is a combination of its previous forms and yet something entirely new. Much more than "lead into gold," alchemy is the pursuit of new understanding and new ideas through the manipulation of what already exists. This pursuit resonates strongly in Our Secret Fire, a group exhibition dedicated to nine artists whose work purposefully exists between states of being, caught in the act of metamorphosis. These artists utilize the shiftiness of the liminal state to explore ideas like domesticity, production and commodification, perception, and phenomenology. Their materials, whether physical or conceptual, can be ... More



Last year, it was forced to close 44 out of its 47 English-language schools.



LONDON (AFP).- The British Council, which promotes UK cultural and language relations overseas, said on Thursday that it will scale back its work in 20 countries due to a pandemic funding shortfall. "Due to the impact of Covid on our commercial income which we previously used to subsidise our offices overseas and an overall decline in our funding compared to pre-Covid, we face a significant funding gap," a spokesperson told AFP. As a result, it "will need to look at delivering our work in 20 countries remotely or digitally." The institution's vital income from English-language teaching and exams plunged during the pandemic, as the virus forced countries into lockdown and restrictions on in-person events. The British organisation is the equivalent of France's Alliance Francaise, Germany's Goethe-Institut, Spain's Instituto Cervantes and China's Confucius Institute. It is a key part of UK soft power overseas, and works in more than 100 countries, with over 7,000 ... More



Sonya Clark, Mom's Wisdom or Cotton Candy, 2011; Photograph, 22 1/4 x 30 in.; National Museum of Women in the Arts, Museum purchase: Members' Acquisition Fund and Belinda de Gaudemar Curatorial Fund; © Sonya Clark; Image courtesy of the artist.



WASHINGTON, DC.- The National Museum of Women in the Arts announces recent major collection acquisitions that embody its mission to support and celebrate diverse women artists. Newly acquired works include an etching by Emma Amos, photographs by Dianne Smith and a large-scale cast-bronze sculpture by Deborah Butterfield. The selection features highlights from recent exhibitions, including works by textile and social practice artist Sonya Clark that were on view in Sonya Clark: Tatter, Bristle, and Mend and pieces by renowned documentary photographer Mary Ellen Mark featured in Mary Ellen Mark: Girlhood. The museum's building is now temporarily closed to begin a major renovation, with a planned reopening in fall 2023. "As we embark on a period of transformation, it's a delight to share the news of these acquisitions ... More
Introducing the Masterpieces of The Macklowe Collection

Flashback
On a day like today, German fashion designer Karl Lagerfeld was born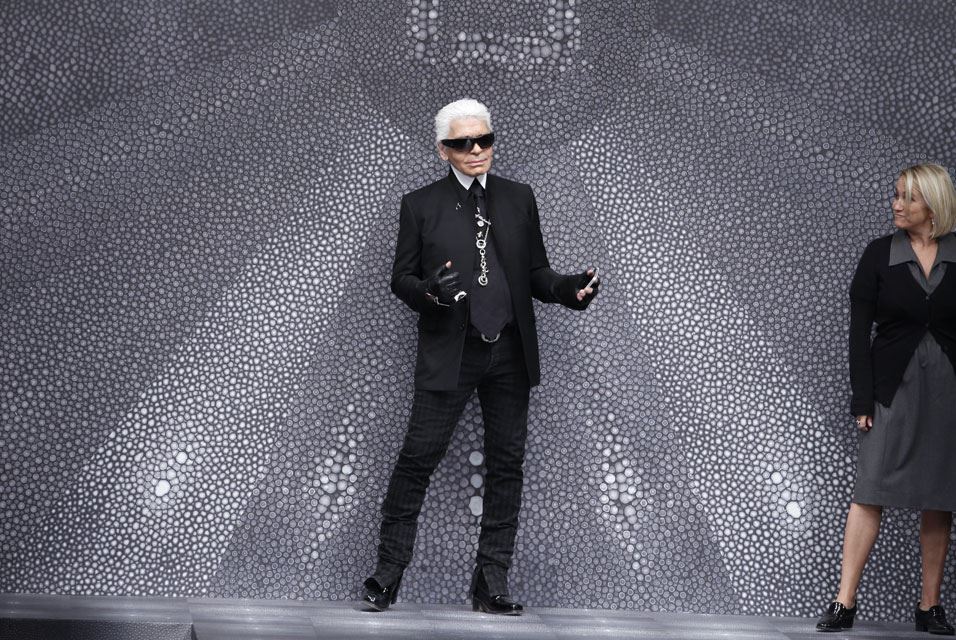 September 10, 1933. Karl Lagerfeld (10 September 1933 - 19 February 2019) was a German creative director, fashion designer, artist, photographer, and caricaturist who lived in Paris. In this image: German fashion designer Karl Lagerfeld acknowledges the applause at the end of the presentation of the Fendi women's Fall-Winter 2012-2013 collection in Milan, Italy, Thursday, Feb. 23, 2012. Silvia Venturini Fendi, Italian fashion designer and head of accessories of the Fendi fashion house at right.
---

Museums, Exhibits, Artists, Milestones, Digital Art, Architecture, Photography,
Photographers, Special Photos, Special Reports, Featured Stories, Auctions, Art Fairs,
Anecdotes, Art Quiz, Education, Mythology, 3D Images, Last Week,

.
---
Royalville Communications, Inc
produces: