The Art of Collecting
Mothsham Kashan rug from Central Persian, woven during the third quarter of the 19th century. The carpet, 8'0" x 9'7", is rated "high collectible on Claremont Rug Company's Antique Rug Pyramid (c) (Tier 2).

By Jan David Winitz
President/Founder
Claremont Rug Company
OAKLAND, CA
.-
Having spent more than four decades as an art dealer specializing in antique Oriental rugs, I have had the privilege of working with thousands of clients. They share my passion for collecting and deeply value their collections, which range from classical and contemporary art to automobiles, jewelry, fine wine, furniture, and sports memorabilia. The late Eli Broad, an American business icon and art patron, once quipped, "a real collector does not sell." While that is generally true, the personalities and habits of modern collectors are less easily defined. Whether we collect stamps or Pre-Columbian Art, American Impressionist paintings, or rare rugs, each of us is compelled by a passion as unique as the treasures themselves. My work at
Claremont Rug Company
which I created in 1980 specifically relates to the genre of elite-level antique Persian and tribal rugs. In that regard, I am not dissimilar from the collector who ...
More
The Best Photos of the Day
In the '80s, post-punk filled New York clubs. Their videos captured it.
National Museum of the American Indian returns the "Echenique Disc" to Peru
He likes 'staying under the radar,' but his art is getting noticed


A still image from video provided by Charles Libin and Paul Cameron shows James Chance performing at Hurrah in New York. Charles Libin and Paul Cameron via The New York Times.

by Rob Tannenbaum



NEW YORK (NYT NEWS SERVICE).- In the summer of 1975, Pat Ivers filmed a legendary festival of unsigned rock bands at CBGB, which included Talking Heads, Blondie and Ramones. Ivers had unauthorized but easy access to equipment, thanks to her day job in the Public Access Department at Manhattan Cable TV, and other members of her video collective, Metropolis Video, helped out. "I was the only girl," Ivers said recently. "And all the guys said, 'You're crazy. We're not making money at this.' They wouldn't do it anymore, so for about a year, I sulked at the end of the bar at CBGB. Then I met Emily." Emily Armstrong was a sociology major at the City University of New York who'd also taken a job in Public Access at Manhattan Cable, and shared with Ivers determination and a love ... More



The "Echenique Disc," a pre-Inka gold ornament recognized as the symbol of the city of Cusco.



WASHINGTON, DC.- The Smithsonian's National Museum of the American Indian and the Peruvian government signed a memorandum of understanding to facilitate the return to Peru, for the benefit of the citizens of Peru and particularly the Indigenous communities of Peru, of the "Echenique Disc," a pre-Inka gold ornament recognized as the symbol of the city of Cusco. The memorandum was signed by Machel Monenerkit, acting director of the National Museum of the American Indian; Ambassador Allan Wagner, minister of foreign affairs for Peru; Alejandro Neyra, minister of culture for Peru; and Victor Boluarte, mayor of the Provincial Municipality of Cusco. The Peruvian ambassador to the United States, Hugo de Zela, took possession of the disc at the ambassador's residency in Washington, D.C. "Peru commemorates 200 years of independence in 2021," Monenerkit said. "In recognition of this important event and the tremendous ... More



Brandon D. Landers, an artist based in Bakersfield, Calif., at the Hammer Museum during the biennial "Made in L.A. 2020: a version," in Los Angeles, June 13, 2021. Philip Cheung/The New York Times.

by Robin Pogrebin



LOS ANGELES (NYT NEWS SERVICE).- Brandon D. Landers is not represented by a gallery. He doesn't have a website. He makes his art in a small shack behind a friend's house in Bakersfield, California, sleeping on an upper bunk above the stacked canvases and splattered paint. Landers, 36, who grew up in South Los Angeles, is not sure he's ready for prime time. He was also happy with his most recent day job, teaching art to young children at Franklin Elementary School in Bakersfield. But now, with his work on view through Aug. 1 at both the Hammer and the Huntington in their joint biennial, "Made in LA 2020: a version," Landers may not be able to postpone his professional development much longer. As museums have reopened and people are starting to come through the ... More
Botswana says found world's 'third largest' diamond
Atlas Gallery opens the first UK exhibition in 17 years of work by Franco Fontana
Xavier Hufkens announces representation of McArthur Binion


Botswana President Mokgweetsi Masisi (R) holds a gem diamond in Gaborone, Botswana, on June 16, 2021. Monirul Bhuiyan / AFP.



GABORONE (AFP).- Botswanan diamond firm Debswana said Wednesday it had unearthed a 1,098-carat stone that it described as the third largest of its kind in the world. The stone, found on June 1, was shown to President Mokgweetsi Masisi in the capital Gaborone. "It is believed to be the third largest gem-quality find in the world," said Debswana Managing Director Lynette Armstrong. The "rare and extraordinary stone... means so much in the context of diamonds and Botswana," she said. "It brings hope to the nation that is struggling." It also the biggest stone of gem quality to be recovered in the history of the company, a joint venture between the government and global diamond giant De Beers. The biggest diamond ever discovered in the world was the 3,106-carat Cullinan, found in South Africa in 1905. ... More



Franco Fontana, Landscape, Italy, 1978. ©Franco Fontana, courtesy Atlas Gallery.



LONDON.- Atlas Gallery presents Language of Colour, the first UK exhibition in 17 years of work by Franco Fontana (b.1933), the pioneering Italian colour photographer renowned for his intense and abstracted 'scapes': landscapes, seascapes, cityscapes and bodyscapes. The gallery is showing selected large works from across Fontana's career, as well as a collection of more than 170 unique Polaroids. The exhibition opened on 16 June 2021 (until 4 September). Fontana's true subject is colour and how it can express something beyond visual reality, even when the literal subjects of the artist's photographs are fields, buildings or city pavements. His images are flooded with a shimmering brilliance that shifts meaning to another register, at once abstract and poetic. Here are landscapes in sweeping curves or made up of stripes, as if passing at speed: Fontana's ... More



McArthur Binion. Photo: Jacopo Salvi. Courtesy the Artist and Xavier Hufkens, Brussels.



BRUSSELS.- Xavier Hufkens announced the representation of American artist McArthur Binion (b. 1946, Macon, Mississippi, USA). In a career spanning four decades, Binion has gained recognition as an artist, writer and teacher. The artist will continue to be represented by Lehmann Maupin, Massimo De Carlo and Richard Gray. Binion became the first African American to obtain a master's degree in fine arts in painting from Cranbrook Academy of Art (1973) and also holds a degree in creative writing. These dual passions–words and images–define his life and work to this day. After graduating, Binion moved to New York and immersed himself in the city's vibrant creative scene, then dominated by minimalism and Pop Art. Friends with artists such as Brice Marden and Jean-Michel Basquiat, Binion pursued an artistic career and accepted the first of several notable teaching ... More
Solo exhibition of Italian artist Claudio Parmiggiani opens at Simon Lee Gallery
Over 600 lots of antiques and artworks available at Cheffins Fine Sale
Harvey Fierstein donates $2.5 million for public library theater lab


Claudio Parmiggiani, Senza Titolo, 2010. Bronze and rope, 80 x Ø 80 cm (31 1/2 x Ø 31 1/2 in.) Courtesy of the artist and Simon Lee Gallery.



LONDON.- Simon Lee Gallery is presenting a solo exhibition of Italian artist Claudio Parmiggiani in London. For the past 40 years Parmiggiani has concentrated his practice on themes of memory, absence and silence, in his search for an image, object or assemblage that transcends time and individual experience to evoke a universal, existen- tial truth. For his fourth presentation with the gallery and his third exhibition in the London space, Parmiggiani presents a suite of new Delocazione works. These panels, painted with smoke and soot, filled with the shadowy imprints of books, transform the empty gallery walls into a ghostly library. The volumes that line each shelf appear burnt, dematerialised from physical object to residual outline. An additional single Delocazione panel embodies a human figure; the imprint of a vanished presence that haunts the artist's library. Since Parmiggiani initiated the ... More



Attributed to Richard Cosway, Portrait Miniature of the famous George-Ferrars, later 3rd Marquess Townshend. Estimate: £1,000 - £1,500.



CAMBRIDGE.- Over 600 lots of antiques and artworks will go under the hammer on the 30th June and 1st July as part of the Cheffins Fine Sale at the firm's salerooms in Cambridge. Included in the sale are over 50 lots of furniture, antiques, ceramics and collectors' items from the famous Hertfordshire estate, Julians Park. Built in 1605, this magnificent country house was home to established socialite and art collector, Mrs Audrey Pleydell-Bouverie, who was Lady-in-Waiting to the Queen and counted the likes of Cecil Beaton, Coco Chanel, Salvador Dali and Fred and Adele Astaire in her social circle. Mrs Pleydell-Bouverie appointed the influential interior decorator and designer, Stéphane Boudin of French atelier Maison Jansen to assist in the decoration of Julians Park and went on to collect furniture and artwork from across the world in her redesign of the property. Many of these pieces are now on offer ... More



Harvey Fierstein at a reception for Tony Award nominees in New York, May 2, 2012. Sara Krulwich/The New York Times.

by Jennifer Schuessler



NEW YORK (NYT NEWS SERVICE).- Harvey Fierstein may be a multiple Tony Award-winning performer and writer. But he is also the son of a librarian, who still sometimes heads to the reading room when he needs to do homework. In 2005, when he was preparing to play Tevye in a revival of "Fiddler on the Roof," he visited the New York Public Library for the Performing Arts at Lincoln Center to watch a recording of an earlier Broadway revival featuring Zero Mostel, which is included in its famed Theater on Film and Tape Archive. "And don't tell anyone, but I've also used the library," he said, dropping his famous Brooklyn molasses-spiked-with-gravel voice, "for pleasure." Now, Fierstein has donated $2.5 million to create a new "theater lab" at the library's Lincoln Center campus, a dedicated educational space where ... More
Kazunori Hamana represented by Blum & Poe
El Museo del Barrio receives $8 million gift from from philanthropist MacKenzie Scott
Carnegie Museum of Art announces 58th Carnegie International opening date and curatorial team


Kazunori Hamana, Untitled, 2020. Ceramic, 21 x 25 5/8 x 22 3/4 inches (53.3 x 65.1 x 57.7 centimeters) © Kazunori Hamana, Courtesy of the artist and Blum & Poe, Los Angeles/New York/Tokyo.



LOS ANGELES, CA.- Blum & Poe announced the representation of Chiba, Japan-based artist Kazunori Hamana. A solo exhibition of Hamana's work will open this September in Los Angeles, his third presentation with the gallery. Kazunori Hamana was born in Osaka, Japan, in 1969 and grew up in Amagasaki, Hyogo Prefecture. Since his childhood, he has been driven to pursue a deep philosophical interest in the nature of how the universe functions on micro and macro levels. This awareness of impermanence and the transience of earthly things has guided his work and lifestyle. In this vein, Hamana left his home at the age of fifteen to stay with local farmers in rural Hyogo Prefecture, and to work the land and care for the livestock at an agricultural school nearby. After a period of studying in Humboldt County and San Diego, CA as a college student embedded in ... More



Exterior of El Museo del Barrio, New York. Photo: Luis Camnitzer. Courtesy of El Museo del Barrio.



NEW YORK, NY.- El Museo del Barrio announced an $8 million gift from philanthropist, author and activist MacKenzie Scott, marking the largest single gift received in the Museum's history. Recognized as one of 286 high-impact organizations in categories and communities that have been historically underfunded and overlooked, the transformative grant will support the Museum's work to uphold its mission and provide long-term stability for the legacy institution––the first museum in the country committed to celebrating Latinx and Caribbean art and culture. "This monumental gift represents a significant recognition of the historical and cultural contributions of more than 60 million Latinxs in this country, and of the mission and legacy of El Museo del Barrio. For more than 50 years, the Museum has been dedicated to this inspiring community, and artists who have made El Museo their home. We are inspired by the generosity of MacKe ... More



ohrab Mohebbi is the Kathe and Jim Patrinos Curator of the 58th Carnegie International. He also serves as curator-at-large at SculptureCenter in New York. Photo: Sabrina Santiago.



PITTSBURGH, PA.- Carnegie Museum of Art announced that the 58th Carnegie International will open on September 24, 2022 and run through April 2, 2023. Sohrab Mohebbi, the Kathe and Jim Patrinos Curator of the 58th Carnegie International, has assembled a Pittsburgh-based curatorial team, an international curatorial council, and an advisory group to create the exhibition. The Carnegie International is North America's longest-running survey of contemporary art and has been the museum's signature exhibition since 1896. The Pittsburgh-based curatorial team, which includes associate curator Ryan Inouye and curatorial assistant Talia Heiman, will contribute to exhibition research, artist selection, public programs, and publication projects for the Carnegie International. Working closely with Mohebbi, Inouye and Heiman will serve as instrumental thought partners ... More
Matthew Wong 'The Reader' | New York | June 2021

Flashback
On a day like today, astronomer César-François Cassini de Thury was born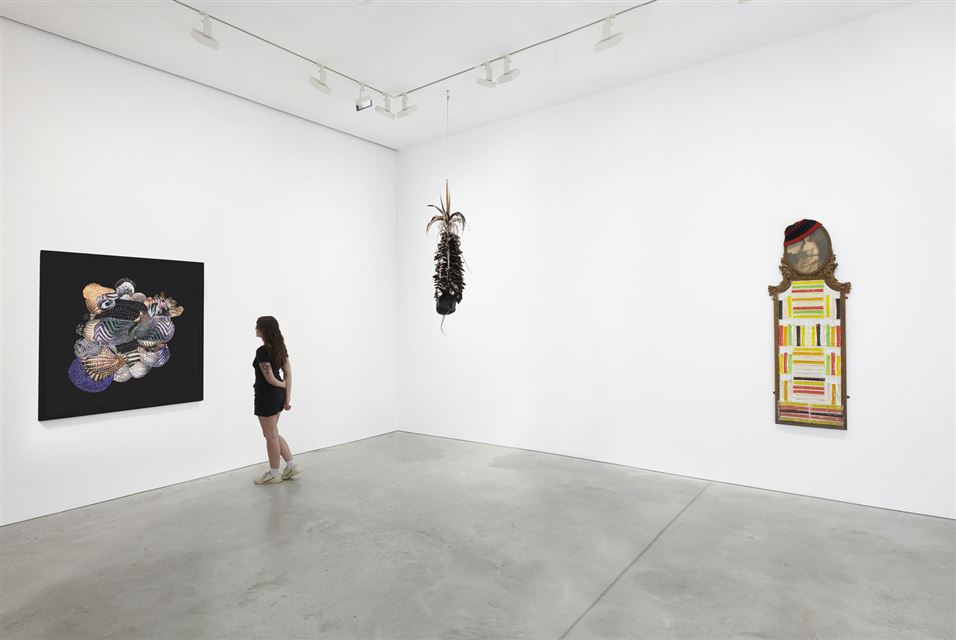 June 17, 1714. César-François Cassini de Thury (17 June 1714 - 4 September 1784), also called Cassini III or Cassini de Thury, was a French astronomer and cartographer. His chief works are: La méridienne de l'Observatoire Royal de Paris (1744), a correction of the Paris meridian; Description géométrique de la terre (1775); and Description géométrique de la France (1784), which was completed by his son ("Cassini IV").
---

Museums, Exhibits, Artists, Milestones, Digital Art, Architecture, Photography,
Photographers, Special Photos, Special Reports, Featured Stories, Auctions, Art Fairs,
Anecdotes, Art Quiz, Education, Mythology, 3D Images, Last Week,

.
---
Royalville Communications, Inc
produces: