Brooklyn Museum to sell 12 works as pandemic changes the rules
This work by Donato de' Bardi, of Saint Jerome, on panel, is also being deaccessioned and will be part of the old masters sale. Christie's Images Ltd.
NEW YORK
(NYT NEWS SERVICE)
.-
It is the kind of sale that once would have engendered criticism, perhaps even sanctions: The Brooklyn Museum is putting 12 works up for auction at Christie's next month — including paintings by Cranach, Courbet and Corot — to raise funds for the care of its collection. But it is now completely within the parameters of loosened regulations, which are themselves a measure of just how financially damaging the coronavirus pandemic has been for cultural institutions. "This is something that is hard for us to do," said Anne Pasternak, the museum's director. "But it's the best thing for the institution and the longevity and care of the collections." Selling off work from a museum — known as de-accessioning — to pay for operating costs has long been taboo. The Association of Art Museum Directors has dictated that proceeds from such sales can only be used to acquire more work. And institutions take seriously the mandate to protect art an ...
More
The Best Photos of the Day
Banksy loses trademark case over the 'Flower Thrower'
Picasso portrait of Marie-Thérèse Walter to highlight October Evening Sale in New York
Guggenheim cuts staff by 11% ahead of reopening


Banksy's 'Flower Thrower' graffiti work.



MADRID (AFP).- British street artist Banksy has lost a two-year trademark battle with a greetings card company over his 'Flower Thrower' graffiti work after EU officials said his anonymity meant he couldn't be identified as the owner. The ruling by the EU's intellectual property office (EUIPO), which is based in Spain, concerns one of Banksy's most famous efforts showing a masked protester hurling a bunch of flowers, which first appeared on a wall in Jerusalem in 2005. The mysterious artist, whose iconic graffiti paintings have appeared overnight on buildings around the world, successfully obtained a European Union trademark for the image in 2014. But two years ago, Full Colour Black, which makes greetings cards and wanted to use the image, issued a legal challenge, claiming the trademark was taken out in bad faith as he never intended to use it for goods or services -- in a challenge accepted by the EU's intellectual property czars. "It is clear that when [Banksy] filed the EUTM, he did not have a ... More



Tête de femme sur fond jaune is a vibrant example of Picasso's portraits of his young muse, painted in 1934 at the height of Walter's influence on Picasso's art. © Christie's Images Ltd 2020.



NEW YORK, NY.- On October 6, Christie's will offer Pablo Picasso's Tête de femme sur fond jaune, 18 July 1934 ($8-12 million), as a highlight of its 20th Century Evening Sale. Picasso kept the present example in his personal collection for the duration of his life – a testament to the importance that it held for him – and it remained in his family's possession following his death, until 2013. The sale on October 6 marks Tête de femme sur fond jaune's first appearance at auction. Giovanna Bertazzoni, Vice-Chairman, 20th and 21st Century Art, Christie's, remarked: "It is a privilege to be able to offer this colourful, intimate portrait of Marie-Thérèse Walter, painted in the golden years of their love, alongside the enigmatic and magisterial depiction of Dora Maar in the 1941 Femme dans un fauteuil. Seen side by side, these portraits offer a fascinating window ... More



The exterior of the Solomon R. Guggenheim Museum in New York, July 15, 2019. Sara Krulwich/The New York Times.

by Zachary Small



NEW YORK (NYT NEWS SERVICE).- Just weeks away from reopening to the public Oct. 3, the Guggenheim Museum has announced an 11% reduction of its staff. On Wednesday, the museum laid off two dozen employees with another eight workers taking voluntary separation agreements. "The impact of the COVID-19 pandemic on the Guggenheim has been devastating to our finances," the museum's director, Richard Armstrong, said in a letter to employees. "I am deeply saddened to say that the museum will not have the ability to support our previous number of staff members." The Guggenheim, closed since March because of the pandemic, has seen losses of $1.4 million every month that it has remained shuttered. In April, the museum furloughed 92 employees, although nearly half of those workers were recalled ... More
Derrick Adams's solo museum exhibition debuts in Southeast at the Museum of Fine Arts, St. Petersburg
Exhibition presents paintings, photographs, and works on paper from the 1970s by Jay DeFeo
Peter Doig's Boiler House to highlight Christie's Post-War and Contemporary Art Evening Auction


Derrick Adams (American, b. 1970), Floater 19, 2016, Acrylic paint and collage on paper, Pizzuti Collection.



ST. PETERSBURG, FLA.- A Black man in a red, white, and blue swimsuit drifts on a neon yellow pool float. He stares off into the calm, azure water that surrounds him. He's on his stomach, one leg fully submerged in the water, the other half way in. The pool is his world in this moment. He's content and at peace, relaxing. Contemporary artist Derrick Adams has observed that in art and in reality, images of Black people at play, being joyful, and simply enjoying life are not the norm. To fill this void, Adams created a painting series titled Floaters between 2016–2019, where Black men, women and children lounged in or rested on novelty floaties in the pool. He wanted to share these images with the world, and for Blacks to see themselves through a lens of freedom, fun, and leisure. In the exhibition, Derrick Adams: Buoyant, 12 of these mixed-media works come together in a dynamic, vibrant presentation at the Museum of Fine Arts, ... More



Jay DeFeo, Untitled, 1980. Charcoal and acrylic on paper, 30 1/2 x 22 1/2 in. 77.5 x 57.2 cm © 2020 The Jay DeFeo Foundation / Artists Rights Society (ARS), New York. Photo: Robert Divers Herrick. Courtesy Gagosian.



SAN FRANCISCO, CA.- Gagosian is presenting an exhibition of paintings, photographs, and works on paper from the 1970s by Jay DeFeo (1929–1989), organized in association with the Jay DeFeo Foundation. DeFeo produced a diverse body of innovative work that continues to inspire artists today. The fusion of painting and sculpture found in her masterpiece The Rose (1958–66) has led to international acclaim. First exhibited in 1969, this gigantic impasto canvas spent decades behind a false wall awaiting conservation before being acquired by the Whitney Museum of American Art, New York, in 1995. The present exhibition focuses on the artist's output in the decade following the completion of that pivotal work, when she was based in Larkspur, Marin County. In 1951, DeFeo ... More



Peter Doig, Boiler House, 1993 (detail). Estimate in the region of £13 million. © Christie's Images Ltd 2020.



LONDON.- Christie's Post-War and Contemporary Art Evening Auction on 22 October 2020 will be highlighted by Peter Doig's iconic Boiler House (1993, estimate in the region of £13 million), a masterwork from his seminal series of Concrete Cabins. During the 1990s, the artist painted nine large-scale depictions of Le Corbusier's abandoned Unité d'Habitation at Briey-en-Forêt in Northern France, giving rise to his largest and most distinctive thematic cycle. Boiler House stands alone within the series, capturing the building that Le Corbusier designed to house the Unité's coal boiler. Included in Doig's landmark 2008 retrospective at Tate Britain, it is a triumph of painterly bravura and psychological tension. The building's angular geometries loom large within the thicket, yet Doig's kaleidoscopic surface causes it to shift in and out of focus, approximating the abstract sensation of looking back through ... More
Bohemian chic: Hendrix at home 50 years on
The Collection of A. Jerrold Perenchio totals: $6,555,375
Carnegie Hall and the jewels of Midtown: Stroll the history


A picture shows British musician Zoot Money's Wandre 'Blue Jean' model guitar, the first guitar Jimi Hendrix played in Britain. DANIEL LEAL-OLIVAS / AFP.

by Sylvain Peuchmaurd



LONDON (AFP).- Jimi Hendrix made his name in London, exploding onto the 1960s music scene with his mesmeric guitar playing, before his untimely death 50 years ago at the age of 27. His flat at 23 Brook Street, in the Mayfair area of central London, is now a museum -- and besides his musical legacy is one of the few tangible reminders of his life in the city. The legendary guitarist, famous for tracks including "Hey Joe", "Purple Haze" and his cover of Bob Dylan's "All Along the Watchtower", lived at the address between 1968 and 1969. He considered it his first "real home", explained Hendrix specialist Christian Lloyd, from Canada's Queen's University in Kingston, Ontario. Even now, it's considered the Seattle-born singer-songwriter's only recognised residence. More than two centuries earlier, another musical genius lived at number 25: Handel. But at the time, a ... More



The 'Stradbroke' George III Axminster Carpet Possibly After a Design by James Wyatt, England, circa1790. Estimate: $100,000-150,000. Price realized: $375,000.



NEW YORK, NY.- Christie's online sales from The Collection of A. Jerrold Perenchio achieved a combined total of $6,555,375 and attracted bidders from 33 countries. All net proceeds will benefit the Perenchio Foundation, whose principal mission is to support visual and performing arts programs and institutions located in Los Angeles County. The first online sale Chartwell: An Henri Samuel Commission (1‑16 September) totalled $4,551,875, and was 95% sold by lot. The second sale in the collection, A CALIFORNIA LIFE (1‑17 September) totalled $2,003,500 and was 99% sold by lot. The top lot of the collection was the Stradbroke' George III Axminster Carpet, possibly after a design by James Wyatt, England, circa 1790, which achieved $375,000, surpassing its estimate of $100,000-150,000 and realizing the highest price in 20 years for its type. A world auction record was also set for Henri Samuel's work with an upholstered three-seat ... More



The Gainsborough Studios, from 1908, by Charles W. Buckham, on Central Park South in New York, Sept. 7, 2020. A lot of Midtown Manhattan is packed into the beloved stretch between Carnegie Hall and Lincoln Center. Zack DeZon/The New York Times.

by Michael Kimmelman



NEW YORK (NYT NEWS SERVICE).- A reward for the city's having flattened the curve, lines of culture-starved New Yorkers now snake out the doors of the Metropolitan Museum of Art, the American Museum of Natural History and the Morgan Library & Museum. But the city still won't be its old self until audiences start filing (safely) back into places like Carnegie Hall and Lincoln Center. To stroll the few blocks between the two performing arts stomping grounds only takes around 15 minutes, skirting the southwest corner of Central Park — Merchants' Gate, as Olmsted and Vaux, the park's designers, called it. But a lot of midtown Manhattan is packed into that ordinarily trafficked, touristed stretch. Along with century-old architectural landmarks, a crop of supertall, anorexic apartment towers for the ... More
Christie's fall season to be highlighted by a dynamic photographs online-only sale series
Claude Lalanne sculpture acquired directly from artist could bring $150,000 at Heritage Design Auction
Doug Aitken's exhibition in Kiasma presents several works, including the iconic installation SONG 1


Jo Ann Callis, Woman with Blonde Hair, 1977. Archival pigment print, printed in 2019. Estimate: $5,000-7,000. © Christie's Images Ltd 2020.



NEW YORK, NY.- This fall, Christie's Photographs department in New York will offer an extensive auction series featuring three online sales spaced over six weeks. The various owners Photographs (21 – 30 September) sale begins on 21 September, with iconic works by the likes of Henri Cartier-Bresson and Robert Adams to Peter Beard and Nick Brandt. In October, collectors are invited to explore the distinguished W.M. Hunt Collection (5 - 14 October) with works ranging from Dorothea Lange and Walker Evans to Robert Mapplethorpe and Annie Leibovitz. The third sale will offer property sold to benefit the Aperture Foundation (19 - 28 October)— a beloved non-profit arts institution based in New York dedicated to advancing photography in all of its myriad forms. The Photographs sale will incorporate iconic property by significant 20th century photographers such ... More



Claude Lalanne (French, b. 1924), Petite Fille à la Poule, 1984. Patinated bronze, 32 inches (81.3 cm) on a 31-1/4 inch (79.4 cm) base. Ed. 1/8. Estimate: $100,000 - $150,000.



DALLAS, TX.- Claude Lalanne's Petit Fille à la Poule could bring $150,000 or more in Heritage Auctions' Design Auction Oct. 13. "The work of Francois-Xavier and Claude Lalanne is beloved and this sculpture (estimate: $100,000-150,000), in particular, remained the focal point of our client's homes, first in Paris and then in Los Angeles, for more than three decades," Heritage Auctions Design Director Brent Lewis said. "It was acquired directly from the artists during a visit to their studio outside Paris and is an extraordinary example of Les Lalanne's unique artistic vision." Heritage also is offering a collection of nearly 100 rare pieces of Comme des Garcons, the legendary Japanese fashion company, each designed by founder Rei Kawakubo or Junya Watanabe. CDG is among the most innovative of fashion houses to ... More



Portrait of Doug Aitken. Photo: Ami Sioux.



HELSINKI.- American artist Doug Aitken explores the impacts of technology on individuals and society. I Only Have Eyes for You is the acclaimed artist's first solo exhibition in Finland. On view at the Museum of Contemporary Art Helsinki, the exhibition presents several works, including the iconic installation Song 1. "What does it mean to be an individual now? And where are we going? I'm very interested in those kinds of core issues," says artist Doug Aitken. He says "We are living in a new era, one of complete connectivity, where screen space has become seemingly equal to the physical landscape. This surreal shift in evolution brings us into uncharted waters, a new frontier, one for which we are not fully prepared. These artworks question how we navigate a world of increasing speed and transition, the direction of where we can go and how we can confront the future." The exhibition I Only Have Eyes For You presents a selectio ... More
The Changing Face of Childhood Portraits

Flashback
On a day like today, Dutch realist painter Anton Mauve was born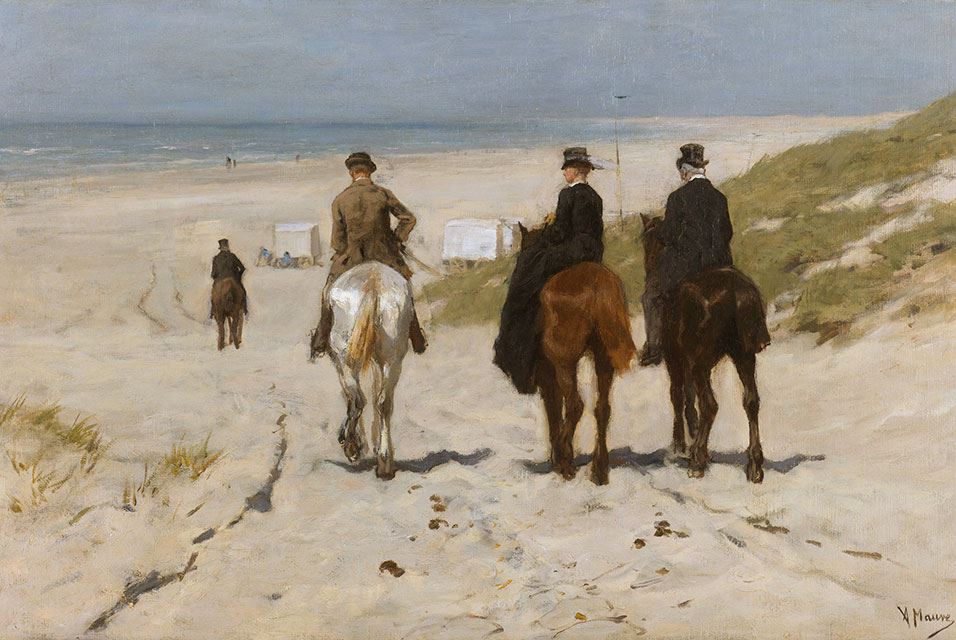 September 18, 1838. Anthonij (Anton) Rudolf Mauve (18 September 1838, Zaandam, North Holland - 5 February 1888, Arnhem) was a Dutch realist painter who was a leading member of the Hague School. He signed his paintings 'A. Mauve' or with a monogrammed 'A.M.'. A master colorist, he was a very significant early influence on his cousin-in-law Vincent van Gogh. In this image: Morning Ride on the Beach (1876), oil on canvas, Rijksmuseum.
---

Museums, Exhibits, Artists, Milestones, Digital Art, Architecture, Photography,
Photographers, Special Photos, Special Reports, Featured Stories, Auctions, Art Fairs,
Anecdotes, Art Quiz, Education, Mythology, 3D Images, Last Week,

.
---
Royalville Communications, Inc
produces: