Christie's pulls T. Rex from auction, citing need for 'further study'
The sale of a specimen named Shen fell apart after a fossil company questioned how much of it was a replica of Stan, a T. rex auctioned off two years ago for a record price. © Christie's Images Ltd 2022.
NEW YORK, NY
.-
Christie's said Sunday that it was withdrawing a Tyrannosaurus rex skeleton that it had been planning to auction this month in Hong Kong, where it was initially expected to fetch between $15 million and $25 million, after questions were raised about the number of replica bones used in the specimen and the way it was described in marketing materials. "After consultation with the consignor of the Tyrannosaurus rex scheduled for sale on 30 November in Hong Kong, Christie's has decided to withdraw the lot," a spokesperson for Christie's, Edward Lewine, said in a statement. "The consignor has now decided to loan the specimen to a museum for public display." Asked about the reason for the withdrawal, Lewine said the auction house believes the specimen would "benefit from further study." The news came 10 days before the scheduled sale. The T. rex, which the auction house called Shen, had been billed as the first skeleton of its species to appear at ...
More
The Best Photos of the Day
Drawing by Leonardo da Vinci given to National Gallery
The New York Public Library examines Virginia Woolf's life and creative process in new exhibition
Bringing world-class art, and wonder, to mental health patients


Leonardo da Vinci, Grotesque Head of an Old Woman, 1489/1490. Pen and brown ink on laid paper; laid down, overall: 6.4 x 5.1 cm (2 1/2 x 2 in.) National Gallery of Art, Washington. Gift of Dian Woodner 2022.84.1



WASHINGTON, DC.- Leonardo da Vinci (1452–1519) frequently recorded his ideas and observations in notes and sketches, regardless of subject matter. More of Leonardo's drawings have survived than those by any other artist of the Italian Renaissance. Dian Woodner, who has donated many works over the years to the National Gallery of Art, has now given the museum Leonardo's Grotesque Head of an Old Woman (1489/1490), one of a series of some 30 studies, identical in small format, style, and technique. These drawings represent Leonardo's most sustained exploration of human physiognomy. Drawing as a system for studying nature and preparing other works of art—as the most basic system of representation in the Western ... More



Orlando ts.



NEW YORK, NY.- Virginia Woolf is the focus of the latest free exhibition opening at The New York Public Library. Virginia Woolf: A Modern Mind explores the life and creative genius of one of the most important figures in twentieth-century literature through her personal notebooks and diaries, family photographs, and unpublished letters. Virginia Woolf: A Modern Mind is the first major exhibition of Woolf's writings at the Library in 30 years and is drawn entirely from NYPL's holdings, which represent one of the most important collections of her work in the world. Her intimate diary entries, spanning four decades, guide this exhibition, which uncovers how the influential author of Mrs. Dalloway and To the Lighthouse came to reject the conventional forms of her Victorian predecessors, experiment with shifting perspectives and stream-of-consciousness narration, and explore the innermost thoughts of her characters. Highlights ... More



Tim A. Shaw and Niamh White, founders of the nonprofit Hospital Rooms at Springfield University Hospital in London, Oct. 19, 2022. (Suzie Howell/The New York Times)

by Alex Marshall



LONDON.- Artist Sutapa Biswas has works in the Tate collection and was the subject of two major retrospectives last year. But, she said recently, one of the highlights of her career was a piece that few people will ever see: an abstract mural of a night sky in a London psychiatric hospital. Commissioned by British nonprofit Hospital Rooms and finished last month, the deep blue work depicts a cascade of falling stars and covers an atrium wall at Springfield University Hospital in South London. At moments when mental health patients could be feeling trapped, Biswas said in an interview, her mural might "give them a sense of wonderment, a bit of hope." Art therapists and early-career artists have long ... More
Ty Cobb bat surpasses $1.6 million in another Heritage sports auction filled with history-makers, record-breakers
PIASA announces "Brooklyn ceramics curated by Peter Lane" & "American Design" auctions
Bertoia's concludes Aaron & Abby Schroeder antique toy auction series at $6.25M


1910-14 Ty Cobb Game Used & Signed Bat from the Legendary Eddie Maier Collection, PSA/DNA GU 10--Photo Matched to Two Images!




DALLAS, TX.- Ty Cobb's bat. Willie Mays' jersey. Tiger Woods' first hole-in-one ball. Mike Tyson's glove. A Hank Aaron card. A championship ring from the first Super Bowl. And, of course, a 1952 Topps Mickey Mantle (or two …). These were just a few of collectors' favorite things over the weekend in Heritage Auctions' Nov. 17-19 Fall Sports Catalog Signature® Auction, which saw more than 3,700 bidders help set numerous records en route to a $22,149,071 finish. It was a fitting end to a history-making, hobby-altering year that saw the auction house set the record for the world's most valuable sports collectible. "I've been part of countless momentous auctions since founding Heritage's Sports category in 2004, and it's always a thrill to find new homes for incredible material from landmark moments and ... More



George Nakashima (1905-1990), Kent Hall model - Special order Floor lamp English walnut burl, holly, laurel and parchment, Model created in 1972. H 124,5 × Ø 34 cm. Estimate: 30 000 / 40 000 €.



PARIS.- On Wednesday, November 30, PIASA will hold two auctions highlighting the diversity of artistic expression on the American scene. These sales will feature over 100 ceramic works and a selection of designs from the second half of the 20th century. Featuring 95 lots, the first session is curated by New York ceramicist Peter Lane. It presents the work of some fifteen artists - including Lane - all based in Brooklyn and close to the artist, including Shizue Imai, Derek Weisberg, Ancil Farrell and William Coggin, whose pieces testify to the formidable dynamism of the contemporary ceramic scene. The second session, with 180 lots, explores the diversity of American design from the 1950s to the 2000s, including pieces by renowned designers such as George Nakashima, Paul Evans, Phillip Lloyd Powell, Isamu Noguchi, Edward J. ... More



Electric Sailor arcade stimulator, made in Germany for the British market, 25in tall, sold for $8,400.



VINELAND, NJ.- After the toy community had the excitement of bidding on treasures from the 60-year Aaron and Abby Schroeder collection in March and September 2021, only one question lingered: was there more? Indeed, there was. With a heady $5.7 million subtotal from last year's events as its foundation, the third and final installment put the exclamation point on the series. On October 14th, Bertoia's presented "Abby's Attic Finds," a 500-lot discovery selection that added another $550,000 to boost the grand total to $6.25 million. Proceeds from 100 of the October sale's lots were earmarked to benefit the Entertainment Community Fund (ECF), a cause close to Abby and the late Aaron Schroeder's hearts. The toys had been donated by the Schroeders to the American Museum of Antique Toys in the early 1980s; now they would generate a hefty contribution to a deserving nonprofit. In ... More
Ketterer Kunst to auction a museum work by Emil Nolde
&pound26,000 sale at Ewbank's shows how auctions are the perfect format for retro video games
Phillips announces highlights included in December Design Sale


Emil Nolde, Meer (D), 1930, oil on canvas, 74.5 x 100.5 cm. Estimate: € 800,000 – 1.200.000.



MUNICH.- The sea as an elemental force is a key theme of Emil Nolde's oeuvre. In 1930, he worked on a series of very special seascapes with great frenzy. With "Meer (D)", a particularly fascinating piece will be called up in the Evening Sale of what presumably is going to be the most spectacular auction of Ketterer Kunst, Germany's leading art auctioneer, in Munich on December 9/10. Throughout his life, the sea was one of Emil Nolde's main subjects. As early as in 1910/11, he created "Herbstmeere" (Autumn Seas), a series of 20 paintings expressing the elemental force. During a stay on the North Sea island of Sylt in the autumn of 1930, he made a series of six seascapes in a short period of time, of which two are considered lost today. A third one, "Meer (B)", is at Tate Modern Gallery in London. Now "Meer (D)", formerly part of the traveling exhibition "Neuere deutsche Kunst ... More



Magic: The Gathering.



LONDON.- Auction has proved to be a great platform for selling Retro Video Games and Consoles, as Ewbank's proved on November 18 with their debut sale in this collecting field. It is thought to be the first ever dedicated sale of Retro Video Games and Consoles by any UK auction house. Specialist Roy Raftery, a well-known figure in the gaming community and the world of collectable trading cards, notched up a premium-inclusive total of over £26,000 among the 129 lots sold. Top lot was a Nintendo Game Boy, complete with UK/PAL/European Red label console (1990 model sealed, verified and bundled with Tetris). This took a premium-inclusive £3,875 against an estimate of £2,000-2,500. A factory sealed Pokémon Yellow Gameboy, with PAL/European Red Nintendo took £2,250 against an estimate of £700-1,500, while a factory sealed copy of Metroid 2 return of Samus - Nintendo Game Boy - with UK/PAL/European ... More



Jean Royère, "Flaque" coffee table, circa 1948. Estimate: $200,000 - 300,000. Image courtesy of Phillips.



NEW YORK, NY.- Phillips' upcoming Design auction in New York will feature over ninety significant works from the 20th and 21st centuries, led by Claude Lalanne's "Crococurules". Works from the auction will be previewed at Phillips Southampton from 18–23 November prior to the 432 Park Avenue exhibition from 1–7 December. The sale will follow in New York on 7 December at 2pm EST. Other notable highlights from the sale include T.H. Robsjohn-Gibbings' "Mesa" coffee table alongside three iconic works by Jean Royère, a "Flaque" coffee table, "Ondulation" ceiling light, and an "Ondulation" table lamp. Cordelia Lembo, Head of Design, New York, said, "We are proud to present such a strong group of works this December, concluding an exceptional year for the Design department at Phillips. We've seen strong ... More
Shahzia Sikander opens first solo exhibition in Los Angeles
Nara Roesler announces the representation of Jaime Lauriano
Dagny Corcoran, bookseller and fixture of the LA art scene, dies at 77


Shahzia Sikander, Fixed, Fluid, 2022, glass mosaic with patinated brass frame, framed: 84 1/16 x 60 7/8 x 2 inches, edition of 5 with 2 APs © Shahzia Sikander, Photography: Mayer of Munich, Courtesy: Sean Kelly.



LOS ANGELES, CA.- Sean Kelly is presenting the second exhibition in their Los Angeles gallery, Shahzia Sikander's Radiant Dissonance, which also marks the artist's first solo exhibition in Los Angeles. This exhibition includes Sikander's work in multiple mediums, including mosaic, sculpture, animated film, drawing, and a large-scale work on paper installation. Drawing is central to Sikander's practice and integral to all aspects of the work in the exhibition. For the artist, drawing implies movement both in time and across various forms. It is a means of imagining and bringing form to life, an armature of research to clarify ideas and connect thinking to gesture, action, and practice. There are connections, both literal and symbolic, in all of the works in the exhibition, such as the dialogues ... More



Jaime Lauriano, 2022. Photo: Flávio Freire.



NEW YORK, NY.- Nara Roesler announces the representation of Jaime Lauriano (São Paulo, 1985), one of the great representatives of contemporary Brazilian art. His practice is based on the investigation, appropriation, and displacement of signs and symbols present in visual culture, as a way of highlighting, understanding, and questioning the direction and choices taken and projected by society. Race is one of the main themes of Lauriano's work, which he approaches both from a subjective point of view, from his experiences as a black man, and from the supposed objectivity of science, through cartography, history, and archival practices. In particular, Lauriano focuses on two fundamental periods in Brazilian history: the almost four centuries of slavery and the two decades of civil-military dictatorship, due to the widespread and deeply rooted trauma they caused and which can still be seen in the systemic mechanisms ... More



Her store, Art Catalogues, specialized in books for and about museum and gallery exhibitions and became a gathering place for artists and bibliophiles.



NEW YORK, NY.- Dagny Corcoran, a revered California art-book seller whose shop and jam-packed dinner parties became way stations for a generation of artists, bibliophiles and Hollywood literati, died Nov. 9 in Los Angeles. She was 77. Gregory Evans, a longtime friend, said the cause was multiple myeloma. Corcoran's Art Catalogues specialized in what its no-nonsense name promised: books produced for and about museum and gallery exhibitions. It opened in 1977 in an airy second-story space on Santa Monica Boulevard in West Hollywood and became a mainstay in its field, relied upon by collectors and scholars around the world. Corcoran was an apostle of the idea that the well-made art book transcended utility, existing as something akin to art — "as a sculpture, as a limited edition, as a print ... More
Louis Menand and Sam Sackeroff in Conversation | New York: Between Art and Life Series

Flashback
On a day like today, Mexican architect Luis Barragán died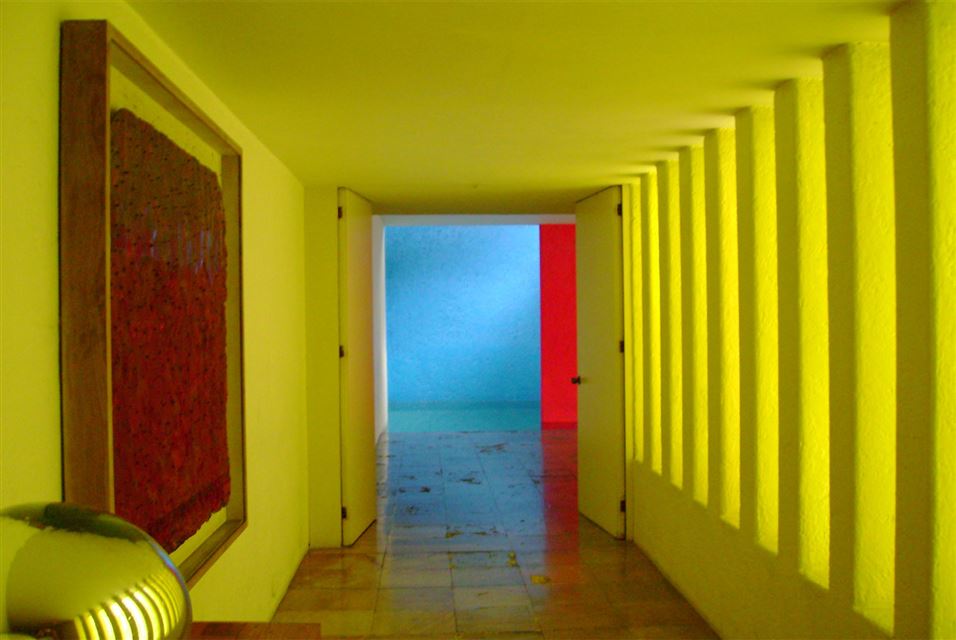 November 22, 1988. Luis Ramiro Barragán Morfín (March 9, 1902 - November 22, 1988) was a Mexican architect and engineer. His work has influenced contemporary architects visually and conceptually. Barragán's buildings are frequently visited by international students and professors of architecture. He studied as an engineer in his home town, while undertaking the entirety of additional coursework to obtain the title of architect. In this image: Casa Gilardi.
---

Museums, Exhibits, Artists, Milestones, Digital Art, Architecture, Photography,
Photographers, Special Photos, Special Reports, Featured Stories, Auctions, Art Fairs,
Anecdotes, Art Quiz, Education, Mythology, 3D Images, Last Week,

.
---
Royalville Communications, Inc
produces: