Daniel Weiss announces intention to step down as President and CEO of The Met
Daniel Weiss, the chief executive of the Metropolitan Museum of Art, at the museum in New York. Joshua Bright/The New York Times.
NEW YORK, NY
.-
Daniel H. Weiss, President of
The Metropolitan Museum of Art
since 2015 and President and CEO since 2017, announced today that he intends to step down in June 2023. An accomplished scholar and author who holds a PhD in art history and an MBA, Weiss was recruited to lead The Met in 2015 after tenures as a college president, university dean, and professor of art history. He led the Museum through a series of historic challenges—financial, infrastructure, and societal—from which the Museum has emerged as a stronger institution with its place intact as among the most ambitious, programmatically robust, and financially strong cultural institutions in the world. "Leading The Met has been an extraordinary honor," said Mr. Weiss. "The Museum is an intergenerational institution in service to the world, and I have felt that profoundly from my first day here. We have an unparalleled collection and the resources to su ...
More
The Best Photos of the Day
Jeff Koons' Balloon Monkey (Magenta) sold for 10,136,500 to benefit humanitarian aid for Ukraine
Compton Verney hosts the first large-scale survey of David Batchelor's career
Daniel Sinsel presents a group of new and recent works at Sadie Coles HQ


Jeff Koons, Balloon Monkey (Magenta) (2006-13, estimate: £6,000,000-10,000,000). © Christie's Images Ltd 2022.



LONDON.- On 28 June 2022, Jeff Koons' seminal sculpture Balloon Monkey (Magenta) (2006-13) sold for £10,136,500 at Christie's raising vital funds for humanitarian aid for Ukraine. Presented for sale by Victor and Olena Pinchuk, proceeds from the sale will be used to assist soldiers and civilians gravely wounded by war who urgently require prosthetics, medical treatment and rehabilitation to recover as much quality of life as possible*. Representing childhood innocence and joy for both children and adults alike, Balloon Monkey (Magenta) stands as a monumental symbol of hope and solidarity with those men, women and children living in war-torn Ukraine who have suffered terrible loss. Katharine Arnold, Head of Post-War and Contemporary Art, Christie's Europe: "As the war in Ukraine continues, wreaking devastation across the country, I could not be more honoured to have worked ... More



Installation view, David Batchelor: Colour Is at Compton Verney. Photography by Jamie Woodley.



COMPTON VERNEY.- Throughout 2022, Compton Verney is exploring, examining and enjoying artists' use of colour. With David Batchelor: Colour Is, the Warwickshire art gallery is hosting the first large-scale survey of the Scottish artist and writer's work spanning four decades. Throughout his career, David Batchelor (b.1955) has been concerned, predominantly, with colour. His work reflects both a delight in the myriad hues of the modern urban environment and an inquiry into the nature of our rapidly changing surroundings. Batchelor works in a variety of media, including sculpture, installations, drawing, painting, photography and animation. He has also written a number of books, including Chromophobia (2000), which looks at changing Western attitudes to colour. Colour Is invites visitors to explore galleries filled with a diverse range of artworks - nearly 200 in all - from across Batchelor's career. In Compton ... More



Daniel Sinsel, Untitled, 2022. Signed and dated on stretcher oil on linen (carbonised), hazelnut shells, silk, wire 95.1 x 68.2 x 3.5 cm / 37 ½ x 26 ⅞ x 1 ⅜ in. © Daniel Sinsel. Courtesy Sadie Coles HQ, London. Photo: Robert Glowacki.



LONDON.- This June, Daniel Sinsel presents a group of new and recent works – encompassing painting, assemblage and sculpture – marking his sixth solo exhibition at Sadie Coles HQ. Throughout the body of work, Sinsel mediates conventional notions of flatness and spatial tension, articulating unresolved scenographies that teeter on the threshold between illusion and reality. Meticulously rendered in alluring, near psychedelic fields of colour, the imagery is invested with a built-in tension of desire and restraint, through which Sinsel probes the manifold, often concealed narratives of queer experience. Trompe-l'œil objects, disappearing bodies, nutshells, almandine garnets, silk and ribbon form part of a slowly expanding repertoire of symbols and symbolic objects deployed within Sinsel's practice ... More
Bonhams announces acquisition of Paris auction house Cornette de Saint Cyr
Cartography of the Mind: A Curated NFT Sale to Benefit MAPS totals $1.57 million
Sam Gilliam 'took a step most people didn't understand was possible'


Cornette de Saint Cyr © Fatima Jellaoui.



LONDON.- Bonhams, the global auction house, has acquired Cornette de Saint Cyr, the French auction house. Financial terms are not being disclosed. Cornette de Saint Cyr will now be known as Bonhams Cornette de Saint Cyr. Established in 1973, Cornette de Saint Cyr is a much-respected auction house founded by Pierre Cornette de Saint Cyr. Pierre's sons, Arnaud, the CEO, and Bertrand, Head of Valuations and Collections, continue the family tradition by remaining with Cornette. Based in Avenue Hoche, Paris, with an impressive saleroom in Brussels, Cornette de Saint Cyr is famous throughout the auction world for its high-profile single-owner sales, such as Alain Delon's Collection of Abstract Art (2007); The Estate of the Franco-Japanese painter, Foujita (2011); the furniture and fittings from the Hotel Royal Monceau (2008); and the couture collection belonging to Hélène Rochas (2016). The Robert & Jean-Pierre Rousset Collection ... More



Beeple's PILGRIMAGE. Price Realized: $252,000 © Christie's Images Ltd 2022.



NEW YORK, NY.- Cartography of the Mind A Curated NFT Sale to Benefit the Multidisciplinary Association for Psychedelic Studies (MAPS), closed Tuesday, June 28, 2022 totaling $1,569,960 across 27 lots. The sale, which was a collaboration with Ryan Zurrer, founder of Dialectic and Vine Ventures, was 100% sold, selling 130% hammer above low estimate. Sale proceeds will generously be donated to support the research of potentially life-saving psychedelic-assisted therapies led by MAPS, a 501(c)(3) non-profit research, education, and advocacy organization founded in 1986. The artworks are all on view in Christie's Rockefeller Center galleries at an exhibition powered by Atomic Form that closed this evening. The first two lots saw incredibly competitive bidding, achieving the same price of $252,000 and leading the sale. Sam Spratt's VII. Wormfood drew a phenomenal ... More



The artist Sam Gilliam in his studio in Washington on May 17, 2018. Gilliam, a pioneering abstract painter best known for his lusciously stained Drape paintings that took his medium more fully into three dimensions than any other artist of his generation, and who in 1972 became the first Black artist to represent the United States at the Venice Biennale, died on Saturday, June 25, 2022, at his home in Washington. He was 88. Gabriella Demczuk/The New York Times.



NEW YORK, NY.- When painter Sam Gilliam died last weekend at age 88, he left behind pioneering artworks, particularly his draped canvases stained with blooms of color that forever changed the way the world would conceive of a painting. But he also left a more personal legacy: his impact on fellow artists and friends. Sculptor Melvin Edwards, 85, was a friend of Gilliam's for more than 50 years, forming a tight trio with painter William T. Williams. Edwards and Gilliam owned each other's work and interrogated each other endlessly about process, sometimes talking three or four times a day. "We ... More
Christie's presents the online-only Contemporary Art July sales
Grayson Perry's monumental tapestries exploring class mobility shown in Salisbury Cathedral this summer
New commission by Ruth Ewan to open at Collective, Edinburgh shares an alternative history of Andrew Carnegie


Hernan Bas (b. 1978), The Start of Something New. Oil, gouache, graphite and resin on board, 31 x 23½ in. (78.7 x 59.6 cm.) Executed in 2004. Estimate: $60,000-80,000. © Christie's Images Ltd 2022.



NEW YORK, NY.- Christie's announced a series of three online-only Contemporary Art sales: Contemporary Edition, First Open and Trespassing. The group of sales include a selection of exceptional works from leading contemporary and 20th century artists. With estimates ranging from $500 to $200,000, these sales offer an extensive range of options for both new and seasoned contemporary art collectors. The works will be available for public viewing at Christie's galleries in Rockefeller Center starting 13 July, closing from 19-21 July.
Featuring more than 120 Post-War and Contemporary Prints and Multiples with estimates starting below $1,000, the Contemporary Edition sale features works for those just beginning their collecting journey and seasoned connoisseurs alike. The sale highlights works from master printmakers such as Andy Warhol, Keith Haring ... More



Grayson Perry, The Vanity of Small Differences - Expulsion from No. 8 Eden Close 2012 (detail). Image courtesy of the Arts Council Collection.



SALISBURY.- On 29 June The Vanity of Small Differences, an exhibition of six huge tapestries by the celebrated contemporary artist Grayson Perry, will open at Salisbury Cathedral.
Each of the 2m x 4m tapestries, inspired by William Hogarth's The Rake's Progress, charts a stage in the 'class journey' made by young Tim Rakewell (a wry reference to Tom Rakewell, Hogarth's protagonist) and includes many of the characters, incidents and objects Grayson Perry encountered on journeys through Sunderland, Tunbridge Wells and The Cotswolds when filming a series for Channel 4. Cleverly and unflinchingly, Perry exposes layers of unconscious tastes or biases in the scenes and individuals he portrays. References to classical art and religious painting also inform the work, bringing, in some cases, a reverence to an otherwise mundane scene or adding an extra layer of meaning. The tapestries have toured extensively over the last ... More



J S Pughe, An Object Lesson, 1901 (from the collection of the United States Library of Congress) detail. Research image for Ruth Ewan's, The Beast, 2022.



EDINBURGH.- This summer, Collective presents a new major commission for the City Dome by Ruth Ewan. Scottish artist Ruth Ewan presents The Beast, a morality tale centered on the obscured history of the famous Scottish/American steel magnate and philanthropist Andrew Carnegie. Comprising a new animation, a selection of archival material and a wall text, the exhibition tells the story of Carnegie's ruthless accumulation of wealth and the place he bought in history via an uncanny encounter with his palaeontological namesake, Diplodocus carnegii. The Beast runs from 25 June to 18 September 2022. Ewan has long-term interests in creativity and social justice, alternative systems and radical histories. Her work is deeply rooted in research, finding expression in a wide variety of forms including events, performance, writing, installation and print. Collective and Ewan have a long working relationship, including the artist's firs ... More
Explore portals to other realms and experience the magic of a virtual extension to Sir John Soane's Museum
Heritage Auctions presents the greatest Muhammad Ali collection ever to step in the ring
Auction featuring hundreds of cinema's most stunning silent movie posters roars at Heritage Auctions


Archive of Portals. Space Popular: The Portal Galleries. 2022. Photo: @ Gareth Gardner.



LONDON.- Space Popular: The Portal Galleries will present new work and research by the multidisciplinary design practice Space Popular, led by Lara Lesmes and Fredrik Hellberg. The exhibition responds to the virtuality of Sir John Soane's Museum by focusing on 'the portal': a door or threshold that grants entrance into another environment, whether physical or virtual. The desire to travel virtually across time, space and realms has been a recurring theme in the collective imagination – one that many have explored through fictional narratives. Visitors will be guided through the magic and mechanics of virtual travel in an exhibition that bridges the technologies of Soane's time and ours. Using Sir John Soane's Museum as the point from which to begin this journey, Space Popular present their research on the portal through time and across media. Lara Lesmes and Fredrik Hellberg of Space Popular ... More



1971 Muhammad Ali Fight Worn & Signed Robe from Frazier I Bout with Provenance.



DALLAS, TX.- Troy Kinunen didn't set out to assemble one of the world's greatest Muhammad Ali collections; far from it. He was once solely a baseball fan, a former Little Leaguer who idolized Ruth, Mantle, Cobb, Gehrig. He coveted their keepsakes, their cards and signatures. But even decades ago, their treasures were out of reach, too expensive for a young man beginning his journey as a collector. When Kinunen attended a New York sports memorabilia convention in 1988 and bought his first Ali piece — a poster from his Nov. 14, 1966, fight with Cleveland Williams at Houston's Astrodome — he picked it up only because it was one of the few items he could afford. "It was colorful, it was cardboard, it was kind of small, and I thought I could display it," says Kinunen, president and CEO of MEARS Authentications. "And a kind of light bulb went on at that very moment." He would spend the next three decades amassing more than ... More



The Kid (First National, 1921). Fine+ on Linen. One Sheet (27" X 41") Standing Style.



DALLAS, TX.- Dwight Manley likes to collect originals, things that were among the first made, and items that are unique. Nowhere is that seen more vividly – not to mention boldly and colorfully – than in his collection of silent film posters that will find new homes when they are sold in Heritage Auctions' Treasures of the Silent Screen Movie Posters Signature® Auction July 15-16 – the largest ever dedicated to silent-era posters. Manley's collection is widely recognized as the premier assemblage of silent film posters – a trove that includes the largest selection of silent Westerns – in the world, a trove of roughly 2,300, more than 550 of which will be included in this exceptional event. Manley said he is parting with the collection because much of it has been stored away, instead of displayed appropriately for others to enjoy. A significant portion of the remaining collection will be donated to the Academy of Moti ... More
Artist Demonstration: Tyanna Buie

Flashback
On a day like today, Swiss painter Paul Klee died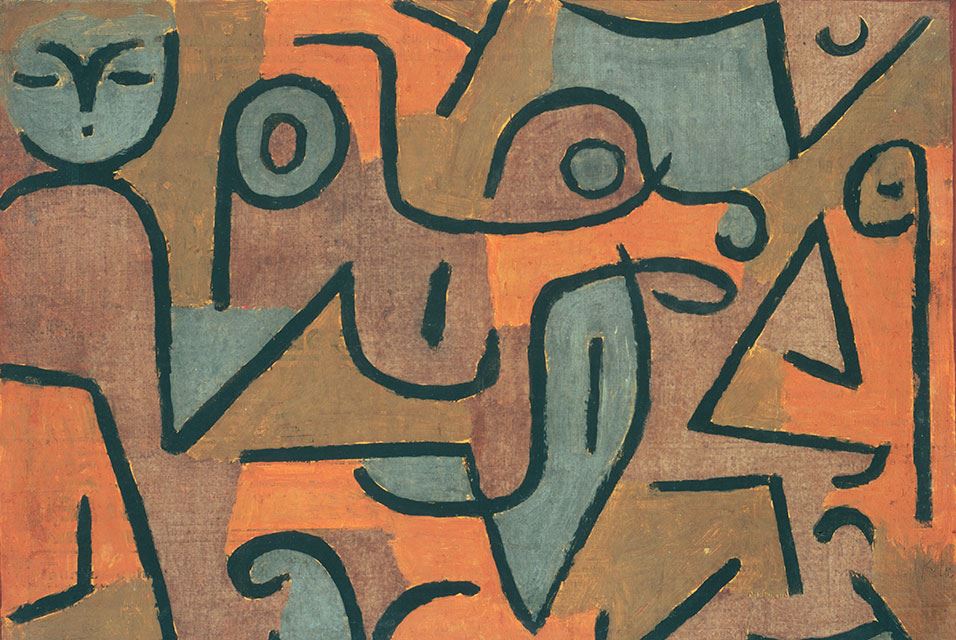 July 29, 1940. Paul Klee (18 December 1879 - 29 June 1940) was a Swiss German artist. His highly individual style was influenced by movements in art that included Expressionism, Cubism, and Surrealism. In this image: Paul Klee, Young Moe, 1938. Colored paste on newspaper on burlap, 20 7/8 x 27 5/8 in. The Phillips Collection, Washington, DC, Acquired 1948.
---

Museums, Exhibits, Artists, Milestones, Digital Art, Architecture, Photography,
Photographers, Special Photos, Special Reports, Featured Stories, Auctions, Art Fairs,
Anecdotes, Art Quiz, Education, Mythology, 3D Images, Last Week,

.
---
Royalville Communications, Inc
produces: