'Georgia O'Keeffe and American Modernism' opens at McNay Art Museum
Georgia O'Keeffe, From the Plains I, 1953. Oil on canvas. Collection of the McNay Art Museum, Gift of the Estate of Tom Slick, 1973.22. © Georgia O'Keeffe Museum/ Artists Rights Society (ARS), New York.
SAN ANTONIO, TX
.-
Opening Friday, January 21, at the
McNay Art Museum
, Georgia O'Keeffe and American Modernism presents a wide-ranging view of the American Modernist movement through 65 diverse artworks from the McNay's permanent collection, the Harmon and Harriet Kelley Foundation for the Arts, and rare loans from across the country. "At this time of great transformation in our country's history, social norms and boundaries were challenged, and conventions on class, gender, religion, and race were increasingly blurred and redefined," said Liz Paris, McNay Collections Manager and co-curator of the exhibition. "American artists were inspired by the diversity of immigrant cultures, and in many cases, their own experiences as first-generation American citizens." Known as the "mother of American Modernism," Georgia O'Keeffe emerged as a prominent artist in the movement through paintings and watercolors th ...
More
The Best Photos of the Day
The Met announces gift of a rare painting by Nicolas Poussin from Jon and Barbara Landau
Annie Leibovitz & Sally Mann among February Photographs Auction highlights
Françoise Gilot: 'It girl' at 100


Nicolas Poussin (French, 1594–1665), Agony in the Garden. 1626–27, oil on copper. 24 1/8 in. x 23 1/8 in. The Metropolitan Museum of Art, Gift of Jon and Barbara Landau in honor of Keith Christiansen.



NEW YORK, NY.- The Metropolitan Museum of Art announced today that it has received a gift from Jon and Barbara Landau of an exceptional painting by Nicolas Poussin (1594–1665), a French artist who changed the course of European painting and set the terms for subsequent generations of artists. Agony in the Garden, created between 1626–27, is one of only two unanimously accepted works by Poussin executed in oil on copper rather than on canvas, which he used more typically. This important addition to the Department of European Paintings brings The Met's holdings of paintings by Poussin to seven, making it the largest and most comprehensive collection of the artist's work outside Europe. "We are thrilled to add this remarkable painting to The Met's collection," said Max Hollein, Marina Kellen French Director of The Metropolitan Museum of Art. "Poussin has ... More



Annie Leibovitz, John Cleese, London, 1990. Estimate: $2,000 - $4,000.



CHICAGO, IL.- On February 1, Hindman Auctions will present its third auction dedicated to Photographs, which will be highlighted by a striking selection of Annie Leibovitz portraits. The sale will also offer a dazzling selection of celebrity photography, by artists such as Yousuf Karsh, Philippe Halsman, William John Kennedy, Imogen Cunningham, Edward Weston and Bruno Bernard (Bernard of Hollywood) that spotlight a range of luminaries from Hollywood to New York. A compelling group of Annie Leibovitz photographs will be offered, highlighted by Alice in Wonderland for Vogue, (Viktor and Rolf with Natalia, Paris) (lot 86; estimate: $3,000-5,000), an image from an iconic 2003 fashion shoot. Leibovitz collaborated with Grace Coddington, former Vogue Creative Director, on this highly praised shoot. Her recent book titled Annie Leibovitz: Wonderland (Phaidon), was released in 2021 to much acclaim. With two exhibitions at Hauser & Wirth in New York a ... More



The artist Francoise Gilot, former wife of Pablo Picasso, at her home in New York, Jan. 13, 2022. Landon Nordeman/The New York Times.

by Ruth La Ferla



NEW YORK, NY.- Seated bolt upright on a cream-colored sofa, Françoise Gilot was as grave as an oracle, an impression enhanced by her precision-tailored flame red suit. "I wear red as a kind of protection, an affirmation of character," she said. "It allows me to show myself the way I want to be seen." It was her expression — a blend of mischief, vulnerability and tentative warmth — that gave her away. "I am shy," Gilot said more than once during a rare interview late last month on the Upper West Side of Manhattan, in the apartment that is also her studio. Never mind the stir she created with the 1964 publication of "Life With Picasso," a blisteringly candid account of her 10-year relationship with the artist. (She was the only woman to have walked out on him.) Or her stature as an artist: Her works are exhibited in more than a dozen museums, ... More
Asia Week New York and The Winter Show present webinar on J.P. Morgan
Christie's New York announces sale of Outsider Art
Gagosian announces new gallery in Gstaad, Switzerland


Court School of Charles the Bald, Lindau Gospels, jeweled upper cover of the Lindau Gospels, Switzerland, Abbey of St. Gall, late 9th century, ca. 880, the Morgan Library, purchased by Pierpont Morgan, 1901.



NEW YORK, NY.- Asia Week New York, in partnership with The Winter Show, present J.P. Morgan: A Collector's Legacy, an online webinar, featuring a distinguished panel of scholars and experts including Charlotte Eyerman, Jean Strouse, Colin B. Bailey, Linda H. Roth, and Steven Chait, each of whom will explore a specific point of interest about the larger-than-life financial tycoon and collector. The presentation will be held on Wednesday, January 26 at 5:00 p.m. EST. To register: click here. John Pierpont Morgan was not only one of the most powerful figures in finance with his name atop one of the world's leading banking and investment firms, but also a prodigious collector, whose legacy resides in the masterpieces from his extraordinary collection that are now highlights of important museum and private collections throughout ... More



David Butler (1898-1997), Walking Stick with Figure, circa 1975. Estimate: $4,000-8,000. © Christie's Images Ltd 2022.



NEW YORK, NY.- Christie's announced Outsider Art, a live sale taking place at Rockefeller Center on 3 February 2022. The auction presents masterpieces by the category's leading artists including Henry Darger, Bill Traylor, and Martín Ramírez among others. The sale includes a fantastic selection of work from private collections sold for philanthropic initiatives; including property from the William Louis-Dreyfus Foundation, sold to benefit the Foundation and the Harlem Children's Zone, and property from the Collection of William A. Fagaly, sold to benefit Prospect New Orleans' William A. Fagaly Memorial Fund for Social Impact. Internationally recognized curator William Fagaly (1938-2021) dedicated his decades-long career at the New Orleans Museum of Art to bolstering the institution's representation of African art, Outsider art, and contemporary ... More



The exterior of Gagosian's new gallery at Promenade 79, Gstaad, Switzerland. Photo: Annik Wetter.



GSTAAD.- Gagosian announced the opening of a new gallery in Gstaad, Switzerland, this February. Located along the historic promenade in the heart of the village, the gallery will be inaugurated with an exhibition of works by Damien Hirst opening on February 14. Gagosian's presence in the alpine location began in 2018, with a series of pop-up presentations in and around Gstaad, featuring the work of artists including Giuseppe Penone, Andreas Gursky, Marc Newson, and Ed Ruscha. Gagosian opened its first location in Switzerland more than a decade ago, and the new space joins an existing gallery in Basel, which was inaugurated in 2019. Millicent Wilner, a director of Gagosian since 2001, commented, "Switzerland has long enjoyed a rich history of collecting. Esteemed private collections evolved into institutions and foundations, and a new generation of individuals and families has continued the tradition of arts ... More
Hirshhorn Museum and Sculpture Garden, Albright-Knox Art Gallery jointly acquire Infinity Mirrored Room by Yayoi Kusama
Sable Elyse Smith joins Regen Projects
The day New Queer Cinema said: Let's do this


Yayoi Kusama, "Infinity Mirrored Room—My Heart Is Dancing into the Universe," 2018. Wood and glass mirrored room with paper lanterns, 119 5/8 x 245 1/8 x 245 1/8 in. (304 x 622.4 x 622.4 cm). Courtesy Ota Fine Arts and Victoria Miro, London/Venice. © YAYOI KUSAMA. Purchased jointly by the Hirshhorn Museum and Sculpture Garden, Smithsonian Institution, Washington, D.C. (Joseph H. Hirshhorn Purchase Fund, 2020), and the Albright-Knox Art Gallery, Buffalo, with funds from the George B. and Jenny R. Mathews Fund, by exchange.



WASHINGTON, DC.- In a landmark collaboration between two leading U.S. modern and contemporary art museums, the Albright-Knox Art Gallery and the Hirshhorn Museum and Sculpture Garden announced today the joint acquisition of an important immersive artwork by Yayoi Kusama. "Infinity Mirrored Room—My Heart Is Dancing into the Universe" (2018) will receive its East Coast debut when "One with Eternity: Yayoi Kusama in the Hirshhorn Collection" opens at the Hirshhorn this spring; dates to be announced. The artwork will go on display in Buffalo, NY, in the years following the completion of the Albright-Knox's campus expansion and ... More



Sable Elyse Smith, Riot I, 2019. Stainless steel with 2k painted finish, 56 x 56 x 56 inches © Sable Elyse Smith, Courtesy Regen Projects and JTT, New York.



LOS ANGELES, CA.- Regen Projects announced representation of Sable Elyse Smith. Working in video, sculpture, photography, and text-based artworks, Smith draws attention to American systems of inequity. Her work focuses on the largely unseen personal, political, and quotidian impact that state-funded penal, educational, and economic structures have on culture at large. Smith makes this visible by recontextualizing materials, symbols, forms, and value systems from these bureaucratic programs to make new meaning. Taking the form of appropriations of ready-made objects, images, video, or text, Smith's practice adopts that which can be presumed to be neutral or banal—realigning it with issues surrounding memory, violence, trauma, and systemic inequality. Her work Riot I, 2019, is composed of a group of standard-issue stools designed for prison visiting rooms. Joined together at the center, the round seats jut outward ... More



In a photo from Sandria Miller for Sundance Institute, images from the Barbed-Wire Kisses panel at the 1992 Sundance Film Festival. Sandria Miller for Sundance Institute via The New York Times.

by Erik Piepenburg



NEW YORK, NY.- On Jan. 25, 1992, the Sundance Film Festival convened a panel on contemporary lesbian and gay cinema and "the significance of this movement," according to the program. It was a bold declaration that drew nine speakers to a dais at noon, even though they were probably hung over from the big party the night before, where Brad Pitt showed up. Sharing a name with an album by the Jesus and Mary Chain, the Barbed-Wire Kisses panel was a turning point for queer film. Not just because of the activist-driven, identity-cinema particulars it covered — there was talk of "having to rethink history according to our terms," as director Todd Haynes said during the discussion, and debate over protests regarding transgender representation in "The Silence of the Lambs." What happened that day was a flash point in the genesis of New ... More
Art Basel Hong Kong 2022 exhibitor list announced
47 Canal opens a group exhibition featuring works by Michele Abeles, Josh Kline, and Stewart Uoo
The Philadelphia Show announces 60th anniversary on museum grounds


Asia Art Center © Art Basel.



HONG KONG.- The 2022 edition of Art Basel Hong Kong will feature a strong line-up of 137 leading galleries from Hong Kong, Asia, and overseas – a notable increase from 104 last year – despite continuing pandemic-related challenges and Hong Kong travel and quarantine restrictions. The show welcomes 16 newcomers, including Galería Cayón from Madrid, Lucie Chang Fine Arts and Mine Project from Hong Kong, Mizoe Art Gallery with spaces in Tokyo and Fukuoka, rin art association with spaces in Takasaki, Gallery Vazieux from Paris, Misako & Rosen with spaces in Tokyo and Brussels, Jason Haam from Seoul, Vin Gallery from Ho Chi Minh City, Galerie Forsblom from Helsinki, Catinca Tabacaru from Bucharest, Galerie Mitterrand from Paris, Jahn und Jahn from Munich, Jan Kaps from Cologne, Maia Contemporary from Mexico City, and Kendall Koppe from Glasgow. Given ongoing international travel restrictions, Art Basel will again offer galleries ... More



Stewart Uoo, Window Grill X, 2014.



NEW YORK, NY.- "blue monday" is a group exhibition featuring works by Michele Abeles, Josh Kline, and Stewart Uoo. Time is pulled tightly into focus in Michele Abeles's series of street photography, titled Watches (2014). Closely fixed on the glint of wrist watches of figures in motion– women who are out shopping, maybe returning from a smoke break––the large compositions read almost like adverts through the contradictory nature of their messages. They remind you that time is for sale, but timelessness is what you actually desire. Moving out from the studio and onto the street, Abeles still renders her special type of temporal and spacial dislocation in the flatness of her arrangements. Here, the images are cropped so closely on their subjects that they seem to suspend or float through the streets of any generic city. There exists a seemingly exhaustive familiarity of unbreakable archetype that's repeated and tethered between this life and the next. Stewart Uoo ... More



Jamie Wyeth, Study of Rudolf Nureyev (Study #91), 1977, Courtesy of Somerville Manning Gallery.



PHILADELPHIA, PA.- The Philadelphia Show – one of the nation's leading art and design fairs, known for the exceptional quality and integrity of its exhibitors – is pleased to announce its 60th Anniversary Edition at the Philadelphia Museum of Art from April 29 – May 1, 2022. This year's event will feature forty of the most outstanding exhibitors in the US, specializing in fine art, design, antiques, Americana, folk art, ceramics, porcelain, silver, jewelry, textiles, and decorative arts. The Philadelphia Show boasts a diverse group of exhibitors showcasing works spanning from the 16th to the 21st centuries, with a core DNA rooted in American art further bolstered by international influences that include important European and Asian works. Firmly established as the premier destination for antiques, The Philadelphia Show has more recently made a commitment to amplify its modern and contemporary design offerings, welc ... More
Take a Tour of Sotheby's Masters Week Highlights

Flashback
On a day like today, fashion designer Christian Dior was born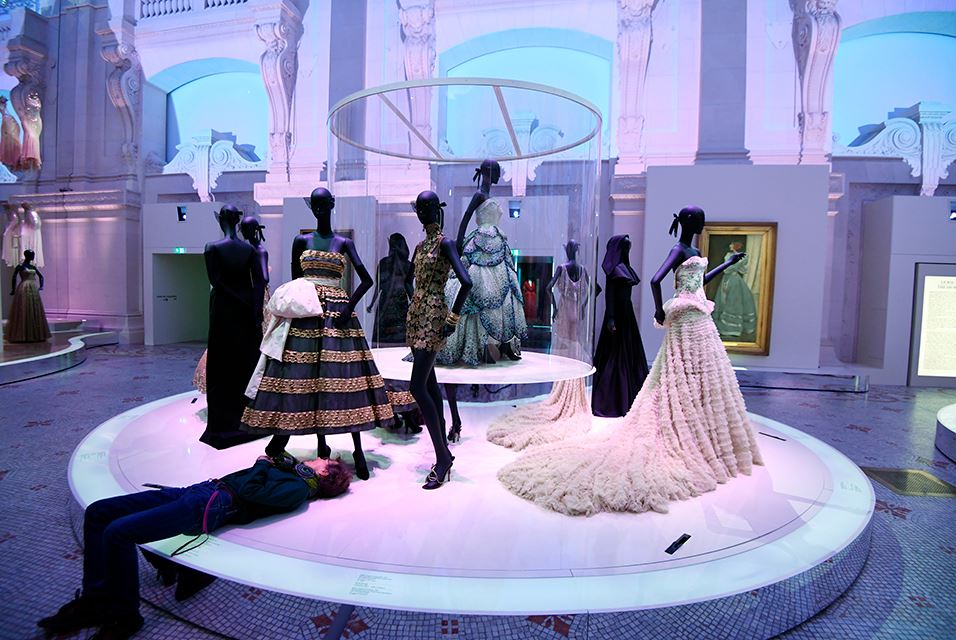 January 21, 1905. Christian Dior (21 January 1905 - 24 October 1957) was a French fashion designer, best known as the founder of one of the world's top fashion houses, also called Christian Dior, which is now owned by Groupe Arnault. His fashion houses are now all around the world. This file picture taken on July 3, 2017 shows a man adjusting a dress prior to the opening of the Dior exhibition that celebrates the seventieth anniversary of the Christian Dior fashion house, at the Museum of Decorative Arts (Musee des Arts Decoratifs) in Paris. 708 000 people visited the exhibition dedicated to Christian Dior from July 5, 2017 to January 7, 2018 in Paris. ALAIN JOCARD / AFP.
---

Museums, Exhibits, Artists, Milestones, Digital Art, Architecture, Photography,
Photographers, Special Photos, Special Reports, Featured Stories, Auctions, Art Fairs,
Anecdotes, Art Quiz, Education, Mythology, 3D Images, Last Week,

.
---
Royalville Communications, Inc
produces: