School of the Museum of Fine Arts at Tufts University hosts 38th Annual Curated Art Sale on Bidsquare
Karmimadeebora McMillan, Shangri La, $16,000.
NEW YORK, NY
.-
Bidsquare
partnered with The School of the Museum of Fine Arts at Tufts University (SMFA at Tufts), who is hosting its 38th annual art sale online now through November 23, 2020. The online event features curated works available for sale selected by a jury of esteemed artists, curators and gallerists. Art lovers worldwide are able to browse nearly 600 works by more than 300 students, alumni and faculty from across the globe. The sale moved online for the first time to keep artists and patrons connected, but still safe during the COVID-19 pandemic. Previously, the sale was limited to local members of the SMFA at Tufts community. Now, SMFA artists from across the globe are able to offer their works to art collectors everywhere. The sale provides crucial visibility to emerging and established artists who may have limited visibility because of the global pandemic closing countless museums and galleries. The annual sale is also SMFA at T ...
More
The Best Photos of the Day
Bruno Barbey, Magnum photographer of war and peace, dies at 79
Christie's announces highlights included in Classic Week's ten sales
Three arrested over spectacular Dresden museum jewellery heist


Bruno Barbey, The City Wall Essaouira 1987 (detail).



NEW YORK (NYT NEWS SERVICE).- Bruno Barbey, a French photographer for the Magnum Photos agency who produced powerful, empathetic work in war zones as well as in peacetime, died Nov. 9 in Orbais-l'Abbaye, in northeastern France. He was 79. His wife, Caroline Thiénot-Barbey, said the cause was a pulmonary embolism. Jean Gaumy, a Magnum colleague, described Barbey in an email as "a formidable visual architect" whose pictures told the story of the "transformation and movements of the world." In May 1968, when students in Paris ignited a political movement with mass protests against universities and the government, Barbey photographed enduring images of the rage on the streets: students hurling projectiles at the police; protesters passing cobblestones to one other to build barricades; armed police officers storming fleeing students; demonstrators at night carrying Molotov cocktails on a street already ablaze. "At one point, I went with Marc Riboud and Henri Cartier-Bresson ... More



Jan Davidsz. de Heem (Utrecht 1606-1684 Antwerp), A banquet still life (detail), inscribed and signed 'V. E otmoedigen/ J-D heem.' (lower right, on the paper) oil on canvas. Estimate: £4,000,000-6,000,000. © Christie's Images Ltd 2020.



LONDON.- Christie's announces Classic Week, a marquee series of ten sales celebrating craftsmanship and the story of creativity across time, from antiquity to the 21st century, to be offered across five online and five live auctions taking place from 24 November to 17 December. Classic Week features Old Master Paintings and Sculpture, British & European Art, Antiquities, and Valuable Books and Manuscripts. Works on paper are strongly represented this season, ranging from manuscript illuminations, to Old Master and British Drawings and Watercolours, to Quentin Blake illustrations. An exhibition and viewing for the sales will take place at Christie's King Street from 3 December – 16 December under socially distanced regulations strictly adhering to government guidelines. The ten auctions feature a vast array ... More



A policewoman carries box with evidence out of a building in Berlin's Kreuzberg district during raids of properties on November 17, 2020 in connection with a spectacular heist on Green Vault museum in Dresden's Royal Palace on November 25, 2019. Odd ANDERSEN / AFP.

by Hui Min Neo



BERLIN (AFP).- German police on Tuesday arrested three suspects over a spectacular heist a year ago in which more than a dozen diamond-encrusted items were snatched from a state museum in Dresden. Investigators were also raiding 18 properties in Berlin, including 10 apartments as well as garages and vehicles, police and prosecutors said in a statement. "The measures today are focused on the search for the stolen art treasures and possible evidence, such as data storage media, clothing and tools," they said. In what local media have described as the biggest art heist in modern history, the robbers had launched their brazen raid on Green Vault museum in Dresden's Royal Palace on November 25, ... More
Matthew Marks exhibits fourteen works on paper and two sculptures by Anne Truitt
Exhibition explores the way in which Anni Albers's trips to Mexico influenced her work
Sotheby's announces December cross-category marquee evening sale


Anne Truitt, Pond Sound, 1999. Acrylic on wood, 18 1/4 x 18 x 18 inches, 46 x 46 x 46 cm.



NEW YORK, NY.- Matthew Marks is presenting Anne Truitt: Sound, the new exhibition in his gallery at 523 West 24th Street. The exhibition includes fourteen works on paper and two sculptures. All the works come from the artist's estate and are being shown for the first time. Anne Truitt completed the fourteen paintings on paper that comprise the Sound series in 2003, a year before her death at age eighty-two. For each work, she took a sheet of paper approximately twenty inches square and covered it edge to edge with paint. The color is calibrated for maximum "force," as she put it, while her brushstrokes assert a newfound energy. While making this series, Truitt described waking one morning with the impression that her sense of shape, structure, and proportion had departed her. "What is left is 'sound,' some kind of energy without name," she wrote. "It occurred to me that the 'name' of the things ... More



Anni Albers, Red Meander II, 1970-1971. The Josef and Anni Albers Foundation, 1994.11.17. Photo: Tim Nighswander / Imaging4Art. © The Josef and Anni Albers Foundation/Artists Rights Society, NY. D.R. © Anni Albers/ARS/VG Bild-Kunst/SOMAAP/México/2020.



MEXICO CITY.- Museo Jumex is presenting the fourth edition of the Passersby series, on view until February 28, 2021. This exhibition explores the way in which Anni Albers's (Germany, 1899 - USA, 1994) trips to Mexico influenced her work in different fields; in addition to outlining the personal and professional relationships forged through this experience. Annelise Elsa Frieda Fleischmann, known as Anni Albers, was an artist, designer, essayist, collector, researcher, and teacher. She visited Mexico thirteen times with her husband, artist, and educator Josef Albers (Germany, 1888 - USA, 1976). Her travels through different regions of Mexico, in search of archaeological sites, textiles, and other local crafts, significantly influenced her work and thinking. Anni Albers was an ... More



Pablo Picasso's Buste De Femme Assise. Courtesy Sotheby's.



NEW YORK, NY.- Sotheby's announced a new, cross-category auction titled Impressionist, Modern & Contemporary Art | An Evening Sale, which will bring together masterworks encompassing the most renowned artists from the late 19th century to the most in-demand contemporary artists working today. The marquee Evening Sale will be held in New York and livestreamed to the world on Tuesday, 8 December. The announcement comes on the heels of the success of Sotheby's global October auctions, including marquee Evening Sales of Contemporary and Impressionist & Modern Art across Hong Kong, Paris, London, and New York, which achieved $1 billion in consolidated sales. The cross-category format also builds on the success of Sotheby's Rembrandt to Richter Evening Sale in London in July, which brought together works of art spanning 500 years of art history, ... More
Robert Frank: Books and Films published by Steidl
The Aldrich Contemporary Art Museum opens Genesis Belanger's first major solo museum exhibition
Churchill whisky painting fetches almost £1 mln


Robert Frank: Books and Films published by Steidl.



NEW YORK, NY.- Books and Films published by Steidl explores Robert Frank's rich bookmaking history with Steidl. Including spreads from and explanatory texts on the more than 30 books Frank published with Steidl, along with interviews, essays and documentary photos, Books and Films is a tribute to Frank's diverse and influential bookmaking practice. Gerhard Steidl began working with Robert Frank in 1989, when Swiss publisher Walter Keller asked him to print Frank's The Lines of My Hand for his imprint Scalo: "You'll both get along well on press," Keller had said. And so Robert Frank traveled to Steidl at Düstere Strasse 4 in Göttingen for the first of many times, to be on press and sign off each printed sheet. After Scalo closed its doors in 2004, Steidl started to publish as well as print Frank's books, beginning a long-term working friendship that encompassed every aspect of Frank's creativity—from reprints of his classic and some lesser- ... More



Genesis Belanger, A Fortress of Order and Generosity (foreground, installation view), 2020, The Aldrich Contemporary Art Museum, September 21, 2020 to May 9, 2021, Courtesy of the artist and Perrotin, New York. Photo: Guillaume Zicarelli.



RIDGEFIELD, CONN.- The Aldrich Contemporary Art Museum is presenting Through the Eye of a Needle, the first major solo museum exhibition of New York-based artist Genesis Belanger (b. 1978). The exhibition debuts an entirely new body of work specially conceived for the Museum and will be on view until May 9, 2021. Belanger's first museum presentation was in Objects Like Us, a 2018 group exhibition at The Aldrich curated by Amy Smith-Stewart and David Adamo. Genesis Belanger's conceptual methodology blends Surrealism and Pop art with a self-possessed feminism informed by a professional career inside the fashion and advertising industries. Her studio practice is chiefly centered on the creation of porcelain and stoneware sculptures and tableaux. Staging her sculptural ... More



Winston Churchill (1874 - 1965), Jug with Bottles. Oil on canvasboard. Unframed: 51 by 35.5cm.; 20 by 14in. Framed: 72 by 57cm.; 28½ by 22½in. Executed in the 1930s. Estimate: 150,000 - 250,000 GBP. Courtesy Sotheby's.



LONDON (AFP).- A rare painting by Winston Churchill featuring the famously bibulous British World War II leader's favourite brand of whisky fetched nearly £1 million at auction in London on Tuesday. The 1930s oil painting, of a bottle of Johnny Walker's Black label whisky and a bottle of brandy with a jug and glasses, sparked a bidding battle before it sold for £983,000 ($1.3 million, 1.1 million euros). The sale, at a Sotheby's online auction of modern and post-war British art, was around five times above pre-sale estimates and among the highest ever reached under the hammer for a Churchill painting. The war-time leader, who was a keen amateur artist, created the still life work -- entitled "Jug with Bottles" -- in the 1930s at his country house Chartwell, in Kent, southeast England. It reflected ... More
Jack Shainman Gallery presents an exhibition of works by Nina Chanel Abney
VMFA acquires Nari Ward's Xquisite LiquorsouL for its contemporary art collection
Ruth DeYoung Kohler II, long-tenured Director of the John Michael Kohler Arts Center, dies at the age of 79


Nina Chanel Abney, Being Mixie with my Fixie, 2020 (detail). Acrylic and spray paint on canvas, 84 x 84 inches.



NEW YORK, NY.- Jack Shainman Gallery is presenting Nina Chanel Abney's second solo exhibition at the gallery, which is being held in both the 513 West 20th Street and 524 West 24th Street galleries. The Great Escape explores the concept of a communal Arcadia, created for us, by us. Is there space for Black autonomy in a world organized by white supremacy? If it were an actual place – a space absent of race relations, antagonistic or friendly – what would it look like? This series responds to these questions by reimagining Black people's relationship to nature, property, and each other. Taking inspiration from the fugitive utopias of Black queer social life, these scenes refuse the enclosure of Blackness to topographies of the city and to ideals of heteronormativity. Instead, communal living in rural, wooded outdoors figures as a place for the performance of a Black autonomy that evades the ballistic force of ... More



Nari Ward, Xquisite LiquorsouL, 2009 (detail). Collection of Virginia Museum of Fine Arts.



RICHMOND, VA.- The Virginia Museum of Fine Arts (VMFA) announced the recent acquisition of Xquisite LiquorsouL, a 2009 installation work by Jamaican-born artist Nari Ward. Ward uses objects found discarded in his neighborhood in New York City — items like bottles, shopping carts, televisions, shoelaces, oil drums, clothing and strollers — to form his monumental sculptural and sound installations, which address issues related to consumerism, poverty, immigration and race. By transforming these everyday items into complex three-dimensional compositions, Ward effectively creates artworks laden with symbolism and profundity. His approach allows viewers to derive meaning independently and through free association. For Xquisite LiquorsouL, constructed from a found neon sign, artificial flowers, shoelaces and wood, Ward transposed the letters and left only the letters "S-O-U-L" illuminated. "Nari Ward is a masterful historian and storyteller. Rather than the ... More



Ruth was a tireless champion of under-recognized artists and art forms.



SHEBOYGAN, WIS.- Ruth DeYoung Kohler II had a deep appreciation and passion for the works created by under-recognized artists and art forms and as the long-tenured Director of the John Michael Kohler Arts Center (1972-2016), she grew the Sheboygan, Wisconsin arts center to an internationally recognized institution presenting contemporary art, the work of vernacular artists, performing arts, and the work of art-environment builders. Ruth died Saturday, November 14, at her home in Kohler, Wisconsin, at the age of 79. She was the daughter of Herbert V. Kohler, Sr. and Ruth DeYoung Kohler, and younger sister of current Kohler Co. Executive Chairman Herbert V. Kohler, Jr. At the time of her passing, Ruth held the title of Director Emerita at the John Michael Kohler Arts Center – a testament to her tremendous contribution to the fields of art environments and self-taught and folk art as well as contemporary art. Ruth was also a major shareholder in privately ... More
In Other Words | Showcasing Chinese Culture at the Hong Kong Palace Museum

Flashback
On a day like today, French photographer Louis-Jacques Daguerre was born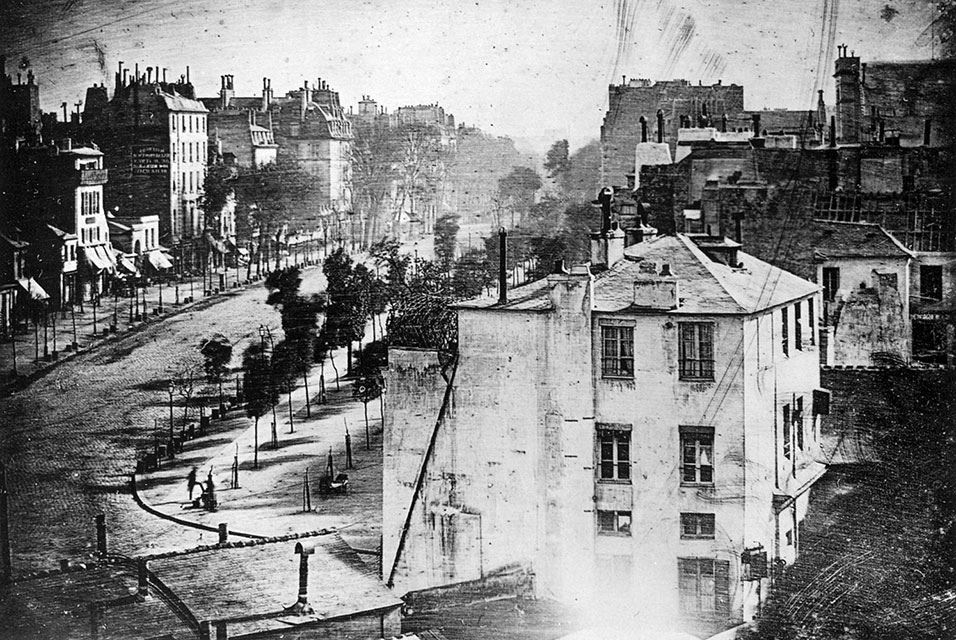 November 18, 1787. Louis-Jacques-Mandé Daguerre (18 November 1787 -10 July 1851) was a French artist and physicist, recognized for his invention of the daguerreotype process of photography. He became known as one of the fathers of photography. Though he is most famous for his contributions to photography, he was also an accomplished painter and a developer of the diorama theatre. In this image: "Boulevard du Temple", taken by Daguerre in 1838 in Paris, includes the earliest known photograph of a person. The image shows a street, but because of the over ten minute exposure time the moving traffic does not appear. At the lower left, however, a man apparently having his boots polished, and the bootblack polishing them, were motionless enough for their images to be captured.
---

Museums, Exhibits, Artists, Milestones, Digital Art, Architecture, Photography,
Photographers, Special Photos, Special Reports, Featured Stories, Auctions, Art Fairs,
Anecdotes, Art Quiz, Education, Mythology, 3D Images, Last Week,

.
---
Royalville Communications, Inc
produces: