Kangaroo painting Australia's oldest Aboriginal rock art
The two-metre-long (six-feet) artwork on the sloped ceiling of a rock shelter in Western Australia's Kimberley region was painted in an early naturalistic style, which often features life-sized renderings of animals, according to research published Monday.

by Kelly Macnamara
PARIS
(AFP)
.-
A kangaroo painting created over 17,000 years ago by Aboriginal artists has been identified -- with a little help from some ancient wasps -- as Australia's oldest intact rock art. The two-metre-long (six-feet) artwork on the sloped ceiling of a rock shelter in Western Australia's Kimberley region was painted in an early naturalistic style, which often features life-sized renderings of animals, according to research published Monday. Scientists worked with the local Aboriginal community, who can trace their heritage in the region back tens of thousands of years, to establish the age of original rock artworks, many of them worked and reworked over millennia. "The main challenge, globally, in dating ancient paintings is that they very rarely employed a pigment that can be dated with any of the current, quantitative dating techniques," lead author Damien Finch, a geochronologist at the University of Melbourne, told AFP. To get around this the researchers identified a way to work out ...
More
The Best Photos of the Day
Inside a bar in Seville, a hidden 12th-century hammam is found
Masterpiece by Vincent van Gogh emerges after a century in the same private collection to make auction debut in Paris
Rare Thomas Moran watercolor to be unveiled at the Amon Carter Museum


This picture taken on February 22, 2021 shows a wall at the Giralda Bar in Seville, where an Islamic 12th-century bathhouse was uncovered during renovations works.



SEVILLE (AFP).- They had only just begun renovating the bar in Seville when they made a startling discovery: the building housed a perfectly preserved 12th-century hammam, its walls covered with beautiful paintings. What tipped them off was a star-shaped skylight that emerged within the first few blows of a hammer when the work first began inside Giralda, a bar in the heart of this southern Spanish city. The discovery was "completely unexpected", explained Alvaro Jimenez, the archaeologist assigned to monitor all such renovation works undertaken near Seville's Cathedral, a protected area. In total, they uncovered 88 skylights, star-shaped and octagonal, in the roof of this Moorish-styled bar with tiled walls that takes its name from La Giralda -- once the minaret of the Great Mosque that now serves as the Cathedral's bell tower. And there was more to follow, with workers ... More



Scène de rue à Montmartre (Impasse des deux frères et le Moulin à Poivre), 1887 (detail) (est. €5-8 million). Courtesy Sotheby's.



PARIS.- Painted in the Spring of 1887 – during Vincent van Gogh's two-year sojourn in Paris – Scène de rue à Montmartre is a not only a major work by the artist but also from his very rare series of paintings depicting the legendary Moulin de la Galette in Montmartre. The work has remained in the same family collection for over 100 years, and despite having been published in seven catalogues, it has never been exhibited until now. This Spring, Sotheby's and Mirabaud Mercier are delighted to present the painting to the public for the first time; with exhibitions to be held in Amsterdam, Hong Kong and Paris ahead of the Impressionist & Modern Art auction on 25 March. "The moment we set eyes on this painting for the first time were immediately captivated. It is with great pleasure that we can now present this to the world, after being treasured by the same French family for a century." -Claudia Mercier and Fabien ... More



Thomas Moran (1837–1926), Mount Superior, as viewed from Alta, Little Cottonwood Canyon, Utah, ca. 1879 (detail), watercolor and graphite on paper, Amon Carter Museum of American Art, Fort Worth, Texas, 2020.1



FORT WORTH, TX.- This summer, the Amon Carter Museum of American Art will unveil the acquisition of a rare watercolor, Mount Superior, as viewed from Alta, Little Cottonwood Canyon, Utah (ca. 1879) by Thomas Moran in an exhibition that will explore the origin of the work—a little-known story of the artist's westward journey along the transcontinental railroad—within the context of both the history and the art of the period, as well as the artist's renowned career. The new acquisition will be exhibited alongside a variety of Moran's work including an oil painting and prints from the museum's collection as well as contemporaneous photographs, watercolors, and ephemera, illuminating the life and cultural backdrop of one of America's most important landscape painters. Thomas Moran's Mount Superior will be on view at the ... More
M+ receives new donation from collector Hallam Chow, consisting of works by Asian contemporary artists
Anime is booming. So why are animators living in poverty?
Whitney lays off 15 workers amid mounting financial losses


Liang Yuanwei, Early Spring – One Table, Four Stools, 2010. Laminated wood, metal and oil paint. Dimensions variable. M+, Hong Kong. Gift of Hallam Chow, 2019 © Liang Yuanwei.



HONG KONG.- M+, at the West Kowloon Cultural District, announced a significant donation by Hallam Chow, a prominent Hong Kong collector and a long-time supporter of the museum. The donation comprises seventeen works created between the 1990s and the 2010s by thirteen important artists and collectives from Asia, strengthening the profile of contemporary Asian art in the M+ Collections. The donation includes works by seven leading Japanese artists and an artist collective: Aida Makoto (born 1965), Chim↑Pom (established 2005), Konoike Tomoko (born 1960), Odani Motohiko (born 1972), Shioyasu Tomoko (born 1981), Takamine Tadasu (born 1968), Teruya Yuken (born 1973), and Yanobe Kenji (born 1965). The donation also includes five works by internationally renowned artists from other countries, namely Montien Boonma (1953–2000, Thailand), Lee Bul (born 1964, South Korea), Liang Yuanwei (born 1977, Shaanxi), Liu Wei (born 1972 ... More



Tokyo's Akihabara district, a center of anime culture, on Jan. 14, 2021. The industry's boom has only widened the gap between profits and wages. Noriko Hayashi/The New York Times.

by Ben Dooley and Hikari Hida



TOKYO (NYT NEWS SERVICE).- Business has never been better for Japanese anime. And that is exactly why Tetsuya Akutsu is thinking about calling it quits. When Akutsu became an animator eight years ago, the global anime market — including TV shows, movies and merchandise — was a little more than half of what it would be by 2019, when it hit an estimated $24 billion. The pandemic boom in video streaming has further accelerated demand at home and abroad, as people binge-watch kid-friendly fare like "Pokémon" and cyberpunk extravaganzas like "Ghost in the Shell." But little of the windfall has reached Akutsu. Though working nearly every waking hour, he takes home just $1,400 to $3,800 a month as a top animator and an occasional director on some of Japan's most popular anime franchises. And he is one of the lucky ones: Thousands of lower- ... More



Installation view of The Whitney's Collection: Selections From 1900 To 1965 (Whitney Museum of American Art). Photograph by Sean Sime.

by Colin Moynihan



NEW YORK (NYT NEWS SERVICE).- Another round of coronavirus staff reductions has come to the Whitney Museum of American Art, as 15 workers in 11 departments were told they were being laid off, the museum's director, Adam Weinberg, said in an email to employees last week. The move was cast as part of an ongoing attempt to address the dire financial effects of the coronavirus pandemic. The layoffs were first reported by Artnet News. The Whitney shut down last March, as did other museums and cultural institutions in New York City, because of the pandemic. Since reopening in August, Weinberg wrote, ticket sales had been down by 80% compared with the same period the previous year. "As many of you have seen firsthand, our visitation remains extremely low," Weinberg wrote, adding, "Cutbacks to our on-site events and programming have greatly reduced revenue." The email message was shared ... More
Woodmere Art Museum extends 'Group '55 and Midcentury Modernism in Philadelphia' exhibition
Heritage Auctions celebrates return to Asia Week New York
Tribal Art Fair Amsterdam launches online this Spring 2021


Sam Feinstein Untitled, 1959 (detail). Courtesy of the Samuel L. Feinstein Trust.




PHILADELPHIA, PA.- In 1955, a group of Philadelphia painters, architects, musicians, and dancers organized a series of exhibitions and public forums across the city, presenting their work as a catalyst for vigorous public dialogue about the role of art and science in the postwar era. Group '55, as they came to be known, included architect Louis Kahn, composer George Rochberg, and artists Quita Brodhead, Michael Ciliberti, Sam Feinstein, Sam Fried, Sanford Greenberg, Raymond Hendler, Jane Piper, and Doris Staffel. Group '55 and Midcentury Modernism in Philadelphia, on view through May 9, 2021, includes professionally recorded sessions and historical materials never before made public. Patricia Stark Feinstein, who has overseen the important archive of the group's work, has organized the exhibition in collaboration with the Museum. Barbara Wolanin, a distinguished art historian whose specialization ... More



A Chinese Wucai 'Eight Immortals' Dish. Marks: Six-character Wanli mark within double-circles, 11-7/8 x 2-1/4 inches (30.2 x 5.7 cm). Estimate: $20,000 - $30,000.



DALLAS, TX.- An extraordinary selection of artwork from Chinese artist Qi Baishi and an impressive array of Indian and Himalayan art are among the top draws in Heritage Auctions' Fine & Decorative Asian Art auction March 16, an event in which Heritage will expand its footprint in Asia Week New York. "Heritage Auction's Consignment Directors Moyun Niu and Clementine Chen shared their excitement to celebrate New York Asia Week with over 300 fine and decorative Asian Art pieces, comprised of Chinese, Japanese and Korean ceramics, calligraphy, painting, sculpture, furniture and more," Heritage Auctions Asian Art Consignment Director Moyun Niu said. "Among the many fine treasures, they highlight, are a group of fine snuff bottles from a private California collection, a large white jade ruyi scepter from a major Dallas collection, a pair of large painted grey pottery guardian ... More



Dogon figure, Dogon, Mali, wood, 17,5 cm. Photo: David Malik African Art, London, UK.



AMSTERDAM.- Following the success of the Tribal Art Fair Amsterdam's first online fair, held at the end of October 2020, the organiser has decided to hold an online spring edition. Featuring 30 tribal art dealers from nine countries, the Tribal Art Fair Amsterdam Online is taking place from Thursday 29 April at 3pm until Monday 3 May 2021 at 10pm (Dutch time) at www.tribalartfair.nl/onlinefair. Over the past 18 years, Tribal Art Fair Amsterdam has grown into an internationally acknowledged fair for collectors, dealers, interior decorators and museum curators in the field of tribal art. Usually held at De Duif in Amsterdam, the pandemic meant that it was held online last autumn, with some 9,000 online visitors. In addition to the galleries which participated in the first online fair in 2020, there are nine new galleries signed up to join this spring event. Amongst the first-time exhibitors is Rare Photo Gallery from Toronto specialising in 19th and 20th century Canadian, American ... More
Perfect whisky collection sells for over $9 million at auction
Martian meteorites, fossilized skeletons share spotlight in Heritage Nature & Science Platinum Night Auction
George Eastman Museum receives 20 reels of rare 35mm nitrate films


Whisky Auctioneer Founder Iain Mcclune holding The Macallan 1926 Fine and Rare 60 Year Old 75cl / US Import. Photo: Peter Dibdin.



Whisky history was made on Monday 22 February 2021 as the curtain came down on the auction of the 'Perfect Collection' of whisky. With a total final hammer price* of $9,100,000 (£6,675,000), the collection of 3,900 bottles has become the highest value private collection ever to sell on the secondary market at an auction dedicated to one single collector's whisky. The auction has been hosted in two parts by market leaders Whisky Auctioneer due to the sheer scale of Mr Gooding's whisky library - a man who dedicated two decades of his life in pursuit of the perfect collection. Monday night marked the end of Part Two of the sale, which saw 1,557 distinct bidders in total from 54 countries battling it out for over 1,900 lots of some of the most exciting whiskies in existence. The most expensive bottle in the collection, The Macallan ... More



Found in 2001, Martian Meteorite NWA 1950 is classified as a shergottite-lherzolithic and is an iconic variety.



DALLAS, TX.- A pair of important Martian meteorites, each of which could bring $300,000 or more and a selection of significant fossils are just a handful of the extraordinary specimens that will cross the block in Heritage Auctions' Nature & Science Platinum Night Auction March 19. "This is an exceptional sale, a curated event that really represents the best of the best in a number of categories," Heritage Auctions Nature & Science Director Craig Kissick said. "What started out as something of a boutique auction has evolved into a truly exceptional Platinum event with incredible, museum-quality fossils and meteorites that can stand as the centerpieces of any collection." Found in 2001, NWA 1950 Martian Meteorite - Main Mass Martian (shergottite) is classified as a shergottite-lherzolithic and is an iconic variety. From what is considered the ... More



Si ve vulesse bene (1922). Tinted and toned print.



ROCHESTER, NY.- The George Eastman Museum has recently received a donation of 20 reels, from 12 identified titles, of rare 35mm nitrate and diacetate film prints from historian John Goodman of Scottsbluff, Nebraska. "We are very grateful to Mr. Goodman for this donation of nitrate films," said Peter Bagrov, Curator in Charge of the Moving Image Department, George Eastman Museum. The gift contains several rarities including a vintage tinted reel of Charlie Chaplin's The Gold Rush, made in 1925. "It's a bit of a mystery," Bagrov added. "Chaplin himself was not fond of tinting, and all of the known release prints of this film are in black and white. Even though the print is incomplete, this beautifully tinted reel is a great discovery and adds a new dimension to our understanding of how films were presented during the silent era." Among the other donated objects are tinted prints of The Law of the Mounted (J. P ... More
Phillips 2020: Year In Review

Flashback
On a day like today, French painter and sculptor Pierre-Auguste Renoir was born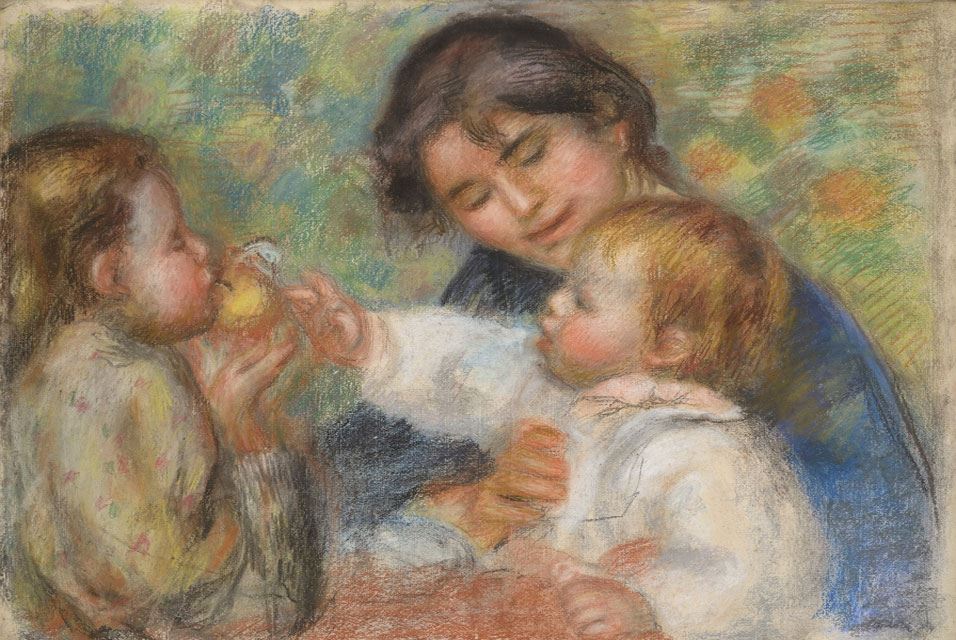 March 25, 1841. Pierre-Auguste Renoir (25 February 1841 - 3 December 1919), was a French artist who was a leading painter in the development of the Impressionist style. As a celebrator of beauty and especially feminine sensuality, it has been said that "Renoir is the final representative of a tradition which runs directly from Rubens to Watteau." In this image: Pierre-Auguste Renoir, Child with an Apple or Gabrielle, Jean Renoir and a Little Girl, circa 1895-1896. Pastel sobre papel. 560 x 760 mm. Mrs. Léone Cettolin Dauberville.
---

Museums, Exhibits, Artists, Milestones, Digital Art, Architecture, Photography,
Photographers, Special Photos, Special Reports, Featured Stories, Auctions, Art Fairs,
Anecdotes, Art Quiz, Education, Mythology, 3D Images, Last Week,

.
---
Royalville Communications, Inc
produces: