Painted Clay: Wada Morihiro and Modern Ceramics of Japan on view at Joan B Mirviss LTD
TAKEGOSHI JUN (b. 1948), Square vase decorated with kirin dancing in the clouds, 2021. Porcelain with polychrome kutani enamel glazes. Dims: 17 x 10 x 10 in. Photo by Matsumoto Hiroyuki. Courtesy of Joan B Mirviss LTD. Inv# 12771.
NEW YORK, NY
.-
Standing at the center of a long tradition of Japanese painted ceramic decoration is Wada Morihiro (1944-2008), a revered artist of intricate surface patterning on exceptional creative functional forms. For Asia Week New York 2023,
Joan B Mirviss LTD
is presenting an exhibition of this master's oeuvre alongside the many Japanese artists who paint on clay, employing a wide range of techniques. These varied and dynamic works by Wada's colleagues and successors stand in conversation with those by Wada and provide a rich context for painting on Japanese ceramics. PAINTED CLAY: Wada Morihiro and Modern Ceramics of Japan is accompanied by a fully illustrated printed catalogue with topical essays that will also be available online. Wada Morihiro was one of the most popular clay artists of his generation whose work was in great demand throughout his lifetime. He paired his powerful sculptural vessels with intricately painted, abstracted patt ...
More
The Best Photos of the Day
Dreweatts to offer an extremely rare opal tiara
Poly Auction announces highlights included in their Hong Kong Spring Auctions 2023
Phillips to offer Property from the Collection of Rosa and Aaron Esman


An extremely rare opal tiara from the family of the Late Jean Pierre François Joseph Pineton de Chambrun, Marquis de Chambrun, Marquis d'Amefreville (1903-2004) and his second wife Muriel, Marquise de Chambrun. Estimate £12,000-£18,000.



LONDON.- Dreweatts will offer an extremely rare opal tiara from the family of the Late Jean Pierre François Joseph Pineton de Chambrun, Marquis de Chambrun, Marquis d'Amefreville (1903-2004) and his second wife Muriel, Marquise de Chambrun. Jean Pierre Pineton was the eldest son of French politician and diplomat Charles Louis Antoine Pierre Gilbert Pineton de Chambrun (1865-1954) and his American wife, Margaret Rives Nichols (1872-1949). Jean Pierre married his second wife Muriel in married in 1963 and they spent their 40-year marriage between France, the United States and the Algarve in Portugal. The de Chambrun family has a prominent history as French politicians in the French Senate and French Chamber of Deputies and were direct descendants of Gilbert du ... More



Yoshitomo Nara, Acid M. J.



HONG KONG.- Poly Auction Hong Kong Spring Auctions 2023 will be held between 1 and 6 April at Grand Hyatt Hong Kong. Poly Auction Hong Kong is excited to offer a wide spectrum of rare masterpieces with the best inheritance value and market potential – paying homage to our collectors around the globe through this exquisite feast of art. Led by Yoshitomo Nara's Acid M. J. and Gerhard Richter's Abstraktes Bild (607-2), the Modern and Contemporary Art Sale will bring the hottest art line-up and encapsulates a century of Asian art history at a time. The Chinese Ceramics and Works of Art Department meticulously selected a collection of treasures with impeccable provenance, including the headline lot A Blue and White 'Lady' Bowl, Chenghua Period, 1465-1487. The Fine Chinese Paintings and Calligraphy Sale proudly showcases Wu Guanzhong's Tall Trees in Snowy Mountains and assemble a selection of excellent works fr ... More



Joan Miró, Femmes devant le soleil (Women in Front of the Sun), 1942. Estimate: $200,000 - 300,000. Image courtesy of Phillips.



NEW YORK, NY.- Phillips announced Property from the Collection of Rosa and Aaron Esman, a collection of over 150 works from their Manhattan residence. Iconic masterworks of the 1960s by Josef Albers and Robert Rauschenberg, along with an impressive assemblage of modern works on paper, photographs, and prints representing the breadth of the collection, will be offered in upcoming New York 20th Century & Contemporary, Photographs, and Editions sales. Important works by artists such as Roy Lichtenstein, Sol LeWitt, René Magritte, Jasper Johns, Jackson Pollock, Joan Miró, and many others will be included throughout sales. Select works will be on view at the Phillips Los Angeles gallery as a part of our 20th Century & Contemporary Global Highlights Tour this April, with further details to come. Rosa and Aaron Esman assembled an outstanding ... More
Over the Influence presents 'Fly Away..." by Greg Bogin
Anna Schwartz Gallery now presenting 'Working Models' by Rose Nolan until April 15th
The Warhol promotes Dan Law to Associate Director


Greg Bogin, albatross mate for life, (blue/pink), 2023. Acrylic and urethane on canvas over wood
149.9 x 149.9 cm, 59 x 59 in.



BANGKOK.- Over the Influence opened New York artist Greg Bogin's debut Southeast Asian exhibition Fly Away... at the Bangkok gallery space. The new series of paintings are a visual love letter to his wife Kyrie and this show is dedicated to her. The show will be on view until May 7th, 2023. "I made all the work for this show after a recent visit to the Hawaiian island of Kauai. The forms, shapes and colors are informed by the island, and were influenced by Polynesian art and culture mixed with fluorescent surf apparel and dreams of an island paradise", he said. Bogin's brightly colored, shaped abstract works evoke a sense of joy, happiness, and optimism with a touch of irony. The shaped canvases with their soft curves and rounded edges in Fly Away… inspire a sense of levitation and airiness and are reminiscent of wings that ... More



Rose Nolan T, -TreeHouse, 2022-23. Acrylic paint, cardboard, found packaging, cardboard roll, 43x21x24 cm.



MELBOURNE.- Working Models comprises 20 small individual sculptures considering ideas of built architecture and the readymade. The occasion marks Nolan's eighth solo exhibition in collaboration with Anna Schwartz Gallery, in a relationship spanning 34 years. Assuming the language of the monument, Nolan's scaled architectural models are materially comprised of modest and often discarded domestic packaging. Cement, wood, and steel attuned to the construction of suburban homes, factories, and water towers, are replicated with everyday paper, carboard and wine screw tops – reimagining architectural buildings with domestic placeholders. Cylindrical shipment tubing mirrors the colonnade, both modern and historical, Twining's tea box labels identified as patterned reflective windowsills and tilted carboard corners as astrological ... More



Dan Law, photo by Abby Warhola.



PITTSBURGH, PA.- The Andy Warhol Museum has promoted Dan Law to associate director. Law assumed his role earlier in 2023. In his role as associate director, Law manages The Pop District initiative. As part of the senior leadership team at the museum, he oversees museum business, management, fundraising, strategy and operations. "I started at The Warhol in 2018, and the team and people here immediately accepted me and shared in my excitement about new possibilities for the museum," said Law. "Since then, I've had the privilege of designing and launching The Pop District, and now we have the opportunity to advance the project to its full potential." Before being promoted to associate director, Law assumed roles including associate vice president, capital projects & major gifts; senior director, capital development & strategy; and director of advancement for The Warhol. Previous to his work at The ... More
Biden creates two National Monuments in the Southwest
Nicola Vassell exhibits a series of paintings by Che Lovelace
New Museum appoints Vivian Crockett and Isabella Rjeille as Curators of the Sixth New Museum Triennial in 2026


Joshua Tree Highway in Avi Kwa Ame (Spirit Mountain) National Monument, Nev. .on Jan. 6, 2023. (John Burcham/The New York Times)

by Coral Davenport



WASHINGTON, DC.- President Joe Biden on Tuesday will designate two new national monuments in the Southwest, insulating from development a half million acres in Nevada that are revered by Native Americans and 6,600 acres in Texas that were once admired by writer Jack Kerouac. In southern Nevada, Biden will protect a large portion of the Spirit Mountain area, encompassing some of the most biologically diverse and culturally significant lands in the Mojave Desert. Near El Paso, Texas, he will establish the Castner Range National Monument on a former artillery range along rugged canyons and arroyos that rise out of the desert near the Franklin Mountains. The Spirit Mountain area, also known by the Mojave name Avi Kwa Ame, ... More



Large Boardwalk Bathers, 2023.



NEW YORK, NY.- Che Lovelace: Bathers, a series of paintings chronicling the artist's exploration of the body in and around water, is on view at Nicola Vassell through April 15. With an expressionistic hand, Lovelace weaves stories of life, freedom, and post-colonialism in his native Trinidad, into a tapestry of abstracted landscapes, still lifes, and portraits. His creative process is expository and expansive, articulating scenes of Caribbean life with complexity and dimension. Meditating on famed depictions of bathers throughout the art historical canon, Lovelace was particularly fascinated by artists who were lesser known for the subject. One such, Edvard Munch, rendered bathers with energy and "vitalism", a philosophy germinated from Aristotelian times that emphasized the vital forces of nature and good health. Framing this immemorial trope in the specificity of his own culture, Lovelace celebrates the bather as an intrins ... More



Vivian Crockett, Photo: Ciara Elle Bryant.



NEW YORK, NY.- Lisa Phillips, Toby Devan Lewis Director of the New Museum, and Massimiliano Gioni, Edlis Neeson Artistic Director, today announced that Vivian Crockett and Isabella Rjeille will curate the next edition of the New Museum Triennial opening in 2026. Crockett is Curator at the New Museum and Rjeille is Curator at Museu de Arte de São Paulo Assis Chateaubriand (MASP) in São Paulo, Brazil. The sixth edition of the Triennial will be the first to take place following the completion of a major expansion of the New Museum designed by OMA / Shohei Shigematsu and Rem Koolhaas. Launched in 2009, this signature New Museum initiative is the only recurring exhibition in the United States devoted to emerging artists from around the world, providing an important platform for young artists shaping the contemporary art discourse. The inaugural New Museum Triennial, "The Generational: ... More
Bijijoo brought viral monsters to Saatchi Yates for inaugural solo show
'Instalments: Joel Tomlin' at Ingleby Gallery
"Who Is Your Master?" at 1969 Gallery


Bijijoo: Disguise, 2023; Oil, acrylic & pastel on canvas; 160 x 160 cm



LONDON.- This March, Saatchi Yates opened the inaugural solo exhibition of American TikTok sensation Michael Todd Horne - known as Bijijoo (b. 1975), with a select number of new works delving into his personal world of monsters and characters that garnered him a cult following since joining the platform in March 2021. A zoo-like array of large-scale paintings sees amorphous, colour-drenched monsters emerge at Saatchi Yates, some with an unsettling glee reminiscent of the wonder and dread felt towards the unknown in childhood. Off-kilter in their gait and proportions, they lurch towards the boundaries of the canvas, and tap into nostalgia. Bijijoo's paintings result from process-driven experimentation with painting media and automatic drawing, using traditional and digital techniques. He builds miXed media layers to amplify interplays of light, colour, and texture. Images ... More



Installation of work by Joel Tomlin, the 'Feast Room', Ingleby, Edinburgh, 2023. Photograph: John McKenzie.



EDINBURGH.- 'Instalments' is a series of online viewing rooms presented by Ingleby Gallery. To accompany the online project new work by each artist is exhibited on the east wall of the 'Feast Room', on the first floor of the Glasite Meeting House, our gallery on Barony Street, Edinburgh. The sixth artist in this series is Joel Tomlin whose exhibition began on March 16th. On a raised table in Joel Tomlin's subterranean studio there's a bowl of small, dried figs, a plate of shortbread, a few almonds. Snacks for the visitor, or an offering to the gods... they could be either. On a work bench in the corner there's another pile of figs, these ones in bronze, gessoed and painted, a reminder of the artist's long years working in a foundry, cast from the fruit of a tree at William Blake's grave down the road at Bunhill Fields. They have a quiet, talismanic energy that sets the tone. Joel Tomlin's studio ... More



Detail: Igor Moritz, Sleep and wake and sleep and wake and sleep and wake and, 2023. Oil on linen, 59h x 78.5w in.



NEW YORK, NY.- 1969 Gallery and Wolf Hill have announced the opening of Who Is Your Master?, a group exhibition that is on view since March 16, 2023. Curated by Wolf Hill Co-Founders Ethan Rafii and Jonathan Travis, Who Is Your Master? poses its titular question to fourteen international artists and prompts them to consider the individuals, forces, and cultural traditions that have shaped their artistic journeys whether by choice, through education, or even unconsciously or by force. "Independent curation is a meaningful way for the gallery to exhibit new artists and reach new audiences," says Quang Bao, owner of 1969 Gallery. "The dual enthusiasm and effort that Ethan and Jonathan have displayed for finding contemporary artists and bringing them to the art world's attention is commendable—I wonder sometimes if they really have ... More
Check out "Bharti Kher: Ancestor" from Public Art Fund on Vimeo

Flashback
On a day like today, Flemish-English painter Anthony van Dyck was born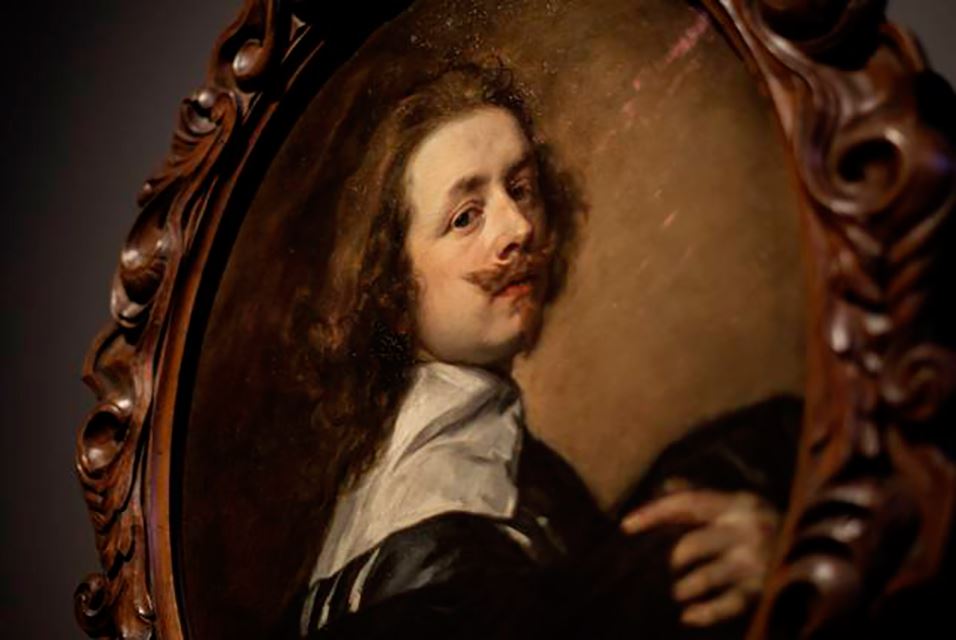 March 22, 1599. Sir Anthony van Dyck (22 March 1599 - 9 December 1641) was a Flemish Baroque artist who became the leading court painter in England, after enjoying great success in Italy and the Southern Netherlands. He is most famous for his portraits of Charles I of England and his family and court, painted with a relaxed elegance that was to be the dominant influence on English portrait-painting for the next 150 years. In this image: The self-portrait was commissioned by the English King Charles I.
---

Museums, Exhibits, Artists, Milestones, Digital Art, Architecture, Photography,
Photographers, Special Photos, Special Reports, Featured Stories, Auctions, Art Fairs,
Anecdotes, Art Quiz, Education, Mythology, 3D Images, Last Week,

.
---
Royalville Communications, Inc
produces: