When the Louvre reopens, it's going to be quiet
A picture taken on June 23, 2020 shows an employee cleaning the floor of a room of the Musee du Louvre in Paris. The Louvre museum will reopen its doors on July 6, 2020, after months of closure due to lockdown measures linked to the COVID-19 pandemic, caused by the novel coronavirus. THOMAS SAMSON / AFP.

by Farah Nayeri
PARIS
(NYT NEWS SERVICE)
.-
The Musée du Louvre in Paris is set to reopen July 6 after a 16-week shutdown that has taken a 40-million-euro toll ($44.86 million) on its bottom line. In a normal year, the world's largest museum hosts 10 million visitors in 925,000 square feet of space open to the public. When the museum reopens, 70% will be accessible, including the large galleries of French and Italian paintings, the sculpture courtyards and the Egyptian antiquities section. But with France's borders still closed to travelers from outside the European Union, visitor numbers will be a fraction of what they usually are in the peak summer season. While France was in lockdown, the museum was managed from home by its president, Jean-Luc Martinez, a specialist in ancient Greek sculpture who has been in charge since 2013. He spoke to The New York Times by telephone in mid-June. The following conversation has been edited and condensed: ...
More
The Best Photos of the Day
Gallery plunge French boy may never fully recover: UK court told
Phillips announces $10M Basquiat to highlight its 20th Century & Contemporary sale
Eiffel Tower reopens with strict virus restrictions


In this file photo taken on August 4, 2019 police, paramedics and fire crews are seen outside the Tate Modern gallery in London. Daniel SORABJI / AFP.

by Sylvain Peuchmaurd



LONDON (AFP).- A six-year-old French boy who was thrown from a viewing platform at London's Tate Modern art gallery may never fully recover from his injuries, a court sentencing hearing for his attacker was told on Thursday. Jonty Bravery, 18, has admitted trying to kill the child at the riverside tourist attraction on August 4 last year, in front of a crowd of horrified visitors. His victim, who was visiting London with his family at the time, broke his spine, legs and arms as he fell on to a fifth-floor roof below. A judge at the Central Criminal Court, the Old Bailey, was told he spent more than one month in hospital in Britain before being discharged for further treatment in France. He suffered a significant brain injury, remains in a wheelchair and will require round-the-clock care until at least August 2022. "Whether he will ever make a full recovery is not known," prosecutor Deanna Heer said. The boy was "fortunate not to die" ... More



Jean-Michel Basquiat (1960-1988), Victor 25448 (detail). Acrylic, oilstick, wax and crayon on paper laid on canvas, 72 x 131 in. (182.9 x 332.7 cm). Executed in 1987. Valued at $10 million. Image courtesy of Phillips.



NEW YORK, NY.- Phillips will present Jean-Michel Basquiat's 1987 large-scale Victor 25448 as a highlight of its 20th Century & Contemporary Art Evening Sale, slated for July 2, 2020. One of the largest works on paper the artist ever executed, Victor 25448 was created the year before his untimely death and features the distinctive fusion of color fields, figurative painting, corporate logos, word play and symbols that characterize his compositions. Victor 25448 exuberantly conveys the duality surrounding Basquiat at his creative apex and on the precipice of both physical and emotional destruction. A portion of the proceeds from the sale will benefit The Art for Justice Fund, established by Agnes Gund in 2017 to help further their mission to make direct grants to artists and advocates focused on safely reducing the prison population, promoting justice reinvestment and creating art that changes the narrative around mass incarceration. The work d ... More



People arrive for the partial reopening of Eiffel Tower on June 25, 2020. Thomas SAMSON / AFP.

by Eléonore Hughes and Maria Elena Bucheli



PARIS (AFP).- Tourists and Parisians panted their way up the stairs of the Eiffel Tower Thursday as the iron monument reopened after its longest closure since World War II due to the coronavirus, with the lifts still closed as a health precaution. The initial crowds of dozens of people braving blazing early summer heat were a far cry from the usual queues at the tower's base in the centre of the French capital. But the moment of the reopening of the great edifice was a symbolic one the country emerges from the virus lockdown. The first visitors had to tackle the steep climb to the first or second level by the stairs, with elevators as well as the top observation deck off-limits because of social distancing concerns. "I'm tearing up, but they're tears of joy. It's an emotional moment after these difficult months," said Therese, visiting from the southern French city of Perpignan. "I'm going to climb, but slowly," said the 60-year-old, wearing the obligatory face mask. "And if I ... More
Facebook, citing looting concerns, bans historical artifact sales
Julie Rodrigues Widholm appointed to lead UC Berkeley Art Museum and Pacific Film Archive
Sotheby's to offer the collection of Ambassador and Mrs. Felix Rohatyn across a series of sales this year


In this file photo taken on October 23, 2019 A giant digital sign is seen at Facebook's corporate headquarters campus in Menlo Park, California. Josh Edelson / AFP.



NEW YORK (NYT NEWS SERVICE).- Responding to criticism that its site has become a bazaar for the sale of looted Middle Eastern antiquities, Facebook said on Tuesday it would remove any content "that attempts to buy, sell or trade in historical artifacts." The decision came after archaeologists and activists who monitor the illicit antiquities trade said they had identified at least 200 Facebook groups with nearly 2 million members that were using the platform to find black market buyers and to offer tutorials on how best to dig up and deliver the most sought-after items. Common examples include burial relics, stone sculptures, mosaics and in some instances entire sarcophagi from Syria, Egypt, Iraq and North Africa. Greg Mandel, public policy manager at Facebook, said, "We've long had rules preventing the sale of stolen artifacts." But, he added, "To keep these artifacts and our users ... More



Widholm is currently the Director and Chief Curator of the DePaul Art Museum. Photo by Whitney Bradshaw.



BERKELEY, CA.- The UC Berkeley Art Museum and Pacific Film Archive announced today the appointment of Julie Rodrigues Widholm as the museum's next director. Widholm is currently the Director and Chief Curator of the DePaul Art Museum (DPAM) in Chicago, where she has served since 2015. She succeeds BAMPFA's previous director Lawrence Rinder, who stepped down earlier this year. "Julie Rodrigues Widholm stood out among a stellar and diverse slate of candidates for her strong management experience, artistic vision, passion for equity in the arts, and deep commitment to the teams she leads," said UC Berkeley Chancellor Carol Christ. "I have no doubt that she will be a wonderful director for BAMPFA who will deepen its ties to the academic and social fabric of the Berkeley campus, strengthen its connections to the Bay Area community, and solidify its global reputation for artistic excellence." During her five-year tenure at the ... More



Pierre Bonnard, La Chevelure d'or, estimate $2.5/3.5 million. Courtesy Sotheby's.



NEW YORK, NY.- Sotheby's announced that the collection of Ambassador and Mrs. Felix Rohatyn will be presented in a special, single-owner sale at Sotheby's New York in October and in select Sotheby's sales throughout the year. Encompassing Old Master paintings and drawings, Impressionist masterworks, 20th century design, and more, the Collection reflects the Rohatyns' deep and abiding love of French culture and passion for collecting across categories. The sale series kicks off with Important Design on 30 July in New York, which will be highlighted by a remarkable pair of gilt bronze monkeys by design icon François Xavier Lalanne. George Wachter, Sotheby's Chairman and Worldwide Co-Chairman of Old Master Paintings, commented: "It is an honor and a privilege to share the collection of Ambassador and Mrs. Felix Rohatyn. Amassed over decades, the collection beautifully embodies the synthesis between European ... More
Christie's to hold an online sale highlighting the scientific breakthroughs of the 20th century
NSU Art Museum launches online collection with access to over 2,000 works
Museum Tinguely opens an exhibition of works by Pedro Reyes


A Second World War Enigma Machine. A four-rotor Enigma Cipher Machine, Olympia Büromaschinenwerke. Estimate: £200,000-300,000.



LONDON.- Open for bidding from today until 16 July, Eureka! is a journey through the scientific and technological breakthroughs that have formed the modern world, and the brilliant minds that lay behind them. From Thomas Edison's pioneering design for the lightbulb to Crick and Watson's celebrated discovery of the structure of DNA, from a Second World War Enigma Machine to the invention of in vitro fertilisation, from Albert Einstein to Stephen Hawking, this online auction provides collectors with an opportunity to acquire a slice of history that has shaped the world we live in. Among the highlight lots offered is the Nobel Prize Medal awarded to British Scientist Sir Robert Edwards in 2010, for the development of human in vitro fertilisation (IVF) therapy (estimate: £500,000-800,000). Edwards' pioneering research, alongside his two collaborators Patrick Steptoe and Jean Purdy, eventually led to the birth of Louise Brown ... More



Tom Wesselman, Bedroom Painting #28, 1970-72. NSU Art Museum Fort Lauderdale; Gift of Mrs. Sef Funks.



FORT LAUDERDALE, FLA.- NSU Art Museum Fort Lauderdale today announced the launch of the first phase of its new online collection catalogue that offers unprecedented access to over 2,000 of the 7,500 objects in its permanent collection. Now accessible on the NSU Art Museum website, nsuartmuseum.org, the online collection is part of the Museum's efforts to enhance its digital resources and make them widely available to the public, scholars and students. "With our new online collection we are opening our doors even wider and inviting the world to explore the exceptional scope and depth of NSU Art Museum," said Bonnie Clearwater, director and chief curator. "During the 1970s, the founders of the Museum sought to represent South Florida's diversity in the art works collected and exhibited. The collection continued to grow with this goal in mind." Today, NSU Art Museum is known for its significant collection of Latin ... More



Pedro Reyes, Disarm Music Box (Beretta/Vivaldi), 2020, Installation view Museum Tinguely Courtesy of the artist © 2020 Museum Tinguely, Basel; Photo: Daniel Spehr, ​​​​​​​related to the artworks © Courtesy of the artist.



BASEL.- For his works, Pedro Reyes (b. 1972 in Mexico City) uses architecture, sculpture, video, performance, and participation to promote collective and individual power of action in political, social, ecological, and educational situations. Having worked with weapons in the past, he is interested in addressing the systemic problems of the arms industry within a pacifist framework. In the new production being presented at Museum Tinguely Disarm Music Box (2020) he has repurposed gun parts to make music boxes that perform fragments of tunes from the countries where the guns were produced. Reyes is concerned with «upcycling»-transforming an instrument of death into a musical instrument that stands for dialog and exchange. The new production is being presented for the first time and ... More
Artcurial will close the season with its Furniture & Works of Art sale taking place on July 22nd and 23rd
Dutch photographer Bastiaan Woudt's first UK exhibition opens at Atlas Gallery
Charles Ede reopens its gallery space with ancient art due to have been shown at Masterpiece Art Fair


A Napoleon III Cartel. Gilt-bronze mounted, ebony, rosewood and mahogany. Estimate : €15.000 – 20.000.



PARIS.- The Furniture & Works of Art sale will take place on July 22nd at 7 pm and 23rd at 2 pm. The sale will include 280 lots of classical silver, furniture and works of art dating from the Renaissance up to the 19th century. Highlight of the sale are the seats belonging to the comte d'Artois, youngest brother of Louis XVI in Bagatelle (estimate €300.000-500.000). Well documented in the 18th century archives they were lost until the end of the 20th century. They were ordered to furnish the famous bed chamber designed as a military tent and are a rare example of the great creative achievements and refinements of the neoclassicism movement in the end of the 1770's. Decorated with lictors' fasces entwined with laurel branches, they were executed by Georges Jacob (master in 1765) and the sculptor Jean-Baptiste Rode (master in 1766) as the archives clearly mention. Daring, they illustrate the extravagant character ... More



Bastiaan Woudt, Twisted, 2018. Archival pigment print, 45 x 60 cm. © Bastiaan Woudt, image courtesy Atlas Gallery.



LONDON.- Hidden is the first UK exhibition of the Dutch photographer Bastiaan Woudt (b.1987). Showing at Atlas Gallery these images are a bravura demonstration of his signature style, which has already gained him an international reputation. Woudt's black and white photographs wear their perfection lightly. Within each image, contrasting elements of shape, texture and tone coalesce into sculptural forms in a finely balanced, fluid geometry. A hat is placed on the top of a head, as if about to take off; women with great circles of hats and draped in fabric often reveal only a partial profile or a hand reaching for something unseen, simultaneously concealing and revealing; in other images, bodies that are rendered still by the camera pulse with potential movement. Photography was not Woudt's intended career but one he discovered during the time he was studying hotel event management. "I ... More



Cycladic female figure, Early Spedos, c.2600 BC, attr. to the Bent Sculptor. Marble. Height 15.9cm.



LONDON.- Charles Ede announced the reopening of its gallery space. The occasion is being celebrated by a new exhibition showcasing much of the ancient art due to have been shown at this summer's Masterpiece Art Fair. Covering a swath of the ancient Mediterranean world, the exhibition includes sculptures in marble, terracotta and bronze, Roman glass vessels dating from the 1st-5th centuries AD and a selection of Egyptian faience artefacts and amulets. At the heart of the exhibition is a group of sculptures that focuses on the female form and its representation over nearly three thousand years. The earliest is a Greek marble figure from the Cyclades dating to c.2600 BC. These enigmatic sculptures, often erroneously referred to as idols, were unknown until their rediscovery in the late 19th century. The severe geometry of their bodies is explained partly through the laborious way in which they were made, the stone being ground ... More
Donald Judd's Masterful Mix of Medium

Flashback
On a day like today, Sudanese-Nubian artist Hassaan Ali passed away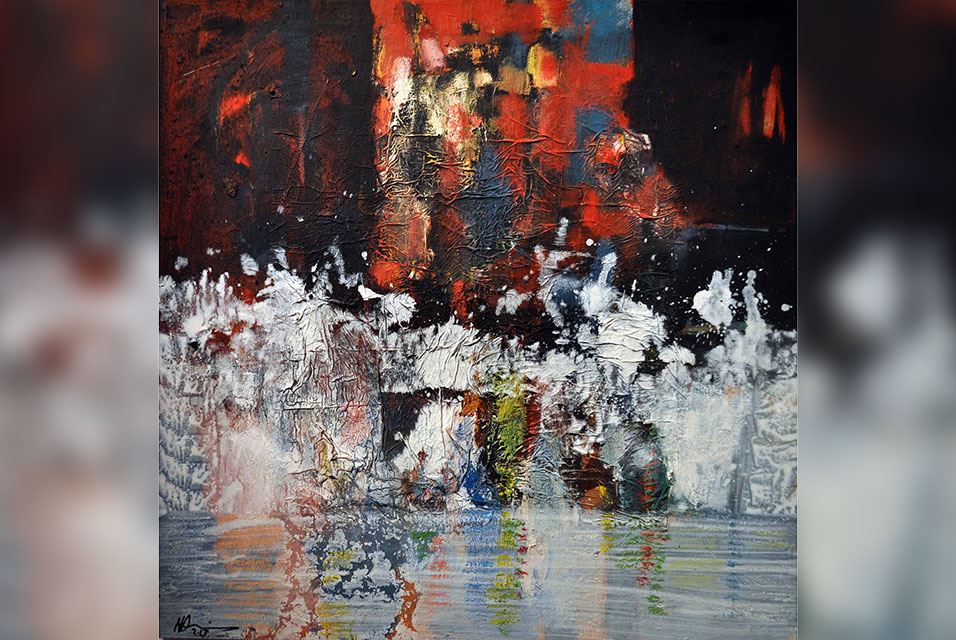 July 26, 2019. Hassaan Ali Ahmed was a Sudanese-Nubian artist , born on 16 December 1954 in the lush town of Wadi Halfa along the banks of the Nile . A self-taught artist , his work was often thought-provoking and charged with a sense of foreboding often tackling the pain of exile , isolation and fracture while reflecting deeply on the unfathomable social and political tragedies that are still unfolding around the world. His own words crystallize the essence of his oeuvre : "My work has developed and matured over the years in the same organic fashion that the natural world works. However, the only constant and recurrent thread throughout is my preoccupation with my homeland ; Nubia is my obsession !" He passed away on 26 June 2019 after a fierce and courageous battle with cancer.
---

Museums, Exhibits, Artists, Milestones, Digital Art, Architecture, Photography,
Photographers, Special Photos, Special Reports, Featured Stories, Auctions, Art Fairs,
Anecdotes, Art Quiz, Education, Mythology, 3D Images, Last Week,

.
---
Royalville Communications, Inc
produces: