Provenance of a museum's Greek exhibit is questioned, fueling a debate
This exhibition, explores an expressive period of Greek art from 900 to 700 BCE that is characterized by balance, symmetry, and rhythm, all aimed at refining the concept of beauty down to its elemental core.

by Graham Bowley
NEW YORK, NY
.-
The Museum of Fine Arts in St. Petersburg, Florida, was riding high as "From Chaos to Order," an exhibition of ancient Greek art, became its first major traveling show in years, making stops at museums in Florida and South Carolina before preparing to head west. "The idea was to look at the origins of Greek art in a new way," said Michael Bennett, the former St. Petersburg curator who organized the show of works from the Geometric period, circa 900 to 700 B.C. "We felt it had something new to say about Greek art." But earlier this year, when the exhibition was scheduled to travel to the Denver Art Museum, the staff there balked because many of the 57 artifacts lacked detailed provenances. None of the antiquities, on loan from businessperson and collector Sol Rabin, were known to have been looted, but some had been purchased from sellers who have been accused of handling stolen antiquities in the past, Denver museum officials noted. ...
More
The Best Photos of the Day
The McNay announces new exhibition and commission by renowned artist Alice Aycock
Eskenazi Museum of Art announces exhibition of Jeffrey A. Wolin's Photography
German photographer Kathrin Linkersdorff's debut solo exhibition 'Faries' now open at Yossi Milo


Alice Aycock, "Devil Whirls," 2023. Powder-coated aluminum. Collection of the McNay Art Museum, Museum purchase with funds from the Russell Hill Rogers Fund for the Arts, 2023.109. © Alice Aycock.



SAN ANTONIO, TX.- In celebration of the recently commissioned monumental sculpture "Devil Whirls" by Alice Aycock, the McNay Art Museum explores five decades of work by the American sculptor and installation artist in the exhibition "Alice Aycock: Moving Through Time." Currently on view, the exhibition showcases Aycock's works on paper that complement and provide insight into the creative process behind the artist's iconic installations. First receiving significant recognition in the 1970s, Aycock (b. 1946) and her innovative work garnered attention as part of the land art movement. Much of her work is rooted in science, using logic, imagination and engineering to capture the power of energy and motion in balance. "Devil Whirls," Aycock's powder-coated aluminum sculpture that stands over 20 feet tall, greets visitors as they arrive through the Museum's North ... More



Jeffrey A. Wolin, Mišo Vogel, 1992. Photograph. From Written in Memory: Portraits of the Holocaust.



BLOOMINGTON.- The Sidney and Lois Eskenazi Museum of Art at Indiana University opened the exhibition Measuring Time: The Photographs of Jeffrey A. Wolin, on view since September 7–December 17, 2023, in the Featured Exhibition Gallery. Jeffrey A. Wolin is a celebrated and influential photographic artist and former longtime head of Indiana University's photography department. Featuring one hundred works, this retrospective exhibition covers Wolin's entire career with key selections from all ten of his major series, including his earliest landscapes and portraits of stonecutters, Holocaust survivors, war veterans, and people experiencing homelessness. The sum of Wolin's creative achievement will be a surprise and inspiration to nearly every viewer. His work is powerful and profoundly humane. Over the years, he has thought deeply about the issues of human history and memory, always attentive to the insights that come from ... More



Kathrin Linkersdorff, Fairies VII / 2, 2023. Archival Pigment Print on Hahnemuehle Photo Rag Ultra Smooth. © Kathrin Linkersdorff. Courtesy of the artist and Yossi Milo, New York.



NEW YORK, NY.- Yossi Milo has opened Fairies, German photographer Kathrin Linkersdorff's debut solo exhibition in the United States and first with the gallery. Since Friday, September 8 and on view through Saturday, October 21, the exhibition presents work from the artist's photographic series Fairies. The show also exhibits video installations showcasing the artist's process, offering a new perspective of how Linkersdorff's exquisite photographs are made. The artist's Fairies series uncovers the microcosmic vastness contained within flowers, and unearths worlds unknown to the naked eye. At the heart of Linkersdorff's practice is the concept of wabi-sabi: the view that ephemerality and imperfection are integral and even beautiful parts of life. The artist first encountered the principle during the 1990s upon relocating to Japan ... More
Sheida Soleimani's: Birds of Passage will be on view through first week in October at Denny Gallery
Catherine Opie 'Walls, Windows and Blood' at Thomas Dane Gallery in Naples
'Coming Home: The Transformative Gift of the Janet & William Ellery James Collection' at Cape Ann Museum


Sheida Soleimani, Panjereh, 2022. Archival pigment print, 60 x 44 in (152 x 112 cm), Edition: 3 + 2 AP.



NEW YORK, NY.- Denny Gallery will be presenting Sheida Soleimani's Birds of Passage for three more weeks at their gallery. In the newest installation of her series Ghostwriter, which opened at Providence College Galleries and Edel Assanti in London in 2022–23, and is currently on view at MFA Boston, Soleimani "ghostwrites" her parents' lives: as pro- democratic dissidents targeted by the totalitarian regime in Iran after '79; and as stateless refugees forced to seek asylum across Europe and in pre- and post-9/11 America. In these photographic assemblages, Soleimani creates palimpsests of memories as a way to reckon with the narratives that she herself has constructed throughout her life from her parents' stories, drawings, notes, and artifacts of the seismic events that continue to shape their lives. Sheida Soleimani is known for photographic works that satirize media narratives of global politics, particular ... More



Catherine Opie, Untitled #8 (Windows), 2023. Pigment print, 101.6 x 67.6 cm. 40 x 26 1/2 in. © Catherine Opie. Courtesy the artist, Thomas Dane Gallery and Regen Projects, Los Angeles.




NAPLES.- Thomas Dane Gallery, Naples welcomed the premiere of Catherine Opie's Walls, Windows and Blood, a new body of work initiated during the artist's American Academy in Rome Residency in summer 2021 during a private viewing this past September 16th. 'The idea of City' was the theme of the Residency invitation and Opie conceived her research on the form, history and architecture of the Vatican City. Fascinated by the idea of this city within a city, with its own rule of law, Opie sought to explore the politics of this place, taking an unflinching look at the architecture of power and how we might make sense of Catholicism, its structures, reach and impact in an age when the ideologies and legacies of Colonialism are being questioned. In this way Walls, Windows and Blood is a continuation ... More



Jane Peterson's Smith's Cove, East Gloucester (c. 1920s). Oil on canvas, The James Collection, promised gift to the Cape Ann Museum by Janet & William Ellery James.



GLOUCESTER, MASS.- The Cape Ann Museum has announced the transformative commitment by Janet and William Ellery "Wilber" James of Palm Beach, Florida to gift their exceptional collection of Cape Ann American art - a donation that constitutes the largest single gift of works in the Cape Ann Museum's 148-year history. This landmark donation of over 300 exemplary pieces of American art brings new genres and masterworks to the Museum's holdings, including pivotal pieces by Winslow Homer, George Aarons, Cecilia Beaux, Stuart Davis, Adolph Gottlieb, Marsden Hartley, Eric Hudson, Anna Hyatt Huntington, Paul Manship and Jane Peterson amongst numerous others. "We are overjoyed by Janet and Wilber's generosity and dedication to fuel the expansion of the Museum's holdings," said ... More
Fokus Gallery to present Hugo Simberg's photographs and art
Abstract expressionism, color field, and the natural environment sources of inspiration for Vivian Suter
'Shuvinai Ashoona: Looking Out, Looking In' being exhibited at Fort Gansevoort


Hugo Simberg: Self-Portrait, 1914. Finnish National Gallery / Ateneum Art Museum, Hallonblad collection. Photo: Finnish National Gallery / Yehia Eweis.



HELSINKI.- Hugo Simberg (1873–1917) was a Finnish painter and graphic artist, but also a prolific photographer. The Fokus Gallery exhibition 'Photos and art by Hugo Simberg' shows the artist's photographs, prints and paintings side by side. The exhibition, staged in a single gallery, celebrates Simberg, with the year 2023 marking the 150th anniversary of the artist's birth. The camera as an artist's aid: In the 1890s, the photographic camera became a popular aid for artists in Finland. Hugo Simberg's photographs and his versatile way of using the camera as part of creating his art are in a class of their own. In addition to Simberg, the technique was used by Akseli Gallen-Kallela and Eero Järnefelt. Simberg documented his surroundings in photographs. In particular, he photographed the everyday life of his family at their Niemenlautta summer residence in Säkkijärvi near Viipuri (Vyborg), as well as his trips both in Finla ... More



Vivian Suter, Untitled, Undated. Mixed media on canvas, 67 x 64 1/2 inches (170.2 x 163.8 cm). Photo Courtesy of Gladstone Gallery. Copyright © 2023 Gladstone Gallery, All rights reserved.



NEW YORK, NY.- Gladstone Gallery is pleased to present Vivian Suter: Tintin, Nina & Disco, an exhibition of exclusively mixed media paintings from the artist's decades-long career. This presentation is emblematic of Suter's singular style of installation, in which painted canvases flood the gallery space, welcoming viewers into the artist's cosmos. Suter's work draws inspiration from Abstract Expressionism, Color Field, and most significantly, the natural environment. Since the 1980's, the artist's home and studio has been based in the lush climate of the Guatemalan lowlands. Suter's paintings abstractly recall the natural forms and environmental stimuli that surround her through gestural references of mountain peaks, water bodies, trees, wind, and the sun. Further embracing a physical embodiment of nature within her works, eroded soil, plant matter, rainwater, and signs of animal ... More



Shuvinai Ashoona, Polar bear sketching people, 2023, Colored pencil and ink on paper, 50.25 x 97.25 inches



NEW YORK, NY.- Starting today, Fort Gansevoort is presenting Looking Out, Looking In, the first New York solo exhibition by contemporary Inuk artist Shuvinai Ashoona. Hailing from the Canadian Arctic, Ashoona lives and works in Kinngait (formerly Cape Dorset), an Inuit hamlet at the southern tip of Baffin Island in the territory of Nunavut. Born in 1961, she is the youngest generation of a dynasty of celebrated female artists - her grandmother Pitseolak Ashoona, her mother Sorosilutu Ashoona, and her cousin, the late Annie Pootoogook - from whom she learned her craft. Ashoona began drawing detailed monochromatic landscapes in 1993, eventually transitioning to a colorful compositions replete with her distinct iconography comprising fantastical elements mingled with depictions of contemporary Inuit life, historical events, and the northern landscape. Ashoona works primarily in pen, ink, and colored pencil, constantly honing her draftsmanship t ... More
'Akumulatory' by Marcin Dudek at IKOB takes viewers on journey through chapters and sites of artist's past
Italian Arte Povera artist Jannis Kounellis now on view at Cardi Gallery Milan
Cui Xinming solo exhibition 'Just Arrived in This World' at Kiang Malingue


Marcin Dudek. Image credit: Damon De Backer Kopie.



BERLIN.- In this exhibition, now opening at IKOB, Marcin Dudek shows us the spaces that have transformed him and his generation. He invites the audience to join his reckoning with a troubled history, speaking to the universal human experience of wanting to belong, of searching for environments in which we can fashion our own selves and become somebody new. In his remarkable practice, we come to recognize the failure of supposedly contained entities that are meant to protect us: human bodies, institutions, nation–states. Dudek peels open the envelope of mass society and what emerges are not the clean, abstract lines of consumerism but waste, plastic, and toxins. Marcin Dudek (b. 1979, Kraków, PL) weaves together autobiographical memories of his youth as part of the Polish generation that came of age after the dissolution of the Eastern bloc with a critique of society's dependence on spectacle, power, and aggression. Working across ... More



Jannis Kounellis, one of the most prominent voices of Italian Arte Povera.



MILAN.- Cardi Gallery has welcomed in its Milan premises an official solo exhibition of works by Jannis Kounellis, one of the most prominent voices of Italian Arte Povera. A central figure of international contemporary art, Kounellis' oeuvre has been a critical reference point for generations of artists and is found in the permanent collections of major art museums worldwide. The exhibition brings together a series of seven wall-mounted iron panels the artist made in 1991, each dotted with coal elements arranged along regular horizontal lines, almost suggesting an archaic visual alphabet. The works, displayed on the gallery's ground floor in an austere yet impressive setting, exemplify the monumental nature of Kounellis' wall reliefs, perfectly capturing his fascination with raw, everyday media that fuelled his practice beginning in the 1960s. Since its earliest iterations in the late 1960s, Kounellis' work has ... More



Cui Xinming, Genre Painting Study (Treasure Seeking), 2019. Oil on board, 29.8 x 24.9 cm.



HONG KONG.- Kiang Malingue is presenting on the twelfth floor of its Tin Wan studio space "Just Arrived in This World", an exhibition of new paintings by Cui Xinming. The painter's fourth solo exhibition with the gallery features more than a dozen oil paintings on wood board and canvas, expanding themes and series developed in the exhibition "Differentiation" in 2018. The artist's sincere yet surreal depictions of everyday scenes with absurd elements respond to the profound impact on life by recent global and local crises. Cui Xinming's early painting practice revolved around theatrical narratives by highlighting the contrast between thematic, fiery elements in crimson or faded red and glooming backgrounds that were frigid and sombre. Long-term series such as Black Hole of Memories from 2011 and Sleepwalker from 2013 are exemplary of the artist's intent to reflect psychological tension by building highly detailed archit ... More
When Women Ruled China: Empress Cixi's Power in Porcelain

Flashback
On a day like today, Danish painter Michael Peter Ancher died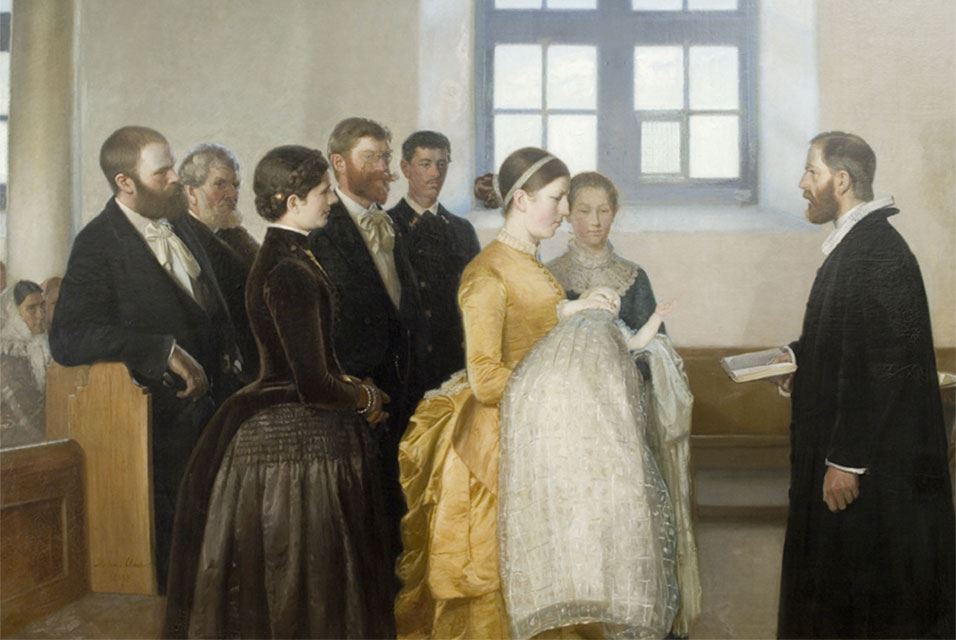 September 19, 1927. Michael Peter Ancher (9 June 1849 - 19 September 1927) was a Danish impressionist artist. He is most associated with his paintings of fishermen and other scenes from the Danish port of Skagen. His paintings are classics and he is probably one of Denmark's most popular artists. In this image: A Christening, Michael Ancher (1888).
---

Museums, Exhibits, Artists, Milestones, Digital Art, Architecture, Photography,
Photographers, Special Photos, Special Reports, Featured Stories, Auctions, Art Fairs,
Anecdotes, Art Quiz, Education, Mythology, 3D Images, Last Week,

.
---
Royalville Communications, Inc
produces: