Conversations with Tribal Weavers
Saddled horses, chickens, and human figures cavort on the field of this extremely rare mid-19th century Bakshaish. Study the golden medallion to reveal two ethereal Dragons and Phoenixes.

By Jan David Winitz
Founder/President
Claremont Rug Company
OAKLAND, CA
.-
In a world dominated by technology and mobile phone apps, it is sometimes challenging to realize that as recently as 70 years ago, the tribal peoples who populated the areas from Mesopotamia to the Central Asian steppes (the Caucasian Mountains) spent their lives in remote villages or nomadic encampments without electricity or motor vehicles. Primarily shepherds or members of an agrarian society, women in this society wove rugs that played a central role in bringing warmth and comfort. And they were the primary art form that employed symbols, connecting them to their ancestors stretching back 4000 years. Their lifestyle involved constant interaction with nature, including many different types of animals and birds, some domesticated, many wild. They saw these beasts and fowl as embodying attributes hidden to humans. Many were stronger, faster, could live in the sea or air, and had abilities and senses that the nomad or farmer could only aspire to. ...
More
The Best Photos of the Day
Simon Lee Gallery opens an exhibition of new paintings by Alex Hubbard
Exhibition at David Zwirner explores the formal qualities of abstraction
Christie's to offer Old Master drawings from a private collection


Alex Hubbard, Untitled, 2020. Acrylic, urethane, epoxy resin, fiberglass and oil on canvas, 203.2 x 182.9 x 4.4 cm (80 x 72 x 1 3/4 in.). Courtesy the artist and Simon Lee Gallery. © Alex Hubbard.



HONG KONG.- Simon Lee Gallery is presenting an exhibition of new paintings by Los Angeles-based artist Alex Hubbard. This is his second solo exhibition with the gallery and his inaugural presentation in Hong Kong. Hubbard's work encompasses video art, sculpture and painting, exploring the boundaries of each via a crossexamination that invigorates an array of media in new and inventive ways. In his painting practice, the artist brings together a range of industrial materials, such as resin, urethane, oil and wax, using traditional techniques to pour, pull and drip his media across the canvas, sometimes with the assistance of a squeegee. Fields of colour underlaid with industrial prints are interrupted with richly pooled, dripped and poured resin and oil paint. Working with fastdrying materials, Hubbard embraces chance happenings, revealing the autonomy of his chosen media. Nonetheless, ... More



Mary Corse, Untitled (White Diamond, Negative Stripe), 1965. Private Collection. © Mary Corse.




NEW YORK, NY.- David Zwirner is presenting Pure Form, an exhibition that explores the formal qualities of abstraction, on view at the gallery's 69th Street location. This exhibition highlights a variety of ways modern and contemporary artists have expanded the boundaries of art by exploring the inherent qualities of their media, materials, and forms. Some of the included artists sought purity of expression through their singular dedication to their chosen medium. Others challenged medium specificity while engaging the expressive and experiential potential of methodically reduced forms and unembellished surfaces. Some works in the show play with spatial representation, such as Fred Sandback's use of the seemingly infinite vertical line to create a phenomenological experience of space, while others rely on distinctive and repetitive marks and patterns to create ordered compositions. Featured works date from the 1950s—including a ... More



Camillo Procaccini, Bust of a man yelling. Black and red chalk, partially stumped, 16 x 10,7 cm. Estimate: €60,000-80,000. © Christie's Images Ltd 2021.



PARIS.- Christie's announced its traditional Spring Old Master Drawings sale which will take place on 24 March. This sale will feature an exceptional collection of some thirty works on paper mainly assembled in the 1990s by a young European connoisseur couple living in New York at the time. Great lovers of contemporary art and close to the artists occupying the contemporary art scene, such as Andy Warhol or Jean-Michel Basquiat, the couple also had a strong interest in Italian drawings, 'buying with their hearts'. By instinct, and following the advice of Charles Ryskamp (1963-1987), at the time director of the Morgan Library in New York, they attended auctions and the important galleries of Old Masters in search of a strong image without ever letting themselves be guided by fashion or convention. The ensemble, mostly composed of Italian sheets of the sixteenth- and seventeenth centuries, and often presenting ... More
Metro Pictures opens an exhibition of colorful new woodcut landscape paintings by Olaf Breuning
Mein Kampf published in Poland as 'homage to victims'
'Baby Trump' blimp acquired by Museum of London


Olaf Breuning, Sad Flowers, 2020. Gesso and acrylic on canvas, 40 x 32 inches, 101.6 x 81.3 cm. Metro Pictures, New York.



NEW YORK, NY.- Olaf Breuning presents RAIN, an exhibition of colorful new woodcut landscape paintings and carved stone sculptures that draw upon the natural world to consider the pressing environmental concerns we face today. Breuning returns to a more raw mode of production for his paintings, using rough-hewn, chainsaw-cut woodblocks to stamp out vivid and chaotic compositions. The imagery made with the carved blocks––shapes of waves, stars, raindrops, and blades of grass––conjures a time before technology was at the heart of our lives, when we lived more in tune with our natural surroundings. Evoking meteorological maps of turbulent weather, the paintings are a metaphor for the rapid pace at which climate change is affecting our environment, which is in constant disarray. The artist hopes that they are also a call to action, or at the very least, a reason to rethink our relationship with nature and the ... More



Eugeniusz Cezary Król, author of the translation and historical commentary for the Polish academic edition of Adolf Hitler's 'Mein Kampf', looks at a copy of the work in his flat in Warsaw, January 15, 2021. Wojtek RADWANSKI / AFP.

by Bernard Osser



WARSAW (AFP).- An academic edition of Adolf Hitler's "Mein Kampf" is being published in Poland this week for the first time, with its editor responding to critics by calling it "a homage to the victims". Hitler's inflammatory tract has rarely been published even after rights to the book, which first came out in 1925, entered the public domain in 2016. "According to the critics, the publication of this book is an offence to the victims of Nazism. In my view, it is the opposite," said Eugeniusz Krol, a historian who has been preparing the Polish-language edition for the past three years. Pirate copies or abridged versions of Hitler's blueprint for the rise of Nazism and the Holocaust have circulated in Poland for years. In 2005, the government of Bavaria in Germany which held ... More



Museum of London aerial shot © Museum of London.



LONDON (AFP).- The infamous blimp of outgoing US President Donald Trump dressed as a baby could soon greet visitors to the Museum on London, which on Monday announced it had acquired the inflatable effigy. "Having toured the world, the Trump Baby blimp is now heading to its final resting place, the Museum of London, where it will be conserved and potentially displayed in the museum's future new home," the central London museum said in a statement. The institution said in 2019 that it wanted to acquire the blimp, "recognising its importance in the protests" that met the president during his 2018 visit to Britain. The over-sized orange balloon depicting the bequiffed US leader in a nappy flew above Parliament Square. "From the Suffragettes of the early twentieth century to the anti-austerity marches, free speech and Black Lives Matter most recently –- the capital has always been the place to have your say," said Sharon Ament, Museum of London director. "By collecting the baby blimp we can ... More
Diverse Design exhibition reveals a collector's passion for Finnish design
With new urgency, arts groups hire diversity officers
The devilish life and art of Lucian Freud, in full detail


Diverse Design installation view. Photo: Maija Holma / Alvar Aalto Foundation.



HELSINKI.- The Alvar Aalto Museum has been taken over by an exhibition of collector Pertti Männistö's superb private Aalto collection, Diverse Design – 30 years of passionate collecting. Männistö's collecting began gradually, starting in 1992 when he acquired a prototype of an armchair designed by Alvar Aalto. Today, his collection comprises more than a thousand objects and includes not only pieces of furniture, lights and glass objects, but also details of interiors designed by the Aaltos. Various prototypes and other rarities stand out from the ranks of furniture serially produced from standardized components. What makes the collection particularly interesting is its completeness. When systematically collected, the different variants on the same model of furniture shed light on the arc of development of a specific object, with each item completing ... More



Lavita McMath Turner, the new chief diversity officer at the Metropolitan Museum of Art, in New York on Jan. 12, 2021. James Estrin/The New York Times.

by Robin Pogrebin



NEW YORK (NYT NEWS SERVICE).- Growing up in a working-class family in Lawrence, Massachusetts, Rosa Rodriguez-Williams said "museums were not part of my experience." It is this outsider understanding that Rodriguez-Williams, who is Puerto Rican, said she brings to her new position as the first senior director of belonging and inclusion at the Museum of Fine Arts, Boston, where she aims to reach "folks who felt sort of like I felt." Amid a heightened sense of urgency amid the rise of the Black Lives Matter movement and in the wake of the killing of George Floyd, cultural institutions around the country are hiring their own diversity officers to increase the number of people of color on the staff and board, broaden their programming and address ... More



'The Lives of Lucian Freud Fame, 1968-2011'. By William Feaver.

by Dwight Garner



NEW YORK (NYT NEWS SERVICE).- The critic Kenneth Tynan divided playwrights into two categories, "smooth" and "hairy," and one could probably make a similar distinction among biographers. Smooth biographers offer clean narrative lines, well-underscored themes, and carrots, in the form of cliffhangers, to lure the reader onward. Their books are on bestseller lists. They're good gifts for Dad. William Feaver, the author of "The Lives of Lucian Freud" — the second volume, "Fame, 1968-2011," is out now — exists on the opposite extreme. There's little smoothness in him at all. His biography is hairier than a bonobo. Feaver, a longtime art critic for The Observer in London, doesn't provide a fixed portrait of Freud, the great realist painter, so much as he leads us into a studio ... More
Marc Straus opens an exhibition of oil paintings by Michael Brown
Unfolding by Matthew Shlian documents a decade of unexpected creativity
Remnant, Artifact, Flow: Thierry Goldberg opens a group show


Delos (mother), 2020. Oil on 24K gold on canvas mounted to panel. 74 x 62 x 3.



NEW YORK, NY.- Michael Brown (b. 1982, New York) opens our 2021 season with his second exhibition of oil paintings. Michael Brown has continued his "gold-leaf" painting series inaugurated in his first exhibition in September, 2019. The paint application is sculptural, heavy threads of oil paint are squeezed and woven onto 24 ct. gold leaf on canvas. The symmetry of his previous white or blue paintings, which featured the oil paint radiating from the center with centrifugal force is now disjointed with more complex patterns emerging; two blue on gold-leaf have no center point. The uneven cords of oil are partly an homage to Agnes Martin's early paintings with horizontal pencil marks. In other paintings there are oblong concentric circles of different colors in a peacock palette. The gold base continues to provide an intangible radiance and glow. Here Brown has moved closer to traditional painting echoing Dan Christiansen early 70's work with impastoed minimal ... More



Misfold, 16 × 6 × 3 in (40.5 × 15 × 7.5 cm), 100 lb text (150 gsm) white paper and wooden covers with waxed string, 2012. © Tim Saccenti. Courtesy of Thames & Hudson.



LONDON.- Matthew Shlian has always recognized paper's significance as a medium and message, as a material for experimentation and understanding. In his hands, engineering, science and geometry take physical form in paper. Folded, tessellated, compressed, extrapolated – two-dimensional paper becomes three dimensional sculpture in beautiful and unexpected ways. Unfolding is the first monograph of Shlian's genius, compiling his most important work over the past decade. A journey into the new possibilities of folding technology, the intricate complexities of Islamic patterns, and the sheer potential offered by a sheet of white paper, Unfolding is celebration of a humble material, on the edge of its existence, elevated to timeless form and possibility. In keeping with the geometric underpinning of Shlian's work, the dimensions of the book are '16 cubed': 16cm by 16cm ... More



Jeffrey Joyal, Untitled, 2021. Found letterman patches, MDF, canvas. Dimensions variable. Courtesy the artist, Thierry Goldberg Gallery, and David Lewis, New York.



NEW YORK, NY.- Thierry Goldberg is presenting Remnant, Artifact, Flow, a group exhibition of works by Justin Chance, Tony Chrenka, Doris Guo, Jeffrey Joyal, Molly Rose Lieberman, Caitlin MacBride, and Bri Williams. The exhibition runs from January 8th through February 7th, 2021. The exhibition's title refers to the hidden relics and potent icons that glide through our personal and collective memories as they slowly accumulate. Doris Guo's Bronze Guestbook II (2019) is not the usual gallery guestbook. It is a piece of cast bronze that can be 'signed' by visitors simply by their touch. Originally exhibited in January 2020, the stone records all of its encounters from each of its public appearances. It consequently wears down with each touch, serving as an invisible archive of all who have entered the exhibition, or at least those who have decided to be remembered. It is one's own prerogative whether or not to leave th ... More
No Soft Nonsense: Presenting the Bold Anne Brontë

Flashback
On a day like today, French painter Paul Cézanne was born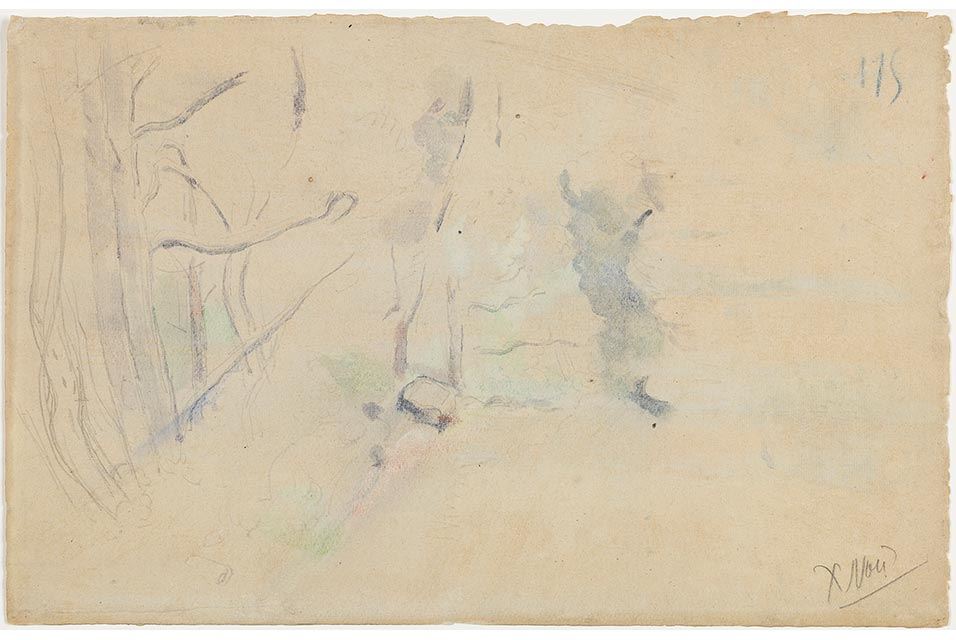 January 19, 1839. Paul Cézanne (19 January 1839 - 22 October 1906) was a French artist and Post-Impressionist painter whose work laid the foundations of the transition from the 19th-century conception of artistic endeavor to a new and radically different world of art in the 20th century. In this image: Paul Cézanne (French, 1839 - 1906). Recto: The Chaîne de l'Etoile Mountains (La Chaîne de l'Etoile avec le Pilon du Roi), 1885 - 1886. Watercolor and graphite on wove paper; Verso: Unfinished Landscape, undated. Watercolor and graphite on wove paper, Sheet: 12 3/8 x 19 1/8 in. (31.4 x 48.6 cm). BF650. Photo © 2015 The Barnes Foundation.
---

Museums, Exhibits, Artists, Milestones, Digital Art, Architecture, Photography,
Photographers, Special Photos, Special Reports, Featured Stories, Auctions, Art Fairs,
Anecdotes, Art Quiz, Education, Mythology, 3D Images, Last Week,

.
---
Royalville Communications, Inc
produces: