How the Whitney's top Latino curator is shaking up the art world
Marcela Guerrero, an associate curator at the Whitney Museum of American Art in New York, with a scale model of an exhibition she curated, "no existe un mundo poshuracan: Puerto Rican Art in the Wake of Hurricane Maria," now at the museum, Nov. 3, 2022. In her five years at the museum, Guerrero has helped broaden the scope of artists and audiences as the Hispanic population continues to grow and museums try to reflect more diverse audiences. (Sabrina Santiago/The New York Times)

by Robin Pogrebin
NEW YORK, NY
.-
Marcela Guerrero had just started as a curator at the Whitney Museum of American Art in 2017 when Hurricane Maria struck Puerto Rico, where she was born and raised. "I was thinking, 'How can I help?'" she recalled in a recent interview. "I have an important platform. There is something I can say.'" The result is "no existe un mundo poshuracán: Puerto Rican Art in the Wake of Hurricane Maria," which opened Nov. 23 at the museum, in New York, and bills itself as "the first scholarly exhibition focused on Puerto Rican art to be organized by a large U.S. museum in nearly half a century." Five years after becoming the Whitney's first curator specializing in Latino art, Guerrero has made a meaningful impact on the field as the nation's Hispanic population continues to grow and museums try to reflect and attract more diverse audiences. ...
More
The Best Photos of the Day
Hauser & Wirth opens the second in a trilogy of exhibitions dedicated to Lucio Fontana
Getty Research Institute acquires major collection of Indian and South Asian photographs
Pace opens an exhibition by Alexander Calder selected and installed by artist Richard Tuttle


Lucio Fontana, Concetto spaziale [Spatial Concept, 1968. Lacquered copper and cut, 20 x 56 x 6 cm / 7 7/8 x 22 x 2 3/8 in. Photo: Riccardo Gasperoni.



NEW YORK, NY.- Hauser & Wirth is presenting the second in a trilogy of exhibitions dedicated to the late Argentine-Italian artist Lucio Fontana, considered among the 20th century's most inventive artists. Curated by Luca Massimo Barbero, in collaboration with the Fondazione Lucio Fontana, and focused on Fontana's prolific breakthroughs and experiments in the medium of sculpture, this exhibition fills the gallery's uptown location at 32 East 69th Street, the very same address where, in 1961, Fontana's first solo show in the US was presented at the galleries of the legendary art dealers Martha Jackson and David Anderson. 'Lucio Fontana. Sculpture' features over 80 works on loan from important institutions and museums, the Fondazione Lucio Fontana and both private and public collections and shines a light on a critical dimension of the artist's revolutionary practice ... More



Jung Bahadur Rana (1816–1877), first minister of Nepal and founder of the Rana dynasty and his second wife, 1870s, Bourne & Shepherd. Albumen print. Getty Research Institute. Jacobson collection.



LOS ANGELES, CA.- The Getty Research Institute has acquired a collection of Indian and South Asian photographs from Ken and Jenny Jacobson. Numbering approximately 4,625 images from the 19th and early-20th centuries, the collection documents the people, social customs, religious practices, architecture, and landscape of the subcontinent during the princely state era under the British Raj, which ended with Indian independence in 1947.  "Created during the European domination of the subcontinent and often through a colonial lens, this remarkable group of photographs contains copious research material that will support the study of South Asian culture and enable critical examination of this complex historical period," says Mary Miller, director of the Getty Research Institute. "The Jacobson collection stands as a unique and foremost ... More



Alexander Calder, Gothic Construction from Scraps, 1939 © 2023 Calder Foundation, New York / Artists Rights Society (ARS), New York.



LOS ANGELES, CA.- Pace is presenting an exhibition of work by Alexander Calder, selected and installed by artist Richard Tuttle, at its Los Angeles gallery. Running from January 21 to February 25, the show, titled Calder/Tuttle:Tentative, is being presented in collaboration with the Calder Foundation. Brought to life through Tuttle's vision, the exhibition focuses on Calder's artistic output in 1939, bringing together small- and medium-scale sculptures— including a masterful untitled mobile that is being exhibited for the first time—as well as a selection of works on paper created by the artist that year. Concurrently with the exhibition at Pace, David Kordansky Gallery in LA presents works made by Tuttle as freewheeling analogies to Calder's storied practice and the contexts in which the artist worked. Best known for his mobiles, which transformed the modern ... More
Exhibition documents Bob Colacello's long-standing collaboration with Andy Warhol
Exhibition of new and recent limited-edition furniture by Marc Newson to open at Gagosian Paris
Brazil's defender of the Indigenous brings their fight to the Shed


Bob Colacello, Paloma Picasso, Red Ball, Paris, 1980. Gelatin silver print, 40,6 x 50,8 cm (16 x 20 in), 59,7 x 45,1 cm (23,5 x 17,76 in) +AP, Ed. 3 of 20. © Bob Colacello. Courtesy of the artist.



PARIS.- It Just Happened is an exhibition of photographs by the American photographer and writer Bob Colacello, documenting his long-standing collaboration with Andy Warhol and the cycle of parties and travelling that animated their frenetic lives. Curated by Elena Foster and the Ivorypress team, the exhibition includes letters, magazines and memorabilia along with the photographs, which help bring to life the era's feeling of hedonism and endless possibility. As Colacello writes in his introduction to the exhibition catalogue: 'It just happened that the 1970s was the most wide-open decade since the Roaring Twenties.' Between 1971 and 1983, Colacello was the editor of Interview magazine and Andy Warhol's right hand. On one of his many trips with Warhol, Colacello acquired a Minox – a tiny camera said to have been used by spies during the Cold War. From that moment on, he carried this pocket camera ... More



Marc Newson, Blue Glass Chair, 2017. Cast glass, 29 1/8 x 27 1/4 x 21 5/8 in. Edition of 3 plus 2 AP. © Marc Newson.



PARIS.- Gagosian announced an exhibition of new and recent limited-edition furniture by Marc Newson, opening January 25 at 9 rue de Castiglione. Newson has remained at the forefront of contemporary design for four decades. Working across disciplines, he is renowned for his innovative exploration of form and medium. Reenvisioning the possibilities of classical materials via contemporary fabrication techniques, Newson creates iconic designs that resonate with the past and present. The Paris exhibition features Cloisonné White and Blue Lounge and Cloisonné White and Blue Chair (both 2022), two works that exemplify Newson's concerns with both shape and surface. The designer ornaments their copper bodies with elaborate allover patterning in his signature circle and molecular "orgone" motifs in white and blue. Newson's employment of the ancient technique of cloisonné—typically used to craft small decorative objects— ... More



Claudia Andujar analyzes some of her 35mm negatives from the Catrimani River in 1974, at her apartment in São Paulo, Jan. 19, 2023. Andujar has photographed the Yanomami in the Amazon during a lifetime of activism — at 91, she is still helping protect their rainforest homeland. (Gabriela Portilho/The New York Times)



SAO PAULO.- Every night at 7, renowned photographer Claudia Andujar sits down at her desk, puts on her headphones and turns on her computer. She has a standing Skype date with Carlo Zacquini, a missionary she met almost 50 years ago, when she started her groundbreaking work with the Yanomami people of the Brazilian Amazon. The two, along with anthropologist Bruce Albert, worked for decades to help the Indigenous group, some 38,000 strong, protect their land, spending extended periods of time in their villages before coming back to the same apartment she lives in now, overlooking São Paulo's famous Avenida Paulista. There, in 1978, the trio sat at the light table next to the wall-to-wall windows in Andujar's stark white living room and made a plan. Strewn with negatives ... More
David Kordansky Gallery opens an exhibition featuring work by Richard Tuttle inspired by Alexander Calder
London Museum removes 'Irish Giant' skeleton from display
Xiao Kegang's first solo exhibition in the US opens Eli Klein Gallery


Richard Tuttle, Black Light #19, 2021, paper, watercolor, tape, glue, graphite, and t-pins, 30 x 19 1/2 x 2 inches (76.2 x 49.5 x 5.1 cm). Photography: Richard Gary, courtesy of Pace Gallery.



LOS ANGELES, CA.- David Kordansky Gallery opened Calder/Tuttle:Tentative, an exhibition featuring work by Richard Tuttle inspired by the seminal American artist, Alexander Calder, on view in Los Angeles at 5130 W. Edgewood Pl. from January 21 through February 25, 2023. Concurrently, Pace Gallery, in collaboration with the Calder Foundation, presentd an exhibition of Calder works from 1939 selected and installed by Tuttle. On the occasion of Calder/Tuttle:Tentative, Pace Publishing and David Kordansky Gallery produced a catalogue featuring new texts and poems by Tuttle and a poem by Alexander S. C. Rower, President of the Calder Foundation. Calder/Tuttle:Tentative comprises several parts. At David Kordansky Gallery ... More



Hunterian Museum, main hall Stephencdickson / wikipedia.org



LONDON.- Charles Byrne never wanted to end up in a museum. Byrne, who stood at least 7 feet, 7 inches tall, had found fame and wealth in 18th-century Britain by showcasing himself as the "Irish Giant." People from Edinburgh to London would pay to gawk at his height, and, legend has it, by the time he died at in 1783, at age 22, he had told his friends to bury him at sea to prevent surgeons or anatomists from obtaining his body. He did not get that wish. Instead, John Hunter, an 18th-century British surgeon and anatomist, paid Byrne's friends 500 pounds for his skeleton, which joined hundreds of plant and animal specimens on display in Hunter's home in London's Leicester Square. It became the centerpiece of a collection that eventually formed the Hunterian Museum, which in modern times has seen more than 80,000 people a year pass ... More



Xiao Kegang, Goya and Flower, 2022 (detail). Acrylic on canvas. 47 1/4 x 59 inches (120 x 150 cm).



NEW YORK, NY.- Eli Klein Gallery is presenting "Detour," Xiao Kegang's first solo exhibition in the US. In "Detour," life's most unanticipated occurrences have guided the artist's painting and his incorporation of setbacks have created a visually distinct artistry. "Detour" consists of 19 paintings on a variety of scales, ranging from 16 inches to 10 feet, "detouring" through the totality of the artist's recent experiments in painting. Xiao Kegang's practice has centered around the observation of the world from different perspectives and principles, or "cognitive alternatives." A half-face of an owl could resemble an ionic column. A left foot could invoke a right-leaning shrub. These paintings are visually harmonic, but cognitively puzzling. Xiao Kegang expects viewers to tour through his canvas, identifying their own objects of interest ... More
Bland, yes. But they satisfy a lot of needs.
New marketplace launches today to take on eBay
"David Simpson & John Beech: Coast to Coast" opens at Charlotte Jackson Fine Art


A boxy, modern townhome in Denver, Jan. 5, 2023. (Andrew Miller/The New York Times)

by Anna Kodé



NEW YORK, NY.- Charles Mudede was at the Post Pike Bar in Seattle in November, nursing a glass of white wine and having a heated discussion about a topic he felt strongly about: the state of new development in the city. Last year, residential construction in Seattle hit a record high, with over 13,000 units built, according to data from Seattle in Progress, an organization that tracks construction. Mudede, 53, who has lived in the city for 30 years, was expressing his distaste for some of those "architectural abominations." "What's that new building?" he asked the bartender. "It's an apartment building, but they put some bright blue, splashy thing on its facade." "The Motorworks building?" the bartender responded, referring to the luxury apartments a few blocks from the bar. "No, no." "It's the one with the juice bar on the bottom floor, right?" another person sitting at the bar asked. ... More



The new Goldin Marketplace offers buyers and sellers a superior collecting experience by providing access to PSA's leading authentication and grading services and the Collectors Vault all in one place.



RUNNEMEDE, NJ.- Goldin, the trusted destination for collectors, announces the launch of Goldin Marketplace as the leading way to buy and sell collectibles including trading cards, pop-culture and historical items, video games, VHS tapes, toys and more. Building upon Goldin's industry-leading auctions, the new platform will combine authentication and grading services from PSA with vaulting, buying and selling to create the market-leading one-stop-shop for collectors. The new Goldin Marketplace offers buyers and sellers a superior collecting experience by providing access to PSA's leading authentication and grading services and the Collectors Vault all in one place. The integration of these leading services creates the only true one-stop-shop platform for collectors to research, grade, buy, sell, vault and insure items seamlessly. The new Marketplace also offers sellers an improved ... More



David Simpson, God's Eye, 2022. Acrylic (with interference pigment) on wood panel, 12 x 9 x 2.75. in.



SANTA FE, NM.- Extraordinary objects. From one wall of the gallery to the other, the viewer walks, pulled by the gravity of each piece. Color draws the eye. A shadowy blue recess within a bright orange construction. A shimmer of dripping gold, fringed with electric blue against a black matte background. Coast to Coast brings together the work of two artists connected by personal history beyond a shared minimalist aesthetic. Many years ago, David Simpson taught art at UC Berkeley, where John Beech received his degree. Simpson remembers Beech as an "ideal" student who already knew what he was doing. His role with the young Beech, Simpsons says, was merely that of "cheerleader." On his side, Beech asserts that he benefited from Simpson's "calm presence and openness as a teacher." Beech now lives and works in Brooklyn, New York, while Simpson continues to live and work in the Berkeley hills. But despite the continent between them ... More
Insider Insights—Celebrating the Year of the Rabbit (in English)

Flashback
On a day like today, French painter Édouard Manet was born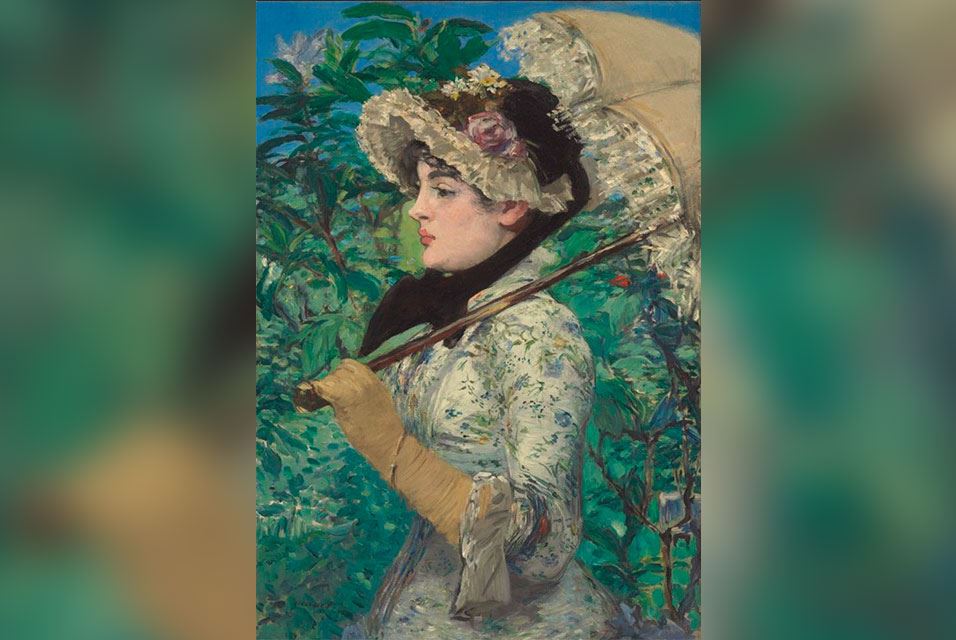 January 23, 1832. Édouard Manet (23 January 1832 - 30 April 1883) was a French painter. He was one of the first 19th-century artists to paint modern life, and a pivotal figure in the transition from Realism to Impressionism. In this image: Edouard Manet (1832-1883), Le Printemps oil on canvas, 29 1/8 x 20 1/4 in. (74 x 51.5 cm.), painted in 1881 Estimate: $25-35 million. Photo: Christie's Images Ltd 2014.
---

Museums, Exhibits, Artists, Milestones, Digital Art, Architecture, Photography,
Photographers, Special Photos, Special Reports, Featured Stories, Auctions, Art Fairs,
Anecdotes, Art Quiz, Education, Mythology, 3D Images, Last Week,

.
---
Royalville Communications, Inc
produces: