Ernie Barnes' 'Sugar Shack' painting brings big price at auction
Ernie Barnes (1938 - 2009), The Sugar Shack. Acrylic on canvas, 36 x 48 in. (91.4 x 121.9 cm.) Painted in 1976. Price realized: $15.2 million. © Christie's Images Ltd 2022.

by Robin Pogrebin
NEW YORK, NY
.-
Ernie Barnes' most famous painting, "The Sugar Shack," an exultant dancing scene that was featured on the cover of Marvin Gaye's album "I Want You" and during the closing credits of the TV sitcom "Good Times," sold for a whopping $15.3 million at Christie's 20th Century auction on Thursday evening to energy trader Bill Perkins. It was 76 times its high estimate of $200,000. "I stole it — I would have paid a lot more," said Perkins, 53, in telephone interview after the sale. "For certain segments of America, it's more famous than the 'Mona Lisa.' " Though based in Houston, Perkins said he did not want to risk being on the phone, so he flew to New York City with his fiance, Lara Sebastian, to attend the sale in person. He was worried that he might be outbid by someone of greater means. "What if Oprah shows up? What if P. Diddy shows up?" he recalled thinking. "I'm not going to be able ...
More
The Best Photos of the Day
The Collection of Anne H. Bass and Christie's 20th Century Evening sales total $843.7 million
Roland Auctions NY announces highlights of their two-part Multiple Estates auction
Dinosaur skeleton sells for $12.4 million at Christie's


Edgar Degas's Petite danseuse de quatorze ans which soared over its high estimate of $30 million to sell for $41.6 Million, breaking a record for the artist for the first time in almost 15 years ago. © Christie's Images Ltd 2022.



NEW YORK, NY.- Christie's Spring 2022 Marquee Week held its final evening sales on Thursday, May 12 with three exciting auctions: The Collection of Anne H. Bass achieved $363.1 Million, The 20th Century Evening Sale achieved $468.2 Million, and The Raptor sold for $12.4 Million. The night achieved $843.7 Million in all, bringing the week running total to $1.26 Billion. The most significant American collection to come to market this season, The Collection of Anne H. Bass was 100% sold, and 149% sold above the low estimate. Two of the 12 lots established new records, including Edgar Degas's Petite danseuse de quatorze ans which soared over its high estimate of $30 Million to sell for $41.6 Million, breaking a record for the artist for the first time in almost 15 years ago. Monet's Parlement, the top lot of the sale, sold for $75.9 ... More



Pair of Van Cleef &Arpels diamond earrings in snowflake design with platinum setting. Estimate $25-35,000.



GLEN COVE, NY.- Roland Auctions NY in Glen Cove, NY will present their two-part Multiple Estates auction on Friday, May 20th at 10am and Saturday, May 21st at 10am, featuring a with a fine selection of superb Chinese and Asian art, furniture and decorations, including many lots from the Estate of Herbert and Florence Irving, world-renowned collectors of all things Asian, and founders of the Asian Wing of the Metropolitan Museum of Art. Previews will be held on Thursday, May 19th & Friday, May 20th, 10am - 6pm. The two-part auction will focus largely on Asian art and decorative items, antiquities and contemporary art, including Dale Chihuly glass, Peking rugs and contemporary furnishings, while also featuring a selection of high-end jewelry. Along with many items from the extensive collection from the Estate of Herbert and Florence Irving, Roland is also offering a selection from the collection of well-known Palm Beach socialite ... More



A specimen of Deinonychus antirrhopus known as Hector that was auctioned at Christie's. Christie's Images Ltd. via The New York Times.

by Julia Jacobs



NEW YORK, NY.- It may not be a Matisse, or a Warhol, but this multimillion-dollar sale at Christie's comes from the hand of a different kind of artist: Mother Nature. Late Thursday, Christie's sold the skeleton of a Deinonychus antirrhopus — a species that became one of the world's most recognizable dinosaurs after the release of the movie "Jurassic Park" — for $12.4 million, with fees, to an undisclosed buyer. The auction continues the trend of high-priced fossil sales, a pattern that has irked some paleontologists, who fear that specimens could become lost to science if they are bought by private individuals rather than public institutions. The auction house said the fossil, nicknamed Hector, was the first public sale of a Deinonychus, an agile, bipedal dinosaur known for the menacing claws on its feet. The sale price was more than double the auction house's ... More
Works by Ed Clark, John Craxton, Gertrude Abercrombie drive Hindman to new house record for a fine art auction
Lisson Gallery now representing Jack Pierson
Deana Lawson wins the Deutsche Börse Photography Foundation Prize 2022


Ed Clark, Creation, 2006 (detail). Price Realized: $740,000.



CHICAGO, IL.- Works by Ed Clark, John Craxton and Gertrude Abercrombie led Hindman Auctions' May 11th Post War & Contemporary Art auction to a $4,491,375 million total, a house record for a Fine Art sale and more than doubling its presale estimate. "We knew the top lots by current market darlings would have strong interest, but it was beyond refreshing to see the prime examples at every price point receiving enthusiastic engagement and aggressive participation," shared Zack Wirsum, Hindman's Director and Senior Specialist for Post War & Contemporary Art. "In addition to hitting a major milestone with the sale achieving the highest result for a fine art sale in the history of the company, it was also great to see people raising paddles live in the auction room again, which contributed to the vibrance of the day." Ed Clark's 2006 acrylic on canvas Creation (lot 65) sold for $740,000 against a presale estima ... More



The shrine of Luxury and Pride, 2009, metal and neon, 87 1/2 x 99 x 5 1/4 in. (222.3 x 251.5 x 13.3 cm) © Jack Pierson.



LONDON.- Lisson Gallery announced representation of Jack Pierson. The gallery will represent Pierson across London, New York and China, alongside his current roster of galleries – Regen Projects, Thaddaeus Ropac and Xavier Hufkens. Pierson will present a new work at Lisson Gallery's Art Basel booth this June, followed by a solo exhibition in New York in 2023. Pierson employs sculptural assemblage, installation, collage and photography in pursuit of love, longing, kinship, poetry, celebration, youth, fantasy and identity. The artist's mode of non-hierarchical cultural compilation and a process of impulse-led editing allows Pierson to create personal and universal narratives across his multidisciplinary practice. Emerging from the 1980s milieu of the Boston School of documentarian photographers, Pierson was drawn into a world of gendered, punk-influenced performativity, and ... More



Deana Lawson, An Ode to Yemaya, 2019 © Deana Lawson.



LONDON.- The photographer was announced as the 2022 winner of the prestigious £30,000 prize at a special ceremony at The Photographers' Gallery, London by BBC News Culture Editor, Katie Razzall, on Thursday 12 May 2022. The influential prize, which has been presented in partnership with the Deutsche Börse Group since 2005, rewards artists and projects recognised as having made the most significant contribution to the world of photography over the preceding 12 months. Deana Lawson (b. 1979, Rochester, New York) was awarded the prize for her solo exhibition Centropy at Kunsthalle Basel (9 June – 11 October 2020). Lawson presents a distinctive and provocative approach to image-making, which while drawing on art history, as well as the wider landscape and traditions of photography, proposes a wholly original arena to reframe and reclaim the Black experience. Her interest lies in exploring ... More
Early Bob Dylan 'Poems Without Titles' among Marvels of Modern Music up for auction
'Magali Reus: A Sentence in Soil' opens at Nasher Sculpture Center
Andy Warhol's Marilyn makes headlines again as the highest work sold at Bonhams Prints & Multiples sale


Highlights from the collection, which Dylan penned while at the University of Minnesota, include; "Once Upon a Time," a lengthy four-page handwritten poem in pencil by Dylan.



BOSTON, MASS.- Boasting an extraordinary array of marvelous modern music items, RR Auction's spring sale is sure to be a hit! The auction is filled with incredible autographs and manuscripts, including a beautiful early original Bob Dylan poetry collection. The sixteen pages "Poems Without Titles" were written by Dylan when he was a teenager, in 1959 and 1960. Highlights from the collection, which Dylan penned while at the University of Minnesota, include; "Once Upon a Time," a lengthy four-page handwritten poem in pencil by Dylan. The long, playful poem is written in a two-column format and tells a circular tale of youthful lusts, loves, and conquests. Chronicling a wheel of ex-girlfriends by Judy, Ione, Carol, Barbara, another Judy, and Adele before a final return to Judy #1. The young Dylan's ... More



Exhibition by Dutch artist will consider contemporary life in abstract yet familiar forms.



DALLAS, TX.- The Nasher Sculpture Center announces Magali Reus: A Sentence in Soil, on view May 14 - September 11, 2022. The exhibition will be the second major US show for the Netherlands-born, London-based artist. The meticulously rendered sculptures of Magali Reus often find their inspiration in a readily overlooked everyday object—a dehumidifier, a no-parking sign, a ladder—removing it from its original, useful purpose and transmuting it into a form open to a wide-ranging accrual of new identities, meanings, and associations. Reus describes this act of an object's physical transformation as "destabilizing and emancipatory," one that allows it to perform a different function than the one people normally associate it with. These objects and their new functions reflect the disjointed character of contemporary life, where digital production and consumption makes our interactions with ... More



Marilyn Monroe (Marilyn) by Andy Warhol (1928-1987). Sold for $353,175. Photo: Bonhams.



NEW YORK, NY.- An Andy Warhol (1928-1987) print of one of the world's most enduring icons, Marilyn Monroe, exceeds expectations at Bonhams Modern & Contemporary Prints & Multiples sale on May 12 in New York. In a private collection since it was purchased for a few hundred dollars in 1984, Marilyn Monroe (Marilyn), sold for $353,175 breezing past its estimate of $200,000 – 250,000. The work centers an image of the actress that Warhol returned to many times in painting and print, but is made distinct by bright blond hair, ice green eyeshadow and red lips. "Bringing a print of this caliber to auction was an exciting experience. This was the second highest price ever achieved for Marilyn 23, just a hair under the world record," commented Deborah Ripley, Director of Bonhams Prints & Multiples in New York. "The combination of these two iconic figures – Warhol and Marilyn ... More
Major exhibition exploring Cartier's inspirations from Islamic art and design makes North American premiere
Exhibition presents Hélio Oiticica's 1971 unrealized proposal Subterranean Tropicália Projects: PN15 1971/2022
Exhibition of new and recent work by artist Tom Friedman opens at Lehmann Maupin Seoul


Installation view, Cartier and Islamic Art: In Search of Modernity at the Dallas Museum of Art. Courtesy of Dallas Museum of Art. Photo by John Smith.



DALLAS, TX.- The Dallas Museum of Art is the sole North American venue for Cartier and Islamic Art: In Search of Modernity, a major exhibition tracing inspirations from Islamic art and design, including from Louis Cartier's exquisite collection of Persian and Indian art and the work of the designers of the Maison Cartier from the early 20th century to present day. Co-organized by the DMA and the Musée des Arts Décoratifs, Paris, in collaboration with the Musée du Louvre and with the support of Maison Cartier, the exhibition brings together over 400 objects from the holdings of Cartier, the Musée des Arts Décoratifs (Paris), the Musée du Louvre, the Keir Collection of Islamic Art on loan to the Dallas Museum of Art, and other major international collections. Through strong visual juxtapositions and new scholarly research, the exhibition explores how Cartier's designers adapted forms and techniques from Islamic art, architecture, and jewelry, ... More



Hélio Oiticica in front of a poster for the play Prisoner of Second Avenue, in Midtown Manhattan, 1972, Facsimile of photograph, ©César and Claudio Oiticica, Rio de Janeiro.



LONG ISLAND CITY, NY.- For the first time in the United States, Socrates Sculpture Park, in collaboration with Projeto Hélio Oiticica and Americas Society, brings an idea originally conceived by late Brazilian artist, Hélio Oiticica to life in Subterranean Tropicália Projects: PN15, 2017/2022. This large-scale immersive environment is based on Oiticica's never-before-executed proposal from 1971 for Central Park that he conceived while living in New York City. The presentation and partnering programs are built upon Socrates Sculpture Park's long-standing collaboration with, and support of artists who expand the boundaries of their practice in nontraditional, public spaces. The immersive environment of PN15 draws inspiration from the City's thriving underground culture, encouraging visitors to drift through the circular structure of curving corridors for a multi-sensory experience. The installation features plants ... More



Tom Friedman, Cyclops, 2022. © Tom Friedman. Courtesy of the artist, Luhring Augustine, New York, Stephen Friedman Gallery, London, and Lehmann Maupin, New York, Hong Kong, Seoul, and London.



SEOUL.- Lehmann Maupin Seoul presents Many Things All at Once, a dynamic presentation of new and recent work by artist Tom Friedman. Concerned with ideas of perception, logic, and assumption, Friedman's practice engages questions of looking and the purpose of art today. Particularly interested in how our preconceptions influence how we understand the world, Friedman's work often employs trompe l'oeil effects that make viewers stop and look—and then look again. Known for his meticulous attention to detail and astounding craftsmanship, Friedman creates sculptures, paintings, drawings, videos, and installations that exploit the physical and conceptual nature of his materials and incorporate a dash of dry humor. Many Things All at Once is Lehmann Maupin's debut exhibition with Friedman, who joined the gallery's program in 2021. The artist's first solo presentation ... More
Modigliani's Madame Dorival

Flashback
On a day like today, English painter Thomas Gainsborough was baptised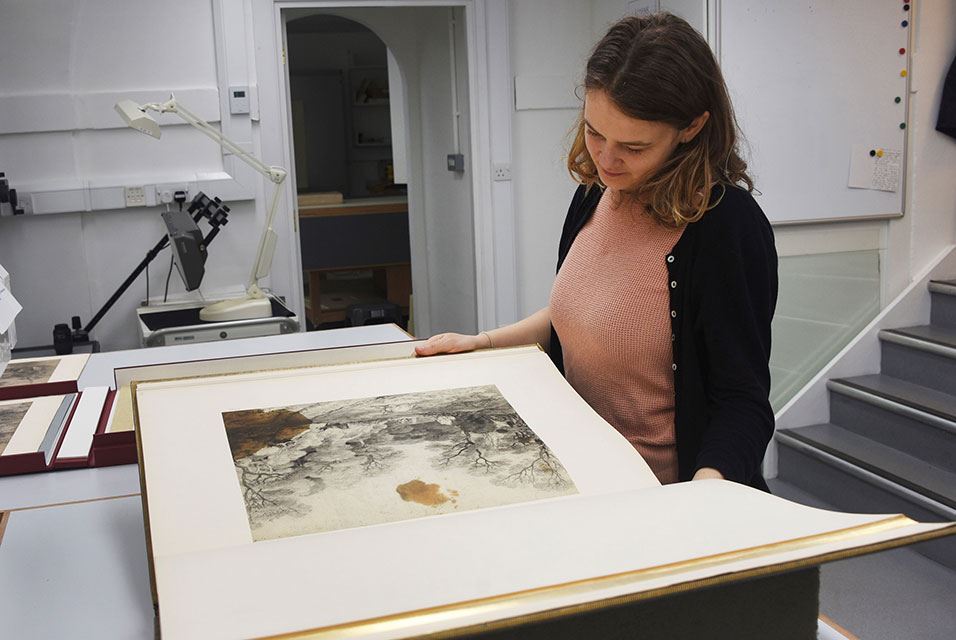 May 14, 1727. Thomas Gainsborough RA FRSA (14 May 1727 (baptised) - 2 August 1788) was an English portrait and landscape painter, draughtsman, and printmaker. Along with his rival Sir Joshua Reynolds, he is considered one of the most important British artists of the second half of the 18th century.He painted quickly, and the works of his maturity are characterised by a light palette and easy strokes. Despite being a prolific portrait painter, Gainsborough gained greater satisfaction from his landscapes.He is credited (with Richard Wilson) as the originator of the 18th-century British landscape school. Gainsborough was a founding member of the Royal Academy.
---

Museums, Exhibits, Artists, Milestones, Digital Art, Architecture, Photography,
Photographers, Special Photos, Special Reports, Featured Stories, Auctions, Art Fairs,
Anecdotes, Art Quiz, Education, Mythology, 3D Images, Last Week,

.
---
Royalville Communications, Inc
produces: