Two renovated museums offer a peek at spy secrets - at least for some
An exhibition on the 1962 Cuban missile crisis at the recently renovated museum at CIA headquarters in Langley, Va. on Sept. 24, 2022. In time for its 75th anniversary this year, the Central Intelligence Agency has overhauled and refurbished its museum of secrets — a site that is not open to the general public. Doug Mills/The New York Times.

by Julian E. Barnes
WASHINGTON, DC
.-
Two of the United States' intelligence agencies have completely renovated their museums of spycraft, displaying dramatic stories of notable U.S. spies and informants, as well as paraphernalia from intelligence work. But one of the museums will remain off limits to the public. In time for its 75th anniversary this year, the Central Intelligence Agency has overhauled and refurbished its museum of secrets. It features spy gadgets both successful (a Tabasco sauce-covered dead rat in which to hide messages) and not (a pigeon-mounted camera and a mini spy drone designed to look like a dragonfly). It has fascinating, beautifully arranged artifacts from significant espionage operations. However, the CIA Museum is on the agency's heavily protected campus in Langley, Virginia, a location that is not open to members of the public — unless they find themselves summoned to its headquarters. The CIA opened the renovated museum to family of personnel one weekend and to members of the n ...
More
The Best Photos of the Day
Tanya Bonakdar opens a solo exhibition of new work by Martin Boyce
Runners and cyclists use GPS mapping to make art
Roxanne Lowit, fashion photographer with a backstage view, dies at 80


Martin Boyce, Installation view, Long Distance, Tanya Bonakdar Gallery, Los Angeles, September 17 – October 29, 2022. Photo by Jeff McLane. Courtesy the artist and Tanya Bonakdar Gallery, New York / Los Angeles.



LOS ANGELES, CA.- Tanya Bonakdar Gallery is presenting Long Distance, a solo exhibition of new work by Martin Boyce, on view in Los Angeles from September 17 - October 29, 2022. This is Boyce's fifth solo exhibition with Tanya Bonakdar; his first at the Los Angeles gallery. Martin Boyce's sculptures, photographs and installations poetically investigate the intersections between art, architecture, design, and nature. Since the beginning of his career, he has incorporated a palette of shapes and forms that frequently recall familiar structures from the built environment – a phone booth, a chain-linked fence, a ventilation grill, to name a few – yet presents them in a way that is entirely new. Collapsing distinctions between past, present, and future, Boyce's works seem to exist in their own autonomous world, untethered to any fixed time or place. In Long ... More



Mr. Maughan's Instagram with a collection of his GPS art. Photo: Lenny Maughan.

by Claire Fahy



NEW YORK, NY.- In 1665, Johannes Vermeer dabbed the last drop of paint onto a canvas in his Dutch studio, completing his masterpiece "Girl With a Pearl Earring." On an April day 357 years later, Janine Strong slowed her bike to stop, paused her fitness app, and watched as the snaking line of her cycling route drew the shape of Vermeer's masterpiece over the streets of Brooklyn, New York. Strong creates what has come to be known as "GPS art" — a practice that uses the Global Positioning System mapping capabilities of modern phone apps such as Strava to create digital drawings using an athlete's route across the landscape. Instead of biking on a straight path or in circles around a park, Strong plans her rides in the shapes of birthday cakes, stars, birds, lions — and the occasional Vermeer. The hobby has grown with the widespread availability of satellite tracking for use by ordinary people, in fitness ... More



Kate Moss, Paris, 1994. ©Roxanne Lowit, courtesy Steven Kasher Gallery, New York.



NEW YORK, NY.- Roxanne Lowit, an omnipresent fashion photographer whose candid shots of top designers and models frolicking backstage at the world's fashion shows revealed that the spectacle behind the curtain often rivaled the main event on the catwalk, died Sept. 13 in Valhalla, New York. She was 80. Her daughter, Vanessa Salle, said her death, in a hospital, was the result of complications of a stroke after a long struggle with Parkinson's disease. With her exuberant fashion-week dispatches, party shots and editorial portraits for magazines such as Vogue, Allure and GQ, Lowit captured the biggest names in the industry dropping their guard. Covering the insiders of fashion, she became one herself, along the way gaining access to the stars of art (Andy Warhol, Salvador Dalí), music (Madonna, David Bowie) and film (Robert De Niro, Mickey Rourke). Seemingly everywhere at once over a four-decade career, she chronicled an evolution in fashion, and fashion photography, from ... More
Shepard Fairey opens first-ever solo museum exhibition in Texas
Matthew Bamber and Ivy Kalungi at Castlefield Gallery
Bloomberg New Contemporaries 2022 launches in Hull with a new generation of emerging artists


Shepard Fairey, AR-15 lily, 2021. courtesy of the artist.



DALLAS, TX.- For over three decades, American artist Shepard Fairey has been challenging the establishment through the creation and dissemination of iconic imagery with resounding impact. the power of Shepard's art is in the combination of the compelling narratives inherent in the pictures he creates and his ability to adapt to a continuously changing society. he has established a long-standing career as a master storyteller who uses images to help us navigate the complicated world we inhabit. Thematically, his exhibition at dallas contemporary – the artist's first-ever solo museum exhibition in Texas – highlights the evolution of Fairey's career from the confrontational D.I.Y. style of defiant youth to a narrative of hope, equality and shared humanity. in terms of material, Shepard's medium of choice for public art changed in 2010 from modular wheat pasted paper murals to more durable painted murals ... More



Ivy Kalungi, Untitled (2021). Image © Jules Lister.



MANCHESTER.- Castlefield Gallery is presenting new work by Matthew Bamber and Ivy Kalungi, two artists who explore how images, objects and bodies hold memories of both personal and social histories. The exhibition includes large scale sculptural works interacting with the gallery's unique architecture alongside video work and digital collage. In order to make her sculptures Kalungi employs an assortment of techniques and materials that vary from combining plaster, rope, cement, wood, and metal with more ephemeral materials. Her works often include potent cultural iconographies such as raffia. For Kalungi these material combinations reflect the personal and psychological triggers held within cultural identity. The duality of Kalungi's Ugandan and Irish heritage informs how she experiences the diasporic condition. She sees the relationship between migration and identity construction as a constant oscillation between cultur ... More



Bloomberg New Contemporaries, installation view. Photo: Neil Holmes.



HULL.- Launched in Hull across both Humber Street Gallery and Ferens Art Gallery, Bloomberg New Contemporaries 2022 exhibition features 47 of the UK's most exciting artists emerging from art schools and alternative peer-to-peer learning programmes. This year's New Contemporaries cohort were selected by internationally renowned artists James Richards, Veronica Ryan and Zadie Xa. From an open call submission of over 1,500 entries, the two-stage selection process was chaired by independent curator and writer and Chair of New Contemporaries Board, Fatoş Üstek. The resulting exhibition demonstrates a rich diversity of voices and approaches to making. Selected artists for Bloomberg New Contemporaries 2022 are: Lou Baker, Ashton Blyth, Adam Boyd, Tom Bull, Velvet Butler Carroll/Rudi Blu, Danying Chen, Josh Clague, Eugenia Cuellar, bill daggs, ... More
Exhibition of works by Meng Huang opens at Kang Contemporary
Christie's Asia Week New York live auction total: $35,378,754
Galleries announce joint global representation of Acaye Kerunen


Installation View, MENG HUANG, Striking Distance, Kang Contemporary, Berlin.



BERLIN.- Kang Contemporary Gallery would like to draw your attention to their current exhibition "Striking Distance" by Meng Huang. Meng Huang is an artist living in Berlin and Shanghai, who is especially known for his impactful, large-scale paintings, as well as a socially critical artist. The works on display at Kang Contemporary include large-scale landscapes painted by Meng Huang in China and Northern Europe, as well as his signature water landscapes. To avoid painting turning into a safe, repetitive activity, Meng Huang paints outdoors on three to four-meter-high canvases attached to scaffolding. In the past, the artist painted exclusively landscapes in China, but this year marks an imminent change in Meng Huang's artistic output. For the first time, he no longer paints exclusively Chinese landscapes, but now also German and Austrian sceneries. While the lower level of the gallery shows Meng Huang's journey to overcome the men ... More



The Japanese and Korean Art sale was led by a Nagasone Katana from the property from the Kaisendo Museum Collection, which realized $239,400. © Christie's Images Ltd 2022.



NEW YORK, NY.- Christie's Asian Art Week achieved a total of $35,378,754 with almost 80% sold by lot and 117% hammer above low estimate. There was global participation with bidders from almost 40 nations across five continents. The top lot of the week came in the Important Chinese Ceramics and Works of Art sale. A Very Rare Pair of Huanghuali Drum Stools, dating from the 17th century, realized $1,500,000, more than 12 times its low estimate of $120,000. Other notable results from the Chinese sale included the top lot in a group of 60 Chinese Jades From the Collection of T. Eugene Worrell, A Superb Yellow Jade Figure Of A Recumbent Mythical Beast, dating from the Ming Dynasty, which brought $441,000, more than four times its low estimate of $100,000. The South Asian Modern + Contemporary Art sale saw ... More



Acaye Kerunen, Banange, 2021, mixed media, 270 x 170 cm (106 ¼ x 66 7/8 in.) © Acaye Kerunen Studio.



NEW YORK, NY.- Pace Gallery, Blum & Poe, and Galerie Kandlhofer announced joint global representation of Acaye Kerunen, a pioneering installation artist whose work is included in the 59th Venice Biennale in Uganda's first-ever national pavilion. A multidisciplinary figure, Kerunen has cultivated a practice that spans visual art, curation, activism, acting, poetry, writing, and performance. She will have her inaugural presentation with Pace at Frieze London 2022, where the gallery's booth will feature a new installation by the artist. She will debut with Blum & Poe at Art Basel Miami Beach 2022, along with a solo exhibition in Los Angeles in 2023. Galerie Kandlhofer will host a solo exhibition devoted to Kerunen in Spring 2023. Kerunen's installations are forged from natural materials locally grown, harvested, dyed, and woven in Uganda, including banana fiber, raffia, reeds, and palm leaves. Through her work, she seeks to dismantl ... More
Sabrina Amrani announces the incorporation of Carlos Aires to the gallery's roster of artists
Exhibition commemorates the 50th anniversary of Diane Arbus's momentous 1972 posthumous retrospective
Heritage Auctions' October event spans centuries of Black American history


Carlos Aires (Spain, 1974) is a multidisciplinary artist internationally recognised for his critical vision of today's society and for his research into the representations of power.



MADRID.- Sabrina Amrani announced the incorporation of Carlos Aires to the gallery's roster of artists. Carlos Aires (Spain, 1974) is a multidisciplinary artist internationally recognised for his critical vision of today's society and for his research into the representations of power. Approaching his work means opening ourselves to the possibility of a language where antagonistic elements coexist; perversion, passion, catastrophe, party, violence, desire, suffering and death; a playful and tragic space where there is a notorious and unexpected equivalence between pain and pleasure. Although inspired by personal experiences and obsessions, he pays special attention to the shock effect produced by contradictory and/or absurd truths that make up the conceptual fabric of our ... More



Diane Arbus, A very young baby, N.Y.C. [Anderson Hays Cooper] 1968 © The Estate of Diane Arbus.



NEW YORK, NY.- David Zwirner and Fraenkel Gallery announce Cataclysm: The 1972 Diane Arbus Retrospective Revisited, on view at David Zwirner's 537 West 20th Street location in New York and opening in September. Organized by both galleries to commemorate the fiftieth anniversary of the artist's momentous 1972 posthumous retrospective at The Museum of Modern Art, New York, Cataclysm re-creates the iconic exhibition's checklist of 113 photographs, underscoring the subversive poignancy of Arbus's work even today while highlighting the popular and critical upheaval the original exhibition precipitated. In the fall of 1971, in the aftermath of Arbus's death in July, her friend, colleague, and fellow artist Marvin Israel approached John Szarkowski, the legendary director of photography at The Museum of Modern Art, about the prospect of a retrospective ... More



Huey P. Newton Happy Birthday Poster. 23" x 35" (sight), [California]; 1969.



DALLAS, TX.- From abolition to revolution: On Oct. 19, Heritage Auctions will present an event spanning centuries' worth of Black American history, ranging from Samuel Wood's 1807 antislavery tract The Mirror of Misery; or Tyranny Exposed and the third edition of 1845's Narrative of the Life of Frederick Douglass, An American Slaveto a 1950 letter written and signed by Malcolm X while in the Norfolk Prison Colony, where he joined its legendary debate society and discovered the Nation of Islam. Here, in a single auction, is the first edition of 1773's Poems on Various Subjects, Religious and Moral by the enslaved Phillis Wheatley, a tintype studio portrait of a Black Union officer and a screen-printed poster celebrating the 27th birthday of Black Panther Party founder Huey P. Newton. The breadth of this auction is extraordinary, especially as it pays special attention to Black ... More
Expert Voices: On the Masterpieces of Hôtel Lambert

Flashback
On a day like today, Expert Voices: On the Masterpieces of Hôtel Lambert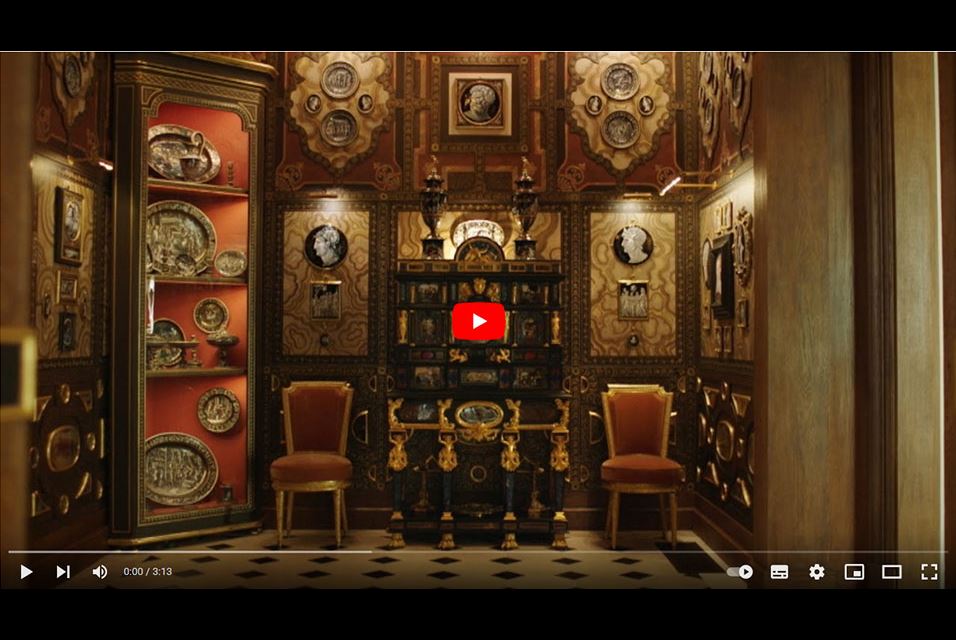 September 26, 2022.
---

Museums, Exhibits, Artists, Milestones, Digital Art, Architecture, Photography,
Photographers, Special Photos, Special Reports, Featured Stories, Auctions, Art Fairs,
Anecdotes, Art Quiz, Education, Mythology, 3D Images, Last Week,

.
---
Royalville Communications, Inc
produces: