After 9 years in limbo, treasures from Crimea return to Ukraine
The treasures have until now been kept in "safe storage" at the Allard Pierson museum, which is the archaeological museum of the University of Amsterdam.

by Nina Siegal
AMSTERDAM
.-
Hundreds of ancient artifacts from Crimea that were stored in a Dutch museum for nine years while Russia and Ukraine waged a legal battle over their ownership are now back in Ukraine, officials in Amsterdam said Monday. The works arrived Sunday at the Museum of Historical Treasures of Ukraine in Kyiv, said officials at the Allard Pierson Museum, an archaeological museum at the University of Amsterdam, which borrowed around 400 works from four Crimean museums in 2014 for the exhibition "Crimea: Gold and Secrets of the Black Sea." The artifacts included gold jewelry, gold plaques, precious gems, Greek and Roman stone ornaments and ceramics. A month into the show's run, Russia annexed the Crimean Peninsula, and when it came time to send the objects back, a legal conflict emerged: Should they go back to the Crimean museums, now under Russian state control, or to Ukraine, which argued that the works were part of its national heritage? The nine-year struggle over the ...
More
The Best Photos of the Day
Leighton's iconic Victorian painting, Flaming June, to be shown at the Royal Academy of Arts
La Belle Epoque Auction House presents " Holiday Season Multi-Estates" live auction December 2nd
Two paintings by Pietro Lorenzetti, major artist of the early 14th century Sienese School of painting, rediscovered


Frederic Leighton, Flaming June, c. 1895. Oil on canvas, 119.1 x 119.1 cm. Museo de Arte de Ponce. Luis A. Ferré Foundation, Inc.



LONDON.- The Royal Academy of Arts announced today that from Saturday 17 February 2024 until Sunday 12 January 2025, Frederic, Lord Leighton PRA's iconic painting, Flaming June, c.1895, will be on free display in the RA's Collection Gallery. It will be a rare opportunity to see one of the most recognisable and celebrated works from the Victorian period. The painting is on loan from the Museo de Arte de Ponce in Puerto Rico, which currently remains partially closed whilst a major repair project takes place due to damage caused by earthquakes in January 2020. Frederic Leighton (1830-1896) was a leading artist of the Victorian period; known for his historical, religious and mythological artworks, he served as the President of the Royal Academy from 1878- 1896. Flaming June was displayed at the Royal Academy's Summer Exhibition in 1895 before Leighton's death in January 1896. The work is regarded as Leighton's m ... More



Memoriam to Basquiat Attributed to Keith Haring. Acrylic on canvas signed on bottom mid right 'K. Haring. Starting bid $500.



NEW YORK, NY.- "La Belle Epoque Auction House is presenting their Holiday Season Multi-Estates Auction at their stunning 7,000 square-foot space at 71 8th Avenue on the border of the Meatpacking District and the West Village in New York City. The auction, being held live in-person, begins on Saturday, December 2nd, at 11am and will also be online through LaBelleEpoque.com, LiveAuctioneers, Invaluable and Bidsquare. In-person previews will take place on November 31st and December 1st from 11am – 5pm at La Belle Epoque 71 8Th Avenue in NYC. Taking the spotlight at La Belle Epoque on December 2nd will be an eclectic selection of Contemporary art, an area that did extremely well at their Summer Auction in August. Continuing the trend, they are offering Contemporary and Modern Art of all kinds, while also offering a wonderful collection of Art Glass from Baccarat, Lalique and Carl Radke, along with German and Frenc ... More



Pietro Lorenzetti, Saint Sylvester. Tempera and gold leaf on wood. The rectangular poplar panel of a vertical grain within a modern gilt frame, 27 9/16 x 14 3/8 in. Estimate: 1.5- 2 Million Euros



PARIS.- On 13 December, the French auction house TAJAN will be selling two paintings by Pietro Lorenzetti (active in Siena from 1306 to 1345), an artist as rare as he is important for gold-ground paintings of the Sienese School of the early 14th century. These two poplar panels, depicting Saint Sylvester and Saint Helena, immediately recognisable but previously completely unknown, come from the former Ramé Collection. They were acquired in Paris in 1860 by this eminent high court magistrate with a passion for archaeology and history, whose archives were donated to the Musée Archeologique de Rennes. Kept by his descendants, who had already sold part of their collection with Tajan in 1985, these two paintings represent a genuine rediscovery by the Cabinet Turquin. These two works by the greatest Sienese painter of his generation were probably part of a large altarpiece made of five or seven panels, which was likely to have been cut apart, as mos ... More
France scoffs at an Englishman's 'Napoleon'
Coins, tokens and medals from the Isaac Rudman Collection fetch &pound93,760 at Noonans
Major international exhibition 'Self-Determination: A Global Perspective' now on view at Irish Museum of Modern Art


Scholars say that a trailer for Ridley Scott's new film draws attention to the French emperor's complex and lasting legacy on the study of Egypt's cultural heritage. (James Smith Noel Collection/Louisiana State University at Shreveport via The New York Times)

Catherine Porter



PARIS.- The French do not like an Englishman's rendition of Napoleon. Or at least, the French critics do not. Looking grim and moody from under an enormous bicorn hat, Joaquin Phoenix glowers from posters around Paris, promoting the film by Ridley Scott that offers the latest reincarnation of the French hero whose nose — as one reviewer deliciously wrote — still rises in the middle of French political life two centuries after his death. Yet while British and American reviewers glowed, French critics considered it lazy, pointless, boring, migraine-inducing, too short and historically inaccurate. And that's just to start. The critic for the left-wing daily Libération panned the film as not just ugly, but vacuous, positing nothing and "very ... More



The sale was divided into three parts: coins, including a virtually complete collection of the coinage of Jamaica from Victoria to the beginning of decimalisation under Elizabeth II plus tokens and medals.



LONDON.- 274 lots of Coins, tokens and medals of the West Indies from the Isaac Rudman Collection were sold for a hammer price of £93,760 at Noonans Mayfair on Wednesday, November 22, 2023. The sale was divided into three parts: coins, including a virtually complete collection of the coinage of Jamaica from Victoria to the beginning of decimalisation under Elizabeth II plus tokens and medals. The catalogue foreword said: "Isaac Rudman could be considered the ultimate collector. His passion and enthusiasm is second to none and the breath and scope of his collecting interests are simply amazing." 87% of the collection sold with notable pieces were two countermarked coins. A Dollar from Jamaica that was valued at Six Shillings and Eightpence and created from a Peruvian 8 reales coin from 1758 sold ... More



Oksana Pavlenko, Women's Meeting, 1932, tempera on canvas. National Art Museum of Ukraine. (detail)



DUBLIN.- This autumn, Irish Museum of Modern Art presents a major international exhibition Self-Determination: A Global Perspective, one of the largest exhibitions in the Museum's history, opening on Thursday 30 November 2023. Self-Determination is the culmination of a three-year research and commissioning project, in dialogue with museums and institutions worldwide, presenting over 110 artists. Focusing on new nation-states which emerged in the wake of the First World War, it explores the role of art and artists in relation to the expression of national identities, nation-building and statecraft. The exhibition is part of the Decade of Centenaries Programme 2012–2023. Bringing together a range of Irish and international works, both modern and contemporary, the exhibition illuminates the shared experiences of early 20th century new states. It includes key works from national and international collections - including the National Art Museu ... More
60 Years of Gallery Chemould 'CheMoulding: Framing Future Archives' curated by Shaleen Wadhwana now open
New and recent work by American sculptor Tom Friedman being exhibited by Lehmann Maupin
Two-venue exhibition curated by Robert Storr 'Retinal Hysteria' on view at Venus Over Manhattan


Anju Dodiya, At the Flower Show , 2023. Oil on Linen, 48 x 30 in, 121.9 x 76.2 cm. Copyright The Artist.



MUMBAI.- CheMoulding creates multiple entry points into six decades of Indian contemporary art. It recognises the art frame 'moulding' company and gallery that continues to mould Indian art history and its contemporary present. The continuous suffix 'ing' makes Chemould a verb — the act of creating fearless spaces for artistic freedom since 1963. Such spaces remain threatened in our present and our future. Chemould built its archive to honour its 60 year milestone. From this archive — architectural motifs, photographs, Parsi community history, maps, exhibition catalogues, letters, objects, floor plans, frame mouldings, oral histories and personal memories, serve as inspiration to artists. CheMoulding unpacks human needs in the Indian context through showcased artistic responses. In Part 1 Framing we laid open our past selves to an honest re-examination of what-ifs, not what-abouts. ... More



Tom Friedman, Scribble Being, 2008-2023. Magazine clippings, MDF board, 97 x 49 x .875 inches; 246.4 x 124.5 x 2.2 cm. © Tom Friedman. Photo by Annie Ling.



NEW YORK, NY.- Lehmann Maupin is now showing Tom Friedman: In Focus, an exhibition of new and recent work by American sculptor Tom Friedman. Featuring both sculpture and work on paper, this presentation explores the role of scale in Friedman's practice, which he has utilized as a tool throughout his career to disrupt viewers' expectations and provoke deeper inquiry. Tom Friedman: In Focus also recognizes Lehmann Maupin's recently expanded representation of the artist, which now includes the Americas. In fall 2025, Friedman will have a major solo exhibition spanning the gallery's New York location. Friedman is best known for his alchemic sculptural practice that transforms ordinary materials, such as styrofoam, oven roasting pans, plaster, and household items into meticulously constructed art objects. Over the course of his decades-long career, Friedman has pushed the limits ... More



Robert Colescott, WHiTE GODDESS etc., 1968. © 2023 The Robert H. Colescott Separate Property Trust / Artists Rights Society (ARS), New York. Courtesy of The Trust, BLUM, Los Angeles/New York/Tokyo, and Venus Over Manhattan, New York. Courtesy Venus Over Manhattan, New York.



NEW YORK, NY.- On November 16, 2023, Venus Over Manhattan opened Retinal Hysteria, an expansive two-venue exhibition curated by Robert Storr, who was previously Senior Curator in the Department of Painting and Sculpture at The Museum of Modern Art, and Dean of the Yale University School of Art. Featuring works by more than forty artists, Retinal Hysteria draws its inspiration from Eye Infection, the landmark 2001–2002 exhibition presented to critical acclaim by the Stedelijk Museum Amsterdam. Curated by Jan Christiaan Braun, Eye Infection achieved enduring international impact — and influence that continues today — via Storr's accompanying catalogue essay, a tour de force that captured and advanced the maverick sensibility shared by the ... More
'Gone Wild' Mario Testino's third exhibition with Hamiltons is now showing
Historic Palazzo Donarelli Ricci is now new location for Tim Van Laere Gallery in Rome
Auction at Drouot offers a glimpse into the world of one of France's greatest composers


Testino, Mario, Aquila chrysaetos (I), Mongolia, 2019.



LONDON.- Hamiltons now presenting 'Gone Wild' featuring exclusive, new work by internationally renowned photographer Mario Testino. Shown at the gallery for the first time, the images feature an array of animals; from lions in Kenya to rare birds in Brazil. This new series contributes to Testino's ongoing project 'A Beautiful World' which explores and documents the cultural traditions of people and the natural world from around the globe, Hamiltons presented the first glimpses of Testino's 'A Beautiful World' in 2019. Whilst Testino has historically been recognised as one of the world's most in-demand commercial and fashion photographers, his life and career's real magnum opus is at its genesis. Dr Jenifer Allen writes "Mario Testino expands the frontiers of wildlife photography. The locations remain remote: from eagles in Mongolia to zebras in Namibia. Yet Testino pushes the borde ... More



Ben Sledsens, Un Nuovo Viaggio, 2023. Oil and acrylic on canvas, 180 x 160 cm. (detail).



ROME.- In the historic Palazzo Donarelli Ricci located at Via Giulia 98 in Rome, Tim Van Laere Gallery opened its new space on November 18, 2023. The space was inaugurated with a solo exhibition by Ben Sledsens. The title of the exhibition Un Nuovo Viaggio is an allusion by the artist to a new chapter in his own practice, but also in that of the gallery. Ben Sledsens' oeuvre offers a glimpse into his imaginary world, a utopia in which he wants to live himself. His carefully constructed compositions and their vibrant color palette open up to the viewer's eyes and invite them to explore the unexplored world of his imagination. With his great pictorial insight, Sledsens creates an intriguing puzzle of references by constantly using motifs, themes and objects, building a recognizable and coherent body of work in which he magnifies, emphasizes and idealizes ... More



Around 130 Lots spanning drawings, paintings, books, manuscripts, photographs and memorabilia will be offered.



PARIS.- On December 12th at Hôtel Drouot, Giquello will offer at auction a unique array which belonged to Darius Milhaud and his wife Madeleine. The sale will be held concurrently with the Paris de la modernité, 1905-1925 exhibition at the Petit Palais in Paris which includes a gallery dedicated to the composer featuring sketches and mock-ups for his ballet, La Création du Monde, 1923. This private collection, consigned by his grandchildren, is an opportunity for art and music lovers to glimpse into the world of one of France's greatest composers. Around 130 lots of drawings and paintings by great 20th-century artists, photographs, scores, books, manuscripts, prints, and souvenirs are all testimonials to the friendships and work of the composer and his wife. ... More
How To Spot a Painting Restoration

Flashback
On a day like today, American artist James Rosenquist was born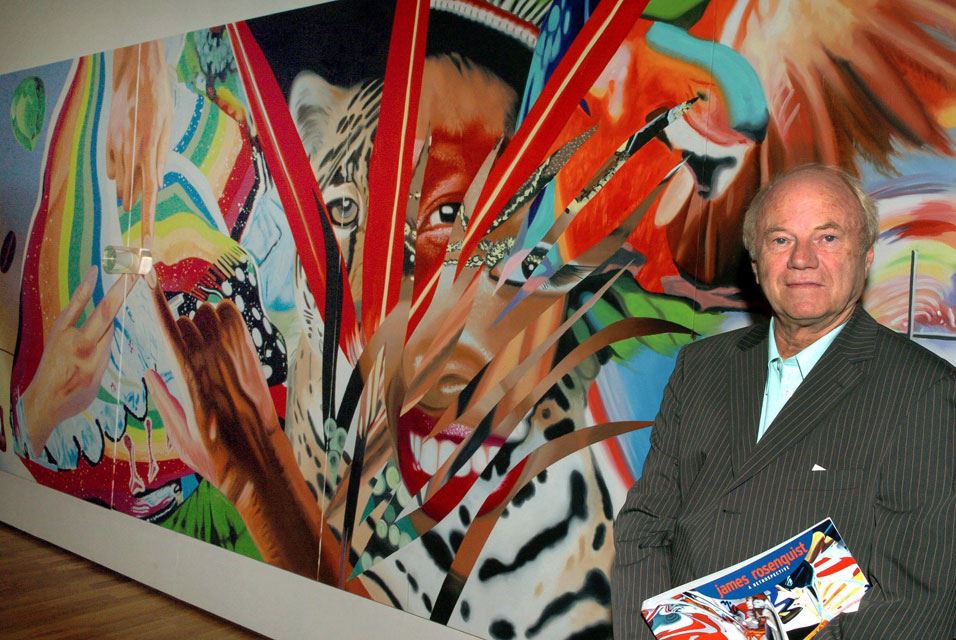 December 29, 1933. James Rosenquist (born November 29, 1933 - March 31, 2017) was an American artist and one of the protagonists in the pop-art movement. In this image: Then 71-year-old US artist James Rosenquist stands in front of his art work 'Brazil' which he created in 2004 at the art museum in Wolfsburg, Germany on Thursday, 17 February 2005. The piece was part of a retrospective which included 150 works of art spanning across three decades, allowing an insight into the work of a leading representative of US American Pop Art. The exhibition ran until 05 June 2005.
---

Museums, Exhibits, Artists, Milestones, Digital Art, Architecture, Photography,
Photographers, Special Photos, Special Reports, Featured Stories, Auctions, Art Fairs,
Anecdotes, Art Quiz, Education, Mythology, 3D Images, Last Week,

.
---
Royalville Communications, Inc
produces: