THE ALLURE OF ANTIQUE PERSIAN CAMELHAIR CARPETS
This exemplary 19th-century Qashqai antique rug is woven from camelhair and exhibits the style and colors that typify rugs of this genre.

By Jan David Winitz, President & founder
Claremont Rug Company
PART 1 of 2
OAKLAND, CA
.-
While the preponderance of antique Oriental rugs were woven from sheep's hair, there were villages and encampments of Northwest Persian Azerbaijan and Kurdistan during the 19th and turn-of-the 20th-century rugs where undyed camelhair was employed to create distinctive and highly desirable works of art. Over the years, since founding
Claremont Rug Company
in 1980, we have had an enthusiastic and knowledgeable following among our clients, who find myriad uses for them in their residences. In this first installment of a two-part series, I will discuss some of the more interesting facets of this collecting niche and point out the many nuances that make them so attractive, despite their relative rarity. Many clients place their camelhair pieces in gallery halls or great rooms, as their neutral hues and often more sparse patterns provide an effective counterbalance to the large-scale designs and multi-colored palette of many cont ...
More
The Best Photos of the Day
Couple who defaced $400,000 painting thought it was a public art project
Joan Mitchell's Untitled, 1989 to lead Hindman's May 4 Post War & Contemporary Art Auction
World's priciest painting not a full da Vinci, claims doc


A two photo combo provided by organizers of the "Street Noise" exhibition, shows views of "Untitled," a painting by the artist JonOne, before (top) and after it was vandalized (bottom). The extra brush strokes are hard to spot. Organizers of the "Street Noise" exhibition via The New York Times.

by Youmi Kim and Mike Ives



SEOUL (NYT NEWS SERVICE).- The couple saw brushes and paint cans in front of a paint-splattered canvas at a gallery in a Seoul shopping mall. So they added a few brush strokes, assuming it was a participatory mural. Not quite: The painting was a finished work by an American artist whose abstract aesthetic riffs on street art. The piece is worth more than $400,000, according to the organizers of the exhibition that featured the painting. Now it's hard to tell where the artist's work ends and the vandalism begins. "Graffitied graffiti," a local newspaper headline said last week. Either way, the piece, "Untitled," by John ... More



Joan Mitchell (American, 1925-1992), Untitled, 1989. Estimate: $500,000-700,000.



CHICAGO, IL.- On May 4, Hindman Auctions will present Joan Mitchell's Untitled, 1989 as the centerpiece of its Post War and Contemporary Art auction, where it will be offered with an estimate of $500,000-700,000. Executed during the later years of Mitchell's career, this work is an outstanding example of her shift towards lush and transcendent painting. The softer strokes and sense of restraint in Untitled, 1989 contrast Mitchell's slashing paint handling in earlier work, while still illustrating her singular vision and timeless approach. Untitled, 1989 is from a Private Collection (Atlanta, Georgia) and was purchased from Cheim & Read in New York in 2012. "We are thrilled to be offering this outstanding work as the focal point of this year's May Fine Art auctions, especially with the premiere of Joan Mitchell's major retrospective this September," remarked Hindman's Senior Specialist for ... More



Agents speak on their phones with their clients while bidding on at the auction of Leonardo da Vinci's "Salvator Mundi" during the Post-War and Contemporary Art evening sale at Christie's on November 15, 2017 in New York City. Eduardo Munoz Alvarez/Getty Images/AFP.



PARIS (AFP).- A French documentary has cast fresh doubts over the world's most expensive painting, the "Salvator Mundi" credited to Leonardo da Vinci, revealing a resulting diplomatic tussle between France and its Saudi owner. The painting of Jesus Christ, nicknamed the "male Mona Lisa", was sold at a 2017 Christies auction in New York for a record $450 million. Its secret buyer was later revealed to be Saudi crown prince Mohammed bin Salman, though this is still denied in Riyadh. But there have long been questions over whether it was entirely the work of da Vinci. The issue resurfaced when the painting failed to appear as planned at the Louvre Abu Dhabi museum in 2018, and then at ... More
The courtroom sketch: A piece of history, and art
Lippold's soaring Lincoln Center sculpture lands at La Guardia
Pera Museum's new exhibition brings together 60 years of work by artist and poet Etel Adnan


John Ehrlichman, a top aide to former President Richard Nixon, at a Watergate hearing in 1974. Freda Reiter/Gallery 98 via The New York Times.

by Derrick Bryson Taylor



NEW YORK (NYT NEWS SERVICE).- Sitting in a New York City courtroom in 1993, Marilyn Church unpacked her crayons and paper and patiently waited for the right moment to illustrate. As a courtroom sketch artist, she was used to jockeying for a good vantage point. This time, she was lucky to be seated in an empty jury box, giving her a clear view of both Mia Farrow and Woody Allen during a hearing in their child custody dispute. Working at a fast pace, Church said she faced pressure from news media outlets outside the courtroom waiting to get her drawings, as well as pressure to capture the likeness of the two celebrities. "It's high anxiety," she said. "You also have to be careful not to get wrapped up in the very disturbing stuff you're hearing." Although some jurisdictions in the United States allow electronic media coverage of criminal proceedings, it has been prohibited ... More



A sculpture, "Orpheus and Apollo," (1962) by Richard Lippold at the Lincoln Center in New York, July 9, 1996. Lippold's soaring sculpture, which had been removed from Lincoln Center's Philharmonic Hall (now David Geffen Hall) in 2014, will be suspended in flight once again: as the centerpiece of La Guardia Airport's Central Hall. Jack Manning/The New York Times.



NEW YORK (NYT NEWS SERVICE).- Richard Lippold's soaring sculpture "Orpheus and Apollo," which had been removed from Lincoln Center's Philharmonic Hall (now David Geffen Hall) in 2014, will be suspended in flight once again: as the centerpiece of La Guardia Airport's Central Hall. "There are not a lot of places you can put a 40-foot-high sculpture" weighing 5 tons, said architecture critic Paul Goldberger, who had the idea in 2019 when the use of Central Hall — a grand glass-enclosed connector between Terminal B and the AirTrain — was still being determined. "It occurred to me that two problems could be solved with one act," Goldberger said. The hall is to open next year. The relocation agreement between Lincoln Center, which could not accommodate the sculpture in its renovation ... More



Etel Adnan, Le poids du monde (The Weight of the World) 33, 2017. Oil on canvas, 33 x 24 cm © Etel Adnan. Private collection. Courtesy: Galerie Lelong & Co. Paris.



ISTANBUL.- Pera Museum presents the exhibition "Etel Adnan: Impossible Homecoming", which brings together 60 years of work by artist and poet Etel Adnan, whose life spanned nearly a century. The exhibition can be visited through August 8, 2021. Suna and İnan Kıraç Foundation Pera Museum's new exhibition "Etel Adnan: Impossible Homecoming" brings the audience together with the versatile artist Etel Adnan. Curated by Serhan Ada and Simone Fattal, the exhibition reflects the rich identity of Etel Adnan who was born in Beirut in 1925 to a multilingual, multi-faith, and multi-cultural family and region. Never indifferent to the wars and political-social upheavals that beset her life, the artist uses writing and painting to create her works. The retrospective exhibition includes oil paintings, drawings, prints, ceramics, carpets, leporellos, and a film by the artist who "has mastered more than one mediu ... More
Christie's to present Live Sale of Prints & Multiples on 15-16 April
Tilton Gallery opens a solo exhibition of new sculpture by Kennedy Yanko
Betty Cuningham Gallery opens an exhibition of new paintings by John Lees


Henri Toulouse-Lautrec (1864-1901), La Passagère du 54, ou Promenade en Yacht, lithograph in colors, on wove paper, 1896. Image: 24 x 17⅝ in. Sheet: 24⅝ x 18¼ in. Estimate: $40,000-60,000. © Christie's Images Ltd 2021.



NEW YORK, NY.- Christie's Prints and Multiples auction will take place on April 15-16 in New York and will present a wide selection of works spanning the 19th century to the present day. The sale will offer works by Pablo Picasso, Joan Miró and Edward Hopper, as well as prints by David Hockney, Keith Haring, and Roy Lichtenstein. Notable lots from the sale include Andy Warhol's Cowboys and Indians (estimate: $400,000-600,000) and Edward Hopper's Night on the El Train (estimate: $150,000-250,000), which displays the artist's recurring themes of urban isolation and the adaptation of cinematic framing of subjects. Another highlight of the sale is an exceptional collection of Henri Toulouse-Lautrec prints from the Property of Heirs of Franz Koenigs. Over the course of his life, Franz Koenigs formed one ... More



Kennedy Yanko, Making Light, September 2020. Paint skin, metal, painted wire, 64 x 58 x 21 inches (163 x 147 x 53 cm).



NEW YORK, NY.- Tilton Gallery is presenting a solo exhibition of new sculpture by Kennedy Yanko, from April 6th to May 15th, 2021. Kennedy Yanko continues her ongoing investigation into the combination of the seemingly incongruous materials of metal and paint skins to create voluptuous and unexpected sculptural forms. Salvaged metal, crushed or bent into new forms, is juxtaposed with lushly colored soft-appearing paint skins formulated by the artist to flow organically around or through the harder metal forms, at times seeming to pour out of this less pliant element. Yanko melds the two materials and experiments with her very personal color palette to create works that defy the traditionally static nature of sculpture and that have a sense of continuous movement. In this new body of work, Yanko has added a new element: wires. Straight and ... More



Sandy, 1987-2020, Oil on masonite and wood, 23 x 16 inches.



NEW YORK, NY.- Betty Cuningham Gallery is presenting an exhibition of new paintings by John Lees. The exhibition opened on March 26 and runs through May 8, 2021. This is the artist's sixth solo show at the Gallery, located at 15 Rivington Street, New York City. An Online Viewing Room accompanies the exhibition. The exhibition is comprised of 23 paintings and a major work on paper, Sitting in One Place, 2001-2021, measuring 95 in length. Lees spends years working and reworking his paintings and drawings; he often leaves a written diary on the front or back of the work as a physical reminder of the time spent. In much of his recent work, Lees incorporates brighter, more upbeat colors and introduces a more complex narrative. He concentrates less on memories and instead focuses his attention on "his life now." In Hills of Home we see his backyard, his dogs, Lester and Murphy, and, to the right, a figure in a red coat. ... More
A Brooklyn artist wants sports fans to wear their names
Solo exhibition by Richard Rezac on view at Rhona Hoffman Gallery
The Jewish Museum of Florida-FIU reopens its doors


A photo provided by Raafi Rivero shows a man posing in front of an Unarmed jersey that commemorates Jacob Blake, who was paralyzed after being shot by police in Kenosha, Wis., in August 2020. Raafi Rivero/Unarmed via The New York Times.

by Ben Osborne



NEW YORK (NYT NEWS SERVICE).- The irony has always troubled Raafi Rivero. "People love Black athletes," he said. "But they don't love Black people." In July 2013, it resonated anew for Rivero, a lifelong sports fan, when George Zimmerman was acquitted in the killing of Black teenager Trayvon Martin, the same weekend Rivero saw the film "Fruitvale Station," about the 2009 killing of Oscar Grant, who was also Black. "I cried several times that weekend, and I really felt powerless," Rivero said from Santa Fe, New Mexico, last month during a videoconference interview. "I was asking myself, 'What can I do?'" Rivero, a filmmaker with a background in design, poured his emotion into a piece of art that eventually became part of a series that has ... More



Richard Rezac, Limb (Yellow), 2020. Cast Bronze and Oil Paint, 17.25 x 7.25 x 3.25 inches.



CHICAGO, IL.- Rhona Hoffman Gallery is presenting Cast, a solo exhibition by Richard Rezac. Featuring a series of works made within the last year—a period whose insular time has been marked by recollection, in the absence of new visual material or experiences entering an artists' frame of reference—the exhibition underscores Rezac's four-decade career of invention and permutation in sculpture. Since the 1990s, the artist has crafted modulations of the Baroque, presenting the control and calibration of architectural details and subjects in unexpected and elegant combinations. Following a residency at the American Academy in Rome from 2006–07, Rezac's ongoing interest in Italian architects Francesco Borromini and Andrea Palladio are revisited in Cast, combining elements such as readymade doorknobs, crown moldings, Florentine costume, and structural building plans in expressions of enigmatic geometry. ... More



While the museum's virtual and digital programs will continue in full force, JMOF-FIU is welcoming back guests safely, by appointment.



MIAMI, FLA.- On Tuesday, April 6, the Jewish Museum of Florida-FIU reopened its doors to the community. Last March, JMOF-FIU temporarily closed in response to the coronavirus pandemic, and transitioned to virtual tours, digital content and social media outreach. While the museum's virtual and digital programs will continue in full force, JMOF-FIU is welcoming back guests safely, by appointment. Currently on view at the museum are "Will Eisner: Comic Creator, Illustrator and Innovator," "The Sanctuary," and "Jews of the Florida Panhandle." "Will Eisner: Comic Creator, Illustrator and Innovator," features Eisner's work, a career of seven decades, including original illustrations, first edition comic books from The Spirit comic book series, works from his army days, graphic novels and self-portraits. "The Sanctuary" is the ... More
Gallery Tour: 20th Century & Contemporary Art | London | Spring 2021

Flashback
On a day like today, Spanish painter and sculptor Pablo Picasso died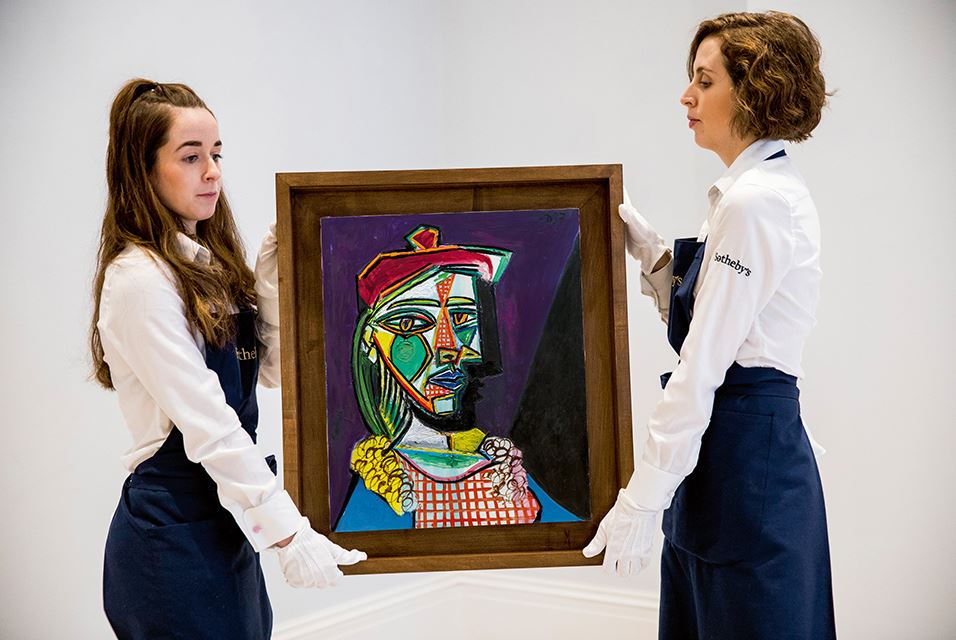 April 08, 1973. Pablo Picasso (25 October 1881 - 8 April 1973) was a Spanish painter, sculptor, printmaker, ceramicist, stage designer, poet and playwright who spent most of his adult life in France. In this image: Pablo Picasso, Femme au béret et à la robe quadrillée (Marie-Thérèse Walter), December 1937. Courtesy Sotheby's.
---

Museums, Exhibits, Artists, Milestones, Digital Art, Architecture, Photography,
Photographers, Special Photos, Special Reports, Featured Stories, Auctions, Art Fairs,
Anecdotes, Art Quiz, Education, Mythology, 3D Images, Last Week,

.
---
Royalville Communications, Inc
produces: