Facing crisis, arts groups push for their own bailout
A gallery inside the Metropolitan Museum of Art in New York, on March 13, 2020. As museums shutter and theaters go dark, cultural institutions are calling for the government's help, but they recognize they're not the first priority during a pandemic. Ashley Gilbertson/The New York Times.

by Julia Jacobs
NEW YORK
(NYT NEWS SERVICE)
.-
The so-called coronavirus curve is far from flat, but for many of the country's arts organizations, revenue certainly is. Ticket sales are practically nonexistent. Parents are requesting refunds for children's dance classes. Any live event scheduled for before June is probably canceled, including springtime black-tie galas, which often bring in large chunks of revenue for organizations. So, like other sectors of the economy, arts organizations are turning to local and federal taxpayers for help, trying to make the case that American culture needs a bailout, too. It has not been an easy sell, coming at a time when many pillars of the economy, from airlines to restaurants to public transportation, are facing existential crises and needing handouts themselves. But it is a fight the country's museums and performing arts groups are used to waging. A group representing museums, backed by some Democratic lawmakers in New York and elsewhere, have asked for $4 billion in the fede ...
More
The Best Photos of the Day
Mister Rogers song and Dr. Dre added to National Recording Registry
Hauser & Wirth opens an online-only exhibition of drawings by Louise Bourgeois
The merry-go-round stopped. What sort of art will emerge?


Fred Rogers gently invited millions of children to be his neighbor as host of the public television show "Mister Rogers' Neighborhood" for more than 30 years. Sara Krulwich/The New York Times.

by Jennifer Schuessler



NEW YORK (NYT NEWS SERVICE).- The theme song for "Mister Rogers' Neighborhood," the Village People's "Y.M.C.A.," the original cast album for "Fiddler on the Roof" and the play-by-play broadcast of the thrilling 1951 National League tiebreaker between the New York Giants and the Brooklyn Dodgers are among the 25 recordings just added to the Library of Congress' National Recording Registry. The registry, created in 2000, is meant to designate recordings that are "culturally, historically, or aesthetically significant" and are at least 10 years old. Carla Hayden, the librarian of Congress, selected this year's inductees from around 800 nominations. This new class ranges widely over the American soundscape, taking in radio broadcasts, field recordings, early women blues singers, jazz, opera and recent pop albums, including ... More



Louise Bourgeois, Spit or Star, 1986. Watercolor and pencil on paper, 23 3/4 x 19 in. Photo: Christopher Burke. © The Easton Foundation/VAGA at ARS, NY. Courtesy The Easton Foundation and Hauser & Wirth.



NEW YORK, NY.- For their inaugural online exhibition, Hauser & Wirth brings directly to your screen a selection of drawings by the celebrated French American artist Louise Bourgeois. Drawing was a daily ritual throughout Bourgeois's seven-decade career, used as a necessary tool to record and exorcise her memories and emotions. The works in this presentation capture her inner psyche through undulating marks in ink, watercolour and pencil. 'Louise Bourgeois. Drawings 1947 – 2007' coincides with the launch of 'Dispatches', a new series of original video, online features and experiences that connects you with our artists as we continue to navigate our shared reality together. Born in 1911, Bourgeois began drawing at a young age – as a girl, her skills allowed her to assist at her parents' tapestry restoration business, where she helped design and draw templates for fabrics in need of repair. Years ... More



The Reina Sofia Museum in Madrid, March 17, 2020. Gianfranco Tripodo/The New York Times.

by Jason Farago



NEW YORK (NYT NEWS SERVICE).- No museums, no galleries, no fairs, no art schools, no openings, no studio visits, no arguing over beers, no gauche private-jet partnerships. In a matter of days, the world of contemporary art went from a reverberant global network to a ghost town, sheltering in place as the coronavirus endangers our cities and our livelihoods. Like every other sector, art is having to go digital. There is no shortage of artists and critics (including me, all too often) who have bemoaned the way Instagram and other platforms have transformed contemporary art. Count your blessings: Now Instagram is almost all we've got. These first days of physical isolation and cultural deprivation have been a furious gyre. The absolutely requisite closure of the museums — promptly in the United States, more tardily in Britain — may aggrieve those of us who find solace in art, but they have ... More
Tony Awards postponed amid coronavirus crisis
Private collection draws spotlight in Heritage's Design Auction
Sotheby's updates Hong Kong Modern Art Evening & Contemporary Art Sales schedule


James Corden helps open the 73rd annual Tony Awards at Radio City Music Hall in New York, June 9, 2019. Sara Krulwich/The New York Times.

by Julia Jacobs



NEW YORK (NYT NEWS SERVICE).- Broadway's biggest night will have to wait. Amid a total shutdown of Broadway theaters in response to the coronavirus pandemic, the 74th annual Tony Awards ceremony, scheduled for June 7, has been postponed until an undecided date. Earlier this month, the theater industry announced that Broadway venues would go dark through April 12, and as the pandemic shows no sign of slowing down, that date is expected to be pushed back to May or June. Tony Award Productions, the company that puts on the awards show, said on Wednesday that the new date for the Tonys would be announced when Broadway reopened its doors. The production company is a joint operation of the Broadway League and the American Theater Wing; the ... More



The Elizabeth Garouste and Mattia Bonetti Dawson Floor Lamp, 1990 (estimate: $20,000-30,000).



DALLAS, TX.- A rare lamp by French designers Elizabeth Garouste and Mattia Bonetti is among the highlights from an important California collection in Heritage Auctions' Design Auction April 20 in Dallas, Texas. The 245-lot sale also includes among its highlights an extensive collection of studio glass by elite artists from the movement, as well as a selection of furniture, accessories, windows and drawings by the legendary Frank Lloyd Wright. The Elizabeth Garouste and Mattia Bonetti Dawson Floor Lamp, 1990 (estimate: $20,000-30,000) is made of gilt iron and stands 97-1/2 inches tall. Created by the duo known for their imaginative decorative art and furniture designs, the lamp is one of five lots in the sale by the artists and an example of the works from the pair who offered a unique blend of classical materials (including wrought iron) and modern shapes and designs. Dale Chihuly's Cobalt Blue Grande ... More



Yoshitomo Nara, Keep Your Chin Up, 2001, acrylic on canvas, 194 by 259.3 cm. Courtesy Sotheby's.



HONG KONG.- In light of the ongoing impact of the Covid-19 virus outbreak, Sotheby's has made the decision to relocate their Hong Kong Modern and Contemporary Art Sales back to Hong Kong in July. The three auctions - Modern Art Evening Sale and Contemporary Art Evening & Day Sales – originally scheduled to be offered on 16 April in New York – will be moved to the week of 5 July in Hong Kong to join the balance of their spring auction series. Travelling exhibitions in Hong Kong (27 – 28 March) and Taipei (4 – 5 April) will also be postponed, with new dates to be announced in due course. Kevin Ching, CEO of Sotheby's Asia, comments: "In reviewing our sale schedule, we have taken into consideration the advice from government and health authorities, the requirements of our clients, and logistical and operational feasibility. As the situation stabilizes in Asia, the relocation of these sales back to Hong Kong will ... More
Leila Heller Gallery opens its first exhibition of works by Abdul Qader Al Rais
Exhibition featuring works by American artist Carole Seborovski opens at Galerie Karsten Greve
34th Bienal de São Paulo announces new dates


The Power of Letter, 2008, Watercolor on Paper, 155 x 105cm.



DUBAI.- Leila Heller Gallery is presenting its first ever solo exhibition of the pioneering Emirati Artist Abdul Qader Al Rais in "Nuqta: The Diacritic." On view March 23rd to September 15th "Nuqta: The Diacritic" presents a series of the artist's paintings across his third period of his work, which is marked by his engagement with bringing abstraction and local cultural heritage into dialogue. Al Rais incorporates the contours of calligraphy as well as the rocky cliffs, deserts, and shores of the region's unique natural world into his rigorous study of the fundamental elements of color, form, and light. The works exhibited range from oil on canvas to watercolor on paper, and offers a painterly alternative to current understandings of the UAE's art history as rooted in highly concept-based and anti-aesthetic installations. Click here for a virtual tour of the exhibition. The ... More



Carole Seborovski, Ryoanji, 2002. Enamel, wood, plaster, fabric, vinyl, 61 x 50,8 x 10,2 cm / 24 x 20 x 4 in. CS 02.15 CaS/S 16 © Carole Seborovski. Courtesy Galerie Karsten Greve Köln Paris St. Moritz.



COLOGNE.- Galerie Karsten Greve is presenting a solo exhibition featuring works by American artist Carole Seborovski in Cologne. The exhibition is open by appointment only. Karsten Greve, the gallery owner, discovered the artist in the United States, and exhibited her work for the first time in his Paris gallery in 1991. In 1992 and in 2004, Seborovski had solo exhibitions in Cologne. This is Seborovski's tenth solo exhibition with Karsten Greve. On display are more than thirty object-paintings and works on paper, executed between 1994 and 2004. Carole Seborovski was born 1960 in San Diego, California. She received her Bachelor of Arts from the California College of the Arts, in 1982. She continued her studies at the New York Studio School, and received her Master ... More



34th Bienal de São Paulo – Faz escuro mas eu canto. © Fundação Bienal de São Paulo.



SAO PAULO.- The Fundação Bienal de São Paulo announced the changes in the exhibition calendar of the 34th Bienal to protect the safety of visitors, artists and collaborators, in response to the challenges the whole world is facing during this delicate time. The opening of the group exhibition of the 34th Bienal, initially planned for 5 September, will be postponed to 3 October 2020, and the closing date will be moved to 13 December. In addition, Clara Ianni's and Deana Lawson's solo exhibitions, as well as the performances authored by León Ferrari and Hélio Oiticica, which were originally going to take place between April and August, will be incorporated into the group show. The Executive Board of the Fundação Bienal and the curators of the 34th Bienal are in communication with the partner institutions of this edition to keep the network of exhibitions that was planned together with ... More
Manifesta 13, which will take place in Marseille, France, is postponed due to the COVID-19 crisis
For drive-in theaters, an unexpected revival
When fashion tv becomes an anthropological treasure


View of Marseille - City Host of Manifesta 13. Image Courtesy of Manifesta 13.



MARSEILLE.- In light of the current situation surrounding the COVID-19 virus and the French National Government's announcement on the 16th of March 2020 that France's borders would close for 30 days and that a national lockdown of 15 days would be enforced, it is in close consultation with the City of Marseille, that Director of Manifesta Hedwig Fijen, together with Manifesta 13 Marseille's Board members, has officially decided to postpone the 13th edition of the biennial. Manifesta 13 Marseille is currently reviewing multiple scenarios in close collaboration with the City of Marseille, Manifesta's Artistic Team and Board Members and other cultural stakeholders in the region in the hope of being able to announce the new dates of Manifesta 13 Marseille by mid April 2020. Manifesta will continue to assess the situation as it evolves, prioritising at all times to safeguard the health and well-being of its employees, participants and community. Manifesta ... More



From the relative safety of their cars, moviegoers watch the "The Big Lebowski" at the Blue Starlite Mini Urban Drive-In in Austin, Texas on March 21, 2020. Eli Durst/The New York Times.

by Alyson Krueger



NEW YORK (NYT NEWS SERVICE).- Jen Philhower, 48, a part-time office manager in Austin, Texas, is one of the many Americans adjusting to almost every group activity being canceled, as people move indoors and into isolation to avoid spreading the novel coronavirus. "My youngest goes to wilderness school, and even that is closed," she said. "When even playing in the woods is closed, things start to feel a little strange." So Philhower was surprised — ecstatic, even — to see one group entertainment venue still open for business: the Blue Starlite, a local drive-in movie theater currently allowing 35 to park at one time. Located on a hill with the Austin skyline in the background, the theater resembles a "cool junkyard," according to Josh Frank, the owner, who opened ... More



Salma Hayek attends the Heavenly Bodies: Fashion & The Catholic Imagination Costume Institute Gala at The Metropolitan Museum of Art on May 7, 2018 in New York City. Neilson Barnard/Getty Images/AFP.



NEW YORK (NYT NEWS SERVICE).- There is no live fashion to look at now. No shows; no red carpets; not really any street style. The cruise collections that normally take place in far-flung destinations during May and June have been canceled. The Met Gala and the Council of Fashion Designers of America awards have been postponed (assuming they happen at all); the Cannes Film Festival is off. Forays to the supermarket or the park yield only sightings of leggings and sweatpants and the occasional jeans. Window shopping is over. But we still have TV. And on TV (or the various screens that pass as TV today), there is a new slate of reality fashion programs that are streaming or about to. They include the rebooted "Project Runway" with Karlie Kloss and Christian Siriano, which recently ended its network season on Bravo but is available on bravotv.com; "Next in Fashion," ... More
Larry Bell: Still Standing
Flashback
On a day like today, Iranian visual artist Shirin Neshat was born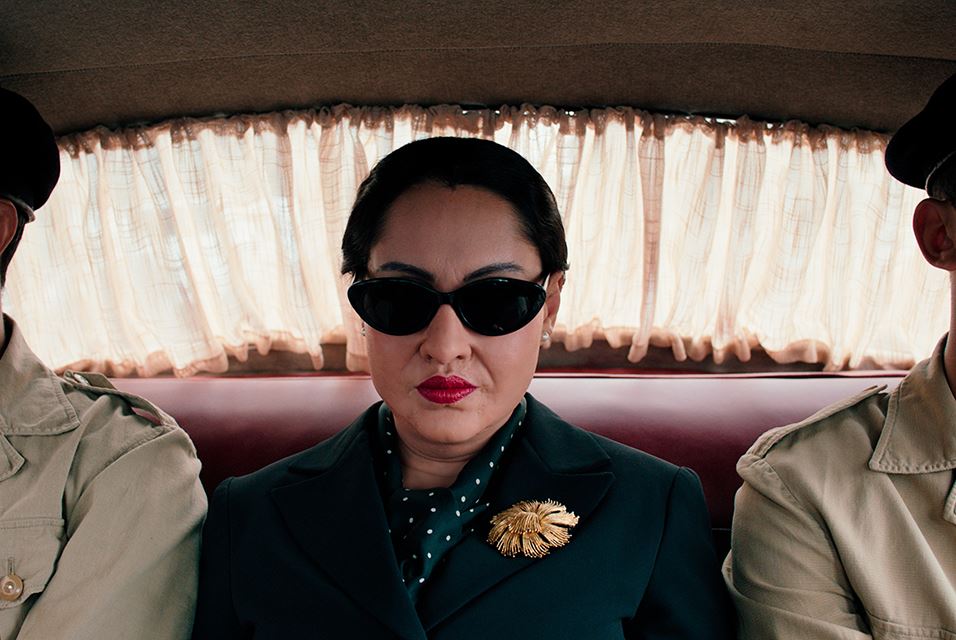 March 26, 1957. Shirin Neshat (born 1957) is an Iranian visual artist who lives in New York City, known primarily for her work in film, video and photography. Her artwork centers on the contrasts between Islam and the West, femininity and masculinity, public life and private life, antiquity and modernity, and bridging the spaces between these subjects. In this image: Shirin Neshat, From "Looking For Oum Kulthum" series (2017) © Shirin Neshat.
---

Museums, Exhibits, Artists, Milestones, Digital Art, Architecture, Photography,
Photographers, Special Photos, Special Reports, Featured Stories, Auctions, Art Fairs,
Anecdotes, Art Quiz, Education, Mythology, 3D Images, Last Week,

.
---
Royalville Communications, Inc
produces: