A stained-glass gift, from God and Gerhard Richter
The choir windows of Tholey Abbey in Tholey, Germany, with a new design by Gerhard Richter, on Sept. 17, 2020. The monks of the German abbey hope new windows by the renowned artist will draw visitors and secure the community's future. Felix Schmitt/The New York Times.

by Catherine Hickley
THOLEY
(NYT NEWS SERVICE)
.-
For Abbot Mauritius Choriol, the new church windows ceremoniously inaugurated Saturday at Tholey Abbey are a gift: from God, from two generous patrons and from Gerhard Richter. The three windows — with deep reds and blues prevailing on the two outer displays and the central one dominated by radiant gold — are made in stained glass to a symmetrical design by Richter, the revered German artist. "Abstract art is not normally my thing," said the abbot, who oversees Tholey Abbey. "But you don't need to be an art expert to appreciate the qualities of these." Since the installation was completed on Sept. 10, the abbey's monks have been able to enjoy the windows in peace. But if all goes according to plan, that will change: The windows, at more than 30 feet tall, play a key role in the monks' plan to secure the abbey's future by turning it into a center for hospitality and education. ...
More
The Best Photos of the Day
Egypt discovers 14 ancient tombs at Saqqara
Frans Hals Museum exhibits all of Frans Hals' militia pieces
'Mystery' endures in France over Montaigne tomb: Archaeologist


The ministry said more excavations had been planned, with the expectation that another trove of wooden coffins would be found at the site. Photo: Ministry of Tourism and Antiquities.



CAIRO (AFP).- Egypt's antiquities ministry announced Sunday the discovery of 14 sarcophagi in the Saqqara necropolis south of Cairo that had lain buried for 2,500 years. The coffins were found two days ago during an archaeological dig at the burial spot where another 13 wooden sarcophagi had been discovered last week, the ministry said in a statement. The vast Saqqara necropolis is located around 16 kilometres (10 miles) south of the famed Giza pyramids. It is part of the ancient city of Memphis, a UNESCO World Heritage site, and hosts the colossal step Pyramid of Djoser. Photographs of the well-preserved wooden coffins show ornate and intricate paintings, with maroon and blue lines, as well as hieroglyphic pictorials. The ministry said more excavations had been planned, with the expectation that another trove of wooden coffins would be found at the site. In a video distributed this month announcing ... More



Detail of Militia Company of District XI under the Command of Captain Reynier Reael, Known as 'The Meagre Company', Frans Hals, Pieter Codde, 1637. Loan from Rijksmuseum Amsterdam.



HAARLEM.- All of Frans Hals' militia pieces are on display in a temporary exhibition at the Frans Hals Museum in Haarlem. Thanks to a special loan from the RijksMuseum, 'The Meagre Company', Hals' only civic guard group portrait that is not part of the Frans Hals Museum collection, is on view in Haarlem. Frans Hals (1582/83–1666) painted no fewer than six militia pieces: portraits of groups of armed civilians who, in the seventeenth-century, maintained order as a neighbourhood watch and, if necessary, defended the city against attackers. The first portrait of this type dates from 1616 and the last one from 1639. Not many other seventeenth-century Dutch painters are known to have had such a large production. Hals' loose brush technique and his unique, lively compositions make these paintings a feast for the eye. Frans Hals can therefore safely be called Master of the militia piece. "For the first time in thirty y ... More



This file photo taken on March 20, 2018 shows the cenotaph of late French writer Michel de Montaigne (1533-1592) displayed following restoration works at the Musee d'Aquitaine in Bordeaux. MEHDI FEDOUACH / AFP.



BORDEAUX (AFP).- Human remains found in a tomb where Michel de Montaigne is said to have been buried may indeed belong to the 16th-century French philosopher but more work is needed to solve the mystery, experts said on Friday. The Musee d'Aquitaine in the southwestern city of Bordeaux had in November launched work to examine the remains in the tomb a basement of the museum, which occupies the premises of a convent where Montaigne, famed for his lofty but highly readable "Essays", was buried. The bones found are those of a "single individual. It is an adult and it is probably a man," Helene Reveillas, an archaeo-anthropologist for the Bordeaux region, told reporters. "We have elements which do not go against the idea that this is de Montaigne. But we also have nothing which allows us affirm it with certainty", she added. "The mystery remains," ... More
In Milan, a love song will become a requiem for plague times
Wu Guanzhong and Sanyu's museum quality works to lead Sotheby's Hong Kong Modern Art Autumn Sales Series 2020
Christie's to offer a T. Rex in New York this October


The singer Alessandra Bordiga rehearses on the organ for the performance artist Ragnar Kjartansson's work "The Sky in a Room" at the San Carlo al Lazzaretto church in Milan, Sept. 1, 2020. Marta Giaccone/The New York Times.

by Blake Gopnik



NEW YORK (NYT NEWS SERVICE).- It's a gorgeous August day in a Reykjavik park, and Ragnar Kjartansson is Zooming with me by phone. Aside from frozen fish, Kjartansson is one of Iceland's most notable exports, feeding weirdly compelling performances to the global art world. Pointing his phone's lens at a nearby Roman Catholic church, he shares an oddball biographical detail: Despite being raised Lutheran, he was an altar boy in that building, for the sake of the wages but also for the ritual, he explains. There's a point to his factoid. Our pandemic has brought him to church once again. On Tuesday in an old Catholic space in Milan, Kjartansson plans to unveil a performance called "The Sky in a Room." The title is taken from a popular tune, "Il Cielo in Una Stanza," from postwar ... More



Sanyu's Nu. Fusing the western nude and Chinese landscape traditions. A star exhibit in Sanyu's final solo exhibition. Courtesy Sotheby's.



HONG KONG.- Sotheby's Hong Kong Modern Art Evening and Day Sales on 5-6 October will present a remarkable group of modern and post-war artworks. The Modern Art Evening Sale will be led by four exceptional works by Sanyu and Wu Guanzhong of the highest quality – Sanyu's Nu and Fleurs dans un pot bleu et blanc, as well as Wu Guanzhong's Scenery of Northern China and Scenery of Guilin. This will mark the first time for museum-class masterpieces by these two artists to lead our Modern Art Evening Sale. This season, the sales bring together a selection of figurative and abstract works by leading artists in the history of modern art, including Asian masters Lin Fengmian, Chu Teh-Chun, Lalan, Chen Ting-Shih, Richard Lin, Hsiao Chin and Lin Huayi, as well as European icons Georges Mathieu and Bernard Buffet. Vinci Chang, Sotheby's Head of Modern Asian Art, comments: "Following the success of our Modern Art sales series in ... More



A Tyrannosaurus Rex dinosaur fossil skeleton is displayed in a gallery at Christie's auction house on September 17, 2020 in New York City. Spencer Platt/Getty Images/AFP.



NEW YORK, NY.- On October 6, Christie's will offer one of the largest, most complete and widely studied Tyrannosaurus rex skeletons ever discovered. Endearingly named "STAN" after the paleontologist who first found the skeleton's partially unearthed hip bones, the T. rex is an extraordinary surviving specimen from approximately 67 million years ago. The skeleton comes to auction from the Black Hills Institute in South Dakota, where the T.rex has been displayed and studied for the last two decades, and has inspired dozens of academic articles and studies within the paleontological community. After a meticulous museum-quality re-mounting, STAN the T. rex will be unveiled for the public on September 16, 2020 at Christie's Rockefeller Center in New York and offered as a highlight of Christie's Evening Sale of 20th Century Art on October 6 with an estimate of $6-8 million. More information on the Evening Sale may be view ... More
19th-century masterpieces from the Rijksmuseum on display at Schiphol Airport
A painter peers through history's cracks
Andrew Huffman's first New York solo exhibition opens at David Richard Gallery


Jozef IsraŽls, The Little Seamstress, 1850 – 1888. Gift of Mr and Mrs Drucker-Fraser, Montreux.



AMSTERDAM.- This year the Rijksmuseum is once again welcoming visitors to Schiphol Airport with a selection of works from its collection. The Schiphol branch of the Rijksmuseum is hosting a display of highlights from the 19th century, presenting the Netherlands as seen through the eyes of painters such as Anton Mauve and Jozef IsraŽls. The paintings will remain on show until September 2021. The masterpieces present both imaginary and realistic perspectives. The early 19th-century Romantic period gave rise to idyllic visions, while from the 1850s onwards artists went outdoors to paint nature as they saw it. This was the time when the world's image of the Netherlands was formed, of a country of green pastures and tall cumulus clouds drifting over low horizons. The highlights include The Marsh by Anton Mauve (1885-1888), a sublime depiction of the sun breaking through the clouds and being reflected in the water, and the sunlit Meadow with C ... More



Jacob Lawrence, ​And a Woman Mans a Cannon ​ , Panel 12, 1955, from ​Struggle: From the History of the American People ​ , 1954–56, egg tempera on hardboard. Collection of Harvey and Harvey-Ann Ross. © 2019 The Jacob and Gwendolyn Knight Lawrence Foundation, Seattle / Artists Rights Society (ARS), New York. Photo by Bob Packert/PEM.



NEW YORK (NYT NEWS SERVICE).- What might the image of treachery look like? Consider a painting of two men, one whispering into the other's ear. The speaker, his face in profile, has his mouth slightly open, enough for us to see his teeth. His eyes fall like a ball under gravity toward the other man's face. The second person, half his face out of view, listens almost expressionless, except for the dodgy expression in his left eye in the upper-right corner. The frame is tight on their faces. Many parts of the image are dark. Treachery oozes from their eyes, from their teeth. The moment itself is real. The work is a representation of Benedict Arnold, the American Revolution officer turned traitor, informing Sir Henry Clinton, the British commander in chief, in 1780 of Gen. George Washington's ... More



Andrew Huffman, Descending Datura, 2020 (detail). Acrylic on canvas, 60 x 60" © Andrew Huffman, Courtesy David Richard Gallery.



NEW YORK, NY.- David Richard Gallery is presenting Andrew Huffman's first solo exhibition in New York City and his second solo with the gallery. The presentation includes 10 new canvases organized as 4 single paintings and 3 diptychs. The sizes of the artworks range from 30 x 30 inches up to 60 x 60 inches square and a couple measuring 30 x 60 inches in horizontal formats. This is a debut of not only diptych canvases, but also all new compositions that depart from his familiar woven lattice format. These new paintings are based on pentagonal tessellations where the pentagon shapes are abstracted and assembled in rigorous grid-like repeating patterns as well as tessellated to generate asymmetric compositions. Huffman has cleverly leveraged the asymmetry and combined this feature within the diptych compositions. Each panel has an asymmetric arrangement of shapes. However, the pair of paintings within a diptych are mirrored compositio ... More
American Express awards $1 million to 2020 World Monuments watch sites
Now open: Kasper Bosmans "Four" at Gladstone 64
Newport Art Museum opens new exhibition, "Andy Warhol: Big Shot"


Moai at Rapa Nui National Park. Photo: Shutterstock.



NEW YORK, NY.- American Express and World Monuments Fund announced $1 million in funding to support preservation efforts at seven diverse cultural sites included in the 2020 World Monuments Watch. For more than two decades, American Express has provided essential support for WMF's work to preserve cultural heritage sites around the world against the increasing threats of climate change, natural disasters, conflicts, and neglect. This continued support from American Express, which in 1996 became the Founding Sponsor of the Watch, will help ensure that generations to come will be able to experience these places of wonder. The seven sites selected to receive financial support are among the 25 included on the biennial Watch, which aims to raise awareness about their significance and needs for the future. The $1 million in grants from American Express will fund a variety of projects across all seven sites in 8 countries: • Rapa Nui National Park, ... More



Kasper Bosmans, Legend: Four, 2020. Gouache and silver point on poplar panel. Five parts: 11 x 8 1/4 inches (28 x 21 cm) each. © Kasper Bosmans. Courtesy the artist and Gladstone Gallery, New York and Brussels.



NEW YORK, NY.- Gladstone Gallery is presenting "Four," an exhibition of new and recent work by interdisciplinary Belgian artist Kasper Bosmans. Continuing his longstanding use of references spanning cultures, periods, and traditions in order to speak about ongoing socio-political issues, the show specifically uses the multivalent act of collecting as a springboard into discussing topics both deeply personal and profoundly universal. The main feature of the exhibition is a multi-panel enamel mural that displays, to-scale, the eggs of all birds painted by seventeenth-century Dutch artist Melchior d'Hondecoeter. Fitting with the genre of Dutch still life, d'Hondecoeter meticulously depicted birds brought back to the Netherlands by way of the East India Trading Company's Asian routes, as well ... More



Andy Warhol, Self-Portrait (Fright Wig), 1986, Synthetic Polymer and silkscreen inks on linen, 12 x 12 inches, Courtesy of Robert Lococo, St. Louis, © 2020 The Andy Warhol Foundation for the Visual Arts, Inc. / Licensed by Artists Rights Society (ARS), New York



NEWPORT, RI.- The Newport Art Museum is presenting a new exhibition, "Andy Warhol: Big Shot," which will be on view September 19 - December 20, 2020. "Andy Warhol: Big Shot" is the artist's third exhibition at the Newport Art Museum. Warhol attended Newport Art Museum opening receptions for his first two exhibitions, which were a group show in honor of gallery owner Leo Castelli in 1977 and "Andy Warhol's Children's Show" in 1985. This exhibition aligns with the Museum's mission to share a diversity of art and experiences that spark reflection, inspiration, and discovery, thereby amplifying the connections between us all. Andy Warhol is well known for his appropriation of other people's photographs, from the portraits to the press photographs that he reproduced and repeated in silkscreen prints and ... More
Gauguin and the Impressionists: Origins of Ordrupgaard

Flashback
On a day like today, Italian artist Maurizio Cattelan was born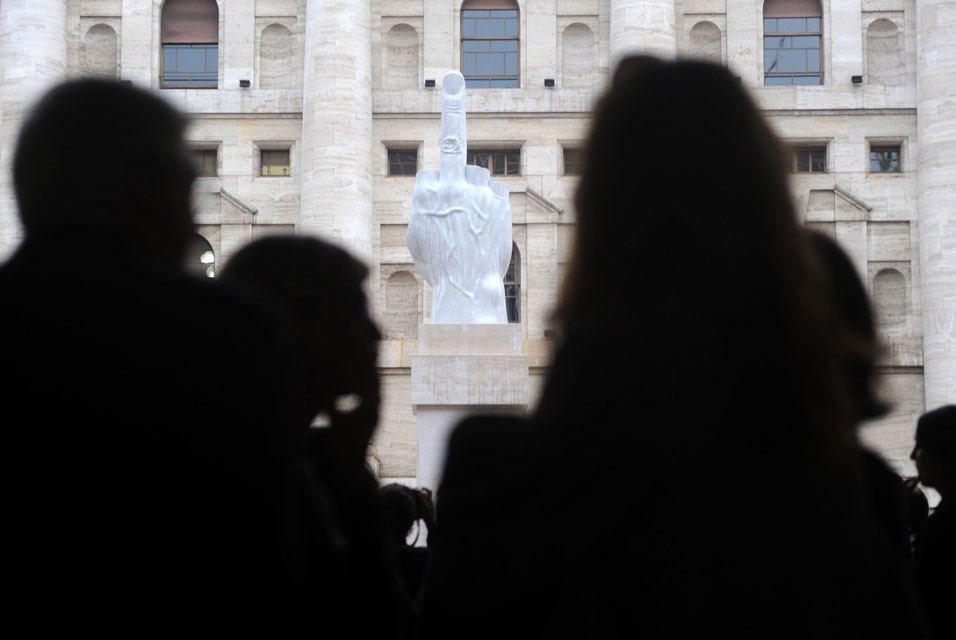 September 21, 1960. Maurizio Cattelan (born 21 September 1960, Padua, Italy) is an Italian artist. He is known for his satirical sculptures, particularly La Nona Ora (1999) (The Ninth Hour, depicting Pope John Paul II struck down by a meteorite), Him (2001), and Love Lasts Forever (1997). In this image: The sculpture middle finger by Italian artist Maurizio Cattelan during the inauguration in front of the Stock Exchange building in Milan, Italy.
---

Museums, Exhibits, Artists, Milestones, Digital Art, Architecture, Photography,
Photographers, Special Photos, Special Reports, Featured Stories, Auctions, Art Fairs,
Anecdotes, Art Quiz, Education, Mythology, 3D Images, Last Week,

.
---
Royalville Communications, Inc
produces: