At Frieze London, the art world inches toward normalcy
Lehmann Maupin, Frieze London 2021. Photo by Linda Nylind. Courtesy of Linda Nylind/Frieze.

by Scott Reyburn
LONDON
.-
It was "business as usual," Russian art adviser and collector Alex Lachmann said Wednesday, as he made his way through the crowd of VIPs at the opening of the first in-person Frieze London art fair since October 2019. Then, he raised a finger and added, "almost." This week, the long-postponed live editions of the Frieze London and Frieze Masters fairs, featuring 279 dealers inside huge tents in Regent's Park, followed last month's Art Basel as the international art trade attempts a return to pre-pandemic normalcy. Frieze New York returned to a live format in May, albeit on a reduced scale. In London, Frieze visitors were required to wear wristbands proving COVID-19 vaccination. They were also required to wear masks, but many didn't, and enforcement was lax. Dating to 1993, "Frieze Week" is traditionally the moment when London hosts the international art world's most compelling, must-get-on-a-plane mix of fairs, museum shows, auctions an ...
More
The Best Photos of the Day
Hirschl & Adler Modern opens an exhibition of works by James Castle
High-end design comes to the fish tank
'Mackinnon - Fine Furniture and Works of Art' at Christie's London this November


James Castle (1899-1977), Construction (Figure in Blue-Green Jacket, Red Lips), mid-20th century. Assorted found papers, string, yarn, red and black ink or felt pen, pencil, 12 1/2 x 6 1/4 in.



NEW YORK, NY.- An artist working in a vacuum; the elusive blank slate; an American original. Accurate or not, this is the romance and the promise of James Castle (1899-1977). We are captivated by the fullness of expression attained despite his limitations, even envious of the sort of freedom his disabilities afforded him. Castle's work is an homage to his home and family, a memoir of his experiences, a diary of his secrets and desires. You don't have to be an expert on James Castle to recognize one obvious truth about this deeply enigmatic artist. His challenges and limitations notwithstanding, he was a supremely visual person. Those of us in the arts call ourselves "visual" people because we were never very good at math. James Castle, deaf since birth, had only his eyes and his fingertips with which to experience the world. As such his powers of observation were second to none. He didn't ... More



A provided image shows a private saltwater aquarium designed by Infinity Aquarium Design, based in Los Angeles. Luxury home aquariums now can rival installations at public aquariums in size and scale, and they come with hefty price tags. Infinity Aquarium Design via The New York Times.

by Candace Jackson



NEW YORK, NY.- Stuck at home during the pandemic, many Americans took in dogs or cats. Others took up a more elaborate pet hobby: luxury home aquariums. Something of a cross between home decor, entertainment, wildlife and pet shelter, these custom aquariums can weigh more than 75,000 pounds and cost as much as $750,000 at the top end. "We've seen a tremendous boom in business," said Nic Tiemens, of Infinity Aquarium Design in Los Angeles. He said demand has grown by about 400% since the start of the pandemic and is still going strong. Clients who may have long wanted to splurge on a home aquarium were stuck at home and were finally willing to take the plunge, he said. In more typical times, he would install a high-end home aqu ... More



The Kingstone Lisle kneehole Chinese-export lacquer desk. Estimate: £10,000-15,000. © Christie's Images Ltd 2021.



LONDON.- On 10 November, Christie's will offer Mackinnon: Fine Furniture and Works of Art in a live auction, marking ten years since the gallery opened in St. James's, London. Mackinnon Fine Furniture is known for fine 18th century and early 19th century furniture by celebrated makers such as Chippendale, Vile & Cobb and Gillows, with an emphasis on distinguished provenance. The sale presents a curated group of 170 lots, led by an important George III ormolu-mounted Indian rosewood and yew-wood marquetry serpentine commode by Ince & Mayhew (estimate: £80,000-120,000) and red japanned seat furniture supplied by Giles Grendey originally part of the famous Lazcano suite made for the Duke of Infantado circa 1735-40 (armchairs estimate: £80,000-120,000; side chairs estimate: £30,000-50,000). The pre-sale exhibition is open to the public from the 6 November to the 9 November. Further highlights include crisply carved George ... More
Tate acquires new works at Frieze thanks to fund supported by Endeavor
Heritage Auctions presents 'The Soul of a Nation: Black Art From a Distinguished Collector' in November
A trove of Georgia O'Keeffe's photographs on view for the first time in Museum of Fine Arts, Houston, exhibition


Sung Tieu, The Earth And The Sky, 2021. © the artist. Photo Tate / Seraphina Neville.



LONDON.- This is the sixth year that Endeavor has made available £150,000 for the Fund, set aside exclusively for the acquisition of works at Frieze for Tate's collection. To date more than 150 works by over 90 artists have been acquired, contributing to displays and exhibitions across Tate's four galleries. Recently acquired works by Larry Achiampong, Helen Cammock and Claudette Johnson can currently be seen in Tate Britain's newly rehung contemporary art displays, which opened this week. For the first time, this year's Frieze Tate Fund selection panel includes an artist, Grada Kilomba, whose own work was acquired through the fund in 2020. She joins guest curator Hammad Nasar, alongside Tate's Polly Staple (Director of Collection, British Art), Gregor Muir (Director of Collection, International Art), Clarrie Wallis (Senior Curator of Contemporary British Art), Catherine Wood (Senior Curator, International Art, Performance), Tamsin Hong (Assistant Curator, International ... More



Sargent Claude Johnson (American, 1888-1967), Head of a Youth, circa 1930s. Terracotta, 7 inches (17.8 cm) high on a 3-1/2 inch (8.9 cm) high wood base. Estimate: $30,000 - $50,000.



DALLAS, TX.- Heritage Auctions' American Art Signature® Auction, which takes place Nov. 5, is perhaps the most comprehensive fine art event in the auction house's history. Because amid the Rockwells and Leyendeckers, the Bierstadts and Sandzéns, collectors will find works by Black artists dating from the turn of the century to the modern day, among them James Lesesne Wells' oil painting Wanderers andSargent Claude Johnson's terracotta sculpture Head of a Youth, both from the 1930s. They are but two of the myriad important and heralded works that make up "The Soul of a Nation: Black Art from a Distinguished Collector." Heritage Auctions is proud and thrilled to present this collection, which features 95 works by more than 60 artists. The man behind this extraordinary assemblage began his journey by collecting historical documents related to Black history; then, a decade ago, turned ... More



Georgia O'Keeffe, Jimsonweed (Datura stramonium), 1964–68, black-and-white Polaroid, Georgia O'Keeffe Museum, Santa Fe. © Georgia O'Keeffe Museum.



HOUSTON, TX.- Georgia O'Keeffe is a groundbreaking figure of American Modernism, widely recognized for her paintings of New York skyscrapers, radical depictions of flowers, and stark landscapes of the American southwest. Less known is that she quietly honed a photography practice just as distinct as, yet complementary to, her paintings and drawings. This October, the Museum of Fine Arts, Houston, presents the first exhibition devoted to O'Keeffe's photographic practice with the debut of Georgia O'Keeffe, Photographer. Organized in partnership with the Georgia O'Keeffe Museum, Santa Fe, the exhibition reveals the wider scope of the artist's career through some 90 photographs from a previously unstudied archive—a discovery led by MFAH associate curator of photography Lisa Volpe. Photographs in the exhibition will be complemented by 17 paintings and drawings of landscapes, flowers, and still lifes from public and priva ... More
Queen Nefertari's Egypt opens at Portland Art Museum
Rare Posters Auction #85 presents 490 rare and iconic works
500 years of fashion, created from paper featured at Munson-Williams Museum of Art


Visitors to Queen Nefertari's Egypt will view personal objects from Nefertari's tomb plus an array of objects from royal and day-to-day life in Egypt during the 19th Dynasty of the New Kingdom (1292 – 1189 BCE) — majestic sculptures, intricately painted sarcophagi, jewelry, and perfume and cosmetics jars.



PORTLAND, ORE.- Discover the world of Queen Nefertari, the Great Royal Wife of Pharaoh Ramesses II. Drawn from the world-renowned Museo Egizio in Turin, Italy, Queen Nefertari's Egypt immerses visitors in the magnificent palaces and tombs of ancient Egypt, including Queen Nefertari's burial chamber. The exhibition celebrates the role of women—goddesses, queens, and commoners—and offers glimpses into both royal life and the everyday life of artisans through more than 220 works of art. Queen Nefertari's Egypt opened October 16, 2021, at the Portland Art Museum and will remain on view through January 16, 2022. One of the most celebrated queens of ancient Egypt, Queen Nefertari was the favored wife of Ramesses II ... More



Plinio Codognato, Grand Premio d'Europa / Fiat. 1923. Est: $70,000-$90,000.



NEW YORK, NY.- The 85th Rare Posters Auction from Poster Auctions International on Sunday, November 14, features masterpieces and rarities from a century of poster design. The collection includes Art Nouveau, Art Deco, Modern, and Contemporary lithographs and maquettes that are ideally suited to a variety of interests and tastes. All 490 lots will be on view to the public October 29 through November 13. The auction will be held live in PAI's gallery at 26 West 17th Street in New York City, as well as online at posterauctions.com, beginning promptly at 11am Eastern time. Jack Rennert, president of Poster Auctions International, Inc., said, "This auction is notable for its inclusion of beloved works as well as rarely seen images that have not been at auction in many years. We're delighted with the selections available from top artists such as Cappiello, Cassandre, Colin, Mauzan, Mucha, Schnackenberg, and Toulouse-Lautrec." ... More



Isabelle de Borchgrave, (Belgium b. 1946), "Paysanne," 2009; Collection of the artist.



UTICA, NY.- Breathtaking full-scale masterpieces, representing more than 500 years of fashion, history, and artifice, expressed in paper by celebrated contemporary Belgian artist Isabelle de Borchgrave, will be showcased in "Isabelle de Borchgrave: Fashioning Art from Paper" on view October 17 through January 9 in the Munson-Williams-Proctor Arts Institute Museum of Art. Through her expert manipulation of paper and paint, de Borchgrave fashions meticulously detailed reinterpretations of historic garments found in early European paintings and collections from around the world—from the Renaissance finery of the Medici family and gowns worn by Queen Elizabeth I to the creations of the grand courtiers of the 19th and 20th centuries. De Borchgrave is a painter by training and uses paper and hand painting to reimagine historic fashions to dazzling effect. Her collections have been shown internationally, and Munson-Williams ... More
The June Kelly Gallery opens an exhibition of sculpture by Colin Chase
Claire Tabouret's fourth solo exhibition with Almine Rech opens in Paris
P·P·O·W opens an exhibition of large-scale paintings by Robin F. Williams


Colin Chase, redder raga 1, 2021 (detail). Wooden rulers, steel, paint, 24 x 24 x 2 1/4 inches.



NEW YORK, NY.- Cadences, a body of imaginative and challenging sculpture by Colin Chase that, "grew out of my experience of bearing witness to the frenetic pulse of our lives in the last few years." These site-specific visual paradigms with specialized vocabulary and inference opened at the June Kelly Gallery, 166 Mercer Street, on Friday, October 15. The works will remain on view through November 16. Chase's work continues to be rooted in ongoing scrutiny and pursuit of understanding the myriad ways in which we respond to the visual. Modern and contemporary writing systems, such as Morse, barcodes, emoticons, text lingo and emoji excite his curiosity, said Chase, much like, the Peruvian Nazca line drawings, cave paintings, ancient pictographic writing systems, such as Nsibidi, Adinkra, Cree, and Cherokee, have long captivated him. These visual interests fuel Chase's passionate exploration in the development of unique ... More



Claire Tabouret, Small Bather (blue and red), 2021 - Painted bronze - 21.6 x 8.3 x 13.3 cm, 8 1/2 x 3 1/4 x 5 1/4 in - Edition 4 of 6, with 2AP, 2HC / © Claire Tabouret - Courtesy of the Artist and Almine Rech. Photo: Marten Elder.



PARIS.- The cooling feeling of droplets of water on your body drying under the sun, after a dip in the water on a hot day. The endless hours curled up on one's couch during periods of quarantine and isolation: reflection, moments of still withdrawal – resourcing creative energy, and imaginary focus. The ceaseless need to be patient combined with an urgency to keep going, to survive, to create, to invent. These are some of the associations—sensations, phenomenologies, anxieties—at play in new works by Claire Tabouret on view at Almine Rech in Paris from October 16 to December 18, 2021. A range of objects shows the artist continuing her explorations of painted portraiture and furthering her sculptural practice with three-dimensional objects and large-scale bronze fountains. T ... More



Robin F. Williams, A Sound Around No One, 2021. 66 x 56 inches.



NEW YORK, NY.- P·P·O·W is presenting Robin F. Williams' Out Lookers. Known for her large-scale paintings of stylized, sentient, yet ambiguously generated female figures, Williams employs a variety of techniques, including oil, airbrush, poured paint, marbling, and staining of raw canvas to create deeply textured and complexly constructed paintings. Building upon previous visual investigations into the coded narratives of American media, Out Lookers extends Williams' oeuvre into the supernatural with a new cohort of ghosts, cryptids, witches, and trolls. The paranormal subjects on view in this exhibition serve as prisms, casting light on a spectrum of female identities that contemporary society has all too often mistrusted, scapegoated, and demonized. Combining a masterful technical understanding with an innate sense of curiosity, Williams imbues her atmospheric portraits with a distinctly contemporary sensibility ... More
Collection in Focus: Jack Whitten

Flashback
On a day like today, Italian painter Cristofano Allori was born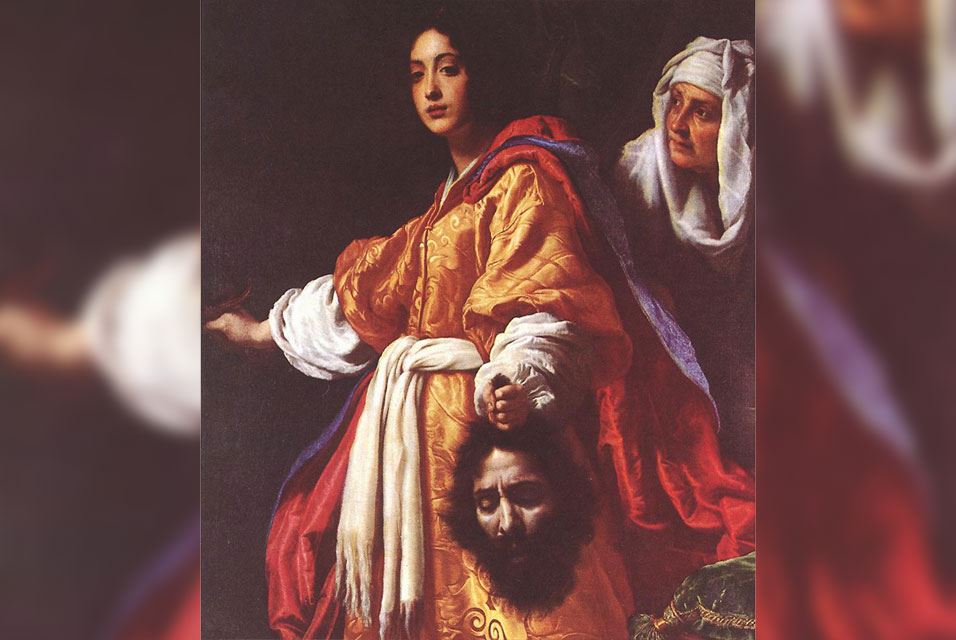 October 17, 1577. Cristofano Allori (17 October 1577 - 1 April 1621) was an Italian portrait painter of the late Florentine Mannerist school. Allori was born at Florence and received his first lessons in painting from his father, Alessandro Allori, but becoming dissatisfied with the hard anatomical drawing and cold coloring of the latter, he entered the studio of Gregorio Pagani, who was one of the leaders of the late Florentine school, which sought to unite the rich coloring of the Venetians with the Florentine attention to drawing. Allori also appears to have worked under Cigoli. In this image: Judith with the Head of Holofernes (1613). Oil on canvas, 139 x 116 cm. Galleria Palatina (Palazzo Pitti), Florence.
---

Museums, Exhibits, Artists, Milestones, Digital Art, Architecture, Photography,
Photographers, Special Photos, Special Reports, Featured Stories, Auctions, Art Fairs,
Anecdotes, Art Quiz, Education, Mythology, 3D Images, Last Week,

.
---
Royalville Communications, Inc
produces: