The Box explores the influence of Sir Joshua Reynolds' family & friends
Installation view of of Family & Friends: Reynolds at Port Eliot.
PLYMOUTH
.-
Family & Friends: Reynolds at Port Eliot is a new, free exhibition that draws on The Box's extensive collection of Sir Joshua Reynolds paintings – the UK's single largest public collection of his work outside of London – to explore the enduring connection between the Plymouth-born master painter and the Eliot family of Port Eliot in St Germans, Cornwall. On view from 24 July - 5 September, Family & Friends: Reynolds at Port Eliot paints an intimate picture of how a rare fusion of patronage and genuine friendship supported Plymouth's most famous portrait painter throughout his life, from budding local artist to founding president of the Royal Academy. Intimate in scale and subject matter, the exhibition is a precursor to a major celebration in 2023 which will mark the 300th anniversary of Reynolds' birth. Born in Plympton in 1723, it was Reynolds' early portraiture of naval officers living around Plymouth Dock (Devonport) that caught the attention of C ...
More
The Best Photos of the Day
Staatliche Kunstsammlungen Dresden celebrates Joseph Beuys's 100th birthday with an exhibition
UK buyer sought for rare Roman painting
National Gallery to acquire Sir Thomas Lawrence's 'The Red Boy' for the Nation


Joseph Beuys, unbetitelt, undatiert © Joseph Beuys Estate / VG Bild-Kunst, Bonn 2021. Photo: Andreas Diesend.



DRESDEN.- Joseph Beuys's 100th birthday is being celebrated all over the world this year. As an installation and action artist, teacher at the academy, politically active person, and advocate of a different, more creative society, Beuys radically expanded the concept of art. The Beuys family has given the Kupferstich-Kabinett access to their private collection for the first time, sending a selection of 85 drawings to Dresden on the occasion of the jubilee presentation. With sheet after sheet, the exhibition shows his graphic work created over the course of five decades, presenting an outstanding master of a delicate yet resolute line. The drawings by Beuys constitute the core of his creative work. They show his fundamental interest in nature, all living things, growth, changeability, flow and process. As an observer, Beuys attempted to unflinchingly explore and record—line for ... More



The Nativity by Baldassare Tommaso Peruzzi worth over £460,000 at risk of leaving the country.



LONDON.- An extraordinarily rare painting depicting the nativity is at risk of leaving the country unless a UK buyer can be found to save the work for the nation and enable additional study. To protect the painting from this risk, an export bar has been placed by the Government, enabling researchers to better understand the work within a British context given its significant history. Worth over £460,000, The Nativity by Baldassare Tommaso Peruzzi is one of a few surviving paintings by the artist and is particularly notable for its daring use of dark tonalities and its dramatic side lighting, pre-empting works by highly influential artists such as Raphael and Parmigianino. The Minister's decision follows the advice of the Reviewing Committee on the Export of Works of Art and Objects of Cultural Interest (RCEWA). The RCEWA agreed that this was an extraordinarily rare painting, noting that few works by Peruzzi survived ... More



Sir Thomas Lawrence, Charles William Lambton, 1825. Unframed H 137.2 x W 111.8 cm. Private collection. Image © National Gallery, London.



LONDON.- The National Gallery has entered into a commitment to purchase Portrait of Charles William Lambton (1818-31) by Sir Thomas Lawrence (1769 – 1830). The 1825 work – world renowned as 'The Red Boy' – was made when Lawrence, one of the first trustees of the National Gallery, was at the height of his powers as painter and portraitist, a year after the Gallery opened to the public in 1824. Such is its status, in 1967 'The Red Boy' was the first painting ever to be included on a British postage stamp. This is a unique opportunity for the Gallery to acquire an exceptionally important painting by one of the finest European portraitists of the early 19th century, which is of outstanding significance for British national heritage. The painting is being offered from a private collection by private treaty sale via Christie's, at a special price of £9.3 million. The funding is made up of a gener ... More
Guggenheim presents a new film installation by Wu Tsang
RIBA announces 16 exceptional new building projects from around the world
2021 Couer d'Alene Art Auction will be held July 31 in Reno


Wu Tsang, Anthem, 2021. Color video, with sound, with fabric and carpet, dimensions vary with installation. Photo: David Heald © Solomon R. Guggenheim Museum, 2021.



NEW YORK, NY.- Wu Tsang: Anthem is on view at the Solomon R. Guggenheim Museum. It is the final project in Re/Projections: Video, Film, and Performance for the Rotunda, a series of four distinct presentations that reimagine the Guggenheim's rotunda as a space for navigating tensions between collective and individual experience. Wu Tsang: Anthem is organized by X Zhu-Nowell, Assistant Curator. The exhibition text is written by X Zhu-Nowell, in collaboration with musicologist Frederick Cruz Nowell. A new work by artist Wu Tsang commissioned by the Guggenheim Museum, Anthem (2021), was conceived in collaboration with the legendary singer, composer, and transgender activist Beverly Glenn-Copeland and harnesses the Guggenheim's cathedral-like acoustics to construct what the artist calls ... More



Kohan Ceram Central Office Building, Iran. Hooba Design Group. Photo: Deed Studio.



LONDON.- The Royal Institute of British Architects has revealed the 16 winners of the RIBA International Awards for Excellence 2021. The Awards, which take place every two years, recognise the most significant and inspirational projects around the world. The RIBA International awards are open to any qualified architect for spaces anywhere in the world (excluding the UK – as this is determined by the RIBA Stirling Prize). Projects need to exemplify design excellence and architectural ambition and deliver meaningful social impact. The sixteen award-winning buildings are spread across 11 countries. Each project has been subject to a rigorous judging process with all buildings being visited in person by a local ambassador appointed by the RIBA. This year's projects range from significant cultural destinations such as Modern Art Museum and its Walkways in Shanghai to new city infrastructure such as the ... More



Oscar Berninghaus, The Domain of Their Ancestors (detail). Oil on canvas, 25 x 30 inches.



RENO, NV.- The Coeur d'Alene Art Auction, known for selling the highest-quality Western paintings and sculpture from historical and contemporary artists, is pleased to announce its 36th annual Western art auction, to be held at full capacity at the Grand Sierra Resort in Reno, Nevada on July 31, 2021. With over $300 million in sales over the last 15 years, the auction has been hailed as "The Biggest and Most Successful Auction of Western Art" by the Wall Street Journal, and was named "The Most Important Annual Event for Collectors of Western Art" by the New York Times. Once again, the Coeur d'Alene Art Auction is certain to be the high point of the Western auction world. Museum-quality paintings will cross the block, headlined by masterpieces from Charles M. Russell, Frederic Remington, Oscar Berninghaus, Albert Bierstadt, Frank Tenney Johnson, Leon Gaspard, and Walter Ufer. A rare, major oil painting by Cha ... More
Muhammad Ali's 'Fight of the Century' animated illustration NFT highlights 'The Olympic Collection' at Sotheby's
UNESCO asks Turkey for report on Hagia Sophia after mosque change
France launches controversial vaccine pass as fourth wave hits


Starring in the sale is a never-before-seen piece of original artwork created by Muhammad Ali that will be unveiled for the first time, leveraging NFT technology (estimate $10/20,000). Courtesy Sotheby's.



NEW YORK, NY.- Sotheby's unveiled the full contents of The Olympic Collection, an online auction featuring the rarest memorabilia and collectibles spotlighting the achievements of legendary athletes who participated in the Games across the world of sport and which celebrates the unifying spirit embodied by the Games. Encompassing 64 items, a nod to the last time Japan hosted the Olympics in 1964 – the items span sneakers, memorabilia, and collectibles, and will feature a tokenized, never-before-seen work of art by Muhammad Ali that is being reanimated, revealed for the first time leveraging NFT technology (estimate $10/20,000). On offer from Muhammad Ali Enterprises, the piece depicts Ali's interpretation of the legendary 1971 Fight of the Century against Joe Frazier, who, along with Ali, was an Olympic Gold Medal winner (1964, Tokyo). The assortment of rare collectibles offered in the sale ... More



Hagia Sophia, the Byzantine cathedral in Istanbul, Turkey, on Nov. 26, 2011.



ISTANBUL (AFP).- The World Heritage Committee of the UN's cultural agency UNESCO on Friday asked Turkey to submit by early next year a report about the state of conservation of the Hagia Sophia, expressing "grave concern" over the consequences of its conversion into a mosque. Turkey's move last year to convert the revered Byzantine-era Hagia Sophia cathedral from a museum into a mosque sparked fury from the international community and added to tensions with Greece. A month later Ankara ordered another ancient Orthodox church to be converted into a mosque. The Holy Saviour in Chora was a medieval Byzantine church decorated with 14th-century frescoes of the Last Judgement that remain treasured in the Christian world. Both changes reflect President Recep Tayyip Erdogan's efforts to galvanise his more conservative and nationalist supporters at a time when Turkey is suffering economic woes caused by the coronavirus. The UN body's World Heritage Committee asked Turkey to submit by Feb 1, 2022 "an updated rep ... More



This picture taken in Paris on July 20, 2021 shows a mobile phone whose screen bears the EU Digital Covid Certificate. JOEL SAGET / AFP.

by Adam Plowright



PARIS (AFP).- French cinemas, museums and sports venues began asking visitors Wednesday to furnish proof of Covid-19 vaccination or a negative test as the country, which is in the throes of a fourth wave of infections, rolled out a controversial vaccine passport system. The so-called "health pass" is required for all events or places with more than 50 people before being extended to restaurants, cafes and shopping centres in August. Prime Minister Jean Castex defended the policy, noting that nearly all new infections are in people who have not been immunised. The number of new infections over 24 hours shot up to 21,000 on Wednesday, the highest level since early May. "We're in the fourth wave," Castex told TF1 television, adding that the goal of the health pass is to avoid a fourth nationwide lockdown. Health Minister Olivier Veran lashed out at vaccine ... More
Newlands House Gallery presents 'From The Real: Liliane Tomasko and Sean Scully'
Dortmunder Kunstverein presents an exhibition of works by Theresa Weber
Carnegie Museum of Art unveils major gallery renovation


Liliane Tomasko, Hung out to Dry, 2016. Courtesy of the artist.



PETWORTH.- Newlands House Gallery in Petworth presents From The Real: Liliane Tomasko and Sean Scully, exhibiting the two practices of the artist couple side by side for the first time in the UK. Liliane Tomasko and Sean Scully deal with Abstraction through distinctly different approaches despite sharing living spaces and environment. Where Scully draws on his personal biography to inform his art, Tomasko focuses on the universal experience of the domestic, both presenting an emotional journey of light and pigment. For more than 20 years, the Swiss-born Tomasko (1967) has focused on everyday domestic scenes from her life, a figurative starting-point that becomes increasingly abstracted. Included in this exhibition is an ongoing body of painting that explores themes of sleep, dreams and the unconscious. Tomasko starts by capturing moments with polaroid photography, then transcribes them into drawing, followed by painting that is dynamic ... More



Theresa Weber, Woven Memories, 2021. Installation View at Dortmunder Kunstverein, 2021. Photo: Jens Franke. Courtesy: The Artist, Dortmunder Kunstverein, 2021.



DORTMUND.- The exhibition Woven Memories follows a trail between present and past in which personal, social and global events interweave. Through painting and installation, Theresa Weber examines cultural hybridisation, ideals of beauty and multiply coded symbols of belonging. Embedded in a playfully dystopian architectural ruin of bricks and Lianas (2019) that causes interior and exterior to merge, various wall objects give rise to a landscape with points of spatial and temporal depth. Some of the wall fragments also function as presentation surfaces, as do metal constructions that resemble hammock frames, or the lianas in which objects are entwined. Theresa Weber works familiar, strange, fetishised elements into these picture-like objects, along with personal found items and souvenirs that tell of her German-Jamaican-Greek background. ... More



Tanya Aguiñiga, Folding chair, 2018, Carnegie Museum of Art, Martha Mack Lewis Fund and Helen Johnston Acquisition Fund © Tanya Aguiñiga.



PITTSBURGH, PA.- Carnegie Museum of Art unveiled Extraordinary Ordinary Things, a major reinstallation of the museum's 8,000-square foot Ailsa Mellon Bruce Galleries. Extraordinary Ordinary Things marks the first significant update to the galleries since 2009. Featuring more than 300 objects, including some 150 recent acquisitions from the museum's expansive collection, Extraordinary Ordinary Things presents a selection of pieces ranging from the evocative and extraordinary to the practical and every day. As many people's relationships to their homes and the objects within them take on increased relevance and deeper meaning due to sheltering in place during the COVID-19 pandemic, Extraordinary Ordinary Things is a timely and dynamic exhibition that showcases all facets of material and product design, from traditional techniques to innovative technologies. The show highlights signature works by lauded designers ... More
Artist Demonstration: Patrick Ethen

Flashback
On a day like today, American artist Thomas Eakins was born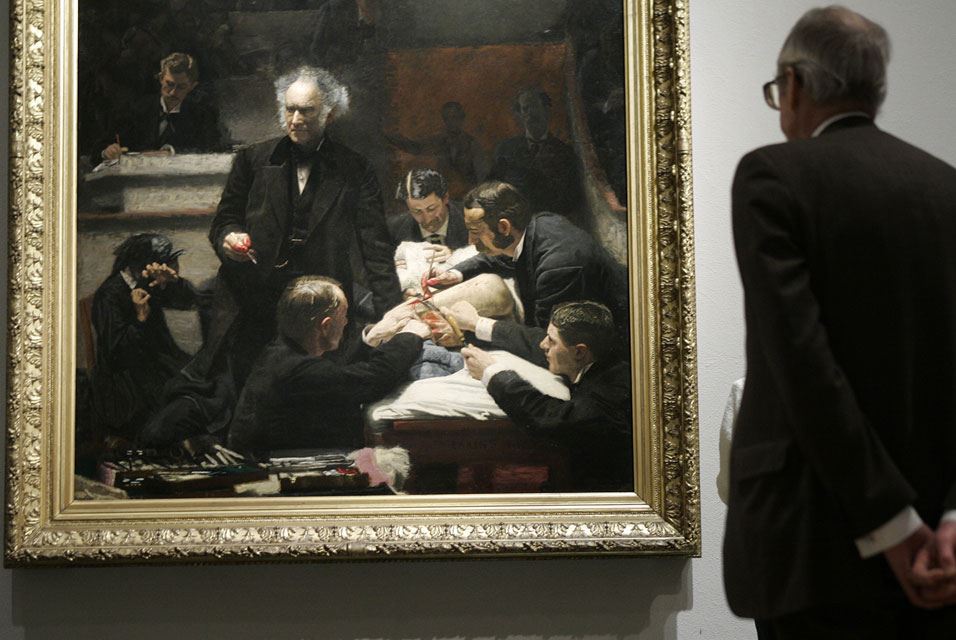 July 25, 1844. Thomas Cowperthwait Eakins (July 25, 1844 - June 25, 1916) was an American realist painter, photographer, sculptor, and fine arts educator. He is widely acknowledged to be one of the most important artists in American art history. In this image: A person views Thomas Eakins' "The Gross Clinic," at the Philadelphia Museum of Art in Philadelphia, on Jan. 5, 2007. To help finance a $68 million deal to keep the masterpiece in Philadelphia, the Pennsylvania Academy of the Fine Arts said Wednesday, Jan. 31, 2007, that it has sold another Eakins painting, "The Cello Player."
---

Museums, Exhibits, Artists, Milestones, Digital Art, Architecture, Photography,
Photographers, Special Photos, Special Reports, Featured Stories, Auctions, Art Fairs,
Anecdotes, Art Quiz, Education, Mythology, 3D Images, Last Week,

.
---
Royalville Communications, Inc
produces: