Museum of the City of New York: Reduced but reopening
The "New York at its Core" exhibit in the Museum of the City of New York, Nov. 15, 2016. After layoffs, furloughs and salary cuts, the museum prepares to reopen with a reduced budget and will present an exhibition about the pandemic. Philip Greenberg/The New York Times.

by Colin Moynihan
NEW YORK
(NYT NEWS SERVICE)
.-
Near the top of New York's Museum Mile, north of the Cooper Hewitt, a gem from the Gilded Age, and the Guggenheim, itself a Frank Lloyd Wright work of art, and the classical majesty of the Metropolitan Museum of Art, sits the Museum of the City of New York. It, too, occupies a building of architectural distinction, a five-story, red brick and marble Georgian Colonial Revival completed in 1932 and the home of the museum ever since. But it can be overlooked amid the star power of its cultural neighbors, even when it punches above its weight with expansive exhibitions like "New York at Its Core," which examines the city's history since 1609, or "Activist New York," which reviews the city through the prism of social justice and political agitation. "If you had to pick one place to learn about New York City, it would probably be the Museum of the City of New York," said Kenneth T. Jackson, a former president of the New-York Historical Society and edit ...
More
The Best Photos of the Day
"Hilma af Klint: Artist, Researcher, Medium" opens at Moderna Museet Malmö
Andrew Jones Auctions' DTLA Collections & Estates sales offer affordable, sustainable interior style
Woodmere Art Museum welcomes Steve Tobin sculpture to outdoor collection


Hilma af Klint, The Ten Largest, No. 4, Youth, 1907 © Stiftelsen Hilma af Klints Verk.



MALMO.- On June 16, Moderna Museet Malmö opened again after having been closed for a time in response to the Coronavirus pandemic. Finally, "Hilma af Klint – Artist, Researcher, Medium", a comprehensive presentation of the artist with 230 works occupying the entire museum building, can be experienced by the public. Hilma af Klint (1862–1944) was an artist who allowed herself to take a broader perspective on life and who wanted to open up new ways of looking at reality. Her achievement as a pioneer of abstract art has been celebrated before, but with the exhibition "Hilma af Klint - Artist, Researcher, Medium", Moderna Museet Malmö now wants to offer new insights into the artist's systematic research. "Hilma af Klint radically turned away from the portrayal of a visible reality," says Iris Müller-Westermann. "For her, art making was about visualizing contexts that lie beyond what the eye can see. A ... More



Continental glazed earthenware chinoiserie mantel clock, 15 ¾ inches tall by 11 ¾ inches wide (est. $600-$800).



LOS ANGELES, CA.- Andrew Jones Auctions' DTLA Collections & Estates auctions on Tuesday, June 30th and Tuesday, July 14th will feature market fresh furnishings, decorations and accessories, all enticingly priced. Eager bidders will find different, fun, quirky and out-of-the-ordinary accessories and furnishings, as well as luxe décor and statement pieces for the home, loft, gallery and retail space. Start times both days will be 11 am Pacific time. Private buyers and interior designers will be able to re-design a room or an entire home in an affordable, sustainable way. The sales will be held online through AndrewJonesAuctions.com, as well as on the popular bidding platform LiveAuctioneers.com. Absentee bids will also be taken. The 200-plus lot sale on Tuesday, June 30th will include fine art, antiques, design, decorations accessories, historical documents, vintage ... More



Steve Tobin's Alter Root (2002) was recently gifted and relocated to Woodmere Art Museum.



PHILADELPHIA, PA.- On Thursday, June 11, 2020, Woodmere welcomed a new work of art to its grounds that has been a longtime aspiration: Alter Root (2002) by Steve Tobin. The bronze root sculpture is the generous gift of Dennis Alter. "I have long recognized that Tobin, an artist of international renown, is one of the lead artists of Philadelphia. I am thrilled to have given Alter Root a home at Woodmere, where it takes its place as the artist's first work on public view in our city," Mr. Alter said. In the early 2000s, Tobin began creating bronze casts of the actual roots of upturned trees. The most famous example—and one of the most well-known sculptures in the US—is his Trinity Root, a cast of the stump and roots of a sycamore tree that was smashed by debris during the September 11th terrorist attacks in New York City. The large canopy of the seventy-year-old tree helped shield St. Paul's Chapel, part of Trinity Church, fro ... More
The radical quilting of Rosie Lee Tompkins
Four men charged for trying to pull down statue outside White House
Seminal paintings by Josef Albers to highlight London and Paris, ONE: A Global Sale of the 20th Century


An image provided by Eli Leon Bequest, "Untitled," by Rosie Lee Thompkins. UC Berkeley Art Museum and Pacific Film Archive, Eli Leon Bequest; Ben Blackwell via The New York Times.

by Roberta Smith



NEW YORK (NYT NEWS SERVICE).- In 1997, I walked into the Berkeley Art Museum to be greeted by a staggering sight: an array of some 20 quilts unlike any I had ever seen. Their unbridled colors, irregular shapes and nearly reckless range of textiles telegraphed a tremendous energy and the implacable ambition, and confidence, of great art. They were crafted objects that transcended quilting, with the power of painting. This made them canon-busting, and implicitly subversive. They gave off a tangible heat. I left in a state of shock. I knew I had been instantly converted but I didn't yet know to what. In memory the California show became a jubilant fugue of small squares of velvet in deep gemstone hues, dancing with not much apparent order yet impeccably arranged for full ... More



In this file photo taken on June 23, 2020 the statue of former US Presides Andrew Jackson is inspected after demonstrators tried overnight to tear it down in Lafayette Park in Washington, DC. JIM WATSON / AFP.



WASHINGTON (AFP).- Four men have been charged for attempting to remove a statue of former President Andrew Jackson from outside the White House as part of anti-racism protests in the United States, authorities said on Saturday. President Donald Trump, who is trying to position himself as a standard-bearer for law and order with less than five months to go before November's presidential election, tweeted calls by police Saturday to identify more than a dozen other demonstrators who took part in the action. On Monday evening, a group of protesters attacked the statue of former President Jackson, a slaveowner who led the United States from 1829 to 1837, which stands in Lafayette Park next to the White House. They wrapped ropes around the monument and tried to knock it down. Based on video footage, four were identified tying or pulling the ropes, or passing a ... More



Josef Albers, Homage to the Square: Between 2 Scarlets, 1962 (detail). Estimate: £1,000,000-1,500,000. © Christie's Images Ltd 2020.



LONDON.- As part of ONE: A Global Sale of the 20th Century on 10 July 2020, Christie's will present two major paintings by Josef Albers in Paris and London, both of which are being offered at auction for the first time. Representing the depth of the artist's oeuvre and his vision as a constructive colourist Homage to the Square: Between 2 Scarlets (1962, estimate: £1,000,000-1,500,000) will highlight the London session while Homage to the Square: "Veiled" (1961, estimate: €800,000-1,200,000) will star in the Paris session, being seen in public for the first time since 1974. Ana Maria Celis, Head of Sale, ONE: A Global Sale of the 20th Century: "Christie's is delighted to present two rare paintings by Josef Albers as part of ONE: A Global Sale of the 20th Century. Josef Albers' exploration of colour and form defined him as one of the great abstract painters of the last century and his appeal is universal. I ... More
"Painting at Home with Grandma Moses" highlights artist's influences and techniques
Hamiltons Gallery reopens with long-awaited second half of "Hiro: Fish and Fowl" exhibition
Sotheby's Live Auction of American Art achieves $9 million in New York


Anna Mary Robertson ("Grandma") Moses, Bennington, 1953 (detail). Oil on pressed board, 17 3/4 x 24 in. Collection of Bennington Museum, Bennington, Vermont, museum purchase. 1986.347. © Grandma Moses Properties Co., New York.



SHELBURNE, VT.- Painting at Home with Grandma Moses, a new online exhibition featuring paintings and archival materials from the collections of Shelburne Museum and Bennington Museum in partnership with Grandma Moses Properties Co., launched on June 18. Painting at Home with Grandma Moses highlights Anna Mary Robertson "Grandma" Moses's methodical artistic process and varying sources of inspiration that reveal the artist's work as complex, thoughtful, and thoroughly modern. The exhibition focuses on the artist's landscapes of the imagination for the modern era that stir feelings of nostalgia for decades past. The exhibition is accompanied by interactive experiences including recorded talks from curators, conservation insights and educational activities. "This interactive exhibition provides an in-depth ... More



Game Fowl, Maryland, 1988 © Hiro.



LONDON.- For decades, the legendary photographer Hiro has become highly regarded for his fashion, beauty, still life and portrait photography for Harpers Bazaar, Vogue, Rolling Stone and many other publications. In the 1980s, as a purely personal project, Hiro photographed dazzling fighting Betta Splendens fish and powerful male game fowl. These photographs, charged with brilliant colour, violent movement, and high emotion, reveal Hiro's genius in discovering beauty in the unexpected. In places where one could not imagine finding it. His work is characterised by surprises, abnormalities, unusual lighting, surrealism, and an astounding vision. To look at a photograph of Hiro's is to come face to face with a picture rife with unusual lighting effects, surprising angles, juxtaposing elements and bold colours. The Fighting Fowl series comprises 26 black and white images photographed in either 1981 or 1988. The photographs make an astonishing visual statement of the ferocity of animals. In ... More



Augustus Saint-Gaudens, Abraham Lincoln: The Man (Standing Lincoln) achieved $1.6 million – exceeding its $900,000 high estimate. Courtesy Sotheby's.



NEW YORK, NY.- Friday's sale was led by Augustus Saint-Gaudens's Abraham Lincoln: The Man (Standing Lincoln) which achieved $1.6 million – exceeding its $900,000 high estimate. The most celebrated American sculptor of his day, Augustus Saint-Gaudens originally created the sculpture as a larger-than-life work to adorn Chicago's Lincoln Park. Saint-Gaudens was awarded the commission in 1883, largely due to the success and popularity of his earlier Civil War-related projects such as the Farragut Monument in Madison Square Park and the Sherman Monument in Grand Army Plaza, both in New York. The Lincoln Park monument was formally dedicated in October 1887 to great critical and popular acclaim. Beginning in 1910, the artist's widow, Augusta, authorized the casting of commercial-sized reductions of the original monument. The reductions of Lincoln: The Man, of which the present work is one, stand at 40 ... More
Meijer Gardens presents an exploration of George Segal's work across a wide range of media and materials
June Art Fair to partner with Hauser & Wirth
Artcurial announces highlights included in its Jewellery, Watches and Hermès Vintage sales


George Segal, Helen in Wicker Rocker. Photo: Chuck Heiney.



GRAND RAPIDS, MICH.- Frederik Meijer Gardens & Sculpture Park is presenting the sculpture exhibition, George Segal: Body Language. This exclusive exhibition organized by Meijer Gardens and the Segal Foundation explores Segal's career and focuses on his remarkable versatility in representing body language across different media including plaster and various print techniques. This exhibition will run through January 3, 2021. Approximately sixty years ago, George Segal embraced a new working process that catapulted him to become one of the most recognized twentieth-century sculptors. During the summer of 1961, Segal was introduced to medical gauze bandages which he began to use as a primary material to cast plaster sculptures. The following year he was included in the legendary exhibition The New Realists, along with Andy Warhol, Roy Lichtenstein, Claes Oldenburg and Jim Dine. ... More



June founders Christian Andersen and Esperanza Rosales. Photo: Marc Asekhame.



BASEL.- June Art Fair announced that its second annual edition will take place online from August 20-31, in collaboration with ArtReview and international gallery Hauser & Wirth, which will host the fair on its website. A special, dedicated microsite featuring additional content that supports each participating gallery will be available on artreview.com. The first edition of June Art Fair, debuting during Basel Art Week in 2019, was set inside a concrete bunker transformed into an exhibition space by Pritzker Prize winning architecture firm Herzog & de Meuron. Providing an alternative to a conventional art fair viewing experience, this new addition to the Basel Art Week calendar was distinguished by a highly-selective, intergenerational group of participants presenting projects in an open format more akin to a meticulously curated, collaborative, public exhibition. Other notable attributes of the June Art Fair included its modest ... More



René Boivin, Signet ring, set with brilliant cut diamond in yellow gold and blackened steel circa 1980. Estimate : 28 000 - 30 000 €.



MONTE-CARLO.- On 16 to 21 July, Artcurial will take up residence at its summer quarters, the Hôtel Hermitage, to hold a tempting programme of prestigious sales: Jewellery, Fine Watches, le Temps est Féminin and Hermès Summer Collection. The directors of each department have assembled an array of treasures including jewellery, bags, watches and collectors' items to entice the knowledgeable and selective clientele. Centrepiece of the Fine Watches sale will be the Bull Collection. This collection of 36 lots includes some highly sought-after pieces by the biggest names in Swiss watchmaking: Patek Philippe and Rolex, with such iconic models as the Nautilus and the Daytona. The Temps est Féminin sale confirms the steady growth in the market for women's watches. In the Jewellery sale, there will be a tempting selection of rare stones on offer along with pieces ... More
Pablo Picasso, Les femmes d'Alger | Christie's

Flashback
On a day like today, Swiss painter Paul Klee died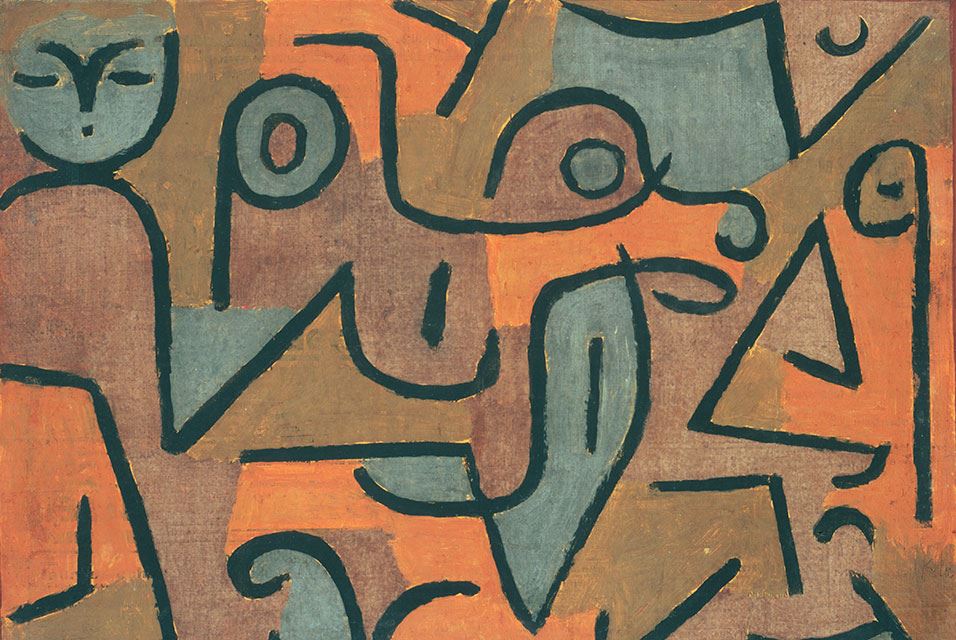 July 29, 1940. Paul Klee (18 December 1879 - 29 June 1940) was a Swiss German artist. His highly individual style was influenced by movements in art that included Expressionism, Cubism, and Surrealism. In this image: Paul Klee, Young Moe, 1938. Colored paste on newspaper on burlap, 20 7/8 x 27 5/8 in. The Phillips Collection, Washington, DC, Acquired 1948.
---

Museums, Exhibits, Artists, Milestones, Digital Art, Architecture, Photography,
Photographers, Special Photos, Special Reports, Featured Stories, Auctions, Art Fairs,
Anecdotes, Art Quiz, Education, Mythology, 3D Images, Last Week,

.
---
Royalville Communications, Inc
produces: