French 4,000-year-old carving is oldest map in Europe: study
Excavated in 1900 by Paul du Chatellier in a barrow and forgotten for a century, this ornamented slab was recently rediscovered in the Musée d'Archéologie nationale (MAN – Museum of National Archaeology) and was the subject of a significant study that allowed it to be interpreted as the oldest cartographical representation of a known territory in Europe, a probable marker of the political power of a principality of the early Bronze Age.
BREST
(AFP)
.-
A Bronze-age slab first uncovered in 1900 in western France is the oldest map in Europe, according to a study released this week. The 4,000-year-old object, known as the Saint-Belec slab, is engraved with markings that represent part of the Black Mountains region of western France, said Yvan Pailler, an archaeologist and one of the authors of the study published in the Bulletin of the French Prehistoric Society. "Today, it is the oldest map of a territory in Europe," he said. "You can see on the slab carvings which, at first sight, are not understandable. "You must really take your time to start to comprehend the way the motifs are organised and structured and the way they are interlinked through lines." Archaeologist Paul du Chatellier discovered the slab at an ancient burial ground in Finistere in 1900, and it was stored for decades at one of his properties. Researchers only began to study the rock -- which measures 2.2 metres by 1.5 metres and weighs a ton -- in 2017. ...
More
The Best Photos of the Day
Christie's announces highlights included in the Classic Week auctions
Egyptologists find vast millenia-old 'lost golden city'
Spain blocks sale of possible Caravaggio painting


Bartolomé Esteban Murillo (Seville 1618-1682) Saint Francis embracing Christ on the cross. Oil on canvas. Estimate: $1,200,000-1,800,000. © Christie's Images Ltd 2021.



NEW YORK, NY.- Christie's announces that Classic Week, a marquee series of seven live and online auctions that feature pieces from antiquity to the 20th century. Sales will be held from 8-23 April and include Old Master paintings and sculpture, European Art, Antiquities, Books and Manuscripts and two single-owner auctions, The Kagan Collection and The Elaine and Alexandre Rosenberg Collection of illuminated manuscripts and early printed books. The exhibition at Christie's Rockefeller Center will be by appointment only starting 17 April. Standout lots across the series of sales include a richly illuminated Parisian Book of Hours, circa 1440, by the Master of the Paris Bartholomeus Anglicus, a 1776 broadside of The Declaration of Independence, a newly discovered painting by Dosso Dossi which is one of the most important commissions of the Italian Renaissance, an influential work by Jean-Baptiste-Camille Corot, and the Ionides Scarab, an I ... More



In this file photo taken on January 17, 2021, Egyptologist Zahi Hawass poses for a picture during the official announcement of the discovery by an archaeological mission he leads of a new trove of treasures at Egypt's Saqqara necropolis south of Cairo Khaled DESOUKI / AFP.



CAIRO (AFP).- Archaeologists hailed Thursday the discovery of "the largest" ancient city found in Egypt, buried under sand for millenia, which experts said was one of the most important finds since unearthing Tutankhamun's tomb. Famed Egyptologist Zahi Hawass announced the discovery of the "lost golden city", saying the site was uncovered near Luxor, home of the legendary Valley of the Kings. "The Egyptian mission under Dr. Zahi Hawass found the city that was lost under the sands," the archeology team said in a statement. "The city is 3,000 years old, dates to the reign of Amenhotep III, and continued to be used by Tutankhamun and Ay," the statement added. It called the find "the largest" ancient city ever uncovered in Egypt. Betsy Bryan, Professor of Egyptian Art and Archaeology at Johns Hopkins University, said the find was the "second most ... More



A portrait of the Italian painter Michelangelo Merisi da Caravaggio. Image: Ottavio Leoni.

by Alvaro Villalobos with Gael Branchereau in Rome



MADRID (AFP).- Spain blocked the auction of a 17th-century Biblical oil painting in Madrid on Thursday on suspicion it could be a lost masterpiece by the Renaissance artist Caravaggio. Entitled "Coronation with Thorns", the canvas shows Jesus just before his crucifixion and was set to have been sold off later on Thursday at the Ansorena auction house. Attributed in the catalogue to "the entourage of (Spanish artist) Jose de Ribera", it was marked with an opening price of 1,500 euros ($1,800). But just hours before it went under the hammer, Culture Minister Jose Manuel Rodriguez Uribes said the painting had been declared "not for export... on suspicion it may be a Caravaggio". "We are going to see if it is indeed a Caravaggio," he told reporters, saying the decision to withdraw the canvas from auction was made "within hours". "The painting is valuable, we hope it's a Caravaggio," he said. Ansorena confirmed it would not go under the hammer on Thursday, saying ... More
Pastel portrait by John Russell acquired for the Nationalmuseum Sweden collections
Crystal Bridges Museum of American Art reveals plans for major expansion designed by Safdie Architects
Niki de Saint Phalle: Rage recast as jolliness


John Russell, Portrait of Lady Georgiana Cavendish (1783–1858), later Countess of Carlisle, at the age of six, 1790. Pastel on paper. NMB 2781. Photo: Cecilia Heisser/Nationalmuseum.



STOCKHOLM.- Nationalmuseum has acquired a pastel portrait of Lady Georgiana Cavendish at the age of six. The portrait is the work of John Russel, one of the era's foremost pastellists. This is the first example of this particular art form by a British artist to be acquired for the museum's collections. The pastel was painted by John Russel (1745–1806) in 1790 together with a portrait of Georgiana's younger sister, Henrietta. The two works were both exhibited at the Royal Academy of Arts in London that year under the same title: Portrait of a Young Lady of Quality. By this point, Russel was at the peak of his artistic powers having been appointed Crayon Painter to King George III. The portrait is mentioned in a letter to her daughter by Countess Spencer, who commissioned the work: "The Duke is not yet gone my ... More



View of the Crystal Bridges Expansion Model looking south. Courtesy of Safdie Architects.



BENTONVILLE, ARK.- Crystal Bridges Museum of American Art today revealed plans for an expansion that will increase the size of the current facilities by 50 percent. Adding nearly 100,000 square feet to the 200,000-square-foot facility, the expansion will allow the museum to showcase its growing collection and welcome more visitors to experience the power of art, in an inclusive environment. Envisioned to support Crystal Bridges' commitment to free access to art for all, the new space will increase capacity for presenting art and exhibitions, educational and outreach initiatives, cultural programming, and community events. "It's wonderful to see how our community, our region, and travelers to Bentonville from across the nation and around the world have embraced Crystal Bridges, and enjoyed the experience of being surrounded by art, nestled in nature, and immersed in Moshe Safdie's architecture," said Alice Walton, Crystal ... More



An installation view of "Gwendolyn" (1966/1990) in the exhibition "Niki de Saint Phalle: Joy Revolution" at Salon 94 gallery in New York, April 3, 2021. Charlie Rubin/The New York Times.

by Jason Farago



NEW YORK (NYT NEWS SERVICE).- "I was lucky to discover art," she said, "because on a psychological level I had everything you need to become a terrorist." It was going to be one or the other for Niki de Saint Phalle, who made some of the most joyous art of postwar France and also some of the most menacing. Her colleagues in 1960s Paris caused ruckuses by filling galleries with industrial junk or painting canvases with the bodies of naked models — but none of them went as far as Saint Phalle, who used live ammunition to shoot up oil paintings and, by extension, the men of the cultural establishment. Even when her art turned more lighthearted later, there was always something beneath it: a risk, a rumbling, a sense it could all go off the rails. ... More
High Museum receives major gift of self-taught art
The Morgan acquires prints by Martin Puryear
Pace Gallery expands presence in Seoul with larger, two-story gallery space opening in May


John (J. B.) Murray (American, 1908–1988), Untitled (Nine patch), ca. 1984, marker, acrylic, watercolor, and crayon on paper, High Museum of Art, Atlanta, bequest of Harvie and Charles Abney. Photo by Mike Jensen.



ATLANTA, GA.- The High Museum of Art continues to expand its unparalleled collection of American self-taught art with a gift of 47 works by Southern self-taught artists from Atlanta collectors Harvie and Charles ("Chuck") Abney. The paintings, sculptures and drawings, which will be followed by 26 works to be bequeathed to the High, are by more than a dozen of the most widely celebrated self-taught artists, including Lonnie Holley, Howard Finster, Ronald Lockett and Minnie Evans. The gift also includes one of the largest and finest private collections of work by Atlanta artist Nellie Mae Rowe, which will strengthen the Museum's already unmatched holdings of her work. "Without question, this gift underscores the international importance and distinction of our folk and self-taught collection – in particular, by further highlighting the remarkable contributions of Southern artists," said Rand Suffolk, the High's Nancy a ... More



Martin Puryear (b. 1941), Phrygian, 2012, softground etching, drypoint, aquatint, and spitbite aquatint with chine collé. Image: 24 x 18 in.; sheet: 35 x 28 in. © Martin Puryear, Courtesy Matthew Marks Gallery.



NEW YORK, NY.- The Morgan Library & Museum announced the acquisition of twenty exceptional prints by Martin Puryear. This group of prints was purchased thanks to a generous gift to the museum in honor of Morgan Trustee Katharine J. Rayner by a member of her family. Made between 2001 and 2014 at Paulson Bott Press (now Paulson Fontaine Press), Berkeley, California, they represent nearly all of the prints Puryear made during the first fifteen years of the twenty-first century and include several of his most important works in this medium. Known primarily as a sculptor, Puryear is celebrated for the elegance and refinement of his largely handmade constructions. The same qualities apply to his prints, which he creates with a similar attention to craft and technical precision. Born in 1941 in Washington, D.C., Puryear studied biology before turning to art. Two years with the Peace Corps in Sierra ... More



Pace opened in Seoul in 2017 as one of the first international galleries to launch a permanent space in the city and one of the first cultural organizations to establish itself in the Hannam-dong district.



SEOUL.- Marc Glimcher, President and CEO of Pace Gallery, today announced the gallery's plans to open an expanded gallery space in Seoul, South Korea, occupying two floors of Le Beige Building in the Hannam-dong neighborhood. The new gallery will open on May 27, 2021 with an exhibition of new work by Sam Gilliam, marking the American octogenarian's debut exhibition in Asia. Pace opened in Seoul in 2017 as one of the first international galleries to launch a permanent space in the city and one of the first cultural organizations to establish itself in the Hannam-dong district. Eschewing the traditional Samcheong-dong and Gangnam areas, Pace's presence in Hannam-dong contributed to its current reputation as an artistic neighborhood and hive of creativity. Following Pace's opening, Phillips auction house, Gana Art Nineone, p21, Bhak, and VSF have all laid foundations in the area. The ... More
The National Gallery announces six shortlisted design teams for its NG200 plans
Russian coin sells for astounding $2.64 million
Zorn - A Swedish Superstar opens at Nationalmuseum


David Kohn, Director at David Kohn Architects © Matthew Thompson.



LONDON.- The shortlist has been drawn from an impressive pool of submissions from highly talented UK and international architect-led teams. In addition to members of the executive team and Trustees of the National Gallery, several independent panellists are advising on the selection process, which is being run by Malcolm Reading Consultants. These are Edwin Heathcote, Architecture Critic and Author: leading structural engineer Jane Wernick CBE FREng: and Ben Bolgar, Senior Design Director for the Prince's Foundation. The extremely high quality of the submissions led the panel to increase the number of design teams shortlisted from the originally envisaged five, to six. Following an open call launched in February 2021, the next steps will require the shortlisted teams to submit an initial tender, attend negotiation workshops, submit a final tender and then be interviewed by the selection panel. No design work will be required, ... More



One Russian Ruble is currently worth .013 U.S. Dollar with one major exception. This one's worth $2.64 million.



COSTA MESA, CA.- Stack's Bowers and Ponterio, which is currently conducting another of their popular Hong Kong auctions, has sold the 'Joseph/Richter' specimen of the incredibly rare 1825 pattern ruble of Constantine for an astounding $2.64 million. This was the highest realization in the magnificent Pinnacle Collection, which featured many record breakers and market makers on its way to realizing a total of nearly $19.2 million. This monumental, once-in-a-generation crown is among just eight known, and one of only three with a plain edge. The last appearance of an 1825 pattern ruble of Constantine was in 2004, when this very specimen sold for $525,000, the highest amount for a non-U.S. coin at the time. Though it no longer holds this record, this storied ruble now stands as the highest valued non-U.S. coin auctioned by an American auction house and illustrates Stack's ... More



Anders Zorn, Margit, 1891. Oil on canvas. The Zorn Museum, Mora. Photo: The Zorn Museum .



STOCKHOLM.- Nationalmuseum opened its major exhibition about the Swedish artist Anders Zorn. Visitors to the exhibition can experience the enormous breadth of his artistry. From watercolour portraits painted in London to the most famous motifs from Dalarö, via Paris and the USA and finally back to Mora in Sweden. Anders Zorn is one of Sweden's best-known artists. His life and career have few equivalents in Swedish art history. From a relatively simple upbringing in Dalarna, Zorn made his way out into the world with an almost improbable ability to suddenly find himself deep inside various power circles. He infiltrated the financial elite of the USA, the cultural elite of Paris, and London society, to name but a few examples. Zorn's artistry is set apart by his exceptional skill in various techniques – watercolour, oil painting, etching and sculpture. The exhibition at Nationalmuseum presents both famous classic works and ... More
Willem de Kooning's Elegant and Ethereal Late Masterpiece

Flashback
On a day like today, English photographer Eadweard Muybridge was born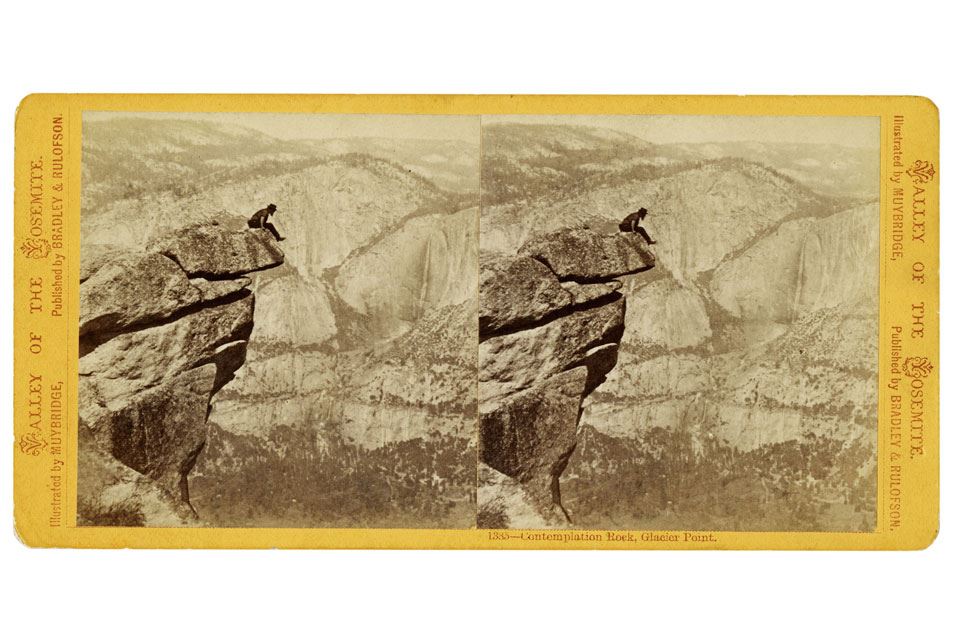 April 09, 1830. Eadweard Muybridge (9 April 1830 - 8 May 1904, born Edward James Muggeridge) was an English photographer important for his pioneering work in photographic studies of motion, and early work in motion-picture projection. He adopted the first name Eadweard as the original Anglo-Saxon form of Edward, and the surname Muybridge believing it to be similarly archaic. In this image: Eadweard Muybridge, Contemplation Rock, Glacier Point (1385) 1872. Collection of California Historical Society.
---

Museums, Exhibits, Artists, Milestones, Digital Art, Architecture, Photography,
Photographers, Special Photos, Special Reports, Featured Stories, Auctions, Art Fairs,
Anecdotes, Art Quiz, Education, Mythology, 3D Images, Last Week,

.
---
Royalville Communications, Inc
produces: