The world's most prestigious art exhibition is over. Maybe forever.
A mixed-media installation by the Kenyan artist Ngugi Waweru in the Documenta Halle during the Documenta art show in Kassel, Germany, June 20, 2022. The giant exhibition's intellectual ambitions and hefty budgets have ensured its reputation as the world's most prestigious show of contemporary art. As the 2022 edition closes, uncertainty hangs over Documenta. Felix Schmitt/The New York Times.

by Jason Farago
KASSEL
.-
It began with a calumny; it ends with a crackup. Twice a decade, for exactly 100 days, the world of culture turns its eyes to this midsize German city for Documenta, a giant exhibition whose intellectual ambitions and hefty budgets have ensured its reputation as the world's most prestigious show of contemporary art. This year's edition got off to a dreadful start in June, when its most prominent artwork, an agitprop mural incorporating unmistakable antisemitic caricatures, had to be withdrawn amid national outcry. The 15th Documenta now comes to a close Sunday — not before another controversy that has seen artists, scholars and politicians trade accusations of antisemitism and racism, harassment and incompetence. When an organizing committee nominated Indonesian artist collective ruangrupa to organize Documenta 15, we knew an old model was dying; we could not guess how fitfully the new would struggle to be born. This was the first time that artists themselves were tasked ...
More
The Best Photos of the Day
How projectionists are keeping old-school films alive
Marina Abramović opens an exhibition at The Pitt Rivers Museum
Major exhibition of the work of William Kentridge opens at the Royal Academy of Arts


Genevieve Havemeyer-King, who has a graduate degree in film preservation, at Anthology Film Archives in New York, Sept. 19, 2022. Evelyn Freja/The New York Times.

by Ted Alcorn



NEW YORK, NY.- A rare 35 mm print of the 1948 Japanese film "Yuwaku (Temptation)" had been shipped halfway around the world for a festival at the Museum of Modern Art. The screening was to begin in 22 minutes. And the equipment was acting up. Whether the show would go on came down to Chris Jolly, the projectionist. He had already threaded the first reel through one of the theater's twin projectors, but the second projector, meant to fire up the next reel in a seamless changeover, was on the fritz. As audience members filled the auditorium below the booth, Jolly pried at the back of a machine with a screwdriver. The moment seemed to be captured in a cartoon of an addled projectionist pinned to the wall and captioned, "Countless hours of pure boredom. Then come moments of stark terror!" Undaunted, Jolly set aside ... More



Still from Presence and Absence, a new video work by Marina Abramović. © Marina Abramović and Pitt Rivers Museum, University of Oxford. Photography by Tim
Hand.



OXFORD.- "The Pitt Rivers Museum is filled with tens of thousands of treasures reflecting the diversity and richness of cultures from all over the world. My research there could be never-ending." - Marina Abramović In August 2021, the pioneering performance artist Marina Abramović undertook a research residency at the Pitt Rivers Museum in preparation for an exhibition at Modern Art Oxford. That residency has now led to her Gates and Portals exhibition at Modern Art Oxford and an installation featuring new work by the artist at the Pitt Rivers Museum, both opening in Oxford in September 2022. For Abramović, the residency was a kind of home coming, as she had previously developed an exhibition for Modern Art Oxford in partnership with the Pitt Rivers Museum in 1995. Her now famous video work, Cleaning the Mirror was devised and exhibited at the Pitt Rivers at that time. On her return to Oxford in 2021, Marina Abramovi ... More



William Kentridge, Colleoni, 2021. Hand-woven mohair tapestry, 350 x 300 cm. Courtesy the artist © William Kentridge.



LONDON.- The Royal Academy of Arts hosts a major exhibition of the work of the internationally celebrated South African artist and Honorary Royal Academician, William Kentridge (b. 1955). Working closely with the artist and his studio, this ambitious and immersive exhibition has been specifically curated for the Royal Academy and encompasses the broad repertoire of Kentridge's forty-year career. It brings together important works spanning from the 1980s through to the present day, including charcoal drawings, animated films, a mechanical theatre, sculptures, tapestries and performance pieces. William Kentridge is the most significant exhibition of the artist's work in the UK to date and reveals an artist at the height of his creative powers. William Kentridge is known for his distinctive drawings, animated films, performances, and largescale productions. While at times his work is semi-autobiographical, he also uses history ... More
Brandywine Museum opens an art exhibition reflecting on the vulnerability of the environment
M. LeBlanc presents an exhibition of new work by Berlin based artist James Krone
Newton Harrison, a founder of the eco-art movement, dies at 89


Mark Dion (b. 1961), New England Cabinet of Marine Debris (Lyme Art Colony), 2019. Wood, glass, metal, assorted marine debris, artifacts from the Lyme Art Colony, 103 ½ x 50 5/8 x 24 3/8 in. Florence Griswold Museum, Purchase, 2019.10.



CHADDS FORD, PA.- On view at the Brandywine River Museum of Art this fall, Fragile Earth: The Naturalist Impulse in Contemporary Art highlights the diverse approaches taken by four of the leading contemporary American artists whose work engages with environmental themes. The ecologically concerned artists featured in the exhibition include Jennifer Angus, Mark Dion, Courtney Mattison and James Prosek. On view September 24, 2022 through January 8, 2023, the Brandywine's presentation of Fragile Earth also includes a site-specific installation by Angus and a commissioned mural by Prosek that explores the plants and animals native to the Brandywine Valley. Fragile Earth includes two galleries of striking works reflecting on the vulnerability of the environment, created in a variety of media by Angus, Dion, Mattison and Prosek. "These artists were selected for the profound message their works ... More



James Krone, Pigeons, 2021, archival pigment print on cotton rag in artist frame (museum glass), 13 x 10 in (34 x 26 cm), framed: 14 x 11 in (36 x 28 cm), #JK1029.



CHICAGO, IL.- In his most recent paintings, Matisse Dissociatives, Krone has sought to discover what might emerge from the act of painting when its subject is taken to be non-transferable. The works are predicated on a conviction that Matisse's paintings hinged on the necessity of a dissociative gaze. In the case of Matisse, the modern departure from functional representation owed not only to the disposing of cosmetic mimesis but, also, the philosophical realization that the subject was unavailable for the artist to offer in the form of a painting. Painting became a record of the artist's distance from the subject. Whereas a Matisse painting is a document of his observation of a model or a still life and the occasion of that experience, for Krone the Matisse painting is the primary subject. Detached from an empirical link that would have been the source of their forms, these paintings develop their own terms, inform one another, conform to one another, as if independent of, perhaps ... More



An undated photo shows the artist Newton Harrison. Harrison, who with his wife, Helen Mayer Harrison, was a founder of the eco-art movement, creating work that married science, cartography, biology, urban planning, agriculture and other disciplines, died on Sept. 4, 2022, at his home in Santa Cruz, Calif. He was 89. The Harrison Studio via The New York Times.

by Penelope Green



NEW YORK, NY.- Newton Harrison, who with his wife, Helen Mayer Harrison, was a founder of the eco-art movement, creating work that married science, cartography, biology, urban planning, agriculture and other disciplines, died Sept. 4 at his home in Santa Cruz, California. He was 89. His son Joshua said the cause was pancreatic cancer. Long before climate change was in the public consciousness, the Harrisons were focused on its consequences. They were educators at the University of California San Diego — he was making sculpture and teaching art; she was painting and working as an administrator — when they became galvanized by the environmental movement. She had read Rachel Carson's "Silent Spring," he was thinking about cellular ... More
PostmastersROMA opens its first exhibition with Filippo Minelli
Kunstmuseum Den Haag presents an ode to Cristóbal Balenciaga's designs in black
Andrew Kreps Gallery opens an exhibition of new works by Erika Verzutti


Filippo Minelli, Shape US A/Q, 2014. Hahnemühle fine art paper 310g.



ROME.- PostmastersROMA is presenting the first solo show by Filippo Minelli (1983) with the gallery. After many years abroad, the Italian artist working on a new political reading of contemporary landscape, is finally showing in Italy his most renown works. The title of the exhibition Bikini Mururoa refers to the atolls in Oceania used by Western Governments between 1946 and 1996 as sites of nuclear tests for military purposes. While these names have an exotic appeal in the West, this is a perfect example of Western countries – who enjoyed a golden era of abundance and growth – taking advantage of colonial narratives to conceal the reality of violence towards foreign resources for their own benefit. This inconsistency between meta-narratives and reality is the Italian artist key to frame a perception of truth, history, and reality that is everything but real. Minelli's works are meant to capture this inconsistency, tha ... More



Cristóbal Balenciaga, silk cocktail dress, 1954, Palais Galliera © Julien Vidal / Galliera / Roger-Viollet.



THE HAGUE.- Cristóbal Balenciaga (1895 - 1972), regarded as 'le maître' among couturiers. "Haute couture is like an orchestra, for which only Balenciaga is the conductor. The rest of us are just musicians, following the directions he gives us", Christian Dior once said. The Spanish designer was known as a strict taskmaster who regarded his work as a religion. His complex, sculptural designs worked best in black, one of his favourite colours. This autumn, Kunstmuseum Den Haag presents an ode to his designs in black with its fashion exhibition Balenciaga in Black. Over 100 masterpieces from the collections of Palais Galliera and Maison Balenciaga have already been put aside in Paris, ready to steal the show at Kunstmuseum Den Haag from 24 September 2022. This is the first time that such a large selection of Balenciaga's work has been shown in the Netherlands. For Balenciaga black was the ideal colour for displaying ... More



Erika Verzutti, Installation View, Churros and Rain, Andrew Kreps Gallery, New York. September 9 - October 29, 2022.



NEW YORK, NY.- Andrew Kreps Gallery is presenting Churros and Rain, an exhibition of new works by Erika Verzutti. Tactile in its approach, Erika Verzutti's practice rests between sculpture and painting, drawing on a wide range of references from nature to popular culture. Shapes derived from fruits or vegetables recur alongside familiar objects, self-referential gestures, and images culled from social media to form a new vernacular. Firmly rooted in studio practice, Verzutti's work revels in its process and explores how disparate ideas and perceptions take on a physical form. A series of works that reference the totemic form of the Venus of Willendorf occupy the floor of the gallery. Varying in scale and executed in bronze and papier mâché, Verzutti's Venuses are comprised of fruits, both molded from the actual object and shaped by hand from memory. Precariously ... More
Shortlist for Freelands Award 2022 announced with five organisations and artists shortlisted for £110,000 prize
What Hemingway left in Sloppy Joe's Bar 80 years ago
These artists bring pickles to the party


Turner Contemporary and Anya Gallaccio.



LONDON.- Freelands Foundation today announces the five visual arts organisations and women artists under consideration for the seventh annual Freelands Award, which enables a UK arts organisation to present an exhibition, including significant new work, by a mid-career woman artist who may not yet have received the acclaim or public recognition that her work deserves. The organisations and artists shortlisted for the Freelands Award 2022 are: • Fruitmarket and Zarina Bhimj • Turner Contemporary and Anya Gallaccio • John Hansard Gallery and Permindar Kaur • National Galleries of Scotland and Everlyn Nicodemus • Warwick Arts Centre and Katrina Palmer Five organisations and artists from across the UK are in contention for the recently increased prize of £110,000, awarded to an exhibition which will take place in the next three years. The award includes an allocated £30,000 fee for the winning artist. For th ... More



The trove of items deposited in Key West, now part of a new archive at Penn State, includes four unpublished short stories, drafts of manuscripts and boxes of personal effects. The Toby and Betty Bruce collection of Ernest Hemingway in the Penn State Special Collections Library via The New York Times.

by Robert K. Elder



NEW YORK, NY.- In an untitled, three-page short story, Ernest Hemingway casts F. Scott Fitzgerald as a scrappy boxer who leaves the ring battered and disfigured but ultimately victorious. He sketches out a novel he'll never write, "A New Slain Knight," calling it a "picaresque novel for America" that will follow his protagonist through a prison escape, a bank robbery and noirish double-crosses. Wearing his American Red Cross uniform and smiling at the camera, an 18-year-old Hemingway huddles in a trench with Italian soldiers during World War I, just days before he was wounded by a mortar shell ... More



Aigerim Kapar, a curator from Almaty participating in a residency program, prepares lunch with Stan de Natris and Payam Sharifi, right, at the studio of the Slavs and Tatars art collective in Berlin, Sept. 6, 2022. Maria Sturm/The New York Times.

by Valeriya Safronova



NEW YORK, NY.- Visitors who wandered into the Slavs and Tatars installation in the Arsenale at the 2019 Venice Biennale found a serenely bubbling fountain, a PVC curtain printed with bold graphics and a working vending machine stocked with bottles of sauerkraut juice. Each custom bottle label sported a picture of a cabbage chained to a foot, like a ball and chain, and the words "Brine & Punishment," a reference to Dostoevsky's "Crime and Punishment." The machine had to be restocked several times. This type of humor — silly, playful, straddling the fine line between witty and corny — runs through the work of this Berlin-based collective. Its ... More
The dauntingly immersive work of Barbara Kruger | UNIQLO ARTSPEAKS

Flashback
On a day like today, Latvian-born American painter Mark Rothko was born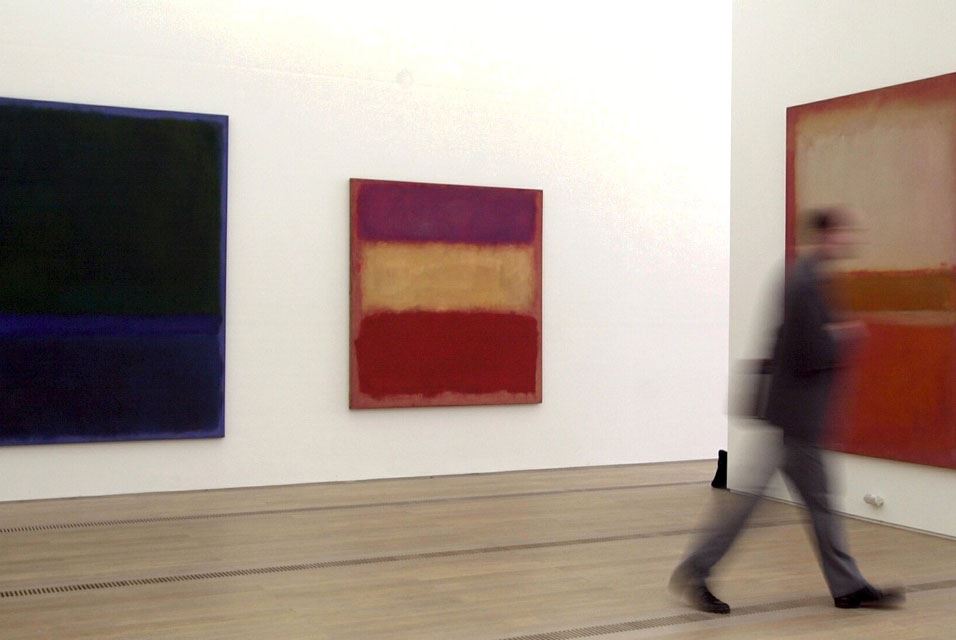 September 25, 1903. Mark Rothko (September 25, 1903 - February 25, 1970), was a Russian-American painter. He is classified as an abstract expressionist, although he himself rejected this label, and even resisted classification as an "abstract painter". In this image: A visitor passes three paintings by US-painter Mark Rothko which are on exhibition at the Foundation Beyeler in Riehen, Switzerland, on February 15, 2001.
---

Museums, Exhibits, Artists, Milestones, Digital Art, Architecture, Photography,
Photographers, Special Photos, Special Reports, Featured Stories, Auctions, Art Fairs,
Anecdotes, Art Quiz, Education, Mythology, 3D Images, Last Week,

.
---
Royalville Communications, Inc
produces: