The mystery of the painting thieves love
What is it about a Frans Hals painting housed at a tiny Dutch museum that has made it so popular with thieves, who have stolen it three times since 1988? Xiao Hua Yang/The New York Times.

by Graham Bowley
NEW YORK
(NYT NEWS SERVICE)
.-
"Two Laughing Boys with a Mug of Beer," a painting by Frans Hals, has hung in a tiny museum in Leerdam, a town in the Netherlands, for most of the past 248 years. One has to use the qualifier "most" because the painting was lent out on occasion, was moved for safekeeping when the Nazis came and — as many in the town know — it has been stolen three times. It went missing for the third time last August when the work, conservatively valued at more than $10 million, was taken three days before the 354th anniversary of Hals' death. Left behind was a gaping space on the wall of the Museum Hofje van Mevrouw van Aerden, an almshouse for unmarried women that also showcases the collection of its 18th-century founder, Maria van Aerden. "It's really that painting for some reason, and I don't know why," said Christa Hendriksen, an alderman responsible for culture in Leerdam, a town of 20,000 best known for its glassworking. "I don't h ...
More
The Best Photos of the Day
Christie's announces online-only auction of Old Master prints
Key to prison where Napoleon died sells for £82,000
Lebanon returns two stolen 18th-century icons to Greece


Albrecht Dürer (1471-1528), Adam and Eve, engraving (1504, estimate: £100,000-150,000). © Christie's Images Ltd 2021.



LONDON.- Christie's Old Master Prints online-only auction, open for bidding from 19 to 28 January 2021, offers a selection of fine and rare prints that span five centuries of European printmaking. The works presented range from a hand-coloured woodcut from the mid- to late-15th century by an anonymous German printmaker to an early-19th century French lithograph with watercolour by Carle Vernet. Albrecht Dürer is represented, in both woodcut and engraving, including a proof-impression of the Crucifixion from the Large Passion (circa 1498, estimate: £25,000-35,000) and two of his most iconic engravings: Adam and Eve (1504, estimate: £100,000-150,000) and Melencolia I (1514, estimate: £80,000- 120,000). Rembrandt's Self-Portrait, wearing a soft Cap: full Face, Head only (circa 1634, estimate: £15,000-25,000) and Self-Portrait with Saskia (1636, estimate: £7,000-10,000) demonstrate the sensitivity and outstanding draughtsmanship of th ... More



"The Key to Napoleon's Room", circa 1815. Estimate: 3,000 - 5,000 GBP. Lot sold: 81,900 GBP. Courtesy Sotheby's.



LONDON (AFP).- The key to the room where Napoleon Bonaparte died as a prisoner on Saint Helena was sold by the British auctioneers Sotheby's on Thursday for £81,900 after a bidding war. The rusted steel key to the room where the exiled Emperor was a prisoner of the British achieved more than 16 times its estimate of £3,000-£5,000 as 11 bidders vied to buy it, the auction house said. Napoleon died in 1821 on the remote island in the South Atlantic where Britain sent him after he escaped from Elba, incarcerated in a mansion called Longwood House. The 13-centimetre (5-inch) key was brought back to Britain by Charles Richard Fox, an army general and politician, who visited the island while Napoleon was there. He is believed to have brought it as a gift for his mother who was a great admirer of Napoleon, the auction house said. The key comes in an envelope labelled by Fox as "Key of the Room at St Helena, in which Napoleon died & which I got there ... More



A picture taken on January 18, 2021 shows two 18th-century religious icons depicting Jesus and Mary that were stolen in Greece and were seized by Lebanese authorities during an auction in the capital Beirut. Lebanon handed back two 18th-century religious icons of Jesus and Mary to Greece today after they were seized during an auction on its soil, a judicial source said. AFP.



BEIRUT (AFP).- Lebanon handed back two 18th-century religious icons of Jesus and Mary to Greece on Tuesday after they were seized during an auction, a judicial source said. The paintings were stolen from an exhibition in Athens in 2016, and Greece put out an international notice calling for their return. Icons are Christian religious paintings, often of saints, and are viewed as sacred. Lebanon has launched an investigation, but it is not clear who stole them, or how they were brought to the country. "The person who bought the paintings at the auction in Lebanon was questioned," the source said, adding that the buyer was about to ship them to Germany "to sell them on at an international auction there." The paintings were handed ... More
Oldest city in the Americas under threat from squatters
Abbey Road studio doors that swung open to welcome The Beatles and other stars up for auction
Victoria Miro announces representation of Flora Yukhnovich


An archaeologist talks with AFP during a visit at the Caral archaeological complex, in Supe, Peru on January 13, 2021. ERNESTO BENAVIDES / AFP.



CARAL (AFP).- Having survived for 5,000 years, the oldest archeological site in the Americas is under threat from squatters claiming the coronavirus pandemic has left them with no other option but to occupy the sacred city. The situation has become so bad that archeologist Ruth Shady, who discovered the Caral site in Peru, has been threatened with death if she doesn't abandon investigating its treasures. Archeologists told an AFP team visiting Caral that squatter invasions and destruction began in March when the pandemic forced a nationwide lockdown. "There are people who come and invade this site, which is state property, and they use it to plant," archeologist Daniel Mayta told AFP. "It's hugely harmful because they're destroying 5,000-year-old cultural evidence." Caral is situated in the valley of the Supe river some 182 kilometers (110 miles) north of the capital Lima and 20km from the Pacific Ocean to the west. Developed between 3,000 and 1,800 BC ... More



The Abbey Road studio doors that gave access to the sound stages and recording studios from the foyer from 1931 to 1988. To be offered at Ewbank's Auctions on February 25 with an estimate of £2,000-4,000.



LONDON.- Abbey Road, the world's most famous recording studios, are 90 years old this year. To celebrate, Ewbank's Auctions will offer the original foyer doors for sale on February 25. As the studio plan accompanying the lot shows, these were the main internal doors through which many of the leading names from every period of Rock & Pop, from The Beatles and Pink Floyd to Elton John and Michael Jackson, would have passed to reach the sound stages and recording studios. Most famously, this was the setting for The Beatles' 1960s recordings with the 'fifth Beatle', their producer George Martin. Sergeant Pepper's Lonely Hearts Club Band – considered the most important album in the history of Rock and Pop – The White Album and Abbey Road were all created here. In fact, The Beatles recorded around 90 per cent of all their material at the studios between 1962 and 1970. Complete with their original bra ... More



Flora Yukhnovich, Barcarole, 2019. Oil on linen, 166 x 145 cm. 65 3/8 x 57 1/8 in © Flora Yukhnovich. Courtesy the artist and Victoria Miro.



LONDON.- Victoria Miro announced the representation of Flora Yukhnovich. The London-based painter, whose work was first shown at the gallery in a group exhibition in 2019 and has held two subsequent solo exhibitions inspired by a residency with the gallery in Venice, will have a solo show in London in 2022. Flora Yukhnovich is acclaimed for paintings in which she adopts the language of Rococo, reimagining the dynamism of works by eighteenth-century artists such as Giovanni Battista Tiepolo, François Boucher, Nicolas Lancret and Jean-Antoine Watteau through a filter of contemporary cultural references including film, food and consumerism. Variation is a driving force in Yukhnovich's work with her mark making ranging from delicate flourishes to dramatic and gestural brushstrokes, heightening the rhythmic sensuality that plays throughout her ambitious compositions. Existing in a constantly fluctuating state between abstraction a ... More
Peter Blum Gallery opens an exhibition of works by Helmut Federle
Barbara Shelley, leading lady of horror films, dies at 88
Hindman Auctions appoints Tim Luke, industry leader, in key Palm Beach business role


Helmut Federle, Die Nacht der Krähe (The Night of the Crow), 2008. Oil and acrylic on canvas, 19 5/8 x 13 3/4 inches (50 x 35 cm). Courtesy the artist and Peter Blum Gallery, New York.



NEW YORK, NY.- Peter Blum Gallery is presenting an exhibition by Helmut Federle entitled, Basics on Composition at 176 Grand Street, New York. This is the artist's fifth solo exhibition with the gallery. Helmut Federle has developed a body of work over four decades that is characterized by both painterly and geometric imagery rooted in spirituality, symbolism, and a closeness to nature. He engages in the tradition of geometric abstraction, renewing and expanding it, exploring the relationship between figure and ground, between order and disorder, between movement and stillness. Federle began investigating the "reclining H" in 1979 while living in New York, using the first letter of his first name as its basic, now iconic, form. Subsequently in 1992 and 1993 he primarily created the series entitled, ... More



"Blood of the Vampire" (1958).



NEW YORK (NYT NEWS SERVICE).- Sometimes Barbara Shelley was the victim. By the end of the movie "Blood of the Vampire" (1958), the Victorian character that she played — her brocade bodice properly ripped — was in chains in a mad scientist's basement laboratory. She was at Christopher Lee's mercy in "Dracula: Prince of Darkness" (1966), although before the end she had fangs of her own. (In fact, she accidentally swallowed one of them while filming her death scene, which she considered one of her finest moments.) Sometimes she was an innocent bystander. In "The Village of the Damned" (1960), she was impregnated by mysterious extraterrestrial rays and had a son — a beautiful, emotion-free blond child whose glowing eyes could kill. Sometimes she was the monster, although in "Cat Girl" (1957) it wasn't her fault that a centuries-old family curse turned her into a man-eating leopard. Shelley, the elegant queen of camp in British horror films for a deca ... More



Luke brings over 30 years of auction and appraisal industry experience to his role at Hindman.



CHICAGO, IL.- Hindman announced today the appointment of experienced appraiser and auction house veteran, Tim Luke, as Senior Appraiser and Auctioneer. Luke will help drive Hindman's growth efforts in Palm Beach, Fla. and across the country, as well as expand our appraisal services. "We are thrilled to have Tim join the Palm Beach team," said Alyssa Quinlan, Hindman's Chief Business Development Officer. "The development of the Palm Beach market continues to be a key priority for the firm, and we are excited that Tim will help lead the way." Luke brings over 30 years of auction and appraisal industry experience to his role at Hindman. Previously an Executive Vice President and Senior Appraiser at Gurr Johns, Luke focused on providing valuation services, evaluating collections, and preparing appraisal reports that comply with the Uniform Standards of Professional Appraisal Practice ... More
Black ballet dancer stands strong in Berlin racism row
Solo exhibition featuring a new body of work by Afshin Pirhashemi opens at Ayyam Gallery
Lawrie Shabibi opens 'The Lacemaker' by Farhad Ahrarnia


French ballet dancer Chloé Lopes Gomes poses for a picture outside the Deutsche Oper in Berlin, on January 7, 2021. Chloe Lopes Gomes, the first black dancer in the Berlin State Ballet, stands behind her allegations of racism at the company, which has launched an internal investigation into her complaints. Odd ANDERSEN / AFP.



BERLIN (AFP).- Berlin State Ballet's first black dancer Chloe Lopes Gomes said she has been made to feel different because of her skin colour since she first donned ballet shoes as a child. But after she was again subjected to what she described as "racism" at Germany's largest dance company, she has launched a fightback that has forced the State Ballet to launch an internal investigation into her complaints. In an interview with AFP, Lopes Gomes stood by her allegations against the Berlin company, arguing that it was time for the classical ballet world to address the issue. Recalling instances where she was made to feel uncomfortable, Lopes Gomes cited a rehearsal for a production of the 19th-century ballet "La ... More



Afshin Pirhashemi, Untitled, 2018 (detail). Oil on canvas, 150 x 200 cm.



DUBAI.- Ayyam Gallery is presenting Can You Keep a Secret?, a solo exhibition featuring a new body of work by Afshin Pirhashemi. In Afshin Pirhashemi's work, black is a symbol for the power that cloaks femininity, truth, militancy and a worldview in which the stakes are high. His monochrome register never loses its dimensionality, although primary colours have begun to seep in, as well as the sheen of poetic fragments. The iconic women that populate Pirhashemi's paintings like alter-egos – a recurring motif – are both alluring and forbidding, multiple and individual yet in this latest series, they have come into their own. Layered with different texts, their outlines stream into colours and forms, evading absolute capture. At times, they seem familiar, symbolic of the film industry and popular culture. Other times, they are imaginative – superheroes conjured by the artist. Often they appear as real characters, r ... More



Farhad Ahrarnia, A Certain Situation, no. 14, 2020. Oil and mixed media on canvas, 30 x 40 cm. Courtesy the artist and Lawrie Shabibi



DUBAI.- Lawrie Shabibi is presenting The Lacemaker by Farhad Ahrarnia, the gallery's opening exhibition of 2021, and the artist's third solo at Lawrie Shabibi. Comprising images drawn from a diverse range of sources and media – the internet, printed or painted material, and composed with embroidery, painted metalwork and grooming items – the exhibition gives new insight into this Shiraz (Iran) and Sheffield (UK) based artist's intriguing eclectic practice. Role-playing and performance, the perception of surface and the notion that appearances are skin deep are recurrent themes in Ahrarnia's work, here expressed in four distinct groups of Embroideries. These include: faked portraits of Boko Haram brides depicting much older, attractive individuals in order to gain attention and sympathies; various white film actors in "Arab dress" portraying TE ... More
An Insider's Look at Hokusai's Iconic Great Wave

Flashback
On a day like today, French painter Jean-François Millet died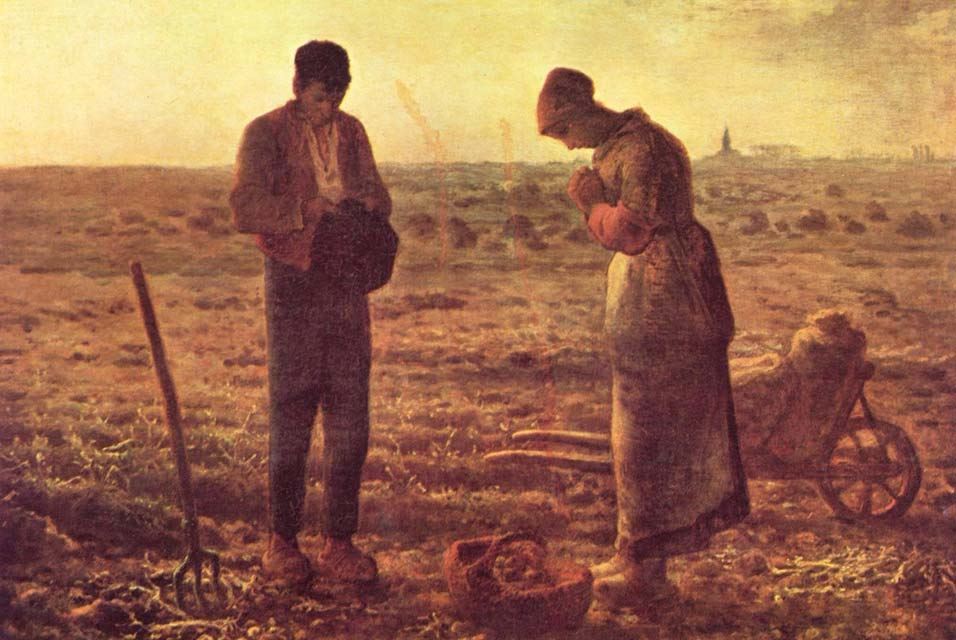 January 20, 1875. Jean-François Millet (October 4, 1814 - January 20, 1875) was a French painter and one of the founders of the Barbizon school in rural France. Millet is noted for his scenes of peasant farmers; he can be categorized as part of the Realism art movement. In this image: The Angelus by Jean François Millet.
---

Museums, Exhibits, Artists, Milestones, Digital Art, Architecture, Photography,
Photographers, Special Photos, Special Reports, Featured Stories, Auctions, Art Fairs,
Anecdotes, Art Quiz, Education, Mythology, 3D Images, Last Week,

.
---
Royalville Communications, Inc
produces: