Art Basel shifts to September amid coronavirus concerns
A Gentil Carioca © Art Basel.

by Scott Reyburn
NEW YORK
(NYT NEWS SERVICE)
.-
Art Basel, the centerpiece of Europe's summer art market calendar, has postponed its June edition in Switzerland until September as a result of the coronavirus pandemic. Health concerns permitting, the 50th Art Basel will now take place Sept. 17 to 20, with preview days on Sept. 15 and 16. More than 280 galleries from 35 countries are slated to participate. "We thank our galleries for the support and understanding of our highly complex decision to postpone the fair," Marc Spiegler, global director of Art Basel, said in a statement Thursday. "We hope that the situation improves swiftly, and we will work closely with our exhibitors to deliver a successful fair in September." The event will now take place just two weeks before Frieze London, Europe's other main destination contemporary art fair, and four weeks before FIAC in Paris. "We all expected it," said Richard Nagy, a London-based Art Basel exhibitor. "It's hard to tell if it's ...
More
The Best Photos of the Day
British Museum-led project launches global platform to counteract looting and trafficking of cultural artefacts
Contemporary Fine Arts Berlin presents a virtual exhibition of works by Georg Baselitz
Exhibition on Screen to broadcast free Facebook premiere of Vincent van Gogh film


Relief of King Thutmose IV, on the London art market in 2014, robbed from the Franco-Egyptian archaeological mission at the temple of Amun-Re in Karnak. It is now back in Egypt.



LONDON.- Growing levels of looting are affecting archaeological sites, storerooms and museums around the world. As a result, much illicit cultural property enters and freely circulates on the international art market. The provenance and context of these objects is often unclear or missing, which greatly diminishes their value for understanding the past. CircArt is a British Museum-led collaborative project that seeks to gather and examine evidence, and to support the identification of illicit artefacts. Funded by the British Council's Cultural Protection Fund, in partnership with the Department for Digital, Culture, Media and Sport, the project started in April 2018. CircArt documents artefacts in a closed semantic system, incorporating a database and sophisticated search tools that reveal patterns in object movements. Information is collected from publicly available sources, contributed by users of the CircArt platform, and genera ... More



Georg Baselitz, Ralf 2018. Pencil and pinfeather on paper, 79,7 x 59,1 cm. 31 1/2 x 23 1/2 in. Courtesy Contemporary Fine Arts, Berlin. Photo: Jochen Littkemann.



BERLIN.- There is a remarkable painting in the Picasso room at the Kunstmuseum in Basel: a full-length portrait of Guillaume Apollinaire with his muse, Marie Laurencin. It was Henri Rousseau who painted this wonderful picture. Only I had remembered it as a self-portrait of Rousseau with Madame Rousseau. Marie Laurencin was Apollinaire's muse, Clémence Rousseau was Rousseau's muse. As it happens, Franz Marc painted a portrait of Rousseau for Der Blaue Reiter. And Picasso also had a self-portrait by Henri. There's a quite intimate photograph, tak-en by André Gomés, of Picasso holding Rousseau's self-portrait in his right hand and the portrait of Rousseau's wife in his left hand. Picasso, that constructor of novel objects and audacious paintings, loved Rousseau, the painter of things in rigidified grace. Even Rousseau's gaze in his self-portrait is stiff, directed at his own work, in which objects that we ourselves are familiar with look different ... More



Vincent van Gogh – A New Way of Seeing. Jamie de Courcey as Vincent van Gogh © Seventh Art Productions & Annelies van der Vegt.



LONDON.- To celebrate the birthday of one of the most famous and influential figures in the history of Western art, Exhibition on Screen will broadcast Vincent van Gogh: A New Way of Seeing live, for free, on Facebook at 7pm on Monday 30 March. The broadcast will feature a specially filmed introduction by Executive Producer Phil Grabsky, who will also be available throughout the film to answer questions and feedback in real time. Exhibition on Screen Founder and Executive Producer Phil Grabsky says "Over the previous weeks, we have seen an incredible response from creatives and institutions around the world, working hard to make art accessible to so many of us who are unable to leave our homes. These are extraordinary times, but one thing that brings me great comfort is the mobilisation of communities - local and global - to tackle the many unexpected challenges we are facing. I strongly believe that the arts play a vital role in our creating that community." Enjoying complete and unp ... More
Saul Steinberg exhibition is first created exclusively for Pace Gallery's online platform
Albert Einstein discusses important scientific accomplishments in Heritage Auctions' Historical Manuscripts Auction
Stellenbosch Triennale, a bold experiment


Saul Steinberg, Looking Down, 1988, marker, crayon, colored pencil and conté crayon with collage on paper, 20" x 14" (50.8 cm x 35.6 cm) No. 37015. © The Saul Steinberg Foundation / Artists Rights Society (ARS), New York.



NEW YORK, NY.- Pace Gallery is presenting Saul Steinberg: Imagined Interiors, the first in a series of thematic and solo exhibitions created exclusively for the gallery's online platform to be mounted during this unprecedented period of temporary closures. Curated by Michaëla Mohrmann, Associate Curatorial Director at Pace, Imagined Interiors explores drawings, collages, and photographs by Saul Steinberg that center on the theme of domesticity and the nature of interior spaces as ideal sites for introspection and creativity, resonating with the current unique human experience many are navigating around the world. The exhibition will be on view through Pace's online viewing room platform for a two-week period from March 23 – April 6, 2020. "My purpose ... More



Albert Einstein Autograph Letter Signed "A.E." Two pages, 8.5" x 11", no place [Princeton]; April 15, 1950.



DALLAS, TX.- A range of important signed letters, including several from Albert Einstein, will be among the top attractions in Heritage Auctions' Historical Manuscripts Auction April 23 in Dallas, Texas. "This sale includes numerous signed letters, including several from Albert Einstein, who many view as one of the most important scientists of all time," Heritage Auctions Historical Manuscripts Director Sandra Palomino said. "To have hand-written notes in which he discussed some of his most significant scientific accomplishments represents an extremely rare opportunity for collectors of historical manuscripts." Albert Einstein Autograph Letter Signed "A.E." (estimate: $70,000+) was sent to Einstein's friend, Michele Besso, shortly after Einstein's article "On the Generalized Theory of Gravitation," appeared in Scientific American. Written in German, the letter includes ... More



The artists, from left, Daniel Mensah, Denyse Gawu-Mensah and Samuel Baah Kortey among their work at the Stellenbosch Triennale in Stellenbosch, South Africa, February 2020. Kent Andreasen/The New York Times.

by Siddhartha Mitter



STELLENBOSCH (NYT NEWS SERVICE).- For tourists, this prim colonial town is the gateway to a spectacular mountain region dotted with wine estates. To most South Africans, however, it is the redoubt of the Afrikaner elite, a Calvinist town whose university trained the framers of apartheid and where banking billionaires roost today. In a land that is sharply unequal despite 26 years of democracy, money and whiteness feel especially concentrated here. It's an unexpected place for a contemporary art exhibition — particularly of the experimental, Pan-Africanist variety, with artists from around the continent, none of them ... More
Seven dazzling new species of peacock spiders discovered by Museums Victoria's 'Spider Man'
Phoenix Art Museum website is now bilingual in English and Spanish
Hastings Contemporary launches robot-assisted gallery tours amid closure


Maratus volpei. Photo by Nick Volpe.



MELBOURNE.- A research paper published in leading international animal taxonomy mega journal Zootaxa today describes seven new species of Peacock Spider in the Maratus genus. This brings the total number of species within this genus to 85. Tiny and vividly-coloured, Maratus spiders are unique to Australia and have proved an Internet hit where videos of their elaborate courtship dances with added music and photoshopped accessories have clocked millions of views. At just 22 years old Joseph has now described a total of 12 species of Peacock Spiders, having previously described five in 2019. Despite growing up terrified of spiders, Joseph became fascinated by them over time and has already proven himself a world leader in Maratus research. In his previous research, Joseph was sent specimens to identify by a dedicated spider-loving community of the not-for-profit Project Maratus group. 'Someone would send me a picture and I'd think "oh wow, that could be a new species!"' Joseph said. Th ... More



New website designed to increase access through enhanced visitor information, an interactive map, and supplemental multimedia. Courtesy of Phoenix Art Museum.



PHOENIX, AZ.- Phoenix Art Museum announces the relaunch of its website, www.phxart.org. The redesigned and expanded site is the first in the Museum's history to be fully bilingual in English and Spanish and offers unprecedented access for visitors to explore the Museum's exhibitions and collections of fashion design, photography, and American and Western American, Asian, Latin American, European, modern, and contemporary art. The new site also features extensive information and multimedia on exhibitions and education programs, an interactive map and historical timeline, and tools for guests to filter exhibitions and events based on their interests. The redesign and launch of the Museum's website were made possible through the profound generosity of Virginia G. Piper Charitable Trust, with additional funding provided by The Steele Foundation. "We are incredibly ... More



Unique collaboration between Hastings Contemporary and Bristol Robotics Lab is the first time telepresence robot technology has been used in a gallery in the UK.



HASTINGS.- One of the most iconic and much-loved British galleries of modern and contemporary art has responded to temporary closure due to the coronavirus by utilising robotics technology to provide its audiences with remote access to its exhibitions while its doors remain closed. In a UK first, Hastings Contemporary, an independent charitable arts organisation on England's south coast, has teamed up with Bristol Robotics Lab to offer its members and audiences old and new alike the opportunity to continue to visit the gallery and experience the best of modern and contemporary arts via the Double, a two-wheeled videoconferencing robot that can guide an operator and up to five people through real time tours of the gallery and its current exhibitions, as well as taking in the gallery's much-loved views over the historic Stade fishing beach and English Channel. Praminda Caleb-Solly, Professor ... More
Lyons Wier Gallery opens a virtual exhibition of works by Valeri Larko
Sims Reed Gallery opens an exhibition of fine art prints and original works on paper by Dale Chihuly
Moscow's Bolshoi to livestream shows for free


Valeri Larko, Holiday Motel, Bronx, 2018, Oil on linen, 36 x 30 in / 91 x 76 cm. @ Lyons Wier Gallery.



NEW YORK, NY.- "Sign of the Times" takes its name from Valeri Larko's intimate paintings of billboards in and around the Bronx, New York. The title also refers to the strange era of planetary and political upheaval in which we currently live. Click here to see the Virtual Exhibition. Larko's newest paintings continue her exploration of the ordinary, often overlooked, environs of the outer boroughs of NYC, all of which she paints on location. Her work encourages the viewer to slow down and rediscover the world around them. In "Sign of the Times," she focuses more sharply on signage and the odd juxtapositions that occur in the urban landscape. The artist's fascination with billboards began during the financial crisis of 2008-2009 when she noticed the increasing appearance of blank billboards popping up in the Bronx and beyond. Since then, some of those billboards have remained blank while others have hawked both ... More



Dale Chihuly, Hot Poppies, 2018, Screenprint with hand-colouring, signed in paint, 94 x 63.5 cm - 37.01 x 25 in © Chihuly Studio.



LONDON.- Sims Reed Gallery is presenting an exhibition of fine art prints and original works on paper by the internationally renowned American artist Dale Chihuly. Due to the restrictions resulting from COVID-19, the gallery is offering a 3-D, virtual walk through of this show, available here. While celebrated for his exquisite and pioneering glass installations, drawing has always been integral to Chihuly's artistic practice. They became an increasingly important means of communicating his ideas to his team after losing the sight of his left eye in 1976. These works evolved from charcoal and graphite studies into wilder colourful pieces, that according to the artist remain a crucial part of his creative pro- cess, without which the glass works would not have progressed in the way or at the speed with which they have. He describes the exchange of energy between the two as a flow of ideas, commenting ... More



A man wearing a protective face mask uses his mobile phone in front of the Bolshoi theatre in downtown Moscow, where all events were cancelled in a measure to fight the spread of the COVID-19 coronavirus, March 17, 2020. Dimitar DILKOFF / AFP.



MOSCOW (AFP).- The legendary Bolshoi Theatre in Moscow has announced it will broadcast its best classic performances online for free in response to new restrictions to slow the spread of coronavirus. The Bolshoi's announcement came after the Moscow mayor on Thursday ordered the closure of all non-essential services and encouraged residents to stay home. "Our country, like the rest of the world, is experiencing a very difficult time" said Vladimir Urin, general director of the Bolshoi Theatre, announcing the digital shows. "We've never faced this type of situation before and since we had to close the theatre we didn't want to lose our connection with our audience," he said. The ballet and opera house said it will show six of its most popular productions on its YouTube channel beginning ... More
The making of Norman Rockwell's "Golden Rule"
Flashback
On a day like today, painter and photographer Edward Steichen was born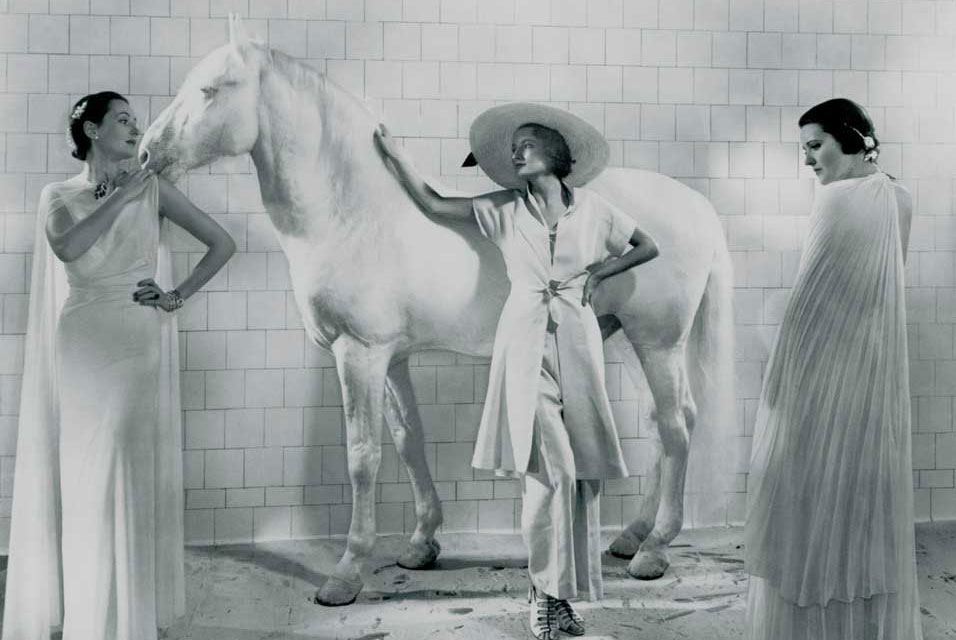 March 27, 1879. Edward Jean Steichen (March 27, 1879 - March 25, 1973) was a Luxembourgish American photographer, painter, and art gallery and museum curator. Steichen was the most frequently featured photographer in Alfred Stieglitz' groundbreaking magazine Camera Work during its run from 1903 to 1917. Together Stieglitz and Steichen opened the Little Galleries of the Photo-Secession, which eventually became known as 291 after its address. In this image: Edward Steichen, White, 1935, Gelatin Silver Print. Courtesy Condé Nast Archive, New York. © 1935 Condé Nast Publications.
---

Museums, Exhibits, Artists, Milestones, Digital Art, Architecture, Photography,
Photographers, Special Photos, Special Reports, Featured Stories, Auctions, Art Fairs,
Anecdotes, Art Quiz, Education, Mythology, 3D Images, Last Week,

.
---
Royalville Communications, Inc
produces: