Being Edward Hopper
A felt fedora, chosen to imitate the one in Edward Hopper's "Self-Portrait," at the Whitney Museum store. It's no longer enough to like our favorite artists' works. — By putting on Hopper's fedora, Picasso's striped shirt, Warhol's wig or Kahlo's caliente couture, we want to become their avatars. (via Jens Mortensen via The New York Times)

by Blake Gopnik
NEW YORK, NY
.-
The Musée Picasso in Paris, home to a vast trove of its namesake's masterworks, is offering a striped Breton shirt that makes it easy to adopt the great cubist's signature look for a mere $70 or so. On a webpage for the Smithsonian's Hirshhorn Museum, in Washington, you can buy high-top sneakers covered in the "infinity net" pattern that is an artistic trademark of Yayoi Kusama, the 93-year-old Japanese art star. They cost $360. The gift shop at New York City's Whitney Museum of American Art displays a $118 Hopper hat, a felt fedora that's an almost perfect match for the one in Edward Hopper's most famous self-portrait, which the museum owns. If visitors are willing to spend that kind of money to dress up like a favorite artist, that's because today's art-loving public finds as much inspiration in creators' personas as in the works they create. ...
More
The Best Photos of the Day
The Museum of Nebraska Art launches reimagined brand
Art Paris: A powerful 25th anniversary edition under the sign of commitment
Rare British Thomas Martyn 1784 two-volume set appears at Roland Auctions NY


The new visual identity is designed by Daake Design.



KEARNEY, NE.- Timed to align with the recent transformation of the Museum, the new visual identity is designed by Daake Design in Omaha, Nebraska. According to Greg Drake, Principal and Creative Director, "We are grateful to have collaborated with many dedicated and passionate MONA stakeholders to create this new brand identity. The new logo is a dramatic change that evokes curiosity, innovation, and excitement. The logomark forms all four letters of MONA through a colorful, dynamic, analogous color palette. We feel the result is an enduring and suitable symbol that will serve the organization for decades." MONA is currently undergoing a significant expansion and renewal. In November 2020, the Museum closed for construction of a 23,000 square foot addition, as well as a restoration and renovation of its historic building. Projected to re-open in 2024, the reimagined Museum will embody the creative personality of the institution ... More



Caetano de Almeida, Festa do Divino II, 2017. Work on paper, 41 x 31 cm. Galerie Andres Thalmann.



PARIS.- Art Paris is celebrating its 25th anniversary with an edition that will bring together some 134 galleries from 25 different countries at the Grand Palais Éphémère from 30 March to 2 April 2023. Art Paris – which was founded in 1999 – has become in the space of 25 years a leading spring arts event, an innovative art fair that fosters discovery, setting out to explore in depth the world of modern and contemporary art. A regional, national, and cosmopolitan fair, Art Paris has put the spotlight on many countries or continent's art scene. In parallel, Art Paris is committed to supporting the French scene. Since 2018, it has been asking an exhibition curator to turn a subjective, historical, and critical eye on a selection of specific projects by French artists from among the participating galleries. The Covid-19 pandemic marked a turning point in the fair's history. Art Paris was the world' ... More



Vintage Cartier 14k ladies compact with rubies inlaid into the clasp, in a leather Tiffany cover. Estimate: $4,000-$6,000.



GLEN COVE, NY.- An extremely rare two volume set of books by Thomas Martyn (1760-1816) titled "The Universal Conchologist" is making an appearance at Roland Auctions NY Saturday, February 4th Multi-Estates Auction. Begun in 1784, "The Universal Conchologist" the book took several years to produce and after one failed attempt a second edition was published to wide acclaim, mainly composed of hand-coloured engravings, it was intended to be a guide to all known shells. The book is rumored to have been in the possession of the legendary Captain Cook himself at one time. Also at Roland, pieces by Cartier, Van Cleef & Arpels and Faberge are being offered. At their February 4th sale, Roland Auctions NY in Glen Cove, NY will additionally feature hundreds of lots of Fine Art, Decorative Arts, 20th Century Modern ... More
Desert X 2023 announces participating artists
Game-worn jerseys of greats highlight Heritage's Winter Platinum Night Sports Auction
'Archie 100: A Century of the Archibald Prize' on view at Bathurst Regional Art Gallery


Desert X installation view of Alicja Kwade, ParaPivot (sempiternal clouds). 2021. Photography by Lance Gerber. Courtesy the artist and Desert X.



PALM SPRINGS, CA.- Desert X announced today the participating artists in its fourth edition of the site-specific, international art exhibition opening March 4–May 7, 2023 at sites across the Coachella Valley. Eleven artists from Europe, North America and South Asia will present poetic and immersive works that span sculpture, painting, writing, architecture, design, film, music, performance and choreography, education, and environmental activism in the exhibition curated by Artistic Director Neville Wakefield and Co-Curator Diana Campbell. "There's a saying attributed to the Kwakwaka'wakw nation that a place is a story happening many times," says Wakefield. "This idea of place as the multiplicity of stories flowing through it is central to Desert X. Artists are an essential part of this understanding and the ideas they bring to it irrigate our perception of place, nourishing the narratives ... More



1948 Joe DiMaggio Game Worn New York Yankees Jersey with Babe Ruth Memorial Armband, MEARS A9 & Photo Matched!



DALLAS, TX.- From Feb. 25-26, Heritage will hold its annual Winter Platinum Night Sports Auction – the All-Star Game of auctions, nearly every lot the stuff of legend or a story recounted so often its memory has become myth. This is an event overflowing with the jerseys, sneakers, caps and helmets worn and used by some of sports' most towering titans – Michael Jordan, Mickey Mantle, Tom Brady, LeBron James, Willie Mays, Mario Lemieux, Larry Bird, James Harrison and Julius Erving, among many others. Yet only one item was once worn by one legend paying tribute to another. For the first time, Heritage Auctions is offering a photo-matched 1948 Joe DiMaggio road gray New York Yankees flannel with a black armband on its left sleeve – a tribute to Babe Ruth, who died on Aug. 16 that year after a battle with throat cancer. Ruth was 53 years old when he died, and just two months removed ... More



Tempe Manning, Self-portrait, 1939, Art Gallery of New South Wales, purchased with funds provided by the Art Gallery Society of NSW 2021 © Estate of Tempe Manning.



BATHURST.- The Art Gallery of New South Wales landmark exhibition Archie 100: A Century of the Archibald Prize was one of 2021's most highly anticipated exhibitions, marking the 100th anniversary of Australia's oldest and most-loved portrait award with an exploration of 100 works drawn from the prize's history. Now there's an opportunity for New South Wales audiences to experience this momentous exhibition during the Archie 100 tour to the Bathurst Regional Art Gallery in Bathurst NSW, open for two months from 26 January to 26 March 2023. Bathurst Mayor, Councillor Robert Taylor says, "We are delighted to be the exclusive NSW destination for the Archie 100 tour and invite visitors to come and see the show and to explore all that our region has to offer. "The local community are incredibly proud of Bathurst' ... More
Mia end-of-year gifts include Navajo textiles, Chinese calligraphy, global contemporary artists
Eskenazi Museum of Art acquires Marks and DePrez Photography Collection
Wadsworth Atheneum Museum of Art receives $2 million grant from Art Bridges Foundation


Oskar Kokoschka (Austrian, 1886-1980), Girl with Boots, 1922. Watercolor on paper. Gift of Harriet and Walter Pratt, L2022.84.7



MINNEAPOLIS, MN.- The Minneapolis Institute of Art announced the 2022 end-of-year gifts to the museum's collection that include a group of four 19th-century Navajo textiles; a collection of 130 works of Chinese calligraphy from the 16th to the 19th century; and an array of paintings, watercolors, drawings, and pastels by major American and European artists. The museum also stated that over the course of 2022, it received funds for art purchases and gifts of art valued at more than $9 million, supporting the acquisition of more than 500 works during the last year; the two largest areas of collecting were works by Asian or Asian American artists (267) and in the global contemporary category (160). "One of the most gratifying parts of leading a museum like Mia is seeing the commitment to this institution that is shared among donors and collectors with diverse interests," said Katie Luber, Nivin and Duncan MacMillan Director ... More



Edward Burtynsky (Canadian, b. 1955). Rock of Ages, Section, E. L. Smith Quarry, Barre, VT #15, 1992. Edition 4 of 10. Chromogenic print, image: 30 x 40 in. Gift of Lee Marks and John C. DePrez Jr., Shelbyville, Indiana, Eskenazi Museum of Art, Indiana University, 2022.264.



BLOOMINGTON, IN.- The Sidney and Lois Eskenazi Museum of Art at Indiana University has received a significant donation of the photography collection of Amelia (Lee) Marks and John C. DePrez Jr., which features 116 works by 80 artists. Ranging in date from 1856 to 2017, the works represent a broad range of subjects by artists that include Berenice Abbott, Henri Cartier-Bresson, Andre Kertesz, Edward Steichen, and Alfred Stieglitz. Highlights of the gift include Robert Capa's image The Falling Solider (1936), one of the most famous war photographs, which captures the devastation of the Spanish Civil War. A Civil War era image by Timothy O'Sullivan is the first such image by the photographer to enter the museum's collection. Berenice Abbott's Broadway to the Battery (1938) is a dynamic bird's-eye ... More



Alexander Calder (American, 1898-1976), Untitled (Latch-Hooked Rug), c. 1965. Orange, yellow, blue, and black wool, 64 x 81 in. Wadsworth Atheneum Museum of Art, Hartford, CT, Gift of Leslie and Rufus Stillman, 2002.29.1. © 2023 Calder Foundation, New York / Artists Rights Society (ARS), New York.



HARTFORD, CONN.- The Wadsworth Atheneum Museum of Art will share works of art and material culture from its American collections with three partner museums in the American South through the Art Bridges Cohort Program, made possible by a $2 million grant from the Art Bridges Foundation. Over the next three years, colleagues from the Wadsworth Atheneum will curate collaboratively with Columbia Museum of Art (Columbia, SC), Mobile Museum of Art (Mobile, AL), and Montgomery Museum of Fine Arts (Montgomery, AL) to co-organize a series of traveling exhibitions. Together, the four institutions will be known as the American South Consortium. The American South Consortium is part of the Art Bridges Cohort Program, a national program committed to supporting ... More
William Agee, leading art curator and teacher, dies at 86
Robert Colescott's Miss Liberty headlines the Los Angeles Post-War & Contemporary Art sale
What the ancient bog bodies knew


William Agee, director of the Pasadena Art Museum, before a painting by Frank Stella, in Pasadena, Calif., on Aug. 10, 1971. William Ages's exhibitions and writings expanded the view of American Modernism, and his decades of teaching shaped future scholars and curators. Died on Dec. 24 in Middletown, Conn. He was 86. (D. Gorton/The New York Times)



NEW YORK, NY.- William C. Agee was annoyed that an abstract painter he admired, Sam Francis, was sometimes not given the weight he deserved because he worked in vivid colors rather than gloomy tones. "We have never learned how to read the language of color," Agee told The Press-Enterprise of Riverside, California, in 1999, when he curated a Francis retrospective at the Geffen Contemporary at the Museum of Contemporary Art in Los Angeles. "We look at a colorful canvas and we think, 'Oh, that's nicely decorative canvas' or 'Oh, that's so pretty.' But we don't take it seriously." Francis, who died of cancer in 1994, had "been subjected to the criticism that what he is doing is vacuous, emotionally thin ... More



Miss Liberty (1980) by Robert Colescott (1925-2009), 84 x 72 in. Estimate upon request. Photo: Bonhams.



LOS ANGELES, CA.- Bonhams will present the seminal work, Miss Liberty (1980), by American artist Robert Colescott (1925-2009), in its Post-War & Contemporary Art auction in Los Angeles on February 17. Colescott is celebrated for challenging the viewer to engage with their own perspectives, ideologies, and attitudes towards topics as incendiary as race, politics, money, and sex. This work, which has been held privately since shortly after it was created, presents the question of what it means to be American, and how race and beauty factor into this equation. Miss Liberty is the hopeful embodiment by the artist of racial equality, depicting an African American woman as the iconic symbol of American freedom; the Statue of Liberty. The artist's first major museum retrospective, "Art & Race Matters: The Career of Robert Colescott", organized by the Contemporary Arts Center Cincinnati in 2019, toured across the U.S. and concluded at the New ... More



A photo provided by the Moesgaard Museum shows Grauballe Man, a bog body that was uncovered in 1952 from a peat bog near the village of Grauballe, Denmark. Grauballe Man's throat was slit in the third century B.C. (Moesgaard Museum via The New York Times)

by Franz Lidz



NEW YORK, NY.- When Roy van Beek was a teenager in the Netherlands in the early 1990s, he made a field trip to a local museum to see an exhibit of bog bodies: ancient human remains, both skeletal and naturally mummified, interred in the wetlands and spongy turf of northern Europe. He recalled one cadaver on display that was remarkably intact and oddly disorienting. The contorted body of a female about his age, roughly 4 feet 6 inches tall, who had lived in the first century A.D. "She had been left in a shallow mire south of the modern-day village of Yde," said van Beek, now an archaeologist at Wageningen University & Research. Her skin had been tanned in the dark tea of the bog. The Yde Girl, as she became known, was unearthed in 1897 by peat diggers ... More
True Believers:Benny Andrews & Deborah Roberts - Curator Interview

Flashback
On a day like today, Japanese painter and sculptor Takashi Murakami was born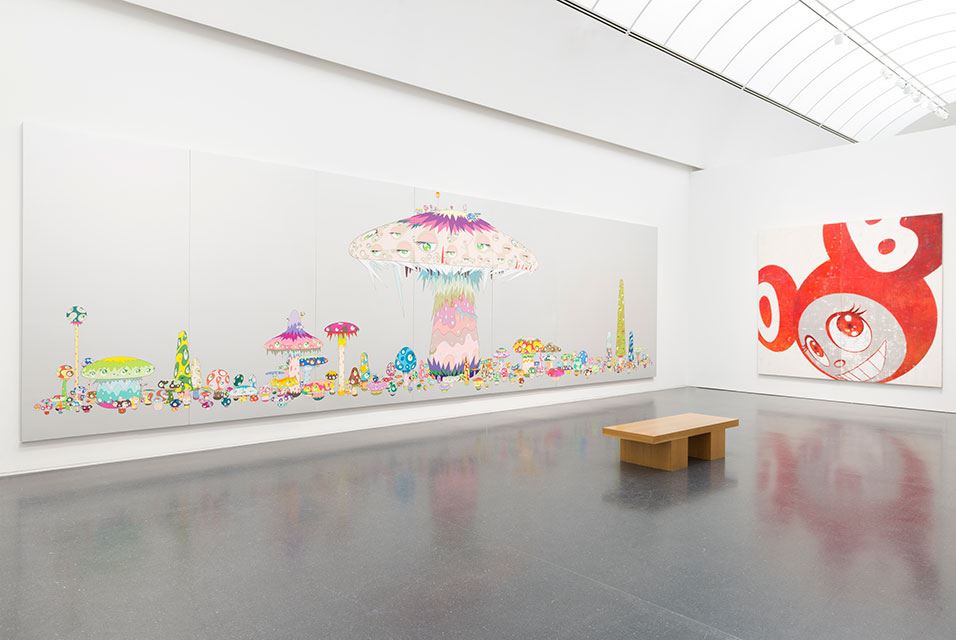 February 01, 1962. Takashi Murakami (born February 1, 1962) is a Japanese contemporary artist. He works in fine arts media (such as painting and sculpture) as well as commercial media (such as fashion, merchandise, and animation) and is known for blurring the line between high and low arts. In this image: Installation view, Takashi Murakami: The Octopus Eats its Own Leg, MCA Chicago, June 6 – September 24, 2017. Photo: Nathan Keay, © MCA.
---

Museums, Exhibits, Artists, Milestones, Digital Art, Architecture, Photography,
Photographers, Special Photos, Special Reports, Featured Stories, Auctions, Art Fairs,
Anecdotes, Art Quiz, Education, Mythology, 3D Images, Last Week,

.
---
Royalville Communications, Inc
produces: