Abstract Addictions: What's Next.....Who knows??
Vallarino Fine Art's Studio is located in Millbrook, NY that is utilized for research, cataloging, design, framing and restoration.
NEW YORK, NY
.-
Vallarino Fine Art
, "What's Next…..Who Knows??" Is a very fitting subtitle for Vallarino Fine Art's annual 175 page catalogue. According to Vincent Vallarino, what has happened in the past six months seems unimaginable, then again, he says, "This could be a blessing in disguise, a kind of wake-up call for all of us. Our global treatment of humanity, our planet's environment, economic collapse, civil rights and politics have caused a boiling point in our society. Then add the Covid-19 Pandemic to top things off and there you have "What's Next…..Who Knows? " Vallarino's outlook on the current art market and how the pandemic has affected it is extremely direct. He states, " One thing I know is art and the art market has literally been around forever and has weathered centuries of wars, economic crashes and many other global disasters, it will continue to preva ...
More
The Best Photos of the Day
Lucy Lacoste Gallery opens "Empowering Voices: Artist of Color"
Appeal after five Bond guns stolen in London
To protest colonialism, he takes artifacts from museums


Ashwini Bhat, Wild Lupine.



CONCORD, MASS.- Lucy Lacoste Gallery announces the group exhibition, Empowering Voices: Artist of Color, on view through October 10th, 2020. This exhibition brings together artists of color, four of whom are represented by LLG and an additional four young, under-represented artists, each invited by a represented artist. This exhibition is in response to the racial injustices that, while always present, have been brought to wider awareness by the protests after George Floyd's death. As a gallery, we want to expand our platform to include greater diversity in artists and content to more fully represent this new reality. Art is a reflection of culture and history; thus, we want to show the art of those with lived experiences who are leading the way to human rights for all. Natalia Arbelaez is a Colombian-American artist, born in Miami to immigrant parents. She received her MFA from Ohio State University and recently ... More



The Walther PPK used by Roger Moore in a "View to a Kill" was stolen.



LONDON (AFP).- Police launched a fresh appeal Monday for witnesses after five guns used as props in James Bond films were stolen during a burglary in a London suburb. One of the deactivated firearms -- a yellow-handed Llama pistol featured in 007 movie "Die Another Day" -- was recovered in a field in the days after the March 23 theft from a house in Enfield. But the other four remain missing, including the Walther PPK used by Roger Moore in a "View to a Kill" as he pursues Grace Jones up the Eiffel Tower, before she jumps off with a parachute. London's Metropolitan Police issued new security camera footage showing a vehicle parked near the scene of the crime, apparently on reconnaissance, and urged any witnesses to come forward. "In scenes reminiscent of a James Bond movie you can even see the flash of a camera from the occupant engaged in the ... More



The Congolese activist Mwazulu Diyabanza in Paris, Sept. 4, 2020. Elliott Verdier/The New York Times.

by Farah Nayeri



PARIS (NYT NEWS SERVICE).- Early one afternoon in June, Congolese activist Mwazulu Diyabanza walked into the Quai Branly Museum, the riverfront institution that houses treasures from France's former colonies, and bought a ticket. Together with four associates, he wandered around the Paris museum's African collections, reading the labels and admiring the treasures on show. Yet what started as a standard museum outing soon escalated into a raucous demonstration as Diyabanza began denouncing colonial-era cultural theft while a member of his group filmed the speech and livestreamed it via Facebook. With another group member's help, he then forcefully removed a slender 19th-century wooden funerary post, from a region that is now in Chad or Sudan, ... More
Olympia Auctions announces highlights included in the British and Continental Pictures and Prints Auction
Protest over lack of social distance cancels Madrid opera
The Met Opera fired James Levine, citing sex misconduct. Then he was paid $3.5 million.


Alexandre Nikolayevich Benois (1870-1960), A Costume Design for Les Ballets Ida Rubinstein. 34.5 x 24.5 cm / 13 1/2 x 9. Estimate: £1,000 - £1,500.



LONDON.- The British and Continental Pictures and Prints Auction of 227 lots taking place on 22nd September commences the Autumn auction season at Olympia Auctions and boasts a roster of distinguished British and Continental artists from Hercules Brabazon Brabazon to Jean Cocteau, Sir Stanley Spencer to Emmanuel-Charles-Louis Bénézit, (son of the famous editor of the Dictionnaire des Peintres). Graham Sutherland to Serge Ivanoff, John Piper to Michel Dureuil, Augustus John to Jacques Francois Carabain, and Albert Goodwin to Grigory Leontievich Chainikov. The sale also includes a group of skilled sketches of costume designs for ballet and theatre (1920s - 1960s) including works by Hein Heckroth (1901 – 1970) who designed costumes for 'The Big City', (1935) set to music by Alexandre Tansman, written by Kurt Joos and performed by the Ballet Joos. It had its English premiere at Dartington Hall in 1935. This ... More



Teatro Real and monument to Philip IV of Spain, Madrid, Spain. Photo: Carlos Delgado/wikipedia.org



MADRID (AFP).- Spain's main opera house, the Teatro Real in Madrid, defended itself Monday after it had to cancel a performance when a small group of spectators loudly protested against being seated too close to each other amid a spike in Covid-19 infections. The performance of Giuseppe Verdi's "A Masked Ball" on Sunday night was called off after a "minority" of spectators repeatedly jeered and clapped despite being offered the chance to be relocated or get a refund for the value of their tickets, the theatre said in a statement. Videos shared on social media by several spectators who were at the performance showed full rows in the upper sections where seats are cheaper, while in the pricier floor section many empty seats could be seen. Clapping and calls of "suspension!" could be heard even after the actors tried to begin their performance. The Teatro Real had "respected the health norms" put in place by the regional government of Madrid to prevent the spread of Covid-19 and "even ... More



Conductor James Levine leads the Metropolitan Opera Orchestra during a concert at Carnegie Hall in New York, May 18, 2016. Robert Altman/The New York Times.

by James B. Stewart and Michael Cooper



NEW YORK (NYT NEWS SERVICE).- Last summer, Peter Gelb, the general manager of the Metropolitan Opera, convened the executive committee of the company's board to announce the end of one of the highest profile, messiest feuds in the Met's nearly 140-year history. A bitter court battle had concluded between the company and conductor James Levine, who had shaped the Met's artistic identity for more than four decades before his career was engulfed by allegations of sexual improprieties. Gelb told the committee that the resolution was advantageous to the Met. But the settlement, whose terms have not been publicly disclosed until now, called for the company and its insurer to pay Levine $3.5 million, according to two people familiar with its terms. The Met had fired Levine in 2018 after an internal investigation uncovered ... More
Franco-British actor Michael Lonsdale dies aged 89: agent
Important Peter Beard Collection could bring $300,000+ at Heritage Photographs Auction
All the Presidents' memorabilia at Bonhams


French actor Michael Lonsdale has died at the age of 89, his agent announced on September 21, 2020. PATRICK KOVARIK / AFP.



PARIS (AFP).- Michael Lonsdale, the British-French actor with a far-ranging film and theatre career but most widely recognised as the villain opposite James Bond in "Moonraker", died on Monday aged 89, his agent told AFP. Lonsdale, who was bilingual, chalked up more than 200 roles over a six-decade career, equally at ease in experimental arthouse productions as in big-budget crowd-pleasers. With his silky yet imposing voice and a distinctive goatee, Lonsdale often served up memorable performances that stuck with viewers even when only in minor roles. His agent, Olivier Loiseau, said he had died at his home in Paris, the city where he was born on May 24, 1931, to an English military officer and a French mother. Arguably the highlight of his career came when he played a Trappist monk in "Of Gods and Men" in 2010. Based on true events, the film tells the story of seven French ... More



Event also features Andy Warhol's Polaroid camera.



DALLAS, TX.- An important collection from Peter Beard and a selection from Leonard Freed's Black in White America photo essay, as well as powerful images from renowned photographers ranging from Ansel Adams to Ruth Bernhard, will make Heritage Auctions' Oct. 6 Photographs Auction its most comprehensive yet. The auction marks the first time Heritage will offer separate sessions for both traditional or classical and contemporary photographs. "This has become the most important Photographs auction Heritage has ever had," Heritage Auctions Photographs Director Nigel Russell said. "The Peter Beard selection has some extremely important images, and we have the largest offering from Leonard Freed's Black in White America photo essay, which is a particularly timely group of images to revisit." Included in the sale is an incredibly important private collection of works by Peter Beard, including some of the most sought-after i ... More



'Limo One', estimate $300,000 – 500,000. Photo: Bonhams.



NEW YORK, NY.- Politicos and would-be statesmen have the opportunity to bid for 'Air Force One', 'The Oval Office' and a John F. Kennedy Lincoln limousine, the most recognised symbols of the American Presidency, when they are offered in Bonhams American Presidential Experience Auction in New York on Wednesday October 14. The American Presidential Experience Collection, comprising 76 lots of artefacts, both original and reproductions, represents one man's lifelong exploration of the institution of the American presidency. Entrepreneur Jim Warlick turned a childhood hobby of collecting political memorabilia – including a bronze bust of John F Kennedy – into a business, and then an unrivaled museum exhibition of Presidential memorabilia. Among the headline offerings are; a life size replica of the Oval Office; the Lincoln limousine which carried President John F. Kennedy to Fort Worth airport ... More
Photoville adds new venues, vistas and vision
Three rare works from the late 1950s by Irving Kriesberg on view at Anita Shapolsky Gallery
A New York clock that told time now tells the time remaining


Visitors walk through Photoville, the annual photography fair, on Water Street at Brooklyn Bridge Park in Dumbo, Brooklyn, Sept. 20, 2020. Gabby Jones/The New York Times.

by Siddhartha Mitter



NEW YORK (NYT NEWS SERVICE).- The container village is gone. Photoville, the pop-up fall festival that turns the waterfront under the Brooklyn Bridge into a friendly encampment for photography buffs and the general public, has dispensed in its ninth year, for coronavirus reasons, with its architectural signature, converted shipping containers. This year's edition, optimized for social distancing, takes place across five boroughs. All 60-plus exhibitions, with some 300 artists, are presented as high-quality digital prints on weatherproof banners. The bulk are in the usual area, in Dumbo, and on the nearby streets and piers of Brooklyn Bridge Park, but there are also satellite presentations throughout the boroughs of projects whose photographers and subjects have local connections. This new initiative ... More



Irving Kriesberg, Blue, Green, Red, 1959 (detail), gouache on paper mounted to board (four panels, reversible), overall (with armature): 47 1/2 x 21 1/8 in. (120.7 x 53.7 cm).



NEW YORK, NY.- Anita Shapolsky Gallery is exhibiting a unique collection of sculptures and paintings featuring pieces from abstract expressionists alongside expressionist artists of today. It is significant to note that although these artists came from varying times and places, the common thread that binds them is their limitless expression of their craft that takes them literally "Off The Wall". Irving Kriesberg was known for combining elements of Abstract Expressionism with figurative traces of human and animal forms. His work blurs the line between abstraction and representation during a time when many artists had chosen complete abstraction. His unique childlike style can be seen influencing the contemporary figurative painters of today. Kriesberg made his debut with Jackson Pollock and Mark Rothko at the landmark 1952 exhibition Fifteen Americans at the New York Museum of Modern Art curated by Dorothy Miller. Kries ... More



Metronome, a New York City public art project and the Climate Clock, which displays the window for action to prevent the effects of global warming from becoming irreversible, Saturday, Sept. 19, 2020. Jeenah Moon/The New York Times.

by Colin Moynihan



NEW YORK (NYT NEWS SERVICE).- For more than 20 years, "Metronome," which includes a 62-foot-wide 15-digit electronic clock that faces Union Square in Manhattan, has been one of the city's most prominent and baffling public art projects. Its digital display once told the time in its own unique way, counting the hours, minutes and seconds (and fractions thereof) to and from midnight. But for years observers who did not understand how it worked suggested that it was measuring the acres of rainforest destroyed each year, tracking the world population or even that it had something to do with pi. "Metronome" adopted a new ecologically sensitive mission Saturday. Now, instead of measuring 24-hour cycles, it is measuring what two artists, Gan Golan and Andrew Boyd, present ... More
How to draw cats | Drop-in Drawing

Flashback
On a day like today, Italian painter Alessandro Allori died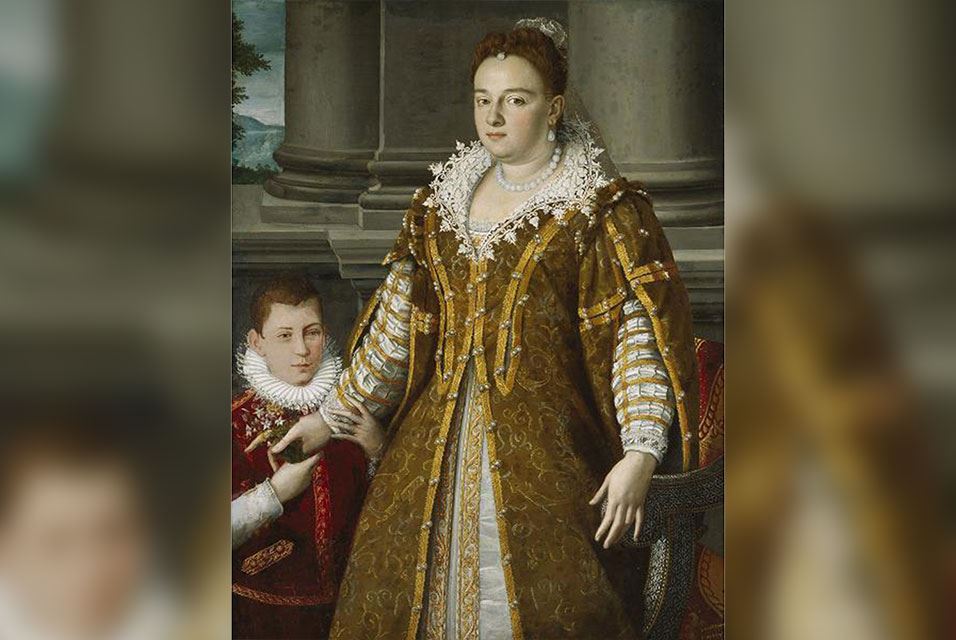 September 22, 1607. Alessandro di Cristofano di Lorenzo del Bronzino Allori (31 May 1535 - 22 September 1607) was an Italian portrait painter of the late Mannerist Florentine school. In this image: Portrait of Grand Duchess Bianca Capello de Medici, by Allori, Dallas Museum of Art.
---

Museums, Exhibits, Artists, Milestones, Digital Art, Architecture, Photography,
Photographers, Special Photos, Special Reports, Featured Stories, Auctions, Art Fairs,
Anecdotes, Art Quiz, Education, Mythology, 3D Images, Last Week,

.
---
Royalville Communications, Inc
produces: