Francis Bacon triptych sells for $84.6 million at Sotheby's digitally streamed live auction
An online bidder participating from Asia competes with a determined client bidding by phone with Grégoire Billault of Sotheby's New York Contemporary Art Department in a dramatic 10-minute battle for Bacon's large-format masterpiece: Triptych Inspired by the Oresteia of Aeschylus. Courtesy Sotheby's.
LONDON
(NYT NEWS SERVICE)
.-
A Francis Bacon triptych sold Monday night for $84.6 million with fees at Sotheby's inaugural digitally streamed "live" auction of contemporary and impressionist art that replaced its postponed May evening sales in New York. A global online audience watched the company's star auctioneer, Oliver Barker, take bids from international colleagues on screens in an empty salesroom in London specially adapted for the coronavirus pandemic. After a 10-minute duel, the Bacon was finally bought by a telephone bidder in New York against determined competition from an online opponent in China. The price is the third-highest ever achieved for the artist at auction. The celebrated British artist's "Triptych Inspired by the Oresteia of Aeschylus" (1981), was being sold by the Astrup Fearnley Museet, a private museum in Oslo founded by the Norwegian collector Hans Rasmus Astrup. Entered for the auction before the coronavirus lockdown, the Bacon had been guaranteed by ...
More
The Best Photos of the Day
As museums get on TikTok, the Uffizi is an unlikely class clown
Iconic '2001: A Space Odyssey' suit to hit auction block
Nigeria fails to halt Paris sale of 'stolen' treasures


The irreverent clip is one of several on the Uffizi's TikTok account poking fun at its collection of masterpieces, as the museum tries to transform its image from a dusty home of Renaissance art to a place Italy's teenagers want to explore.

by Alex Marshall



NEW YORK (NYT NEWS SERVICE).- Last month, the Uffizi Gallery in Florence — long a bastion of tradition — posted a video to its TikTok account featuring Botticelli's "Spring." The painting depicts Venus and other mythological figures, and has been gawked at by tourists and studied by academics for centuries. On TikTok, users were treated to a new perspective on this masterpiece of the Italian Renaissance: Set to Todrick Hall's expletive-filled club track "Nails, Hair, Hips, Heels," each time a body part is mentioned — "thin waist, thick thighs" — the video jumps to a corresponding part of the painting. "Purse full, big bills," Hall sings, and the TikTok zooms in on the flowers held by Flora, the goddess of spring. As the song ramps ... More



The spacesuit is conservatively estimated to fetch between $200,000 and 300,000.

by Maggy Donaldson



NEW YORK (AFP).- The elusive "2001: A Space Odyssey" spacesuit believed to have been worn by Dr. David Bowman when he "killed" HAL in the groundbreaking 1968 film goes on the auction block next month. The highlight of a Hollywood and space exploration memorabilia show that's set for July 17-18 in Beverly Hills, the spacesuit is conservatively estimated to fetch between $200,000 and 300,000. It's a rare artifact from the classic by filmmaker Stanley Kubrick, who is thought to have destroyed most of the props and wardrobe from "2001" -- widely regarded as one of most influential films of all time -- to prevent their use in other productions without his authorization. According to Jason DeBord -- chief operating officer of Julien's Auctions, which is hosting the event -- the only other significant piece from the film to go up at auction was the Aries 1B Trans- ... More



A pair of "museum quality" Igbo statues went under the hammer for 212,500 euros. © Christie's Images Ltd 2020.



PARIS (AFP).- Nigeria failed to halt a Paris sale of sacred statues Monday which museum officials said were stolen during the country's bloody civil war. Nigeria's National Commission for Museums and Monuments demanded that auction house Christie's stop the sale of the artefacts, which were collected by a former art advisor of the late French president Jacques Chirac. While a pair of "museum quality" Igbo statues went under the hammer for 212,500 euros, a "major Urhobo statue" estimated at 900,000 euros ($1 million) failed to sell. The three pieces from southern Nigeria were among a number of "African masterpieces" that Christie's said came from an "important European private collection" they declined to name. But the head of the National Museum in Nigeria's Benin City said that objects were stolen and appealed to Christie's "and other auction houses to halt the process immediately. "They have to repatriate such ... More
Defenders of Roosevelt statue converge on Natural History Museum
Cirque du Soleil files for bankruptcy protection
Christie's to offer Pablo Picasso's 'Baigneuses, Sirènes, Femme Nue et Minotaure'


Protesters gather to protest the removal of the Theodore Roosevelt statue outside of the American Museum of Natural History in New York. Demetrius Freeman/The New York Times.

by Zachary Small



NEW YORK (NYT NEWS SERVICE).- For more than a dozen years, Marion Reid, 77, had walked past the statue of Theodore Roosevelt on his way to work in information technology at the American Museum of Natural History, an employer that he said often failed to treat African Americans with dignity. He drove into Manhattan around noon on Sunday to photograph the statue before officials carried out plans to remove it from its place of pride at the museum's Central Park West entrance, only to find himself engulfed by about 150 protesters clamoring to preserve it. Among them were men in seersucker suits and women draped with pearls, people wearing MAGA hats and others waving Blue Lives Matter flags while chanting, "Save Teddy. Save our police. Save law and order." About a dozen police were in the vicinity. The protesters Sunday ... More



In this file photo taken on August 29, 2018 artists of the Canadian entertainment company "Cirque du Soleil" perform as part of the "LUZIA" show during the premier in Guadalajara City, Mexico. Ulises Ruiz / AFP.



MONTREAL (AFP).- Cirque du Soleil announced on Monday it is filing for bankruptcy protection and cutting thousands of jobs as the world's most famous circus troupe seeks to survive the coronavirus pandemic. Struggling with a debt of more than US$1billion, the Canadian group said its application would be heard by the Superior Court of Quebec on Tuesday. If granted, the Canadian company will then seek bankruptcy protection in the United States. In a statement, Cirque du Soleil said it has entered into a purchase agreement with its current shareholders, including a mix of investors from the United States, Canada and China. It will immediately lay off 3,480 workers who had previously been furloughed. "For the past 36 years, Cirque du Soleil has been a highly successful and profitable organization. However, with zero revenues since the forced closure of all of our shows due to COVID-19, management had to act decisively ... More



Pablo Picasso, Baigneuses, sirènes, femme nue et minotaure, 1937 (detail). Estimate: $6,000,000-9,000,000. © Christie's Images Ltd 2020.



NEW YORK, NY.- As part of ONE: A Global Sale of the 20th Century, Pablo Picasso's Baigneuses, sirènes, femme nue et minotaure (1937, estimate: $6,000,000-9,000,000) will be offered in the New York session. Here, Picasso depicts the projection of an inner self, in the form of the Minotaur, a character lifted directly from ancient mythology. In the late 1920s, Picasso's interest in Surrealism, especially through his close friendships with Paul Éluard and other poets in the vanguard of the movement, inspired him to take broad license with classical fables, to practice his own method of creative reconfiguration. The artist, moreover, had been writing poetry since April 1935, and, indeed, was at work during 6-19 March 1937 producing a stream of verbal imagery, on 17 March, he wrote "desire so cramped in its prison explodes the eggshell of the sea and lights up the bars that confine it". Baigneuses, sirènes, femme nue et minotaure represents an inventive pictorial ... More
Bonhams Australia offers exceptional Aboriginal works consigned from Spain
Hindman's Fine Books and Manuscripts auction achieves strong sell through rates
Munson-Williams Museum of Art receives important bequest from Estate of James H. Duffy


Lipundja, Mokuy (Wild Honey Figure), 1964. Photo: Bonhams.



SYDNEY.- Bonhams Australia announced its Aboriginal art auction comprising works from the collection of the Spanish surrealist sculptor, Eudald Serra (1911-2002). Once held and exhibited in Barcelona, the collection has arrived in Australia to be offered for the first time at auction. The highlight is undoubtedly Long Jack Phillipus Tjakamarra's monumental Untitled (Kalipinya), 1972 (lot 16, estimate: $70,000-100,000), the largest Papunya board ever to come to market (119 x 122cm). The Serra Collection came about due to the passion and spirit of adventure of three individuals whose paths serendipitously crossed in the late 1940s. Eudald Serra, Augusto Panyella (1921-1999), director of the Ethnology Museum of Barcelona and chemist/businessman Alberto Folch (1892-1984). Throughout the 1960s and 70s, Serra, Folch and Panyella undertook expeditions to some of the most remote parts of the globe selecting and purchasing for the Ethnology Museu ... More



[KELMSCOTT PRESS]. When Adam Delved and Eve Span.... [Ancoats Brotherhood, 1894-5]. Estimate: $500 - $700. Price Realized: $6,000.



CHICAGO, IL.- Hindman's auction of Fine Printed Books and Manuscripts including Americana realized $461,725, achieving strong sell-through rates of 94% by lot and 113% by value. Following the success of a record-setting 2019 for the Books and Manuscripts department, Hindman's first Fine Books and Manuscripts including Americana auction of the year once again exceeded expectations. Strong presale interest and competitive bidding across multiple telephones and four online auction platforms drove the result past the presale estimate of $327,600 to a total $461,725 and sold a remarkable 94% of lots. The outstanding results of this week's sale confirms that our strategy of offering works of the highest quality and rarity continues to resonate with the market. We were particularly honored to hold the sale of books from the collection of Rhoda H. Clark and the Monastery Hill Bindery, and were pleased with ... More



Jean-Michel Basquiat, American (1960-88), Untitled, 1982. Crayon on paper, 29 7/8 x 22 in. Bequest of James H. Duffy, 2019.11.2.



UTICA, NY.- Munson-Williams-Proctor Arts Institute Museum of Art has received one of the largest bequests in its 101-year history, 72 paintings, works on paper, and sculptures from the estate of James H. Duffy (1934-2019). Duffy was a resident of New York City from the late 1950s, but he was originally from Lowville, NY, 55 miles north of Utica. In July 2000, he sent a letter to (then) Munson-Williams Museum of Art Director Dr. Paul D. Schweizer stating, "One consideration I have had in mind is doing something for the area where I grew up. One thought was to donate my art collection to a regional institution." Munson-Williams President and CEO Anna D'Ambrosio commented, "Mr. Duffy's gift to the Museum of Art is transformational. He is an example of a selfless collector who saw the importance of giving back to his region. He valued the work of Munson-Williams and his generosity will benefit our community for generations. ... More
IMMA reopens today with The People's Pavilion, Social Distancing Circles, outdoor activities and a pop-up café
Gray appoints Laura Lester as Director in New York
New York's Broadway closed until at least January


The outdoor programme focuses on art trails, the gardens and an activated programme of pop-up events.



DUBLIN.- IMMA reopened the campus from today, Monday 29 June. The grounds of IMMA reopen with a new outdoor tented area called The People's Pavilion located on the front lawn and Social Distancing Circles placed across the site where friends and families can meet safely and enjoy IMMA. The outdoor programme focuses on art trails, the gardens and an activated programme of pop-up events in The People's Pavilion which will include collaborations with local community groups and artist collectives from mid-July. All this has been complemented by a new outdoor pop-up café The Flying Dog. Annie Fletcher, Director, IMMA, said "The roadmap to recovery has placed a new focus on the importance of outdoor convivial spaces where we can gather safely and I am pleased that we can celebrate this at IMMA. The grounds are going to be of central importance to IMMA's programming going forward. This summer we encourage you to use IMMA as a place to meet with friends and family in our Social Dist ... More



Lester most recently served as a Director of Kasmin Gallery, where she co-headed the estates program and organized monographic exhibitions of Modern and postwar artists including Lee Krasner, Stuart Davis and Elie Nadelman. Photo: Frank Ishman.



NEW YORK, NY.- Gray welcomed Laura Lester as Director. Lester joins Gray under the leadership of recently appointed Partner Sharon Kim, and gallery Principals Valerie Carberry and Paul Gray. "One of the goals we set early in this unprecedented and challenging time for business was to remain focused on long-term and measured growth," stated Carberry. "The hire of Laura Lester is a key component of that plan. Her deep experience in American Modern and postwar art is a strong addition to the high quality of service and expertise that identifies the gallery." Lester will be based out of Gray's Upper East Side outpost alongside Sharon Kim, who, prior to her position at Gray, served as International Director of Impressionist & Modern Art at Christie's. "I am delighted Laura has joined Gray," Kim says. "Her passion, knowledge and expertise are highly regarded by all who have worked with her and I loo ... More



An exterior view of Mrs. Doubtfire at Stephen Sondheim Theatre on June 29, 2020 in New York City. Broadway will remain closed until 2021 due to the ongoing coronavirus pandemic. Cindy Ord/Getty Images/AFP.



NEW YORK (AFP).- New York's iconic Broadway theater district will stay closed through the end of the year, its trade association said Monday, due to the unpredictability of the coronavirus pandemic. The Broadway League did not set a date for performances to resume, but is offering refunds and exchanges for tickets purchased for all shows through January 3, 2021. The association said plans to safely re-open New York's most bankable tourist attraction were being developed, including on screening and testing showgoers, along with cleaning and sanitizing protocols. Reopening the arts and entertainment sectors, a major feature of life in New York, technically is in the final phase of Governor Andrew Cuomo's four-part plan to return economic and cultural activity to the state. Plays and musicals are considered mass gatherings, likely the last facet of pre-coronavirus life to reopen. The Broadway League projected that performances ... More
Conservator's Corner: Blair Bailey

Flashback
On a day like today, English painter Stanley Spencer was born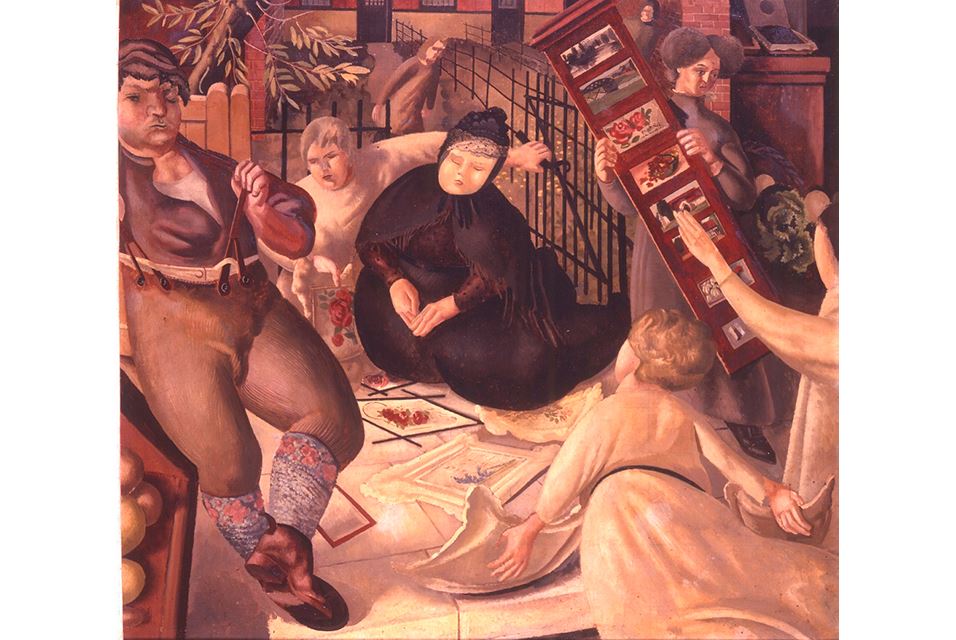 July 30, 1891. Sir Stanley Spencer CBE RA (30 June 1891 - 14 December 1959) was an English painter. Shortly after leaving the Slade School of Art, Spencer became well known for his paintings depicting Biblical scenes occurring as if in Cookham, the small village beside the River Thames where he was born and spent much of his life. In this image: Sarah Tubb and the Heavenly Visitors, 1933 by Stanley Spencer © Estate of Stanley Spencer, Bridgeman Images, London.
---

Museums, Exhibits, Artists, Milestones, Digital Art, Architecture, Photography,
Photographers, Special Photos, Special Reports, Featured Stories, Auctions, Art Fairs,
Anecdotes, Art Quiz, Education, Mythology, 3D Images, Last Week,

.
---
Royalville Communications, Inc
produces: