Artis-Naples, The Baker Museum opens 'Baseball Heroes: Works from the Jay H. Baker Collection'
Mickey Mantle's Sultan of Swat crown, 1956. Jay H. Baker Collection.
NAPLES, FLA
.-
Baseball Heroes: Works from the Jay H. Baker Collection will grant museum visitors exclusive access to one of the most extraordinary collections of baseball memorabilia outside of the National Baseball Hall of Fame, in an immersive multimedia installation that celebrates baseball as an integral part of American life for nearly 200 years. This exhibition celebrates five of the sport's greatest players: Babe Ruth, Lou Gehrig, Joe DiMaggio, Mickey Mantle and Derek Jeter. These players, who spent most or all of their careers with the New York Yankees, transcend partisan team passions and generate unparalleled adulation. Baseball Heroes examines these icons not only as baseball players, but as human beings who rose from humble or modest backgrounds and, through their talents and dedication, ascended to the pinnacle of achievement. The eminent cultural historian Jacques Barzun wrote, "Whoever wants to know the heart and mind of America had better learn baseball." In many ways, ...
More
The Best Photos of the Day
Sheldon Museum of Art announces artist Jill Nathanson and curator Karen Wilkin in conversation October 26
Mexico City replaces a statue of Columbus with one of an Indigenous woman
The Fundación Juan March Presents the First Ad Reinhardt Exhibition in Spain


Jill Nathanson's "Cantabile" (2019) on view at Sheldon Museum of Art in "Point of Departure: Abstraction 1958–Present."



LINCOLN, NEB.- Sheldon Museum of Art presents a conversation with artist Jill Nathanson and curator and critic Karen Wilkin on October 26 at 5:30 p.m. CDT on Zoom. Nathanson's painting "Cantabile" is a new acquisition on view at Sheldon in "Point of Departure: Abstraction 1958–Present." To register for the free event, visit go.unl.edu/jill-nathanson. This online event is part of the museum's CollectionTalk series, which features live discussions about artwork and exhibitions with artists, curators, and historians. On November 11, the series continues with artist Odili Donald Odita in conversation with Tyler Green, host of the Modern Art Notes Podcast. For more information on Sheldon Museum of Art and its programming, visit sheldonartmuseum.org. Jill Nathanson ... More



View of a statue in honor of "Women who fight" placed by feminist collectives at the roundabout of Paseo de la Reforma Avenue, from where the effigy of Christopher Columbus had been removed, in Mexico City, on October 7, 2021. PEDRO PARDO / AFP.



MEXICO CITY.- Statues of Columbus are being toppled across the Americas, amid fierce debates over the region's legacy of European conquest and colonialism. Few have been more contentious than the replacement of a monument at the heart of Mexico's capital, touching on some of the most intense disputes in the country's current politics, including not just race and history, but also sex. After prolonged debate, Mayor Claudia Sheinbaum announced Tuesday that the Columbus statue that once gazed down on Mexico City's main boulevard will be replaced with a pre-colonial Indigenous figure — notably, a woman. Announced before Sheinbaum's expected run for president in 2024, the new stat ... More



Ad Reinhardt, Untitled, c. 1950 (detail). Acuarela sobre papel, 57,2 × 78,1 cm (irregular). Whitney Museum of American Art. © Anna Reinhardt/Vegap, Madrid, 2021.



MADRID.- "There is something mysterious, even mystical, about Ad Reinhardt's 60 x 60-inch square black canvases. Conceived for contemplation, they reveal themselves over time," writes Lynn Zelevansky, guest curator of the exhibition. Some of these famous black paintings, which are almost impossible to photograph and require the direct and slow presence of the viewer, are on display from October 15 to January 16 at the Madrid venue of the Fundación Juan March. They form part of the first monographic exhibition of Ad Reinhardt in Spain, and one of the most thorough retrospectives in the history of Europe. Ad Reinhardt (Buffalo, New York, 1913 – New York, 1967) devoted his artistic endeavor to an increasingly radical abstraction. In parallel to his pictorial vocation ... More
The Barnes Foundation opens the first exhibition dedicated to Suzanne Valadon at a major US arts institution
Christie's Post-War and Contemporary Art Day Sale is highlighted by strong results for rising stars
Antiquities dealer admits mass-producing fakes he sold for years


Suzanne Valadon. Self-Portrait, 1927. Collection of the City of Sannois, Val d'Oise, France, on temporary loan to the Musée de Montmartre, Paris. © 2021 Artist Rights Society (ARS), New York Image by Stéphane Pons.



PHILLADELPHIA, PA.- This fall, the Barnes Foundation presents Suzanne Valadon: Model, Painter, Rebel, the first exhibition dedicated to the French artist and model Suzanne Valadon at a major US arts institution. The first self-taught woman to exhibit at the Salon de la Sociéte Nationale des Beaux-Arts, Valadon challenged behavioral codes with her art and lifestyle, breaking new ground with her unapologetic portraits and nudes. On view in the Barnes's Roberts Gallery from September 26, 2021, through January 9, 2022, this exhibition considers Valadon's rich contribution to the early 20th-century art world and features representative works from all stages of her career. From a childhood marked by poverty and neglect to a career as a popular artist's model, Suzanne Valadon (born Marie-Clementine Valadon, 1865–1938) defied the odds to become a successful painter. Passionate about art from an early age, she modele ... More



Flora Yukhnovich, Puits d'amour (Wells of Love), 2021, Price realised: £910,500 to benefit Rays of Sunshine. © Christie's Images Ltd 2021.



LONDON.- The Post-War and Contemporary Art Day Sale realised a total of £16,158,250, over two times the low estimate, selling 93% by lot and 94% by value, and was led by Yayoi Kusama's My Life (2014), which more than doubled its pre-sale estimate to sell for £1,222,500. The sale was highlighted by the rising stars of contemporary art, opening with spirited bidding, which delivered above estimate results for Hurvin Anderson's Girl in a Tree (record in the medium for a work on paper: £387,500), Amoako Boafo's Portrait (£181,250), Chantalle Joffe's Night Self-Portrait in a Red Dress (record: £75,000), Tunji Adeniyi-Jones, Red Twins II (£150,000), Claire Tabouret's Les Diadèmes (Rose et Bleu) (£112,500), Salman Toor's Untitled (Woman) (£237,500) and Caroline Walker's Dividing Lines (record: £81,250). Ewa Juszkiewicz's Grove (2014) sold for more than 12 times its high estimate, realising a new world auction record for the artist (£437,500). Artists, gallerists and collectors generously donated works ... More



The owner of a Manhattan gallery was charged with grand larceny and other crimes by prosecutors who say he mass-produced objects that he passed off as ancient artifacts. Manhattan District Attorney's Office via The New York Times.

by Colin Moynihan



NEW YORK, NY.- For decades customers interested in all manner of rarities — ancient coins, sarcophagus masks, prehistoric fossils — went to Mehrdad Sadigh's gallery near the Empire State Building in Manhattan. The items came with certificates of authenticity, and the gallery's website was filled with accolades from customers who appreciated the gracious touch he brought to his business. "Everything I have acquired from you over the years has more than exceeded my expectations," one testimonial read. But Sadigh acknowledged Tuesday during a hearing that much about his antiquities business was an elaborate scam. "Over the course of three decades I have sold thousands of fraudulent antiquities to countless unsuspecting collectors," he said, according to the statement he read in state Supreme Court in Manhattan, adding, "I can only say that I was driven ... More
Victoria Miro opens an exhibition by Sarah Sze
Tate St Ives presents a major new installation by Petrit Halilaj
Maruani Mercier announces the European representation of Ghanaian artist Cornelius Annor


Sarah Sze, Imprint, 2021 (detail). Oil paint, acrylic paint, acrylic polymers, ink, aluminum, diabond and wood, 289.6 x 193.1 x 7.9 cm. 114 1/8 x 76 1/8 x 3 1/8 in © Sarah Sze. Courtesy the artist and Victoria Miro.



LONDON.- In Sarah Sze's new paintings, scaled to Victoria Miro's Gallery II space, the artist's process of accumulation is adapted to two dimensions, incorporating a wealth of painted and collaged elements and traces of multiple image-making mediums, laying bare the narrative of the studio and the developmental arcs that occur within and between the works. Celebrated for her intricate multimedia installations, in recent years the American artist has returned to painting, the medium in which she first trained. These new wall-based works continue the artist's decades-long exploration of the ways in which the proliferation of images – printed in magazines and newspapers, gleaned from the Web and television, intercepted from outer space, and ultimately imprinted on our conscio ... More



Petrit Halilaj. Photo: Angela B. Suarez.



SAINT IVES.- This autumn, Tate St Ives presents Very volcanic over this green feather, a major new installation by Petrit Halilaj (b.1986 in Kostërrc, Kosovo) for his first solo exhibition in the UK. Halilaj is internationally recognised for his expansive artworks, often using his own biography as point of departure to reflect on private and collective histories in constant transformation. Deeply connected to Kosovo's recent history, he frequently incorporates materials from his native country and re-elaborates them through installation, performance, textiles, drawing and video. Halilaj's work explores issues related to individual memory and cultural identity. This exhibition at Tate St Ives stems from Halilaj's own personal story, while also bringing forward the collective trauma of the Kosovar Albanian people and other survivors of conflict. Displaced by the Kosovo War (1998–9) as a thirteen-year-old, Halilaj and his family ... More



Cornelius Annor, Sir Johns, 2021. Acrylic and fabric transfer on canvas, 150 x 119 cm, 59 1/8 x 46 7/8 in.



BRUSSELS.- Depicting everyday Ghanaian sceneries, the emerging artist Cornelius Annor combines acrylic paint with fabric and fabric transfers to create large figurative paintings. The artist's research revolves around family history, through family photo albums, as such exploring moments in time, from pre-colonial Ghana and Post-independent Ghana to our contemporary era. The characters in his paintings are old and young, male and female, sharing different emotions, often in a context of gathering. Incorporating objects and clothes from different periods, Annor plays with memory, history and temporality. "For me archiving as a form has the potential to open up discussions on lost and forgotten histories and its politics. And I intend to bring into presence these past histories through my works as a way of creating a room of memory which can migrate my audience ... More
Russians return to Earth after filming first movie in space
'The Settlements' by Ken Taranto to be published by GOST Books in November
Producer Kevin Burns' world-famous Munsters collection makes its electrifying auction debut in November


Russian actress Yulia Peresild poses during an interview with AFP in Moscow. DIMITAR DILKOFF / AFP.

by Evan Gershkovich



MOSCOW.- A Russian actress and a film director returned to Earth Sunday after spending 12 days on the International Space Station (ISS) shooting scenes for the first movie in orbit. Yulia Peresild, 37, and Klim Shipenko, 38, landed as scheduled on Kazakhstan's steppe at 0436 GMT, according to footage broadcast live by Russia's Roscosmos space agency. Shipenko appeared distressed but smiling as he exited the capsule, waving his hand to cameras before being carried off by medical workers for an examination. Peresild, who plays the film's starring role and was selected from some 3,000 applicants, was extracted from the capsule to applause and a bouquet of flowers. The actress said she is "sad" to have left the ISS. "It seemed that 12 days was a lot, but when it was all over, I didn't want to leave," she told Russian television. "This is a one-time experience." The team was ferried back to terra ... More



The Settlements By Ken Taranto. Published November 2021. £35/ €45/ $50 pre-order here.



LONDON.- The Settlements is a topographical portrait of the architecture and landscape of the Jewish settlements in the West Bank. Taken over a period of four years, these black and white photographs reveal the genesis and evolution of the greater settlement project. Focused on the sharp contrast between the medium view from within the settlements and the broader view from their perimeters, the images belie the tense proximity of two peoples living on the same land. This project, by photographer Ken Taranto, developed out of a curiosity. He was not satisfied with the images of the settlements portrayed in the news. He wanted to know if the settlements were all alike. Were they indistinguishable or unique? And what did it feel like to stand on disputed ground? 'For years I read stories in the news about the Jewish settlements in the West Bank. Photographs in those stories always seemed to show tract housing on hilltops, an image emblazoned in my mind. The settlement ... More



Butch Patrick "Eddie Munster" signature costume and extra coat from The Munsters (CBS, 1964-1966).



DALLAS, TX.- "The Munsters continue to haunt me," producer Kevin Burns told the Los Angeles Times in 2002, explaining his lifelong love affair with the spooky '60s sitcom that lasted but two seasons. At the time, the newspaper wondered why the Emmy Award-winning Burns, best known for producing History Channel's Ancient Aliens and Netflix's Lost in Space reboot, had amassed the world's largest collection of Munsters props, memorabilia and merchandise. To which he responded with a simple, sincere answer: "It's important to get back to being a child every once in a while." Burns, who died last year of cardiac arrest at 65, amassed a collection that ranged from the astonishing to the downright fantastic, and included everything from Grandpa Munster's electric chair to Lily Munster's gown to Eddie Munster's suits to every available copy of every bit of Munsters merch ever manufactured, from comic books to board games to bubblegum cards. If something appeared on the set or ... More
Richard L. Feigen: A Collector in Dealer's Clothes

Flashback
On a day like today, Flemish painter Jacob Jordaens died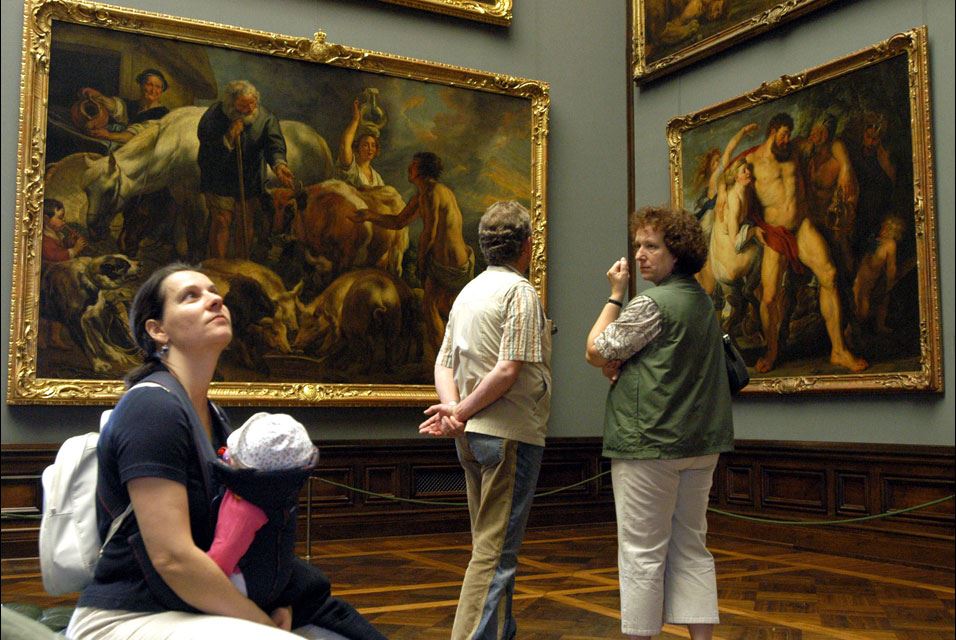 October 18, 1678. Jacob Jordaens (19 May 1593 - 18 October 1678) was one of three Flemish Baroque painters, along with Peter Paul Rubens and Anthony van Dyck, to bring prestige to the Antwerp school of painting. Unlike those contemporaries he never traveled abroad to study Italian painting, and his career is marked by an indifference to their intellectual and courtly aspirations. In fact, except for a few short trips to locations in the Low Countries, he remained in Antwerp his entire life. As well as being a successful painter, he was a prominent designer of tapestries. Like Rubens, Jordaens painted altarpieces, mythological, and allegorical scenes, and after 1640---the year Rubens died---he was the most important painter in Antwerp for large-scale commissions and the status of his patrons increased in general.
---

Museums, Exhibits, Artists, Milestones, Digital Art, Architecture, Photography,
Photographers, Special Photos, Special Reports, Featured Stories, Auctions, Art Fairs,
Anecdotes, Art Quiz, Education, Mythology, 3D Images, Last Week,

.
---
Royalville Communications, Inc
produces: