Rocks not so solid on the Met's face
Nairy Baghramian stands in front of one of her sculptures installed in the facade of the Metropolitan Museum of Art, in New York on Sept. 6, 2023. There are some offers an artist cannot refuse — and first among them is the Met's annual Facade Commission, now in its fourth iteration. This year belongs to Baghramian, an Iranian-born artist who came to Berlin at 14 as a refugee. (Amir Hamja/The New York Times)

by Roberta Smith
NEW YORK, NY
.-
There are some offers an artist cannot refuse — and first among them is the annual Facade Commission at the Metropolitan Museum of Art, now in its fourth iteration. Unless you're someone who doesn't mind the prospect of being forever haunted by what-ifs, you gird your loins and accept the assignment, which is to create sculpture for display in one of the most visible and challenging spots in the New York art world — that is, the four domed niches embedded in the Neoclassical facade of the Met's main entrance on Fifth Avenue. Each niche frames a plinth and is in turn framed by a pair of robust columns two stories high. The viselike setting is spatially difficult yet culturally rich in opportunities to comment on the treasure house — with its power, prestige, human vanity and folly — just beyond. So you accept and hope your response to the site is commensurate with your achievement. This tends not to happen. The three artists chosen thus far — Wang ...
More
The Best Photos of the Day
A spectacular marble cube rises at Ground Zero
Apollo Art Auctions presents exceptional antiquities, ancient art and militaria, Sept. 24
'Holy cow, we found an X-Wing.' Bidding starts at $400,000.


The view from the entrance to the elevated lobby of the new Perelman Performing Arts Center looking back down toward the street and through Perelman's thin marble curtain wall in Lower Manhattan in New York. (George Etheredge/The New York Times)

by Michael Kimmelman



NEW YORK, NY.- The new Perelman Performing Arts Center is the most glamorous civic building to land in New York in years. The official ribbon cutting was Wednesday. You may have noticed the building under construction if you were near the World Trade Center in lower Manhattan during the past year or so. A floating, translucent marble cube, it nestles at the foot of One World Trade Center, just eight stories high, a runt in a herd of mega-tall commercial skyscrapers but impossible to miss. The $500 million, 129,000-square-foot project arrives at a moment, and in a New York, very different from the one in which it was conceived two decades ago. Back then, the city was all-consumed by grief and fear, its economy in free-fall, ground zero still a smoldering grave site. We were reminded just this week of the toll when the names of the ... More



Circa 1st century BC-1st century AD Roman bronze Montefortino helmet. Bulbous domed bowl, small crest knob, narrow neck guard, fastening clasps for cheek-guards. Depicted in numerous reference books and Christie's London 2002 catalog for The Axel Guttmann Collection of Ancient Arms and Armour, Pt. I. Estimate: £10,000 -£15,000 ($12,490-$18,735)



LONDON.- Discerning collectors of antiquities, ancient art and material culture know the Apollo Art Auctions name stands for uncompromising quality and authenticity. Their next fully curated event, an Ancient Art, Antiquities and Militaria Auction, will take place on Sunday, September 24 and features a wealth of exquisite and well-provenanced works spanning most of recorded history and chronicling many of the world's most fascinating civilizations. The London firm, headed by Dr Ivan Bonchev (PhD, University of Oxford), conducts its business from a tastefully appointed showroom and gallery in Central London and presents its premier auction selections to an international clientele through LiveAuctioneers' online-bidding platform. Throughout the ages, artists have been drawn to forms, whether of humans, ... More



After a Hollywood visual effects artist died last year, friends found a rare model of the Rebel Alliance starfighter from the original "Star Wars" movie in his garage.

by Michael Levenson



NEW YORK, NY.- When Greg Jein, an Oscar-nominated visual effects artist, died last year at age 76, he left behind thousands of props, miniatures, costumes and other possessions in two houses, two garages and two storage units in Los Angeles. Among his many belongings, he had a lace hairpiece worn by William Shatner as Captain Kirk in the original "Star Trek" television series; a nearly 7-foot-long Martian rocket ship from the 1952 movie serial "Zombies of the Stratosphere," featuring a young Leonard Nimoy; and Batman's yellow utility belt from the 1960s television show, starring Adam West. Going through the collection after Jein died in May 2022 "was like a treasure hunt because Greg knew where things were, but it was not organized," said his cousin, Jerry Chang. "As you moved a stack of books away, you'd go, 'Oh, my god, I recognize ... More
Withstanding the passage of time, but not the shaking of the Earth
AstaGuru to offer a diverse collection of works by leading contemporary artists
Tate appoints two new curators specialising in ecology and First Nations and Indigenous Art


The historic Great Mosque of Tinmel, extensively damaged by the earthquake, in the High Atlas Mountains village of Tinmel, Morocco, Sept. 15, 2023. (Nariman El-Mofty/The New York Times)

by Vivian Yee and Aida Alami



MARRAKECH.- A team of archaeologists, historians and engineers had nearly finished a monthslong restoration of the Tinmel Mosque, a 1,000-year-old jewel of Moorish architecture set deep in the mountains of Morocco, when a powerful earthquake barreled through the area a week ago. By the time it was over, the intricate domes and graceful arches, first built by the dynasty that conquered parts of Spain as well as North Africa in the 12th century, had crumbled. Tinmel was "a reflection of an extraordinary civilization, the apogee of this civilization," said Abdallah Fili, an archaeologist and professor at the University of El Jadida who was leading the restoration. "It was a beautiful project. Unfortunately, fate ... More



Anish Kapoor, UNTITLED, 54.7 x 54.7 x 13.8 in (138.9 x 138.9 x 35.1 cm). Lacquered bronze mirror, 2013. Estimate: INR 3,32,00,000 – 4,98,00,000 / $ 400,000 - 600,000.



MUMBAI.- AstaGuru will present the next edition of its 'Present Future' Contemporary Art Auction with an eclectic assortment of artworks by leading contemporary artists, including Anish Kapoor, Bharti Kher, Atul Dodiya, Jitish Kallat, Nataraj Sharma, Valay Shende, Suryakant Lokhande, Ranbir Singh Kaleka, Surendran Nair, Bose Krishnamachari, N.S. Harsha, Jagannath Panda, Mithu Sen, Baiju Parthan, Chittrovanu Mazumdar, T.V. Santhosh, Jayashree Chakravarty, Sheila Makhijani, G R Iranna, Mrinalini Mukherjee, Sudhir Patwardhan, among others. The finely curated catalogue with over 100 works in diverse styles, including paintings, drawings, sculptures, and mixed media art, perfectly represents the prevalent art trends and gives an insight into the future of contemporary ... More



Marleen Boschen (photo: Dominique Russell, 2023)



LONDON.- Tate announced the appointment of two new curators as part of its ongoing strategy to explore new perspectives on global art histories. Marleen Boschen has been appointed the institution's first Adjunct Curator dedicated to art and ecology – a position that will develop narratives around ecological issues and further Tate's commitment to climate justice. Kimberley Moulton will take on the role of Adjunct Curator specialising in First Nations and Indigenous Art, continuing the innovative research and scholarship undertaken in this field. Beginning in September 2023, both positions will sit within the Hyundai Tate Research Centre: Transnational, which helps to challenge and revise dominant art histories by highlighting the global exchanges of artists and ideas. Integrated within Tate Modern's curatorial team, the Centre contributes to exhibitions, displays, acquisitions and events across Tate's four galleries a ... More
Requiem by Chris Ofili unveiled at Tate Britain
The Dutch Golden Age comes to Bonhams with an important single-owner collection
National Air and Space Museum receives over $11 million from National Science Foundation


Chris Ofili, Requiem, 2023 (detail) commissioned for Tate Britain's north staircase © Chris Ofili. Courtesy the artist. Photograph: Thierry Bal.



LONDON.- A major new site-specific work by Chris Ofili was unveiled at Tate Britain. Spanning three walls, Requiem pays tribute to fellow artist Khadija Saye and remembers the tragedy of the Grenfell Tower fire. It offers a poetic reflection on loss, spirituality and transformation. Chris Ofili met Khadija Saye in May 2017 when they were both exhibiting work in Venice. One month later, Saye died in the Grenfell Tower fire. Memories of their meeting had a profound impact on Ofili, which helped him find a path to create the mural Requiem. The finished work opens to the public today following private viewings for Saye's family and the Grenfell community earlier this month. Requiem is a journey through an imagined landscape of giant skies with vast horizons and flowing water, unfolding in three chapters. The left-hand wall depicts a bowing figure representing a prophet or witness. He holds the burning tower as though conducting a ceremony of ... More



A pair of Louis XV ormolu mounted Chinese 'Clair de Lune' celadon glazed porcelain garniture vases (1678-1735). Estimate £50,000 – 80,000. Photo: Bonhams.



LONDON.- An exceptional single-owner collection of furniture, silver, ceramics, and clocks, as well as an extensive library, all belonging to the late Dutch connoisseur-collector Cornelis Paulus van Pauwvliet, will come to Bonhams New Bond Street on Tuesday 21 November. Charlie Thomas, Bonhams UK Group Director of House Sales and Private and Iconic Collections, Furniture and Works of Art, commented, "This exceptional private collection represents the very best of Dutch and French Fine and Decorative Works of Art. Diligently assembled by Cornelis Paulus van Pauwvliet over a 50-year period and housed in his Amsterdam home, a stone's throw from the Rijksmuseum, the works in this sale showcase the evolution of Dutch taste from the 17th century to the late 19th century." The influence of the French style on Dutch interiors, following the arrival of the Huguenots from France to the Netherlands in the 1600s, ... More



Artist's rendering depicts the new Discovering Our Universe Gallery featuring lenses at the center to augment the starry sky and the Bruce Telescope at rear.



WASHINGTON, DC.- The Smithsonian's National Air and Space Museum has received over $11 million from the U.S. National Science Foundation to support the creation of the new "National Science Foundation Discovering Our Universe" exhibition. The exhibition will illuminate how the development of new and more precise tools transformed humankind's understanding of the origin, content and fate of the universe. It is anticipated to open in 2026 and is part of the museum's ongoing transformation of its galleries at its flagship building in Washington, D.C. "We are very appreciative of the National Science Foundation's generous support of the transformed 'Discovering Our Universe' exhibition," said Chris Browne, John and Adrienne Mars Director of the museum. "NSF was one of the original supporters of the museum's prior version of this exhibition, the 'Explore the Universe' gallery, whic ... More
Jann Wenner defends his legacy, and his generation's
When the wig is a character: Backstage at Jocelyn Bioh's new play
In 'The Refuge Plays,' Nicole Ari Parker comes home


Jann Wenner, a co-founder of Rolling Stone magazine, at home in Montauk, N.Y. on Aug. 22, 2022. (Dana Scruggs/The New York Times)

by David Marchese



NEW YORK, NY.- In 2019, Jann Wenner officially left Rolling Stone, the magazine he co-founded in 1967, but he hasn't left it behind. Since stepping away from the iconic publication, where I briefly worked as an online editor a decade ago, Wenner, 77, has written two books rooted in his time there. The first, a hefty, dishy memoir called "Like a Rolling Stone," was a bestseller after it was published last year. The second, "The Masters," which will be published Sept. 26, consists of interviews that Wenner conducted during his Rolling Stone years with rock legends including Bob Dylan, Mick Jagger, Bono and others, as well as a new interview with Bruce Springsteen. Those interviews — lengthy, deeply informed, insightful — are the kinds of pieces that helped Rolling Stone earn the reputation it held for so long as the music publication. Under Wenner's guidance, the magazine also developed a reputation as a source ... More



The actress Kalyne Coleman, who plays three characters in "Jaja's African Hair Braiding," at a fitting for one of her wigs, called Strawberry Knotless Afro-Pop Bob, in New York, Aug. 31, 2023. The styles in "Jaja's African Hair Braiding," in previews on Broadway, require a wig designer, several braiders, some synthetic hair and lots of patience. (Michelle V. Agins/The New York Times)



NEW YORK, NY.- Known for her amusing scripts and plaited hairstyles, Jocelyn Bioh can count only three times when she was without braids. "There's a real freedom in getting your braids done," she said. "Then you don't have to worry about your hair for the next few weeks." The playwright's lifelong commitment to interwoven hairdos inspired "Jaja's African Hair Braiding," a Broadway comedy about a day in the life of a hair braiding salon. It's most likely the first Broadway play to shine a spotlight on Black women's hair, and what it takes to style it. Set in central Harlem, around 125th Street and St. Nicholas Avenue (where many of these salons are clustered), "Jaja's" presents a spirited group of West African hair stylists as their designs take shape and they juggle the uncertainties and perplexities ... More



Nicole Ari Parker in New York, Aug. 23, 2023. Parker returns to the stage after a decade away as a woman living off the grid in Nathan Alan Davis's "The Refuge Plays." (Victor Llorente/The New York Times)



NEW YORK, NY.- On the Max series "And Just Like That … ," Nicole Ari Parker plays the elegant documentarian Lisa Todd Wexley. New York audiences will soon see her in another guise, as a great-grandmother living off the grid in Southern Illinois. Her go-to accessory? An ax. This is Early, the woman at the center of Nathan Alan Davis' "The Refuge Plays," directed by Patricia McGregor and produced by Roundabout Theater Company in association with New York Theater Workshop. "What the theater gives me," Parker said, "is the feeling that I'm using everything." At a recent rehearsal, she had bounded onto the stage in a pink jumpsuit and makeup that aged her several decades. At the start of the first play, Early is in her 80s. The subsequent plays revert her to her 40s, then her 20s. This is Parker's first stage role since she played Blanche DuBois on Broadway a decade ago, and previews begin Saturday. Asked in a warmup exercise how she felt, Parker ... More
Luc Tuymans | PROGRAM

Flashback
On a day like today, Dutch realist painter Anton Mauve was born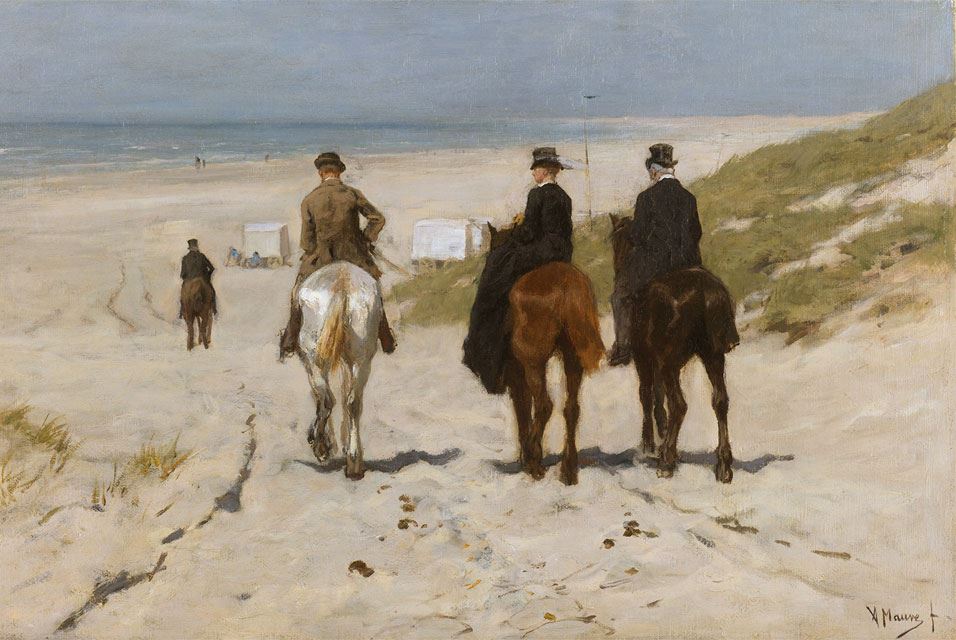 September 18, 1838. Anthonij (Anton) Rudolf Mauve (18 September 1838, Zaandam, North Holland - 5 February 1888, Arnhem) was a Dutch realist painter who was a leading member of the Hague School. He signed his paintings 'A. Mauve' or with a monogrammed 'A.M.'. A master colorist, he was a very significant early influence on his cousin-in-law Vincent van Gogh. In this image: Morning Ride on the Beach (1876), oil on canvas, Rijksmuseum.
---

Museums, Exhibits, Artists, Milestones, Digital Art, Architecture, Photography,
Photographers, Special Photos, Special Reports, Featured Stories, Auctions, Art Fairs,
Anecdotes, Art Quiz, Education, Mythology, 3D Images, Last Week,

.
---
Royalville Communications, Inc
produces: