Exhibition of silverpoint paintings by Susan Schwalb opens at Heather Gaudio Fine Art
Susan Schwalb, Polyphony XIII, 2016. Copper/silver/goldpoint, black gesso on wood panel, 24 x 24 x 2 inches
NEW CANAAN, CONN
.-
Heather Gaudio Fine Art
is presenting Susan Schwalb: Convergence/Variations, her first solo exhibition at the gallery. The show features a selection of paintings from different series created in the past two decades. The exhibition will run through June 25th, 2022. Schwalb is one of the leading specialists of silverpoint, a drawing technique that peaked during the Renaissance era in Italy and the Flemish regions. Well-known Old Masters practicing the medium included Leonardo da Vinci, Rembrandt van Rijn and Albrecht Dürer, among others. Its popularity waned as other drawing materials emerged, such as red chalk and graphite, only to be revived in the latter decades of the 19th Century. Today the technique continues to be employed by artists in the United States and Europe and Schwalb is arguably its largest champion. Her almost five-decade experience with silver and other metalpoints (gold, copper, platinum, brass, bronz ...
More
The Best Photos of the Day
Man Ray's 'Le Violon d'Ingres' achieves $12.4 million at Christie's setting new record for a photograph
Private collection of 17th- and 18th-century art treasures on rare display at the Virginia Museum of Fine Arts
Discovery of rare painting by French artist Jean Victor Louis Faure set to go to auction


Man Ray, Le Violon d'Ingres, 1924. Price realized: $12,412,500. © Christie's Images Ltd 2022.



NEW YORK, NY.- Christie's Spring 2022 Marquee Week continued Saturday, May 14 with The Surrealist World of Rosalind Gersten Jacobs & Melvin Jacobs at Rockefeller Plaza in New York. The sale totaled $42.3 million, bringing the week's running total to $1.4 billion. Man Ray's photograph Le Violon d'Ingres set a new record for a photograph, selling for $12.4 million, after more than 10 minutes of competitive bidding. Results were exceptional across all categories of the sale, selling 99% by value and 92% by lot, 182% hammer above low estimate. Records were set for a number of artists including Dorothea Tanning, whose Le mal oublié tripled its estimate to sell for $1,440,000. William Nelson Copley and Noma Copley achieved successful results in the categories of both art and jewelry. Seven of the 77 lots on offer sold above $1 million, including four fantastic examples by Rene Magritte including L'autre son de cloche, which far surp ... More



Girl Singing, 1625–1630, Frans Hals (Dutch, ca. 1581–1666), oil on panel. Jordan and Thomas A. Saunders III Collection, L2020.6.14.



RICHMOND, VA.- The Virginia Museum of Fine Arts announced Elegance and Wonder: Masterpieces of European Art from the Jordan and Thomas A. Saunders III Collectionis now on view at the museum in Richmond. This exceptional private collection, which the Saunders have assembled over the past 25 years, includes rich oil paintings by preeminent 17th- and 18th-century European artists such as the Brueghel family, Canaletto, Francesco Guardi, Frans Hals, Peter Paul Rubens, Hubert Robert and Pierre Jacques Volaire, as well as three early 19th-century paintings. The vast display of over 80 works of art also features exquisite decorative art objects from the period. "I am delighted that Jordan and Tom have chosen to share their collection, one of the most revered private collections in America, with people in the Commonwealth," said Alex Nyerges, VMFA's Director and CEO. "We are ... More



Detail of Market Day, The Pantheon, Rome by Jean Victor Louis Faure (1786-1879). Estimate £30,000-£50,000. Courtesy of Dreweatts.



LONDON.- Dreweatts will offer a recently discovered work by esteemed French 19th Century painter, Jean Victor Louis Faure (1786-1879). The discovery was made in a family home in Norfolk, where the painting had hung unnoticed for sixty years! The work, titled Market Day, The Pantheon, Rome was originally bought by the current owner's father, a Major H. Mosse of Mendham Priory, Harleston in Norfolk in 1965 and hung in the hall of the house, where it would bear witness to various generations of the family rushing past it, totally unaware of its importance. Speaking about the find, Major H. Mosse's son explains: "My earliest recollection of this picture; a view of the Pantheon in Rome was the prominent position it occupied in the hallway of the family home for nearly sixty years, where it witnessed the comings and goings of family life, the many great friends who visited and even a wedding ... More
Christie's announces American Art & Stewards of the West: The Knobloch Collection
Sebastiao Salgado's critically acclaimed Amazonia exhibition opens at the Science and Industry Museum
Galerie Templon opens a new exhibition of works by German artist Franz Ackermann


Frederic Remington, The Broncho Buster, inscribed 'Frederic Remington' and other inscriptions, bronze with dark brown patina, 23 1⁄2 (59.7 cm.) high. Modeled in 1895; cast circa 1900. Estimate: $300,000 – 500,000. © Christie's Images Ltd 2022.



NEW YORK, NY.- America takes centerstage at Christie's Rockefeller Center in New York City on May 17, with a series of two live auctions: American Art, a curated selection of 20th-Century paintings, works on paper, and sculpture; and Stewards of the West: The Knobloch Collection, a striking group of Western American paintings and sculptures assembled by the late entrepreneur and conservationist Carl W. Knobloch, Jr., and sold to benefit environmental conservation. Together, these sales present the story of America and its artists in the 19th and 20th centuries. Following Christie's 20th/21st Century Week in New York, the American Art Department is thrilled to offer this sale focused on 20th century art, led by Norman Rockwell's charming Home from Camp. Georgia O'Keeffe's seminal watercolor ... More



Sebastião Salgado in Amazônia Ⓒ Science Museum Group.



MANCHESTER.- The Science and Industry Museum welcomes a critically acclaimed major exhibition exploring the work of world-renowned Brazilian photographer Sebastião Salgado – Amazônia, with free tickets available now for its 12-week run. This is his first UK exhibition of this scale outside London for over 20 years and the first to ever to come to Manchester. Amazônia celebrates the indigenous peoples and breath-taking landscapes of the Brazilian rainforest – through over 200 black and white images and interviews with indigenous leaders; accompanied by a specially commissioned immersive soundtrack from acclaimed French composer Jean-Michel Jarre, which brings to life the sounds of the rainforest. For seven years Salgado worked in the Amazon with twelve different indigenous communities. The result is an incredible collection of powerful photographs that present Salgado's vision of a forest that ... More



Franz Ackermann, The Event, 2019, oil on canvas, huile sur toile, 274 x 184 cm, 108 x 72 1/2 in., Photo: Isabelle Arthuis.



PARIS.- German artist Franz Ackermann's A Range of Thoughts transforms Galerie Templon's space on Rue du Grenier Saint-Lazare in Paris with an immersive installation that questions the notion of physical and mental travel. The new exhibition, his first in four years in Paris, is rooted in a sudden confrontation between the artist's personal observations down the decades on urban geography and space, and the reality of a global pandemic. At the heart of the gallery, a Georgian-inspired cabin offers a glimpse of Persian rugs laid casually on the floor in a nod to the many thwarted journeys over the last couple of years. The artist wonders: "How did the epidemic restrict our physical freedom? What impact did the pandemic have on our perception of travel and our status as city dwellers?" His answer is an experimental game playing with imposing "mental maps" that unfurl over several metres. ... More
Harte International Galleries announces discovery of a long-lost wax sculpture by the late Salvador Dalí
The biggest sale platform in Asia with a spectacular ensemble of 20th and 21st century art masterpieces
Magazzino Italian Art presents 'Formafantasma: Designing Nature'


The Lost Wax on Display at Harte International Galleries in Maui.



MAUI.- Harte International Galleries, a fine art gallery specializing in rare, museum-quality masterworks, has discovered a long-lost wax sculpture by the late Salvador Dalí. Created in 1979, the wax sculpture was used as the model for an edition of bas-reliefs entitled of "Christ of St. John of the Cross." Previously thought to be lost in the reproduction process, the work was found to be privately stored for more than four decades. The preservation of the original wax sculpture used to create platinum, gold, silver, and bronze bas-relief sculptures is incredibly challenging, which is why most thought the original wax, created by Dalí's own hands, was lost in the process – thus the term "Lost Wax." This long-unseen sculpture was discovered and subsequently acquired by Harte International Galleries Co-Owners Glenn and Devon Harte from a private art collector who stored the sculpture in the original plexiglass ... More



Nicolas Party (B. 1980), Still Life. Soft pastel on linen, 116 x 89 cm. (45 5/8 x 35 in.) Painted in 2014. HK$9,000,000 – 15,000,000/ US$1,200,000 – 1,900,000.



HONG KONG.- On 26 and 27 May, Christie's is poised to make history yet again with an unprecedented offering of 20th and 21st Century art masterpieces by established and fast-rising international artists, that encompasses different genres, movements, eras, and geographies, across four highly anticipated auctions: 20th/21st Century Art Evening Sale, PARALLΞL UNIVΞRSΞ: NFT Evening Sale, 20th Century Art Day Sale, and 21st Century Art Day Sale. This spring, Christie's will continue to pioneer and lead the NFT auction market with the first ever NFT section in Evening Sale in Asia. Boasting a total sale estimate of over HK$1.4 billion/ US$184 million, and seminal works by iconic artists from Zao Wou-ki, Pablo Picasso, and Yoshitomo Nara, to fast-rising artists like Nicolas Party, Christine Ay Tjoe, ... More



Formafantasma, Aurea Oil Table Lamp, 2016 Hand-coated and polished lost-wax, casting bronze. Courtesy the artists and Galleria Giustini / Stagetti, Rome.



GARRISON, NY.- Magazzino Italian Art announced its collaboration with Manitoga / The Russel Wright Design Center to present Formafantasma at Manitoga's Dragon Rock: Designing Nature. The installation is now on view at the Design Center through November 14, 2022. Always interested in the complex relationship between design and the natural world, Andrea Trimarchi and Simone Farresin of the design duo Formafantasma present a selection of works in dialogue with Manitoga - the house, studio, and surrounding landscape of the renowned American designer Russel Wright (1904-1976). An iconic example of modernist architecture in the idyllic Hudson Valley region, "Dragon Rock" - Wright's home and studio - is made of stone, wood and glass, and was conceived in dialogue with the landscape in which it was ... More
Blum & Poe announces representation and opens exhibition of work by Lauren Quin
Xavier Daniels' first solo show with Almine Rech opens in Paris
Celebrated Los Angeles artist Jean Edelstein dies


© Lauren Quin, Courtesy of the artist; Blum & Poe, Los Angeles/New York/Tokyo; and Friends Indeed Gallery. Photo: Joshua Schaedel.



LOS ANGELES, CA.- Blum & Poe announced the representation of Los Angeles-based artist Lauren Quin on the occasion of her first solo exhibition with the gallery, Pulse Train Howl. This show precedes her first museum solo exhibition which will open later this year at the Nerman Museum of Contemporary Art, Overland Park, KS, along with a presentation at Pond Society, Shanghai, China. Co-published with Colpa Press, NMOCA will also be producing the first monograph on Quin's practice, spanning several bodies of work to date. Quin is also represented by Friends Indeed Gallery, San Francisco, CA. Rendered in a variety of techniques, Lauren Quin's throbbing reverberations of symbols steam ahead before reaching a state of fever-pitch where visual intensities correlate to guttural wailing. Suggesting a synesthesia between sight and sound, ocular shivers within vibrant layers recall sonic vibrations. Pathways multiply and quicken before culminating i ... More



Xavier Daniels, Honesty, 2022. Oil and acrylic on canvas, 182.9 x 121.9 cm, 72 x 48 in / © Xavier Daniels. Courtesy of the Artist and Almine Rech. Photo: Nicolas Brasseur.



PARIS.- Almine Rech is presenting Xavier Daniels' first solo show with the gallery, on view from May 13 to June 11, 2022. Atlanta, Georgia-based artist Xavier Daniels showcases his multihued perspective of brotherhood and unity in an upcoming Paris show Ties that Bind, scheduled to open on May 13 at Almine Rech. Touching on his experiences at Morehouse College, as a firefighter, and in his own family, Daniels features his painted Black male figures to create dialogue surrounding stereotypes, mental health, and other themes. Throughout, he incorporates a range of colors symbolizing different facets of the Black male experience. The artist's portraits of Black men are large and mystical, rife with washes of color, in an effort to symbolically reaffirm the Black male experience on earth and on a metaphysical level. Daniels explains that many of the conversations taking place in popular culture leave Black males invisible ... More



Edelstein devoted her life to painting, constantly challenging the boundaries of her craft.



LOS ANGELES, CA.- Jean Edelstein, a celebrated Los Angeles artist whose abstract and figurative work explored the spiritual underpinnings of society, human tragedy and the female body in motion, died on Monday, May 9th, at her home in Venice, California. She was 95. Edelstein was born in New York City on March 18, 1927, to Jake and Sarah Silvers, Jewish immigrants from Poland and Romania. She studied art at the Pratt Institute, the Art Students League of New York and the University of California, Los Angeles. Her studies led to employment as a fashion illustrator in Louisville, Kentucky and her work was published in Vogue magazine when she was just 18. Throughout her life, Edelstein had a deep empathy for human injustice. While in Kentucky, she led political progressive movements, protesting against Jim Crow laws and working to get Henry A. Wallace on the presidential ballot. Edelstein later moved to Los Angeles, where she met and married Sy Edelstein, a graphic designer and photographer. They had two ... More
The paintings that inspire fashion designers | National Gallery

Flashback
On a day like today, American photographer Richard Avedon was born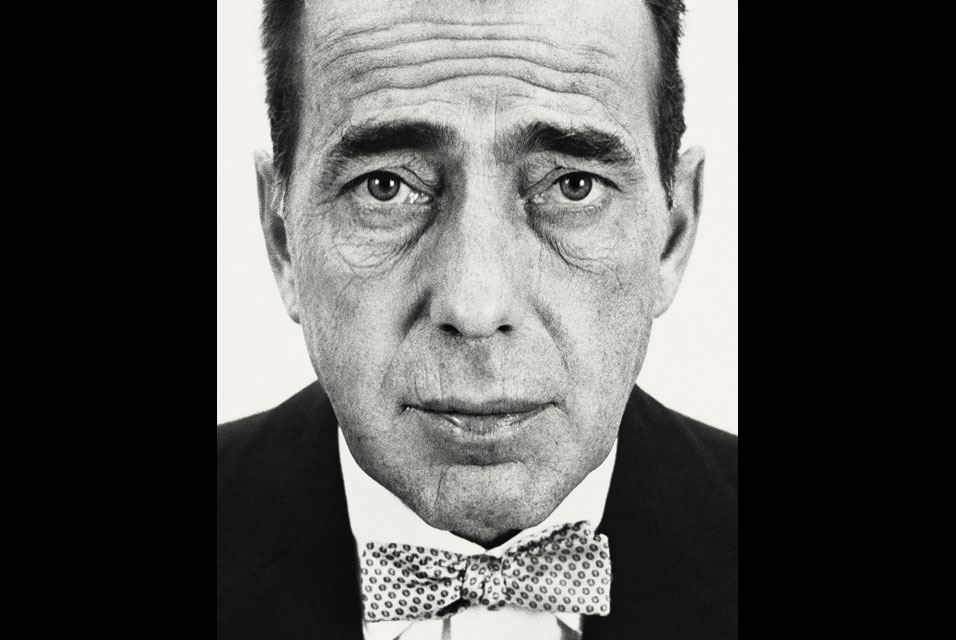 May 15, 1923. Richard Avedon (May 15, 1923 - October 1, 2004) was an American fashion and portrait photographer. An obituary published in The New York Times said that "his fashion and portrait photographs helped define America's image of style, beauty and culture for the last half-century". In this image: Humphrey Bogart, October 2, 1953 by Richard Avedon.
---

Museums, Exhibits, Artists, Milestones, Digital Art, Architecture, Photography,
Photographers, Special Photos, Special Reports, Featured Stories, Auctions, Art Fairs,
Anecdotes, Art Quiz, Education, Mythology, 3D Images, Last Week,

.
---
Royalville Communications, Inc
produces: