Exhibition at Tate Liverpool features some of Lucian Freud's most iconic paintings
Installation view of Lucian Freud: Real Lives at Tate Liverpool 2021 © Gareth Jones.
LIVERPOOL
.-
This summer,
Tate Liverpool
stages a significant presentation of Lucian Freud (1922 - 2011) artworks, the first in the North West in over thirty years. Widely considered a master of modern portraiture, Freud was an artist who continued to expand his exploration of paint throughout his career. This focused exhibition features some of the artist's most iconic paintings and etchings as well as photographs that provide an intimate glimpse into Freud's life. Lucian Freud: Real Lives concentrates on the artist's sitters who were often friends and family, creating clusters of portraits of those he captured over time, and thereby illuminating Freud's technical virtuosity and stylistic development. Deeply private and guarded, it is through his work that we get to know Freud the man, and this exhibition tracks the personal and artistic changes he went through, revealing the different people that came in and out of his life ...
More
The Best Photos of the Day
Pope.L's first solo show in London in more than a decade on view at Modern Art
At Paisley Park, Prince's 'aura of mystique' lives on
Amateur fossil hunters make rare find in U.K. using Google Earth


Pope.L, Oedipal Snowman Problem, 2019-20. Acrylic, charcoal, copy paper, push pins, PVA, painter's tape, wooden discs, post-it, collage, permanent marker and archival pigment prints on panel, 152.7 x 123.2 cm. © Pope.L. Courtesy: the artist, Modern Art, London and Mitchell-Innes & Nash, New York, USA. Photo: Robert Glowacki.



LONDON.- Modern Art is presenting a solo exhibition of work by Pope.L entitled Notations, Holes and Humour. This is Pope.L's first exhibition with Modern Art, and his first solo show in London in more than a decade. Pope.L's exhibition with Modern Art centres on his ongoing project, Skin Set, a constantly growing and shifting group of text-inflected works across many media that consider the construction of language, identity and stereotype as notation, hole and frequently absurdity and humour. The show, installed on both floors of the gallery, contains video, silkscreen, assemblage, floor pieces and paintings made between 2015 and 2021. On view are several medicine cabinets originally shown at the University of Chicago's Neubauer Collegium earlier this year. Each cabinet contains a plexiglass-encased painting illuminated by LED light. The incongruity of the cabinets, their altar-like aspect and the frame-within-a-frame-within ... More



Prince's wardrobe on display at Paisley Park, Prince's home and studio in Chanhassen, Minnesota, on June 30, 2021. Kerem Yucel / AFP.

by Maggy Donaldson



CHANHASSEN (AFP).- To the uninformed eye Paisley Park, Prince's home and studio in suburban Minnesota, could be anything -- an abandoned mall, a government compound, a utilitarian office building. It's only the 11-foot purple love symbol statue, the unpronounceable glyph the artist famously went by during a dispute with his label, that gives the 65,000-square foot complex away as belonging to the artist beloved as Prince. Situated just off the highway leading southwest out of the Twin Cities in the municipality of Chanhassen, Paisley Park served as the virtuoso international pop star's creative and literal home, a sanctum where he spent nearly three decades before he collapsed in an elevator there, dying soon after of an accidental painkiller overdose. Sunlight streams in from the glass pyramid that crowns the complex, where white doves watch over the breezy atrium painted with blue skies and fluffy clouds. With four recording studios, a soundstage and a club, Paisley Park for years hosted artists includ ... More



Dr Lil Stevens, Collections Task Force Manager at the Museum, working at the quarry. She is scrubbing mud away from limestone in the hope of finding treasure inside.

by Aina J. Khan



LONDON (NYT NEWS SERVICE).- Millions of years before the Cotswolds, in western England, became a popular vacation destination, romanticized for its ancient woodlands, honey-colored stone villages and medieval abbeys, it was a shallow, warm sea, home to a Jurassic marine ecosystem. Over 167 million years later, two amateur paleontologists, Neville and Sally Hollingworth, uncovered fossils in a limestone quarry there, the largest find of Jurassic starfish and their relatives ever to be made in Britain. More than 1,000 scientifically significant specimens were unearthed at an undisclosed location during a three-day excavation in June, London's Natural History Museum said in a statement this past week. The site is not being revealed for security reasons. The find by the Hollingworths, a husband-and-wife team, includes three new species and an entire ecosystem of echinoderms — a group of animals that includes starfish, brittle stars, feather stars, sea lilies, sea cucumbers and echinoids. ... More
London Art Week Summer 2021 exhibitions draw delighted UK clients and visitors in person once again
Fundació Vila Casas Museum of Contemporary Sculpture opens "Miró, Gaudí, Gomis: The Magical Meaning of Art"
Exhibition of new works by the artist Genesis Tramaine on view at Almine Rech Aspen


Georgie, by Gluck (1895-1978), sold by Karen Taylor Fine Art.



LONDON.- "LAW is a beautifully produced platform, easy to navigate and provides an alternative experience to other online platforms and art fair viewing rooms. The ability for collectors to see the works online and then, if they wish, in each participants' gallery space is very special and a good way of bringing visitors back to galleries, particularly after such a turbulent year." The above quote from first-time participant Piano Nobile sums up the hybrid London Art Week Summer 2021, which took place online and in galleries from 2-16 July, and concurs with other exhibitors as to the warm response from clients to once again be able to view artworks in person. Many participants staged special themed shows created for London Art Week drawing good attendance particularly in the opening 10 days. With international travel still limited, visitors were on the whole from the UK as were curators, including from the Victoria & ... More



Joan Miró. Equilibrist, 1969.



PALAFRUGELL.- The exhibition Miró, Gaudí, Gomis: The Magical Meaning of Art, co-organised with Fundació Joan Miró based on its collection, and curated by Teresa Montaner and Ester Ramos, highlights the creative affinities between Joan Miró and Antoni Gaudí, as well as the artist's admiration for the architect through the photographs by Joaquim Gomis, first president of the Miró institution and a major promoter of Gaudí's work. The exhibition presents a selection of sculptures, ceramics and drawings by Joan Miró that enter into conversation with the photographs that Gomis took of Gaudí's architecture, as well as an important series of etchings that, with the titles Sèrie Gaudí, Enrajolats and Gran rodona, Miró made in 1979 as a tribute to the architect. This is a project that connects two of the most universally recognised personalities that Catalan culture has ever offered, and does so hand in hand with photographer Joaquim Gomis, who through his images ... More



Genesis Tramaine, Jesus loves me: Anyway, 2021. Acrylic, oil sticks, oil pastels, gouache, acrylic ink, Spray Paint, Holy Spirit, 76.2 x 57.1 cm. 30 x 22 1/2 in. 32 7/8 x 24 3/4 x 1 1/2 in (framed) .



ASPEN, CO.- Almine Rech Aspen is presenting Worship Works, an exhibition of new works by the artist Genesis Tramaine. This is Tramaine's third solo exhibition with the gallery, on view from July 16 to August 1, 2021. WORSHIP WORKS! Inspired by my belief in Gods grace and Mercy! Is an affirmation series that informs my faith energy. I wanted to draw' closer to God literally! So I spent a lot of time drawing... sketching... sometimes with my eyes closed, in hopes of giving further trust to God, a blind space. I allowed my self to be led, by the Holy Spirit! I dare not draw God but I can draw on Jesus and draw closer to his message of love. These worship works' help me to be bold in my belief that God is for all Of us. God is bigger than our immediate and furthest understanding. I needed to rely on love to be used to birth these gospels, so ... More
Rescuing China's muzzled past, one footnote at a time
Blum & Poe exhibits a suite of twenty abstract paintings by artist Kenjirō Okazaki
The Salzburg Festival opens in search of elusive peace


The historian Yu Ruxin in Hong Kong, May 29, 2021. In a two-volume tome, Ruxin explains the crucial role of the military in Mao's stormy Cultural Revolution. Lam Yik Fei/The New York Times.

by Chris Buckley



NEW YORK (NYT NEWS SERVICE).- For decades, Yu Ruxin, a businessman turned independent historian, scoured used book stalls across China for frayed, yellowing documents about the Cultural Revolution, a decade of mass political upheaval unleashed by Mao Zedong. The fruit of his long quest was published in Hong Kong this month, a 1,354-page history that sheds new light on the central role of the military during the Cultural Revolution. The People's Liberation Army is widely known to have been called in to impose order, but Yu also documents in meticulous detail how the military was also involved in purges and political persecution. "Through the Storm," a two-volume Chinese-language book buttressed with 2,421 footnotes, stands out all the more these days, when Chinese authorities are determined to erase the darkest chapters of the party's history. China's ... More



Kenjiro Okazaki, Returning Chryseis / 揺れる眼差しはすでにヨコシマ, 2020. Acrylic on canvas, 9 5/8 x 7 x 1 1/2 inches framed © Kenjiro Okazaki, Courtesy of the artist and Blum & Poe, Los Angeles/New York/Tokyo.



LOS ANGELES, CA.- Blum & Poe is presenting Tokyo-based artist Kenjirō Okazaki's TOPICA PICTUS / La Cienega, a suite of twenty abstract paintings, each paired with a short essay and reference image(s), which function as key components to provide multi-layered experiences to audiences. This is Okazaki's fourth presentation with the gallery and follows the recent announcement of his representation. In an ongoing series that now comprises over 150 works since the start of the COVID-19 pandemic, the works on view were made in response to the unprecedented condition of isolated co-existence, the suspension of time and space, and the perceived loss of tactile or concrete experience, which has significantly impacted our social reality. For the artist, this condition has provided the "possibility of going everywhere because we cannot go anywhere," an opportunity to go on a solitary journey. In the process of making these paintings, ... More



Lithuanain singer Ausrine Stundyte and German singer Tanja Ariane Baumgartner perform during the photo rehearsal of the opera "Electra" at the Felsenreitschule in Salzburg, on July 23, 2021. BARBARA GINDL / APA / AFP.



SALZBURG (NYT NEWS SERVICE).- "What is peace?" a singer asks in Latin at the start of Klaus Huber's "Quod Est Pax?" The orchestra responds with a wandering, spectral sound that underscores the question, as it is asked again and considered from different angles, until the instruments erupt in a disorderly mass as if to answer: Peace is not a pleasant tune. After all, peace — the theme of this year's Ouverture Spirituelle, the concert series that opens the Salzburg Festival — is often more of an offstage character, spoken of through crisis and conflict. And it was particularly elusive as the performances of the past week were nearly thwarted by the world's problems. In the first days of the festival, heavy rain brought the Salzach River here to dangerously high levels — a reminder of the deadly floods that had recently swept through parts of Germany and Belgium. Across the Atlantic, extreme heat broiled ... More
Harn Museum examines Black life in new "Shadow to Substance" exhibition
Major works of modern and contemporary art recently added to Honolulu Museum of Art's collection
Exhibition focusing on historic effort that saved thousands of young lives on view at American Swedish Institute


Sheila Pree Bright, The Rebirth of Us, 2020 (detail). Archival inkjet print. Courtesy of the artist. © Sheila Pree Bright.



GAINESVILLE, FLA.- The Harn Museum of Art at the University of Florida collaborated with UF College of the Arts, Museum Studies Professor and UF Graduate Student in the Department of English to organize and present its newest exhibition Shadow to Substance on view from July 27, 2021 to February 27, 2022. The exhibition represents a chronological arc from the past to the present, and into the future by displaying historical photographs of Black lives and new work by Black photographers. Sixteen photographs by eleven photographic artists were recently purchased for the Harn Museum's permanent collection and are the heart of Shadow to Substance. The exhibition is co-curated by Dr. Porchia Moore, University of Florida College of the Arts Department Head and Assistant Professor of Museum Studies; Kimberly Williams, University of Florida Graduate Student, Department ... More



Li Huayi, Pine Trees and Spring, 2008 (detail). Ink and color on paper, 97 x 188.



HONOLULU.- Over the past six months, over a half dozen major works of contemporary art have been added to the Honolulu Museum of Art's permanent collection in addition to a significant gift of 127 Japanese modern works. Many of these recent contemporary acquisitions are currently on view at the museum: pioneering digital media artist Jennifer Steinkamp's Judy Crook 9, 2017, an almost ten-foot-high animated projection of a tree, contemporary Chinese artist Li Huayi's Pine Trees and Spring, 2008, an intricate landscape painting, American photographer Richard Misrach's Untitled (July 20, 2013 2:02 pm), 2013, a large-scale photograph from his On the Beach series begun while he was visiting Honolulu in 2001, and American artist Viola Frey's Fire Suit with Large Yellow Hands, 1983, a towering ceramic sculpture. The recent acquisitions also include a rare signed print of an iconic photograph by Diane ... More



Kindertransport – Rescuing Children on the Brink of War



MINNEAPOLIS, MN.- Kindertransport – Rescuing Children on the Brink of War, a major exhibition on view July 22–October 31, 2021, at the American Swedish Institute in Minneapolis, illuminates the story of the Kindertransport (German for "Children's Transport"). This astonishingly successful rescue effort brought about 10,000 Jewish children from Nazi Germany to Great Britain and other countries, including Sweden, between 1938 and 1939. The exhibition explores the children's difficult and often heartbreaking journeys through original artifacts, audio testimonies and moving personal stories. The regional debut of this exhibition is accompanied by The Story is Here, developed by ASI, which features the experiences of Midwest families impacted by the Kindertransport. Kindertransport– Rescuing Children on the Brink of War is brought to life by objects that the children took with them, such as a necklace and letters ... More
How to sketch movement | Drop-in Drawing

Flashback
On a day like today, Ignacio Villarreal Junco founder of ArtDaily died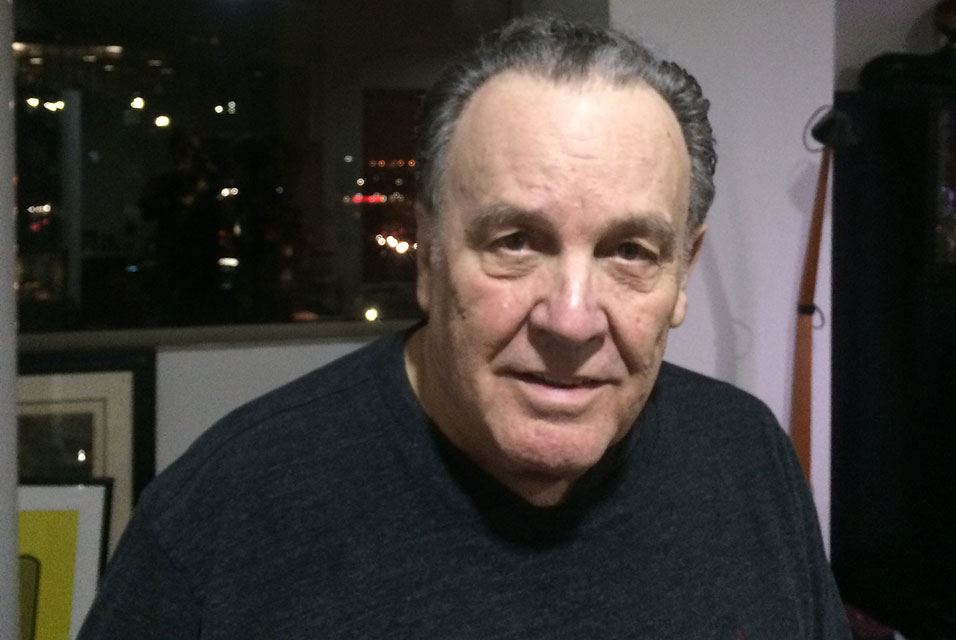 July 26, 2019
.
Ignacio Villarreal Junco
(December 20, 1941 - July 26, 2019) Journalist, graphic designer and publicist between the 1960s and 1990s, creator of concepts, images, slogans, logos, campaigns and founder of ArtDaily.com The First Art Newspaper on the Net. As editor he published the magazines: Gala (1965), Creatividad (1972-1977), Espacio (1983-1984), Museos (1995-1996). For ten years he made the Agenda del Arte (1987-1997). He made the serigraphic editions titled: 1976-Calendario Gráfico, 1977-Alfabeto Gráfico. He also edited serigraphs with the visual artists: José Luís Cuevas, Juan Soriano, Juan Genovés. Corporate Identities: 1968 - Hylsa, 1970 - Universidad de Monterrey, 1974 - Banpaís, 1978 - Akra, 1985 - Ábaco, 1990 - Club de Fútbol Monterrey, 1991 - Socrates Rizo Campaign, 1992 - Confía, 1993 - Mexlub, 1993 - Rogelio Montemayor Campaign, 1996 - Monterrey400 (Fourth centenary of the city), 2002 - UANL Tigres Soccer Club. As a publicist, he received 18 national awards: Teponaxtlis de Malinalco and as founding editor of ArtDaily, an art newspaper that has received 51 awards or distinctions.
---

Museums, Exhibits, Artists, Milestones, Digital Art, Architecture, Photography,
Photographers, Special Photos, Special Reports, Featured Stories, Auctions, Art Fairs,
Anecdotes, Art Quiz, Education, Mythology, 3D Images, Last Week,

.
---
Royalville Communications, Inc
produces: