Preeminent Antique Carpet Gallery Reaches Out to Clientele with Message of Inspiration
Ca. 1875 Serapi (8-2x11-11).
OAKLAND, CA
.-
Claremont Rug Company
, which specializes in art-level antique Oriental rugs woven during the Second Golden Age of Persian Weaving (ca 1800 to ca 1910), has enhanced its online presence as it continues to serve its clients who reside on six continents. Prior to temporarily closing its physical gallery as part of the Shelter in Place effort to combat OVID-19, Claremont founder/president Jan David Winitz noted that more than 60 percent of transactions involved the internet. "Even as our four-showroom Gallery is temporarily shuttered, we have redoubled our commitment to be available for calls and emails and to ship rugs on approval, directing clients to our website gallery that shows over 1000 rugs from our much wider inventory," he said. Additionally, for the first time in more than three decades, Claremont is offering a price incentive ...
More
The Best Photos of the Day
Museums scramble to document the pandemic, even as it unfolds
National Gallery of Art returns Picasso work to settle claim
Edinburgh arts festival cancelled due to virus: organisers


A policeman speaks with a car driver at a check point in Mäntsälä, at the northern border of the Uusimaa (Nyland) region in Finland on March 28, 2020. Heikki Saukkomaa / Lehtikuva / AFP.



NEW YORK (NYT NEWS SERVICE).- Late Friday evening, Finland's most populous region cut itself off from the rest of the country. By the time residents of Uusimaa, which includes the capital, Helsinki, and is home to more than half of Finland's more than 1,300 coronavirus cases, awoke on March 28, roadblocks had been erected along its highways, and the police were out in force to prevent anyone from entering or exiting. This week, those police officers may notice a few observers tracking their efforts. The photographers and interviewers will not necessarily be journalists, but rather employees of the National Museum of Finland, attempting to capture the historic moment in real time. Around the world, the coronavirus outbreak has sent legions of emergency medical and health care workers into overdrive. But it has also meant work for a handful of curators and museum researchers in Europe, charged with tracking the events and implications of the crisis, even as it happens. Most of them do not know exactly how o ... More



Portrait photograph of Pablo Picasso, 1908.

by Catherine Hickley



NEW YORK (NYT NEWS SERVICE).- The National Gallery of Art in Washington announced that it will return a pastel by Pablo Picasso, "Head of a Woman," to the heirs of a prominent German Jewish banker who was persecuted by the Nazis. The 1903 Blue Period pastel of a dark-haired, unsmiling woman — her identity is unknown — is one of at least 16 masterpieces that banker Paul von Mendelssohn-Bartholdy sold in the months after the Nazis seized power and before his death in 1935. A relative of famous composer Felix Mendelssohn and Enlightenment philosopher Moses Mendelssohn, Mendelssohn-Bartholdy was ousted from the Central Association of German Banks and Bankers in 1933 and from the board of the Reich Insurance Office in 1934. The family bank was "aryanised" — transferred to non-Jewish ownership — in 1938. "Head of a Woman" was sold to dealer Justin K. Thannhauser in 1934. The National Gallery of Art said it acquired the pastel as a donation in 2001. The museum said it has ... More



In this file photo taken on August 07, 2003, street artists perform during the Fringe Festival before the start of the Edinburgh International Festival at the Royal Mile. Ian STEWART / AFP.



EDINBURGH (AFP).- Edinburgh's international festivals were cancelled for the first time in 70 years on Wednesday because of the coronavirus pandemic, organisers said, in the latest blow for Britain's thriving arts scene. Theatres, galleries and museums have been shut and music festivals such as Glastonbury called off, in line with government measures to cut close-contact transmission of the virus at mass gatherings. In Edinburgh, Fringe Society chief executive Shona McCarthy said the decision to cancel The Fringe, International Festival, Jazz and Blues Festival, Book Festival and Military Tattoo was "heartbreaking". "However, having taken advice and considered all the options, we collectively believe this is the only appropriate response," she added. The festivals provide a platform for both professional and amateur performers and are estimated to be worth around £300 million ($371 million, 340 million euros) to the local economy. They comprise more than 5,000 events in ... More
As furloughs grow, Kennedy Center defends Use of $25 million in aid
Hauser & Wirth to open online exhibition 'George Condo. Drawings for Distanced Figures'
Take a virtual tour of New York's museum district


A section of the Reach, designed by Steven Holl Architects, the Kennedy Center's first expansion in its nearly half-century history. Justin T. Gellerson/The New York Times.

by Julia Jacobs



NEW YORK (NYT NEWS SERVICE).- Facing criticism for furloughing workers after it was granted $25 million in federal coronavirus relief funding, the John F. Kennedy Center for the Performing Arts on Tuesday defended its need for the bailout and outlined its plans for the money. The Kennedy Center in Washington, home of the National Symphony Orchestra and the Washington National Opera, painted a dire picture of the pandemic's economic effect, saying in a statement that even with the extra funding, the center would run out of cash as soon as July. The center announced Tuesday that it would need to furlough around 250 people, roughly 60% of its full-time administrative staff, in addition to more than 700 hourly and part- ... More



George Condo with his work 'Linear Contact', 2020. © George Condo. Courtesy the artist and Hauser & Wirth.



NEW YORK, NY.- The upcoming online exhibition from Hauser & Wirth features a new group of drawings by George Condo which are related to his most recent painting series 'Distanced Figures.' Made during the last three weeks, in the artist's home studio in New York state, these portrait drawings are evocative of the experience of isolation during this unsettling period of social distance. Depicted in crayon, pencil and ink, overlapping figures are layered, combining multiple viewpoints to reflect different emotions occurring simultaneously; fear, paranoia, claustrophobia, panic and distress are portrayed in this particular group of drawings but handled with such beauty, elegance and resolve as to provide an antidote. Condo describes the figures in this new series of works as 'distanced from one another or in fact even distanced from themselves.' Condo is a defining figure of contemporary American ... More



A tractor parked outside the Solomon R. Guggenheim Museum, part of a shuttered exhibition called "Countryside, The Future," in New York, March 17, 2020. Zack DeZon/The New York Times.

by Michael Kimmelman



NEW YORK (NYT NEWS SERVICE).- The Metropolitan Museum of Art was preparing to celebrate its 150th anniversary right about now. But with COVID-19, it has closed, along with the Guggenheim, the Neue Galerie, the Cooper Hewitt and all the other museums along the stately stretch of the Upper East Side known as Museum Mile. This is the second in a series of strolls exploring the city, a project that originated before New Yorkers went on pause and started sheltering at home, when taking a walk was still prescribed. Back then, I canvassed architects, historians and others for suggested routes, with the goal of distracting readers and reminding everyone that, though shuttered, the city remains glorious and isn't going anywhere. Andrew Dolkart ... More
Asuka Anastacia Ogawa joins Blum & Poe
Works by Maria Helena Vieira da Silva featured in Di Donna Galleries' inaugural online viewing room
Adam Schlesinger, songwriter for rock, film and the stage, dies at 52


Blue, 2019, acrylic on canvas, 40 x 30 inches, © Asuka Anastacia Ogawa.



LOS ANGELES, CA.- Blum & Poe announced the representation of Japanese-Brazilian artist Asuka Anastacia Ogawa. Later this week, Blum & Poe's new digital platform Broadcasts will present a preview of new work from a forthcoming exhibition at Blum & Poe Tokyo, the artist's first solo presentation with the gallery. Ogawa's large figurative paintings depict androgynous children in chimerical dreamscapes, otherworldly scenes formed from solid fields of color and flat picture planes. Her subjects have wide thin eyes that gaze forward, piercing the fourth wall. Ogawa conjures these compositions through an exercise that embraces unmediated impulse and channels the sense of curiosity, wonder and play paramount to childhood. In one picture -- Medicine girl (2019) -- under a deep red sky holding a small orange sun, a child kneels below a string of flags that hang from two posts of swirling pastels. Tinctures in small bottles flank her knees while a stream of g ... More



Maria Helena Vieira da Silva, Les Joueurs de cartes, 1947-48 (detail). Oil on canvas, 81 by 100 cm (31⅞ by 39⅜ in.) Private Collection © Maria Helena Vieira da Silva.



NEW YORK, NY.- Di Donna Galleries is presenting Maria Helena Vieira da Silva, the gallery's inaugural online viewing room, which explores the career of Vieira da Silva, a key member of Paris's post-war art community. Maria Helena Vieira da Silva launches on didonna.com on April 2, 2020. While the physical exhibition at Di Donna's New York gallery has been postponed due to the current health crisis, the online viewing room dynamically presents the works intended for the exhibition, including loans from distinguished international collections. The exhibition travels to Di Donna as part of a landmark tour in collaboration with Jeanne Bucher Jaeger, Paris, and Waddington Custot, London, which hosted the exhibition in autumn 2019 and winter 2020. In a first-of-its-kind collaboration between the three international galleries, the exhibition spans ... More



Adam Schlesinger performs with the string quartet Ethel, at Damrosch Park in New York, July 28, 2010. Brian Harkin/The New York Times.

by Ben Sisario



NEW YORK (NYT NEWS SERVICE).- Adam Schlesinger, a singer-songwriter for the bands Fountains of Wayne and Ivy who had an award-winning second career writing songs for film, theater and television, died Wednesday. He was 52. The cause was complications of the coronavirus, said Josh Grier, his lawyer. In Fountains of Wayne, which was started in 1995, Schlesinger and Chris Collingwood perfected a novelistic form of hummable pop-rock in a style derived equally from the Kinks and 1970s groups like Big Star and the Cars. They chose northern New Jersey and the outer boroughs of New York City as their territory, chronicling the lives of suburban mall shoppers, Generation X slackers and down-market cover bands in songs like "Hackensack" and "Red Dragon Tattoo." The band was named after a lawn ornament ... More
Balcony stars bring joy to self-isolating French
2020 Porter Fleming Literary Competition award winners
Sotheby's launches online day sales of Contemporary and Impressionist & Modern Art this May


Uruguayan cellist Karina Nunez plays on the balcony of her apartment in Panama City on March 23, 2020, during mandatory isolation due to the new coronavirus pandemic. Luis ACOSTA / AFP.



PARIS (AFP).- Faced with the fear and boredom of the coronavirus lockdown, music is playing a small but important part in making life more bearable for some French people who are being treated to nightly balcony performances. Every evening at 7pm, tenor Stephane Senechal throws open the window of his apartment in Paris's 9th arrondisement and lets fly with an aria. "When I see the smile that I bring each evening with my song, that gives me great pleasure," he tells AFP. "All day long, we are told of tragic things, of the dead. When I see smiles, I see hope. It's a little moment of freedom, of escape," he says. Senechal says he lives in a neighbourhood where "there are a lot of elderly people" and it was a moment of reflection from an 80-year-old neighbour at the beginning of the lockdown that pushed him to sing at his window. "She told me 'we will feel even more isolated'. I was rehearsing the role of Don Jose in "Carmen" at the ... More



The Porter Fleming Literary Competition, recognizing talented writers who reside in Alabama, Florida, Georgia, Mississippi, North Carolina, South Carolina, and Tennessee, was established in 1993 by Shirley Fleming to honor her late father, noted author and artist Berry Fleming.



AUGUSTA, GA.- The winners of the 2020 Porter Fleming Literary Competition have been announced by the Morris Museum of Art. They are: FICTION 1st Place: Joseph Kitchens, Jasper, Georgia; Going Home on the Nancy Hanks (1961) 2nd Place: Joseph Kitchens, Jasper, Georgia; The Dove 3rd Place: Bill Phillips, Augusta, Georgia; The Right to Vote Honorable Mention: Leslie Peterson, Aiken, South Carolina; The Memories of Cherished Friends Judge: Matthew Null, a novelist (Honey from the Lion) and short story writer, is a graduate of the Iowa Writers' Workshop. He is a winner of the O. Henry Award, the Mary McCarthy Prize, and the Joseph Brodksy Rome Prize from the American Academy of Arts and Letters. After a residency at the American Academy in Rome, he taught in the English Department faculty at Bryant ... More



Pierre-Auguste Renoir, Roses dans un vase décoré, painted circa 1912-13. Estimate: $450/650,000. Courtesy Sotheby's.



NEW YORK, NY.- Sotheby's announced two exciting additions to their sale calendar this May: the Contemporary Art Day Auction Online (open for bidding 4 – 14 May) and the Impressionist & Modern Art Day Sale Online (open for bidding 4 – 15 May). Sotheby's has long been a leader in the Day Sale marketplace – since 2017, their Day Sales of Contemporary and Impressionist & Modern Art in New York have raised nearly $900 million. More than half of all lots offered across those sales exceeded their high estimates, demonstrating the consistent depth of demand in this segment of the market. The new Online Day Sales will present works of the same quality that have driven the success of their live counterparts, offering a curated selection of works by blue-chip artists across the 20th and 21st centuries. Sotheby's sold $250 million of fine art and luxury goods online in 2019, including $80 million achieved across 129 ... More
Quote
Patriotism is the last refuge of the sculptor. William Plomer.
---
Edward Weston and Tina Modotti: The Susie Tompkins Buell Collection
---
Flashback
On a day like today, botanist and illustrator Maria Sibylla Merian was born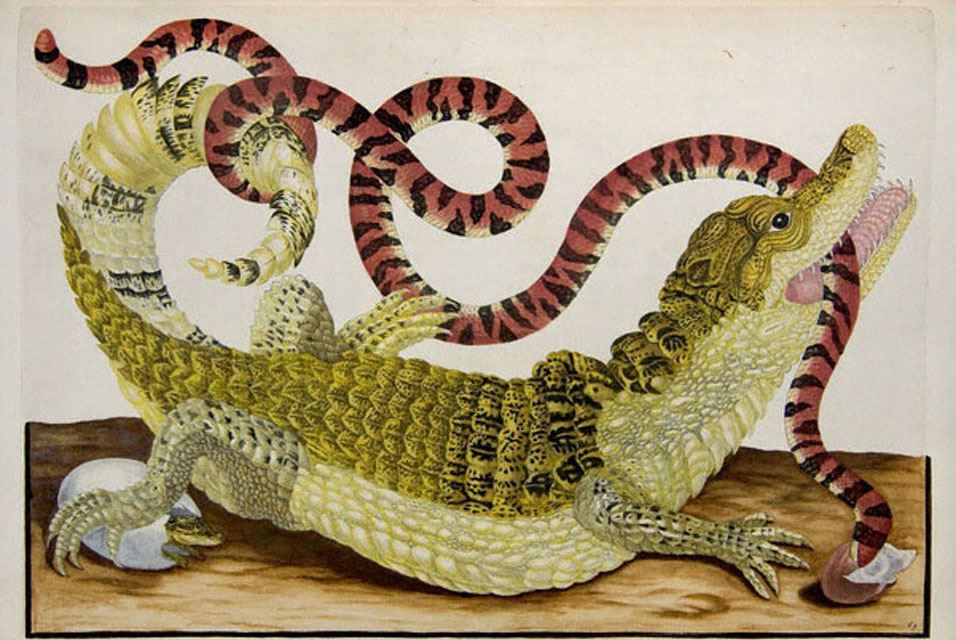 April 02, 1647. Maria Sibylla Merian (2 April 1647 - 13 January 1717) was a German-born naturalist and scientific illustrator, a descendant of the Frankfurt branch of the Swiss Merian family. Merian was one of the first naturalists to observe insects directly. In this image: Maria Sibylla Merian (German, 1647 - 1717), Dwarf Caiman and False Coral Snake from The Insects of Suriname, 1719. Hand-colored etching. 87.5 x 53 cm EX.2008.2.14. Universiteitsbibliotheek, Groningen, Netherlands, 699Z. Photo: Dirk Fennema, Haren (Netherlands).
---

Museums, Exhibits, Artists, Milestones, Digital Art, Architecture, Photography,
Photographers, Special Photos, Special Reports, Featured Stories, Auctions, Art Fairs,
Anecdotes, Art Quiz, Education, Mythology, 3D Images, Last Week,

.
Royalville Communications, Inc
produces: