Desecrated: blast leaves old Beirut's heritage gems in ruins
This combination of pictures created on August 10, 2020 shows (L) a view of the stained glass windows at the Sursock Museum, once a private home built in 1912 and became a host to an impressive permanent art collection as photographed in the neighbourhood of Ashrafiyeh in Lebanon's capital Beirut on October 5, 2015; and (R) an image of the museum taken on August 8, 2020, showing the empty windows after their stained glass was broken in the aftermath of the massive blast at the port of Beirut which ravaged entire neighbourhoods of the city. ANWAR AMRO, JOSEPH EID / AFP.

by Hashem Osseiran
(AFP)
.-
The monster explosion that levelled Beirut's port darkened the Lebanese capital's future but also blasted its past into oblivion, ravaging many beloved architectural and cultural treasures. Gems of the city's heritage, including some of the region's most elegant Levantine villas with their triple-arch windows, were damaged beyond repair. Many of old Beirut's remaining colonial-era and earlier landmarks had already been damaged by 15 years of civil war and decades of government neglect. The August 4 blast finished the job. Days after the disaster, Tania Ingea gave a tour of her home on Sursock Street, which bears her relatives' name and houses some of the most striking vestiges of the old Beirut aristocracy's heyday. ...
More
The Best Photos of the Day
National Gallery of Art acquires its first work by John Outterbridge
Oldest moving images of Europe: World premiere at Eye Filmmuseum
Eli Wilner & Company is offering the world's most expensive period frame


John Outterbridge, Plus Tax: Shopping Bag Society, Rag Man Series, 1971. Mixed media overall: 50.8 x 34.3 x 19.1 cm (20 x 13 1/2 x 7 1/2 in.) National Gallery of Art, Washington. Purchased with funds from The Ahmanson Foundation and Howard and Roberta Ahmanson 2020.12.1.



WASHINGTON, DC.- The Gallery has recently acquired Plus Tax: Shopping Bag Society, Rag Man Series (1971), the first work by the African American artist John Outterbridge to enter the collection. It is part of a series of eight sculptures only three of which are known to exist, made from 1970 to 1976 that were inspired by the idea of the ragman tradition and the social fabric of 1970s south-central Los Angeles. John Outterbridge (b. 1933) grew up during the Depression in the Jim Crow South surrounded by his grandmother's handmade herbal remedies (often sewn into asafetida bags) and a playground of discarded objects from his father's junk business. In 1963 Outterbridge went to Los Angeles, where he began assembling cast-off materials ... More



The Brilliant Biograph: Earliest Moving Images of Europe (1897-1902).



AMSTERDAM.- Eye Filmmuseum and the British Film Institute (BFI) are presenting a compilation of one-minute films by the Mutoscope and Biograph Company. The fifty 68mm films – unrivalled in terms of depth of field and clarity – have been digitally restored (8K resolution) with support from the European Commission. The oldest moving images of such cities as London, Paris, Amsterdam and Berlin will soon go on show at the filmmuseum. Concert pianist Daan van den Hurk will provide live musical accompaniment with a specially written score. The Brilliant Biograph: Earliest Moving Images of Europe (1897-1902), Eye, Cinema 1; 31 August, 17.00; ticket sales via eyefilm.nl/brilliant Pathé, Lumičre, Edison and Gaumont are all celebrated as pioneers of film history. This is much less the case with the Mutoscope and Biograph Company, co-founded in 1896 by William Kennedy-Laurie Dickson, a brilliant engineer and ... More



Original Stanford White period frame, in the collection of Eli Wilner & Company, available for $1.4 million.



NEW YORK, NY.- Antique frame dealer Eli Wilner & Company announced the acquisition of a carved and gilded frame designed by Stanford White in 1890. "This frame is priced at $1.4 million." An essay by Jacob Simon, John Singer Sargent & the framing of his pictures, in Richard Ormond & Elaine Kilmurray's John Singer Sargent: Figures and Landscapes, 1914-1925: The complete paintings, Vol. IX, features an in-depth look at the frame on Sargent's Portrait of Henry Cabot Lodge in the collection of the National Portrait Gallery in Washington, DC. The close similarity between the two frames suggests that the frame in Wilner's collection would be very suitable for a Sargent painting. In addition to being one of the most prominent American architects of the turn of the 20th century, Stanford White was a friend to many of the most notable artists of his time, and became one of the most important figures in the history of American fr ... More
The Barnes Foundation reopens with 'Marie Cuttoli: The Modern Thread from Miró to Man Ray'
Billie Eilish's ukulele, Elton John's tracksuit & more headline MusiCares Julien's Auctions Charity Auction
'Stanley Kubrick,' a brisk new biography of a major talent


Fernand Léger (1881–1955). Composition with Three Figures—Fragment, 1932. Oil on canvas, 56 3⁄4 × 45 in. (144.2 × 114.3 cm). Carnegie Museum of Art, Pittsburgh. Gift of Mr. and Mrs. J. Heinz. Photograph © 2019 Carnegie Museum of Art, Pittsburgh © 2020 Artists Rights Society (ARS), New York / ADAGP, Paris.



PHILADELPHIA, PA.- The Barnes Foundation has reopened with new health and safety protocols for staff and visitors. The Marie Cuttoli: The Modern Thread from Miró to Man Ray exhibition, which opened less than three weeks before the Barnes closed on March 13, has been extended through August 23. "During the past few uncharted and challenging months, the relevance of museums, as spaces that naturally offer respite, rejuvenation, and educational enrichment, has come into sharper focus," says Thom Collins, Neubauer Family Executive Director and President. "Our planning for reopening has been thorough, involving many conversations with staff, elected ... More



Billie Eilish's signed ukulele.



BEVERLY HILLS, CA.- Julien's Auctions announced today the marquee lineup of items to be sold at MusiCares Charity Relief Auction, taking place Wednesday, September 9 live in Beverly Hills and online at juliensauctions.com with advance online bidding starting Monday, August 17th. The items offered by artists, athletes and entertainers includes Barbra Streisand, Bee Gees, Bill Wyman, Billie Eilish, Blake Shelton, Brandon Flowers (The Killers), Carlos Santana, Carole King, Cher, Chrissie Hynde, Coldplay, Darrell "Bubba" Wallace Jr., Depeche Mode, Elton John, Eric Clapton, Hans Zimmer, Joan Jett, John Stamos, Ozzy Osbourne, Patti Smith, Peyton Manning, Rhett Atkins, Rick Fox, Sir Tom Jones, Snoop Dog, Thomas Rhett, Tom Petty, Tom Waits, Willie Nelson and more in a charity auction to benefit MusiCares, the charitable foundation which provides aid to artists and music community professionals in times of need. ... More



"Stanley Kubrick: American Filmmaker" by David Mikics. Illustrated. 233 pages. Yale University Press. $26.

by Dwight Garner



NEW YORK (NYT NEWS SERVICE).- Pauline Kael was no fan of Stanley Kubrick's movies. She deplored his "arctic spirit." She compared "A Clockwork Orange" to the work of a Teutonic professor. In her review of "2001: A Space Odyssey," she wrote: "It's a bad, bad sign when a movie director begins to think of himself as a mythmaker." I'm not a member of the Kubrick cult, but Kael's animus always surprised me. After all, she's the critic who wrote, in a dismissal of the 1986 Rob Reiner film "Stand by Me," "If there's any test that can be applied to movies, it's that the good ones never make you feel virtuous." A person who feels virtuous after watching a Kubrick movie should be prohibited from owning sharp tools. David Mikics' "Stanley Kubrick: ... More
AIDS quilts for an artist and his partner, sewn during a new pandemic
She explains 'mansplaining' with help from 17th-century art
An exhibition tells the story of a drug war leader, but not all of it


The quilt friends sewed to honor Tom Rauffenbart, who died in 2019, in New York, Aug. 7, 2020. Karsten Moran/The New York Times.

by Brian Boucher



NEW YORK (NYT NEWS SERVICE).- Since the fall of 2019, six women, some from the art world, others retired social workers, had labored on two AIDS quilts devoted to the memories of artist David Wojnarowicz and his partner, Tom Rauffenbart. The women converged from all over New York City on the neighborhood of Washington Heights, at the home of Anita Vitale, who had met Rauffenbart, a fellow social worker, in the 1980s. Then, in mid-March, in what you might call a sad cosmic coincidence, their work was interrupted by the arrival of another pandemic. Rauffenbart, who learned he had AIDS before his partner but lived until last year, had always wanted to create a quilt for Wojnarowicz, who died in 1992. In 2018, when the Whitney Museum of American Art mounted the retrospective "David Wojnarowicz: History Keeps Me Awake at Night," he decided it was time, but then became too ill to carry it through. The sewing circle — arts writer Cynthia Carr, author ... More



"The mansplainer explains things in a condescending way," Tersigni said. "Their thoughts are always unsolicited." Chronicle Books.

by Alisha Haridasani Gupta



NEW YORK (NYT NEWS SERVICE).- This story begins, as so many do these days, on Twitter. In May 2019, Nicole Tersigni, a Detroit-based writer, logged onto the social media platform at the end of a long day. She was tired and frazzled from looking after her 8-year-old daughter, who was home sick at the time. "So I go online just to kind of scroll through Twitter and zone out for a little bit," she said, "and I see a dude explaining to a woman her own joke back to her — something that has happened to me many times." In the past, Tersigni had let those kinds of irritating conversations go, but this one sparked something in her. She Googled "woman surrounded by men" ("because that is what that moment feels like when you're online," she said) and stumbled upon a 17th-century oil painting by Jobst Harrich of a woman baring one breast in the middle of a scrum of bald men. She combined that image with the caption: "Maybe if I take my tit out they will stop explaining my ... More



In an undated image provided via D.E.A., a rendering of design concepts that have been considered as part of the renovation of the D.E.A. Museum galleries in Arlington, Va. Via D.E.A. via The New York Times.

by Colin Moynihan



NEW YORK (NYT NEWS SERVICE).- Harry J. Anslinger's pioneering work as head of the Federal Bureau of Narcotics has largely been unsung, although experts see him as the founding father of America's war on drugs. In 2014, the Drug Enforcement Administration raised his profile with a symposium that focused on the decades he spent creating national drug policy, starting in the 1930s. Following that, in 2015, the agency's museum opened an exhibition: "A Life of Service: Harry Jacob Anslinger, 1892-1975." When that closed in 2017, the DEA Museum & Visitors Center created a virtual version, which is displayed on its website. But neither the live exhibition nor the virtual one mentioned that Anslinger has been criticized for making racist and denigrating remarks, accusations that have trailed him for years. In 1934, for example, Anslinger used a racial slur to describe a Black informant in a letter to narcotics ... More
The George Eastman Museum commemorates the 19th Amendment ratification centennial
Victoria Miro opens an exhibition of works by Alex Hartley
Vivant Books publishes a stunning exploration of the work and legacy of American sculptor Paul Villinski


This installation examines how photography has portrayed, and fundamentally shaped, perceptions of women and feminist movements since the mid-1800s.



ROCHESTER, NY.- The George Eastman Museum has recently opened a new rotation in its History of Photography Gallery commemorating the centennial of the ratification of the Nineteenth Amendment. The amendment was intended to prohibit states and the federal government from denying citizens the right to vote on the basis of sex. While this is celebrated as granting American women the right to vote, many women continued to be prevented from exercising that right. The installation, which opened on July 26 when the museum reopened to the public, will remain on view through January 3, 2021. For those who cannot visit the museum in person, the gallery is also available to view virtually with a 3D tour at eastman.org. This installation examines how photography has portrayed, and fundamentally shaped, perceptions of women and feminist movements since the mid-1800s. The selection of works on view includes portraits ... More



Alex Hartley, Greenside (Bracken House), 2019. Acrylic, C type photograph, plywood and paint, 132 x 107 x 7 cm. 52 x 42 1/8 x 2 3/4 in © Alex Hartley. Courtesy the artist and Victoria Miro.



LONDON.- New works from Alex Hartley's acclaimed series The Houses bring together photographic and overlaid painterly elements to examine the idea of the viewpoint, the frame and the boundary – between interior and exterior, manmade and natural environments, public and private space, two and three dimensions. Alex Hartley's work shows us new ways of physically experiencing and thinking about our constructed surroundings. Iconic examples of modernist domestic architecture, photographed by the artist over the past twenty-five years, form the basis of these atmospheric monochrome works, in which the photographic image lies separated beneath hand-painted elements – describing and embellishing a verdant landscape – applied directly to a layer of semi-transparent acrylic. These include the first UK houses featured by Hartley, examples of British ... More



This deluxe coffee table book (each copy of which is complete with an elegant aluminum butterfly embedded in the front cover) documents three decades of Paul's groundbreaking work.



NEW YORK, NY.- Vivant Books announced a limited-run rerelease of VILLINSKI ($95.00), an in-depth monograph that captures the work and influence of sculptor Paul Villinski (American, born 1960). Documenting three decades of the artist's studio and public art practice, the book covers Villinski's groundbreaking work, which has been exhibited extensively throughout the United States in museum and gallery exhibitions. A pilot of gliders and airplanes, metaphors of flight and soaring often appear in Villinski's work. With a lifelong concern for environmental issues, his work frequently repurposes discarded materials of all sorts to surprising and poetic ends. The volume features an extensive biographical introduction by Lisa Freiman, PhD, and essays by renowned critics, curators and authors including: Bartholomew Bland • Dan Cameron • Kimberly Davenport • Michele ... More
Quote
Rules and models destroy genius and art. William Hazlitt
---
Artist Jeff Koons on his iconic sculpture Play-Doh
---

Flashback
On a day like today, American artist Jackson Pollock died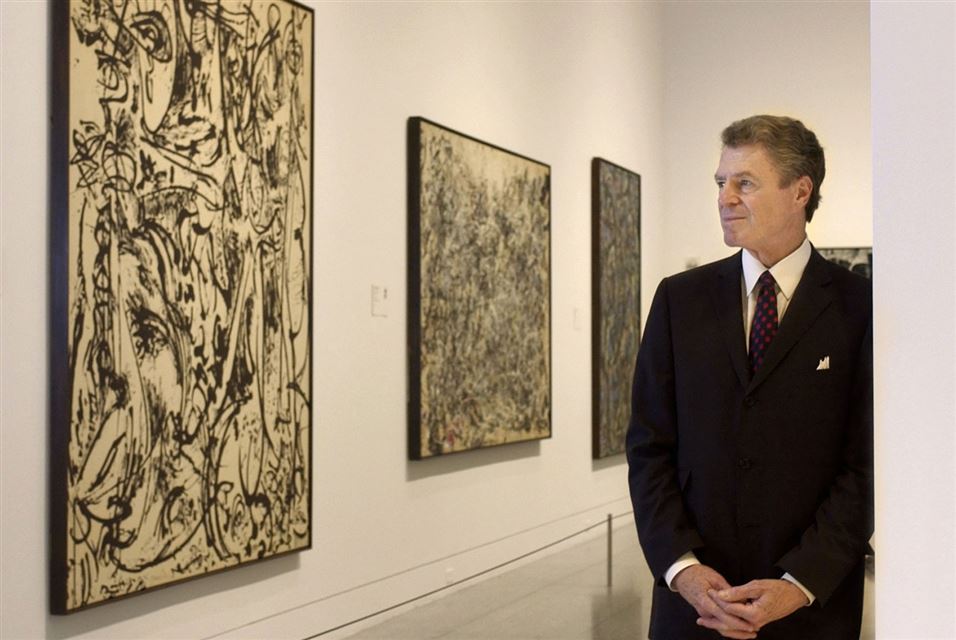 August 11, 1956. Paul Jackson Pollock (January 28, 1912 - August 11, 1956), known as Jackson Pollock, was an influential American painter and a major figure in the abstract expressionist movement. He was well known for his uniquely defined style of drip painting. In this image: Former Museum of Fine Arts, Houston director Peter Marzio poses near works by Jackson Pollock on display Friday, Oct. 17, 2003, in Houston. The works are titled, from left to right, "Echo (Number 25, 1951)," "Number I, 1948" and "Gothic."
---

Museums, Exhibits, Artists, Milestones, Digital Art, Architecture, Photography,
Photographers, Special Photos, Special Reports, Featured Stories, Auctions, Art Fairs,
Anecdotes, Art Quiz, Education, Mythology, 3D Images, Last Week,

.
Royalville Communications, Inc
produces: