How the war changed a Kyiv museum's view of its past
An undated photo provided by Volodymyr Cheppel shows paintings by Oleksandr Dubovyk from "An Exhibition About Our Feelings" at the Mystetskyi Arsenal, which has reopened two galleries of the art museum in Kyiv, Ukraine. Rather than try to illustrate the war directly, Ukrainian curators turned to older art that inspired new emotions. Volodymyr Cheppel via The New York Times.

by Jason Farago
KYIV
.-
Most of the galleries are now empty at Mystetskyi Arsenal, one of Europe's largest art museums. As at almost every cultural institution in the Ukrainian capital, its curators and archivists brought down the displays when war broke out Feb. 24. Much of the collection of about 4,500 objects has been moved to a secure location. Gallery after gallery sits in darkness. And yet, this summer, Mystetskyi Arsenal is open to the public, with a forceful and beautiful exhibition that's all the more impressive for its modesty and frank emotions. "An Exhibition About Our Feelings," inaugurated June 10 at this leading contemporary art museum, is the first significant exhibition here to take the Russian invasion of Ukraine as its focus — although not in the way you might expect. It offers a view of life during the present war through works of Ukrainian art from the 1960s to the 2010s; nothing current has been commissioned or added to illustrate what its audience is living thro ...
More
The Best Photos of the Day
Centro INAH Tabasco recovers two Olmec reliefs of "contortionists", from Tenosique
Phillips X presents Roy Lichtenstein: Diana & Ajax
dan guz man opens "The Rise of the Observed" at Avant Garde gallery Armario916 Part V


Both monuments represent local rulers of the Middle Usumacinta region and date back to (900-400 B.C.).

Translated by Liz Marie Gangemi



MEXICO CITY.- In addition to representing them in three-dimensional sculptures, the Olmec civilization, in its late phase (900-400 BC), also carved reliefs of "contortionists" in circular stones. Two of these monuments, which are portraits of local rulers, from the municipality of Tenosique, were salvaged by the Ministry of Culture of the Government of Mexico, through the National Institute of Anthropology and History (INAH) in Villahermosa, Tabasco. The director of the INAH in Tabasco, Carlos Arturo Giordano Sánchez Verín, comments that the retrieval of these two sculptures is due to a report by the researcher of the Center for Mayan Studies, of the National Autonomous University of Mexico (UNAM) Tomás Pérez Suárez, who was informed of their existence ... More



Roy Lichtenstein, Interior with Diana, 1997. Image courtesy of Phillips.



SOUTHAMPTON, NY.- Phillips X will present, Roy Lichtenstein: Diana and Ajax, an intimate view of two Greco-Roman inspired works commissioned by Gianni Versace from the artists' Interiors series. The pair was intended to hang in the studio of Versace's Milan home. However, the finished paintings, Interior with Diana and Interior with Ajax, remained in Lichtenstein's studio at the time of the fashion designer's death in July of 1997. It was not until that December, when Donatella Versace was contacted by the artist's studio and made aware of the paintings' existence. She then had them displayed in the Versace New York townhouse. Alongside these two masterworks, will be a selection of other important works by the artist including Girl in Mirror, 1964 and Shipyard Girl, 1965, on view at Phillips Southampton, 1 Hampton Road, 12 August - 6 September 2022. ... More



Mis manos se incendian cuando "Lalín" hace air guitar. 2.47 x 1.25 Acrílico / madera. Live Painting Performance



MONTERREY.- Located in 'Barrio Antiguo', which is the heart of the artistic district in Monterrey, Nuevo Leon, Mexico, and just a few blocks from the Museo de Arte Contemporario and Museo del Noreste, the art gallery Armario 916 possesses within itself an exquisite personalization of it's own architecture and interior with its unique blend of Mexico's old 'barrio' and new industrial architecture styles under just one roof. The artwork within the current exhibition,"The Rise of the Observed", hanging on their walls reflects artist dan guz man's very personal view of his paintings. Considered to be of international renowned ever since guz man (manguzdan) was recognized by the Chinese 2019 Modern Art World Exhibition, he now represents Mexico's talent as a Modern artist. Below is the fifth part of a conversation ArtDaily ... More
Esther Bell promoted to Deputy Director of the Clark Art Institute
Darren & Candice Romanelli: Wedding Anniversary opens at Friedman Benda
A painting by Il Morazzone worth £2 million at risk of leaving UK


Bell joined the Clark staff in 2017 and has since been deeply immersed in the Clark's special exhibition program as well as managing all aspects of the care, growth, and development of the Clark's permanent collection. Photo: Courtesy: Clark Art Institute.



WILLIAMSTOWN, MASS.- Esther Bell, who currently serves as the Robert and Martha Berman Lipp Chief Curator of the Clark Art Institute, has been promoted to Deputy Director. Bell retains her curatorial role and takes on added responsibilities in overseeing the work of the Clark library, supervising visitor services activities, and supporting Director's Office initiatives. "In the five years since she joined the Clark's staff, Esther Bell has proven herself to be an exceptional leader and a trusted colleague, and she brings great ingenuity and creativity to all aspects of her work. I have every confidence that she will manage her additional duties with the same keen eye for detail and deep commitment to the Clark's mission that has made her such an important part of our team," said ... More



Candice Romanelli, Quilt Candle (Medium), 2022, Ceramic, 7.5 x 4.75 x 4.5 inches, 19 x 12 x 11 cm.



LOS ANGELES, CA.- Friedman Benda will present, Wedding Anniversary, the gallery's first solo exhibition with ceramicist Candice Romanelli and multidisciplinary creative director Darren Romanelli. The show examines the Los Angeles-based husband and wife's individual practices as well as their collaboration as artistic partners. In celebration of their creative dialogue, the exhibition opens on the duo's 15 year wedding anniversary on August 11th to mark the couple's fourth and most personal collaboration. The exhibition reflects on the effect of the couple converting their Los Feliz home into a shared studio space during the pandemic examining how working closely side-by-side has impacted their own approaches to creative expression. The show allows the viewer to examine how both push each other to delve deeper into their practices. Candice will debut her largest scaled works to date and her first investigations in lighting. In ... More



Pier Francesco Mazzucchelli, called 'il Morazzone' (1573–1626), Self-Portrait as a Knight, with a horse, an easel with painter's palette and a page, about 1605–10 Oil on canvas, 78.6 x 59.3 cm.



LONDON.- Self-Portrait as a Knight, with a horse, an easel with painter's palette and a page' by Pier Francesco Mazzucchelli, also known as 'il Morazzone', is at risk of leaving the country unless a buyer can be found. The painting is an example of Lombard art, which has its origins in Lombardy in northern Italy during the early 17th century and remains a relatively unexplored field in art history. The style combines natural realism with intense spirituality and piety. A work by il Morazzone is rare outside of northern Italy and this painting was presumed lost until its appearance on the London art market in 2020. A departure from the UK of this newly discovered self-portrait would amount to a significant loss. Arts Minister Lord Parkinson of Whitley Bay said: There are no significant self-portraits by il Morazzone in any public collections in the UK, ... More
Maxim Zhestkov presents his first solo show Waves with WI immersive at FLANNELS LONDON
Crozier Fine Arts announces acquisition of art storage and logistics leader IFAS as part of Asian expansion
Antique Arabic short sword, Victorian decoration, Patigian artwork, a large unmounted diamond, and dore at Michaan's


Together W1 Curates and FLANNELS LONDON will become a new breeding ground for experimentation and collaboration at the intersection of fashion, art and music.



LONDON.- On August 18, 2022, the first solo exhibition of digital artist Maxim Zhestkov, titled Waves, will illuminate every surface of London's W1 Curates exhibition space — inside and out. With new work displayed across the facade's 3 floors of bespoke LED screens and on every wall of the interior, Maxim will make his London debut via an immersive digital art experience in the commercial heart of the city. Waves meditate on its titular phenomena as the fundamental elements of change in digital and physical systems; waves merge, waves disrupt, and, if synchronized enough, they acquire system-shifting force. Cultural shifts, spiritual breakthroughs, and wi-fi connections can all be better understood as products of the interactions of waves. As physical and digital systems become less and less distinct, the ability to acknowledge similarities ... More



This recent acquisition marks Crozier's first in Hong Kong, an important and growing market for the art world.



NEW YORK, NY.- Crozier, a global leader in fine arts storage and logistics, is pleased to announce its expansion into Asia with its acquisition of IFAS, a leading provider of art storage, logistics, and installation in Hong Kong. This recent acquisition marks Crozier's first in Hong Kong, an important and growing market for the art world. With 30 locations across 11 global markets in the US, Europe and now Asia, Crozier is well positioned to support artists, museums, collectors, institutions, and galleries with the safe movement and storage of art, on a global scale. This expansion follows the recent launch of Crozier's sea freight initiative; a bespoke transport shipping service between London / New York and London / Hong Kong. Transporting art by sea is a more sustainable alternative to airfreight and already in high demand by clients seeking more ... More



18k Yellow Gold Fringe Necklace. Estimate $1,500/2,500.



ALAMEDA, CA.- On Saturday, August 20, Michaan's Auctions will hold its monthly Gallery Auction. This sale presents an array of desirable items from every genre and period, from rare Victorian decoration to acclaimed modern art. A treasure for any bidder can be found at Michaan's this month, whether it's Victorian Tunbridge ware boxes, a Persian Rosicrucian rug, several Haig Patigian artworks, a 2.20 carat VS1 diamond, or a Longquan 'ice-crackled' vase. Several rare decorative items will be offered at Michaan's in August, such as an antique Arabic gilt inlay short sword, slightly curved and with a detailed shell motif cross guard ($1,000-$1,500). Bidders can find a Persian Rosicrucian pictorial rug as well, depicting architectural designs in vibrant color and detail ($3,000-$5,000). This month also brings three exquisite Victorian Tunbridge ware boxes, all with mirrors to lids and velvet-lined interiors ... More
Monumental "TARPESTRIES" by FUTURA suspended throughout Eric Firestone Gallery and The Garage this August
Shakenhurst Hall: An English Country house collection to be sold at Bellmans
Gramophone belonging to Sir Thomas Beecham's protegé conductor comes up for auction at John Nicholson's


Installation view.



EAST HAMPTON NY.- This August, Eric Firestone Gallery debuts a new series of ambitious, large-scale painted "TARPESTRIES" by FUTURA at its flagship East Hampton gallery and The Garage, the Gallery's newest East Hampton space, which recently opened to the public. Created with layers of spray paint on manipulated tarp, the abstract paintings are displayed unframed and unstretched in the same manner as traditional tapestries throughout the gallery's combined 8,000-square-feet of exhibition space. On view from August 6 through September 18, 2022, TARPESTRIES marks the second solo presentation of FUTURA's work at the Gallery. Comprising more than 20 paintings, ranging from 7 to 25 feet, the works on view explore what FUTURA playfully refers to as his "Van Wrinkle" approach, a fragmenting technique in which the artist spray paints on industrial tarps instead of canvas. The resulting ... More



It briefly left the Meyseys in 1901 but returned in 1961 having been passed back to Michael Meysey Wigley Severne and his wife, Rachel, a famous model and socialite in the 1950s.



LONDON.- Bellmans will present a unique collection of books, jewellery, silver, works of art and fine paintings from historic Shakenhurst Hall in Shropshire. This collection from one of the most exclusive residences in the West Midlands will be included in forthcoming 2022 auctions. The English country estate boasts a lineage back to the Domesday Book and had been owned by the Meysey family, with outright ownership from 1349. It briefly left the Meyseys in 1901 but returned in 1961 having been passed back to Michael Meysey Wigley Severne and his wife, Rachel, a famous model and socialite in the 1950s. Known as 'The Swan', Rachel Severne (nee Fitzgerald) was the daughter of the 28th Knight of Glin, growing up at the family home Castle Glin in County Limerick. Michael passed away ... More



C.1930 machine would have been used to play landmark record collection now housed at the University of Southampton.



LONDON.- Norman René Del Mar CBE (1919-94) enjoyed a distinguished career as a conductor, having been a horn player in the original Royal Philharmonic Orchestra under Sir Thomas Beecham in 1946. In fact, it was Beecham who recognised his potential on the podium, appointing him as his assistant conductor within months of the RPO forming, with Del Mar making his professional debut as a conductor with the RPO in 1947. His career included a period as principal conductor of the English Opera Group (1949-54) and work with the BBC, starting in 1952 when he conducted the world premiere of Franz Reizenstein's radio opera Anna Kraus with the BBC Symphony Orchestra. Del Mar became chief conductor of the Yorkshire Symphony Orchestra (1954), the BBC Symphony Orchestra (1960-65), the Royal Academy of Music orchestra ... More
Quote
Michelangelo Buonarroti was the Homer of painting. Sir Joshua Reynolds
---
The Art of Burning Man at Chatsworth
---

Flashback
On a day like today, American painter Paul Jackson Pollock died.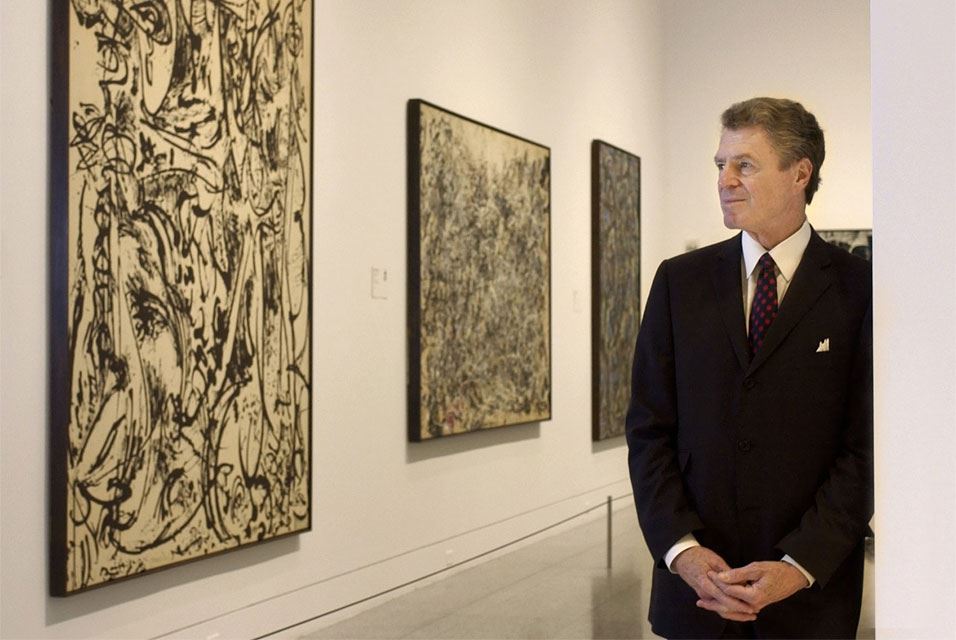 August 11, 1956. Paul Jackson Pollock (January 28, 1912 – August 11, 1956), known as Jackson Pollock, was an influential American painter and a major figure in the abstract expressionist movement. He was well known for his uniquely defined style of drip painting. In this image: Former Museum of Fine Arts, Houston director Peter Marzio poses near works by Jackson Pollock on display Friday, Oct. 17, 2003, in Houston. The works are titled, from left to right, "Echo (Number 25, 1951)," "Number I, 1948" and "Gothic."
---

Museums, Exhibits, Artists, Milestones, Digital Art, Architecture, Photography,
Photographers, Special Photos, Special Reports, Featured Stories, Auctions, Art Fairs,
Anecdotes, Art Quiz, Education, Mythology, 3D Images, Last Week,

.
Royalville Communications, Inc
produces: