Portrait Society Gallery of Contemporary Art opens an exhibition of Shari Urquhart's tapestries
Shari Urquhart, You Must Be Joking,1988-90.
MILWAUKEE, WI
.-
Portrait Society Gallery of Contemporary Art
is presenting this major exhibition in conjunction with The Warehouse. Forty years of Shari Urquhart's fiber art tapestries are being presented in two Milwaukee venues. This is the first time this extraordinary group of more than 30 monumental, figurative textiles from the artist's estate has been shown together. In addition, Portrait Society presents a related show featuring the work of Chicago artist Phyllis Bramson, who attended graduate school with Urquhart. Shari Urquhart (1940-2020) grew up in Kenosha, WI. She earned her MFA at the University of Wisconsin-Madison in 1967 and spent the remainder of her career in New York City. Beginning as a painter, Urquhart started experimenting with textiles while still in Madison. As her rug hooking practice grew, so did the scale of her work. Many of the textiles, dating from 1978 to 2020, are eight to 12 feet wide. They are ...
More
The Best Photos of the Day
Legion of Honor hosts "Last Supper in Pompeii"
MoMA opens Gabrielle L'Hirondelle Hill's first solo museum exhibition in the U.S.
James Cohan announces David Norr as full equity partner and an owner of the gallery


"Last Supper in Pompeii: From the Table to the Grave" installation at the Legion of Honor museum in San Francisco. Photo: Gary Sexton. Image courtesy of the Fine Arts Museums of San Francisco.



SAN FRANCISCO, CA.- As the ash from Mount Vesuvius began to rain down on Pompeii in AD 79, the people of the city were engaged in two of their most important daily activities: eating and drinking. The Fine Arts Museums of San Francisco host Last Supper in Pompeii: From the Table to the Grave, the first exhibition to focus on the love of food and drink in Pompeii. The original exhibition, organized by the Ashmolean Museum, University of Oxford, has been adapted and expanded for a California audience and brings to San Francisco a treasure trove of about 150 objects, including magnificent Roman sculpture, mosaics, and frescoes; household furnishings and tableware; objects of precious materials; and more, with many of these wondrous pieces traveling to the United States for the very first time. "The incredibly preserved art, furnishings and eatables of Pompeii give us the rare opportunity to explore the ... More



Gabrielle L'Hirondelle Hill. Cousin. 2019. Pantyhose, tobacco, thistle, spider charm, dandelion, and thread, 6 × 4 × 7 1/16″ (15.2 × 10.2 × 17.9 cm). Private Collection, Vancouver. Courtesy of the artist and Unit 17, Vancouver, and Cooper Cole, Toronto © Gabrielle L'Hirondelle Hill.



NEW YORK, NY.- The Museum of Modern Art presents Projects: Gabrielle L'Hirondelle Hill, the artist's first solo museum exhibition in the United States. On view in the Museum's street-level galleries from April 25 through August 15, 2021, the exhibition also celebrates the 50th anniversary of MoMA's Elaine Dannheisser Projects Series. Hill, a Métis artist and writer, has assembled multiple works in which her use of tobacco as a key material alludes to the plant's complex Indigenous and colonial histories. The exhibition features sculptures and drawings, including several new works, constructed primarily from tobacco along with other sourced and found materials collected from her Vancouver neighborhood. Projects: Gabrielle L'Hirondelle Hill is organized by Lucy Gallun, Associate Curator, Department of Photography. Prior to ... More



Norr brought over two decades of curatorial and artworld experience to James Cohan when he joined in 2015.



NEW YORK, NY.- James Cohan announced David Norr as an owner of the gallery. Norr, who served as James Cohan's Senior Director from 2015 to 2018 and was named a Partner in 2018, joins founders James and Jane Cohan in steering the gallery, which operates two spaces in Manhattan: 48 Walker Street in Tribeca and 291 Grand Street on the Lower East Side. Norr brought over two decades of curatorial and artworld experience to James Cohan when he joined in 2015, having previously served as Senior Curator of Exhibitions at the Wexner Center of the Arts and Chief Curator at MOCA Cleveland. During this time, Norr curated exhibitions featuring the work of Katharina Grosse, Haegue Yang, Jacqueline Humphries, David Altmejd, William Villalongo, Janet Cardiff, and George Buress Miller, in addition to major surveys with James Cohan artists Trenton Doyle Hancock and Michelle Grabner. Norr will ensure the gallery's future by progressing the vision of its ... More
Famed German-US architect Helmut Jahn dies in bike accident
Sotheby's opens new retail store in New York, featuring curated edit by Gucci Westman
Exhibition captures urban underground culture in Paris and New York in the late 70s and early 80s


In this file photo architect Helmut Jahn arrives at the White House June 7, 2011 in Washington, DC. Brendan SMIALOWSKI / GETTY IMAGES NORTH AMERICA / AFP.



WASHINGTON (AFP).- German-born American architect Helmut Jahn, known for his postmodern steel-and-glass structures, has died aged 81 in Illinois after being hit by two vehicles while he was riding his bicycle, police said Sunday. Jahn died on Saturday afternoon in Campton Hills, about 60 miles (100 kilometers) west of Chicago, when he "failed to stop at a posted stop sign" at an intersection, according to police. The two vehicles were traveling in opposite directions, police said, adding that Jahn died at the scene and one driver was taken to hospital with minor injuries. After graduating in Munich in 1965, Jahn moved to Chicago to study at the Illinois Institute of Technology, a school associated with influential Modernist architect Ludwig Mies van der Rohe. Jahn made his name in the 1970s and 1980s with buildings ... More



A new cross category store, with a curated assortment of luxury lifestyle goods & fine art at New York City flagship location. Courtesy Sotheby's.



NEW YORK, NY.- Today, Sotheby's unveiled The Emporium, a new retail destination dedicated to showcasing the finest assortment of art, design and luxury items, all available for immediate purchase. Located within its New York flagship galleries, The Emporium is an extension of the company's growing Buy Now online marketplace, which offers clients and discerning shoppers 24/7, 365 access to an exceptional property mix of over 5,000 authenticated luxury items across fine jewels, fine art, collectible sneakers, watches, designer handbags, decorative objects, furniture and more. Featuring a variety of price points, the Buy Now online marketplace is backed by the cachet of a brand known for its trusted expertise, connoisseurship, and authentication for more than 275 years. Marrying the best of e-commerce ease with the excitement of tangible retail shopping, The ... More



Gary Green, Deborah Harry. Photo: Courtesy Galerie Miranda.



PARIS.- The spring 2021 exhibition at Galerie Miranda brings together two historical and little-known bodies of photography that capture urban underground culture in Paris and New York in the late seventies and early eighties. At the time, Gary Green (b. 1956, USA) and Philippe Chancel (b. 1959, France) were both young photographers, in their first jobs and finding their footing as adults and as artists. Each of their series bears witness to the energy and spontaneity of youth - that of the artists, but also of the urban underground movements they were documenting. In 1982, Paris, Philippe Chancel photographed the city's rockabilly gangs composed largely of teenagers from immigrant families who sought the freedom and social integration represented by the music and clothes of postwar American pop culture, that they adapted in a kind of Parisian West Side Story. Paradoxically, at the same time on the other side of the Atlantic, New Yo ... More
DC Moore Gallery opens an exhibition of paintings by Robert Kushner
Giacometti brothers lead Bonhams sale with two masterpieces
Major retrospective dedicated to the Swiss artist Sophie Taeuber-Arp opens at Kunstmuseum Basel


Robert Kushner, My Red Room, 2020 (detail). Oil and acrylic on canvas, 48 x 48 inches.



NEW YORK, NY.- Robert Kushner's I ❤ Matisse, on view from May 6 - June 19 at DC Moore Gallery, is a cheeky yet serious exploration. Among the varied influences in Kushner's oeuvre, from Japanese screen painting to American modernism, Henri Matisse's influence has often been a continual through-line as Kushner finds resonance in Matisse's inclination toward design, love of pattern, beauty, expressive drawing, and vibrant color. During the time of Covid-19 lockdown and ongoing stasis, Kushner found himself by himself in his studio as the surrounding world became more ominous, and divisive. It was in this state that he began an imaginary dialog with the earlier artist and took pleasure and focus in the endeavor. In a statement of fanciful reverie at the beginning of the pandemic, a time when the sound of ambulances coursed through empty streets near his NYC home and studio, ... More



Diego Giacometti (1902-1985), Carcasse a la Chauve-Souris Table, circa 1965 (detail). Estimate: $300,000 – 500,000. Photo: Bonhams.



NEW YORK, NY.- Two exemplary works by Alberto and Diego Giacometti will lead Bonhams Modern Decorative Art & Design Sale on Friday, June 11 in New York. The items on offer include a 1930s Tete de Femme Floor Lamp by legendary sculptor Alberto Giacometti and a Carcasse a la Chauve-Souris Table made thirty years later by younger brother Diego Giacometti. Each lot is estimated at $300,000 – 500,000. Alberto Giacometti stands as one of the most important artists of the 20th century, widely known for his exploration of the human condition through bronze sculpture. Initially drawn to art and design due to the influence of his father, Swiss Impressionist painter Giovanni Giacometti, Alberto established his studio in Paris in 1922 and spent the first decade of his career experimenting with Cubism and Surrealism. In 1929, Alberto met influential ... More



Installation view. Photo: Julian Salinas.



BASEL.- The Kunstmuseum Basel dedicates a major retrospective to the Swiss artist Sophie Taeuber-Arp (1889–1943), whose face will be familiar to many of her present-day compatriots thanks to her decades-long presence on the 50 Swiss Franc note. Showcasing over 250 works, the exhibition Sophie Taeuber-Arp. Living Abstraction, which is produced in cooperation with the Museum of Modern Art, New York, and Tate Modern, London, introduces broad international audiences to the interdisciplinary and exceptionally multifaceted oeuvre of this long-neglected pioneer of abstraction and establish her as one of the great avant-gardists of classic modernism. At the time of Taeuber-Arp's death in a tragic accident in 1943, her oeuvre spanned an extraordinarily wide range of techniques and materials: textiles, beadwork, a puppet theater, dance performances, costumes, murals, furniture, architecture, graphic designs, paintings, sculptures, r ... More
Annan Affotey's striking 'red-eye' paintings on view at Ronchini Gallery
Toy collectors aimed high for vintage robots and Disney toys at Milestone's May 1 Spring Spectacular
Large selection of Paul Revere silver offered at Heritage Auctions May 20


Annan Affotey, Purple mood, acrylic on canvas, 150 x 100 cm. © Annan Affotey. Courtesy Ronchini Gallery.



LONDON.- Ronchini is presenting the first European solo exhibition by Ghanaian born, British based artist, Annan Affotey. Featuring the artist's striking 'red-eye' paintings, this exhibition introduces the European audience to the large scale, bright portraiture that has commanded the artist's recent practice. Initially beginning as a semi-abstract painter, after the birth of his son, Affotey yearned for a way to provide a voice for the marginalised, and he began to paint portraits of friends and relatives in an effort to re-frame and re-examine the context of people of colour in society. The arresting red-eyes are suggestive of a full life, with emotions and stories that transcend the colour of their skin. Affotey states: When I moved to the US from Ghana, I was often questioned why my eyes were red and whether it meant I hadn't slept or was doing drugs, neither of which was true. And it became a symbol for misint ... More



Extremely rare Walt Disney-authorized Mickey Mouse Krazy Kar with figures of Mickey, Minnie Mouse and Pluto, and colorful exterior images of other Disney characters. Made in England pre-World War II. Sold for $34,800 against an estimate of $15,000-$20,000.



WILLOUGHBY, OHIO.- Bidders from more than 20 different countries brought their A-game to Milestone's May 1 Spring Spectacular Toy Auction, which ran 13 hours due to sustained bidding, primarily via the Internet. Interest was especially strong for robots, early comic character toys and an extraordinary collection of 150+ vintage toy boats and electric outboard motors in their original boxes. "It was an exciting sale with lots of international action, especially on the robots," said Milestone Auctions co-owner Miles King. "It seemed that everyone was waiting till the day of the auction to bid, because as soon as a lot would open, the bidders would all jump in at once. They obviously were keeping their items of interest to themselves, as smart bidders often do." King said he ... More



A Paul Revere, Jr. Silver Tankard, Boston, circa 1790. Marks: REVERE (Kane C), 10 x 8 inches. Estimate: $50,000 - $70,000.



DALLAS, TX.- Nine lots from the Donald G. Partrick Collection by the famed American Silversmith Paul Revere Jr., highlight Heritage Auctions' Fine Silver & Objects of Vertu auction on May 20. This staggering number of Revere lots ranges from a single teaspoon dated 1770 (est. $4,000), two sets of six spoons made in the 1790s (est. $20,000 each), a rare, 10-inch tall tankard (est. $50,000), two pairs of sugar tongs (est. $8,000 each) and a 15-3/8-inch silver ladle (est. $15,000). The Donald G. Partrick Collection, focused on American numismatics, is being sold in a series of auctions. To date the collection has realized $54 million including the 1787 New York-Style Brasher Doubloon, which set a world record in January when it sold for $9,360,000. "Following 2020 with our strongest Fine Silver auctions to date, we offer an unprecedented number of exceptional collections in our ... More
Quote
Christ was the greatest of all artists. Vincent van Gogh
---
The Rancher's Spirit: the Philanthropic Heart and Collecting Eye of Anne Marion
---

Flashback
On a day like today, French artist Jean-Léon Gérôme was born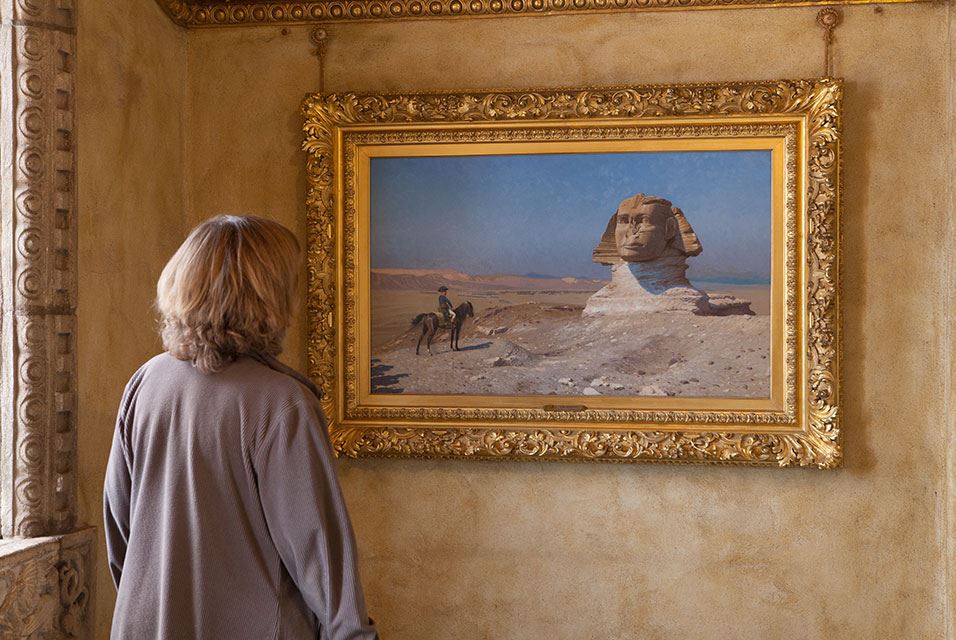 May 11, 1824. May 11, 2018. Jean-Léon Gérôme (May 11, 1824 - January 10, 1904) was a French artist born in Vesoul, France. The leading Orientalist painter of his time, he was also highly regarded for his polychromed sculptures, evocations of life in ancient Rome, and depictions of events from French history. In this image: a museum technician at Hearst Castle admires 'Napoleon before the Sphinx' (or 'Oedipus'), 60.3 x 101 cm, about 1886. Inv. no. 529-9-5092. Photo: Courtesy ©Hearst Castle®/California State Parks, photo by Vickie Garagliano. All rights reserved.
---

Museums, Exhibits, Artists, Milestones, Digital Art, Architecture, Photography,
Photographers, Special Photos, Special Reports, Featured Stories, Auctions, Art Fairs,
Anecdotes, Art Quiz, Education, Mythology, 3D Images, Last Week,

.
Royalville Communications, Inc
produces: