Rembrandt's damaged masterpiece is whole again, with AI's help
Robert Erdmann, senior scientist at the Rijksmuseum, in Amsterdam, June 22, 2021. Sections of "The Night Watch" were cut off in the 18th century and lost. Now, Erdmann and other scientists are using new technology that lets viewers imagine how the original work might have looked. Ilvy Njiokiktjien/The New York Times.

by Nina Siegal
AMSTERDAM
(NYT NEWS SERVICE)
.-
Rembrandt's "The Night Watch" has been a national icon in the Netherlands ever since it was painted in 1642, but even that didn't protect it. In 1715, the monumental canvas was cut down on all four sides to fit onto a wall between two doors in Amsterdam's Town Hall. The snipped pieces were lost. Since the 19th century, the trimmed painting has been housed in the Rijksmuseum, where it is displayed as the museum's centerpiece, at the focal point of its Gallery of Honor. Now, from Wednesday — for the first time in more than three centuries — it will be possible for the public to see the painting "nearly as it was intended," said the museum's director, Taco Dibbits. Using new high-tech methods, including scanning technologies and artificial intelligence, the museum has reconstructed those severed parts and hung them next to the original, to give an idea of "The Night Watch" as Rembrandt intended it. The cutdown painting is ab ...
More
The Best Photos of the Day
In the West the looted bronzes are museum pieces. In Nigeria 'they are our ancestors.'
National Gallery of Canada unveils new brand image rooted in Indigenous ways of knowing and being
Iowa workshop whose pipe organs shook the world burns to the ground


The artist Derek Jombo rolls a painting of his mother at his studio in Benin City, Nigeria, May 26, 2021. Tom Saater/The New York Times.

by Ruth Maclean and Alex Marshall



BENIN CITY (NYT NEWS SERVICE).- The young artist flipped through grainy photographs of delicate ivory masks of Queen Idia, seeking inspiration for her own painting of the legendary warrior queen. The masks were made around 500 years ago by a carvers guild just around the corner from the studio where the artist, Osaru Obaseki, worked. Five of these ancient masks are known to exist. But Obaseki has never seen one. None are in Africa, let alone in Benin City, her hometown in southern Nigeria. One of the most exquisite is in a display case in a basement of the British Museum in London. Another is in the Africa gallery in New York's Metropolitan Museum of Art. These and more than 3,000 other works — and perhaps thousands more as well — were stolen by invading British soldiers in 1897, and are now treasured pieces in the collections of some of the most important museums in the United States and Europe. For years, ... More



The National Gallery of Canada's new visual identity is centred on a word that emerged from a conversation with Algonquin Elders from the unceded territory upon which the Gallery is located.



OTTAWA.- Inviting, alive, open, dimensional—words that define the new core principles of the National Gallery of Canada (NGC) and underpin its new brand image, publicly unveiled today. Comprised of a new digitally animated logo and new corporate colours, the national museum's new visual identity reflects the strategic behavioural changes that the Gallery has set out to embody and that are integral to its mission. The National Gallery of Canada's new visual identity is centred on a word that emerged from a conversation with Algonquin Elders from the unceded territory upon which the Gallery is located. "It was crucial for us to develop a new brand rooted in Indigenous ways of knowing and being," said Dr. Sasha Suda, Director and CEO of the National Gallery of Canada. "Our new visual identity is inspired by the Anishinaabemowin word Ankosé, which means Everything is connected. This powerful word invites us to find hope and joy in difference and encourages us to seek ... More



An instrument the Dobson Pipe Organ Builder built for Verizon Hall in Philadelphia, on May 12, 2006. Ryan Donnell/The New York Times.

by Ann Hinga Klein



LAKE CITY (NYT NEWS SERVICE).- Randall Wolff was working in a backroom at Dobson Pipe Organ Builders earlier this month, fashioning parts for an instrument bound for an Anglican church in Australia, when he caught a whiff of smoke. Seeing flames licking in from the next room, and aware of how flammable the kiln-dried wood used in their organs was, he grabbed a fire extinguisher. But he could not douse the flames in time. Dobson, a Western Iowa business that got its start in 1974 making organs for churches around the Midwest and then grew in reputation — its majestic pipe organs resonate at Verizon Hall in Philadelphia, in the 13th-century Merton College Chapel in Oxford, England, and at St. Thomas Church on Fifth Avenue in New York City — was reduced to smoldering rubble in the June 15 fire. "A lot of the tools we use are specialty tools that we had made over the years for specific purposes," Wolff, 61, a woodworker ... More
Ancient sculptures prompt Germany to reckon with colonial past
Centre Pompidou gifted 921 works from Bruno Decharme's collection of outsider art
Significant collection of photographs from Stephen G. Stein given to National Gallery of Art


Foyer of the Ethnological Museum. Photo: wikipedia.org / Julius1990.

by Femke Colborne



BERLIN (AFP).- With their wide eyes, intricate head coverings and elaborate armour, the Benin bronzes are among the most prized possessions of Berlin's Ethnological Museum. But the 16th-18th century metal plaques and sculptures that once decorated the royal palace of the Kingdom of Benin may never see the light of day in a German museum again. After years of negotiations, Germany announced in April that it will begin returning the bronzes, looted during the colonial era, to what is now Nigeria from next year. The move is one of a series of recent steps by Germany towards atoning for crimes committed in the colonial era, including the official recognition in May that it committed genocide in Namibia. "I believe that all parts of society are becoming more aware now that Germany has a colonial history, too," said Hermann Parzinger, president of the Prussian Cultural Heritage Foundation (SPK), which runs the Berlin museum. "Awareness ... More



Antoine Rabany dit Le Zouave (1844 – 1919), Sculpture Barbu Müller, fin 19e, début 20e. Sculpture de pierre de granit, 40 x 16 x 14 cm © Centre Pompidou. Photo: © César Decharme.



PARIS.- The National Museum of Modern Art has been enriched by the exceptional acquisition of 921 artworks by 242 artists from Bruno Decharme's collection of outsider art. Presented at the second acquisitions commission which met on 2 June last, the donation consists of works from the plastic arts (374 works), graphic arts (540 works) and photography (7 works). For Bernard Blistène, Director of the National Museum of Modern Art: " This exceptional donation endows the Museum collection with a new and unexpected dimension. To be able to constitute such an ensemble today is unimaginable, given the rareness of the works offered to us by Bruno and Barbara Decharme. These works are in resonance with Dubuffet's very rich ensemble of works, present in the collection; and of course with the works in the Cordier Donation, which account for most of the works of outsider art in the museum; naturally with André Breton's studio and ... More



Bill Brandt, After the Celebration, 1934. Gelatin silver print, image/sheet: 36.2 x 29.21 cm (14 1/4 x 11 1/2 in.) National Gallery of Art, Washington. Gift of Stephen G. Stein 2021.5.6



WASHINGTON, DC.- The National Gallery of Art announced today that Stephen G. Stein has given the museum a superb collection of 161 photographs that includes some of the most admired artists in the history of photography. He has also pledged two works by Romare Bearden and Andrew LaMar Hopkins. These works—66 of which were previously promised to the National Gallery—significantly enhance the museum's photography collection and are distinguished by the quality, importance, and rarity of the prints. "Stephen Stein's generosity has been instrumental in expanding and enriching our renowned department of photographs. We are incredibly grateful to him and his dedication to the nation's art collection. These pictures will be seen, studied, and enjoyed by many," said Kaywin Feldman, director of the National Gallery of Art. One highlight from the notable 19th-century photographs in Stein's gift is Gustave Le Gray's Tron ... More
Nationalmuseum acquires Mary Cassatt painting
Oolite Arts announces 2021 acquisition of original works from seven Miami-based artists
Unanimous vote is final step toward removing Roosevelt statue


Mary Cassatt, Portrait of the Artist's Sister Lydia (detail). Preliminary study for The Cup of Tea. Oil on canvas. Photo: Studio Sebert and Beaussant Lefevre.



STOCKHOLM.- Nationalmuseum has recently acquired an oil painting by Mary Cassatt, the American-French artist, who was one of three notable female members of the male-dominated Impressionist group. The purchase is Nationalmuseum's first acquisition of an Impressionist painting for over 50 years. The painting by Mary Cassatt (1844–1926) is most probably a standalone preliminary study for The Cup of Tea, a painting from 1879–80 now in the Metropolitan Museum of Art in New York. It depicts Cassatt's elder sister Lydia, to whom she was very close. The model is portrayed drinking tea, apparently unaware that she is being observed. The painting once belonged to Ambroise Vollard, a well-known art dealer, and has a strong resemblance with works of Impressionists like Manet and Degas. However, the colour palette is blonder, with contrasting complementary colours and a more proficiently sketchlike technique. ... More



Nicolas Lobo, Napalm stone (bronzer verson #1). Napalm, play-dough, terrazzo, spray bronzer, 20 x 20 x 72 in.



MIAMI, FLA.- Oolite Arts announced today the return of its Acquisitions program. As part of this year's program, seven-Miami based artists were selected to have their work displayed at Oolite Arts new campus in the City of Miami when it opens in 2023, and then donated to museums across the country and internationally. The novel program was launched last year by Oolite's Board of Directors in an effort to ensure that more Miami artists are represented in major collections, in turn helping to advance their careers. "Our Acquisitions program comes at a pivotal turning point for Miami, which in recent years has experienced a dramatic cultural arts shift," said Dennis Scholl, president and CEO of Oolite Arts. "To be able to see more works by Miami-based artists in museums around the globe will be an incredible achievement for our city and art community. We're excited to amplify these local artists' work on a nationa ... More



A statue of Theodore Roosevelt in front of the American Museum of Natural History in New York, June 19, 2020. Caitlin Ochs/The New York Times.

by Laura Zornosa



NEW YORK (NYT NEWS SERVICE).- After more than a year of talk, it's official: The Theodore Roosevelt statue in front of the American Museum of Natural History is coming down. The New York City Public Design Commission voted unanimously at a public meeting Monday to relocate the statue by long-term loan to a cultural institution dedicated to the life and legacy of the former president. (No institution has been designated yet, and discussions about its ultimate destination are ongoing.) The vote follows years of protest and adverse public reaction over the statue as a symbol of colonialism, largely because of the Native American and African men who are depicted flanking Roosevelt on a horse. Those objections led the museum in June 2020 to propose removing the statue. New York City, which owns the building and ... More
Phillips announces further highlights ahead of the London Design Auction
Photographs of Mike Jagger, David Bowie, Robert Plant and Elton John due to be sold at auction next month
Ben Elwes Fine Art to present a previously-unknown bust attributed to Margaret Foley


Carlo Scarpa, Rare prototype vase, circa 1940. Estimate £40,000 - 60,000. Image courtesy of Phillips.



LONDON.- Phillips announced further highlights ahead of the London Design auction on 30 June. Leading highlights include incredibly rare Mid-Century and Post-War Italian Design from Piero Fornasetti, Gio Ponti, Carlo Scarpa, Studio BBPR, Pietro Chiesa, and Fontana Arte, among others, as well as important pieces of Art Deco and Contemporary design. Comprising 170 lots, included in this sale are two major highlights which were announced earlier this year; Jean Dunand's 'Les Palmiers' Smoking Room, and a never-before-seen group of Jean Royère works from a Private Family Collection. The full catalogue for the auction is now online and the exhibition will go on view on 23 June at Phillips London galleries on Berkeley Square and will remain open for viewing until the auction on 30 June at 2pm. Domenico Raimondo, Senior Director, Head of Department, Europe and Senior International Specialist, said "This June we are delighted to ... More



Led Zeppelin sets were always more challenging as "the lighting was terrible - dark and evil." Nonetheless he took some epoch-defining images of Jimmy Page and Robert Plant including those from the Physical Graffiti Tour (March 27, 1975).



STANDSTED MOUNTFITCHET.- Original photographs of Mick Jagger, David Bowie, Robert Plant and Elton John performing in their pomp come for sale at Sworders next month. The Design sale on July 14 includes a cache of prints taken by music photographer Ed Finnell at legendary gigs held in Los Angeles in the 1970s. Born in LA in 1956, Ed Finnell became interested in photography at the age of 10 or 11 years old, his subject matter turning to rock and roll in the late 1960s. He attended his first concerts in 1972, and thereafter shot every major band that came through his city. At the Pirate Sound Rehearsal Space in Hollywood, he met many performers, some of them choosing to use his work in promotional materials or hiring him for official tour shoots. In addition to publication in countless books, magazines and tour ... More



The Carrera marble bust 72 x 48 cm (28.3 x 19 in) depicting Jessie White Mario (1832-1906) circa 1867-68 - "An honor to her sex and to Britain's great name" (W. P. Garrison in The Nation, 1906) – is now attributed to the American sculptor Margaret Foley (c. 1827-1877).



LONDON.- A previously-unknown bust of a remarkable female Victorian activist, journalist, war correspondent, nurse, and a supporter and biographer of Garibaldi - Jessie White Mario (1832-1906) - attributed to the American sculptor Margaret Foley (c. 1827-1877), has been discovered by London art dealers Ben Elwes Fine Art. The work goes on public view for the first time when offered for sale at London Art Week, 2-16 July. As well as supporting Garibaldi and Italian Unification, Jessie White Mario, who was born in Hampshire, England in 1832, protested against poverty and slavery, and made a stand for women's rights in education: she applied to study medicine but was rejected by fourteen schools in London on the grounds of her sex. She wrote, 'in no single case ... More
Quote
We artists are mythmakers, and we participate with everybody else in the social constructionof reality. Helen Mayer Harrison
---
Bound for Versailles: Investigating the Jayne Wrightsman Bookbindings Collection
---

Flashback
On a day like today, American painter Stuart Davis died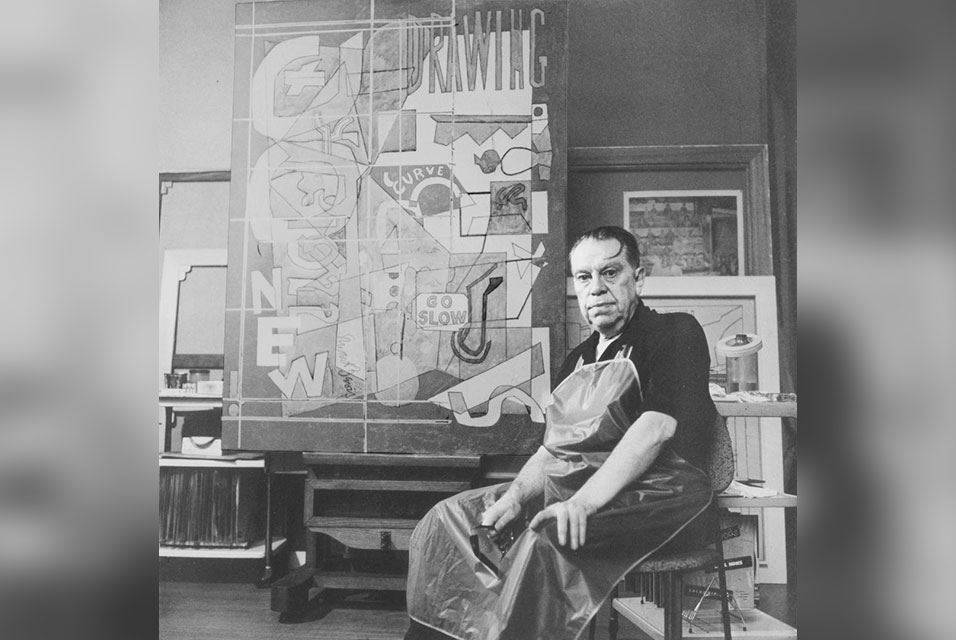 June 24, 1964. Stuart Davis (December 7, 1892 - June 24, 1964), was an early American modernist painter. He was well known for his jazz-influenced, proto-pop art paintings of the 1940s and 1950s, bold, brash, and colorful, as well as his Ashcan School pictures in the early years of the 20th century. © Estate of Stuart Davis/Licensed by VAGA, New York, NY.
---

Museums, Exhibits, Artists, Milestones, Digital Art, Architecture, Photography,
Photographers, Special Photos, Special Reports, Featured Stories, Auctions, Art Fairs,
Anecdotes, Art Quiz, Education, Mythology, 3D Images, Last Week,

.
Royalville Communications, Inc
produces: