Michael Steinhardt, billionaire, surrenders $70 million in stolen relics
A gallery at the Metropolitan Museum of Art named for Michael Steinhardt, a prominent collector of antiquities, and his wife, Judy, in Manhattan, March 1, 2019. Gabriela Bhaskar/The New York Times.

by Tom Mashberg
NEW YORK, NY
.-
Michael H. Steinhardt, a billionaire hedge fund pioneer and one of New York's most prolific antiquities collectors, has surrendered 180 stolen objects valued at $70 million and been barred for life from acquiring any other relics, the Manhattan district attorney's office said in a statement Monday. The prosecutor's office struck an agreement with Steinhardt after a four-year multinational investigation that determined that the seized pieces had been looted and smuggled from 11 countries, trafficked by 12 illicit networks and appeared on the international art market without lawful paperwork, the office said. "For decades, Michael Steinhardt displayed a rapacious appetite for plundered artifacts without concern for the legality of his actions, the legitimacy of the pieces he bought and sold, or the grievous cultural damage he wrought across the globe," District Attorney Cyrus Vance said. "This agreement establishes that Steinhardt will be subject to an unpre ...
More
The Best Photos of the Day
First of series of sales from The Karl Lagerfeld Collection is 100% sold
Peter Lynch donates $20 million in art to Boston College
Charlottesville's statue of Robert E. Lee will be melted down


Marie Laurencin, La soeur de Narcisse, 1908.



MONACO.- The first part of the Karl Lagerfeld Estate sale, held live and online in Monaco this weekend was 100% sold, achieving a total of €12 million, far surpassing its pre-sale estimate of €2-3 million. Brought together from his residences in Paris, the Paris region and Monaco, 582 lots representing a cross-section of his personal taste, life and career were offered, spanning everything from design and fine art, to cars to sketches, signature clothing and much more besides. Even before the sales began, almost 1,500 potential bidders from a record 58 countries had registered their interest in the auction, making for deep competition, and exceptional results. A genius couturier who, in half a century, had become an intergenerational rock star, Karl Lagerfeld knew how to make a brand out of his name and his look, mastering the art of reinventing himself and his style throughout his career. Pierre Mothes, Vice President of Sotheby's France, commented ... More



Winslow Homer, 1836–1910, Grace Hoops, 1872. Oil on canvas, 22 x 15 in.



CHESTNUT HILL, MASS.- Peter Lynch, vice chairman of Fidelity Management and Research Company and trustee associate at Boston College, has gifted 27 paintings and three drawings—worth in excess of $20 million—from his and his late wife Carolyn's private art collection to Boston College's McMullen Museum of Art, including renowned works from Pablo Picasso, Winslow Homer, John Singer Sargent, Mary Cassatt, Childe Hassam, Albert Bierstadt, Martin Johnson Heade, and Jack Butler Yeats. The donation includes an additional $5 million grant to support the ongoing curation and exhibition of what will be called the Carolyn A. and Peter S. Lynch Collection, making the total gift one of the largest in University history. Lynch, a 1965 graduate of Boston College, said he donated the art to the McMullen Museum to inspire Boston College students and Museum visitors through ... More



A statue of Robert E. Lee is removed in Charlottesville, Va., on July 10, 2021. Eze Amos/The New York Times.

by Eduardo Medina



NEW YORK, NY.- The City Council of Charlottesville, Virginia, voted Tuesday to donate a statue of Robert E. Lee to an African American heritage center that plans to melt the bronze monument, the focus of a deadly white nationalist rally in 2017, into material for a new piece of public art. The 4-0 vote by the council followed years of debate over the fate of the statue. Four years ago, a plan to remove the statue drew scores of white nationalists to Charlottesville for a "Unite the Right" rally that led to violence, including the killing of a counterprotester by an Ohio man who plowed a car into a crowd. The statue's fate was left to a prolonged fight in court that concluded in April, when Virginia's Supreme Court ruled that the city could take down two statues of Confederate generals, including the Lee monument. ... More
Dale Chihuly unveils two-part exhibition in Phoenix and Scottsdale
René Magritte masterpiece achieves $9.9M at Bonhams New York
White-glove sale of Pennsylvania Impressionists confirms Freeman's expertise in single-owner collections


Dale Chihuly, Sol del Citrón, 2014. Desert Botanical Garden, Phoenix, installed 2021 © 2021 Chihuly Studio. All rights reserved. Photo by Nathaniel Willson.



PHOENIX, AZ.- Dale Chihuly, the American artist renowned for revolutionizing the studio glass movement, debuted a new exhibition, Chihuly in The Desert, in Phoenix and Scottsdale, Arizona on Friday, December 3. The two-part exhibition takes place at Desert Botanical Garden and Frank Lloyd Wright's Taliesin West, a UNESCO World Heritage site. Chihuly's installations harmonize with the beauty and diversity of the environment, showcasing a remarkable confluence of American art and architecture set amid the magnificent backdrop of the Sonoran Desert. Spanning across two iconic Arizona locations, the installations are featured across multiple settings – inside the buildings, on the lawns, in the water, and emerging from the desert itself. The exhibition features new works being shown for the first time and is on view to the public through June 19, 2022. "I'm thrilled to share my work with visitors of these iconic locations," said Dale Chihuly. ... More



René Magritte (1898 – 1967), Torse nu dans les nuages. Oil on canvas, signed 'Magritte' (lower left), 28 1⁄2 x 24 in (71.4 x 61 cm). Painted circa 1937. Sold for $9,978,312.



NEW YORK, NY.- René Magritte's Torse nu dans les nuages (circa. 1937) achieved $9,978,312 at Bonhams white glove sale of The Collection of Amalia de Schulthess today (Tuesday, December 7), in New York. The work, which had remained unseen for the last 70 years – and had never before been offered at auction – had a pre-sale estimate of $6,000,000 - 9,000,000. Combining the classical and the deeply surreal, Torse nu dans les nuages included two of René Magritte's signature motifs: clouds and a female torso. The work dates from circa 1937, during the height of the Surrealist movement. It came to Bonhams from the distinguished private collection of Amalia de Schulthess (1918-2021) and led the dedicated single-owner sale of selected works from her impressive collection. Torse nu dans les nuages was notably included in the 1948 Magritte exhibition at the Copley Galleries ... More



The 119-lot auction realized $5.15M total, with an overall sell-through rate of 89%, and delighted international collectors, with 48% of winning bidders using online bidding platforms.



PHILADELPHIA, PA.- Freeman's announced the results of its exceptional December 5 American Art and Pennsylvania Impressionists auction, which set multiple world records across categories and included the white-glove sale of the distinguished Collection of Virginia and Stuart Peltz. The 119-lot auction realized $5.15M total, with an overall sell-through rate of 89%, and delighted international collectors, with 48% of winning bidders using online bidding platforms. "Sunday's sale nearly equaled last December's—the highest-grossing sale of American Art in Freeman's history," says Alasdair Nichol, Freeman's Chairman. "We are delighted to build on such successes, and I am particularly pleased that the sale of the Peltz Collection exceeded all of our—and their—expectations. We already have promising leads and are looking forward to our next American Art ... More
Christie's France Post War and Contemporary Art Live and Online Sales total €19,4 million
Phillips announces Cooler by the Lake: Chicago Art 1965-1985, curated by Karen Lennox
New James Turrell Skyspace is the first to be built into side of a mountain


Pierre Soulages, Peinture 19 mars 2006. Sold for: €1,460,000. © Christie's Images Ltd 2021.



PARIS.- The Post War and Contemporary art live and online sales achieved a combined total of €19,373,500, doubling the global pre-sale estimate with sell through rates of 97% by value for the live sale and 100% for the online sale. Leading the sale on 3rd December was the superb painting La Sombreuse, by Jean Paul Riopelle, which was offered at auction for the first time. Exceptional in its size and ambition, this major canvas offered a dazzling symphony of colors and was acquired for €3,740,000. Christie's holds the artist world record at auction since 2017. This strong result is a nice tribute paid to the artist, while the Musée national des beaux-arts du Québec (MNBAQ) announced the creation of a pavilion dedicated to Riopelle's work to be open to the public by 2025. Other highlights of the sale included Peinture 165 x 130 cm, 13 March 2006, an emblematic example of ... More



Jim Nutt, a Trowel, 1988. Image courtesy of Phillips.



NEW YORK, NY.- Phillips announced its first private selling exhibition dedicated to the artists that have come to define the Chicago art scene. Curated by gallerist Karen Lennox, Cooler by the Lake: Chicago Art 1965-1985 celebrates the vision and influence born from the artists of the Windy City throughout two of the most significant decades of creative output. Including works by Roger Brown, Miyoko Ito, Jim Nutt, and, Christina Ramberg, the exhibition brings together an extraordinary group in the new New York galleries at 432 Park Avenue, where the show will be on view from 10 December to 15 January. Karen Lennox, said, "The artists in this exhibition share friendships, legendary teachers and an urge to look at everything including the fearlessness of self-taught artists they collected. They've had many appellations attached to them; goofy, shocking, irreverent, yet, historically, one can trace their predecessors back to the Italians a ... More



Rendering of new Skyspace for Green Mountain Falls by James Turrell, courtesy of HSE Architects of Oklahoma City.



GREEN MOUNTAIN FALLS, COLO.- An immersive Skyspace by iconic light and space artist James Turrell will be unveiled in Green Mountain Falls in June 2022. The installation will be the first Skyspace in the state of Colorado and the first in the world to be nestled into the side of a mountain. Cosseted on a butte overlooking Gazebo Lake and bathed by the rustling of lofty pine trees, the James Turrell Skyspace in Green Mountain Falls will be a harmonious addition to the charming town at the foothills of Pikes Peak—an extension of the landscape, preserved in its natural setting. The experience will begin with an inspirational journey via a new trailhead that will deliver hikers directly to the sheltered Skyspace in the hills above, overlooking the center of town and Gazebo Lake. Viewers will be enveloped in a one-of-a-kind kinetic light and color ... More
Pink pond opens at NGV International
Rashid Johnson painting acquired by Phoenix Art Museum
Osthaus Museum Hagen opens an exhibition of paintings by Sylvester Stallone


Installation view of NGV Architecture Commission, 2021 pond[er] by Taylor Knights and James Carey at NGV International, Melbourne from 6 December, 2021 – 28 August 2022. Photo: Derek Swalwell.



MELBOURNE.- A beautiful architectural installation, replete with a pink pond evocative of Australia's inland salt lakes, has been revealed as the winner of the NGV's 2021 Architecture Commission in the Grollo Equiset Garden at NGV International. Designed by a Melbourne-based team comprising architecture firm Taylor Knights in collaboration with artist James Carey, the installation, entitled pond[er], offers a space for visitors to cool off during the summer months and reflect on their relationship with the environment­. Referencing Sir Roy Grounds's open-air courtyards in the original design of NGV International, this architecture and landscape installation comprises two key design elements: a body of indigenous plants and a body of water. The body of water is coloured pink, making direct reference to the many inland salt lakes in Victoria ... More



Rashid Johnson, Untitled Anxious Bruise Drawing, 2021. Oil on cotton rag. Collection of Phoenix Art Museum, Museum purchase with funds provided by the Dawn and David Lenhardt Contemporary Art Initiative. Photo Martin Parsekian, Courtesy David Kordansky Gallery.



PHOENIX, AZ.- Phoenix Art Museum announces the acquisition of Untitled Anxious Bruise Drawing (2021) by critically acclaimed New York-based artist Rashid Johnson. The work is the latest purchased by the Museum with funds from the Dawn and David Lenhardt Contemporary Art Initiative and furthers the Museum's mission to diversify its contemporary art holdings. Johnson, whose work was recently presented in a solo exhibition at David Kordansky Gallery in Los Angeles, is internationally renowned for his abstract and evocative installations, two- and three-dimensional objects, videos, and performances that explore themes of social history, art history, philosophy, and his own autobiography. His work is the fourth acquired by ... More



Sylvester Stallone, Hercules O' Clock, 1991. Image courtesy of Galerie Gmurzynska.



HAGEN.- Following museum exhibitions at the State Russian Museum, St. Petersburg (2013) and the Musée d'Art Moderne et d'Art Contemporain, Nice (2015), the Osthaus Museum Hagen, on the occasion of Sylvester Stallone's 75th birthday, presents a retrospective of his works. The complete oeuvre spans from the late sixties until today and the various artistic phases of the action star. On view are approximately 50 paintings, including self-portraits and never-before-seen early works. Stallone's paintings are on the one hand as "action-packed" and expressive as his films and on the other hand subtle and multi-layered in their statements. The Hollywood star executes various art forms including surrealism, expressionism and abstraction. Painting has been an intimate and constant part of Sylvester Stallone's creative expression for the past 55 years, with his artistic output fueling his cinematic work and vice versa. Sylve ... More
Quote
Every child is an artist. The problem is how to remain an artist once he grows up. Pablo Picasso
---
Patek Philippe Ref. 5711/1A-018 Tiffany Blue® Nautilus | New York | December 2021
---

Flashback
On a day like today, Mexican painter Diego Rivera was born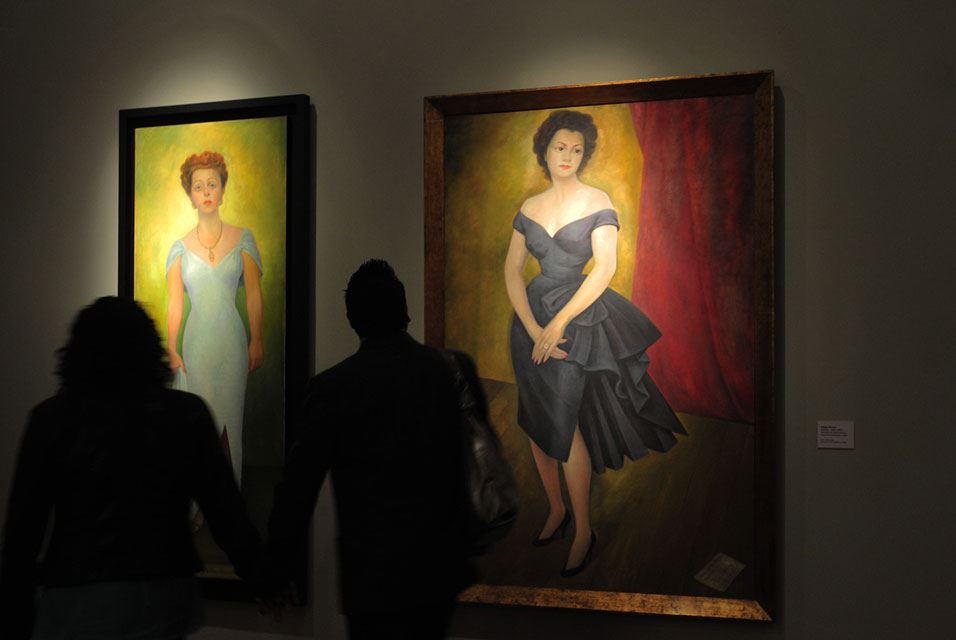 December 08, 1886. Diego María de la Concepción Juan Nepomuceno Estanislao de la Rivera y Barrientos Acosta y Rodríguez (December 8, 1886 - November 24, 1957) was a prominent Mexican painter born in Guanajuato, Guanajuato, an active communist, and husband of Frida Kahlo (1929-1939 and 1940-1954). His large wall works in fresco helped establish the Mexican Mural Movement in Mexican art. Between 1922 and 1953, Rivera painted murals among others in Mexico City, Chapingo, Cuernavaca, San Francisco, Detroit, and New York City. In 1931, a retrospective exhibition of his works was held at the Museum of Modern Art in New York City. In this image: A couple look at the painting 'Portrait of Gilda Blanca' (R) by Mexican Diego Rivera during an exhibition to celebrate the 65th anniversary of Mexican National Institute of Fine Arts in Mexico City, Mexico, 04 July 2011.
---

Museums, Exhibits, Artists, Milestones, Digital Art, Architecture, Photography,
Photographers, Special Photos, Special Reports, Featured Stories, Auctions, Art Fairs,
Anecdotes, Art Quiz, Education, Mythology, 3D Images, Last Week,

.
Royalville Communications, Inc
produces: