A sibling rivalry divides a famous artist's legacy
Harry Bertoia's grave in Bally, Pa., Jan. 25, 2023. At an auction, 20 of Harry Bertoia's "sounding sculptures" sold for millions — but his children can't agree on the future of his work. (Aaron Richter/The New York Times)

by Grayson Haver Currin
NEW YORK, NY
.-
Celia Bertoia's father — the famous sculptor and not-so-famous musician Harry Bertoia — had been dead 30 years when she asked a psychic how to handle his legacy. The youngest of three children, she had long seemed to be her father's favorite: a confidant who, as a child, would cut his hair outdoors on their forest-fronting property among the idyllic valleys of Eastern Pennsylvania. But after his death in 1978, she dodged the family business of welding together mountains of metal into behemoth public-art installations and "sounding sculptures" that made music. She became a real estate agent in Colorado, then the owner of a Montana service that provided timing for road races. When she entered her 50s, Celia Bertoia decided it was time to help manage the thousands of pieces her father had left. Her mother, Brigitta ...
More
The Best Photos of the Day
The headless statue of a 'Roman emperor' is seized from the Met
Gagosian announces the global representation of Nan Goldin
VMFA acquires two comprehensive collections of works by Virginia artists Benjamin Wigfall and Willie Anne Wright


In an image provided by the Metropolitan Museum of Art, a damaged head of the Roman emperor Caracalla, dating to 211-217 A.D. It was looted from a site in Turkey in the '60s, according to authorities, and has been seized from the Metropolitan Museum of Art to be returned to Turkey. (Metropolitan Museum of Art via The New York Times)

by Tom Mashberg and Graham Bowley



NEW YORK, NY.- Septimius Severus ruled ancient Rome as emperor for nearly two decades, and a 7-foot-tall statue that researchers say depicts him presided over the Greek and Roman galleries at the Metropolitan Museum of Art for the past 12 years. But now the headless bronze statue, dating to 225 A.D. and valued at $25 million, is gone, one of the latest antiquities to be seized from the museum, whose collection has been repeatedly cited in recent months as containing looted artifacts. The investigators who seized the statue said it had been stolen from Bubon, an archaeological site in southwest Turkey, in the 1960s. Another 17 items at the museum were ... More



Nan Goldin, Seascape at sunset, Camogli, Italy, 2000. Archival pigment print mounted on Dibond with chassis, 59 × 88 5/8 inches, 149.9 × 225.1 cm. Edition of 3 + 1 AP © Nan Goldin. Courtesy the artist and Gagosian.



NEW YORK, NY.- Gagosian announced the global representation of Nan Goldin. Among the most consequential artists of her generation, Goldin has introduced new modes of image making that have transformed the role of photography in contemporary art. Emerging from the artist's own life and relationships, her photographs and moving-image works are both deeply personal and profoundly influential, addressing essential themes of identity, love, sexuality, addiction, and mortality. Throughout her career Goldin has united art and activism, confronting the HIV/AIDS epidemic since the 1980s and more recently bringing international attention to the overdose crisis. A current retrospective that focuses on Goldin's moving-image work, This Will Not End Well, includes six slideshows and video installations displayed in unique pavilions designed ... More



Chimneys, 1951, Benjamin Wigfall (American, 1930–2017), oil on canvas. Virginia Museum of Fine Arts, General Endowment Fund. © Benjamin Wigfall.



RICHMOND, VA.- The Virginia Museum of Fine Arts has acquired two comprehensive collections of works of art and archival materials by important Virginia artists Benjamin Wigfall and Willie Anne Wright. "We are excited to add these remarkable works by Benjamin Wigfall and Willie Anne Wright to the museum's permanent collection. Many of these works will go on display this year at the Virginia Museum of Fine Arts in special exhibitions devoted to these artists," said Alex Nyerges, VMFA's Director and CEO. "The museum continues to support artists from the Commonwealth of Virginia and expand our collection to show the full breadth of human experience and artistic achievement." Born and raised in the Church Hill neighborhood of Richmond, Benjamin Wigfall (American, 1930–2017) began his long career as an abstract painter and printmaker in the 1950s. ​​​"Wigfall credits seeing a painting by Germa ... More
Exhibition of new paintings by Stanley Whitney opens at Gagosian
An unopened 2007 iPhone can be yours (for $32,000 or more)
Painting by Gesina ter Borch acquired by the National Gallery of Art


The color makes the structure. —Stanley Whitney



LONDON.- Gagosian is presenting There Will Be Song, an exhibition of new paintings by Stanley Whitney. Opening March 30, this is the gallery's first exhibition of paintings by Whitney since announcing its representation of the artist. Vibrant and lyrical, Whitney's paintings emerge from his ongoing exploration of color and composition. Each work is composed of rectilinear, predominantly monochrome blocks of oil color in three or four registers demarcated by horizontal bands. Working extemporaneously within this compositional structure, the artist selects each successive tone in relation to those already applied. The paintings' brushwork reveals the active trace of the artist's hand through variations in direction of application and opacity of pigment. Pursuing abstraction since the mid-1970s, Whitney consolidated a process-based approach while living in Rome in the 1990s. In Italy, he was captivated by ancient Roman mural ... More



In an undated image provided by Rago/Wright, a factory-sealed first-generation iPhone. The 2007 iPhone is going to auction with a floor price of $32,000. (Rago/Wright via The New York Times)

by Jacob Bernstein



NEW YORK, NY.- Wright Auctions, a leading venue for the sales of contemporary design goods, has fetched five-figure deals for a Hans Wegner desk, a George Nakashima settee, and a chair designed by Charles Eames and Eero Saarinen. For an auction that is set to take place on Thursday, there's a new item at the top of the list: a first-generation Apple iPhone in its original packaging. Smaller than a Cedric Hartman desk lamp, and not nearly as obvious of a status item as, say, the Yves Klein table a few lots over, the 2007 iPhone has a floor price of $32,000. That is the amount a prospective buyer must be willing to spend simply to get in on the action. Wright Auctions estimates that the winning bid ... More



Attributed to Gesina ter Borch and Gerard ter Borch the Younger, Moses ter Borch Holding a Kolf Stick, c. 1655. Oil on panel, overall: 39.37 x 26.67 cm (15 1/2 x 10 1/2 in.) National Gallery of Art, Washington. The Lee and Juliet Folger Fund 2022.106.1



WASHINGTON, DC.- The National Gallery of Art has acquired Moses ter Borch Holding a Kolf Stick (c. 1655), considered to be a collaboration between Gesina ter Borch and her half-brother, Gerard ter Borch the Younger. Genre and portrait painter Gerard ter Borch the Younger (1617–1681) was the most famous and prolific artist in the Ter Borch family, but his half-siblings, Gesina (1631–1690), Harmen (1638–before 1677), and Moses (1645–1667) were also trained by their father (Gerard ter Borch the Elder, 1583–1662) and were all gifted artists. A charming, informal depiction of a young boy poised to play a popular winter sport, Moses ter Borch Holding a Kolf Stick highlights the work of Gesina ter Borch, a superbly talented amateur ... More
Batman's debut in 1939's 'Detective Comics' No. 27 swings to record-tying $1.74 million at Heritage Auctions
Sara Puig, reconfirmed as president of the Fundació Joan Miró for a further four years
One of the luckiest lightning strikes ever recorded


Detective Comics #27 (DC, 1939) CGC FN 6.0 Off-white to white pages.



DALLAS, TX.- It was a big day for the Batman at Heritage Auctions Thursday during the first session of the four-day Comics & Comic Art Signature® Auction. A copy of 1939's Detective Comics No. 27, featuring the first appearance of The Dark Knight, realized $1.74 million. Thursday's sale of this historic comic, graded Fine 6.0 by Certified Guaranty Company, ties the auction record set in May 2022, when a higher-graded copy realized the same price. Detective Comics No. 27 is so rare there are just 75 copies known to exist in any condition and only 14 graded higher than the one offered in this auction. This copy ranks among the most valuable and coveted of them all: As CGC notes, Batman co-creator Bob Kane left a message, written in ink, on its first page to his friend (and beloved collector) Robert Crestohl. "Twice in three years, Heritage has either set or tied the auction record for this historic book, and it never gets old," says ... More



Sara Puig.



BARCELONA.- Sara Puig Alsina has been reconfirmed as president of the Fundació Joan Miró for a further four years by unanimous vote of the Board of Trustees. Sara Puig Alsina has been a member of the Board of Trustees since November 2013 and of the Executive Committee since November 2014, and president of the institution since 2019. Holding a bachelor's degree in Art History from the University of Barcelona and a master's degree in Arts Administration (Museums) from New York University, Sara has extensive professional experience in the field of art and museums. At the ordinary meeting held yesterday, 29 March 2023, the incorporation of Rafael Pardo, director of the Fundación BBVA, into the Board of Trustees was approved, thereby consolidating the strategic, longstanding collaboration with the institution that, since 1989, has made 26 exhibitions possible. Taking part in this meeting for the very first time were two new ... More



A still image from video provided by Marcelo Saba and Diego Rhamon shows the instant before positive upward discharges from lightning rods meet the negative discharge of lightning in Sao Jose dos Campos, a city northeast of Sao Paulo, Brazil. (Marcelo Saba and Diego Rhamon via The New York Times)

by Nicholas Bakalar



NEW YORK, NY.- Benjamin Franklin invented lightning rods in the 18th century, and the devices have been protecting buildings and people from the destructive forces of lightning ever since. But the details of how lightning rods function are still the subject of scientific research. Although modern lightning protection systems involve extra equipment that makes them more efficient, the lightning rod itself is quite simple: a copper or aluminum rod set above the highest point of a building, with wires connected to the ground. When lightning strikes a building, it will preferably pass through the rod — the path of least resistance — and then through the wires ... More
D.M. Thomas, 88, dies; His 'White Hotel' was a surprise bestseller
In this 'Peter Pan,' something always goes awry. That's the plan.
After making history in Bangladesh, She's getting applause in New York


A former English teacher with a modest writing career in Britain, he found fame in 1981 with an inventive story of an opera singer, Freud and the Holocaust.



NEW YORK, NY.- D.M. Thomas, the English novelist whose ingenious interweaving of Freudian themes and the Holocaust made "The White Hotel" a surprise bestseller in 1981, died on Sunday at his home in Truro, a small city in the Cornwall region of southern England. He was 88. His son Sean confirmed his death. He declined to specify a cause. Thomas was a former English teacher with a modest literary reputation when he began planning a novel in the style of a Freudian case study. By chance, he began reading Anatoly Kuznetsov's documentary novel "Babi Yar," about the slaughter of 100,000 mostly Jewish Ukrainians near Kyiv in 1941, and the light bulb went on. "Suddenly, I saw a connection between the mass hysteria of the Holocaust and personal hysterias," Thomas told People magazine in 1981, "and realized I had a novel." "The White Hotel" tells the story of Lisa Erdman, a half-Jewish opera singer who comes to Sigmund Freud seeking treatment for her psyc ... More



The actor Greg Tannahill, rehearsing a flying sequence in the Broadway comedy "Peter Pan Goes Wrong," in New York, March 10, 2023. The slapstick comedy is full of daring sequences. What does it take? Countless rehearsals (and bruises). (Dolly Faibyshev/The New York Times)



NEW YORK, NY.- On a recent afternoon, actor Greg Tannahill sat perched atop a London rooftop, one leg extended, one arm outthrust. A pair of carpenters would then whisk Tannahill from his rooftop and into a nursery. And then out of it. And then back in again. A window frame would come free. Tannahill, now jerked upside down, would mewl and scream and clamber down a wall. Once he finally righted himself, the flight harness would wrench him upside down again. This breathless, silly sequence lasted less than a minute and ended when Tannahill, playing an actor cast as Peter Pan in an ill-starred kiddie production, finally stands up straight and delivers the line: "Thank heavens I didn't wake the children." The routine requires split-second precision and the seamless cooperation of actors, flight operators and stage managers. To make it work and to make ... More



Tashnuva Anan Shishir in New York, March 20, 2023. Anan, who became her country's first transgender news anchor in 2021, is performing in "Public Obscenities" at Soho Rep. (Desmond Picotte/The New York Times)



NEW YORK, NY.- When Shayok Misha Chowdhury wrote the character of Shou for his new bilingual play, "Public Obscenities," about a couple who interviews queer locals in Kolkata, India, he was "super worried" about casting the role. The performer would not only need to be of the appropriate gender but also a Bangla speaker with the right "linguistic fluency" to capture the character, who speaks "exuberantly and forthrightly and confidently," he said recently. Shou identifies as kothi, an Indian gender that encompasses a breadth of expressions, Chowdhury said. So he reached out to a friend for advice: a professor at the University of California, Santa Barbara, who is "very in the sort of Bangali queer and trans space." After the professor mentioned Tashnuva Anan Shishir, Chowdhury searched her name online, and several questions came into his head: Is she even ... More
Quote
Art is limitation. The essence of every picture is the frame. G.K.Chesterton
---
Tim Marlow's Must-See Museum Shows: April 2023
---

Flashback
On a day like today, English painter John Constable died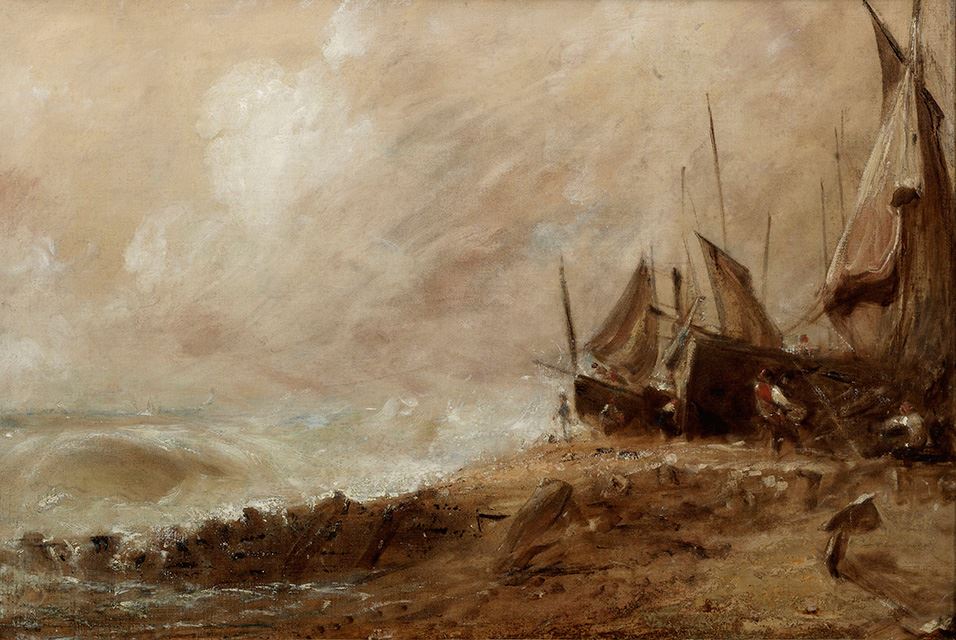 March 31, 1837. John Constable, RA (11 June 1776 – 31 March 1837) was an English Romantic painter. Born in Suffolk, he is known principally for his landscape paintings of Dedham Vale, the area surrounding his home -- now known as "Constable Country" -- which he invested with an intensity of affection. In this image: A Sea Beach - Brighton, Photo: Bonhams.
---

Museums, Exhibits, Artists, Milestones, Digital Art, Architecture, Photography,
Photographers, Special Photos, Special Reports, Featured Stories, Auctions, Art Fairs,
Anecdotes, Art Quiz, Education, Mythology, 3D Images, Last Week,

.
Royalville Communications, Inc
produces: