From soap opera to art: Why a Moscow museum is reenacting 'Santa Barbara'
Ragnar Kjartansson, Santa Barbara, 2021-22. Durational performance. Directed by Ása Helga Hjörleifsdóttir. Performance, staging and production: Lorem Ipsum Commissioned by V–A–C Foundation, Moscow © Ragnar Kjartansson; Courtesy of the artist, Luhring Augustine, New York, and i8 Gallery, Reykjavik. Based on the series originally created by Bridget and Jerome Dobson 'SANTA BARBARA' Ⓒ 1984 Twentieth Century Fox Television, all rights reserved.

by Valerie Hopkins
MOSCOW
.-
A sleek new culture hub opened Saturday evening with an art event Muscovites had been awaiting for years. But the spectators at the inauguration of the vast new GES-2 museum had not come to see paintings or sculptures. They were watching "Santa Barbara." Every day through March 22, 2022, a team of 80 actors and technicians is carrying out the vision of Icelandic performance artist Ragnar Kjartansson by re-creating, filming and editing episodes of that American soap opera in front of a live audience at the museum. Kjartansson said he hoped the performance would be a "living sculpture" and that the 98 videos he and his team were recording would become a "history painting" for posterity. On opening night, an audience crowded around a set that had been built in GES-2's nave as two tuxedo-clad actors did several takes of a scene. Dramatic music indicated the arrival of a plot climax, and a technician snapped a clapboard. "It was all lies!" an act ...
More
The Best Photos of the Day
Brooklyn Museum gets a new president and chief operating officer
Preparatory sketch discovered beneath Rembrandt's Night Watch
Landmark photo archive of Black life in New York comes to the Met


Kimberly Panicek Trueblood, known as KP, the new president and chief operating officer of the Brooklyn Museum. Trueblood will run the business side of an institution that has struggled financially and plans to refresh its building and galleries. Ezra Mechaber via The New York Times.

by Robin Pogrebin



NEW YORK, NY.- Just two weeks after receiving $50 million from New York City to upgrade its building and modernize the galleries, the Brooklyn Museum announced Wednesday that Kimberly Panicek Trueblood will be its new president and chief operating officer. "We wanted to bring somebody in who was going to continue driving change," Anne Pasternak, the museum's director, said in a telephone interview. "She has led organizational change." Trueblood, who starts early next year, previously served as chief of staff at the American Civil Liberties Union and as director of White House operations for the Obama administration from ... More



The Night Watch.



AMSTERDAM.- A previously hidden sketch has been discovered during examinations of Rembrandt's The Night Watch. This allows us to look over the artist's shoulder, as it were, and watch as he takes the first steps in the making of a masterpiece. The team of Operation Night Watch researchers have been working at the Rijksmuseum for the past two-and-a-half years, meticulously mapping The Night Watch using the most advanced imaging techniques and computer technology. Their work has produced an unprecedented volume of data that offers a vastly improved understanding of the creation process and the painting's current condition. Taco Dibbits, Director of the Rijksmuseum: The discovery of the sketch represents a breakthrough in this research. We always suspected Rembrandt must have made a sketch on the canvas before embarking on this incredibly complex composition, but we didn't have the evidence. We are currently able to look beneath t ... More



James Van Der Zee (American, 1886-1983), [Woman Holding Folding Camera], 1922 Gelatin silver print © James Van Der Zee Archive, The Metropolitan Museum of Art.



NEW YORK, NY.- The Metropolitan Museum of Art and the Studio Museum in Harlem announced Tuesday that they would share ownership of the archive of James Van Der Zee, a virtuoso photographer who over a 70-year professional career produced an unrivaled chronicle of African American life in Harlem. The archive, which will be housed at the Met, comprises about 20,000 prints and 30,000 negatives. The Met will acquire some 14,000 prints and 23,000 negatives from Donna Van Der Zee, the photographer's widow, and the James Van Der Zee Institute, which was established to safeguard his legacy but has been dormant since the 1980s. Some 6,000 prints and 7,000 negatives are already in the collection of the Studio Museum, which will retain ownership of them. The first and most urgent task is to preserve and scan ... More
Artists rally to preserve Black history in Sag Harbor
Phillips names Benoît Repellin as Head of Jewellery, Europe
Pace Gallery unveils work by Marina Perez Simão created for The Art of Empowerment


Georgette Grier-Key, director of the Eastville Community Historical Society, in Sag Harbor, N.Y., Sept. 27, 2021. Jeremy Dennis/The New York Times.

by Aruna D'Souza



SAG HARBOR, NY.- When Storm Ascher, 27, an artist and founder of the pop-up gallery Superposition, moved here from Los Angeles in 2019, she was simultaneously struck by the warmth and acceptance of the community and the fact that she was almost always the only Black person in a room. Then she read Colson Whitehead's autobiographical novel "Sag Harbor" and learned that the house she lived in was a mere two blocks from Eastville, one of the oldest Black communities on the South Fork of Long Island, and one that offered evidence of multicultural integration among Black, Montauk and Shinnecock people, as well as those of European descent, since the 18th century. And she was a mile or so from Sag Harbor Hills, Azurest and Ninevah (aka SANS), Black beach enclaves established in the 1930s and '40s that have been drawing prosperous professionals and cultural bright ... More



Mr. Repellin joins Phillips from Sotheby's, where he was most recently Director and Head of Magnificent Jewels sales. Image courtesy of Phillips.



GENEVA.- Phillips announced the appointment of Benoît Repellin as Head of Jewellery, Europe, marking an important milestone in the development of the company's rapidly expanding jewellery department. Mr. Repellin will join Phillips on 1 February 2022 and will be based in Geneva. With 10 years of experience and having worked extensively within the European market, Mr. Repellin brings a wealth of knowledge and expertise that will support and enhance Phillips' Jewellery Department worldwide. In his new role, Mr. Repellin will work to establish a strong presence for Phillips Jewels in Europe. He will travel extensively, working closely with the team in New York, London, Hong Kong and Geneva. "We are delighted that Benoît will be joining Phillips at a time when we are expanding rapidly across the globe," said Graeme Thompson, Worldwide Head of Jewellery, Phillips. "Europe remains an extremely important market for sourcing ... More



Marina Perez Simão, Untitled, 2021. 125 x 159 cm (49.2 x 62.6 in) Silk Organza appliqué over Cotton Velvet, with Cotton Embroidery, Backed with cotton. Edition of 30 + 2APs.



LONDON.- UN Women UK, the United Nations organisation dedicated to gender equality and the empowerment of women, is preparing to celebrate the fourth year of The Art of Empowerment. Created by Maria Baibakova of Baibakov Art Projects, The Art of Empowerment is a fundraising and awareness programme which partners with leading women artists to create limited edition works on an annual basis in support of the mission of UN Women UK. This year, the programme presents a new edition by Marina Perez Simão. Proceeds from the sale of the edition will benefit UN Women's work in Afghanistan. The fourth artist to be commissioned by Baibakova is the celebrated female artist, Marina Perez Simão, who known for her luminous oil paintings that pulse with a magnetic, musical, and hypnotic presence. This work presents a symbol of hope—a beacon for a future not yet mapped out but filled with infinite possibilities. Simão's Untitled, ... More
Sotheby's and Confront Art team up to auction sculptures of George Floyd and Breonna Taylor
November sales at Swann bring $6.7M
Christie's Magnificent Jewels achieves $54.9M


Breonna Taylor sculpture by Chris Carnabuci and Laolu. Photo: Láolú NYC.



NEW YORK, NY.- Following highly successful public pop-up exhibitions in Flatbush, Brooklyn and Union Square earlier this year, which attracted tens of thousands of viewers and worldwide media attention, Sotheby's and Confront Art are collaborating to bring two powerful and renowned sculptures of George Floyd and Breonna Taylor to auction, with proceeds from the auction supporting non-profit organizations founded by their family members: We Are Floyd and the Breonna Taylor Foundation. The works will be offered during Sotheby's Contemporary Art auction, open for online bidding 9 – 17 December, and will be on public view at Sotheby's York Avenue galleries in New York from 9 – 15 December. Sculpted by artist Chris Carnabuci, the two works are part of a series that was previously part of Confront Art's SEEINJUSTICE Series: George Floyd & Breonna Taylor. The SEEINJUSTICE series was inspired by the faces and stories that spa ... More



Blanch Lazzell, Tulips, color woodcut, 1920. Sold for $37,500, a record for the print.



NEW YORK, NY.- November at Swann Galleries featured a marathon of fine art auctions including a two-day sale of Old Master Through Modern Prints and Master Drawings, a private collection of Contemporary Artists' Books, as well as Contemporary art, and travel posters. Combined the auctions earned $6.7 million and established an exceptional 30 records for the market. The month opened with Old Master Through Modern Prints and Master Drawings, featuring a private collection of Italian Old Masters. Held over two days, on November 2 and 3, the sales brought a combined total of $2.9 million. Prints from stalwarts of all eras were in strong demand for Old Master Through Modern Prints. Three of the top 10 highest selling lots belonged to Rembrandt etchings, an equal number for works by modern masters Pablo Picasso and Joan Miró also found success; world records were had for American prints by Winslow Homer, Blanche Lazzell and Gustave ... More



A fancy dark gray-blue diamond ring of 8.74 carats, Internally Flawless, achieved $2,610,000. © Christie's Images Ltd 2021.



NEW YORK, NY.- Christie's New York December 8 auction of Magnificent Jewels achieved a total of $54,970,500 with 91% sold by lot, 94% sold by value, and 120% hammer above low estimate. There was global participation with registered bidders from 30 countries across five continents. The auction achieved strong results for colored diamonds, including the top lot of the sale, an important fancy vivid yellow diamond pendant of 70.19 carats, VS2 clarity that sold for $2,850,000. Other notable results were achieved for a rare fancy vivid orangy pink diamond ring of 5.38 carats, VS2 clarity, which realized $2,670,000, and a fancy dark gray-blue diamond ring of 8.74 carats, Internally Flawless, which achieved $2,610,000. A notable collection included in the sale was A Superlative Eye: Property from a Distinguished Chicago Collection, which was highlighted by a strong selection of Art Deco Cartier jewels. The collection ... More
PinchukArtCentre announces the winner of the Future Generation Art Prize 2021
The Royal Academy of Arts announces the 254th Summer Exhibition Committee with Alison Wilding RA as co-ordinator
U.S. Pavilion will present "Simone Leigh: GRITTIN" at La Biennale di Venezia 2022


Aziz Hazara.



KYIV.- Aziz Hazara (Afghanistan) is the winner of the Future Generation Art Prize 2021, the 6th edition of the global art prize for artists under 35, established by the Victor Pinchuk Foundation in 2009. The winner was announced by the international jury at the online award ceremony on 8 December. Aziz Hazara received a total of $100,000: $60,000 as a cash prize, and $40,000 to fund their artistic practice. An additional $20,000 was awarded between Special Prize winners Agata Ingarden (Poland), Mire Lee (South Korea) and Pedro Neves Marques (Portugal). The winners were chosen by the prize's distinguished international jury, consisting of: Lauren Cornell, Director of the Graduate Program and Chief Curator at the Center for Curatorial Studies, Bard College; Jacopo Crivelli Visconti, Curator of the 34th edition of the Bienal de São Paulo; Elvira Dyangani Ose, Director of the Museu d'Art Contemporani de Barcelona; Bjorn Geldhof, Artistic Director, ... More



Installation view of the Summer Exhibition 2021 at the Royal Academy of Arts, London, 22 September 2021 — 2 January 2022 showing El Anatsui Hon RA, Dexterity. Photo: © Royal Academy of Arts, London / David Parry.



LONDON.- Celebrated British sculptor Alison Wilding RA will co-ordinate the 254th Summer Exhibition in 2022. The Summer Exhibition Committee members will be Royal Academicians Rana Begum, Stephen Chambers, David Mach, Farshid Moussavi, Grayson Perry, Cathie Pilkington, Conrad Shawcross and Bill Woodrow. Niall McLaughlin will curate the Architecture Gallery. The committee will be chaired by the President of the Royal Academy, Rebecca Salter. For the Summer Exhibition 2022, Wilding will explore the theme of Climate. The Summer Exhibition is the world's largest open submission contemporary art show which has taken place every year without interruption since 1769. The members of the Summer Exhibition Committee serve in rotation, ensuring that every year the exhibition has a distinctive character, ... More



Simone Leigh, 2021. Artworks © Simone Leigh. Courtesy the artist and Matthew Marks Gallery. Photo: Shaniqwa Jarvis.



BOSTON, MASS.- The Institute of Contemporary Art Boston and the U.S. Department of State's Bureau of Educational and Cultural Affairs today announced that Simone Leigh's exhibition for the U.S. Pavilion at the 59th International Art Exhibition of La Biennale di Venezia will be titled Simone Leigh: GRITTIN. The exhibition's title draws from Leigh's continued interest in performativity and affect. Derived from the word "grit," with its dual meanings that denote both a spirit of resolve and the material quality of sand or stone, "grittin" is an African American Vernacular English term for the act of adopting a posture of protection. The theatrical facial expressions used in the performance of grittin convey an attitude of aggressiveness toward an obstacle or adversary and these exaggerated expressions reveal the internal resolve of the person performing. In the context ... More
Quote
We are all going to heaven, and Van Dyck is of the party. Thomas Gainsborough
---
Jimmy Wales The Birth of Wikipedia NFT | Christie's
---

Flashback
On a day like today, the Belgian-English painter and illustrator Anthony van Dyck died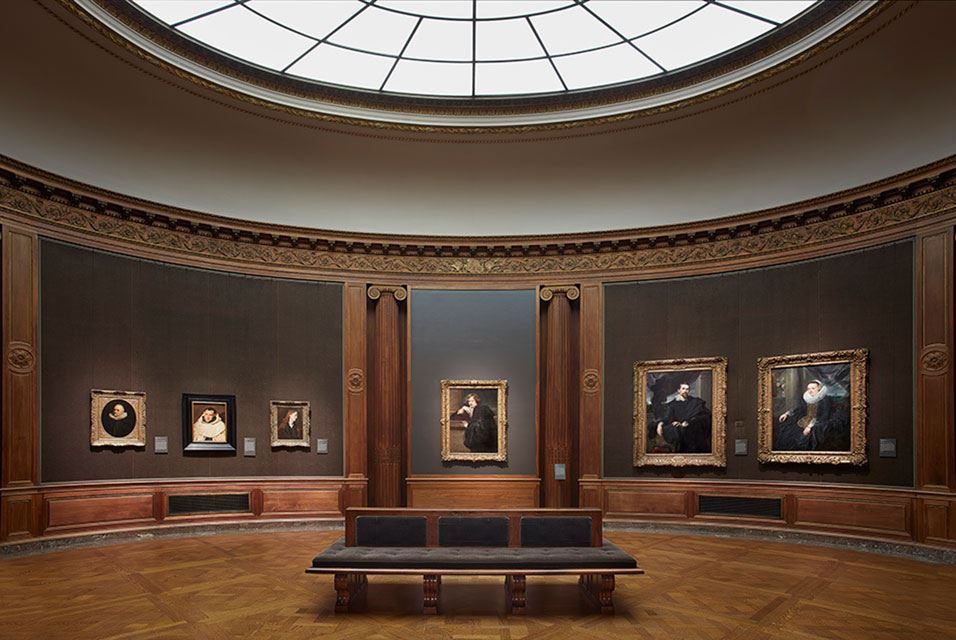 December 09, 1641. Sir Anthony van Dyck (22 March 1599 - 9 December 1641) was a Flemish Baroque artist who became the leading court painter in England after success in the Southern Netherlands and Italy.
---

Museums, Exhibits, Artists, Milestones, Digital Art, Architecture, Photography,
Photographers, Special Photos, Special Reports, Featured Stories, Auctions, Art Fairs,
Anecdotes, Art Quiz, Education, Mythology, 3D Images, Last Week,

.
Royalville Communications, Inc
produces: