At the Chicago Architecture Biennial, artists run free
Visitors interact with the architectural installation "Theater for One," designed by LOT-EK, at the Chicago Cultural Center in Chicago on Nov. 22, 2023. The directors, who are part of an art collective, wind up stretching architecture's net in so many directions that it begins to fray. (Jamie Kelter Davis/The New York Times)

by Christopher Hawthorne
CHICAGO, IL
.-
Faheem Majeed, a member of the art collective the Floating Museum and one of the artistic directors of this year's Chicago Architecture Biennial, was standing on a patch of soil on the South Side on a brisk, sunny afternoon last month. Next to him was artist Erika Allen, a founder and the CEO of Urban Growers Collective. Behind them rose piles of lumber and the beginnings — the tentative outline — of a building frame for a two-story pavilion. Designed with architecture students at Columbia University, it will hold a residency for the collective, which runs programs related to urban agriculture and the arts and distributes organic produce from its eight farm sites around Chicago to local chefs and community groups. "As you see, it's not finished," Majeed said of the pavilion, which the Biennial is helping fund. "But it's not about a Biennial timeline. It's about really leveraging the moment to actually build something that will be useful. ...
More
The Best Photos of the Day
New paintings and works on paper by Jenny Saville presented in Ekkyklema at Gagosian
Museum of Fine Art Ghent looks back on its 225-year history with 'Among Friends'
Opening doors to China's art market, Lark Mason celebrates 20 years as on online auction pioneer


Jenny Saville, Ekkyklema I, 2023 © Jenny Saville. Photo: Prudence Cuming Associates Ltd.



LONDON.- Gagosian is now hosting Ekkyklema, an exhibition of new paintings and works on paper by Jenny Saville, opening at the Davies Street gallery in London on November 30. The project's title refers to a wheeled platform that was used to move interior scenes into the audience's view during antique productions of Greek tragic drama and alludes to the artist's search for a pictorial language with which to confront our simultaneous occupation of material and screen-based worlds. Ekkyklema is also concerned with the moment and mystery of conception—a truly universal subject. Saville's new work was inspired in part by the giant digital display screens employed at stadiums and other major event venues, the scale and visual power of which generate an overwhelming, almost religious spectacle. Throughout the exhibition, the artist compartmentalizes body ... More



Anonieme meester, 'Maria met Kind', ca. 1350-ca.1380, MSK Gent.



GHENT.- With the exhibition 'Among Friends', the Museum of Fine Art Ghent looks back on its 225-year history and 125 years of the Friends of the Museum, reflecting on all of the people who have enriched the museum through donations, gifts and legacies. This is also an opportunity to reflect on close ties with contemporary private collectors and, unusually, to admire dozens of works from private collections. Over the course of its existence the MSK has established close relationships with dozens of collectors who have supported its activities and development. To a substantial degree, its collection took shape from 1900 on thanks to the continuous private generosity of patrons from Ghent. The exhibition 'Among Friends' takes a hopscotch approach, with the various types of collectors and their methods determining the rules and setting the course. The result is a diverse and outstanding assembly of art from the mid-14th cent ... More



Lark Mason, founder of iGavelAuctions.com, celebrates 20th anniversary. Credit: Lark Mason Associates.



NEW YORK, NY.- In the dynamic world of online auctions, Lark Mason stands as a pioneer, a figure whose distinctive bow tie, tweed sports jacket, and horn-rimmed glasses paint the portrait of the quintessential Ivy League professor. Yet, for the diehard followers of the popular PBS-TV Antique Roadshow, he is more than an academic archetype. Since 1996, when the show first aired, viewers have been tuning in eager for the moment when Mason, with his discerning eye and astute knowledge, becomes the bearer of good news for those hopeful individuals lined up to have their Asian art treasures appraised. At a time when online auctions were considered a novelty, Mason foresaw the future and launched iGavelAuctions in 2003, which coincided with a period of remarkable economic growth in mainland China. Mason's name recognition attributed in part to his association with Wang Shixiang, the ... More
MCA Australia's 2023 Jackson Bella Room Commission launched to celebrate International Day of People with Disability
Christie's New York announces design and Tiffany sale
Italy searches for museum leaders, with nationalism in the air


Lucy Simpson, Holding Ground (detail), 2023, recycled glass sand-cast mussel shells, possum skins, 3D-printed biopolymer kurrajong seed pods, coolamons, ceramic emu eggs, lomandra, wood, textile; digital HD video, colour; multi-channel audio; commissioned by the Museum of Contemporary Art Australia for the Jackson Bella Room, 2023, image courtesy and © the artist, photograph: Jacquie Manning



SYDNEY.- The Museum of Contemporary Art Australia launches the 2023 Jackson Bella Room Commission, Holding Ground, by artist Lucy Simpson on Friday 1 December 2023. Simpson's Bella Room Commission will be open alongside a weekend of free art-making activities with the artist and artist educators specialising in Auslan and Audio Description, to coincide with the International Day of People with Disability on Sunday 3 December 2023. Now in its tenth iteration, the Jackson Bella Room located in the Museum's National Centre for Creative Learning is a dedicated free space for people with disability or access requirements to experience contemporary art through sensory engagement. The Bella Room Commission is part of the Bella program. In 2023, the Museum has ... More



Tiffany Studos New York, 'DRAGONFLY' Table Lamp, circa 1905 with a rare 'Cattail' base leaded glass, patinated bronze. Estimate: $250,000-350,000. © Christie's Images Ltd 2023.



NEW YORK, NY.- Christie's announced Design and Tiffany, two live sales taking place in New York this December. The various-owner Design sale on Thursday, December 7th will showcase over 140 exceptional works from 1900 to present day. Tiffany, taking place on Friday, December 8th, consists of 41 exquisite lots and is a celebration of Louis Comfort Tiffany, Tiffany Studios, and the firm that inspired the artistry of glass making in America. Leading the Design sale is an important Illuminated Library Table designed by Charlotte Perriand and Jean Prouvé for La Maison de L'Étudiant, Paris, circa 1951 (estimate $1,000,000-1,500,000). The auction will include important post-war iconic designs by French designer Jean Royère such as the 'Ambassador' suite, and rare lighting such as the 'Jet d'eau' Floor Lamp (estimate $80,000-120,000). The pivotal era of French design is further augmented by Georges Jouve, Serge Mouille, ... More



Sylvain Bellenger, the director of the Capodimonte Museum, in Naples, Italy, on Oct. 23, 2023. (Roberto Salomone/The New York Times)

by Elisabetta Povoledo



ROME.- For the past several weeks, dozens of candidates have been facing a five-person committee in a dark, book-lined room at Italy's Culture Ministry, hoping to convince the panel that they should be selected to direct some of Italy's top museums, including the Uffizi in Florence, the Capodimonte in Naples, the Brera in Milan and seven others. Ten candidates are up for each job. The committee will whittle each list down to three, based on the interview and the candidates' knowledge of a host of issues — new technologies, cultural heritage legislation, sponsorship opportunities — as well as their vision for each museum. The final selection will be made sometime next month by Gennaro Sangiuliano, Italy's culture minister, and Massimo Osanna, the ministry's director overseeing museums. It has been eight years since a reform granted some Italian arts institutions greater autonomy and opened up the position of museum ... More
2023 Luxury Sales at Christie's Asia xceed US $258 million for third consecutive year
The good old days of book publishing, martinis and all
Alexander Berggruen opening second solo show with Brittney Leeanne Williams, 'Huddle'


2023 Running Total: HK$2.15B / US$277M. The Highest Annual Asia Total for the Cluster Since 2015. © Christie's Images Ltd 2023.




HONG KONG.- In 2023, Luxury sales at Christie's Asia have achieved a running total of HK$2.15 billion (US$277 million). The Hong Kong Autumn Auctions spanning Jewellery, Watches, Handbags, and Wine, realised a market-leading HK$822,157,000 / US$105,964,609, with an exceptional overall sell-through rate of 91% by lot. These remarkable results reflect the appeal of Christie's sale curation and astute pricing strategy for the market in the region, significantly driven by digital participation and an influx of new and younger buyers. On 24 and 25 November, Christie's Hong Kong presented two live sales of wine and spirits, achieving a combined total of HK$53,543,750 / US$6,901,045. The outstanding offering across the sales resulted in a high sell-through rate of 94% by lot. Christie's were ... More



Among Friends: An Illustrated Oral History of American Book Publishing and Bookselling in the 20th Century. Edited by Buz Teacher and Janet Bukovinsky Teacher.



NEW YORK, NY.- Some of the most stressed-out young people in the United States, if movies can be believed, work in publishing. IMDb, the online database, yokes these films together as a genre. This makes sense. The young in publishing are acutely underpaid; some suffer from a broken-spirited servility; they fear they will never master the ninja techniques of literary social climbing. The older and more established in publishing have trod over a mountain of bodies to get where they are. They're not jumping unless pushed — as some have recently been. No one knows anything, not really. Everyone is dowsing for a bestseller, or wandering like Eeyore in search of his lost tail. Editors are living and dying by their profit and loss statements, or P&Ls. They are all hoping to be able to say once in a while, as John Le Carré reportedly did whenever he got a good publishing deal, ... More



Brittney Leeanne Williams, Tulip, Huddle, Dome 1, 2023. Oil on canvas, 20 x 16 in. (50.8 x 40.6 cm.).



NEW YORK, NY.- Alexander Berggruen is opening Brittney Leeanne Williams: Huddle. This exhibition will open with a 5-7 pm reception at the gallery. Brittney Leeanne Williams's latest conceptual inventions further her exploration of the body in space in relation to architecture and the natural world. Williams continues her inquiry into the monumental, symbolic feminine through color, abstraction, and landscape, inspired by artists including Laura Aguilar, Louise Bourgeois, Iona Rozeal Brown, and Georgia O'Keefe. In Huddle, Williams draws visual links between domes, huddles of people, and tulips in her signature bold, surreal colors—often featuring a siren red. Having recently moved from Chicago to Los Angeles, closer to her family and where she grew up in Southern California, this exhibition celebrates the beauty of togetherness. Williams calls this new body of work: "what I've come ... More
Roslyn Oxley9 Gallery announces major publication
Dragon box in revered Chinese hardwood sells for $180,480 at UK auction
Monochromatic solo exhibition 'Zeit-bild' by Günter Umberg on view at A arte Invernizzi


Roslyn Oxley9 Gallery: The First 40 Years. RRP $110, available 14 February 2024.



SYDNEY.- Written and edited by Felicity Fenner, a renowned Australian curator and academic, the book is underpinned by her central essay, providing an authoritative voice guiding the reader through the history of the Gallery. The publication explores the extraordinary archives of the Gallery through the eyes of the world's leading artists, curators and art world figures. Since the Gallery's inception in 1982, more than 350 artists have exhibited their work at Roslyn Oxley9 Gallery, with artists hailing predominantly from Australia as well as from Europe, the United Kingdom, Asia and the United States. Roslyn Oxley, Founder and Director of Roslyn Oxley9 Gallery, said: "We are incredibly proud to have been able to champion the work of some of the most important contemporary artists of our time for more than four decades through our work at Roslyn Oxley9 Gallery. The Gallery was founded to provide a platform ... More



Interior view of zitan 'Dragon' box which may have been produced in the imperial workshops of the emperor



STANSTED MOUNTFICHET.- A rare Chinese "dragon" box fashioned from zitan, a cherished Asian wood, sold for $180,480 – more than 71 times its high estimate – on November 3 in England. It was the top prize in an Asian Art auction conducted by Sworders of Stansted Mountfitchet, Essex. The 49cm/19.3-inch-wide casket, which would have been used to store precious objects, is composed almost exclusively of purplish-black, fine-grained zitan, a wood so dense, it sinks in water. Zitan was the preferred wood of the Chinese imperial workshops. It is especially suitable for fine and intricate carving. The box sold by Sworders was adorned with the powerful dynastic images of the five-clawed dragon amidst clouds (symbol of the emperor) and phoenixes (the empress). By the early Qing period, zitan had become a very expensive commodity, primarily because many of the native tree species had been exhausted during the ... More



Installation View of 'Zeit-bild' featuring work by Günter Umberg.



MILAN.- The A arte Invernizzi gallery opens a solo exhibition by Günter Umberg on today at 6 p.m. The display will include both historical works, which reflect on various stages of his artistic career, and recent works. The exhibition, which is entirely created by the German artist, as on other occasions, promises direct interaction between the works and their setting. In the 1970s, Umberg started focusing on the use of monochrome panels, generally made of wood, in which coloured pigments are spread horizontally and vertically, adhering to the surface. This is previously prepared using resins and sometimes poliment, resulting in an intense, densely saturated effect, giving rise to distinct, autonomous presences. The upper floor of the gallery will host an installation consisting of monochromatic works placed at precise intervals on the wall, orchestrating and redefining its spatial coordinates. In the next room on the same floor, th ... More
Quote
Landscape painting is the obvious reasource of misanthropy. Hazlitt
---
How Jindřich Štyrský Shaped Czech Surrealism | Expert Voices | Sotheby's
---

Flashback
On a day like today, Italian architect Andrea Palladio was born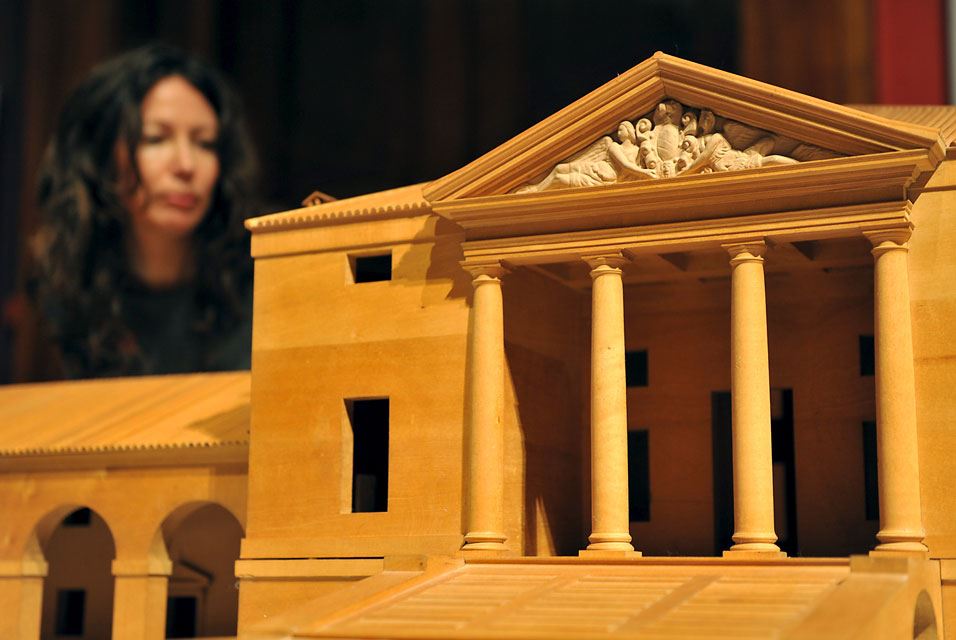 November 30, 1508. Andrea Palladio (30 November 1508 - 19 August 1580) was an architect active in the Republic of Venice. Palladio, influenced by Roman and Greek architecture, primarily by Vitruvius, is widely considered the most influential individual in the history of Western architecture. All of his buildings are located in what was the Venetian Republic, but his teachings, summarized in the architectural treatise I Quattro Libri dell'Architettura (The Four Books of Architecture), gained him wide recognition. The city of Vicenza and the Palladian Villas of the Veneto are UNESCO World Heritage Sites. In this image: A Royal Academy of Arts staff looks over a model of the Villa Emo at the Royal Academy in London, Britain, 27 January, 2009. The Royal Academy of Arts showed the first exhibition devoted to one of Italy's greatest architects Andrea Palladio (1508-1580) to be held in London. The exhibit follows Palladio's career, from the earlier palazzi in Vicenza, the Basilica and his innovative solutions to rural buildings.
---

Museums, Exhibits, Artists, Milestones, Digital Art, Architecture, Photography,
Photographers, Special Photos, Special Reports, Featured Stories, Auctions, Art Fairs,
Anecdotes, Art Quiz, Education, Mythology, 3D Images, Last Week,

.
Royalville Communications, Inc
produces: