The dinosaur bone market is booming. It also has growing pains.
Peter Larson, whose excavation company has been at the forefront of the boom in dinosaur fossil sales, with a fossil at the Black Hills Institute in Hill City, S.D., Nov. 13, 2022. Fossils are fetching millions at auction, inspiring legal disputes and introducing intellectual property rights, trademarks and nondisclosure agreements to the world of paleontology. (Tara Weston/The New York Times)

by Julia Jacobs and Zachary Small
HULETT, WYO
.-
Crouching over a snow-dusted quarry that moonlights as a fossil hunting ground, Peter Larson pointed to a weathered 4-inch slab peeking out from a blanket of white. A commonplace rock to the untrained eye, but an obvious dinosaur bone to Larson. "That's 145 million years old, plus or minus," said Larson, a 70-year-old fossil expert and dealer, as he walked through an excavation site that had already yielded seven dinosaurs. Hulett is fertile ground for the current dinosaur-bone hunting craze. Larson has been digging here for more than 20 years, beginning not long after Sue, a Tyrannosaurus rex fossil that he helped excavate, sold at auction for $8.4 million in 1997, ushering in a boom in the market for old bones. Local landowners started to wonder if they could farm a new crop: dinosaur skeletons. Among them were Elaine and Leslie Waugh, who raised sheep on their Wyoming property, not far from the Devils Tower National Monument, but who began to wonder what they should d ...
More
The Best Photos of the Day
He helps the realreal keep it real
A stolen 1527 record signed by Cortés will be returned to Mexico
Thieves steal ancient gold coins in German museum heist


Dominik Halás, a master authenticator at the RealReal, examining a Moschino bag at the company's authentication center Perth Amboy, N.J., Nov. 7, 2022. Halás, 29, is one of youngest people entrusted by the RealReal to authenticate garments, jewelry and other accessories. (Christopher Gregory/The New York Times)



NEW YORK, NY.- The trash bags seemingly contained a treasure trove. Comme des Garçons, Maison Margiela, Helmut Lang and Jean Paul Gaultier were all names on the tags of the clothes stuffed inside. The 10 black plastic bags had arrived in September at a 500,000-square-foot building in Perth Amboy, New Jersey, where The RealReal, a luxury resale marketplace, operates one of four authentication centers. They had been sent by a seller who said the clothes came from a vintage store that her aunt ran in Florida. After poring over the bags' contents, about 100 garments in total, it was determined that the clothes were real — and that they could sell secondhand for as much as $100,000. "These are some of the best Gaultier ... More



The document with the signature of Hernán Cortés, the Spanish conquistador, was a payment order, dated April 27, 1527.



NEW YORK, NY.- For roughly 30 years, a 16th-century purchase order signed by conquistador Hernán Cortés, who led the overthrow of the Aztec empire for the Spanish crown, had been missing from Mexico's national archives and, instead, had made its way to private auction blocks across the United States. The document from 1527 was stolen from the Archivo General de la Nación de México in Mexico City sometime before 1993, according to a court filing by the U.S. attorney for Massachusetts. But over the summer, the FBI put an end to the illicit trafficking, even as the investigation on how the document had been stolen remained open. On Tuesday, federal prosecutors announced the recovery of the stolen document with the hopes of repatriating it to Mexico, where its value may not be associated with how much the purchase order would have fetched at auction. Susan Elizabeth Ramirez, a chair emeritus of ... More



The theft played out like the plot of a movie. The artifacts could be worth $1.7 million if sold to dealers — or $260,000 if melted down.



BERLIN.- When museum staff arrived to work at the Celtic and Roman Museum in the little town of Manching in Bavaria on Tuesday morning, they realized that thieves had stolen the most valuable item in the building: a cache of 483 ancient gold coins. The coins, which are believed to date back to roughly 100 years before the birth of Jesus, look like little buttons and, together with a chunk of gold that was apparently the source of the coins, weigh nearly 9 pounds. One official said the artifacts could be worth $1.7 million. "It's a complete catastrophe," said Herbert Nerb, the town's mayor. "It's like in a bad movie." In a town known for its rich archaeological history, the missing coins represent far more than just money. "The loss of the Celtic treasure is a disaster — the gold coins as witnesses of our history are irreplaceable," said Markus Blume, Bavaria's state minister for science and art. On Wednesday, police confirmed ... More
Manx language, once almost silenced, is now talk of the town
Phillips announces highlights included in the Hong Kong 20th Century & Contemporary Art & Design Sales
Rare Constable drawing comes to auction at Halls after more than 40 years in a private collection


A coastal marker for "Raad ny Foillan," Manx for "The Way of the Gull," which is a path that goes around the island, in Port Erin on the Isle of Man on Sept. 5, 2022. After being on the brink of extinction, the Manx language is experiencing a revival on the Isle of Man, thanks in part to an elementary school and some impassioned parents. (Mary Turner/The New York Times)



ST JOHN'S, ISLE OF MAN.- The squeals of laughter echoing from the playground sound like any other elementary school in its first week back in session. Listen closely, though, and there's something rare in the children's chatter: the Manx language, an ancient tongue once feared forgotten. But thanks in part to these students at Bunscoill Ghaelgagh, a school on the Isle of Man, the language that was deeply intertwined in hundreds of years of local history is now becoming a part of the island's future. It was a little over a decade ago when UNESCO declared the language extinct, and students then studying at the school took strong exception. To make their case that the language was anything but dead, they wrote a letter to the United Nations ... More



Brett Crawford, 3MO SUPPORT, 2022. Acrylic on canvas, 100 x 100 cm. Estimate: HK$600,000 - 800,000/ US$76,900-103,000. Image courtesy of Phillips.



HONG KONG.- Phillips announced that the full catalogues for the Hong Kong Evening Sale and Day Sale of 20th Century & Contemporary Art & Design are now available online. The Evening Sale will be led by Gerhard Richter's prominent Abstraktes Bild (774-1) which comes to auction for the first time and was executed at the peak of Richter's celebrated abstract series, alongside seminal works by Yoshitomo Nara, Banksy, KAWS and Yayoi Kusama. Other highlights include two important paintings by Zao Wou-Ki from the collection of the artist's daughter Sin-May Roy Zao, and several extraordinary works by rising female artists from different cultures and backgrounds, such as María Berrío, Lucy Bull, Christina Quarles, Ewa Juskiewicz, and more. As Asian collectors have driven demand for emerging names from outside the region, Phillips is delighted to introduce several artists to the Hong Kong auction market for the first time, ... More



John Constable's drawing of a tree overhanging a stream near East Bergholt, Suffolk. Unusually dated, 20 April 1821 is the same day he wrote a detailed letter to his wife describing the countryside of East Bergholt and his visit to the local squire. The accompanying labels to the reverse of the drawing provide other vital clues to its distinguished history. Images courtesy of Halls Fine Art



LONDON.- A drawing by John Constable with an exceptional pedigree will appear on the market for the first time in over 40 years in December at Halls auctioneers of Shrewsbury. Inherited from a collector who bought it at London dealers Agnew's in 1979, the drawing of a tree on the banks of a river in Constable's birthplace of East Bergholt featured in the Arts Council exhibition of the artist's works in 1949 and is listed as being in the Wildenstein Constable centenary exhibition in 1937. It also offers a rare insight into the life of the artist. Unusually, it is dated '20 April 1821' and research has revealed that the Suffolk Records Society (SRS) has a letter dated on this very day, written to his wife, Maria, in London. It was written in the latter part ... More
Lina Ghotmeh selected for 22nd Serpentine Pavilion and designed revealed
The fake Scorsese film you haven't seen. Or have you?
In Warsaw, mining a rich vein of Polish creativity


Lina Ghotmeh © Gilbert Hage.



LONDON.- Serpentine announced that Lebanese-born, Paris-based architect Lina Ghotmeh, has been selected to conceive the 22nd Pavilion. Ghotmeh's Pavilion will be unveiled at Serpentine South in June 2023 with Goldman Sachs supporting the annual project for the 9th consecutive year. This pioneering and prestigious commission, which began in 2000 with Dame Zaha Hadid, has presented the first completed UK structures by some of the biggest names and emerging talents in international architecture. The Pavilion has evolved over the years as a participatory public and artistic platform for the Serpentine's experimental, interdisciplinary, community and family programmes. Ghotmeh leads her practice Lina Ghotmeh — Architecture in Paris, France, where she develops projects at the crossroads of architecture, art and design, on a global scale. Considerate of social conditions, environments and materials, her practice takes an i ... More



An undated image provided by the Czech artist Alex Korotchuk shows a poster created to support the idea that Martin Scorsese made a film called "Goncharov." Tumblr is obsessed with the mafia film, but there is one problem: It isn't real. (Alex Korotchuk via The New York Times)



NEW YORK, NY.- (It Happened Online) Tumblr cinephiles have a new favorite movie this week. It's decades old, so maybe you've already seen it. It is called "Goncharov" and stars Robert DeNiro in the titular role as a Russian hit man and former discothèque owner. It takes place in Naples, Italy. Cybill Shepherd plays his wife, Katya, and rounding out the cast are Al Pacino, Gene Hackman and Harvey Keitel. The 1973 film, billed as "Martin Scorsese presents," has everything: murder, a love triangle, homoerotic undertones, a striking original score and a dramatic final scene that film buffs have been debating for years. There's one other thing to know about "Goncharov." It does not exist. The story of Tumblr's beloved fake film ... More



Patrycja Procner, the brand manager, at the Beller boutique in Warsaw on Nov. 15, 2022. Beller focuses on jewelry handcrafted in Warsaw by local goldsmiths. (Maciek Nabrdalik/The New York Times)

by Ginanne Brownell



WARSAW.- Every day outside of a shop at 61 Mokotowska St., an intriguing dance of sorts happens: A smattering of men and women of all ages walk out onto the sidewalk and smell the top of their hands or the inside of their wrists. Some smile, others look quizzical, and a few seem to simply get lost in thought. After a few moments, they reenter the shop and, after a short interlude, the dance repeats. The Mo61 Perfume Lab is an emporium of smells. It stocks more than 400 different oils, imported from Grasse, France, that include scents such as seaweed, bergamot, sacrum — which may remind one of the interior of an Eastern Orthodox church — and rhubarb. Opened in 2014, Mo61 is an atelier that creates bespoke fragrances. The process ... More
Paintings by Lovis Cornith currently on view at the Galarie Karsten Greve
2022 Ingram Prize winners announced
A lifetime of collecting: The Triay Collection of Himalayan Art at Bonhams Cornette de Saint Cyr


Lovis Corinth, Rote Rosen, 1925, Oil on canvas, 60 x 45,5 cm / 23 2/3 x 18 in, Signed and dated recto in the middle right: Lovis CORiNTH. 1925. Cat. rais. Berend-Corinth 1958, #981 / Cat. rais. Berend-Corinth/Hernad 1992, #981. LCo/M 10. Photo: Galerie Karsten Greve. Courtesy Galerie Karsten Greve Cologne Paris St. Moritz.



COLOGNE.- Galerie Karsten Greve has dedicated an exhibition to the painter Lovis Corinth (1858-1925) that began on November 18th and will continue through to January 28th, 2023. This first such presentation at Karsten Greve's Cologne location was preceded by a premiere at his Paris gallery space in the spring of 2022. On display will be fifteen pieces from Lovis Corinth's late creative years (1915- 1925), in which the artist passionately devoted himself to the subjects of landscape, self-portrait, and floral still lifes, motifs that have always been linked to the idea of the finite nature of existence. Among the fifteen works on show are fourteen paintings ... More



Rosie Gibbens, "Wilhelm Scream", 2020, Photo by Jon Baker.



LONDON.- Winners of prestigious Ingram Prize 2022, the leading annual prize for contemporary artists in the UK, have been announced and an exhibition of the winners' and finalists' work is on view at Unit 1 Gallery | Workshop since Thursday 24 November, and will continue until Tuesday 29 November. Three artists scooped the top awards; Lisa-Marie Harris (The Delivery), Valerie Asiimwe Amani (Power Hungry), and Amy Beager (Bobbidi), with the Founder's Choice Award going to Rosie Gibbens for their Wilhelm Scream. Previous winners include Sin Wai Kin (FKA Victoria Sin) who is nominated for this year's prestigious Turner Prize and has since exhibited at the Venice Biennale, Frieze and British Art Show 9. This year's Ingram Prize encompassed a variety of themes, including the Ukraine war, identity and migration, with the shortlisted finalists - from coun ... More



A polychrome papier-mâché and silver mounted mask of a wrathful Deity, Tibet, 19th century. Estimate: €20,000-30,000. Photo: Bonhams.



PARIS.- Bonhams Cornette de Saint Cyr announced the auction of the Triay Collection of Himalayan Art which will take place in Paris on Thursday 15 December. The collection spans works created over a period of 1,500 years in the Buddhist culture that once flourished in Mongolia, Nepal and Tibet with estimates from €100 to €80,000. The sale consists of more than 480 lots of which 93 lots will be offered in the Live Auction on 15 December, with the remainder being offered in an Online-Only Auction from 10-16 December. Assembled over a period of 40 years with an eye for the unusual and esoteric, The Triay Collection of Himalayan Art includes a vast array of sculptures, masks, paintings, amulets, ritual paraphernalia and objects. In the Tibetan Buddhist artistic traditions, graphic images of death and the afterlife - an area ... More
Quote
The mission of art is to represent nature; not to imitate her. William Hunt
---
A Life Less Ordinary: Victor Cruz
---

Flashback
On a day like today, American cartoonist Charles M. Schulz was born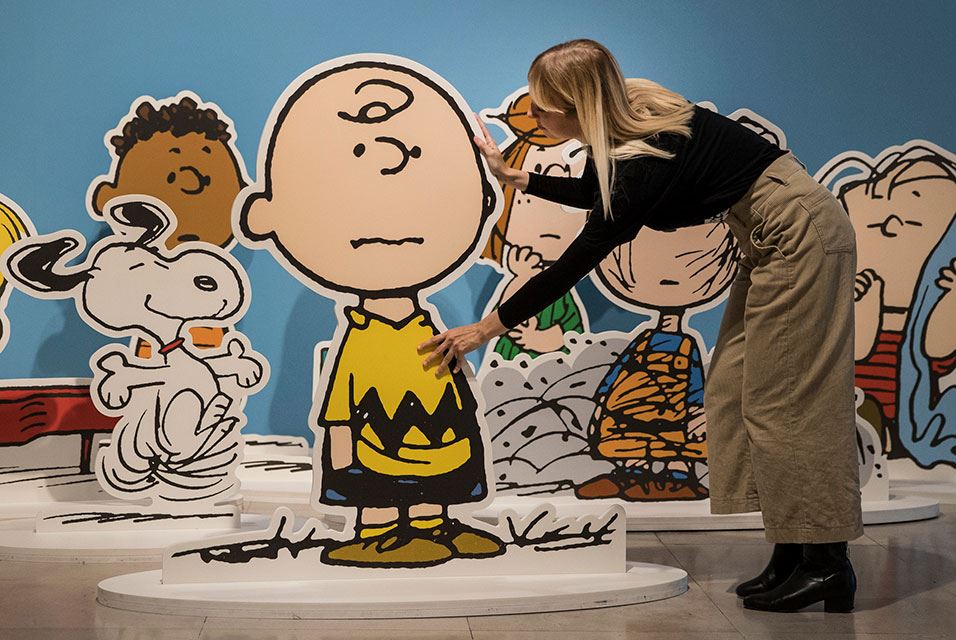 November 26, 1922. Charles Monroe Schulz (November 26, 1922 - February 12, 2000), nicknamed Sparky, was an American cartoonist best known for the comic strip Peanuts (which featured the characters Charlie Brown and Snoopy, among others). He is widely regarded as one of the most influential cartoonists of all time, cited as a major influence by many later cartoonists, including Jim Davis, Bill Watterson, and Matt Groening. In this image: Good Grief, Charlie Brown! Celebrating Snoopy and the Enduring Power of Peanuts © Somerset House.
---

Museums, Exhibits, Artists, Milestones, Digital Art, Architecture, Photography,
Photographers, Special Photos, Special Reports, Featured Stories, Auctions, Art Fairs,
Anecdotes, Art Quiz, Education, Mythology, 3D Images, Last Week,

.
Royalville Communications, Inc
produces: