Revving Up the Art World Like Never Before
The Artist Hubert Phipps and Supercar Designer ARES Modena Collaborate During Art Basel Miami to Launch New Exhibition and to Debut the First ARES Modena Showroom in North America in the Miami Design District.
MIAMI, FLA
.-
The nationally acclaimed artist
Hubert Phipps
and the luxury Italian coachbuilder
ARES Modena
will launch a new exhibition during Art Basel Miami to debut the first ARES Modena showroom in North America, in the Miami Design District. The exhibition Hubert Phipps: Ascending will be on view December 1 through January 31, and will usher in the arrival of the
ARES S1 supercar model
for its North American premiere during the run of the exhibition. "We chose these bold sculptures and artworks by Hubert Phipps to debut our first U.S. showroom, and to surround the ARES S1 supercar model for its North American premiere, because when experienced together they create a powerful fusion that supercharges the imagination," said Mo Elarishy, of ARES Miami. "The tradition of coachbuildin ...
More
The Best Photos of the Day
Christie's announces December Design Sales
Andrea Bowers: Her activism animates her art
With $125 million gift, Met Museum jump-starts new modern wing


François-Xavier Lalanne, 'Moutons de Laine', Sheep and Two Ottomans, 1969-1971. Wool, patinated aluminum, painted wood, sheep: 35 x 20 x 38 in. each ottoman: 22½ x 19 x 31 in. Estimate: $800,000-1,200,000. © Christie's Images Ltd 2021.



NEW YORK, NY.- Christie's New York presents a series of Design sales in December, showcasing an exceptional selection of masterworks by leading names in 20th and 21st century art, architecture, and design. A public exhibition will be on view ahead of the auctions in Christie's galleries at Rockefeller Center starting 3 December. Highlighting the live sale of Design is a group of five outstanding sculptures by Harry Bertoia from the Private Collection of Florence Knoll Bassett, a selection that offers a rare glimpse into the relationship between artist and patron, designer and supporter. Christie's will also present two significant works by Alberto Giacometti from the Collection of a Member of the Matisse Family, 'Lampe Coupe aux deux figures' and 'Grande Feuille' floor lamp. The first half of the 20th century is embodied by important early glass by Emile Gallé and Daum from the Collection of Dr. Thomas ... More



Andrea Bowers at her studio in Los Angeles on Nov. 13, 2021, before the opening of her major survey at the Museum of Contemporary Art Chicago. Rozette Rago/The New York Times.

by Siddhartha Mitter



NEW YORK, NY.- Andrea Bowers is a workaholic who, during the depths of the pandemic, was happy to bunker in her studio here and spend hundreds of hours making a single photorealistic drawing of, say, a protester for fair wages or climate justice. But Bowers, 56, whose art and politics are fully merged, is never more fulfilled than on the front lines. And so she also ventured out: joining the protests after the murder of George Floyd. Driving up the coast to embed with queer tree-sitters half her age defending redwood groves from clear-cutting in Mendocino County. To San Francisco, where she is creating an installation for the new Harvey Milk airport terminal, with disco balls and quotes in neon from the civic leader murdered in 1978. "I'm literally making work about activism and activists," she told me during a recent visit to her studio in the Highland Park neighborhood. ... More



Oscar Tang, a trustee at the museum, and Agnes Hsu-Tang, his wife. The couple have made a game-changing gift that will help build a long-sought Modern and contemporary art wing and provide a home for Leonard Lauder's Cubism collection. Eileen Trabell/Metropolitan Museum of Art via The New York Times.

by Robin Pogrebin



NEW YORK, NY.- Seven years after announcing ambitious plans to rebuild its wing for Modern and contemporary art — which then had to be put on hold because of financial problems — the Metropolitan Museum of Art announced Tuesday that it had finally secured a lead donation of $125 million, the largest capital gift in its history, from its longtime trustee Oscar L. Tang and his wife, Agnes Hsu‐Tang, an archaeologist and art historian. The wing will be named after them for a minimum of 50 years. "It is coming from within the Met," said the museum's director, Max Hollein, in a telephone interview. "It shows the confidence the museum has in this very important project." With their donation, the Tangs join a rarefied group of philanthropists who ... More
American Friends of The National Gallery of Denmark raise more than $30.000 for the conservation of Matisse painting
PINTA Miami to be held at new venue during Miami art week
Letter from Catherine the Great shows her support for inoculations


Henri Matisse, Nymph and Faun, c. 1911, Oil on canvas, 73 x 59 cm, SMK - National Gallery of Denmark © 2021 Succession H. Matisse / Artists Rights Society (ARS), New York.



NEW YORK, NY.- American Friends of The National Gallery of Denmark initiated a fundraising campaign in October to raise the $30,000.- needed for the conservation of the Matisse painting Nymph and Faun, which was acquired by The National Gallery of Denmark (SMK) in 2018. The painting is to be part of an exhibition at MoMA in New York from May 2022 but is too fragile to travel in its current state. The fundraising campaign expired last week and the goal was more than reached, so that the conservation process can now begin. Fundraising is a new funding tool for SMK's American foundation and friendship organization which has shown to be extremely beneficial. Besides raising the money needed, the campaign has worked as a different way for art lovers to engage in fine art. By donating to the campaign, the backers receive exclusive rewards related to the painting, such as following the conservation process ... More



Victor Vasarely, Torony II, 1970. Wood multiple hand-painted with acrylic in colors on both sides, contained in a blue velvet foam-lined case. 61,9 x 47,9 x 7 cm. 24 3/8 H x 18 7/8 W x 2 3/4 D.



MIAMI, FLA.- For its 15th edition, PINTA, the Latin and Ibero-American art fair specializing in modern and contemporary work, will be open to the public December 1–5, 2021. Housed in a new location at 225 NE 34th Street, Miami, between the Miami Design District and Wynwood, the fair is well-positioned amongst the best of the city's art, design, architecture, and fashion offerings. At its new location, and with a new curatorial approach, the fair has shifted to hone its focus on bringing together a thoughtfully curated selection of 26 galleries from 11 countries in four thematic sections: Main Section, Solo Projects, Special Projects, and PINTA Live (digital-only section). As an international platform for Latin American art, PINTA is committed to amplifying the voices of the artists and galleries it features, allowing for a dialogue on creative, social, cultural, and ecological topics. The fair's MAIN SECTION will feature galleries ... More



A portrait of Catherine the Great by Dmitry Levitsky that will be auctioned in London on Wednesday, Dec. 1, 2021, alongside the letter in which she extols the virtues of variolation, an early inoculation process. MacDougall Auctions via The New York Times.

by Amanda Holpuch



NEW YORK, NY.- As smallpox outbreaks ravaged communities in the 18th century, one of the first people in Russia to embrace a precursor to vaccines was Catherine the Great, the empress famed for promoting the latest knowledge in the arts and sciences from her throne. Catherine's support for an early form of inoculation is captured in a letter to be sold at auction in London on Wednesday. In it, she instructs a governor-general to ensure that a smallpox prevention method called variolation was readily available in his province. According to a translation of the letter provided by the auction house, Catherine, like many world leaders today, sought widespread protection against an infectious disease that was devastating her empire. "Such inoculation should be common everywhere, ... More
Artsy acquires Greenhouse Auctions and appoints its founder and CEO, Shlomi Rabi, to Artsy's VP of Auctions
Christie's 'A Selection of Fabergé Masterpieces from The Harry Woolf Collection' totals £5,203,250
Izumi Kato joins Stephen Friedman Gallery


Samuel Jablon, Bad Bad Bad, 2021.



NEW YORK, NY.- Artsy announced its acquisition of social impact auction platform Greenhouse Auctions, and the appointment of its founder and CEO, Shlomi Rabi, to VP of Artsy's auctions business. As VP of Auctions, Rabi will lead Artsy's commercial and benefit auctions businesses. This important acquisition and appointment marks Artsy's continued investment in its growing secondary-market business, further deepening its art industry talent and enhancing the value provided to Artsy's partners and collectors. The strategic acquisition also spotlights Artsy's commitment to social responsibility and increased focus on diversity, equity, and inclusivity. With Artsy's acquisition of Greenhouse Auctions—founded in 2020 during the COVID-19 pandemic—Rabi joins the online marketplace's leadership team as VP of Auctions following a successful 20-year career in the art industry. With his deep auction-world experience, ... More



A large jewelled gold-mounted yellow chalcedony model of a duckling by Fabergé, workmaster Henrik Wigström, St Petersburg, 1899-1904. (Estimate £25,000-35,000) realised £137,500. © Christie's Images Ltd 2021.



LONDON.- Christie's announced results of A Selection of Faberge Masterpieces from The Harry Woolf Collection which took place live today at Christie's London. The pre-sale low estimate was more than doubled with competitive bidding in the room and online throughout the sale. At closing the auction had attracted successful buyers from more than 18 countries and 4 continents. Competitive bidding from Russian clients both in the sale room and online today was seen in particular on the hardstone animals and works in Russian style. Christie's welcomed clients from around the world to the sale room today while 21% of successful buyers were based in Russia. The selection comprised 86 pieces from Mr. Woolf's extraordinary Fabergé collection ... More



Izumi Kato, 2020. Photo by Claire Dorn. Courtesy Izumi Kato and Stephen Friedman Gallery, London.



LONDON.- Stephen Friedman Gallery announced representation of Japanese artist Izumi Kato. Kato lives and works between Tokyo and Hong Kong. He was born in 1969 in the Shimane prefecture of Japan, a sparsely populated province bordered by mountain and sea which houses Izumo Ōyashiro, one of the oldest and most significant shrines in Shintoism. Describing painting as the root of his practice, with bold clashing colours the artist depicts children with unusual faces, embryos with fully developed limbs and figures with bulbous heads attached to slim, graceful bodies. Working intuitively, Kato applies pigment to surfaces directly with his hands. This ardent exploration led the artist also to paint textiles, wood and stone. Gathering material from his surroundings, Kato combines painting with stitching, knotting and carving – skills that as an avid fisherman ... More
Phillips and Poly Auction 20th Century & Contemporary Art & Design Hong Kong sales realise US$86 million
Empire State Building lights up to honor Josephine Baker
Niclas Riepshoff's second solo exhibition with 14a opens in Hamburg


Phillips auctioneer Jonathan Crockett selling lot 16, Gerhard Richter's Kerzenschein (Candle-light), which sold for HK$101 million/ US$13 million.



HONG KONG.- Jonathan Crockett, Chairman, Asia, Phillips, said: "The electric momentum from the Day Sale continued straight into the Evening Sale, where we presented an exceptional selection of works from the Impressionist period to the present day. Riding on the success of last season's Abstraktes Bild (940-7) by Gerhard Richter which sold for HK$95 million/ US$12 million, this season Kerzenschein (Candle-light) sold for a remarkable HK$102 million/ US$13 million, confirming Asia's continued interest in leading international contemporary masters. The top ten results also include a diverse selection of works from the Impressionist and Modern masters to auction favourites Yayoi Kusama and Matthew Wong. I am extremely proud to orchestrate today's Evening sale in a purpose-built auction room in Hong Kong, installed with eight screens receiving bids ... More



A general view shows the Empire State Building illuminated with the colours of the French flag, in honour of French-American resistance hero, civil rights activist and diversity pioneer Josephine Baker, in New York on November 29, 2021. Ed JONES / AFP.



NEW YORK, NY.- New York's Empire State Building lit up in the French national colors on Monday evening to honor Josephine Baker, on the eve of the US-born singer, dancer and rights activist's entrance to the Pantheon in Paris. Baker will become the first Black woman to be honored in the mausoleum, the final resting place of leading figures in the history of France. "Tonight... we glow blue, white, and red in celebration of entertainer and civil rights icon Josephine Baker," the 102-story art deco skyscraper's Twitter account posted. As night fell, the building's tricolor top and spire gleamed among Manhattan's city lights, whilst on the 86th floor viewing deck, an event to celebrate Baker took place. French basketball player Evan Fournier, who plays for the New York Knicks, paid tribute to the ... More



Installation view. Photo: Heinrich Holtgreve.



HAMBURG.- A caring hand is not always gentle. It is the founding principle of psychoanalysis (and more recently, affect theory) that tenderness is inextricably linked to, or better, irreparably merged with feelings considered to be its polar opposite. Such inherent ambiguity of care can result in violently possessive episodes ("I care for you, therefore you belong to me") that tarnish every attempt at its romanticization; yet without care, no ethics is possible. Niclas Riepshoff's A Stitch in Time (2021) is an unfaithful replica of a relatively obscure, but also perversely humorous subgenre of kitsch home-decor miniatures that one might purchase on eBay by awkwardly searching for "Grandma Sewing Repairing Upside Down Boy's Pants." The sculpture is covered with patches of fabric that Riepshoff and his friends have collectively labored over, as in some sort of a para-sewing club. The acts of maintenance, repair, attention—terms that one could liberally ... More
Quote
A house is a machine for living in. Le Corbusier
---
Light Lines | Tour with Hélène Binet
---

Flashback
On a day like today, Italian architect Andrea Palladio was born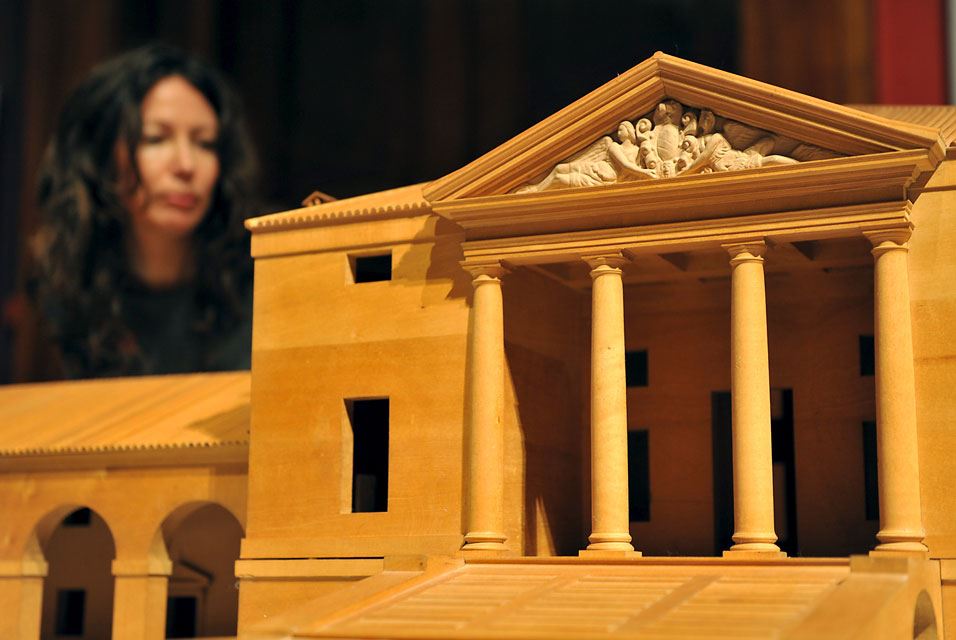 November 30, 1508. Andrea Palladio (30 November 1508 - 19 August 1580) was an architect active in the Republic of Venice. Palladio, influenced by Roman and Greek architecture, primarily by Vitruvius, is widely considered the most influential individual in the history of Western architecture. All of his buildings are located in what was the Venetian Republic, but his teachings, summarized in the architectural treatise I Quattro Libri dell'Architettura (The Four Books of Architecture), gained him wide recognition. The city of Vicenza and the Palladian Villas of the Veneto are UNESCO World Heritage Sites. In this image: A Royal Academy of Arts staff looks over a model of the Villa Emo at the Royal Academy in London, Britain, 27 January, 2009. The Royal Academy of Arts showed the first exhibition devoted to one of Italy's greatest architects, Andrea Palladio (1508-1580) to be held in London. The exhibit follows Palladio's career, from the earlier palazzi in Vicenza, the Basilica and his innovative solutions to rural buildings.
---

Museums, Exhibits, Artists, Milestones, Digital Art, Architecture, Photography,
Photographers, Special Photos, Special Reports, Featured Stories, Auctions, Art Fairs,
Anecdotes, Art Quiz, Education, Mythology, 3D Images, Last Week,

.
Royalville Communications, Inc
produces: