Albertina Modern: Vienna's new museum of modern art opens
A man passes by the reopened Albertina Modern art museum featuring the exhibition "The Beginning" in Vienna, Austria on May 27, 2020. The long awaited public opening of Vienna's new Modern and contemporary art museum was postponed since March 2020v due to the new coronavirus covid-19 pandemic. JOE KLAMAR / AFP.
VIENNA
.-
Albertina Modern, the second exhibiting venue of the
Albertina Museum
, opened its doors with its over 60,000 works by 5,000 artists, it is set to be among the world's major museums of art from the present era. As the newest addition to Austria's federal museum landscape, Albertina Modern opened with the exhibition The Beginning. Art in Vienna, 1945 to 1980, which is the first-ever complete overview of an era of Austrian art that encompasses those three important decades following 1945. Albertina Modern was born out of Hans Peter Haselsteiner's question to Klaus Albrecht Schröder, Director General of the Albertina Museum, as to what vision he would develop for the Essl Collection. The common objective that they soon worked out was the collection's permanent preservation and its transfer to the Austrian capital of Vienna. Haselsteiner, ...
More
The Best Photos of the Day
LACMA acquires Jesús Rafael Soto's Penetrable BBL Bleu (1999/2007)
Rare cognac fetches record price at auction: Sotheby's
Anne Kremers appointed as director of future FENIX Museum of Migration


Jesús Rafael Soto, Pénétrable BBL bleu, 1999, Painted steel & suspended PVC tubes, 143 3/4 × 177 1/8 × 551 1/8 in. (365 × 450 x 1400 cm), installation view, Art Contemporain, La Voie des Arts, Saint-Loubouer, 2009, © Jesús Rafael Soto / ADAGP, 2020, photo: Archives Soto.



LOS ANGELES, CA.- The Los Angeles County Museum of Art announces the acquisition of Jesús Rafael Soto's Penetrable BBL Bleu (1999/2007). Conceived in 1999, Penetrable BBL Bleu brilliantly captures the artist's lifelong fascination with space, color, and the importance of viewer participation to activate and complete the work of art. Born in Ciudad Bolívar, Venezuela, Jesús Rafael Soto (1923–2005) was a pioneering and internationally renowned figure associated with Op and kinetic art. From 1942 to 1947, he studied fine arts at the Escuela de Artes Plásticas in Caracas but became disillusioned with the school's conservative teaching methods. Fascinated with cubism ... More



A new world record for a bottle of Cognac sold at auction was achieved, when a bottle of Gautier Cognac 1762 sold for £118,580 / $144,525. Courtesy Sotheby's.



LONDON (AFP).- Auctioneers Sotheby's said on Thursday that an "exceedingly rare" bottle of Cognac preserved since the end of the 19th century had set a new auction sales price record. The bottle of Gautier Cognac 1762 fetched £118,580 ($144,525, 132,000 euros) in an online sale, according to Sotheby's. "Only three bottles of this exceedingly rare Cognac remain to this day, having been held in the same family for generations with their original labels attached," it said in a statement. "This was the last and largest of these remaining bottles." The cognac, bought by an Asian private collector, was known as "Grand Frère" -- or the "Big Brother" -- of the trio, the auction house added. Its little sister is housed in the museum of the French cognac distillery Maison Gautier, while its little brother ... More



Anne Kremers. Photo: Mounir Raji.



ROTTERDAM.- As per June 1st 2020 Anne Kremers is appointed as director FENIX in Rotterdam. Kremers (1989) will be responsible for developing the Museum of Migration at FENIX as well as for the ground floor of the historic building, which will offer a mix of cultural, creative and culinary activities. In past years Kremers lived in Hong Kong where she worked for the Chow Tai Fook Art Foundation. She was involved in designing innovative art and design projects in Hong Kong and China. Between 2013 and 2017 Kremers lead the Museum Villa Mondriaan in Winterswijk as the youngest museum director in the Netherlands at that time. She studied Cultural Sciences in Rotterdam and Art History in Leiden. The historical Fenix Warehouse, situated on the banks where millions of people departed by boat to a new and unknown world, will be the site of FENIX. Here you will see the many faces of migration. Art and history will ... More
Sotheby's announces details of its summer sales series worldwide, with new auction format for June New York sales
Peter Pan, Walt Disney-signed memorabilia among trove of cartoon smiles in Heritage Animation Art auction
New sale dates announced for Sotheby's Arts of the Islamic World & India


Clyfford Still, 1947-Y-No. 1. Estimate $25/35 million. Courtesy Sotheby's.



NEW YORK, NY.- Sotheby's announced details today of its marquee summer sales around the world, via a live, digital, global press conference. Charles Stewart, Sotheby's CEO, commented: "We look forward to convening the art world in June for what will be the most significant event staged in the market in several months. We have devised an innovative plan that not only provides our clients and employees with the safest possible environment, but that also takes advantage of our global presence and investments in technology for a one-of-a-kind auction experience." Mr. Stewart continued: "Our recent sales have shown the market to be remarkably resilient and we are enthusiastic about our summer season, particularly given the quality of the offerings we have across New York, London, Paris, Milan, Geneva and Hong Kong." With live auctions halted around the world, Sotheby's shifted focus to present ... More



Mickey Mouse 25th Birthday Portrait Print Signed by Walt Disney (Walt Disney, 1953): $2,500+.



DALLAS, TX.- One of the largest collections of artwork from Walt Disney's Peter Pan ever brought to market, including masterpieces by David Hall and Mary Blair and the largest offering of art, photos, books, ephemera, checks, insurance cards and studio letters hand-signed by Walt Disney could make Heritage Auctions' June 19-21 Animation Art Auction one of the biggest ever held. "This sale has as broad a range of material as any Animated Art auction has had," Animated Art Director Jim Lentz said. "There are items from virtually every classic animated film, and by all of the best artists. The choices range from one of the largest collections of rare production cels, animation drawings, concept art, backgrounds and storyboards from Peter Pan. There literally is something for collectors of all tastes in this sale." The Peter Pan Captain Hook Production Cel and Key Master Background is one of ... More



Jean-Léon Gérôme, (French 1824 - 1904), Arnaut of Cairo, signed J. L. GEROME. lower left, oil on panel, 25.5 by 20cm., 10 by 8in. Estimate: 200,000 - 300,000 GBP. Courtesy Sotheby's.



LONDON.- Postponed from 1 April and 31 March respectively, Sotheby's sales of Arts of the Islamic World & India, and more than thirty further works from the legendary Najd Collection of Orientalist Paintings, are now scheduled to take place this June. Important Works from the Najd Collection Part II is the second sale of important paintings from a collection that was assembled in the early to mid-1980s by one man driven by an informed passion to build a panoptic picture of society in North Africa and the Middle East a century or more ago. Open for bidding between 8 – 11 June, the sale will present a selection of stunningly observed historic scenes as experienced by intrepid explorers in the nineteenth-century, including works by Jean-Léon Gérôme, Gustav Bauernfeind and Ludwig Deutsch. It follows an auction ... More
Sean Kelly Gallery launches 'The Exhibition - Collect Wisely'
Frist Art Museum will reopen in stages starting June 22 for members and July 1 for public
Maybe a few movies more? Clint Eastwood turns 90


Titus Kaphar, Time Travel, 2013. Oil on canvas, 48 x 36 in. © Titus Kaphar. The collection of Ron Pizzuti. Courtesy: the artist and Gagosian, New York



NEW YORK, NY.- The Exhibition - Collect Wisely, is a virtual presentation. Like the Collect Wisely podcasts, the exhibition exists outside the aegis of the gallery and the artists it represents. Instead, it is centered around artworks from the collections of our podcast participants, among them Marieluise Hessel Artzt, J. Tomilson Hill, Rodney Miller, Howard Rachofsky, Gary Yeh, and Tiffany Zabludowicz. The online exhibition includes images of work selected by each collector accompanied by comments explaining their choices. Collect Wisely is a provocative media campaign launched by the gallery on May 2, 2018, designed to encourage lively conversation around topics of collecting and connoisseurship. It is a call to action, a far-reaching initiative bringing together individuals, institutions, and galleries interested in building a vital community as well as inspiring future generations to focus on a wide-ranging and meaningful investment in culture. ... More



All current exhibitions that had opened before the Frist closed on March 15 will be extended.



NASHVILLE, TENN.- The Frist Art Museum has established a plan for reopening in stages beginning June 22 with an initial members-only period. With continued improvement/stability of Davidson County COVID-19 metrics, the exhibition galleries will reopen to the general public on July 1 with required advance timed ticketing. The Frist Art Museum Board of Trustees' decision to reopen gradually aligns with recommendations from Nashville Mayor John Cooper's original Roadmap for Reopening Nashville. The museum's new health, procedural, and cleaning protocols and restrictions are outlined below. All current exhibitions that had opened before the Frist closed on March 15 will be extended. "We are tremendously appreciative of the enthusiastic cooperation of the museums, lenders, and artists who have worked so diligently with us to make the complex schedule adjustments possible," said Frist Art Museum Director and CEO Dr. Susan H. Edwards. The higher-touch areas in the building, including t ... More



In this file photo Clint Eastwood poses with the Best Director and Best Motion Picture at the Kodak Theater in Hollywood, California, 27 February, 2005, during the 77th Academy Awards. JEFF HAYNES / AFP.

by Andrew Marszal



LOS ANGELES (AFP).- Movie legend Clint Eastwood turns 90 on Sunday, but don't count on the famously stoic and hard-working star of "A Fistful of Dollars" and "Dirty Harry" hanging up his cowboy boots just yet. The multiple Oscar-winning actor-turned-director, who churned out nine films in his 80s, has expressed no desire to retire ahead of the milestone -- and in any case, he's not a fan of birthdays. "We're just going to do a family thing -- very, very calm, very mellow," his 34-year-old actor son Scott told "Access Hollywood." "We'll sneak a cake in there, definitely. He probably won't like it." Eastwood, born in 1930, has enjoyed a career spanning seven decades and more than 50 films. He last trod the Hollywood red carpet as recently as November, for his Olympic bombing biopic "Richard Jewell." It was released to mixed reviews -- and spa ... More
Early Sunday Morning by Peter Mitchell to be published by RRB Photobooks in June
ADA reopens with a solo show of works by Urara Tsuchiya
'Cook Off': the Zimbabwe film that defied all odds to reach Netflix


Hyde Park Corner © Peter Mitchell courtesy RRB Photobooks.



LONDON.- Early Sunday Morning by Peter Mitchell comprises of nearly 100 colour photographs of the city of Leeds taken in the 1970s and 1980s. The images, a majority previously unpublished, reveal the layers of the city's urban and social history, exposed by the rapid changes in the landscape, captured in Mitchell's singular style. Hundred-year-old terraces and cobbled streets sit flanked by concrete flats, with newly cleared ground to either side presented with Mitchell's typical graphic framing. The images depict corner shops, betting shops, pigeon shops, factories and pubs — many adorned with archaic adverts, painted signage, or are boarded up, revealing the opens seams in the brisk transformation of the city. Each modest image is filled with detail and a sense of humanity whilst avoiding the nostalgic. Edited and sequenced by John Myers, ... More



Ajax, 2020. Glazed ceramic, 12 x 20 x 6 cm.



ROME.- ADA announced the reopening of the gallery to the public with the new solo show by Urara Tsuchiya, Homebound. The exhibition is open in compliance with the current safety regulations, in the regular gallery opening hours or by appointment. "I was originally invited to produce works for the project Homebound during a residency in Faenza. I came to Italy and stayed for January and February, before briefly returning to Glasgow. I then came back in March to install the exhibition in Rome, but by then the COVID-19 pandemic was unfolding and everything had to stop. So I stayed in Faenza during the country-wide lockdown and I'm still here some several months later. . . During this time of quarantine I have made a number of objects in ceramic inspired by the household - mops, mop buckets, cleaning products, toothbrushes and used patterns from cheap underwear bought at the local market. To try and keep ... More



Tendaiishe Chitima, the lead actress in the Zimbabwean film Cook Off, poses for a portrait at her home in Sandton on May 28, 2020. Cook Off will be available to stream on Netflix on June 1, 2020. WIKUS DE WET / AFP.

by Béatrice Debut



JOHANNESBURG (AFP).- "Seeing myself on Netflix, I have to punch myself every day. Like, is that really me?" asked actress Tendaiishe Chitima, star of the first Zimbabwean feature film acquired by the streaming pioneer. "Cook Off" was shot in 2017, just months before the fall of Zimbabwe's despotic ex-president Robert Mugabe, whose iron-fisted rule brought the economy to its knees. The romantic comedy had a meagre starting budget of just $8,000. "It was not like a luxury shoot where you have your own trailer and you are big on wine," said 29-year-old Chitima, sparkly eyed as she recalled the experience from her parent's ... More
Quote
There is no must in art because art is free. Wassily Kandinsky
---
Exhibition Tour---Photography's Last Century: The Ann Tenenbaum and Thomas H. Lee Collection
---

Flashback
On a day like today, American painter Robert Ryman was born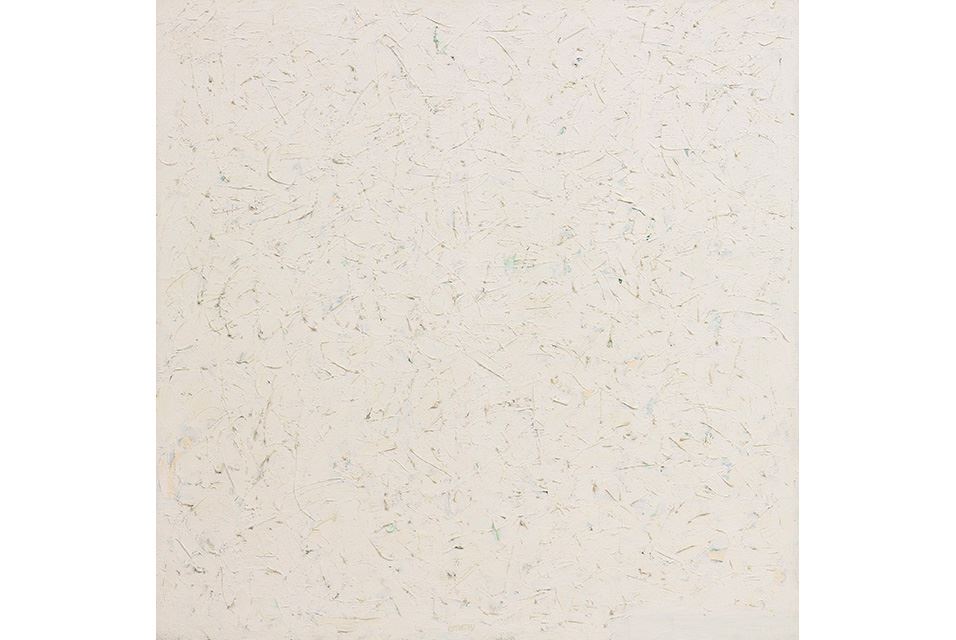 May 30, 1930. Robert Ryman (born May 30, 1930 - February 8, 2019) was an American painter identified with the movements of monochrome painting, minimalism, and conceptual art. He was best known for abstract, white-on-white paintings. He lived and worked in New York City. In this image: Robert Ryman, Untitled, signed and dated 61; signed four times and dated 61 three times on the overturned left edge, oil on canvas, 48 3/4 x 48 3/4 in. 123.7 x 123.7 cm. Est. $15/20 million. Photo: Sotheby's.
---

Museums, Exhibits, Artists, Milestones, Digital Art, Architecture, Photography,
Photographers, Special Photos, Special Reports, Featured Stories, Auctions, Art Fairs,
Anecdotes, Art Quiz, Education, Mythology, 3D Images, Last Week,

.
Royalville Communications, Inc
produces: