In a Roman tomb, 'dead nails' reveal an occult practice
An undated photo provided by the Sagalassos Archaeological Research project, KU Leuven, of a primary cremation site, right, covered with bricks, and two middle imperial individual tombs, left, at the necropolis near the Sagalassos Roman ruins in southwestern Turkey. Archaeologists recently excavated an unusual set of 41 broken, talismanic "dead" nails at this cremation site, meaning that they were believed to possess occult powers. (The Sagalassos Archaeological Research project, KU Leuven)

by Franz Lidz
NEW YORK, NY
.-
When it came to the treatment of diseases, the ancient Romans had no shortage of magical remedies, several of which involved iron nails. To cure epilepsy, first-century historian Pliny the Elder advised driving a nail into the ground at the spot where the afflicted person's head lay at the start of the seizure. The Romans hammered nails into doors to avert plagues and pounded coffin nails into thresholds to keep nightmares at bay. Nails from tombs and crucifixions were sometimes even worn around the neck as talismans against fevers, malaria and evil spells. Recently, archaeologists excavated an unusual set of talismanic nails from a mountaintop necropolis on the outskirts of Sagalassos in southwestern Turkey. In an early Roman imperial tomb, 41 broken nails were found scattered among the cremated remains of an adult male who had lived in the second century A.D. and was buried in situ. Twenty-five of the nails were headless and deliberately bent at right angles; the others were com ...
More
The Best Photos of the Day
In the Basque region of Spain: Art, culture and a puppy that blooms
With sales nearing $130M, Asia Week New York returns with robust sales, enthusiastic crowds
Guido Reni is now the subject of a major exhibition at the Museo del Prado


The Guggenheim Bilbao museum, with a floral sculpture by Jeff Koons in Bilbao, Spain, March 2023. (Emilio Parra Doiztua/The New York Times)


by Andrew Ferren



BILBAO.- It's not every beach stroll that leads to a modernist masterpiece, let alone one set in the sea amid crashing waves. After a bracing walk along the esplanade beside Ondarreta Beach in San Sebastián, Spain, I coaxed my family to keep going until we arrived at the western edge of La Concha Bay. There, anchored into the rocks and bashed by waves, was t 20th-century Spanish sculptor Eduardo Chillida's "El Peine del Viento" (the Comb of the Wind): three 9-ton, rust-covered sculptures. They resembled monumental claws or talons reaching out, trying to connect — a potent symbol of Basque endurance over the centuries. It was also a sign to my husband and 11-year-old twins, Freddie and Frida, that we would be spending the weekend ... More



The vase is from the Sui - Early Tang Dynasty (6th - 7th c. AD, China). The origin of the shape is from Persian silver wares, and this piece is notable for its slender, elegant form. 25.6cm high. The bowl is an excellent example of "Jun-yao" ware from the Baofeng Kilns in Henan Province (19.2cm dia.) Courtesy: Zetterquist Galleries.



NEW YORK, NY.- Ending their 9-day run on March 24th, the 14th edition of Asia Week New York returned with the energy and exuberance of pre-pandemic years with twenty-six galleries and six auction houses reporting sales that collectively rang up an impressive $131,267,504 in sales. At press time, this figure includes 22 out of 26 galleries reporting and 5 out of 6 auction houses–Bonhams, Christie's, Doyle, Heritage, and Sotheby's. iGavelAuctions had three sales, one of which closed on March 21st with the other two ending on March 30th and April 18th, respectively. Said Dessa Goddard chairman of Asia Week New York: "This March, increasing levels of international travel by scholars ... More



Image of the exhibition galleries Guido Reni. Photo © Museo Nacional del Prado.



MADRID.- The Museo Nacional del Prado and Fundación BBVA are presenting Guido Reni, an exhibition curated by David García Cueto, Head of the Department of Italian and French Painting up to 1800 at the Prado. It brings together nearly 100 works loaned from 40 cultural institutions around the world with the aim of drawing attention to the fundamental contribution made by this Bolognese master to the configuration of the aesthetic universe of the European Baroque. The exhibition pays full attention to the most recent art-historical research and places a particular focus on Reni's connections with Spain, evident in royal and aristocratic collecting there and in the influence of the painter's successful models on key artists of the so-called Spanish Golden Age. Shown together in the exhibition for the first time are the Prado's version of Hippomenes and Atalanta and the one from Capodimonte; Saint Sebastian ... More
Plan B for fixing Penn Station would wrap Madison Square Garden in glass
Emily Fisher Landau, theft victim turned art patron, dies at 102
Rafael Soriano: The Artist as Mystic opens at Casa de América in Madrid


Outside of Madison Square Garden in New York, Jan. 11, 2023. (Gili Benita/The New York Times.)



NEW YORK, NY.- A year and a half after Gov. Kathy Hochul championed a plan to help fund the renovation of Pennsylvania Station by allowing the construction of up to 10 towers around the transit hub, that proposal has been mothballed, and an alternate project has emerged as a possible front-runner to replace it. The proposal from a subsidiary of the Italian firm ASTM Group calls for the construction of a rectangular glass station around Madison Square Garden. The Garden would be covered in aluminum and steel, and two new light-filled train halls would replace the notoriously cramped and dark station — all of which could be completed by 2030, the firm has said. With the initial plan all but dead and developers now scrambling to fill the void, key legislators and civic leaders say the ASTM proposal is one they are now seriously considering. The plan has piqued their interest ... More



The art collector and patron Emily Fisher Landau sits in front of Fernand Leger's "Etude pour Les Constructeurs" ("Study for Les Constructeurs"), 1951, in the dining room of her home, in Manhattan on Jan. 31, 2002. (Chester Higgins Jr./The New York Times)



NEW YORK, NY.- Emily Fisher Landau, a New Yorker who used a Lloyd's insurance settlement from a spectacular jewel heist in her apartment to fund what would become one of America's premier collections of contemporary art, died Monday in Palm Beach, Florida. She was 102. Her death was confirmed by her daughter, Candia Fisher. From 1991 to 2017, Landau opened her collection of 1,200 artworks to the public in the Fisher Landau Center for Art, a repurposed former factory in Long Island City, Queens. In 2010, she pledged almost 400 works, then worth between $50 million and $75 million, to the Whitney Museum of American Art, where she had long been a trustee. Landau's trajectory into the art world began unexpectedly on a spring ... More



Rafael Soriano, Torso en Gris, 1991 60 X 50.



MADRID.- Cuban American painter Rafael Soriano (1920–2015) was an acclaimed master of geometric abstraction and a global figure in the twentieth-century art world; his work resonated with international artists of Latin American origin like Roberto Matta, Rufino Tamayo, and Wifredo Lam. As a result of the Revolution in Cuba, in 1962 Soriano immigrated to the United States. An unprecedented examination of his life's work, this exhibition focuses on the multiple influences that nurtured a style where, in his words, "the intimate and the cosmic converge." Featuring twenty-nine painting and pastels from the Rafael Soriano Family Collection and private collections, The Artist as Mystic begins with Soriano's works in the Cuban geometric abstract style. It then moves to his transitional, experimental paintings from the 1960s and 1970s reminiscent of surrealist biomorphism. The exhibition concludes with luminous, ... More
Big museums survey natural history troves
Jagger rules the soundwaves at Bonhams' British Cool. sale in London
Phillips presents Dorothea Lange: The Family Collection, Part Two


Scientists examining plants stored at the National Museum of Natural History in Washington. The museum participated in a new inventory of 1.1 billion objects at 73 natural history museums in 28 countries. (Chip Clark/Smithsonian Institution via The New York Times)

by Carl Zimmer



NEW YORK, NY.- Dozens of the world's largest natural history museums last week revealed a survey of everything in their collections. The global inventory is made up of 1.1 billion objects that range from dinosaur skulls to pollen grains to mosquitoes. The survey's organizers, who described the effort in the journal Science, said they hoped the survey would help museums join forces to answer pressing questions, such as how quickly species are becoming extinct and how climate change is altering the natural world. "It gives us intelligence now to start thinking about things that museums can do together that we wouldn't have conceived of before," said Kirk Johnson, director of the Smithsonian National Museum of Natural History ... More



Andy Warhol (1928-1987) Mick Jagger, from Mick Jagger Portfolio, 1975 (Printed by Alexander Heinrici, New York, published by Seabird Editions, London, with their blindstamp) Estimates: 60,000 - 80,000. Photo: Bonhams.



LONDON.- There were impressive results at Bonhams' British. Cool. at New Bond Street today (Wednesday 29 March). Mick Jagger from Mick Jagger Portfolio by Andy Warhol was the top lot of the sale, achieving £151,500 against a pre-sale estimate of £60,000-80,000. The 252-lot sale made a total of £938,900. Carolin von Massenbach, Co-Head of Sale, added: "From Banksy prints to Dame Vivienne Westwood fashion pieces, British. Cool. offered items from the peak of Britain's contemporary cultural legacy. Demonstrating the spread of British influence across the Atlantic, as well as Mick Jagger's enduring sense of cool, we are thrilled that Mick Jagger, from Mick Jagger Portfolio by Andy Warhol in particular achieved such an impressive result – more than double its pre-sale estimate." Janet Hardie, Bonhams Co-Head of Sale, commented: "With an array of art, prints, fashion, photographs ... More



Dorothea Lange, White Angel Breadline, San Francisco. Image courtesy Phillips.



NEW YORK, NY.- Phillips announced the second session of Dorothea Lange: The Family Collection, a trove of 50 photographs coming directly from the descendants of this seminal American photographer. This sale follows Phillips' first offering from the Family Collection offered in October 2022. Part Two will be open for bidding from 29 March to 5 April. The sale features some of Lange's most indelible images from her multi-decade career in photography, as well as many images which will be new to collectors. All were in the photographer's collection at the time of her death, passed along to her descendants, and represent the entirety of her career, from the first socially conscious images she made outside her portrait studio in San Francisco, through her work for the Farm Security Administration during the Depression, to her post-war documentary projects, much of it done in the company of her husband and collaborator Paul Taylor. Born in ... More
He bid $190 million for the Flatiron Building, then didn't pay up
Dubravka Ugresic, Who wrote of dislocation and exile, dies at 73
Wright Brothers' airplane factory is badly damaged in fire


Jeff Gural, whose family firm, GFP Real Estate, owns and manages more than 50 office buildings in New York, in East Rutherford, N.J., Oct. 15, 2014. Fred R. Conrad/The New York Times)

by Corey Kilgannon



NEW YORK, NY.- The small auction held last week outside a Manhattan courthouse — 11 bidders holding white paddles gathered around a plastic folding table — seemed like the last-resort liquidation of some foreclosed house or deserted suburban office park. But the property being sold on the courthouse steps was different. It was the world-famous Flatiron Building, which became subject of a court-mandated sale after irreconcilable differences among its five owners stalled its renovation and muddied its future. The building has remained almost completely vacant for four years, ever since its longtime tenant, Macmillan Publishers, which occupied all its office floors, moved out in 2019. The situation was not helped by the pandemic, which imploded the office space market, leaving the building's future in limbo. Now the sale meant to right ... More



She was acclaimed in Yugoslavia. But when that country fell apart, she refused to embrace the nationalism of the newly formed Croatia and was vilified as a result.



NEW YORK, NY.- Dubravka Ugresic, a novelist and essayist who, after her native Yugoslavia broke apart in the early 1990s, found herself ostracized in the new country of Croatia for refusing to embrace its aggressive nationalism and spent the rest of her life abroad, died on March 17 in Amsterdam. She was 73. Petar Milat, her principal editor and publisher in Croatia, confirmed the death. Her family did not disclose a cause. "Ugresic's writings, both in fiction and nonfiction, are a unique blend of wittiness and compassion," Milat said by email. "Her passing has resounded strongly in all countries of the former Yugoslavia, where Ugresic was regarded a chief intellectual voice, equipped by an exemplary ethical rigor." In the 1980s Ugresic was being hailed as one of Yugoslavia's best up-and-coming novelists, especially with the release of "Fording the Stream of Consciousness," which won ... More



A life size cutout of the Wright Brothers hangs in the front door at the original Wright Brothers Factory in Dayton, Ohio, Nov. 30, 2016. (Ty Wright/The New York Times)



NEW YORK, NY.- A fire that broke out at a building complex in Dayton, Ohio, on Sunday damaged a factory founded by Wilbur and Orville Wright, the brothers who were the first people to successfully fly an airplane. The fire throws into doubt the future of the factory, where the brothers built planes starting in the 1910s. It became part of the National Park Service's group of aviation-related sites in Dayton in 2009. The factory is a monument not just to the brothers and their consequential invention but to the role of leading industrialists of the day in giving birth to the age of commercial aviation. The factory was built shortly after Wilbur Wright visited New York in 1909 and "got buttonholed by the Vanderbilts, the Colliers, J.P. Morgan, folks like that," said Dean Alexander, who was the park service superintendent in Dayton when the site was added. "The first thing they paid for was building that factory," ... More
Quote
Color alone is both form and subject. Robert Delaunay
---
50 Years New in Asia: The Endless Universe of Yayoi Kusama
---

Flashback
On a day like today, Italian painter and architect Raphael was born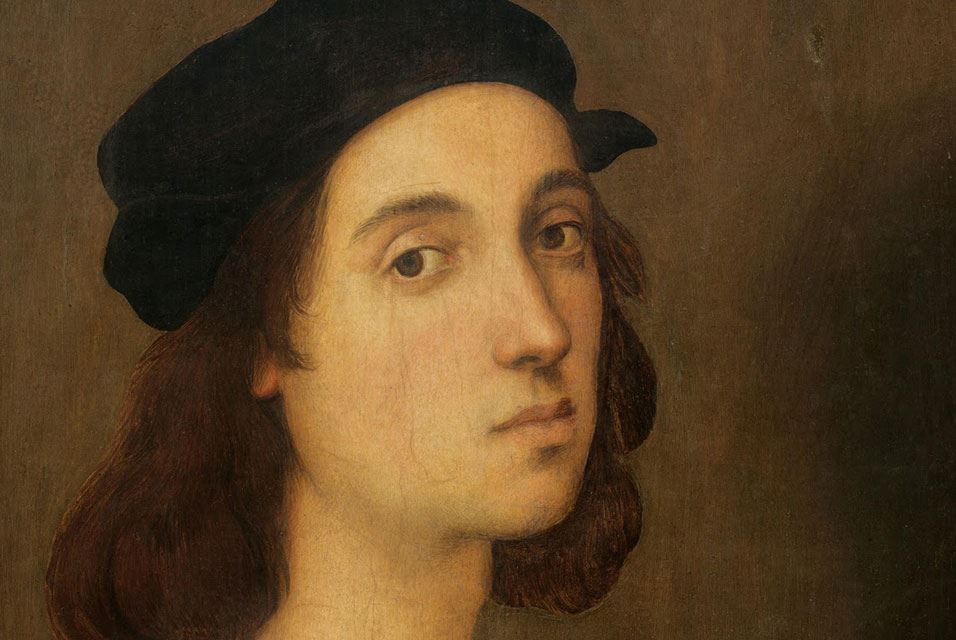 March 28, 1483. Raffaello Sanzio da Urbino (March 28 or April 6, 1483 - April 6, 1520), known as Raphael, was an Italian painter and architect of the High Renaissance. His work is admired for its clarity of form, ease of composition, and visual achievement of the Neoplatonic ideal of human grandeur. Together with Michelangelo and Leonardo da Vinci, he forms the traditional trinity of great masters of that period. In this image: Raphael, Self-Portrait, 1506 (detail) © Galleria degli Uffizi Florenz, Gabinetto Fotografico delle Gallerie degli Uffizi.
---

Museums, Exhibits, Artists, Milestones, Digital Art, Architecture, Photography,
Photographers, Special Photos, Special Reports, Featured Stories, Auctions, Art Fairs,
Anecdotes, Art Quiz, Education, Mythology, 3D Images, Last Week,

.
Royalville Communications, Inc
produces: