Did John McCracken make that monolith in Utah?
An image provided by the Utah Department of Public Safety, a monolith discovered by wildlife officials in southeastern Utah, Nov. 18, 2020. Some think the it might be the work of John McCracken, a minimalist sculptor with an affinity for science fiction who died in 2011. Utah Department of Public Safety via The New York Times.

by Deborah Solomon
NEW YORK
(NYT NEWS SERVICE)
.-
At first it sounded like a plot twist from a science fiction novel by Philip K. Dick. A tall, silvery slice of metal, about 10 feet high with an aura of strangeness about it, is spotted in the red-rock canyons of the Utah desert. State employees who found it while surveying the land for bighorn sheep say they have no idea who drove the slab of metal into the rock floor. And in the days since, the riddle of what it is and how it got there has proved irresistible. Some cheekily wondered if it was planted there by aliens. Others thought it might be a tribute to the monolith in "2001: A Space Odyssey." But the most tantalizing speculation was that it might be the work of John McCracken, a minimalist sculptor with an affinity for science fiction who died in 2011. The David Zwirner gallery, which has exhibited the artist's work since 1997 and represents his estate, has asserted that the mystery monolith is a bona fide McCracken. Just one problem: If that indeed is the case, Mc ...
More
The Best Photos of the Day
Sotheby's and Christie's look to luxury as a coronavirus antidote
Pedophile scandal can't crack the closed circles of literary France
Israel's pick to head Holocaust Memorial stirs international uproar


A pedestrian peers through the window of the Sotheby's gallery in East Hampton, N.Y., July 4, 2020. Karsten Moran/The New York Times.

by Scott Reyburn



LONDON (NYT NEWS SERVICE).- Twenty years ago, Sotheby's and Christie's made money by auctioning art. And that was about it. Now, in a process fast-forwarded by the coronavirus pandemic, technology is transforming these venerable names into very different-looking businesses. Luxury is making that difference. Sotheby's, under the tech-savvy ownership of French-Israeli telecom magnate Patrick Drahi, who last year borrowed $1.1 billion to finance the acquisition, said in December that it would restructure itself into two "equally important" global divisions: one for fine arts and another for luxury, art and objects. Items such as watches and jewelry were identified as "key growth areas." Sotheby's has had to catch up on its rival Christie's, which has been playing at the luxury game since the early 2010s. Owned by French billionaire art collector François Pinault, who also founded luxury goods group Kering, Christie's introduced online-only sales ... More



The French writer Gabriel Matzneff on Feb. 1, 2020, in the Italian Riviera, where he has secluded himself there since a scandal broke this year. Andrea Mantovani/The New York Times.

by Norimitsu Onishi and Constant Méheut



PARIS (NYT NEWS SERVICE).- One of France's most prestigious literary awards, the Renaudot can change a writer's career overnight. Prizewinners jump onto bestseller lists. Publishers earn bragging rights in a nation that places literature at the heart of its sense of grandeur and global standing. A striking example is now a notorious one: Gabriel Matzneff, the writer whose career was revived with the award in 2013 before collapsing this year when a woman published a bombshell account of their sexual relationship when she was underage. He now faces a police investigation in a national scandal that has exposed how clubby Parisian elites long protected, celebrated and enabled his pedophilia. Matzneff's win was engineered by an elite fully aware of his pedophilia, which he had brazenly defended for decades. His powerful editor and friends sat on the jury. "We thought he was broke, he was ... More



In this file photo Polish President Andrzej Duda lays a wreath at the Hall of Names during his visit to the Yad Vashem Holocaust Memorial museum GALI TIBBON / AFP

by Isabel Kershner



JERUSALEM (NYT NEWS SERVICE).- For years, his name was synonymous with intolerance and right-wing extremism. So when Israel's conservative-led government nominated Effie Eitam to be chairman of Yad Vashem, the country's official Holocaust memorial and one its most hallowed institutions, it prompted an uproar. Eitam, a 68-year-old retired brigadier general and former minister, has spent the last decade in the private sector. But his provocative statements from the early 2000s advocating the mass expulsion of Palestinians from the occupied West Bank and barring Israel's Arab citizens from politics linger on the public record. The appointment could have "devastating consequences," said Israel Bartal, a professor of modern Jewish history at the Hebrew University of Jerusalem, who said he would be forced to cut all contacts with Yad Vashem's research institute after years of cooperation. "An institute headed ... More
Phillips announces additional highlights from the December sales of 20th Century & Contemporary Art
A second sudden exit for a hard-charging artistic director
New provenance researcher for the Leopold Museum


Barkley Hendricks, Selina Star, 1980. Estimate: $800,000-1.2 million. Image courtesy of Phillips.



NEW YORK, NY.- Taking place on 7-8 December, Phillips' New York auctions of 20th Century and Contemporary Art will encompass works by Modern, Post-War, Contemporary, and American masters. The Evening Sale will be held on 7 December at 7pm, featuring 38 lots, with the Day Sale's Morning and Afternoon Sessions following on 8 December, offering over 300 lots. The full catalogues for each of these auctions are now online, with the New York exhibitions opening on Monday, 30 November, by appointment. Robert Manley and Jean-Paul Engelen, Worldwide Co-Heads of 20th Century & Contemporary Art, said, "On the heels of two exceptional evening sales during such an unpredictable year, we are delighted to present one of Phillips' strongest and most diverse sales to date. Our carefully assembled auction brings some of the rarest works of art from each artist's oeuvre to the fore and aims to continue ... More



Mr. Roth's departure from Mosaic is his second high-profile exit from a Washington theater.

by Rebecca J. Ritzel



WASHINGTON (NYT NEWS SERVICE).- After Ari Roth was fired six years ago by the Jewish theater he led here, where he had staged plays raising challenging questions about Israel, some of the nation's leading directors and dramatists rallied to his defense — even as officials at the theater insisted that his dismissal had nothing to do with politics. For his next act, Roth quickly founded the Mosaic Theater Company, a new company dedicated to principles of equity and diversity, which mounted works by such notable playwrights as Lynn Nottage, Jon Robin Baitz, Mona Mansour and Marcus Gardley, and rapidly attracted philanthropic support. Now Roth is out again, resigning under pressure last week after a tumultuous period that began in June when staff members filed a written complaint alleging "yearslong" problems at Mosaic, ... More



Culture Ministry and Leopold Museum unanimously decided on Konstantin Ferihumer.



VIENNA.- The position of provenance researcher, which has become vacant upon the expiration of contract of the previous holders of this post, was advertized by the Leopold Museum Private Foundation (Leopold Museum-Privatstiftung – LMPS) in August 2020. Analogous to the employment contracts of provenance researchers of the Commission for Provenance Research at Austrian federal museums, the posting of a full-time position at the Leopold Museum was carried out under the technical supervision of department IV/B/4 in charge of monument protection, building culture and art restitution of the Federal Ministry for Arts, Culture, the Civil Service and Sport (Bundesministerium für Kunst, Kultur, öffentlichen Dienst und Sport – BMKÖS). The BMKÖS and the LMPS, which is responsible for service law, have now filled the post of provenance researcher created in 2008. A total of 41 persons – 12 of them female ... More
Copenhagen offers ceramics that are as appealing as its cuisine
Mehdi Ghadyanloo presents recent work at Almine Rech's project space in Paris
Phillips in association with Bacs & Russo announces additional highlights from Racing Pulse


Bowls made by MK Studio, the Copenhagen workshop of the ceramist Magdalena Kaluzna-Wlodarek, produced for the city's Asian-inspired restaurant Tigermom. Hedda Rysstad via The New York Times.

by Ingrid K. Williams



COPENHAGEN (NYT NEWS SERVICE).- Copenhagen, Denmark, remains one of the world's most exciting food destinations, where innovative restaurants demand tableware as impressive as the cuisine. So, naturally, the Danish capital is now also one of the best places to shop for handmade ceramics. In keeping with the guiding tenets of Danish design — functionalism and high-quality craftsmanship — today's ceramists are producing pieces as useful as they are attractive, employing creative glazes, unusual shapes and playful color combinations. Shoppers today will find pieces suited to every purpose and style, whether it's a sculptural statement vase or an everyday coffee mug to brighten dark winter mornings. ... More



Mehdi Ghadyanloo, The Lost Paradise, 2020. Acrylic on canvas, 200 x 200 cm. 78 3/4 x 78 3/4 in.



PARIS.- Mehdi Ghadyanloo, who began his career making public art, is considered one of the leading artists of the Middle East. Known in particular for his monumental trompe-l'oeil murals in downtown Tehran, Ghadyanloo also creates works on canvas with surrealist and minimalist themes, evoking René Magritte or Giorgio de Chirico. In recent work shown in Almine Rech's project space in Paris, Ghadyanloo has created a series of closed spaces, playgrounds, geometrical cubes, spiral staircases, and architectural environments. These dioramas are expertly inscribed on the canvas and they function as intriguing narratives. The lines are meticulously detailed, as Ghadyanloo approaches these works as illustrations. Through his mastery of shadow and his use of the empty/full dichotomy, the artist transforms a flat surface into a veritable labyrinth. Ghadyanloo plays with the depth of his canvases in a subtle way: ... More



Patek Philippe reference 3974. Estimate: $600,000 to $1,200,000. Image courtesy of Phillips.



NEW YORK, NY.- Phillips announced the full catalogue for Racing Pulse, the annual New York watch auction on Saturday, 12 December, following the announcements of Paul Newman's Rolex "Big Red" Daytona, the Heuer worn by Steve McQueen in Le Mans, and timepieces from the collection of Sylvester Stallone, including four important Richard Mille timepieces and the brand defining Panerai Luminor worn in the film Daylight. Phillips has carefully chosen 138 timepieces - selected for their rarity, quality, state of preservation, provenance, and aesthetic beauty – spanning top collectors' brands including Rolex, Patek Philippe, Audemars Piguet, F.P.Journe, Richard Mille, Panerai, and Heuer, among others. The sale will also feature a special, charitable section titled, Time Counts, consisting of 12 lots donated by celebrated personalities, with all proceeds benefiting The One Drop and Prince Albert II of Monaco Foundations. ... More
An Ethiopian boutique showcasing artisanal design
The Museum of the Home will reopen in summer 2020 following a major £18.1 million renovation
First digital Vienna Art Week draws record visitor numbers


Kitenge fabrics at the factory that supplies the boutique, African Mosaique, in Legetafo, near Addis Ababa, Ethiopia, on Nov. 18, 2020. Eduardo Soteras Jalil/The New York Times.

by Sarah Khan



NEW YORK (NYT NEWS SERVICE).- Not far from Addis Ababa's British Embassy, in a quiet residential enclave just off a busy thoroughfare, stands a lovely tree-shaded villa. It's here that Anna Getaneh opened her boutique, African Mosaique, almost four years ago, in a home her father had built and where she spent some of her childhood years. Past the garage — now a coffee shop — and the foyer are erstwhile living and dining areas: airy showrooms for a gallery-worthy display of Getaneh's diaphanous dresses, patterned blazers and colorful accessories, which incorporate traditional Ethiopian fabrics and craftsmanship, filtered through Getaneh's global lens. "My starting point is textiles," she said. "I grew up appreciating fabrics, and what kind of colors and what kind ... More



Sonia Solicari, Director of the Museum of the Home with televisions from the Collections that will show how entertainment in the home has changed - part of the new permanent displays. Courtesy of Em Fitzgerald.



LONDON.- In Summer 2020, the Museum of the Home (formerly the Geffrye Museum of the Home) will open following an £18.1 million redevelopment revealing fascinating new permanent displays and beautiful exhibition and event spaces. The Museum's unique Collection will present previously unseen and iconic objects that bring to life both the extraordinary and everyday experiences of home from 1600 to the present day. The relaunched Museum will celebrate the heritage and beauty of the 300-year-old Geffrye almshouses and gardens. Visitors will be able to discover more about their history and the stories of the people who once lived in them. Alongside this physical transformation, the Museum will reopen with a refreshed identity as the Museum of the Home - created by cultural brand consultancy dn&co ... More



Elisabeth Von Samsonow, Schreibtisch der Anthropologin, 2020. Photo: Astrid Bartl.



VIENNA.- The first digital Vienna Art Week (13-20 November 2020) has come to a close following over 100 virtual events that celebrated the vitality of Vienna as a city of art. The extensive programme, which transferred online due to new coronavirus regulations, saw the participation of more than 50 festival partners, proving the great diversity and strength of the Viennese art scene. New digital formats and technologies, such as Zoom, Instagram Stories and Facebook Live, made Vienna Art Week possible under the motto: If people cannot come to Vienna Art Week, then Vienna Art Week will come to them . Approximately 36,000 online visits were recorded, making it the most well-attended edition to date. Martin Böhm, president of the Art Cluster Vienna Association, and Robert Punkenhofer, artistic director of Vienna Art Week, captured the positive outcome and reception of this year's art festival: "Due to the lockdown, we were forced to sw ... More
Quote
Once I was beset by anxiety but I pushed the fear away by studying the sky. Louise Bourgeois
---
Lace in The Met Collection | Insider Insights
---

Flashback
On a day like today, American artist James Rosenquist was born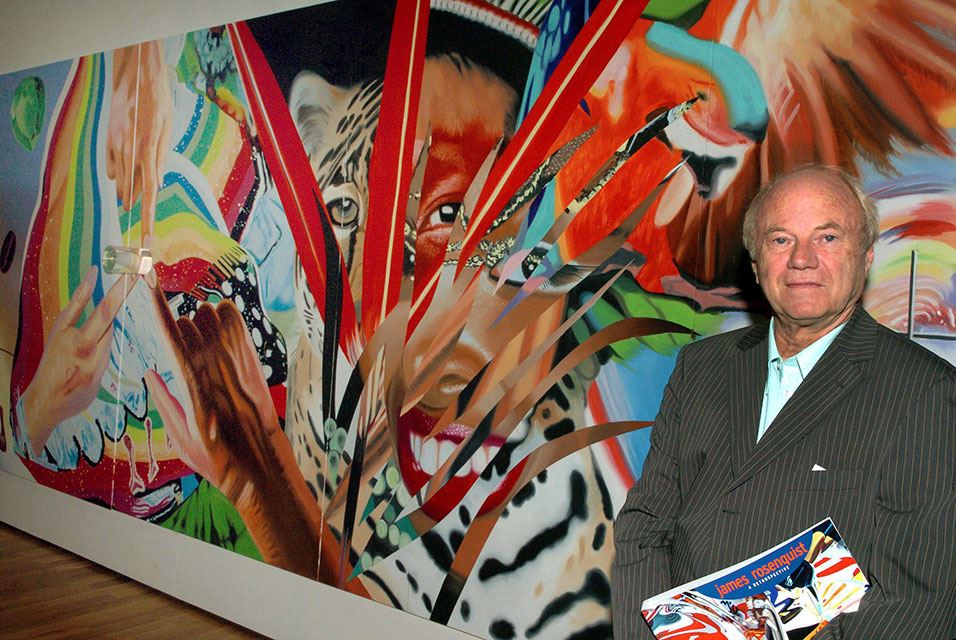 November 29, 1933. James Rosenquist (born November 29, 1933 - March 31, 2017) was an American artist and one of the protagonists in the pop-art movement. In this image: Then 71-year-old US artist James Rosenquist stands in front of his art work 'Brazil' which he created in 2004 at the art museum in Wolfsburg, Germany on Thursday, 17 February 2005. The piece was part of a retrospective which included 150 works of art spanning across three decades, allowing an insight into the work of a leading representative of US American Pop Art. The exhibition ran until 05 June 2005.
---

Museums, Exhibits, Artists, Milestones, Digital Art, Architecture, Photography,
Photographers, Special Photos, Special Reports, Featured Stories, Auctions, Art Fairs,
Anecdotes, Art Quiz, Education, Mythology, 3D Images, Last Week,

.
Royalville Communications, Inc
produces: