Early works by Edward Hopper found to be copies of other artists
In a photo provided by Bruce Crane, Louis Shadwick found that Bruce Crane's "A Winter Sunset," circa 1880s, in The Art Interchange magazine, was an almost perfect match for Hopper's later teenage work, right down to the horizontal streak of light. A grad student's discovery "cuts straight through the widely held perception of Hopper as an American original," without a debt to others, a Whitney curator said. Bruce Crane via The New York Times.

by Blake Gopnik
NEW YORK
(NYT NEWS SERVICE)
.-
Most grad students in art history dream of discovering an unknown work by whatever great artist they are studying. Louis Shadwick has achieved just the opposite: In researching his doctorate on Edward Hopper, for the storied Courtauld Institute in London, Shadwick has discovered that three of the great American's earliest oil paintings, from the 1890s, can only barely count as his original images. Two are copies of paintings Shadwick found reproduced in a magazine for amateur artists published in the years before Hopper's paintings. The reproductions even came with detailed instructions for making the copies. Shadwick spells out his discovery in the October issue of The Burlington Magazine, a venerable art historical journal. "It was real detective work," Shadwick explained, Zooming from his sunny apartment in London. At 30, he's older than most of his graduate-school peers because of a longish spell fronting an alt-rock trio (White Kite), a past not revealed i ...
More
The Best Photos of the Day
Ai Weiwei supports Assange with silent protest
Britain to return looted 4,000-year-old plaque to Iraq
Paris finally bows to Coco Chanel's flawed greatness


Chinese dissident artist Ai Weiwei stages a silent protest in support of Julian Assange outside of the Old Bailey court in central London. DANIEL LEAL-OLIVAS / AFP.



LONDON (AFP).- Dissident Chinese artist Ai Weiwei held a silent protest on Monday outside a London court to demand the release of WikiLeaks founder Julian Assange, who faces extradition to the United States. Exiled Ai, who left China for Germany in 2015 after becoming a target of Beijing's wrath, said Assange's possible prosecution in the US was "unbelievable". "Let him to be a free man," Ai said outside the Old Bailey court in the British capital, wearing a pink T-shirt featuring him next to Assange, both holding up a middle finger. "He truly represents the very core value of why we are fighting, the freedom of the press." Assange faces 18 charges in the US relating to the 2010 release by WikiLeaks of 500,000 secret files detailing aspects of military campaigns in Afghanistan and Iraq. Evidence in the trial stage of his long-running battle against extradition entered its fourth week Monday and is due to end within days. But the judge hearing the case has said it will be at least six weeks before s ... More



The British Museum said in July 2019 that it was working to appraise and return various looted ancient artefacts from Iraq and Afghanistan that had been seized in Britain.



LONDON (AFP).- Britain will hand back a 4,000-year-old sculpture to Iraq after an investigation found that it had been looted, the British Museum said on Monday. Museum experts were called by a specialist London police unit after an online sales platform offered the artefact for sale in May last year with only limited details of its provenance. Despite the online listing describing it as "a Western Asiatic Akkadian tablet", the experts determined the limestone wall plaque came from an ancient Sumerian temple dating to around 2,400 BC. The temple had been excavated and looted in the late 19th and early 20th centuries, looted again in the 1990s during the Gulf War and most recently in 2003 during the Iraq War, the museum said, without specifying when the plaque was taken. "This important piece was illegally removed from Iraq and discovered by authorities in the UK," the British Museum said in a statement. "Temple plaques such as this are rare and there are only around 50 examples known ... More



This picture shows a creation by French designer Gabrielle Chanel displayed during the exhibition "Gabrielle Chanel, fashion manifesto" at the Galliera Palais fashion museum in Paris on September 25, 2020. STEPHANE DE SAKUTIN / AFP.

by Fiachra Gibbons



PARIS (AFP).- She was the greatest style icon of 20th century, whose designs still shape what we wear. Yet the Gabrielle "Coco" Chanel who emerges from the first exhibition ever dedicated to her work in Paris will come as a shock to fans of her brand's bling. The creator of the little black dress, tweed suits, two-tone shoes and quilted handbags that are synonymous with French elegance was a very different animal to Karl "the Kaiser" Lagerfeld, who turned her label into a $100 billion business. While the flamboyant German impressario had a magpie eye for street fashion, the Coco Chanel presented at the new show at the city's fashion museum, the Palais Galliera, was a futurist visionary of almost spartan refinement. Many of the dresses she designed and wore a century ago are so startlingly modern they could grace the catwalk now. The cliche is that Chanel ... More
He Art Museum designed by Tadao Ando opens to the public on 1st October
A new Zwirner gallery with an all-Black staff
Jewellery auction to star the largest Burmese 'Royal Blue' Sapphire offered at Sotheby's in the last two decades


Exterior View of He Art Museum © HEM.



SHUNDE.- He Art Museum will open to the public on 1st October 2020, presenting its launch exhibition, From the Mundane World. Designed by Pritzker Prize laureate Tadao Ando, the museum will be home to the family's art collection. The collection consists of more than 500 works ranging from painting, calligraphy, photography, to sculpture, and mainly falls into three catalogues: International Contemporary Art, Chinese Modern Art and Chinese Contemporary Art. HE Jianfeng, Founder of HEM, said: 'My vision for HEM is to bring art and culture to the people of my hometown of Shunde, the Pearl River Delta, China, and international visitors who are curious about our heritage and culture. I hope the museum can contribute to cultural initiatives that the country's Greater Bay Area Development Plan envisions.' SHAO Shu, Director of HEM said: 'We are proud to be rooted in our community and stay connected to the Greater Bay Area. Our visi ... More



Ebony L. Haynes, 2020. Photo: Elliott Jerome Brown Jr. Courtesy David Zwirner.

by Robin Pogrebin



NEW YORK (NYT NEWS SERVICE).- Dealer David Zwirner has hired Ebony L. Haynes, a gallerist who is Black, as the director of a new exhibition program and commercial gallery space in Manhattan, for which she plans to employ an all-Black staff. "While you could argue that strides have been made on the artist side, the art world acts almost shamefully on the employment side," Zwirner said, speaking of equal opportunities for people of color. "Something has to happen." At a time when the Black Lives Matter movement has raised awareness about the scarcity and struggles of Black-run galleries, the new Zwirner enterprise represents a strong commitment from a mega dealer. Zwirner said he began talking in January with Haynes, a former director at Martos Gallery on the Lower East Side, about becoming a ... More



118.88 Carat Untreated Burmese Sapphire. 6.41 Carat Unheated Burmese Pigeon's Blood Ruby and Diamond Ring. Courtesy Sotheby's.



HONG KONG.- Two days after the unprecedented single-lot sale of 102.39 carat D Colour Flawless Oval Diamond, offered without reserve, Sotheby's Hong Kong Magnificent Jewels auction on 7 October will be spearheaded by another rarity in the mythical world of 100-carat stones: a 118.88-carat unheated Burmese 'Royal Blue' sapphire – the largest Burmese 'Royal Blue' sapphire offered at Sotheby's in the last two decades (estimate upon request). The sale will celebrate colours, with an impressive selection of rare coloured gemstones and diamonds, including stones set in avant-garde designs by Hong Kong artist-jewellers FORMS and Nicholas Lieou. "We are excited to present another exceptional season of Magnificent Jewels, and offer some of the world's finest gemstones – a 118.88 carat Burmese sapphire, one of the largest Burmese sapphire ever offered at Sotheby's, ... More
Head of Auschwitz Memorial seeks easing of Nigerian boy's prison sentence
Exhibition of new paintings by Stanley Whitney on view at Gagosian Rome
Major retrospective features rarely seen works by virtuoso woodcarver Elijah Pierce


Visitors walk below the gate with its inscription "Work sets you free". BARTOSZ SIEDLIK / AFP.



NEW YORK (NYT NEWS SERVICE).- The director of the Auschwitz-Birkenau museum in Poland has asked Nigeria's president to pardon a teenager who was sentenced to 10 years' imprisonment with menial labor over a blasphemy conviction. And if that doesn't happen, he also offered to serve part of the boy's sentence. "He should not be subjected to the loss of the entirety of his youth, be deprived of opportunities and stigmatized physically, emotionally and educationally for the rest of his life," the director, Piotr Cywinski, wrote in an open letter regarding Omar Farouq, a 13-year-old boy who was convicted on charges that he had blasphemed Allah in an argument with a friend. Since the boy's sentence was issued in August by a Shariah court in Kano, Nigeria's second-largest city, the case has been condemned by human rights groups, including the United Nations, who say ... More



Stanley Whitney.



ROME.- Gagosian is presenting new paintings by Stanley Whitney. Originally scheduled to open in April, but delayed by the pandemic, this is his first exhibition with the gallery and his first major exhibition in Rome, where he lived for five years during the 1990s. It features paintings produced both in New York and in the artist's studio near Parma, Italy. Whitney's vibrant abstract paintings unlock the linear structure of the grid, imbuing it with new and unexpected cadences of color, rhythm, and space. Deriving inspiration from sources as diverse as Piet Mondrian, free jazz, and American quilt making, Whitney composes with blocks and bars that articulate a chromatic call-and-response within the bounds of each canvas. Whitney has spent decades experimenting with the seemingly limitless potential of a single compositional method, loosely dividing square canvases into multiple registers. The thinly applied oil ... More



Elijah Pierce, Love (Martin Luther King, Jr.), Date unknown. Paint, glitter, and varnish on wood 19 × 16 in. The Collection of Jill and Sheldon Bonovitz. Promised gift to the Philadelphia Museum of Art.



PHILADELPHIA, PA.- The Barnes Foundation is presenting Elijah Pierce's America, a landmark exhibition featuring the rich and varied sculpture of woodcarver Elijah Pierce (1892–1984). On view in the Roberts Gallery from September 27, 2020 through January 10, 2021, this is the first major retrospective of Pierce's work to be presented outside his home city of Columbus, Ohio, for more than 25 years. Born on a farm in Baldwyn, Mississippi, Pierce joined the Great Migration and settled in Columbus, Ohio, in 1924. After years spent working as a barber and preacher, in 1954 he opened his own barbershop, which became a social hub and functioned as his studio. Pierce created a unique body of work over the course of 50 years, producing his virtuoso ... More
Bonhams goes Pop
Works by Pino Pascali and Lucio Fontana lead Christie's Thinking Italian Art and Design sale
British photographer Richard Ansett & Tim Williams Fine Art release two new editions of Grayson Perry portraits


Banksy, (Born 1975), Girl with Balloon, 2004. Estimate: £120,000 - 180,000. Photo: Bonhams.



LONDON.- Although the movement was ignited by pop heavyweights such as Andy Warhol, Robert Indiana and James Rosenquist, Pop Art moved from paintings on canvas to the street, with the emergence of graffiti art in cities around the globe from Los Angeles and New York, to London and Sao Paulo. Artists such as Keith Haring, Jean-Michel Basquiat and Kenny Scharf projected energy, chaos and creativity amid an expanding sub-culture, taking the streets as their canvas, stage, and playground. Their fresh ideas spilled over and merged with contemporary music and fashion, giving birth to various alternative sub-cultures, which all inspired and shaped an era. Blurring the lines between genres, the 1980s saw the introduction of hip-hop and graffiti to American Pop Music. The song Rapture released by Blondie in released 1981, was the first American pop song to incorporate rap music – melding together two previously ... More



Pino Pascali, Contraerea (1965, estimate: £2,500,000-3,500,000). © Christie's Images Ltd 2020.



LONDON.- Christie's will present Pino Pascali's Contraerea (1965, estimate: £2,500,000-3,500,000) and Lucio Fontana's Concetto Spaziale, Forma (1957, estimate: £2,500,000-3,500,000) as leading highlights of Thinking Italian Art and Design. The auction will take place in London on 22 October as part of the '20th Century: Paris to London' sale series. Standing over a metre in height, Concetto Spaziale, Forma is a rare and elegant masterwork rendered in lustrous gold-painted iron that belongs to a series of eight unique stemmed sculptures. Contraerea is a seminal sculpture from Pino Pascali's iconic series of Armi (Weapons). The work was debuted in his powerful installation of Armi at Turin's Galleria Enzo Sperone in 1966, and has been widely exhibited since, including in his major posthumous solo show at Rome's National Gallery of Modern Art in 1969; in his first large-scale retrospectives outside Italy ... More



Richard Ansett inspecting and approving his editioned print of Grayson Perry at Tim Williams Fine Art.



LYNTON.- Tim Williams Fine Art announced their first print release with photographer Richard Ansett. The prints will be available to purchase via www.timwilliamsfineart.com or email tim@timwilliamsfineart.com for any enquiries. Grayson Perry: Big American Road Trip #1 and Grayson Perry: Big American Road Trip #2 are an edition of 8 prints. Printed on archival pigment print, Hahnemühle FineArt Pearl paper 285gsm, measuring 100 x 77.4cm, with accompanying certificate of authenticity, embossed and editioned by the artist. The prints are photographic portriats of the celebrated British artist Grayson Perry as his female alter-ego Claire. The two photographs were created for the Channel 4 documentary series Grayson Perry's Big American Road Trip which premieres on the 23rd September at 10pm. The series will see Grayson Perry travel across the United States of America on his custom Harley-Davidson motorcycle, ... More
Quote
If I want to give my mind diversion, then it is not honour I seek, but freedom. Rembrandt van Rijn
---
The Kangxi Emperor Scroll
---

Flashback
On a day like today, Italian painter Tintoretto was born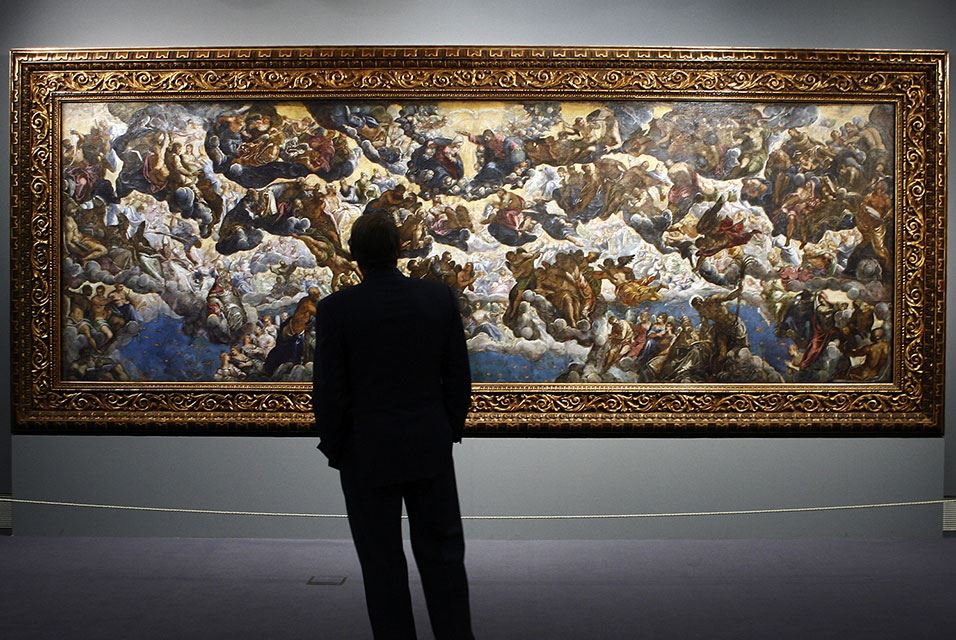 September 29, 1518. Tintoretto (September 29, 1518 - May 31, 1594), real name Jacopo Comin, was a Venetian painter and a notable exponent of the Renaissance school. For his phenomenal energy in painting he was termed Il Furioso. His work is characterized by its muscular figures, dramatic gestures and bold use of perspective in the Mannerist style, while maintaining color and light typical of the Venetian School. In this image: A man looks at 'The Coronation of the Virgin, The Paradise' a painting by 16th century Venetian artist Tintoretto, on display at the Thyssen-Bornemisza Museum in Madrid, Wednesday, June 7, 2006.
---

Museums, Exhibits, Artists, Milestones, Digital Art, Architecture, Photography,
Photographers, Special Photos, Special Reports, Featured Stories, Auctions, Art Fairs,
Anecdotes, Art Quiz, Education, Mythology, 3D Images, Last Week,

.
Royalville Communications, Inc
produces: