ARTBnk Releases Anselm Kiefer Market Report
Anselm Kiefer (b. 1945), Aus Herzen un Hirnen spriessen die Halme der Nacht (From Hearts and Brains the Stalks of Night Are Sprouting, Mixed media on canvas, 470 x 840 cm, at Gagosian, Le Bourget. | ©Anselm Kiefer. Photo: George Poncet.
NEW YORK, NY
.-
Anselm Kiefer is one of the most important and challenging artists of the 20th century. Through the use of unconventional mediums, his works are an unflinching examination of the human experience. With the newly unveiled permanent installation at the Pantheon in Paris and 4 new monumental paintings on display by Gagosian at Le Bourget, the artist is having something of a renaissance.
ARTBnk
reviewed 10 of Kiefer's works offered in Evening and Day Sales at Sotheby's, Christie's, and Phillips in the second half of 2020 to measure the current performance of the artist's market as we begin 2021. Based on the final sale prices, we'll examine the performance of the low and middle value ...
More
The Best Photos of the Day
6 Dr. Seuss books will no longer be published over offensive images
Phillips announces monumental Jean Dubuffet to star in 20th Century & Contemporary Art Evening Sale
Vanishing in the desert, traditional Bedouin culture lives online


Books by Theodor Seuss Geisel, aka Dr. Seuss, including "On Beyond Zebra!" and "And to Think That I Saw it on Mulberry Street," are offered for loan at the Chinatown Branch of the Chicago Public Library. Photo Illustration by Scott Olson/Getty Images.

by Jenny Gross



NEW YORK (NYT NEWS SERVICE).- Six Dr. Seuss books will no longer be published because of their use of offensive imagery, according to the business that oversees the estate of the children's author and illustrator. In a statement Tuesday, Dr. Seuss Enterprises said that it had decided last year to end publication and licensing of the books by Theodor Seuss Geisel. The titles include his first book writing under the pen name Dr. Seuss, "And to Think That I Saw It on Mulberry Street" (1937), and "If I Ran the Zoo" (1950). "These books portray people in ways that are hurtful and wrong," Dr. Seuss Enterprises said in the statement. The business said the decision came after working with a panel of experts, including educators, and reviewing its catalog of titles. Geisel died ... More



Jean Dubuffet, La féconde journée, 16 May 1976. Acrylic on paper collaged on canvas, 204.5 x 210.5 cm (80 1/2 x 82 7/8 in.) Estimate: £2,000,000-3,000,000. Image courtesy of Phillips.



LONDON.- Phillips announced Jean Dubuffet's La féconde journée, executed in 1976, as a star lot of London's 20th Century & Contemporary Art Evening Sale on 15 April. La féconde journée hails from Dubuffet's seminal Théâtres de mémoire series and has featured in the major centenary retrospective at the Centre Pompidou, Paris in 2001. La féconde journée will be virtually on view from 7 to 11 April before a public viewing at Phillips Berkeley Square from 12 to 15 April. Olivia Thornton, Head of 20th Century & Contemporary Art, Europe, said, "La féconde journée is an incredibly radiant and visually immersive work that represents a significant milestone in Dubuffet's career – his Théâtres de mémoire series. It is a particularly exciting moment for Dubuffet, with the Barbican staging the first major survey of his work in the UK for over 50 years this Spring. The inclusion of La féconde journée in our April Evening Sal ... More



Clinton Bailey's archival photos of Bedouins, in Jerusalem, Thursday, Feb. 25, 2021. Dan Balilty/The New York Times.

by Isabel Kershner



JERUSALEM (NYT NEWS SERVICE).- When Clinton Bailey first began documenting Bedouin life in the 1960s, the nomadic tribes lived pretty much as their ancestors, raising livestock, wandering in search of pastures and pitching tents under the stars. Bailey would join their migrations in the southern Israeli Negev desert and the Sinai Peninsula for weeks on camel back. They would try their luck at planting grains in the winter, he said, then return months later for the harvest. With a tape recorder, camera and jeep, he spent the next 50 years recording Bedouin oral poetry, tribal negotiations and trials, interviews with elders, weddings and rituals, proverbs and stories. "I decided to try to capture that culture," Bailey said. "I could already see it was beginning to disappear." Now 84, Bailey recently donated his archive of 350 hours of audio tape, photos and slides to the National Library of ... More
Christie's announces rediscovered painting by Amrita Sher-Gil, 'Portrait of Denyse'
Swann sets auction record for Frederick Douglass autograph = $112K
Prince 'Cloud' guitar, 'Purple Rain' shirt among music memorabilia up for auction


Amrita Sher-Gil (1913-1941), Portrait of Denyse. Painted circa 1932. Estimate: $1,800,000-2,800,000. © Christie's Images Ltd 2021.



NEW YORK, NY.- Christie's announces the top lot of the South Asian Modern + Contemporary Art auction (17 March 2021), an important rediscovered portrait by celebrated Indian artist Amrita Sher-Gil of her close friend and French art critic Denyse Proutaux ($1.8 – 2.8 million). Painted circa 1932, the painting is one of four known portraits of Denyse Proutaux, and the only documented example in private hands. The portrait is not only an exceptional painting by Sher-Gil, completed when the artist was barely nineteen years old, it is also a testament of the beautiful friendship between the Sher-Gil sisters and Denyse that was built on mutual admiration and love for each other and lasted well beyond the time they lived in the same country. Nishad Avari, Specialist and Head of Sale for South Asian Modern + Contemporary Art, comments: "It is an honor to present this ... More



Frederick Douglass, Autograph Letter Signed, to Sallie Holley recruiting her for the Frederick Douglass Paper, 1851. Sold for $112,500, a record for an ALS by Douglass.



NEW YORK, NY.- Swann Galleries closed out February with an exceptional sale of Fine Books & Autographs, which saw a 90% sell-through rate and exceeded the total high estimate, bringing in $522,632. The auction brought forth historic autographs from political figures and celebrities alike, as well as first editions from the nineteenth and twentieth centuries. The house set an auction record for an autograph by Frederick Douglass with the sale of an 1851 autograph letter signed for $112,500. The historic letter comes from an important turning point in Douglass's career, the letter—addressed to Sallie Holley, recruiting her for the Frederick Douglass Paper—was written after his split with Garrisonian abolitionism, and the merging of his North Star paper and the Liberty Party Paper. The result surpassed the previous auction ... More



A Cloud guitar custom-made for Prince.



BOSTON, MASS.- RR Auction's March Fine Autographs and Artifacts sale boasts a substantial music section featuring Prince with online bidding until March 10. Among these extraordinary artifacts is a Cloud guitar custom-made for Prince. The breathtaking bright yellow custom Cloud guitar created for, owned and played by Prince. The guitar was custom-made by Minneapolis luthier Kurt Nelson in the early 1990's. The neck-through guitar features a bright yellow finish, golden hardware, and cloud-inspired design to body, horn, and headstock, with a unique series of 18 black Prince symbols to fretboard and top of the neck. Included material related to its construction: Nelson's original clear plastic guitar pattern sheet, with matching Cloud outline in black felt tip; a Plexiglas cut-out of the upper body with telltale upper horn; and a yellow handkerchief given to Nelson by Paisley Park to color match with the guitar. "It's an iconic and simply gorgeou ... More
Christie's Spring Season of Global 20th Century Sales launches in London and New York
Sprüth Magers opens first solo exhibition by John Waters at its Los Angeles gallery
Geneva's Museum of Art and History reopens and launches major transformation


Van Gogh's La Mousmé achieves one of the highest prices for a work on paper by the artist, selling in New York (£7,459,614 / $10,436,000 / €8,623,314). © Christie's Images Ltd 2021.



NEW YORK, NY.- Christie's global spring season of 20th Century art sales launched in London and New York on 1 March 2021, achieving a total across the evening of £43,702,515 / $61,139,818 / €50,520,107, with collectors convening from 12 countries over 5 continents and combined sell-through rates of 98% by lot and 100% by value. The series of sales was opened in New York with A Family Collection: Works on Paper, Van Gogh to Freud, a grouping of eight exquisite works on paper that saw the market bidding competitively for exceptional quality, with a total of £18,070,765 / $25,281,000 / €20,889,804 realised. The sale was led by Van Gogh's rare portrait La Mousmé, one of the finest works on paper of the artist's career which sold for £7,459,614 / $10,436,000 / €8,623,314. A world auction record was set ... More



John Waters, Bad Director's Chair, 2006. Canvas, wood, steel, paint with leather bound script, 116.8 × 62.2 × 55.9 cm / 46 × 24 1/2 × 22 inches © John Waters. Courtesy the artist and Sprüth Magers.



LOS ANGELES, CA.- Monika Sprüth and Philomene Magers are presenting their first solo exhibition by John Waters at the Los Angeles gallery. Hollywood's Greatest Hits features a selection of works, most of which have never been seen before in LA, that shed light on the artist's decades-long, wide-ranging art practice, and in particular, Waters' humorous and irreverent takes on the movie industry. The over 30 works on view encompass videos, photographs, sculptures and installations that skewer film tropes and culture while also offering cutting, but loving, critiques of mass media, celebrity and insider art-world knowledge. In the early 1990s, Waters began shooting photographs straight from his television screen. The results were grainy, arty-looking images that he pieced together into evocative photomontages, creating ... More



Installation view. Photo courtesy of Julien Gremaud.



GENEVA.- The Museum of Art and History in Geneva has begun a radical process of transformation towards a forward-looking museum model. First opened in 1910, the Swiss museum currently spans 7,000 sqm over five stories, housing an impressive collection of some 650,000 items ranging from archaeological artefacts to Byzantine art and Classical antiquities to modern paintings. Now, under the helm of its recently appointed Director Marc-Olivier Wahler, the historical institution is launching a new programming strategy aiming at critically re-contextualising and showcasing its collection. To mark this significant milestone, MAH has unveiled a new visual identity and announced expansion plans, leading on a major urban development project which will materialise as an inclusive and integrated museum campus at the heart of Geneva. To launch this new phase in the museum's history, Marc-Olivier Wahler gave carte blanche to Vienn ... More
Omer Tiroche Gallery opens online-only exhibition "The Power of Advertising"
Sunny NY: A new, artist-run gallery opens in the East Village
Benita Raphan, visionary filmmaker, dies at the age of 58


Installation view.



LONDON.- Omer Tiroche Gallery is presenting the exhibition, The Power of Advertising, which examines the work of five leading modern artists who started their careers working in graphic design, sign painting or advertising. The exhibition aims to illustrate how the visual styles and tropes of advertising's golden age became a key influence in modern art movements, including Surrealism and Pop Art. Advertising first became a major societal force in the 1920s, just as Surrealism was becoming the predominant artistic style in Europe. Before gaining international success as a fine artist, René Magritte worked as a freelance graphic designer from 1924, producing advertisements for brands including Alfa Romeo. While he would start to exhibit his work in 1927, he never abandoned the commercial world. With his brother, Magritte established his own advertising agency, Studio Dongo, and continued to create posters, music covers and advertisem ... More



The gallery is run by a team of artists, educators, and professionals who value social and artistic complexity.



NEW YORK, NY.- Sunny NY is presenting Sunny Side Up, a group exhibition featuring Johnny Abrahams, Kadar Brock, Rick Briggs, Keltie Ferris, Andrea McGinty, Brian Kokoska, Shawn Kuruneru, Abby Lloyd, Lauren Luloff, Adrianne Rubenstein, Chloe Seibert, Clayton Schiff, Nicole Wittenberg and Margo Wolowiec. This is the gallery's inaugural exhibition. Sunny NY is an artist run gallery located in the East Village. The gallery originated in the pandemic against the rapidly changing landscape of New York's artworld. The title playfully highlights the steady optimism of artistic community in the face of adversity. For this exhibition, the gallery has painted the floors yellow. The artists in this show are preoccupied with a range of artistic approaches including process-based abstraction, issues of representation and identity, and material exploration. Johnny Abrahams and Shawn Kuruneru use a limited palette to explore the graphic and painterly potential of abstract painting. ... More



Benita Raphan was awarded a Guggenheim Fellowship in 2019.

by Julia Rock & Miriam Kuznets



NEW YORK, NY.- Benita Raphan, visionary filmmaker, died in January 2021 at the age of 58. Her life's work about geniuses garnered multiple awards, including a Guggenheim Fellowship in 2019. Her visual portraits examined the eccentric and brilliant inner lives of iconic figures, including R. Buckminster Fuller, John Nash, and Helen Keller. Her most recent film, "Up to Astonishment," explored the life and work of Emily Dickinson As Benita told StudioDaily: "I am interested in revisiting a life or a career from the very start, from the beginning; the basic concept as initial thought, as an impulse, as an ineffable compulsion, an intuition; to reframe and reinvent an action as simple as one pair of hands touching pencil to paper." Her films appeared on the Sundance Channel, HBO, PBS, and Channel Four Television in the UK, and they were screened at numerous festivals including ... More
Quote
I have handled color as a man should have. Josef Albers
---
The Haunted Visions of Otto Dix
---

Flashback
On a day like today, French painter Berthe Morisot died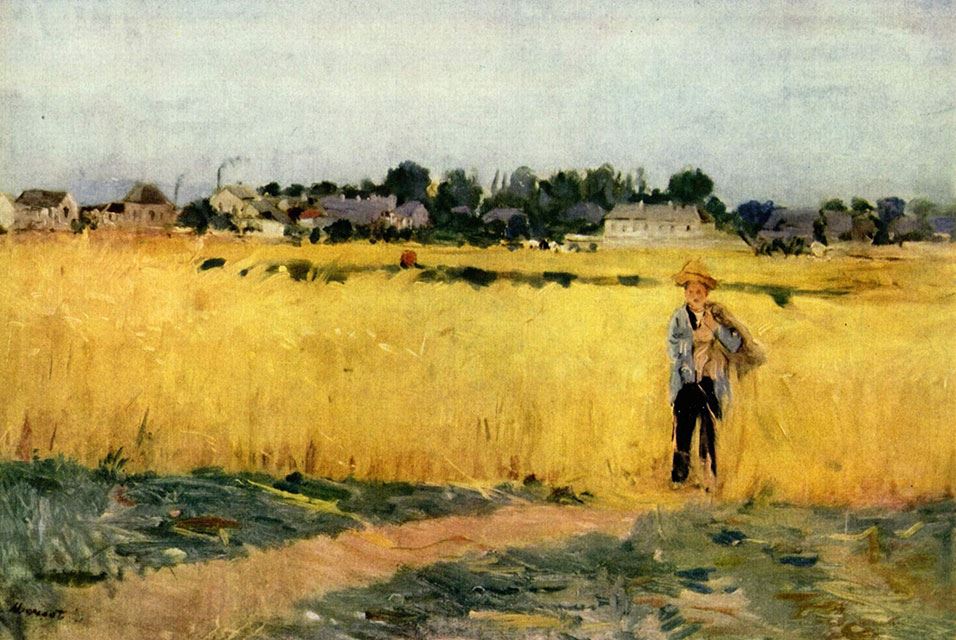 March 02, 1895. Berthe Marie Pauline Morisot (January 14, 1841 - March 2, 1895) was a painter and a member of the circle of painters in Paris who became known as the Impressionists. She was described by Gustave Geffroy in 1894 as one of "les trois grandes dames" of Impressionism alongside Marie Bracquemond and Mary Cassatt. In this image: Berthe Morisot, Grain field, c.1875, Musée d'Orsay.
---

Museums, Exhibits, Artists, Milestones, Digital Art, Architecture, Photography,
Photographers, Special Photos, Special Reports, Featured Stories, Auctions, Art Fairs,
Anecdotes, Art Quiz, Education, Mythology, 3D Images, Last Week,

.
Royalville Communications, Inc
produces: