Why did the cave art vanish? Erased by this furry creature and its feces.
A photo provided by Serge Caillault shows a nearly complete skeleton of a cave bear on the floor inside the Azé caves in eastern France. Bats roosting in caves produce ample guano, which may explain why prehistoric marks left by humans cannot be found in some places where they are expected. Serge Caillault via The New York Times.

by Michael Price
NEW YORK
(NYT NEWS SERVICE)
.-
Hunting scenes, geometric patterns, hand stencils and other works of prehistoric art can endure for tens of thousands of years on the walls of well-protected caves — but only if bats do not hang out in the galleries. These flying mammals are simply looking for a safe place to roost, but they also become furry philistines that erase ancient paintings and other cave wall markings within a few decades because of the corrosive property of their feces, or guano, according to research by a team of geologists and archaeologists published in May in the journal Geomorphology. In Jamaica's Green Grotto caves in the early 2000s, two scientists, Joyce Lundberg and Don McFarlane, showed that roosting colonies of bats create their own microclimates that can gradually erode a tropical cave's limestone. Over the following decades, more research pinned down the destructive details. Studies have shown how large masses of bats generate heat and humidity within a cave's closed confines ...
More
The Best Photos of the Day
David Bowie painting from donation bin up for auction
A small Brazilian photo club that reached for the skyline
Moderna Museet opens an exhibition featuring art and photography from around 1900


The 24 by 20 centimeter painting of a pale figure dressed in teal clothes, with teal and red hair on a crimson background, was originally sold through a website around 2001. Photo: Courtesy Cowley Abbott.



MONTREAL (AFP).- A painting by British pop icon David Bowie recently discovered at a Canadian store that resells donated goods had frantic bidders lining up Tuesday for a chance to own it. The computer and acrylic collage on canvas is part of the so-called D Head series of portraits of the Ziggy Stardust rocker himself, his friends and others that he painted between 1995 and 1997. It is signed on the back with his initials. Opening bids of more than Can$15,000 (US$14,000) blew past Toronto auction house Cowley Abbot's estimated Can$9,000 to Can$12,000 valuation of the diminutive artwork. The online auction closes on June 24. "We were very excited to discover that the artwork was original and authentic," auctioneer Rob Cowley told AFP. "We are fans of David Bowie's work and it is very exciting to bring an artwork by him to the market." ... More



Thomaz Farkas. Ministry of Education (Ministério da Educação) [Rio de Janeiro]. c. 1945. Gelatin silver print, 12 13/16 × 11 3/4 in. (32.6 × 29.9 cm). The Museum of Modern Art, New York. Gift of the artist.



NEW YORK (NYT NEWS SERVICE).- Europe was exhausted after World War II, and Brazil was ready to pick up the slack. Dozens of artists had left Europe fleeing fascism, and Brazil's government was ready to support ambitious cultural undertakings, reflected in museums devoted to modern art and the inauguration of the Sao Paulo Biennial in 1951. This enthusiasm for modern art and new technological forms such as photography can be felt even in amateur clubs such as Foto-Cine Clube Bandeirante (FCCB), founded in 1939 in Sao Paulo. A trailblazer in the avant-garde art scene but little known outside the country, the group takes center stage in the show "Fotoclubismo: Brazilian Modernist Photography, 1946-1964" at the Museum of Modern Art. This exhibition of more than 60 photographs, paintings and ... More



Henry B. Goodwin, Lady Barclay, 1921.



STOCKHOLM.- Moderna Museet highlights pictorialism – a movement in photography that arose around 1900. The exhibition In Lady Barclay's Salon – Art and Photography Around 1900 also includes paintings from the same period, treating visitors to a selection of nearly 300 works from the collections of Moderna Museet and Nationalmuseum. Lady Sarita Enriqueta Barclay (1891–1985) became a prominent figure on the Stockholm arts scene after her husband, a British diplomat, had been posted to Stockholm. Lady Barclay frequently hosted cultural gatherings and events in the five years following the end of the First World War when she lived here. The photographer Henry B. Goodwin (1878–1931) portrayed Lady Barclay on several occasions, and his pictures show her as a stylish woman with a cosmopolitan air – an emblem of Sweden's flourishing arts scene at the time. In the years around 1900, a number of colourful ... More
Exhibition celebrates Chicago's pivotal role as a national and innovative center for comics and cartooning
The 'divas' who serenaded and seduced the Arab World
Moderne Gallery celebrates Paul Hammer-Hultberg enamel works in summer exhibition


Nick Drnaso, Painting for Sabrina Cover, 2017. Image courtesy of the artist.



CHICAGO, IL.- The Museum of Contemporary Art Chicago opened the highly anticipated summer exhibition Chicago Comics: 1960s to Now, a celebration of Chicago's pivotal role as a national and innovative center for comics and cartooning. With a focus on rediscovering the work of women and BIPOC comic artists, this major exhibition presents the last 60 years of the city's artful cartooning history, showing how comic art is a democratic medium that allows artists to speak directly to people in relatable ways. Over 40 cartoonists, among them Lynda Barry, Lilli Carré, Daniel Clowes, Nick Drnaso, Edie Fake, Emil Ferris, Nicole Hollander, Charles Johnson, Kerry James Marshall, and Chris Ware, among many others are represented by comics, graphic novels, zines, original drawings, dioramas, commissioned films, installations, rare ephemera, and books. On view from June 19 to October 3, 2021, Chicago ... More



A provided image shows costumes worn by the singer Sabah in the 1970's, on display at the Arab World Institute in Paris, April 5, 2021. Alice Sidoli via The New York Times.

by Farah Nayeri



PARIS (NYT NEWS SERVICE).- The diva sings of love and unmitigated lust. Dressed in a scarlet evening gown with her hair pulled high, she cries out to her beloved, longs for a night of undying passion and yearns for the sun not to rise. The vocalist in the 1969 concert video is Umm Kulthum: the Arab world's greatest 20th-century performer, possibly the best-known Egyptian woman since Cleopatra and star of the exhibition "Divas" at the Institut du Monde Arabe, or Arab World Institute, in Paris. The show, which runs through Sept. 26, is a richly illustrated flashback to the period between the 1920s and the 1970s. It portrays unveiled and openly voluptuous women performing on stage and screen without fear of censorship or religious condemnation, ... More



Paul Hammer-Hultberg, Untitled 35, 1960s.



PHILADELPHIA, PA.- Philadelphia's Moderne Gallery has opened an exhibition that celebrates the legacy of Paul Hultberg, the first large-scale exhibition of work by this multi-disciplinary artist since his death in 2019. While he may be a lesser-known figure of The Studio Craft movement, in recent years Hultberg has been attracting acclaim as one of the most progressive artists working in enamel in the mid-twentieth century. While he originally trained as a painter, Hultberg began experimenting with enamels in the 1950s, eventually developing his own abstract style that paralleled what many of his peers were doing with paint and canvas in this period. Over the following decades, Hultberg mastered his techniques and became renowned for his large-scale architectural and public works. Rediscovering Paul Hultberg (1926-2019): Abstract Expressionism in Enamel showcases the full breadth of the artist's storied legacy showing both his pionee ... More
Colby Museum of Art presents unique collection of Cassatt prints
Christie's to offer the collection of Annie Bernheim-Dalsace and Jean Dalsace
Marilyn Monroe and celebrities signed JFK birthday program sold for $29,232 at auction


Mary Cassatt, Peasant Mother and Child, c. 1894. Drypoint and aquatint on paper. Tenth (final) state. 171/4 x 111/4 in. (43.8 x 28.6 cm). The Lunder Collection, 2017.468.



WATERVILLE, ME.- The Colby College Museum of Art, one of the nation's leading college museums, announced that it is presenting Inside Out: The Prints of Mary Cassatt. On view through November 1, 2021, the exhibit highlights Cassatt's creative process and her fearless experimentation. In 2012, Peter and Paula Lunder made an exceptional gift to the Colby Museum with the acquisition of forty-four prints by Cassatt. This extraordinary group of works included a selection of rare trial proofs that document her first forays into printmaking. Cassatt's trial proofs and early-state impressions reveal her step-by-step process. As viewers look at them they'll see her learning and taking risks, fearlessly innovating and experimenting, and in doing so creating some of her most intimate and captivating works of art. The experimental ... More



Annie and Jean Dalsace © Dalsace-Vellay Archives.



PARIS.- On October 7th, Christie's Paris will be presenting the extraordinary collection of Annie Bernheim-Dalsace and Jean Dalsace at auction. In 1918, Annie and Jean Dalsace commissioned Pierre Chareau to design his first major project, thus marking the beginning of his career: the furnishings for their flat on Boulevard Saint-Germain, including the office of the young doctor who was then Jean Dalsace. Their collection was to grow steadily over the years and was completed by numerous other creations for the various properties of the Bernheim-Dalsace family. It is a close friendship, a true intellectual and emotional affinity, an unwavering trust that links the Bernheim-Dalsace family and Dollie and Pierre Chareau. The two couples frequented the same artistic, literary, musical and intellectual avant-garde milieu. They supported their artist friends with enthusiasm and loyalty, remaining engaged in all avant-garde enterprises. They lived ... More



Marilyn Monroe and Celebrities Signed JFK Birthday Program.



BOSTON, MASS.- An original program for President John F. Kennedy's famous birthday celebration held at Madison Square Garden sold for $29,232, according to Boston-based RR Auction. The two-page program for the event on May 19, 1962, titled 'Happy Birthday, Mr. President,' was signed on the cover by Marilyn Monroe along with a dozen other autograph's from celebrities in attendance. The signatures on this program were obtained by Frank Lauer, who went to the event as the 'camera bag-carrier' for a friend who freelanced for the New Brunswick newspaper The Home News. Issued a press pass, Lauer had free rein of Madison Square Garden and its backstage/basement. He was struck by the lack of security—the president walked right past him, the celebrity guests were milling about, and he was able to stand there in the hallway, with program in hand, and have all these attendees to sign it. He is also ... More
For a composer, the final minutes are critical
Prices soar at Doyle's Important Jewelry Auction as sale total doubles expectations
Christie's announces 'The B.J. Eastwood Collection: Important Sporting and Irish Pictures '


The composer Christopher Cerrone at his apartment in Brooklyn, June 13, 2021. Flowering into lushly affecting patterns, Cerrone's new album is part of a burst of activity over the past year. Lila Barth/The New York Times.

by Seth Colter Walls



NEW YORK (NYT NEWS SERVICE).- Christopher Cerrone's career got a huge boost right at its beginning: His opera "Invisible Cities," inspired by Italo Calvino's novel, was a finalist for the Pulitzer Prize in 2014, when he was barely in his 30s. But despite its lucid grace and a compelling production — it was performed in a bustling train station for a wandering audience listening over headphones — I found myself wanting to love its unhurried nimbuses of melody more than I did. The opera's drifting quality ended up feeling too shapeless. In a recent interview, Cerrone, 37, agreed that "Invisible Cities" suffered a bit from an overreliance on what he called "this lyrical, sort-of-melancholy thing." "Honestly," ... More



Kashmir 'Royal Blue' Sapphire, 5.12 carats, set in a Belle Époque diamond brooch. Sold for $409,500.



NEW YORK, NY.- Prices soared at Doyle's June 17 auction of Important Jewelry reflecting the current robust market and Doyle's ability to achieve exceptional prices. Bidders from around the globe vied for luxurious jewelry from prominent collections and distinguished estates across the country. Among the dazzling offerings were jewels by the world's most prestigious makers, including Graff, Cartier, Harry Winston, David Webb, Van Cleef & Arpels and Tiffany & Co. With a pre-sale estimate of $2,063,600-3,083,400, the stunning sale total of $4,848,165 surpassed the low estimate by 135% with an exceptional 93% sold by lot and 100% sold by value. Highlighting the sale was a rare and important "Classic" Burma Ruby of approx. 3.90 carats graded in the rarest and most desirable "Pigeon Blood" color. The stone was set in a circa 1920 ring next to a diamond of approx. 2.65 carats, F color, VS1 clarity. Determined bidders sent the ruby s ... More



Jack Butler Yeats, R.H.A. (1871-1957), Among Horses (detail), painted in 1947. Estimate £400,000-600,000. © Christie's Images Ltd 2021.



LONDON.- Christie's announced the sale of The B.J. Eastwood Collection: Important Sporting and Irish Pictures, taking place live on 9 July 2021 at Christie's London, during the marquee series of sales comprising Classic Week (18 June–15 July). The B.J. Eastwood Collection sale, which comprises 30 lots, represents B.J. Eastwood's deep interest in equestrian painting and Irish Art. Works range from 19th century sporting pictures through to defining representations of Munnings' oeuvre, to an extraordinary group of Yeats' illustrating key periods of his work. Other leading examples of Irish Art are included in the sale, with works by Walter Frederick Osborne, Sir William Orpen, Roderic O'Conor, Paul Henry, Sir John Lavery, and Gerard Dillon. Barney Eastwood, known to his friends and family as 'BJ', was born in Northern Ireland in 1932, and his dedication to sport began ... More
Quote
Not everybody trusts paintings but people believe photographs. Ansel Adams
---
Damien Hirst's Seminal Spot & Spin Paintings
---

Flashback
On a day like today, American painter Lee Krasner died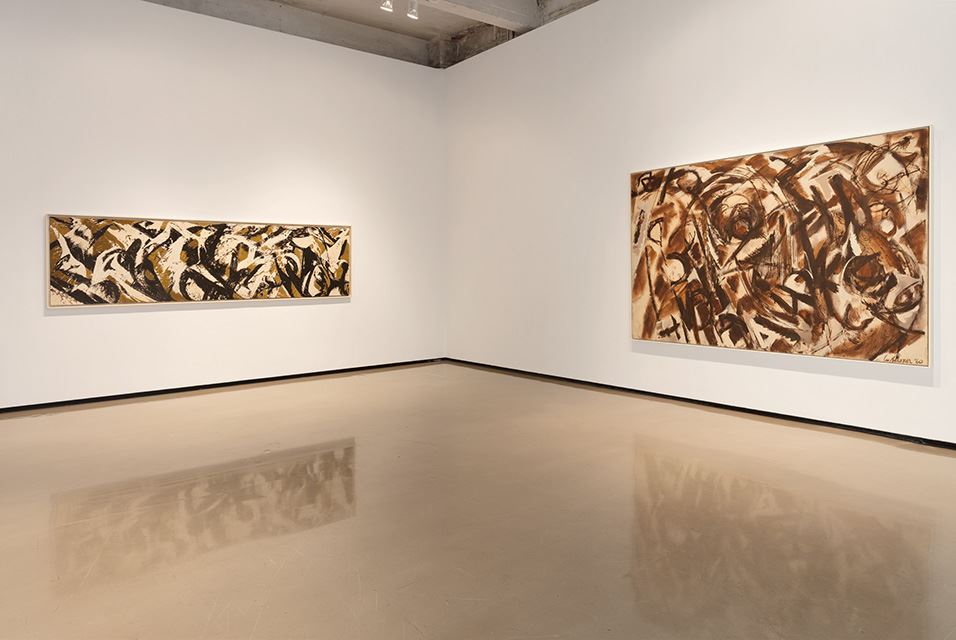 June 19, 1984. Lenore "Lee" Krasner (October 27, 1908 - June 19, 1984) was an American abstract expressionist painter in the second half of the 20th century. She is one of the few female artists to have had a retrospective show at the Museum of Modern Art. In this image: Installation view. Photo by: Diego Flores / Paul Kasmin Gallery. 169; 2017 The Pollock-Krasner Foundation / Artists Rights Society (ARS), New York.
---

Museums, Exhibits, Artists, Milestones, Digital Art, Architecture, Photography,
Photographers, Special Photos, Special Reports, Featured Stories, Auctions, Art Fairs,
Anecdotes, Art Quiz, Education, Mythology, 3D Images, Last Week,

.
Royalville Communications, Inc
produces: