Neanderthals feasted on seafood, seabirds, perhaps even dolphins
Palourde clam fragments recovered from a site in Portugal. Scientists say that a discovery in a seaside Portuguese cave further challenges popular images of Neanderthals as meat-eating brutes. Zilhao et al. Science, 2020 via The New York Times.

by Nicholas St. Fleur
NEW YORK
(NYT NEWS SERVICE)
.-
Neanderthals are often portrayed chowing down on mammoth meals and woolly rhino ribs. But an analysis of their leftovers from a coastal cave in Portugal suggests fish and mollusks claimed a special place on their Paleolithic palates. "We all have that image of the primitive Neanderthal that eats lots of meat," said Filipa Rodrigues, an archaeologist at the University of Lisbon and author of a paper published Thursday in Science. "Now, we have this new perspective that they explored the marine resources like Homo sapiens did." Archaeologists have previously found evidence that Neanderthals ate, collected and wore jewelry fashioned from shellfish. But evidence they consumed large amounts of fish has been lacking. Some scientists have argued Neanderthals did not have the skill or wit to catch fish as their Homo sapiens contemporaries did in Africa, and may have lost out on consuming aquatic animals rich in fatty acids that could have aided with brain development. But d ...
More
The Best Photos of the Day
Creatures in this underwater forest could save your life one day
Met Museum tells staff it is extending pay until May 2
Weaving a way out of isolation


Eric Schmidt, a chemist at the University of Alabama, on a research vessel en route to the site of an underwater forest off Dauphin Island. Annie Flanagan/The New York Times.

by JoAnna Klein



DAUPHIN ISLAND (NYT NEWS SERVICE).- It was 6 a.m. at the dock on a Tuesday in December, and the weather did not look promising. Fog hovered over the water, and the engine of the Research Vessel E.O. Wilson rumbled. Our ship disappeared into the mist, and by 7:30 the crew, a team of biologists, chemists and microbiologists, reached its destination. The sun lounged on obsidian water, masking a secret world where land and sea swap places, and past, present and future collide. This is the underwater forest. Its unusual residents, shipworms and related marine organisms, could serve as incubators of unexpected medicines, churning out new lifesaving formulas and compounds that may not be found anywhere else on the planet. But first the group of scientists had to manage to dive 60 feet beneath the ocean's surface to recover their unusual subjects, ... More



Audio guide devices are cleaned at the Metropolitan Museum of Art in New York. Karsten Moran/The New York Times.

by Zachary Small



NEW YORK (NYT NEWS SERVICE).- The Metropolitan Museum of Art in New York City has announced that it will extend pay for all staff until May 2, providing job security for another month to its 2,200 employees as millions of Americans experience layoffs triggered by the coronavirus pandemic. "Our highest priority remains to support our staff as best we can in helping to keep everyone safe and as financially secure as possible," said Daniel Weiss, the museum's president and chief executive officer. "We realize that this announcement of a four-week extension of full salary support does not provide enduring comfort, but at the moment it is the best we can do in a rapidly evolving situation." Met employees had previously been told that the museum could only guarantee salary payments until Saturday. Separately, the Met reached an agreement with the union representing its guards and maintenance crews ... More



A work by Liza Lou at Lehmann Maupin. Nathan Bajar/The New York Times.

by Hilarie M. Sheets




NEW YORK (NYT NEWS SERVICE).- "It's one thing to decide to be isolated," said artist Liza Lou, who in the best of times longs for uninterrupted solitude in her Los Angeles studio, as so many artists do. "It's another to be told that you must be," she added. "Something we crave can quickly become onerous." Looking to create beauty and build community in the time of social distancing, Lou is inviting other artists along with the general public to join her in a communal art project called "Apartogether." She introduced the concept on her Instagram page last week, cuing people to begin gathering old clothes and materials around the house from which to piece together a quilt or what she's calling a "comfort blanket." (Lou showed herself hugging her own baby blanket.) "The idea that an object can protect is, of course, a childlike idea," she said in her posted video. "I think that making is a form of protection." Known for her monumental ... More
The larger costs of closing a local museum during coronavirus
14a presents works by Niclas Riepshoff
Mazzoleni introduces a new online initiative


Noah Davis, Single Mother with Father Out of the Picture, 2007-2008 © The Estate of Noah Davis. Courtesy The Estate of Noah Davis.

by Robin Pogrebin



LOS ANGELES (NYT NEWS SERVICE).- The low-slung building on Washington Boulevard here might seem like a nondescript storefront sandwiched between a carpet installation business and a lawn mower repair shop. But in the eight years since it was founded, the Underground Museum has become not only one of the most important destinations for black art in the country but also a crucial gathering place for its working-class Arlington Heights neighborhood — with a bookstore featuring works by black writers, poetry readings in the wooden bar and events in its back garden, including free meditation, yoga and movie screenings. As cultural institutions all over the world wrestle with how to bring art to the public during the pandemic, smaller ones like the Underground Museum are also trying to figure out how to continue serving communities that have come ... More



Tanja, 2020. Glazed ceramic, electrical wiring and heating film, 61 × 22 × 15 cm. 24 × 8.6 × 5.9 inches.



HAMBURG.- Niclas Riepshoff's Berliner Öfen are reminiscent of traditional Old World ceramic ovens (in german, Kachelöfen), found throughout Central and Eastern Europe. Big and clunky, yet beautiful and elegant, they are finely crafted emblems of cultural identity. Fueled by coal, these hulking, tiled masses would radiate heat during the last century, bringing delight to anyone who longed for their pleasant warmth. With the rise of more convenient radiators and Germany's plan to become greenhouse gas-neutral by 2050, home owners who were transported back to the past merely by looking at the tiled ovens, were required to retrofit their ovens with a filter in order to reduce pollution and carbon dioxide emissions. Today, these nostalgic polluters have become more than just heaters. They have been turned into objects of desire in one of the worlds hottest housing markets. They are ornaments, which adorn apartments, independent sculptures or mimicries that integrate themselves into the inte ... More



Enrico Baj, Femme au diapason, 1960, oil, collage and mixed media on board, 90 x 70 cm. Courtesy Mazzoleni, London-Torino .



LONDON.- Mazzoleni introduces a new online initiative: #MAZZOLENIDIARY, an ongoing online exhibition on Artsy and on their Social Media platforms. From Monday 30 March 2020, for the next ten weeks, the online experience comprises three works which will be published each week on Artsy. Alongside the online exhibition, the work will also be posted on Mazzoleni's Instagram and Facebook feeds with a quote by the individual artist. #MAZZOLENIDIARY will also be accompanied by interviews, videos of the artist's solo exhibitions, museum exhibitions, and historical documentation from the Mazzoleni archive. Inspired by the exhibition and book, MAZZOLENI 1986-2016: 30 Years of Art 30 Italian Artists, 2016, curated by Gaspare Luigi Marcone, the online experience presents 30 different works from the Mazzoleni collection by 30 major Italian artists. Tracing a path from the early 20th century, through Post-War movements, to the present, #MAZZOLE ... More
Rural decline threatens Estonia's ancient 'isle of women'
Tierra Del Sol Gallery presents Michael LeVell solo exhibition
Sculptural installation by Elyn Zimmerman is threatened with demolition and designated a Landslide site


Nationally renowned folk singer Virve Köster answers journalists' questions. Alessandro RAMPAZZO / AFP.

by Polina Kalantar / Sam Kingsley



ESTONIA (AFP).- For centuries on a small, forested island in the Baltic Sea, women in headscarves and striped red skirts have done most of the work: from farming to lighthouse keeping, leading church services and even dressing up as Santa at Christmas. The men of Kihnu island, 10 kilometres (six miles) off the coast of Estonia, are away at sea fishing for weeks or months at a time, leaving the women to run what is often dubbed one of the last matriarchal societies in Europe. Steeped in folk traditions, Kihnu's historic way of life however is now threatened as economic hardship drives more and more islanders away in search of work. "Around every kitchen table, every day, we discuss how to survive," Mare Matas, official guide and ardent defender of Kihnu's heritage, tells AFP. Although 686 people are registered as living on the island, only 300 now do so year-round, says Matas, a 45- ... More



Michael LeVell, Untitled (122). Graphite and acrylic paint on paper, 12 x 18 inches.




LOS ANGELES, CA.- Tierra Del Sol Gallery is presenting the solo online exhibition of Michael LeVell, one of the founding artists of the progressive studios of the Tierra del Sol Foundation–a dynamic organization that empowers people with developmental disabilities since 1971. LeVell's two-and-three-dimensional works are inspired by his deep appreciation of architectural imagery. While legally blind, LeVell is a connoisseur of magazine Architectural Digest. He studies the periodical's images closely, then reduces the architectural gaze to its most salient lines and forms. The resulting acrylic paintings are saturated color fields of abstracted interiors that seem at once timeless and refreshingly contemporary. LeVell renders his exterior landscapes in colored pencil with bold geometry and mostly primary colors. He covers the paper multiple times and then redacts it to produce richly texture surfaces ... More



MARABAR, National Geograhic Society, Washington, D.C., 1984. Photo © Elyn Zimmerman, courtesy The Cultural Landscape Foundation.



WASHINGTON, DC.- The Cultural Landscape Foundation today designated the sculptural installation MARABAR by New York-based artist Elyn Zimmerman, located at the National Geographic Society headquarters in Washington, D.C., and currently threatened with demolition, as a Landslide site. Landslide is one of TCLF's four core programs and brings attention to nationally significant landscapes and landscape features that are threatened and at-risk. The program has been instrumental in preventing the demolition of many important sites. MARABAR, completed in 1984, was commissioned by National Geographic and is sited in a centrally located, publicly accessible plaza on the organization's campus. As detailed in the Landslide designation, a proposed redesign of the plaza would destroy Zimmerman's sculpture. "National Geographic is one of the world's leading champions of cultural ... More
Rare Lichtenstein screenprint from Reflection Series headed to Heritage's Prints and Multiples Auction
Galerie Richard presents the American debut solo exhibition of Kim Young-Hun
Molly Morphew's art explores tenderness over distance in lead-up to Barbican showcase


Roy Lichtenstein (1923-1997), Reflections on Crash, from Reflection Series, 1990 (detail). 59-1/8 x 75 inches. Estimate: $100,000 - $150,000.



DALLAS, TX.- A lithograph screenprint from Roy Lichtenstein's popular Reflection series will vie for top-lot honors in Heritage Auctions Prints and Multiples Auction, April 21. The sale will feature artwork by many coveted artists, including Andy Warhol, KAWS, Wayne Thiebaud and Pablo Picasso. Leading the sale is Roy Lichtenstein's Reflection on Crash (estimate: $100,000-150,000), part of the artist's Reflection Series. The lot exemplifies Lichtenstein's objective to obscure subject matter, appropriated from previous works and comic book references, with reflective streaks exploring themes of light and reflection. The print is a rarity, editioned No. 57 out of 68, along with 16 artist's proofs. "Roy Lichtenstein's Reflection series is important enough to have a permanent place in the Tate Museum, and this is truly a museum-worthy piece," Heritage Auctions ... More



p1928-Electronic Nostalgia, 2019. 24 ⅛ x 20 1/16 inches, 61 x 51 cm, oil on linen.



NEW YORK, NY.- Galerie Richard and Curcioprojects are presenting the American debut solo exhibition of Kim Young-Hun, Electronic Nostalgia, from March 12 to April 27, 2019, at 121 Orchard Street. Previously Kim exhibited in Color Matterswith Richard, New York in 2018. Kim's paradoxical screen-like paintings can induce disorientation or euphoria or tranquility as the viewer suspends ordinary visual perception as they tentatively stay afloat in the grooves of distortion. This mashup of an analog moment in a digital age of electronic nostalgia is retrieved from Kim's childhood memories of being part of the first generation of television watchers as well as his love of vinyl albums to today carrying an accumulation of "smart" devices. In providing a reference point for his paintings, Kim explains that "People like me, born in between the analog generation and digital generation, are looking at something that has been era ... More



Flower Flower, 2019. Photo by Lara Buffard.

by Fiona Glen



LONDON.- Canary Wharf is London's most coldly capitalist patch. Home to barely anyone, the banking quarter is desolate from Saturday to Sunday. But on such a barren Saturday in late February, small heaps of soil appeared across the paving stones of these empty streets. The bare hands that lifted earth onto the pavement placed flowers on each: violet campanulas, golden billy buttons, orange carthumas. The scattering of memorial-like mounds sat slight and fairy-tale-like among the towering buildings. Flower Project (2020), a guerrilla-style live performance by artist Molly Morphew and her collaborator Francis Moore, lasted eighteen minutes – the time it took for Canary Wharf's security team to ask the performers to leave the privately-owned estate, sweeping soil and plant matter back into their bags. Throughout the semi-improvised piece, Morphew recorded each action ... More
Quote
Art is news that stays news. Ezra Pound.
---
GALLERY TALK WITH JOHN YAU AND IVY WILSON
---
Flashback
On a day like today, German painter and sculptor Max Ernst died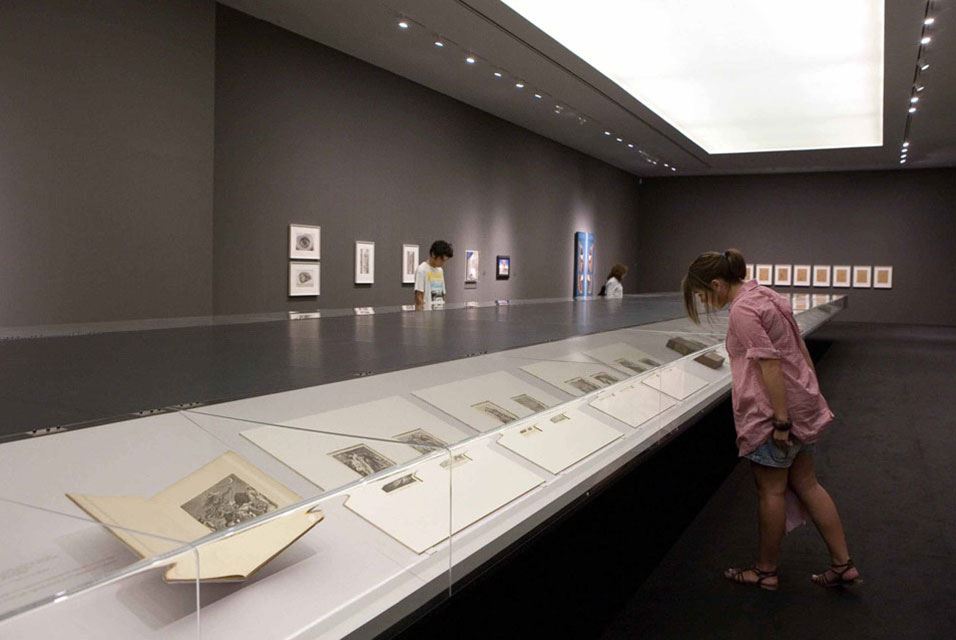 April 01, 1976. Max Ernst (2 April 1891 - 1 April 1976) was a German painter, sculptor, graphic artist, and poet. A prolific artist, Ernst was a primary pioneer of the Dada movement and Surrealism. In this image: People look at the exhibition Beyond Painting: Max Ernst in the Würth Collection.
---

Museums, Exhibits, Artists, Milestones, Digital Art, Architecture, Photography,
Photographers, Special Photos, Special Reports, Featured Stories, Auctions, Art Fairs,
Anecdotes, Art Quiz, Education, Mythology, 3D Images, Last Week,

.
Royalville Communications, Inc
produces: