With museums empty, security experts hope thieves stay home, too
The Solomon R. Guggenheim Museum in New York, March 31, 2020. The risk may be no higher, but consultants who help protect museum collections say additional safeguards are in order, given the closures caused by the virus. Juan Arredondo/The New York Times.

by Colin Moynihan
NEW YORK
(NYT NEWS SERVICE)
.-
The location of where they work is a secret they keep, even from old friends. The artisans who operate out of the Solomon R. Guggenheim Museum's storage facility on the West Side of Manhattan have long understood that it is part of their job to keep quiet about their place of employment, an off-site warehouse filled with much of the world's finest art. So now, even as they shelter at home and worry about possible furloughs or layoffs by a museum struggling without admission revenue, the workers who help maintain the collection and prepare it for display say they understand the commitment they have made. "They feel a moral responsibility to protect this work," said Andres Puerta of Local 30 of the International Union of Operating Engineers, which represents those workers. "They know the heavy weight of that responsibility." Their concerns are mirrored across the quiet streets of a shuttered world, as museums work to figure out how to contend with the possib ...
More
The Best Photos of the Day
Lessons from the plagues, painted for Passover
Beatles Shea Stadium poster sets world record to lead Heritage Auctions' Entertainment Auction beyond $1.6 million
John Prine, revered American folk songwriter, dies of coronavirus complications


The artist Zoya Cherkassky near her house in Ramat Gan, Israel, April 3, 2020. Cherkassky evokes Jewish life in the shtetl in her new virtual exhibition. Uriel Sinai/The New York Times.

by Hilarie M. Sheets



NEW YORK (NYT NEWS SERVICE).- In quarantine at her home in Tel Aviv last month, the artist Zoya Cherkassky came across a YouTube video of a wedding ceremony held in a Jewish cemetery just outside the city during the early days of the coronavirus outbreak. She learned that such "plague weddings" had evolved in the 19th century across Eastern Europe as a ritual to ward off cholera epidemics. The artist drew "Black Chuppah" in response, a quick work on paper in ink of a sweetly somber bride and groom in black, holding hands under the Jewish wedding canopy erected amid tombstones. Every day since, Cherkassky has completed another melancholic vignette evoking pre-World War II Jewish life. But the past feels simultaneously contemporary in these intimate ... More



The Beatles 1966 Genuine Shea Stadium NY Concert Poster, Long-Lost Original Just Found. Sold for $137,500. Imaged by Heritage Auctions.



DALLAS, TX.- A rare 1966 concert poster from The Beatles' performance at New York's Shea Stadium set a world record for the most expensive concert poster ever sold at public auction when it brought $137,500 to lead Heritage Auctions' Entertainment Auction to $1,681,747 in total sales Saturday, April 4, 2020. The sale more than doubled its pre-auction estimate of $816,767 and boasted a sell-through rate of 96.5% by value sold. The authentic cardboard advertising poster for the Fab Four's appearance had been owned for the last 54 years by a Boston family who saved it out of pure Beatles fandom. Heritage Auctions previously sold another Beatles Shea Stadium poster for $125,000 in November 2019. "This sale reinforced that music and entertainment memorabilia is something of a time capsule, mementos that preserve the work of great artists for their biggest fans," said Pete Howard, concert posters expert ... More



In this file photo taken on February 10, 2019 US singer-songwriter John Prine arrives for the 61st Annual Grammy Awards pre-telecast show in Los Angeles. VALERIE MACON / AFP.

by Maggy Donaldson



NEW YORK (AFP).- John Prine, an American folk legend widely considered one of his generation's most influential songwriters, died following complications of coronavirus Tuesday, his publicist said on behalf of his family. He was 73 years old. On April 3 Prine's wife Fiona had posted on social media the beloved country and folk star was on his eighth day in the ICU on a ventilator, and had pneumonia in both lungs. Once dubbed the "Mark Twain of American songwriting," over his five decades in the music business Prine carved an image as an off-the-cuff wordsmith who forged melancholy tales with a dose of surrealist wit. Bob Dylan has named Prine among his favorite songwriters, citing the literary yarn "Lake Marie" as a favorite from his fellow folk bard's vast catalogue. "Prine's stuff is pure ... More
David Nolan Gallery presents "The State of Play," an exhibition of new works by Jorinde Voigt
Sergio Rossi, Italian shoemaker and ready-to-wear ally, dies at 84
Christie's announces Jewels Online Sale, features a broad selection of iconic designs by renowned jewelers


Jorinde Voigt, b. 1977, Potential V, 2020. India ink, gold leaf, pastel, oil pastel, and graphite on paper in artist-designed frame, 82 1/4 x 55 1/8 in, 209 x 140 cm, framed: 87 x 59 1/2 x 3 3/4 in, 221 x 151.1 x 9.5 cm. Image credit: © Jorinde Voigt. Courtesy of the artist and David Nolan Gallery, New York.



NEW YORK, NY.- David Nolan Gallery presents "The State of Play," an exhibition of new works by Jorinde Voigt. For the artist's fifth solo exhibition with the gallery, Voigt continues to expand upon her singular practice of methodical and conceptually rigorous "visual scores" that transcend everyday perceptual experiences and attempt to translate into color and form that which is most ephemeral and impenetrable. Working serially and within a predetermined structure and set of formal restraints, Voigt's process begins by hand dying each sheet of paper a hue that corresponds to specific stimuli or emotion. In the case of her newest series, Potential (2020), Voigt selected a midnight blue, albeit with its various reallife associations (i.e. time of day, nautical and cosmological phenomena, et al.) put into question. Voigt's meticulous notations and gestural markings then ... More



Sergio Rossi in the late 1990s. Photo: Sergio Rossi via The New York Times.

by Vanessa Friedman



NEW YORK (NYT NEWS SERVICE).- As a teenager, Sergio Rossi and his brother, the sons of a bespoke shoemaker, would travel up and down the Italian Riviera selling shoes in the years after World War II, as the country was rebuilding. Rossi fully joined the family business in the 1950s and by 1968 had introduced a namesake line, becoming one of the first major figures in the Italian footwear industry Rossi died Thursday in Cesena, Italy at 84. The cause was coronavirus, a spokeswoman for the company that carries his name said. Known for his perfectly balanced, albeit often spindly, heels, and styles such as the Opanca sandal, with a sole that curved up the sides to blend in with the foot, and his signature Godiva stiletto, Rossi was part of the generation of Italian artisans who emerged after World War II determined to take the country's expertise in leatherwork and accessories from local family businesses to the world. He was also among the first footwear specialists to ... More



Verdura, Aquamarine and Iolite Ring, $3,000 - $5,000; Tiffany & Co., Diamond, Sapphire and Turquoise Bracelet, $5,000-7,000; Boucheron, Turquoise and Diamond Giraffe Brooch, $3,000-5,000. © Christie's Images Ltd 2020.



NEW YORK, NY.- Christie's Jewels Online Sale (April 13-24), features a broad selection of iconic designs by renowned jewelers including Boucheron, Bulgari, Cartier, David Webb, Graff, Tiffany & Co., Van Cleef & Arpels and Verdura. With over 160 jewels offered and bidding on lots starting below $2,000, this online auction includes an exceptional range of jewels that is sure to excite collectors and enthusiasts alike. Featured within the sale is a beautiful selection of Spring inspired jewels spanning floral and animal motifs, colored gemstones, pearls, and gold statement pieces evoking the warmth of the season. Highlights include a Diamond, Sapphire and Turquoise Bracelet, by Tiffany & Co. ($5,000-7,000); Aquamarine and Iolite Ring, by Verdura ($3,000 - $5,000); Coral and Chrysoprase Pendant Brooch, by Van Cleef & Arpels ($4,000-6,000); and a charming pair of Diamond and Enamel Flower Brooches, ... More
Leïla Menchari, who turned store windows into art, dies at 93
Museum of Fine Arts, Houston's International Center for the Arts of the Americas launches expanded, enhanced website
Dr. Claudia Perren appointed as the new director of FNHW Academy of Art and Design in Basel


A display at an exhibition devoted to Leïla Menchari, at the Grand Palais in Paris. Guillaume de Laubier via The New York Times.

by Vanessa Friedman



NEW YORK (NYT NEWS SERVICE).- For more than a half-century, Leïla Menchari transformed the windows of the Hermès flagship store in Paris into exotic worlds that allowed any passerby, even for just a minute, free access to the fantasies of a luxury brand. She built enormous winged feet and spinning meteorites and embedded a sparkling Pegasus within a jeweled geode. She brought in artists to lend their visions to the displays. In the process she elevated the store window into an art form unto itself. Her windows at 42 Rue du Faubourg Saint-Honoré, the store's address, became so famous that the Grand Palais in Paris in 2017 held an exhibit devoted to her work, "Hermès Takes Flight: The Worlds of Leïla Menchari." "Hermès wouldn't be Hermès without Leïla," Axel Dumas, the chief executive of the luxury house, said at the opening of the exhibit. The filmmaker Josée ... More



"Irradiación inaugural" in Irradiador (Mexico D.F.) no. 1 (1923). D.R. © 2011 Banco de México, "Fiduciario" en el Fideicomiso relativo a los Museos Diego Rivera y Frida Kahlo. Av. Cinco de Mayo no. 2, Col. Centro, Del. Cuauhtémoc 06059, México, D.F.



HOUSTON, TX.- The Museum of Fine Arts, Houston, and its research institute, the International Center for the Arts of the Americas (ICAA), today launched a redesigned and enhanced website and database for the landmark Documents of Latin American and Latino Art Digital Archive Project. First launched in 2012, the ICAA Documents Project, available at icaa.mfah.org, offers access, free of charge, to source materials crucial to the study and understanding of these major fields of 20th-and 21st century art. The site makes available a wealth of writings by artists, critics, and curators from Mexico, Central and South America, the Caribbean, and the U.S. Latino communities--Chicano/a, Puerto Rican/Nuyorican, Cuban-American, and Dominican among others. ICAA has now brought the Documents Project into a new era through institutional partnerships ... More



Dr. Claudia Perren served as director and board member of the Bauhaus Dessau Foundation. © Stiftung Bauhaus Dessau. Photo: Franziska Sinn.



BASEL.- On March 30, 2020, the University Board of the University of Applied Sciences and Arts Northwestern Switzerland appointed Dr. Claudia Perren as the new director of FNHW Academy of Art and Design in Basel. Dr. Claudia Perren completed her studies in Architecture at the Kunsthochschule Berlin Weißensee in 1997, continued with a MAS in History and Theory of Architecture at ETH Zurich from 1997-1998, and then completed her PhD in Theory of Art and Architecture at the University of Kassel in 2005. After receiving her degree, Dr Claudia Perren taught Design, Architecture, and Urban Planning at the University of Sydney and at the Sydney University of Technology for eight years. As from 2014, Dr. Claudia Perren served as director and board member of the Bauhaus Dessau Foundation. Over the last fifteen years, Claudia Perren has organized and realized a wide range of festivals, conferences, as well as teaching and education ... More
Excuse my French: Franglais rappers raise hackles in Quebec
James Drury, taciturn star of 'The Virginian,' dies at 85
New Head of Collections invites you to help document COVID-19 in the Evergreen State


Members of the Franglais rap group Dead Obies, in their studio in Montreal, March 17, 2020. Nasuna Stuart-Ulin/The New York Times.

by Dan Bilefsky



MONTREAL (NYT NEWS SERVICE).- As pungent pot smoke filled the air in a bunkerlike, dimly lit basement recording studio in Montreal, the Quebec rapper Snail Kid pondered a question befitting these pandemic times: What word rhymes with Purell? Mulling how to fit the hand sanitizer into his latest rap lyric, he considered the English words "well," "smell" and "toaster strudel" before toying with the French words "pluriel" and "ruelle." Then, Snail Kid, 30, a member of the popular Quebec hip-hop group Dead Obies began to rap: Le monde ici est cruel On n'est plus well (The world here is cruel. We are no longer well.) "Now everyone is going to be competing to find the best rhyme for 'quarantine' or 'corona,'" mused Snail Kid, whose real name is Gregory Beaudin. Beaudin grew up speaking the native English of his Jamaican-born father, a reggae singer, as well as the French of his Montreal-born mother, a French teacher. ... More



James Drury as The Virginian from the television program The Virginian, also known as The Men from Shiloh. Photo: NBC Television.

by Daniel E. Slotnik



NEW YORK (NYT NEWS SERVICE).- James Drury, an actor best remembered as the stolid, black-hatted title character of the long-running NBC western "The Virginian," died on Monday at his home in Houston. He was 85. Karen Lindsey, his assistant, confirmed the death in an email but did not specify a cause. Drury, who had iceberg-blue eyes and a no-nonsense mien befitting a frontier hero, appeared on television westerns like "Broken Arrow," "Cheyenne" and "Wagon Train" before he landed the role on "The Virginian." The show, which was loosely based on Owen Wister's novel "The Virginian: A Horseman of the Plains" (1902), began airing in 1962. Drury's character, the tough but fair foreman of the Shiloh Ranch in Wyoming, was never named, and little of his history was revealed. He tussled with cattle rustlers and other outlaws threatening the ranch until "The Virginian" was canceled in 1971, after 249 ... More



Margaret (Maggie) Wetherbee installing artifacts at the Japanese American National Museum in Los Angeles during her tenure as the museum's collections manager.



TACOMA, WA.- Margaret Wetherbee hit the ground running at the Washington State Historical Society, joining the organization days after its buildings closed due to safety protocols around the coronavirus pandemic. "My first day included developing a remote working plan for the Research Center team," said Wetherbee. "Now, I'm reaching out to citizens across the state to ask for their participation in documenting this historic event for the Historical Society's collections. We want to capture what you're going through right now as it unfolds, because this is an extraoridinary time in our history. We will continue to collect as we experience the impacts over the coming years." Washington's coronavirus history will be notable as one of the first pandemic hot spots in the United States. The Historical Society's director, Jennifer Kilmer, remarked, "Future Washingtonians will research these days, asking how we coped with the suddenly vacated office buildin ... More
Quote
Paint the essential character of things. Camille Pissarro
---
Discover a Fantastic Selection of Contemporary Art Online
---
Flashback
On a day like today, Spanish painter and sculptor Pablo Picasso died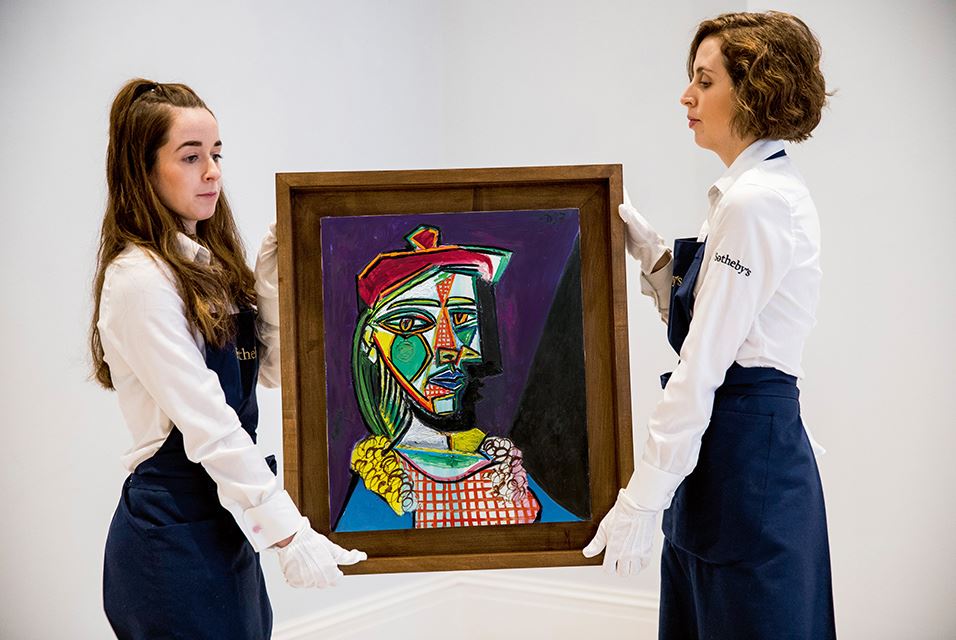 April 08, 1973. Pablo Picasso (25 October 1881 - 8 April 1973) was a Spanish painter, sculptor, printmaker, ceramicist, stage designer, poet and playwright who spent most of his adult life in France. In this image: Pablo Picasso, Femme au béret et à la robe quadrillée (Marie-Thérèse Walter), December 1937. Courtesy Sotheby's.
---

Museums, Exhibits, Artists, Milestones, Digital Art, Architecture, Photography,
Photographers, Special Photos, Special Reports, Featured Stories, Auctions, Art Fairs,
Anecdotes, Art Quiz, Education, Mythology, 3D Images, Last Week,

.
Royalville Communications, Inc
produces: