Beyond abstract expressionism: MoMA rethinks the art of the 1950s
Installation view of Degree Zero: Drawing at Midcentury, November 1, 2020–February 6, 2021 at The Museum of Modern Art, New York. Digital Image © 2020 The Museum of Modern Art, New York. Photo by Robert Gerhardt.

by Roberta Smith
NEW YORK
(NYT NEWS SERVICE)
.-
As exhibitions go, "Degree Zero: Drawing at Midcentury" at the Museum of Modern Art is a relatively modest undertaking. After all, it is simply a show of 79 drawings from the museum's permanent collection, a kind of potpourri, if you will. But it is also an ambitious effort — selected and installed with great care by Samantha Friedman, an associate curator of drawings and prints. You sense a fresh point of view almost as soon as you enter the gallery. The show focuses on the 1950s and seeks to challenge the traditional view of the decade primarily as a period when the abstract expressionists emerged, precipitating the so-called triumph of American painting. It couldn't happen at a better place, since MoMA was central to constructing this blinkered view. "Degree Zero" recasts the 1950s as a time when many artists in different parts of the world approached art with an experimental attitude. Reeling in the aftermath of World War II, they felt compelled t ...
More
The Best Photos of the Day
Matthew Marks opens an exhibition of drawings by Willem de Kooning
On Governors Island, art interventions are everywhere
UK Turner Prize shortlist dominated by art collectives


Woman Study, 1964. Pastel and charcoal on paper, 23 3/4 x 19 inches, 60 x 48 cm.



NEW YORK, NY.- Matthew Marks opened Willem de Kooning Drawings, the new exhibition in his gallery at 526 West 22nd Street. The exhibition features thirty-two works spanning the artist's long career. The tension between abstraction and figuration that defined de Kooning's art is apparent in the exhibition's earliest works. Included are several of his most celebrated drawings from the 1930s, including a 1937 study for his World's Fair mural, his 1938 portrait of the art critic Harold Rosenberg, and the Ingresque Reclining Nude (Juliet Browner) (c. 1938), one of his first female nudes. The traditional skills he learned at the art academy in Rotterdam are evident in a sheet of precisely drawn portraits of Elaine de Kooning from the early 1940s. By the following decade de Kooning had traded deliberateness for velocity. Included in the exhibition are three Woman drawings from c.1950 made up of swarms of graphite marks in ... More



Mixed media by Josie Love Roebuck, presented by LatchKey Gallery, at NADA House 2021 on Governors Island, N.Y., May 4, 2021. Nina Westervelt/The New York Times.

by Roberta Smith



NEW YORK (NYT NEWS SERVICE).- If you want respite from the moneyed, big-name glamour of some of your larger art fairs, you can, in one little trip, leave it all behind; see some relatively untrammeled parts of New York and also revisit the way that many things in the art world begin — that is, in a DIY, grassroots situation, when people take things into their own hands. If you want VIP services at this event, you'll have to bring your own; snacks and fluids are recommended and of course sensible shoes. The VIP lounge is a huge greensward graced by tall, regal trees. I refer to "NADA House 2021," which opens Saturday on Governors Island in New York Harbor and runs through Aug. 1. It is not an art fair, technically, but it remains a lively, ... More



Cooking Sections, Mussel Beach, 2019. CURRENT_ LA Public Art Triennial. Installation detail. Photo: Cooking Sections.



LONDON (AFP).- The 2021 Turner Prize jury has selected a shortlist made entirely from artist collectives for the first time, Tate Britain, which organises the award, announced on Friday. The five groups all "work closely and continuously with communities across the breadth of the UK", the organisers of the prestigious but often controversial visual arts prize said. "The collaborative practices selected for this year's shortlist also reflect the solidarity and community demonstrated in response to the pandemic," they added. The shortlist is comprised of Array Collective, a group of Belfast-based artists; Black Obsidian Sound System, a London-based collective of radical art activists; Cooking Sections, a London duo creating food-inspired art installations; Gentle/Radical, a Welsh collective using art for social change; and Project Art Works based in the south of England. "One ... More
Lost in Italy, an historical group exhibition curated by Francesco Bonami opens at Luxembourg + Co.
Artist Mateo Blanco brings the Queen of Pop to Palm Beach
Rare Kashmir sapphire glitters in Geneva auction


The exhibition showcases a new work by the contemporary Italian artist Maurizio Cattelan, which is being displayed on the building's façade, visible to passers-by. Photo: Joe Maher / Getty Images for Luxembourg + Co.



LONDON.- Luxembourg + Co., London, announces the opening on 6 May 2021 of Lost in Italy, an historical group exhibition organised by former Venice Biennale curator Francesco Bonami. Focusing on the unique role played by Italy as a hub of international artistic exchange during the post-war decades of the 1950s and '60s, the exhibition showcases works by Francis Bacon, Alberto Burri, Alexander Calder, Marcel Duchamp, Yves Klein, Jannis Kounellis, Pino Pascali, Robert Rauschenberg, Man Ray, Salvatore Scarpitta, Richard Serra and Cy Twombly. The exhibition also showcases a new work by the contemporary Italian artist Maurizio Cattelan, which is being displayed on the building's façade, visible to passers-by. As the Second World War came to an end, Italy experienced an unprecedented ... More



Mateo Blanco showcases Madonna tribute at Gallery Biba.



PALM BEACH, FLA.- When imagining the palm tree-lined streets of Palm Beach, glitz, glamour and the color pink may come to mind. This being said, there's no better place for a pink work of art paying tribute to the Queen of Pop Madonna! American artist Mateo Blanco is now showcasing a piece of his 'Desire' collection at Gallery Biba in Palm Beach. "Pink Desire" is part of a four-piece collection depicting pop superstar, Madonna. Each piece has a different color story inspired by the spectrum of desire – pink, red, green and blue. Like Blanco's other pieces, "Desire" proves to be more than what meets the eye. The seemingly 2D work transforms into an experiential piece of kinetic art when viewed at different angels. Although Blanco is best known for his use of edible materials, the artist purposefully opted for a more durable medium for this piece. "Madonna has been revolutionizing the ... More



A model poses with a diamond necklace, Harry Winston, circa 1973, set with eight pear-shaped diamonds weighing from 3.77 to 20.72 carats representing a total of 280 carats, during a preview at the Sotheby's auction house in Geneva, Switzerland, 06 May 2021. Fabrice COFFRINI / AFP.

by Agnès Pedrero



GENEVA (AFP).- The largest Kashmir sapphire ever auctioned and a royal tiara which everyone can try on via Instagram are the stars of this year's May magnificent jewels sales in Geneva. Gems worn by French emperor Napoleon Bonaparte's adopted daughter also dazzle among the historic treasures being sold by Sotheby's and Christie's auction houses on May 11 and 12. The Kashmir sapphire, a 55.19 carat gem, was formerly in the collection of Maureen Constance Guinness, a marchioness of the aristocratic Anglo-Irish brewing family, who died in 1998. Kashmir sapphires of over 30 carats are very rare. It is being sold alongside a cushion-shaped ... More
Space aged: Bottle of wine from space station could sell for $1 million
Heather Gaudio Fine Art opens new venue with an exhibition of selected prints by Richard Serra
Ancient Roman 'domus' with mosaic floors tucked under modern flats


The proceeds of the sale will go towards funding future space missions. © Christie's Images Ltd 2021.



NEW YORK (NYT NEWS SERVICE).- It was a cool and dark environment, but not your traditional wine cellar. Not when it involved orbiting the Earth about 250 miles up at a speed of 17,500 mph aboard the International Space Station, which is where a celebrated bottle of red wine from France's Bordeaux region spent 14 months, according to Christie's auction house. The bottle, a Pétrus from the year 2000, is now being sold by Christie's, which lists the estimated price of the bottle at $1 million. The company is calling it a "space-aged" wine for discerning connoisseurs, as private-sector monetization of space exploration and research ascends. Sip slowly. "This bottle of Pétrus 2000 marks a momentous step in the pursuit of developing and gaining a greater understanding of the maturation of wine," Tim Triptree, the international director of Christie's wine and spirits department, said in a statement on Tuesday. Renowned for its complexity and tasting notes ... More



Richard Serra, Finally Finished III, 2017. 1 color etching, 74 1/2 x 59 1/2 inches.



NEW CANAAN, CONN.- Heather Gaudio Fine Art presents Projects, a new venue designed to display artworks outside the scope of the gallery's program. Through collaborations with private dealers and galleries in New York City and beyond, Projects will exhibit blue-chip, contemporary masters and site-specific installations. The aim is to diversify the art landscape and conversation, presenting collectors and the community with alternative engaging experiences and acquisition opportunities. Projects will debut with an exhibition of selected prints by Richard Serra. In collaboration with master printers Gemini G.E.L., the exhibition will include monochromatic works from different series executed in the last 15 years. Serra's explorations with printmaking have been an extension of the artist's practice of working in monumentally-scaled sculpture. Since 1972, he has been working with Gemini to create and invent new techniques in th ... More



A view of the remains of a magnificent Roman villa, or domus, buried for almost 2,000 years at the foot of Rome's Aventine Hill In Rome on May 6, 2021. Alberto PIZZOLI / AFP.

by Gildas Le Roux



ROME (AFP).- It doesn't look like much from the outside, but a building in central Rome holds a hidden treasure in the basement: the remains of a Roman era home, including elaborate mosaics. At the entrance of the 1950s building at the foot of Rome's Aventine Hill, all appears normal, with a resident loaded with shopping bags kindly holding the door. But venture a bit further, and down a short flight of stairs one arrives at the prize, hiding behind an ordinary grey metal door. It is there where mosaics from a Roman "domus", or home, dating from between the first century BC to the second century AD, are visible. Ensuing generations of Romans imposed six different levels of floors over the ages until in 2014, the remains were revealed by excavations to transform the former headquarters ... More
Phillips to accept cryptocurrency for a physical artwork for the first time in company history
Response to colonialism takes over the Legion of Honor
Croatia guards find 15 million-year-old fossils in car boot


Banksy, Laugh Now Panel A, 2002. Image courtesy of Phillips.



HONG KONG.- Phillips announced it will accept cryptocurrency as an optional payment method for Banksy's Laugh Now Panel A (Estimate:HK$22,000,000 – 32,000,000/ US$ 2,820,000 - 4,100,000), to be offered in the 20th Century & Contemporary Art Evening Sale in collaboration with Poly Auction. The two houses kicked off the Asia touring previews in Beijing this week with the exhibition now opening in Shanghai today, before travelling to Shenzhen, Taipei, Taichung and Hong Kong, ahead of the auctions on 7-8 June. This marks the first time a major auction house in Asia will accept Bitcoin or Ether as a payment option for a physical work of art. This follows the success of Phillips' inaugural NFT sale of Mad Dog Jones' multi-generational NFT, REPLICATOR, which sold for over US$4 million in April. Bidding for Laugh Now Panel A will be conducted in Hong Kong Dollars, and the winning buyer will have the option to pay the hammer price as wel ... More



Wangechi Mutu, Sentinel IV,​ 2020. Paper pulp, wood glue, soil, emulsion paint, charcoal, ink, coconut, hair, wood 85 1/8 x 33 1/2 x 23 1/4 in. Courtesy of the Artist and Victoria Miro. Image provided courtesy of the Fine Arts Museums of San Francisco.



SAN FRANCISCO, CA.- The Fine Arts Museums of San Francisco opened Wangechi Mutu: I Am Speaking, Are You Listening?, a sprawling, site-specific exhibition of new and recently created sculpture, collage, and film by visionary Kenyan American artist Wangechi Mutu. Staked out from the Court of Honor through the entire first floor of the museum, the artist's alternate universe of powerful female characters, hybrid beings, and fantastical landscapes, challenges traditional art histories, mythologies, and conventional techniques of archiving and remembering. Part of the Museums' contemporary art program and three years in the making, I Am Speaking, Are You Listening? responds to the permanent collection and neoclassical architecture of the Legion of Honor; a museum built for the presentation of European art ... More



Drazen Japudzic, head of the geological-paleontological department of the Croatian Museum of Natural History, holds the tusk of an elephant between 14 and 15 million years old at the museum in Zagreb, on May 3, 2021. The fossils were seized by Croatian customs at the Stara Gradiska border crossing remnants of terrestrial and freshwater fauna near the Gracanica coal mine in Bosnia and Herzegovina. AFP.



ZAGREB (AFP).- Guards on the Croatia-Bosnia border have uncovered animal fossils dating back 15 million years in the boot of a car, Croatian police said on Wednesday. The remains included jawbones and teeth thought to be from ancestors of modern elephants, rhinoceroses, pigs and other extinct species, said Drazen Japundzic of Zagreb's Natural History Museum. "These valuable fossil elements will certainly give us new scientific knowledge about the life, climate and environment of the Earth's prehistoric past," Japundzic was quoted as saying in a police statement. The museum's experts were called in after Croatian border guards seized dozens of items from the boot of a car ... More
Quote
I have always been an anarchist and a monarchist at the same time. Salvador Dalí
---
The Rancher's Spirit: the Philanthropic Heart and Collecting Eye of Anne Marion
---

Flashback
On a day like today, Finnish illustrator Tom of Finland was born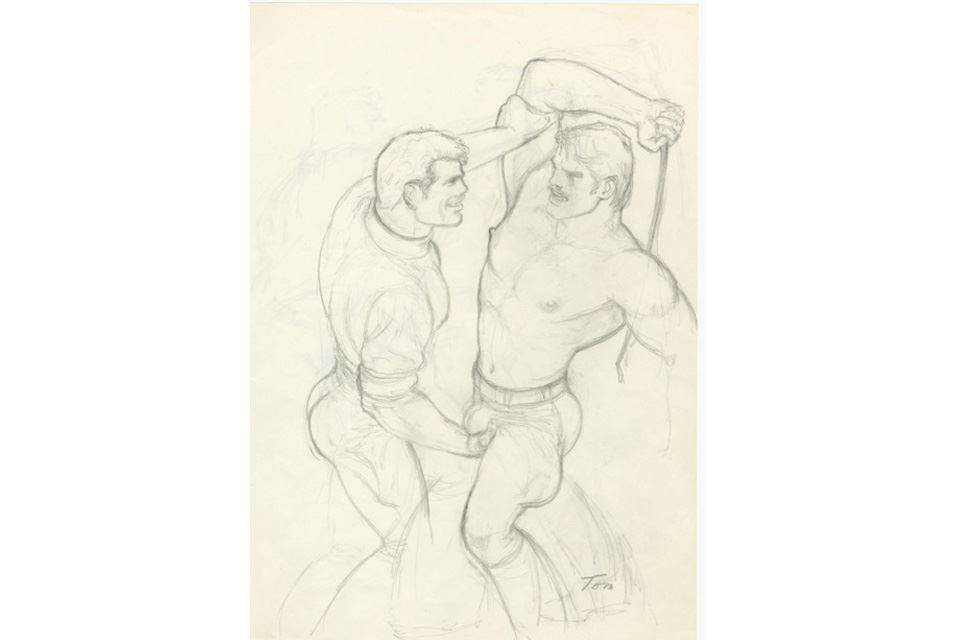 May 08, 1920. Touko Valio Laaksonen (8 May 1920 - 7 November 1991), best known by his pseudonym Tom of Finland, was a Finnish artist known for his stylized highly masculinized homoerotic fetish art, and for his influence on late twentieth century gay culture. He has been called the "most influential creator of gay pornographic images" by cultural historian Joseph W. Slade. In this image: Tom of Finland, Untitled, c.1978. Graphite on paper, 29.7 x 21 cm; 11 3/4 x 8 1/4 ins. Copyright Tom of Finland Foundation.
---

Museums, Exhibits, Artists, Milestones, Digital Art, Architecture, Photography,
Photographers, Special Photos, Special Reports, Featured Stories, Auctions, Art Fairs,
Anecdotes, Art Quiz, Education, Mythology, 3D Images, Last Week,

.
Royalville Communications, Inc
produces: