These auction items are out of this world. No, really.
James Hyslop, head of the science and natural history department at Christie's, with a piece of the Gibeon meteorite in New York on March 6, 2020. Collectors know that meteorites, proof of where art and science intersect, aren't just for museums anymore. Karsten Moran/The New York Times.

by Kevin Coyne
NEW YORK
(NYT NEWS SERVICE)
.-
After an immeasurable journey through time and space, a craggy gray rock fell to Earth, landing in the Sahara. No one saw it fall and no one knows how long it lay in the sand before it was found three years ago by a nomad. "It could have been 500 years ago, it could have been 5,000," said James Hyslop, head of the science and natural history department at Christie's, which plans to offer the rock for sale at its next online meteorite auction, tentatively scheduled for late summer. It is a piece of the moon and its recent journey here on Earth — from Northwest Africa to Christie's in New York, where it and more than 40 other meteorites are expected to be part of the sale — charts the changes in the market for a rare and exotic class of collectibles: rocks that came from outer space. "The number of collectors is definitely growing," Hyslop said, "but the number of meteorites is not." Meteorites were once the domain of cosmochemists ...
More
The Best Photos of the Day
Country folk icon John Prine in 'critical' condition with coronavirus
Stephenson's to host April 3 boutique auction of fine gold & silver coins, ingots, sets
Exhibition shows how light always serves artists to create interaction with their viewers


Grammy-winning American singer John Prine has been hospitalized for coronavirus and is in "critical" condition, his family said March 29, 2020. Timothy A. CLARY / AFP.



WASHINGTON (AFP).- Grammy-winning American singer John Prine has been hospitalized for coronavirus and is in "critical" condition, his family said Sunday. "After a sudden onset of Covid-19 symptoms, John was hospitalized on Thursday," his family said in a statement posted to the country and folk singer's Twitter account. "He was intubated Saturday evening, and continues to receive care, but his situation is critical," the statement said. A prolific songwriter and often whimsical performer, Prine, 73, was awarded a Grammy Lifetime Achievement award in January. He has had past surgeries for cancer in his neck and lung, and last July he rescheduled upcoming tour dates after doctors advised him he faced a stroke risk and needed surgery. "This is hard for us to share. But so many of ... More



1987 American Eagle proof gold bullion coin, 1 oz. Estimate $1,300-$1,700.



SOUTHAMPTON, PA..- Coins may very well be the ultimate collectible. "They're small and portable, they have both intrinsic and face value, and they have a long history of positive growth as an investment," says Cindy Stephenson, owner of Stephenson's Auctions in suburban Philadelphia. "Any time we are called upon to visit a residence and evaluate an estate's contents, we ask if there might be any jewelry or coins. Invariably, there are coins that have been hidden away – sometimes in a safe, but sometimes in less likely places, like a box in a closet or a jar in a kitchen cupboard – and often these items end up being among the estate's most valuable holdings," said Stephenson, who will conduct an auction of gold and silver coins on Friday, April 3. There will be no gallery bidding, but absentee and live online bidding will be available through LiveAuctioneers. All of the coins ... More



Brigitte Kowanz | Michael Venezia «Dialogue II: Light». Installation view Häusler Contemporary Zürich, 2020. Photo: Peter Baracchi.



ZURICH.- Häusler Contemporary opened the second exhibition in their new «Dialogue» series. With Brigitte Kowanz's objects and Michael Venezia's paintings, the gallery unites two very different positions that both reveal the attraction of the medium of light and its ways of interaction in their own way. The double exhibition by Brigitte Kowanz and Michael Venezia is the second of the new format, in which the gallery puts two or more artists in «dialogue» on a specific artistic topic. It may come as a surprise that the exhibition combines two very different positions under the theme of «light». On closer inspection, however, it becomes apparent that the early paintings by Michael Venezia, in particular, live strongly from the interaction with their ambient light, and that some light objects by Kowanz contain painterly moments. Brigitte Kowanz is one ... More
Overlooked no more: Kate Worley, a pioneer writer of erotic comics
Vortic - an XR platform for the art world announces launch
Polish composer Krzysztof Penderecki dies at 86


An Omaha cover from the 1980s. The series revolves around Susie Jensen, a tall, curvy anthropomorphic feline stripper. Denis Kitchen Art Agency Archives.

by George Gene Gustines



NEW YORK (NYT NEWS SERVICE).- In the comic book series Omaha the Cat Dancer, Susie Jensen is a tall, curvy anthropomorphic feline stripper with a large bosom and the stage name "Omaha." She has an on-again, off-again relationship with the equally feline Chuck, a freelance commercial artist whose father is opening an underground strip club. There's sex, there's nudity and there's fur — lots of it. Omaha was unusual for an erotic comic book in the 1980s. Most "adult comics," as they were called, were exploitative and emphasized violence, sex or a combination of the two. Omaha was more of a soap opera that included sex. At the heart of the series was writer Kate Worley, who gave the comic its distinctive voice and helped cultivate its wide-ranging fan base. The character Omaha, created by writer and artist Reed Waller, made her debut in 1978 as part of a fanzine. She eventually ... More



'A mockup of the Vortic Curate App showing a VR representation or Grayson Perry's exhibition Super Rich Interior Decoration at Victoria Miro. All works © Grayson Perry, courtesy Victoria Miro.



LONDON.- It was announced today that Vortic – a new extended reality (XR) platform for the art world – will launch in April 2020. The platform provides a sustainable and engaging way for galleries to reach collectors from any location in the world by offering customisable virtual gallery spaces, supported by two seamlessly integrated virtual and augmented reality apps. Vortic will launch with a co-presentation of works by artists represented by David Zwirner and Victoria Miro galleries. Vortic offers customised solutions for galleries to exhibit works of art using the most advanced augmented reality (AR) and virtual reality (VR) technologies. Developed over a three-year period by artworld insiders, Vortic was created to respond to the current needs of the art world, and to address the unique demands of today's market which increasingly requires galleries to seek creative ways to engage digitally. Using ground-breaking ... More



The Polish composer and conductor Krzysztof Penderecki, who blazed a trail in classical music with innovative religious and symphonic works, died aged 86 on Sunday, March 29, 2020 in his home city of Krakow, Polish media reported. JANEK SKARZYNSKI / AFP.

by Stanislaw Waszak



WARSAW (AFP).- Polish composer and conductor Krzysztof Penderecki, who blazed a trail in classical music with innovative religious and symphonic works, died aged 86 on Sunday in his home city of Krakow after a long illness, his family told local media. Venerated as one of the 20th Century's most influential composers, Penderecki worked with symphony orchestras across the world and won fans among top film directors including Stanley Kubrick, Martin Scorsese and David Lynch who commissioned film scores. His music appears in Kubrick's The Shining, Scorcese's Shutter Island, Lynch's Twin Peaks and, more recently, in an episode of TV show Black Mirror. A key figure of the 1960s avant-garde, Penderecki remained respectful of great religious ... More
Steidl publishes 'Martin Schoeller: 1999-2019'
Casey Kaplan presents a new film documenting the exhibition 'Liam Gillick: Redaction'
How philanthropists are helping during the crisis


Martin Schoeller: Works 1999 - 2019. Foreword by Martin Schoeller. Book Design: Bernard Fischer/Steidl Design 136 pages 9.5 x 11.75 in. / 24 x 30 cm Color Hardback US$ 40.00 / € 28.00 ISBN 978-3-95829-707-4



NEW YORK, NY.- Martin Schoeller's portraiture is renowned for its indelible, ultra-close-ups, with a tone, mood and compositional consistency that have energized the pages of many of America's and Europe's most respected publications over the last 20 years. But these revelatory photographs are just the most recognizable slice of his astonishingly searching, restless oeuvre. Schoeller has now amassed a body of work that defies classification, as he has ventured into all but invisible subcultures, the most current events, breakdowns in social justice, celebrity and several other sub-categories of public interest. As seen collectively in Martin Schoeller 1999–2019, these images comprise a veritable museum of recent history—a varied, imaginative, buoyant, disciplined ... More



Installation View: Liam Gillick, Redaction, Casey Kaplan, New York, March 3 - April 18, 2020.



NEW YORK, NY.- Casey Kaplan is presenting a new film documenting the exhibition Liam Gillick: Redaction, now live on the gallery website. Liam Gillick: Redaction brings together a selection of key texts, abstract structures and installations, spanning the early 90s to the late 2000s, and marks the artist's ninth solo exhibition with the gallery over a two-decade collaboration. Since the late 1980s, Gillick has employed a variety of methodologies to explore the semiotics of the built world. Writing has maintained a crucial role in his practice, culminating in a collection of fictional texts that resist linear narrative in favor of fragmented dialogue, stream of consciousness, and abrupt slips in time. In addition to these narrative devices, Gillick often uses historical revisioning as an exercise through which to imagine alternative parallel futures. Continually referenced, decontextualized, and reworked, ... More



Michael Bloomberg in New York on Jan. 4, 2020. Bloomberg says he backs the New York Community Trust fund because of its support for social services. Calla Kessler/The New York Times.

by Paul Sullivan



NEW YORK (NYT NEWS SERVICE).- The coronavirus pandemic is a test of how philanthropists can use their wealth to fill an enormous gap in revenue for nonprofit groups. There is an immediate need to fund nonprofit organizations that support people in health or economic distress because of the outbreak. But these groups are asking for money from the same people who have seen their investments yo-yo up and down over the past few weeks. Few of these nonprofit groups have reserve funds to sustain them through a long period of uncertainty. To spur giving, the stimulus bill that President Donald Trump signed Friday increases the deductibility of cash gifts to 100% of someone's income. In this difficult time, I asked more than a dozen ... More
Fort Gansevoort announces a series of weekly online exhibitions
Most comprehensive exhibition of Qiu Shihua's works in China to date opens at Galerie Urs Meile
Sous Les Etoiles Gallery opens an online exhibition of works by Richard Caldicott


Jeni Spota C., Oranges, 2018. Oil on canvas, 18 x 16 inches.



NEW YORK, NY.- Fort Gansevoort announced Seeing Through You, a series of weekly online exhibitions organized for the gallery by invited curators and scholars. Launched Thursday, March 26, 2020, this initiative highlights artists from around the globe and aims to initiate lively discourse among larger and more diverse audiences for whom the web and social media are an even more vital 'salon' space in a time of crisis. The series takes its title from a 2004 piece by Barbara Kruger, who has said, "I work with pictures and words because they have the ability to determine who we are, what we want to be, and what we become." In a moment that is calling upon communities worldwide to redefine daily life, seek new ways to connect, and locate sources of mutual support, art has a critical role to play. The first exhibition of Seeing Through You, is named for the 2016 Pet Shop Boys song, A cloud ... More



Qiu Shihua, Untitled, 2009 (detail), oil on canvas, 70 × 110 cm.



BEIJING.- Galerie Urs Meile is presenting Empty / Not Empty, Qiu Shihua's fourth appearance in the gallery's Beijing branch. The most comprehensive exhibition of his works in China to date displays oil on canvas as well as paper works spanning 25 years of his oeuvre with earlier pieces he painted in Beijing and Shenzhen until very recent ones he just finished in Sacramento. In the 1980s Qiu Shihua visited France and studied the works of the Impressionists. Qiu underwent an incredible development in the course of the 1990s, moving from traditional landscape painting to find a very personal style. An un-trained eye might find in his work little more than an almost unmodulated white, but his minimalist style of painting has nothing in common with the forms of expression from Western art history. The paintings seem Impressionist, but the Impressionists' ideals - the view from out-side, the pure appearance of the outside wor ... More



Signals #5, 2019. C-Print. Ed. of 5. 24 x 20 in.



NEW YORK, NY.- In these new colour works which share a confluence of natural light and saturated depth of colour, geometric shapes are choreographed with undulating colour backgrounds.An uncanny gravity makes these images difficult to completely fathom. Sometimes colours are in-sync or out of sync, shifted on the horizontal or vertical and with varied shades of intensity. There are discrepancies between shadows and the synergies of physical colour split in two offer up a possible immediate visual seduction. This architecture of saturated colour and space with its geometric punctuations and crispness of technicolour highlights the subtleties of a simple yet rigorous play with shadow, light and colour. Richard Caldicott's new colour work, Signals, aims in part, to pay tribute to Signals Gallery, London. Founded in the mid 1960's it was characterized by creative innovation and exploration toward new ideas of modernity. Signals Gallery was an ... More
Quote
It's not what you see that is art, art is the gap. Marcel Duchamp
---
In Conversation: Alexander S. C. Rower and Bernard Ruiz-Picasso
---
Flashback
On a day like today, Spanish-French painter Francisco Goya was born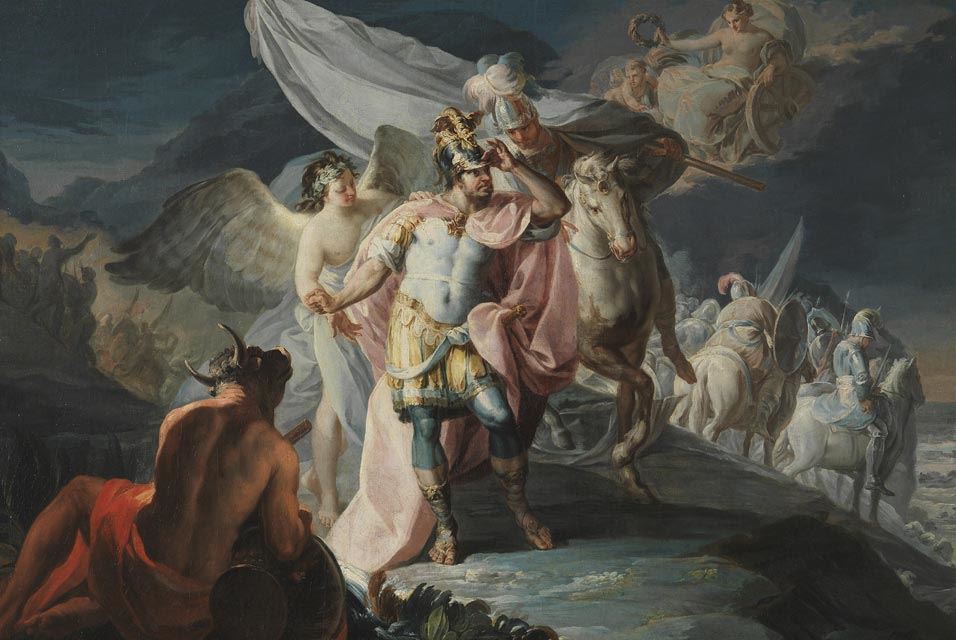 March 30, 1746. Francisco José de Goya y Lucientes (30 March 1746 - 16 April 1828) was a Spanish romantic painter and printmaker. He is considered the most important Spanish artist of late 18th and early 19th centuries and throughout his long career was a commentator and chronicler of his era. Immensely successful in his lifetime, Goya is often referred to as both the last of the Old Masters and the first of the moderns. In this image: Francisco de Goya, The victorious Hannibal, 1771.
---

Museums, Exhibits, Artists, Milestones, Digital Art, Architecture, Photography,
Photographers, Special Photos, Special Reports, Featured Stories, Auctions, Art Fairs,
Anecdotes, Art Quiz, Education, Mythology, 3D Images, Last Week,

.
Royalville Communications, Inc
produces: