Lucy Lacoste Gallery opens an exhibition of ceramics by British artist Ken Eastman
Ken Eastman, Rootie Tootie, 11h x 9.75w in.
CONCORD, MASS
.-
Lucy Lacoste Gallery
starts the 2021 season with the esteemed British artist Ken Eastman's exhibition Border Country, created expressly for the Gallery. The work of this modernist master centers around the idea of the vessel. He uses the vessel as a subject, to give meaning and form to an expression. Working through the medium of ceramics, Eastman can be both builder and painter handling shape and structure, as well as exploring tone and color. These latest multi-faceted pots were made from numerous slabs of clay, shaped and assembled in a spontaneous and intuitive way. This process meant that the forms couldn't be planned beyond loose ideas about scale, proportion and complexity. These vessels with their composition of broad, sweeping planes and layers of color can be seen as landscape, painting or sculpture. Lighting on these delineated sculptures emphasizes the planes and abstract composition. The following is a cata ...
More
The Best Photos of the Day
Who designed Jill Biden's Inauguration outfit?
NY LX Pavilion designed by OLI Architecture to house Richard Serra's London Cross
Roger Mandle, museum director who helped bring art to Qatar, dies at 79


Alexandra O'Neill, the designer behind the small New York brand Markarian, works on Jill Biden's Inauguration Day dress. Via The New York Times.

by Jessica Testa



NEW YORK (NYT NEWS SERVICE).- Just like the attire of any first lady stepping into the White House before her, Jill Biden's Inauguration Day outfit was bound to draw attention. Guesses were made about which American designer she would choose: Brandon Maxwell or Christian Siriano, whose dresses she had chosen for the Democratic National Convention? Tory Burch? Oscar de la Renta? Few — or none, perhaps — would have predicted that Biden would walk out into the cold Washington morning Wednesday in a matching blue coat and dress by Markarian, a small New York City brand whose typical aesthetic signatures include feather trims and full-body sequins. Here's why: What is Markarian? Founded in 2017 by Alexandra O'Neill, Markarian is best known for VIP party dresses. With statement sleeves and slim silhouettes, the brand has outfitted celebrities like Laura Dern, Kerry Washington, ... More



Constructed in a carefully choreographed sequence with the sculpture installation, LX Pavilion is a quiet sanctuary where time and space merge. Image courtesy of OLI Architecture. Photo: Albert Cheung / FRAME Studio.



NEW YORK, NY.- Located on a private estate in Bedford, New York, LX Pavilion is a site-specific structure named for the Richard Serra sculpture it houses, London Cross (2014). Designed by OLI Architecture, which has offices in New York, Shanghai and Paris, the pavilion is designed to not just be a container but an integral component of the artistic experience, becoming spatially, figuratively, and contractually the "art" itself. Constructed in a carefully choreographed sequence with the sculpture installation, LX Pavilion is a quiet sanctuary where time and space merge. Wrapped in charred Accoya timber, the facade is intended to naturally patina marking the passage of time, yet unlike many of Serra's outdoor sculptures that measure time and space through material transformation, London Cross is protected by this intervention. The interior of the pavilion also emphasizes transience ... More



Mandle, who from the Rhode Island School of Design to Doha was a force in art and design for decades, died on Nov. 28, 2020 at his home in Dartmouth, Mass. He was 79. Brent Lestage/The New York Times.

by Robin Pogrebin



NEW YORK (NYT NEWS SERVICE).- When cellist Yo-Yo Ma needed a new headquarters for his Silk Road Project in 2005, Roger Mandle, then president of the Rhode Island School of Design, gave the organization a home on his campus. When a member of Qatar's royal family was looking to make her country into an art destination in 2008, Mandle took on the development of more than a dozen museums in Doha. And when some in 2016 questioned the quixotic nature of a startup art museum in New Bedford, Massachusetts, Mandle persevered and — together with his wife, Gayle Wells Mandle — succeeded in establishing the Massachusetts Design Art & Technology Institute. Mandle died Nov. 28 at his home in Dartmouth, Massachusetts. He was 79. His wife, a mixed-media painter, said the cause was cancer. "Roger Mandle had the soul of an artist, the character of a gentleman ... More
Banksy's works come 'In Focus' as Heritage Auctions holds curated sale
Tom Friedman's 10-foot tall sculpture looking up displayed at Rockefeller Center
Stolen 500-year-old Leonardo da Vinci copy found in Naples flat


The highly sought-after Stop and Search, another signed work from 2007, is a centerpiece in this sale, perhaps because its subject matter, too, never seems to age.



DALLAS, TX.- Banksy, not so long ago an anonymous art-world prankster and cultural provocateur, once more enters a new year as one of the world's most ubiquitous, revered and debated artists — and most sought-after, as evidenced by the record prices realized at Heritage Auctions for his works in the last 12 months. There remains a deep and profound global appetite for the man who shattered the barricades between the highbrow and lowbrow, who's adored as much by the establishment as the hellraisers, and who helped forever blur the lines between irony, satire and sincerity. For this reason, Heritage Auctions is launching its "In Focus" series devoted to a single artist with Banksy as the inaugural subject. Bidding is scheduled to open Jan. 20 for this special online event, titled In Focus: Banksy, with the live auction set for Feb. 10. "The In Focus events are smaller curated sales ... More



The mold for Friedman's Looking Up was created with crushed aluminum foil pans.



NEW YORK, NY.- Looking Up, a 10-foot tall stainless steel sculpture by American artist Tom Friedman, depicting a quasi-human figure gazing up to the heavens, is being displayed at the entrance of Rockefeller Center's Channel Gardens located on 5th Avenue between 49th and 50th Streets, Manhattan, from January 20 – March 19. The mold for Friedman's Looking Up was created with crushed aluminum foil pans which, through a process of lost wax casting, retains the imprint of the original materials. The magnificent piece, full of awe and wonder, is a perfect example of Friedman's interest in the supernatural and experiential. "Since its inception, visitors have marveled while 'looking up' at the unmatched architecture and design of Rockefeller Center's campus, from The Rink at Rockefeller Center in the original sunken plaza to Top of the Rock Observation Deck atop 30 Rockefeller Plaza, so it is especially fitting to feature Tom Friedman's incredible work in our 2 ... More



It is a copy of Leonardo's famous work that in 2017 became the most expensive painting ever sold, fetching $450 million at a Christie's auction. Eduardo Munoz Alvarez/Getty Images/AFP.



ROME (AFP).- Italian police have found a 500-year-old copy of Leonardo da Vinci's Salvator Mundi in a Naples flat and returned it to a church that had no idea it had been stolen. Officers said late Monday they had arrested the 36-year-old owner of the apartment on suspicion of receiving stolen goods, after the painting was found in his bedroom cupboard. Depicting Jesus Christ with his hand raised in a blessing and holding a crystal orb, the painting is part of the Doma Museum collection within the San Domenico Maggiore church complex in Naples. It is a copy of Leonardo's famous work that in 2017 became the most expensive painting ever sold, fetching $450 million at a Christie's auction. But the collection has been without visitors for months due to coronavirus restrictions and nobody had reported it missing. It was not immediately clear how the police came to discover the theft of the ... More
Almine Rech opens an exhibition of works by Marcus Jansen
Cuban artists showcased in Modern, Contemporary and Latin American Art online sale
The Metropolitan Museum of Art's directorship receives endowment from Marina Kellen French


Marcus Jansen painting Crippled Chef, 2020. © Marcus Jansen. Photo: Courtesy of the Artist and Almine Rech.



PARIS.- Any discussion of Marcus Jansen's work would be invalid as long as there is no mention of his intense life journey, the circumstances that influenced the way he is experiencing the world, and the way he conveys his emotions and concerns into his art. Jansen's childhood years in the Bronx and Queens (New York) in the 1970s were in stark contrast to his adolescent years in Monchengladbach, Germany, where he went to art school and was exposed to European culture and lifestyle. After serving eight years in the US military and getting a first-hand experience of some of the most devastating and crucial events of the 20th century, he went back to his genuine love for art and used it as a channel for his thoughts, worries, fears, and emotions. This complexity of influences directly impacts his creative output, which consists of compounded storytelling images constructed in an abstracted or surreal setting ... More



Carlos Enriquez (1900-1957), Tres personajes, Estimate: US$ 7,000-9,000. Photo: Bonhams.



NEW YORK, NY.- Eleven works by three leading artists from the Cuban collective known as Los Diez Pintores Concretos (the Ten Concrete Painters) lead Bonhams Modern, Contemporary & Latin American Art Online Sale which runs from January 26 – February 4, 2021. The 150-lot auction offers a curated selection of work, not only by the most recognized and coveted artists of Modern, Contemporary, and Latin American art, but also by its rising stars. Andrew Huber, Bonhams specialist in Post-War and Contemporary Art in New York said: "At Bonhams, we continually strive to feature the finest work created by sought-after artists from all backgrounds. Los Diez Pintores Concretos have been monumental in reshaping the narrative of art history worldwide; they are finally getting the well-deserved – and in my view long overdue - attention to their exceptional work. This reexamination has pulled back the curtain on other previously underrepresented art ... More



An avid supporter of the arts, both in the United States and abroad, Marina Kellen French is the vice president of the Anna-Maria and Stephen Kellen Foundation and president of the Marina Kellen French Foundation.



NEW YORK, NY.- The Metropolitan Museum of Art announced today the endowment of the Museum's directorship position, made possible by a generous donation from the Marina Kellen French Foundation and the Anna-Maria and Stephen Kellen Foundation. In recognition of this major gift—which will also provide important support for the Museum's general operating expenses—the role of Director has been renamed the Marina Kellen French Director. Max Hollein, Director of The Met since 2018, is the position's first incumbent, effective immediately. Daniel H. Weiss, President and CEO of The Met, said, "We are immensely grateful to Marina Kellen French for this remarkable gift, which helps ensure the Museum's strong artistic leadership for many years to come. For more than 70 years—almost half of The Met's history—her family has championed the arts and enabled ... More
Gladstone Gallery opens an exhibition of works by David Rappeneau
Tim Van Laere Gallery opens its first solo exhibition of Marcel Dzama's work
Exhibition of new work by Doug Aitken opens at Regen Projects


David Rappeneau, Untitled, 2020. Colored pencil, ballpoint pen, pencil, charcoal pencil, acrylic marker on paper, 16 x 11 5/8 inches (40.4 x 29.5 cm). Copyright David Rappeneau. Courtesy the artist, Gladstone Gallery New York and Brussels, and Queer Thoughts, New York.



BRUSSELS.- I don't know anything about David Rappeneau and nor does anybody else here. This is OK. It means there's only the luxurious mystery of his new paintings to contemplate without any extraneous interpretative trash, much like how you experience God's creation (if S/He/They exist) without any backstory spelt out in the stars. Religious questions, matters of faith, are inescapable: maybe because ††††††††††††††††††††††††††† is the only title here, a mini-Golgotha; maybe because they're paintings of vulnerable flesh on show in the midst of a plague. Given the stylistic kinkiness of the bodies he offers us— the hypertrophic femme boy oozing over a car in what could be a Balenciaga ad; the descendent of Storm from X-Men lording ... More



Marcel Dzama, What sort of world is possible?, 2020. Ink, watercolor, and graphite on paper, 31 x 23 cm.



ANTWERP.- Tim Van Laere Gallery is presenting its first solo exhibition of Marcel Dzama entitled The Moon is Following Me. Including drawings, sculptures, dioramas and a film, this exhibition marks the artist's first solo presentation in Belgium. Marcel Dzama (°1974 Winnipeg, Canada. Lives and works in New York) has developed an immediately recognisable visual language that investigates human action and motivation, as well as the blurred relationship between the real and the subconscious. Drawing equally from folk vernacular as from art-historical and contemporary influences, Dzama's work visualises a universe of childhood fantasies and otherworldly fairy tales. Dzama's image repertoire includes a wide range of art-historical quotations. One can recognize ballet costumes by Oskar Schlemmer or Francis Picabia, for example, and direct references to Francisco de Goya, Marcel Duchamp and Joseph Beuys. However, it's not just ... More



Installation view of Doug Aitken Flags and Debris at Regen Projects, Los Angeles, January 16 – March 13, 2021 © Doug Aitken, Courtesy Regen Projects, Los Angeles.



LOS ANGELES, CA.- Regen Projects is presenting Flags and Debris, an exhibition of new work by Los Angeles-based artist Doug Aitken. The works form an ecosystem of interconnected mediums, mixing dance, performance, film, sculpture, and handmade objects. Each plays off the other, creating a choreography of images, language, and sound. The exhibition comprises all new work conceived in the last 10 months, a time of profound change in the face of the pandemic. The body of work reflects the tension collectively felt between our isolation from the physical landscape of the exterior world and newly created spaces for turning inward to explore the subconscious landscape. At heart, the works are a portrait of a society moving toward the future. Flags and Debris consists of a new series of handmade fabric wall hangings and a hallucinatory multi-screen ... More
Quote
Christ was the greatest of all artists. Vincent van Gogh
---
Detroit Style: From the Road to the Gallery
---

Flashback
On a day like today, fashion designer Christian Dior was born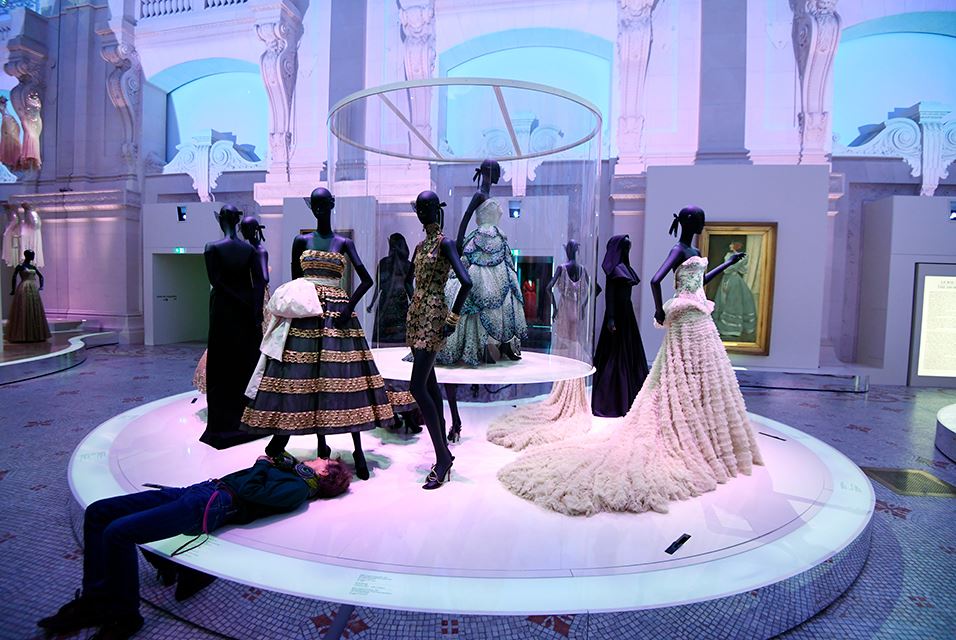 January 21, 1905. Christian Dior (21 January 1905 - 24 October 1957) was a French fashion designer, best known as the founder of one of the world's top fashion houses, also called Christian Dior, which is now owned by Groupe Arnault. His fashion houses are now all around the world. This file picture taken on July 3, 2017 shows a man adjusting a dress prior to the opening of the Dior exhibition that celebrates the seventieth anniversary of the Christian Dior fashion house, at the Museum of Decorative Arts (Musee des Arts Decoratifs) in Paris. 708 000 people visited the exhibition dedicated to Christian Dior from July 5, 2017 to January 7, 2018 in Paris. ALAIN JOCARD / AFP.
---

Museums, Exhibits, Artists, Milestones, Digital Art, Architecture, Photography,
Photographers, Special Photos, Special Reports, Featured Stories, Auctions, Art Fairs,
Anecdotes, Art Quiz, Education, Mythology, 3D Images, Last Week,

.
Royalville Communications, Inc
produces: