Exploring the Traditions of Antique Oriental Rugs (Part 2)
The most expensive antique Oriental rug, this Isfahan Safavid Town carpet, sold for $33.7 million at an auction in London in 2013.

By Jan David Winitz, President and founder of Claremont Rug Company
OAKLAND, CA
.-
In the first installment of this series on the traditions that produced antique Oriental rugs, I focused on Tribal and Village rugs and the art of their weavers to capture intimate experiences of nature and the cosmos through ancient geometric symbols. This second article provides an overview of 19th century Town and City rugs and how they incorporated "The Art of Absolute Perfection" of the Safavid Dynasty carpets that predated them with improvisational elements found in Village and Tribal pieces. What distinguishes Persian Town rugs? Remarkably, in a single carpet, they achieved a never before seen aesthetic, a highly versatile combination of formality and playfulness, curvilinear and rectilinear. They offer a distinctive ambiance created by their fanciful drawing, refined weave, and resonant color palette. Town rugs could be seen as the natural offspring of their dual inspirations: the perfect curvilinear drawing and dense weave of the earlier Safavid carpets married with ...
More
The Best Photos of the Day
2,000-year-old cat etching found at Nazca Lines site in Peru
Two masterworks by Giorgio de Chirico and Man Ray to highlight Sotheby's sale
Parenting while Black: Titus Kaphar's starkly powerful works


A photo provided by Peru's Ministry of Culture-Nasca-Palpa, shows the figure of a feline on a hillside in Nazca, Peru, Oct. 9, 2020. Jhony Islas/Peru's Ministry of Culture-Nasca-Palpa via The New York Times.

by Tiffany May



NEW YORK (NYT NEWS SERVICE).- The image, stretching for 40 yards on a hillside in Peru, shows a creature with pointy ears, orb-like eyes and a long striped tail. It appears to be a cat lounging, as cats often do. Archaeologists stumbled across the faded etching while remodeling a section of a UNESCO World Heritage Site known as the Nazca Lines, Peru's Ministry of Culture announced last week. The catlike geoglyph — which experts say dates to 200 B.C. to 100 B.C. — is the latest discovery among the carvings of larger-than-life animals and plants previously found between the towns of Nazca and Palpa, in a desert plain about 250 miles southeast of the capital, Lima. "The discovery shows, once again, the rich and varied cultural legacy of this site," the ministry ... More



Giorgio de Chirico, Il Pomeriggio di Arianna (Ariadne's Afternoon), 1913. Estimate: $10/15 million. Courtesy Sotheby's.



NEW YORK, NY.- Sotheby's will present two exceptionally rare and ear­­ly masterpieces by Giorgio de Chirico and Man Ray as highlights of the Impressionist & Modern Art Evening Sale on 28 October in New York. Dating from the pivotal year of 1913, Il Pomeriggio di Arianna (Ariadne's Afternoon) (estimate $10/15 million) is one of only eight canvases that compose Giorgio de Chirico's earliest painted series, as well as the genesis of his celebrated metaphysical style – both a marked departure from the dominant school of Cubism subscribed to by his contemporaries and a revolution in the history of art which would fundamentally alter the Modernist identity. Of these eight canvases, which date between 1912 and 1913, five reside in museum collections, such as The Metropolitan Museum of Art in New York and the Philadelphia Museum of Art, with only three, including the present work, remaining private collections. Il Pomeriggio di Arianna (Ari ... More



Titus Kaphar, The distance between what we have and what we want, 2019. Oil on canvas, 108 x 84 1/4 in. 274.3 x 214 cm © Titus Kaphar. Photo: Alexander Harding. Courtesy the artist.

by Roberta Smith



NEW YORK (NYT NEWS SERVICE).- Titus Kaphar's paintings have always been blunt in confronting both the paucity of Black figures in traditional Western art and the tragic inequities of Black life in the United States. Kaphar accomplishes this by being a skilled realist painter adept at violating his medium in startling ways to make his points, whether by tearing or cutting his canvases, or covering parts of his images with tar or whitewash. His paintings are conceptual objects freighted with historical or present-day references that require little explanation. They verge on didactic except for the visual richness and emotional directness with which they examine their entwined subjects. With his show of 11 new paintings, Kaphar becomes the latest successful Black artist to have ... More
Rare glazed tiles to be returned to Uzbekistan following work by the British Museum and Border Force
Eddie Van Halen's two iconic guitars headline Julien's Auctions Icons & Idols: Rock 'N' Roll sale
Exhibition offers visitors the first-ever chance to get to know the Aztecs in their cultural context


The tiles came from Transoxiana, a region centred in present-day Uzbekistan.



LONDON.- The British Museum is committed to contributing to the preservation of cultural heritage in the UK and globally, partnering with law enforcement agencies to identify illicitly trafficked antiquities. Objects seized in this way are brought to the British Museum for identification and cataloguing. The Museum then liaises with colleagues in the national museums of the countries concerned to arrange the return of these objects. A recent case concerns a consignment of glazed tiles detained at Heathrow airport. On 24 January 2020 a passenger arriving on a flight from Dubai was detained on entry at the airport and found to be in possession of six large epigraphic glazed tiles. They were declared on accompanying paperwork to be replicas 'made to look old', intended for sale and accompanied by a receipt describing them as 'six decrition [decoration] tiles' purchased in Sharjah the previous day for 315 DH (the equival ... More



Eddie Van Halen designed and stage-played electric guitar.



BEVERLY HILLS, CA.- Julien's Auctions announced today that two of Eddie Van Halen's most iconic guitars will take the stage of Icons & Idols Trilogy: Rock 'n' Roll, the world-record breaking auction house to the stars' annual music extravaganza on Friday, December 4 and Saturday, December 5, 2020 live at Julien's Auctions in Beverly Hills and online at www.juliensauctions.com. One of rock music's most influential guitar legends of all time headlines an all-star lineup featuring hundreds of artifacts and memorabilia owned and used by some of the world's greatest music artists of all-time including Kurt Cobain, Elvis Presley, Michael Jackson, Madonna, Lady Gaga, David Bowie, Aerosmith and more. Eddie Van Halen thrilled audiences with his virtuosic and electrifying guitar playing on his stripe designed electric guitars in his high energy performances while flying through the air. At center stage of this aucti ... More



On show are over 200 artefacts and loans from Mexican and European museums. Photo: INAH-CNMyE.



VIENNA.- The Weltmuseum Wien is hosting an exhibition that showcases the legendary art and culture of the Aztecs. This comprehensive show offers visitors the first-ever chance to get to know the Aztecs in their cultural context. In the early sixteenth century, at the time of the Spanish conquest, the Aztecs who called themselves Mexica ruled large parts of Mesoamerica. A nomadic people now named after Aztlán, their mythical place of origin, they eventually settled on a number of small islands in Lake Texcoco, where around 1325 they founded the city of Tenochtilan, today's Mexico City. In the fifteenth century the Aztecs ruled over a large and powerful empire, and in the sixteenth century they are among the best documented Mesoamerican civilizations. The exhibition begins with the periphery of the Aztec Empire (c.1430–1521) and Mexico's natural and cultural riches, from where ... More
Hindman's Fine Books and Manuscripts single owner auction reaches an impressive $1.2 million
Christie's to hold live auction of American art
Magnum Square Print Sale brings together a selection of over 100 images by photographic artists


Charles Robert Darwin (1809-1882). On the Origin of Species by Means of Natural Selection. London: W. Clowes and Sons for John Murray, 1859. Estimate: $60,000 - $80,000. Price Realized: $112,500.



CHICAGO, IL.- Hindman's auction of The Library of Gerald and Barbara Weiner realized more than $1.2M, achieving a strong sell-through rate of 87%. Following the success of a record-setting 2019 for the Books and Manuscripts department, this auction once again exceeded expectations. "We are proud to have had the opportunity to handle this fine collection. A diverse group of books and manuscripts found very strong results in last week's sale, a sign of the strength of the auction market in the category" said Gretchen Hause, Hindman's Director and Senior Specialist in Fine Books and Manuscripts. The auction was led by a first edition of Charles Darwin's On the Origin of Species (lot 40), which sold for $112,500 against a presale estimate of $60,000-80,000. The copy contained an autographed note, ... More



Edmund C. Tarbell (1862-1938), My Wife Emeline in a Garden. Estimate: $500,000-700,000. © Christie's Images Ltd 2020.



NEW YORK, NY.- On October 28, Christie's will present its live auction of American Art, which will include highlights across the genres of the category, from Modernist works by Milton Avery and Charles Demuth to nineteenth-century paintings by Albert Bierstadt and James Buttersworth. Among the auction highlights is a strong selection of American Impressionism by artists including Edmund Tarbell and Guy Rose, as well as 20th Century Realism by Andrew Wyeth and sculptures by Augustus Saint-Gaudens and Elie Nadelman. The sale offering complements the landmark collection of Western American art in The Legend of the West: Iconic Works from the T. Boone Pickens Collection, which will also be sold at Christie's on October 28 at noon, prior to the American Art sale at 2pm. A preview exhibition will be held at Christie's Rockefeller Center galleries, and will be open by appointment only from ... More



Bob Dylan, sitting on his equipment truck. Woodstock, New York, USA. 1968 ©Elliott Landy / Magnum Photos.



NEW YORK, NY.- Works of Imagination, the October Square Print Sale in partnership with Aperture, brings together a selection of over 100 images by international photographic artists. Toward the end of a year that has seen a series of international events unparalleled in recent memory, these images bring together a collection of works from disparate storytelling and artistic practices: works of fact and fiction with the potential to inspire our social and artistic imagination. Photographers imagine the world in pictures, and document it in ways that spur and inspire freewheeling thought. Documentary photographers — whether capturing the aftermath of conflict, famous figures, religious observances, social realities, or indeed making visible the unreal — take a fraction of time and suspend it, allowing the image to be interpreted in myriad ways by viewers. Artists inspire us to imagine the future. Their commitment to shape it in a ... More
Exhibition highlights Toledo Museum of Art's significant acquisition of Flat Torus 4
Hirschl & Adler Modern presents the latest body of work by Elizabeth Turk
Extremely rare 1923 New York Yankees original team photo with Ruth and Gehrig to be auctioned


Phillip K. Smith III, Flat Torus 4. Photograph by Lance Gerber Studio.



TOLEDO, OH.- To mark the acquisition of Flat Torus 4 by California-based artist Phillip K. Smith III, a new exhibition at the Toledo Museum of Art explores the theme of light from a wide range of perspectives. Luminous Visions: Phillip K. Smith III and Light Across the Collection considers Smith's work alongside objects from TMA's collection that span time, culture and media. Exhibition themes include the importance of light in religious or spiritual practices; studies of optics and color theory; applications of translucent and reflective materials; luminist approaches to light in American landscape painting; the absence of light; and photographic explorations of light and shadow. Smith, who was born in 1972, creates light-based installations that explore the relationships between light, color, space and form. His work Flat Torus 4 is one of a series of nine torus-shaped works in which the artist creates a digital display of colore ... More



Installation view of Elizabeth Turk, Tipping Point —Echoes of Extinction, at Hirschl & Adler Modern, New York, October 1 – November 20, 2020 / Photograph © Eric W. Baumgartner.



NEW YORK, NY.- As it celebrates 20 years representing Elizabeth Turk, Hirschl & Adler Modern is presenting an exciting new project, Tipping Point– Echoes of Extinction, the latest body of work by the internationally-recognized sculptor. While furthering her exploration into the overlap of art and nature, Turk confronts a globally important issue: Extinction. Tipping Point employs sculpture, sound, and technology to ask: what role can humans play in the preservation of a species, including our own? Are we at a tipping point? Turk highlights this relevant environmental concern with her Sound Columns – elegant visualizations of the lost voices of birds and sea mammals. These twenty-seven sculptures, fabricated in wood, aluminum, 3-D printed ABS filament, and bronze, take their form directly from the calls of various animals that are, today, ... More



The 1923 New York Yankees team featuring Babe Ruth and Lou Gehrig.



LOS ANGELES, CA.- There are only two known orginal photos of the 1923 New York Yankees team featuring Babe Ruth and Lou Gehrig. One of these images will be auctioned by Huggins & Scott Auctions from October 9-October 22. Interested bidders may participate in the auction online. The 1923 season was the birth of the Bronx Bombers. The House That Ruth Built was christened that year. It was the first of 27 World Series championships in franchise history. It was the season Babe Ruth nearly batted .400. In addition, it was the major-league debut of a 19-year-old Ivy League star named Henry Louis Gehrig. On April 18, 1923, while the Bambino was inaugurating Yankee Stadium with an Opening Day homer, Gehrig took the mound for Columbia University, striking out 17 opposing batters. The Iron Horse's moon-shot home runs caught the eye of Yankee scouts who signed him to a contract on April 30. ... More
Quote
Poor art is for poor people. Arshile Gorky
---
Open Studio | Rachel Feinstein: Rococo Hut
---

Flashback
On a day like today, Dutch painter Aelbert Cuyp was born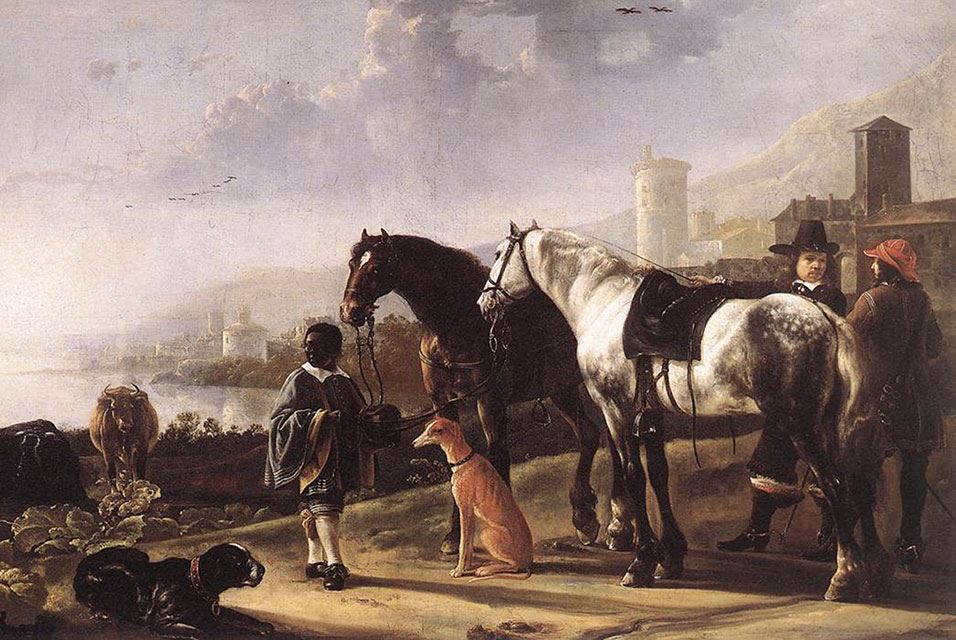 October 20, 1620. Aelbert Jacobsz Cuyp (October 20, 1620 - November 15, 1691) was one of the leading Dutch landscape painters of the Dutch Golden Age in the 17th century. The most famous of a family of painters, the pupil of his father Jacob Gerritsz. Cuyp (1594-1651/52), he is especially known for his large views of the Dutch countryside in early morning or late afternoon light. In this image: The Negro Page circa 1652, oil on canvas; Royal Collection.
---

Museums, Exhibits, Artists, Milestones, Digital Art, Architecture, Photography,
Photographers, Special Photos, Special Reports, Featured Stories, Auctions, Art Fairs,
Anecdotes, Art Quiz, Education, Mythology, 3D Images, Last Week,

.
Royalville Communications, Inc
produces: