Victoria & Albert Museum opens Europe's first major exhibition on kimono
A museum employee poses next to kimonos displayed during the press preview of the 'Kimono: Kyoto to Catwalk' exhibition at the Victoria and Albert Museum in central London on February 26, 2020. DANIEL LEAL-OLIVAS / AFP.
LONDON
.-
On 29 February, the
V&A
opens Europe's first major exhibition on kimono. The ultimate symbol of Japan, the kimono is often perceived as traditional, timeless and unchanging. Kimono: Kyoto to Catwalk counters this conception, presenting the garment as a dynamic and constantly evolving icon of fashion. The exhibition reveals the sartorial and social significance of the kimono from the 1660s to the present day, both in Japan and in the rest of the world. Rare 17th and 18thcentury kimono are displayed for the first time in the UK, together with fashions by major designers and iconic film and performance costumes. The kimono's recent reinvention on the streets of Japan is also explored through work by an exciting new wave of contemporary designers and stylists. Highlights of the exhibition include a kimono created by Living National Treasure Kunihiko Moriguchi, the dress designed for Björk by Alexander McQueen and worn on the album cover H ...
More
The Best Photos of the Day
Anne Marion, Texas rancher, heiress and arts patron, dies at 81
Major LACMA donor suspends longtime acquisition program
Leonardo show smashes Louvre's all-time record


Anne Marion helped found the Georgia O'Keeffe Museum in Santa Fe, New Mexico © David Woo.

by Katharine Q. Seelye



NEW YORK (NYT NEWS SERVICE).- Anne Burnett Windfohr Marion, a prominent Texas rancher, oil heiress and patron of the arts who helped found the Georgia O'Keeffe Museum in Santa Fe, New Mexico, died on Feb. 11 in Palm Springs, California. She was 81. The cause was lung cancer, said Neils Agather, a family representative. Marion represented the fourth generation of a renowned Texas ranching family that once owned more than a third of a million acres; today the holdings amount to about 275,000 acres. Its 6666 Ranch, known as the Four Sixes, has long been one of the biggest in Texas and much celebrated for its Black Angus cattle, quarter horses and oil. In the 1960s and '70s, its distinctive red and white barn provided the backdrop for Marlboro cigarette ads. While the family fortune was founded on ranching and cattle, it was the discovery of oil, first in 1921 and then in 1969, that produced the riches that made it possible for Marion to become a major benefactor of the arts and culture ... More



Los Angeles County Museum of Art. Photo: Carol M. Highsmith.

by Jori Finkel



LOS ANGELES (NYT NEWS SERVICE).- With the Los Angeles County Museum of Art just weeks away from demolishing four buildings on its campus to make way for a $650 million structure by Peter Zumthor, the Ahmanson Foundation said Tuesday that it is suspending its decadeslong program of buying art for the museum over concerns about the effects of the radical redesign. In a telephone interview William Ahmanson, president of the foundation, said he fears that under the Zumthor plan — a sweeping, one-level structure designed to flatten the traditional museum hierarchies that privilege particular centuries and cultures — many European artworks his family's foundation donated will end up in storage. "It's my understanding that LACMA is changing from an encyclopedic museum with a robust permanent collection to a museum with some permanent collection works on view and more temporary exhibitions," Ahmanson, who remains a board member there, said. "The concern is that ... More



People look at the painting 'La Belle Ferronniere' (1490) by Italian Renaissance master Leonardo da Vinci during the night and free opening of the 'Leonardo da Vinci' exhibition at The Louvre Museum on February 21, 2020 in Paris. LUCAS BARIOULET / AFP.



PARIS (AFP).- Nearly 1.1 million people flocked to see a blockbuster Leonardo da Vinci exhibition at the Louvre in Paris before it closed Monday -- an all-time record -- the museum said. The huge show to mark the 500th anniversary of the artist's death in France, drew twice the numbers of the previous biggest show at the world's most visited museum. In 2018, some 540,000 lined up for a major retrospective of the 19th-century French painter Eugene Delacroix. But the Leonardo show, which was centred on the Louvre's own unrivalled collection of the Renaissance master's work, saw record numbers of visitors from the start, with prior booking required. "It is marvellous that an Italian Renaissance artist continues to fascinate the public," said the museum's director Jean-Luc Martinez. He said he was hugely proud of having "brought together the biggest number of Leonardo's works for a show, and of having ... More
On the trail of America's first women voters
Snite Museum of Art acquires a major work by sculptor Louise nevelson
Mexico returns ancient sculpture to Nigeria


Philip Mead, chief historian at the Museum of the American Revolution in Philadelphia, and Marcella Micucci, a curatorial fellow, at the New Jersey State Archives in Trenton. Michelle Gustafson/The New York Times.

by Jennifer Schuessler



(NYT NEWS SERVICE).- It has long been seen as one of the flukes of American political history: For three decades after the American Revolution, the women of New Jersey had equal voting rights with men. The state was the first — and for a long time, the only — to explicitly enfranchise women, in laws passed more than a century before the 19th Amendment enshrined the principle of gender equality at the polls in the U.S. Constitution. But this being New Jersey, things quickly came to mischief. There were charges of rampant fraud and corruption, as newspapers filled with tales of elections thrown into chaos by incompetent and easily manipulated "petticoat electors," to say nothing of men who put on dresses to vote five, six, seven times. And so in ... More



Louise Nevelson, Sky Sentinels, 1976. Painted aluminum. Promised gift of Charles Hayes '65, in memory of Burton and Naomi Kanter IL2019.006.002.



NOTRE DAME, IN.- The Snite Museum of Art today announced the acquisition of Sky Sentinels, a 1976 work by the iconic sculptor Louise Nevelson. In heralding the gift, Joseph Antenucci Becherer, Director and Curator of Sculpture at the Snite Museum, said, "It is an honor and pleasure to welcome this exceptional work to the museum through the insightful patronage of Charles S. Hayes, who remains a beacon for the appreciation of art, and sculpture in particular. Nevelson is among the bold figures in the history of sculpture and this landmark work in her oeuvre offers vivid testimony of her achievement. Further, she was a pioneering figure for women in the visual arts and her presence in the collection allows us to both celebrate her and her legacy." One of the most remarkable artists of the 20th century, Louise Nevelson (1899–1988) studied as a dancer, actress, ceramist, and painter before embarking on a career as a ... More



The sculpture, from the 6th century southwestern Yoruba city of Ife, shows a man wearing woven pants and a hat, sitting with his legs crossed and holding an instrument. Photo: Melitón Tapia / INAH.



MEXICO CITY (AFP).- The Mexican government delivered to Nigeria on Tuesday an ancient bronze sculpture seized by customs agents at Mexico City airport as its buyer tried to bring it into this country. The sculpture, from the 6th century southwestern Yoruba city of Ife, shows a man wearing woven pants and a hat, sitting with his legs crossed and holding an instrument. "Specialists from the National Institute of Anthropology and History determined that it was a piece of Yoruba origin," Diego Prieto, head of the agency, told a press conference. "A beautiful bronze piece, and that being of Nigerian heritage, it should return to its home." Officials did not offer more details about the sculpture's exact origins or the circumstances of its confiscation. "It was also determined that it had been illegally exported," the Mexican foreign ministry said. Nigerian Ambassador ... More
'Harold Feinstein: Boardwalks, Beaches and Boulevards" opens at David Hill Gallery
Michael Hertz - you've surely seen his subway map - dies at 87
Sotheby's to offer 1794 land charter for first African free school in America


125th Street From Elevated Train, 1950.



LONDON.- Harold Feinstein may have admired the work of W. Eugene Smith and Henri Cartier-Bresson, but he was not a photographer who would stand back and observe, unnoticed by his subjects. In fact, in nearly every image, Feinstein's proximity to his subject is clear. It is this physical closeness, an extension of Feinstein's profound connection to his subjects, that sets his work apart from other street photographers from the same period. Whether standing over a group of teenagers lying on a Coney Island beach, photographing a couple on the boulevard, or capturing the immutable gaze of a young child, intimacy and compassion sit at the core of each image. Where his contemporaries – photographers like Diane Arbus, Walker Evans and Garry Winogrand – documented the plight of the human condition without their subjects' awareness, Feinstein celebrated humanity with his subjects. From the glittering lights of Times Square to the streets of Harlem; from the smoke-filled coffee ... More



The subway system map created by Michael Hertz's firm remains the basis for the maps found today. MTA via The New York Times.



NEW YORK (NYT NEWS SERVICE).- Michael Hertz, whose design firm produced one of the most consulted maps in human history, the curvy-lined chart that New York City subway riders peer at over one another's shoulders to figure out which stop they want, died Feb. 18 in East Meadow, New York. He was 87. His son Eugene announced the death, at Nassau University Medical Center, but did not give a cause. Hertz also lived in East Meadow, on Long Island. In the mid-1970s, the Metropolitan Transportation Authority gave Hertz's firm, Michael Hertz Associates, the task of coming up with a map of the New York City subway system that would help riders make sense of that many-tentacled beast. There was already a system map (or "diagram," as some preferred to call it), a colorful Modernist thing created by Italian designer Massimo Vignelli and introduced in 1972. It was fun to look at — the Museum of Modern Art in New York ... More



A Landmark Document of Social Equality That Created First of Its Kind Institution in America. Courtesy Sotheby's.



NEW YORK, NY.- Sotheby's announced today that the Books & Manuscripts department will offer the 1794 land indenture for the use and benefit of New York City's African Free School—founded by Founding Fathers Alexander Hamilton, John Jay, and others—marking the establishment of the first such school in America. Making its auction debut at Sotheby's 24 June Books & Manuscripts sale in New York, the document is estimated to achieve $250/350,000. The indenture will be on public view at Sotheby's New York galleries today through 29 February, coinciding with the final week of Black History Month and showcase this integral piece of American civil rights history to the public. Richard Austin, Head of Sotheby's Books & Manuscripts Department in New York, commented: "We are thrilled to offer such a unique and historically important document in our upcoming June sale. The African Free School was ... More
Galerie Templon Brussels opens an exhibition of works by Jim Dine
Adam Pendleton unveils new site-specific work, Elements of Me, at the Gardner Museum
Getty Medal to Alice Walton, Martin Puryear, Kwame Anthony Appiah


L.A. Eye Works, 1982. Eau-forte, aquatinte et carborundum sur vélin d'Arches, 128, 3 x 111, 8 cm (sans cadre) 136, 5 x 117,5 cm (avec cadre) Édition de 70 + 10 AP (1PP) (20/70).




BRUSSELS.- For his return to Galerie Templon's Brussels space after six years, Jim Dine, one of the most significant American artists of his generation, is presenting a retrospective look at his print work, an art that he has become recognized over the years as one of the greatest masters. Born in 1935, Jim Dine first gained recognition as one of the pioneers of the happenings in New York in the late fifties before becoming a key figure of the Pop Art movement in the sixties. A profoundly independant, multi-faceted artist and poet, Jim Dine soon began to strike out on his own. Drawing on sculpture, painting, printmaking and photography, he developed an original language, partly abstract, partly figurative, haunted by a distinctive iconography formed by antique figures, tools, hearts ... More



Adam Pendleton: Elements of Me, 2020. Photo: Stewart Clements Photography and Design.



BOSTON, MASS.- The Isabella Stewart Gardner Museum is presenting a new site-specific installation by 2008 Artist-in-Residence Adam Pendleton. The work, titled Elements of Me, opened in the Museum's Fenway Gallery on February 13, 2020. Adam Pendleton is a returning Artist-in-Residence to the Gardner Museum. Pendleton is known for work animated by what he calls "Black Dada," a critical articulation of blackness, abstraction, and the avant-garde. As described in his own words, he uses "radical juxtapositions, to disrupt established history and open up new potential associations." Drawing from an archive of language and images, Pendleton makes "conceptually rigorous and formally inventive paintings, collages, videos, and installations that insert his work into broader conversations about history and contemporary culture." Pendleton has transformed the Fenway Gallery into an immersive, room-sized ... More



Alice Walton.



LOS ANGELES, CA.- The 2020 Getty Medal, the J. Paul Getty Trust's highest honor, recognizing contributions to the arts and humanities, will be given to philanthropist Alice Walton, artist Martin Puryear, and scholar Kwame Anthony Appiah. "The Getty Medal recognizes excellence and impact in cultural areas that help expand our understanding and appreciation of the world around us," said David Lee, chair of the Getty Board of Trustees. "This year we are thrilled to honor three influential and transformative leaders." Philanthropist Alice Walton is dedicated to expanding access to the arts and arts education to communities throughout our nation. Martin Puryear is one of today's most influential sculptors, with powerful work that expresses respect for and mastery of craft traditions from around the world. And through his innovative scholarship, philosopher Kwame Anthony Appiah deepens our understanding of identity and cosmopolit ... More
Quote
Creative experience foreshadows a new Heaven and a new Earth. Nikolai Berdyaev
---
Unexpected views: Pio Abad on Gerrit Willemsz Heda's 'Still Life'
---
Flashback
On a day like today, Spanish painter Joaquín Sorolla was born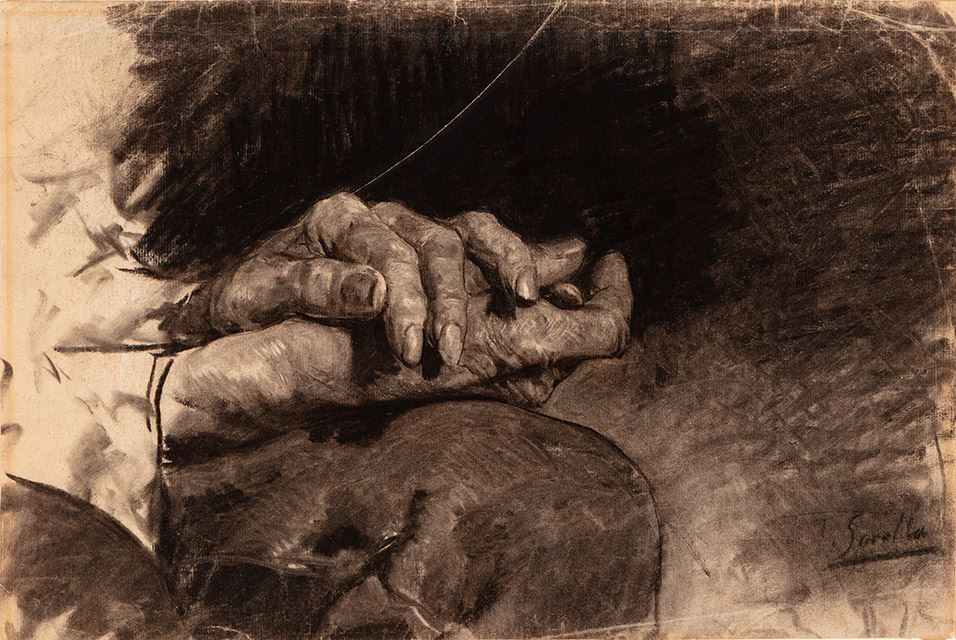 February 27, 1863. Joaquín Sorolla y Bastida (27 February 1863 - 10 August 1923) was a Spanish painter. Sorolla excelled in the painting of portraits, landscapes, and monumental works of social and historical themes. His most typical works are characterized by a dexterous representation of the people and landscape under the bright sunlight of his native land and sunlit water. In this image: Joaquín Sorolla y Bastida (1863 - 1923), Study of Hands, c. 1889. Charcoal on paper. Meadows Museum, SMU, Dallas. Museum purchase with funds from Elizabeth Solender and Gary L. Scott, MM.2018.08. Photo by Kevin Todora
---

Museums, Exhibits, Artists, Milestones, Digital Art, Architecture, Photography,
Photographers, Special Photos, Special Reports, Featured Stories, Auctions, Art Fairs,
Anecdotes, Art Quiz, Education, Mythology, 3D Images, Last Week,

.
Royalville Communications, Inc
produces: