Strike at Philadelphia Museum of Art is window into broader unrest
Workers picket outside the entrances of the Philadelphia Museum of Art in Philadelphia, Thursday, Sept. 29, 2022. Members of the union, which represents about 180 museum workers, are seeking its first contract. Michelle Gustafson/The New York Times.

by Jon Hurdle
PHILADELPHIA, PA
.-
Workers picketing outside the entrances of the Philadelphia Museum of Art this week shouted their demands for higher pay and more generous health care benefits in a visible sign of the growing labor movement in museums across the nation. The museum has used management and nonunion employees to keep its galleries, shops and restaurants open during the strike, which began Monday. Amanda Bock, an assistant curator of photography who was part of the protest, said that she had not received a raise on her $56,000 salary in three years, and that the museum's pay rates lagged behind peer institutions such as the nearby Barnes Foundation. "We want some provisions in there that accommodate for people giving their time and energy and career to this place," she said, adding, "It's up to them to come back to the bargaining table with something that respects the work that we do." The Philadelphia Museum of Art, known by many for the front steps that Sylvester Stallon ...
More
The Best Photos of the Day
Ernie Barnes touches down at Bonhams Post-War & Contemporary Art Sale in London
Exhibition allows visitors to rediscover Alexandria through a new perspective
Yvonne Rainer, a giant of choreography, makes her last dance


Ernie Barnes (1938-2009) The Gospel Truth, 1985 (detail). Estimate: £600,000 - 1,000,000. Photo: Bonhams.



LONDON.- The Gospel Truth, a masterwork by Ernie Barnes (1938-2009) leads Bonhams' Post-War & Contemporary Art sale on Thursday 13 October in New Bond Street, London. The work has an estimate of £600,000-1,000,000. Ralph Taylor, Bonhams Global Head of Post-War and Contemporary Art, commented: "The gospel hall paintings of Ernie Barnes have become some of the most renowned and sought-after works by the artist, and The Gospel Truth is arguably the finest example to come onto the market. Barnes' life and career has received renewed recognition since his retrospective at the California African American Museum in 2019. We are particularly excited to offer The Gospel Truth given Bonhams' recent successes in selling masterpieces by Barnes – having achieved an impressive $1,620,375 for his Solid Rock Congregation (1993) earlier this month at Bonhams New York. This follows on from the strong result for The ... More



Colossal head of a royal statue, 305-222 v.C. / 305-222 av. J.-C. / 305-222 BC. Grofkorrelig nummulietkalk / Chaux de nummulite, à gros grains / Nummulite lime, coarse-grained. Kunsthistorisches Museum Vienna, Egyptian and Near Eastern Collection © KHM-Museumsverband.



BRUSSELS.- Alexandria: Past Futures is an original exhibition that allows visitors to rediscover the Egyptian city through a new perspective, far removed from the myths and stereotypes associated with it. The exhibition invites us to consider Alexandria and its history from a new angle, by combining two approaches, namely archaeological research and contemporary art. Bozar is showcasing Alexandria: Past Futures in collaboration with the Royal Museum of Mariemont and the Mucem. The exhibition takes visitors to the Egyptian city of Alexandria, which was founded by Alexander the Great in 330 BC. The port city emerged as one of the first ancient metropolises and was not only an important economic trading centre, but also internationally renowned for its cultural and scientific influence. A range ... More



Choreographer Yvonne Rainer at Fort Tryon Park in New York on Sept. 2, 2022. Erik Tanner/The New York Times.

by Gia Kourlas



NEW YORK, NY.- In 1966, Yvonne Rainer presented "Trio A," her celebrated solo that emphasized movement over expression. By stripping dance of narrative, of emotion and even of the dancer's gaze — there is no looking at the audience — the steps could shine. And those steps, delivered with the same temperament no matter how simple or difficult, were the dance. What did Rainer banish? Affectation. In another iteration of "Trio A," in 1970, the work expanded to six dancers, including Rainer, who performed nude with American flags tied around their necks like halter tops, at the People's Flag Show at Judson Memorial Church in New York. The event was a response to the prosecution of gallery owner Stephen Radich for showing work that desecrated the flag. Censorship, the Vietnam War — these were issues of the day. Now at 87, with 61 years of ... More
François Ghebaly now representing Sascha Braunig
Pace Prints opens a solo exhibition of large-scale prints and collages by Nina Chanel Abney
Doyle to auction 20th Century Abstraction on October 12


Sascha Braunig, Chalice, 2022. Oil on linen over panel, 35.75 x 24 in. (90.8 x 61 cm.).



LOS ANGELES, CA.- Sascha Braunig has for over a decade devoted her critical focus to the capaciousness and limitations of the feminine form under duress. Braunig's figures inhabit teetering studies in overextension—waists and fulcra are pinched to extremity; appendages are restricted or decked in barbs; phantom silhouettes sinuously negotiate and adapt to the contours of their technicolor environments. Drawing on feminist artistic discourse, Braunig's imaginaries engage the postures through which gender performance and systems of power are replicated; training, fitting, and reinforcement are recurring motifs in the severe and sometimes sinister crucibles which Braunig's figures endure. Cast in vibrant complementary palettes and anchored through Braunig's graphic, tensile formal vocabulary, her images recapitulate and usurp foundational codes of gendered visuality to create scenes both surreal and unequivocally emblematic. Braunig's practice wrenches ... More



Nina Chanel Abney · Crew (Devon)(2021) Collage on panel · 24 1/4 x 24 9/16 inches © Nina Chanel Abney. Photo courtesy of the artist and Pace Prints.



NEW YORK, NY.- Pace Prints is presenting a solo exhibition of large-scale prints and collages by American painter Nina Chanel Abney (b. 1982, Chicago), on view September 30 – November 12, 2022, at Pace Prints' new gallery location at 536 West 22nd Street. This presentation, titled Framily Ties — You Win Some, You Lose Some, marks the inauguration of the new space and Abney's third exhibition with the gallery since 2018. The exhibition centers Abney's monumental works on paper, a medium which she has developed into a pillar of her practice over the course of four years of collaborations with Pace Editions' master printers. Beginning with relief printing processes that render Abney's graphic forms in richly saturated oil-based inks, the artist then cuts and combines printed elements into immersive collaged compositions that use all of the myriad imagery and symbolism of her personal lexicon. The tensions ... More



Sam Francis (1923-1994), Krater, 1985, Acrylic on paper, 34 1/2 x 24 inches. Est. $40,000-60,000. Lot 60.



NEW YORK, NY.- Doyle will present an auction of 20th Century Abstraction on Wednesday, October 12, 2022 at 11am. The sale showcases abstract art spanning the 1940s through the end of the century and will include paintings, drawings, sculpture and prints. From the American Abstract Expressionists, as well as several prototypical artists that predated them, the auction documents the global evolution of abstraction within and beyond the fabled New York School; including Color Field artists, hard-edge abstraction, Minimalism and much more. The public is invited to the exhibition on view Saturday, October 8 through Monday, October 10 at Doyle, located at 175 East 87th Street in New York. View the catalogue and place bids at DOYLE.com Balancing Abstract Expressionism, Color Field painting, West Coast abstraction and Japanese calligraphy within his body of work, Sam Francis was one of the first Post-War American abstract painters ... More
Pace opens a solo exhibition of new and recent work by leading Brazilian artist Beatriz Milhazes
Phillips announces highlights from the 20th Century & Contemporary Art Frieze Week Sales on 13 and 14 October
Unique sculpture by Sido and François Thévenin offered in Bonhams Design sale


Beatriz Milhazes, Sonho de Jardineiro, 2021 © Beatriz Milhazes.



NEW YORK, NY.- Pace is presenting a solo exhibition of new and recent work by leading Brazilian artist Beatriz Milhazes. The show, titled Beatriz Milhazes: Mistura Sagrada, will spotlight ten vibrant, large-scale paintings created in 2021 and 2022, as well as a large-scale mobile sculpture. The works in this show exemplify Milhazes's uncanny ability to forge dynamic, unified choreographies with seemingly disparate elements, patterns, and hues. The layered compositions resulting from these formal investigations possess a kinetic quality, unfolding and reforming over time. The presentation marks Milhazes's first solo exhibition with Pace since she joined the gallery in 2020 and her first show in New York in nearly a decade. Pace Publishing will produce a catalogue on the occasion of the exhibition. Drawing inspiration from European Modernism, Baroque decorative arts, the Brazilian Antropofagia movement, and other art historical sources, ... More



Salvatore Scarpitta, Red Freight, 1961. Estimate £900,000 - 1,200,000. Image courtesy of Phillips.



LONDON.- Phillips announced highlights from the London Frieze week sales of 20th Century & Contemporary Art this October. Building on Phillips' record-breaking prices achieved for emerging contemporary artists, the Evening Sale proudly presents a selection of works by ultra-contemporary women artists including Austyn Weiner, Rebecca Ness, Michaela Yearwood-Dan, and Anna Weyant. Post-war Italian masterworks from Alberto Burri and Salvatore Scarpitta also feature, alongside highlights from Mark Bradford, Cecily Brown, Elizabeth Peyton, Yayoi Kusama, and Mickalene Thomas. Comprised of 37 lots, the Evening Sale will take place on 14 October at 4pm BST, after the Day Sale on 13 October at 12pm BST. Olivia Thornton, Head of 20th Century & Contemporary Art, Europe, said "We are very excited to present our London Frieze week auctions. It is always a celebratory moment in the global art calendar, where London is abuzz with collectors and t ... More



Untitled pot, 1983, by Magdalene Odundo. Estimate: £20,000-30,000. Photo: Bonhams.



LONDON.- Important and unique sculptures in metal by Sido and François Thévenin are among the star lots at Bonhams Design Sale in London on Tuesday 4 October. They include Musique au Paradis, a monumental wall-mounted sculpture from 1974 estimated at £30,000-50,000. Sido and François Thévenin met in 1952 at the Beaux-Arts de Paris. They married in 1955, and settled on the French Riviera where in 1961, they worked with the artist Jean Cocteau on the sundial 'Les Lézards' for the village Coaraze in the Alpes-Maritimes above Nice. Over subsequent years the couple collaborated with the architect Jacques Couëlle (and later his son Savin) creating door furniture and lighting among other fixtures and fittings for their wealthy clients. Friends with Picasso, Yves Tanguy and Brassaï, François and Sido together created a vast collection of work and exhibited at prestigious locations, including Drouant, Paris, in 1972, and Cartier in 1980. ... More
Exhibition at Museum der Moderne Salzburg highlights Cameron Jamie's graphic work
The Brooklyn Museum celebrates the radical art of Nellie Mae Rowe
The syncopated sounds of old San Juan Hill at the new Geffen Hall


Cameron Jamie, Untitled, 2014–2015, ink, correctional fluid, and pastel on paper, © courtesy the artist and Gladstone Gallery.




SALZBURG.- In his works on paper, artist's books, sculptures, photographs, performances, and films, Cameron Jamie (Los Angeles, CA, US, 1969– Paris, FR) has for some thirty years explored identity, psychological and physical transformations of the self, and the interrelationship between humans and nature. In 2002, the artist moved from Hollwood, California, to Paris, where he still lives and works today. Other cities that play a major role in his work are Cologne, where he mainly creates ceramic sculptures, and Berlin, where most of his artist books come into being. His drawing work is in an ongoing process of development and breaks the boundaries of the classical understanding of the medium. Jamie's free-form drawing process and dedication to working with his pen form the ... More



Nellie Mae Rowe (American, 1900–1982). Untitled (Peace), 1978–82. Crayon and pen on paper, 17 × 14 in. (43.2 × 35.6 cm). High Museum of Art, gift of Judith Alexander, 2003.219. © 2022 Estate of Nellie Mae Rowe/Artists Rights Society (ARS), New York. Photo: Courtesy of the High Museum of Art.



BROOKLYN, NY.- Nellie Mae Rowe was a self-taught artist born in rural Georgia at the turn of the twentieth century. Discovering her passion for art-making early on, Rowe produced drawings and cloth dolls as a child. While the demands of her family farm, an early marriage, and decades of employment as a domestic laborer delayed Rowe's artistic journey, she was able to return to her art after the deaths of her second husband and her longtime employers in the 1960s. As a result, Rowe produced an immersive, idiosyncratic, and exuberant body of work. On view at the Brooklyn Museum from September 2, 2002, to January 1, 2023, Really Free: The Radical Art of Nellie Mae Rowe situates ... More



The New York Philharmonic rehearses in the newly renovated David Geffen Hall, in Manhattan, Sept. 19, 2022. The hall is reopening after a $550 million renovation aimed at breaking its acoustic curse — and adding a dash of glamour. Todd Heisler/The New York Times.



NEW YORK, NY.- Before there was Lincoln Center, there was San Juan Hill — a diverse neighborhood located in the West 60s in Manhattan. The "hill" refers to a peak at 62nd Street and Amsterdam. To some, the neighborhood's reputation was synonymous with racial conflict. In a Page 1 article in 1905, The New York Times reported that, on a weekly basis, the "police of the West Sixty-eighth Street Station expect at least one small riot on the Hill or in The Gut," a stretch of the neighborhood on West End Avenue, involving the area's Black and white rival gangs. But beyond the notoriety of the police blotter, a different American cultural story was taking shape on San Juan Hill. Around ... More
Quote
I showed the America I know and observed to others who might not have noticed. N. Rockwell
---
The London Sales Gallery Tour
---

Flashback
On a day like today, American photographer Richard Avedon died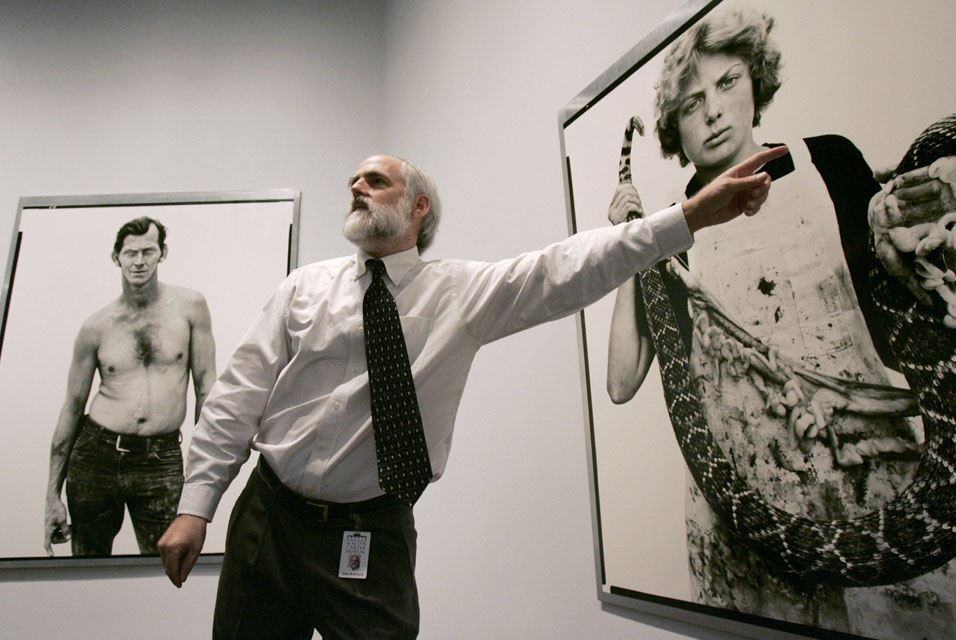 October 01, 2004. Richard Avedon (May 15, 1923 - October 1, 2004) was an American photographer. An obituary published in The New York Times said that "his fashion and portrait photographs helped define America's image of style, beauty and culture for the last half-century." IN this image: Amon Carter Museum Senior Curator of Photographs John Rohrbach points to a Richard Avedon photograph of Boyd Fortin, Friday, Sept. 9, 2005, in Fort Worth, Texas. The photo is part of the "In the American West: Photographs by Richard Avedon" exhibit.
---

Museums, Exhibits, Artists, Milestones, Digital Art, Architecture, Photography,
Photographers, Special Photos, Special Reports, Featured Stories, Auctions, Art Fairs,
Anecdotes, Art Quiz, Education, Mythology, 3D Images, Last Week,

.
Royalville Communications, Inc
produces: