Exhibition commemorates the 250th anniversary of Giambattista Tiepolo's death
Installation view. Photo: Luca Rossi.
MILAN
.-
From 30 October 2020 to 21 March 2021, the
Gallerie d'Italia – Piazza Scala
(the Intesa Sanpaolo museum complex in Milan) hosts the exhibition Tiepolo. Venice, Milan, Europe, curated by Fernando Mazzocca and Alessandro Morandotti with general coordination by Gianfranco Brunelli. To commemorate the 250th anniversary of Giambattista Tiepolo's death (Venice 1696 - Madrid 1770), the first exhibition of the artist's work is being shown in Milan. In the logical and concise exhibition path designed by the curators to help track Tiepolo's international success - from his years of apprenticeship in Venice to his consecration within the major European courts - extraordinary masterpieces are revealed. These range from the youthful mythological creations of the Gallerie dell'Accademia of Venice to the Martyrdom of St. Bartholomew, painted in 1722 for the San Stae church in Venice (a true museum of early ei ...
More
The Best Photos of the Day
Remarkable records of Joni Mitchell's changes
Geta Brătescu is celebrated in two special presentations in Zurich this autumn
Christie's unveils the collection of Barbara Allen de Kwiatkowski, muse to Andy Warhol


A young Mitchell halted piano lessons when she realized, "I didn't have any masters I wanted to follow." Photo: Joni Mitchell Archives via The New York Times.

by Lindsay Zoladz



NEW YORK (NYT NEWS SERVICE).- The story of why Joni Mitchell quit piano lessons is also the story of how Joni Mitchell wrote her first song. She was around 7, and the tune was called "Robin Walk" — "it was real bouncy," she remembers in a spirited interview with Cameron Crowe for the liner notes of her new archival collection, "Joni Mitchell Archives — Vol. 1: The Early Years (1963-1967)." "I played it for my piano teacher, who slapped me across the wrist with a ruler for playing by ear," Mitchell, now 76, continues. "She said, 'Why would you play by ear when you can have the masters under your fingers?'" The young Joan Anderson retorted, "Well, the masters had to play by ear to come up with that stuff." That was her last piano lesson. She realized, "I didn't have any masters I wanted to follow." It would be more than a decade before she wrote her ... More



Geta Brătescu, Untitled (Form), 2014. Collaged paper and pencil on paper, 42 x 29 cm / 16 1/2 x 11 3/8 in. Photo: Alex Delfanne. © The Estate of Geta Brătescu. Courtesy the Estate of Geta Brătescu, Ivan Gallery, Bucharest and Hauser & Wirth.



ZURICH.- The continuing influence of the work of Geta Brătescu is celebrated in two special presentations in Zurich this autumn. Hauser & Wirth Publishers have collaborated with the Swiss fashion house Akris and its Creative Director Albert Kriemler to create a unique display of materials from their archive specially selected by Kriemler. Kriemler has long been inspired by the work of Brătescu and collaborated with the artist and Marian Ivan of Ivan Gallery for Akris' Spring/Summer 2019 collection. In addition, the presentation celebrates the book conceived by Brătescu and Hauser & Wirth Publishers in 2019, 'Game of Forms', which launches publicly on occasion of the opening of 'Geta Brătescu x Albert Kriemler. A Collaboration'. Complementing this display is 'Geta Brătescu. The Gesture, The Drawing' at Hauser & Wirth ... More



Andy Warhol, Mao, painted in 1973. Estimate: $1,000,000-1,500,000. © Christie's Images Ltd 2020.



NEW YORK, NY.- Christie's announced that it has been entrusted with The Collection of Barbara Allen de Kwiatkowski, which will be offered across eight sales, beginning in New York this December with Post-War & Contemporary Art (December 3), Impressionist and Modern Art (December 4), Magnificent Jewels (December 8), Jewels Online (November 18 to December 1), Design (December 11), Old Master Paintings Online (November 13 to December 4) followed by the April 2021 sales of The Collector (April 8) and Prints & Multiples (April 21). Known throughout international circles by an affectionately abbreviated name, Babs deK was a figure synonymous with style and glamor. Muse and close friend to Andy Warhol, she was part owner, cover star, and contributor to his renowned Interview magazine. Babs' Warhol years are well documented in editorials, Polaroids and drawings. She and Andy were the undisputed disco balls of Studio 54, and in their lives outsi ... More
Hindman's Western Paintings and Sculpture auction sets multiple new world auction records
Explore the incredible breadth of The Met's photography collection through three exhibitions now on view
Exhibition presents works made by Francesca Woodman in New York from 1979-80


Fritz Scholder (American, 1937-2005), Indian Messiah. Oil on canvas, signed Scholder (lower right), 80 x 68 inches. Property from a Corporate Art Collection. Estimate: $20,000.00 - $40,000.00.
Price Realized: $192,000




DENVER, CO.- Hindman's Western Paintings and Sculpture auction was held yesterday, October 29, and posted outstanding results. The auction exceeded its presale estimate and set numerous new global auction records. The sale sold 93% of the lots offered and closed out the day at $1.6M. The Western & Wildlife Art category has seen a considerable increase in demand as of late, with Hindman's Western Paintings and Sculpture auctions consistently surpassing expectations. "The works offered in yesterday's sale were truly exceptional and we are delighted with the results. The Western art market continues to flourish as more and more collectors turn their attention and resources to this category. We are so pleased to be able to continually offer such outstanding material and we look forward to our upcoming Western Paintings & Sculpture auction ... More



Unknown American, active 1850s. Studio Photographer at Work, ca. 1855. Salted paper print from paper negative. The Metropolitan Museum of Art, William L. Schaeffer Collection, Promised Gift of Jennifer and Philip Maritz, in celebration of the Museum's 150th Anniversary.



NEW YORK, NY.- The Met's rich collection of photography can be explored through three exhibitions now on view: the recently opened Pictures, Revisited; the major 150th anniversary exhibition Photography's Last Century: The Ann Tenenbaum and Thomas H. Lee Collection, and the focused installation 2020 Vision: Photographs, 1840s–1860s. In celebration of the Museum's 150th anniversary, these three exhibitions showcase the breadth and depth of The Met's Department of Photographs, featuring new and recent gifts and promised gifts, many offered in celebration of the anniversary and presented here for the first time. Photography's Last Century: The Ann Tenenbaum and Thomas H. Lee Collection (on view through Nov. 30) includes masterpieces by Paul Strand, Dora Maar, Man Ray, and László Moholy-Nagy; Edward Weston, ... More



Francesca Woodman, Untitled, New York, 1979 (detail). Estate digital c-print, 20.3 x 25.4 cm. 8 x 10 in © Woodman Family Foundation. Courtesy Woodman Family Foundation and Victoria Miro.



VENICE.- Victoria Miro is presenting an exhibition of works made in New York from 1979–80, focusing on a rare series of colour photographs by Francesca Woodman staged in her New York apartment. In her short career Francesca Woodman (1958–1981) produced an extraordinary body of work acclaimed for its singularity of style and range of innovative techniques. From the beginning, her focus was on the relationship with her body as both the object of the gaze and the active subject behind the camera. Following the gallery's 2018 exhibition of works made in Italy in 1977–1978, the works in this exhibition centre on a rare series of colour photographs that Woodman staged in her New York apartment in 1979. In these images, and black-and- white photographs also made in New York during the same period, Woodman contorts and inserts her body into space and architecture, at times even 'performing' classical ... More
Enzo Mari, industrial designer who kept things simple, dies at 88
Heritage Auctions announces the first-ever sale of 'Game of Thrones' storyboards and conceptual paintings
Rijksmuseum opens major exhibition of leading Dutch photographer Ed van der Elsken


The Italian architect and designer Enzo Mari posing in his studio in front of some models of his projects. Milan, 1974.



NEW YORK (NYT NEWS SERVICE).- Enzo Mari, an irascible industrial designer, artist and polemicist who made simple, beautiful objects, including toys and traffic bollards, that delighted generations of Italians and design buffs all over the world, died Oct. 19 at a hospital in Milan. He was 88. The cause was complications of the coronavirus, said Hans Ulrich Obrist, who, with Francesca Giacomelli, curated a major retrospective of his work at the Triennale Design Museum in Milan, which opened two days before his death. Mari's wife, Lea Vergine, an art critic, theoretician and performance artist, also died from the coronavirus on Oct. 20, at 82. Mari was known as much for his grumpy pronouncements on the state of design — which he disdained as mostly unnecessary and a waste of labor and material — as for his own designs. His most beloved works include an elegant platter made from a slightly bent I-beam (a ... More



Game of Thrones Jon Snow Awakens Storyboards by William Simpson Group of 2 (HBO, 2011).



DALLAS, TX.- Heritage Auctions announced the first-ever auction of Game of Thrones preliminary conceptual paintings and storyboards from the collection of their creator, acclaimed artist William Simpson. More than 40 pieces will be spread across 18 lots in the Dallas-based auction house's Nov. 14 Entertainment & Music Memorabilia event, each one a singular keepsake from the acclaimed HBO series based on the novels of George R.R. Martin. These are the rough drafts of entertainment history, the black-and-white sketches and vibrant paintings eventually brought to life by armies of actors, directors, producers, makeup artists, prosthetics makers and special-effects technicians (for starters). In these works, Simpson bridged the gulf between the writers' boundless imaginations, in which anything was possible and everything was doable, and the real world's limitations. "You're interpreting almost the idea of what a director might see in their head," sa ... More



Ed van der Elsken Portrait of Karel Appel 1958-1963 Scratched gelatin silver print Collection Rijksmuseum, Amsterdam ©Ed van der Elsken.



AMSTERDAM.- This autumn the Rijksmuseum presents Ed van der Elsken: Crazy World, an exhibition focusing on the personal archive that sheds new light on the most celebrated 20th century photographer in the Netherlands. The recent acquisition of Ed van der Elsken's artistic estate has provided the ideal opportunity to shed light on the working practice of the Dutch photographer. The display of more than a hundred objects – including photographs, photobook designs and contact sheets – invites the viewer to look over the shoulder of the artist at work. Ed van der Elsken: Crazy World runs from 30 October 2020 to 10 January 2021. The exhibition is a collaboration between the Rijksmuseum and the Nederlands Fotomuseum in Rotterdam. Photographers generally take more pictures than they publish or exhibit, and that was certainly true in the case of Ed van der Elsken (1925-1990). A large quantity ... More
Galerie Max Hetzler exhibits new and recent paintings, drawings and sculptures by Glenn Brown
Aperture announces Zora J Murff as the recipient of the inaugural Next Step Award
Jan Van Imschoot presents a new series of restyled still lifes at Galerie Templon


Glenn Brown, Black Ships Ate the Skys, 2020. © Glenn Brown. Photo: def image.



BERLIN.- Galerie Max Hetzler will open the solo exhibition And thus we existed with paintings, drawings and sculptures by Glenn Brown at Bleibtreustraße 45 and the gallery's new space at Bleibtreustraße 15/16. One of Britain's most revered contemporary artists, Brown works across painting, drawing and sculpture, taking as his source material reproduced imagery from art history and popular culture. At the core of his practice is the blending of artistic periods and stylistic genres. Transcending time and pictorial conventions, Brown's work disarms common distinctions between beauty and abjection, heightening the emotive tension present within. The sources for Brown's practice are found in the works of Old Masters, Surrealists or artists such as Karel Appel, Frank Auerbach or Georg Baselitz, as well as sci-fi painters like Chris Foss. Starting with published or downloaded versions of his sources, he ... More



Zora J Murff, Two in the hand (Affirmation #2), 2019, from the series American
Mother, American Father, courtesy Webber Gallery and the artist.



NEW YORK, NY.- Aperture and Baxter St at the Camera Club of New York have joined forces, with the generous support of 7|G Foundation, to launch the inaugural Next Step Award and announce photographer Zora J Murff as its recipient. Murff will receive a $10,000 artist's grant, the publication of a photobook with Aperture, and an accompanying exhibition at Baxter St at CCNY. At a pivotal time in reconsidering equity across the country and in arts institutions, the Next Step Award aims to identify strong emerging or evolving voices whose work deserves greater recognition. The annual award will support underrepresented US-based artists at a critical juncture in their artistic development. It will also support the presentation of diverse opinions, as well as timely lens-based work that's relevant to today's visual culture ... More



Jan Van Imschoot, Le malentendu, 2020. Oil on canvas, 75 x 65 cm – 29 1/2 x 25 5/8 in. Photo: © Courtesy Templon, Paris – Brussels.



BRUSSELS.- Two years after his last exhibition at Galerie Templon, Belgian artist Jan Van Imschoot, the self-proclaimed master of "anarcho-baroque", is returning to his native country to present a new series of restyled still lifes. In Le bouillon de onze heures (the 11 o'clock broth), Van Imschoot explores the art of the 17th-century Northern School. The artist looked for inspiration to the silent universe of one of its masters: Willem Claesz Heda. Following in the footsteps of the one of the most illustrious of Flemish painters, Van Imschoot reworks the still life form to reflect his distinctive universe, restoring its noble status thanks to his virtuosity and mastery of the subject. Against dark backgrounds lit up by flashes of flamboyant colour, he immerses us in 17th-century Flemish bourgeois life, a gleaming world of luxury tableware, sophisticated dishes and precious silk tablecloths. ... More
Quote
He who sells himself to style turns statues into bad literature. Auguste Rodin
---
Exhibition Tour---About Time: Fashion and Duration with Andrew Bolton
---

Flashback
On a day like today, Anglo-French artist Alfred Sisley was born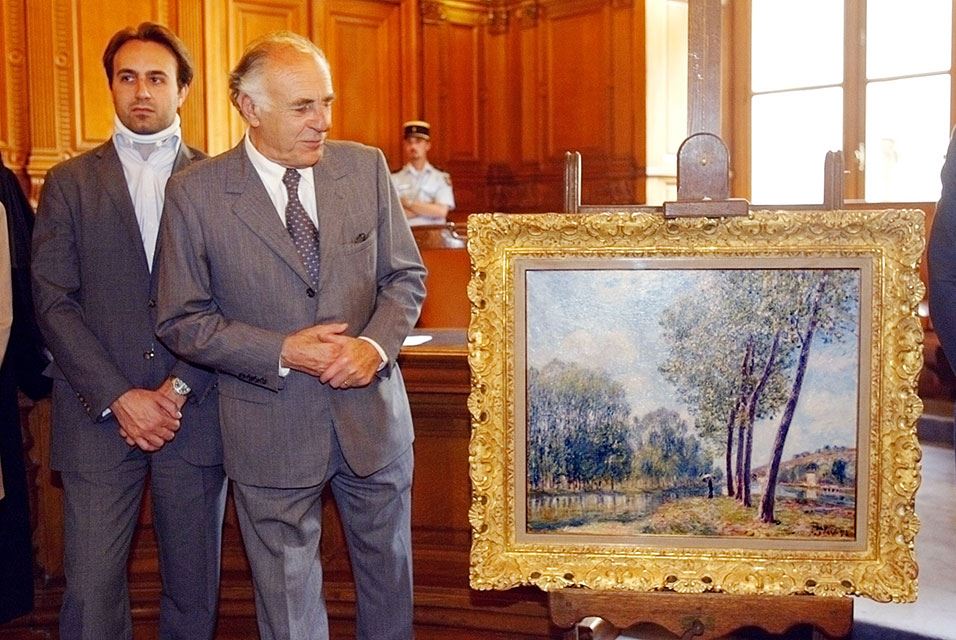 October 30, 1839. Alfred Sisley (30 October 1839 - 29 January 1899) was an Impressionist landscape painter who was born and spent most of his life in France, but retained British citizenship. He was the most consistent of the Impressionists in his dedication to painting landscape en plein air (i.e., outdoors). He never deviated into figure painting and, unlike Renoir and Pissarro, never found that Impressionism did not fulfill his artistic needs. In this image: French businessman Pierre de Gunzbourg, flanked by his son Vivien, left, looks at the painting, "Soleil de Printemps, Le Loing, " (Spring Sun, Le Loing) by impressionist Alfred Sisley at the Paris courthouse, Friday, June 18, 2004.
---

Museums, Exhibits, Artists, Milestones, Digital Art, Architecture, Photography,
Photographers, Special Photos, Special Reports, Featured Stories, Auctions, Art Fairs,
Anecdotes, Art Quiz, Education, Mythology, 3D Images, Last Week,

.
Royalville Communications, Inc
produces: