The Deering Estate Selects Mira Lehr for New Solo Exhibition to Kick Off Art Basel Season in Miami
Installation view of the Deering Estate's Great Hall. Two paintings by Mira Lehr: Pandora's Blossoms, and Emerging from the Field of Reeds. Photo by Zachary Balber.
MIAMI
.-
The nationally acclaimed artist
Mira Lehr
, celebrated as "the Godmother of Miami's Art Scene," has been selected for several prominent exhibitions, art fairs, and events during the eagerly awaited return of Art Basel Season this year in Miami.
The Deering Estate
has chosen Lehr for its season opener, with the new solo exhibition Mira Lehr: Regenerative Rhythms. Curated by Melissa Diaz, the show features all new works by Lehr created in 2021 that have never before been exhibited. International recognition of Lehr's artistic trajectory rises to even greater heights this year ―
Skira Editore
, one of the world's leading publishers of art books, will host a private, by-invitation-only event during Art Basel Miami Beach to announce the new, ...
More
The Best Photos of the Day
Israeli diver finds 900-year-old crusader sword
Soundsuit by American multimedia artist Nick Cave acquired by Honolulu Museum of Art
Christie's New York 21st Century Evening Sale presents: ARCADIA


A picture taken on October 19, 2021, shows an ancient one-meter-long sword that experts say dates back to the Crusader-era and is believed to have belonged to a Crusader, displayed at the beach in the Israeli seaport of Caesarea, some days after being discovered by a local diver. Jack GUEZ / AFP.



CAESAREA.- Israel on Tuesday displayed a 900-year-old sword believed to have belonged to a crusader, found by a scuba diver off the Mediterranean coast. The Israel Antiquities Authority said diver Shlomi Katzin came across the iron sword, now encrusted in marine organisms, after shifts in the sand left it exposed. "The sword, which has been preserved in perfect condition, is a beautiful and rare find and evidently belonged to a crusader knight," Nir Distelfeld of the IAA said in a statement. The IAA said the Carmel coast area where the sword was found was used through the centuries by ships seeking shelter from storms due to its many coves, leaving various "rich archaeological finds". Kobi Sharvit of the IAA's marine archaeology unit said the trend of divers finding precious artefacts was growing. Even though professionals ... More



Nick Cave (b. 1959. Lives and works in Chicago), "Soundsuit 8:46" (2021) . Mixed media including vintage textile and sequined appliqués, metal, and mannequin. Photo courtesy Honolulu Museum of Art.



HONOLULU, HI.- The Honolulu Museum of Art recently acquired a major work by legendary contemporary artist Nick Cave. "Soundsuit 8:46" (2021), a mixed-media mannequin of vintage floral textiles and sequined appliques, is a response to recent police violence against people of color, in particular the tragic murder of George Floyd in Minneapolis in May 2020. The work revisits Cave's iconic series "Soundsuits," which were first conceived after the 1991 Rodney King beating and the resulting riots in Los Angeles in 1992. "Soundsuit 8:46" forms the centerpiece of the thematic reinstallation of HoMA's permanent collection entitled "In Human Terms." This reinstallation showcases works in a variety of media that speak to humanity's desire to explore the meaning and significance embedded within the human form from antiquity to today. "Nick Cave's essential and innovative work is critical ... More



Andrés Reisinger (b. 1990), RAC (b. 1985), Arch Hades (b. 1992), ARCADIA, 2021 (detail). Estimate Unknown. © Christie's Images Ltd 2021.



NEW YORK, NY.- On Tuesday, 9 November 2021, Christie's 21st Century Art Evening sale at Rockefeller Center will present ARCADIA (estimate unknown), a collaborative interdisciplinary NFT by contemporary visual artist Andrés Reisinger, Grammy-winning musician RAC, and bestselling poet Arch Hades. Through ARCADIA, these three artists, each a leading name within their respective fields, harmoniously fuse poetry, music, and graphic art in a film that unpacks concepts of a collectively felt existential crisis experienced universally by humankind in our current era. In ARCADIA, the message is inseparable from the medium, as three timeless and traditional fine artforms - musical, visual, and lyrical - culminate in the digitized manifestation of an NFT, an asset class specific to the 21C. The work will be minted in October 2021 by Aorist, a next generation cultural institution supporting a sustainable NFT marketplace powered on the Algorand Blockchain. No ... More
Whitechapel Gallery visitors are invited to participate in an interactive installation by Yoko Ono
Exhibition at Christopher Bishop Fine Art presents drawings on blue paper from the 16th-19th centuries
David Finn, co-founder of a public relations power, dies at 100


Yoko Ono, Mend Piece, 1966. Broken cup and saucers, needle and thread, glue, plinth. Installation view: 'Yoko Ono: Unfinished Paintings and Objects', Indica Gallery, London, 1966. Image courtesy the artist / photo: Iain Macmillan.



LONDON.- This autumn, Whitechapel Gallery visitors are invited to participate in an interactive installation by world famous artist, musician and activist Yoko Ono (b.1933, Japan). Broken fragments of pottery are presented on two plain white tables, along with simple materials for repair – glue, twine, scissors and tape. On entering the space participants are prompted by a set of simple instructions provided by the artist: 'Mend carefully. / Think of mending the world at the same time.' Once finished, the 'mended' objects are displayed on adjacent shelves. Ono first presented this work as Mending Piece I at her 1966 solo exhibition at Indica Gallery, London, a renowned centre for countercultural art. MEND PIECE for London now returns to the city more than 50 years later, following Ono's extensive career spanning performance, writing, visual art, experimental ... More



Giovanni Battista Tiepolo (Venice 1696 – Madrid 1770), Christ in the Garden of Gethsemane, c. 1750. Red chalk heightened with white on blue paper, 356 x 270 mm.



NEW YORK, NY.- Visions in Blue: Drawings on Blue Paper, an exploration of the techniques and historical context of drawings on blue paper from the 16th to the 19th centuries, will be on view at Christopher Bishop Fine Art in New York City from October 22 through November 13, 2021. The exhibition will be accompanied by an exuberant temporary floral display for the first week, bringing a midsummer's touch to Manhattan's autumn art calendar. Most closely associated with Northern Italian drawings of the 17th century and especially the masters of the Veneto including Veronese, Titian, and Tintoretto, the tradition of drawing on blue paper continued well into the 18th and even the early 19th century. Among the dozen drawings featured in the exhibition is Giovanni Battista Tiepolo's (Italian, 1696-1770) large-scale drawing Christ in the Garden of Gesthemene, a rare preparatory study for a 1750 painting of the same name by ... More



David Finn in 2015 with a sculpture he made from straightened paper clips. While expanding his public relations firm, he furthered his involvement in the arts as a painter, photographer and sculptor. Ruder Finn via The New York Times.

by Glenn Rifkin



NEW YORK, NY.- David Finn, a dominant figure in the creation of the modern public relations industry as the co-founder of Ruder Finn, one of the most successful corporate PR firms to emerge after World War II, died Monday at his home in New Rochelle, New York. He was 100. His granddaughter Rachel Spielman said the cause was atherosclerotic cerebrovascular disease, which results from a thickening and hardening of the walls of the arteries in the brain. Finn was a public relations counsel to such corporate giants as Lever Brothers, Exxon, Bristol-Myers Squibb, Novartis and Coca-Cola. He was also devoted to the arts as a painter, illustrator, photographer and sculptor (notably using paper clips as his medium), and persuaded many of his clients, including the tobacco maker ... More
Stephen Friedman Gallery announces the representation of Hulda Guzman
Henry Moore bronze leads the fall offerings at Shannon's
Public Art Fund unveils Gillian Wearing's sculptural tribute to Diane Arbus


Drawing on surrealism, Mexican muralism and Caribbean folk traditions, Guzmán's junglescapes and studio scenes conjure portals to a mythic realm.



LONDON.- Stephen Friedman Gallery announced representation of Dominican artist Hulda Guzmán. Hulda Guzmán was born in 1984, Santo Domingo, Dominican Republic. She lives and works between Santo Domingo and the rainforest-covered mountains of Samaná, on the country's northeast coast. Guzmán's paintings are populated by a technicolour cast of humans, animals, anthropomorphic plants and imaginary creatures. Employing distinct architectural locations and spatial tricks such as mise en abîme, her narratives occupy contradictory, dreamlike realities. Characters lounge on ambrosial shores beside derelict flats, join dancefloors that spill into the rainforest and chase demons through chic interiors. Though rooted in Guzmán's liberal childhood, these wittily painted gatherings also reflect her experiences of the artistic community in Samaná. Echoing the paradisial fantasies of Henri Rousseau and Paul Gauguin, Guzmán frequently i ... More



Bronze sculpture by Henry Moore (British, 1898-1986) titled Mother and Child on Ladderback Rocking Chair (1952), edition of 9 +1, 8 ¼ inches tall. Estimate $400,000-$600,000.



MILFORD, CONN.- Shannon's has collected an exceptional group of 180 artworks to be offered in their Fall Fine Art Auction on Thursday, October 28th, beginning promptly at 6 pm Eastern time. There are spectacular offerings in every category, particularly 20th century American art, 19th century European art, Hudson River School painting, Modernism and Contemporary art. Headlining the auction are two works by celebrated the British Modernist, Henry Moore. Moore, best known as a sculptor, was a skilled draughtsman often working out concepts for his sculptures on paper. Shannon's will offer both a bronze, Mother and Child on Ladderback Rocking Chair (estimated at $400,000-$600,000) and a colored, mixed-media work on paper, titled Rocking Chairs (estimate $100,000-$200,000) related to the series of mother and child sculptures on rocking bases. The bronze, from an edition of 9, was intended to rock back and forth, adding charm and playfulness to ... More



Gillian Wearing, Diane Arbus, 2021. Bronze, oil paint. Presented by Public Art Fund at Doris C. Freedman Plaza, New York City, October 20, 2021 to August 14, 2022 © Gillian Wearing. Courtesy of Maureen Paley, London, Tanya Bonakdar Gallery, New York and Regen Projects, Los Angeles. Photo: Nicholas Knight, Courtesy of Public Art Fund, NY.



NEW YORK, NY.- Public Art Fund is presenting British conceptual artist Gillian Wearing's life-size bronze sculpture Diane Arbus—a tribute to the legendary photographer. Arbus was a lifelong New Yorker and often frequented Central Park, where she made photographs of everyday people. Wearing's sculpture is on view in Doris C. Freedman Plaza at the southeast entrance to the park. It depicts Arbus with her finger on the shutter button of her iconic twin lens camera, as she might have been seen in the 1950s and 60s. Standing 5'6" tall, the sculpture is presented at street level without a plinth, directly meeting visitors. Her shoes are painted realistically to humanize the appearance of the bronze statue. A plaque bears a quote by Arbus: "If you scrutinize reality closely enough, if in some way you really, ... More
Andy Warhol's Endangered Species Portfolio sells for $1.875 million at Heritage Auctions
Agnes Hsu-Tang elected next chair of New-York Historical Society's Board of Trustees
MAXXI opens the exhibition "Thomas Hirschhorn. The Purple Line"


Andy Warhol (1928-1987), Endangered Species, 1983. Ten screenprints on Lenox museum board, 38 x 38 inches (96.5 x 96.5 cm) (sheet). Ed. 64/150.



DALLAS, TX.- A pristine-condition edition of Andy Warhol's 1983 Endangered Species portfolio sold Tuesday at Heritage Auctions for $1,875,000, the second-highest price ever realized at auction for the landmark work. The collection of 10 signed screen prints served as the centerpiece of Heritage Auctions' Oct. 19 Prints & Multiples Signature® Auction, which attracted more than 540 bidders who spent $3,439,000 on extraordinary works by Warhol, Pablo Picasso, Banksy, Marc Chagall, M.C. Escher and other art-world titans. The sell-through rate exceeded 99 percent; the sale, too, more than doubled its pre-auction estimate. "When I logged in to my computer in the hours before the live auction began, I thought I was at a Wimbledon match," says Holly Sherratt, Heritage Auctions' Director of Modern & Contemporary Art. "It was thrilling to see so many bids roll in. I watched ... More



Dr. Hsu-Tang, an international cultural heritage policy advisor trained in archaeology and art history, has been a trustee of New-York Historical since 2013. Photo: Elena Olivo.



NEW YORK, NY.- The New-York Historical Society announced that Dr. H. M. Agnes Hsu-Tang has been elected as the incoming chair of its Board of Trustees. Her service as chair will commence on February 28, 2022. She succeeds Pam B. Schafler, who has served as board chair since 2013 and who will remain a trustee with the title chair emerita. Accomplishments during Ms. Schafler's tenure include the inauguration of the nationally-televised series, History with David M. Rubenstein, filmed live from New-York Historical's Robert H. Smith Auditorium; the reinstallation of the institution's magnificent Tiffany lamp collection; and the successful completion of a major capital campaign for the complete renovation of New-York Historical's permanent collection galleries. Dr. Hsu-Tang, an international cultural heritage ... More



Thomas Hirschhorn, The Purple Line © Giorgio Benni courtesy Fondazione MAXXI.



ROME.- An imposing 6-metre-high, more than 250-metre-long purple wall crosses MAXXI's Gallery 3, cutting through the sinuous spaces of the museum designed by Zaha Hadid, imprisoning the viewer and leaving the eye dazed: it's The Purple Line, the long line conceived by Thomas Hirschhorn, one of the world's most famous and important artists, to present Pixel-Collage, a monumental series of 121 works produced between 2015 and 2017. 118 of these collages from 21 prestigious international private collections, institutions and galleries are on display at MAXXI, thereby marking the first time that almost all collages are featured together in an exhibition. Thomas Hirschhorn. The Purple Line, curated by Hou Hanru and Luigia Lonardelli, is open from 20 October 2021 to 6 March 2022. «I've always loved making collages. I love bringing together what shouldn't be brought together». In these works, which are among the most ... More
Quote
I don't express myself in my paintings. I express my not-self. Mark Rothko
---
A New Style of Representation
---

Flashback
On a day like today, Dutch painter Aelbert Cuyp was born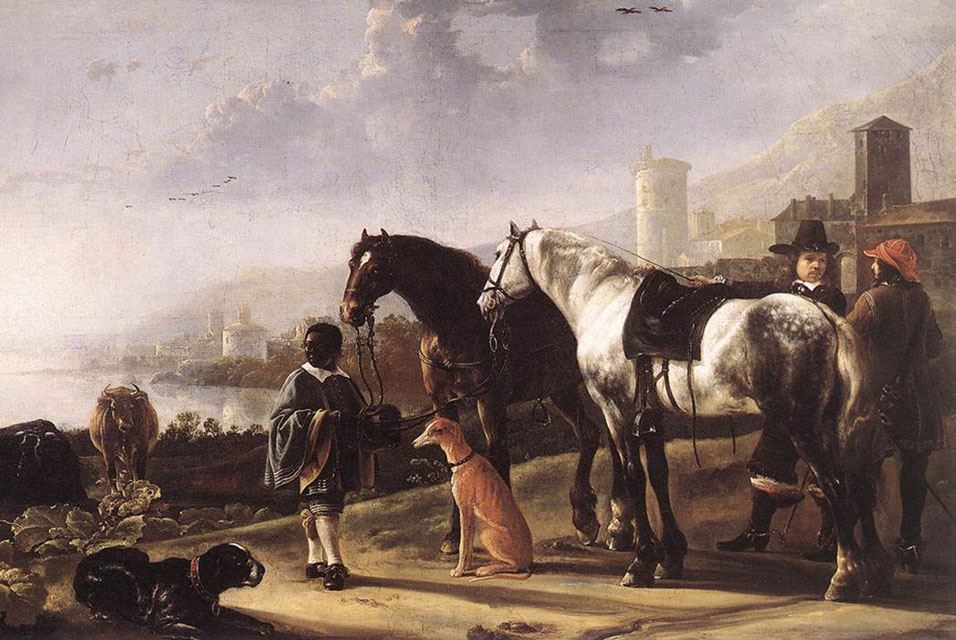 October 20, 1620. Aelbert Jacobsz Cuyp (October 20, 1620 - November 15, 1691) was one of the leading Dutch landscape painters of the Dutch Golden Age in the 17th century. The most famous of a family of painters, the pupil of his father Jacob Gerritsz. Cuyp (1594–1651/52), he is especially known for his large views of the Dutch countryside in early morning or late afternoon light. In this image: The Negro Page circa 1652, oil on canvas; Royal Collection.
---

Museums, Exhibits, Artists, Milestones, Digital Art, Architecture, Photography,
Photographers, Special Photos, Special Reports, Featured Stories, Auctions, Art Fairs,
Anecdotes, Art Quiz, Education, Mythology, 3D Images, Last Week,

.
Royalville Communications, Inc
produces: