Art and handcrafts, antiquities head the parade of lots at Hermann Historica
Large glazed horse from the Chinese Tang dynasty (618 - 906), shown standing with a saddle and blanket.
MUNICH
.-
A wide lineup of rare, even unique, extraordinary objects of the highest quality and from all specialist areas represented by the auction house, is coming under the hammer in the 2021 auctions of
Hermann Historica
in Grasbrunn near Munich. Once again this year, the list is endless, ranging from exclusive statues from antiquity, antique arms and armour, religious depictions from the early modern period, stone artefacts from Asian culture, testaments to historical military careers and exquisite heirlooms from ruling houses, right through to extremely elaborate antique firearms. The large Spring Auction is taking place with a live audience from 26 to 28 May and on 1 and 2 June, offering customers all over the world a diverse array, from objects for first-time buyers right up to inimitable pieces rarely found on the market for the most discerning collectors. All objects will be on display during the pre-sale viewing from 19 to ...
More
The Best Photos of the Day
Tina Kim Gallery opens an exhibition by one of the leading members of the Dansaekhwa movement
Hindman's May Fine Books & Manuscripts Auction sets new company record for a various owner books sale
Christie's 20/21 Century Auctions realize combined total of $775,272,750


Ha Chong-Hyun (b. 1935), White Paper on Urban Planning No.1, 1967 (detail). Oil on canvas, 42 1/8 x 42 1/8 inches, 107 x 107 cm.



NEW YORK, NY.- Tina Kim Gallery is presenting Return to Color, a solo exhibition of works by Ha Chong-Hyun (b. 1935), one of the leading members of the Dansaekhwa movement. Marking his third solo presentation with the gallery, the exhibition surveys the last decade of the artist's practice with new polychromatic works that illuminate a return to color as well as a departure from his foundational, monochromatic Conjunction series first developed in the 1970s. This revitalized body of work is being exhibited alongside selections from the artist's Post-Conjunction series from 2011. Shown together, the exhibition examines the artist's relationship with color, and investigate the philosophy behind the pivotal transitions in Ha's practice. The exhibition is on view from May 8 to June 30 2021. Ha Chong-Hyun began his Conjunction series in the 1970s and has developed the techniques into a signature style. ... More



The Holy Bible, Conteyning the Old Testament, and the New… London: Robert Barker, 1611. Price Realized: $52,500.



CHICAGO, IL.- On May 12, Hindman Auctions realized over $883,000 in 367 lots in its Fine Books and Manuscripts, Including Americana sale. Active and competitive bidding led to the highest sold total for a Books and Manuscripts various owner sale in Hindman's history and a robust 96 percent sell through rate. Outstanding bidder engagement was seen throughout the entire auction, but particularly with fine collections of Bibles and Currier and Ives prints. Since March, the Books & Manuscripts Department's auctions have realized over $1.32 million. "We are thrilled with the way buyers responded to the sale, and particularly to the outstanding selections of Bibles, Fine Press Books, and Currier and Ives prints," said Hindman's Director and Senior Specialist for Books & Manuscripts, Gretchen Hause. "The department has seen continued growth over the last few years, and we are so pleased to have set a new ... More



Gemma Sudlow selling a Basquiat. © Christie's Images Ltd 2021.



NEW YORK, NY.- On May 13, Christie's 20th Century Evening Sale achieved a resounding USD $481,114,000 (£342,673,789 / €397,501,595) and sold 98% by lot. On May 11, Christie's inaugural 21st Century Evening Sale opened the highly-anticipated week by realizing USD $210,471,500 and selling 95% by lot. Christie's Post-War & Contemporary Art Day Sale totaled USD $60,149,500 with 85% by lot and achieved nine new artist records. The Impressionist & Modern Works on Paper Sale totaled USD $9,807,500 with 90% sold by lot. The Impressionist & Modern Day Sale realized USD $11,162,500. Bonnie Brennan, President, Christie's Americas notes, "Christie's flagship May auction series in New York more than doubled our October 2020 sales total, confirming the auction market's resurgence this season. The global reach of our virtual saleroom drove exceptional prices for masterpieces by Basquiat and Picasso, as well as an abundan ... More
MoMA opens exhibition of works from its collection selected by Yto Barrada
European and Asian Works of Art Auction at Olympia Auctions to include property to benefit Cultural Institutions
Tate Modern opens an exhibition of over 200 works by Auguste Rodin


Ellsworth Kelly (American, 1923–2015). Running White. 1959. Oil on canvas. 7′ 4″ x 68″ (223.6 x 172.2 cm). Purchase. © 2021 Ellsworth Kelly. 9.1960.



NEW YORK, NY.- The Museum of Modern Art opened Artist's Choice: Yto Barrada—A Raft, an exhibition of works from MoMA's collection selected by Barrada (b. 1971), an artist known for her multidisciplinary investigations of cultural phenomena and historical narratives. On view from May 8, 2021, to January 9, 2022, the exhibition brings together works in two galleries, one on the fourth floor and one on the fifth floor, connected by their own staircase, highlighting over 60 works from MoMA's collection. In this latest edition of MoMA's Artist's Choice exhibition series, Barrada gathers works from the Museum's collection that resonate with the ideas and work of the French social work pioneer and writer Fernand Deligny (1913–1996). Barrada's exploration centers on Deligny's work from the late 1960s, when he lived together with other volunteers and children with intellectual and ... More



A Lucknow Enamel Huqa Bottle, India, early 19th century. Estimate: £4,000 - £6,000.



LONDON.- In the European Works of Art section of the sale, highlights consigned with a percentage donated to the benefit of The Wallace Collection, Westminster Abbey and The Grange Festival, a charity initiative started by Olympia Auctions following the impact of the pandemic, include an array of treasures including a fine Italian 15th century 'Embriachi' marriage casket estimated at £4,000 - £6,000. Also, a late 15th / early 16th century Limoges panel, estimate £4,000 - £6,000, a late 17th century bronze figure of Venus, estimate £2,000 - £3,000 and early 20th century cufflinks by Cartier, estimate £800 - £1,200. Other pieces in the European section include a private collection of 36 portrait miniatures from the18th/19th century as well as over 50 bonbonnieres, patch and snuff boxes, with a combined estimate of £20,000 - £30,000. A number of the small boxes are of historical significance; one particular example displays contemporary ... More



The EY Exhibition: The Making of Rodin Installation views © Tate photography / Matt Greenwood.



LONDON.- Tate Modern presents a major new exhibition of Auguste Rodin (1840-1917). It shows how he broke the rules of classical sculpture to create a dramatically different image of the human body, mirroring the ruptures, complexities and uncertainties of the modern age. Featuring over 200 works, many of which have never been shown outside France, The EY Exhibition: The Making of Rodin offers a unique insight into Rodin's ways of thinking and making. Thanks to a unique collaboration with the Musée Rodin, who have offered Tate unprecedented access to their collection, visitors are able to both appreciate the originality of iconic works such as the Thinker 1881 and The Three Shades 1886 as well as make fresh discoveries that reveal how the artist transformed modern sculpture. Although Rodin is best known for his bronze and marble sculptures, he personally only worked as a modeller, capturing movement, emotion, light and volume in pliable m ... More
Ketterer Kunst's June auctions to offer a sensational discovery by Wassily Kandinsky
Art Gensler dies at 85; Built a Global Architecture Firm
Hauser & Wirth opens concurrent exhibitions in New York and London of Sir Frank Bowling's work


Wassily Kandinsky, Gebogene Spitzen. Watercolor, 1927, 48 x 32,2 cm. Estimate: € 250,000-350,000.



MUNICH.- It was lost for more than 70 years: Now Wassily Kandinsky's work "Gebogene Spitzen" resurfaced. Experts of Ketterer Kunst have no doubts about its authorship. The watercolor with its fascinating history will be called up in the auctions at Ketterer Kunst in Munich on June 17-19. Wassily Kandinsky's strictly geometric compositions from the Bauhaus years are his most-sought after paper works on the international auction market. "I am all the more delighted ", says Robert Ketterer, "that we were able to identify such an outstanding work." The auctioneer and owner of Ketterer Kunst explains: "Many Kandinsky experts did research into the work, however, its exact appearance and whereabouts remained a mystery for decades. The only hint came from the catalog raisonné of Vivian Endicott Barnett: a tiny sketch made from memory inscribed "Location: Unknown." With shows in Berlin, Paris ... More



Art Gensler, an architect and entrepreneur who turned a small San Francisco architecture firm into one of the largest in the world, with projects spanning the globe, died on May 10, 2021, at his home in Mill Valley, Calif. He was 85. Via Gensler via The New York Times.

by Gillian Friedman



NEW YORK (NYT NEWS SERVICE).- Art Gensler, an architect and entrepreneur who turned a small San Francisco architecture firm into one of the largest in the world, with projects spanning the globe, died on May 10 at his home in Mill Valley, California. He was 85. His death was confirmed by Kimberly M. Beals, a spokeswoman. Gensler's most prominent works include the terminals at the San Francisco International Airport and Shanghai Tower, a twisting glass structure that is China's tallest skyscraper and the second-tallest building in the world, at 632 meters, or 2,073 feet. (The tallest is Burj Khalifa in Dubai, at 2,717 feet.) Among the firm's other projects are the 32-story Tower at PNC Plaza in ... More



Frank Bowling, Piano to Guyana, 2004. Acrylic, acrylic gel and found objects on canvas with marouflage, 223 x 213 cm. © Frank Bowling. Courtesy the artist and Hauser & Wirth. Photo: Thomas Barratt.



NEW YORK, NY.- Reflecting the scale and scope of a prodigious six-decade career that has unfolded while criss-crossing the Atlantic Ocean, Sir Frank Bowling's inaugural exhibition with Hauser & Wirth is being presented in both the gallery's London and New York locations simultaneously. With works on view spanning over 50 years of the British icon's career from 1967 to the present day, 'Frank Bowling – London / New York' celebrates the ways in which one artist's inventive approach to the materiality of paint has expanded the boundaries of abstraction. The exhibition charts Bowling's life and work between the UK and the United States. Born in Guyana (then British Guiana) in 1934, Bowling arrived in London in 1953, graduating from the Royal College of Art in 1962. He later divided his time between the art scenes in ... More
Swann announces Photographs & Photobook auction
Epic film restoration for 7-hour Napoleon classic
Moderna Museet Malmö opens two new exhibitions


Alma Lavenson, Pump and Trough, Hornitos, silver print, 1940. Estimate $10,000 to $15,000.



NEW YORK, NY.- Exploring the thematic and visual diversity of the photographic medium, Swann Galleries's auction of Photographs & Photobooks on Thursday, May 27 covers twentieth-century masters, as well as contemporary practitioners and items from the visual vernacular: albums, archives, and individual objects. Significant chroniclers of the American scene include Robert Frank's Covered Car, Long Beach, California, silver print, 1955–56, printed 1971, which leads the sale ($50,000-70,000); Roy DeCarava with Catsup Bottles, Table and Coat, New York, silver print, 1952, printed 1982 ($20,000-30,000); and O. Winston Link's Hotshot Eastbound, Iaeger, West Virginia, silver print, 1957, printed 1988 ($7,000-10,000). Also of note are works by Diane Arbus, George A. Tice, Elliott Erwitt, and Garry Winogrand among others. Important social documentary images from Europe, as well as the ... More



In this file photo taken on May 6, 2021 a film editor works on the reconstruction of the Apollo version of the Napoleon movie (1927) by French director Abel Gance in the buildings of the Cinematheque Francaise at the Fort-de-Saint-Cyr in Montigny-le-Bretonneux, near Paris. STEPHANE DE SAKUTIN / AFP.

by Francois Becker and Eric Randolph



PARIS (AFP).- In a mammoth restoration task for one of cinema's most audacious and elusive treasures, a team of obsessives has spent 12 years recreating the original seven-hour cut of Abel Gance's 1927 silent classic, "Napoleon". "It's an act of madness," admits Georges Mourier, head of the 2.5 million-euro (three-million-dollar) project. When they began in 2008, he and editor Laure Marchaut had only planned to spend a few months tidying up Gance's archives in the basement of the Cinematheque Francaise in Paris. But in the process, they realised that previous restorations had mixed up two versions shown at the original premieres: a ... More



Edward Munch, Girl on bedside, 1916. Photo: Prallan Allsten/Moderna Museet.



MALMO.- On May 15, Moderna Museet Malmö opened two new exhibitions. With this summer's exhibition in the Turbine Hall, Winds from Jericho, Zvi Goldstein's unique work is presented for the first time in Sweden. The exhibition The Man with the Blue Face features Moderna Museet's rich collection while tracing the expressionist quest of early modernism. The exhibition Winds from Jericho marks the introduction of Zvi Goldstein's unique oevre in Sweden, featuring works from the last three decades. Goldstein's artistic practice shifted focus from the centre of Western culture to its periphery already in the late 1970:s, long before postcolonialism and discussions about centre and periphery became pivotal topics in the international art world. Zvi Goldstein (b. 1947 in Romania) has lived in Jerusalem since the late 1970s and considers this to be his artistic and intellectual home. His art is rooted in both Western cont ... More
Quote
The corruptest art is the sentimental - that makes pale woman faint. Camille Pissarro
---
Mark Rothko's 'Untitled' - penultimate canvas before artist's untimely death | Christie's
---

Flashback
On a day like today, Italian painter Sandro Botticelli died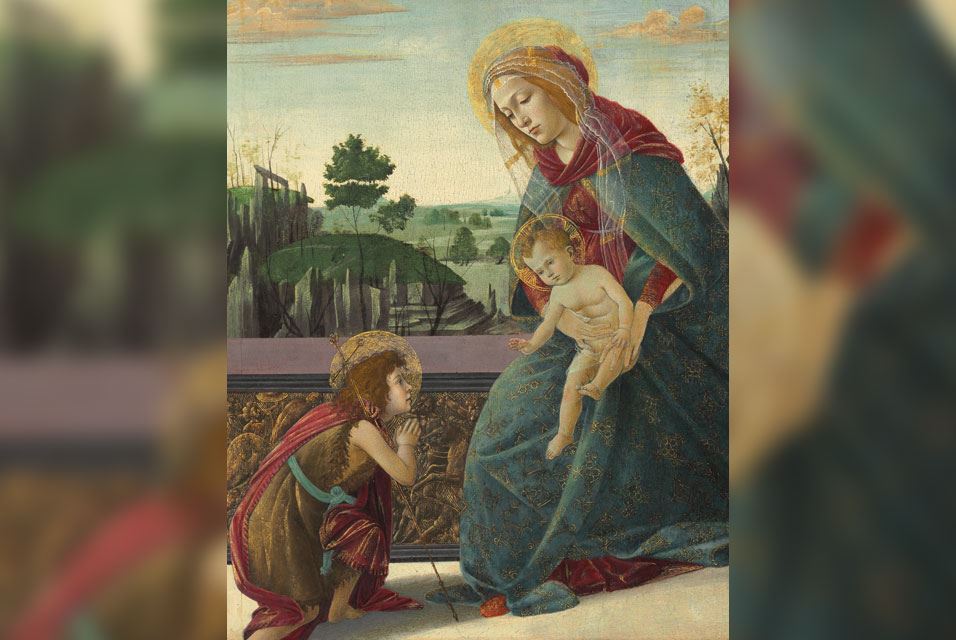 May 17, 1510. Alessandro di Mariano di Vanni Filipepi (c. 1445 - May 17, 1510), known as Sandro Botticelli, was an Italian painter of the Early Renaissance. He belonged to the Florentine School under the patronage of Lorenzo de' Medici, a movement that Giorgio Vasari would characterize less than a hundred years later in his Vita of Botticelli as a "golden age". In this image: Alessandro Filipepi, called Sandro Botticelli, The Madonna and Child with the Young Saint John the Baptist. Tempera, oil and gold on panel / 46.3 x 36.8 cm. Estimate: $5,000,000-7,000,000. Photo: Christie's Images Ltd 2012.
---

Museums, Exhibits, Artists, Milestones, Digital Art, Architecture, Photography,
Photographers, Special Photos, Special Reports, Featured Stories, Auctions, Art Fairs,
Anecdotes, Art Quiz, Education, Mythology, 3D Images, Last Week,

.
Royalville Communications, Inc
produces: