Good fences make good neighbors? Not at Opus 40.
The museum at Opus 40 in Saugerties, N.Y., July 24, 2021. It is hard to imagine how Fite, who worked in the quiet of his quarry's recesses to build something that has been compared to a North American Stonehenge, would react to the clamor that now surrounds it. Andrew Moore/The New York Times.

by Matt Stevens
SAUGERTIES
(NYT NEWS SERVICE)
.-
The 6.5-acre bluestone labyrinth rising out of a quarry here is one of the marvels of the Hudson Valley, an artistic tour de force by a self-taught sculptor who spent more than half his life creating it with thousands of rocks, infinite patience and no cement. Opus 40, whose very name evokes the tenacity of its creator, Harvey Fite, is a monument to the upper bounds of hard work and dedication that took most of 37 years to build. But now, some say, this soul-soaring triumph has been tarnished by the ordinary: A chain-link fence, nearly 400 feet long, that wraps around one of its edges, spoils its beauty and is the product of a long-smoldering dispute. "One man built this whole thing. It's incredible," said Alvah L. Weeks Jr., the town building inspector. "It's sad, this fence. Why couldn't you work something out?" The participants in the dispute include the Fite family, the nonprofit that operates Opus 40 and the neighbors who surround it. While the s ...
More
The Best Photos of the Day
New open access journal on Van Dyck and Jordaens published
Historic hangars of Tempelhof Airport host major European art exhibition Diversity United
Christie's announces The Cox Collection: The Story of Impressionism


Cover of the Jordaens Van Dyck Journal issue no. 1 showing John the Baptist by Jacques Jordaens, c.1620, oil on panel, 66.8 by 48.6 cm, Groninger Museum, loan from Municipality of Groningen, donation Hofstede de Groot.



BRUSSELS.- The Jordaens Van Dyck Panel Paintings Project announces the publication of a new open-access journal dedicated to the panel paintings of the famous Flemish artists Jacques Jordaens (1593-1678) and Anthony Van Dyck (1599-1641). The four-part series will publish the wide-ranging, scholarly findings of the international and multidisciplinary Jordaens Van Dyck Panel Paintings Project (JVDPPP). The beautifully illustrated first issue is now free to view online and will be available to print on demand at cost price through jordaensvandyck.org/journal. The publication is accompanied by the online launch of the Summary Catalogues of the Van Dyck and Jordaens panels examined by the project. The online expansion publishes over 500 high-resolution photos and includes ... More



Anthony Gormley, SLICE, 2020, Gusseisen, 270 x 78,5 x 66,5 cm, courtesy the artist.



BERLIN.- The major European exhibition Diversity United transforms the iconic halls of Tempelhof Airport in Berlin into a temporary exhibition space. Diversity United is open to visitors until September 19. In a time of global crisis and declining civil discourse, art can inspire people to engage with socio-political issues. Since the outbreak of the Covid-19 pandemic, the central themes of the exhibition have become more urgent than ever before: freedom and globalization, the importance and decline of democracy, solidarity and antagonism. How do artists from different generations and backgrounds respond to today's pressing issues, and to Europe's past and future? Their works are commentaries on the themes of power and equality, migration and territory, political and personal identity – and on the recurring question of Europe's role in the world. Unfolding over nine chapters, each with a distinct thematic focus, t ... More



Gustave Caillebotte (1848-1894) Jeune homme à sa fenêtre, oil on canvas 45⅝ x 31⅞ in. (116 x 81 cm.) Painted in 1876. Estimate on request (in excess of $50 million). © Christie's Images Ltd 2021.



NEW YORK, NY.- Christie's announced The Cox Collection: The Story of Impressionism, one of the greatest American collections to ever appear on the market. Masterpiece works by Caillebotte, Cézanne and van Gogh will headline the 25 works from the collection offered in November, and a dedicated sale of decorative arts and furniture will take place online in December. The collection was assembled half a century ago and is expected to realize in excess of $200 million. A portion of the sale proceeds will benefit educational purposes. A global tour of highlights from the collection will include stops in Taipei, Tokyo, Hong Kong and London, before the auction preview at Christie's Rockefeller Galleries in New York. For more than half a century, the businessman, collector, and philanthropist Edwin Lochridge Cox stood at ... More
UK court overturns govt go-ahead for Stonehenge road tunnel
Art on the Underground presents a London-wide commission by Helen Cammock
The Parrish Art Museum opens the first exhibition to investigate Roy Lichtenstein's early work


In this file photo taken on April 26, 2020 a sign warns of a road closure on the route to the prehistoric monument at Stonehenge in southern England. Adrian DENNIS / AFP.



LONDON (AFP).- A British court on Friday overturned government approval for the construction of a controversial road tunnel close to the Stonehenge stone circle, following opposition from historians, archaeologists and druids. The ruling came after UNESCO confirmed that the prehistoric site would be added to its "in danger" list if the project went ahead and warned it could lose its World Heritage Site status. The High Court ruled in favour of a judicial review and threw out consent for the road-building project given by the Secretary of State for Transport, Grant Shapps, in November 2020. Those opposed to the plan, including an umbrella group called the Stonehenge Alliance, had warned against the massive engineering project in an area full of archaeological treasures around the standing stones, with the road tunnel starting and ending within the site. Druids who revere the mystical monument as sacred also ... More



Helen Cammock, 2021. Commissioned by Art on the Underground. Courtesy Kate MacGarry and the Artist. Photo: Thierry Bal, 2021.



LONDON.- Art on the Underground presents an ambitious city-wide commission by British artist Helen Cammock, which responds to the events that unfolded in 2020 and 2021. Launched 28 July 2021, and on view for a year, the commission is being exhibited in poster sites in seven Underground stations across London, including Aldgate East, Charing Cross, Earl's Court, Holland Park, South Kensington, St James's Park and White City. For the artist's first major public commission, Cammock has created three new text-based artworks which reflect on our human response to the events that have unfolded over the past year: the effects of a global pandemic; the death of George Floyd and subsequent Black Lives Matter protests; the ecological challenges we continue to face; and the inequalities made evident through Covid-19. Her artworks consider the intersectionality of our lives and how our social and political identities are interconnected. ... More



Roy Lichtenstein, Self-Portrait at an Easel, c. 1951–1952. Oil on canvas, 34 1/16 x 30 1/8 inches (86.5 x 76.5 cm). Private collection. ã Estate of Roy Lichtenstein.



WATER MILL, NY.- The Parrish Art Museum presents Roy Lichtenstein: History in the Making, 1948–1960, the first major museum exhibition to investigate the early work of the artist, who became a founder of the Pop Art movement. It will be on view August 1 through October 24, 2021. The exhibition provides an illuminating prologue to Lichtenstein's well-known comics-inspired imagery, and tells the largely overlooked story of his early career, when formal experimentation and a keen eye for irony irrevocably defined his art. Lichtenstein's fruitful, formative years introduce a revisionist starting point for understanding his work and establish a fresh context for this period in 20th-century modern American art. The exhibition is co-curated by Elizabeth Finch, Lunder Chief Curator at Colby College Museum of Art, and Marshall N. Price, Chief Curator and Nancy A. Nasher and David J. Haemisegger Curator of Modern and Contemporary ... More
National Photographic Portrait Prize winner announced
Overlooked no more: Janet Sobel, whose art influenced Jackson Pollock
Sullivan+Strumpf to represent Lara Merrett


Titled Drought story, the portrait is of David Kalisch captured in the midst of an unexpected dust storm on his 1000-acre farm in Forbes, NSW.



CANBERRA.- Sydney photographer Joel B. Pratley's photo of a lone farmer immersed in a dust storm in drought-stricken Australia has won the 2021 National Photographic Portrait Prize. Titled Drought story, the portrait is of David Kalisch captured in the midst of an unexpected dust storm on his 1000-acre farm in Forbes, NSW. Pratley said his subjects' stance reflects the resilience of a man pushed to the limits by an unforgiving climate. "David's composure during the storm was surreal, because he is just so used to it. For me, it was like being on Mars." In making their decision, Judges Nick Mitzevich (National Gallery of Australia Director), Karen Quinlan AM (NPG Director) and renowned Australian photographer Bill Henson noted the haunting and surreal qualities of the portrait. "The vastness of the landscape turns farmer David Kalisch into an anonymous ... More



Painter Janet Sobel working in her New York studio, circa 1944. Gary Snyder Fine Art via The New York Times.

by Maya Blackstone



NEW YORK (NYT NEWS SERVICE).- When Janet Sobel created one of the most recognizable artistic styles, drip painting, on scraps of paper, boxes and the backs of envelopes, she was 45 years old, had never taken a single art class and didn't even have her own supplies. Rather than use a brush, she threw paint onto a surface or used objects like glass pipettes to control the pigment as it fell. Sometimes she used a vacuum cleaner to move the paint around. The result was an allover composition not bound to conceptions of form and shape. Though art historians say her spontaneous manner of painting is characteristic of abstract expressionism, it is another artist known for drip painting who gained fame as a founder of the movement: Jackson Pollock. "No one would ... More



Lara Merrett, Bella artist, Museum of Contemporary Art, Sydney. Photo: Anna Kucera.



SYDNEY.- Sullivan+Strumpf have had Lara Merrett on their radar for a while now. But it was her three major milestone shows at Artspace in 2017, the MCA Bella Jackson Room in 2018 and the University of Queensland Art Museum in 2019 that really signalled to Directors Ursula Sullivan and Joanna Strumpf, Merrett's superstar quality. A highly accomplished mainstay in contemporary Australian painting, Merrett's work expands on the rich tradition of abstraction with fresh ideas and new approaches. Often, she includes the community in her creative process and frequently eschews the constraints of the picture plane to immerse the viewer. Audiences are invited as active participants in her work: painted surfaces are interchangeable; able to be touched, walked among, cut through and removed. It's an act of enormous generosity and trust, and one that Merrett finds exhilarating. Within her expansive colou ... More
Pioneer of Caribbean zouk music dies
The Royal Scottish Academy opens a major retrospective exhibition of work by Bill Scott
Poster Auctions International's 84th Rare Posters Auction totals $1.9M in sales


In this file photo (L-R) Jacob Desvarieux of the band Kassav' performs at the "Setting The Stage - 2015 And Beyond" global all-star summer concert at the United Nations on June 6, 2014 in New York City. Mike COPPOLA / GETTY IMAGES NORTH AMERICA / AFP.



PARIS (AFP).- Jacob Desvarieux, the Guadeloupean co-founder of Caribbean band Kassav' which shot to global fame in the 1980s by creating the fast-beat zouk music style, has died of Covid-19. Local media in the French territory of Guadeloupe announced his death aged 65 late on Friday, prompting an outpouring of grief. "The West Indies, Africa and music have just lost one of their greatest ambassadors," tweeted Senegalese music star Youssou N'Dour. "Jacob, thanks to your art, you brought the West Indies and Africa closer together. Dakar where you once lived mourns you. Farewell friend." In poor health after undergoing a kidney transplant, the singer and guitarist was taken to hospital in Pointe-a-Pitre, Guadeloupe's largest city, on July 12 after catching Covid-19. "A giant ... More



Bill Scott, Measuring Personal Space II, 2010. Mixed media, 68.5 x 50.5 x 50.5 cm.



EDINBURGH.- The Royal Scottish Academy is presenting the first significant posthumous exhibition of works by sculptor Bill Scott PPRSA this summer. A prominent and respected member of the artistic community in Scotland, Scott was the first sculptor to be elected President of the Royal Scottish Academy and is best known for his constructed sculptures in mixed materials. The exhibition includes exceptional examples of these assemblage works, as well as cast bronzes, drawings and prints, revealing the themes and motifs that underwrote Scott's rich visual language. The series of box assemblages Measuring Personal Space (2000-10) is exemplary of Scott's interest in physical space, specifically the overlaps and distinctions between personal and shared spaces. Scott wanted his work to address 'the puzzles of our present time,' namely the ways in which we interact within share environments. The series ... More



Leonetto Cappiello, Chocolat Klaus. 1903. $20,400.



NEW YORK, NY.- Poster Auctions International's second sale of the year, on July 20th, finished at $1.9 million in sales. Rare Posters Auction LXXXIV demonstrated a continued passion for the masters of the poster—namely, Alphonse Mucha. Jack Rennert, President of PAI, said, "This auction, collectors proved the enduring charm of Art Nouveau masters, and particularly that of Alphonse Mucha, whose Belle Époque works have a timeless appeal for seasoned and new collectors alike. There's no question that Mucha was the star of this sale. But the strength of Art Nouveau works did not diminish the enthusiasm for Art Deco designs, as witnessed by our strong sales of works by Broders, Cassandre, and Loupot. As always, early designs for the circus continue to excite poster lovers, as evidenced by Pal's billboard for Lord John Sanger." Indeed, collectors clamored for works from the master of Belle Époque beauty, Alphonse Much ... More
Quote
I showed the America I know and observed to others who might not have noticed. N. Rockwell
---
Artist Studio Visit | Visionaries of Self | Christie's
---

Flashback
On a day like today, American installation artist Jason Rhoades died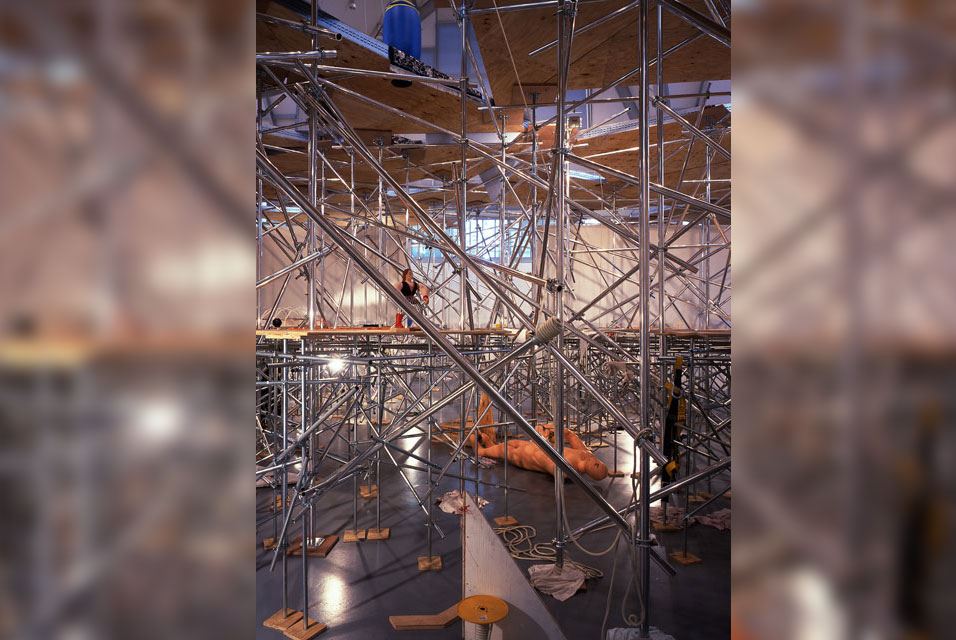 August 01, 2006. Jason Rhoades (July 9, 1965 - August 1, 2006) was an installation artist who enjoyed critical acclaim, if not widespread public recognition, at the time of his death, and who was eulogized by some critics as one of the most significant artists of his generation. Better known in Europe, where he exhibited regularly for the last twelve years of his life, Rhoades was recently celebrated for his combination dinner party/exhibitions that feature violet neon signs with African, Caribbean, Creole and hip-hop slang for the female genitalia. His work remains part of the permanent collection in the Rubell Family Collection in Miami, where he was a part of exhibit "Beg Borrow and Steal" at the time of his death. In this image: Jason Rhoades, Installation view, 'Perfect World', Deichtorhallen, Hamburg, Germany , 1999. © The Estate of Jason Rhoades. Courtesy Hauser & Wirth and David Zwirner, New York. Photo: Jens Rathmann.
---

Museums, Exhibits, Artists, Milestones, Digital Art, Architecture, Photography,
Photographers, Special Photos, Special Reports, Featured Stories, Auctions, Art Fairs,
Anecdotes, Art Quiz, Education, Mythology, 3D Images, Last Week,

.
Royalville Communications, Inc
produces: