Greece inaugurates 'Parthenon of shipwrecks'
The first underwater museum in Greece was inaugurated by the Minister of Culture and Sports Mr. Lina Mendoni at the wreck of Peristera, Alonissos, on Saturday, August 1st, in the presence of the Regional Governor of Thessaly k. Kostas Agorastou, who dived at a depth of 25 meters, along with the mayor of Alonissos Mr. Petros Vafini, singer Sakis Rouvas and executives of the Ephorate of Enalion Antiquities of the Ministry of Antiquities. Photo: The Ministry of Culture and Sports.
ALÓNNISOS
(AFP)
.-
Greece on Saturday inaugurated its first underwater museum, a trove of 5th century BC amphorae labelled the "Parthenon of shipwrecks", off the coast of Alonissos island in the western Aegean. Culture Minister Lina Mendoni along with other officials attended the ceremony that took place in the noon underwater by divers on a boat. The site of the 5th century BC wreck will be open to tours for certified amateur divers from August 3 to October 2 while those who can't dive can follow a virtual reality tour at an information centre in the main town of Alonissos. "This wreck lies at 21-28 metres depth near the shores of the Peristera islet and contains 3,000 to 4,000 amphorae," Maria Agalou, president of the municipal council of Alonissos told SKAI TV. The wreck of the two-handled vases is believed to be one of the most important of its kind because most of them are intact. They were found by a fisherman in 1985. A big merchant ship that is believed to have sunk because ...
More
The Best Photos of the Day
Kerry James Marshall's Black Birds take flight in a new series
The art and design of American folk pottery celebrated in new exhibition
Say It Loud: Christie's opens an exhibition celebrating the work of international Black artists


Kerry James Marshall, Black and part Black Birds in America: (Crow, Goldfinch), 2020. Acrylic on PVC panel in artist's frame, 27 7/8 x 24 3/4 inches, 71 x 63 cm.

by Ted Loos



NEW YORK (NYT NEWS SERVICE).- About 10 years ago, artist Kerry James Marshall caught a crow with his bare hands. The bird was cornered awkwardly near Marshall's home on the South Side of Chicago, and curiosity got the better of him. "I've always been impressed by that kind of bird," he recalled the other day. Marshall, widely acknowledged as one of the best painters working today, wanted to photograph and take video of the crow, since he often used such documentation as the basis for his work (he prefers props now). So he grabbed it and took it home. "At first he screamed like he was being murdered," Marshall said. "The minute I put him by my side, he got quiet." On his second-floor deck, Marshall tied a cord to the crow's leg and provided a meal of mulberries ... More



David Drake (1801-ca.1875), Five-Gallon Syrup Jug. Stoney Bluff plantation, Edgefield, South Carolina, 1850-1860. Ash-glazed stoneware. Museum Purchase, 1939-137.



WILLIAMSBURG, VA.- While American potters created clay vessels for their functionality and designed them to meet the needs of their communities, their work also reflected the regional styles and traditions that were passed down through generations. The Abby Aldrich Rockefeller Folk Art Museum, one of the Art Museums of Colonial Williamsburg, celebrates the work of these craftspeople in American Folk Pottery: Art and Tradition, a new exhibition which opened on June 14. Through nearly 50 objects made between 1790-2008, the form, function and whimsy of this distinctly American folk art is featured through longtime treasures of Colonial Williamsburg's collection, recent acquisitions on view for the first time and special objects on loan from renowned private collections. The exhibition will remain on view through December 31, 2022. ... More



Eniwaye Oluwaseyi, Nice meeting you too. Signed and dated (on the reverse). Oil on Primed Canvas, 60 x 48 in. (152.4 x 121.9 cm.). Painted in 2020. © Christie's Images Ltd 2020.



NEW YORK, NY.- In partnership with visionary curator Destinee Ross-Sutton, Christie's is presenting "Say It Loud (I'm Black and I'm Proud)," a virtual selling exhibition dedicated to the promotion and empowerment of Black art. The exhibition, which is open from July 31 – August 18, spotlights 22 Black artists who each explore the notion of identity and perception, providing them with a global platform for the celebration and amplification of their work. Named for the 1968 James Brown anthem "Say it Loud, I'm Black and I'm Proud," this exhibition marks the first of a series of exhibitions and educational initiatives organized by Christie's CSR Diversity & Inclusion Initiatives that will provide a necessary platform for the Black Art community's voices to be amplified and empowered. The exhibition may be viewed here. All works are ... More
Artcurial's sales dedicated to Jewellery, Watches, Hermès Vintage and Automobiles total $16.1M
Exhibition presents a rare opportunity to discover Friedl Kubelka vom Gröller's oeuvre of the past five decades
Opera goes on in Salzburg, with lots and lots of testing


Auction sales by Artcurial, with Stéphane Aubert on the rostrum, from 19 to 21 July 2020 at the Hôtel Hermitage, Monte-Carlo.



MONTE-CARLO.- Over the last week, life in the Principality has run to the rhythm of sales held by Artcurial at the legendary Hotel Hermitage. Dedicated to the most luxurious items: Jewellery, Watches, Hermès Summer Collection and Artcurial Motorcars, the series of sales totalled 14 143 974 € / 16 123 130 $ including premium, with 10 lots selling above 100 000 € in the prestige sales and one lot above 1M€ in the Artcurial Motorcars sale. This result confirms Artcurial's leading position in the different specialities. Foreign collectors were particularly active, with 29 nationalities represented, and were involved in bidding battles lasting several minutes on the telephone and in the room. This indicator of Monaco's international appeal as the capital of luxury endorses Artcurial's decision to strengthen its presence by adding new projects each year. « Once again, thanks to its dynamism, expertise and ... More



Friedl Kubelka, Gunvor Nelson, San Francisco, 1977 from: Portraits of Filmmakers, 1974-81. Gelatin silver print on baryta © Museum der Moderne Salzburg, Bildrecht.



SALZBURG.- Since the late 1960s, Friedl Kubelka vom Gröller (1946 London, UK–Vienna, AT) has built an oeuvre that ties in with a wide range of practices: conceptual photography, avant-garde and experimental filmmaking, feminist art, and Freudian psychoanalysis. These diverse interests converge in the artist's central concern: a sustained exploration of the psychological force of the portrait. Kubelka vom Gröller's works push out the wonted temporal bounds of photography and film to create forms of visual representation that allow us to peek behind the façades of thoroughly controlled self-projection. Her penetrating gaze is evident in extensive photographic series such as the Day Portraits (1976), the Annual Portraits (1972–), or the Life-Portrait of Louise Anna Kubelka (1978–1996), in which the artist has recorded her own or someone else's ... More



Actress Sunnyi Melles wearing face protection and gallerist Thaddaeus Ropac pose prior to the performance of "Elektra" that will open the festival on August 1, 2020 at the Felsenreitschule theatre venue in Salzburg, Austria. FRANZ NEUMAYR / APA / AFP.

by Ben Miller



SALZBURG (NYT NEWS SERVICE).- A poster advertising this year's Salzburg Festival bears a quotation from one of the festival's founders, poet and dramatist Hugo von Hofmannsthal: "Wo der Wille erwacht, dort ist schon fast etwas erreicht." Roughly translated: "Where there's a will, there's a way." Plenty of will — along with political and financial resources few other classical music organizations could possibly deploy — is evident here this summer. For its 100th anniversary season, Salzburg, bucking the coronavirus-prompted trend of canceling cultural events or presenting them only with onstage social distancing, is going ahead with performances featuring casts interacting closely and full orchestras in the ... More
Can't afford a Birkin bag or a racehorse? You can invest in one
The strange lives of objects in the coronavirus era
Kris Lemsalu Malone & Kyp Malone Lemsalu exhibit at Kai Art Center


Antonella Carbonaro, 30, in Manhattan with her Birkin bag on Wednesday, July 29, 2020. When she heard that there was a marketplace to buy shares in other Birkins, she was in. Hiroko Masuike/The New York Times.

by Paul Sullivan



NEW YORK (NYT NEWS SERVICE).- Antonella Carbonaro, a consultant to financial technology companies, saved up to buy her Birkin bag, a luxury tote made by Hermès that sells new for tens of thousands of dollars. Since getting her bag in 2018, Carbonaro has stored it in her closet, bringing it out only on special occasions. But when she heard that there was a marketplace to buy shares in other Birkins, including more exotic versions that can fetch six figures, she was in. It is not a lark. Carbonaro, 30, sees her shares in an exclusive bag as an alternative investment, no different than stakes in private equity funds that invest in a basket of companies. "This ... More



A set of new objects has emerged in the last few months to address the new reality of illness, lockdown, social distancing and social protest. The pandemic has inspired a flurry of new and novel items and given ordinary ones new meanings. Peter Arkle/The New York Times.

by Sophie Haigney and Peter Arkle



NEW YORK (NYT NEWS SERVICE).- Plastic bubbles that hover over restaurant tables. Rods for contactless elevator-button-pushing. Portable seats that attach to lampposts, for shoppers waiting outside crowd-controlled stores. Dresses with skirts that have a 6-foot radius. Podlike enclosures to keep gym-goers separate. A plastic sleeve that enables hugging at nursing homes. Masks in every imaginable form. A set of new objects has emerged in the last few months to address the new reality of illness, lockdown, social distancing and social protest. Some of these objects are wacky and unrealized — ... More



Opening image by Aron Urb. Courtesy Kai Art Center.



TALLINN .- Kai Art Center is presenting its summer exhibition "Love Song Sing Along (Once Again With Feeling!)" from the artist duo of Kris Lemsalu Malone & Kyp Malone Lemsalu. New and previously unexhibited works are on view together with a large-scale installation that was exhibited earlier this year at the KW Institute for Contemporary Art in Berlin. Taking on the roles of archetypal Adam and Eve, the artists tackle the world's creation myth, giving central roles to characters such as a swan, rabbit, and jaguar. In the artists' words: "It's a work that's taken from the personal in real-time then abstracted through myth, some borrowed, some improvised. A cosmogony of our relating to one another." The artist couple's first collaboration took place in 2017 at the Performa biennial in New York. Their joint commission for the Estonian Pavilion titled "Going Going" created a meditative environment in the ... More
The Vancouver Art Gallery announces Tarah Hogue as new Indigenous Advisor
Center for Contemporary Art Tel Aviv opens the first solo exhibition by Irma Blank in Israel
Voting for Art Acquisition Group acquires 28 works by Israeli artists for Tel Aviv Museum of Art


Tarah Hogue, photo by Rachel Topham.



VANCOUVER.- The Vancouver Art Gallery announced Tarah Hogue in the new role of Indigenous Advisor commencing September 6, 2020. Most recently, Hogue has been the inaugural Senior Curatorial Fellow, Indigenous Art at the Vancouver Art Gallery, and will complete her three-year term on September 5, 2020. As Indigenous Advisor, Hogue will work closely with the Vancouver Art Gallery's Indigenous Relations Working Group (IRWG) to advance the development and implementation of Indigenous initiatives at the Gallery as well as staff training and education. She will also offer critical guidance in the areas of hiring and community relations. The formation of the Senior Curatorial Fellow, Indigenous Art, was realized in 2017 in response to a longstanding need to bring an Indigenous perspective to the Vancouver Art Gallery's curatorial team and institution as a whole."Tarah Hogue has been a critical force in advancing the Gallery ... More



Irma Blank, installation view at CCA Tel Aviv. Photo: Eyal Agivayev.



TEL AVIV.- CCA – Center for Contemporary Art Tel Aviv and the Bauhaus Foundation, Tel Aviv, are presenting a solo exhibition by German-born Italian artist Irma Blank. It is her first solo presentation in Israel. The work of Irma Blank (*1934, Celle, Germany; lives and works in Milan) associates writing and drawing in a unique manner, positioning her practice in a place that seems independent from any movement in art history. While the work maintains this distinctive position, it nonetheless does share elements with the history of asemantic writing, Conceptual Art and visual poetry. Blank's body of work formulates a profound reflection about existence through the paradox of a text without words and a language that is truly personal. Indeed, while one might consider Blank's art as visual poetry, a closer examination unravels it as a solitary quest, giving rise ... More



Nirit Takele, Preparing Wings, 2018.



TEL AVIV.- Members of the Tel Aviv Museum of Art Voting for Art Acquisition Group, chaired by Yael Braun and directed by Adv. Dina Papo, TAMA's Head of Public Affairs & Resource Development, acquired in 2020 fifteen works by contemporary Israeli artists for the Museum's collection; these are added to the thirteen works acquired by the group throughout 2019. They were purchased for a total cost of NIS 621,000. Since its establishment, Voting for Art group has acquired 93 works of contemporary Israeli art for TAMA's collection. The works bought in 2019-2020 are by the artists Avner Ben Gal, Eitan Ben Moshe, Maayan Elyakim, Irit Hemmo, Israel Kabala, Micha Kirshner, Moran Kliger, Eli Kopelwitz, Shosh Kormush, Uri Nir, Dov Or-Ner, Assaf Rahat, Guy Raz, Pnina Reichman, Karen Russo, Porat Salomon, Naomi Siman-Tov, Eli Singalovski, Nirit Takele, Hila Toony Navok, Shahar Yahalom, Rona Yefman and Alexandra Zuckerman. ... More
Quote
The Symbolists... must be fought like a disease. Camille Pissarro
---
Make and create: pattern making | National Gallery
---

Flashback
On a day like today, French photographer Henri Cartier-Bresson died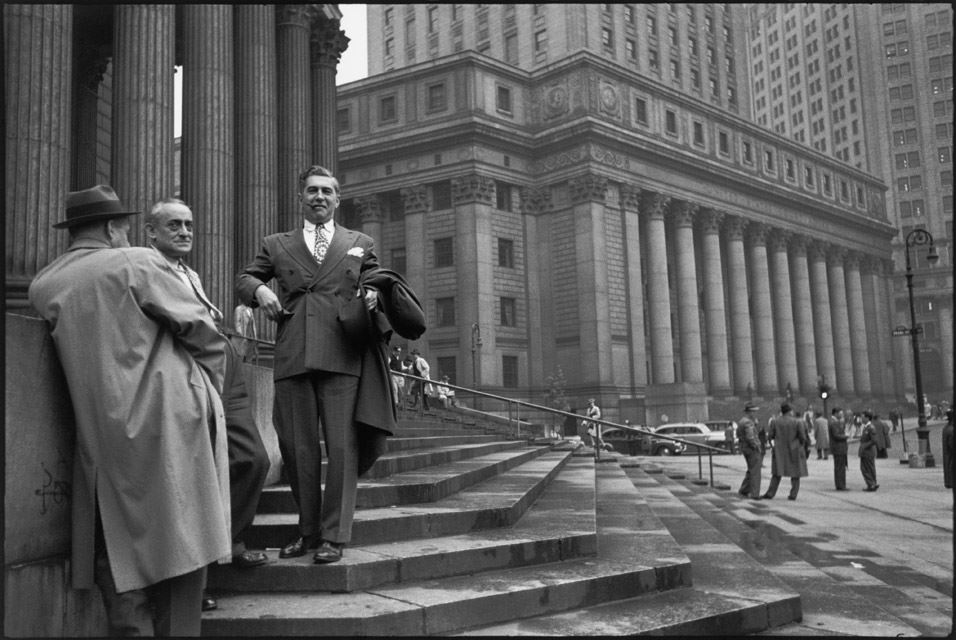 August 03, 2004. Henri Cartier-Bresson (August 22, 1908 - August 3, 2004) was a French photographer considered to be the father of modern photojournalism. He was an early adopter of 35 mm format, and the master of candid photography. He helped develop the "street photography" or "life reportage" style that has influenced generations of photographers who followed. In this image: USA. New York City. Manhattan. 1947. Near the Hall of Records. © Henri Cartier-Bresson / Magnum Photos.
---

Museums, Exhibits, Artists, Milestones, Digital Art, Architecture, Photography,
Photographers, Special Photos, Special Reports, Featured Stories, Auctions, Art Fairs,
Anecdotes, Art Quiz, Education, Mythology, 3D Images, Last Week,

.
Royalville Communications, Inc
produces: