Louvre Museum set to open 'Paris - Athens The Birth of Modern Greece, 1675-1919'
A woman passes by artworks during a press preview of the exhibition "Paris-Athenes. Naissance de la Grece moderne 1675-1919" at the Louvre museum in Paris on September 24, 2021. Christophe ARCHAMBAULT / AFP.
PARIS
.-
2021 is the bicentenary year of two events: the beginning of the Greek War of Independence, traditionally dated to 25 March 1821, and the arrival at the
Louvre
of the Venus de Milo in the same month of the same year – on 1 March 1821 – following its discovery in April 1820. The proximity of these two events is rich in meaning. It raises the questions of the special place of ancient Greek art in the Louvre's collections and the singular role of Greece in the construction of the cultural identity of Europe, and of France in particular. However, the fascination with Greek antiquity continues to obscure our knowledge of modern Greece, which the French began to rediscover from the 18th century onwards. The birth of the Greek nation in the 19th century was determined to a large extent by the development of scientific archaeology and by French and German ...
More
The Best Photos of the Day
111 Karsh photographs donated to the Montreal Museum of Fine Arts
Matthew Marks opens an exhibition of new works on paper by Jasper Johns
Hindman Auctions' Michelle Smith Couture Sale triples its estimated total & realizes over $614,000


Yousuf Karsh (1908-2002), John F. and Jacqueline Kennedy, June 12, 1957, silver gelatin print, 30.5 x 25.4 cm. MMFA, gift of Estrellita Karsh in memory of Yousuf Karsh. © Estate of Yousuf Karsh.



MONTREAL.- Armenian-Canadian photographer Yousuf Karsh (1908–2002) is considered one of the greatest portrait photographers of the twentieth century. Thanks to the extraordinary generosity of the Estate of Yousuf Karsh and the artist's widow, Estrellita Karsh, the Montreal Museum of Fine Arts is the grateful recipient of 111 photographs created by the artist, which it is showcasing in the exhibition The World of Yousuf Karsh: A Private Essence from September 22, 2021 to January 30, 2022. These silver gelatin prints, mostly in large formats, many quite rare, were printed by the artist himself. For over 50 years in the last century, Yousuf Karsh's lens captured not only the essence of his subjects, but also their individual characters. This exhibition presents his famous images of political figures like Fidel Castro, Winston Churchill, John F. ... More



Jasper Johns, Untitled, 2020. Graphite, watercolor, and colored pencil on paper.



NEW YORK, NY.- Matthew Marks is presenting Jasper Johns: New Works on Paper, now on view at 526 West 22nd Street. The exhibition includes eighteen drawings and seven prints made over the past two years. Johns employs a wide range of media in his new works on paper including oil, acrylic, graphite, watercolor, charcoal, and oil stick. Many of the drawings include a new image for Johns based on a map entitled "Slice of the Universe," a copy of which the astrophysicist Margaret Geller sent to the artist in 2018 after seeing an earlier painting of his incorporating an image of a swirling galaxy. Johns has overlaid the red, blue, and green dots in the map, which represent neighboring galaxies, on top of an abstract pattern based on one of Leonardo's knot drawings. All these drawings relate to Johns's latest painting titled Slice, 2020 included in the Whitney Museum of American Art's concurrent survey ... More



Sable Fur Blanket Lined with Gray Wool, Attributed to J. Mendel. Price Realized: $28,125.



CHICAGO, IL.- On September 21, Hindman Auctions' A Life in Couture: The Collection of Michelle Smith, Washington, D.C. achieved $614,156 in sales, over triple than expected. The auction saw incredible engagement across more than 320 lots, and reached an extraordinary 99 percent sell-through rate. Exceptional J. Mendel furs and garments by Ralph Rucci, who custom designed many items for Smith, were among top lots. This offering from the collection of renowned Washington, D.C. philanthropist included garments by distinguished designers and illustrated Smith's carefully curated selection of outstanding designs spanning more than 50 years. "We were delighted to see the way in which buyers responded to this singular collection of couture from such a trailblazing woman," Hindman's Director and Senior Specialist of Couture and Luxury Accessories Timothy Long shared. "From the furs to the shoes to ... More
Exhibition reveals the life, genius and legacy of the 'Michelangelo of Wood'
The Metropolitan Museum of Art receives gift of contemporary lacquerware by artist Chung Haecho
'Picasso, Shared and Divided: The Artist and His Image in East and West Germany' opens at Museum Ludwig


Grinling Gibbons after Sir Godfrey Kneller, Bt oil on canvas, based on a work of circa 1690 © National Portrait Gallery, London.



COMPTON VERNEY.- The remarkable life and legacy of Grinling Gibbons (1648-1721) is being celebrated at Compton Verney, as part of a year-long series of events to commemorate the tercentenary of the most renowned British woodcarver of the 17th century, often called the 'Michelangelo of Wood.' The exhibition, Centuries in the Making - produced in partnership with the Grinling Gibbons Society - reveals the life, genius and legacy of this legendary sculptor and craftsman, who died on 3 August 1721. Arguably the greatest carver in British history, Grinling Gibbons' legacy over the past 300 years has been to inspire craftsmanship and carving from his contemporaries to modern-day makers. Gibbons remains a potent symbol of inspiration and achievement. He carved with an unsurpassed realism that could literally fool the eye. A fine example of which is a limewood cravat (c.1690, V&A) once owned by Sir Horace Walpole. Exquisitely carved ... More



First Lady of the Republic of Korea, Kim Jung-sook, speaking at The Metropolitan Museum of Art in New York on September 20, 2021. Photo by Paula Lobo. Courtesy of The Met.



NEW YORK, NY.- The South Korean government has presented to The Metropolitan Museum of Art a gift of an exceptional work by one of the leading lacquer artists in Korea, Chung Haecho. The gift was offered in a private ceremony held at the Museum on Monday, September 20, that featured remarks by the First Lady of the Republic of Korea, Kim Jung-sook; the country's Minister of Culture, Sports, and Tourism, Hwang Hee; and the Korean pop music group BTS, recently appointed as "special presidential envoy for future generations and culture" by President Moon Jae-in. "We are deeply grateful to the South Korean government for their continued support of The Met's efforts to showcase Korea's incredibly rich culture and artistic legacy," said Max Hollein, Marina Kellen French Director of The Met. "Chung Haecho's exquisite work is a meaningful addition to our holdings of Korean lacquerware and illustrates ... More



Pablo Picasso, Kopf einer lesenden Frau, 1953. Museum Ludwig, Cologne © Succession Picasso/VG Bild-Kunst, Bonn 2021. Photo: Rheinisches Bildarchiv, Cologne.



COLOGNE.- What do we associate with Pablo Picasso? And what associations with him did the German people have in mind during the post-war years, when he was at the height of his fame? Far more than we do: This is the main idea of the exhibition, which reveals a forgotten breadth, tension, and productivity of these appropriations. It deals not only with the artist, but with his audience, which interpreted Picasso's art in very different ways in the capitalist West and in the socialist East. The German Picasso was divided, but this division also stimulated the reception: Because everyone questioned his art, it had something to say for everyone. The exhibition features political works, such as the painting Massacre in Korea (1951) from the Musée Picasso in Paris. These are shown alongside some 150 exhibits that reflect the impact of Picasso's work: exhibition views, posters, catalogues, press reports, letters, files, films, ... More
'Linda Fantuzzo: Penumbra' opens at the Morris Museum of Art
Dystopia, BLM themes emerge at Art Basel fair
Christie's partners with Radiohead's Thom Yorke to present artworks by Stanley Donwood


Linda Fantuzzo, Long Way Out, 2019 (detail). Acrylic on linen. Courtesy of the artist.



AUGUSTA, GA.- A master of atmosphere, mood, and light, famed Charleston artist Linda Fantuzzo is represented by more than twenty paintings drawn from her most recent body of work in a new exhibition Linda Fantuzzo: Penumbra. It is on view at the Morris Museum of Art from September 25 through December 12, 2021. The landscape and interior paintings and drawings in this exhibition are rendered with a quiet, abstracted simplicity. The inclusion of stairs, ladders, windows, and doors suggests an unseen yet palpable human presence. The title Penumbra, a term that means "a space of partial illumination," references light's transitions. In these works Fantuzzo connects the literal transitions of light to the metaphorical transitions and impermanence of the human experience. "The work in the present exhibition is rendered with a quiet simplicity, while the inclusion of stairs, ladders, windows, and doors in many of them suggests an ... More



Jonathan Lyndon Chase © Art Basel.

by Nathalie Olof-Ors



BASEL.- Dystopia and Black Lives Matter feature prominently at Art Basel, the world's top contemporary art fair, which throws open its doors to the public this weekend. The giant annual fair in the Swiss city of Basel is above all a commercial event, where artists and galleries come to meet wealthy collectors. But the fair is also very popular with art lovers who come for the simple pleasure of browsing the works on show. Some 93,000 visitors came through the doors during the 2019 edition, with last year's event having been cancelled due to the Covid-19 pandemic. Art Basel exhibits major works every year in a section where paintings, sculptures and installations are grouped together for sale to museums and large collections. Among the 2021 highlights are a canvas by the Guyanese-British artist Frank Bowling, a large painting by Britain's David Hockney or Swiss artist Urs ... More



Stanley Donwood, Residential Nemesis, 1999 (detail). Estimate: £10,000-15,000). © Christie's Images Ltd 2021.



LONDON.- Christie's will present work by the artist Stanley Donwood, who has created the cover art for Radiohead's ground-breaking albums since The Bends in 1996. The six paintings will be on display at Christie's headquarters in London from 9 to 15 October 2021, alongside drawings, lyrics and digital art curated by Stanley Donwood and Thom Yorke, who initially met at Exeter University. The paintings by Donwood will be offered in First Open: Post-War and Contemporary Art, online for global bidding from 5 to 19 October 2021. The series of dystopian landscapes were made in the period 1999-2001, and closely related to the final cover and sleeve art for Kid A, originally released by the band on 2 October 2000, marking its 21st anniversary. Donwood's series continued with the release of Amnesiac (2001). While working on each album sleeve, Donwood immersed himself ... More
Orange County Museum of Art announces eight new trustees
Galerie Templon Paris presents an exhibition of works by artist Robin Kid
Overlooked no more: Remedios Varo, Spanish painter of magic, mysticism and science


Originally from Lexington, Kentucky, Linda Maggart graduated from Sweet Briar College in Virginia, earning a BS in Economics and graduating Phi Beta Kappa and magna cum laude.



COSTA MESA, CA.- The Orange County Museum of Art announced today the addition of eight new trustees: Barbara Bluhm-Kaul, Phillip J. Bond, Idit Ferder, Sean Green, Linda P. Maggard, Cheryl Kiddoo, Robert Olson and Lucy Sun. They have joined the board under the leadership of CEO and Director Heidi Zuckerman, who came to OCMA in February 2021. In October 2022, the museum will open in its new home: a building at Segerstrom Center for the Arts designed by Morphosis under the direction of Pritzker Prize-winning architect Thom Mayne and Partner-in-Charge Brandon Welling. The new trustees bring a range of philanthropic and professional expertise that will add fresh perspectives to the museum as the institution enters a new era. A long-time champion of Southern California's most adventurous artists, with a reputation that resonates far beyond the region, OCMA is now doubling in size with its new building, ... More



It Is All Your Fault – IX - Robin Kid aka THE KID - Oil on canvas, aluminum wall relief - H 239,5 x W 198,5 x D 4.2 cm - H 94,3 x W 78,1 x D 1.7 inches © Robin Kid aka THE KID - Courtesy artist and TEMPLON - Gallery view



PARIS.- For the first time at Galerie Templon Paris, the artist Robin Kid (a.k.a. THE KID) presents in the Grenier-Saint-Lazare space, a new exhibition titled It's All Your Fault. "In a world turned down, the "true" become a moment of the "false"." --Guy Debord, The Society Of The Spectacle (1967) « Rising nationalism, lockdowns, riots in the streets, five million likes for a cat playing the piano, Coronavirus, killings by police, Man going to Mars, cancel culture, kids locked up in cages, un-repairable climate change, re-runs of the Muppets and a Muppet already re-running for president in four years... We get news delivered to the palm of our hands 24/7. And we get it the way we like it, colored the way we want it. And the news is awful, overwhelming and desensitizing us. Infotainment is popping up "über alles" blurring cultural lines between truth and fiction, information ... More



Remedios Varo, Roulotte, 1955.

by Julia Bozzone



NEW YORK, NY.- In the opening of Thomas Pynchon's postmodern novel "The Crying of Lot 49" (1965), tears stream down the face of his protagonist, Oedipa Maas, as she takes in a surrealist painting of "a number of frail girls with heart-shaped faces" who appear to be "prisoners in the top room of a circular tower." The girls are embroidering a kind of tapestry that streams out of the windows. The scene is fictional, but the piece is not: It is "Embroidering the Earth's Mantle" (1961) by Remedios Varo, a Spanish painter who immigrated to Mexico City during World War II. In elaborately detailed, often allegorical paintings, Varo depicted convent schoolgirls embarking on strange adventures; androgynous, ascetic figures absorbed in scientific, musical or artistic discovery; and solitary women — some of whom resembled the slender, striking Varo herself — having a transcendent experience. Her style was reminiscent of Renaissance art in its exquisite ... More
Quote
For Man Ray, photography was a kiss given by Time and Light. Sarane Alexandrian
---
Journey Through the History of Photography | Christie's
---

Flashback
On a day like today, French painter and lithographer Théodore Géricault was born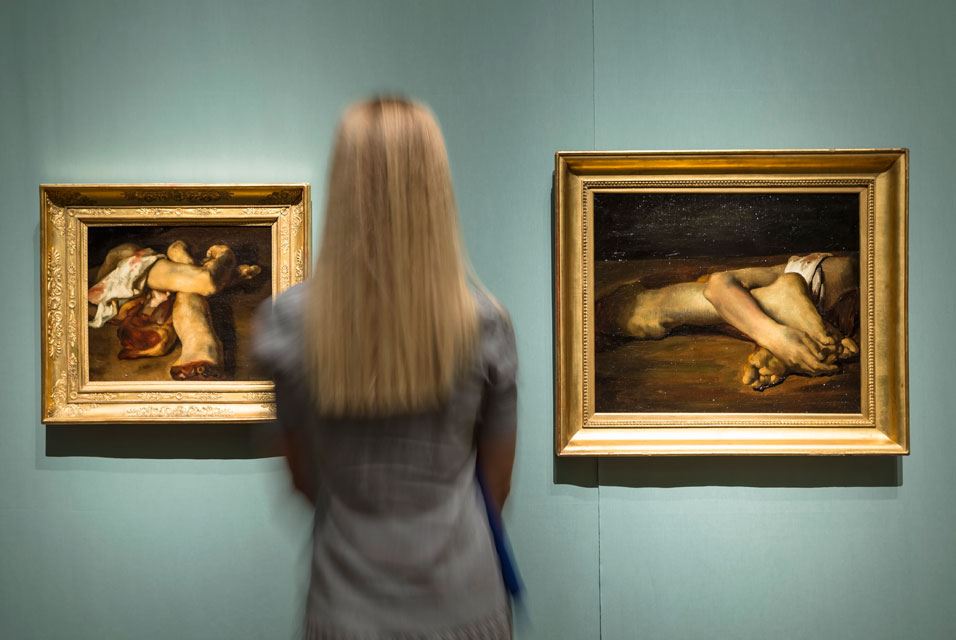 September 26, 1791. Jean-Louis André Théodore Géricault (26 September 1791 - 26 January 1824) was an influential French painter and lithographer, whose best-known painting is The Raft of the Medusa. Although he died young, he was one of the pioneers of the Romantic movement. Born in Rouen, France, Géricault was educated in the tradition of English sporting art by Carle Vernet and classical figure composition by Pierre-Narcisse Guérin, a rigorous classicist who disapproved of his student's impulsive temperament while recognizing his talent. In this image: Géricault. Images of Life and Death. Exhibition view© Schirn Kunsthalle Frankfurt, 2013 Photo: Norbert Miguletz.
---

Museums, Exhibits, Artists, Milestones, Digital Art, Architecture, Photography,
Photographers, Special Photos, Special Reports, Featured Stories, Auctions, Art Fairs,
Anecdotes, Art Quiz, Education, Mythology, 3D Images, Last Week,

.
Royalville Communications, Inc
produces: