ARTBnk: Claude Monet's 'Le Bassin aux nymphéas' - Understanding Financial Performance
Claude Monet, Le Bassin aux nymphéas, oil on canvas, 1917-1919, 39⅜ by 79 in.
NEW YORK, NY
.-
Touted as one of the finest examples of Claude Monet's Water Lilies paintings to appear at auction, Le Bassin aux nymphéas will be on offer at Sotheby's on May 12th with an estimate of $40m-$60m ($46.2m-$69.2m with buyer's premium included). Coupling the past sales history of Le Bassin aux nymphéas with comparables analysis utilizing the
ARTBnk
Repeat Sales Database allows us to provide the proper context for how the auction house estimate relates to past Monet performance, as well as give you the information necessary to properly contextualize the financial performance of the work come auction day. High anticipation for the sale of Le Bassin aux nymphéas begs the question, how have comparable works performed when similarly offered for the second time at auction? Three comparable repeat sales from the Water Lilies series sold in the past ten years generated Compound An ...
More
The Best Photos of the Day
Frieze New York, first live art fair in a year, kicks off at the Shed
Kasmin exhibits Robert Polidori's photographs of the ancient frescoes found among the ruins of Pompeii
Napoleon's bath meets its Waterloo


Zoe Buckman at the Frieze New York art fair. Krista Schlueter/The New York Times.

by Will Heinrich and Martha Schwendener



NEW YORK (NYT NEWS SERVICE).- The colossal white tent on Randalls Island — the one that occasionally threatened to uplift and blow away — is gone, along with the frenetic ferry rides up and down the East River. But Frieze is back, the first live art fair returning to New York after more than a year. This year's edition, taking place Wednesday to Sunday, is inside the Shed, the performing arts center on the Far West Side at Hudson Yards. It includes only 64 commercial galleries — as opposed to nearly 200 in 2019 — though some international exhibitors from Buenos Aires, Argentina, Brazil and London are represented. But there is plenty of work worth seeing, spread over more than three double-height levels. All necessary health precautions are being observed, but unless you've made prior arrangements, you may not be able to attend in person: Tickets are already sold out. What remains is a waiting list and an extensive virtual Viewing Room with more than ... More



Robert Polidori, Basket of figs, Villa Poppaea, Oplontis, Italia, 2017. Archival pigment print mounted to dibond, 63 x 50 inches, 160 x 127 cm. Edition of 10 + 2 APs (#2/10).



NEW YORK, NY.- A new exhibition by Robert Polidori presents the artist's large-scale color photographs of the ancient frescoes found among the ruins of Pompeii, Italy. Taken in 2017 and exhibited in North America for the first time, the works continue Polidori's lifelong investigation into the spiritual and psychological resonance of architecture and interior spaces. The exhibition is on view at 297 Tenth Avenue in New York from April 22 to May 15, 2021. Depicted in many of the works in the series is the Villa dei Misteri, a well-preserved dwelling on the outskirts of the city famous for its exquisite frescoes clustered in one room. These artworks, originating from 70-60 BC and restored between 2013-15, are among the best known of the relatively rare survivals of Ancient Roman painting and are understood to portray the rites of a young woman as she is inducted into the mystical cult of Bacchus. Polidori has since remarked upon the aesthetic continuity between the pagan rituals ... More



The copper bathtub Napoleon used in Saint-Helena © Mémorial Waterloo 1815.

by Matthieu Demeestere



BRAINE-L'ALLEUD (AFP).- One of the many things Napoleon Bonaparte was famous for was taking long soaks in the bath, during which he read newspapers and held forth to his entourage. It was a habit he carried over to isolated but relatively comfortable exile, reinforced by his doctor recommending it as therapy for chronic skin rashes. Now, the copper bathtub he used in Saint-Helena, his remote island prison in the South Atlantic, is being put on show in perhaps the most famous site associated with the French emperor: Waterloo, in Belgium. There, inside a museum that is part of the Waterloo Memorial commemorating the close defeat of Napoleon's troops in June 1815, it features alongside other exile memorabilia, including indoor garb and billiard balls. The exhibition, "Napoleon: from Waterloo to Saint-Helena, the birth of the legend", opened on Wednesday and is to run until October. Letters, games, clothes, tableware and personal items ... More
Korean art is on exhibit, with protests from North and South
Hugo Boss Prize exhibition featuring new and recent work by Deana Lawson opens at Guggenheim Museum
Van Gogh Museum presents digital work of artist Jan Robert Leegt


"The Missiles" by Pak Yong-chol. A rare exhibition, at a museum in Switzerland, brings together works that, despite sharing a common cultural tradition, come from different worlds. Pak Yong-chol; Sigg Collection, Mauensee via The New York Times.

by Catherine Hickley



BERN (NYT NEWS SERVICE).- Against a fiery sky, North Korea's former leaders Kim Il Sung and Kim Jong Il watch with beaming smiles as missiles whiz above them in bursts of light and clouds of smoke. The painting — "The Missiles," by Pak Yong Chol — is one of collector Uli Sigg's prized possessions, acquired through persistence, persuasion and contacts forged during his term as Switzerland's ambassador to North Korea in the 1990s. Sigg said he used to visit the North Korean national art museum, in the capital, Pyongyang, whose works glorify the country's strength. He said he was already familiar with the socialist-realist style of art favored by the communist governments of China and the Soviet Union, but he was struck by North Korea's more emotional variant. ... More



Deana Lawson, Young Grandmother, 2019 © Deana Lawson, courtesy of Sikkema Jenkins & Co., New York; David Kordansky Gallery, Los Angeles.



NEW YORK, NY.- From May 7–October 11, 2021, an exhibition of new and recent works by artist Deana Lawson, winner of the Hugo Boss Prize 2020, will be on view at the Solomon R. Guggenheim Museum. Lawson's presentation will include large-scale photographs and holograms. In addition, the museum is producing a film exploring Lawson's practice that will be released in the early fall. Selected by a jury of international critics and curators, Lawson is the thirteenth artist to receive the biennial prize, which was established in 1996 to recognize significant achievement in contemporary art. Since the inception of the award, the associated solo exhibitions have offered an open platform for artists to present projects that realize their current creative thinking, and have formed an anchor of the Guggenheim's contemporary program. The Hugo Boss Prize 2020: Deana Lawson, Centropy is organized by Katherine Brinson, Daskalopoulos Curator, ... More



Jan Robert Leegte, Compressed Landscapes, 2016, website, dimensions variable, unique; duration: infinite, courtesy of the artist & Upstream Gallery Amsterdam.



AMSTERDAM.- As of today, the Van Gogh Museum presents Dutch artist Jan Robert Leegte's website series Compressed Landscapes. Fully accessible to the public, the series – comprising five works inspired by Vincent van Gogh – is the ideal form of 'lockdown art'. For now, Compressed Landscapes can be seen online, but as soon as museums are allowed to reopen their doors to the public, you will also be able to enjoy the series at the Van Gogh Museum. Jan Robert Leegte (1973) has been making Internet art in the form of websites since the 1990s. In 2002, he began introducing digital materials in the physical exhibition space, to create a connection between the online art world and the world of museums and art galleries. The artist is represented by the Upstream Gallery in Amsterdam. For Compressed Landscapes Leegte drew inspiration from the methods of 19th-century artists such as ... More
Sotheby's second NFT auction presents first ever minted NFT from 2014, rare Cryptopunk & more
Bonhams to offer the first collaboration between Keith Haring and Jean-Michel Basquiat
Lonnie Holley's life of perseverance, and art of transformation


Larva Labs, CryptoPunk #7523. Courtesy Sotheby's.



NEW YORK, NY.- Sotheby's announced Natively Digital: A Curated NFT Sale, representing the first time a major auction house will bring together a group survey of the leading NFT artists to auction. Hosted directly through Sotheby's online auction platform, Natively Digital will feature some of the most sought after works made throughout the seven-year history of the medium; the curated auction will be highlighted by Kevin McCoy's Quantum, the first NFT ever minted, the only existing masked "Alien" Cryptopunk by Larva Labs, and The Shell Record by leading generative artist, Anna Ridler. The additional NFT artists and artworks included in the auction will be unveiled in the lead up to the sale, which will be open for bidding from June 3 - 10. Natively Digital marks Sotheby's second dedicated sale of NFTs, following 'The Fungible' Collection with digital artist Pak, which achieved a total ... More



Keith Haring & Jean-Michel Basquiat, Untitled, 1980 (detail). Ink on paper (estimate: $300,000 – 500,000). Photo: Bonhams.



NEW YORK, NY.- On May 12, Bonhams sale of Post-War & Contemporary Art in New York will offer Untitled (1980) by Keith Haring (1958-90) and Jean-Michel Basquiat (1960-88), the first collaboration between the two artists to ever appear at auction, and one of the only works created by these two giants of contemporary art together (estimate: $300,000-500,000). Untitled comes directly from the collection of Samantha McEwen, who lived on Broome Street, New York City, with Keith Haring and his partner Juan DuBose from 1980 to 1983. This work on paper is an incredibly rare, visual conversation between Basquiat and Haring, and only a small handful of works by this pair are in existence. Untitled was recently exhibited in Keith Haring | Jean-Michel Basquiat: Crossing ... More



The artist Lonnie Holley at the South Etna Montauk Foundation with his "Untitled Wall Painting," 2021, and a growing collection of scavenged finds worn on his wrists, in Montauk, N,Y., April 23, 2021. The Alabama artist and musician has arrived at a career milestone, with two exhibitions in the Hamptons and a gallery to map his future. Kendall Bessent/The New York Times.



EAST HAMPTON (NYT NEWS SERVICE).- Lonnie Holley's life began at an impossible place: 1950, seventh among his mother's 27 children, in Jim Crow-era Birmingham, Alabama, the air thick with violent racism toward him and everyone he loved. Things got even worse as he grew up. At 4 years old, he said, he was traded for a bottle of whiskey by a nurse who had stolen him away from his mother. Later, as the story goes, he was in coma for several months and pronounced brain-dead after being hit by a car that dragged him along several blocks. Then he spent time in the infamous ... More
Norton Museum of Art announces 27 major new acquisitions
'Unknown' rare watch owned by Picasso offered for the first time at auction
Exhibition presents Joan Miro's maquette for one of the ceramic murals commissioned for the UNESCO plaza in Paris


Claes Oldenburg, Study for Typewriter Eraser: Final Position, 1970. Cardboard, foam, wood, and rope, painted with latex, 21 ½ x 18 ¼ x 15 ¾ in. Courtesy the artist and Paula Cooper Gallery, New York © Claes Oldenburg. Photo: Steven Probert.



WEST PALM BEACH, FLA.- The Norton Museum of Art today announced 27 new acquisitions by a range of established and mid-career artists that illuminate diverse perspectives. Since its founding, the Norton Museum of Art's collection has been supported and bolstered by distinguished collectors and members of the Palm Beach community, and its holdings have become the leading and most far-ranging in Florida and the region. These acquisitions support the Museum's continued dedication to featuring international artists and to representing broad experiences that emphasize shared humanity. "These acquisitions reflect the Norton's longstanding commitment to supporting diverse artists from around the world and across generations, and to crafting exhibitions and narratives that highlight our shared experiences," ... More



Rare 'Picasso watch', Michael Z. Berger Co pour Pablo Picasso, c.1960, estimate €12,000 – 18,000. Photo: Bonhams.



PARIS.- Picasso is revered in the art world and beyond for such masterpieces as Guernica, La Vie and Girl Before a Mirror, but in the world of horology, it is a small collection of relatively humble timepieces owned by the Master of Modern Art which are admired rather than his artistic talents. The Picasso watch bears the name of the artist himself, with the letters forming the hour markers on the dial, considered a more prestigious name than Patek Philippe or Rolex. They were worn by the artist while he painted and only two were widely known to exist, with awareness of a third, but its whereabouts unknown …until now. The third such watch has been discovered and is, for the first time, being offered to the worldwide market by auction house Bonhams at its Paris Luxury Watch Sale at the city's Park Hyatt Hotel on Thursday 20 May at 14.00 CEST. Its estimate is €12,000 – 18,000. The watch offered is a manual wind steel brace ... More



Joan Miró (1893 – 1983), Mur de la Lune (TheWall of the Moon); the maquette for the UNESCO ceramic mural, 1955 (detail), gouache, watercolour, ink and pencil on paper laid on masonite, 22.9 x 74.6 cm. Courtesy Dickinson Gallery.



NEW YORK, NY.- Miró: The Wall of the Moon presents Joan Miro's superb maquette for one of the ceramic murals commissioned for the UNESCO plaza in Paris, Mur de la Lune (The Wall of the Moon), alongside a complementary selection of Mid-Century paintings and sculpture. Painted in 1955, the maquette features the celestial shapes that define Miró's most celebrated paintings, and retains its original, vibrant colouring thanks to its exceptional state of preservation. Miró presented the painting to the architect Marcel Breuer, at the completion of the UNESCO project, and it has remained in the Breuer family collection ever since. Miró was one of eleven artists awarded a commission to provide a decorative scheme for the new UNESCO headquarters. In September 1946, the UNESCO Preparatory Commission ... More
Alan Page: Collecting and Community | New York | June 2021

Flashback
On a day like today, German painter Caspar David Friedrich died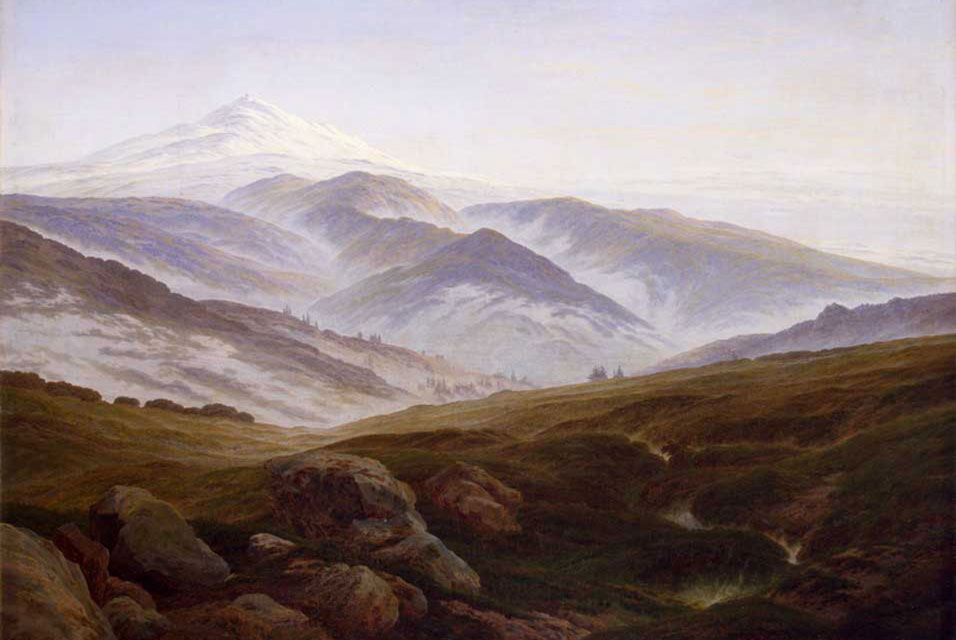 May 07, 1840. Caspar David Friedrich (5 September 1774 - 7 May 1840) was a 19th-century German Romantic landscape painter, generally considered the most important German artist of his generation. He is best known for his mid-period allegorical landscapes which typically feature contemplative figures silhouetted against night skies, morning mists, barren trees or Gothic or megalithic ruins. In this image: Caspar David Friedrich (1774 - 1840), Giant Mountains, not dated, Oil on canvas, 73,5 x 102,5.
---

Museums, Exhibits, Artists, Milestones, Digital Art, Architecture, Photography,
Photographers, Special Photos, Special Reports, Featured Stories, Auctions, Art Fairs,
Anecdotes, Art Quiz, Education, Mythology, 3D Images, Last Week,

.
---
Royalville Communications, Inc
produces: