Cold War nuclear bunker lures tourists worried about new threats
Several generations of mainframe computer systems in the continuity-of-government bunker built in the 1960s by the Canadian government outside Ottawa, on Jan. 18, 2023. Amid renewed tensions with Russia, tourists are flocking to this decommissioned nuclear fallout shelter, now operated as a museum and known somewhat mockingly as the Diefenbunker after the prime minister who commissioned it. (Ian Austen/The New York Times)

by Ian Austen
OTTAWA
.-
Shortly after Russia invaded Ukraine last year, Christine McGuire's museum began receiving inquiries unlike anything she'd previously encountered during her career. "We had people asking us if we still functioned as a fallout shelter," said McGuire, the executive director of Diefenbunker: Canada's Cold War Museum. "That fear is still very real for people. It seems to have come back into the public psyche." The Diefenbunker still has most of the form and features of the nuclear fallout shelter it once was for Canadian government and military VIPs. But the underground complex, decommissioned in 1994, has shifted from being a functioning military asset to being a potent symbol of a return to an age when the world's destruction again seems a real possibility with a nuclear-armed Russia raising the specter of using the weapons. ...
More
The Best Photos of the Day
Baltimore Museum of Art taps its Chief Curator as its next Director
Balkrishna Doshi, first Indian architect to win a Pritzker, dies at 95
Editions Studio Recreates Jeff Koons Balloon Dogs and Rabbits in Metal, Just Like Originals


Asma Naeem in an undated photo. (Christopher Myers via The New York Times)

by Hilarie M. Sheets



NEW YORK, NY.- The Baltimore Museum of Art announced Tuesday that Asma Naeem, its chief curator since 2018 and interim co-director, will become director effective Feb. 1. Born in Karachi, Pakistan, and raised in Baltimore, Naeem practiced law for almost 15 years before switching careers and finishing her doctorate in American art. She becomes the first person of color to lead the museum, founded in 1914, and will oversee its collection of more than 97,000 objects and an annual operating budget of $23 million. Naeem, 53, has been interim co-director of the museum since Christopher Bedford, the former director, left in June for the top post at the San Francisco Museum of Modern Art. Naeem had a central role in shaping and implementing the Baltimore museum's strategic plan, adopted in 2018 ... More



An undated photo provided Iwan Baan shows the architect Balkrishna Doshi. (Iwan Baan via The New York Times)

by Fred A. Bernstein



NEW YORK, NY.- Balkrishna Doshi, an architect who helped bring modernism to his native India, at first collaborating with Le Corbusier and Louis Kahn and then developing his own approach to building in his country, died Tuesday at his home in Ahmedabad, India, which he designed and named Kamala House, after his wife. He was 95. The death was confirmed by his granddaughter Khushnu Hoof. In 2018, Doshi — who was known professionally as B.V. Doshi but was called just Doshi by nearly everyone — became the first Indian architect to receive the Pritzker Prize, considered architecture's highest honor. It was the latest in a long string of awards, conferred in India and abroad, that cited his achievements as both a designer and an educator ... More



Editions Studio, Rabbit, metal-pink. XL box inside.



NEW YORK, NY.- Jeff Koons's balloon dog sculptures are cultural icons. 'Blown up' to an exceptional size, these balloon animal sculptures take on a life of their own and reflect the world around them in cartoonish colors. The original Celebration sculptures are crafted with mirror-polished stainless steel that is coated in transparent colors to create a faux latex finish. Although the broad collection includes roses, tulips, hearts, snakes, eggs, and more, two specific styles have dominated the art world's attention: balloon dogs and balloon rabbits. Koons's pop culture-inspired artwork is clearly reminiscent of postwar greats, including Andy Warhol and Salvador Dali. Just like Warhol, the Koons balloon dogs and rabbits have cemented their position in world-renowned art galleries and at-home display shelves. Unsurprisingly, Koons celebrates this far-reaching level of accessibility. In an interview with The Guardian ... More
Marilyn Stafford, a photojournalist rediscovered, dies at 97
Louisiana opens a comprehensive exhibition of works by the Indian photographer Gauri Gill
Jane Lombard Gallery announces representation of Margarita Cabrera


In a family photo, the photojournalist Marilyn Stafford in 1960. (Marilyn Stafford via The New York Times)

by Alex Williams



NEW YORK, NY.- Marilyn Stafford's journey from aspiring Broadway singer and actress to noted photojournalist and fashion photographer started with a drive to New Jersey and a spasm of fear. One morning in 1948, Stafford, who was 23, was tagging along with two friends who were driving to the home of Albert Einstein in Princeton, New Jersey, to make a short documentary about him and his views, as one of history's greatest physicists, on the dawning of atomic weapons. On the car ride down, one of the friends handed Stafford a 35 mm camera and asked her to take some stills between takes. "I'd never used one before, and I went into a panic," she recalled in a 2021 interview. There was little to worry about, it turned out. Einstein, wearing baggy pants and a sweatshirt, seemed gentle and modest ... More



Gauri Gill, Gurgaon 2004 (a), from the series 'Rememory', 2003–ongoing. Archival Pigment Print, 60.9 x 40.6 cm © Gauri Gill.



HUMLEBAEK.- Louisiana kicks off 2023 with a comprehensive exhibition of works by the Indian photographer Gauri Gill (b. 1970). The exhibition is the first major survey of the artist's work and features more than 200 works from her most significant series. From her base in New Delhi, Gauri Gill has made an impact on the international art scene, not least at documenta in 2017 and the Venice Biennale in 2019, with an original body of work characterized by a mix of several photographic genres – from classical documentary to staged performances for the camera and numerous works created in collaboration with others. Over the last two decades, Gauri Gill has especially captured the lives of marginalized rural communities outside India's urban centres. Several topics interweave in the works and across the series: identity ... More



Margarita Cabrera. Photo: Porturas Photography



NEW YORK, NY.- Jane Lombard Gallery has announced their representation of Mexican born Texas based artist Margarita Cabrera. Following a successful solo booth at Untitled Art Miami Beach 2022, the artist will have her debut solo exhibition at the gallery in Spring 2024. Cabrera's work is currently on view at the McNay Art Museum in San Antonio, Texas; with forthcoming exhibitions at the Museum of Contemporary Art Cleveland, Cleveland, Ohio; the Denver Art Museum, Denver, Colorado; and the Smithsonian American Art Museum in Washington, D.C.. We are pleased to welcome Cabrera to our roster of artists whose work further bolsters the gallery's mission to highlight important social and political issues of today. A self-defined social practices artist, Margarita Cabrera's work is often fueled by collaboration from community engagement in order to get a holistic view of social issues. Materials such as US Border Patrol uniform ... More
Art Gallery of Ontario opens "Radical Remembrance: The Sculptures of David Ruben Piqtoukun"
Nantucket Historical Association acquires significant Eastman Johnson painting
Success for the Cohen & Cohen collection of fine Chinese Export Porcelain


David Ruben Piqtoukun, Mystical Shape, unknown. Stone, hair, antler, with antler 'horns" in place: 30 × 12 × 28.5 cm. Private Collection. © David Ruben Piqtoukun. Photo AGO.



TORONTO.- This past January 21st the Art Gallery of Ontario (AGO) opened the exhibition "Radical Remembrance" Inuvialuit sculptor David Ruben Piqtoukun's ᑎᕕᑎ ᐱᑐᑯ ᕈᐱᐃᓐ first major AGO solo exhibition. Recipient of a Governor General's Award for Visual and Media Arts in 2022, this career-spanning exhibition showcases new artworks, alongside visitor favourites from the Samuel and Esther Sarick Collection at the AGO, to reveal the artist's material inventiveness, humour and narrative power. Reclaiming through his art the oral histories stolen from him during his years in residential school, Radical Remembrance will be on view through June 25, 2023, in the AGO's Philip B. Lind Gallery on Level 1. Born in 1950 in Paulatuk, Northwest Territories, in what is now the Inuvialuit Settlement Region, Piqtoukun lives and works in Southern Ontario ... More



Cranberry Pickers, Eastman Johnson, 20" x 30". Oil on cradled panel. Photo courtesy of Nantucket Historical Association.



NANTUCKET, MAINE.- The Nantucket Historical Association announced the acquisition of the painting Cranberry Pickers by Eastman Johnson, thanks to an outpouring of generous support from numerous private donors, NHA board members, and the Friends of the Nantucket Historical Association. Cranberry Pickers depicts a woman and man harvesting cranberries on Nantucket's north shore. Painted around 1877, it is one of approximately twenty works Johnson created in preparation for his masterpiece Cranberry Harvest, Island of Nantucket (1880), which is now in the collection of the Timken Museum in San Diego. "The NHA is thrilled to add this important painting to our permanent collection. Eastman Johnson is one of the most significant nineteenth-century American painters, and Cranberry Harvest is his most iconic work. This major acquisition allows us to better preserve Johnson ... More



A 'US Hong at Canton' documentary bowl sold for US$138,900. Photo: Bonhams.



NEW YORK, NY.- Bonhams presented 50 years of Chinese Export Porcelain from the renowned gallery Cohen & Cohen on January 24 in New York. The 155 lots featured the best examples from the unique category that artistically fuses Western aesthetic with Chinese craftsmanship. The sale made a total of US$1,740,000 with 85% sold by lot and 98% by value. Highlights from the sale include: • A furry of bidding for the 'US Hong at Canton' documentary bowl finally achieved US$138,900, well above its estimate of US$60,000 - 80,000. The bowl is an important record of a short period of time through its British and Dutch flags, a pentimento of the American flag in its prior location, as well as the Philippine flag for The Real Compañia de Fliipinas (Royal Philippine Company). • Over three times its estimate, a pair of famille rose 'reclining ladies' (circa 1750) sold for US$75,900. The figures suggestion of pregnancy ... More
"Rebekah Goldstein: Paintings and Sculpture" now on view in Boca Raton
Americas Society opens the first solo exhibition in the US of Afro-Brazilian artist Arthur Bispo do Rosario
John Riepenhoff named Sculpture Milwaukee's 2023 curator


Rebekah Goldstein, Party Girl, 2011. Oil on shaped canvas, 59 1/2 x 45 inches, (151.1 x 114.3 cm).



BOCA RATON, FLA.- Rebekah Goldstein: Paintings and Sculpture is now on view at Rosenbaum Contemporary (150 Yamato Road) in Boca Raton, Fla. The exhibition began on January 24th and will continue through April 22, 2023. The exhibition, a concentrated survey of Goldstein's work, includes her rectangular paintings, sculpture and the shaped canvases she has become known for. It will be viewable during regular gallery hours, Tuesday through Saturday, 10 a.m. to 5 p.m., as well as online at www.rosenbaumcontemporary.com. Goldstein's work has been compared to that of Elizabeth Murray, Frank Stella and other modern and contemporary masters for her "abandonment of rectangular constraint." Her paintings explore color, form and structure and their relationship to the human body and the built environment. They also play with perceptions of space. ... More



Untitled [Miss Tanzania (Miss Tanzania)], n.d. Fabric, thread, ink, plastic thread, unidentified material, metal, fiber.



NEW YORK, NY.- Americas Society presents Bispo do Rosario: All Existing Materials on Earth, the first solo exhibition in the United States of Afro-Brazilian artist Arthur Bispo do Rosario (b. 1909, Japaratuba, Brazil, d. 1989, Rio de Janeiro)—known as "Bispo." During his career, Bispo created more than 1,000 artwork objects from Colônia Juliano Moreira, a psychiatric institution in Rio de Janeiro where he lived most of his life. The exhibition runs through May 20, 2023. "His commitment to his craft was the result of a mandate, an offering, and a mission to replicate, catalogue, and organize the world around him," said the exhibition curatorial team. "His endless activity helped him to survive the hardships of many years of psychiatric institutionalization." Co-curated by Aimé Iglesias Lukin, Ricardo Resende, and Javier ... More



John Riepenhoff, Sculpture Milwaukee's 2023 curator. Photo courtesy of Sculpture Milwaukee.



MILWAUKEE, WIS.- Sculpture Milwaukee announced John Riepenhoff will serve as curator for the 2023 exhibition, which will open this summer and be on view through October 2024. Now in its seventh year, Sculpture Milwaukee is an annual outdoor exhibition of public sculpture in downtown Milwaukee. The organization serves as a catalyst for community engagement, economic development, and creative placemaking. John Riepenhoff is an internationally renowned artist, curator, and gallerist who lives and works in Milwaukee. "I'm thrilled to join the succession of artist-curators at Sculpture Milwaukee," Riepenhoff said. "After watching the organization innovate exhibition-making and engage the local and international scenes over the past six years, I am honored to help continue to grow its legacy with a new cohort of contemporary artists ... More
Peter Liversidge, Either/Or, 2023

Flashback
On a day like today, French painter Théodore Géricault died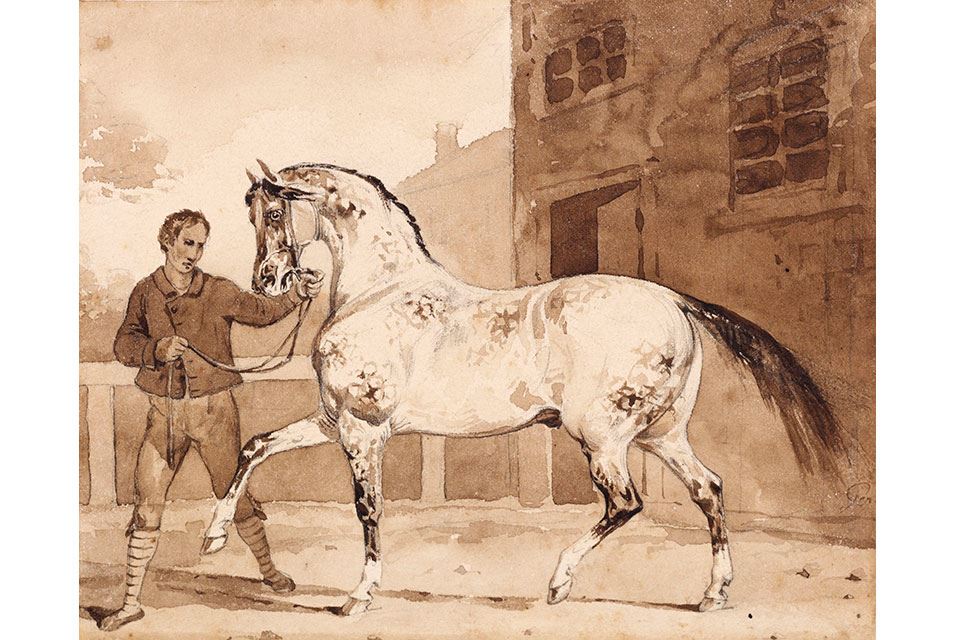 January 26, 1824. Jean-Louis André Théodore Géricault (26 September 1791 - 26 January 1824) was an influential French painter and lithographer, known for The Raft of the Medusa and other paintings. Although he died young, he was one of the pioneers of the Romantic movement. In this imag: Gericault, A Dappled Grey Horse Led by a Groom, c. 1820-21. Sepia wash over graphite on paper, 13 x 16 cm.
---

Museums, Exhibits, Artists, Milestones, Digital Art, Architecture, Photography,
Photographers, Special Photos, Special Reports, Featured Stories, Auctions, Art Fairs,
Anecdotes, Art Quiz, Education, Mythology, 3D Images, Last Week,

.
---
Royalville Communications, Inc
produces: