Forgotten mausoleum of Roman emperor Augustus reborn
People visit the Mausoleum of Augustus (Mausoleo di Augusto), a large tomb built by the Roman Emperor Augustus in 28 BC on the Campus Martius near the river Tiber, as it reopens on March 03, 2021 in Rome. The Mausoleum of the first Roman Emperor Augustus, which has been closed for fourteen years, is reopening to visitors. Filippo MONTEFORTE / AFP.

by Gildas Le Roux
ROME
(AFP)
.-
A newly renovated colossal mausoleum for the founder of the Roman empire Augustus has reopened to the public in the Italian capital after centuries of neglect. "Until now we have always known it as a ruin, but it is one of the most important monuments of antiquity," explained Alessia, a masked guide taking a small group of visitors on the labyrinthine route through five concentric enclosures. "It was so majestic, they had never seen anything like this in Rome." The mausoleum was built on the banks of the River Tiber between 28 and 23 BC. It is a vast, towering monument to Augustus, the great-nephew of Julius Caesar who built the Roman empire during his 40-year rule. The cylindrical base has a diameter of 90 metres, on top of which was planted a mound of cypress trees. On the summit, a bronze statue of the emperor stood guard, taking the total height to 45 metres. At the centre of the mausoleum, originally ...
More
The Best Photos of the Day
He was born into slavery, but achieved musical stardom
Almine Rech opens Günther Förg's third solo exhibition with the gallery
Two Picasso portraits to highlight Christie's 20th Century Art Evening Sale


Thomas Greene Wiggins, who performed as "Blind Tom." Born into slavery, Wiggins became a touring phenomenon, playing his own compositions and improvising on the piano. Golder & Robinson/Library of Congress via The New York Times.

by Anthony Tommasini



NEW YORK (NYT NEWS SERVICE).- Charity Wiggins, a slave on a Georgia plantation, was 48 in May 1849, when she gave birth to a baby boy. The child, whom she named Thomas, was born blind, and she feared that their owner would deem him a useless burden — with potentially dire consequences. Sure enough, before long her family — of five, at the time — was put up for sale to settle some of the owner's debts. Wiggins made a bold plea to Gen. James Neil Bethune, a fiercely proslavery lawyer and newspaper editor in Columbus, Georgia, to keep her family together; probably out of pity, he agreed and bought them. He could not have imagined that acquiring the Wiggins slaves would make him a fortune. For within a decade, Wiggins' son had become a touring ... More



Günther Förg, Untitled, 1990. Acrylic on lead on wood, 150 x 115 cm. 59 x 45 1/4 in. Signed and dated on the reverse © 2021 Estate Günther Förg, Switerland / VG Bild-Kunst Bonn.



PARIS.- Almine Rech is presenting 'A Game of Chess', Günther Förg's third solo exhibition with the gallery, organized in collaboration with the Estate of the artist, following on the shows the gallery organized in London in 2015 and 2018. Förg was born in the Allgäu region and studied at the Akademie der Bildenden Künste in Munich, his ideas have continuously migrated through numerous media. In 1984, Förg earned his spurs after being included in 'von hier haus', an exhibition on new German painting that Kasper König curated in Düsseldorf. Since then, he has been associated with two trajectories in postwar art. The history of his reception within the Stedelijk Museum in Amsterdam illustrates the duality of his protean artistic practice. In 1995, the Stedelijk, which at the time was led by Rudi Fuchs, presented Förg as the successor to the Germanic painters grouped together as the so-called 'Neo Expressionists': G ... More



Pablo Picasso, Femme assise dans un fauteuil noir (1962, estimate : £6,000,000 - 9,000,000). © Christie's Images Ltd 2021.



LONDON.- Christie's will present two major portraits by Picasso as leading highlights in the 20th Century Art Evening Sale on 23 March. Painted on 18 June 1932, Femme nue couchée au collier (Marie-Thérèse) (estimate: £9,000,000-15,000,000) is one of the colourful, love-filled paeans that Pablo Picasso painted of Marie-Thérèse Walter in the first half of this seminal year. Painted some 30 years later, Femme assise dans un fauteuil noir (Jacqueline) (1962, estimate: £6,000,000-9,000,000) depicts his wife Jacqueline. Both of these vibrant portraits represent significant stylistic moments in Picasso's career. Keith Gill, Co-Head of Sale, 20th Century Art Evening Sale, Christie's: "Keith Gill, Co-Head of Sale, 20th Century Art Evening Sale, Christie's: "Christie's is delighted to offer these two symbolic paintings by Picasso as star lots in our Evening Sale series on 23 March 2021. Seen together, Femme nue co ... More
Fauci is giving his Coronavirus model to the Smithsonian
Carol Bove's light-touch heavy metal faces down the Met
Academy helped buy its boss a new home. She left in under 6 years.


The model, which he said was made with a 3D printer at the National Institutes of Health, is a blue sphere studded with spikes replicating the spiked proteins that can latch onto cells in our airways, allowing the virus to slip inside.

by Allyson Waller



NEW YORK (NYT NEWS SERVICE).- A piece of personal pandemic history belonging to the nation's top infectious disease expert has found a new home at the Smithsonian's National Museum of American History. Dr. Anthony Fauci, the director of the National Institute of Allergy and Infectious Diseases, presented his three-dimensional model of the coronavirus to the museum's national medicine and science collections Tuesday at a ceremony that was conducted by videoconference. "I wanted to pick something that was really meaningful to me and important because I used it so often," Fauci said in an interview Wednesday about his decision to give the model to the museum. The model, which he said was made with a 3D printer at the National Institutes of Health, is a blue sphere studded with spikes replicating the spiked proteins that can latch onto cells in our airways, allowing the virus to slip inside. Fauci said he had often used it as a visual aid when briefing members of Congress and former President D ... More



A member of Carol Bove's team shapes the steel beams of one of her sculptures, intended for the facade of the Metropolitan Museum of Art, with the help of a hydraulic press at her studio in Red Hook, Brooklyn, Nov. 10, 2020. George Etheredge/The New York Times.

by Jason Farago



NEW YORK (NYT NEWS SERVICE).- "I didn't want them to sit politely on the pedestals," Carol Bove said to me this past summer. The sculptor was tiptoeing around a pile of crushed, tangled steel tubes, lying on the floor of her studio in the far south of Brooklyn. She'd reopened her workshop after a pandemic shutdown, and all around were the accouterments of art and industry. Forklifts and girders. Welders' masks and hazmat suits. But there was also, rather incongruously, a shadow of a century past: a huge plaster replica of a beaux-arts sculpture pedestal, a full-scale copy of the empty ones on the facade of the Metropolitan Museum of Art. The crumpled tubes would form part of one of Bove's largest-ever projects, for the museum's second commission of new outdoor sculpture. Last week, after a six-month COVID-induced delay, the completed works were driven uptown and were being craned into place at 1000 Fifth Ave. There are four of them: abstract ... More



Katy Clark speaks during the Brooklyn Academy of Music Gala at Brooklyn Cruise Terminal in New York, May 30, 2018. Clark served as president of the academy from 2015 until earlier this year. Krista Schlueter/The New York Times.

by Robin Pogrebin



NEW YORK (NYT NEWS SERVICE).- One of the perks of leading premier cultural institutions, besides the substantial salaries, is the use of elegant apartments, which are often owned by arts organizations and passed from one top executive to the next. But the Brooklyn Academy of Music took it a step further in 2015 when Katy Clark became its president. The organization gave its new leader nearly half the purchase price of a $1.9 million, three-bedroom prewar home overlooking Prospect Park that she could call her own. The unusual one-time housing bonus of $968,000 came on top of her new starting salary of $355,000, which was a considerable boost from the roughly $200,000 she had been making in her prior job. Now, after just five years in the post, Clark left BAM in January for a lower-profile job at a foundation — and the apartment has gone with her, leading to questions about the fiscal prudence of such an outlay to lure a leader whose tenure wound up being much shorter than her predecessor's. The questions ... More
Kasmin Gallery announces representation of Elliott Hundley
Ernest Howard Shepard's Winnie the Pooh illustration could bring $50,000+ at Heritage Auctions
Sprüth Magers opens the first solo exhibition at the Los Angeles gallery of works by Cindy Sherman


Elliott Hundley © Max Knight.



NEW YORK, NY.- Kasmin announced representation of Elliott Hundley (b. 1975). The Los Angeles-based artist is known for expanding the traditional notions of collage and assemblage in a multidisciplinary practice of painting, drawing, sculpture, and photography that synthesizes ancient epics, futuristic narratives, and contemporary realities. The resulting works resemble theatrical landscapes that delve into the artist's psyche, reflecting Hundley's desire to create a new personal mythology. To mark the announcement, an online viewing room, Elliott Hundley: Preface, is now live on the gallery website, presenting new paintings, sculpture, and works on paper. The artist's first solo exhibition will go on view at Kasmin in September 2021, taking inspiration from Jean Genet's 1957 play, The Balcony, a work fraught with explorations of power and desire. Concurrent with the exhibition, Hundley will unveil a new 40-ft mural as part ... More



Ernest Howard Shepard (British, 1879-1976) It Appears You have Eaten a Bee, The House at Pooh Corner interior book illustration, 1928 (detail). Ink on board, 3 x 7-1/2 inches. Estimate: $30,000 - $50,000.



DALLAS, TX.- A 93-year-old Winnie the Pooh illustration, Chas Addams cartoons, all three original trilogy Star Wars video cassette covers and an array of pulp covers from Norman Saunders and Virgil Finlay are among the top highlights in Heritage Auctions' Illustration auction April 30. "This is a well-balanced sale that will appeal to collectors of widely varying tastes, with images that will take us all back to earlier years," Heritage Auctions Senior Vice President Ed Jaster said. "Ernest Howard Shepard's ink drawing perfectly captures the characters from Winnie the Pooh, which just about everyone would list as a childhood favorite: Alberto Vargas for the elite pin-up art collectors, Norman Saunders for pulp enthusiasts, and Star Wars and Star Trek images that are iconic to generations ... More



Cindy Sherman, Untitled, 2019. Cotton, wool, acrylic, cotton mercurisé, and polyester cotton woven together, 281.9 × 218.4 cm. 111 × 86 inches © Cindy Sherman. Courtesy Sprüth Magers and Metro Pictures, New York Photo: Robert Wedemeyer.



LOS ANGELES, CA.- Monika Sprüth and Philomene Magers opened the first solo exhibition at the Los Angeles gallery by internationally renowned artist Cindy Sherman, who has been associated with Sprüth Magers since the 1980s. In the latest series on view, Sherman explores her first non photographic medium in a career spanning over 40 years: Tapestry. Featuring a dozen examples of her new and recent tapestries, the exhibition marks the début of these works as a coherent body of work. In line with Sherman's long-term photographic investigation into the construction of identity and the nature of representation, the images are based on pictures posted on the artist's personal Instagram account, which she creates using widely available ... More
Smithsonian names Ellen Stofan Under Secretary for Science and Research
Christie's announces two live auctions of post-war and contemporary art
Thomas Hirschhorn turns GL STRAND into an anti-architectural space


Ellen Stofan is currently director of the Smithsonian's National Air and Space Museum. Photo by Jim Preston, Smithsonian National Air and Space Museum.



WASHINGTON, DC.- Ellen Stofan, director of the Smithsonian's National Air and Space Museum, has been named the Smithsonian's Under Secretary for Science and Research, effective March 14. In this role, Stofan will lead the Institution's collective scientific efforts and commitment to research. The position oversees the Smithsonian's science museums, science research centers and Smithsonian Libraries and Archives. This includes the National Museum of Natural History, the National Zoo and Smithsonian Conservation Biology Institute, the Museum Conservation Institute, the Smithsonian Astrophysical Observatory, the Smithsonian Environmental Research Center and the Smithsonian Tropical Research Institute. Stofan will report to Meroe Park, Deputy Secretary and Chief Operating Officer. Stofan has served as the John and Adrienne Mars Director of the National ... More



Gerhard Richter, Frau mit kind (Woman with Child). Frequency modulated offset print in colors, on white cardboard, 2005. Image: 51 x 43 ¼ in. Estimate: $40,000-60,000. © Christie's Images Ltd 2021.



NEW YORK, NY.- This March, Christie's presents two live auctions dedicated to shining a spotlight onto the defining voices of Post-War and Contemporary art. The Post-War to Present sale opens the week on March 9 with stellar examples by Matthew Wong, Emily Mae Smith, Derrick Adams, Kenneth Noland, Elaine de Kooning and Ruth Asawa while the March 10 Contemporary Edition sale features nearly 200 striking prints and multiples from leading names such as Frank Stella, Jasper Johns and Alex Katz and important contemporary artists such as KAWS and Damien Hirst, with estimates starting at under $1,000. In addition to the live auctions, Christie's is hosting four complementary online-only sales of Post-War and Contemporary Art. Please click here for more information on the full offering. Preview exhibitions are available to view online, and may be visited at our Rockefeller ... More



Thomas Hirschhorn, Community of Fragments. Photo: David Stjernholm.



COPENHAGEN.- GL STRAND marks the new year with this ambitious new work by the internationally recognized Swiss artist Thomas Hirschhorn, whose exhibition 'Community of Fragments' turns GL STRAND into an anti-architectural space. The exhibition is created as a site-specific free access project on two floors and transforms the whole architecture of GL STRAND. Right from the main stairway that leads up through the gallery spaces, Hirschhorn lets the fake cave or abandoned mine take over from floor to ceiling. All visitors are invited to participate in the reconstruction of GL STRAND in a workshop centered in the middle of the exhibition. Here one can among other things create sculptures and two-dimensional works that contribute to the exhibition; but one can also use the workshop for dialogue and debate. With the exhibition Thomas Hirschhorn creates an artistic space that we are invited to occupy – again and again if you like. For the same reas ... More
Alice Neel: People Come First

Flashback
On a day like today, Italian painter Giovanni Battista Tiepolo was born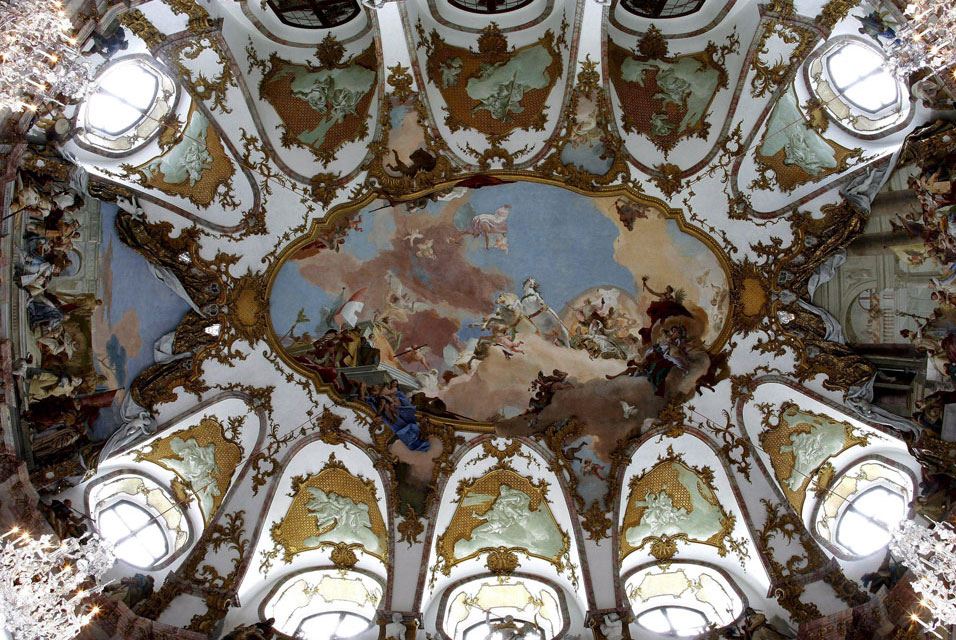 March 05, 1696. Giovanni Battista Tiepolo (March 5, 1696 - March 27, 1770), also known as Giambattista (or Gianbattista) Tiepolo, was an Italian painter and printmaker from the Republic of Venice who painted in the Rococo style. He was prolific, and worked not only in Italy, but also in Germany and Spain. Giovan Battista Tiepolo, together with Giambattista Pittoni, Canaletto, Giovan Battista Piazzetta, Giuseppe Maria Crespi and Francesco Guardi are considered the traditional Old Masters of that period. In this image: View of the ceiling of the Imperial Hall in the Wurzburg Residenz.
---

Museums, Exhibits, Artists, Milestones, Digital Art, Architecture, Photography,
Photographers, Special Photos, Special Reports, Featured Stories, Auctions, Art Fairs,
Anecdotes, Art Quiz, Education, Mythology, 3D Images, Last Week,

.
---
Royalville Communications, Inc
produces: