Grave is found at site of historic Black church in Colonial Williamsburg
The uncovering of foundation footings for a planned expansion of the historic First Baptist Church at its first permanent location in Williamsburg, Va. Let Freedom Ring Foundation via The New York Times.

by Kwame Opam
NEW YORK
(NYT NEWS SERVICE)
.-
Archaeologists working in Colonial Williamsburg to unearth what life was like for the original congregants of one of the oldest Black congregations in the country have uncovered one and possibly two graves and more than 12,000 artifacts, including an ink bottle, doll fragments and coins. Digging beneath a parking lot in the Virginia city, the researchers were able to find the foundations for a brick church built in 1856, what may be an even older church building and a grave or graves potentially for members of the congregation, the Historic First Baptist Church of Williamsburg, Jack Gary, Colonial Williamsburg's director of archaeology, said Tuesday. Gary, who is overseeing the excavation, said that there was at least one grave and possibly two and that there were probably more burial shafts at the site. "When I set foot on the excavation site and listened to the history that they were uncovering, it was an awesome feeling," said the Rev. Julie Grace, who was christened ...
More
The Best Photos of the Day
FENIX Museum for Migration acquires art deco miniatures; First Van Ryper ship models in Dutch museum
UK teen who threw French boy from museum requests move from prison
An enigmatic painting by a rediscovered woman artist enters a UK public collection


Despite their modest size, Charles van Riper's wooden ship models have great expressiveness.



ROTTERDAM.- At the specialized Nautical Antique Extravaganza auction of Boston Harbor Auctions in Norwell (MA), the future FENIX Museum for Migration has managed to acquire seven models of ships of the Holland America Line that sailed between Rotterdam and New York. A striking part of this auction were the more than one hundred Van Ryper models that are very much sought after by enthusiasts. Replica miniatures of the Potsdam, Veendam, Statendam, Nieuw Amsterdam (2x), Volendam and Rotterdam will soon be exhibited in the permanent display of the future museum in Rotterdam. They are the first Van Ryper models to enter a Dutch museum collection. Despite their modest size, Charles van Riper's wooden ship models have great expressiveness. Between 1933 and 1962, more than 15,000 handmade miniature models were sold from a small workshop in Martha's Vineyard in the United States, under the old Dutch name of Van Ryper. ... More



A general view shows the Tate Modern gallery on the southern bank of the River Thames in London. Daniel SORABJI / AFP.



LONDON (AFP).- A British teenager who threw a six-year-old French boy from a viewing platform at London's Tate Modern museum is appealing to serve his life sentence in hospital, a court heard on Wednesday. Jonty Bravery, 19, appeared via video-link at Westminster Magistrates' Court from Belmarsh prison, where he is currently serving a life sentence with a minimum term of 15 years for attempted murder. The court heard Bravery was mounting an appeal against his previous sentence on the grounds he should be held at Broadmoor Hospital, a maximum security psychiatric unit. His lawyer, Andrew Bousfield, said the challenge would centre on "whether he should be sentenced to a hospital order or be in the normal prison population". The troubled teenager is currently on trial on separate charges for an alleged attack on two nurses at Broadmoor Hospital in southern England while he was being held on remand ... More



Marguerite Gérard (1761 – 1837), The Reader, 1817. Oil on canvas, 32 x 24 cms (unframed) © The Barber Institute of Fine Arts, University of Birmingham.



BIRMINGHAM.- Marguerite Gérard's The Reader (about 1817) has been acquired by the Henry Barber Trust for the Barber Institute of Fine Arts, the stellar art collection located in a Grade 1 listed gallery on the campus of the University of Birmingham. French artist Marguerite Gérard (1761 – 1837) was one of the most accomplished painters of her time and enjoyed a long and financially rewarding career. Despite her contemporary success and high reputation, her achievements were largely forgotten after her death and it was only in the 1970s, with the emergence of a Feminist critique of Art History, that Gérard returned to view and began her journey back to her rightful place in the history of late 18th and early 19th-century French painting. Ironically, one reason for this neglect of Gérard is the fact that her work was so popular with private collectors and therefore little was on view in public museums. Whilst this omission has been re ... More
Christie's announces Shang: Early Chinese Ritual Bronzes from the Daniel Shapiro Collection
Artcurial to offer the personal collection of art dealer Maurice Garnier
Victorian Government to fund the construction of NGV Contemporary


A very rare bronze ritual rectangular wine vessel and cover, Fangyi. 8 ¾ in. (22 cm.) high. Estimate: $600,000-800,000. © Christie's Images Ltd 2020.



NEW YORK, NY.- Christie's New York will present Shang: Early Chinese Ritual Bronzes from the Daniel Shapiro Collection, a dedicated live auction on 18 March 2021. The sale features exceptional examples from China's formative Shang bronze culture from a renowned American collection formed over a span of twenty-five years. These sophisticated pieces provide a glimpse into the spiritual world and mysterious rituals of China's ancient culture and are among the world's most extraordinary works of art. Two of the sale's highlights will be unveiled in Hong Kong beginning 27 November 2020. Leading the sale is The Luboshez Gong (estimate: $4-6 million), a magnificent and highly important bronze ritual wine vessel. Dating to the 13th-12th century BC, the vessel combines a pouncing tiger with a standing owl forming a powerful, fantastic creature. Acquired by Captain S.N. Ferris Luboshez in Shanghai in 1948, ... More



Maurice Garnier in front of his portrait, painted by Bernard Buffet in 1949 at the Galerie Visconti, Paris © Galerie Maurice Garnier.



PARIS.- On Tuesday 8 and Wednesday 9 December, as part of its major Modern & Impressionist Art sales, Artcurial will present the «Maurice Garnier Collection, Ida Garnier Estate» sale. Over 60 works from the personal collection of Maurice and Ida Garnier, coming from their apartment on Quai d'Orsay in Paris, will be offered for sale. This group of works was assembled by Maurice Garnier throughout a professional career that spanned almost 70 years. He acquired this work privately, wanting to keep paintings by the artists he represented in his home. A renowned art dealer from the second half of the 20th century, Maurice Garnier (1920 - 2014), who opened his first gallery in Paris in 1946, represented some fifteen major 20th century artists. He took the decision in 1977 to dedicate himself exclusively to just one of these artists, Bernard Buffet, continuing to represent his work after the artist died in 1999. In 2009 he ... More



The new 18,000 square metre public garden facing south (artist impression). HASSELL + SO-IL.



MELBOURNE.- The Victorian Government will fund the construction of Australia's largest gallery of contemporary art and design, NGV Contemporary, which will be designed and built by an Australian team. Located at 77 Southbank Boulevard, Melbourne, in the heart of the re-imagined Melbourne Arts Precinct, the new purpose-built gallery will be dedicated to showcasing contemporary art, design, fashion and architecture of local, national and international significance. The gallery will be an unparalleled platform for local practitioners, showcasing the talent of Australia's creative industries to a global audience. The gallery will be designed by an Australian architectural team, who will be appointed through a competition process. Once completed, the gallery will span more than 30,000 square metres, making it the largest facility of its kind in Australia. Building on the growth in audiences attending ground-breaking exhibitions of contemporary art and design, ... More
Alison Jacques Gallery announces representation of Sophie Barber
Van Eaton Galleries announces "Walt Disney: The Man, The Studio, and The Parks" auction
Alys Tomlinson's Portraits of School Leavers' Lost Summer win the Taylor Wessing Photographic Portrait Prize 2020


Sophie Barber, Installation view: The Greatest Song a Songbird Ever Sung, Goldsmiths CCA, 2020. Courtesy Goldsmiths CCA, London. Photo: Mark Blower © Sophie Barber.



LONDON.- Alison Jacques Gallery announced representation of Sophie Barber, whose debut exhibition will open in London in September 2021. Born in 1996 in St Leonards-on-Sea and working in the nearby town of Hastings, Barber is a painter who draws directly from the world around her, reproducing natural and man-made visual fragments in an attempt to preserve and process their forms. Gathering and positioning tents, birds, dens and word games on monumental block-colour canvases, she creates surreal, folk-like compositions that are less depictions of her native Sussex coast than distillations of the impression it leaves. "Her paintings do not seek to definitively record a singular object or place", writes critic Philomena Epps of Barber's recent paintings, "they are not about Burwash, Hastings, Bexhill, but rather they elicit a frame ... More



Walt Disney Studios Animators Desk.



LOS ANGELES, CA.- One can easily argue that Walt Disney is among the most influential figures of the 20th century. He was a visionary who created an entertainment empire focusing on family fun, and a universe of memorable characters, most notably Mickey Mouse. From his theme park known as "the happiest place on earth," to his full-length feature films, animated characters, and pioneering work in family entertainment, no one comes close to the imagination and legendary achievements of Walt Disney: The Man, The Studio, and the Theme Parks. Van Eaton Galleries, the Sherman Oaks based auction house specializing in Disney memorabilia and animation, and recognized authority on all things Disney, has announced a historic auction event celebrating the life and legacy of Walt Disney. The "Walt Disney: The Man, The Studio, and The Parks" auction will take place on Walt's birthday, Saturday, December 5, 2020, beginning at 10:00 ... More



Jameela from the series Lost Summer by Alys Tomlinson © Alys Tomlinson.



LONDON.- Alys Tomlinson has won first prize in the prestigious Taylor Wessing Photographic Portrait Prize 2020 for Lost Summer, her series of black and white portraits of London school leavers dressed up for their proms, which were cancelled due to the Coronavirus pandemic. The winner of the £15,000 first prize was announced today, Tuesday 24 November, on the National Portrait Gallery's social media channels. Second prize was awarded to Lydia Goldblatt for Eden, a portrait of her young daughter alone in her garden during lockdown. Yolanda Y. Liou was awarded third prize for her portrait of model, plus size advocate and Instagram influencer, Enam Ewura Adjoa Asiama. The winning portraits are now on display in a new online exhibition on the National Portrait Gallery's website, featuring 54 portraits from 37 different artists selected for display by a panel of judges including Edward Enninful, Editor-in-chief of British ... More
Exhibition features a selection of never-before-seen paintings by Genieve Figgis
Cowan's American Historical Ephemera and Photography Auction exceeds presale estimate by nearly $300,000
The Met appoints Lavita McMath Turner as Chief Diversity Officer


Installation view. Courtesy of the Artist and Almine Rech © Genieve Figgis. Photo: Melissa Castro Duarte.



LONDON.- Almine Rech is presenting Imaginary Friends, Genieve Figgis' fifth solo exhibition with the gallery since 2015 and second presentation in London, featuring a selection of never-before-seen paintings. Humans are resolutely social animals. Yet it takes an unprecedented globalpandemic with its attendant dictates to keep our distance from others—for us to acknowledge our primordial need for group belonging. Whether school classes, social clubs, worker's unions, circles of friends, crowds at the bar, or the momentary communion of a dinner party, our collective affiliations are integral for the formation of group identification, generating our sense of security and social power. Sigmund Freud defined the social masses as "temporary entities consisting of heterogeneous elements that have joined together for a moment." Forced into social isolation as part of urgent public health strictures, we ... More



An extraordinarily rare half plate daguerreotype of a California gold mining camp (Lot 376) more than doubled its estimate selling for $36,250.



CINCINNATI, OH.- Cowan's American Historical Ephemera and Photography auction surpassed expectations achieving a sales total of $701,849 against a presale estimate of $409,700 - $615,750. The November 19 auction also saw 93% of the auction's 414 lots sell with nearly a third selling above their presale estimates. "I am proud of all that the team at Cowan's and Hindman have accomplished in a year filled with so many unique challenges," said Katie Horstman, Senior Specialist of American Historical Ephemera and Photography. "This was the highest sell through rate for a various-owner sale in my 13 year career – this is a great time to sell at auction." The top lot of the day was an extensive archive of Medal of Honor winner and Civil War hero Lt. General Nelson A. Miles (Lot 322). The Miles archive featured over 300 items detailing Indian Wars ... More



McMath Turner comes to The Met from Stella & Charles Guttman Community College, City University of New York (CUNY), where she served as Assistant Dean for Equity, Inclusion, and Experiential Learning.



NEW YORK, NY.- The Metropolitan Museum of Art announced today that Lavita McMath Turner has been named the institution's first Chief Diversity Officer. McMath Turner comes to The Met from Stella & Charles Guttman Community College, City University of New York (CUNY), where she served as Assistant Dean for Equity, Inclusion, and Experiential Learning. In her role at The Met, McMath Turner will collaborate closely with partners in a wide range of departments, particularly Human Resources, to oversee the execution of the Museum's current Diversity, Equity, Inclusion, and Access plan and Commitments to Anti-Racism, Diversity, and a Stronger Community, issued in the summer of 2020, and to lead the creation of new initiatives that support The Met's goals to become evermore inclusive, equitable, fair, and welcoming. ... More
George Condo 'Transparent Female Forms' | New York | December 2020

Flashback
On a day like today, American cartoonist Charles M. Schulz was born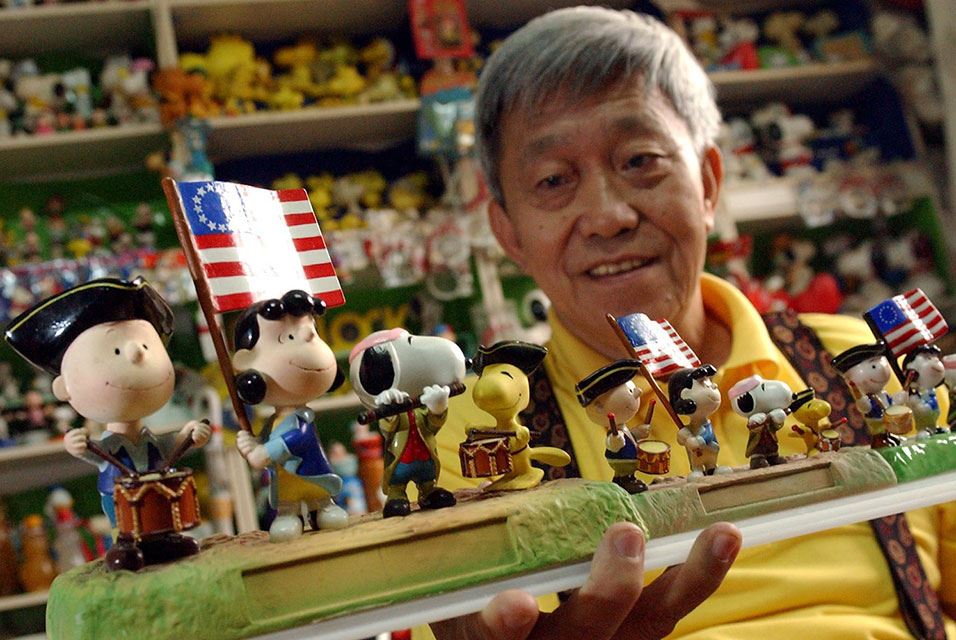 November 26, 1922. Charles Monroe "Sparky" Schulz (November 26, 1922 - February 12, 2000) was an American cartoonist, whose comic strip Peanuts proved one of the most popular and influential in the history of the medium, and is still widely reprinted on a daily basis. In this image: Ma Leshan, 76, holds a series of models of Peanut characters in his exhibition room in Shiqi of Zhongshan city, south China's Guangdong Province, 29 May 2003. Charles Schulz, the US cartoonist, appointed Ma as the only manual models sculptor for his Peanut series in 1978. Ma has made over 10,000 Snoopy models in the past 25 years. Manual models are the first models made according to the drawings before the mass production.
---

Museums, Exhibits, Artists, Milestones, Digital Art, Architecture, Photography,
Photographers, Special Photos, Special Reports, Featured Stories, Auctions, Art Fairs,
Anecdotes, Art Quiz, Education, Mythology, 3D Images, Last Week,

.
---
Royalville Communications, Inc
produces: