Who owns the Benin Bronzes? The answer just got more complicated.
Benin Bronzes on display in the Humboldt Forum, a museum complex in Berlin, Jan. 31, 2023. After years of ignored pleas and stonewalled requests, deals were finally coming together to return some of Africa's most prized treasures to the continent — but that plan has run aground since Nigeria's outgoing president announced he had transferred ownership to a direct descendant of the ruler they had been stolen from. (Andreas Meichsner/The New York Times)

by Alex Marshall
LONDON
.-
After years of ignored pleas and stonewalled requests, deals were finally coming together to return some of Africa's most prized treasures to the continent. The Smithsonian Institution, the Metropolitan Museum of Art and the German government announced they were returning scores of sculptures, plaques and ornaments, known as the Benin Bronzes, that British soldiers had plundered in 1897 from Benin City, in what is now Nigeria but was once the center of a kingdom. Plans were underway for a glittering new museum designed by British Ghanaian architect David Adjaye to showcase and protect the returned treasures. But that plan has run aground since Nigeria's outgoing president announced he had transferred ownership of the looted items to a direct descendant of the ruler they had been stolen from. At a moment when museums worldwide are trying to come to grips with contested artifacts in their collections, this development underscores how complex restitution efforts can be. ...
More
The Best Photos of the Day
Sir Winston Churchill painting of Hever gardens unveiled as part of re-curation of the Castle
How did birds first take off?
'Spring Light' exhibition by Kiki Smith now on view at Pace Gallery


Sir Winston Churchill , View through an Arch at Hever. Copyright: Hever Castle & Gardens.



KENT.- A painting of the gardens at Hever by former Prime Minister Sir Winston Churchill (1874-1965) has come home to the Castle. Dating from the 1930's the oil painting, View through an Arch at Hever depicts the Italian Garden at Hever Castle at the time it was owned by Churchill's close friends, John Jacob Astor V (known as JJ) and Lady Violet Astor. The painting was recently purchased by Hever Castle in a Private Sale from Christies and unveiled by Lord and Lady Astor at a celebratory event. Churchill regularly visited Hever Castle from his nearby home, Chartwell, and painted at the historic building due to his friendship with fellow artist John Jacob Astor (1886-1971). Other paintings of the gardens at Hever Castle can be found in the house and studio at the family home of Sir Winston. Although Churchill only painted part-time, he produced over 500 pictures. Although he attempted portraits and interiors, ... More



An illustration provided by Yu Chen shows an artist's impression of one of the molt cycles of an enantiornithine, a bird that dominated the skies for tens of millions of years, based on fossil evidence from three specimens. (Yu Chen via The New York Times)

by Carl Zimmer



NEW YORK, NY.- In 1993, "Jurassic Park" helped inspire 9-year-old Stephen Brusatte to become a paleontologist. So Brusatte was thrilled to advise the producers of last year's "Jurassic World: Dominion" on what scientists had learned about dinosaurs since he was a child. He was especially happy to see one of the most important discoveries make it to the screen: dinosaurs that sported feathers. But judging from the emails he has been receiving, some moviegoers did not share his excitement. "A lot of people thought it was made up," said Brusatte, a professor at the University of Edinburgh. "They thought it was filmmakers trying to do something crazy." Far from crazy, feathered dinosaurs have ... More



Evening Star, 2023. Aqueous archival inkjet, acrylic archival inkjet, white gold leaf on Hahnemühle rag paper. 152.4 × 109.2 cm. © Kiki Smith, courtesy Pace Gallery.



NEW YORK, NY.- Pace has opened an exhibition of work by Kiki Smith at its arts complex in Seoul. On view since May 17 to June 24, the presentation, titled Spring Light, will bring together new and recent sculptures, drawings, and prints that explore the phenomenological qualities of water, the sky, and the cosmos. This exhibition—which follows Smith's recent solo exhibition at the Seoul Museum of Art and marks her first solo show at Pace's Seoul gallery—will reflect the artist's longstanding artistic exploration of the relationships between humans and the natural world. Since the 1980s, Smith has nurtured a multidisciplinary practice spanning sculpture, printmaking, photography, drawing, and textile work. As part of her experimentations across mediums and materials, the artist has drawn inspiration from a wide range of histories, visual cultures, and mythologies ... More
Italy presents pavilion at La Biennale di Venezia 2023
'Self Watering Flowers' to be opening at Almine Rech
Architects Lina Ghotmeh and Asif Khan appointed for two major museums in AlUla, Saudi Arabia


Installation view Spaziale. Everyone belongs to everyone else, 2023, Italian Pavilion at the 18th International Architecture Exhibition - La Biennale di Venezia. Ph. DslStudio. Courtesy Fosbury Architecture.



VENICE.- "Spaziale. Everyone belongs to everyone else" is the title of the Italian Pavilion at the 18th International Architecture Exhibition – La Biennale di Venezia, promoted by the Directorate-General for Contemporary Creativity of the Ministry of culture and curated by Fosbury Architecture (Giacomo Ardesio, Alessandro Bonizzoni, Nicola Campri, Veronica Caprino, and Claudia Mainardi). For the first time, a curatorial group made up of architects born between 1987 and 1989 brings with them to Venice the demands of a new generation of designers under 40 (nine groups of designers and as many advisors, professionals from different fields in the creative industries, for a total of about 50 people with an average age of 33) who grew up and were trained against a backdrop of permanent crisis – the cultural crisis of the West triggered ... More



Portrait of Timothy Curtis, 2023. Courtesy of the Artist and Almine Rech Photo: Timothy Curtis Studio.



PARIS.- Almine Rech will be opening Timothy Curtis' first solo exhibition with the gallery, on view from June 9 to 24, 2023. Timothy Curtis [b. 1982] is a self-taught artist from Philadelphia, where he was first introduced to the arts via graffiti writing as a young child. Following his release from a lengthy prison sentence, Curtis moved to New York City where he established a focused studio practice in 2015. While incarcerated he threw himself into studying art history, drawing, and painting and was able to use his studies to form a mural painting crew consisting of artists sentenced to life in prison, painting educational murals around the prison campus to teach, motivate and add color to the otherwise drab environment. Despite remaining on parole since his release in late 2015, Curtis has gone on to have solo presentations in Tokyo, New York City, Berlin and was included in the group exhibition The Pencil is a Key: Drawings by Incarcerate ... More



Lina Ghotmeh and Asif Khan, newly appointed architects for two upcoming museums in the constellation of cultural assets for the Royal Commission for AlUla.



ALULA.- The Royal Commission for AlUla (RCU) announces Lina Ghotmeh and Asif Khan as architects for two upcoming museums in its constellation of cultural assets. Ghotmeh will design the contemporary art museum and Khan will design the museum of the Incense Road. Both museums are situated in AlUla, a destination in northwest Arabia with 7,000 years of continuous human history. Khan, who was awarded a MBE for his services to architecture and is currently working on the renewal of the Barbican Centre and the new London Museum, is known for his radical approach to architecture, which merges history with the future, grounding projects in material experimentation and social context.­ Award winning Ghotmeh, who is designing the 2023 Serpentine Pavilion, creates work that sits at the intersection of art, architecture and design. Her practice is developed through a process ... More
How to use AI to edit and generate stunning photos
Karin Sander and Philip Ursprung represent Switzerland at La Biennale di Venezia
Luxembourg Pavilion: Down to Earth - a project by Francelle Cane and Marija Marić


An A.I.-powered version of Photoshop and the image generator Midjourney live up to the hype. (Charles Desmarais/The New York Times)

by Brian X. Chen



NEW YORK, NY.- In last week's newsletter, I shared golden prompts for getting the most helpful answers from chatbots such as ChatGPT, Bing and Bard. Now that you're familiar with the general principle of building a relationship with artificial intelligence — the more specific and detailed instructions you give, the better results you'll get — let's move on to a slightly different realm. Much of the hype and fears around generative AI has been about text. But there have also been rapid and dramatic developments in systems that can generate images. In many cases, these share a similar structure to text-based generative AI, but they can also be much weirder — and lend themselves to some fun creative pursuits. Image generators are trained on billions of images, which enable them to produce ... More



Neighbours, Karin Sander, Philip Ursprung, Swiss Pavilion, 18th International Architecture Biennale – La Biennale di Venezia, Photo © Samuele Cherubini.



VENICE.- Two national pavilions and a wall that connects as well as separates, are the focus of Karin Sander's and Philip Ursprung's project Neighbours for the Biennale Architettura 2023. By turning the architecture itself into the exhibit, the artist and the architecture historian introduce the audience to new perspectives on the territorial relations within the Giardini of La Biennale. Following an open call, the Swiss Arts Council Pro Helvetia chose to entrust the exhibition of the Swiss Pavilion for the Biennale Architettura 2023 to the artist Karin Sander and the architecture historian Philip Ursprung, both professors at ETH Zurich. Their project Neighbours highlights both the spatial and structural proximity of the Swiss Pavilion to its Vene- zuelan neighbour and the professional bond of the two architects: the Swiss Bruno fiiacometti (1907 – 2012) and the Ital- ian Carlo Scarpa (1906 - 1978). The ... More



Installation view. © Antoine Espinasseau, 2023.



VENICE.- From the development of human settlements on the Moon to the asteroid mining of rare mineral and metals—the wild imaginaries of extraction-driven growth have, quite literally, transcended the boundaries of the Earth. This displacement of resource exploitation from the exhausted Earth to its 'invisible' backstages— celestial bodies, planets, and ultimately, the Moon itself—calls for an urgent debate on the impact this shift will have on our understanding of land, resources and the commons. Down to Earth critically unpacks the project of space mining through the perspective of resources. It starts from the following questions: How does this new iteration of the space race, wrapped in the false promises of endlessly available resources, depart from the existing extractivist logic of capitalism and its destructive environmental and social effects on the ground? How will the ongoing privatisation of space, characterised by a sharp turn towards private companies as m ... More
Natural History Museums of Los Angeles County hosts beam signing event for its new wing
Monika Sosnowska exhibition opens at Zentrum Paul Klee
Solo exhibition of new works by Jacqueline Humphries opens at Modern Art


Southwest side of the Natural History Museum of Los Angeles County campus in Exposition Park. Renderings by Frederick Fisher and Partners, Studio MLA, and Studio Joseph. Courtesy of NHMLAC.



LOS ANGELES, CA.- The Natural History Museums of Los Angeles County hosted a beam signing event on last month, for NHM Commons, the new wing and community hub slated to open in 2024 on the southwest side of the Natural History Museum (NHM) campus in Exposition Park. NHMLAC President and Director, Dr. Lori Bettison-Varga hosted the event and was joined by L.A, County Supervisor Holly J. Mitchell, CEO of Los Angeles County Fesia Davenport, Exposition Park General Manager Andrea Ambriz, members of the NHMLAC Board of Trustees, donors to the capital campaign, special friends of the museum, and community partners. Guests in attendance were invited to add ... More



Monika Sosnowska, Model for Market, 2013. Paper, lacquer. Courtesy of the artist. Photo: Eva Herzog. © Monika Sosnowska.



BERN.- Between 3 June and 10 September 2023, the Zentrum Paul Klee is devoting a solo exhibition to the Polish sculptor and artist Monika Sosnowska (b.1972 in Ryki). This is the first comprehensive exhibition to focus not only on the display of representative works but also on the artist's working pro- cess. For the first time, the accompanying publication documents the mod- els for completed and uncompleted works, filling a gap in the documenta- tion of the artist's oeuvre. Sculptural alienation and poetic distortions. Monika Sosnowska is one of the best-known artists working today, and one of the most important living artists from Eastern Europe. Since the early 2000s she has developed a characteristic body of sculptural work. Her sculptures and ... More



Jacqueline Humphries, JH6491, 2022. Oil on linen, 243.8 x 228.6 cm 96 x 90 in. Photo: Michael Brzezinski. Courtesy: the artist, Modern Art, London and Greene Naftali, New York.



LONDON.- Modern Art is presenting a solo exhibition of new works by Jacqueline Humphries. This is Humphries' fifth solo exhibition with the gallery. Over the past four decades, Jacqueline Humphries has been working through the question of what contemporary abstract painting can mean in a society mediated online. Excavating the limits of her medium, Humphries generates a density of languages, forms and gestures native not only to the history of painting but also the codes and aesthetic registers that belong to the endless scroll of data and commerce on the flat cold surfaces of screens. Using stencils, fluorescent paint and black light, to name a few of her materials, Humphries' work ... More
Grada Kilomba in Conversation with Tina Campt

Flashback
On a day like today, French painter Yves Klein died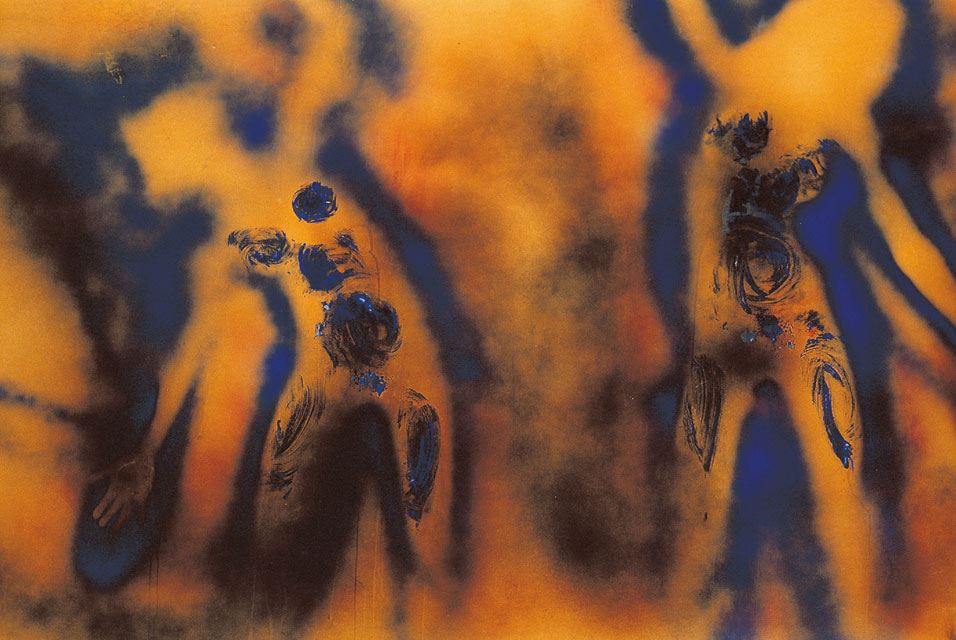 June 06, 1962. Yves Klein (28 April 1928 - 6 June 1962) was a French artist considered an important figure in post-war European art. He was a leading member of the French artistic movement of Nouveau réalisme founded in 1960 by art critic Pierre Restany. Klein was a pioneer in the development of performance art, and is seen as an inspiration to and as a forerunner of minimal art, as well as pop art. In this image: Yves Klein, "Untitled Fire-Color Painting (FC 1)," 1961. Private Collection. © 2010 Artists Rights Society (ARS), New York/ADAGP, Paris. Image courtesy Yves Klein Archives.
---

Museums, Exhibits, Artists, Milestones, Digital Art, Architecture, Photography,
Photographers, Special Photos, Special Reports, Featured Stories, Auctions, Art Fairs,
Anecdotes, Art Quiz, Education, Mythology, 3D Images, Last Week,

.
---
Royalville Communications, Inc
produces: