Rijksmuseum's Vermeer exhibition most successful in its history
Visitors view works on display in the "Vermeer" exhibition at the Rijksmuseum in Amsterdam, June 4, 2023. At two extended viewings this past weekend, some of the last visitors saw the show at the Rijksmuseum that many wanted to experience, but only a lucky 650,000 people could. (Ilvy Njiokiktjien/The New York Times)
AMSTERDAM
.-
From 7 June to 10 October, 6 paintings by Vermeer will remain on display in the Gallery of Honour of the
Rijksmuseum
. Despite having carefully limited numbers in order to give visitors the best experience possible, the Rijksmuseum's Vermeer exhibition finished as the most successful exhibition in its history with 650,000 visitors from 113 nations, over 16 weeks from 10 February to 4 June 2023. Vermeer is the artist of peacefulness and intimacy. We wanted the visitors to enjoy it to the fullest. This was only possible by limiting the number of visitors. The Rijksmuseum is grateful for the generous loans from museums around the world that have enabled it to bring together more works by Vermeer than ever before. - Taco Dibbits, general director Rijksmuseum ...
More
The Best Photos of the Day
Nationalmuseum acquires portrait of Cassiano dal Pozzo
Contemporary art takes center stage at Roland Auctions NY two-part Estates Sale
Louisiana Museum of Modern Art opens an exhibition of works by Ragnar Kjartansson


Unknown artist, Portrait of Cassiano dal Pozzo (1588–1657), 1620s. Red chalk on paper, mounted on wood. NMH 208/2023.



STOCKHOLM.- Nationalmuseum has acquired a portrait of Cassiano dal Pozzo, a prominent patron of the arts in 17th-century Rome. The drawing in red chalk was made in the 1620s by an unknown artist. There was previously only one known portrait of dal Pozzo, made about a decade later. Cassiano dal Pozzo (1588–1657) was an art collector and an eminent figure in the cultural life of baroque-era Rome. He had a notable interest in the evolving science of archaeology, which in the 17th century was adopting new approaches and methods to study Rome's classical heritage. Despite limited financial resources, dal Pozzo was also one of Rome's leading patrons of contemporary arts. His close friends included the astronomer Galileo Galilei and the painter Nicolas Poussin. The portrait acquired by Nationalmuseum was previously unknown. A drawing in red chalk, it depicts a middle-aged man with an alert gaze, thinning hair, a handlebar moustache ... More



A Manoucher Yektai (1921-2019) Still Life oil on canvas painting of a floral still life in a vase on a table, signed lower right and dated '69. [Art: 29" H x 19" W; Frame: 32 1/2" H x 22 1/2" W], sold for $15,000.



GLEN COVE, NY.- Roland Auctions NY, having just launched monthly two-part auctions with their successful June 2nd and 3rd Multi-Estates sale, enjoyed the spotlight on Contemporary and Fine Art, while also featuring two-days worth of a huge selection of Decorative Arts, Gold and Silver Jewelry, 20th Century Modern, Antique & Vintage Furniture, Textiles, Rugs, Collectibles, Asian Art, silver and Lighting. This particular auction was a treasure trove of moderately priced fine and contemporary art, with a great many top sellers in the art arena seeing bidding quickly shoot up past the estimates. A Manoucher Yektai (1921-2019) Still Life oil on canvas painting of a floral still life in a vase on a table, signed lower right and dated '69. [Art: 29" H x 19" W; Frame: 32 1/2" H x 22 1/2" W], sold for $15,000, while other top sellers included a Norman Lewis (American, 1909-1979) Abstract, oil on board abstract in waves of colors, ... More



Ragnar Kjartansson, The End - Venezia, 2009. 144 paintings: oil on canvas, dimensions variable. Performed at the Icelandic Pavilion during the 53rd Venice Biennale, Italy. 14 June to 22 November, daily for six hours. Collection of Fondazione Sandretto Re Rebaudengo, Turin. Courtesy of the artist, Luhring Augustine, New York and i8 Gallery, Reykjavik. Photo: Rafael Pinho © Ragnar Kjartansson.



HUMLEBAEK.- Louisiana Museum of Modern Art in Denmark opens its big summer exhibition with Iceland's Ragnar Kjartansson (b. 1976). The exhibition is the first retrospective presentation in Scandinavia of Kjartansson, who has long had a presence as one of contemporary art's essential voices having exhibited at leading art institutions all around the world. EPIC WASTE OF LOVE AND UNDERSTANDING fills the museum's South Wing with a wealth of different media: painting, sculpture, performance and major spatial installations including film and music. A selection of the artist's best-known projects is complemented by early works as well as entirely new ones created directly for the exhibition. Kjartansson's emotional ... More
125 Newbury now opening Face Values with work from Andy Warhol to Zhang Huan
Victoria Miro opens an exhibition of new spray dot paintings by Howardena Pindell
'Blind men exploring the skin of an elephant' now on view at Galerie Max Hetzler by artist Toby Ziegler


Georg Baselitz, Mutter Lieselotte, July 1996. © Georg Baselitz.



NEW YORK, NY.- 125 Newbury presents Face Values, a group exhibition that brings together artists who deal with the problem of the human face. Encompassing painting, drawing, and photography, the exhibition includes the work of more than twenty artists who employ a diverse range of practices to explore a shared set of questions: How do we recognize a person in a face? When is a portrait a likeness and when is it an icon? When is a face a mask, and when is it a stranger, a lover, a friend? Addressing these and other questions, the works in this exhibition confront the human face in all its complexity, intimacy, and strangeness. The exhibition includes works by Richard Avedon, Georg Baselitz, Amoako Boafo, Chuck Close, Eric Fischl, Alex Katz, Nina Katchadourian, David Hockney, Peter Hujar, Ana Mendieta, Piet Mondrian, Gordon Parks, Irving Penn, Elizabeth Peyton, Andy Robert, Lucas Samaras, Julian ... More



Howardena Pindell, Tea Cup Dreams, 2022 (detail). Acryilc on canvas, 198.1 x 223.5 cm. 78 x 88 in.



LONDON.- Victoria Miro is presenting an exhibition of new spray dot paintings by Howardena Pindell. Howardena Pindell's spray dot paintings are among her most iconic works. The artist first created these sensuous paintings in New York in the early 1970s. Using various hole punchers and tools, she punched into discarded cardstock, manila folders and heavy watercolour paper, the result of which she used as templates, spraying paint through the perforations across large-scale canvases to create fluctuating veils of colour. In the past few years, for the first time in decades, Pindell has revisited this technique with renewed creativity and excitement, integrating geometric shapes and experimenting with different sizes of dots across these fields of colour. Conceived for the gallery in London, this exhibition marks the first solo presentation of these new works, featuring a monumental diptych. Each of Pindell's spray dot paint ... More



Toby Ziegler, Object without name, 2023. Oil and gesso on aluminium, 100 x 80 cm.; 39 3/8 x 31 1/2 in. ©Toby Ziegler / Courtesy Galerie Max Hetzler Berlin | Paris | Londres.



PARIS.- Galerie Max Hetzler is now presenting 'Blind men exploring the skin of an elephant', Toby Ziegler's fourth solo exhibition at its location in Paris. This exhibition brings together a range of recent works exploring the connections between figuration and abstraction, control and intuition, and manual and digital means of production. The disruption of established systems and the troubling fractures at play within the circulation of images are central themes in the artist's recent production. The title of the exhibition refers to an old Indian parable, transcribed in the work of Hokusai, in which blind men are depicted petting different parts of an elephant, each believing it to be another distinct animal. The tale relates to the idea that each person defends their own belief as being absolute, based on their own limited subjectivity, regardless of ... More
Strike a Light by British artist Aaron Kasmin now opening at Sims Reed Gallery
Ahlers & Ogletree to auction items from collection of a North Carolina gentleman and summer fine estates & collections
The landscape, from Impressionism to Contemporary, in Koller's June auctions


Aaron Kasmin, The Palette, 2023. Coloured pencil drawing, 30 x 21 cm.



LONDON.- Sims Reed Gallery is now opening Strike a Light by British artist Aaron Kasmin, opening this summer from 9th June – 20th July 2023. His biggest show to date, Strike A Light will mark the artist's fifth solo exhibition with over 30 new works that are all large in scale, more detailed and diverse, yet equally as bold, dynamic and captivating. Inspired by American feature matchbooks, Strike a Light will showcase Aaron Kasmin's signature style of fusing together vibrant colours with striking imagery to shed a new light on American culture. While the matchbooks are small, ephemeral and almost forgotten, this exhibition will bring to life themes from food and travel to fashion and sports as it aims to inject a bit of much-needed fun into our ... More



Louis XVI cartel clock: Third quarter 18th century gilt bronze Louis XVI cartel clock by Jean Baptiste Baillon III (French, d. 1772), having an enamel dial with Roman numerals.



ATLANTA, GA.- A bronze sculpture by Henry Spencer Moore (British, 1898-1986), a mixed media and tempera work by Marino Marini (Italian/Swiss, 1901-1980), and an oil on canvas by John Meyer (South African/American, b. 1942) are just a few highlight lots in a three-day, three-session auction slated for June 15th, 16th & 17th by Ahlers & Ogletree, online and live in Atlanta. The auction, starting at 10 am Eastern all three days, will feature items from the collection of a North Carolina gentleman on Thursday, June 15th; then a Summer Fine Estates & Collections auction on Friday and Saturday, June 15th and 16th. Live gallery bidding will be held in Ahlers ... More



Félix Vallotton (Lausanne 1865–1925 Paris), Narcisses. 1915. Oil on canvas. Signed and dated lower right: F. VALLOTTON. 15. 61 × 50 cm. Estimate: CHF 100 000 / 150 000 | (€ 103 090 / 154 640).



ZURICH.- Artists' treatments and visions of landscape painting have continuously evolved since its inception, and Koller's June auctions provide a fascinating overview of this genre, beginning with Gustave Loiseau's post-Impressionist work, 'La Rivière (Eure)' from 1921 (lot 3208. CHF 150 000/250 000), one of the highlights of the Impressionist & Modern Art auction on 23 June. An important group of Expressionist works from a private Basel collection also focusses primarily on the landscape, including seven by Erich Heckel. 'Yellow Sun', 1917, is an excellent example of Heckel's tempera works from the final years of World War I (lot 3243, ... More
As the Tonys head Uptown, step inside the United Palace 'dream world'
Hunterdon Art Museum celebrates diversity of U.S. Ceramics in new 'Claybash 2023'
South Korean artist Yun Hyong-keun to be presenting at Hastings Contemporary in public gallery exhibition


A hallway with scalloped Mughal-inspired archways at the United Palace in New York, May 26, 2023. (Gioncarlo Valentine/The New York Times)

by Darryn King



NEW YORK, NY.- Nearly 8 miles north of Times Square, the United Palace in Washington Heights is a dazzling remnant of a golden age of cinema. On Sunday, it will provide the backdrop for Broadway's biggest night. This former Loew's "Wonder Theater," at Broadway between 175th and 176th streets, is beguiling, if mysterious. Its landmark exterior — where pigeons make themselves at home among terra-cotta ziggurats and pilasters — is said to have been influenced by Egyptian, Aztec or Mayan design, or perhaps the architecture of the 16th- to 18th-century Mughal Empire. Inside, nearly every surface is golden and gleaming — a riot of resplendent detail. Twin elephants carry newel post lamps on the staircase. Seahorses mingle with peacocks in the lighting ... More



Skeff Thomas, Container with Target in Orange, Black and White #2, 2021, stoneware, 23" x 14" x 14".



CLINTON, NJ.- Today, the Hunterdon Art Museum "Claybash 2023," an exhibition exploring the innovation and diversity of contemporary ceramics by artists from across the U.S. The exhibition, open to the public until Sept. 3, 2023, reflects HAM's longstanding interest in ceramic arts. The first in a series of triennial exhibitions planned by the museum, "Claybash 2023" features works by 42 artists selected by juror Jennifer Martin, executive director of The Clay Studio in Philadelphia. Marjorie Frankel Nathanson, executive director of the Hunterdon Art Museum, said, "With 'Claybash 2023,' we are delighted to showcase the multifaceted nature of clay as both a material and idea. We are introducing a variety of works that breathe life into clay in intriguing ways. Whether the pieces align with traditional notions of being 'functional' or 'sculptural,' or whether ... More



Yun Hyong-keun, No Title, 1972. Oil on cotton, 126 x 94.7 cm. © Yun Seong-ryeol. Courtesy of PKM Gallery.



HASTINGS.- The UK's first ever public gallery exhibition of works by Yun Hyong-keun (1928 – 2007), one of the leading figures of Korean art, will take place at Hastings Contemporary this summer, 10 June – 1 October 2023. "The thesis of my painting is the gate of heaven and earth. Blue is the colour of heaven, while umber is the colour of earth. Thus, I call them 'heaven and earth', with the gate serving as the composition," Yun once explained. This is particularly relevant to Hastings Contemporary's location, as the gallery is sited on the Old Town's Stade, looking out onto the differing shades of blue of the expansive sky and sea. This is further reflected by the exhibition's opening sequence of paintings; a small group of umber and ultramarine works from the early 1970s. The show then continues by exploring the genesis of 'the gate of heaven and earth' with several works d ... More
Rembrandt's Lost Portraits Unseen for 200 Years | Christie's

Flashback
On a day like today, American painter Jacob Lawrence died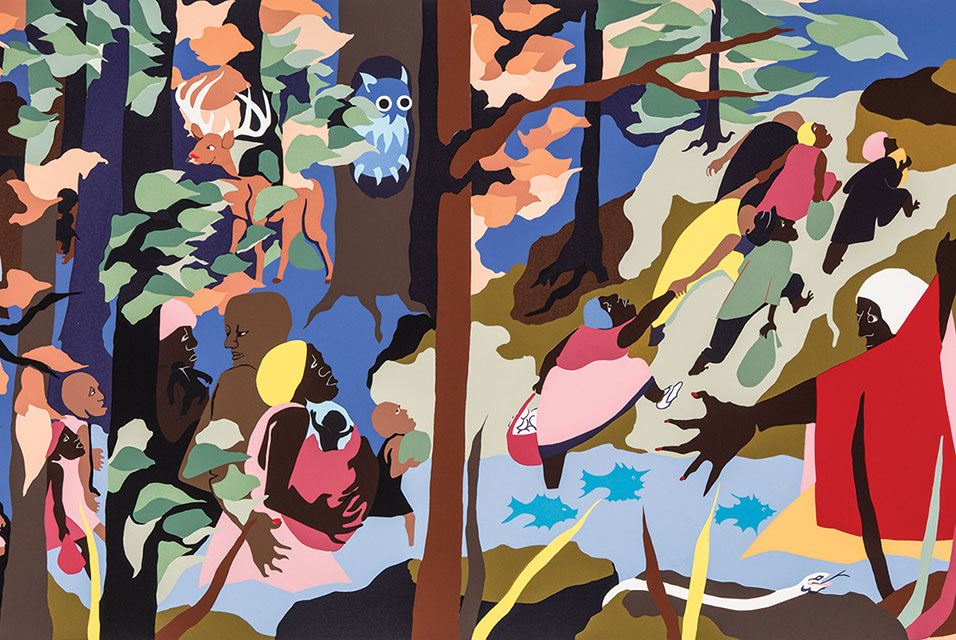 June 09, 2000. Jacob Lawrence (September 7, 1917 - June 9, 2000) was an African-American painter known for his portrayal of African-American life. As well as a painter, storyteller, and interpreter, he was an educator. Lawrence referred to his style as "dynamic cubism", though by his own account the primary influence was not so much French art as the shapes and colors of Harlem. In this image: Jacob Lawrence, "Forward Together," silkscreen on paper, 25.5" x 40.125", 1997. © 2018 The Jacob and Gwendolyn Knight Lawrence Foundation, Seattle/Artists Rights Society (ARS), New York.
---

Museums, Exhibits, Artists, Milestones, Digital Art, Architecture, Photography,
Photographers, Special Photos, Special Reports, Featured Stories, Auctions, Art Fairs,
Anecdotes, Art Quiz, Education, Mythology, 3D Images, Last Week,

.
---
Royalville Communications, Inc
produces: