The Asheville Art Museum showcases Audubon alongside contemporary art
John James Audubon, White Heron, from The Birds of America, 1827-1838, handcolored engraving with aquatint and etching on paper, sheet: 25 x 38 inches, Collection of Bill Steiner.
ASHEVILLE, NC
.-
A new exhibition highlighting the works of John James Audubon juxtaposed with the work of 21st-century artists who continue his tradition of animal allegories and metaphors opened at the
Asheville Art Museum
on February 21. The exhibition features more than 40 works and is on display in the Explore Asheville Exhibition Hall through May 4. A Telling Instinct: John James Audubon & Contemporary Art is curated by Associate Curator Cindy Buckner, with the assistance of Marilyn Laufer, director emerita of the Jule Collins Smith Museum of Fine Art on the campus of Auburn University. Buckner believes visitors will be pleasantly surprised by the fantastical nature of many of the contemporary works in the exhibition. "The artists have taken their inspiration from the animal world but allowed their imaginations to really take over with the stories they are trying to tell." The exhibition includes prints by John James Audubon from the priva ...
More
The Best Photos of the Day
Black Delftware bowl rediscovered
Leonardo fans pull Louvre all-nighters to catch show's final hours
Exhibition of works by Jean-Michel Basquiat and Georg Baselitz opens at Skarstedt


Aronson Antiquairs will now present this refined piece of ceramics in the upcoming TEFAF Maastricht.



AMSTERDAM.- A fabulously rare Black Delftware bowl belonging to a group of only about 65 pieces globally will be on public view at TEFAF Maastricht for the first time in almost 60 years. Black Delftware is as illusive as the name sounds. You have probably never seen a piece, or maybe just behind a glass panel in one only a few museums around the world. Black Delftware was a reaction by potters in the city of Delft to Oriental lacquerware brought to Europe with East India traders. By covering an object with a black glaze, in stead of a white glaze, and painting over it, the illusion of a lacquered object is produced. Only about 65 pieces belonging to this rare group are known and almost half of those are in the collection of the Brussels Cinquantenaire Museum. These objects, amongst which jugs, plates, tea pots and canisters, Buddha's and some animal figures were all produced in the first quarter of the 18th century. The first pieces can be dated around 1705 and we don& ... More



People look at the painting 'La Belle Ferronniere' (1490) by Italian Renaissance master Leonardo da Vinci during the night and free opening of the 'Leonardo da Vinci' exhibition at The Louvre Museum on February 21, 2020 in Paris. LUCAS BARIOULET / AFP.



PARIS (AFP).- It's a half hour after midnight, and a huge crowd is massed in front of the illuminated glass pyramid at the Louvre for a rare night-time visit to the museum's most ambitious show in years, a landmark collection of works by the Renaissance master Leonardo da Vinci. "It's a cozy atmosphere, quite unusual. It feels almost private," says Cherifa Tadjouri, admiring "The Battle of Anghiari" with her family at a time when most Paris nightbirds would be lining up for concerts or clubs. Since Friday, the Louvre has opened its door for three nights of free visits to the show-stopping exhibition before it wraps up on Monday. The 30,000 tickets were snapped up in just three hours when they were made available on the museum's website earlier this month, with people assigned time slots to avoid ... More



Georg Baselitz, Drinker, 1981, oil on canvas, 51 x 38.3 inches (129.5 x 97.3 cm). © Georg Baselitz. Courtesy of the artist.



NEW YORK, NY.- This exhibition brings together the eminent works of Jean-Michel Basquiat (b. 1960) and Georg Baselitz (b. 1939) from 1981-1982, emphasising a period which has become pivotal not only for the oeuvre of each artist, but for international contemporary art in general. Indeed, these works of uncommon visceral expression and striking contemporaneity attained concurrent international prominence in the early 1980s, effectively determining the artistic rhetoric of the time. The paintings presented in Baselitz | Basquiat appeared in some of the most important exhibitions of the 1980s. In 1982, both artists featured in the landmark Documenta 7, a large-scale exhibition of contemporary art in Kassel, where Basquiat was the youngest exhibiting artist. Arroz con Pollo (1981) presented in this exhibition was one of his three canvases at ... More
Spring exhibition at Tampa Museum of Art showcases visionary women photographers
Why Rem Koolhaas brought a tractor to the Guggenheim
Per Kirkeby's bronzes, some of them monumental, have now entered the west wing at Louisiana Museum of Modern Art


Berenice Abbott (American, 1898-1991), George Washington Bridge, Riverside Dr. & 179th Street, Manhattan, 1936. Gelatin silver print. 9 3/8 x 7 5/8 inches. Bank of America Collection.



TAMPA, FLA.- The Tampa Museum of Art is presenting Modern Women: Modern Vision | Works from the Bank of America Collection on view through May 24, 2020. Since photography's inception in the mid-nineteenth century, women have stood among its artistic and technological pioneers. Modern Women: Modern Vision presents more than one hundred photographic images from the Bank of America Collection by leading artists of the twentieth and early twenty-first centuries. Joanna Robotham, Curator of Modern and Contemporary Art, remarked, "This exhibition is important because it highlights the achievements of women photographers and how they have contributed to our understanding of photography as an art form. Moreover, many of the photographers pioneered new directions and new narratives in photography. I am excited for the Tampa Museum of Art to host this exhibition ... More



Installation view. Image: Laurian Ghinitoiu courtesy AMO.

by Michael Kimmelman



THE HAGUE (NYT NEWS SERVICE).- A manifesto and love letter to the city in the 1970s, the book "Delirious New York" helped propel the reputation of a young, restless Dutch journalist-and-screenwriter-turned-architect. Nearly forgotten now, a display of drawings accompanied the book in 1978 — real and also wonderfully imaginary views of the city by the author, Rem Koolhaas, and his colleagues at the Office for Metropolitan Architecture, or OMA, the architecture firm founded a few years earlier by him, Madelon Vriesendorp, Elia and Zoe Zenghelis and Zaha Hadid to develop what they called "a mutant form of urbanism." "The Sparkling Metropolis," as the show was called, occupied what then doubled as storage rooms at the top of the spiral of the Guggenheim Museum. "The irony wasn't lost on me," Koolhaas remembered the other day, about the fact that Frank Lloyd Wright, the Guggenheim's architect, ... More



Per Kirkeby, Arm og head no. XIII, 1984. Patinated bronze, 56 x 28 x 16 cm. Louisiana Museum of Modern Art. Photo: Poul Buchard / Brřndum & Co. © Per Kirkeby Estate.



HUMLEBĆK.- Per Kirkeby – Bronze is this spring's major exhibition at Louisiana Museum of Modern Art. The sculptures, small as well as monumental, take the leading part. And at the same time, in interaction with selected paintings and drawings plus works by among others Rodin and Giacometti, they help tracing the overall development of Kirkeby as an artist. Louisiana's Director Poul Erik Třjner has organized the exhibition. Per Kirkeby (1938-2018) is richly represented and has exhibited at museums all over the world. He is also one of the major figures in Louisiana's collection, which includes works by the artist from the very beginning until his final years. The great majority of exhibitions of the works of Per Kirkeby, including Louisiana's own, have featured a small number of the artist's bronzes. Heavy as they are, they have functioned as a kind of footnotes to the oeuvre of the painter Per Kirkeby. The exhibit ... More
The Morgan explores Al Taylor's witty and lyrical drawings
In LA, Kobe dominates the paint
Kansas City budget proposes annihilation of artist resources


Al Taylor (1948–1999), No title, ca. 1985. Acrylic paint on printed magazine page. Collection Debbie Taylor. Photography by Glenn Steigelman. © 2019 The Estate of Al Taylor.



NEW YORK, NY.- The Morgan Library & Museum announces a presentation of drawings by painter, sculptor, and draftsman Al Taylor (1948–1999). The Drawings of Al Taylor, on view February 21 through May 24, 2020, explores the artist's lyrical and witty compositions inspired by banal objects and everyday situations. Driven by curiosity and a sense of humor, Taylor drew maps of pet stains, imagined puddles hanging out to dry, and rendered elegant still lifes of tin cans suspended by wires. During his relatively short career, Taylor produced more than five thousand drawings, in which he combined technical skills, Old Master virtuosity, and graphic systems such as charts and diagrams. The exhibition at the Morgan will shine a new light on Taylor's practice, highlighting the artist's distinctive draftsmanship through works spanning the mid-1970s to the late 1990s. The first U.S. museum exhibition devoted to this subject, The Drawings of ... More



A portion of a mural in progress of Kobe Bryant and his daughter Gianna by artist Prophet Josh. Ryan Young/The New York Times.

by Walter Thompson-Hernández



LOS ANGELES (NYT NEWS SERVICE).- Kobe Bryant and his daughter Gianna are gone but not forgotten. You can see their images in Long Beach, in Artesia, in downtown Los Angeles and in Venice Beach. A complicated figure during his playing days, Kobe has ignited a surge of emotion in death. The city's walls have never spoken so loudly. Like so many others, I grew up during one of Los Angeles' most cherished basketball eras and was first exposed to the game by the dynamism of Magic Johnson and Kareem Abdul-Jabbar in the mid-1980s. These superstars injected the city with hope and promise. During those years, purple and gold was ever-present on freeway ramps, playgrounds and city walls. Years later, a teenage phenom named Kobe Bryant came on the scene, an enigmatic talent who would become a part of the city's life for the next 20 years. Many of the murals ... More



Kansas City artist/muralist Sike Style. Image courtesy: www.visitkc.com

by Blair Schulman



KANSAS CITY, MO.- Last week, Kansas City, Missouri Mayor Quinton Lucas and Acting City Manager Earnest Rouse announced the annual budget for FY 2020-2021. Among the budget, recommendations are the elimination of the Office of Culture and Creative Services (OCCS) and a $175,000 reduction of the Film Commission. These are two areas particular to Kansas City's arts community. If there was ever a time for the city's artistic community to come together and have their voices heard, it is now, before the City Council adopts the resolution on March 26, 2020. The dates for three public hearings can be found here. Megan Crigger of the Office of Culture and Creative Services tells Informality via email, "there will be three public budget hearings and online access for residents to provide comments during the budget process through the Balancing Act tool." Chris Hernandez, City Communications Director, tells Informality, also by email, "delivering the proposed budget ... More
Exhibition of historic works by Sylvie Fleury opens at Galerie Thaddaeus Ropac
First major exhibition in the US to explore the relationship between humans and intelligent machines opens
UK pianist Alexis Ffrench bids to change image of classical music


Installation view.



PARIS.- Galerie Thaddaeus Ropac is presenting a new exhibition of historic works by Sylvie Fleury, celebrating more than twenty years of collaboration with the Swiss artist. The title of the exhibition, She-Devils on Wheels is a direct reference to the automobile club founded by Fleury in the mid-1990s. Inspired by the eponymous 1968 film, the 'club' boasts an exclusively female membership centred around a shared appreciation for American customised vehicles. The starting point for a whole series of works, this project first inspired Fleury's emblematic installation 'She-Devils on Wheels Headquarters' (1997), which functioned at the same time as a garage, the headquarters of a 'fan club', and a shopfront selling luxury automobile parts – today in the collection of the Migros Museum, Zurich. The spirit of Fleury's automobile inspired aesthetic is permeated throughout this exhibition. Painted ... More



Installation view. Image provided courtesy of the Fine Arts Museums of San Francisco.



SAN FRANCISCO, CA.- As technological innovation continues to shape our identities and societies, the question of what it means to be, or remain human has become the subject of fervent debate. Taking advantage of the de Young museum's proximity to Silicon Valley, Uncanny Valley: Being Human in the Age of AI arrives as the first major exhibition in the US to explore the relationship between humans and intelligent machines through an artistic lens. Organized by the Fine Arts Museums of San Francisco, with San Francisco as its sole venue, Uncanny Valley: Being Human in the Age of AI is on view from February 22 to October 25, 2020. "Technology is changing our world, with artificial intelligence both a new frontier of possibility but also a development fraught with anxiety," says Thomas P. Campbell, Director and CEO of the Fine ... More



British pianist and composer Alexis Ffrench poses for a photograph after giving an interview at Steinway & Sons in London on February 19, 2020. Isabel INFANTES / AFP.

by Joe Jackson



LONDON (AFP).- British composer and pianist Alexis Ffrench, a rising black star in the overwhelmingly white world of classical music, is on a mission "to change the narrative" that the genre is stuffy and outdated. The 48-year-old, who is set to release his latest album next month, is trying to counter what he sees as a false perception by using his fresh take on the music and growing status to reach new audiences. Ffrench's 2018 hit record "Evolution" propelled him to wider recognition after topping Britain's classical music charts for three weeks and spending around three months in the top 10. He now boasts nearly two million regular listeners on Spotify ... More
How the Rolex GMT-Master Became the Ultimate Traveller's Watch
Flashback
On a day like today, French painter and theorist Charles Le Brun was born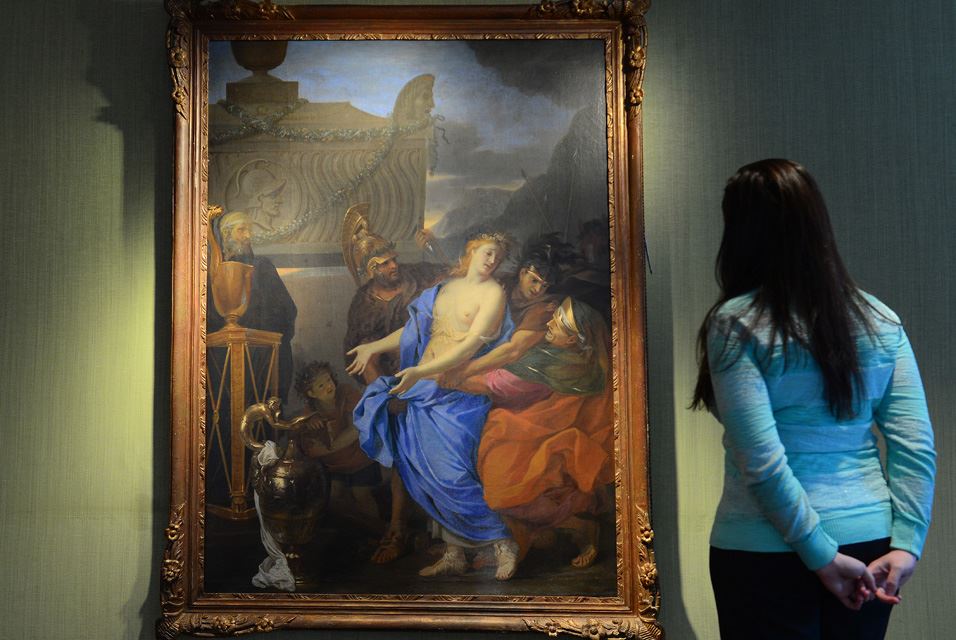 February 24, 1619. Charles Le Brun (24 February 1619 - 22 February 1690) was a French painter, art theorist, interior decorator and a director of several art schools of his time. As court painter to Louis XIV, who declared him "the greatest French artist of all time", he was a dominant figure in 17th-century French art and much influenced by Nicolas Poussin. In this image: A Christie's employee looks at an oil painting by 17th century artist Charles Le Brun.
---

Museums, Exhibits, Artists, Milestones, Digital Art, Architecture, Photography,
Photographers, Special Photos, Special Reports, Featured Stories, Auctions, Art Fairs,
Anecdotes, Art Quiz, Education, Mythology, 3D Images, Last Week,

.
---
Royalville Communications, Inc
produces: