Carrie Mae Weems sets the stage and urges action
Visitors experience Carrie Mae Weems's "Cyclorama — Conditions, a Video in 7 Parts" (2021) in her exhibit "The Shape of Things," at the Park Avenue Armory in New York. In "The Shape of Things," the artist tells us how we got to this political moment, and asks us to decide what comes next. Stephanie Berger/Park Avenue Armory via The New York Times.

by Aruna D'Souza
NEW YORK, NY
.-
At the beginning of the seven-part film projected onto a cylindrical screen, a Cyclorama that forms the centerpiece of Carrie Mae Weems' walk-in installation at the Park Avenue Armory, we see performer and choreographer Okwui Okpokwasili sitting in a chair with papers falling like leaves around her. Weems' voice, with its deep, round tones, tells us that to navigate the now, "she needs to look back over the landscape of memory." Incorporating work from throughout the artist's four-decadelong career, "The Shape of Things" has a strong retrospective quality — confronting the past in order to understand the present — without being a retrospective exhibition. The artist traces our current national predicament, with ever-present anti-Blackness and eroding democracy foremost among many woes, while reminding us that what we're seeing in our political landscape is nothing new. In fact, she has been telling us about it for decades. What is less ...
More
The Best Photos of the Day
The San Antonio Museum of Art appoints Emily Ballew Neff as new Director
Exhibition on the art of the Neapolitan Baroque opens at Colnaghi
First century Roman bust joins Getty Villa collection


Neff brings extensive experience in community building and fundraising, and long history of scholarship, especially in American art.



SAN ANTONIO, TX.- The Board of Trustees of the San Antonio Museum of Art announced today that Emily Ballew Neff has been appointed as its new director, following an international search. Neff most recently served as the Executive Director of the Memphis Brooks Museum of Art, where, among her numerous accomplishments, she spearheaded the effort to relocate the museum to downtown Memphis to enhance its role within the city's civic and cultural core. She previously served as the director and chief curator at the Fred Jones Jr. Museum of Art at the University of Oklahoma and as the founding curator of American painting and sculpture at the Museum of Fine Arts, Houston. Neff will take on her new role as The Kelso Director at SAMA on January 18, 2022. "We are delighted to welcome Emily to the Museum and to the city of San Antonio. As a native Texan, with deep roots ... More



The exhibition also features a selection of religious, landscape and still-life paintings by some of the greatest artists who worked in the city during the 17th and 18th centuries.



LONDON.- Opening in conjunction with London Art Week, Colnaghi presents a special exhibition showcasing the enduring creative legacy of Old Master artists and artisans from Naples, marking the first exhibition in London devoted to the Italian city and its arts in over forty years. As the centrepiece of Naples, Colnaghi, together with Dario Porcini, present a magnificent 18th-century crčche, known in Italian as a presepe, a monumental Nativity scene traditional to Baroque Naples. The exhibition also features a selection of religious, landscape and still-life paintings by some of the greatest artists who worked in the city during the 17th and 18th centuries and served as inspiration for the craftsmen of the presepe, including Jusepe de Ribera, Luca Giordano, and Massimo Stanzione. Naples is on view at Colnaghi from 3 ... More



Bust of Germanicus, 20-40 AD. Marble, 20 1/2 × 15 × 8 1/2 in. Getty Museum, 2021.66.



LOS ANGELES, CA.- The Getty Museum has acquired an early first-century marble bust of the Roman general Germanicus, adopted son of Tiberius and father of Caligula. "This stunning portrait bust adds an extraordinary sculpture to the Villa's collection of Roman portraits," says Timothy Potts, Maria Hummer-Tuttle and Robert Tuttle Director of the J. Paul Getty Museum. "It is among the finest and best-preserved portraits of the young Germanicus at the time of his adoption in AD 4 by his uncle, the soon-to-be Roman emperor Tiberius and complements nicely other Roman busts in the antiquities collection at the Villa." The bust depicts the young Germanicus before the depositio barbae, the Roman ritual first shaving of the beard. While the image, or portrait type, was created at the time of his adoption, this bust is a posthumous portrait of the popular general, who was being groomed to be emperor but died young. Ten ... More
Cortesi Gallery Lugano opens a new exhibition Shaping Colors, dedicated to Francesco Carozza
Christie's Hong Kong Chinese Paintings Autumn Auctions achieved a combined total of US$77,541,686
Shulamit Nazarian presents a solo exhibition of paintings by Daniel Gibson


Installation view, Francesco Carozza. Shaping Colors, curated by Vera Canevazzi, Cortesi Gallery Lugano, 2021. Photo by Lucrezia Roda.



LUGANO.- With their incisive and vital surfaces and almost sculptural deployment, the pure strength of Francesco Carozza's paintings urges the viewer to delve into the mechanisms of painting, to confront its stratification and rarefaction, how matter comes together and falls apart. In 2018, at his Galleria Seno Onirico exhibition in Milan, Francesco Carozza exhibited the incipit of his production. Shaping Colors from 2021 brings us his coherent evolution, the artist achieving new outcomes through an almost obsessive study of the trinomial matter/form/color in its various repetitions and variations. So, the artist experiments here with new color combinations, contrasting and impetuous combos of purple/silver; gold/black; red/green; purple/yellow, alluding to a world familiar from the American Pop Art and advertising ... More



The Fragrance of a Nation in Clearing Spring by Yun Shouping. Realised: HK$59,650,000/ US$7,680,582.



HONG KONG.- On 29 and 30 November, Christie's Chinese Paintings held two live auctions – Fine Chinese Classical Paintings and Calligraphy, and Fine Chinese Modern and Contemporary Ink Paintings, achieving a combined total of HK$601,977,500/ US$77,541,686 and sell-through rates of 81% by lot and 95% by value. The sales also saw a contingent of millennial buyers who accounted for 45% of new buyers. Kim Yu, International Specialist Head of Chinese Paintings Department, commented: "We are very delighted to secure market leadership in Asia with our phenomenal results across both sales, and to continue achieving remarkable prices for esteemed private collections which attract deep bidding for leading lots. For those hoping to acquire more exceptional paintings from important private collections from across Asia and North America, do tune in to ... More



Daniel Gibson, Mother with Three Flowers (detail).



LOS ANGELES, CA.- Shulamit Nazarian is presenting Valley of the Moon, a solo exhibition of paintings by Los Angeles-based Daniel Gibson. This is the artist's first solo exhibition at the gallery. Gibson's paintings explore a lexicon of symbols that relate to his familial past and his identity as a Mexican-American. The new works in Valley of the Moon are set between the desert and the ocean, employing references to the natural world while speaking to hardships, resilience, and freedom. Growing up in California, along the border with Mexico, Gibson bore witness to migrants who crossed the desert, risking their lives as they desperately sought a better future. Confronted by the harsh realities of the world at an early age, he turned to his imagination, often reshaping reality with fantasy. As a painter, Gibson brings to life the surreal narratives that captivated him as a child, reimagining memories and family stories from ... More
Striking light sculpture by artist Sharon Lockhart installed on facade of the Middelheim Museum
Heritage Auctions to offer the largest Justh & Hunter gold brick found aboard the sunken 'Ship of Gold'
Exhibition explores the potential of art in the construction of collective memory in a global age


Sharon Lockhart, The Future Should Always Be Better, 2021 - Courtesy of the artist, neugerriemschneider, Berlin and Gladstone Gallery, New York and Brussels - Photo: Ans Brys.



ANTWERP.- The Middelheim Museum and American artist Sharon Lockhart (b. 1964) offer a remarkable message to passers-by, presenting a recent light sculpture on the façade of the historic Middelheim Castle. This first solo project by Lockhart in Flanders will light up the winter months. Its powerful message is at once a prophecy and a call to action. 'The Middelheim Museum is consequently following the rhythm of the seasons day by day. During the darkest season, Sharon Lockhart's new work literally lights the way for visitors. The artist leads us towards 2022 and offers a hopeful perspective on better times.' --Nabilla Ait Daoud, Alderman for Culture, City of Antwerp This text-based artwork will be on display from 1 December 2021 until 30 March 2022 on the façade of the historic Middelheim 'castle'. Today ... More



The largest S.S. Central America ingot ever offered at auction.



DALLAS, TX.- The gold brick is too heavy to lift easily or gracefully — something about molecular density making it much heavier than its 54 pounds, but also, perhaps, something to do with the history it carries. Its tale began some 170 years ago in Northern California, the El Dorado of the American West that beckoned hunters, by steamer and wagon, who were promised that "fortune lies abroad upon the surface of the earth as plentiful as the mud in our streets," as Horace Greeley wrote. This bar started as gold dust collected during that mad rush toward the Pacific, and was made whole by Justh & Hunter, a firm that weighed and assayed these shimmering flecks of fortune found by the Forty-Niners of the Gold Rush. Had this massive bar, the largest Justh & Hunter in the world, successfully sojourned from California to New York (and then, likely, to Philadelphia) as initially planned, it probably would have been melted down, ... More



Ilana Harris-Babou, Decision Fatigue, 2020. HD video, 8'32''. Collection of the artist.



ISTANBUL.- Pera Museum presents Notes for Tomorrow, a travelling exhibition conceived by Independent Curators International (ICI), featuring artworks selected by curators from around the world to reflect on a new global reality ushered in by the COVID-19 pandemic. The exhibition will be on view until March 6, 2022 at Pera Museum, Istanbul. Suna and İnan Kıraç Foundation Pera Museum is closing the year 2021 with three new exhibitions. One of these exhibitions, Notes for Tomorrow has been brought to life by Independent Curators International (ICI), taking its inspiration from a series of texts titled "Reports from the Field", which were created by ICI collaborators and published on the organization's website during the first months of the COVID-19 pandemic. Turned into a traveling exhibition, Notes for Tomorrow started its world tour at the beginning of 2021. Opened to the public at Cantor Fitzgerald Gallery, Have ... More
Kunsthalle Friart presents an exhibition of works by artist Ceylan Öztrük
December's Hong Kong coins, currency events arrive right on time
First solo show by Eva Crebolder at Annet Gelink on view in Amsterdam


Exhibition view, Ceylan Öztrük, Matter of non, Kunsthalle Friart Fribourg, 2021, Courtesy of Kunsthalle Friart Fribourg.



FRIBOURG.- Friart presents an important exhibition by the Swiss-based Turkish artist Ceylan Öztrük. At the base of Öztrük's work is a fundamental reflection on the very possibility of sculpture, which is never assumed to be self-evident. In Matter of non, the artist deals with the poetic expression of matter's in/determinate origin. The show presents itself as a series of spatial aphorisms (about the relationship between existence and death) that simultaneously fulfill and relieve each other. Inspired by quantum physics as much as by psychoanalysis, Matter of non is an attempt to integrate matter into its non/existent matrix. In this address, the body —a central referent in the history of sculpture normally divided between language and flesh—must yield to the vertigo of the inhuman. The exhibition is accompanied by a prose text written by Ceylan Öztrük, which collects clues ... More



Brilliant Proof Long-Whiskered Dragon Pattern That is Rarely Seen Finer.



DALLAS, TX.- The surging demand for Chinese numismatics will be on display again in Heritage Auctions' HKINF World Coins Signature® Auction December 11-13 and HKINF World Paper Money Signature® Auction December 11 in Hong Kong. Proxy bidding for the World Paper Money Auction is open now. Chinese coins, old and new, have enjoyed significant growth recently, with record prices that reflect the rapidly expanding market. "Asian numismatics have grown in popularity and importance to a rapidly growing community of collectors around the world," Heritage Auctions Executive Vice President of International Numismatics Cristiano Bierrenbach said. "The items in this exceptional sale mirror the diversity of coinage across the Chinese and broader Asian series." Among the most impressive lots is an absolute showstopper: a 180mm People's Republic gold Proof "Year of the Sheep" 100000 ... More



Installation view.



AMSTERDAM.- In The Bakery, Annet Gelink is presenting Fluid Facades, the first solo show by Eva Crebolder at the gallery. In her perpetual experimentation with scale, volume, ceramic and form, Eva Crebolder searches for softness in spatial forms, an interspace where lightness and solidity meet. Mundane objects – a comb, bricks, pots, stacks of sugary almond nougat purchased in the local Moroccan grocery store – form the departure point of her fluid facades. Seemingly fixed yet malleable assemblages, these everyday objects are presented on a different scale in novel forms and constellations. In Fluid Facades, a selection of porcelain ware exists monumentally in the space, entering into dialog with its surroundings. Square pots in the confined space of the metal cabinet come together to form a cityscape. Here, the viewer is gradually invited to shift between various scales, both real and imagined: patterns of streets and roundabouts ... More
A Slow Look | Claude Monet's 'Charing Cross Bridge, brouillard'

Flashback
On a day like today, Italian artist Gian Lorenzo Bernini was born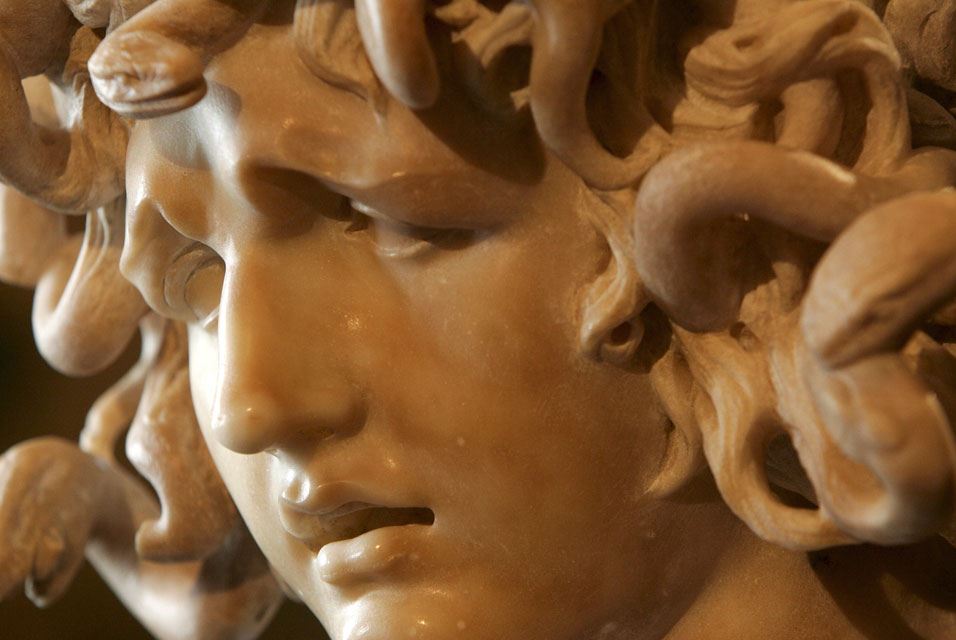 December 07, 1598. Gian Lorenzo Bernini (also spelled Gianlorenzo or Giovanni Lorenzo) (Naples, 7 December 1598 - Rome, 28 November 1680) was an Italian artist who worked principally in Rome. He was the leading sculptor of his age and also a prominent architect. In addition he painted, wrote plays, and designed metalwork and stage sets. In this image: After a long restoration, the head of the Medusa by Italian sculptor Gian Lorenzo Bernini was displayed in Rome, on Wednesday 22 November 2006. The sculpture was exhibited in the Capitol museum in Rome until January. The work of restoration emphasized the lights and the shadows on the sculpture.
---

Museums, Exhibits, Artists, Milestones, Digital Art, Architecture, Photography,
Photographers, Special Photos, Special Reports, Featured Stories, Auctions, Art Fairs,
Anecdotes, Art Quiz, Education, Mythology, 3D Images, Last Week,

.
---
Royalville Communications, Inc
produces: