Schiele artworks returned to heirs of owner killed by Nazis
In an undated image provided via the Manhattan District Attorney's Office, Egon Schiele's "Girl Putting on Shoe". Seven works by the Austrian Expressionist Egon Schiele will be handed over on Wednesday, Sept. 20, 2023, to the heirs of the Viennese cabaret artist who had owned them before he was murdered by the Nazis. (via the Manhattan District Attorney's Office via The New York Times)

by Tom Mashberg and Graham Bowley
NEW YORK, NY
.-
Seven works by Austrian expressionist Egon Schiele were handed over Wednesday to the heirs of the Viennese cabaret artist who had owned them before he was killed by the Nazis, marking a major turning point in one of the art world's longest-running Holocaust restitution cases. The artworks were returned to the heirs of Fritz Grünbaum, who was killed in the Dachau concentration camp in 1941, in an emotional ceremony at the office of Manhattan District Attorney Alvin Bragg, which investigated the case. "This is of huge importance in our world," said one of the Grünbaum heirs, Timothy Reif, referring to the descendants of Holocaust victims seeking the return of looted property nearly 80 years after the end of World War II. "It sets the tone and the agenda for all future cases." For more than a quarter-century, the Grünbaum heirs have sought the return of a number of different Schieles. Their claims, which prompted civil suits in state and federal courtrooms, have b ...
More
The Best Photos of the Day
Years after racism outcry, Indianapolis Museum gets a director
Christie's 10th Shanghai Auction anniversary unveils auction debut for rare manuscript by Albert Einstein
ChatGPT can now generate images, too


Belinda Tate will join the reorganized leadership in Indianapolis after tumultuous times that exploded over an insensitive posting for the job.

by Sarah Bahr



NEW YORK, NY.- Nearly three years after the Indianapolis Museum of Art at Newfields started a search for a director, Belinda Tate has been named to the job, the museum announced Wednesday. Tate, the executive director at the Kalamazoo Institute of Arts in Kalamazoo, Michigan, will lead Indiana's largest and most influential art institution starting Nov. 6. "I look forward to joining a team dedicated to serving the community," Tate said in a statement, calling the Indianapolis museum an "evolving institution." She was chosen from a pool of more than 200 applicants. The search, first articulated in an insensitive online posting for a director to help the museum diversify while maintaining its "traditional, core, white art audience," ignited an outcry that led to the resignation of the Newfields president and CEO, Charles L. Venable, and an apology from the museum. The separate director position was created ... More



Albert Einstein, (1879-1955), Autograph Manuscript, signed ('A. Einstein'), 'Altes und Neues zur Feld‐Theorie', [Berlin, before 3 February 1929], 14 pages, 290 x 229mm. Estimate: CNY 7,000,000 – 10,000,000 / USD 980,000 – 1,400,000. © Christie's Images Ltd 2022.



SHANGHAI.- Christie's will present an autograph manuscript by the renowned scientist Albert Einstein in the dynamically curated 10th Shanghai Auction Anniversary: 20th/21st Century Art Evening Sale, to be held on 23 September at the Waldorf Astoria Shanghai. This marks the auction debut for this rare manuscript at Christie's Asia and represents the Classic Art category's inaugural appearance in mainland China. This manuscript was first published in a special supplement to the New York Times on 3 February 1929. Due to immense public interest, Einstein had been commissioned to explain the development of his two most famous contributions to science: the theories of special relativity (1905) and general relativity (1915). The manuscript holds tremendous significance as it recounts the history behind the discovery of relativity, explains ... More



Sandhini Agarwal, an OpenAI researcher who focuses on safety and policy, at the company's headquarters in San Francisco on March 10, 2023. (Jim Wilson/The New York Times)

by Cade Metz and Tiffany Hsu



SAN FRANCISCO, CA.- ChatGPT can now generate images — and they are shockingly detailed. On Wednesday, OpenAI, the San Francisco artificial intelligence startup, released a new version of its DALL-E image generator to a small group of testers and folded the technology into ChatGPT, its popular online chatbot. Called DALL-E 3, it can produce more convincing images than previous versions of the technology, showing a particular knack for images containing letters, numbers and human hands, the company said. "It is far better at understanding and representing what the user is asking for," said Aditya Ramesh, an OpenAI researcher, adding that the technology was built to have a more precise grasp of the English language. By adding the latest version of DALL-E to ChatGPT, OpenAI is solidifying its chatbot as a hub for generative AI, which can produce text, images, sounds, ... More
Sabine Moritz to exhibit new large-scale paintings in Rome
The Museum of Contemporary Art Chicago announces new exhibition 'Faith Ringgold: American People'
Ukraine diary: The show goes on in Zaporizhzhia


Sabine Moritz, © Albrecht Fuchs. Courtesy the artist and Gagosian.



ROME.- Gagosian is opening August, an exhibition of new large-scale paintings and works on paper by Sabine Moritz at the gallery in Rome. This is the artist's first exhibition with Gagosian and her first in Italy. Moritz's body of paintings, drawings, and prints represents a succession of suspended moments, juxtaposing interpretations of the artist's immediate surroundings and the natural world with, in her previous work, deconstructed documentary images, and, in more recent paintings, a narrative approach enhanced by the paintings' broad horizontal format. Adapting and repurposing a catalogue of symbolic and abstract motifs, she ponders the mercurial dynamics of transience and decay. Her works enhance our sensitivity to the passage of time, locating personal experience within shared narratives. Since 2015, Moritz has worked increasingly in an abstract mode, producing improvised paintings and ... More



Faith Ringgold (b. 1930, New York, NY), Black Light Series #9: The American Spectrum, 1969. Oil on canvas; 18 × 72 in. (45.7 × 182.9 cm). JPMorgan Chase Art Collection, New York. © 2023 Faith Ringgold / Artists Rights Society (ARS), New York. Courtesy ACA Galleries, New York.



CHICAGO, IL.- The Museum of Contemporary Art Chicago announced Faith Ringgold: American People, a career-spanning survey of artist Faith Ringgold (b. 1930, Harlem, NY; lives and works in Englewood, New Jersey), opening in the Griffin Galleries of Contemporary Art on November 18, 2023, and running through February 25, 2024. This exhibition will be Ringgold's first solo presentation in Chicago. With a career that spans six decades, artist, author, educator, and organizer Ringgold is one of the most influential cultural figures of her generation. This major retrospective presents a comprehensive assessment of the artist's impactful vision, which bears witness to the complexity of the American experience. Originally organized by the New Museum, New York, the MCA adaptation ... More



A young girl reacts while watching a performance of the Zaporizhzhia State Circus in Zaporizhzhia, Ukraine, on Aug. 6, 2023. (Diego Ibarra Sįnchez/The New York Times)

by Diego Ibarra Sanchez



ZAPORIZHZHIA.- Under the warm glow of yellow and blue lights, Maxim Herman, 15, and Lisa Gryazeva, 10, twirled through the air, accompanied by the soft acoustic strum of the song "Obiymy (Hug Me)" by the Ukrainian band Okean Elzy. On a Sunday morning in August, the music wrapped around the old Soviet building that serves as the home of the state circus in Zaporizhzhia, where life goes on for Ukrainians despite the looming threat of Russian attacks on the nearby Zaporizhzhia nuclear plant. This circus was once one of Zaporizhzhia's most popular attractions. Before the invasion, nearly 1,000 spectators would take in a two-hour performance. On this day, however, no more than 200 people are in the audience. But for the performers, ... More
"Acts of Faith: Religion and the American West" presented by the New-York Historical Society
A Sotheby's sale of mug shots, ID badges and early Kodak prints
Château La Coste presenting exhibition by Domino Whisker


Charles Bird King (1785 - 1862), Sequoyah, 1836 - 1844. Paper. Patricia D. Klingenstein Library, New-York Historical Society.



NEW YORK, NY.- The New-York Historical Society presents Acts of Faith: Religion and the American West, a new exhibition that explores the interplay between religion and US expansion in the 19th-century West in order to illuminate how religion became such a vital and contested part of American life. Acts of Faith takes visitors beyond the mythologized "Wild West" of popular culture to present a fuller and surprising picture: a West populated by preachers, pilgrims, and visionaries and home to sacred grounds and cathedrals that kindled spiritual feeling from the woodlands of New York all the way to the valleys of California. The narrative highlights the experiences and traditions of people who, voluntarily or involuntarily, took part in this chaotic and transformative era—including diverse Native peoples, Protestant missionaries, Mormon settlers, Catholic communities, African American migrants, Jewish ... More



The auction house is offering an eclectic collection from Pier 24 Photography, including anonymous snapshots of Lucky Luciano and 1880s baseball players.



NEW YORK, NY.- Pier 24 Photography made its debut in 2010 on the San Francisco waterfront, the creation of former investment banker Andrew Pilara. Since then, the exhibition space has staged highly regarded photography shows, mostly drawn from the founder's wide-ranging collection. But early this year, unhappy that the San Francisco Port Commission had tripled the rent, Pilara, 81, announced that Pier 24 will close in July 2025. While he will give the majority of its holdings to museums, a sizable portion will be sold to support medical research, education and the arts, through a foundation that he and his wife, Mary Pilara, oversee. Although the collection is known for its in-depth representation of prominent artists, a significant part of Pilara's collection was created by anonymous photographers. Sotheby's will offer up many of these images that Christopher ... More



Installation View. Chāteau La Coste, Bastide Gallery; Domino Whisker: Stay Awhile; September 17th, 2023 - November 2023.



LE PUY-SAINTE-RÉPARADE.- Chāteau La Coste is currently presenting an exhibition of new tapestries, embroideries and paintings by Irish artist Domino Whisker titled 'Stay Awhile', her first major solo show outside of Ireland. These works reflect the beauty that the artist has found in her journey through grief and the resulting shift in her being. At a first glance, intricately embroidered birds 'in flight and fright' and tapestries depicting seascapes and stormy skies may seem dark, yet, if the viewer were to 'stay awhile', glimpses of hope and light shine through. Based in Dublin, self-taught Domino Whisker took up embroidery a decade ago, seeking a creative outlet for emotional release whilst caring for her father who was diagnosed with early onset Alzheimer's Disease. Initially serving as a means of catharsis and processing this challenging personal experience, Whisker's exhibition at Chāteau La Coste signifies ... More
Extraordinary Manhattan Project atomic bomb book signed by Einstein, Oppenheimer, up for auction
Audain Art Museum presents an innovative and cinematic experience
Antoni Tápies retrospective at Bozar celebrates centenary of his birth


Manhattan Project: Atomic Bomb Signed Book with Einstein, Oppenheimer, Bohr, Enola Gay Crew, Nobel Prize Winners, and Nuclear Researchers.



BOSTON, MA.- A unique piece of 20th-century history is set to go under the hammer. Boston-based RR Auction has unveiled a treasure trove of autographs and artifacts for its annual Remarkable Rarities sale. One item, in particular, stands out among the one hundred extraordinary lots - a signed book that serves as a testament to the dawn of the atomic age, featuring the signatures of luminaries like Albert Einstein, J. Robert Oppenheimer, Niels Bohr, and a host of other Nobel Prize winners and nuclear researchers. The "Atomic Energy in the Coming Era" by David Dietz, a sixth printing edition published in 1949 by Dodd, Mead & Company. The book, a hardcover with its original dust jacket, spans 184 pages and represents the intellectual and scientific revolution that shaped history. However, what truly makes this volume a priceless artifact is that it is adorned with the signatures of 49 visionaries, representing the who's who of 20th-century physics ... More



Karin Bubaš, Woman with Hollowed Tree (detail), 2016. Archival pigment print. Collection of Ross & Melissa Bonetti.



WHISTLER.- Opening on September 23, 2023, Karin Bubaš: Garden of Shadows features over 25 works dating from 2006 to 2023. This Special Exhibition curated by Dr. Curtis Collins, the Audain Art Museum's Director & Chief Curator, features a collection of Bubaš' paper toles and images from her ongoing series, Studies in Landscapes and Wardrobe, including Woman with Hollowed Tree (2016) and a specially commissioned work by the AAM entitled Winter Scene at Alexander Falls (2022). Bubaš is renowned for her diverse artistic practice that seamlessly interweaves natural and built environments. From the ordinary to the sublime, Bubaš has explored a wide spectrum of subjects throughout her career. In 2006, her creative focus transitioned from interiors to landscapes, giving rise to her ongoing series Studies in Landscapes and Wardrobe. This series of photographic works features meticulously styled, solitary female figu ... More



Antoni Tąpies, Figure on burnt wood 1947. Mixed media on panel. © Fundació Antoni Tąpies, Barcelona / SABAM. Photo: © FotoGasull.



BRUSSELS.- As part of the Spanish Presidency of the Council of the EU and on the occasion of the centenary of the birth of Antoni Tąpies (1923-2012), Bozar presents the most important Tąpies retrospective in almost 20 years. The exhibition, organised by the Museo Nacional Centro de Arte Reina Sofķa, Madrid, in collaboration with Bozar and the Fundació Antoni Tąpies, offers a comprehensive overview of Tąpies' work, comprising more than 120 paintings, drawings and sculptures. After his self-portraits and works influenced by Surrealism and Dadaism, the exhibition displays Tąpies' first "matierist" paintings, produced in the 1950s, which incorporate raw materials, marks and signs. But beyond the artist's experimentation with form and material, which continued throughout his career, the visitor can also penetrate the mystical, philosophical and political dimensions of the Tąpies universe. Manuel Borja-Villel is the curator of this first ... More
New Now New York | 27 September 2023

Flashback
On a day like today, Italian painter Alessandro Allori died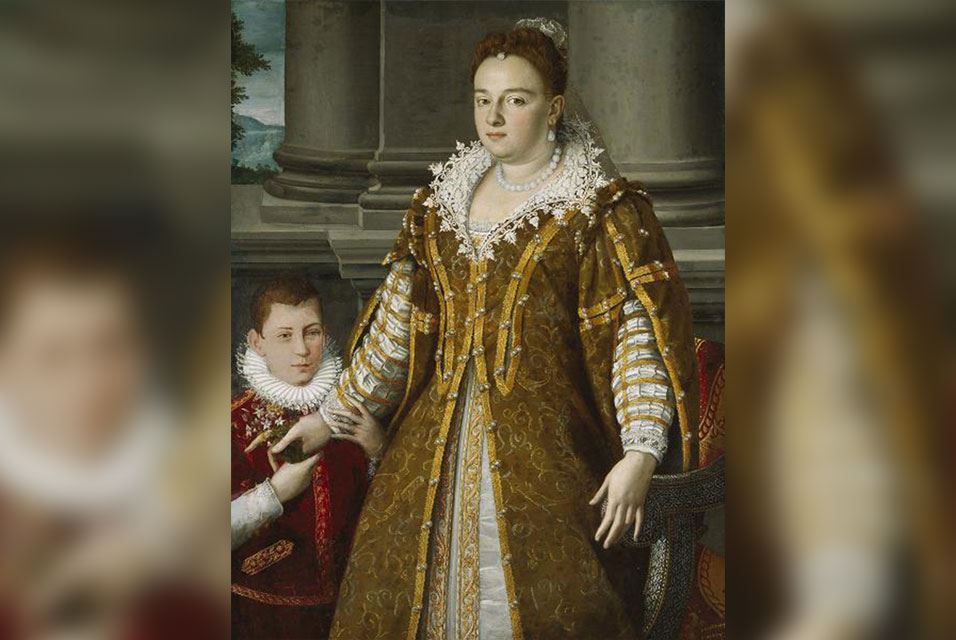 September 22, 1607. Alessandro di Cristofano di Lorenzo del Bronzino Allori (31 May 1535 - 22 September 1607) was an Italian portrait painter of the late Mannerist Florentine school. In this image: Portrait of Grand Duchess Bianca Capello de Medici, by Allori, Dallas Museum of Art.
---

Museums, Exhibits, Artists, Milestones, Digital Art, Architecture, Photography,
Photographers, Special Photos, Special Reports, Featured Stories, Auctions, Art Fairs,
Anecdotes, Art Quiz, Education, Mythology, 3D Images, Last Week,

.
---
Royalville Communications, Inc
produces: