Penn Museum to bury skulls of enslaved people
Tessa de Alarcon, a conservator, photographs sculptures for a digital archive at the University of Pennsylvania Museum of Archaeology and Anthropology in Philadelphia, Nov. 28, 2012. Mark Makela/The New York Times.
PHILADELPHIA, PA
.-
More than 175 years after his death, a man named John Voorhees may finally have a proper burial. Voorhees died of consumption, or tuberculosis, at a Philadelphia hospital for the poor in 1846, when he was 35 years old. But, after his death and without his consent or knowledge, his remains ended up in the hands of Samuel George Morton, a 19th-century physician and anatomist known for his influential racist theories on intellect. Voorhees was one of 13 Black Philadelphians whose skulls were subject to Morton's experiments. Come fall, the University of Pennsylvania Museum of Archaeology and Anthropology, known as the Penn Museum, is hoping to give them a traditional burial ceremony that it said was long overdue. Students had for years called for the remains to be returned to descendants. "It's a really important moment to do the right thing and acknowledge the problematic history of parts of this collection," said Christopher Woods, the director of the museum, which ha ...
More
The Best Photos of the Day
New Executive Director at Mad Sq Park Conservancy
Phillips X presents 'Different Throws of Dreams: Aboudia x Dubuffet'
Exhibition at The National Art Center, Tokyo assembles Lee Ufan's most important works


Madison Square Park Conservancy Executive Director Holly Leicht. Photo: Rashmi Gill.



NEW YORK, NY.- The Board of Trustees of Madison Square Park Conservancy today announced the appointment of Holly Leicht as the organization's next Executive Director. Leicht brings 25 years of experience leading urban planning, open space, and development initiatives, most recently serving as the Executive Vice President of Real Estate Development & Planning at Empire State Development, New York State's economic development agency, and having previously held prominent leadership roles at federal and municipal agencies, including the U.S. Department of Housing and Urban Development and the NYC Department of Housing Preservation and Development, as well as at leading urban planning and advocacy nonprofits, supporting New Yorkers for Parks and the Municipal Art Society. As the Conservancy's next Executive Director, she will implement a strategic vision ... More



Jean Dubuffet, Paysage Amoncelé, 1968. Image courtesy of Phillips.




LONDON.- Phillips presents Different Throws of Dreams: Aboudia x Dubuffet. In collaboration with Aboudia, this selling exhibition will present ten paintings by the artist in conversation with a selection of works by Jean Dubuffet. Different Throws of Dreams will be on view in Phillips' London galleries on Berkeley Square from 10 to 31 August. Miety Heiden, Phillips' Deputy Chairwoman and Head of Private Sales, said "We are delighted to collaborate with Aboudia in exhibiting these remarkable paintings to our audience in London this summer. Showing these alongside the work of Jean Dubuffet, created half a century ago, provides the opportunity to find extraordinary dialogue between the work of these two artists." Maura Marvão, Phillips' International Specialist, 20th Century & Contemporary Art, Portugal & Spain, said, "With his exquisite way of reflecting reality, Aboudia's paintings appeal ... More



Lee Ufan, Relatum (formerly Phenomena and Perception B), 1969/2012, glass, stone
© Artists Rights Society (ARS), New York / ADAGP, Paris.



TOKYO.- The National Art Center, Tokyo is presenting a major retrospective by Lee Ufan on the occasion of the Art Center's 15th anniversary. Eagerly absorbing a wide range of thought and literature from the East and the West in the late '60s and early '70s, Lee spearheaded the postwar Japanese artistic phenomenon Mono-ha (School of Things) by combining natural and artificial materials in a temperate manner in both his visual art and writings. Moreover, through his art and writings, Lee evolved a worldview based on the notion that all things are interrelated. This exhibition assembles Lee's most important works, including everything from his earliest pre-Mono-ha pieces, which considered the problem of vision; the Relatum series, which changed the concept of sculpture; and his highly spiritual paintings, which produce ... More
David Kordansky Gallery presents an exhibition of new wall-and pedestal-based sculptures by Anthony Pearson
Retouched and revitalized, Washington looks forward
Wendy Red Star debuts new works that transform Apsáalooke (Crow) tribe carrying cases


Anthony Pearson, Untitled (Tablet), 2022, bronze, 35 1/8 x 15 5/8 x 1 1/2 inches, (89.2 x 39.7 x 3.8 cm). Photo: Lee Thompson.



LOS ANGELES, CA.- David Kordansky Gallery is presenting Casements, an exhibition of new wall- and pedestal-based sculptures by Anthony Pearson, on view July 23 through August 27, 2022. Anthony Pearson has developed a formal vocabulary informed by photography, painting, and sculpture. For more than twenty years, he has been producing an interrelated body of objects in which subtle evolutions of material, color, and mood elicit meditative looking and quietly immersive perceptual experiences. Recent groups of wall-based sculptures, which he calls Casements and Coupled Casements, are made by pouring pigmented Hydrocal cement into bunched sections of fabric; when the dry cement is removed, finished, and installed on the wall, its shapes and volumes evoke a wide range of geological and organic forms. Upright Casements, works produced in a similar way and installed on pedestals, ... More



Visitors at the Planet Word museum in Washington, June 15, 2022. The Planet Word museum, which opened in 2020, sends visitors through a host of interactive and self-guided exhibits touching topics from humor to early-childhood language acquisition. Tony Cenicola/The New York Times.



WASHINGTON, DC.- Visitors are back in Washington, for all the reasons they came before. Gaggles of school groups and tour buses are on the National Mall, enjoying the green space and the museums. Demonstrators are marching. Convention centers have 19 large-scale events scheduled this year, with the largest — booked by the Association of the United States Army nonprofit — anticipating as many as 30,000 attendees. The city has yet to fully rebound from the coronavirus; the number of international visitors is not expected to reach pre-pandemic levels until 2025, according to Destination DC, the district's official marketing organization. But timed entry passes to favorite sites and reservations at coveted restaurants are vanishing quickly, and many local businesses and attractions, ... More



Wendy Red Star created for JCDecaux bus shelters in New York City, Chicago, and Boston.



NEW YORK, NY.- On August 10, Public Art Fund will debut Travels Pretty, an exhibition based on 12 new paintings by artist Wendy Red Star created for JCDecaux bus shelters in New York City, Chicago, and Boston. Continuing her practice of mining museum archives and collections that house Apsáalooke (Crow) objects, for this new series, Red Star has explored parfleches, the "suitcases" of the nomadic tribes of the North American Great Plains. These hand-painted rawhides—used to store and transport food and personal possessions—were traditionally made by women and served as a compelling means of both self and tribal expression for those who created them. They constitute one of the great traditions of imagery created by Native artists. Red Star's 12 detailed and vibrant paintings celebrate the communal knowledge of Apsáalooke parfleches, which were unique utilitarian containers instrumental to nomadic life. By taking the ... More
How we mourn COVID's victims
Unit London opens its first exhibition with Heesoo Kim
BAMPFA opens the first West Coast museum exhibition of work by Hannah Levy


An art exhibition blankets the National Mall with more than 700,000 white flags, each representing a person lost to COVID-19, in Washington, on Sep. 16, 2021. Kenny Holston/The New York Times.


by Christine Hauser



LONDON.- Piece by piece, the COVID-19 sanctuary was born on a hilltop in the town of Bedworth in central England. The process was meant to be a metaphor for a human life. Like bones fused over time, it grew taller as the memorial's creators spent months joining intricate pieces of wood into a skeletal structure that finally stood on its own, 65 feet high. Then they burned it all down. There have always been monuments to commemorate the loss of life from calamitous events, such as the thousands of memorials dedicated to world wars, the Sept. 11 attacks, the Holocaust. But the COVID-19 pandemic, now in its third year, has presented a unique challenge for grieving families. It is not a singular event, ... More



Heesoo Kim, Untitled (Mixed feelings), 2022. Acrylic on canvas, 65 cm x 53 cm.



LONDON.- Heesoo Kim's first solo exhibition with Unit London explores our shared contemporary experience through portraiture. In what the artist defines as an "expression of the mundane", Normal Life is an accumulation of everyday observations. Surrounded by a society that constantly grapples for recognition and success, Kim's body of work subtly engages with the mild sense of insecurity that is engendered by an achievement driven world. Having struggled with his own insecurities, Kim's portraits act as a means to regain agency as the artist chooses to paint the stories of those around him, recording the feelings and emotions that connect us all. These portraits do not attach themselves to any specific sense of personhood; each figure, wiped clean of idiosyncrasies, could be anyone. Kim therefore encourages his viewers to project themselves onto his portraits, revelling in the conceivable meanings of our universal ex ... More



Hannah Levy: Untitled, 2021 (detail); nickel-plated steel, silicone; 27.75 x 8 x 15 in. each; courtesy the Arts Club of Chicago, © Hannah Levy. Photo: Michael Tropea.



BERKELEY, CA.- The UC Berkeley Art Museum and Pacific Film Archive is mounting the first West Coast museum exhibition of work by Hannah Levy, the acclaimed sculptor whose steel-and-silicone creations explore the visceral tension between flesh and metal. Hannah Levy / MATRIX 279 will showcase six recent sculptures by Levy, including a major new work that will be on view for the first time at BAMPFA. Complementing a concurrent presentation at this year's Venice Biennale, Levy's solo museum debut is the latest installment of the MATRIX Program at BAMPFA, a vanguard exhibition series that has highlighted distinctive and important voices in contemporary art for the past four decades. Noted for her evocative integrations of gleaming metal with squishy facsimiles of human and non-human ... More
'Doug Aitken: Flags and Debris' opens at the The Israel Museum, Jerusalem
CHART presents Anthony Miler' 'There Are More Good People Than We Know'
'Legendary Rarity' 1927-D Double Eagle leads latest Bob R. Simpson Collection offerings at Heritage's U.S. Coins Auction


Doug Aitken, history of forgetting, 2022. Mixed hand–dyed and sewn fabrics, 309.9 x 309.9 x 7.6 cm. Courtesy of the artist; 303 Gallery, New York; Galerie Eva Presenhuber, Zurich; Victoria Miro, London; and Regen Projects, Los Angeles © Doug Aitken, Courtesy of 303 Gallery, New York; Victoria Miro, London; Galerie Eva Presenhuber, Zurich and Regen Projects, Los Angeles.



JERUSALEM.- Flags and Debris weaves together sights and feelings that the Covid-19 pandemic produced as it left its mark on urban activity, on the body, and on the human spirit. In 2020, during the first lockdown of the Covid-19 pandemic, the multidisciplinary artist Doug Aitken sought sources of inspiration in his own house and turned clothes and other fabrics he found into works of collage. The research, meticulous labor, and stillness of his work process – planning the composition, dying the cloth, cutting, sewing – were a result of being secluded and looking inward. These textile works recall flags or banners ... More



Anthony Miler (b. 1982), Not Titled, 2022. Oil, acrylic, and graphite on canvas framed: 51 x 61 3/8 inches (129.5 x 155.9 cm). © The Artist.



NEW YORK, NY.- CHART is presenting There Are More Good People Than We Know, an exhibition of new paintings and works on paper by Anthony Miler. The exhibition features nine new paintings in the main gallery, with a selection of over twenty works on paper from the past five years of Miler's practice installed on the gallery's lower level. The exhibition remains on view through August 19th. In Anthony Miler's newest paintings, a decade-plus artistic evolution arrives at the present amalgamation of past materials and formal stylings. Featuring curving, organic forms set amid colorfully stained backdrops, the paintings on view offer a more meditative and pared-down experience than previous works. At first glance, they could be seen as simple landscapes, with bird-like forms dashing across their surfaces, often offset by ... More



1927-D Saint-Gaudens Double Eagle, MS66.



DALLAS, TX.- In their classic reference, Encyclopedia of U.S. Gold Coins 1795-1933, Jeff Garrett and Ron Guth call the 1927-D Saint-Gaudens double eagle "a legendary rarity — the rarest regular-issue gold coin of any denomination of the 20th century." Add to that the provenance that comes with being a part of The Bob R. Simpson Collection, Part IX, and it immediately is clear why a 1927-D Double Eagle MS66 PCGS will turn heads and open eyes when it crosses the block in Heritage Auctions' US Coins Signature® Auction August 22-28. The rarity alone — it is one of just 13 known survivors from an original mintage o 180,000 pieces — makes it a must-have for the most serious of collectors. "This is an extraordinary coin," Heritage Auctions President Greg Rohan said. "Four are in international holdings, and two more have not been seen in decades. There are just seven examples, including the one ... More
Barack Obama & Maya Lin on Lin's Sculptural Commission for Obama Presidential Center

Flashback
On a day like today, The Smithsonian Institution was chartered by the U.S. Congress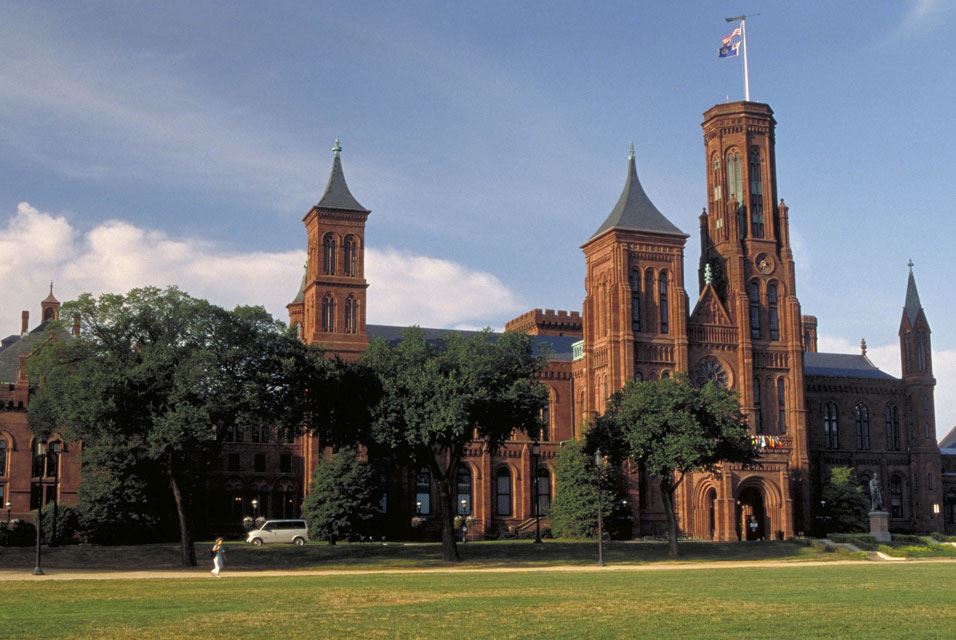 August 10, 1846. The Smithsonian Institution is an educational and research institute and associated museum complex, administered and funded by the government of the United States and by funds from its endowment, contributions, and profits from its retail operations, concessions, and licensing activities. In this image: "The Castle," the building on the National Mall that is home to the Smithsonian's administration, is seen. Photo: Smithsonian Institution.
---

Museums, Exhibits, Artists, Milestones, Digital Art, Architecture, Photography,
Photographers, Special Photos, Special Reports, Featured Stories, Auctions, Art Fairs,
Anecdotes, Art Quiz, Education, Mythology, 3D Images, Last Week,

.
---
Royalville Communications, Inc
produces: