How do you move a 30-ton Diego Rivera fresco? Very carefully.
"Pan American Unity," a 30-ton, 74-foot-wide-by-22-foot mural by Diego Rivera, undergoes installation at the San Francisco Museum of Modern Art, May 16, 2021, where it will be on view starting Monday, June 28. A four-year, multimillion-dollar undertaking involving mechanical engineers, architects, art historians and handlers, fresco experts and riggers from the U.S. and Mexico will allow more people to see the monumental 10-panel fresco, long tucked away in the lobby of a theater at City College of San Francisco. Cayce Clifford/The New York Times.

by Carol Pogash
SAN FRANCISCO
(NYT NEWS SERVICE)
.-
For decades the monumental 10-panel fresco by Diego Rivera depicting a continent linked by creativity has been mounted in the lobby of a theater at City College of San Francisco. There, somewhat tucked away from the art world, it has been cared for as a labor of love by a de facto guardian who has long dreamed of finding a way to allow more people to experience it. Now, after a four-year, multimillion-dollar undertaking involving mechanical engineers, architects, art historians, fresco experts, art handlers and riggers from the United States and Mexico, the 30-ton, 74-foot-wide-by-22-foot mural has been carefully extracted and moved across town to San Francisco Museum of Modern Art, where it will go on display June 28. "Diego was building a metaphoric bridge between the Mexican culture and the tech culture of the United States," said Will Maynez, the former lab manager of the physics department at City College, who became the unlikely guardian ...
More
The Best Photos of the Day
Rubell Museum re-opens two Yayoi Kusama Infinity Rooms
Tuckered out: Early Antarctic explorers underfed their dogs
Dallas Museum of Art acquires its first Basquiat work


Yayoi Kusama, INFINITY MIRRORED ROOM – LET'S SURVIVE FOREVER, 2017. Photo credit Chi Lam, courtesy of the Rubell Museum.



MIAMI, FLA.- Beginning June 23, visitors can experience the Rubell Museum's two Infinity Rooms by Yayoi Kusama for the first time since March 2020. These celebrated fully immersive works create a kaleidoscopic effect that transports visitors to an alternate, limitless universe. Where the Lights in My Heart Go, 2016 and INFINITY MIRRORED ROOM – LET'S SURVIVE FOREVER, 2017 are the only Infinity Rooms on view in the Southeastern United States. The Rubell Museum is also featuring Kusama's mesmerizing, monumental Narcissus Garden, (1966 – ). Composed of 700 stainless steel spheres, the work flows 200 feet along the museum's central hall, creating an everchanging river of reflection that beckons and visually teases visitors as they walk through and along it. "Kusama's Infinity Rooms take us to new galaxies," said Mera Rubell. "We are honored to be the only museum in the country with three of her major ... More



Dr Jill Haley, the study's lead author, holds a Spratt's dog cake fragment from Canterbury Museum's collection.



CHRISTCHURCH.- It's one of the iconic images of early Antarctic exploration: the heroic explorer sledging across the icy wastes towed by his trusty team of canine companions. But new research analysing a century-old dog biscuit suggests the animals in this picture were probably marching on half-empty stomachs: early British Antarctic expeditions underfed their dogs. In a paper just published in Polar Record, researchers from Canterbury Museum, Lincoln University and University of Otago in New Zealand analysed the history and contents of Spratt's dog cakes, the chow of choice for the canine members of early Antarctic expeditions. Lead author, Canterbury Museum Curator Human History Dr Jill Haley, has researched the lives of dogs in Antarctica and curated the Museum's 2018 exhibition Dogs in Antarctica: Tales from the Pack. "The early explorers valued their dogs, not just for pulling sledges but for their companionship in ... More



Jean-Michel Basquiat, Sam F, 1985 (detail), oil on door, Dallas Museum of Art, gift of Samuel N. and Helga A. Feldman, 2019.31, © Estate of Jean-Michel Basquiat. Licensed by Artestar, New York.



DALLAS, TX.- The Dallas Museum of Art announced the acquisition of Sam F (1985) by Jean-Michel Basquiat, the first work by the iconic American artist to enter the Museum's collection. Gifted to the DMA by the late Samuel and Helga Feldman, the painting was created at the Feldman residence during the artist's visit to Dallas in 1985. The expressionistic portrait of Samuel exhibits Basquiat's characteristic use of dense, meaning-laden text and imagery drawn from multiple sources, including pop culture figures, music and literature, and art historical iconography, among others. Basquiat often painted on salvaged materials, and Sam F is painted in oil on a door from the Dallas apartment building in which he was staying. Sam F will be exhibited at the DMA on the main concourse beginning July 4, 2021, until February 2022. The 24-year-old ... More
Ivan Morley's third solo exhibition with Bortolami Gallery opens in New York
A century of music: Guernsey's blockbuster 1,000 lot auction
Seattle Art Museum embarks on transformation of American art galleries


Ivan Morley, Study for a Public Painting, 2021. Thread and watercolor on canvas, 60 1/4 x 45 in (153 x 114.3 cm)



NEW YORK, NY.- Bortolami Gallery is presenting Hyperion, Ivan Morley's third solo exhibition with the gallery. Morley's distinct, vivid compositions are sewn in embroidery thread with watercolor on canvas or painted on glass that is slicked with water-based lubricant, peeled away with the aid of razors, and transferred to panel in one giant, layered skin of sumptuous oils. The embroidered works are like lavish tapestries modeled in a chiaroscuro of near-like color palettes. Their chromatic combinations surprise, evoking the ethos and immediacy of gestural painting despite their slow and methodical creation by sewing machine. Morley dampens the thread to stretch the canvas, causing the watercolor underneath to bleed up through the surface. This effectively softens the edges in the work, transforming tapestry into painting and further blurring distinctions of figuration and abstraction – more specifically, the bits of text and reco ... More



Jason Becker's Blue Hurricane Guitar + Jason's Red Leather Jacket. A guitar phenom in the 1980's, Jason contracted a debilitating disease. Proceeds from the sale of his items will fund his medical needs.



NEW YORK, NY.- What do iconic items from the legendary Woodstock Festival, Van Halen, Clapton, Bo Diddley and Lynyrd Skynyrd's guitars, Paul Butterfield and James Cotton's Blues harmonicas, Chick Corea and Elton John's pianos, Miles Davis' test pressings, Billie Holliday's Gown, John Lennon's artwork, the front doors of the Chelsea Hotel, over 500 vintage violins, banjos, ukuleles and mandolins, and about a zillion other very cool things have in common? They all will be sold in Guernsey's mostly unreserved, joyful "A Century of Music Auction" upcoming July 14 & 15. Items can be viewed at Guernseys.com, liveauctioneers.com and invaluable.com. In 1952, a 12 year old boy from rural Tennessee spotted a stunning Gibson Les Paul Goldtop guitar in the window of a local shop. Determined to own it, he cut lawns, cleaned attics and did anything necessary to get the $5 a month needed to make the payments. After moving nort ... More



Two-year project initiates groundbreaking model for inclusive exhibition planning at the museum. Photo: Stephanie Fink.



SEATTLE, WA.- The Seattle Art Museum has embarked on a two-year project to transform its American art galleries in an unprecedented collaboration among SAM curators and staff, artists, and advisors from the Seattle community. Funded primarily by a $1 million grant from The Andrew W. Mellon Foundation, the project deepens the museum's commitment to inclusive exhibition-planning practices with a shared-authorship model that reflects and responds to community knowledge. The reimagined galleries will debut in October 2022. The project is led by Theresa Papanikolas, Ann M. Barwick Curator of American Art, in partnership with Barbara Brotherton, Curator of Native American Art. Beginning summer 2021, they will interrogate and recontextualize the collection with artists Nicholas Galanin, Wendy Red Star, and Inye Wokoma, all of whom will also create new commissioned work in response to the collection; two emerging museum professionals in paid ... More
UNTITLED, ART Miami Beach returns for 10th edition this December with four guest curators
San Antonio Museum of Art acquires contemporary works by Texas artists
Reflex Amsterdam opens new space with a sculpture by KAWS


Estrellita Brodsky. Photo: Hans-Neumann.



MIAMI, FLA.- UNTITLED, ART returns in real life to Miami Beach this December to celebrate its 10th edition. Under the guidance of Artistic Director Omar López-Chahoud, the 2021 presentation will feature an expanded curatorial platform with four guest curators: Natasha Becker and Miguel A. López, who will curate two sectors of the fair, and a collaboration between Estrellita Brodsky and José Falconi, who are developing a group exhibition. Brought together for their diverse perspectives and regional expertise, the curators will nurture dialogue between participating galleries and artists to generate a more global and inclusive conversation during a critical moment that marks the return of physical art fairs. Natasha Becker and Miguel A. López will be responsible for the curated sectors of the fair, selecting galleries to participate based on their submitted applications and alignment to respective curatorial themes. Under the title "Sout ... More



Jon Lee (American, born South Korea, 1968), O1701, 2017 (detail) . Woodcut, 17 × 12 in. (43.2 × 30.5 cm), each.



SAN ANTONIO, TX.- The San Antonio Museum of Art announced today that it has acquired eight artworks by seven San Antonio-based artists, including Jennifer Ling Datchuk, Jenelle Esparza, Joe Harjo, Jon Lee, Ethel Shipton, Chris Sauter, and Liz Ward. The acquisitions are part of the Museum's Initiative to Acquire Art by Contemporary San Antonio Artists, which was developed to enhance the Museum's commitment to support the city's visual artists by acquiring works for its collection. The artists were chosen with the support of an Advisory Committee comprised of San Antonio-based visual artists, professors, collectors, arts leaders, and Museum staff and Trustees, who have also made recommendations for additional artists whose work could be purchased in the future. The Committee was Co-Chaired by ... More



KAWS, Along the Way, on view at Reflex, the Residence. Edition of 3, Afrormosia wood, 245 x 195.5 x 135.3 cm. Photo: Petra and Erik Hesmerg. © KAWS.



AMSTERDAM.- Reflex Amsterdam opened its second space Reflex, the Residence with a sculpture by KAWS 'Along the Way'. The gallery's second location in Amsterdam is conceived as a multifunctional space to promote the creation, research, and contemplation of art, and is a one-of-a-kind endeavour in the Dutch gallery landscape. The gallery sketches its new venue as "a space to expand the current activities of the gallery, a place of creation and experiment, a house of art." Formally a residential home, the space has been repurposed to suit a range of needs. Outfitted with a high ceiling that supersedes two stories, it allows for a breathtaking spatial experience of three-dimensional art and large-scale paintings in a residential setting, making it a natural location for the gallery's private showroom away from its white cube ... More
New exhibition features reimagined "Mexican" zodiac
Largest selection from celebrated California artist headed to Heritage Auctions
Waxing lyrical: Madame Tussauds to open museum in Dubai


George Rodriguez and Gabriela Ramírez Michel; La Peyotera (Mono), 2021; Ceramic, wax, fiber.



BELLINGHAM, WA.- The Whatcom Museum announced the opening of the exhibition "El Zodíaco Familiar." Championed by Seattle-based ceramic artist George Rodriguez, the exhibition features new works by Rodriguez and thirteen collaborating artists and opened June 19 at the Museum's Lightcatcher building. It will be on view through October 24, 2021.
Rodriguez's large scale ceramic sculptures are a blend of traditional folk art and contemporary fine art and craft. Hand built and often at human scale, he enhances his figures with various surface patterns, colors and glazes. For this exhibition, Rodriguez embarks on a collaborative iteration of the Chinese Zodiac. In an homage to its origins in Chinese folklore, Rodriguez has reimagined the classic zodiac animals as analogous creatures of Mexican origin, bridging cultures and creating new narratives. "El Zodíaco Familiar"—the fifth iteration of Rodriguez's Mexic ... More



James Lovera (American, 1920-2015), Bowl, circa 1995. Porcelain, 4-1/4 x 17-5/8 inches. Estimate: $1,800 - $2,400.



DALLAS, TX.- In the never-ending pursuit of greatness, some try to expand their repertoires to the point that they can not help but be acknowledged for the sheer scope of their accomplishments. Others, like ceramicist James Lovera, take the alternate approach: find a talent and perfect it – mix in variations, as needed, but continue to execute at an unsurpassed level. The California-born artist developed and perfected what is now considered his signature style of bowl, 19 of which will be featured in Heritage Auctions' Design Auction July 15. Likely the largest selection of Lovera's work ever brought to a single auction, the lots all come from a single collection, from a consignor who got each of them directly from the artist. "James Lovera is exceedingly important, and perhaps a little bit underrecognized, within the market from the American post-war Ceramics ... More



A wax likeness of British pop icon David Bowie is placed in front of a record store near the building where he lived in the 1970s in Berlin's Schoeneberg district, as part of a publicity stunt for Madame Tussaud's new exhibition "Berlin 100", chronicling Berlin history from the 1920s, in Berlin on June 1, 2021. John MACDOUGALL / AFP.



LONDON (AFP).- London's renowned wax-work museum Madame Tussauds will open its first outpost in the Arab world in Dubai later this year, the group's owner Merlin Entertainments said Tuesday. The brand, which began life in London where it boasts 250 wax sculptures that draw millions of visitors annually, also has smaller branches in the United States, Europe and Asia. "Today, Merlin Entertainments Ltd, the second largest attraction operator in the world, has officially announced the opening of the world-famous wax attraction, Madame Tussauds in Dubai," the company said in a statement. "The iconic attraction is set to open its doors later this year," it said. The Dubai branch would display 60 sculptures ... More
Emily Mae Smith 'Waiting Room' | New York | Spring 2021

Flashback
On a day like today, American painter Clyfford Still died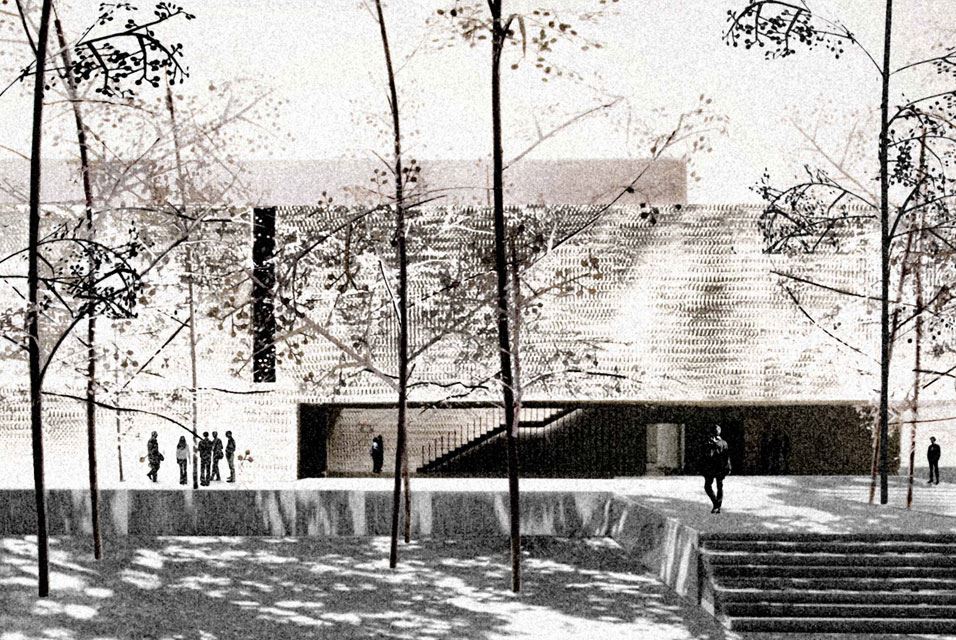 June 23, 1980. Clyfford Still (November 30, 1904 - June 23, 1980) was an American painter, and one of the leading figures in the first generation of Abstract Expressionists, who developed a new, powerful approach to painting in the years immediately following World War II. In this image: Designed by Brad Cloepfil of Allied Works Architecture, the new building reflects the Clyfford Still.Museum's mission to preserve, present, and celebrate the work of the artist.
---

Museums, Exhibits, Artists, Milestones, Digital Art, Architecture, Photography,
Photographers, Special Photos, Special Reports, Featured Stories, Auctions, Art Fairs,
Anecdotes, Art Quiz, Education, Mythology, 3D Images, Last Week,

.
---
Royalville Communications, Inc
produces: