Hands off the library's picture collection!
Darin Mickey, a photographer and chair of the creative practices program of the International Center of Photography, browses the "Accidents" folder of the New York Public Library's Picture Collection, in the Stephen A. Schwarzman Building in New York, July 30, 2021. Founded in 1915, the collection lends images to library users who are seeking visual information of a mind-boggling range. Gus Powell/The New York Times.

by Arthur Lubow
NEW YORK
(NYT NEWS SERVICE)
.-
Artist Joseph Cornell once requested a picture of a street urchin with a white cockatoo. Andy Warhol borrowed hundreds of images for inspiration — and never returned them. For more than a century, the Picture Collection of the New York Public Library has flourished, gloriously but precariously, as a shape-shifting misfit within a Dewey Decimal grid. Founded in 1915, the collection lends images to library users who are seeking visual information of a mind-boggling range: Praying, Fairies, Expositions, Rear Views — more than 12,000 rubrics from Abacus to Zoology, a history of taste that is still expanding. Its files are classified by subject matter, and available for browsing on open shelves. "You see the people go through it and touch it and have the spontaneity of discovery," said Taryn Simon, the conceptual artist who has been photographing the Picture Collection's treasures for nine years, making collages that can currently be seen at the Gagosian here. " ...
More
The Best Photos of the Day
Shoe obsession for the ages: Prince's killer collection of custom heels, now on view
Thaddaeus Ropac Salzburg exhibits a group of works from 1977-1991
New book explores Indigenous Australian collections in museums across the UK for first time


Boots worn by Prince in the "Raspberry Beret" music video in 1985. John Wagner Photography via The New York Times.

by Sally Franson



CHANHASSEN (NYT NEWS SERVICE).- Before we start, I want to get one thing straight: You haven't lived until you've seen a grown man gasp over a giant wall of high heels. Not just any heels. Stiletto heels, custom-made for a size 7 foot. Fabric-covered ankle boots, mainly, but also knee boots, over-the-knee boots and platforms, in colors bright as Oz. Male, female, Black, white, young, old — everyone visiting "The Beautiful Collection: Prince's Custom Shoes" at Paisley Park on a recent Saturday tour went gaga over Prince Rogers Nelson's heels. More than 300 pairs, soles cleaned, fabrics vacuumed, shapes stuffed and lit up from behind, delivering us from gender norms and pandemic loungewear. Hark! Here were the hand-painted cloud boots from the "Raspberry Beret" music video; the platform roller skates documented by Questlove and discovered, posthumously, in a custom-made briefcase; and ankle ... More



Donald Judd, Untitled, 1991, Clear anodized aluminum with transparent amber over yellow plexiglass. Donald Judd Art © 2021 Judd Foundation / Bildrecht, Wien 2021. Image courtesy Judd Foundation.



SALZBURG.- Donald Judd at Thaddaeus Ropac Salzburg presents a group of works from 1977—1991, a period in which the artist's work was defined by the principles that had formed his artistic vision. The exhibition provides insight into the diversity of Donald Judd's formal and material repertoire, highlighting his distinctive visual vocabulary and deliberate use of mathematical proportions. Spanning works in plywood, painted wood, plexiglass and aluminum – media through which he interrogated the relationship between form and color – the exhibition features work that has never previously been exhibited, alongside seminal floor works which remain at the core of Judd's practice. The earliest example of this type of incised cadmium red light floor work was exhibited in Judd's first ever solo exhibition at Green Gallery, New York (1963—64) and now forms part of the Hirshhorn Museum and Sculpture ... More



Four greenstone axes with wooden handles, Yarra River, Victoria. Museum records indicate the handles were made by 'the last chief of the Yarra Yarra', which would refer to Aboriginal leader William Barak. © University of Aberdeen.



LONDON.- Museums across Great Britain and Ireland hold Aboriginal and Torres Strait Islander cultural heritage of exceptional value. Until now these collections have been largely unknown, rarely seen and sometimes misunderstood. A major new book published by the British Museum on 2 September, Ancestors, artefacts, empire: Indigenous Australia in British and Irish Museums explores nearly 160 artefacts selected from over 30 public museums. New high-resolution photographs are paired alongside text by twenty-two Indigenous and non-Indigenous Australian and international experts. This landmark publication, the product of years of research, presents a multi-stranded narrative and interdisciplinary scholarship that reveals new insights into Britain's Australian history as much as Australia's British history. Gifted, sold, exchanged and bartered by Indigenous Australian people, and accepted, ... More
Tunji Adeniyi-Jones joins White Cube
Neal Schon's guitar collection brings more than $4.2 million at Heritage Auctions
Iraq reclaims 17,000 looted artifacts, its biggest-ever repatriation


Tunji Adeniyi-Jones, Twin Serpents, 2021. Oil on canvas, 198.1 x 137.2 cm | 78 x 54 in. © the artist. Photo © JSP Art Photography. Courtesy White Cube.



LONDON.- White Cube is pleased to announce representation of the New York-based artist Tunji Adeniyi-Jones. His first exhibition with the gallery opens at White Cube Bermondsey from 19 November 2021 – January 2022. Born and educated in the UK and now living and working in the USA, Adeniyi-Jones's practice is inspired by the ancient history of West Africa and its attendant mythology, as well as his Yoruba heritage. His vibrant compositions are comprised of abstract backgrounds of lush, stylized foliage with sinewy bodies emerging and dissolving into tessellating shapes and interlocking swathes of colour. Positioning his works within a specifically Nigerian cultural landscape, notably the post-colonial writing of Chinua Achebe, Wole Soyinka and Amos Tutuola, Adeniyi-Jones addresses the perception of the black body within Western painting ... More



1959 Gibson Les Paul Standard Sunburst Solid Body Electric Guitar, Serial #9 0696. Sold for $350,000.



DALLAS, TX.- Like the song says: Everybody wants a thrill. This weekend's event at Heritage Auctions starring guitars from the Neal Schon Collection provided more than a few. Saturday's auction was held only hours before Schon and Journey headlined Lollapalooza in Chicago (to rave reviews), and as a warm-up act more than 90 instruments from the guitarist's historic assemblage sold for more than $4.2 million. That includes two Holy Grails now in the hands of new owners: One 1959 Gibson Les Paul Standard Sunburst sold for $350,000, while another of the six-string Ferraris favored by arena-rock gods realized $300,000. Those two guitars are now the most expensive vintage instruments sold in Heritage Auctions' history, with seven of Schon's guitars ranking among the Top 20 in the auction house's hall of fame. Nearly 500 bidders from around the world, on the phone and online and on the floor at Heritage's global ... More



Iraq's Minister of Culture Hassan Nazim speaks during a handover ceremony of looted Iraqi antiquities returned by the United States, at the Ministry of foreign Affairs in the capital Baghdad. Sabah ARAR / AFP.

by Jane Arraf



IRBIL (NYT NEWS SERVICE).- When the Iraqi prime minister's plane touched down in Baghdad last week after an official visit to the United States, its cargo included 17,000 archaeological artifacts returned by a prominent museum and an Ivy League university in the largest-ever repatriation of looted Iraqi antiquities. On Tuesday, plywood crates holding the thousands of clay tablets and seals — pieces from Mesopotamia, site of the world's earliest civilizations — were stacked next to a table displaying a few of the artifacts as the Iraqi Culture Ministry took custody of the cultural treasures. The repatriation of so many objects rounds out a remarkable chapter in the story of a country so ravaged by decades of conflict and war that its very history ... More
Harn selects Tod Williams Billie Tsien Architects │ Partners to design new wing
Hamptons Fine Art Fair brings 70 international galleries to Southampton Arts Center over Labor Day Weekend
Lincoln Center, seeking wider range, names new artistic leader


Left to right: Tod Williams, Billie Tsien and Paul Schulhof. Photo: Taylor Jewell.



GAINESVILLE, FLA.- The Harn Museum of Art at the University of Florida recently selected Tod Williams Billie Tsien Architects | Partners to design an estimated 20,000-square-foot addition scheduled for completion in 2024. As the Harn concludes its 30th anniversary year and launches a strategic plan for the next 5 years, the new wing will provide a multi-purpose space for activities that will further fulfill the Harn Museum's mission to inspire, educate and enrich people's lives through art. After an extensive and highly competitive search working with UF Planning, Design and Construction, Tod Williams Billie Tsien Architects | Partners was selected from an applicant pool of 19 architectural firms. They will be tasked with designing an expansion that will include more gallery space for exhibitions and a dedicated gallery space for the Florida Art Collection, which is a recent gift of 1,200 works of Florida-themed art ... More



Audrey Flack, Passages, 1951, Gouache on paper, 23 3-4 x 18 1-2 inches (60.3 x 47 cm). Photo: Hollis Taggart.



SOUTHAMPTON, NY.- Hamptons Fine Art Fair, the inaugural international fine art fair from the producers of ShowHamptons, has announced their 2021 exhibitor list, featuring artworks by 70 select national and international galleries, with 51 in-person booths and the remaining exhibiting in online virtual reality booths. For the first time ever, Hamptons Fine Art Fair will take place inside and amongst the beautiful grounds of the historic Southampton Arts Center, a unique opportunity for art lovers and patrons to purchase important works in the museum. HFAF will feature works by 400+ respected artists with over 1000 pieces, totaling $100+ million in art for immediate acquisition. The in-person fair will be a welcome return to the bustling Hampton's art and social scene after a period of online events, with thousands of attendees expected to pass through the fair over ... More



Shanta Thake, Lincoln Center's new chief artistic officer, outside Lincoln Center in New York, July 30, 2021. Caroline Tompkins/The New York Times.

by Javier C. Hernández



NEW YORK (NYT NEWS SERVICE).- Feeling the pressure to attract new audiences and rethink its offerings even before being upended by the coronavirus pandemic, Lincoln Center announced Tuesday that it had chosen a theater executive with a reputation for working across disciplines as its next artistic leader. Shanta Thake, most recently an associate artistic director at the Public Theater, will assume the role of chief artistic officer at the center, the nation's largest performing arts complex, as it works to broaden its appeal beyond classical music and ballet into genres such as hip-hop, poetry and songwriting. Thake — who at the Public spent a decade managing Joe's Pub, a cabaret-style venue, and more recently began overseeing Under the Radar, Public Works and other ... More
D'Stassi Art launches new gallery in London's Shoreditch
"Olympic Agora" cultural hub now on view at Olympic Games Tokyo 2020
Yankunytjatjara artist Kaylene Whiskey awarded Melbourne Art Foundation 2022 Commission


D'Stassi Art Founders Edward Sanders and Michael Howes.



LONDON.- D'Stassi Art announced the launch of its new gallery located in East London's Shoreditch. Formerly home to the legendary "Boiler Room Events," D'Stassi Art will open on August 6th with the inaugural exhibition, Pop Nightmare, featuring new paintings by Australia-based artist and musician, Sidney Teodoruk. Drawing on the nostalgia of childhood and the evocative signage of circus sideshow banners, Teodoruk's work is a playful and poetic exploration of color and lyrics. With London reopening for in-person events, D'Stassi Art will host a public reception for Pop Nightmare on August 6th from 7pm til late. For more information and to RSVP, please visit www.dstassiart.com. Founded by friends and fellow art enthusiasts, Michael Howes and Edward Sanders, D'Stassi Art is inspired by the ethos of the radical inclusivity of the 1980s graffiti and street art movements and aims to infuse greater passio ... More



Roald Bradstock, The Race Against Time (2021) © Roald Bradstock.



TOKYO.- The first-ever Olympic Agora commemorates the cultural aspect of the Olympic Games Tokyo 2020, featuring a permanent, site-specific legacy sculpture by French artist Xavier Veilhan; a photography installation by Japanese artist Rinko Kawauchi; multimedia installations by Japanese artist Makoto Tojiki and Canadian studio Moment Factory, respectively; a series of new artworks by Olympian and Paralympian Artists-in-Residence; and an exhibition of treasures from the holdings of The Olympic Museum. Virtual tours and digital offerings unite local and international audiences in the Agora experience. The President of the International Olympic Committee (IOC), Thomas Bach, drew parallels between sport and art upon his visit to the Olympic Agora in central Tokyo. About the Agora, the IOC President said: "This is a fantastic demonstration of how, in the Olympic community, we blend sport and culture, which is one of the miss ... More



Artist Kaylene Whiskey. Courtesy of Iwantja Arts. Photo: Meg Hansen.



MELBOURNE.- Australia's national museum of screen culture and Melbourne Art Foundation, the non-profit organisation and owner of the biennial Melbourne Art Fair, announced Kaylene Whiskey as the recipient of the Melbourne Art Foundation 2022 Commission, supported by Artwork Transport and Panasonic. Set to be unveiled at the Melbourne Art Fair in February 2022 before moving to its permanent home in the ACMI collection, Whiskey's new video work will be the ninth commission of the 15-year program. It marks several firsts: the first time the Melbourne Art Foundation Commission program has partnered with ACMI, the first time the Commission has awarded a First Nations artist, and the first time it has supported the production of a moving image work. Established in 2006, the Melbourne Art Foundation Commission program provides a living artist with a rare opportunity to realise an ambitious work for unveiling at Melbourne Art Fa ... More
Michael Armitage, Paradise Edict: virtual tour

Flashback
On a day like today, French designer Louis Vuitton was born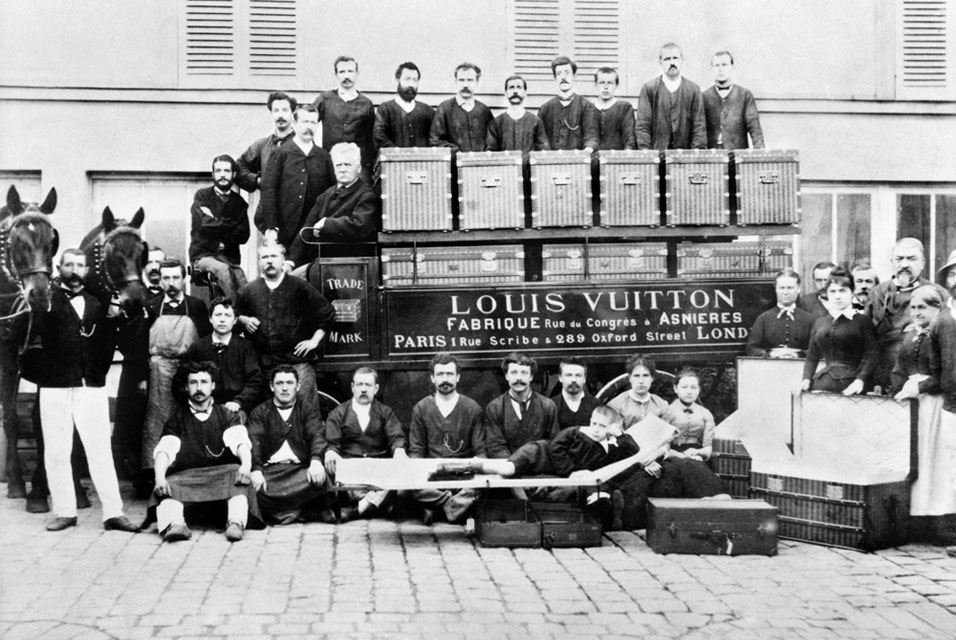 August 04, 1821. Louis Vuitton (4 August 1821 - 27 February 1892), was the founder of the world-famous Louis Vuitton brand of leather goods now owned by LVMH. Prior to this, he had been appointed as trunk-maker to Empress Eugénie de Montijo, wife of Napoleon. In this image: In the courtyard of the Asnières workshops, around 1888, Louis, Georges and Gaston L. Vuitton (sitting on a Bed trunk) © LOUIS VUITTON ARCHIVES.
---

Museums, Exhibits, Artists, Milestones, Digital Art, Architecture, Photography,
Photographers, Special Photos, Special Reports, Featured Stories, Auctions, Art Fairs,
Anecdotes, Art Quiz, Education, Mythology, 3D Images, Last Week,

.
---
Royalville Communications, Inc
produces: