A Nick Cave survey with plenty of bells but no whistles
An installation view of "Nick Cave: Forothermore" at the Guggenheim Museum in New York, Nov. 17, 2022. A soundsuit from 2011 (second from right) illustrates how the suits evolved since their inception, into nearly autonomous beings. The artist's fantastical soundsuits come to the Guggenheim in a retrospective that is haunting but sedate without his performing rumble and clatter. (Jeenah Moon/The New York Times)

by Max Lakin
NEW YORK, NY
.-
In 1992, when Nick Cave made his first soundsuit, the ornate, full-body garments for which he is best known, it was his response to the beating of Rodney King by police officers. Cave has described this genesis as "an inflammatory response," a conduit of rage and helplessness channeled into something both theoretically wearable and visually striking. The first suit, with its prickly skin of twigs and branches, was a remedy both to racial profiling and bodily vulnerability — armor as protest. That the soundsuits' relevance has sustained, 30 years on, represents both a triumph for the 63-year-old artist and an unyielding nightmare. Cave has created nearly 500 examples. A version from 2011, on view in "Forothermore," an alternatingly beautiful and deeply mournful survey of Cave's work at the Guggenheim, illustrates how the soundsuits evolved since, into nearly autonomous beings. A hulking exoskeleton of clipped twigs sheathed onto a metal armature, it ap ...
More
The Best Photos of the Day
Rijksmuseum acquires monumental ebony cabinet inlaid with mother of pearl masterwork by Herman Doomer
A conversation with the women who curate New York's museums
Galerie Gmurzynska, New York presents "Marjorie Strider: Girls, Girls, Girls!"


Restauration Cabinet, Herman Doomer. Photo: Rijksmuseum/Kelly Schenk.



AMSTERDAM.- A rare cabinet by the Netherlands' leading cabinetmaker of the 17th century was recently acquired by the Rijksmuseum and goes on display from tomorrow in the Gallery of Honour. Made in 1632, this ebony cupboard with mother-of-pearl inlay by Herman Doomer was in private hands for several centuries. It is believed to be Doomer's first masterwork, and the only piece by him that can be accurately dated. This cabinet will be displayed alongside another by Doomer that has been in the Rijksmuseum collection since 1975. Both will remain on show in the Gallery of Honour until 14 March 2023. "This magnificent 17th-century ebony cabinet is a testament to how ahead of his time Herman Doomer was, and a monument to his abilities. We are most grateful to the players of the Friends Lottery and donors ... More



Ann Temkin of MoMA and Naomi Beckwith of the Guggenheim discuss how they're rethinking business as usual — and why they have reason to be hopeful. (Tonje Thilesen/The New York Times)



NEW YORK, NY.- At a time when museums are facing numerous challenges — including the pandemic fallout and demands for greater diversity — leaders at those institutions find themselves grappling with how to chart a new future without completely jettisoning the past. The Black Lives Matter movement prompted a crisis of conscience at cultural institutions all over the country, forcing them to look hard at how they develop their exhibitions, boards, staff and audiences. Employees have felt newly emboldened to call out racism, as well as pay inequity, and to insist on meaningful, measurable reforms. More recently, climate protesters have taken to defacing historic works of art to bring attention to environmental causes. Almost no institution has escaped ... More



Marjorie Strider, Girl with Red Rose, 2014, acrylic and polyurethane on board.



NEW YORK, NY.- Galerie Gmurzynska, New York presents Marjorie Strider: Girls, girls, girls!, a solo retrospective with works spanning from 1963-2014 of Marjorie Strider's most iconic motif – the female figure. "I'm basically a sculptor, interested in perception. My and other people's perception of space. I began my artistic life as a painter, became dissatisfied with the flat plane of the canvas and started building out into the room," Marjorie Strider, 1976. Marjorie Strider pushed the boundaries of painting - literally into further dimensions - with her three- dimensional reliefs of pin-up girls, a genre she invented and referred to as shaped canvas. Strider's play with flatness and volume lambasts the minimalist 'specific objects' of Donald Judd and Ellsworth Kelly and establishes a new figurative possibility for painting and sculpture. Following the monumental ... More
Museo Reina Sofia opens the first monographic exhibition in Europe of Margarita Azurdia
National Museum of Antiquities of the Netherlands purchases world-class collection of cameos
The Museum of Fine Arts, St. Petersburg (MFA) announces initiative to bring art to color blind visitors


Installation view.



MADRID.- Margarita Azurdia. Margarita Rita Rica Dinamita is the first monographic exhibition in Europe of Margarita Azurdia (Antigua Guatemala, 1931 - Guatemala City, 1998), one of the key Central American artists of the 20th century. This exhibition surveys her career by way of an extensive body of work that includes painting, sculpture, and non-object art, as well as artist's books made from drawings, collages, and poems. Taking a retrospective approach, the exhibition offers an insight into Guatemala's modern and contemporary art landscape and invites us to explore Margarita Azurdia's creative metamorphosis, as reflected in the many names under which she produced her works. Whether she was Margot Fanjul, Una Soledad, Margarita Rita Rica Dinamita, or Margarita Anastasia, her chameleonic nature caused her to be swallowed up in the Latin American art world, but it also allowed her to re-emerge later as one of the most interesting artists ... More



Hands inv.GS 2022 4.281 ©RMO.



LEIDEN.- The National Museum of Antiquities of the Netherlands (Rijksmuseum van Oudheden, RMO) has purchased a unique collection of cameos. It consists of 444 miniature artworks of exceptional quality, 'carved' from colourful types of stone. The pieces date from Classical Antiquity through to the Middle Ages and the 17th century. They are from the private collection of Derek Content, an American of Dutch origin. With this acquisition, the RMO's collection of 'carved stones' takes its place among the best collections in Europe. More than 300 of the cameos will henceforth be on display in the museum. The RMO bought almost the entire collection for over 5.4 million euros. Nearly the half of this sum was contributed by the Rembrandt Association, for the purchase of 42 masterpieces from the collection. Cameos are small stone ornaments decorated with a scene in relief, often in the finest detail. In ancient times, ... More



This initiative is one of many that demonstrates the MFA's commitment to expanding accessibility for museum audiences.



ST. PETERSBURG, FLA.- The Museum of Fine Arts, St. Petersburg (MFA) has announced its work with EnChroma, the creators of glasses for color blindness, to offer an enhanced art-viewing experience for visitors with Color Vision Deficiency (CVD). The MFA was the first museum in the Tampa Bay Area to prioritize color accessibility through this initiative, and EnChroma glasses have been available to all MFA visitors since March 2021. The MFA recently highlighted the technology during a free community event to promote International Color Blindness Awareness Month in September, offering free color blindness testing and welcoming participants to try the glasses and enter a giveaway to win their own free pair. EnChroma glasses at the museum are available in adult and children's sizes, as well as in fit-over glasses for those ... More
Hannah Weisman will be Executive Director of The Magnes Collection of Jewish Art and Life
Belvedere 21 opens an exhibition of works by Gerwald Rockenschaub
Mahmoud Saïd masterpiece tops Bonhams Middle Eastern sale


Hannah Weisman recently appointed Executive Director of The Magnes Collection of Jewish Art and Life of the Magnes Collection. Photo Credit: Ryuji Suzuki



BERKELEY, CALIF.- The Magnes Collection of Jewish Art and Life (The Magnes) and the Division of the Arts & Humanities at UC Berkeley have announced the appointment of Hannah Weisman as its first Executive Director. Weisman's appointment is the result of a landmark partnership between Taube Philanthropies, the Magnes Museum Foundation, and UC Berkeley. The first four years of the position are generously funded by a pledge from the Magnes Museum Foundation and Taube Philanthropies. Weisman is a museum professional who brings to The Magnes more than 20 years of experience in museum education and administration, including programming, fundraising, and inclusive community collaboration. She assumes the role on December 12, following outgoing Interim Faculty Director John Efron. ... More



© 2022 Gerwald Rockenschaub .



VIENNA.- Colorful surfaces, figures, and shapes flicker, jerk, and twitch in a dynamic but silent manner on the walls: at the Belvedere 21, Gerwald Rockenschaub has created a sensory overload that is both minimalist and complex and extremely precisely staged, requiring close observation. General Director Stella Rollig: "Rockenschaub's animations and their presentation at the Belvedere 21 demonstrate all the characteristics of his artistic production, including geometric abstraction, laconic reduction, flawless surfaces, art-historical references, pop appeal, and the use of the latest technologies. In keeping with his vision, Rockenschaub explores new forms of expression that challenge our perception and offer a singular visual experience." Gerwald Rockenschaub has been one of the most influential exponents of contemporary Austrian art for almost four decades. His multimedia work possesses a distinct style defined ... More



Mahmoud Saïd (Egyptian, 1897-1964), Paysage a Louxor. Sold for £453,900. Photo: Bonhams.



LONDON.- Paysage a Louxor, an important work by the father of Egyptian modern art, Mahmoud Saïd (Egypt, 1897-1964), sold for £453,900 at Bonhams' Modern and Contemporary Middle Eastern Art sale in New Bond Street on 23 November 2022. Offered directly from the artist's family, the work had been estimated at £160,000 - 200,000. The sale included the final instalment of The Baghdadiyat trilogy – a series of sales focussed on Iraqi works from prestigious private collections. All the 21 lots were sold making this section a 'white glove' sale. The sale overall made a total of £2,851,125. Paysage a Louxor embodied Saïd's quest to find the "internal light", which "imprisons" and "possesses" the viewer. His stylised rural scenes attempted to make plain the rich history embedded in Egypt's terrain. The Nile, a river that has become a symbol of the country's lineage, ... More
Major Gucci shake-up as designer steps down
SJ Auctioneers offers ideal gifts for the holidays in online-only auction, December 11th
Royal Scottish Academy has elected Gareth Fisher as President of the Royal Scottish Academy of Art and Architecture


Alessandro Michele, who became creative director at Gucci in 2015, in San Giorgio, Italy, Dec. 8, 2019. (Stephanie Gengotti/The New York Times)

by Elizabeth Paton and Vanessa Friedman



NEW YORK, NY.- In the largest creative shake-up of a fashion brand since the COVID-19 pandemic, Gucci announced Wednesday that Alessandro Michele, its creative director, was leaving the company. Michele, 49, a Rome-born designer who took over the top job in 2015, had been instrumental in transforming Gucci, seemingly overnight, from a fading symbol of noughties glamour into a purveyor of eccentric inclusivity that embodied the wider cultural conversation around gender, sexual identity and race. His new vision for the brand rippled through the fashion industry and made tens of billions of dollars for Kering, the French luxury conglomerate that also owns Saint Laurent and Balenciaga, among other brands. It was Gucci, however, that was responsible for the bulk of group profits, earning almost 10 billion euros ... More



Gorham jardiniere vase: Mixed metals Gorham sterling silver and copper jardiniere vase with 3-D strawberry plant and spider, 3 ½ inches tall, marked with 1882 date mark (est. $2,500-$5,000).




BROOKLYN, NY.- SJ Auctioneers will bid farewell to 2022 with an online-only auction that's packed with 271 lots of rare jewelry, paperweights, glass art vases, scarce tin collectible toys and trains, stunning silverware, gorgeous natural gem trees, designer scarves and more – many of the items ideal for holiday gift-giving – on Sunday, December 11th, starting at 4 pm Eastern time. The list of artists, designers and silversmiths reads like a who's who in the world of famous name brands: Cartier, Tiffany & Co., Dominick & Haff, Jose Hess, Emile Delaire, Gorham Movito, Reed & Barton, Watson, Wallace, WM B Kerr, Sackermann Hessenberg & Co., Italian Vetreria Murano, Lesney, Steuben, Baccarat, Edward Hald and Arte. Online bidding is via LiveAuctioneers.com and Bidsquare.com. A link to the catalog ... More



Professor Gareth Fisher PRSA: President of the Royal Scottish Academy of Art and Architecture.



EDINBURGH.- One of Scotland's most acclaimed contemporary artists has been elected President of the Royal Scottish Academy of Art and Architecture. Professor Gareth Fisher PRSA takes up the Academy's highest honorary position as it approaches its 200th anniversary. At an Assembly of Academicians Gareth Fisher PRSA was elected as President of the Royal Scottish Academy. Taking up office on 22 November 2022 as Joyce W. Cairns PPRSA completes her four-year presidency, Fisher comes to the RSA with a wealth of experience in the visual arts and art education. As an independent, membership-led organisation, the Royal Scottish Academy is governed by its 120 Academicians who are all preeminent in the disciplines of art and architecture. In 2026 the RSA will celebrate its 200th anniversary with an expansive programme of exhibitions and events highlighting both the historic and continued importance of the Academy ... More
Sotheby's Spotlight: Henry Howard-Sneyd on the Personal Collection of the Late Sir Joseph Hotung

Flashback
On a day like today, French painter Maurice Denis was born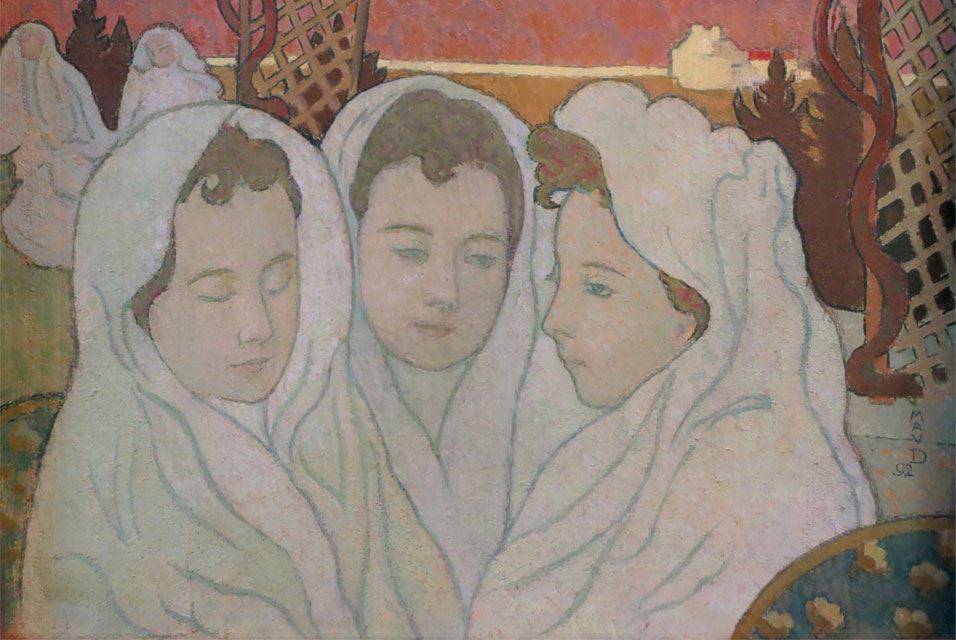 November 25, 1870. Maurice Denis (25 November 1870 - 13 November 1943) was a French painter, decorative artist and writer, who was an important figure in the transitional period between impressionism and modern art. He was associated with Les Nabis then the Symbolist movement, and then with a return to neo-classicism. His theories contributed to the foundations of cubism, fauvism, and abstract art. Following the First World War, he founded the Ateliers d'Art Sacré (Workshops of Sacred Art), decorated the interiors of churches, and worked for a revival of religious art. In this image: Triple Portrait of Marthe (1892)
---

Museums, Exhibits, Artists, Milestones, Digital Art, Architecture, Photography,
Photographers, Special Photos, Special Reports, Featured Stories, Auctions, Art Fairs,
Anecdotes, Art Quiz, Education, Mythology, 3D Images, Last Week,

.
---
Royalville Communications, Inc
produces: