A painting or an NFT of it: Which will be more valuable?
Chris Ciobanica in Paris on July 22, 2021. Ciobanica is a cryptocurrency investor who began buying NFTs last summer. Andrea Mantovani/The New York Times.

by Paul Sullivan
NEW YORK
(NYT NEWS SERVICE)
.-
British artist Damien Hirst, best known for putting a shark in a tank of formaldehyde, has gotten on the NFT bandwagon. NFTs, or nonfungible tokens, rely on blockchain technology to designate an official copy of a piece of digital media that would otherwise be cheap or free. Hirst is selling a collection of 10,000 NFTs, each of which corresponds to a physical dot painting, for $2,000 each. A year from now, the collectors of the series, called "The Currency," will have to decide whether to keep the NFT or the painting; whichever one they do not choose will be destroyed. Is it better to keep the NFT or the physical artwork? Which will be the more valuable investment? It is hard to know. Certain NFTs are fetching large sums of money, but not all of them are. As with any new art form, what happens over the next few years is hard to predict. And anyone investing in NFTs with an eye on earning investmentlike returns needs to understand the risks. "It's such new territory, ...
More
The Best Photos of the Day
Jewish burial records among items seized by U.S. authorities
Ed Atkins and his mum are starring in a museum show
Frist Art Museum opens major Kara Walker exhibition


A bound memorial register of Jewish burials in the city between 1836 and 1899 was one of 17 documents offered for, and then withdrawn from sale, at Kestenbaum & Co., a Brooklyn auction house that specializes in Judaica.

by Colin Moynihan



NEW YORK (NYT NEWS SERVICE).- A historic register of Jewish burial records from the modern-day Romanian city of Cluj-Napoca is among artifacts that have been recovered as part of a seizure by authorities in New York who plan to return the objects to their communities of origin. On Thursday, federal prosecutors in Brooklyn announced the seizure of 17 Jewish funeral scrolls, manuscripts and other records, which they describe as having been taken from Jewish communities in Romania, Hungary, Ukraine and Slovakia during World War II. "Absent any provenance or documentation of conveyance from any survivors of those communities, there is no legitimate means by which the manuscripts and scrolls could have been imported into the United ... More



Ed Atkins at work in a Berlin hotel room, recording a phone call with his mother while rigged with a GoPro camera. His motions animate the avatar of "The Worm." Ed Atkins via The New York Times.

by Jason Farago



NEW YORK (NYT NEWS SERVICE).- Of all the strange, attenuated long-distance calls of the past 16 months, British artist Ed Atkins' check-in with his mother surely wins a prize for pandemic alienation. It was August, during a brief relaxation of European travel restrictions, and Atkins had traveled to Berlin from his home in Copenhagen, Denmark. He had spent the first half of 2020 thinking about how to combine sophisticated computer graphics with free-flowing conversation — and now, in Germany, he was trying to speak normally while sensors recorded his every gesture and twitch. His other artistic collaborator was his mother, Rosemary , who was on the other end of the phone line. "We were in a wonderful, sort of decrepit hotel," Atkins recalls. He was sitting alone while a team from Mimic, ... More



Installation view. Image courtesy of Frist Art Museum, Nashville. Photo: John Schweikert.



NASHVILLE, TN.- The Frist Art Museum presents Kara Walker: Cut to the Quick, From the Collections of Jordan D. Schnitzer and His Family Foundation, an exhibition that offers a broad overview of the artist's career and explores racial and gender exploitation, abuse, and inequity. Co-organized by Frist Art Museum executive director and CEO Dr. Susan H. Edwards and Nashville-based poet Ciona Rouse, Cut to the Quick is on view from July 23 through October 10, 2021. A leading artist of her generation, Kara Walker (b. 1969) works in a diverse range of media, including prints, drawings, paintings, sculpture, film, and the large-scale silhouette cutouts for which she is perhaps most recognized. Her powerful and provocative images employ contradictions to critique the painful legacies of slavery, sexism, violence, imperialism, and other power structures, including those in the history and hierarchies of art and contemporary culture. Through more ... More
Splash of colour: UK beach huts brighten pandemic gloom
Suzanne Cotter appointed new Director of the Museum of Contemporary Art Australia
White House on defensive over Hunter Biden art sales


People sit outside beach huts on the promenade at Walton-on-the-Naze, in southeast England on July 15, 2021. Justin TALLIS / AFP.

by Anna Malpas



WALTON-ON-THE-NAZE (AFP).- In her yellow-and-white striped beach hut, Melanie Whitehead boils the kettle for a cup of tea and sits gazing out over the North Sea. Brightly painted wooden huts like hers line England's coastline and have enjoyed a boom during the pandemic, as people rediscover seaside breaks close to home. In the resort of Walton-on-the-Naze in Essex, eastern England, beach huts run along the shore for miles, in some places rising up in five tiers. Huts in the area have sold for over £80,000 ($111,000), said Barry Hayes of Boydens estate agent, based in the adjoining resort of Frinton-on-Sea. That amounts to nearly a third of the £255,000 average house price in the UK, but it's far from a record: a hut in Dorset on the Channel coast sold for £330,000 this month. Despite such astronomical prices, the huts are basic: most lack mains water or electricity, ... More



Suzanne Cotter, ©Photo: Marion Dessard / Mudam Luxembourg.



SYDNEY.- The Board of the Museum of Contemporary Art Australia announced the appointment of Suzanne Cotter as the Museum's new Director. An internationally respected museum director, Cotter will commence her new role in early January 2022, taking over the reins from the MCA's longstanding Director, Elizabeth Ann Macgregor OBE. Suzanne Cotter is an Australian with over thirty years' international experience. Currently the Director of the Musée d'Art Moderne Grand-Duc Jean (MUDAM), Luxembourg, her distinguished career includes roles as Director of the Museum of Contemporary Art of the Serralves Foundation in Porto (Portugal), Curator for the Solomon R. Guggenheim Foundation New York, and Deputy Director and Curator at Large of Modern Art Oxford (UK). Cotter is a leading curator and scholar in international contemporary art. She has been responsible for an impressive roster of exhibitions and commissions with many of today's ... More



Hunter Biden, the president's son, at his art studio in Los Angeles, Nov. 1, 2019. Biden will be able to sell his paintings through a New York dealer, who will not disclose the buyers or the prices. Elizabeth Weinberg/The New York Times.



WASHINGTON (AFP).- The White House assured Friday that necessary ethical precautions would be taken around any exhibitions and sale of artwork by President Joe Biden's son, whose personal life and professional career have been peppered with controversy. Asked by reporters about upcoming exhibitions of Hunter Biden's artwork in New York's Georges Berges Gallery, White House Press Secretary Jen Psaki said the president's son would be "attending gallery events." The discussions about sales "will be happening with the gallerist" and not Hunter Biden, she said. "That is different than meeting with prospective buyers." Psaki had announced July 9 that a system had been established allowing Hunter Biden to practice his profession "within appropriate safeguards," including the confidentiality of any transactions and no contact with buyers. At exhibits ... More
Salzburg festival hall, a world temple in the sound of music
Vladimir Menshov, surprise Russian Oscar winner, dies at 81
Fans honour Amy Winehouse in London decade after her death


President of the Salzburg Festival Helga Rabl-Stadler poses in the Large Festival Hall (Grosses Festpielhaus) of the Salzburg Festival in Salzburg, Austria, on June 23, 2021. ALEX HALADA / AFP.

by Blaise Gauquelin



SALZBURG (AFP).- Many of opera's most celebrated voices have soared and resonated in its highly acclaimed acoustics, yet the creation of the historic auditorium at the Salzburg Festival was a tall order 60 years ago. Only just free of the post-World War II occupying forces that left in 1955 and still in ruins, Austria set its sights firmly on culture, turning former episcopal stables into the Large Festival Hall ("Grosses Festspielhaus") as a symbol of renewal. Since then, the stage has seen the likes of Placido Domingo and Luciano Pavarotti but festival president Helga Rabl-Stadler said: "It's a pure miracle however that this hall saw the light of day." On the sidelines of rehearsals for "Don Giovanni" topping the line-up at the prestigious annual summer event this year, Rabl-Stadler said that the Austrian state had managed to stump up "an enormous sum" in 1956 to get the flagship ... More



"Moscow Does Not Believe in Tears," a soapy, melodramatic crowd-pleaser, attracted some 90 million moviegoers in the Soviet Union even after it had been broadcast on television, not long after it was released theatrically in 1980.

by Sam Roberts



NEW YORK (NYT NEWS SERVICE).- Vladimir Menshov, the prolific Soviet actor and director whose film "Moscow Does Not Believe in Tears" won the Academy Award in 1980 for best foreign-language film but was panned by many American critics, died on July 5 in a hospital in Moscow. He was 81. Mosfilm, the Russian film studio and production company, said the cause was complications of COVID-19. "Moscow Does Not Believe in Tears," a soapy, melodramatic crowd-pleaser, attracted some 90 million moviegoers in the Soviet Union even after it had been broadcast on television, not long after it was released theatrically in 1980. Its theme song, "Alexandra," written by Sergey Nikitin and Tatyana Nikitina, became one of the country's most beloved pieces of movie music. Even so, when "Moscow," only the second film Menshov had directed, won ... More



Fans leave kisses and lipstick comments at the entrance gate to the former home of British singer Amy Winehouse in north London, on July 23, 2021 to mark the 10th anniversary of her death. Tolga Akmen / AFP.



LONDON (AFP).- Fans remembered British singer Amy Winehouse on Friday, paying tribute outside her former home in the London borough of Camden on the 10th anniversary of her death. Well-wishers made the pilgrimage to the north London property and created a shrine replete with messages, flowers, balloons and pictures as Winehouse's songs played in the background. "I'll never grow tired of listening to her music," said pensioner Alan Trivette, 66, who was wearing a shirt emblazoned with Winehouse's face and the words "Queen of Camden". "She's the most talented singer-songwriter of her generation. Every time I hear her voice, it sends a tingle down my spine," he said. Followers also paid their respects at a nearby bronze statue of Winehouse, with a red rose placed at its feet in the soul singer's trademark beehive hair style to mark the anniversary of her death at her Camden home in 2011. The star's untimely death from alcohol poisoning ... More
Meadows Museum announces appointment of two curatorial fellows
Maureen Paley opens a solo exhibition of works by Sarah Jones
Belvedere 21 presents 'Lois Weinberger: Basics'


Miranda Saylor. Photo by Durston Saylor.



DALLAS, TX.- Today the Meadows Museum, SMU, announced its 2021 curatorial fellowship appointments. Clarisse Fava-Piz, who will begin her term with a doctorate in art history from the University of Pittsburgh, specializes in 19th-century European art and will serve as the Mellon Curatorial Fellow for a period of two years. Miranda Saylor, a doctoral candidate at UCLA who has focused her research on early modern Spain, will join the institution for a one-year term as the Center for Spain in America (CSA) Curatorial Fellow. The two scholars begin their terms in September 2021. The fellowships provide scholars at different stages of their careers with the opportunity to develop new scholarship in Spanish art and gain invaluable professional experience in the Meadows Museum's curatorial department. Fellows are selected through a multitiered review process led by the museum's director and leadership from the curatorial and education ... More



Sarah Jones, Mimosa (Actor) (I), 2021. Framed c-type print mounted on aluminium, 152 x 122 cm © Sarah Jones, courtesy Maureen Paley, London.



LONDON.- Maureen Paley is presenting the sixth solo exhibition by Sarah Jones and her first in the gallery's new location at 60 Three Colts Lane. The new work by Sarah Jones builds upon her distinct photographic language that dissolves the hazy glare of day into the weight of a photographic night, condensing a recognizable sense of location with the photographer's studio. Her subjects and objects are chosen as much for their illusionary surfaces as for their metaphysical and metaphorical potential. The imagery in her latest work references Cocteau's 1930 film Le Sang d'un Poète (The Blood of a Poet), the first film in his Orphic trilogy, in which the artist-protagonist enters a parallel dreamscape of hallucinogenic allegories hidden behind doors, screens and windows, or found in fluid mirrors. By merging three-dimensionality and transparency into the two- ... More



Lois Weinberger, Sculpture La Gomera, 2020. Photo: Johannes Stoll / Belvedere, Vienna. Courtesy Studio Lois Weinberger and Galerie Krinzinger, Vienna.



VIENNA.- Lois Weinberger was a pioneer of a different, artistic ecology. Describing his artistic practice as poetic field work, he emerged in the 1990s as a leading voice in the discourse around the relationship between nature and culture. In Basics, the Belvedere 21 presents the last exhibition for which Weinberger compiled a selection of works and writings until shortly before his unexpected death in April 2020. Over one hundred works created between the 1970s and 2020 are on display inside the Belvedere 21 and on the museum's grounds. Lois Weinberger (1947, Stams/Tyrol–2020, Vienna) was an early and visionary critic of the dislocations of the Anthropocene—the era defined by humanity's profound impact on Earth. His oeuvre grapples with existential questions concerning the relationship between humans and their world: What constitutes our being? ... More
Break for Art | Cylindrical vessel with ball game scene | #DMAatHome

Flashback
On a day like today, painter and illustrator Alphonse Mucha was born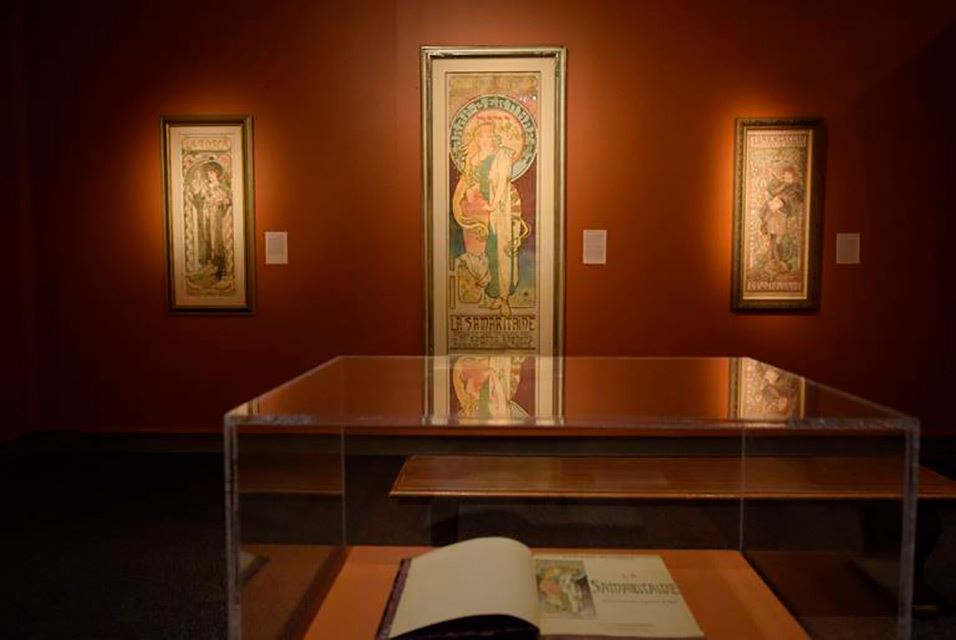 July 24, 1860. Alfons Maria Mucha (24 July 1860 - 14 July 1939), known internationally as Alphonse Mucha, was a Czech painter, illustrator and graphic artist, living in Paris during the Art Nouveau period, best known for his distinctly stylized and decorative theatrical posters, particularly those of Sarah Bernhardt. He produced illustrations, advertisements, decorative panels, and designs, which became among the best-known images of the period.
---

Museums, Exhibits, Artists, Milestones, Digital Art, Architecture, Photography,
Photographers, Special Photos, Special Reports, Featured Stories, Auctions, Art Fairs,
Anecdotes, Art Quiz, Education, Mythology, 3D Images, Last Week,

.
---
Royalville Communications, Inc
produces: