'Wonderchicken' fossil from the age of dinosaurs reveals origin of modern birds
A 3D-printed, life-size model of the fossil skull of Asteriornis, held by lead author of the new study Daniel Field of the Unversity of Cambridge. DANIEL J. FIELD, UNIVERSITY OF CAMBRIDGE.

by Sarah Collins
CAMBRIDGE
.-
The oldest fossil of a modern bird yet found, dating from the age of dinosaurs, has been identified by an international team of palaeontologists. The spectacular fossil, affectionately nicknamed the 'Wonderchicken', includes a nearly complete skull, hidden inside nondescript pieces of rock, and dates from less than one million years before the asteroid impact which eliminated all large dinosaurs. Writing in the journal Nature, the team, led by the
University of Cambridge
, believe the new fossil helps clarify why birds survived the mass extinction event at the end of the Cretaceous period, while the giant dinosaurs did not. Detailed analysis of the skull shows that it combines many features common to modern chicken- and duck-like birds, suggesting that the 'Wonderchicken' is close to the last common ancestor of modern chickens and ducks. The fossil was found in a limestone quarry near the Belgian-Dutch border, mak ...
More
The Best Photos of the Day
Gallery owner Paul Kasmin dies at age 60
'Marge Rector: Color and Non-objective Abstractions From 1970 to 2014' at David Richard Gallery
'Asterix' co-creator Albert Uderzo dies aged 92


Paul Kasmin. Photo: Cari Vuong.



NEW YORK, NY.- It is with great sadness that Kasmin Gallery announced the loss of Paul Kasmin (1960–2020). Paul passed away early yesterday morning, March 23, after a long period of illness. Opening his first New York gallery in 1989, Paul devoted himself to a life celebrating art and artists. Those of us who have worked with Paul learned from his extraordinary eye for talent, his delight in the work of the artists he loved, and his rare sense of openness and generosity. Paul took great pleasure in overseeing all aspects of the gallery until the very end, and it was his sincere wish, and in his plans, that his vision for Kasmin continue as ambitiously as ever. In the last few years, Paul continued his lifelong passion for photography with renewed enthusiasm. Taking pictures of his family, friends, and the gallery artists and staff, he built a collective portrait of his artistic community. We invite you to view these works on our website, ... More



Marge Rector, Abstract 1982-85, 1982. Acrylic on canvas, 50.25 x 46" © Marge Rector Estate and Rector 1990 Trust, Courtesy David Richard Gallery.



NEW YORK, NY.- David Richard Gallery is presenting its second solo exhibition of paintings by Marge Rector (1929 – 2019) and her first solo exhibition in New York City. The current presentation, If It Makes You Happy, focuses on three things that made Rector very happy: painting, non-objective abstraction and color. This exhibition includes 11 paintings that span Rector's career from 1970 through 2014 and focuses on her use of color, a wide range of compositional approaches, and diverse methods of applying and moving pigment across her canvases. The exhibition will be on view from March 25 through April 17, 2020 at David Richard Gallery located at 211 East 121 Street, New York, New York 10035, P: 212-882-1705. Due to the concern for everyone's personal safety and the well-being of our community, there will not ... More



Albert Uderzo, French author and illustrator who launched the Asterix comics strip character in 1959 with author Rene Goscinny, poses with the statues of his characters. STEPHANE DE SAKUTIN / AFP.


by Alain Jean-Robert and Joseph Schmid



PARIS (AFP).- Albert Uderzo, the playful French illustrator behind the magic potion-swigging comic book hero Asterix the Gaul whose adventures fighting the Roman legions have enthralled readers of all ages around the world, died overnight aged 92, his family said Tuesday. "Albert Uderzo died in his sleep at his home in Neuilly, after a heart attack that was not linked to the coronavirus. He had been extremely tired for the past several weeks," his son-in-law Bernard de Choisy told AFP. News of his death prompted an emotional outpouring from the generations of fans who have followed the adventures of Asterix and his robust sidekick Obelix in books translated ... More
Wolf Kahn, who painted vibrant landscapes, is dead at 92
Nailya Alexander Gallery opens the first exhibition in the U.S. devoted solely to Nomenklatura of Signs
Lévy Gorvy opens a survey of paintings by artist Tu Hongtao


Artist Wolf Kahn in his studio. Christopher Burke via The New York Times.

by Neil Genzlinger



NEW YORK (NYT NEWS SERVICE).- Wolf Kahn, a landscape painter who applied a vibrant, adventurous palette to studies of tangled forests and fog-shrouded mornings, quiet brooks and solitary barns, died March 15 at his home in Manhattan. He was 92. Diana Urbaska, his longtime studio manager, said the cause was congestive heart failure. Kahn, who divided his time between New York and Brattleboro, Vermont, was part of a family of artists. His mother-in-law, who died in 1971, was the painter Alice Trumbull Mason, and his wife was Emily Mason, whose abstract paintings made striking use of color. Emily Mason, whom he married in 1957, died Dec. 10. Kahn, who emigrated from Germany as a child, studied with the influential artist and teacher Hans Hofmann, who had himself emigrated from Germany, and in 1952 he ... More



Alexey Titarenko, Kino, 1988. Vintage gelatin silver print, 7 x 7 in. (17.8 x 17.8 cm), 13 3/5 x 13 2/5 in. (34.5 x 35 cm). Signed and dated by the artist on verso.



NEW YORK, NY.- We live in unprecedented times, in a state of war with an invisible enemy. In such extreme situations, it is more important than ever to stay calm and united. Our exhibition Alexey Titarenko: Nomenklatura of Signs, which was scheduled to open 25 March, is now available online. The series Nomenklatura of Signs ridiculed the absurdity of Soviet life, and anticipated the collapse of both the Berlin Wall and the USSR. Titarenko's subsequent series, City of Shadows, cast light on the deprivation and suffering that ensued. Just as those dark periods of human history passed, we know that the uncertainty and crisis that we are experiencing today will also pass. Art is essential to our life — it nourishes and elevates our souls. We are committed to continuing our work and to supporting our artists. Over thirty years have passed since Titarenko's series Nomenklatura ... More



Tu Hongtao, 2019.



HONG KONG.- Following last month's announcement of its global representation of Tu Hongtao, Lévy Gorvy will present a solo exhibition of key paintings from the past decade and a half. On view from 25 March through 30 May, Tu Hongtao will survey the development of his practice from Tu's sardonic early cityscapes to his recent synthesis of Chinese and Western painting traditions. Spanning the entirety of Lévy Gorvy's Hong Kong gallery on the ground floor of St. George's Building in Central, the exhibition includes select paintings loaned by museums as well as by important private collections from mainland China and Hong Kong. From his earlier urban landscapes that vent contemporary feelings of desire, tension, and confrontation, to the expressive abstractions he is painting today, Tu's intricate works offer reinterpretations of the abstract landscape of time and space. He has described the relationship between the act of ... More
The Met launches #CongressSaveCulture campaign to advocate for federal relief funds for cultural sector
American playwright Terrence McNally dies of coronavirus complications
Print Aid launches: A collaborative project to support artists during the COVID-19 pandemic


A handful of people outside the Metropolitan Museum of Art in New York, closed due to the coronavirus pandemic, on Sunday, March 22, 2020. Mayor Bill de Blasio gave a dire warning about New York City's need for medical equipment on Monday morning, saying that if hospitals did not get more ventilators this week, the number of deaths would spike. Victor J. Blue/The New York Times.



NEW YORK, NY.- The Metropolitan Museum of Art announced today #CongressSaveCulture, a campaign to support broader efforts advocating for financial relief for non-profit arts organizations to be included in the nearly $2 trillion stimulus package currently being debated in Congress. Specifically, The Met is calling on the federal government to include at least $4 billion in government support for financially at-risk non-profit arts organizations and the implementation of a universal charitable tax deduction to incentivize giving to these institutions. The current relief package is expected to include funding for many industries ... More



In this file photo taken on February 2, 2019, Terrence McNally of the television show "Terrence McNally: Every Act of Life" speaks during the 2019 Winter Television Critics Association Press Tour at The Langham Huntington in Pasadena. Frederick M. Brown / GETTY IMAGES NORTH AMERICA / AFP.



NEW YORK (AFP).- Terrence McNally, a revered American playwright, librettist and screenwriter whose long career earned him four Tony awards and an Emmy, died Tuesday following coronavirus complications. He was 81 years old. McNally's publicist said in a statement sent to AFP that the esteemed artist was a lung cancer survivor who lived with chronic obstructive pulmonary disease. He died while hospitalized in Florida. An openly gay writer whose subject matter included love, homophobia and AIDS, McNally's notable plays included "Love! Valour! Compassion!" and "Master Class", along with the musicals "Kiss of the Spider Woman" and "Ragtime." Tributes quickly poured in from Broadway, with Lin-Manuel Miranda of "Hamilton" ... More



Kim Dorland, Symptom, 2020.



NEW YORK, NY.- Pegasus Prints + Sidel & McElwreath in partnership with Exhibition A, will be publishing an original series, entitled Print Aid, of limited-edition silkscreen prints in response to the distress caused by COVID-19. This is a collective effort to spread creativity and assistance throughout the art community. Each print will support an artist whose practice has been affected by the pandemic, with a portion of proceeds going to The Artist's Fellowship, Inc, a non-profit organization that financially assists professional visual artists and their families in times of emergency, disability or bereavement. Print Aid is curated by Emily McElwreath and Evan Pepper of art consultancy Sidel & McElwreath. The initial suite of prints will be by artists Caris Reid, Kim Dorland, and Jennifer Caviola. "We wanted to bring artists together in support of our creative community during this time," says McElwreath. "The three artists chosen to launch Print Aid were selected based on their rela ... More
Michael Broadbent, who put wine on the auction block, dies at 92
The great empty
Christie's announces wine & spirits online sale


In an undated image provided via Christie's, Michael Broadbent tastes wine. Via Christie's via The New York Times.

by Eric Asimov



NEW YORK (NYT NEWS SERVICE).- Michael Broadbent, a leading English wine authority who codified the practice of tasting and describing wine while, as head of Christie's wine department for many years, virtually created the modern wine auction, died on Tuesday in Berkshire, England. He was 92. His son, Bartholomew Broadbent, confirmed the death. Broadbent was a prolific author and wine columnist whose most important works, "The Pocket Guide to Wine Tasting," first published in 1968, and "The Great Vintage Wine Book" (1980), have appeared in many editions and languages. "Tasting" was an effort to organize and articulate the various components that go into tasting, describing and judging a wine. Describing wines has been a pastime as far back as Pliny the Elder, but it was often done haphazardly, ... More



An empty street during rush hour in the city of London, March 18, 2020. Andrew Testa/The New York Times.

by Michael Kimmelman



NEW YORK (NYT NEWS SERVICE).- During the 1950s, New York's Museum of Modern Art organized a famous photo exhibition called "The Family of Man." In the wake of a world war, the show, chockablock with pictures of people, celebrated humanity's cacophony, resilience and common bond. Today a different global calamity has made scarcity the necessary condition of humanity's survival. Cafes along the Navigli in Milan hunker behind shutters along with the Milanese who used to sip aperos beside the canal. New York's Times Square is a ghost town, as are the City of London and the Place de la Concorde in Paris during what used to be the morning rush. Photographs all tell a similar story: a temple in Indonesia; Haneda Airport in Tokyo; the Americana Diner in New Jersey. Emptiness proliferates like the virus. The New York Times recently sent dozens of ... More



LOT 227 David Arthur, Old Vine Cabernet Sauvignon 2012. © Christie's Images Ltd 2020.



NEW YORK, NY.- The Christie's Wine & Spirits Department announced Christie's Wine & Spirits Online, open for bidding March 24 to April 7, presenting a superlative offering of California's finest wines alongside other international rarities. The online only auction begins with an impressive vertical of Harlan estate in bottle and magnum spanning celebrated vintages from 1991 to 2014. Also featured are some of the most treasured California producers, including Promontory, Opus One, Insignia, Dominus, Ridge, Bond, Araujo, Spottswoode, among many others. Additionally, there is a section of lots from Premiere Napa Valley Auction showcasing special bottlings usually only offered to top tier trade. Premiere Napa Valley offers limited edition, small production (60-240 bottles produced), one-of-a-kind cuvées from top tier California producers. The winemakers utilize this special opportunity to be highly creative and selective with these bot ... More
Frank's Files At Home, Featuring Jewels Online
Flashback
On a day like today, French sculptor and painter Daniel Buren was born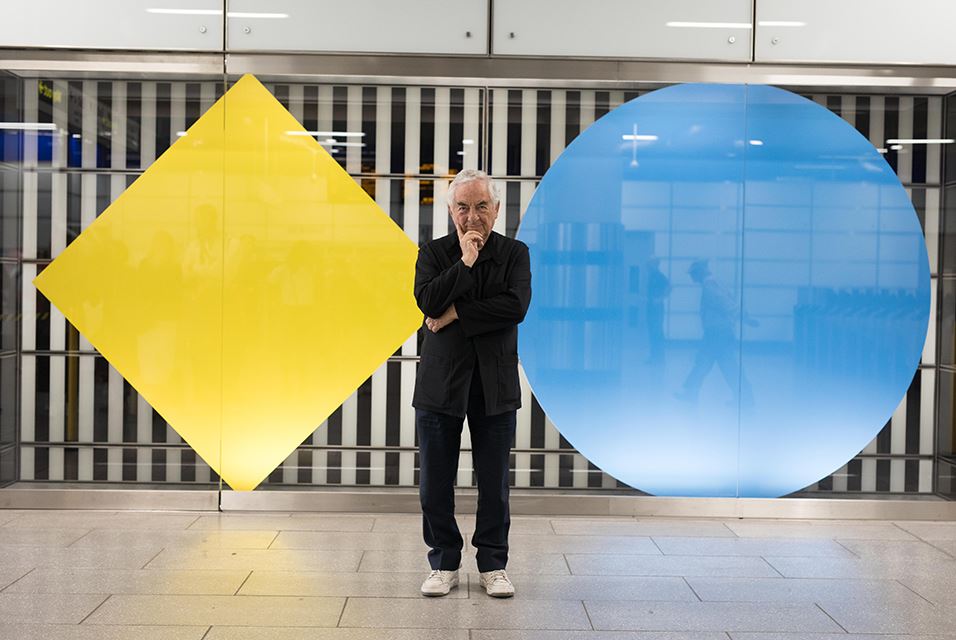 March 25, 1938. Daniel Buren (born 25 March 1938) is a French conceptual artist. Sometimes classified as a Minimalist, Buren is known best for using regular, contrasting colored stripes in an effort to integrate visual surface and architectural space, notably on historical, landmark architecture. In this image: Daniel Buren unveils permanent artwork 'Diamonds and Circles' works 'in situ' commissioned by Art on the Underground at Tottenham Court Road Station, London. Photo: David Parry/PA Wire.
---

Museums, Exhibits, Artists, Milestones, Digital Art, Architecture, Photography,
Photographers, Special Photos, Special Reports, Featured Stories, Auctions, Art Fairs,
Anecdotes, Art Quiz, Education, Mythology, 3D Images, Last Week,

.
---
Royalville Communications, Inc
produces: