Welcome to planet surrealism
From left, works from Antonio Berni, Max Ernst, Yves Tanguy, Rita Kernn-Larsen, Hernando Ruiz Ocampo, Tarsila do Amaral, Dorothea Tanning and Richard Oelze in the "Surrealism Beyond Borders" exhibition at the Metropolitan Museum of Art in New York, Oct. 11, 2021. The show features artists who redrew the map of the 20th century's most provocative art movement. Jeenah Moon/The New York Times.

by Jason Farago
NEW YORK, NY
.-
In dreams, you can go anywhere; in dreams, no place is too far. "Surrealism Beyond Borders," a round-the-world tour at the Metropolitan Museum of Art, is a map of another globe: a planet redrawn by artist-mapmakers, where old geographic assumptions no longer make sense. Melting watches, men in bowler hats? You can keep them. In this show, the classics of surrealism — that lobster telephone! — cede center stage to desires and nightmares from Haiti and Puerto Rico, Japan and Korea, Egypt and Mozambique. In these distorted reflections, we see surrealism as an all-pervasive approach to artistic freedom, where Europe has no monopoly on your desires. Six years in the making, "Surrealism Beyond Borders" has been organized by Stephanie D'Alessandro at the Met and Matthew Gale at Tate Modern in London, to which the show will travel next year. As in recent shows such as "International Pop," at the Walker Art Center in Minneapolis, or "Postwar, ...
More
The Best Photos of the Day
Beauford Delaney: Portraits glowing with inner light
Georgia Museum of Art opens "Collective Impressions: Modern Native American Printmakers"
Christie's offers van Gogh's 'Mueles de Blé' - Poised to set an auction record for a work on paper by the artist


A 1962 self-portrait by Beauford Delaney. Estate of Beauford Delaney and Derek L. Spratley; Michael Rosenfeld Gallery LLC via The New York Times.

by Roberta Smith



NEW YORK, NY.- The art of American painter Beauford Delaney, who died more than four decades ago, deserves sustained attention from a major New York museum. That it has not already happened is breathtaking. In a moment when the histories of art, and especially Black American art, are expanding in all directions, Delaney seems to be hiding in plain sight. His work is one of the signal achievements of 20th-century American art. New York, his home for 24 years, is where most of his development took place. Delaney's art, like that of Philip Guston and Stuart Davis, spans several styles and is connected by robust impasto surfaces and startling colors that give his best pictures a visionary buzz. Starting in the late 1930s, he developed a semiabstract version of American scene painting (influenced by Davis, a friend). Then in the early '40s came a distinctive portrait style. (James Baldwin — first his ... More



Oscar Howe (Yanktonai Dakota, 1915 – 1983), "Sioux Battle," ca. 1948. Lithograph, 17 3/4 × 12 1/2 inches. Fred Jones Jr. Museum of Art, The University of Oklahoma Norman; Gift of The Charles H. and Miriam S. Hogan Collection, 2004, 2004.018.044.022.



ATHENS, GA.- The Georgia Museum of Art at the University of Georgia has organized the exhibition "Collective Impressions: Modern Native American Printmakers," on view October 16, 2021, to January 30, 2022, to examine the individuals, communities and institutions central to elevating printmaking as a practice among Indigenous artists. First embraced by Native American artists in the mid-20th century, printmaking offered them a means of modernist experimentation, communal engagement and social commentary. The exhibition provides a chronological overview of Native American printmaking, grouping objects around concepts of ritual, gender, humor, memory, power, dispossession and exile. Choctaw/Chickasaw art historian heather ahtone notes that Native printmakers took up paper — the material that Western legal culture used to strip tribes of rights, lands and languages — to sustain Native stories and renounce ... More



Vincent Van Gogh (1853-1890), Meules de blé (detail). Gouache, watercolor, pen and brush and black ink over pencil on paper, 19 x 23.3/4 in. (48.5 x 60.4 cm.) Executed in Arles in June 1888. Estimate: $20,000,000-30,000,000. © Christie's Images Ltd 2021.



NEW YORK, NY.- Christie's announced Vincent van Gogh's watercolor Meules de blé will be offered in the dedicated sale The Cox Collection: The Story of Impressionism, one of the greatest American collections of Impressionist and Post-Impressionist Art to ever appear on the market. Christie's is privileged to have researched the history of this work and facilitated a settlement agreement between the current owner and the heir of Max Meirowsky as well as the heirs of Alexandrine de Rothschild, illustrating the complexity of restitution cases and losses due to Nazi persecution. Estimated at $20,000,000-30,000,000, Meules de blé is poised to set a new world auction record for a work on paper by van Gogh. The watercolor will be on view at Christie's London 17-21 October, marking the first time that it has been publicly exhibited since the landmark 1905 ... More
The Morgan presents 'Imperial Splendor: The Art of the Book in the Holy Roman Empire'
Kasmin opens an exhibition of new work by painter Liam Everett
Exhibition presents some 650 works from the past 28 years of Kara Walker's career


"Heiningen Gospels" (fragment), in Latin, Germany, Hamersleben, ca. 1180–1200. Morgan Library & Museum, MS M.565, fols. 13v–14r, Purchased by J. Pierpont Morgan, 1905. The Morgan Library & Museum, MS M.565, fol. 13v. Photography by Graham S. Haber.



NEW YORK, NY.- The Morgan Library & Museum s presenting Imperial Splendor: The Art of the Book in the Holy Roman Empire, ca. 800–1500, running through January 23, 2022. The exhibition offers a sweeping overview of manuscript production in the Holy Roman Empire, one of the most impressive chapters in the history of medieval art. Rarely seen by the general public, these illuminated manuscripts are among the most luxurious works of art from the Middle Ages. Designed to edify, to entertain, and above all to embody the sacred, these manuscripts and their spectacular illuminations retain the ability to dazzle and inspire modern audiences just as they did those of the Middle Ages. Encompassing at various times parts of modern-day Germany, Switzerland, Austria, the Czech ... More



Liam Everett, Untitled (water names), 2021 Ink, oil, sand on primed linen, 79 x 60 inches, 200.7 x 152.4 cm. Courtesy of the artist and Kasmin, New York.



NEW YORK, NY.- Kasmin is presenting an exhibition of new work by painter Liam Everett, who has joined the gallery's roster of artists. On meeting again will be on view until November 13, 2021, at 297 Tenth Avenue and 514 West 28th Street, bringing together 11 large-scale works that demonstrate the artist's distinctive abstract mixed-media painting. Everett's experiments in the development of a self-sustaining studio practice see him employing a process of steadfast and repetitious application and erasure, using non-traditional methods to apply—and caustic substances to remove—painstakingly developed layers of paint and composition. A catalogue, featuring a conversation with Everett, will be published in tandem with the exhibition. The artist's recent relocation back to Northern California has proved a catalyst for Everett's engagement with ... More



Kara Walker exhibition view © Schirn Kunsthalle Frankfurt 2021. Photo: Norbert Miguletz.



FRANKFURT.- With her wall-sized silhouette cutouts and large-scale sculptures, Kara Walker achieved world-wide renown. In a provocative and impressive way, the American artist interrogates racism, sexism, and other forms of oppression and violence in her works. At the Schirn Kunsthalle Frankurt, Kara Walker now presents her archive of drawings and permits extensive insights into her artistic cosmos for the very first time. The exhibition shows some 650 works from the past 28 years, along with a selection of the artist's films. Dr. Philipp Demandt, Director of the Schirn Kunsthalle Frankfurt, emphasizes: "We greatly value Kara Walker for her trust in opening up her extensive archive of drawings to our visitors at the Schirn. It is an extraordinary opportunity to obtain unprecedented insight into the wide range of works by this great artist. Throughout her career, Kara Walker has posed burning, uncomfortable questions and ... More
Student 'Town House' named UK's best new building - 2021 RIBA Stirling Prize winner
Julie Mehretu, the artist's first ever midcareer survey, opens at The Walker
Culturally significant objects far exceed estimates in Freeman's Asian Arts sale


Kingston University London - Town House. Grafton Architects. Photo: Dennis Gilbert.



LONDON.- The Royal Institute of British Architects has named Kingston University London – Town House designed by Grafton Architects, as the winner of the 25th RIBA Stirling Prize. A progressive new model for the design of higher education buildings, the dynamic student 'Town House' expertly captures the spirit of learning and the value of community cohesion. Grafton Architects have designed a purposefully democratic and open space, as its name suggests: Town – referring to the building's civic dimension, and House – reflecting a sense of home and belonging. Many of the students at Kingston are the first in their family to attend university and this building sends an important message to them, their educators and the local community, that this is a place where everyone is welcome and valued. Set back from the street, the project extends the public realm, generously blurring its boundary with the pavement and ... More



Julie Mehretu, Being Higher II, 2013, ink and acrylic on canvas, 84 × 60 in., collection of Susan & Larry Marx; courtesy Neal Meltzer Fine Art, New York, © Julie Mehretu, photograph by Tom Powel Imaging.



MINNEAPOLIS, MN.- The Walker Art Center will be the final stop on a national tour of the exhibition Julie Mehretu, the first-ever comprehensive retrospective on the artist's work. Born in 1970 in Addis Ababa, Ethiopia, and based in New York, Mehretu is best known for abstract paintings layered with a variety of materials, marks, and meanings. Her canvases and works on paper reference the histories of art, architecture, and past civilizations while addressing some of the most immediate conditions of our contemporary moment, including migration, revolution, climate change, global capitalism, and technology. Featuring more than 60 paintings and works on paper from 1996 to the present, this midcareer survey reflects the breadth of Mehretu's multilayered practice, which moves nimbly across mediums, scale, and subject matter. The ... More



A Chinese faux bronze porcelain shell-form coupe achieved $50,400, a remarkable 33 times its pre-sale high estimate (Lot 27; estimate: $1,000-1,500).



PHILLADELPHIA, PA.- Ben Farina, Head of Asian Arts at Freeman's expressed delight about his curated Asian Arts auction held on 14 October. Farina commented "We had a number of wonderful pieces from various regional collections, and we've greatly enjoyed working with the consignors to bring this material to auction." The 256-lot sale witnessed competitive bidding between international buyers which pushed sale prices far higher than their pre-sale estimates. On the heels of remarkable sales earlier in the year—including a $2.3M result for an Imperial Chinese vase—Freeman's Asian Arts department continues to bring fresh-to-market works to serious collectors of Asian art and cultural artifacts. Following spirited bidding wars, several lots achieved results that soared well above their pre-sale estimates. A Chinese handscroll of eight works depicting One Hundred ... More
Exhibition at San Antonio Museum of Art highlights recent acquisitions and rarely seen works
George Jones, Hank Williams reunited as their guitars take center stage at Heritage Auctions
Space Exploration and Aviation Auction featuring Gene Cernan's notes for his historic speech up for bid at RR Auction


Tade Styka (French, born Poland, 1889–1954), Pola Negri, ca. 1924, Oil on canvas, unframed: 54 1/4 x 42 1/2 in. (137.8 x 108 cm), framed: 66 3/4 x 55 in. (169.5 x 139.7 cm), Bequest of Pola Negri, 87.39.1.



SAN ANTONIO, TX.- Over the course of its 40-year history, the San Antonio Museum of Art has developed an expansive 30,000-object collection that represents human creation and experience from across thousands of years and from cultures spread across six continents. In its upcoming exhibition, 40 Years, 40 Stories: Treasures and New Discoveries from SAMA's Collection, SAMA will present works from the collection that are currently held in storage and that have been selected by members of the Museum's curatorial team as works of particular personal interest, inspiration, and fascination. Many of the 40 objects chosen for the show have been off view for numerous years, while others are being presented for the first time. In other instances, artworks capture little-known or under-studied artistic and cultural narratives. Together, the works engage audiences anew with SAMA's broad-ranging ... More



George Jones' First Guitar, A Harmony "Gene Autry" Cowboy Acoustic.



DALLAS, TX.- They're two of the greatest country singers and songwriters who ever lived — The Hillbilly Shakespeare from Alabama and The Possum from Texas. The former was idol and icon; the latter, his adoring acolyte. Only once, in 1949, were Hank Williams and George Jones ever in the same place: a Beaumont, Tex., radio station, where a teenaged George stood slack-jawed while Hank played "Wedding Bells." More than a decade later, Jones recorded two full album's worth of his hero's songs: George Jones Salutes Hank Williams, released in 1960, and 1962's My Favorites of Hank Williams. The musicians were kindred spirits: "Both affected generations with a plaintive veracity of voice that has set them apart," the great rock critic Nick Tosches once wrote in Texas Monthly. Which is why it's such an thrill to reunite them once more time, for Heritage Auctions' Nov. 7 Vintage Guitars and Musical Instruments Signature® Auction. In this event, collectors w ... More



Gene Cernan's Apollo 17 Flown Lunar Surface-Used EVA-3 Cuff Checklist. Estimate: $800,000+.



BOSTON, MASS.- RR Auction's annual autumn space sale is one of the most hotly anticipated events in the space collecting world. Packed with over 700 items, this auction is sure to impress even the most discerning connoisseur of the cosmos. Highlights include Gene Cernan's Apollo 17 EVA-3 cuff checklist. Cernan wore this cuff checklist on his wrist for the duration of the final EVA of Apollo 17, exposing it to the lunar environment for 7 hours and 15 minutes. The cuff checklist is a comprehensive guide for the extravehicular activity, offering preparation procedures, simplified maps of traverse routes and landmarks. The checklist occupies a special place in Apollo history—it not only provided instructions for man's last moonwalk— but held the handwritten notes for the last words spoken from the surface of the Moon. On December 14, 1972, Apollo 17 Commander Gene Cernan—the last Apollo moonwalker—delivered his parting words from ... More
The Magical Collection of Ricky Jay

Flashback
On a day like today, American photographer Paul Strand was born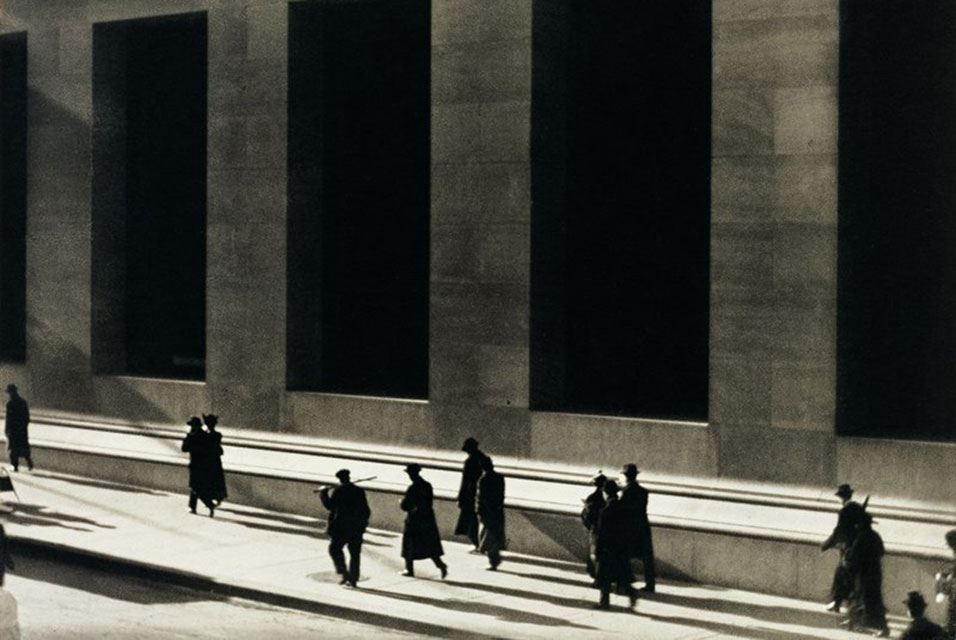 October 16, 1890. Paul Strand (October 16, 1890 - March 31, 1976) was an American photographer and filmmaker who, along with fellow modernist photographers like Alfred Stieglitz and Edward Weston, helped establish photography as an art form in the 20th century. His diverse body of work, spanning six decades, covers numerous genres and subjects throughout the Americas, Europe and Africa. In this image: Wall Street, 1915.
---

Museums, Exhibits, Artists, Milestones, Digital Art, Architecture, Photography,
Photographers, Special Photos, Special Reports, Featured Stories, Auctions, Art Fairs,
Anecdotes, Art Quiz, Education, Mythology, 3D Images, Last Week,

.
---
Royalville Communications, Inc
produces: