Schantz Galleries opens an exhibition of cast glass from Sweden by Bertil Vallien
Bertil Vallien, Janus, 2022, 9 x 11.75 x 4.75" Photo: Göran Örtegren.
STOCKBRIDGE, MASS
.-
Bertil Vallien is known for his exploration of dualities—past/future, interior/exterior, light/dark, life/death, hot/cold, soft/hard. In his intricately layered cast glass sculptures, surfaces oscillate between transparent polish and distorting grittiness (another duality) to provide multiple visual avenues of entry. Storytelling is fundamental; it begins with the form and finish of the work but develops within the glass body, characters and symbols hovering in suspended animation. Much of Vallien's approach to construction and content does indeed reinforce a focus on dichotomy, but the work embodies a complex spectrum of elements that make it not so much a binary experience but a pluralistic story about the world we live in. WAYPOINTS, the title that Bertil Vallien chose for this exhibition at
Schantz Galleries
, offers insight into messages ...
More
The Best Photos of the Day
Galería RGR opens a solo exhibition of works by Julio Le Parc
Ernie Barnes and Fred Eversley headline Post-War & Contemporary Art Auction at Hindman
Christie's New York announces The Roger Sant Collection


Julio Le Parc, Continuel Mobile Losange Acier, 2020 Steel, 300 cm Unique. Courtesy Galería RGR.



MEXICO CITY.- Galería RGR, Mexico City, is presenting a solo exhibition of Julio Le Parc (b. Mendoza, Argentina, 1928) from September 22 through November 12, 2022. The exhibition includes new and seminal works across two-dimensional and three-dimensional pieces, showcasing the artist's dedication to experimentation and research. It marks Julio Le Parc's debut in a commercial gallery exhibition in Mexico. Through his work, Le Parc sought the development and exploration of abstract visual languages. In Between Experimentation and Research, curated by Daniel Montero Fayad, five influential series Alchimie (1988 - 2022), Surface-Couleur (1959 - 2022), Continuels-Mobils (1960 - 2022), Lumière (1959 - 2022), and Déplacement (1963 - 2022) are on view. They study Le Parc's experimentation with light and color relationships across complex canvas compositions and acrylic mobiles. In recent works, such as Alchimie ... More



Ernie Barnes, Jr., Untitled (The Stare). Estimate: $80,000 - $120,000.



CHICAGO, IL.- Hindman will offer a compelling selection of contemporary American art in its September 28th auction, highlighted by distinguished names who have recently taken the art world by storm. Among the dynamic offering in this month's Post-War & Contemporary Art auction, works by Ernie Barnes, Fred Eversley and Nathaniel Mary Quinn are those expected to see the most passionate bidding competition. While the artworks themselves can all be considered master works, the stories behind them are equally as compelling. A strong selection of large-scale abstract paintings by Giorgio Cavallon, Gene Davis, Ron Davis, Friedel Dzubas, Suzan Frecon and Paul Jenkins will be featured in a session of nonobjective works. Legendary Chicago Imagists will also be on the roster, with paintings by Roger Brown and Ray Yoshida. Works by Leon Golub, Arnulf Rainer, Andy Warhol and John Wilde will round out the sale.Ernie Barnes' Untit ... More



Paul Gauguin, Pêcheur et baigneurs sur l'Aven. Oil on canvas. Painted in 1888. Estimate: $6,000,000-8,000,000.



NEW YORK, NY.- Christie's is honored to announce The Roger Sant Collection will be sold during the Fall Marquee Week of sales taking place this November in New York. The collection spans from Post-Impressionism through the Post-War era. It is being sold for charity, with proceeds benefitting The Summit Foundation, a non-profit organization committed to a world where people can thrive and nature can flourish. The collection in total consists of 30 works, with a group highlighting the 20th Century Evening Sale. It is led by two masterworks by Paul Gauguin and Joan Mitchell, painted more than a century apart. Additional works will be sold in the Impressionist and Modern Art Day and Works on Paper Sales and the Post-War and Contemporary Art Day Sale. In total, The Roger Sant Collection carries a low estimate of $50 million. Roger Sant, Co-Founder and Chairman Emeritus of the Virginia-based AES Corporation, ... More
Exhibition at the Belvedere explores the tree in art
Gagosian opens an exhibition of new and recent works by Sarah Sze
A new audience and a long-awaited return: Hilma af Klint and "The Ten Largest" at Moderna Museet


Klemens Brosch, Tree Study on the Danube, 1926 © Belvedere, Vienna.



VIENNA.- The Tree of Knowledge, the Tree of Enlightenment, the Axis of the World: Following these narrative strands, the exhibition GROW is centered around the tree as a subject in art and its relationship to humankind. Director General Stella Rollig: "In the current climate crisis, the tree is perceived more than ever as a companion whose survival or demise has direct, tangible effects, not the least of which are emotional ones. While a tree dying on your own street is painful, the far-off deforestation of the rainforest is downright frightening. This exhibition explores this deep connection between humans and trees." Throughout the centuries, the tree has been an area of projection for humankind's relationship to nature and questions about human identity. The exhibition at the Lower Belvedere builds a thematic connection from the tree of knowledge between good and evil, to the tree of enlightenment, to the tree as metaphorical axis of the world. Whether as a ... More



Sarah Sze, Proportioned to the Groove (next day still dark), 2019. Clay, wood, and archival pigment prints, 9 x 15 x 13 inches. © Sarah Sze. Photo: Sarah Sze Studio.



ATHENS.- Gagosian is presenting new and recent works by Sarah Sze. Opening on September 8, this is her first solo exhibition in Greece and her fourth exhibition with the gallery. Following her presence in Ruins and Fragments at Gagosian Athens earlier this year, this exhibition introduces many additional aspects of Sze's diverse practice, a spectrum of sculptural propositions and the latest of her oil-and-collage paintings. In employing the full potential of her processes, Sze represents the ephemeral and immaterial in different time scales and durations—from light projections programmed to imply shift and change, to sculptures made of pure paint, fired clay, or stainless steel. Sze gleans from the physical and digital worlds to create art in two and three dimensions of great intricacy and diversity, inviting minute observation while evoking a macroscopic perspective on ... More



Hilma af Klint, The Ten Largest, Group IV, No 3, Youth (Tempera on paper, mounted on canvas), 1907 © The Hilma af Klint Foundation Photo: Albin Dahlström/Moderna Museet.



STOCKHOLM.- After a nine-year long wait, visitors to Moderna Museet in Stockholm can once again enjoy the opportunity to see "The Ten Largest" by Hilma af Klint. Painted in 1907, these works are truly monumental in every sense of the word. Many will remember the series from the museum's celebrated exhibition in 2013, "Hilma af Klint: Abstract pioneer". Now a new generation of visitors can become acquainted with these enormous paintings. In the exhibition "Hilma af Klint: The Ten Largest" the works are accompanied by a selection of the artist's watercolours and a series of hand-coloured photographs of the compositions that has never previously been exhibited in its entirety. In the autumn of 1907 the Swedish artist Hilma af Klint (1862–1944) began the first painting in the series that would come to be known as "The Ten Largest". Working on these ten paintings over a period ... More
The Philadelphia Museum of Art opens 'River of Forms: Giuseppe Penone's Drawings'
Miller & Miller announces highlights included in Canadiana & Folk Art Auction
Exhibition highlights the careers of three PDNB artists that passed away within the past nine months


"Vegetal Gaze (Sguardo vegetale)," 1991, by Giuseppe Penone. Pencil and ink on paper, 14 1/2 x 10 9/16 inches (36.8 x 26.8 cm). Gift of the artist in honor of Dina Carrara, 2019. Image courtesy Philadelphia Museum of Art, 2020.



PHILADELPHIA, PA.- In celebration of an exceptional gift of drawings by one of Italy's leading contemporary artists, the Philadelphia Museum of Art will present a major exhibition examining the poetic vision of Giuseppe Penone, whose artistic production from the late 1960s to the present invites a timely rumination on the relationship between human experience and nature. River of Forms: Giuseppe Penone's Drawings will demonstrate the centrality of drawing in the artist's work through a selection from the important gift and related sculptures. The exhibition will convey Penone's extraordinary range of mark-making techniques and will trace his explorations of drawing as an interface between artist and nature. Visitors arriving at the West Entrance will first encounter Identity, a monumental bronze outdoor sculpture by Penone ... More



Circa 1920s ladies' carved walking stick attributed to Willard MacKenzie (Nova Scotia), with a compressed ball top and two carved painted bathers below (est. CA$4,000-$6,000).



NEW HAMBURG, NY.- A painting by acclaimed Canadian folk artist Maud Lewis (1903-1980) titled Winter Sleigh Ride, an exquisite mixed media diorama by Adelard Brousseau of Quebec titled Maple Sugar Time (circa 1930), and an acrylic on paper by Canadian Woodland artist Norval Morrisseau (1932-2007) titled Ancestral Visitors, are a few of the expected top lots in Miller & Miller Auctions' online-only Canadiana & Folk Art auction Saturday, October 8th. The 346-lot auction, beginning promptly at 9 am Eastern time, features a fresh to the market offering of Canadiana and folk art representing some of the oldest collections in the county. The backbone of the sale is built on the collection of the Honorable Jim Fleming, the former Canadian broadcaster and member of the House of Commons (1972-1984). Fleming's search for Canada's best folk ... More



Dressing Room, La Villa Blanc, Albuquerque, 1971 by Jeffrey Silverthorne



DALLAS, TX.- One of the great pleasures of running an art gallery is developing invaluable relationships with the artists. Through time, we learn so much about their lives, their families, politics, desires and philosophy. This exhibition highlights the careers of three PDNB artists that passed away within the past nine months. We pay tribute to the art they created and their everlasting friendship. • Jesse Alexander, 1929 – 2021, b. Santa Barbara, California • Paul Greenberg, 1935 – 2022, b. Kansas City, Missouri • Jeffrey Silverthorne, 1946 – 2022, b. Honolulu, Hawaii We remember Jesse Alexander's motor sport photographs from the great races in Europe during the 1950's and 60's. He photographed the sexy, fast cars, the handsome drivers speeding dangerously along the winding roads in numerous races including Monte Carlo, Le Mans, and Nürburgring. This was an exceptional era that Jesse witnessed and captured on film. The resulting images are some of the most nota ... More
Colby College announces Lyons Arts Lab
Freeman's Books & Manuscripts Auction kicks off fall season with sale of rare colonial first edition
Ralph Lemon receives The Whitney's 2022 Bucksbaum Award


Multidisciplinary incubator will bring to life student concepts and content.



WATERVILLE, ME.- To continue to build one of the most innovative arts programs at a liberal arts college, Colby announced today that it is establishing the Lyons Arts Lab. With a focus on developing and realizing original student-driven projects, the dynamic new lab is the result of a $5-million endowed gift from Colby Trustee John Lyons '85, P'22 and Susannah Gray P'22, who currently serves on the Board of Governors at the Colby College Museum of Art. Launching this fall, the Lyons Arts Lab will be a collaborative incubator to create groundbreaking, interdisciplinary work. The lab will serve as a creative think tank augmented by industry professionals with the goal of supporting and bringing to life new ideas, concepts, and content developed by Colby students. It will provide resources, including funding and mentorship, to test, focus, and refine creative projects so they can ultimately be performed for and ... More



"We're thrilled by the successful sale of New Englands First Fruits, and so is the consignor," says Darren Winston, Head of Freeman's Books and Manuscripts department



PHILADELPHIA, PA.- Freeman's September 21 Books and Manuscripts auction inaugurated Freeman's fall auction season with the remarkable $277,200 sale of New Englands First Fruits (Lot 11). The extremely rare first edition on early colonial New England includes the first printed account of Harvard University—and garnered considerable interest in Wednesday's auction, with competitive bidding driving the sale price more than nine times above its pre-sale high estimate of $30,000. "We're thrilled by the successful sale of New Englands First Fruits, and so is the consignor," says Darren Winston, Head of Freeman's Books and Manuscripts department. "This is the first copy to be offered at auction in over 20 years, and today's result confirms the market demand for this material, setting a new world auction record for the title." A ... More



Ralph Lemon, Untitled, 2021. Oil and acrylic on paper, 26 × 40 in. (66.1 × 101.6 cm). Image courtesy the artist.



NEW YORK, NY.- The Whitney Museum of American Art announces that Ralph Lemon is the recipient of the 2022 Bucksbaum Award. Lemon was chosen from the sixty-three intergenerational artists and collectives working across disciplines and media in Whitney Biennial 2022: Quiet as It's Kept. An interdisciplinary artist, who works primarily in performance, Ralph Lemon has made drawings throughout most of his creative life. He has described the purpose of these works, which have been constant and mostly private, as "a mapping akin to an anthropological practice," involving research and art making in places such as Japan, Haiti, Côte d'Ivoire and, for many years, the Mississippi Delta. For the Biennial, he developed a choreography of presentation, exhibiting hundreds of drawings from over or more than twenty-five years in five transient variations that unfolded monthly over the course of the exhibition. ... More
Hear Me Now: The Black Potters of Old Edgefield, South Carolina Virtual Opening | Met Exhibitions

Flashback
On a day like today, American sculptor Louise Nevelson was born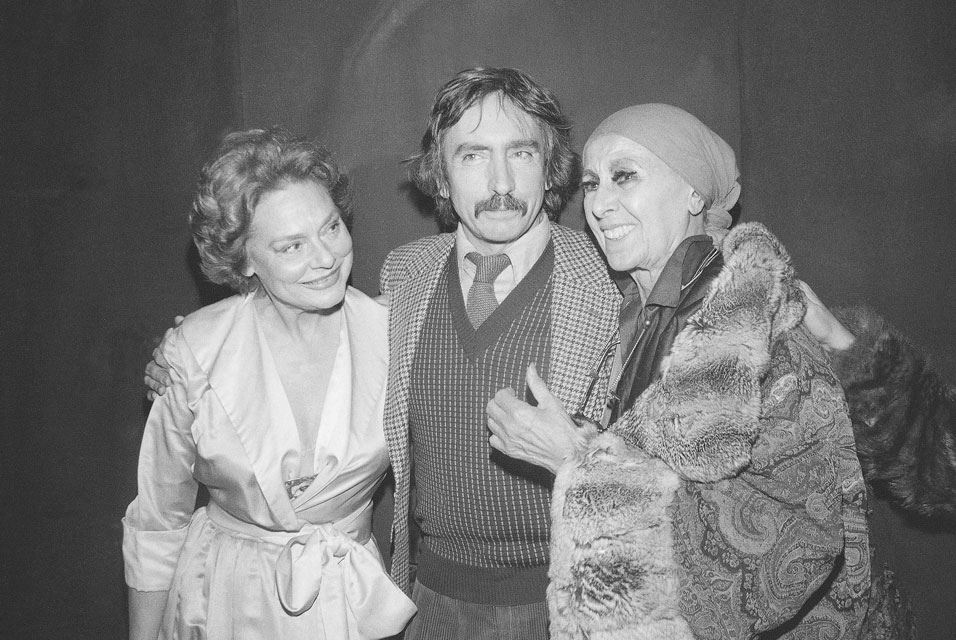 September 23, 1899. Louise Nevelson (September 23, 1899 - April 17, 1988) was an American sculptor known for her monumental, monochromatic, wooden wall pieces and outdoor sculptures. Born in Czarist Russia, she emigrated with her family to the United States in the early 20th century when she was three years old. Nevelson learned English at school, as she spoke Yiddish at home. In this image: Playwright Edward Albee, center, joins his star, Iree Worth, left, backstage at the Morosco Theater in New York City Thursday, Jan 31, 1980 . After the opening performance of his " The Lady From Dubuque." The two were greeting well -wishers, who included Louise Nevelson, at right.
---

Museums, Exhibits, Artists, Milestones, Digital Art, Architecture, Photography,
Photographers, Special Photos, Special Reports, Featured Stories, Auctions, Art Fairs,
Anecdotes, Art Quiz, Education, Mythology, 3D Images, Last Week,

.
---
Royalville Communications, Inc
produces: