Lucy Lacoste Gallery opens an exhibition of contemporary Asian American ceramics
Though separated by several decades of age, these two artists share the angst of being perceived as culturally different from most Americans, an effect amplified by their being of Chinese heritage at a time when China is in the news, not always positively.
CONCORD, MASS
.-
Lucy Lacoste Gallery
is presenting Beth Lo and Jennifer Datchuk: In the Year of Uncertainty, March 20 to April 20, 2021 in Concord MA. Both artists use the lens of their cultural identity as first-generation daughters of Chinese parents magnified by this year of pandemic and political unrest. Though separated by several decades of age, these two artists share the angst of being perceived as culturally different from most Americans, an effect amplified by their being of Chinese heritage at a time when China is in the news, not always positively. Beth Lo, (b 1949, Lafayette, Indiana), is known for her figurative ceramic sculpture and pottery in which she blends her identity as first-generation Chinese (both parents born in China) with her experience of living in the US. Her work is centered around her interest in cultural diversity and the dual nature of her American Chinese heritage which she depicts with irony. Family is cen ...
More
The Best Photos of the Day
Sotheby's unveils new details about NFT sale 'The Fungible' Collection by Pak
Suspect arrested over thefts of Van Gogh, Hals paintings
Christie's to offer Pablo Picasso's Femme assise près d'une fenêtre (Marie-Thérèse)


Fungible Open Edition, Single Cube. Courtesy Sotheby's.



NEW YORK, NY.- Sotheby's embarks on its debut NFT partnership with Pak, one of the foremost digital creators, to bring their novel works to collectors through a unique sale that will explore the possibilities of crypto technology through the lens of art. 'The Fungible' Collection by Pak will be released over a three day period taking place 12 – 14 April, in collaboration with Sotheby's and exclusively on Nifty Gateway. Pak is an enigmatic creator at the forefront of digital art and crypto media. An anonymous designer, Pak has been active in the world of digital art for over two decades, leveraging evolving technology to create boundary-pushing artwork. Pak is the creator of Archillect, an AI built to discover and share stimulating visual media. In December of 2020, Pak became the first NFT artist to earn $1 million for their work. In the burgeoning NFT space, Pak has established themselves as a leader ... More



Vincent van Gogh's "The Parsonage Garden at Nuenen in Spring" (1884). Via Groninger Museum via The New York Times.

by Danny Kemp



THE HAGUE (AFP).- Dutch police arrested a 58-year-old man Tuesday on suspicion of stealing two paintings by Vincent van Gogh and Frans Hals from museums in the Netherlands last year. The man was held at his home in the central town of Baarn over the thefts of Van Gogh's "Parsonage Garden at Nuenen in Spring" and Hals's "Two Laughing Boys". But police said they have not yet found either of the paintings -- the Van Gogh is valued at up to six million euros ($6.6 million). "For months, intensive investigations into the robbery of both paintings were conducted under the leadership of the public prosecution service," the Dutch police statement said. "This has led to the arrest of a 58-year-old suspect from Baarn. He was arrested at his home this morning. The man is suspected of stealing ... More



Pablo Picasso, Femme assise près d'une fenêtre (Marie-Thérèse), oil on canvas, 57 ½ x 44 ⅞ in. (146 x 114 cm.) Painted in Boisgeloup on 30 October 1932. © Christie's Images Ltd 2021.



NEW YORK, NY.- On 11 May, Christie's newly introduced 20th Century Evening Sale in New York will be highlighted by Pablo Picasso's Femme assise près d'une fenêtre (Marie-Thérèse), 30 October 1932 (estimate in the region of $55 million). One of the extraordinary series of iconic portraits that Picasso painted of his golden-haired muse during this landmark year, this monumental work is among the most stately and impressive depictions of Marie-Thérèse that the artist painted. Vanessa Fusco, Co-Head of the 20th Century Evening Sale, remarked: "From the defining series that introduced Marie-Thérèse to the public eye, Femme assise près d'une fenêtre (Marie-Thérèse) was painted during a seminal year in which Picasso crafted a new pictorial language to depict his muse and lover. This striking, monumental portrait was last seen ... More
Heritage Auctions to offer the entire estate of rock legend Trini Lopez
Vancouver Art Gallery announces two major gifts
Christie's Books, Manuscripts, Photographs: From the Middle Ages to the Moon - Online, 14 to 28 April


Trini Lopez Personally Owned and Played Deluxe Model Gibson Electric Guitar.



DALLAS, TX.- Trini Lopez first appeared in the pages of his hometown newspaper on Feb. 13, 1953, his name listed among those scheduled to perform during the fourth anniversary celebration for the Spanish Club of Dallas. At the time, Trinidad Lopez III was 15 years old, a student about to drop out of Crozier Technical High School. He was not yet a protégéeof Buddy Holly and Frank Sinatra's, a topper of pop charts, a friend of the Beatles or Elvis Presley, a performer on The Ed Sullivan Show, a guest on What's My Line?, a cover boy for Time, a member of The Dirty Dozen, a pen pal with presidents and friends with other pop-culture immortals. In time, his stardom afforded him a home in Palm Springs, Calif., where he lived for decades and filled the sunbaked space with a lifetime of memories — all of which, including the guitars he designed for Gibson and his annotated The Dirty Dozen script and the famous photo taken with the Beatles and his awards and his extraordinary collections of corresponden ... More



Gordon Smith, Untitled, 1996 (detail). Acrylic on canvas, Collection of the Vancouver Art Gallery, Vancouver Art Gallery Acquisition Fund.



VANCOUVER.- The Vancouver Art Gallery received a bequest of $1 million from artist Gordon Smith, together with a generous matching donation of an additional $1 million from Stephen and Gail Jarislowsky and The Jarislowsky Foundation. With this new endowment fund, the Vancouver Art Gallery announced the creation of a new curatorial position: Curator of Canadian Art. The Gallery believes this to be an unprecedented bequest from an individual artist to a Canadian art museum. The late Gordon Appelbe Smith (1919-2020) was a generous, long-time supporter of the Vancouver Art Gallery. Smith gave his time and his art prodigiously, donating works to the Gallery's permanent collection and for many fundraising events. He believed passionately in the Vancouver Art Gallery's educational role to expand people's creative horizons. Although an immigrant himself, he was proud to have been known as a Canadian artist, representing the region ... More



A jewelled binding set with garnets and turquoise on a manuscript on vellum, written, illuminated and bound by Francis Sangorski and George Sutcliffe, Estimate £10,000-15,000. © Christie's Images Ltd 2021.



LONDON.- From 14 to 28 April, Christie's presents Books, Manuscripts, Photographs: From the Middle Ages to the Moon, a wide-ranging online auction encompassing works from the 12th to the 21st century. This sale features a diversity of categories including medieval manuscripts, autograph letters, incunabula and early printing, travel and cartography, fine bindings, important scientific books and manuscripts, and NASA photographs. The auction also includes charming original artworks by Sir Quentin Blake, which will be sold to benefit Comic Relief. A selection of important medical works will be presented including a first edition, journal issue, containing the first announcement of Ignaz Semmelweis's epoch-making treatise on the importance of hand-washing in medical practice (estimate: £12,000-18,000). In 1847, Semmelweis, a house officer of the First Obstetrical ... More
Final curtain for Italian film censorship
MoMA appoints Leah Dickerman as Director of Research Programs
A pandemic opportunity: Geffen Hall's overhaul accelerates


In this file photo taken on March 05, 1972, US actor Marlon Brando is directed by Italian writer-director Bernardo Bertolucci (R) during the filming of "Last Tango in Paris" in Paris. AFP.

by Kelly Velasquez



ROME (AFP).- Born in 1914 at the dawn of cinema, Italy's censorship law felled some giants of the silver screen including "Last Tango in Paris" -- but now faces its own curtain call. "Film censorship has been abolished," announced Culture Minister Dario Franceschini in a statement late Monday. "And the system of controls and interventions that still allow the state to intervene in the freedom of artists has been definitively ended." As a result, it will now no longer be possible to block the release of a new film or demand edits on moral or religious reasons. Instead, filmmakers will classify their own movies based on the age of the audience. Their decisions will be verified by a new commission made up of 49 members chosen from the film industry, but also experts in education and animal rights."It's a form of self-regulation. We are mature ... More



Ms. Dickerman is well-known to MoMA audiences as a respected writer, editor, scholar, and organizer of many acclaimed exhibitions.



NEW YORK, NY.- The Museum of Modern Art announced the appointment of Leah Dickerman as the first Director of Research Programs. In this new position, Ms. Dickerman will create an integrated strategy to reimagine MoMA's Studies in Modern Art publication series as a platform for new thinking and research about modern and contemporary art generated by the Museum's programs, curators, fellows and other researchers engaged with the collection. She will continue to oversee the Mellon-Marron Research Consortium (MRC) partnership between MoMA and five regional graduate art history programs—Columbia University; The Graduate Center, City University of New York; the Institute of Fine Arts, New York University; Princeton University; and Yale University—supported by The Andrew W. Mellon Foundation and by Donald B. and Catherine C. Marron, a program she initiated and has directed since 2013. Along with the MRC, she will be charged with creating ... More



Renovations take place at David Geffen Hall at Lincoln Center in New York, April 3, 2021. Vincent Tullo/The New York Times.

by Zachary Woolfe



NEW YORK (NYT NEWS SERVICE).- The coronavirus pandemic has dealt a devastating blow to performing arts institutions nationwide, closing their theaters and robbing them of ticket revenue. But for the New York Philharmonic and Lincoln Center, it has also offered a silver lining: the opportunity to accelerate the long-delayed renovation of David Geffen Hall. With concerts in the hall canceled since March 2020, construction began in earnest over the past few months. Work is expected to continue for the next 1 1/2 years, with a reopening planned for fall 2022, the orchestra and center announced Monday. That is 1 1/2 years ahead of schedule, although it comes with the trade-off that the Philharmonic will not be at Geffen for the wave of triumphant cultural homecomings expected around the country this fall, assuming the pandemic ebbs. The orchestra will spend much of its coming season at Lincoln ... More
How Weeksville, a center of Black history, fought to survive
Christie's Paris announces Impressionist & Modern Art & Works on Paper sale
Getty and City of Los Angeles launch African American Historic Places Project


Raymond Codrington, the chief executive officer of Weeksville Heritage Center, outside the center in Brooklyn, March 31, 2021. Simbarashe Cha/The New York Times.

by Julia Jacobs



NEW YORK (NYT NEWS SERVICE).- Two years ago, Weeksville Heritage Center in Brooklyn, which is dedicated to preserving the remnants of a thriving village established by Black New Yorkers in the years after the state abolished slavery in 1827, was at risk of disappearing. Facing a severe budget shortfall, the center was able to raise more than $350,000 through a crowdfunding campaign, but local politicians knew that a temporary influx of cash wouldn't save it in the long term. So they turned to the city. Through their efforts, Weeksville recently became the first organization in a generation to be added to the city's Cultural Institutions Group — a collection of nearly three dozen cultural organizations, including the Metropolitan Museum of Art, Lincoln Center and Carnegie ... More



Odilon Redion, Géraniums et fleurs des champs, 1905. 44 x 36 cm. Estimate: €120,000 - 180,000. © Christie's Images Ltd 2021.



PARIS.- The highly anticipated event next month in Christie's Paris Impressionist & Modern Art department is the upcoming sale to be held on Wednesday 14 April 2021. Comprising around 170 lots, the sale will begin with a section of Modern Works on Paper, which will be immediately followed by a section dedicated to Impressionist and Modern paintings and sculptures. Prices range from €700 to €500,000 and the overall low estimate is close to €8.5m. The sale will be led by a rare watercolour by Robert Delaunay, Manège de cochons, embodying the Orphism advocated by the latter, and will bring together the major figures of the late 19th and early 20th centuries. Three prestigious private collections are at the heart of the two sections of this sale, each highlighting a refined and singular taste for Impressionist and Modern art. Antoine Lebouteiller, Director of the Impressionist and Modern Art department, and ... More



St. Elmo Village, est. 1969, Mid-City. Photo: Elizabeth Daniels, © J. Paul Getty Trust. St. Elmo Village, an artists' enclave occupying a compound of ten small Craftsman bungalows in a colorful garden setting, was founded in 1969 by artists Roderick and Rozell Sykes as a place where children and adults could explore their creativity.



LOS ANGELES, CA.- Getty and the City of Los Angeles announced today the Los Angeles African American Historic Places Project, an ambitious project to identify, protect and celebrate African American heritage within the city. Historic preservation can be a powerful force in addressing social justice by empowering local communities to effect positive change. Despite comprehensive efforts over the years to record Los Angeles' historic places, the city's historic designation programs do not yet reflect the depth and breadth of African American history. Just over three percent of the city's 1,200 designated local landmarks are linked to African American heritage. Over the next three years, the project will work with local communities ... More
Monika Weiss on Francisco Goya | Artists on Artworks

Flashback
On a day like today, Italian-French painter Gino Severini was born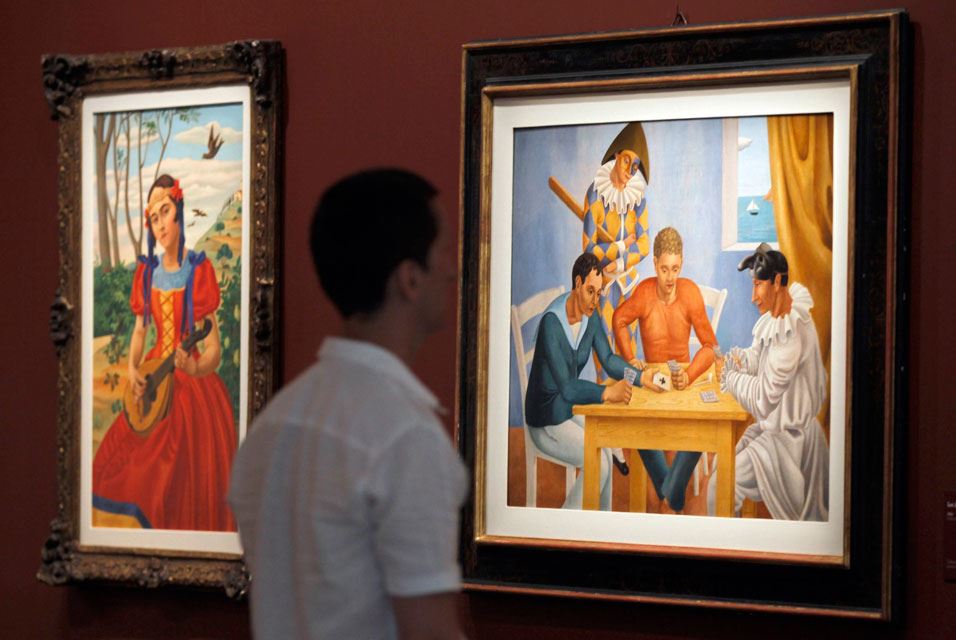 April 07, 1883. Gino Severini (7 April 1883 - 26 February 1966) was an Italian painter and a leading member of the Futurist movement. For much of his life he divided his time between Paris and Rome. He was associated with neo-classicism and the "return to order" in the decade after the First World War. In this image: A visitor looks at paintings, 'Femme a la Mandoline' (L) and 'Les joueurs de Cartes' (R) by Italian futurist and neo-classic artist Gino Severini,1883-1966, at the Orangerie Museum in Paris.
---

Museums, Exhibits, Artists, Milestones, Digital Art, Architecture, Photography,
Photographers, Special Photos, Special Reports, Featured Stories, Auctions, Art Fairs,
Anecdotes, Art Quiz, Education, Mythology, 3D Images, Last Week,

.
---
Royalville Communications, Inc
produces: