Nazi soldiers buried a treasure. Nearly 80 years later, the search goes on.
Annet Waalkens, a researcher at the Dutch National Archives, with a file that includes a hand-drawn map by a Nazi soldier from the 1940s that purports to show the location of buried treasure, in The Hague, Netherlands, Jan. 17, 2023. The public release of the map has drawn fortune seekers with shovels and metal detectors to Ommeren, a small Dutch village, in the hope of finding boxes of gold and jewels, but not everyone is excited. (Ilvy Njiokiktjien/The New York Times)

by Claire Moses
OMMEREN
.-
In spring 1945, a couple of weeks before the liberation of the Netherlands from its Nazi occupiers, five German soldiers buried four ammunition boxes filled with gold, jewels and watches in a woodsy part of a sleepy Dutch village. Nazi soldiers had snatched the valuables, which could be worth millions, off the street after they were blown out of a bank vault during an explosion in the city of Arnhem in late summer 1944, documents show. What the men who buried the loot probably did not know was that one of their fellow soldiers, a man named Helmut Sonder, was lying in the bushes with a war injury, observing the scene and committing it to memory. Afterward, Sonder drew a meticulous map that showed exactly where (by three poplar trees) and how deep (about 1.7 to 2.3 feet) the treasure had been buried. Not much is known about the fate of the man who drew the map, but the document ended up in the Dutch National Archives in The Hague. This month, it was released as part of the archives' ...
More
The Best Photos of the Day
The Jewish Museum to show recently restituted Marc Chagall painting
Creator of divisive King Monument builds sculpture for Super Bowl
Exhibition of new work by Alison Saar opens at L.A. Louver


Marc Chagall (French, b. Belarus, 1887-1985). Le Père (Father), 1911. Oil on canvas, 31 5/8 × 17 1/2 in. (80.3 × 44.5 cm). Private Collection, L2023-1. Artwork (C) Artists Rights Society (ARS), New York/ADGAP, Paris. Image provided by Phillips Auctioneers LLC.



NEW YORK, NY.- Marc Chagall's painting Le Père (1911), which was recently restituted to the descendants of its original owner, will be on view at the Jewish Museum February 16, 2023, through January 1, 2024. Completed in 1911, during a transformative period in the artist's career, Le Père was among 15 works of art that the French Government restituted in April of 2022—part of an ongoing effort to return works in its museums that were stolen by the Nazis during World War II. The painting was restituted to the descendants of David Cender, the original owner, and sold at auction by Phillips in November 2022. Following the sale, Phillips' team in New York worked with the buyer of the artwork and facilitated the loan to the Museum. Claudia Gould, Helen Goldsmith Menschel Director, said, "The Jewish Museum is honored to show Chagall's rare portrait of his father. The vast and systemic pillaging ... More



"Opportunity (reflection)" by Hank Willis Thomas. (Hank Willis Thomas Studio via The New York Times)

by Kalia Richardson



NEW YORK, NY.- A new work by the artist who recently unveiled a much-discussed sculpture of a hug between Martin Luther King Jr. and Coretta Scott King will be displayed outside the Phoenix-area stadium hosting the upcoming Super Bowl. The 10-foot-tall stainless steel sculpture by the artist, Hank Willis Thomas, shows an unidentified player's extended arm reaching to catch a football. Titled "Opportunity (reflection)," it draws inspiration from his 2015 sculpture "Opportunity." "The ball is a metaphor for the present moment and what we do with it," Thomas said. "In team sports, it's all about what the collective does with the present moment toward achieving a goal against sometimes unlikely and unseemly odds." The sculpture was commissioned by the NFL and will be displayed outside State Farm Stadium in Glendale, Arizona, on Feb. 12, the day the Philadelphia Eagles and the Kansas City Chiefs face off in Super Bowl LVII ... More



Alison Saar, Stubborn and Kinky, 2023. Wood, ceiling tin, wire, and found scissors, 76 x 24 x 20 in. (193 x 61 x 50.8 cm). © Alison Saar. Courtesy of L.A. Louver.



VENICE, CA.- L.A. Louver is presenting new work by Alison Saar. In this presentation, Saar employs historical memory and media as a lens through which to view the contemporary and delves deeper into the realities, histories, and layers of Black womanhood in the United States. Titled Uproot, this exhibition excavates the intersection of racialized gender inequity and reproductive rights, taking as inspiration images of the Sable Venus and the use of herbal abortifacients as a means of resistance and revolution. Comprised of sculptures and paintings, this will be the artist's eighth solo exhibition at L.A. Louver. Scholars have noted that one of the most egregious and perverse images of the transatlantic slave trade is that of the Sable Venus. Most famously depicted in an illustration by Thomas Stothard, The Voyage of the Sable Venus from Angola to the West Indies (1801), the Sable Venus is a disturbing misrepresentation of the Middle ... More
The David Bonsall Collection of Decorative Arts and Design comes to Bonhams
Miles McEnery Gallery opens an exhibition of new paintings by Warren Isensee
Greene Naftali announces its representation of Brandon Ndife


Edward Godwin. Anglo-Japanese occasional table, circa 1875. Estimate: £25,000-35,000. Photo: Bonhams.



LONDON.- From window dresser to clothing trader, supplier of 20th century fashion to the world of film and television, decorative arts dealer and collector, record shop owner and DJ, David Bonsall has led a fascinating and varied life. It is not surprising, therefore, that he has chosen Unity in Variety: The David Bonsall Collection of Decorative Arts and Design as the title for the sale of his collection at Bonhams in London on Tuesday 14 February 2023. The 360-lot strong sale reflects his passion for 20th Century Decorative Arts and his life-long interest in ground-breaking designers who push the boundaries. Gemma Sanders, Head of Bonhams 20th Century Decorative Art, said: "David's endless curiosity is wonderfully captured in this magnificently varied sale which invites collectors to share his passions and acquire some exceptional pieces of design." David Bonsall has always been a keen admirer of the 19th century designer ... More



Warren Isensee, Background Noise, 2022, Oil on canvas, 40 x 40 inches, 101.6 x 101.6 cm.



NEW YORK, NY.- An exhibition of new paintings by Warren Isensee opens 2 February at 515 West 22nd Street and will be on view through 11 March 2023. Warren Isensee (b. 1956 in Asheville, NC) studied architecture at the University of Oklahoma before majoring in painting and graphic design. In 1999, he received the Joan Mitchell Foundation Grant and, in 2007, received the Purchase Award from the American Academy of Arts and Letters after participating in the annual Invitational Exhibition of Visual Arts. His work has been the subject of solo exhibitions at Danese/Corey, New York, NY; Kevin Bruk Gallery, Miami, FL; Massimo Audiello, New York, NY; Miles McEnery Gallery, New York, NY; Nina Freudenheim Gallery, Buffalo, NY; Pamela Salisbury Gallery, Hudson, NY; and Tricia Collins Contemporary Art, New York, NY. His work may be found in the collections of the Albright-Knox Art Gallery, Buffalo, NY; Blanton Museum of Art ... More



Brandon Ndife by Tim Schutsky for Interview Magazine, 2021.



NEW YORK, NY.- Brandon Ndife works to unsettle the life cycles of consumer objects, using found furniture culled from the urban landscape as the basis for his sculptures. Overrun with vegetation and impending signs of both ripening and rot, the works appear like relics unearthed from a distant past or envoys of a dystopian future. Ndife is drawn to domestic items that bear the trace of their absent owners, through signs of wear or broader symbolic ties to American life under capitalism—riven by racial, class, and now ecological disparities that take root in all we touch. His elaborate constructions depart from used shelves, desks, and cabinetry—units of household organization gone radically to seed. These discards are often cast in synthetic resin or polyurethane foam, forming meticulous replicas that keep the readymade tradition at a subtle remove. Trained as a painter, his surfaces are exactingly hand-colored to achieve trompe ... More
Hamiltons Gallery celebrates Tomio Seike's 80th birthday with exhibition
Tina Kim Gallery opens an exhibition of works by Tania Pérez Córdova
Groundbreaking performance art exhibition opens at the Neuberger Museum of Art


Tomio Seike, Restaurant Vero-Dodat, Paris, 2001.



LONDON.- In recognition of Tomio Seike's long standing relationship with Hamiltons Gallery and in celebration of his 80th birthday, Hamiltons has curated an exhibition of the Japanese photographer's most iconic images. Tomio Seike: Eighty features a selection of unique, platinum palladium prints and vintage, toned gelatin silver prints. The subjects include portraits of artist Zoe Leonard which was one of Seike's first series. His intimate photographs, taken as they traveled through Tokyo, London, Paris and New York, give a rare insight into her youth and the series brought him significant recognition as a photographer. The exhibition also presents Seike's later works of figurative nudes, along his other series such as 'Paris' and 'Waterscapes', which enhanced his reputation as a contemporary master working in a classical style. Tomio Seike was born in Tokyo, Japan, in 1943. After graduating ... More



Tania Pérez Córdova (b. 1979), Colocasia Black Coral, 2022. Artificial plant, silver chain, Mexican peso coin, iron structure, 11 x 33 7/8 x 8 1/4 inches. Image courtesy of the artist and Tina Kim Gallery. Photo: Hyunjung Rhee.



NEW YORK, NY.- Tina Kim Gallery is presenting Tania Pérez Córdova: Precipitation, opening February 2. This is the second show of the artist's to be held at the gallery, and coincides with her solo exhibition currently ongoing at the Museo Tamayo, Mexico City. Incorporating within her practice sculpture, found objects, and activation or performance, Pérez Córdova is recognized for her poetic and contemplative works that often bear narrative implications. Born and based in Mexico City, Mexico, Pérez Córdova's practice is distinguished by its provisional nature—both in its process of making, but also in its reception. Although she often works with conventional materials such as metal, glass, ceramics, and marble, Pérez Córdova ... More



Nao Bustamante, BLOOM, 2022, photo credit: Eleanor Goldsmith (square) Nao Bustamante, Bustamante Bloom Speculum: Brugmansia Instructs, 2021. Courtesy the artist.



PURCHASE, NY.- Hard Return: 9 Experiments for this Moment is a unique artist and scholar co-curated exhibition that will transform the Neuberger Museum of Art into a site of collaboration, investigation, and performance with a series of nine distinct artist projects from early February to early May. The show 'experiments' with different ways of shaping and understanding community while probing the influence of history on the present. Acclaimed performance artist and 2018 Guggenheim Fellow Kate Gilmore approached Neuberger Museum Director Tracy Fitzpatrick with the suggestion to create an exhibition featuring multiple works of performance art by her peers in the field; the project would be co-curated with performance art scholar Jonah Westerman. Both Gilmore ... More
Kent State University Museum announces new exhibitions "Head to Toe"
Asheville Art Museum opens 'Too Much Is Just Right: The Legacy of Pattern and Decoration'
Rowan University Art Gallery presents SuperCellular, a new site-specific immersive art gallery experience


Halston, ca. 1962-63, Gift of the Estate of Phyllis P. Peckham, In Memory of Phyllis P. Peckham, KSUM 2000.2.15.



KENT, OH.- The Kent State University Museum announces the opening of "Head to Toe" on Feb. 2, 2023. On view through Jul. 23, 2023, the trilogy of exhibitions draws from the Kent State University Museum's permanent collection. Highlighting hats, coats, and shoes, visitors will see the evolution of these essential garments as styles, technologies and trends evolve. "We are pleased to share the traditions and design changes in the apparel that protects us from the weather, keeps us comfortable, and very stylish. Visitors will also experience the outstanding quality and the many treasures in the KSU Museum collection," states Museum Director and curator of the exhibitions, Sarah J. Rogers. "It's a Wrap! Coats" showcases an array of 20th century and 21st century men's and women's coats. The sources for the coats, especially women's coats, that stem from menswear traditions including ... More



Anni Albers, Study for Nylon Rug from the Connections portfolio, 1983, screenprint on paper, edition 25/120, publisher: Fausta Squatriti, 20 5/8 × 15 1/4 inches. Asheville Art Museum Collection. © The Josef and Anni Albers Foundation / Artists Rights Society (ARS), New York.



ASHEVILLE, NC.- In the past 50 years in the United States and beyond, artists have sought to break down social and political hierarchies that include issues of identity, gender, power, race, authority, and authenticity. Unsurprisingly, these decades generated a reconsideration of the idea of pattern and decoration as a third option to figuration and abstraction in art. From 1972 to 1985, artists in the Pattern and Decoration movement worked to expand the visual vocabulary of contemporary art to include ethnically and culturally diverse options that eradicated the barriers between fine art and craft and questioned the dominant minimalist aesthetic. These artists did so by incorporating opulence and bold intricacies garnered from such wide-ranging inspirations ... More



Carolyn Healy and John JH Phillips, SuperCellular installation view 2023. Photo courtesy of Rowan University Art Gallery.



GLASSBORO, NJ.- Rowan University Art Gallery is presenting SuperCellular, a new collaborative site-specific immersive art gallery experience by Carolyn Healy and John JH Phillips. The exhibition will be on view through March 25, 2023 with an opening reception and artist's talk on February 2, from 5-7 pm. The talk begins at 5:30 pm. SuperCellular combines sculpture, light, sound, and moving imagery as a reflection of the astonishing and almost incomprehensible density and activity of the chemical molecules in our bodies. Inspired by neuroscience, cellular biology, and genetics— topics extensively read and watched by the artists during the COVID-19 pandemic—the installation contemplates the complexities and intricacies of living processes and the mysteries of cellular interactions. Visitors will enter the installation through a short corridor and walk into a darkened room ... More
Then and Now: John Biggers' Legacy | Part 1

Flashback
On a day like today, Mexican illustrator José Guadalupe Posada was born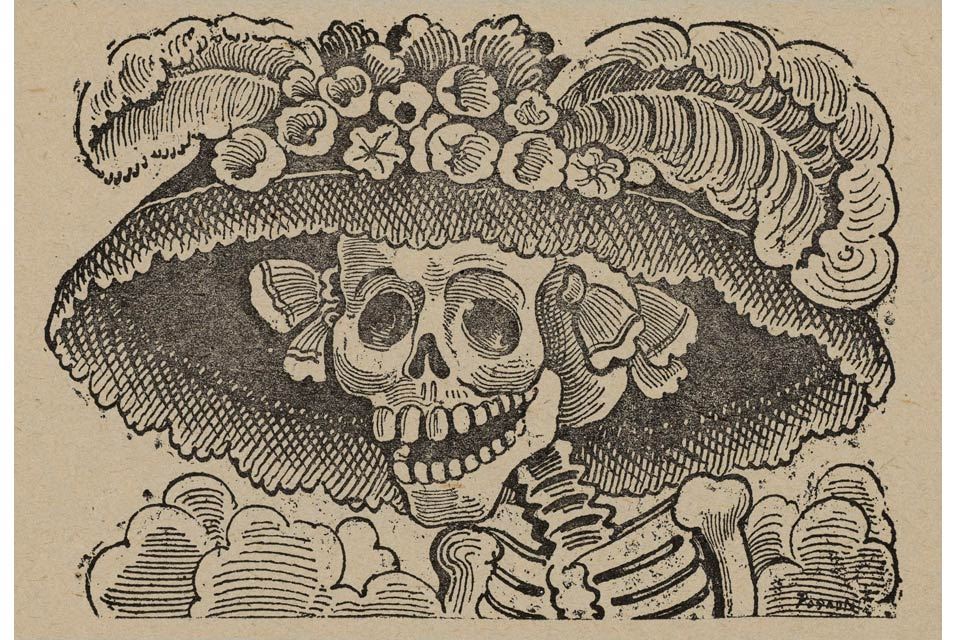 February 02, 1853. José Guadalupe Posada (February 2, 1853 - January 20, 1913[1]) was a Mexican political printmaker and engraver whose work has influenced many Latin American artists and cartoonists because of its satirical acuteness and social engagement. He used skulls, calaveras, and bones to make political and cultural critiques. Among his famous works was La Catrina. In this image: José Guadalupe Posada, Calavera de la Catrina (Skull of the Female Dandy), from the portfolio 36 Grabados: José Guadalupe Posada, published by Arsacio Vanegas, Mexico City, Mexico, c. 1910, printed 1943, photo-relief etching with engraving, the Museum of Fine Arts, Houston, Museum purchase funded by the friends of Freda Radoff.
---

Museums, Exhibits, Artists, Milestones, Digital Art, Architecture, Photography,
Photographers, Special Photos, Special Reports, Featured Stories, Auctions, Art Fairs,
Anecdotes, Art Quiz, Education, Mythology, 3D Images, Last Week,

.
---
Royalville Communications, Inc
produces: