France arrests six over Banksy artwork stolen from Bataclan
A policeman stands guard near a piece of art attributed to Banksy, that was stolen at the Bataclan in Paris in 2019, and found in Italy, ahead of a press conference in L'Aquila. Photo: Filippo Monteforte/AFP.
PARIS
(AFP)
.-
Six people have been arrested in France over the theft of an artwork by street artist Banksy commemorating the victims of the 2015 Paris attacks that was stolen from the Bataclan concert hall, sources said Saturday. The suspects were arrested across France this week after the artwork, an image of a girl in mourning painted on one of the Paris venue's emergency doors, was found in Italy earlier in the month, judicial and police sources told AFP. On Friday, two were charged with theft while the other four were charged with concealing theft, the sources added. All six were placed in pre-trial detention. The door with the artwork was cut out and taken in January last year at the Bataclan, where Islamic State gunmen massacred 90 people in one of a series of bloody attacks in Paris in November 2015. French and Italian police said two weeks ago that they found the work -- still in good condition -- in the attic of an abandoned farmhouse in Italy's central east Abruzzo region. Its theft -- whi ...
More
The Best Photos of the Day
"Soul of a Nation: Art in the Age of Black Power" opens at the Museum of Fine Arts, Houston
Christie's to offer property from the late Dowager Countess Bathurst
Milton Glaser, designer of iconic N.Y. logo and Dylan poster, is dead at 91


Emma Amos, Eva the Babysitter, 1973, oil on canvas, courtesy of Emma Amos, the Amos family, and RYAN LEE Gallery. © Emma Amos / Licensed by VAGA at Artists Rights Society (ARS), NY.



HOUSTON, TX.- This summer, the Museum of Fine Arts, Houston, is the final venue to present Soul of a Nation: Art in the Age of Black Power, featuring work by more than 60 Black artists created over two revolutionary decades in American history. The exhibition, organized by Tate Modern in London, was slated to open in Houston in April, but it was delayed because of the pandemic lockdown at the previous venue in San Francisco, the de Young Museum. Soul of a Nation is now on view through August 30, as the final presentation of the three-year tour. The MFAH has implemented social-distancing protocols for all visitors, including required face masks. "We are enormously privileged to serve as the final venue for this landmark exhibition, which has received tremendous acclaim since its debut in London for its path-breaking exploration of the art of this pivotal era," said Gary Tinterow, Director, the Margaret Alkek Williams Chair, the Museum of Fin ... More



John Michael Wright (London 1617-1694), Portrait of James, Duke of Cambridge, (1663-1667), half-length, in a pink coat, holding a crown, in a feigned cartouche. Estimate: £15,000-25,000. © Christie's Images Ltd 2020.



LONDON.- Gloria: Property from the late Dowager Countess Bathurst will be offered across four auctions at Christie's in July. A dedicated collection sale will be held on 22 July with works also included in three specialist sales throughout the month. The epitome of style and glamour, Gloria was a successful model in the late 1940s and 50s, working for couturiers such as Jacques Fath and Christian Dior. Gloria was also featured in Vogue and went on to become known as Britain's 'most perfect outdoor girl.' The collection across the four auctions comprises 255 lots and is estimated to realise in the region of £2,000,000. Gloria Clarry (1927-2018) married lawyer David Rutherston (1925-1975) in 1965, son of the artist Albert Rutherston (1881-1953) and nephew of artist Sir William Rothenstein (1872-1945). Following the death of her first husband in 1975, Gloria married Henry, 8th Earl Bathurst (1927-2011) in 1978 ... More



Graphic designer Milton Glaser in his studio in New York, Nov. 22, 2012. Robert Wright/The New York Times.

by William Grimes



NEW YORK (NYT NEWS SERVICE).- Milton Glaser, a graphic designer who changed the vocabulary of American visual culture in the 1960s and '70s with his brightly colored, extroverted posters, magazines, book covers and record sleeves, notably his 1967 poster of Bob Dylan with psychedelic hair and his "I (HEART) NY" logo, died Friday, his 91st birthday, in Manhattan. His wife and only immediate survivor, Shirley Glaser, said the cause was a stroke. He also had renal failure. Glaser brought wit, whimsy, narrative and skilled drawing to commercial art at a time when advertising was dominated by the severe strictures of modernism on one hand and the cozy realism of magazines like The Saturday Evening Post on the other. At Push Pin Studios, which he and several former Cooper Union classmates formed in 1954, he opened up design to myriad influences and styles that began to grab the attention of ... More
Cecily Brown and Adrian Ghenie star in London session ONE: A Global Sale of the 20th Century
Julien's Auctions to offer Property from the Collection of Steve Martin
Director of Luther W. Brady Art Gallery to retire


Cecily Brown, Carnival and Lent, 2006-2008 (detail). Estimate: £4,000,000-6,000,000. © Christie's Images Ltd 2020.



LONDON.- As part of ONE: A Global Sale of the 20th Century on 10 July 2020, Christie's will offer seminal paintings by Adrian Ghenie and Cecily Brown as leading highlights in London. An extraordinary, cinematic vision spanning two metres in width, The Arrival 3 (2015, estimate: £3,000,000-5,000,000) is an outstanding large-scale painting by Adrian Ghenie. Against a vibrant backdrop of rich, abstract texture and swirling, hallucinatory forms, a central figure looms large, clad in a crisp black suit. A pyrotechnic expanse of colour and movement, Carnival and Lent (2006-2008, estimate: £4,000,000 - 6,000,000) exemplifies Cecily Brown's command of oil paint. Inspired by Pieter Brueghel the Elder's 1559 masterpiece The Fight Between Carnival and Lent, its 2.5-meter canvas creates an all-engulfing textural and chromatic world, with hints at figure and form caught in swirls, tangles ... More



Steve Martin's Gibson banjo gifted by Queen Latifah.



BEVERLY HILLS, CA.- Julien's Auctions has announced Property from the Collection of Steve Martin, an exclusive auction event celebrating the distinguished career of the legendary American actor, comedian, writer, playwright, producer, musician, and composer, taking place Saturday, July 18th, 2020 at Julien's Auctions in Beverly Hills and live online at juliensauctions.com. It was also announced today that all of Steve Martin's proceeds he receives from the auction will be donated by him to benefit The Motion Picture Home in honor of Roddy McDowall, the late legendary stage, film and television actor and philanthropist for the Motion Picture & Television Fund's Country House and Hospital. MPTF supports working and retired members of the entertainment community with a safety net of health and social services, including temporary financial assistance, case management, and residential living. On offer is the most comprehensive co ... More



Lenore D. Miller, who is also chief curator of university art galleries, will retire at the end of June after nearly 50 years at GW.



WASHINGTON, DC.- After working almost 50 years with George Washington University art galleries, Lenore D. Miller, M.F.A. '72, has announced her retirement. As director of university art galleries and chief curator, Ms. Miller leads the Luther W. Brady Art Gallery team while also overseeing GW's art collection. Throughout her time at GW, she also taught courses on exhibition design, art history survey and design for the fine arts. Ms. Miller began her career in 1973, soon after she graduated from GW, as the assistant to the curator at the Dimock Gallery. Under then-curator Donald Kline, she organized exhibitions with the university's fine arts department with an educational mission. She was appointed as curator of art in 1975 once Mr. Kline retired. During her years at the Dimock Gallery, Ms. Miller fondly remembers meeting Andy Warhol and speaking with him in Lisner ... More
Victoria Miro announces an extended reality (XR) exhibition of new paintings by Celia Paul
Overlooked no more: Valerie Solanas, radical feminist who shot Andy Warhol
Celebrating India's innovative spirit through design


Celia Paul, British Museum and Plane Tree Branches, 2020 (detail). Oil on canvas, 63.5 x 55.9 cm. 25 x 22 in © Celia Paul. Courtesy the artist and Victoria Miro.



LONDON.- Victoria Miro is presenting My Studio, an extended reality (XR) exhibition of new paintings by the celebrated British artist Celia Paul, to launch the London Collective. This series of works completed during these past months focus on the artist's home and studio, a place that sits at the very heart of Paul's enquiry into the complexities of interior and exterior life, constancy and change. Subjects include its familiar fixtures and sparse furnishings, transfigured by changing light, and the London landmarks visible from its windows, such as the British Museum, rendered strangely quiet during the lockdown, and the BT Tower, given added resonance as we are made to adjust our avenues of communication. Celia Paul's art is founded on deep connections – familial, creative, looping back and forth across time – to people and places, and is self-assuredly quiet, contemplative and ultimately moving in its atte ... More



Copiy of "SCUM Manifesto," by Valerie Solanas, Feb. 21, 2012. Solanas, who was a radical feminist and pioneering queer theorist, attempted to murder Andy Warhol in 1968. Hiroko Masuike/The New York Times.

by Bonnie Wertheim



NEW YORK (NYT NEWS SERVICE).- On June 3, 1968, Valerie Solanas walked into Andy Warhol's studio, the Factory, with a gun and a plan to enact vengeance. What happened next came to define her life and legacy: She fired at Warhol, nearly killing him. But the violent incident, which reduced her to a tabloid headline, was hardly her most meaningful contribution to history. Solanas was a radical feminist (although she would say she loathed most feminists), a pioneering queer theorist and the author of "SCUM Manifesto," in which she argues for the wholesale extermination of men. The manifesto, self-published in 1967, reads as satire, although Solanas defended it as serious. Its opening line is at once absurd and a call to arms for the coalition she was forming, the Society for Cutting ... More



Divya Thakur with her dog Trooper at home in Mumbai, India, June 13, 2020. Atul Loke/The New York Times.

by Perry Garfinkel



NEW YORK (NYT NEWS SERVICE).- Divya Thakur was six years old when she won her first design award as a student at St. Kabir Public School in Chandigarh, India, where her father, an Indian army major, was stationed. She won a hand-embroidered towel set from the sponsor, Camlin, a crayon manufacturer. "Even back then," she said in a Skype interview last month, "I knew I would do something in the creative area with my life." Now 49, Thakur is the founder of Design Temple, a 21-year-old multifaceted boutique design shop in Mumbai, India. Since that first prize, she has collected dozens more, most recently a Devi Award in 2017, in a long-running crusade to gain recognition and respect for India's visual design tradition. "For centuries the intellectual, artistic and spiritual capital of India has been plucked, exploited and plundered, with barely ... More
Artpace participates in worldwide exhibition of Félix González-Torres' "Untitled" (Fortune Cookie Corner)
Sarah Crowner is now represented by Kayne Griffin Corcoran
CANDID: An exhibition of contemporary beach life already nostalgic opens at Museum Panorama Mesdag


Félix González-Torres, "Untitled" (Fortune Cookie Corner), 1990. Fortune cookies, endless supply. Overall dimensions vary with installation. Photo: Casie Lomeli. Courtesy of Artpace San Antonio.



SAN ANTONIO, TX.- Artpace San Antonio is among a group of 1,000 international people and organizations invited to participate in the Andrea Rosen Gallery and David Zwirner live exhibition of González Torres's "Untitled" (Fortune Cookie Corner). The participants are artists, friends, and colleagues of the late González-Torres, who have each staged the work in their own interpretations of "place." These places make up the "site" of the exhibition, which in this case, is the whole world. each staged the work in their own interpretations of "place." These places make up the "site" of the exhibition, which in this case, is the whole world. staged the work in their own interpretations of "place." These places make up the "site" of the exhibition, which in this case, is the whole world. González-Torres often used common objects, such as candy or stacks of paper, ... More



Sarah Crowner, Indigo and Vine, 2020. Acrylic on canvas, sewn, 84 x 58 inches (213.4 x 147.3 centimeters). Courtesy the Artist and Kayne Griffin Corcoran, Los Angeles.



LOS ANGELES, CA.- Kayne Griffin Corcoran announced representation of artist Sarah Crowner. The artist's first solo exhibition with the gallery is planned for April 2021, preceded by a group exhibition that will include new work by the artist opening July 11, 2020. Sarah Crowner's varied practice consists of paintings, sculptures, and installations inviting the viewer to engage with the work and the environment that surrounds it. In addition to the natural world, Crowner's visual language often references mid-century abstraction, architecture, and modern design, re-contextualizing those visual cues and found forms into cut and sewn paintings, stage design, and costumes. For Crowner, shifts in scale and materials amplify simple forms and their relation to the human body. For her project in 2019 with Kayne Griffin Corcoran, Crowner created three individually ... More



June 2019, Sandra Uittenbogaart.



THE HAGUE.- Museum Panorama Mesdag presents a selection of over seventy photos of contemporary beach life from a non-commonplace perspective, in the exhibition CANDID. The photos were commissioned by the museum from four up-and-coming photographers from The Hague that have started a collective on this occasion: Giedo van der Zwan (1967), Mirjam Rosa (1982), Merel Schoneveld (1983) and Sandra Uittenbogaart (1975). Together they created a portrait of contemporary beach life, that became nostalgic sooner than expected. The exhibition CANDID is on show until 28 February 2021 in The Hague. The diversity of the seaside resort is the common denominator of the collective. As a result, the photographers challenge and inspire each other. Ordinary people are captured in everyday situations against the backdrop of the familiar seaside resort, but they appear to be anything but ordinary. The artists do not stage-manage nor pass judgement; their photos are self-explanatory, honest, and ... More
A New Era for Sotheby's Marquee Auctions

Flashback
On a day like today, Italian architect Domenico Fontana died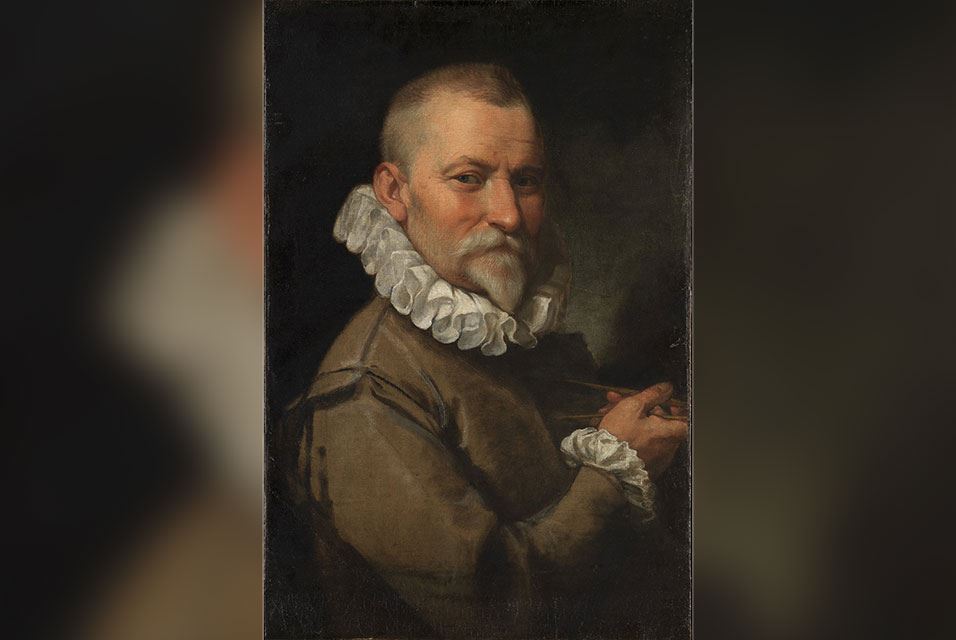 July 28, 1607. Domenico Fontana (1543 - 28 June 1607) was an Italian architect of the late Renaissance, born in today's Ticino. He worked primarily in Italy, at Rome and Naples. In 1586 he erected the 327 ton obelisk in the Square of St. Peter's. This feat of engineering took the concerted effort of 900 men, 75 horses and countless pulleys and meters of rope. In this image: Domenico Fontana by Federico Zuccari.
---

Museums, Exhibits, Artists, Milestones, Digital Art, Architecture, Photography,
Photographers, Special Photos, Special Reports, Featured Stories, Auctions, Art Fairs,
Anecdotes, Art Quiz, Education, Mythology, 3D Images, Last Week,

.
---
Royalville Communications, Inc
produces: