A DNA test led Yashua Klos to new connections and new art
Yashua Klos in the process of making "Our Labour" (2021) at BRIC, woodblock print on muslin and canvas. On the occasion of his inspiring solo debut at the Wellin Museum, Klos talks about Black labor, migration — and the family he recently discovered. Yashua Klos; Andrew Kis via The New York Times.

by Seph Rodney
NEW YORK, NY
.-
Yashua Klos' first solo museum exhibition, "Our Labour," at the Wellin Museum of Art in Clinton, New York, is a profoundly meaningful debut. Throughout the show, the themes of family and labor are intertwined with the historical circumstance of the Great Migration and the coincidence of a DNA test revealing his blood relatives who had been barely known by the artist. Klos, 44, born to a white mother and a Black father and raised by the mother in Chicago, now has his studio in the New York City borough of the Bronx. He primarily works in the medium of prints, which make up the majority of pieces in "Our Labour." But the show also includes his hybrid maple wood sculptures that integrate ritual masks signifying Klos' African ancestry, and welding helmets, which are the accoutrements of car manufacturing labor — the profession that lured his own family from Memphis, Tennessee, to Detroit in the 1960s. I have long been familiar with Klos' oeuvre after ...
More
The Best Photos of the Day
National Museum Sweden acquires French figurative table clocks
The Bruce Museum announces promised gift of works on paper by Picasso and Matisse
A singular American painter and his perennially disregarded wife


Jean-André Reiche, Gentilhomme (movement): Table Clock "La Prière du Soir" ("Evening Prayers"), 1820. Bronze, enamel. NMK 50/2021. Photo: Viktor Fordell/Nationalmuseum.



STOCKHOLM.- Nationalmuseum has recently acquired several significant French figurative table clocks dating from the early 19th century. These were an obligatory feature of the interior decoration style that developed during the Empire period, adorning many a mantelpiece and console table. Their primary function was not timekeeping, but rather to serve as covert but elegant propaganda for the French Empire and, later, for the restored Bourbon monarchy. They are described as figurative because the clock forms part of an ensemble including sculptures and decorative elements in gilt bronze. A taste for bronze ostentation of this kind, which first developed in Paris in the second half of the 18th century, flourished in the Empire period. The luxury goods industry employed over 10,000 people in the French capital. For Napoleon, this was a source of pride for France ... More



Henri Matisse, Autoportrait (1944).



GREENWICH, CONN.- The Bruce Museum today announced a major promised gift of two outstanding works on paper by Pablo Picasso and Henri Matisse from Greenwich resident and longtime Bruce Museum supporter William L. Richter. Picasso's Bouquet des Fleurs (1909-10) and Matisse's Autoportrait (1944) will be exhibited for the first time in the William L. Richter Art Wing when the newly expanded Bruce Museum opens in spring 2023. Both works bracket the high period of European Modernism and underscore the direction for the New Bruce set by the Bruce Museum's Susan E. Lynch Executive Director and CEO Robert Wolterstorff: to focus on the trajectory of Modernism, from the Impressionists in France and the United States to the global phenomenon of contemporary art in our own time. "Words can't express how thrilled I am to have these two powerful works enter the Bruce collection," said Mr. Wolterstorff. "Together they send a s ... More



Boathouse by the Sea, 1959. Oil on canvas, 72 x 60 inches. Milton Avery Trust. © 2021 The Milton Avery Trust / Artists Rights Society (ARS), New York. Courtesy Victoria Miro and Waqas Wajahat.

by Roberta Smith



HARTFORD, CONN.- There has always been a certain fluidity in our appreciation of American modernist maverick Milton Avery (1885-1965). And this is not just because of the light, airy, daringly simplified, almost abstract paintings of sand, sea and sky that characterized his last decade. Avery was artistically unaffiliated, never part of a particular group or movement, which means that general awareness of his work has fluctuated a great deal. It's always surprising to realize the range of his styles and subjects, and the chance to do so has been too rare. Now one of those rare moments has arrived, with quite a bit of Avery's work on view in shows in New York City and Hartford, Connecticut. The Wadsworth Atheneum Museum of Art in Hartford ... More
Exhibition presents sculpture by fourteen of the most prominent artists of the last century
Phillips to host auction dedicated to Contemporary Studio Artworks from the Estate of Jack R. Bershad
Major large-scale Childe Hassam painting leads Freeman's June American Art Auction


Installation view.



LOS ANGELES, CA.- L.A. Louver is presenting an exhibition of sculpture by fourteen of the most prominent artists of the last century. The exhibition takes place in the first-floor galleries and includes works by Tony Cragg, Edgard de Souza, Richard Deacon, Mark di Suvero, Toshikatsu Endo, Shirazeh Houshairy, Sui Jianguo, Ed Kienholz, John McCracken, David Nash, Olaf Nicolai, Ken Price, Alison Saar and Peter Shelton. Encompassing a wide range of scale and medium, the group is unified by an emphasis on embodied abstraction. The body remains a constant presence throughout, with an insistence on spatial physicality. Material diversity includes bronze, cedar, ceramic, iron, fiberglass, lead, leather, plastic, polyester resin, steel, stainless steel, titanium, wood and zinc. Works by John McCracken, Richard Deacon and Tony Cragg confront the viewer on a human scale: each has an upright presence that serves as a stand-in or foil for the human form. McCracken ... More



Wendell Castle, Center table, 1973 Estimate: $50,000 - 70,000. Image courtesy of Phillips.



NEW YORK, NY.- Phillips will present Contemporary Studio Artworks from the Estate of Jack R. Bershad, a dedicated auction on 8 June, presenting over sixty works from the celebrated collection that Mr. Bershad built with his wife, Helen. Together over the course of six decades, the Bershads championed makers such as Hans Coper and Wendell Castle well before their institutional and market recognition. Ceramists such as Jennifer Lee, Gordon Baldwin, Alison Britton, and Bodil Manz are also well-represented in the sale, offering buyers an exciting chance to expand their own collections. This dedicated auction will follow Phillips' seasonal New York Design auction on 7 June. Meaghan Roddy, Head of Design, West Coast and Senior International Specialist, said, "Over the last sixty years, Mr. and Mrs. Bershad built their stunning collection. Through their collecting and philanthropy, they honored their hometown of Philadelphia's ... More



Childe Hassam, Mrs. Hassam in a Garden, 1889 (detail). Estimate: $2,000,000-3,000,000.



PHILADELPHIA, PA.- On June 5, Freeman's will offer Childe Hassam's Mrs. Hassam in a Garden (1889), the largest and most significant canvas from the artist's Parisian period. The impressive oil (estimate: $2,000,000-3,000,000) comes fresh to market from an important Philadelphia collection, thus continuing Freeman's long-established legacy of offering significant and rare works from local private collections. Alasdair Nichol, Chairman and Head of Fine Art, remarks, "We have been increasingly successful in attracting and selling important paintings by world-renowned artists spanning centuries and collecting categories. We are extremely proud to present such an impressive scene from one of the leading American Impressionists." The sizeable work offers an intimate view of the artist's wife, Maud, seated in profile in a terraced garden just outside of the French capital, where the artist and his wife leisured betwe ... More
Better by design: Trio of sales total £2 million
Artists are putting their stamp on Lincoln Center
Alejandro Diaz opens his second solo exhibition with Ruiz-Healy Art


Finn Juhl (Danish 1912-1989) for Niels Vodder, Armchair, designed 1946.



LONDON.- From the rarest car mascots to the genius of Josef Hoffmann and Lucie Rie, the Lyon & Turnbull spring Design series excelled. Embracing the best in progressive design movements from the Victorian era to the present day, the trio of live online sales - Design Since 1860 (April 20-21), Lalique (April 28) and Modern Made (April 29) – posted a landmark total of £2 million. Starting the ball rolling in Edinburgh, the Design Since 1860 sale was led by a fine example of Viennese Secessionism with the perfect provenance. The pair of white painted pine Kohlenkiste (coal boxes) designed by Josef Hoffman (1870-1956) for the Wiener Werkstatte came for sale by family descent from Jerome and Margaret Stonborough-Wittgenstein of Berlin. When the couple married in Vienna in 1905, the bride's father Karl Wittgenstein (1847-1913, commissioned ... More



Nina Chanel Abney, among the first in a rotating program of visual artists commissioned to create works for Lincoln Center, in New York, Oct. 22, 2018.Daniel Dorsa/The New York Times.

by Hilarie M. Sheets



NEW YORK, NY.- When David Geffen Hall reopens on the Lincoln Center campus this fall, two new artworks — one by Nina Chanel Abney and one by Jacolby Satterwhite — will be splayed across the 65th Street facade and a 50-foot media wall in the renovated lobby. These highly visible pieces, commissioned by the performing arts center in partnership with the Studio Museum in Harlem and the Public Art Fund, are positioned to help reintroduce the longtime home of the New York Philharmonic to the city and will inaugurate a rotating program of visual artists invited to put their stamp on Lincoln Center. "One of the overriding goals of the new David Geffen Hall has been to find ways to connect ... More



Alejandro Diaz, Please Do Not Touch, 2009. Signed on the reverse of the sign Mexican clay pot, acrylic painted on cast resin sign, live cactus Pot with plant: 10 x 10 x 19 in, 25.4 x 25.4 x 48.26 cm. Pedestal: 12x 12 x 48 in, 30.48 x 30.48 x 121.92 cm. Edition of 3 plus 2 AP.



NEW YORK, NY.- Ruiz-Healy Art opened Alejandro Diaz: Words for White Walls. This is the artist's second solo exhibition with the gallery. Grounded in his Mexican American heritage and South Texas aesthetics, Diaz presents a recent series of textbased paintings and prints as well as found object sculptures from the late 2000's. Diaz also showcases a series of cardboard signs, which he began making and selling on the streets of Manhattan in the late 1990s. Since returning to painting in 2014, the artist's recent body of paintings and prints rely on the ability of text to conjure mental images. A moody red canvas inscribed with the lyric "A room in Mexico with enamel pink interior and red velvet furnishings" evokes the warmth, ... More
Allison Glenn joins Public Art Fund as Senior Curator
Conversations on Tomorrow: 4 Indian galleries exhibit at Sadie Coles in London
Ketterer Kunst to offer two works by Otto Dix from the estate of Munich collector Cornelius Gurlitt


Allison Glenn. Photo: Jenny Risher, Courtesy Public Art Fund, NY.



NEW YORK, NY.- Public Art Fund announced that Allison Glenn will join the organization as Senior Curator on May 16, 2022. A curator and writer with a strong background in public art, Glenn works closely with artists, colleagues, and communities to develop thoughtful, curatorially rigorous exhibitions that respond to and transform our understanding of the world. Over the past two years, the value of public art as essential to the life and vitality of our cities has been underscored by the epochal changes to the ways people live and work. Bringing a broad range of experience to the position, Glenn will join the senior staff team and play a vital role in shaping Public Art Fund's future artistic program through new exhibitions that engage with public spaces across New York City's five boroughs and beyond. "Among her generation, Allison Glenn has emerged as a leading curatorial voice," said Artistic ... More



Installation view.



LONDON.- "What comes after reason?" Bonaventure Soh Bejeng Ndikung asked last year. By addressing a strain of "reason" – a rational, canonizing, cerebral, and intoxicating form of thought prescribed by the West – Ndikung was adumbrating his intellectual resistance. In art, "reason" might suggest submission to the pervading institutional structures, and satisfying market predilections and aesthetic trends. For Ndikung, however, a departure and de-linking from "reason" would give way to the acknowledgement of what he calls the "multiplicity of beings, and the multiplicities of ways of being in the world – cognitively and phenomenologically". It is in this spirit that this collaborative exhibition, Conversations on Tomorrow, presents the shape and variety of human terrains—both geographic and psychological—that manifest in and from South and Southeast Asia. Across the exhibition, each artist cultivates an elastic approach ... More



Otto Dix – Dame in der Loge, 1922 Watercolor with pen drawing on paper, 49.4 x 39.8 cm. US$ 161,000-207,000 / € 140,000- 180,000.



MUNICH.- Ten years after the "Schwabing Art Trove", a discovery that made the headlines around the world, two excellent watercolors from Otto Dix will be called up at Ketterer Kunst in Munich in Germany in the Evening Sale of the June Auction on June 10, 2022. These works come from the estate of the 2014 deceased Munich collector Cornelius Gurlitt. Otto Dix painted the two watercolors in Düsseldorf in 1922, a time that yielded some of his most important watercolors, which still enjoy great popularity today. "Dame in der Loge" (estimate: US$ 161,000- 207,000/ € 140,000- 180,000) appears as a glamorous figure from a world between the demimonde and the bourgeoisie, an enigmatic social typology characteristic of Dix, while the "Dompteuse" (estimate: US$ 115,000- 172,500 / € 100,000- 150,000) is a telling and punchy combination of the themes ... More
Exhibition Tour---In America: An Anthology of Fashion with Andrew Bolton

Flashback
On a day like today, French painter and sculptor Georges Braque was born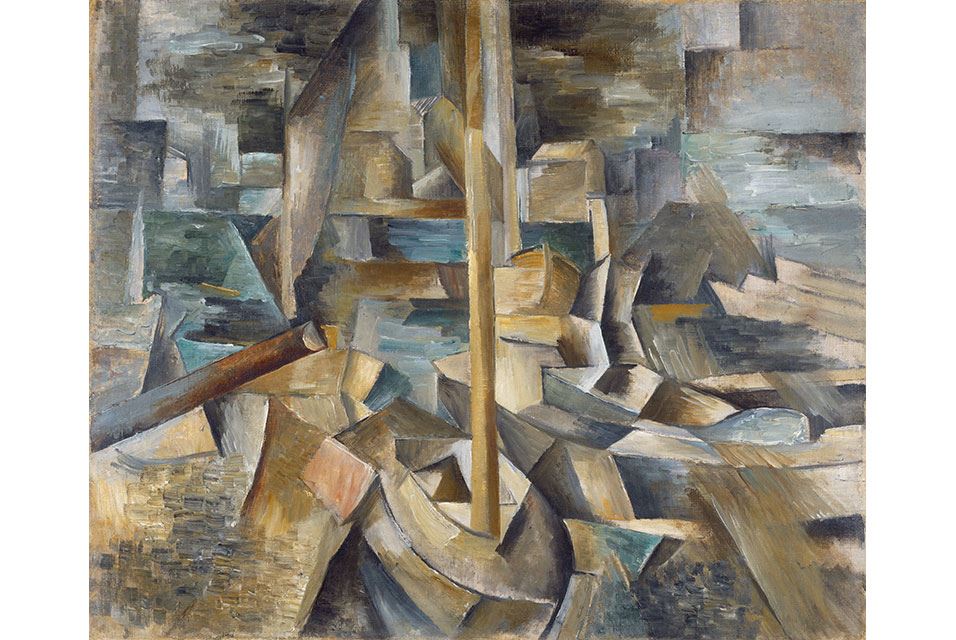 May 13, 1882. Georges Braque (13 May 1882 - 31 August 1963) was a major 20th-century French painter, collagist, draughtsman, printmaker and sculptor. His most important contributions to the history of art were in his alliance with Fauvism from 1906, and the role he played in the development of Cubism. In this image: The Port (Le Port), winter-spring 1909. Oil on canvas, 40.6 x 48.2 cm. Washington, National Gallery of Art,Gift of Victoria Nebecker Coberly in memory of her son, John W. Mudd © Georges Braque, VEGAP, Bilbao, 2014. Photo © National Gallery of Art, Washington.
---

Museums, Exhibits, Artists, Milestones, Digital Art, Architecture, Photography,
Photographers, Special Photos, Special Reports, Featured Stories, Auctions, Art Fairs,
Anecdotes, Art Quiz, Education, Mythology, 3D Images, Last Week,

.
---
Royalville Communications, Inc
produces: