The Whitney canceled their exhibition. Now those artists want reform.
The Whitney Museum of American Art in New York, March 5, 2020. The Whitney Museum of American Art had planned to show reopen its galleries an exhibition of artistic responses to the coronavirus pandemic and Black Lives Matter demonstrations shortly after reopening. But the museum reversed course last month, canceling its plans after several artists of color included in the show publicly criticized the Whitney for acquiring their works without consent and through discounted sales meant to benefit racial justice charities. Jeenah Moon/The New York Times.

by Zachary Small
NEW YORK
(NYT NEWS SERVICE)
.-
The Whitney Museum of American Art had planned to show an exhibition of artistic responses to the coronavirus pandemic and Black Lives Matter demonstrations shortly after reopening. But the museum reversed course last month, canceling its plans after several artists of color included in the show publicly criticized the Whitney for acquiring their works without consent and through discounted sales meant to benefit racial justice charities. The artists said it wasn't fair to acquire the works the way the museum did — saying that the museum should be compensating artists properly if they wanted to acquire their work, especially in a time when the artists need money because of the pandemic. On Thursday, more than 45 of the 80 artists in the exhibition released a letter urging that the museum "commit to a year of action" to produce meaningful change, by reforming its ethical guidelines for acquisitions and by reconsidering its role in a charged political moment. ...
More
The Best Photos of the Day
Pace Gallery exhibits a monumental sculpture by Jean Dubuffet
Gerhard Richter's Abstraktes Bild (649-2) leads Sotheby's Hong Kong Contemporary Art Autumn Sales 2020
Cambridge University's Fitzwilliam Museum acquires important paintings


Installation view of Jean Dubuffet: Le cirque, 540 West 25th Street, New York. September 18 – October 24, 2020. Photography courtesy of Pace Gallery.



NEW YORK, NY.- Pace Gallery is presenting Jean Dubuffet's Le cirque (1970), a monumental sculpture occupying the entire first-floor gallery of Pace's 540 West 25th Street location in New York, on view September 18 – October 24, 2020. Le cirque is a habitable environment that suggests an urban plaza, which Dubuffet first conceived and sculpted in 1970 as a model for future enlargement at architectural scale. Measuring thirty feet square and thirteen feet in height, Le cirque is one of the last remaining works from the late-1960s and early-1970s to be realized at heroic size. Marking a crucial moment in Dubuffet's deeply influential oeuvre, it stands as a major achievement in the artist's sculptural practice and heralds the final chapter in his celebrated Hourloupe cycle, which lasted from 1962 to 1974. This cycle, the longest and most prolific of Dubuffet's career, began with drawings and paintings, to ... More



Gerhard Richter, Abstraktes Bild (649-2), 1987 (detail), oil on canvas, 200 by 200 cm, 78 ¾ by 78 ¾ in. Est. HK$ 120,000,000-140,000,000 / US$ 15,490,000-18,070,000. Courtesy Sotheby's.



HONG KONG.- Sotheby's Contemporary Art Autumn Sales 2020, scheduled for 6-7 October in Hong Kong, will present an exceptional selection of Western and Asian masterpieces of unprecedented diversity. Led by the stunningly vibrant Abstraktes Bild (649-2) by Gerhard Richter, the Evening Sale showcases a stellar line-up of international blue-chip artists such as David Hockney and Adrian Ghenie, as well as debuts of major works in Asia by Francis Bacon, Marlene Dumas and Ellsworth Kelly. Also highlighting the sales are Asian masterpieces by prominent names including Yayoi Kusama, Liu Ye, Kazuo Shiraga and Takeo Yamaguchi, alongside two prestigious collections from esteemed Asian connoisseurs which will be offered across the Evening and Day Sales. "The First Avant Garde: Masterworks from the Johnson Chang Collection" features 14 Chinese ... More



Adriaen Jansz. van Ostade (1610-1685), Portrait of a Boy, three-quarter-length, holding gloves. © The Fitzwilliam Museum, Cambridge.



CAMBRIDGE.- The Fitzwilliam Museum has acquired three important paintings: two delightfully solemn portraits of young boys by the Dutch artist, Adriaen van Ostade (1610-85), and a vibrantly imaginary Italianate coastal view by the Venetian painter, Francesco Guardi (1712-93). The paintings have been received from the estate of George Pinto under the Acceptance in Lieu scheme, which is administered by the Arts Council. It allows for the ownership of works of art to be transferred to the nation in lieu of inheritance tax. Educated at Trinity College, Cambridge, George Pinto (1929-2018) was a merchant banker who served as director of Kleinwort Benson. A passionate and distinguished art collector, he was a life member of the Fitzwilliam Museum's Marlay Group, a patron of the National Gallery and trustee of the Wallace Collection. A generous and engaging individual, he was fondly described ... More
McNay Art Museum awarded $1.5 million grant from the Andrew W. Mellon Foundation
Banksy to make an impression at Sotheby's
12-carat diamond and platinum ring slips on a new finger for $143,750 at Andrew Jones Auctions sale


The McNay was the only museum selected in Texas—and one among twelve in the nation—to receive this grant in recognition of a sustained commitment to inclusive, community-driven work.



SAN ANTONIO, TX.- The McNay Art Museum announced an award of $1.5 million in operating support over the next 18 months from The Andrew W. Mellon Foundation, the nation's largest funder of the arts and humanities. This first-time support of the McNay comes from Mellon's Art Museum Futures Fund (AMFF), a new COVID-19 relief initiative (announced today) created to help sustain mid-sized art museums with immediate funding as they adapt to unprecedented financial obstacles posed by this worldwide health crisis. "We are profoundly grateful to The Andrew W. Mellon Foundation for recognizing our role in the health and happiness of San Antonio," said Richard Aste, McNay Director and CEO. "We have a long road ahead, and Mellon's major support during the pandemic enables the McNay to continue leaning into our mission of engaging ... More



Banksy, Show me the Monet, 2005. Est. £3-5million. Courtesy Sotheby's.



LONDON.- Banksy's dissident version of Claude Monet's Impressionist masterpiece has gone on public display in Sotheby's New Bond Street galleries today for a special two-day preview, before it is unveiled in New York and Hong Kong later this month [34-35 New Bond Street, W1S 2RT]. Show me the Monet (2005) will then return to London, where it will be offered for sale with an estimate of £3-5 million on 21 October. The painting will star as a highlight of Sotheby's third livestream auction event, 'Modernités / Contemporary', which brings together two sales of Modern and Contemporary art held in sequence from Paris and London. Show me the Monet was first shown 15 years ago as part of Banksy's second gallery exhibition at 100 Westbourne Grove in Notting Hill, West London. Titled 'Crude Oils: A Gallery of Re-mixed Masterpieces, Vandalism and Vermin', the free-admission show comprised 22 ... More



The auction's expected top lot was this dazzling 12.01-carat emerald cut diamond (K VVS1) and platinum ring. It sailed past its $80,000-$120,000 estimate to finish at $143,750.



LOS ANGELES, CA.- A dazzling 12.01-carat emerald cut diamond (K VVS1) and platinum ring slipped onto a new finger for $143,750 in Andrew Jones Auctions' inaugural Fine Jewelry, Watches & Timepieces auction held September 16th. The online auction, a tidy affair with just over 100 lots, achieved a 96 percent sell-through and totaled more than $700,000. The quality merchandise was pulled from various private collections, highlighted by the collection of Mary and Lou Silver of Indian Wells, California. The Silver collection included the diamond and platinum ring, which was the sale's expected top lot. A Tiffany & Co. 5.41-carat oval brilliant cut natural fancy yellow diamond ring, also from the Silver collection, hit $50,000. "This was a different type of sale for us – exclusively high-end jewelry and timepieces," said Andrew Jones, president and CEO of Andrew Jones ... More
Retrospective devoted to the work of Lee Krasner opens at the Guggenheim Museum Bilbao
'Irreplaceable' stolen books recovered in Romania
Metropolitan Museum of Art announces new appointments


Lee Krasner, Self-Portrait, ca. 1928. Oil on canvas, 76.5 x 63.8 cm. The Jewish Museum, New York. Purchase: Esther Leah Ritz Bequest; B. Gerald Cantor, Lady Kathleen Epstein, and Louis E. & Rosalyn M. Schecter. Gifts by exchange; Fine Arts Acquisitions Committee Fund; & Miriam Handler Fund, 2008–32 © The Pollock-Krasner Foundation. Courtesy Jewish Museum, New York.



BILBAO.- The Guggenheim Museum Bilbao is presenting Lee Krasner. Living Color, a retrospective devoted to this New York artist who was a pioneer in Abstract Expressionism. The show brings together a broad range of pieces, some of them never before shown in Europe. In this exhibition, sponsored by Seguros Bilbao, the public will be able to see the incessant reinvention and exploration that characterizes the oeuvre of Lee Krasner (1908–1984) throughout the 50 years of her career: from her earliest self-portraits and life drawings to her exuberant, monumental works from the early 1960's, along with her Little Images from the late 1940's and ... More



A handout picture released by the Directorate for the Investigation of Organized Crime (DIICOT) on September 18, 2020 shows books and other historical artefacts in the courtyard of a home at an undisclosed location in Neamt county in Romania. AFP PHOTO.



BUCHAREST (AFP).- Romanian prosecutors said Friday they had recovered around 200 centuries-old stolen books which disappeared from storage in Britain in 2017, including works by Galileo Galilei, Isaac Newton and Dante Alighieri. First editions of Galileo and Newton, a text by Italian scholar Petrarch, rare versions of Dante and 80 sketches by Spanish painter Francisco de Goya were burgled in January 2017 from a depot in Feltham, near London. The thieves rappeled 12 metres (40 feet) to the ground after entering via the roof, dodging movement sensors to spend hours rummaging through thousands of works destined for an auction in the US. They left by the same route with a haul whose total value was estimated at around two million euros ($2.4 million). Police arrested four Romanian suspects ... More



Heidi Holder joins The Met from the Queens Museum.



NEW YORK, NY.- The Metropolitan Museum of Art announced today two new senior appointments: Heidi Holder will join as the Frederick P. and Sandra P. Rose Chair of Education, and Douglas Hegley will join as Chief Digital Officer. Both will start at the Museum in October. "The Met's Digital and Educational offerings present a fully global perspective of the Museum's collection and scholarship while expanding outreach to our growing audiences; sparking curiosity and dialogue; and fostering a greater understanding of our world today," said Max Hollein, Director of the Museum. "The successful interplay of these areas is critical to furthering the Museum's mission in the 21st century, an effort that will be greatly strengthened by the vision, expertise, and commitment to learning and engagement that these two exceptional leaders bring to The Met. I look forward to welcoming them both." The two positions will report to Inka ... More
West African Portrait photography exhibition opens at David Hill Gallery
France's master mimic and voice of Asterix dies aged 93
Four unique mobiles by Ib Geertsen offered in Dorotheum's Design Auction


Leonce Raphael Agbodjelou, Untitled #2 (Egungun series), 2011.



LONDON.- David Hill Gallery is presenting Tête-à-Têtes: West African Portraiture from Independence into the 21st Century. This group show brings together the work of some of the most influential and important West African photographers, including Sanlé Sory (b.1943), Rachidi Bissiriou (b. 1950), Malick Sidibé (1935-2016) and Leonce Raphael Agbodjélou (v.1965). On view now at the London Gallery and co-curated by Carrie Scott and David Hill, the exhibition celebrates the emergence of a new identity in post-colonial West Africa. To run alongside the physical exhibition, a sixteen-minute film has been produced by David Hill and Carrie Scott to introduce the work of these four incredible photographers. Giving an overview of the region in the throes of change after gaining independence in the 1960, the curators discuss the work of the four photographers in the show within this context. It is possible to sign up for a personal exhibition t ... More



Carel lent his mellifluous tones to a dazzling array of animated characters.



PARIS (AFP).- The French voice of characters from Mickey Mouse to Asterix and the "Star Wars" droid C-3PO has died aged 93, voice actor Roger Carel's family said Friday. Carel lent his mellifluous tones to a dazzling array of animated characters from Winnie the Pooh and Kermit the Frog on "The Muppet Show" to Kaa the snake in "The Jungle Book". A legendary mimic, he also dubbed Jiminy Cricket in Disney's "Pinocchio" into French as well as Charlie Chaplin in "The Dictator". For generations of French cinemagoers Carel personified the hugely popular American comedian Jerry Lewis, as well as Peter Sellers, Jack Lemmon and Peter Ustinov. Such was his versatility that he often dubbed a number of characters in the same film. Carel continued working well into his 80s, by which time he had clocked up more than 300 films and television series, playing his final Asterix aged 85. His son said the actor, whose real name was Roger Bancharel, was buried Thursday ... More



A "Cirkelmobile" Ib Geertsen 1954, black and blue lacquered iron, c. 110 x 150 cm. A unique piece. With a certificate from Birthe Geertsen, Head of the IB GEERTSEN FOUNDATION and Ib Geertsen's widow. Provenance: Ib Geertsen Private Collection - Private Collection, Belgium. Estimate € 30,000 - 36,000.



VIENNA.- Ib Geertsen (1940 –2009), a leading Danish representative of Concrete Art, chose mobiles up to three meters in height as one of the many expressions of his diverse oeuvre. For him they were "aerial drawings". Four particularly prominent examples of these, all of them unique, will be available at Dorotheum's Design Online Auction on 7 October 2020. Originally from the private collection of the artist and subsequently from a Belgian private collection, the 1.5 by 1.1 metre early piece "Cirkelmobile" is a unique item. Attached to the ceiling or a branch, this 1954 mobile made of black and blue lacquered iron looks like a three-dimensional moving drawing that constantly changes playfully and poetically as a result of drafts or wind (estimate € 30,000 – 36,000). Finer, more energetic ... More
Cities of the Gods, 1970 | From the Vaults

Flashback
On a day like today, Danish painter Michael Peter Ancher died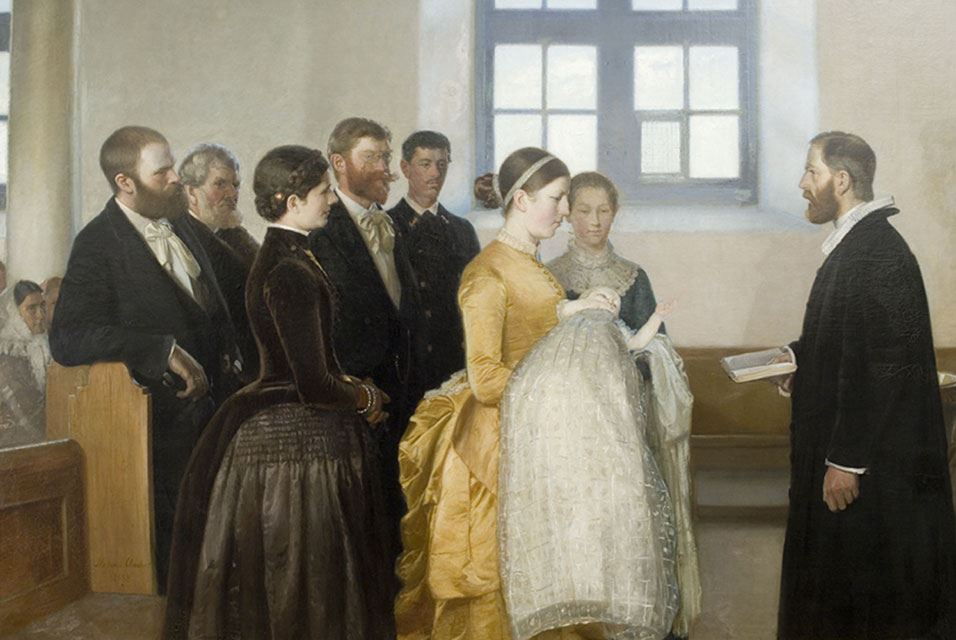 September 19, 1927. Michael Peter Ancher (9 June 1849 - 19 September 1927) was a Danish impressionist artist. He is most associated with his paintings of fishermen and other scenes from the Danish port of Skagen. His paintings are classics and he is probably one of Denmark's most popular artists. In this image: A Christening, Michael Ancher (1888).
---

Museums, Exhibits, Artists, Milestones, Digital Art, Architecture, Photography,
Photographers, Special Photos, Special Reports, Featured Stories, Auctions, Art Fairs,
Anecdotes, Art Quiz, Education, Mythology, 3D Images, Last Week,

.
---
Royalville Communications, Inc
produces: