Exhibition at Crystal Bridges features artworks gifted to the museum by Gordon W. Bailey
Leroy Almon, The Slave, c. 1994, carved and painted wood bas relief, 22 3/4 x 36 in. (57.78 x 91.44 cm). Almon's wood bas relief testament features several panels illuminating the history of enslavement. Bearing witness to the atrocities, Almon carved the eye of God as a reminder that the dreadful deeds would be judged. Photo: Gordon W. Bailey Collection.
BENTONVILLE, ARK
.-
What I Know: Gifts from Gordon W. Bailey opens at
Crystal Bridges Museum of American Art
, Bentonville AR June 26 and runs through October 11, 2021. The exhibition features artworks created with a variety of media by Leroy Almon, Thornton Dial Sr., Sam Doyle, Minnie Evans, Josephus Farmer, Roy Ferdinand, Bessie Harvey, Clementine Hunter, Joe Light, Ronald Lockett, Sister Gertrude Morgan, J.B. Murray, Sulton Rogers, Nellie Mae Rowe, Welmon Sharlhorne, Herbert Singleton, and Purvis Young. The works are gifts from advocate, scholar and collector Gordon W. Bailey and reflect his decades-long advocacy on behalf of African American artists from the South. In the recent past, Bailey has gifted more than 500 artworks to American museums. "Gordon W. Bailey's generous gifts are a welcome addition to our collection," said Rod Bigelow, Crystal Br ...
More
The Best Photos of the Day
Getty Museum acquires pastel by Adélaïde Labille-Guiard
Morton will be auctioning an NFT for the first time in Mexico
Dutch 'Golden Coach' exhibition revives racism debate


Adélaïde Labille-Guiard (French, 1749-1803), Portrait of Madame Charles Mitoire with Her Children, 1783. Pastel on three sheets of blue paper, mounted on canvas, 98.5 x 79 cm (38 ¾ x 31 1/8 in.).



LOS ANGELES, CA.- The J. Paul Getty Museum has acquired the greatest pastel by Adélaïde Labille-Guiard, one of the leading women artists in 18th-century Europe. The work was purchased at auction at Christie's in Paris on June 16. Portrait of Madame Charles Mitoire with Her Children (1783) depicts a fashionably dressed woman with her two young sons. Well-known in Parisian art circles, Madame Mitoire was the granddaughter of Carle Vanloo, a famous artist who had been First Painter to French king Louis XV. Though its composition echoes traditional representations of the Virgin and Child with Saint John the Baptist, the portrait radically signals the modernity of its subject and her approach to motherhood. "This work is acknowledged as Adélaïde Labille-Guiard's finest pastel, which she first exhibited in the Paris Salon of 1783, the year of her admission to the Royal Academy of Paintings ... More



You can follow the event in its live broadcast on YouTube through the website www.mortonsubastas.com



MEXICO CITY.- "Esto es Ahora. Subasta de Arte Contemporáneo" will take place next Thursday, June 24, an event in which an NFT will be auctioned for the first time. NFTs, named after their acronym in English "NonFungible Token", are digital files encrypted and authenticated with blockchain technology; And like cryptocurrencies, they have a unique digital signature which allows, for the first time in history, for digital art to be collectible despite its virtuality. Just as art is considered a value investment, so are now NFTs. The NFT that Morton Subastas will auction is a work entitled "VIVA" by contemporary artist Juan Carlos del Valle. Conceived to exist and pulse eternally in digital space, it is an essentially painterly work composed from matter and animated by the painter's own hand. Its dense impasto suggests a heart. The physical work from which "VIVA" originated was modified by the artist so it no longer exists today. "VIVA" is a nod to life and love; for Del Valle there is an equi ... More



In this file photo taken on September 15, 2015 Dutch King Willem-Alexander (L) and Queen Maxima arrive in the Golden Carriage at the Binnenhof in The Hague, on 'Prinsjesdag' (Prince's Day). Sander KONING / ANP / AFP.

by Jan Hennop



AMSTERDAM (AFP).- On a blustery autumn day in 2015 Dutch King Willem-Alexander and Queen Maxima for the last time stepped out of the golden coach which traditionally transported them to the opening of parliament. Nearly six years later, the monarch was back on Thursday to unveil a newly-restored carriage -- but this time as the centrepiece of an exhibition at the Amsterdam Museum exploring the Netherlands' troubled relationship with its colonial past. The horse-drawn carriage called the "De Gouden Koets" has been embroiled in a racism controversy over a picture on the left-side panel of the opulent coach, which has undergone an extensive refit. Called "Tribute of the Colonies", the image depicts kneeling black people handing over produce like cocoa and sugarcane to their white masters ... More
Bonhams offers NFTs in special CryptOGs sale in partnership with SuperRare
Rediscovered Mies van der Rohe design under construction, dedicated at Indiana University
Brontë auction is on hold as group tries to keep library intact


Alotta Money, Pauline at the Mall. Estimate: $40,000-60,000. Photo: Bonhams.



LONDON.- Bonhams is to host the world's first curated collaboration between a digital art platform and an auction house, offering for the first time an exclusive sale of NFTs in partnership with SuperRare, the Authentic Digital Art Market. The sale, entitled CryptOGs: The Pioneers of NFT Art, will be the first to highlight unique artworks by the originators – the OGs – of Crypto Art, and will run online from 21-30 June on bonhams.com. Bonhams will also accept payment in Ethereum for this auction. The artworks will also be screened at Bonhams HQ in New Bond Street during Contemporary Art Week which concludes with Bonhams' Modern & Contemporary Art sale on 30 June. Bonhams Head of Digital Art, Nima Sagharchi, commented: "This will be the first-ever auction exploring the originators of the crypto art movement – those who were minting NFTs before they were in the global spotlight. These artists have had a lasting imp ... More



Interior view of the southeast corner of the exterior atrium courtyard of the Eskenazi School of Art, Architecture + Design, a Mies van der Rohe Design, on the campus of Indiana University Bloomington. Image courtesy the Eskenazi School of Art, Architecture + Design, Indiana University. © Hadley Fruits.



BLOOMINGTON, IND.- Indiana University President Michael A. McRobbie welcomed Sidney and Lois Eskenazi, IU alumni and principal donors, and architect Dirk Lohan, grandson of Ludwig Mies van der Rohe, on June 17 to the dedication ceremony for the new, shared facility for IU's Eskenazi School of Art, Architecture + Design. The building, now under construction, realizes a recently rediscovered 1952 design created by Mies for the IU Bloomington campus. As adapted for contemporary use by the architectural team of Thomas Phifer and Partners, the Mies Building for the Eskenazi School of Art, Architecture + Design is scheduled to open in fall 2021. Thomas Phifer and Partners is also the architect for IU's new Ferguson ... More



Thomas Bewick's "A History of British Birds," part of a recently surfaced private library of rare books and manuscripts that had been set for auction at Sotheby's. Sotheby's via The New York Times.

by Jennifer Schuessler



NEW YORK (NYT NEWS SERVICE).- Sotheby's has agreed to delay the much-publicized auction of a "lost" library containing rare manuscripts by Robert Burns, Walter Scott and the Brontës, as a consortium of British libraries and museums has begun an effort to raise $21 million to preserve it for the nation. That private library, the Honresfield Library, was assembled in the 19th century and had gone virtually unseen since the 1930s. The news last month that the library had resurfaced and would be sold at a series of auctions starting in July had drawn excited reactions from scholars and fans, as well as alarm that cultural treasures could be dispersed anew into inaccessible private collections. In a statement on Thursday announcing the ... More
LiveAuctioneers announces proposed acquisition by Auction Technology Group
A towering figure in South Korean art plans his legacy
Walters Art Museum receives $2.5 million endowment gift and English majolica collection


LiveAuctioneers.com will continue to operate with its headquarters in New York City and be led by CEO Phil Michaelson. Photo provided by LiveAuctioneers.



NEW YORK, NY.- LiveAuctioneers, one of North America's favorite destinations for fine and decorative arts, antiques and luxury goods, today announced its agreement to join Auction Technology Group's family of curated online marketplaces and auction-technology solutions. LiveAuctioneers is delighted to have a new partner with a long history of empowering arts and antiques auctioneers with a suite of online tools, content, and services available to maximize the value of assets auctioneers sell for their consignors. The acquisition by Auction Technology Group (LON:ATG) will more easily enable North American auction houses to access global bidders, accelerating LiveAuctioneers' continued growth as well as driving the appeal of secondhand items and the circular economy. The auction industry is going through a structural shift from offline to online and in so doing ... More



The Korean painter Park Seo-Bo at his studio in Seoul, June 6, 2021. As Seo-Bo, 89, pursues two museums for his art, the shows keep coming — along with a candid book by his daughter. Woohae Cho/The New York Times.

by Andrew Russeth



SEOUL (NYT NEWS SERVICE).- In 1951, as the Korean War dragged on, a young artist named Park Jae-Hong headed toward Seoul. The conflict had cut short his first year at art school, and he had been forced into service, first by the North, then by the South, stationed in coastal Masan. He had survived aircraft attacks, meager rations, bitter cold — and had managed to get discharged. Back in the capital, trying to raise tuition money, Park asked soldiers from the United States if he could do their portraits. He traded their dollars for won — Korea's currency — and bought art supplies and congee made with leftovers from military bases. "One cup of that and a glass of soju, and I would ... More



Minton Ceramics Manufactory; Artist: Paul Comoléra, Figure of a peacock, 1876. Lead-glazed earthenware, 59 7/8 x 27 1/2 x 17 1/4 in.



BALTIMORE, MD.- The Walters Art Museum has received a $2.5 million gift from Baltimore art collectors Deborah and Philip English to endow and hire a new curator to specialize in the areas of decorative arts, design, and material culture. In addition, the Englishes committed to donating more than 500 objects in their collection of Majolica to the museum. The Walters will conduct a national search for this position, known as the Deborah and Philip English Curator of Decorative Arts, Design, and Material Culture. "This new position funded by the Englishes gives us the ability to further the study of ceramics like Majolica and other examples of material culture, which expands the types of stories we are able to tell and restores this art to its rightful place in history," said Julia Marciari-Alexander, Andrea B. and John H. Laporte Director. "We are simply thrilled to have this opportunity ... More
Louisiana Museum of Modern Art opens an exhibition of works by Mamma Andersson
Egypt souvenir market pins hopes on tourism resurgence
Kettle's Yard and Tate acquire Alfred Wallis sketchbooks from last year of his life


Mamma Andersson, The Day After, 2020. Oil on canvas, 228 x 168 cm. Courtesy of the artist, Galleri Magnus Karlsson, Stephen Friedman Gallery and David Zwirner .



HUMLEBÆK.- Mamma Andersson ranks as one of the most important painters of her generation. The exhibition at Louisiana Museum of Modern Art is the first major presentation of Mamma Andersson's work in Denmark and her first large-scale show at a Nordic museum in several years. The artist has made 10 new works especially for the exhibition, which is on view in Louisiana's East Wing. Over the years, the art of Mamma Andersson (b. 1962) has been tied together by distinctive subject matter and painterly moves: The Nordic landscape with steep slopes, pine forests and a unique, high-contrast light. Dolls, often standing in for people, giving the painting a coagulated, object-like look. Back-turned figures with hidden faces adding mystery to the picture. And the colour black, often in many nuances and materials, sprayed on or roughly applied, creating a distinct darkness in the painting that the artist herself ... More



Eid Yosri, 32, an Ancient Egyptian artefact replica craftsman and seller, poses for a photo with a mini sarcophagus of his own creation. Khaled DESOUKI / AFP.

by Emmanuel Parisse



CAIRO (AFP).- Pyramids, Tutankhamun masks, Nefertiti busts -- Egypt's souvenir-makers are pinning their hopes on a new lease of economic life, after tourism was battered by the coronavirus pandemic. In the shadow of the magnificent Giza Pyramids, Eid Yousri manufactures polyester Pharaonic figurines from a humble workshop erected on the roof of his family home. "We've lost nearly 70 percent of our business," he told AFP, lamenting the plunge in visitors to one of the seven wonders of the ancient world. Before the pandemic, "we had about 15 workers -- compared to five today," he said, noting that even the remaining staff were not full-time. He sells his products from as little as 20 Egyptian pounds (about $1.30, or one euro) to 200 pounds. Hundreds of small business owners and artisans have been forced to mothball much of their ... More



Alfred Wallis sketchbooks, 1941-2. Purchased jointly by Tate and Kettle's Yard with funds provided by the National Heritage Memorial Fund, Tate Members, Friends of Kettle's Yard and with Art Fund support 2020. Courtesy Kettle's Yard, University of Cambridge.



CAMBRIDGE.- Kettle's Yard announced the acquisition, jointly with Tate, of three important and rare sketchbooks by self-taught artist and mariner Alfred Wallis (1855-1942). All three sketchbooks were made in the last year of the artist's life, which he spent in a workhouse in St Ives due to illness and poverty. The sketchbooks are currently on display in 'Alfred Wallis Rediscovered', at Kettle's Yard until 20 June 2021. Prior to this exhibition, they had not been exhibited in a public exhibition for over 50 years and very little was known about them or researched. They have now been purchased jointly by Tate and Kettle's Yard with funds provided by the National Heritage Memorial Fund, Tate Members and Friends of Kettle's Yard, and with Art Fund support. Most of Wallis's works are difficult to date, but these sketchbooks are the exception to this rule, definitively produced in the last year ... More
Studio Visit with Artist Michael Kagan | Christie's

Flashback
On a day like today, Flemish painter Rogier van der Weyden died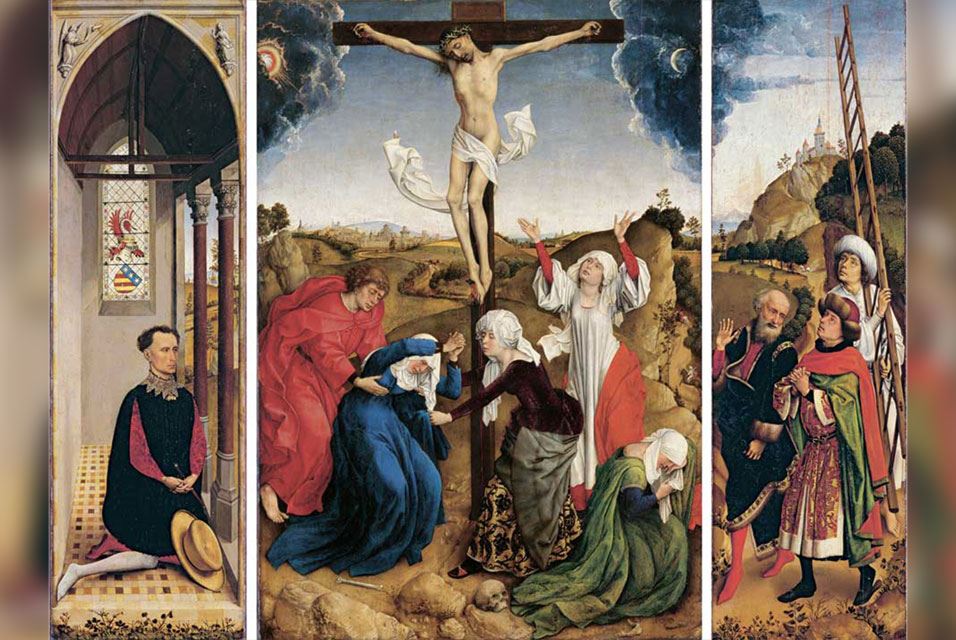 June 18, 1464. Rogier van der Weyden (1399 or 1400 - 18 June 1464) was an Early Netherlandish painter whose surviving works consist mainly of religious triptychs, altarpieces and commissioned single and diptych portraits. He was highly successful and internationally famous in his lifetime; his paintings were exported - or taken - to Italy and Spain, and he received commissions from, amongst others, Philip the Good, Netherlandish nobility, and foreign princes. In this image: Rogier van der Weyden, Werkstatt, Kreuzigung Christi (Abegg-Triptychon), um 1445, Eichenholz, Mitteltafel: 103,5 x 72,4 cm, Flügel: je 103,5 x 32,8 cm. Riggisberg bei Bern, Abegg-Stiftung. © Riggisberg, Abegg-Stiftung, Christoph von Viràg, 1999.
---

Museums, Exhibits, Artists, Milestones, Digital Art, Architecture, Photography,
Photographers, Special Photos, Special Reports, Featured Stories, Auctions, Art Fairs,
Anecdotes, Art Quiz, Education, Mythology, 3D Images, Last Week,

.
---
Royalville Communications, Inc
produces: