Charm and negligence behind network of master forgeries
Noce has spent five years investigating Ruffini's exploits and is careful to insist that he is innocent until proven guilty.

by Jean-Louis De La Vaissiere
PARIS
(AFP)
.-
A French journalist's investigation into the alleged forgery network around art collector Giuliano Ruffini has also criticised the "great negligence" of art world experts. The doubts first became public when French police seized a painting owned by the prince of Liechtenstein from an exhibition in Aix-en-Provence in 2016. The prince had paid seven million euros at auction for the portrait of the goddess Venus by 16th century Italian painter Lucas Cranach, yet tests would soon reveal that the pigments used in the painting dated from the 20th century. Ruffini was well-known in the art world. Since the 1990s, he had sold dozens -- even hundreds -- of paintings by such luminaries as Parmigianino and El Greco to some of the great museums of Europe, including the Louvre, often through intermediaries. Many, he said, had come from the collection of an ex-girlfriend's father, Andre Borie, a civil engineer who helped build the Mont Blanc tunnel. Vincent Noce, a journalist for The Art Newspape ...
More
The Best Photos of the Day
Colonial Williamsburg, William & Mary identify structure of 18th-century school
Sotheby's to offer $150 million art collection of legendary Texan & visionary philanthropist Mrs. John L. Marion
Yale University Art Gallery receives major gift from Friday Foundation


Front elevation of the Dudley Digges House in its original location on Prince George Street, Williamsburg, Virginia. Photo by Earl Gregg Swem, 1921. Special Collections, John D. Rockefeller Jr. Library, The Colonial Williamsburg Foundation.



WILLIAMSBURG, VA.- A small, white building tucked away on the William & Mary campus once housed the Williamsburg Bray School, an 18th-century institution dedicated to the education of enslaved and free Black children, researchers have determined. Now, the university and Colonial Williamsburg are working together to ensure current and future generations learn about the complex history of what is likely the oldest extant building in the United States dedicated to the education of Black children – and the stories of those who were part of it. The new partnership calls for relocation of the Bray-Digges House to Colonial Williamsburg's Historic Area, where it would become the 89th original structure restored by the foundation. It also establishes the Williamsburg Bray School Initiative, ... More



Clyfford Still, PH-125 (1948-No. 1), 1948 (detail), Oil on canvas. Estimate $25-35 million. Courtesy Sotheby's.



NEW YORK, NY.- The private collection of visionary philanthropist, renowned art collector, and legendary Texan Anne Marion (1938-2020) will be unveiled for the first time at Sotheby's this spring. Widely celebrated throughout her lifetime, both for her generous support of cultural institutions, critical contributions to education and healthcare, and for her passion for the life and traditions of the American Southwest where her family had been rooted for generations, Anne Marion held a fabled status among art lovers and ranchers alike. And yet, despite the public-facing nature of her support for so many leading American museums, the treasures of Anne Marion's own private collection have remained – until now – largely unknown. Sotheby's forthcoming exhibition and sale of that collection will therefore represent, for many, the first opportunity to appreciate the exceptional caliber and scope of the collection ... More



Mark Rothko, No. 11 (Yellow, Green, and Black), 1950. Oil on canvas. Yale University Art Gallery, Gift of the Friday Foundation in honor of Richard E. Lang and Jane Lang Davis. © 2021 Kate Rothko Prizel & Christopher Rothko/Artists Rights Society (ARS), New York.



NEW HAVEN, CONN.- The Yale University Art Gallery has received an extraordinary gift from the Friday Foundation honoring the legacy of late Seattle philanthropists Jane Lang Davis and Richard E. Lang. The Lang collection is one of the most important private collections of 20th-century art in the country, with masterworks by renowned postwar American and European artists and incredible examples of Abstract Expressionism. The gift from the Friday Foundation includes six artworks by Franz Kline (1910–1962) and Mark Rothko (1903–1970). It augments the Gallery's collection of midcentury European and American art and brings increased attention to these two remarkable artists and their range of artistic output. With this gift, the ... More
Exhibition at Joan B Mirviss LTD places Kitaōji Rosanjin's oeuvre in dialogue with works by mid-century masters
New Orleans Museum of Art announces extraordinary gift of photographs from Cherye and James Pierce
Bonhams to offer major Picasso portrait at New York Impressionist & Modern Art sale


Kitaōji Rosanjin (1883-1959), Large Karatsu madara glazed vase. Glazed stoneware, ca. 1955. 17 1/4 x 15 5/8 in.



NEW YORK, NY.- Rosanjin has long been hailed as one of the greatest ceramists of the twentieth century. His bold, eclectic ceramics emerged from the highly creative atmosphere of postwar Japan. Rosanjin forged a remarkable career, but it was not without first crossing paths, and even colliding, with many of his contemporaries who were themselves renowned ceramic masters and connoisseurs: Arakawa Toyozō, Fujiwara Kei, Kaneshige Tōyō, Katō Tokurō, Kawakita Handeishi, and Koyama Fujio. For Asia Week New York 2021, Joan B Mirviss LTD re-examines the legend of Rosanjin and his place within this Japanese artistic milieu in Tradition Redefined: Rosanjin and His Rivals. In his own words, Kitaōji Rosanjin (1883-1959) came to ceramics as a gourmand; dissatisfied with the tableware options for presenting elegant cuisine, Rosanjin set ab ... More



Manuel Alvarez Bravo, Retrato de lo eterno (Portrait of the Eternal), 1935, printed later. Platinum print, image: 9 1/8 x 7 in. Gift of Cherye R. and James F. Pierce, 2020.57.7.



NEW ORLEANS, LA.- Distinguished collectors Cherye R. and James (Jim) F. Pierce have gifted more than 260 photographs by master art photographers, ranging from the nineteenth century to the present, to the New Orleans Museum of Art. The Pierces' gift to NOMA is representative of their wide-ranging collecting interests. It includes vintage prints by Ansel Adams, Ilse Bing, Brassaï, and Heinrich Kühn, contemporary masterworks by Laila Essaydi, Deborah Luster, William Eggleston, and platinum prints by Frederick Evans, Manuel Alvarez-Bravo (commissioned directly from the artist), and Lois Conner. Their gift also includes several iconic images such as The Falling Soldier by Robert Capa, Henri Cartier-Bresson's Behind the Gare St. Lazare, and a rare large-format photogravure of Alfred Stieglitz's Flatiron Building ... More



Femme au Béret Mauve, 1937 by Pablo Picasso. Estimate: $10,000,000-15,000,000. © 2021 Estate of Pablo Picasso / Artists Rights Society (ARS), New York.



NEW YORK, NY.- Bonhams announces the sale in New York of a major Picasso portrait from 1937, one of the artist's most fruitful years during which he also produced, Guernica and Weeping Woman. Painted in March 1937, Femme au Béret Mauve is a serene depiction of Picasso's greatest muse Marie-Therese Walter. The work will be offered at Bonhams Impressionist and Modern Art sale in New York on Thursday 13 May. The painting has not been on public display since it was bought in 1984 from a New York gallery by the current owners. It has an estimate of $10,000,000-15,000,000. Bonhams Senior Vice-President and Head of Impressionist, Modern, European and American art in America, Molly Ott Ambler said: "This bright, joyous portrait of Marie-Thérèse Walter exudes stability and calm at a time when Picasso's personal life was in turmoil and ... More
The Magnum Gallery exhibits photographs of Morocco taken by Harry Gruyaert
The outsized influence of teen T. Rex and other young dinosaurs
The Frick savors the opulence of emptiness


Harry Gruyaert © Taro Karibe.



LONDON.- The Magnum Gallery is presenting Morocco, an exhibition of works by Belgian photographer and filmmaker Harry Gruyaert focusing on his extensive travels to the North African country of Morocco. Gruyaert's first trip to the country marked his colour photography 'epiphany'. Gruyaert joined Magnum Photos in 1982. The exhibition is presented from 30 January to 2 April 2021 at the gallery and online. While Gruyaert became fascinated by the power of colour when he first moved to Paris in the 1960s, and subsequently on his first trip to New York in 1968 where he saw the works of Pop artists Roy Lichtenstein and Robert Rauschenberg, his revelation that colour photography was his preferred medium came from his very first trip to Morocco in 1969. Reminiscent of artists Eugène Delacroix and Henri Matisse, this revelation had a long-lasting impact on Gruyaert's oeuvre which he decided to entirely dedicate to colour phot ... More



The dinosaur gap versus modern carnivorous mammals. Schroeder et al., Science (2021) via The New York Times.

by Cara Giaimo



NEW YORK (NYT NEWS SERVICE).- Adolescence is a time of great change for most of us. But it was particularly volatile for young T. rexes. Before they became fearsome, bone-crushing adults, they had to pass through a number of stages — 2-foot hatchling, gangly preteen, bulky young adult. At each phase, they hunted different prey and filled different niches. As a new study in Science reveals, juvenile T. rexes and the youth of other large carnivores called megatheropods transformed their communities as they fumbled through their own physical changes. Their rapid shifts in size and roles shaped their ecosystems, the study suggests, and could help to explain some of the perplexing mysteries of dinosaurdom, from the relative lack of species diversity ... More



In an image provided by the museum, curator Aimee Ng and chief curator Xavier Salomon at the Breuer building in Manhattan, soon to be operated by the Frick Collection as Frick Madison. Joe Coscia via The New York Times.



NEW YORK (NYT NEWS SERVICE).- Yesterday's robber barons lived like princes; today, they'd rather be monks. When union-crushing coke and steel magnate Henry Clay Frick left Pittsburgh for New York in 1905, he built himself a beaux-arts town house the width of a city block, encased in marble and mahogany, trimmed with velvet and gold. The museum it now houses on Fifth Avenue is expanding: The house's upstairs living quarters will open to the public, and there will be an addition designed by Annabelle Selldorf, the New York architect of understated rigor. But to prepare, the Frick Collection has to move out for two years — and in a sublet five blocks north, it's discovering the more modern luxury of blank walls and empty rooms. ... More
Exceptional 20th century art collection donated to the Seattle Art Museum
Beeple brings crypto to Christie's
Christie's Post-War and Contemporary Art Online Sale series now open for bidding


Clyfford Still (1904-1980), PH-338 (1949-No. 2), 1949, Oil on canvas, 91 3/4 x 68 7/8 in.



SEATTLE, WA.- An exceptional collection of 20th century art assembled over a decade by late collectors Jane Lang Davis and Richard E. Lang will find permanent homes and be accessible to the public at the Seattle Art Museum and the Yale University Art Gallery. The Friday Foundation, established to realize the Langs' passion and philanthropy, today announced gifts of 19 masterworks and $10.5 million in dedicated funds to the Seattle Art Museum. In addition, the Friday Foundation announced a gift of six specifically chosen artworks to the Yale University Art Gallery. Longtime philanthropists and arts supporters, the Langs wanted to ensure a strong, diverse, and vibrant arts community. To help achieve this, they imagined a gift that would first and foremost share with the public their own rich experience of engaging thoughtfully, deeply, and personally with compelling objects and, through them, their creators. They hoped to inspire othe ... More



Detail of Beeple, Everydays – The First 5000 Days, NFT, 21,069 pixels x 21,069 pixels (316,939,910 bytes). Estimate Unknown. Starting Bid: $100 | Open for bidding from February 25 - March 11. © Christie's Images Ltd 2021.

by Josie Thaddeus-Johns



NEW YORK (NYT NEWS SERVICE).- Mike Winkelmann never used to call himself an artist. But that was before he made $3.5 million in a single weekend from selling his artworks. In December, he auctioned off multiple editions of three digital artworks, each priced at $969, and 21 unique works, most of which sold for about $100,000 each. It was only the second time he had put his art on sale. The digital artist, who goes by Beeple, has created a drawing every single day for the last 13 years. He started with pen and paper but now mostly uses computer software such as the program Cinema 4D. On Thursday, a two-week-long online auction of a composite of the first 5,000 days of the project will begin at Christie's, which says it's the auction house's first sale of a solely ... More



Janet Taylor Picket, The Messenger (detail). Acrylic and paper collage on canvas, 36 x 48 in. Estimate: $30,000-50,000. © Christie's Images Ltd 2021.



NEW YORK, NY.- Christie's New York is hosting a series of four online only sales dedicated to the artists defining contemporary art today. The sales include: First Open | Online, which encompasses jewelry by Alexander Calder alongside cutting-edge contemporary art from Tomoo Gokita and Nicole Eisenman; Beeple ǀ The First 5000 Days, a single lot sale that marks the first-ever purely digital artwork (NFT) to be sold by a major auction house; Contemporary Art Asia presents a prominent private American collection as well as works by Tsuyoshi Maekawa, Chiyu Uemae, Vu Cao Dam, Aya Takano, Hajime Sorayama, Javier Calleja, Josh Smith and more; and Aboudia | Noutchy in New York City, a sale dedicated to the Brooklyn-based artist whose large-scale, mixed-media paintings and drawings echo those of Jean-Michel Basquiat. This spring, Christie's presents a special First Open ... More
Exhibition Tour---A New Look at Old Masters

Flashback
On a day like today, French artist Honoré Daumier was born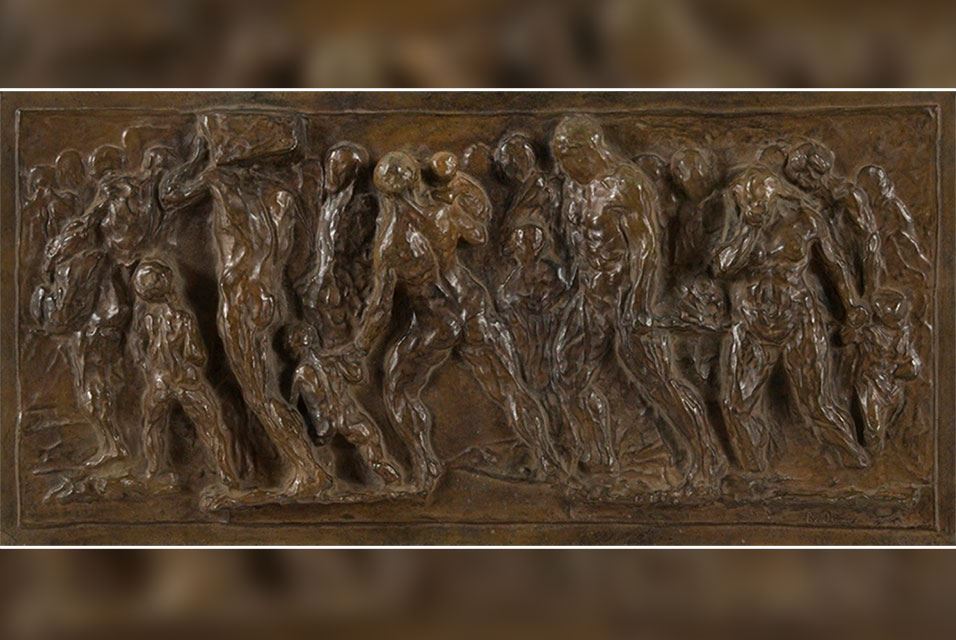 March 26, 1808. Honoré-Victorin Daumier (February 26, 1808 - February 10, 1879) was a French painter, sculptor, and printmaker, whose many works offer commentary on the social and political life in France, from the Revolution of 1830 to the fall of the second Napoleonic Empire in 1870. He earned a living throughout most of his life producing caricatures and cartoons of political figures and satirizing the behavior of his countrymen in newspapers and periodicals, for which he became well known in his lifetime and is still known today. In this image: The bas-relief Les émigrants, which probably originated around 1850, consists of a series of figures, adults and children.
---

Museums, Exhibits, Artists, Milestones, Digital Art, Architecture, Photography,
Photographers, Special Photos, Special Reports, Featured Stories, Auctions, Art Fairs,
Anecdotes, Art Quiz, Education, Mythology, 3D Images, Last Week,

.
---
Royalville Communications, Inc
produces: