Exhibition of paintings on paper by Cleve Gray opens in New York
Cleve Gray, Conjunction II, 1980. Roman Walls Series. Mixed media on paper, 20 x 27 1/2 inches.
NEW YORK, NY
.-
Loretta Howard Gallery
in collaboration with
Anders Wahlstedt Fine Art
announce an exhibition of Cleve Gray: Paintings on Paper from the Foundation. The works are on view at 521 West 26th Street in Chelsea and online from November 19th 2020 to January 16th 2021. They span from the Ceres Series in the 1960s to the Roman Walls of the 1970s and Calligraphic Abstractions of the 1980s. In this exhibition Cleve Gray's dramatic body of works on paper trace over thirty years of production. These works touch upon the rigors of French modernism, the ethos of Abstract Expressionism and the meditative restraint of Chinese and Japanese scroll painting. Cleve Gray (1918- 2004) grew up in New York City. He attended the Ethical Culture School, Phillips Academy Andover and Princeton University. At Princeton, he wrote his senior honor thesis on ...
More
The Best Photos of the Day
Discovered Constable oil of Dedham Vale to be sold at auction in East Anglia
Director of Mass MoCA, playground for artists, moves on
Nearly a third of U.S. museums remain closed by pandemic, survey shows


The 26.5 x 43.5cm (10½ x 17¼in) painting, Dedham Vale with Brantham mill and haystacks, c.1809-10, had hung in a London town house for many years.



LONDON.- Sworders' have announced the discovery of a previously unrecorded oil sketch by John Constable (1776-1837). The view of Dedham Vale, that includes a windmill owned by his father, will be offered for sale on December 8-9 with a guide of £100,000-150,000. The 26.5 x 43.5cm (10½ x 17¼in) painting, Dedham Vale with Brantham mill and haystacks, c.1809-10, had hung in a London town house for many years. One of the big London auction houses had previously dismissed it as a copy without investigation and it was not until Sworders' London office visited and saw the quality that the painting's true identity was uncovered. Pictures specialist Sarah Flynn deemed it worthy of further research and took it to Anne Lyles, the world-renowned authority on the art of John Constable. She later declared it "an exciting new discovery". The most famous representation by Constable of this particular panorama is the picture title ... More



Joseph C. Thompson, who has run the Massachusetts Museum of Contemporary Art in North Adams since he helped found it 33 years ago, in part of the museums expansion area, July 29, 2014. Nathaniel Brooks/The New York Times.

by Robin Pogrebin



NORTH ADAMS, MASS (NYT NEWS SERVICE).- On a recent overcast morning here in this former factory town, Joseph C. Thompson donned his cowboy hat, hopped on his bicycle and pedaled to the Massachusetts Museum of Contemporary Art to give his final official tour of the institution he has run since he helped found it 33 years ago. While there is always more work to be done, this seemed to the 62-year-old director like as good a moment as any for moving on. He recently completed an expansion that brought the complex to 650,000 square feet — roughly the total area of the Louvre. He saw the museum through a pandemic-forced closing and reopening. And in January, the museum will open James Turrell's light-manipulating Skyspace in a former water tower, a project the artist envisioned ... More



The San Diego Natural History Museum, which reopened briefly during the pandemic, is now one of the many museums across the country that are closed. Via San Diego Natural History Museum via The New York Times.

by Sarah Bahr



NEW YORK (NYT NEWS SERVICE).- At the San Diego Natural History Museum, and at institutions much like it across the country, the exhibition halls remain dark, the atriums empty, the front line employees furloughed. Judy Gradwohl, the president and CEO of the museum, decided in August to close for the remainder of the year — and she said in an interview on Tuesday that she believes she made the right call. "We're finding great ways to channel our energy into online programming and making headway on a number of projects," Gradwohl said, "as opposed to spending all our time trying to figure out how to stay open safely." Now a survey by the American Alliance of Museums published Tuesday makes clear that nearly 1 in 3 museums in the United States remains closed because of the ... More
Let it go! Japan PM declares war on ink stamp 'hanko'
Galerie Karsten Greve opens a solo exhibition featuring ceramics and works on paper by Lucio Fontana
Sheldon H. Solow, Manhattan real estate mogul, dies at 92


This picture taken on October 9, 2020 shows traditional ink stamp-maker Takahiro Makino, 44, carving characters on a hanko at a studio in Tokyo. Philip FONG / AFP.

by Harumi Ozawa



TOKYO (AFP).- Japan's new prime minister is declaring war, but there's no danger of an international conflict: the target of his ire is the humble ink stamp known as hanko. It might seem paradoxical in a country often assumed to be a futuristic tech-savvy paradise, but Japan's business world and bureaucracy remain heavily dependent on paper documents, hand-stamped with approval. The drawbacks to hanko, which are used for everything from delivery receipts to marriage certificates have become increasing clear during coronavirus -- many Japanese were unable to work from home because they had to physically stamp documents in the office. Now Prime Minister Yoshihide Suga ... More



Installation view. Photo: Chris Franken.



COLOGNE.- Galerie Karsten Greve is presenting a solo exhibition featuring ceramics and works on paper by Lucio Fontana in Cologne. Since 1977, Galerie Karsten Greve has represented the Italian artist, who spent his whole life focusing on sculpture and searching for a new dimension, and dedicate d comprehensive exhibitions and four catalogues to his work. Lucio Fontana Ceramics is the eighth one man show to open at Karsten Greve's Cologne gallery. A total of about forty pieces are being shown in the context of Fontana's avant garde oeuvre, including ceramic sculptures and so called Concetti spaziali ("spatial concepts") as well as works on paper known as Ambienti spaziali. In Lucio Fontana's early years, during various sessions in the famous ceramics workshops in Albisola in 1934 and 1936, the artist created remarkable sculptures inspired by natural forms such as Coccodrillo (and more a morphous ... More



Sheldon Solow, a Manhattan real estate mogul who built his empire from scratch, at his office in New York, Aug. 17, 2006. Shiho Fukada/The New York Times.

by Robert D. McFadden



NEW YORK (NYT NEWS SERVICE).- Sheldon H. Solow, a Manhattan real estate developer who built a commercial and residential empire from scratch over a half-century, but left his son to finish his crowning project, a line of towers down the East River from the United Nations complex, died Tuesday in Manhattan. He was 92. His wife, Mia Fonssagrives Solow, confirmed the death, at Weill Cornell Medical Center, but did not specify a cause. The son of a Brooklyn bricklayer, Solow, who embraced litigation with the passion of a sports fan, was a mercurial fighter with unshakable confidence in his own views. He built scores of high-end rental structures, including his signature Solow Building at 9 W. 57th St., a ... More
Gladstone Gallery presents new paintings from Carroll Dunham's ongoing wrestler series
AIPAD collaborates with Sotheby's: New online photography auction announced
Christie's Classic Week presents a rare Roman marble of Dionysus


Carroll Dunham, Big Men (1), 2019-2020. Urethane, acrylic and pencil on linen, 84 x 65 inches (213.4 x 165.1 cm) © Carroll Dunham. Courtesy the artist and Gladstone Gallery, New York and Brussels.



NEW YORK, NY.- Gladstone Gallery is presenting an exhibition by Carroll Dunham, featuring new paintings from his ongoing wrestler series. Dunham's newest groups of wrestling matches are set amidst barren landscapes, deserted for all but one single tree, wherein the aggressive men are locked into differing moments of struggle. Employing formal techniques developed throughout his career, the works exemplify Dunham's unique ability to continually recontextualize his distinct visual language through new and recurring modes of artmaking. The exhibition's first group of paintings, the series Winners and Losers, is organized around an internally referential system, in which a definitive set of formal parameters informs how the figures move and interact with one another. Capturing the conclusion of their fights, these scenes depict the winners, mounted atop ... More



George Tice Esso Station, 1972. Estimate $20,000-30,000. Photo: Courtesy Nailya Alexander Gallery, New York.



NEW YORK, NY.- The Association of International Photography Art Dealers has announced a collaboration with Sotheby's. A new online auction, Four Decades: In Celebration of AIPAD, will be presented by Sotheby's from December 15 through 21, 2020. The unprecedented alliance will highlight work from 50 of the world's leading fine art photography galleries and will feature a wide range of museum quality work including contemporary, modern, and 19th-century photographs. The auction will be accompanied by an online catalogue. Four Decades: In Celebration of AIPAD will feature photographs by established masters of the medium, including William Henry Fox Talbot, Edward Weston, Dorothea Lange, and Sigmar Polke, as well as works by artists making their debut at auction, such as Ervin Johnson, Adam Katseff, and Alejandro Chaskielberg. "We are honored to work with Sotheby's in offering ... More



Previously Sold at Christie's in 1930 from the Collection of the Marquess of Lansdowne. © Christie's Images Limited 2020.



LONDON.- Christie's Classic Week Antiquities sale on 16 December 2020, will be led by a rare Roman marble terminal figure of Dionysus (estimate £700,000-1,000,000), a rare example of the highest artistic quality with prestigious provenance, dating back to the 18th century. Sourced in Rome by the Scottish painter Gavin Hamilton (1730-97) for Lord Shelburne (1737–1805); the sculpture formed part of one of the most celebrated art collections of the period, until it was offered for sale at Christie's London in 1930 and entered the Bergsten Collection in Stockholm. Discovered in 1775 by Gavin Hamilton at Hadrian's Villa, Rome, the figure takes the form of a herm, a stone column topped by the head of the god Dionysus, the God of Wine & Festivity. It was then acquired by the statesman William Petty, 2nd Earl of Shelburne and 1st Marquess of Lansdowne for Lansdowne House, Berkley Square, London. The magnificent building was ... More
Exhibition at Museum Voorlinden offers a visual journey of discovery through 'Listen to Your Eyes'
Yesomi Umolu appointed as Director of Curatorial Affairs and Public Practice at The Serpentine
Galerie Guido W. Baudach opens an exhibition of new paintings by Thomas Helbig


Installation view of Listen to Your Eyes at Museum Voorlinden. Photo: Antoine van Kaam.



WASSENAAR.- From 19 November, Museum Voorlinden will present Listen to Your Eyes. For this collection presentation, art collector and museum founder Joop van Caldenborgh (1940) was given the nearly impossible task of selecting his favourites from among the modern and contemporary works he has spent the past six decades collecting. The result is a visual journey of discovery that offers you a glimpse inside the mind of the collector. Listen to Your Eyes is about free association, telling stories and the cycle of life and death, but most of all, it is about the pleasure to be found in looking. Joop van Caldenborgh is celebrating his birthday by sharing works that touch and fascinate the viewer by means of their aesthetic qualities, narrative or craftsmanship. This selection of over forty pieces is presented not in chronological order, but in a way that invites visitors to look, compare, explore and create a story of their own. Joop van Caldenbor ... More



Yesomi Umolu is currently Director and Curator, Logan Center Exhibitions at the University of Chicago, where she leads an ambitious programme of international contemporary art. Photo: © Nicolette Nunez.



LONDON.- The Serpentine announced the appointment of Yesomi Umolu as Director of Curatorial Affairs and Public Practice. Umolu will oversee the Serpentine's curatorial, interpretation and editorial activities across all programmes. The creation of this new position is at the head of the Serpentine's efforts to centre audience experience and civic engagement in its curatorial mission. Under Umolu's direction, the Serpentine will develop editorial and educational content for exhibitions, events and other curatorial initiatives, aimed at making Serpentine programmes more inclusive and accessible to all audiences, both physical and digital. She will take up the role in January 2021. Yesomi Umolu is currently Director and Curator, Logan Center Exhibitions at the University of Chicago, where she leads an ambitious ... More



Thomas Helbig, Der Duft, 2020. Oil on canvas, artist's frame, 152 x 131,5 cm. Courtesy the artist & Galerie Guido W. Baudach. Photo: Roman März.



BERLIN.- Galerie Guido W. Baudach is presenting an exhibition of new paintings by Thomas Helbig under the title Die Zukunft der Heiligen (The Future of the Saints). It is the eighth solo exhibition of the Berlin-based painter and sculptor with the gallery since 2001. In his painterly practice over the last twenty years, Thomas Helbig has repeatedly explored the boundaries of the genre. He has worked with a wide variety of materials, using the most diverse painting grounds and media. With the paintings for the exhibition Die Zukunft der Heiligen he is now returning to the technique he originally used. The works are all executed in oil on canvas. Helbig also draws on formative elements from his own early work in terms of pictorial language. What emerges, however, is something completely new. Helbig combines symbolic references to the classical avant-garde with abstract motifs ... More
Jean-Michel Basquiat 'Portrait of A-One A.K.A. King' | New York

Flashback
On a day like today, American clothing designer Calvin Klein was born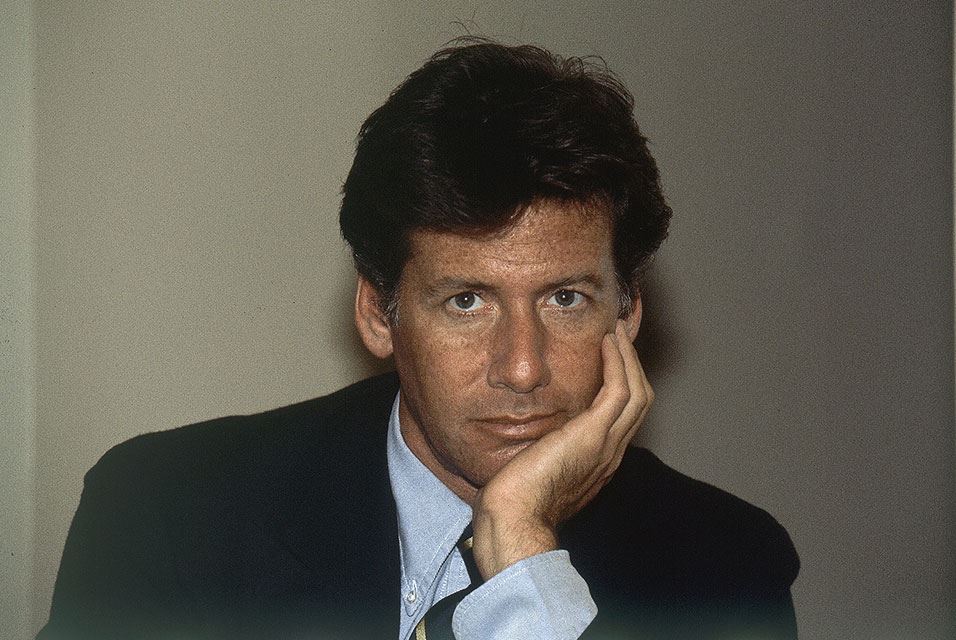 November 19, 1942. Calvin Richard Klein (born November 19, 1942) is an American fashion designer of Hungarian origin who launched the company that would later become Calvin Klein Inc., in 1968. In addition to clothing, Klein has also given his name to a range of perfumes, watches, and jewelry. In this image: Fashion designer Calvin Klein is seen in New York, June 28, 1983.
---

Museums, Exhibits, Artists, Milestones, Digital Art, Architecture, Photography,
Photographers, Special Photos, Special Reports, Featured Stories, Auctions, Art Fairs,
Anecdotes, Art Quiz, Education, Mythology, 3D Images, Last Week,

.
---
Royalville Communications, Inc
produces: