Museums rename artworks and artists as Ukrainian, not Russian
"Red Sunset" (circa 1905-08) by Arkhyp Kuindzhi (Arkhip Ivanovich Kuindzhi) at the Metropolitan Museum of Art in Manhattan on Thursday, March 16, 2023. The revised wall text reflects the complexity of the artist's roots: his Ukrainian name now appears first, followed by his Russian name. (Jeenah Moon/The New York Times)

by Robin Pogrebin
NEW YORK, NY
.-
The Metropolitan Museum of Art in New York changed the name of one of its Edgar Degas pastels Friday from "Russian Dancers" to "Dancers in Ukrainian Dress," the second Degas it has reclassified since Russia invaded Ukraine. The National Gallery in London renamed one of its Degas pastels "Ukrainian Dancers" from "Russian Dancers" last year. And the J. Paul Getty Museum in Los Angeles updated an old item on its website to note that Degas' dancers were Ukrainian, not Russian. The adjustments reflect a movement that is currently underway at museums all over the world, spurred by Russia's invasion of Ukraine. Many are re-examining — and, in a growing number of cases, relabeling — artworks and artists from the former Russian Empire and the former Soviet Union to better reflect their Ukrainian origins. "Scholarly thinking is evolving quickly," Max Hollein, the Met's director, said in a statement, "because of the i ...
More
The Best Photos of the Day
A noted photographer's personal collection to be offered at Heritage Auctions
Arthur Simms and the skin of disparate objects
These painters regret their dealings with scam artists


Harvey Edwards (American, 1946), Leg Warmers, 1978. Oversized dye bleach print, printed 1981, 36 x 29 inches. Estimate: $4,000 - $6,000.



DALLAS, TX.- When a successful artist collects other artists' work, it pays to pay attention to what he collects. In the case of Dr. Paul Greenberg, a photographer whose work is in the permanent collections of some of the most renowned institutions that collect photography – including the Amon Carter Museum of American Art, the Museum of Fine Arts, Houston and the Harry Ransom Center at the University of Texas at Austin – we have a bona fide artist gathering about him the work of the most iconic photographers of the last century, including Lee Friedlander, Berenice Abbott, Robert Frank, Henri Cartier-Bresson and more. Think of the phenomenon – artists collecting artists – as a confident insider endorsement of the inarguable talent and legacy of those who came before, a desire to honor the trailblazing instincts of one's progenitors. Greenberg loved Friedlander's work because game recognizes ... More



Arthur Simms at his studio in Staten Island, March 6, 2023. (George Etheredge/The New York Times)

by Yinka Elujoba



NEW YORK, NY.- When Arthur Simms was barely 4, in 1965, his mother left their home in Kingston, Jamaica, for the United States to support her family as an au pair. Arthur, his father and his three sisters trod on in Kingston until they could join her in New York a few years later. The in-between years of his childhood in the Caribbean were like a dream that Simms remembers fondly because they set the stage for what was to come. He was learning from Kingston's artisans who, rather than buy carts to use in the market, fashioned ones from wheels and boxes. Simms began to make little objects out of found materials — wood, plastic, rope, metal — that he used as toys. "Jamaica might not be a wealthy country," the artist, 61, said during a recent interview at his studio on Staten Island, where he lives and works. "But the people, man, they've got soul. They made things with their hands." Now, ... More



The artist Zachary Ginsberg at 345 Gallery in Manhattan on Feb. 22, 2023. (Lila Barth/The New York Times)

by Zachary Small



NEW YORK, NY.- Many young artists survive their early careers with commissions from friends and family. Zachary Ginsberg was no different, participating in local fairs and selling his portraits to relatives for a couple of hundred dollars. Then his biggest score appeared out of nowhere. A stranger emailed through the painter's website to inquire about a $3,400 purchase. It seemed too good to be true — and it was. What happened next followed a pattern seen in nearly a dozen attempts at defrauding artists of their paintings and money that were reviewed by The New York Times. In each case, young artists were offered an attractive price for artworks by "collectors" who sent them checks to cover the price of the work and the cost of shipping it. Each of them was then asked to forward the shipping fee by money order to a person who was ... More
David Zwirner presents a major installation by Austrian artist Franz West
National Gallery of Art acquires two images by Julie Blackmon
Gallery EXIT opens Korean artist Jeong Yun Kyung's solo exhibition 'Stone Planet'


Installation view, Franz West: Echolalia, David Zwirner, New York, March 9—April 15, 2023. Courtesy of David Zwirner.



NEW YORK, NY.- David Zwirner is presenting Echolalia, a major installation by Austrian artist Franz West from 2010, on view at the gallery's 533 West 19th Street location in New York. The installation brings together several strands of inquiry that run throughout West's decades-long career, integrating the viewer within an immersive, total environment. Not exhibited publicly in more than ten years, Echolalia represents the apotheosis of West's commitment to sculpture as social space. Emerging in Vienna in the early 1970s, West developed a unique aesthetic that engaged equally high and low reference points and often privileged social interaction as an intrinsic component of his work. By playfully manipulating everyday materials and imagery through novel means, he created objects that served to redefine art as a social experience, calling attention to the ways ... More



Julie Blackmon, Flatboat, 2022. Inkjet print. Image: 101.6 x 124.46 cm (40 x 49 in.), sheet: 111.76 x 135.89 cm (44 x 53 1/2 in.) National Gallery of Art, Washington. Gift of Bill Haw, Jr. 2022.147.1



WASHINGTON, DC.- Julie Blackmon (b. 1966) explores domestic life and family dynamics in her richly detailed, orchestrated photographs. The National Gallery of Art has acquired two images by Blackmon, both from 2022: Flatboat, a gift from Bill Haw, Jr., and Paddleboard, a gift from the artist. The oldest of nine children and mother to three, Blackmon draws on art historical and popular culture motifs and combines them with her personal experience as part of a large family. Inspired by the photographs of Helen Levitt, Diane Arbus, and Sally Mann, whose works she first encountered in college, Blackmon began to picture the small pleasures, disappointments, and fleeting joys of childhood. Her subject is her sprawling family, including her many nieces and nephews, as well as friends and neighbors, who have become her "troupe ... More



JEONG Yun Kyung, Stone Planet, Installation.



HONG KONG.- Gallery EXIT is presenting Korean artist Jeong Yun Kyung's solo exhibition 'Stone Planet', on show between 18 March and 22 April, 2023. Always personal and sensational, Jeong's works, as a response to her immediate surroundings, embody her own intimate emotions and experiences. Rendered in a combination of bold colours, lines, and gestures, her paintings summon up the experience of witnessing or expecting the passing through of a meteoroid over a serene landscape before one's eyes. With this latest series of paintings, the artist aims to capture the fleeting moment, a flash of time that one experiences, and express the sensations and memories evoked by such decisive moments. This new series is Jeong's devoted and continued exploration of the visual language of abstract painting. Having studied and been inspired by traditional Eastern abstract painting, she is interested in the reinterpretation of thi ... More
Christie's Modern British and Irish Art Evening sale is live for browsing March 21
Harvard Art Museums present exhibition 'From the Andes to the Caribbean: American Art from the Spanish Empire'
Heather Gaudio Fine Art is now presenting exhibition by Mio Yamato


Henry Moore, Mother and Child with Apple (1956, estimate: £3,300,000-5,000,000). © Christie's Images Ltd 2023.



LONDON.- Nicholas Orchard, Head of Modern British and Irish Art, Christie's: "The selection of works included in the Modern British and Irish Art Evening Sale represent the pioneering movements that shaped the 20th century across the UK and Ireland. One of the most dynamic periods of creativity, the sale includes the most comprehensive group of Vorticist works to appear on the market to date. Henry Moore's Mother and Child with Apple will lead the auction and is featured alongside Barbara Hepworth's exquisite sculpture Pierced Form (Toledo). A pioneer of the St Ives movement, Hepworth's works are offered alongside examples of the movements ground-breaking painters. As the lead auction house for L.S. Lowry, Christie's is delighted to offer a group of five works by the artist as a focal point." - As Henry Moore often acknowledged, the archetypal subject of the ... More



Diego Antonio de Landaeta, Portrait of Petronila Méndez, 1763. Oil on panel, 6 1/2 × 7 1/16 in. Carl & Marilynn Thoma Collection, TL42430.26 Image: Courtesy of the Carl & Marilynn Thoma Foundation; photo by Jamie Stukenberg.



CAMBRIDGE, MASS.- This spring, the Harvard Art Museums invite visitors to discover a more expanded story of American art through an unparalleled collection of Spanish colonial paintings. From the Andes to the Caribbean: American Art from the Spanish Empire presents 26 works from the Carl & Marilynn Thoma Foundation—the premier U.S. private collection of 17th- to 19th-century paintings from South America and the Caribbean—together with works from the Harvard Art Museums and other Harvard University collections. The presentation marks the museums' first ever exhibition combining religious and secular art of the Spanish Americas. The exhibition has been organized for the Harvard Art Museums by Horace D. Ballard, the Theodore E. Stebbins, Jr. Associate Curator of American Art, ... More



Red Dot (Bio), 2020, at the Hotel Anteroom Naha in Okinawa.



NEW CANAAN, CT.- Heather Gaudio Fine Art recently opened 'Mio Yamato: 呼吸する星 / The Breathing Star', marking the Japanese artist's first solo gallery exhibition in the United States. The show, which features newly created works along with a site-specific installation, opened March 18th, and will continue through April 29, 2023. Mio Yamato has gained international attention in recent year for her signature marks -- copious amounts of tiny, pearl-like dots painted with oil or ink on canvases, wooden panels, walls, or large swaths of fabric. These are finely applied and arranged to articulate formations seen in nature, such as mountainous ranges, geological strata, constellations in the sky, and the like. As a child, Yamato spent hours in her grandfather's orchid greenhouse, observing and keeping notations and sketches of the plants as they grew and blossomed. She learned to understand how blooms ... More
Danziger Gallery Los Angeles opens an exhibition of photographs by Christopher Anderson
Derek Eller Gallery presents an exhibition of recent sculpture by Alyson Shotz
Met Opera ordered to pay Anna Netrebko $200,000 for canceled performances


Christopher Anderson, From the series "Approximate Joy" Untitled, 2017-2018. 30 x 20 inch archival pigment print. Edition of 9.



LOS ANGELES, CA.- Danziger Gallery (Los Angeles) is presenting "Approximate Joy" by Christopher Anderson. Following in the honored photographic tradition of Walker Evans' "Subway Series" and Harry Callahan's "Women Lost in Thought" the primary element these series have in common is that the subjects of the photographs are unaware of being photographed. While this is a common occurrence in photography, it asks moral and ethical questions of the photographer, the viewer, and the curator and requires decisions on what to photograph, what to view, and what to show. As the owner and director of the gallery, where one draws the line is of great importance and for me Anderson's work is respectful, insightful, humanistic, and beautifully modern. As with Arne Svenson's "The Neighbors" photographs with which "Approximate Joy" is presented, the photographs are telephoto enabled ob ... More



Alyson Shotz, Alloys of Moonlight #7, 2023, paint on hand folded aluminum, 52 x 44 x 30 inches.



NEW YORK, NY.- Derek Eller Gallery is presenting Alloys of Moonlight, an exhibition of recent sculpture by Alyson Shotz. Featuring a monumental polychromatic steel sculpture and luminescent three-dimensional aluminum wall works, Alloys of Moonlight delves further into questions that Shotz has been exploring throughout her nearly 30-year career: how do we grasp the mysterious forces that shape the universe, and how do we reconcile observable reality with the noumenal reality of environmental phenomena? This new body of work explores the dialectic between these axes, as Shotz refines a sculptural language to visualize the unseen and the sublime forces that frame the natural world. The works in Alloys of Moonlight act as instruments by which to measure and reflect the ineffable forces of nature. In the center of the gallery is Aphelion, a looped steel sculpture that turns and twists in ways that seem to defy nature, leading the eye in an endless se ... More



Anna Netrebko performs in "Tosca" for the Metropolitan Opera's New Year's Eve gala, in New York, Dec. 31, 2019. (Caitlin Ochs/The New York Times)

by Javier C. Hernández



NEW YORK, NY.- The Metropolitan Opera has been ordered by an arbitrator to pay Russian soprano Anna Netrebko more than $200,000 for performances it canceled last year after she declined to denounce Russian President Vladimir Putin following the invasion of Ukraine. The arbitrator, in a decision issued last month that has not been previously reported, ruled that the Met should compensate Netrebko for 13 canceled performances — including appearances in "Don Carlo" this season and "La Forza del Destino" and "Andrea Chénier" next season — because of a contractual agreement known as "pay or play," which requires institutions to pay performers even if they later decide not to engage them. The Met had argued that Netrebko, one of opera's biggest stars, was not entitled to payment ... More
Richard Tuttle, Village V, 2023, Modern Art, SW1

Flashback
On a day like today, British painter Patrick Heron died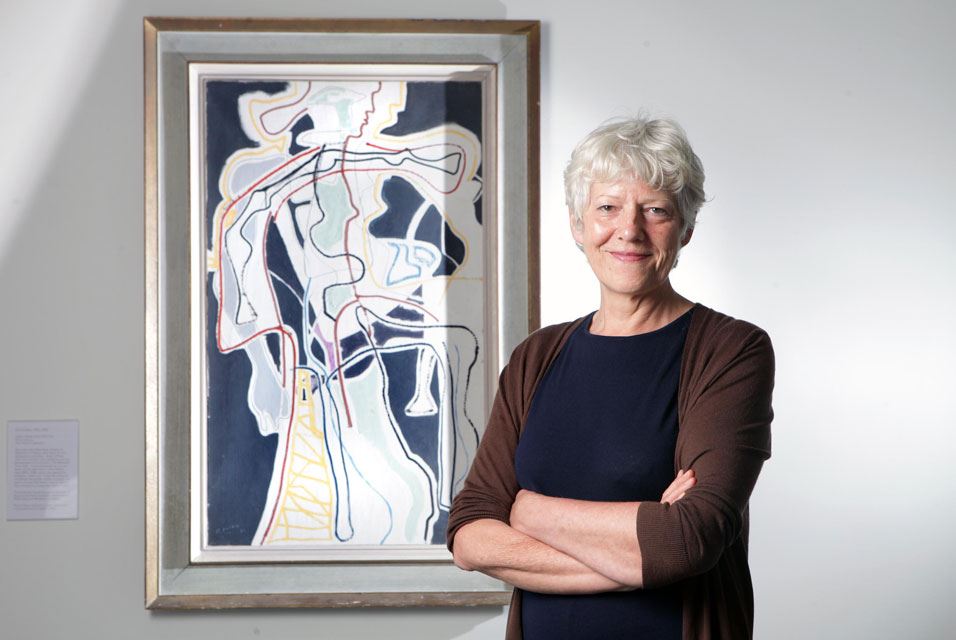 March 20, 1999. Patrick Heron CBE (30 January 1920 - 20 March 1999) was a British abstract and figurative artist, writer, and polemicist, who lived in Zennor, Cornwall. In this image: Patrick Heron's painting "Nude in Wicker".
---

Museums, Exhibits, Artists, Milestones, Digital Art, Architecture, Photography,
Photographers, Special Photos, Special Reports, Featured Stories, Auctions, Art Fairs,
Anecdotes, Art Quiz, Education, Mythology, 3D Images, Last Week,

.
---
Royalville Communications, Inc
produces: