Almost safe, she returned to Munich and lost her painting and her life
An undated photo provided via Sotheby's shows "Portrait of a Young Man with a Quill and Sheet of Paper," which Sotheby's has attributed to the Renaissance master Agnolo Bronzino. The portrait that Ilse Hesselberger once owned is coming up for sale, a reminder of the brutality, and twists of fate, that Jews confronted in the Nazi era. (via Sotheby's via The New York Times)

by Colin Moynihan
NEW YORK, NY
.-
Late in the summer of 1938, as the Nazis escalated their persecution of German Jews, Ilse Hesselberger and her daughter, Trudy, traveled from Munich to Milan to visit relatives. From there the daughter went on to the United States, and safety. The mother, who was a Protestant by faith but Jewish by ethnicity, made her way back to Germany, where she had been known for years as a socialite who gave lavish parties. But upon her return, Hesselberger found little to celebrate in Munich, a city that played a key role in Adolf Hitler's rise to power. Identified as a Jew under the Nazi race laws, she soon was forced to sell her country estate. She also lost an art collection that included a painting, "Portrait of a Young Man with a Quill and Sheet of Paper," that she had bought in 1927 and is now viewed as a master work. Nazi officials then pressured her to help pay for construction of a camp that would later be used to send Jews to concentration and death camps. Historians said ...
More
The Best Photos of the Day
Lucian Freud, stripped of fame and scandal
'All the Beauty and the Bloodshed' review: Nan Goldin's art and activism
Exquisite dog paintings from Frances G. Scaife Collection to be presented at Hindman


Lucian Freud, Girl with a Kitten, 1947. Oil on canvas, 41 x 30.7 cm. Tate: Bequeathed by Simon Sainsbury 2006, accessioned 2008 © The Lucian Freud Archive. All Rights Reserved 2022 / photo Tate.

by Farah Nayeri



LONDON.- When the National Gallery staged a show of Paul Gauguin portraits in 2019, it took pains to highlight aspects of the artist's personal life: The writing on the entrance wall stated that he had "repeatedly entered into sexual relations with young girls, 'marrying' two of them and fathering children." These aspects had barely been mentioned in previous Gauguin shows, and the museum was making amends. The National Gallery last month opened an exhibition of work by British artist Lucian Freud to mark the centenary of his birth. And it has chosen to take the opposite course. Rather than delve into the biography of Freud — who had countless lovers and at least 14 children, some of whom posed naked for paintings that are in the show — the museum avoids focusing on his life ... More



A new documentary focuses on the photographer's struggle with OxyContin and her protest against the art establishment that took money from its makers.



NEW YORK, NY.- Among the thousands of items in the Metropolitan Museum of Art's collection is the 1980 Nan Goldin photograph titled "Heart-Shaped Bruise, NYC." In it, a woman lies splayed across a messy bed wearing pulled-down stockings and a dress that's been hitched up just below her rear, exposing some bared leg imprinted with a bruise shaped like a heart. The woman's head is outside the frame, so it's easy to focus on this bit of skin, to let your imagination run wild, fired up by the image's unsettling power, its allure and its menace. That unease is emblematic of Goldin's photography, whose images of bruised bodies and bared souls include a self-portrait that she made in 1984 after being beaten by a lover. The image, "Nan One Month After Being Battered," is in the collection of the Tate Galleries in London. In 2019, the Tate evaded unwanted attention from Goldin, who had begun staging ... More



Arthur Wardle (British, 1864–1949), Look Out!, 1885. Oil on canvas. Signed Arthur Wardle (lower right); signed, titled, and dated (verso), 30 x 20 inches. Property from the Collection of Frances G. Scaife. Estimate: $10,000 - $15,000.



CHICAGO, IL.- Hindman will present property from the collection of Frances G. Scaife as a highlight of its December 7th American & European Art auction. Mrs. Scaife's collection of 19th century dog paintings is one of the most significant private collections of these paintings held in the United States. A lover of all animals, Mrs. Scaife has been a collector of English dog paintings for many years. Known in New York and Palm Beach for her keen eye and sense of style, this collection is a result of Mrs. Scaife's strong curatorial vision. The 14 paintings from the Scaife collection offer a comprehensive survey of the types of dog painting that developed over the course of the nineteenth century, including portraiture, scenes of the hunt, and images imbued with sentimentality. Highlighting the group will be John Sargent Noble's 1891 Off Duty ... More
Palmer Museum of Art prepares for transition to new museum in 2023
Museum of Fine Arts, Houston announces partnership with the Sarofim Foundation
The Brooklyn Museum expands its collections with more than 200 acquisitions


Alfred Maurer (American, 1868–1932), "Heads, Two Girls," c. 1925, oil on board, 21-1/2 x 18 inches. Bequest of James R. and Barbara R. Palmer, 2019.90.



UNIVERSITY PARK, PA.- In early 2023, the Palmer Museum of Art at Penn State will begin a phased transition as it prepares to move from its existing building into its new facility currently under construction at the Arboretum. The changeover will start in January with the closing of the museum's second floor and a major reinstallation of the first-floor galleries before the final closure of the current building on May 14, 2023. The new museum will open to the public in spring 2024. "We are at a transformative point in the history of the Palmer Museum of Art, as we look toward a bright future in our new state-of-the-art building and hope everyone will take advantage of this final opportunity to visit us in our signature Charles Moore-designed building on Curtin Road," said Erin Coe, director of the Palmer Museum of Art.  "We are at a transformative point in the history of the Palmer Museum of Art, as we look toward a bright future ... More



Ellsworth Kelly, Red Curve, ca. 1980. oil on shaped canvas, The Fayez S. Sarofim Collection.



HOUSTON, TX.- One hundred twenty-five masterworks from the distinguished collection of the late Houston philanthropist Fayez S. Sarofim will be placed on extended loan to the Museum of Fine Arts, Houston, beginning in early 2023, in a collaboration between the museum and the Sarofim Foundation. Fayez S. Sarofim, who died in May 2022, quietly assembled over nearly 60 years one of the most significant collections of American art in private hands, as well as important works of European painting and antiquities. The loan will enhance the museum's presentations of American and European art in those newly reinstalled galleries, and of modern and contemporary art in the Nancy and Rich Kinder Building, dedicated to the permanent collection and opened in 2020. "All of us at the Museum of Fine Arts, Houston are deeply indebted to the Sarofim family for the extraordinary privilege of sharing these remarkable works with the community to which Fayez Sar ... More



Oscar yi Hou (born Liverpool, UK, 1998). The Arm Wrestle of Chip & Spike; aka: Star-Makers, 2020. Oil on canvas, 55 1/2 × 43 in. (141 × 109.2 cm). Purchase gift of Scott Rofey and Olivia Song, 2021.45. © Oscar yi Hou. (Photo: Jonathan Dorado, Brooklyn Museum)



BROOKLYN, NY.- Reflecting a curatorial objective to tell fresh stories from multiple perspectives, the Brooklyn Museum made more than two hundred acquisitions between December 2021 and October 2022, across a variety of categories and mediums. Notably, its holdings by American artists have been broadened to better reflect the diversity of the United States and to create space for underrepresented American voices such as Black, Asian American, Native American, and women artists. These new additions will ultimately be presented in the Museum's reinstalled American Art wing, a major reinstallation slated to be fully unveiled in late 2024. Anne Pasternak, Shelby White and Leon Levy Director, Brooklyn Museum, says, "It's important that our acquisitions speak to the issues of our day—both ... More
Peter Blum Gallery opens an exhibition of new paintings by Paul Fägerskiöld
Laisun Keane Gallery opens a solo exhibition by Boston artist Stephen Hamilton
First UK solo exhibition in nearly 60 years by Michael Chow opens at Waddington Custot


Installation view of Paul Fägerskiöld: Blue Marble, Kunstmuseum Thun, Thun, Switzerland, 2021.



NEW YORK, NY.- Peter Blum Gallery is pleased to present an exhibition of new paintings by Paul Fägerskiöld entitled, January 1, 2100. This is the artist's third solo exhibition with the gallery. The exhibition runs through January 21, 2023. For millennia, the night's sky with its celestial phenomena has evoked notions of time, place, and being for those gazing up at the endless expanse. The stars as fixed points in the sky viewed from specific locations and days offer a point of departure for artist Paul Fägerskiöld in his series Starry Night. At first shadowy and enigmatic, the paintings upon closer viewing are comprised of numerous coats of thick oil paint creating subtly shimmering and textured monochromatic surfaces in a concave shape. Strewn across the heavily applied and wavy impasto are small, circular unpainted points that flicker the underlying brilliant layers of aquamarine, violet, or crimson. These small points are ... More



Stephen Hamilton, Dance of The Titled Mothers



BOSTON, MASS.- Laisun Keane Gallery is presenting a solo exhibition by Boston artist Stephen Hamilton on view from November 18th to December 31st with text by Kyrah Malika Daniels, Ph.D. Assistant Professor of African American Studies, Emory University. This is the artist's first solo exhibition with the gallery. "Passages" is a visual exploration of life transitions and the liminal spaces between the physical and spiritual worlds. This series examines the movement between adolescence and adulthood, adulthood and elderhood, as well as life, death, and rebirth in African and African-American folklore and philosophy. Cloth is central to crucial moments of passage in West and West-Central Africa. Cloth, dye, and fiber are materials demarcating the sacredness of these moments of transition. For this reason, each work incorporates handmade textiles juxtaposed against figurative painting. This body of work heavily draws from African and ... More



Pink Drop, 2016–2019 (detail). Courtesy of the artist and Waddington Custot.



LONDON.- This November, Waddington Custot presents the first UK solo exhibition in nearly 60 years by Michael Chow (b.1939, Shanghai, China), also known by his signature name 'M'.  Six large scale paintings are presented alongside a number of "One Breath" works on paper. M's process is highly performative and unique, adding layer upon layer of paint and other matter onto the surface plane to create works that are both painterly and sculptural. M creates the three-dimensional forms first by pouring household paint, which form giant sheets of colour. He then sculpts the paint sheets onto the canvas, a technique he started over 60 years ago. M incorporates a multitude of found materials into his work – including leaves, eggs, footballs, sterling silver and gold leaf. Painted plastic sheets are stretched onto the canvas and burnt into the surface with a blow torch used like a brush. In a single explosive ... More
The John Michael Kohler Arts Center receives $1M award from Ruth Foundation for the Arts
Buffalo museum to reopen in May
ROSEGALLERY presents a focused curation of staged photographs by Jo Ann Callis, Bruce Charlesworth, and Mary Frey


Ruth DeYoung Kohler. Photo courtesy of John Michael Kohler Arts Center.



SHEBOYGAN, WI.- The John Michael Kohler Arts Center in Sheboygan, Wis., announced today that it has received a $1 million grant from Ruth Foundation for the Arts (Ruth Arts). The grant will support JMKAC general operations such as exhibition and programming development, artist commissions, and digital-asset management systems. The award comes from Ruth Arts' newly formed RDK Legacy Fund, which honors and continues Ruth DeYoung Kohler II's (1941–2020) steadfast support of regional and craft-based organizations and artist-built environments. Kohler dedicated five decades of her remarkable life to leading and nurturing the growth of the John Michael Kohler Arts Center. Ruth Arts is a Milwaukee-based foundation supported by a bequest from the late Ruth DeYoung Kohler II. Kohler served as JMKAC's director from 1972–2016, having started as a volunteer in 1967, then holding the position of assistant director from 1968–1972. ... More



In an undated image provided via OMA New York, a rendering of the new Jeffrey E. Gundlach Building opening in May at the Buffalo AKG Art Museum. (via OMA New York via The New York Times)

by Hilarie M. Sheets



NEW YORK, NY.- The former Albright-Knox Art Gallery, now named the Buffalo AKG Art Museum, will reopen to the public on May 25 with a vastly renovated and expanded campus designed by the OMA partner Shohei Shigematsu. A $20 million commitment from New York state, announced Monday by Gov. Kathy Hochul, completes the Buffalo museum's $230 million capital campaign, believed to be the largest for a cultural institution in the history of western New York. Throughout its history, the museum has been early to acquire works by living artists — beginning with a gift from Hudson River School painter Albert Bierstadt in 1863, the year after it opened. It was also among the first institutions to collect artists including Jackson Pollock, Henry Moore, Frida Kahlo, Andy Warhol and Mark ... More



Mary Frey, Untitled, from the series Real Life, Dramas, 1984-1987. C-Prints, 20 x 24 inches.



SANTA MONICA, CA.- ROSEGALLERY is presenting Domestic Fictions: A Life Less Ordinary, a focused curation of staged photographs by Jo Ann Callis, Bruce Charlesworth, and Mary Frey. A throwback to the charged, introspective themes of MoMA's 1991 group show Pleasures and Terrors of Domestic Comfort, the exhibition opened on the 19th of November, 2022, and will be on view until the 14th of January, 2023. Curator Peter Galassi — who was promoted to head of the Department of Photography during its remarkable run — stated in MoMA's 1991 press release that artists, "began to photograph at home not because it was important, in the sense that political issues are important, but because it was there—the one place that is easier to get to than the street." But don't let his understatement fool you: these were not convenient photos. By playing with thematic poles, for instance, situating the blatantly contrived beside the ... More
MFAH Films | Highlights

Flashback
On a day like today, Mexican painter José Clemente Orozco was born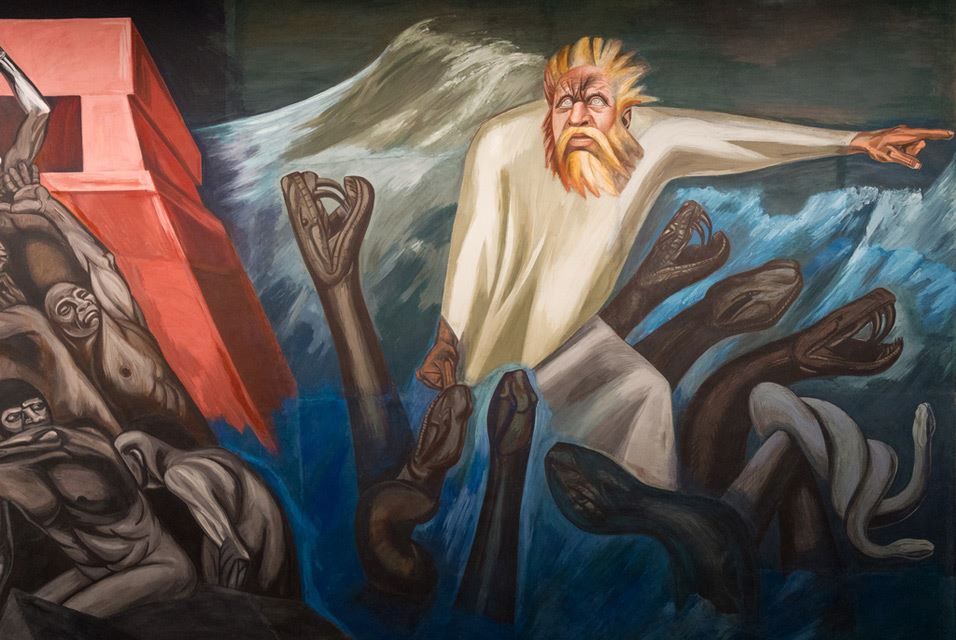 November 23, 1883. José Clemente Orozco (November 23, 1883 - September 7, 1949) was a Mexican painter, who specialized in political murals that established the Mexican Mural Renaissance together with murals by Diego Rivera, David Alfaro Siqueiros, and others. Orozco was the most complex of the Mexican muralists, fond of the theme of human suffering, but less realistic and more fascinated by machines than Rivera. In this image: Jose Clemente Orozco's The Epic of American Civilization, created between 1932 and 1934.
---

Museums, Exhibits, Artists, Milestones, Digital Art, Architecture, Photography,
Photographers, Special Photos, Special Reports, Featured Stories, Auctions, Art Fairs,
Anecdotes, Art Quiz, Education, Mythology, 3D Images, Last Week,

.
---
Royalville Communications, Inc
produces: