Orlando Museum Director loses job after disputed Basquiat show
Aaron De Groft, the director and chief executive of the Orlando Museum of Art, with one of the works said to be by Jean-Michel Basquiat, at the museum in Orlando, Fla., Feb. 2, 2022. De Groft was removed from his post Tuesday, June 28, just days after the Federal Bureau of Investigation raided the museum and seized 25 works that had been attributed to Jean-Michel Basquiat but whose authenticity has been called into question. Melanie Metz/The New York Times.

by Brett Sokol
NEW YORK, NY
.-
Aaron De Groft, the director and chief executive of the Orlando Museum of Art, was removed from his post Tuesday night, just days after the FBI raided the museum and seized 25 works that had been attributed to Jean-Michel Basquiat but whose authenticity has been called into question. The chairwoman of the museum's board, Cynthia Brumback, said in a statement that the museum's trustees were "extremely concerned" about several issues regarding the exhibition, "Heroes & Monsters: Jean-Michel Basquiat." Among them, she said in the statement, was "the recent revelation of an inappropriate email correspondence sent to academia concerning the authentication of some of the artwork in the exhibition." The New York Times reported last week that an affidavit filed to secure the search warrant, which was signed by Elizabeth Rivas, a special agent for the FBI, had quoted an email in which De Groft appeared to threaten an academic who had been hired by the own ...
More
The Best Photos of the Day
Museum of Fine Arts, Houston presents the work of Argentine conceptual artist Leandro Erlich
Pace Gallery details plans to expand its multi-level arts complex in Seoul
Francis Bacon's portrait of Lucian Freud sells for £43.4m


Leandro Erlich, Batiment (Façade), 2004. Photo: © Leandro Erlich Studio.



HOUSTON, TX.- Conceptual artist Leandro Erlich constructs visual paradoxes and optical illusions that force viewers to question their own perception of reality and acknowledge the infinite possibilities of their surroundings –a staircase that misleads to go nowhere; an elevator that appears partially stuck below ground; a swimming pool that appears to reflect one group of onlookers above the water's surface and a different group below: everyday situations that Erlich renders confounding. Beginning in June, the Museum of Fine Arts, Houston, presents two of the artist's most iconic installations in the exhibition Leandro Erlich: Seeing is not Believing (June 26-September 5, 2022). These immersive environments and a selection of additional works will span the career of this acclaimed Argentine artist, whose psychological subversion of the everyday seems to defy the basic laws ... More



Adrian Ghenie, 2022 © Adrian Ghenie.



SEOUL.- Pace announced details of an expansion of its arts complex in Le Beige Building in Seoul, located in the Hannam-dong neighborhood. This follows the gallery's 2021 move to the second and third floors of the building—designed by Golden Lion-winning architect Minsuk Cho, who is also responsible for the new renovations. Pace is ushering in a new period of growth in Seoul with its recent inauguration of a new 1,500-square-foot ground floor exhibition space and its upcoming opening of an outdoor courtyard and tea house on the occasion of the first edition of Frieze Seoul in September. Pace has operated in Seoul since 2017, and it was among the first international galleries to establish a permanent space in the Korean capital. This latest expansion of Pace's outpost in Seoul, a fixture of the local arts scene led by Vice President Youngjoo Lee, supports its robust international contemporary program and builds on its stron ... More



Auction record for a painting by Bacon sold in London. Courtesy Sotheby's.



LONDON.- Unseen in half a century, Francis Bacon's magnetic portrait of Lucian Freud just sold for £43.4 million / $52.8 million in Sotheby's London saleroom - becoming the most valuable work of art sold at auction in London this season. In its first market appearance, the painting became both the most valuable single panel and the most valuable painting by Bacon sold in London in GBP. Painted in 1964, at the height of Bacon's career, Study for Portrait of Lucian Freud illuminates the powerful dialogue of friendship and epochal rivalry which would engulf two titans of art history and spur them to create some of their greatest works. The pair had first met 20 years earlier and would go on to share an intense friendship for over 40 years until jealousy and petty rows would ultimately splinter relations forever in the mid-1980s. Though their visual styles differed considerably, both artists ... More
Margaret Keane, painter of sad-eyed waifs, dies at 94
National Portrait Gallery announces new special multi-platform collaboration
The Armory Show and USTA to present large-scale sculptures at the 2022 US Open


On July 23, 2021, Heritage Auctions returned this Margaret Keane painting stolen in 1972.



NEW YORK, NY.- Margaret Keane, the artist whose doleful, saucer-eyed waifs earned millions in an international kitsch craze a half-century ago, and who inspired an epic art fraud by a husband whose claims to have executed her work were demolished in a "paint-off" in court, died Sunday at her home in Napa, California. She was 94. Her daughter, Jane Swigert, said the cause was heart failure. To generations of Americans with even a passing acquaintance with contemporary art, the Keane name raised images of sad children trapped in dystopian worlds of deprivation and misery. They were everywhere — stacked at sidewalk art shows, found in discount stores alongside velvet Elvis and clown pictures, staring out from souvenir stands — the eyes following you like a conscience. Keane, a reticent woman, had a talent that appealed to the masses but not to art lovers or critics. Her work was in museums, galleries and ... More



Alanson Fisher, Harriet Beecher Stowe, (1811–1896). Oil on canvas, 1853. National Portrait Gallery, Smithsonian Institution.



WASHINGTON, DC.- The Smithsonian's National Portrait Gallery and The Atlantic announce a new, multi-platform collaboration titled "Perspectives: The Atlantic's Writers at the National Portrait Gallery." As part of the reinstallation of the museum's permanent collection galleries, the Portrait Gallery and The Atlantic will highlight a selection of the country's founding voices in literature, politics, philosophy and culture with interpretive wall texts written by some of The Atlantic's contemporary writers and editors. The project will premiere in person and online beginning July 1 with the reopening of the museum's "Out of Many: Portraits from 1600 to 1900" exhibition, and it will coincide with the magazine's 165th anniversary year. The collaboration will present commentary from The Atlantic's writers reflecting on the work and legacy of prior Atlantic contributors whose portraits are on view a ... More



Carolyn Salas. Courtesy of the artist and Mrs., Mapseth, NY, photography by Cary Whittier.



NEW YORK, NY.- The Armory Show and the United States Tennis Association (USTA) announce a special, inaugural partnership: Armory Off-Site at the US Open. An extension of Armory Off-Site, now in its second year, a selection of 2022 exhibitors will present large-scale outdoor sculptures by artists from underrepresented backgrounds at the USTA Billie Jean King National Tennis Center August 23–September 11, 2022, coinciding with both the tournament and fair. A significant expansion of the fair's presence across the city, the debut program will present artwork by Gerald Chukwuma (Kristin Hjellegjerde Gallery), Jose Dávila (Sean Kelly), Luzene Hill (K Art), Myles Nurse (Half Gallery), and Carolyn Salas (Mrs.). "We are honored to partner with the United States Tennis Association (USTA) on this exciting new initiative which connects our two events for the first time," said Nicole Berry, Executive Director of The Armory Show. "Thi ... More
Artists respond to some of the most urgent issues of our present moment in new exhibition
Democracy needs art: Städel Museum launches education initiative
Miller & Miller announces results of Petroliana, Railroadiana & Advertising auction


Davina Semo, Bloom, 2022.



CHICAGO, IL.- Rhona Hoffman Gallery is presenting Gentle Content, an exhibition of new work by Danny Bredar, Alberto Ortega Trejo, Martha Poggioli, and Davina Semo, and curated by Julia Birka-White. Through paintings, sculpture, and drawings the artists respond to some of the most urgent issues of our present moment. Although not inherently obvious, the objects in Gentle Content are invested in varying political, social, and environmental concerns such as climate change, domestic gun violence, reproductive rights and histories, international imperial invasions, and contemporary Indigenous issues. Yet it is immediately apparent, when viewing the quality and craftsmanship of the works in the exhibition, that each artist is dedicated to making art as a means to support experimentation, growth, surprise, and reflection. In making his suite of six paintings for Gentle Content, Danny Bredar has considered the massive distribution of selected fi ... More



Time Machine. The Städel Museum in the Nineteenth Century. Photo: Städel Museum.



FRANKFURT.- Knowing what is, what has been, and what might come, forming opinions, and engaging in debate and discourse in order to foster a lively democratic culture is at the heart of a major cultural education initiative by the Städel Museum titled Shifting Points of View. Seeing Differently. Understanding One Another. Building on the understanding that a museum is a place for diverse social aspects of life, for years the Städel Museum has been developing audience-oriented art education that reflects the times. Shifting Points of View is intended to support thinking and acting in a way that promotes democracy. It allows historical developments and processes that have shaped the social value system of freedom and democracy to be impressively retraced through active engagement with artworks at the Städel Museum. The works in the collection from 1300 to the present encompass a wide range of subject matter, telling stories that include topic ... More



1930s Service Station Equipment Co., Ltd. (Toronto) double gasoline pump, Clearvision Model No. 700, an older restoration to Sunoco colors (CA$21,240).



NEW HAMBURG.- A powder blue, fully restored 1959 Chevrolet Corvette convertible sped off for $82,600 and a Canadian Red Indian Aviation Motor Oil sign from the 1930s changed hands for for $47,200 in Miller & Miller Auctions, Ltd.'s online-only Petroliana, Railroadiana & Advertising auction held on June 18th. Overall, the auction grossed $628,674. All prices in this report are in Canadian dollars and include an 18 percent buyer's premium. The '59 Corvette was originally a New Mexico car, later purchased in Canada in 1979 by Joe Byway, whose collection headlined the auction. Joe stored the car until 1985 and then commissioned Dave Harrison with a restoration. It was a meticulously maintained, rust-free car. Not all numbers matched but the car boasted a correct 283 c.i. 230 hp V8 engine. The Canadian Red Indian Aviation Motor Oil single sided porcelain sign from the ... More
Mary Fuller McChesney, Bay Area artist and historian, dies at 99
'Clark V. Fox: Subversion and Spectacle' now on view at Station Museum of Contemporary Art
Enclosing Infinity at the Fralin Museum of Art features six boxes by Joseph Cornell


Mary Fuller McChesney in 1955. McChesney, the Bay Area artist and historian who documented California's postwar art scene and created Aztec-inspired sculptures, died on May 4, 2022. She was 99. Arthur Knight/SFO Museum via The New York Times.

by Clay Risen



NEW YORK, NY.- Mary Fuller McChesney was teaching adult education art classes in Port Richmond, California, when she was forced to make a choice. It was 1951, the height of the Red Scare, and the state had ordered all public employees to sign an oath disavowing radical beliefs, in particular communism. She refused, and was fired. McChesney and her husband, Robert McChesney, both left-wing artists who had been at the center of the Bay Area's art scene in the late 1940s, soon joined dozens of intellectuals fleeing what they feared was a wave of authoritarianism crashing over the West Coast. They bought a Model A mail truck, converted it to a camper and drove to Guadalajara, Mexico. The couple remained there for only a year, until their money ran out. But in that time, McChesney ... More



Installation view of Clark V. Fox: Subversion and Spectacle at Station Museum of Contemporary Art, Houston, TX. Photography © 2022 Hester + Hardaway, Photographers, courtesy the artist.



HOUSTON, TX.- Now on view through September 25, 2022, Clark V. Fox: Subversion and Spectacle, which occupies the entirety of the museum's galleries, tracks the various periods and aesthetic sensibilities that mark Clark's oeuvre over six decades, drawing on the complexity of his identities beyond art historical boxes, commercial tropes, and simple classification. "As an artist beyond categorization, Clark's prodigious achievements are measured in the outsized influence that his pieces exert on the viewer and the shock waves his work continues to send through contemporary art," said Station Museum of Contemporary Art Director and exhibition organizer James Harithas. Through the presentation of more than 350 paintings and assemblage works, the exhibition highlights Clark's consistent mixing and appropriation of styles and movements from Pop Art to abstraction as a political statement. It coalesces Clark's posit ... More



Joseph Cornell, Untitled (Harlequin Jumping Jack), ca. 1935 - 1938. © 2022 The Joseph and Robert Cornell Memorial Foundation / Licensed by VAGA at Artists Rights Society (ARS), N.Y.



CHARLOTTESVILLE, VA.- In commemoration of the 50th anniversary of the passing of Joseph Cornell (1903-1972), one of America's most important and enigmatic artists, The Fralin Museum of Art at the University of Virginia has organized an exhibition of his work. Joseph Cornell: Enclosing Infinity, on view June 26, 2022-Feb. 12, 2023, is curated by Matthew McLendon, the Museum's J. Sanford Miller Family director. The intimate, focused exhibition will feature six boxes from The Fralin's collection, inviting visitors to enter Cornell's world of fantasy. Cornell worked in collage and film, though he is best known for his signature shadow box constructions—small worlds unto themselves made of the bric-a-brac he collected as he wandered through New York City's dime stores, used book merchants and purveyors of back copies of newspapers and magazines. The Fralin is home to several important Cornell box ... More
Transcendental Light: How Richter Channels The Undying Power of The Landscape

Flashback
On a day like today, English painter Stanley Spencer was born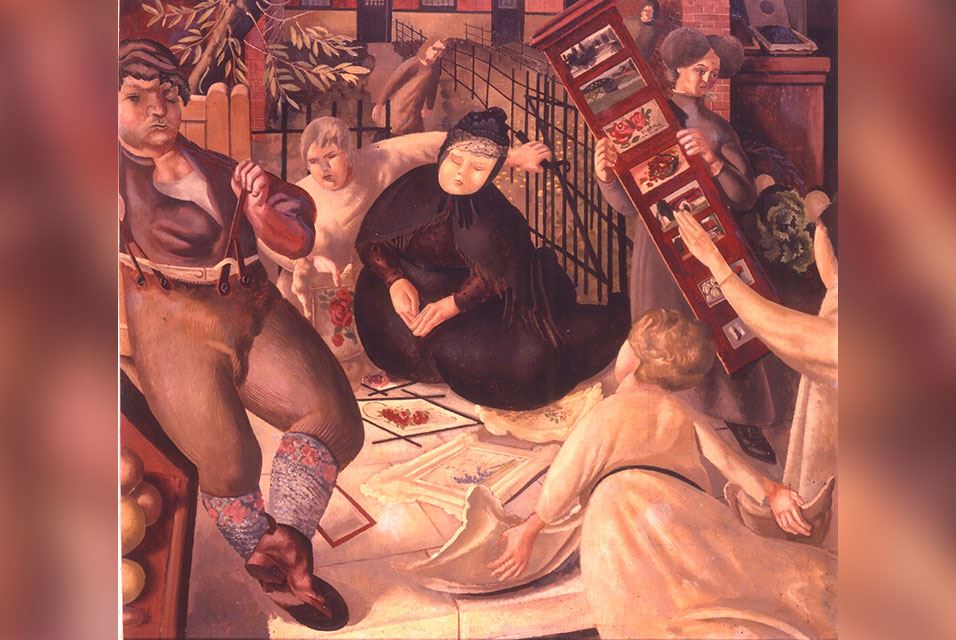 July 30, 1891. Sir Stanley Spencer CBE RA (30 June 1891 - 14 December 1959) was an English painter. Shortly after leaving the Slade School of Art, Spencer became well known for his paintings depicting Biblical scenes occurring as if in Cookham, the small village beside the River Thames where he was born and spent much of his life. In this image: Sarah Tubb and the Heavenly Visitors, 1933 by Stanley Spencer © Estate of Stanley Spencer, Bridgeman Images, London.
---

Museums, Exhibits, Artists, Milestones, Digital Art, Architecture, Photography,
Photographers, Special Photos, Special Reports, Featured Stories, Auctions, Art Fairs,
Anecdotes, Art Quiz, Education, Mythology, 3D Images, Last Week,

.
---
Royalville Communications, Inc
produces: