Croatian museums return art looted during Holocaust to Jewish heir
In an undated photo via Andy Reichsman, "Landscape by the Water," by Maurice de Vlaminck. Three museums in Zagreb have returned artworks looted from a Jewish businessman, giving them to his grandson after court decisions that resolved a 70-year dispute and paved the way for the first reported Holocaust-era art restitution in Croatia. (Via Andy Reichsman via The New York Times)

by Catherine Hickley
NEW YORK, NY
.-
Three museums in Zagreb, Croatia, have returned artworks looted from a Jewish businessman, giving them to his grandson after court decisions that resolved a 70-year dispute and paved the way for the first reported Holocaust-era art restitution in Croatia. The works returned this week to the heir, Andy Reichsman, include two paintings from the National Museum of Modern Art — André Derain's "Still Life With a Bottle" and Maurice de Vlaminck's "Landscape by the Water" — as well as lithographs by Pablo Picasso, Pierre-Auguste Renoir, Paul Cézanne and Pierre Bonnard from the Croatian Academy of Sciences and Arts. "This seems almost beyond belief," Reichsman said in a phone interview from Zagreb. "I thought that our chances would be one in a million. They never had any interest in giving anything back to Jews." Croatia's Jewish community was almost wiped out in the Holocaust after the invasion by the Axis powers and the creatio ...
More
The Best Photos of the Day
Erwin Olaf, photographer with an eye for the theatrical, dies at 64
The creative world of 'Choi Myoung Young: Controlled Monotony, Infinite Variations' at Almine Rech Paris
María Magdalena Campos-Pons lets the spirits guide


Erwin Olaf in his studio in Amsterdam, Feb. 4, 2019. (Ilvy Njiokiktjien/ The New York Times)

by Nina Siegal



AMSTERDAM.- Erwin Olaf, a contemporary Dutch photographer known for the precision of his staged photographs of both countercultural figures and Dutch royalty, died Wednesday in Groningen, Netherlands. He was 64. Shirley den Hartog, his business partner, said the death, in a hospital, was caused by complications of a recent lung transplant. Olaf had struggled for years with hereditary emphysema, she said. Olaf began his career as a photojournalist documenting the gay liberation movement in the 1980s before becoming one of the first photographers in the Netherlands to stage photos using theatrical costuming and sets. His subjects were often nonconforming to both gender stereotypes and cultural norms — people with unusual bodies, alternative lifestyles or a penchant for bondage gear. "He made explicit images or very suggestive images that became iconic," said Taco Dibbits, director of the Rijksmuseum, which owns and displays ... More



Choi Myoung Young, Conditional Planes 18-06, 2018. Acrylic on canvas, 162.2 x 112 cm. 64 x 44 in. Courtesy of the Artist and Almine Rech. Photo: Ana Drittanti.



PARIS.- Korean modernist painting, or dansaekhwa (monochrome painting), holds a central position in Korean art history. Within the discussion and context of Korean modernism, Choi Myoung Young is indispensable. Born in Haeju, Hwanghae-do, in 1941, Choi defected to South Korea during the Korean War and grew up in Gunsan and Incheon. In 1957, he began studying art at Incheon National School of Education (now Gyeongin National University of Education) under master artist Chung Sanghwa after which he entered the Hongik University College of Fine Arts in 1960 to study painting. There, he built his artistic foundation through practical courses taught by artists Han Mook, Lee Bongsang, Lee Kyu-sang, and Kim Whanki, as well as theoretical courses taught by art historian Lee Kyung-sung, Korean art historian Choi Soon Woo, aesthetician Cho Yohan, and Buddhist philosopher Rhi Ki-yong. Choi once mentioned that the creative attitudes preached by Lee Kyu-sang and Kim Whanki back then served as a signpost in ... More



The artist María Magdalena Campos-Pons at her studio in Nashville on Aug. 7, 2023. The prolific Cuban-born artist's first survey in many years has opened at the Brooklyn Museum. (Gabriel McCurdy/The New York Times)

by Siddhartha Mitter



NASHVILLE, TENN.- One evening back in Cuba, when artist María Magdalena Campos-Pons was about 8 years old, she was visited by an owl. She was in her bed, she recalls, and saw it perched on the sill of the half-open window. It was observing her, as owls do. "You might say they don't come that close," Campos-Pons, now 64, said recently in her studio at Vanderbilt University in Nashville. "But this was in the countryside, in a finca, in La Vega, Manguito. And ever since then I have dreamed a lot about flying." By any measure she has flown far. She grew up on a former sugar plantation in Matanzas province. Her great-grandfather arrived enslaved from present-day Nigeria. Her father left school in third grade to work the cane. But her own journey would take her through the schools that the Cuban Revolution brought to the ... More
SOM debuts installation of Zero-Carbon Bio-Blocks at 2023 Chicago Architecture Biennial
Lyn Liu joins Kasmin
Flying Cross awarded to highest scoring Jewish ace of the Great War to be sold at Noonans


A Spiral Installation of Algae-Based Concrete models a Collaborative Approach to Reduce Carbon Emissions in the Building Industry. © SOM | Dave Burk



CHICAGO, IL.- For the Chicago Architecture Biennial opening, Skidmore, Owings & Merrill (SOM) showcases an algae-based, concrete alternative at The Mews in Fulton Market. Developed in partnership with Prometheus Materials, Bio-Block™ Spiral offers a model for carbon-neutral construction. "Extending our history of material research and prototyping at the Chicago Architecture Biennial, Bio-Block Spiral introduces our collaboration with Prometheus Materials to develop an algae-based, zero-carbon alternative to the concrete blocks found everywhere in our buildings and cities," said SOM Design Partner Scott Duncan. Fabricated by Prometheus Materials out of naturally carbon-sequestering microalgae put through a patent-pending photosynthetic biocementation process, Bio-Block offers a sustainable alternative ... More



Portrait by Lane Lang.



NEW YORK, NY.- Kasmin welcomed Lyn Liu (b. Beijing, China, 1993) to the gallery. Liu's first exhibition with Kasmin, Dogville, was mounted in 2022. Nicholas Olney, President of Kasmin, comments: "We're thrilled to release the news of Liu's representation. Lyn has emerged as a singular voice in contemporary painting with a visual language all her own, coupled with a deep sense of the strangeness and uncanny beauty of the human condition in the 21st century." Eric Gleason, Head of Sales at Kasmin, added: "Seeing Lyn's work for the first time was the kind of transfixing moment one fantasizes about. Her approach to each individual painting and her practice at-large is so deeply thoughtful, so mature, so self-reflective, and so culturally-aware. It is an immense pleasure to be working with Lyn and we look forward to doing so for decades to come." Liu's work in painting and printmaking addresses the psycholog ... More



Approximately 66 D.F.C. and Bars were awarded for the Great War.



LONDON.- A fine and scarce 1918 Great War Sopwith Camel fighter ace's Distinguished Flying Cross and bar awarded to Captain Solomon Clifford Joseph of the Royal Naval Air Service and Royal Air Force - who was the highest scoring Jewish ace of the Great War is to be included in a sale of Orders, Decorations, Medals and Militaria at Noonans Mayfair on Wednesday, October 13, 2023. Not only was Captain Joseph the highest scoring Jewish Ace of the Great War; he was the only Ace of the conflict to hail from Birmingham. The medals carry an estimate of £15,000- 18,000 and are being sold by a collector. As Mark Quayle, Medal Specialist and Associate Director of Noonans commented: "Joseph was a "gung-ho" pilot, whose aggressive flying style and skill accounted for at least 13 aerial victories over the Western Front between May - October 1918. He was no stranger ... More
Brainless jellyfish demonstrate learning ability
Stephenson's Auction invites collectors to explore the enchanting world of Dolls!, October 1
Thaddaeus Ropac presents a rarely seen series of photographs by Irving Penn


In an undated photo from Jan Bielecki, tripedalia cystophora, a box jellyfish from the Caribbean. The black dots embedded low on the bell are the animal's visual sensory and learning center, called rhopalia. (Jan Bielecki via The New York Times)

by Veronique Greenwood



NEW YORK, NY.- In the dappled sunlit waters of Caribbean mangrove forests, tiny box jellyfish bob in and out of the shade. Box jellies are distinguished from true jellyfish in part by their complex visual system — the grape-size predators have 24 eyes. But like other jellyfish, they are brainless, controlling their cube-shaped bodies with a distributed network of neurons. That network, it turns out, is more sophisticated than you might assume. On Friday, researchers published a report in the journal Current Biology indicating that the box jellyfish species Tripedalia cystophora have the ability to learn. Because box jellyfish diverged from our part of the animal kingdom long ago, understanding their cognitive abilities could help scientists trace the evolution of learning. The tricky part about studying learning in box jellies was finding an everyday behavior that scientists could train the creatures to perform in the lab. Anders Garm, ... More



Group lot of two tagged and signed Judy Brown carved-wood dolls, each depicting 'Rose Marie' and wearing dresses tagged 'Judy Brown Sterling, Virginia.' Dated 11/83 and 11/87 respectively, they would make excellent companion dolls to Brown's beloved 'Hitty' wooden doll. Excellent condition. Estimate $200-$400.



SOUTHAMPTON, PA.- Sometimes simple is best, and that's why Stephenson's decided to get right to the point and call its October 1, 2023 auction "Dolls!" The entire session is devoted to the colorful world of dolls, their close pals – including Steiff plush animals ¬– and doll clothing and accessories. The doll-production timeline represented in the sale runs from the late 1800s through the 21st century. All forms of remote bidding will be available for the Sunday afternoon in-gallery session, including absentee and live online through LiveAuctioneers. "This auction consists primarily of dolls from estates and collections in the Greater Philadelphia and Mid-Atlantic region," said Cindy Stephenson, owner of Stephenson's Auction Company in suburban Bucks County, Pennsylvania. "On the antique side, there are some fine French and German bisque-head dolls, and for those who collect contemporary dol ... More



Irving Penn, The Bath (A) (Dancers' Workshop of San Francisco), 1967. Gelatin silver print, print made 1995. 38.7 x 39.1 cm (15.24 x 15.39 in). Courtesy Thaddaeus Ropac gallery, London · Paris · Salzburg · Seoul © The Irving Penn Foundation.



PARIS.- This exhibition will be dedicated to a rarely seen series of photographs by Irving Penn capturing the groundbreaking work of the American choreographer Anna Halprin. Taken in 1967, the carefully composed images are the result of Penn's collaboration with the Dancers' Workshop of San Francisco, which he photographed performing Halprin's improvisational choreography The Bath. The group of fourteen photographs, which were printed for the first time in 1995, highlights Halprin's pioneering approach to movement and reveals a more experimental side to Penn's practice. Since the exhibition at the Maison Européenne de la Photographie in 1997, curated by Jean-Luc Monterosso and Pascal Hoël, they have not been shown together in Paris. The summer of 1967 in San Francisco has become known as the 'Summer of Love'. Young people converged on the city, drawn to its burgeoning counterculture that broke the taboos of American society, promoting community, altruism, mys ... More
Phillips appoints Vy Tran as consultant, Vietnam
Extremely rare ring watch by Piaget sells for a hammer price of &pound18,000 at Noonans Mayfair
André Bishop to step down after three decades running Lincoln Center Theater


Appointment Continues Phillips' Expansion into Southeast Asia. Image courtesy of Phillips.



HONG KONG.- Phillips announced the appointment of Vy Tran as Consultant, based in Vietnam. Ms. Tran will work closely with Phillips' 20th Century & Contemporary Art, Watches and Jewellery departments in Asia, leading the company's business activities in Vietnam, an increasingly important market for the region. She will also play an important role in developing Phillips' brand awareness and advise on opportunities to grow the company's presence in the country. "I am delighted to welcome Vy to Phillips as part of a commitment to expand our footprint across Asia," said Robert Sleigh, Managing Director, Asia, Phillips. "This appointment comes as Phillips is building extra momentum in the region, including the launch of our new Asia headquarters in Hong Kong this year. The collecting scene in Southeast Asia is expanding rapidly, and we are thrilled to have the opportunity to broaden ... More



Piaget. A lady's white gold, emerald, ruby and diamond-set ring watch Photo: Noonans.



LONDON.- An extremely rare lady's 18ct white gold, emerald, ruby and diamond-set ring watch by Piaget tripled its estimate, selling for £18,000 in a sale of Jewellery, Watches, and Objects of Vertu at Noonans Mayfair on Tuesday, September 12, 2023. Dating from circa 1976, the ring watch was estimated at £5,000-7,000 and was bought by a UK collector [lot 410]. Following the sale, Joanne Lewis, Watch specialist at Noonans commented: "This stunning ring watch achieved a high price due to its rarity, being one of only three examples of this model made by Piaget between 1966-1976. Piaget, who have a reputation for making exquisitely crafted unusual ladies' watches, confirmed that they have a similar example in their Private Collection." An unusual Jaeger LeCoultre pink gold and diamond set watch, the Reverso Duet Classique, dating from circa 2016, sold for a hammer price of £6,500 against an estimate of ... More



André Bishop, right, Lincoln Center Theater's producing artistic director, with Kewsong Lee, chairman of the theater's board of directors, in New York on April 10, 2018. (Rebecca Smeyne/The New York Times)

by Michael Paulson



NEW YORK, NY.- André Bishop, the producing artistic director of Lincoln Center Theater, will step down in the spring of 2025, ending a 33-year run leading one of the nation's most prestigious nonprofit theaters. The organization has under Bishop's stewardship been a leading producer of grand Broadway revivals of Golden Age musicals, and has simultaneously committed itself to nurturing emerging artists by constructing a black box theater for that purpose on its rooftop. "I'm exhilarated and sad at the same time," Bishop said in an interview. "I will have been here many, many years — almost half my life — and it's time for someone new and fresh to come in and pick up where I left ... More
Guest Artist Livestream | Caitlin Hyde

Flashback
On a day like today, Australian painter William Dobell was born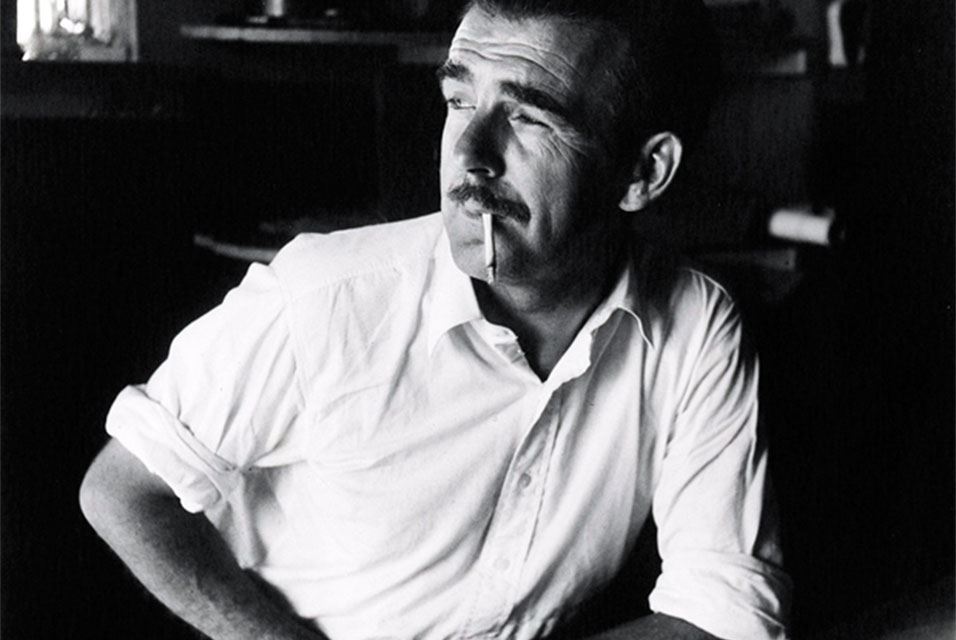 September 24, 1899. Sir William (Bill) Dobell OBE (24 September 1899 - 13 May 1970) was a renowned Australian portrait and landscape artist of the 20th century. Dobell won the Archibald Prize, Australia's premier award for portrait artists on three occasions. The Dobell Prize is named in his honour.
---

Museums, Exhibits, Artists, Milestones, Digital Art, Architecture, Photography,
Photographers, Special Photos, Special Reports, Featured Stories, Auctions, Art Fairs,
Anecdotes, Art Quiz, Education, Mythology, 3D Images, Last Week,

.
---
Royalville Communications, Inc
produces: