Artemis Gallery announces May 19 boutique auction of expertly curated antiquities, ethnographica and fine art
Ancient Egyptian low-relief carved and polychrome-painted limestone panel depicting male figure carrying a pole. Dates to 11th-13 Dynasty, circa 2130-1649 BCE. Size: 5.5in wide, 8.5in high; 11.2in high when measured with included custom stand. Estimate $18,000-$27,000.
BOULDER, CO
.-
On Thursday, May 19, Artemis Gallery will auction
a very special collection of fine art from the Hollywood Hills
that includes coveted Picasso and Rookwood ceramics. This lively private collection is a featured highlight of the company's 153-lot auction event composed primarily of classical antiquities, ancient, and ethnographic art from many of the world's most influential and celebrated cultures. Egyptian, Greek, Roman, Etruscan, Near Eastern, Asian, Pre-Columbian, Native American, African/tribal, Oceanic and Spanish Colonial-era civilizations are represented. All auction items are guaranteed to be authentic, legally acquired and legal to resell, if desired. Bid absentee or live via the Internet through LiveAuctioneers. Ancient Egyptian art reflects the mystery of the dynasties who ruled the Nile region, including their spiritual beli ...
More
The Best Photos of the Day
Ruby Mazur celebrates 50th anniversary of his "mouth & tongue" image designed for the Rolling Stones
We've been drawing these saber-toothed cats all wrong
Nick Cave goes underground


Ruby Mazur, Motor Car Mouth & Tongue, 2021.



NEW YORK, NY.- Legendary pop artist Ruby Mazur, best known as the creator of the original "mouth & tongue" image designed for The Rolling Stones, first used on the "Tumbling Dice" record sleeve in 1972, is currently enjoying the 50th Anniversary of his iconic image, with new 2022 exhibits in Hawaii, Las Vegas and Lake Tahoe. Following his highly-successful 2021 exhibits at Hawaii's Holle Fine Art gallery on the island of Maui, where he's been living for the past 16 years, acclaimed pop artist Ruby Mazur is now debuting his all new series of original oil on canvas paintings, along with color prints and special edition giclee prints, at Holle Fine Art at 839 Front Street in Lahaina, HI, with a two-day opening on June 3rd and 4th, 2022 and will remain on exhibit through the summer. Many of the paintings in his latest series are new variations on the iconic "mouth and tongue" image he created ... More



An undated image provided by Mauricio Anton shows an illustration of Homotherium latidens' skull. Mauricio Anton via The New York Times.

by Anthony Ham



NEW YORK, NY.- Close your eyes and picture being face to face with a saber-toothed cat. Most likely you will see in your frightened mind's eye the long, curved upper canines — particularly sinister because those dagger-shaped teeth remained in full view, even when the cat closed its mouth. What appears in your imagination may be incorrect, at least for a species of saber-toothed cat that was one of the most widespread in Earth's ancient history. In a study published last month in the journal Quaternary Science Reviews, a team of researchers argues that many artistic reconstructions of Homotherium latidens are wrong. Depictions of the cats with pointy teeth at the ready need to be revised, because the animal's defining feature was ... More



One of the artist Nick Cave's works, featuring a mosaic aviary with porcelain birds and a cat-headed "Soundsuit" as a central figure, in the subway station under One Times Square in New York, May 15, 2022. Amr Alfiky/The New York Times.

by John Vincler



NEW YORK, NY.- For an artist best known for "Soundsuits" that produce a variety of percussive effects when worn, Nick Cave's public project, "Each One, Every One, Equal All," has found a fittingly noisy home in the New York City subway. Earlier this month, during a preview of the completed project, a saxophone reverberated through the tunnels of the Times Square and 42 Street subway station, its sound almost overcome by the surging clatter and roar of trains. Here, the artist's wearable works, which fuse dance to sculpture, have been dramatically rendered into mosaic tiles across nearly 4,600 square feet, throughout three neighboring ... More
Museo Nacional Thyssen-Bornemisza presents Carpaccio's Young Knight in a Landscape restoration and technical study
Surrealism shines at Christie's as sales total $79.4 million
Paris Print Fair opens this week! New fair dedicated to printmaking from May 18-22


Chromatic inpainting process of the losses in the work. Photo: Hélène Desplechin.



MADRID.- With the restoration now completed of Young Knight in a Landscape by Vittore Carpaccio (ca. 1505), one of the most celebrated works in the Museo Nacional Thyssen Bornemisza, the results of the project will be shown in a special display in Room 11 of the permanent collection where the restoration took place on view to the public throughout 2020 and until March 2021. This presentation is part of the programme of exhibitions and activities organised to mark the centenary of the birth of Baron Thyssen-Bornemisza, a commemoration that is benefiting from the support of the Region of Madrid. The restored painting is shown alongside a video which explains the work undertaken on it and the results obtained from the technical study of a type that accompanies all such projects, also published as a monographic volume. Materials analysis, X-radiographs, reflectographs and other technical procedures have allowed ... More



Claude Monet (1840-1926), Soleil couchant, temps brumeux, Pourville. Oil on canvas. Painted in 1882. Price realized: $5,100,000. © Christie's Images Ltd 2022.



NEW YORK, NY.- Christie's Spring 2022 Marquee Week began its final day of live sales on Saturday, May 14 with The Surrealist World of Rosalind Gersten Jacobs & Melvin Jacobs at Rockefeller Plaza in New York. The sale totaled $42.3 million, bringing the week's running total to $1.43 billion. The exquisite collection of objects saw lively and spirited international bidding with participation from 16 countries from buyers on the phones, online, and in the room. Man Ray's iconic masterpiece Le Violon d'Ingres was the top lot of the sale, setting a new record for a photograph, selling for $12.4 million to a buyer on the phone. Results were exceptional throughout, with the auction selling 99% by value and 92% by lot, 182% hammer above low estimate. New artist records were set for a number of artists including Dorothea Tanning, whose Le mal oublié tripled ... More



Pierre Soulages, Lithographie 27, 1969. Lithographie, 78 x 55 cm. Édition de 85. Courtesy de Libretis.



PARIS.- Marking its very first edition from May 19—22, 2022, the Paris Print Fair, organized by the Chambre Syndicale de l'Estampe, du Dessin et du Tableau (CSEDT), will bring together 19 exhibitors from across Europe in the Réfectoire of the iconic Couvent des Cordeliers, located in the heart of Paris's 6th arrondissement. Tracing the evolution of the art of printmaking from the 15th century to the present, the fair will invite visitors to immerse themselves in the diversity of practices related to this storied discipline, at once historical and contemporary, showcasing Old Masters of printmaking alongside Modern artists and contemporary creatives. The fair's intimate format, tailored for experts, dealers and other professionals as well as collectors and amateurs, will unfold as a highly specialized event, reflecting its engaged educational approach. "As specialists and professionals, we are consistently faced with the question: what is ... More
Post-War & Contemporary Art Day Sale achieves $97 million
Annely Juda Fine Art opens an exhibition of works by Philipp Goldbach, Nigel Hall and Werner Haypeter
The Fralin Museum of Art receives grant to support the Native North American Collections Project


Mark Tansey (B. 1949), Iconoclast (Study for Triumph Over Mastery II). Oil on canvas. 14 x 11 1⁄4 in. (35.5 x 28.5 cm.) Painted in 1987. Price realized: $428,400. © Christie's Images Ltd 2022.



NEW YORK, NY.- Christie's continued its Spring 2022 Marquee Week with the Post-War and Contemporary Art Day Sale featuring The Collection of Thomas and Doris Ammann on Friday, May 13 at Rockefeller Plaza in New York. The sale totaled $97 million, bringing the week's running total to $1.36 billion. The sale consisted of an incredible selection of works spanning the 20th and 21st centuries, and raised a total of $11.3 million for philanthropic initiatives, including an additional $7.3 million for The Thomas and Doris Ammann Foundation, bringing the week's cumulative total raised for the Foundation to $325.1 million. The sale was 96% sold by value and 93% sold by lot, selling 151% hammer above low estimate with 17 works selling above $1 million. Bidders and buyers were drawn globally, coming from 41 different countries. The sale was led by two outstanding works by icons painted in the 1960s—Andy Warhol's Marilyn Monroe (Mari ... More



Philipp Goldbach, University of Hamburg, Department of University History 2010. C-Print mounted between Diasec and aluminium, 156 x 125 cm.



LONDON.- Annely Juda Fine Art is presenting an exhibition of works by three artists: Philipp Goldbach, Nigel Hall and Werner Haypeter. Philipp Goldbach's work explores the relationship between time and written language with an emphasis on photography as both material and metaphor. He appropriates material from philosophy and art to examine the intellectual history of how information is stored; the materiality of inscription in a conflicting world of digitized and technological reproduction. Here, the gallery shows works from his series "Blackboards and Micrographs" (2010) for which he photographed chalkboards in rooms at various German universities where great thinkers such as Martin Heidegger and Theodor Adorno once taught. Concerned with philosophical ideas, Goldbach transcribes seminal philosophical texts into the circuit of a Read Only Memory board, yielding arduously intricate drawings and minimalist sculptures that hark ba ... More



Unrecorded Diné (Navajo) artist, Arizona or New Mexico. Rug in Ganado Style, 1980s. Natural and dyed commercial yarns. Bertha Brossman Blair Collection of Southwestern Textiles, 1998.4.16.



CHARLOTTESVILLE, VA.- The Fralin Museum of Art at the University of Virginia (UVA) has received a $250,000 American Art Program Responsive Grant from the Henry Luce Foundation to focus on the Museum's Native North American Collections Project. The initiative will support new research and interpretation of the Native American collection to invigorate and advance the understanding and presentation of these artworks through engagement with Native scholars, artists and knowledge holders. The work undertaken for this project will foster new approaches to presenting the collection that are informed by Indigenous perspectives, leading to the publication of a major scholarly text, enhanced online presence and the development of an innovative exhibition co-curated with Native collaborators. "We are grateful to the Henry Luce Foundation for its support of this project and its recognition of the importance of the objects ... More
Shelburne Museum opens with new exhibitions, programs, and refurbished historic buildings
Hake's debuts all-Star Wars special auction June 2 - only the rarest and best
Gilane Tawadros appointed new Director of Whitechapel Gallery


Luigi Lucioni, Village of Stowe, Vermont, 1931. Oil on canvas, 23 1/2 x 33 1/2 in. Minneapolis Institute of Art, Gift of the Estate of Mrs. George P. Douglas. Licensed by Bridgeman Images.



SHELBURNE, VT.- Shelburne Museum opened the 2022 season and kicked off its 75th anniversary on Sunday, May 15 with a full slate of new exhibitions, programs, and refurbished historic buildings. Northern New England's largest art and history museum will be open six days a week, Tuesdays through Sundays, from 10 a.m. to 5 p.m., including holiday Mondays, through October 16. Stagecoach Inn and The Dana-Spencer Textile Galleries at Hat and Fragrance, where two of the museum's most important collections reside—American Folk Art and quilts—will reopen this season after updates and conservation. This season visitors will have a special opportunity to view a major exhibition of the work of Luigi Lucioni. Luigi Lucioni: Modern Light showcases the technically sophisticated realist who favored the play of light and shadows on weathered barns and stately trees contributing to the genre termed "Yankee Modernism." In addition, ... More



Star Wars 2.25in Jawa 12 Back-A action figure with vinyl cape, rare variation, AFA 80 NM, from 1978 Star Wars toy line. Unpunched card. Estimate $20,000-$35,000.



YORK, PA.- In the investment-obsessed world of fine art, scarcely a week goes by without some new auction record being set, either for a particular artist or art genre. Hake's Auctions, the groundbreaking Pennsylvania company that has specialized in pop culture memorabilia since 1967, also rewrites the record books with regularity, but not with Picassos or Van Goghs. It has become known as "The House of Star Wars" because of its consistent ability to achieve world-record prices for prototypes and other rarities from the fabled sci-fi film franchise. With collector demand at an all-time high, Hake's has responded to the call by adding something new to its roster: an online auction dedicated exclusively to Star Wars memorabilia. The debut "Special Event" has opened for bidding and will run through June 2nd. "When an auction house recognizes that a collecting trend has become a sensation, the next logical step is to i ... More



Gilane Tawadros will be Whitechapel Gallery's tenth Director, and her appointment follows Iwona Blazwick's decision to step down as Director after 20 years, in April 2022.



LONDON.- Whitechapel Gallery is delighted to announced that curator and writer, Gilane Tawadros, has been appointed the new Director of Whitechapel Gallery, London. Currently Chief Executive of DACS, a not-for-profit visual artists' rights management organisation, and previously founding Director of the Institute of International Visual Arts (Iniva),Tawadros will take up her post in October 2022. Dr David Dibosa, Chair of Whitechapel Gallery Trustees said: "I am overjoyed that Gilane Tawadros will lead Whitechapel Gallery in the next stage of its history. Gilane has a compelling vision and brings decades of experience to help make this a reality. She believes in the role of art in society and knows how to equip institutions to play their part. Throughout her career, Gilane has remained committed to artists alongside all those who help to bring their work into public view. The unanimity of support for our new Director gives ... More
Restoration of J. Pierpont Morgan's Library: Doors

Flashback
On a day like today, Italian painter Sandro Botticelli died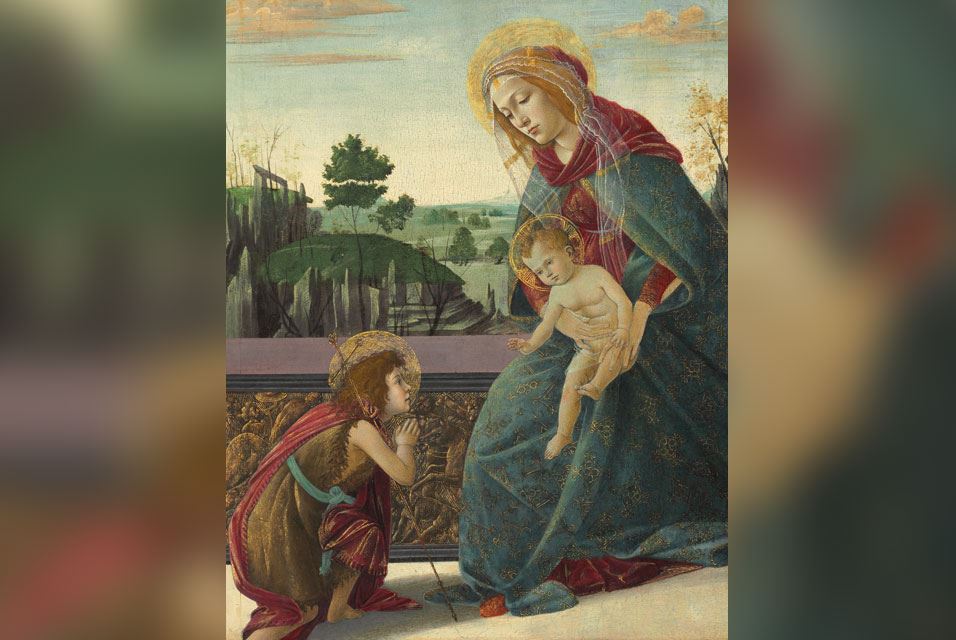 May 17, 1510. Alessandro di Mariano di Vanni Filipepi (c. 1445 - May 17, 1510), known as Sandro Botticelli, was an Italian painter of the Early Renaissance. He belonged to the Florentine School under the patronage of Lorenzo de' Medici, a movement that Giorgio Vasari would characterize less than a hundred years later in his Vita of Botticelli as a "golden age". In this image: Alessandro Filipepi, called Sandro Botticelli, The Madonna and Child with the Young Saint John the Baptist. Tempera, oil and gold on panel / 46.3 x 36.8 cm. Estimate: $5,000,000-7,000,000. Photo: Christie's Images Ltd 2012.
---

Museums, Exhibits, Artists, Milestones, Digital Art, Architecture, Photography,
Photographers, Special Photos, Special Reports, Featured Stories, Auctions, Art Fairs,
Anecdotes, Art Quiz, Education, Mythology, 3D Images, Last Week,

.
---
Royalville Communications, Inc
produces: