Virtual Cotsen Textile Traces Global Roundtable will explore the rich traditions of lacemaking
Italy, 17th century. Cotsen Textile Traces Study Collection T-0703.
WASHINGTON, DC
.-
The third annual virtual Cotsen Textile Traces Global Roundtable explores the rich traditions of lacemaking through examples from the Cotsen Textile Traces Study Collection at
The George Washington University Museum and The Textile Museum
in Washington, D.C., October 12 and 13. The Cotsen Textile Traces Global Roundtable: Lacing Around the World and Across Time includes some fifteen international scholars, artists and designers, who will present multiple dimensions of the global art, from its history and globalization to innovations, fashion and artistic creativity. This program is a partnership with Bard Graduate Center, New York, and Textilmuseum St. Gallen, Switzerland, and is supported through the Cotsen Textile Traces Study Collection Endowment. Those interested in attending the roundtable should ...
More
The Best Photos of the Day
Betty White auction results announced
Galerie Gmurzynska exhibits a plaster cast of Pablo Picasso's left hand
Andrew Jones Auctions announces an online-only Signature Design for the Home and Garden auction


Betty White's Director's Chair from The Golden Girls Set Dazzled the Auction Stage as Top-Selling Item Sold for $76,800, Seventy-Six Times Its Original Estimate.



BEVERLY HILLS, CA.- In a white glove event where every item was sold, Julien's Auctions , the acclaimed auction house to the stars, held on Friday, ended this September 25th their headline-making "PROPERTY FROM THE LIFE AND CAREER OF BETTY WHITE," auction featuring an incredible line-up of over 1,600 lots featuring memorabilia, wardrobe, art, jewelry and more from the legendary and beloved pop culture icon, in front of a live audience in Beverly Hills and online with thousands of bidders, fans and collectors from around the world. At the centerpiece of this three-day event, Julien's Auctions presented a number of iconic items from the hit television show The Golden Girls. A director's chair used by Betty White during the production of The Golden Girls sold for an incredible $76,800, seventy-six times its original estimate of $1,000. Other The Golden Girls ... More



The show is based on an academic essay by Dr. Jérôme Neutres entitled God's Left Hand: Analysis of the plaster sculpture of Pablo Picasso's palm.



NEW YORK, NY.- Galerie Gmurzynska is presenting to its New York audience La Main de Picasso, the centerpiece and namesake of the exhibition being a rare and singular treasure: a plaster cast of Pablo Picasso's left hand. The show is based on an academic essay by Dr. Jérôme Neutres entitled God's Left Hand: Analysis of the plaster sculpture of Pablo Picasso's palm. Produced in 1937, the same year as Guernica, the plaster sculpture of Pablo Picasso's left hand is the only known modelling exemplar in Picasso's oeuvre of his left-hand palm – the only possible life model for the right-handed sculptor– whereas the artist's hand is a recurring motif in his paintings and sculptures. To Picasso, the hand bespeaks of the academic subject that reveals the artist's talent; it becomes the symbol of the creative force while representing the bodily part that exemplifies the fate and ... More



Mid-18th century Louis XV style gilt and patinated bronze and rouge royale marble elephant form mantel clock by Charles du Tertre of Paris, the dial signed and the twin train movement striking on a bell, 23 ½ inches tall (est. $3,000-$5,000).



LOS ANGELES, CA.- Andrew Jones Auctions will offer a strong selection of antiques, design, fine art, jewelry, watches, silver, carpets, porcelain and glass from antiquity through the 21st century in an online-only Signature Design for the Home and Garden auction scheduled for Sunday, October 9th, beginning promptly at 10 am Pacific time. Over 250 top-quality lots will be offered to the highest bidder. Significant and varied private collections and estates will provide a rich selection for discerning buyers. Jewelry and watches will include pieces by Breitling, David Webb, Leonard Schmallie and Tiffany & Co., plus a bold Siragusa 22kt gold and steel coin inset bracelet (est. $3,000-$5,000). The fine silver offerings run the gamut from a Queen Anne Britannia silver tankard, ... More
Frick publishes book on Vermeer and Maps: Most comprehensive study to date on this topic
The Museo Nivola opens the first solo exhibition of works by Pedro Reyes in an Italian institution
Exhibition at Ordovas commemorates the centenary of the birth of Lucian Freud


Vermeer's Maps is being published October 2022 by The Frick Collection in association with DelMonico Books/D.A.P. New York. The 128-page hardcover volume includes 68 color images and 30 in black and white ($39.95, member price $31.96).



NEW YORK, NY.- Of the approximately thirty-four paintings attributed to Johannes Vermeer—whose extraordinary art has captivated viewers since his rediscovery in the nineteenth century—wall maps and other cartographic objects are depicted in nine of them, including The Frick Collection's renowned Officer and Laughing Girl and the artist's masterpiece in Vienna's Kunsthistorisches Museum, The Art of Painting. With stunning reproductions and incisive text, the Frick's new publication, Vermeer's Maps, is the most comprehensive study of the artist's depiction of wall maps to date. Drawing on rare surviving examples of the physical maps and other primary sources, author Rozemarijn Landsman examines this intriguing aspect of Vermeer's work, greatly enriching ... More



Estatua Dipache. © Pedro Reyes Studio.



ORANI.- The Museo Nivola is presenting Pedro Reyes. Zero Armi Nucleari, the first solo exhibition of the Mexican artist in an Italian institution. The exhibition presents the developments of the Zero Nukes campaign, launched by the artist in collaboration with numerous institutions and figures from the world of art and science, to bring the nuclear threat to the attention of the public and put pressure on governments to reduce the production and pursue the disarmament. Zero Nukes (2020) is an inflatable sculpture created as part of the Amnesia Atómica project, promoted by the Bulletin of the Atomic Scientists, a non-profit association created more than 70 years ago, in the aftermath of the bombs on Hiroshima and Nagasaki, to spread awareness relating to technologies that are potentially lethal to humankind. The fall of the Berlin Wall in 1989 was followed by decades of inattention and "collective amnesia." The nuclear threat, however, ha ... More



Lucian Freud, Man Smoking. Oil on canvas, 20 × 16 in. (50.8 × 40.8 cm.). Painted in 1986−1987. From a private collection.



LONDON.- From 27 September to 16 December 2022, Ordovas commemorates the centenary of the birth of Lucian Freud with a loan exhibition dedicated to the artist's lifelong love of horses. Bringing together a carefully selected group of paintings, portraits and sketchbooks loaned from both museum and private collections, the exhibition explores the influence of horses on his life and art, and the diverse friendships and acquaintances that were made as a result. Lucian Freud's (1922–2011) fascination began in early childhood; as a young boy he would go riding in the countryside outside Berlin where his maternal grandparents kept horses and while at boarding school in Devon, he was sometimes found sleeping in the stables, reputedly enjoying the company of the animals more than attending lessons. Freud sketched and painted equine pictures ... More
Parrish Chief Curator Alicia Longwell retires after 38 years
New department launches this fall dedicated to sneakers, streetwear, and sports collectibles
Solo exhibition by London-based artist Cara Nahaul opens at Taymour Grahne Projects


Alicia Longwell received her Ph.D. degree from the Graduate Center, City University of New York, where her dissertation topic was John Graham.



WATER MILL, NY.- Alicia G. Longwell, Ph.D, announced that she will retire from her position as the Lewis B. and Dorothy Cullman Chief Curator in early October after 38 years at the Parrish Art Museum. Longwell has been an integral and influential force in the East End art scene, championing local, national, and international artists and organizing critically acclaimed exhibitions for decades. These projects, based on extensive scholarship and creative concepts, brought widespread attention to the museum. "We celebrate Alicia Longwell's dedication and tremendous contributions the Parrish Art Museum and the field of art through her expertise on the artists of the East End," said Museum Executive Director Monica Ramirez-Montagut. "Alicia was key in establishing a direction for the Parrish collection and legacy of scholarship and excellence for 38 years. She ... More



Nike unreleased Air Jordan VI, Donda West Sneaker, © Christie's Images Ltd 2022.



NEW YORK, NY.- Christie'sannounces new Department X – Sneakers, Streetwear & Collectibles, a new department focused on this emerging collecting space, led by a team dedicated to auctions and private sales. Department X offers rare collectibles across a number of genres - music, fashion, art, and sports history – bringing the best of this exciting category to a new generation of collectors. From offering history-making footwear to iconic pieces of hype culture, Department X will hold online auctions, with live previews in New York, as well as private selling exhibitions throughout the year. Department X builds on Christie's understanding of popular culture, and strong worldwide performance in the Luxury category, following the recent success of Six Rings – Legacy of the GOAT, featuring rare Michael Jordan sneakers and collectibles. To mark the launch of Department X, Christie's will present a private ... More



Cara Nahaul, Night Foam, 2022. Oil on linen, 4o x 70 cm.



LONDON.- Taymour Grahne Projects is presenting Swimming Lessons, a solo exhibition by London-based artist Cara Nahaul. Text by Allie Biswas. A UK-based writer and editor for projects such as The Soul of a Nation Reader: Writings by and about Black American Artists, 1960-1980 with Mark Godfrey, published in June 2021. In the book (*1) that accompanies this exhibition, Cara Nahaul writes: "My childhood is flooded with memories of the sea … a body of water that sits between Malaysia and Mauritius—the islands of my parents." Since her earliest explorations as an artist, the Indian Ocean has been vital to Nahaul, forming an integral framework for her vivid paintings of white-hued houses and lavish greenery—crisp compositions constructed from minimal components—as well as her hazier pencil-and-pastel drawings of the same verdant landscape. Memory functions in tandem: the recollections cited by the ... More
Es Devlin creates sculpture highlighting London's endangered species
The Ann & Gordon Getty Collection: Textile, jewelry, & handbag highlights
Bienal de Sao Paulo travels to Chile


Es Devlin, Come Home Again © Matt Alexander.



LONDON.- An illuminated sculpture by leading artist Es Devlin highlighting the 243 species on London's priority conservation list - moths, birds, beetles, wildflowers, fish and fungi – has today been unveiled in the Tate Modern Garden opposite St. Paul's Cathedral, in place until 1st October 2022. The large-scale public artwork, commissioned by Cartier, proposes that a first step towards protecting the biosphere is to pay detailed attention to its inhabitants: to observe and draw them, to learn their names, and remember their stories. At sunset an interpretation of Choral Even song will be sung within the illuminated sculpture by London-based choral groups - rare and unique London voices - combined with the voices of the birds, bats, and insects that also consider London their home. Situated in the Tate Modern Garden, directly opposite St. Paul's Cathedral, London-based choral groups of the diaspora will perform at sunset within a sliced open scale model of the dome of St. P ... More



A Central Asian Velvet Ikat Chapan. Estimate: $2,500 - $3,500. © Christie's Images Ltd 2022.



NEW YORK, NY.- Fine jewelry, extraordinary handbags, and exquisite textiles from The Ann & Gordon Getty Collection are being presented by Christie's across six online sales open for bidding October 10 – 25, 2022. The nearly one thousand objects collected by Mrs. Getty reflect her remarkable taste, curiosity, and adventure as well as the embodiment of her magnificent style and beauty. The online sales will be sold with no reserve and feature lots with bids beginning at $100, welcoming more collectors to bid on fascinating objects from one of the true icons of style and timeless grace. Rachel Koffsky, Christie's International Head of Handbags and Accessories, comments: "The six online sales are an opportunity to acquire luxury objects from the historical legacy of Mrs. Getty and a fantastic entry point for collectors across all generations. Mrs. Getty's impeccable taste, style, and unmatched aesthetic sensibilities surface ... More



Chile6: Obra de Alice Shintani © Cortesia da artista.



SAO PAULO.- Santiago, Chile, is the first city outside of Brazil to receive the traveling edition of the 34th Bienal de São Paulo – Though it's dark, still I sing, scheduled to open on the 1st of October at the Centro Nacional de Arte Contemporáneo Cerillos. The exhibition, which is free to all visitors, runs until the 27th of November, and has been made possible through a partnership between the Fundação Bienal de São Paulo and the Ministry of Cultures, Arts and Heritage of Chile. The Bienal de São Paulo's traveling exhibition program is an initiative celebrating its sixth edition in 2022. In 2019, the traveling exhibition of the 33rd Bienal passed through eight cities, of which one was abroad, and was visited by more than 170 thousand people. "The program focuses on art and its positive impact on the fields of education and citizenship. Partnerships with institutions in each location allow for the diffusion of work beyond São Paulo's artistic circuit, reaching the gaze o ... More
Structured Abstraction: A 1950s Pierre Soulages Masterpiece

Flashback
On a day like today, Cambodian photographer and journalist Dith Pran was born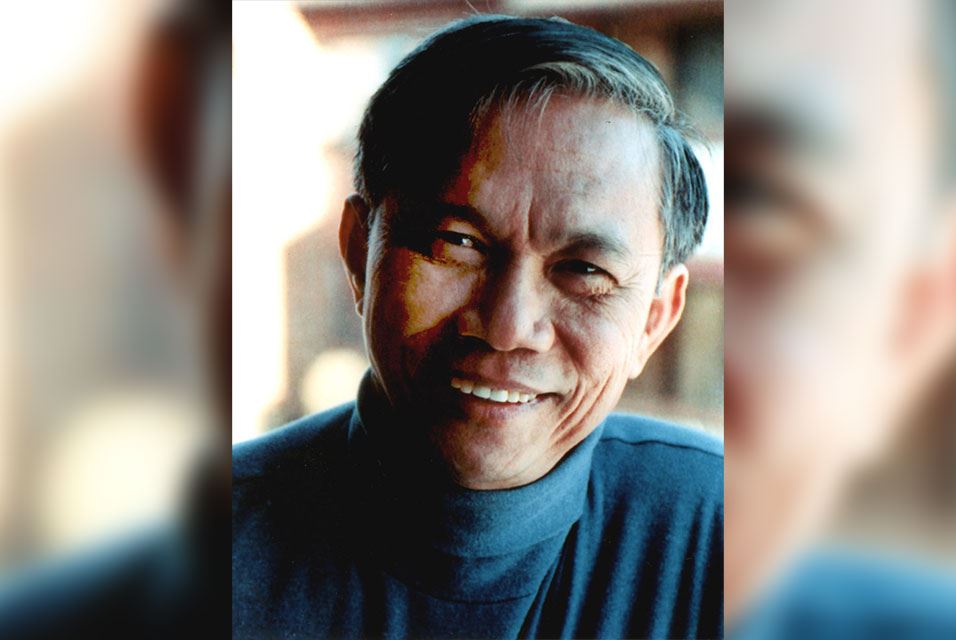 September 27, 1942. Dith Pran (27 September 1942 - 30 March 2008) was a Cambodian photojournalist. He was a refugee and survivor of the Cambodian genocide and the subject of the film The Killing Fields (1984). When Cambodians were forced to work in labour camps, Dith had to endure four years of starvation and torture before Vietnam overthrew the Khmer Rouge in December 1978. He coined the phrase "killing fields" to refer to the clusters of corpses and skeletal remains of victims he encountered during his 40-mile (60 km) escape. His three brothers and one sister were killed in Cambodia.
---

Museums, Exhibits, Artists, Milestones, Digital Art, Architecture, Photography,
Photographers, Special Photos, Special Reports, Featured Stories, Auctions, Art Fairs,
Anecdotes, Art Quiz, Education, Mythology, 3D Images, Last Week,

.
---
Royalville Communications, Inc
produces: