Exhibition looks at the different roles and functions of art in domestic spaces
Left: Alessandro Rondoni, Bust of Cardinal Domenico Maria Corsi (1633 – 1697), 1686. Marble, 77.5 x 0 cm (30 ¹/₂ x 0 inches) Right: Alessandro Rondoni, Bust of Marquess Giovanni di Jacopo Corsi (1600 – 1661), 1685. Marble, 72 x 0 cm (28 ³/₈ x 0 inches).
LONDON
.-
For the Digital edition of London Art Week 2020,
Trinity Fine Art
presents an exhibition looking at the different roles and functions of art in domestic spaces of the past which will guide the modern viewer on a journey through the courtly home of the Renaissance and Baroque eras, retracing the steps of these objects, the families that commissioned them and the villas and palazzi in which they are recorded, and in doing so discover the ways in which art merged with the everyday life of these courtly homes. We have collectively been obliged to consider carefully the different spaces and uses of space within the home, and perhaps we can be guided in this by looking to the examples of the past. From the Renaissance onwards perhaps no other space was more intriguing and complex than that of the household interior in which a wide range of objects served key functions in the fashioning of familial, local and collective identities. ...
More
The Best Photos of the Day
Egypt reopens pyramids to tourists after virus closure
Bruce Silverstein Gallery welcomes The Bill Cunningham Foundation
The best art in town - and open to all: Top ten works at London Art Week Digital, 3-10 July


Yemeni women residing in Egypt visit the Giza Pyramids necropolis on the southwestern outskirts of the Egyptian capital Cairo on July 1, 2020. Khaled DESOUKI / AFP.



CAIRO (AFP).- Egypt reopened its famed Giza pyramids to the public on Wednesday after a three-month closure, seeking to restart a vital tourism industry battered by the novel coronavirus. Dozens of excited tourists snapped selfies as they wandered around Egypt's most iconic ancient site. The pyramids were the country's first tourist attraction to reopen, along with the Egyptian Museum next to Cairo's Tahrir Square, ground zero of the 2011 revolution. Authorities are hoping holidaymakers will brave flying and head to Egypt after international flights resumed on Tuesday under loosening travel restrictions. "We came to the Pyramids today because they opened up after they were closed for a long time," Ashiana Love, an Australian ... More



Met Gala, 1993.



NEW YORK, NY.- The Bruce Silverstein Gallery announced exclusive international representation of the Bill Cunningham Foundation photographic archive. Cunningham was a documentarian of fashion for over half a century, and his photographs are informed by a lifelong passion for style. Part of the fabric of the ever-changing metropolis of New York City, Cunningham was renowned for his ability to spot and photograph fashion trends at their inception. Singular in the history of fashion photography, Cunningham reinvented the genre and embraced straightforward images taken on the city streets, as opposed to the use of posed models. Due to his fastidious approach to image making, and devotion to his craft, Bill Cunningham created an extraordinary body of work that not only captured the history of fashion, but also the zeitgeist of his time. Born in 1929 and raised in ... More



Sir Anthony Van Dyck (1599-1641), Portrait of a Young Girl in a White Apron, c. 1630 (detail). Oil on canvas, 39 x 32 ⅝ in (99 x 83 cm)



LONDON.- From Rembrandt and Van Dyck to Gainsborough, Constable and Turner; Degas and Bonnard to Picasso and Freud; Edward Lear to LS Lowry; Rodin to Henry Moore; the roll-call of famous names for sale at London Art Week opening this Friday spans the arc of art history. Usually London Art Week takes place in galleries around St. James's and Mayfair, and although many exhibitions are now able to open by appointment, the event is available for all to enjoy online in a new digital format, involving art galleries from the USA, UK and Europe, at www.londonartweek.co.uk from Friday 3 to Friday 10 July 2020. The earliest works of art on offer date from ancient Egypt, Greece and Rome; also included are rare examples of early and medieval art, and of the Renaissance period. Great names can be found ... More
New York City cuts arts spending by 11% to close budget gap
Pallant House Gallery acquires paintings of first gay kiss in British theatre
Fang-Betsi Ancestor Head leads $16 million Clyman Collection of African and Contemporary Art at Sotheby's in New York


File photo of Jimmy Van Bramer at the Metropolitan Museum of Art in New York, April 1, 2014.



NEW YORK (NYT NEWS SERVICE).- The New York City budget adopted early Wednesday cuts spending on cultural affairs by nearly 11%, a damaging blow after years where municipal spending on the arts had grown, but it was not as deep a gash as some had feared. The reductions came as the city responded to a roughly $9 billion loss in tax revenues because of the coronavirus shutdown. Last year, funding for the Department of Cultural Affairs, which coordinates grants to arts organizations across the city, climbed to an all-time high of $212 million. This year, the budget allocates around $189 million. Jimmy Van Bramer, a City Council member who chairs the cultural affairs committee, said that some budget negotiators wanted deeper cuts to the arts funding. "I fight like an animal inside the budget negotiating team for those things," he said in a phone interview before the council budget vote. Van Bramer ultimately voted against the budget, in part because of a roughly $15 million cut to arts education services in ... More



Leonard Rosoman, Portrait with Candelabra: George Devine as Baron von Epp, 1968, Acrylic on canvas, 101.2 x 76.2 cm, Courtesy of Roxanne Rosoman, Photography Dawkins Colour / John Bodkin © The Artist's Estate.



CHICHESTER.- Marking Pride Month 2020, Pallant House Gallery has today announced the acquisition of a series of paintings depicting the first gay kiss and drag ball in British theatre. The five works by British artist Leonard Rosoman R.A (1913-2012) have been acquired from the estate of the artist's widow Roxanne Wruble Rosoman (1937-2018) through the Acceptance in Lieu Scheme. Pallant House Gallery Director Simon Martin has commented: "We are thrilled to acquire Leonard Rosoman's A Patriot for Me paintings. Not only are they among his finest works, but they have a particular significance to LGBTQ history, to the history of British theatre and visual art, representing a time when Britain's social and cultural history was on the cusp of a pivotal shift." The five paintings created as part of Rosoman's A Patriot for Me series are based on John Osborne's controversial play of the same name, which was first perf ... More



Fang-Betsi Artist, Head of an Ancestor. The first work of Classical African art to be presented in any Contemporary Art Evening Sale achieves $3.5 million. Courtesy Sotheby's.




NEW YORK, NY.- Sales featuring property from the Collection of Sidney and Bernice Clyman concluded Tuesday, achieving $16 million across four auctions held during Sotheby's marquee auction week in New York. Leading the collection was a Fang-Betsi Ancestor Head, which sold for $3.5 million (estimate $2.5/4 million) in the Contemporary Art Evening Auction on Monday night during Sotheby's global livestreamed auction event. One of the most important works of African Art ever to appear at auction, the reliquary sculpture marked the first time a work of classical African Art was presented in any contemporary art evening sale. The sale series finished on Tuesday with a dedicated auction of one of the finest groupings of African sculptures in the world, totaling $4.6 million and surpassing the high estimate by $1 million. A strong 97% of all lots sold with over 70% of sold lots making over their high ... More
Tate to reopen all its galleries on 27 July
Newfields transfers hundreds of Dines Carlsen drawings to the National Nordic Museum
Museum or mosque? Top Turkey court to rule on Hagia Sophia


Tate Liverpool exterior. © Rachel Ryan Photography



LONDON.- Tate announced that it plans to reopen all four of its galleries on 27 July 2020. People will once again be able to visit the national collection of art on display at Tate Britain, Tate Modern, Tate Liverpool and Tate St Ives, featuring hundreds of artworks from across the centuries and around the world. Guided by the latest official advice, Tate is currently working hard on its preparations to welcome the public back to its galleries. To manage numbers and ensure everyone can keep a safe distance from each other, all visitors, including Members, will need to book a timed ticket online in advance. Tickets will be available from next week at tate.org.uk alongside the latest information and guidance on how to visit. Visitors can follow Tate's social media or register for email updates to hear details as and when they are confirmed. As well as the collection displays at all four Tate galleries, Tate Modern will ... More



Dines Carlsen (American, 1901–1966), Ludwell, Paradise Garden, 1928–1966 (detail), conte crayon on bond paper, 8-1/2 x 11 in. (sheet). Former collection of the Indianapolis Museum of Art at Newfields. © Dines Carlsen. Image courtesy of Newfields.



INDIANAPOLIS, IND.- This summer the Indianapolis Museum of Art at Newfields will transfer 943 Dines Carlsen drawings to the National Nordic Museum in Seattle, WA as part of the ongoing Collection Assessment Project. The Collection Assessment Project is a qualitative assessment of the approximately 41,000 works of art in the IMA collection. The project began in 2011 with a grant from The Andrew W. Mellon Foundation, which allowed the IMA to hire six outside specialists to provide oversite to collection areas in which IMA staff was seeking additional expertise. Beginning October 2015, IMA curators formally began the Collection Assessment Project, which included physically and critically reviewing each item in their collection and ranking each ... More



A security officer stands guard inside the Hagia Sophia museum in Istanbul, on July 2, 2020. Ozan KOSE / AFP.

by Gokan Gunes with Raziye Akkoc in Ankara



ISTANBUL (AFP).- Turkey's top court considered Thursday whether Istanbul's emblematic landmark and former cathedral Hagia Sophia can be redesignated as a mosque, a ruling which could inflame tensions with the West. The Council of State was looking at a case brought by a Turkish NGO, the Association for the Protection of Historic Monuments and the Environment, during a short hearing. It will announce its decision on the fate of the UNESCO World Heritage site within 15 days, state broadcaster TRT reported. The sixth-century edifice -- a magnet for tourists worldwide with its stunning architecture -- has been a museum since 1935, open to believers of all faiths. Despite occasional protests outside ... More
Stephen Friedman Gallery presents a new installation by British artist Jonathan Baldock
Only known drawing of extinct giant sloth lemur found in cave
Cultural life is back in Europe. In the U.K., they talk of collapse.


Jonathan Baldock, 'Facecrime (suspect)', 2020. Ceramic, steel, hand-spun yarn. Dimensions variable. Installed at Stephen Friedman Gallery, London (2020). Copyright Jonathan Baldock. Courtesy the artist and Stephen Friedman Gallery, London. Photo by Todd-White Art Photography.



LONDON.- Stephen Friedman Gallery is presenting a new installation 'Facecrime (suspect)' by British artist Jonathan Baldock in Gallery Two. Accompanying the installation is a solo exhibition of Andreas Eriksson's tapestries in Gallery One and Yinka Shonibare CBE's profound new sculpture 'Justice For All' in the Viewing Room. Originally commissioned for Art Basel Hong Kong 2020 before the fair's cancellation, 'Facecrime (suspect)' is a monumental installation comprising precariously stacked ceramic columns. Evoking both ancient ruins and a surreal vision of the future, these hand-crafted forms reflect the artist's interest in myth, folklore and narratives associated with 'outsider' practices. Baldock's use of cobalt blue makes the work shimmer and glow with a spiritual, alchemical quality. Protruding from the columns' vibra ... More



The cave art showing the only known image of a giant sloth lemur, in a hunting scene with dogs to the right © Burney et al. 2020.



LONDON.- Madagascar used to be home to a range of species that no longer survive today. These included not only the giant elephant birds, but also giant lemurs, some of which were the size of gorillas. Apart from the bones of these animals and possible eye-witness accounts passed down through the generations, there has been little evidence of what these animals looked like in real life. But the discovery of new cave art may change this. Julian Hume is a researcher at the Museum who works on the extinct animals of the Indian Ocean. In a new paper published in the Journal of Island and Coastal Archaeology, Julian and his colleagues have described what is thought to be the only known drawing of a giant sloth lemur from caves in western Madagascar. The team have shown the images to multiple experts, who all agree that the only thing it could represent is the now extinct giant sloth lemurs © Burney et al. 2020 'There are scenes of what we perceive as the hunting ... More



A photo provided by Edward Borlase shows the auditorium of the Theater Royal Plymouth, viewed from backstage, in Plymouth, England. Edward Borlase via The New York Times.

by Alex Marshall



LONDON (NYT NEWS SERVICE).- Adrian Vinken, chief executive of the Theater Royal in Plymouth, England, steeled himself on June 22 and then loaded up Zoom. About 240 of the theater's staff members were waiting online, he recalled in a telephone interview. Those included "people who'd worked for us 30 years and given us everything," Vinken said, as well as young workers who had only recently nabbed a job at the three-stage venue, one of Britain's largest outside London. He then said that almost a third of the theater's jobs were at risk, and that many employees would soon be laid off. With the theater closed because of the coronavirus pandemic, it had lost more than 90% of its income. "It hurt like hell," Vinken said. For weeks, prominent actors, including Phoebe Waller-Bridge and Judi Dench, had been warning the government ... More
In the Street, 1948---A Film by Helen Levitt

Flashback
On a day like today, American painter John Singleton Copley was born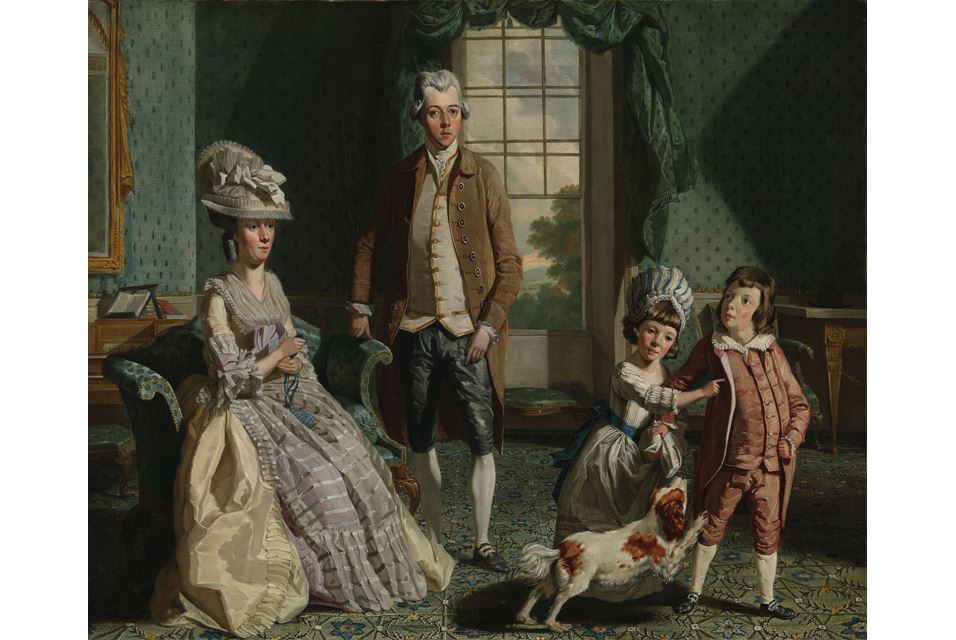 July 03, 1738. John Singleton Copley RA (1738 - September 9, 1815) was an Anglo-American painter, active in both colonial America and England. He was probably born in Boston, Massachusetts, to Richard and Mary Singleton Copley, both Anglo-Irish. In this image: John Singleton Copley, The Fountaine Family, 1776. Tate.
---

Museums, Exhibits, Artists, Milestones, Digital Art, Architecture, Photography,
Photographers, Special Photos, Special Reports, Featured Stories, Auctions, Art Fairs,
Anecdotes, Art Quiz, Education, Mythology, 3D Images, Last Week,

.
---
Royalville Communications, Inc
produces: