As energy costs bite, museums rethink a conservation credo
The Rijksmuseum in the Netherlands. Tight climate controls have become the norm to protect artworks and artifacts, but as heating and electricity prices soar, Europe's museums administrators are wondering whether the rules need to be so strict. (Erik Smits via The New York Times)

by Alex Marshall
NEW YORK, NY
.-
Since the first public museums were founded in the 18th century, one of their main roles has been to protect the artworks and artifacts they display. More recently, many of these institutions have employed teams of highly trained conservators to ensure their old master paintings don't crack, their metal sculptures don't rust and their wooden artifacts don't get moldy. Most Western museums have also installed expensive and complex climate control systems to help preserve the works in their care. Those energy-guzzling technologies, including climate monitors, air conditioning units and dehumidifiers, normally whir away unnoticed, 24 hours a day. But now, a growing awareness of the impact of those systems on the climate has led a number of major institutions to rethink their most fundamental conservation orthodoxies. And since Russia's invasion of Ukraine last year sent gas and electricity prices in Europe sky-high, turning what seemed like a far-off problem into an ...
More
The Best Photos of the Day
Asheville Art Museum adds 29 artworks to its collection
Collection of 25 works showcases powerful dialogue between Europe, America and Latin America
Lark Mason Associates Sale of Exceptional Chinese Textiles and Luxury Goods ignited competitive bidding


Claude Raguet Hirst, Roses, 1881, oil on canvas, canvas: 8 ½ × 10 ½ inches, frame: 15 7/8 × 18 inches. Museum purchase with funds provided by 2022 Collectors' Circle members Vito Lenoci and Frances Myers, 2022.43.01



ASHEVILLE, NC.- The generosity of the Museum's Collectors' Circle members and additional contributors enabled the Asheville Art Museum to acquire 29 new artworks for its Collection at the end of 2022. The Museum welcomed artworks created throughout the 20th and 21st centuries in a range of media, representing both regionally and nationally recognized artists. These artists included Jasper Johns, Luzene Hill of the Eastern Band of Cherokee Indians, two objects by Asheville-born Sherrill Roland, 10 silver gelatin photographs of the people and culture of Appalachia by Shelby Lee Adams, and three ceramic sculptures by Wesley Harvey. The Museum's Collectors' Circle is a specialized group formed to encourage the exchange ... More



Leonora Carrington, Quería ser pájaro (1960, estimate: £900,00-1,400,000). © Christie's Images Ltd 2023.



LONDON.- Christie's will offer 'Memory of a Surreal Journey: Property from an Important San Francisco Bay Area', a collection of 25 works dedicated to showcasing the magical interpretations of the world by leading artists of the surrealist movement across Europe, Latin America, and America. The collection was built over more than two decades around a formative trip to Mexico, the country described by André Breton as "the Surrealist place, par excellence", with a particular lens on female artists; Remedios Varo, Leonora Carrington, Dorothea Tanning, Leonor Fini, and Stella Snead. Leonora Carrington and Remedios Varo will be offered in Christie's The Art of the Surreal sale platform for the first time, as will work by Gordon Onslow Ford and Wolfgang Paalen. Further highlights include seminal paintings by Óscar Domínguez, André Masson, René Magritte ... More



Chinese Silk Cushion Cover, a Skirt and a Voided Velvet Vest, Qing Dynasty , sold for $20,000.



NEW BRAUNFELS, TX.- The first part of the Lark Mason Associates auction of an extraordinary collection of Chinese textiles and luxury goods–from a private American collector–sparked competitive bidding on iGavelAuctions, achieving $279,616 including buyer's premium, with a 91% sell-through. "The recent sale of luxury items including imperial Chinese robes attracted international bidders vying for Louis Vuitton, Jewelry, and exceptional Chinese textiles," says Lark Mason. "The combination of these works with the attention generated by the Winter Show in New York City was a perfect backdrop for success, resulting in a lot of targeted attention that drove prices up beyond expectations." Attracting the greatest amount of attention and in many instances exceeding their estimates, five to seven-fold were robes from the Qing dynasty including ... More
Small and scrappy is the way for London's galleries after Brexit
Lucian Freud's rare explorations of landscape to highlight Christie's 20th / 21st Century Sale
Sotheby's to present exhibition of contemporary African art in Tel Aviv


Ellie Pennick of Guts in London on Jan. 20, 2023. (Tom Jamieson/The New York Times)



LONDON.- "I have no furniture. No toilet. Nothing," said Freddie Powell, 29, a contemporary art dealer, standing in the bare, white-tiled box that has been his by-appointment showroom for the past 16 months. His tiny gallery, Ginny on Frederick, occupies a former sandwich bar in the Farringdon area of London and measures just 7 feet wide. After spending five years working for the powerhouse international gallery White Cube, Powell now makes a living as a full-time independent art dealer selling works generally priced at under $10,000. This year, he will exhibit at the New Art Dealers Alliance, or NADA, fair in New York, in May, and in at least one fair in Europe, he said. He also said he had up to eight shows planned at his gallery. "I'm young: I met artists of my own age, and I wanted to show them," Powell said. "It's exciting that we're moving out of the shadow of the YBAs," he added, referring to Damien Hirst, Tracey Emin ... More



Lucian Freud, Garden from the Window (2002, estimate: £2,500,000-3,500,000).



LONDON.- Two rare and exquisite Lucian Freud paintings that trace the artist's enduring fascination with the natural world throughout his distinguished career will highlight Christie's 20th / 21st Century: London Evening Sale on 28 February 2023. Unseen in public since 1974, Scillonian Beachscape (1945-46, estimate: £3,500,000-5,500,000), is an early painting by the artist, and one of a handful of works inspired by a formative visit to the Isles of Scilly, accompanied by his close friend, the artist John Craxton. During the trip, Freud created a number of drawings and completed this canvas when he returned to London. Unusually for the artist, the composition of Scillonian Beachscape is directly based on one of his location drawings, Untitled (which was sold by Christie's in October 2022). Scillonian Beachscape is presented alongside Garden from the Window (2002, estimate: £2,500,000-3,500,000), which comes to auction for the ... More



Richmond Agamelah, Brown Study, 2021. Image Courtesy of the artist.



TEL AVIV.- The emergence of young Contemporary African artists, not only living and working on the continent but also across the diaspora, is a well-documented phenomenon of the twenty-first century, in tandem with a growing appreciation internationally and institutionally for contemporary African art. In 2020, for the first time in its history, Tefaf Maastricht featured a booth dedicated to contemporary art from Africa, and the 1-54 Contemporary African Art Fair – founded in 2013 – has long been a staple in the annual global art fair calendar. Not least, Sotheby's began holding dedicated auctions of Modern and Contemporary African Art in London in 2017. Sotheby's will join forces with the founders of the Olym Collection to present 'Contemporary Redefined: Africa Today', the first exhibition of its kind to be held by the company in Tel Aviv. Featuring the new vanguard of African Contemporary ... More
Tilton Gallery opens a solo exhibition of work by Noah Purifoy
Sous Les Etoiles Gallery opens Jean-Pierre Laffont's second exhibition with the gallery
Nonbinary Broadway performer opts out of gendered Tony Awards


Noah Purifoy, One White Paint Brush and a Pony Tail, 1989. Mixed media assemblage, 60 x 40 x 4 inches (152 x 102 x 10 cm).



NEW YORK, NY.- Tilton Gallery is presenting the second ever East Coast solo exhibition of work by Noah Purifoy. The exhibition will be on view through April 1st. A pioneering artist of the California assemblage movement, Noah Purifoy was also a key figure in the Black Arts Movement in Los Angeles during the 1960s and '70s. For Purifoy, art and political activism went hand in hand. He believed that art is a powerful tool for social change and never ceased to combine advocacy with creativity. Purifoy is known for his assemblages composed of found and recycled objects. As with John Outterbridge and other Los Angeles transplants who spent their early years in the South, repurposing of objects and materials was a way of living. With a Master's degree in social work and an interest in psychology, philosophy and art history, Purifoy was aware ... More



Bronx, New York City, NY. July 20th, 1972. In the neighborhood there were basketball courts surrounded by wire fences where the Savage Skulls would climb. I photographed them and thought of the film "West Side Story". 1972. Archival PIgment Print, 16 x 20 in. © Jean-Pierre Laffont and courtesy Sous Les Etoiles Gallery.



NEW YORK, NY.- Sous Les Etoiles Gallery is presenting, "Gangs and Protests," French-American photographer Jean-Pierre Laffont's second exhibition with the gallery. During the sixties and seventies, New York City was a somber place, fascinating and frightening at the same time. It was nicknamed "Fear City", plagued by crime, drugs, prostitution and corruption. Jean-Pierre Laffont slipped into this city with ease and without greed or prejudice. As a news reporter, he had the audacity to intermingle with these different communities whose demands would powerfully underline the protest movements during these two decades. "The country was going through profound changes, and it looked ... More



Justin David Sullivan, right, as May in the Broadway musical "& Juliet," at the Stephen Sondheim Theater in Manhattan, Oct. 26, 2022. (Sara Krulwich/The New York Times)

by Michael Paulson



NEW YORK, NY.- A principal performer in the new Broadway musical "& Juliet" has withdrawn from consideration for the Tony Awards rather than compete in a gendered category, shining a renewed spotlight on the question of whether major awards should continue to have separate categories for men and women. The performer, Justin David Sullivan, is trans nonbinary and uses the pronouns he, she and they. In the pop-song-fueled musical, which imagines an alternative to "Romeo and Juliet" in which Juliet does not die, Sullivan plays May, one of Juliet's best friends. May — an adolescent, like Juliet — is still figuring things out. The Tony Awards, like the Oscars and the Emmys, have separate acting categories for men and ... More
The MIMA museum in Brussels turned into a boxing temple
Victoria Miro opens two exhibitions by Grayson Perry in London and Venice
A modern take on the Hudson River School tradition


The exhibition Local Heroes runs from 3 February to 28 May 2023 at ​MIMA.



BRUSSELS.- The MIMA - the Millennium Iconoclast Museum of Art - will be transformed into a boxing temple on the occasion of the exhibition Local Heroes. ​ Inspired by Ancient Greek gymnasiums, Local Heroes offers not only exercise for the body but also exercise for the mind. For four months, MIMA will be turned into a temple of boxing, the so-called Noble Art. Here, this discipline is elevated to the status of a secular cult simply by merging an artistic vision with the daily use of the training and fighting rooms by boxers. This means the visiting experience changes depending on whether the spaces are being used for sport or not, and by the activation of audio-video installations in situ. The Noble Art preceptors at MIMA all belong to the community formed by the two doyens of boxing clubs in the city centre, BBA and IBP. They embody the 'local heroes' in the eyes of the intervening visual artists ... More



Grayson Perry, Luxury Brands for Social Justice, 2017. Glazed ceramic, 63 x 47 cm. 24 3/4 x 18 1/2 in © Grayson Perry. Courtesy the artist and Victoria Miro.



LONDON.- Victoria Miro is presenting two exhibitions by Grayson Perry in London and Venice. In London, a selection of textile works from the past eight years, including new tapestries, are on view. Textiles have long been part of Grayson Perry's creative vocabulary. Bringing together a selection of tapestries completed during the past eight years, the London exhibition unites works old and new across the core themes and subjects of his work. Perry's tapestries take an art form traditionally associated with grand houses – depicting classical myths, historical and religious scenes and epic battles – and play with the idea of using this ancient allegorical art to elevate the dramas of contemporary British life. Politics, consumerism, history and art history are bound up in the work, in both subject and medium. For Morris, Gainsborough ... More



Cy Gavin at Gagosian in Chelsea with "Untitled (Paths, crossing -- blue)," at left, a nocturnal scene, and "Untitled (Baldcypress)," in New York on Jan. 24, 2023. (Victor Llorente/The New York Times)

by Robin Pogrebin



NEW YORK, NY.- Cy Gavin didn't initially see moving into his upstate New York farmhouse as an act of defiance. In 2020, the artist simply wanted more space in which to live and to paint his dynamic, vibrant landscapes. But when people drove by, calling him names or throwing garbage; when he spotted racist signs in backyards, such as "Cold Beer Matters" (as opposed to Black Lives), Gavin realized he had no choice but to — literally — dig in. So he started planting — holly and rhododendron, native evergreens — in the ground that surrounds his home in Northern Dutchess County. Rather than pack up and leave for more hospitable environs (as friends urged him to do) or build a high privacy ... More
Filmmaking and Painting | Luca Guadagnino and Michaël Borremans | S7, E1 | DIALOGUES

Flashback
On a day like today, American painter and illustrator Norman Rockwell was born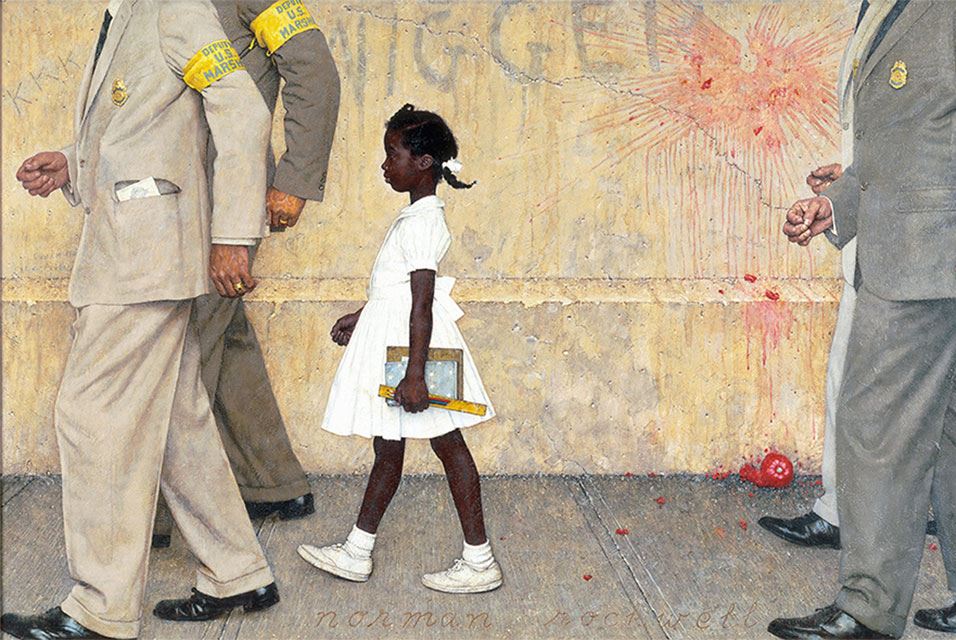 February 03, 1894. Norman Percevel Rockwell (February 3, 1894 - November 8, 1978) was a 20th-century American author, painter and illustrator. His works have a broad popular appeal in the United States for their reflection of American culture. Rockwell is most famous for the cover illustrations of everyday life he created for The Saturday Evening Post magazine over nearly five decades. In this image: Norman Rockwell (1894-1978), Four Freedoms, 1943. Assemblage. Story illustrations for four February- March, 1943 issues of The Saturday Evening Post, Collection of Norman Rockwell Museum. ©SEPS: Curtis Licensing, Indianapolis, IN.
---

Museums, Exhibits, Artists, Milestones, Digital Art, Architecture, Photography,
Photographers, Special Photos, Special Reports, Featured Stories, Auctions, Art Fairs,
Anecdotes, Art Quiz, Education, Mythology, 3D Images, Last Week,

.
---
Royalville Communications, Inc
produces: