Berlin museum returns, then buys back Nazi-looted Pissarro
The Pissarro painting was looted by the Nazis when they occupied France. CHRISTOF STACHE / AFP PHOTO.
BERLIN
.-
Berlin's Alte Nationalgalerie museum on Monday handed back and repurchased a painting by French Impressionist Camille Pissarro looted by the Nazis from the collection of Jewish lawyer Armand Dorville. Representatives of the Dorville family signed an agreement for the museum to return and buy back "Une Place a la Roche-Guyon" ("A Square in La Roche Guyon"), part of the Berlin institution's permanent collection. "I am very grateful to Armand Dorville's heirs for making it possible for us to purchase the work for the Alte Nationalgalerie and for coming to Berlin especially for this purpose," said Hermann Parzinger, president of the Prussian Cultural Heritage Foundation (SPK), which runs the Berlin museum. He did not reveal how much the museum had paid for the painting but said the family wanted it to remain on public display and the deal had been achieved in a spirit of "good cooperation". Painted in 1867, "A Square in La Roche Guyon" was acquired by Armand Dorville in Paris in 1928. ...
More
The Best Photos of the Day
Don Jacot, celebrated Photorealist, dies at 72
Sotheby's sets auction record for a Hebrew manuscript
L.S. Lowry's only painting of an auction room heads to Sotheby's


Don Jacot with his painting "Steam Power: Dearborn Station, Chicago, 1938", 2011.



NEW YORK, NY.- Donald R. Jacot, the Photorealist artist known for his colorful paintings of vintage toys and precisely depicted vintage urban landscapes, died on August 26th in San Francisco, California. He was 72. His death was announced by his family on September 14, 2021. A major figure in the second generation of Photorealist painters, Don Jacot brought a unique combination of personal vision and painterly precision to his work. As Louis Meisel wrote: "Don Jacot was one of the leading Photorealists of the all-important second generation of Photorealist painters whose work helped to cement the achievement of the artists of this genre. His work displays the highest level of realist and representational painting. He was a prolific and productive artist throughout his life and passed away at his easel doing what he loved to do." Jacot's early works of the 1980s featured urban landscapes of his native Chicago ... More



Detail showing the scribe-artist Abraham's decoration of his name with a crown. Courtesy Sotheby's.



NEW YORK, NY.- Today at Sotheby's in New York, an illustrated Hebrew prayerbook dating to the late 13th/early 14th century in Southern Germany, sold for $8.3 million – well above the pre-sale estimate of $4/6 million – and established a new auction record for a Hebrew manuscript. The prayerbook was on offer from the collection of the Alliance Israélite Universelle (AIU) to support the institution's educational mission. The work was acquired by a renowned American collector, who has one of the most significant collections of Medieval Hebrew manuscripts in the world. A scribal masterpiece that attests to the vibrancy of the medieval Jewish community in Europe, The Luzzatto High Holiday Mahzor attracted fierce competition from four bidders – three over the phone and one in the auction room – over a nearly five-minute bidding battle. The prayerbook is the second most valuable object of Judaica ever to sell at auction, com ... More



L.S. Lowry, The Auction, 1958. Est. £1,200,000-1,800,000. Courtesy Sotheby's.



LONDON.- One of Britain's most beloved artists, L.S. Lowry and his works have been a mainstay at auctions for decades. What is lesser known is that he once turned his hand to painting an auction taking place, resulting in a bustling scene characteristic of the artist. Populated by familiar characters, and even a dog on a lead, The Auction transports the viewer into the centre of the action, with the auctioneer on the rostrum poised to bring the gavel down. Executed on a large-scale in 1958, the work has never been offered at auction, and was acquired by the present owners over two decades ago. It was exhibited at Lowry's landmark retrospective at the Royal Academy in 1976 and was last shown at AMNUA in Nanjing in China in 2014. The Auction will now star in Sotheby's Modern British Art auction in London on 23 November with an estimate of £1,200,000 – 1,800,000, ahead of which it will be exhibited to the public from 18 ... More
Madame Tussauds opens museum in Dubai
Hindman Auctions to offer rare Michael Jordan memorabilia in October sale
Striking wartime portrait by David Jagger coming to auction


A waxwork of US actor Will Smith is pictured at the newly opened Madame Tussauds in Dubai, on October 18, 2021. GIUSEPPE CACACE / AFP.



DUBAI.- London's renowned waxwork museum Madame Tussauds opened this week its first outpost in the Arab world in Dubai, which hopes to attract millions of tourists to Expo 2020. The brand, which began life in London where it boasts 250 wax sculptures that draw millions of visitors annually, also has smaller branches in the United States, Europe and Asia. "We have opened our doors on the 14th of October this year very close to Expo 2020," Sanaz Kollsrud, general manager of Dubai's Madame Tussauds, told AFP. "We expect many visitors locally and internationally to come in. "We have chosen the talents that are relevant and popular in the region." The Dubai branch displayed 60 sculptures of "global stars", including football sensation Lionel Messi and pop singer Rihanna. And about 15 were from the region ... More



An Exceptionally Rare December 17, 1996 Chicago Bulls vs. Los Angeles Lakers Full Ticket From The First Game Between Michael Jordan and Kobe Bryant (PSA Population of Four). Estimate: $1,000 - $2,000.



CHICAGO, IL.- On October 26, Hindman Auctions will present a Sports Memorabilia sale, which will be highlighted by a noteworthy selection of Michael Jordan memorabilia, among collectibles representing other distinguished athletes. From trading cards to autographs, legendary figures across the world of sports are represented in this auction, including a 1951 Mickey Mantle Bowman rookie card, Babe Ruth signed baseballs and a historic Tiger Woods signed golf flag flown at the first tournament won by Woods in 1996. The standout of this selection will be a 1994 Michael Jordan United Center Bronze maquette titled "The Spirit," (lot 274) which was designed by Omri Amrany and Julie Rotblatt-Amrany, and will be offered with an estimate of $25,000-35,000. Modeled after ... More



This striking portrait of Olive 'Thelma' Exley Bader (1907-1971), that provided the cover image in May 1942, was painted at a point when the country was in the depth of the conflict and her husband was being held as a prisoner of war.



LONDON.- A wartime portrait of Thelma Bader, wife of the legendary pilot Douglas Bader, comes for sale as part of Lyon & Turnbull's Modern Made auction at The Mall Galleries, London on Friday October 29. It was painted by the British artist David Jagger (1891-1958) in 1942 while Wing Commander Bader was a prisoner of war. Jagger was at the height of his fame on the outbreak of the Second World War and the uncertainties of war-time London did little to diminish his output. In addition to a notable portrait of Winston Churchill (1939) he painted a select group of portraits of female sitters to "reflect strength and fortitude during a time of adversity". These included theatre and film actress, Vivien Leigh; Dorothy Hyson, the Bletchley Park ... More
Phillips presents the largest single-owner collection of fine jewellery in company history this fall
Kunstgewerbemuseum opens "German Design 1949-1989. Two Countries, One History"
Silver Lealana Physical Bitcoin to be offered by Stack's Bowers Galleries in their November 2021 Showcase Auction


A Necklace, Ring and Earrings set with Burmese Sapphires and Diamonds. Image courtesy of Phillips.



HONG KONG.- Phillips Jewels will present a prestigious Middle Eastern collection with an estimate range of HK$96–134 million/ US$12-17 million in Hong Kong this November. Two dedicated auctions will display the largest single-owner jewellery collection ever to be offered at Phillips, featuring more than 170 exquisite pieces of diamonds, gems, jewellery and watches acquired over three decades by an ardent collector. Sensational Jewels from a Prominent Middle Eastern Collection will be presented in a live auction on 26 November in Hong Kong after the Jewels & Jadeite sale (11am HKT on 26 November). The collection features over 130 lots of Burmese and Mozambique rubies, Colombian emeralds, Burmese sapphires, colourless and coloured diamonds, among other fine and signed jewels. Alongside the live auction, an online auction entitled Treasures from Zambia: An Exceptional Emerald Collection will be open for bidding from 23 November – 2 Decem ... More



Schaukelwagen, Hans Brockhage, Erwin Andrä, 1950, Hochschule für Bildende Künste Dresden, Siegfried Lenz. © Vitra Design Museum. Photo: Andreas Sütterlin.



DRESEN.- More than 30 years after the fall of the Wall, the Kunstgewerbemuseum and the Vitra Design Museum are addressing the complex issue of a history of German design that encompasses both East and West. The 390 exhibits extend from iconic furniture and lighting fittings, graphic and interior design to fashion, textiles, jewellery and vehicle design. On display are both legendary items from daily life such as the "Simson S50" (1975) by Karl Clauss Dietel or Dieter Rams's radio-phonograph (1956) nicknamed "Snow White's Coffin", and new finds and rarities such as Luigi Colani's "Poly-COR" sculptural loop chair (1968) or Renate Müller's therapy toys. The exhibition focuses on protagonists such as Rudolf Horn, Margarete Jahny or Egon Eiermann, or on influential higher education institutions, the Werkbund design and crafts association, and the Bauhaus ... More



On the reverse is the Bitcoin currency symbol at center surrounded by a legend listing the denomination, composition, and the Hawaiian phrase "IKAIKA I HELU NUI" that translates as "Strength in Numbers."



COSTA MESA, CA.- Stack's Bowers Galleries will present a physical Lealana Bitcoin to the passionate communities of cryptocurrency and numismatic enthusiasts in their November 2021 Showcase Auction, taking place on Nov. 23, 2021 at StacksBowers.com. It will be the very first piece of physical cryptocurrency offered in a major live auction. This physical Lealana Bitcoin represents a historic revolution in commerce, similar to the first gold coinage issued by King Croesus circa 500 BC and the first U.S. coins to be struck by steam press in 1836. It is the physical manifestation of an entirely digital concept, offering a fusion of numismatic utility and financial technology. It features an intrinsic face value, or "peel value," of 0.1 Bitcoin (BTC), equivalent to roughly USD$5,400 at the time of cataloging (October 2021). The value of this piece was buyer-funded and ... More
Cardi Gallery to offer a selection of historical works at FIAC 2021
Turner Auctions + Appraisals offers model trains and more from Almosta Junction in Utah
Aleph Contemporary at The In & Out Club presents 'Henry Ward and Mark Wright: Lost in Abstraction 1, 2, 3'


Mimmo Rotella, Le Volant, 1972 (detail). Artypo-plastique, 118 x 158 cm; 46 1/2 x 62 1/4 in.



PARIS.- For its in-person presentation at FIAC 2021, Cardi Gallery will present Painting: 1958-2020 with a selection of historical works by Agostino Bonalumi, Dadamaino, Piero Manzoni, Mimmo Rotella, and Claudio Verna, displayed in dialogue with recent pieces by Davide Balliano, Domenico Bianchi, Paolo Canevari and Bosco Sodi. For its participation in FIAC Online Viewing Rooms, Cardi Gallery will present a selection of works included in the booth display Painting: 1958-2020. In the OVR the focus is on five pieces that establish a dialogue between the practices of key post-war Italian artists (Piero Manzoni, Dadamaino, Claudio Verna) and contemporary New-York based artists (Bosco Sodi, Davide Balliano). In an era dominated by Abstract Expressionism and Art Informel, through his Achrome series - Achrome, 1958-59 being an ... More



LGB Store Display LGB Hot Air Balloon Store Display. Estimate $500-$750.



SAN FRANCISCO, CA.- On October 30, 2021, at 10:30 am PDT, Turner Auctions + Appraisals will present model trains and more from Almosta Junction, a popular shop in Clearfield, Utah, owned by the late Ben Graham. The online sale in several parts will feature the complete inventory of the shop, now closed. This auction, Part I, includes many high-end, special edition model trains, most of them brand-new and in their original boxes, related accessories, diecast vehicles, and railroad books and manuals. Almost all trains in this sale are G gauge trains made by LGB (Lehmann-Gross-Bahn) or USA Trains. Highlights in the 215-lot sale include an LGB 72700 new old stock in custom wood display cabinet, an LGB hot air balloon store display, a Rio Grande Southern Work Goose No. 6, and several new old stock, limited- ... More



Mark Wright.



LONDON.- On behalf of Aleph Contemporary, Alistair Hicks, author and former curator of Deutsche Bank, curates an exhibition by two leading British artists: 'Henry Ward and Mark Wright: Lost in Abstraction 1, 2, 3'. Audiences are encouraged to join Hicks' exploration of the pleasure of disorientation when caught adrift in a seemingly anti-referential abstract space of pure artistic gesture. The exhibition inspires child-like play in resisting to decode the abstracted languages Ward and Wright have respectively built. While Ward's artistic process is made clear through the sum of its melding parts, Wright's use of material and media influences the various moods of his pieces; left open for you to dive into. With both artists' works, the onus is on the viewer to react. In the exhibition foreword, Jonathan Watkins, Ikon Gallery Director sums up the particular pleasure of experiencing the work ... More
A New Style of Representation

Flashback
On a day like today, Dutch painter Aelbert Cuyp was born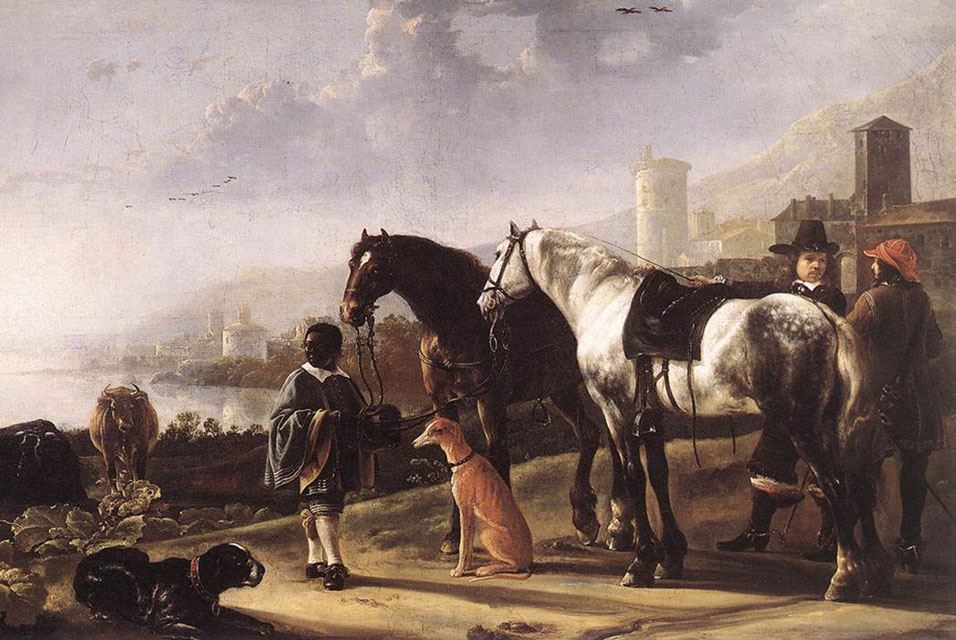 October 20, 1620. Aelbert Jacobsz Cuyp (October 20, 1620 - November 15, 1691) was one of the leading Dutch landscape painters of the Dutch Golden Age in the 17th century. The most famous of a family of painters, the pupil of his father Jacob Gerritsz. Cuyp (1594–1651/52), he is especially known for his large views of the Dutch countryside in early morning or late afternoon light. In this image: The Negro Page circa 1652, oil on canvas; Royal Collection.
---

Museums, Exhibits, Artists, Milestones, Digital Art, Architecture, Photography,
Photographers, Special Photos, Special Reports, Featured Stories, Auctions, Art Fairs,
Anecdotes, Art Quiz, Education, Mythology, 3D Images, Last Week,

.
---
Royalville Communications, Inc
produces: