Paris exhibition shows how Man Ray made fashion an art
People visit the exhibition "Man Ray and fashion" at the Musee du Luxembourg in Paris, on September 23, 2020. Thomas SAMSON / AFP.
PARIS
(AFP)
.-
He is one of the 20th century's most famous artists, but not many people know that Man Ray got his start as a fashion photographer. A new exhibition in Paris sets out to uncover the fashion world roots of the American surrealist, who first made his name taking flattering portraits of the rich and famous. Like many young artists Emmanuel Radnitzky, as Man Ray was then known, had trouble making ends meet when he arrived in Paris in 1920 to plunge himself into the Dadaist movement. But the new show "Man Ray and Fashion" at the Luxembourg museum in the French capital sets out how his time as chronicler of the style stars of the Roaring Twenties shaped his art. Encouraged by the couturier Paul Poiret -- the Karl Lagerfeld of his time -- the artist began to work for magazines like Vogue, Femina and Vanity Fair. Fashion historian Catherine Ormen, who curated the show, said magazines at the time never used photos of clothes for fear that designs would be copied. ...
More
The Best Photos of the Day
Museum fires curator in sexual harassment case
Fondation Beyeler is researching seven paintings by Piet Mondrian
British Museum opens the first major exhibition in the UK focusing on the history of Tantra and its global impact


Outside the American Museum of Natural History in New York, Aug. 23, 2020. Jeenah Moon/The New York Times.

by Julia Jacobs



NEW YORK (NYT NEWS SERVICE).- A scientist who is a leading expert on leeches was fired this month from his curator's post at the American Museum of Natural History after the museum found that he had sexually harassed and bullied a graduate student who was doing research under his supervision. The museum cited the research adviser, Mark E. Siddall, for having violated a museum policy that prohibits sexual relationships between museum staff members and mentees who are under their academic supervision. The student had told external investigators hired by the museum that Siddall had sexually assaulted her at the museum in April 2019, made sexual comments to her and sent "inappropriate" text messages, museum officials said in a document that outlined their findings in the case. Museum officials told the student in a letter ... More



Piet Mondrian, Lozenge Composition with Eight Lines and Red (Picture No. III), 1938. Oil on canvas, 100,5 x 100,5 cm. Fondation Beyeler, Riehen / Basel, Beyeler Collection © Mondrian / Holtzman Trust c/o HCR International Warrenton, VA USA. Photo: Robert Bayer, Basel.



BASEL.- Over the course of an extensive three-year (2019–2021) conservation project, the Fondation Beyeler is researching seven paintings by Piet Mondrian. The project covers the scientific investigation and conservation of three early and four late works, all part of the Beyeler Collection. With the support of La Prairie, over the coming months Mondrian's four late classic works will be examined and analysed in depth. Until the end of 2021, interested visitors can watch our conservation team at work. The Fondation Beyeler is planning a major exhibition on Piet Mondrian (1872–1944) for 2022. The Fondation Beyeler holds one of Switzerland's largest collections of Piet Mondrian paintings, ranging from important early works to famous late works. These seven masterpieces by the Dutch artist ... More



Chamunda dancing on a corpse, Madhya Pradesh, Central India, 800s. © The Trustees of the British Museum.



LONDON.- A radical philosophy that transformed the religious, cultural and political landscape of India and beyond will be explored in a landmark new exhibition at the British Museum. Tantra: enlightenment to revolution (24 September 2020 to 24 January 2021) will chart the rise and spread of Tantra, a set of beliefs and rituals that first emerged in India around AD 500. The exhibition will explore Tantra's early medieval transformation of Hinduism and Buddhism, along with its links to the Indian fight for independence and the rise of 1960s counterculture in the West. Tantra: enlightenment to revolution will be the first major exhibition in the UK focusing on the history of Tantra and its global impact. It is the very first time the British Museum – which houses one of the biggest and most comprehensive collections of Tantric material in the world – will explore this subject in an exhibition. Over 100 objects ... More
The Metropolitan Opera won't reopen for another year
Thames & Hudson publishes 'Matisse: The Books' by Louise Rogers Lalaurie
Huntington acquires newly discovered John Singleton Copley painting


The Metropolitan Opera House in New York, March 12, 2020. Vincent Tullo/The New York Times.

by Michael Cooper



NEW YORK (NYT NEWS SERVICE).- The Metropolitan Opera announced Wednesday that the still-untamed coronavirus pandemic has forced it to cancel its entire 2020-21 season, prolonging one of the gravest crises it has faced in its 137-year history and keeping it dark until next September. The decision is likely to send ripples of concern through New York and the rest of the country as Broadway theaters, symphony halls, rock venues, comedy clubs, dance spaces and other live arts institutions grapple with the question of when it will be safe again to perform indoors. Far from being a gilded outlier, the Met, the nation's largest performing arts organization, may well prove to be a bellwether. The outbreak has kept the 3,800-seat opera house closed since mid-March, sapping it of more than $150 million in revenue and leaving roughly 1,000 full-time employees, including its world- ... More



From Pasiphaé: Chant de Minos (Les Crétois), by Henry de Montherlant, 1944. Published by Fabiani, Paris. Unbound book with linoleum cuts on cream wove paper, 33.7 x 25.6 x 4 cm. Artwork © Succession H. Matisse/DACS 2020.



LONDON.- Generously illustrated with archival images and new photography, Matisse: The Books offers an unprecedented insight into the experience of reading – and looking at – Matisse's books and brings new clarity to a controversial period in the artist's life. The livre d'artiste, or 'artist's book', is among the most prized in rare book collections. Henri Matisse (1869–1954) was one of the greatest artists to work in this genre, creating his most important books over a period of eighteen years from 1932 to 1950 – a time of personal upheaval and physical suffering, as well as conflict and occupation for France. Brimming with powerful themes and imagery, these works are crucial to an understanding of Matisse's oeuvre, yet much of their content has never been seen by a wider audience. In Matisse: The Books, Louise Rogers Lalaurie ... More



John Singleton Copley (1738–1815), Mrs. Mary Robinson in the Character of a Nun, ca. 1780. Oil on canvas, 26 3/4 x 23 1/2 in. The Huntington Library, Art Museum, and Botanical Gardens.



SAN MARINO, CA.- The Huntington Library, Art Museum, and Botanical Gardens announced today that it has acquired a newly discovered painting by John Singleton Copley (1738–1815) depicting celebrated 18th-century British actress Mary Robinson, as well as works by British artists Alice Mary Chambers (ca. 1855–1920) and Madeline Green (1884–1947) and a set of screen prints by R.B. Kitaj (1932–2007), who, like Copley, was born in America and worked in England. The acquisitions were funded by the Huntington's Art Collectors' Council at its annual meeting last month. In addition, longtime council members Hannah and Russel Kully purchased as a promised gift for The Huntington a painting by the 19th-century British artist and designer Edward Burne-Jones (1833-1898). The painting, a portrait of the artist's daughter, had been kept in the family since ... More
Exhibition of new paintings by Daniel Rich on view at Miles McEnery Gallery
Christie's to offer English & European 18th & 19th century furniture, ceramics, silver & works of art
The Drama Box: OPEN's Pingshan Performing Arts Center in Shenzhen


Daniel Rich, Tower, Houston, 2020, Acrylic on dibond, 78 3/4 x 59 inches, 200 x 150 cm.



NEW YORK, NY.- Miles McEnery Gallery is presenting an exhibition of new paintings by Daniel Rich. Back to the Future remains on view until 10 October 2020. Back to the Future is accompanied by a fully illustrated publication featuring essays by Emily McDermott and Ara H. Merjian. Daniel Rich's reticulated cityscapes and slick façades appear at first glance to be quite literally superficial. Whether it is a geometric exterior pressed close to the picture plane or a cluster of multiple structures glimpsed from a distance, we experience architecture in his painting as a wholly exteriorized phenomenon—looming close up or made smaller through a bird's-eye view. His process-oriented paintings offer windows to different parts of the world—some figuratively, others much more literally—and can evoke a distorted experience of temporality for the viewer. Like compositions by ... More



A Fine Giltwood and Vernis Martin Grand Piano, circa 1898. Estimate: $50,000-100,000. © Christie's Images Ltd 2020.



LONDON.- Christie's presents The Collector | Online English & European 18th & 19th Century Furniture, Ceramics, Silver & Works of Art from 23 September-8 October, offering a highly curated selection of fine European and English furniture and works of art, ceramics, silver and Chinese works of Art spanning from the 17th to 20th centuries. Among the nearly 300 lots offered include iconic designers and makers which have become synonymous with superior craftsmanship – Jacques Dubois, Francois Linke, Ferdinand Barbedienne, Steinway & Sons, among others. The sale features fresh-to-the-market works with esteemed provenance from several important American collections including: English furniture from Collection of Abby and George O'Neill, sumptuous mounted-porcelain and Japanese lacquer from The ... More



Outdoor gardens © Jonathan Leijonhufvud.



SHENZHEN.- OPEN has created a performing arts center in Shenzhen with a simple form to demonstrate an alternative to the extravagant theaters that are being built in China. It is a "Drama Box" designed to be cubical in form and rich in spatial experiences, in which a theater is interwoven with gardens and promenade accessible to all. OPEN has "re-designed" the original brief which only called for "a grand theater" — performing-arts-related educational and social programs were added, as well as various public spaces. In breaking away from the mono-function Cultural Landmark typology, the building not only becomes much more sustainable in daily operation, but also sets a new example of social inclusivity for civic buildings. Serving as a new cultural hub, it also provides the non-theater-going public with an exceptional and unusual urban space. At the heart of the "Drama Box" is the volume of a 1,200- ... More
Tommy DeVito, original member of the Four Seasons, dies at 92
Galerie Philipp Zollinger opens an exhibition of works by Berlin-based artist Sophie Reinhold
Come to vote, stay for the art


A photo provided via The Four Seasons shows members of the band early in their career, from left: Bob Gaudio, Frankie Valli, Nick Massi and Tommy DeVito. DeVito, an original member of the Four Seasons. The Four Seasons via The New York Times.

by Neil Genzlinger



NEW YORK (NYT NEWS SERVICE).- Tommy DeVito, an original member of the Four Seasons, the close-harmony quartet that rocketed to fame in the early 1960s with "Sherry" and other hits and earned new generations of fans when the Broadway musical "Jersey Boys" told a semi-factual version of the group's story, died on Monday in Henderson, Nevada. He was 92. Frankie Valli and Bob Gaudio, the two surviving original members of the group, announced his death. A spokeswoman for Valli said the cause was the novel coronavirus. DeVito had moved to Las Vegas decades ago after leaving the Four Seasons in 1970. Growing up in difficult circumstances in his native New Jersey, DeVito was, in his own words, "a hell- ... More



Sophie Reinhold, !!, 2020. Pigmented marble powder on jute, 150 x 130 cm.



ZURICH.- For the exhibition titled "Y", Berlin-based artist, Sophie Reinhold, created a new body of work, which was inspired during a journey through Switzerland, from Zurich to Zuoz. In her typically humorous and satirical manner the artist responded to her surroundings, creating subversive narratives of historical, social and moral themes. There are various ways of interpreting "Y". The title might simply pose the question "why" and as such may evoke a sense of curiosity, a reflective-critical inquiry or perhaps, a strong feeling of annoyance, displeasure or hostility. Alternatively, the letter may allude to the German word "Ypsilon", the second to last letter of the Latin alphabet, or merely indicate a graphical element: a line, which splits into two directions, like a fork. Thus, the inquiry has no constraints, owing to the fact that Reinhold intentionally blurs the boundaries between meaning and interpretation. Reinhold's artistic practice is ve ... More



Artist Amir Fallah at his studio in Alhambra, Calif., Sept. 19, 2020. Maggie Shannon/The New York Times.

by Carol Pogash



SAN JOSE (NYT NEWS SERVICE).- While many California museums are still shuttered because of the coronavirus, and others are opening slowly at limited capacity, the Institute of Contemporary Art San José has come up with an ingenious solution to open the museum, legally, for four days. From Oct. 31 through Election Day, the museum will become a polling site. Alison Gass, the executive director, is hoping civic-minded citizens will stream through the museum to vote and take time to appreciate the art inside (an exhibition called "Personal Alchemy") and out. It will be hard not to notice. A 50-foot vinyl mural by Iranian-born artist Amir H. Fallah will wrap around the museum's facade, and two 6-foot circular paintings of his will slowly rotate in two windows. In his mural, titled "Remember This," messages in vibrant colors read: "Remember my child nowhere is safe," "They will smile ... More
Sotheby's Teases Major Announcement...

Flashback
On a day like today, Australian painter William Dobell was born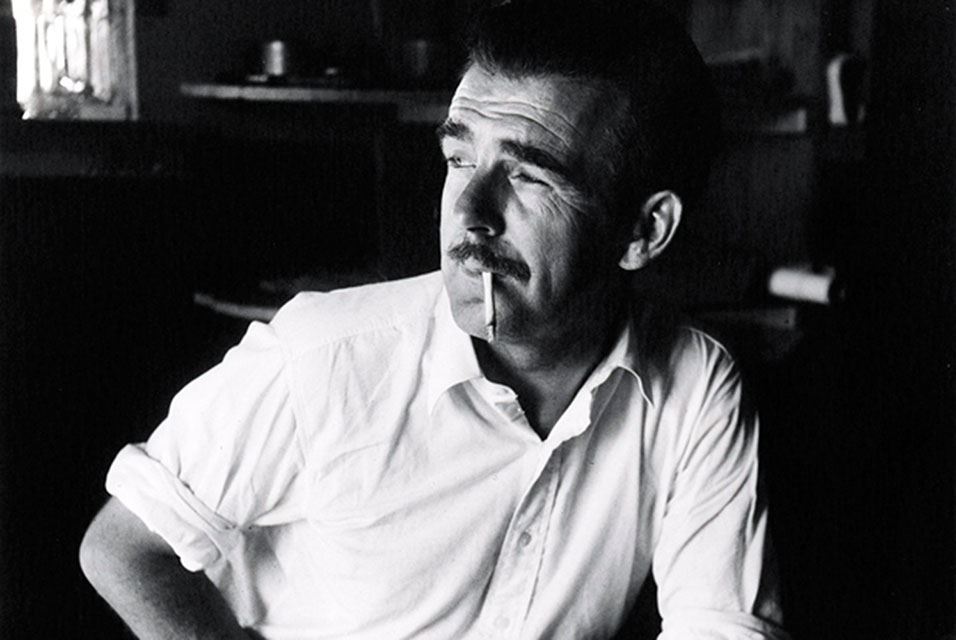 September 24, 1899. Sir William (Bill) Dobell OBE (24 September 1899 - 13 May 1970) was a renowned Australian portrait and landscape artist of the 20th century. Dobell won the Archibald Prize, Australia's premier award for portrait artists on three occasions. The Dobell Prize is named in his honour.
---

Museums, Exhibits, Artists, Milestones, Digital Art, Architecture, Photography,
Photographers, Special Photos, Special Reports, Featured Stories, Auctions, Art Fairs,
Anecdotes, Art Quiz, Education, Mythology, 3D Images, Last Week,

.
---
Royalville Communications, Inc
produces: