British Museum to restore objects damaged in Beirut blast
Conservator Claire Cuyaubère assisting with "puzzle-work" of shard from a glass dish at the Archaeological Museum, AUB. Courtesy of the AUB Office of Communications and Archaeological Museum.
LONDON
(AFP)
.-
The British Museum will restore eight ancient glass artefacts damaged in last year's Beirut port explosion, the London cultural institution announced on Tuesday. The glass vessels were shattered after 2,750 tonnes of ammonium nitrate stored in Beirut's port caused a blast that devastated the city on August 4, 2020. Workers will piece together hundreds of glass fragments at the British Museum's conservation laboratories in London with funding from The European Fine Art Foundation (TEFAF). "These objects hold immense historical, artistic and cultural significance. Their return to their rightful form is a powerful symbol of healing and resilience after disaster," said TEFAF chairman ...
More
The Best Photos of the Day
Asia Week New York announces 'The Color that Changed the World: The Impact of Blue in Asian Art' webinar
Design Museum hopes 11th director's the charm
Sotheby's announces a sale of British Contemporary and Pop Art from the collection of David Ross


Chinese Blue and white soft paste porcelain jar. Decorated with the Sanduo (Three Sacred Fruit), finely painted in deep underglaze blue. Early/ mid-18th century. Height: 7 ¾ inches (19.7 cm.). Courtesy Ralph M. Chait Galleries.



NEW YORK, NY.- As an adjunct to their online Summer 2021 exhibition, Shades of Blue, Asia Week New York will present a webinar entitled The Color that Changed the World: The Impact of Blue in Asian Art, on Thursday, July 29 at 5:00 p.m. EST Click here to register. First produced by the Egyptians over 6,000 years ago, blue pigment has been a prized component in some of the greatest works of art in world culture and Asia ranks high among them. A distinguished panel of specialists and curators in Asian art will present perspectives on the development and impact of cobalt blue, indigo and dayflower in their specific fields of Chinese and Japanese art. Says Dessa Goddard, Chairman of Asia Week New York and discussion moderator: "To complement our Shades of Blue exhibition, Asia Week New York is ... More



Outside the Museum of Arts and Design in Manhattan, July 24, 2021. Experts say the executive churn could affect the museum's ability to raise funds or attract new visitors. Jeenah Moon/The New York Times.

by Zachary Small



NEW YORK (NYT NEWS SERVICE).- Since 2013, directors have passed through the revolving door at the Museum of Arts and Design at 2 Columbus Circle with startling vision — and speed. One director lasted five months, suddenly resigning to pursue what he described as a commitment to "the fate of humanism and democracy." His successor lasted two years, pushing the museum toward what some employees called an "identity crisis" by emphasizing technology over design in exhibition programming. Board members intervened after employees complained about his management style, and he resigned. Enter Timothy R. Rodgers, the museum's 11th director in eight years (six of them interim). Trustees say they are depending on Rodgers, a former director at the Phoenix ... More



Ross is Chair of the National Portrait Gallery, The University of Nottingham's Development Committee, and a board member of the British Olympic Association. Courtesy Sotheby's.



LONDON.- This September, Sotheby's will offer more than 60 works from the collection of British entrepreneur, philanthropist and renowned art collector, David Ross. Assembled since 2000, Ross' collection mainly focuses on British Pop and Contemporary art, dating to the year he was born, 1965, onwards. The auction takes its title, "This is Tomorrow", from a 1956 British art exhibition of the same name staged at the Whitechapel Art Gallery. Just as the artists in this show presented their vision of Contemporary art, Ross' assemblage of works similarly presents his vision of collecting British art, which will now be shared with others. With many offerings estimated at entry-level prices, the auction will provide an opportunity for aspiring collectors to acquire affordable pieces by the leading names of the British art scene, all handpicked by a collector who has dedicated over twenty years to seeking ... More
Christie's announces move to new Asia Pacific headquarters
Ronati unshackles art and antiques dealers from their keyboards with one-stop software for managing stock online
National Museum of Norway announces opening date of new building


The Henderson, Hong Kong by Zaha Hadid Architects for Henderson Land. Render by Arqui9.



HONG KONG.- Christie's will relocate its Asia Pacific headquarters in 2024 to The Henderson, a striking new urban landmark on Murray Road in Central, Hong Kong designed by Zaha Hadid Architects for Henderson Land Group. With 50,000 square feet of art-inspired space anchoring four storeys within the new tower, Christie's will be able to provide exceptional service to its clients with its first year-round saleroom and state-of-the-art gallery presence in Asia. Its iconic new home in the luxury centre of the city is poised to become a worldwide destination for collectors, with a signature profile on the Hong Kong skyline. This investment affirms Christie's leadership in Asia and commitment to the region, further strengthening the firm's capability to connect and better serve the rapidly growing number of Asian collectors through an unrivaled global network of salerooms and specialists. ... More



The Ronati eCommerce Manager solves the challenge of multiple marketplace platforms, with a single upload system that keeps all sales up-to-date, effortlessly.



LONDON.- How do you sell an inventory of unique art and antiques across multiple ecommerce marketplaces without spending all your time at the keyboard on admin and updates? Until now no satisfactory answer to that question has meant that frustrated antiques dealers have spent far more time tied to their computers than they would like – or led them to avoid selling online altogether. But market disruptor Ronati is set to change all that with a new one-stop e-commerce management system. The Ronati eCommerce Manager allows dealers to manage all their stock listings across a whole range of marketplaces – with varied titles, descriptions and even price points – using just one upload. When you consider that a single upload to just one marketplace can involve keying in up to 50 different pieces of information, this is a remarkable breakthrough by Ronati. Not only ... More



Norway's new National Museum will be the largest art museum in the Nordic region. Photo: Børre Høstland / The National Museum.



OSLO.- Norway's new National Museum of Art, Architecture and Design has announced its opening date, 11 June 2022. As early as this summer, visitors can enter the building for early access guided tours. "We are inviting visitors to join us and have a look inside while the art is being mounted and the museum is taking shape," says Karin Hindsbo, Director of the museum. Organised, prebooked tours free of charge will start as soon as local coronavirus restrictions are lifted, allowing visitors into selected parts of the interior, including exhibition rooms and the exterior of the brand new building designed by Kleihues + Schuwerk. With the new National Museum, Norway gets a unique space for the country's most extensive collection of art, architecture and design. More than 5000 works, from the antiquity to the museum's most recent contemporary acquisitions, will be on display in a col ... More
100+ masterpieces of French Impressionism come to Melbourne direct from Boston's Museum of Fine Arts
MASSIMODECARLO announces the representation of Jenna Gribbon
The Museo Nacional del Prado adds to its exhibits a Picasso from the Aramont Art Collection


Visitors in French Impressionism from the Museum of Fine Arts, Boston at NGV International, Melbourne. Photo: Liz Sunshine. Courtesy of NGV



MELBOURNE.- In an international exclusive, the National Gallery of Victoria is presenting a major exhibition of more than 100 masterworks of French Impressionism in partnership with the Museum of Fine Arts, Boston (MFA), an institution renowned world-wide for its rich holdings of Impressionist paintings. French Impressionism features works by Claude Monet, Pierre-Auguste Renoir, Edgar Degas, Camille Pissarro, Mary Cassatt and more – including 79 that have never-beforebeen exhibited in Australia. These important loans from the MFA's iconic collection provide the rare opportunity to see a significant grouping of Impressionist masterworks in Australia. French Impressionism charts the trajectory of the late-nineteenth century artistic movement, highlighting the key milestones and figures at the centre of this period of experimentation and revolution in modern art. Through ... More



MASSIMODECARLO announced the joint representation with Fredericks & Freiser of the artist.



MILAN.- Jenna Gribbon's paintings explore the feelings and implications of seeing and being seen. Her paintings are intimate portraits of her friends, partner, family and fellow painters which encourage the viewer to reflect on their role as a consumer of beauty, intimacy and as voyeurs of the narratives of others. A focus on vision permeates every layer of Gribbon's work, with titles such as 'Ritualized Looking', 'Deck Peek' and 'When I looked at you, the light changed'. The scenes are painted from Gribbon's first point perspective, making the artist's presence felt by emphasising her particular viewpoint. The viewer directly replaces the artist, seeing Gribbon's subject from the exact position that she occupied in the scene; not only looking at the subject, but invited to view Gribbon's own experience of looking at them. Gribbon's most personal paintings are those depicting intimate moments in her relationship ... More



Pablo Picasso, Buste de femme 43, 1943 Donated from the Aramont Art Collection by the Arango Montull family to American Friends of the Prado Museum.



MADRID.- The Royal Board of Trustees of the Prado Museum in its annual meeting approved the deposit and exhibition of Buste de Femme 43, by Pablo Picasso from 1943. The painting is a donation to American Friends of the Prado Museum from the Aramont Art Collection of the Arango Montull family. The Royal Board of Trustees of the Prado Museum also accepted the generous donation of the Portrait of Philip III by Velázquez by American Friends of the Prado Museum which had been deposited at the Prado since 2016. Javier Solana, Chairman of the Board, stated "American Friends' actions are certainly great news for Spain and all those who visit our country attracted by our artistic and cultural heritage. A painting from one of our greatest artistic geniuses which up to now had been in a United States' private collection will be displayed in public thanks to the Arango Montull Family's and American ... More
Guggenheim appoints Ty Woodfolk and Trish Jeffers to new positions
1-54 Contemporary African Art Fair announces details of 9th London edition
Mexico's Tlaxcala cathedral wins UNESCO world heritage status


Trish Jeffers.



NEW YORK, NY.- Richard Armstrong, Director of the Solomon R. Guggenheim Museum and Foundation, announced the appointment of Ty Woodfolk as the institution's first Chief Culture and Inclusion Officer (CCIO) and Trish Jeffers as Deputy Director, Human Resources. Woodfolk and Jeffers will serve on the director's executive leadership team as Deputy Directors of the museum and report to Armstrong. Both will begin their new roles on September 7, 2021. Armstrong stated: "The creation of a head of culture and inclusion in tandem with naming a deputy director of human resources marks a positive shift in our leadership structure. The partnership between these two critical areas will guide us toward reshaping our workplace culture and creating an institution that's welcoming to all. With his experience in overseeing diversity and inclusion initiatives in both arts and business, Ty will work across the institution to bring our DEAI commi ... More



Patrick Akpojotor, Oga boss, 2020, Acrylic on Canvas, 48 X 36 Inches. Courtesy of SMO Contemporary Art.



LONDON.- 1-54 Contemporary African Art Fair will return to Somerset House from Thursday 14 - Sunday 17 October 2021 for its 9th London edition. Since its inception, 1-54 has established itself as a leading voice in the global discussion on contemporary African art and has been at the forefront of the African art market with annual editions across three continents. As part of the programme of 1-54 Special Projects, the fair will once again be partnering with Christie's to present an exhibition at the Duke Street space curated by art historian and art critic Christine Eyene and to deliver an online edition 1-54 Online Powered by Christie's. From Thursday 14 – Sunday 31 October 2021, works from 1-54 will then be available to purchase and view on Artsy for an extended period of time following the close of the official show. 1-54 brings together a diverse set of perspectives from around the world and has carefully ... More



In this file photo taken on July 20, 2021, aerial view of the Franciscan Ensemble of the Our Lady of the Assumption Cathedral in Tlaxcala, Mexico. ALFREDO ESTRELLA / AFP.



TLAXCALA (AFP).- A cathedral and monastery in Mexico where some of the first Franciscan missionaries to New Spain converted indigenous people to Christianity was on Tuesday listed by UNESCO as a World Heritage Site. Our Lady of the Assumption, located in Tlaxcala southeast of Mexico City, was a cornerstone of evangelism during the early stages of Spanish colonization of the Americas. The complex was one of the first of its kind, constructed with the help of local workers in 1526, years before the conquest of the Inca empire in South America. Inside the cathedral, an inscription on the pulpit reads: "Here the Holy Gospel had its beginning in this New World." The complex's construction "totally transformed the vision of the world conceived until then," said Jose de la Rosa, director of the National Institute of Anthropology ... More
Wimee's Words Live - DIA Edition: Colors and Shapes with Robert Blackburn's Girl In Red

Flashback
On a day like today, French painter Marcel Duchamp was born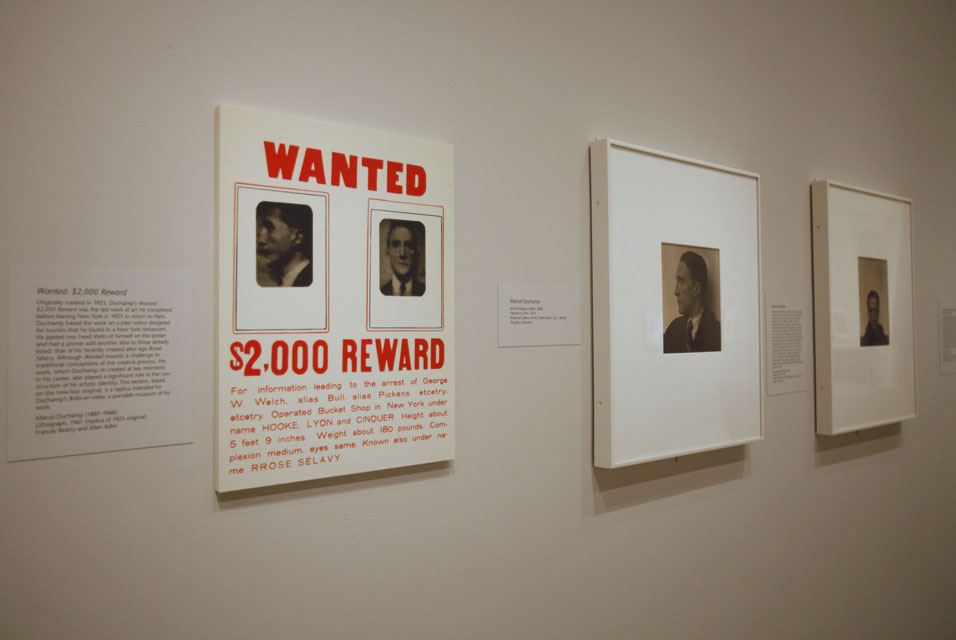 July 28, 1887. Marcel Duchamp (28 July 1887 - 2 October 1968) was a French artist whose work is most often associated with the Dadaist and Surrealist movements. Considered by some to be one of the most important artists of the 20th century, Duchamp's output influenced the development of post-World War I Western art. He advised modern art collectors, such as Peggy Guggenheim and other prominent figures, thereby helping to shape the tastes of Western art during this period. In this image: Marcel Duchamp's wanted poster is seen as part of the exhibit, "Inventing Marcel Duchamp:The Dynamics of Portraiture," at the National Portrait Gallery in Washington, on Tuesday, March 24, 2009.
---

Museums, Exhibits, Artists, Milestones, Digital Art, Architecture, Photography,
Photographers, Special Photos, Special Reports, Featured Stories, Auctions, Art Fairs,
Anecdotes, Art Quiz, Education, Mythology, 3D Images, Last Week,

.
---
Royalville Communications, Inc
produces: