The Saint who stopped an epidemic is on lockdown at the Met
The painting "Saint Rosalie Interceding for the Plague-stricken of Palermo," which was painted in 1624 by Anthony van Dyck during his time quarantined in Palermo due to the Plague, hangs in the Metropolitan Museum of Art in New York, March 18, 2020. An exhibition commemorating the museum's 150th birthday includes the piece. Its subject matter is inspired by a quarantine, it was created under quarantine, and it is now in effect quarantined - the show has been delayed due to the coronavirus. Vincent Tullo/The New York Times.

by Jason Farago
NEW YORK
(NYT NEWS SERVICE)
.-
He is dapper, beaming with the confidence of youth; he does not have the temperament for sheltering in place. It's springtime, the year is 1624, and the 25-year-old Anthony van Dyck is sailing south, to Sicily, where he has been invited to paint the island's Spanish viceroy. Van Dyck is establishing his international career as a portraitist to the rich and famous, and he has already had some success in Genoa, London and his hometown, Antwerp. Now, in Palermo, he feels on the cusp of a breakthrough. He gets the portrait done that spring, but then: disaster. On May 7, 1624, Palermo reports the first cases of a plague that will soon kill more than 10,000, some 10% of the city's population. On June 25, the viceroy whom van Dyck painted declares a state of emergency; five weeks later, he's dead. Quarantined in a foreign city, the young Fleming watches in horror as the port closes, the city gates slam shut, the hospital overflows, the afflicted groan in the street. As the ...
More
The Best Photos of the Day
Christie's announces new enhanced digital viewing for private sales pages
The African-American art shaping the 21st century
Donald Judd's plain-spoken masterpiece


Pierre Soulages, Peinture 162 x 130cm, 11 Juin 1983. oil on canvas. 63 ¾ x 51 ⅛in. © Christie's Images Ltd 2020.



NEW YORK, NY.- As collectors and art lovers turn increasingly to digital access as a primary means to learn, enjoy, browse and buy artwork and luxury items, Christie's has refreshed its online offerings across numerous collecting categories and launched several new initiatives. A new, enhanced Private Sales site offers online viewings and immediate purchase options for collectors of fine and decorative arts, jewelry and watches. Rich, new Content will be launched to engage, inspire and educate our art loving audience; and a refreshed calendar of online sales provides collectors with continued opportunities to bid and buy, with more sales to be added in the weeks ahead. An example of one of the Impressionist and Modern Art specific Private Sales site, may be viewed here. Matthew Rubinger, Deputy Chief Marketing Officer, commented: "We recognize that art and objects are an important source of enrichment and enjoyment for so many, and our ... More



Over the past 20 years, a new vanguard of African-American creators has helped define the 21st century. Jessica Pettway/The New York Times.



NEW YORK (NYT NEWS SERVICE).- Over the past 20 years, a new vanguard of African-American creators has helped define the 21st century. Jordan Peele. Ta-Nehisi Coates. Kara Walker. Ava DuVernay. It's the first time since the 1970s that black art, history and political life have come together in such a broad, profound and diverse way. That convergence was evident in the farce of "Chappelle's Show"; on the pair of albums D'Angelo released 14 years apart. You can see the imprint of the Barack Obama presidency on "Black Panther"; Black Lives Matter on Beyoncé; the country's prison crisis on Kendrick Lamar. You can sense that convergence haunting the fiction of Jesmyn Ward. For eight years, all sorts of black artists sailed through the White House, and shaped the depiction of black America, by thinking transcendently, trenchantly, truthfully. They adjusted the way the entire country can look at itself. So we asked 35 major ... More



Donald Judd, Marfa, Texas, 1993 © Laura Wilson.

by Roberta Smith



NEW YORK (NYT NEWS SERVICE).- Donald Judd's large, untitled installation piece in unfinished plywood at Gagosian Gallery is a plain-spoken giant that, surprisingly, has quite a bit to say. In its complexity and openness, it seems like almost nothing else Judd (1928-1994) ever made, and it hasn't been seen in New York since 1981, when it debuted at the Castelli Gallery in Soho a year after its completion. I remember being stupefied by it then. Reviewing it for the Village Voice, I called it a masterpiece almost in self-defense. Seeing it again, before the coronavirus pandemic shut the gallery, I can say it's definitely a masterpiece, and also a pivot. It sums up both the wall and floor pieces from the first two decades of Judd's three-dimensional work, while turning toward his more expansive later works. A prime example of these is the large multicolored piece that dominates the final gallery of "Judd," the superbly selected and installed retrospective at ... More
Lausanne rings 16th-century warning bell for virus
Contemporary Fine Arts, Berlin opens an exhibition of works by Katja Strunz
Paul Holberton publishes 'Caravaggio's Cardsharps on Trial: Thwaytes v. Sotheby's'


Night watchman of the Cathedral of Lausanne, Renato Haeusler manually rings the 3600 kg "La Clemence" emergency bell. FABRICE COFFRINI / AFP.

by Eloi Rouyer



LAUSANNE (AFP).- Renato Hausler shouts out the hour from the top of Lausanne Cathedral then sounds a centuries-old warning bell, rung only when the normally-tranquil Swiss city is facing peril. The nightwatchman is ringing La Clemence, a bell made in 1518, to call for mutual solidarity among the Lausannois in the face of the global coronavirus pandemic, Hausler told AFP. Its 3.4 tonnes of steel make a hell of a din which cuts through the still night air, above the city and out over Lake Geneva. Its C note rings in harmony with those of Marie-Madeleine, Lombard and the four other bells hanging in the tower. Standing in his felt hat with a lantern to light the way, Hausler peals the bell with three strikes, a pause, six strikes, another pause, then repeats the pattern. Every night without fail, Hausler or one of his stand-ins calls out the hour from 10:00pm to 2:00am, north, south east and west from ... More



Katja Strunz, Infused Space 2020.. Steel lacquered, 54,5 x 53 x 44 cm. 21 1/2 x 20 3/4 x 17 1/3 in. Courtesy Contemporary Fine Arts, Berlin. Photo: Matthias Kolb.



BERLIN.- The presence of the past is Katja Strunz's subject, the fold is her method, metal and paper her material. The work is about getting from A to B—what it means, why we care—and in this way, about the relationship between space and time. The daunting continuum! The traumatized body folds time. Traumatic experiences are not processed like memories, instead they get stuck, stored in the body. In psychiatrist Bessel van der Kolk's 2014 bestseller The Body Keeps the Score, he describes how trauma "comprises the brain area that communicates the physical, embodied feeling of being alive," revealing the physical dimension to the continuous reliving of the past that mires people with PTSD. In the present, survivors experience their traumas as fragmented images, sounds and emotions that the brain can't register as belonging to the past. In angular flaps and folds, Strunz renders ruptures and intrusions. Metal fans into delicate shapes in neutral tones. Pages of ... More



Vividly written and handsomely illustrated, this account of Thwaytes v. Sotheby's – one of the major art trials of recent times – will be of interest to dealers, conservators and lawyers as well as all admirers of Caravaggio.



LONDON.- In 2006 the late Sir Denis Mahon, a renowned Caravaggio scholar then aged ninety-six, bought at Sotheby's in London for just £50,400 a version of the painter's famous Cardsharps in the Kimbell Art Museum, Texas. He then announced that the canvas was not by a 'follower' of the artist, as Sotheby's had stated, but was in fact Caravaggio's first version of the Kimbell masterpiece. When the story broke, the press announced that the painting 'may be worth up to £50m'. Shocked by the news, Lancelot Thwaytes, who had consigned the painting to Sotheby's, sued the auction house for negligence. The case came to trial at the High Court in London in 2014. The verdict had far-reaching implications for the way experts at auction houses catalogue paintings, for understanding the role of connoisseurship in establishing authenticity and for the use and misuse ... More
New York art galleries: The virtual experience
McCabe Fine Art's New York pop up exhibition lives on virtually
Opera star, charged with sexual assault, is fired by University of Michigan


'Landscapes of the South'. Through April 18 at Mendes Wood DM, Manhattan.

by Jason Farago and Martha Schwendener



NEW YORK (NYT NEWS SERVICE).- Lecturing in Buenos Aires, Argentina, two years ago, novelist J.M. Coetzee — born in South Africa, now a citizen of Australia and teaching regularly in Argentina — argued that the Southern Hemisphere has a big problem: Its artists and writers can only win global attention by pleasing "the cultural gatekeepers of the metropoles of the north" who "decide which stories by the south about itself will be accepted." It's exactly these contesting gazes on the spaces of the south, by colonizers and colonized, that animate a rich exhibition staged by Brazilian gallery Mendes Wood DM at its New York outpost. I had the chance to see "Landscapes of the South" in person, and online Mendes Wood offers a dozen installation views of the presentation and images of 23 Brazilian landscapes, spanning four centuries. The earliest is a 1659 view of a convent in Pernambuco by Dutchman Frans Post, the first landscape painter in the New ... More



Andy Warhol, One Red Marilyn (Reversal), 1979 – 1986, Acrylic and silkscreen ink on canvas, 20 x 16 in (50,8 x 40,5 cm).



NEW YORK, NY.- The paintings, photographs, collages, drawings, prints and sculptures brought together in "Figures and Faces" are alternately beatific, grotesque, primitive, refined, famous and ordinary. Representing a cross-section of contemporary figurative art, this exhibition features roughly a dozen works by a multinational and multigenerational group of artists ranging from twentieth century masters such as Andy Warhol and Jean-Michel Basquiat to rising art stars like Nicolas Party. With a scope as wide ranging as the human subjects it showcases, this exhibition highlights a common compulsion to represent the physical and psychological wonders of humanity. Populating the gallery with an intriguing cast of characters, "Figures and Faces" sets the stage for debates about style, content, context and critique in figurative art. Considered individually, works like Warhol's high-contrast silkscreen of film legend Marilyn Monroe (One Red Marilyn (Reversal), 1979-1986), Duane Ha ... More



David Daniels, right, in Handel's "Giulio Cesare" at the Metropolitan Opera, in New York, April 1, 2013. Sara Krulwich/The New York Times.



NEW YORK (NYT NEWS SERVICE).- The University of Michigan on Thursday fired David Daniels, a professor of voice and one of the world's leading countertenors, one year after he and his husband were charged with sexually assaulting another singer. It was the first time in more than 60 years that the university's board of regents had voted to dismiss a tenured faculty member, according to the board chairman, Ron Weiser. The board also denied Daniels severance pay. "At the heart of every decision of the board is the safety and well-being of our students, and the integrity of the instruction to which our students are entitled," Weiser said. "When the board sees this jeopardized by a tenured member of the faculty, we believe it is necessary to take the extreme action of dismissal." Daniels rose to fame singing high parts that were once the province of castratos or mezzo-sopranos at the Metropolitan Opera and around the world. When he and his husband, Scott Walters, were married in 2014, Just ... More
Stuart Gordon, whose films reanimated horror, dies at 72
Lucia Bosé, whose acting was interrupted by marriage, dies at 89
The Samuel J. Wood Library at Weill Cornell Medicine exhibits 'Seeing Within: Art Inspired by Science'


Re-Animator.

by Daniel E. Slotnik



NEW YORK (NYT NEWS SERVICE).- Stuart Gordon, a director best known for lavishly lurid horror films with a piercing sense of humor, notably the cult favorite "Re-Animator," died Tuesday in Van Nuys, California. He was 72. His wife, Carolyn Purdy-Gordon, an actress who appeared in many of his films and with whom he founded the Chicago-based Organic Theater Company, said the cause was multiple organ failure brought on by kidney disease. Gordon's generally low-budget films often combined the body horror of John Carpenter or David Cronenberg's films with the titillation found in Roger Corman's. He said that surprising moviegoers was an important part of his work, and he did his best to exceed the everyday terrors of many slasher movies. "There is a side of me that likes to break through clichés and wake people up," Gordon told Rolling Stone in 1986. Before turning ... More



In this file photo taken on November 20, 2013 Italian actress Lucia Bose arrives at the 2013 Latin Recording Academy Person Of The Year honoring Miguel Bose at the Mandalay Bay Convention Center. Jason Merritt / GETTY IMAGES NORTH AMERICA / AFP.



NEW YORK (NYT NEWS SERVICE).- Lucia Bosé, an Italian actress in neorealist films of the 1950s who walked away from her career to marry Spanish bullfighter Luis Miguel Dominguín, only to return to acting after they separated, died on Monday in Segovia, Spain. She was 89. Her death was announced on social media by her son, singer and actor Miguel Bosé. Roberto Liberatori, who wrote a 2019 autobiography of Bosé, said the cause was pneumonia. After she won the Miss Italy beauty pageant in 1947, Bosé traveled to Rome and drew the attention of directors Michelangelo Antonioni and Giuseppe De Santis. In 1950 she appeared in De Santis' "Under the Olive Tree" and Antonioni's first feature film, "Story of a Love Affair." One of her most prominent parts was as Clara, a would-be actress who marries a film ... More



Jody Rasch, Sweet-Diabetes, 2007, Oil on canvas, 60 x 50 inches.



NEW YORK, NY.- Although art and science might be viewed as diametrically opposite, artists and scientists seek answers to the same fundamental questions, trying to understand and visualize the invisible and what it means to be human. Some of the most innovative artists working today are fusing art and science, taking inspiration from science and using scientific techniques in their work. A compelling exhibition at Weill Cornell Medicine's Samuel J. Wood Library in New York, entitled Seeing Within: Art Inspired by Science, features the work of Jody Rasch, Cheryl Safran, and Julia Buntaine Hoel, who use the visual language and findings of biology to create artwork that invites viewers to explore and appreciate the beauty and mystery of biology. The exhibition is curated by Neil Blumstein and organized by LAMINAproject, the hybrid art platform that exhibits and sells art inspired by science by emerging and established artists. Jody Rasch's small- and large-format paintings ... More
In Conversation: Alexander S. C. Rower and Bernard Ruiz-Picasso
Flashback
On a day like today, French painter Georges Seurat died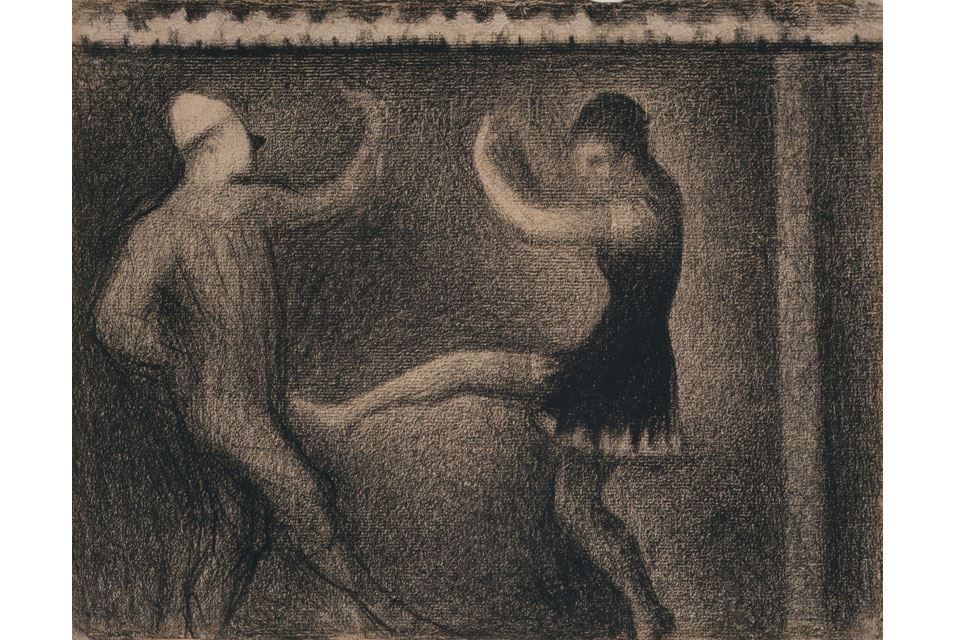 March 29, 1891. Georges-Pierre Seurat (December 1859 - 29 March 1891) was a French post-Impressionist painter and draftsman. He is noted for his innovative use of drawing media and for devising the painting techniques known as chromoluminarism and pointillism. In this image: Georges Seurat (French, Paris 1859-1891 Paris), Pierrot and Colombine Ca. 1886 - 88. Conté crayon on paper, 9 3/4 x 12 3/8 in. (24.8 x 31.2 cm). Kasama Nichido Museum of Art.
---

Museums, Exhibits, Artists, Milestones, Digital Art, Architecture, Photography,
Photographers, Special Photos, Special Reports, Featured Stories, Auctions, Art Fairs,
Anecdotes, Art Quiz, Education, Mythology, 3D Images, Last Week,

.
---
Royalville Communications, Inc
produces: