Toomey & Co. Auctioneers will close 2020 with two impressive sales
LOT 1: Edward Willis Redfield, Overlook at Boothbay Harbor, Maine, circa 1930. Estimate $70,000-90,000. Tradition & Innovation, December 3, 2020. Toomey & Co. Auctioneers, Oak Park, Illinois.
OAK PARK, IL
.-
Toomey & Co. Auctioneers
will conclude its 2020 auction schedule with two upcoming sales featuring a wide variety of material, including several rare and important items. On Thursday, December 3, the third annual Tradition & Innovation will feature a limited, expertly curated range of works from painters, sculptors, ceramicists, furniture designers, architects, and jewelry makers who have helped define their respective fields for more than a century. On Sunday, December 6, Art & Design will offer a few hundred carefully selected lots of fine and decorative artworks, early 20th century and modern furniture, art pottery, lighting, metalwork, and more. In 2018 and 2019, the total of all prices realized for these December sales averaged over $2 million. Tradition & Innovation on Thursday, December 3 will start at 6:00 p.m. CST and Art & Design on Sunday, December 6 will start at 10:00 a.m. CST. Both sales will take place at Toomey & Co. ...
More
The Best Photos of the Day
UK museums and galleries facing crisis with 60% worried about survival
Bomberg's Spanish masterpiece tops Bonhams Modern British and Irish Art sale
Birmingham Museums partners with the online game and art platform Occupy White Walls


Towner Eastbourne © Marc Atkins.



LONDON.- Museums, galleries and historic houses across the UK are facing a crisis due to the impact of Covid-19, with six in ten (60%) surveyed worried about their survival. Today Art Fund, the national charity for art, is releasing new research showing the perilous position of the country's much-loved museums, alongside an urgent new crowdfunding appeal: Together for Museums. The UK's 2,500 museums were thriving before the pandemic hit, providing inspiration, joy and education, enriching lives and bringing communities closer together. But national and local lockdowns, combined with social distancing limiting visitors, have been catastrophic. Despite this, only half (55%) have received emergency funding to date, with 56% of those saying they would have gone under if they had not received it. Museums have shown they can respond to this crisis with creativity and serve their communities, but need urgent help. Together for Museums aims ... More



David Bomberg (British, 1890-1957) The Old City and Cathedral, Ronda (detail). Sold for £790,750. Photo: Bonhams.



LONDON.- The Old City and Cathedral, Ronda by the British painter David Bomberg (1890-1957) sold for £790,750 at Bonhams Modern British and Irish Art sale in London on Wednesday 18 November. Painted in 1935, it had been estimated at £400,000-600,000. The sale made a total of £3,579,440 with 86% sold by lot and 93% sold by value. Bonhams Director of Modern British & Irish Art, Matthew Bradbury said: "Bomberg moved to Spain in 1934 and it proved a turning point in his life and career. The Old City and Cathedral, Ronda represents the artist's response to the drama of his new home and the liberating light-suffused setting in which he was now working. It is a wonderful work which sparked a fierce bidding war on the phone and the internet and fully justified its very high selling price." Other highlights included two works by William Roberts (1895-1980): • Women ... More



200 public domain images from Birmingham's collection are now officially part of the game.



BIRMINGHAM.- It's Birmingham Museum & Art Gallery, but not quite as you know it! You can now curate your own exhibitions in a virtual BMAG from the comfort of your own home, as Birmingham Museums Trust has embarked on a collaboration with the new online game Occupy White Walls, making it the first official museum to partner with the AI-driven art platform that allows users to explore a growing fantasy world of art. Two hundred artworks from Birmingham's collection of Public Domain images, including some of the city's most famous Pre-Raphaelite works such as The Last of England by Ford Madox Brown and Proserpine by Dante Gabriel Rossetti, are now available to players in the digital world and can be explored at www.oww.io. As the partnership continues, it is planned to upload the full collection of Birmingham's public domain images, which are accessible via Birmingham Museums' online database. In a year where we ... More
Sprüth and Magers opens an exhibition featuring 26 new drawings by Andrea Zittel
Along Russia's 'road of bones,' relics of suffering and despair
Solo exhibition of new paintings by Merlin James opens at Sikkema Jenkins & Co.


Andrea Zittel, Study for Planar Configuration Variant #8, 2019. Watercolor and gouach on paper, 55.9 × 76.2 cm. 22 × 30 inches. Photo: Timo Ohler © Andrea Zittel. Courtesy the artist and Sprüth Magers.



BERLIN.- Monika Sprüth and Philomene Magers announced the Berlin exhibition Works on Paper by American artist Andrea Zittel, presenting 26 new drawings that all hinge, in one way or another, on planar structures. Planar panels are flat rectangular elements that form the building blocks of so much of the reality that we construct around ourselves, from benches to bed frames to walkways. Zittel's artistic work regularly traverses the boundaries between art and architecture, and here reflects upon the planes and panels that exist in both our literal and psychological fields of reality. Horizontal panels naturally function as platforms for actions and behavior, creating sites where life happens (e.g. floors, tables, benches, fields, streets). Vertical panels, in turn, privilege the eye and are the carriers of messages and ideologies (e.g. walls, screens, paintings, billboards). Rigid or flexible, these panels can provide shelter or divide s ... More



A Soviet-era monument to Lenin in Ust-Omchug, a settlement on the Kolyma Highway in Russia's Far East, Oct. 9, 2019. Emile Ducke/The New York Times.

by Andrew Higgins



ALONG THE KOLYMA HIGHWAY (NYT NEWS SERVICE).- The prisoners, hacking their way through insect-infested summer swamps and winter ice fields, brought the road, and the road then brought yet more prisoners, delivering a torrent of slave labor to the gold mines and prison camps of Kolyma, the most frigid and deadly outpost of Josef Stalin's gulag. Their path became known as the "road of bones," a track of gravel, mud and, for much of the year, ice that stretches 1,260 miles west from the Russian port city of Magadan on the Pacific Ocean inland to Yakutsk, the capital of the Yakutia region in eastern Siberia. Snaking across the wilderness of the Russian Far East, it slithers through vistas of harsh, breathtaking beauty dotted with frozen, unmarked graves and the rapidly vanishing traces of labor camps. There was little traffic when a photographer, Emile Ducke, and I ... More



Merlin James, The Window, 2020 (detail). Acrylic and mixed materials, 59.5 x 82.25 inches, 151.1 x 208.9 cm © Merlin James, courtesy of Sikkema Jenkins & Co., New York.



NEW YORK, NY.- Sikkema Jenkins & Co. is presenting River, a solo exhibition of new paintings by Merlin James, on view November 21, 2020 through January 23, 2021. Central to James' recent work is the artist's daily, nuanced awareness of the view from his home in Glasgow, looking out to the River Clyde and surrounding environments. These paintings constitute a "familiar remembered image, a cumulative memory," incorporating all the "inaccuracies or approximations" of his own recollection. Works like Dredge or The Window present very much a specific location, yet a sense of the artificial and the universal is carried through the imaginative scale and coloration. Painting neither directly from life nor from photographs, James draws on impressions and recollections over time to bring to life familiar spaces and the presences that populate them. The physicality of painting remains a central focus. The ... More
albertz benda opens an exhibition of works by Wassef Boutros-Ghali
New exhibition brings together quilts to tell important American stories
Frederick Weston, outsider artist who was finally let in, dies at 73


Wassef Boutros-Ghali, Untitled, 2009. Acrylic on canvas, 59 x 51.5 inches, 150 x 131 cm.



NEW YORK, NY.- albertz benda is presenting Wassef Boutros-Ghali: A Retrospective, the artist's debut gallery exhibition, on view from November 12 to December 19, 2020. An accomplished painter and architect, Boutros-Ghali presents paintings and drawings from the 1960's through the present day with an emphasis on work of the past twenty years. Drawn from the artist's personal collection, Retrospective marks the first time these pieces have been shown publicly. In his paintings, Boutros-Ghali's primary goal is to elicit a "shock" using "as little explanation on the canvas as possible." In earlier works, such as The Night Raiders (1977), groupings of asymmetrical geometric shapes allude to recognizable figures - angular limbs, distorted shadows - without becoming literal. Within the past twenty years, the artist has "transformed reality by simplifying it…abolishing a subject and having ... More



Gen Guracar, Vietnam Era Signature Quilt, c. 1965-1973. Made in Mountain View, California, 80 x 63.5 inches. International Quilt Museum, Gift of Needle and Thread Arts Society, 2007.008.0001. Image: International Quilt Museum, University of Nebraska-Lincoln, 2007.008.0001.



TOLEDO, OH.- American quilts have long been connected with notions of tradition, with patterns and techniques passed down for generations in communities throughout the country. As nostalgic symbols of the American past, quilts have been viewed as antidotes to upheaval during times of change. Disrupting our expectations of quilts as objects that provide warmth and comfort, Radical Tradition: American Quilts and Social Change explores the complicated and often overlooked stories quilts tell about the American experience, offering new perspectives on themes including wartime support and protest, civil rights, gender equality, queer aesthetics, and relationships with land and the environment. Radical Tradition is open at the ... More



Frederick Weston in May 2019 in his apartment in Manhattan's Chelsea section. Clifford Prince King/Gordon Robichaux, NY via The New York Times.

by Alex Vadukul



NEW YORK (NYT NEWS SERVICE).- Frederick Weston, a belatedly recognized New York artist who inhabited the cramped apartments of the city's single-room occupancy hotels for decades, hermetically creating meticulous collages exploring the male body and Black queerness, died on Oct. 21 at his apartment in the Chelsea neighborhood of Manhattan. He was 73. His cousin Denise Weston said the cause was complications of bladder cancer. It was only in recent years that Weston's art finally received critical attention. Before then he'd long existed on the margins of New York. He arrived from Detroit in 1973, aspiring to enter the fashion world, but he retired his dream after encountering, as a Black man, stifling racism in the industry. In the 1980s, in a harsher Times Square ... More
Exhibition at Dickinson London considers the theme of courage
A Holocaust survivor lifts neighbors in dark times
New from Kehrer Verlag: Anton Roland Laub's Last Christmas (of Ceaușescu)


Tom Schnieder, Pondering Delacroix.



LONDON.- Courage Exists In Us brings together works in a range of media by Contemporary artists, with pieces from Dickinson's inventory to consider the theme of courage. Conceived and curated by Daniel Malarkey, the exhibition – originally scheduled to take place in Dickinson's Mayfair Gallery and now presented exclusively online – includes examples by Jean-Marie Appriou, Pablo Bronstein and Purdey Fitzherbert, among others, in an imagined dialogue with paintings by Matisse, Gérôme and Renoir. Approaching the theme from various directions, Malarkey brings together works that depict courageous acts; works whose creation required the bravery of the artist; and other pieces calling for a more personal or imaginative interpretation. As Malarkey explains his motivation: 'This exhibition takes place in a Britain reeling with the struggles of Covid-19, a Brexit deadline without a deal, and a true questioning of a national ident ... More



Simon Gronowski, a Holocaust survivor, at the electric piano he moved beneath a window of his apartment at the height of the first wave of the coronavirus in Europe, in Brussels, Oct. 22, 2020. Ksenia Kuleshova/The New York Times.

by Matina Stevis-Gridneff



BRUSSELS (NYT NEWS SERVICE).- Simon Gronowski had committed many acts of bravery and generosity in his 89 years of life, and opening a window in April wouldn't ordinarily have counted among them, but this was no ordinary April. It was the height of the first wave of the coronavirus pandemic, which hit Belgium as hard as anyplace in the world. But as a Holocaust survivor, Gronowski had faced death more intimately before. The diminutive lawyer summoned his courage, moved his electric piano to beneath a windowsill and flung the window open, letting in spring sunshine along with the thick, wary quiet of a city terrified of the virus. And he began to tap out a jazz tune. "I was afraid," ... More



Anton Roland Laub, Last Christmas (of Ceaușescu). Edited by Frizzi Krella. Texts by Frizzi Krella, Lotte Laub. Designed by Kehrer Design (July Mollik). Hardcover with synthetic leather, 16,5 x 22,5 cm. 144 pages 60 color and 3 b/w illustrations. English, German. ISBN 978-3-96900-013-7. Euro 29,00 / GBP 25.00.



NEW YORK, NY.- At the end of 2019, 30 years after the system change, an EU resolution was passed calling on the Romanian state to officially process the past events. While the overthrow of other communist dictatorships in 1989 was mostly peaceful, Romania's revolution ended in a bloodbath. To this day the dead have not been atoned for. Perpetrators who have not been called to account remain a threat, like the undead, sucking the blood and thus the life-force of the living, as the vampire myth puts it. Through a rapid visual choreography, artist and photographer Anton Roland Laub recounts the fall of Romanian dictator Ceaușescu. On their escape on December 22, 1989, Nicolae and Elena Ceaușescu are arrested at Târgoviște, ... More
The Sun and Richard Lippold, 1966 | From the Vaults

Flashback
On a day like today, Cuban American painter Rafael Soriano was born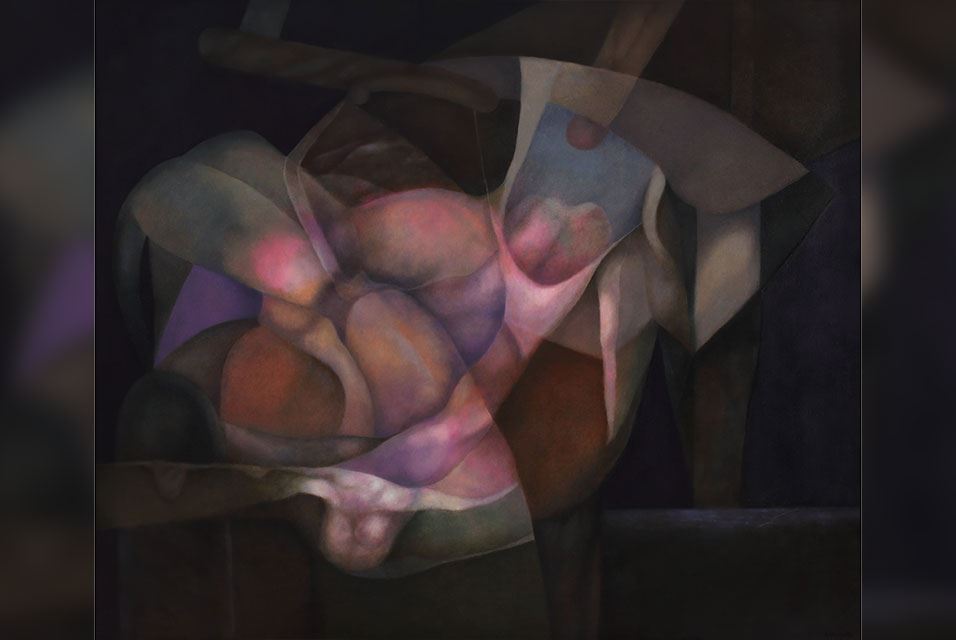 November 23, 1920. Rafael Soriano (November 23, 1920 - April 9, 2015) belonged to the third generation of avant-guarde painters in Cuba. In the late 1950s, he became one of the Diez Pintores Concretos, known for bringing the geometric abstraction movement from Europe and the Americas to Cuba. In 1962, Soriano exiled to the United States. His paintings began to transform as he created a new visual vocabulary. Art historian, Alejandro Anreus speaks of his paintings as meditative moments where allusive, biomorphic forms move within fantastic spaces filled with diaphanous color, always shifting and fluid. Today, the Rafael Soriano Foundation, LNS Gallery, collectors, friends and family celebrate his centennial.
---

Museums, Exhibits, Artists, Milestones, Digital Art, Architecture, Photography,
Photographers, Special Photos, Special Reports, Featured Stories, Auctions, Art Fairs,
Anecdotes, Art Quiz, Education, Mythology, 3D Images, Last Week,

.
---
Royalville Communications, Inc
produces: