Swiss museum settles claim over art trove acquired in Nazi era
A photo provided by Julian Salinas shows the Kunstmuseum in Basel, Switzerland. The museum has reversed its position and will now pay to retain an art collection sold by a Jewish museum director as he fled the Nazis. Julian Salinas via The New York Times.

by Catherine Hickley
NEW YORK
(NYT NEWS SERVICE)
.-
Twelve years after the city of Basel, Switzerland, rejected a claim for restitution of 200 prints and drawings in its Kunstmuseum, officials there have reversed their position and reached a settlement with the heirs of a renowned Jewish museum director and critic who sold his collection before fleeing Nazi Germany. In 2008, the museum argued that the original owner, Curt Glaser, a leading figure in the Berlin art world and close friend of Edvard Munch, sold the art at market prices. The museum's purchase of the works at a 1933 auction in Berlin was made in good faith, it said, so there was no basis for restitution. But after the Swiss news media unearthed documents that shed doubt on that version of events, the museum reviewed its earlier decision and Friday announced it would pay an undisclosed sum to Glaser's heirs. In return, it will keep works on paper estimated to be worth more than $2 million by artists including Henri Matisse, Max Beckmann, Auguste Rodin, Marc Chagall, ...
More
The Best Photos of the Day
Tiffany lamps drive Clarke Auction to a million dollar tally
National Endowment for the Arts to distribute $75 million in relief aid to arts organizations in need
Jessie Willcox Smith original cover art for '"Good Housekeeping'" sells for $82,500


Bringing $125,000 was a vivid Tiffany "Peony" table lamp, also having a 14-inch shade.



LARCHMONT, NY.- What a difference a month makes. Clarke Auction Gallery's first two auctions of the year boasted good-sized attendance as usual but its March 22 sale, which came two days after New York State governor Cuomo issued a stay-at-home order, saw online and phone bidding supplant in-house bidding. One might think this would have negatively affected bidding but if anything, the auction saw even more participation as the auction grossed just over a million dollars and went off without a hitch. Offerings in the sale were strong across the board overall with a diverse selection of top draw goods. While not billed as a designer auction, it's little surprise that leading the sale were designer names and renowned firms like Tiffany Studios, Gio Ponti, Rene Lalique, David Webb, Steinway and Bulgari. "Even though the news was changing daily, almost hourly, in the days leading up to the auction, we were confident ... More



US President Donald Trump speaks before signing the CARES act, a $2 trillion rescue package to provide economic relief amid the coronavirus outbreak, at the Oval Office of the White House on March 27, 2020. JIM WATSON / AFP.



WASHINGTON, DC.- In recognition of the arts' $877 billion contribution to the U.S. economy and a source of 5.1 million American jobs, the National Endowment for the Arts will distribute $75 million in funding provided by the Coronavirus Aid, Relief, and Economic Security (CARES) Act. The bill was enacted into law a few hours ago. The Arts Endowment will award funds to nonprofit arts organizations across the country to help these entities survive the forced closure of their operations in response to the spread of COVID-19. "In this time of great economic uncertainty, I am grateful to the Members of Congress and the President for recognizing the contributions of the arts to our nation and our economy and the devastation and job loss that this virus has wreaked upon the Arts community," said National ... More



The November 1920 issue of ''Good Housekeeping'' shows two children praying before their meal and is signed ''Jessie Willcox Smith'' at the lower right.



LOS ANGELES, CA.- Jessie Willcox Smith's original cover art for the November 1920 issue of ''Good Housekeeping'', entitled ''We Give Thee Thanks" sold tonight for $82,500 at Nate D. Sanders Auctions. The November 1920 issue of ''Good Housekeeping'' shows two children praying before their meal and is signed ''Jessie Willcox Smith'' at the lower right. The artwork is one of Willcox Smith's most memorable pieces, with limited edition lithographs even being made of it. Jessie Willcox Smith was the exclusive cover artist for ''Good Housekeeping'' from 1917-1933, and was the second woman inducted into the Society of Illustrators Hall of Fame, followed shortly thereafter by Elizabeth Shippen Green and Violet Oakley, fellow members of the Red Rose Girls, a group of female artists who flourished during the Golden Age of Illustration. The artwork was given to Anne ... More
A family heirloom, restored from hood to taillights
Adam Pendleton now represented by David Kordansky Gallery
Berlin artists' colony finds creative answer to shutdown


Stan Haegert checks the oil level of his 1931 Ford Model A, during a drive in Lafayette, Colo., March 11, 2020. Benjamin Rasmussen/The New York Times.

by Jennifer E. Mabry



DENVER (NYT NEWS SERVICE).- "We'll get this done by the end of summer." That was what Dan Haegert's neighbor Bob told him one summer afternoon in 1976 in Lansing, Michigan, when Haegert decided it was time to restore his father's 1931 Ford Model A to its original luster. The summer of '76 would prove an optimistic deadline. Thirty years later, the work was finally done. And neighbor Bob, well, he dropped off the project before summer's end, said Dr. Stan Haegert, Dan's son. Stan Haegert, a family physician, inherited the vehicle from his father, now 87, in the early 2000s. They were reminiscing recently at the assisted-living home in Colorado where Dan Haegert resides, about a 20-minute drive from his son's home. In 1968, Dan Haegert bought the Model A from his father for $1. "Dad brought it up to Michigan," Stan ... More



In September 2020, Pendleton will present his first solo show at David Kordansky Gallery. Photo: Tête-à-Tête Productions.



LOS ANGELES, CA.- David Kordansky Gallery announced its representation of Adam Pendleton (b. 1984, Richmond, Virginia). Pulling from a wide range of mediums including collage, painting, writing, printmaking, video, and publishing, Pendleton utilizes language as his primary tool, recontextualizing appropriated imagery to shed light on underrepresented historical narratives. He is particularly interested in social resistance and avant-garde artistic movements and has synthesized a variety of practices under the rubric of "Black Dada," a term borrowed from the poet Amiri Baraka. Drawing from a vast array of archives, he incorporates material and aesthetic strategies from sources as diverse as the Black Arts Movement, minimalism, conceptual art, experimental performance, and philosophy. This research results in a visual syntax that is as recognizable as it is flexible, and that allows Pendleton to address the ... More



Roswitha Beck sits on a bench while reading out loud a story on March 24, 2020. Tobias SCHWARZ / AFP.

by Yannick Pasquet



BERLIN (AFP).- In her sun-soaked Berlin living room, Ingrid Ihnen-Haas belted out Edith Piaf songs into a microphone -- part of a collective effort to help entertain a country confined to their homes by the coronavirus pandemic. "Especially for elderly people who have to stay at home, the concept of 'concerts in your living room' is brilliant," said Ihnen-Haas, 71. With concert halls, restaurants and most shops shut, public life in Germany has ground to a halt as the population is urged to stay home to help contain the spread of the virus. Ihnen-Haas and fellow residents of an "artists' colony" in southwest Berlin have joined voices to record albums, audiobooks or readings to share online. The former social worker who sings regularly in small venues across the capital has now turned her living room into a recording studio. Outside in a common area, comedian Cornelia ... More
Fergus McCaffrey opens a solo exhibition of paintings by Viennese artist Martha Jungwirth
Now twice a month: Online only auction with 100 works starting at €100
Affordable art and furnishings abound in the Doyle at Home online auction


Martha Jungwirth,  Untitled (from the series 'Delos'), 2019. Oil on paperboard, 17 1/4 x 14 7/8 inches © Martha Jungwirth.



TOKYO.- Fergus McCaffrey opened a solo exhibition of paintings by Viennese artist Martha Jungwirth (b. 1940), on view from March 28 through May 9, 2020 at the gallery's Tokyo location. The presentation focuses on Jungwirth's most recent series of oil paintings, exemplifying her singular exploration of color, movement, and abstraction. Over her six decade career, Jungwirth has drawn upon what she terms conceptual "pretexts"—personal encounters with manifold external sources and models that inform her works at the outset. Impressions from her travels, Greek mythology, the appearances of friends and companions, as well as contemporary political events mingle and merge together with mythical or universal subject matter. Many of the works in this exhibition are drawn from her Delos series, based on her summers spent in Greece. A selection of the artist's works on board take influence from a recent trip to Taiwan ... More



Lyonel Feininger is represented with two charcoal drawings (starting prices: € 100 each) and an etching (starting price: € 10,290), all made around 1910/11, in which he addresses the everyday life on the streets.



MUNICH.- With "KETTERER's 100" Ketterer Kunst offers a new online only auction format to meet customers' demands: Getting high quality art at attractive prices from the comfort of their homes on a regular basis. Accordingly, the auction house doubles the frequency of its online only auctions and knocks the virtual hammer down on the 1st and the 15th of every month on www.ketterer-internet-auctions.com. Around 100 works of art from the 20th and 21st century, many with starting prices of € 100, will be on offer. "Over the past few weeks we have noticed strong increase in traffic on our online platform, participation in our last online only auction skyrocketed. Indeed, on the two last days of the auction we received 250 additional bids on just 50 objects. Now the fact that we as a pioneer in auction digitalization have pursued this path with strong focus and massive investments for more than 15 ye ... More



Paul Lewis Clemens (1911-1992), Viewing of the Old Masters, 1973, Oil on Masonite, 33 x 22 7/8 inches. The Estate of Laura M. Mako. Lot 15. Ext. $2,000-4,000.



NEW YORK, NY.- Doyle's popular series of Doyle at Home auctions attract thousands of savvy, sophisticated buyers with an endless diversity of affordable art and stylish furniture and decorations from prominent estates and collections. Browse the current online-only auction powered by Invaluable.com and place your bids using your computer or mobile device. Bidding will end with a soft close on Tuesday, March 31 beginning at 10am EDT. Featured in the sale is a wide range of affordable works of art spanning a century of creative output by artists around the world. Among the highlights are examples by Alexander Aiznshatat, Pietro Barucci, Paul Lewis Clemens, Dietz Edzard, John R. Grabach, Robert Henri, Emilio Rodriguez Larrain, Edgard Maxence, Joseph Lindon Smith, Moses Soyer, Pavel Tchelitchew, Constantin Westchiloff, Carl Wuemer and many more. A selection of furniture and ... More
A new mission for nonprofits during the outbreak: Survival
Dorotheum auction weeks expected to take place in June
Maurice Berger, curator outspoken about race, is dead at 63


Mark and Stephanie Cartier wth their daughter Katie at nonprofit No Limits Cafe, which was operated by employees with intellectual disabilities, in Red Bank N.J., March 24, 2020. Kevin Hagen/The New York Times.

by David Streitfeld



NEW YORK (NYT NEWS SERVICE).- It took Stephanie Cartier nearly three years to open No Limits, a central New Jersey cafe operated by people with intellectual disabilities. That was early February. It took only a few days in March to close the 65-seat restaurant indefinitely. Customers dwindled as fears of the coronavirus increased. There was not enough cash coming in to pay the staff. "It was the first time many of them had a job, and now it's gone," Cartier said. "They didn't even work long enough for unemployment." Nonprofits like No Limits are ubiquitous in the United States: built on a dream, dedicated to good works, thinly capitalized. Like so much in ... More



Palais Dorotheum, Franz-Joseph-Hall.



VIENNA.- The comprehensive measures taken to protect the health of Dorotheum's clients and employees have also entailed changes concerning the current auction schedule: the big focus weeks planned for April and May, 'Classic Week' (Old Master Paintings, 19th century Paintings, Works of Art, Jewellery) and 'Contemporary Week' (Modern Art, Contemporary Art, Jewellery, Wristwatches) will, from today's perspective, be postponed to June. The exact dates for the respective auctions will be confirmed five weeks prior to the event. Dorotheum has adjusted the format of all its current saleroom auctions so that they will be held online until mid-April. The first results confirm that online sales have become widely accepted. Auctions having taken place so far have been extremely successful. With the Prints and Multiples auction achieving the best outcome ever for a sale for the department, reflecting the uniquely ... More



Maurice Berger at his apartment in Manhattan in 1999. Sara Krulwich/The New York Times.



NEW YORK (NYT NEWS SERVICE).- Maurice Berger, who as a curator and a writer was a forceful voice against both overt and subtle racism in the art world and other arenas, died Sunday at his home in Craryville, New York. He was 63. His husband, Marvin Heiferman, said the official cause was heart failure. He said Berger had been exhibiting severe symptoms of coronavirus for five days but was not tested for the virus either before or after his death. Berger, who was white, spent a lifetime being conscious of how race determines opportunities, attitudes and much more, in his own life and in society at large. His writing exploring those influences was blunt and provocative. There was, for instance, "Are Art Museums Racist?," a 1990 essay in Art in America. "Art museums," he wrote, "have for the most part behaved like many other businesses in this country — they ... More
India: Fashion's Muse | Phoenix Art Museum
Flashback
On a day like today, French painter Georges Seurat died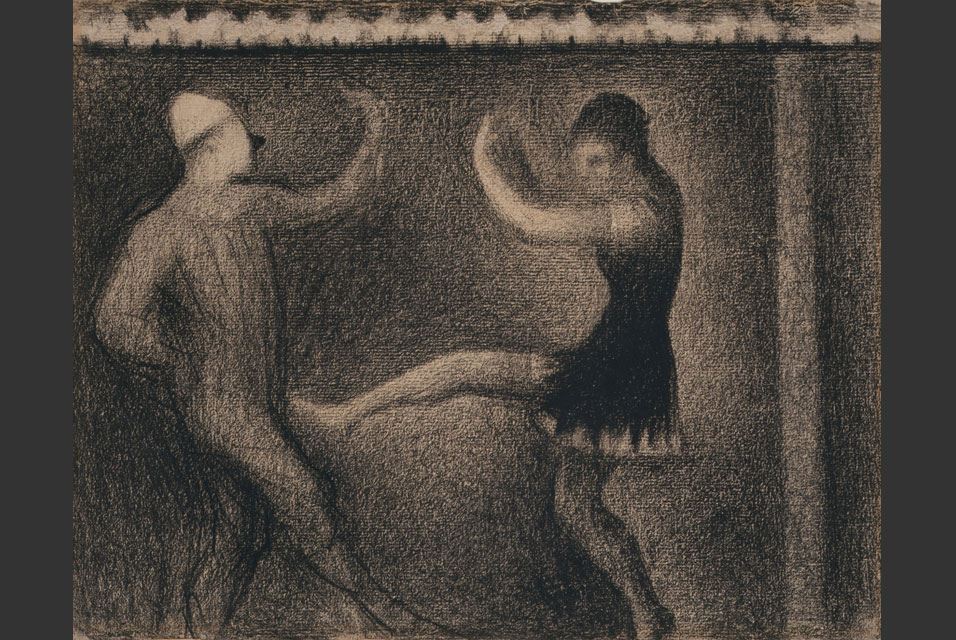 March 29, 1891. Georges-Pierre Seurat (December 1859 - 29 March 1891) was a French post-Impressionist painter and draftsman. He is noted for his innovative use of drawing media and for devising the painting techniques known as chromoluminarism and pointillism. In this image: Georges Seurat (French, Paris 1859-1891 Paris), Pierrot and Colombine Ca. 1886 - 88. Conté crayon on paper, 9 3/4 x 12 3/8 in. (24.8 x 31.2 cm). Kasama Nichido Museum of Art.
---

Museums, Exhibits, Artists, Milestones, Digital Art, Architecture, Photography,
Photographers, Special Photos, Special Reports, Featured Stories, Auctions, Art Fairs,
Anecdotes, Art Quiz, Education, Mythology, 3D Images, Last Week,

.
---
Royalville Communications, Inc
produces: