Felix Gonzalez-Torres, a master of mutability
In an image provided by the gallery, a patron studies study "Untitled" (Public Opinion), 1991, an installation of black rod licorice candies in clear wrappers at "Felix Gonzalez-Torres," a gallery retrospective at David Zwirner in New York in February 2023. This ultra-polished survey of the late artist's works demonstrate how preservation and change can coexist. (David Zwirner via The New York Times)

by Holland Cotter
NEW YORK, NY
.-
My old friend Shepherd Raimi, who had about 30 years on me, used to say over and over, mantralike — I can still hear his voice — "Everything changes. All the time." He wasn't offering an observation. He was delivering a life lesson, to me, to himself, to anyone listening. COVID-19 has recently pounded that lesson home hard, but some of us were learning it long before, back in the 1980s and early 90s, as HIV/AIDS scythed through our LGBTQ community. New York artist Felix Gonzalez-Torres was learning it then too, from intimate experience. In 1991, he watched the man who was the love of his life waste away and die of AIDS. Five years later, Gonzalez-Torres succumbed to complications from the disease. He was 38. His career as an exhibiting artist was barely a decade old. And it was already an astonishment, as is instantly apparent in a lambent survey at David Zwirner, a show that restages ...
More
The Best Photos of the Day
'One gut punch after another': The case of the missing Dallas Zoo animals
Desert X at Christie's
Exhibition features a series of monumental, abstract landscapes by Zeng Fanzhi


The entrance to the Dallas Zoo in Dallas, Texas, Feb. 2, 2023. The Dallas police said on Friday that they had arrested a 24-year-old man in connection with the theft of two emperor tamarin monkeys from the Dallas Zoo. (Emil Lippe/The New York Times)



DALLAS, TX.- The first missing animal at the Dallas Zoo, taken or allowed to escape through a hole cut in the heavy metal mesh of her enclosure, was Nova, a 25-pound clouded leopard. As part of the search, a SWAT team descended on the closed zoo. Police drones flew overhead. Officers looking for the leopard found another, similar cut to an enclosure that held the langur monkeys, though none of the monkeys were gone. Within hours on that day in mid-January, Nova was found inside the zoo, in a back area not far from her enclosure, and was returned to her sister, Luna. Zoo officials breathed a sigh of relief. Detectives began trying to figure out who might have been trying to raid the 135-year-old zoo for its cache of valuable, fragile fauna. But the following week, Pin, an endangered, lappet-faced vulture ... More



Gisela Colon, Parabolic Monolith (Orion), 2022. © Christie's Images Ltd 2023.



LOS ANGELES, CA.- Christie's will present a collaboration with Desert X for a contemporary art exhibition open February 13–March 10, 2023 at Christie's Beverly Hills gallery space on the occasion of Frieze Los Angeles: Desert X at Christie's. The exhibition will comprise a curated group of work by artists who have been and will be featured in previous and forthcoming editions of Desert X, the celebrated, recurring international exhibition that activates desert locations through site-specific installations. Desert X at Christie's will present works by a group of California-based artists including Doug Aitken, Lita Albuquerque, Nancy Baker Cahill, Jennifer Bolande, Will Boone, Gisela Colon, Jim Denevan, Sherin Guirguis, Matt Johnson, Mary Kelly, Sterling Ruby, Gary Simmons, Phillip K. Smith III, Kim Stringfellow, and more. Alex Marshall, Senior Specialist, Post-War and Contemporary Art, Christie's, comments, "Desert X has ... More



Zeng Fanzhi, D Series 2021 no.3, 2021 (detail). Oil on canvas, 250 x 250 cm / 98 3/8 x 98 3/8 in. © 2023 Zeng Fanzhi. Courtesy the artist and Hauser & Wirth.



LOS ANGELES, CA.- Hauser & Wirth is presenting the first Los Angeles solo exhibition of the renowned Chinese artist, Zeng Fanzhi. Featuring a series of monumental, abstract landscapes presented harmoniously within the distinctive soaring space of the South Gallery, this exhibition marks the latest in Hauser & Wirth's ongoing series of Los Angeles presentations conceived to introduce the city to the oeuvres of foremost international contemporary artists, further forging connections across geographical and cultural territories. A pioneer of contemporary Chinese art, Zeng is celebrated globally for his constantly evolving style and subject matter, and the works on view herald his latest artistic breakthroughs that contemplate the intersection of Western art and style with traditional Chinese subject matter and philosophy. Consisting of ten works on canvas executed over the past few years ... More
Andrew Jones' Signature Design for the Home and Garden Auction will be held Feb. 22
Game-used and signed 1926-27 Lou Gehrig bat headed to Heritage Auctions' sale
A super collection from Steelers legend James Harrison highlights Heritage auction


Late 19th century Regency style gilt brass mounted mahogany cellarette attributed to Conrath & Sons (est. $1,000-$1,500).



LOS ANGELES, CA.- Andrew Jones Auctions will offer a strong selection of antiques, design, modern and contemporary art, multiples, fine silver, rare books, clocks, carpets, porcelain and glass – nearly 300 lots in all – in an online-only Signature Design for the Home and Garden auction scheduled for Wednesday, February 22nd, beginning at 10 am Pacific time. Significant private collections and estates will include the estate of Shirley Baskin, a co-founder of Baskin Robbins and KCET television, a philanthropist, and an exhibited artist in her own right, with one-woman shows at the Craft and Folk Art Museum in Los Angeles, The Children's Museum in Indianapolis and the National Museum of Women in the Arts in Washington, D.C. The Baskin estate features modern and contemporary paintings, sculpture and multiples from Yaacov Agam, Thomas Chimes, Helen Frankenthaler ... More



1926-27 Lou Gehrig Game Used & Signed Bat, PSA/DNA GU 10.



DALLAS, TX.- Bats have long been among the most popular items among collectors of game-used sports memorabilia. In the hands of ordinary people, they are ordinary slabs of lumber. But place those same bats in the hands of one of the titans of baseball, an icon who spent his entire career playing for the game's most storied franchise, and it is no wonder a signed 1926-27 Lou Gehrig Game-Used & Signed Bat, PSA/DNA GU 10 is expected to be among the top attractions in Heritage Auctions' Winter Platinum Night Catalog Auction Feb. 25-26. "Game-used bats represent the tools of the trade for baseball players and we are proud to be offering lumber from many of the all-time greats in this Platinum Night Auction," says Chris Ivy, Director of Sports Auctions at Heritage Auctions. "At the top of that list is an incredible Lou Gehrig gamer that dates from the Yankees' historic 1927 season, which Gehrig personally signed for one lucky ... More



2009 James Harrison Super Bowl XLIII "Immaculate Interception" Game Worn Pittsburgh Steelers Jersey with Multiple Photo Matches from The James Harrison Collection.



DALLAS, TX.- James Harrison is many things, among them: one of the hardest hitters in the history of the National Football League. The undrafted linebacker from Kent State who became the NFL's Defensive Player of the Year in 2008. The man who picked off Kurt Warner in Super Bowl XLIII following his DPOY season, then trucked it 100 yards the other way for a touchdown – the so-called "Immaculate Interception." And a social-media star who, years after his retirement, continues to dazzle followers with his surreal feats of strength in the weight room. James Harrison is all those things and many more, which is why one day – though not soon enough – he will be ushered into Canton's hallowed Hall of Fame with the fanfare bestowed upon the Pittsburgh Steelers greats who came before him. But here is one thing James Harrison is decidedly not ... More
Miles McEnery Gallery opens an exhibition of abstract landscape paintings by Wolf Kahn
The National Crafts Museum presents David and Mandeep Housego's personal collections & archives
Pi Artworks Istanbul opens Fabio Lattanzi Antinori's solo show 'Chased by Unicorns'


Imaginary Shoreline on a Lake, 1986 (detail), Oil on canvas, 43 x 66 inches, 109.2 x 167.6 cm.



NEW YORK, NY.- Miles McEnery Gallery is presenting an exhibition of abstract landscape paintings by Wolf Kahn (1927 - 2020), on view 2 February through 11 March 2023 at 525 West 22nd Street. Wolf Kahn was an artist concerned principally with the direct, sensual experience of color, in the tradition of other 'greats,' such as Pierre Bonnard, Paul Gauguin, Henri Matisse, Hans Hofmann, and Mark Rothko. Like Claude Monet, who chose to paint the same subjects again and again—including haystacks, waterlilies, and the Rouen Cathedral—Kahn primarily painted landscapes, but only as a ruse to explore color and light. Throughout his career, Kahn's colors were often searing and jarring—blazing orange trees juxtaposed with hot magenta grass and skies of acidic yellow green. Color was responsive only to emotional expression and the formal needs of the canvas, not the realities of nature ... More



David and Mandeep Housego.



NEW DELHI.- Textile Connoisseurs and Founders of "Shades of India", David and Mandeep Housego present "Bukhara", a first ever exhibition of their private collections & archives of textiles: Suzani, Carpets and Ikats that were unique to Central Asia in the 19th century from 1st to 15th February 2023 at the National Crafts Museum, New Delhi. Bold, natural colours and striking abstract forms characterise the amazing textiles on display at this exhibition, capturing the intense creativity that evolved in the Bukhara region in the 19th Century. Amongst the more than forty pieces from the personal archives collected over the last 30 years by David and Mandeep, are the suzani hangings (unique embroideries generally of silk thread on a cotton base), Beshir rugs woven by Turkmen tribes, and sophisticated ikats worn by the wealthy drawing on the legacy of the Silk Route – influenced by Chinese porcelain, Mughal decoration ... More



Fabio Lattanzi Antinori, Chased by Unicorns, Pi Artworks Istanbul, exhibition view.



ISTANBUL.- After a successful stretch at Pi Artworks London in November 2022, Fabio Lattanzi Antinori's solo show, Chased by Unicorns, is being shown at Pi Artworks Istanbul from February 4th. Accompanied by several new works and performances, Antinori's show looks to value-systems in society, the tension between personal gain and corporate profits and the politics of surveillance. Alluding to unicorns – or start-ups that have become synonymous with disruptive software, hyper-fast growth, and an income stream very often derived from tracking and monetising data - this exhibition grows from the artist's interest in language, the dynamics of power, and the way market values and ideologies permeate and shape social relations. Central to the show is a series of sculptural and printed works comparing Raymond Williams' notion of key words, a tool to understand how 'important ... More
James Fuentes presents an exhibition of works by Jakub Julian Ziolkowski
Indigenous art, fine design, jewelry, more at Clarke Auction Gallery Feb. 19
Smithsonian American Art Museum engages Selldorf Architects to revitalize key galleries and public spaces


Head in the Clouds, 2021.



NEW YORK, NY.- Currently on view at James Fuentes is Jakub Julian Ziolkowski's Dented, Round, Sky, the artist's debut solo exhibition at the gallery. This project surveys the artist's recent works in painting, sculptural relief, and ceramic, which together contemplate various interiorities of the human body and mind. Ziolkowski's process is meditative, traveling deeply inward and in turn locating spiritual profundity within the vessel of the body: moving through its fluids and organs; in the cyclical waves of the heart and the brain; in waking, sleep, and in between. Two of the earliest works in the exhibition—Red Diamond and The Inward Descent (both 2019)—reveal this journey through a mirror-like strategy, delivering an image that feels at once abstract and photographic in what it describes. By encountering these images, they rely upon and reflect the contemplation that occurs in the viewer who approaches the work. In this process of observation ... More



A custom-made Warren Platner wall-mounted shelving unit ($2/3,000), has six adjustable shelves and measures 72¼ inches by 30 by 10½ inches.



LARCHMONT, NY.- Ron Clarke will say he's just a simple Irishman but his well-trained eye for fine art is keen. Running auctions and buying art and antiques for decades, Clarke can immediately spot the one good painting in an attic full of mere stuff. Fresh on the heels of selling an important Reuven Rubin painting last month for $300,000, Clarke has sussed out yet another notable painting by an important artist from a local estate. At Clarke Auction Gallery's next sale on Sunday, February 19, at 10 am, crossing the block will be a pair of large acrylic diptychs by Jaune Quick-To-See Smith (b 1940), a Native American painter raised on the Flathead Reservation in western Montana. She is well known for her intricate abstract paintings and prints from the 1970s on. Her artworks weave together personal narratives and her cultural history with motifs from modern signage and art history ... More



Rendering. Image courtesy Selldorf Architects.



WASHINGTON, DC.- The Smithsonian American Art Museum has engaged Selldorf Architects to revitalize its permanent collection galleries and renew key public spaces, marking the first comprehensive reinstallation of the museum's exhibition and interpretation spaces since 2006 when its National Historic Landmark building was last renovated. The design will set the stage for a new vision of American art at the nation's flagship collection, showcasing newly acquired works, foregrounding new voices, and adding interpretation strategies that will present a more inclusive narrative of American art, including the often-overlooked contributions of Black, Latinx, Asian American, LGBTQ+, Indigenous and women artists. "This reinstallation project will invite essential conversations around inclusion and diversity now central to both public discourse and the daily work of arts organizations," said Stephanie Stebich, the Margaret ... More
Reflecting on Restitution: 25 years of the Washington Principles on Nazi-Confiscated Art

Flashback
On a day like today, Italian painter Giovanni Battista Moroni died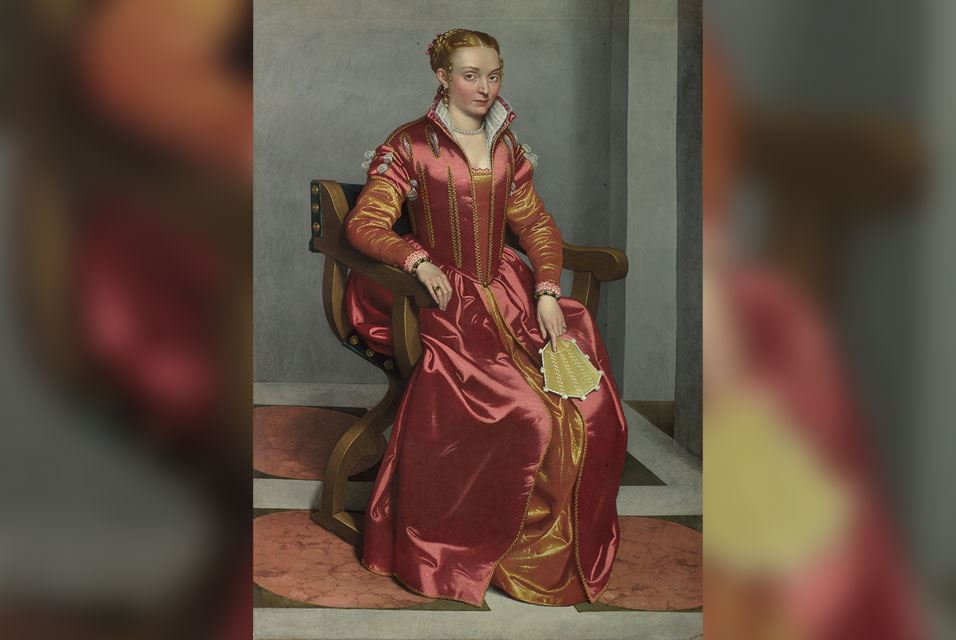 February 05, 1579. Giovanni Battista Moroni (c. 1520/24 - February 5, 1579) was an Italian painter of the Late Renaissance period. He is also called Giambattista Moroni. Best known for his elegantly realistic portraits of the local nobility and clergy, he is considered one of the great portrait painters of sixteenth century Italy. In this image: Giovanni Battista Moroni - Portrait of a Lady, perhaps Contessa Lucia Albani Avogadro ('La Dama in Rosso').
---

Museums, Exhibits, Artists, Milestones, Digital Art, Architecture, Photography,
Photographers, Special Photos, Special Reports, Featured Stories, Auctions, Art Fairs,
Anecdotes, Art Quiz, Education, Mythology, 3D Images, Last Week,

.
---
Royalville Communications, Inc
produces: