The work of John Stobart embarks for East & West-Coast art fairs
John Stobart, Navara on the Clyde. Oil on canvas, 20 x 30 inches. Signed. On view at The Nantucket Summer Antiques Show, August 5th – 9th.
NEW YORK, NY
.-
Rehs Contemporary
is set to present a set of important paintings by maritime master John Stobart in the coming weeks. The works, many of which have been housed in the artist's studio for decades, will be split up and unveiled at art fairs on both the east and west coast – three canvases are set to make an appearance at the Los Angeles Art Show, which runs from July 29th through August 1st. Then an exceptional display of nine paintings will be on view at the Nantucket Summer Antiques Show, which runs from August 5th through the 9th. John Stobart, widely regarded as the preeminent nautical painter of the 20th & 21st centuries, has spent a lifetime studying and recreating ports, harbors, and the open water. Many of his paintings feature notable ships and vessels placed into their historically accurate settings; the process is a painstaking one, but nevertheless filled with passion. When Stobart was just twelve years old, he w ...
More
The Best Photos of the Day
Blum & Poe opens the first major U.S. survey of work by Yukinori Yanagi
Exhibition offers a fresh look at Dürer's brilliance and influence on later artists
The Wallace Collection's 'Dance to the Music of Time' on loan for first time in 121 years


Yukinori Yanagi, Article 9, 1994. Neon, plastic box, print on transparency sheet and acrylic frame. Installed dimensions variable © Yukinori Yanagi, Courtesy of the artist and Blum & Poe, Los Angeles/New York/Tokyo.



LOS ANGELES, CA.- Blum & Poe presenting the first major U.S. survey of work by Onomichi, Japan-based artist Yukinori Yanagi. This is Yanagi's fourth presentation with the gallery, following his solo show at Blum & Poe Tokyo in 2019 and his participation in the group exhibitions Parergon: Japanese Art of the 1980s and 1990s (Los Angeles, 2019) and Mountains Carrying Suns (Tokyo, 2021). Having resided in the U.S. in the late 1980s and 1990s, obtaining his MFA in sculpture from Yale University School of Art in 1990, Yanagi was first recognized on the world stage at the 45th Venice Biennale in 1993 with World Flag Ant Farm (1990). As a monumental process-based installation, this work featured 180 national flags—recognized by the United Nations, including colonized countries—each made out of acrylic ... More



Albrecht Dürer, Knight, Death and the Devil, 1513. Engraving on paper. Clark Art Institute. 1977.18.



WILLIAMSTOWN, MASS.- Drawing from its extensive holdings of works by—and inspired by—Albrecht Dürer, the Clark presents Dürer & After, on view July 17 through October 3, 2021. Original prints appear alongside faithful imitations and freer interpretations by artists including Israhel van Meckenem the Younger, Marcantonio Raimondi, Hieronymus Hopfer, and Jan Wierix, offering a unique opportunity to assess Dürer's centuries-long artistic legacy. "Albrecht Dürer's mastery is unquestioned. While it's a delight to study his exceptional prints, the opportunity to look at these works through a different lens—that of his influence on other artists—helps us to appreciate Dürer anew," said Olivier Meslay, Hardymon Director of the Clark. "It has been more than ten years since we last showed Dürer's prints in our galleries, and we look forward to sharing a wide selection of them with our visitors. He will always ... More



Nicolas Poussin, A Dance to the Music of Time, about 1634–6 (detail). Oil on canvas, 82.5 x 104 cm. By kind permission of the Trustees of the Wallace Collection, London (P108) © The Trustees of the Wallace Collection.



LONDON.- The National Gallery's new exhibition Poussin and the Dance, co-organised with the J. Paul Getty Museum in Los Angeles, will include wild, raucous and surprisingly joyous scenes, showing whirling, cavorting figures. It will cast the French Classical artist in a completely new light, showing how he grappled with the challenges of arresting movement and capturing the expressive potential of the body. For the first time in its 121-year history, the Wallace Collection will lend Nicolas Poussin's painting Dance to the Music of Time (about 1634–6). His most celebrated dance picture will be included in Poussin and the Dance, the National Gallery's landmark exhibition of works by Nicolas Poussin (1594–1665) – the first ever to focus ... More
Hauser & Wirth's new location on Isla del Rey opens with exhibition by Mark Bradford
Museum Brandhorst opens Alexandra Bircken's largest solo show to date
Exhibit celebrates the woman whose camerawork captured celebrities, surrealists and the zeitgeist of her era


Installation view, 'Mark Bradford. Masses and Movements' at Hauser & Wirth Menorca, until 31 October 2021 © Mark Bradford. Courtesy the artist and Hauser & Wirth. Photo: Stefan Altenburger.



MAHON.- Mark Bradford's exhibition, 'Masses and Movements', inaugurates the gallery's newest location on Isla del Rey in the port of Mahon in Menorca. For his first exhibition in Spain the artist presents an installation of globe sculptures, two site-specific wall paintings, and a suite of new canvases based on a sixteenth-century map of the world thought to feature the first use of the name 'America' in print. 'Masses and Movements' extends across seven gallery spaces. Integral to the exhibition is a new social engagement project that Bradford is collaborating on to bring arts education to immigrant communities and a display that highlights the global immigration crisis. Continuing his career-long exploration of the systems that oppress marginalised populations, Bradford's newest exhibition features work rich in both formal and allegorical complexity, reasserting the importance of abstraction to understand the world we live in and confirming his pl ... More



Alexandra Bircken at Museum Brandhorst © Photo: Haydar Koyupinar, Bayerische Staatsgemäldesammlungen, Museum Brandhorst, Munich.



MUNICH.- Alexandra Bircken is a sculptor best known for her objects and installations that incorporate an unusual range of materials: from everyday objects such as hair-dye packaging, rocking horses and sawn-up motorcycles, through textiles in handmade and machine-processed form to organic matter such as wood, leather, bones, or even a placenta. Anything that surrounds us can become a sculptural medium. Her approach is characterized by an examination of the human body, its needs, desires, and relationship to its environment. Bircken has played a significant role in shaping central themes of sculpture since the 2000s. Updating concepts and approaches first explored in Arte Povera and textile art, Birken expands them to include questions of technology, albeit with an analog approach. Highly topical questions such as the need for protection of the individual, gender identity and its ambivalence, and the relationship ... More



Self portrait (variant on Lee Miller par Lee Miller), Paris, France c1930 by Lee Miller
© Lee Miller Archives England 2020. All Rights Reserved. www.leemiller.co.uk



ST. PETERSBURG, FLA.- "I'd rather take a photograph than be one," Lee Miller famously declared. Although her first work was as a model, Miller (1907-1977) – the trusted confidante of many influential artists and an eyewitness to some of the most extraordinary moments of the 20th century – made lasting contributions as a photographer. Sweeping in scope and intimate in focus, The Woman Who Broke Boundaries: Photographer Lee Millersurveys her fascinating personal life and remarkably incisive portraiture and photojournalism. The exhibition is organized by The Dalí Museum features more than 130 images from Miller's prolific body of work. The exhibition is on view exclusively at The Dalí Museum July 3, 2021, through Jan. 2, 2022. The exhibition concentrates on Miller's portraits of important writers and artists, the majority associated with the Surrealist movement in Paris, and with whom she had sustained personal ... More
Exhibition showcases an international selection of 18 emerging artists
AFIKARIS Gallery unveils joint exhibition of artists John Madu and Ousmane Niang
'The Sylvio Perlstein Collection: From Dada to Now' opens at the Tel Aviv Museum of Art


Jamilla Okubo, 'I do not come to you as a reality. I come to you as The Myth (Pentecost),' 2021. Mixed media, acrylic on canvas, 183 cm x 244 cm. Courtesy of the artist and Mehari Sequar Gallery.



LONDON.- ADA \ contemporary art gallery and HOFA Gallery have joined forces to premiere an all-female group exhibition, Mother of Mankind, showcasing an international selection of 18 emerging artists. On view from July 22 – August 31 at HOFA's London space, the exhibition is the first of its kind to be presented by both galleries. Curated by Adora Mba, founder and director of ADA \ contemporary art gallery, Mother of Mankind sheds light on a new generation of rising artists whose work challenges and deconstructs art historical canons of representation – recurring motives which often marginalize and obliterate Black figures, and in particular, the Black female figure. Each artist investigates, in her own unique way, current perceptions of identity, gender, sexuality, family and society, all-the-while bringing forth her personal ... More



John Madu, Charles's Party, 2021. Acrylic on canvas, 152 x 121cm. Courtesy AFIKARIS.



PARIS.- Following on its very first solo exhibition, the first in France of emerging Cameroonian artist Jean David Nkot (Human@Condition, May 29—July 7, 2021), AFIKARIS Gallery, dedicated to promoting emerging and established artists from Africa and its diaspora, presents Figures of Power, a joint exhibition of rising Nigerian artist John Madu (b. 1983, Lagos, Nigeria) and Senegalese artist Ousmane Niang (b. 1989, Tamba, Senegal). On view from July 10—August 14, 2021, this new exhibition, the first in France for both artists, brings together over 20 all-new works, addressing notions of power and domination as they unfold through gender and political dynamics. Boldly exposing and bridging each artist's distinct approach to these topics, AFIKARIS once again demonstrates its commitment to propelling the voices of its artists. Using their art as a weapon, both artists look back and reappropriate histories ... More



Duane Hanson, Young Shopper, 1973. The Sylvio Perlstein Collection.



TEL AVIV.- The Tel Aviv Museum of Art presents artworks from the collection of Sylvio Perlstein, considered one of the best collections of modern and contemporary art in the world. This is the first time the works are being shown in Israel. Perlstein's encyclopedic, multifarious collection follows the avant-garde and experimental art movements of the 20th century. It includes an impressive amount of canonic works in various styles: Dada and surrealism, abstract and conceptual art, minimalism, pop art, arte povera and contemporary art. In addition, it includes a body of photographic works rare in its quality and scope, which forms something of a collection within the collection. Many of the artworks in the collection have become iconic representations of 20th century art. Sylvio Perlstein was born in Belgium and raised in Rio de Janeiro, Brazil, to where his family fled with the rise of Nazism. In the wake of the war the family returned ... More
Art fair Foto Tallinn 2021 announces participants
Anthea Behm's first solo exhibition with 14a opens in Hamburg
A hit parade of offerings from the Estate of Phyllis McGuire tops the pops at Heritage Auctions


Olga de la Iglesia, Fatou in Paper Works, 2020. Photo: Courtesy Galerie Number 8.



TALLINN.- Art fair Foto Tallinn 2021, taking place from September 2nd to 5th at Kai Art Center, will present the latest works by 37 Estonian and international artists. Foto Tallinn is dedicated to introducing a wide range of the newest contemporary photography. As one of the main events of the 6th Tallinn Photomonth Biennial, the fair offers exhibiting artists, galleries and project spaces an opportunity to introduce their works to a diverse audience and grow their network of professional contacts. Foto Tallinn 2021 will present artists, galleries and project spaces based in Belgium, Côte D'Ivoire, Estonia, Finland, France, Germany, Great Britain, Latvia, Lithuania, Norway, Spain, The Netherlands and South Africa. The artists presented at Foto Tallinn 2021 are: Alexei Gordin (RU/EE | Kogo Gallery), Anaïs Lopez (NL), Bettina Pittalgua (UY/FR | GALERIE NUMBER 8), Celine S Diaz (PT/FI), Cloe Jancis (EE), Dénes Farkas (HU/EE ... More



Anthea Behm, Studio Wall 2, 2021. Black & white silver gelatin photogram and photograph, 69,5 × 42 in. 176,5 × 106,7 cm. Unique edition of 3 + 1 AP.



HAMBURG.- Anthea Behm's new work utilizes the page, the table, the wall, the gallery, and the chemical photographic print as grounds to explore intersections between her experience as a contemporary artist and the charged dynamics that inflect the canonical photographs that Edward Weston took of Charis Wilson in the 1930's. Through appropriating some of the pictures Weston made of Charis (his lover, wife, and muse) as well as Wilson's autobiography, bits of correspondence, and other contextual borrows, Behm mines the layers of the relations that brought these historical pictures into being. In doing so, she is using the contemporary lens to draw attention to considerations of power, abuse and harassment often papered over in the standard histories of photography. Behm has decided on the analogue darkroom's narrow parameter to make this work. ... More



A Diamond, Ruby, and Platinum-Topped Gold Bracelet. Estimate: $12,000-18,000.



DALLAS, TX.- Las Vegas in the 1950s and 1960s meant a lot of things. It saw the evolution of casinos splashed in glitter and lights, populated by high-rollers flashing money, and a lineup of musicians and actors that made the city on of the hubs the entertainment world. Among the "Who's Who" in the City of Lights were the McGuire Sisters, a trio of singing siblings from Ohio who paired Vegas performances with a recording career that lasted for the better part of two decades, with a glamorous stage act featuring the McGuire Sisters' buttery-smooth harmonies in hits like Goodnight, Sweetheart, Goodnight and Sugartime. The act was so popular that the sisters – Ruby, Dottie and Phyllis – claimed a place among the Vegas elite, mingling at top Vegas social events and socializing with other celebrities, including the notorious Rat Pack that included the likes of Frank Sinatra, Sammy Davis, Jr., and Dean Martin. They ... More
Bound for Versailles: The Jayne Wrightsman Bookbindings Collection

Flashback
On a day like today, American photographer was born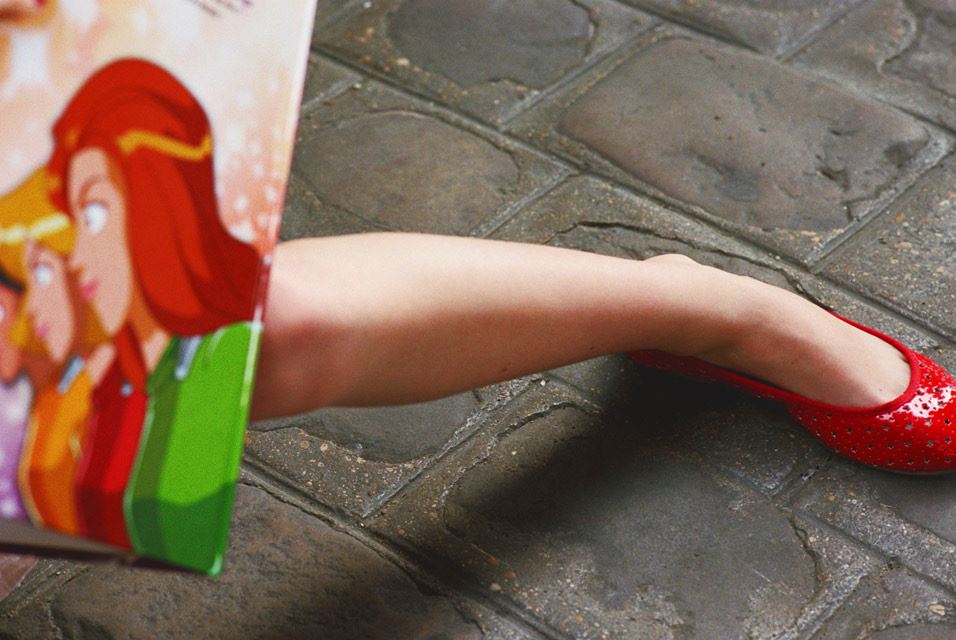 July 27, 1939. William Eggleston (born July 27, 1939) is an American photographer. He is widely credited with increasing recognition for color photography as a legitimate artistic medium to display in art galleries. Eggleston's mature work is characterized by its ordinary subject-matter. In this image: William Eggleston. Untitled (Leg with Red Shoe, Paris), 2007. Pigment print, 22 x 28 in. Edition of 7. © Eggleston Artistic Trust. Courtesy Cheim & Read, New York.
---

Museums, Exhibits, Artists, Milestones, Digital Art, Architecture, Photography,
Photographers, Special Photos, Special Reports, Featured Stories, Auctions, Art Fairs,
Anecdotes, Art Quiz, Education, Mythology, 3D Images, Last Week,

.
---
Royalville Communications, Inc
produces: