At the Manifesta Biennial, a French city's tough realities go on show
"Untitled 1, 2, 3" (2019), by Anna Boghiguian, installed in La Vieille Charité, a former almshouse in Marseille, France, Sept. 18, 2020. Manifesta, the roving international biennial, is carrying on despite the pandemic — this edition, in Marseille, could be a model for biennials in a changed world. Gabrielle Voinot/The New York Times.

by Farah Nayeri
MARSEILLE
(NYT NEWS SERVICE)
.-
On the morning of Nov. 5, 2018, two residential buildings collapsed on the Rue d'Aubagne here, killing eight people and leaving a large gash in the city's heart. Hundreds of others living in run-down Marseille homes at risk of crumbling were evacuated. Nearly two years later, the pain remains acute: The site where the two buildings stood remains a giant cavity, surrounded by barbed wire, and a nearby billboard commemorates the eight victims. That building collapse is one focus of an exhibition at Manifesta, the roving international biennial, which has gone ahead with its Marseille edition this year, even as the pandemic has forced the cancellation of other major art world events. The no-frills documentary presentation about Marseille's housing crisis, curated by Samia Henni, features photocopied photographs and sheets of text hanging from clothes pins. Speakers play recorded testimonies from campaigners, social workers, a bus driver and a policeman, ...
More
The Best Photos of the Day
Lempicka, Dalí and Nolde to highlight Christie's October Evening Sale
Sensational collection of antique shooting gallery targets to be auctioned by Soulis Auctions
The Courtauld acquires rare Gauguin manuscript entitled 'Avant et après'


Salvador Dalí, Bouche mystérieuse apparaissant sur le dos de ma nurse, gouache on magazine cover, 1941. Estimate: $1.2 – 1.8 million. © Christie's Images Ltd 2020.



NEW YORK, NY.- Highlighting the October 6 Evening Sale of 20th Century Art is a dynamic grouping of three works by Tamara Lempicka, Salvador Dalí and Emil Nolde from an Property from a Distinguished Private Collection. All three works will be appearing at auction for the first time in over 25 years. Jessie Fertig, Head of Evening Sale, Impressionist and Modern Art, remarked: "These three works by Lempicka, Nolde and Dalí stand among the best of their kind within each of these diverse artists' oeuvres. Sensual and alluring, Lempicka's Les deux amies is a defining example of her the artist's iconic subject matter, the female nude, and encapsulates the elegance and drama of her coolly refined, classicizing and alluring style. With its rich palette and intense energy, Nolde's Herbstmeer XVI, is one of the greatest works of its kind to come to market. ... More



1911 pat'd J.T. Dickman (Los Angeles) cast-iron Clown shooting gallery target. One of five known and the only one in old paint combination of aqua, red and white. Custom iron stand conveys with target. Pictured on cover of both the sellers' 2014 reference 'Step Right Up! Classic American Target and Arcade Forms' and Dickman's 1921 Catalog E, identified as 'The Great Clown Target with the Bright Eye.' 20.25 x 15in. Estimate $25,000-$35,000.



LONE JACK, MO.- Ping! Bam! Clang! Those are the ear-piercing sounds that used to excite thrill seekers at target-shooting galleries of the late 19th- and early 20th centuries. Commonly seen at early midways, carnivals, saloons and other public places where people sought amusement, shooting galleries invited all comers – young and old – to step up, take aim and hopefully hit the target and win a prize. Each target was a sturdy, painted cast-iron form, usually replicating an animal or human figure. While originally intended as visual enticements that, over time, would become scrap metal, shooting gallery ... More



The manuscript of 'Avant et après' by Paul Gauguin © The Courtauld.



LONDON.- The Courtauld has acquired one of the most significant artist manuscripts ever to enter a UK public collection - a unique and richly illustrated text by the highly influential French Post-Impressionist artist Paul Gauguin. Part-memoir and part-manifesto, the 213-page manuscript, titled Avant et après (Before and after) reveals important insights into Gauguin's life, relationships and thoughts, and includes numerous drawings and prints by the artist. Offered to The Courtauld as part of the Government's Acceptance in Lieu scheme administered by the Arts Council, Avant et après is the last major manuscript by Gauguin in the world outside a public collection, and now the only example in the UK. It was written in 1903, the year of the artist's death, at his home on the Marquesas island of Hiva Ova, French Polynesia. It has never been exhibited publicly and remains unstudied by scholars in its original form. Avant et après ... More
Sotheby's and Planned Parenthood of Greater New York present 'Choice Works': Online Benefit Auction
Georgia O'Keeffe Museum and Harvard Art Museums announce joint acquisition of artist's pigments
Xavier Hufkens announces representation of Huma Bhabha


Dana Schutz, Boat Group 1. Monotype with gouache on paper. Executed in 2019. Estimate $60/80,000. Courtesy Sotheby's.



NEW YORK, NY.- Sotheby's and Planned Parenthood of Greater New York (PPGNY) are pleased to present Choice Works 2020 – an online auction of 28 artworks donated by leading contemporary artists, with proceeds to benefit PPGNY. Furthering the online sale's charitable mission, five additional works will offered in our live Contemporary Curated auction on 2 October in New York. Following the Choice Works live auction in 2015 at Sotheby's, Choice Works 2020 aims to raise critical funds needed for PPGNY to provide for patients in this unprecedented time of need. PPGNY is one of the largest Planned Parenthood affiliates, serving 200,000 patients per year in over 25 health centers across New York State. Open for bidding from 21 September through 5 October, the online sale features works by artists such as: Marina Adams, Rita Ackermann, Matthew Barney, Mel Bochner, Katherine Bradford, ... More



Alison Cariens, conservation coordinator at the Straus Center for Conservation and Technical Studies, Harvard Art Museums. Photo: Caitlin Cunningham; © President and Fellows of Harvard College.



CAMBRIDGE, MASS.- The Harvard Art Museums today launched A History of Color: An Audio Tour of the Forbes Pigment Collection, a digital resource that showcases the stories and science behind some of history's most fascinating colors, all contained within one of the world's largest collections of historical pigments. The tool takes viewers on a guided tour of 27 pigments, dyes, and raw materials—from ochres and charcoal, the oldest pigments known to have been used by humans, to YInMn blue, which was discovered by accident at Oregon State University in 2009. The lively stories of these colors are shared through short audio recordings by two Harvard Art Museums staff members who work closely with the Forbes Pigment Collection: Narayan Khandekar, senior conservation scientist and director of the Straus Center for Conservation and Technical Studies, and ... More



The artist's work has been exhibited extensively.



BRUSSELS.- Huma Bhabha is primarily known for her figurative and often monumental sculptures in striking combinations of materials. Using salvaged objects such as fragments of furniture and industrial polystyrene boxes, and a wide range of media including clay, wood, cork, paper, plastic, rubber and metal, Bhabha creates sculptures that hover between the recognisably human and the otherworldly. Important to her practice, Bhabha also makes drawings on photographs and on paper, working with collage. Employing a distinctly personal visual language, she explores the human figure—an enduring presence in the art of all cultures and periods. Rich textural and tonal contrasts, particularly the juxtaposition of vivid, jewel-like colours with dark and muted hues, or the combination of organic and industrial materials, further intensify the supernatural qualities of her oeuvre. Bhabha will carve, scratch or paint the surfaces of her work, often adding expressive lines that not only convey physical attr ... More
Paula Cooper Gallery opens an exhibition of work by Lynda Benglis, Eric N. Mack, and Kelley Walker
Christie's to offer Dolly Parton's Swarovski crystal-studded dulcimer
In Berlin, the art world spreads out to stay safe


Lynda Benglis, Sparkle Flag Fern, 2016. Handmade paper over chicken wire, cast sparkles, 78 x 19 x 23 in. (198.1 x 48.3 x 58.4 cm).



NEW YORK, NY.- A three-person exhibition of work by Lynda Benglis, Eric N. Mack, and Kelley Walker examines the artists' shared interest in vernacular and the liminal space between media. Their distinct bodies of work are linked by a perceptive and hand-crafted approach to adornment—transforming quotidian or mass-produced materials through layering, draping and collage. The resulting objects impart looseness and raw mutability, seeming to capture a momentary articulation in the life of the form. Working against precious materials and formal classifications of art, Lynda Benglis, Eric N. Mack, and Kelley Walker engage their surrounding environment to generate intimate experiences of perception. Produced between 2013 and 2018, Lynda Benglis's wall sculptures are made from handmade paper that the artist carefully wraps around an armature of chicken wire. Their white or sand-toned surfaces are then brushed with isolated gestures of acrylic medium, paint, ground coal, glitter, and gold leaf ... More



The gold painted, crystal-studded dulcimer offered for auction was used during Dolly Parton's 50th Anniversary concert at the Grand Ole Opry. © Christie's Images Ltd 2020.



NEW YORK, NY.- Christie's announces an exciting online-only charity auction entitled "Nashville: An Auction to benefit ACM Lifting Lives® COVID-19 Response Fund" led by a Swarovski-crystal bedazzled four-string dulcimer owned by Dolly Parton for 30 years accompanied by its original stand and used by the artist as she celebrated her 50th Anniversary performing at the Grand Ole Opry in 2019. The dulcimer is estimated at $50,000 ‑ 100,000, and leads a sale featuring items generously donated by country music's biggest names, including Reba McEntire, Tim McGraw, Marty Stuart, Bernie Taupin, and Trisha Yearwood. Dolly Parton comments: "Seeing my country music community suffer due to the pandemic has broken my heart. It was important to donate the dulcimer that was designed for my 50th Opry Anniversary so we can raise awareness and much needed funds to keep these folks on their feet before we can open the doors to our stag ... More



The König Galerie at the Messe in St. Agnes, where 200 works by established and emerging artists were displayed in a converted Brutalist church in the Kreuzberg district as part of Art Week Berlin, Sept. 12, 2020. Gordon Welters/The New York Times.

by Scott Reyburn



BERLIN (NYT NEWS SERVICE).- It has been a long time coming, but after six months of coronavirus-enforced inactivity, the international art world was re-energized by a hectic week here of live exhibitions and events. With all the summer's most important live art fairs, exhibitions and auctions canceled, Berlin Art Week, which ended Sunday, became the art world's first significant international event since March. Anchored by Gallery Weekend Berlin, a collaborative promotion of dealer-organized exhibitions that was postponed from its usual slot in April, the event also included the Positions Berlin fair, a platform for less-prominent dealerships, primarily from Germany, and numerous satellite shows at which the art was also on sale. These coincided with the openings of longer-term, noncommercial exhibitions like "Studio Berlin, ... More
TEFAF introduces a new digital platform: TEFAF Online
Sotheby's drops first ever sale of ultra-rare artist-designed Nike Sneakers
Magazzino appoints 2020-21 Scholar-in-Residence and launches open call for 2021-22 applications


The 33rd annual edition of Europe's most prestigious fair for traditional art and antiques went ahead, despite the cancellation or postponement of other high-profile events, such Art Basel Hong Kong and Art Dubai.



AMSTERDAM.- The European Fine Art Foundation, whose fairs champion museum-quality art from across the ages, announced the launch of its new digital platform, TEFAF Online. Accelerated in response to the ongoing COVID-19 crisis, this digital marketplace will host its inaugural fair November 1-4, 2020, with two preview days on October 30 and 31, 2020. TEFAF Online will serve the art community in place of this year's annual TEFAF New York Fair by gathering the majority of the TEFAF global community -- 283 exhibitors will be directly accessible to buyers in real-time -- to present 7,000 years of art history. This iteration of the fair will continue TEFAF's tradition of presenting only the finest quality by inviting each exhibitor to showcase only one work of art which represents their expertise. This singular "masterpiece" format, offering a new dimension in the digital fair space, will ... More



The 'NYC Pigeon' Nike Dunk Low Pro SB (est. $25,000-30,000), referred to as "the sneaker which started it all" declaring the birth of sneaker culture, designed by Jeff Ng, 'Jeff Staple' of Staple Design. Courtesy Sotheby's.



NEW YORK, NY.- Moments ago, a sale of eight ultra-rare and pristine artist-created sneakers dropped on Sothebys.com in a sale titled 'Cult Canvas.' All made exclusively by Nike, the items celebrate the cross section between art and fashion, illustration and design, and sport and culture. Open for bidding for one week-only, the auction comprises one-off limited-edition pairs and production samples, all of which were made in collaboration, or incorporate an artist's work: from French Expressionist Bernard Buffet to New York street artist Futura 2000 and Michael Lau, the pioneer of designer toy figures, whose 2006 'Gardener Wood' Nike Dunk Low Pro SB was inspired by his very own skateboarding comic strip, titled Gardener. The sale is attributed to Ryan Chang, Founder and Chief Curator of Applied Arts ... More



Kittler's research focuses on artistic practices from 1945 to the present day, with a special interest in Italian postwar art and the work of artists Marisa Merz and Carla Accardi.



COLD SPRING, NY.- Magazzino Italian Art announced today its appointment of Dr. Teresa Kittler as its 2020-21 Scholar-in-Residence. As the third scholar in Magazzino's history to be appointed to this position, Kittler will advance the museum's commitment to supporting new scholarship of Italian postwar and contemporary art. "We are thrilled to welcome Teresa to the museum's team this fall," said Director Vittorio Calabrese. "This appointment reflects Magazzino's continually expanding research initiatives, dedicated to exploring the nuances of Italian postwar and contemporary art and to further elaborating on how this movement resonates with our current moment." Kittler's research focuses on artistic practices from 1945 to the present day, with a special interest in Italian postwar art and the work of artists Marisa Merz and Carla Accardi. For the first part of her residency and due ... More
Exceptional Timepieces for Watch Aficionados

Flashback
On a day like today, American sculptor Louise Nevelson was born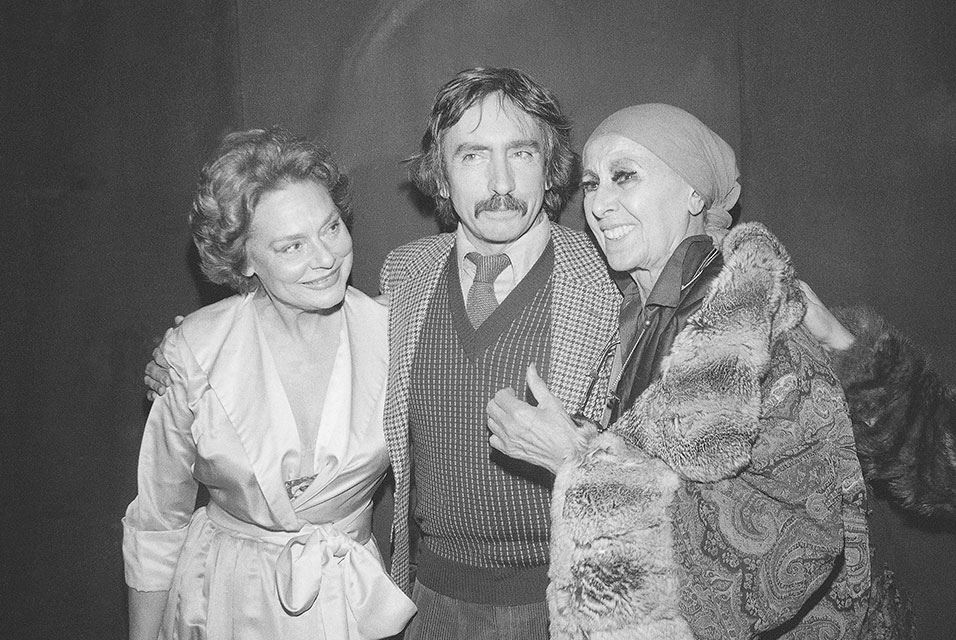 September 23, 1899. Louise Nevelson (September 23, 1899 - April 17, 1988) was an American sculptor known for her monumental, monochromatic, wooden wall pieces and outdoor sculptures. Born in Czarist Russia, she emigrated with her family to the United States in the early 20th century when she was three years old. Nevelson learned English at school, as she spoke Yiddish at home. In this image: Playwright Edward Albee, center, joins his star, Iree Worth, left, backstage at the Morosco Theater in New York City Thursday, Jan 31, 1980 . After the opening performance of his "The Lady From Dubuque." The two were greeting well -wishers, who included Louise Nevelson, at right.
---

Museums, Exhibits, Artists, Milestones, Digital Art, Architecture, Photography,
Photographers, Special Photos, Special Reports, Featured Stories, Auctions, Art Fairs,
Anecdotes, Art Quiz, Education, Mythology, 3D Images, Last Week,

.
---
Royalville Communications, Inc
produces: