Smoke and Mirrors: Magical Thinking in Contemporary Art
Film still from Imponderable, by Tony Oursler. 5-D feature length film, 90 minutes (2015).
BOCA RATON, FLA
.-
As South Florida's museums present their highly anticipated offerings for Art Basel Season, the
Boca Raton Museum of Art
is especially poised to lead the pack with the world premiere of Smoke and Mirrors: Magical Thinking in Contemporary Art, and the sleek new high-speed rail station just blocks from the Museum's front door, luring visitors with a quick escape off the beaten path from the art fairs. The new group show is curated by Kathleen Goncharov, the Museum's Senior Curator, and features 30 contemporary artists. This is the only exhibition in South Florida (and in the entire Southeast U.S.) to win the prestigious
Teiger Foundation 2023 Grant Award for Curator-Led Projects
(among only 13 museum shows selected nationwide in the Single Exhibition categ ...
More
The Best Photos of the Day
National Gallery of Art acquires work by Belkis Ayón
Design unveiled for revitalised Powerhouse Ultimo
Albatros by Alberto Giacometti sold for almost €4 million at Drouot


Belkis Ayón, Sin titulo [Mujer en posición fetal] (Untitled, Woman in fetal position), 1996. Collograph on four sheets of wove paper, image and sheet: 77 x 53 1/2 in. National Gallery of Art, Washington Patrons' Permanent Fund and Gift of Funds from Philip D. Berlin, Carmen Corrales, Ernesto Poma, Elizabeth Dascal, and Charles Boyd 2023.47.1



WASHINGTON, DC.- One of the leading Cuban artists of the 20th century, Belkis Ayón (1967–1999) is celebrated for her mastery of the collagraphic relief printing process, in which a variety of materials are applied to a printing plate to produce a single image. Ayón was dedicated to the exploration and depiction of the mysterious iconography of Abakuá, a secret Afro-Cuban brotherhood brought to Cuba in the 19th century by enslaved men from Nigeria that still exists today. The National Gallery of Art has acquired Sin título [Mujer en posición fetal] (Untitled, [Woman in fetal position]) (1996), in which the artist explored the Abakuá foundational ... More



Harris Street View.




SYDNEY, AU.- Powerhouse Ultimo will undergo a revitalisation that will reorientate the museum to connect with the CBD, provide a new outdoor public square, more indoor exhibition space and show off the heritage facades of the original power station built in 1899. The NSW Government today released concept designs for the $250 million project that is going to elevate the much-loved museum with world-class exhibition space focused on the applied arts and sciences. The concept design ensures Powerhouse Ultimo will continue to be an exemplar of adaptive heritage reuse and will deliver new exhibition and public spaces for the community to enjoy. The main entrance to Powerhouse Ultimo will face the Goods Line, the walkway connecting Central Station and Haymarket, under the heritage renewal that will revitalise the 1988 Wran Building on Harris Street. ... More



The collection of Jean and Violet Henson Collection. Coutau-Bégarie, Hôtel Drouot



PARIS.- Hôtel Drouot, November 30, 2023: With a total of €7.3 million, the sale of the Henson collection from their Mediterranean residence attracted bidders from all over the world, spread across the USA, Europe and Asia. The core of the collection was and historic group of works by Alberto Giacometti, probably given to the couple by Jean-Michel Frank in the early 1930s. Four plasters, made fot Jean-Michel Frank between 1930 and 1939, fetched a combined total of €6.7 million, well above their estimate. The highest price goes to l'Oiseau, known as Albatros, a model created around 1937. Estimated between €250,000 and €350,000, this sculpture fetched €3,965,000, after competitive bidding between four telephones. This is the second-highest price ever for an Oiseau by Alberto Giacometti. The second-highest price of the sale goes to the Lotus vase, designed around ... More
NGV Triennial 2023: RIFIFI: Jean Jullien for Kids
First museum exhibition for rising artist Sasha Gordon opens to coincide with Miami Art Week
Museum of Contemporary Art, North Miami celebrates Miami Art Week 2023


RIFIFI: Jean Jullien for Kids on display as part of NGV Triennial from 3 December 2023 – 7 April 2024 at NGV International, Photo: Sean Fennessy; Portrait of Jean Jullien inside.



MELBOURNE.- RIFIFI: Jean Jullien for Kids transforms NGV's dedicated kids' gallery into a bold and graphic underwater world designed by prodigious French visual artist Jean Jullien. Presented as part of NGV Triennial 2023, RIFIFI: Jean Jullien for Kids is an NGV-exclusive presentation and is the first time Jullien has exhibited in Australia. Jullien is renowned for his irreverent observations of everyday life, which he captures in an idiosyncratic illustrative style characterised by black brushstrokes and bold block colour. His singular aesthetic has garnered him a cult-like following, including more than 1.2 million dedicated followers on Instagram. His practice traverses painting, illustration, photography, video, costume, installations, books, posters and clothing. In 2016, Jullien launched Nounou with Jae Huh, a Korea-based label producing a wide range of items including clothing, ... More



Sasha Gordon, Concert Mistress, 2021. Oil on canvas 72 x 48 x 2 1/4 in. Collection of ICA Miami. Courtesy the artist and Matthew Brown Gallery.



MIAMI, FL.- The first solo museum presentation for rising artist Sasha Gordon opened at the Institute of Contemporary Art, Miami (ICA Miami) this December, debuting a suite of new paintings and recent work. The exhibition demonstrates the ongoing evolution of Gordon's signature, surrealistic practice, which explores the complexities of bodily experience in hyperrealistic detail. Coinciding with Miami Art Week, and curated by Alex Gartenfeld, ICA Miami's Irma & Norman Braman Artistic Director, Sasha Gordon is on view at ICA Miami since December 4, 2023, to April 28, 2024. Often depicting herself, Gordon is keenly aware of the art historical themes of portraiture and self-portraiture, and of the politics of representation. She approaches these categories with inventiveness and humor and a unique ability to make fantasy real. Gordon's images survey a wide range of emotional possibilities while exploring ... More



Installation view. Transparency of God gallery through El Rostro de Dios, 1987-1988. By Juan Francisco Elso. Courtesy of El Museo Del Barrio. (detail)



MIAMI, FL.- In celebration of Miami Art Week, the Museum of Contemporary Art, North Miami (MOCA) is hosting a series of public programming opportunities introducing three artist presentations—Jamea Richmond-Edwards: Ancient Future, Juan Francisco Elso: Por América, and Chris Friday: Narcissist—to both global and local audiences. During the evening of December 5, MOCA invites the public to an Art Week opening reception of Ancient Future and Por América. The festivities include presentations by Miami'z Finest Majorettes along with the Antoine Roney Trio, and BERRAKKA. Refreshments will be provided throughout the evening by partners Rhum Barbancourt, Justin Wines, Tripping Animals Brewery, and Semaj's One Way Catering. Ancient Future premieres as Richmond-Edwards' largest solo exhibition to date. Spanning large-scale assemblages and immersive new installations, ... More
Photographer John Pinderhughes is having work shown by June Kelly Gallery
Noonans to sell the Colkirk hoard of Roman silver coins
TarraWarra Museum of Art unveils major survey exhibition of leading contemporary artist Brent Harris


John Pinderhughes, Untitled/Breadfruit On Beach, ca.1980. Archival Ink Jet print. Image: 19 x 12.75 inches. Edition: 3/10.



NEW YORK, NY.- An exhibition of captivating photographs by John Pinderhughes reflecting on his enduring quest to delve into subjects revealing both impressiveness and mysteries opened at the June Kelly Gallery, 166 Mercer Street, on November 30. The works will remain on view through January 16, 2024. Pinderhughes, about whom professors C. Daniel Dawson and Robert G. O'Meally of Columbia University described in an exhibition invitation, as a fine art photographer who seeks to capture "beauty we almost saw in life but somehow missed." Further, Pinderhughes' photographs reflect carefully structured and highly disciplined preparation following painstaking, arduous rituals that enable him to move "beyond the limits of mere technique into the realm of spirituality, where … he uncovers the uncommon beauty of things usually taken for granted or not seen at all." Pinderhughes has said, I tend to be a little seriou ... More



"The hoard had in fact spread out over a third of an acre through disturbance by ploughing and has been recorded under the treasure act and returned to the finder after being disclaimed."



LONDON.- It was in January 2020 that a metal detectorist searching a field near Fakenham in Norfolk found a silver coin. Looking closely, he recognised it as a siliqua from the late Roman period. He then spent the rest of the day searching in the vicinity and found 40 coins in total. Returning the next day another 40 were recovered. With the Covid lockdowns it took two years before the total reached 432 silver coins, with each coin plotted using a GPS unit. The first 73 will be offered at Noonans Mayfair in a sale of Ancient Coins and Antiquities on Tuesday, December 5, 2023. This tranche is estimated to fetch £10,000-12,500. Nigel Mills, Coin & Artefact Specialist at Noonans, expands the story: "The hoard had in fact spread out over a third of an acre through disturbance by ploughing and has been recorded under the treasure act and returned to the finder after ... More



Brent Harris, Listener, 2018. oil on linen, 152.0 x 110.0 cm. Collection of Patricia Mason and Paul Walker, Melbourne © Brent Harris.



HEALESVILLE.- TarraWarra Museum of Art unveiled a major survey exhibition this weekend exploring the work of senior contemporary Melbourne-based artist Brent Harris, on view from 2 December 2023 until 11 March 2024. The exhibition Brent Harris: Surrender & Catch, curated by Maria Zagala and co-presented with the Art Gallery of South Australia from 6 July – 20 October, brings together over 100 paintings, drawings, studies and prints, traversing the artist's practice and stylistic shifts over his career. Brent Harris: Surrender & Catch maps the ways Harris's art has developed over the past four decades, featuring a broad selection of works from 1987 to 2022. Harris's distinctive style, which moves between figuration and abstraction, deploys both humour and the grotesque to examine psychological subject matter as he visualises his complex and contradictory feelings. Indeed, the exhibition title refers to Harris's interest i ... More
Ninth edition Jimei x Arles International Photo Festival program announced
Exhibition of new paintings by Odili Donald Odita on view at David Kordansky Gallery
Tolarno Galleries announces representation of Guruwuy Murrinyina


Emma Sarpaniemi, Self-portrait as Cindy, 2022, Two Ways to Carry a Cauliflower series. Courtesy of the artist.



XIAMEN.- Ninth edition Jimei x Arles International Photo Festival will take place from 15 December 2023 to 21 January 2024 in Xiamen, China. Co-initiated by Three Shadows Photography Art Centre and Les Rencontres d'Arles in 2015, Jimei x Arles International Photo Festival supports and encourages the creation, study and curation of Chinese photography so as to facilitate its presence on the international stage. Since its inception, the festival has presented nearly 300 exhibitions from China and other Asian countries, as well as a selection of outstanding works from Les Rencontres d'Arles. Over 600 artists' works have been presented and the festival has attracted a total of 430,000 visitors. • This year the ninth edition establishes an Art Committee including director of Les Rencontres d'Arles Christoph Wiesner, noted ... More



Odili Donald Odita, Open, 2023, acrylic on canvas, 70 x 140 inches (177.8 x 355.6 cm). Photo: Dario Lasagni.



LOS ANGELES, CA.- David Kordansky Gallery is presenting Degrees of Separation, an exhibition of new paintings by Odili Donald Odita and the artist's first solo presentation with the gallery. The show is on view in Los Angeles at 5130 W. Edgewood Pl., from November 11 through December 16, 2023. Degrees of Separation features a group of new paintings in which Odita poses pointed questions about the meaning and perception of darkness in a variety of social and aesthetic contexts. In so doing, he elaborates and expands upon themes that have characterized his work for more than twenty years, exploring ways in which color, line, geometry, implied movement, and patterning inform shared experiences of the world at large. Executed with acrylic paints on either canvas or reconstituted wood panels, the paintings are distinguished by shifting, angular, and ray-like ... More



Guruwuy Murrinyina next to her bark painting Dhatam, 2023. Courtesy of the artist and Buku-Larrŋgay Mulka Centre.



MELBOURNE.- Tolarno Galleries announced representation of Guruwuy Murrinyina. Born in 1975, Guruwuy Murrinyina lives with her son at a very remote homeland in Gangan, in the Northern Territory. Gangan is a village of ten houses adjacent to a chain of billabongs, inland from Blue Mud Bay. The nearest town is a four hour drive along dirt roads. This is where her art centre is at Yirrkala. In one of these deep waterholes resides Wititj – the Rainbow Serpent which is encoded in her paintings of lillies. Guruwuy is the daughter of deceased artist Malaluba Gumana. Guruwuy is one of her five children. Malaluba was a highly esteemed award winning artist who was celebrated for the delicacy of her hand and deft colour mixing skill with earth pigments. Guruwuy's father was Yaŋalka Murrinyina of the Djarrwark clan whose homeland is Balma to the ... More
LIVE from New York | The Now and Contemporary Evening Auctions

Flashback
On a day like today, French impressionist painter Claude Monet died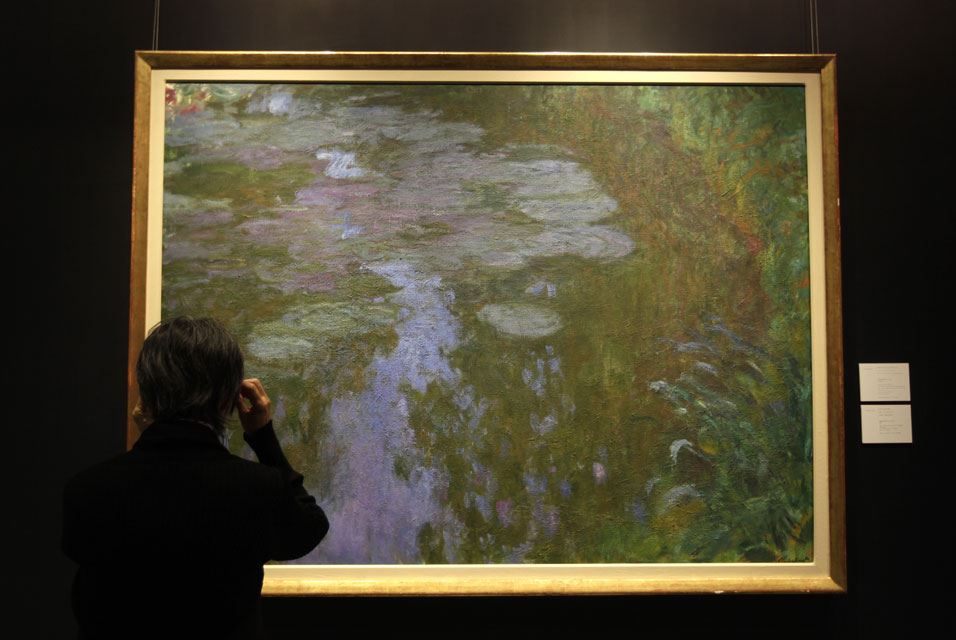 December 05, 1926. Claude Monet (14 November 1840 - 5 December 1926) was a founder of French impressionist painting, and the most consistent and prolific practitioner of the movement's philosophy of expressing one's perceptions before nature, especially as applied to plein-air landscape painting. The term Impressionism is derived from the title of his painting Impression, Sunrise (Impression, soleil levant). In this image: A visitor looks at a painting by French artist Claude Monet (1840-1926) entitled Nympheas during a press preview in Hong Kong, China, 27 May 2011. The painting was expected to fetch in excess of 17 to 24 million GBP (19 to 27 million Euro), at auction at Christie's London Impressionist Modern Paintings on 21 June 2011.
---

Museums, Exhibits, Artists, Milestones, Digital Art, Architecture, Photography,
Photographers, Special Photos, Special Reports, Featured Stories, Auctions, Art Fairs,
Anecdotes, Art Quiz, Education, Mythology, 3D Images, Last Week,

.
---
Royalville Communications, Inc
produces: