What does it take to run a museum? The job description is changing.
Sean M. Decatur, president of Kenyon College, at his office in Cleveland Heights, Ohio, on Dec. 05, 2022. It's not only about the art anymore: Today's museum leaders must increasingly confront staff revolts and calls to return looted art while navigating labor unrest and social justice controversies. (Amber N. Ford/New York Times)

by Robin Pogrebin
NEW YORK, NY
.-
Art world luminaries gathered in the rotunda of the Guggenheim last month to nibble cauliflower shawarma, sip prosecco and bid farewell to Richard Armstrong, who this summer will conclude his 14-year tenure as the museum's director. The Guggenheim, which is expected to announce his successor soon, is the latest in a series of major museums around the country undergoing leadership changes at a moment when modern cultural institutions are demanding increasingly complicated skill sets. It is no longer only about the art. "There is a generational shift that's taking place at a moment of intense change in the field," said András Szántó, a museum consultant whose book, "The Future of the Museum," was published in 2020. "The traditional functions of the museum are being expanded very rapidly. In addition to collecting and preserving, now museums are expected to be community-facing, inclusive, engaged in the debates of our time." While museum directors i ...
More
The Best Photos of the Day
M Leuven acquires rare masterpiece by Michaelina Wautier
Lincoln Center, seeking new audiences, plans to remake its West Edge
Françoise Gilot, artist in the shadow of Picasso, is dead at 101


Michaelina Wautier, Study of a Head of a Bearded Man', ca. 1655, oil op panel, ca. 76,5 x 26,5 x 5 cm, Collection M Leuven, source: artinflanders.be, photo: Cedric Verhelst.



LEUVEN .- M Leuven welcomes Study of a Head of a Bearded Man into its collection. It is a recently discovered painting from the oeuvre of Michaelina Wautier, who worked in Brussels in the seventeenth-century. This extremely rare study from c. 1655 was authenticated by Wautier expert, Katlijne Van der Stighelen (KU Leuven). The work will be presented in the new collection presentation at M in 2024. Through this display, the museum aims to further redress the balance between female and male artists and to highlight an underexposed area of art history. "The city's purchase of Study of a Head of a Bearded Man is a huge boon for M Leuven", says Bert Cornillie, Alderman for Culture and Chairman of M's Board of Directors. "The city is investing more and more in the expansion of its art collection. Since the period before 2020, the annual budget for acquisitions and restoration work has increased by over €100,000. The ci ... More



Lincoln Center at West 65th and Amsterdam in New York on June 5, 2023. (Jeenah Moon/The New York Times)

by Javier C. Hernández



NEW YORK, NY.- Lincoln Center welcomes visitors at its main entrance facing Broadway with an elegant plaza, a majestic fountain and an array of travertine concert halls and theaters. But the view from the center's western edge, along Amsterdam Avenue, is far less convivial: An imposing wall stretches across several blocks, giving the feel of a fortress. Now Lincoln Center, hoping to draw new audiences and promote closer ties with nearby public housing complexes, schools and community centers, is planning a major renovation of its western side, the organization's leaders announced Tuesday. The project will likely entail tearing down parts of the wall, building an outdoor stage and renovating Damrosch Park, at the corner of Amsterdam and West 62nd Street. "As welcoming as we are to the east, we should be to the west," Henry Timms, the president and CEO of Lincoln Center, said ... More



The artist Françoise Gilot in New York on June 11, 2018. (Jody Rogac/The New York Times)

by Alan Riding



NEW YORK, NY.- Françoise Gilot, an accomplished painter whose art was eclipsed by her long and stormy romantic relationship with a much older Pablo Picasso, and who alone among his many mistresses walked out on him, died Tuesday at a hospital in Manhattan. She was 101. The death was confirmed by her daughter Aurelia Engel, who said Gilot had recently been dealing with heart and lung ailments. "You imagine people will be interested in you?" Gilot quoted a surprised Picasso as saying after she told him that she was leaving him. "They won't ever, really, just for yourself. Even if you think people like you, it will only be a kind of curiosity they will have about a person whose life touched mine so intimately." But unlike his two wives and other mistresses, Gilot rebuilt her life after she ended the relationship, in 1953, almost a decade after it had begun despite an age difference of ... More
Six works by Fontana unseen for 50 years at Bonhams Single-Owner sale in London
Apollo Theater names new President
L.A. Louver begins the presentation of the exhibition 'The Flower Show'


Lucio Fontana (1899-1968), Concetto spaziale, Attese, 1960. Waterpaint on canvas, 91.2 by 64.5 cm. (35 7/8 by 25 3/8 in.). Estimate: £1,300,000-1,800,000. Photo: Bonhams.



LONDON.- Six works by Lucio Fontana (1899-1968), unseen by the public for the past 50 years, are to be offered at auction for the very first time. The works form part of a sale 20th Century Masters : A Private Collection – Kandinsky and Fontana to Baselitz, which comes to Bonhams New Bond Street on Thursday 29 June 2023. The collection will also be on view in Paris on Friday 5th, Wednesday 10th, and Thursday 11th May. Leading the sale will be Concetto spaziale, Attese, 1959, an extremely rare early work by the artist featuring 14 cuts on a shaped white background. The work has an estimate of £1,600,000 - 2, 200,000. The sale will also feature Concetto spaziale, Attese, 1960, which features two large cuts on red – a style that is amongst the most recognisable and sought-after in Fontana's oeuvre – which has an estimate of £1,300,000-1,800,000. Giacomo Balsamo, Bonhams International Director of Post-War & Contemporary Art, c ... More



Michelle Ebanks, who most recently served as the president of Essence Communications, will assume the role in July.



NEW YORK, NY.- Michelle Ebanks, who most recently served as the president of Essence Communications, the global media and communications company dedicated to Black women, will be the next president and CEO of the Apollo Theater in Harlem, the organization announced Tuesday. "I have a deep understanding of the value of cultural institutions and their profound impact on individual lives and society, and the Apollo Theater as one of the nation's greatest cultural institutions," Ebanks said in an interview Monday. Ebanks, 61, succeeds the theater's longtime leader, Jonelle Procope, who announced last year that she planned to step down this summer after nearly 20 years steering the Harlem organization, which she transformed from a struggling nonprofit to the largest African American performing arts presenting organization in the country. The appointment comes at a critical time for the theater, which is wrapping up an $80 million capital fundraising campaign to fully renovate its 109-y ... More



Penelope Gottlieb, Colocasia esculenta, 2023. Acrylic and ink over a digital reproduction of an Audubon print. Paper: 60 x 40 in. (152.4 x 101.6 cm). Framed: 62 x 42 in. (157.5 x 106.7 cm)
© Penelope Gottlieb. Courtesy of the artist.



VENICE, CA.- L.A. Louver opened yesterday The Flower Show, an exhibition that celebrates the flower in art, which will continue through September 1st, 2023. The Flower Show includes over 50 artists who work from different perspectives and cultural origins, and who have embraced the floral motif for different ends. Works date from the early 19th century to now, with a focus on contemporary. A range of media is represented including painting, sculpture, drawing, photography, film and digital technology. Ever since the ancient Egyptians symbolized the sun and creation with a lotus, flowers have held a place in art. However, within the canon of Western art, until the later decades of the nineteenth century the depiction of the flower was largely relegated to a lower echelon of artistic endeavor: often assigned to the decorative and deemed "suitable" for female pursuit. Since the birth of modern art this has changed: the motif has given artists ... More
Yvonne Wells now exhibiting Play The Hand That's Dealt You at Fort Gansevoort
'In My Room' inspired by song by The Beach Boys now opening at Venus Over Manhattan
Joana Vasconcelos: Wedding Cake now opening at the Dairy at Waddesdon Manor


Yvonne Wells, Play The Hand That's Dealt You, 2011. Assorted fabrics, 81.5 x 65 inches. ©Yvonne Wells. Courtesy of the artist and Fort Gansevoort, New York.



NEW YORK, NY.- Beginning June 8, 2023, Fort Gansevoort will present Play The Hand That's Dealt You, the first New York solo exhibition of Alabama-based artist Yvonne Wells. Born in 1939 in Tuscaloosa, Wells is known for her intricate narrative quilts depicting American history subjects, pop culture figures, and religious subject matter. As a self- taught artist living and working in the same region as the enslaved female quilters from the rural Alabama community known as Gee's Bend, Wells is aware of heritage techniques, yet cleaves to her own contemporary visual vernacular. Through a practice that illuminates the craft of quilt making as a form of fine art, in addition to its utilitarian function, she has developed a style that uniquely ... More



Karl Wirsum, Untitled, 1966. Ink on paper; 14 x 11 in (35.6 x 27.9 cm).



NEW YORK, NY.- Venus Over Manhattan is pleased to present In My Room, an exhibition showcasing works on paper and board by Ana Benaroya, Tom of Finland, and Karl Wirsum. This presentation comprises a series of seventeen new drawings by Ana Benaroya, alongside six pieces by Karl Wirsum from 1966-67, and three by Tom of Finland from the 1970s and 1980s. "In My Room," the first exhibition to focus exclusively on Benaroya's works on paper and to consider them in conversation with those of her forebears, explores questions of personal identity, queerness, and alternative art histories. The exhibition, accompanied by a publication featuring a new text by Emile Mausner, will open on Thursday, June 8, and remain on view at 55 Great Jones Street ... More



Lafite Opening, 2015 at Waddesdon Manor. © Mike Fear The National Trust.



LONDON.- Wedding Cake - a 12-metre-high sculptural pavilion in the form of a three-tiered wedding cake, clad entirely in ceramic tiles - is a major new work by celebrated Portuguese artist Joana Vasconcelos (b 1971) opening at Waddesdon. Almost five years in the making, Wedding Cake was commissioned by the Rothschild Foundation for Waddesdon, prompted by the relationship between visionary collector Lord Rothschild and Vasconcelos. Part sculpture, part architectural garden folly, Wedding Cake is an extraordinary, enormous, fully immersive sculpture which combines pâtisserie and architecture. Gleaming and icing-like outside and in, it offers an intricate and richly sensory experience – glazed in pale pinks, greens and blues, beset with sculptural ornament and complete ... More
Rare display of 100+ American watercolors at Harvard University
GALLERIA CONTINUA opens the group exhibition 'From the Ground Up'
Public Art Fund debuts Phyllida Barlow's large-scale freestanding sculptures in City Hall Park


John La Farge (New York, NY 1835–1910 Providence, RI) Chinese Pi-tong, 1879. Transparent and opaque watercolor over graphite on off-white wove paper 43.2 × 43.2 cm (17 × 17 in.). Harvard Art Museums/Fogg Museum, Bequest of Grenville L. Winthrop, 1943.310. Image: Courtesy of the Harvard Art Museums.



CAMBRIDGE, MASS.- This summer, the Harvard Art Museums present over 100 years of dazzling and imaginative artistry through the medium of watercolor. American Watercolors, 1880–1990: Into the Light showcases more than 100 watercolors by over 50 well-known and historically underrepresented artists selected from the museums' deep and diverse holdings—a rare opportunity because of the light-sensitive nature of these works. From Winslow Homer to Richard Foster Yarde, from stunning natural landscapes to delicate still lifes and bold abstractions, there is something for everyone. The exhibition is on display through August 13, 2023, in the three adjacent University Galleries located ... More



Loris Cecchini 'Diagram bushes Here and There and Everywhere' 2013. Welded steel modules, 135 x 75 x 75 cm. Photo: Veronica Tronnolone.



DUBAI.- GALLERIA CONTINUA / Dubai has opened the new exhibition From the Ground Up, continuing the series of group shows paying tribute to the heritage of the iconic Burj Al Arab Jumeirah, and providing contemporary response to the context of its opulent interior designs. The new exhibition, From the Ground Up, showcases works by GALLERIA CONTINUA represented artists, connected with the theme of earth - one of the four elements forming the visual aesthetics of the Burj Al Arab developed by Khuan Chew of KCA International. The exhibition From the Ground Up traces the roots of history through contemporary artistic practices, reflecting on the evolving landscape of Dubai and its timeless symbol - Burj Al Arab, grounded on a man-made island. The works presented in the exhibition immerse viewers in archaeological and spiritual ... More



Phyllida Barlow, PRANK: mimic; 2022/23, 2022–23. Corten steel, fiberglass, lacquer © Phyllida Barlow. Courtesy Hauser & Wirth. Photo: Filip Wolak, courtesy Public Art Fund, NY. Artwork a part of Phyllida Barlow: PRANK, presented by Public Art Fund in City Hall Park, New York City, June 6, 2023–November 26, 2023.



NEW YORK, NY.- Public Art Fund debuts PRANK, the late British artist Phyllida Barlow's final series of large-scale freestanding sculptures. This exhibition of seven new steel and fiberglass sculptures in City Hall Park offers the opportunity to experience her rich artistic legacy in the public sphere. As Barlow's first series of outdoor sculptures made from robust long-lasting materials, PRANK marks a notable departure from the artist's typical use of materials suitable for indoor display, extending her highly influential practice into the realm of public art. The sculptures in PRANK adapt everyday forms such as domestic furniture stacked in unexpected, gravity-defying compositions. Each is ... More
Explore Grada Kilomba's "18 Verses"

Flashback
On a day like today, English painter John Everett Millais was born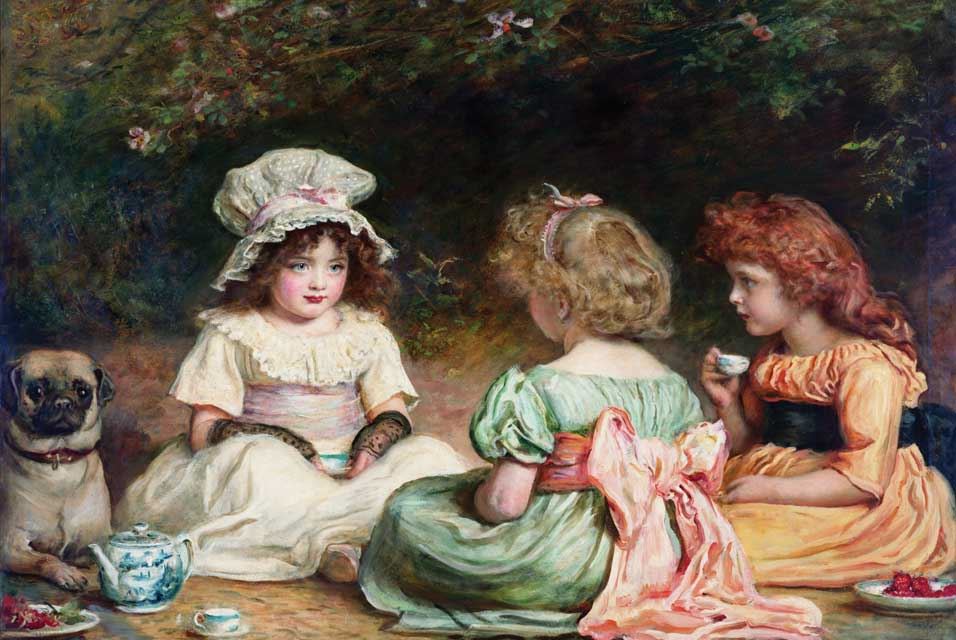 June 08, 1829. Sir John Everett Millais, 1st Baronet, PRA (8 June 1829 - 13 August 1896) was an English painter and illustrator who was one of the founders of the Pre-Raphaelite Brotherhood.He was a child prodigy who, aged eleven, became the youngest student to enter the Royal Academy Schools. The Pre-Raphaelite Brotherhood was founded at his family home in London, at 83 Gower Street (now number 7). In this image: Afternoon Tea (or The Gossips). The Winnipeg Art Gallery.
---

Museums, Exhibits, Artists, Milestones, Digital Art, Architecture, Photography,
Photographers, Special Photos, Special Reports, Featured Stories, Auctions, Art Fairs,
Anecdotes, Art Quiz, Education, Mythology, 3D Images, Last Week,

.
---
Royalville Communications, Inc
produces: