Yayoi Kusama's 'Cosmic Nature' dots a Bronx garden
rom Kusama's first drawings of flowers and leaves to her more recent series "My Eternal Soul," the exhibition traces her progression as an artist through her love of plants, a permanent source of inspiration and self-analysis, according to exhibition curator Mika Yoshitake.

by Will Heinrich
NEW YORK
(NYT NEWS SERVICE)
.-
One thing the pandemic has deprived us of — for a little while longer, at least — is the heady experience of being lost in a crowd. For some people, it's thrilling; for others, unnerving. It's always a change of perspective. It's also the feeling I associate with the work of 92-year-old pop and conceptual artist Yayoi Kusama, best known for her infinity mirrors, her paintings and sculptures crowded with polka dots — and for the hordes of fans she typically draws. Luckily, starting this weekend, you can dive into the vertiginous delights of dots and infinite reflection at "Kusama: Cosmic Nature," an expansive show of outdoor sculptures, along with special gallery exhibits and installations, set among the flowering cherry trees of the New York Botanical Garden. With timed-entry tickets and 250 acres to wander through, the venue also offers a rare chance to contemplate Kusama with a little elbow room. Three years in the making, the show includes sev ...
More
The Best Photos of the Day
Prince Philip, husband of Queen Elizabeth II, is dead at 99
Piet Mondrian's modern masterpiece offered in Christie's NY 20th Century Evening Sale
Art Basel presents its Hong Kong show in hybrid format with 104 leading galleries


Prince Philip answers questions during a lecture at the Lincoln Center in New York on Oct. 1, 1980. Larry C. Morris/The New York Times.

by Marilyn Berger



NEW YORK (NYT NEWS SERVICE).- Prince Philip, the Duke of Edinburgh, husband of Queen Elizabeth II, father of Prince Charles and patriarch of a turbulent royal family that he sought to ensure would not be Britain's last, died on Friday at Windsor Castle in England. He was 99. His death was announced by Buckingham Palace, which said he passed away peacefully. Philip had been hospitalized several times in recent years for various ailments, most recently in February, the palace said. He died just as Buckingham Palace was again in turmoil, this time over Oprah Winfrey's explosive televised interview last month with Philip's grandson Prince Harry and Harry's wife, Meghan. The couple, in self-imposed exile in California, lodged accusations ... More



Piet Mondrian, Composition: No. II, with Yellow, Red and Blue, 1927. Oil on canvas, 19 3/4 x 14 in. (50.5 x 35.2 cm.). Estimate on request. © Christie's Images Ltd 2021.



NEW YORK, NY.- Christie's announced the inclusion of Piet Mondrian's Composition: No. II, with Yellow, Red and Blue, 1927 in it's upcoming, newly-introduced 20th Century Evening Sale at Christie's New York on May 11, 2021 (estimate on request; in the region of US$25M). The painting is a rare and exceptional example of the artist's revolutionary abstract aesthetic, made during a pivotal time in his career. Composition: No. II, with Yellow, Red and Blue will be unveiled for viewing at Christie's Hong Kong from April 12-14 and at Christie's London April 20-22 before returning to New York for the full exhibition of May sales property at Rockefeller Center in May. In Hong Kong, this modern masterpiece will be exhibited alongside Claude Monet's Waterloo Bridge, effet de brouillard, 1899-1903, ... More



Art Basel Hong Kong © Art Basel.



HONG KONG.- Art Basel Hong Kong returns to the Hong Kong Convention and Exhibition Centre with 104 leading galleries from 23 countries and territories selected for the 2021 edition. Bringing together Art Basel's digital and physical platforms in a new scale and format, this year's show features 56 satellite booths by galleries who could not physically attend and the new 'Art Basel Live: Hong Kong' initiative to broadcast the show to a global audience. Art Basel Hong Kong will present a unique overview of the diverse art scenes across Asia and beyond, focusing on both historical work from the region and emerging artists and galleries. Art Basel Hong Kong, whose Lead Partner is UBS, will take place from May 19 to May 23, 2021. The ninth edition of Art Basel Hong Kong will feature a strong line-up of galleries from across Hong Kong and overseas, presenting a wide scope of works including both contemporary positions, ... More
DMX, rap's dark, tortured star, dies at 50
Sotheby's presents the highest-estimated sale series ever staged in Asia
Botero highlights April 20 Latin American Art Auction at Doyle


In this file photo taken on June 28, 2019, DMX performs at Masters Of Ceremony 2019 at Barclays Center in New York City. Theo Wargo / GETTY IMAGES NORTH AMERICA / AFP.



NEW YORK (AFP).- DMX, the hardcore hip-hop star whose ominous, snarling raps chronicled the violence and struggles of the American street, has died. He was 50 years old. The rapper's longtime lawyer confirmed DMX's death to AFP, after a statement from his family widely shared on social media said the artist born Earl Simmons died after nearly a week on life support following a heart attack. "Earl was a warrior who fought till the very end," the statement read, saying the rapper died at White Plains Hospital north of New York City, with his loved ones by his side. "He loved his family with all of his heart and we cherish the times we spent with him," the statement read. "Earl's music inspired countless fans across the world and his iconic legacy will live on forever." The family said information on a memorial service was forthcoming. The agitated rapper -- who reigned over the late 1990s and early 2000s with hits including "X Gon' ... More



Alberto Giacometti, Petit buste sur colonne. Bronze. 151.7 by 21 by 22.4 cm. Est. HK$14,000,000-18,000,000 / US$1,810,000-2,320,000. Courtesy Sotheby's.



HONG KONG.- Sotheby's today unveiled the full offering of its 2021 Hong Kong Spring Sale Series to be held from 16 to 23 April, presenting categories ranging from fine art, including Chinese works of art and paintings, modern and contemporary art, through to the luxury market with jewellery, watches, wines and spirits. The week-long sale series encompasses outstanding works from times both ancient and modern, unified by the pursuit of the highest levels of creativity and craftsmanship by artists and brands alike. Featuring over 2,500 lots with a combined estimate in excess of HK$3.2 billion (US$417 million), the 2021 Spring Sales will carry the highest estimate for any sale series ever staged in Asia. As part of this series, Sotheby's also announced a special themed sale titled ICONS: Masterpieces from Across Time and Space, to be held on 18 April, which brings together five masterworks ... More



Fernando Botero (Colombian, b. 1932), Niña, 1961, Signed and dated, Oil on canvas, 29 x 30 inches (73.7 x 76.2 cm). Est. $175,000-225,000. Courtesy of Doyle.



NEW YORK, NY.- Doyle Auctioneers & Appraisers will hold an auction of Latin American Art on Tuesday, April 20 at 2pm EDT. The sale will showcase paintings, drawings and sculpture by prominent artists of the 20th century. The public is invited to the exhibition on view April 17-19 at Doyle, located at 175 East 87th Street in New York. The catalogue may be viewed online at DOYLE.com. Highlighting the sale is an important work on canvas by the legendary Colombian artist Fernando Botero. Niña from 1961 reflects his early approach to the exaggerated figures for which he is best known. In this lush painting, Botero is bold, gestural and painterly, his delightful subject with toy sword appears both impish and regal (est. $175,000-225,000). Referencing Renaissance and Baroque painting techniques, Chilean artist Claudio Bravo is renowned for his photorealistic works. A 1987 still life is a prime example of Bravo's embrace of Caravaggio's expert hand ... More
Rediscovery of a rare painting by Toulouse-Lautrec depicting hospital life
Exhibition of works by Glenn Kaino reflects on the legacies of two "Bloody Sundays"
The private collection of artists Wolf Kahn and Emily Mason to be sold to benefit artists' foundations


Henri de Toulouse-Lautrec, Une opération du Docteur Péan à l'Hôpital International, 1891. Essence on card. Estimate: 600 000 - 900 000 €.



PARIS.- On 29 June 2021, as part of its major Impressionist & Modern Art sales, Artcurial will present a rare masterpiece by Henri de Toulouse-Lautrec (1864-1901) entitled Une opération par le Docteur Péan à l'Hôpital International. The painting, in essence (oil thinned with turpentine) on card, is estimated to fetch between 600 000 and 900 000 €. This work is exceptional for several reasons. Painted in 1891, it was given the same year to Frédéric Baumgarten, the artist's doctor, who appears facing us at the back of the composition, and has been in the hands of the same family ever since. Exhibited just once in 1914, this is a major rediscovery. The work is also unique for its subject matter, depicting a surgical operation in a Parisian hospital at the end of the 19th century. Toulouse-Lautrec is better known for his representations of cabarets, brothels, Parisian streets and horses. There are only two other known ... More



Glenn Kaino, In the Light of a Shadow, 2021 installation view Photo: Tony Luong.



NORTH ADAMS, MASS.- The Massachusetts Museum of Contemporary Art is presenting Glenn Kaino: In The Light of a Shadow from April 3, 2021 through September 4, 2022. Curated by Denise Markonish, the show takes over MASS MoCA's signature Building 5 galleries, with a series of immersive installations that create a sense of wonder and hope while issuing an urgent call to action. In the Light of a Shadow is inspired by the connection between protests across the globe, specifically those in response to the tragic events known as "Bloody Sunday" from Selma, Alabama and Derry, Northern Ireland. On March 7, 1965, in Selma, Alabama, John Lewis and Hosea Williams led 600 protestors in a march over the Edmund Pettus Bridge in a nonviolent action intended to spotlight civil rights violations, while also demanding voting rights. The peaceful protestors were attacked by troopers with tear gas, beaten, and many were hospitalized. On January ... More



Lee Bontecou (B. 1931), Untitled. Welded steel, canvas and wire, 8 x 10 x 2 ½ in. (20.3 x 25.4 x 6.4 cm.) Executed in 1959. Estimate: $180,000-250,000. © Christie's Images Ltd 2021.



NEW YORK, NY.- Christie's announces Fields of Vision: The Private Collection of Artists Wolf Kahn and Emily Mason comprising paintings, works on paper, prints and sculptures, which reflect the many friendships the couple developed with other artists in their lifetimes. This dynamic collection is characterized by the inquisitive and nurturing natures of Mason and Kahn who, outside of their own studio practices, acquired meaningful works of art by their peers and artists they deeply admired. Mason and Kahn belonged to a generation of painters and sculptors who, feeling unencumbered by the traditional academic system, were able to develop new languages of expression. Highlights of the collection will be offered in a dedicated live auction on May 18, in New York, alongside the American Art Auction, and a dedicated online sale of the collection will take ... More
The Fabric Workshop and Museum opens 'Hard/Cover'
Swiss Grand Award for Art / Prix Meret Oppenheim 2021 for Georges Descombes, Esther Eppstein, and Vivian Suter
Asheville Art Museum opens 'Huffman Gifts of Contemporary Southern Folk Art'


Installation view.



PHILADELPHIA, PA.- The Fabric Workshop and Museum is presenting Hard/Cover, on view from April 9 to September 26, 2021. A collaboration with Philadelphia's Clay Studio, the exhibition consists of works marking turning points in the respective creative processes of past and current FWM Artists-in-Residence: Louise Bourgeois (1911–2010), Viola Frey (1933–2004), Toshiko Takaezu (1922–2011), Venturi, Scott Brown, & Associates (founded 1980), Betty Woodman (1930–2018), Woody De Othello (Oakland, CA), Jane Irish (Philadelphia, PA), Barrow Parke (Queens, NY), and Shino Takeda (Brooklyn, NY). Hard/Cover looks closely at the relationship between time, process, and space in developing an interdisciplinary practice. Framed by celebrated works from past Artists-in-Residence working at FWM in the late 1980s and early '90s, as well as tableaus and scenes created by contemporary artists, the exhibition considers how changes ... More



Esther Eppstein. Photo: Douglas Mandry.



BASEL.- For the 21st time, the Federal Office of Culture is presenting the Swiss Grand Award for Art / Prix Meret Oppenheim to outstanding Swiss culture practitioners: In 2021 they are the architect Georges Descombes; curator Esther Eppstein; and artist Vivian Suter. Providing the pandemic situation allows, they will be honoured on 20 September 2021 in Basel along with the winners of the Swiss Art Awards. Upon recommendation of the Federal Art Commission, the Swiss Grand Award for Art / Prix Meret Oppenheim is awarded to individuals in the fields of art, art education and architecture whose work is particularly topical and relevant to Swiss artistic and architectural production. Georges Descombes (1939, Geneva) is an 'architect of landscape'. After formative years with Pier Luigi Nervi and Marc-Joseph Saugey in Geneva, Zurich, and London, Georges Descombes returned to Geneva in 1975 where his academic career began and he set up ... More



Addie James, Big Mama Demp, 2002, acrylic and pen on foamcore, 20 × 16 inches. Asheville Art Museum. © Estate of Addie James.



ASHEVILLE, NC.- Huffman Gifts of Contemporary Southern Folk Art features gifts of contemporary southern folk art including paintings, ceramics, and more from the collection of Allen and Barry Huffman. The exhibition is on view in the Asheville Art Museum's Judith S. Moore Gallery from April 7 through September 13, 2021. Allen and Barry Huffman have been collecting contemporary southern folk art for the past 40 years. Both collectors are originally from the South, and their journey together has led them around the southeastern United States, from Florida to Alabama to their hometown of Hickory, NC. In each place, they formed bonds with regional artists and learned first-hand the narratives of each artwork. Within their collection are subsets of folk art, including self-taught artists driven to share their messages, crafts for the tourist market, and southern ... More
Ground / Breaking: A Private Selling Sculpture Exhibition

Flashback
On a day like today, British painter Ben Nicholson was born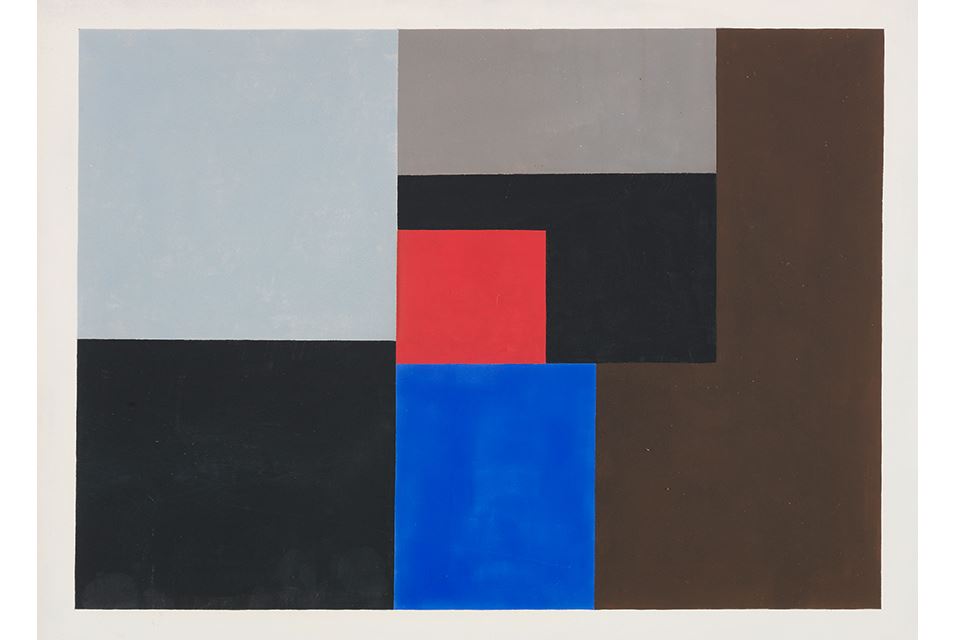 April 10, 1894. Benjamin Lauder Nicholson, OM (10 April 1894 - 6 February 1982) was an English painter of abstract compositions (sometimes in low relief), landscape and still-life. In this image: Ben Nicholson, 1936 (gouache) 38.1 x 50.2 cm. (15 x 19 3/4 in.). Photo: Bonhams.
---

Museums, Exhibits, Artists, Milestones, Digital Art, Architecture, Photography,
Photographers, Special Photos, Special Reports, Featured Stories, Auctions, Art Fairs,
Anecdotes, Art Quiz, Education, Mythology, 3D Images, Last Week,

.
---
Royalville Communications, Inc
produces: