Fighting forgetting, with a Venice Biennale win
The artist Sonia Boyce in her studio in London, May 3, 2022. Boyce won the top prize at the Venice Biennale with "Feeling Her Way," a work about the erasing of Black female singers, but she greets the trophy with a mix of gratitude and circumspection. Suzie Howell/The New York Times.

by Farah Nayeri
LONDON
.-
Sonia Boyce is used to breaking down walls. Last month, she became the first Black female artist to represent Britain at the Venice Biennale, the world's oldest international art exhibition. The work she presented in the British Pavilion won the top prize, the Golden Lion. Six years before, she had been the first Black British woman to get elected to the country's prestigious Royal Academy of Arts. Yet, Boyce's career path has been anything but a straight line. Past breakthroughs have been followed by years of oblivion, such as when she became the first Black British woman to enter the collections of the Tate museum in 1987, then disappeared from the spotlight. She has made invisibility and cultural amnesia a focus of her art. Her Venice pavilion — an installation of sound, video and memorabilia — is all about the erasure of Black British female singers of the past. Even her Golden Lion fits in with her practice. It's a reminder of the invisibility endured ...
More
The Best Photos of the Day
Claude Monet's masterpiece 'Saule Pleureur' to make Asian auction debut at Christie's Hong Kong Evening Sale
Annely Juda Fine Art opens an exhibition of drawings by Kasimir Malevich and tea bowls by Raku Jikinyū
The Bilbao Fine Arts Museum presents Sergio Prego's installation 'Thirteen to Centaurus'


Claude Monet (1840-1926) Saule pleureur, oil on canvas, 51 3/8 x 43 3/8 in. (130.5 x 110.2 cm.) Painted in 1918 – 1919. Estimate: HK$95,000,000 – 135,000,000/ US$12,200,000 – 18,000,000.



HONG KONG.- Christie's announced the Asian auction debut of Saule pleureur, a masterpiece by Claude Monet, at Christie's 20th and 21st Century Art Evening Sale, to be held on 26 May at the Hong Kong Convention and Exhibition Centre. Monet reacted to the onset of unrest in Europe in 1914 with an outpouring of creativity, culminating in a period now known as the great final flowering of his career. During this period, the artist embarked on a series of ten paintings depicting a majestic weeping willow lining the artist's famous lily pond in Giverny, which itself was the subject of the famed and monumental Grandes décorations, later donated to the nation of France to celebrate victory in the First World War. The Weeping Willow series has been described as some of Monet's most direct and poignant works of the time, and it had been Monet's intention that ... More



Kasimir Malevich Russian, (1879-1935), Composition 5 i , 1915-16. Pencil on paper, 14.2 x 11.2 cm.



LONDON.- Annely Juda Fine Art announced an exhibition of 20 drawings by Kasimir Malevich (1879- 1935) and 20 tea bowls by Raku Jikinyū (b.1949) from his recent White Rock series. The exhibition also includes one classic Black Raku tea bowl made in the early 1580s by the first Raku master Chōjirō (d.1589). The exhibition follows the exhibition Kichizaemon X Malevich held from September 2021 to January 2022 at the Sagawa Art Museum in Japan and is the first time for the work of Jikinyū to be shown in the UK. Raku tea bowls are shaped by hand rather than being thrown on the potter's wheel and are drawn from the kiln at the height of the firing so that they cool rapidly in the atmosphere outside. Their purpose is for drinking whipped tea (matcha) in the tea ceremony (chanoyu). Typically either monochrome red or monochrome black, Raku tea bowls were considered radically avant-garde when they first appeared in t ... More



A sequence of large pneumatic modules transforms the perception of ten adjacent galleries which comprise the architectural body of the museum's old section.



BILBAO.- The Bilbao Fine Arts Museum is activating the proposal BBKateak with the presentation of the installation Thirteen to Centaurus by the artist Sergio Prego (San Sebastián, 1969) specifically designed for the museum and, in particular, to exist alongside the implementation of its extension project. Following the completion of the renovation of the 1945 building, over the coming weeks the museum will begin to move its collection to the 22 rooms that will remain open during the execution of the extension works. With the slogan A(r)teak zabalduz, the museum will reopen its doors on 20 June, on the façade of the old building and will exhibit, on a rotating basis, the work of one hundred artists in their own right from its collection, forming successive series (Kateak) of small exhibitions in a joint programme developed with BBK, the honorary patron of the museum. In turn, the Thirteen to Centaurus ... More
Adrian Ghenie's masterpiece 'Pie Fight Interior 12' poised to break artist's world auction record
"Vivre notre temps!" Bonnard, Vallotton and the Nabis on view at Kunstmuseum Bern
20/21 London to Paris Sale Series includes Marc Chagall, Colour of Life: Works Formerly From the Artist's Estate


Adrian Ghenie with the present work in his Berlin studio, 2014. Photo: © Oliver Mark.



HONG KONG.- Christie's announced contemporary Romanian artist Adrian Ghenie's masterpiece Pie Fight Interior 12 (estimate: HK$68,000,000 – 98,000,000 / US$8,800,000 – 13,000,000), the largest single panel 'Pie Fight Interior' ever painted and poised to break the artist's world auction record at the 20th/21st Century Art Evening Sale on 26 May at the Hong Kong Convention and Exhibition Centre. Cristian Albu, International Director and Co-Head of the 20th and 21st Century Art Department, Christie's Asia Pacific, commented, "Adrian Ghenie is one of the most celebrated contemporary artists of his generation and is widely embraced by museums, curators, and collectors across the globe. His expressive, painterly technique is paired with compelling historical imagery and cinematic motifs that explore the universal complexities of humanity. The offering of this seminal work in our Evening sale in Hong Kong, ... More



Pierre Bonnard, Les oranges ou Le compotier aux oranges [The Oranges or The Bowl of Oranges], around 1912. Oil on canvas, 68 x 45 cm. Kunstmuseum Bern. Permanent loan of the Hahnloser/Jaeggli Stiftung



BERN.- The Nabis group founded in 1888 around the artists Pierre Bonnard, Maurice Denis, Félix Vallotton and Édouard Vuillard, symbolises the beginnings of modern art. The farewell exhibition of the Hahnloser/Jaeggli Collection at the Kunstmuseum Bern shows its most prominent works by the painters of this courageous movement, and reveals their diverse connections with Paul Gauguin and Odilon Redon. At the turn of the 20th century art moved from figurative forms of representation to abstraction. The Nabis group, founded around the artists Pierre Bonnard, Maurice Denis, Félix Vallotton and Édouard Vuillard, symbolises this collapse of Impressionism and the move towards a modern and abstract art. 'It is good to remember that a painting, before it is a warhorse, a naked woman or some kind of anecdote, is essentially a flat ... More



Marc Chagall, Le peintre et les mariés aux trois couleurs (1984, estimate: £1,000,000 - 1,500,000). © Christie's Images Ltd 2022.



LONDON.- 'Marc Chagall, Colour of Life: Works Formerly from the Artist's Estate' will launch Christie's June 20/21 London to Paris sale series. Originating from the artist's estate, the 22 works presented in the sale will be offered for the first time. The collection will be unveiled with six lots in Paris. Highlights will travel to Hong Kong from 21 to 26 May then on to New York, before returning to London where the full selection will then be on view from 22 to 28 June 2022. The sale on 28 June will be the first in a series of global sales, offering the artist's work in dedicated platforms in Christie's international salerooms as well as online-only auctions. Central to Chagall's vision were a number of recurring themes, concerns and leitmotifs, which fascinated and beguiled him endlessly, reappearing in various forms and guises across the decades. The selection of works in 'Marc Chagall, Colou ... More
Nancy Hoffman Gallery opens an exhibition of paintings by Frank Owen
Lynda Benglis's second solo exhibition with Blum & Poe opens in Los Angeles
Casey Kaplan opens its second solo exhibition with Judith Eisler


High-Jumper, 2018. Acrylic on canvas, 50 x 40 in.



NEW YORK, NY.- Retrospection is an act of looking back. It is a mental process of remembering done in the hope that those recalled facts and experiences might enrich the present and the future. As a painter who has long relied on creating and using multiple image events to be collaged into my paintings, I am always looking back at my form inventory. As someone in the eighth decade of life, I often recall memories, excitements and, occasionally, instances of "Whew." This exhibition is the 12th with my dealer and friend of 51 years, Nancy Hoffman. It is a two-part combination of work. The first is a group of paintings that measure 50 x 40 inches from 2017 to present. I undertook to make smaller pieces as a necessary response to shoulder surgery gone wrong. It became apparent that continuing at this smaller scale was the best path. Plus, it proposed an exploratory quest of my images, means of making and imagination. It shall continue. In the middle and backroom are a selection of paintings from past exh ... More



Lynda Benglis: Excavation Installation view, 2022 Blum & Poe, Los Angeles © Lynda Benglis/Licensed by VAGA at Artists Rights Society (ARS), NY, Courtesy of the artist and Blum & Poe, Los Angeles/New York/Tokyo Photo: Josh Schaedel.



LOS ANGELES, CA.- Blum & Poe is presenting Excavation, canonical artist Lynda Benglis's second solo exhibition with the gallery. One might think of excavation as a form of most laborious searching. To be successful within this pursuit, the seeker must not merely arrive at their desired end but must also remove or strip back what has previously existed, displacing or repurposing the original material in order to create a wholly new outcome. Now imagine that the search in question concerns the extraction of a new, cohesive narrative from a lifetime of philosophical and tangible output. To excavate such an entity would be a formidable and impressive task indeed. In the case of this exhibition, Excavation alludes to the present themes in a twofold manner. Firstly, it mines Benglis's celebrated past to make new history by furthering the artist's ... More



Judith Eisler, Malina (lecture), 2021 Oil on canvas, 39.37 x 31.5" / 100 x 80cm.



NEW YORK, NY.- Strange Weather Summer, Judith Eisler's second solo exhibition with Casey Kaplan, presents a series of recent oil paintings on canvas that immortalize cinematic heroines from the artist's generation. Eisler sources her subjects from 1970s - 1990s film and video, transforming moving images into tightly cropped portrait paintings that, through a multilayered process, offer a view into the psychology of an image. Sean Young, sourced from Ridley Scott's 1982 science fiction classic "Bladerunner," is portrayed in profile. Bisecting the composition, Eisler integrates figure and empty space in a moiré pattern of blues, yellows and pinks. In process, Eisler photographs her subjects as they appear on her home monitor, mid-narrative. The camera produces a wavy distortion that the artist embraces and then prints onto a 4 x 6-inch sheet of paper. The printed image becomes a physical, hand-held object of refere ... More
Robbie Williams & Ed Godrich's debut exhibition opens at Sotheby's
Yurim Gough 'VainEgo': A solo exhibition curated by Lee Sharrock opens at APT Gallery
Everyday Heroes: Solo exhibition by Irfan Önürmen opens at C24 Gallery


The exhibition features 14 large scale works unveiled for the first time.



LONDON.- Sotheby's London: Robbie Williams and Ed Godrich's debut exhibition, 'Black and White Paintings' opened in Sotheby's New Bond Street Galleries. Under the moniker Williams Godrich, the exhibition features 14 never-before-seen paintings. The show marks the very first time their works have been exhibited together publicly and will remain on view until 25 May, 2022. A partnership built on, in their own words, "friendship, communication, respect and trust", Robbie and Ed immediately bonded over a love of Abstraction and Outsider Art, as well as music, which encouraged them to collaborate together as an artist duo. In five years, they have created a body of work with an aesthetic deeply rooted in a nostalgia for the 1990s rave and music scene: vibrant, euphoric and pulsating with life. Robbie and Ed work on multiple paintings at one time, with both artists constantly on the move, developing the work in t ... More



Gough made 108 ceramic heads for the 'VainEgo' installation because of the significance of the number in Buddhism.



LONDON.- Fine art ceramicist Yurim Gough is having a solo exhibition, supported by Arts Council England, at APT Gallery in London from 12-29 May, 2022. The exhibition titled 'VainEgo' features a series of wall-mounted ceramic pieces, drawings, film and photographic prints. 108 VainEgo 'Army of Me' ceramic heads are beng exhibited at APT, as well as self-portrait drawings, photographs, sketchbooks and film. 'VainEgo' is curated by Lee Sharrock. Gough made 108 ceramic heads for the 'VainEgo' installation because of the significance of the number in Buddhism. According to Bhante Gunaratana, the number 108 is reached by multiplying the senses smell, touch, taste, hearing, sight, and consciousness by whether they are painful, pleasant or neutral, and again by whether the feelings are internally generated or externally occurring, and yet again by past, present and future. All the featured works ... More



Selection from Irfan Önürmen, Everyday Heroes.



NEW YORK, NY.- Irfan Önürmen has long been known for his multi-dimensional works that examine notions of identity in the rapidly changing digital age. In his latest collection, Everyday Heroes, he has stripped down his use of symbols and imagery to its minimal foundations, utilizing one of his favorite mediums, tulle, in layered, monochromatic constructions and digital renderings that represent ordinary life during extraordinary times. In addition to his physical work, the exhibition will include Önürmen's first series of NFTs, NFTulle: Origins. Önürmen's silhouette-like figures represent people at their most basic, their physical forms navigating landscapes punctuated by the shapes and signs common to everyday living in both the real and virtual worlds. As repetitive motifs of varying scale, the depiction of ordinary people engaged in mundane activities takes on an almost heroic quality and an exalted significance, particularly when these activities are undertaken against the ... More
A Bridge Between Worlds: Virgil Abloh in Art, Design, and Everything Else

Flashback
On a day like today, Polish-American painter Tamara de Lempicka was born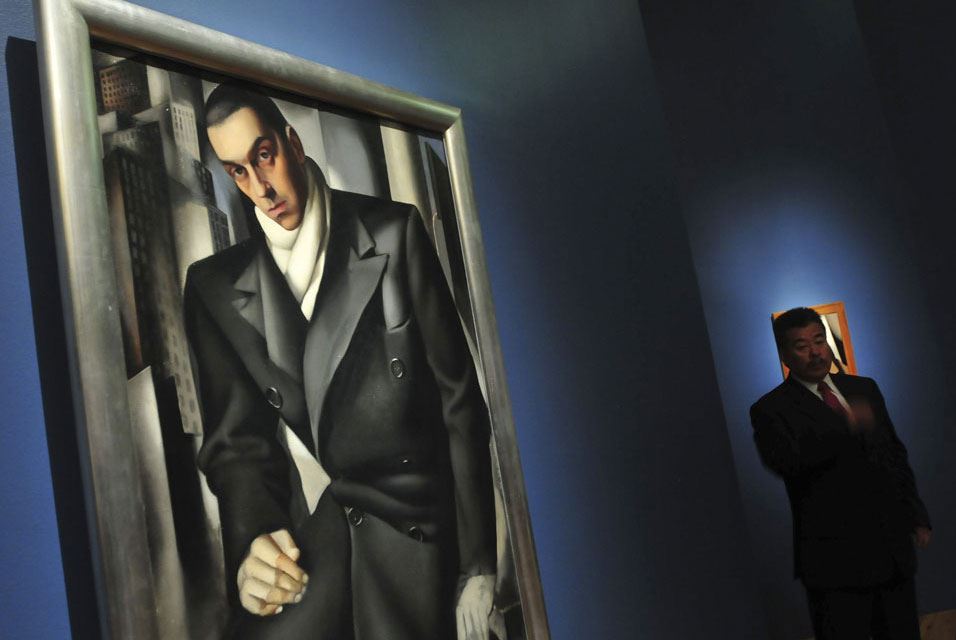 May 16, 1898. Tamara Łempicka (born Maria Górska; 16 May 1898 - 18 March 1980), also known as Tamara de Lempicka, was a Polish painter active in the 1920s and 1930s, who spent her working life in France and the United States. She is best known for her polished Art-Deco portraits of aristocrats and the wealthy, and for her highly stylized paintings of nudes. In this image: A man stands beside the painting "M. Tadeusz Lempicki" during the exhibition of works of art made by Tamara de Lempicka which opened at the Palace of Fine Arts in Mexico City.
---

Museums, Exhibits, Artists, Milestones, Digital Art, Architecture, Photography,
Photographers, Special Photos, Special Reports, Featured Stories, Auctions, Art Fairs,
Anecdotes, Art Quiz, Education, Mythology, 3D Images, Last Week,

.
---
Royalville Communications, Inc
produces: