New faces join London Art Week for Summer 2020 Digital Event 3-10 July 2020
Lotte Laserstein (Preussisch Holland, East Prussia 1898 - Kalmar, Sweden 1993), Boy Resting under a Tree, c. 1934. Oil on panel, 76 × 99.5 cm. (29.9 × 39.2 in.) Signed twice lower right 'Lotte Laserstein'. Image courtesy of Daxer and Marschall.
LONDON
.-
The innovative digital presentation of
London Art Week Summer 2020
, taking place from 3-10 July 2020, welcomes numerous new faces alongside familiar participants that have supported the event for many years. Some 50 exhibitors have been confirmed to date. International newcomers include Galerie Canesso and Jacques Leegenhoek from Paris, Nicolás Cortés Gallery of Madrid, Daxer & Marschall and Arnoldi-Livie of Munich, and, from Italy, dealers such as Walter Padovani of Milan with sculpture, Antichità Alberto Di Castro Srl of Rome with works of art, Bottegantica of Bologna with Italian art and Enrico Ceci Cornici Antiche of Modena with fine antique frames. From the USA come new participants Jill Newhouse Gallery and Mireille Mosler. Among new London-based dealers taking part in London Art Week this summer is Stuart Lochhead Sculpture, Osborne Samuel Ltd, Panter & Hall, Benjamin Proust Fine Art Ltd, and Offer Waterman. Sladmore Gal ...
More
The Best Photos of the Day
Elmgreen & Dragset join Pace Gallery
Milton Glaser's unseen design for New York: 'Together'
Architect Paul Revere Williams' archive jointly acquired by USC School of Architecture and Getty Research Institute


Elmgreen & Dragset © Elmar Vestner.



NEW YORK, NY.- Marc Glimcher, President and CEO of Pace Gallery, announced representation of the Scandinavian artist collective Elmgreen & Dragset. Since 1995, Elmgreen & Dragset—comprising Michael Elmgreen (b. 1961, Copenhagen, Denmark) and Ingar Dragset (b. 1969, Trondheim, Norway)—have had an artistic practice that combines sculpture, large scale installations, performance and numerous public outdoor artworks. Their work frequently challenges the way art is presented and experienced, as in their critically acclaimed project, The Collectors at the 53rd Venice Biennial in 2009, in which they transformed the adjoining Danish and Nordic pavilions into private homes, or in their exhibition, This Is How We Bite Our Tongue at Whitechapel Gallery in London in 2018, for which they turned the exhibition venue into a full-scale abandoned civic swimming pool. Through such acts of subversion, their works disrupt the normal conditions for percep ... More



At the time of his death, Milton Glaser was working on a graphical treatment of the word "Together," to evoke the idea that during the separation of the pandemic, "we have something in common." Image: Milton Glaser.

by Jeremy Elias



NEW YORK (NYT NEWS SERVICE).- Five weeks ago, I received a call from Milton Glaser. We'd never met, but he was kindly answering an email I'd sent his studio a few hours prior. At best, I expected a response from his assistant. Instead, I got a FaceTime Audio call from the 90-year-old graphic designer. The result was a conversation that ranged from the confounding nature of his success to the motivation for his latest project. It would be one of his last interviews before his death Friday, his 91st birthday. Only a few weeks before our conversation, New York had hit its COVID-19 apex. The infection and death rates were slowing, but the city's future remained in question. My prompt to Glaser, ... More



Portrait of Paul R. Williams, photography by Julius Shulman, 1952, Gelatin Silver Print, © J. Paul Getty Trust. Getty Research Institute, Los Angeles (2004.R.10).



LOS ANGELES, CA.- The archive of the renowned architect Paul Revere Williams (American, 1894–1980) has been jointly acquired by the University of Southern California School of Architecture and Getty Research Institute. The archive has been meticulously cared for by Karen Elyse Hudson, Williams' granddaughter, who has published extensively on his work. "Paul Williams led by example and instilled in his children and grandchildren the importance of excellence, an attention to detail, and above all, family. The collaboration of two such esteemed institutions, the University of Southern California (USC) and Getty Research Institute (GRI), to preserve and further his legacy, would make our grandfather extremely proud," said Hudson. "As the family historian, my journey has been one of awe and encouragement. Never once did ... More
Pioneering woman artist Delaunay's drawings to be sold
Christie's results: €12M for the Paris Design sale - New world auction record for Jean Royère
Dayton Art Institute announces reopening & signature events update


Sonia Delaunay wearing Casa Sonia creations, Madrid, c.1920.



PARIS (AFP).- Dozens of works by the pioneering modernist artist Sonia Delaunay are to go under the hammer in Paris on Wednesday. The Ukrainian-born painter was a co-founder of the Orphism movement, which alongside Cubism shook the art world in the years before World War I. The 88 drawings and small gouaches trace the development of the Russian artist's work from the 1920s to the 1970s, by which time her geometric designs had appeared on fashion catwalks, textiles and costumes for the great ballet impresario Diaghilev. Delaunay, born Sarah Ilinitchna Stern, married a gay German art dealer so she could get hands on her own inheritance before falling in love with the aristocratic French avant-garde artist Robert Delaunay, who she later married. Between them they helped create Orphism by breaking out of the boundaries of Cubism, making it more colourful and fragmented, and pushing it toward the more abstract art that later became ... More



The top lot of this section was Jean Royère's iconic Liane wall lamp, which sold for €1,570,000/£1,437,729/$1,764,093 against a presale estimate of €400,000-600,000, establishing a new world auction record for the artist. © Christie's Images Ltd 2020.



PARIS.- The Design sale achieved a total of €12,073,250/£11,056,090/$13,565,821 selling 93% by value and 82% by lot. Highlighting the sale was the exceptional original commission by French interior designer Jean Royère which totaled €6,813,125 for 19 lots, selling 100% of the lots. This original private collection, commissioned in 1962, drew the attention of international buyers present in the room, on the telephone and on Christie's Live. The top lot of this section is the iconic Liane wall lamp, which sold for €1,570,000/£1,437,729/$1,764,093 against a presale estimate of €400,000-600,000, establishing a new world auction record for the artist. Flavien Gaillard, Director of the department and Agathe de Bazin, Head of sale: "We are delighted with the fantastic results achieved tonight showing the relentless appetite for exceptional ... More



DAI reopens to members July 10 and to the general public July 17.



DAYTON, OH.- The Dayton Art Institute, closed since March 13 due to the COVID-19 pandemic, has announced it will reopen to members on Friday, July 10 and to the general public on Friday, July 17. The museum will reopen with limited hours of 11 a.m.–5 p.m. on Fridays and Saturdays, noon–5 p.m. on Sundays. "After nearly fourth months apart, we are thrilled to finally welcome our members and the community back to the museum," said DAI Director and CEO Michael R. Roediger. "The safety of both our staff and guests has been of the utmost importance, and the public will see a number of measures in place to ensure that everyone has a safe and positive experience at the museum." The museum also announced that, due to ongoing uncertainties related to COVID-19 and large gatherings, it will cancel all three of its 2020 Signature Events–Art Ball, Bourbon & Bubbles and Oktoberfest. Art Ball and Bourbon & Bubbles had previously been postponed, and Oktoberfest was ... More
Kerlin Gallery opens an exhibition of new paintings by Richard Gorman
Wu Guanzhong's Heavenly Lake in Mount Changbai to lead Sotheby's Fine Chinese Paintings Spring Sale
Ivan Navarro's "The Ladder (Sun or Moon)" lights the San Francisco sky


Richard Gorman, Charlie Charlie, 2020 (detail), oil on linen,170 x 340 cm, 66.9 x 133.9 in. Image courtesy of the artist and Kerlin Gallery, Dublin.



DUBLIN.- Kerlin Gallery re-opened to the public presenting an exhibition of new paintings by Richard Gorman, dalkey 2. dalkey 2 is the second part to the exhibition by Richard Gorman that began in early March but was quickly interrupted by Covid-19. All of these paintings were made by Richard while he was cocooning in his studio in Dublin during 'lockdown'. In dalkey 2, Gorman continues with his personal take on the 'emotional geometry' for which he has become celebrated in the past two decades. Approached with a lightness of touch, the works carry a renewed sense of movement and immediacy: angular, interlocking blocks of colour seem to spiral outwards, while radial shapes pirouette on their axis. As Gorman's understanding and mastery of colour has deepened, he has begun to use it not only as a harmonic device, but as an active and animating element in his paintings: ... More



Wu Guanzhong, Heavenly Lake in Mount Changbai (detail). Ink and colour on paper, framed, 1986, 95 x 180 cm. Estimate: HK$12,000,000 - 18,000,000. Courtesy Sotheby's.



HONG KONG.- Sotheby's Fine Chinese Paintings Spring Sale on 10 July will present over 200 modern Chinese paintings and calligraphy. The sale is distinguished by a remarkable collection of works by Wu Guanzhong executed at the peak of his artistic career from the late 1970s to early 1990s, led by Heavenly Lake in Mount Changbai, a six-foot monumental landscape painting, and Heavenly Lake in Xinjiang, a vibrantly coloured sketch. Also featured are Mighty Waterfall in Mountains, a semi-abstract work by Fu Baoshi previously kept in a private French collection, and an exceptional painting album created by Qi Baishi in his eighties, alongside a number of specially curated thematic sections covering works from different periods. Carmen Ip, Head of Department, Fine Chinese Paintings, Sotheby's Asia, states: "Rescheduled ... More



Ivan Navarro, The Ladder (Sun or Moon) © Henrik Kam, 2020.



SAN FRANCISCO, CA.- Internationally renowned light artist, Ivan Navarro's first permanent site-specific public artwork, The Ladder (Sun or Moon), has been unveiled by Shorenstein Company for its new apartment building, 50 Jones, in San Francisco. The Ladder (Sun or Moon), located on the façade of the building's 12-story tower fronting Market Street, consists of a ten-storied neon and steel 'ladder,' resembling a functional fire escape, with each diagonal section corresponding to the height of one story of the building. Looking upwards, a ladder of bright white light disappears skyward, and transports viewers from the traditional urban street life setting to an unexpected experience; a sensation of mystery and transcendence, which distinct to Navarro's artwork, is also reminiscent of the marquee that adorned the Granada Theater in the 1920's (later the Paramount Theater), the site upon which 50 Jones now ... More
UK's National Gallery to reopen after virus lockdown
With books and new focus, Mellon Foundation to foster social equity
Monumental sculpture from around the world in online selling exhibition


The gallery said changes have been made for the reopening -- visitors will have to keep two metres (yards) apart and follow three one-way "art routes" to see the collection. © National Gallery, London.



LONDON (AFP).- Britain's National Gallery on Tuesday said it would reopen next week after being closed for more than three months due to the coronavirus outbreak. The central London venue will reopen on Wednesday, July 8, becoming the first major art museum in the country to do so, as restrictions imposed in late March are finally eased. Swathes of the hospitality, tourism and cultural sectors are due to reopen in England from this weekend, including pubs and restaurants, due to a decline in virus cases and deaths. "We want to be a part of the nation's recovery story," gallery director Gabriele Finaldi said. The government, under pressure over its response to the outbreak that has officially claimed more than 43,000 lives, is hoping the move will help kick-start the economy. The National Gallery, in Trafalgar Square, was founded in 18 ... More



Elizabeth Alexander, president of the Mellon Foundation, who has led an institutional shift toward social justice causes, in Manhattan, June 18, 2020. Demetrius Freeman/The New York Times.

by Julia Jacobs



NEW YORK (NYT NEWS SERVICE).- The Andrew W. Mellon Foundation, the largest humanities philanthropy in the United States, announced Tuesday that it is adjusting its mission to give greater emphasis in its grant-giving to programs that promote social justice. The strategic refocus was approved by the foundation's board earlier this month at the same meeting at which it authorized spending for an initiative born of the new ethos — a $5.3 million program to distribute large, curated collections of books to prisons across the country. Though the discussion at the foundation to invest more deeply in issues of social justice predates the killing of George Floyd and the protests that followed, Elizabeth Alexander, the president of the ... More



Robert Indiana, LOVE (Gold/Red). Stamped with the artist's signature, numbered and dated '(c) 1966-2000 R INDIANA AP 1/4' (on the inside of the "E") polychrome aluminium, 72 x 72 x 36in. (182.9 x 182.9 x 91.4cm.). © Christie's Images Ltd 2020.



NEW YORK, NY.- An ambitious selling exhibition of monumental sculpture is being held online across the summer through Christie's Private Sales. Using digital enhancements to bring the works to life online, most of the works will be sold in-situ from their current homes around the world - from Australia to Yorkshire and from San Francisco to Monaco. Over 50 works led by Ai Wei Wei, Jeff Koons, Nikki de Sant Phalle, Richard Serra, Robert Indiana and Lynn Chadwick values are from $100,000 to $10 million. The exhibition is running online from 25 June through the Summer. Alice de Roquemaurel, Head of Christie's Private Sales for Post War and Contemporary Art in EMEA and David Kleiweg de Zwaan, Senior Director of Impressionist and Modern Art in New York, said: "At ... More
History of Jewellery Design: Cartier | Christie's Education

Flashback
On a day like today, American architect Buckminster Fuller died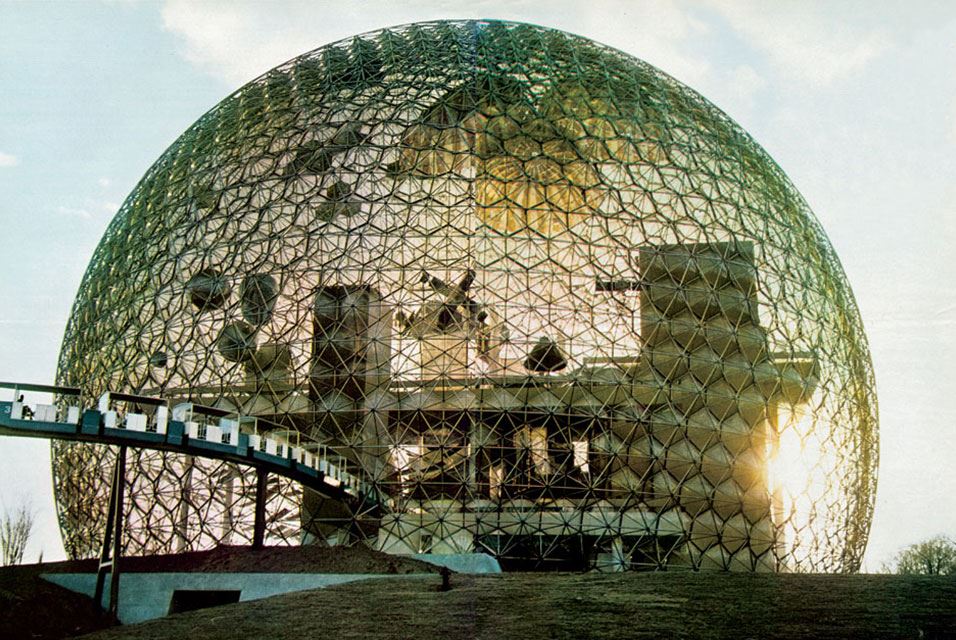 July 01, 1983. Richard Buckminster "Bucky" Fuller (July 12, 1895 - July 1, 1983) was an American architect, systems theorist, author, designer, inventor and futurist. In this image: U.S. Pavilion Montreal Expo 67. Buckminster Fuller, 1967. Image courtesy the Estate of R. Buckminster Fuller.
---

Museums, Exhibits, Artists, Milestones, Digital Art, Architecture, Photography,
Photographers, Special Photos, Special Reports, Featured Stories, Auctions, Art Fairs,
Anecdotes, Art Quiz, Education, Mythology, 3D Images, Last Week,

.
---
Royalville Communications, Inc
produces: