A 'Holy Grail' of American Folk Art, hiding in plain sight
In a photo provided by Bill Jacobson, the William Edmondson "Martha and Mary" sculpture whose whereabouts had been unknown for decades, after it was cleaned and conserved this summer in New York. A collector's keen eye — and willingness to knock on a stranger's door — led to the rediscovery of a sculpture by a renowned stone carver, William Edmondson.

by Sarah Bahr
NEW YORK, NY
.-
John Foster was driving through St. Louis in 2019 when he spotted something unusual on the front porch of a home just east of Forest Park. "I thought, 'That doesn't look like just a piece-of-concrete lawn ornament,'" said Foster, a St. Louis-based author, historian and art enthusiast. He couldn't stop at the time, but the remarkable carving — a pair of seated stone women, their bodies flecked with moss — stuck in his mind. He returned a few weeks later and knocked on the door. "Can I take a closer look?" he asked the couple who answered, Sally Bliss and her husband, Jim Connett. He bent down and examined it. The faces were obscured by the green moss, but the distinctive small mouths resting directly beneath vertical noses, nearly closed eyes, and contrast in surfaces between the flatness of the dress and the fluffiness of the bottom left no doubt: This was the work of stone carver William Edmondson, the first Black artist to have a solo ...
More
The Best Photos of the Day
Jefferson statue may be removed after more than 100 years at City Hall
Getty acquires 16th-century painting by Jacopo Bassano
Christie's New York 20th Century Evening Sale features Picasso's Profil


The statue of Thomas Jefferson in New York's City Hall on Sept. 26, 2016. Black, Latino and Asian City Council members who find the sculpture oppressive and racist may finally win a two-decade fight to remove it from their chamber. Dave Sanders/The New York Times.

by Jeffery C. Mays and Zachary Small



NEW YORK, NY.- For more than 100 years, a 7-foot-tall statue of Thomas Jefferson has towered over members of the New York City Council in their chamber at City Hall. The statue has stood by for generations of policy debates, thousands of bills passed and a city budget that has soared to roughly $100 billion. It has also withstood another test of time: Two decades ago, a call to banish the statue gained attention but went nowhere. But as the country continues the slow and painful process of determining who deserves to be memorialized in shared public spaces, the removal of the Jefferson statue is receiving far more serious consideration. The Public Design Commission is expected Monday to vote on ... More



Jacopo Bassano, The Miracle of the Quails, 1554 (detail).



LOS ANGELES, CA.- The J. Paul Getty Museum has acquired a monumental 16th-century painting by Venetian artist Jacopo Bassano (Italian, c. 1510-1592). The Miracle of the Quails, executed in 1554, is among the artist's largest and most ambitious works. "The Miracle of the Quails is an exceptional example of Bassano's distinctive artistic style and his juxtaposing of historical subjects with everyday people in a state of poverty. Although it is widely recognized as one of his most extraordinary artistic achievements, it has been rarely seen by scholars and never by the general public," says Timothy Potts, Maria Hummer-Tuttle and Robert Tuttle Director of the J. Paul Getty Museum. "With its grand scale, this striking and daring painting will become a centerpiece of our 16th-century northern Italian paintings gallery, alongside works by Titian, Veronese, Savoldo, Lotto, and Dosso Dossi." The painting was commissioned in ... More



Pablo Picasso, Profil, signed and dated 'Picasso -27-1-XXX' (lower left), oil and charcoal on cradled panel 26 x 20 in. (66 x 50.8 cm.) Painted in 1930. Estimate: $6 Million - $8 Million. © Christie's Images Ltd 2021.



NEW YORK, NY.- Christie's announces Pablo Picasso's Profil will be featured in the 20th Century Art Evening Sale on 11 November in New York. The painting is the property of The Regents of the University of California, Los Angeles and will be sold to benefit acquisitions for the UCLA Grunwald Center and Hammer Museum (estimate: $6 million - $8 million). Ann Philbin, Director of the Hammer Museum in Los Angeles, remarks, "The proceeds from the sale of this Picasso will create a fund enabling the Hammer to expand and deepen the diversity of artists represented in our collections, and to acquire works that play to our collections' strengths—namely, historical to contemporary works on paper, including prints, drawings and photographs. The timing feels right as the Hammer undergoes a physical ... More
Snite Museum of Art welcomes Dr. Jared Katz, new Associate Curator of the Americas and Africa
The Ahmanson Foundation and The Huntington form major art acquisitions partnership
From graffiti in the shadows to designing an observation deck in the clouds


Dr. Katz comes to the Snite Museum from the Denver Art Museum, where he served as Consulting Curator for the Art of the Ancient Americas.



NOTRE DAME, IN.- The Snite Museum of Art at the University of Notre Dame announced the appointment of Dr. Jared Katz to the position of Associate Curator of the Americas and Africa. Dr. Katz comes to the Snite Museum from the Denver Art Museum, where he served as Consulting Curator for the Art of the Ancient Americas. Additionally, he taught at the University of Denver. Katz has a doctorate in Anthropology from the University of California, Riverside. At the Museum, Katz will initially focus on the reinstallation of the Mesoamerican and Native American galleries. After the new Raclin Murphy Museum of Art opens, he will work on a myriad of exhibitions on the Ancient Americas, and continue research on the Museum's renowned collections. "The Museum is honored to welcome Dr. Katz to the staff. His enthusiasm, innovative spirit, and scholarship are deeply appreciated. This is a dynamic moment of growth for the Museum as we work towards ... More



Thomas Cole, Portage Falls on the Genesee, 1839. Oil on canvas, 84 1/4 x 61 1/4 in. Gift of The Ahmanson Foundation. The Huntington Library, Art Museum, and Botanical Gardens.



SAN MARINO, CA.- In an agreement destined to have transformative results, The Ahmanson Foundation and The Huntington Library, Art Museum, and Botanical Gardens have formed a major art acquisitions partnership that provides significant funding to The Huntington to purchase masterpieces of European or American art to add to its collection. The first major acquisition to launch the program is the monumental Portage Falls on the Genesee (1839) by Anglo American painter Thomas Cole (1801–1848). The dramatic, approximately 7-by-5-foot painting of the Genesee River Valley in upstate New York captures the epic scale and sublime Romanticism that define the Hudson River School, an artistic movement of which Cole is considered the founder. The Ahmanson Foundation has been an important strategic partner, supporting The Huntington for more than ... More



A person takes in the view from a new immersive experience atop One Vanderbilt in Midtown Manhattan on Oct. 16, 2021. Sasha Maslov/The New York Times.

by Alyson Krueger



NEW YORK, NY.- For much of the pandemic, midtown Manhattan has struggled. Office buildings have lost their buzz, which has affected local restaurants and other businesses. But midtown's spiky skyline remains, and is even expanding. Now there's a new way to appreciate it. This week, One Vanderbilt, a new skyscraper on 42nd Street, will open its observation deck, Summit. From floors 91 through 93, viewers can take in the art deco details of the Empire State and Chrysler buildings, and if they peer north on a clear day can catch a glimpse of Bear Mountain in the Hudson Highlands. Inside, there is an immersive experience called Air, with mirrors, lights and views of the city hundreds of feet below. It was created by Kenzo Digital, 42, a digital artist known for his collaborations with Beyoncé. The native New Yorker wanted to trigger ... More
Christie's to offer the Darwin Family Microscope
Bonhams to offer an important single-owner collection of post-war & contemporary art
Simone Fattal presents a sculptural environment for a major new commission


The Darwin Family Microscope: A Gould-type microscope by Cary, with accessories in original mahogany box. Estimate: £250,000-£350,000. © Christie's Images Ltd 2021.



LONDON.- On 15 December 2021, Christie's Valuable Books & Manuscripts auction will present the Darwin Family Microscope (estimate: £250,000 – 350,000), as part of Christie's Classic Week. With direct provenance from Charles Darwin (1809-1882), the Gould-type microscope by Cary was gifted by Darwin to his son Leonard Darwin (1850-1943) in 1864. It has passed by descent and remained in the family for nearly 200 years. James Hyslop, Head of Department, Scientific Instruments, Globes & Natural History, Christie's: "It is an enormous privilege to present the Darwin Family Microscope to collectors this season, with a history that spans six generations of the family. I find it incredibly exciting to look through this microscope and see what Charles would have seen when he pressed his eye to the lens. An instrument of such ... More



Jean-Pierre Raynaud (Born 1939), Grand Demi-Pot, 1968. Estimate: €80,000 - 120,000. Photo: Bonhams.



PARIS.- The journey of a collector: from Alain Jacquet to Robert Combas (Le parcours d'un collectionneur: d'Alain Jacquet à Robert Combas), an important single-owner collection of French Post-War & Contemporary Art, will be offered at Bonhams Paris (4 Rue de la Paix) on Thursday 28 October. The sale will feature works by many of the most significant French artists of the post-war period, from the 1960s 'La Figuration narrative' and pop art movements, including Alain Jacquet, Jacques Monory, Erro, Bernard Rancillac and Robert Combas, amongst others. Leading the sale will be Grand Demi-Pot, 1968, by Jean-Pierre Raynaud, which has an estimate of €80,000 - 120,000. International Director, Post-War & Contemporary Art, and Head of Sale, Giacomo Balsamo, said: "'This collection has been assembled over a period of more than thirty years by an attentive and passionate collector who was a dedicated patron and friend of a gener ... More



Installation view.



LONDON.- For her first solo presentation in the UK, internationally acclaimed artist Simone Fattal (b. 1942, Syria) leads visitors on a journey of transformation in a major new sculptural commission. Imagining the large, brick-lined Gallery 2 space to be a giant kiln, Fattal fills the room with five ceramic figures who embark on a spiritual and physical metamorphosis. Elements of an ancient landscape appear throughout the exhibition; a delicate ceramic ladder, a series of carved architectural stele and a Mesopotamian ziggurat temple – connecting earth to heaven – inspire ideas around ascension and emancipation. A series of six black and white etchings, drawn from Fattal's childhood memories of Damascus, appear as abstracted maps or oases of rich vegetation. Much of Fattal's work exists between figuration and abstraction; modest clay figures are rendered with just enough detail to be discernible as individuals, revealing her preoccupation with the ... More
Sophie Lauwers appointed as General Director of Bozar
Museo Picasso Málaga opens 'The Paris of Brassaï. Photographs of the City Picasso Loved'
Successful autumn auctions for Old Masters and decorative arts at Koller


Sophie Lauwers (°1966, Halle) has been Director of Exhibitions at Bozar since 2011. Photo: Saskia Vanderstichele.



BRUSSELS.- During the Council of Ministers of 15 October, the government decided to appoint Sophie Lauwers as the new General Director of Bozar. Her mandate will last 6 years and starts on 1 November. Sophie Lauwers (°1966, Halle) has been Director of Exhibitions at Bozar since 2011, and was previously exhibition coordinator since 2002. With her exhibition policy she always looks for synergies between classical and contemporary art, but also between the visual arts and other disciplines. She has an eye for the super-diverse creativity in a city like Brussels. In a spirit of renewal and continuity she will be able to continue the development and mission of Bozar, together with the entire management committee. Sophie Lauwers: "The reactions to my appointment as Director-General of the Centre for Fine Arts are heart-warming. The past twenty years have been an incredible journey in this house, and this marks the start of a new chapter. I will not ... More



Brassaï (1899 - 1984), Self-portrait, boulevard Saint-Jacques, Paris, 1930-1932. Gelatin silver print, 29.6 x 22.9 cm. Estate Brassaï Succession, Paris © Estate Brassaï Succession-Philippe Ribeyrolles.



MALAGA.- Brassaï arrived in Paris from Hungary in 1924. Little by little, he discovered the dynamic nature and the social idiosyncrasies of the great metropolis. While he initially explored the city's nightlife, over time he began to create a precise X-ray of its architecture and its people. He joined the fascinating intellectual and artistic avant-garde community of which Picasso was a member, becoming one of its finest eyewitness photographers. But Brassaï was not just a photographer, he was also a versatile artist who drew, made sculptures, decorated, and made films. As a photographer, Brassaï constructed a visual topography of the city of light (and shadows) in the 1930s and 40s, but this exhibition also aims to show him as a prolific creative artist. Brassaï's Paris. Photographs of the City Picasso Loved features over 300 works, with photographs, drawings and sculptures that ... More



The top lot of the Old Master Paintings auction was an expressive portrait by Govaert Flinck, one of Rembrandt's best pupils, which sold for CHF 833 000 (lot 3025).



ZURICH.- The market for Old Masters and antique decorative arts continues to be robust, as witnessed by Koller's autumn auction series from 30 September to 1 October. The top lot of the Old Master Paintings auction was an expressive portrait by Govaert Flinck, one of Rembrandt's best pupils, which sold for CHF 833 000 (lot 3025). A remarkable view of Munich by Bernardo Bellotto, recently rediscovered in a private collection (lot 3062), changed hands for CHF 603 000. It was one of only three known versions of this subject by the Italian artist, a nephew of Canaletto. A large-format Venetian capriccio by Francesco Guardi (lot 3067) formerly in a noble Spanish collection sold for CHF 488 000. The auction featured a series of works from the Brueghel dynasty of painters, which were all in demand. A large-format 'Sermon of Saint John the Baptist' by Pieter Brueghel the Younger (lot 3015) fetched CHF 464 000, ... More
Then and Now: Imagining Van Gogh's Painting Process

Flashback
On a day like today, Italian painter and sculptor Umberto Boccioni was born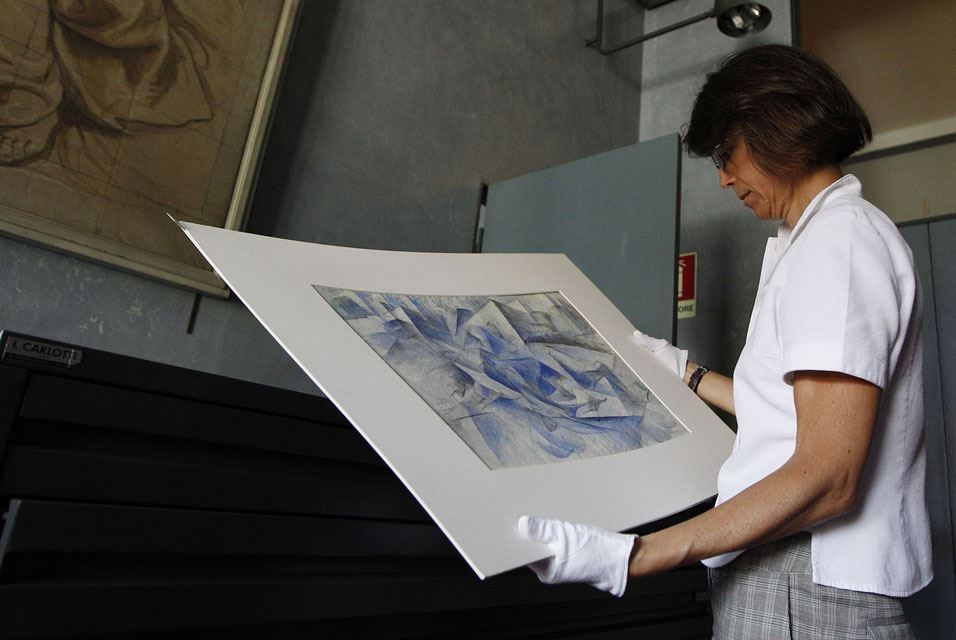 October 19, 1882. Umberto Boccioni (19 October 1882 - 17 August 1916) was an Italian painter and sculptor. Like other Futurists, his work centered on the portrayal of movement (dynamism), speed, and technology. He was born in Reggio Calabria, Italy. In this image: Francesca Rossi, curator in charge of the Sforzesco Castle drawings collection, looks at a work by Umberto Boccioni, in the same room where sketches by mannerist painter Simone Peterzano are preserved, in Milan, Friday, July 6, 2012.
---

Museums, Exhibits, Artists, Milestones, Digital Art, Architecture, Photography,
Photographers, Special Photos, Special Reports, Featured Stories, Auctions, Art Fairs,
Anecdotes, Art Quiz, Education, Mythology, 3D Images, Last Week,

.
---
Royalville Communications, Inc
produces: