Exhibition honors the life and career of iconic San Antonio artist Chuck Ramirez
Chuck Ramirez, 1964-2010. Escoba anaranjada vieja from Brooms, 2007. Digital print. © Estate of Chuck Ramirez, Courtesy Ruiz-Healy Art, San Antonio, Texas.
SAN ANTONIO, TX
.-
Chuck Ramirez's large-scale photographs of everyday objects offer a humorous yet poignant perspective on our culture of consumption and waste, and the reality of fleeting life and mortality. Ramirez was inspired by opposing themes—life/death and humor/despair—and by his work as a graphic designer at Texas supermarket giant H-E-B. Chuck Ramirez: All This and Heaven Too opened at
the McNay
on September 14 and runs through January 14, 2018. Ramirez's art explores a personal narrative including his San Antonio upbringing, Mexican-American heritage, and HIV+ status, making the project relevant to Texas and the broader arena of contemporary art and photography. Ramirez's photographs were created as several themed series explored over the course of his career. For example, Santos presents images of the bottoms of religious sculptures most often used for private devotion. This dichotomy of celebration and irreverence appears ...
More
The Best Photos of the Day
Exhibition at Lévy Gorvy London features early charcoal-on-paper 'sculptures' by Gilbert & George
Banksy honours Basquiat with new London murals
Degas's Drinker: Portraits by Marcellin Desboutin on view at the Fitzwilliam Museum


The Singing Sculpture. Sonnabend Gallery, New York, 1991 © 2017 Gilbert & George.



LONDON.- Comprised of twenty-three monumental, multi-panel pieces, The General Jungle or Carrying on Sculpting is one of the earliest manifestations of Gilbert & George's 'Art for All' philosophy, reinforcing their reputation as 'living sculptures'—an identity and belief maintained by the artists since they met at St Martin's School of Art, London, fifty years ago this September. On view at Lévy Gorvy London through 18 November, The General Jungle or Carrying on Sculpting features early charcoal-on-paper 'sculptures' by the renowned artist duo, on view in its Old Bond Street location. This is the first exhibition in the United Kingdom to feature this seminal body of work, which was first presented at the Sonnabend Gallery, New York, in 1971, as the atmospheric backdrop to one of their most celebrated works, The Singing Sculpture. 'We are thrilled to bring this important ... More



The murals appeared over the weekend near the Barbican Centre, which will open its exhibition on the American graffiti artist on Thursday.



LONDON (AFP).- Two new murals by street artist Banksy have appeared in central London in tribute to Jean-Michel Basquiat ahead of a new exhibition celebrating the US artist's work. One of the artworks shows a scarecrow figure, similar to Basquiat's 1982 piece "Boy and Dog in a Johnnypump", being searched by two police officers. A picture of the mural appears on Banksy's Instagram feed with the caption: "Portrait of Basquiat being welcomed by the Metropolitan Police -- an (unofficial) contribution with the new Basquiat show". The second shows people queueing up to ride a Ferris wheel with crown-shaped gondolas. The murals appeared over the weekend near the Barbican Centre, which will open its exhibition on the American graffiti artist on Thursday. Banksy said on Instagram: "Major new Basquiat show opens at the Barbican -- a ... More



Marcellin Desboutin (1823-1902), Edgar Degas, 1878. Fitzwilliam Museum, Cambridge.



CAMBRIDGE.- For the first time, in conjunction with its major Degas exhibition opening in October 2017, the Fitzwilliam Museum will exhibit its holdings of prints by his friend and fellow artist, Marcellin Desboutin (1823-1902). Degas's Drinker: portraits by Marcellin Desboutin forms part of a season of events at the Fitzwilliam celebrating the art and times of Edgar Degas in the centenary of his death, complementing the major exhibition Degas: a passion for perfection. Desboutin was the embodiment of the pipe-smoking bohemian artist in fin-de-siècle Paris, and he appears as a down-and-out drinker in Degas's famous painting of the café scene from 1876, L'Absinthe . The exhibition sheds light on this lesser known yet active member of the artistic and literary circles that met in the so-called Impressionist cafés: initially the Guerbois and later the Nouvelle Athènes. ... More
Simon Lee Gallery opens first solo exhibition in America of Japanese artist Ryuji Tanaka
Martin Puryear opens first London solo exhibition at Parasol unit foundation for contemporary art
Exhibition at Tanya Bonakdar Gallery features three new bodies of work by Lisa Oppenheim


Installation view.



NEW YORK, NY.- Simon Lee Gallery New York is presenting the first solo exhibition in America of Japanese artist Ryuji Tanaka. A recognized member of two avant-garde groups that are synonymous with post-war Japanese art: the Pan-real Art Association and Gutai Art Association, Tanaka's legacy lies in his desire to evolve a unique artistic style that is at once experimental, and yet deeply rooted in the traditional Japanese-style painting - nihon-ga. Spanning work made between the 1960s and 1990s, this concise survey traces the evolution of Tanaka's style from his dark and intense early paintings, which demonstrate abstract experiments with nihon-ga materials, to the refinement of his later works that display a fresh and profound lyricism through the use of color. Like many artists of the time, Tanaka studied nihon-ga painting at the Kyoto Municipal School of Painting where he became deeply committed to traditional ... More



Martin Puryear, Shackled, 2014. Iron, 70 x 78 x 21.3 cm (27½ x 30⅝ × 8⅜ in). Collection of the artist. Photograph by Ron Amstutz. © Martin Puryear, courtesy Matthew Marks Gallery.



LONDON.- Parasol unit foundation for contemporary art announces a solo exhibition of works by the distinguished American artist Martin Puryear. Showing in London for the first time in a public institution, this solo exhibition spans almost 40 years of the artist's career and presents over thirty works, including sculpture and works on paper. Martin Puryear's abstract sculptures are extraordinary. His reductive forms have a unique aesthetic and are loaded with a poignant sense of cultural history. Puryear explores human identity and politics with such intriguing subtlety that viewers cannot help but be enthralled by them. Meticulously constructed from a diverse range of materials, usually wood, most of his sculptures are hand-made by the artist himself using traditional techniques. Puryear's ... More



Lisa Oppenheim, Jacquard Weave (Flower), 2017. Jacquard woven cotton, mohair and linen textile in wood frame, 23 1/8 x 18 1/2 inches; 58.7 x 47 cm (framed) 22 1/4 x 17 3/4 inches; 56.5 x 45.1 cm (unframed) Edition of 1; 1 AP. Courtesy the artist and Tanya Bonakdar Gallery, New York.



NEW YORK, NY.- Tanya Bonakdar Gallery is presenting Lisa Oppenheim: A Durable Web, the artist's second solo presentation with the gallery. On view September 7– October 21, 2017, the exhibition features three new bodies of work that explore themes related to the body and labor within the history of photography and American textile manufacturing. In her new exhibition, Oppenheim investigates this particular material history as it relates specifically to women's work. As textile production shifted to factories and mills from domestic spaces in the 19th century, the relationship of object to labor became more abstract and less directly connected to the body of the maker. Recalling Marxist ... More
Group exhibition featuring paintings by three artists on view at Heather Gaudio Fine Art
lnstitut français brings the eclectic and visionary French artist Höel Duret to Milan
First important European art pottery sale from the collection of Jason Jacques offered at Heritage Auctions


Charles Arnoldi, Byline, 2009. Acrylic on Canvas, 36 3/4 x 34 inches.



NEW CANAAN, CONN.- Heather Gaudio Fine Art is presenting "Paradigm Shifts," a group exhibition featuring paintings by Charles Arnoldi, Ricardo Mazal and Manuel Mérida. The show opened on September 14th and will run through November 25th. The artists in this exhibition explore the potential of painting as a medium, challenging its normative paint application and structure. Whether selecting pigments in their primordial form, applying them with non-traditional tools, or presenting irregular supports, these artists break with convention all-the-while maintaining an aesthetic foothold in modernism. Charles Arnoldi has had a decades-long distinguished career as an artist investigating the formal aspects of paintings and sculpture. Shapes, color, and proportion are motifs he continually revisits in his work, suggesting architectural elements or forms seen in nature, ... More



Hoël Duret, La Vie Heroique de B.S. Acte II. Le dilemme de l'oeuf. Extrait video © Hoël Duret, 2014.



MILAN.- Following the first special spring edition in May 2017, "La Grande Occasione" comes back to Milan from 4th to 10th October. It comes to a Special Edition of Video Sound Art, festival and contemporary art production centre that promotes ground-breaking languages and contamination ex-periences, promoting research and new technologies in the arts. Supported by Comune di Milano, Regione Lombardia, Fondazione Nuovi Mecenati, and a special partnership with lnstitut français Milano, the festival will enliven the gallery space of Institut français. After hosting Yuri Ancarani, Ugo La Pietra and Bibi Yamamoto, VSA Special Edition curated by Laura Lamonea, brings the eclectic and visionary French artist Hӧel Duret to Milan. Born in 1988, Hӧel Duret has exhibited his work in the most eminent cultural centres in the world, such as: Centre Pompidou, ... More



Edmond Lachenel, Bamboo Embrace.



NEW YORK, NY.- For the first time, Jason Jacques announces that selections from his renowned collection of European Art Pottery will be available to collectors in the Heritage Auctions' Design sale on October 24th in Dallas. The New York Preview takes place September 20 through September 29 at the auction house's satellite office, located at 455 Park Avenue. For more than 25 years, Jason Jacques has been the preeminent purveyor of late 19th- and early 20th-century European ceramics through his New York City gallery, presenting seminal exhibitions and publications on the subject. "This is our first auction and we're delighted that the Jason Jacques Collection will be offered at Heritage," says Jason Jacques. Jacques' collection includes a selection of approximately 200 works by many of the masters of the period, including rare works by Taxile Doat, Ernest Chaplet and Emile DeCoeur. Curated by Jacques ... More
Exhibition of contemporary art from the United Arab Emirates opens at me Collectors Room
Exhibition of recent and significant historic work by Mary Corse on view at Lehmann Maupin
Remote Scottish Postboxes by Martin Parr to be published by RRB Photobooks


Khalid Al Banna, Kreislauf des Wandels (Detail), Cycle of change (detail), 2016.



BERLIN.- The exhibition Portrait of a Nation offers a glimpse into the creative practices of 50 contemporary artists from the United Arab Emirates (UAE). Visitors are invited to explore the country through the individual perspectives of the participating artists who call it home. The exhibition is divided into seven themed rooms: Nation & Unity, Geography & Nature, Architecture & Urbanism, Portraiture & Identity, Religion & Spirituality, Language & Calligraphy, and Tradition & Heritage. Founded in 1971 the UAE is today home to some 200 nationalities. The exhibition offers a rare glimpse into its little-known history and diversity while considering significant contemporary questions of heritage and identity. Against a backdrop of rapid development and globalisation, the works explore complex ideas of modern nationhood, visiting urban and rural landscapes and examining major issues of unity, spirituality, and language. Tracing the nation's shifting identity, the exhibition includes 20 spec ... More



Mary Corse, Untitled, 2017 acrylic squares and glass microspheres in acrylic on canvas 90 x 90 inches 228.6 x 228.6 cm (LM25113) Photo: Matthew Herrmann. Courtesy the artist, Lehmann Maupin, New York and Hong Kong, and Kayne Griffin Corcoran, Los Angeles.



NEW YORK, NY.- Lehmann Maupin is presenting an exhibition of recent and significant historic work by Mary Corse. The Los Angeles-based artist's third solo exhibition with the gallery is influenced by her Black Light Painting from 1975. Corse returns to the materials introduced in this earlier series with a prodigious 19-foot painting, Untitled (DNA Series) (2017) and an additional 10 new corresponding paintings to form a continued examination of the technical and theoretical framework she has honed over the past 50 years. These bold black-and-white works highlight Corse's proficiency for varied surface treatments, including matte paint, gestural brushstrokes, and light-reflecting particles. These works encapsulate Corse's longstanding investigation into the interaction ... More



Tiree, Inner Hebrides, Scotland, 2006 © Martin Parr / Magnum Photos. Remote Scottish Postboxes by Martin Parr is published by RRB PhotoBooks on 30 October 2017.



LONDON.- Remote Scottish Postboxes is Martin Parr's first major contribution to landscape photography. Published here for the first time, the photographs in this new book were taken between 2004 – 2010 on the Scottish mainland and outlying islands of Orkney, Shetland, Barra, Lewis and Islay. On a number of occasions, Parr and his wife, Susie, holidayed in Scotland stopping frequently during their travels to photograph the local Royal Mail postboxes. Often, they would revisit remote outposts, going miles out of their way, so that Parr could capture the postboxes at a particular time of day to take advantage of the best light. Through Parr's photographs, these isolated, red outposts of civilisation each take on a character and personality of their own, against the lonely yet beautiful Scottish backdrop. "When you are in the middle of nowhere, in a b ... More
Mario Testino Captures Imagination of Collectors
Flashback
On a day like today, Danish painter Michael Peter Ancher died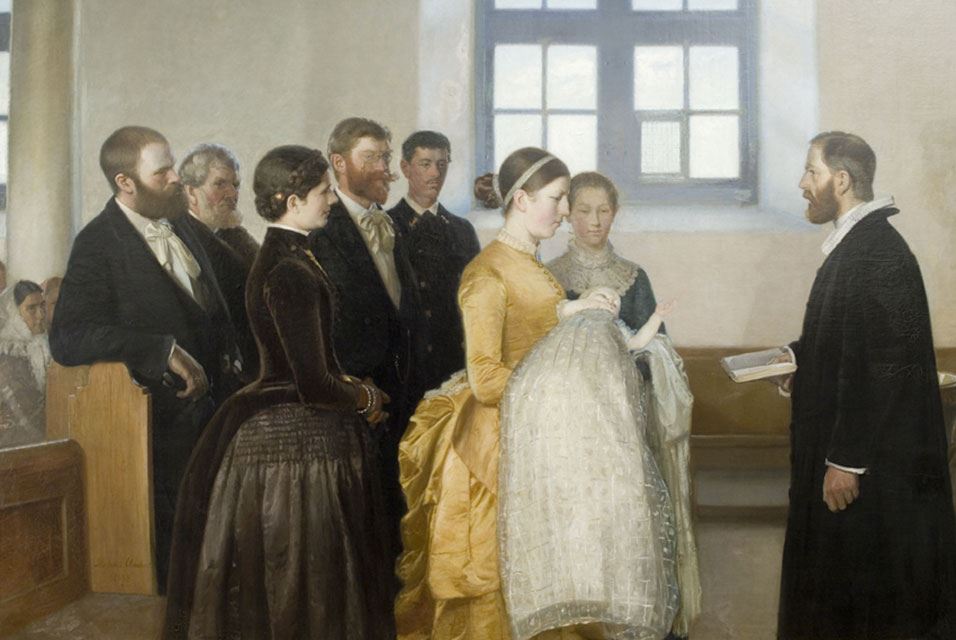 September 19, 1927. Michael Peter Ancher (9 June 1849 - 19 September 1927) was a Danish impressionist artist. He is most associated with his paintings of fishermen and other scenes from the Danish port of Skagen. His paintings are classics and he is probably one of Denmark's most popular artists. In this image: A Christening, Michael Ancher (1888).
---

Museums, Exhibits, Artists, Milestones, Digital Art, Architecture, Photography,
Photographers, Special Photos, Special Reports, Featured Stories, Auctions, Art Fairs,
Anecdotes, Art Quiz, Education, Mythology, 3D Images, Last Week,
.
---
Royalville Communications, Inc
produces: