Barge built secretly for Napoleon Bonaparte in 1810 on the move again
A worker (L) walks past France's Imperial Canoe belonging to Napoleon I, as work is carried out to transfer it from the Musée National de la Marine (National Navy Museum) in Paris, to the city of Brest on September 18, 2018. To move the crown, which decorated the deckhouse, and the boat, a huge breach will be pierced in the wall of the Palais de Chaillot at the Trocadero where the museum in housed, to allow the imperial 18-meter long boat, completed in 1810, out for the first time since 1945. In Brest, the boat will be restored, the crown reassembled, and it will be on view to the public in late 2019. The boat was built for the Emperor's visit to Antwerp to visit the arsenal which he had ordered created a few years earlier. In 1814 the canoe was shipped to Brest and new modifications were made before the visit to Brest of Napoleon III and the Empress Eugenie in 1858. Philippe LOPEZ / AFP.
PARIS
(AFP)
.-
A barge built secretly for Napoleon Bonaparte in 1810 to inspect his imperial fleet had its crown removed in a delicate museum operation Tuesday ahead of the vessel's move to a new home on the coast of Brittany. Since World War II the 18-metre (60-foot) craft has held pride of place at the National Naval Museum in Paris, its ornate crown topped by a cross and supported by four cherubim perched on the vessels roof. Using chains attached to scaffolding, workers carefully lifted the crown and placed it on a cross of wooden beams, before slowly depositing it on the floor of the museum, just across the Seine river from the Eiffel Tower. The imperial canoe, as it is called on the museum's website, is set to undergo a full restoration before going on display in Brest on France's western coast in late 2019. A huge hole will have to be knocked through one of the museum's outer walls to remove the vessel -- the same procedure used to get it inside in 1943 when it was brought from Brest. "To keep ...
More
The Best Photos of the Day
Ruiz-Healy Art opens a group exhibition comprised of Mexican artists
Ten leading street artists reignite the conversation on men's mental health
White Cube announces global representation of its first Artist Estate, American painter Al Held


Pedro Friedeberg, Papageno en Madagascar, 13.9 x 11 in.



SAN ANTONIO, TX.- Ruiz-Healy Art is presenting a group exhibition comprised of Mexican artists that the gallery has placed within some of the most prominent Texas public and private art collections. Made in Mexico honors the long history of cultural cross-pollination between the USA and Mexico and embraces the diversified practices of these artists. Made in Mexico refers to the interchange between traditional art making and contemporary art practices of the selected artists. The exhibition features the works of Pedro-Diego Alvarado Rivera, Carlos Amorales, Laura Anderson Barbata, Marifer Barrero, Pedro Friedeberg, Graciela Iturbide, and Shinzaburo Takeda among others. Patricia Ruiz-Healy, gallery director states: "It is an honor to showcase this selection of Mexican artists together for the first time at the gallery. In celebration of San Antonio's tricentennial I felt that it was the perfect time ... More



Felipe Pantone, Chromadynamica #76, 66 x 100cm., spray paint on aluminium panel. Courtesy Sotheby's.



LONDON.- This November, Sotheby's and leading men's health charity, the Movember Foundation, will offer ten powerful new works from the world's most prolific street artists. Harnessing the distinct urban style for which they are famed, each artist has created an agenda-setting piece motivated by, and aimed at nurturing, open conversations surrounding men's mental health and suicide prevention. The bold works will go on view to the public in Sotheby's London galleries as part of the 'Contemporary Curated' exhibition. Proceeds from the sale of these works on November 20 will benefit the Movember Foundation and their dedicated investment in ground-breaking mental health programmes. The initiative has been spearheaded by artist and gallery owner Dean Stockton, whose vibrant Pop Art murals, which draw comparison to the impactful comic-strip canvases of Roy Lichtenstein, have propelled him onto the international ... More



The Al Held Foundation is charged with the care, management and preservation of Al Held's art and creative legacy.



LONDON.- White Cube announced Al Held (1928−2005) as the first artist estate to join the gallery. Led by John Good, Director of Artists' Estates, White Cube will commence global representation of the Al Held Foundation in January 2019. A pioneer of hard-edged abstraction, Al Held created works of great complexity during his 50-year career. Born in Brooklyn in 1928, he attended the Art Students League of New York and then the Académie de la Grand Chaumière in Paris (1951−3). When he returned to New York in 1953, Abstract Expressionism was dominant, and he took part in several of its key exhibitions such as American Abstract Expressionists and Imagists at the Guggenheim Museum, New York (1961); Geometric Abstraction in America at the Whitney Museum of American Art, New York (1962); and Post Painterly Abstraction, curated by Clement Greenberg, at the Los ... More
Sir David Adjaye selected as design architect for new Princeton University Art Museum
Blinky Palermo's 'To the People of New York City' returns to Dia Art Foundation
Yusaku Maezawa: Japanese spaceman with a taste for art


Sir David Adjaye. Photo: Ed Reeve.



PRINCETON, NJ.- Sir David Adjaye of Adjaye Associates has been selected as design architect, in collaboration with Cooper Robertson as executive architect, for the new Princeton University Art Museum. The new museum building, located on the museum's current site in the center of campus, will present dramatically enlarged space for the exhibition and study of the museum's encyclopedic collections, special exhibitions and art conservation, as well as object-study classrooms and office space for the 100-person museum staff. "Sir David Adjaye is a renowned architect who has designed superb buildings for some of the world's most admired cultural institutions," said Princeton President Christopher L. Eisgruber. "Having taught on this campus, he understands fully what the University and the Art Museum are looking to accomplish. I am thrilled that Adjaye Associates and their skilled collaborators at Cooper Robertson will se ... More



Blinky Palermo, To the People of New York City, 1976. Installation view, Dia:Chelsea, 545 West 22nd Street, New York, 2018. © Artists Rights Society (ARS), New York/VG Bild-Kunst, Bonn. Photo: Bill Jacobson Studio, New York, courtesy Dia Art Foundation, New York.



NEW YORK, NY.- Blinky Palermo's To the People of New York City (1976) returned to New York City after thirty years. The artist's magnum opus was last shown in the city in 1987 at Dia's former Chelsea space. To the People of New York City is a multipart group of paintings whose hues may reference postwar abstract painting, the colors of the German flag, or Palermo's interest in Native American visual culture. The work's title was posthumously chosen from a dedication that Palermo inscribed on the backs of the panels. "To the People of New York City has often been described as the most influential work of Palermo's short but remarkable career—representing a complex investigation into the formal language of Minimalism and the legacy of abstraction, while foreshadowing ... More



Japanese billionaire Yusaku Maezawa wears a shirt depicting the work of one of his favorite artists during the announcement by Elon Musk that he will be the first private passenger who will fly around the Moon aboard the SpaceX BFR launch vehicle, at the SpaceX headquarters and rocket factory. DAVID MCNEW / AFP.



TOKYO (AFP).- Billionaire Yusaku Maezawa, confirmed as SpaceX's first Moon tourist, is a former wannabe rock star now worth $3 billion with a penchant for pricey modern art as well as space travel. The 42-year-old tycoon, chief executive of Japan's largest online fashion mall, is the country's 18th richest person, according to business magazine Forbes. His Instagram feed is peppered with shots of his luxury living -- including private jets, yachts and designer watches, but also his beloved art. Maezawa hit the headlines last year when he bought a Jean-Michel Basquiat masterpiece worth $110.5 million. But he also often features in the tabloid glossies for his celebrity love life. He used to date the ex-wife of professional baseball player Yu Darvish, pitcher at US major ... More
Phillips announces highlights from 20th Century & Contemporary Art Frieze Week Auctions
Xaviera Simmons' fifth solo exhibition with David Castillo Gallery opens in Miami
UC Berkeley Art Museum and Pacific Film Archive opens exhibition of works by Christina Quarles


Joan Mitchell, Perch and Twirl, signed 'Joan Mitchell' lower right, oil on canvas, 258.4 x 179.7 cm (101 3⁄4 x 70 3⁄4 in.) Painted in 1973. Estimate: £1,500,000-2,500,000. Image courtesy of Phillips.



LONDON.- Phillips brings together a broad spectrum of international names across its sales of 20th Century & Contemporary Art during Frieze Week. Celebrating the rich diversity of the art landscape of today, the Evening Sale includes works by blue chip names Gerhard Richter, Joan Mitchell, and Christopher Wool, alongside young and exciting contemporary artists Ali Banisadr, Cheyney Thompson, and Lynette Yiadom-Boakye. Comprising 37 lots, the Evening Sale will take place at 5pm on 5 October, and will be preceded by Shape & Space: New Ceramic Presence, a curated sale dedicated to Modern and Contemporary ceramics. Comprising 204 lots, the 20th Century & Contemporary Art Day Sale will take place at 2pm on 4 October. Painted in 1963, Gerhard Richter's Hände, from the Estate of Howard Karshan, ... More



Xaviera Simmons, Sundown, 2018. Courtesy David Castillo Gallery.



MIAMI BEACH, FLA.- David Castillo Gallery presents Sundown, Xaviera Simmons' fifth solo exhibition with the gallery. The show features all new text paintings, photography, and sculpture. Many communities in the United States remain "sundown towns," where Black Americans are not welcome after dark. The works assembled in Sundown draw from the multitude of threads which form the foundations of the contemporary American narrative - slavery, colonial America, the Antebellum South, the Jim Crow era, Black reconstruction, Black migration, and the Civil Rights era. The exhibition explores these legacies and the ways in which systemic prejudices have rendered major aspects of the American narrative virtually invisible; the effects of which reverberate into the present day. In this rigorously researched body of work, Simmons engages with historical imagery, layering archival black-and-white images of American life across scenes that ... More



Christina Quarles, Moon (Lez Go Out N' Feel Tha Nite), 2017; acrylic on canvas; 50 x 40 in.; Courtesy Regen Projects, Los Angeles and Pilar Corrias, London. © Christina Quarles.



BERKELEY, CA.- Christina Quarles receives her first solo museum exhibition at the UC Berkeley Art Museum and Pacific Film Archive this fall. The acclaimed Los Angeles-based artist has created multiple new works for the exhibition that advance her continuing exploration of the fluidity of race, gender, and sexuality. Her presentation at BAMPFA marks the latest installment in the museum's MATRIX program, which in 2018 celebrates forty years of introducing Bay Area audiences to exceptional contemporary art. Christina Quarles / MATRIX 271 features nine of Quarles's distinctive acrylic paintings, which allude to themes of race and gender through enigmatic semi-figurative compositions. Informed by the artist's self-identification as "a queer, cis woman who is black but is often mistaken as white," the works ... More
Tiffany Studios Drop Head Dragonfly Lamp changes hands for $200,000
PROYECTOSMONCLOVA opens Martín Soto Climent's second solo exhibition at the gallery
Dallas Museum of Art celebrates 20th anniversary of TWO x TWO for AIDS and Art with new publication


The top lot of the auction was this Tiffany Studios (N.Y.) drop head Dragonfly lamp, circa 1910, having a verdigris patinated leaded glass shade with 'jewel' cabochons ($200,000).



LOS ANGELES, CA.- Andrew Jones Auctions' inaugural sale on Saturday, September 15th, drew great crowds, both in the room and online. The auction was 99 percent sold and grossed nearly $1.1 million (with buyer's premium). Attendees enjoyed coffee and cold drinks, snacks, a box lunch and late afternoon ice cream to maintain their energy and focus throughout the day. The sale – officially titled Design for the Home and Garden – was held in the Andrew Jones Auctions gallery, at 2221 South Main Street in Los Angeles. Nearly 500 lots came up for bid, with a merchandise mix that featured European decorative arts, fine silver, fine art, Asian works of art and design. Online bidding was provided by LiveAuctioneers.com and Invaluable.com. "Our inaugural auction generated amazing and positive action," said Andrew Jones, the president and owner of Andrew Jones Auctions. "Friends and clients, old and ... More



Martín Soto Climent, La noche en estado preciso, 2018. Set of 10 wooden frames with tights. Installation view at PROYECTOSMONCLOVA, Mexico City 2018. Courtesy of the artist and PROYECTOSMONCLOVA. Photo: Patrick López Jaimes.



MEXICO CITY.- PROYECTOSMONCLOVA is presenting Martín Soto Climent's second solo exhibition at the gallery. Everything begins somewhere else brings together over 20 new works that are being displayed floating in space, dividing the gallery and becoming architectural elements. The show is a tribute to poetry and is accompanied by a very personal and honest statement by the artist. It doesn't matter that some things still remain here and even end here: here nothing begins. Therefore this word, this silence, this table, vase, your footsteps were strictly speaking never here. Everything is always somewhere else: there where it begins. ― Roberto Juarroz1 tr. by Mary Crow Today, more than ever, I feel the urge to give space to poetry. Because only poetry can open a possibility to escape from this existential entanglement that drowns us in selfishness, depriving us of ... More



Yayoi Kusama, All the Eternal Love I Have for the Pumpkins, 2016, Dallas Museum of Art, TWO x TWO for AIDS and Art Fund, 2018.12.A-I, © Yayoi Kusama, courtesy of Ota Fine Arts, Tokyo/Singapore/Shanghai and Victoria Miro, London/Venice.



DALLAS, TX.- The Dallas Museum of Art announces the publication of TWO x TWO x TWENTY: Two Decades Supporting Contemporary Art at the Dallas Museum of Art. The book celebrates 20 years of significant contemporary art acquisitions and exhibitions made possible by proceeds from the TWO x TWO for AIDS and Art auction. TWO x TWO for AIDS and Art is an annual benefit gala dinner and contemporary art auction benefiting the Dallas Museum of Art and amfAR, The Foundation for AIDS Research. Held at the Richard Meier–designed Rachofsky House in Dallas, TWO x TWO for AIDS and Art has raised over $75 million in its 20-year history in support of amfAR's research initiatives and the DMA's contemporary program. With proceeds from TWO x TWO, the DMA has, remarkably, been able to acquire more than 260 works by over 150 notable artists, including ... More
Michelangelo Pistoletto on his Mirror Paintings
Flashback
On a day like today, Danish painter Michael Ancher died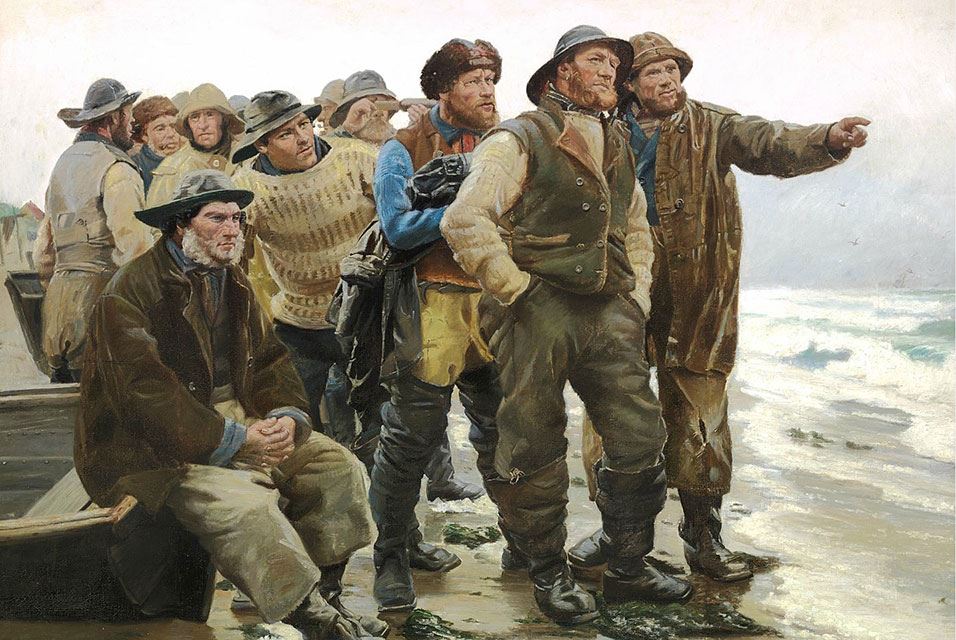 September 19, 1927. Michael Peter Ancher (9 June 1849 - 19 September 1927) was a Danish realist artist. He is remembered above all for his paintings of fishermen and other scenes from the Danish fishing community in Skagen. In this image: Vil han klare pynten (Will he round the point?, detail, 1879)
---

Museums, Exhibits, Artists, Milestones, Digital Art, Architecture, Photography,
Photographers, Special Photos, Special Reports, Featured Stories, Auctions, Art Fairs,
Anecdotes, Art Quiz, Education, Mythology, 3D Images, Last Week,
.
---
Royalville Communications, Inc
produces: