'Hope' the whale replaces 'Dippy' as London Natural History Museum's skeleton star
A 25.2 metre (83-foot) blue whale skeleton is pictured suspended from the ceiling after being unveiled at the Natural History Museum in London on July 13, 2017. "Hope" the blue whale takes over from "Dippy" the dinosaur as the centrepiece of the revamped atrium of London's Natural History Museum despite a spirited campaign to keep the much-loved attraction. Tolga AKMEN / AFP.
LONDON
(AFP)
.-
"Hope" the blue whale took over as the centrepiece of the revamped atrium of London's Natural History Museum on Thursday despite a spirited campaign to keep its much-loved predecessor, "Dippy" the dinosaur. The towering replica diplodocus skeleton had been in the museum for more than 100 years and news of its impending demise in 2015 sparked an outcry from dinosaur fans. Some 14,000 people signed a petition to stop the move, while the hashtag #savedippy trended on Twitter. But the museum said the skeleton of the blue whale, the largest animal to have lived on Earth and which has been hunted to near extinction, would better raise awareness of mankind's impact on nature. The 25.2-metre (83-foot) real skeleton suspended from the ceiling is proof that "by using science and evidence, we can make good choices about the future, about sustainability," museum director Michael Dixon told AFP. ...
More
The Best Photos of the Day
Large round Pietà by Johan Maelwael leaving Paris for the first time in 55 years
First retrospective to survey Hélio Oiticica's entire career opens at the Whitney
Spanish judge schedules Dali exhumation for July 20


La Grande Pietà ronde, attributed to Johan Maelwael (Jean Malouel). (Nijmegen, c. 1370 - Dijon, 1415), c. 1400 (detail). © 2009 Musée du Louvre / Erich Lessing.



AMSTERDAM.- From 6 October 2017 until 7 January 2018 the Rijksmuseum honors the first Northern Netherlandish painter: Johan Maelwael This uncle of the legendary Limbourg Brothers was active as a versatile, pioneering and productive artist at the courts of the Dukes of Guelders and Burgundy around 1400. The show is organized with the exceptional support of the Musée du Louvre that lends Maelwael's most famous painting La Grande Pietà ronde that has never left Paris since 1962. The panel will make its first appearance in the Netherlands. For the first time, paintings attributed to Johan Maelwael (Jean Malouel, Nijmegen, c. 1370 - Dijon, 1415) and his workshop will be exhibited alongside medieval art treasures, illuminated manuscripts, precious metalwork and sculpture. Paintings attributed to Johan Maelwael and his contemporaries Jean de Beaumetz, Colart de Laon ... More



Installation view Hélio Oiticica: To Organize Delirium ( July 14-October 1, 2017). Whitney Museum of American Art, New York. Photograph by Matt Casarella.



NEW YORK, NY.- Hélio Oiticica: To Organize Delirium, to be presented at the Whitney Museum of American Art from July 14 through October 1, 2017, is the first retrospective to survey the groundbreaking Brazilian artist's entire career, including the formative years he spent in New York in the 1970s. One of the most influential Latin American artists of the post–World War II period, Oiticica (1937–80) was a tireless innovator, from his start with the Neo-Concrete movement to his groundbreaking environmental installations. Co-organized by the Whitney together with the Carnegie Museum of Art and the Art Institute of Chicago, the exhibition presents a wide array of his paintings, interactive sculptures, films, audiovisual works, writings, and environments. "Oiticica was one of the most daring artists to appear anywhere in the years following World War II," said Elisabeth Sussman, co-curator of the exhibition. "In conceiving ... More



This file photo taken on November 21, 1958 shows Spanish artist Salvador Dali in Paris. Spain court orders on June 26, 2017 exhumation of Dali's remains in paternity claim. AFP.



BARCELONA (AFP).- A Spanish judge has scheduled the exhumation of the remains of Salvador Dali on July 20, the artist's foundation and a court said Thursday, although this date may change if an appeal is accepted. The remains of the world-famous surrealist, who is buried in his museum in Figueras, in northeastern Spain, were ordered exhumed after a woman who claims to be his daughter filed a paternity claim. Pilar Abel, a 61-year-old who long worked as a psychic in Catalonia, says her mother had a relationship with the artist when she worked in Port Lligat, a tiny fishing hamlet where the painter lived for years. A spokeswoman for the Salvador Dali Foundation, which manages the artist's estate and has lodged an appeal against the exhumation, told AFP they had been notified by a judge that it would take place on Thursday, July 20. A spokesman for Madrid's ... More
The Bilbao Fine Arts Museum has acquired View of Bermeo (1783) by Luis Paret y Alcázar
Pinakothek der Moderne opens exhibition of ceramic works by Beate Kuhn from the Freiberger collection
Important black South African art in focus at Aspire Art Auction on July 17th in Johannesburg


Luis Paret y Alcázar, View of Bermeo, 1783 (detail).



BILBAO.- The Bilbao Fine Arts Museum is presenting View of Bermeo of 1783 by Luis Paret y Alcázar (Madrid, 1746-1799), acquired from the heirs of José Luis Várez Fisa. The painting has been obtained with an interest-free loan thanks to the sponsorship of BBK, to be repaid over the following years with the contribution from the Friends of the Museum. In addition to its undoubted artistic value, View of Bermeo of 1783 is of enormous historical interest given that it is considered the first work in a series of paintings depicting the ports of Cantabria and is the first view of the Basque Country painted by this artist from Madrid. Born in the same year as Goya, various controversial events in Paret's life led to his banishment, firstly to Puerto Rico then to Bilbao, which prevented him from maintaining his prominent position at Court, a fact that to some extent favoured Goya's professional success. At that point the Basque ... More



Installation view, Beate Kuhn, Gruppe, 1965. Photo: Anna Seibel.



MUNICH.- With her unmistakable signature style and her inexhaustible imagination, Beate Kuhn (1927-2015) is among the most important German ceramic artists working after 1945. Using genuine pottery materials and techniques, she created an oeuvre that far surpasses functional ceramics and ties in with post-war developments in fine art from Picasso to the seriality of Minimal Art. While in the first years of her practice Beate Kuhn still worked mainly making painted vessels, artistic ceramic sculptures were later to become the focus of her output. She developed a completely independent formal idiom using basic elements such as cylinders, cones, spheres, cup shapes or discs in varying sequences. Alongside art and music, it was nature that continually provided her with new impulses for her engagement with themes such as movement, rhythm and change. Even her less ... More



Louis Maqhubela, Flight, 1967. Photo: Nina Lieska – Repro Pictures.



JOHANNESBURG.- The upcoming Winter 2017 auction on July 17th at Aspire in Johannesburg features work by important black South African artists. Aspire is committed to exposing the work of more such artists in the local secondary market, and the upcoming auction features many fine examples of work in the modern and contemporary idioms. A major highlight is a work by the influential figure Ephraim Ngatane, Bicycle Rider, from 1968. Comments Aspire Senior Art Specialist Emma Bedford, "It's astonishing to think that Ngatane produced much of his best work in his twenties – a testament to a prodigious talent." Ngatane is credited with influencing and developing several major talents – notably those of Dumile Feni and Louis Maqhubela – however his concern was for an often politically charged, though equally often celebratory, documentary realism. Ngatane died in 1971 at ... More
DeCordova installs large-scale sculptures by Aaron Curry, JaeHyo Lee in Sculpture Park
"Irene Williams: Queen of Lincoln Road" harkens back to a more colorful time on South Beach
Unique cultural programme attracts more than a million visitors at European Capital of Culture Aarhus 2017


Aaron Curry, HOMEWRECKER, 2013, painted aluminum, 11 x 10 1/3 x 5 3/8 feet, Courtesy Michael Werner Gallery, New York and London.



LINCOLN, MASS.- This summer deCordova is adding several large-scale works to its 30-acre Sculpture Park. Aaron Curry: Grove—three colorful painted aluminum sculptures ranging from 10 feet to 18 feet tall—have been installed near the Park's front entrance. JaeHyo Lee's 0121-1110=113035 (Lotus)—an 18-foot-tall cone-shaped sculpture made from discarded pieces of wood—will be installed on deCordova's main lawn across from the traditional nineteenth century Carriage House in late-July. Both installations will be on view for two years. "We are thrilled to have the opportunity to display these monumental works of art in deCordova's Sculpture Park, as each introduces a very different element to our campus," says Sarah Montross, associate curator at deCordova. "Aaron Curry's trio of vibrant sculptures will add an otherworldly presence to our entrance lawn, ... More



Irene Williams. Photo copyright Annie Leibovitz, used by permission.



MIAMI, FLA.- She is remembered fondly – and vividly – for her fashionable strolls up and down her Lincoln Road runway during the 1980s and 1990s. Irene Williams' handmade outfits were so eye-catching she would often turn heads, and this year she would have turned 100. The Jewish Museum of Florida-FIU presents a summer pop-up show that borrows its name from the award-winning documentary by Eric Smith, Irene Williams: Queen of Lincoln Road. The installation features 33 of Irene's original handcrafted hats, historic photos and her letters that together illustrate the spirited story of one of South Beach's most beloved characters. All of the objects on view were willed to filmmaker/designer Eric Smith and have been donated to the museum's permanent collection. Irene Williams was called "Queen of Lincoln Road" because she walked back and forth every day from one end of the pedestrian mall (where she lived), to ... More



Positive reviews and high visitor numbers at European Capital of Culture Aarhus 2017. The Viking saga "Red Serpent" sold 92.000 tickets in five weeks.



AARHUS.- Starred reviews and high visitor numbers exceed even the most optimistic forecasts of the European Capital of Culture Aarhus 2017. Halfway through the 2017-programme, more than a million visitors have attended the cultural performances, exhibitions and sparkling events in recent months. "What a fantastic first half year we've had! Unique and iconic theatre, dance, music, art and thought-provoking events. Debates, which have challenged our views on nature, the arts, and each other. Sold-out shows, rave reviews, packed museums and exhibitions that have broken all previous audience records. We've witnessed ingenious ideas from creative industries combining talents to showcase the best of our creativity and business know-how, and we have been rethinking and thinking again!," says Juliana Engberg, Programme Director at the European Capital ... More
Giotto, the great artist of the fourteenth century, conveyed using contemporary means
'Other People's Pictures' photography exhibition offers a look at the disappearing art and charm of the snapshot
Abbot Hall Gallery celebrates British Pop painting this summer


Installation view.



VENICE.- This is the original proposal that can be experienced at the Scuola Grande della Misericordia where, from July 12th to November 5th, Cose Belle d'Italia Media Entertainment offers "Magister Giotto". "Our goal", explains Artistic Director Luca Mazzieri, "is to be able to communicate great Italian art around the world. For this reason, after Giotto we will be exploring Canova and Raphael, who will be the protagonists of further editions of 'Magister'. We have chosen Venice as the starting point for this long journey of Italian art through the five continents, because this city is the perfect synthesis between a great past and the most advanced contemporary aspects of art." The format created for "Magister Giotto" has no precedent. In it, the boundaries between a great exhibition and a great show become so imperceptible as to be cancelled out. Absolute scientific rigour, however, remains th ... More



Untitled, gelatin silver print, Collection of the Frances Lehman Loeb Art Center, Vassar College, Gift of Peter J. Cohen, accession #2015.12.1.115.



POUGHKEEPSIE, NY.- The novelist Eudora Welty once wrote that a good snapshot keeps a moment from running away. With the advent of smartphone cameras and social media, people are capturing more moments than ever before in the history of photography, yet the vast majority of these images are made, stored, and shared digitally—but never printed. A photograph as a tangible object has become a thing of the past, a charming remnant of a time when taking a photograph was a rarified event, rather than an everyday, every hour, or every minute experience. A new exhibition at the Frances Lehman Loeb Art Center at Vassar College offers a glimpse into how the medium used to function in the lives of amateur photographers. Other People's Pictures: Snapshots from the Peter J. Cohen ... More



Pauline Boty, Colour Her Gone, oil on canvas, 1962 (detail). Courtesy of Wolverhampton Arts and Museums © the artist's estate.



KENDAL.- Opening on Friday 14 July, the award-winning Abbot Hall Art Gallery, Kendal, presents Painting Pop. This must-see summer exhibition celebrates British Pop Art from the early 1960s, including work by Sir Peter Blake, Pauline Boty, Patrick Caulfield, Richard Hamilton, David Hockney and Allen Jones, borrowed from major collections such as Tate, National Portrait Gallery and Government Art Collection. The exhibition is a colourful and striking celebration of British Pop painting. It focuses on the period around 1962, a pivotal year for Pop Art in Britain, with a number of important solo and group shows taking place in London, including Four Young Artists at the Institute of Contemporary Arts and Image in Progress at the Grabowski Gallery. This was a crucial time for the general public's ... More
Gauguin's Process: Making Wood-Block Prints
Flashback
On a day like today, Czech painter and decorative artist Alphonse Mucha died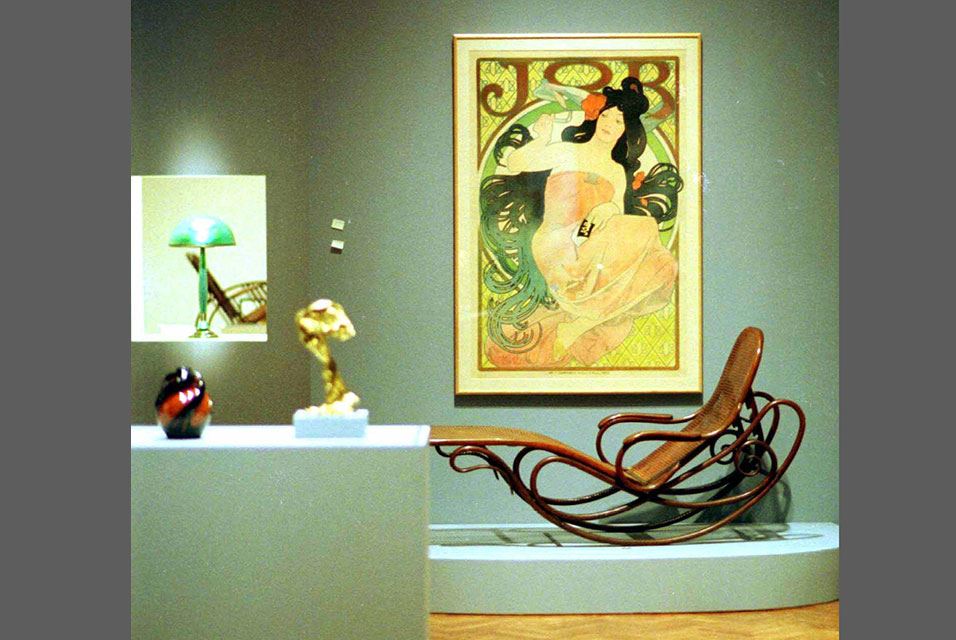 July 14, 1939. Alfons Maria Mucha (24 July 1860 - 14 July 1939), known in English as Alphonse Mucha, was a Czech Art Nouveau painter and decorative artist, known best for his distinct style. He produced many paintings, illustrations, advertisements, postcards, and designs. This is the Art Nouveau gallery at the Milestones of Modernism exhibition at the Minneapolis Institute of Arts, as seen June 30, 1999. The rocking chair is from 1880, made in Austria. The poster is by Alphonse Mucha, a French painter and one of the leading artists of this period.
---

Museums, Exhibits, Artists, Milestones, Digital Art, Architecture, Photography,
Photographers, Special Photos, Special Reports, Featured Stories, Auctions, Art Fairs,
Anecdotes, Art Quiz, Education, Mythology, 3D Images, Last Week,
.
---
Royalville Communications, Inc
produces: