National Geographic Museum opens exhibition featuring shark-munching Spinosaurus
Paul Sereno, a paleontoligist and National Geographic Explorer in Residence, discusses a full-sized skeletal model of a Spinosaurus, the largest predatory dinosaur ever to roam the Earth, in a new exhibit at the National Geographic Museum in Washington, DC, September 11, 2014. The new exhibit tells the century long story of the Spinosaurus, which first was discovered more than 100 years ago by a German paleontologist. His fossils were displayed in a German museum, but were destroyed by Allied bombers in 1944. AFP PHOTO / Saul LOEB.

By: Kerry Sheridan
WASHINGTON
(AFP)
.-
There once was a dinosaur, bigger than a T. rex, that swam with the sharks -- and ate them for dinner. The first evidence that a fierce and well-known meat-munching dinosaur, Spinosaurus aegyptiacus, was adapted for both land and water was featured in the US journal Science on Thursday. Picture a giant hybrid of a duck and a crocodile that lived 95 million years ago, sloshing through rivers and feasting on prehistoric sharks, sawfish and lungfish. The 20-metric-ton beast boasted a crest on its back, akin to a boat's sail, held aloft with spines as tall as an average human. Its long tail, narrow hips and paddle-shaped feet likely helped the 50-foot-long (15-meter) creature move through the water with ease, experts said. Spinosaurus also had dense bones to help control its buoyancy in water, and a long snout with high-set nostrils that could allow easy breathing while ...
More
The Best Photos of the Day
Tate Modern curator Jessica Morgan named to lead Dia Art Foundation in New York
Sotheby's to auction Lawrence of Arabia's sketch map of Northern Arabia
Unique negative of Marilyn Monroe offered at Henry Aldridge and Son's Collectables and Antiques sale




Morgan has been a curator at Tate. Photo: Olivia Hemingway.





NEW YORK, NY.- The Board of Trustees of Dia Art Foundation announced today the appointment of Jessica Morgan as its next Director. Since 2002, Morgan has been a curator at Tate, and in 2010 she became Daskalopoulos Curator, International Art, at Tate Modern in London. She is the Artistic Director of the 10th Gwangju Biennale, which opened on September 5, 2014. She assumes her position at Dia in January 2015. As Director, Morgan will lead Dia into its next era, strengthening and activating all parts of Dia's multivalent program, including its pioneering Western land projects, site-specific commissions, and collections and programs at Dia:Beacon, as well as reinvigorating its artistic and intellectual presence in New York City. "The Board of Trustees has unanimously and enthusiastically voted to appoint Jessica Morgan as Dia's fifth Director," said Nathalie de Gunzburg, Chairman of the Board of Trustees for Dia Art Foundation and member ... More





Detail of T.E Lawrence's hand-drawn and annotated sketch map titled 'Hejaz Railway to Wadi Sirhan' detailing Lawrence's traverse on 19-24 Map 1917, est. £70,000-100,000. Photo: Sotheby's.





LONDON.- On the 4th November 2014, Sotheby's London will offer for sale T.E. Lawrence's hand-drawn map of northern Arabia, which records a pivotal moment in the history of the Arab Revolt against the Ottoman Empire. Charting his journey across the hostile desert in Saudi Arabia in May 1917, it is the only map in Lawrence's hand detailing the route he followed in the days preceding the capture of the Red Sea port of Aqaba later that year, a victory which would prove decisive in the Arab uprising. Recently shown in major exhibitions at the Imperial War Museum in London and at the Australian War Memorial Canberra*, the map is estimated to reach £70,000-100,000 at Sotheby's London auction of Travel, Atlases, Maps and Natural History. On 9th May 1917, Lawrence and the Arab armies set out north from the Red Sea port of al Wejh to capture Aqaba and drive the Arab revolt ... More





Unique Photograph plus copyright of Norma Jean Later Marilyn Monroe taken in 1946.





WILTSHIRE.- Henry Aldridge and Son announced the auction of a unique piece of show business memorabilia in their auction of Collectables and Antiques on Saturday September 20th. This star of the show is a unique negative of Norma Jeane Baker, later Marilyn Monroe, taken at Zuma Beach, Malibu at the very start of her career in 1946, by Hollywood photographer Joseph Jasgur. This photo formed part of her first modelling portfolio that was presented to Ben Lyon, casting director at 20th Century Fox. Norma Jeane Baker married James Dougherty in 1942, soon after Dougherty's Merchant Marines unit was shipped out and Norma Jeane was left to work at a defence plant. With aspirations of becoming a model she joined Hollywood's Blue Book Model Agency. On March 6, 1946 Joseph Jasgur received a call from Emmeline Snively, head of Blue Book, Snively asked Jasgur to take a few test shots of an aspiring young model, he first photographed her on a s ... More
9/11 Memorial Museum unveils new exhibit on the victorious end in the hunt for Osama bin Laden
Elizabeth I 'airbrushed' for 18th century make-over and a bug is found in Edward VI
Kunsthaus Zürich presents Ferdinand Hodler and Jean-Frédéric Schnyder in a joint exhibition




A uniform shirt worn by one of the U.S. Navy SEAL Team members.





NEW YORK, NY.- The National September 11 Memorial & Museum today introduced to the public a new exhibit portraying the years-long hunt, the ultimate discovery and killing of Osama bin Laden. There are three primary components of the exhibit, including a uniform shirt worn by one of the U.S. Navy SEAL Team 6 members who took part in the 2011 raid of bin Laden's compound in Abbottabad, Pakistan. The shirt has an American flag patch on the sleeve colored black and brown. The flag is backwards, as is done on such military shirts in a symbolic gesture referencing the era when the flag-bearer led soldiers behind him on the charge to battle. The exhibit is also comprised of a so-called challenge coin, which was donated by "Maya," the alias for the CIA operative who pursued bin Laden, and a brick recovered from the compound where the al-Qaeda leader was killed. "This exhibit ... More





King Edward VI after Hans Holbein the Younger, c. 1542 (c. 1542). ©National Portrait Gallery, London.





LONDON.- Hidden portraits – and even a dead animal – have been discovered lurking underneath some of the most iconic portraits of the Tudor monarchs. They are revealed for the first time in a major display opening at the National Portrait Gallery on Friday 12 September, it was announced today (Thursday 11 September). Among the revelations in The Real Tudors: Kings and Queens Rediscovered (12 Sept 2014-1 Mar 2015) are a hidden portrait of Elizabeth I which was overpainted in the eighteenth century and a bug trapped in varnish in the Gallery's portrait of a young Edward VI. The original portrait of Elizabeth I, revealed by x-radiography, shows her wearing an elaborate costume with large 'wings' around her head. This was almost completely overpainted in the eighteenth century to create the 'prettified' image we see today. Tree-ring dating has shown that the wooden panel of the ... More





Ferdinand Hodler, Sunny Path, around 1890. Oil on canvas, 41 x 33 cm. Kunsthaus Zürich.





ZURICH.- From 12 September 2014 to 26 April 2015 the Kunsthaus Zürich is staging an exhibition curated by the artist Peter Fischli that focuses on two central and very different practitioners of Swiss painting: Ferdinand Hodler (1853-1918) and Jean-Frédéric Schnyder (b. 1945). Incorporating some 180 works, it highlights commonalities and differences, and includes a few surprises. Realised by the artist Peter Fischli for the Kunsthaus, this exhibition centres on a selection of drawings and paintings by Ferdinand Hodler from the Kunsthaus's own collection, including landscapes, nature studies, figure compositions and portraits. Jean-Frédéric Schnyder's image cycles 'Berner Veduten' ('Bernese Views', 1982–1983) and 'am Thunersee' ('on Lake Thun', 1995) are linked to the Hodlers conceptually. Fischli focuses on the creative processes of two characteristic representatives of Swiss ... More
Frick announces a new book series on collecting in America with the publication of its first volume
Sotheby's Hong Kong Important Watches Autumn Sale to take place on 8 October
The Speed Art Museum hires a new Curator of European and American Painting and Sculpture




Holland''s Golden Age in America: Collecting the Art of Rembrandt, Vermeer, and Hals.





NEW YORK, NY.- The Frick's Center for the History of Collecting announces a new book series with the publication of its first volume, Holland's Golden Age in America: Collecting the Art of Rembrandt, Vermeer, and Hals. This series, entitled The Frick Collection Studies in the History of Collecting, is co-published with the Pennsylvania State University Press, and will ultimately cover a broad range of art collecting, reflecting the Center's reach well beyond the parameters of the Frick's own scope to include topics on modern and non-western art. Comments Inge Reist, Director of the Center, "We aim to encourage new scholarship in this young field of art history through our annual acclaimed symposia and ongoing fellowship program, much of which leads to new publications. Complementing that activity is this series that enables the Center to make its own contribution to the growing bibliography on the history of collecting in America." ... More





Patek Philippe, Yellow Gold Hunting Cased Two-Train Trip Minute Repeating Grande And Petite Sonnerie Perpetual Calendar Split Seconds Chronograph Keyless Lever Clock Watch With Phases Of The Moon. Est. HK$4.5 – 5.5 million / US$590,000 – 710,000. Photo: Sotheby's.





HONG KONG.- Sotheby's Hong Kong Important Watches Autumn Sale 2014 will take place on 8 October at the Hong Kong Convention and Exhibition Centre. This season Sotheby's will present a meticulously selected group of watches of excellent quality, diverse functions, extreme rarity and pristine condition from renowned brands including Patek Philippe and A. Lange & Söhne, as well as independent watchmakers such as Richard Mille and Greubel Forsey, many of them appearing at auction for the first time. The sale will offer around 450 lots with a total estimate of approximately HK$110 million / US$14 million. Sharon Chan, Head of Watches, Sotheby's Asia, said, "This season we proudly present a wide variety of watches that ... More





Erika Holmquist-Wall comes to The Speed Art Museum from the Minneapolis Institute of Arts.





LOUISVILLE, KY.- The Speed Art Museum has announced today that Erika Holmquist-Wall has been hired as the Mary and Barry Bingham, Sr., Curator of European and American Painting and Sculpture for the museum. Holmquist-Wall will begin her new role at the Speed on October 6, 2014. "I am thrilled and honored to join the Speed's team at such an historic and exciting time. It's a terrific chance to work with a marvelous art collection that possesses tremendous potential for growth. It's also an extraordinary opportunity to develop a vibrant exhibition program for our audiences," said Holmquist-Wall. "Louisville is such a dynamic city, and the Speed reflects that energy, especially as it repositions itself into a museum for the 21st-century. It's all about collaboration, engagement, and community outreach. In short, I'm here to get everyone excited about art," she added. Erika Holmquist-Wall joined the Minneapolis Institute of Arts in 2000 ... More
United States marks 13th anniversary of 9/11 attacks with somber ceremonies
Amon Carter Museum of American Art digitizes more than 35,000 artworks with NEH Grant
Colorful van Gogh painting, Giacometti and Laurens sculptures on loan to the Currier Museum of Art




A man stands across the street from the The National September 11 Memorial & Museum September 11, 2014 on the 13th anniversary of the September 11, 2001 attacks. AFP PHOTO / TIMOTHY A. CLARY.





NEW YORK (AFP).- Americans on Thursday marked the 13th anniversary of the September 11, 2001 attacks, with somber ceremonies of remembrance in New York and Washington. President Barack Obama, his wife Michelle and Vice President Joe Biden observed a moment of silence on the White House south lawn, along with about 300 staffers. Flags in Washington flew at half-mast. Obama was then to attend a ceremony at the Pentagon -- scene of one of the strikes. The anniversary comes just hours after Obama laid out his strategy to counter Islamic State fighters in Iraq and Syria -- a new front in America's unresolved confrontation with radical Islam begun in earnest 13 years ago. In New York, relatives of those killed when hijacked airliners slammed into the World Trade Center gathered at Ground Zero to remember the dead. The ceremony began, as usual, with a moment of silence at 8:46 am (1246 GMT), when the first plane smashed into ... More





Helen Post, [Young girl pushing baby carriage], ca. 1936-1942, gelatin silver print, © Amon Carter Museum of American Art, gift of Peter Modley.





FORT WORTH, TX.- The Amon Carter Museum of American Art announces that it has cataloged, digitized and published online more than 35,000 artworks of eight prominent American photographers of the 20th century—Carlotta Corpron (1901–1988), Nell Dorr (1893–1988), Laura Gilpin (1891–1979), Eliot Porter (1901–1990), Helen Post (1907–1979), Clara Sipprell (1885–1975), Erwin E. Smith (1886–1947) and Karl Struss (1886–1981). This project was made possible by a $75,000 digitization grant the museum received from the National Endowment for the Humanities (NEH) in 2012. The Amon Carter owns the archives of these photographers, and the newly digitized works include all of the prints in these collections. Also digitized are 12,000 very fragile glass negatives, nitrate negatives and autochromes. Most are never-before-seen negatives that the museum is unable to display in the galleries due to format and fragility. The grant also allowed for the creation ... More





Vincent van Gogh 1853-1890, Bridge across the Seine at Asnières, 1887 (detail), Oil on canvas, Painting: 21 x 28 3/4 in. Painting: 53.34 x 73.025 cm., Inscribed "66", Description: Painted in Paris, early summer 1887.





MANCHESTER, NH.- Vincent van Gogh's (1853-1890) cheerful painting Bridge across the Seine at Asnières (1887), is now on view in the European Gallery of the Currier Museum of Art in Manchester, NH. In the Modern Gallery, two stunning 20th century sculptures, Alberto Giacometti's Annette IV (1962) and Henri Laurens' Petite Cariatide (1930) will be on view starting September 24. These works of art are on loan to the Currier through December 2014. "We are delighted to share these three important works of art by major artists of the late nineteenth and twentieth century with people throughout New England and beyond." said Susan Strickler, director and CEO of the Currier. "In particular, this van Gogh has not been exhibited in America since 1970, so this is a rare opportunity to see this lively painting." Bridge across the Seine at Asnières was painted out of doors in this northwest Paris suburb. It reveals the developmen ... More
Form and Femininity at Beyond Limits
---
Flashback
On a day like today, Lithuanian-born American artist Ben Shahn was born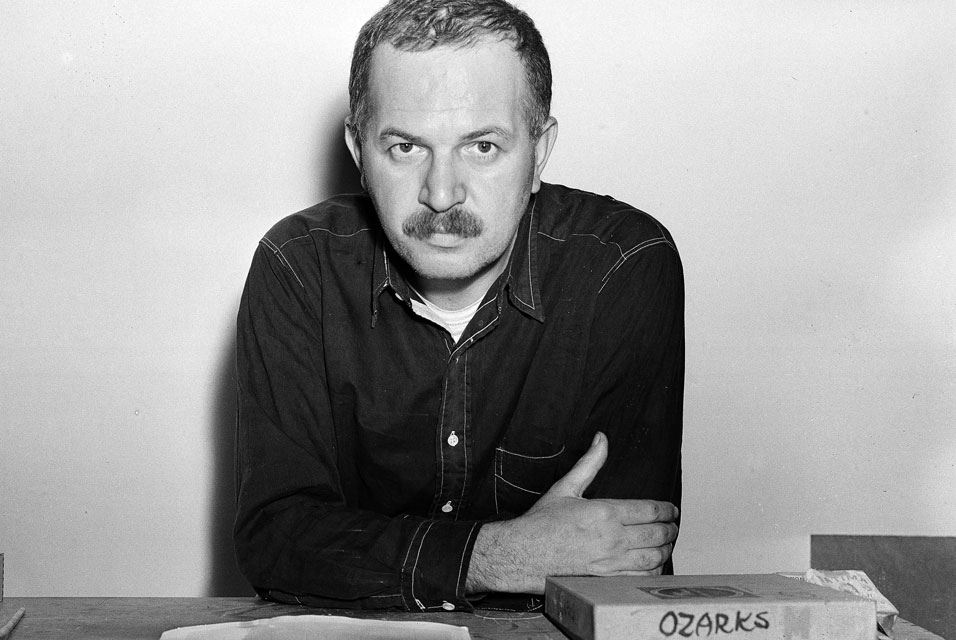 September 12, 1898. Ben Shahn (September 12, 1898 - March 14, 1969) was a Lithuanian-born American artist. He is best known for his works of social realism, his left-wing political views, and his series of lectures published as The Shape of Content. In this image: Lithuanian-born American social realist painter Ben Shahn is seen at his studio on the Upper West Side of Manhattan, Dec. 12, 1938.
---

Museums, Exhibits, Artists, Milestones, Digital Art, Architecture, Photography,
Photographers, Special Photos, Special Reports, Featured Stories, Auctions, Art Fairs,
Anecdotes, Art Quiz, Education, Mythology, 3D Images, Last Week,
.
---
Royalville Communications, Inc
produces: