Algeria's ancient pyramid tombs still shrouded in mystery
Experts and students from Algiers University's Archaeology Institute work on one of the Jeddars pyramid tombs, near the city of Tiaret, some 250 kilometres (155 miles) southwest of the Algerian capital, on April 23, 2018. Dating back up to 16 centuries, Algeria's Jeddars pyramid tombs are unique relics of an ancient era, but a dearth in research has left them shrouded in mystery. Constructed between the fourth and seventh centuries, the tombs are believed by some scholars to have been built as final resting places for Berber royalty. RYAD KRAMDI / AFP.

by Amal Belalloufi
TIARET
(AFP)
.-
Dating back centuries, Algeria's pyramid tombs are unique relics of an ancient era but a dearth of research has left the Jeddars shrouded in mystery. The 13 monuments, whose square stone bases are topped with angular mounds, are perched on a pair of hills near the city of Tiaret, some 250 kilometres (155 miles) southwest of the capital Algiers. Constructed between the fourth and seventh centuries, the tombs are believed by some scholars to have been built as final resting places for Berber royalty -- although nobody knows who truly laid within. But Algerian authorities and archaeologists are now pushing to get the Jeddars listed as a UNESCO World Heritage site, in the hope of assuring their preservation and study. Gaining such status is a lengthy process and the culture ministry said Algeria's application to the UN body "will be filed during ...
More
The Best Photos of the Day
Broadway star Carol Channing dead at 97
The art of YY Ting and Bada Shanren on exhibit at New York's Gianguan Auctions
ICA/Boston announces major acquisition of Yayoi Kusama Infinity Mirror Room


In this file photo taken on November 23, 2003 actress Carol Channing is seen at her last booksigning appearance for her memoir book, 'Just Lucky, I Guess'. Frazer Harrison / GETTY IMAGES NORTH AMERICA / AFP.



NEW YORK (AFP).- Glittering Broadway icon Carol Channing, who starred in hit musicals including "Hello, Dolly!" and "Gentlemen Prefer Blondes," died Tuesday, her publicist said. She was 97. The towering platinum-blonde actress with a gravelly voice, a beaming smile and eyes like saucers wowed audiences for more than five decades, working into her 80s. "It is with extreme heartache, that I have to announce the passing of an original Industry Pioneer, Legend and Icon," her publicist B Harlan Boll said in a statement, saying Channing died at her home in Rancho Mirage, California of natural causes. "It is so very hard to see the final curtain lower on a woman who has been a daily part of my life for more than a third of it," he said. "Saying good-bye is one of the hardest ... More



Ting's Myna Bird on Willow.



NEW YORK, NY.- An exhibition of calligraphy and one-stroke paintings by the renown Chinese naturalist YY Ting (1902-1978) opens at Gianguan Auctions on Wednesday, January 24 and runs through February 7. Making the display unique are comparative works by Ming Dynasty naturalist Bada Shanren (1521-1527 , who Ting credited with inspiring his oeuvre. "The Art of YY Ting and Bada Shanren" marks the fortieth anniversary of Ting's passing. A native of Maoming, Guangdong Province, YY Ting (née Ding Yanyong) was sent, at the age of eighteen, to study western painting in Japan. The experience opened his eyes not only to technique but also to the passion of Japanese artists who abandoned opportunities in Europe to revitalize their cultural heritage. Ten years later, YY Ting saw how the splash ink freehand of Ming artist Bada Shanren reflected Lao Tzu's philosophy of open mindedness. YY Ting then advanced the concept despite ... More



Yayoi Kusama pictured with her work LOVE IS CALLING, 2013 during her solo exhibition I Who Have Arrived In Heaven at David Zwirner, New York, 2013. © YAYOI KUSAMA. Courtesy David Zwirner, New York; Ota Fine Arts, Tokyo/Singapore/Shanghai; Victoria Miro, London/Venice.



BOSTON, MASS.- Jill Medvedow, Ellen Matilda Poss Director of the Institute of Contemporary Art/Boston, announced today the acquisition of Yayoi Kusama's LOVE IS CALLING (2013), one of the artist's 20 existing Infinity Mirror Rooms. LOVE IS CALLING is one of Kusama's most immersive, psychedelic environments and features vividly colored, tentacle-like, inflatable sculptures covered with the artist's signature polka dots and encased in a mirrored room to create an illusion of infinite space. It is the second work by Kusama to enter the collection, alongside a 1953 work on paper of organic forms, dots, and colors—elements that are characteristic of her work. LOVE IS CALLING has been acquired ... More
Skarstedt to open a new gallery on New York's Upper East Side
Exhibition of works by Louise Bourgeois inaugurates Hauser & Wirth's St. Moritz gallery
Hollis Taggart moves its satellite space & announces new exhibition series


Skarstedt will be taking over the historic 25,000-square-foot property at 19 East 64th Street.



NEW YORK, NY.- Skarstedt announced the opening of a new gallery on New York's Upper East Side in March 2019. Skarstedt will be taking over the historic 25,000-square-foot property at 19 East 64th Street, which was purpose-built as an art gallery in 1932 and designed by renowned architect Horace Trumbauer. This will be Skarstedt's third location adding to the existing New York space at East 79th Street on the former site of Paul Rosenberg & Co's legendary dealership, and their London gallery at 8 Bennet Street in the heart of St James. Architect Francis D'Haene has been appointed to oversee the remodelling of the new space. The new gallery presents a special opportunity for Skarstedt, which was founded by Per Skarstedt in 1992, to expand upon its current exhibition program, providing a unique platform for the artists and estates that the gallery represents. In celebration of the occasion, the inaugural exhibition ... More



Louise Bourgeois, Untitled, 2002. Fabric and wood, 61 x 35.6 x 35.6 cm. Photo: Christopher Burke. © The Easton Foundation / VAGA at ARS, NY / ProLitteris, Zurich. Courtesy The Easton Foundation and Hauser & Wirth.



ST. MORITZ.- Hauser & Wirth inaugurated its St. Moritz gallery with 'Papillons Noirs', an exhibition of works by renowned French-American artist Louise Bourgeois (1911 – 2010). On view until 10 February 2019, the exhibition spans two floors of the gallery space on Via Serlas facing the Palace Hotel, where Hauser & Wirth has made its home. Comprising a selection of works from the last decade of Bourgeois's life, 'Papillons Noirs' includes a series of black fabric heads alongside late experimental works on paper that belong to the artist's collection. The fabric heads were created roughly between the years of 2000 and 2003, when Bourgeois was in her late eighties and early nineties. The title of the exhibition, 'Papillons Noirs', is drawn from one of Bourgeois's 'psychoanalytic writings', ... More



Esther Ruiz (b. 1986), Well XIII, 2017. Neon, Plexiglas, MDF, paint, and hardware, 18 (H) x 24 (W) x 3 (D) inches. Edition of 5.



NEW YORK, NY.- Hollis Taggart announced today that it has moved its satellite space at the High Line to a new street-front location, increasing its square footage and visibility. The gallery first opened the secondary location in September 2018 as part of its expansion in Chelsea, which also included moving its primary space from the seventh to the ground floor of an arts complex on W. 26th. The satellite at the High Line will continue to operate as a project space, serving to test the appeal of the rapidly developing area as well as collector and public interest in the work of a range of both contemporary and historic American artists. Located at 507 W. 27th Street, the new Hollis Taggart: High Line will open on January 16, with a group exhibition of contemporary work. The space will be open Tuesday through Saturday, from 10:00 AM to 6:00 PM. "There has been for some time, and particularly over ... More
Galerie Templon opens exhibition of works by a founding member of the Supports/Surfaces group
Bonhams appoints Clémence Tasiaux as Head of Department for Post-War and Contemporary Art in London
Albert Baronian and Renos Xippas join forces to open a new gallery in Brussels


Le bon niveau n°2, 2017. Wood, paint, spirit level, 65 x 81 x 2 cm. Photo: B.Huet-Tutti. Courtesy Galerie Templon, Paris & Brussels.



PARIS.- What does the future hold for paintings in the prolific world of screens and images? As early as the 1960s, Daniel Dezeuze, a founding member of the Supports/Surfaces group, foresaw this exponential evolution. Since then he has sought to deconstruct the traditional media and materials of painting. Radical to the core, Daniel Dezeuze has used the stretcher as a tool for questioning and reassessing. Freed from the canvas, he flips paintings against the walls, playing with empty spaces and three-dimensionality: by going beyond the limits of artistic traditions, Daniel Dezeuze opens up a new space. In the first part of this new exhibition, Daniel Dezeuze pays tribute, in his own way, to the art and paintings he loves: angles, brightly coloured frames, open-work surfaces. Halfway between painting and sculpture, his unclassifiable oeuvre ... More



Clémence, who is bilingual in French and English, worked in Sotheby's Contemporary Art department for many years, latterly as Deputy Director. Photo: Bonhams.



LONDON.- The international auction house Bonhams has appointed Clémence Tasiaux as Head of Department for Post-War and Contemporary Art in London. Clémence, who is bilingual in French and English, worked in Sotheby's Contemporary Art department for many years, latterly as Deputy Director. She subsequently joined the art advisory and brokerage firm Alcacer, as a 20th century art specialist and business developer advising high net worth individuals on all aspects of their collections. Bonhams Global Head of Post-War and Contemporary Art, Ralph Taylor said, "I am delighted to welcome Clémence to Bonhams. She is a dynamic leader and creative thinker – perfect qualities to help us build on the exponential growth we have enjoyed during the past five years." Clémence Tasiaux added: "I am very pleased to be joining ... More



Albert Baronian & Renos Xippas. Photo: Eline Willaert.



BRUSSELS.- Art dealers Albert Baronian and Renos Xippas are teaming together to found Baronian Xippas, a new gallery in Brussels. The opening exhibitions showcasing Takis and Robert Devriendt will be held on April 4, 2019. Located in the former space of Albert Baronian, the gallery is a unique collaboration between two major figures in the contemporary art gallery world. Combining the strength of their 80-years of experience and expertise in the art world, Baronian and Xippas join their forces, knowledge and passion to create a new gallery that goes beyond the ordinary. This convergence will create a powerhouse on the Belgian, European and South American art scenes. Baronian Xippas will present ambitious projects with the leading artists of each gallery - such as Darren Almond, André Butzer, Robert Devriendt, Wang Du, Lionel Esteve, Gilbert and George, Robert Irwin, Vik Muniz, Takis, Janaina Tschäpe, Gilberto Zorio... - while building on their respective strengths: a strong ... More
Sean Kelly opens new project space in Taipei with exhibition of works by Callum Innes
Bonhams appoints Chris Tolson as Chief Technology Officer
Sir Peter Blake's Mersey 'Dazzle' Ferry extended by popular demand


Installation view.



TAIPEI.- Sean Kelly announced the opening of Sean Kelly Asia, their new project space in Taipei, Taiwan. The inaugural exhibition is by internationally recognized Scottish artist Callum Innes. The exhibition showcases new paintings from two bodies of work that Innes has developed in parallel over a period of years: the Exposed Paintings and Split Paintings. This exhibition includes work from both series that Innes has created specifically for the new space in Asia. Born and based in Edinburgh, Callum Innes studied drawing and painting at Gray's School of Art, Aberdeen Scotland, and completed a post-graduate degree at Edinburgh College of Art. He is internationally recognized for his distinctive process of applying paint to the canvas and subsequently "unpainting" it; washing away or removing the pigment to create varied and complex surfaces. This dynamic interplay between additive and subtractive processes—the ... More



Tolson has been involved in the cutting-edge of digital technology since 1995. Photo: Bonhams.



LONDON.- The international auction house Bonhams announced the appointment of Chris Tolson as Chief Technology Officer with immediate effect. Chris will be based in the auction house's London headquarters in New Bond Street and will lead the global transformation of the digital landscape at Bonhams. He will be working with the IT team to enhance all aspects of the company's technology strategy and to ensure it aligns with the business goals. In particular, Chris will oversee the overhaul of the Bonhams' website and take the digital experience across all platforms to the next stage. Tolson has been involved in the cutting-edge of digital technology since 1995. After gaining a first-class degree in Design Management at De Montfort University, Leicester, he has worked in a variety of technical roles, including Chief Platform Architect at bet365 ... More



Everybody Razzle Dazzle. Photo: Mark McNulty.



LIVERPOOL.- Sir Peter Blake's Everybody Razzle Dazzle Mersey Ferry, which was specially commissioned by 14-18 NOW, Liverpool Biennial and Tate Liverpool as part of the First World War Centenary art programme, has been extended by popular demand. The Dazzle Ferry has proved extremely popular with locals and visitors alike, with many groups insisting on booking it during their trip to Liverpool, whilst also attracting media interest nationally and across the world. The Ferry will have the dazzle livery design renewed when it goes in for its regular out-of-water survey in February. It was due to be returned to its original paintwork, but it will now continue with the livery designed by the British Pop artist until it is taken out of service to make way for a new Mersey Ferry in the future. Everybody Razzle Dazzle was inspired by the dazzle designs which were painted on merchant navy vessels to confuse the enemy during ... More
Sarah Sze – 'You Mark Time Through Objects' | TateShots
Flashback
On a day like today, American painter Andrew Wyeth died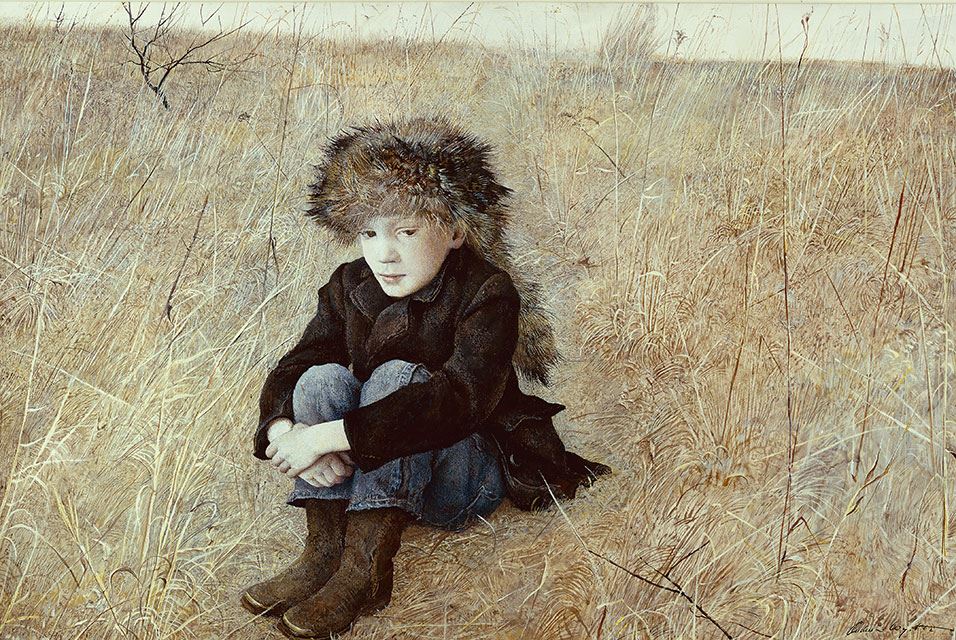 January 16, 2009. Andrew Newell Wyeth (July 12, 1917 - January 16, 2009) was a visual artist, primarily a realist painter, working predominantly in a regionalist style. He was one of the best-known U.S. artists of the middle 20th century. In this image: Andrew Wyeth, Lejanía, 1952 (Faraway). Pincel seco sobre papel. 34,92 x 54,61. The Phyllis and Jaimie Wyeth Collection.
---

Museums, Exhibits, Artists, Milestones, Digital Art, Architecture, Photography,
Photographers, Special Photos, Special Reports, Featured Stories, Auctions, Art Fairs,
Anecdotes, Art Quiz, Education, Mythology, 3D Images, Last Week,
.
---
Royalville Communications, Inc
produces: