Städel Museum opens the first institutional survey of Ursula Schulz-Dornburg's work
Exhibition view "Ursula Schulz-Dornburg. The Land In-Between: Photographs from 1980 to 2012". Photo: Städel Museum.
FRANKFURT
.-
The photographer Ursula Schulz-Dornburg (b. 1938) has been devoting herself to border landscapes, places of transit and relics of past cultures for more than forty years. With the aid of thirteen extensive workgroups and altogether more than 200 works, the
Städel Museum
is offering the first comprehensive institutional survey of the artist's oeuvre ever in the exhibition "Ursula Schulz-Dornburg: The Land In-Between – Photographs from 1980 to 2012", being presented from 4 July to 9 September 2018. Schulz-Dornburg, who was born in Berlin and now lives in Düsseldorf, devotes herself in her photos to cult and culture sites in Europe, Asia and the Near East, and above all to the visible and invisible borders of these continents and regions. Her analogue black-and-white photographs are testimonies to no-longer-existing landscapes, past political systems, cultural milieus in the process of dissolution, and expir ...
More
The Best Photos of the Day
Gala: Muse behind Dali's work gets own show in Barcelona
Stephen Ditko, Spider-Man co-creator, dies at 90
Luma Foundation opens exhibition of works by Gilbert & George


Salvador Dalí, Gala Placidia. Galatea of the Spheres 1952. Oil on canvas Fundació Gala-Salvador Dalí, Figueres.



BARCELONA (AFP).- Salvador Dali's companion and muse Elena Diakonova, known as Gala, is the star of a new show unveiled Thursday in Barcelona that also portrays her as a key force behind his work. Pepe Serra, director of the National Art Museum of Catalonia where the exhibition opens on Friday, said it highlights that Gala had an important, active role in the surrealist artist's "creative, life-long project." "Gala Salvador Dali" gathers more than 300 elements from 18 museums and collections like the Georges Pompidou Centre in Paris or the Salvador Dali Museum in Florida. It includes Dali's paintings and sketches of Gala, as well as items of their private life like letters, postcards, photos, clothes and personal objects. Born in 1894 into a family of intellectuals from Kazan, Russia, she spent her childhood in Moscow. ... More



It was Ditko who came up with Spider-Man's iconic red and blue suit, complete with web-shooters.



NEW YORK (AFP).- US comics artist Stephen Ditko, co-creator of Marvel superheroes Spider-Man and Doctor Strange, has died. He was 90. Police in New York said he was found in his apartment on June 29, according to the Hollywood Reporter. No cause of death has been confirmed. Born in 1927 in Johnstown, Pennsylvania, Ditko worked alongside the then-future Marvel Comics CEO Stan Lee in the early 1960s. It was Ditko who came up with Spider-Man's iconic red and blue suit, complete with web-shooters. "Today, the Marvel family mourns the loss of Steve Ditko. Steve transformed the industry and the Marvel Universe, and his legacy will never be forgotten," Marvel Entertainment President Dan Buckley said in a statement Saturday. Ditko, a reclusive figure who is thought to have never married, had left Marvel by 1966, reportedly due to a disagreement with Lee. ... More



Gilbert & George, Curse of the Cross, 1982.



ARLES.- At a time of reflection on Gilbert & George's one-of-a-kind half century of creating art together, Luma presents The Great Exhibition, 1971 – 2016, a major retrospective curated by Hans Ulrich Obrist, artistic director of the Serpentines Galleries, London, and Daniel Birnbaum, director of Moderna Museet, Stockholm. The exhibition, developed in collaboration with the artists themselves, seeks to capture and revel in Gilbert & George's larger-than-life universe. Borrowing works from several institutions and private collections, the exhibition takes place from July 2, 2018 until January 6, 2019. Ever since their first end-of-year exhibition at Saint Martin's School of Art (London) in 1967, Gilbert (who was born in the Dolomites, Italy in 1943) and George (born in Devon, England in 1942) have been challenging the artistic canon. Both subjects and objects of their art, the artists are a single artistic entity and d ... More
Exhibition at the Swiss Institute extends contemporary understandings of the readymade
Interactive Yves Klein exhibition opens at Nicetoile Commercial Center in Nice
French artist Daniel Buren opens major exhibition at Carriageworks


Installation view of Readymades Belong to Everyone on view at Swiss Institute. Curated by Fredi Fischli & Niels Olsen. Image Credit: Daniel Perez.



NEW YORK, NY.- Swiss Institute is presenting the third edition of its Architecture and Design Series, entitled Readymades Belong to Everyone. This marks the inaugural exhibition at SI's new home in the heart of the East Village, located at 38 St Marks Pl. Curated by Niels Olsen and Fredi Fischli, directors of exhibitions in the Institute for the History and Theory of Architecture (gta) at the Swiss Federal Institute of Technology (ETH) in Zürich, Readymades Belong to Everyone features more than 50 artists, architects and collectives from 16 countries with 17 new commissions. The exhibition extends contemporary understandings of the readymade, as it has filtered through histories of art, design and architecture to become mutated, redoubled, and accelerated in urban environments of commerce and control. It has been more than a century since Marcel Duchamp ... More



Digitized original artwork by Yves Klein- Untitled Anthropometries (ANT 84) -155 x 359 cm- 1960, Achat 1988 - Mamac Nice. © LEXPO- Augmentée 2018.



NICE.- This summer the Nicetoile Shopping Center, located in the heart of Nice on the French Riviera, hosts a highly innovative digital exhibition dedicated to Yves Klein, an iconic figure of 20th century art. A pioneer of contemporary art and a visionary artist, Yves Klein is known throughout the world as the inventor of the Monochrome and author of the International Klein Blue (I.K.B). He was born in Nice in 1928. To celebrate the 90-year anniversary of his birth, Nicetoile pays him a tribute in his hometown by organizing a unique kind of retrospective: an interactive exhibition, to be discovered exclusively and for the first time at the Nicetoile Shopping Center. « Yves Klein- The Interactive Exhibition… The Vibration of Color » successfully combines art and new technologies. Original artworks have been digitalized in 3D and ultra-High Defition : As a result, an unprecedented ... More



Daniel Buren, Like Child's Play. Image courtesy and © DB and ADAGP Paris.



SYDNEY.- Carriageworks is presenting acclaimed French conceptual artist Daniel Buren's large-scale work as the fourth major international artist project in the Schwartz Carriageworks series. Daniel Buren travelled to Sydney to present the Australian premiere of his work Like Child's Play, free to the public at Carriageworks from 7 July until 12 August 2018. Internationally recognised as one of France's foremost contemporary artists, Daniel Buren (b.1938) has exhibited more than ten times at the Venice Biennale, winning the Golden Lion in 1986, and his work has been the focus of exhibitions at the Centre Pompidou in Paris and the Solomon R Guggenheim Museum in New York. Buren's career spans five decades of unforgettable interventions, controversial critical texts, thought-provoking public art projects and engaging collaborations with artists from different generations. Carriageworks Director, Lisa ... More
Exhibition at Kunstmuseum Luzern asks what happens when the familiar and the strange meet
Exhibition of works by Dan Graham opens at Regen Projects
Swedish intellectuals form new literature prize in Nobel protest


Max Pechstein, Frauen mit buntem Teppich, 1920. Öl auf Leinwand, 117 x 91.5 cm, Kunstmuseum Luzern.



LUCERNE.- The exhibition Ab auf die Insel! (Off to the Island!) asks what happens when the familiar and the strange meet, become superimposed, perhaps even enrich one another. At what point is someone a native? Who is able to travel? Does art reproduce a colonial view? Is wanderlust an encroachment? Artists, researchers and adventurers have always been attracted by the exoticism of Islands, be it as paradise or hell. But what impact does life on an island have on art? Selected positions by artists from a time period of about a century widen our view of the theme, with works made either on tropical islands or during fictional travels. Both the point of departure and the focus of the exhibition are works by Claude Sandoz (*1946, lives and works in Lucerne). From 1997 he travelled regularly to St. Lucia. His artistic involvement with the Caribbean island is marked by a luminous colourfulness, extensive ... More



Installation view of Dan Graham New Works By A Small-Town Boy at Regen Projects, Los Angeles, July 7 - August 18, 2018. Photo: Brian Forrest, Courtesy Regen Projects, Los Angeles.



LOS ANGELES, CA.- Regen Projects is presenting an exhibition of works by Dan Graham. This marks his second solo presentation at the gallery. For over fifty years, Graham's expansive multidisciplinary practice has encompassed video, sculpture, photography, performance, installation, and a prolific body of writing on religion, music, art, architecture, garden design, and popular culture. Forming a central theoretical thread throughout the course of his career, his work has examined the function and role of architecture in contemporary society, and how it frames and reflects public life. Since the 1970s he has produced what he refers to as pavilions, hybrid constructions that are part architecture and part sculpture. Inspired by ornamental buildings found in 17th and 18th century European pleasure gardens, ... More



In this file photo taken on October 5, 2017 a woman opens the door of the Alfred Nobel Museum in Stockholm, Sweden. Jonathan NACKSTRAND / AFP.



STOCKHOLM (AFP).- What do you do when this year's Nobel Literature Prize, the world's most prestigious accolade of its kind, is postponed because of a sexual assault scandal? You create your own award. More than 100 Swedish intellectuals have joined forces to form a new prize-giving body in protest after the Swedish Academy, which selects Nobel laureates, was plunged into crisis over its long-standing ties to a man accused of assaulting several women. The alternative honour serves to denounce "bias, arrogance and sexism", according to its founders The New Academy, whose members include authors, artists and journalists. It is meant to "remind people that literature and culture at large should promote democracy, transparency, empathy and respect, without privilege", the 107 intellectuals wrote in a joint statement. As the #MeToo movement has made ... More
Proyectos Monclova presents an exhibition of sculptures by Fred Sandback featured in new book
An early pioneer of the American Craft movement returns to Rago
William A. Karges Fine Art curates a tour of California through early paintings


Fred Sandback: Las propiedades de la luz (de adentro hacia afuera), 2018. Proyectos Monclova, Mexico City.



MEXICO CITY.- Proyectos Monclova is presenting the solo exhibition Fred Sandback: Las propiedades de la luz (de adentro hacia afuera), in conjunction with the new publication The Properties of Light. Luis Barragán-Fred Sandback. At the time of his exhibition at the Tamayo Museum in 2002, the sculptor Fred Sandback (1943–2003) visited the Convento de las Capuchinas Sacramentarias (1955) by Luis Barragán (1902–1988). He was deeply moved, particularly by the architect's play with light and shadow as formal elements in his practice. When Proyectos Monclova mounted a Sandback exhibition in 2016, the Sandback Estate proposed temporarily installing his sculptures in several Barragán buildings, and the owners graciously agreed. Sculptures were mounted at Casa Luis Barragán (1948), Casa Antonio Gálvez (1955), Cuadra San Cristóbal (1966– 68), and Casa Gilardi (1975–77). To celebrate the book documenting ... More



Floor Lamp, 1962; Walnut, Fiberglass, Single socket. Est. $17,500 - 22,500.



LAMBERTVILLE, NJ.- For over 25 years, Rago Auctions in Lambertville, NJ has been the leading auction destination for works by Delaware Valley Modernists including Phil Powell, Wharton Esherick, Paul Evans and early pioneer of the American Craft Movement, George Nakashima. An American woodworker of Japanese descent, George Nakashima's creations present a graceful blending of traditional Japanese technique and modern aesthetic. In an effort to preserve the organic expressiveness of wood, Nakashima often selected planks and boards containing burls, knots and figured grain. While more difficult to work with, Nakashima favored these 'flawed' cuts for their raw, natural beauty. To join planks, or to reinforce the natural split of a single plank, Nakashima often employed the use butterfly joints: a trademark of his work. Rago Auctions has enjoyed the rare privilege of selling over 1,500 works by George ... More



Armin Hansen, Carmel-by-the-Sea (Carmel Mission).



CARMEL-BY-THE-SEA, CA .- From its inventory of more than 120 historical works, William A. Karges Fine Art has curated a journey through the Golden State with paintings by the masters of the California Plein Air Movement. Five notable works have been hand-picked for a special tour, which continues at Karges Fine Art galleries in Santa Monica and Carmel-by-the-Sea where many others are displayed. The Plein Air Movement began in the state around the same time as the California Gold Rush. Men and women immigrated in search of their fortune but instead found a relatively untouched landscape of mountains, forests, oceans and deserts. Taking advantage of the opportunity, artists visited each location, painting them in person. This method of painting outdoors is what earned the style its name "en plein air," which means "outdoors" in French. "From towering ocean cliffs and crashing waves to arid deserts, lush forests and snow-capped m ... More
Boo Saville - True Colours from Newport Street Gallery
Flashback
On a day like today, Italian painter Artemisia Gentileschi was born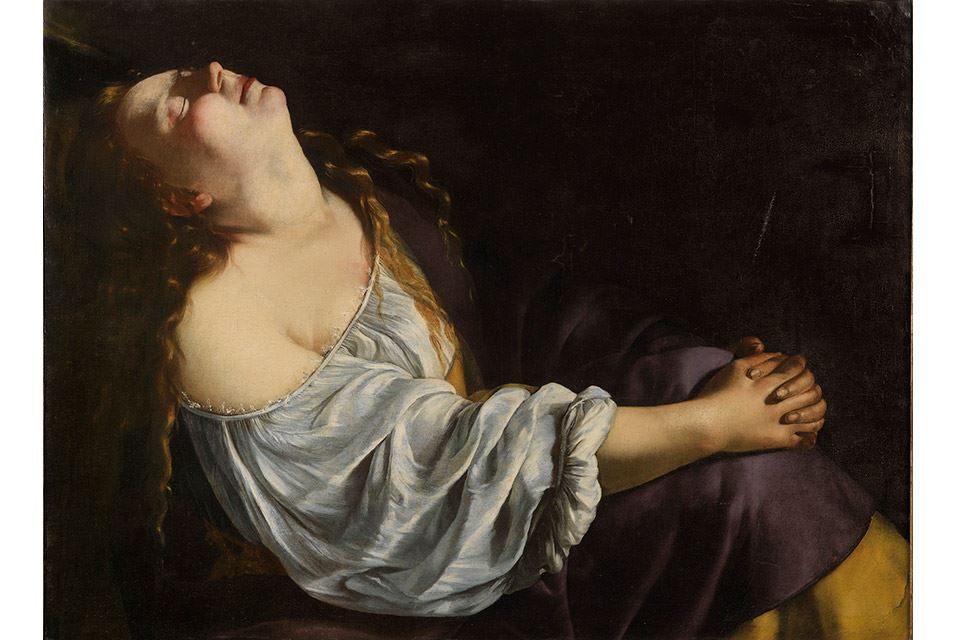 July 08, 1593. Artemisia Gentileschi or Artemisia Lomi (July 8, 1593 - c. 1656) was an Italian Baroque painter, today considered one of the most accomplished painters in the generation following that of Caravaggio. In this image: Artemisia Gentileschi, Mary Magdalene (detail). Oil on canvas, 81 x 105 cm; 32 by 411/3 in. €865.500 - World Auction Record for the Artist. Photo: Sotheby's.
---

Museums, Exhibits, Artists, Milestones, Digital Art, Architecture, Photography,
Photographers, Special Photos, Special Reports, Featured Stories, Auctions, Art Fairs,
Anecdotes, Art Quiz, Education, Mythology, 3D Images, Last Week,
.
---
Royalville Communications, Inc
produces: