Quality abounds in American & European Works of Art Auction at Skinner
Alexander Calder (American, 1898-1976) Untitled (Standing Mobile) c. 1953 (Lot 525, Estimate: $100,000-150,000).
BOSTON, MASS
.-
Skinner, Inc.
will present an impressive selection of American & European Works of Art at auction on Friday, May 19. The day will be divided in two parts: Fine Prints & Photographs at 12PM and Fine Paintings & Sculpture at 4PM. The auction offers an extensive variety of paintings, sculpture, prints, photographs, and works on paper ranging from Old Master prints through Modern and Contemporary offerings. The variety of prints is impressive, with multiple examples by such notable figures in 20th century art as Childe Hassam, Pablo Picasso, Alex Katz, Thomas Hart Benton, Romare Bearden, Marc Chagall, and Robert Motherwell. Matisse's Marie-José en robe jaune (Lot 95, Estimated between $50,000-80,000) is a standout highlight in the prints section of the auction. Robin Starr, Director of American & European Works of Art, says of this aquatint, "Matisse's use of line and color takes the contemplative subject of a woman sea ...
More
The Best Photos of the Day
Cincinnati Art Museum receives $11.75 million gift towards art of South Asia, Iran and Afghanistan
Diamond earrings fetch record $57.4-million at Swiss auction
Ashmolean acquires great Civil War portrait by William Dobson


A Royal Couple and Women of the Court Play Holi, circa 1760, Mughal period, Mughal/India, opaque watercolor, gold and silver on paper, Cincinnati Art Museum, Gift of Mr. and Mrs. Carl Bimel, Jr., 1986.1174



CINCINNATI, OH.- A landmark $11.75 million gift to the Cincinnati Art Museum to establish the Alice Bimel Endowment for Asian Art was announced at the museum's 137th Annual Meeting of the Shareholders of the Cincinnati Museum Association on May 15. The largest single monetary gift in the museum's history, the endowment will enhance collections in the arts of South Asia, Greater Iran and Afghanistan. During their lifetimes, the Bimels developed a fascination with South Asian art of all periods and extended their interests to include the regions of Greater Iran and Afghanistan. Their gifts to the Cincinnati Art Museum followed closely their own art collecting, study and travel interests. In sum, Alice and Carl Bimel generously donated more than $14 million in addition to significant collection objects to the museum. "It would be impossible to express in full our gratitude for what Carl and Alice Bimel have ... More



A model poses with the "The Apollo Blue" and "The Artemis Pink" diamonds, mounted as earrings, during a press preview by Sotheby's auction house. Fabrice COFFRINI / AFP



GENEVA.- Two spectacular diamonds mounted as earrings fetched a record $57.4-million (51.8 million euros) Tuesday at auction in Geneva, with an unnamed Asia-based buyer netting both, Sotheby's said. The earrings were sold as separate lots. After protracted bidding, the flawless and vivid "The Apollo Blue" fetched $42.087-million and the equally intensely luminescent "The Artemis Pink" went for $15.33-million, buyers premium included. The earrings, named after Greek gods, had respectively been valued at between $38-million and $50-million and $12.5-million and $18-million. The 14.54-carat "Apollo Blue" is the largest gemstone in its category ever to be auctioned and has been cut and polished to a pear shape. The 16-carat "Artemis Pink" is near identical in shape. It is also one of the world's most "chemically pure" diamonds, according to the Gemological Institute of America, which experts say gives ... More



William Dobson (1611–46), Group Portrait of Prince Rupert, Colonel William Legge and Colonel John Russell. Painted c. 1645 (detail). Image © Ashmolean Museum.



OXFORD.- The Ashmolean announced the acquisition of a magnificent group portrait by William Dobson (1611–46) painted in Oxford during the Civil War. The painting has been allocated to the Ashmolean on the occasion of the 400th anniversary of the birth of the founder of the Museum, Elias Ashmole. It has been acquired for the nation through the Acceptance in Lieu scheme, administered by the Arts Council. A £90,900 grant from the Heritage Lottery Fund (HLF) will support a programme of events and activities to bring the picture to a wide public audience. The painting, commissioned by John Russell in the winter of 1645–6, is a unique artefact of the English Civil War. It shows a meeting between three Royalist commanders who were then based in Oxford, home to the royal court in exile. The group in the painting are Prince Rupert (the King's nephew), Colonel William Legge (Governor of Oxford) and Colonel John Russell ... More
Modern masters lead Sotheby's New York Sale of American Art
Sotheby's Paris Contemporary Art Sale led by masterpieces produced between the 1940s and 1960s
Fondazione Sandretto Re Rebaudengo opens solo exhibition of Japanese artist Hiroshi Sugimoto


John Singer Sargent, John Alfred Parsons Millet. Oil on canvas, 36 1/4 by 24 1/8 in. Estimate $2.5/3.5 million. Photo: Sotheby's.



NEW YORK, NY.- Sotheby's announced their American Art auction, taking place on 23 May in New York City. Led by Norman Rockwell's Two Plumbers, which was featured on the cover of the 2 June 1951 issue of The Saturday Evening Post, the sale is particularly well represented by 20th century masters, including Marsden Hartley, Thomas Hart Benton and Oscar Bluemner. In addition to the 120+ lots offered on the 23rd, American Art Online is now open for bidding 4-24 May at Sothebys.com/online. The exhibitions open to the public this Saturday, 20 May, and will remain open until 12pm on the 23rd. Two Plumbers from 1951 is Norman Rockwell at his best. Created at the height of his career, the painting brilliantly demonstrates the artist's talent for depicting everyday life with a dose of humor. To produce the current work, Rockwell employed two of his studio assistants – Don Winslow and Gene Pelham – as models, posing them ... More



Pierre Soulages, Peinture 162 x 130 cm, 14 avril 1962. Oil on canvas, 162 x 130 cm. Estimate: 2.000.000 – 3.000.000 €.



PARIS.- For this first Contemporary Art sale of the year on 6 and 7 June, Sotheby's France is once more paying tribute to masters of abstraction whose international renown is supported by ever-increasing prices for their works: Pierre Soulages, Zao Wou-Ki, Jean Dubuffet, Nicolas de Staël and Simon Hantaï. These are artists Sotheby's France has helped to establish in the contemporary art auction market in France and America. The selection of some of the most iconic works from their most sought-after periods includes a major painting by master of black Pierre Soulages – an astonishing blue, and a masterpiece by Zao Wou-Ki from the early 1960s: a key period when his style reached full maturity. The catalogue includes a section with some of the most recent works by Annette Messager, Anselm Kiefer, Antoni Tàpies, Takashi Murakami, Jan Fabre and Gilbert & George. The sale will be led by a major work ... More



Hiroshi Sugimoto, Teatro dei Rozzi, Siena 2014, Summer Time.



TURIN.- From May 16 to October 1, 2017, Fondazione Sandretto Re Rebaudengo presents Le Notti Bianche, a solo exhibition of Japanese artist Hiroshi Sugimoto, curated by Filippo Maggia and Irene Calderoni. The show includes the international preview of a new photo series, devoted to Italian historical theaters, a continuation and development of Hiroshi Sugimoto's research on theatrical and cinematic spaces. The whole photo work of Hiroshi Sugimoto aims to explore the relationship between time and space, or better, the perception we have of this relationship, with the human eye as the camera that renders a version of it – clear and plastic, in the case of Sugimoto. The inquiry moves from a simple question, almost a curiosity, which the Japanese artist asked himself towards the end of the Seventies: how to capture, in one single shot, the whole flow of images contained in a film, during a regular theater screening. The result is a dazzle- ... More
"Outlooks: Heather Hart," An interactive sculptural environment, now open at Storm King
Artist Profile: James Buttersworth
Abby Bangser to join Dia Art Foundation as Deputy Director of Strategic Initiatives


Heather Hart, American, b. 1975. Oracle of Lacuna, 2017. Wood, shingles, building materials, iPad, speakers. Courtesy the artist © Heather Hart. Photo by Jerry L. Thompson.



MOUNTAINVILLE, NY.- Storm King Art Center presents Outlooks: Heather Hart, on view from May 13 to November 26, 2017. The interactive sculptural environment takes the form of a domestic rooftop, and will be activated by performances, discussions, and other events. Hart's work spans social and participatory sculpture, drawing, and printmaking, and deals with issues of perception, liminality, history, and spirituality. Hart is the first Outlooks artist to create a work at Storm King that is activated by programming and public participation. Storm King has responded to the work by expanding its artist-driven programming and further engaging the surrounding community. Outlooks, now in its fifth year, is an exhibition series that invites one emerging or mid-career contemporary artist to engage with Storm King's landscape ... More



Racing off Sandy Hook. Available at Barnebys.



LONDON.- From the 17th to 19th century, the maritime genre in painting reached its peak popularity, with a number of artists from Rembrandt to Hokusai depicting the dangers of the sea and sailing; amongst these artists was James E. Buttersworth. Buttersworth was born in London, England in 1817, with a future as a maritime artist predestined by his family's history in this occupation. His father, Thomas Buttersworth, was of particular importance to the genre, drawing upon his experiences as a sailor during the Napoleonic Wars (1803-1815). Unlike his son, Thomas did not receive much recognition for his work until after his death. Having studied under his father, Buttersworth moved across the Atlantic to the United States during his late 20s, settling in New Jersey. The young artist established a studio across-state in Brooklyn, New York, which led to the New York Harbor being used as background for his intricate paintings of various vessels. It was this precision that led to Buttersworth be ... More



Bangser has been Artistic Director of Frieze Art Fairs for the Americas and Asia since 2015.



NEW YORK, NY.- Dia Art Foundation has appointed Abby Bangser as Deputy Director of Strategic Initiatives. She is currently the Artistic Director of Frieze Art Fairs for the Americas and Asia. In this newly created position Bangser will occupy a key leadership role, working closely with Dia's Director, Jessica Morgan, and the senior management team to advance the strategic priorities of the institution and serve as the main liaison for Dia's sites around the United States and beyond. Her appointment begins in July 2017. "We are delighted to welcome Abby Bangser to Dia. She has a wide range of experience that will be invaluable in this role," said Jessica Morgan, Director, Dia Art Foundation. "As Dia evolves, the need for strategic planning and focused partnerships becomes even more critical to support our mission. Her perspective will help bring to Dia's many sites greater prominence and understanding." "I have long ... More
National Gallery of Canada's Contemporary Art Galleries re-open with new installation
Digard to offer Signoret Montand's collection, mementos from Autheuil
Jerry Frantz and Sali Muller open "Museum of Vanities" at IKOB Museum of Contemporary Art


Rita Letendre, Chi‑Sa‑Kaan, 1975 (detail). Acrylic on canvas, 226 x 90.8 cm. National Gallery of Canada, Ottawa. Photo: NGC.



OTTAWA.- Canadian and Indigenous Art: 1968 to Present, featuring more than 150 works of art by more than 100 artists, opened at the National Gallery of Canada. This major, year-long exhibition explores the many themes and movements that have shaped Canada's visual arts landscape since 1968. It is part of the Gallery's spring / summer programming titled: Our Masterpieces, Our Stories , which launched in April with the opening of the exhibition Photography in Canada, 1960-2000. Paintings, scultpures, photographs, video art, installation and drawings, are on display in 12 galleries located on two floors, until May 6, 2018. "Canadian and Indigenous Art: 1968 to Present features outstanding works of Canadian artistic genius," said National Gallery of Canada Director and CEO, Marc Mayer. "The public will appreciate the ... More



The mementos of their private life and careers from their house in Autheuil will tell the story of this mythical couple.



PARIS.- On Monday 26th June, Digard Auction is presenting the collection of Simone Signoret and Yves Montand. The mementos of their private life and careers from their house in Autheuil will tell the story of this mythical couple. To discover: paintings, furniture, art works, jewellery, scenarios, stage clothes, movies and sound tapes, shooting pictures, awards and gold records, autographs and correspondences between Simone SIGNORET, Yves MONTAND and Edith PIAF, memories from a place they loved and from their daily lives. The Autheuil house is big. In 1954, the fifty-five miles that separated it from Paris made it feel like it was located on the other side of the world. While looking at it, MONTAND used to say: "There are many 'Battling Joes' and 'dead leaves' in there... It is a house for summer, winter, fall and spring… Many ... More



Sali Muller, The Missing Part, 2017. Installation, 200 × 65 × 4cm. ©Sali Muller.



EUPEN.- For their exhibition Museum of Vanities, which takes place from 17 May to 20 August at the IKOB – Museum of Contemporary Art, Jerry Frantz – the notorious inventor of absurd persons and projects – and Sali Muller – the sensitive analyst of habits of vision and perception – have created a series of works of art that fearlessly respond to the work of the other artist, entirely in the sense of a culture of dissent. On display are current works by the two Luxembourgian artists many of which were developed specifically for this exhibition. With reference to this year's theme at the IKOB – resentment – Jerry Frantz and Sali Muller focus on such concepts as terrorism, nationalism, selfishness and, ultimately, finiteness. The double meaning contained in the word "vanity" of fatuous self-love and evanescence is manifest in a "deadly splendor" with regard to his installations, says Jerry ... More
Skinner Fine Paintings & Sculpture | May 19 | Boston
Flashback
On a day like today, Greek archaeologist Valerios Stais discovers the Antikythera Mechanism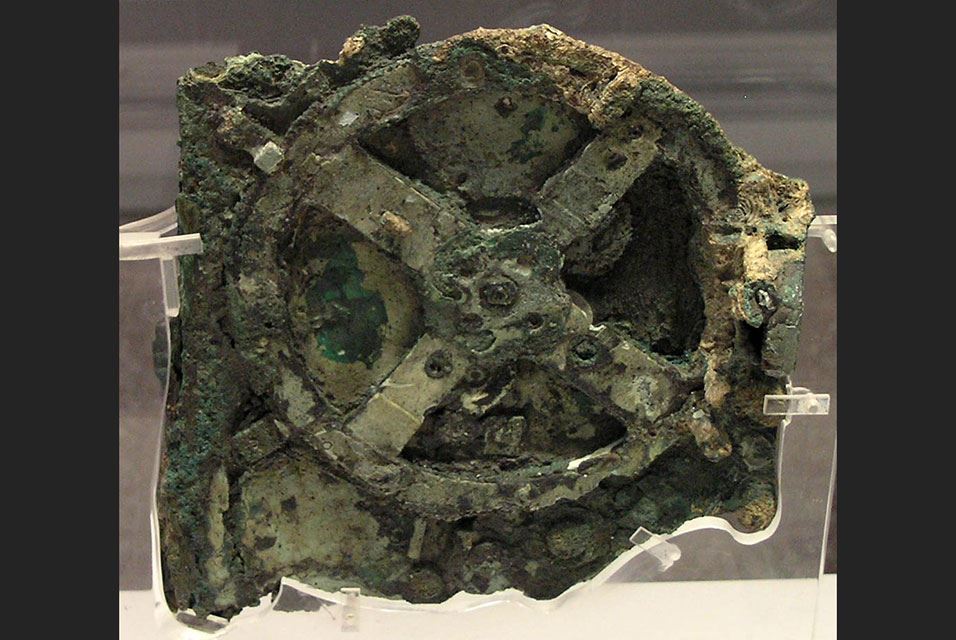 May 17, 1902. The Antikythera mechanism is an ancient mechanical computer designed to calculate astronomical positions. It was recovered in 1900 - 01 from the Antikythera wreck, but its complexity and significance were not understood until decades later. It is now thought to have been built about 150 - 100 BC. Technological artifacts of similar complexity did not reappear until the 14th century, when mechanical astronomical clocks appeared in Europe.
---

Museums, Exhibits, Artists, Milestones, Digital Art, Architecture, Photography,
Photographers, Special Photos, Special Reports, Featured Stories, Auctions, Art Fairs,
Anecdotes, Art Quiz, Education, Mythology, 3D Images, Last Week,
.
---
Royalville Communications, Inc
produces: