Maria Lassnig retrospective at Kunstmuseum Basel showcases key works
Four years after her death, the Kunstmuseum Basel honors the artist with a retrospective of her works on paper that brings together around ninety of Lassnig's most affecting drawings and watercolors from the holdings of the Maria Lassnig Foundation and the Albertina, Vienna. Photo: Julian Salinas.
BASEL
.-
In an exhibition titled Dialogues, the
Kunstmuseum Basel
presents around ninety drawings and watercolors by the Austrian artist Maria Lassnig, who died four years ago. The retrospective showcases key works as well as sheets that have never been on public display. Deeply felt emotions are at the core of the art of Maria Lassnig (1919–2014). Works she labeled "body awareness" art seek to render physical sensations and trace the nuances of her perception of her own body. Humorous and serious, driven by profound yearnings and relentlessly rigorous, the artist captured her sense of—mental, physical—self on paper, transmuting not what she saw but how she felt her own existence into images. Even as she honed her introspective attention to her body, Lassnig remained in constant touch with the outside world. Her portraits grow out of a searching study of reality, though her sensitive observations of animals a ...
More
The Best Photos of the Day
Hollis Taggart Galleries opens exhibition of paintings from the 50s & 60s by Julius Tobias
Stephen Prina's wide-ranging project galesburg, illinois+ on view at Sprüth Magers Los Angeles
Largest-ever display of Canaletto paintings in Scotland goes on show at The Queen's Gallery, Palace of Holyroodhouse


Julius Tobias, Untitled, 1960. Oil on canvas, 84 1/2 x 77 1/8 inches.



NEW YORK, NY.- Hollis Taggart Galleries opened its first exhibition of paintings by Julius Tobias (1915-1999), Julius Tobias: Capturing Space, Paintings from the 50s & 60s. During this period, Tobias became a fixture in the growing art world in New York, where he returned after his education at Paris' Académie Fernand Léger. The city became fodder for his grand compositions as his commitment to abstract form encompassed his deep sympathies for the found abstractions of urban life. Indeed, he claimed that "there is no such thing as abstraction as differentiated from reality--all abstraction is based on reality and is reality." (1) This is the first time in over 50 years that Tobias' monumental paintings have been publicly exhibited. Julius Tobias explored the fluid border between abstraction and reality in both painting and sculpture, pushing the boundaries of the two media in size and form. Though he spent a significant po ... More



Stephen Prina, galesburg, illinois+, installation view, Sprüth Magers, Los Angeles, May 12 – August 11, 2018. Courtesy the artist; Galerie Gisela Capitain, Cologne; Petzel Gallery, New York; and Sprüth Magers. Photo: Robert Wedemeyer.



LOS ANGELES, CA.- The work of artist and musician Stephen Prina has moved nimbly between painting, sculpture, photography, installation and conceptual practices since the late 1970s. Impossible to categorize within any one medium or approach, his projects mine art historical references, personal biography, musical compositions, and institutional and cultural histories, which he spins into bodies of work that function as complex networks of objects and information. Sprüth Magers opened its first exhibition with Prina, the fourth iteration of his wide-ranging project galesburg, illinois+, on view at the Los Angeles gallery May 12 to August 11, 2018. The artist will also present a public performance at the gallery on Saturday, July 14, 2018, at 7pm. During 1977–78, I sang and played guitar ... More



Canaletto, The Mouth of the Grand Canal looking West towards the Carita, c.1729-30 (detail) from a set of 12 paintings of the Grand Canal.



EDINBURGH.- A new exhibition at The Queen's Gallery, Palace of Holyroodhouse includes the largest group of Canaletto paintings ever shown in Scotland. Canaletto & the Art of Venice explores the work of Italy's most famous view-painter, and how he and his contemporaries captured the essence and allure of 18th-century Venice. The Royal Collection contains one of the world's greatest holdings of Canaletto's paintings and drawings thanks to George III, who purchased the collection of Consul Smith, patron and dealer to the artist, for Ł20,000 in 1762. Among the highlights of the exhibition are Canaletto's most famous views of the Grand Canal. These 12 vivid and precise paintings, executed over several years in the late 1720s, depict a near-complete journey down the waterway. From the quayside palaces and workshops on the Grand Canal's upper reaches to the bustling ... More
Solo exhibition of Dutch-American photographer Richard Koek on view at Eduard Planting Gallery
Blum & Poe opens its first exhibition with Italian-born, London-based artist Enrico David
Timothy Taylor opens an exhibition of works by the British artist Frank Auerbach


Richard Koek, Kent Avenue, Brooklyn (detail). Courtesy Eduard Planting Gallery.



AMSTERDAM.- Eduard Planting Gallery in Amsterdam presents from 5 May until 30 June 2018 a solo exhibition of Dutch-American photographer Richard Koek. The visual storyteller shares his love of New York City and the inspiring people that live there by communicating with them through the lens. Recently, his first monograph 'New York New York' has been released. The sensibility for the complicated life in New York shows in his photos, which are, rather than a decisive moment, an encouragement to viewers to form their own interpretation of his work. Every picture becomes a new narrative, unique to its beholder. Richard Koek (Ilpendam, 1965) decided to give up his profession as a tax lawyer to pursue his passion for photography in New York City. He currently lives in New York and Amsterdam, working for various publications, companies and non-profit organizations. The photography of Richard Koek has been featured in renowned titles including Th ... More



Enrico David, The Incessant, 2017. Bronze, 65 x 29 1/2 x 19 1/2 inches. © Enrico David, courtesy of the artist, Blum & Poe, Los Angeles/New York/Tokyo and Michael Werner Gallery, London/New York.



LOS ANGELES, CA.- Blum & Poe announces the gallery's first exhibition with Italian-born, London-based artist Enrico David. This is the artist's first show in Los Angeles since his presentation at the Hammer Museum in 2013 and precedes the first museum survey of his work in the US, opening at the Museum of Contemporary Art Chicago in September and travelling to the Hirshhorn Museum and Sculpture Garden, Washington D.C. thereafter. "The body is a pulsating unknown, always a new vehicle of transformation. Sometimes it feels like a fresh ruin in need of maintenance, sometimes an instrument of magic that rubs against a world upon which it tries to establish possibilities. A channel. An abyss. Unravelling grilled meat, a fissure that postpones nothing for later, unable to subordinate one order of things to another. Transformation central." — Enrico David. This exhibition presents recent sculpture and hanging fiber works, two f ... More



Frank Auerbach, The Pillar Box, 2011. Oil on board, 22 1/8 x 22 1/8 in 56 x 56 cm. © Frank Auerbach. Courtesy of Private Collection, USA.




NEW YORK, NY.- Timothy Taylor, New York, is presenting an exhibition of works by the British artist Frank Auerbach. The subject of a major retrospective at the Tate Britain in 2015-16, Auerbach has established himself as one of the pre-eminent contemporary painters through an oeuvre that spans more than fifty years. The exhibition at Timothy Taylor is the first show devoted to Auerbach in New York since 2006. This exhibition brings together examples of portraits of some of Auerbach's favorite sitters; his wife, Julia, writer and art critic William Feaver, and Juliet Yardley Mills (J.Y.M) – the artist's principal model since 1963, and the subject of over seventy works. In compliment to these portraits are a number of paintings of North London landscapes - Camden, Primrose Hill and Mornington Crescent – areas local to the artist's home and studio, which have also served as reoccurring subjects over the course of his car ... More
South Africa lensman Sam Nzima who took iconic Soweto uprising photo dies
New display at Riverside Museum marks 50 years since steam engine ran on Scotland's trainlines
Masterworks launches first blockchain platform for public to invest in works of art


In this file photo taken on June 07, 2006, South African photojournalist Sam Nzima, 71, poses with his cameras. Sam Nzima, died at the age 83 at hospital in the country's Mpumalanga province, the presidency said on May 13, 2018. GIANLUIGI GUERCIA / AFP.



JOHANNESBURG (AFP).- A South African photographer, who captured the iconic black-and-white picture of a dying 13-year-old activist shot by apartheid police during the 1976 Soweto uprising, has died. Sam Nzima died at the age 83 in hospital Saturday in the country's Mpumalanga province, the presidency said Sunday. His photograph of a dying Hector Pieterson being carried away by a teary fellow student after security forces opened fire on black youngsters protesting in Soweto township on June 16, 1976, turned the world's attention to the brutality of the apartheid regime. Those riots, led by high school students, became the watershed point in South Africa's anti-apartheid struggle. Over three days, at least 170 people were killed, with some estimates putting the death toll at several hundred over ... More



Curator John Messner at Looking at Locomotives display Riverside © CSG CIC Glasgow Museums.



GLASGOW.- Riverside Museum has opened Looking at Locomotives, a new display exploring more than 200 years of Glasgow's train building heritage. To mark 50 years since steam engines stopped running on mainline railways across Scotland, Glasgow Museums has curated a presentation exploring the history of locomotive and steam powered transport in Glasgow. Scotland's museum of travel and transport is renowned for its world-class ship model collection, Looking at Locomotives is an opportunity for visitors to discover more about some of the exquisite railway models in the city's collection, which rival the maritime models in quality, variety and interest. On show are 11 models of Glasgow built locomotives. Together they allow people to trace the history of railways in Scotland from its earliest days in the 1830s to the development of electric and diesel transport in the 1960s and 1970s. Chair of Glasgow ... More



Andy Warhol, 1 Colored Marilyn (reversal series), 1979, oil and silkscreen inks on canvas, 18 1/4 x 13 3/4 in. (46.4 x 34.9 cm).



NEW YORK, NY.- Masterworks today announces its launch as the world's first blockchain-based fine art investment platform that will allow anyone to invest in specific works of art. All offerings will be filed with the Securities and Exchange Commission with share ownership recorded on the Ethereum blockchain to provide transparency to investors. For its inaugural offering, Masterworks plans to offer an investment in Andy Warhol's 1 Colored Marilyn (Reversal Series), 1979. Purchased by the company in November 2017 at Phillips' 20th Century & Contemporary Art Evening Sale for $1,815,000, investors will be able to invest in Warhol's iconic 1 Colored Marilyn (Reversal Series) for as little as $1,000 USD. Masterworks founder, collector and Internet entrepreneur Scott Lynn sees the blockchain as a way to democratize aspects of art collecting that have traditionally ... More
Socrates Sculpture Park opens a solo exhibition of commissioned works by Virginia Overton
Exhibition examines the work of one of the most respected fashion designers in history
Whyte's announces highlights from its auction of important Irish art


Virginia Overton; 'Untitled (Dynamo);' 2018; Image courtesy the Artist, Bortolami Gallery, White Cube, and Socrates Sculpture Park.



NEW YORK, NY.- Socrates is presenting Built, a Parkwide solo exhibition of newly commissioned works by Virginia Overton (b. Nashville, TN; lives in New York). The exhibition features several works made from found industrial materials and will be on view May 6 – September 3, 2018. At the Park Overton transforms familiar materials—roof trusses, pickup trucks, wooden architectural beams, and a steel basin—into sculptural forms with new potency and dynamism. In these succinct elegant works, Overton addresses concepts of labor, economics, and land in today's society. The show's largest piece is a crystal-shaped sculpture made of industrial truss systems and angle iron spanning 40 feet in length and 18 feet of height. Additionally, Overton transforms a 1990 Ford F250 pickup truck with a reflective glass bead surface, exploring the pickup as a tool and a symbol of mobility, ambition, ... More



A gallery assistant poses for a photograph with dresses by Tunisian-born designer Azzedine Alaia, in a collection entitled "Black Silhouette". Tolga Akmen / AFP.



LONDON.- The Design Museum in London presents Azzedine Alaďa: The Couturier, a major exhibition exploring the late designer's unique creative talent and the timeless beauty of his work. Envisaged and curated by Monsieur Alaďa and Mark Wilson, Chief Curator of the Groninger Museum, the exhibition comprises designs stretching throughout Alaďa's career from the early 1980s to his last creations. The display provides a unique examination of the designer's personal approach that defied the rules of fashion. Alaďa would work on certain pieces for years at a time and would display his creations when they were ready, not when the fashion season dictated. Azzedine Alaďa was recognised during his life as a master couturier who expressed the beauty of a woman's form in the most refined degree of haute couture. The ... More



A portrait of James Joyce by Louis le Brocquy [Lot 77, €15,000-€20,000] – formerly in the collection of U2's Bono.



DUBLIN.- Whyte's auction of Important Irish Art takes place at 6pm, Monday 28 May 2018 at the RDS, Ballsbridge Dublin. The sale will offer collectors over 200 landmark examples by Ireland's leading artists including Jack B. Yeats, Paul Henry, William Conor, Daniel O'Neill, Louis le Brocquy and many more. Presented in two sessions, the auction will also include a contemporary offering from the RDS CAP Dublin collection. Whyte's invite bidders to view the sale at the RDS, Ballsbridge from Saturday through to Monday (day of the sale) 26-28 May 10am-6pm daily. Leading the auction is an important oil painting from 1945 titled Morning Glory [lot 38, estimated €80,000€120,000] by Jack Butler Yeats. An expressive and theatrical example by one of Ireland's most sought-after artists, this sizeable oil – 14 by 18ins - was exhibited widely in 1948 but has not been seen publically in over 35 years. ... More
Claude Debussy's rediscovered score for Hymnis
Flashback
On a day like today, American painter Mary Cassatt was born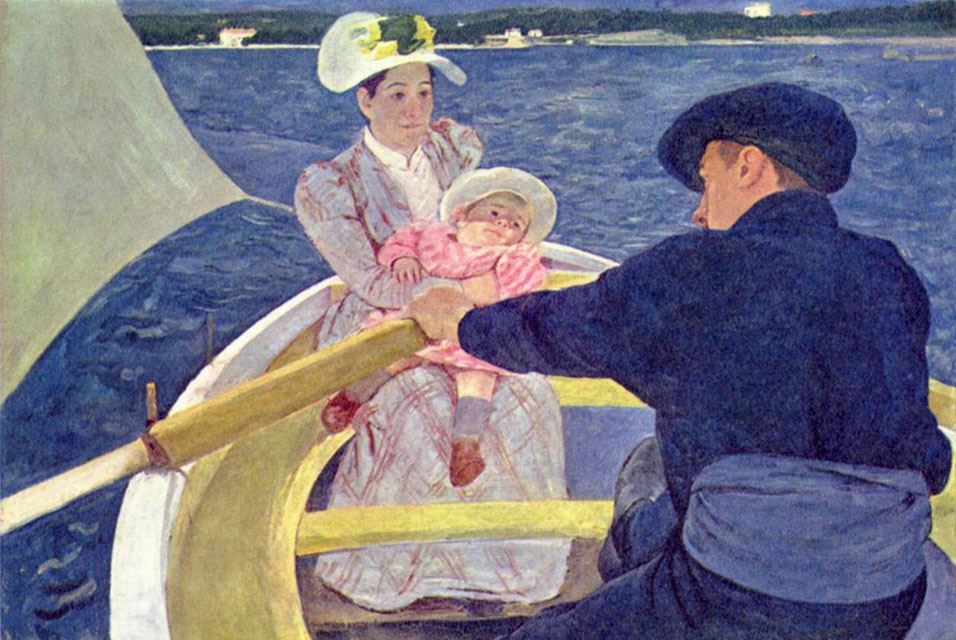 May 22, 1844. ALLEGHENY CITY, PA.- Mary Stevenson Cassatt was an American painter and printmaker. She lived much of her adult life in France, where she first befriended Edgar Degas and later exhibited among the Impressionists. Cassatt often created images of the social and private lives of women, with particular emphasis on the intimate bonds between mothers and children. In this image: The Boating Party by Mary Cassatt, 1893-94, oil on canvas, 35 1/2 x 46 in., National Gallery of Art, Washington
---

Museums, Exhibits, Artists, Milestones, Digital Art, Architecture, Photography,
Photographers, Special Photos, Special Reports, Featured Stories, Auctions, Art Fairs,
Anecdotes, Art Quiz, Education, Mythology, 3D Images, Last Week,
.
---
Royalville Communications, Inc
produces: