The Schirn Kunsthalle Frankfurt presents the art of Jean-Michel Basquiat in Germany
Basquiat: Boom for Real, exhibition view, © Schirn Kunsthalle Frankfurt, 2018, Photo: Norbert Miguletz, Artworks: © VG Bild-Kunst Bonn, 2018 & The Estate of Jean-Michel Basquiat, Licensed by Artestar, New York.
FRANKFURT
.-
Jean-Michel Basquiat (1960–1988) is acknowledged today as one of the most significant artists of the 20th century. More than 30 years after his last solo exhibition in a public collection in Germany, the
Schirn Kunsthalle Frankfurt
is presenting a major survey devoted to this American artist. Featuring more than 100 works, the exhibition is the first to focus on Basquiat's relationship to music, text, film and television, placing his work within a broader cultural context. In the 1970s and 1980s, Basquiat teamed up with Al Diaz in New York to write graffiti statements across the city under the pseudonym SAMO©. Soon he was collaging baseball cards and postcards and painting on clothing, doors, furniture and on improvised canvases. Basquiat collaborated with many artists of his time, most famously Andy Warhol and Keith Haring. He starred in the film New York Beat with Blondie's singer Debbie Harry and performed with his experimental ban ...
More
The Best Photos of the Day
Rarely seen seventeenth-century painting makes its North American debut at the Yale Center for British Art
New report calls for increased investment in museums and their collections
Christie's to offer the Collection of Joan and Preston Robert Tisch


Unknown artist, Medusa cameo ring, ca. 1580, white agate set in gold and enamel, Victoria and Albert Museum, London, Salting Bequest.



NEW HAVEN, CONN.- The Yale Center for British Art presents an exhibition featuring the enigmatic masterpiece The Paston Treasure (ca. 1663) in its North American debut. Organized in partnership with the Norwich Castle Museum & Art Gallery, UK, and on view from February 15 through May 27, 2018, The Paston Treasure: Microcosm of the Known World explores the world of the Pastons—a landowning family of Norfolk famous for their medieval letters—through a display of nearly 140 objects from more than fifty international institutional and private lenders. This exhibition includes five treasures from the sixteenth and seventeenth centuries that appear in the painting: a pair of silver-gilt flagons, a Strombus shell cup, two unique nautilus cups, and a perfume flask with a mother-of-pearl body, which are gathered together for the first time in more than three centuries. ... More



Why Collect Cover. © Art Fund.



LONDON.- Why Collect?, a report on museum collecting in the UK by historian Sir David Cannadine, was launched at Tate Modern today. The publication was commissioned by Art Fund and the Wolfson Foundation to mark 40 years of their collaboration in bringing art and objects into public collections. The report highlights the ever-widening gap between the spiralling prices of works on the international art market and the limited acquisition funds available to museums and galleries in the UK. It calls for increased investment in museums and their collections, as public spending on museums has decreased by 13% in real terms over the last decade. It is, writes Cannadine, a report that 'instead of giving comfort and reassurance, expresses anxiety and concern.' Cannadine's analysis of museum and gallery collecting traces its history from the 1830s to the present day, and is accompanied by 11 case studies which explore various facets of the social and cultural impact of ... More



Willem de Kooning (1904–1997). Untitled XVIII, 1976. Estimate: $8,000,000 - 12,000,000 © 2018 The Willem de Kooning Foundation / Artists Rights Society (ARS), New York.



NEW YORK, NY.- Christie's have been entrusted with The Collection of Joan and Preston Robert Tisch, which will be offered as a central highlight of the Impressionist and Modern Art and Post-War and Contemporary Art during 20th Century Week this May. This remarkable group of works will serve as the foundation for Christie's major New York Sales, seizing on the global excitement generated by the Collection of David and Peggy Rockefeller being sold over the previous week. Encompassing over 40 objects in total, The Collection of Joan and Preston Robert Tisch is expected to realize in excess of $80 million. Steadily acquired through personal erudition and connoisseurship, the collection includes works by some of the leading names of the recent art historical canon. From strikingly modern bronzes by Alberto ... More
Marc Straus opens a solo exhibition of Texas-based artist Otis Jones
Drawings and works on paper by preeminent minds of Minimalism and Conceptual art highlight Sotheby's sale
Lost portrait of Revolutionary War hero goes on display in DC


Otis Jones, Red with One Red and Two White Circles, 2018 (detail).



NEW YORK, NY.- Marc Straus is presenting a solo exhibition of Texas-based artist Otis Jones. The exhibition presents new works, with an opening reception on Friday February 16th from 6pm – 8pm and then remain on view until April 1st, 2018. The work of Otis Jones is hard to pin down. They are sculptural paintings where the process comes centerstage in each work. They are intensely physical, yet restrained; formal abstractions, but embracing intuition and uncertainty. Jones' interests lie in the essentials: the relationship of shape, composition and color. Subtle nuances give his paintings marvelous character. "I'm interested in objects, patina, wear, and age. Each piece takes on its own geology. I don't hide anything. It's a very real object", Jones once said. Roughly-cut canvases are tacked onto irregularly-shaped handmade thick wood panels, where the layered plywood edges and staples are deliberately left expo ... More



Ellsworth Kelly, Study for Curve II, partially titled and dated 1973; signed on the reverse graphite on paper, 33 3/4 by 33 3/4 in. 85.7 by 85.7 cm. Estimate $350/450,000. Courtesy Sotheby's.



NEW YORK, NY.- Sotheby's will present Another Kind of Language: Drawings by Sculptors from the Betsy Witten Collection as a highlight of the Contemporary Curated sale on 2 March in New York. Immediate, cerebral, and refined, the collection of Betsy Witten comprises drawings and works on paper by preeminent minimalist and conceptual artists, such as Ellsworth Kelly, Richard Serra, Eva Hesse and Agnes Martin, among others. Ranging from fascinating preparatory drawings that document some of the 20th century's most influential artistic ideas, to stand-alone works that serve as consummate examples of these formal concepts, the landmark collection of drawings embodies the uninhibited experimentation and intimate expression afforded by the medium. Works from the group will be on view in Sotheby's York ... More



It is now on display at the headquarters of the American Revolution Institute in Washington, D.C. — the first time the painting has been on view in the United States in its two-hundred-year history.



WASHINGTON, DC.- A lost hero of the Siege of Yorktown has been found at last. The American Revolution Institute of the Society of the Cincinnati in Washington, D.C., is pleased to announce the discovery of a unique portrait of a French general — Claude-Anne de Rouvroy, marquis de Saint-Simon-Montbléru — who was instrumental in winning the final great battle of the Revolutionary War. The Institute just acquired the painting from a family in Spain. It is now on display at the headquarters of the American Revolution Institute in Washington, D.C. — the first time the painting has been on view in the United States in its two-hundred-year history. In the fall of 1781, Saint-Simon commanded some 3,500 French soldiers. Arriving from the West Indies, they landed at Jamestown, Virginia, and joined the much smaller American army under ... More
New exhibition commemorates the 50th anniversary of transformative OKCMOA acquisition
Jack Shainman Gallery opens the first ever exhibition of works on paper by Barkley L. Hendricks
Garvey/Simon opens exhibition of paintings by Frederick Brosen


Robert Indiana, Coenties Slip, 1962. Oil on canvas, 60 x 48 inches. Oklahoma City Museum of Art. Museum purchase, Washington Gallery of Modern Art Collection, 1968.152. Photo: Joseph Mills.



OKLAHOMA CITY, OKLA.- In 1968, the Oklahoma Art Center (the predecessor to the Oklahoma City Museum of Art) purchased the 154-piece collection of the Washington Gallery of Modern Art, transforming Oklahoma City's collection of contemporary art. Opening Saturday, Feb. 17 on OKCMOA's first floor, "The New Art: A Milestone Collection Fifty Years Later," will feature 52 works from this collection, including paintings, prints, sculptures and drawings. "The acquisition of this collection by the Oklahoma Art Center was both visionary and courageous," said President and CEO E. Michael Whittington. "At the time, many of the artists represented here were at the beginning of their careers. Since then, these artists and their work have become the definitive examples of early Contemporary American art. This exhibition celebrates these important works of art and the ... More



Barkley L. Hendricks, No Title, c. 1979. Watercolor on paper, 22 3/8 x 29 7/8 inches. Jack Shainman Gallery, NY.



NEW YORK, NY.- Jack Shainman Gallery is presenting the first ever exhibition of works on paper, by Barkley L. Hendricks, Them Changes. With these newly discovered bodies of work, the exhibition highlights the fundamental features of Hendricks's practice with a mode of representation that is so clearly distinct from his best known paintings. The following is an excerpt from a text written by Laila Pedro on the occasion of this exhibition: Paintings made by Barkley L. Hendricks are instantly recognizable. His figure's presence resonates with Hendricks's own confidence, certainty, and irreverent, abrasive honesty. These aspects come through in the qualities of line and color, and in the focus of intensity – the attentive, nearly scientific, probing way in which Hendricks focused on his subjects. While we associate these characteristics with portraiture because that is what we know of him, in fact, they are more ... More



Frederick Brosen, Soho Rooftops, 2017. Watercolor over graphite on paper.



NEW YORK, NY.- Garvey|Simon is presenting Frederick Brosen: Flowers and Facades, an exhibition that juxtaposes the luminous watercolors of New York City with delicate paintings from the artist's new floral series. In this show, the flower paintings are being exhibited publicly for the first time. The exhibition opened on Thursday, February 15 and closes on March 24th. A virtuoso watercolorist, Frederick Brosen is a native New Yorker who has an intimate connection with his subjects. He is best known for capturing the history, elegance and grit of the urban landscape from hidden perspectives. Despite their big-city subjects, Brosen's watercolors emanate a profound stillness, something he seeks out as he bicycles Manhattan at dawn.­­ Brosen's keen process of observation and his distinct familiarity with these subjects allow him to capture and enhance subtle domestic and architectural details. Although the work can appear photore ... More
Paula Cooper Gallery opens an exhibition of two recently restored films by Bruce Conner
First ever exhibition of photography by renowned writer Bill Hayes opens at Steven Kasher Gallery
Heather Gaudio Fine Art opens exhibition of works by Jeremy Holmes


Installation view, Bruce Conner, Paula Cooper Gallery, New York, February 15 - March 24, 2018. © Conner Family Trust. Courtesy Paula Cooper Gallery, New York. Photo: Steven Probert.



NEW YORK, NY.- Paula Cooper Gallery opened an exhibition of two films by Bruce Conner, REPORT (1963–1967) and MARILYN TIMES FIVE (1968–1973), both recently restored by the Conner Family Trust. The exhibition is on view at 534 West 21st Street from February 15 through March 24, 2018. On Tuesday, February 20 in Brooklyn, NY, Light Industry will present "The Smoker: A Brief History of the Stag Film"—a screening of early erotic films from the 1920s through the 1960s. Included will be "The Apple Knockers and the Coke" (1948), which provides the source material for Conner's film MARILYN TIMES FIVE. Conner, a protean artist who worked across a range of media, is perhaps best known for his pioneering experimental films. Using found footage of ubiquitous or iconic imagery, his films challenge the viewer to reexamine cultural narratives ... More



Bill Hayes, Young Musician Boarding a Bus, 2017. Archival Pigment Print, 20 x 24 inches. Edition of 7 + 2 APs. Courtesy Steven Kasher Gallery, New York.



NEW YORK, NY.- Steven Kasher Gallery presents the first ever exhibition of photography by renowned writer Bill Hayes. A love letter to New York City, the exhibition How New York Breaks Your Heart features 24 black and white and color photographs. Hayes photographs ordinary New Yorkers at their most expressive and at their most fleeting, bringing the texture of the city to life. The exhibition launches the publication of a book of the same name, published by Bloomsbury, which features 150 photographs from the series woven through with Hayes's lyric reflections. The exhibition also launches the paperback edition of Hayes's widely celebrated memoir Insomniac City: New York, Oliver Sacks, and Me. Hayes cites Garry Winogrand, Peter Hujar and Diane Arbus as his artistic influences. Much like Arbus, Hayes photographs people on the streets of New York at close range with a straight on composition. But ... More



Site specific installation by Jeremy Holmes. It is made out of a single plank of wood that measures over 200 feet.



NEW CANAAN, CONN.- Heather Gaudio Fine Art is presenting "Jeremy Holmes: New Sculpture," the first solo exhibition of the artist at the gallery. The show runs through March 17th. Holmes engages the viewer with beautiful abstract three-dimensional forms created out of natural wood. Using traditional wood-working techniques, he starts by soaking 12-foot long planks to make the naturally rigid material more malleable. Improvising as he works, Holmes bends, twists and coils the slabs into graceful sinewy forms, then joins them to become stunning free-standing or wall-mounted sculptures. He stains them with color or leaves them natural with a clear resin finish. On view will be new free-standing and wall-mounted sculptures in addition to a large site-specific installation. Made of white ash, this singular 200-foot structure will activate the gallery space as it hangs suspended from the ceiling and walls. Holmes has been ... More
Michelangelo Pistoletto on his Mirror Paintings
Flashback
On a day like today, American painter and sculptor Kenneth Price was born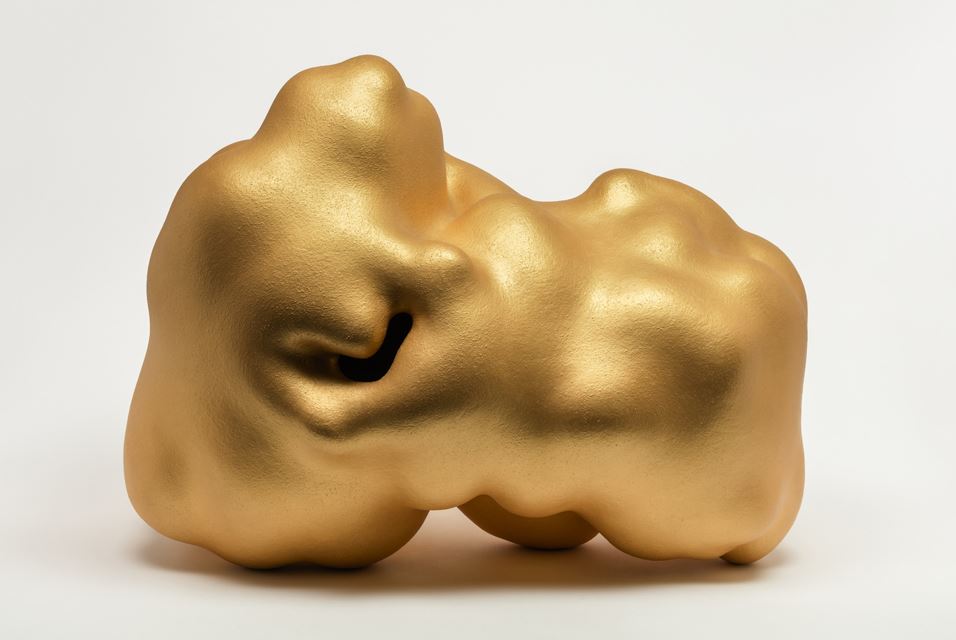 February 16, 1935. Kenneth Price (February 16, 1935 - February 24, 2012) was an American artist who uncovered the surprising possibilities of ceramics as sculpture. He is best known for his abstract shapes constructed from fired clay. Typically, they are not glazed, but intricately painted with multiple layers of bright acrylic paint and then sanded down to reveal the colors beneath. In this image: Ken Price, Bubbles, 1995. Acrylic on fired ceramic, 55.9 x 74.9 x 55.9 cm / 22 x 29 1/2 x 22 in. © Estate of Ken Price, Courtesy Matthew Marks Gallery. Photo: Fredrik Nilsen.
---

Museums, Exhibits, Artists, Milestones, Digital Art, Architecture, Photography,
Photographers, Special Photos, Special Reports, Featured Stories, Auctions, Art Fairs,
Anecdotes, Art Quiz, Education, Mythology, 3D Images, Last Week,
.
---
Royalville Communications, Inc
produces: