First ARTSail resident artist casts his net on climate change
Nomadic floating art project takes artists aboard sea vessels on creative explorations of waterways and coastlines surrounding South Florida.
MIAMI, FLA
.-
ArtCenter/South Florida
has launched the maiden voyage of ARTSail, the nomadic floating art project taking artists aboard sea vessels for creative explorations along the coastlines and waterways surrounding Miami. This new maritime artist residency fosters solutions for environmental concerns, to engage the community in the discovery and preservation of South Florida's fragile ecology. The resident artists selected for the ARTSail program "dock" back and forth between their sea vessel and their land-based hub at ArtCenter's studio residencies located in Downtown Miami, creating new work and research inspired by their experiences of life on the water. ArtCenter/South Florida is partnering with the Patricia and Phillip Frost Museum of Science for this new initiative. This artist residency research program was awarded a $40,000 grant from the John S. and James L. Knight Foundation as part of its 2015 Knight A ...
More
The Best Photos of the Day
Tintin takes on Russians in new colour version of original epic
Rare British family portrait by John Singleton Copley gifted to Tate
Dazzling German concert hall takes its bow


Unlike the rest of his adventures, the book that launched the boy hero in 1930 only ever appeared in black and white.



PARIS (AFP).- Tintin has discovered his inner Rambo and is ready to give Russian bully boys a taste of their own medicine in a book which will go on sale in France Wednesday. But before Moscow condemns it as another piece of Western Russophobia, this has nothing to do with Vladimir Putin. "Tintin and the Soviets" is finally being published in colour more than eight decades after the comic book first appeared, at a time when Europe was also fretting about a rising Russian menace. Unlike the rest of his adventures, the book that launched the boy hero in 1930 only ever appeared in black and white. But to cries of sacrilege from the purists and even its late creator's secretary, Tintin's publishers Casterman are issuing a colour version of the story Wednesday in French where the young reporter gives a rogue's gallery of Russian baddies what for. For decades the viscerally anti-Communist story -- which first ... More



John Singleton Copley, The Fountaine Family, 1776 (detail). Tate.



LONDON.- John Singleton Copley's The Fountaine Family 1776 has been accepted for the nation through Arts Council England's Cultural Gift Scheme and allocated to Tate. Copley was considered to be the leading painter of his day, and this is the only conversation piece by the artist to enter a public collection in the UK. The group portrait, donated by David Posnett OBE, is a rare example of work from the beginning of the artist's career in England. It is now on public display for the first time and is accompanied at Tate Britain by two preparatory drawings which feature the young boy in the painting, Andrew Fountaine. Copley was the greatest American artist of the eighteenth century. He was active as a portrait painter in Boston from 1753 to 1774, establishing himself in London in 1775 where he was elected a Royal Academician. The Fountaine Family shows how Copley adapted his style to the British market, emulating the work of Joh ... More



This picture shows the Elbphilharmonie concert hall in Hamburg, northern Germany. John MACDOUGALL / AFP.



HAMBURG.- Germany late Wednesday premiered a spectacular new concert house in Hamburg to the strains of Beethoven and Wagner that has been touted as a new global attraction, albeit after a cost explosion. Chancellor Angela Merkel and President Joachim Gauck joined 2,100 guests at the inaugural concert under tight security in the grand hall of the Elbphilharmonie, which has electrified critics with its audacious design and world-class acoustics. The three-hour-long programme met with a lengthy standing ovation. Billed as a cultural monument ready to rival the Sydney Opera House, the building came in more than six years overdue and at 10 times the initial budget, with a cost to the venerable northern port city of 789 million euros ($829 million). Gauck said he was "awed" by the "incredibly beautiful" architecture and its "wonderful sound" but acknowledged its turbulent beginnings. "The ... More
Springsteen archive to open near his New Jersey hometown
Fourteen works from 1965 to 1983 by Alighiero Boetti on view at Sprovieri
Heritage Auctions reports $850+ million year


Bruce Springsteen performing during a rally in suport of Democratic presidential nominee Hillary Clinton. KENA BETANCUR / AFP.



NEW YORK (AFP).- A Bruce Springsteen archive will open at Monmouth University in New Jersey, a short distance from the working-class town where the rock legend grew up. The university near the Jersey Shore late Tuesday announced the creation of the archive, which will store written works, photographs and other artifacts for future research. Called the Bruce Springsteen Archives and Center for American Music, the institute will preserve the legacy of the "Born in the USA" star and also advance study on earlier US music icons such as Frank Sinatra and Woody Guthrie, the university said. The university is some 15 miles (25 kilometers) from Springsteen's hometown of Freehold, which inspired his classic song "Born to Run," and even closer to Asbury Park, the oceanfront city where he launched his music career. Monmouth University's president Paul Brown said in a statement that the archive's ... More



Alighiero Boetti, Alfabeto (scrittura a due mani), 1970. Pencil on graph paper, 66 x 48 cm. Courtesy Sprovieri, London.



LONDON.- Sprovieri presents Alighiero Boetti: Magie straordinarie, works on paper. Exhibiting fourteen works from 1965 to 1983, this exhibition explores Alighieri Boetti's career, with early examples from several seminal series that have rarely been seen before. The exhibits are works on paper, mainly black and white, made with pencil, India ink and - in the case of the well known 'Lavori postali' - envelopes, which encapsulate with their simplicity of media the playful performative and participative quality of Boetti's practice. In 1988 Boetti described his first twenty years of work: "I think I placed myself in a position of research, a state of attention and curiosity, which allows me to see many things and having fun with the world. In fact, behind its appearances there is extraordinary magic (magie straordinarie): magic of words, magic of numbers…as there is magic in the world of numbers, ... More



Frank Frazetta, At The Earth's Core Paperback Cover Painting Original Art (1974).



DALLAS, TX.- Heritage Auctions announced sales of more than $850 million for 2016, the firm's third-best year ever, and nearly equal to its 2015 sales of $860 million. The results are a signal of the company's continuing dominance in the collectibles realm while other major auction houses recorded significantly lower sales volume for the same period. Heritage's fine art category recorded a 28 percent leap in 2016 — in stark contrast to sales at its two largest competitors, both of which saw sales decline by approximately 30 percent. "Through diversity, transparency and ardent attention to our clients, Heritage solidified and increased its commanding lead as the largest auction house founded in America," said Heritage Co-Chairman James Halperin. "And we're anticipating an even better 2017." U.S. Coins remains Heritage's largest category, with 2016 auction totals exceeding $192 million, ... More
Lisson Gallery's first exhibition of Roy Colmer's work opens in New York
Luhring Augustine now represents the Estate of Jeremy Moon
Marlborough Gallery opens exhibition of works by Ricardo Maffei


Roy Colmer in his apartment on Walker Street in New York City, c. 1968-69. © The Estate of Roy Colmer, Courtesy Lisson Gallery.



NEW YORK, NY.- Lisson Gallery announced representation of The Estate of Roy Colmer and will open the gallery's first exhibition of his work in January 2017 in New York. The exhibition will feature fifteen of the artist's early spray-gun paintings, most of which have never been exhibited, and a selection of late photo collages. To accompany the presentation, Lisson Gallery will produce a new publication, featuring an essay by exhibition curator Alex Bacon, as well as previously unpublished archival material. Known primarily for his conceptual photography and film projects, Colmer began creating his experimental, colour-intensive paintings in the mid-1960s, upon moving to New York after graduation from the Hochschule für Bildende Künste in Hamburg, Germany. Inspired by the shifting artistic landscape created by the introduction of electronic media, Colmer challenged the boundaries between painting ... More



Jeremy Moon, Out of Nowhere, 1965. Acrylic on canvas, 72 inches (183 cm). © Estate of Jeremy Moon; Courtesy Luhring Augustine, New York.



NEW YORK, NY.- Luhring Augustine announced representation of the Estate of Jeremy Moon with an exhibition marking the first US solo presentation of the artist's work. Moon (1934–1973) is best known for his large-scale geometric paintings that explore form and space through unmodulated planes of color. He emerged onto the London scene in the early 1960s amidst the framework of Color Field and Hard-Edge Abstraction. Like many artists of this period, Moon sought a degree of wholeness within his compositions, creating works where painted geometries found affinities with the canvas's overall shape. His use of the grid as a structural device was central to his working method; its rigid organization, yet flexible expandability, allowed him to bracket fields of color in a manner that was exploratory and effectual. Moon shrank, enlarged, skewed, and folded the grid across numerous works in his efforts to reveal ambiguity in pictoria ... More



Ricardo Maffei, Construccion Amarillo Azul Blanco, 2016, pastel on paper. © Ricardo Maffei, courtesy Marlborough Gallery, New York.



NEW YORK, NY.- Marlborough Gallery announces Ricardo Maffei's solo exhibition. It will remain on view through February 4th. Maffei is renowned for his reductive compositions of exquisite verisimilitude. This is the artist's sixth solo exhibition with Marlborough Gallery, and features eleven recent still lifes in pastel. The objects depicted in the works of Ricardo Maffei are often detached from their original purpose, and always convey their true essence. In these works, Maffei ennobles each object through a cultivated sense of austerity. By working in natural light, the artist achieves a luminosity derived from the subtle variations of light that are manifest through the day. This will be the first exhibition to feature Maffei's still lifes with metal wire, such as Construcción de alambre (2016), which appear as gestural drawings of light within the confined space of the composition. Ricardo Maffei was ... More
Hong Kong anger over China museum project
Lehmann Maupin opens an exhibition of new work by Lee Bul
Ivan Morley's second exhibition at Bortolami opens in New York


People pass by placards left by members of the Hong Kong Alliance in Support of Patriotic Democratic Movements in China. ISAAC LAWRENCE / AFP.



HONG KONG (AFP).- Plans to boost Hong Kong's cultural credentials by building a new branch of China's most famous museum in the city have sparked protests against what critics say is cultural brainwashing and kowtowing to Beijing. The backlash comes at a time of heightened sensitivity in the semi-autonomous city where there is increasing concern that Chinese authorities are tightening their hold. With its collection of ceramics, calligraphy, paintings, jades, timepieces and other items from multiple Chinese dynasties, Beijing's Palace Museum is the most visited in the world, with more than 14 million people coming through its doors each year. Project organisers say a locally managed and curated Hong Kong branch, displaying artifacts on long-term loan from Beijing, would be a stellar attraction for the city. But opponents argue the public should have been consulted before the green light was given to a project they feel has ... More



Lee Bul, Untitled (Willing To Be Vulnerable - Beige leather #1), 2016. Mother of pearl, crystal, acrylic paint, PET film, PVC panel dried flower, and pigmented ink on leather 70.87 x 51.18 x 1.18 inches 180 x 130 x 3 cm 73.03 x 53.46 x 4.33 inches (framed) 185.5 x 135.8 x 11 cm Courtesy the artist and Lehmann Maupin, New York and Hong Kong.



NEW YORK, NY.- Lehmann Maupin announces an exhibition of new work by Lee Bul, who is considered to be one of the leading Korean artists of her generation. For her fifth exhibition with the gallery, Lee Bul will present a series of recent mixed media works and immersive installations. Though varied in media and content, these series are united in their exploration of structural systems—from the individual body to larger architectural frameworks that encompass cities and utopian societies—which have become a hallmark of Lee Bul's oeuvre. Lee Bul was born in the 1960s in South Korea, a period of social and economic upheaval marked by the transition from military dictatorship to a democratic state. The era had a lasting impact on ... More



Ivan Morley, A True Tale, 2016. Thread on canvas, 50 x 43 in / 127 x 109.2cm. Courtesy of the artist and Bortolami, New York.



NEW YORK, NY.- Bortolami announces Ivan Morley's second exhibition at the gallery. The exhibition will present his new works as well as a selection of earlier paintings, providing an overview of the Los Angeles-based artist's distinct bodies of works. Morley's embroideries, paintings, and works on glass are uniquely American. They come from a tradition of West Coast American painting that developed a distinct visual language of its own, generated as a countercurrent to European traditions. Like Jim Shaw, Mike Kelley, and Paul McCarthy, Morley's oeuvre is fueled by Americana. These artists draw from a wide range of sources: comic book culture, punk and altrock music, and 1970s psychedelia. These references, piled atop each other, take part in so-called "clusterfuck aesthetics," juxtaposing pop imagery with emblems of varied American subcultures. Rat Fink, Kustom Kulture, African masks as tourist tchotchkes, Indone ... More
Sam Taylor-Johnson, Sigh (2008) in Museum Voorlinden
Flashback
On a day like today, French painter Jean-François Millet, died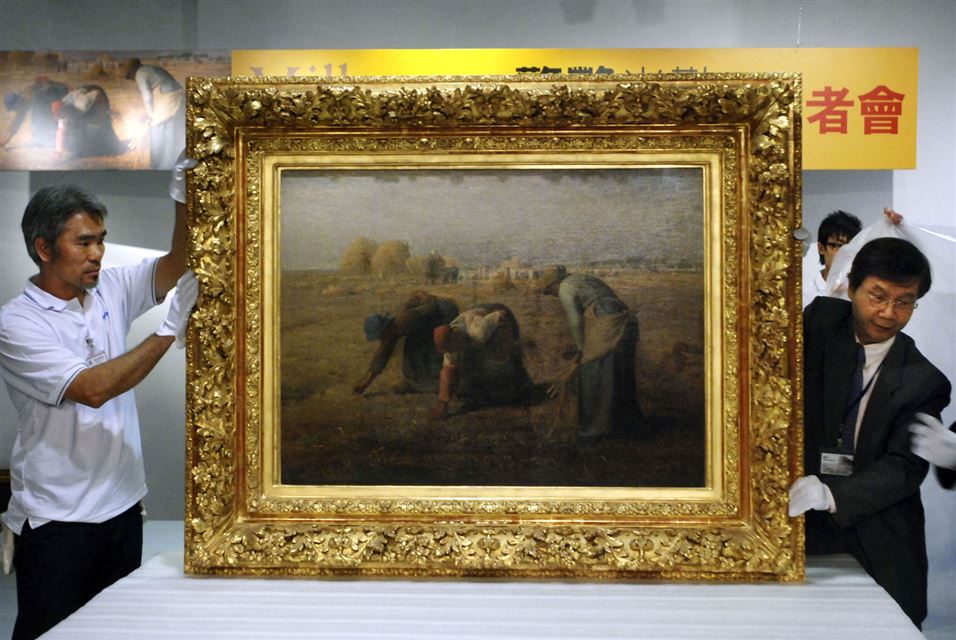 January 20, 1875. Jean-François Millet (October 4, 1814 - January 20, 1875) was a French painter and one of the founders of the Barbizon school in rural France. Millet is noted for his scenes of peasant farmers; he can be categorized as part of the naturalism and realism movements. In this image: "The Gleaners" by famed French painter Jean-Francois Millet during a media event to announce a special exhibition of the works of Jean-Francois Millet and other famed French painters on loan from Paris, Tuesday, May 27, 2008, in Taipei, Taiwan.
---

Museums, Exhibits, Artists, Milestones, Digital Art, Architecture, Photography,
Photographers, Special Photos, Special Reports, Featured Stories, Auctions, Art Fairs,
Anecdotes, Art Quiz, Education, Mythology, 3D Images, Last Week,
.
---
Royalville Communications, Inc
produces: