Carole Davenport exhibits works by Hiroyuki Asano during Asia Week New York
Then Now / Meet Hiroyuki Asano & his sculpture in a milieu of classic art at Tambaran gallery 5 East 82 St. New York City Suite 2. Through March 22.
NEW YORK, NY
.-
The renowned Japanese sculptor Hiroyuki Asano is appearing at this year's Asia week as the guest of
Carole Davenport
. Asano, known for this precise forms and circular voids, brings a refined life to the soul of the stone representing time, space, and movement through the universe itself. He has recently surged in popularity in the east using his classical training in Italy and uniquely Japanese style to win numerous international sculpting awards, including at the 2016 Ningbo First International Sculpture Grand Prix in China, the 2014 Qingdao International Sculpture Competition, and his career defining victory at the Uminomierumori Sculpture Biennale. His works are in public and private collections around the globe, including Japan, China, Korea, Germany and the U.S. One large work is installed in the famed WuHu Sculpture Park in Anhui province, China. He has generously allowed four pieces to be displayed during Asia week t ...
More
The Best Photos of the Day
Ancient, near-pristine Buddha to make Kabul museum debut
Colossus found in Egypt may have depicted Psammetich I
Rock n' Roll legend Chuck Berry dead at 90


Italian restoration expert Ermano Carbonara (L) poses with a statue of Buddha at the French Archaeological Delegation to Afghanistan. Wakil KOHSAR / AFP.



KABUL (AFP).- Having withstood time, the elements, looters and war, a spectacular Buddha restored and removed from one of Afghanistan's most dangerous regions is to make its public debut in the country's national museum. The statue, which depicts the sage in a purple shroud offering his hands to the heavens, had been hidden beneath layers of soil and silt since some time between the third and fifth centuries, according to the archeologists who discovered it. The exceptionally well-preserved piece, with its colours still vibrant, was found in 2012 at the Mes Aynak site about 40 kilometres (25 miles) southeast of Kabul, in the now Taliban-infested Logar province. Its discovery was made possible after a Chinese consortium began digging a massive copper mine that uncovered an ancient monastery complex ... More



A guest takes a picture of the statue believed to belong to King Psammetich I (Psamtik I), outside the Egyptian museum in Cairo. KHALED DESOUKI / AFP.



CAIRO (AFP).- An ancient colossus uncovered in Cairo last week may have depicted the famed pharaoh Psammetich I, Egypt's antiquities ministry said on Thursday. The fragments of the eight-metre (26-feet) tall quartzite statue were found by an excavation team in ground water at the site of an ancient temple for King Ramses II, now a working class district in Cairo. But hieroglyphs on the statue's fragments point to it having depicted Psammetich 1, who ruled from 664 to 610 BC, the statement said. Antiquities minister Khaled el-Enany told a news conference that the hieroglyphs said "Strong Arm" -- one of the names of the 26th Dynasty pharaoh. But "we don't confirm 100 percent that it belongs to Psammetich 1" he told reporters at the Cairo Museum, where the fragments were taken. It would require more study to find ... More



This file photo taken on January 11, 2005 shows veteran US rocker Chuck Berry performing at the Olympia in Paris, France. Bertrand GUAY / AFP.



NEW YORK (AFP).- Chuck Berry, one of the creators of rock 'n' roll whose dance-ready rhythms and energetic stage performances helped define modern youth culture, died Saturday. He was 90. Police in the St. Louis area, where Berry was born and lived most of his life, said that first responders found the guitar legend unresponsive when they responded to an emergency call at his home. "The St. Charles County Police Department sadly confirms the death of Charles Edward Anderson Berry Sr., better known as legendary musician Chuck Berry," the department said on Facebook. Berry became a sensation in the years after World War II as he brought together rhythm and blues, country guitar and a consummate stage showmanship. His 1958 hit "Johnny B. Goode" was so influential and recognizable that the US space ... More
2,500 years on, replica of sunken ship sets sail from Israel
Sierra Leone pastor unearths 706-carat diamond
First fluorescent frog found in Argentina


Members of the University of Haifa and the Israel Antiquities Authority sail an identical replica of a 2,500 year-old Hellenic merchant vessel. JACK GUEZ / AFP.



JERUSALEM (AFP).- An identical replica of a 2,500-year-old merchant vessel that ran aground off the coast of present-day Israel set sail from the port of Haifa on Friday. The original ship ran aground 500 years before Christ's birth, but was discovered in 1985 south of the northern Israeli city. The small vessel was pulled from the depths three years later, a statement from the University of Haifa and the Israel Antiquities Authority said. It had been exceptionally conserved as it was buried under sand for two millennia and was therefore protected from erosion, archaeologist Avner Hilman of the Antiquities Authority said. "The ship was loaded with a very heavy cargo of shale coming from Cyprus, and following a navigation error it ran aground on a sandbank near the coast and was buried," he told AFP. He said the wreck's state was "exceptional" considering its age. ... More



A 706-carat diamond is pictured on March 16, 2017 in Freetown, Sierra Leone. SAIDU BAH / AFP.



FREETOWN (AFP).- A pastor working in the mines of eastern Sierra Leone has unearthed a 706-carat diamond, a discovery that experts said Thursday could be the 10th largest stone ever found. The huge rock was extracted by Emmanuel Momoh, one of thousands who seek their fortunes in the informal mining sector that dominates the diamond-rich Kono region. As a self-employed miner with a valid government permit, Momoh is entitled to the proceeds of any future sale, except four percent the government takes for valuation and export, according to the law, plus an undetermined level of income tax. Mines Minister Minkailu Mansaray told AFP the government's stake would be used to fund development projects nationwide. The diamond was presented to President Ernest Bai Koroma late Wednesday before being locked in Freetown's central bank vault. It awaits an official valuation under the Kimberley Process, which certifies ... More



A fluorescent polka-dot tree frog (Hypsiboas punctatus) that lives in South America. C.TABOADA-J.FAIVOVICH / MACN-CONICET / AFP.



BUENOS AIRES (AFP).- The first naturally fluorescent frog was discovered recently in Argentina -- almost by chance, a member of the team of researchers told AFP Thursday. Argentine and Brazilian scientists at the Bernardino Rivadaiva Natural Sciences Museum made the discovery while studying the metabolic origin of pigments in a tree-frog species common to South America. Under normal light the frog's translucent skin is a muted yellowish-brown color with red dots, but when the scientists shone an ultraviolet light on it, it turned a celestial green. According to one of them, Carlos Taboada, the case is "the first scientific record of a fluorescent frog." "We were very excited," said his fellow researcher Julian Faivovich. "It was quite disconcerting." He said the discovery "radically modifies what is known about fluorescence in terrestrial environments, allowing the discovery ... More
Major new retrospective exhibition of Rodney Graham opens at BALTIC Centre for Contemporary Art
Nouveau Musée National de Monaco introduces Hercule Florence for the first time to the European public
Dazzling success for the Givaudan Collection at Piguet Auction House's Spring 2017 Sale


Rodeny Graham, Basement Camera Shop circa 1937, 2011 © Rodney Graham. Courtesy the artist and Hauser & Wirth.



GATESHEAD.- BALTIC Centre for Contemporary Art, Gateshead is presenting a major retrospective of renowned Canadian artist Rodney Graham. Rodney Graham - That's Not Me is the artist's first major UK exhibition since his solo show 15 years ago at the Whitechapel (2002). Spanning BALTIC's two largest galleries, the exhibition include retrospective highlights from Graham's established career. A 'shapeshifter', Graham's diverse practice encompasses the artist in many guises—a painter, photographer, sculptor, video-maker, actor, performer, producer, historian, writer, poet, sound engineer and musician. He is a master of many disciplines creating multi-layered and complex art through photography, film, video, sculpture, performance and music. With influences as diverse as Sigmund Freud, Alfred Hitchcock, the Brothers Grimm, Black Sabbath and Kurt Cobain, he creates works brimming with references to art hist ... More



Hercule Florence, Jovem Guana' et Guanita', capitao-mor dos Guanas, ca 1828. Watercolor and China ink on paper, 22,6 x 20,1 cm. Collection C. H. Florence- Leila et Silvia Florence São Paulo, Brésil. Photo: Jorge Bastos.



MONACO.- This exhibition presents a five year-long research on the work of the Monegasque-Brazilian inventor and artist Hercule Florence (1804–79), introducing him for the first time to the European public. The show is curated by Linda Fregni Nagler and Cristiano Raimondi and is followed by a publication with international contributions. The inventor of Zoophonia, a system for the musical notation of bird songs, and of Polygraphia, a printing method based on the principles of photography, in 1833 Hercule Florence invented in Brazil a photographic process, independently from the contemporary research being carried out in Europe, and was the first to use the word " Photographie ". This exhibition shows about 400 works, most of them being Hercule Florence's drawings and manuscripts coming mainly from Collection C. H. Florence - Leila and Silvia Florence (São ... More



Louis Léopold Boilly (1761-1845), La tendresse conjugale (Conjugal tenderness). Estimate: CHF 60,000-80,000). Sold for: CHF 121,600.



GENEVA.- The prices for the Givaudan collection literally soared this week in Geneva. A red chalk drawing by Jean-Honoré Fragonard (1732-1806) sold for six times its low estimate fetching CHF 267,500, the highest price seen at auction for the last decade (lot 794 estimated at CHF 40,000-60,000). This result is the third best price ever achieved for a red chalk drawing by this artist worldwide, the first and second being for works sold at Sotheby's before the economic downturn of 2008 (one fetching € 391,063 in 2007 and the other € 286,534 in 1998). Another star lot from this collection, the spectacular pair of Louis XV Meissen porcelain candelabras, sold for CHF 158,000 at five times its low estimate (lot 586 estimated at CHF 30,000-50,000). The paintings, furniture, silver and works of art from the collection totalled 55 lots altogether and fetched over one million Swiss francs (CHF 1,095,000). "It was a huge privilege to sell such a prestigious collection at auction ... More
New traveling exhibit showcases 100 masterpieces from one of the greatest artists in exile
Aya Takano presents preparatory studies for a 186-page manga at Galerie Perrotin
Sotheby's announces Made in Britain, starring the art of the swinging sixties


Músicos tocando un órgano (Musicians Playing an Organ), 1949, oil on wood, 72 x 48″, ​Dominic and Cristian Veloso Collection.



BOSTON, MASS.- An unprecedented retrospective on works of a highly acclaimed exiled painter is crossing the United States. Rafael Soriano: The Artist as Mystic, is currently featured at The McMullen Museum of Art at Boston College. Following its debut at The McMullen (through June 4, 2017), the exhibition will travel to the Long Beach Museum of Art (June 29–October 1, 2017) and the Patricia & Phillip Frost Art Museum in Miami (October 28, 2017–January 28, 2018). From there, a selection of the exhibition has been approved for display at the Museo de Bellas Artes in Havana, Cuba, representing a real socio-political break-through. Born in Matanzas, Cuba in 1920, Rafael Soriano fled the island shortly after Castro's takeover. One of the preeminent Latin American artists of his generation, this traveling show is ... More



Ashina Awaits, 2017. Oil on canvas, 116,7 × 91 cm. 45 15/16 × 35 13/16 in.



PARIS.- Perrotin Paris presenting Aya Takano's personal exhibition, "The Jelly Civilization Chronicle", from 16 March to 13 May 2017. The artist exhibits a selection of 23 paintings and several drawings on celluloid, all preparatory studies for a 186-page manga, unveiled here in its entirety. A painter, illustrator, sci-fi writer and manga artist, Aya Takano belongs to Kaikai Kiki, the artistic production studio created in 2001 by Takashi Murakami. Inspired by all art forms, from erotic stamps of the Edo Period to impressionism, from Osamu Tezuka to Gustav Klimt, the artist has built a universe all her own. A universe made of infinite worlds, all means of escaping reality, gravity and its restraints, to attain a certain form of transcendence imagined from the youngest age: "When I was a kid, I daydreamed and stayed in my fantasy land by reading books and mangas all the ... More



Chris Levine, Lightness of Being, 2004 (est. £50,000-70,000). Photo: Sotheby's.



LONDON.- A sale dedicated to capturing the diversity and innovative spirit of British art in the twentieth century, Sotheby's Made in Britain auction on 5 April will offer a snapshot into the zeitgeist of a generation of artists, printmakers, sculptors, designers, photographers and ceramicists. April's edition will comprise just under 300 lots and with estimates starting at £400, the auction is the perfect opportunity for a new buyer's first foray into collecting works by some of the most sought-after names in British art. The exhibition opens to the public on Friday 31 March, and will be highlighted by three free gallery talks on Sunday 2 April – with photographer to the stars Terry O'Neill, Pop Art pioneer Patrick Hughes and author Gerard Hastings. Photographer Chris Levine seeks to illuminate the power inherent in stillness and, although his subjects are among the most photographed people in the ... More
Chuck Berry - Johnny B. Goode (Live 1958)
Flashback
On a day like today, German architect Ludwig Mies van der Rohe was born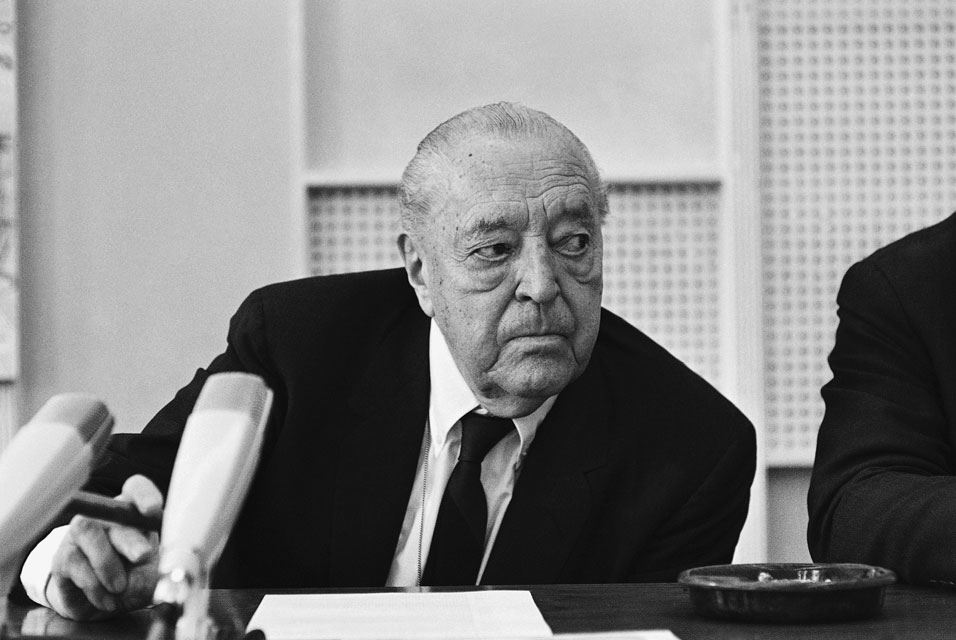 March 27, 1886. Ludwig Mies van der Rohe (born Maria Ludwig Michael Mies; March 27, 1886 - August 19, 1969) was a German-American architect. He is commonly referred to, and was addressed, as Mies, his surname. He served as the last director of the Bauhaus. Along with Le Corbusier, Alvar Aalto, and Frank Lloyd Wright, he is widely regarded as one of the pioneering masters of modern architecture. In this image: German-American architect, pioneering master of Modern architecture Ludwig Mies van der Rohe, born Maria Ludwig Michael Mies on March 27, 1886 in Aachen and last director of the avant-garde Bauhaus design school is portraited during a press conference of the Berliner Bauwochen held from August 25 until September 22, 1968 in West Berlin, Germany.
---

Museums, Exhibits, Artists, Milestones, Digital Art, Architecture, Photography,
Photographers, Special Photos, Special Reports, Featured Stories, Auctions, Art Fairs,
Anecdotes, Art Quiz, Education, Mythology, 3D Images, Last Week,
.
---
Royalville Communications, Inc
produces: