Digitally unwrapped scroll reveals earliest Old Testament scripture
The charred scroll from En-Gedi. Image courtesy of the Leon Levy Dead Sea Scrolls Digital Library, IAA. Photo: S. Halevi.

by Kerry Sheridan
MIAMI
(AFP)
.-
An extremely fragile, ancient Hebrew scroll has been digitally unwrapped for the first time, revealing the earliest copy ever found of an Old Testament Bible scripture, researchers said Wednesday. Known as the En-Gedi scroll, it contains text from the Book of Leviticus, and dates at least to the third or fourth century, possibly earlier, according to the report in the journal Science Advances. The deciphering of its contents is described in the journal as a "significant discovery in biblical archeology." The scroll is not the oldest ever found -- that honor belongs to the biblical Dead Sea Scrolls which range from the third century BC to the second century of the common era (AD). Radiocarbon analysis has shown that the En-Gedi scroll dates to the third or fourth century AD. Some experts think it is older than that. An analysis of the handwriting style and the way the letters are drawn suggests it could date to the second half of the first century or the beginning of the second century ...
More
The Best Photos of the Day
National Gallery of Denmark presents new aspects of French master Auguste Rodin
Exhibition of color and black-and-white photographs by Sally Mann on view at Gagosian Gallery
Barnebys report finds that the auction industry is being transformed by "Millenials"


Auguste Rodin, The lovers, C. 1880. Pen and brown ink, brown wash over pencil, heightened with white, on lined paper, 152 x 123 mm. The Royal Collection of Graphic Art, SMK/ DEP346 (© SMK Foto).



COPENHAGEN.- On 22 September the National Gallery of Denmark opened a major exhibition about the French artist Auguste Rodin and his works on paper. This is the first exhibition of Rodin's drawings on Danish soil since 1930, and several of the almost one hundred exhibits have never been shown in Denmark before. The works come from many sources, including Musée Rodin in Paris and the Royal Collection of Graphic Arts in Copenhagen. The history of sculpture can be said to fall into two chapters: before and after Rodin. In the late nineteenth century, the French artist Auguste Rodin (1840–1917) reinvented sculpture. Before this point, sculptures were mostly static, monumental and idealised figures raised on pedestals, but Rodin set sculpture free, introducing dynamic and passionate human figures that interacted directly with the space around them. ... More



Sally Mann, Remembered Light Untitled (Slippers and Flare), 2005 (detail). Gelatin silver print, 16 x 20 inches (40.6 x 50.8 cm) © Sally Mann. Courtesy Gagosian Gallery.



NEW YORK, NY.- Gagosian Gallery is presenting "Remembered Light," an exhibition of color and black-and-white photographs by Sally Mann, taken between 1999 and 2012. Mann is known and regarded for her images of intimate and familiar subjects rendered sublime and disquieting: children, landscape, family, and the nature of mortality. In previous projects, she explored relationships between parent and child, husband and wife, brother and sister, nature and history. In her latest exhibition of photographs spanning more than a decade, she records in fleeting impressions the working habitat of the late Cy Twombly, her close friend and mentor. Twombly and Mann are both natives of Virginia. The landscape to which Twombly returned each year is also the memoryscape of Mann's connection to him. This was documented in her recent and celebrated memoir Hold Still, ... More



The Report is based on a mix of survey material and measurable data direct from Barnebys' own database.



LONDON.- A new generation is flooding into auction houses, via their online portals and changing the way these companies operate. This information is carried in an authoritative report from Barnebys, the world's largest and fastest growing art and auction search engine that offers its service free to buyers and sellers. Most Art Market reports look at the size of the global art market and prices achieved. Barnebys decided to focus on behavioral trends in online traffic – why buyers and sellers are doing what they are doing and how auctioneers and dealers can harness that information. The Report is based on a mix of survey material and measurable data direct from Barnebys' own database with its 1.5m visits a month. This makes it unique, even against such publications as the highly respected TEFAF Report, because that is largely dependent on third party survey material. Summary of Report's principal findings • Half of ... More
15 preeminent New York City dealers launch October Art Week
Rome to reopen Spanish Steps after renovation
Rich London residents angry over Tate Modern voyeurs


Jan de Bray, (1627 - Haarlem - 1697), The Penitent Magdalene. Oil on panel;72.6 x 56.2cm. Signed and dated, lower center on crucifix: JDBray/167(?)/25 Courtesy, Otto Naumann Ltd.



NEW YORK, NY.- Fifteen of the city's preeminent galleries-all clustered on the Upper East Side-are hosting simultaneous opening-night receptions to kick off the first edition of October Art Week, October 20 to 26. The gallery receptions, open to the public and comfortably walkable from one another, are being held to expand upon the buzz and excitement generated by the opening of TEFAF in New York City. Taking place at the Park Avenue Armory, TEFAF, the world's premier art fair, will bring together the treasures of nearly 100 dealers from around the globe, showcasing outstanding examples of fine art, design, furniture, jewelry and more. "With the opening of TEFAF New York, we thought it was the perfect time to launch October Art Week. TEFAF draws the world's foremost collectors and curators and while we look forward to seeing them on our stand, we really wanted to get them into our galleries, too," ... More



A view of the Spanish Steps in Rome during the opening night after restoration on September 22, 2016. TIZIANA FABI / AFP.



ROME (AFP).- Tourists and locals will on Friday once again be able to saunter up and down the Spanish Steps, after a year-long renovation to the Rome tourist landmark. The famous marble steps will also stay open at night despite concern about potential damage to one of the architectural jewels of the Eternal City. "The steps will not be closed at night. I think it is fundamental to let people have access... and to make them responsible for what they do at them," said Rome Mayor Virginia Raggi. Discoloured by years of pollution but also caked in chewing gum and stained by wine and coffee spills, the Spanish Steps were restored to their original white glory by a team of 82 workers. The 1.5 million euro ($1.7 million) restoration of the landmark, made famous in the United States by the 1953 film "Roman Holiday", starring Audrey Hepburn and Gregory Peck, was financed by upmarket jeweller Bulgari. The firm's boss Paolo Bulgari has voiced concern ... More



Visitors stand looking out from the viewing gallery at the top of the Tate Modern's Switch House extension. BEN STANSALL / AFP.



LONDON (AFP).- The viewing gallery in London's Tate Modern extension has awakened the voyeuristic instincts of visitors, who crowd the outdoor space to sneak a peek at the glass-walled luxury riverside flats opposite. The flats are just 20 metres (66 feet) away from the museum's pyramid-like extension which opened in June, allowing visitors to witness the daily lives of wealthy residents who say they are fed up. "It's quite horrible... I feel like I'm on display all the time," one tenant in the NEO Bankside development whose dining room faces the gallery restaurant was quoted by Thursday's Guardian daily as saying. Some have complained that pictures of the interiors of their houses were being shared on social media. One NEO Bankside employee said the residents of the two developments facing the museum, which gets over five million visitors every year, want part of the viewing gallery closed to prevent people looking in. Tate director Nicholas Serota has ruled this ... More
Reagan auction raises astounding $6 mn
20 Pink Mao's lead Phillips Auctions of 20th Century & Contemporary Art
Big Dorotheum Auction Week with paintings, works of art, and jewellery


One of a pair of Elizabeth II silver beakers, a personal gift from Margaret and Denis Thatcher, is among the items from the private collection of Ronald and Nancy Reagan displayed at Christie's September 16, 2016. DON EMMERT / AFP.



NEW YORK (AFP).- Fans of Ronald Reagan splashed out nearly $6 million on items owned by the former US president and his wife Nancy during a New York auction that fetched nearly three times its estimate, Christie's said Thursday. The top lot was a diamond, sapphire and ruby ring fashioned like the US flag and worn by Nancy Reagan on Independence Day 1986. It sold for a whopping $319,500 -- way over its $5,000 to $8,000 estimate, the auction house said. A piece of the Berlin Wall given to and signed by Reagan sold for $277,500, a painting by Frank Sinatra fetched $233,500 and a pair of bespoke cowboy boots decorated with the presidential seal went for $199,500. The public sale of hundreds of items from the 40th president's White House residence and Bel Air home offered a tantalizing glimpse into the private world of a US conservative ... More



Andy Warhol (1928 - 1987), 20 Pink Mao's, 1979 (detail). Estimate: £4,000,000 - 6,000,000.



LONDON.- Phillips will bring together a selection of international names in the 20th Century & Contemporary Art Auctions on 5 and 6 October. This season's auctions are led by Pop icon Andy Warhol's 20 Pink Mao's (estimate: £4,000,000 - 6,000,000, illustrated above), alongside important works by Mark Bradford, Sean Scully and Rudolf Stingel. Featuring 30 lots, the 20th Century & Contemporary Art Evening Sale will take place on 5 October and is estimated to total over £15 million. The 20th Century & Contemporary Art Day Sale comprises 158 lots and will take place on 6 October. Peter Sumner, Head of Contemporary Art, Phillips London: "Our international team assembled a carefully selected group of highly desirable work that is fresh to the market, and we look forward to presenting an Evening sale filled with high quality art. The leading highlight is Warhol's portrait of Chairman Mao, a truly exceptional example from the arti ... More



Nicolas de Largillière (1656-1746), Portrait of Prince James Francis Edward Stuart, Prince of Wales, with a courtier, oil on canvas, 180 x 137,5 cm. Estimate € 120,000 - 150,000.



VIENNA.- Love and intrigue, beauty and horror, hells and idylls have always mesmerised humanity. The works of art that will be changing hands during the upcoming Dorotheum Auction Week are by no means out of date. From the 18th to the 20th October 2016, Old Master Paintings, 19th-Century Paintings and Watercolours, Antiques, and Jewellery will be on the programme. There is no doubt that paintings deliver compelling stories! A work by Nicolas de Largillière, to be offered at the Old Masters sale on the 18th October beats them all: a Game of Thrones, a version of Dynasty set in 17th-century England, Catholics against Protestants, a king smuggled into French exile… All of this lies behind the portrait of James Francis Edward Stuart, Prince of Wales, in the company of a courtier. The sitter was the king England and Ireland never had, although he was the legitimate heir to the ... More
Taiwan museum to remove statues after graffiti attacks
Magnificent evening gowns go on display at Windsor Castle
Bruce Silverstein opens first exhibition with Alfred Leslie


In this file photo Taiwan President Ma Ying-jeou (C-with sunglasses) and Hong Kong film star Jackie Chan (R) take part in the opening ceremonies for the National Palace Museum branch. AFP PHOTO / Sam Yeh.



TAIPEI (AFP).- Taiwan's leading museum said Thursday it will remove statues donated by actor Jackie Chan that were attacked by anti-China protesters late last year, as relations sour between the island and Beijing. The set of 12 zodiac animal sculptures sit in the garden of the National Palace Museum's southern branch and are copies of high-profile ancient relics from China's Qing Dynasty. They are seen on the mainland as emblematic of China's past suffering under foreign invaders. The originals of the statues were looted from Beijing's Old Summer Palace in 1860 by Anglo-French troops. Hong Kong actor Chan is a member of the Chinese People's Political Consultative Conference (CPPCC) -- China's mainland's political advisory body -- and has drawn criticism in the past for his pro- ... More



Curator Caroline de Guitaut arranging an evening gown in the Crimson Drawing Room, Windsor Castle. Royal Collection Trust / © Her Majesty Queen Elizabeth II 2016.



WINDSOR.- Visitors to Windsor Castle are now able to explore a fascinating display of The Queen's dress in the third of a trilogy of special exhibitions to mark Her Majesty's 90th birthday year, Fashioning a Reign: 90 Years of Style from The Queen's Wardrobe. Throughout the Semi-State Apartments magnificent evening gowns worn during State Visits and overseas tours are on display alongside Her Majesty's childhood pantomime costumes and outfits worn for family celebrations, with special emphasis on occasions hosted at Windsor Castle. The Queen's support of British couture has been enduring throughout her reign, with designers such as Sir Norman Hartnell, Sir Hardy Amies, Ian Thomas and Angela Kelly creating dazzling evening gowns for a world stage. Her Majesty's ensembles are carefully designed to ensure they are ... More



Kitty Foyle (from 50 Characters in Search of a Reader), 2014. Archival pigment print, 76 1/2 x 59 in.



NEW YORK, NY.- Bruce Silverstein Gallery is presenting The Toast Is Burning, the gallery's first exhibition with Alfred Leslie. This show features new work by this accomplished and influential American artist, alongside a selection of his iconic, large-scale portraits from the 1960s. Since the 1940s, Alfred Leslie (b.1927) has been celebrated for his achievements in film, painting, drawing, and poetry, including early recognition for his paintings featured in the Kootz Gallery exhibition New Talent, 1950, curated by Clement Greenberg and Meyer Shapiro, and the historic 9th Street Exhibition of 1951. As a filmmaker, Leslie is most known for his groundbreaking films Pull My Daisy, 1959, and The Last Clean Shirt, 1964, with text by Frank O'Hara. Leslie's artist/writer collaborative magazine The Hasty Papers, 1960, which included contributions from John Ashbery, Jean Genet, Jack Kerouac, Alice Neel, and others, was a creative af ... More
Virtually Unwrapping the En-Gedi Scroll
Flashback
On a day like today, American photographer Richard Avedon died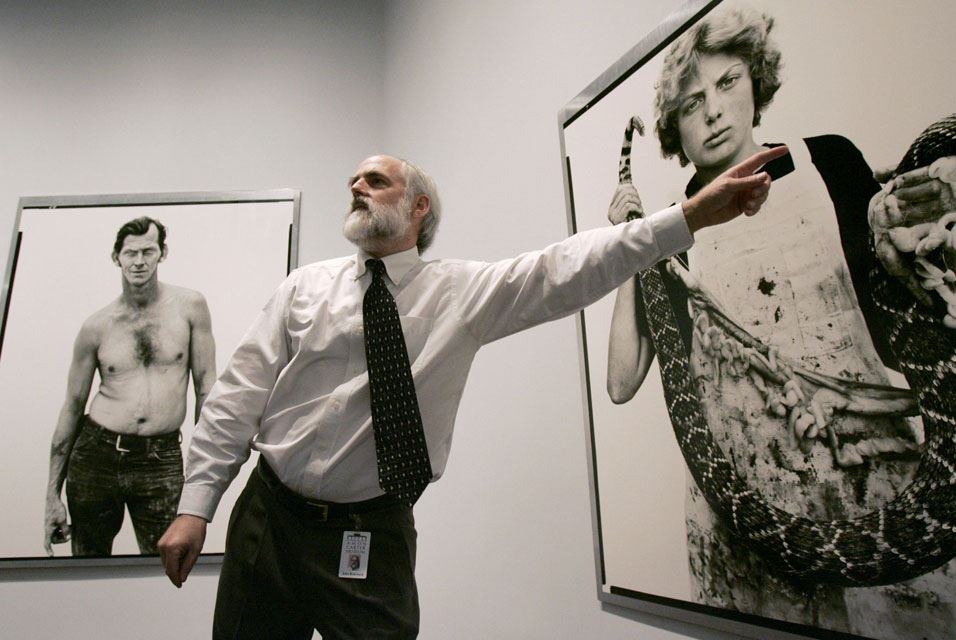 September 01, 2004. Richard Avedon (May 15, 1923 - October 1, 2004) was an American photographer. An obituary published in The New York Times said that "his fashion and portrait photographs helped define America's image of style, beauty and culture for the last half-century." IN this image: Amon Carter Museum Senior Curator of Photographs John Rohrbach points to a Richard Avedon photograph of Boyd Fortin, Friday, Sept. 9, 2005, in Fort Worth, Texas. The photo is part of the "In the American West: Photographs by Richard Avedon" exhibit.
---

Museums, Exhibits, Artists, Milestones, Digital Art, Architecture, Photography,
Photographers, Special Photos, Special Reports, Featured Stories, Auctions, Art Fairs,
Anecdotes, Art Quiz, Education, Mythology, 3D Images, Last Week,
.
---
Royalville Communications, Inc
produces: