Cincinnati Art Museum's Van Gogh exhibition brings guests Into the Undergrowth
Vincent van Gogh (1853–1890), Undergrowth with Two Figures (detail), 1890, oil on canvas, Bequest of Mary E. Johnston, 1967.1430.
CINCINNATI, OH
.-
Centered on Vincent van Gogh's Undergrowth with Two Figures, the
Cincinnati Art Museum
's new exhibition, Van Gogh: Into the Undergrowth, takes visitors up close with celebrated woodland landscapes from October 15, 2016–January 8, 2017. This exhibition—presented only at the Cincinnati Art Museum—brings an important group of artworks on loan from around the world together for the first time. Exploring the works of the Post-Impressionist painter Vincent van Gogh and his contemporaries, the exhibition traces the evolution of the Dutch artist's love of the natural world, powers of observation and mastery of detail through this special group of landscape paintings spanning his career. This exhibition is the first to take a close look at Van Gogh's poetic depictions of the forest floor, known as sous-bois, the French term for "undergrowth." These odes to nature were a reaction to the ...
More
The Best Photos of the Day
An unprecedented, international-loan exhibition of works by Claude Monet is at the Kimbell Art Museum this fall
Compton Verney exhibits 70 works by Picasso from the collection of Museum Kunstpalast
NOMA unveils 400 years of landscape masterworks in 'Seeing Nature' touring exhibition


Claude Monet, Luncheon on the Grass (Central Panel), c. 18651866. Oil on Canvas, 97 5/8 x 85 3/8 in. (248 x 217 cm) Musée d'Orsay.



FORT WORTH, TX.- This groundbreaking exhibition is the first ever devoted to the young genius of Claude Monet. Monet: The Early Years will feature approximately 60 paintings from the first phase of the artist's career, from his Normandy debut in 1858 until 1872, when he settled in Argenteuil, on the River Seine near Paris. On the strength of his invention of a highly personal and distinctive mode of painting, the young man positioned himself as an artist to be recognized and to be reckoned with. Monet: The Early Years examines this period in depth, through the greatest examples of his painting—drawn from museums in the United States, Europe and Japan. The exhibition will enrich our understanding of the ways in which Monet's artistic innovation and personal ambition evolved in tandem. "Although individual masterworks from this decade of work are among the artist's most famous paintings, there has never been an exhibition focusing exclusively on this period," ... More



Pablo Picasso, Head of the Faun, 07.02.1962. Farblinolschnitt, Auflage 19/50. Colour Linocut, Edition 19/50, 64 x 53 cm. Stiftung Museum Kunstpalast, Düsseldorf © Succession Picasso, Foto: Stiftung Museum Kunstpalast, Düsseldorf, Horst Kolberg, ARTOTHEK.



COMPTON VERNEY.- Compton Verney's captivating new exhibition brings fresh attention to the often overlooked yet brilliantly inventive printmaking career of one of the most influential figures of 20th century art. More than 70 works from the superlative collection of Dusseldorf's Museum Kunstpalast reveal Picasso's insatiable curiosity and remarkable ability to exploit the creative possibilities of the medium over a forty year period. The show – which is a touring exhibition of works dating from the 1920s to the 1960s when he was fully engaged in the medium – traces Picasso experiments in various media, including etching, lithography, aquatint and linocut, on a wide variety of subjects, some of them offering a tantalising glimpse into the artist's personal life. Picasso talked of printmaking as his way of 'writing fiction' and this is reflected ... More



Claude Monet, Le bassin aux nymphéas, 1919 (detail). Oil on canvas, 39 3/8 x 78 7/8 inches. Paul G. Allen Collection.



NEW ORLEANS, LA.- NOMA's fall exhibition devoted to landscape explores the subject through an impressive range of styles and time periods from the seventeenth through nineteenth centuries in Europe, and the nineteenth and twentieth centuries in America. The thirty-nine masterpieces in Seeing Nature are selected from the collection of Paul Allen, Microsoft co-founder and philanthropist. The exhibition, which runs from October 14, 2016 – January 15, 2017, includes exemplary works by Claude Monet, Jan Brueghel the Younger, J.M.W. Turner, John Singer Sargent, Paul Cezanne, Georgia O'Keeffe, David Hockney, and Gerhard Richter. Defining the role and status of landscape can be elusive. Landscape can convey mood and serve as a meditative release. In art it has long functioned to communicate religious or geologic praise, and the wonder of natural phenomena. Social concerns and historic events can also be identifiable or underlying, as ... More
Steve McQueen: Bringing art to the silver screen
Clyfford Still Museum opens first-ever exhibition dedicated to artist's works on paper
Blanton Museum of Art presents first exhibition in U.S. to examine Andy Warhol's work in books


British director Steve McQueen poses for photographers on the red carpet as he arrives for the BFI London Film Festival Awards in central London on October 15, 2016. Niklas HALLE'N / AFP.



LONDON (AFP).- Director Steve McQueen, whose poetic visual style helped secure a best picture Oscar for "12 Years a Slave", brings a sensibility to his films even when tackling harrowing subjects. The 46-year-old receives the British Film Institute's Fellowship award on Saturday, its highest accolade, in recognition of his movies exploring the endurance of humanity. "He is one of the most influential and important British artists of the past 25 years," said BFI chair Josh Berger. Whether sex addiction or slavery, McQueen is not afraid to confront ugly issues -- but his years as a visual artist bring beauty to his features nonetheless. Burly, with a booming voice that sometimes betrays his working-class roots, McQueen cuts an unlikely figure in a creative world ... More



Installation view.



DENVER.- In celebration of its fifth anniversary year, the Clyfford Still Museum presents Clyfford Still: The Works on Paper, the first-ever exhibition of Still's drawings, and the largest exhibition of Still's work at the Museum to date. The exhibition, on view October 14, 2016–January 15, 2017, features more than 240 works, shedding new light on this integral but historically overlooked part of Still's creative process. Arranged chronologically, the exhibition reveals the centrality of drawing to Still's practice and offer an intimate look at the evolution of his style from figuration to fully realized abstractions. In addition to offering a chronological study of Still's works, the exhibition offers an in-depth exploration of works in many different media, the majority of which have never before been on public view. Among the exhibition highlights is a significant group of oil-on-paper ... More



Andy Warhol, Illustration (Sam, from 25 Cats Name Sam and One Blue Pussy), ca. 1954 ©The Andy Warhol Foundation for the Visual Arts, Inc., courtesy of The Andy Warhol Museum, Pittsburgh.



AUSTIN, TX.- The Blanton Museum of Art at The University of Texas at Austin presents Warhol By the Book, the first museum exhibition in the United States to examine Andy Warhol's career-long work in books—an overlooked and important aspect of the artist's life and career. The exhibition presents nearly all of Warhol's book projects from his early days as a student in Pittsburgh and commercial illustrator in New York to his years as a Pop art pioneer and superstar celebrity. Organized by The Andy Warhol Museum, Warhol By the Book at the Blanton will include more than 250 objects that span five decades, including original artist books, book jacket covers and ephemera, illustrations, screen prints, paintings, photographs, films, and several ... More
Galerie Aveline and Galleria Continua host works by the contemporary artist Daniel Buren
First Los Angeles solo exhibition for celebrated artist Isa Genzken opens at Hauser Wirth & Schimmel
Early works by the Italian-American artist Salvatore Scarpitta on view at Luxembourg & Dayan


Daniel Buren, Le Grand Losange, travail in situ Galleria Continua chez Galerie Aveline Jean-Marie Rossi. ©Daniel Buren / ADAGP, Paris. Photo: Vanni Bassetti Courtesy Galleria Continua, San Gimignano/Beijing/Les Moulins/Habana.



PARIS.- He has changed painting profoundly. He has made the stripe a work of art. He is famous all over the world for his site-specific installations that transform places and views. After the exhibitions devoted to Michelangelo Pistoletto (2014) and Pascale Marthine Tayou (2015), the Galerie Aveline and Galleria Continua host works by the contemporary artist Daniel Buren from 10 October 2016 to 10 January 2017. Juggling time and space, this is an innovative meeting of the artist's most recent creation and his works from the beginning at the gallery of an avant-garde antique dealer. From this intimate dialogue between periods and centuries, a thrilling experience is born. Outside, an installation: The Great Lozenge. Daniel Buren has taken over the entire facade of the 18th century building with black vertical stripes in the middle of which a large white lozenge is featured with windows coloured in blue, red, yellow. ... More



Isa Genzken, Untitled, 2016. Mixed media, trolley, tapes, printed adhesive foil, pens, metal lamp, plastic can, film container, air pump, cord, cable, mirror foil, stickers, plastic magazine stand, thermal mat, 83 x 105 x 61 cm / 32 5/8 x 41 3/8 x 24 in. Courtesy the artist, Hauser & Wirth and Galerie Buchholz Cologne / Berlin / New York © Artists Rights Society (ARS) New York / VG Bild-Kunst, Bonn.



LOS ANGELES, CA.- Beginning 16 October, Hauser Wirth & Schimmel will present 'Isa Genzken. I Love Michael Asher,' the first Los Angeles solo exhibition for the celebrated artist. Isa Genzken was in her late 20s when she visited Michael Asher in California on a travel grant from Dusseldorf Academy, where she had begun teaching in 1977. At this time, Genzken was producing sleek lacquered wood sculptures known as 'Ellipsoids' and 'Hyperbolos.' This minimalist body of work, which lasted through the early 1980s, engaged with spatial and social aspects of line, mass, scale, color and movement through and around the works. Since their meeting, Genzken's diverse practice has encompassed sculpture, photography, drawing and painting. Her work borrows from the aesthetics of ... More



Salvatore Scarpitta, Diogenes (X Member), 1961. Bandages, straps, amd mixed media, 32 7/8 x 26 3/4 x 4 in. Private collection. ©Stella Alba Cartaino. Photo: Andrew Romer. Courtesy Luxembourg and Dayan, New York.



NEW YORK, NY.- Luxembourg & Dayan is presenting Salvatore Scarpitta 1956–1964, bringing together early works by the Italian-American artist (1919–2007), whose long career spanned non-objective abstraction, radical realism, and car racing in an oeuvre that achieved a distinctive mixture of material daring and tenderness. The exhibition spotlights a pivotal period of transformation, beginning with Scarpitta's forays into shaped and bandaged paintings, initiated just before his 1958 return from Rome to his native United States. It concludes with his shift away from the canvas toward constructing racecars in 1964—the culmination of his deep-seated belief in movement as metaphor for life. On view through December 23, Salvatore Scarpitta 1956–1964 traces two seemingly incongruous trajectories. The artist's works in these years moved along a discernably linear path of formal growth from abstract wrapped ... More
Hirshhorn debuts Ragnar Kjartansson's first major U.S. survey exhibition
Parrasch Heijnen Gallery opens first ever career survey of the late artist Deborah Remington's works on paper
Retrospective exhibition of the work of visionary painter William Scharf on view at Hollis Taggart Galleries


Ragnar Kjartansson, Woman in E, 2016. Courtesy of the artist, Luhring Augustine, New York and i8 Gallery, Reykjavík. Photo Andrew Miller.



WASHINGTON, DC.- "Ragnar Kjartansson," the first major survey of the work of the internationally acclaimed Icelandic artist, runs Oct. 14-Jan. 8, 2017, at the Hirshhorn Museum and Sculpture Garden. The exhibition is the first comprehensive overview of the artist's prodigious output since his debut in Reykjavík, Iceland in 2000. It features the artist's most celebrated works, including many never before seen in the U.S., and encompasses the entirety of his practice – live endurance performance, large-scale video installations, drawings, photography and painting. Born into a theatrical family in Reykjavík in 1976, Kjartansson dons various guises – from a foot soldier, to a Hollywood crooner, to an incarnation of death – to both celebrate and ridicule the romantic figure of the artist as a cultural hero. Drawing from theater, ... More



Self-Portrait, 1950. Ink on paper, 18 x 15 inches.



LOS ANGELES, CA.- Parrasch Heijnen Gallery announces Deborah Remington: A Life in Drawing, 1950 – 2006, the first ever career survey of the late artist's works on paper. This exhibition comprises over thirty works from fifty-six years of Remington's practice in drawing, encompassing the artist's diverse styles: from the more traditional abstract works of the late fifties, to her closely rendered signature shield forms of the sixties and seventies, to a synthesis of six decades in the later works. A renegade in every sense of the word, Remington (1930-2010), a relative of American painter Frederic Remington (1861-1909), earned her B.F.A. in 1955 from the California School of Fine Arts (later renamed the San Francisco Art Institute), where she studied with Clyfford Still, David Park and Elmer Bischoff, among others. While still in school, she became immersed in the Beat scene and was one of the six artists ... More



Of the Square and by the Night, 1956 (detail). Oil on canvas, 48 x 36 inches.



NEW YORK, NY.- Hollis Taggart Galleries is presenting William Scharf: Imagining the Actual, a retrospective exhibition of the work of visionary painter William Scharf. Selected in collaboration with the artist's close friends and family, this exhibition reveals the genius of a man whose oeuvre is too little known. Though often grouped with the Abstract Expressionists, the sixty-five works on display will demonstrate how Scharf's art springs not from collective philosophy, but rather from a very unique artistic vision, one that has fueled Scharf's oeuvre over a career that spans more than six decades. The individuality of Scharf's oeuvre resists art historical categorization. His abstracted compositions of organic and geometric formal elements recall the free associations of Surrealism and the all-over grandeur of Abstract Expressionism, and at the same time embody a very individual ... More
How David Bowie and William Boyd Hoaxed the Art World
Flashback
On a day like today, Russian oil magnate and art collector Roman Abramovich was born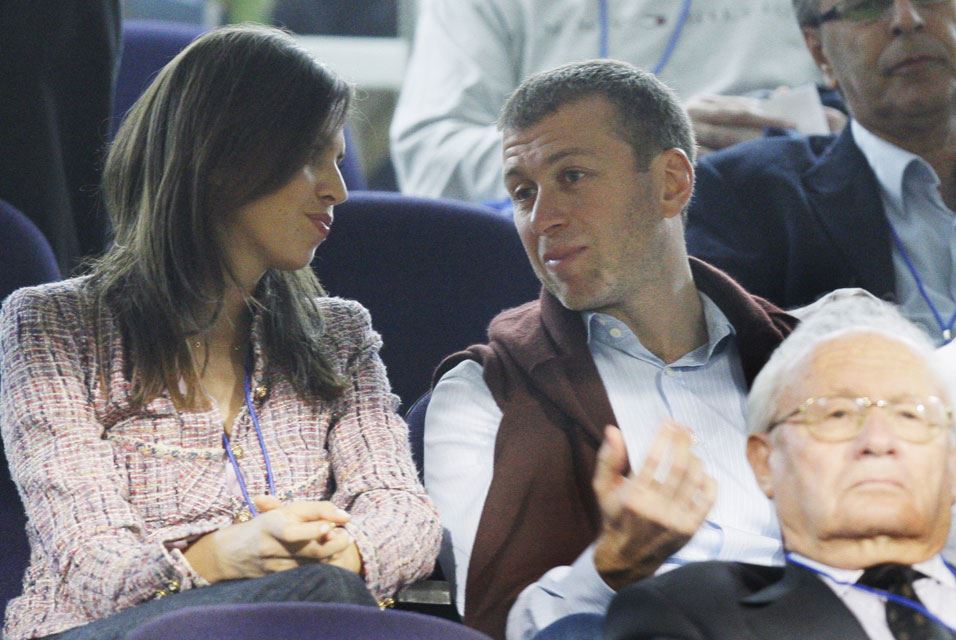 October 24, 1966. Roman Arkadyevich Abramovich (born 24 October 1966) is a Russian business tycoon and the main owner of the private investment company Millhouse LLC. In this image: Roman Abramovich, second from left, the owner of England's Chelsea soccer club sits, next to an unidentified woman during the Euro 2008 group E qualifying soccer match Israel vs Russia at the Ramat Gan stadium outside Tel Aviv, Israel, Saturday, Nov. 17, 2007.
---

Museums, Exhibits, Artists, Milestones, Digital Art, Architecture, Photography,
Photographers, Special Photos, Special Reports, Featured Stories, Auctions, Art Fairs,
Anecdotes, Art Quiz, Education, Mythology, 3D Images, Last Week,
.
---
Royalville Communications, Inc
produces: