Antique Persian and Tribal Rugs for the Home Office
The understated elegance and Tuscan color palette of the rare Hadji Jallili Tabriz carpet in this Claremont Rug Company client's home office adds incomparable refinement and gentility to a lushly appointed environment.
OAKLAND, CA
.-
With business executives increasingly working from home offices, those with a discerning eye have selected highly-regarded antique Persian and tribal rugs to create an environment conducive to business and pleasing to look at. Because of the nuanced color patterns and the intricate pattern language of individual weaving groups, those seeking an antique Oriental rug as an office statement piece or simply to provide a high degree of ambience can find pieces that work in modern, contemporary spaces as well as those that are antique themed. As in the non-office areas of a residence, rugs are often hung as wall art. And they need not be of the same type or color palette as the rest of the home. "Using collectible antique Oriental rugs in your home office," says Jan David Winitz, president/founder of
Claremont Rug Company
, "allows you to establish the right tone for your business and provides you with an environment that is comforta ...
More
The Best Photos of the Day
Edward Hopper takes center stage in Sotheby's American Art Auction on 16 November
Artemis Gallery sets house record with $1.2M antiquities auction
Heather James Fine Art opens an exhibition of paintings and works on paper by Elaine and Willem de Kooning


The November auction is led by Edward Hopper's iconic autobiographical painting, Two Comedians (estimate $12/18 million). Courtesy Sotheby's.



NEW YORK, NY.- Sotheby's shared highlights from their upcoming American Art auction in New York on 16 November 2018. The sale will be led by Edward Hopper's seminal autobiographical painting, Two Comedians (estimate $12/18 million), as well as significant examples by American icons such as Norman Rockwell, Grant Wood, Georgia O'Keeffe, Horace Pippin and Robert Henri. Highlights from the auction are now on view in Sotheby's New York galleries, with the full exhibition of all works opening on the 13th. The November auction is led by Edward Hopper's iconic autobiographical painting, Two Comedians (estimate $12/18 million). Executed in 1966, Two Comedians represents the culmination of Hopper's career and manifests a number of the most important themes that he explored in his art. The work depicts the artist and his wife Jo on stage, taking ... More



Greek Cycladic marble figure of female, Spedos type, circa 2500-2400 BCE, 6.5in. Sold for $161,850. All images courtesy of Artemis Gallery.



BOULDER, COLO.- Artemis Gallery, the boutique auction house that has become the most trusted source for authentic, fully guaranteed antiquities, Asian and ethnographic art for thousands of collectors worldwide, set a new house record on October 11. The company's 416-lot auction of art and artifacts from the most significant civilizations of the past 4,000 years grossed $1,228,510 (inclusive of 24.5% buyer's premium), with after-sales continuing to add to that total. "Our previous record of $812,000 was set in June, and that was a two-day sale. Like the June auction, our October 11 event was part of Artemis Gallery's 'Exceptional' series and therefore contained the best-quality pieces, which attract the higher-dollar bidders," said the company's managing director Teresa Dodge. The predicted star of the Ancient Greek art and antiquities section, a finely carved ... More



Elaine de Kooning, Bacchus 2, oil on canvas, 16 x 11 in.



NEW YORK, NY.- The first exhibition in many years of paintings and works on paper by Elaine and Willem de Kooning will be on view at Heather James Fine Art, New York, from November 8, 2018 - February 28, 2019. de Kooning x de Kooning traces the artists' early experimentation with abstraction and figuration with paintings and photographs from the Rudy Burckhardt family collection, and includes later works from other private collections to illustrate how their styles evolved. Highlights include Willem de Kooning's Woman II Springs, c. 1961, part of a critical body of work that became known as his "Women" series. This signature painting will be joined by earlier gouaches from 1937-42 -- initiated right before meeting Elaine -- and a pair of small-scaled abstract paintings completed in 1958 -- soon after the couple separated. Elaine de Kooning's skill at integrating abstraction into realistic portraiture is reflected in a se ... More
Kestenbaum & Company announces highlights from its forthcoming Auction of Fine Judaica
Exhibition celebrates 50 years since Annely Juda Fine Art was established
Sotheby's to offer rare, rediscovered works by Britain's most pioneering artists


The sale offer 130 Valmadonna volumes - from the earliest Hebrew printed books to unique copies printed on vellum or colored paper.



NEW YORK, NY.- Kestenbaum & Company's upcoming auction features the legacies of two visionary book-collectors. Both of whom recently passed away and both will long be remembered for their unique contributions to Hebrew booklore. The London-based Valmadonna Trust Library, comprising some 13,000 volumes, was built over more than half a century of prodigious pursuit by its Custodian and visionary, the late Mr. Jack V. Lunzer. In early 2017 the library was acquired by the National Library of Israel where it will be housed in a new landmark building in Jerusalem. Twelve months ago some two hundred volumes were extracted from the Collection and presented by Kestenbaum & Company for auction sale. They have now been appointed to offer a further 130 Valmadonna volumes - from the earliest Hebrew printed books to unique copies printed on vellum or colored ... More



Alexandra Exter, Stage Design for 'Romeo and Juliet' 1921. Pencil and gouache, heightened with gold, on two joined sheets of paper, 61.3 x 44 cm. © the Artist. Courtesy Annely Juda Fine Art, London.



LONDON.- The exhibition features works by a selection of 50 artists who are either represented by or who have shown at the gallery. The exhibition marks the rich history of the gallery, which has been a stalwart and influential space for artists and visitors since its opening by Annely Juda and her son David Juda in Tottenham Mews, central London. Annely Juda had already established the Molton Gallery (1960 – 1963) and then the Hamilton Galleries (1963 – 1967) in London before opening Annely Juda Fine Art with David Juda on 16th June 1968 with 'Now Open: Important Paintings of the 20thCentury and Young Artists'. This marrying of the twentieth-century avant-garde and contemporary art has carried on throughout the gallery's history. The gallery became known for exhibiting works of Russian Constructivism, Bauhaus ... More



William Roberts, The Joke, oil on canvas, 1923. Est. £300,000-500,000. Courtesy Sotheby's.



LONDON.- Sotheby's Autumn sale of Modern & Post-War British Art is led by an exciting array of paintings, works on paper and sculpture by the most celebrated and recognised names in the field, capturing the truly international scope of the British Arts scene over the course of the past century. A seminal work by the most celebrated British sculptor of the past century, Henry Moore's Family Group represents the zenith of the sculptor's lifelong obsession with the universal motif of parenthood. To Moore, the family became a symbol of hope, of the intransience of human bonds of support, compassion and care, and of turning to the domestic life in the face of immense experiences of trauma. The large-scale iteration of this piece was a fundamental spring-board to Moore's post-war career. Immediately after the war, architect Eugene Rosenberg commissioned the artist to create a sculpture for his project, ... More
Beverly and Donald S. Freeman donate $4 million to establish endowment at the Dallas Museum of Art
Ernest Hemingway's letter that inspired "The Old Man and the Sea" to be auctioned
Russian billionaire Rybolovlev charged in Monaco fraud case


Beverly and Donald S. Freeman. Photo: Dallas Museum of Art.



DALLAS, TX.- The Dallas Museum of Art announced today that its longtime patrons Beverly and Donald S. Freeman have awarded $4 million to the Museum to establish the Freeman Family Exhibition Endowment. This exceptional gift is designed to advance the presentation of special exhibitions across the DMA's encyclopedic collection, providing robust opportunities for the Museum to engage audiences with the presentation of art across cultures and time in innovative ways. As part of the endowment, each year the Freeman Family will select one special exhibition from the Museum's program for which it will offer significant support. In 2015, the Freemans awarded $1.5 million to the Museum to establish The Bonnie Pitman Education Endowment to Do Something New fund, benefiting the DMA's education programs and in honor of its former Director. Earlier gifts by the couple were also made in support of the Museum's education initiatives. "This ... More



The two-page letter comes with a black and white photo of the marlin. Bidding for the letter begins at $30,000.



LOS ANGELES, CA.- A 1935 handwritten letter by Ernest Hemingway about a 500-pound Atlantic blue marlin caught in Bimini, which inspired his famous novel, "The Old Man and the Sea," will be auctioned by Nate D. Sanders Auctions on November 8, 2018. Hemingway lived on Bimini from 1935-1937 residing at the Compleat Angler Hotel. He wrote, "To Have and Have Not" and a few articles, but spent the majority of his time fishing on his boat "Pilar." He faced the dilemma of preventing marlins from being"apple-cored" by mako sharks. Hemingway wrote his classic novel "The Old Man the Sea" in 1951. The semi-autographical novel is about an aging Cuban fisherman and his fight with a gigantic marlin. "Old Man and the Sea" has been noted by Hemingway scholars as most likely inspired by this particular 7 May 1935 trip, including Michael Culver in his biography "Sparring in the Dark: Hemingway, Strater and The Old Man ... More



AS Monaco President Dmitry Rybolovlev looks on during the French League Cup final football match between Monaco (ASM) and Paris Saint-Germain (PSG). NICOLAS TUCAT / AFP.



NICE (AFP).- The Russian billionaire Dmitry Rybolovlev, owner of the Monaco football club, has been charged along with three others in connection with a fraud case involving a Swiss art dealer, a legal source said Wednesday. The exact charges were not immediately known, but Rybolovlev and the three others, which include one of his lawyers, have been released from custody, said the source, confirming a report on the website of local daily Nice-Matin. The other two taken in for questioning were the wife and son of the former Monaco justice minister Philippe Narmino, the source said. Since 2015, Rybolovlev has been locked in a legal battle with Yves Bouvier, the art dealer he accuses of having swindled him out of up to a billion dollars, by charging inflated fees for works of art. Rybolovlev was detained Tuesday and held overnight for questioning after a mobile phone was seized from his lawyer Tetiana ... More
Fairfield University Art Museum opens 'Mohamad Hafez: Collateral Damage'
Laurence Miller Gallery opens exhibition featuring vintage prints by Helen Levitt
Kader Attia joins Regen Projects


Sea Garbage.



FAIRFIELD, CONN.- The Fairfield University Art Museum presents the new exhibition Mohamad Hafez: Collateral Damage in the museum's Walsh Gallery from October 26 – December 15, 2018. Born in Damascus, Syria, raised in Saudi Arabia, and educated in the Midwestern U.S., artist and architect Mohamad Hafez explores the impact of the political turmoil of the Middle East through hyper-realistic streetscapes crafted from found objects, paint, and scrap metal. Architectural in appearance yet politically charged in content, his miniaturized tableaus are alternately nostalgic, charming, and deeply painful. Hafez's work has been highlighted in feature articles in The New Yorker magazine and The New York Times, and his work has been included in numerous museum exhibitions including Artists in Exile: Expression of Loss and Hope (Fall 2017) at the Yale University Art Gallery, with new work currently included in an exhibition ... More



Helen Levitt, NYC, ca. 1945.



NEW YORK, NY.- Laurence Miller Gallery presents Helen Levitt: Five Decades, featuring vintage prints gifted by Levitt to James Agee and his family between 1940 and ca. 2000. These include several of Levitt's most famous New York images, pictures from Mexico City, and never before exhibited portraits of James Agee. Helen first met James Agee at Walker Evans' apartment in New York City in 1938, and the two formed a deep friendship. Helen later traveled to Mexico City with Agee's then wife, Alma, and her son. Several of her Mexican images were later reproduced in Helen Levitt: Mexico City, published in 1997. James Agee was an early collaborator with Levitt, and in 1946 he authored an essay on her photographs that served as the introduction to her book A Way of Seeing. He wrote "At least a dozen of Helen Levitt's photographs seem to me as beautiful, perceptive, satisfying, and enduring as any lyrical work I know." Ag ... More



Installation view of dOCUMENTA XIII, Fridericianum, Kassel, Germany, June 9 - September 16, 2012. Photo: Roman März, Courtesy Regen Projects, Los Angeles.



LOS ANGELES, CA.- Regen Projects announced representation of artist Kader Attia. Informed by his experience of living between two disparate cultures, Attia's rigorous research-based practice references literature, history, architecture, psychoanalysis, and post-colonial theory. Spanning photography, sculpture, installation, and video, his multidisciplinary works examine cultural identity and the differences between contemporary cultures – primarily the dichotomy of Western and non-Western – as well as the legacy of imperialism on the colonial world from a socio-political, economic, and aesthetic standpoint. At the crux of his practice is the concept of repair as a global, natural phenomenon in response to cultural, historic, and collective trauma. This investigation looks at the differences between how the Extra-Occidental and ... More
King Cophetua and the Beggar Maid | A modern retelling
Flashback
On a day like today, American painter Charles Demuth was born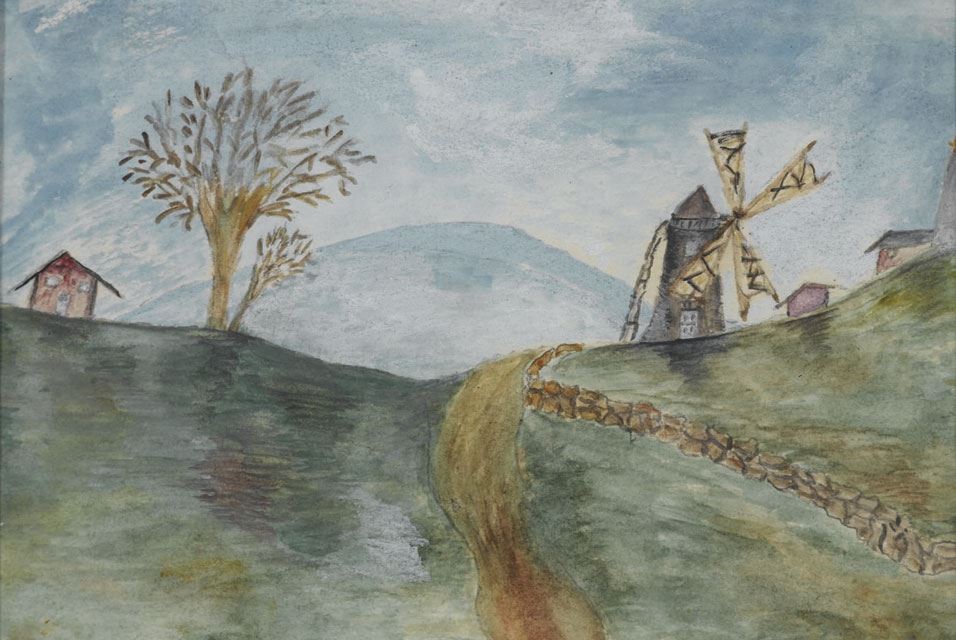 November 08, 1883. Charles Henry Buckius Demuth (November 8, 1883 - October 23, 1935) was an American watercolorist who turned to oils late in his career, developing a style of painting known as Precisionism. Charles Demuth, Landscape with Windmill #1, 1896, watercolor and graphite on paper, 3 7/8 x 4 3/4 in., Collection of the Demuth Museum, Lancaster , PA.
---

Museums, Exhibits, Artists, Milestones, Digital Art, Architecture, Photography,
Photographers, Special Photos, Special Reports, Featured Stories, Auctions, Art Fairs,
Anecdotes, Art Quiz, Education, Mythology, 3D Images, Last Week,
.
---
Royalville Communications, Inc
produces: