The Barnes Foundation discovers two sketches by Paul Cézanne behind watercolors
Paul Cézanne (French, 1839–1906). Recto: Trees (Arbres); c. 1900, possibly earlier. Watercolor and graphite on laid paper; Verso: Houses in Landscape with the Pilon du Roi, undated. Graphite on laid paper, Sheet: 12 3/16 x 18 11/16 in. (31 x 47.5 cm). BF655. Photo © 2015 The Barnes Foundation.
PHILADELPHIA, PA
.-
During a recent paper conservation treatment, the
Barnes Foundation
discovered two unfinished sketches—one graphite and one watercolor— on the reverse sides of two watercolors by Cézanne, which depict the landscape of southern France: The Chaine de l'Etoile Mountains (BF650) and Trees (BF655), normally on view in room 20 of the Collection Gallery. The discovery marks the first time these sketches have been seen since at least the early 20th century, most likely prior to Dr. Albert Barnes's purchase of the works from Leo Stein in 1921.These sketches provide a glimpse behind Cezanne's artistic process and their discovery highlights the importance of conservation efforts and dedicated collection stewardship. To allow students and visitors the opportunity to view these sketches, they will be displayed in double-sided frames, with both sides visible, ...
More
The Best Photos of the Day
Museum of Fine Arts, Boston, announces major gift from Rothschild heirs
Mexico's Alejandro Gonzalez Inarritu: From radio Disc Jockey to Oscar winner
Sotheby's Paris to offer significant collection of French 17th and 18th century paintings




Snuff box in the form of a basket mounted with a timepiece, about 1765. Gold, agate. Gift of the heirs of Bettina Looram de Rothschild. Photograph © Museum of Fine Arts, Boston.





BOSTON, MASS.- The Museum of Fine Arts, Boston, is acquiring a collection of 186 objects originally owned by Baron and Baroness Alphonse and Clarice de Rothschild of Vienna—members of the celebrated Rothschild banking family. The gift includes European decorative arts, furniture, prints, drawings, paintings, and personal objects including jewelry and jeweled objects, miniatures and rare books. Many of these works were seized in 1938 following the Anschluss, or annexation of Austria to Nazi Germany. A selection from the gift will be on view in the exhibition Restoring a Legacy: Rothschild Family Treasures from March 1–June 21, 2015. Telling the story of how the objects were collected, looted and then recovered by the family and its heirs, the exhibition—on view in the MFA's Lee Gallery—offers an evocative sampling of the exquisite objects that earned the ... More





Director Alejandro Gonzalez Inarritu attends the 21st Century Fox and Fox Searchlight Oscar Party at BOA Steakhouse on February 22, 2015 in West Hollywood, California. David Buchan/Getty Images/AFP.





MEXICO CITY (AFP).- Years after playing 1980s rock music as a popular radio DJ in Mexico, film-maker Alejandro Gonzalez Inarritu was back behind a microphone on Sunday: To accept the Oscar for best director. Inarritu -- the creative force behind dark comedy "Birdman -- became the second Mexican in a row to win Hollywood's top directing prize, one year after countryman Alfonso Cuaron was rewarded for space thriller "Gravity." "All the work of these incredible fellow filmmakers can't be compared, can't be labeled, can't be defeated, because they exist and our work only will be judged, as always, by time," Inarritu said as he accepted his award, speaking of his fellow nominees. Inarritu and his friends Cuaron and Guillermo del Toro have been dubbed the "Three Amigos," heading a golden generation of Mexican film-makers who have scooped up the industry's most prestigious prizes in recent years. ... More





Jean-Baptiste Greuze, Portrait of a young woman in a white headscarf. Estimate: €80,000 - 120,000 / $94,000142,000. Photo: Sotheby's.





PARIS.- Sotheby's, in association with Artcurial and the Cabinet Eric Turquin, presents the Louis Grandchamp des Raux collection - the most significant collection of French 17th and 18th century paintings to be offered at auction for the last twenty years. The sale will take place at Sotheby's in Paris on 26 March 2015, after a travelling exhibition in New York and Brussels. Built up over more than 25 years, this magnificent collection consists of around 50 paintings, mainly from the French and North European schools. It provides an overview of 17th and 18th century French painting that is both consistent and refined, with works from the greatest masters of the period, such as François Boucher, Jean-Honoré Fragonard, François Desportes, Louyse Moillon, Anne Vallayer-Coster and Hubert Robert, together with lesser-known artists like Pierre-Antoine Lemoine and Nicolas-Bernard Lépicié. The dedicated collector Louis Grandchamp des Rau ... More
Barbican exhibits the personal collections of post-war and contemporary artists
Marlborough Fine Art to offer a monumental painting by Andy Warhol at ArtBasel Hong Kong
Pictures from the father of photography and pioneers of the art of photography to be auctioned




Arman artwork. Magnificent Obsessions_The Artist as Collector, Barbican Art Gallery. ©Peter MacDiarmid, Getty Images.





LONDON.- Magnificent Obsessions: The Artist as Collector is the first major exhibition in the UK to present the fascinating personal collections of post-war and contemporary artists, including Arman, Peter Blake, Hanne Darboven, Edmund de Waal, Damien Hirst, Howard Hodgkin, Dr Lakra, Sol LeWitt, Martin Parr, Jim Shaw, Hiroshi Sugimoto, Andy Warhol, Pae White and Martin Wong/Danh Vo. Their collections range from mass-produced memorabilia and popular collectibles to one-of-a-kind curiosities, rare artefacts, and natural history specimens. Curated by Lydia Yee, the exhibition presents a selection of objects from the collections of the artists alongside at least one key example of their work to provide insight into their inspirations, influences, motives, and obsessions. Magnificent Obsessions: The Artist as Collector is on view from 12 February through 25 May 2015. While many of the participating artists are recognised internationally, their collections are ... More





Andy Warhol, Double Hamburger, c. 1985-­‐86 (detail). Synthetic polymer paint on canvas, 295 x 615 cm.; 116 x 242 in. Painted c. 1985-­‐86 © 2015 The Andy Warhol Foundation for the Visual Arts, Inc. / Artists Rights Society (ARS), New York.





LONDON.- Marlborough Fine Art London will be participating in this year's ArtBasel Hong Kong (Stand 3E14) from 15 – 17 March 2015. At the centre of the stand will be Andy Warhol's impressive Double Hamburger, 1985-86. This monumental work (295cm x 615cm) embodies the iconic and timeless style instantly associated with the artist. Marlborough Fine Art is also proud to exhibit works by artists such as Paula Rego, whom the gallery has represented since 1987, and Frank Auerbach, ahead of his major survey exhibition at the Kunstmuseum Bonn this June, which will tour to Tate Britain in October 2015. The gallery has a longstanding relationship with the artist, having represented him since 1958. The stand will also include works from Modern and Contemporary masters such as Pablo Picasso, Joan Miró and Alexander Calder. On display will also be works by Zao Wou-ki, Chu Teh Chun and ... More





The dramatic photograph of Julia Jackson, the mother of Virginia Woolf, and also Cameron's niece is a highlight of the Cameron group, and it is estimated at £10,000-15,000.





LONDON.- Pictures by the pioneering photographers of the 19th and 20th century are to be auctioned on Thursday 5th March 2015. From early photographic prints by the Father of Photography, William Henry Fox Talbot, to the Surrealism of Man Ray, the auction of 19th and 20th Century Photographs from a Private Collection features famous and iconic vintage photographs. The sale will be on view at Bloomsbury Auctions' saleroom in London's Mayfair from Sunday 1st March until the day of the auction on Thursday 5th March. The Fruit Sellers, Lacock Abbey, circa 1845, by William Henry Fox Talbot (1800-1877), opens the sale and is expected to achieve between £10,000-15,000 [Lot 1]. Fox Talbot invented and patented the 'calotype' process in 1841, making these images some of the earliest surviving examples of photography as we know it. Other photographs by Fox Talbot include Articles of Glassware', 1844 [Lot 2] and The ... More
Sotheby's to offer one of the world's largest private Swatch collections ever known
Rare 14th century ceramic flask leads the Bonhams Fine Japanese & Korean Works of Art Sale
Regal sarcophagus with a message for the ages will hold court in Ancient Resource's March 8 auction




This collection encompasses some of the most unique Swatch prototypes from the early 1980s. Photo: Sotheby's.





HONG KONG.- This Spring, Sotheby's Hong Kong presents Swatch & Art from the Dunkel Collection, one of the world's largest Swatch collections in private hands ever known (estimate upon request). Comprising more than 5,800 elements collected over 25 years by Mr Paul Dunkel, a passionate European collector, this superlot encompasses exclusive prototypes, limited and special edition Swatch watches from 1983 to 2007, and collected artwork relating to Swatch designs. Swatch & Art from the Dunkel Collection will lead the Important Watches Spring Sale taking place on 7 April at the Hong Kong Convention and Exhibition Centre. Mr Paul Dunkel, owner of the Collection, says, "Collecting both the Swatch and the artworks is like having an intriguing marriage that works perfectly well, affording people the luxury of admiring art objects on their wrists. What I enjoy the most about Swatch is that everybody can relate to it: ... More





A large and rare Ko-Seto heishi (flask), Kamakura period (early 14th century), 12 1/16in (30.5cm) high. Est. $225,000-300,000. Photo: Courtesy of Bonhams.





NEW YORK, NY.- Bonhams presents Fine Japanese & Korean Works of Art on March 18, an auction that will place superb examples of classic Japanese art, Meiji era craftsmanship and a much anticipated private collection of Korean works on the auction block. The rarest item on offer is an early 14th century large Japanese Ko-Seto heishi (flask) that is expected to fetch between $225,000 and $300,000. The stoneware vessel is decorated with impressed designs of 17-petal chrysanthemums, plum blossoms and incised with three unusually large roundels of flowers and grasses. The body was then covered in a caramel-brown ash glaze and iron-oxide rich slip. It is a superior work that was produced during the period when the kilns of Seto were at the height of their technical prowess. The massive vase standing over 30 centimeters high, is taller than most extant flasks of the period; it is almost 50% greater in volume than any other early Ko-Seto ... More





Circa 664-332 BC Egyptian polychrome-painted wood sarcophagus from Late Dynastic Period, displays hieroglyphic text, COA from Samuel Haddad Works of Art, NY; acquired from government of Anwar Sadat in 1970s. Est. $80,000-$100,000. Ancient Resource image.





MONTROSE, CA.- Among antiquities connoisseurs, there are two non-negotiables when considering a new acquisition: authenticity and the assurance that a dealer will stand behind their merchandise. It was those two principles that served as the foundation for Gabriel Vandervort's Ancient Resource auction house. A former writer and producer of ancient-history documentaries for History Channel, Discovery Channel and other respected TV networks, Vandervort built Ancient Resource into a globally respected brand by committing to research, authentication and uncompromising adherence to laws governing the sale of cultural artifacts. Ancient Resource unequivocally guarantees every item it sells, including the 375 lots entered in its March 8 Fine Ancient Artifacts Auction. Methods of bidding for the ... More
Exhibition at Jeu de Paume presents a selection of Taryn Simon's works produced since 2000
Exhibition at Peabody Essex Museum celebrates superlative contemporary wood art
Exhibition is the first of its kind to examine tea's influence on art and culture around the globe




Taryn Simon, Cutaways, 2012. Single channel video, 3 minutes. Dimensions variable. Courtesy of the artist. ©Taryn Simon.





PARIS.- Taryn Simon (b. 1975) has constructed an ambitious body of work that is the result of an invisible and rigorous process of research and investigation. Her works combine photography, text, and graphic design, in conceptual projects addressing the production and circulation of knowledge, and the politics of representation. Simon interrogates the power and structure of secrecy and the precarious nature of survival. The exhibition at the Jeu de Paume presents a collection of Simon's works produced since 2000. Her earliest series, The Innocents, documents cases of wrongful conviction throughout the United States, calling into question photography's function as a credible witness and arbiter of justice. She underscores photography's ability to blur truth and fiction – an ambiguity that can have severe, even lethal, consquences. In An American Index of the Hidden and Unfamiliar, Simon compiles an inventory of what lie ... More





Greg S. Smith, Full Moon II, 2010, figured maple, metal-complex dyes, high-gloss lacquer, 10 3/4 x 2 in (27.3 x 5.1 cm). Peabody Essex Museum, Gift of Lillian Montalto Bohlen. © 2014. Photo by Walter Silver/PEM.





SALEM, MASS.- This winter, the Peabody Essex Museum presents an exhibition celebrating the beauty and sensuality of wood art. International in scope and diverse in form, Audacious: The Fine Art of Wood from the Montalto Bohlen Collection showcases one of the world's finest contemporary wood art collections with more than 100 singular works. With alluring surfaces and textures made from familiar and exotic woods, the pieces featured in Audacious are as surprising as they are beautiful. Some are recognizable as vessels, bowls and vases while others are completely abstract, emphasizing form over function. The exhibition - on view from February 21 to June 21, 2015 - coincides with Bob and Lillian Montalto Bohlen's donation of 47 works of contemporary wood art to PEM, which enhances the museum's prestigious collection of American decorative art. Through ... More





Qing dynasty (1644 - 1912), Teapot with Chrysanthemum Motif, Qianlong mark and period, 1736-1795 Enamel and copper Overall: 3 3/4 x 6 1/2 x 4 1/4in (9.5 x 16.5 x 10.8 cm) EX2015.37.2 The Newark Museum, Gift of Sophie and Lisa Downer, 47.138.





WEST PALM BEACH, FLA..- People around the world have been drinking tea for centuries. The beverage became the center of cultured social gatherings long ago, not to mention an industry influencing health and welfare. The role played by tea, especially in the upper echelons of society, has also had a profound influence on art as artists and connoisseurs devoted themselves to the creation and selection of art in the service of tea. The Norton Museum of Art exhibition, High Tea: Glorious Manifestations East and West, is the first to examine this influence globally, focusing on eight key cultures – China, Korea, Japan, England, Germany, France, Russia, and America. The exhibition, organized by Laurie Barnes, Elizabeth B. McGraw Curator of Chinese Art, is on view at the Norton Museum of Art from Thursday, Feb. 19 through Sunday, May 24, 2015. ... More
Rare John James Audubon Prints Up For Auction at Arader Galleries
---
Flashback
On a day like today, American artist Winslow Homer, was born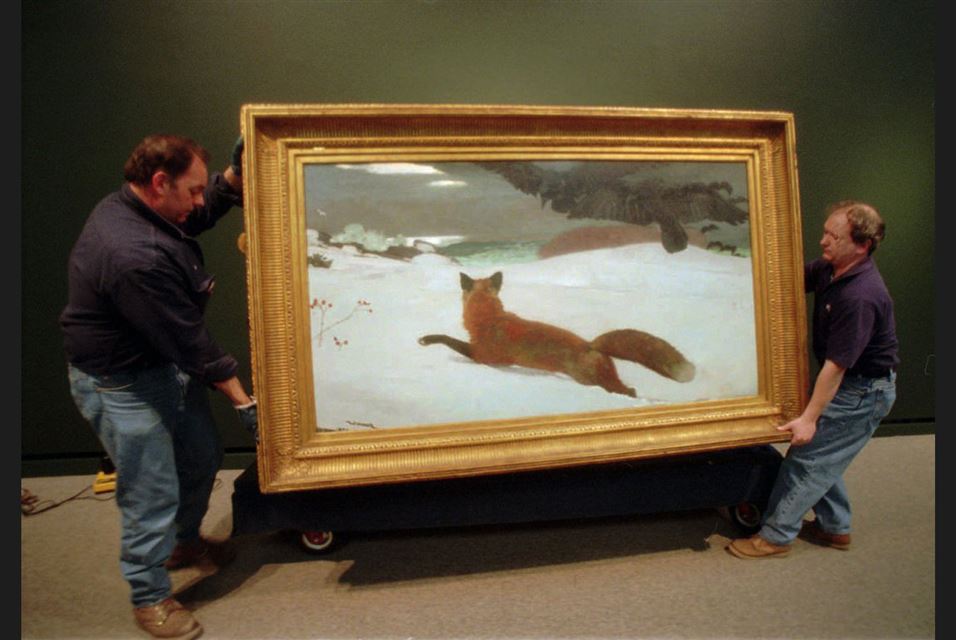 March 24, 1836. Winslow Homer (February 24, 1836 - September 29, 1910) was an American landscape painter and printmaker, best known for his marine subjects. He is considered one of the foremost painters in 19th-century America and a preeminent figure in American art. In this image: Museum workers carry the "Fox Hunt" painted in 1893 by Winslow Homer onto a dolly while unpacking paintings at the Museum of Fine Arts in Boston, Tuesday February 6, 1996.
---

Museums, Exhibits, Artists, Milestones, Digital Art, Architecture, Photography,
Photographers, Special Photos, Special Reports, Featured Stories, Auctions, Art Fairs,
Anecdotes, Art Quiz, Education, Mythology, 3D Images, Last Week,
.
---
Royalville Communications, Inc
produces: