Exhibition focusing on Amedeo Modigliani's early work opens at the Jewish Museum
Installation view of the exhibition Modigliani Unmasked. September 15, 2017 – February 4, 2018. The Jewish Museum, NY.
NEW YORK, NY
.-
The Jewish Museum
presents Modigliani Unmasked, the first exhibition in the United States to focus on Amedeo Modigliani's early work made in the years after he arrived in Paris in 1906. The exhibition puts a spotlight on Modigliani's drawings, with a large selection acquired directly from the artist by Dr. Paul Alexandre, his close friend and first patron. The drawings from the Alexandre collection, many being shown for the first time in the United States, as well as other drawings from collections around the world and a selection of Modigliani's paintings and sculptures, illuminate how the artist's heritage as an Italian Sephardic Jew is pivotal to understanding his artistic output. The exhibition is on view at the Jewish Museum from September 15, 2017 through February 4, 2018. Modigliani Unmasked considers the celebrated artist, Amedeo Modigliani (Italian, 1884-1920), shortly after he arrived in Paris in 19 ...
More
The Best Photos of the Day
Tilton Gallery opens an exhibition of new works by Jeff Sonhouse
Auction of new Banksy piece raises £205K for anti arms-fair campaigners
Sotheby's to offer one of the most important candlelit pictures by Joseph Wright of Derby


Jeff Sonhouse, No Stones in My Path, 2017, oil on fiberboard, 23 1/4 x 19 x 2 1/8 inches. Courtesy the artist and Tilton Gallery, New York.



NEW YORK, NY.- Tilton Gallery is presenting Masked Reduction, an exhibition of new works by Jeff Sonhouse, from September 14th through October 28th, 2017. This is the artist's fourth solo exhibition with the gallery. Sonhouse's subject is the African American male within Western culture. In Masked Reduction, he continues his focus on the figure, more specifically, the African American male portrait, drawing inspiration from media images as well as the long history of portraiture, and employing a visual language he's developed over the years. Repeated and edited over time, these characters have become his own. Sonhouse's figures are presented frontally, painted close up to appear right on the canvas surface and indeed, are frequently built up with collage elements to extend into the viewer's space. Sonhouse simultaneously pares down his ... More



Banksy, Civilian Drone Strike. Photo: www.banksy.co.uk



LONDON.- The organisers of Art the Arms Fair, a unique art exhibition that has been set-up in opposition to the arms fair that has taken place this week in East London, have raised £205,000 from the auction of an exclusive new Banksy piece. The piece, Civillian Drone Strike, depicts drones destroying a children's drawing of a house. The money raised from the sale will be split between Campaign Against Arms Trade and Reprieve. Art the Arms Fair has been a five day exhibition at SET space, 7th Floor, Captain House, London, E14 2BA. It has included exclusive new work from Banksy, Guerilla Girls, Peter Kennard and Darren Cullen. Andrew Smith of Campaign Against Arms Trade said: "The arms fair is a moral abomination, it thrives on dodgy deals and secrecy - regardless of the consequences. If the government is determined to keep ignoring serious accusations of war crimes, as well as terrible repression and UK public opinion, then we need to take action. This money ... More



Joseph Wright of Derby, A.R.A., An Academy by Lamplight Oil on canvas, 50 by 40 in. (127 x 101.6 cm), est. £2.5-3.5 million. Courtesy Sotheby's.



LONDON.- The genius of Joseph Wright of Derby A.R.A. (1734-1797) will come under the spotlight this winter, when one of the artist's most important candlelit pictures, and one of his last major works remaining in private hands, appears at auction at Sotheby's. Painted in 1769, An Academy by Lamplight is a supreme example of Wright's dramatic rendering of light and shade and his association with the Enlightenment movement. Almost certainly the picture that Wright exhibited at the Society of Artists in 1769, this rare painting was first securely recorded in the collection of Sir Savile Crossley, 1st Baron Somerleyton (1857-1935), the scion of a great carpet manufacturing dynasty from Halifax, and has remained in the possession of his family ever since. One of the star lots of Sotheby's London Old Masters evening sale on 6 December 2017, it will be offered with an estimate of £2.5- ... More
Crystal Bridges Museum of American Art opens 'Stuart Davis: In Full Swing'
Retired Boeing engineer donates European master prints to the Henry Art Gallery for public access
Stanford's Cantor Arts Center offers a fresh look at Rodin - the modern man


Owh! in San Pao, 1951. Oil on canvas, 52 3/16 × 42 in. Whitney Museum of American Art, New York; purchase.



BENTONVILLE, ARK.- Crystal Bridges Museum of American Art presents the exhibition, Stuart Davis: In Full Swing, on view September 16, 2017, through January 1, 2018. Admission to Stuart Davis: In Full Swing is $8 for adults or $12 combined with Chihuly: In the Forest. There is no cost for museum members and youth ages 18 and under. Stuart Davis: In Full Swing is the first major exhibition in 20 years dedicated to Davis (1892–1964), a key figure in the development of American modern art. The exhibition showcases 86 works that reveal the dynamic, original style of this important American painter. Stuart Davis: In Full Swing was co- organized by the National Gallery of Art, Washington, D.C., and the Whitney Museum of American Art, New York. Crystal Bridges is the final venue for this exhibition. Previous venues include: Whitney Museum of American Art: June 10 – September 25, 2016; National Gallery of Art: ... More



Hans Sebald Beham (Germany, 1500 – 1550), Lot and his daughters. c. 1530. Engraving on laid paper. 2 1/16 in. (diameter). Henry Art Gallery, University of Washington, gift of Albert A. Feldmann, 2017.88.



SEATTLE, WA.- Seattle art collector Albert Feldmann has gifted the Henry with 204 European prints including, Dürer, Callot, Goya, Hogarth, and Piranesi. With this generous gift of prints dating from the 15th to 18th centuries, the Henry's collection, which already had strong holdings in the 19th and 20th centuries, now offers a complete timeline of the history of printmaking. "This is a truly transformative gift," says Sylvia Wolf, John S. Behnke Director of the Henry Art Gallery. "For over fifty years, Mr. Feldmann collected works of the highest quality and finest condition. We are deeply grateful to him for the gift of this extraordinary collection, which will serve as a resource and inspiration for artists, scholars, students, and enthusiasts of the art of printmaking for generations to come." Albert Feldmann, a long-time resident of Seattle, was a mechanical ... More



Auguste Rodin (France, 1840–1917), Despair (L'Désespoir), 1887-1890. Bronze. Gift of the Iris and B. Gerald Cantor Foundation, 1974.6.



STANFORD, CA.- If ingenuity is the lifeblood of Silicon Valley, then it's entirely fitting that French sculptor Auguste Rodin (1840–1917) is so closely associated with the Cantor Arts Center at Stanford University, which is marking the centenary of Rodin's death with a new presentation of his sculptures. Rodin: The Shock of the Modern Body spans three galleries and features nearly 100 Rodin sculptures essential to telling the artist's story and representing his groundbreaking engagement with the body. Drawn from the extensive holdings of the Cantor, the largest collection of sculptures by Rodin in an American museum, the exhibition also presents comparative works by his rivals, mentors, admirers and imitators. Much like today's innovators, Rodin challenged himself, the academic system, his critics and the public. He did so by relentlessly pursuing ... More
German architect Speer, son of top Nazi, dead at 83
Mnuchin Gallery opens exhibition exploring Minimalism and its legacy in contemporary art
Ketterer Kunst aannounces highlights from its Modern, Post War and Contemporary Art sale


This file photo taken on October 16, 2015 shows architect Albert Speer junior as he prepares the laying of the foundation stone for the new sports youth activity center of Bayern Munich. CHRISTOF STACHE / AFP.



BERLIN (AFP).- One of Germany's most prominent architects and urban planners of the post-war period, Albert Speer junior, has died aged 83, local media reported Sunday. His death late Friday came after an operation on a broken hip sustained in a fall at his home in the western city of Frankfurt, Bild daily reported. Speer was widely credited with honestly reckoning with the heavy historical burden left by his father and namesake -- one of Adolf Hitler's closest confidants and the head of the vast Nazi armaments ministry. Born in Berlin as the eldest of six children, Albert junior managed to emerge from his father's shadow to become known for ecologically sustainable public works projects across Europe, Asia and Africa. A fourth-generation architect, Speer junior overcame a debilitating stutter he had as a child by forcing himself to take public speaking engagements as an adult. After starting ... More



Frank Stella, Creede I, 1961. Copper oil paint on canvas, 82 1/2 x 82 1/2 inches (209.6 x 209.6 cm). Collection Martin Z. Margulies.



NEW YORK, NY.- Mnuchin Gallery opened its fall season with Minimalism & Beyond, an exhibition exploring Minimalism and its legacy in contemporary art from the second half of the twentieth century through the present day. On view through October 18, 2017, it is accompanied by a fully illustrated catalogue authored by Pac Pobric. The exhibition presents Minimalist masterworks of the 1960s alongside painting and sculpture of the following decades that both elaborate upon and disrupt Minimalism's formal language to a diverse range of ends, from the playful and the personal to the subversive and the political. Taking as its starting point iconic works by Carl Andre, Dan Flavin, Donald Judd, Agnes Martin, Robert Ryman, and Frank Stella, the exhibition continues with Postminimalist figures such as Eva Hesse, Robert Morris, On Kawara, and Bruce Nauman. It carries on with works from the 1980s and 90s by artists including ... More



Emil Nolde, Hohe See unter violettem Himmel, 1930/35 (detail). Watercolor, 36,5 x 50,3 cm / 14.3 x 19.8 inches. Estimate: € 100,000-150,000.



MUNICH.- This is something that surely would have pleased Emil Nolde: Proceeds of one of his watercolors will go into the construction of a Buddhist peace stupa. The work will be sold in the auction of Modern, Post War and Contemporary Art at Ketterer Kunst in Munich from December 7th to 9th 2017. Emil Nolde, who would celebrate his 150th birthday this year, was a pious man, however, his religious feelings were not based on a certain religion, instead they were of a very personal and spiritual nature. What mattered to him was the own experience and not the tradition. In this case it is a lucky coincidence that the consignor of the watercolor "Hohe See unter violettem Himmel" from 1930/35 feels the same. To her it is a heart matter to contribute the work's proceeds to a place where everyone can feel happiness, so she will support a stupa in Grafenwörth in Austria, construction of which began last year. The peace monument ... More
Bartha Contemporary opens Jill Baroff and Stefana McClure's first joint exhibition at the gallery
Art and computing collide in Pink Art, an exploration of color at Williams College Museum of Art
Sotheby's Hong Kong announces highlights from its Important Watches Autumn Sale


Stefana McClure, Whammo bricks, 2017. Cut paper, vintage clay bricks, 18.5 x 17.5 x 20.5 cm.



LONDON.- Bartha Contemporary announces What's Yours Is Mine (#WYIM), Jill Baroff and Stefana McClure's first joint exhibition at the gallery, from September 16 – November 18, 2017. The artists and the gallery have collaborated for over a decade and this exhibition celebrates both this continuous relationship and the artists' recent marriage. Indeed, the show's title references both an auspicious moment and the notion of joint authorship. This joint authorship extends into the artists' practice, collaborating on a suite of new paintings entitled Square Peg Round Hole. An act of resistance and conformity, the artists pounded square wooden pegs into round holes too small to accommodate them. This direct act made with simple, humble, materials, is transformed into subtle works of exquisite beauty that belie the blunt force that created them. The exhibition features new installations and works on paper by both ... More



Richard Hawkins (American, b. 1961), Special Appearance, 2004 (detail). Oil on linen, 48 × 60 in. Museum purchase, Kathryn Hurd Fund.



WILLIAMSTOWN, MASS.- The Williams College Museum of Art debuted Pink Art, an exhibition that unpacks the color pink through works of art in the collection, on September 15, 2017. Pink Art delves into the multiplicity of human perception, the definitions and practices of curation, and the deeply personal and subjective nature of both curation and computer programing. A collaboration with the Williams College Department of Computer Science and the Office for Information Technology, the exhibition makes manifest the overlaps and tensions between these two creative practices. What is pink? Because color perception is highly subjective, the exhibition team developed a mobile web application to gather a crowdsourced definition of the exhibition's signature color. As participants decide which colors in a group are pink, they produce an evolving visual definition ... More



Richard Mille, an Extremely Fine and Important Sapphire Tonneau-Form Skeletonised Tourbillon Wristwatch RM56-02 No 10/10, circa 2015; Estimate upon Request. Courtesy Sotheby's.



HONG KONG.- Sotheby's Hong Kong Important Watches Autumn Sale 2017 will take place on 2 October at the Hong Kong Convention and Exhibition Centre. Leading the sale is an Extremely Fine and Important Sapphire Tonneau-Form Skeletonized Tourbillon Wristwatch RM56-02 by Richard Mille, alongside a strong and diverse line-up of vintage masterpieces and independent innovations across the spectrum. Jessie Kang, Head of Watches Department, Asia, comments, "We are very excited to be offering a Richard Mille RM56-02, the light and possibly the most "transparent" watch in the world, and Patek Philippe 5002, arguably one of the most complicated watches of its time. We are especially proud of the broadened offering of independent brands in the line-up for this year's sale. Together with celebrated ... More
Tom of Finland - Official U.S. Trailer
Flashback
On a day like today, Dutch realist painter Anton Mauve was born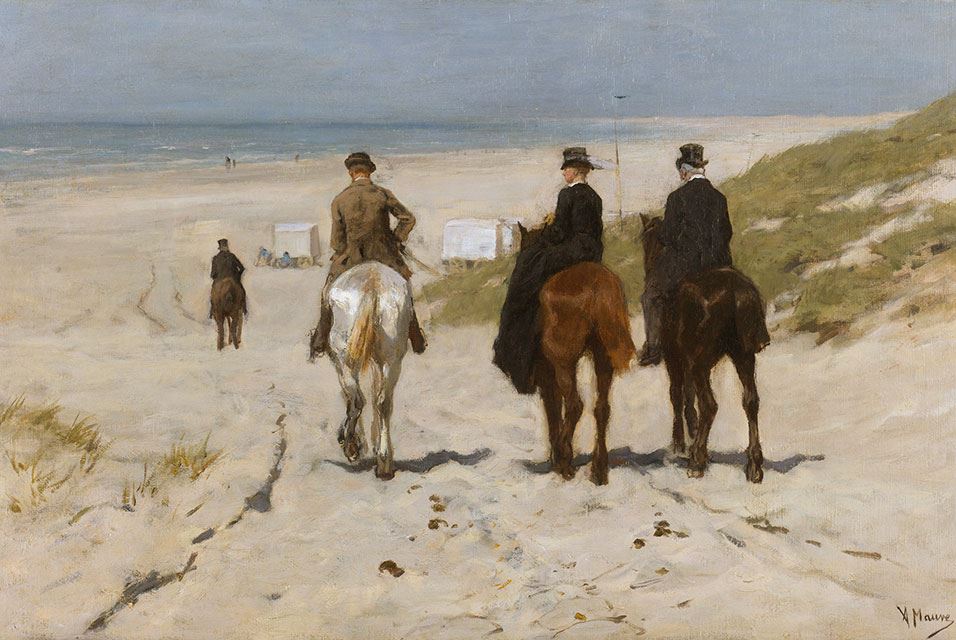 September 18, 1838. Anthonij (Anton) Rudolf Mauve (18 September 1838, Zaandam, North Holland - 5 February 1888, Arnhem) was a Dutch realist painter who was a leading member of the Hague School. He signed his paintings 'A. Mauve' or with a monogrammed 'A.M.'. A master colorist, he was a very significant early influence on his cousin-in-law Vincent van Gogh. In this image: Morning Ride on the Beach (1876), oil on canvas, Rijksmuseum.
---

Museums, Exhibits, Artists, Milestones, Digital Art, Architecture, Photography,
Photographers, Special Photos, Special Reports, Featured Stories, Auctions, Art Fairs,
Anecdotes, Art Quiz, Education, Mythology, 3D Images, Last Week,
.
---
Royalville Communications, Inc
produces: