Fake Chinese painting dupes visitors to London's Dulwich Picture Gallery
A woman looks at an original painting by Jean-Honore Fragonard titled 'Young Woman' (L) and a replica ordered from China by the gallery at the Dulwich Picture Gallery in London on April 28, 2015. In a bold move the London gallery decided to replace the original Fragonard painting with a replica ordered online from China for $120 (106-euro) and ask visitors to choose which of its 270 paintings is the replica. "The project is going to destabilise how you feel when you look at a piece of art," acknowledged Doug Fishbone, the American artist who came up with the idea. AFP PHOTO/ BEN STANSALL.

By: James Pheby
LONDON
(AFP)
.-
The results are in of a battle that pitted London's culture vultures against a Chinese workshop churning out replicas of the world's most famous paintings, revealing a clear victory for the cut-price masters. For nearly three months, visitors to London's Dulwich Picture Gallery have pored over 270 paintings in its permanent collection, including works by Rembrandt, Rubens and Gainsborough, knowing that there was one $120 (109-euro) fake in their midst. Around 3,000 people voted for their pick of the replica, but only 300 correctly identified it as French artist Jean-Honore Fragonard's 18th century portrait "Young Woman". "The white looks too bright and fresh," said visitor Emma Hollanby, as she looked at the two paintings side-by-side, depicting an unknown woman with rouged cheeks and red lips, peering seductively at the viewer. "But it's easy to say when it's next to it (the original), and I probably wouldn't have got it," admitted the 26-year-old, who works in a gallery. ...
More
The Best Photos of the Day
Exhibition of new watercolours by Francesco Clemente opens at Blain/Southern
Rare admiralty Islands male figure leads Bonhams' African, Oceanic & Pre-Columbian art sale
Empire State Building partners with new Whitney Museum for art-inspired light show on May 1




Francesco Clemente, Emblems of Transformation 75, 2014. watercolour on paper. 29.6 x 20.9 cm / (11⅝ x 8¼ in). Photo: John Berens.





LONDON.- Blain|Southern presents an exhibition of new watercolours by Francesco Clemente. Bringing together 108 works on paper, all of which are delicately and intimately scaled, Emblems of Transformation continues the artist's long-standing relationship with the medium of watercolour, and also with India. Clemente first travelled to India in 1973, and has lived and worked there at different phases of his life. Drawing from the contemplative traditions and urban visual culture of India, his practice is characterised by a syncretic approach and the constant revitalisation of sources, mediums and formats. The featured paintings include miniature elements chosen and suggested by Clemente, and executed by a family of Indian miniaturist painters from a workshop from Rajasthan. This continues the artist's long-history of working with Indian craftspeople. The 108 paintings in the suite reference the number of beads in the ... More





Important and Rare Large Standing Male Figure, Admiralty Islands (est. $100,000-150,000). Photo: Bonhams.





SAN FRANCISCO, CA.- An important and rare large standing male figure from the Admiralty Islands leads Bonhams' auction of African, Oceanic and Pre-Columbian Art on May 5 in San Francisco. The figure, which is one of a few large examples known to exist and almost certainly the last in private hands, is estimated at $100,000-150,000. It is one of nearly 120 examples of Oceanic art in the sale which also includes a rare Maori canoe prow, called a tauihi, from New Zealand (est. $60,000-80,000) and a fine and rare Maori hand club (est. $30,000-50,000) from the famous Mark and Carolyn Blackburn Collection. A very rare mirror from the Hawaiian Islands (est. $40,000-60,000) is the first such mirror ever offered at auction. From Papua New Guinea (PNG) come a monumental Kwoma Spirit Figure (est. $50,000-70,000) and a Yessan-Warasei female figure (est. $20,000-30,000). Decorated barkcloths – traditionally worn like a skirt by ... More





Internationally-acclaimed lighting designer Marc Brickman will interpret twelve iconic works from the Whitney's collection.





NEW YORK, NY.- Empire State Realty Trust, Inc. announced that the Empire State Building (ESB) will partner with the Whitney Museum of American Art to design a one-of-a-kind light show, showcasing an interpretation of works of American art from the Whitney's collection. The light show, taking place on Friday, May 1, 2015, will unite the two icons as they mark historic occasions: the opening day of the Whitney's new building in Manhattan's Meatpacking District and the 84th anniversary of ESB. Internationally-acclaimed lighting designer Marc Brickman will interpret twelve iconic works from the Whitney's collection by artists including Georgia O'Keeffe, Edward Hopper, Andy Warhol, Peter Halley and Barbara Kruger, utilizing the building's LED tower lights to create a dynamic show. Beginning at 8 p.m. on Friday, May 1, each artwork-inspired lighting display will be showcased on the architectural landmark for thirty minutes, with the light show ... More
Rarely-seen footage from Andy Warhol's Silver Factory brings the '60s back to Times Square this May
First exhibition to explore how cutting-edge art and design influenced the look of early network television opens
Yinka Shonibare's first major exhibition in Canada opens at DHC/ART




Andy Warhol, Screen Test: Edie Sedgwick [ST309], 1965. 16mm film, black-and-white, silent, 4.5 minutes at 16 frames per second, © 2015. The Andy Warhol Museum, Pittsburgh, PA, a museum of Carnegie Institute. All rights reserved. Film still courtesy The Andy Warhol Museum.





NEW YORK, NY.- Rare 1960's Andy Warhol Screen Tests made of Bob Dylan, Allen Ginsberg, Lou Reed, Harry Smith and Edie Sedgwick among others in his studio, the Silver Factory, will be shown publicly for the first time on Times Square's electronic billboards from 11:57 pm to midnight each night in May. This project is a part of Midnight Moment, a monthly presentation by The Times Square Advertising Coalition (TSAC) and Times Square Arts. In the mid-1960s, Warhol's studio became a diverse scene of artists, friends, and celebrities, many of whom posed for short videos that the artist called 'Screen Tests'. Warhol made almost 500 of these silent, slow-motion 16mm film portraits in the span of three years. The footage that will be shown as part of Midnight Moment Warhol Screen Tests includes Screen Test: Rufus Collins [ST61], 1964; Screen Test: ... More





Goldie Hawn in Rowan and Martin's Laugh-In; the show ran from 1968–1973. Image provided by The Kobal Collection at Art Resource, New York.





NEW YORK, NY.- Revolution of the Eye: Modern Art and the Birth of American Television, the first exhibition to explore how avant-garde art influenced the look and content of network television in its formative years, will be on view at the Jewish Museum from May 1, 2015 through September 20, 2015. From the late 1940s to the mid-1970s, the pioneers of American television-many of them young, Jewish, and aesthetically adventurous-adopted modernism as a source of inspiration. Revolution of the Eye looks at how the dynamic new medium of television, in its risk-taking and aesthetic experimentation, paralleled and embraced cutting-edge art and design. The exhibition is organized by the Jewish Museum, New York, and the Center for Art, Design, and Visual Culture, University of Maryland, Baltimore County (UMBC). Following its New York showing, Revolution of the Eye: Modern Art and the Birth of American Television will travel to four other U.S. venues. H ... More



Homeless Child 3 (detail), 2013. Mannequin,. ©Yinka Shonibare MBE/licensed by SODRAC/Courtesy James Cohan Gallery, New York and Shanghai.




MONTREAL.- DHC/ART Foundation for Contemporary Art presents Pièces de résistance, the first major solo exhibition in Canada by British artist Yinka Shonibare MBE and the 17th exhibition to be presented at the Foundation since its opening. Born in London of Nigerian heritage, Shonibare moved to Lagos, Nigeria with his family at age three, returning to Britain later to study art. His work has been exhibited extensively in the United States and Europe in such notable contexts as Documenta 10 and the 52nd Biennale di Venezia. This survey exhibition will present seminal and more recent artworks across painting, photo, film, and sculpture. Shonibare has become known worldwide for his use of Dutch-wax fabric as a conceptual and formal device in all of his work. While stereotypically associated with Africa, the origins of Dutch-wax fabric are actually found in Indonesian batik techniques, which were then industrialized and appropriated by ... More
Museum of Fine Arts, St. Petersburg celebrates 50th anniversary with exhibition of woodblock prints
Michael Armitage's first solo exhibition in the United Kingdom opens at White Cube
Waiting for a Moment: Linda Stojak opens exhibition at Stux + Haller in New York




Utagawa Kunisada as Toyokuni III, Actors Kataoka Nizaemon VIII as Iwakawa and Nakamura Fukusuke I as Tetsugatake (1859, seventh month). Color woodblock print. Gift of Col. David Hester.





ST. PETERSBURG, FLA.- Japanese prints were last shown as a group at the MFA during the 40th anniversary year in 2005, and the majority of the more than 40 works in this new exhibition are on view for the first time. One of the world's great artistic traditions, Japanese prints are known for their technical accomplishment, superlative design, and sheer beauty. Images of the Floating World and Beyond: Japanese Woodblock Prints extends from the late eighteenth century to an example from the twenty-first. The exhibition opens Saturday, May 9, and continues through Sunday, August 16. Director Emeritus Dr. John E. Schloder has curated the show with Stephanie Chill, M.A. He will introduce the works in a lecture on opening day at 3 p.m. Ukiyo-e, or "images of the Floating World," depict hedonistic pleasures in ancient ... More





Michael Armitage, In the garden, 2015. Oil on Lubugo bark cloth, 76 15/16 x 58 7/8 in. (195.5 x 149.5 cm) © Michael Armitage. Photo © White Cube (George Darrell).





LONDON.- Inside the White Cube presents an exhibition of new paintings by Kenyan born, London-based artist Michael Armitage. This is Armitage's first solo exhibition in the UK. Armitage weaves multiple truths into his lyrical, figurative paintings which focus primarily on narratives from his native country, Kenya. Using oil paint on Lubugo – a traditional bark cloth from Uganda – he applies the paint in layers, sometimes scraping back, revising and repainting his images which are fused together from a wide range of sources including media news, East African legends, internet chat and images lodged in his own personal memory. In the painting Mpeketoni (2015), Armitage refers to the terrorist attack by Somali militants on the North Coast of Kenya during the last World Cup, where forty-eight men were killed in cold-blood. Armitage depicts a group of women ... More





Linda Stojak, Figure 89 (detail), oil, mixed media on canvas, 2015.





NEW YORK, NY.- Stux + Haller announce the opening of Linda Stojak: Waiting for a Moment, her 16th solo exhibition with Stephen Haller and her first at the new Stux + Haller 24 West 57th Street gallery space. Guggenheim Award-winning artist Linda Stojak's paintings are intrinsically characterized by their disquieting grace. Stojak's women deal with issues of power and identity. Her sensually gestural technique creates a surface that is at once velvet and stone, a translation of portraiture into conceptual expressions of form and transience. In the words of critic Michael Amy: "Her figures offer a remarkable evocation of our very lives." He goes on to say that Stojak's paintings give "the illusion of almost intangible flesh, as open as a wound." He described the "flesh-like surfaces of her pictures" as "rich epidermises filled with the history of their own generation." Stojak's work consists most frequently ... More
Minneapolis Institute of Arts acquiring monumental sculpture through community fundraising campaign
Pace Gallery's first solo exhibition of work by Michal Rovner opens in London
Philip Guston's complete printed works and last acrylic works on paper on view in Munich




Mitoraj used the timeless artistic language of ancient Greece to address personal and contemporary issues in a new and original way.





MINNEAPOLIS, MN.- In celebration of its 100th Birthday Year, the Minneapolis Institute of Arts today announced a fundraising campaign to acquire a new monumental outdoor sculpture that would reference the museum's historic art collections and be a new masterpiece for the community. Created by the Polish-born artist Igor Mitoraj, the colossal bronze sculpture Eros (1999) will become an icon for the museum and for Minneapolis. The MIA is raising funds from the community to purchase this handsome, mysterious, and poignant contemporary sculpture. Community members can contribute to this addition to the contemporary art collection by donating any amount to its purchase. It's a chance to play a tangible and meaningful role during the museum's centennial celebration. Eros will welcome visitors from its location in front of the museum, on the corner of 24th Street and Third Avenue South. The campaign goal is a minimum of $1 ... More





Michal Rovner, detail of Untitled 2, screens, 2015 (detail) © 2015, Michal Rovner / Artists Rights Society (ARS), New York. Photo Coutesy the artist and Pace Gallery.





LONDON.- Pace London presents its first solo exhibition of the work of Michal Rovner. Panorama will be staged at 6 Burlington Gardens from 29 April to 15 June 2015. Since 2004, Pace New York has held four exhibitions of Rovner's work, which included her renowned projections on stone and paper as well as several of her large scale projections. In the last exhibition in New York, Topography, the artist unveiled her first multi-screen works using new LCD technology, specifically customized for her. In Panorama, Rovner's evolved and articulated works continue to explore this medium. These large-scale, multi-screen works combine her signature human figures with the landscape elements which she has been exploring for the last two years. The brooding soulful expression of the human and natural worlds is intertwined through the use of increasingly bold abstraction. Panorama evokes Rovner's themes ... More





Philip Guston, Car, 1980 (detail). Lithograph, 508 x 762 mm, Private Collection. Photo: Staatliche Graphische Sammlung München © The Estate of Philip Guston, New York.





MUNICH.- The Staatliche Graphische Sammlung is hosting an extensive exhibition featuring about 85 artworks, from large-scale lithographs to smaller acrylics, by the influential North American artist Philip Guston (1913-1980). Following the much-acclaimed exhibition of Philip Guston's drawings organised by the museum in 2007/08, the Staatliche Graphische Sammlung is dedicating a further show to this artist which will be structured in three sections: in addition to his lithographs, the exhibition will present drawings, which Guston created since the sixties in collaboration with contemporary writers and poets, as well as an important ensemble of 26 acrylic works that he completed in spring 1980, the last productive period of his artistic career. Alongside Jackson Pollock and Willem de Kooning, Philip Guston was one of the most important and influential American artists of the 20th century, known ... More
Face Off: Koons / Kippenberger
---
Flashback
On a day like today, Indian painter Raja Ravi Varma was born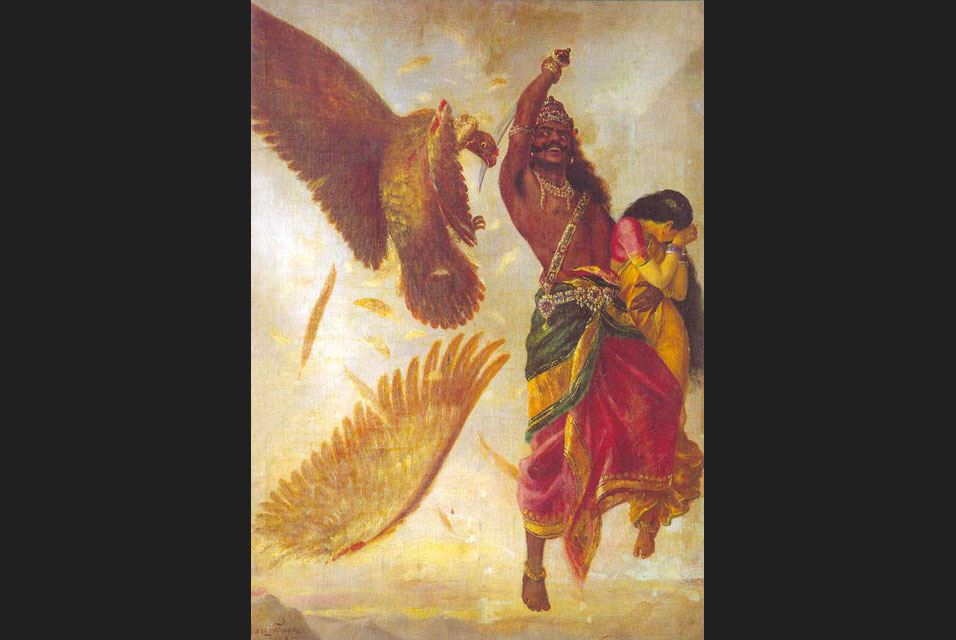 May 29, 1848. KILIMANOOR.- Raja Ravi Varma was an Indian painter from the princely state of Travancore who achieved recognition for his depiction of scenes from the epics of the Mahabharata and Ramayana. His paintings are considered to be among the best examples of the fusion of Indian traditions with the techniques of European academic art. Varma is most remembered for his paintings of beautiful sari-clad women, who were portrayed as shapely and graceful. His exposure in the west came when he won the first prize in the Vienna Art Exhibition in 1873. Raja Ravi Varma died in 1906 at the age of 58. He is considered among the greatest painters in the history of Indian art. In this image: The demi-god vulture Jatayu is struck down by the demon Ravana, as Jatayu attempted to intercede in the demon's kidnapping of Sita.
---

Museums, Exhibits, Artists, Milestones, Digital Art, Architecture, Photography,
Photographers, Special Photos, Special Reports, Featured Stories, Auctions, Art Fairs,
Anecdotes, Art Quiz, Education, Mythology, 3D Images, Last Week,
.
---
Royalville Communications, Inc
produces: