Exhibition in Dublin presents work by Monir Shahroudy Farmanfarmaian
Rachel Thomas, exhibition curator and IMMA Head of Exhibitions at the opening of Sunset, Sunrise in Dublin with Hans Ulrich Obrist, Co-Director, Serpentine Gallery.
DUBLIN
.-
IMMA
is presenting Sunset, Sunrise, a major retrospective of the work of prominent Iranian artist Monir Shahroudy Farmanfarmaian (b.1924, Qazvin, Iran). Now in her mid-nineties, this exhibition marks the first solo exhibition of Farmanfarmaian's work in Ireland. Sunset, Sunrise offers a rare opportunity to rediscover the breathtakingly kaleidoscopic nature of Farmanfarmaian's 1970s sculpture and to encounter drawings, jewellery and previous unseen embroidery and collages from the 1980s, alongside new pen and ink drawings, fresh from the artist's studio in Iran. Over 70 works are on display, encompassing a multitude of artistic genres which inform the artist's practice On showing her work in Ireland Monir Shahroudy Farmanfarmaian said "The Irish and the Iranians share a love of poetry in their cultures. My poetry is in my art, and I am honoured to share it in this IMMA exhibition". Born in Qazvin, Iran in 192 ...
More
The Best Photos of the Day
'Queen of Soul' Aretha Franklin gravely ill, 'in hospice care'
The Art Museum of Estonia exhibits "Michel Sittow: Estonian Painter at the Courts of Renaissance Europe"
South African splendour: Key works from Gerard Sekoto's time in South Africa lead at Bonhams


In this file photo taken on March 5, 2012 US singer Aretha Franklin performs at The Fox Theatre in Atlanta, Georgia. RICK DIAMOND / GETTY IMAGES NORTH AMERICA / AFP.



DETROIT (AFP).- Music legend Aretha Franklin is gravely ill and reportedly receiving hospice care, friends of the singer said Monday, as prayers and well wishes poured in for the Grammy-winning 'Queen of Soul.' The 76-year-old Franklin -- who influenced generations of female singers with unforgettable hits such as "Respect" (1967), "Natural Woman" (1968) and "I Say a Little Prayer" (1968) -- is said to be surrounded by her family and friends in Detroit. Franklin has cemented her place in American music history with her powerful, bell-clear voice that stretched over four octaves. In her decades-long career, her hits spanned the genres, from soul to R&B, to gospel and pop. She was the first woman to be inducted into the Rock and Roll Hall of Fame in 1987. In 2010, Rolling Stone magazine put her at the top of its list of the 100 greatest singers of all ... More



Michel Sittow (u 1469–1525), The Portrait of a Man with the Pearl. 1515–1517. Oil on panel. 22.4 × 17.8 cm. Royal Collection, National Heritage Board, Palacio Real de Madrid © Patrimonio Nacional / photo: Joaquín Cortes.



TALLINN.- The Art Museum of Estonia, in collaboration with the National Gallery of Art in Washington DC, is organising a large-scale exhibition on Michel Sittow (ca 1469–1525), a painter from Estonia who became a sought-after and highly renowned artist in the royal courts of Europe at the turn of the 15th and 16th centuries. The acclaimed master had been forgotten for centuries when documents found in the Tallinn city archives identified this historical individual a few decades ago. Now, nearly 500 years after his death, his first solo exhibition is being organised. Today, experts on Netherlandish art highly value Michel Sittow's paintings, which are exquisitely executed. His oeuvre, which covers a period of about twenty years, is scattered among famous museums around the world: the Louvre, the Kunsthistorisches Museum in Vienna, ... More



Portrait of a Man Seated, Gerard Sekoto, estimated £100,000-150,000. Photo: Bonhams.



LONDON.- Widely recognised as a pioneer for black South African modern art, Gerard Sekoto, (1913-1993) leads Bonhams South African Sale. The top two lots Three School Girls (estimate: £120,000-180,000) and Portrait of a Man Seated (estimate: £100,000-£150,000) were both acquired from the Gainsborough Galleries in Johannesburg and have remained in the same hands for over 50 years. Seen for the first time since they were exhibited in the late 1940s, they will be offered on the 2nd October in Bonhams New Bond Street saleroom. Gerard Sekoto was born in 1913 - son of a missionary and school teacher on the German Lutheran Mission Station in Botshabelo, South Africa, before he moved to Johannesburg in 1938. On arrival, he was shocked by the measures taken to exploit and alienate the black population. Despite the oppressive nature of the regime, Sekoto focused on capturing the humanity of ordinary daily life within the black communities. ... More
Rizzoli announces new book featuring Willy Ronis's unpublished albums
Titanic victim's pocket watch heading to Heritage Auctions by family member
Christie's to offer the Diann G and Thomas A Mann Collection of Photographic Masterworks


Willy Ronis curated and commentated on the iconic images featured in this beautiful volume that retraces his career and contributions to photography and photojournalism.



NEW YORK, NY.- A key figure in twentieth-century photography, Willy Ronis conveyed the poetic reality of postwar Paris and Provence in iconic black-and-white photographs. Influenced by Alfred Stieglitz and Ansel Adams, and well-known among his contemporary Magnum photographers, Ronis was the first French photographer to contribute to Life Magazine. Throughout his life, this powerhouse of humanist photography kept meticulous records of his work, curating each era into albums, which are reproduced here for the first time. Timeless photographs of postwar France and its inhabitants are accompanied by the photographer's original observations and comments, framing the images within their technical and historical context. Photography historian Matthieu Rivallin's critical perspective adds nuance to the photographer's notes, and the ensemble is a groundbreaking ... More



Titanic Victim's Pocket Watch Auctioned by New York Descendant. Photo: Heritage Auctions.



DALLAS, TX.- A pocket watch recovered from a victim of the R.M.S. Titanic, owned by a New York-bound Russian immigrant killed on his way to America accompanied by his wife, is expected to sell for $20,000 or more in Heritage Auctions' Americana & Political Auction Aug. 25. The watch is consigned by a descendant of Miriam and Sinai Kantor, husband and wife named on the official list of Titanic victims and survivors. Both from Vitebsk, Russia, he was just 34 years old, and she just 24, when he paid £26 for ticket No. 244367. The two were among 285 Second-Class passengers and boarded the ship together in Southampton, England. The couple were university graduates; Sinai Kantor was a furrier and intended to sell trunks of furs to fund the couple's goal to each study dentistry and medicine when they arrived and settled in the Bronx, New York. That was until their lives were shattered in the early hours of April 12, 1912. When the Titanic collided ... More



Margaret Bourke-White (1904-1971), Fort Peck Dam, Montana, 1936. Gelatin silver print. Estimate: $100,000-150,000. © Christie's Images Limited 2018.



NEW YORK, NY.- Christie's announces the sale of An American Journey: The Diann G and Thomas A Mann Collection of Photographic Masterworks. On public view in Los Angeles, San Francisco and New York – the sale will take place at Christie's Rockefeller Center the evening of October 4, followed by a morning session on October 5. The collection includes rare examples of works by major figures of the Photo-Secession—Edward Steichen, Gertrude Kasebier, Clarence White, and the quintessential patron and practitioner of American art photography, Alfred Stieglitz—along with numerous masterworks in early American Modernism by Edward Weston and Paul Strand. Alfred Stieglitz was immensely influential in establishing and tirelessly promoting photography as an art form in the United States. He edited and published magazines, promoted photographers through exhibitions at his galleries, and ... More
Bangladesh puts top photographer behind bars
Beatles' Indian hideaway comes together, 50 years on
The Good Luck Gallery opens exhibition of paintings by Jon Serl


Bangladeshi policemen arrive with activists and photographer Shahidul Alam for an appearance in a court, in Dhaka on August 6, 2018. MUNIR UZ ZAMAN / AFP.



DHAKA (AFP).- Award-winning Bangladesh photographer Shahidul Alam was in jail on Monday, 10 days after being arrested following an interview with Al Jazeera about massive student demonstrations, police said. Alam, 63, who accused police of assaulting him in custody and was earlier sent to a hospital for a check-up following an order from the high court, was taken to a magistrate's court late on Sunday. "The court then sent him to jail," police official Moshiur Rahman told AFP. Another police officer told the local Daily Star newspaper that Alam would be kept in prison until the completion of the probe into his charges. Alam was accused of making "false" and "provocative" statements on Al Jazeera and on Facebook Live as tens of thousands of students protested in Dhaka in late July and early August. He also published ... More



This picture taken on June 19, 2018 shows Ajit Singh, 86, owner of the music shop who fixed John Lennon's guitar and performed at George Harrison's 25th birthday party. Sajjad HUSSAIN / AFP.



RISHIKESH.- Fifty years after the Beatles came to India, the bungalows where the Fab Four lived, the post office where John Lennon sent Yoko Ono postcards and the giggling guru's house are all ruins. Maharishi Mahesh Yogi's ashram, where the world's most famous group sought refuge and spirituality in 1968 and wrote much of their seminal "White Album", fell into disuse in the early 2000s. But thanks to the efforts of a group of locals, the site has been reclaimed from the jungle and tourists now roam where tigers and snakes were until recently the most common day trippers. "Before, people used to sneak in, which could be dangerous," said local journalist Raju Gusain, instrumental in rescuing the area overlooking Rishikesh in northern India. "There used to be leopard paw marks and elephant dung," he told AFP on a tour of ... More



John Serl, Equal Rights, 1976 (detail), oil on board, 48.25 x 62".



LOS ANGELES, CA.- The paintings of Jon Serl (1894–1993) are as worn, nuanced, and unexpected as the man himself. Painted on found boards, they traveled with him for years and depict scenes from his multifarious and troubled life. The Good Luck Gallery is presenting the paintings of Jon Serl in partnership with the Tartaglia Collection and in affiliation with Cavin-Morris Gallery, for an exhibition curated by Randall Morris. Born in Olean, NY in 1894 to a family of itinerant carnival/vaudeville performers, Serl was intimate with hardship. One of twelve children, he was starved by his father in order to keep him thin enough to play a woman in the family performances. He would eventually break away from the family business and go on to work as a chuckwagon chef in the Pacific Northwest, a day laboring fruit harvester, a gardener, and a voiceover actor in Hollywood - eventually quitting films in protest of the cruelty ... More
Santa Fe Indian Market embraces the full spectrum of American Indian art establishing Native Art Week
Country of Yeats: Exhibition of photographs by Alen MacWeeney on view in Ireland
Exhibition curated by Robert Curcio and Priska Juschka features works by 10 artists


More than 100,000 visitors are expected to attend the week's events.



SANTA FE, NM.- The world's oldest, largest and most prestigious contemporary Native American art event, Santa Fe Indian Market, marks its 97th year by inviting some of the City's leading institutions, galleries, art markets and Native cultural events, to join in the first coordinated Native Art Week, from August 12 – 19 in 2018. The founding members of Native Art Week have been invited based their academic and cultural importance— and in the case of commercial members, their reputation for authenticity and cultural sensitivity. Announcing the establishment of Native Art Week, Santa Fe Indian Market Executive Director Ira Wilson said, "Native Art Week is an opportunity for the art community to combine efforts and let the world know that August in Santa Fe, NM, is the best place to experience Native American art." Native Art ... More



MacWeeney drew meaning for his photographs from the lines of Yeats' poems.



WEXFORD .- KAMERA ∞ is very pleased to invite you to the opening of our new exhibition featuring the acclaimed Irish-born American Photographer artist, Alen MacWeeney As a young man in the early 1960s, MacWeeney left his native Dublin for New York, where he worked over several years as an assistant to photographer Richard Avedon. He returned to what he called "the Ireland of my imagination" in the summer of 1965 on the occasion of the centenary of the birth of the Irish poet, with the vision of a short-term project inspired by Yeats' poetry and a desire to explore the people, places and settings that inhabited his words. MacWeeney drew meaning for his photographs from the lines of Yeats' poems, and in one of the two portfolios in the gallery, gave meaning to his photographs by pairing them with lines selected from Easter, 1916, Yeats' most powerful political poem. Yeats ... More



Jane Fire, The First Rose Grown in Outer Space (V5), 2017, archival inks printed on canvas, 47 x 38 ins.



NEW YORK, NY.- Lichtundfire and curcioprojects are presenting Luxurious Growth, featuring 10 artists working in painting, sculpture, photography, and digitally. The exhibit is collaboratively curated by Robert Curcio, curcioprojects, and by Priska Juschka, Lichtundfire. The title is taken from a quote by Paul Pitchford, a noted nutritionist and teacher that combines Western and Eastern philosophies - "Summer is a period of luxurious growth. To be in harmony with the atmosphere of summer, awaken early in the morning and reach to the sun for nourishment to flourish as the gardens do. Work, play, travel, be joyful, and grow into selfless service. The bounty of the outside world enters and enlivens us." A magnificent rose perfectly illustrates summer, especially Jane Fire's digital image of a rose grown in space by NASA and sponsored by a perfume company capturing all the ... More
The Grandmaster of Kung Fu Films: Lau Kar-leung | HOW TO SEE Martial Arts Films
Flashback
On a day like today, French photographer Willy Ronis was born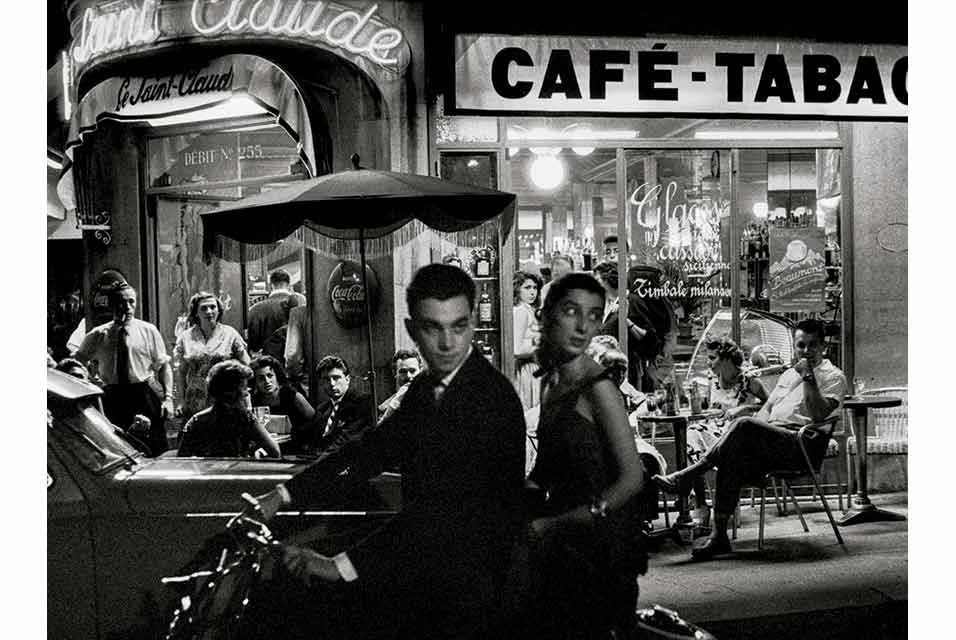 August 14, 1910. Willy Ronis (August 14, 1910 - September 12, 2009) was a French photographer. His best-known work shows life in post-war Paris and Provence. In this image: Willy Ronis curated and commentated on the iconic images featured in this beautiful volume that retraces his career and contributions to photography and photojournalism.
---

Museums, Exhibits, Artists, Milestones, Digital Art, Architecture, Photography,
Photographers, Special Photos, Special Reports, Featured Stories, Auctions, Art Fairs,
Anecdotes, Art Quiz, Education, Mythology, 3D Images, Last Week,
.
---
Royalville Communications, Inc
produces: