Exhibition at Leigh Yawkey Woodson Art Museum presents works by Victor Vasarely
Vasarely's innovative use of optical illusions became popular in the 1960s and 70s, when Op Art extended into everyday life via design, advertisements, and architecture.
WAUSAU, WIS
.-
An exhibition of artwork by the world-renowned father of the Op Art movement, Victor Vasarely, opened at the
Leigh Yawkey Woodson Art Museum
on Saturday, December 1. "Victor Vasarely: Op Art Master," an exhibition from the collection of Herakleidon Museum in Athens, Greece, comprises more than 150 serigraphs, lithographs, and gouache paintings – designed to engage the mind and eye. Vasarely's bold monochromatic and vividly colorful, geometric artworks often seem to swell, recede, undulate, and pulsate. To create this optical trickery – illusions of mass and motion that appear to emanate from his two-dimensional artwork – Vasarely experimented with color, background, geometric combinations, and materials as he sought contrast, distorted grids, and played with perspective. Vasarely's innovative use of optical illusions became popular in the 1960s and 70s, when Op Art extended into everyday life via des ...
More
The Best Photos of the Day
Researchers say ancient ring may bear Pontius Pilate name
Collection of Barbara and Frank Sinatra totals $9.2 million at Sotheby's │ 99% of lots sold
Spectacular show presents magical and dream-like atmospheres by Bosch, Brueghel, and Arcimboldo


Nikolai Ge, Christ and Pilate ("What is truth?"), 1890. Photo: wikipedia.org



JERUSALEM.- Israeli researchers say an inscription on an ancient ring discovered near Jerusalem may include the name of Pontius Pilate, the Roman official who Biblical accounts say sentenced Jesus to death. It would be a rare example still in existence of an inscription with the name of the man believed to have sent Jesus to his crucifixion. The researchers recently announced their analysis of the inscription on the ring -- which was actually found some 50 years ago -- in Israel Exploration Journal. The journal is published by the Israel Exploration Society and the Institute of Archaeology at Jerusalem's Hebrew University. They say the copper-alloy ring, dated to around 2,000 years ago and used to apply a seal, was found at Herodium, an ancient palace built by King Herod near Jerusalem and Bethlehem, today located in the occupied West Bank. The palace later became a fortress for Jewish rebels fighting the Romans. An inscription in Greek ... More



Frank Sinatra, Untitled, 1991. Oil on canvas, 31 1/4 x 21 1/4 in.; 79.4 x 54 cm. Estimate: $10/15,000. Sold for: $100,000. Courtesy Sotheby's.



NEW YORK (AFP).- It was definitely "All" rather than "Nothing at All" at a Frank Sinatra auction in New York, where items owned by the late icon and his fourth wife fetched $9.2 million, Sotheby's said Friday. And 99 percent of the lots, spread out this week in the US financial and entertainment capital, and online, were snapped up, attracting 300 bidders from more than 30 countries, the auction house announced. Up for grabs was furniture, art and personal effects dating back to the couple's 22-year marriage -- art and furniture from their homes in Palm Springs, Los Angeles and Malibu -- as well as scripts and screenplays. The top lot was Barbara Sinatra's 20-carat diamond engagement ring, given to her in the bottom of a champagne glass, which went for $1.7 million. Many of the items fetched substantially more than their pre-sale estimates. They included a Norman Rockwell portrait of Sinatra, which the singer ... More



Giuseppe Arcimboldo (1527-1593), Ritratto surreale dell'imperatore Rodolfo II, 1590. Olio su tela, 70,5x57 cm. Gripsholm Castle Collection, Sweden / © Bridgeman Images.



PISA.- For the first time ever in Italy, a digital art spectacular devoted to great artists of the 16th century. A new format that reveals the powerful impact, exuberance and majesty of works by Bosch, the Brueghel dynasty and Arcimboldo, as never before. The great spectacular show Bosch, Brueghel, Arcimboldo has arrived in Pisa, with its magical and dream-like atmospheres that envelop the public and fully immerse them in the artworks through a combination of images, music and technology. A 30-minute spectacular with over 2,000 images and music ranging from Carmina Burana by Carl Orff to Vivaldi's Four Seasons and the 2012 tribute version of Stairway to Heaven by Led Zeppelin: the Arsenali are populated by a multitude of fantastical and allegorical creatures whose brilliant colours change constantly in a lyrical and poetic atmosphere. Alchemy, religion ... More
Exhibition brings together the best of Martin Parr's food observations
Art from the last two millenia draw collectors from around the globe
Exhibition at Cummer Museum features works by Harlem Renaissance artist


Martin Parr, Boy with Popsicle (detail).



NEW YORK, NY.- Janet Borden, Inc. announces a new exhibition of photographs by the inimitable Martin Parr. Holiday Parr-ty: British Food Photographs by Martin Parr brings together the best of Parr's food observations. Since 1995, when this "British Food" series originated, Parr has been capturing the delectable, the gross, the ridiculous, and the adorable in food and food consumption throughout the world. He never fails to identify the uniquely national qualities of various meats, sweets, and plates. This series represents the hallmark of his work, which has made him the most familiar and successful photographic artist in Europe. Every type of British food is paraded in front of his camera, from the famous Full English Breakfast, to the dainty tea scone, from mushy peas to Champagne at Ascot. Parr's interest ranges from the high-brow to street food, equalizing it all with his unique style and sense of color. He started taking photographs of food 25 years ago. At the time ... More



Rembrandt Harmensz. van Rijn, Study of the Head and Clasped Hands of a Young Man as Christ in Prayer, oil on oak panel, (est. £6,000,000-8,000,000). Courtesy Sotheby's.



LONDON.- As the year's sales draw to a close, collectors came together in London this week to celebrate the heights of artistic creativity over the last two millennia. Sotheby's London sales concluded with a combined total of £45,566,613 / $58,084,687 / €51,240,012. Strong performances across five sales, including Old Master Paintings, Sculpture and a dedicated sale of portrait miniatures saw exceptional sell-through rates with totals exceeding their pre-sale estimates. • Together the Old Masters Evening and Day sales totalled £34,563,175 / $44,030,820 / €38,883,625 • Participants from 22 countries with strong bidding from new and traditional markets, particularly UK • 85.7% sell-through rate achieved for the Evening sale - the highest achieved in the category in London, with 45% of lots selling above top estimates ... More



Augusta Savage (1892–1962), Gwendolyn Knight, 1934–35, recast 2001. Bronze, 18½ x 8½ x 9 in. Walter O. Evans Collection of African American Art.



JACKSONVILLE, FLA.- "Augusta Savage: Renaissance Woman" is the first exhibition to reassess Savage's contributions to art and cultural history through the lens of the artist-activist. Organized by the Cummer Museum and featuring sculptures, paintings and works on paper, the show is on view through April 7, 2019. Savage is a native of Green Cove Springs, near Jacksonville, and became a noted Harlem Renaissance leader, educator, artist and catalyst for change in the early 20th century. The exhibition, curated by the Cummer Museum and guest curator Jeffreen M. Hayes, Ph.D., brings together works from 21 national public and private lenders, and presents Savage's small- and medium-size sculptures in bronze and other media alongside works by artists she mentored. Many of the nearly 80 works on view are rarely seen publicly. "While Savage's artistic skill was widely ... More
'The King' of the road: German town puts Elvis on traffic lights
Sculptor's awe of animal kingdom highlighted in "Modern Menagerie"
Apollo Theater announces the first phase in creating the Apollo Performing Arts Center


A pedestrian trafic light customized with a dancing Elvis Presley is pictured in Friedberg, western Germany, on December 7, 2018. Yann Schreiber / AFP.



FRIEDBERG (AFP).- Cross the road, it's now or never. Or that's what residents in the German town of Friedberg may start humming when their traffic light jumps to green to reveal a hip-swivelling Elvis Presley. The jailhouse rocker performed his military service there between 1958 and 1960 and the town remains all shook up about its celebrated visitor. To commemorate the "Love me Tender" singer's link to Friedberg, located north of Frankfurt, local authorities have transformed three traffic lights into Elvis lights. On red, they show the music icon standing at his microphone. On green, Elvis is seen mid-hip shake, performing his trademark move on tip toes. The town, which calls itself "the army home of Elvis", already has a giant Elvis statue on a roundabout near the former US barracks. "Elvis holds a special place here and that's why he is honoured and appreciated, ... More



Loet Vanderveen, Antelope, 1988. Bronze with patina, 24 1/2 x 18 1/4 in. Crocker Art Museum, Loet Vanderveen Collection, 2016.60.16.



SACRAMENTO, CA.- The Crocker Art Museum announced the opening of "Modern Menagerie", an exhibition of sculptures by Loet Vanderveen, a California artist originally from the Netherlands. Vanderveen (1921–2015) became internationally recognized for his remarkable ability to capture animals' subtle expressions and gestures with minimal detail. The exhibition primarily features works from the Crocker's permanent collection. "Loet Vanderveen was a great friend to the Crocker. He gifted the Museum with his personal art collection as well as many of his own sculptures," said the Museum's Director and CEO, Lial Jones. "We are delighted to show his works together in this exhibition, and present the community with this opportunity to appreciate his minimalist aesthetic, as well as connect with his personal narrative and his lifelong fascination with the ... More



Rendering of the interior of a theater at the Victoria. Photo: Kostow Greenwood Architects.



HARLEM, NY.- The Apollo Theater announced today that it is undertaking the initial phase of the iconic Theater's transformation into the Apollo Performing Arts Center through two new theaters within the Victoria Theater Redevelopment Project at 233 West 125th Street. The theaters will be the first physical expansion of the Apollo in its nearly 85-year history. Scheduled to open in fall 2020, the two new theaters at the Victoria space will allow the nonprofit Apollo Theater, which will operate the spaces, to increase the number of programming, educational, and community programs it offers. They will also house the Classical Theatre of Harlem, Harlem Arts Alliance, and Jazzmobile, the cultural partners designated by Empire State Development, enhancing Apollo's advocacy for African-American, African-diasporic, and Harlem-based artists and culture. In conjunction with the initiative, the Apollo will develop ... More
Newark Museum exhibition celebrates sparkling gift of Steuben Glass
Betty Cuningham Gallery presents a survey of Judy Glantzman's work from 1979 to the present
Zhanna Kadyrova awarded the 2018 Miami Beach PULSE PRIZE


Gold Aurene vase with applied prunts & threading, c. 1913, Steuben Glass Works. The Thomas N. Armstrong III Collection, Gift of the Thomas N. Armstrong Family, 2018 2018.20.67.



NEWARK, NJ.- A sparkling, colorful gift of Steuben glass from The Thomas N. Armstrong III Collection will be on display in an upcoming exhibition at the Newark Museum. Unexpected Color: A Journey Through Glass, opening on April 28, 2019, showcases more than 130 works in glass designed by Frederick Carder for the famed Steuben Glass Works from 1903 to 1933 and used in a variety of settings by the collector. The exhibition presents a jewel box of shimmering glass, organized by Carder's colors that he created and patented. Carder was fascinated with ancient glass colors and forms, and he worked to recreate the iridescent colors of excavated ancient Greek and Roman glass. He also designed new shapes inspired by Chinese and Venetian glass as ... More



Installation view.



NEW YORK, NY.- Betty Cuningham Gallery is presenting a survey of Judy Glantzman's work from 1979 to the present. The exhibition, runs through Sunday, January 13, 2019. It is Glantzman's fifth solo exhibition with the Gallery. A single dominant strain which has run through Glantzman's work over the last 40 years is her compassion - her effort to put herself in her subject's shoes. She has often said it is like "holding hands," both literally and figuratively. I come from a self-portrait orientation…. The more I am in it, the truer it is. And the more I am in it, the less it is about me – even though in truth it is all about me…. There are two things going on, one is to reveal myself to myself and the other is to make something visual with my hands. The current exhibition includes paintings, sculpture and works on paper, all depicting expressive renditions of the figure. Whether carving, mol ... More



Zhanna Kadyrova, Voloshyn Gallery, Booth S-111. Courtesy of BFA.com / Tiffany Sage.



MIAMI, FLA.- PULSE Contemporary Art Fair announced Zhanna Kadyrova has received the 2018 Miami Beach PULSE PRIZE, a jury-awarded, cash grant of $2,500 given directly to an artist of distinction, exhibiting in a SOLO booth at the fair. For the fourteenth edition of PULSE Miami Beach, led by the fair's director, Katelijne De Backer, Zhanna Kadyrova was selected by a jury of emerging and established authorities in the industry, including Kimberly Drew, Writer and Independent Curator; Cristina Favretto, Head of Special Collections at University of Miami; Jennifer Inacio, Curator at Perez Art Museum Miami; Rosa Lowinger, Independent Curator; Zoe Lukov, Curator at Faena Art; Leilani Lynch, Curator at Bass Museum of Art; and Vere Van Gool, Associate Director of IdeasCity at New Museum who says it's "exciting to join the PULSE ... More
Installation Tour of Art of Native America 2/9: Polacca Polychrome Water Jar
Flashback
On a day like today, American photographer Berenice Abbott died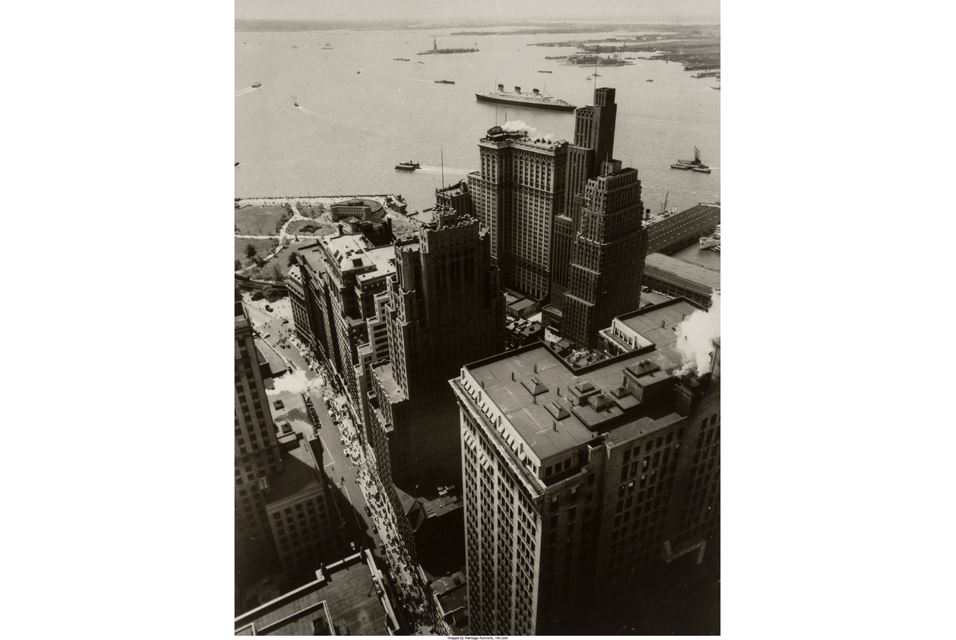 December 09, 1991. Berenice Abbott (July 17, 1898 - December 9, 1991), née Bernice Alice Abbott, was an American photographer best known for her portraits of between-the-wars 20th century cultural figures, New York City photographs of architecture and urban design of the 1930s, and science interpretation in the 1940s to 1960s. In this image: Berenice Abbott (American, 1898-1991), Broadway to the Battery, May 4, 1938. Gelatin silver, 9-1/2 x 7-1/4 inches.
---

Museums, Exhibits, Artists, Milestones, Digital Art, Architecture, Photography,
Photographers, Special Photos, Special Reports, Featured Stories, Auctions, Art Fairs,
Anecdotes, Art Quiz, Education, Mythology, 3D Images, Last Week,
.
---
Royalville Communications, Inc
produces: