Paris Pompidou Centre to open franchise art gallery in Shanghai
This file photo taken on September 18, 2015 shows a view of the Georges Pompidou center in Paris.
PARIS
(AFP)
.-
The Pompidou Centre in Paris, which houses the world's second biggest collection of modern art, said Tuesday that it was close to signing a deal for a franchise gallery in Shanghai. It will show around 20 exhibitions over five years in a wing of the new West Bund Art Museum, which is being built in the cultural district of China's commercial capital by British architect David Chipperfield. The Paris gallery, which also has plans to open branches in South Korea and Belgium, has been in talks for more than a decade with the Chinese authorities. Last year it staged its first show in China called "Masterpieces from the Centre Pompidou 1906-77" featuring work by Pablo Picasso, Marcel Duchamp and other big names at the Shanghai Exhibition Centre. The gallery said it had signed a protocol with the publicly-owned West Bund Group for a renewable five-year deal to stage exhibitions in the new museum from 2019. ...
More
The Best Photos of the Day
Paris show of Impressionist masterpieces never seen in West
Prince William, Kate 'moved' by concentration camp visit
Tate to show "The EY Exhibition: Impressionists in London, French Artists in Exile (1870-1904)"


Jean-Auguste Renoir, Portrait de Jeanne Samary ou La Rêverie. Huile sur toile, 56 × 47 cm, 1877. Musée des beaux-arts Pouchkine, Moscou (ancienne collection Morozov) © Musée des beaux-arts Pouchkine.



PARIS (AFP).- One of the world's greatest private collections of modern art is to be shown outside Russia for the time, exhibition organisers said Tuesday. The Louis Vuitton Foundation gallery in Paris, which had a smash-hit show earlier this year with another rarely seen Russian collection of early 20th-century masters, said the paintings amassed by the Morozov brothers will shown in the French capital in 2020. The rich Moscow industrialists Mikhail and Ivan Morozov gathered a staggering trove of paintings by Van Gogh, Cezanne, Renoir and Monet before the Russian revolution. Some 200 canvasses including some by Matisse, Picasso, Bonnard, Maurice Denis and Derain will go on show in Paris for four months, the foundation said. More than 1.2 million people flocked to see a show called the "Icons of Modern ... More



Britain's Prince William, Duke of Cambridge (hidden), and his wife Kate, the Duchess of Cambridge (2nd R), visit the former Stutthof Nazi concentration camp near Gdansk, Poland, on July 18, 2017. Simon Krawczyk / AFP.



GDANSK (AFP).- Prince William and his wife Kate said Tuesday they were "intensely moved" by their visit to a former Nazi German concentration camp, on a diplomacy tour of Poland and Germany following the Brexit vote. "All of us have an overwhelming responsibility to make sure that we learn the lessons and that the horror of what happened is never forgotten and never repeated," the royal couple said in the visitor's book of the site near the Baltic port city of Gdansk. "We were intensely moved by our visit to Stutthof, which has been the scene of so much terrible pain, suffering and death," added the message signed "William Catherine". Kate and William also met five former camp prisoners, including two Britons, while at the site that Nazi Germany set up in 1939. While not officially tied to British-EU diplomatic relations, the royal couple's ... More



Camille Pissarro (1830 – 1903), Kew Green, 1892 (detail). Oil paint on canvas, 460 x 550 mm. Musee d'Orsay (Paris, France).



LONDON.- This autumn, Tate Britain will bring together over 100 beautiful works by Monet, Tissot, Pissarro and others in the first large-scale exhibition to chart the stories of French artists who sought refuge in Britain during the Franco-Prussian War. The EY Exhibition: Impressionists in London, French Artists in Exile (1870-1904) will map the artistic networks they built in Britain, consider the aesthetic impact London had on the artists' work, and present instantly recognisable views of the city as seen through French eyes. The EY Exhibition: Impressionists in London will look at French painters' keen observations of British culture and social life, which were notably different to the café culture found in Paris. Evocative depictions of figures enjoying London parks such as Pissarro's Kew Green 1892 will be shown, that were in stark contrast to formal French gardens where walking on the grass was prohibited. Scenes of rega ... More
Artsy raises $50M in Series D funding
Britain unveils Jane Austen bank note on anniversary
Previously unexhibited paintings and works on paper by Alice Neel on view at Victoria Miro Venice


Artsy's President & COO Sebastian Cwilich.



NEW YORK, NY.- Artsy, the leading global platform for discovering and collecting art, today announced $50M in Series D investment. Avenir Growth Capital led the round, joined by L Catterton, Thrive Capital, Shumway Capital and leaders in art, media, and technology, including Larry Gagosian (founder of Gagosian Gallery), Joe Gebbia (Airbnb co-founder), members of the Rockefeller and Acquavella families, Greg Maffei (Liberty Media), Dasha Zhukova (Artsy co-founder, founder of Garage Museum of Contemporary Art), current board members Wendi Murdoch (Artsy co-founder and film producer) and Sky Dayton (Earthlink, Boingo), and new board members Rich Barton (Expedia, Glassdoor, Zillow) and Bob Pittman (MTV co-founder, iHeartMedia CEO). Andrew Sugrue (co-founder of Avenir Growth Capital) also joined the board as part of the round. Since launching in 2012, Artsy has created the world's leading online platform for discovering and collecting art. Artsy partners ... More



Bank of England Governor Mark Carney poses with one of the central bank's new ten pound notes, featuring author Jane Austen, during its launch at Winchester Cathedral. Chris J Ratcliffe / AFP.



WINCHESTER (AFP).- The Bank of England on Tuesday unveiled a new bank note featuring Jane Austen to coincide with the author's death 200 years ago after a campaign to include more women on Britain's currency. The new note worth ten pounds ($13, 11.3 euros) and made of polymer instead of paper will enter circulation in September. Tuesday's launch follows the introduction of a polymer five-pound note last year that sparked controversy after the Bank of England confirmed that tallow, or animal fat, is used in the production process. Activists and religious groups have called for sustainable, plant-based alternatives, but while the BoE is continuing to use tallow, it is looking at the possibility of finding a different product in time for the release of its polymer 20-pound note due 2020. The Bank of England has praised the new notes for being ... More



Alice Neel, Sarah Shiller, 1952. Oil on canvas, 55.9 x 45.7 cm. 22 1/8 x 18 in © The Estate of Alice Neel. Courtesy David Zwirner, New York/London and Victoria Miro, London.



VENICE.- A new chapter of the acclaimed exhibition Alice Neel, Uptown, curated by the Pulitzer Prize winning critic and author Hilton Als, opened at Victoria Miro Venice. Curated by Als especially for the Venice gallery and including a number of previously unexhibited paintings and works on paper, this concise exhibition draws on the rich body of work created by Neel during the period in which she lived and worked in upper Manhattan, first in Spanish (East) Harlem, where she moved in 1938, and, later, the Upper West Side, where she lived from 1962 until her death in 1984. The exhibition shares themes with presentations of Alice Neel, Uptown at David Zwirner, New York (February – April 2017), and Victoria Miro, London (until 29 July 2017), while offering a new focus on Neel's paintings and drawings of women and children. ... More
Untitled, Art appoints Manuela Mozo as Director
Rauschenberg at the 1964 Venice Biennale, New documentary due in March
Hollywood honors Marvel Comics legend Stan Lee


Manuela Mozo, Director, Untitled, Art. Photo by M. Sharkey.



NEW YORK, NY.- Untitled, Art announced today that it has appointed Manuela Mozo as Director. In this new role, Manuela will lead the international development of Untitled and oversee the curatorial and strategic vision of the fairs in Miami and San Francisco. Bringing with her a wealth of experience in the commercial gallery sector, where she has worked closely with artists, gallerists, institutions and collectors for over twenty years, Manuela's appointment reinforces Untitled's commitment to furthering its innovative model, and keeping artists and curatorial excellence at the forefront of its mission. Manuela officially joins the Untitled team in July 2017. Untitled's new leadership structure will provide founder Jeff Lawson with the opportunity to focus more strategically on optimizing the company's structures and operations, while also retaining overall strategic management of the fairs. Manuela Mozo was a partner a ... More



Robert Rauschenberg exhibition, Venice Biennale, 1964 June 21. Photograph: Shunk-Kender © J. Paul Getty Trust. Getty Research Institute, Los Angeles (2014.R.20).



NEW YORK, NY.- In 1964, when Robert Rauschenberg became the first contemporary American artist to win the Grand Prize in painting at the Venice Biennale, it signaled the beginning of a tumultuous cultural shift, fixing the world's gaze on American art. A new documentary by Amei Wallach, Americans in Venice: Robert Rauschenberg Rewrites the Rules, will tell this story of the intersection of art and international politics and the turbulent events surrounding this landmark moment. Through a rich trove of archival footage and interviews with leading artists, curators, and critics filmed in New York, London, and at the opening of the Venice Biennale this spring, Wallach will foreground the art against a background of world events. The documentary film, which is expected to be released in March 2018, coincides with Robert ... More



Comic-book writer, editor, and publisher Stan Lee poses at his hand and footprint ceremony at TCL Chinese Theatre IMAX, on July 18, 2017, in Hollywood, California. VALERIE MACON / AFP.



LOS ANGELES (AFP).- Stan Lee, whose Marvel superheroes have dominated popular culture for half a century, was honored Tuesday when he plunged his hands and feet into cement at Hollywood's TCL Chinese Theater. In a typically colorful comment, the 94-year-old comic book legend -- whose characters include Spider-Man, the Hulk, Iron Man, Captain America and Thor -- joked that he "would have asked for a raise" if he'd known how good he was. "I've been the luckiest man in the world because I've had friends. And to have the right friends is everything -- people you can depend on, people who tell you the truth if you ask for something," he said. He paid emotional tribute to his "wonderful" wife of nearly 70 years, Joan, who died less than two weeks ago at age 93. It has been a poignant week for Lee, who was honored ... More
New exhibition of photographs of Gerry and the Pacemakers on display at the Museum of Liverpool
First international exhibition by Museum Boijmans Van Beuningen's BVB Collections a success in Japan
New display features artifacts illustrating Biochemist Gertrude Elion's accomplishments, including her 1988 Nobel Prize


Gerry and the Pacemakers © National Museums Liverpool.



LIVERPOOL.- Photographs which capture the wit, warmth and energy of Merseybeat group, Gerry and the Pacemakers on their rapid rise to fame, went on display at the Museum of Liverpool from 14 July to 7 January 2018. Gerry and the Pacemakers: Hit Makers and Record Breakers is a new exhibition of more than 30 images by local photographers, Graham Spencer and Peter Kaye. Singer, Gerry Marsden said: "To see these images takes me back to those incredible days. From meeting fans to performing at the Cavern and photoshoots around Liverpool, they give a glimpse of what an exciting time it was. "It is an honour to have the exhibition on display at the Museum of Liverpool which celebrates Liverpool as a hotbed of outstanding talent and creativity." Following The Beatles' incredible success in 1963, the Merseybeat explosion catapulted local groups to national fame, in particular Gerry and the Pacemakers. ... More



Collection of Museum Boijmans Van Beuningen - Bruegel's 'The Tower of Babel' and Great 16th Century Masters at Tokyo Metropolitan Art Museum. Photo: Asahi Shimbun.



OSAKA.- The first major international exhibition based on the collection of Museum Boijmans Van Beuningen, Bruegel's 'The Tower of Babel' and Great 16th Century Masters, closed its doors on 2 July at Tokyo Metropolitan Art Museum with a total of 379.527 visitors. The exhibition has now travelled to Osaka, where it was officially opened today at the National Museum of Art, Osaka, with an equal success expected. This exhibition marks the launch of BVB Collections, an exhibitions programme of internationally touring shows from the Museum Boijmans Van Beuningen's collection. Collection of Museum Boijmans Van Beuningen - Bruegel's 'The Tower of Babel' and Great 16th Century Masters at Tokyo Metropolitan Art Museum. Photo: Asahi Shimbun. A remarkable success among the visitors in Tokyo, Bruegel's 'The Tower of Babel' and Great ... More



Installation view.



PHILADELPHIA, PA.- Visitors to the National Museum of American Jewish History (NMAJH) now have the opportunity to learn about biochemist Gertrude B. Elion and her groundbreaking medical research in the Museum's Only in America® Gallery/Hall of Fame, located on the free-ofcharge first floor. The gallery features several artifacts illustrating Elion's Nobel Prize-winning work, which led to the development of medicines used to treat leukemia, rheumatoid arthritis, malaria, herpes, and organ transplant rejection. Her honor is tied to the theme of Jewish American Heritage Month held this past May, which celebrated American Jews in Medical Research. "On the heels of Jewish American Heritage Month, NMAJH is proud to expand Only in America® to include Gertrude Elion—a medical pioneer who deserves to be a household name," said Ivy Barsky, NMAJH's CEO and Gwen Goodman Director. "At a time when women had few opportunities to participate ... More
Tales From the Cryptic Species - Shelf Life #16
Flashback
On a day like today, French painter Edgar Degas was born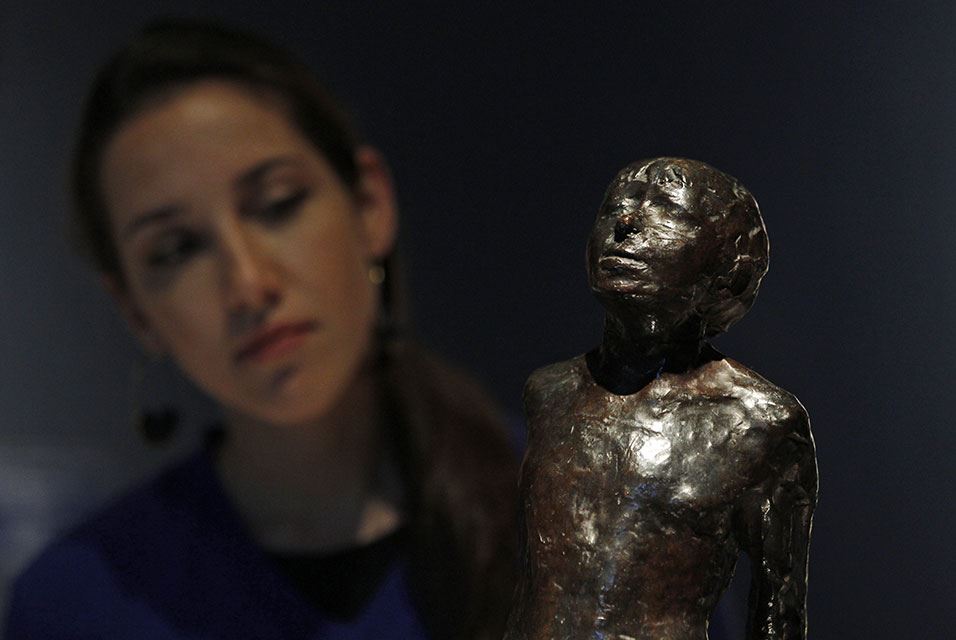 July 19, 1834. Edgar Degas (19 July 1834 - 27 September 1917), was a French artist famous for his work in painting, sculpture, printmaking and drawing. He is regarded as one of the founders of Impressionism although he rejected the term, and preferred to be called a realist. A superb draftsman, he is especially identified with the subject of the dance, and over half of his works depict dancers. In this image: An auction house worker poses for the photographers behind a sculpture by Edgar Degas, ahead of an auction sale in central London, Friday, June 15, 2012.
---

Museums, Exhibits, Artists, Milestones, Digital Art, Architecture, Photography,
Photographers, Special Photos, Special Reports, Featured Stories, Auctions, Art Fairs,
Anecdotes, Art Quiz, Education, Mythology, 3D Images, Last Week,
.
---
Royalville Communications, Inc
produces: