Home at last: After 14 years the stolen Van Goghs are back in the museum
Restorer Kathrin Pilz researches 'Congregation Leaving the Reformed Church in Nuenen' under the microscope. Photo: Jan-Kees Steenman.
AMSTERDAM
.-
After an absence of 14 years, the two paintings by Van Gogh that were feared lost are again on display in the
Van Gogh Museum
. The works were stolen from the collection in 2002 by thieves who needed only a few minutes for the entire operation. The theft was a major blow to the art world. Last September, a team from the Italian Guardia di Finanza stumbled upon the two paintings during a house search in the vicinity of Naples. Thanks to the concerted efforts of the Italian and Dutch authorities, the works could be released relatively soon and begin their journey back to the Netherlands. Starting today, they have resumed their place in the museum's collection and are on display in the state in which they were found, without their frames. 'The homecoming of the recovered paintings means that our collection is once again complete, and we can close the door on this particularly painful period in our history. I've been loo ...
More
The Best Photos of the Day
The National Gallery opens first new gallery in 26 years
Christie's to offer Cy Twombly's great clandestine masterpiece in New York
Exhibition dedicated to the years shared between Pablo Picasso and Olga Khokhlova opens


New Gallery B with Rubens and Rembrandt display © The National Gallery, London.



LONDON.- The National Gallery announced that on 22 March 2017 it will open Gallery B to the public. This will be the first new gallery space created at the National Gallery in 26 years. Gallery B – which was designed by architects Purcell – adds an additional 200 square metres of display space to the main Wilkins Building and opens up the ground floor. This creates a direct public route from the Portico Entrance on Trafalgar Square through to the Pigott Education Centre Entrance on Orange Street (at the rear of the Gallery). For the first time, visitors can now explore all of the Ground Floor Galleries and progress up to the Main Floor whilst enjoying a continuous viewing experience. It is intended that these now interconnected galleries will host a wide range of education programme activities along with special displays and exhibitions. The launch of Gallery B also marks the daily opening of Gallery A, previously open ... More



Cy Twombly, Leda and the Swan, 1962 (detail). Estimate $35-55 million. © Christie's Images Limited 2017.



NEW YORK, NY.- Christie's will offer Cy Twombly's Leda and the Swan, 1962 as a highlight of its May 17 Post-War and Contemporary Art Evening Sale. This unequivocal tour de force has resided within a private collection for over 25 years and has not been seen publicly in all that time. One of two large format masterpieces to emerge from this unbridled subject, Leda and the Swan's heroic sister painting of the same title is among the most popular works on view within the permanent collection of the Museum of Modern Art in New York. Never before at auction, the painting has only had two private owners and is completely fresh to the market (estimate $35-55million). Koji Inoue, International Director, Post-War and Contemporary Art, remarked: "Hidden from public view for over 25 years, we are thrilled to present one of Cy Twombly's absolute masterpieces ... More



Pablo Picasso, Femme lisant, 1920. Huile sur toile, 100 x 81,2 cm. Grenoble, musée de Grenoble. Don de l'artiste, 1921. Photographie © Musée de Grenoble.



PARIS.- From 21 March to 3 September 2017, the Musée national Picasso-Paris presents the first exhibition dedicated to the years shared between Pablo Picasso and his first wife, Olga Khokhlova. Through a rich selection of more than 350 works of art, paintings, drawings, unseen written and photographic archives, the exhibition attempts to understand the execution of Picasso's major artworks between 1917 and 1935 by recreating his artistic production filtered through the social and political history of the interwar period. Olga Khokhlova was born to a colonel in 1891, in Nizhyn, a Ukrainian town located within the Russian Empire. In 1912, she entered the prestigious and innovative Russian Ballet directed by Sergei Diaghi-lev. It was in Rome, spring 1917, where she met Pablo Picasso while he was producing, upon invitation of Jean Cocteau, the decorations and costumes of the ... More
Sotheby's NY to unveil Diego Rivera's 'Retrato de la Actriz Matilde Palou"
Jane Austen faked her own marriage twice
With record-breaking blockbuster sales, Asia Week New York rings up over $423 million


Diego Rivera, Retrato de la Actriz Matilde Palou, 1951 (detail). Oil on canvas. Estimate: $2/3 million. Photo: Sotheby's.



NEW YORK, NY.- Sotheby's announced that it will offer Diego Rivera's iconic painting, Retrato de la Actriz Matilde Palou, in its Latin American Modern Art Evening Sale on 25 May in New York. Regarded as one of the artist's finest portraits to have ever appeared at auction, this late work transcends the legendary beauty of this Mexican Golden Age film star, transforming her into an icon of Mexican identity. Having last appeared at auction at Sotheby's in 1988, the painting returns to the market during a time of renewed interest in Mexican Modernism, as evidenced by recent exhibitions at both the Philadelphia Museum of Art and the Dallas Museum of Art. The portrait will travel this week to Los Angeles, and will be on public exhibition for the first time in nearly 30 years from 22 through 25 March from 10AM-5PM in the new Sotheby's Galleries (2029 Century Park E #2950, Los Angeles). Rivera's larger-than-life painting is ... More



This file photo taken on April 16, 2007 shows a detail of "The Rice Portait of Jane Austen" by British painter Ozias Humphry (1742-1810). STAN HONDA / AFP.



LONDON (AFP).- British author Jane Austen, known the world over for her insightful take on 19th century society, created fake marriage documents with two separate men, archives have revealed. In her novels, Austen wove tales of heroines navigating the patriarchal customs of the time to find stability and social status through advantageous marriages. But the author herself never wed. However, two fake marriage entries, written by Austen herself and announcing her union with two men believed to be imaginary, will soon go on display to mark the bicentenary of her death, the Hampshire Archives announced. The documents were found in the marriage register in the parish of Steventon, in Hampshire in southeast England, where Austen grew up. They announce the banns -- a public announcement by the church of imminent nuptials -- between Austen and Henry Fitzwilliam of London and then ... More



A Buddha from Burma, circa 12th century, from the Pagan period. Photo: Courtesy of Kapoor Galleries.



NEW YORK, NY.- Despite the frigid temperatures, Asia Week New York—the ten-day Asian art extravaganza—which concluded on March 18, 2017 roared to a close with a record-breaking $423 million in combined sales which included the fifty galleries and five auction houses: Bonhams, Christie's, Doyle, iGavel, and Sotheby's. The annual event was celebrated with a gala reception on March 13, co-hosted with the Asian Department of the Metropolitan Museum of Art. Thomas P. Campbell, the director of The Metropolitan Museum, Mike Hearn, Chair of the Asian Art Department and Lark Mason, chairman of Asia Week New York welcomed 750 collectors, curators and Asian art specialists. The event ignited excitement even further when the Asian art world buzzed with recording-breaking auction sales that were packed with international buyers from Mainland China, Taiwan, India, Japan, Korea, Europe and the United States. "With the influx of ... More
Pace Gallery to open new gallery space at H Queen's, following recent expansion into Korea
Sotheby's to offer quintessential Hammershøi interior from the Estate of Jens Risom
New Facebook bot for visitors to Anne Frank museum


H Queen's rendering image. Photo: Courtesy of H Queen's.



HONG KONG.- Pace Gallery announced the opening of the second space in Hong Kong in the H Queen's building, an award-winning development on 80 Queen's Road Central, by end of the year. Having recently expanded into Korea with the opening of Pace Seoul, the gallery looks forward to a greater reach throughout Asia and beyond. The new space at H Queen's will showcase a strong line up of exhibitions by the most prominent artists represented by Pace Gallery, including Julian Schnabel, Chuck Close, David Hockney, Alexander Calder, Robert Rauschenberg, Lee Ufan, Adrian Ghenie, Robert Mangold, Li Song song, Zhang Xiaogang and Yue Minjun. The existing gallery in The Entertainment Building will continue to operate, with exhibitions by Leo Villareal, Kevin Francis Gray and Prabhavathi Meppayil which are confirmed for 2017. As one of the world's leading galleries, Pace has long been deeply involved with Asian artists and the Asian a ... More



Vilhelm Hammershøi, White Doors. Interior, Strandgade 30 (detail), oil on canvas, 39.5 by 42.5cm., 15½ by 16¾in. Estimate: £400,000 - 600,000. Photo: Sotheby's.



LONDON.- This June, Sotheby's will offer at auction a quintessential interior by Vilhelm Hammershøi, long revered as one of Denmark's most celebrated artists. Painted in 1899, White Doors perfectly reflects the interests and sensibilities of its distinguished owners, aesthetes from three generations of the same family. The work comes to sale from the estate of Jens Risom, the renowned Danish American furniture designer, best known for his mass-produced 'Risom Chair'. Estimated at £400,000-600,000, the painting will be offered in Sotheby's sale of 19th Century European Paintings in London on 6 June 2017. Claude Piening, Head of Department, 19th Century European Paintings, commented: 'White Doors is a jewel-like interior, and quintessential Hammershøi in every respect. It is tremendously exciting to be handling this work which has ... More



Prince Constantijn of the Netherlands talks during the presentation of a initiative between the Anne Frank Foundation and Facebook Netherlands. Freek van den Bergh / ANP / AFP.



AMSTERDAM (AFP).- Seven decades ago, the young Jewish diarist Anne Frank is unlikely to have imagined that her story would be kept alive for new generations via a computer-generated bot. But now visitors to the Amsterdam museum, lodged in the house where the teenager wrote her famous diary as she hid from Nazi occupiers, can learn about her history thanks to a unique collaboration with Facebook. "In these troubling times we live in, the story of Anne Frank is more relevant than ever," said museum director Ronald Leopold, unveiling the initiative. "We are concerned about the fact that more the 70 years after the war, half of the visitors are under 30 and they know less than my generation. So it's important to give more historical context and more historical information to connect with that history," he added. The ... More
Janet Borden Inc. opens new exhibition of work by Jim Dow
Vanderbilt University Fine Arts Gallery celebrates the centenary of the Dada movement with exhibition
Exhibition at Ben Brown Fine Arts includes rare examples of ZERO period works by Heinz Mack


Coca-Cola Sign along the Highway, US 72, Burnsville, MS, 1978. 16 x 20" pigment print on 24 x 28" paper Edition of 25.



BROOKLYN, NY.- Janet Borden Inc. announced an exciting new exhibition of work by Jim Dow. Using an 8×10" view camera, Dow painstakingly photographs the light, the atmosphere, the colors, of international dining options. The alluring glow of neon beckons. His signature style elevates and ennobles these quirky locales. He has also eaten in most of them, being a connoisseur and fan of barbecue, tacos, ice cream, and all other foods encountered in his travels. Long exposures allow Dow to illuminate the scene in a way that articulates every detail. This is definitely not the same as an iPhone snap. Dow's images capture a sense of place, a sense of longing, and a sense of excitement. Jim Dow was born in Boston, Massachusetts in 1942. He lives in Belmont, Massachusetts. Dow holds both a BFA and an MFA from the Rhode Island School of Design. Jim Dow has a both an encyclopedic interest and appetite for photographs. His typologies include baseb ... More



Man Ray (American, 1890–1976), The Meeting, plate IV, from Revolving Doors. Conceptualized as collage 1916–1917. Printed in Paris, 1926. Pochoir on paper, 22" x 15" © Man Ray Trust/Artists Rights Society (ARS), NY/ADAGP, Paris 2017. Courtesy Hampshire College Art Gallery.



NASHVILLE, TENN.- Recognizing the centenary and far-reaching importance of a pivotal modern art movement, the Vanderbilt University Fine Arts Gallery has partnered with Vanderbilt's W. T. Bandy Center for Baudelaire and Modern French Studies to present The Dada Effect: An Anti-aesthetic and Its Influence. The exhibition opened March 16. Dada was an artistic and literary movement that took form in New York and Europe during World War I (1914–1918). Seeking to break from tradition, artists and writers were encouraged to focus on the creative process itself rather than the end result. As early as 1915, while proto-dadaists such as Marcel Duchamp and Man Ray worked in New York forming their anti-nationalistic, anti-war, and anti-bourgeois philosophy, Zurich Dada was beginning to develop independently. From its ... More



Heinz Mack, Chromatische Konstellation, Schwarzes Quadrat auf rotem Grund, 2004. Acrylic on canvas, 140 x 106 cm.



HONG KONG.- Ben Brown Fine Arts presents Heinz Mack: Structures, the revolutionary artist's second solo show at the Hong Kong gallery. The exhibition includes paintings, works on paper and reliefs ranging from the artist's renowned ZERO period to the present, examining his lifelong interest in light, colour, form, vibration and sensory perception. The exhibition will run concurrently with Art Basel Hong Kong 2017. Mack made his initial impact on post-war discourse with the ZERO movement, founded with Otto Piene in 1957 in Dusseldorf, Germany, and later joined by Günther Uecker in 1961. ZERO was considered a blank slate or starting point for these young German artists recovering from the ravages of World War II. They strove to challenge and transgress the traditional dictums of art making, to transport art into new spaces, to create an experience for the viewer, and to dissolve boundaries between nature, art and technology, all ... More
Peek inside Sotheby's Cabinet of Curiosities
Flashback
On a day like today, Russian painter Marc Chagall died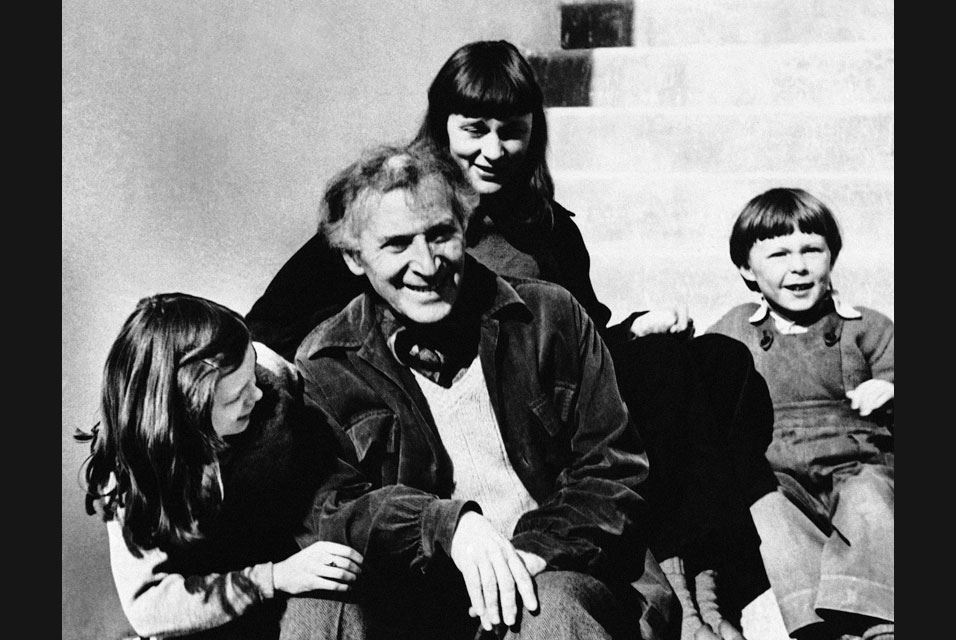 March 28, 1985. Marc Zaharovich Chagall (6 July O.S. 24 June] 1887 - 28 March 1985) was a Russian artist associated with several major artistic styles and one of the most successful artists of the 20th century. He was an early modernist, and created works in virtually every artistic medium, including painting, book illustrations, stained glass, stage sets, ceramic, tapestries and fine art prints. In this image: A picture of Marc Chagall with his family at their home in Vence in the south of France in April 1951. Behind him is his wife Virginian and their children David and Jane are at right and left. Chagall is one of the better-known modern artists. He was born in Witevsk, Russia, 7th July 1887.
---

Museums, Exhibits, Artists, Milestones, Digital Art, Architecture, Photography,
Photographers, Special Photos, Special Reports, Featured Stories, Auctions, Art Fairs,
Anecdotes, Art Quiz, Education, Mythology, 3D Images, Last Week,
.
---
Royalville Communications, Inc
produces: