Exhibition of 19th century drawings made 'en plein air' on view at the Louvre
Diaz de la Pena, Vue d'une route à la lisière d'un bois © RMN-Grand Palais (musée d'Orsay) / Jean-Gilles Berizzi.
PARIS
.-
This exhibition showcases the heterogeneity of French "from the motif" or "from nature" drawing in the first half of the 19th century, with a particular focus on leading figures of French art (Delacroix, Corot, Chassériau, Valenciennes and Daubigny), as well as lesser-known individuals such as the engraver Bléry. Organized with special support from the Bibliothèque Nationale de France and the cooperation of the Musée d'Orsay, the exhibition puts on display over 100 drawings and etchings, and some thirty sketchbooks—the "plein-air' painter's quintessential tool. The practice of drawing "en plein air" or "in the open air", "from the motif", first recorded in 17th-century France (and Europe), became common in the 18th century, and was considered an integral part of every young artist's training in the 19th. The constantly evolving art movement eventually came to be seen as exceptionally important in the histo ...
More

The Best Photos of the Day
The Galloway Hoard has been saved after an appeal raised £1.98m
The great names of art are mobilising themselves for the restoration of Saint-Germain-des-Prés Church
Frank Stella exhibition launches NSU Art Museum Fort Lauderdale's 60th anniversary year


Objects from the Galloway Hoard © National Museums Scotland.



LONDON.- Having achieved a fundraising target of £1.98m, National Museums Scotland has acquired the Galloway Hoard on behalf of the nation and can now begin vital conservation work on this striking collection of Viking-age objects. Discovered in Dumfries and Galloway by a metal detectorist in 2014, the Galloway Hoard consists of more than 100 pieces of gold, silver and jewelled treasure including ingots, arm-rings and brooches – and some particularly striking items such as a gold pin in the shape of a bird and a decorated silver-gilt cup of Continental or Byzantine origin. The hoard is unique in bringing together a remarkable variety of objects in one discovery, hinting at hitherto unknown connections between people across Europe and beyond. Following the allocation of the hoard in May 2017 to National Museums Scotland by the Queen's Lord Treasurer's Remembrancer, NMS had just six months in which to ... More



Bernar Venet, 12 Acute Unequal Angles, 2016. Acier patiné noir, 39,5 x 48 x 15 cm. Estimate: €40.000-60.000. © Christie's Images Limited 2017.



PARIS.- Christie's has partnered with the "Fonds de Dotation pour le Rayonnement de l'Eglise Saint-Germain-des-Prés" to organise a charity sale around the great names of contemporary art. This sale, which will present some forty works of contemporary art, will take place on Monday, 4 December at 7 pm. Saint-Germain is the vibrating heart of Paris. Artists, friends and collectors from around the world are mobilising themselves for the conservation of Saint-Germain-des-Prés' legacy. "Making it possible and contributing to the broadening of the generosity chain" is the goal of Daniel Moquay, head of the Archives Yves Klein, who proposed to collectors, galleries and artists to rally themselves around this challenge: "to have this emblematic heritage living again, the Mecca of culture and a neighborhood known to everyone around the world ". The strategic bias is to focus on artists who have ... More



Frank Stella, Sunapee II, 1966. Alkyd and epoxy paint on canvas. Private Collection, NY © 2017 Frank Stella / Artists Rights Society (ARS), New York, Photo: Jason Wyche.



FORT LAUDERDALE, FLA.- NSU Art Museum Fort Lauderdale presents Frank Stella: Experiment and Change, an exhibition that spans the artist's 60-year career from the late 1950's to the present. The exhibition, composed of approximately 300 paintings, relief sculpture and drawings will offer insight into his trajectory from minimalism (e.g. the geometry of the black paintings) to maximalism (eg. the spatially complex constructionist and large sculptures of the Moby Dick series.) Curated by Bonnie Clearwater, Director and Chief Curator, Experiment and Change leads the museum's 60th anniversary celebration presented by AutoNation, and will be on view from November 12, 2017 to July 8, 2018.
The exhibition juxtaposes works from various periods of Stella's career, revealing his aesthetic development and ... More
Sotheby's to hold dedicated sale of Soviet art to mark the centenary of the Russian Revolution
Auction of Modern and Contemporary Furniture, Design and Art to be held at Doyle
Most significant exhibition of Cuban art in the U.S. in more than 70 years opens at the Walker Art Center


Yuri Ivanovich Pimenov, We Are Building Socialism, 1928. Estimate: £4,000 — 6,000 Courtesy Sotheby's.



LONDON.- In a few weeks' time, Sotheby's will hold its first dedicated auction of Soviet Art to coincide with the centenary of the 1917 Russian Revolution, one of the defining moments of the 20th century. Still too little understood outside the region itself, the artistic legacy of the world's first Socialist Republic is slowly gaining wider international recognition thanks to a number of ambitious exhibitions this year. Recent years have seen promising results for Soviet artists at all price levels in Sotheby's Russian Pictures auctions, most importantly for Georgy Nissky's Over the Snowy Fields which established a new record for any work of Soviet Art when it sold for £1.76 million ($2.95 million) in 2014. This sale of over 120 lots includes examples by 80 different artists from the earliest years of the Soviet Union to 1991. Estimates range from £1,000 to £3.5 million. Covering the avant- ... More



Pair of Vladimir Kagan Upholstered Walnut Contour Lounge Chairs, designed 1958. Est. $12,000-18,000.



NEW YORK, NY.- Doyle's popular Doyle+Design auction on Tuesday, November 21 at 10am showcases furniture, design and art by some of the most prominent designers, makers and artists of the 20th and 21st centuries. The sale presents design that has transformed the way we use living spaces while questioning where we draw the line between fine art and furniture and decorative objects. Furniture by George Nakashima (1905-1990) is renowned for its organic forms that incorporate the natural unfinished edge of the wood plank, as seen in two chests of drawers in the sale (est. each $30,000-50,000). Often chosen in consultation with his clients, the wood used by the Nakashima retains the expressiveness found in the graining and imperfections of each plank. Vladimir Kagan's (1927-2016) furniture from the 1950s took American homes in a completely new direction, re- ... More



Sandu Darie (born Romania, 1908–1991), Sin título (Untitled), c. 1960–1970. Tempera on canvas, 44-1/2 x 36 x 1-15/16 in. Ella Fontanals-Cisneros Collection, Miami.



MINNEAPOLIS, MN.- A landmark exhibition opened at the Walker Art Center on November 11, Adiós Utopia: Dreams and Deceptions in Cuban Art Since 1950, views how Cuba's revolutionary epoch shaped 65 years of Cuban art. This powerful and unprecedented exhibition establishes a new narrative focused on the experiences of artists who lived and trained in Cuba and is a rare opportunity to discover 100 of the most important works of painting, graphic design, photography, video, installation, and performance, created by more than 50 Cuban artists and designers. Adiós Utopia is curated by Cuban independent curators Gerardo Mosquera, René Francisco Rodríguez, and Elsa Vega. Conceived by the Cisneros Fontanals Fundación Para Las Artes (CIFO Europa) and The Cisneros ... More
Rijksmuseum and Museum De Lakenhal present an ode to the women of De Stijl
The Speed Art Museum opens exhibition of films and prints by Bruce Conner
Frist Center for the Visual Arts opens a dynamic survey of Nick Cave's practice


Peggy Guggenheim and Nelly van Doesburg: Advocates of De Stijl.



AMSTERDAM.- The first copy of 'Peggy Guggenheim and Nelly van Doesburg: Advocates of De Stijl' was presented today at the Rijksmuseum to Karole Vail, director of the Peggy Guggenheim Collection, and Wies van Moorsel, biographer and niece of Nelly van Doesburg. The book by curator Doris Wintgens is an ode to the two friends Peggy Guggenheim and Nelly van Doesburg, and describes their efforts to bring De Stijl to the attention of the world as an artistic movement. The independent and strongminded Peggy Guggenheim (1898-1979) and Nelly van Doesburg (1899-1975) chose to live their lives in, with and for modern art. They met in 1938 at Guggenheim's avant-garde gallery in London. Van Doesburg was in London on a mission to promote the ideas and work of her late husband Theo. As editor of the eponymous magazine, Theo van Doesburg ... More



Bruce Conner, #208 1970. Offset lithograph. Image: 10 9/16 x 9 3/16 inches. Sheet: 11 ½ x 9 7/8 inches. Gift of the Conner Family Trust © Conner Family Trust.



LOUISVILLE, KY.- The Speed Art Museum is presenting Bruce Conner: Forever and Ever, an exhibition of films and prints by Bruce Conner (1933–2008), an artist known for his innovations in film, assemblage, drawing, painting, photography, printmaking, and collage. The new exhibition opened November 11, 2017 and runs through March 2, 2018. Co-curated by Miranda Lash, Curator of Contemporary Art, and Dean Otto, Curator of Film, Bruce Conner: Forever and Ever is the Speed's first exhibition collaboration between its Contemporary Art and Film departments. "This exhibition was organized to celebrate a recent gift from the Conner Family Trust of twenty-one lithographs to the Speed Art Museum," said Miranda Lash. "These prints reveal an intricate and obsessive practice that crossed over into Conner's ... More



Artist Nick Cave.



NASHVILLE, TENN.- The Frist Center for the Visual Arts presents Nick Cave: Feat., a dynamic survey of the noted Chicago-based artist's practice, on view in the Upper-Level Galleries through June 24, 2018. The exhibition contains an array of engaging works that are broadly accessible to audiences of all ages and backgrounds and, on a deeper level, speak to issues of identity, racial equity, and social justice. Cave will also direct the community-based project Nick Cave: Feat. Nashville, a monumental interdisciplinary performance work featuring local talent that will be presented twice on April 6, 2018. Nick Cave (b. 1959) produces work in a wide range of mediums, including sculpture, installation, video, and performance. "Cave's creations, bursting with color and texture, are optical delights that can be enjoyed by everyone," says Frist Center curator Katie Delmez. "A closer look reveals that they also address racial profil ... More
Pirelli: 2018 calendar by Tim Walker unveiled in New York
Freeman's Modern & Contemporary Art Auction sets auction record
Louvre Abu Dhabi draws crowd as diverse as UAE


Duckie Thot.



NEW YORK, NY.- The Pirelli 2018 Calendar by Tim Walker was presented yesterday at the Manhattan Center in New York. For the 45th Calendar edition, shot in London last May, the British photographer applied his unmistakable style of extravagant sets and romantic motifs, to revisit one of the classic stories of British literature: " Alice's Adventures in Wonderland ". His inspiration came not only from Lewis Carroll's fantastic story, but most importantly from the illustrations that Carroll himself had entrusted to John Tenniel for the first edition of 1865. In Tim Walker's 2018 Pirelli Calendar they become 28 shots consisting of 20 different and extraordinary sets for a new unique Wonderland. "Alice has been told so many times", Tim Walker said, "and I think I wanted to go back to the genesis of the imagination behind Lewis Carroll so that you could tell it from the very beginning again. I wanted to find a different and original angle". In order to convey his idea o ... More



Sam Gilliam (American b. 1933), Idylls I. Sold for $370,000.



PHILADELPHIA, PA.- On Tuesday, Freeman's Modern & Contemporary Art auction totaled over $2.1 million and was led by an auction record-breaking draped canvas painting by artist Sam Gilliam (American b. 1933). The highly anticipated "Idylls I" skyrocketed past its presale high estimate of $80,000, ultimately selling for $370,000 to one of the 17 phone bidders enthusiastically competing for the lot. The auction included two important paintings by Gilliam, both of which came from the same private collection. The two works generated considerable pre-sale interest, and the excitement in the sale room leading up to the back-to-back lots was palpable. When the first of the two lots - "EAST II," a fine example of the artist's beveled-edge paintings - came up for sale, 12 phone bidders stood at attention, eagerly waiting for Freeman's Chairman, Alasdair Nichol, to open the lot. Once bidding commenced, ... More



Visitors look at exhibits during the opening of the Louvre Abu Dhabi Museum on November 11, 2017 on Saadiyat island in the Emirati capital. KARIM SAHIB / AFP.



ABU DHABI (AFP).- The Louvre Abu Dhabi opened its doors to the public on Saturday, drawing thousands of visitors as cosmopolitan as the United Arab Emirates itself, a symbol of the Gulf nation's ambitions on the global stage. Light streamed down from the vast domed ceiling, the open-air museum reminiscent of a traditional Arabic marketplace. Inside, Emirati teenagers in flowing black robes snapped selfies next to a towering oil painting of Napoleon Bonaparte. Hundreds of Asian, European and Arab expatriates dressed in stylish attire roamed through the vast museum alongside Emirati couples in traditional Arabic dress. "I'm so excited to see what's in the Louvre. I don't know how to pronounce it," giggled Rachel Aquino, a Filipina nurse living in Abu Dhabi. "LOOV," her friend Ruby Fullon, a fellow nurse from the Philippines, ... More
Zach Blas Interview: Contra-Internet at Gasworks
Flashback
On a day like today, Jeff Koons' "Balloon Dog (Orange)" set a world auction record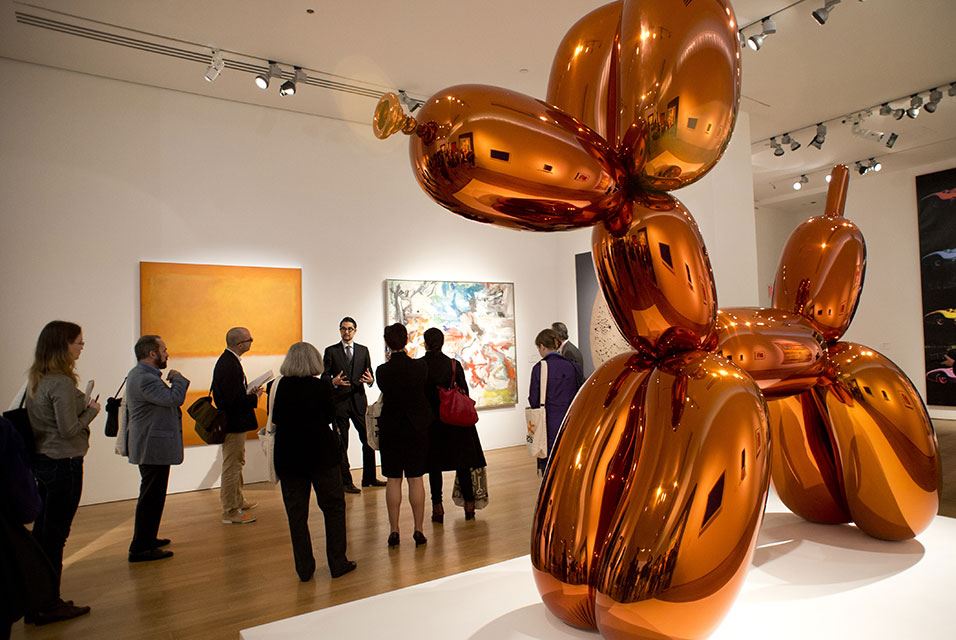 November 12, 2013. Jeff Koons' "Balloon Dog (Orange)" at Christie's in New York. The mirror-polished stainless steel with transparent color coating was part of Post-War and Contemporary Evening Sale held on November 12, 2013. The sculpture sold for $58,405,000. The sum was the highest ever paid for a work by a living artist. AFP PHOTO/Don Emmert.
---

Museums, Exhibits, Artists, Milestones, Digital Art, Architecture, Photography,
Photographers, Special Photos, Special Reports, Featured Stories, Auctions, Art Fairs,
Anecdotes, Art Quiz, Education, Mythology, 3D Images, Last Week,
.
---
Royalville Communications, Inc
produces: