Rare Vincent Van Gogh drawings, 'forgotten' Flincks go on display in Amsterdam
Dutch businessman John Fentener van Vlissingen (L) and director of the Van Gogh Museum in Amsterdam Axel Ruger (R) look at a recently discovered drawing dated from 1886 by Dutch painter Vincent Van Gogh entitled "Montmartre Hill with Quarry" (De heuvel van Montmartre met steengroeve) in the Singer Museum in Laren, Netherlands, on January 16, 2018. Robin van Lonkhuijsen / ANP / AFP.

by Jan Hennop
AMSTERDAM
(AFP)
.-
Art lovers are in for a rare treat as four forgotten works by Dutch masters Vincent van Gogh and 17th-century painter Govert Flinck have gone on display, after gathering dust for more than 100 years. The works include a never-before-seen Van Gogh drawing, which had been in private hands until now. Called "The Hill of Montmartre with Quarries", Van Gogh's monochrome artwork dates from 1886 when he was living in Antwerp and Paris, where he worked at the studio of leading French historical painter Fernand Cormon. The sketch, together with a second drawing "The Hill of Montmartre," were unveiled Tuesday at an exhibition at the Singer Laren museum in central Netherlands. "Such a discovery is always great. It's really exceptional and does not often happen," Teio Meedendorp, senior researcher for the Amsterdam-based Van Gogh Museum, told AFP. ...
More
The Best Photos of the Day
500 years later, scientists finger germ behind Mexican 'pestilence'
Spectacular new acquisitions go on view as the Getty celebrates the 20th anniversary of the Getty Center
Sotheby's to offer the Richard R. & Magdalena Ernst Collection of Himalayan Art


Åshild J. Vågene conducting lab work at the Max Planck Institute for the Science of Human History. Photo: Elizabeth Nelson.



PARIS (AFP).- In 1545, disaster struck Mexico's Aztec nation when people started coming down with high fevers and headaches, bleeding from the eyes, mouth and nose. Death generally followed in three or four days. Within five years, as many as 15 million people -- an estimated 80 percent of the population -- were wiped out in an epidemic the locals named "cocoliztli". The word means "pestilence" in the Aztec Nahuatl language. Its cause, however, has been in question for nearly 500 years. On Monday, scientists swept aside smallpox, measles, mumps, and influenza as likely suspects, fingering a typhoid-like "enteric fever" for which they found DNA evidence on the teeth of long-dead victims. "The 1545-50 cocoliztli was one of many epidemics to affect Mexico after the arrival of Europeans, but was specifically the second of three epidemics that were most devastating and led to the largest number of human losses," said ... More



Edgar Degas (French, 1834-1917), After the Bath, ca.1886. Pastel on paper, laid down on board, 72 x 58 cm.



LOS ANGELES, CA.- In July 2017, the J. Paul Getty Museum announced one of the most important acquisitions in its history: sixteen major drawings and an exquisite painting by Jean Antoine Watteau. Michelangelo to Degas: Major New Acquisitions, presents these newly acquired works to the public from January 17–April 22, 2018 at the J. Paul Getty Museum at the Getty Center. "This latest acquisition has been the most transformative ever in the history of the Department of Drawings, bringing into the collection a number of extremely rare masterpieces by some of the greatest artists of the Renaissance through the 19th century," says Timothy Potts, director of the J. Paul Getty Museum. "Showcasing these works together will demonstrate the monumental nature of this purchase, which also includes a famous painting by the French artist Jean Antoine Watteau. It is increasingly rare ... More



A Thangka Depicting Rinchen Zangpo. Tibet, circa 1200, 93 x 72 cm. Estimate $1.5/2 million. Courtesy Sotheby's.



NEW YORK, NY.- Sotheby's will present The Richard R. & Magdalena Ernst Collection of Himalayan Art. An unrivalled compilation of painting and sculpture, the collection of art from the Himalayas, ranging from the 12th through the 18th centuries, is one of the most significant to come to auction. With highlights now on view in a special exhibition at Sotheby's Zurich office, the full collection will be unveiled in the auction house's New York headquarters on 15 March, ahead of the dedicated auction on 22 March at 10am. Richard R. and Magdalena Ernst noted: "From the moment we laid eyes on the thangka of four Arhats in Kathmandu, we knew that Tibetan Art would form the heart of our collection. The region's rich culture, spontaneous nature of creativity, and philosophical strength drew us in, and has kept us firmly engaged over the last fifty years. By sharing this collection with admirers in Zurich, New York, and beyond, ... More
National Portrait Gallery and Royal Academy of Arts jointly acquire Tacita Dean's film portrait of David Hockney
Phillips incorporates Latin American art within 20th Century & Contemporary art auctions
Exhibition at Simon Lee Gallery celebrates the last, highly productive decade of Hans Hartung's life


Portraits (2016) provides an intimate portrayal of David Hockney and the everyday behaviours that drive his creative inspiration. Photo: Fredrik Nilsen Studio.



LONDON.- The National Portrait Gallery and the Royal Academy of Arts have jointly acquired Portraits, Tacita Dean's 16 mm film portrait of internationally renowned British artist David Hockney, it was announced today 16 January 2018. The joint acquisition has been made possible with support from Art Fund. The joint acquisition comes ahead of the unprecedented collaboration between the National Portrait Gallery, the Royal Academy of Arts, and National Gallery, which will see all three galleries open distinct exhibitions with the artist Tacita Dean in 2018. The three exhibitions, Tacita Dean: LANDSCAPE, PORTRAIT, STILL LIFE, shaped by Dean's response to the individual character of each institution, will explore genres traditionally associated with painting – landscape at the Royal Academy of Arts, portraiture at the National Portrait Gallery and still life at the National Gallery – seen through the contemporary prism of Dean& ... More



Hélio Oiticica, P31 Parangolé, capa 24, Escrerbuto, nylon mesh fabric and plastic vinyl, 38 1/2 x 33 in. (97.8 x 84.6 cm.). Executed in 1972, this work is accompanied by a certificate of authenticity issued by Projeto Hélio Oiticica. Estimate: $600,000 - 800,000. Sold for: $615,000



NEW YORK, NY.- Beginning this spring, Phillips will fully incorporate Latin American Art within its sales of 20th Century & Contemporary Art amid an increasingly globalized market for the category. Phillips is committed to celebrating artists from this region in a larger context and works of art formerly included in the company's New York Latin America sales will now be offered in Evening and Day Sales, as well as the New Now category, across all of the company's salerooms in New York, London, and Hong Kong. Edward Dolman, Chief Executive Officer, and Vivian Pfeiffer, Deputy Chairman, Americas, and Head of Business Development, said jointly, "In recent years, the barriers between Latin American art and the larger art market have begun to collapse. Phillips has played a large part in this process by carefully and strategically ... More



Hans Hartung, T1980-R35, 1980 (detail). Acrylic on canvas. Unframed: 180 x 180 cm. Courtesy of Simon Lee Gallery, Perrotin and Hartung-Bergman Foundation © Hans Hartung / ADAGP, Paris 2018.



LONDON.- Simon Lee Gallery is presenting an exhibition of late paintings by pioneer of twentieth-century abstraction, Hans Hartung (1904-1989). This inaugural presentation with the gallery celebrates the last, highly productive decade of the artist's life, which saw him return to many of the themes that had occupied him throughout his career, while expanding his repertoire with an array of innovative painting practices. Hartung's late painting, much of which was made from the confines of a wheelchair, is amongst the most vigorous of his lifetime, revealing a renewed sense of freedom, energy and ambition despite his advancing age and increasing frailty. Although the artist's dramatic approach to the medium was remarkable throughout his career, it was not until the 1980s that many of his freest and most experimental works were produced. Distinguished by dramatic shifts in technique, tools, scale and ... More
Gift of over 650 works from late philanthropist Frederic A. Sharf caps 18-year legacy of Wolfsonian support
Smithsonian's Freer/Sackler launches new location-aware audio tour app
Exhibition of new and never-before-seen works by Tina Barney opens at Paul Kasmin Gallery


Advertisement, Fortune Makes the Heart Grow Fonder, 1951. From Guide: Pleasure Gardens, Festival of Britain - Battersea Park, 1951. Stanley Baron and Ruari McLean, designers and editors Alabaster, Passmore and Sons, Ltd., London, printer. The Wolfsonian–FIU, Gift of Jean S. and Frederic A. Sharf, XC2017.11.3.51.



MIAMI BEACH, FLA.- The Wolfsonian–Florida International University today announced a significant gift of more than 650 items from Palm Beach philanthropist Jean S. Sharf and her late husband, collector and scholar Frederic A. Sharf. A longtime trustee and benefactor of museums across the U.S., Fred Sharf initiated the donation in early fall 2017, just a few months before his death in late November. His final gift to The Wolfsonian is the culmination of nearly two decades of institutional support and features rare, under-studied material from the late 19th century through the Second World War relating to aviation, national fairs, the rise of the modern Japanese empire, and colonialism in Africa, Asia, and the Middle East. "Fred Sharf dedicated his life to ensuring ... More



App will offer multiple audio experiences for on-and off-site listeners in eight languages.



WASHINGTON, DC.- To enhance visitor experiences both within and outside of its newly reopened galleries, the Smithsonian's Freer Gallery of Art and Arthur M. Sackler Gallery have launched the "Freer Thinking Audio App," a new location-based app that offers visitors two ways to experience the museums' collections. National Public Radio's Robert Siegel narrates a gallery-highlights tour of 60 significant objects, five of which are designed especially for kids and families. The tours on the app are available in English, Arabic, Chinese, Japanese and Spanish and will soon be available in Hindi, Korean and Persian. The app also features four podcast-like guided tours, each a 20-minute segment on a different theme, with interviews with curators and contextual music. Visitors can enjoy the thematic guided tours either onsite or offsite via the app on their phones or as part of the Freer|Sackler's "Freer Thinking" podcast series on iTunes. Themes f ... More



Tina Barney, Bike Parade, 2017. Chromogenic color print, 30 x 40 inches, 76.2 x 101.6 cm. Edition of 5 (#1/5) © Tina Barney. Courtesy Paul Kasmin Gallery.



NEW YORK, NY.- Paul Kasmin Gallery announces Landscapes, an exhibition of new and never-before-seen works by Tina Barney. The exhibition is on view from January 17 through March 3, 2018, at 297 Tenth Avenue. This is the artist's first New York solo exhibition in the past three years, and her second at the gallery, following major recent exhibitions at the Kunsthalle Wien in 2017 and the New Orleans Museum of Art in 2015. In September 2017 Rizzoli USA published Tina Barney, a comprehensive monograph spanning her four-decade international career. Alongside her oeuvre of portraits portraying the daily life of the social elite that Barney is most known for, exists an entire series of landscape photographs taken by Barney using her 8 by 10-inch view camera. Barney first began her experimentation with landscape photography in the late 1980s and would not revisit the subject again until the summer of 2017. ... More
Exhibition of recent paintings by Anne Siems opens at Littlejohn Contemporary
With "Past, Present, Future," the Jason Jacques Gallery is set to make its debut at Winter Antiques Show
Art Brut artist Joseph Kurhajec to exhibit at Outsider Art Fair


Anne Siems, Ermine, 2017. Acrylic on wood panel, 40 x 30.



NEW YORK, NY.- Littlejohn Contemporary presents a one-person exhibition of recent paintings by Anne Siems. The Exhibit, "We Are One", will run from January 17 through March 3, 2018. In this body of work I have moved back to a more clearly representational narrative. There continues to be important abstract elements (loops, dots, circles, and hazy painterly backgrounds) but the interplay is now greater between those and the more fully rendered - yet transparent - animals' and children's bodies. Mine is an ongoing inquiry and desire to transmit a sense of energy, a state of being and feeling into my paintings. When one inquiry feels resolved I move on, often revisiting places in my older work and finding new ways to interact with it. 'We Are One' follows the longing of my heart and the knowledge of my mind about the interconnected web of all life on earth. The deeper we come into contact ... More



Katsuyo Aoki, Trolldom Oracle II, 2013. Porcelain, 24.6h x 18w x 4.60d in.



NEW YORK, NY.- "Past, Present, Future" is the provocative theme that the New York-based Jason Jacques Gallery has embraced for its debut appearance at the Winter Antiques Show, taking place January 19 to ¬January 28 at The Park Avenue Armory. Explains Jason Jacques: "Since this is the gallery's first time at the Winter Antiques Show, we intend to make a bold statement in our presentation." The gallery will display work that is the most bedrock of the gallery, including circa 1900 European ceramics by T.A.C. Colenbrander and a monumental fireplace and chimney piece designed by Hector Guimard for a house commissioned by Louis Coilliot, a manufacturer of ceramic blocks and tiles. Coilliot gave Guimard his first opportunity to design a fully integrated architectural composition. The fireplace is made of enameled stoneware, which is actually reconstituted lava powder fused in molds, similar to cast ... More



His work is strong, raw, and uninhibited by a concern for pleasantry or comfort.



NEW YORK, NY.- Joseph Kurhajec, an American Art Brut artist based in France, will exhibit "Crocodile Sex," a collection of recent works at the Outsider Art Fair in New York, January 18-21. Currently obsessed by crocodiles, their survival instincts, strength and symbolism, Mr. Kurhajec is presenting a series of brutalistic table-top sculptures, paintings and out-sized masks with that theme. Historically, the artist's works have been characterized by animistic leanings that transcend art world trends. His work is strong, raw, and uninhibited by a concern for pleasantry or comfort. While most artists evolve to become more comples, Mr. Kurhajec transitioned the other way. Once an on-trend artist sought out by the Whitney Museum of American Art for one of its Young Artists shows, he abandoned convention as his spirit led and evolved into to a compulsive, artist whose environments range from a decade long series on the Shroud ... More
Mysterious René Magritte painting offered at BRAFA Art Fair 2018
Flashback
On a day like today, American stained glass artist Louis Comfort Tiffany died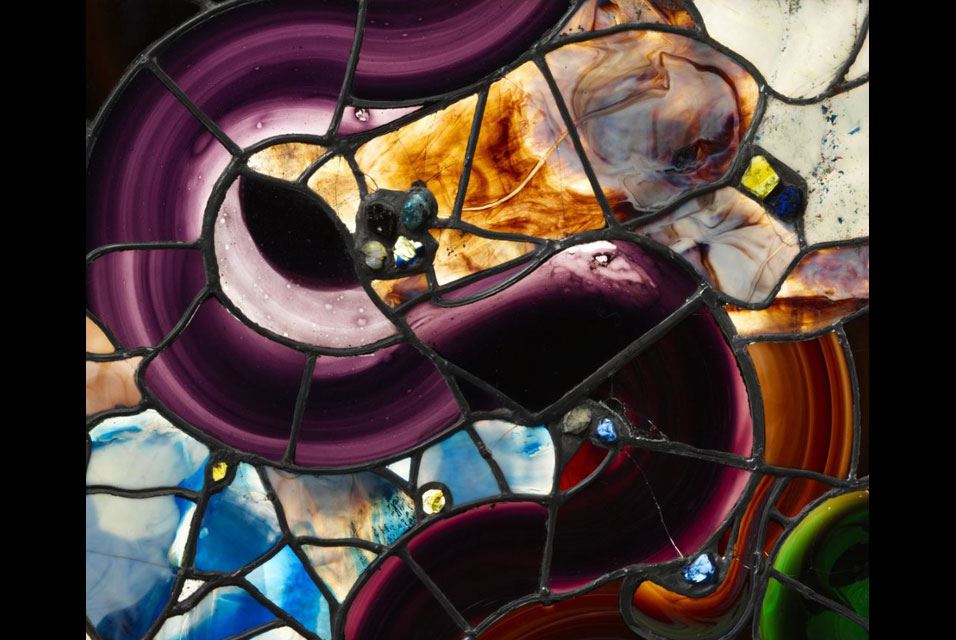 January 17, 1933. Louis Comfort Tiffany (February 18, 1848 - January 17, 1933) was an American artist and designer who worked in the decorative arts and is best known for his work in stained glass. He is the American artist most associated with the Art Nouveau[1] and Aesthetic movements. He was affiliated with a prestigious collaborative of designers known as the Associated Artists, which included Lockwood de Forest, Candace Wheeler, and Samuel Colman. In this image: Louis C. Tiffany, Fenêtre du "Bella Apartment", c.1880. Verre, plomb. New York, The Metropolitan Museum of Art, Don de Robert Koch, 2002 ©Photo : The Metropolitan Museum.
---

Museums, Exhibits, Artists, Milestones, Digital Art, Architecture, Photography,
Photographers, Special Photos, Special Reports, Featured Stories, Auctions, Art Fairs,
Anecdotes, Art Quiz, Education, Mythology, 3D Images, Last Week,
.
---
Royalville Communications, Inc
produces: