Exhibition in Amsterdam focuses on Daubigny's influence on Vincent Van Gogh
Axel Ruger, (R), director of the Van Gogh Museum and Maite van Dijk, conservator, pose in front of a painting by Claude Monet during the press opening of the exhibition called Daubigny, Monet, Van Gogh: Impressions of Landscape, on October 19, 2016 in Amsterdam. Koen van Weel / ANP / AFP.
AMSTERDAM
.-
From 21 October 2016 to 29 January 2017 the
Van Gogh Museum
is staging Daubigny, Monet, Van Gogh: Impressions of Landscape. The exhibition highlights the crucial role the French artist Charles François Daubigny played as an innovator of nineteenth-century landscape art and a trailblazer for the Impressionists. There are a great number of works to be seen by Daubigny, Vincent van Gogh and Impressionists like Claude Monet and Camille Pissarro, from more than thirty-five international museums and private collections. Daubigny, Monet, Van Gogh takes a new look at the origins of Impressionism; placing Daubigny's oeuvre in the context of this movement restores his role as a ground-breaking artist and a source of inspiration to its rightful position. ...
More
The Best Photos of the Day
Sketch-leaf by Beethoven for his "Emperor" Concerto sells in London for £377,000
Ashmolean opens first major exhibition to explore the supernatural in the art of the Islamic world
Auctioneer and Specialist Arno Verkade appointed new Managing Director Christie's Amsterdam


Beethoven's Fifth Piano Concerto in E Flat Major, Op. 73 is dedicated to Archduke Rudolf of Austria. Photo: Sotheby's.



LONDON.- Today Sotheby's sold the sketch-leaf for Ludwig van Beethoven's most renowned piano concerto, his "Emperor" Concerto, for £377,000, over double its high estimate. Offered on the open market for the first time in "The Library of an English Bibliophile, Part VI", this sketch-leaf is one of the earliest for this great work, possibly containing Beethoven's first draft of its famous themes. Beethoven's Fifth Piano Concerto in E Flat Major, Op. 73 is dedicated to Archduke Rudolf of Austria (1788-1831), the brother of Francis II, Holy Roman Emperor and Beethoven's great friend, patron and pupil. The Archduke began taking lessons from Beethoven aged 15 or 16 and he was the only pupil that Beethoven taught composition to. The composer dedicated fourteen works to the Archduke in total, more than any ... More



Celestial Globe Signed by Ja'far ibn 'Umar ibn Dawlatshah al-Kirmani Iran, 1362–3. Brass, inlaid with silver, diameter 16.5 cm © Museum of the History of Science, University of Oxford.



OXFORD.- Showcasing over a hundred spectacular objects from Morocco to China, Power and Protection is the first major exhibition to explore the supernatural in the art of the Islamic world. Within Islamic societies, people of all backgrounds have engaged in fascinating and sometimes controversial practices such as the casting of horoscopes and the interpretation of omens. Power and Protection includes objects and works of art from the 12th to the 20th centuries which have been used as sources of guidance and protection in both the private sphere and in dramatic events such as battles and royal births. Amongst the displays are dream-books, talismanic clothing and jewel-encrusted amulets. This is an unmissable chance to see works of breathtaking quality and ... More



Arno Verkade. © Christie's Images Ltd. 2016.



AMSTERDAM.- From October 2016 Christie's Amsterdam will be headed by Christie's veteran and Dutch figurehead of the international auction market Arno Verkade. Arno Verkade, Auctioneer and Specialist for Post-War and Contemporary Art, joined Christie's Amsterdam in 1993 and led the Post-War and Contemporary Art Department for nearly 10 years, before transferring to Christie's headquarters in London in 2011 to become the head of the prestigious Post-War and Contemporary Art Evening Auctions. In 2013 the Haarlem born art historian was promoted to Managing Director Christie's Germany and will now lead Christie's business in the two neighboring countries, the Netherlands and Germany. Arno's specialist expertise spans from works by Zero artists such as Günther Uecker, Heinz Mack and Jan Schoonhoven, to Martin Kippenberger, to young contemporary artists such as German artist and ... More
Selldorf Architects selected to design an expansion and upgrade of the Frick Collection
Gun that nearly did for poet Rimbaud up for sale
VNH Gallery opens multifaceted exhibition of works by Michelangelo Pistoletto


Staircase (view from landing).



NEW YORK, NY.- The Frick Collection announced today that Selldorf Architects has been selected to design a major upgrade, enhancement, and expansion of the institution's facilities. Originally housed primarily in the residence of Henry Clay Frick, the institution today encompasses a constellation of buildings, wings, and gardens that have been built over the course of the past century. Working in partnership with Frick leadership and staff, Selldorf Architects will develop a design plan that addresses the institution's pressing needs to accommodate the growth of its collections and programs, upgrade its conservation and research facilities, create new galleries, and—for the first time—allow for dedicated spaces and classrooms for the Frick's educational programs. The new and enhanced facilities will be created within the museum's built footprint and designed to foster a more natural and seamless ... More



The gun Paul Verlaine bought with the intention of killing his friend Arthur Rimbaud. This gun will be offered in The Exceptional Sale at €50,000-70,000. © Christie's Images Limited 2016.



PARIS (AFP).- The most famous gun in French literature, the revolver with which the poet Paul Verlaine tried to kill his lover Arthur Rimbaud, is going under the hammer, Christie's said Wednesday. Verlaine bought the 7mm six-shooter in Brussels on the morning of July 10, 1873, determined to put an end to his torrid two-year affair with his teenage lover. The 29-year-old poet had abandoned his young wife and child to be with Rimbaud, who would later become the symbol of rebellious youth. But after an opium- and absinthe-soaked stay in London, which would inspire Rimbaud's "A Season in Hell", Verlaine wanted to go back to his wife. He fled to the Belgian capital to get away from Rimbaud only for the younger man to follow him. It was in a hotel room there at two in the afternoon where, after the ... More



Michelangelo Pistoletto, PERFORMANCE: Twentytwo Less Two, 2009. Performance in Venice Biennal. Mirror, wood. 22 elements, 300 x 200 cm eacc. Courtesy Galleria Continua, San Gimigano.



PARIS.- From 20 October to 23 December 2016, VNH Gallery & Galleria Continua present RESPECT, a multifaceted exhibition developed in three phases and focusing on one of the principle figures of Arte Povera: Michelangelo Pistoletto. Organised in three main sections relating to art, education and politics, RESPECT identifies the fundamentals that drive the artist's approach in his quest for the "Third Paradise" - that elusive point of equilibrium that exists at the junction of two opposite yet related concepts: nature/ artifice, feminine/masculine, individual/society, reason/emotion, democracy/tyranny. Beginning outside the gallery, a large representation of Pistoletto's emblematic "Third Paradise" symbol initiates a retrospective consisting of historical works that highlight the multi- ... More
Smithsonian American Art Museum opens its new galleries for Folk and Self-Taught art
Staatliche Graphische Sammlung Munich exhibits German engraver Master E. S.'s alphabet
Rijksmuseum presents Kimonos from the Okura Collection


Purvis Young, The Struggle, 1973-1974, acrylic on wood. Smithsonian American Art Museum. Gift of the Grumbacher-Viener Collection in memory of Nancy Grumbacher.



WASHINGTON, DC.- The Smithsonian American Art Museum's collection of folk and self-taught art represents the powerful vision of America's untrained and vernacular artists. Represented in the museum's collection are pieces that draw on tradition—such as quilts—and artworks that reveal a more personal vision. The museum has reimagined its permanent collection galleries to feature 59 recent acquisitions, an expanded presentation of the beloved "Throne of the Third Heaven of the Nations Millennium General Assembly" by James Hampton, reopened historic windows and new oak floors. The galleries open to the public Friday, Oct. 21. "The Smithsonian American Art Museum has long recognized folk and self-taught art as integral to the greater story of American art," said Betsy Broun, The Margaret and Terry Stent Director of the Smithsonian American Art Museum. ... More



Meister E. S. (tätig am Oberrhein um 1450-1467/68), Der Buchstabe "o", um 1466. Kupferstich, 140 x 100 mm © Staatliche Graphische Sammlung München.



MUNICH.- In Focus is a new exhibition format at the Staatliche Graphische Sammlung Munich. During the intermediary phases when large exhibitions are being set up or dismantled, intimate 'cabinet' displays in the Vitrinengang will highlight distinctive works from the Staatliche Graphische Sammlung's extensive holdings, which encompass over 400,000 miniatures, drawings, and prints. These small presentations will appear in twelve display cases, and will make exquisite and striking objects from the collection accessible by focusing on a manageable number of works. The Staatliche Graphische Sammlung Munich will offer visitors the opportunity to rediscover famous works, encounter rarities, or discover works never before seen. Drawings and watercolours, woodcuts and copperplate engravings, etchings and lithographs will be brought into focus, the highest of 'high' art, as well as works that have hitherto ... More



Hangiri with dragons and clouds, 1800-1900, collection Okura Museum of Art.



AMSTERDAM.- Discover the colourful tales from 'No', one of Japan's oldest forms theatrical forms, this autumn. On 21 October the Rijksmuseum unveils seven magnificent No theatre kimonos that exemplify the changes in No through the centuries. No theatre originated in the fourteenth century and is a stylized Japanese dramatic form in which song, music and dance come together. The highlight of the presentation is a magnificent eighteenth-century kimono with embroidered moonflower tendrils on saffron-coloured woven silk damask. Kimonos from the Okura Collection runs from 21 October to 13 December 2016 in the Rijksmuseum. The exhibition is in collaboration with Hotel Okura and the City of Amsterdam and coincides with the forty-fifth anniversary of Hotel Okura Amsterdam. The basis for No theatre was developed under the reign of the shogun Yoshimitsu (1358–1408) towards the end of the fourteenth century. In No theatre, actors try to create ... More
The Hepworth Wakefield's first sculpture prize opens as gallery presents its most ambitious show ever
Dallas Museum of Art appoints Anna Katherine Brodbeck as Assistant Curator of Contemporary Art
First show in Ireland for new master of Chinese landscape painting opens at Chester Beatty Library


Installation view. Photo: Danny Lawson/PA.



WAKEFIELD.- An exhibition by the four artists shortlisted for the inaugural Hepworth Prize for Sculpture - Phyllida Barlow, Steven Claydon, Helen Marten and David Medalla – opens at The Hepworth Wakefield on 21 October 2016. The show, which includes new and recent work, is the most ambitious ever mounted by the gallery. The winner of the £30,000 prize will be announced at an award dinner at The Hepworth Wakefield on 17 November 2016. Sculpture is the art form of the moment – and this new Prize aims to demystify contemporary sculpture. Visitors to the exhibition will be encouraged to experience, debate and judge the Prize for themselves. The shortlist is multi-generational and covers the widest range of work in the medium. The Hepworth Prize for Sculpture recognises a British or UK-based artist of any age, at any stage in their career, who has made a significant contribution to the development of contemporary ... More



She will join the Museum from the Carnegie Museum of Art, in Pittsburgh, PA, where she has worked since 2013 as an Associate Curator. © Carnegie Museum of Art, Pittsburgh. Photo Bryan Conley.



DALLAS, TX.- Anna Katherine Brodbeck has been named The Nancy and Tim Hanley Assistant Curator of Contemporary Art at the Dallas Museum of Art, it was announced today by Agustín Arteaga, the DMA's Eugene McDermott Director. Brodbeck will begin work in Dallas in January 2017, and will report to Gavin Delahunty, the Museum's Hoffman Family Senior Curator of Contemporary Art. She will join the Museum from the Carnegie Museum of Art, in Pittsburgh, PA, where she has worked since 2013 as an Associate Curator, serving as the coordinator between the Carnegie Museum of Art, the Art Institute of Chicago, and the Whitney Museum of American Art on the organization of the first comprehensive US retrospective of the influential Brazilian artist Hélio Oiticica. For it, Brodbeck ... More



A Peak of Reds, 2014, Private collection © Hong Ling. Courtesy Soka Art



DUBLIN.- The Chester Beatty Library presents Ireland's first exhibition by one of China's leading contemporary landscape painters, Hong Ling (b.1955). This retrospective exhibition charts the significant contribution Hong Ling has made to the world of Chinese landscape painting. Sixteen paintings in oil and in ink will be exhibited, ranging from a small painting of poplar trees in the grounds of the 'Temple of Heaven' painted while Hong Ling was a student in 1979, just after the Cultural Revolution (1966–76), to the rich and immersive 'Rainbow-Like of 2015' that stands two metres high and three metres wide—its dramatic scale matched by its vibrant use of colour. Hong Ling trained as an oil painter and he is best known for his technically rich canvases in this imported medium. While he finds inspiration in the work of European painters, his own practice has come ... More
Vik Muniz | Equivalents (The Museum of Modern Art)
Flashback
On a day like today, American painter Lee Krasner was born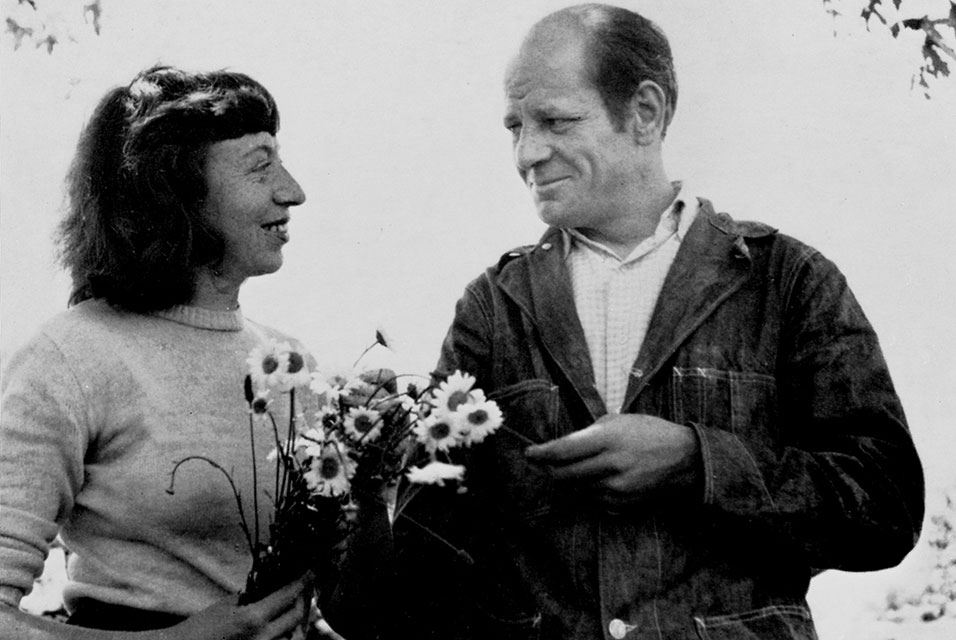 October 27, 1908. Lee Krasner (October 27, 1908 - June 19, 1984) was an influential American abstract expressionist painter in the second half of the 20th century. On October 25, 1945, she married artist Jackson Pollock, who was also influential in the abstract expressionism movement. In this 1949 photo provided by the Pollock-Krasner House and Study Center, artists Lee Krasner and Jackson Pollock are shown in their garden at their East Hampton, N.Y., home.
---

Museums, Exhibits, Artists, Milestones, Digital Art, Architecture, Photography,
Photographers, Special Photos, Special Reports, Featured Stories, Auctions, Art Fairs,
Anecdotes, Art Quiz, Education, Mythology, 3D Images, Last Week,
.
---
Royalville Communications, Inc
produces: