First Alfred Sisley retrospective in more than 20 years opens at the Bruce Museum
Sisley was first and foremost a painter of light. He knew how to imbue all of his paintings with it. One could say that light floods his landscapes, deliciously bathing even the most modest of details. - Anonymous, "Echo de Paris," Le Gaulois 1899
GREENWICH
.-
The Bruce Museum
and the Hôtel de Caumont Centre d'Art in Aix-en Provence, France, are mounting a major monographic exhibition of the art of the French Impressionist Alfred Sisley (1839-1899). The first retrospective in more than 20 years of this purest of all the major Impressionists, Alfred Sisley (1839-1899): Impressionist Master spotlights about 50 of Sisley's paintings, which come from private collections and major museums in Europe and North America. The Bruce Museum in Greenwich, Connecticut, will premiere the exhibition and is the only venue in the United States. The show will then travel to France, where it will be on exhibit from June through October 2017. ...
More
The Best Photos of the Day
The National Gallery of Canada acquires masterpiece by Scandinavian painter Vilhelm Hammershøi
National Library of Israel acquires finest private collection of Hebrew books and manuscripts
Archaeologists unearth personal effects belonging to victims of the Holocaust


Vilhelm Hammershři, Sunshine in the Drawing Room (Solskin i dagligstuen), 1910 (detail). Oil on canvas, 58 x 67 cm. Purchased 2017. National Gallery of Canada, Ottawa. Photo: NGC.



OTTAWA.- Sunshine in the Drawing Room, painted in 1910 by one of Denmark's most celebrated artists, Vilhelm Hammershři (1864–1916), is now part of the European Collection of the National Gallery of Canada. An important example of Hammershři's renowned contemplative interior scenes, it is the first work by the artist in the Gallery's collection and the second to enter a public collection in Canada. Visitors to the Gallery will be able to view the painting starting today. "The Gallery's acquisition of Sunshine in the Drawing Room fills a gap in our European collection for the period around 1900," said the National Gallery's Chief Curator, Paul Lang, "The work offers us the opportunity to introduce the public to an artist of considerable importance in the Scandinavian school of painting." Sunshine in the Drawing Room depicts the living ... More



This document celebrates the nuptials of Rebecca, daughter of Sabbetai Isaac Ambron and Solomon Judah, son of Gabriel Ambron. It was printed on rare blue paper.



JERUSALEM.- The National Library of Israel announced today that it has acquired the finest private collection of Hebrew books and manuscripts in the world, the renowned Valmadonna Trust Library, through a private sale arranged by Sotheby's. The acquisition, made jointly with Archaeology, Books and Judaica collectors Dr. David and Jemima Jeselsohn, will be housed and highlights will go on show in the National Library of Israel's landmark new building in Jerusalem, designed by award-winning architects Herzog & de Meuron, due to open to the public in 2020. Founded in 1892, The National Library of Israel (NLI) is unique among the great libraries of the world. It is the primary institution of national memory of the State of Israel and of Jewish people throughout the world and it is the home of the largest collection of works ... More



Who Was Karoline Cohn?



JERUSALEM.- Recent archeological digs at the site of the former Nazi extermination camp, Sobib?r, have unearthed personal effects belonging to victims of the Holocaust. Archeologists have found various items, including a moving discovery made at the site of the former Nazi extermination camp, Sobibór, remains were uncovered, which are believed to be the location where victims undressed and their heads shaved before being sent into the gas chambers. These archaeological findings were discovered by Polish archaeologist Wojciech Mazurek and Yoram Haimi, an archaeologist from the Israel Antiquities Authority and their Dutch associate, archaeologist Ivar Schute. The archaeological excavations, underway since 2007, are underwritten by the Steering Committee for the international project to establish a new museum and memorial site in the former German Nazi extermination camp in Sobibór, in coordination with Yad Vashem's International ... More
Auschwitz seeks death camp items from Germans, Austrians
Hamilton archive achieves $2.6 million at Sotheby's New York
Nationalmuseum Sweden acquires oil sketches by Pierre Henri de Valenciennes and Simon Denis


A "Stolpersteine" (stumbling block), commemorating Holocaust victims, is pictured in front of Fehrbellinerstrasse 86 in Berlin. John MACDOUGALL / AFP.



WARSAW (AFP).- The museum at the former Auschwitz-Birkenau Nazi death camp in Poland on Wednesday urged Germans and Austrians to hand over any material that could shed light on its wartime staff. Museum director Piotr Cywinski appealed for "documents, photos, personal letters, diaries, or other materials" associated with people who ran the site. The ruins of gas chambers, crematoriums and barracks at the site bear witness to Nazi Germany's killing of around 1.1 million people, mostly Jews, at the camp built in 1940 in the southern city of Oswiecim in occupied Poland. An estimated 232,000 of Auschwitz victims were children. "Without a comprehensive analysis and understanding of the motivation and mentality of the perpetrators, our efforts to wisely counsel future generations will only remain intuitive. Today, we ask you to help," Cywinski said in the museum's ... More



Alexander Hamilton's family archive of letters and manuscripts at Sotheby's January 2017 Americana Week Media Preview at Sotheby's on January 11, 2017 in New York City. Theo Wargo/Getty Images/AFP.



NEW YORK, NY.- Today in New York, Sotheby's auction of Alexander Hamilton: An Important Family Archive of Letters and Manuscripts achieved an outstanding total of $2,645,750, surpassing its pre-sale high estimate of $2.1 million. All 77 lots on offer – representing hundreds of individual documents – found buyers, marking a rare 'White Glove' auction. Eleven lots broke the previous auction record for any document handwritten by Hamilton – a record that had held since 2001*. Viewed by thousands of visitors over the past week at Sotheby's New York, the collection of letters and manuscripts by and relating to Alexander Hamilton drew a diverse audience: from political-science enthusiasts to theater lovers, newly-impassioned historians, and institutional collections – even the company of Hamilton: An American Musical. This remarkable archive of highly- ... More



Simon Denis, The Waterfall in Neptune's Grotto at Tivoli, c 1790. Photo: Cecilia Heisser/Nationalmuseum.



STOCKHOLM.- Nationalmuseum has acquired three landscape studies from Italy in oil by Pierre Henri de Valenciennes and Simon Denis. The works were hastily painted on paper on location, which was a novel approach in the late 18th century. This significant acquisition enables Nationalmuseum to better chart the beginnings of plein air painting in the 19th century. Views of Rome and the surrounding countryside have a distinguished pedigree. For a long time, they remained true to the 17th-century landscape ideal and were painted in the studio. Valenciennes and Denis broke new ground by making sketches in oil, often on paper, on location. The light and weather conditions were as important as the subject, so the works were produced quickly. Despite being preparatory studies, these oil sketches laid the foundations for much of the 19th century's plein air painting. Pierre Henri de Valenciennes (1750–1819) is considered a pioneer ... More
Christie's announces Sales of Old Master & British Drawings and Old Masters Prints
Paul Kasmin Gallery and Sotheby's Old Masters Department open their first collaborative exhibition
Exhibition initiates a conversation between Etel Adnan and Gerhard Richter


Giovanni Domenico Tiepolo, (Venice 1727–1804) Head of a young man red and white chalk, stumping, on blue paper. Est: $180,000–220,000. © Christie's Images Limited 2017.



NEW YORK, NY.- Christie's announced the sale of Old Master & British Drawings on January 24 followed by the return of a various owner sale of Old Master Prints on January 25, to take place in New York for the first time in over 15 years. Old Master Paintings will be offered in April 2017, during Classic Week at Christie's New York. Christie's Old Master & British Drawings sale on January 24 is comprised of 131 lots including works from distinguished private collections and institutions. Important works leading the sale are Francisco de Goya's Hunter with his dog in a landscape and a lavish design by Peter Paul Rubens inspired by a composition by Renaissance artist Giulio Romano. The sale features a strong selection of Italian drawings including studies by Giacomo ... More



Jacques Le Moyne de Morgues, A Linnet on a Spray of Barberry, gouache and gold leaf on vellum, 6 by 4 3/8 in.; 15 by 11 cm.



NEW YORK, NY.- This January, Paul Kasmin Gallery and Sotheby's Old Masters Department will present their first collaborative exhibition, Naturalia, curated by Danny Moynihan. The show will be comprised of works spanning six centuries which share a fundamental focus on the examination of natural science and its myriad presentations in art. It is hard to imagine now the sense of wonder and discovery that artists of centuries past felt when studying nature - for man was still on the edge of the world, discovering new species of plants and animals at a pace unlike almost any other in modern history. Nature was as admired as it was feared, concurrently paradisiacal and dangerous, giving it both the sense of the exotic and of dark mystery. It is in this spirit that earthly metaphors have been borrowed, stolen and created by artists and writers ... More



Gerhard Richter. 905/1-48 Sinbad, 2008. Lacquer behind glass. Plate: 11 13/16 x 19 11/16 inches.



NEW YORK, NY.- The FLAG Art Foundation presents Etel Adnan | Gerhard Richter on its 9th floor gallery from January 19 – May 13, 2017. The exhibition initiates a conversation between two masters of contemporary painting, from the vastly different backgrounds of Beirut and Germany. Both artists continue to challenge the concept of working in a single style or media, translating their explosive color abstractions and painting processes to canvas, ceramic, glass, and tapestry. Etel Adnan (b. 1925 in Beirut, Lebanon, and lives between California and France) is an award-winning author, playwright, poet, and visual artist, who, in the tradition of the Dadaists and Surrealists, moves fluidly between writing and art making. "It's so rare that you have someone making such important contributions to poetry and art," says Hans Ulrich Obrist, "Etel is one of the most influential artists of the 21st century. ... More
Paddle8 announces new investor to lead buy back from parent company
Virginia Museum of Fine Arts acquires masterpiece by Romare Bearden
Marianne Boesky Gallery to open exhibition space in Aspen


Servicing collectors worldwide, Paddle8 has offices in New York, London, Los Angeles, and Hong Kong. Photo by Kyle Knodell, courtesy of Paddle8.



NEW YORK, NY.- Today, Paddle8 Inc. announces an agreement in principle to support a fully-funded buy back of the Paddle8 brand and business from Berlin-based parent company Auctionata Paddle8 AG, sponsored by a market-leading investor group and supported by the management team. Since joining forces with Auctionata Inc. last May, Paddle8 has continued to evolve positively through 2016, driven by both Paddle8's for-profit auction and Paddle8's charity businesses. Led by a strategic, majority sponsor, the investor group is excited to support and fund Paddle8's original founding team and management to accelerate Paddle8's growth momentum and expand Paddle8's market position. Under the new agreement, the investor group and the Paddle8 management team will also acquire the assets of Value My Stuff in the UK. The agreement is still subject to full legal review. "We are thrilled with the opportunity to further expand our brand ... More



Romare Bearden (American, 1911-1988), Three Folk Musicians, 1967 (detail). Collage of various papers with paint and graphite on canvas, 50 x 60 in. Art © Romare Bearden Foundation/Licensed by VAGA, New York, NY.



RICHMOND, VA.- "This monumental collage painting is a landmark addition to our collection," said Alex Nyerges, VMFA Director. "Three Folk Musicians bolsters our effort to represent a diverse range of cultures in our galleries and allows us to explore a full range of American stories with rich context and a broad eye." After working in mixed media in the 1940s, Bearden started experimenting with collage techniques in the late 1950s, but he did not begin making the brightly colored compositions depicting African American life, for which he has become best known, until 1963. That same year, he and a group of African American artists formed a collective known as Spiral to discuss their role in the civil rights movement. Their first meeting took place just one month before they attended the March on Washington for Jobs and Freedom on August 28, 1963. Incorporating ... More



Rendering of Boesky West including Frank Stella, Puffed Star II, 2014. Rendering courtesy of Selldorf Architects. Artwork © 2017 Frank Stella / Artists Rights Society (ARS), New York.



NEW YORK, NY.- Marianne Boesky Gallery announced that it will open Boesky West, a new project space in Aspen on March 8, 2017. The 3,000 square-foot building, originally the cabin of late 1800s photographer James "Horsethief" Kelly, was reimagined and designed by Selldorf Architects and executed in cooperation with local architecture firm David Johnston Architects. Boesky West will serve as an extension of the Chelsea flagship, and feature exhibitions both by gallery artists and artists invited to present special projects. With the new space, the gallery aims to provide opportunities for these artists to engage with the broad cultural community in Aspen, as well as with the sublime and awe-inspiring landscape. Boesky West will present exhibitions, open to the public, during the peak winter-spring and summer seasons. The inaugural exhibition will feature new and recent work by artists and long-time ... More
Who Was Karoline Cohn?
Flashback
On a day like today, French painter Paul Cézanne, was born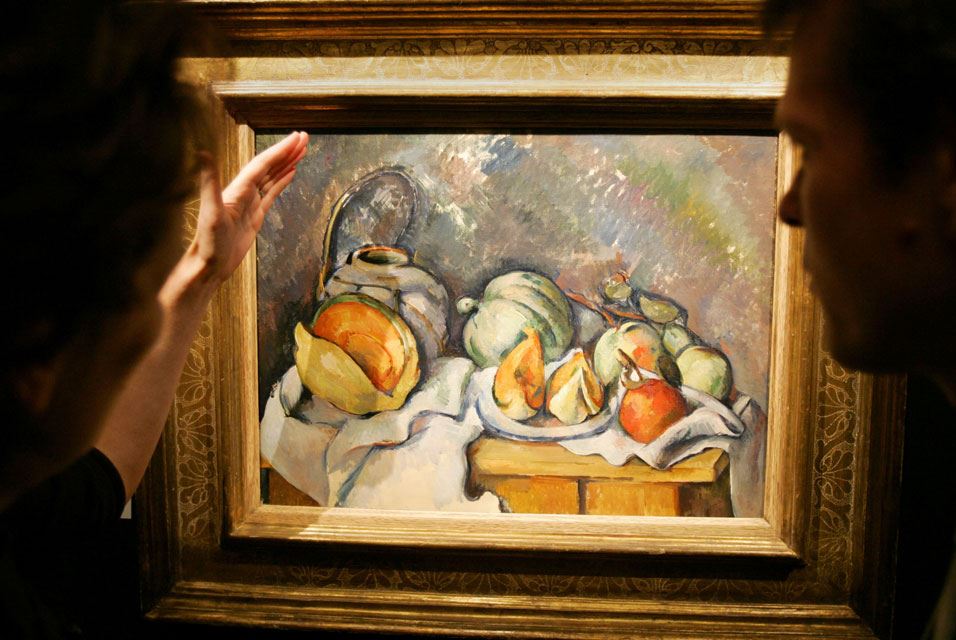 January 19, 1839. Paul Cézanne (1839-1906) was a French artist and Post-Impressionist painter whose work laid the foundations of the transition from the 19th-century conception of artistic endeavour to a new and radically different world of art in the 20th century. Cézanne can be said to form the bridge between late 19th-century Impressionism and the early 20th century's new line of artistic enquiry, Cubism. The line attributed to both Matisse and Picasso that Cézanne "is the father of us all" cannot be easily dismissed.
---

Museums, Exhibits, Artists, Milestones, Digital Art, Architecture, Photography,
Photographers, Special Photos, Special Reports, Featured Stories, Auctions, Art Fairs,
Anecdotes, Art Quiz, Education, Mythology, 3D Images, Last Week,
.
---
Royalville Communications, Inc
produces: