Exhibition is long overdue recognition of Annie Albers's pivotal contribution to art
Anni Albers combined the ancient craft of hand-weaving with the language of modern art, finding within the medium many possibilities for the expression of modern life.
LONDON
.-
This autumn
Tate Modern
is presenting the UK's first major retrospective of the work of Anni Albers (1899–1994). This exhibition brings together her most important works from major collections in the US and Europe, many of which are being shown in the UK for the first time, to highlight Albers's significance as an artist. Opening ahead of the centenary of the Bauhaus in 2019, this exhibition is long overdue recognition of Albers's pivotal contribution to modern art and design, and part of Tate Modern's wider commitment to showing artists working in textiles. Anni Albers combined the ancient craft of hand-weaving with the language of modern art, finding within the medium many possibilities for the expression of modern life. Featuring over 350 objects including beautiful small-scale studies, large wall-hangings, jewellery made from everyday items, ...
More
The Best Photos of the Day
Blockbuster Frans Hals and the Moderns is now open
Display offers a chronological path through the MACBA Collection from 1929 to the present
First major solo exhibition in the United States offers historic look at Hilma af Klint's artistic achievements


Frans Hals, Portrait of Pieter Jacobsz Olycan, 1629/30. Frans Hals Museum. On loan from a private collection. Photo: Margareta Svensson.



HAARLEM.- Last week saw the opening of the sensational major exhibition Frans Hals and the Moderns in the Frans Hals Museum. This is the first time that Frans Hals' paintings have been shown alongside reactions to his work by modern painters at the end of the 19th century. Through its own collection and some fifty loan works, the exhibition shows the enormous impact that Hals had on Modern painters, who considered him as one of their own: 'Hals, c'est un moderne' (quote from the Belgian magazine L'Art Moderne in 1883). 'It is especially relevant that we are holding the exhibition that we have always "had to hold" at this particular point in time, because it is exactly 150 years since Frans Hals was rediscovered,' according to Ann Demeester, Director of the museum. The exhibition shows how innovative Frans Hals was and can be seen at the Hof building from 13 October 2018 to 24 February 20 ... More



Alexander Calder, Sense títol, 1931. Fusta, ferro, filferro, planxa d'alumini, pintura i cordill, 120 x 74,3 x 30 cm. Col·lecció MACBA. Fundació MACBA.



BARCELONA.- In 1929 Barcelona hosted the International Exposition. Mies van der Rohe, in collaboration with Lilly Reich, designed the German Pavilion, otherwise known as 'Barcelona Pavilion'. On the initiative of Josep lluís Sert and Josep Torres i Clavé, the GATCPAC (Group of Catalan Architects and Technicians for the Progress of Contemporary Architecture) was founded. André Breton wrote the Second Surrealist Manifesto. In Paris, a group of abstract artists led by Joaquín Torres-García and Michel Seuphor, founded Cercle et Carré. That same year, the Museum of Modern Art (MoMA) opened in New York and Virginia Woolf published her first essay A Room of One's Own. This is the cultural context that initiates the new presentation of the MACBA Collection, set out as a chronological path from 1929 to the present. This display includes a number of key works from the ... More



Hilma af Klint, Group IX/SUW, The Swan, No. 17 (Grupp IX/SUW, Svanen, nr 17), 1915 from The SUW/UW Series (Serie SUW/UW). Oil on canvas, 150.5 x 151 cm. The Hilma af Klint Foundation, Stockholm. Photo: Albin Dahlström, the Moderna Museet, Stockholm.



NEW YORK, NY.- From October 12, 2018, to April 23, 2019, the Solomon R. Guggenheim Museum presents the first major solo exhibition in the United States of the Swedish artist Hilma af Klint (1862–1944). When af Klint began creating radically abstract paintings in 1906, they were like little that had been seen before: bold, colorful, and untethered from recognizable references to the physical world. It was several years before Vasily Kandinsky, Kazimir Malevich, Piet Mondrian, and others would take similar strides to free their own artwork of representational content. Yet af Klint rarely exhibited her remarkably forward-looking paintings and, convinced the world was not ready for them, stipulated that they not be shown for 20 years following her ... More
Mudam Luxembourg opens the first exhibition in the Grand-Duchy dedicated to Jeff Wall
National Portrait Gallery's largest group of portraits of Afro-Caribbean sitters go on public display for the first time
New exhibition of newly discovered sculptures offers insight into Renaissance Florence and the inspiration of artists


Jeff Wall, Mask maker, 2015. Inkjet print, 167,4 x 134,5 cm. Collection of the artist © Jeff Wall.



LUXEMBOURG.- Mudam Luxembourg – Musée d'Art Moderne Grand-Duc Jean presents the first exhibition in the Grand-Duchy dedicated to Jeff Wall. The exhibition Appearance is conceived in close collaboration with the Canadian artist and proposes, through 27 large-format photographs, an overview of his work from the end of the 1970s to today. It includes the iconic works Picture for Women (1979), The Storyteller (1986) and Restoration (1993). A large body of recent photographs is presented for the first time in a museum setting in Europe. Jeff Wall has transformed the way we think about photography. By aligning photography with a broader pictorial tradition and considering its relations to other arts—painting, but also cinema and literature—Wall has redefined its essence and extended the field of its possibilities. Each of Wall's "photographic tableaux," whether the lightboxes, dating from 1978 ... More



Naomi Campbell by Simon Frederick, 2016. © Simon Frederick / National Portrait Gallery, London.



LONDON.- The National Portrait Gallery's largest acquisition of portraits of Afro-Caribbean sitters has gone on public display for the first time in Black is the New Black: Portraits by Simon Frederick a new display at the National Portrait Gallery, London (on until 27 January 2019). The display brings together exceptional figures from the world of politics, business, culture, religion and science, photographed by artist and director Simon Frederick as part of his acclaimed BBC TWO documentary Black is the New Black, broadcast in 2016. With the support of Oath, Frederick gifted the entire portfolio of forty prints to the National Portrait Gallery in August 2017. Sitters range from model Naomi Campbell, newsreader and journalist Sir Trevor McDonald, actor Thandie Newton, musicians Jazzie B of Soul II Soul, Dizzee Rascal, Laura Mvula and Tinie Tempah, comedian and actor Sir Lenny Henry, footballer Les Ferdinand, Labour ... More



Giovan Angelo Montorsoli, John the Baptist, 1530s. Terracotta. Currier Museum of Art.



MANCHESTER, NH.- The Currier Museum of Art announces the exhibition, Myth and Faith in Renaissance Florence, centered around a recently discovered masterpiece of Renaissance sculpture, John the Baptist. The historically important work was created by Giovan Montorsoli, one of Michelangelo's most gifted students. Until recently, the sculpture was unknown and unpublished. Several other objects are presented to the public for the first time in this exhibition, while other objects have been given attributions based on new research. This exhibition examines the variety of symbolic roles played by John the Baptist, Florence's patron saint, in the civic and spiritual lives of its citizens. Moreover the art of ancient Rome shaped the development of art and culture during the Renaissance – a theme explored through restorations of ancient sculpture. "The culture of Renaissance Florence – now 500 years old – continues to astound us ... More
Rediscovered Old Masters highlight auctions at Koller Zurich
Art360 Foundation makes archiving skills available for free to all artists via new app
Springfield Art Museum announces visionary 30 year master plan


Simon de Vos (1603 Antwerp 1676), The Visitation. circa 1639. Oil on panel. 23 x 17,3 cm. Sold for CHF 30 000.



ZURICH.- One of the most captivating works in the Old Master Paintings auction at Koller Zurich was also an interesting discovery: a oil study of the head of a monk, recently identified as the model for a work by Peter Paul Rubens. Representing the head of Saint Dominic in Rubens' 1618 altarpiece "Saints Dominic and Francis Saving the World from Christ's Anger", today in the Musée des Beaux-Arts in Lyon, the painting on panel is striking in its use of minimal brushstrokes and highlighting to create a fascinating portrait which still, after four centuries, appears distinctly modern. It sold to a private collector, following spirited bidding, for CHF 336,000. Another recently discovered 17th-century Flemish work also inspired strong bidding. A small-format oil painting depicting the Visitation, it was spotted by Koller's specialists in a private collection and identified as the work of Antwerp artist Simon ... More



'If you are planning on becoming a famous, successful artist, archive everything because you'll never know what will come in handy – from the grandest masterwork to the smallest postcard. If you don't become famous there's always recycling…! --Grayson Perry



LONDON.- Art360 Foundation, an independent charity that empowers artists and artists' estates to manage and protect artworks for future generations, is launching a free app designed to make archiving and cultural preservation skills available to all. The Art360 app was produced with the support of the artists' rights management organisation, DACS, and is a motivational tool for artists of all disciplines and at any career stage. In creating the app, Art360 Foundation drew on research it has undertaken into how UK artists and estates manage archives. Among its key findings were that 81% of artists have never worked with a conservator or archivist and that 71% were not aware of the conservation status of their archive. Says Mark Waugh, Director ... More



The Museum's master plan focuses on the creation of a new Family Learning Center, new educational spaces, expansion and improvement to the facility. Image courtesy of BNIM and the Springfield Art Museum.



SPRINGFIELD, MO.- The Springfield Art Museum unveiled a new 30-year Master Plan at a City of Springfield City Council luncheon held at the Museum. The master plan is the culmination of an almost nine-month process by BNIM, a nationally recognized architecture firm with offices in Kansas City, Des Moines, and San Diego. The Museum announced that it had hired BNIM in January of 2018 to develop a master plan for the Museum's building and grounds. The Museum's master plan focuses on the creation of a new Family Learning Center, new educational spaces, expansion and improvement to the facility including public and community spaces, improved circulation throughout the building, parking improvements, and a renewed purpose for the Museum's grounds and greenspace. The ... More
PAFA will feature latest additions to permanent collection in future exhibitions
Rising British gallery launches first North American destination in Los Angeles
Bartha Contemporary opens an exhibition of works by Clay Ketter


Alice Kent Stoddard, Portrait of a woman, n.d. Oil on canvas, 35 x 40 in.



PHILADELPHIA, PA.- The Pennsylvania Academy of the Fine Arts announces the addition of nine artworks to its permanent collection of American art, including works on paper, paintings and a monumental outdoor sculpture. The sculpture, Hank Willis Thomas' All Power to All People (2017), was on view across from Philadelphia City Hall as part of Monument Lab 2017, a public art and history initiative based in Philadelphia. Monument Lab was presented with Mural Arts Philadelphia, for which PAFA was a key partner. Thomas' Afro pick sculpture, made of aluminum and stainless steel, stands eight feet tall and weighs close to 800 pounds. The artwork will be installed at PAFA in the near future. Thomas, founder of the For Freedoms public art campaign, will be speaking at PAFA this spring. He ... More



The 3,000 square foot bright and airy unit, located at 8811 Beverley Boulevard, oozes British style and sophistication.



LOS ANGELES, CA.- Maddox Gallery, the cutting-edge London based group of galleries, has opened its first North American gallery space in West Hollywood, Los Angeles. In its soft launch phase, having opened in mid-September 2018, it promises to be a new space in the city's design district dedicated to the experience of art in a luxury environment. The 3,000 square foot bright and airy unit, located at 8811 Beverley Boulevard, oozes British style and sophistication. In a setting with vaulted ceilings and immaculately polished concrete floors, Maddox Gallery LA officially launched on October 11th 2018 with its debut exhibition 'Best of British'. The show displays works by Brit blue chip and established artists and rising stars such as Dan ... More



Installation view.



LONDON.- Bartha Contemporary announces an exhibition of works by Clay Ketter. The artist's fourth solo exhibition entitled​ Registration​, includes a selection of photographic works made over the past two decades. The title of the exhibition refers to the process of registering information through the means of photography, in the context of Clay Ketter's ​(b. 1961)​ work this suggests the notion of 'scanning' surfaces. Indeed the artist's practice invites the viewer to enter a world where 'reality appears to imitate art'​1​. The relationship between the depiction of the real and artifice is rarely closer than the in the ​Gulf Coast Slabs (2007) and ​Valencia ​(2003, 2005)​ series, both portraying reality and the structures of human habitation. This exhibition includes more recent works from the ​Madre Veduta (2011)​ and ​T ... More
80 Years' War. The Birth of the Netherlands
Flashback
On a day like today, French painter and illustrator James Tissot was born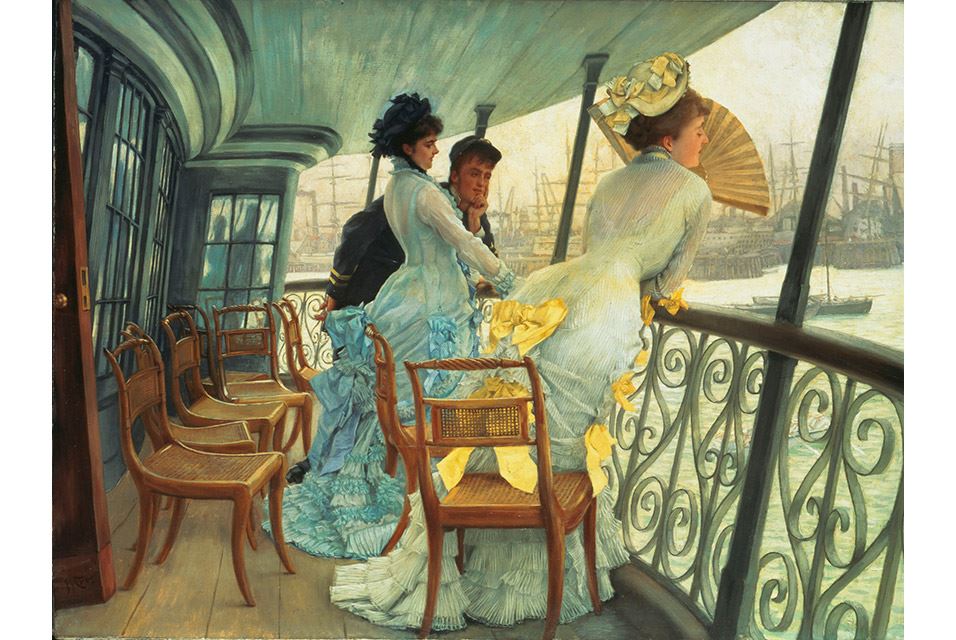 October 15, 1836. Jacques Joseph Tissot (15 October 1836 - 8 August 1902), Anglicized as James Tissot, was a French painter and illustrator. He was a successful painter of Paris society before moving to London in 1871. He became famous as a genre painter of fashionably dressed women shown in various scenes of everyday life. He also painted scenes and characters from the Bible. In this image: James Tissot, The Gallery of HSM Calcutta (Portsmouth), 1876 ca, Oil paint on canvas, UK, London, Tate © Tate, London 2015.
---

Museums, Exhibits, Artists, Milestones, Digital Art, Architecture, Photography,
Photographers, Special Photos, Special Reports, Featured Stories, Auctions, Art Fairs,
Anecdotes, Art Quiz, Education, Mythology, 3D Images, Last Week,
.
---
Royalville Communications, Inc
produces: