Boy and an amateur archaeologist unearth legendary Danish king's trove in Germany
Amateur archaeologist Rene Schoen (L) and 13-year-old student Luca Malaschnichenko look for a treasure with a metal detector in Schaprode, northern Germany on April 13, 2018. The 13-year-old boy and the hobby archaeologist have unearthed a "significant" trove in Germany which may have belonged to the legendary Danish king Harald Bluetooth who brought Christianity to Denmark. A dig covering 400 square metres (4,300 square feet) that finally started over the weekend by the regional archaeology service has since uncovered a trove believed linked to the Danish king who reigned from around 958 to 986. Braided necklaces, pearls, brooches, a Thor's hammer, rings and up to 600 chipped coins were found, including more than 100 that date back to Bluetooth's era. Stefan Sauer / dpa / AFP.
BERLIN
(AFP)
.-
A 13-year-old boy and an amateur archaeologist have unearthed a "significant" treasure trove in Germany which may have belonged to the legendary Danish king Harald Bluetooth who brought Christianity to Denmark. Rene Schoen and his student Luca Malaschnitschenko were looking for treasure using metal detectors in January on northern Ruegen island when they chanced upon what they initially thought was a worthless piece of aluminium. But upon closer inspection, they realised that it was a shimmering piece of silver, German media reported. A dig covering 400 square metres (4,300 square feet) that finally started over the weekend by the regional archaeology service has since uncovered a trove believed linked to the Danish king who reigned from around 958 to 986. Braided necklaces, pearls, brooches, a Thor's hammer, rings and up to 600 chipped coins were found, including more than 100 that date back to Bluetooth's era. "This trove is the biggest single discovery ...
More
The Best Photos of the Day
Gagosian opens an exhibition of metal sculpture by John Chamberlain
Christie's to offer two 17th century bronze masterpieces from 'The Court of the Sun King' Louis XIV of France
Christian Boltanski's first solo exhibition in London since 2010 on view at Marian Goodman Gallery


John Chamberlain, ENTIRELYFEARLESS, 2009. Painted and chrome-plated steel, 85 1/2 x 44 1/2 x 42 1/4 inches 217.2 x 113 x 107.3 cm. © 2018 Fairweather & Fairweather LTD/Artists Rights Society (ARS), New York. Courtesy Gagosian. Photo by Rob McKeever.



LONDON.- Gagosian presents "ENTIRELYFEARLESS," an exhibition of metal sculpture by John Chamberlain. Organized in collaboration with the Estate of John Chamberlain, the exhibition is the first in London since "New Sculpture" at Gagosian Britannia Street in 2011. Chamberlain's distinctive metal sculptures, often made of crushed and torqued automobile steel, reveal both the stately grace and the expressive plasticity of industrial materials. Exploring the interplay of color, sheen, weight, and balance, Chamberlain taps into the dynamic energy of Abstract Expressionism, the pre-manufactured elements of Pop and Minimalism, and the provocative curves and swells of high baroque. In this exhibition, large-scale floor sculptures and wall-mounted works made over the course of four decades attest to the ... More



François Girardon, Louis XIV on Horseback, Paris, circa 1690-1699. Estimate: £7-10 million. © Christie's Images Limited 2018.



LONDON.- From the Court of King Louis XIV of France, the 'Sun King', Christie's announces two of the most significant sculptures to come to the market in recent years. A unique rediscovered masterpiece by Louis XIV's Royal sculptor François Girardon, Louis XIV on Horseback, Paris, circa 1690-1699, is believed to be the lost sculpture from the artist's own collection, depicted in the famous engraving of the Galerie de Girardon (estimate: £7-10 million). Hercules Overcoming Acheloüs, circa 1640-50 by Florentine sculptor Ferdinando Tacca (1619-1686), was a gift from Louis XIV to his son, the Grand Dauphin, in 1681, remaining in the Royal collection until the Revolution (estimate on request: in the region of £5 million). Both works attest to the significance of Louis XIV as a connoisseur collector, celebrating the very best art from France and beyond. The works will go on view at Christie's New York in April (the G ... More



Départ / Arrivée at Fondation Louis Vuitton. Photo: Louis Vuitton/Christian Kain © Adagp, Paris 2017. Courtesy the artist and Marian Goodman Gallery, New York, Paris & London.



LONDON.- Marian Goodman Gallery is presenting Christian Boltanski's first solo exhibition in London since 2010. He uses photography, sculpture and film to create large-scale installations that engage with shared preoccupations while being rooted in the artist's own history. Conceived as a complete installation, the exhibition includes several substantial new film pieces. Boltanski leads visitors into this exhibition through a suspended veiled passage coalescing personal and communal memories. Bisecting the ground floor, La Traversée de la vie (The Crossing of Life) revisits images Boltanski worked with for a 1971 piece entitled Album de photos de la Famille D. For this seminal piece, he used photographs from a 1950s family album belonging to one of his friends. While endeavoring to reconstruct it chronologically, he sensed this process didn't ... More
Drouot to offer a unique and exceptional collection of 7 works by Frank Overton Colbert
Freeman's to offer diamond from the Collection of Dorrance "Dodo" H. Hamilton in May auction
Getty Museum appoints James A. Ganz to Senior Curator of Photographs


The Origin of Design, circa 1921. Oil on canvas board.



PARIS.- Frank Overton Colbert was a major artist of American art in the early 1920s. The first Indian to exhibit in New York, this Chickasaw painter, celebrated by the critics of the time, told Indian myths and legends through his paintbrush. He settled in Paris in 1923, frequenting Bohemian Paris where he was known as the "Redskin of Montparnasse". His whirlwind career, which was followed by serious depression in 1926, left just a handful of works, only 70 of which are currently catalogued and 5 stored in public collections in the United States. Hôtel Drouot will be presenting a collection of 7 exceptional works, almost all of which were exhibited at the famous Montross Gallery and have not been shown to the public for 55 years. In November 2017, ADER NORDMANN offered a Frank Overton Colbert painting for auction for the first time. Discovered by chance, the auctioneers did not know who he was nor what he had created. They astounde ... More



Lot 1016: An impressive 16.56 carat diamond solitair ring flanked by tapering, baguette-cut diamonds and mounted in platinum. Estimate $600,000-800,000.



PHILADELPHIA, PA.- Freeman's May 9 Fine Jewelry auction is anchored by a generous offering of jewels and accessories from the Collection of Dorrance "Dodo" H. Hamilton. The final 16 lots of the sale feature delicate evening bags, bracelets, rings, watches and necklaces, worn and cherished by the venerable Philadelphia benefactress. The 141-lot sale will end with an impressive 16.56 carat diamond solitaire ring, F color, VS2 clarity (Lot 1016, estimate $600,000-800,000). Other highlights from the Collection of Dorrance "Dodo" H. Hamilton include Lot 1014, an Art Deco diamond covered bracelet-watch signed by Cartier and formerly owned by Alice Tully. The bracelet is set with baguette and circular-cut diamonds totaling 17.00 carats, and set in platinum (estimate $30,000-50,000). Lot 1012, an 18 karat white gold and diamond ... More



Jim Ganz. Photo: Randy Dodson, Fine Art Museums San Francisco.



LOS ANGELES, CA.- The Getty Museum announced today the appointment of James A. Ganz to Senior Curator of Photographs. Ganz will oversee the museum's renowned collection of nearly 150,000 photographs, which represent the history of the medium from its inception to the present day. He joins the Getty after ten years at the Fine Arts Museums of San Francisco, where he served as Curator of the Achenbach Foundation for Graphic Arts. "Mr. Ganz's experience is a perfect fit with the mission and scholarly focus of the Getty's Department of Photographs. His many years of curating exhibitions and acquiring significant works will greatly enrich our collection and the work of our curatorial staff," says Timothy Potts, director of the J. Paul Getty Museum. "He brings an energy, enthusiasm, and leadership that will help the department engage with an even broader audience and tell ... More
High Museum unveils plans for reinstallation led by Selldorf Architects
Zsa Zsa Gabor Estate shatters expectations at Heritage Auctions
Nationalmuseum Sweden acquires mirror ordered by Count Fabian Wrede in the 1690s


Henry Inman (American, 1801–1846), Shingaba W'Ossin (Chippewa), ca. 1831–1834, oil on canvas. Gift of Ann and Tom Cousins. 2017.121.



ATLANTA, GA.- The High Museum of Art in Atlanta announced plans for a major reinstallation of its collection galleries, set to debut in October 2018. This project marks the first comprehensive revision of the galleries since the High's transformative expansion in 2005. The reinstallation will involve all seven of the High's curatorial departments and highlight the collection's growth and core strengths while creating dynamic and engaging experiences for visitors and improving accessibility throughout the High's facilities. The Museum is working with internationally renowned architectural firm Selldorf Architects to develop all aspects of collection gallery design and space planning. Concurrent with the collection reinstallation, the Museum will double the footprint and complete a total redesign of the Greene Family Learning Gallery in collaboration with Roto design firm. Gallery closures for the ... More



A portrait of the star — an important memento by friend Margaret Keane — took top-lot honors at $45,000.



BEVERLY HILLS, CA.- A standing room-only crowd and fans online around the world bid more than $900,000 in the Estate of Zsa Zsa Gabor Auction for hundreds of items from the Hollywood socialite's private personal collection. The total sale more than tripled expectations: Several lots surpassed pre-auction valuations, some of which sold for as much as 40 times their original estimates. A fan-packed, two-day lot viewing took place at her home in Bel Air, while the live auction occurred at Heritage Auctions Beverly Hills. The viewing itself attracted hundreds of interested buyers, many of whom flew in from across the United States and Europe. Spanning the star's 60-year career and red carpet appearances, the estate included keepsakes, designer couture, screen-used costumes and Hollywood memorabilia. Frédéric Prinz von Anhalt, Gabor's last husband and widower, said his late wife requested an auction to offer ... More



Burchard Precht, Mirror, 1690s, detail. © Bukowskis.



STOCKHOLM.- A mirror just acquired by Nationalmuseum is among the most magnificent examples of Swedish Baroque ever produced. The ornately carved and gilded frame contains engraved, inset plate glass. The mirror's unusually well-documented origins go back to the initial order. Count Wrede (1641-1712) was a top official who had earned the unwavering trust of King Karl XI. Following a career as Viborg County Governor, he contributed to preparations for the compulsory restitution of alienated estates in 1680. He was the Lord Marshall for the 1682 session of the Parliament. He subsequently held a number of prominent official positions. Promoting mercantilism in the private sector was among Wrede's obsessions. It wasn't long before he was elevated to countship and became one of the wealthiest Swedes alive. His political fortunes declined, however, after he advocated a more defensive military policy than Karl XII was pursuing. In ... More
Thames & Hudson publishes 'Misère: The Visual Representation of Misery in the 19th Century' by Linda Nochlin
Museum Ludwig opens a survey exhibition with over 120 works by Haegue Yang
'Full Metal Jacket' star R. Lee Ermey dead at 74


In her final book, Linda Nochlin charts the highly charged phenomenon of misery as it was depicted in the popular and fine arts of the 19th century, in what is the culmination of a lifetime at the cutting edge of thinking about the visual arts.



LONDON.- In this major book, Linda Nochlin brings a lifetime's reflection and analysis to bear on a topic of enduring fascination, and presents the reader with new material, new ideas and new ways of looking, offering a refreshing perspective on an emotive subject mapped out in the literary canon by the likes of Charles Dickens and Victor Hugo. The coming of the Industrial Revolution in the early nineteenth century witnessed the unprecedented changes in society: rapid economic growth and urbanization went hand-in-hand with appalling working conditions, displacement, squalor and destitution for those at the bottom of the social scale. These new circumstances presented a challenge to contemporary image-makers, who wished to capture the effects of hunger, poverty and alienation in Britain, Ireland ... More



Medicine Man – Indiscreet Other World, aus der Werkgruppe Medicine Men, 2010. Kleiderständer, Lenkrollen, Glühbirnen, Kabel, Kabelbinder, Lüsterklemmen, Nylonschnur, Strickwolle, Perücken, Papiermaché, Wasserfarbe, Lack, Metallringe, Metallketten, Mylar-Lametta, Aluminiumreflektor, Fransen, 180 x 120 x 100 cm. Zabludowicz Collection, London © Haegue Yang. Photo: Nick Ash.



COLOGNE.- In 2018, the Gesellschaft für Moderne Kunst am Museum Ludwig will recognize Haegue Yang for her extraordinary body of work with the Wolfgang Hahn Prize. The Museum Ludwig will showcase the remarkable versatility of her entire oeuvre in the artist's first-ever survey exhibition with over 120 works ranging from action-based objects from the 1990s to lacquer paintings, photographs, works on paper, video essays, anthropomorphic sculptures, performative pieces, and large-scale installations. The abbreviation ETA stands for "estimated time of arrival," among other things. Thus, the exhibition title points to an artistic career in transit and the constant itineracy ... More



US actor and Marine Corps veteran R. Lee Ermey. Jim WATSON / AFP.



NEW YORK (AFP).- US actor and retired Marine R. Lee Ermey, best known for his role as foul-mouthed Gunnery Sergeant Hartman in Stanley Kubrick's "Full Metal Jacket," has died, his manager said Sunday. He was 74. Manager Bill Rogin said the Golden Globe nominee Ermey died from complications of pneumonia. "It is with deep sadness that I regret to inform you all that R. Lee Ermey ("The Gunny") passed away this morning from complications of pneumonia," he said in a statement on Twitter. "He will be greatly missed by all of us. Semper Fi, Gunny. Godspeed," he wrote, referencing the motto of the United States Marines Corps, in which Ermey served from 1961 to 1971 when he was medically discharged. Born in Emporia, Kansas in 1944, Ermey bagged his first acting role while studying drama at the University of Manila in the Philippines, landing a part as a helicopter pilot in "Apocalypse Now" (1979). He went on to appear in some 60 films, often in military-related roles. ... More
'An equal partnership' between Matisse and his model
Flashback
On a day like today, Ukrainian-American sculptor Louise Nevelson died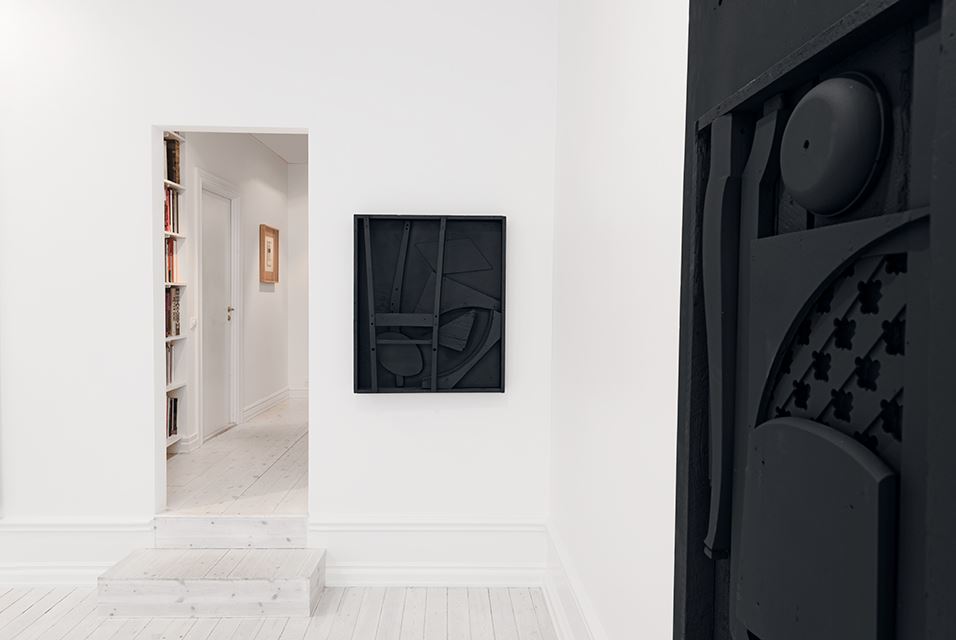 April 17, 1988. Louise Nevelson (September 23, 1899 - April 17, 1988) was an American sculptor known for her monumental, monochromatic, wooden wall pieces and outdoor sculptures. In this image: Installation view.of an exhibition at McCabe Fine Art that presented a diverse selection of Louise Nevelson's late career Works.
---

Museums, Exhibits, Artists, Milestones, Digital Art, Architecture, Photography,
Photographers, Special Photos, Special Reports, Featured Stories, Auctions, Art Fairs,
Anecdotes, Art Quiz, Education, Mythology, 3D Images, Last Week,
.
---
Royalville Communications, Inc
produces: