Artemis Gallery announces auction of antiquities, Asian and ethnographic art + fossils
Ancient Egyptian Ptolemaic gilded child sarcophagus helmet mask, est. $18,000-$25,000. Images courtesy of Artemis Gallery.
BOULDER, COLO
.-
Throughout the year,
Artemis Gallery
presents both specialty and comprehensive one-day auctions that attract a global audience of antiquities and ethnographic art collectors, and institutional buyers. But the excitement level leading up to an Artemis Gallery sale is never greater than when the Colorado-based company hosts its two-day Exceptional Auction, whose format features antiquities and fine Asian art in the opening session and ethnographic art and fossils on Day 2. The next highly anticipated event of this type is slated for June 20-21, with absentee and Internet live bidding available through LiveAuctioneers. As is the case with every Artemis sale, all pieces offered are pre-vetted by a research team led by gallery co-owners and renowned industry experts Bob and Teresa Dodge. All convey with an Artemis Gallery COA and are unconditionally guaranteed to be aut ...
More
The Best Photos of the Day
Remarkable sales across all levels of the market at Art Basel in Basel 2018
Exhibition explores how Frida Kahlo fashioned her identity
Exhibition contains the most emblematic and universal icons of the world created by Andy Warhol


Art Basel in Basel 2018 © Art Basel.



BASEL.- The 2018 edition of Art Basel in Basel closed on Sunday, June 17, 2018, amid reports of significant sales to private collections and institutions by galleries across all market sectors. Once more, Art Basel drew in a particularly strong turnout of both established and new collectors, from over 100 countries, with especially robust attendance from Europe and Asia. The show took place at Messe Basel from June 14 to June 17, 2018 and attracted an attendance of nearly 95,000 and once again proved to be a pivotal meeting place for the international art world. The show, whose Lead Partner is UBS, brought together 290 premier galleries from 35 countries, presenting extraordinary contemporary and Modern works by over 4,000 artists. Leading private collectors from Europe, the Americas, Asia, Africa and the Middle East attended this year, as well as representatives from over 400 museums and institutions, including: The Bass, ... More



Frida Kahlo, Self-Portrait, 1948 © Private Collection



LONDON.- This summer, the V&A explores how Frida Kahlo (b. 1907), one of the most recognised and significant artists and women of the 20th century, fashioned her identity. Frida Kahlo: Making Her Self Up is the first exhibition outside of Mexico to display her clothes and intimate possessions, reuniting them with key self-portraits and photographs to offer a fresh perspective on her compelling life story. The exhibition presents an unparalleled insight into Kahlo's life revealing some objects that have never been on show before. Working in close collaboration with Museo Frida Kahlo, the museum displays more than 200 objects from the Blue House. Kahlo's personal items including outfits, letters, jewellery, cosmetics, medicines and medical corsets were discovered in 2004, 50 years after being sealed in the Blue House by her husband Diego Rivera, the Mexican muralist, following her death in 1954. Exploring Kahlo's highly choreograph ... More



Installation view.



MALAGA.- Warhol. Mechanical Art provides a complete and polyhedral journey that enables visitors to follow the creative development of this exceptional artist from his beginnings as a budding commercial graphic designer in New York City in the 1950s, to his death in 1987, by which time he had become a universal legend. The show highlights various aspects of Warhol's work, such as the innovative way in which he applied the idea of processing to his multi-faceted serial work, the strong biographical links, his artistic production, and his originality and talent for transversally and cyclically combining different techniques, media and iconographic repertoires. He created representations that are canons, as they form part of the official history of Western art, and symbols, having become part of contemporary collective popular imagery. Organized by Museo Picasso Málaga in collaboration with Obra Social "la Caixa", the ... More
Last of the Jayer wine sold for 30 mln euros
The Brodsky Center for Printmaking and Papermaking moves to new home at PAFA
Palmer Museum of Art presents three shows in eclectic summer exhibition lineup


A file photo taken on April 27, 2018 in Geneva shows magnums (1.5 litre bottle) of Vosne-Romanee 1er cru Cros Parantoux wine by late famous French winemaker Henri Jayer. Fabrice COFFRINI / AFP.



GENEVA (AFP).- The last batch of late legendary winemaker Henri Jayer's Burgundies -- which include some of the world's most expensive wines -- was sold for a mouth-watering 30 million euros ($35 million) in Geneva on Sunday, well in excess of the estimated price. In all, 1,064 bottles went under the hammer at the Baghera Wines auction at a gourmet restaurant in Geneva. They included Cros-Parantoux Vosne-Romanee Premier Cru, which ranks among the world's priciest wines. "Everything was sold and each one of the lots was extremely well bid" in an auction that lasted six and a half hours, said Emilie Drouin, spokeswoman for the Baghera Wines auction house. The 855 standard bottles and 209 magnums, dating from between 1970 and 2001, were from the personal wine cellar of the man broadly considered the king of the Pinot Noir variety of grape. ... More



Elizabeth Catlett (American, 1915–2012), Gossip, 2005. Digital print and photolithograph, 22 ½ x 24 inches. Edition of 200. Published by Brodsky Center at PAFA. Collaborating master printer Randy Hemminghaus. Photo courtesy of the artist and Brodsky Center at PAFA. © the artist and Brodsky Center at PAFA. Photo: Jack Abraham.



PHILADELPHIA, PA.- The Brodsky Center, a collaborative paper and printmaking center devoted to the creation of new work, is coming to the Pennsylvania Academy of the Fine Arts (PAFA). PAFA has announced plans to absorb the Center from its current location at Rutgers, The State University of New Jersey. The Rutgers Center for Innovative Print and Paper was founded in 1986 by Judith Brodsky, an artist, printmaker, arts advocate and professor of art. Housed at the Mason Gross School of the Arts at Rutgers, the Center was renamed in her honor in 2006, and is dedicated to enabling groundbreaking artists, both established and emerging, to create new work in paper and print. Brodsky, who now sits on PAFA's Contemporary Collections Committee, ... More



Edward Penfield, Harper's March, 1895, color lithograph. Gift of Jack R. Bershad, 95.109.



UNIVERSITY PARK, PA.- The Palmer Museum of Art at Penn State announced its summer 2018 exhibition schedule. This summer, the museum will present recent large-scale paintings by contemporary artist Julie Heffernan, as well as exhibitions drawn from the museum's permanent collection including a display of documentary and modernist photographs of the city, and a selection of posters from the golden age of American poster art. The Palmer's major exhibition for summer 2018 highlights a selection of monumental canvases by contemporary artist Julie Heffernan, a former professor of painting at Penn State. In When the Water Rises: Recent Paintings by Julie Heffernan, the artist explores her personal response to the dilemma and threat of climate change. Intricately wrought and meticulously detailed, the narrative paintings begin the conversation about how humans might adapt to vastly different climactic conditions or ... More
Suspect dead, 20 hurt in shooting at US arts festival
Overall results of Ketterer Kunst's seven auctions that realized more than €23 million
Exhibition charts the remarkable accomplishments of documentary photographer Tish Murtha


Police officers inspect the crime scene at the Roebling Market on June 17, 2018, the morning after a shooting at an all-night art festival injured 20 people and left one suspect dead in Trenton, New Jersey. DOMINICK REUTER / AFP.



NEW YORK (AFP).- At least 20 people were hurt early Sunday in a shooting at an all-night arts festival in Trenton, the state capital of New Jersey, that also left one suspect dead, a local prosecutor said. "Multiple individuals opened fire" inside the festival venue shortly before 3:00 am, Mercer County chief prosecutor Angelo Onofri told reporters. A 33-year-old man, one of the suspects, was killed, and another was taken into custody, he said. Among the injured at the Art All-Night Trenton event was a 13-year-old boy in critical condition. Several weapons were recovered at the scene, Onofri said. The local CBS affiliate said 22 people were wounded, and that four of them were in critical condition. Officials offered no immediate theory as to what prompted the shooting spree, or how it unfolded. ... More



Tony Cragg, Point of View, 2002. Bronze. Estimate: € 300,000 / $ 360,000. Sold: € 662,500 / $ 795.000.



MUNICH.- Satisfied clients and excellent figures – that's the overall result of the seven auctions that realized more than €23 million - around 2.5 million more than in spring 2017. In comparison with the same period in 2017, this auction saw a total of 44 results on or beyond the € 100,000 line, instead of a previous 38. Additionally, a great number of records were achieved. The demand for Post War Art was particularly strong. After the Departments of 19th Century Art and Rare Books had already grossed proceeds of around € 2.5 million a few days earlier, the Departments of Modern-, Post War- and Contemporary Art set a strong final chord for the first auction term in 2018 with sales figures of more than € 20 million. Auctioneer and company owner Robert Ketterer sums up: "I am very delighted that we were even able to excel last year's great performance." He continues: "What I find very remarkable was the fact that artists ... More



Tish Murtha, Newport - Ex Miner - New Found out pub, 1977. © Ella Murtha, All rights reserved. Courtesy of Ella Murtha & The Photographers' Gallery.



LONDON.- The Photographers' Gallery presents Tish Murtha: Works 1976 – 1991, a new exhibition which charts the remarkable accomplishments of documentary photographer Tish Murtha (b. South Shields 1956 - d. 2013) and offers a tender and frank perspective on a historic moment of social deprivation and instability in Britain. The exhibition surveys six major bodies of work; Newport Pub (1976/78); Elswick Kids (1978); Juvenile Jazz Bands (1979); Youth Unemployment (1980); London by Night (1983) and Elswick Revisited (1987 – 1991) using both vintage and contemporary prints. In addition, the exhibition will also include personal letters and ephemeral material from the Tish Murtha Archive. In 1976, aged 20, Tish Murtha left Newcastle upon Tyne to study at the influential School of Documentary Photography at Newport College of Art under the guidance of Magnum photographer David Hurn. ... More
Classic Beauties unveils the sensual enchantment of Neoclassicism
Oxford University Press publishes second edition of 'After Modern Art 1945-2017' by David Hopkins
Blum & Poe announces the representation of Los Angeles-based artist Mimi Lauter


Antonio Canova, The Three Graces , 1812–16 (detail) © Aurelio Amendola / State Hermitage Museum, St Petersburg.



AMSTERDAM.- Saturday 16 June 2018 marked the opening day of Hermitage Amsterdam's new exhibition, Classic Beauties. Artists, Italy and the Esthetic Ideals of the 18th Century. The show tells the story of the artists and tourists, who flocked to Italy, and more especially Rome, in the second half of the eighteenth century. From all over Europe they travelled to the Eternal City in search of inspiration and to see for themselves the newly excavated classical Greco-Roman sculptures and buildings. Their experiences prompted an austere kind of fashionable architecture, but in the visual arts, a new, unprecedentedly sensual style sent shock waves through society: a naked, superhuman beauty more daring than anything attempted by the Greeks and Romans. Neoclassicism was born. The archaeological finds sparked a craze for travel among young aristocrats across the continent. Many spent months travelling to and sightseeing in Italy. Among them were J ... More



After Modern Art 1945-2017 introduces the major movements, motivations, and artists of the period, including Jackson Pollock, Andy Warhol, Louise Bourgeois, and Jeff Koons.



OXFORD.- Contemporary art can be baffling and beautiful, provocative and disturbing. This pioneering book presents a new look at the controversial period between 1945 and 2017, when art and its traditional forms were called into question. It focuses on the relationship between American and European art, and challenges previously held views about the origins of some of the most innovative ideas in art of this time. Major artists such as Jackson Pollock, Robert Rauschenberg, Andy Warhol, Joseph Beuys, Gerhard Richter, Louise Bourgeois, Cindy Sherman, Jeff Koons, and Shiran Neshat are all discussed, as is the art world of the last fifty years. Important trends are also covered including Abstract Expressionism, Pop Art, Minimalism, Conceptualism, Postmodernism, and Performance Art. This revised and updated second edition includes a new chapter exploring art since 2000 and how ... More



Mimi Lauter, Untitled (Devotional Flower Landscape), 2018. Soft pastel, oil pastel on paper, 87 7/8 x 73 3/8 x 2 inches framed. © Mimi Lauter, Courtesy of the artist and Blum & Poe, Los Angeles/New York/Tokyo.



NEW YORK, NY.- Blum & Poe announced the representation of Los Angeles-based artist Mimi Lauter. Her first solo exhibition with the gallery is on view in Los Angeles until June 23. Lauter works primarily with pastel on paper, from intimately scaled notebook-sized work to twenty-four part installations transforming entire gallery spaces into secular chapels. A saturated, bold palette and intricately carved rich textures comprise her works that harken simultaneously to cave paintings, Byzantine mosaics, medieval tapestries, Redon, and the murals of Diego Rivera. The work hovers between abstraction and representation, carrying narratives drawn from subconscious memory, literature, sociopolitical surroundings, the history of painting, and classical mythology. She says, "There's a certain type of intimacy with drawing. It's always an accumulation of many marks, never one gesture, that leads to a different relationship with time. ... More
In the Studio with Suzan Frecon
Flashback
On a day like today, Flemish painter Rogier van der Weyden died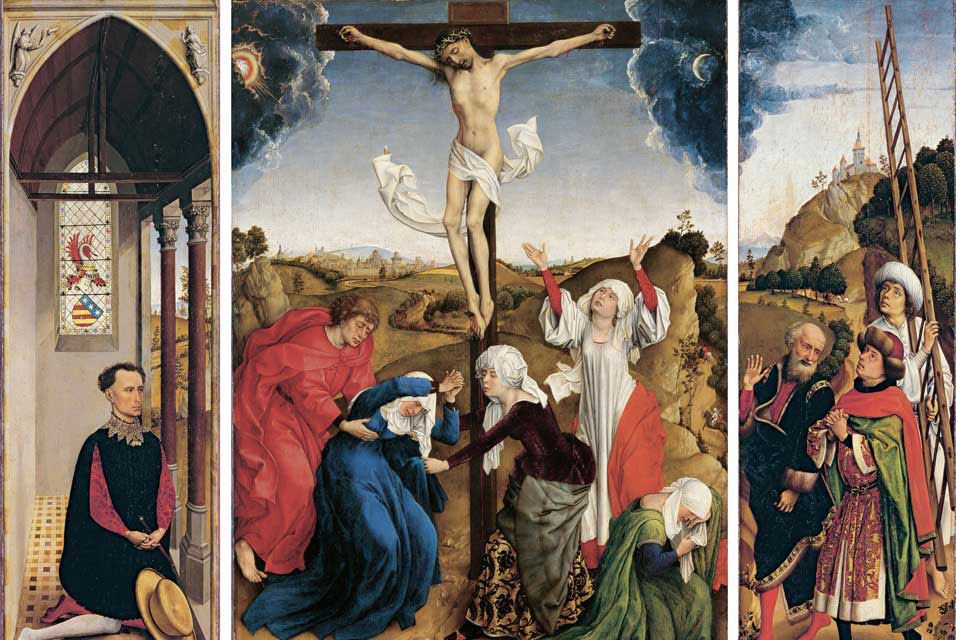 June 18, 1464. Rogier van der Weyden (1399 or 1400 - 18 June 1464) was an Early Netherlandish painter whose surviving works consist mainly of religious triptychs, altarpieces and commissioned single and diptych portraits. He was highly successful and internationally famous in his lifetime; his paintings were exported – or taken – to Italy and Spain, and he received commissions from, amongst others, Philip the Good, Netherlandish nobility, and foreign princes. In this image: Rogier van der Weyden, Werkstatt, Kreuzigung Christi (Abegg-Triptychon), um 1445, Eichenholz, Mitteltafel: 103,5 x 72,4 cm, Flügel: je 103,5 x 32,8 cm. Riggisberg bei Bern, Abegg-Stiftung. © Riggisberg, Abegg-Stiftung, Christoph von Viràg, 1999.
---

Museums, Exhibits, Artists, Milestones, Digital Art, Architecture, Photography,
Photographers, Special Photos, Special Reports, Featured Stories, Auctions, Art Fairs,
Anecdotes, Art Quiz, Education, Mythology, 3D Images, Last Week,
.
---
Royalville Communications, Inc
produces: