Musée Jacquemart-André opens exhibition of works from the Ordrupgaard Collection
The exhibition includes works that are relatively unknown in France, ranging from Corot to Cézanne and Matisse, the changing landscapes of Monet, Pissarro, and Sisley, and the tender portraits of Renoir, Morisot, and Gonzalès.
PARIS
.-
As is the case with the
Musée Jacquemart-André
, the Ordrupgaard Collection was assembled by two art lovers, the Danish couple Wilhelm (1868–1936) and Henny (1870–1951) Hansen. A businessman and art connoisseur, and an independent and visionary man, Wilhelm Hansen assembled in only two years (between 1916 and 1918) a collection—which was quite unique in Europe—of Impressionist and Post-Impressionist works from the second half of the nineteenth and early twentieth centuries. A selection of more than forty works are being presented for the first time in Paris, at the Musée Jacquemart-André. The exhibition includes works that are relatively unknown in France, ranging from Corot to Cézanne and Matisse, the changing landscapes of Monet, Pissarro, and Sisley, and the tender portraits of Renoir, Morisot, and Gonzalès. The works of emblematic artists such as Degas, Manet, and Courbet, are also being exhibite ...
More
The Best Photos of the Day
Hauser & Wirth opens acomprehensive overview of Arte Povera
Sara Kay announces Sara Kay Gallery
Major collection of Dutch paintings of the Golden Age donated to the Kunsthalle Bremen


Giovanni Anselmo, Torsione (Torsion), 1968. Cement, leather, wood. Overall: approx. 72 x 86 x 86 cm / 28 3/8 x 33 7/8 x 33 7/8 in, © Giovanni Anselmo. Courtesy Archivio Anselmo. Courtesy Sammlung Goetz, München. Photo: Raimund Koch, NY.



NEW YORK, NY.- Hauser & Wirth is presenting 'Arte Povera. Curated by Ingvild Goetz,' a comprehensive overview of Italy's highly innovative twentieth-century art movement, as seen through the eyes of one of its most significant collectors. With over 150 works on view, 'Arte Povera' sheds light on the ideas and motivations of a group of Italian artists – jointly known as 'i poveristi' – whose radical responses to the sociopolitical upheaval of their time remain vividly relevant today. The exhibition coincides with the 50th anniversary of the Arte Povera movement and features works spanning the late 1950s to the 1990s by Claudio Abate, Giovanni Anselmo, Alighiero Boetti, Pier Paolo Calzolari, Giorgio Colombo, Luciano Fabro, Jannis Kounellis, Mario Merz, Paolo Mussat Sartor, Giulio Paolini, Pino Pascali, Giuseppe Penone, Michelangelo Pistoletto, Emilio Prini, and ... More



Jean Dubuffet, Paysage Amoncelé, 1968 Copyright 2015 Artists Rights Society (ARS), New York/ADAGP, Paris.



NEW YORK, NY.- Sara Kay announced the opening of her first gallery, Sara Kay Gallery, in a historic 19th century townhouse at 4 East 2nd Street on September 28, 2017. Sara Kay Gallery serves as the culmination of Kay's 20-year career encompassing Old Masters to Contemporary Art. Her diverse expertise will drive the gallery's genre-defying programming, which will span a wide range of art historical periods and movements, and provide an expansive vision for collecting. The gallery will also put a special emphasis on supporting female artists. Prior to founding her art advisory business in 2015, Kay was Director of the prestigious gallery White Cube in London. Formerly, she served as Director of the Fine Art Department at the Jan Krugier Gallery, the exclusive agent for work by Pablo Picasso from the Marina Picasso Estate, and specialized in 19th and 20th century painting, drawing and sculpture. Previously, Kay served as a Specialist in Old Master Drawings ... More



Jacob Ochtervelt, Die Serenade. Öl auf Leinwand, 51 x 40 cm. Kunsthalle Bremen – Der Kunstverein in Bremen.



BREMEN.- For decades, this private collection remained a secret: now the Bremen businessman Carl Schünemann has donated his valuable collection of Old Master paintings to the Kunsthalle Bremen. The core of the collection consists of 32 paintings by seventeenth-century Dutch masters. In addition, it includes a Tuscan Madonna panel from around 1400 and an eighteenth century panorama of Venice by Michele Marieschi. It is the most significant group of Old Master works that the Kunstverein, which remains to this day the responsible body of the Kunsthalle Bremen, has received since it was founded in 1823. With this gift, Schünemann has joined the ranks of great Hanseatic patrons of the arts. Carl Schünemann comes from a prominent publishing family in Bremen. He is the fifth generation to manage the Bremen print and publishing company Carl Ed. Schünemann KG, which, in addition to its venerable newspaper arm, also publishes an extensive book ... More
Artists donate works for auction to help those affected by the Grenfell Tower fire
World auction record for an English watch: George Daniels' Space Travellers sells for £3.2 million
Getty Museum to exhibit rare Michelangelo drawing


Wolfgang Tillmans, Freischwimmer 193 (2009). Chromogenic print, 238.2 x 181 x 6 cm. Est. £80,000-120,000. Courtesy Sotheby's.



LONDON.- The 'Art for Grenfell' auction will take place on Monday 16 October at Sotheby's, 34-35 New Bond Street, in London. Leading contemporary artists have generously agreed to donate works to the auction, including Tacita Dean, Tracey Emin, Rachel Howard, Sarah Lucas, Harland Miller, Wolfgang Tillmans, Yinka Shonibare, Mark Wallinger and Rachel Whiteread. Gallerist Sadie Coles, a former resident of Notting Hill, will also donate a work from her own collection. The sale proceeds will be divided up equally among the 158 surviving families by the Rugby Portobello Trust, a North Kensington-based charity which has been closely supporting the Grenfell residents since the fire in June. Film Producer Hamish McAlpine and Art Consultant Katie Heller are the driving-forces behind 'Art For Grenfell', and over the past few months have been working with the artists to ... More



George Daniels, Space Travellers' Watch, circa 1982. Estimate £1.2 – 1.8 million. Courtesy Sotheby's.



LONDON.- Today at Sotheby's London, George Daniels' legendary `Space Travellers' re-established its supreme status as the most valuable English watch in auction history, when it sold for £3,196,250 ($4,324,526), thereby beating the record of £1.3 million it set in 2012*. Made circa 1982, this 18k yellow-gold chronograph with Daniels' independent double-wheel escapement is one of the celebrated British watchmaker's most important timepieces. Four bidders competed for this masterpiece of horology which went to an anonymous buyer in the room after almost 10 minutes of suspense. Named in honour of the American moon landing in 1969, the watch was described by Daniels as the kind of watch you would need on your package tour to Mars. This impressive, beautifully crafted watch is one of only two ever-made in this style and is unique in its inclusion of a chronograph. Featuring both mean-solar time and sidereal ... More



Michelangelo Buonarroti (Italian, 1475-1564), Study of a Mourning Woman (detail). Pen and brown ink, heightened with white, 26 x 16.5 cm.



LOS ANGELES, CA.- The Getty Museum will exhibit a rare drawing by one of history's most admired artists, Michelangelo, for a limited time from September 20 through October 29, 2017. The drawing was part of a landmark group of 16 drawings and one painting acquired by the Getty Museum in July of this year. Study of a Mourning Woman, ca. 1500-05, by Michelangelo Buonarroti (1475-1564) made headlines after it was rediscovered in the collection at Castle Howard in 1995. Before then, it had been hidden among other treasures in the family collection, unknown to scholars for hundreds of years. This is the first time the drawing has been exhibited in a museum since its rediscovery. "Michelangelo's drawing is the supernova among a collection of some 16 extraordinarily rare and important drawings recently acquired by the Getty," says Timothy Potts, director of the ... More
China Guardian Hong Kong announces highlights from its 2017 Autumn Autumn Auctions
Rare full-scale Sputnik model to highlight the Air and Space Sale at Bonhams New York
Rodin at The Met honors centennial of the artist's death and celebrates museum's historic collection


A Covered Bronze Water-Vessel With Loop Handle, Bird-Upon-Man Legs and Interlaced Dragon Design, He Early Warring States Period (475-221 BC) 24cm. high. Estimate: HKD 3,000,000 - 5,000,000.



HONG KONG.- China Guardian Hong Kong 5th Anniversary and 2017 Autumn Auctions will take place from 30 Sep to 3 Oct at Hall 5 BC, Hong Kong Convention and Exhibition Centre. In this spectacular "China Guardian's Year", China Guardian (Hong Kong) will present remarkable artworks from all around the globe to discerning connoisseurs. The auction series encompass Chinese Paintings and Calligraphy, Classical Furniture, Chinese Ceramics and Works of Art, Jewellery, Watches & Luxury Goods and Asian 20th Century and Contemporary Art, the varied array of magnificent pieces at the upcoming auction will be a splendid feast for all collectors. Ms. Hu Yanyan, President of China Guardian (HK) Auctions Co., Ltd, states, "It was in the autumn of 2012 that China Guardian (HK) held its first auction in Hong Kong. Although there were just two sessions, one for Chinese paintings and calligraphy and the other for Chinese furniture, anticipating collectors ... More



A Neil Armstrong Apollo-Era Training Glove Issued to Neil Armstrong, with his Beta Cloth Tag. Estimate: $8,000-12,000. Photo: Bonhams.



NEW YORK, NY.- On September 27, Bonhams will offer The Air and Space Sale, which comprises over 200 lots that celebrate the remarkable accomplishments of our greatest aviation and space pioneers. Highlights include a full-scale Sputnik-1 EMC/EMI test model, a Neil Armstrong Apollo-Era Training Glove, and a Wright Brothers photo album featuring the first photos ever published of their flyer inflight. The public exhibition begins September 22 to 26. Bonhams will offer an exceptionally rare vintage test model of the Sputnik-1 satellite. It is a full-scale vintage test model of the Sputnik-1 satellite, serial number "0K6-1/002/1957", with live transmitter (modern 12 volt power supply included) (estimate: $100,000-150,000). This is one of only a few made to test ground Electromagnetic Compatibility (EMC) and Electromagnetic Interference (AMI) testing. There are only a handful of known vintage test models of the Sputnik-1: three in private hands (includ ... More



Auguste Rodin, The Thinker Founder: Cast by Alexis Rudier (French) Modeled ca. 1880, cast ca. 1910. Bronze. Overall: 27 5/8 in., 185 lb. (70.2 cm, 83.9 kg) The Metropolitan Museum of Art, Gift of Thomas F. Ryan, 1910.



NEW YORK, NY.- On the centenary of the death of Auguste Rodin (1840–1917), The Metropolitan Museum of Art celebrates its historic collection of the artist's work in Rodin at The Met. Nearly 50 marbles, bronzes, plasters, and terracottas by Rodin, representing more than a century of acquisitions and gifts to the Museum, are being displayed in the newly installed and refurbished B. Gerald Cantor Sculpture Gallery (Gallery 800). The exhibition features iconic sculptures such as The Thinker and The Hand of God, as well as masterpieces such as The Tempest that have not been on view in decades. Paintings from The Met's collection by some of Rodin's most admired contemporaries, including his friends Claude Monet (1840– 1926) and Pierre Puvis de Chavannes (1824–1898), are being presented in dialogue with the sculptures on display. The extraordinary range of The Met's holdings of Rodin's work are being highlighted i ... More
The Museum of Contemporary Art Chicago opens first major museum survey of artist Michael Rakowitz
Austrian Cultural Forum New York celebrates artist Franz West
Christie's redesigns decorative arts: New program of events and sales launching autumn 2017


Michael Rakowitz, May the Arrogant Not Prevail, 2010. Found Arabic packaging and newspapers, glue, cardboard, and wood; 35 ¼ x 194 ¼ x 37 ½ in. (597.5 x 493.4 x 95.3 cm). Collection Museum of Contemporary Art Chicago, gift of Marshall Field's by exchange, 2015.4 Image courtesy of the artist and Rhona Hoffman Gallery.



CHICAGO, IL.- The Museum of Contemporary Art Chicago presents the first major museum survey of Chicago-based, Iraqi-American artist Michael Rakowitz whose work explores contested social, political, and cultural histories. Rakowitz revives destroyed and looted objects and marginalized histories, and questions how art can function as a space for closing those wounds. Drawing on personal experience and research on these subjects, as well as history and popular culture, Rakowitz creates illustrated objects, installations, and performances that invite viewers to contemplate their complicit relationship to the political world around them, recognizing that hospitality and hostility are interlinked. The exhibition includes his major commission What Dust Will Rise? created for ... More



Franz West and Andreas Reiter Raabe, Fleur Mal, 2012. LED – lamp, paper machè, Kartonrohre, acrylic, Metal chain ca. 35 x 73 x 77 cm. Courtesy Andreas Reiter Raabe. Photo: Ashley Barber.



NEW YORK, NY.- The Austrian Cultural Forum New York presents Wild West, a group exhibition commemorating the legacy of late Austrian artist Franz West (1947-2012), on view September 20, 2017 – January 22, 2018. Curated by former West-collaborator Andreas Reiter Raabe, the show consists of works by Franz West, his New Yorkbased contemporaries, and commissioned works by emerging artists from New York and Austria. The exhibition's title acts as a play-on-words for West's nonconformist, anarchic approach to creating artworks and his critical place in Western art history. His deep curiosity for alternative ways of thinking and exhibiting manifested in his numerous collaborations with fellow artists and creatives. At the height of his career in the mid-1980s, West chose to exceed the boundaries of a typical 'solo show' and invited emerging artists to exhibit alongside him, often to the surprise of ... More



English and European Furniture, Works of Art & Ceramics & Silver 18 October, New York. © Christie's Images Limited 2017.



NEW YORK, NY.- Christie's announces a new sales strategy commencing in Autumn 2017 to align its global decorative arts sales calendar with key industry fairs, and to introduce a program of engaging, international public events called Christie's Lates. The new decorative arts calendar features curated sales targeting a wide range of buyers; The Exceptional Sale, presenting museum quality pieces; The Collector sales, offering a curated selection of objects and furniture for connoisseurs; Interiors sales, featuring contemporary and classic pieces for the home; and Private Collection sales, selling property from the homes of important collectors. Christie's Lates welcomes collectors and enthusiasts of all ages and interests who enjoy engaging with art. The events are free and open to the public with special programming during the auction previews. The popular concept of Christie's Lates will launch at Christie's London, 8 Kin ... More
Museum Without Walls: Ai Weiwei in Austin
Flashback
On a day like today, American glass artist Dale Chihuly was born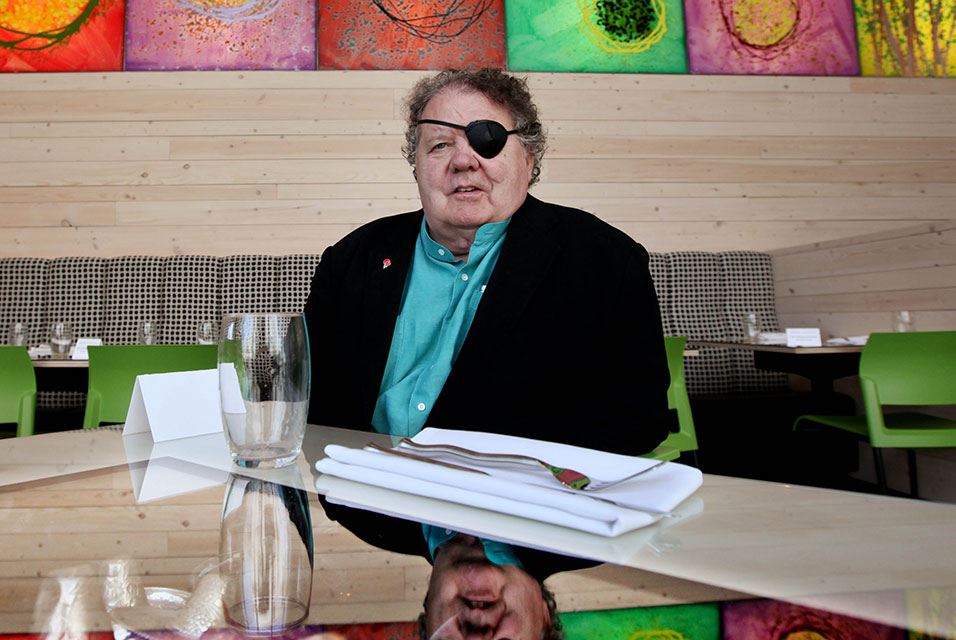 September 20, 1941. Dale Chihuly (born September 20, 1941, Tacoma, Washington, is an American glass sculptor and entrepreneur. In this image: Dale Chihuly sits in front of a wall featuring his drawings in the cafe during a preview of the Chihuly Garden and Glass exhibit at the Seattle Center in Seattle. The new, permanent 1.5 acre exhibit is located near the base of the Space Needle. It looks at the career of Chihuly and features an eight-gallery exhibition hall, conservatory and garden as well as a cafe with a selection of Chihuly's collections of vintage accordions, radios, clocks and other mid-century memorabilia.
---

Museums, Exhibits, Artists, Milestones, Digital Art, Architecture, Photography,
Photographers, Special Photos, Special Reports, Featured Stories, Auctions, Art Fairs,
Anecdotes, Art Quiz, Education, Mythology, 3D Images, Last Week,
.
---
Royalville Communications, Inc
produces: