Schirn Kunsthalle opens an exhibition on the political art of the present day
Mark Flood, 5000 Likes, 2015/16, Installation view "Power to the People. Political Art now", © Schirn Kunsthalle Frankfurt 2018, photo: Norbert Miguletz.
FRANKFURT
.-
From March 21 to May 27, 2018, the
Schirn Kunsthalle Frankfurt
is presenting an extensive exhibition on the political art of the present day. Based on a wide variety of different media, such as installations, photography, drawing, painting, and film, Power to the People: Political Art Now takes stock of contemporary positions that can be read as seismographs of political activity. Democracy appears to be in crisis, the era of post-democracy has already dawned. The symptoms are manifold: populist leaders, fake news, autocratic backlash, totalitarian propaganda, and neoliberalism. For some time, however, society has also been experiencing the path of the art's return to the political—a re-politicization is palpable. Images of demonstrations in the media have shaped public perception in recent years: waving flags, posters, or banners on streets and squares, at the Women's March, in anti-Brexit campaigns, or in Occupy actio ...
More
The Best Photos of the Day
The Frick Pittsburgh presents masterpieces from the Mellon Collection of French art
$3.1 million Ming Dynasty ewer leads day 2 of Sotheby's Asia Week Sale Series in New York
The National Gallery of Australia's Diane Arbus touring exhibition opens at Heide Museum of Modern Art


Claude Monet (French, 1840–1926), Camille at the Window, Argenteuil (Camille à sa fenêtre, Argenteuil), 1873. Oil on canvas. 233/4"H x 195/8"W. Estate stamp lower left, Claude Monet. Virginia Museum of Fine Arts, Richmond. Collection of Mr. and Mrs. Paul Mellon. Photo: Katherine Wetzel. © Virginia Museum of Fine Arts.



PITTSBURGH, PA.- The Frick Pittsburgh in Point Breeze is presenting Van Gogh, Monet, Degas: The Mellon Collection of French Art from the Virginia Museum of Fine Arts, an exhibition featuring more than 70 masterpieces collected by Pittsburgh-born collector and philanthropist, Paul Mellon (1907–1999), beginning March 17, 2018. The exhibition remains on view at The Frick Art Museum through July 8, 2018, and will be complemented by a range of public programs. The Frick is the premiere venue for this touring exhibition, which includes three works by Vincent Van Gogh (1853–1890): The Laundry Boat on the Seine at Asnières (1887); Daisies, Arles (1888); and The Wheat Field behind St. Paul's Hospital, St. Rémy (1889). Claude Monet (1840–1926) is represented by ... More



An Exceptionally Rare and Important Blue and White Ewer Xuande Mark and Period. Estimate $600/800,000. Sold for $3,135,000. Courtesy Sotheby's.



NEW YORK, NY.- Asia Week New York continued at Sotheby's today with four auctions of Chinese Works of Art. Beginning with a sale dedicated to the Ming Dynasty and concluding with the Judith & Gerson Leiber Collection of Chinese Art, today's offerings achieved $18.2 million, well within the total pre-sale estimate. Auctions of Chinese Works of Art continue tomorrow with over 200 lots of Important Chinese Art, with Classical Chinese Paintings and Indian, Himalayan & Southeast Asian Art still to come. Angela McAteer, Head of Sotheby's Chinese Works of Art Department in New York, commented: "This season, we were entrusted with a number of significant private collections from Asia and the Americas. Today's results are a testament to the appetite for works fresh to the market, and the global demand for rare, exceptional and beautiful Chinese art." The first of this morning's auctions, dedicated to the first ... More



Diane Arbus, Mae West on bed 1965. Gelatin silver photograph. National Gallery of Australia, Canberra. Purchased 1981.



MELBOURNE.- The photographs of Diane Arbus (1923-71) are among the most widely recognised in the history of photography. Her images stand as powerful allegories of post-war America, and once seen are rarely forgotten. Works such as Identical twins, Roselle, N.J., 1967 and Child with toy hand grenade, in Central Park, New York City have been described as two of 'the most celebrated images in the history of the medium'. Featuring 35 of Arbus's most iconic and confrontational images from 1961–71, this exhibition examines the last decade of Arbus's life,the period in which her style is in full flight. Her work has polarised viewers who question whether she exploited or empowered her subjects, who were often drawn from society's margins. 'The National Gallery of Australia is privileged to hold such an extraordinary collection of work by a photographer of Arbus's significance,' said Anne O'Hehir, curator. 'This collection covers Arbus's best-kn ... More
Christie's Italy announces highlights from its Modern and Contemporary Art Sale in Milan
Botero sculptures to be offered by Bonhams at the home of Walid Juffali
Caitlin Haskell to join the Art Institute of Chicago


Salvatore Scarpitta (1919-2007), Ammiraglio, 1958. Bandage and oil. 85 x 60 cm. Estimate euro 800,000-1,200,000. © Christie's Images Limited 2018.



MILAN.- In 2018 Christie's Italy celebrates its 60th anniversary, since the auction house opened its first ever representative office outside the UK in Rome in 1968. After 5 years of very successful Milan Modern and Contemporary auctions with average sell-through rates of 93% by lot, Christie's will offer the 6th edition of this curated sale on 11 April at Palazzo Clerici with preview exhibitions starting from 23 March in Rome, Turin and Milan. Reflecting a growing global appetite for the best of Italian post-war and contemporary art, Christie's Milan auctions have seen an increase of international participation over the years with registrants coming from 17 countries, including from Europe, Middle East, UK, Asia, North and South America. "The April 2018 auction will offer a very tailor-made approach to satisfy the needs of our national and growing international collector group. All 57 lots are being sourced privately ... More



Fernando Botero, Adam and Eve, estimated at £600,000-800,000. Photo: Bonhams.



LONDON.- Fernando Botero's Adam and Eve is the top lot at the Bonhams sale of the Walid Juffali Collection on 26 March 2018 at Bishopsgate House in Surrey, UK. The pair of monumental bronze sculptures are estimated at £600,000-800,000. There are also two other sculptures by Botero offered in the sale Reclining Nude (2003) and Reclining Nude (1993) each estimated at £350,000 - 550,000. Born in Medellín, Columbia in 1932, Fernando Botero is considered the most significant and recognizable living Latin American artist. Famed for his use of volume to present figures in exaggerated form across painting and sculpture, Botero has developed a unique style – coined Boterismo – that draws inspiration from traditions in Latin American Folk Art, as well as the dense shapes and bold movements of European Baroque Art. The Adam and Eve sculptures stand at the heart of the Juffali estate at Bishopsgate House in Surrey, on the edge of the Winds ... More



Caitlin Haskell, Gary C. and Frances Comer Curator of International Modern Art. Photo by Andria Lo.



CHICAGO, IL.- Deputy Director, Chair and Curator of Modern and Contemporary Art Ann Goldstein announced today the appointment of Caitlin Haskell as the new Gary C. and Frances Comer Curator of International Modern Art. Haskell most recently served as Associate Curator of Painting and Sculpture at the San Francisco Museum of Modern Art (SFMOMA), where she focused on international modern art from the period of 1900 to the 1960s in research, acquisitions, and the presentation of SFMOMA's permanent collection; the generation of internationally respected loan exhibitions; and the programming of the museum's Alexander Calder gallery. Haskell will join the Art Institute part-time on March 26, 2018, and fulltime in July 2018. In announcing Haskell's appointment in Chicago, Goldstein shared: "Caitlin will be a perfect addition to the Art Institute of Chicago and brings tremendous vision and ingenuity to our museum. Her exceptional exper ... More
Hauser & Wirth announces its exclusive worldwide representation of American artist Amy Sherald
Original manuscripts of Jane Eyre and The Pickwick Papers travel to China
The Galerie St. Etienne surveys major works situating Expressionism within the broader context of modernism


Portrait of Amy Sherald. Courtesy the artist and Justin T. Gellerson.



NEW YORK, NY.- Hauser & Wirth announced its exclusive worldwide representation of American artist Amy Sherald. Based in Baltimore MD, Sherald documents contemporary African-American experience in the United States through arresting, otherworldly portraits, often working from photographs of strangers she encounters on the streets. Drawing loosely upon the American Realist tradition, Sherald subverts the medium of portraiture to tease out unexpected narratives, welcoming viewers into a more complex debate about accepted notions of race and representation, and situating black heritage centrally in the story of American art. While her subjects are always African-American, Sherald renders their skin-tone exclusively in grisaille – an absence of color that directly challenges perceptions of black identity and seeks, in the artist's words, 'to exclude the idea of color as race. ... More



Conclusion of manuscript fair copy of Jane Eyre, volume III by Charlotte Brontë , 1847, British Library Add MS 43476, f 259r.



SHANGHAI.- Original manuscripts by five of the greatest writers in the English language are on show in Shanghai for the first time. 'Where Great Writers Gather: Treasures of the British Library' features drafts, correspondence and manuscripts by writers including Charlotte Brontë, D.H. Lawrence, Percy Bysshe Shelley, T.S. Eliot and Charles Dickens, alongside Chinese translations, adaptations and responses to their works. The exhibition reflects Shanghai's importance as a historic gateway through which English literature first arrived in China, subsequently finding an audience through its strong traditions of translation and publishing. It also marks a milestone in the relationship between the British Library and Shanghai Library: the two institutions signed a Letter of Intent and arrangements to hold the current exhibition were finalised at UK-China High ... More



Vassily Kandinsky (French (Born Russian), 1866-1944), Small Worlds VII, 1922.



NEW YORK, NY.- The Galerie St. Etienne presents Drawing the Line: Realism and Abstraction in Expressionist Art, March 20 – July 6, 2018, a survey of major works situating Expressionism within the broader context of modernism. The exhibition of paintings, woodcuts, watercolors, drawings, and prints – 69 works in total – examines the principal forces – abstraction and realism – that shaped Expressionism. Artists include Max Beckmann, Otto Dix, Lyonel Feininger, Richard Gerstl, George Grosz, Erich Heckel, Wassily Kandinsky, Paul Klee, Ernst Ludwig Kirchner, Oskar Kokoschka, Alfred Kubin, August Macke, Franz Marc, Otto Mueller, Emil Nolde, Hermann Max Pechstein, Egon Schiele, and Karl Schmidt-Rottluff. Despite certain broad affinities among its artists, Expressionism was not a coherent style in the manner of Impressionism or Cubism. Wassily Kandinsky, the movement's dominant theorist, described two ... More
The Robin Rice Gallery opens the first solo photographic exhibition by Leonardo Pucci
Berry Campbell Gallery presents 'Raymond Hendler: Fifty Years of Painting"
Auction features Hamilton letter, Tiffany-signed book, and more at Quinn's/Waverly


Rio de Janeiro 5:10pm, 2016. Archival pigment.



NEW YORK, NY.- The Robin Rice Gallery presents "episodes (without a real order)", the first solo photographic exhibition by Leonardo Pucci. The delicate sensuality and voyeuristic feeling in Leonardo Pucci's work allows his photographs to act as indefinite episodes, stolen moments in the lives of individuals or couples caught unaware. But the narrative Pucci is most interested in, is the stories his photographs elicit from the piece's observers rather than the story of his subjects themselves. Shot mostly at dusk or at night, Pucci's imagery creates a vague tension in his observer: "the idea that you are looking at something you shouldn't be seeing provokes a feeling of curiosity and emotion, paired with a subtle discomfort or shame". "However, this turmoil is temporary as the observer's personal memories take over in the desire to have his/her own story told. Through ... More



Raymond Hendler, RH 12.88, 1988, acrylic on canvas, 30 x 25 inches.



NEW YORK, NY.- Berry Campbell Gallery is pleased to announce a special exhibition of paintings by Raymond Hendler from March 15 through April 14, 2018. This is Berry Campbell's third solo exhibition of Hendler's work. After focusing on particular periods of the artist's oeuvre, the gallery has curated a small survey of the artist's entire career, allowing visitors to see the transitions from early gestural abstraction to tighter more graphic forms. A first-generation action painter, Raymond Hendler (1923-1998) started his career as an Abstract Expressionist in Paris, as early as 1949. In the years that followed, he played a significant role in the movement, both in New York, where he was the youngest voting member of the New York Artist's Club and a friend of Franz Kline, Willem de Kooning, Jackson Pollock, and Harold ... More



19th-century colonial-era English School oil-on-canvas painting of an Indian or Middle Eastern man in a red-orange turban and blue jacket, wearing slippers and holding a pipe. Est. $200-$300. Waverly Rare Books image.



FALLS CHURCH, VA.- Rare books, manuscripts, maps, autographs, prints, photographs and ephemera spanning several centuries are up for bid in a catalog auction slated for this Thursday, March 22, by the Waverly Rare Books division of Quinn's Auction Galleries. Bidding will be available by phone, online and in person at Quinn's gallery at 360 South Washington Street in Falls Church, starting at 6 p.m. Eastern time. Interested collectors can view all 413 lots in the online catalog now, and bid absentee or live via the Internet through LiveAuctioneers.com. Expected top lots include a letter written by Alexander Hamilton, a book depicting artworks by Louis C. Tiffany and hand-signed ... More
Meet the Artist: Mickalene Thomas on Her Materials and Artistic Influences
Flashback
On a day like today, German-American painter Hans Hofmann was born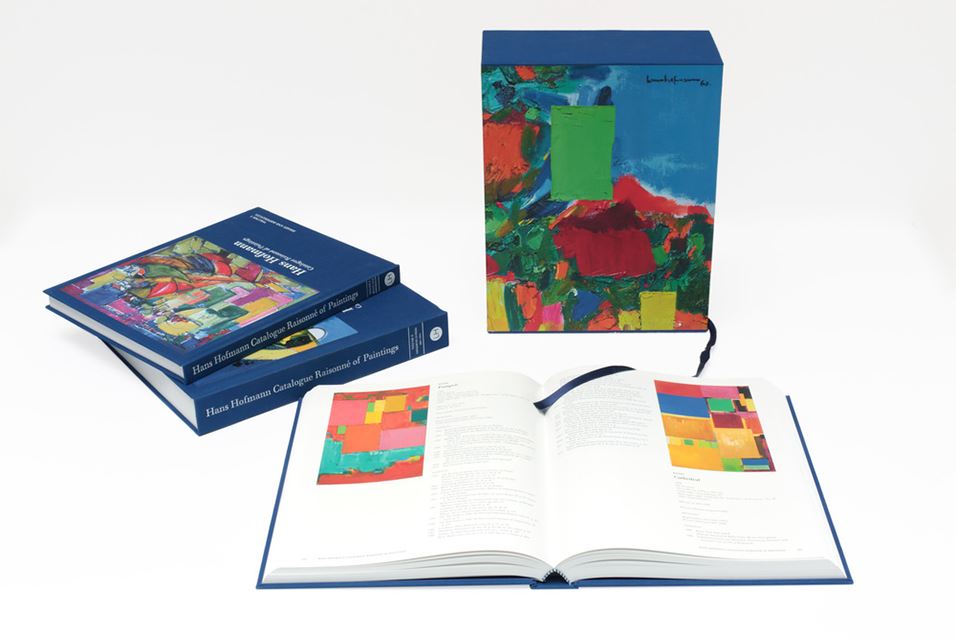 March 21, 2018. Hans Hofmann (March 21, 1880 - February 17, 1966) was a German-born American abstract expressionist painter. Hofmann's art work is distinguished by a rigorous concern with pictorial structure, spatial illusion, and color relationships. He was also heavily influenced in his later years by Henri Matisse's ideas about color and form. In this image: Hans Hofmann Catalogue Raisonné of Paintings.
---

Museums, Exhibits, Artists, Milestones, Digital Art, Architecture, Photography,
Photographers, Special Photos, Special Reports, Featured Stories, Auctions, Art Fairs,
Anecdotes, Art Quiz, Education, Mythology, 3D Images, Last Week,
.
---
Royalville Communications, Inc
produces: