King Tutankhamun's bed, chariot paraded through Cairo to new home
A picture taken on May 23, 2017 shows the chariot of the ancient Egyptian boy-king Tutankhamun while it is being transferred from the Egyptian Museum in the centre of the capital Cairo to the newly-constructed Grand Egyptian Museum on the city's outskirts near the Pyramids. The Grand Egyptian Museum had been scheduled to open in 2015, but construction has lagged as expenses mounted to more than $1 billion. It is now scheduled to open partially in 2018, housing more than 100,000 relics including the 4,500 pieces of Tutankhamun's treasure discovered in 1922 in the southern Valley of the Kings in Luxor. The young pharaoh's mummy, however, will remain in his tomb as it is too fragile to transport. MOHAMED EL-SHAHED / AFP.

by Maram Mazen
CAIRO
(AFP)
.-
The first of the many wondrous artefacts found in Egyptian boy king Tutankhamun's tomb were transported carefully through Cairo's streets on Tuesday to their new home near the Giza Pyramids. The still unfinished new Grand Egyptian Museum at the foot of the pyramids will eventually house the collections of the current brimming museum in the city's Tahrir Square. A gilded bed and a funeral chariot from Tutankhamun's tomb -- discovered by British archaeologist Howard Carter in 1922 -- were transferred on Tuesday, well packed in wooden containers complete with materials to protect them from both heat and vibration. Two trucks bearing the ancient treasures pulled up at the new Grand Egyptian Museum shortly before 1600 GMT, escorted by police vehicles. ...
More
The Best Photos of the Day
Artcurial announces highlights from its Impressionist & Modern Art Sale
Isabella Stewart Gardner Museum doubles reward to $10 million for return of art stolen in 1990
Centre Pompidou Metz opens retrospective of the work of Fernand Léger


Aristide Maillol, Printemps sans bras, 1911, bronze with antic green patina, estimate: €350,000 – 450,000 € /$385,000 – 495,000



PARIS.- While this year celebrates the centenary of Auguste Rodin's death (1840-1917), the prestigious Impressionist and modern art auctions held on the 30th and 31st May will include Andromède, a rare marble sculpture with an extraordinary history. Remaining within the same family since its creation in 1887, art historians had lost its trace as years passed. 130 years after its creation, the Arcurial teams located it in Madrid! The auction will also include important impressionist works including a Camille Pissarro oil on canvas, Effet de neige à Eragny, alongside postimpressionist paintings by Pierre Bonnard and Ker-Xavier Roussel and sculptures by Aristide Maillol. Artists Joan Miró, Marie Laurencin and Georges Buffet will complement this set. Furthermore, an ensemble of canvases, drawings and aquarelles by Raoul Dufy, André Lhote and Marcel ... More



Johannes Vermeer, The Concert, about 1665, oil on canvas. Isabella Stewart Gardner Museum, Boston.




BOSTON, MASS.- The Isabella Stewart Gardner Museum's Board of Trustees announced today that it is doubling its reward from $5 million to $10 million for information leading to the return of 13 works of art stolen from the Museum in 1990. The increased offer is available immediately and expires at midnight on December 31, 2017. The reward is fully backed by the Museum and its Board of Trustees. "These works of art were purchased by Isabella Stewart Gardner for the 'education and enjoyment of the public forever,' said Steve Kidder, President of the Gardner Museum's Board. "It is our fervent hope that by increasing the reward, our resolve is clear that we want the safe return of the works to their rightful place and back in public view." In 1997, the Museum increased its offer from $1 million to $5 million for information leading to the return of the art, making it the largest ... More



Fernand Léger, Le Balustre, 1925. Huile sur toile, 129,5 x 97,2 cm MoMA (Museum of Modern Art), New York © 2017. Digital image, The Museum of Modern Art, New York/Scala, Florence © Adagp, Paris, 2017.



METZ.- Painter of the city who bore witness to the changes taking place in his own epoch, Fernand Léger is one of the most celebrated figures of modernity. From cubism to his commitment to communism, Léger's painting remains associated with a vision of humanity transfigured by the machine and mass production. However, over and above these powerful images, his work is at one and the same time diverse and coherent, free from categories and from movements. "Beauty is not codified or classified, beauty is all around, in the order of a set of saucepans on the white wall of a kitchen as well as in a museum" ( L'Esthétique de la machine, l'ordre géométrique et le vrai, 1923). Fernand Léger's catchphrase rings out like a hymn to the freedom of observation, refusing any conventional taste or established ... More
James Bond star Roger Moore dead at 89
Eli Wilner and Company gifts frames and frame restorations to three major museums
$15 million Rockwell tops Sotheby's American Art Auction


This file photo taken on August 16, 1984 shows British actor, Roger Moore during the shooting of the film series "James Bond", "A view to kill", in Chantilly. STAFF / AFP.



LONDON (AFP).- British actor Roger Moore, who played James Bond for more than two decades with a suave wit, died Tuesday aged 89, drawing tributes for his portrayal of the womanising super-spy, and for his charity work. "It is with a heavy heart that we must announce our loving father, Sir Roger Moore, has passed away today in Switzerland after a short but brave battle with cancer," his children said in a statement on Twitter. "We are all devastated," Deborah, Geoffrey and Christian said. "Thank you Pops for being you, and for being so very special to so many people." Moore shot to fame as the smooth-talking adventurer Simon Templar in British television show "The Saint" in the 1960s, and also starred alongside Tony Curtis in "The Persuaders" in the 1970s. But it was not until 1973, at the age of 45, that he won the role that would come to define him, as Ian Fleming's fictional secret agent ... More



Thomas P. Anshutz, The Tanagra, 1909, oil on canvas, collection of the Pennsylvania Academy of the Fine Arts, with a period frame restored by Eli Wilner and Company.



NEW YORK, NY.- As a part of their museum grant and gifting program, Eli Wilner and Company offered to restore original period frames or create period frame replicas for artworks in the collections of the Solomon R. Guggenheim Museum, The Pennsylvania Academy of Fine Arts and the Seattle Art Museum. The painting selected by the Guggenheim's curatorial and conservation staff to be reframed, Vincent van Gogh's Landscape with Snow, is a serene depiction of Arles in mid-February, 1888, in which Van Gogh beautifully articulates earth and grass emerging beneath the wintry snow-melt in his signature, expressive brushwork. The Guggenheim team requested to have a replica made of a carved and painted 18th century European period frame in the Eli Wilner collection for this painting. The profile of the frame was carefully determined to ... More



Norman Rockwell, Two Plumbers, 1951, oil on canvas. © SEPS licensed by Curtis Licensing, Indianapolis, IN. All rights reserved.



NEW YORK, NY.- Today at Sotheby's New York, all-American favorite Norman Rockwell commanded the top price of American Art week for the second season running. Painted at the height of his career and exemplifying his ability to depict everyday life with a dose of humor, Two Plumbers was eagerly pursued by two telephone bidders, who battled for over seven minutes before the work sold for $14,975,000. The work has remained in the same private collection since its purchase at Sotheby's in May 1996 for $882,500 – a world auction record at the time, though surpassed just three lots later in the same sale by Rockwell's The Watchmaker, sold for $937,500. In addition to Rockwell, works by 20th Century American icons such as Thomas Hart Benton, Maxfield Parrish, Georgia O'Keeffe, Marsden Hartley and Rockwell Kent helped raise the annual spring sale of American Art to a $33.1 million total. Liz Sterling, Head of ... More
Groundbreaking exhibition sheds new light on response to HIV/AIDS crisis in New York City
Design Museum in London opens "California: Designing Freedom"
Hillwood Estate, Museum & Gardens mourns death of Dina Merrill


Hugh Steers, Bath Curtain, 1992 (detail). Oil on canvas. Estate of Hugh Steers / Alexander Gray Associates.



NEW YORK, NY.- The Museum of the City of New York presents AIDS at Home: Art and Everyday Activism, a compelling examination of how artists and activists have expanded the idea of caretaking and family while navigating the political stakes of domestic life in the face of the HIV/AIDS crisis from the early 1980s to the present. From the earliest diagnoses, the HIV/AIDS epidemic has spurred New Yorkers to create new forms of social support, identify new legal battles, and express themselves in new artistic terrain. The exhibition places paintings, photography, and film alongside archival objects from activist groups and support programs to uncover the private stories of HIV and AIDS and reconsider caretaking, community building, and making art as acts of resistance. "AIDS at Home humanizes a dark chapter in the city's history by shedding light on the emotional bonds forged in times ... More



Installation view.



LONDON.- "Designed in California" is the new "Made in Italy". While California's midcentury modernism is well documented, this is the first exhibition to examine the state's current global reach. Picking up the story in the 1960s, the exhibition charts the journey from counterculture to Silicon Valley's tech culture. Its central idea is that California has always pioneered tools of personal liberation, from LSD to surfboards and iPhones. This ambitious survey brings together political posters, personal computers and self-driving cars but also looks beyond hardware to explore how user interface designers in the Bay Area are shaping some of our most common daily experiences and expanding what we think of as design. California: Designing Freedom is composed of over 200 objects, curated in five thematic sections. Collectively, these works assert that design in California is distinguished by an emphasis on individual freedom. The exhibition's five themes exp ... More



Dina Merrill in the French drawing room at Hillwood around 2001.



WASHINGTON, DC.- The staff and community of Hillwood Estate Museum & Gardens was saddened to learn of the death of Dina Merrill Hartley, actress, philanthropist, producer, and youngest daughter of Hillwood founder Marjorie Merriweather Post, who died yesterday after a long illness. "Dina's death greatly saddens all of us at Hillwood," said Kate Markert, Hillwood's executive director. "From the time her mother moved in and opened Hillwood to guests in 1957, Dina Merrill played a vibrant role in the life of Hillwood. Having shared important moments of her life with her family here, she was an active and generous supporter of Hillwood and honored her mother's wish that the public learn and benefit from the collection and way of life that she established here." Born Nedenia Marjorie Hutton in 1923, Merrill was the only child of Marjorie Merrwiweather Post and her second husband, Edward Francis ... More
Big names lineup for Bonhams Hong Kong Modern and Contemporary Sale this June
€144,000 for the word of God: Rare Books Auction in Hamburg with Biblical results
Sotheby's exhibits in Moscow highlights from forthcoming sales of Russian art in London


Portrait of Nora by Shiy De Jinn. Estimate: HK$ 800,000-1,200,000. Photo: Bonhams.



HONG KONG.- This June's Modern and Contemporary Art auction in Hong Kong is dominated by some of the most important and sought after artists in the Asian market. The sale is highlighted by an historic section of post-war era artists who delved into their aesthetic and philosophical traditions to create a distinct mode of Asian "minimalism", paintings based on processes that are at once meditative, reductive, and painstaking. The cover lot is an early work from Japan's renowned Masaaki Yamada. Yamada was honoured posthumously with two retrospectives at both the National Museums of Modern Art in Kyoto and Tokyo in 2016. His Work C. 107, painted in 1962, (estimate: HK$1,200,000 – 1,800,000) is the largest example from this important series to ever appear at public auction. Painted in 1971, Takeo Yamaguchi's Kuro shows the wealth of influences which the artist absorbed in his long career, from Cubism to Minimalism and Conceptual ... More



Biblia germanica with 73 picture initials in old coloring and numerous mayflower initials. Augsburg around 1474. Calling price: € 100,000. Result: 144,000.



HAMBURG.- With total proceeds of around € 1.6 million, the auction of Rare Books at Ketterer Kunst in Hamburg on 22 May 2017 achieved an outstanding result. The new concept with a focus on high-quality offers worked out. A lot total reduced by around 60% in comparison to last year's May auction grossed a result on par with figures from the same period. Several religious works were among the auction's main attractions, the array was led by the "Biblia germanica" (lot 11) made in Augsburg around 1474. It was sold to a collector from North Rhine-Westphalia in the saleroom who stood his grounds against mainly German competitors for a remarkable result of € 144,000. The "Biblia germanica-latina" (lot 13) made in Wittenberg around 1574, was also in heavy demand. A number of written bids and half a dozen phone bidders from Germany, Argentina and Switzerland made for a sharp increase of the calling pri ... More



Ilya Pepin, Portrait of Yuri Repin by the Bay of Naples, 1894 (detail). Oil on canvas, 178 by 92cm. Est: £750,000-1,000,000 / US$ 935,000-1,250,000. Photo: Sotheby's.



MOSCOW.- This year, Sotheby's will celebrate the 10th anniversary of its Moscow office an exhibition of nearly 70 works of art at the Ivanovsky Hall at the Russian State Library. The exhibition will bring together both works acquired by Russian collectors in past Sotheby's auctions as well as a strong group of highlights to be offered in forthcoming sales. The latter group will include over 20 highlights from their upcoming sales of Russian art in London, starring works by Ilya Repin, Konstantin Yuon, Ivan Pokhitonov and Fabergé. Also on view will be a handful of works from their forthcoming Paris auctions of African and Oceanic Art, and Old Master Paintings, reflecting the diverse taste of collectors active in Russia today. Russian collectors are currently active participants in no fewer than 50 categories across Sotheby's international sales. Sotheby's ... More
Dimitar Lukanov, Constructing Waterfall of Light
Flashback
On a day like today, The Brooklyn Bridge opened to traffic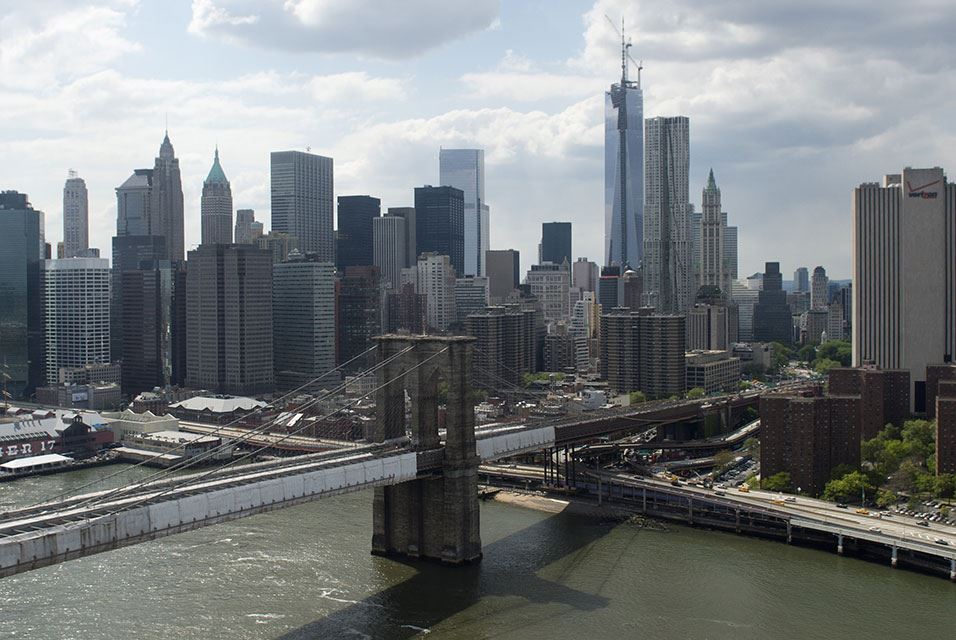 May 24, 1883. BROOKLYN.- The Brooklyn Bridge is one of the oldest suspension bridges in the United States. Completed in 1883, it connects the New York City boroughs of Manhattan and Brooklyn by spanning the East River. At 5,989 feet (1825 m), it was the longest suspension bridge in the world from its opening until 1903, and the first steel-wire suspension bridge. Originally referred to as the New York and Brooklyn Bridge, it was dubbed the Brooklyn Bridge in an 1867 letter to the editor of the Brooklyn Daily Eagle, and formally so named by the city government in 1915. Since its opening, it has become an iconic part of the New York skyline. It was designated a National Historic Landmark in 1964. In this image: One World Trade Center and the lower New York City skyline, including the Brooklyn Bridge, are seen from the air over New York on May 13, 2013. AFP PHOTO / Saul LOEB
---

Museums, Exhibits, Artists, Milestones, Digital Art, Architecture, Photography,
Photographers, Special Photos, Special Reports, Featured Stories, Auctions, Art Fairs,
Anecdotes, Art Quiz, Education, Mythology, 3D Images, Last Week,
.
---
Royalville Communications, Inc
produces: