Exhibition of early photographs of Bob Dylan opens at Steven Kasher Gallery
Ted Russell Bob Dylan at His Typewriter #1, 161 W 4th St., New York, NY, 1964 Archival pigment print, printed 2017 16 x 20 in Edition 5 of 25; Signed and numbered 5/25 by photographer recto. Photo: Courtesy Ted Russell/Polaris/Steven Kasher Gallery.
NEW YORK, NY
.-
Steven Kasher Gallery
presents Ted Russell: Bob Dylan NYC 1961-1964, an exhibition of exceptionally early photographs of the 2016 Nobel Laureate in Literature. Russell, a New York based photographer still living in Forest Hills, depicts Dylan at key moments that established him as one of America's greatest artists. He performs one of his earliest gigs, makes music and love in his first New York apartment with his first and most important muse, receives his first public award (in the company of James Baldwin) and writes some of his earliest songs. The exhibition features 40 black and white prints of recently discovered images never before exhibited in New York. The exhibition is accompanied by the 2015 Rizzoli book of the same title. In November of 1961, Bob Dylan was 20 years old, a folk singer on the cusp. His first paid performances, mostly at Gerde's Folk City, were attracting interest. His first review was just o ...
More
The Best Photos of the Day
A masterpiece by Jean-Michel Basquiat to lead Sotheby's Contemporary Art Evening Auction
Pace Gallery and Acquavella Galleries exhibit works by Alexander Calder and Joan Miró
Peter Doig masterwork to lead Phillips' May Evening Sale of 20th Century & Contemporary Art


Jean Michel-Basquiat, Untitled, 1982. Oilstick, acrylic and spraypaint on canvas, 72 1/8 by 68 1/8 in. Estimate in excess of $60 million © 2017 The Estate of Jean-Michel Basquiat / ADAGP, Paris / ARS. Courtesy Sotheby's.



NEW YORK, NY.- Sotheby's Contemporary Art Evening Auction will be led by Jean-Michel Basquiat's Untitled from 1982, a monumental masterpiece that has been virtually unseen since it last appeared on the market in May 1984. The landmark canvas is one of a number of iconic American post-war paintings in a sale that also features Roy Lichtenstein, Andy Warhol, Robert Rauschenberg and Cy Twombly, as well as European masters including David Hockney, Rudolf Stingel and Gerhard Richter. The pre-sale exhibition opens in New York on 5 May ahead of the sale on 18 May. Grégoire Billault, Head of Sotheby's Contemporary Art Department in New York, commented: "It is an enormous pleasure to bring a Basquiat of this magnitude to the market. The scale, subject matter, date and freshness, combined with recent record prices and increased demand for the artist's work, make May the ideal time to ... More



Alexander Calder, Constellation with Diabolo, c. 1943. Wood, wire and paint, 24-1/2" x 18-1/4" x 16". © 2016 Calder Foundation, New York /Artists Rights Society (ARS), New York Courtesy of Pace Gallery.



NEW YORK, NY.- Pace Gallery and Acquavella Galleries announce "Calder / Miró: Constellations," featuring the Constellations series of Alexander Calder and Joan Miró, respectively. The distinct yet complementary presentations illuminate the startling affinities between the two artists, who at the time the series were created, were separated by the Atlantic during World War II and unable to communicate. Presenting approximately 60 sculptures, paintings and works on paper in dialogue with one another, these shows highlight the varied formal, social and political concerns that informed the significant series—neither of which were actually named "Constellations" by the artists themselves. Calder: Constellations will be on view from April 20 through June 30 at Pace Gallery, 32 East 57th Street, and Miró: Constellations will be on view from April 20 through May 26 at Acquavella Galleries, 18 East 79th Street. "This exhibition will be a l ... More



Peter Doig, Rosedale (detail). Signed, titled, inscribed and dated ""Rosedale" PETER DOIG LONDON 1991" on the reverse, oil on canvas, 78½ x 94¼ in. (199.5 x 239.5 cm.). Painted in 1991. Estimate on request. Image courtesy of Phillips.



NEW YORK, NY.- Phillips announced that Peter Doig's Rosedale will be offered as the top lot in the May Evening Sale of 20th Century & Contemporary Art in New York on 18 May. The large-scale painting was executed in 1991 and stands nearly seven feet tall by eight feet wide, depicting a Toronto home through a tapestry of snow and tree branches. Expected to realize in excess of $25 million, the work has never been publicly offered and is poised to set a new auction record for the artist. Jean-Paul Engelen and Robert Manley, Worldwide Co-Heads of 20th Century & Contemporary Art, said, "Rosedale is a fresh-to-the-market masterpiece, emblematic of Doig's instantly recognizable style and painted in the pivotal years of his career. This is the most impressive work by the artist to be offered at auction in recent years and we're delighted to include it as the star lot of our May Evening Sale. Whitechapel Gallery's recent announce ... More
Dino ancestors looked like crocodiles: study
National Portrait Gallery announces shortlist for BP Portrait Award 2017
Artcurial to offer an exceptional marble bust of Venus


Life reconstruction of Teleocrater rhadinus feasting on a close relative of mammals, Cynognathus. The large dicynodont Dolichuranus, another ancient mammal relative, is seen in the background. Credit: Mark Witton/Trustees of the NHM, London.



LONDON (AFP).- Fossils discovered in Tanzania in the 1930s have helped identify a "missing link" in dinosaur evolution that reveals their ancestors had long necks, walked on four legs and looked like crocodiles. The 245-million-year-old fossils held in Britain's Natural History Museum were studied by palaeontologist Alan Charig in the 1950s. But they were incomplete and it was only more fossils found in Tanzania in 2015 that helped build up the skeleton of "Teleocrator rhadinus". "The finding forces a rethink of early dinosaur evolution," the journal Nature, where the research was published on Wednesday, said in a summary. "The discovery of such an important new species is a once-in-a-lifetime experience," said Sterling Nesbitt, ... More



Emma by Antony Williams © Antony Williams.



LONDON.- Three artists have been shortlisted for the BP Portrait Award 2017 at the National Portrait Gallery, London, which will be presented on 20 June 2017, it was announced today, Wednesday 19 April 2017. The shortlisted portraits, all featuring female sitters, were selected from 2580 entries from 87 countries, submitted for judging by a panel which included broadcaster Kirsty Wark and artist Michael Landy. The three portraits in the running for the First Prize are Double Portrait, by French painter and illustrator, Thomas Ehretsmann, depicting his pregnant wife Caroline; Breech! by Suffolk based artist, Benjamin Sullivan, which captures his wife Virginia breastfeeding their eight month old daughter; and Emma, Antony Williams's portrait of model turned friend, Emma Bruce, completed in his studio in Chertsey. It is the first time Thomas Ehretsmann and Antony Williams have been shortlisted for First Prize in the ... More



A marble bust of Venus dating from the 1st and 2nd century AD. Estimate of €300,000– 400,000 / $330,000 – 440,000.



PARIS.- On 16th May 2017, Artcurial will hold its first sale of the year dedicated to Furniture and Works of Art. Comprising more than 300 jewellery, furniture, sculpture and tapestry lots, the sale will create an overview of 14th to 19th century Decorative Arts, alongside an exceptional antiquity: a marble bust of Venus dating from the 1st and 2nd century AD. Sculpted during the Roman era from a Greek model of the Hellenistic period, it belonged to the famous Parisian antiquarian dynasty, Bernheim-Jeune family. It carries an estimate of €300,000– 400,000 / $330,000 – 440,000. The auction will commence with a section dedicated to scientific instruments, namely a Spanish 14th century astrolabe. This is the only example known, built by an Arab craftsman in a Christian city (estimate: €30,000 – 50,000 / $33,000 -55,000). This set will also ... More
The Colonial Williamsburg Foundation acquires one of the finest collections of early Virginia-related maps
Property from the collection of Marina Picasso to be offered at Sotheby's
Art world luminaries named at Bruce Museum's eighth annual Icon Awards in the Arts


The Town of Secota. Engraved by Theodore De Bry; After work by John White. Frankfurt, Germany, 1590. Black and white line engraving with period color. Gift of Virginia Cartographical Society, 2017-23b. Photo courtesy of the Colonial Williamsburg Foundation.



WILLIAMSBURG, VA.- The Colonial Williamsburg Foundation has acquired one of the finest collections of early Virginia-related maps ever assembled. Through a part gift/part purchase agreement, the Foundation has added more than 220 maps, charts, atlases and documents to its collection, all dating between 1540 and 1835. Collected over four decades by William C. Wooldridge of Suffolk, Virginia, the maps were until recently owned by the Virginia Cartographical Society, a private, Norfolk, Virginia-based consortium. The addition of the Wooldridge Collection gives Colonial Williamsburg the most comprehensive assemblage of Virginia maps outside of the Library of Congress. These objects will be displayed in multiple future exhibitions at the Art Museums of Colonial Williamsburg ... More



Vase aux deux chèvres. Dated 6.6.52.; stamped Madoura plein feu and Empreinte originale de Picasso (on the underside). Painted, incised and glazed ceramic; wide-bellied vase. Height: 7⅜ in.; 18.6 cm. Executed on June 6, 1952; this is a unique version of the empreinte. Estimate: $50/70,000. Photo: Sotheby's.



NEW YORK, NY.- Sotheby's announced Picasso Man & Beast: Works from the Collection of Marina Picasso, a dedicated auction to be held in New York on 18 May 2017. The sale will present more than 100 artworks – comprising both works on paper and unique ceramics – that remained in Pablo Picasso's studio throughout his lifetime. The pieces descended to his granddaughter, Marina Picasso, and are offered this May from her collection. With estimates ranging from $5,000 to $100,000, the sale offers an exciting opportunity for new and established collectors alike to acquire works by the modern master. The auction includes examples of Picasso's most celebrated styles, genres, subjects and muses, with material spanning from ... More



Philip Pearlstein, artist, and Betty Cuningham.



GREENWICH, CONN.- The Bruce Museum in Greenwich recognized the contributions of nine distinguished figures in the art world in six categories at the eighth annual Icon Awards in the Arts ceremony. The Bruce Museum's century-long history of excellence in presentation of art and culture in Greenwich, home to many of the country's leading collectors and most generous patrons of the arts, positions it as uniquely suited to honor these outstanding individuals. The benefit event, co-chaired by Kathy Epstein and Susan Mahoney, was held on April 6 at the Belle Haven Club in Greenwich. The honors went to Rick and Monica Segal, who were named Art Collectors. Their collection includes works by, among others, Richard Haas and Philip Pearlstein, who shared this year's award for Artists. Tapped as Art Historian was Egbert Haverkamp-Begemann, whose long career included teaching at Yale University, where Bruce Museum Executive Director ... More
Hauser & Wirth's first exhibition devoted to August Sander opens in New York
Lark Mason Associates achieves over $1.65 million for Asian works of art
First major museum exhibition of Todd Webb's photographs opens in New York


August Sander, Lackarbeiter (Varnisher), ca. 1930 (printed 1972). Gelatin silver print, 79.5 x 60.1 cm / 31 1/4 x 23 5/8 in. © 2017 Die Photographische Sammlung / SK Stiftung Kultur – August Sander Archiv, Cologne / ARS, NY.



NEW YORK, NY.- Beginning 20 April 2017, Hauser & Wirth will present 'August Sander', the gallery's first exhibition devoted to the late German photographer, a forefather of conceptual art and pioneering documentarian of human diversity. The exhibition features 40 rare large-scale Sander photographs, which have come directly from The August Sander Family Collection. Made between 1910 and 1931, the portraits on view paint a picture of Germany's complex socioeconomic landscape in the years leading up to and through the Weimar Republic. These early examples of Sander's oeuvre — in particular, the 'Portfolio of Archetypes', 12 images at the heart of Hauser & Wirth's presentation — laid the framework for 'People of the 20th Century', the artist's larger, lifelong effort to catalogue contemporary German society ... More



Large Chinese Huanghuali Recessed Leg Table, 17th / 18th Century.



NEW BRAUNFELS, TX.- Lark Mason Associates' online auction of Asian Works of Art concluded on April 18th with an impressive result totaling over $1,650,000 for 66 lots selling out of 84 offered. The sale was previewed in their New Braunfels, Texas and New York City showrooms during Asia Week New York and was open for bidding in March and April on the iGavelauctions platform. Asia Week New York, which attracts a wide spectrum of bidders from around the world, had record results in sales topping over $420,000,000. This enthusiasm for Chinese art during Asia Week carried forward in the online auction offered by Lark Mason Associates, one of the auction house partners of Asia Week New York, has long been associated with realizing top prices for Asian art at auction. Said Lark Mason, who just ended his two-year position as Chairman of Asia Week New York: "The Asian art market is robust, wide, and deep. Our results and the records set dur ... More



Todd Webb, "LaSalle Street and Amsterdam Avenue, Harlem, New York," 1946 (detail). Courtesy Museum of the City of New York and the Todd Webb Estate.



NEW YORK, NY.- The Museum of the City of New York presents A City Seen: Todd Webb's Postwar New York 1945-1960, a photography exhibition highlighting Todd Webb's personal exploration of the city that enthralled him while providing an expansive visual documentation of New York in the years following World War II. A City Seen opens to the public on Thursday, April 20 and will remain on view through Monday, September 4, 2017. In 1946, the Museum of the City of New York was the first institution to give Todd Webb (1905-2000) a solo exhibition. Seven decades later, the Museum revisits the city as seen through the lens of a traveler who worked his way into the highest circles of mid-20th-century New York photography and recorded the city's humanity, highlighting people and places as much as streetscapes and skyscrapers. In 1945, 40-year-old Todd Webb (born Charles Clayton Webb, III) was discharged from ... More
Rice University Art Gallery" from Walley Films
Flashback
On a day like today, Dutch painter Willem de Kooning was born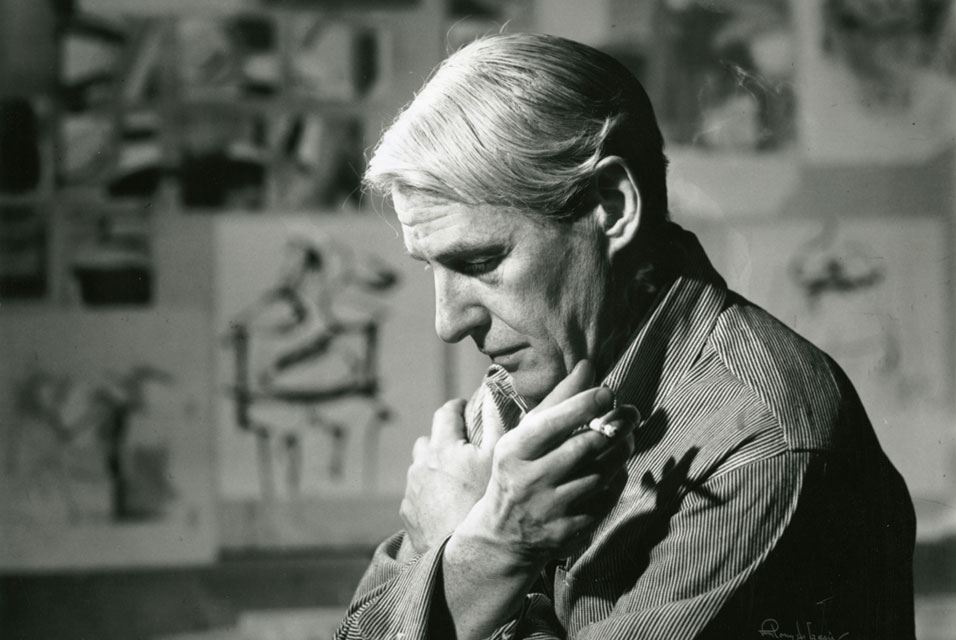 April 24, 1904. Willem de Kooning (April 24, 1904 - March 19, 1997) was a Dutch American abstract expressionist artist who was born in Rotterdam, the Netherlands. In the post-World War II era, de Kooning painted in a style that came to be referred to as Abstract expressionism or Action painting, and was part of a group of artists that came to be known as the New York School. Other painters in this group included Jackson Pollock, Elaine de Kooning, Lee Krasner, Franz Kline, Arshile Gorky, Mark Rothko, Hans Hofmann, Adolph Gottlieb, Robert Motherwell, Philip Guston, and Clyfford Still.
---

Museums, Exhibits, Artists, Milestones, Digital Art, Architecture, Photography,
Photographers, Special Photos, Special Reports, Featured Stories, Auctions, Art Fairs,
Anecdotes, Art Quiz, Education, Mythology, 3D Images, Last Week,
.
---
Royalville Communications, Inc
produces: