Ferens Art Gallery re-opens after a £5.2m refurbishment and masterpiece unveiled
Regarded as one of the finest regional art galleries in the country, the Ferens re-opened to the public on Friday 13 January. © Ferens Art Gallery, Hull Museums.
HULL
.-
The Ferens Art Gallery
re-opened this week after a £5.2m refurbishment and celebrating almost 100 years to the day since local philanthropist Thomas Robinson Ferens purchased the plot of land for the creation of a gallery for the city. For the first time a rare 14th century panel painting by Pietro Lorenzetti has been revealed, following a four-year conservation project. It is being shown alongside early Italian Renaissance masterpieces on loan from national partners. Regarded as one of the finest regional art galleries in the country, the Ferens re-opened to the public on Friday 13 January, at midday, just days into Hull's tenure as UK City of Culture, when the gallery will also host the Turner Prize 2017. Over the last 16 months the gallery has undergone the biggest improvement project in its history, which includes a major investment in temperature, humidity and lighting systems across the site. In addition, there is ...
More
The Best Photos of the Day
Sotheby's previews highlights from Impressionist & Modern, Surrealist and Contemporary Art Auctions
Black Lady Liberty to grace US coin
Sweeping exploration of the human figure from the early 20th century to today on view at Berggruen Gallery


Yves Klein, Untitled Monogold (MG 47), Circa 1961. Gold leaf on wood panel, 21.5 x 17.5 cm. Est: £700,000 – 900,000 / HKD 6,700,000 – 8,600,000. Photo: Sotheby's.



HONG KONG.- Prior to the forthcoming Impressionist & Modern Art, Surrealist Art and Contemporary Art Evening Sales to be held in London on 1 and 8 March, Sotheby's presents an exhibition of highlights in Hong Kong from 14 to 17 January – including exquisite paintings by some of the most sought-after artists from Pablo Picasso and Henri Matisse to Gerhard Richter and Yves Klein. The finest gouache by Magritte to appear on the market in recent history, Le Repas de noces has remained in the same private collection for almost 50 years. This work originates from a turbulent period of Magritte's life, as he fled Brussels for France fearing political persecution following the German invasion. The artist only remained in the hilltop medieval town of Carcassonne for a few months but the upheaval inevitably had an effect on his art - as he produced very little work and what he created shook ... More



The Mint said it is issuing the coins to "reflect the cultural and ethnic diversity of the United States."



WASHINGTON (AFP).- The United States is set to issue a commemorative $100 gold coin that depicts Lady Liberty -- a national symbol generally portrayed as a white woman -- as an African American for the first time. The 24-karat gold piece will be released in honor of the United States Mint's 225th anniversary, one of a series of coins that will feature a racially diverse array of Lady Liberties. The coins will "depict an allegorical Liberty in a variety of contemporary forms -- including designs representing Asian-Americans, Hispanic-Americans and Indian-Americans among others," the Mint said in a statement released Thursday. The Mint said it is issuing the coins to "reflect the cultural and ethnic diversity of the United States." The new coin will be released on April 6 featuring the bust of a distinctly African-American Liberty, with a crown of gold stars. Underneath appear the words "In God we trust" and the dates 2017 and 1792, the year Congress created the Mint. ... More



Nathan Oliveira, Cobalt Dancer, 2001. Oil, alkyd and cold wax medium on canvas, 84 x 70 inches © Estate of Nathan Oliveira, Courtesy of Berggruen Gallery.



SAN FRANCISCO, CA.- Berggruen Gallery presenting The Human Form, a sweeping exploration of the human figure from the early 20th century to today. It is the inaugural exhibition in its new space at 10 Hawthorne Street, across from the recently expanded San Francisco Museum of Modern Art. Bringing together over 60 works by 20th century masters such as Henri Matisse, Pablo Picasso, Lucian Freud, Alberto Giacometti, Edward Hopper, Willem de Kooning, Gerhard Richter, Richard Diebenkorn, and Wayne Thiebaud, as well as leading contemporary artists George Condo, Cecily Brown, Joel Shapiro, Antony Gormley, Kiki Smith and Kehinde Wiley, The Human Form will look at the formal and conceptual ways that artists have approached the representation of the figure. As Dr. Steven A. Nash writes, "The human body has been a lightning rod for creative imagination since humankind's earliest impulses ... More
Early civil rights images by Lee Friedlander exhibited for the first time
Exhibition at Allan Stone Projects presents works that explore a fantastical approach to art
Exhibition of large-scale paintings by Yun Hyong-keun on view at David Zwirner


Lee Friedlander, Untitled, from the series Prayer Pilgrimage for Freedom, 1957, printed later. Gelatin silver print. Yale University Art Gallery, Gift of Maria and Lee Friedlander, hon. 2004. © Lee Friedlander, courtesy Fraenkel Gallery, San Francisco. Photo courtesy Eakins Press Foundation.



NEW HAVEN, CONN.- In commemoration of the 60th anniversary of the Prayer Pilgrimage for Freedom, the Yale University Art Gallery presents the first public exhibition of photographer Lee Friedlander's images of this critical yet generally neglected moment in American civil rights history. On May 17, 1957—the third anniversary of the landmark Supreme Court decision Brown v. Board of Education, Topeka, which outlawed segregation in public schools—thousands of activists, including many leaders from religious, social, educational, labor, and political spheres, united in front of the Lincoln Memorial, in Washington, D.C. At this first large-scale gathering of African Americans on the National Mall, an event that was a forerunner of the 1963 March on Washington at which Rev. Martin Luther King, Jr., delivered his famed "I ... More



Maureen McCabe, Untitled, Circa 1975. Feathers, fur, satin cloth, glass bell jar, and wood base, 22 x 19 1/2 x 19 1/2 in.



NEW YORK, NY.- Allan Stone Projects is presenting Sorcery & Craft, on view from January 10 – February 18, 2017. Selected from the Allan Stone Collection, the exhibition features eight artists who elicit folk magic in found objects and craft traditions. The works explore a fantastical approach to art making through mixed media constructions, assemblage and finely crafted objects. The main gallery features artists Reginald Case, Barry Cohen, Marty Greenbaum, Lisa Kokin, Maureen McCabe and Wayne Nowack who use mixed media in their works. Reginald Case's opulent monuments salute American culture, from art deco architecture, to jazz music, to the glamour of Hollywood celebrities. The sculptures recall reliquaries because of their dazzling sequins and gems. Wayne Nowack and Barry Cohen both nod to Joseph Cornell in their box constructions, creating esoteric compositions through the juxtaposition of various cultural ephemera. ... More



Umber-Blue, 1978. Oil on cotton, 90 3/8 x 71 1/2 inches (229.6 x 181.6 cm) © Yun Seong-ryeol. Courtesy PKM Gallery, Seoul and David Zwirner, New York/London.



NEW YORK, NY.- David Zwirner is presenting an exhibition of large-scale paintings by Yun Hyong-keun (1928-2007) from the mid-1970s through the 1980s, on view at 537 West 20th Street in Chelsea. Following on the gallery's announcement in 2016 of its New York representation of his work, the exhibition will include an unprecedented selection of paintings in the artist's unique style of monochromatic abstraction, several of which are shown here for the first time. The exhibition marks the largest solo presentation of Yun's work in North America to date. One of the most significant Korean artists of the twentieth century, Yun was born in Miwon-ri, Chungcheongbuk-do, Korea and received his BFA from the School of Fine Arts at Hongik University, Seoul in 1957. During the 1960s, he became associated with the influential Dansaekhwa (monochromatic painting) movement in Korea, where artists experimented with the physical properties of paint ... More
Third solo exhibition by Chloe Piene in Berlin on view at Galerie Barbara Thumm
$2 million "Holy Grail" Dime led Heritage Auctions' Numismatic Sales
Vanessa Hallett, Worldwide Head of Photographs, promoted to Deputy Chairman, Americas


Chloe Piene, Vater, Vater, Vater, 2016. Paper & Tape Drawing. Framed 83 x 70,7 cm. Courtesy the artist and Galerie Barbara Thumm, Berlin.



BERLIN.- Galerie Barbara Thumm presents the third solo exhibition by Chloe Piene in Berlin. Born in the United States to German and Jewish parents, Piene received her Bachelor's Degree in Art History from Columbia University. Her work throughout her lifetime has in many ways been a reflection and dissection of her primary area of study; Northern Renaissance Art. Ever present are the marks of Hans Baldung Grien, Albrecht Dürer, Montaigne, Rabelais; as well as Georges Bataille, Friedrich Nietzsche, Medardo Rosso and film; Suspiria, Holy Mountain, Citizen Kane, Under the Skin, and "M" by Fritz Lang. Her work has been praised internationally for its ability to straddle an extremely wide spectrum, both in the play of her materials, and as a certain philosophical position. She has made various and diverse associations with prisoners, love letters, failure, death, human ... More



1894-S 10C Branch Mint PR66 PCGS Secure. CAC.



DALLAS, TX.- U.S. Coins was once again Heritage Auctions' highest-earning department in 2016. The $192 million in auction totals last year eclipsed all other numismatic auction houses combined. According to the Professional Numismatists Guild, Heritage held a strong 56 percent market share in U.S. Coins. 2016 saw significant activity in online auctions, with Heritage's Tuesday and Sunday Internet Auctions garnering $14.2 million. The numismatic highlight of the year was undoubtedly the January sale of the fabled, famed and elusive 1894-S Barber Dime. Just 24 were struck, with fewer than 10 thought to survive to this day. It is a classic American rarity that has eluded collectors for generations. Graded PR66, it is the finest PCGS specimen recorded. Sixteen bidders vied for the coin before it hammered at $1,997,500 million – making it the highest price for any US Coin sold at auction in 2016. Ten-cent pieces filled Heritage's top three spots for 2 ... More



Ms. Hallett joined Phillips in 2005 and has led her global team to the forefront of the international photographs market. Image courtesy of Phillips.



NEW YORK, NY.- Phillips announced that Vanessa Hallett, Worldwide Head of Photographs, has been promoted to Deputy Chairman, Americas. The promotion reflects the extraordinary growth of the Photographs Department and its increasing importance to the company's global growth strategy. Ms. Hallett joined Phillips in 2005 and has led her global team to the forefront of the international photographs market. Her tenure at the Photographs department has been defined by the successful introduction of emerging photographers to the secondary market, as well as historic sales for classic and contemporary photographers. In 2011, she oversaw the auction of Richard Avedon's 1967 Beatles Portfolio for $722,500 and in 2015 was responsible for the record-breaking sale of Helmut Newton's Women Walking, Paris for $905,000, the highest price paid ... More
The Approach opens second solo exhibition of paintings by Sophie Bueno-Boutellier
Pristine, rare Hermès bags highlight Heritage Auctions' Luxury Accessories Event Feb. 2
Lehmann Maupin announces New York debut of Kader Attia's "Reason's Oxymorons"


Sophie Bueno-Boutellier, I Awake to a Primeval Voice, 2016. Acrylic on canvas, 127 x 180 x 13 cm.



LONDON.- The Approach announces its second solo exhibition of new paintings by the French, Berlin-based artist, Sophie Bueno-Boutellier. Le Don de Gaïa is the second part of a trilogy of exhibitions reassessing the feminine and addressing reproductive labour, which Bueno-Boutellier began with La Ritournelle du Peuple des Cuisines at the Fondation d'entreprise Ricard, Paris in 2016. Bueno-Boutellier's signature gesture of cutting, folding and wrapping raw, unstretched canvas reveals her simultaneous engagement with painting as a pictorial surface and a textile material. The paintings defy the standard of an image plane and instead possess cavernous insides, as if holding or withholding something. The viewer is inclined to lean in and move around the painting to inspect the hidden surfaces within or behind folds, creating an experience of intimacy through the act of looking closely and employing ... More



Hermes 30cm Matte White Himalayan Nilo Crocodile Birkin Bag with Palladium Hardware.



DALLAS, TX.- The first luxury accessories auction of the season will capture the attention of any collector or lover of Hermès and high-end handbags with a unique offering during the Winter Luxury Accessories Auction Feb. 2-3 in New York City. One handbag that is expected to receive much warranted attention will be the Hermès 30 cm Matte White Himalayan Nilo Crocodile Birkin bag (est. $60,000-80,000). The white Himalayans are the most prized coloration for Hermès bags and this item is in pristine condition. It includes Palladium hardware, a flap top with turnlock closure as well as two keys, lock and clochette. "Hermès is the hands-down leader in the luxury accessories category for handbags. The exclusive nature of this product line, especially the Birkin and Kelly handbags, makes the Winter Luxury Accessories event a great opportunity for discerning buyers and collectors," said Diane D'Amato, ... More



Reason's Oxymorons, 2015 (detail), 18 films and installation of cubicles, duration: variable, 13 to 25 minutes. Courtesy the artist and Lehmann Maupin, New York and Hong Kong



NEW YORK, NY.- Lehmann Maupin announces its second solo exhibition for Kader Attia. This is the New York debut of Attia's multimedia video installation, Reason's Oxymorons (2015), which premiered at the 13th Biennale de Lyon in 2015. Reason's Oxymorons is a video library comprised of 18 interviews presented within a modular cubicle environment. The interviews feature European and African ethnographers, psychiatric and philosophical practitioners, and theorists discussing topics grouped under titles including "Genocide," "Totem and Fetish," "Reason and Politics," and "Trance." Attia is recognized for his rigorous research-based practice that he translates through a wide variety of media including photography, sculpture, installation, and video. His work examines the wide-ranging effects of colonialism and the ... More
From pie-crust tabletops to chairs with ruffles -- style and taste in American furniture
Flashback
On a day like today, The Derveni papyrus was found in northern Greece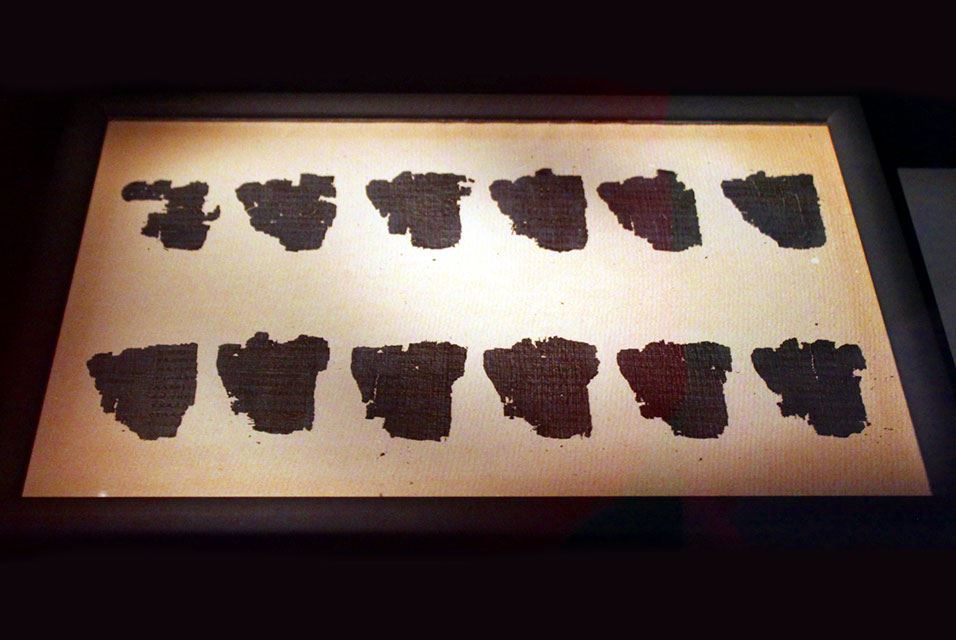 January 15, 1962. The Derveni papyrus is an ancient Greek papyrus roll that was found in 1962. It is a philosophical treatise that is an allegorical commentary on an Orphic poem, a theogony concerning the birth of the gods, produced in the circle of the philosopher Anaxagoras in the second half of the 5th century BC, making it "the most important new piece of evidence about Greek philosophy and religion to come to light since the Renaissance" (Janko 2005). It dates to around 340 BC, during the reign of Philip II of Macedon, making it Europe's oldest surviving manuscript. It was finally published in 2006.
---

Museums, Exhibits, Artists, Milestones, Digital Art, Architecture, Photography,
Photographers, Special Photos, Special Reports, Featured Stories, Auctions, Art Fairs,
Anecdotes, Art Quiz, Education, Mythology, 3D Images, Last Week,
.
---
Royalville Communications, Inc
produces: