Mexican archaeologists find a 1,500 year old shaft tomb in the state of Colima
The underground space devastated by tepetate (a solid layer of volcanic rock) is distinct and earlier than the cist burials, dating between 0 and 500 AD, in the temporary margins of the Comala phase. Photo: Meliton Tapia/INAH.

Translated by: Cristina Perez Ayala
MEXICO CITY
.-
A shaman's sculpture (represented with a long face and a weapon at hand), is the guardian of a shaft tomb discovered in the state of Colima by investigators of the
National Institute of Anthropology and History
(INAH), who recently became the first to see its interior after it had been closed for more than 1,500 years. With the fumaroles of the Fire Volcano as a background and underneath a plot of land in the municipality of Villa de Alvarez, the specialists from INAH are detailing the registry of this funerary space which was fortunately found intact, since shaft tombs are usually raided by looters because of the objects beauty within these, explained archaeologist Marco Zavaleta Lucido. The archaeologist added that the salvage in Villa de Alvarez, near a place with recently recovered adult burials in cists, where he recently lifted three flat stones that sealed the vertical entry ...
More
The Best Photos of the Day
Ancient, ethnographic art headline spectacular one-day sale at Artemis Gallery LIVE, March 14
Sotheby's New York announces Single-Owner Evening Sale of Photographs on 1 April
Widest ranging exhibition on the subject of ruins in art to date opens at Tate Britain




An Exceptional Olmec Green Stone Figurine, ca. 1000-800 BCE. Estimate $4,000-$6,000.





BOULDER COUNTY, CO.- Artemis Gallery LIVE presents a spectacular one-day auction of the fine Antiquities, Pre-Columbian, Far Eastern, Native American, and Ethnographic art on Friday, March 14, 2014, the day before the infamous "Ides of March." "This auction is truly special," says Teresa Dodge, owner of Artemis Gallery LIVE. "Our usual offering of authentic ancient art is complemented by unique and exciting African, Native American, and Spanish Colonial pieces – it's like taking a trip around the world, without leaving the comfort of your home… or your computer." This online sale begins its voyage with the splendor of the ancient Classical world. The timeless beauty of Egyptian art is on full display with brilliant blue ushabtis, bronze and faience amulets, and an important Egyptian Diorite Conical Offering Bowl (Lot 1A), impressively sized and stunning in form. The iconic elegance of Ancient ... More





Edward Steichen, Gloria Swanson. Est. $300/500,000. Photo: Sotheby's.





NEW YORK, NY.- Over two days on 1 and 2 April Sotheby's New York will present two Photographs sales: The Inventive Eye: Photographs from a Private Collection, on the evening of 1 April, followed by the various-owners Photographs auction the following day. With works spanning the history of the medium, the sales offer outstanding highlights from the 19th century to the present day. Featured above are two photographs from the early part of the 20th century — a captivating portrait of Gloria Swanson by Edward Steichen from 1924 (est. $300/500,000) and Alfred Stieglitz's Georgia O'Keeffe (Nude Study) from 1918-19 (est. $300/500,000). These and other highlights will be exhibited in Los Angeles on 6 March and in San Francisco on 13 and 14 March.* The single-owner sale draws together work by some of the most inventive photographers of the 20th century. Comprised of photographs ... More





JMW Turner, Tintern Abbey: The Crossing and Chancel, Looking towards the East Window 1794.





LONDON.- Ruin Lust offers a guide to the mournful, thrilling, comic and perverse uses of ruins in art from the seventeenth century to the present day, at Tate Britain from 4 March 2014. The exhibition is the widest ranging on the subject of ruins in art to date and includes over 100 works by artists such as J.M.W. Turner, John Constable, John Martin, Eduardo Paolozzi, Rachel Whiteread and Tacita Dean. The exhibition begins with the eighteenth century craze for ruins that overtook artists, writers and architects. J.M.W. Turner and John Constable were among those who toured Britain in search of ruins and picturesque landscapes, producing works such as Turner's Tintern Abbey: The Crossing and Chancel, Looking towards the East Window 1794, and Constable's Sketch for 'HadleighCastle' c.1828–9. Britain's ruinous heritage has been revisited and sometimes mocked by later artists. Keith Arnatt ... More
Agnew's to continue dealing under new ownership and the direction of Anthony Crichton-Stuart
The Frick Art & Historical Center presents The Warner Collection of American Paintings
Waddington's Fine Prints and Photography Auction: From Lennon to Leipzig




Agnew's will continue dealing under the direction of Anthony Crichton-Stuart, former head of Christie's Old Master Paintings department.





LONDON.- Agnew's, the long established international fine art dealer, which closed its Albemarle Street gallery to the public last year, has been acquired by new owners and will continue trading under the direction of Anthony Crichton-Stuart, former head of Christie's Old Master Paintings department in New York and subsequently a director of Noortman Master Paintings. The firm was founded in Manchester in 1817, opening a branch in London in 1860, and has a proud history with some of the most discerning private collectors and museums amongst its international clientele. These have included collectors such as the 1st Lord Iveagh and the Rothschild and Morgan families and, in more recent years, Paul Mellon, Baron Thyssen-Bornemisza and Norton Simon. It has made sales to the national galleries in London, Edinburgh and Washington and, amongst many other American museums, the ... More





William Harnett (1848–1892), Still Life with Mug, Pipe, Matches, Newspaper, 1878. Oil on canvas, 21 x 18 x 4 inches. Courtesy of The Warner Foundation and Warner Collection of American Art.





PITTSBURGH, PA.- An American Odyssey: The Warner Collection of American Painting opened at the Frick Art & Historical Center in Point Breeze on Saturday, March 1, 2014. This exhibition features 50 paintings by American artists from the nation's early years of independence through the dawn of the 20th century, and includes major artists and movements from the Peale family and Gilbert Stuart (1755–1828) to American Impressionists like Childe Hassam (1859–1935) and Theodore Robinson (1852–1896), with beautiful Hudson River School works falling in between. The exhibition will remain on view through May 25, 2014. Admission is free. The Warner Collection is one of the most significant collections of American art formed in recent decades, and the breadth and variety of works represented are both artistically and historically illu- ... More





Andy Warhol, "Karen Kain" (lot 5).





TORONTO, ON.- Waddington's presents its annual Fine Prints and Photography Auction on March 11, 2014. Featuring 209 lots representing important artists from around the world, the auction includes prints by Pablo Picasso, Andy Warhol and Marc Chagall; graphics by Canadian aboriginal artists Bill Reid and Kenojuak Ashevak, and photographic works by Jock Sturges, Arthur Leipzig and Julius Shulman. Linda Rodeck, Waddington's Vice President of Fine Art says, "We are delighted to be able to make great art accessible; this auction provides a unique opportunity for both seasoned collectors and neophytes to acquire original works by major artists." Susan Robertson, Waddington's International Art Specialist, notes that this is one of the diverse auctions she has assembled with works by artists from over 20 countries. John Lennon "Bag One" (lot 39) lithographs, estimate $20,000 – 30,000. Created in 1969 by ... More
Stedelijk Museum Amsterdam announces acquisition of two works by Steve McQueen
Rare Fabergé animals and jeweled Russian Imperial gifts lead A La Vieille Russie's offerings at TEFAF
Major new exhibition at the Phillips Collection celebrates American identity, ingenuity and spirit




Director Steve McQueen attends the Oscars held at Hollywood & Highland Center on March 2, 2014 in Hollywood, California. Michael Buckner/Getty Images/AFP.





AMSTERDAM.- The Stedelijk Museum Amsterdam has acquired two works by British artist and filmmaker Steve McQueen, who yesterday was awarded the Oscar for Best Film for 12 Years a Slave. The purchase of McQueen's Mees, After Evening Dip, New Year's Day, 2002 from 2005 and Running Thunder from 2007 was possible thanks to the generous support of the Titus Fonds of the Rembrandt Vereniging, the Mondriaan Fund and the BankGiro Loterij. The works go on display on 13 December at the Stedelijk as part of a large presentation of video art from the collection. Bart Rutten, visual arts curator of the Stedelijk Museum: "We are extremely proud of this dual acquisition. The museum maintains a fruitful, long-established relationship with Steve McQueen, and already owns a notable work by the artist. Moreover, he collaborated ... More





An enameled snuffbox given to the Imperial family doctor by Czar Nicholas II.





NEW YORK, NY.- Rare Fabergé animals and jeweled Russian Imperial gifts are some of the highlights of an exhibition by the prominent Fifth Avenue jeweler and antique dealer, A La Vieille Russie (ALVR), to be held at The European Fine Art Fair (TEFAF) in Maastricht (March 14-23). Art works will include Fabergé silver and hardstone animal sculptures, an enameled snuffbox given to the Imperial family doctor by Czar Nicholas II on occasion of the birth of his daughter, and also a bonbonniere once owned by the powerful London banker, Leopold de Rothschild. "We wish to show the substance, design, quality, and beauty of jeweled items from earlier eras, and we will have a strong selection of Fabergé and Imperial jewels," said Mark Schaffer, a partner in ALVR. "There will be a wide range of jeweled animals – rabbits, horses, dragonflies, crabs, elephants, turtles, monkeys, dogs, fish, and etc.; we have an entire wearable menagerie of antique ... More





Winslow Homer, To the Rescue, 1886 (detail). Oil on canvas, 24 x 30 in. The Phillips Collection, Washington, DC. Acquired 1926.





WASHINGTON, DC.- After winning acclaim and record attendance on a four-year tour, The
Phillips Collection's renowned collection of American masterworks returns to the museum in a landmark exhibition. Made in the U.S.A. is on view at the Phillips from March 1 through August 31, 2014. The most comprehensive presentation of the museum's American art collection undertaken in nearly 40 years, Made in the U.S.A. showcases more than 200 masterpieces—from romantic seascapes and jazzy city scenes to abstract canvases and boldly colored portraits—by more than 125 artists whose new visual language made American art an international sensation. Founder Duncan Phillips was a lifelong champion of the nation's cultural diversity. His commitment to collecting works by America's living artists who showed great promise—whether they were native ... More
First solo exhibition in the United States for Korean artist Byung Hoon Choi opens at Friedman Benda
Final weeks to see the Dog Star Exhibit! Demetrius Oliver: Canicular on view through March 22, 2014
Hans Holbein the Younger re-made on display at the National Portrait Gallery, London




Byung Hoon Choi, afterimage of beginning 013-392, 2013. Basalt, 21.26 x 123.62 x 33.46 inches.





NEW YORK, NY.- Friedman Benda opened In One Stroke, the first solo-exhibition in the United States for Korean artist, Byung Hoon Choi. For this inaugural show, Choi has created his most ambitious work to date - eleven monumental 'benches,' chiseled from basalt stone, representing a watershed moment for Korea's most significant sculptural designer. Byung Hoon Choi holds a singular position in the history of recent Korean Art. He embraces the arc of history while eroding traditional boundaries of sculpture, object, and space. Known for the precarious play between natural and fabricated elements, Choi sets rough beside polished, old against new. His work thrives on tension, balance, humor, and the implausible wholeness of each work. Conceived as minimal and swift brushstrokes, In One Stroke works are at once raw and refined. They are graphic statements hewn from ... More





Installation shot from Demetrius Oliver: Canicular. On view at The Print Center, January 10 – March 22, 2014.





PHILADELPHIA, PA.- For nearly 100 years, The Print Center has supported printmaking and photography as vital contemporary arts and encouraged the appreciation of the printed image in all its forms. Since January, ideas of form, function and appreciation have been challenged by Canicular, a major new exhibition by New York artist Demetrius Oliver. Hailed by The Philadelphia Inquirer as "an art speakeasy," and by WHYY-FM as "an immersive installation that playfully blends the astronomical and the canine," the exhibit is in its final weeks and will be on view nightly – weather permitting – through Saturday, March 22. Curated by John Caperton, The Print Center's Jensen Bryan Curator, the exhibition is a direct response to Caperton's request for Oliver to think as expansively as possible about what constitutes a print, and reflects the artist's longtime desire to create an installation requiring a ... More





William Warham after Hans Holbein the Younger, early 17th century (1527). ©National Portrait Gallery, London.





LONDON.- A new display exploring the high demand for copies and versions of portraits by Tudor court painter Hans Holbein the Younger has opened at the National Portrait Gallery, London. Hans Holbein Re-made brings together a selection of important copies of the celebrated German artist's portraits, revealing at the same time new research that has emerged from the Gallery's ongoing Making Art in Tudor Britain project. During Henry VIII's reign, Hans Holbein the Younger undertook many portraits of prominent individuals at court, such as Thomas Cromwell, Thomas More and William Warham. In the years following his death in 1543, Holbein's portraits came to be prized, and demand for his work increased, due to both the importance of his sitters and his own fame and reputation as a highly skilled artist. As a result, there was a lively market for copies of his portraits, with artists producing ... More
Anatomy of an Artwork – Lowry's 'Excursion to the Piccadilly Circus'
---
Flashback
On a day like today, Italian painter Giovanni Battista Tiepolo, was born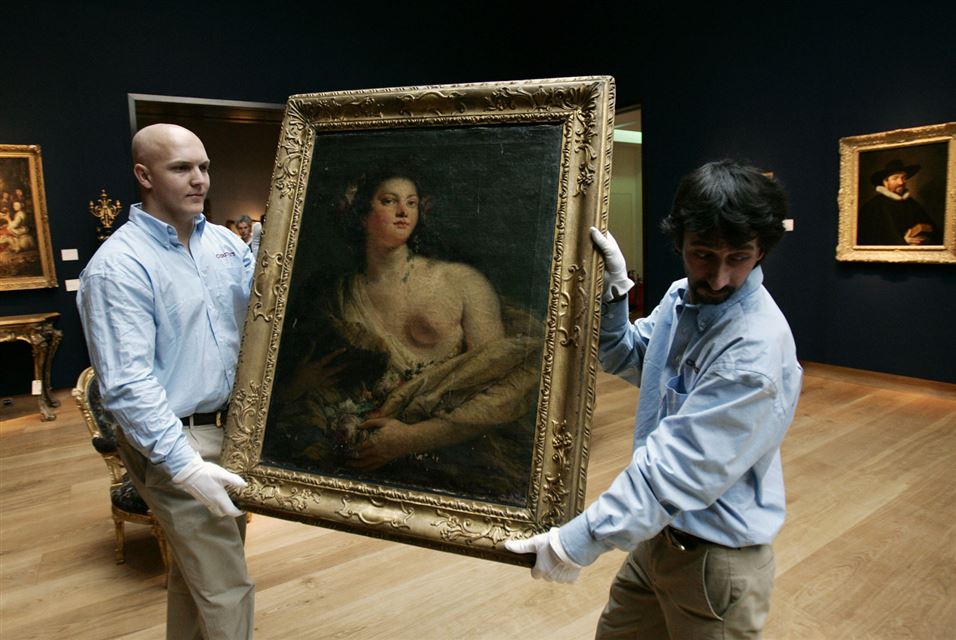 March 05, 1696. Giovanni Battista Tiepolo (March 5, 1696 - March 27, 1770), also known as Gianbattista or Giambattista Tiepolo, was an Italian painter and printmaker from the Republic of Venice. He was prolific, and worked not only in Italy, but also in Germany and Spain. In this image: Two employees carry a rediscovered painting by Giambattista Tiepolo, titled 'Portrait of a lady as Flora', as they prepare to put it on display at Christie's auction house in London, Friday, Nov. 28, 2008. The painting lost for over 200 years and found in the attic of a French chateau is to be auctioned in a sale on Dec. 2, and is expected to fetch between GBP 700,000 to 900,000 pounds (USD 1.1 to 1.4 million; euro 836,000 to 1.1 million
---

Museums, Exhibits, Artists, Milestones, Digital Art, Architecture, Photography,
Photographers, Special Photos, Special Reports, Featured Stories, Auctions, Art Fairs,
Anecdotes, Art Quiz, Education, Mythology, 3D Images, Last Week,
.
---
Royalville Communications, Inc
produces: