Artemis Gallery sale surveys Pacific Northwest Coast, Pre-Columbian and tribal art
Mbulenga female figure carved from single piece of hardwood, Democratic Republic of the Congo, Lulua peoples, circa late-19th to early 20th century CE, 10.25in high. Est. $4,500-$6,000
BOULDER, COLO
.-
Ancient ceremonial objects, masterfully carved and painted mythical figures, and other fascinating cultural artworks will take center stage on May 24 at
Artemis Gallery
's Northwest Pacific Coast, Tribal and Pre-Columbian Art auction. The fully curated offering of 341 lots features prized holdings that were privately amassed over many years by respected collector and dealer Joseph Alphabet. Start time is 10 a.m. Eastern, with Internet live bidding available through LiveAuctioneers. The stunning beauty of pieces created by Native-American peoples of the Pacific Northwest sets the tone for this sale of colorful, extremely high-quality art. Among the most visually appealing entries is an early 20th-century Haida painted, carved-wood helmet. It is topped by a three-dimensional stylized wolf with a collar of silvery fur and bares a tooth-filled mouth. Most recently ...
More
The Best Photos of the Day
Getty Foundation announces new initiative focused on prints and drawings curatorship
Divine objects star in the South Asian Modern + Contemporary and Arts of India auctions in London
Halcyon Gallery presents an exhibition of early illustrations by Andy Warhol


Paul Jansen (conservation assistant) checks the condition of an Italian drawing in the Print Room of Museum Boijmans Van Beuningen. © Fred Ernst, 2018.



LOS ANGELES, CA.- The Getty Foundation announced today the launch of The Paper Project: Prints and Drawings Curatorship in the 21st Century, a new initiative to strengthen curatorial practice in the graphic arts field internationally. The launch includes the announcement of six inaugural grants awarded to the Ashmolean Museum of Art and Archaeology at the University of Oxford; the British Museum in London; the Courtauld Gallery in London; the Morgan Library & Museum in New York; the Museum Boijmans Van Beuningen in Rotterdam; and the Staatliche Kunstsammlungen Dresden. "The Paper Project is a response to the need for more training and professional development opportunities to serve a rising generation of curators of prints and drawings," ... More



Vasudeo S. Gaitonde, Untitled, 1986. Estimate: GBP 1,000,000 - GBP 1,500,000 (USD 1,350,000 - USD 2,025,000). © Christie's Images Limited 2018.



LONDON.- On 12 June, Christie's will host the 24th annual sale of South Asian Modern + Contemporary Art alongside the Arts of India auction as part of Indian Art London. These sales will offer collectors an exciting opportunity to buy classical Indian art from early Gandharan sculpture to Company School painting, all the way through to iconic modern paintings by leading artists Vasudeo S. Gaitonde, Tyeb Mehta, and a never before seen sculpture by Ravinder Reddy. The South Asian Modern + Contemporary sale features Untitled (Goddess), a formative example of the artists' now iconic representations of deified Indian women (Lot 46, estimate: £25,000 – 35,000). Bringing together the ancient and the contemporary, and linking temple, kitsch and Pop art, Reddy's larger than life sculptures command attention from the ... More



Installation view.



LONDON.- Halcyon Gallery is presenting An Exhibition of Early Illustrations by Andy Warhol, offering a rare glimpse into the formative years of one of the art world's most celebrated names in the period before he became 'The King of Pop'. Andy Warhol's illustrations of the 1950s may be less well known than his later silkscreen prints of American icons, such as Marilyn Monroe or the Campbell's Soup cans, yet these seldom seen, hand-drawn illustrations in offset lithograph provide an incredible insight into the foundations of Warhol's career as an artist. Indeed, these early works are of great importance to Warhol's own artistic development; it was these whimsical illustrations that gained Warhol his initial recognition and which began his transformation into the 'Andy Warhol' that we know today. Having just graduated from Pittsburgh's Carnegie Institute of Technology, Warhol moved to New Yor ... More
Bonhams announces the Spring Sale of Modern Decorative Art + Design
Exhibition at the J. Paul Getty Museum addresses the enduring fascination with the human face
Monumental masterpieces by William Scott emerge from Irish collections


Harry Bertoia (1915-1978), Untitled (Bush Form), circa 1970 (estimate: $80,000-120,000). Photo: Bonhams.



NEW YORK, NY.- Bonhams announced highlights from the upcoming auction of Modern Decorative Art + Design, which will take place on June 7 at 2pm. The sale encompasses over 130 lots and includes a broad selection of works from renowned designers such as Harry Bertoia, George Nakashima, Frank Lloyd Wright, Claude Lalanne, and Carlo Scarpa. Additional highlights include a Robert Goossens chandelier that was a special commission by fashion designer Cristóbal Balenciaga, Pierre Jeanneret armchairs directly from Chandigarh, a rare wall light attributed to Gino Sarfatti, and an exquisite enamel centrepiece by Thorolf Holmboe, circa 1907. Highlighting the sale is an eclectic collection of ten sculptures by Harry Bertoia that were mostly gifted from the artist to Michael Hall, a family friend. The works span the spectrum of Bertoia's career from the 1950s to the 1970s and leading the collection is Untitled (Bush Form) circa 1970 (estimate: ... More



Walker Evans, Allie Mae Burroughs, Hale County, Alabama, negative 1936; print 1950s. Gelatin silver print. Image: 24.3 × 19.2 cm. Accession No. 84.XM.956.301. The J. Paul Getty Museum, Los Angeles.



LOS ANGELES, CA.- From Leonardo da Vinci's Mona Lisa, to Edvard Munch's The Scream, to Dorothea Lange's Migrant Mother, the human face has been a crucial, if often enigmatic, element of portraiture. Featuring 45 works drawn from the Museum's permanent collection, In Focus: Expressions, on view May 22 to October 7, 2018 at the J. Paul Getty Museum, addresses the enduring fascination with the human face and the range of countenances that photographers have captured from the birth of the medium to the present day. The exhibition begins with the most universal and ubiquitous expression: the smile. Although today it is taken for granted that we should smile when posing for the camera, smiling was not the standard photographic expression until the 1880s with the availability of faster film and ... More



William Scott, Dark Earth Scheme, oil on canvas, 168.5 by 173cm, 1973 (est. £200,000-300,000). Courtesy Sotheby's.



LONDON.- William Scott was among the most internationally celebrated British painters of the 20th century, his works acquired by the most forward-thinking collectors and institutions of their day. This monumental painting from the pivotal Berlin Blues series caught the eye of Dr Ronald Tallon, an influential Irish modernist architect, who persuaded Scott's wife Mary to part with it having caught a glimpse of the painting hanging in the Scotts' London home. Prior to this, Tallon had purchased the sister work from the series, Berlin Blues I, for the Bank of Ireland collection (later donated to the Irish Museum of Modern Art). Scott himself considered this impactful painting immensely significant, selecting it as the basis for a five-pence stamp design he created for the Eire postal service in 1973. Having first pondered in a letter to his son as to whether or not the first ever abstract stamp would be met with approval, his doubts were proved ... More
Han Solo's 'Return of the Jedi' blaster up for auction
The Academy announces major collections gift from George Stevens, Jr.
Works spanning the 20th-21st centuries lead Phillips' Evening & Day Editions Sales in London


Star Wars' Han Solo's BlasTech DL-44 blaster (estimated value $300,000 - 500,000) is exhibited by Julien's Auctions at Planet Hollywood, in New York. HECTOR RETAMAL / AFP.



NEW YORK (AFP).- In the wildly popular "Star Wars" films, Han Solo once told a lightsaber-wielding Luke Skywalker: "Hokey religions and ancient weapons are no match for a good blaster at your side, kid." Now, fans of the space saga can own one of the blaster pistol props Harrison Ford used in his iconic role as Solo in "Return of the Jedi" -- an item expected to sell for between $300,000 and $500,000 next month at auction in Las Vegas. The faux weapon, mainly made of wood, was put on display in New York on Monday by Julien's Auctions -- after more than 30 years tucked away in the belongings of James Schoppe, the art director for "Return of the Jedi" (1983). Martin Nolan, the auction house's executive director, said Schoppe, an Oscar nominee for his work on the film, ... More



George Stevens in uniform for World War II, circa 1943.



LOS ANGELES, CA.- The Academy of Motion Picture Arts and Sciences announced a donation to the Margaret Herrick Library and the Academy Film Archive from George Stevens, Jr., the award-winning filmmaker and founder of the American Film Institute. The acquisition of papers and films documenting his creative career and public service extends the coverage of the Stevens Family collection, which now spans five generations and is one of the most comprehensive family collections in the Academy's holdings. The Margaret Herrick Library's latest acquisition from Stevens Jr., who received an Honorary Award (an Oscar® statuette) from the Academy in 2012 in recognition of his exceptional contribution to the motion picture arts, includes papers, photographs, letters and scripts from his early career as an assistant to his father on "Shane" and "Giant"; his service as head of motion pictures at the United States ... More



Jean-Michel Basquiat, Flexible, 1984/2016. Estimate: £40,00 - 60,000. Image courtesy Phillips.



LONDON.- Phillips presents highlights from the Evening & Day Editions Sales, showcasing works by an array of Modern and Contemporary masters. Highlights include a rare series of six lithographs by Cy Twombly, a notable group of works by Pop artists including Andy Warhol and Roy Lichtenstein, an exceptional collection of Richard Hamilton prints, and property from The Edwin C. Cohen Family Collection. With a total of 280 lots, the Day Sale will be held on 7 June at 2pm (lots 62-280), and immediately followed by the Evening Sale at 6.30pm (lots 1-61). Robert Kennan, Head of Editions, Europe, said, "Following Phillips' 10th anniversary Editions sale in April in New York, which achieved the highest total for the category in company history, we aim to build on this momentum in London as we present works by the most significant artists of the 20th ... More
Major exhibition of French paintings from the Burrell Collection, Glasgow, opens at the Musée Cantini, Marseilles
Sotheby's Hong Kong Chinese Works of Art Sales to take place on 31 May and 1 June
Cabaret du Lapin Agile by Utrillo may bring $100,000 at Heritage Auctions


The Lord Provost of Glasgow accompanied by the Deputy Mayors of Marseilles.



MARSEILLES.- Some of the most iconic late 19th century French paintings from the Burrell Collection have gone on show for the first time outside of Great Britain. From 18 May to 23 September 2018, visitors to Marseilles will see 58 works from the Burrell Collection at the inaugural exhibition Courbet, Degas, Cézanne… Chefs-d'oeuvre réalistes et impressionistes de la collection Burrell, at the newly reopened Musée Cantini, Marseilles. The exhibition includes an impressive range of artists – Boudin, Cézanne, Corot, Courbet, Daubigny, Daumier, Degas, Manet, Millet, Pissarro and Sisley however what is even more astonishing is that none of these paintings have been seen in France since the time of their acquisition. The works on display represent an important aspect of Sir William Burrell's taste, namely, his love of French 19th century art, from realism to ... More



An Imperial Inscribed Zitan Stand. 34 cm Estimate: HK$80,000-120,000 / US$10,200-15,300. Courtesy Sotheby's.



HONG KONG.- Sotheby's will present two mid-season sales of Chinese works of art at its Hong Kong Gallery: Scholarly Art from the Collection of Mr and Mrs Gerard Hawthorn (30 May) and Chinese Art (31 May – 1 June). Known for his eclectic and expansive scopes of interest in Chinese Works of Art, Gerard Hawthorn had, over the years, amassed sizeable collections of bamboo, Yixing stoneware and bronzes. These are categories which have gained long overdue traction in comparison to their jade and ceramics counterparts, which have for the most part, embodied the canon of Chinese Works of Art collecting in the West in the past. In tandem with this great collection is the Chinese Art Sale, which constitutes fine selections from several private Hong Kong collections, in particular, a selection of scholarly ... More



Maurice Utrillo (French, 1883-1955), Cabaret du Lapin Agile (detail). Oil on canvas, 18-1/8 x 21-3/4 inches. Estimate: $100,000 - $150,000.



DALLAS, TX.- Paris as Maurice Utrillo experienced it on the streets of Montmartre headlines Heritage Auctions' June 8 European Art Auction with his Cabaret du Lapin Agile (est. $100,000-$150,000), a scene of Aristide Bruant's celebrated nightclub. Views of other Parisian landmarks by Edouard-Léon Cortès, François Gall, and Antoine Blanchard set the stage for Ignace Spiridon's painting Sappho, a depiction of an infamous Parisian courtesan gliding down a staircase, and showing quite a bit of her silk stockings in the process (est. $15,000-$25,000). Spiridon's painting has a fascinating history. It represented the artist at the 1893 Chicago's World Columbian Exposition, advertised a Broadway play that was at the center of a sensational indecency trial; and belonged to actress Ronnie Claire Edwards, who was best known ... More
Eduardo Chillida: Sculptor
Flashback
On a day like today, Belgian author and illustrator Hergé was born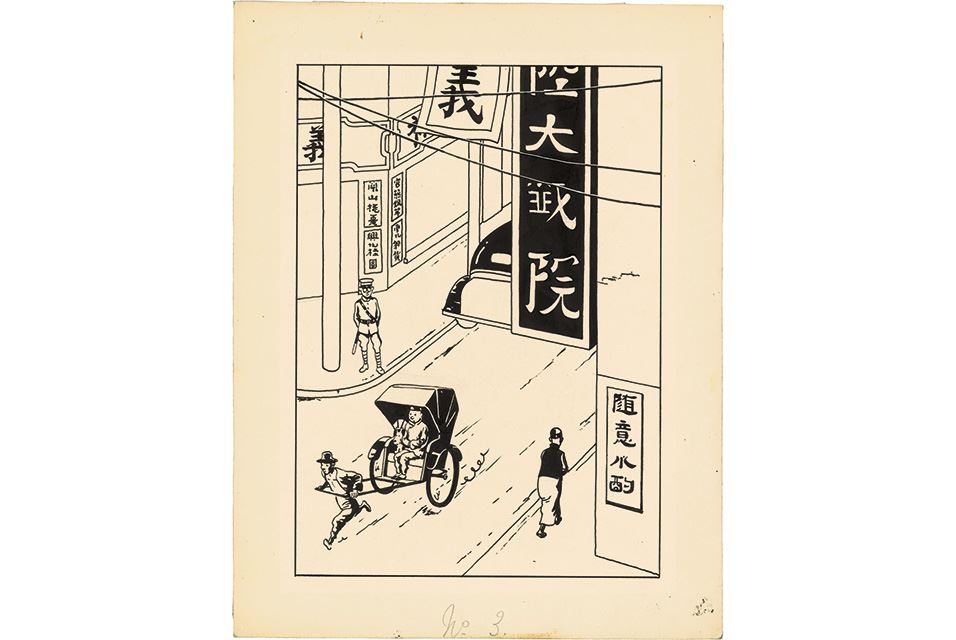 May 22, 1907. Georges Prosper Remi (22 May 1907 - 3 March 1983), known by the pen name Hergé, was a Belgian cartoonist. He is best known for creating The Adventures of Tintin, the series of comic albums which are considered one of the most popular European comics of the 20th century. In this image: Georges Remi aka Hergé, Le Lotus Bleu, 1936, vendu 1,1 M€ / 1,25 M$ / 9,6 MHK$ (estimate: 1 000 000 - 1 500 000 € / 8 600 000 - 13 000 000 H$K) © Hergé/Moulinsart 2015.
---

Museums, Exhibits, Artists, Milestones, Digital Art, Architecture, Photography,
Photographers, Special Photos, Special Reports, Featured Stories, Auctions, Art Fairs,
Anecdotes, Art Quiz, Education, Mythology, 3D Images, Last Week,
.
---
Royalville Communications, Inc
produces: