Exhibition at World Chess Hall of Fame Showcases World-Class Chess Collection
Catherine the Great Chess Set, Late 1700s, Russia. Amber and Ebony. Collection of Dr. George and Vivian Dean.
ST. LOUIS, MO
.-
Animal, Vegetable, Mineral: Natural Splendors from the Chess Collection of Dr. George & Vivian Dean
features over 30 magnificent, antique chess sets inspired by the natural world or created from organic materials and acquired over 5 decades of collecting by the Deans. The rare sets are exhibited alongside natural specimens and tools. The oldest set in the exhibit is a rock crystal chess set and board from Germany, dating to 1525. Other lenders to the show include the Dennos Museum Center (Traverse City, MI), the Field Museum of Natural History (Chicago, IL), the Missouri History Museum (Saint Louis, MO), the Saint Louis Science Center (Saint Louis, MO), Washington University (Saint Louis, MO), and the Wheaton Museum of American Glass (Millville, NJ). This exhibition commemorates the 55th year that Dr. George and Vivian Dean have collected chess sets together. They purchased their first chess set in the Middle East and thereafter acquired a set in each country they visited. As th ...
More
The Best Photos of the Day
British artist David Hockney makes a splash at Frankfurt fair with 2,000-euro book
Exhibition explores ancient origins of modern concept and organization of time in the Western world
ArtReview's annual Power 100 names Hans Ulrich Obrist as the artworld's most powerful figure


British artist David Hockney poses with his book "SUMO - A Bigger Book" during the Frankfurt Book Fair. Arne Dedert / dpa / AFP.



FRANKFURT (AFP).- British contemporary artist David Hockney unveiled a 500-page art book at the Frankfurt fair on Wednesday that is so large it comes with its own stand -- and a price tag of 2,000 euros ($2,200). The tome, "A Bigger Book", gives a visual overview of his decades-long career and includes everything from his earliest drawings to his famed swimming pool paintings and polaroid collages, to his more recent iPad drawings. The 79-year-old, wearing a white flat cap and a yellow tie with a green cardigan, leafed through every page of the book in an hour-long presentation at the fair, but gave few comments beyond a brief description of the works. The book itself only contains a few lines of hand-written text, letting the art do the talking. "A book like this doesn't need much ... More



Statuette of Atlas Bearing Ornamental Spherical Sundial. Marble. H. 52 cm. Tor Paterno, near Ostia. Possibly 2nd century CE. Sir John Soane's Museum, London: M1254 © Sir John Soane's Museum, London.



NEW YORK, NY.- The ancient Greeks and Romans contributed more than any other past civilization to the rise of time's dominion over individual and public life. Time and Cosmos in Greco-Roman Antiquity, on view at the Institute for the Study of the Ancient World, NYU, from October 19, 2016 through April 23, 2017, explores the ways in which they organized time, marked its passage, and linked it to their understanding of the larger universe. The exhibition brings together more than 100 objects from international collections, comprising both tools of time reckoning and items—many of them rarely on public display—that illuminate the social role, perception, and visualization of time and its relationship to the cosmos. In so doing, ... More



Hans Ulrich Obrist by Roe Ethridge.



LONDON.- The Swiss curator Hans Ulrich Obrist is number one in the 15th edition of the ArtReview Power 100. The annual ranking of the contemporary art world's most influential players hits newsstands on Thursday 20 October. Hans Ulrich Obrist is artistic director of the Serpentine Galleries in London, but as ArtReview comments, "This official role tells you very little about what it is that this Swiss curator actually does. When Obrist last topped the Power 100, in 2009, the magazine quoted the opening point of the curatorial statement from his Beijing Mini-Marathon of ideas: 'Don't stop. We never stop.' And Obrist singularly has not. The curator is famous for ignoring traditional constraints of both time (he works nearly constantly, and famously founded the Brutally Early Club, an opento-all discussion group that meets at 6.30am) and geographic place (he is in perpetual motion, giving talks ... More
Max Ernst paintings from the Tanning Collection debut at Bonhams
Sotheby's to offer rare Chinese & European books, maps, photographs and manuscripts
Mysterious Great Fire manuscript goes on show at Museum of London


Max Ernst, (1891-1976), Tremblement de terre printanier (detail), 51 1/8 x 63 3/4 in (130 x 162 cm) US$ 600,000 - 1,000,000. Photo: Bonhams.



NEW YORK, NY.- Bonhams announces the sale of two exceptional paintings by Max Ernst consigned by a descendent of his widow, the artist and writer Dorothea Tanning. The works are among highlights offered in Impressionist and Modern Art auction on Nov. 16 at Bonhams New York. Neither work has appeared at auction before. Tremblement de terre printanier (estimate U.S. $600,000-1,000,000) is a monumental work from 1964, painted at Seillans in the South of France, where the German-French artist lived with Tanning following his return from wartime exile in the United States. Je suis une femme, vous êtes un homme, sommes nous la république (estimate U.S. $400,000-600,000) features Ernst's alter ego the bird/man 'Loplop' in a dark, clotted landscape beneath a shimmering yellow shell-sun. The use of methods ... More



A collection of photographs of Beijing taken by Thomas Child (c.1860s-c1881) and others, comprising over 80 original photographs. They include portraits, scenes of everyday life, architecture, military subjects, and ancient monuments. Est. £15,000-20,000 (lot 122). Photo: Sotheby's.



LONDON.- The most significant sale of its kind to be held in a generation, "China in Print and on Paper" reveals the rich history of cartography, exploration, trade and diplomacy between China and the West for over half a millennium. Together, the books, maps, photographs and works on paper reveal different aspects of China, from those who lived within its borders and those from outside. At the heart of this sale are two magnificent single-owner collections formed over many years by private collectors Bernard Hanotiau in Belgium, and Floyd Sully in Canada. The sale will be held at Sotheby's London on 7 November 2016 during the annual Asian Art in London, and will be preceded by ... More



Manuscript evidence from the Great Fire of London.



LONDON.- The Museum of London has recently acquired a mysterious and highly unusual piece of manuscript evidence believed to be direct reportage from a House of Commons committee investigating the causes of the Great Fire. The hastily penned two-and-a-half page document by an unknown writer appears to have been drafted from a verbal report presented to the House of Commons on 22 January 1667 by Sir Robert Brooks, Chairman of the parliamentary committee established in September 1666 to investigate the origins of the fire. Although the writer is unknown, the clumsy phrasing and a range of phonetic spellings including 'Frinch' instead of 'French' and 'marchant' rather than 'merchant' do suggest that they had a very pronounced regional accent and were not particularly well schooled. There was much salacious gossip surrounding the origins of the Great Fire in its immediate aftermath and many thoug ... More
Marianne Boesky Gallery now represents multidisciplinary artist Sanford Biggers
British Museum display presents coins and other objects that were defaced
Rare & historical miniatures of outstanding provenance bring £3.1 million


Sanford Biggers Blossom, 2007 Silk steel, wood, MIDI player piano system, zoopoxy 12 x 18 x 15 ft 3.7 x 5.5 x 4.6 m Courtesy of the artist and Marianne Boesky Gallery, New York. © Sanford Biggers



NEW YORK, NY.- Marianne Boesky Gallery announced representation of artist Sanford Biggers, whose practice encompasses installation, film, video, drawing, sculpture, original music, and performance. Biggers' work deals with well-recognized social, political, and cultural narratives, which he reinterprets to highlight new and underlying perspectives. The gallery will feature Biggers' work as part of its presentation at Art Basel Miami Beach in December, to be followed by a solo exhibition in New York in 2017. Leveraging the formal qualities of the vast range of media with which he works, Biggers creates installations and "vignettes" that inspire dialogue on issues such as formalism, the shifting meaning of symbols, nostalgia, history, the figure, and the complexities of identity in today's social and political landscape. Biggers' work is as visually compelling as it is conceptually ... More



Bronze as of Tiberius featuring the consulship of Sejanus, whose name was erased after his downfall; Bilbilis (Spain), AD 31 (loaned by the Kunsthistorisches Museum of Vienna).



LONDON.- 'Defacing the past: damnation and desecration in imperial Rome' presents coins and other objects that were defaced, either to condemn the memory of deceased Roman emperors or to contest the power of living ones. Images of power have always been used as a medium for propaganda; the power that they convey could backfire if they were used against the authority by which they had been designed and propagated. The display examines Roman history from the view of the defacer, looking at objects from Sejanus in the rule of Tiberius to the decadent Caligula and Nero, and from the disastrous Domitian and Commodus to the soldier emperors of the later empire. Like many rulers, Roman emperors used inscriptions, sculptures and coins to project their authority. The imperial image conveyed through these media could be contested and subverted for ... More



A royal horse attended by three grooms, Mughal, circa 1575-90. Photo: Sotheby's.



LONDON.- The single-owner sale of The Khosrovani-Diba Collection, a prestigious group of Indian miniatures by Mughal masters and fine paintings of the Rajasthani, Pahari and Company Schools, more than doubled pre-sale expectations with a total of £3,052,500 (est. £1-1.5 million) and over 87% of lots sold achieving in excess of their high estimates. The auction was led by an elegantly coloured and lyrical depiction of Radha consoled by Krishna in a forest, an illustration of a romantic night scene from the "Lambagraon" Gita Govinda series, which sold for £353,000 (est. £50,000-80,000). Another outstanding result was a large and arresting study of a Stork eating a snail from the important Lady Impey Series, that was part of the estate of Jacqueline Kennedy when it was sold by Sotheby's in 1996, which brought £245,000 (est. £60,000-80,000). Edward Gibbs, Sotheby's Middle East & India Chairman, said: "Formed over four decades, eve ... More
Nathaniel Silver named Associate Curator of the Collection at Isabella Stewart Gardner Museum
Exhibition showcases photojournalism and documentary images highlighting the emotional toll of war
Science Museum opens spectacular interactive gallery to inspire wonder in a new generation


Before joining the Museum, Silver worked for three years at The Frick Collection.



BOSTON, MASS.- Dr. Nathaniel Silver was recently promoted to the Isabella Stewart Gardner Museum's Associate Curator of the Collection. For two years at the Museum as Assistant Curator of the Collection, Silver co-curated the acclaimed exhibitions Beyond Words: Italian Renaissance Books and Ornament and Illusion: Carlo Crivelli of Venice, and contributed to Off the Wall: Gardner and Her Masterpieces. Silver was also involved in accompanying digital projects, leading the development of a web resource for Crivelli that won acclaim from the NEH, AAM MUSE and NEMA. In addition, he supervised - and continues to oversee - the collections component of a museum wide digitization project that aims to make over 15,000 objects accessible online. In addition, he contributed to several museum publications, co-authoring the forthcoming museum guidebook and leading the recent re-publication of The ... More



Dmitri Baltermants, Russian, 1912-1990, Tchaikovsky (Music and Flowers), 1945, printed later, gelatin silver print. © Estate of Dmitri Baltermants.



SARASOTA, FLA.- On Oct. 14, Soviet Scenes: Baltermants' Photographs of WWII and Photojournalism from the August Coup opened at The Ringling, presenting photojournalism from two key historic moments of the former USSR: World War II and the August Coup of 1991 that ended the communist regime. The exhibition highlights various styles of photojournalism and documentary images as distinctive content from each time period, underscoring both the climax and collapse of the Soviet era. It features works from the Ringling's permanent collection and will remain on view through Jan. 8, 2017. The first section of the exhibition showcases WWII through the lens of acclaimed photographer Dmitri Baltermants. Baltermants was key in constructing the image of the Soviet Union at war. He photographed for the state-run newspaper Izvestia and for the Red ... More



Visitors play with Flowing Mist exhibit © Plastiques Photography.



LONDON.- The Science Museum marked the opening of Wonderlab: The Statoil Gallery, its most ambitious interactive gallery ever, which invites visitors to think like a scientist. The £6 million permanent gallery features unique exhibits, specially-commissioned artworks, explosive demonstrations and immersive experiences led by the Museum's talented team of science communicators, Explainers, to inspire visitors of all ages to wonder at the science and mathematics that shape our lives. 'As part of a family holiday when I was 7 years old (coming to London from Sheffield seemed a long way then) we made a special trip to the Science Museum. Just exploring science for fun was something I had not experienced before. I am sure that set the grounds for a life that just cannot be without science.' ---Dr Helen Sharman, Science Museum Fellow and first Briton in space. The Museum's goal is to see 200,000 young people in school ... More
Château La Mission Haut-Brion Direct From The Cellars
Flashback
On a day like today, Russian oil magnate and art collector Roman Abramovich was born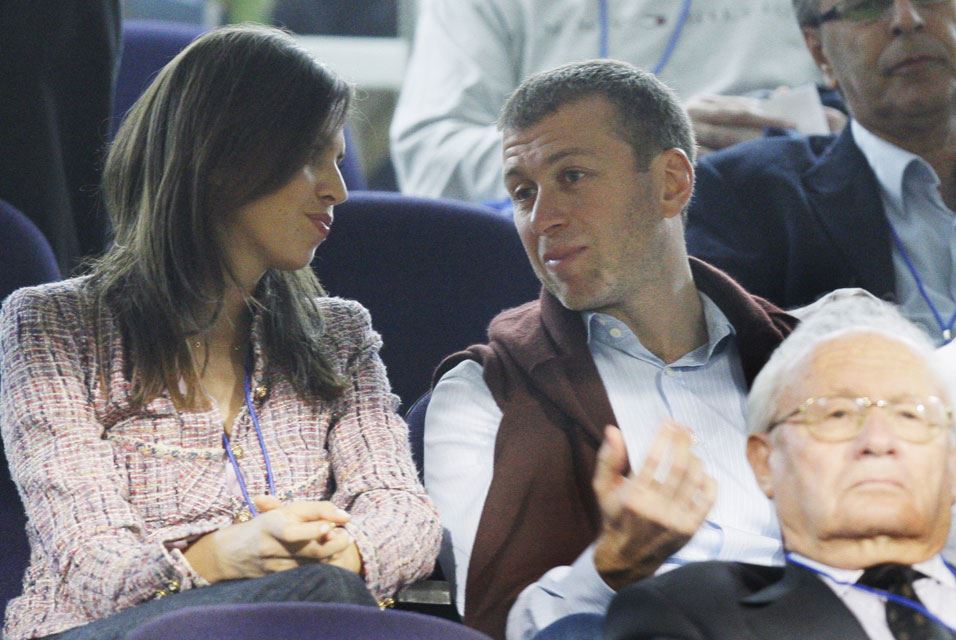 October 24, 1966. Roman Arkadyevich Abramovich (born 24 October 1966) is a Russian business tycoon and the main owner of the private investment company Millhouse LLC. In this image: Roman Abramovich, second from left, the owner of England's Chelsea soccer club sits, next to an unidentified woman during the Euro 2008 group E qualifying soccer match Israel vs Russia at the Ramat Gan stadium outside Tel Aviv, Israel, Saturday, Nov. 17, 2007.
---

Museums, Exhibits, Artists, Milestones, Digital Art, Architecture, Photography,
Photographers, Special Photos, Special Reports, Featured Stories, Auctions, Art Fairs,
Anecdotes, Art Quiz, Education, Mythology, 3D Images, Last Week,
.
---
Royalville Communications, Inc
produces: