Warhol in New York: a fresh experience for audiences old and new
Andy Warhol (1928–1987), Big Electric Chair, 1967–68. Acrylic and silkscreen ink on linen, 54 1/8 x 73 1/4 in. (137.5 x 186.1 cm). The Art Institute of Chicago; gift of Edlis/Neeson Collection, 2015.128 © The Andy Warhol Foundation for the Visual Arts, Inc. / Artists Rights Society (ARS), New York.

by Thomas Urbain
NEW YORK
(AFP)
.-
His Marilyn Monroe paintings and oversize soup cans are cultural icons, but in an exhibition opening Monday, New York's Whitney Museum hopes to paint a new, more complex picture of Andy Warhol. These days, few dare to tackle the king of pop art: he has already been the subject of hundreds of exhibitions and retrospectives. But under the guidance of chief curator Donna De Salvo -- who worked with Warhol before his death in 1987 -- the modern and contemporary art museum is doing just that. De Salvo believes America's last Warhol retrospective -- in 1989 at New York's Museum of Modern Art -- "changed much of our thinking about Warhol but also left much unanswered." Now the Whitney, located on the banks of the Hudson River in the city's Meatpacking ...
More
The Best Photos of the Day
Stan Lee, Marvel legend and father of superheroes, dies at 95
Record-breaking $27 million Magritte masterpiece shines at Sotheby's New York
Louvre Abu Dhabi celebrates one-year anniversary and over one million visitors


Comic book writer Stan Lee attends the 'Extraordinary: Stan Lee', A Special Tribute Event hosted by Chris Hardwick at the Saban Theater in Beverly Hills. VALERIE MACON / AFP.



LOS ANGELES (AFP).- Marvel legend Stan Lee, who revolutionized pop culture as the co-creator of iconic superheroes like Spider-Man and The Hulk who now dominate the world's movie screens, has died. He was 95 years old. Lee, the face of comic book culture in the United States, died early Monday in Los Angeles after suffering a number of illnesses in recent years. "With a heavy heart, we share our deepest condolences with his daughter and brother," said Marvel Comics and its owner The Walt Disney Company in a statement. "We honor and remember the creator, voice and champion of Marvel... Every time you open a Marvel comic, Stan will be there." The New Yorker, known for his distinctive tinted glasses and impish grin, ended up in the comics business by accident, thanks to an uncle who got him a job when he was a teenager ... More



Surrealist portrait of patron Edward James Le Principe du Plaisir (Pleasure Principle) achieves $26.8 Million. Courtesy Sotheby's.



NEW YORK, NY.- Painted in 1937, René Magritte's Le Principe du plaisir (The Pleasure Principle) is an entrancing portrait depicting Edward James, one of the most influential patrons of Surrealist art, who was introduced to Magritte by Salvador Dalí in 1937. Commissioned directly by James, the present portrait was rendered from a photograph of the patron that was taken according to the artist's specifications by fellow Surrealist, Man Ray. Magritte envisioned the concept for the present work before ever meeting James – in 1936, the artist included an ink sketch resembling the oil on the first page of a hand-made book honoring the Surrealist poet, Paul Éluard. A masterpiece from the pinnacle of Kokoschka's early portraiture, Joseph de Montesquiou-Fezensac is a harbinger of Expressionism and a token of the seismic shift that was occurring in the visual arts at this time, which ... More



© Department of Culture and Tourism – Abu Dhabi. Photo by Waleed Shah.



ABU DHABI.- Louvre Abu Dhabi announced that it welcomed more than one million visitors in its first year, establishing itself as one of the leading cultural institutions on the global stage. HE Mohamed Khalifa Al Mubarak, Chairman, Department of Culture and Tourism – Abu Dhabi (DCT Abu Dhabi), said: "One year ago we spoke about Louvre Abu Dhabi as Abu Dhabi's gift to the world – and today we are proud to have shared it with more than one million visitors already. Louvre Abu Dhabi has become an icon and a favourite destination in Abu Dhabi both for our local communities and visitors to the city. Our strong collaboration with our French and regional partners supports the museum's mission to tell universal stories and we thank them. Yet our greatest success, 10 years in the making, is the next generation of Emirati museum professionals who are trained to the highest standard in the cultural sector and are leaders in t ... More
Sotheby's unveils the full contents of its Barbara & Frank Sinatra auctions
A scholarly publication reveals new research shedding light on Alexander Calder's multidisciplinary genius
Globes, theodolites and sextants achieved excellent results in the 77th Auction of Hermann Historica


Two AKG microphones owned by Frank Sinatra Estimate $500/800. Photo: Courtesy Sotheby's.



NEW YORK, NY.- Today, Sotheby's unveiled the full auction contents of Lady Blue Eyes: Property of Barbara and Frank Sinatra, which will be offered across a series of auctions this December in New York. A reference to Barbara Sinatra's best-selling memoir, Lady Blue Eyes: Property of Barbara and Frank Sinatra will offer a rare window into the personal lives of the famed couple, through more than 200 works that Barbara and Frank assembled and lived with together throughout their 22-year marriage. Drawn primarily from the Sinatras' residences in Palm Springs, Los Angeles and Malibu, Sotheby's sales will offer fine art, decorative art and furniture collected by the couple, as well as objects and memorabilia left to Barbara upon her husband's passing – in addition to her dazzling personal collection of jewelry and accessories. Together, the auctions will illuminate the two worlds that the Sinatras' occupied: the fashi ... More



Cover of the book Alexander Calder: Radical Inventor.



MONTREAL.- The Montreal Museum of Fine Arts, in collaboration with 5 Continents Editions, Milan, announce the publication of Alexander Calder: Radical Inventor, on the occasion of the presentation of the eponymous exhibition at the MMFA until February 24, 2019. Edited and written by Elizabeth Hutton Turner, Guest Curator of the exhibition, and Anne Grace, Curator, Exhibitions, MMFA, this 240-page book examines the full scope of Alexander Calder's career through the perspective of engineering, popular culture, physics, astronomy, photography, architecture, industry, politics and conservation. This project was tremendously augmented by the scholarly contributions of W. Bernard Carlson, Linda Dalrymple Henderson, Claire Hurley, Pascal Jacob, Abigail Mack, Vanja V. Malloy, Eleonora Nagy, Claire Raymond, Emily Caplan Reed and Alex J. Taylor, whose recent research posits a new range of interdisciplinary sources at the origin of Calder's inve ... More



A directional unit for cannons, signed and dated R.M. Paris 1791 © Hermann Historica GmbH 2018.



MUNICH.- Even during the run-up to the auction, the extensive collection of rare measuring devices, with a focus on instruments from the 19th century, had attracted a great deal of interest. Nonetheless, the torrent of bids that flooded in on 9 November far surpassed expectations, which were sky-high to begin with. Not one of the approximately 85 objects remained unsold. In addition, more often than not, fierce bidding contests saw them eclipsing their catalogue prices. The collection comprised precision artworks that had been intricately worked with fascinating accuracy and aesthetics by prestigious manufacturers, such as Stanley, C. Collins, Troughton & Simms, all of London, or Fraunhofer, Munich, whose renown reflected their considerable skill. A dazzling array of rare objects were tendered for sale, from microscopes to theodolites, through to globes and sextants. The exceptionally ... More
Christie's to offer the Diaries of Tryggve Gran: A supremely important piece of polar history
Jimi Hendrix's Ming Dynasty Chinese Buddha among items in Marvels of Modern Music auction
Exhibition at Simon Lee Gallery features historic and contemporary works


These accounts offer cover the search for Scott's polar party and tragic discovery of the tent. © Christie's Images Limited 2018.



LONDON.- On 12 December, as part of Classic Week, Christie's auction of Books and Manuscripts will offer two extraordinary sledging journals of the Norwegian polar explorer Tryggve Gran, who accompanied Robert Falcon Scott on the Terra Nova Expedition of 1910 - 1913. The journals have passed by direct descent from Tryggve Gran; their appearance at auction represents a remarkable opportunity to acquire an authentic piece of Polar history, offering an insight into the trials and tribulations of the British Antarctic Expedition here. Featuring two separate journals, one in English and one in Norwegian (estimate: £120,000 - £180,000), these accounts offer additional material, covering his astonishingly prescient dream on the night of 14 December 1911 of Amundsen's triumph, as well as the search for Scott's polar party and tragic discovery of the tent. The young Norwegian Tryggve Gran was recruited by Scott as a skiing expert fo ... More



The Buddha was acquired directly from Stella Benabou Douglas, one of Hendrix's closest friends during the last years of his life.



BOSTON, MASS.- Jimi Hendrix's Ming Dynasty Chinese Buddha will be auctioned by Boston-based RR Auction. The Chinese bronze Buddha, personally owned and displayed by Jimi Hendrix in his New York apartment on West 12th Street in 1969 and 1970. Identified as a Chinese bronze figure of Budai from the later Ming period (1368-1644), the antique statuette. The Buddha was acquired directly from Stella Benabou Douglas, one of Hendrix's closest friends during the last years of his life. The former wife of record producer and Hendrix archivist Alan Douglas, she appeared in the 1973 documentary A Film About Jimi Hendrix. A lengthy letter of authenticity from Jeff Gold of Recordmecca, which reads, in part: "Stella Douglas and her friend Colette Mimram owned a Greenwich Village shop Hendrix frequented. They designed many of Hendrix's outfits, including the famous white-fringed turquoise beaded jacket he wore at the Woodstock Festival. When [Ste ... More



Darren Bader, Sculpture #3, 238.5 x 43.2 x 10.2 cm (93 7/8 x 17 1/8 x 4 1/8 in.) Edition 2 of 5 plus AP. Copyright the artist, courtesy Sadie Coles HQ, London, Courtesy of Simon Lee Gallery, New York. Photo: Stefan Altenburger Photography, Zürich.



NEW YORK, NY.- Simon Lee Gallery New York presents Fake as More, an exhibition organized by Front Desk Apparatus, NY. The exhibition features historic and contemporary works, each in varying states of repetition, replication, copy and self-copy. The exhibition is not an appropriation exhibition or a presentation of "fakes," but attends to work that foregrounds repetition as a way of working or practice—where the materialism of the "re-creative process" is most active. The exhibition's title is taken from "The Fake as More," a short essay published in 1973 under the pseudonym "Cheryl Bernstein" for a collection of essays edited by Gregory Battcock. The text describes the first one-man show by Hank Herron, a fictional artist repeating works by Frank Stella. Thomas Crow writes about this at length in 1986: "In the early 1970s, the extreme involution ... More
Man, 59, to stand trial in Germany for stealing Lennon's belongings
Canadian voice of Hal in '2001: A Space Odyssey' dies
Phillips to hold 20th Century & Contemporary Art Evening and Day Sales in Hong Kong


A cigarette case from the estate of John Lennon is pictured during a press conference in Berlin. Maurizio Gambarini / dpa / AFP.



BERLIN (AFP).- German prosecutors on Monday charged a 59-year-old man for the theft of numerous objects, including diaries, stolen from the estate of the late Beatle John Lennon. The accused, identified as Erhan G., will face trial over charges of theft and fraud. He is accused of having received an advance of 785,150 euros in October 2014 from an auction house for the items that had been stolen from the New York apartment of Lennon's widow Yoko Ono. G. was arrested in Berlin last year. At the time, prosecutors said he had "given a broad confession" in the case. Beside Lennon's diaries, police last year recovered from the bankrupt Berlin auction house letters, postcards, drawings, a live recording of a Beatles concert, as well as the musician's glasses. The objects were allegedly stolen by Ono's driver in 2006. The driver, Koral Karsan, lives in Turkey and German police have been unable to detain him. ... More



HAL is a sentient computer in the 1968 film, controlling a spaceship bound for Jupiter and interacting with its crew before eventually seeking revenge on the astronauts for plotting to shut down the malfunctioning AI.



OTTAWA.- Douglas Rain, the Canadian actor who voiced vengeful supercomputer HAL 9000 in Stanley Kubrick's "2001: A Space Odyssey," a precursor of artificial intelligence in smartphones, has died. He was 90. According to the Stratford Festival, a repertory theatre festival of which he was a founding member, Rain died in hospital near Toronto of natural causes Sunday morning. "Canadian theatre has lost one of its greatest talents and a guiding light in its development," the festival's artistic director Antoni Cimolino said in a statement. Born in Winnipeg, Manitoba, Rain began performing as a child actor on CBC Radio before going on to work on stage -- having once understudied Alec Guinness ("Star Wars") in Richard III in Stratford -- and in film, racking up more than 40 acting and voice credits from 1955 to 1995. But, ... More



Yayoi Kusama, Pumpkin (three works), 2002 (detail). Estimate: HK$15,000,000 - 20,000,000 ($1,920,000-2,560,000). Image courtesy of Phillips.



HONG KONG.- Phillips will present two sales of 20th Century & Contemporary Art & Design this Autumn in Hong Kong – an Evening Sale on 25 November and an inaugural Day Sale on 26 November. The Day Sale is the first additional sale in this category since Phillips held its initial Evening Sale in Hong Kong in November 2016. Both sales will offer nearly 150 lots, with a total low estimate of approximately HKD 137 million / USD 17.6 million. Jonathan Crockett, Deputy Chairman and Head of 20th Century & Contemporary Art, Asia: "Phillips' innovative and selective curatorial approach to our auction offering has resonated precisely with our growing client base in Asia, leading to our highest ever auction results with numerous artist records achieved in Spring 2018. This season again we have placed a strong emphasis on gathering the best selection across our Evening and Day Sales, with a wide variety of artists ... More
Emanuel Gottlieb Leutze's Romantic Vision of the American Frontier
Flashback
On a day like today, Italian painter Ludovico Carracci died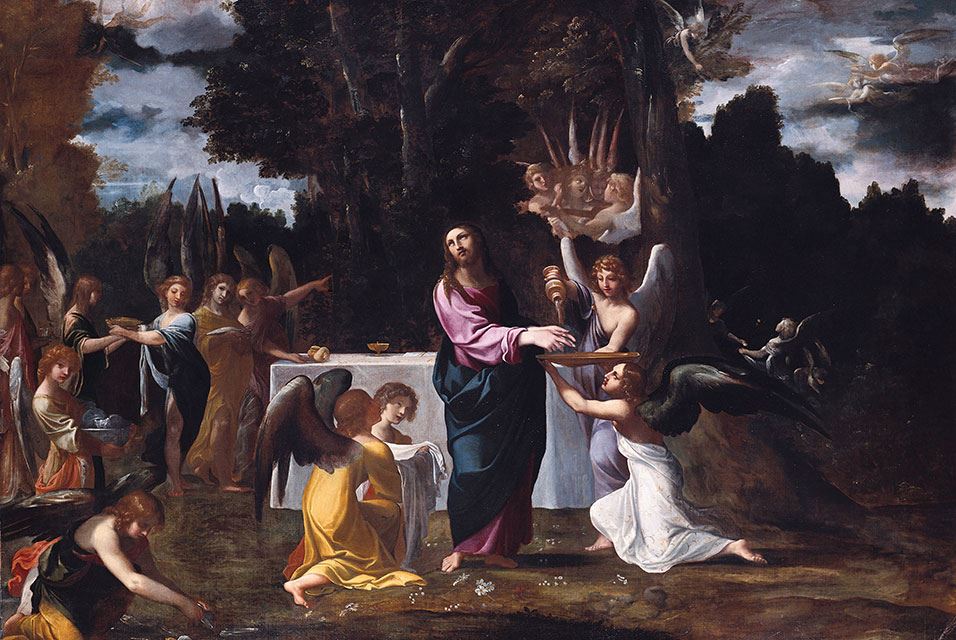 November 13, 1619. Ludovico (or Lodovico) Carracci (21 April 1555 - 13 November 1619) was an Italian, early-Baroque painter, etcher, and printmaker born in Bologna. His works are characterized by a strong mood invoked by broad gestures and flickering light that create spiritual emotion and are credited with reinvigorating Italian art, especially fresco art, which was subsumed with formalistic Mannerism. He died in Bologna in 1619. In this image: Ludovico Carracci, Christ in the Wilderness, Served by Angels.
---

Museums, Exhibits, Artists, Milestones, Digital Art, Architecture, Photography,
Photographers, Special Photos, Special Reports, Featured Stories, Auctions, Art Fairs,
Anecdotes, Art Quiz, Education, Mythology, 3D Images, Last Week,
.
---
Royalville Communications, Inc
produces: