Devastating earthquake in Mexico unearths ancient rain god temple
Works take place at the substructure inside the Teopanzolco pyramid in Cuernavaca, Morelos State, Mexico on July 11, 2018. After an earthquake took place on September 19, 2017, the pyramid was damaged and a substructure inside was revealed. The Mexican National Institute of Archaeology and History (INAH) informed Wednesday the substructure could correspond to a temple dating back to 1150-1200 AD. Photo: Melitón Tapia / INAH.
CUERNAVACA
(AFP)
.-
A devastating earthquake that struck central Mexico last September gave way to a fascinating discovery: remnants of a rain god temple within an Aztec pyramid. The temple, dedicated to a deity called Tlaloc and located within the Teopanzolco pyramid in Cuernavaca, Morelos state, belonged to the region's Tlahuica culture. As a result of the earthquake, "the pyramid suffered considerable rearrangement of the core of its structure," said archaeologist Barbara Koniecza of the National Institute of Anthropology and History (INAH). The greatest damage was at the top, where two temples had already been discovered -- one dedicated to the Mesoamerican god of the sun and war, Huitzilopochtli, and another to Tlaloc. "The floor of both shrines sank and bent, which also put their stability in danger," Koniecza said. ...
More
The Best Photos of the Day
An AFP photographer's up-close take on Croatia's World Cup joy
From Austria with love -- new Alpine lair for 007 opens
Major James Turrell light installation goes live at Brisbane's Gallery of Modern Art


AFP photographer Yuri Cortez, who unwittingly became part of the celebrations of Croatia in their World Cup semi-final match against England, poses after an interview with AFP in Mexico City on July 12, 2018. BERNARDO MONTOYA / AFP.



MEXICO CITY (AFP).- AFP photographer Yuri Cortez has covered wars, coups, natural disasters and humanitarian crises around the world in his three-decade career. But nothing prepared him for the 40 seconds that have brought him international fame: ending up beneath an avalanche of Croatia players celebrating the goal that sent them to the World Cup final. Cortez was on the sidelines photographing Mario Mandzukic's extra-time goal at Wednesday's semi-final against England when he found himself swallowed up in the celebration, buried beneath a pile of ecstatic Croatian footballers. When they realized he was beneath them, they helped him to his feet, asked him if he was OK and put his glasses back on his head. He even got a kiss on the cheek from defender ... More



People watch images on a screen during a visit at the James Bond cinematic installation named "007 ELEMENTS" on July 11, 2018. VLADIMIR SIMICEK / AFP.



SOLDEN (AFP).- In the last instalment of his adventures, film-goers saw James Bond dice with death in the Austrian Alps. Now in the same location, 3,000 metres above sea level, a museum dedicated to the world of the fictional spy has opened its doors. After a vertiginous cable-car ride, visitors to the museum will be greeted by the sight of the futuristic, angular concrete structure jutting out of the sheer cliff-face, facing a panorama of dramatic peaks -- the image of a secret agent's lair. The "007 Elements" installation, which opened this week in Austria's Tyrol province, makes use of one of the standout locations of the last film in the franchise, 2015's "Spectre". Several key scenes were shot in Soelden, one of Austria's most famous winter sports resorts, in the heart of the Alpine Oetztal valley. The steel-and-glass clinic where Lea Seydoux's character ... More



James Turrell's architectural light installation at Brisbane's Gallery of Modern Art. Photograph: Natasha Harth, QAGOMA.



BRISBANE.- Locals and visitors to Queensland are at Brisbane's Gallery of Modern Art this evening to celebrate the launch of Night Life 2018 by leading international light artist James Turrell (United States, b.1943). Queensland Art Gallery | Gallery of Modern Art (QAGOMA) Director Chris Saines said Turrell's artwork will permanently illuminate the eastern and southern façades of GOMA with a shifting pattern of vibrant coloured light from sunset to midnight each day. 'Tonight we experience James Turrell's installation first-hand from the Maiwar Green and the GOMA forecourt and witness an extraordinary new addition to our cultural landscape,' Mr Saines said. 'James Turrell is a senior contemporary artist who has worked within the creative realms of light and space for more than half a century, realising immersive and large-scale artworks that play with viewers' perceptions. 'W ... More
New Bedford Whaling Museum resurrects America's longest painting
Sean Scully returns to Liverpool
Paddle8 and Art Design Project partner for Fame and Fortune Auction


Panorama conservation.



NEW BEDFORD, MASS.- America's longest painting will be exhibited by the New Bedford Whaling Museum. In 2017, the Museum completed the conservation of the 1,275-foot-long Grand Panorama of a Whaling Voyage 'Round the World, painted in 1848. This summer, the public will be reintroduced to the newly restored painting through two exhibitions: "A Spectacle in Motion: The Original" and "A Spectacle in Motion: The Experience." Each exhibition will honor different aspects of the artwork. In an era before the age of cinema, the Panorama traveled the country as a "moving" panorama. It was how curious people without the means or inclination to travel were transported to exotic locales in the 1800s. The Panorama was a performance spectacle, scrolling on giant spools with accompanying theatrics and narration. Although the painting will not be shown again as a moving panorama, which would undo the extensive ... More



Paintings by Sean Scully are on show at the Walker Art Gallery, Liverpool from 14 July.



LIVERPOOL.- Sean Scully: 1970, an exhibition of paintings by the artist who is internationally acclaimed as the master of post-minimalist abstraction, is being held at Liverpool's Walker Art Gallery from 14 July to 14 October 2018. Sean Scully:1970 opens to coincide with the Liverpool Biennial and the John Moores Painting Prize, in which Scully was a prize winner in 1972 and 1974. The exhibition presents Scully's paintings from 1969 to 1974. They demonstrate the remarkable confidence of his work at this earliest stage of his career. They also reveal the beginnings of the artist's continued fascination with stripes, and the spaces in between, which have come to define him. Ann Bukantas, Head of Fine Art at National Museums Liverpool, said: "Sean Scully helped to revolutionise abstract painting in the 1970s. It was a formative decade for him as an artist, and one in which he also ... More



Michel Comte, Cindy Crawford, Vanity Fair, 1992. Chromogenic print, 27 x 22 in (68.58 x 55.88 cm). Edition of 20. Signed and numbered on label. Estimate $4,000 - $6,000.



NEW YORK, NY.- Online auction house Paddle8, in partnership with Miami-based The Art Design Project, launch Fame and Fortune, a sale of more than 40 fine art photographs celebrating some of the most iconic personalities of our time curated by Juan Carlos Arcila-Duque, founder of The Art Design Project. The sale features a rare group of newly printed color works by Horst P. Horst, mixed media photograph-based works by Hunter & Gatti and photographs by Paloma Castello made exclusively for this sale, which reflect on nostalgia and play with the photographic medium itself. Fame and Fortune will be live to bidders worldwide July 12 – 20, 2018. "The selection of works in this sale revolve around concepts of drama and nostalgia," states Juan Carlos ... More
1stdibs to launch a new Manhattan showroom
Oberlin presents three exhibitions in FRONT International Triennial
Comprehensive retrospective includes more than 100 works by Vik Muniz


David Rosenblatt, Chief Executive Officer of 1stdibs.



NEW YORK, NY.- 1stdibs, the leading global destination for collectors and dealers of beautiful things, is opening an enhanced New York showroom experience, relocating from its first-ever brick-and-mortar concept at the New York Design Center at 200 Lexington to The Terminal Stores building located at 271 11th Avenue. The new showroom will make its debut in January 2019. The 44,000-square-foot space will be accessible to both the design trade and consumers, bringing the 1stdibs experience to life through more than 50 dealer spaces, special events, and must-see exhibitions. "The new showroom space signals how we're evolving as a company, and it is important that our offline experience is tightly integrated with our online experience. For instance, the new showroom will offer the ability for shoppers to scan an item to instantly display that item on their phone, ... More



Cui Jie, Dalian Telecom Hub Building #3, 2017. Installation view at the Richard D. Baron '64 Art Gallery, FRONT International: Cleveland Triennial for Contemporary Art (July 14-September 30, 2018). Courtesy of the artist and Antenna Space, Shanghai.



OBERLIN, OH.- The theme of architecture acts as a common thread in three Oberlin exhibitions presented by the Allen Memorial Art Museum as part of the FRONT International: Cleveland Triennial for Contemporary Art. From July 14 to September 30, Cleveland, Akron, and Oberlin host more than 100 artist commissions, performances, films, and public programs. The festival's inaugural edition, titled An American City: Eleven Cultural Exercises, collaborates with museums, civic institutions, and alternative spaces to examine the ever-changing and politically urgent conditions of an American city. FRONT-commissioned installations by Barbara Bloom and Juan Araujo were organized by Andrea Gyorody, the AMAM's Ellen Johnson '33 Assistant ... More



Vik Muniz (Brazilian, b. 1961) Toy Soldier, from the series Monads, 2003 Digital chromogenic print 92 x 72 inches © Vik Muniz / Galerie Xippas, Paris.



NORFOLK, VA.- The Chrysler Museum of Art unveiled a major retrospective of photographs by celebrated contemporary artist Vik Muniz this summer. Vik Muniz: Photography and the Rebirth of Wonder is on view from July 13 –Oct. 14, 2018. Curated by Arthur Ollman of the Foundation for the Exhibition of Photography, the exhibition explores the full breadth of the imaginative artist's career with more than 100 photographs, including many of Muniz's most recent works. Born in 1961 in São Paulo, Brazil, Muniz is widely recognized as one of the most innovative and creative artists working today. He creates what he calls "photographic delusions" that playfully investigate visual memory and human perception. Muniz's works begin as sculptural assemblages made from an array of unconventional materials like chocolate syrup, tomato sauce, ... More
Exhibition explores the role of the muse in a modern world saturated with visual stimuli
Objects of Desire: Bernarducci Gallery opens the first in a series of curated exhibitions
German artist Olaf Nicolai's inventive work on view at Kunsthalle Wien


Gill Button, Remain. Courtesy James Freeman.



LONDON.- The new exhibition Muse at James Freeman Gallery in London features work by contemporary artists Gill Button and Sikelela Owen. The exhibition explores the role of the muse in a modern world saturated with visual stimuli. Since the Golden Age of Greece, the quintessential muse has been the inspirational deity of literature, science and the arts. This elusive figure somewhere between a goddess and a woman has always had the pivotal role of enticing the creativity and artistic genius from their male counterpart. From Dora Maar, Kiki de Montparnasse to Edie Sedgwick the muse is an ever-present figure. With the muse historically viewed as the subject of the male gaze, now artists Sikelela Owen and Gill Button offer a fresh female perspective on this complex relationship and explore the identity of the modern muse who represents more than just the idealised female form. Both artists present dreamlike sometimes abstracted figur ... More



Antonio Cazorla, The Promised Land, 2018. Oil on canvas, 47 x 47 inches.




NEW YORK, NY.- "Objects of Desire" is the first in a series of curated exhibitions at Bernarducci Gallery's new location in Chelsea. Frank Bernarducci as curator has selected paintings by both Gallery artists and invited painters who are important to the contemporary realist painting scene in New York. 'Desire' is one of the most elemental feelings that humans possess. To wish for, long for, and crave. Our knowledge and understanding of this fundamental emotion is often difficult to conceptualize, so we might attempt to compartmentalize our desires, whether it's for a piece of cake, an inanimate object such as a car or another human being. Each artist featured in this exhibition explores his/her own individual emotional, physical, and material desires through the use of meticulous precision and detail. In Cuchi's Sweetie ... More



Olaf Nicolai, Helene Weigel's car in front of the Burgtheater Vienna, © Olaf Nicolai & Bildrecht, 2018, Photo: David Avazzadeh, Kunsthalle Wien 2018.



VIENNA.- There Is No Place Before Arrival is the title of the multilayered exhibition Kunsthalle Wien dedicates to German artist Olaf Nicolai. Renowned for his inventive work with a diverse array of materials and mediums, over the last twentyfive years Nicolai has conceived conceptual works that are highly complex and poetic. He develops a variety of interdisciplinary projects that address the primary experiences of space, time and corporeality. Performative elements, works that transform over time, modifications of everyday objects and popular culture icons – as well as a rich field of reference to iconic moments in political and intellectual history – characterize his artistic practice. Employing different media, his practice continually questions our habitual ways of seeing things, reflecting on the ways the connection between meaning ... More
A Fire in My Belly (Full Version)
Flashback
On a day like today, Austrian painter Gustav Klimt was born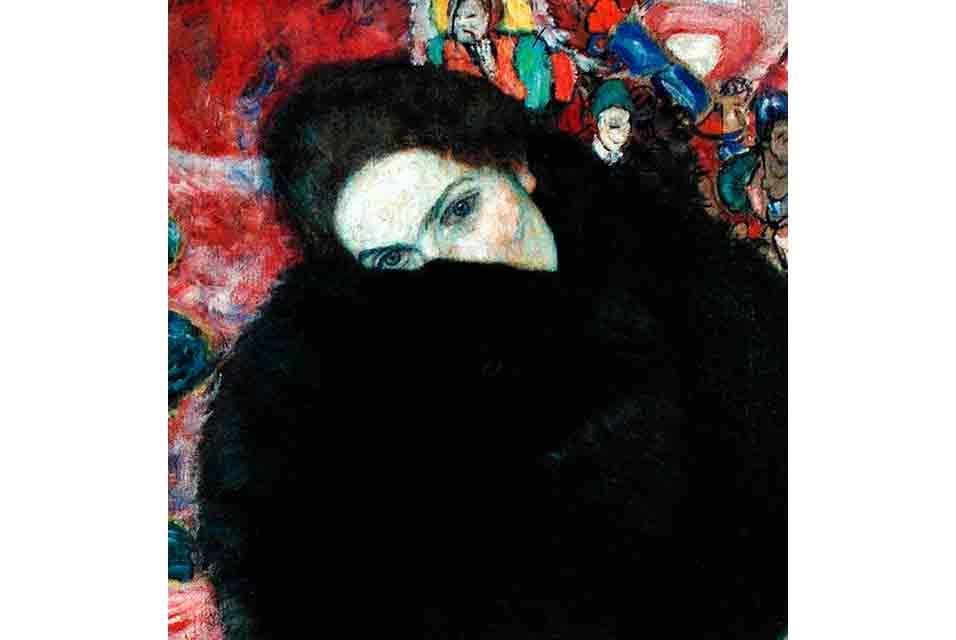 July 14, 1862. Gustav Klimt (July 14, 1862 - February 6, 1918) was an Austrian symbolist painter and one of the most prominent members of the Vienna Secession movement. Klimt is noted for his paintings, murals, sketches, and other objets d'art. Klimt's primary subject was the female body, and his works are marked by a frank eroticism. In this image: Lady with a Muff (1916 - 1917)
---

Museums, Exhibits, Artists, Milestones, Digital Art, Architecture, Photography,
Photographers, Special Photos, Special Reports, Featured Stories, Auctions, Art Fairs,
Anecdotes, Art Quiz, Education, Mythology, 3D Images, Last Week,
.
---
Royalville Communications, Inc
produces: