Bavarian State Painting Collections restitutes 'The Raising of Lazarus'
'The Raising of Lazarus', c. 1530–1540, South-German master. Softwood, 107 x 160.2 cm .
MUNICH
.-
Since 1998, the
Bayerische Staatsgemäldesammlungen
(Bavarian State Painting Collections) has restituted a total of twelve works from eight collections. With this 13th restitution, the Bavarian State Painting Collections and the joint heirs of James von Bleichröder have reached a good solution for all parties, after lengthy and intensive groundwork. The case concerns the painting: 'The Raising of Lazarus', c. 1530–1540, South-German master. Softwood, 107 x 160.2 cm As early as 2004, the Bavarian State Painting Collections made the painting's provenance public in the richly annotated publication 'Die Kunstsammlung Hermann Görings', written by the provenance researcher Ilse von zur Mühlen. Two years later, the painting was posted on the 'Lost Art' database, directly following the database's creation, because its origin in the Göring collection suggested that it had might have been a work ...
More
The Best Photos of the Day
Dali's trademark moustache intact at '10 past 10' position
Martin Gropius Bau opens exhibition of etchings by Lucian Freud from the UBS Art Collection
Edward Hopper House unveils new collection of the American artist's early years and memorabilia


(From L) Lawyer of the Gala-Dali Foundation Albert Segura Roda, director of the Dali Museum Montserrat Aguer and manager of the Gala-Dali Foundation Joan Manuel Sevillano give a press conference. LLUIS GENE / AFP.



MADRID.- Surrealist master Salvador Dali's trademark moustache is in perfect shape in its "ten past ten" position, officials said Friday, a day after his remains were exhumed to settle a paternity claim. "I was very anxious about what I would see," said Narcis Bardalet, the forensic expert who embalmed Dali back in 1989 and who was at his grave the moment he was exhumed on Thursday night for DNA test. "I was absolutely stunned. It was like a miracle...his moustache appeared at 10 past 10 and his hair was intact," Bardalet added during an interview with the public television station TVE1, referring to the positions of the hands on a clock. The arduous task of exhumation involved removing a slab weighing more than a tonne that covered his tomb at the Dali Theatre-Museum in Figueras in northeastern Spain where the ... More



Lucian Freud, The Painter ́s Mother, 1982. Etching, 29,5 x 24,2 cm © The Lucian Freud Archive/Bridgeman Images. UBS Art Collection.



BERLIN.- Lucian Freud (1922–2011) is one of Great Britain's most important painters. His figurative works are among the masterpieces of the 20th century. His fame is owed mainly to his portraits of people and animals, which he observed in an almost scientifically precise manner and then captured on canvas or paper. His paintings are examples of intensive analytical observation. At the same time, they are moving studies of transience. They are unadorned. Every wrinkle, every scar, all the irregularities of the skin and traces of life are captured. For the first time, 51 of his etchings are now being shown in Berlin, the city of his birth. They are accompanied by one watercolour and two paintings, among them the masterpiece Double Portrait. All these 54 works are on loan from the UBS Art Collection, one of the most internationally renowned corporate collections. "We are proud to partner with the Martin-Gropius-Bau to ... More



This image was drawn on the back of Edward Hopper's third grade report card dated October 23, 1891, when Hopper was nine years old. The Arthayer R. Sanborn Hopper Collection Trust.



NYACK, NY.- The Edward Hopper House announced today that it will be receiving over 1,000 artifacts and memorabilia of Edward Hopper's family, his early years, and a library of books, articles, papers, and documents from The Arthayer R. Sanborn Hopper Collection Trust. In this newly formed partnership, this rarely-seen collection, to be known as the Sanborn-Hopper Family Archive, was formally announced by Executive Director Jennifer Patton, Ed.D, at an Art Talk with historian Dr. Richard Rabinowitz on July 15 at the Nyack Public Library. The unique, meticulously preserved collection consists of juvenilia and other materials from the formative years of Hopper's life and includes original letters, drawings from his school years, the intriguing "TC" (Three Commodores) notebooks, his first art "tools" from his first studio in the attic in Nyack, photographs, original ... More
Marc Straus now represents Otis Jones
Tchoban Foundation exhibits contemporary architectural drawings made by celebrated architects
Museum of the Moving Image honors Kermit the Frog and his creator


Otis Jones. Photo: Rodney Rogers.



NEW YORK, NY.- Marc Straus announced that Otis Jones has joined the New York gallery. Born in Galveston, Texas in 1946, Jones has created a distinctive body of abstract paintings in his long and illustrious career. His sculpted paintings may seem muted at first until we perceive its hand-made quality, its nuances and subtleties. Jones tacks roughly-cut canvases over thick, irregularly shaped wood frames. The layered edges of plywood and staples remain exposed and celebrated. Jones then paints numerous layers, repeatedly sanding and reworking the surface to attain a natural abraded texture. A few formal elements of small circles or lines are added or excavated from under-painting. As a result, his paintings are sincere and full of character, bearing traces of its genealogy. Marc Straus, founder of the New York gallery comments, "These are such convincing works and yet I almost do not know where to place them as the work ... More



Eduardo Luigi Paolozzi (1924-2005), B.A.S.H., 1971. Colour screenprint on paper, 84,9 x 59,5 cm. Collection of the Alvin Boyarsky Archive © Trustees of the Paolozzi Foundation / Licensed by VG Bild-Kunst, Bonn 2017.



BERLIN.- The exhibition Drawing Ambience: Alvin Boyarsky and the Architectural Association presents some 50 masterworks of contemporary architectural drawings made by celebrated architects and assembled by the long-term chairman of the Architectural Association School of Architecture (AA) in London, Alvin Boyarsky. The exhibition has already been on view at the Mildred Lane Kemper Art Museum of Washington University in St. Louis, Museum of Art, Rhode Island School of Design in Providence, and at the Cooper Union in New York and is now on view in Berlin. The second half of the 20th century was a period characterised by accelerated mobility and an international exchange of ideas. This Zeitgeist can be sensed in the presented works, most of which ... More



Kermit the Frog waves from his position at The Jim Henson Exhibition July 18, 2017 at the Museum of the Moving Image in New York. Don Emmert / AFP.



NEW YORK (AFP).- Jim Henson, the relentless innovator who gave the world Kermit the Frog and "The Muppet Show," is getting a permanent tribute in New York, nearly 30 years after his death. If rarely seen on camera, Henson lived and breathed television, hooking adult Americans on puppets, turning puppetry into prime-time entertainment and for 25 years gave life to Kermit, the world's most famous puppet. Not only did he create "The Muppet Show" and several of Kermit's contemporaries, he gave birth to Elmo, Big Bird, Bert and Ernie of "Sesame Street" fame, "Fraggle Rock" and movies "Dark Crystal" (1982) and "Labyrinth" (1986). On Saturday, the Museum of the Moving Image in Queens opens a permanent exhibition exploring Henson's work, challenging visitors to look beyond his most famous creations at the astonishingly ... More
Accomplished museum leader named new Director of Chazen Museum of Art
Freeman's announces highlights from the Collector's Sale
University of Michigan Museum of Art welcomes new Director, Christina Olsen


Gilman has worked at the Toledo Museum of Art since 2005.



MADISON, WI.- Amy Gilman, Ph.D., will lead the Chazen Museum of Art as its new director starting Sept. 11. Gilman has worked at the Toledo Museum of Art since 2005, most recently as deputy director. As a member of the senior management team, she was responsible for the overall operations of the museum and has, for the last year, been the leader of the campus master planning process. In addition to her administrative portfolio, Gilman curated many exhibitions during her time in Toledo, oversaw the development of an innovative artist residency program, and brought diverse and thought-provoking programming and acquisitions to the museum. She earned her doctorate in art history at Case Western Reserve University in Cleveland, Ohio; a master of fine arts in photography from Columbia College in Chicago; and a bachelor's degree in performance studies from Northwestern University in ... More



A pair of Chinese carved yellow glass jars and covers.



PHILADELPHIA, PA.- On Wednesday, August 9 at 10am, Freeman's will present The Collector's Sale. With more than 400 lots spanning the breadth and depth of almost every specialist department, the sale offers something for everyone and for every budget. The sale will be of particular interest for the budding community of young collectors developing in Philadelphia. The city was recently named by the real estate website, Trulia, as the best place for millennials, as the vibrant age group were most likely to be homeowners here than elsewhere in the country. With a trend of new and affordable housing, buying at auction allows one to own a unique piece of furniture or décor, imbued with history and timeless style for not much more—and in many cases, less—than the cost of an item from the ubiquitous Scandinavian flat-packed home store. Many of the items in the sale have estimates below $1,000. For those needing to furnish and deco ... More



Christina Olsen is the director of Williams College Museum of Art.



ANN ARBOR, MICH.- Christina Olsen, the director of Williams College Museum of Art in Massachusetts, has been named the new director of the University of Michigan Museum of Art. Her five-year appointment, approved Thursday by the Board of Regents, is effective Oct. 30. Olsen will serve in place of Joseph Rosa, who left the university in September 2016 to join the Frye Art Museum in Seattle. Kathryn Huss, deputy director and chief administrative officer of UMMA, has served as interim director. President Mark Schlissel said Olsen "has a distinguished track record of innovation in merging the scholarly and community components of art museums, both of which are hallmarks of the University of Michigan Museum of Art." "Christina brings deep knowledge of art and museums to the directorship of UMMA. Her commitment to collaboration and inclusion shape her work with students, faculty, the public, and ... More
Maison Gerard presents solo exhibition of Marino di Teana
Fresh to market western and sporting art offered on Bidsquare
PIASA to offer Haitian art, from 1940 up to now


Marino di Teana, Installation view in Southampton, Photo: Michael Mundy.



SOUTHAMPTON, NY.- Maison Gerard announced that it is presenting the sculptural works of Marino di Teana (1920–2012) from July 22 through August 26, 2017 in the gallery's first off-site exhibition. For this solo presentation of the late artist's work, Maison Gerard showcases eighteen sculptures created over three decades. These works made of corten and stainless steel, ranging in size from small to monumental, are being shown within the landscaped gardens of a Grosvenor Atterbury mansion owned by Michael Bruno (founder of 1stdibs and Art-Design-Carta). Located on a private estate, this exhibition is open to the public by appointment, Monday–Sunday. Marino di Teana, who gained widespread recognition in the 1960s and worked well throughout the latter half of the twentieth century, is known for his long storied career, his monumental public commissions, and as one of the forerunners ... More



Charles M. Russell, Approach of the White Men, 1897 in The Coeur d'Alene Art Auction's Fine Western & American Art sale July 29, 2017 with an estimate of $1,500,000 - 2,000,000.



NEW YORK, NY.- Bidsquare welcomes The Coeur d'Alene Art Auction back for its annual Western and American Art auction. The only place to bid online for the sale is exclusively on Bidsquare. Coeur d'Alene joins Copley Fine Art Auctions this month on Bidsquare, both houses, along with many others, bring rare and fresh to market works to the auction block. Highlights include Western and American fine art, rare and important decoys, decorative art and more. The Coeur d'Alene Art Auction is known for selling the highest quality Western paintings and sculpture from historical and contemporary artists, and this year's sale will be no exception. Long known as the market leader for Western art, the auction features over 20 works by artist Charles M. Russell. Headlining the auction is Russell's Approach of the White Men estimated at ... More



Tessa Mars (née en 1985), L'épouse, 2017. Acrylique sur toile - 122 x 91,4 cm. Estimate: 2 500 / 3 500 €.



PARIS.- On Thursday 19 October 2017, PIASA will hold an exceptional sale of Art From Haiti in conjunction with the Centre d'Art in Port-au-Prince. The auction will feature major works that reflect the wealth and diversity of Haiti's artistic output since the 1940s. In 2014 the exhibition Haïti: Deux Siècles de Création Artistique ('Haiti – Two Centuries of Artistic Creation') showcased Haitian art at the Grand Palais in Paris. The next stage in promoting art from Haiti sees PIASA offer nearly 100 works, representing the country's leading artistic movements, selected by the Centre d'Art in Port-au-Prince. The auction will feature no fewer than sixty artists working in different styles – Naïve, Surrealist, Modern, the Saint Soleil School, metal sculptors and artists from today's contemporary scene. A terrible tragedy was the starting-point for the friendship and partnership between the Fondation Daniel & Nina Carasso and the Centre ... More
Passion for Food and Wine at Fux Restaurant
Flashback
On a day like today, American painter Edward Hopper was born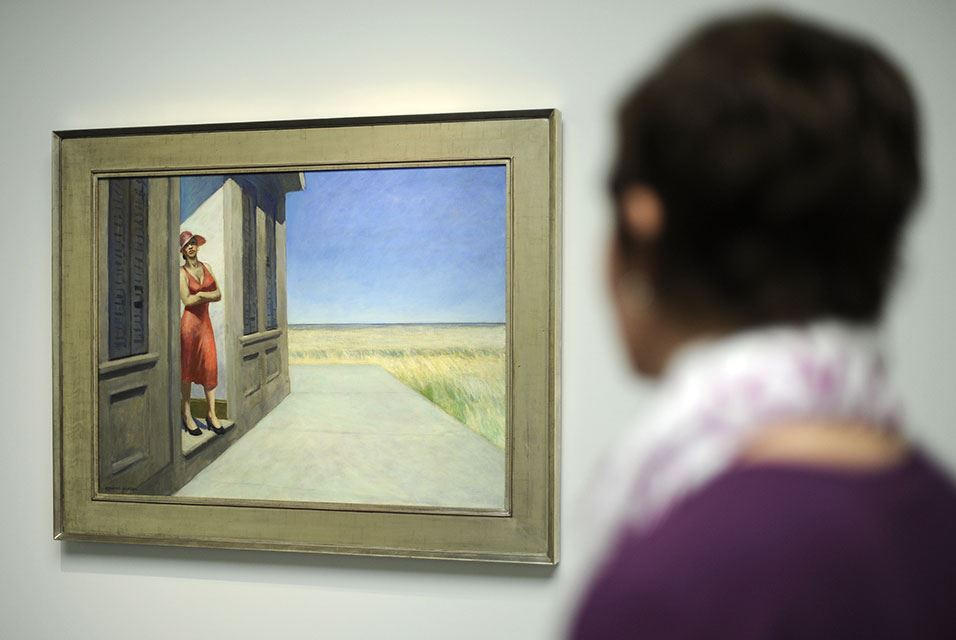 July 22, 2017. Edward Hopper (July 22, 1882 - May 15, 1967) was a prominent American realist painter and printmaker. While he was most popularly known for his oil paintings, he was equally proficient as a watercolorist and printmaker in etching. Both in his urban and rural scenes, his spare and finely calculated renderings reflected his personal vision of modern American life. In this image: A woman looks at the painting "South Carolina Morning" by American artist Edward Hopper during a press conference in Hamburg, Germany, on Thursday, May 7, 2009.
---

Museums, Exhibits, Artists, Milestones, Digital Art, Architecture, Photography,
Photographers, Special Photos, Special Reports, Featured Stories, Auctions, Art Fairs,
Anecdotes, Art Quiz, Education, Mythology, 3D Images, Last Week,
.
---
Royalville Communications, Inc
produces: