Centre Pompidou opens major retrospective of the work of artist Cy Twombly
This retrospective covers the artist's entire career in a chronological circuit of some 140 paintings, sculptures, drawings and photographs.
PARIS
.-
The Centre Pompidou
is presenting a major retrospective of the work of American artist Cy Twombly. A key event of the fall 2016, this exceptionally vast exhibition will only be shown in Paris, and features remarkable loans from private and public collections from all over the world. Organized around three major cycles – Nine Discourses on Commodus (1963), Fifty Days at Iliam (1978) and Coronation of Sesostris (2000) – this retrospective covers the artist's entire career in a chronological circuit of some 140 paintings, sculptures, drawings and photographs, providing a clear picture of an extraordinarily rich body of work which is both intellectual and sensual. The selection includes many of Twombly's iconic works, several of them never previously exhibited in France. Born in 1928 in Lexington, Virginia, Cy Twombly died in 2011 at the age of 83 in Rome, where he spent a large part of his life. Unanimously ac ...
More
The Best Photos of the Day
Robert Rauschenberg opens at Tate Modern
"Picasso and Rivera: Conversations Across Time" opens at LACMA
Exhibition explores the art and architecture of ancient and modern Rome


Robert Rauschenberg, Retroactive II, 1964. Oil and silk-screen ink print on canvas, 213.4 x 152.4 cm. Museum of Contemporary Art Chicago. Partial gift of Stefan T. Edlis and H. Gael Neeson © Robert Rauschenberg Foundation, New York. Photo: Nathan Keay © MCA Chicago.



LONDON.- Tate Modern's major exhibition of the work of Robert Rauschenberg (1925-2008), organised in collaboration with The Museum of Modern Art in New York, is the first posthumous retrospective and the most comprehensive survey of the artist's work for 20 years. From his early engagement with pop to his works produced at the dawn of the twenty-first century, Robert Rauschenberg blazed a new trail for art. Moving between painting, sculpture, photography, print-making, technology, stage design and performance, he refused to accept conventional boundaries in art and in life. The first US artist to win the Golden Lion for painting at the Venice Biennale in 1963, Rauschenberg's quest for ... More



Pablo Picasso, Three Women at the Spring. Fontainebleau, summer 1921. Oil on canvas, 6' 8 1/4" x 68 1/2" (203.9 x 174 cm). The Museum of Modern Art, NY, Gift of Mr. and Mrs. Allan D. Emil. © 2016 Estate of Pablo Picasso / Artists Rights Society (ARS), New York. Digital Image © The Museum of Modern Art/Licensed by SCALA / Art Resource, NY.



LOS ANGELES, CA.- The Los Angeles County Museum of Art, with Museo del Palacio de Bellas Artes in Mexico City, presents Picasso and Rivera: Conversations Across Time (December 4, 2016–May 7, 2017), an exhibition that examines moments of intersection in the formation of modernism both in Europe and Latin America, and asks how Pablo Picasso and Diego Rivera—towering figures of the 20th century—both exchanged ideas in Paris about avant-garde paintings and later engaged with their respective ancient Mediterranean and Pre-Columbian worlds. Cocurated and conceived by Diana Magaloni, deputy director and director of the ... More



Claudia Cardinale. Photo: Olycom.



MADRID.- The Museo Thyssen-Bornemisza is presenting Bulgari and Rome, an exhibition that looks at how the art and architecture of ancient and modern Rome have been a source of inspiration to the designers of this firm of Italian jewellers throughout its history. Founded in Rome in 1884, since its outset Bulgari has made use of the city's most characteristic features as the guiding symbolic and artistic thread of its creations. For decades the Colosseum, the Piazza San Pietro, the Spanish Steps, the fountains in the Piazza Navona and the Pantheon have given form to necklaces, bracelets, earrings and brooches made in gold or platinum and precious stones of every colour: cabochon cut gems that reproduce the typical domes of the Roman skyline; geometrical designs that reflect the pure lines of the ruins; and glints of gold that recall Baroque volutes are among the details that reveal Bulgari's homage to the ... More
Fidel Castro's dying wish: No monuments in his name
Human ancestor Lucy spent much of her time in trees: study
Stolen Dachau 'Work will set you free' gate found in Norway


A child is pictured in front of the portrait of the former Cuban president Fidel Castro. Albert Gonzalez Farran / AFP.



SANTIAGO DE CUBA (AFP).- Cuba will respect Fidel Castro's dying wish that no statues be erected in his honor and no streets be named after him, President Raul Castro said Saturday. The national assembly will introduce legislation at its next session later this month so that "his wish is fulfilled," Raul Castro told a massive rally for his brother on the eve of his burial in the eastern city of Santiago de Cuba. While Castro was an omnipresent figure in the lives of Cubans for decades, the late communist leader always said he did not want any monuments in his honor on the island. Castro, who ruled from 1959 until an illness sidelined him in 2006, died on November 25 at age 90. "The leader of the revolution rejected any manifestation of a cult of personality," Raul Castro said. "His attitude was consistent until the final hours of his life, insisting that once he died, his name and his image would never be used to denominate institutions, plazas, parks, avenues, streets or other public ... More



The study finds that Lucy had strong upper arms, suggesting she regularly climbed trees.



WASHINGTON (AFP).- Lucy, the ancient ancestor of modern humans, probably spent at least a third of her day nesting in trees, according to new research unveiled Wednesday. Our 3.18 million-year-old relative, whose fossilized partial skeleton was discovered in Ethiopia in 1974, likely got around as much like a modern chimpanzee as a modern human, according to a new study published in the journal PLOS ONE by scientists at Johns Hopkins University in Baltimore, Maryland and the University of Texas at Austin. The beloved, 3-foot-6-inch (about one meter) bipedal Australopithecus afarensis has confounded paleontologists for years. They have been debating whether the 60-pound (27 kilogram) hominid spent most of her time on the ground, like modern humans, or in the trees, like chimpanzees. The study finds that Lucy had strong upper arms, suggesting she regularly climbed trees. She also had relatively week legs that were not used for climbing and were inefficient for ... More



Police Attorney Kari Bjoerkhaug Trones is pictured on December 03, 2016 in Bergen, Norway, beside the iron gate from the former Nazi concentration camp in Dachau. Marit HOMMEDAL / NTB Scanpix / AFP.



MUNICH (AFP).- An iron gate with the infamous slogan "Arbeit macht frei" ("Work will set you free") stolen from the former Nazi concentration camp Dachau in Germany two years ago has been found in Norway, police said Friday. The gate was recovered outside Bergen in southwestern Norway this week following an anonymous tip-off, Bergen police spokeswoman Margrethe Myrmehl Gudbrandsen told AFP. "It was found in the open air," she said. "You can tell that it's been outside but it's in good condition." Bergen police released several photos of the black gate, one of which showed it leaning against a low wall on a bed of autumnal leaves. In a statement, it added that the gate would be returned to the German authorities "as soon as possible". There was no mention of any arrests made in connection with the theft. Police in the southern German state of Bavaria, where Dachau is located, confirmed ... More
Israeli & International Art Sale at Sotheby's New York led by Marc Chagall's "Juif à la Thora"
Fine Chinese ceramics, paintings and Buddhist art shine in Gianguan Auctions' Holiday Sale
ROM's new gallery highlights its renowned collection of 20th century furniture and decorative arts


Marc Chagall, Juif à la Thora. Oil, tempera, and colored inks on canvas, 36 1/4 by 28 3/4 in. 92 by 73.2 cm. Painted circa 1968-1976. Est. $1.5/2 million. Photo: Sotheby's.



NEW YORK, NY.- Sotheby's annual New York auction of Israeli & International Art on 15 December 2016 spans a century of Israeli art, including significant examples from all major movements represented by this diverse collecting field. In addition to a rich selection of works by Reuven Rubin, Moshe Castel, and Mordecai Ardon, the sale includes significant examples by New Horizons artists Joseph Zaritsky and Avigdor Stematsky, as well as cutting-edge contemporary photography and video by artists like Ori Gersht and Ronen Sharabani. The auction is led by Marc Chagall's poignant painting Juif à la Thora (est. $1.5/2 million). The sale will be on view in Sotheeby's York Avenue galleries from 10 December through 15 December, alongside the auction of Important Judaica. Painted between 1968-78, Juif à la Thora is a ... More



A two-tone copper red octagonal meiping which two phoenixes. $150,000-$200,000.



NEW YORK, NY.- Gianguan Auction's final sale of the year is a well-curated affair populated with exceptional ceramics and Buddhist art, fine Chinese paintings and early dynastic works of art.. The sale is slated for Saturday, December 10 in New York City. It can also be accessed on LiveAuctioneers.com and invaluable.com. A collection of Chinese Ceramics of the Yuan, Qing and Ming dynasties are among the finest to come to the Gianguan podium in recent years. The selections epitomize the strength of the gallery to acquire fine properties of Famille-Rose, copper red, blue and white, as well as items with unique glazes. Lot 228 is a masterwork of the porcelain techniques practiced during the Ming Dynasty. Yellow glaze pops on a predominately blue and white dish with simulated "heaping and piling" depicting bouquets of flowers. At 17-inches in diameter, the spectacular dish is estimated at $200,000-$300,000. ... More



"Egg" Lounge Chair Designed in 1957 by Arne Jacobsen. Fabric covered foam-rubber upholstery foundation on plastic shell, aluminum, steel, plastic glides, 987.77.1. Gift of Mr. Dean Shaldon.



TORONTO.- The Royal Ontario Museum opened its new Gallery of Modern Design on Saturday, December 3, 2016. Featuring the iconic work of designers including Frank Lloyd Wright and Jacques-Émile Ruhlmann among others, the gallery traces the development of design in Europe and North America, highlighting six design movements from 1910 to 1965. On display are many objects from the ROM`s Bernard and Sylvia Ostry collection including furniture, glassware, ceramics, silver, and other metalwork, prized for their beauty, rarity, and cultural significance. Other objects are publicly displayed for the first time. The gallery's first section features French Art Deco designers including Jules Leleu and Jacques-Émile Ruhlmann whose finely crafted works demonstrate the movement's full range of luxurious surface finishes. ... More
Just in Time: Sotheby's New York presents Important Watches Sale
Dominique Lévy Gallery to represent Lee Seung-taek
Artists of today who inspire artists of tomorrow featured at the Saatchi Gallery


Patek Philippe. A Unique And Extraordinary Massive Open-Faced Grande And Petite Sonnerie Minute Repeating Perpetual Calendar Split Second Chronograph Clock Watch Ref 942/2 Mvt 866783 Case 2837636 Made In 1993. Estimate $300/500,000. Photo: Sotheby's.



NEW YORK, NY.- Sotheby's New York winter offerings of Important Watches will be held on 7 December 2016. The sale features an array of timepieces by the most respected brands in horology – Patek Philippe, Rolex, Cartier and many more – at price points appealing to both new and established collectors. The New York exhibition of Important Watches opened on 3 December, alongside Magnificent Jewels and Fine Jewels. The Important Watches sale is headlined by two important pocket watches by Patek Philippe: one modern and the other vintage. A Unique and Extraordinary Massive Open-Faced Grande and Petite Sonnerie Minute Repeating Perpetual Calendar Split-Second Chronograph Clock Watch is one of the most important time pieces created ... More



Lee Seung-taek, Wind-Folk Amusement, 1971.



NEW YORK, NY.- Dominique Lévy announced the gallery's representation of Lee Seung-taek (b. 1932) in the United States. Lee's experimental practice holds an influential place in the history of Korean art; throughout his career, he has challenged traditionally held notions of identity and history, forging a new path for artistic exploration of environment, culture, and philosophy. Dominique Lévy will celebrate representation of Lee with a 2017 solo exhibition at its New York location, accompanied by a scholarly catalogue. Gallery Hyundai will continue to represent Lee in Asia. A pioneer of the Korean avant-garde and part of the first generation of experimental artists to embrace innovation and modernist influences after the end of the Korean War in 1953, Lee has continuously engaged political and cultural themes over the course of his six-decade career. His diverse and prolific oeuvre encompasses sculpture, installation, performance ... More



Richard Aldrich, Future Portrait #49, 2003, Acrylic on panel, 30.5 x 30.5 cm.



LONDON.- Saatchi Gallery presents its new exhibition Painters' Painters: Artists of today who inspire artists of tomorrow, featuring the work of nine present-day painters ranging from their 30s to their 60s. In an age where painting has become one strand among many in contemporary art making, Painters' Painters brings together a small group of distinctive figures in the field. In recent years, painting has been challenged by the myriad of other modern media and technologies embraced by contemporary art. It is less frequently seen in contemporary museums and galleries today and is seemingly out of favour with many curators. Painters' Painters focuses on a group of artists who have been undeterred by the gradual decline in interest in this perennial art form. There is no discernible style or movement these artists belong to, and as an exhibition, it examines the very individualistic and nonconformist approaches explored by ... More
Francis Picabia: Our Heads Are Round so Our Thoughts Can Change Direction
Flashback
On a day like today, German-born American photojournalist Alfred Eisenstaedt was born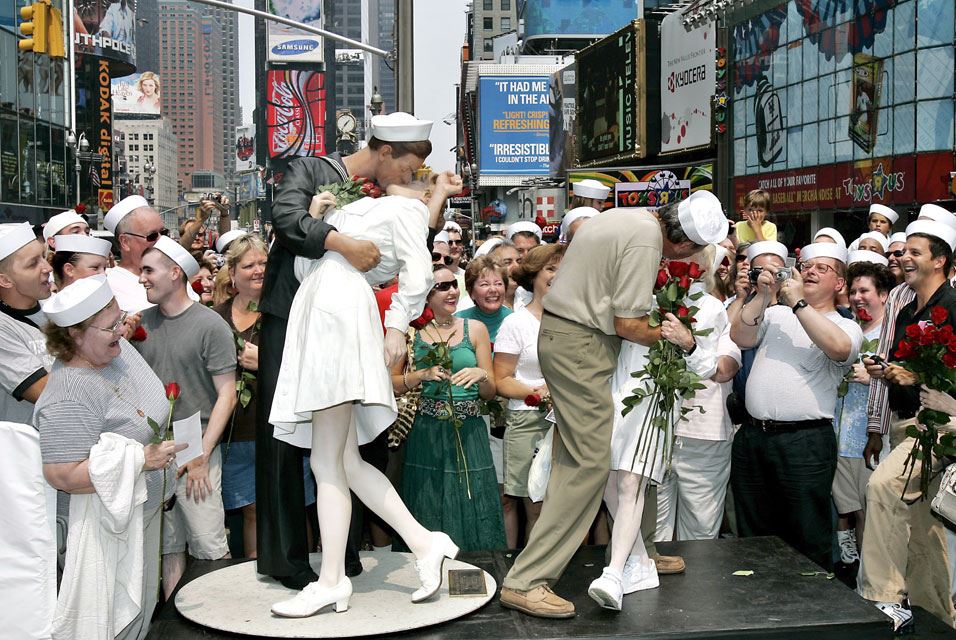 December 06, 1898. Alfred Eisenstaedt (December 6, 1898 - August 24, 1995) was a German-American photographer and photojournalist. He is renowned for his candid photographs, frequently made using various models of a 35mm Leica rangefinder camera. He is best known for his photograph capturing the celebration of V-J Day. In this image: 86 year-old Edith Shain and 78 year-0ld Carl Muscarello recreate the Famous 'Kiss Picture', Sunday 14 August 2005. The original couple in the iconic image, Edith Shain the nurse and Carl Muscarello the sailor was taken by Alfred Eisenstaedt 60 years ago do the day in Times Square on Victory Japan Day in 1945 to signify the end of World War Two. The Artist Seward Johnson created a life-sized sculpture of the kiss Unconditional Surrender for the event.
---

Museums, Exhibits, Artists, Milestones, Digital Art, Architecture, Photography,
Photographers, Special Photos, Special Reports, Featured Stories, Auctions, Art Fairs,
Anecdotes, Art Quiz, Education, Mythology, 3D Images, Last Week,
.
---
Royalville Communications, Inc
produces: