100-kilo gold coin "Big Maple Leaf" stolen from Berlin's Bode museum
Picture taken on December 8, 2010 shows the gold coin "Big Maple Leaf" on display at Berlin's Bode Museum. Thieves stole the gold coin with a face value of $1 million and weighing 100 kilograms (220 pounds) from Berlin's Bode Museum on March 27, 2017. Marcel Mettelsiefen / dpa / AFP.
BERLIN
(AFP)
.-
Thieves stole a gold coin with a face value of $1 million and weighing 100 kilograms (220 pounds) from Berlin's Bode Museum on Monday. According to German media, the stolen coin is the "Big Maple Leaf", a commemorative piece issued by the Royal Canadian Mint in 2007. The coin, 53 cm (21 inches) across and three cm thick, features the portrait of Queen Elizabeth II. Bode Museum gave the face value of the coin at $1 million (920,000 euros), though the market price of 100 kg of gold is around $4 million. German police said on Twitter that the robbers likely used a ladder found at a nearby rail track to break into the museum at around 3:30 am (0130 GMT). ...
More
The Best Photos of the Day
Students unearth a 2000-year-old Jewish settlement near Bet Shemesh
Sotheby's to offer one of the greatest examples of early Ming porcelain in private hands
Chinese artist Ai Weiwei to build fences in New York


Boyer High School in Jerusalem will fund most of its youth delegation's visit to Poland by working at archaeological digs. Photo: Assaf Peretz.



JERUSALEM.- Some 240 eleventh-grade students from Jerusalem's Boyer High School have discovered an original and rewarding way of reducing their travel costs to Poland: Working for an entire week on archaeological excavations at Ramat Bet Shemesh, far from their computers and air-conditioned classroom The students have been involved in unearthing exciting archaeological finds at the site. In recent months, the remains of a Jewish settlement dating to the Second Temple period at the site have been found to include an extensive complex of ritual baths and underground hiding refuges. The excavations are being carried out with funding provided by the Ministry of construction and Housing prior to the building of a new residential neighborhood in Ramat Bet Shemesh, in cooperation with the Israel Antiquities Authority and with the participation of pre-army course cadets. The settlement, whose ancient name is unknown, has so far yielded eight ... More



An Exceptionally Large, Fine And Important Blue And White Lobed 'Fish Pond' Bowl. Mark and Period of Xuande. Diameter 23 cm. Estimate upon request. Photo: Sotheby's.



HONG KONG.- Sotheby's Hong Kong Chinese Works of Art Spring Sales 2017 will take place on 5 April at Hong Kong Convention and Exhibition Centre. The sales will be led by an outstanding Xuande lobed bowl, one of the greatest examples of early Ming porcelain in private hands (pictured above), and a monumental Imperial silk tapestry kesi bestowing longevity on the Qianlong Emperor in celebration of his eightieth birthday. The series of eight sales will offer over 300 lots with a total estimate of approximately HK$700 million / US$90 million. Nicolas Chow, Deputy Chairman, Sotheby's Asia, International Head and Chairman, Chinese Works of Art, said, "The wonderful array of Chinese art that we are proud to present this season covers most of the classic fields, from Chinese furniture and early jade carvings, to Song dynasty ceramics and Qing dynasty Imperial works of art. Particularly noteworthy is the ... More



The Chinese activist artist Ai Weiwei will build dozens of fences in New York for an exhibition. John MACDOUGALL / AFP.



NEW YORK (AFP).- The Chinese activist artist Ai Weiwei will build dozens of fences in New York for an exhibition opening in October that focuses on walls that divide people and mark borders. A champion of refugees and migrants, Ai is calling his new large-scale conceptual installation "Good Fences Make Good Neighbors." He took the title from the final line in "Mending Wall," a poem by the 20th-century US poet Robert Frost that reflects on a wall between neighbors. The artist says he is dismayed by President Donald Trump's policies, including his promise to build a wall along the US southern border with Mexico to keep out undocumented immigrants, along with his attempt to bar entry to the United States by some Muslim-majority citizens. He intends to transform the metal wire security fence into an artistic symbol in various sites in the New York, a gateway to the United States. An outspoken critic of the Chinese government, Ai was detained in 2011 for 81 days ... More
Between the lines: Historians put Stalin-era diaries online
Major new exhibition reveals the central place of religion in the Italian Renaissance home
Christie's to auction the collection of Chauncey D. Stillman


Historian Mikhail Melnichenko, 33, displays pages from a Soviet-era diary during an AFP interview in Moscow. Natalia KOLESNIKOVA / AFP.



MOSCOW (AFP).- Tatiana Panova holds a photograph of her great-grandfather as a solemn-faced student in 1923 in the Soviet Union, around 16 years before he died in a prison camp during the Stalin purges. While Alexander Yakovlev's death was over half a century before her birth, Panova, 25, has gained a tiny window into his thoughts and life thanks to an aged diary that her family preserved. Now, as memories of the Stalin era fade, a project run by young Russian historians is putting his journal and hundreds more like it online in a bid to bring to life the everyday experiences of those tumultuous times. "Any diary has value," says 35-year-old historian Ilya Venyavkin, who is writing a book about diaries from the 1930s. "Don't think that if your relative wasn't an outstanding intellectual or a singer, or didn't live through the death of Stalin or the coronation of Nicholas II, that their " ... More



Jewelled cross pendant, 16th century (possibly). Italy Gilt, set with a sapphire, rubies and pearls, inscribed on reverse 'verbum caro', 2.8 cm. London, British Museum. © The Trustees of the British Museum.



CAMBRIDGE.- The Fitzwilliam Museum opened a major new exhibition that reveals the central place of religion in the Italian Renaissance home from March 7 - 4 June 2017. 'Madonnas and Miracles' shows how religious beliefs and practices were embedded in every aspect of domestic life. Challenging the idea of the Renaissance as a time of increasing worldliness and secularization, the exhibition shows how the period's intense engagement with material things went hand in hand with its devotional life. A glittering array of sculptures and paintings, jewellery, ceramics, printed images and illustrated books bear witness to the role of domestic objects in sustaining and inspiring faith. The culmination of a four-year European-funded project, 'Madonnas and Miracles' presents the fruits of a ground-breaking interdisciplinary ... More



Mary Cassatt (1844-1926), Girl in a Bonnet Tied with a Large Pink Bow. Oil on canvas, 26 ¾ x 22 ½ in. (68 x 57.2 cm.) Painted in 1909. Estimate: $2,000,000-3,000,000 © Christie's Images Limited 2017.



NEW YORK, NY.- Christie's announced the sale of the Collection of Chauncey D. Stillman, which will be offered throughout a series of sales this spring with proceeds benefitting the Wethersfield Foundation. This remarkable private collection is comprised of 16 works of art by Old Master artists Nicolas Lancret and Jean-Auguste-Dominique Ingres; Impressionist artists Edgar Degas and Henri De Toulouse-Lautrec; and American artists Mary Cassatt, John Singer Sargent and Gilbert Charles Stuart, among others. Works will be included in the Old Masters sale on April 27, Impressionist & Modern Art Evening and Day sales on May 15-16, American Art on May 23, with additional sales later this year. "We are gratified that the sale of these works will benefit the Wethersfield Foundation and the vision of my ... More
New exhibition traces life of St. Elizabeths Hospital
Catalina Island Museum presents exhibition by Dale Chihuly
KAAN Architecten presents final design for 'new' Paleis Het Loo


Following an extensive renovation by the General Services Administration, the Center Building will be repurposed as offices for the Department of Homeland Security. Courtesy of the U.S. General Services Administration.



WASHINGTON, DC.- The National Building Museum opened Architecture of an Asylum: St. Elizabeths, 1852-2017 on March 25, 2017. The exhibition traces St. Elizabeths' evolution over time, reflecting shifting theories about how to care for the mentally ill, as well as the later reconfiguration of the campus as a federal workplace and a mixed-use urban development. It runs through January 15, 2018. Established by Congress in 1855 as the Government Hospital for the Insane, St. Elizabeths is widely considered a pioneering psychiatric facility. The hospital is a prime example of the "Kirkbride Plan" for mental health hospitals, almost 80 of which were built throughout the nation in the second half of the 19th century. These asylums, promoted by social reformers such as Dorothea ... More



Dale Chihuly, Mille Fiori, 2014 (detail). Clinton Presidential Library and Museum, Little Rock, Arkansas.



AVALON.- The Catalina Island Museum has reached a major milestone this week by opening an exhibition of works by internationally renowned artist Dale Chihuly. The exhibition, Chihuly at the Catalina Island Museum, opened on March 26, 2017 and runs through December 11, 2017. Chihuly, an American sculptor, has mastered the alluring, translucent and transparent qualities of ice, water, glass and neon, to create works of art that transform the viewer experience. He is globally renowned for his ambitious site-specific architectural installations in public spaces, and in exhibitions presented in museums and gardens worldwide. The exhibition is a coup for the Catalina Island Museum, which now joins a prestigious list of past exhibitors including the de Young Museum in San Francisco, Museum of Fine Arts in Boston, and the Virginia Museum of Fine Arts. All have experienced ... More



Juniorpaleis, Westvleugel. Photo museum Paleis Het Loo - KAAN Architecten.



APELDOORN.- The final design of KAAN Architecten for the 'new' Paleis Het Loo was presented in early March. The major project will start in 2018, and the renewed and renovated Paleis Het Loo will be completed by mid 2021. An important part of the project, and also the main reason for it, is the renovation. It includes a major asbestos removal and a replacement of technical and climate installations. While this maintenance is being carried out, an underground expansion will be implemented under the front courtyard, the Bassecour. This expansion will allow Paleis Het Loo to create a spacious entrance with additional facilities for the public and room for both the permanent collection and temporary exhibitions. The eye-catchers in the design are the four glass parterres in the front courtyard: a thin layer of water will flow over the glass – a nod to the fountains and waterworks of the historic gardens. The combination of gl ... More
Riverbank Foundation forms nonprofit to revise George Caleb Bingham art catalog
Hake's Americana launches 50th-year auction series with lively million-dollar sale of pop culture memorabilia
The Pennsylvania Academy of the Fine Arts announces new additions to permanent collection


George Caleb Bingham, Portrait of Lewis Allen Dicken ("L.A.D.") Crenshaw, ca. 1869. Oil on canvas, 41 x 31 ½ inches. Collection of the Springfield Art Museum, Missouri.



KANSAS CITY, MO.- The Riverbank Foundation, a private organization focused on supporting American art scholarship, has been approved by the federal Internal Revenue Service as a Public Charity and 501(c)(3) organization. The taxexempt status will enable the Foundation to advance work on its leading project, a revised catalog of the work of artist George Caleb Bingham (American 1811-1879). The Riverbank Foundation encourages the study, appreciation and preservation of American art with an emphasis on the historical and cultural aspects that define national heritage. In particular, the Foundation supports selected programs of scholarship, research, education and exhibitions centered on artists of the 19th and 20th centuries who helped shape regional identities throughout the United States. The first undertaking of the Riverbank Foundation will be to create an ... More



Justice League Tattoo Gum, 120 1-cent packs in original store display box, copyright 1970. Sold for $6,140. All images courtesy of Hake's Americana.



YORK, PA.- The team at Hake's Americana had plenty to celebrate as the first auction of the company's golden-anniversary year concluded. The two-day event held March 14 and 16 with a gap day in between, swept past expectations and ended on a high note, reaching $1,061,373. All prices quoted in this report include an 18% buyer's premium. As predicted, the star of the show was Norman Mingo's (American, 1896-1980) original cover art for the September 1968 issue of Mad magazine, which sold for $57,242. A spoof of the flower power era, the cover featured a beaming Alfred E. Neuman dressed as a spiritual guru, held aloft by the Beatles in their Sgt. Pepper's uniforms along with actress Mia Farrow and the Maharishi Mahesh Yogi. "Original Mad magazine cover art by Norman Mingo – who is considered the dean of Mad cover artists – is always in demand but very seldom available," said Alex Winter, ... More



Jim Campbell, Scattered 9x (Marathon), 2015, custom electronics, 324 LEDs, treated Plexiglas.



PHILADELPHIA, PA.- The Pennsylvania Academy of the Fine Arts announces the addition of more than 30 works to its permanent collection of American art. The works include paintings, sculpture, installation, and works on paper made from the early 1800s to the present. Highlights include a custom LED electronic sculpture Scattered 9x (Marathon) (2015) by San Francisco-based new media artist Jim Campbell, and a trio of sculptural assemblages by the late Philadelphia sculptor and printmaker Bill Walton. "Jim Campbell's influential but still under-recognized work brilliantly tests the limits of recognition, perception and empathy through his pixilated, low-resolution moving images," said Jodi Throckmorton, Curator of Contemporary Art. "We also make it a point to be sure our collection plan includes the very best artists in our own backyard here in Philadelphia, and Bill Walton is certainly one of them." PAFA also announced the purchase of a ... More
Rome and Rivalry | The Credit Suisse Exhibition: Michelangelo & Sebastiano | National Gallery
Flashback
On a day like today, French painter and draftsman Georges Seurat died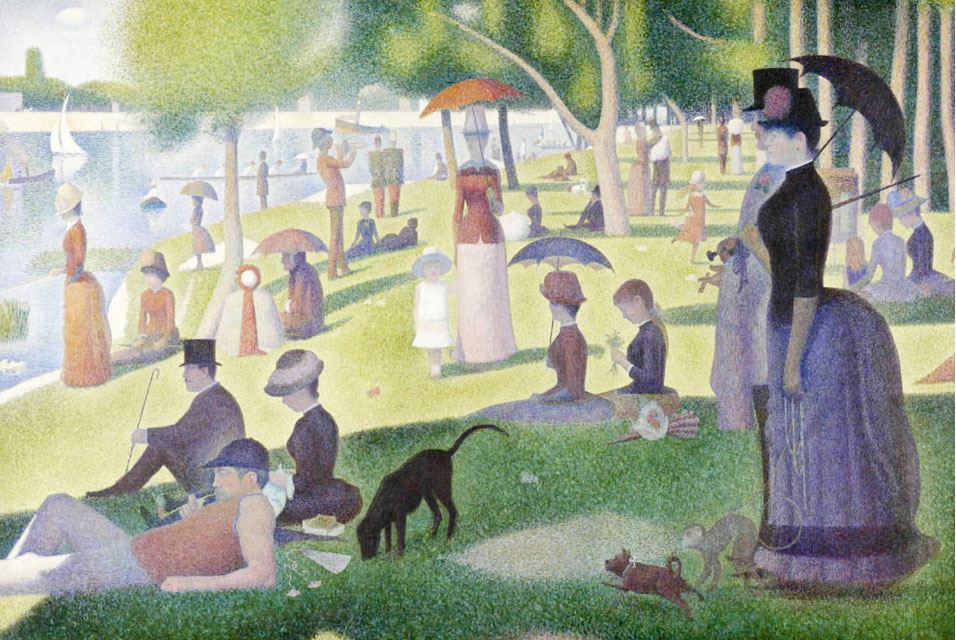 March 29, 1891. Georges Pierre Seurat (2 December 1859 - 29 March 1891) was a French Post-Impressionist painter and draftsman. He is noted for his innovative use of drawing media and for devising the technique of painting known as pointillism. His large-scale work A Sunday Afternoon on the Island of La Grande Jatte (1884-1886) altered the direction of modern art by initiating Neo-impressionism. It is one of the icons of late 19th-century painting. In this image: "A Sunday on La Grande Jatte -- 1884" by artist Georges-Pierre Seurat.
---

Museums, Exhibits, Artists, Milestones, Digital Art, Architecture, Photography,
Photographers, Special Photos, Special Reports, Featured Stories, Auctions, Art Fairs,
Anecdotes, Art Quiz, Education, Mythology, 3D Images, Last Week,
.
---
Royalville Communications, Inc
produces: