Kunsthaus Bregenz opens Ed Atkins' largest solo presentation to date
Ed Atkins, Installation view ground floor, Kunsthaus Bregenz, Safe Conduct, 2016
. Photo: Markus Tretter. Courtesy of the artist, Galerie Isabella Bortolozzi, Berlin, Cabinet Gallery, London, Gavin Brown's Enterprise, New York / Rom, and dépendance, Brüssel © Ed Atkins, Kunsthaus Bregenz.
BREGENZ
.-
Ed Atkins is one of the most distinctive and important artists of his generation. Following on from major exhibitions at The Stedelijk Museum, Amsterdam, The Serpentine in London, Castello di Rivoli in Turin, and the Martin-Gropius-Bau in Berlin, among others,
Kunsthaus Bregenz
presents Atkins' first exhibition in Austria, and his largest solo presentation to date. Atkins is an artist who makes videos, writes and draws, developing a complex and deeply figured discourse around definition, wherein the impossibilities for sufficient representations of the physical, specifically corporeal, world — from computer generated imagery (CGI) to bathetic poetry — are hysterically rehearsed. Atkins' works often centres on an unidentified figure, a kind of surrogate for the artist, who is animated by Atkins' own performance. The figure is to be found in situations of everyday despair, anxiety, frustration and pitch comedy. Atkins' works ...
More
The Best Photos of the Day
Major exhibition of new photography by Hannah Starkey on view at Tanya Bonakdar Gallery
Egon Schiele's modernist vision of Trieste Fishing Boat set to appear at auction for first time
Sheldon Museum of Art opens "John Walker: Moments of Observation"


Hannah Starkey, 'Pussy power', Women's March, London 2017, 2017. C-print mounted to aluminum dibond in artist frame, 48 x 64 x 1 1/2 in. Edition of 5, 2 APs. Courtesy the artist and Tanya Bonakdar Gallery, New York / Los Angeles.



NEW YORK, NY.- Tanya Bonakdar Gallery, New York, is presenting a major exhibition of new photography by Hannah Starkey. On view in the gallery's second floor exhibition spaces from January 5 - February 9, 2019, this is the artist's fourth solo presentation with the gallery. For more than 20 years, Starkey has dedicated her practice to representing the experiences of women in contemporary society. Blurring the lines between portraiture, documentary, and mediated reality, Starkey carefully reconstructs glimpses of interior lives capturing her subjects in moments of introspection amid ordinary urban spaces. Developing a new way to capture her gender, Starkey's photographs defy the myopic identities in which women are traditionally portrayed in the thousands of images we see every day. ... More



Egon Schiele (1890 – 1918), Triestiner Fischerboot (Trieste Fishing Boat), oil and pencil on canvas, 75 by 75cm. 29˝ by 29˝in. Painted in 1912. Estimate Ł6,000,000-8,000,000. Courtesy Sotheby's.



LONDON.- As the art world takes stock following a series of centenary exhibitions honouring the life and art of Egon Schiele, whose untimely death at the tender age of 28 in 1918 left so much unsaid, Sotheby's is set to celebrate Schiele's extraordinary power this February when a fascinating work by the Austrian artist comes to auction for the first time. Painted in 1912, Triestiner Fischerboot (Trieste Fishing Boat) holds a unique position in Schiele's oeuvre and was created in the aftermath of what was arguably the most tumultuous and life-changing experience for the artist. Recently released from a brief period of incarceration in Neulengbach in Austria, and rejected by the local community there, Schiele's visit to Trieste in 1912 was prompted by a desire to escape the grim memories of his recent past, and relive fond memories ... More



John Walker (born Birmingham, England 1939), Untitled, 2011. Oil on bingo card, 7 1/4 × 5 1/2 inches. Courtesy of the artist and Alexandre Gallery, New York.



LINCOLN, NE.- The vicissitudes of land and sea have provided rich subject matter for John Walker's paintings over the past fifteen years. Sheldon Museum of Art at the University of Nebraska presents "John Walker: Moments of Observation," featuring both large- and small-scale works created by the artist in response to living much of this period on the coast of Maine. "John Walker has always been a keen observer," noted Wally Mason, Sheldon's director and chief curator. "He embraces the essence of all in his path, perceiving what most of us miss and scrutinizing it through dialog with paint and canvas. This exhibition offers us the opportunity to broaden our understanding of the rich tradition of painting by examining the achievement of such an innovative artist." On March 5 at 6 p.m., Walker will give a public presentation at Sheldon in which he will discuss his creative process and fascination ... More
Solo exhibition of Jan Van Imschoot's work opens at Galerue Templon
Museum of Modern Art announces second iteration of The Future of Film is Female
'Rambo' producer Andy Vajna dies


Siberische sneeuwsnoek, 2018. Oil on canvas, 150 x 130 cm ; 59 x 51 1/8 in. Courtesy of Galerie Templon, Paris – Brussels.



BRUSSELS (PARIS).- Galerie Templon is holding the second solo exhibition of Jan Van Imschoot's work in Brussels. The cinematic painter and selfproclaimed master of anarcho-baroque is back in Belgium with a brand new series influenced by Caravaggio. 'I'm a child of painting and of cinema, a Flemish painter and a Latino-Belgian surrealist, with language and images as my partners. Thank you Rik Wouters, thank you René, thank you Marcel' explains the artist, who constantly questions the potential of painting. In Amore Dormiente, Jan Van Imschoot tackles themes such as love, sexual desire, lust and vengeance with black backgrounds and flamboyant colours, naked bodies in motion and powerful gestures. Freed from the academic straitjacket ... More



Blame. 2018. USA. Directed by Quinn Shepherd. Courtesy Samuel Goldwyn Films.



NEW YORK, NY.- The Museum of Modern Art presents The Future of Film Is Female, Part 2, the second installment in a two-year, seasonal effort to champion contemporary films directed by women early in their careers. Organized with the funding initiative The Future of Film Is Female, a group dedicated to increased representation, equitable workplaces, and gender parity for women in cinema, the series at MoMA provides an opportunity for female directors to screen and discuss their new projects. The recurring series highlights films that reflect and respond to changes in filmmaking, financing, and exhibition, in addition to broader societal challenges. This winter's The Future of Film Is Female series runs February 14–21, 2019, in The Roy and Niuta Titus Theaters ... More



Andy Vajna backed blockbusters such as "Rambo".



BUDAPEST (AFP).- US-Hungarian film producer Andy Vajna, who backed blockbusters such as "Rambo", "Die Hard", and "Terminator", has died at his home in Budapest, the Hungarian National Film Fund said Sunday. Andrew G. Vajna, born in the Hungarian capital on August 1, 1944, died after a long illness, a Fund statement said. He was 74. Vajna's family fled Hungary after a national insurrection was crushed by Soviet troops in 1956. He lived in Hong Kong and Canada before arriving in the United States, where he thrived in the film industry, founding the production company Carolco with partner Mario Kassar. The firm turned out a series of big-budget successes that also included "Basic Instinct", "Total Recall" and "Angel Heart". With around 40 productions under his belt, Vajna returned to Hungary early this century and became a ... More
Art Madrid'19 announces the participating galleries list
Galería Elvira González opens its second solo show of the Spanish artist Miquel Barceló
Mr.'s 'Melancholy Walk Around the Town' opens at Perrotin Paris


More than 40 galleries and almost 200 artists, including 10 first-time participating galleries, selected for the 14th edition of Art Madrid.



MADRID.- Art Madrid celebrates its 14th edition from February 27 to March 3, 2019, in the Crystal Gallery of CentroCentro Cibeles (c/ Montalbán,1), with the participation of more than 40 national and international galleries that will show the works of nearly 200 artists, both emerging and consolidated creators.. With an outstanding foreign presence, which this year reaches 40% and reaffirms the confidence placed in the fair by the international context, 26 national and 16 foreign exhibitors from 13 countries, from Spain to Germany, France, Portugal, Lithuania, Argentina, Brazil, Cuba, Mexico, Peru, South Africa or Taiwan, and including the participating of 10 first-time participating galleries, have been selected for this edition. In this edition, as the Selection Committee assures, the proposals are highlighted because of the increasing quality, the more rigorous selection, the ... More



Installation view. Photo: Cuauhtli Gutiérrez. Courtesy Galería Elvira González.



MADRID.- Galería Elvira González opened its second solo show of the Spanish artist Miquel Barceló. The exhibition has 29 new works of which 15 are canvases, 12 are works on paper and 2 ceramics. All these works have been made in the past two years and are being shown to the public for the first time. Life of Octopus is the title chosen by Barceló and refers to his deep link with the sea, its nature and wildlife, and with the relationship between humans and the seas. A romantic and desolate vision. An unsettling stormy sea that seems to relate to the moment in which we live. Some boats with people and some empty ones lost in the sea. A large multicoloured octopus of two meters presides over one of the exhibition rooms. The exhibition shows other subjects in which Barceló has recently worked as drawings of Goethe's book Faust, images of bullfighters and some classic stories and self-portraits. On the occasion of Life of Octop ... More



Untitled, 2018. Acrylic on canvas mounted on wood panel, h. 202 × L. 171 cm | h. 79 1/2 × l. 67 5/16 in. ©︎ 2018 Mr./Kaikai Kiki Co., Ltd. All Rights Reserved. Courtesy Perrotin.



PARIS.- The city is intoxicating, overwhelming. It bays, it roars for our attention. The city is all-encompassing. It envelops, engulfs all that comes into its path, inhaling the grotesque and the beautiful, exhaling the phantasmagorical and mundane alike. The city is transgressive, invasive, infringing upon our physical boundaries, permeating us visually and sonically, assailing our skin and our bodily defences. Mr.'s city, the city of Tokyo, the otaku neighbourhoods of Akihabara and Ikebukuro, is for him such a site. An interminable cacophony of words and images. A seductive fantasy of desire and dread. A space of street scribblings and graffiti, of conspicuous consumption and exhaustion. This is a land of the acerbically saccharine and the bitterly sweet, a land of rupture and flow, exuberance and estrangement. This is a terrain ... More
The Sonoma Valley Museum of Art opens exhibition of works by American light artist Phillip K. Smith III
Modern Art hosts exhibition of works by Charlotte Posenenske for Condo London 2019
Louis Stern Fine Arts exhibits intimate interior compositions by Helen Lundeberg


Phillip K. Smith III Portals, photo by Lance Gerber, courtesy Phillip K. Smith III Studio.



SONOMA, CA.- American light artist Phillip K. Smith III (b. Calif., 1972), noted for his large-scale installations and sublime works of art, presents Portals: A Space for Color, on view at Sonoma Valley Museum of Art from January 19 to April 7, 2019. For this exhibition, the artist's first in Sonoma, Smith installed three "Portals," creating an immersive environment within the museum's galleries. Each artwork, originally part of a monumental 85-foot diameter light pavilion, investigates the relationship between light, form, surface, and perception—a theme rigorously and inventively explored throughout Smith's ongoing Lightworks series, in which the artist paints a highly specific three-dimensional canvas with light over time. In Portals: A Space for Color, he crafts each color selection, location, and pace of change to evoke a sense of breath within the work. As the reflected light pushes across large, ... More



Charlotte Posenenske, Relief Serie B, 1967-2016, 3 elements, aluminium, sprayed standard RAL matte red, 100 x 50 x 14 cm, 39 3/8 x 19 3/4 x 5 1/2 ins. Photo: Robert Glowacki. Courtesy Estate of Charlotte Posenenske, Modern Art, London & Galerie Mehdi Chouakri, Berlin.



LONDON.- Modern Art is presenting an exhibition of works by Charlotte Posenenske for Condo London 2019 in association with Galerie Mehdi Chouakri, Berlin. Charlotte Posenenske (b. Wiesbaden, 1930, d. Frankfurt, 1985) made pioneering contributions to Minimalist and Conceptual art during her short-lived artistic career. Rediscovered only posthumously, her predominantly sculptural output has influenced younger generations of artists since the 1990s. The terms democratisation, variability, participation, and cooperation are crucial to an understanding of Posenenske's work. Envisioning art as a social and participatory act that should be opened to wider public engagement, rather than a product ... More



Helen Lundeberg (1908-1999), Interior with Table, 1960. Oil on canvas, 36 x 30 inches; 91.4 x 76.2 centimeters.



LOS ANGELES, CA.- Louis Stern Fine Arts is presenting "Helen Lundeberg: Interiors." In this presentation of Lundeberg's intimate interior compositions, the artist's subtle lens renders familiar scenery and objects strange and mysterious. This exhibition, which spans multiple decades of Lundeberg's career, reflects the notoriously reclusive artist's powerful command of illusory perspective and fascination with interchangeable positive and negative space. Beginning with her Post-Surrealist work in the 1930s and continuing throughout her career, Lundeberg utilized ambiguous interior spaces to stage a series of images, carefully organized to evoke guided contemplation within the viewer. The unusual arrangement of ordinary objects, set within spaces just outside the realm of decipherable form, provokes a response of ... More
Eske Kath Interview: The Fundamental Uncertainty
Flashback
On a day like today, French painter Nicolas Lancret was born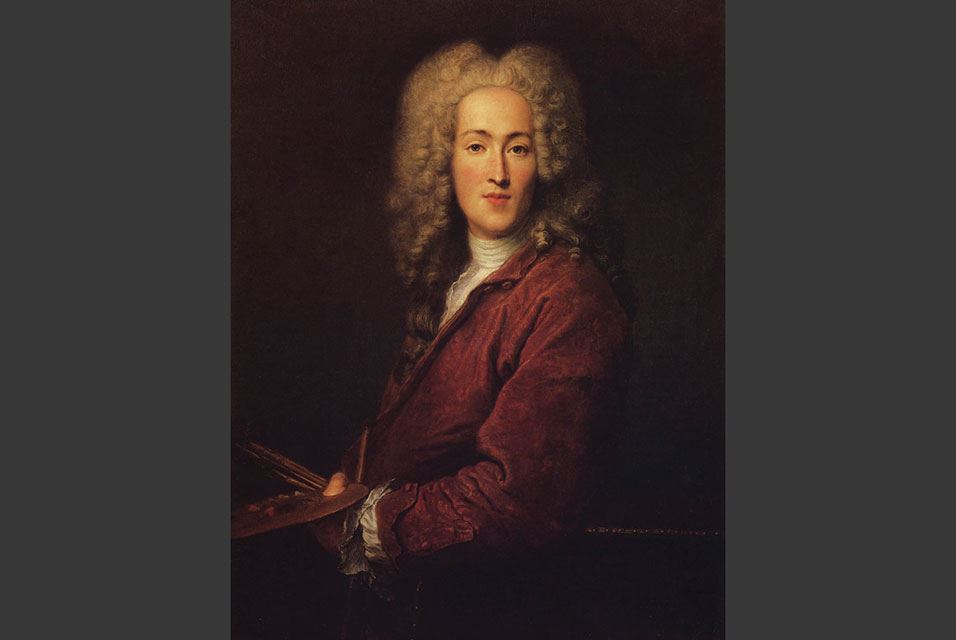 January 22, 1690. Nicolas Lancret (22 January 1690 - 14 September 1743), French painter, was born in Paris, and became a brilliant depicter of light comedy which reflected the tastes and manners of French society under the regent Orleans.
---

Museums, Exhibits, Artists, Milestones, Digital Art, Architecture, Photography,
Photographers, Special Photos, Special Reports, Featured Stories, Auctions, Art Fairs,
Anecdotes, Art Quiz, Education, Mythology, 3D Images, Last Week,
.
---
Royalville Communications, Inc
produces: