Artemis Gallery will auction more than 400 lots of fine antiquities and ethnographic art
Extremely rare medieval Oakeshott Type XIV iron sword of the type shown on the Royal Coats of Arms of Kings Edward I and II and Henry III, 35in long. Estimate: $40,000-$50,000.
BOULDER, COLO
.-
An expertly curated selection of fine antiquities and ethnographic art from the world's most fascinating cultures will be auctioned by
Artemis Gallery
on July 19. The online sale will showcase 400+ lots of high-quality art and relics dating as far back as the Ancient Egyptians and other early Middle Eastern civilizations. As is the case at each and every Artemis Gallery event, all lots are guaranteed to be authentic, legal to purchase and, if desired, resell. A letter of authenticity accompanies each sold item. The auction will open with a fine variety of Egyptian pieces, from mummy masks and adornments to figures and vessels. An unusually large collection of 42 Egyptian faience amulets includes striding or standing depictions of Isis, Horus and figures wearing crowns, as well as female deities, birds; and other animals and objects. "Amulets ...
More
The Best Photos of the Day
Christie's London Classic Week sales in July collectively realised $95,809,981
LACMA opens the first North American survey of 3D objects and practices
Exhibition presents iPhone and iPad drawings and new 'Photographic Drawings' by David Hockney


Ludovico Carracci's Portrait of Carlo Alberto Rati Opizzoni in armour which sold for £5,071,250 / $6,704,193 / €5,730,513 in the Old Masters Evening Sale, becoming the second highest price for the artist at auction. © Christie's Images Limited 2018.



LONDON.- Comprising a total of 14 live auctions and online sales, with works of art dating from antiquity to the 20th century, Christie's London Classic Week sales in July 2018 collectively realised £72,376,000 / $95,809,981 / €81,738,228. The top lot of the series was a gift from Louis XIV to his son, the Grand Dauphin, Hercules Overcoming AcheloŁs, circa 1640-50 by Florentine sculptor Ferdinando Tacca (1619-1686). The bronze sold in The Exceptional Sale 2018 for £6,758,750 / $8,935,067 / €7,637,387, setting a new world record price for the artist at auction (estimate on request: in the region of £5 million). This was followed by Ludovico Carracci's Portrait of Carlo Alberto Rati Opizzoni in armour which sold for £5,071,250 / $6,704,193 / €5,730,513 in the Old Masters Evening Sale, becoming the ... More



arcel Duchamp, Rotoreliefs, 1935/1965, mixed media, diameters: 9 3/4 in., Los Angeles County Museum of Art, gift of The Grinstein Family, © Estate of Marcel Duchamp/Artists Rights Society (ARS) New York/ADAGP, Paris, photo © Museum Associates/LACMA.



LOS ANGELES, CA.- The Los Angeles County Museum of Art presents the first North American survey of 3D objects and practices, tracing cycles of optical investigation, creative expression, and commercial popularity over the past 175 years. Featuring artifacts of mass culture alongside historic and contemporary art, 3D: Double Vision addresses the nature of perception, the allure of illusionism, and our relationship to accompanying technologies and apparatuses. The optical principle underlying all 3D media is binocular vision—the process by which our brains synthesize the information received by our two eyes into a single, volumetric image. The more than 60 artworks featured in the exhibition activate this process by means of mirrors, lenses, filters, or movement—requiring active ... More



David Hockney, Self Portrait III, 20 March 2012 (2012). iPad drawing printed on paper, Edition of 25. 94 x 71 cm, © David Hockney. Photo: Richard Schmidt.



LONDON.- Annely Juda Fine Art presents 'David Hockney: iPhone and iPad drawings 2009-2012 and New Photographic Drawings', which features 27 limited edition prints created either on the iPhone or iPad, along with new 'Photographic Drawing' editions. The exhibition runs from 16th July – 31st August 2018. The 27 iPhone and iPad drawings in this exhibition result from Hockney's indefatigable interest in exploring the possibilities of image-making, utilising and pioneering new technologies. With his extraordinary eye for detail, he takes the seemingly mundane objects of everyday life and creates imposing images bursting with colour, pattern and line. The convenience of being able to work with a small hand-held device, such as the iPhone, with endless possibilities of multiple colour and mark-making effects, enables a new intimacy and immediacy seen in this series of images. The artist draws and paints whatever catches ... More
Rare portrait of William Moseley II on view for the first time since 1897
Nationalmuseum Sweden acquires three landscapes by travelling German artists
Exhibition features women who challenged the Victorian ideal in 19th-century New York City


The portrait on display through the Virginia Beach History Museums shows Moseley II as a young man about age 14.



VIRGINIA BEACH, VA.- A portrait of William Moseley II (1635 – 1671) by an unknown Dutch artist is on view at the Thoroughgood House in Virginia Beach through the summer. This rare portrait was last exhibited with another painting of William's brother, Arthur Moseley, for three days at a Daughters of the American Revolution exhibit in Richmond in 1897. The portrait on display through the Virginia Beach History Museums shows Moseley II as a young man about age 14. Originally there were four paintings of family members, and these 17th-century portraits are believed to be among the earliest, if not the earliest in Virginia. All four portraits were last seen together in an auction in Philadelphia in 1870. The missing portraits include Moseley II's mother, Susanna, elaborately dressed and wearing pieces of jewelry, and his father, William Moseley I. The Moseley family and their portraits arrived in Lynnhaven Parish, n ... More



Ernst Fries, Vy Ųver Tivoli med kaskaderna och Ponte Lupo samt Vestatemplet och Sibyllatemplet, 1826 (detail). Photo: Linn Ahlgren/Nationalmuseum.



STOCKHOLM.- Nationalmuseum has acquired three landscapes by travelling German artists. Ernst Fries' The Waterfalls at Tivoli with the Ponte Lupo, Temple of Vesta, and Temple of Sibyl, Christian Morgenstern's View towards Sorrento, and Georg Eduard Otto Saal's Study of Vermafossen Waterfall. Nationalmuseum's collections previously contained no works of this kind by German artists. The three new acquisitions will make it possible to more clearly illustrate the international tendencies of the artistic activity of the 19th century. Artists of different nationalities travelled to the same destinations and painted the same scene. The museum's collections include paintings of the same sites by French, Danish and Swedish artists, among others. One obvious commonality in the three paintings is the distance to the subject – in all three cases, the artist chose to situate the famous site in the distance. The ... More



The Real Ellen Jewitt, 1836. Henry Robinson printer. Courtesy of the Museum of New York.



NEW YORK, NY.- Rebel Women: Defying Victorianism, on view at the Museum of the City of New York from July 17, 2018, through January 6, 2019, will explore the trailblazing women who challenged Victorian social norms in 19th-century New York City. Featuring photographs, garments, ephemera, and prints primarily drawn from the Museum's collections, the exhibition will bring to light the compelling and often untold stories of these independent and unconventional women who had an indelible impact on New York's society, culture, and economy by the turn of the 20th century. The Victorian era is commonly known as a period of constraints on women's lives—a time when white, middle-class ideas about femininity defined women by their roles as guardians of virtue and relegated them to the private, domestic sphere. During this era, a woman could be considered a rebel simply by speaking in public, working outside the home, or disregarding middle- ... More
The Whitney opens a group exhibition featuring seven mid-career and emerging Latinx artists
Saint Louis Art Museum promotes Jeanette Fausz to Assistant Director
State museum displays 19th century tomahawk recently returned to museum's collections


Ronny Quevedo, quipu, 2017. Screen print, contact paper, and enamel on paper, 44 x 38 in. Collection of the artist. Photo credit: Argenis Apolinario.



NEW YORK, NY.- This July the Whitney Museum of American Art debuted Pacha, Llaqta, Wasichay: Indigenous Space, Modern Architecture, New Art, an exhibition investigating the complex ways in which Indigenous American notions of the built environment and natural world are represented in contemporary art. The show highlights the practices of seven mid-career and emerging Latinx artists based in the United States and Puerto Rico: william cordova, Livia Corona BenjamŪn, Jorge GonzŠlez, Guadalupe Maravilla, Claudia PeŮa Salinas, Ronny Quevedo, and Clarissa Tossin. This exhibition runs at the Whitney from July 13 through September 30 in the fifth-floor Neil Bluhm Family Galleries, Kaufman Gallery, and Outdoor Gallery. Organized by Marcela Guerrero, assistant curator, with Alana Hernandez, curatorial project ... More



Fausz oversees the museum's departments of conservation, design, exhibitions, installation, and registration.



ST. LOUIS, MO.- Jeanette Fausz has been promoted to assistant director for exhibitions and collections, the Saint Louis Art Museum announced today. Fausz oversees the museum's departments of conservation, design, exhibitions, installation, and registration. Her promotion reflects a change in the museum's management group that also included the promotion of Mark Macinski to assistant director for operations and security. Fausz recently coordinated planning and logistical efforts associated with the museum's North American premiere of "Sunken Cities: Egypt's Lost Worlds," the most complicated exhibition installation undertaken at the Saint Louis Art Museum in more than a generation. "Jeanette has been instrumental in the success of 'Sunken Cities' and other recent exhibitions," said Brent R. Benjamin, the Barbara B. Taylor Director of the Saint Louis Art ... More



Cornplanter's Tomahawk.



ALBANY, NY.- The New York State Museum announced that an 18th-century Native American tomahawk gifted to Cornplanter, the respected Seneca leader, by President George Washington in 1792 has been returned to the Museum's collections and will go on exhibit in the State Museum's main lobby July 17 through December 30. Pipe tomahawks were significant objects of intercultural exchange in the 18th century and could be used as smoking pipes; smoking was a common ceremonial practice between parties after reaching an agreement. The meetings between Washington and Cornplanter, also known as Gy-ant-waka, in the 1790s eventually led to the Treaty of Canandaigua (1794), which established peace between the sovereign nations of the U.S. and the Haudenosaunee (Iroquois) Confederacy. For nearly 70 years this tomahawk was in the hands of private collectors, after being stolen from the Museum between 1947 and 1950. Thanks to the generosity of an anonym ... More
Democracy Anew? The PinchukArtCentre opens a major international group exhibition
Nohra Haime Gallery opens exhibition of works by Gregg Louis
Camden Arts Centre opens The first exhibition of Mathematics in the UK by Peter Fraser


Allora & Caldzadilla, Stop, Repair, Prepair, 2008.



KIEV.- The PinchukArtCentre presents Democracy Anew? a major international group exhibition including Francis Alˇs, Allora & Caldzadilla, Maurizio Cattelan, Olafur Eliasson, Damien Hirst, ZoŽ Leonard, Goshka Macuga, Takashi Murakami, Sondra Perry, Pascale Martine Tayou, Luc Tuymans and Rachel Whiteread. "I want a dyke for president." It is the first sentence of the exhibition and the opening of the 1992 Poem by ZoŽ Leonard called "I want a President." Although written more than two decades ago by a feminist activist poet in the USA, it has lost no relevance either to the US or to Ukraine. The poem provokes considerations toward recent global elections that shifted balances of power and sharply points towards the upcoming presidential election for Ukraine on March 31, 2019 as well as the Parliamentary elections in Ukraine on October 27, 2019. This provocation is present, future and past. ... More



Gregg Louis, Blind 49 (Cartagena).



NEW YORK, NY.- Nohra Haime Gallery presents Gregg Louis' fourth solo exhibition with the gallery, entitled Mirage. The exhibition represents the evolution of the artist's Blind Paintings, a body of work started in 2015 with a series of self-portrait paintings, later turning his gaze toward the landscape and objects surrounding him. Louis paints fractured images that feel akin to a blurred glance, rather than a clear depiction of an object or place. Since 2015, Louis has traveled to diverse and exotic locations, including the High Deserts of Southern California, the sultry French Riviera and the vibrant streets of Cartagena de Indias. Throughout his travels, the artist explored unique landscapes and scenery, producing drawings along the way that became the foundation for this exhibition, Mirage. His distinct technique starts with a blind contour drawing done in situ. He later transfers the drawing onto an unprimed canvas ... More



Peter Fraser, Untitled, 2016, from Mathematics. Courtesy the artist.



LONDON.- This summer, Camden Arts Centre is presenting the first UK exhibition of Mathematics, the most recent series of photographs by British artist Peter Fraser. Emerging alongside peers such as Martin Parr and Paul Graham, Peter Fraser has been at the forefront of pioneering colour photography as fine art since the early 1980s. Mentored by William Eggleston, he sought to shift the parameters of photography, influencing a generation of artists, including former pupil Wolfgang Tillmans. With an almost obsessive focus on the 'stuff' of the world, Fraser is concerned with the matter that comprises our everyday. After constructing a conceptual framework through which to respond to found images and situations, he treats panoramic landscape and the smallest details with the same intense attention, revealing the incidental beauty and strangeness of our ... More
Jean-Michel Othoniel interview
Flashback
On a day like today, Italian painter Caravaggio died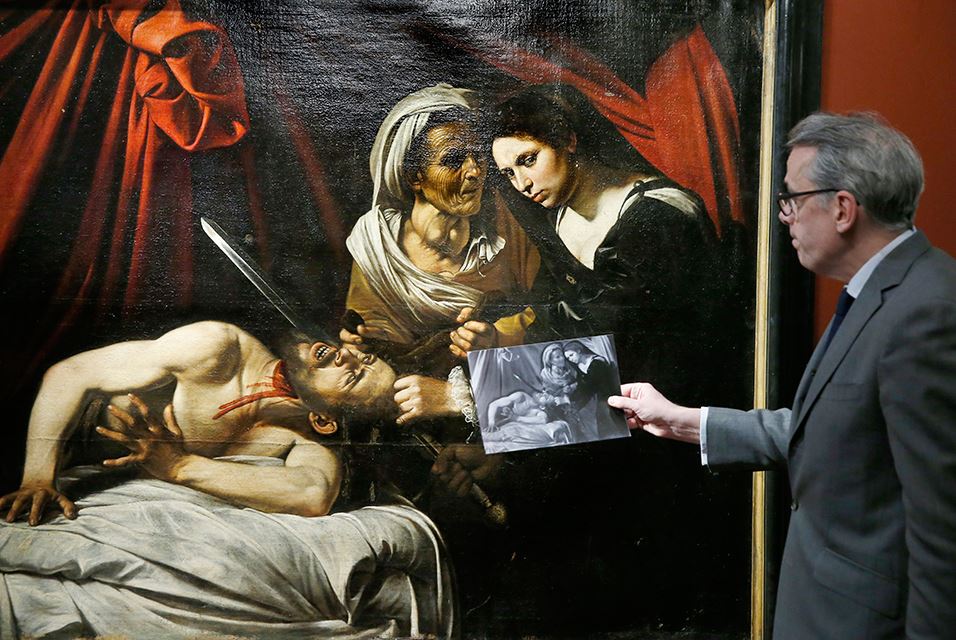 July 18, 1610. Michelangelo Merisi (28 September 1571 - 18 July 1610) was an Italian painter active in Rome, Naples, Malta, and Sicily from the early 1590s to 1610. His paintings combine a realistic observation of the human state, both physical and emotional, with a dramatic use of lighting, and they had a formative influence on Baroque painting. In this image: French art expert Stephane Pinta shows a radiography of the painting entitled "Judith cutting off the head of Holofernes", presented as being painted by Italian artist Caravaggio (1571-1610), while experts are still to determine its authenticity, on April 12, 2016 in Paris. The painting was found out in an attic of a house near Toulouse, southwestern France. PATRICK KOVARIK / AFP.
---

Museums, Exhibits, Artists, Milestones, Digital Art, Architecture, Photography,
Photographers, Special Photos, Special Reports, Featured Stories, Auctions, Art Fairs,
Anecdotes, Art Quiz, Education, Mythology, 3D Images, Last Week,
.
---
Royalville Communications, Inc
produces: