The Albertina opens a large-scale exhibition of works by American artist Keith Haring
Keith Haring's drawings, paintings, and sculptures embody messages that take a stand against the violence of ruling elites, against the oppression of minorities, against prejudice, and against barbarism.
VIENNA
.-
To mark would have been his 60th birthday, the
Albertina
is devoting a large-scale exhibition to the exceptional American artist Keith Haring (1958–1990) that includes around 100 works sourced internationally from numerous museums and private collections. The artist, who initially became known for his drawings of the crawling baby, the barking dog, and figures dancing and climbing over each other, numbers among the most celebrated artists of his time. Haring's creative career, though short, took a truly meteoric course, and the exhibition Keith Haring . The Alphabet retraces his wholly unique artistic development and historical significance. Keith Haring conceived of his artistic practice as a political statement in the public realm that took aim at the establishment, the authoritarian enforcement of order, and state repression of citizens. He consistently emphasized the creative process and the aspect of performance as well as the ...
More
The Best Photos of the Day
Nationalmuseum Sweden acquires photograph of Greta Garbo by Edward Steichen
A giant bear of the late Pleistocene was found in Buenos Aires
French court throws out Facebook 'censorship' case


Edward Steichen, Greta Garbo, Gelatin silver photography, 1928, reprint 1961. © Edward Steichen.



STOCKHOLM.- Nationalmuseum has acquired a portrait of film legend Garbo, produced in 1928 by American photographer Edward Steichen. It was part of an entire series published in Vanity Fair. The portrait is an interesting example of contemporary avant-garde photography involving an extreme close-up. Graham Greene wrote with great admiration about Garbo in film reviews in the 1930s. Roland Barthes analysed her face in the essay "Le Visage de Garbo", published in Mythologies (1957). David Bowie sang "I'm the twisted name on Garbo's eyes" in Quicksand on the album Hunky Dory (1971). The myth of Garbo is far greater than the sum of Greta Gustafsson's (1905-1990) life and roles. More ... More



The skull and jaw of this giant bear were almost complete.



BUENOS AIRES (AGENCIA CTYS-UNLAM).- It was discovered on the banks of the Salado River, northwest of the province of Buenos Aires, a paleontological site has revealed a lot of fossils in recent weeks. The skull and jaw of this giant bear were almost complete. The paleontologist of the Museo La Plata and CONICET Leopoldo Soibelzon, who presented the largest bear in record in 2011 and have now studied this new specimen, said to the CTYS-UNLaM Agency: "find a bear in any The place of the Pampean region is an extraordinary find. " "Finding a carnivore already is an extraordinary finding because they are always fewer in ecosystems," said Dr. Soibelzon. He added: "And within ... More



A mobile phone shows an image of Facebook. ISHARA S. KODIKARA / AFP.



PARIS (AFP).- A French court on Thursday dismissed a case brought by a French teacher who wanted to sue the US social media giant over his claims that his page was censored when he posted a nude painting by Gustave Courbet. The Paris appeal court in December 2016 upheld a ruling that Facebook could be sued under French and not Californian law. The teacher, Frederic Durand, won in the Paris high court earlier after claiming that Facebook were wrong to suspend his account. But the latest ruling said material produced in the case "does not demonstrate with the necessary rigour that the deactivation... was due to the posting of the painting". The court "dismisses all of Frederic Durand's claims ... More
Getty Research Institute Acquires LACE Archive
Rediscovered Jacob Lawrence painting to be offered at Swann Galleries
Major Connecticut fossil collection gifted to Bruce Museum


Barbara Kruger, Untitled (Platter War), 2018. Edition of 30 for LACE. Courtesy of LACE.



LOS ANGELES, CA.- The Getty Research Institute has acquired the archive of Los Angeles Contemporary Exhibitions (LACE), the longest running contemporary artists' space in Los Angeles. The LACE Records, 1978 to today, covers the first four decades of exhibitions and programs at the institution; future records of the active contemporary art site will be added to the GRI's collection. "We are particularly pleased to preserve and study an archive of this caliber from a landmark Los Angeles institution," said Thomas W. Gaehtgens, director of the Getty Research Institute. "LACE has helped launch careers, supported a vibrant and ever-changing Los Angeles art scene, and pioneered a unique exhibition and performance program that while, artist-driven, supports community development and social causes. Their records connect to many of our holdings and will be invaluable to anyone studying American ... More



Jacob Lawrence, 19. Tension on the High Seas, tempera on board, 1956. Estimate $75,000 to $100,000. Courtesy of Swann Auction Galleries.



NEW YORK, NY.- Swann Galleries' highly anticipated auction of African-American Fine Art on April 5 will offer superlative works by marquee artists, with fine mid-century paintings, contemporary art and important discoveries. Tension on the High Seas, the nineteenth panel from Jacob Lawrence's 1954-56 series Struggle . . . From the History of the American People, depicts a British naval officer inspecting three bound and wounded captives seized from the American ship, the Chesapeake, in 1807, an incident which led directly to the War of 1812. The Struggle… series was envisioned as 60 illustrations for a book chronicling the history of the United States from 1776 to 1817–ultimately only 30 were completed; they were dispersed in 1959. Until now, the whereabouts of five of the panels has remained unknown, frustrating multiple efforts by institutions to reunite ... More



Connecticut fossil authority Nicholas G. McDonald. Photo by Brendan Hanrahan.



GREENWICH, CONN.- The Bruce Museum has received a major paleontological collection. Nicholas G. McDonald, a research authority on the fossil record of the Connecticut Valley, has donated a large collection of fossil and geological specimens assembled over the course of five decades. McDonald, recently retired geology instructor and Chairman Emeritus of the Science Department at Westminster School in Simsbury, CT, has published many scholarly articles and two books focusing on the Triassic and Jurassic Periods, the dawn of the "Age of Dinosaurs." "Collecting fossils has been a passion since I was 12 years old, when a friend and his dad took me to a local stream cut and I found my first fossil fish," says McDonald, a native of Mystic. "Since then, I've walked almost every stream bed in the Connecticut Valley, and discovered thousands of well-preserved fossil fishes. Central Connecticut has ... More
Harper Lee's estate sues to block 'To Kill a Mockingbird' play
Sotheby's to present Ralph & Lois Stone's collection of highly important Morgan Silver Dollars
Christie's announces April Photographs Sales


In this file photo taken on November 5, 2007, Pulitzer Prize winner and "To Kill A Mockingbird" author Harper Lee smiles before receiving the 2007 Presidential Medal of Freedom. CHIP SOMODEVILLA / GETTY IMAGES NORTH AMERICA / AFP.



NEW YORK (AFP).- Screenwriter Aaron Sorkin's Broadway adaptation of Harper Lee's "To Kill a Mockingbird" is facing a legal challenge by the late author's estate over claims it dramatically rewrites the main character, Atticus Finch. Lee, who died in February 2016 aged 89, agreed in 2015 to give producer Scott Rudin the rights to the theatrical production of the novel, one of the most popular works of American fiction. Published in 1960, the book has sold more than 40 million copies, been translated in more than 40 languages and continues to sell about a million copies a year, according to a legal filing entered Tuesday before an Alabama court and seen by AFP Thursday. "To Kill A Mockingbird" was previously adapted for the big screen in 1962, winning three Oscars, and was first produced for the stage by ... More



1884-S, PCGS MS 67 CAC One of the very rarest of silver dollars to be found so perfectly preserved. There are no auction records of any examples even remotely as fine as the Stone example having ever appeared at public auction. This was purchased from the collection of a man legendary in silver dollar collecting circles, Jack Lee. Estimate $300/500,000. Courtesy Sotheby's.



NEW YORK, NY.- Sotheby's announced the sale of the Ralph and Lois Stone Collection of United States Silver Morgan Dollars as part of the Historic Coins and Medals Sale. The coins form an essential part of the story of late-19th century America and have long been recognized as important historical artefacts from the period. Complete by date and mintmark, the Stone Collection is one of the finest ever formed, with exceptionally high grades of preservation of the rarest dates in the series. Quietly assembled by Ralph Stone, a discerning northern California banker and collector, the collection has remained unseen and all but unknown to the collecting fraternity since Stone's death more than twenty years ago. Overall the collection is expected ... More



Ansel Adams, Aspens, Northern New Mexico, 1958. Gelatin silver mural print. Estimate: $150,000 – 250,000. © Christie's Images Limited 2018.



NEW YORK, NY.- During Christie's April Photographs sales, a comprehensive selection of more than 300 photographs will be offered both in live auctions at the Rockefeller Center, New York saleroom as well as on the Christie's online platform. Included in the live auctions, taking place on April 6th, will be a stand-alone sale of forty-five works from The Yamakawa Collection, comprising many of the most well-known photographers working in America during the 20th century, such as Diane Arbus, Robert Frank and Ansel Adams, as well as a small group of works by Post-War Japanese photographers Daido Moriyama, Eikoh Hosoe and Ikko Narahara. Among the highlights of the April sales will be Diane Arbus' momentous portfolio 'A box of ten photographs' from the Yamakawa Collection. Featured in the Photographs Various Owners live sale at 2PM will be iconic works by Peter Hujar, Robert Mapplethorpe, Helmut Newton, Sally ... More
Philadelphia Museum of Art to renovate and update Chinese Galleries
First major United States solo show of works by Jigger Cruz opens at Albertz Benda
German courts accept 1,800 paintings authentic after 5-year investigation


Installation view, Gallery 234. Photo courtesy of Philadelphia Museum of Art, 2018. Photo by Joseph Hu.



PHILADELPHIA, PA.- The Philadelphia Museum of Art will soon begin the first comprehensive renovation and reinstallation of its galleries of Chinese art in many decades. This initiative will enable its staff to reimagine the presentation of this important part of the Museum's collection and interpret it in new ways for the benefit of visitors. This represents the next step in an ongoing series of reinstallations of the Museum's collection that began with the Rodin Museum in 2012 and continued with the renovation of its galleries of South Asian art in 2016. Beginning April 11, 2018, six galleries in the wing of the Museum devoted to Asian art will close for approximately ten months and then re-open to the public in early 2019. Timothy Rub, The George D. Widener Director and Chief Executive Officer, said: "This once-in-a-generation project follows the success of our new galleries ... More



Jigger Cruz [Filipino b. 1984], Morning Glory, 2018 Oil on canvas
72 x 60 inches
183 x 152.5 cm.



NEW YORK, NY.- Albertz Benda is presenting Jigger Cruz: Picture Towards the Other Side, the Filipino artist's first major solo show in the United States. The exhibition follows his successful January 2016 showing in the gallery's project space. The exhibition is comprised of Cruz's largest and most ambitious works to date, inspired by the both the political and social forces driving daily life in the Philippines as well as the quotidian objects that shape the artist's life Manila. Cruz's oeuvre is characterized by the highly physical application of materials: bold marks made with pigment and tubes of oil paint, scissor gouges in the canvas and streaks of bright spray paint that blur distinctions between abstraction and figuration, painting and sculpture. While in the past he has begun his compositions with figurative landscapes and portraits that he subsequently obscures with swathes of paint, he has reversed and exp ... More



German state prosecutors leading the investigation first withdrew the central indictments on 7th February 2018, a U-turn which was officially confirmed in today's judgement.



WIESBADEN.- More than 1,800 works seized by German authorities in 2013, amid investigations into forgery rings operating throughout Europe, have been accepted as genuine, following an extensive five-year investigation into their authenticity. The collection, including works by Kasimir Malevich, El Lissitzky, Vladimir Tatlin and Natalia Goncharova, has now been returned to renowned collector Itzhak Zarug after a thorough examination by the German police and more than 10 expert witnesses. The investigation declared that all allegations of forgery were unsubstantiated, lifting a damaging taint on the value and prestige of the Zarug collection. German state prosecutors leading the investigation first withdrew the central indictments on 7th February 2018, a U-turn which was officially confirmed ... More
Keith Haring Ch 12 Interview
Flashback
On a day like today, English fashion designer Alexander McQueen was born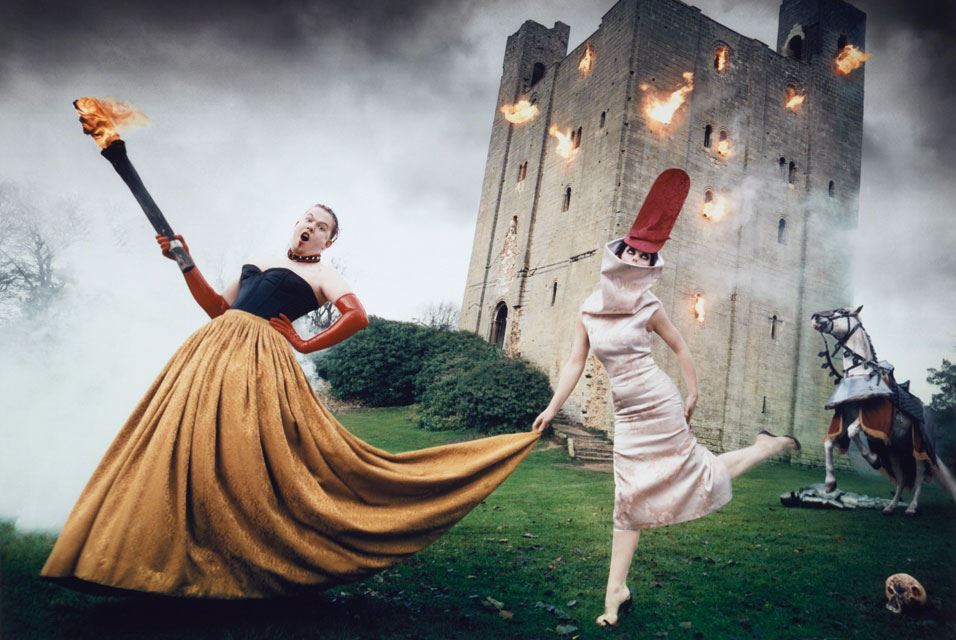 March 17, 1969. Lee Alexander McQueen, CBE (17 March 1969 - 11 February 2010) was a British fashion designer and couturier. He is known for having worked as chief designer at Givenchy from 1996 to 2001 and for founding his own Alexander McQueen label. His achievements in fashion earned him four British Designer of the Year awards (1996, 1997, 2001 and 2003), as well as the CFDA's International Designer of the Year award in 2003. McQueen died by suicide in 2010, at the age of forty, at his home in Mayfair, London. In this image: Burning Down the House, 1996 by David LaChapelle. ©David LaChapelle Studio.
---

Museums, Exhibits, Artists, Milestones, Digital Art, Architecture, Photography,
Photographers, Special Photos, Special Reports, Featured Stories, Auctions, Art Fairs,
Anecdotes, Art Quiz, Education, Mythology, 3D Images, Last Week,
.
---
Royalville Communications, Inc
produces: