After four years of renovation and redesign, the Museum of Warsaw reopens
The staff of the Museum of Warsaw prepare for its reopening after four years of renovation and redesign on May 26, 2017 in Warsaw. The new main exhibition tells the history of the capital, 90 percent of which was destroyed during World War II, via some of the objects that remain. JANEK SKARZYNSKI / AFP.

by Anna Maria Jakubek
WARSAW
(AFP)
.-
Curator Jaroslaw Trybus points to a glass display case with an ornate brass door handle inside. Seemingly banal, the 19th-century curio is one of the few things that remains of Warsaw's old city hall, which like 90 percent of the Polish capital, was destroyed during World War II. "The door handle was ripped out by force, which you can see by the trim plate, by the city hall janitor during the Warsaw Uprising," Trybus told reporters at the Museum of Warsaw, which reopened Friday after four years of renovation and redesign. He "recognised that something had to be saved from city hall" as tens of thousands of Poles fought the occupying German Nazis in the ill-fated 1944 uprising. It was one of the war's bloodiest episodes, taking the lives of some 200,000 Warsaw residents. ...
More
The Best Photos of the Day
"Untitled (Woman on Rickshaw)" sets new world auction record for Tyeb Mehta
Sotheby's to exhibit and sell over 400 works from little-known art collection of Mario Testino
Exhibition explores entirety of German artist's five-decade career


Tyeb Metha's (1925-2009) Untitled (Woman on Rickshaw) painted in 1994 sold for £2,741,000 / $3,557,818. © Christie's Images Limited 2017.



LONDON.- The 22nd edition of the annual London South Asian Modern + Contemporary Art auction realized the highest result for any sale in this category to date in 2017. A total of £5,901,625 / $7,660,310 was achieved with exceptionally high sell through rates of 91% by lot and 95% by value, again the highest of any auction conducted in the category this year. Christie's welcomed clients from over 20 countries to its saleroom in London in person, over the telephone and via the internet. Internet bidding was very active throughout the one and a half hour long auction. 47% of all lots sold saw online bidding, either bought or directly underbid by collectors online with a total of 14 lots successfully sold to internet bidders. Furthermore, over 100 clients followed the auction online. "Today we had a very strong result, demonstrating that London remains a key location to offer South Asian Modern + Contemporary Art. Achieving ... More



Ugo Rondinone, NO.211 DREIZEHNTERSEPTEMBERZWEITAUSENDUNDN ULL, 2000. Edition Unique. Acrylic on canvas, 220 cm (86.61 in) diameter. Estimate £100,000-150,000. Courtesy Sotheby's.



LONDON.- We know the world of Mario Testino as viewed through the camera's lens; through the vibrant images that grace the pages of the world's leading magazines, and through the portraits that have defined and redefined our perception of the most influential figures of our time. But while Testino is known the world over for his photography, his complete immersion in the broader art world, as a collector and a philanthropist, is a story as yet untold. In September, a first, fully-embracing light will be cast on Testino's personal artistic journey with 'Shake It Up', an exhibition, and ultimate sale, of over 400 works, which form part of his personal collection. Formed over some 30 years, the collection brings together many of the artists Testino most admires, and whose visual language has helped to inform his world and vision. ... More



Markus Lüpertz, Stil: Eins-Zehn VII—große Form mit Linie 2 (Style: One-Ten VII—Large Shape with Line 2), 1977. Oil and distemper on canvas, 63 3/4 x 51 1/4 in. Private collection © 2017 Artists Rights Society (ARS), New York / VG Bild-Kunst, Bonn.



WASHINGTON, DC.- Opening on May 27, The Phillips Collection presents an exhibition celebrating prolific German artist Markus Lüpertz. Curated by Phillips Director Dorothy Kosinski, Markus Lüpertz explores the entirety of the artist's five-decade career with a survey of his earliest works along with more recent paintings. Organized in close collaboration with the artist and his long-time gallerist Michael Werner, the exhibition was first inspired by a generous gift in 2015 of artworks from Werner's personal collection. Markus Lüpertz, who began painting in a postwar Germany dominated by American Abstract Expressionism and Pop Art, has exhibited a preoccupation with the relationship between figuration and abstraction over the course of his career. Demonstrating this relationship through nearly 50 paintings, the exhibition at ... More
New York exhibition fetes 70 years of Magnum Photos
Nationally touring exhibition is the first to focus on Donald Sultan's The Disaster Paintings
Joslyn Art Museum announces opening of reinstalled European galleries


USA, 2008 (detail). © Alec Soth / Magnum Photos.



NEW YORK (AFP).- An exhibition spanning the second half of the 20th century and celebrating the last 70 years of the oldest photographic cooperative in the world opened in New York Friday. James Dean striding through Times Square, Pablo Picasso holding a parasol for French painter Francoise Gilot and Marilyn Monroe on "The Misfits" set -- just three of the iconic Magnum photographs that capture the spirit of the 20th century. More than 240 prints and 300 projected photographs are on display in "Magnum Manifesto" exhibition at Manhattan's International Center of Photography until September 3. Magnum Photos was created by Robert Cartier-Bresson, Robert Capa and two other photographers on February 6, 1947 after popping open a bottle of champagne at the Museum of Modern Art in New York. Cartier-Bresson intended it as a "photographic utopia" or "construction of observers." The New York exhibition ... More



Donald Sultan. Photo: Phyllis Rose.



WASHINGTON, DC.- In the early 1980s, painter, sculptor and printmaker Donald Sultan (born 1951) began working on industrial landscapes and explored the subject for nearly a decade. "Donald Sultan: The Disaster Paintings" is the first exhibition to focus on the series, and it is the first time a significant number of these paintings are being exhibited together. Although created in the 1980s, the social and cultural anxieties about the fragility of systems and structures that Sultan's "Disaster Paintings" convey address issues that are still relevant, making this a timely moment to reexamine this body of work. "The Smithsonian American Art Museum is pleased to present this important exhibition of paintings by Donald Sultan, an artist whose work both speaks to a particular moment in the history of American modernism and transcends the moment to confront issues that resonate with audiences today," said Stephanie Ste ... More



Jan van Goyen (Dutch, 1596–1656), Landscape with a Mill, 1634 (detail), oil on panel, 11-3/4 x 14 inches, Museum purchase with funds from the Berchel H. and Alice Dale Harper Estate, 2017.3.



OMAHA, NE.- A new presentation of Joslyn Art Museum's renowned collection of European art awaits visitors. The reinstallation of the Memorial Building's five south galleries offers a renewed perspective on the museum's significant holdings of European art for both long-time patrons and new audiences. The galleries begin with Medieval, Renaissance, and Baroque artists, continue with eighteenth- and nineteenth-century works by French and British painters, and conclude with Impressionism and the beginnings of modernism. The reinstallation addresses several objectives, including renovating the physical gallery spaces for the first time since 2000; treating paintings and sculpture in need of conservation; and providing up-to-date interpretive content, including new ... More
Japanese prints go on view at Lady Lever Art Gallery
Marilyn Monroe's final draft script for 'Something's Got to Give' up for auction
Phillips announces highlights from the upcoming Evening & Day Editions auctions


Danjuro the Seventh as Benkei the warrior monk 1852 by Utagawa Kunisada.



LIVERPOOL.- More than 40 prints bring to life the energy and spirit of 19th-century Edo (now Tokyo) to the Lady Lever Art Gallery from 26 May to 24 September 2017. The title of the exhibition, Edo Pop: Japanese prints, refers to the popular culture of Japan at the time. The exhibition delivers, with an extraordinary level of detail and compelling narratives, an intriguing world of urban celebrities, actors, sports champions, fashion icons and villains. Edo Pop features a Hokusai print from the same series as his famous image, the Great Wave. Accompanied by prints by other leading artists the exhibition will prove to visitors that there was much more to this richly creative city. On loan from the private collection of art historian and writer, Frank Milner, the show features work by leading Japanese printmakers such as Eisen, Kuniyoshi, Kunisada, Yoshitoshi, Sadahide and Kunichika; the last great master of the Kabuki actor ... More



The brad-bound draft is housed in its original blue Twentieth Century-Fox Film Corporation folder.



BOSTON, MASS.- Marilyn Monroe's final draft script for the unfinished 1962 film 'Something's Got to Give' will be auctioned by Boston-based RR Auction. The brad-bound draft is housed in its original blue Twentieth Century-Fox Film Corporation folder, with the front cover bearing the movie title and date "March 29, 1962," and is labeled in the upper right corner, "Final, Confidential, For Planning Purposes Only." The Nunnally Johnson screenplay consists of 149 total pages, with 18 of those pages bearing approximately 200 words written in either pencil or green ink in the hand of Monroe. The majority of Monroe's annotations occur between pages 71-84, a revised section of blue sheets dated April 18-20, 1962, and consisting of various dialogue notes, changes, and line strikes. Of particular interest are a pair of sheets tipped in between pages 107 and 108, which focus on an emotional reunion between Monroe ... More



David Hockney (b.1937), 17th April, from The Arrival of Spring in Woldgate, East Yorkshire in 2011 (twenty eleven), 2011. Estimate: £25,000-35,000. Image courtesy Phillips.



LONDON.- Phillips announced highlights from the upcoming Evening & Day Editions auctions. The Evening sale includes iconic works from Modern and Contemporary masters, including Pablo Picasso's Nature morte a la pasteque (Still Life with Watermelon), Richard Hamilton's Patricia I and III printed by Aldo Crommelynck with unique hand-colouring by the artist, Lucian Freud's Pluto, and Roy Lichtenstein's rare set of seven woodcuts, Expressionist Woodcut Series (Black State). A particularly strong selection of screenprints by Andy Warhol will also be offered, including Beethoven and Ingrid Bergman sets, a unique and experimental Jackie as well as the artist's first ever published print Cooking Pot. With a total of over 250 lots, the Day sale will be held on 7 June at 2pm (lots 62-264), with the Evening sale following at 6pm (lots 1-61) on the same day. Robert ... More
The Dallas Museum of Art opens major touring exhibition "Iris van Herpen: Transforming Fashion"
Exhibition showcases 75 detailed prints by John James Audubon
Carles Muro is the new adjunct curator of architecture of Serralves Museum


Iris van Herpen, Transforming Fashion at Dallas Museum of Art. Photo: Courtesy of Dallas Museum of Art.



DALLAS, TX.- The Dallas Museum of Art presents a major touring exhibition of work by visionary Dutch fashion designer Iris van Herpen, a cutting-edge artist inspired by diverse influences in the arts, sciences and philosophy. Iris van Herpen: Transforming Fashion features one-of-a-kind haute couture—acclaimed for its combination of traditional handcraftsmanship and futuristic, innovative materials and techniques—and includes some of the world's first examples of 3-D–printed fashion design. On view at the DMA May 21 through August 20, 2017, Iris van Herpen presents seven years of the artist's original haute couture. The exhibition, organized by the High Museum of Art, Atlanta, and Groninger Museum, the Netherlands, showcases 43 exquisite outfits from 15 of her collections. All outfits are displayed on custom mannequins and are made from an astonishing array of materials and methods that fuse ... More



John James Audubon (American, 1785–1851), Robert Havell (English, 1793–1878) (engraver), Painted Finch (Painted Bunting), 1829, hand-colored etching and aquatint, 19-1/2 × 12-1/4 in. (plate). On loan from a private collection. Image courtesy Joel Oppenheimer, Inc.



INDIANAPOLIS, IN.- This spring, experience nature indoors and out with Audubon: Drawn to Nature at the Indianapolis Museum of Art through July 30. The exhibition features the stunning works of John James Audubon, a key figure in ornithology, American art and conservation. Audubon: Drawn to Nature showcases 75 of the masterful handcolored etchings of birds that Audubon observed and hunted while living on the American frontier in the early 1800s. All the prints in the exhibition are on loan from a private collection. From owls to herons, to pelicans and flamingos, all of these amazing birds were part of Audubon's masterpiece, The Birds of America. To capture the country's greatest birds Audubon sat patiently in the wild, carefully noting the characteristics, ... More



In addition to teaching and practicing Carles Muro has continuously contributed to the architectural debate through writings and publications.



PORTO.- Architect Carles Muro will be the first Adjunct Curator of Architecture Programmes of the Serralves Museum. This new position has been created to recognize the growing importance of architecture as part of the Museum's artistic programme, in the wake of the gift of 40 projects from the Archive of Álvaro Siza and the institutional collaboration between the Serralves Foundation, the Canadian Centre for Architecture, Montreal and the Gulbenkian Foundation in Lisbon. Working with the Director of the Serralves Museum, the Adjunct Curator will advise on the ongoing treatment of and access to the Siza Archive and its contextualization relative to contemporary architecture, contribute to the exhibitions and public programmes for the Museum and advise on the future development of the museum´s collection of architecture related archives, as well as to expand the Museum's network of specialist partners, both nationally ... More
Conserving Dürer's Triumphal Arch
Flashback
On a day like today, The Golden Gate Bridge was officially opened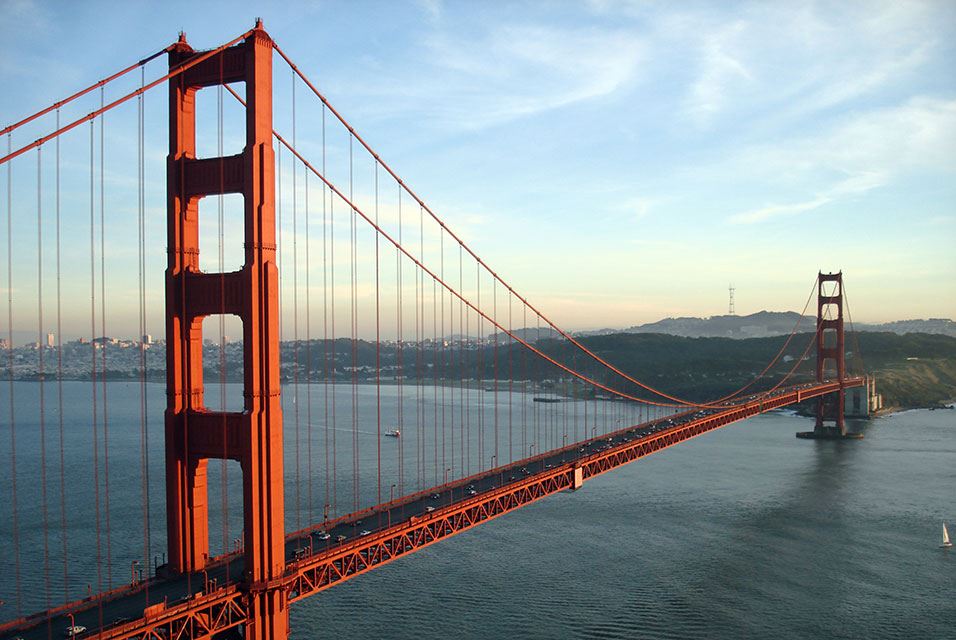 May 28, 1937. SAN FRANCISCO.- The Golden Gate Bridge is a suspension bridge spanning the Golden Gate, the opening of the San Francisco Bay into the Pacific Ocean. As part of both U.S. Route 101 and California State Route 1, it connects the city of San Francisco on the northern tip of the San Francisco Peninsula to Marin County. The Golden Gate Bridge was the longest suspension bridge span in the world when it was completed during the year 1937, and has become one of the most internationally recognized symbols of San Francisco, California, and of the United States. Since its completion, the span length has been surpassed by eight other bridges. It still has the second longest suspension bridge main span in the United States, after the Verrazano-Narrows Bridge in New York City.
---

Museums, Exhibits, Artists, Milestones, Digital Art, Architecture, Photography,
Photographers, Special Photos, Special Reports, Featured Stories, Auctions, Art Fairs,
Anecdotes, Art Quiz, Education, Mythology, 3D Images, Last Week,
.
---
Royalville Communications, Inc
produces: