Victoria & Albert Museum opens once in a lifetime medieval embroidery exhibition
An employee poses in front of The Vatican cope (1280-1300) from the Vatican City on display during a photo-call for the 'Opus Anglicanum: Masterpieces of English Medieval Embroidery' exhbition at the Victoria and Albert museum in central London on September 28, 2016. DANIEL LEAL-OLIVAS / AFP.
LONDON
.-
Masterpieces of English medieval embroidery from the
V&A
's world-class collections are reunited with works returning to England for the first time since they were created 700 years ago, in the largest exhibition on the subject in half a century. Due to the age and extreme fragility of these dazzling embroideries, the show, which runs until 5 February 2017 at the Museum, is probably the last time an exhibition of such scale will ever be staged. Opus Anglicanum: Masterpieces of English Medieval Embroidery displays over 100 exquisite hand-made objects associated with some of the most notable figures of the Middle Ages, from Edward I and his Queen Eleanor of Castile to Edward the Black Prince and the sainted martyr Thomas Becket. Latin for 'English work', the phrase 'opus anglicanum' was first coined in the 13th century to describe the highly-prized and luxurious embroideries made in England of silk and gold and ...
More
The Best Photos of the Day
Ancient Roman coins unearthed at Japan castle
Barnebys notes tenfold growth in value of African contemporary art
Chiostro del Bramante celebrates its 20th anniversary with exhibition


A 4th-century copper coin from ancient Rome after it was unearthed in Japan's Okinawa island. JIJI PRESS / AFP.



TOKYO (AFP).- Japanese archaeologists said Wednesday they have for the first time unearthed ancient Roman coins at the ruins of an old castle. The discovery of 10 bronze and copper coins -- the oldest dating from about 300-400 AD -- in southern Okinawa caught researchers by surprise. It was the first time Roman Empire coins have been discovered in Japan, thousands of kilometres from where they were likely minted. "At first I thought they were one cent coins dropped by US soldiers," archaeologist Hiroki Miyagi told AFP. "But after washing them in water I realised they were much older. I was really shocked." The sub-tropical island chain hosts a cluster of US military bases and thousands of troops. A team of researchers have been excavating Katsuren castle, which is a UNESCO world heritage site, since 2013. An X-ray analysis of the ... More



El Anatsui (Ghanaian, b. 1944), Diaspora, 2012. Lot ID: 118435. Archival dyes printed on cotton cloth, hand stitched, 54 x 54 in. (137.16 x 137.16 cm.) Signed, dated and numbered on verso. Edition 33/35. Parkett Editions, New York, pub.; Dyenamix, New York, prntr. Photo: Artnet auctions.



LONDON.- Things are suddenly moving fast in Africa's art market. After a decade in which Bonhams had Africa to itself – the only international fine art auction house holding sales of African Art in London and New York – there are now suddenly three other international auction houses in the field besides Bonhams. Pontus Silfverstolpe, co-founder of Barnebys, the world's leading art and auction search engine, says: "Now the world's leading auction houses have taken notice of all this new interest in African art and have taken the plunge. Suddenly we have a new scramble for Africa, and this time it's about art." Barneby's echoes CNN's findings on this market. CNN recently reported that ... More



Robert Indiana, Amor, 1998. Scultura, alluminio policromo (blue and red), 104x96,5x50,8 cm. Ed. 3/6 Courtesy: Galleria d'Arte Maggiore, G.A.M., Bologna, Italia © Robert Indiana by SIAE 2016.



ROME.- From 29 September 2016 to 19 February 2017 Chiostro del Bramante in Rome hosts LOVE. Contemporary art meets amour, curated by Danilo Eccher. Chiostro del Bramante is celebrating its 20th anniversary with an exhibition of international significance. It has been years since Rome's cultural landscape witnessed anything like this not-to-be-missed event, which endeavours to bring the city up to the level of the most respected international exhibition venues. For the first time, some of the most important contemporary artists will be shown together, including Yayoi Kusama, Tom Wesselmann, Andy Warhol, Robert Indiana, Gilbert & George, Francesco Vezzoli, Tracey Emin, Marc Quinn, Francesco Clemente and Joana Vasconcelos, with artworks that speak in highly ... More
Israel Antiquities Authority archaeologists find taboo toilet at ancient Jewish shrine
"The Power of the Avant-Garde: Now and Then" opens at BOZAR Centre for Fine Arts
Time machine: Web special and VR app visualise historical hangings at the Städel Museum


The authority said it was the first time an archeological find confirmed the practice of installing a toilet to discourage worship.



JERUSALEM (AFP).- Israeli archeologists have discovered a stone toilet while excavating a Jewish shrine at an ancient city gate, they said Wednesday, in evidence a biblical king tried to stamp out worship there. King Hezekiah deliberately defiled the eighth centry BC shrine at the door to the ancient city of Lachish, as part of a campaign to centralise Jewish ritual in Jerusalem, the Israel Antiquities Authority said. "A toilet was installed in the holy of holies as the ultimate desecration of that place," the IAA said in a statement. "A stone fashioned in the shape of a chair with a hole in its centre was found in the corner of the room." The authority said it was the first time an archeological find confirmed the practice of installing a toilet to discourage worship, which is referred to in the biblical Book of Kings in an account of King Jehu's fight against worshippers ... More



Fernand Léger, Les Hélices, 1918, Inv. 6534, Musées royaux des Beaux-Arts de Belgique, Bruxelles ©SABAM Belgium 2016.



BRUSSELS.- How relevant is the avant-garde, born on the eve of the First World War, today? The Power of the Avant-Garde. Now and Then attempts to answer this question by retracing the history of the great artistic movements of the historical avant-garde and inviting a number of contemporary artists to enter into dialogue with their predecessors. Starting out with James Ensor and Edvard Munch, the exhibition takes a look at movements such as Die Brücke, Der Blaue Reiter, the Italian Futurists, Russian Cubo-Futurism and the Bauhaus. The account is interspersed with contributions from around fifteen contemporary artists - including Luc Tuymans, Marlene Dumas, David Claerbout, Olafur Eliasson, William Forsythe and William Kentridge – who enter into dialogue with one particular avant-garde artist whose ... More



Time Machine. The Städel Museum in the Nineteenth Century. Photo: Städel Museum.



FRANKFURT.- As of today, the historical locations of the Städel Museum in the years 1816, 1833, and 1878, the respective presentations of the collection, and the works on display then can be viewed and relived online. The results of long-term research and reconstruction work on the history of collecting at the Städel Museum and the different forms of its holdings' presentation in the nineteenth century are now freely accessible at http://zeitreise.staedelmuseum.de. Another way of experiencing the research results virtually live is to download the app developed especially for the mobile virtual reality headset "Samsung Gear VR" from the Oculus Store. The website of the research project realised under Jochen Sander, Head of German, Dutch and Flemish Paintings before 1800, offers accurate and detailed 3D reconstructions of the presentation of the Städel's ... More
Frances Lehman Loeb Art Center announces a new photography gallery
White Cube Bermondsey opens major new exhibition by Antony Gormley
A new chapter begins for the Serpentine


Marie Cosindas, (American b. 1925), Yves St. Laurent, Paris, 1968. Collection Frances Lehman Loeb Art Center, Purchase, Advisory Council for Photography 2014.23. © Marie Cosindas.



POUGHKEEPSIE, NY.- The Frances Lehman Loeb Art Center at Vassar College announced the establishment of the Hoene Hoy Photography Gallery thanks to a recent endowment given to the Art Center by Anne Hoene Hoy, Vassar alumna in the class of 1963, in honor of her mother, class of 1930, and sister, class of 1966. Hoy, a former curator at the International Center of Photography, is the author of The Book of Photography: The History, the Technique, the Art, the Future and Fabrications: Staged, Altered and Appropriated Photographs, among other books, and has taught the histories of photography, modern and contemporary art, and graphic design at New York University since 1995. She is also a long-time member of the Art Center's Advisory Council for Photography, which underwrites photography acquisitions with its ... More



Antony Gormley, Sleeping Field, 2016 © the artist Photograph © Stephen White, London.



LONDON.- White Cube Bermondsey presents Fit, a major new exhibition by Antony Gormley. The sequel to his exhibition Model held here in 2012, Fit considers the degree to which we are measured by and measure ourselves against the scale and density of our built environment. Gormley has configured the gallery space into 15 discrete chambers to create a series of dramatic physiological encounters in the form of a labyrinth. Visitors will face a choice of passages through differently sized, uniquely lit spaces where each room challenges or qualifies the experience of the last. The artist's concerns with urban, corporate expansion are most clearly articulated in the expansive installation Sleeping Field (2015–16). Composed of nearly 600 small iron sculptures, at first glance the work looks like a carpet of charcoal grey blocks or a condensed landscape of high and low-rise buildings. Up close, the forms resolve into ... More



Lucy Raven: China Town, 2009; Photographic animation 51:30 mins.



LONDON.- In their first joint press conference, the new leadership of the Serpentine Galleries, CEO Yana Peel and Artistic Director Hans Ulrich Obrist, today announced a series of programmes and partnerships which will begin an exciting new chapter in the development of the Serpentine. The team outlined the new direction that the Serpentine will take with an emphasis on artists, audiences, technology, partnerships, innovation and accessibility for everyone. This includes the announcement of a year-long programme of exhibitions, the appointment of two new trustees, a new approach to the Serpentine Summer Pavilion and a series of innovative artists' partnerships. Artists play an important role in the running of the Serpentine and two new board members were announced today: leading international artist Lynette Yiadom Boakye and award-winning architect David Adjaye, whose recently ... More
Dickinson to present painting by Magritte at Frieze Masters 2016
The Non-Objective World: Sprovieri opens new exhibition
Daniel Crouch Rare Books to launch New York gallery


René Magritte, L'Empire des Lumières, 1949 (detail), 50 x 60 cm, oil on canvas, Private Collection.



LONDON.- Dickinson is delighted to offer René Magritte's L'Empire des lumières, 1949, as the main highlight of their Surrealism-themed stand at Frieze Masters 2016 - Surrealist Revolution. The fair will take place from 5-9 October, and Dickinson will present a selling exhibition of Surrealist paintings, drawings and sculptures, influenced by the theories of Breton and his friends in the 12 volume publication La Revolution Surréaliste. Magritte's oeuvre, and especially his L'Empire des lumières series, has exerted a lasting influence on the work of other artists and on pop culture. No other image by Magritte sold as well during the artist's lifetime. With its pivotal role in the development of Magritte's most famous imagery, and its fascinating history involving some of the biggest names in Modern American art history (Alexander Iolas ... More



Art & Language and Kabakov at Sprovieri. Courtesy of the artists and Sprovieri. Photograph by Matthew Hollow.



LONDON.- Sprovieri is pleased to present Art & Language and Ilya Kabakov in The Non-Objective World. The exhibition revisits the radical, early 20th century theoretical departure spelled out by Kasimir Malevich in his book, The Non-Objective World, not through his original Black Square paintings, but through related works by the important living conceptual artists, Art & Language (Michael Baldwin and Mel Ramsden) and Ilya Kabakov. As conceptual artists each has absorbed, over the last 50 years, the impact which Malevich has had on modern art and turned it into something of their own. For the first time, in a joint collaboration between Sprovieri and Jill Silverman van Coenegrachts, this connection between the greatest and most original abstract artist with leading conceptual ... More



The gallery will be at 24 East 64th Street, in the heart of New York's Upper East Side.



NEW YORK, NY.- Daniel Crouch Rare Books, internationally renowned specialist dealer in maps, atlases and rare books, is to open a gallery in New York, enabling the business to expand its operation into the United States. The gallery will be at 24 East 64th Street, in the heart of New York's Upper East Side. The premises will include exhibition space and offices and will open on 25 January 2017. The launch is timed to coincide with the Winter Antiques Show (20 - 29 January) and Bibliography Week (23 - 28 January) – two leading events in New York's cultural calendar. Daniel Crouch and Nick Trimming, partners in Daniel Crouch Rare Books, have appointed Noah Goldrach to manage the New York gallery for them. Daniel Crouch said, "We are delighted to expand our business further into the US market. We have exhibited ... More
Anger, Anxiety and the Apocalypse -- Henry Hudson at S|2
Flashback
On a day like today, Film star James Dean dies in a road accident aged 24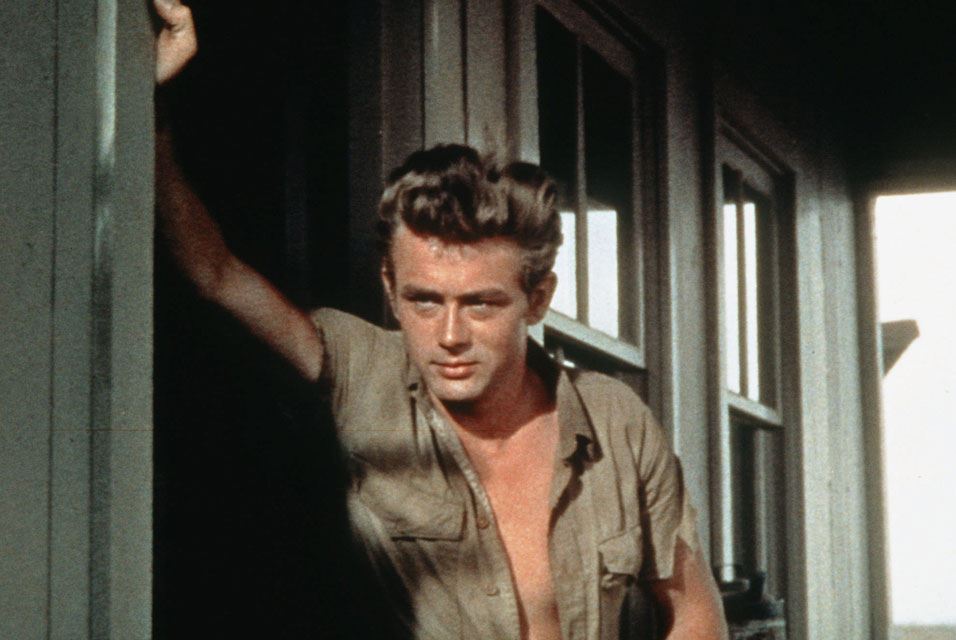 October 30, 1955. James Byron Dean (February 8, 1931 - September 30, 1955) was an American film actor. He is a cultural icon, best embodied in the title of his most celebrated film, Rebel Without a Cause (1955), in which he starred as troubled Los Angeles teenager Jim Stark. The other two roles that defined his stardom were as loner Cal Trask in East of Eden (1955), and as the surly ranch hand, Jett Rink, in Giant (1956). Dean's enduring fame and popularity rests on his performances in only these three films, all leading roles. His premature death in a car crash cemented his legendary status. In this image: Actor James Dean is seen in a scene from the Warner Bros. 1956 epic, "Giant." Years after the making of the movie, teenagers are still trying for the cool that was James Dean, the poster boy for the tortured netherworld between child and adult.
---

Museums, Exhibits, Artists, Milestones, Digital Art, Architecture, Photography,
Photographers, Special Photos, Special Reports, Featured Stories, Auctions, Art Fairs,
Anecdotes, Art Quiz, Education, Mythology, 3D Images, Last Week,
.
---
Royalville Communications, Inc
produces: