Hopper, de Kooning, Gorky and Stella hit new auction records in New York
Edward Hopper, Chop Suey, oil on canvas, painted in 1929 selling for 91,875,000, at Christie's New York, setting the world auction record for the category of American Art. © Christie's Images Limited 2018.
NEW YORK, NY
.-
Part One of
Christie's
sale of An American Place: The Barney A. Ebsworth Collection totaled $317,801,250, a vigorous start to the two-day dedicated sale of the travel entrepreneur's exceptional collection of 20th Century American art. The sale was 88% sold by lot, and 99% sold by value. Highlights of the collection include Edward Hopper's Chop Suey, 1929, the most important work by the artist still in private hands, which achieved $91,875,000, a record for the artist and the category of American Art. Willem de Kooning's Woman as Landscape also set an artist record at $68,937,500, and Jackson Pollock's Composition with Red Strokes sold for $55,437,500. Additional auction records were achieved for the following artists: Arshile Gorky, John Marin, Joseph Stella, Gaston Lachaise, Tom Otterness, Leon Polk Smith, Suzy Frelinghuysen, George Tooker, David Smith, Francis Criss, Charles Green Shaw, and Patrick Henr ...
More
The Best Photos of the Day
'Incomparable' pink diamond smashes record at Geneva auction
China Guardian Autumn Auctions 2018: Celebrating 25 years of art auction
Sotheby's sells the most expensive watch at auction in 2018 - The Asprey fetches $3.9m in Geneva


Christie's jewelry department head Rahul Kadakia holds the hammer during the "Magnificent Jewels" sale. Fabrice COFFRINI / AFP.



GENEVA (AFP).- An exceptionally rare 19-carat pink diamond fetched $50 million (44 million euros) at auction in Geneva Tuesday, Christie's said, setting a new per carat record for a stone of its kind. The Pink Legacy, which once belonged to the Oppenheimer family which for decades ran the De Beers diamond mining company, was snapped up by American luxury brand Harry Winston, part of the Swiss Swatch group. "$2.6 million per carat. That is a world record per carat for a pink diamond," said Francois Curiel, head of Christie's in Europe. "This stone is for me the Leonardo da Vinci of diamonds," he added. The stone was immediately rechristened the "Winston Pink Legacy" by its buyers. Christie's international head of jewellery, Rahul Kadakia, described The Pink Legacy as "one of the world's greatest diamonds". The rectangular- ... More



Sanyu, Pink Rose in a White Vase Painted in 1931. Oil on canvas, 65 x 49.5 cm. Estimate upon request.



HONG KONG.- It was a quarter of a century ago that the hammer first struck at China Guardian's inaugural sale at The Great Wall Hotel Beijing, marking the beginning of art auction in China. The rest is history. Celebrating the 25th anniversary of the Company, the China Guardian Autumn Auctions 2018 will take place on 20 – 24 November at the Guardian Art Center, preceded by a public preview on 17 – 19 Nov at the Beijing International Hotel. Categories to be offered include Chinese Paintings and Calligraphy, 20th Century and Contemporary Art, Ceramics and Works of Art, Classical Furniture and Works of Art, Rare Books and Rubbing Books, Stamps and Covers, Coins, Banknotes, Jewellery and Watches. A highly anticipated flagship sale at China Guardian, "Grand View: Chinese Paintings highlights – Modern" will be led by works by ... More



Sam Hines auctioneering The Asprey in Geneva. Courtesy Sotheby's.



GENEVA.- This evening, Sotheby's Geneva sold the most expensive watch auctioned this year. One of the world's most important vintage watches ever presented at auction, "The Asprey" soared to CHF 3,915,000 ($3,879,834). "The Asprey" - a Patek Philippe perpetual calendar chronograph reference 2499 manufactured in 1952 - was the star lot of an exceptional selection of world-class vintage wristwatches. The auction attracted over 900 bidders from 54 countries, with nearly a quarter of buyers choosing to buy online. Testament to the huge potential in this market and the depth of demand for the finest pieces, 30% of participants were new to Sotheby's. Enthused by the quality and expertise they found in today's sale, international collectors drove the final total of the "Important Watches" sale to CHF 12,208,000 ($ 12,098,372) – the second highest total in ten years for ... More
The Frost Art Museum FIU awards 2018 Benefactor Impact Award to Michael Spring
Christie's Paris announces sale of Asian Art including the prestigious collection of Lionel Fournier
Musée d'Orsay and Musée de l'Orangerie present first immersive experience in VR


Dr. Jordana Pomeroy & Michael Spring.



MIAMI, FLA.- "We believe strongly that art has helped to transform Miami, and that art transforms lives every day nationwide. For more than three decades, Michael Spring has championed not only Miami's cultural evolution, but also the nation's, through his work in leadership positions serving the top arts organizations in America. This is why we chose Michael Spring as our 2018 honoree for the Frost Art Museum FIU's Art Transforms Benefactor Impact award," said Dr. Jordana Pomeroy, museum director. As Senior Advisor to the Office of the Mayor, Michael Spring oversees Miami-Dade County's Cultural Affairs and Recreation portfolio, including the arts, parks and libraries. He is recognized nationally as one of America's longstanding champions for arts and culture. Spring has served on the Board of Directors of Americans for the Arts (the nation's leading nonprofit organization for advancing the arts in America); founding Board Member and Officer of A ... More



The sale will offer a very rare and exceptional imperial cloisonné enamel Taotie vase and cover. Estimate: €150,000-200,000. © Christie's Images Limited 2018.



PARIS.- On 12 December, the Asian Art department will present a sale offering 205 lots mainly coming from European private collections. The sale, estimated 4 to 6 million euros, will include 74 pieces coming from the prestigious collection of Lionel Fournier, a section dedicated to South-Eastern pieces and a beautiful group of Chinese jades coming from a private French collection. Lionel Fournier was a pioneer in celebrating esoteric Himalayan art. Indeed, when he pursued the family business of selling luxurious skins to prestigious fashion designers, he discovered Eastern Asian countries and their beautiful artistic production. Over the years, Fournier started to acquire several Asian art pieces and more specifically Tibetan, Himalayan and Nepalese works of art such as Thangkas, manuscripts, stone statues and bronzes figures. Fournier did numerous donations to the Musée Guimet which ... More



Claude Monet, the Water Lily obsession, by Nicolas Thépot © ARTE France, Lucid Realities, Camera lucida productions, Musées d'Orsay et de l'Orangerie, Gebrueder Beetz produktion, 2018.



PARIS.- For their first immersive project in virtual reality since the creation of a digital department, the Musée d'Orsay and Musée de l'Orangerie present a 360° experience in VR associated with the Monet – Clemenceau focus. This film exploring the genesis of Monet's final work has been produced in partnership with ARTE, Lucid Realities and Camera Lucida productions. This project was chosen by HTC as part of the Vive Arts programme, which assists the world's leading Museums in developing high quality immersive experiences. This project has also been designated a "Centenary" project, certified by the First World War Centenary Group. "Beyond painting and gardening, I'm good for nothing…" Claude Monet used to say. Even if these words make us smile today, the Water Lilies cycle, almost 250 paintings that the ... More
El Museo's Chair Emeritus, Tony Bechara gifts the museum $1 million dollars
Schomburg Center for Research in Black Culture acquires Ossie Davis and Ruby Dee archive
Mary Ceruti named next Executive Director of the Walker Art Center


Tony Bechara.



NEW YORK, NY.- Tony Bechara, El Museo del Barrio's esteemed Chair Emeritus of the Board of Trustees, has made a gift of one million dollars to support the museum's growing curatorial and education programs, as well as its endowment. "This is a significant moment for Latino artists and for El Museo. We are entering into a transformative period of achievement after some years of instability" said Tony Bechara. "Our galleries recently re-opened after a renovation to critical acclaim (The New York Times and The New Yorker). We are also proud to announce our theater will re-open in early 2019 after a state-of-the-art renovation. Our board has grown significantly with new members. We have a brilliant visionary in our new executive director Patrick Charpenel, as well as new directors of development and communications. For our community, for the artists we champion, for everyone who comes to El Museo to see Latino and Latin American culture ... More



The New York Public Library has acquired the full archive of actors and activists Ossie Davis and Ruby Dee. Courtesy of the Schomburg Center for Research in Black Culture/NYPL.



NEW YORK, NY.- The Schomburg Center for Research in Black Culture at The New York Public Library has acquired the full archive of actors and activists Ossie Davis and Ruby Dee. The extensive archive includes more than 178.85 linear feet of material spanning eight decades of the couple's careers in theater, film and television; their near 60-year relationship and marriage; and their social, civic, and political activities between 1932 and 2014. Correspondence between Davis and Dee included in the archive provides an intimate look into the couple's influence as partners in love and life. Handwritten letters between the two capture the affectionate moments of their courtship, proposal, and marriage. Exchanges with friends such as Malcolm X, James Baldwin, Langston Hughes, and Lena Horne reflect the breadth of their close relationships ... More



Mary Ceruti currently leads SculptureCenter. Photo: Sam Deitch, courtesy BFA



MINNEAPOLIS, MN.- The Walker Art Center announced today that Mary Ceruti will be its next Executive Director. Ceruti currently leads SculptureCenter, a multidisciplinary organization in Long Island City, New York, as Director and Chief Curator. She began her career at Philadelphia Museum of Art before serving as the Program Director for Capp Street Project in San Francisco. Ceruti has been with SculptureCenter since 1999. "Mary's visionary leadership of SculptureCenter, her dedication to supporting the most important emerging artists of our time, and her well-known track record of attracting and developing great talent made her a tailor-made choice to lead the Walker now. We couldn't be more excited for where Mary will take the Walker next." comments John Christakos, Walker Art Center Board President. Ceruti will assume the directorship of the Walker in late January 2019. She states, "The Walker has been ... More
Charles Gaines presents eight new works from his ongoing series Numbers and Trees at Max Hetzler
Rare calligraphy sells over ten times its pre-sale estimate at Chiswick Auctions
Christie's to offer Russian literary first editions and manuscripts


Charles Gaines, installation view, Galerie Max Hetzler, Berlin, 2018. Photo: def image. Courtesy of the artist and Galerie Max Hetzler, Berlin | Paris | London.



BERLIN.- Galerie Max Hetzler is presenting a solo exhibition with works by Charles Gaines at Bleibtreustraße 45. This is the artist's second solo exhibition with the gallery. Since the late 1970s, Charles Gaines is highly regarded as an important figure of conceptual art. In his drawings, works on paper and photographs he continually investigates how rule-based processes and systems construct the experiences of aesthetics, politics and language. By employing multi-layered practices, including images, texts and grids, as well as working in a serial character, Gaines examines image structures and critically questions forms of representation. His formal and at times mathematic methods are often ruptured by mysterious and illogical elements and thus explore what constitutes the rational and the irrational, the objective and the subjective. In his exhibition with ... More



HONGLI (Emperor Qianlong) (1711 – 1799), Poem in Running Script (detail). Ink on paper, hanging scroll, signed Yu'bi, 158 x 53cm.



LONDON.- Chiswick Auctions announced the exceptional result of a rare calligraphic work by the Qianlong Emperor of the Qing Dynasty. The Qianlong Emperor (1711-1799) was arguably the greatest collector and patron of the arts in more than 5000 years of Chinese history. The piece achieved £70,000 against a pre-sale estimate of £6,000-£8,000. The Emperor was also a poet and calligrapher in his own right having written tens of thousands of poems during his lifetime. His collection spanned Chinese, European, Japanese and Indian works. The present work is a poem by Wei Zhuang (836-910) which was included in Literary Compendium, the Complete Library in Four Branches of Literature commissioned by the Qianlong Emperor in 1772. Whilst Imperial works from the Qianlong Emperor's reign come up for auction from time to time, works by the Emperor himself, whose official ... More



A presentation copy of the first edition of Kamen (1913) inscribed by Mandel'shtam. Estimate: £60,000-90,000



LONDON.- On 28 November, Christie's will present the single owner auction Russian Literary First Editions and Manuscripts: Highlights from the R. Eden Martin Collection, which features 228 lots of fine Russian books and manuscripts, primarily from Russia's Golden Age and Silver Age of literature (the early 19th and early 20th centuries respectively). Built over the past two decades by the American Chicago lawyer R. Eden Martin, this is one of the last great private collections of Russian literature in America. The collection is highlighted by a presentation copy of the first edition of Kamen (1913), which was inscribed by Mandel'shtam for his early mentor, the poet Viacheslav Ivanov (estimate: £60,000-90,000). Further highlights include a first edition of Gogol's rare first masterpiece Vechera na khutore bliz dikan'ki (1831-32) (estimate: £50,000-70,000) and the first part of Pushkin's Evgenii Onegin (1825) ... More
Katie Paterson Interview: A Trampoline for the Imagination
Flashback
On a day like today, American painter Georgia O'Keeffe was born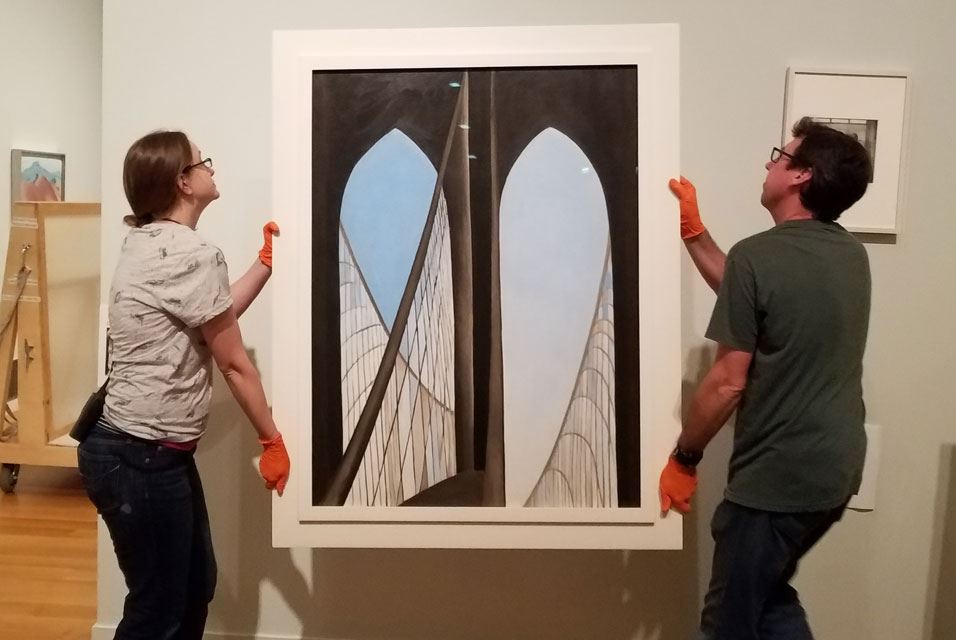 November 15, 1887. Georgia Totto O'Keeffe (November 15, 1887 - March 6, 1986) was an American artist. She was best known for her paintings of enlarged flowers, New York skyscrapers, and New Mexico landscapes. O'Keeffe has been recognized as the "Mother of American modernism".
---

Museums, Exhibits, Artists, Milestones, Digital Art, Architecture, Photography,
Photographers, Special Photos, Special Reports, Featured Stories, Auctions, Art Fairs,
Anecdotes, Art Quiz, Education, Mythology, 3D Images, Last Week,
.
---
Royalville Communications, Inc
produces: