Rare silk Koran helps preserve Afghanistan's cultural heritage
In this photograph taken on April 19, 2018 Afghan master miniature artist Mohammad Tamim Sahibzada shows a handmade Koran made with silk fabric at the Turquoise Mountain Foundation in Mourad Khani, in the old city section of Kabul. One of the only Korans ever made from silk fabric has been completed in Afghanistan -- a feat its creators hope will help preserve the country's centuries-old tradition of calligraphy. WAKIL KOHSAR / AFP.

by Allison Jackson
KABUL
(AFP)
.-
One of the only Korans ever made from silk fabric has been completed in Afghanistan -- a feat its creators hope will help preserve the country's centuries-old tradition of calligraphy. Each of the Islamic holy book's 610 pages was produced by hand in a painstaking process that took a team of 38 calligraphers and artists specialising in miniatures nearly two years to finish. Bound in goat leather and weighing 8.6 kilograms (19 pounds), the Koran was produced by Afghan artisans, many of them trained at British foundation Turquoise Mountain in Kabul. "Our intention was to ensure that calligraphy does not die out in this country -- writing is part of our culture," Khwaja Qamaruddin Chishti, a 66-year-old master calligrapher, told AFP in a cramped office inside Turquoise Mountain's labyrinthine mud-brick and wood-panelled complex. With the Koran considered a sacred text, calligraphy is highly venerated in Islam and Islamic art. ...
More
The Best Photos of the Day
Exhibition at Tate Liverpool highlights the expressive nature of the human body
Christie's announces Magnificent Jewels & The Collection of Peggy and David Rockefeller
Christie's Spring Season of American Art totals $141,650,875


Egon Schiele, Standing Male Figure (Self-Portrait), 1914. Gouache and graphite on paper, 460 x 305 mm. National Gallery, Prague. Photograph © National Gallery in Prague 2017.



LIVERPOOL.- Tate Liverpool presents an exhibition that highlights the expressive nature of the human body, seen through the eyes of two influential and innovative artists. Life in Motion combines the work of radical Austrian expressionist Egon Schiele (1890 – 1918) and American photographer Francesca Woodman (1958 – 1981), and investigates their incredible ability to capture and suggest movement to create dynamic, extraordinary compositions. Working at either end of the twentieth century, Woodman's photographs help to refocus how we see the work of Schiele, highlighting how the latter's practices and ideas continue to have a relevance to contemporary art. Renowned for their nude portraits and self-portraits, Schiele and Woodman lay bare their subjects' raw emotional state and physical tensions in intimate and unapologetic work. Life in Motion: Egon Schiele/ Francesca Woodman sheds new light on the intensity ... More



A Burma Ruby and Diamond Ring of 4.59 Carats, by Tiffany & Co. Estimate: $400,000-600,000. © Christie's Images Limited 2018.



NEW YORK, NY.- Christie's New York announces the June 12 auction of Magnificent Jewels & The Collection of Peggy and David Rockefeller and the concurrent Jewels Online Auction from June 6-14. Among the top lots of the sale is a Cushion-Cut Diamond weighing 20.47 carats that is D color, Flawless clarity (estimate: $2,500,000-3,500,000), and a Magnificent Diamond Fringe Necklace set with large colorless pear shaped diamonds ranging from D to F color and Internally Flawless to VS2 clarity (estimate: $1,500,000-2,000,000). The auction includes a notable selection of diamonds, colored diamonds, and gemstones, along with important signed pieces by Bulgari, Cartier, David Webb, Harry Winston, Tiffany & Co., Raymond Yard, and Van Cleef & Arpels. The sale will offer 189 lots, with estimates ranging from $3,000 to $3,500,000. The Collection of Peggy and David Rockefeller presents a rare opportunity for collectors to acquire significant signed jewels, ... More



Georgia O'Keeffe (1887-1986), Hibiscus, oil on canvas. Painted in 1939. Price Realized: $4,812,500. © 2018 Georgia O'Keeffe Museum / Artists Rights Society (ARS), New York.




NEW YORK, NY.- Christie's American Art sale on May 22 realized $32,843,500, with 82% sold by lot and 91% sold by value and the American Art Online Auction totaled $1,923,875, with 77% sold by lot and 100% sold by value. Together with the Art of the Americas, Evening Sale from The Collection of Peggy and David Rockefeller, the spring season of American Art totals $141,650,875. The top lot of the May 22 sale was Georgia O'Keeffe's seminal work, Hibiscus, painted in 1939 during her three-month Hawaiian sojourn at the behest of the Hawaiian Pineapple Company, which realized $4,812,500.Other notable lots include Milton Avery's Red Nude which sold for $3,012,500, more than double its high estimate, Norman Rockwell's Piano Tuner, which sold for $2,772,500, and Childe Hassam's Conversation on the Avenue which brought in $2,412,500. The top ... More
American literary giant Philip Roth dead at 85
Sale celebrates the genius of Thomas Chippendale's designs & the perfection of his execution
Exhibition at Alfstad& Contemporary features a variety of work on paper, mixed media and painting by Laine Nixon


This file photo taken on March 02, 2011 shows US novelist Philip Roth during a ceremony at the White House in Washington DC, where he recieved the National Humanities Medal. Jim WATSON / AFP.



NEW YORK (AFP).- Prolific novelist Philip Roth, a dominant force in American literature throughout the latter half of the 20th century, has died at the age of 85. Roth's death on Tuesday, first reported by the New Yorker and The New York Times, was later confirmed by Roth's literary agent Andrew Wylie. He said the cause was congestive heart failure. Roth won the 1998 Pulitzer Prize for fiction for his acclaimed novel "American Pastoral." "I'm in a state of shock. I'm stunned and speechless. He was a truth teller," Roth's friend Judith Thurman, also a writer, said. A prolific essayist and critic, Roth was best known for mining the Jewish-American experience in his work. He first achieved fame for his 1969 novel "Portnoy's Complaint," about a horny teenager named Alexander Portnoy. His titanic stature on the post-World War II literary scene came from the universality of his message -- in his own words: "I don't write Jewish, I write ... More



Thomas Chippendale, A George III Indian rosewood, fustic, tulipwood and marquetry dressing bureau. Estimate: £300,000-500,000. © Christie's Images Limited 2018.



LONDON.- On 5 July, Christie's landmark sale Thomas Chippendale 300 Years will celebrate the genius of Chippendale's designs and the perfection of his execution, in the 300th anniversary year of his birth. Taking place during Christie's Classic Week, the dedicated London auction will present 22 lots with estimates ranging from £5,000 to £5 million. A selection of works will be on public view at Christie's London headquarters until 25 May, with the full pre-sale exhibition opening from 30 June to 5 July. Collectively, the sale encompasses some of the grandest pieces of 18th century furniture ever created, including Sir Rowland Winn's Commode (estimate: £3-5million) and The Dundas Sofas (each sofa with an estimate of £2-3million). Remembered as 'The Shakespeare of English Furniture makers', Chippendale was the master of many mediums. This is highlighted by the breadth of works being offered, including his g ... More



Nixon's series, "Assent," consists of fifty abstract watercolors on paper, each torn into similarly sized strips, that were rearranged into four final assemblages.



SARASOTA, FLA.- Alfstad& Contemporary announces an exhibition of recent works by Laine Nixon. In this solo exhibition, her first in Sarasota, Nixon explores the mutable nature of art through work on paper, mixed media, and painting. The show's title, "Unfixed," refers to her working methods of creating, altering, covering up, or exposing various painting methods on a single surface. The exhibit opens May 24, 2018, and runs through June 29th. Nixon's series, "Assent," consists of fifty abstract watercolors on paper, each torn into similarly sized strips, that were rearranged into four final assemblages. Fragments from the original works join with remnants of others to form a harmonized union of line, form and color. The artist interrupts her vertical configurations of horizontal bands with the diagonal weaving of one final strip. Her delicacy of coloration asserts itself and the rhythm of her motifs is beautiful and engaging while ... More
Christie's announces highlights of the spring sale 'Interiors: New York Visions'
World auction records achieved for rare Escher prints at Bonhams
Williams College announces new art museum Director


Robert Couturier pictured in his studio. Photo: Tim Street-Porter.



NEW YORK, NY.- Christie's announced the spring sale Interiors: New York Visions taking place on June 6, 2018 in New York. The auction encompasses collections from three celebrated style and design icons including The Estate of Kenneth Jay Lane, The Collection of Arnold Scaasi and Parker Ladd, and Robert Couturier: Elements of Style, presenting over 350 lots of decorative art and fine art from their collections. Additionally, over 30 signed pieces of jewellery are being offered from the Kenneth Jay Lane, Inc. Archives including a selection shown at the Rhode Island School of Design exhibition, Fabulous Fakes: Jewelry by Kenneth Jay Lane (2007-08). The full sale will be on view at Christie's New York June 2-5. Jewellery designer Kenneth Jay Lane embodied glamour, elegance, and joie de vivre. A self-declared "fabulous fake" and unwavering proponent of fashion as fantasy, he presided over a moment in which the world's ... More



Maurits Cornelis Escher (1898-1972), Sky and Water I (Lucht en Water I) (B. 306), 1938 (detail), Price realized: $37,500. Photo: Bonhams.



NEW YORK, NY.- The May 22 sale of Modern & Contemporary Prints & Multiples at Bonhams achieved US$1,227,500 and the top lot of the sale was Andy Warhol's Rebel Without a Cause, which realized $125,000. World auction records were achieved for Maurits Cornelis Escher's Relativity and Sky and Water I, as well as Wayne Thiebaud's Country City, 1988. Deborah Ripley, Director Prints & Multiples, New York, commented: "We saw strong bidding across the board and we are especially pleased with the exceptional results achieved for both rare prints by Maurits Cornelis Escher, which came from a private collection in the mid-west. The impeccable provenance and scarcity certainly captivated Escher collectors." Relativity, as well as an earlier woodcut Sky and Water I, 1938 come from the collection of Robert and Wilcke Smith. Both commercial artists, they ... More



Franks is currently the senior deputy director and Seymour H. Knox, Jr., Curator of Modern and Contemporary Art at the Yale University Art Gallery. Photo: Jessica Smolinski, Yale University Art Gallery.



WILLIAMSTOWN, MASS.- Williams College has announced the appointment of Pamela Franks as the Class of 1956 Director of the Williams College Museum of Art. Franks is currently the senior deputy director and Seymour H. Knox, Jr., Curator of Modern and Contemporary Art at the Yale University Art Gallery (YUAG) and previously worked at the Nasher Sculpture Center in Dallas. Franks, who will begin her appointment in mid-September, comes to WCMA with a passionate commitment to the role of the museum in higher education and the inspiration art can bring to all audiences. After earning her Ph.D. in the history of art from the University of Texas at Austin, Franks started her career as a postdoctoral curatorial fellow at YUAG and became its first curator of academic affairs in 2004. Throughout her 14-year ... More
The Brooklyn Museum presents 'Cecilia Vicuña: Disappeared Quipu'
Irving Penn's Cuzco Children could bring $150K at Heritage Auctions' June 5 Photographs Auction
Art Fund reports record-breaking year


Cecilia Vicuña with Quipu Austral, 2012–13. Unspun dyed wool, collection of 49 Nord 6, Est—FRAC Lorraine, Metz. France. Installation view, courtesy of the artist and FRAC Lorraine. Photo: Eric Chenal.



BROOKLYN, NY.- The Brooklyn Museum is presenting Cecilia Vicuña: Disappeared Quipu, a major immersive installation that combines enormous strands of knotted wool with video to honor an ancient Andean tradition. Cecilia Vicuña's monumental work - measuring more than 24 feet high-offers a contemporary activation and reimagining of quipus, complex record-keeping devices created by the ancient peoples of the Andes for millennia. The exhibition is presented by the Elizabeth A. Sackler Center for Feminist art and located in the Museum's Great Hall. In a career spanning five decades, the artist, poet, and filmmaker Cecilia Vicuña has transformed the rich cultural legacies of the Andean region, reimagining the historical within her contemporary practice. With feminism as a unifying theme she explores the shifting nature of language and memory; the resilience of native people ... More



Irving Penn (American, 1917-2009), Cuzco Children, Peru, December, 1948 (detail). Platinum-palladium, flush-mounted to aluminum, 1978, 19-1/2 x 20-1/4 inches. Estimate: $100,000 - $150,000.



DALLAS, TX.- A powerful image by American photographer Irving Penn could bring as much as $150,000 in Heritage Auctions' Photographs Auction June 5 in New York. "This auction has an exceptional array of works by outstanding photographers," Heritage Auctions Photographs Director Nigel Russell said. "The sale features masterworks from the Sato Collection by Penn, Avedon, Newton, Herb Ritts and others. Several of the lots are rare images from limited editions that rarely appear at auction, making them even more appealing to serious collectors." Irving Penn Cuzco Children, Peru, December, 1948 (est. $100,000-150,000) is a platinum-palladium image, flush-mounted to aluminum. It is signed, titled, dated and editioned "40/60" with a "1428" notation in pencil with the Penn Condé Nast copyright credit reproduction limitation stamp, and stamped "In addition ... More



£5.5m given to 94 organisations for the purchase of 200 works of art and objects – 85% of grants going to organisations outside of London.



LONDON.- This week, Art Fund, the national charity for art, published its 2017/18 annual report. It showed Art Fund's charitable programme helped more museums and galleries nationwide and inspired more people to see more art than ever before in its 115-year history. Highlights from the past year include: • £5.5m given to 94 organisations for the purchase of 200 works of art and objects – 85% of grants going to organisations outside of London • The £750,000 Weston Loan Programme with Art Fund was launched to enable smaller and local authority museums to borrow objects from national collections • Hepworth Wakefield won the £100,000 Art Fund Museum of the Year 2017, with other finalist museums receiving £10,000 each • National Art Pass holders rose to 139,000, including 12,000 students taking up Art Fund's £5 Student Art Pass. Art Fund chairman, Lord Smith of Finsbury, said: 'As we ... More
Eduardo Chillida: Sculptor
Flashback
On a day like today, Russian painter Lyubov Popova died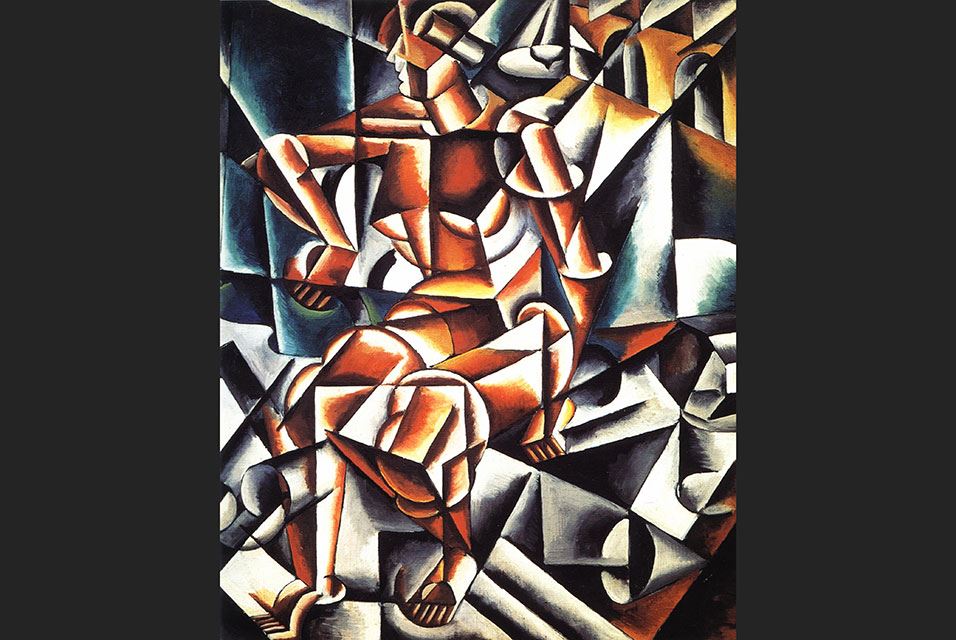 May 25, 1924. Lyubov Sergeyevna Popova (April 24, 1889 - May 25, 1924) was a Russian avant-garde artist (Cubist, Suprematist and Constructivist), painter and designer. In this image: Air+Man+Space, 1912, Oil on canvas, 125 x 107 cm, The State Russian Museum, St. Petersburg.
---

Museums, Exhibits, Artists, Milestones, Digital Art, Architecture, Photography,
Photographers, Special Photos, Special Reports, Featured Stories, Auctions, Art Fairs,
Anecdotes, Art Quiz, Education, Mythology, 3D Images, Last Week,
.
---
Royalville Communications, Inc
produces: