Exhibition of masterpieces from the Leiden Collection opens at the Louvre Museum
American art collector Thomas Kaplan poses for a photograph during the exhibition "Masterpieces from the Leiden collection" at the Louvre museum in Paris, on February 17, 2017. The Louvre museum will exhibit a selection of masterpieces by 17th-century Dutch painters from the collection of Thomas Kaplan. FRANCOIS GUILLOT / AFP.
PARIS
.-
As part of its season devoted to the Dutch Golden Age, the
Musée du Louvre
is presenting a selection of masterpieces by 17th-century Dutch painters from the collection of Thomas Kaplan and his wife, Daphne Recanati Kaplan. This selection, brought together at a major international museum for the first time, showcases the largest private collection of works by Rembrandt. Visitors will discover some thirty paintings and drawings by the greatest painters of the Golden Age from the region of Leiden in the Netherlands, primarily ten works by Rembrandt and a painting recently attributed to the artist. Among the Leiden Collection's Rembrandt paintings is the Minerva, a particularly spectacular large-format work, part of a series of strong women and mythological goddesses. As its name indicates, this collection highlights the "fine painters" of Leiden, among them Gerrit Dou and Frans van Mieris. It also includes a number of Rembr ...
More
The Best Photos of the Day
Howard Greenberg Gallery exhibits photographs by Weegee
Hitler's 'destructive' wartime phone up for auction
Hungarian slaughterhouse love story wins Berlin fest's Golden Bear


Rivington & Attorney Streets, Lower East Side, c.1940s. Gelatin silver print, 13 1/2 x 10 3/4 inches.



NEW YORK, NY.- Weegee, an exhibition of work by the iconic photographer, are on view at Howard Greenberg Gallery from February 16 – April 1, 2017. Focusing predominantly on his most prolific decade, the 1940s, the exhibition presents more than 40 images including rare work as well as a number of prints that solidified his extraordinary legacy. As a photographer and photojournalist, Arthur Fellig (Weegee) was in his own words "spellbound by the mystery of murder." His uncanny ability to make early appearances at scenes of violence and catastrophe earned him the name Weegee (appropriated from the Ouija board). His film noir style and dry wit combined with his sensational images of the naked city, often taken at night with a strong flash, have earned him a reputation as one of the greatest street photographers of the 20th century. Among the highlights in the exhibition is a 1936 self portrait of Weegee getting his own mug s ... More



Originally a black Bakelite phone that was later painted crimson and engraved with Hitler's name, the relic was found in the Nazi leader's Berlin bunker in 1945 following the regime's defeat.



WASHINGTON (AFP).- Adolf Hitler's personal telephone, which the Fuehrer used to dictate many of his deadly World War II commands, will hit the auction block this weekend, the US house selling it announced. Originally a black Bakelite phone that was later painted crimson and engraved with Hitler's name, the relic was found in the Nazi leader's Berlin bunker in 1945 following the regime's defeat. Auction house Alexander Historical Auctions estimates its worth between $200,000 and $300,000. On Sunday, the company, located in the eastern US coastal state of Maryland, will auction off more than a thousand items -- including the Siemens rotary telephone embossed with a swastika and the eagle symbolic of the Third Reich. Alexander House dubbed the phone -- which Hitler received from the Wehrmacht, Nazi Germany's armed ... More



Hungarian director Ildiko Enyedi takes a bow after receiving the Golden Bear for Best Film "On Body and Soul" at a press conference after the Award Ceremony of the 67th Berlinale film festival in Berlin on February 18, 2017. Odd ANDERSEN / AFP.



BERLIN (AFP).- Hungary's "On Body and Soul", a tender love story set in a slaughterhouse, won the Golden Bear top prize Saturday at the Berlin film festival, Europe's first major cinema showcase of the year. The drama by Ildiko Enyedi, one of four female filmmakers in competition, features graphic scenes in an abattoir set against the budding romance of two people who share a recurring dream. The win marked an upset at the 11-day Berlinale, where a European refugee comedy by cult Finnish filmmaker Aki Kaurismaki, "The Other Side of Hope", had been the odds-on favourite. Kaurismaki took the Silver Bear for best director. Enyedi thanked the festival for embracing her first full-length feature in 18 years. "We wanted to present you a very simple film like a glass of water ... More
'Pioneers to Professionals: Women and the Royal Navy' opens at the National Museum of the Royal Navy
Daily Self-Portraits by Melissa Shook opens at Joseph Bellows Gallery
New exhibition from the Danish collective SUPERFLEX opens at Von Bartha, S-chanf


These Wrens at Chatham helped to feed the 6,000 sailors on the establishment during the First World War.



PORTSMOUTH.- Following a recent government announcement, women can soon join any branch of the Royal Navy providing they have the necessary skills. This is a marked contrast to 100 years ago when the Women's Royal Naval Service motto was 'Never at Sea'. Yet women were actively working on board serving ships and supporting naval operations long before this. A new exhibition at The National Museum of the Royal Navy, Portsmouth Historic Dockyard, reveals the remarkable stories of naval women. Opening in the centenary year of the formation of the Women's Royal Naval Service (WRNS), the exhibition 'Pioneers to Professionals' celebrates women's contribution to the naval services for the last 250 years. The exhibition features objects that illustrate the stories of early pioneers who disguised themselves as men or accompanied their husbands ... More



Melissa Shook, April 4, 1973 (detail), vintage gelatin silver print, 4 ¼ x 4 ⅜ inches.



LA JOLLA, CA.- Joseph Bellows Gallery announces its solo exhibition, Daily Self-Portraits by Melissa Shook. The exhibition opened on February 18th and continues through March 31st, 2017. In 1972, curious about the problem of identity, Shook began an ambitious project of photographing herself everyday for a year. The sum of this impressive undertaking resulted in a compelling set of intimately scaled black and white photographs that range from the artist performing for the camera, to the camera describing the physicality of her being. These early influential photographs will be complimented with a selection of recent daily photographs from 2014-15 that combine individual text entries with a self-portrait image; both text and image act as a diary, reflecting upon the complexities of the human condition. Along with her daily portraits, the gallery will be exhibiting a collection of her extended portraits ... More



SUPERFLEX, Hospital Equipment, 2014. Photo PalMedSUPERFLEX, courtesy the artists.



S-CHANF.- Von Bartha, S-chanf, announces Hospital Equipment, a new exhibition from the Danish collective SUPERFLEX, running February 17 – March 18 2017. Working closely with the Salamieh Hospital in Hawarti, Syria, SUPERFLEX have sourced necessary surgical tools - a mobile lamp, a surgeon's table and a surgical bearing - which are exhibited within the gallery space. Following the exhibition, the tools - conceived as a single artwork - will be shipped directly to the hospital where they become a functional part of the centre, used by staff and patients. The artists describe the work as "a ready-made, upside down". Known for their subversive analysis of our economic and social structures, SUPERFLEX powerfully re-examine the boundaries of art practice. Whilst installed within von Bartha's gallery space, Hospital Equipment exists as an artistic installation. Once shifted to its new context (that of the Syrian hospital), ... More
PDNB Gallery opens exhibition of photographs of the South and a solo show by Jeanine Michna-Bales
The Rijksmuseum opens 'Good Hope: South Africa and The Netherlands from 1600'
New exhibition explores chocolate as a commodity in 18th-19th century New York


Birney Imes, Arcola Cafe, Arcola, Mississippi, 1985, Courtesy PDNB Gallery, Dallas, TX.



DALLAS, TX.- From a cotton plantation just south of Natchitoches, Louisiana, all the way north to Canada, Jeanine Michna-Bales has created a photographic journey of a slave's long road to freedom, circa 1840. Under the cover of darkness, an estimated 100,000 slaves traveled north to freedom in the decades prior to the Civil War. They had little knowledge of the trails that lead to their liberty. To find north was to look for moss growing on the north side of trees or by observing the North Star located by the Big Dipper. Michna-Bales takes you on a dark lit passage through demanding terrains and ominous river crossings in Louisiana, Mississippi, Alabama, Tennessee, Kentucky, Indiana, Michigan, and finally Ontario, Canada. The threatening rivers crossed included the Mississippi, Tennessee and the Ohio River (The River Jordan). Michna-Bales decade long project uncovered roughly 1,400 miles, revealing actual sites, cities and places that freedom-seekers passed through. Homes of Abolitionists ... More



A woman looks at items displayed at the exhibit "Good Hope: South-Africa and The Netherlands from 1600" at the Rijksmuseum in Amsterdam. Remko de Waal / ANP / AFP.



AMSTERDAM.- The Rijksmuseum is presenting the first major exhibition about the relationship between South Africa and the Netherlands. 400 years of emotive history in 300 items, most of which come from South Africa. Robert Jacob Gordon's landscape panoramas, several metres long, occupy a prominent place in the exhibition. This Dutch traveller illustrated 18th-century South Africa, giving the country an identity. The imposing portraits of children born after 1994 – when apartheid was abolished – by the South African photographer Pieter Hugo illustrate South Africa's future. Along with the exhibition, the NTR (Dutch public-service broadcaster) will be broadcasting a seven-part TV series presented by Hans Goedkoop. Martine Gosselink, Head of the History Department at the Rijksmuseum and the exhibition's producer: The arrival of the Dutch changed South Africa once and for all. The population's composition and ... More



Cadbury's Cocoa "Is Absolutely Pure" Illustrated London News, Oct. 5, 1889. 13 3Ž4 x 17 3Ž4 in. Private Collection.



NEW YORK, NY.- The Morris-Jumel Mansion, Manhattan's oldest house, is presenting a special exhibition exploring cacao and chocolate as a commodity and emerging breakfast tradition in colonial and post-colonial America. Stephen Jumel's role as an importer and purveyor is being revealed in archival material from MJM's collection. The exhibition focuses on how cocoa-typically sold in "cakes" and served as a hot drink flavored with vanilla, honey, and spices-became a popular beverage during Eliza Jumel's lifetime (1775-1865). Known for its effect as a stimulant and easily transported, both British and American soldiers were supplied with cocoa cakes to mix with hot water for breakfast. Benjamin Franklin, who sold chocolate in his Philadelphia print shop, ensured that the Continental Army marching against General Braddock's forces in 1755 were equipped with chocolate to boost their energy. In 1785, Thomas Jefferson predicted that cocoa would become ... More
Migros Museum für Gegenwartskunst presents the first extensive exhibition of Liz Magor's oeuvre in Switzerland
Mickey Mantle historic home run jersey among coveted gems at Heritage Auctions sale
Vancouver Art Gallery presents the most extensive solo exhibition of artist Susan Point


Liz Magor, Carton II, 2006. Polymerized gypsum, cigarettes, chewing gum, matches, lighters, 29.2 x 53.3 x 48.2 cm. Collection du Musée d'art contemporain de Montréal. Photo : Richard-Max Tremblay.



ZURICH.- In her native Canada and beyond, the artist Liz Magor (b. 1948) is regarded as one of the most influential contemporary sculptors; the oeuvre she has built since the 1970s has guided an entire generation of younger artists. Her art investigates the culture of production and value and the associated ambivalent relationship humans have with consumer goods. The retrospective focuses on sculptures and installations the artist created in her studio in Vancouver over the past three decades. Composed of found everyday objects, her allegorical tableaus question idealized notions of nature embedded in modern culture and penetrate the psychology of desire and addiction. From an art-historical perspective, Liz Magor's decades-long engagement with the world of ... More



1968 Mickey Mantle Game Worn New York Yankees Jersey Attributed to 535th Home Run, MEARS A10.



DALLAS, TX.- It has been said that baseball has more of a sense of history than any other sport. One of the gold-standard players is iconic New York Yankee slugger and outfielder Mickey Mantle, a Hall of Famer who played with a passion and aggressiveness that endeared him to millions of fans across the country and whose record-setting career made any piece of his memorabilia a must-have item for fans and collectors alike. Shrewd collectors will have the opportunity to acquire several such items later this month at Heritage Auctions' Platinum Night Sports Auction, including: the 1968 jersey New York Yankees legend Mickey Mantle wore (est. $700,000+) when he hit the 535th – and next-to-last – home run of his career. "Beginnings and endings have always carried special intrigue in the collecting community, and this is a particularly nostalgic relic for the millions of Baby Boomers who consider Mickey Mantle a childhood hero," Heritage ... More



Point-10 Susan Point Swanisit Brings Salmon, 1981 screenprint on paper Courtesy of the Artist Photo: Kenji Nagai, Courtesy of Spirit Wrestler Gallery




VANCOUVER.- The Vancouver Art Gallery is presenting Susan Point: Spindle Whorl, the most extensive exhibition to date featuring the work by this pre-eminent Musqueam artist. On view from February 18 to May 28, 2017 at the Gallery, this exhibition covers the artist's prolific career of three and a half decades, including over a hundred print and sculptural artworks that take the spindle whorl as their starting point. Since the early 1980s, Susan Point has received wide acclaim for her remarkably accomplished oeuvre that forcefully asserts the vitality of Coast Salish culture, both past and present. She has produced an extensive body of prints and an expansive corpus of sculptural work in a wide variety of materials that includes glass, resin, concrete, steel, wood and paper. The range of techniques she has employed is as diverse as her selection of ... More
Jannis Kounellis: Gray is the Color of Our Time
Flashback
On a day like today, American photographer Ansel Adams was born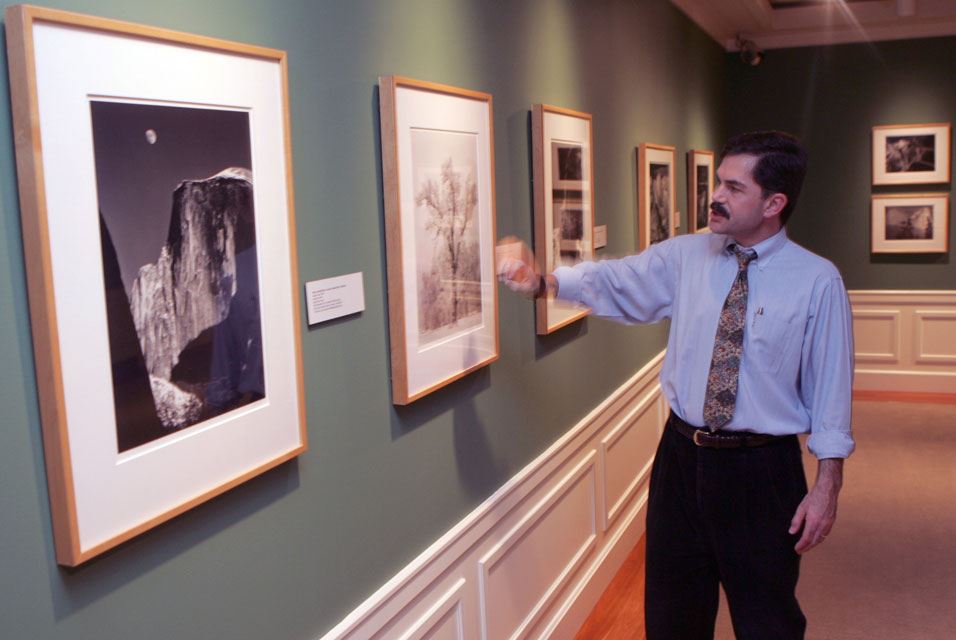 February 20, 1902. Ansel Easton Adams (February 20, 1902 - April 22, 1984) was an American photographer and environmentalist best known for his black-and-white landscape photographs of the American West, especially Yosemite National Park. In this image: Paul D'Ambrosio, curator of the Fenimore Art Museum, discusses an Ansel Adams exhibit at the museum during a media tour of the museum in Cooperstown, N.Y., March 27, 2007. The show, "Ansel Adams: The Man Who Captured the Earth's Beauty," runs through May 13.
---

Museums, Exhibits, Artists, Milestones, Digital Art, Architecture, Photography,
Photographers, Special Photos, Special Reports, Featured Stories, Auctions, Art Fairs,
Anecdotes, Art Quiz, Education, Mythology, 3D Images, Last Week,
.
---
Royalville Communications, Inc
produces: