Exhibition at Seattle Art Museum presents radical reimagining of Andrew Wyeth's work
In Retrospect opens with a gallery of significant works introducing the cast of characters from Wyeth's world who feature in some of his most famous portraits. Photo: Stephanie Fink.
SEATTLE, WA
.-
The Seattle Art Museum
presents Andrew Wyeth: In Retrospect (October 19, 2017–January 15, 2018), exploring groundbreaking perspectives on the art and legacy of the American painter's 75-year career. Organized by the Seattle Art Museum with the Brandywine River Museum of Art for the 100th anniversary of the artist's birth, the exhibition brings together 110 paintings and drawings ranging from the late 1930s to 2008, including rarely seen loans from the Wyeth family. In Retrospect reflects on Wyeth's work through the historical lens of a century in which he deviated from the American art mainstream but continued to figure prominently in much of the country's artistic discourse. In Retrospect opens with a gallery of significant works introducing the cast of characters from Wyeth's world who feature in some of his most famous portraits, such as Christina Olson of Maine and Karl Kuerner, his neighbor ...
More
The Best Photos of the Day
Prominent Miami-based art collectors give 200 contemporary Aboriginal Australian artworks to three museums
Major exhibition explores dialogue between Picasso and African works
The Guggenheim Museum Bilbao opens exhibition of 82 portraits and 1 still-life by David Hockney


Carlene West, Tjitjiti, 2014. Acrylic on linen, 43 31/100 x 32 17/25 in. (110.01 x 83.01 cm).



MIAMI, FLA.- For more than a dozen years, prominent Miami-based art collectors Debra and Dennis Scholl have focused their collecting attention on Aboriginal Australian contemporary works. This passion has enabled the couple to bolster the West's appetite for the extraordinary works by commissioning and then touring thematic shows to museums across the country. Now, they pledge to build a permanent bridge to narrow the cultural divide by gifting 200 pieces from their collection to three museums with which they are closely aligned: The Patricia & Phillip Frost Art Museum FIU in Miami; The Metropolitan Museum of Art in New York; and the Nevada Museum of Art in Reno. The Scholl gift includes works by the most prominent Australian Aboriginal contemporary painters today, including Warlimpirrnga Tjapaltjari, Paddy Bedford, Gulumbu Yunipingu, and Nongirrnga Marawili. These trailblazing artists were inspired by their ancient ... More



Fang Mask, African, Gabon, early 20th century. Bronze, 11 ¼ x 15 ½ x 5 7/8 inches. Musée du Quai Branly-Jacques Chirac, Paris. © musée du quai Branly - Jacques Chirac, photo Patrick Gries, Bruno Descoings.



KANSAS CITY, MO.- The groundbreaking exhibition Through the Eyes of Picasso explores Pablo Picasso's life-long fascination with African and Oceanic art, uniting his paintings and sculpture with art that had a seminal impact on his own creative exploration. The exhibition opens Oct. 20 at The Nelson-Atkins Museum of Art in Kansas City, the only United States venue in a limited tour. Many works in the exhibition are on view in America for the first time. "From his initial encounter with African art in 1907, Picasso's view of the world was fundamentally altered," said Julián Zugazagoitia, Menefee D. and Mary Louise Blackwell CEO & Director of the Nelson-Atkins. "He became an avid collector of non-western art and lived with these masterpieces throughout his entire life in his ... More



David Hockney in his Studio, Los Angeles March 1st 2016 © David Hockney. Photo: Jean-Pierre Goncalves de Lima.



BILBAO.- The Guggenheim Museum Bilbao presents David Hockney: 82 Portraits and 1 Still-life , an exhibition featuring a remarkable new body of work in which the British artist returns to portraiture with a renewed creative vigor, offering an intimate snapshot of the LA art world and the people who have crossed his path in recent years. After the monumental and highly successful landscape exhibition David Hockney: A Bigger Picture at the Guggenheim Museum Bilbao in 2012, the artist turned away from painting and his Yorkshire home and returned to Los Angeles. He was recovering from a very difficult series of events, including a minor stroke, and he did not paint for some time, which was unusual for him. Little by little, he became reacquainted with the quiet contemplation of portraiture, and in the summer of 2013 he painted the first of what was to become a collection of over 90 ... More
Markus Lüpertz opens first exhibition with Almine Rech Gallery
Fondation Cartier pour l'art contemporain opens Malick Sidibé retrospective exhibition
Important Orientalist discoveries highlight 19th Century European Paintings sale at Bonhams


Der Abend, 2014. Mixed media on canvas in artist's frame, 200 x 162 cm. 78 3/4 x 63 3/4 inches. © Markus Lüpertz. Courtesy of the Artist and Almine Rech Gallery. Photo: Hugard & Vanoverschelde photography.



BRUSSELS.- Almine Rech gallery is presenting Markus Lüpertz's first exhibition with the gallery. Markus Lüpertz was born in Liberec, Bohemia (former Czechoslovakia), in 1941. When Markus was still very young, the Lüpertz family moved to Germany for economic reasons. At the age of twenty, he settled in Berlin and established himself as an independent professional artist. Lüpertz is considered one of the main exponents of the brilliant postwar generation of German painters, which includes artists such as, among others, Anselm Kiefer, A.R. Penck, Georg Baselitz, Jörg Immendorff, Gerhard Richter and Sigmar Polke. Lüpertz is perhaps the most pronounced 'painter amongst painters'. Indeed, the artist does not attempt to imagine the one or other alternate reality, but creates, first and foremost, a new pictorial space. In this, ... More



Malick Sidibé, Un jeune gentleman, 1978. Gelatin silver print, 40.5 x 30.5 cm. Courtesy Galerie MAGNIN-A, Paris © Malick Sidibé.



PARIS.- In 1995, the Fondation Cartier pour l'art contemporain presented the first solo exhibition of the Malian photographer Malick Sidibé outside of the African continent. One year after the artist's death on April 14, 2016, the Fondation Cartier pays tribute to him with Mali Twist, a large retrospective exhibition accompanied by a catalogue. The exhibition is conceived and directed by André Magnin, in collaboration with Brigitte Ollier. Malick Sidibé, Mali Twist brings together for the first time his most exceptional and iconic photographs; period images he printed himself between 1960 and 1980; a selection of "folders" containing his evening shots; and a series of new portraits of timeless beauty. This exceptional collection of black-and-white photographs provides a thorough immersion in the life of the man who was nicknamed "the eye of Bamako." The photographs reveal Malick Sidibé's ... More



Jean-Léon Gérôme (French, 1824-1904), A Bischari warrior, oil on canvas, executed in 1872. Estimate: $150,000-200,000. Photo: Bonhams.



NEW YORK, NY.- Bonhams announced the autumn sale of 19th Century European Paintings on November 8, which is highlighted by a superb selection of newly discovered Orientalist paintings by Jean-Léon Gérôme and Ludwig Deutsch. Leading the sale and also the cover lot is Jean-Léon Gérôme's arresting portrait of A Bischari warrior (estimate: $150,000-200,000). This striking work has been in America since 1873 and has not been seen on the market since. This painting is one of two works commissioned by the New York art dealer, Samuel Avery, from Gérôme in 1871. This work is exquisite in its simplicity and compositional equilibrium. The light highlights the strikingly exotic face with high cheek bones and sensual lips, and his bare chest adorned only with his warrior's attributes. Gérôme is accurately depicting the unique traits of the Bischari Bedouins of the Sudan ... More
Dallas Museum of Art opens first exhibition devoted to time-based media
Sotheby's announces Autumn 2017 Auctions of Furniture & Decorative Arts
MoMA PS1 opens the largest Cathy Wilkes exhibition to date


John Gerrard, Western Flag (Spindletop Texas), 2017, 2017, real-time 3D simulation, courtesy of the artist and Simon Preston Gallery, New York & Thomas Dane Gallery, London, © John Gerrard.



DALLAS, TX.- On October 22, the Dallas Museum of Art presents the first major exhibition in the Museum's history dedicated to time-based media. Truth: 24 frames per second brings together 24 pioneers of film and video and over six decades of work focused on pressing contemporary themes, such as race relations, political unrest, sexual identity and the media, to explore the nature of truth and reality in contemporary life. Featuring works by Dara Birnbaum, Morgan Fisher, Tatiana Gaviola, Arthur Jafa, Steve McQueen, Shirin Neshat, Pratibha Parmar, Rachel Rose, and Chick Strand, among others, Truth is inspired by the DMA's significant film and video holdings and includes 10 works from the collection, many of which have never been exhibited. On view through January 28, 2018, the exhibition also features the U.S. debut of John Gerrard's Western Flag (Spindetop, Texas), and the world premiere of a newly-restored ... More



A South German Rococo ormolu-mounted, carved, parcel-gilt and cream-painted commode with a scagliola top Franconia, probably Bamberg, mid-18th century height 32 in.; width 45 1/4 in.; depth 23 1/2 in. 81.5 cm; 115 cm; 60 cm Estimate $50/80,000. Courtesy Sotheby's.



NEW YORK, NY.- In the lead-up to TEFAF New York Fall, Sotheby's will present their autumn auctions of furniture and decorative arts in New York. The two auctions − Collections & Curiosities: Silver, Ceramics, and Objects of Vertu (19 October) and Collections: European Decorative Arts (27 October) − celebrate the art of collecting through an enthralling selection of rare objects. With estimates ranging from $500 to $150,000, the sales offer both new and experienced collectors the opportunity to acquire hundreds of these storied pieces, and incorporate them into their everyday lives. The sale is distinguished by a diverse offering of objects united under the concept of a cabinet of curiosities, such as a striking group of animal and marine figures by Mario Buccellati. Highlights from that group ... More



Cathy Wilkes. Untitled. 2012. Gift of the Speyer Family Foundation and Mrs. Saidie A. May (by exchange). © 2017 Cathy Wilkes.



LONG ISLAND CITY, NY.- MoMA PS1 presents the first monographic exhibition of Cathy Wilkes (Irish, b. 1966) in New York. The largest exhibition of the artist's work to date, Cathy Wilkes features approximately 50 works from public and private collections throughout Europe and North America as well as new pieces created for the show, offering a broad view of Wilkes's work since 2004. On view from October 22, 2017 through March 11, 2018, the exhibition is organized in conjunction with Wilkes's receipt of the first Maria Lassnig Prize, awarded by the Maria Lassnig Foundation in 2016. Over more than two decades, Cathy Wilkes has created a body of work that engages with the rituals of life, combining paintings, drawings, sculptures, and objects both found and altered. Regularly employing quotidian products and residual materials drawn from her domestic life and environment in Glasgow, Wilkes's installations connect the banalities of daily existe ... More
Exhibition at Maccarone presents two architectural interventions by conceptual artist David Lamelas
Grammy Museum opens expanded exhibit celebrating 40 years of seminal L.A. Punk band X
Weiss Berlin exhibits Alex Becerra and Demian Kern's first joint presentation


David Lamelas, Falling Wall, 2017. Dry wall, wood, screws, acrylic paint and reclaimed lumber, 209 x 320.5 x 96.5 inches (530.86 x 814.07 x 245.11 cm). Courtesy of the Artist and Maccarone, NY/LA.



LOS ANGELES, CA.- Maccarone Los Angeles is presenting an exhibition of two architectural interventions by conceptual artist David Lamelas. This exhibition is concurrent with Pacific Standard Time: Los Angeles/Latin America and marks the artist's third solo presentation with the gallery, and his first at the Los Angeles space. Born in Argentina in 1946, Lamelas has been an iconic international figure in conceptual art for over fifty years. He immigrated to London at twenty-one, and in the early 1970s began living and working part-time in Los Angeles. During this period he broadened his focus on conceptual film, while expanding his practice of sculptural works and performance. For this exhibition Lamelas presents a reconceptualization of (Untitled) Falling Wall, initially conceived of in 1993, and a brand new sculpture, Walls Are Meant for Jumping (2017), derived from a ... More



A woman visits the Grammy Museum's new exhibit "X: 40 years of Punk in Los Angeles" October 13, 2017 in Los Angeles. FREDERIC J. BROWN / AFP.



LOS ANGELES, CA.- The GRAMMY Museum® iopened an exhibit celebrating the 40th anniversary of seminal L.A. punk rock band X. X: 40 Years of Punk in Los Angeles is being displayed on the second floor in the Museum's Special Exhibits Gallery. With more artifacts and space than previously planned, the exhibit will give visitors a glimpse into how X's four original members – Exene Cervenka, John Doe, Billy Zoom, and DJ Bonebrake – quickly established the band as one of the best in the first wave of L.A.'s flourishing punk scene. Items on display include: • Original instruments and gear played by the band • Handwritten lyrics and notebooks by Exene Cervenka and John Doe • Clothing and other personal items • Original concert flyers for L.A. shows • Rare photographs and artwork by Exene • X: The Unheard Music film, and more! "We are so excited to be moving this exhibit to our main exhibits gallery, giving X, o ... More



Alex Becerra, Riesling, 2017. Oil on canvas, 40 x 40 cm 16 x 16 in.



BERLIN.- Weiss Berlin is presenting Acuérdate De Mi ("Remember Me") featuring painters' Alex Becerra and Demian Kern's first joint presentation. Their individual and collaborative works were produced during time spent together in the summer of 2017 in Berlin-Wilmersdorf. Having met in Los Angeles several years ago, the painters formed a relationship that is marked not by competitive machismo, but by generosity and the love of each other, music, and painting. Born in 1989 and 1990, both Becerra and Kern's work is indicative of the young artists' deep engagement with modernist tropes and desires as well as the rich, variegate history of figuration in 20th century painting. Their approaches to the work in Acuérdate De Mi evidence a awareness of privileges and opportunities connected to gender, ethnicity, and class. Both Becerra and Kern work in a variety of media to develop their practice of painting from within which they choose ... More
MetCollects–Episode 1 / 2017: Longcase equation regulator by Berthoud and Lieutau
Flashback
On a day like today, American artist Robert Rauschenberg was born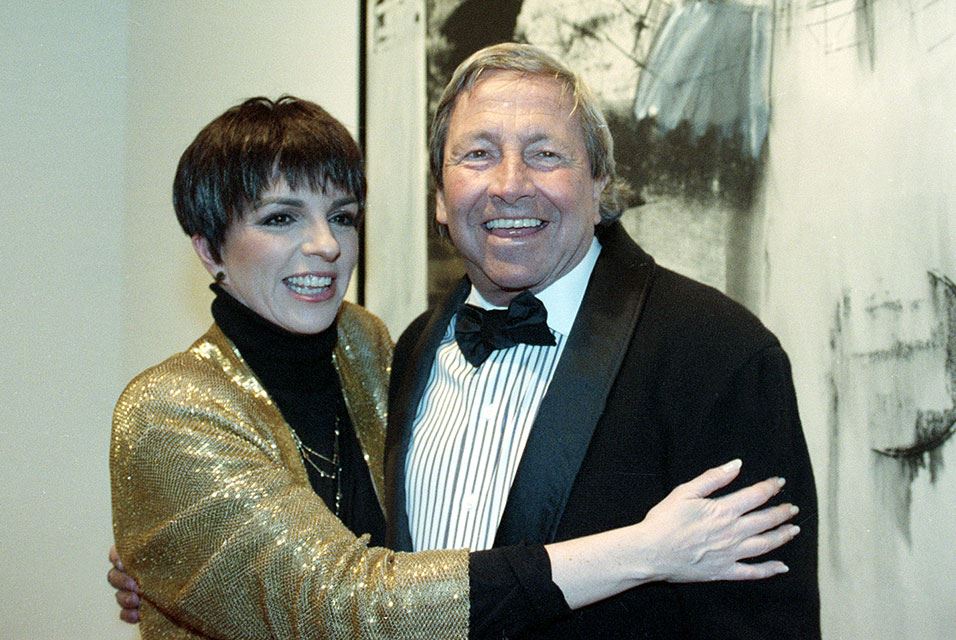 October 22, 1925. Robert Rauschenberg (October 22, 1925 - May 12, 2008) was an American painter and graphic artist whose early works anticipated the pop art movement. Rauschenberg is well known for his "Combines" of the 1950s, in which non-traditional materials and objects were employed in innovative combinations. Rauschenberg was both a painter and a sculptor and the Combines are a combination of both, but he also worked with photography, printmaking, papermaking, and performance. He was awarded the National Medal of Arts in 1993. In this image: Actress and singer Liza Minnelli poses with artist Robert Rauschenberg at the opening of Rauschenberg's silkscreen paintings at the Whitney Museum of American Art in New York City, Wednesday, Dec. 5, 1990.
---

Museums, Exhibits, Artists, Milestones, Digital Art, Architecture, Photography,
Photographers, Special Photos, Special Reports, Featured Stories, Auctions, Art Fairs,
Anecdotes, Art Quiz, Education, Mythology, 3D Images, Last Week,
.
---
Royalville Communications, Inc
produces: