Archaeologists from Israel uncover ancient Roman history at Mediterranean port
A picture taken on April 26, 2017, shows the head part of a figurine (L) from the Roman period depicting the Asclepius, god of medicine and a small tablet engraved with a seven-branched menorah, discovered during the renovation of the ancient harbour of Caesarea, being displayed during a press conference in the Israeli Mediterranean town of Caesarea. JACK GUEZ / AFP
CAESAREA,
(AFP)
.-
Israeli archaeologists working on a major Roman-era port city on Wednesday unveiled new discoveries including an altar dedicated to Augustus Caesar and a centuries-old mother-of-pearl tablet inscribed with a menorah. The finds at Caesarea, a complex on the Mediterranean coast 50 kilometres (30 miles) north of Tel Aviv, were the result of "one of the largest and most important conservation projects ever undertaken in Israel," the Israel Antiquities Authority said. Caesarea was established some 2,030 years ago by Roman-appointed King Herod the Great, who ruled what was then Judea. Today, the ruins are a popular tourist destination where concerts are still held in the remains of an ancient Roman theatre. Archaeologist Peter Gendelman, leading a tour of the site, said the preservation work was perhaps the most "complicated and interesting" project he had worked on in his 30-year career. Some of the finds are "completely changing our understanding of the dynamics ...
More
The Best Photos of the Day
Humans in America '115,000 years earlier than thought'
Gagosian opens career-long survey Picasso's bullfighting imagery
Lennon original sketch for "Sgt. Pepper's Lonely Hearts Club Band" album highlights music icons sale


Retired San Diego Natural History Museum Paleontologist Richard Cerutti (left) and Curator of Paleontology and Director of PaleoServices Dr. Tom Deméré (right) looking at an original map of the Cerutti Mastodon quarry. Cerutti is holding a spiral fractured fossil bone discovered at the site. Photo: Kate Johnson, San Diego Natural History Museum.



PARIS (AFP).- High-tech dating of mastodon remains found in southern California has shattered the timeline of human migration to America, pushing the presence of hominins back to 130,000 years ago rather than just 15,000 years, researchers said Wednesday. Teeth and bones of the elephant-like creature unmistakably modified by human hands, along with stone hammers and anvils, leave no doubt that some species of early human feasted on its carcass, they reported in the journal Nature. Discovered in 1992 during construction work to expand an expressway, the bone fragments "show clear signs of having been deliberately broken by humans with manual dexterity," said lead author Steve Holen, director of research at the Center for American Paleolithic ... More



Tête de taureau, spring 1942, cast and assembled 1943 (Paris). Bronze 16 ½ × 16 1⁄8 × 5 7⁄8 inches (42 × 41 × 15 cm). Private Collection © 2017 Estate of Pablo Picasso / Artists Rights Society (ARS), New York. Courtesy Gagosian. Photo: Maurice Aeschimann.



LONDON.- Gagosian, in partnership with Pablo Picasso's grandson, Bernard Ruiz-Picasso, presents "Picasso: Minotaurs and Matadors," curated by Sir John Richardson. The exhibition examines the intersection of Picasso's bullfighting imagery with his mythological and biographical compositions of the 1930s. Including works dating from 1889 to 1971, this career-long survey traces Picasso's engagement with the ancient rituals and narratives of his native Mediterranean. Though one of history's most innovative modernists, Picasso was grounded in the traditions of his Spanish heritage. Born in the southern port of Málaga in 1881, he was a lifelong aficionado of the drama of the bullfight: matadors, picadors, horses, and bulls were recurring subjects throughout his body of work, from his earliest childhood drawings ... More



An extraordinary ink on paper sketch of "Sgt. Pepper's Lonely Hearts Club Band" album cover. Photo: Julien's Auctions.



NEW YORK, NY.- Julien's Auctions has announced one of the most remarkable auctions ever to take place in New York City — Music Icons 2017. Hundreds of pieces of iconic rock n' roll memorabilia will go under the hammer representing some of the biggest moments in music history and the artists who have shaped pop culture. Music Icons 2017 will take place at Hard Rock Cafe New York in Times Square on Saturday, May 20, 2017 beginning with Session I at 10:00 a.m. From a rare John Lennon treasure to Elvis Presley's very first piano, the highly-anticipated auction will give collectors and fans from around the globe an extraordinary opportunity to bid on items that bear remarkable historical significance in music. John Lennon once occupied a home with his wife Cynthia known as Kenwood in Surrey. It was here that he also wrote some of the most famous Beatles songs including "Ticket to Ride" and "I ... More
Notebook drawings from the 1940s by Alex Katz on view at Timothy Taylor
Five finalists announced for £100,000 Art Fund Museum of the Year 2017
Christie's to present "Death in America: Selections from the Collection of Zadig & Voltaire"


Alex Katz, Man with Hat Leaning on Balcony.



NEW YORK, NY.- Timothy Taylor announces an historic solo exhibition by Alex Katz, of the artist's notebook drawings from the 1940s, presented in collaboration with Gavin Brown's enterprise, New York/Rome. This is the first time these drawings are brought together in an exhibition. Coming of age as an artist in the 1940s in New York, Katz developed his unique approach to contemporary representational painting in reaction to the dominance of Abstract Expressionism, prior to the emergence of Pop Art. Subway Drawings exemplifies the artist's life-long pursuit to capture the present tense, through a highly accomplished but sparse line that has endured throughout his prolific career. Drawing serves as a crucial facet of the artist's practice – a tool of immediacy that articulates Katz's most essential images, across all the processes in which he engages. During his time at Cooper Union, Katz chose figures on the subway ... More



Sir John Soane's Museum. © Marc Atkins.



LONDON.- Art Fund this evening announced the five museums which have been selected as finalists for Art Fund Museum of the Year 2017, the world's largest and most prestigious prize for museums. The museums are: • The Lapworth Museum of Geology, Birmingham • The National Heritage Centre for Horseracing & Sporting Art, Newmarket • Sir John Soane's Museum, London • Tate Modern, London • The Hepworth Wakefield The announcement was made by Stephen Deuchar, Art Fund's Director, at an event at the British Museum. It was followed by a discussion about the role of museums with Hartwig Fischer, Director of the British Museum, member of the 2017 jury; Tristram Hunt, Director of the Victoria and Albert Museum, Art Fund Museum of the Year 2016; and Sarah Munro, Director of the Baltic Centre for Contemporary Art. This year's jury, chaired by Dr Stephen Deuchar CBE, comprises: Professor Richard Deacon ... More



Rudolf Stingel, Untitled. Oil and enamel on canvas Painted in 2010. Estimate: $800,000-1,200,000. © Christie's Images Limited 2017.



NEW YORK, NY.- This spring, the Post-War and Contemporary Art sales in New York will be highlighted by Death in America: Selections from the Zadig & Voltaire Collection. The brand's extensive collection was assembled by Thierry Gillier, who founded the celebrated French fashion line in 1997. The present group includes over 40 works. A portion of the proceeds will benefit two organizations on the forefront of combating the world's escalating ecological crisis, The Leonardo DiCaprio Foundation and Oceana's United States Shark Conservation Program. Zadig & Voltaire recognizes this as a particularly urgent time to support the protection of the earth's ecosystems, and is proud to stand behind the efforts being made by these organizations. The collection will be represented by 11 works in the May 17 Evening Sale, and an ... More
The Art Museums of Colonial Williamsburg breaks ground on its building expansion
Frank Cohen chooses Mossgreen to sell his contemporary collection in Melbourne
Artcurial to offer part of the collections of the château de Malicorne


Mitchell B. Reiss, president and CEO of the Colonial Williamsburg Foundation, speaks Thursday at the groundbreaking on the $40 million expansion of the Art Museums of Colonial Williamsburg: the Abby Aldrich Rockefeller Folk Art Museum, celebrating its 60th anniversary year, and the DeWitt Wallace Decorative Arts Museum.



WILLIAMSBURG, VA.- Nearly two and a half years after announcing the public phase of a $40 million capital campaign with its goal met, the Art Museums of Colonial Williamsburg held a groundbreaking ceremony this afternoon, on the site where construction is set to begin on the first large-scale expansion and upgrade to its building. The project, the primary capital priority of the Colonial Williamsburg Foundation's $600 million Campaign for History and Citizenship, will significantly enhance the home of the Abby Aldrich Rockefeller Folk Art Museum, currently celebrating its 60th anniversary year, and the DeWitt Wallace Decorative Arts Museum. Mitchell B. Reiss, president and CEO of the Colonial ... More



Zeng Fanzhi | Sky No. 7 2005 | oil on canvas | 250.5 x 170 x 3.5cm. Estimate: US$700,000-900,000 (AU$920,000-1,183,000) (GBP£560,000-720,000).



MELBOURNE.- Mossgreen announces the auction A Contemporary Vision: An Important British Collection of International Contemporary Art. Featuring paintings, sculpture, photography and installation pieces by some of the world's most celebrated contemporary artists, the auction will take place in Melbourne on Sunday 17 September following an exhibition in London, 28-30 April. Assembled by Frank Cohen, a leading private British collector who has, in his own words 'an instinctive eye', the collection spans Asia, Europe and America and includes works by artists such as Zeng Fanzhi, Subodh Gupta, Jitish Kallat, Fang Lijun, Farhad Moshiri, Jagannath Panda, Lee Ufan, Sun Yuan & Peng Yu, Li Hui, Sergej Jensen, Mat Collishaw and John M Armleder. Frank Cohen has worked closely with Mossgreen to handpick 80 pieces from his collection for auction. The auction is led by ... More



Habit du Maréchal Oudinot, Empire, Chateau de Malicorne © Artcurial.



PARIS.- On June 13th, Artcurial will disperse part of the collections of the château de Malicorne, in the Sarthe. Built in the 18th century on the ruins of an ancient medieval building, it was acquired in 1850 by Caroline Oudinot, one of the daughters of the Maréchal of the Empire Nicolas-Charles Oudinot (1767-1847). She kept there a part of her father's collections, which have since remained in the hands of the same family. Comprised of 300 lots, the ensemble includes nearly one hundred of the Maréchal Oudinot's historical memories. Among them, the ceremonial uniform worn by the Maréchal during Emperor Napoleon I's 1804 coronation, estimate €100,000 – 120,000/ $110,000 – 132,000, and personal effects such as his epaulets, military medals, portfolios and a Meerschaum pipe collection. Many manuscripts and archives complete this set, including an epistolary correspondence of more than ... More
Exhibition of new sculptures and paintings by George Condo opens at Skarstedt
$200 Chinese vase fetches over $$812,500 on iGavel Auctions
Blain/Southern opens exhibition of works by Jonas Burgert


George Condo, Constructed Head with Standing Figure, 2017. Bronze, 51 3/4 x 47 x 29 3/4 inches 131.4 x 119.4 x 75.6 cm. Edition 1 of 3, with 1 AP inscribed Condo, stamped 1/3 with foundry stamp 17 (back left corner).



NEW YORK, NY.- Skarstedt presents George Condo: New Works, an exhibition of new sculptures and paintings on view from April 27 – June 24, 2017 at Skarstedt Upper East Side. In December 2014 Condo began working on Origin, a small wood sculpture he hand-painted, cut, and glued together. Origin soon became the subject of three larger-scaled variations in bronze. These variations represent a return to methods of sculpting that the artist first took up with his earliest three-dimensional works in the late 1980s—using wood, clay, plaster, paint, fabric, and found objects to create bronze sculptures that incorporate both figurative and abstract elements. Here we see Condo's concept of the "simulated found object," which he explored in his earliest exhibited paintings in the 1980s, combined with the use of real ... More



Chinese Cloissone vase.



NEW BRAUNFELS, TX.- On Thursday, April 20th in the closing moments of the sale of Asian, Ancient, and Ethnographic Works of Art a Chinese Cloisonné Bottle Vase offered by the Falls Church, Virginia-based Quinn's Auctions measuring 10 inches in height, dated to the 18th / 19th century and estimated to sell for $400-$600 slowly began building to an astounding final result, selling at $812,500. The sale of 466 lots realized a total of $1,441,206. Matt Quinn, commented: "We are very pleased that our auction achieved such outstanding results and deeply gratified by the successful outcome of the Chinese Cloisonné vase." Though the astounding result of the cloisonné vase was by far the highest price in the sale, other items also far exceeded expectations. A pair of Chinese Square-Form Vases, 20th century (estimate $1,000-1,500) realized $38,750 with 58 bids extending over an hour. A Pair of Chinese Porcelain Bowls, Republic Period (estimate $1,000-1,500) fared similarly, selling for $36,875. A T ... More



Jonas Burgert, ZEITLAICH, Installation view, 2017, Courtesy the artist and Blain/Southern, Photo Trevor Good.



BERLIN.- For Gallery Weekend Berlin 2017, painter Jonas Burgert returns to exhibit in his hometown, presenting his largest work to date: a 22m landscape painting that spans almost the entire length of the gallery. This vast psychological drama is faced by full-length portraits of figures on the opposing wall, who stare into the scene, posing the question whether they are passive observers or instigators of the chaos. Jonas Burgert aims to personify human psychology through figurative painting. Astutely observing the minutiae of daily life, he bears witness to the entire range of human emotion. Loneliness, hatred, revenge, vanity and excess – a parade of human expressions feeds his imagination - giving form to the characters within his tableaux. Dominating the gallery at 22 metres in length, this latest work teems with fantastical figures and obscure objects of every kind. With this size of canvas, Burgert forces ... More
'No Future' decks by Shepard Fairey for The Skateroom
Flashback
On a day like today, Expo 67 opened to the public in Montreal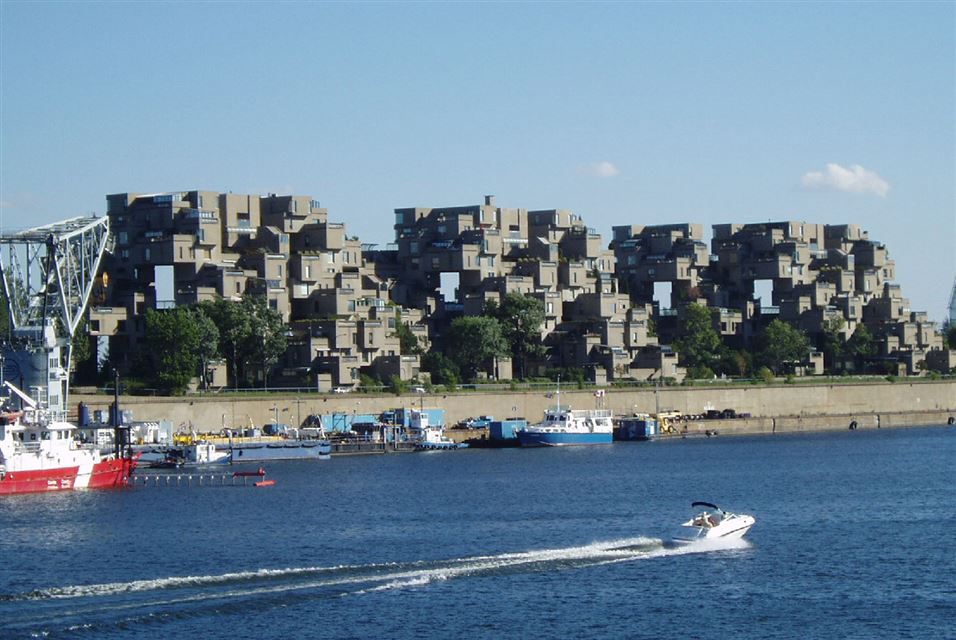 April 28, 1967. MONTREAL.- The 1967 International and Universal Exposition, or Expo 67 as it was commonly known, was the general exhibition, category one World's Fair held in Montreal, Quebec, Canada from April 28 to October 29, 1967. It was considered to be the most successful World's Fair of the 20th century, with over 50 million visitors and 62 nations participating. It also set the single-day attendance record for a world's fair with 569,000 visitors on its third day. Expo 67 was Canada's main celebration during its centennial year. The fair was originally intended to be held in Moscow, to help the Soviet Union celebrate the 50th anniversary of the Russian Revolution but, for various reasons, the Soviets decided to cancel, and Canada was awarded it in the fall of 1962. In this image: Habitat 67, a housing complex built for Expo 67.
---

Museums, Exhibits, Artists, Milestones, Digital Art, Architecture, Photography,
Photographers, Special Photos, Special Reports, Featured Stories, Auctions, Art Fairs,
Anecdotes, Art Quiz, Education, Mythology, 3D Images, Last Week,
.
---
Royalville Communications, Inc
produces: