Feature-length painted animated film set to bring Vincent Van Gogh paintings to life
A painter recreates a Vincent van Gogh self-portrait at a film studio in the northern Polish city of Gdansk. She is one of dozens of Polish artists working on "Loving Vincent", the world's first painting-based animated feature film. AFP PHOTO/PIOTR WITTMAN.
GDANSK
.-
Loving Vincent is a film that is true to this deathbed testament, and explores the intense mind of this towering genius through his own paintings. Brought to you by Oscar winning studio BreakThru Films, and Painter-Director Dorota Kobiela. Loving Vincent is a vivid and intense celebration of the work of Vincent Van Gogh, vibrantly bringing to life some of his best known works of art. Loving Vincent brings some of the worlds best known paintings, famed for their vibrant shimmering life, into actual movement as an animation film shot at 8k resolution, using oil paint on canvas animation technique (like Polish master Witold Giersz and similar to oil paint on glass animation made famous by the Oscar winning Russian ...
More
The Best Photos of the Day
2014 a year in art: Top ten highest prices at Sotheby's auctions in 2014 announced
Britain's Royal Mail releases World War I letter describing 'extraordinary' Christmas truce
J. Paul Getty Museum presents exhibition exploring gift giving in the Middle Ages




Alberto Giacometti, Chariot. Lot Sold: $100,965,000. Photo: Sotheby's.





LONDON.- 2014 saw a notably intensified focus on the emergence of female power players in the art market. There was a surge in appreciation for and reappraisal of works by female artists. Landmark prices were achieved for works by female masters through the ages: ⦁ Establishing a record price for a female artist, Georgia O'Keeffe's iconic flower painting Jimson Weed of 1932 more than tripled the previous world auction record for any female artist when it fetched $44.4m / £28.4m (est. $10 – 15m) in New York in November. ⦁ Causing a stir in the Impressionist & Modern Art field, the sale of American artist Kay Sage's evocative painting Le Passage of 1956 marked an emergence from the shadow of her husband's (Yves Tanguy) prominent reputation when the work surpassed all expectations when it sold for £4.3m / $7.1m (est. £70,000 – 90,000), establishing a new record for the artist in London's February sales. ⦁ A notable ... More





Letter reveals the extraordinary Christmas truce of 1914





LONDON.- A letter from a World War I soldier describing the "extraordinary sight" of a spontaneous Christmas ceasefire between German and British soldiers was published on Wednesday, 100 years after it was written. British army officer Alfred Dougan Chater wrote the letter to his mother from a freezing trench on the western front in 1914, describing an event remembered as a moment of fleeting humanity in a four-year war that killed more than 16 million. "I am writing this in the trenches in my "dug-out" - with a wood fire going and plenty of straw it is rather cosy, although it is freezing hard and real Christmas weather," wrote Chater. The letter appears to be written in two parts -- the first on Christmas Day and the second on December 27. "I think I have seen today one of the most extraordinary sights that anyone has ever seen. About 10 o'clock this morning I was peeping over the parapet when I saw a German, waving his arms, and presently two of them got out of their trench and came towards ... More





Unknown, Bishop Engilmar Celebrating Mass, about 1030 - 1040. Tempera colors, gold leaf, and ink on parchment. Leaf: 23.2 x 16 cm. The J. Paul Getty Museum, Los Angeles, Ms. Ludwig VII 1, fol. 16.





LOS ANGELES, CA.- More than the pretty wrapping paper and ribbon we use today, gift exchange in the Middle Ages was the social interaction that defined and manifested relationships between family and friends, acquaintances and strangers, and God and the church. Just in time for the holidays, Give and Ye Shall Receive: Gift Giving in the Middle Ages , on view December 16, 2014–March 15, 2015 at the J. Paul Getty Museum, Getty Center, examines the culture of gift giving in the Middle Ages as depicted in illuminated manuscripts. Bringing together 20 works, both from the Museum's extraordinary manuscripts collection and several major loans from other museums and private collections, the exhibition explores models of giving that appear in devotional texts, philanthropic and strategic giving in medieval society, and ... More
Japanese prosecutors indict vagina artist Megumi Igarashi on obscenity charges
RM group of companies rounds out 35th anniversary with record $470 million in sales
Subversive or submissive? Hungary divided over its Cube houses from Communist era




Japanese artist Megumi Igarashi, who calls herself Rokude Nashiko, showing a small mascot shaped like a vagina "Manko-chan". AFP PHOTO / FILES / Yoshikazu TSUNO.





TOKYO (AFP).- Japanese prosecutors on Wednesday charged a feminist artist who makes objects shaped like her own vagina with distributing "obscene" data, according to her lawyer, in a case that has sparked accusations that authorities are out of touch. The charges follow Megumi Igarashi's arrest this month after she raised funds online to pay for a genital-shaped kayak which she made on a 3D printer. "We don't agree with the prosecutors' contention at all," Takeshi Sumi, one of Igarashi's lawyers, told AFP Wednesday. "We will continue pleading not guilty on behalf of Igarashi, who argues her works are not anything obscene," Sumi said. Igarashi, 42, was first arrested in July, but was freed after several days following a legal appeal and after thousands of people signed a petition demanding her release. But Tokyo police arrested her again this month -- along ... More





One of the world''s most important automobiles, this 1964 Ferrari 275 GTB/C Speciale. Photo: Darin Schnabel © 2014 courtesy RM Auctions.





BLENHEIM, ON.- The RM group of companies celebrated its 35th anniversary in the collector car business in 2014 with its best performance to date: $470 million in auction sales with numerous new records established. A new benchmark for the global collector car auction industry, this impressive tally included the presentation of 3,818 vehicles at 16 separate events on two continents. The 2014 results provide just a snapshot of the RM group's accomplishments over its history, a period during which the company has cemented its position as the market leader, and successfully transformed the global automotive auction scene. "2014 has been yet another terrific year for the RM group; together RM Auctions and Auctions America have enabled us to serve the entire spectrum of the market. In addition to celebrating strong results across the board, this year has provided our team with a great opportunity to reflect on how far ... More





Cube houses are pictured in Ocsard village. AFP PHOTO / ATTILA KISBENEDEK.





KOZARMISLENY (AFP).- They were a rare sign of individuality during the grim Communist era. But now Hungarians are turning their backs on their gaily-painted "Cube" houses, ashamed of the simple geometric patterns and trompe-l'oeil effects that brightened their darkest days. In the 1960s and 1970s the "Kadar Cube" -- named after the all-powerful communist leader of the time Janos Kadar -- transformed the Hungarian countryside. Some 800,000 of these simple 100-square-metre (1,080-square-foot) homes still dot the landscape in the country of 10 million, including in Kozarmisleny, near the southern city of Pecs. But what makes some of them stand out are their unexpectedly cheery and modern facades, far removed from the dull greyness so often associated with Communist-era constructions. "The houses were boring, so I thought let's figure something out," said Istvan Pucher, a 72-year-old mason who built over 220 cube houses and individually decorated at least a tenth of them. Pucher developed his ... More
Aronson Antiquairs to present unique pair of 1600s Delft figures of King Willem III and Queen Mary II
Exhibition in Aspen highlights works by the experimental German artists' group Zero
Forty-year retrospective highlights the accomplishments of Dance Theatre of Harlem




Robert Aronson on arrival of King Willem III.





AMSTERDAM.- Earlier this year, Aronson Antiquairs, world leading Delft dealers based in Amsterdam, revealed an exceptional, large (42cm) Delft "bouquetière" in the shape of an elegant lady dressed in a loose-fitting gown and holding a basket. The lady was delicately made, with many fine details and said to be Queen Mary II or Mary Stuart, the co-regent with William of Orange of Holland and England during what has been described as a "Glorious Revolution" from 1689 until her death in 1694. The unusual "bouquetière" was attributed to The Greek A Factory, where many of the most important Delft flowerpots and tulip vases were ordered by the Royal couple who were known to decorate their palaces with blue and white Delftware, underscoring their love for gardening. Now, after an intense search by Robert Aronson, fifth generation head of Aronson Antiquairs, the matching figure of Queen Mary's royal consort has been di ... More





Pol Bury, 124 chevilles de chene, 1964. © Artists Rights Society (ARS), New York / ADAGP, Paris.





ASPEN, CO.- RambleOnProjects in collaboration with Gallery 1949 announces the exhibition Zero in Aspen, which highlights works by the experimental German artists' group Zero (1957-66) and the larger pool of international artists that shared their concerns. Zero in Aspen includes works by the core members of Group Zero: Heinz Mack, Otto Piene, and Günther Uecker, as well as a selection of likeminded Zero artists hailing from diverse cultural centers. The exhibition also includes work by Pol Bury, Lucio Fontana, Enrico Castellani, Christian Megert, and Turi Simeti. Initially influenced by the work of Italian Spatialist pioneer Lucio Fontana, the Zero group developed a vernacular of Minimalism and the use of monochrome, as well as a keen interest in the introduction of new and unexpected utilitarian materials, including nails, ash and cork. Zero artists explored themes of light and ... More





Le Corsaire tutu, c. 1979, designer unknown. Image courtesy of Gene Ogami, California African American Museum.





FORT WAYNE, IN.- Fort Wayne Museum of Art in Fort Wayne announces Dance Theatre of Harlem: 40 Years of Firsts, an exhibition that highlights the many accomplishments of African Americans and other minorities who dared to overcome social norms and prejudices to pursue their passion and pave the way for future generations of world class dancers. Organized by Dance Theatre of Harlem, California African American Museum, and The New York Public Library for the Performing Arts, and toured by International Arts & Artists, Washington D.C., Dance Theatre of Harlem is on view at Fort Wayne Museum of Art from December 20, 2014 through March 15, 2015 The colorful history and powerful social and artistic impact of the renowned ballet company and school is brought to life in the exhibition's more than 250 objects, including costumes, historical ... More
Art Institute of Chicago unveils newly transformed galleries to showcase Islamic Art
Royal Academy of Arts receives £1 million grant from Clore Duffield Foundation for new centre
Museum of Contemporary Art, Chicago opens exhibition celebrating Richard Hunt's career




The Ascent of the Prophet to Heaven, page from the copy of the Khamsa of Nizami, c. 1600. Iran. The Art Institute of Chicago. Lucy Maud Buckingham Collection.





CHICAGO, IL.- A dazzling array of works of art from the vast Islamic world is now on display at the Art Institute of Chicago in the museum's newly transformed galleries for Islamic art. The meticulously designed 3,200 square-foot space, on the lower level just off the Alsdorf Galleries, showcases the museum's collection of Islamic Art, which has been off view since February 2012. The exhibition brings together more than 100 items ranging from small tiles and utensils to large architectural objects. Selections from the museum's own holdings are augmented by important pieces on loan from public and private collections, and rotating presentations of Islamic painting, calligraphy, textiles, and carpets supplement the items on permanent display. "I believe visitors will be astonished by the high quality and creative energy found in this assortment of objects from across the full span of the Islamic world, from Spai ... More





The Royal Academy at Burlington House. Photo: Mike Peel (www.mikepeel.net).





LONDON.- The Royal Academy of Arts has been awarded a grant of £1 million from the Clore Duffield Foundation for the new Clore Learning Centre, which forms part of the major redevelopment to transform Burlington Gardens and enable the RA to share and interpret its heritage for a broad 21st century audience. The Burlington Project is the Royal Academy of Arts' most ambitious transformation since its move to Burlington House in 1868. The Masterplan, led by the award-winning architect David Chipperfield CBE RA, will see the major expansion of the RA's current visitor and learning facilities, including a new central link between Burlington House and Burlington Gardens (the former Museum of Mankind), a grand double-height lecture theatre, and a Clore Learning Centre within Burlington Gardens. The redevelopment will create a united arts campus of just over 2 acres in the heart of central London for new and existing audiences ... More





Richard Hunt, Untitled, c. 1963. Collection Museum of Contemporary Art Chicago, Gift of Mark Maremont, Stephen Maremont, and Kate Maremont Stone in memory of Jill Fischer Maremont. © 1963 Richard Hunt. Photo: Nathan Keay, © Museum of Contemporary Art Chicago.





CHICAGO, IL.- The Museum of Contemporary Art (MCA) Chicago presents MCA DNA: Richard Hunt, an exhibition celebrating Hunt's life and artistic achievements, and timed to coincide with the artist turning eighty in 2015. Richard Hunt (American, b.1935), a longtime resident of Chicago and one of the city's most accomplished artists, has contributed significantly to the history of abstract sculpture. The exhibition includes his sculptures and drawings, many from the MCA Collection, dating from the 1950s through the 1990s. These works reflect the development of Hunt's style—from smaller objects made of welded scrap materials to monumentally scaled metal sculptures. This exhibition is organized by Naomi Beckwith, Marilyn and Larry ... More
2014's Best and Brightest
---
Flashback
On a day like today, French American sculptor Louise Bourgeois was born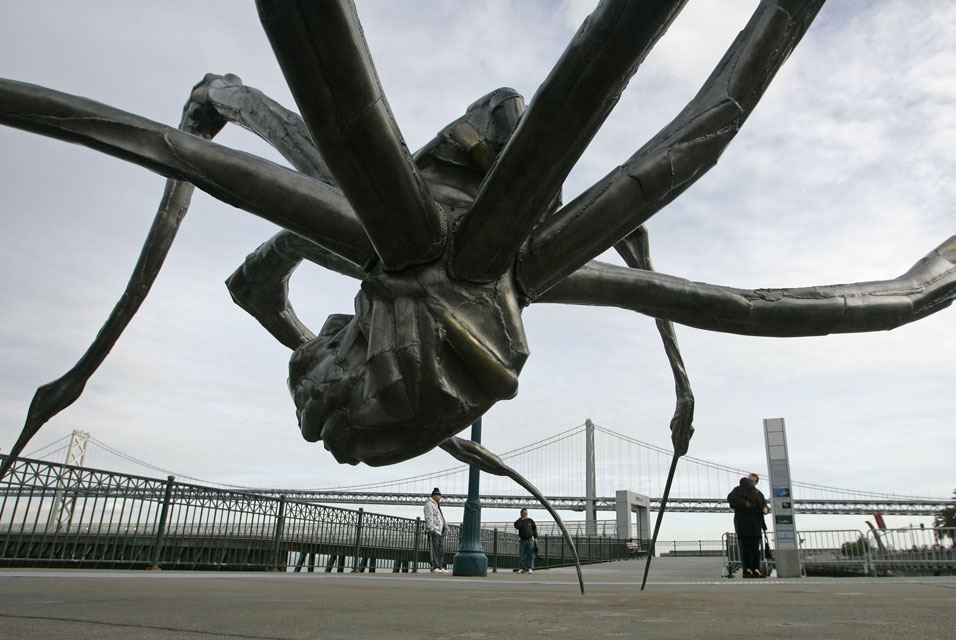 December 25, 1911. Louise Joséphine Bourgeois (25 December 1911 - 31 May 2010), was a renowned French-American artist and sculptor, best known for her contributions to both modern and contemporary art, and for her spider structures, titled Maman, which resulted in her being nicknamed the Spiderwoman. In 2011 one of her Spider works sold for $10.7 million, a new record price for the artist at auction, and the highest price paid for a work by a woman artist. In this image: A couple at right kisses by a sculpture called, Crouching Spider, along the Embarcadero in San Francisco, Wednesday, Dec. 19, 2007. In the background is the Bay Bridge. The sculpture, which is a temporary exhibit, was made by Louise Bourgeois, a Paris-born artist.
---

Museums, Exhibits, Artists, Milestones, Digital Art, Architecture, Photography,
Photographers, Special Photos, Special Reports, Featured Stories, Auctions, Art Fairs,
Anecdotes, Art Quiz, Education, Mythology, 3D Images, Last Week,
.
---
Royalville Communications, Inc
produces: