Exhibition at Albertina Museum presents 100 paintings by Claude Monet
Curator Heinz Widauer poses with Claude Monet's The House in the Roses, 1925. Albertina, Vienna, Batliner Collection © Photo: Albertina.
VIENNA
.-
This autumn, the
Albertina Museum
is mounting Austria's first broad-based presentation of works by Claude Monet (1840–1926) in over 20 years. The 100 paintings being shown include important loan works from over 40 international museums and private collections such as the Musée d'Orsay in Paris, the Museum of Fine Arts Boston, the National Gallery London, the National Museum of Western Art in Tokyo, and the Pushkin Museum of Fine Arts in Moscow. This retrospective presentation, realized with generous support from the Musée Marmottan Monet in Paris, illuminates Monet's development from realism to impressionism and onward to a mode of painting in which colors and light gradually separate from the subjects that reflect them, with the motif as such breaking free from the mere observation of nature. As a consequence, the artist's late works would come to pave the way for abstract expressionism in painting. ...
More
The Best Photos of the Day
Anders Wahlstedt Fine Art opens exhibition of selected prints by Frank Stella from his Moby Dick series
Yellow Ball: Today's auction of Frank & Lorna Dunphy Collection brings £10.1 million
The Museum of Fine Arts, Houston, announces major cornerstone acquisitions for a new gallery of Medieval art


Installation view.



NEW YORK, NY.- Anders Wahlstedt Fine Art is presenting an exhibition of selected prints by Frank Stella from his Moby Dick series. The seven prints being exhibited stem from the Moby Dick engravings, deckled edges as well as the stand alone "Candles", which refers to chapter 119 of Herman Melville's Moby-Dick. The dominant motif of the Moby Dick engravings is the wave-and-whale shape. It pays and trashes about in a sea of motifs from earlier metal relief and print series. The mixed-media intaglio prints of the Moby Dick engravings are solemn in their black and white tonalities enlivened with subtle washes of color. In abstract terms, Stella conveys a dramatic sense of roiling waters and breaching whales. The expressive gravity of this series is caught up in the title "Jonah Historically regarded", a reference to chapter 83 of the novel. The Old Testament story of Jonah, who deserts God and is thrown overboard during a ... More



Damien Hirst, Smashing yellow ball at peace. Estimate: £100,000- £150,000. Courtesy Sotheby's.



LONDON.- Today at Sotheby's in London, an auction celebrating one of the most extraordinary art world collaborations of our times – that of Damien Hirst and his business manager, mentor and 'partner in crime', Frank Dunphy – bought a total of £10,088,125 million, surpassing its pre-sale estimate (£5.2-7.3 million), with a sell-through rate of 92% and participants from 43 countries. Comprising over 200 works in total, today's live auction saw 108 lots come under the hammer; a further 98 lots feature in a dedicated online auction, which closes for bidding tomorrow. Frank and Lorna Dunphy said: "It's been an exciting but very emotional time particularly when viewing the whole collection hung in one place. We have lived with so many of these pieces for so long and letting go has been made much easier by the expert and sympathetic way in which it has been dealt with by Sotheby's." Oliver ... More



Spanish, Processional Cross, c. 1400, silver-gilt, enamel and wood, the Museum of Fine Arts, Houston, museum purchase funded by the Brown Foundation Accessions Endowment Fund.



HOUSTON, TX.- The Museum of Fine Arts, Houston, today announced three significant acquisitions of Medieval art, now on view in the European Art Galleries of the Museum's Audrey Jones Beck Building. A large, rare Hebrew codex, known as The Montefiore Mainz Mahzor (circa 1310-20); a rare surviving silver-gilt and enamel Spanish processional cross (circa 1400); and one of a handful of surviving architectural drawings for Rouen cathedral, attributed to its architect, will form the core selection for a newly conceived presentation of Medieval art. Each was a purchase, funded through dedicated MFAH acquisitions endowments. "These three remarkable objects, in tandem with our significant and growing holdings of art from Asia and the Islamic worlds, will enhance the Museum's ability ... More
Exhibition features new paintings, drawings, and a 16mm film by Paul Sietsema
The Foundling Museum opens a landmark exhibition resetting the Foundling Hospital's 300-year story
John Singer Sargent, the Gardner Museum's first Artist-in-Residence, takes the spotlight this fall


Carriage painting, 2018. Enamel on oil on linen, 39 3/8 x 31 1/2 inches, 100 x 80 cm.



NEW YORK, NY.- Matthew Marks announces Paul Sietsema, the new exhibition in his gallery at 523 West 24th Street. The exhibition features new paintings, drawings, and a 16mm film. For one group of paintings, Sietsema worked with found abstract paintings by anonymous artists that he purchased at local auctions in Europe. He tore up bills of different euro denominations and scanned them. The images of the currency as it fell onto the scanner were then painted by hand in a photorealistic manner on top of the abstractions. The layering and materiality of these paintings point to assemblage and earlier avant-garde aesthetics. Sietsema has also expressed interest in making physical the symbolic value of currency. In another series of canvases, Sietsema has painted images of rotary telephones in monochromatic tones. The receiver lies beside the phone's base in a manner the artist has stated can ... More



Andrea Soldi, Isabella Duchess of Manchester, 1738. Whitfield Fine Art.



LONDON.- This autumn, for the first time, visitors to the Foundling Museum will have an opportunity to discover portraits and stories of the remarkable women who supported the establishment and running of London's Foundling Hospital. Marking 100 years of female suffrage, Ladies of Quality & Distinction resets the focus of the Hospital's story, and radically re-hangs the Museum's Picture Gallery. Despite its male face, women permeate every aspect of the Hospital story; as mothers, supporters, wet nurses, staff, apprentice masters, artists, musicians, craftsmen and foundlings. Yet for almost 300 years, history has placed these women as a footnote in the story. The Museum is redressing this balance by bringing these overlooked stories to the fore. Following a successful campaign via Art Happens, the Art Fund's crowdfunding platform, the Museum brings together portraits of the 'ladies of quality and ... More



John Templeman Coolidge, John Singer Sargent Painting Mrs. Fiske Warren (Gretchen Osgood) and her daughter Rachel in the Gothic Room, 1903. Platinum print, 16.2 x 13.7 cm. Isabella Stewart Gardner Museum, Boston.



BOSTON, MASS.- Just after Isabella Stewart Gardner opened her Museum in 1903, she invited John Singer Sargent, a celebrated painter and close friend, to live and work in her Museum, making him the Museum's first Artist-in-Residence. Sargent set up a studio in the Gothic Room, where he painted five portraits including one of Mrs. Gardner's dear friend, Gretchen Osgood Warren and her daughter, Rachel. This September, that vivid and intimate portrait returned to the room where Sargent painted it and where surrounding objects provided inspiration for his composition. This special viewing, titled Sargent On Location: Gardner's First Artist-in-Residence, is part of the 'Close Up' series, which showcases aspects of the Museum's outstanding permanent collection. With this loan from the ... More
International project showcases clothes in art outside the context of the fashion industry
Exhibition presents a comprehensive overview of the Bauhaus and its approach to design
Indiana Jones hat fetches over $500,000 at auction


Candida Höfer, Ethnologisches Museum Berlin III 2003. C-Print, 85 × 85 cm. Courtesy of the artist © Candida Höfer, Köln; VG Bild-Kunst, Bonn 2018.



MOSCOW.- Garage Museum of Contemporary Art presents The Fabric of Felicity, an international project showcasing clothes in art outside the context of the fashion industry. The exhibition spans five continents and features over forty artists, including representatives of historical avant-gardes, members of the Soviet and Brazilian underground art scenes, and new generation artists from Russia, Japan, USA, Zimbabwe, and other countries. The geography of the show is built around twenty-first-century "silk roads:" the intercontinental transport routes and production cycles of raw materials, textiles, and ready-to-wear garments from democratic global brands. Based on a series of research trips stretching from Sweden to Bangladesh by way of Ivanovo (Russia) and Biella (Italy), The Fabric of Felicity undermines stereotypical notions of East and West, Global South and Global North, and suggests an equality of artistic media, methods, and ... More



Marcel Breuer, lath chair ti 1a, 1922, Collection Vitra Design Museum Photo: © Vitra Design Museum, Jürgen Hans.



LAUSANNE.- Conceived by the Vitra Design Museum and adapted by Mudac for the Lausanne venue, the exhibition »The Bauhaus #itsalldesign« presents a comprehensive overview of the Bauhaus and its approach to design. In addition to numerous landmark pieces, the exhibition encompasses a great number of rare, in some cases never-before-seen exhibits from the fields of design, architecture, art, and photography. At the same time, it juxtaposes the Bauhaus' concept of design with current debates and tendencies in design by contrasting the historical exhibits with the works of contemporary designers, artists, and architects. In this way, »The Bauhaus #itsalldesign« reveals the surprising modern-day relevance of this legendary institution. The mission of the »Staatliches Bauhaus« school, founded by Walter Gropius in Weimar in 1919, was to educate a new type of designer. Students at the Bauhaus were to acquire artisanal and artistic foundations as well ... More



The most famous hat in movie history, this rabbit felt, wide-brimmed fedora has certainly been on some adventures.



LONDON (AFP).- Indiana Jones's signature fedora fetched more than half a million dollars at a blockbuster London auction of rare memorabilia from some of the most iconic movies of the past 40 years. But the star attraction -- the sleek jacket worn by the loveable Star Wars scoundrel Han Solo in "The Empire Strikes Back" -- failed to clear the £500,000 ($665,000, 563,000 euros) reserve and went unsold. Organisers said they had "a number of post-auction enquires" about the space-travelling jacket and were hoping to strike a deal in the coming days. More than 600 costumes and props from much-adored films and television series went under the hammer on the banks of the River Thames. The memorabilia seller Prop Store has held the annual event since 2014 and expected to collect a record £3.5 million. That figure might not be initially met with the jacket setback. Organisers were hoping it would get up to a £1 million. Th ... More
San Jose Museum of Art opens the largest solo exhibition of Dinh Q. Lê's work in the US
In isolation & among friends: Modern African-American artists shine in October 4 Swann sale
Didier Aaron, Inc. presents a selection of paintings and drawings by Charles Lapicque


Dinh Q. Lê, Untitled, from the series "Tapestry," 2006. Chromogenic print and linen tape, 85 x 53 inches. Collection of Edward Tyler Nahem, New York.



SAN JOSE, CA.- Dinh Q. Lê: True Journey Is Return is the largest solo exhibition of the renowned Vietnamese-American artist's work in the United States in more than a decade. Dinh Q. Lê features five major video and photography installations, including the installation Vision In Darkness: Trần Trung Tín (2015), which has never before seen in the US, and rarely seen photo-weavings from 2006. The exhibition highlights the artist's ongoing experimentation in narrative and storytelling through multimedia documentary video and found photography installations. The exhibition is organized by San José Museum of Art's associate curator Rory Padeken and is on view at SJMA from September 14, 2018 through April 7, 2019. A 120-page illustrated catalogue, has been published by SJMA in conjunction with the exhibition. "We are thrilled ... More



Elizabeth Catlett, Head (Head of a Man), carved stone, circa 1943. Estimate $200,000 to $300,000.



NEW YORK, NY.- African-American Fine Art sales at Swann Galleries offer the opportunity to see marketplace history happen, and the October 4 auction is no exception, with a significant selection of works by Elizabeth Catlett, Eldzier Cortor and Hughie Lee-Smith, among others. A timely run of works by Charles White features the significant and powerful Nobody Knows My Name #1, 1965, a mid-career drawing that was exhibited extensively in the late 1960s (Estimate: $100,000 to $150,000). The title was likely inspired by James Baldwin's Nobody Knows My Name: More Notes of a Native Son, 1961–White's composition shows a young African-American man's head in a swirling, atmospheric space, a deeply symbolic response to the height of the Civil Rights movement. Prints by White include the linoleum cuts Young Farmer (Young Worker), 1953, and Solid as a Rock ... More



Charles Lapicque, Le Pont de Lezardrieux, 1957.



NEW YORK, NY.- This solo exhibition marks the 120th anniversary of Charles Lapicque's birth. It brings together all aspects of his oeuvre for the first time in over 60 years to the United States. It is being exhibited at Didier Aaron, Inc. New York. Charles Lapicque was a masterful artist of color whose signature style of broad brushstrokes in vivid hues pushed forward from the artistic movements before him and in turn inspired twentieth-century artists in France and beyond. He is credited foremost with inventing style de grille bleue (blue armature) in the 1940s, which he publicly presented in "Peintres de la Tradition Française" at Galerie Braun in Paris, the first modern paintings exhibition under the German occupation. It marked the beginning of the development of what was to become known as École de Paris, with Lapicque's works attracting particular attention. While his fellow artists struggled to find their way from un ... More
Julie Mehretu Interview: The In-Between Place
Flashback
On a day like today, German-French painter Hans Hartung was born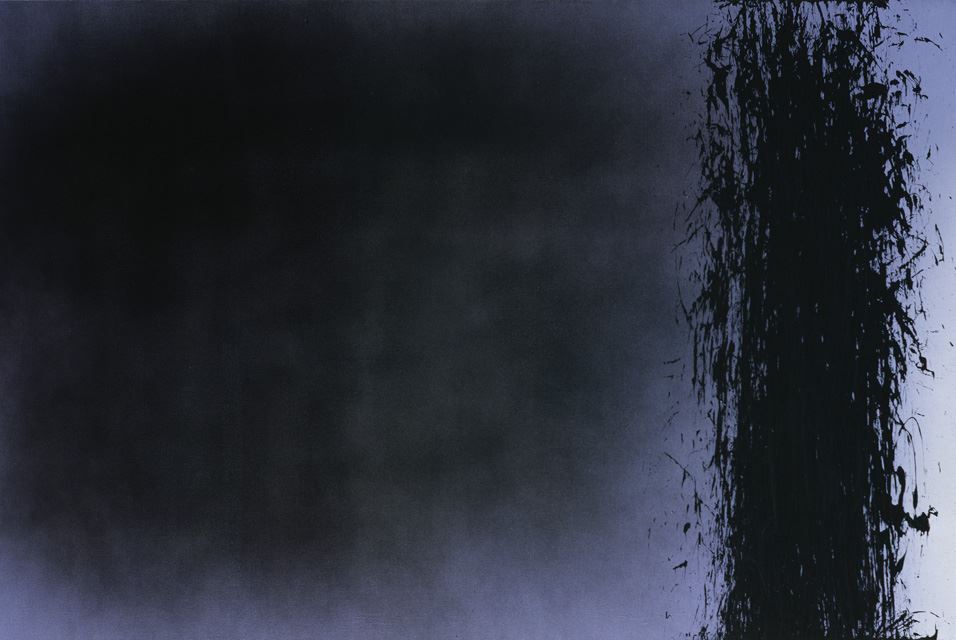 September 21, 1904. Hans Hartung (21 September 1904 - 7 December 1989) was a German-French painter, known for his gestural abstract style. Hartung's freewheeling abstract paintings set influential precedents for many younger American painters of the sixties, making him an important forerunner of American Lyrical Abstraction of the 1960s and 1970s. In this image: Hans Hartung, T1980-K5, 1980. Acrylic on canvas, 185 x 300 cm. Courtesy, Foundation Bergman Hartung, France; Timothy Taylor Gallery, London.
---

Museums, Exhibits, Artists, Milestones, Digital Art, Architecture, Photography,
Photographers, Special Photos, Special Reports, Featured Stories, Auctions, Art Fairs,
Anecdotes, Art Quiz, Education, Mythology, 3D Images, Last Week,
.
---
Royalville Communications, Inc
produces: