Exhibition positions the Polaroid at the crossroads between art and technology
The exhibition reflects different artistic approaches and temperaments as well as the diverse characteristics of the materials and techniques of Polaroid photography. Photo: Michaela Hille.
HAMBURG
.-
Polaroid! A brand that has long since become legendary. One look at Instagram is enough to show how instant photography transformed the medium in ways that are still pervasive today. The exhibition positions the Polaroid phenomenon at the crossroads between art and technology. Outstanding artists from Ansel Adams to Andy Warhol used the medium of the instant photo to blaze new trails with their art, leaving a lasting mark on the aesthetics of an entire era. Featuring some 240 photos by 120 artists, The Polaroid Project sheds light on the whole aesthetic spectrum of instant photography while also demonstrating based on 87 camera models and prototypes the innovative technology that made this visual revolution possible in the first place. The Polaroid works on view range from the early days of the company in 1955 through to 2015. The main focus is on art from the 1980s and 90s. Instant camera film, presented to the public for the first time in 1947 by Edwin H. Land in New York, shortened ...
More
The Best Photos of the Day
Sotheby's unveils one of the greatest Rubens portraits to come to market
Hauser & Wirth opens exhibition of new and recent work by Lorna Simpson
Galerie Max Hetzler opens exhibition of new paintings by Albert Oehlen and Julian Schnabel


Sir Peter Paul Rubens (1577-1640), Portrait of a Venetian Nobleman. Estimate: £3 million. Courtesy Sotheby's.



LONDON.- A rare portrait by Sir Peter Paul Rubens (1577-1640), one of the all-time greats of Western Art will spearhead Sotheby's Old Masters sale in London on 4 July 2018. Unseen on the market for 60 years, this remarkable depiction of a Venetian Nobleman was almost certainly cherished by the artist who kept it until his death in 1640. Acquired by the great Dutch collector Hans Wetzlar in the early 1950s, it has remained in the possession of his descendants ever since. One of only a few portraits by the artist to come on the market in recent years, it is estimated in the region of £3 million. George Gordon, Worldwide Co-Chairman of Sotheby's Old Master Paintings Department, said: "Rubens is known as the "Prince of the painters" and his legacy is far reaching. His timeless modernity and immediacy is evident in this painting which encapsulates several strands of his creative, emotional ... More



Installation view, 'Lorna Simpson. Unanswerable', Hauser & Wirth London, 2018. Photo: Alex Delfanne. © Lorna Simpson. Courtesy the artist and Hauser & Wirth.



LONDON.- Lorna Simpson's inaugural exhibition at Hauser & Wirth London, 'Unanswerable', features new and recent work across three different media: painting, photographic collage and sculpture. Simpson came to prominence in the 1980s through her pioneering approach to conceptual photography, which featured striking juxtapositions of text and staged images and raised questions about the nature of representation, identity, gender, race and history. These concerns are reflected throughout the exhibition to present the artist's expanding and increasingly multi-disciplinary practice today. Simpson continues to develop the language of the found image as a source for her work, incorporating photographs from her collection of vintage Ebony and Jet magazines from the 1950s to the ... More



Julian Schnabel, Untitled, 2017. Oil on found fabric, 274,3 x 201,9 x 5 cm.



BERLIN.- Galerie Max Hetzler is presenting an exhibition with new paintings by Albert Oehlen and Julian Schnabel at Goethestraße 2/3. Both known as major protagonists of a constant exploration of the process of painting, Albert Oehlen and Julian Schnabel deeply influenced and defined the art field since the 1980s, provoking a departure from painting as conventionally understood. For the first time, Galerie Max Hetzler presents a duo exhibition of these artist companions and friends, focussing on their recent bodies of works. With a chromatic spectrum consisting mainly of subtle variations of grey, including highlights of green, yellow and pink, the canvas' surface of Albert Oehlen's latest paintings witnesses a complex and intriguing process of overpainting. The elaborated interplay of broadly applied brushstrokes and overlapping layers of paint build a dynamic impression of colour and movement. Shapes and compositional ... More
Scientists discover evidence of early human innovation, pushing back evolutionary timeline
Sotheby\s Hong Kong announces highlights from its Important Watches Spring Auction
Art Jameel and Delfina Foundation announce a significant new partnership


Alison Brooks, a professor of anthropology at George Washington University's Center for the Advanced Study of Human Paleobiology and an associate of the National Museum of Natural History's Human Origins Program at the Smithsonian, is lead author on the paper. Human Origins Program, Smithsonian.



WASHINGTON, DC.- Anthropologists at the Smithsonian's National Museum of Natural History and an international team of collaborators have discovered that early humans in East Africa had—by about 320,000 years ago—begun trading with distant groups, using color pigments and manufacturing more sophisticated tools than those of the Early Stone Age. These newly discovered activities approximately date to the oldest known fossil record of Homo sapiens and occur tens of thousands of years earlier than previous evidence has shown in eastern Africa. These behaviors, which are characteristic of humans who lived during the Middle Stone Age, replaced technologies and ways of life that had been in place for hundreds of thousands of years. Evidence for these milestones ... More



A Very Important, Extremely Rare and Possibly Unique Stainless Steel Chronograph Wristwatch with Registers and Pulsation Dial Ref 1579 (estimate HK$6,200,000 – 12,000,000 / US$ 800,000 – 1,540,000). Courtesy Sotheby's.



HONG KONG.- Sotheby's Hong Kong is unveiled highlights from its Spring 2018 Sale Series of Important Watches, taking place at Hong Kong Exhibition & Convention Centre on 2 April. The auction features unique and important timepieces from the leading names in horology, including Patek Philippe, Rolex, Piaget and Vacheron Constantin, as well as distinguished independent watch makers including Roger Smith and Greubel Forsey. With 420 lots from the 19th, 20th and 21st centuries, Important Watches carries a total estimate in excess of HK$100 million. Sam Hines, Sotheby's Worldwide Head of Watches, comments: "We are excited to have this fantastic auction of vintage and modern timepieces in Hong Kong for our first sale of the season. Featuring a strong line-up of highly sought-after vintage references, ... More



Jameel Arts Centre, Entrance. Courtesy of Serie Architects.



DUBAI.- Art Jameel and Delfina Foundation announced that they are entering into a significant new partnership, extending the international reach of both organisations, and developing new programming and residency initiatives. The collaboration marks a major new chapter for both organisations, with Art Jameel set to open two new art centres in 2018-2019 and Delfina Foundation looking to both secure and expand its current mandate more broadly. By aligning networks, both organisations will be able to maximise their reach and impact. Art Jameel will have access to Delfina Foundation's expertise in running artists' residencies, and its accompanying network; Delfina Foundation will be able to harness the strategic thinking behind Art Jameel and its sister organisation Community Jameel, to expand the London organisation's work exploring the relationship between the arts and social change. The partnership entails sharing expertise and strategies across the two ... More
Iraqi enthusiasts search for relics of royal past
Wagner + Partner opens new gallery space with thematic exhibition
Galerie Rodolphe Janssen opens exhibition of new works by Sam Moyer


A man holds up a preserved coin specimen during a historical relic auction at the Moudallal cafe, Arabic for "pampered", in the Iraqi capital Baghdad. SABAH ARAR / AFP.



BAGHDAD (AFP).- At the heart of a Baghdad flea market, nostalgia for Iraq's royal past is on full display as collectors and investors gather to buy relics from a bygone era. Inside the Moudallal cafe, Arabic for "pampered", a hundred men from across the country carefully follow the auction of momentos from the nearly four decades of monarchic rule that ended with a bloody coup in 1958. "There is a feeling of nostalgia among the customers. Take the banknotes, their manufacture and quality were much better before, that's why the prices go up," says 52-year-old auctioneer Ali Hikmat. With a booming voice, the towering man who has worked in the covered market since 1992 offers his goods up for to the highest bidder. All sorts of keepsakes are up for grabs: banknotes, coins, stamps and decorations. Most date back to Iraq's royal era, but there are also a few items from the early ... More



Erwin Olaf, Shanghai: Hangpu - The Journey (2017), archival print, 60,5 x 80,4 cm. Photo: Courtesy Wagner + Partner.



BERLIN.- Wagner + Partner announced the opening of its new premises with the launch of the thematic exhibition, Die Dauer des Moments (The Moment's Duration). As a crack in time, the "moment", possesses unique qualities - it is exciting, unbearable, poetic, unpredictable … and? it can also be instantaneously brief. Since its inception, photography has harnessed not only light but also the technical skills to capture one moment in time. Consequently, the exhibition looks to the 20th-century photographers André Kertész and Berenice Abbott, who address this fact in an exemplary manner with the bygone scenes they once captured from everyday life. These are complemented by the work of the renowned photographer Erwin Olaf, whose series Waiting addresses the insufferableness of waiting. Olaf also addresses the tremendous upheaval in Chinese society in his current series, Shanghai, which is exhibited for the fir ... More



Sam Moyer, Same Game, 2018. Stone, hand painted canvas mounted to MDF panel, 192.4 x 142.2 x 1.9 cm 75 3/4 x 56 x 3/4 in (SMoy145).



BRUSSELS.- Galerie Rodolphe Janssen is presenting an exhibition of new works by Sam Moyer. In the artist's third solo exhibition with the gallery, Moyer continues her practice of combining found stone with hand painted canvas. The new works on view represent a synthesis of Moyer's past material-conceptual studies, which mix medium-specific techniques like photography, painting, installation, and sculpture in order to engage their historical resonance. In these wall works salvaged stone scraps, including several marble Saarinen tabletops once homed in a private park in Manhattan, nestle amongst specially fitted segments of hand-painted canvas mounted to MDF panel. Moyer arranges the stone pieces according to an improvised geometry, allowing the pre-existing shapes to interact with each other as well as the prepared fabric, where the artist's hand is evident to varying degrees in the delicate treatment of the ... More
Exhibition presents a little-known chapter of Olivetti history
Masters of Spain exhibition opens at the Polk Museum of Art
Women who photographed Dalí is the focus of this year's exhibition at The Fundació Gala-Salvador Dalí


Architect Alberto Galardi, Florence, 1971. Photo: Gabriele Basilico. Courtesy Studio Gabriele Basilico, Milan. © Studio Gabriele Basilico.



FLORENCE.- The exhibition The Olivetti Idiom (1952-1979) curated by Caterina Toschi and produced by Ellyn Toscano, New York University Florence, opened on March 14, 2018 at Villa Sassetti, Florence. The exhibition seeks to reconstruct the history of the Olivetti image from 1952 to 1979 through photographs and documents linked to three places where Olivetti products were displayed (exhibitions, stores and the school), and in which narrative forms – oral, written and visual – of the Olivetti identity were progressively developed. Photographs by Aldo Ballo, Gabriele Basilico, Gianni Berengo Gardin, Walter Binder, Giorgio Colombo, Erich Hartmann, Wayne Miller, Paolo Monti, Ugo Mulas, Ezra Stoller document the interiors of Olivetti stores, designed by the most important avant-garde architects of the time (Gae Aulenti, Ignazio Gardella, Leo Lionni, Carlo Scarpa and BBPR Studio), as well as the ... More



Francisco Goya, 'Termeridad de martincho en la plaza de Zaragoza,' 1815-16 (detail).



LAKELAND, FLA.- "Masters of Spain: Goya and Picasso" opened March 17 at the Polk Museum of Art at Florida Southern College. The exhibition, which runs through June 17, includes more than 50 works of art and features the iconic "Tauromaquia" (Bullfighting) series of etchings by Francisco de Goya y Lucientes, as well as rare late-career works by Pablo Picasso in multiple media from ceramic to cardboard. The majority of the works in the show are on international loan from The Art Company, located in Pesaro, Italy. Goya was fascinated by the concept of the bullfight as emblematic of Spanish history, as was Picasso, and that theme is represented throughout the exhibition, said Dr. H. Alexander Rich, PMA Curator and FSC Art History Professor. Goya explores the artistry and the violence of the bullfight in the complete 40 prints of the "Tauromaquia" series. "I believe it can be argued that Goya was trying, throug ... More



Martha Holmes, Salvador Dalí with the oil painting The Servant of the Disciples of Emmaus and studio material, ca. 1960. Image rights of Salvador Dalí reserved.



FIGUERES.- The Fundació Gala-Salvador Dalí announced that the temporary exhibition at Púbol Castle was officially inaugurated. This year's temporary exhibition at Púbol, Women photograph Dalí, seeks to increase the visibility of the work of fourteen modern, well-travelled and free-spirited women who chose photography as their form of expression and whose common denominator was Salvador Dalí. The exhibition invites visitors to delve deeper into a representative part of Dalí's biography, and the inseparable binomials of life and work, persona and performance. The exhibition includes 48 photographs complemented by a documentary section with books, magazines and clippings connected with the photographers and the work on display. This section also contains an extract from an interview with Suzy Embo, in ... More
Being: New Photography 2018 | MoMA LIVE
Flashback
On a day like today, German-American painter Josef Albers was born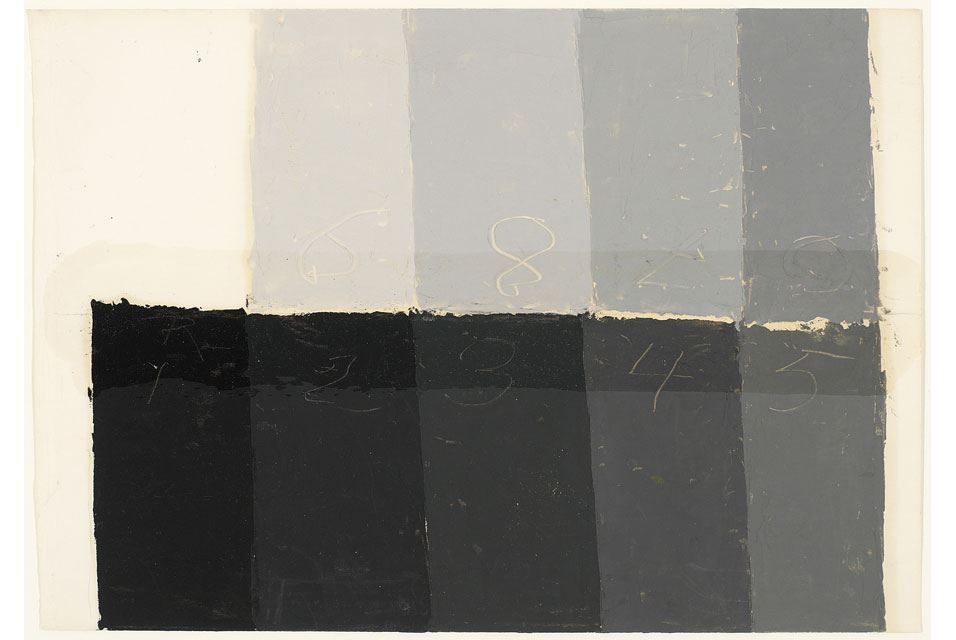 March 19, 1888. Josef Albers (March 19, 1888 - March 25, 1976) was a German-born American artist and educator whose work, both in Europe and in the United States, formed the basis of modern art education programs of the twentieth century. In this image: Color Study. Gouache on paper, 7 1/16 x 10 3/16 inches (18 x 25.8 cm) © 2016 The Josef and Anni Albers Foundation/Artists Rights Society (ARS), New York.
---

Museums, Exhibits, Artists, Milestones, Digital Art, Architecture, Photography,
Photographers, Special Photos, Special Reports, Featured Stories, Auctions, Art Fairs,
Anecdotes, Art Quiz, Education, Mythology, 3D Images, Last Week,
.
---
Royalville Communications, Inc
produces: