WestLicht Gallery in Vienna offers a unique overview of the history of space photography
US' art curator Jay Belloli gestures in front of a picture of Mars planet, as he delivers a speech during the presentation of the "Zero Gravity, the History of Space Photography" exhibition at the Westlicht Gallery in Vienna. AFP PHOTO / ALEXANDER KLEIN.
VIENNA
.-
WestLicht
explores the infinite expanses of space. Featuring 150 spectacular photographs, the exhibition gives a unique overview of the history of space photography: from early 19th century black-and-white images of passing comets to the first photograph of Earth before the black-velvet background of the universe, all the way to the colour-drenched images delivered by modern high-resolution telescopes from the depths of our galaxy. In unheard-of clarity, Zero Gravity. The History of Space Photography shows the mighty Saturn and its rings; the spacecraft "Galileo" and "Voyager 2" were able to transmit sensational images of Jupiter, the largest planet of our solar system, back to Earth; and of course every visitor may search for extraterrestrial life in the numerous images of the red planet Mars. However, the gaze travels deeper into the infinity of space: stars and ...
More
The Best Photos of the Day
Staatliche Graphische Sammlung München restitutes a drawing by Andrea Boscoli
Christie's announces a new and expanded sales strategy for Japanese and Korean art
Gabriel Garcia Marquez, godfather of magic realism, dies at 87 in Mexico City




Andrea Boscoli, The miracle of the donkey - Scene from the life of St. Anthony of Padua. Pen and brown ink, brown wash, 23 x 16 cm (9 x 6,2 inch ). At lower right with the collector's stamps Boguslaw Jolles (Lugt 382) and Jan Pietersz. Zoomer (Lugt 1511).





MUNICH.- A claim for restitution of a drawing by the Florentine painter and draftsman Andrea Boscoli (1560-1607) in the Staatliche Graphische Sammlung Munich was lodged by the heirs of Dr. Michael Berolzheimer (1866-1942) in a letter from the Holocaust Claims Processing Office dated June 5, 2012 . The drawing is to remain in the Munich collection against payment of financial compensation. Based on research conducted by the Holocaust Claims Processing Office, Department of Financial Services, New York, and subsequent investigations on the part of the Staatliche Graphische Sammlung Munich, it became evident that the work, depicting a scene from the life of St. Anthony, was once part of the collection of Dr. Berolzheimer, who due to his Jewish origin was dispossessed by the National Socialists and forced to emigrate. At the time of the SGSM's acquisition of the work ... More





A rare large Kangxi Period (1662–1722) langyao copper red baluster-shaped vase, measuring 18 ¾ in. (47.5 cm.) high. Estimate: £25,000–35,000. Photo: Christie's Images Ltd 2014.





NEW YORK, NY.- After the successful sales of Japanese and Korean art during Asian Art Week this March, which reaffirmed Christie's global leadership in the field, Christie's announces the Japanese and Korean art department will focus on tightly curated theme sales, both online and at auction in New York and London, as well as continue with private sales. In addition, Christie's Online-Only sales will launch a number of exciting auctions, starting in June with a sale titled "Arts of the Meiji: Magnificent Craftsmanship of Imperial Japan," which celebrates exceptional works of art made by Imperial Household artists during the Meiji period. Additional planned sales will include, during Frieze Week in London, a second curated live auction of Japanese Art "Asobi," celebrating the joie de vivre that runs through Japanese culture. In December, Christie's will hold a major themed sale "At the Candle" that cele ... More





Colombian writer Gabriel Garcia Marquez (L) receives the Nobel Prize for Literature from the hand of King Carl Gustav of Sweden 10 December 1982. AFP PHOTO / SCANPIX SWEDEN / BERTIL ERICSON.





MEXICO CITY (AFP).- Gabriel Garcia Marquez, the Nobel-winning Colombian author who used magical realism to tell epic stories of love, family and dictatorship in Latin America, died Thursday at the age of 87. Known affectionately as "Gabo," the author of "One Hundred Years of Solitude" and "Love in the Time of Cholera" was one of the world's most popular Latin American novelists and the godfather of a literary movement that witnessed a continent in turmoil. The longtime journalist was a colorful character who befriended Cuban leader Fidel Castro, got punched by fellow Nobel laureate Mario Vargas Llosa and joked that he wrote to make his friends love him. Presidents, writers and celebrities mourned his death, the cause of which was not immediately revealed. "One thousand years of solitude and sadness for the death of the greatest Colombian of all time," Colombian President Juan Manuel Santos wrote on Twitter. He later ... More
New Banksy work 'Mobile Lovers' on show at the City Museum in Bristol after removal row
Exhibition of new work by Brazilian artist Tunga opens at Luhring Augustine
Royal Academy of Arts exhibits courtyard installation od sculpture by Lynn Chadwick RA




George Ferguson, Mayor of Bristol, posing next to an artwork named 'Mobile Lovers' by secretive British artist Banksy. AFP PHOTO / BRISTOL CITY COUNCIL / CHRIS BAHN.





LONDON (AFP).- A new work by British street artist Banksy will go on public display in his home city after a row over ownership of the painting, which features two lovers embracing as they gaze at their mobile phones, officials said Thursday. The piece dubbed "Mobile Lovers" was found at the weekend on a wooden plank that had been screwed onto a boarded-up doorway in Bristol, western England. Members of a youth club discovered the artwork near their building amid a search sparked when an image of the piece appeared on Banksy's internet site, with no indication of its location. Club manager Dennis Stinchcombe took it off the wall and installed it in a corridor of the Broad Plains Boys Club for visitors to see, saying he planned to sell the work to raise funds to keep the club open. But Bristol City Council said that it owned the wall onto which "Mobile Lovers" was attached and that the painting therefore belonged to it. After a meeting with ... More





Tunga, (title to be determined), 2014. Iron, steel, rubber, plaster, linen, and leather, 59 X 39 3/8 X 82 5/8 inches (150 X 100 X 210 cm)© 2014, Tunga; Courtesy of the artist and Luhring Augustine, New York.





NEW YORK, NY.- Luhring Augustine announces an exhibition of new work by Tunga. This marks the artist's fifth solo exhibition with the gallery and includes sculptures and drawings conceived over the past few years. For four decades Tunga has created a complex personal mythology through his integrated and evocative body of work, which includes sculpture, installation, performance, film, drawing, and writing. His practice is a synthesis of multifarious interests in poetry, psychology, physics, alchemy, and metaphysics, and is expressed with a distinctive, sensual and lyrical sensibility. Following in the tradition of Joseph Beuys's ceremonial environments, Tunga relies on a repeated use of symbolic materials such as crystals, sponges, rubber, wood, bronze, glass vessels, and ceramics. The tripod is a recurring structural component in his new sculptures, which incorporate such variety of media and resemble monumental totemic objects ... More





A woman looks at a work of art by British artist Lynn Chadwick entitled 'Beast Alerted' as part of a Royal Academy exhibition in central London on April 14, 2014. AFP PHOTO / BEN STANSALL.





LONDON.- The Royal Academy of Arts, in collaboration with Blain Southern gallery, London, presents a major installation in the RA Courtyard of four large-scale sculptures by Lynn Chadwick RA (1914 - 2003) to celebrate the centenary of his birth. Lynn Chadwick emerged with the second wave of British modernists during the 1950s. He was one of the leading British sculptors of the 20th century and was best known for his abstract bronze works that were often inspired by the human form and the natural world. His sculpture features in major international public collections, including the Royal Academy of Arts, London; the Museums of Modern Art, New York; Tate, London; the Centre Georges Pompidou, Paris; the Peggy Guggenheim Collection, Venice; and the National Galleries of Scotland, Edinburgh. He became a senior Royal Academician in 2001. The courtyard installation exhibits a selection of Chadwick's series of steel beasts ... More
Playing with Chance: Centre for Contemporary Art in Lagos 'X-rays' El Anatsui at 70
Pérez Art Museum opens unprecedented exploration of the cultural history of the Caribbean
Asian Art Week at Christie's London taking place between 13 and 16 May 2014




Ghanian born renowned sculptor Professor El Anatsui speaks about his forty-year career as a sculptor, teacher and exhibition to mark his 70th birthday. AFP PHOTO/PIUS UTOMI EKPEI.





LAGOS (AFP).- To mark the 70th birthday of one of Africa's most accomplished living artists, a Lagos museum chose to focus on pretty much anything but El Anatsui's globally renowned work. Instead, three decades of payslips from the University of Nigeria, where Anatsui has taught since 1975, are collected in a binder that hangs by a string in the centre of the room. Handwritten letters dealing with minutiae such as train tickets are stuck to the wall. "The objective was to X-ray the man" whose massive influence on African art is impossible to quantify, said Jude Anogwih, a curator at the Centre for Contemporary Art (CCA) in Lagos, where "El Anatsui: Playing with Chance". The Ghanaian-born Anatsui's first big step toward international acclaim came in 1990 when he and four others became the first artists from sub-Saharan Africa invited to exhibit at the Venice Biennale, ... More





Castera Bazile, Petwo Ceremony Commemorating Bwa Kayiman, 1950. Oil on Masonite, 23 x 19-1/4 inches. Milwaukee Art Museum, gift of Richard and Ema Flaff. Photo: Efaim L-ev.





MIAMI, FL.- Caribbean: Crossroads of the World, opening April 18, 2014 at Pérez Art Museum Miami, explores the diverse cultural history of the Caribbean and its diaspora, highlighting over two centuries of rarely seen works dating from after the Haitian Revolution to the present. The exhibition is the culmination of nearly a decade of collaborative research and scholarship organized by El Museo del Barrio in conjunction with the Queens Museum and The Studio Museum in Harlem. The Miami presentation, curated for PAMM by guest curator Elvis Fuentes, is a honed reiteration of this critically-acclaimed survey and offers a vital reflection of Miami's Caribbean community. The exhibition is the centerpiece of a season at PAMM dedicated to Caribbean art, which includes related exhibitions, a two-day symposium, a Caribbean film and ... More





A magnificent pair of finely carved 19th century zitan armchairs. Estimate: £50,000–70,000. Photo: Christie's Images Ltd 2014.





LONDON.- Christie's Asian Art sales in London this spring will take place between 13 and 16 May, with a rich offering of dynamic, rare and beautiful works with stellar provenance, many of which are coming to the market for the first time in many decades. The sales include: The C. Philip Cardeiro Collection of Chinese Art and Fine Chinese Ceramics and Works of Art on 13 May at King Street; and at South Kensington: a new two-day sale format of Chinese Ceramics, Works of Art and Textiles on 14 and 16 May. Christie's will be opening Asian Art Week at Christie's in London with a selection of 125 Chinese works of art from The C. Philip Cardeiro Collection. Philip Cardeiro was born in 1930 in Boston, Massachusetts, and at a very early age developed a fascination with world art and culture. He immersed himself in museum exhibitions, recalling that the area he grew up in was replete with some of the best ... More
Phoenix Art Museum Sybil Harrington Director James K. Ballinger announces intention to retire
Compelling works by Peter Voulkos in Dorothy Weiss Collection lead at Bonhams
Saint Louis Art Museum announces Amanda Thompson Rundahl as new Director of Learning and Engagement




Ballinger will celebrate his 40th anniversary with the museum in December and his 33rd year as director in February.





PHOENIX, AZ.- James K. Ballinger, The Sybil Harrington Director of the Phoenix Art Museum, announced today to the museum's Board of Trustees and staff his intention to retire, and requested the Board initiate a search process to replace him. Ballinger, who will celebrate his 40th anniversary with the museum in December and his 33rd year as director in February, said the timing of the announcement was to "ensure that the succession-planning process will be deliberate and seamless until the proper person is found, and that a smooth transition follows." Ballinger joined the museum in 1974 as Curator of Collections. He was named Director in February, 1982. "Jim Ballinger is a visionary and nationally respected arts advocate who has guided the Phoenix Art Museum's physical growth and extensive reach as part of his overall passion to grow and expand the arts in Arizona," said Phoenix Art Museum Board of Trustees Chairman Jim ... More





Peter Voulkos (American, 1924-2002), Vessel, 1968. Stoneware, iron slip and clear glaze. Sold for $47,500 including premium. Photo: Courtesy of Bonhams.





LOS ANGELES, CA.- Bonhams, the third largest international fine art auction house, achieved phenomenal prices for works from the Collection of Dorothy Weiss in its 20th Century Decorative Arts Auction on April 16th in Los Angeles. The top selling highlights were from the pioneering art of Peter Voulkos. His five ceramic works far exceeded their pre-sale estimates to achieve a combined total of over $160,000. Voulkos' works were only a few of many artists' ceramics and glass featured in the Weiss collection. In addition, Jun Kaneko's "Dango" sold for an impressive amount of $27,500. In the end, only three items of the collection remained unsold as the auction experienced high levels of spirited bidding by nearly 300 registered bidders from 14 different countries. The Collection of Dorothy Weiss reached a sales total in excess of $433,000. The auction as a whole witnessed total sales of $1.6 million with 80% of lots sold ... More





Amanda Thompson Rundahl will oversee education and public programs at the Art Museum.





ST. LOUIS, MO.- Amanda Thompson Rundahl will join the Saint Louis Art Museum as director of learning and engagement, overseeing the Museum's education, art-interpretation and public-programming initiatives. She assumes her duties on June 16. Rundahl currently is innovation engineer and head of interpretation and participatory experiences at the Minneapolis Institute of Arts, where she has worked since 1998. Over more than 15 years in museum education, Rundahl has helped design digital tools for interpreting art and developed effective learning and engagement programs for youth, student, family and adult audiences. "Amanda is a seasoned museum educator with an impressive track record of creative and innovative initiatives in the arts," said Jason T. Busch, the Saint Louis Art Museum's deputy director for curatorial affairs and museum programs. "Her experience in collaborative endeavors that seek to understand visitor motivations ... More
---
Flashback
On a day like today, French painter Gustave Moreau died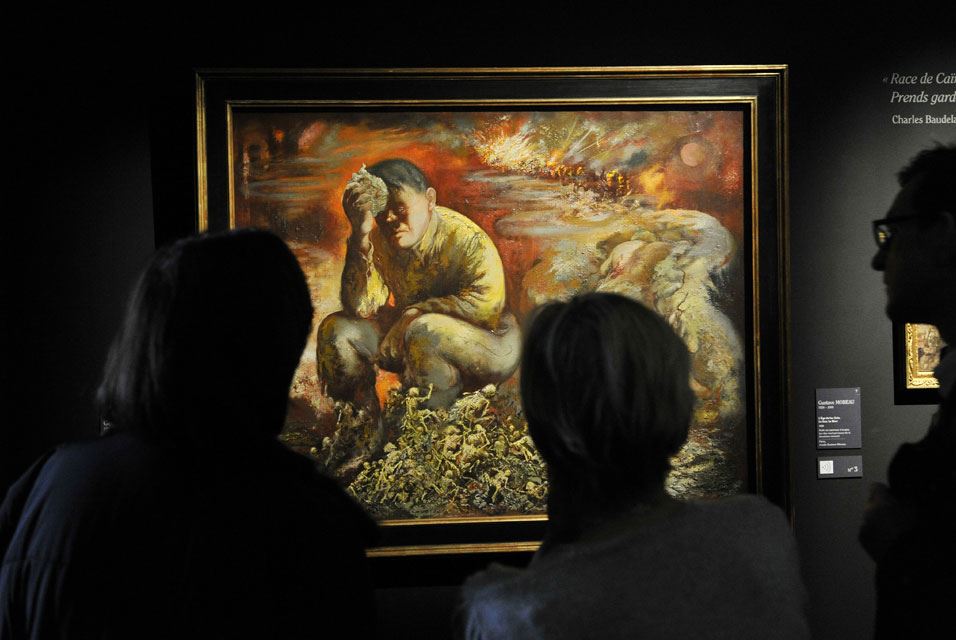 April 18, 1898. Gustave Moreau (6 April 1826 - 18 April 1898) was a French Symbolist painter whose main emphasis was the illustration of biblical and mythological figures. As a painter of literary ideas, Moreau appealed to the imaginations of some Symbolist writers and artists. In this image: Visitors look at the painting 'L'Age de Fer, Cain, Le Soir, La Mort' by French artist Gustave Moreau on display during the exhibition 'Crime and Punishment' at the Musee d'Orsay in Paris, France, 15 March 2010. The exhibition is based on a project of Robert Badinter, a French lawyer who succeeded in abolishing the death penalty in France while being Minister of Justice, and includes paintings, sculptures and other works of art or artifacts related to the subject.
---

Museums, Exhibits, Artists, Milestones, Digital Art, Architecture, Photography,
Photographers, Special Photos, Special Reports, Featured Stories, Auctions, Art Fairs,
Anecdotes, Art Quiz, Education, Mythology, 3D Images, Last Week,
.
---
Royalville Communications, Inc
produces: