Marie Antoinette pendant fetches $36 million, shattering estimate
In this file photo taken on October 11, 2018, jewelry worn by French Queen Marie Antoinette, including the pearl and diamond pendant shown here, is displayed at Sotheby's auction house in New York City. A pearl and diamond pendant owned by Marie Antoinette before she was beheaded during the French revolution sold for $36 million at an auction on Wednesday, November 14, 2018, shattering its estimated sale price of up to $2 million. Overall, the 10-piece collection owned by the ill-fated queen and unseen in public for two centuries exponentially beat expectations at the Geneva auction offered by Sotheby's. Drew Angerer / GETTY IMAGES NORTH AMERICA / AFP.

by Ben Simon
GENEVA
.-
A pearl and diamond pendant owned by Marie Antoinette before she was beheaded during the French Revolution sold for $36 million at an auction on Wednesday, shattering its pre-sale estimate of up to $2 million. The Sotheby's auction at an ultra-luxurious hotel on the banks of Lake Geneva saw feverish bidding for a 10-piece collection owned by the ill-fated queen, featuring jewels unseen in public for two centuries. The 10 items, which had been estimated to fetch a total of roughly $3 million, sold for a combined sum of nearly $43 million, Sotheby's said. A diamond brooch pegged to go for roughly $80,000 (70,000 euros) sold for $1.75 million, excluding fees, one of several pieces that brought in more than 20 times its estimated worth. But the highlight was the pendant featuring an oval diamond and drop-shaped pearl, which Sotheby's said went to an anonymous, private buyer, without giving further details. Sotheby's also said the pendant set a new record ...
More
The Best Photos of the Day
Artcurial to offer three exceptional pieces signed by the Irish designer Eileen Gray
Pace opens the first exhibition of Richard Tuttle's work in Geneva
The Morgan acquires drawings by major twentieth-century African-American artists from the South


Eileen Gray, Fauteuil Bibendum, Circa 1927-1929 © Artcurial.



PARIS.- On November 27th 2018, during its prestigious 2nd semester Art Deco auction, Artcurial will present 3 works from the most in demand designer in the world: Eileen Gray. A console completed toward 1918-1920 (estimate: €1M - 1,2M), a floor lamp from 1925 (estimate: €300,000 - 400,000), and one of the 12 only examples in the world of the famous Bibendum armchair (estimate: €500,000 - 600,000). All three pieces are extremely sought after by collectors as they have been exhibited at the Pompidou Center during the monographic exhibition dedicated to Eileen Gray in 2013. These museum quality pieces are already subject to a new loan request for a monographic exhibition to be held in New York in 2020. Eileen Gray, considered at times an iconic Art-Deco decorator, sometimes an emblematic modernist architect, figures among the major designers of the twentieth century. Painter by trade, the designer was born in 1878, applying her ... More



Richard Tuttle, They Don't Come Out To You, I, 2017. Aluminum, tape, and screws, 11" × 8-3/4" × 10-1/2" (27.9 cm × 22.2 cm × 26.7 cm) © Richard Tuttle, courtesy The Pace Gallery.



GENEVA.- Pace is presenting the gallery's first exhibition of Richard Tuttle's work in Geneva, at Quai des Bergues, from 14 November 2018 to 10 January 2019. The exhibition features a selection of Tuttle's recent works, including remarkable pieces from the Epigrams series. Tuttle is one of the most significant artists working today. Since the mid-1960s, he has created an extraordinarily varied body of work that eludes historical or stylistic categorization. Tuttle's work exists in the space between painting, sculpture, poetry and drawing. Language, spatial relationship, and scale are also central concerns for the artist. "I use the material to question itself, or to question the very thing, which is already "the picture," I think. But I may have fallen in love during this long process, not to mention my response to the sensuality of things, to seeing how the thing is embedded in ... More



Nellie Mae Rowe, (1900 - 1982), Untitled, 1981. 24 x 19 in.



NEW YORK, NY.- The Morgan Library & Museum announced the acquisition of eleven drawings by five major twentieth-century African-American artists from the South. Largely self-taught, these artists—Thornton Dial, Nellie Mae Rowe, Henry Speller, Luster Willis, and Purvis Young—use drawing to express their personal and cultural identity, finding inspiration in their own lives, as well as in common experiences and folk imagery. The Morgan acquired the drawings through a gift-purchase agreement from the Souls Grown Deep Foundation, whose mission is to preserve and promote the works of African-American artists from the Southern United States. This acquisition supports the Morgan's goal to expand the scope and depth of its collection of modern and contemporary drawings by including works from the vernacular, nonacademic traditions of the visual arts. It recognizes the important contribution made to the history of drawing by artists workin ... More
Ana Mazzei's first solo show at Green Art Gallery opens in Dubai
Auction of The Patricia and Donald Oresman Collection at Doyle
After Gabo book purge, Kuwait bans Dostoyevsky


Ana Mazzei, Tongue I-II, 2018, Painted Wood (Chene Oak, Acajou and Pine), 80 x 31 x 13,5 cm (I), 91 x 13,5 x 44 cm (II). Courtesy of the artist and Green Art Gallery, Dubai. Photo: Sebastiano Pellion.



DUBAI.- In her first solo exhibition at Green Art Gallery, Ana Mazzei fully embraces the notion of theatricality and spectatorship, both very central to her practice, to present a group of new works specifically created for the space. Titled Antechamber, the show is staged as an intermediary space between the real world outside the gallery and an imaginary 'other space'. Walking along this in-between space, viewers have to negotiate their way through clusters of works that seem to play different parts in a series of acts that occur simultaneously. However, narrative content - as is characteristic in Mazzei's work - is only insinuated through fragments of recognizable and often quite archaic or mythological forms or figures that suggest non-linear, incomplete plots suspended in time. In some cases, such as Royale, one single sculptural form is presented on top of a circular ... More



Roy Lichtenstein (1923-1997), Nude Reading, Color relief print, 1994 (detail). Est. $60,000-90,000.



NEW YORK, NY.- Doyle will auction the Collection of quintessential New Yorkers Patricia and Donald Oresman on Tuesday, November 20, 2018 at 10am. Comprising over 500 lots, this remarkable collection showcases the works of prominent artists, popular illustrators and renowned photographers. The paintings, sculptures, works on paper, prints and photographs span several decades, movements and mediums. Each work shares a common theme: Reading. Throughout the collection, figures can be spotted in the act of reading, writing, printing and studying, many fully engrossed in literature. Not coincidentally, the works are a reflection of the Oresmans themselves -- a long-married couple who could often be found sitting among their books, fully engrossed in literature. Naturally, their love of reading informed their acquisitions. Their constantly growing art collection complemented a massive private library, designed by noted New York architects Fairfax & Sammons ... More



Portrait of Dostoevsky by Vasily Perov, 1872.



KUWAIT CITY (AFP).- Kuwaiti authorities have banned a book by Russian literary giant Fyodor Dostoyevsky, one of nearly 1,000 titles blacklisted at a festival which opened Wednesday in the Gulf state. Saad al-Anzi, who heads the Kuwait International Literary Festival, told AFP the information ministry had banned 948 books including Dostoyevsky's The Brothers Karamazov, a novel set in 19th century Russia that explores morality, free will and the existence of God. Dostoyevsky joins a growing list of writers banned in the relatively moderate Gulf state, where a conservative trend in politics and society is rising. More than 4,000 books have been blacklisted by Kuwait's information ministry over the past five years, including Victor Hugo's "The Hunchback of Notre-Dame" and "One Hundred Years of Solitude" by Colombian author Gabriel Garcia Marquez -- Gabo to his fans. All titles on show at the 43rd edition of Kuwait's book fair, which runs through November 24, were screened in advance by a censorship committee ... More
Martin Parr Foundation launches membership scheme
Heather James Fine Art opens an exhibition of paintings by artist Sam Francis
Tens of thousands of people gather on beaches around the UK for Danny Boyle's Armistice Day commission


Martin Parr by Louis Little.



LONDON.- The Martin Parr Foundation are launching a membership scheme to support the Foundation whilst simultaneously increasing access to, and building a community around the Foundation's work. Three tiers of membership are available with benefits ranging from invitations to private views, priority booking for events, an exclusive signed print, and a portrait session with Martin Parr. The Martin Parr Foundation was established in 2014 and opened to the public in an architect-designed space in Bristol last year. Nearly 10,000 people are estimated to have visited the Foundation in its inaugural year to view exhibitions by Martin Parr, Niall McDiarmid, Paul Trevor and David Hurn's 'Swaps', and to attend often sold-out events including a seminar day and talks by international photographers such as Don McCullin, Susan Meiselas, Michael Christopher Brown, Siân Davey, Simon Roberts, Bieke Depoorter and P ... More



Sam Francis, A Whirling Square - SFP75-3, 1975 (detail). Acrylic on canvas, 222 x 210 in. Heather James Fine Art.



PALM DESERT, CA.- An exhibition of paintings by the acclaimed California artist Sam Francis will be on view at Heather James Fine Art, Palm Desert, from November 15, 2018, through April 29, 2019. Drawing upon diverse influences including Fauvism, French Impressionism and Modernism, Color Field painting, and Japanese calligraphy, Francis is considered a central figure of the second generation of Abstract Expressionists whose pioneering style helped to establish the movement on the West Coast and internationally. Comprising over 28 paintings and works on paper, spanning from 1955 to 1994, Sam Francis: From Dusk to Dawn includes works from the Sam Francis Foundation, and Kaare Berntsen Collection, among others. Featuring 18 paintings completed shortly before the artist's ... More



Pages of the Sea. Photo: Paul Harris.



LONDON.- On 11 November, tens of thousands of people took part in Pages of the Sea – a commission by filmmaker Danny Boyle inviting people to gather on thirty-two beaches around the UK for a nationwide gesture of remembrance for the men and women who left their home shores during the First World War. The work marks the culmination of 14-18 NOW, the UK's arts programme for the First World War centenary. · Taking place on Armistice Day, the project saw tens of thousands of people join in a series of community-led events on thirty-two beaches around the country · A new, inclusive and collaborative way to pay tribute to those who gave their lives to the First World War · Social media reach was over 130 million · Thousands took part in community projects in the preceding weeks, discovering their local history · A livestream of the Folkestone event was on the BBC News homepage for most of the day · Pages of the Sea is ... More
Exhibition explores the significance and effect of cryptocurrencies and data within our global economy
Pinakothek der Moderne opens exhibition of works by Jonathan Meese
Dix Noonan Webb sale spans 2,000 years of jewellery history


Superflex, Connect with me (Rendering), 2018, courtesy the artists, photo by Conwisch Tunet.



BASEL.- Von Bartha presents their third solo exhibition from Copenhagen-based art collective SUPERFLEX, running from 16 November 2018 to 19 January 2019. Taking its title from the slogan of Falcon bank - the first in the world to trade with bitcoin - the exhibition explores the significance and effect of cryptocurrencies and data within our global economy. Since its release in 2009, bitcoin's value and trade has increased considerably. The inability of governments or financial institutions to control cryptocurrencies has led to unstable and unpredictable values, constantly varying at a staggering rate. Designed specifically for von Bartha's Basel gallery space, Connect with me is a new, five-part sculptural installation revealing the precise fluctuations of the value of bitcoin over an 18 month period. Advancing and retracting, ascending and descending, a three dimensional blue line unfolds ... More



Jonathan Meese. Photo: Jörg Koopmann.



MUNICH.- Jonathan Meese (b. 1970 in Tokyo and based in Berlin) is one of the most internationally renowned and polarizing artists of his generation. His world views and reflections on mythology and the power of art are voiced not only in the mediums of painting, sculpture, installation, and performance; Meese also uses language as a material, incorporating into his work devices like onomatopoeia and literary tropes. Jonathan Meese's use of image and text – both playful and thoughtful at once – is at the focal point of this exhibition, which includes works from the last twenty-five years. At the core of the exhibition are 18 paintings from a series that the artist, until now, has deliberately kept for himself. Several of the paintings on display are being revealed to the public for the first time. Selected works from German private collections enhance the presentation. In addition, 25 spatial models and small sculptures, as well as approximately 75 drawings, photo collages, and ar ... More



A Victorian serpent bangle is estimated at up to £15,000.



LONDON.- A superb selection of pieces ranging from Roman times to fine modern designers will be on offer when Dix Noonan Webb starts the London Christmas season of auctions with its sale of Jewellery, Watches and Objects of Vertu in Mayfair on 29 November 2018. The auction will include fine diamond and gem set jewellery, antique and antiquarian jewels, pieces by Cartier, Van Cleef & Arpels, Boucheron, Tiffany & Co, Charles de Temple, Mosheh Oved, Georg Jensen and watches by makers including Rolex, Patek Philippe, Vacheron Constantin, Piaget and Chopard. One of the highlights of the sale is a medieval silver vesica matrix seal found by a metal detectorist in Hampshire. The seal, of marquise outline, bears the motto 'Servo secretum dominimex' meaning 'I keep secrets', and is inset with a carnelian seal depicting the bust of Hercules which dates from the 1st century AD/ 1st century BC. The legend ... More
POPaganda TV - Ron English's Brandit Popmart
Flashback
On a day like today, American painter Georgia O'Keeffe was born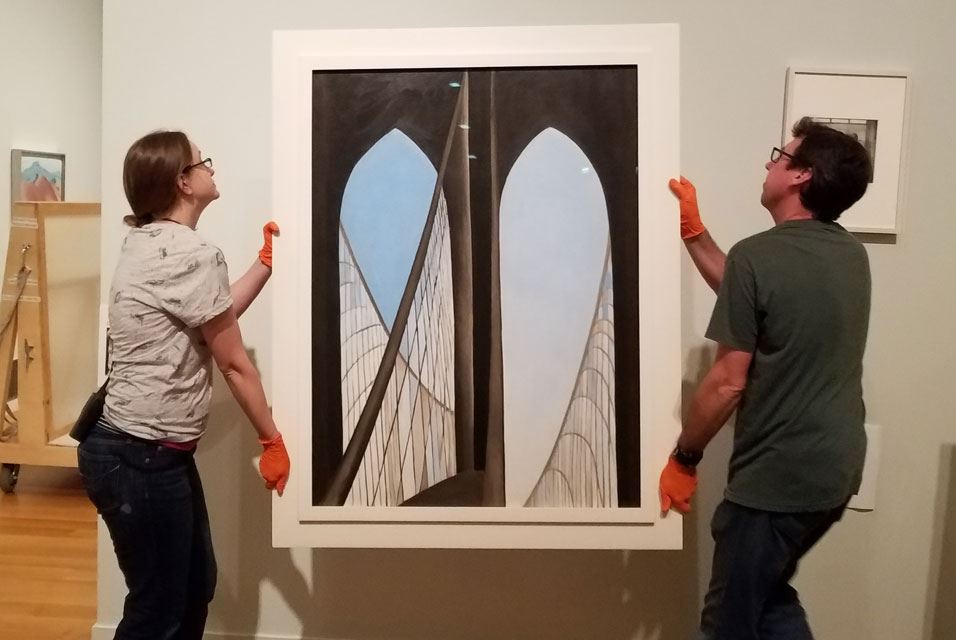 November 15, 1887. Georgia Totto O'Keeffe (November 15, 1887 - March 6, 1986) was an American artist. She was best known for her paintings of enlarged flowers, New York skyscrapers, and New Mexico landscapes. O'Keeffe has been recognized as the "Mother of American modernism".
---

Museums, Exhibits, Artists, Milestones, Digital Art, Architecture, Photography,
Photographers, Special Photos, Special Reports, Featured Stories, Auctions, Art Fairs,
Anecdotes, Art Quiz, Education, Mythology, 3D Images, Last Week,
.
---
Royalville Communications, Inc
produces: