Reynolda House Museum of American Art presents 'Georgia O'Keeffe: Living Modern'
Collections staff at Reynolda House Museum of American Art in Winston-Salem, NC install the iconic Georgia O'Keeffe painting "Ram's Head, White Hollyhock—Hills (Ram's Head and White Hollyhock, New Mexico)" (1935). This painting features a special scalloped metal frame that has the appearance of leather—special braces were made to secure the frame to its custom crate.
WINSTON-SALEM, NC
.-
Reynolda House Museum of American Art
will present Georgia O'Keeffe: Living Modern, a landmark exhibition organized by the Brooklyn Museum that examines the artist's self-crafted persona through her art, her dress, and her progressive, independent lifestyle. More than 190 paintings, photographs, sculptures and personal objects will be on view August 18 – November 19, including jewelry, accessories, and garments from her wardrobe, some designed and made by the artist herself. The exhibition reveals the artist's powerful ownership of her public and artistic identity and affirms that she embodied the same modern aesthetic in her self-fashioning as in her art. Reynolda House Museum of American Art is the only venue in the Southern U.S. for Georgia O'Keeffe: Living Modern. The exhibition features numerous portraits of the artist—many of them now iconic—taken by eminent photographers, including Alfred ...
More
The Best Photos of the Day
LUMA Foundation exhibits photographs by Annie Leibovitz
Exhibition of contemporary Chinese photography and the Cultural Revolution opens in Berlin
"Symbolism in Art of the Baltic States" to be shown at the Musée d'Orsay in Paris in 2018


French President Emmanuel Macron (2ndL), escorted by prefect of the Provence-Alpes-Cote d'Azur region, Stephane Bouillon, looks at an exhibition of photographs by US photographer Annie Leibovitz. JEAN-PAUL PELISSIER / POOL / AFP.



ARLES.- Over the past six years, the LUMA Foundation has nurtured a series of ongoing collaborations with several artists, resulting in a Living Archive Program that integrates diverse forms of artistic production, including photography, design, literature, film, and dance, and makes these resources available to students, scholars, artists, and visitors. In anticipation of the completion of the building that will house this dynamic program, the LUMA Foundation announced the acquisition and inaugural exhibition of the archives of legendary photographer Annie Leibovitz (b. 1949), who has created iconic portraits for nearly 50 years. Intended as the first of several major projects dedicated to the study and reinterpretation of the artist's living archives, Annie Leibovitz - The Early Years: 1970 - 1983. Archive Project #1 consists of ... More



Mo Yi, Red, 1985. C-Print (2017), 81,1 x 58,1 cm. © Mo Yi.



BERLIN.- Featuring historical works and pictures by contemporary artists, the exhibition Working on History. Contemporary Chinese Photography and the Cultural Revolution lifts the veil on one of the most fascinating and yet simultaneously little-explored chapters in the history of photography: the impact of the Cultural Revolution on current art and photography in China. Virtually no other event has had such a profound influence on the visual arts of the last half-century in China as the Cultural Revolution (1966–1976). It led to a radical departure from both traditional Chinese and Western cultural values, brought about through mass propaganda on an enormous scale. Posters and wall newspapers (big character posters) were instrumental in reaching the political goals, but equally instrumental were film and photography – and their aesthetics continue to characterize our understanding of the Cultural Revolution to this day. Most impregnated in the memory ... More



Janis Rozentāls (1866–1916). Death. 1897 (detail). Oil on canvas. Collection of the Latvian National Museum of Art. Photo: Normunds Brasliņš.



RIGA.- 2018 is an important time in the centenary celebrations, not just for Latvia, but for all three Baltic nations. In 2015, the Latvian National Museum of Art proposed an initiative – to create a joint project with its Baltic colleagues – and suggested this to French curator and symbolism researcher Rodolphe Rapetti to develop a unified art exhibition, which would be shown in the European cultural metropolis – Paris at the Musée d'Orsay. France has always held a special place among the Baltic States, because many Baltic artists have been closely connected with French culture. Since 2016 the Ministry of Culture of the Republic of Latvia, the Latvia's Centenary Bureau, the four national museums of the three Baltic countries, the Embassy of France and the French Institute in Latvia, as well as the Ministry of Foreign Affairs of the Republic of Latvia, and the Embassies of Latvia, Estonia, and Lithuania in France have b ... More
Center for Women's History features Editta Sherman's photographs
A new book explores the influence of India on the work of British artist Howard Hodgkin
GOST Books publishes 'Pittsburgh 1950' by Elliott Erwitt


Editta Sherman (1912–2013), Joe DiMaggio, undated. Gavelux print. New-York Historical Society, Gift of Kenneth Sherman.



NEW YORK, NY.- The New-York Historical Society celebrates the late photographer Editta Sherman (1912–2013) with a special exhibition of her celebrity portraits, to be shown in the Joyce B. Cowin Women's History Gallery in the Museum's new Center for Women's History. On view from August 18 – October 15, 2017, The Duchess of Carnegie Hall: Photographs by Editta Sherman features portraits of 65 notable film stars, authors, musicians, and athletes dating from 1943 to 1965 and beyond. All works are drawn from the Editta Sherman archive, which was recently gifted to New-York Historical by Sherman's children and grandchildren. A friend and muse to legendary photographer Bill Cunningham who dubbed her the "Duchess of Carnegie Hall," Editta Sherman was renowned in her own right as one of the rare female portraitists of her era. Practically born in the dark room as the ... More



Howard Hodgkin Painting India features unpublished archival material.



LONDON.- Lund Humphries presents the first book to explore the influence of India on the work of renowned British artist Howard Hodgkin, accompanying at the Victoria Art Gallery in Bath. For popular British artist Howard Hodgkin (1932–2017), India was a source of inspiration from his first visit to the country in 1964. Although Hodgkin's personal collection of Indian art has been featured in various publications, this will be the first to explore the influence of India on his own work. The first of Hodgkin's paintings inspired by India, Indian Subject (Blue), 1965–1969, was also the first of his paintings to be painted on wood, rather than canvas. It began a long exploration of paint surface and support that became a key characteristic of his practice. The book's illustrative journey begins with early works of the 1960s and includes paintings from throughout Ho ... More



Untitled Pittsburgh 1950 © Elliott Erwitt Courtesy: Carnegie Library of Pittsburgh.



NEW YORK, NY.- In 1950, 22-year-old Elliott Erwitt was commissioned by the legendary Roy Stryker to document Pittsburgh, Pennsylvania, as it emerged from a notoriously polluted industrial city into a cleaner, more modern metropolis. Shooting for Stryker's newly organised Pittsburgh Photographic Library, Erwitt's photographs captured the humanity and spirit of the people of the city against the angular industrial architecture. Drafted into the army in Germany just four months after arriving in Pittsburgh, Erwitt was forced to abandon the project, leaving his negatives behind. For decades, the negatives were held at the Pennsylvania Department of the Carnegie Library of Pittsburgh, and as a result, a majority of the photographs in this book have neither been published nor exhibited before. When Erwitt began to photograph Pittsburgh, it was heavily associated with the Steel Industry and was very much a city in flux. Rapid ... More
New Faculty of Fine Art, Music and Design designed by Snøhetta to open in October
Tomasso Brothers to presents omaggio to Florentine art at the Biennale Internazionale dell'Antiquariato di Firenze
New display in Brighton explores Jane Austen's relationship with coastal towns


Faculty of Fine Art, Music and Design. Photo: Bjarte Bjorkum.



BERGEN.- Internationally acclaimed Norwegian architects, Snøhetta, have designed the new Faculty of Fine Art, Music and Design in the world heritage city of Bergen in Norway, opening in October 2017. As part of the University of Bergen, the building will house the departments of art and design, which will be brought together for the first time on one landmark site, overlooking the waterfront and surrounded by the seven mountains of Bergen. With a total floor area of 14,800 sq metres, it will be the second largest cultural building in Bergen after the Grieg Concert Hall. The building features state of the art facilities for the study of art and design including workshops for wood, ceramic, metal, paper, 3-D modelling, graphics, photo lab and foundries, materials library and café. In a major step to open up the work of the Faculty to the city, the new building features a spectacular ... More



Il Puligo (1492-1527), Madonna & Child, circa 1525.



LONDON.- Tomasso Brothers Fine Art returns to the International Antiques Biennial (BIAF) in Florence with a display paying homage to Florentine art. The Fair, to be held from 23 September to 1 October 2017 in the magnificent Palazzo Corsini, is one of the world's greatest showcases for Italian art. Tomasso Brothers Fine Art, renowned specialist in important European sculpture, will focus exclusively on the art of Florence, with all works being either by Florentine artists, or created in Florence. Amongst the highlights is a pair of heavenly terracotta angels as candle-bearers by the exquisitely accomplished Master of the Unruly Children, a distinctive voice within Florentine Cinquecento Renaissance sculpture. Recent analysis of documentary sources has strengthened this sculptor's identification with Sandro di Lorenzo di Smeraldo, who is recorded in Anton Francesco Doni's I Marmi (1552-1553) as an artist specialisi ... More



George IVs copy of Emma - Royal Collection Trust © Her Majesty Queen Elizabeth II 2017.



BRIGHTON.- A new display at the Royal Pavilion in Brighton explores Jane Austen's relationship with coastal towns, and life in Brighton during her time, to mark the bicentenary of her death. Jane Austen by the Sea looks at the seaside context of Austen's plots and paint a picture of the leading resort of Brighton in the early 1800s, when it was a fashionable 'watering place' featured in novels like Pride and Prejudice. Although there is no clear evidence that Austen visited Brighton she included it in several of her works, alongside other resorts on England's south coast. The display reassesses her relationship with the town in the light of a long-term misunderstanding, arising from a hand-written letter of 8 January 1799. Curator Dr Alexandra Loske said: "For many years, Austen has been quoted as having written: 'I assure you that I dread the idea of going to Brighton ... More
Exhibition of works by Michael Golz on view at the Collection de l'Art Brut
BOZAR shines the spotlight on a great post-war Belgian designer: Ado Chale
Frederick Hammersley's creative process revealed in fall exhibition


Michael Golz's universe, which continues to develop and expand day by day, consists of both pictorial creations and a language enriched by a wealth of neologisms.



LAUSANNE.- "Athosland" is an imaginary country that Michael Golz (born in 1957) has invented totally from scratch. The work is a lifetime project on which this German creator, together with his brother Wulf, has been applying himself without a break since his childhood years (1960s). The resulting imaginary world is full of mountains, hills and lush green valleys through which rivers flow; these real-life elements coexist with the strange and marvelous. Wide-spreading highway and railroad grids criss-cross a country whose towns and villages possess an infrastructure that amply fulfills the needs of everyday life: stores, cafés, movie houses abound, as do post offices and banks. At the same time, the land's inhabitants suffer no constraints: they are wholeheartedly at liberty! Those who not wish to work, for instance, can take as much time off as they want; they can ... More



Ado Chale in front of a Lunaire tray-table in cast aluminium enhanced with spheres-sculptures in bronze. Photo: Didier Delmas.



BRUSSELS.- Aldo Chale, 89 years old, is a Brussels artist. He is an educated mineralogist and blacksmith, who uses precious and semi-precious stones and metals, crystals or petrified wood in his works of art, and approaches making furniture like a craftsman rather than as a designer. This very first retrospective outlines the career and the world of Ado Chale from 1966 to 2015, through carefully selected pieces of furniture and objects, such as his famous Goutte d'eau bronze table, inspired by pre-Columbian art. "It exists in several hundred copies, but its cooling process is random, and each cast, each casting of molten metal, each polishing makes it a unique piece, with its traces, ribs, scars and soul. " (Ado Chale) Chale also transfigured less noble, organic, vegetable materials, such as pepper grain, mother-of-pearl or his bone button mosaics, which have made him world famous. To name a few: his schist ... More



Frederick Hammersley, Like unlike, #6, 1959. Oil on linen, 49 x 40 in. Private collection. © Frederick Hammersley Foundation.



SAN MARINO, CA.- A fall exhibition at The Huntington Library, Art Collections, and Botanical Gardens on the American abstract artist Frederick Hammersley (1919-2009) showcases his sketchbooks, notebooks, inventories, and vibrant color swatches to illuminate the painstaking process the artist used to create his hard-edge geometric paintings. "Frederick Hammersley: To Paint without Thinking" is on view in the Susan and Stephen Chandler Wing of The Huntington's Virginia Steele Scott Galleries of American Art from Oct. 21, 2017 to Jan. 22, 2018. To accompany the exhibition, The Huntington is publishing a fully illustrated catalog with several scholarly essays revealing new research on the topic. "Frederick Hammersley: To Paint without Thinking" features about 50 objects pairing items from Hammersley's archives (a recent gift to the Getty Research Institute) with five paintings, including The ... More
Lost Senses: A living space for encounters
Flashback
On a day like today, French painter Gustave Caillebotte was born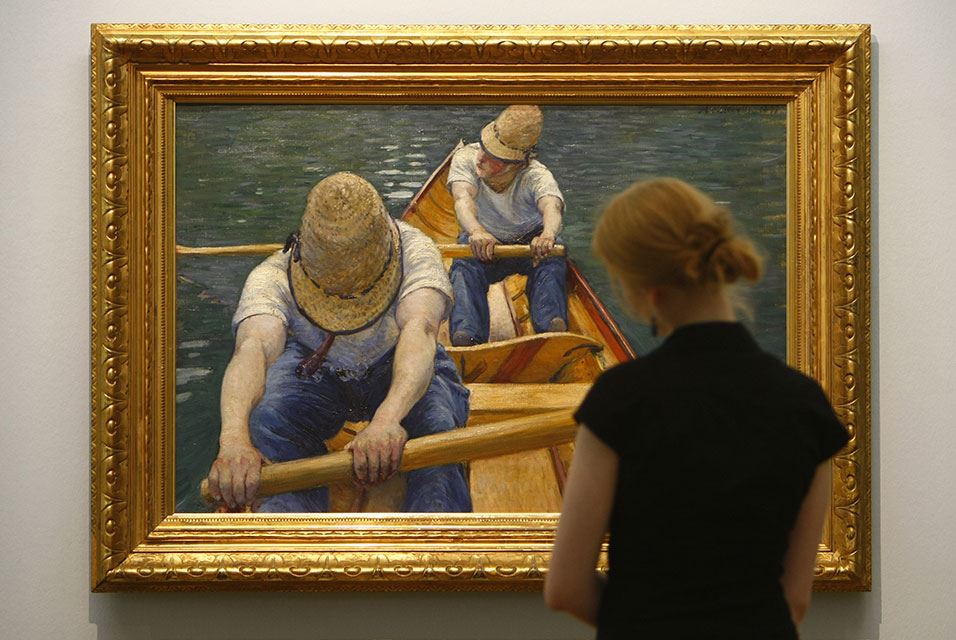 August 18, 1848. Gustave Caillebotte (19 August 1848 - 21 February 1894) was a French painter, member and patron of the group of artists known as Impressionists, though he painted in a much more realistic manner than many other artists in the group. Caillebotte was noted for his early interest in photography as an art form. In this image: An employee looks at a painting 'Oarsmen' of 1877 of French Impressionist Gustave Caillebotte (1848-1894) in the Kunsthalle Bremen, Germany, Thursday, June 26, 2008.
---

Museums, Exhibits, Artists, Milestones, Digital Art, Architecture, Photography,
Photographers, Special Photos, Special Reports, Featured Stories, Auctions, Art Fairs,
Anecdotes, Art Quiz, Education, Mythology, 3D Images, Last Week,
.
---
Royalville Communications, Inc
produces: