Long-lost lions from Charles V's tomb to be auctioned at Christie's in London
An employee poses for a photograph with a re-discovered sculpture of two carved marble lions, by French artist Andre Beauneveu, commissioned by French King Charles V, at Christie's auction house in London on February 20, 2017. A sculpture of two lions carved for the tomb of French King Charles V that was thought lost in the French Revolution will go under the hammer in London, auction house Christie's said on February 21, 2017. The 14th-century marble work by French artist Andre Beauneveu will be sold on July 6, after being held in a private British collection for more than two centuries. Justin TALLIS / AFP.
LONDON
(AFP)
.-
A sculpture of two lions carved for the tomb of French king Charles V that was thought lost in the French Revolution will soon go under the hammer in London, auction house Christie's said Tuesday. The 14th-century marble work by French artist Andre Beauneveu, which had been held in a private British collection for more than two centuries, will be sold on July 6. The lions were carved as near mirror images of each another, with strikingly detailed manes and one baring its teeth. Beauneveu was commissioned by the king shortly after he came to the throne, and was tasked with constructing four family tombs. The lions were sculpted over two years from 1364 to 1366, according to Christie's, and placed at the foot of Charles's tomb in what was then the Abbey of Saint Denis in Paris. But the family tombs were dismantled in 1793 by France's revolutionary government, and the lions were purchased in 1802 by Thomas Neave, a British aristocrat. ...
More
The Best Photos of the Day
Landmark Jean-Michel Basquiat to lead Sotheby's London Contemporary Art Evening Auction
'Brutally murdered' Pictish man brought back to life by researchers
'Spiderman' thief gets eight years for $100m Paris art heist


Jean-Michel Basquiat, Untitled (One Eyed Man or Xerox Face) detail. Acrylic, spray paint, oilstick and Xerox collage on panel, 182.9 by 121.9 cm. Estimate: £14,000,000-18,000,000 / $17,060,000-21,940,000. Photo: Sotheby's.



LONDON.- Sotheby's Contemporary Art Evening Auction on 8 March will be led by Untitled (One Eyed Man or Xerox Face), one of Jean-Michel Basquiat's finest full-length male figures from his series of grand-scale paintings that took the art world by storm in the early 1980s. Now estimated at £14-18 million, Untitled (One Eyed Man or Xerox Face) last appeared at auction in 1987, the year before the artist's death, when it sold for $23,100. This was among the highest prices ever paid for the artist at the time. Basquiat's heroic male figures, always depicted with both arms raised aloft, and often shown with a studded halo or roughly pronged crown, formed the centrepiece of almost all the artist's most important early works. Often based on the black athletes whose prowess allowed them to transcend racial boundaries in mid-20th century America, these figures were of huge personal ... More



The University of Dundee's Centre for Anatomy and Human Identification have reconstructed the face of a Pictish man.



DUNDEE.- Researchers from the University of Dundee's Centre for Anatomy and Human Identification have reconstructed the face of a Pictish man they showed to have been brutally murdered 1,400 years ago. Archaeologists excavating a cave in the Black Isle, Ross-shire, were astonished to find the skeleton of a man buried in a recess of the cave. The body had been placed in an unusual cross-legged position, with large stones holding down his legs and arms. The bones were sent to CAHID's world-renowned forensic anthropologist Professor Dame Sue Black, whose team – including Dr Christopher Rynn and PhD students Micol Zuppello, Viviane Lira and Samantha Goodchild – have been able to describe in detail the horrific injuries he sustained as well as to digitally reconstruct what he looked like. They identified at least five impacts that resulted in fracturing to the face and skull, allowing them to compile a detailed account of how ... More



Vjeran Tomic, a burglar dubbed "Spiderman", notorious for daring acrobatic heists, is on trial since January 30, 2017, for a $100-million art heist in 2010 that saw works by Picasso and Matisse stolen from a Paris gallery. Don EMMERT / AFP.



PARIS.- A thief nicknamed "Spiderman", who snatched five masterpieces from a top Paris museum, was sentenced to eight years in prison on Monday over one of the biggest art heists in recent years. Vjeran Tomic and two accomplices were also jointly fined a whopping 104 million euros ($110 million) over the theft of the paintings by Henri Matisse, Pablo Picasso, Georges Braque, Fernand Leger and Amedeo Modigliani from the Musee d'Art Moderne on the night of May 20, 2010. The fine corresponds to the estimated value of the artworks, which are still missing. A lawyer representing the City of Paris, which runs the museum, call their disappearance an "unspeakable" loss to humanity. Tomic, a 49-year-old seasoned burglar of Croatian origin, admitted robbing the gallery, which is home to more than 8,000 works of 20th-century art. On his arrest he told police ... More
Christie's London to offer the collection of the late Lord Weidenfeld GBE
A rare 1684 violin by Antonio Stradivari to be offered at Sotheby's London
British Museum training Iraqi experts to save Mosul heritage


Bernardo Cavallino (Naples 1616–?1656), Saint Dorothy. Oil on canvas, 27.7/8 x 22.7/8 in. (72 x 58 cm.). Estimate: £150,000-200,000. © Christie's Images Limited 2017.



LONDON.- On 18 May Christie's London will present The Collection of The late Lord Weidenfeld GBE: A Life of Ideals and Ideas, an auction offering insight into the private world of a public man. George Weidenfeld, created Baron Weidenfeld of Chelsea in 1976, was well known and greatly respected as a publisher, philanthropist and social convener; what is less well known is that he was an avid and informed art collector. He was also one of very few clients to coax the revered antique dealer Geoffrey Bennison into taking on a decorating commission; Bennison decorated Lord Weidenfeld's Chelsea Embankment apartment at a time when both men were breaking new ground in their respective fields. So successful was Bennison's scheme that Lord Weidenfeld kept the apartment almost exactly as Bennison had arranged it for over 40 years; a series of rich, book-lined spaces conceived ... More



Played by world leading musicians including acclaimed German violinist Frank Peter Zimmermann. Photo: Sotheby's.



LONDON.- On 28 March 2017, specialist musical instruments auctioneers Ingles & Hayday will offer a rare 1684 violin known as the Ex-Croall; McEwen by Antonio Stradivari (1644-1737) for an estimate of £1.3 – 2 million/ HK$12-19 million. Stradivari's name has become synonymous with perfection in the field of musical instruments. Considered by leading authority W.E. Hill & Sons as a fine example of Antonio Stradivari's violins from the 1680s, the instrument represents a key stage in the development of the luthier's distinctive style. The auction will take place at Sotheby's New Bond Street galleries in London. Stradivari's output during his long career included only approximately 1,000 instruments, with only approximately 500 or so violins surviving today, and the majority of which are in private collections or museums. The violins from the 1680s are the first ones built on a larger, broader model and which are ... More



This file photo taken on November 15, 2016 shows destruction caused by the Islamic State (IS) group at the archaeological site of Nimrud. SAFIN HAMED / AFP.



LONDON (AFP).- As Iraqi forces fight to take back Mosul from the Islamic State group, archaeologists trained by the British Museum are preparing for another battle -- trying to save what they can of the city's heritage. One of the world's leading institutions for the study of ancient Iraq, the London museum has been training Iraqi experts for the past year in high-tech methods to preserve and document their history. "Once the city is liberated, there will be an enormous plan of reconstruction of the Museum of Mosul," Sebastien Rey, a lead archaeologist from the Iraq Emergency Heritage Management Training Scheme, told AFP. "One of the participants of our scheme will be the first archaeologist to enter the museum and do an assessment of the destruction inside." The programme is designed to "get people ready for the day" archaeological sites are taken back from IS control, said its director, Jonathan Tubb. ... More
Exhibition at the Doge's Palace presents works by Hieronymus Bosch
Artist Jenness Cortez exhibits her first Homage to Twentieth Century Masters
OMA/ Rem Koolhaas & David Gianotten to design MPavilion 2017


Hieronymus Bosch, Trittico dei santi Eremiti Credit © Archivio fotografico Gallerie dell'Accademia.



VENICE.- Wild disturbing visions, convulsive scenes, hallucinatory landscapes with cities burning in the background, monsters and dreamlike creatures of the strangest shapes: this is the world of Hieronymus Bosch, the fascinating and enigmatic painter who lived between circa 1450 and 1516 in 's-Hertogenbosch in the Netherlands, and whose 500th anniversary of his death was commemorated last year with two major exhibitions, respectively, in his hometown and at the Prado in Madrid. It is to this extraordinary artist that Venice, the only city in Italy to conserve any Bosch masterpieces, is dedicating a fascinating exhibition in the Doge's Palace from 18 February to 4 June 4, 2017. The event is of great public interest but also of major importance for scholars, as the focus is on the three great Bosch paintings conserved in the Gallerie dell'Accademia – two triptychs and four panels – restored to their former glory thanks to a major campaign of ... More



"Kandinsky and Cortez: Circles" © by Jenness Cortez 2016. Acrylic on mahogany panel, 20 by 16 inches. Homage to: Wassily Kandinsky (1866-1944), "Circles in a Circle" 1923, Philadelphia Museum of Art.



NAPLES, FLA.- Harmon-Meek Galleries of Naples, Florida hosts the first exhibition by internationally acclaimed still life artist Jenness Cortez honoring twentieth century masters. On view February 20 through March 16, 2017, Cortez presents her latest paintings depicting the iconic works of Wassily Kandinsky, Paul Klee, Jackson Pollock, Helen Frankenthaler, Jasper Johns and Andy Warhol. For centuries artists have been challenging their intellects and skills by paying homage to the painters who preceded them. Jenness Cortez has emerged as the twenty-first century's most notable exponent of this facet of art history. Her masterful work gives Cortez solid footing in the colorful lineage of artists who have appropriated vintage images and woven them into their own distinctive, recognizable fabric. Robert Yassin, former director of the Indianapolis and Tucson ... More



Rem Koolhaas. Photo: Fred Ernst, courtesy OMA.



MELBOURNE.- The Naomi Milgrom Foundation today announced the commission for the fourth annual MPavilion has been awarded to internationally renowned Netherlands-based OMA and will be designed by Rem Koolhaas & David Gianotten. MPavilion 2017 will be the first building designed and constructed by OMA in Australia. The announcement comes as MPavilion 2016 closed on Sunday 18 February having welcomed more than 94,000 visitors and hosted more than 487 free events over 139 days within the temporary architectural pavilion designed by acclaimed Indian architect Bijoy Jain of Studio Mumbai. Naomi Milgrom AO, Chair of the Naomi Milgrom Foundation who commissioned OMA to design MPavilion 2017 commented: "Rem Koolhaas is one of the world's most provocative and influential architects. His contribution to the cultural landscape as an urban thinker together with OMA's multi-disciplinary approach to architecture reflects MPavilion's desir ... More
Artworld unites to make art in aid of the Cure Parkinson's Trust for Cure3
Success at Ketterer Kunst: 1€ starting price stands test in online auction
Curators from Cuba invited to organize exhibition in Collaboration with the Bronx Museum


Sean Henry, The Sea, 2017, Perspex cube, ceramic, oil paint, 2-pac and wood.



LONDON.- Cure3 is a new art project devised by Artwise in partnership with Bonhams and the David Ross Foundation to raise awareness and funds for the charity, The Cure Parkinson's Trust (CPT). The charity's innovative approach to research has offered renewed hope for people living with Parkinson's as it only funds work which has the capacity to slow, stop or reverse Parkinson's, a degenerative disease which currently affects more than 10 million people worldwide. In the summer of 2016, 53 artists of international standing were invited to create an art work using a bespoke Perspex box 20cm3 - hence the title Cure3 with the box serving as a space to frame, support or contain each work, allowing for multiple approaches and interpretations. The results have been outstanding, with each artist creating unique, highly collectable artworks which include a new, small scale vitrine by Damien Hirst and the first sculptural work by Peter ... More



David Hockney, Lillies (Still Life), 1971. Color lithograph, 64.5 x 51.8 cm / 25.3 x 20.3 in. Starting price: € 1. Sold for: € 11,751 A similar work realized € 10,625 in a live auction at Ketterer Kunst in 2014.



MUNICH.- It was an absolute premiere. Ketterer Kunst is the first auction house to take a bold step by offering all works with starting prices of € 1 in a special auction on www.kettererinternet-auctions.com. The top result proves that the concept works. The market also honors quality art with sensational prices on the internet. Bidders from all over the world competed for a total of 33 works from the section of Post War Art. Not only did they all sell with remarkable prices, some even realized new world records. The top lot from David Hockney easily soared from 1 euro to a sensational price of € 11,751. Company owner Robert Ketterer explains: "The concept of online auctions has matured. As far as the results are concerned, they are not only on a par with the saleroom auctions but can even compete with them." Ketterer ... More



Ana Mendieta, Silueta Works in Iowa (Tree and Fire, Old Man's Creek), 1976-78. Color photograph, 26 5/8 X 19 ¾ inches. The Bronx Museum of the Arts Permanent Collection. Gift of the Estate and Galerie Lelong. Courtesy of The Bronx Museum of the Arts.



BRONX, NY.- The Bronx Museum of the Arts is presenting Wild Noise/Ruido Salvaje, an exploration of contemporary Cuban art from the 1970s to the present that looks at how Cuban artists both on the island and abroad have grappled with issues of identity, community, and the urban experience. Bringing together over 60 works by more than 30 artists from the Bronx Museum collection and other U.S. institutions and private collections, the exhibition features many artworks that are being publicly exhibited for the first time, including a newly commissioned sculpture and performance by Humberto Díaz as the culmination of a three-month residency at the Bronx Museum, and works by Belkis Ayón, Abel Barroso, José Bedia, Alejandro Campins, Los Carpinteros, Carlos Garaicoa, ... More
Magicians of Light – Bruce Munro on Sisley, Pissarro and Gauguin
Flashback
On a day like today, in New York City, Edwin Land demonstrates the first "instant camera"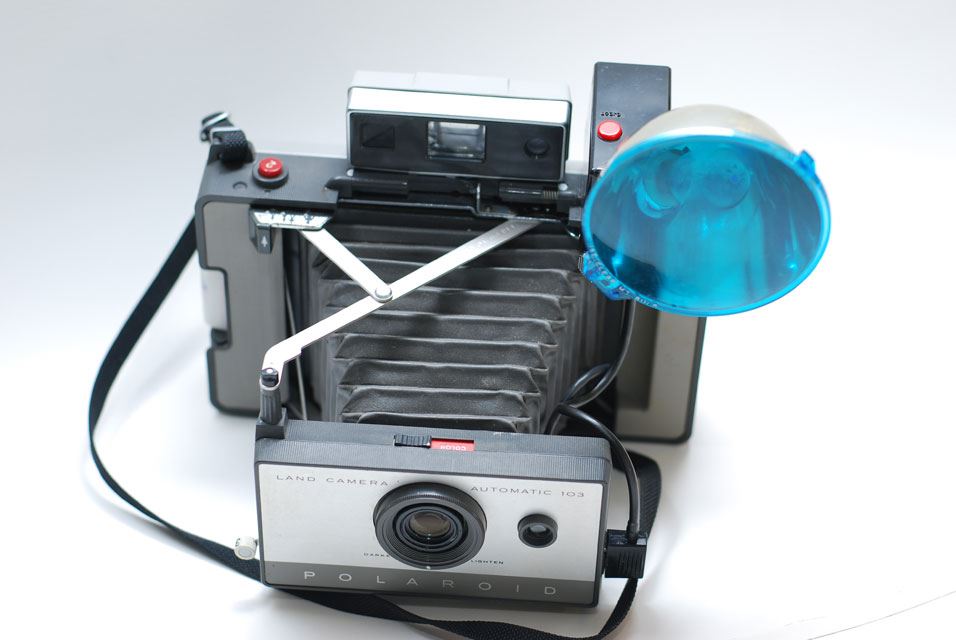 February 21, 1947. The instant camera is a type of camera that generates a developed film image. The most popular types to use self-developing film were formerly made by Polaroid Corporation. The invention of modern instant cameras is generally credited to American scientist Edwin Land, who unveiled the first commercial instant camera, the Land Camera, in 1948, a year after unveiling instant film in New York City. In this image: The Polaroid Land Camera model 103.
---

Museums, Exhibits, Artists, Milestones, Digital Art, Architecture, Photography,
Photographers, Special Photos, Special Reports, Featured Stories, Auctions, Art Fairs,
Anecdotes, Art Quiz, Education, Mythology, 3D Images, Last Week,
.
---
Royalville Communications, Inc
produces: