In Rennes, Archaeologists discover a new vision of the history of death
Lead coffins containing skeletons discovered at the convent of the Jacobins, Rennes (Ille-et-Vilaine). These skeletons were fairly well preserved, practices of ritual embalming could be observed.
PARIS
.-
From 2011 to 2013, an Inrap team, under curation by the State (Drac Bretagne), conducted an integral preventive excavation of the Jacobin convent, the site of the future Rennes Métropole conference center. Constructed in 1369, this Dominican convent became one of the principal burial sites for the parliamentary aristocracy of Rennes. Approximately 900 burials were unearthed by the archaeologists, including that of Louise de Quengo, a 17th century Lady found mummified in her lead coffin. Today, Rozenn Colleter, an Inrap researcher affiliated with the Molecular Anthropology and Computer Generated Imagery laboratory (CNRS/Université Toulouse III – Paul Sabatier), and her colleagues, are revisiting the exhaustive study of 606 of these graves and refute the formerly accepted hypothesis that funeral practices were secularized from the Middle Ages to the Modern period. They present their findings in an article in PLOS ONE. ...
More
The Best Photos of the Day
Regen Projects opens its first exhibition with Theaster Gates
Steven Kasher Gallery opens first major retrospective of Ming Smith's work
Exhibition offers a new and unusual approach to color in the work of abstract painter Josef Albers


Theaster Gates, Mountain Aura, 2017. Latex and acrylic on aluminum panel, 72 x 49 inches (182.9 x 124.5 cm) ©Theaster Gates, Courtesy Regen Projects, Los Angeles.



LOS ANGELES, CA.- Regen Projects is presenting its first exhibition with Theaster Gates. Gates is internationally renowned for his cross-disciplinary practice that spans sculpture, painting, sound, and performance. Featuring all new works, many of which will be created on site, this exhibition marks the artist's continued investigation into the relationship between visual politics, shamanism, and object making. The title of the exhibition refers to American sociologist and civil rights activist W.E.B. Du Bois' seminal work The Souls of Black Folk. Comprised of 14 essays that portray the genius and humanity of the Black race, this publication is considered an important work in sociology and African American literary history. Inspired by Du Bois' sociological studies on the advancements of Black Americans from the time of Emancipation to 1900, the exhibition will feature a series of response paintings in which the statistical data g ... More



Ming Smith, Cadillac Man, New York, NY, ca. 1986. Vintage gelatin silver print, printed ca. 1986, 10 x 8 in. Signed by photographer verso. Courtesy Steven Kasher Gallery, New York.



NEW YORK, NY.- Steven Kasher Gallery is presenting Ming Smith, the first major retrospective of the photographer's work. The exhibition features over 75 vintage black and white prints which span her entire career, from early interiors and streetscapes of the 1970s to the ongoing large-scale Transcendence series. Today there is great momentum to correct deeply entrenched racial and gender imbalances within the photographic canon. Ming Smith is key among the photographers who are due belated recognition. Ming's unique vision and surreal touch push back against reductive expectations of "black photography." Her work challenges any limiting notion of what African-American photography should look like. It is personal and expressive without veering into sentimentality. As Holland Cotter wrote in his 2010 New York Times review, "It's hard to think of another photographer who could set a misty head shot of the writer Jame ... More



Study for Homage to the Square, n.d. Oil and graphite on blotting paper, 12 x 8 1/8 inches (30.5 x 20.6 cm) © 2017 The Josef and Anni Albers Foundation/Artists Rights Society (ARS), New York. Courtesy David Zwirner, New York/London.



LONDON.- In a new and unusual approach to color in the work of abstract painter Josef Albers, David Zwirner's first London exhibition devoted to Albers focuses on one color that held a pervasive place in the artist's oeuvre. Sunny Side Up, a trove of paintings in which yellow dominates, is drawn from five decades of the artist's work and conveys the limitless expressive potential of color and light that characterizes Albers's practice as a whole. If there was any single inspirer of Josef Albers's embrace of color it was the German Romantic poet, Johann Wolfgang Goethe. As a young artist, Albers owned an early edition of Goethe's Theory of Color (1810), in which the poet wrote "… a strong yellow on lustrous silk … has a magnificent and noble effect. We also experience a very warm and cozy impression with yellow. Thus, in painting, too, it belongs among the luminous and active ... More
TEFAF announces beneficiaries of Museum Restoration Fund
Sperone Westwater opens exhibition of new work by Emil Lukas
Piene, Richter, Vasarely starting at 1 Euro at Ketterer Kunst internet auction


Titian (1488-1576), Judith with the Head of Holofernes, c.1570.



HELVOIRT.- The Executive Committee of The European Fine Art Foundation has awarded €54,000 to three distinct projects, two larger and one smaller, either side of the Atlantic. One is the restoration and reconstruction of the never before seen work by Auguste Rodin (1840-1917) entitled Absolution (c.1900) in the Musée Rodin collection, France. The second is the conservation of Judith with the Head of Holofernes (c.1570) by Titian (1488-1576), which has been on near constant display since entering the collection of the Detroit Institute of Arts, USA, in 1938. The final, smaller, project is the conservation of Der Blaue Reiter (1912), a journal edited by Wassily Kandinsky (1866-1944) and Franz Marc (1880-1916). This 140-page journal includes 34 unnumbered plates (6 in colour and 28 in monochrome), 2 foldouts and 2 pages of musical scores. It was acquired jointly in 2015 by the RKD, Stedelijk Museum, Museum Boijmans van ... More



Installation view. Courtesy of Sperone Westwater.



NEW YORK, NY.- Sperone Westwater is presenting new work by Emil Lukas. His third exhibition at the gallery is comprised of four series, including Stacks, Thread Paintings, Bubble-Wrap Paintings, and Liquid Lens (2016), an aluminum sculpture that represents an exciting new direction for the artist. Many of these new pieces are shape-shifters, changing in appearance depending on light and vantage point, their physicality always in question. The Stacks are each comprised of dozens of individual works, layered one on top of the other to constitute body of the sculpture. Lukas' most recent Bubble-Wrap Paintings bulge out from their physical frame, drawing the viewer's eyes to the overall honeycomb pattern, building an awareness of the relationship between depth perception and color, an attribute similar to Lukas's Thread Paintings. Liquid Lens (2016), crafted from welded and calibrated aluminum tubes, demands physical engagement ... More



Tom Wesselmann, Judy with black hat. 1997. Silkscreen in colors. 99.6 x 84.4 cm (39.2 x 33.2 in).



MUNICH.- Now where can you find that? On www.ketterer-internet-auctions.com! High-quality art from Josef Albers and David Hockney to Tom Wesselmann will be auctioned here until 15 February 2017: All works from around 30 internationally acclaimed Post-War artists will be called up with starting prices of just 1 Euro. Comparable works have already grossed around € 80,000. The range of big names includes artists such as Josef Albers, Horst Antes, Georg Baselitz, Max Bill, Agostino Bonalumi, Jake and Dinos Chapman, George Condo, Peter Doig, Till Freiwald, Rupprecht Geiger, Gotthard Graubner, Barbara Hepworth, David Hockney, Heinz Mack, Henry Moore, A.R. Penck, Otto Piene, Gerhard Richter, William Scott, Jesús Raphael Soto, Piere Soulages, Gert und Uwe Tobias, Victor Vasarely, Stefan Wewerka and Peter Zimmermann. The select offer will go live on 15 January 2017 at 3 p. m., that's when art lovers can experience ... More
Heather James Fine Art celebrates 20 years; Gallery recognized for showcasing museum-grade art
Art Brussels 2017: Participating galleries and artistic project announced
Betty Cuningham Gallery opens exhibition featuring recent paintings by Chuck Webster.


Salvador Dali, Les Yeux Fleuris
, circa 1942. Oil on canvas
, 27 x 19 3/8 x 7/8 in.



PALM DESERT, CA.- Heather James Fine Art is celebrating its 20th anniversary and showcasing several distinguished exhibitions this season. While the original gallery opened as Heather James Art & Antiquities, it transitioned to Heather James Fine Art in 2008. The gallery today offers a rare look into art history's past and present featuring a wide breadth of genres including Impressionist, Modern, Post-War, Contemporary, American, Latin American, and Old Master art. While husband and wife owners James Carona and Heather Sacre had studied art and held art degrees, neither were working in the field when they decided to open the original 1,500 square foot antiquities gallery on El Paseo. Sacre was an elementary school teacher and Carona was a former investment banker teaching Tae Kwon Do through his karate school. The two were well-versed travelers who had collected rare and exclusive artworks over the ... More



Art Brussels 2016, Sorry We're Closed booth. © David Plas.



BRUSSELS.- Art Brussels announced the participants of its 35th edition in 2017, which brings together 144 galleries from 28 countries in three main sections. Art Brussels' International and Discovery Committees have selected a total of 34 newcomers. In line with the fair's ethos From Discovery to Rediscovery, the Committees play a significant role in developing Art Brussels' existing "discovery profile." Joining the Committees are two new members appointed by the fair, each with a curatorial background: Tania Doropoulos, Artistic Director at Timothy Taylor in London and New York; and Eva Birkenstock, Director of the Kunstverein für die Rheinlande und Westfalen, Düsseldorf. PRIME will comprise 108 established galleries representing internationally known artists. Exciting newcomers to the section include Gallery Baton (Seoul), Pearl Lam Galleries (Hong Kong, Shanghai, Singapore), Proyectos ... More



Chuck Webster, City to Love, 2013- 2016. Oil on panel, 100 x 80 inches. Signed on verso.



NEW YORK, NY.- Betty Cuningham Gallery opened Look Around featuring recent paintings by Chuck Webster. The artist will be present for an opening reception on Saturday, January 28th and the exhibition will remain on view through Saturday, February 18, 2017. Webster can best be characterized as a visionary painter. His vocabulary is highly personal. Drawn from his imagination and from the world, the shapes in his paintings are abstract but oddly recognizable. Webster titles this exhibition Look Around revealing the dialogue he has with his painting as it moves towards completion. The current exhibition contains ten paintings, all oil on panel, ranging in size from 38 x 29 to 84 x 120 inches. Sharing a kinship to the late paintings of Philip Guston, Webster's paintings play with scale. Whether in a large painting or a small painting, Webster's figure typically dominates the work. The surfaces are further activated by heavy br ... More
Six leading galleries in Amsterdam organize an art project titled Where do we go from here?
Exhibition of five works on paper by Julia Fish on view at David Nolan Gallery
A parade of treasures are set to dazzle at the New York Ceramics and Glass Fair


David Jablonowski, Trade Alert (Zählt Nicht Uns, Zählt Eure Tage), 2015. Shown at Annet Gelink Gallery.



AMSTERDAM.- Amsterdam's cultural scene has been enriched with a new and special initiative: six leading galleries in the Jordaan - Annet Gelink Gallery, Ellen de Bruijne Projects, Galerie Fons Welters, Stigter Van Doesburg, tegenboschvanvreden and Martin van Zomeren - are jointly organizing an art project titled Where do we go from here?. Curator Alessandro Vincentelli, has developed the concept for the exhibition. "Careless speech has rarely had such disturbing consequences. The recent US Presidential election, the British Brexit vote, the upcoming Dutch national elections - what better time to question the role of speech, Who speaks, Who acts? There is a significant sense that we simply don't understand the direction of travel currently being followed. Now, at the beginning of 2017, there are many rallying cries to make this year different to the last. Where do we go from here? starts with this question" ... More



Julia Fish, First plan for floor [ floret ] — section one, 1998. Gouache on assembled, laser-printed paper, 23 1/4 x 23 1/4 in., 59.1 x 59.1 cm.



NEW YORK, NY.- David Nolan Gallery is presenting Julia Fish: floret, an exhibition of five works on paper that were conceived in conjunction with her site-specific installation: floor [ floret ], at Ten in One Gallery in 1998. Shown now for the first time – 18 years after the original installation – the varied studies serve not only as documents to the project but also offer a glimpse into the artist's formative working process. Located near the intersection of North Damen and Milwaukee Avenues, Ten in One Gallery occupied a street-level storefront space in the Wicker Park neighborhood of Chicago. Within the gallery, the hexagonal-tiled floor with stylized "floret" patterning – commonly found in commercial spaces – served as the foundation for Fish's installation. Planned in exacting detail on an expanse of assembled laser-printed sheets, the artist devised a numerical algorithm ... More



Chun Red over Chun Blue vases. Porcelain, 2016, 12.5 x 6 x 6, 10.75 x 6 x 6. Courtesy of Cliff Lee/Lee Gallery & Studio



NEW YORK, NY.- When the New York Ceramics and Glass Fair throws open its doorway on January 19, collectors, curators and design aficionados will clap eyes on all manner of bottles, beakers, jewelry, jars, vases, virtu and a profusion of other beautiful but fragile things that span 500 years—from 16th-century Venice, Italy, to 21st-century Venice, California. Now celebrating its 18th anniversary, the New York Ceramics & Glass Fair is the only exposition of its sort in the United States, bringing together the best of the best in glass, ceramics, pottery, and enamel. For four days, starting on January 19 and through January 22, the Fair will fill up two floors of the Upper East Side's Bohemian National Hall and feature choice selections offered by 28 top-tier vetted participants from England, Europe, and the United States. Here is a guide to many of the not-to- ... More
Eric Aho Ice Cuts
Flashback
On a day like today, American photographer Francesco Scavullo, was born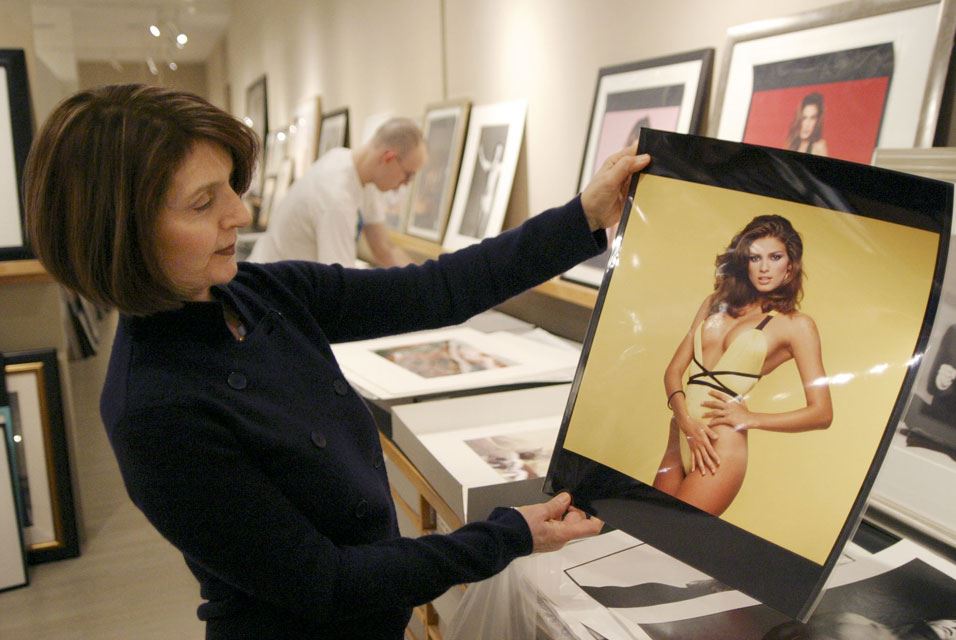 January 16, 1921. Francesco Scavullo (January 16, 1921 - January 6, 2004) was an American fashion photographer best known for his work on the covers of Cosmopolitan and his celebrity portraits. In this image: Takouhy Wise displays a photo by fashion photographer Francesco Scavullo of model Gia Carangi at the Staley-Wise Gallery in New York, Tuesday, Jan. 6, 2004. Scavullo, who shot covers for Cosmopolitan magazine for more than 30 years, died Jan. 6, 2004, of sudden heart failure.
---

Museums, Exhibits, Artists, Milestones, Digital Art, Architecture, Photography,
Photographers, Special Photos, Special Reports, Featured Stories, Auctions, Art Fairs,
Anecdotes, Art Quiz, Education, Mythology, 3D Images, Last Week,
.
---
Royalville Communications, Inc
produces: