New scientific research dispels myths surrounding portrait by Sandro Botticelli
V&A Conservator(s) with Sandro Botticelli's Portrait of a Lady known as Smeralda Bandinelli (c.1470-5) in the paintings galleries at the V&A.
LONDON
.-
New scientific research undertaken by
V&A
experts has uncovered tantalising details beneath the paint layers of Sandro Botticelli's Portrait of a Lady known as Smeralda Bandinelli (c.1470-5), which has been in the Museum's collection for over a century. The findings dispel a longstanding myth that its former owner, the Pre-Raphaelite painter Dante Gabriel Rossetti, added the sitter's vibrant red hair and sheds new light on Botticelli's artistic technique. This painting provides the starting point for the V&A's major spring exhibition, Botticelli Reimagined, which will show how the Pre-Raphaelites rediscovered the then long-forgotten Florentine master and how artists and designers have responded to his work ever since. Rossetti purchased the Portrait of a Lady known as Smeralda Bandinelli from Christie's in 1867 for a modest £20, paying an additional £4 to have it cleaned. A ...
More
The Best Photos of the Day
Famed Russian art 'at risk' after Uzbek museum head Marinika Babanazarova fired
ISIL and antiquities trafficking: FBI warns dealers, collectors about terrorist loot
Archaeologists unearth ancient Greek palace with important archaic inscriptions near Sparta




Staff say her firing was "illegal" signing an open letter of protest that was posted on Facebook which alleges Babanazarova was forced out and flatly denying allegations that she had stolen works from the collection.





ALMATY (AFP).- A world-renowned collection of avant-garde Russian art housed in a remote museum in Uzbekistan may be at risk after the director was abruptly fired on allegedly trumped-up charges of theft, staff say. The alarm was raised by staff working at the Savitsky Karakalpkstan Museum who claim the director, Marinika Babanazarova, was forced to resign over allegations she had stolen works of art. But the staff insist that nothing has been stolen from the state-run museum, which is located in the remote city of Nukus some 800 kilometres (500 miles) north of Tashkent and houses more than 50,000 pieces of Soviet-era avant-garde art. They claim the move to oust Babanazarova, which has not been confirmed by the Uzbek authorities, is part of a ploy by officials to seize control of its valuable collection which ... More





Satellite imagery of Dura Europos, a 150-acre site in Syria dating to 300 B.C., shows how it looked in 2012.





WASHINGTON, DC.- The FBI is alerting art collectors and dealers to be particularly careful trading Near Eastern antiquities, warning that artifacts plundered by terrorist organizations such as ISIL are entering the marketplace. "We now have credible reports that U.S. persons have been offered cultural property that appears to have been removed from Syria and Iraq recently," said Bonnie Magness-Gardiner, manager of the FBI's Art Theft Program. The Bureau is asking U.S. art and antiquities market leaders to spread the word that preventing illegally obtained artifacts from reaching the market helps stem the transfer of funds to terrorists. In February, the United Nations Security Council unanimously passed Resolution 2199, which obligates member states to take steps to prevent terrorist groups in Iraq and Syria from receiving donations and from benefiting from trade in oil, antiquities, and hostages. As part of a broad U.S. ... More





At the site, archaeologists found objects of worship, clay figurines, a cup adorned with a bull's head, swords and fragments of murals.





ATHENS (AFP).- Archaeologists in Greece have discovered the ruins of an ancient palace with important archaic inscriptions dating back to the Mycenaean Age, the culture ministry said Tuesday. The palace, likely built around the 17th-16th centuries BC, had around ten rooms and was discovered near Sparta in southern Greece. At the site, archaeologists found objects of worship, clay figurines, a cup adorned with a bull's head, swords and fragments of murals. Since 2009, excavations in the area have unearthed inscriptions on tablets detailing religious ceremonies and names and places in a script called Linear B, the oldest script to be discovered in Europe. It first appears in Crete from around 1375 BC and was only deciphered in the mid 20th century. The new discovery will allow for more research on the "political, administrative, economic and societal organisation of the region", and provide ... More
Sotheby's to offer the first major piece of Abba material to appear at auction: "The Abba Piano"
Exhibition of large, abstract half-figure sculptures by Swiss artist Josephsohn opens at Hauser & Wirth
Christie's to offer the most comprehensive collection of Song ceramics ever to appear at auction




The piano was featured on their most celebrated songs. Photo: Sotheby's.





LONDON.- The "ABBA Piano", the instrument on which ABBA recorded their best-loved songs, will be offered for sale at Sotheby's Rock & Pop auction in London on 29th September 2015. One of the world's finest pianos, no other single instrument has featured more prominently in pop music since the 1970s. From the opening refrain of 'Mamma Mia', to 'Waterloo', 'Dancing Queen' and 'Money, Money, Money', the sound of this piano has resonated throughout countless bedrooms, headphones and dancefloors across the world. The first major piece of ABBA material to be offered at auction, the piano comes from the collection of Atlantis Grammofon (formerly known as Metronome Studios), where ABBA recorded their greatest hits. Estimated at £600,000-800,000, it is accompanied by a certificate of authentication signed by Benny Andersson in 2015. "The Bolin Grand, one of a kind and a great ... More





Josephsohn, Untitled, 1979. Brass, 110 x 56 x 46 cm / 43 1/4 x 22 x 18 1/8 in. © Josephsohn Estate. Courtesy the estate of the artist, Hauser & Wirth and Kesselhaus Josephsohn.





ZURICH.- Hauser & Wirth is unveiling a focused presentation of the large, abstract half-figure sculptures from the late career of Swiss artist, Josephsohn (1920 – 2012). Featuring five of these over-life-size brass sculptures alongside a substantial relief, this exhibition conveys Josephsohn's deep reverence for ancient motifs brought to fruition in contemporary application. The gallery's first Josephsohn show in Switzerland since his death, this exhibition displays the artist's mastery in balancing volume and mass in his timeless sculptures. The exhibition's six voluminous sculptures imbue the sparse gallery space with a calm and timeless presence. Selected from the late period of Josephsohn's 60-year-long artistic career, the works from 1990 to 2004 typify the artist's ... More





A large carved Ding "Daylily' basin. Northern Song Dynasty (9601127). Estimate: HK$5,000,000-7,000,000 / US$650,000-900,000 / ¥80,000,000-100,000,000.





HONG KONG.- On 2 December 2015, selected items from the most comprehensive private collection of Song ceramics ever to appear at auction will be offered for sale at Christie's Hong Kong. Carefully assembled over three decades by a distinguished Japanese collector, The Linyushanren Collection is comprised of exquisite examples created during the Song dynasty (960-1279), encompassing some of the most important kiln sites active across China at the time. The highlight of the 36-lot sale is a very rare Ge foliate dish dating from the Southern Song Dynasty (1127-1279). It was shown in the seminal 1952 exhibition dedicated to Chinese ceramics by the Los Angeles Museum, and was once owned by the famous collector Stephen Junkunc, III (Estimate on Request). Particularly admired ... More
Sotheby's Hong Kong unveils an extremely rare Patek Philippe vintage wristwatch
Ian Wardropper publishes first book dedicated to the Frick's French enamels collection
Phillips announces highlights from the September New Now auction in New York




Patek Philippe, a Yellow Gold Double Crown World Time Wristwatch with 24 Hour Indication and Fine Guilloché Dial Ref 2523/1 Made in 1968 (Est. HK$4 – 5.5 million / US$510,000 – 710,000). Photo: Sotheby's.





HONG KONG.- Sotheby's Hong Kong Important Watches Autumn Sale 2015 will take place on 6 October at the Hong Kong Convention and Exhibition Centre. An eclectic array of timepieces from the most prestigious watchmakers will be offered, led by an exceptionally rare Patek Philippe world time vintage wristwatch made in 1968. Connoisseurs will also be delighted by exquisite jewellery timepieces, including an iconic and possibly unique full-diamond-set 'Panther' bangle watch by Cartier. The sale will offer more than 420 lots with a total estimate in excess of HK$86 million / US$11 million*. Sharon Chan, Head of Watches, Sotheby's Asia, said, "This Autumn Sotheby's is delighted to bring to the market an array of rare and extraordinary timepieces, encompassing vintage and jewellery wristwatches as well as works by independent watchmakers, offering a superb acquisition opportunity for collectors. Rare ... More





Exquisitely illustrated with new photography, this hardcover volume (80 pages, 75 color illustrations; 7 1/8 x 7 1/8 inches, $19.95, member price $17.96) is published by the Frick in association with D Giles Limited.





NEW YORK, NY.- Limoges enamels, named after the town in central France in which they were was produced, are one of the most distinctive art forms of the French Renaissance. Director Ian Wardropper has authored the first book dedicated fully to the important collection of Limoges enamels housed at The Frick Collection. Reflective of the jewel-like character of these exquisite objects, the publication shows the broad range of applications to which this brilliant but delicate medium was applied in fifteenth-, sixteenth- and early seventeenth-century France: from secular objects, such as portraits, caskets and tableware, to objects of religious association, such as devotional triptychs. Featured in the publication are major examples by some of the leading masters of the art, including Jean I and Nardon Pénicaud, Léonard Limousin, Pierre Reymond, and the Master of the Large Foreheads. In ... More





Joe Bradley, Nude (Bust) , 2007. Stretched vinyl over canvas, in 2 parts, overall 62 x 60 in. Signed, titled and dated "NUDE (BUST) Joe Bradley 07" along the stretcher bar of the lower element, and again along the overlap of the upper element. Estimate $300,000 - 500,000.





NEW YORK, NY.- Phillips announced the highlights for the New Now auction in New York on 17 September. The sale juxtaposes works from a younger generation of artists with works by established artists offering a diverse range to engage seasoned collectors and newcomers alike. Phillips New Now auction – formerly known as Under the Influence – will offer over 250 lots, carrying a total pre-sale estimate of between $4.4 - 6.5 million (£2.8 - £4.1 million / €3.9 - €5.7 million). Included in the auction are two works by Jonas Wood; Backward Bol (Color), 2008 ($60,000 - 80,000) and Crossword Master, 2007 ($30,000 - 40,000), and two Ed Ruscha works on paper from a Private American Collection, Zero, 1996 and Selma/Vine, 1998 estimated at $70,000 - $90,000 each. The sale also includes a selection of Pop works including, ... More
Fresh-to-market estates highlight 1,000+ lots of fine & decorative arts at Heritage Auctions
For this year's edition, Moniker Art Fair to become first major art fair to accept Bitcoin payments
Bruce Museum in Greenwich adds three new staff members in art, science and education




A Blanc de Chine, Gilt and Silvered Bronze Figural Clock: Scholar, Ruler and Wise Man. Estimate: $15,000 - $20,000.





DALLAS, TX.- Treasured objects from fresh-to-market private collections, including a 96-Piece Sèvres-Style Porcelain Service (est. $30,000+) will cross the block in Heritage Auctions' Fine & Decorative Arts Including Estates Auction Sept. 12-13 in Dallas. The auction presents a richly diverse selection of than 1,000 lots, ranging from a Moorish Revival Mahogany and Gilt Bronze Mantle Clock for Tiffany & Co., New York, New York, circa 1884, (est. $15,000+) to a 40-inch-tall Blanc de Chine, Gilt and Silvered Bronze Figural Clock titled Scholar, Ruler and Wise Man (est. $15,000+). Important private collections are the cornerstone of the two-day event and feature art and furnishings from the private Beverly Hills, California, home of poet, singer-songwriter and musician Rod McKuen. Among the home's furnishings offered in the Sept. 12 session include a German Roman Catholic ... More





Blek le Rat - His Master's Voiceless (yellow), courtesy of Blek le Rat and Moniker Art Fair.





LONDON.- This October, Moniker Art Fair returns to east London's iconic Old Truman Brewery for its sixth year, having firmly established itself as London's premiere event for contemporary art rooted in urban culture. For this year's edition, Moniker Art Fair has teamed up with global art, music and technology collective Fork The Banks, in an exciting venture to become the world's first international art fair to accept Bitcoin payments. The collaboration confirms Moniker's reputation in the modern art market as a progressive fair that seeks to inspire social change. Their 'Renaissance is Now' installation focuses on the solutions offered by global connectivity, decentralisation and collaborative consumption. Displayed across a 50ft wall, the installation will take centre stage and aims to inspire and inform, leaving the visitor with a sense of hope and belief that our world really can be changed for the better. Fra ... More





Laura Stricker will join the Bruce Museum as Manager of Youth & Family Programs.





GREENWICH, CONN.- The Bruce Museum adds three new faces to its staff next month, filling one permanent position in its Audience Engagement and Interpretive Services Department (formerly the Education Department), and adding two year-long fellows, one each in art and science. Laura Stricker joins the Bruce Museum in September as Manager of Youth & Family Programs. Ms. Stricker comes to the Bruce from the Museum of London, where she was the institution's Early Years Coordinator. Previously, she worked as Manager of Early Childhood Programs at the National Children's Museum in National Harbor, Maryland. Ms. Sticker holds an M.A. in Museum and Galleries in Education from the University of London's Institute of Education where she specialized in the importance of family learning experiences in museums. Ms. Stricker says that she is "most excited about the Bruce's dedication to providing engaging and ... More
Houghton Hall: Portrait of an English Country House
---
Flashback
On a day like today, English photographer Mary McCartney was born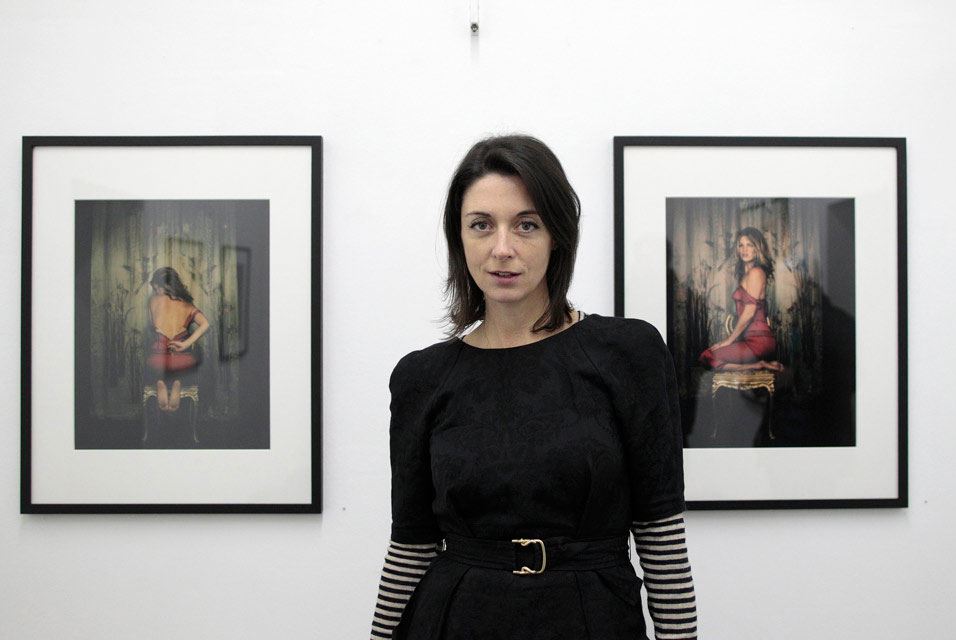 August 28, 1969. Mary Anna McCartney (previously McCartney-Donald) is a photographer. The first biological child of rock photographer Linda Eastman McCartney and Paul McCartney of The Beatles, Mary was named after her paternal grandmother, Mary McCartney. In this image: British photographer Mary McCartney, daughter of Linda Eastman McCartney and Paul McCartney poses for a photograph next to her photographs during the opening of the exhibition 'From where I stood' in the gallery Contributed in Berlin, Germany.
---

Museums, Exhibits, Artists, Milestones, Digital Art, Architecture, Photography,
Photographers, Special Photos, Special Reports, Featured Stories, Auctions, Art Fairs,
Anecdotes, Art Quiz, Education, Mythology, 3D Images, Last Week,
.
---
Royalville Communications, Inc
produces: