New York art sales near $3 billion in two weeks as uber-rich hunt trophies
Sotheby's sold $859 million, including $157.2 million for a Modigliani nude -- the most expensive lot of the season. Courtesy Sotheby's.

by Jennie Matthew
NEW YORK
(AFP)
.-
Global buyers have dropped nearly $3 billion on art in New York in two weeks, a record haul rooted in a billionaire thirst for trophies, Chinese purchasing power and growing diversification. Christie's chalked up $1.79 billion in sales, including every single item from the iconic collection of the late David and Peggy Rockefeller which, for the first time, spread their flagship May sales across two weeks. Sotheby's sold $859 million, including $157.2 million for a Modigliani nude -- the most expensive lot of the season, after Christie's last November smashed records by selling a single Leonardo da Vinci for $450.3 million. "It's colossal. It really is huge and especially after the dip of 2016," says Georgina Adam, author of the "Dark Side of the Boom: The Excesses of the Art Market in the 21st Century." "As long as the auction houses have really managed to do their marketing very well and reach a big audience of collectors, the top end of the market is still doing very well," says Rach ...
More
The Best Photos of the Day
The Morgan Library & Museum presents the first survey of the drawings of Wayne Thiebaud
Exhibition at Pace Gallery features twelve recent paintings by Julian Schnabel
New film explores the late teenage years of Jean-Michel Basquiat


Candy Ball Machine, 1977, gouache and pastel. Collection of Gretchen and John Berggruen, San Francisco. © Wayne Thiebaud/Licensed by VAGA, New York, NY.



NEW YORK, NY.- Best known for his rich, colorful paintings of cakes, ice cream cones, and candy counters, California artist Wayne Thiebaud (b. 1920) has been an avid and prolific draftsman since he began his career as an illustrator and cartoonist. Featuring subjects that range from deli counters and solitary figures to dramatic views of San Francisco's plunging streets, Thiebaud's drawings endow the most common objects and everyday scenes with a sense of poetry and nostalgia. On view at the Morgan Library & Museum, Wayne Thiebaud, Draftsman is the first exhibition to explore the full scope of the artist's works on paper, including quick sketches, finished pastels, watercolors, and charcoal drawings. The earliest of the almost eighty-five works on view are cartoons from the 1940s, while the most recent feature landscape drawings inspired by the Sacramento River valley. The show will run through September ... More



Julian Schnabel, January, 2017. Inkjet print and oil on polyester, 88" x 68" (223.5 cm x 172.7 cm). Photography by Tom Powel Imaging. © Julian Schnabel / ARS, New York / DACS 2018.



LONDON.- Pace is presenting Julian Schnabel: The re-use of 2017 by 2018. The re-use of Christmas, birthdays. The re-use of a joke. The re-use of air and water. This is the first solo presentation by the artist at Pace in London. The exhibition features twelve recent paintings using imagery and an approach to painting that the artist has refined throughout his career. "It is about the power to take ordinary things, and by arranging them, to produce a transcendence of their ordinariness." – Julian Schnabel. Schnabel's inspiration for the series originates from twelve calendar prints published by John & Josiah Boydell and made by Royal Academy artists William Hamilton (1751–1801) and Francesco Bartolozzi (1727–1815), whose names appear at the bottom of each image. Discovered by Schnabel in a second-hand store in New York City, the original engraved images feature agricultural scenes that depict ... More



Theatrical one-sheet for from Boom For Real: The Late Teenage Years of Jean-Michel Nasquiat, a Magnolia Pictures release. Photo courtesy of Magnolia Pictures.



NEW YORK, NY.- Boom For Real: The Late Teenage Years of Jean-Michel Nasquiat follows Basquiat's life pre-fame and how New York City, the times, the people and the movements surrounding him formed the artist he became. Using never-before-seen works, writings and photographs, director Sara Driver, who was part of the New York arts scene herself, worked closely and collaboratively with friends and other artists who emerged from that period: Jim Jarmusch, James Nares, Fab Five Freddy, Glenn O'Brien, Kenny Scharf, Lee Quinones, Patricia Field, Luc Sante and many others. Drawing upon their memories and anecdotes, the film also uses period film footage, music and images to visually re-recreate the era, drawing a portrait of Jean-Michel and Downtown New York City -pre AIDS, President Reagan, the real estate and art booms – before anyone was motivated by money and ambition. The definition of fame, success and power were very different t ... More
Artcurial announces highlights from the sale of the André Lejard collection
Exhibition of new paintings, photographs, and a video work by Marilyn Minter opens at Regen Projects
A Bob Dylan guitar fetches $495,000 at auction


Fernand Léger, Elément mécanique, 1922. Huile sur toile, 65 x 54 cm. Estimate: 2 000 000-3 000 000€ / 2 500 000 – 3 700 000 $ © Artcurial.



PARIS.- On 4th June 2018, during the Impressionist & Modern auction, Artcurial will disperse the André Lejard collection alongside Vincent van Gogh's « Raccommodeuses de filets dans les dunes » and 5 works by Paul Gauguin. Comprising 31 pieces (paintings, sculptures, books, drawings), this exceptional group of art of is a reflection of the passions of the person who patiently gathered them into one collection: editor cum collector André Lejard. While Fernand Léger is undoubtedly the central figure of the set with 4 paintings and 8 aquarelle drawings, Picasso, Matisse, Braque, Derain, Laurens, Villon, Miró, Ernst, Tanguy also make an appearance. André Lejard is a discreet but essential figure of the French editing world between 1920 and 1950. Chief editor of Art et Métiers Graphiques magazine, one of the most prestigious publications from between the two wars in France, he also was member of the original personalities involved in Édit ... More



Installation view of Marilyn Minter at Regen Projects, Los Angeles. Photo: Brian Forrest, Courtesy Regen Projects, Los Angeles.



LOS ANGELES, CA.- Regen Projects is presenting an exhibition of new paintings, photographs, and a video work by New York-based artist Marilyn Minter. This marks her third solo presentation at the gallery. Over the course of her decades-long career, Marilyn Minter has developed a singular and provocative pictorial language imbued with themes of desire, power, glamour, and beauty. Often times simultaneously seductive and repugnant, her paintings and photographs mine the imagery of Hollywood, fashion, advertising, and pornography while also referencing the history of art. Inspired by feminism and sexual politics, her subversive pictures reframe the conversation about looking and the female figure in visual culture. In this exhibition Minter turns her attention to the art historical trope of the bather. Poised between abstraction and figuration, a series of large-scale paintings are meticulously constructed using many layers ... More



A Bob Dylan/Robbie Robertson 1965 Fender Telecaster guitar is displayed along with other items during a media preview May 14, 2018 in New York. Don EMMERT / AFP.



NEW YORK (AFP).- A guitar that played a key role in Bob Dylan's artistic evolution from folk music to rock fetched a half million at auction on Saturday. The guitar, a 1965 Fender Telecaster that belonged to Robbie Robertson, Dylan's guitarist, was used by Dylan, Eric Clapton and George Harrison, Julien's Auctions said Saturday. It had been expected to fetch between $400,000 and $600,000. The guitar marked the singer's path from folk stylings like "The Times They Are A-Changin'" (1964), to electric rock, like his 1965 hit "Like a Rolling Stone." Other famous guitars went under the hammer on Saturday: George Harrison's first electric guitar, a $40,000 Hofner Club 40, and a Fender Telecaster rosewood guitar made for Elvis Presley in 1968, priced at a cool $115,200. More than 40 years after his death, Elvis items still fetch a handsome price. A heavily decorated Elvis belt, which he ... More
French director Luc Besson accused of rape, denies 'fantasist' accusations
Galerie Jeanne Bucher Jaeger opens a solo exhibition of the Japanese artist Susumu Shingu
New York's Metropolitan Opera sues fired conductor James Levine in abuse case


In this file photo taken on February 17, 2018 French director Luc Besson poses on the red carpet upon arrival for the premiere of the film "Eva" presented in competition during the 68th Berlinale film festival in Berlin. Stefanie LOOS / AFP.



PARIS (AFP).- A young actress has lodged a complaint for rape against French film director Luc Besson, judicial sources said Saturday, the latest in a string of sexual abuse allegations in the wake of the Harvey Weinstein scandal. The filmmaker's lawyer Thierry Marembert said he categorically denied the claims calling them "fantasist accusations", adding that the complainant was someone he knew "towards whom he has never behaved inappropriately". Police in Paris opened an investigation after the actress accused the 59-year-old "The Big Blue", "Nikita" and "Leon" director of raping her, the judicial sources said. A "complaint has been made for acts qualifying as rape by the plaintiff which happened Thursday night into Friday in Paris," they said, adding that police were investigating. News of the allegation emerged shortly before the closing ceremony of the Cannes Film Festival which was ... More



Susumu Shingu, Night Flight, 2012. Edition de 5. Stainless steel, aluminum and polyester cloth, 172 x ø 132 cm. Courtesy Galerie Jeanne Bucher Jaeger, Paris. Photo: Hervé Abbadie.



PARIS.- Galerie Jeanne Bucher Jaeger is hosting a solo exhibition of the Japanese artist Susumu Shingu, entitled Cosmos, in an echo of the important retrospective Spaceship that the Mudam Luxembourg— Musée d'Art Moderne Grand-Duc Jean has dedicated to his work from May 18, 2018 to January 6, 2019. This exhibition has been presented in three Japanese museums, and can now be seen for the first time in Europe. It presents, among other works, Wind Caravan, an ensemble of 21 sculptures animated by the wind, in the Dräi Eechelen Park. Following from his preceding exhibitions at the gallery, Sculptures du respir in 2006, Planet of Wind and Water in 2009, and Au-delà du temps in 2012, Cosmos assembles a selection of the artist's sculptures from 2006 to 2017, as well as recent collages and paintings, and some of his most exceptional sculptural studies. Sculptor of wind, water, and gravity, Susumu Shingu has ... More



In this file photo taken on May 13, 1996, US conductor James Levine is pictured during a rehearsal in Frankfurt, Germany. ARNE DEDERT / DPA / AFP.



NEW YORK (AFP).- New York's Metropolitan Opera has sued its former conductor James Levine, detailing seven alleged incidents of sexual abuse or harassment turned up during an internal investigation. In a complaint filed with the New York Supreme Court, the Met said the alleged cases took place between 1970 and 1999. It said the influential conductor had repeatedly "used his reputation and position of power to prey upon and abuse artists." The prestigious opera demanded at least $5.85 million in damages and interest, saying Levine had caused "significant reputational and economic harm" to the institution. The Met's filing did not name the victims of the alleged abuse. But it chronicled one case of a musician -- only 16 years old when the alleged abuse began in 1986 -- allegedly pressured by Levine to engage in mutual masturbation sessions, and whom he had paid some $50,000 over several years. Levine was said to have also "made sexual remarks and ... More
The State Hermitage Museum opens the first dedicated exhibition of Arte Povera to take place in Russia
Galerie Thaddaeus Ropac opens exhibition of new works by Miquel Barceló
Galerie Templon gives Jean Fabre complete curatorial freedom for exhibition in new space


Mario Merz, Che fare? (What to do?), 1968. © Studio fotografico Gonella.



ST. PETERSBURG.- On 17 May 2018, the State Hermitage Museum opened the exhibition Arte Povera. A Creative Breakthrough. The first dedicated exhibition of Arte Povera to take place in Russia, it brings together more than 50 works by Italian artists of the second half of the 20th century with loans from the Museum of Modern Art of Castello di Rivoli (Rivoli Turin, Italy), the Gallery of Modern Art GAM (Turin, Italy) and various private Italian collections. The exhibition is organized by the State Hermitage and the Museum of Contemporary Art Castello di Rivoli (Rivoli Turin) with the participation of the Gallery of Modern Art GAM (Turin). Arte Povera ("poor art") is an art movement that arose in Italy at the turn of the 1960s and 1970s. A distinctive feature of the movement was the desire of the artists to move away from all-consuming technological progress and towards handicraft creativity. ... More



Miquel Barceló, Urne dégoulinante, 2017. Ceramic, 73 x 41 x 33 cm (28,74 x 16,14 x 12,99 in). Photo: Charles Duprat.



SALZBURG.- Galerie Thaddaeus Ropac is presenting the exhibition On the sea, with new works by Miquel Barceló. As one of the most important representatives of Spanish contemporary art, Barceló is known for his pastose, relief-like mixed media and expressive ceramics, which also show influences from Catalan tradition and from his travels to West Africa. The artist's native Mallorca, and in particular the view from the terrace of his home in Farrutx, inspired this new series of seascapes, in which the sky dominates the composition. The pastose application of paint renders the moist sea air, giving the pictures an atmospheric quality. Barceló paints water and air in shades of white and blue. Elements merge to create a world marked by transience. The changing forms of the sea and clouds are captured with a soft touch which ... More



La Vierge belge sexy jouant avec le mal, 2018.



PARIS.- For the opening of its new Parisian addition, Galerie Templon offers Carte Blanche to the artist Jan Fabre. True to its commitment to its artists, the gallery is inaugurating a new chapter in its history by giving this great multi-disciplinary creator complete curatorial freedom for the new space. Jan Fabre created a unique body of work exploring his views of the complex and singular Belgian identity. The exhibition brings together a variety of media - drawings, sculptures – conceived especially for Templon's new location 250 m2 exhibition space. Over the last 30 years, Jan Fabre has become internationally recognized as one of the most innovative visual artists, playwrights and writers of his generation. Galerie Templon has been representing him since 2000, and has contributed to the recognition of his visual arts practice. The gallery is happy to entrust the keys of its new space to this accomplished artist who pushes the ... More
Julian Schnabel / On Inspiration
Flashback
On a day like today, French painter Henri Rousseau was born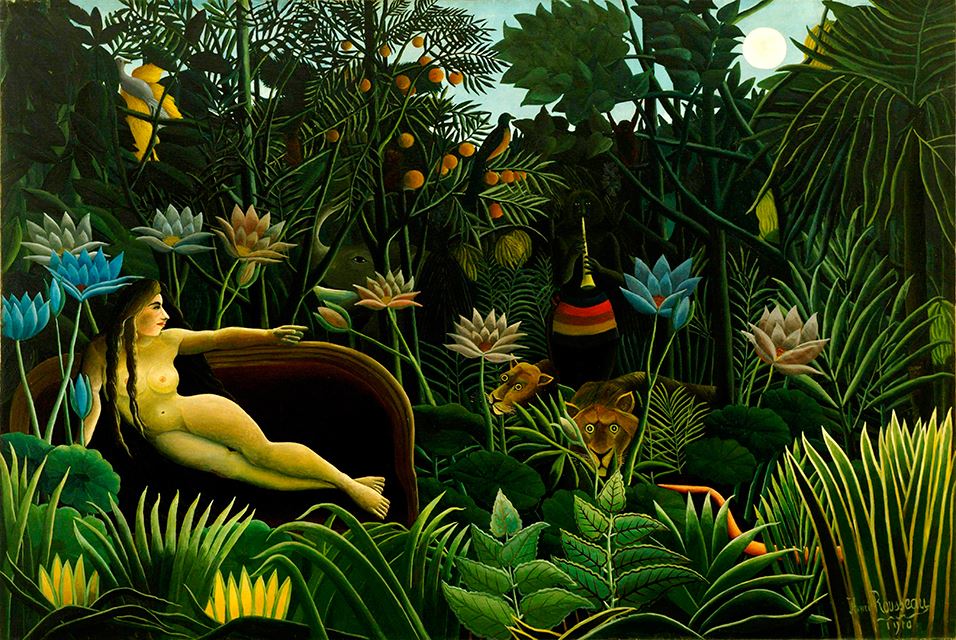 May 21, 1844. Henri Julien Félix Rousseau (May 21, 1844 - September 2, 1910) was a French post-impressionist painter in the Naïve or Primitive manner. He was also known as Le Douanier (the customs officer), a humorous description of his occupation as a toll and tax collector. He started painting seriously in his early forties; by age 49, he retired from his job to work on his art full-time. In this image: Henri Rousseau, known as The Douanier Rousseau (1844 - 1910) Le Rêve [The Dream], 1910, oil on canvas, 204.5 x 298.5 cm New York, The Museum of Modern Art, gift of Nelson A. Rockefeller, 252.1954 © 2016. Digital image, The Museum of Modern Art, New York / Scala, Florence.
---

Museums, Exhibits, Artists, Milestones, Digital Art, Architecture, Photography,
Photographers, Special Photos, Special Reports, Featured Stories, Auctions, Art Fairs,
Anecdotes, Art Quiz, Education, Mythology, 3D Images, Last Week,
.
---
Royalville Communications, Inc
produces: