Head of near-intact marble sphinx discovered at mysterious fourth century BC Greek tomb
A head of a sphinx discovered in the largest tomb ever unearthed in Amphipolis, in the Macedonian region of northern Greece. Discovered in the fourth chamber of a burial mound at the site in the northern region of Macedonia, the sphinx is more than half-a-meter (18 inches) high and was marked by "traces of red", according to a statement from the ministry. Archaeologists unearthed the missing head of one of the two sphinxes found guarding the entrance of an ancient tomb in Greece's northeast, as the diggers made their way into the monument's inner chambers, the culture ministry said on October 21. AFP PHOTO / GREEK CULTURE MINISTRY.
AMPHIPOLIS
.-
The head of a near-intact marble sphinx has been discovered in the largest tomb ever unearthed in Amphipolis, northern Greece, the culture ministry announced on Tuesday. Discovered in the fourth chamber of a burial mound at the site in the northern region of Macedonia, the sphinx is more than half-a-metre (18 inches) high and was marked by "traces of red", according to a statement from the ministry. Archaeologists also found fragments of the sphinx's wings within the same burial mound. "The sphinx's head belongs to the body of a sphinx which was found previously," said the statement. It was the latest find by archaeologists who unearthed the enormous tomb dating back to fourth century BC and the time of Alexander the Great of Macedonia in early August. Previously they have discovered the mosaic of a man driving a chariot, carved caryatids -- columns of female figures that serve as architectural support -- and a large mosaic depicting the abduction of Persephone by Pluto. ...
More
The Best Photos of the Day
Christie's Shanghai opens doors: New international art venue and offices in China
Exhibition of new work by John Baldessari opens at Marian Goodman Gallery
Nicholas Serota, director of the UK's Tate is number 1 in this year's edition of the ArtReview Power 100




Shanghai Office Opening- Qin Feng. Photo: Christie's Images Ltd 2014.





SHANGHAI.- In a formal ceremony that witnessed the performance of a creation of a unique work by artist Qin Feng, Christie's officially opened their new exhibition space and office in Shanghai at the historic Ampire Building, near the Bund. "When James Christie first opened the doors in London in 1766, nearly 250 years ago, his intention was to bring people art lovers together with the art they loved. Today in Shanghai we open this wonderful building that speaks of the history of the city, the tradition of Christie's and yet also feels very contemporary and looks to the future. This building gives us the opportunity not only to bring art from around the world to Shanghai, but to bring the art of China to the rest of the world," Steven Murphy, Chief Executive Officer, Christie's commented in his opening remarks. "China now plays a hugely important role in the global art market. Nearly one third of ... More





John Baldessari, Movie Scripts/ Art: A hand suddenly grips railing, 2014. Diptych; varnished inkjet print on canvas with acrylic paint, 107-3/4 x 74-1/2 in. / 273.7 x 189.2 cm.





NEW YORK, NY.- Marian Goodman Gallery presents an exhibition of new work by John Baldessari, Movie Scripts/ Art, 2014 which opened to the public on Wednesday, October 22nd, and run through November 22nd. Baldessari's relationship to words and pictures, his pairing of photography and language, was first brought into the realm of art in the Text paintings and Photo-text paintings of the 1960s. Later, his characteristic pairing of image and text, selecting and contrasting unrelated objects, paved the way for a pictorial system assembled of incongruent elements that interact and correlate with each other, allowing for subtle shifts of meaning and context. In later series, such as the National City works, Goya series, Elbows, Tetrads, Prima Facie and onwards, Baldessari broke the canvas into ... More





Nicholas Serota in Cy Twombly at Tate Modern (Level 4: Room 7). Photo: Olivia Hemingway, ©Tate Photography.





LONDON.- Serota, who has appeared in the top ten of every list since the Power 100's 2002 launch, was ranked number 1 this year on account of the way in which Tate has, since the launch of Tate Modern, consistently deployed an international – rather than a national – perspective on art production. Tate has come to epitomise almost all the elements of the current 'global' artworld, where the distribution of art is arguably now more important than its production. Tate Modern remains the most visited modern and contemporary museum in the world and the organisation has partnerships from Seoul and Sydney to Berlin and Oman. As it performs the traditional museum role of validating artists through its shows, Tate also provides the same service for collectors, who are invited to join its various boards and committees. Tate also advises on or ... More
Rare Abstract Avant-Garde paintings lead Sotheby's inaugural 20th Century Art: A Different Perspective Sale
Private collections featuring works by Warhol, Calder, Bertoia and more come to auction at Freeman's
Outstanding collection surveying the career of Pablo Picasso to be presented by Sotheby's




César Domela, Composition néo-plastique, 1926. (detail). Oil on canvas, Estimate: 400,000-600,000. Photo: Sotheby's.





LONDON.- Sotheby's will hold an inaugural 20th Century Art – A Different Perspective sale in London on 12 November 2014, featuring modern art from countries across Europe and around the Mediterranean by artists who have a strong regional following but are not yet part of the international mainstream. Leading the sale is a group of works by artists who were at the forefront of the intellectual avant-garde in Europe between the First and Second World Wars. Their principal occupation was the exploration of non-figurative art and in the pursuit of art's highest form of purity they decreed that painting must be abstract. The auction, comprising 74 lots, also features a strong selection of early twentieth-century figurative works by artists who had assimilated the tenets of impressionist and cubist painting. Tessa Kostrzewa, Sotheby's Head of Auction Sales, 20th Century Art, said: "We are thrilled to present the inaugural ... More





Estimated at $250,000-400,000, Warhol's "Campbell's Soup I," a complete set of ten screenprints, is the centerpiece of the auction. Photo: Courtesy of Freeman's.





PHILADELPHIA, PA.- On November 2, several private collections featuring works by Andy Warhol, Alexander Calder, Harry Bertoia, Jean Dubuffet, and Lynda Benglis, among others, will hit the auction block at Freeman's Modern & Contemporary Art sale. Estimated at $250,000-400,000, Warhol's "Campbell's Soup I," a complete set of ten screenprints, is the centerpiece of the auction. The screenprints were purchased directly from the artist during one of their first showings at Leo Castelli's gallery in 1968 by Lois Cowles Harrison, most recently of Lakeland, Florida. The daughter of famed Warhol collector Gardner Cowles Jr., who was the founder and publisher of Look Magazine, Cowles Harrison was an avid and early collector of Warhol and other Pop artists. The Soupcans were prominently displayed in her home alongside other top examples of Pop Art graphics and were clearly among ... More





Pablo Picasso, Portrait de femme au chapeau a pompons et au corsage imprimé, Linoleum cut printed in colors, 1962. 630 by 530 mm; 24 7/8 by 20 7/8 in. Est. $400/600,000. Photo: Sotheby's.





NEW YORK, NY.- Sotheby's announced the sale of Picasso Through the Eyes of a Connoisseur, a collection of over 125 etchings, linoleum cuts, paintings, sculptures, lithographs and ceramics by one of the most influential artists of the 20th century. The offerings begin with a single owner sale of Prints on 3 November 2014 that presents a comprehensive view of Pablo Picasso's entire career – from 1923 Le Collier to works from the 1970s – with estimates ranging from a few thousand to $600,000. Led by a number of Picasso's most celebrated works, including Portrait de Femme au Chapeau a Pompons et au Corsage Imprime from 1962 (est. $400/600,000) and Portrait de Jeune Fille d'après Cranach le Jeune, II (est. $400/600,000) from 1958, the breadth of the collection illustrates the artist's wide ranging iconography. Paintings and drawings by Picasso will also be included in the ... More
Rare and important Aztec deity highlights African, Oceanic & Pre-Columbian Auction at Bonhams
Guggenheim Helsinki Stage One Design Competition submissions revealed
A rare oil by last of the Pre-Raphaelites highlights 19th century European Paintings Auction




Aztec Deity of Xochipilli-Macuilxochitl, Late Postclassic, ca. A.D. 1450-1521 (est. $80,000 – 120,000). Photo: Courtesy of Bonhams.





NEW YORK, NY.- Bonhams will offer an important collection of Pre-Columbian art in the auction of African, Oceanic & Pre-Columbian art to be held in New York on November 12. An important featured lot is a rare Aztec Deity of Xochipilli-Macuilxochitl from the Late Postclassic period, circa. A.D. 1450-1521 (est. $80,000 – 120,000). Xochipilli was celebrated by the Nahua Aztecs during at least two important feasts, the small feast day of the lords, which nobility attended; and the feast of flowers that invited painters and seamstresses. The figure is made from a light-green aragonite that depicts Xochipilli wearing the headdress of the crested coxcoxtli, a bird whose open bill frames his face and feathers wrap around Xochipilli's form like a garment. From Papua New Guinea is an exceptional Sawos Ancestral Guardian Male Figure, estimated to fetch between $40,000 and 60,000. The wooden figure towers at 83 inches and has ... More





Each entry is represented by two images along with a brief concept summary provided by competitors.





NEW YORK, NY.- The Solomon R. Guggenheim Foundation announced the launch of an online gallery that allows web visitors to explore the submissions received for Stage One of the Guggenheim Helsinki Design Competition. The gallery is the first public presentation of the entries and can be found at the Guggenheim Helsinki Design Competition website. Each entry is represented by two images along with a brief concept summary provided by competitors. In keeping with the anonymous nature of the competition, entries are identified only by registration number. A map indicates the number of submissions received by country. Visitors also can sort submissions by selecting tags chosen by competitors to describe their design concept. Reflecting the official jury process, users can create and share their own short list of six entries. On October 15 as part of the New York City's annual Archtober festival, the Guggenheim Helsinki ... More





Eleanor Fortescue-Brickdale (British, 1871-1945), Botticelli's studio: The first visit of Simonetta presented by Giulio and Lorenzo de Medici (detail), oil on canvas. Est. $200,000 – 300,000. Photo: Courtesy of Bonhams.





NEW YORK, NY.- On November 5, an exquisite painting by acclaimed British female artist, Eleanor Fortescue-Brickdale, will feature among the highlights of the 19th Century European Paintings auction at Bonhams. Botticelli's studio: The first visit of Simonetta presented by Giulio and Lorenzo de Medici is estimated to fetch $200,000-300,000. Painted in 1922, Botticelli's studio is a rare find given that Fortescue-Brickdale was known to work mostly in watercolor. The painting depicts Renaissance master Sandro Botticelli in his studio, upright and reverent in the presence of noblewoman Simonetta, who is introduced by notable patrons of the arts, Giulio and Lorenzo de Medici. The superb brushwork used to portray the elegant details in the clothing, furniture, drapery, and landscape visible through the window is a testament to Fortescue-Brickdale's skill as an artist, illustrator and colorist. Eleanor ... More
New Britain Museum of American Art Director Douglas Hyland to retire Autumn 2015
Quinn & Farmer to offer early Cy Twombly self-portrait at Oct. 25 Furniture, Art & Decorative Art Auction
Solo exhibition of Ursula von Rydingsvard's work opens at Galerie Lelong in New York




Douglas Hyland with wife Tita.





NEW BRITAIN, CONN.- Douglas Hyland, who has led the New Britain Museum of American Art through two expansions, will retire as NBMAA's director following the completion of the new addition, which is expected in the fall, 2015. Hyland announced his decision at a meeting of the Board of Trustees, October 22, 2014 and at the Annual Meeting of the Membership, immediately following. Hyland became the NBMAA's fifth director in October, 1999, following several other museum directorships including the San Antonio Museum of Art, San Antonio, TX; the Birmingham Museum of Art, Birmingham, AL; and the Memphis Brooks Museum of Art, Memphis, TN. He is credited with growing the Museum, founded in 1903, in every conceivable way: collections more than tripled to over 14,000, docents from 35 to 117, memberships from 1,500 to 3,800, staff from 19 to 46, and the endowment from $9 million to $21 million. NBMAA Chairman Todd Stitzer will lead a search to find Hyland& ... More





Self-portrait by Cy Twombly (American, 1928-2011), graphite, ink and gouache on paper; executed in 1947 and inscribed and gifted to a friend in 1959, est. $30,000-$50,000.





CHARLOTTESVILLE, VA.- Quinn & Farmer's beautifully varied Oct. 25 auction of furniture, art and decorative art is led by an early self-portrait by one of Virginia's most accomplished native sons, Cy Twombly (1928-2011). The story behind the artwork, which is estimated at $30,000-$50,000, reveals Twombly's very Southern trait of building and nurturing long-term friendships. "Before he moved to Rome and became an artist of international acclaim, Twombly was just another one of the friendly folks in Lexington, Virginia," said Ken Farmer of Quinn & Farmer. "His best friends in the area were the Hess family. When the Hess's son, Skip, was born in 1950, Cy created cartoon studies of Mickey Mouse, Donald Duck and Fiddler Pig to hang on the nursery wall. As Skip grew up, he and Cy spent time together fishing and hiking around Cy's cabin on the Maury River. On his ... More





Ursula von Rydingsvard, Bent Lace, 2014. Bronze. Height: 112". Width: 69". Depth (top): 40". Base width: 25". Depth: 19". Edition of 3 © the Artist, Courtesy of Galerie Lelong, New York.





NEW YORK, NY.- Continuing a year of remarkable achievement for Ursula von Rydingsvard, which has included the artist's first major survey exhibition outside the United States, the unveiling at Barclays Center of her first permanent outdoor sculpture in Brooklyn, and receipt of the Lifetime Achievement Award from the International Sculpture Center, Galerie Lelong presents a solo exhibition of the artist's work opening October 23. Featuring new sculptures in her trademark cedar and presenting work in bronze for the first time at Galerie Lelong, this body of work demonstrates von Rydingsvard as an artist at the height of her career and in full command of the artistic and physical demands of her technique. Von Rydingsvard's unique visual vocabulary and well- established oeuvre demonstrate her mastery as she harnesses, shapes, and assembles cedar beams, which are ... More
Sir Ian McKellen on Sherlock Holmes
---
Flashback
On a day like today, Andy Warhol "superstar" Baby Jane Holzer, was born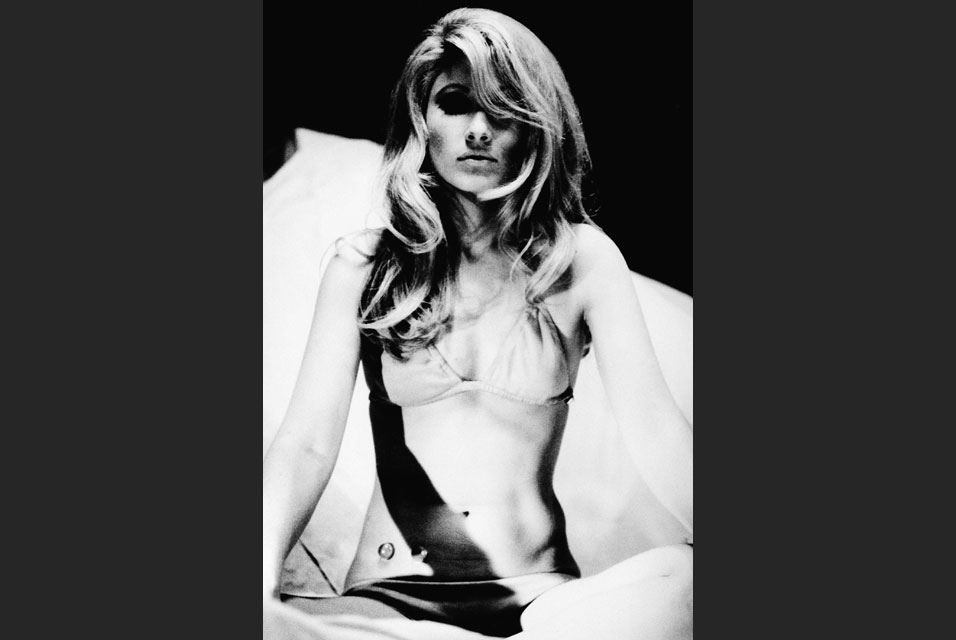 October 23, 1940. Jane Holzer (née Bruckenfeld; born 23 October 1940) is American art collector and film producer who was previously an actress, model, and Warhol superstar. She was often known by the nickname Baby Jane Holzer. Movies she appeared in included Soap Opera, Warhol's Couch (1964), and Ciao! Manhattan (1972). She co-produced the 1985 film Kiss of the Spider Woman. Holzer is the subject of "Girl of the Year" in Tom Wolfe's The Kandy-Kolored Tangerine-Flake Streamline Baby (1965) and is referenced twice in the 1972 Roxy Music song Virginia Plain from the album Roxy Music.
---

Museums, Exhibits, Artists, Milestones, Digital Art, Architecture, Photography,
Photographers, Special Photos, Special Reports, Featured Stories, Auctions, Art Fairs,
Anecdotes, Art Quiz, Education, Mythology, 3D Images, Last Week,
.
---
Royalville Communications, Inc
produces: