Exhibition of works from across Jenny Holzer's career opens at Tate Modern
Installation view of ARTIST ROOMS: Jenny Holzer at Tate Modern (23 July 2018 – July 2019) © Tate / Andrew Dunkley.
LONDON
.-
ARTIST ROOMS: Jenny Holzer, the latest in the series of annual free displays, will open to the public on 23 July and run until summer 2019. It brings together key works from across Holzer's four-decade career, including rarely seen works from the artist's archives and installations exhibited in the UK for the first time, in
Tate Modern
's dedicated ARTIST ROOMS gallery. American artist Jenny Holzer (b.1950) is renowned for thought-provoking, text-based installations that incorporate diverse media and a pioneering use of electronic technologies. The artist draws on content from a wide range of sources, often incorporating incongruous viewpoints to examine the nature of communication and human interaction. Tate's ARTIST ROOMS display will feature works from Holzer's major texts, including Truisms, Living, Survival and Laments, in addition to writing by others. Installations include three large-scale paintings cr ...
More
The Best Photos of the Day
The sea in art from the 19th century to the present is the focus of exhibition at Musée d'art moderne André Malraux
Exhibition of drawings and prints by Louise Nevelson explores the artist's works on paper
Christie's sale to celebrate the 160th anniversary of diplomatic relations between France and Japan


Gustave Moreau, Fée des eaux n.c Huile sur toile 80 x 65 cm Paris, Musée Gustave Moreau © RMN - Grand Palais - René-Gabriel Ojéda.



LE HAVRE .- MuMa's major 2018 spring and summer exhibition "Ocean Imaginings" explores imaginative interpretations of the sea, the ocean and the undersea world in art works from the second half of the nineteenth century and the twentieth century, a period in which attitudes to the marine world were decisively transformed by the new discipline of oceanography. Ensconced in the apt setting of MuMa's architecturally distinguished building overlooking Le Havre's harbour entrance and seascape, the exhibition itinerary showcases 180 works - paintings, drawings, sculptures, photographs, videos, glass and ceramics - by almost 100 artists including Anna Atkins, Gustave Moreau, Arnold Böcklin, Auguste Rodin, Emile Gallé, Max Klinger, Adolf Hiremy-Hirschl, Jean-Francis Auburtin, Mathurin Méheut, Man Ray, Max Ernst, Brassaï, Jean Painlevé, Philippe Halsmann, Pierre and Gilles, Nicolas Floc'h and Elsa Guillaume. ... More



Louise Nevelson (1899-1988), The Face in the Moon, 1953-55. Etching: sheet, 20 × 26 1/16 in. (50.8 × 66.2 cm); plate, 17 7/8 × 21 5/8 in. (45.4 × 54.9 cm). Edition 1/20. Whitney Museum of American Art, New York; gift of the artist 69.247. © 2018 Estate of Louise Nevelson/Artists Rights Society (ARS), New York.



NEW YORK, NY.- The Face in the Moon: Drawings and Prints by Louise Nevelson opened at the Whitney Museum of American Art on July 20, 2018. Drawn entirely from the Whitney's extensive holdings of her work, this exhibition presents a career-spanning selection of works on paper by Louise Nevelson (1899–1988). Nevelson emphasized her reliance on the processes of drawing and collage to create the monochromatic wooden sculptures for which she is best known. This exhibition is an opportunity to focus closely on her use of these processes in her works on paper, many of which, like her sculptures, involved building compositions out of unconventional or recycled materials. The human figure is at the center of Nevelson's early line drawings, often depicted ... More



Paul Elie Ranson is represented in this sale with Baigneuse lavant son pied, painted in 1898. Estimate: €80,000-120,000. © Christie's Images Limited 2018.



PARIS.- Christie's France will host a sale celebrating the 160th anniversary of diplomatic relations between France and Japan on 15 November 2018. To mark this anniversary, France is organising a series of cultural events under the name Japonismes 2018: les âmes en résonance, between July 2018 and February 2019. This initiative is rooted in the artistic relationship between France and Japan, which dates back to the 19th century, and highlights the important influence of Japan on Western art. With this cross-category sale (including paintings, furniture, prints, sculptures, books, ceramics, silverware, lacquerware and jewellery), Christie's demonstrates the artistic links existing between these countries through the juxtaposition of Oriental and Occidental works of art. Comprising around 60 lots ranging from 1860 to 1930, this curated sale is the first one of this kind. Camille de Foresta and Géraldine Lenain in charge of the sale ... More
Unique collection of Russian art comes to Georgia
Pace Gallery opens an exhibition of new works by New York-based light artist Leo Villareal
Flowers Gallery opens an exhibition of new sculptural paintings by Patrick Hughes


Pietro Benvenuti (Italian, 1769–1844), Princess Zinaida Alexandrovna Volkonskaia, 1815. Oil on canvas, 38 1/4 x 29 1/4 inches. Promised gift of Marina Belosselsky-Belozersky Kasarda.



ATHENS, GA.- From Russia to Finland to London to Massachusetts and now to Athens, Georgia, the Belosselsky-Belozersky Collection has traveled the world. The exhibition "One Heart, One Way: The Journey of a Princely Art Collection" (on view at the Georgia Museum of Art at the University of Georgia July 21, 2018, to January 6, 2019) introduces the public to this collection from the family of the Russian Princes Belosselsky-Belozersky, which still belongs to its original owners. Parker Curator of Russian Art Asen Kirin's expertise was crucial in organizing the exhibition and in presenting this art to the public. The Belosselsky-Belozersky Collection was formed in the mid-18th century by one of the most notable collectors during the Enlightenment era, the philosopher and poet Prince Alexander Mikhailovich Belosselsky-Belozersky. With the Bolshevik Revolution of 1917, Prince Konstantin Esperovich Belosselsky- ... More



Leo Villareal, Large Cloud Drawing 3, 2018, LEDs, custom software, electrical hardware and metal 68" × 68" (172.7 cm × 172.7 cm). © Leo Villareal, 2018. Courtesy of Pace Gallery.



HONG KONG.- Pace Gallery is presenting an exhibition of new works by New York-based light artist Leo Villareal. Installed in Pace's recently-opened gallery in Hong Kong's new H Queen's Building, Escape Velocity is the artist's first solo exhibition in Asia and his second exhibition with Pace since joining the gallery in 2016. Villareal works with pixels and binary code to create rhythmic, non- repeating and random compositions in light. Firmly rooted in abstraction and the psychology of perception, his work is purposefully open-ended and ethereal, encouraging viewers to draw their own interpretations. Escape Velocity i on view July 20 through September 7, 2018. The exhibition features three large Cloud Drawings and an edition of small Cloud Drawings, and three new triptych works, similar to Villareal's Signature of the Invisible, recently exhibited by Pace at Art Basel. Composed on a square array of LED lights arrang ... More



Patrick Hughes, Reverse Inverse & Forced Perspective, 2018 (detail), Oil on board construction, © Patrick Hughes, courtesy of Flowers Gallery London and New York



LONDON.- Patrick Hughes has achieved recognition around the world for his lifelong exploration of perspective and visual paradox. An acclaimed British Pop Artist, closely aligned with British Surrealism in the 1950s and 60s, Hughes is also renowned for his impact on scientific discoveries in the field of three- dimensional visual perception. In an exhibition at Flowers Gallery Cork Street, Hughes presents new sculptural paintings, completed this year, which explore an increasingly complex spatial and pictorial imagery. Ever since the creation of his first 'reverse perspective', the Sticking Out Room, more than fifty years ago, Hughes has continued to confound viewers with his three-dimensional paintings, which appear to move together with the lateral movements of the viewer. The foundations for this discovery were set in 1963, when he made a sculpture of railway lines in perspective coming to an abrupt vanishing point. Lookin ... More
Exhibition series exploring the history of artists who experienced life in exile now continues with 'Resonance of Exile'
rosenfeld porcini opens themed exhibition entitled Verticality
Exhibition explores the process of economic, social and cultural transformations


Lili Réthi, Illustration from: Upton Sinclair Briefe an einen Arbeiter (Letters to a blue-collar worker) Leipzig and Vienna, 1932. © Museum der Moderne Salzburg. Photo: Rainer Iglar.



SALZBURG.- Last year, the first presentation in the series shed light on the sharp discontinuities in the biographies and oeuvres of four women artists who were forced to leave their native countries. The new exhibition places the focus on how emigrants rebuilt their lives and careers after escaping Central Europe and how their experiences echo in their art, showcasing the oeuvres of six outstanding artists: Valeska Gert, Lisette Model, Madame d'Ora, Wolfgang Paalen, Lili Réthi, and Amos Vogel. The "resonance" in the title sums up the diverse ways in which the works they created in their places of refuge as well as after their return reflect what they went through. Model, Paalen, Réthi, and Vogel were pioneering artists who influenced the evolution of their respective métiers in their adopted ... More



Installation view.



LONDON.- rosenfeld porcini announces its themed exhibition entitled Verticality which features works by Roberto Almagno, Enrique Brinkmann, Lu Chao, Leonardo Drew, Herbert Golser, Riccardo Guarneri, Naoya Inose, Marijke Keyser, Robert Muntean, Antonio Riello, Nicola Samorì, José Santos III, Raina Schoretsaniti, Levi van Veluw, Veronica Vasquez and Uthman Wahaab. If one reflects on the selection process of art history which evolves over decades and even centuries, we can see that Horizontality gradually morphs into Verticality. Only those artists who survive the sand in the hourglass will become part of the pantheon and be remembered centuries on. The aim is to approach a basic dichotomy such as Verticality/Horizontality from both a visual and textual perspective. Rather than display artists who utilise written text as a way to impart didactic information, there, instead, is a series of talks in the gallery during the ... More



Installation view.



ROME.- The Galleria Nazionale d'Arte Moderna e Contemporanea presents BRIC-à-brac | The Jumble of Growth | 另一种选择, an exhibition curated by Gerardo Mosquera and Huang Du. The two curators come from two countries placed at the antipodes of the globe: Cuba and China, two geographically and culturally different contexts, that share a common attempt on reading the present from a group of apparently diverse visions. This exhibition is the result of a cooperation between the Galleria Nazionale d'Arte Moderna e Contemporanea in Rome and the Today Art Museum in Beijing. The show explores the process of economic, social and cultural transformations brought about by countries where emerging market economies are growing dramatically at a global scale. It examines the various ways in which art has participated in or reacted to some of the transitions involved, and to their effects on culture, soci ... More
Poetry in motion: Enter the world of the 'scrap metal poet'
Turner prize winner Mark Wallinger unveils new series of works at Jerwood Gallery
ARTPIQ: Disruptive art portal connects collectors with upcoming masters


Founder Robert Coudray poses on the site of "Universe of the scrap merchant's poet", made of iron-made sculptures on July 17, 2018 in Lizio, western France. Fred TANNEAU / AFP.



LIZIO (AFP).- With its fairytale towers, quirky animated sculptures, fantastical constructions and musical fountains, the inventive world crafted out of discarded junk by the man known as the "Scrap Metal Poet" is tucked away deep in the northwestern French countryside. "It's an extraordinary place in my imagination," says its creator Robert Coudray, who has let his imagination run wild for nearly three decades, turning his ideas into reality. Now to the sounds of chiming bells and flowing water, visitors can wander around his little timeless world of scrap creations, peeking inside some of the 15 towers and admiring some 70 figures that move, laid out over a hectare (2.5 acres) of land in the village of Lizio. Coudray, 65, said it all began out of boredom. "One day, I was bored so I started to make cabins, ... More



The Human Figure in Space.



HASTINGS.- Turner Prize-winning artist Mark Wallinger unveiled a series of playful, thought-provoking and previously unseen works in an exhibition on view at Jerwood Gallery, Hastings this month. The show is inspired by the seaside setting of the gallery and the 19th-century photographer, Eadweard Muybridge's pioneering work, The Human Figure in Motion. All works are being shown for the first time in the UK and Birdman, created specifically for the show, is befitting for the seaside location of Jerwood Gallery. The piece features cropped details taken from images of contestants at the International Birdman competition, which takes place on the Sussex coast. As Mark explains: "Isolated against the sky, these would-be aeronauts conjure with myth and wilful slapstick, bathos and pathos. The dream of flight that started in Greek mythology with Icarus and Daedalus and continued through a myriad of figures from cultures ... More



CEO Katharina Wenzel-Vollenbroich.



DUSSELDORF.- Online art funding platform ARTPIQ is working to disrupt the art market. Since its launch in March 2017, the start-up has already raised a six figure angel funding to connect promising talents with collectors. Traditionally, young artists with potential face high-entry barriers into the art market due to a lack of network, business expertise, and exposure while the majority of money is invested in the secondary art market. ARTPIQ is committed to radically change the landscape by offering a platform of opportunities for young talents and collectors. "Right now, control over the art market is in few hands. Therefore, it is very difficult even for really talented artists to gain a foothold", commented Katharina Wenzel-Vollenbroich, Founder and CEO of ARTPIQ. "We are passionate about art and long to create a great environment for tomorrow's masters. That's why we want to democratise the market and connect ... More
Wayne Thiebaud - 'I Knew This Was Not a Good Career Choice' | Studio Visit
Flashback
On a day like today, American painter and etcher Edward Hopper was born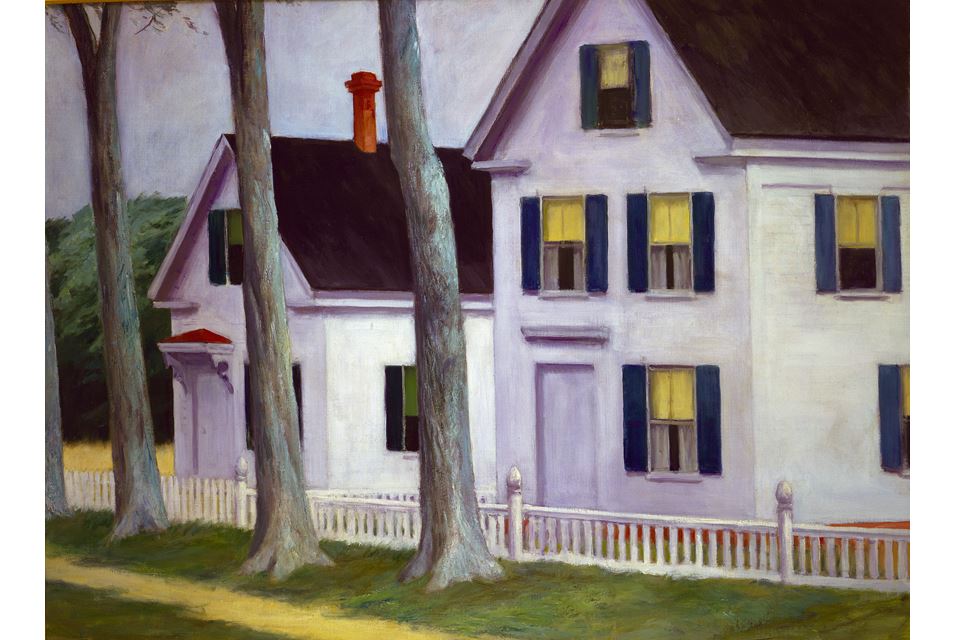 July 22, 1882. Edward Hopper (July 22, 1882 - May 15, 1967) was a prominent American realist painter and printmaker. While he was most popularly known for his oil paintings, he was equally proficient as a watercolorist and printmaker in etching. Both in his urban and rural scenes, his spare and finely calculated renderings reflected his personal vision of modern American life. In this image: Edward Hopper, Two Puritans, 1945. Oil on canvas, 76.2 x 101.6 cm. Private Collection. Courtesy of Ronald Feldman Fine Arts, New York.
---

Museums, Exhibits, Artists, Milestones, Digital Art, Architecture, Photography,
Photographers, Special Photos, Special Reports, Featured Stories, Auctions, Art Fairs,
Anecdotes, Art Quiz, Education, Mythology, 3D Images, Last Week,
.
---
Royalville Communications, Inc
produces: