Pieter Bruegel the Elder's Mad Meg is back home at the Mayer van den Bergh Museum
Ophanging Dulle Griet in Museum Mayer van den Bergh. Photo: Ans Brys.
ANTWERP
.-
Pieter Bruegel the Elder's Mad Meg is back home at the Mayer van den Bergh Museum in Antwerp after a two-year absence. The painting will be back on show as one of Mayer van den Bergh's star attractions from 22 January onwards. Having undergone thorough restoration at the Royal Institute for Cultural Heritage (KIK-IRPA) in Brussels, the painting first travelled to the Kunsthistorisches Museum in Vienna for the major Bruegel exhibition there. Pieter Bruegel the Elder's Mad Meg has come home. Visitors can renew their acquaintance with the work from 22 January at the home of its discoverer, Fritz Mayer van den Bergh, where it will be on prominent display once more as one of the museum's star attractions. Previously known as a dark and weird landscape, with a deep-red sky and touches of brown, the painting looks considerably fresher since its restoration. The yellowed layers of varnish and later overpainting have been removed and the splendid original colours are back. T ...
More
The Best Photos of the Day
McNay Art Museum champions Chicana artists in its newest exhibition, Estampas Chicanas
The Foundling Museum acquires the first major portrait of a key female supporter of the 18th-century Foundling Hospital
Under-30s twice as likely to visit museums and galleries to 'de-stress', Art Fund research shows


Melanie Cervantes, Canciones de la Tierra, 2010. Screenprint. Collection of the McNay Art Museum, Gift of Harriett and Ricardo Romo. © Melanie Cervantes.



SAN ANTONIO, TX.- A series of striking prints now line the walls of the Butt Paperworks Gallery at the McNay Art Museum, this time focusing solely on Chicana artists, many of whom have had to fight to make their voices heard. The exhibition, Estampas Chicanas, aims to increase the visibility of Chicana artists who have been historically overlooked, especially in important social developments like the Chicano labor movement. The artworks in this exhibition are generous gifts of Harriett and Ricardo Romo, and include works by Judy Baca, Patssi Valdez, Barbara Carrasco, Ester Hernandez, Alma Lopez, and others. Estampas Chicanas is the latest exhibition in a series drawn from donations made to the Museum by the Romos. Since 2008, the philanthropic family has donated more than 450 objects to the collection. Many of the works in this exhibition are recent donations and ... More



Andrea Soldi, Isabella Duchess of Manchester, 1738. Photo: Whitfield Fine Art.



LONDON.- The Foundling Museum has acquired a painting by celebrated 18thcentury artist Andrea Soldi of Isabella, Duchess of Manchester, one of Thomas Coram's key female supporters who provided the catalyst for the establishment of the Foundling Hospital. This is a significant acquisition for the Museum, being the only portrait of a female supporter of the Foundling Hospital, prior to its foundation in 1739, to enter the Foundling Museum Collection and one of the first paintings of a woman to hang permanently in the Museum's Picture Gallery. The acquisition of the portrait has been made possible with the help of Art Fund, the Arts Council England/V&A Purchase Grant Fund, The Friends of Thomas Coram, and a number of generous individuals donors. The acquisition follows the success of the Museum's year-long programme in 2018 that marked the centenary of female suffrage. In particular, its acclaimed exhibition ... More



ARTIST ROOMS: Jenny Holzer, Tate Modern, London, 2018, supported by Art Fund © 2018 Jenny Holzer, member Artists Rights Society (ARS), NY. Photo: Janie Airey.



LONDON.- Art Fund, the national fundraising charity for art, has released a new annual art pass to help reduce the cost of visiting museum, galleries and historic sites for under-30s. The Under 30 National Art Pass is available to anyone aged 30 or younger and offers free entry to over 240 museums, galleries and historic homes across the UK as well as 50% off major exhibitions such as the V&A's forthcoming Christian Dior exhibition and Tate Liverpool's Keith Haring retrospective. It is a specially discounted £45 version of its popular National Art Pass (from £70). Previously, Art Fund has offered an Under 26 National Art Pass; however, following research carried out at the end of 2018, the charity recognised a need to broaden its offer to the under-30 age group. Art Fund's research, recently published in a report titled ... More
'Truly great' plans unveiled for new London concert hall
Doyle to auction English & Continental Furniture, Old Masters and Russian Works of Art
Spink sets a new world record for a philatelic item


Exterior View. Concept Design - Centre for Music. Courtesy of Diller Scofidio and Renfro.



LONDON (AFP).- Renowned British conductor Simon Rattle on Monday unveiled ambitious designs for a new £288 million ($370 million, 326 million euros) concert hall in the heart of London. The London Symphony Orchestra music director said it was "wonderful" to finally present the plans for a new hall. "The idea that there can be a new cultural centre in London... is very exciting," he said. "A sign of London as a dynamic cultural city, at a time when we are going to need this more and more." The plans will see the current site of the Museum of London, which is relocating nearby, transformed into an ultra-modern concert space encased in glass, reflecting the orchestra's mantra of "transparency and access". The 2,000 seat, in-the-round hall will echo a geological formation, with the lines of steps and seating mimicking rock strata. Huge transparent pods at the top will allow visiting children to watch rehearsals, at the request of Rattle. Elizabeth Diller, founding partner of the Diller Scof ... More



Michele Giovanni Marieschi (Italian, 1710-1743), Venetian Capricci: One of a Pair, oil on canvas, 14 1/2 x 21 7/8 inches. Est. $30,000-40,000.



NEW YORK, NY.- On Wednesday, January 30 at 10am, Doyle will hold an auction of English & Continental Furniture & Decorative Arts, Old Master Paintings and Russian Works of Art from prominent estates and collections across the country. Spanning the Italian Renaissance through the 19th century, the sale presents a broad selection of elegant furniture, decorations, Georgian silver, porcelain, sculpture, mirrors, clocks, chandeliers, sconces, tapestries and rugs. The selection of Old Master paintings and drawings offers a wide range of landscapes, still lifes, portraits and religious subjects. Showcased among the Russian Works of Art are Fabergé, icons, silver, bronzes and imperial memorabilia. Michele Marieschi (Italian, 1710-1743), like his fellow view-painters Antonio Canaletto and Giovanni Paolo Panini, began his career as a designer of theatrical sets. That training is clearly visible in his early easel paintings, of which two architectural fantasie ... More



The total for this outstanding collection was HK$31,184,880.



HONG KONG.- The auction of Lam Man Yin's wonderful collection of the stamps formed by Mr Lam over many years of collecting the Small Dragons, Dowagers and their Surcharges saw an outstanding new world record set for an item from these early issues of China. The 9 candareen stamp with the variety 10c. Surcharge inverted sold for a hammer price HK$6,100,000, a world record for a Dowager stamp. When the new Post Office was established in 1897 the currency was changed from candareens to dollars and cents, so new stamps were required. Delays at the printers meant that the unused candareen stamps were surcharged with values in the new currency. The original sheets of the 9 candareen were formed of twenty five stamps but each sheet was made with one corner stamp printed upside down. Before these sheet were given their new surcharge, the left column of stamps, with the offending invert, were removed. All available stamps were utilised, including any returned from country post offices. Unfortunately ... More
Messengers: A large new work by Bridget Riley unveiled at the National Gallery
Joan Mitchell Foundation announces 2019 awardess for Artist-in-Residence program
David Zwirner opens an exhibition of new work by Canadian-born artist Marcel Dzama


Studio assistants working on Messengers by Bridget Riley, Annenberg Court, The National Gallery. © 2019 Bridget Riley. All rights reserved/Photo: The National Gallery, London.



LONDON.- Messengers, a new large-scale work by Bridget Riley, has been unveiled at the National Gallery. The wall painting by the British abstract artist spans 10 x 20 metres. A combination of coloured discs, Messengers has been painted directly onto the surface of the Gallery's Annenberg Court. The title of the work is inspired by a phrase of the landscape painter, John Constable, referring to clouds in the sky, but might also be seen as an allusion to the numerous angels, harbingers of news, that populate the skies of so many National Gallery pictures. A groundbreaking influence on the development and appreciation of contemporary art, Riley (1931-) is one of the most important artists of her generation and has long associations with the National Gallery. As a teenager she copied Jan van Eyck's Portrait of a Man (Self Portrait?) (1433) as part of her portfolio when applying ... More



Los Valles (detail), oil on panel painting by awardee Ana Fernandez. The Linda Pace Foundation Collection, Ruby City, San Antonio, Texas.



NEW YORK, NY.- The Joan Mitchell Foundation announced today the 32 artists to whom it has awarded residencies at its Joan Mitchell Center in New Orleans for the coming year. All of the artists will be provided with private studio space at the Center, which sits on a two-acre campus in the historic Faubourg Treme neighborhood, along with a stipend, communal dinners, and opportunities to participate in programs that actively engage both the professional arts community and the public. Additionally, those artists traveling to the Center from outside New Orleans are provided with on-site lodging and financial support to transport necessary materials and works. The Artist-in-Residence program was developed as an extension of the Foundation's support of the local arts community in New Orleans following the devastation of Hurricane Katrina, and has become a vital realization of artist ... More



Marcel Dzama, And who breaks a butterfly on a wheel or A rapture, a butterfly, a dancer and a bowie knife, 2018, © Marcel Dzama, Courtesy the artist and David Zwirner.



HONG KONG.- David Zwirner presents Crossing the Line, an exhibition of new work by Canadian-born artist Marcel Dzama at the gallery's Hong Kong location. Including drawings, dioramas, and a film, this exhibition marks the artist's first solo presentation in Greater China and his ninth with David Zwirner. Since rising to prominence in the late 1990s, Dzama has developed an immediately recognizable visual language that investigates human action and motivation, as well as the blurred relationship between the real and the subconscious. Drawing equally from folk vernacular as from art-historical and contemporary influences, Dzama's work visualizes a universe of childhood fantasies and otherworldly fairy tales. Spanning the two floors of the gallery, the works on view explore imagery inspired by the artist's recent trip to Hong Kong, while also reinvigorating ... More
First solo exhibition in Europe by the Korean artist Hyon Gyon opens at Parasol unit foundation for contemporary art
Hardeep Pandhal opens exhibition across two sites in Nottingham
Above the concrete canopy: Hong Kong from the sky


Hyon Gyon, I Lived Well, 2016. Mixed media, 86.4 x 86.4 x 114.3 cm (34 x 34 x 45 in) Courtesy the artist. Photo: Marek Gardulski.



LONDON.- Parasol unit foundation for contemporary art presents for the first time in Europe a solo exhibition by the Korean artist Hyon Gyon. Known for her intricate and highly expressive works, often like mid-burst manifestations of explosive raw energy, Hyon Gyon combines traditional Korean textiles, Japanese paper and paint together with various less conventional materials to create her paintings and sculptural installations. She explores themes of sociocultural identity, grief, anger and sexual politics. Her assemblages are powerful fusions of vivid colour and emotion that appear to collide yet somehow live in unity within each work. Inspired by Korean shamanism, and her own feelings, Hyon Gyon's experience of its rituals allows her to tap into the depths of her own subconscious, to purge her feelings of sorrow and rage ... More



Too POC by Mum and Me by Hardeep Pandhal, 2017.



NOTTINGHAM.- Paranoid Picnic: The Phantom BAME is a new solo exhibition by artist Hardeep Pandhal which confronts post-colonial traumas with testing humour. The exhibition takes place across two sites in Nottingham: New Art Exchange and Primary. This dual setting creates what the artist describes as 'parodic parallel worlds' into which he projects his frustration of societal structures. Pandhal typically works with non-linear forms of digital video which layer lurid hand drawn cartoons, psychedelic and disorienting narratives with his own deadpan rap music. For Paranoid Picnic, Pandhal has created a new video installation to be presented at Primary. The piece, exploring themes of heritage, acts of remembering and nostalgia, samples scenes from the BBC mini-series Cranford (2007), a Neo-Victorian adaption of Elizabeth Gaskell's classic fiction. 'By representing the past, albeit in often far-fetched or whimsical ... More



This aerial photo taken on October 29, 2018 shows commercial and residential buildings in Hong Kong at night. Dale DE LA REY / AFP.



HONG KONG (AFP).- A giant container ship sailing under a suspension bridge; Chinese cemeteries as densely packed as the housing blocks their occupants once lived in; lush rows of paddy fields -- aerial shots offer a whole new perspective on Hong Kong. Internationally it may be best known as a high-octane finance hub filled with skyscrapers, but there is much more to the city -- from bustling ports and picture perfect beaches to rolling hills and verdant forests. AFP photographer Dale de la Rey spent three months training his drone camera lens down on Hong Kong, in a bid to capture the rarely seen sides to the city. "I wanted to do a package showing the density, uniformity and contrast of the city to give a sense of living in Hong Kong," he explained. Hong Kong, which is made up of more than 260 islands, plus the Kowloon peninsula ... More
Marie Antoinette's Personal Portraitist and the Unlikely Painting of an Indian Ambassador
Flashback
On a day like today, French painter Nicolas Lancret was born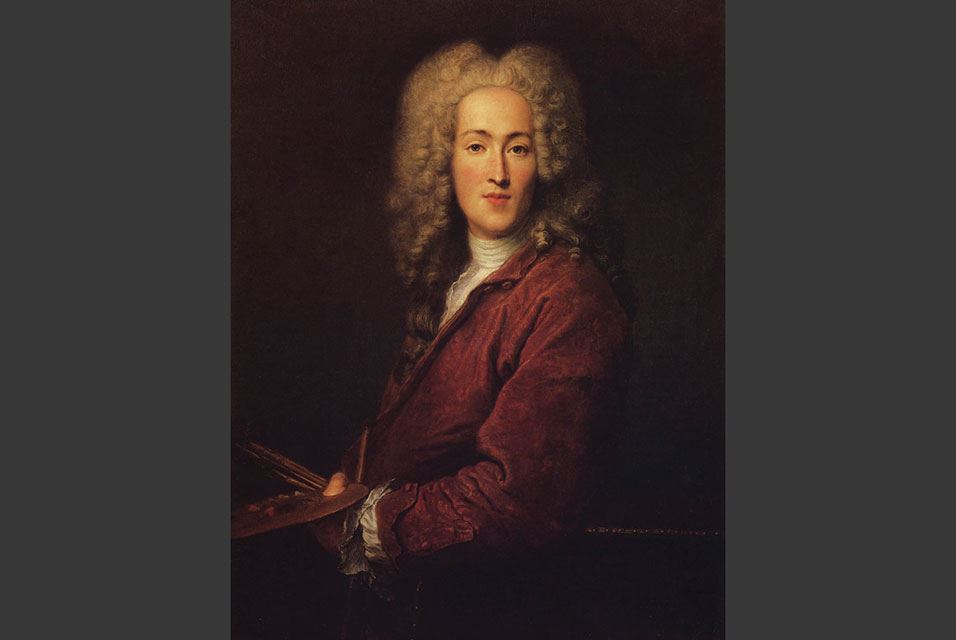 January 22, 1690. Nicolas Lancret (22 January 1690 - 14 September 1743), French painter, was born in Paris, and became a brilliant depicter of light comedy which reflected the tastes and manners of French society under the regent Orleans.
---

Museums, Exhibits, Artists, Milestones, Digital Art, Architecture, Photography,
Photographers, Special Photos, Special Reports, Featured Stories, Auctions, Art Fairs,
Anecdotes, Art Quiz, Education, Mythology, 3D Images, Last Week,
.
---
Royalville Communications, Inc
produces: