Rare artefacts on show in the UK for the first time for major new Jacobites exhibition
Bonnie Prince Charlie and the Jacobites installation view.
EDINBURGH
.-
Rare treasures from Rome and the Vatican will go on display in the United Kingdom for the first time as a key part of a major new exhibition at the
National Museum of Scotland
. These outstanding artefacts form part of the largest exhibition about the Jacobites to be held in over 70 years. Bonnie Prince Charlie and the Jacobites presents more than 300 spectacular treasures, drawn from National Museums Scotland's own collections and those of 44 lenders including other major institutions across Scotland, the UK and Europe. These include Royal Collection, the Royal Armouries, the Musée de Louvre, the National Galleries, National Records and National Library of Scotland as well as a number of private collections. Three marble grave markers, formerly in St Peter's Basilica, for Charles Edward Stuart, his younger brother, Henry Benedict and their father, James VIII and III will leave Rome for the very first time, as loans from the ...
More
The Best Photos of the Day
Sotheby's to offer one of the great American collections of non-western art remaining in private hands
Eli Wilner & Company creates a frame for a Cassatt at the North Carolina Museum of Art
Christie's to offer the Jean-François and Marie-Aline Prat Collection


The dedicated auction is led by a magnificent selection of important Kota Reliquary Figures from Gabon – icons of African art. Courtesy Sotheby's.



NEW YORK, NY.- Sotheby's announced that the Collection of Edwin & Cherie Silver, Los Angeles, will be offered in a single-owner auction of African, Oceanic, Pre-Columbian, and American Indian Art during the height of the New York auction season in November. The dedicated auction is led by a magnificent selection of important Kota Reliquary Figures from Gabon – icons of African art. Assembled during the golden age of American post-war collecting in these categories, the group is a time capsule of the caliber of artwork that was available to collectors decades ago, but is very rarely found in the market today. The collection comprises more than 100 works and has an estimated total value in excess of $10 million. In addition to the famed group of Kota Reliquary Figures, the collection includes a major group of Pre-Columbian terracottas from Ancient West Mexico, acquired in the early years of Edwin and Cherie's collecting; ... More



Mary Stevenson Cassatt (American, 1844-1926, active in France 1871-1926), Portrait of Madame X Dressed for the Matinée, 1877-78, oil on canvas, 39 5/8 x 31 13/16 in. (100.6 x 80.8 cm), Gift of Charlotte Hanes in memory of her husband, R. Philip Hanes Jr., and gift of anonymous donors, 2013 (2013.9). Framed by Eli Wilner and Company with a carved and gilded replica of the frame on the Degas painting, Dancers Practicing at the Barre, 1877.



NEW YORK, NY.- As a part of their gifting program, Eli Wilner and Company created a handcrafted replica frame for a Mary Cassatt painting, Portrait of Madame X Dressed for the Matinée, 1822-78, in the collection of the North Carolina Museum of Art. The Cassatt painting was selected to be reframed by John Coffey, the Deputy Director for Collections and Research and Curator of American and Modern Art at the NCMA. Mr. Coffey had chosen Portrait of Madame X because the artwork represented both an important painting in the museum's collection and a focal point for any gallery within which it might be displayed. Together with Eli Wilner and ... More



Franks Stella, Untitled (rainbow type) Estimate : €800,000 – 1,200,000. © Christie's Images Limited 2017.



PARIS.- Christie's is honoured to announce the sale of the collection of Jean-François (who died in 2011) and Marie-Aline Prat on Friday 20 and Saturday 21 October 2017, during the week long Paris international contemporary art fair, FIAC. Comprising more than 200 works, this exceptional collection is a testimony to almost half a century of a passion shared by an inseparable couple, united by the same passion for modern, post-war and contemporary art. Including some of the most important international figures of the 20th century, such as JeanMichel Basquiat, Sigmar Polke, Lucio Fontana and Robert Ryman, the collection also highlights the Prats' taste for French artists like Jean Dubuffet, Yves Klein, Simon Hantaï and Martin Barré. Estimated in the region of €30,000,000 to 40,000,000, this auction will be divided into two sessions (evening and day sales) with a ... More
Most comprehensive overview of Frank Bowling's monumental paintings ever mounted opens at Haus der Kunst
Exhibition at Tanya Bonakdar Gallery weaves together three bodies of work by Meschac Gaba
Imperial War Museum North presents largest UK retrospective of Wyndham Lewis


Frank Bowling, Middle Passage, 1970. Acrylic on canvas, 321 x 281 cm. Courtesy the Artist © VG Bild-Kunst, Bonn 2017.



MUNICH.- Going back fifty years into Frank Bowling's career, Haus der Kunst presents "Frank Bowling: Mappa Mundi", the most comprehensive overview of the artist's monumental paintings ever on view. Born in Bartica, British Guiana, in 1934, Frank Bowling in the aftermath of World War II left his native country at the age of 19, arriving in London in 1953, as part of the momentous wave of Anglophone West Indian and Caribbean populations that migrated to England. Later he would study painting at The Slade School, and Royal College of Art, distinguishing himself - next to David Hockney - with the silver medal for painting in RCA's 1962 graduating class. Starting in the mid-1960s, Bowling began to surpass the rigid geometries of the pictorial field. The decisive moment of Bowling's artistic maturation was his move from London to New York in 1966. New York had produced postwar abstract painting of a certain scale and ambition. Bowling's painter ... More



Meschac Gaba, St. John Episcopal Church, 2017. Braided wig of synthetic hair, 53 x 17 x 14 inches; 134.6 x 43.2 x 35.6 cm. Courtesy the artist and Tanya Bonakdar Gallery, New York.



NEW YORK, NY.- Tanya Bonakdar Gallery announces its second solo exhibition with Meschac Gaba. On view June 22–July 28, 2017, the exhibition weaves together three bodies of work, forging a powerful commentary on contemporary cultural identity and the current state of immigrants and refugees. Inspired by his experience living between the Netherlands and Benin since the late 1990s, Gaba has navigated and closely examined national and transnational identity constructs under the tumult of globalization. By playfully restructuring relationships between the Western world and developing worlds, the local and the global, art and the everyday, Gaba brings into question dominant codes and frameworks of identity and value. In the gallery's ground floor exhibition space, the artist presents a large-scale, multi-colored participatory work entitled Reflection Room Tent. Creating a direct reference ... More



Wyndham Lewis (1882-1957), Red Portrait (Froanna), 1937. Oil on canvas. Private Collection. Photo Crane Kalman Gallery, London. © The Wyndham Lewis Memorial Trust / Bridgeman Images.



MANCHESTER.- From 23 June 2017 until 1 January 2018, IWM North will present Wyndham Lewis: Life, Art, War, the largest UK retrospective of the artist's work to date. Marking one hundred years since Lewis (18 November 1882 - 7 March 1957) was first commissioned as an official war artist in 1917, the exhibition will comprise of more than 160 artworks, books, journals and pamphlets from major public and private, national and international collections. Staged in Imperial War Museums' centenary year, Wyndham Lewis: Life, Art, War will be IWM's largest visual arts exhibition to date. A radical force in British art and literature, Lewis was the founder of Britain's only true avant-garde movement, Vorticism. Lewis' life and art encompassed the most violent and chaotic period in human history; from the First World War to the nuclear age. He was a controversial figure whose ideas, opinions and personality ... More
Capitain Petzel opens exhibition of new paintings, drawings and films by Sarah Morris
Sotheby's to offer 140 haute couture pieces from the private collection of Didier Ludot
Galerie Thaddaeus Ropac opens exhibition of new works by Daniel Richter


Sarah Morris, "Conversation", 2017 (detail), Household gloss paint on canvas, 152.5 x 152.5 cm / 60 x 60 inches © the Artist, Courtesy Capitain Petzel, Berlin, photo: Christopher Burke.



BERLIN.- Capitain Petzel is presenting the second solo exhibition of New York-based artist Sarah Morris, titled after the film noir classic »Cloak and Dagger« directed by Fritz Lang. The exhibition points towards the fictional, internal and external architectural landscape inhabited by Lang. For the show the artist realized the large site-specific wall painting »Elixir« and a series of new paintings and drawings. Morris´s film »Finite and Infinite Games« as well as a new film »Mimosa Tank: A Prologue for a Film« are on view. »Finite and Infinite Games« which Morris completed earlier this year, casts German theorist, writer and filmmaker Alexander Kluge in a philosophical conflict and performance juxtaposed to the empty and not yet opened Elbphilharmonie in Hamburg. Morris sees this space as a »void«. She used the concert hall in ... More



Givenchy Autumn / Winter 1956. Robe de petit dîner. A couture black satin dress. Estimate: €1,500-2,000. Courtesy Sotheby's.



PARIS.- Sotheby's announced its second sale of Haute Couture to take place in Paris on Tuesday 3 October. In association with Kerry Taylor Auctions, it will offer at auction 140 Petites robes noires, "little back dresses" from the private collection of Didier Ludot. Sotheby's offered a glimpse of Ludot's collection in July 2015, when legendary items by the greatest Paris couturiers were exhibited at the Galerie Charpentier, attracting the keen interest of major collectors, women who wished to buy to wear, alike. This second sale celebrates an iconic garment - La petite robe noire (the little black dress), a timeless wardrobe staple that has fascinated couturiers, flattered women and enchanted men for almost a century. The sale on 3 October will offer a fresh look at this fashion classic as Ludot again calls on Sotheby's savoir-faire to sell part of his collection. "Today I pay tribute ... More



Daniel Richter, Klebriges von mir, 2017. Oil on canvas, 210,3 x 160,3 cm (82,8 x 63,1 in). Courtesy Galerie Thaddaeus Ropac, London · Paris · Salzburg © Daniel Richter / Adagp, Paris, 2017. Photo: Jochen Littkemann.



PARIS.- Galerie Thaddaeus Ropac Paris Marais presents Le Freak, an exhibition of new works by Daniel Richter. The exhibition coincides with a retrospective of his work, shown successively at the Louisiana Museum in Humlebaek, Denmark, the 21er Haus Museum of Contemporary Art in the Vienna Belvedere, and due to open on 1 July at the Camden Arts Centre in London. Daniel Richter's new group of works, Le Freak, is a continuation of the series Hello, I love you (2015/16, Kunsthalle Schirn, Frankfurt), which constitutes a radical departure from the artist's style of the last decade: 'I wanted to get away from a certain kind of narration and from the theatre stage and from the burden of already knowing what I'm about to do', Daniel Richter stated last year. In the new ... More
Racing legend Jack Sears' collection to be offered at Bonhams Goodwood Revival sale
"Flower Power: Spirit of the Summer of Love in Full Bloom" opens at the Asian Art Museum
Farm-to-Table: Exhibition presents epicurean works from the Allan Stone Collection


The ex-John Willment Racing Team 1963 Ford Galaxie 500 being put through its paces by Jack Sears at Silvertone in 1964 (£180,000-220,000). Photo: Bonhams.



LONDON.- On 9 September 2017, Bonhams will offer the collection of the late Jack Sears, winner of the inaugural British Touring Car Championship, at the Goodwood Revival Sale. Erudite and always immaculately turned out, Sears was known as 'Gentleman Jack,' by his countless friends in the motoring world, and was one of the most versatile and talented racers of the 1950s and 1960s. He made his racing debut at Goodwood in an MG TC, whilst also regularly competing in Veteran Car Club rallies. Even single-seaters formed part of his extensive racing repertoire, with a third place finish in a Formula 2 Cooper at Crystal Palace in 1960. Sears then progressed to the international motoring stage with drives at Le Mans 24 Hours in a works Austin Healey 3000, a class win in a Ferrari 330LMB at La Sarthe and a GT class win in a Daytona ... More



Vase with "one hundred flowers" motif. China; Jingdezhen, Jiangxi province, Qing dynasty, reign of the Qianlong emperor (1736–1795). Porcelain with overglaze enamels. Asian Art Museum, The Avery Brundage Collection , B65P13. Photo: © Asian Art Museum.



SAN FRANCISCO, CA.- The 50th anniversary of the Summer of Love in San Francisco conjures images of hippies frolicking in the park with daisies in their hair. But the power of flowers to inspire peace and love goes back far more than 50 years and far beyond our city shores. From June 23 – Oct. 1, 2017 the Asian Art Museum presents Flower Power , an original exhibition of pan-Asian artworks that reveals the powerful language of flowers across times and cultures. The exhibition brings to light unexpected connections among gloriously gilded folding screens, modern-looking lacquers, rare porcelains, sumptuous textiles, and contemporary installations of live flowers and sensory-igniting multimedia. Drawn ... More



Raoul Middleman, Strawberries, 1968 (detail). Oil on board, 8 x 8 1/8 in.



NEW YORK, NY.- Allan Stone Projects presents Farm-to-Table: Epicurean Works From the Allan Stone Collection on view June 22 – August 11, 2017. The exhibition draws from the rich variety of food and food related works that dealer Allan Stone collected throughout his lifetime. Food, still lifes, and animals are common subjects for many artists, providing a glimpse into the earthly pleasures of gastronomy. Whether ironic or sensuous, the works in the exhibition explore the visual delight of food and its related themes. A highlight of the exhibition is Randall Deihl's painting, Nick's Nest, 1981, which relates closely to his painting Sweets, 1980, in the collection of the Metropolitan Museum of Art, New York. Diehl made several works depicting Nick's Nest, a diner he frequented when he lived in Northampton, Massachusetts at the time. The highly detailed painting shows the humble interior of a restaurant noted for its hot ... More
CGI Technology Brings Turner Masterpiece to Life
Flashback
On a day like today, American painter Clyfford Still died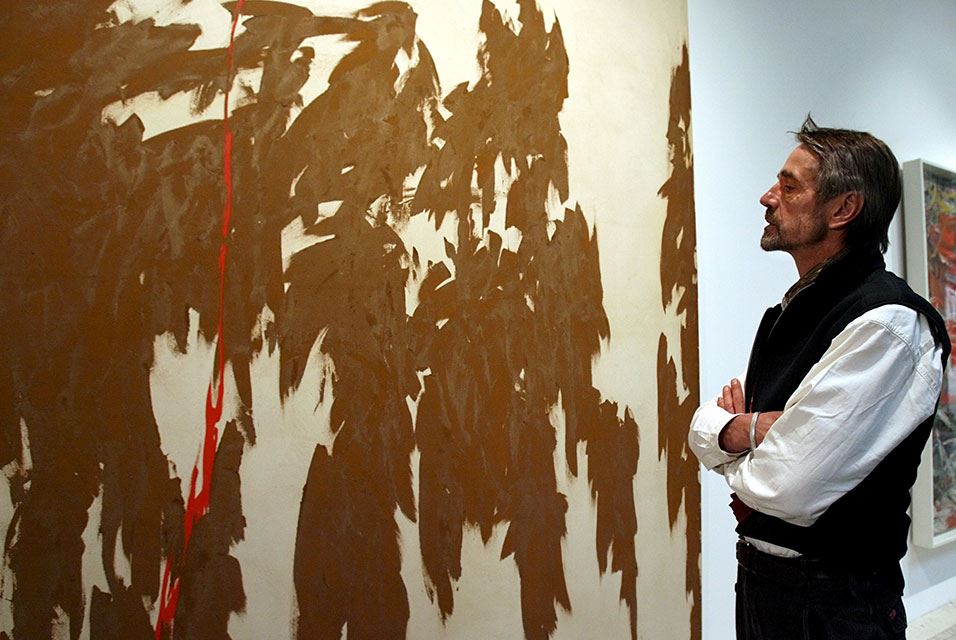 June 23, 1980. Clyfford Still was a leader in the first generation of Abstract Expressionists who developed a new, powerful approach to painting in the years immediately following World War II. Still's contemporaries included Philip Guston, Franz Kline, Willem de Kooning, Robert Motherwell, Barnett Newman, Jackson Pollock, and Mark Rothko. Though the styles and approaches of these artists varied considerably, Abstract Expressionism is marked by abstract forms, expressive brushwork, and monumental scale, all of which were used to convey universal themes about creation, life, struggle, and death ("the human condition"), themes that took on a considerable relevance during and after World War II. In this image: Actor Jeremy Irons looks at a Clyfford Still painting during the opening ceremony of the exhibition 'Art in America Three Hundred Years of Innovation' in the Pushkin Museum of Fine Arts in Moscow.
---

Museums, Exhibits, Artists, Milestones, Digital Art, Architecture, Photography,
Photographers, Special Photos, Special Reports, Featured Stories, Auctions, Art Fairs,
Anecdotes, Art Quiz, Education, Mythology, 3D Images, Last Week,
.
---
Royalville Communications, Inc
produces: