Celebrated Polish sculptor and fiber artist Magdalena Abakanowicz dies at 86
Portrait of Magdalena Abakanowicz. Photo: Star Black, courtesy Marlborough Gallery, New York.
WARSAW
(AFP)
.-
Celebrated Polish sculptor Magdalena Abakanowicz, whose striking headless figures have been showcased around the world, has died at the age of 86, the culture ministry said Friday. "She died overnight Thursday to Friday," the ministry's press office told AFP, without elaborating. Abakanowicz, a descendant of Mongolian warrior Genghis Khan on her father's side and Polish aristocracy through her mother, was born in 1930 in the central village of Falenty. She lived through Nazi Germany's invasion of Poland, the bombing of Warsaw and Stalinism, all of which inspired her to create the imposing clones that evoke the horrors of brainless masses. "It happened to me to live in times which were extraordinary by their various forms of collective hate and adulation," Abakanowicz said in 2004 when her sculptures were installed at Princeton University in New Jersey. ...
More
The Best Photos of the Day
British treasure found in piano
Cleveland Museum of Art to transfer Roman sculpture of Drusus Minor to the Republic of Italy
Nazi loot returned to Poland


On Thursday, authorities qualified the hoard as a treasure, a status usually reserved for coins that are at least 300 years old.



LONDON (AFP).- A British school and a piano tuner are to share the reward after hundreds of gold and silver coins from the Victorian era were found under the keys of a piano. The hoard of 913 sovereigns and half sovereigns --dating from 1847 to 1915 -- was found before Christmas in Shropshire, central England, and might be the largest of the kind in Britain. On Thursday, authorities qualified the hoard as a treasure, a status usually reserved for coins that are at least 300 years old. The sovereigns were discovered after the Bishops Castle Community College called in a piano technician to retune an upright piano that had just been donated to the school. Martin Rickhouse, 61, finding the keys a bit stiff, removed them to find the coins carefully stitched into seven cloth-wrapped parcels and a single leather drawstring purse. "I'd never come across anything like this is my whole life," he said, describing his discovery ... More



Head of Drusus Minor (13 B.C. - A.D. 23), probably after A.D. 23 and likely before A.D. 37. Roman, 1st century. Marble; overall: h. 35 cm (13 3/4 in). The Cleveland Museum of Art, Leonard C. Hanna, Jr. Fund 2012.29.



CLEVELAND, OH.- The Cleveland Museum of Art and The Ministry of Cultural Heritage and Activities and Tourism of the Republic of Italy (Ministry) today announced that they have reached an agreement for the transfer of an early 1st century A.D. marble portrait head of Drusus Minor (Drusus Julius Caesar, 13 B.C.-A.D. 23) to the Republic of Italy. The sculpture, previously sold at a public auction in Paris in 2004, was acquired by CMA in 2012, after extensive research to confirm its ownership history. When the museum acquired the work, it was believed that the sculpture originally came from North Africa. When, more recently, CMA became aware of the fact that the sculpture may have been illicitly removed from a site near Naples towards the end of World War II, the museum promptly contacted the Ministry. Acting in cooperation with officials of the Ministry, and with the assistance ... More



A ceremony was held by the Polish Ministry today to mark the return of 'Rough sea with ships' by Simon de Vlieger.



LONDON.- An important work by Simon de Vlieger, stolen by the Nazis, is returned to Poland after being identified and located by the Art Loss Register A ceremony was held by the Polish Ministry today to mark the return of 'Rough sea with ships' by Simon de Vlieger. The work was stolen during the Warsaw uprising by the head of the Polish propaganda department, Wilhelm Ohlenbusch, and taken to Oldenburg near Hamburg. After the war, Vlieger's picture was considered a war loss and published in 1953 in an English catalogue, Paintings Removed from Poland by the German Occupation Authorities During the Years 1939-1945. The work was also recorded by the Ministry of Culture and National Heritage in a database of cultural property lost during World War II. The work was also recorded in the Interpol database of stolen works of art and published in 2000 in the book War Losses. The fate of the work remained unknown ... More
First-ever exhibition dedicated to works by the last great painter of the Baroque period opens
Bernard Jacobson Gallery opens exhibition of master works by Sam Francis
Urs Fischer presents more than 30 works installed throughout the Legion of Honor


Francesco de Mura (Italian, 1696–1782), Portrait of Cardinal Antonio Sersale, May 20, 1756. Oil on canvas. Collection of Myron Laskin (Malibu, Calif.), on extended loan to the Milwaukee Art Museum.



POUGHKEEPSIE, NY.- A first-ever exhibition of the works of Francesco de Mura makes its only northeast stop at the Frances Lehman Loeb Art Center this spring. In the Light of Naples: The Art of Francesco de Mura is on view April 21-July 2, 2017. This exhibition is free and open to the public. Organized by the Cornell Fine Arts Museum at Rollins College, In the Light of Naples is the first monographic presentation of De Mura's art and includes over forty loans from Italian collections as well as those from the United States including the Metropolitan Museum of Art and the National Gallery of Art. A full checklist can be found here . "This show is historic on numerous levels," explains James Mundy, the Anne Hendricks Bass Director of the Art Center. "Not only is this the first exhibition dedicated to De Mura, but it also ... More



Sam Francis, Untitled, 1950. Ink wash on paper, 57.2 x 43.2 cm. Courtesy Bernard Jacobson Gallery.



LONDON.- Bernard Jacobson Gallery announced a new exhibition of master works by the renowned Californian artist, Sam Francis, widely considered one of the most important artists of the post-war era. The exhibition is an opportunity to see work from the beginning of his artistic career in the early 50s though to his death in the early 90s, including both large scale works on canvas and more intimate studies on paper. The gallery has enjoyed a long working association with Francis, beginning with a friendship between Francis and Jacobson dating back to the 1980s. This close working relationship has resulted in significant exhibitions by Francis with the gallery over the subsequent years and Bernard is considered a leading expert on the artist's work. This exhibition features a wealth of early works, including a monochromatic work on paper; Untitled (1950), created with ink wash in a subtle, reduced palette of washed- ... More



Installation view of "Urs Fischer: The Public & the Private" at the Legion of Honor Image Courtesy of the Fine Arts Museums of San Francisco.



SAN FRANCISCO, CA.- This April, the Fine Arts Museums of San Francisco present, Urs Fischer: The Public & the Private. The exhibition is the first under a new contemporary art initiative, which presents the work of living artists in dialogue with the unique histories and identities of the sites, buildings, and collections of the de Young and Legion of Honor. On the occasion of the 100th anniversary of French sculptor Auguste Rodin's (1840-1917) death, Urs Fischer (Swiss, b.1973) has been invited to bring a contemporary perspective to our understanding and appreciation of the Museums' permanent collection, specifically the acclaimed collection of Rodin sculptures. "In the 100 year history of the Legion of Honor, this is the first exhibition to bring works by a contemporary artist into dialogue with a wide range of the Museum's permanent holdings," states Max Hollein, director ... More
Ed Ruscha highlights Doyle's Auction of Prints & Multiples on May 1
Major exhibition of British Library literary treasures opens in Beijing
Artist profile: Clementine Hunter


Ed Ruscha (b. 1937), Cheese Mold Standard With Olive, Color screenprint, 1969 (detail), signed, dated and numbered 31/150, 19 1/2 x 37 inches. Estimate: $50,000-70,000



NEW YORK, NY.- Doyle's auction on Monday, May 1 at 10am showcases a wide selection of Prints and Multiples spanning the 17th through 21st centuries. The sale offers fine examples of Old Master prints, Modern European prints, American prints and works by Contemporary artists. Also featured is a group of ceramics by Pablo Picasso. Highlighting the sale is Cheese Mold Standard with Olive, one of Ed Ruscha's (b. 1937) most iconic images. Based on a photograph he made traveling from Los Angeles to his family home in Oklahoma City, Ruscha was drawn to the Standard Station's "zoom architecture." He transformed this ordinary subject into a monumental image in oil and screenprint, foreshortening the composition with his signature plunging diagonal line and drawing the viewer's eye to the Standard text with its layers of meanings (est. $50,000-70,000). Le Caverne ... More



Title page, fair copy manuscript of Charlotte Brontë's Jane Eyre, 1847. Image copyright the British Library Board.



BEIJING.- Some of the greatest treasures of the British Library have travelled to China for the first time ever for a major exhibition at the National Library of China (NLC) in Beijing. Shakespeare to Sherlock: Treasures of the British Library opened today in the National Library of China in Beijing. The exhibition features a range of classics of English literature, from Charles Dickens' manuscript for Nicholas Nickleby and Charlotte Brontë's 'fair copy' manuscript of Jane Eyre to an early Quarto edition of Shakespeare's Romeo and Juliet and the draft of William Wordsworth's Daffodils. The Beijing exhibition also includes classics that have become hugely popular in China through film and TV adaptations, such as Sir Arthur Conan Doyle's Sherlock Holmes tale The Adventure of the Missing Three-Quarter and Ian Fleming's James Bond story The Living Daylights. The British Library manuscripts are being displayed a ... More



Detail of Cotton Picking (1960s). Available at Barnebys.



LONDON.- From the deep Southern state of Louisiana during a time of instability and peril for African-Americans emerged one of the world's most renowned folk artists, Clementine Hunter. Born in 1886 into a previously-enslaved family, Hunter grew up on the Hidden Hill Plantation and later the Melrose Plantation, which had been owned and constructed by legendary slave-turned-businesswoman, Marie Thérèse Coincoin. With little education, Hunter spent her adolescence picking cotton, cooking, cleaning and making goods for the household. The Melrose Plantation was often inhabited by passing artists who were friends of the plantation owners, including Alberta Kinsey, who supposedly encouraged Hunter to begin painting. Some time later, the writer François Mignon, who was staying at the plantation, claims that Hunter found some tubes of paint left behind by a guest and showed the Frenchman what she had created with them; Mignon admired the reminiscent, vibrant scenes of plantation life, pushing Hunt ... More
Minneapolis Institute of Art presents new sculptures by The Propeller Group
An-My Lê's first exhibition in France on view at Marian Goodman Gallery
Almine Rech Gallery opens exhibition of works by Ha Chong-Hyun


Installation photograph by Ana Taylor, New Pictures: The Propeller Group, Reincarnations, Minneapolis Institute of Art.



MINNEAPOLIS, MN.- On April 22, 2017, the Minneapolis Institute of Art will present the latest installment of its "New Pictures" series with an exhibition featuring the Ho Chi Minh City–based artist collective, The Propeller Group. Centered on The Propeller Group's powerful 2014 film The Living Need Light, The Dead Need Music, this exhibition will engage in a dialogue about funerary traditions, drawn from the themes of the film itself, as well as a display of approximately 30 objects spanning 4,000 years from Mia's renowned collections of Asian, African, Classical, and Native American art selected by the collective. The exhibition will also feature new sculpture created specifically for this show, including the collective members' own funerary masks, inspired by a Chinese funerary mask from the Liao dynasty (c. 916–1125). On view through September 10, 2017, "New Pictures: The Propeller Group, Reincarnations" ... More



November 9, Graffiti, New Orleans, Louisiana, from The Silent General, 2016. Inkjet print. Image: 39 1/2 x 56 in. (100.3 x 142.2 cm) Frame: 40 1/4 x 56 3/4 in. (102.2 x 144.1 cm) Edition of 5 + 2 APs. Photo: © Rebecca Fanuele. Courtesy An-My Lê and Marian Goodman Gallery.



PARIS.- Marian Goodman Gallery Paris is presenting the first exhibition of An-My Lê's work in France. Born in Saigon in 1960, as a child, An-My Lê spent several years in Paris, a city where her parents had lived and were married in the late 1950s. In 1975, in the wake of the war, her family left Vietnam permanently and emigrated to the United States. In the mid-1980s, she worked in France as a photographer for the Compagnons du Devoir. Over the course of four years, she documented architectural restorations and inventoried historical monuments, just as Eugène Atget had done in his time. This seminal experience, along with the artist's personal history, influenced her deeply humanist oeuvre. "I aspire to achieve a certain lyrical objectivity. It is more about patterns of behavior ... More



Ha Chong-Hyun, 'Conjunction 14-153', 2014. Oil on hemp cloth, 227 x 182 cm - 89 3/8 x 71 5/8 inches © Ha Chong-Hyun. Courtesy of the Artist and Almine Rech Gallery.




PARIS.- In 1972, Ha Chong-Hyun made a small sculpture, which appears on its own as if anticipating his subsequent work as a painter. It consists of a hemp rope stretched across a wooden box so tightly that a few unraveling strands threaten to break the entire cordage. Extremely effective, the composition is as simple as its material is banal. An image of great tension and resistance, it epitomizes the artist's practice and further announces his Conjunctions, a lifelong series of paintings, which was initiated in 1974 and is still ongoing to this day. Ha Chong-Hyun turned to abstraction in the early 1960s, belonging to the first generation of Korean artists who embraced this aesthetical direction. While he first approached it by applying heavy materials onto canvases, his way of structuring the pictorial space was also close to that ... More
Hidden Treasure: a gold hoard found in a piano
Flashback
On a day like today, American painter Richard Diebenkorn was born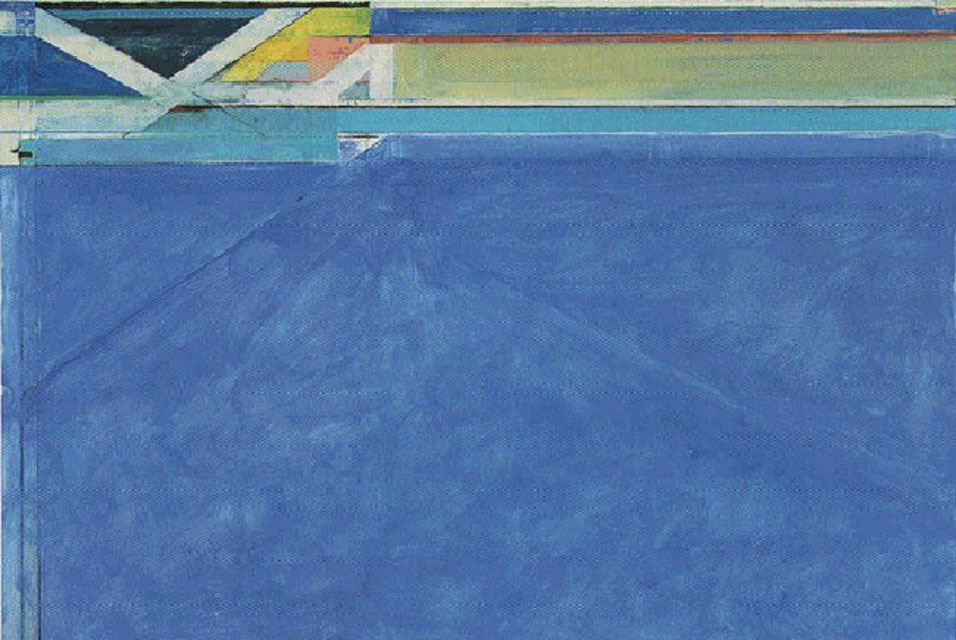 April 22, 1922. Richard Clifford Diebenkorn Jr. was born on April 22, 1922 in Portland, Oregon. His family moved to San Francisco, California, when he was two years old. From the age of four or five he was continually drawing. In 1940, Diebenkorn entered Stanford University, where he met his first two artistic mentors, Professor Victor Arnautoff who guided Diebenkorn in classical formal discipline with oil paint, and Daniel Mendelowitz, with whom he shared a passion for the work of Edward Hopper. Hopper's influence can be seen in Diebenkorn's representational work of this time. In this image: Richard Diebenkorn's painting 'Ocean Park No.129', 1984.
---

Museums, Exhibits, Artists, Milestones, Digital Art, Architecture, Photography,
Photographers, Special Photos, Special Reports, Featured Stories, Auctions, Art Fairs,
Anecdotes, Art Quiz, Education, Mythology, 3D Images, Last Week,
.
---
Royalville Communications, Inc
produces: