Exhibition brings to light relationships between Vermeer and his contemporaries
Some 65 masterpieces by Johannes Vermeer and his contemporaries are grouped by theme, composition, and technique, thereby demonstrating how these painters admired, challenged, and pushed each other to greater artistic achievement.
WASHINGTON, DC
.-
More than 20 years after the legendary exhibition Johannes Vermeer, the
National Gallery of Art
, Washington, presents Vermeer and the Masters of Genre Painting: Inspiration and Rivalry. On view in the West Building from October 22, 2017, through January 21, 2018, the exhibition examines the artistic exchanges among Dutch Golden Age painters from 1650 to 1675, when they reached the height of their technical ability and mastery at depicting domestic life. Some 65 masterpieces by Johannes Vermeer and his contemporaries—including Gerard ter Borch, Gerrit Dou, Pieter de Hooch, Nicolas Maes, Eglon van der Neer, Caspar Netscher, and Jacob Ochtervelt—are grouped by theme, composition, and technique, thereby demonstrating how these painters admired, challenged, and pushed each other to greater artistic achievement. The paintings also reflect how these masters responded to the changing artistic climate of the Dutch Republic in the third quarter of ...
More
The Best Photos of the Day
Art Institute of Chicago opens first U.S. exhibition of influential Latin American Modernist
Exhibition at the Louvre-Lens Museum brings together Italian works housed in Picardy and Nord-Pas de Calais
Smithsonian accepts First Lady Melania Trump's inaugural gown


Tarsila do Amaral. A Negra, 1923. Museu de Arte Contemporânea da Universidade de São Paulo. © Tarsila do Amaral Licenciamentos.



CHICAGO, IL.- The Art Institute of Chicago is presenting the first-ever North American exhibition devoted to the pivotal Brazilian artist Tarsila do Amaral (1886-1973). Tarsila, as she is known, is a paradigmatic figure in twentieth-century art whose groundbreaking work of the 1920s synthesized avant-garde aesthetics and Brazilian subjects to produce a powerful new modernism for her country. Among the most emblematic paintings of the Brazilian modern movement are A Negra (1923), Abaporu (1928), and Antropofagia (Anthropophagy) (1929); these icons all bear Tarsila's signature and are on view in the exhibition, creating an extraordinary opportunity for global audiences to experience her influential work outside of Latin America. After the presentation at the Art Institute of Chicago, the exhibition will be on view at The Museum of Modern Art, New York, from February 11 through June 3, 2018. Bringing together more than ... More



D'après Andrea del Sarto (Florence, 1486 – Florence, 1530), Vierge à l'Enfant, saint Jean Baptiste et trois anges, dite Madone Corsini, 16e siècle. Huile sur cuivre. Valenciennes, Musée des Beaux-Arts © Musée des Beaux-Arts de valenciennes / Thomas Douvry.



LENS.- This year has been marked by a series of exhibitions called 'Italian Hours, Treasures of Italian Painting in Picardy, 14th–18th centuries', featuring a selection of 230 paintings from museums and churches in Picardy. Following on from the exhibition of 14th- and early 15th century Italian paintings at the Musée de Picardie in Amiens, of Renaissance works at the Musée Condé in Chantilly, of works from the 17th century at the MUDO-Musée de l'Oise and the Quadrilatère in Beauvais, and from the 18th century at the Musée National du Palais in Compiègne, the Louvre-Lens has organised an exhibition combining the Italian collections from Picardy and those from the Nord-Pas de Calais to mark the creation of the new Hauts-de-France region. The exhibition draws on work that has been carried out since the 1980s ... More



Mrs. Trump's dress is a vanilla silk crepe off-the-shoulder gown with a slit skirt, ruffled accent trim from neckline to hem and a claret ribbon around the waist designed by Herv­é Pierre in collaboration with Mrs. Trump.



WASHINGTON, DC.- First Lady Melania Trump formally presented the gown she wore to the 2017 inaugural balls to the Smithsonian's First Ladies Collection, Friday, Oct. 20, during a ceremony at the National Museum of American History. The gown will be displayed in the center of the museum's popular exhibition, "The First Ladies," beginning today. Mrs. Trump's dress is a vanilla silk crepe off-the-shoulder gown with a slit skirt, ruffled accent trim from neckline to hem and a claret ribbon around the waist designed by Herv­é Pierre in collaboration with Mrs. Trump. Pierre is a French American fashion and costume designer. For decades, the First Ladies Collection has been one of the most popular attractions at the Smithsonian. The original first ladies exhibition of 1914 was the first display at the Smithsonian to prominently ... More
Galerie Thaddaeus Ropac to represent Valie Export
First international survey exhibition of the American artist Seth Price opens at the Museum Brandhorst
Top prices paid for Old Master paintings at Dorotheum auction


Valie Export, Kalashnikov, 2007. © VBK, Vienna 2010. Exhibition view, Belvedere, Vienna, 21010. Installation, 109 Russian Kalashnikov assault rifles, basins filled with waste oil, 2 videos, 3800 x 400 x 400 cm. Photo © AnnA BlaU.



PARIS.- Galerie Thaddaeus Ropac announced its representation of Valie Export. Valie Export was born in Linz, Austria, in 1940. After attending the Arts and Crafts College in Linz (1956-59), she enrolled at the Design Department of the Higher Federal Teaching and Research Institute of the Textile Industry in Vienna, where she studied from 1960 to 1964. In 1967, she decided on the name VALIE EXPORT as an artistic concept and logo. In 1967 she co-founded the Austrian Filmmakers' Cooperative in Vienna, and took part in many important international exhibitions, including documenta 6 and 12 (1977 and 2007) and the Biennale di Venezia 1978, and 1980 for the Austrian Pavilion. Valie Export has taught at numerous international institutions, including the University of Wisconsin, ... More



Seth Price, Untitled, 2008. Sprühlack auf Aluverbund, 124 x 62,5 cm. Photo: Simon Vogel © Seth Price.



MUNICH.- The Museum Brandhorst presents the first international survey exhibition of the American artist Seth Price (b. 1973). The exhibition comprises over 100 works, including sculptures, films, photographs, designs, paintings, videos, clothing and textiles, web designs, music, and poetry. Since his artistic beginnings, Price has programmatically explored creative terrain outside the visual arts. He takes up production and marketing forms from the music industry, the fashion world, literary publishing and makes use of their dynamics in his art. His art deals with the fundamental changes that have taken place within visual culture that have gone hand in hand with the ubiquitous rise of digital media. Seth Price belongs to the intermediate generation born before the establishment of the Internet. Like others of his generation he has witnessed at first hand each step of its spread: the first computer games ... More



Felice Ficherelli (1603 - 1660) Saint Praxedis, oil on canvas, 115 x 90 cm, realized price € 350,508.



VIENNA.- Old masters are always in season – as the Dorotheum auction of 17th October 2017 once again showed, when numerous bidders vied to acquire the excellent selection of paintings at this well-attended event. The remarkable story behind the work of the Florentine painter Felice Ficherelli, as well as the fact that is has spent the last few centuries in a family collection, were reflected in the sensational 350,508 Euros paid by an art enthusiast for "St Praxedis". Dorotheum's research revealed that the painting once so impressed the famous painter Jan Vermeer that he copied this particular version. Giovanni Paolo Castelli's ("Lo Spadino") pre-Surrealist allegorical series of the four seasons rendered in fruits and plants reached a total of 436,956 Euros. Simon Vouet's picture of a high-ranking officer was acquired by an international museum for an excellent 295,800 Euros. A newly discovered Guercino work ... More
Private collection displayed publicly for the first time at the San Diego Museum of Art
Jean-Michel Basquiat's painting 'Jim Crow' sells for $17.7 million at Christie's Paris
The Museum of Contemporary Art Chicago celebrates its 50th anniversary with major exhibition


Fernando De Szyszlo, House Eight (Casa-Ocho), 1978.



SAN DIEGO, CA.- The San Diego Museum of Art presents Modern Masters from Latin America: The Pérez Simón Collection, an exhibition showcasing 102 works of art by some of the greatest modern masters from countries including Argentina, Brazil, Bolivia, Chile, Colombia, Cuba, Ecuador, Guatemala, Mexico, Nicaragua, Peru, Uruguay, and Venezuela. Drawn from one of the world's foremost private collections, this exhibition illustrates the multifaceted history of Latin American modernism. The collection will be on view at the Museum October 21, 2017 through March 11, 2018. Spanning the late 1800s to the first decade of this century, Modern Masters from Latin America: The Pérez Simón Collection represents more than 75 artists, each celebrated for their respective techniques and regional influence on modernism. Noteworthy artists include Frida Kahlo, Rufino Tamayo, Fernando Botero, Jose Maria ... More



Jean-Michel Basquiat, Jim Crow, 1986 (detail). © Christie's Images Limited 2017.



PARIS.- Christie's FIAC week sales continued with a packed sale room for the evening auction of the Regards Croisés: Collection Jean-François & Marie-Aline Prat, which realised a stunning €36,5M/£32,8M/$43M selling 91% by lot and 98% by value. In his first time on the Parisian rostrum, Global President Jussi Pylkkanen sold 32 important works of art, including the Basquiat's 1986 painting Jim Crow which sold for €15M becoming the most expensive artwork by the artist sold in France. Paul Nyzam, Head of Sale: "It has been a real honor to work with Marie-Aline Prat for the past year organising this exceptional sale. Tonight's evening auction marked a new turning point for Christie's France Post-War & Contemporary art department. Collections of such a high quality can be counted of the fingers of one hand, and the exceptional results realised illustrate how important this family has been ... More



Franz West, Blue, 2006. © Archiv Franz West, Vienna. Photo: Nathan Keay, © MCA Chicago.



CHICAGO, IL.- The Museum of Contemporary Art Chicago celebrates its 50th anniversary in October with an exciting series of exhibitions, programs, and events, and the unveiling of the building's new redesign. The centerpiece of the 50th anniversary is We Are Here, a major three-part exhibition drawn from the MCA's significant collection of contemporary masterworks that explores how contemporary art and culture have the power to change the way we see the world. The exhibition focuses on how contemporary artists critique the world around them and respond creatively and often provocatively, and how viewers have become an important part of that experience. Each of the three parts of the We Are Here exhibition is organized by one of the MCA's global team of curators -- Senior Curator Omar Kholeif, Curator Naomi Beckwith, and Associate Curator José Esparza ... More
Exhibition at Centre Pompidou Metz offers a fresh look at contemporary Japanese art
First-ever retrospective of Louise Dahl-Wolfe to be held in the UK opens at the Fashion and Textile Museum, London
Paula Rego's "The Boy Who Loved the Sea and Other Stories" opens at Jerwood Gallery


Tadanori Yokoo, Céramique Rado, 1989. FNAC 93780. Centre national des arts plastiques © droits réservés / Cnap.



METZ.- Torn between a powerful cultural heritage and a national discourse on modernization, alternating between phases of openness and withdrawal, the cultural evolution of Japan in the early 1970s was marked by major social, political and natural events. Exhibition curator Yuko Hasegawa looks back on these turbulent decades during which Japan oscillated between globalisation and affirming its identity. In 1970, the Osaka Universal Exposition and the 10th Tokyo Biennale marked the beginning of a transitional period during which Japanese visual arts freed themselves from Western influence present since the post-war period. Japanese artists adopted an economy of means embodied by two movements, one concerned with materials (Monoha), the other conceptual (Nippon-Gainen-ha). In the 1980s, Japanese cultural identity evolved into an embodiment ... More



Twins at the Beach, Nassau, 1949. Photograph by Louise Dahl-Wolfe. Collection Staley Wise Galley. ©1989 Center for Creative Photography, Arizona Board of Regents.



LONDON.- The Fashion and Textile Museum, London, announces the first-ever retrospective of the American photographer Louise Dahl-Wolfe to be held in the UK. A pioneer of modern fashion photography, the exhibition presents over 100 works highlighting how Dahl-Wolfe defined the image of the modern, independent woman. Louise Dahl-Wolfe (1895–1989) is one of the most important women photographers of the 20th century. Her work in the thirties, forties and fifties brought an informal and contemporary approach to fashion that had enormous influence on Richard Avedon, Irving Penn and the other great photographers who followed. A uniquely American artist, this is the first major survey of her work in the UK and is timed to coincide with a resurgence of interest in female photographers. Many of Louise ... More



The Hateful Aunt and Her Son, Paula Rego, 2017. © the artist. Courtesy Marlborough Fine Art.



HASTINGS.- World-renowned artist Dame Paula Rego's work is on view at Jerwood Gallery in Hastings this autumn, with an exhibition that includes brand new works and others which have never been publicly exhibited before. Paula Rego: The Boy Who Loved the Sea and Other Stories has at its heart a body of new paintings, drawings and sculptures, inspired by a 2005 story by Hélia Correia called The Boy Who Loved the Sea. It provides the starting point for this exhibition that also investigates both her genius for story-telling and her strengths as an artist. Now 82, Paula Rego is one of the most significant artists working today. Best known as a painter of stories, she was born and brought up by the coast in Portugal and has had a fascination with the sea since her childhood. Stories have long been a fruitful source of subject matter for Paula Rego and were very important to her from childhood: "An old woman ... More
Bertrand Goldberg: Marina City
Flashback
On a day like today, Italian painter Domenico Zampieri was born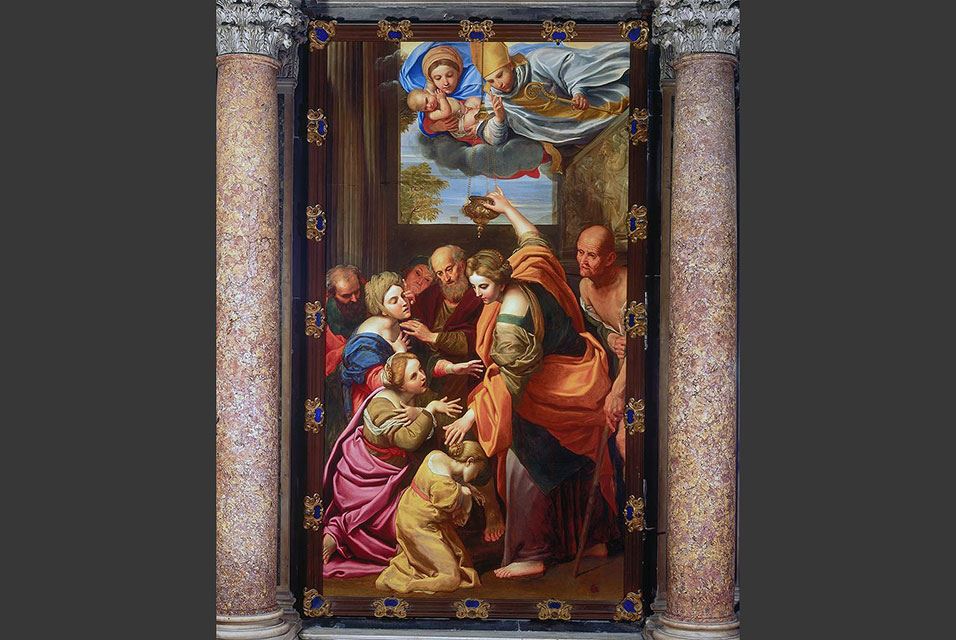 October 21, 1581. Domenico Zampieri (or Domenichino; October 21, 1581 - April 6, 1641) was an Italian Baroque painter of the Bolognese School, or Carracci School, of painters. Domenichino's work, developed principally from Raphael's and the Carracci's examples, mirrors the theoretical ideas of G. B. Agucchi, with whom the painter collaborated on a Treatise on Painting (Domenichino's portrait of Agucchi in York occasionally has been attributed to Annibale Carracci). In this image: Apparition of the Virgin and Child and San Gennaro at the Miraculous Oil Lamp, 1637 - 38, Cathedral of Naples.
---

Museums, Exhibits, Artists, Milestones, Digital Art, Architecture, Photography,
Photographers, Special Photos, Special Reports, Featured Stories, Auctions, Art Fairs,
Anecdotes, Art Quiz, Education, Mythology, 3D Images, Last Week,
.
---
Royalville Communications, Inc
produces: