Exhibition seeks to analyse an important moment in the career of Lorenzo Lotto
Installation view.
BERGAMO
.-
Getting to know Lorenzo Lotto: two previously unattributed works, the story of their discovery, national and international loans dialoguing with the extraordinary paintings in the
Carrara Academy
collection and an itinerary around the city of Bergamo in a project detailing an artist who continues to amaze with every new review. The exhibition seeks to analyse an important moment in the career of Lorenzo Lotto (Venice 1480 ca. – Loreto 1556/57), a period that coincided with last years the painter spent in Bergamo. From the Carrara Academy to the Basilica of Santa Maria Maggiore, the Adriano Bernareggi Museum and beyond, towards Lorenzo Lotto's works in the city, in places sometimes difficult to access that can now be visited thanks to a network of collaborations. Starting point: an exceptional discovery linked with one of the artist's most famous achievements - the designs for the wooden inlays in the Choir of the Basilica of Santa ...
More
The Best Photos of the Day
Christie's to offer the personal collection of Barbara Lambrecht
Gagosian New York opens exhibition of early brushmark paintings by David Reed
UK's Tate art galleries get first female chief


Berthe Morisot, Femme et enfant au balcon, signed 'B Morisot' (lower right), oil on canvas, 24 x 19 3/4 in. (61 x 50 cm.). Painted in 1872. Estimate: £1,500,000-£2,000,000. © Christie's Images Limited 2017.



LONDON.- The Impressionist & Modern Art Evening Sale on 28 February will launch 20th-Century at Christie's, a season of sales that take place from 28 February to 10 March 2017. The personal collection of the esteemed philanthropist and patron of the arts Barbara Lambrecht* will lead the sale. All proceeds from the sale of the collection will benefit the Rubens Prize Collection in the Museum of Contemporary Art Siegen, Germany. Barbara Lambrecht: "I began my collection in the early 1970s and have lived with the Impressionist masterpieces, including works by the female artists Berthe Morisot and Eva Gonzalez, as well as striking examples of early Impressionism by Monet and the bold colours of Fauvists such as Dufy and van Dongen, all of which have brought me great joy. Art widens my horizon, and my paintings always allowed ... More



David Reed #49, 1974. Oil on canvas, 6 feet 4 inches x 44 inches (193 x 111.8 cm) Museum of Contemporary Art San Diego. Gift of David Reed. © 2017 David Reed / Artists Rights Society (ARS), New York. Photo: Robert McKeever, courtesy Gagosian.



NEW YORK, NY.- Gagosian New York is presenting an exhibition of early brushmark paintings by David Reed. Curated by Katy Siegel and Christopher Wool, this presentation follows the exhibition's premiere at the Rose Art Museum, Brandeis University. This is Reed's first exhibition with the gallery. "Painting Paintings (David Reed) 1975" reunites many canvases first shown in 1975 at Susan Caldwell Gallery, New York, which had a strong impact on Christopher Wool, then a young artist. More than forty years later, Reed's paintings are complemented by a group exhibition of artists who were similarly exploring the relationship between process and image-making in painting, drawing, sculpture, and film. When Reed came to New York from Southern California in the 1960s, he entered ... More



Balshaw will quit as director of the Whitworth Art Gallery. Photo: Johnnie Shand Kydd.



LONDON (AFP).- Britain's prestigious Tate institution that houses four of the country's best known art galleries Tuesday announced it would have its first female director with the appointment of Maria Balshaw. The 46-year-old will succeed Nicholas Serota in one of the most influential jobs in the country's arts industry after transforming Manchester's cultural landscape. "I am honoured to be asked by the trustees of Tate to become the new director," said Balshaw, who takes over on June 1. "Under Nicholas Serota's leadership, Tate has changed forever how we all think about art and artists and has made visual art a central part of a vibrant cultural life in the UK." The incoming director, Tate's ninth, vowed to develop the institution's "reputation as the most artistically adventurous and culturally inclusive gallery in the world." Serota has run Tate for almost 30 years, transforming it into a global brand, and is leaving to become chairman ... More
Topless Madrid protester grabs crotch of Trump... waxwork
WeTransfer offers free premium accounts to every arts student in the U.S.
Rare Czech Surrealist painting acquired by Scottish National Gallery of Modern Art


A topless Femen activist with a sign painted on her back raises her fist as she protests in front of the wax statue of US President-elect Donald Trump at the Wax Museum of Madrid on January 17, 2017. GERARD JULIEN / AFP.



MADRID (AFP).- A topless protester managed to get so close to Donald Trump on Tuesday that she grabbed his crotch... or rather that of his effigy, the latest addition to Madrid's Wax Museum. Shouting "Grab patriarchy by the balls" in English and Spanish, the woman burst into the waxwork's unveiling ceremony to the consternation of a visibly embarrassed museum employee who tried to hide her bosom with a jacket. The woman, whose name was not revealed, belongs to the Femen activist group known for its high-profile topless protests. She wrestled briefly with an older man who tried to push her out and was soon escorted away, although not before grabbing the crotch of the effigy of the US president-elect, who has often been criticised for misogynistic comments. The ... More



All students and faculty can sign up at www.wetransfer.com/education. Harvard, Stanford, NYU, SVA and CalArts are among the schools already participating.



LOS ANGELES, CA.- WeTransfer announces that it is offering every creative arts student* in the United States a free premium WeTransfer account. The file-transfer service wants to support the students by helping them transfer large files without disrupting their creative flow. Through the program, each student will have access to a WeTransfer Plus account for a year, valued at $120. A WeTransfer Plus account offers 20GB transfers, 100GB storage, custom wallpaper backgrounds and URLs, and password protected files. All students and faculty can sign up at www.wetransfer.com/education. Harvard, Stanford, NYU, SVA and CalArts are among the schools already participating. Despite recent efforts, arts programs are still seen as optional or even inferior in the wider education context. But turbulent ... More



The Message of the Forest, 1936 by Toyen (Marie Čermínová) 1902-1980.



EDINBURGH.- A major painting by one of the legendary figures of Surrealist art has been acquired by the Scottish National Gallery of Modern Art in Edinburgh and will go on public display for the first time this week. The Message of the Forest, which was painted in 1936, is widely acknowledged to be the greatest work by the Czech artist known as Toyen, and is the first of her paintings to enter a UK public collection. It was acquired with support from the Walton Fund and Art Fund. Born Marie Čermínová in 1902, Toyen was the most celebrated member of the group of Surrealist artists based in Prague, a major centre of Surrealist activity in the 1930s. In 1923, while seated in a café, the artist declared that henceforth she would be known simply as 'Toyen'. She didn't explain her reasons. One idea is that the name derived from the French word 'Citoyen' (citizen) and gave her a non-gendered identity; another is ... More
New Orleans' first solo exhibition of works by Mickalene Thomas opens at the Newcomb Art Museum
Boston Athenæum acquires important WWII poster collection
Christie's to offer important works by Le Corbusier from the Heidi Weber Museum Collection


Mickalene Thomas, Tamika sur une chaise longue avec Monet, 2012 (detail), Rhinestones, acrylic, oil, and enamel on wood panel, 108 x 144 in. Collection of Walda and Sydney Besthoff.



NEW ORLEANS, LA.- Tulane's Newcomb Art Museum presents Mickalene Thomas: Waiting on Prime-Time Star. On view January 18 through April 9, the exhibition brings together more than 40 of the artist's works including paintings, photographs, collages, sculptures, film, and a site-specific installation that broadly engage the subject of portraiture. Mickalene Thomas (b.1971) is a USA Fellow and acclaimed international artist known for her elaborately lush works that celebrate the power of female beauty toward claiming women's agency. Thomas combines historical artworks and pop cultural representations that define and reference fashion and domestic spaces through a queer lens. "We are honored to present the first solo exhibition in New Orleans of work by Mickalene Thomas, an artist who presents poignant and powerful images of women and black women, in particular," noted museum director Monica Ramirez-M ... More



Artist Unknown, [Hitler and Mussolini Patching Together Nazi Soldier], ca. 1943. Silkscreen poster. Richard W. Cheek WWII Graphic Arts Collection. Gift, December 2016.



BOSTON, MASS.- Elizabeth E. Barker, Ph.D., Stanford Calderwood Director of the Boston Athenæum, announced today the donation to the Athenæum of the collection of WWII visual materials of architectural photographer, author, and Athenæum Proprietor Richard W. Cheek. The Richard W. Cheek World War II Graphic Arts Collection contains over 2,000 posters and war maps, 189 linear feet of books, 4,000 magazines, and approximately 6,500 pieces of WWII ephemera, including patriotic envelopes, board games, playing cards, and pin-ups. "We couldn't feel more grateful—or more honored—to become the repository of such a discerning collector's lifelong passion," stated Barker. "Richard Cheek's gift provides fresh insight into a critical moment in world history. The value of this archive for scholars—and, indeed, for any curious person—is incalculable. The collection elevates the Athenaeum's ability to ... More



Le Corbusier, Femme grise, homme rouge et os devant une porte, 1931. Estimate: £1,200,000-2,000,000). © Christie's Images Limited 2017.



LONDON.- Le Corbusier: Important Works from the Heidi Weber Museum Collection will form a centrepiece of the Impressionist & Modern Art Evening Sale, the first auction in 20th-Century at Christie's, a series of sales that take place in London between 28 February and 10 March 2017. Heidi Weber first met Le Corbusier in the summer of 1958 at Cap Martin in Southern France. This auspicious meeting marked the beginning of a close, collaborative and enormously productive partnership between the pair. With endless passion, determination and an unceasing enthusiasm, Weber embarked on a number of collaborative projects; from the incredibly successful industrial and commercial adaptation of his furniture designs, to publishing his graphic works, to nurturing and developing the market for Le Corbusier's art, and finally to personally funding and constructing his last building – the Heidi Weber Museum Centre ... More
The Fleming Museum opens new permanent collection gallery of Asian Art
Jonathan LeVine Gallery relocating to Jersey City
Works by women artists who innovated early 20th-century printmaking techniques travel to the Zimmerli


The Fleming's Asian holdings have grown more than any other aspect of the collection in the past twenty years.



BURLINGTON, VT.- This winter, the Fleming Museum of Art opened a new Gallery of Asian Art highlighting exemplary works from its permanent collection, focusing on China, Korea, Japan, India, Sri Lanka, Thailand, Myanmar, Cambodia, and Indonesia. The objects on view span ancient to contemporary examples of courtly, religious, and fine arts as well as everyday objects, including bronzes, ceramics, furniture, clothing and textiles, arms and armor, masks, sculpture, paintings, ink drawings, woodblock prints, and historic photographs. The gallery, which opened on January 17, places objects in the context of the social, political, and religious systems and practices that have shaped the diverse cultures of East, South, and Southeast Asia. "We're thrilled to provide a beautiful new home for the highlights of our Asian collection, where works we've been given in the last few decades will dialogue with objects that have ... More



After twelve years of operating in the Chelsea art district of New York City, gallerist Jonathan LeVine will return to his Jersey roots, bringing his cutting edge aesthetic and ethos along with him.



NEW YORK, NY.- Jonathan LeVine Gallery announced its forthcoming relocation to Mana Contemporary in Jersey City, New Jersey. After twelve years of operating in the Chelsea art district of New York City, gallerist Jonathan LeVine will return to his Jersey roots, bringing his cutting edge aesthetic and ethos along with him. With a newfound focus on community and collaboration, Jonathan LeVine Projects will be an essential venue within the up and coming arts community of Jersey City and an integral part of its cultivation towards becoming a thriving creative center. Jonathan LeVine Projects will be located at Mana Contemporary, a leading arts destination dedicated to celebrating the creative process. Founded in 2011, the organization unites artist studios, exhibition spaces and ancillary services in a single location. Jonathan LeVine Gallery began working with the Mana Urban Arts ... More



Louise Bourgeois (1911-2010), Untitled, plate 2, first version, state III, variant, from He Disappeared into Complete Silence, 1946-47. Engraving with ink additions. The Museum of Modern Art, New York; Gift of the artist, 1993.



NEW BRUNSWICK, NJ.- Innovation and Abstraction: Women Artists and Atelier 17, on view at the Zimmerli Art Museum from January 17 to May 31, 2017, examines the formal innovations and burgeoning feminist consciousness of eight artists who worked in the studio's New York location: Louise Bourgeois, Minna Citron, Worden Day, Dorothy Dehner, Sue Fuller, Alice Trumbull Mason, Louise Nevelson, and Anne Ryan. Atelier 17, a legendary printmaking studio, had relocated from Paris to New York at the outbreak of World War II, providing a workspace and support for some 200 artists – nearly half of whom were women – during this period of upheaval and uncertainty in Europe. Experimental, often unorthodox, prints by the featured artists are displayed alongside their paintings and sculptures to explore how this ... More
Hamilton's Set Designer Comes to Sotheby's
Flashback
On a day like today, English fashion designer Sir Cecil Beaton, died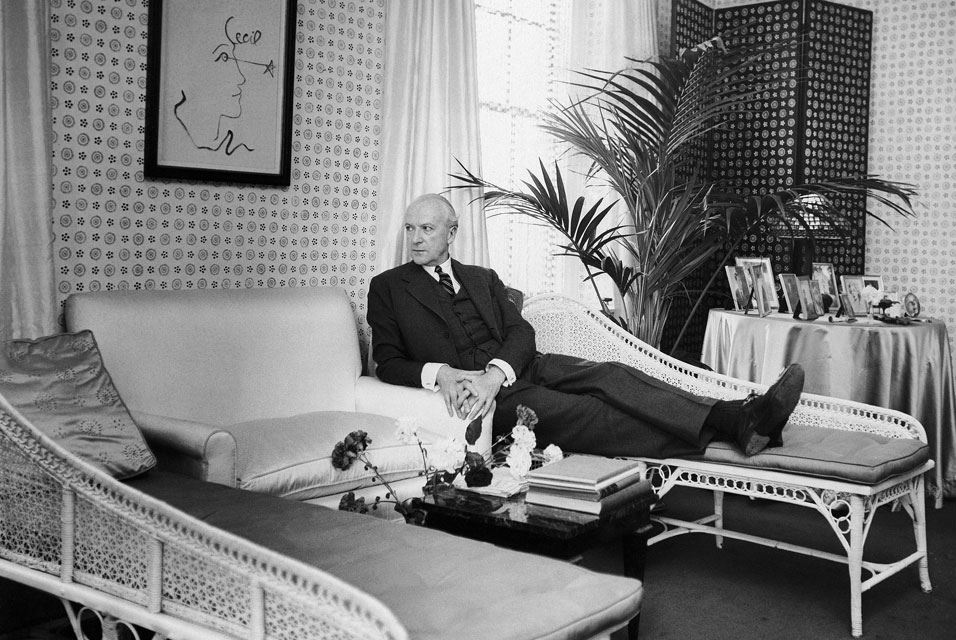 January 18, 1980. Sir Cecil Walter Hardy Beaton, CBE (14 January 1904 - 18 January 1980) was an English fashion, portrait and war photographer, diarist, painter, interior designer and an Academy Award-winning stage and costume designer for films and the theatre. He was named to the International Best Dressed List Hall of Fame in 1970. In this image: Cecil Beaton, versatile British designer, photographer and decorator, sits on a chaise lounge in the living room of his New York apartment at the Ambassador Hotel on Park Avenue, May 11, 1956.
---

Museums, Exhibits, Artists, Milestones, Digital Art, Architecture, Photography,
Photographers, Special Photos, Special Reports, Featured Stories, Auctions, Art Fairs,
Anecdotes, Art Quiz, Education, Mythology, 3D Images, Last Week,
.
---
Royalville Communications, Inc
produces: