Archaeological find uncovers royal palace where Henry VIII and Elizabeth I were born
Greenwich Palace had a scale and magnificence comparable to Hampton Court Palace, in an idyllic riverside setting. Photo: Old Royal Naval College.
LONDON
.-
The team working on the major development of the Painted Hall in Greenwich have uncovered the remains of Greenwich Palace, notable as the birthplace of Henry VIII and of his daughters Mary and Elizabeth I. Greenwich Palace had a scale and magnificence comparable to Hampton Court Palace, in an idyllic riverside setting. It comprised everything from state apartments, courtyards, a chapel, elegant gardens, a substantial tiltyard for jousting with a five-storey tower for viewing, and was at the very heart of Tudor cultural life and intrigue. Careful preparation of the ground for the new visitor centre below the Painted Hall led to the discovery of two rooms of the Tudor palace, including a floor featuring lead-glazed tiles. Being set back from the river, these are likely to be from the service range, possibly where the kitchens, bakehouse, brewhouse and laundry were. One of the rooms was clearly subterranean and contains a series of unusual niches, which archaeologists believe may be ...
More
The Best Photos of the Day
Bones, silver found in 18th-century Dutch wreck off UK
Sotheby's Made in Britain to showcase 'A Century of Ceramics'
Christie's announces Asian Art Week: A series of auctions, viewings, and events


Maritime archaeologist Liselore An Muis holding a glass brandy bottle recovered from the Rooswijk © The Rooswijk 1740 Project / Historic England.



LONDON (AFP).- Maritime archaeologists said Friday they have begun excavating the wreck of a Dutch ship that sank off the English coast in 1740, recovering leather shoes, silver and the bones of its lost crew. The Rooswijk, a Dutch East India Company ship, was on its way to what is now Jakarta when it went down with around 300 people and a large cargo of silver ingots and coinage aboard. Following its discovery in 2005, most of the precious goods were removed, but a full excavation is now underway due to concerns it could be destroyed by shifting sands and currents. Remains of some of the sailors who perished have been found preserved on the seabed 26 metres (85 feet) down, along with more coins, leather shoes, an oil lamp, glass bottles, pewter jugs and spoons and ornately carved knife handles. "It's a snapshot of a moment in time," said Alison James, a maritime ... More



Bernard Leach, Vase with 'Leaping Fish' Design. Est. £3,000-5,000. Courtesy Sotheby's.



LONDON.- The father of British studio ceramics, Bernard Leach, identified pottery as having " its own language and inherent laws " . September's edition of the bi-annual 'Made in Britain' auction explores a century of ceramics, presenting a plethora of delicate treasures that go hand-in-hand with some of the most beloved and venerated names of the British art scene. The curated selection charts the journey of ceramics in Britain, displaying them within the broader context of the arts of the time. The story begins with characterful early works by the Martin Brothers – whose 'Wally Birds' delighted and amused in the 19th century – on to exquisite and unseen works by some of the century's most important figures including Dame Lucie Rie and Hans Cooper – and culminating in the work of the post-war and contemporary ceramicists who continue to push the boundaries of clay to their very limits. Viewed together, the engaging ... More



The Ya Yi Fangding, A Highly Important and Rare Bronze Rectangular Ritual Food Vessel from the late Shang Dynasty. Estimate: $2,000,000-3,000,000. © Christie's Images Limited 2017.



NEW YORK, NY.- Christie's announces Asian Art Week, a series of auctions, viewings, and events, from September 8-15. This season presents seven distinct sales featuring over 800 lots spanning all epochs and categories of Asian Art from archaic bronzes through contemporary Indian painting. In addition to the dedicated category sales, this season includes three special stand-alone auctions, featuring Marchant: Nine Decades in Chinese Art, honoring the Marchant family's legacy of nearly 100 years in the trade, part-five of The Ruth and Carl Barron Collection of Fine Chinese Snuff Bottles, and a themed sale, Treasures of the Noble Path: Early Buddhist Art from Japanese Collections. Featured private collections within the Fine Chinese Ceramics and Works of Art sale include The Nancy and Ed Rosenthal Collection, comprising ... More
Sotheby's to offer the Yeats Family collection
Secrets of the deep: Senegal's slave shipwreck detective
Exhibition illustrates the various ways we express our love of flowers


The paintings include his important final self-portrait, commissioned by the New York lawyer, collector and patron of the arts, John Quinn in 1911 (est. £30,000–50,000 / €33,800–56,500). Courtesy Sotheby's.



LONDON.- The collection of one of Ireland's most important families of the last century will be offered for sale at Sotheby's in London on 27 September 2017. Illuminating the private world of the Yeats family, the auction will comprise literary material, paintings, drawings and the personal effects of artist John Butler Yeats and his four children: poet W.B, embroidery designer Lily, printing press pioneer Lolly, and artist Jack. The sale will not only cast new light on the artistic development of these important figures, but also reveal a little of what life was like inside the Yeats family home. Alongside significant paintings, letters and drawings are unseen family sketch books, a family scrapbook, illustrated 'scribbling' diaries, photographs, hand-decorated furniture, Jack's model boats, personalised silver, a top hat, a hand-painted trunk, and the family dining table. With over ... More



Underwater archaeologist Ibrahima Thiaw waits on a boat during a diving expedition to find traces of slave shipwrecks. SEYLLOU / AFP.



DAKAR (AFP).- Staring out to sea on a flawlessly sunny day, underwater archaeologist Ibrahima Thiaw visualises three shipwrecks once packed with slaves that now lie somewhere beneath Senegal's Atlantic waves. He wants more than anything to find them. Thiaw has spent years scouring the seabed off the island of Goree, once a west African slaving post, never losing hope of locating the elusive vessels with a small group of graduate students from Dakar's Cheikh Anta Diop University. Goree was the largest slave-trading centre on the African coast between the 15th and 19th century, according to the UN's cultural agency UNESCO, and Thiaw believes his mission has a moral purpose: to heal the open wounds that slavery has left on the continent. "This is not just for the fun of research or scholarship. It touches us and our humanity and I think that slavery in its afterlife still has huge scars on our modern society," he said, pulling on a wetsuit and rubber boots for the day's ... More



George J. Stengel, In the Studio, c. 1935. Oil on canvas. Collection of the Hudson River Museum, Gift of Mrs. George J. Stengel, 1944.



YONKERS, NY.- The Hudson River Museum is presenting the exhibition, Floral Arrangements: Highlights from the Collection, on view through September 17, 2017. Floral Arrangements illustrates the various ways we express our love of flowers with selections from the Museum's 19th- and 20th-century collections. From botanical watercolors by Joanna Kellinger in Victorian Yonkers to a "Mimosa" rug by Henri Matisse, on view for the first time since 1983, floral specimens from the Museum's vaults have been arranged to coincide with Robert Zakanitch: Garden of Ornament. Featuring more than 30 objects, the exhibition includes paintings, photographs, textiles, ceramics and more. The exhibition begins with a wall of botanical studies, where Kellinger's English Bluebells and Spider Lilies hang next to a 1934 drawing, Banana Blossom, by Georgia O'Keeffe. Other sections include portraiture, the decoration of clothing and home furnishings, ... More
Are Confederate monuments important works of art?
Dorotheum announces Part II sale of the collection of art dealer Reinhold Hofstätter
Designs of the Year nominees announced by Design Museum


A Confederate monument featuring a statue of a Confederate soldier is seen in front of the Hernando County Courthouse. Joe Raedle/Getty Images/AFP.



CHICAGO (AFP).- Confederate monuments of Civil War figures, who fought against the Union Army in an attempt to preserve slavery, have become central to the debate surrounding white supremacists and America's past. New momentum has built to remove such monuments, after a violent white supremacist gathering in Virginia last weekend in support of a statue of Confederate general Robert E Lee. President Donald Trump said Thursday he was "sad to see the history and culture of our great country being ripped apart with the removal of our beautiful statues and monuments." What is the historical and artistic value of these Civil War statues? AFP asked two experts to weigh in: an American historian and a museum curator who has studied many of the monuments. "Building these really in some ways was a political and cultural move," said James Grossman, head of the American Historical Association. ... More



Commode, design by Josef Frank, c. 1912, manufactured by J. Müller, Vienna; displayed at the 1912 Kunstgewerbeschule Exhibition, Room XIII, as the living hall of a country residence at the ÖMKI (Österreichisches Museum für Kunst und Industrie), which is today's Museum of Applied Art. Estimate €22,000 - €30,000.



VIENNA.- The second and final instalment of the collection of the Viennese art dealer Reinhold Hofstätter (the first part was successfully sold at Dorotheum in May 2017) is due to come up for auction at Vienna Dorotheum on 26th September 2017. The auction features nearly 400 objects from his elegant residence on Strudlhofstiege and the inventory of his former antique shop in Vienna's central district. Old master- and 19th century paintings as well as sculptures from the Gothic to the Baroque period are among the auction's classics. The prime focus on this occasion however, is on a less well-known aspect of Reinhold Hofstätter's interests as a collector, and that is Jugendstil, which is prominently represented by the ... More



Flax Chair by Christien Meindertsma. Photo: Labadie van Tour.



LONDON.- The Design Museum in London announces the shortlist for the tenth anniversary of its annual exhibition and awards celebrating the world's best design. Nominees include a hijab designed by Nike and the National Museum of African American History and Culture in Washington D.C designed by the recently knighted Sir David Adjaye. A year of political unrest is represented through Wolfgang Tillmans' Remain Campaign, support posters for Jeremy Corbyn and the Pussyhat worn by protesters in the USA following President Trump's sexist comments. Other nominations include IKEA furniture that does not require screws or allen keys, the world's first 3D printed self-driving bus and the TV experience design for the English football Premier League. Pokémon Go, IKEA furniture, the Olympic refugee flag and Wolfgang Tillmans' Remain Campaign, the Design Museum in London announces the contenders for the tenth edition of Beazle ... More
Comparing the jaws of Porcupine fish reveals three new species
Exhibition presents Isamu Noguchi's influential designs for playgrounds and play structures
New Harry Potter book reveals values and fandom behind our favorite wizard


Diver holding porcupine fish at the Smithsonian's Galeta Point Marine Laboratory in Panama. Photo: Smithsonian's Tropical Research Institute.



WASHINGTON, DC.- Researchers at the Smithsonian Tropical Research Institute and colleagues compared fossil porcupine fish jaws and tooth plates collected on expeditions to Panama, Colombia, Venezuela and Brazil with those from museum specimens and modern porcupine fish, revealing three new species. Startled porcupine fish suck in air or water to inflate their bodies, becoming a prickly balloon-like shape to defend themselves from predators and some contain a neurotoxin a thousand times more potent than cyanide in their ovaries and livers. They are also good at offense, crushing the shells of clams and other marine mollusks with beak-like jaws so tough that they are preserved as fossils to be discovered millions of years later. Two of the newly discovered species, named Chilomycterus tyleri, in honor of the Smithsonian's James C. Tyler, senior scientist emeritus at the National Museum of Natural History—an ... More



Isamu Noguchi, Slide Mantra Maquette, c. 1985; © the Isamu Noguchi Foundation and Garden Museum, New York / Artists Rights Society (ARS), New York; photo: Kevin Noble.



SAN FRANCISCO, CA.- The San Francisco Museum of Art is showing Noguchi's Playscapes, a survey of Isamu Noguchi's influential designs for playgrounds and play structures that explores the democratization of public space. Noguchi's Playscapes presents ideas about the democratization of art and public space by Japanese-American sculptor Isamu Noguchi (1904–1988). The artist was a fervent believer that sculpture is an aesthetic and cultural tool capable of creating synergy between individuality and society. Observing that playgrounds offer a physical and social interaction not typically seen in a museum, Noguchi designed a number of public spaces where visitors could actively engage with art. The exhibition gathers his designs for several playgrounds, stand-alone play structures and other works that, while serious in subject, employ playful elements to engage ... More



In this beautifully illustrated and lavishly designed book, author Eric Bradley introduces readers to the broad world of these collectibles



IOLA, WI.- Featuring more than 300 outstanding objects gathered from private and public collections, Harry Potter - The Unofficial Guide to The Collectibles of Our Favorite Wizard provides the first comprehensive survey of the rich art, books, and memorabilia created during the last 20 years of Pottermania. First-edition copies of J.K. Rowling's epic now command nearly $50,000 and special items created for collectors are rising in value every day. The esoteric knowledge, visual symbols, and moral teachings revealed in Rowling's writings have inspired an entire generation of readers young and old and have formed an important facet of American popular culture. In this beautifully illustrated and lavishly designed book, author Eric Bradley introduces readers to the broad world of these collectibles and explores the fandom surrounding the mystique behind the world's boy-wizard. From the Holy Grail chair Rowling used to wri ... More
Richard Linklater's roots with the Austin Film Society
Flashback
On a day like today, Finnish architect Eero Saarinen was born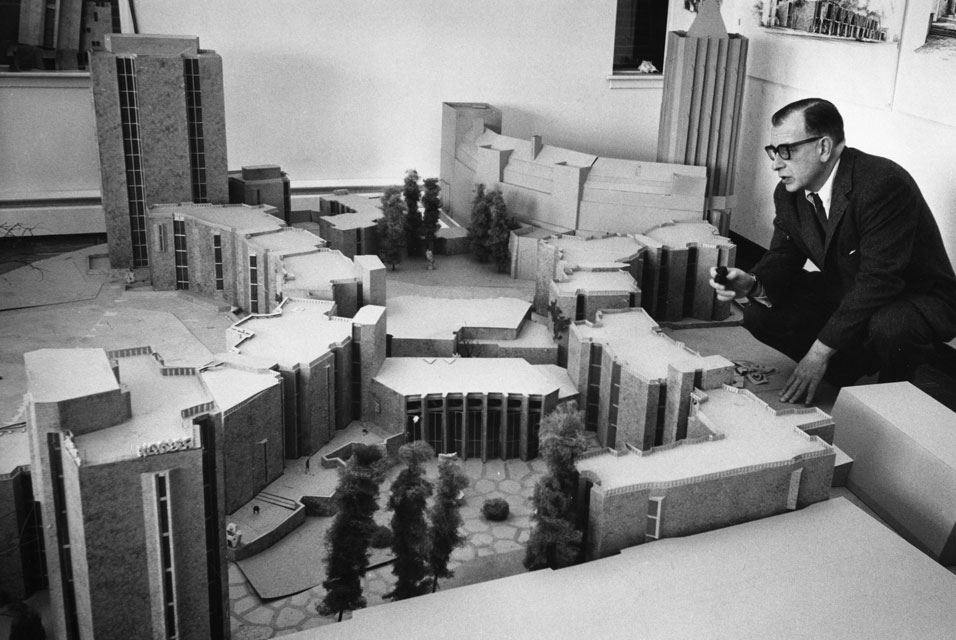 August 20, 1910. Eero Saarinen (August 20, 1910 - September 1, 1961) was a Finnish American architect and industrial designer of the 20th century famous for varying his style according to the demands of the project: simple, sweeping, arching structural curves or machine-like rationalism. In this image: Eero Saarinen (1910 - 61) was one of the most prolific, unorthodox, and controversial masters of twentieth-century architecture.
---

Museums, Exhibits, Artists, Milestones, Digital Art, Architecture, Photography,
Photographers, Special Photos, Special Reports, Featured Stories, Auctions, Art Fairs,
Anecdotes, Art Quiz, Education, Mythology, 3D Images, Last Week,
.
---
Royalville Communications, Inc
produces: