Peru recovers 79 pre-Hispanic textiles from the Museum of Gothenburg in Sweden
People look at textiles belonging to the pre-Inca Paracas culture, dating to 700 BCE-100 BCE, on display in Peru's Culture Ministry in Lima on December 14, 2017. Fifty lots of 79 textiles from the Paracas culture, recently repatriated, were delivered to the Culture Ministry as part of a second shipment, agreed in 2014 between the governments of Peru and Sweden. Ernesto BENAVIDES / AFP.
LIMA
(AFP)
.-
Peru has recovered 79 pre-Hispanic textiles that have been illegally located in Sweden since 1935, the ministry of culture said. In 1935, Swedish ambassador to Peru Sven Karrell acquired the fabrics hailing from the Nasca and Paracas cultures and took them to Sweden illegally -- anonymously donating them to The Museum of Gothenburg, according to the Peruvian government. "Thanks to the collaboration between the foreign minister, the culture minister and the city of Gothenburg, we are celebrating the arrival of the second of the three scheduled deliveries, made up of 79 textiles," said Jorge Arrunategui, deputy minister of cultural heritage and cultural industries. The delivery included wraps, cloths and decorative textile borders from the pre-Hispanic Paracas culture, an Andean society known for their unique composition, colors and weaving techniques using cotton and wool from vicunas -- the national animal of Peru, related to the llama. ...
More
The Best Photos of the Day
Hayward Gallery Director Ralph Rugoff announced as the Curator of La Biennale di Venezia
United States returns to Lebanon relics stolen during civil war
Jade and gold burial suit, finest to survive ancient China, featured in Nelson-Atkins exhibition


Ralph Rugoff will continue to lead the Hayward Gallery whilst curating La Biennale di Venezia 58th International Art Exhibition. © Marc Atkins. Courtesy of the Art Fund.



VENICE.- La Biennale di Venezia has today announced the appointment of Hayward Gallery Director Ralph Rugoff as the Curator the 58th International Art Exhibition to be held in Venice in 2019. The dates of the 58th International Art Exhibition have now been confirmed and the Biennale will be held in Venice from May 11th to November 24th, 2019. Based in London, Ralph has been Director of the Hayward Gallery since May 2006. Over the past 11 years, Ralph has curated many acclaimed solo exhibitions by Jeremy Deller; George Condo; Tracey Emin, Ed Ruscha and Carsten Höller. During his tenure at the gallery, Ralph has also curated numerous group exhibitions including: Psycho Buildings: Artists Take On Architecture (2006); The Painting of Modern Life (2007), and the recent off-site exhibition The Infinite Mix (2016). In 2012, he conceived and organised the project Wide Open School, 100 International ... More



The ancient artifacts included a bull's head, which was recovered this summer from the Metropolitan Museum of Art, where it had been on loan.



NEW YORK (AFP).- The United States on Friday returned to Lebanese officials three relics stolen during Lebanon's civil war, including a statue once exhibited at New York's premier museum, officials said. The ancient artifacts included a bull's head, which was recovered this summer from the Metropolitan Museum of Art, where it had been on loan. Believed to be of Greek origin, the marble head dates to around 360 BC and has been valued at around $1.2 million. The museum said it handed the head over to the Manhattan district attorney's office after a curator discovered that it may have been stolen during Lebanon's 1975-1990 civil war. The other relics -- two marble torsos dating to the 4th and 6th century BC -- were excavated in the 1970s from near Sidon, in southwestern Lebanon. The items were subsequently stolen during the war, US officials said. The Manhattan district attorney, who attended the repatriation ceremony with Lebanon's consul general to ... More



Detail of Jade burial suit bound with gold wire excavated from the tomb of a King of Chu at Shizishan, Xuzhou. Western Han Dynasty (206 BCE-9 CE), first half of second century BCE. L. 176 cm (69.29 in).



KANSAS CITY, MO.- In ancient China, death was believed to be such a continuation of life that burial tombs were plotted as elaborate afterlife arenas, complete with large security forces made of clay, horse-drawn chariots, precious stones and jade figures. Dreams of the Kings: A Jade Suit for Eternity opens Dec. 16 at The Nelson-Atkins Museum of Art in Kansas City and offers a remarkable window into ancient Chinese burial rituals following the discovery of nearly 100 tombs in the mid-20th century onwards in northern Jiangsu Province. "Humankind's dream of eternal life is enduring," said Julián Zugazagoitia, Menefee D. and Mary Louise Blackwell CEO & Director of the Nelson-Atkins. "The finest quality jade suit excavated to date, showcased in this exhibition, along with the other burial objects on display, reveal the dreams of the elegant kings of Chu." The centerpiece of Dreams of the ... More
National Air and Space Museum releases "VR Hangar" app
Infamous lock in US Watergate political scandal sells for $62,500
Art Institute receives outstanding endowment gift from Ruttenberg family


Users will discover three of the museum's most popular air- and spacecraft, each with three immersive scenes.



WASHINGTON, DC.- People across the country and around the world can now use their mobile phones to see moments that made air and space history with the new VR Hangar from the Smithsonian's National Air and Space Museum. The VR Hangar brings some of the museum's most important milestone artifacts to life using real 3-D-scan data in immersive virtual-reality vignettes. The app is optimized for use with Google Cardboard and similar devices, and is available free of charge in the iOS and Android app stores. Users will discover three of the museum's most popular air- and spacecraft, each with three immersive scenes: 1903 Wright Flyer: The 1903 Wright Flyer was the product of a sophisticated four-year program of research and development conducted by Wilbur and Orville Wright beginning in 1899. After building and testing three full-sized gliders, the Wrights' first powered airplane flew at Kitty ... More



The lock burglars picked to break into the Democratic National Committee's headquarters at the Watergate Complex in 1972.



WASHINGTON (AFP).- The lock of a door forced open in 1972, setting off the Watergate political scandal that transfixed the nation and eventually brought down a sitting US president, has been sold at auction for $62,500. "The discovery of this tampered lock and the subsequent arrest of the five burglars set off a chain of events that would eventually lead to the resignation of President Richard Nixon," said the Nate Sanders auction house in its announcement of the sale late Thursday. The humble lock was for the door to the Democratic Party headquarters in Washington's famed Watergate building complex. The brass mechanism weighing about four pounds (1.8 kilograms) has been preserved for nearly half a century by the building's caretaker after a locksmith replaced it following the break-in. The lock, mounted on a wooden panel, was sold with two letters certifying its authenticity. The break-in at the Democratic Party ... More



Michal Raz-Russo, Ruttenberg Associate Curator, with Buzz and Biff Ruttenberg in Leigh Ledare: The Plot, the second presentation in the Ruttenberg Contemporary Photography Series.



CHICAGO, IL.- The Art Institute of Chicago announced today the remarkable gift to endow the Ruttenberg Associate Curator of Photography and the Ruttenberg Contemporary Photography Series. This gift comes from brothers David W. "Buzz" Ruttenberg and Roger F. "Biff" Ruttenberg in honor of their parents David C. and Sarajean Ruttenberg, who were prolific collectors with a passion to support emerging artists. The Ruttenberg brothers continue their parents' legacy with this endowment to encourage under-recognized artists while adding essential support to develop curatorial talent. "Our parents cultivated a dynamic and abundant collection of what was contemporary at the time," says Buzz, "and they were just as interested in encouraging new artists as in the art itself." The newly endowed curatorial position is currently held by Michal ... More
ARKEN invites visitors to step inside Ugo Rondinone's dreamscape inhabited by 45 lifelike clowns
Dee Dee Ramone Fender Precision Bass sells for more than $35,000
Trove of works on paper by sculptor Henry Moore joins The Huntington's collections


Ugo Rondinone, vocabulary of solitude, 2014-2016. Courtesy of the artist.



COPENHAGEN.- Slumbering clowns with hats at rakish angles and sparkling, festive costumes. 45 lifelike clown sculptures move into ARKEN when star artist Ugo Rondinone opens his new solo exhibition. Rainbow-coloured messages in neon, towers of stacked boulders in the Nevada Desert, and melancholy clowns. The internationally renowned Swiss artist Ugo Rondinone creates joyous, meditative works that speak to both heart and mind. From 16 December his fascinating installation vocabulary of solitude takes over ARKEN's 150 metre long Art Axis. In Ugo Rondinone's immersive installation you step into a brilliantly coloured dreamscape populated by 45 lifelike human sculptures in full clown costume cast from male and female models. Usually clowns are happy, energetic and entertaining, but here they are the opposite – tired and passive. They are just people – out of character and out of their clown shoes – captured ... More



Dee Dee had purchased the guitar shortly after the band's equipment was stolen in April 1983, and used the instrument during the mid-Eighties tours.



BOSTON, MASS.- Dee Dee Ramone's cream-colored Fender Precision Bass guitar sold for $35,870 according to Boston-based RR Auction. Dee Dee had purchased the guitar shortly after the band's equipment was stolen in April 1983, and used the instrument during the mid-Eighties tours. Photographic research shows Dee Dee playing the bass in several live performances as well as in the Ramones 1986 video 'Something to Believe In.' This instrument is is believed to be one of the, if not the, last Fender Precision basses owned and used live by Dee Dee Ramone. Authentic Dee Dee Ramone Fender Precision basses made available for sale are extremely rare, with only two documented examples having been publicly offered in the past. With his wiry frame, restless energy, and trademark shouts of '1-2-3-4,' Dee Dee helped define the look and sound for countless generations of punk ... More



Henry Moore, (1898–1986), Woman Holding Book, 1983, charcoal, 11 3/4 × 8 1/4 in. The Huntington Library, Art Collections, and Botanical Gardens. Gift of the Philip and Muriel Berman Foundation. © The Henry Moore Foundation. All Rights Reserved, DACS 2017 / henry-moore.org.



SAN MARINO, CA.- The Huntington Library, Art Collections, and Botanical Gardens announced today that it has acquired a major collection of graphic art by Henry Moore (1898–1986), the most prominent British sculptor of the 20th-century. A gift of the Philip and Muriel Berman Foundation, the collection contains about 330 works on paper that represent the full range of Moore's graphic work and instantly place The Huntington among the largest Moore repositories in North America. Limited-edition etchings and lithographs comprise the greatest part of the collection, and these intricate, often delicate works explore the same universal themes found in Moore's monumental sculptures, which are enjoyed by millions in sculpture ... More
Ulterior Gallery opens a solo exhibition by the late Japanese artist Yasuo Ihara
World record for the oldest known and only surviving Japanese clock-driven celestial sphere in the world
Rebekah Beaulieu appointed Director of the Florence Griswold Museum


Installation view.



NEW YORK, NY.- Ulterior Gallery is presenting Explanation, a solo exhibition by the late Japanese artist Yasuo Ihara. From the time Ihara moved to the United States in 1963 until he passed away in 2010, his work was rarely shown. This is the first exhibition of his work in more than a decade. Yasuo Ihara was born in Osaka in 1932. He began showing his abstract paintings in the mid 1950s at Kodo Bijutsu Kyokai (Kodo Art Association), a nationally known art organization. His paintings attracted much attention while he was still a student at Kwansei Gakuin University. Ihara graduated in 1955 and later established Chusho Sakka Shudan Tempo (Abstract Artists Group Tempo) with other young artists based in the Kansai area in 1962. Hirokazu Moriguchi, Masaya Sakamoto, and Ihara, who were already showing their work at Kodo Bijutsu Kyokai, converged and founded Tempo with Sadamu Kanki, Yasunobu Nakanishi, and Aine Kinashi, a member of the recently di ... More



Ten months ago, the specialists at Piguet Auction House discovered a celestial globe in the Givaudan collection.



GENEVA.- Piguet Auction House ended its December sales last night with a global result of CHF 5.5 million. The highlight from the week-long auction was the sale of a major discovery in the history of science in Eastern Asia. The oldest Japanese celestial sphere known in the world driven by a clock mechanism reached an astronomical sale price of CHF 912,000 to the applause of all the observers in the room (lot 708), achieving a world record in the process. The Watches and Jewellery sales were very popular among collectors at the Genevan auction house selling for a grand total of CHF 1.9 million. The collection of Fine Wines sold on Monday evening was also met with great success totalling CHF 343,900 proving to be the best Wines sale result to date. Bernard Piguet, Director and Chief Auctioneer at Piguet Auction House, exclaims after the sale of lot 708: "This result is the culmination ... More



Beaulieu has most recently been the Associate Director of the Bowdoin College Museum of Art.



OLD LYME, CONN.- The Florence Griswold Museum in Old Lyme, Connecticut announced the appointment of Rebekah (Becky) Beaulieu as Director of the Museum. With a distinguished career that traverses both art museum and historic site administration, Beaulieu has most recently been the Associate Director of the Bowdoin College Museum of Art in Brunswick, Maine. She begins her new role on February 19, 2018. Beaulieu was selected from a highly qualified pool of candidates after a rigorous national search led by a committee of trustees. She follows Jeffrey Andersen, who has served as the Museum's Director for the past 41 years. Beaulieu and Andersen will briefly work together in February to effect a smooth management transition. "It was important for us to get this right," states Ted Hamilton, President of the Museum's Board of Trustees. "We've not had to look for a director in over 40 years and we were ... More
Elvis Presley - The Wonder of You (Official Video Starring Kate Moss)
Flashback
On a day like today, French painter Antonio de La Gandara was born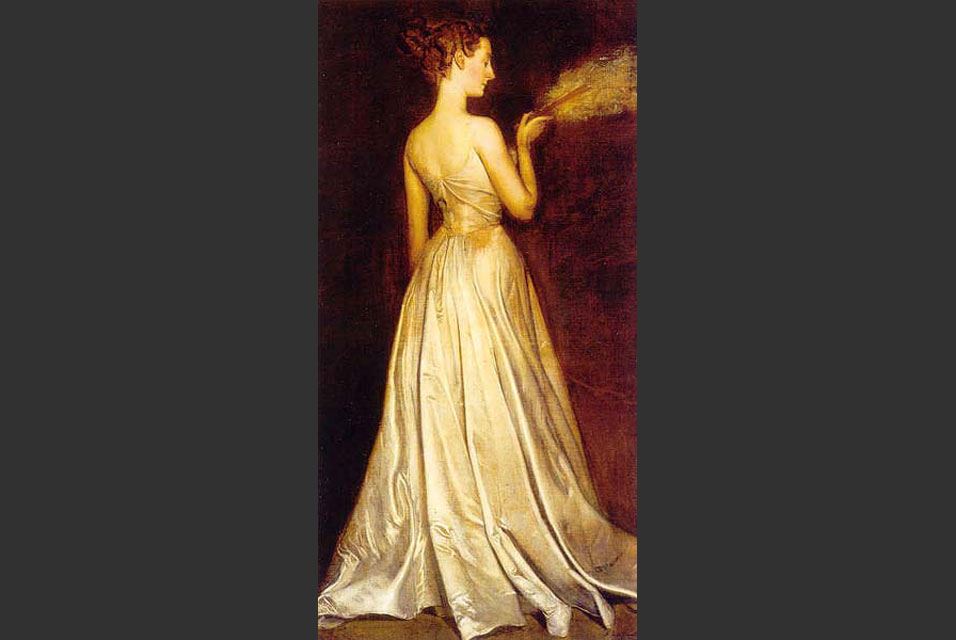 December 16, 1861. Antonio de la Gándara (16 December 1861 - 30 June 1917) was a French painter, pastellist and draughtsman. He was born in Paris, France, but his father was of Spanish ancestry, born in San Luis Potosi, Mexico, and his mother was from England. La Gandara's talent was strongly influenced by both cultures. At only 15 years of age, Gandara was admitted as a student of Jean-Léon Gérome and Cabanel at the Ecole des Beaux-Arts. Soon, he was recognized by the jury of the 1883 Salon des Champs-Elysées, who singled out the first work he ever exhibited: a portrait of Saint Sebastian. In this image: Madame Pierre Gautreau, 1898.
---

Museums, Exhibits, Artists, Milestones, Digital Art, Architecture, Photography,
Photographers, Special Photos, Special Reports, Featured Stories, Auctions, Art Fairs,
Anecdotes, Art Quiz, Education, Mythology, 3D Images, Last Week,
.
---
Royalville Communications, Inc
produces: