Thyssen-Bornemisza Museum explores the relationship between Monet and Boudin
Claude Monet, The Beach at Trouville, 1870 (detail). The National Gallery, London. Acquisition, Courtauld Fund, 1924.
MADRID
.-
The monographic exhibition Monet / Boudin presented by the
Museo Nacional Thyssen-Bornemisza
offers visitors the first opportunity to discover the relationship between the great Impressionist painter Claude Monet (Paris, 1840 - Giverny, 1926) and his master Eugène Boudin (Honfleur, 1824 - Deauville, 1898), the most important representative of mid-19th-century French plein air painting. This joint presentation of their work not only aims to cast light on Monet's formative years, in which Boudin played an important role, but also to offer a vision of their entire careers and the origins of the Impressionist movement. Curated by Juan Ángel López-Manzanares, a curator at the Museo Thyssen, the exhibition brings together around 100 works by the two artists, including loans from museums and institutions such as the Musée d'Orsay, Paris, the National Gallery, London, the Metropolitan Museum of Art, New York, the Israel Museu ...
More
The Best Photos of the Day
Freeman's announces highlights from its upcoming Asian Arts Auction
Armed robbers flee with luxury watches after Paris heist
Early Chinese ritual bronzes at Gianguan Auctions are masterful presentations


The sale includes nearly 650 lots of fine Chinese, Japanese, Burmese, Tibetan, and Korean decorative objects and works of art.



PHILADELPHIA, PA.- Freeman's September 7 Asian Arts auction will offer buyers a selection of nearly 650 lots of fine Chinese, Japanese, Burmese, Tibetan, and Korean decorative objects and works of art. Ranging from as early as the Neolithic period to present day, the breadth of material represented in the sale is sure to appeal to novice and experienced collectors of Asian art, decorators, and dealers. An impressive highlight of the sale is a large Chinese carved wood figure of Samantabhadra, seated on an elephant, from the Ming Dynasty or earlier (Lot 196, estimate: $25,000-35,000). Composed primarily of three large joined and carved timbers, the deity is seated at royal ease on a large elephant, dressed in draped scarves and bodhisattva jewelry. The present lot is unusual, not only for its large size, but also for the fact ... More



A policeman stands outside the the Swiss watchmaker Audemars Piguet shop on August 18, 2018 in Paris following a robbery. Two armed men robbed the luxury jeweler shop earlier before fleeing. Thomas SAMSON / AFP.



PARIS (AFP).- Two armed men fled with several luxury watches after bursting into a branch of Swiss watchmaker Audemars Piguet in Paris's chic eighth arrondissement on Saturday, police said, the latest in a string of robberies in the French capital. The pair, who were armed with handguns, made their escape by car. The value of the stolen items was not known. An investigation has been launched. The French capital has seen a number of high-profile jewel robberies in the past few years. In January, a gang armed with hatchets and handguns burst into the five-star Ritz hotel and smashed the windows of jewellery shops on the ground floor, but became trapped by locked doors as they tried to flee. Three men have been charged over the heist. ... More



Qing era ceramic copy of archaic bronze zun, silvered to replicate an aged patina. Lot 165.



NEW YORK, NY.- Collectors of Chinese antiquities and art can count on Gianguan Auctions for pockets of very specialized collections–such as Warring States ritual bronzes and their later progeny. Several highlight Gianguan's annual fall sale on September 8th. Piece-mold bronzes, unique to China when the rest of the world was manufacturing lost wax castings, are exemplified by an intricate pair of Warring States ritual Dou inlaid with gold and silver. To be prized for their design and craftsmanship, the pair of covered circular vessels sits high atop pedestals emanating from the backs of ferocious Bixie. Fantastical Kui dragons then encircle the risers and dare clutch the horn of the stealthy Bixie below. The inlays are worked in geometric patterns and scrolling set flush with the bronze. The pair is Lot 81, ... More
Motor City heartbroken, yet proud of Aretha
Solidary and Solitary: The Pamela J Joyner and Alfred J Giuffrida Collection on view at the Snite Museum of Art
Brazil's 'queer museum' reopens in Rio after forced closure


A street sign in Detroit honoring singer Aretha Franklin is shown August 16th, 2018 in Detroit, Michigan. The "Queen of Soul" died this morning in Detroit of pancreatic cancer at the age of 76 Bill Pugliano/Getty Images/AFP.



DETROIT (AFP).- When Aretha Franklin's death was announced over the PA system, glass maker Maurice Black says grief was so great at his Detroit auto plant that supervisors briefly shut the line. "The look on everybody's face. It was just shocking," the 53-year-old told AFP outside Detroit's New Bethel Baptist Church, where the music icon kicked off her storied career singing gospel as a child. "Hearts were heavy, people were like trying to get themselves together, so the supervisor was like go to the bathroom," he said. "Too many people were going to the bathroom, so they officially shut it down... they cranked it back up." What made it all so raw was many still remembered how Aretha had only visited the factory only four to six years ... More



This exhibition offers a new perspective on the critical contribution black artists have made to the evolution of visual art from 1940s through to the present moment.



NOTRE DAME, IND.- The Snite Museum of Art is showing the major nationwide touring exhibition Solidary and Solitary: The Pamela J Joyner and Alfred J Giuffrida Collection. This exhibition offers a new perspective on the critical contribution black artists have made to the evolution of visual art from 1940s through to the present moment. Curated by noted art historians Christopher Bedford and Katy Siegel, this is the first large-scale public exhibition to bring together a vital lineage of visionary black artists. Commencing in the mid-twentieth century with Abstract Expressionist Norman Lewis, the show traces a line through some of the most celebrated artists working. Drawing on the Joyner/Giuffrida collection's unparalleled holdings, a central theme is the power of abstract art as a profound political choice, rather than a stylistic preference, ... More



The curator of the "Queermuseu" exhibition, Gaudencio Fidelis, speaks during a press conference at Parque Lage park, home to the Visual Arts School, in Rio de Janeiro. Mauro Pimentel / AFP.



RIO DE JANEIRO (AFP).- Brazil's "queer museum," forced to close last year after conservatives attacked it for allegedly promoting pedophilia, blasphemy and bestiality, is reopening in the shadow of Rio de Janeiro's iconic Christ the Redeemer statue. The Queermuseu, which features 200 works by 82 Brazilian artists, originally opened last year in the southern city of Porto Alegre but was forced to close by critics who accused it of attacking Christianity. The enforced closure sent shockwaves through the artistic community and triggered debate about freedom of expression and a return of censorship, three decades after the end of the military dictatorship that ran the Latin American country from 1964-85. A crowdfunding campaign raised more than a million reais ($275,000) allowing ... More
Contemporary artist Archie Moore's vision arrives at Sydney Airport
African taxidermy and tribal art highlight Summers Place Auctions' September Sale
Kofi Annan: the UN's 'rock star' secretary-general


Archie Moore United Neytions, MCA & Sydney Airport Commission, photo Anna Kucera.



SYDNEY.- Millions of visitors from around the world are being farewelled by a striking work of contemporary art by Kamilaroi artist Archie Moore's as they depart Australia. Moore's United Neytions, which consists of 28 large flags that hang dramatically from the 17-metre high ceiling of Sydney Airport's T1 International Marketplace, was this morning unveiled by the airport and the Museum of Contemporary Art Australia for the first time. United Neytions contributes to a strengthened cultural experience for departing visitors and leave an enduring positive impression. Moore's work also speaks to the incredible diversity of Aboriginal histories and cultures in both Sydney and Australia. As part of a landmark partnership between Sydney Airport and the MCA, Moore's work was selected from among a number of artists' proposals by an esteemed panel. Sydney Airport CEO Geoff Culbert said travellers were certain to walk awa ... More



Old and rare Ekpo society mask of Eket People @ Summers Place Auctions.



BILLINGSHURST .- This Autumn, Summers Place Auctions will be having a strong Africa theme in the sale on the 25th & 26th September 2018. The auction will include some of the best recorded African wildlife taxidermy next to tribal art and some of the usual mix of sculptures, garden statuary and other quirky objects. The taxidermy collection belonged to F. Cecil Cobb, who joined one of the most driven and famous big game hunters of all time, Major Percy Powell-Cotton (1866-1940) one one of his many expeditions to Africa. Cobb wrote a book titled 'Sport on the Setit', in which he recounted his hunting trip to the Sudan, in 1911. The book is illustrated with photographs of some of the animals he shot during the expedition, and many of these are presented in this auction – mementos of a bygone era when attitudes to such things were very different to our own. Major Percy Powell-Cotton set up a museum in his family home at ... More



In this file photo taken on September 2, 2010 Chairman of the Board for Alliance for a Green Revolution in Africa (AGRA) and former Secretary General of the UN Kofi Annan delivers a speech. Issouf SANOGO / AFP.



NEW YORK (AFP).- Kofi Annan, who died Saturday at the age of 80, led the United Nations through the divisive years of the Iraq war and the trauma of the September 11, 2001 attacks. The first secretary-general from sub-Saharan Africa, Ghanaian-born Annan was credited for raising the UN's profile during his two-term tenure, from January 1997 to December 2006. The charismatic, quiet-spoken career diplomat will be remembered as the United Nations' star secretary-general -- and arguably the world body's most popular leader. But, as peacekeeping chief, two of the UN's darkest chapters -- the Rwandan genocide and the Bosnian war -- happened on his watch. "I have sought to place human beings at the center of everything we do -- from conflict prevention, to development, to human ... More
Damiani to publish 'Arthur Elgort: Jazz'
The Walker Art Center announces Avant Garden 2018 benefit auction
Kunstverein Hannover opens exhibition of recent works by artists who were born or live in Lower Saxony


Arthur Elgort JAZZ. Foreword by Wynton Marsalis. Introduction by Hank O'Neal. Edited by Marianne Houtenbos. Publication Date: October 2018.



NEW YORK, NY.- Fashion photographer Arthur Elgort has loved jazz since he was nine years old, when a childhood friend introduced him to the music; he soon found himself frequenting jazz clubs all over his native New York City. The dynamic style that made Elgort such a sensation in fashion photography was directly informed by his love for jazz and dance. His talent as a photographer grew alongside his interest and knowledge of jazz. By the time he was a well-known working photographer, Elgort could parlay his influence into meetings with his boyhood idols, requesting to have his favorite musicians appear in both his fashion and personal work. Countless jazz greats have appeared in front of Elgort's camera, including Illinois Jacquet, Dexter Gordon and Dorothy Donegan. Each sitting produced not only images but memorable stories: the time Elgort took Dorothy shopping at Chanel; ... More



Alfredo Jaar, The Silence (for S.K.), 2002. Lightbox with color transparency, 38 x 26 x 3.5 in (96.52 x 66.04 x 8.89 cm), 1 of 5 + 2 APs. Courtesy of Galerie Lelong. Estimate $36,000.



NEW YORK, NY.- The Walker Art Center presents Avant Garden 2018, the Center's Annual Benefit and Auction, live to bidders worldwide exclusively on Paddle8 August 24 – September 8. The sale will culminate at the Avant Garden event at a silent auction in Minneapolis on September 8, 2018. The Avant Garden 2018 auction include 35 works, ranging in value from $3,000 to $65,000, by artists by artists including Larry Bell, Jenny Holzer, Michael Krebber, Dianna Molzan, Raymond Pettibon, Lari Pittman, Sigmar Polke, Laure Prouvost, Allen Ruppersberg, and more. Avant Garden 2018, the Walker Art Center's annual benefit, returns for a one-of-a-kind experience on Saturday, September 8. The evening promises a signature Walker party experience, with gourmet food, craft cocktails, an art auction, live music, dancing, special ... More



88. Herbstausstellung des Kunstverein Hannover.. Photo: Raimund Zakowski.



HANNOVER.- The Kunstverein Hannover has been committed to the regional art scene from its foundation in 1832 and in the 1960s developed a broader and international orientation. Despite of its internationalization and 186 years of existence, the institution has maintained close ties to the region and for the past 111 years has been hosting the so-called Fall Exhibitions almost every second year featuring recent works by artists who were born or live in Lower Saxony or the City of Bremen. This exhibition format has kept its tradition and is based on an open-call procedure. In 2018 a jury selected 53 artists out of 500 applications to be shown within the exhibition itinerary. The broad overview of artists underlines the fact that the format is still as relevant as ever within the contemporary art field. Well-known artists of an older generation including Christiane Möbus or Timm Ulrichs are present, as well as artists such as Candice B ... More
Irina Nakhova – 'Real Freedom in Your Apartment' | TateShots
Flashback
On a day like today, French painter Gustave Caillebotte was born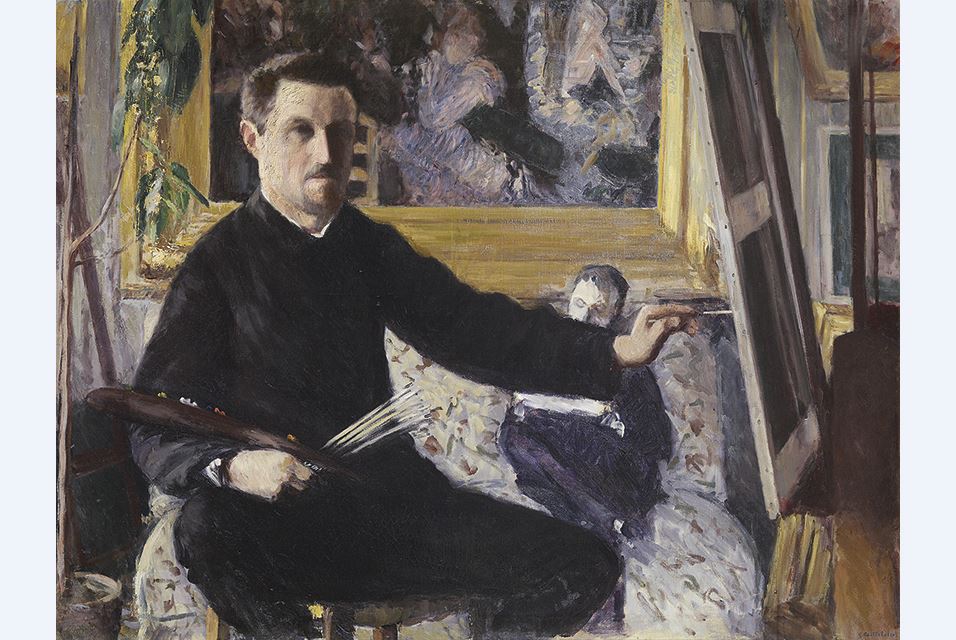 August 19, 1848. Gustave Caillebotte (19 August 1848 - 21 February 1894) was a French painter, member and patron of the artists known as Impressionists, although he painted in a more realistic manner than many others in the group. Caillebotte was noted for his early interest in photography as an art form.In this image: Gustave Caillebotte, Self-­-Portrait at the Easel, 1879–80. Oil on canvas, 35 7/16 × 45 1/4 in. (90 × 115 cm). Private collection.
---

Museums, Exhibits, Artists, Milestones, Digital Art, Architecture, Photography,
Photographers, Special Photos, Special Reports, Featured Stories, Auctions, Art Fairs,
Anecdotes, Art Quiz, Education, Mythology, 3D Images, Last Week,
.
---
Royalville Communications, Inc
produces: