Haunted by colonial past, Belgium's Africa museum reopens after revamp
A view from the gallery Rituals and Ceremonies © RMCA, Tervuren, photo Jo Van de Vijver.

by Dave Clark / Matthieu Demeestere
TERVUREN
(AFP)
.-
Belgium's Africa Museum reopened on Saturday after a five-year restoration to repackage its looted treasures with a critical view of the country's brutal colonial past. Deputy Prime Minister Alexander De Croo hailed a "historic moment" and said it would open "a new chapter" in Belgian-African relations. The reopening of the former Royal Museum for Central Africa in the Tervuren Palace outside Brussels comes amid a renewed European debate about returning stolen artefacts. Last month, French President Emmanuel Macron agreed to return 26 cultural artefacts to Benin "without delay", a move likely to put pressure on other former colonial powers to return African artworks to their countries of origin. Macron said the decision should not be seen as an isolated or symbolic case and proposed a conference in Paris next year to discuss an "exchange policy" for African treasures. "Restitution should no longer be tab ...
More
The Best Photos of the Day
The Norton Simon Museum opens an exhibition of exquisite tapestries and rare cartoons
First comprehensive survey of Sri Lankan art organized by a U.S. museum opens in Los Angeles
South Korean artist Do Ho Suh shows poetic passages made in fabric at ARoS Aarhus Art Museum


Giovanni Francesco Romanelli (Italian, 1610–1662), Royal Hunt and Storm (detail), c. 1630–35. Gouache and black chalk on paper, laid down on linen 109-5/8 x 138 in. (278.4 x 350.5 cm) The Norton Simon Foundation.



PASADENA, CA.- The Norton Simon Museum presents Once Upon a Tapestry: Woven Tales of Helen and Dido, an exhibition of exquisite tapestries and rare cartoons (full-size preparatory drawings) that illustrate two iconic love stories found in the classical epic poems the Iliad and the Aeneid. Helen and her contested romance with Prince Paris of Troy, as described in Homer's Iliad, is represented in four sumptuous Flemish tapestries from around 1500; and Queen Dido of Carthage and her passionate affair with Virgil's hero Aeneas is represented in a rare set of six cartoons, and one related tapestry from the early 17th century. Seen together, these monumental works of art demonstrate the appeal of these female-centric narratives in early modern Europe, the power of tapestry to tell such stories, and the inventiveness ... More



Standing Buddha, 10th century, copper alloy with gilding, 23 3/4 × 7 × 4 in., The Metropolitan Museum of Art, New York, gift of Enid A. Haupt, 1993, 1993.387.8, image source: The Metropolitan Museum of Art, New York.



LOS ANGELES, CA.- The Los Angeles County Museum of Art is presenting The Jeweled Isle: Art from Sri Lanka, the first comprehensive survey of Sri Lankan art organized by a U.S. museum. Drawn in part from LACMA's collection of Sri Lankan art, and including numerous domestic and international loans, the exhibition presents some 240 works addressing nearly two millennia of Sri Lankan history. In 2009, Sri Lanka emerged from a nearly 30 yearlong civil war fought along ethnic and religious divides. The Jeweled Isle presents a timely exploration and celebration of a geographically complex, ethnically diverse, and multicultural South Asian hub. The exhibition is curated by Dr. Robert L. Brown and Dr. Tushara Bindu Gude, of LACMA's South and Southeast Asian Art Department, and is designed by Los Angeles-based ... More



Installation view, Do Ho Suh: Korridor at ARoS Aarhus Kunstmuseum. Photo: Maja Theodoraki.



AARHUS.- A visually seductive exhibition calling for interaction. South Korean artist shows poetic passages made in fabric from his homes in Seoul, Berlin, and London. Do Ho Suh is known worldwide for his almost weightless transparent spaces made of fabric, accurate and full-size renditions of the homes he has lived in. The exhibition is the third in the "Intermezzo" series of art where the individual artworks are perceived and appreciated through more than just the faculty of sight. This is Do Ho Suh's first solo exhibition in Denmark. Do Ho Suh's story is universal. Most people have experienced leaving one home and setting up another somewhere else. His works capture the particular feeling that can arise in connection with moving house. This is universal and isn't always easy to put into words. Do Ho Suh's work is relevant in a world where migration is becoming increasingly widespread and where there is a higher likelihood of people moving away from their original ... More
Dana Powell joins Tanya Bonakdar Gallery
The Kunstmuseum Basel opens exhibition of works by Carl Burckhardt
Exhibition at the Fashion and Textile Museum presents 1930s fashion & photographs


Dana Powell, Night Drivers, 2018 (detail). Oil on linen, 10 x 13 inches; 25.4 x 33 cm.



NEW YORK, NY.- Dana Powell's small-scale oil paintings depict moments of transition and anticipation. They take the shape of night drives, full moons, swimming pools, elevator doors, still lifes with fruit, explosions, and peep holes. Unrelated at first look, these subjects prove malleable apparatus in demonstrating the unsettling power of the ordinary, and emotive potential of small shifts in formal painting strategies. Considered austerity is applied to Powell's tableaus of the everyday, offering a window to the familiar and its undertow. Each group of paintings acutely captures suspended moments, with works activating scenarios that await some conclusion. Paintings of fruit and inanimate commonplace objects further the tradition attached to still life painting, and explore the possibilities of portraying time, as it unfolds in a static frame. Stretching subjects beyond face value interpretation, Powell's ... More



Carl Burckhardt, Weibliche Figur, 1918. Bronze. HxBxT: 37 x 19 x 16 cm. Kunstmuseum Basel- Ankauf.



BASEL.- This past summer, a major exhibition at the Museo Vincenzo Vela in Ligornetto (Ticino) presented the art of Carl Burckhardt (1878–1923). The Kunstmuseum Basel now reprises the show in slightly more concentrated form and with a focus on aspects of Burckhardt's oeuvre with special significance for Basel. Drawing attention to works that the city's residents encounter on a daily basis and telling the story of their genesis, Carl Burckhardt. Classical Spirit—Modern Form pays homage to a local artist who, before his untimely death, helped pave the way for modern figurative sculpture. Several of Burckhardt's creations occupy prominent spots in Basel's urban fabric: the Amazon on the bridgehead of the Mittlere Brücke; the groups of figures Rhine and Wiese in front of the Badischer Bahnhof; Knight George overlooking the steps leading up from the old town to the Gymnasium Leonhard. Yet the ... More



Ruby Keeler finds bicycling a great sport, 1934. Image by Scotty Welbourne. Courtesy of the Terence pepper Collection.



LONDON.- Night and Day: 1930s Fashion & Photographs features over 100 ensembles, from fantasy evening wear to playful beach pyjamas. Using women's fashion as a bellwether, the exhibition explores the social, cultural and political landscape of the period. From the escapism offered by Hollywood films, window-shopping and women's magazines, to the increasingly stark political realities and extremes of wealth and poverty, the show explores the decade that brought the excess of the 1920s to an end. The 1930s ushered in the utilitarianism of World War II; as the flapper grew up, so too did her fashions. The new silhouettes of the 1930s played with the hard-edged chic seen in the Art Deco and Moderne styles. Structure can be seen infiltrating the relaxed shapes of the 20s, with the bias cuts and complicated construction, pioneered by Madeleine Vionnet and Elsa ... More
Montalvo Arts Center opens stunning public light exhibition by Bruce Munro
Publication created by MAXXI celebrates the work of Paolo Di Paolo
2018 Architecture Commission designed by MUIR + OPENWORK unveiled at NGV International


Bruce Munro at Montalvo: Stories in Light" includes "Ramandu's Table," on display in the Garden Terrace at Montalvo Arts Center, from October 28, 2018 through March 2019. Photo Credit: Mark Pickthall



SARATOGA, CA.- Bruce Munro at Montalvo: Stories in Light, a world premiere exhibition by internationally-acclaimed artist Bruce Munro, is on view at Montalvo Arts Center, located on 175 acres in the Silicon Valley, Saratoga Hills. Montalvo has been illuminated by 10 of Munro's light-based works installed throughout the center's lawns, gardens, terraces, and historic structures in his first public West Coast exhibition. Bruce Munro at Montalvo: Stories in Light runs through March 17, 2019 at Montalvo Arts Center. Inspired by the artist's readings of C.S. Lewis's Chronicles of Narnia, the installations of Bruce Munro range in scale from enormous and immersive to intimate, utilizing hundreds of thousands of bespoke components to construct multi-hued waves, clusters, cascades, flocks, and seas of light, transforming Montalvo's historic Villa and extensive public areas into a breathtaking spectacle of illumination. Featuri ... More



Paolo Di Paolo, Sottopassaggio pedonale, New York City, 1963. © Archivio Paolo Di Paolo.



ROME.- In 1949, a boy fell in love with a Leica III C camera; he really did not know how it worked, but he thought that it was a beautiful object. He would go on to publish more than 500 pictures in which figures from the worlds of art, culture, fashion and cinema, alongside ordinary people, are presented in a way that tells the story of Italy as it emerges from the ashes of the Second World War; these were featured in the famous weekly magazine Il Mondo, which was directed by Mario Pannunzio in the 1950s. Among the subjects of these famous pictures are Pier Paolo Pasolini at parties in Roman palaces, Tennessee Williams on the beach with his dog, Anna Magnani with her son, Kim Novak ironing in a room at the Grand Hotel, Rome, a family in front of the sea in Rimini, Salvatore Quasimodo, Sofia Loren joking around with Marcello Mastroianni in the Cinecittà studios, Brigitte Bardot, Charlotte Rampling, Alberto Moravia, Federico Fellini, Yves Montand, and the faces of distressed people at Palmiro ... More



Doubleground transforms the NGV's Grollo Equiset Garden with a site-specific work of temporary architecture by literally raising sections of the landscape and creating chasm-like passageways for visitors to explore between the tilted embankments.



MELBOURNE.- The 2018 National Gallery of Victoria Architecture Commission by Melbourne architecture practice MUIR and landscape architecture studio OPENWORK was unveiled at the NGV International. Entitled Doubleground, the winning proposal for the fourth annual competition is a collaboration between the two practices, inspired by key architectural elements of Sir Roy Grounds's iconic NGV International building in the year of the building's fiftieth anniversary. Doubleground transforms the NGV's Grollo Equiset Garden with a site-specific work of temporary architecture by literally raising sections of the landscape and creating chasm-like passageways for visitors to explore between the tilted embankments. Architect Amy Muir and landscape architect Mark Jacques drew from memories of visiting the NGV as a young child to create a digital ... More
Bolivian youth orchestra plays for the future
Kristof De Clercq Gallery exhibits works by Belgian multimedia artist and film-maker Johan Grimonprez
Pérez Art Museum Miami opens year-long exhibition of 15 kinetic light sculptures


Bolivian coca grower Mariel Chura, 21, plays the viola during a presentation of the Youth Symphonic Orchestra of Chulumani, some 120 km north of La Paz, on November 21, 2018. Aizar RALDES / AFP.



COCAYAPU (AFP).- When Mariel Chura joined a youth orchestra at age 14, she did not even know what a viola was. Seven years later, she loves the instrument, which has offered her an escape from the hardships of everyday life in Bolivia's biggest coca-producing area. The Chulumani Youth Symphony Orchestra has helped teens avoid the usual pitfalls plaguing the region: drug and alcohol abuse, violence, and family drama, according to the group's director and conductor Erik Castro. Instead, they learn the discipline of classical music, forge lasting friendships and dream of a future career in the arts. Bright-eyed and slender, Chura grew up picking coca leaves on her parents' land in the Cocayapu region, near Chulumani in the Yungas valley, about 120 kilometers (75 miles) east of the capital La Paz. When she received visitors on ... More



Johan Grimonprez, What I Will, 2013.



GHENT.- With his film dial H-I-S-T-O-R-Y, one of the discoveries of Documenta X (1997, Kassel), the Belgian multimedia artist and film-maker Johan Grimonprez (b.1962, Roeselare) conquered the international art world from a position of apparent obscurity. He subsequently received worldwide acclaim with his films Double Take (2009), Shadow World (2016, winner of the Ultima 2018, the Flemish culture prize for film), and Blue Orchids (2017). This is Grimonprez' first solo exhibition in Belgium following his retrospective at S.M.A.K. in 2011. At the heart of the exhibition is a selection of six recent short films, shown in an intimate, specially constructed space in the gallery, and which play on a 40-minute loop. The gallery is also showing a range of photographs and the artist's exceptional and rarely exhibited drawings. On the street side, a video work interacts with casual passers-by. The exhibition takes its title from the film Every Day Words Disappear (2016), in which ... More



José Carlos Martinat. American Echo Chamber, 2018. Motors, LEDs, microcontroller, and radio module. Dimensions variable. © José Carlos Martinat. Courtesy the artist and Revolver Galería.



MIAMI, FLA.- Pérez Art Museum Miami is presenting American Echo Chamber, a solo exhibition specially commissioned by the museum with José Carlos Martinat, one of the most internationally exhibited Peruvian artists of his generation. The exhibition investigates how ideologies are amplified and reinforced in the current social and political landscape. Located in PAMM's unique double-height gallery, American Echo Chamber is comprised of 15 kinetic light sculptures, and additional LED screens, that explore the current state of our political and cultural landscape. By portraying symbols of popular culture that relate to our current state of affairs, the artist uses the language of light and the pop of neon to highlight how serious issues have been reduced to entertainment. Inspired by the popular tradition of pyrotechnic ... More
Ugo Rondinone - Liverpool Mountain
Flashback
On a day like today, Scottish architect and painter Charles Rennie Mackintosh died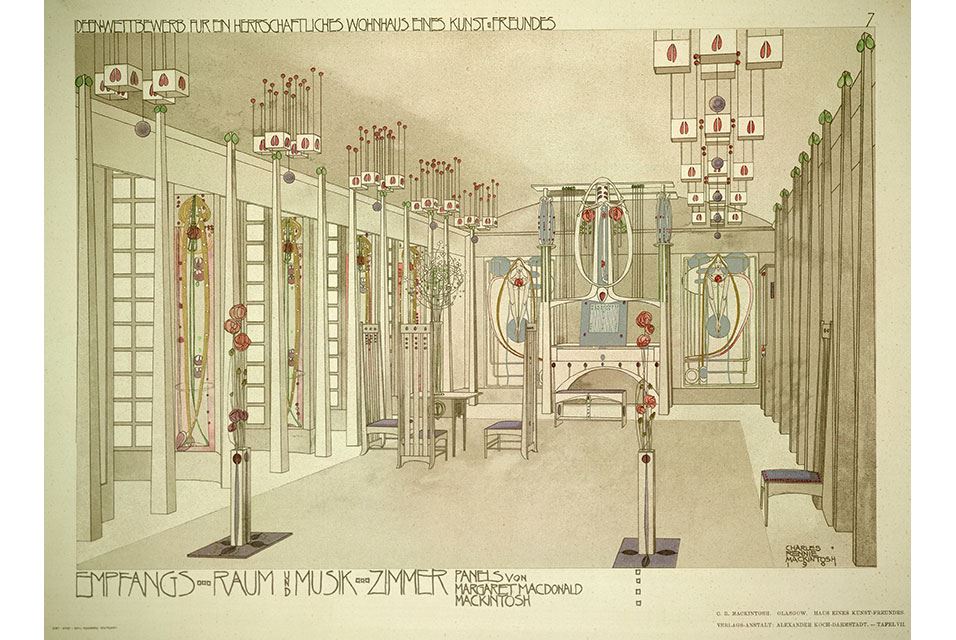 December 10, 1928. Charles Rennie Mackintosh (7 June 1868 - 10 December 1928) was a Scottish architect, designer, water colourist and artist. His artistic approach had much in common with European Symbolism. His work, alongside that of his wife Margaret Macdonald, was influential on European design movements such as Art Nouveau and Secessionism. He was born in Glasgow and died in London. In this image: Design for a house for an art lover, 1901 © RIBA Library
---

Museums, Exhibits, Artists, Milestones, Digital Art, Architecture, Photography,
Photographers, Special Photos, Special Reports, Featured Stories, Auctions, Art Fairs,
Anecdotes, Art Quiz, Education, Mythology, 3D Images, Last Week,
.
---
Royalville Communications, Inc
produces: