An extraordinary painting by Luca Giordano to be auctioned at Morton Subastas
Luca Giordano. The Repentant King David. Oil on canvas. 164 x 207 cm. Estimate: €400,000 - €500,000.
MEXICO CITY
.-
Morton Subastas
announces its upcoming Important European and Mexican Art Sale. For this special occasion Morton has gathered a magnificent selection of artworks from well renowned European and Mexican masters, ranging from the 17th century to the early 20th century. The auction will take place on the 1st of June in the saleroom located at Monte Athos 179 in Mexico City. One of the leading lots of the auction is an exceptional painting by Neapolitan master Luca Giordano. The scene taken from the Old Testament represents the repentant King David with the prophet Gad and an angel holding a sword and a skull. It is a masterful artwork that by means of contrasting light effects, diagonal views and outstanding gestures is ready to please even the most demanding collector. This painting has quite a provenance and its latest owner was the prestigious Colnaghi Gallery in London. Another highlight of the sale is an impressive view of ...
More
The Best Photos of the Day
Liverpool celebrates 50th anniversary of The Beatles' Sgt. Pepper's Lonely Hearts Club Band
Jade burial suit on view in new exhibition at China Institute
Nine new acquisitions celebrate National Museum of Women in the Arts' 30th anniversary year


Artwork for Sgt. Pepper at 50. Photo: Courtesy of Liverpool City Council.



LIVERPOOL.- From 25 May to 16 June 2017, Liverpool, the catalyst that ignited a musical revolution, celebrates The Beatles' Sgt Pepper's Lonely Hearts Club Band, the most influential album ever made – on the 50th anniversary of its release on 1 June 1967 during the 'Summer of Love'. Sgt. Pepper at 50: Heading for Home is an extraordinary response by some of the most exciting artists of today working from the city and across the globe, to the creative genius of the Beatles and this groundbreaking album. With performances, installations, live spectacle and moments of surprise across the city this summer, the spotlight will fall on Liverpool. The programme features 13 major commissions from artists in all media working with Liverpool based cultural organisations to respond to the 13 legendary tracks on the album. From Liverpool's Anglican Cathedral to Aintree Racecourse, Woolton Village to Tate Liverpool and St ... More



Part of the Jade Suit of the King of Chu Kingdom (ca. 175 BCE). Photo courtesy of Xuzhou Museum.



NEW YORK, NY.- A rare shroud of precious stones designed to protect and glorify a king in the afterlife will be on view at China Institute Gallery's new exhibition, Dreams of the Kings: A Jade Suit for Eternity, Treasures of the Han Dynasty from Xuzhou from May 25 – November 12, 2017. More than 76 objects originating from royal tombs dating from the Western Han Dynasty (206 BCE – 8 CE) will be exhibited in the U.S. for the first time. Ranging from terracotta performers to carved stone animal sculptures, the objects are extraordinary testimony to customs and beliefs surrounding life and death during the Western Han Dynasty, one of China's golden eras. The exhibition is accompanied by a fully illustrated bilingual catalogue. In 201 BCE, the first emperor of the Han Dynasty knighted his younger brother as the first king of the Chu Kingdom, which was centered in Peng Cheng, today's Xuzhou, in northern Jiangsu Province. R ... More



Louise Bourgeois, Spider III, 1995; Bronze, 19 x 33 x 33 in.; National Museum of Women in the Arts, Gift of Wilhelmina Cole Holladay; Art © The Easton Foundation/Licensed by VAGA, New York, NY.



WASHINGTON, DC.- The National Museum of Women in the Arts announces recent major collection acquisitions in celebration of the beginning of the museum's 30th-anniversary year. Newly acquired works by Yael Bartana, Berthe Morisot and Faith Ringgold are currently on view in the museum's collection galleries, and works by Louise Bourgeois and Lalla Essaydi will be on view in REVIVAL, an exhibition of contemporary sculpture, photography and video, from June 23 to Sept. 10, 2017. "We are delighted to have strong support from generous donors and members who made these acquisitions possible. Their contributions have enabled us to add new, diverse and increasingly global artworks to the collection—from late 19th century painting to contemporary times," said NMWA Director Susan Fisher Sterling. "These ... More
Exhibition showcases ancient artefacts side by side with works by Cy Twombly
Bloomsbury Auctions sale features letter signed by Charles Darwin
First major exhibition on Martin Scorsese comes to Amsterdam


Cy Twombly, Untitled, 1985. Painted synthetic resin, edition of 6, 76 x 34 x 26,5 cm. Cy Twombly Foundation. Photo © Courtesy Archives Fondazione Nicola Del Roscio.



ATHENS.- The Museum of Cycladic Art in Athens announces the exhibition "Divine Dialogues: Cy Twombly and Greek Antiquity", from 25 May to 3 September. The exhibition showcases ancient artefacts side by side with works by contemporary American artist Cy Twombly and is made possible thanks to the kind support of the Cy Twombly foundation. For the first time, 30 works by Cy Twombly inspired by Greek mythology and his close ties with Greece will be presented alongside 12 ancient artworks, revealing a unique and original dialogue between ancient Greek and contemporary art. The exhibition includes representative drawings and sculptures by the contemporary artist, such as Venus (1975), Pan (1975), Nike (1981), Apollo (1975), Dionysus (1975), Orpheus (1979), Aristaeus mourning the loss of his bees ... More



Lot 140: Autograph letter signed by Charles Darwin, 1866, (est. £4,000-£6,000).



LONDON.- Bloomsbury Auctions will be hosting the auction of Books & Works on Paper at 24 Maddox Street, London W1S 1PP, at 12noon. The sale comprises 416 lots, ranging from in estimate from £100 – £6,000, with works from a wide range of collecting categories, notably English Literature & History, Autographs and Memorabilia, Art & Architecture, Travel and Sport, amongst others. Of particular interest is an autograph letter signed by renowned English naturalist, Charles Darwin. The letter (lot 140, est. £4,000-£6,000) is written on mourning stationary to an unknown recipient, and reads: "Four editions of the Origin have appeared; that published last month is considerably added to and can be purchased through any bookseller. I am glad to hear that you are interested in the subject", Down, Beckenham, Kent, 17 December [1866]. Darwin received a request from his publisher John Murray for a fourth edition ... More



Taxi Driver (Martin Scorsese, 1976, Columbia Pictures).



AMSTERDAM.- After Berlin, Paris, Melbourne and New York, this first major exhibition on Martin Scorsese now comes to Amsterdam. EYE is staging an exhibition devoted to one of the most important American film directors of the past half century: Martin Scorsese. Over the years, the director of such classics as Taxi Driver, Raging Bull and The Wolf of Wall Street has elaborated a uniquely personal style of filmmaking. The son of Italian immigrants, Martin Scorsese (1942) grew up in Little Italy in New York. His films paint a vibrant portrait of this close-knit community in which family, religion and trust are central. The Italian mafia plays a prominent role in this world, and guilt and punishment are therefore key themes in the work of Scorsese. Relationships between his characters – with soulmates Robert De Niro and Leonardo DiCaprio often in the leading roles – are characterized by mistrust, fear and betrayal. Violence is a central ... More
Christie's announces highlights from its Books & Manuscripts Sales in New York
Fritz the Cat original art leads record-shattering $8.3 million comics auction
The North Carolina Museum of Art launches mobile app to provide themed tours for visitors


A working Apple-1 personal computer. Palo Alto, 1976. Est: $300,000-500,000. © Christie's Images Limited 2017.



NEW YORK, NY.- Christie's announces the spring various owner sale of Fine Printed Books & Manuscripts, encompassing over 200 lots including autograph manuscripts, cartography, literature, and scientific artifacts to take place on June 15, 2017 at Christie's New York. The sale begins with The Eric C. Caren Collection: How History Unfolds on Paper, a single-owner collection of over 100 lots of autograph material, first-hand accounts, and historical documentation of events from the 16th-20th centuries. Additional highlights include rare artist's books featuring a presentation copy of the first edition of Francisco Goya y Lucientes' Los Caprichos, 1799, the earliest in the sequence of Goya's four great intaglio series, with early impressions of all the aquatints in a contemporary Madrid binding presumably commissioned by the artist (estimate: $500,000-700,000). ... More



Robert Crumb R. Crumb's Fritz the Cat Cover Original Art (Ballantine, 1969).



DALLAS, TX.- Robert Crumb's 1969 Fritz The Cat Cover Art set a world record May 18 for the most valuable piece of American comic art when it crossed the block for $717,000 in Heritage Auctions' Comics & Comic Art Auction in New York. The headlining lot in the firm's inaugural Platinum Night session, the classic Underground Comix art was also the most valuable lot in the $8.3 million auction May 18-20. "Artworks from Underground Comix – especially from masters such as Robert Crumb – are becoming recognized in the fine art world as cultural cornerstones," said Barry Sandoval, Director of Comic Operations at Heritage Auctions. "Three of the top four lots in the auction were by Crumb." Original Comic Art Scores Big Crumb's original art for a complete, four-page story from The People's Comics (Golden Gate Publishing, 1972) and his ironic "Keep On Truckin'" sequel page from 1972 realized $191,200 each. These ... More



Phone app helps visitors engage with art through customizable audio experiences.



RALEIGH, NC.- The North Carolina Museum of Art this week launched a new mobile app that offers themed, self-guided audio tours of the Museum's permanent collection. Each tour lasts about 30 minutes and features art in the Museum's free permanent collection. The free app is available in English and Spanish and can be downloaded through the iTunes Store or at ncartmuseum.org/app. "This mobile app will encourage NCMA visitors to slow down in the permanent collection galleries and look more closely at the works of art—something we hope will enhance and deepen their appreciation of the art and make their Museum visit a more memorable, personal experience," says Lawrence J. Wheeler, director of the NCMA. "It perfectly aligns with the mission and vision of the NCMA, which focuses on our commitment to provide compelling encounters with art, present innovative educational opportunities, and enrich lives ... More
Exhibition of new and early works by British painter Tess Jaray opens at Marlborough Fine Art
Exhibition of early work by Pope.L opens at Mitchell-Innes & Nash
Exceptional collection of jewels from the 18th century return to Portugal for spectacular exhibition


Tess Jaray, Thorns 16, 2014, acrylic on metal panel, 29 x 24 cm. Copyright Tess Jaray, 2017. All rights reserved. Courtesy Karsten Schubert and Marlborough Fine Art, London.



LONDON.- Marlborough Fine Art is presenting an exhibition of new and early works by British painter Tess Jaray, organised in collaboration with Karsten Schubert. With a career spanning over five decades, Jaray has continually explored geometry, colour, pattern and repetition, often inspired by architectural structures. Unlike the certainties of mathematical geometry, Jaray focuses on what she describes as the 'geometry of human relationships', challenging the viewers' perception and relationship with the space surrounding us. On display are large-scale paintings on the theme of Aleppo and a series of small vibrant works from recent years, as well as drawings from throughout her career. Taking inspiration from Islamic tiling, non-Western ancient structures, and Renaissance architecture, Jaray creates works that explore the enigmatic relationship ... More



Pope.L, Crawling to Richard Pryor's House, 1994. Acrylic, ballpoint, collage, stuffed animal and wood glue on wooden board, 21 3/4 by 11 1/4 by 5 in. 55.2 by 28.6 by 12.7 cm. © Pope.L Courtesy of the artist and Mitchell-Innes & Nash, NY.



NEW YORK, NY.- Mitchell-Innes & Nash is presenting Proto-Skin Set, an exhibition of early work by Pope.L from 1979 to 1994 that explores the use of materiality and language in his practice. On view for the first time is the artist's Proto-Skin Sets, a selection of mixed media collages and assemblages that deal with the social constructions of language, race, and gender. The exhibition also includes a five-part document from 1979 that is part of an open-ended set of written works titled Communications Devices. This is Pope.L's fourth exhibition with the gallery and is accompanied by a catalogue with a Q&A between Pope.L and Bennett Simpson, Senior Curator at Museum of Contemporary Art, Los Angeles. Pope.L began making Proto-Skin Sets and Communication Devices in the 1970s and 1980s while he was a student at ... More



The collection on display in Lisbon features a mesmerising array of elaborate jewels.



LISBON.- This spring, Sotheby's and S.J.Phillips will present one of the world's finest collections of antique Portuguese jewellery in a dazzling exhibition at the Casa-Museu Medeiros e Almeida in Lisbon. From 25-28 May, The S.J.Phillips Collection of Jewels of Portugal will showcase over 70 magnificent pieces which exemplify the exquisite style and charm of Portuguese jewellery. Assembled over a number of decades by world-renowned antique dealer firm, S.J.Phillips, and curated specially for this exhibition, the collection on display in Lisbon will feature a mesmerising array of elaborate jewels typical of the distinctly national style of jewellery which developed in Portugal in the 17th and 18th centuries. Crafted from precious metals and stones brought from Brazil, the pieces are adorned with diamonds, sapphires and emeralds, as well as colourful semi-precious stones such as topazes, amethysts and chrysoberyls, delicately woven with gold and silver-gilt. Floral as ... More
Old Masters Meet the Streets
Flashback
On a day like today, Russian painter Lyubov Popova died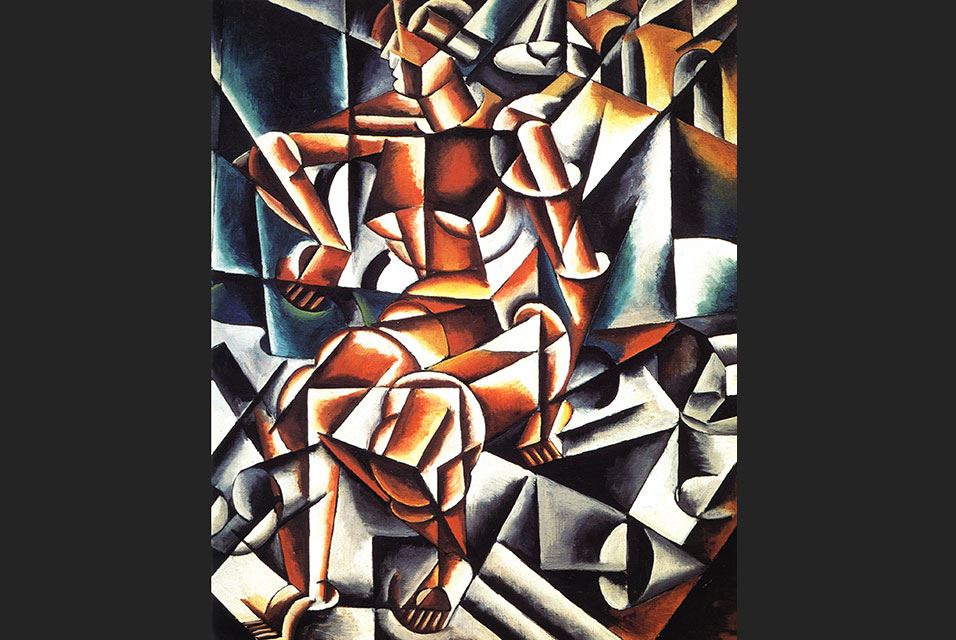 May 25, 1924. Lyubov Sergeyevna Popova was a Russian avant-garde artist (Cubist, Suprematist and Constructivist), painter and designer. She was also a rarity in the highly masculine world of Soviet art. In 1918 Popova married the art historian Boris von Eding, and gave birth to a son. Von Eding died the following year of typhoid fever. Popova was also seriously ill but recovered. In this image: Air+Man+Space, 1912.
---

Museums, Exhibits, Artists, Milestones, Digital Art, Architecture, Photography,
Photographers, Special Photos, Special Reports, Featured Stories, Auctions, Art Fairs,
Anecdotes, Art Quiz, Education, Mythology, 3D Images, Last Week,
.
---
Royalville Communications, Inc
produces: