"Shiny, Sticky, Smooth: Pop Art and the Senses" opens at the Wichita Art Museum
Roy Lichtenstein, Interiors Series: Red Lamps, edition 12/60, 1991. Lithograph, woodcut, and screenprint, 57 7/16 x 78 3/4 inches. Collection of the Jordan Schnitzer Family Foundation.
WICHITA, KS
.-
With bold color and graphic images inspired by advertising, movies, television, and comic strips of the late 1950s and 1960s, the modern art movement—called pop art—embraced the visual language of popular culture to tease the imagination and tempt the senses. Explore the sensory language of pop art with the fall exhibition, Shiny, Sticky, Smooth: Pop Art and the Senses, Prints from the Collections of Jordan D. Schnitzer and His Family Foundation, on view now at the
Wichita Art Museum
. Works by such notable artists as Andy Warhol, Roy Lichtenstein, Wayne Thiebaud, James Rosenquist, Claes Oldenburg, and more re-stage the traditional story of pop art as a full-sensory experience, leading visitors to a new perspective on the movement and to a deeper understanding of mass culture. This exhibition follows WAM's successful 2013 exhibition Under Pressure, which featured more than 100 prints from the collections of Po ...
More
The Best Photos of the Day
Bums and cash set tongues wagging at UK's Turner Prize
British Museum acquires rare group of post-war Picasso prints
Bowie's art collection goes on view in New York


Installation view of work by Helen Marten, 2016. Courtesy Joe Humphrys © Tate Photography.



LONDON.- A giant backside, a mountain of money and chastity belts suspended from a ceiling: the Turner Prize once again looks set to divide the contemporary art world after unveiling the finalists in London on Monday. The four shortlisted artists have each taken over a room at Tate Britain, filling the famous gallery with all manner of materials, shapes and surprises for an exhibition that organisers hope will promote debate about art when it opens to the public on Tuesday. The prize is awarded to a British artist under 50 for an outstanding exhibition, and has become synonymous with controversy in its 32-year history with previous winners including contemporary art agents provocateurs Damien Hirst and Tracey Emin. London-based finalist Anthea Hamilton's work is likely to be the focus of sharp debate for this year's exhibition -- an almost five-metre (16 foot) high sculpture of a male backside and a series of metallic chastity belts suspended from the ceiling. "Research is at the ... More



Pablo Picasso. (1881 - 1973), The Little Artist, 18 May 1954. Colour lithograph © Succession Picasso/DACS 2016.



LONDON.- The British Museum has acquired sixteen important lithograph prints and three aquatint prints by Pablo Picasso covering the post-war period from the late 1940s to the late 1950s. This acquisition closes the last major gap in the British Museum's representation of Picasso's achievements as a printmaker. Highlighting key themes in his work from this period, including his relationship with the youthful and independent-minded Françoise Gilot, the lithographs were produced in Paris when he was working in close collaboration with the printer Fernand Mourlot. The large aquatints from the early 1950s show Picasso's experimentation with the painterly possibilities of the technique working with young printers at the Paris workshop of Roger Lacourière with whom he had first worked in the 1930s on the Vollard Suite. This exciting acquisition is the final part of the Museum's sustained campaign to represent more fully P ... More



A woman walks past a poster advertising the Bowie/Collector auction at Sotheby's in New York, on September 26, 2016. ANGELA WEISS / AFP.



NEW YORK (AFP).- Hundreds of pieces of art collected by late rock legend David Bowie went on display Monday in New York ahead of an auction, including works by modern greats Jean-Michel Basquiat and Damien Hirst. Bowie, who died in January from an undisclosed battle with cancer, avidly followed the art world but was discreet about his buying. "His attitude to collecting represents his attitude on music-making -- he's not afraid to look at things outside the mainstream," said Simon Hucker, senior specialist in modern and post-war British art at Sotheby's which is running the auction. Bowie, already a musical icon, in the 1990s served on the editorial board of the magazine Modern Painters where he would occasionally write articles. "He would interview artists that he thought were good, but on the whole he was very private about his art collecting," Hucker said. "Whilst he used to go to auctions in the 1990s, later on he wouldn't go. He ... More
"The Spectacular Second Empire 1852-1870" opens at musée d'Orsay in Paris
Louisa Guinness Gallery opens first solo exhibition in the UK of Alexander Calder's jewellery
Christie's to offer works from three collections that trace the development of the London art scene


James Tissot, Portrait de Mlle L. L. dit aussi Jeune femme en veste rouge, 1864. Huile sur toile, 124 x 99 cm. Paris, musée d'Orsay, RF 2698 © RMN-Grand Palais (Musée d'Orsay) / Hervé Lewandowski.



PARIS.- The ostentation of the "fête impériale" and France's humiliating defeat in 1870 by Prussia, have long tarnished the reputation of the Second Empire, suspected of having been a time purely of amusements, scandals and vices, as described by Zola in his novels written during the Third Republic. It was, however, a period of unrivalled prosperity in the 19th century and one of unprecedented social upheavals. A time of abundance, euphoria and numerous celebrations, political, economic, religious and artistic, today we see the 1850s as the pivotal moment in the birth of "modern France" (Gambetta). To celebrate its 30th anniversary in autumn 2016, the musée d'Orsay is, for the first time, looking at this first society of spectacle and consumerism, a society that we have inherited. The exhibition brings together paintings, sculptures, photography, architectural drawings, ... More



Alexander Calder, Untitled Brooch, 1940, silver, 11.5 x 5.5cm,unique, courtesy the Calder Foundation and Louisa Guinness Gallery.



LONDON.- Louisa Guinness Gallery presents the first solo exhibition in the UK of Alexander Calder's jewellery: The Boldness of Calder. The exhibition brings together major pieces of Calder jewellery from around the world, presented amongst iconic images of the jewellery being worn on notable women throughout history, as well as contemporary images commissioned especially for the show. Calder's radical artistic practice reimagined the horizons of 20th century art and resulted in an acclaimed legacy which continues to influence contemporary art today. He was an innovator in concept, materials and form, using real-time motion to animate his works and imbue them with unprecedented performativity. To wear Calder's jewellery was to share in his iconoclasm; his earrings, bracelets, headdresses, necklaces and brooches were deeply unconventional in their time. They were made of simple silver or brass wire, ... More



Glenn Brown (b. 1966), The Creeping Flesh. Oil on canvas, 22 x 20in. (55.8 x 50.7cm.). Painted in 1991. Estimate: £250,000 - 350,000. © Christie's Images Limited 2016.



LONDON.- This autumn Christie's will offer works from three private collections that trace the development and trajectory of the London art scene from the 1950s to present day. This begins with the collection of Brian Sewell, the Evening Standard's late art critic, who was a Specialist in the Old Master Department at Christie's in the 1950s and 60s, having graduated in Art History at the Courtauld Institute, and nurtured a keen appetite for Renaissance works that span the 1500s through to Modern British artists of the mid-20th century. He built up a distinctive collection and 248 lots will be offered on 27 September including paintings by the Flemish artist Matthias Stomer, works on paper by the likes of Daniele da Volterra and Joseph Anton Koch, and the British Modernism of Duncan Grant and Eliot Hodgkin. One of the most influential collectors that developed ... More
The Artist: Exhibition at Moderna Museet brings together works from different eras
The National Museum of American Jewish History opens "Bill Graham and the Rock & Roll Revolution"
Solo-exhibition of American artist James Rosenquist on view at Galerie Thaddaeus Ropac


Rembrandt Harmensz. van Rijn, Self-Portait, 1630. © Nationalmuseum.



MALMO.- The Artist is a unique collaboration between Moderna Museet, Nationalmuseum, and the Royal Academy of Fine Arts. In a single exhibition the museum is showing works by many of the most well-known names in the history of art from 1500 to the present—from Rubens to Renoir and Picasso to Cindy Sherman—as well as Rembrandt, who is back in Malmö for the first time in fifty years. The Artist brings together works from different eras selected from the collections of all three art institutions, as well as a number of key pieces on loan from others. The Artist is divided into five chapters: Entrepreneur, Genius and Avant Gardist, Norm-Breaker, Visionary, and Traveller. The role of the artist is anything but uniform, and the exhibition illuminates some of the myths that surround artists. It's a long way from the courtly painter working on commission for a wealthy clientele to the bohemian who wants to be ... More



Baron Wolman, Jimi Hendrix performs at Fillmore Auditorium Fillmore Auditorium, San Francisco, February 1, 1968 (detail). Gelatin silver print Iconic Images/Baron Wolman.



PHILADELPHIA, PA.- The National Museum of American Jewish History in Philadelphia is the exclusive East Coast venue for Bill Graham and the Rock & Roll Revolution. On view September 16, 2016 through January 16, 2017, the exhibition presents the first comprehensive retrospective about the life and career of legendary rock impresario Bill Graham (1931–1991). Recognized as one of the most influential concert promoters in history, Graham played a pivotal role in the careers of iconic artists including the Grateful Dead, Jefferson Airplane, Janis Joplin, Jimi Hendrix, Santana, Fleetwood Mac, the Who, Led Zeppelin, the Doors, and the Rolling Stones. He conceived of rock & roll as a powerful force for supporting humanitarian causes and was instrumental in the production of milestone benefit concerts such as Live Aid (1985)—which ... More



James Rosenquist, Coup d'Oeil - Speed of Light, 2001 (detail). Oil on canvas, 188 x 162,6 cm (74 x 64 in). Courtesy Galerie Thaddaeus Ropac, Paris/Salzburg © James Rosenquist / VAGA, New York / ADAGP, Paris. Used by permission.



PARIS.- Galerie Thaddaeus Ropac is presenting a solo-exhibition of American artist James Rosenquist at their Pantin gallery, as well as an exhibition of his collages at the Marais gallery. Born in 1933 and raised in the American Mid-West, James Rosenquist led a career as a billboard painter before rising to fame in the 1960s as a leading figure of the Pop Art movement alongside contemporaries Andy Warhol, Roy Lichtenstein and Claes Oldenburg. Drawing on his experience as a billboard painter, Rosenquist plays on the iconography of advertising and mass media, to create distinctive compositions that explore the culture of modern capitalism. With striking immediacy, he questions the make-up of his surroundings: on the one hand, the urban environment shaped by the ... More
Marlborough Fine Art opens a major exhibition of works by Paula Rego
Flemming Friborg steps down as Director of the Glyptotek
Christie's to offer antiquities from the Toledo Museum of Art


Paula Rego, Dancing Ostriches from Disney's 'Fantasia', 1995 (detail), pastel on paper mounted on aluminium, 150 x 150 cm. © Paula Rego, Courtesy Marlborough Fine Art, London.



LONDON.- Marlborough Fine Art presents a major exhibition of works by Paula Rego across two floors of its London gallery. Considered one of the leading figurative artists today, Rego draws inspiration from many sources including literature and fairy tales to create mysterious and narrative works. On display in the lower level gallery, is Rego's large-scale pastel series Dancing Ostriches from Disney's 'Fantasia', originally commissioned for the exhibition Spellbound at the Hayward Gallery, London in 1996 and then acquired by Saatchi Gallery. Marking the centenary of cinema in Britain, artists and film-makers were commissioned to create works portraying the relationship between art and cinema. Both enthralled and terrified by the films of Walt Disney as a child, Rego derived the series from the 'Dance of the Ostriches' in Fantasia, a scene ... More



Flemming Friborg has been Director of Ny Carlsberg Glyptotek for 15 years. Ana Cecilia Gonzalez.



COPENHAGEN.- Flemming Friborg, Director of Ny Carlsberg Glyptotek for 15 years, has chosen not to re-apply for the position when his term of office comes to an end on 1st February 2017. Friborg has instead prioritised a long-cherished research project which will culminate in a major publication dealing with French art in the period ca. 1875-1915. The project will begin next year and will take at least three years. The field of research, "Radical Impressionism? The invention of Modern Art" will also involve international research seminars. Flemming Friborg says: "The Glyptotek is a fantastic institution and it has been a wonderful place to work – first as a curator from 1992, and then as director from 2002 to 2017. Much has happened in these brief 25 years, not least the recent heightening of the profile and the dynamic progress of the museum, and I am very proud to have been part of this. The team currently ... More



A Cypriot Limestone Head of a Male Votary circa 500-450 B.C. 13 ⅞ in. (34.2 cm.) high. Estimate: $20,000-30,000. © Christie's Images Limited 2016.



NEW YORK, NY.- On October 25, Christie's Antiquities sale will offer 24 works from the Property from The Toledo Museum of Art, sold to benefit the acquisitions fund. The collection features a selection of works from across ancient Greece, Rome, Near East, and Egypt with highlights including a Cypriot limestone head of a male votary to an Egyptian bronze cat. In addition, Christie's Online Auction will offer additional 40 works from The Toledo Museum of Art from October 19-26. This selection will feature Antiquities with accessible price points starting at $1,000 to $6,000. The exhibition will be displayed concurrently with the Antiquities sale preview, from October 21-24. • AN EGYPTIAN BRONZE CAT PTOLEMAIC PERIOD, 332-30 B.C. 5 ¾ in. (14.6 cm.) high Estimate: $30,000-50,000 • A CYPRIOT LIMESTONE HEAD OF A MALE VOTARY CIRCA 500-450 B.C. 13 ⅞ in. ... More
Before and After, A Collection of Unique Polaroids by Andrey Tarkovsky
Flashback
On a day like today, Louis XIII of France was born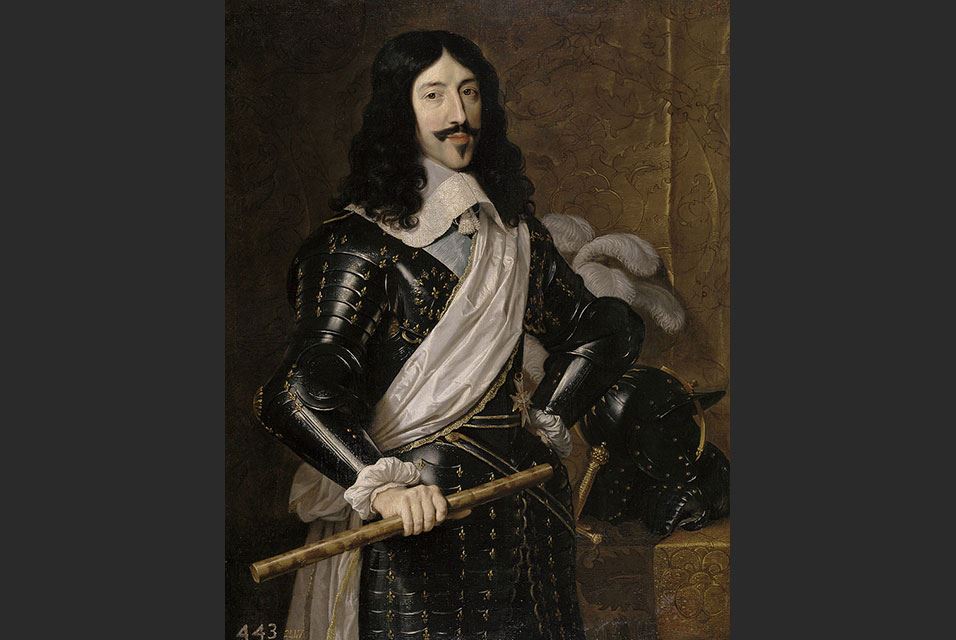 September 27, 1601. Louis XIII (27 September 1601 - 14 May 1643) was a monarch of the House of Bourbon who ruled as King of France from 1610 to 1643 and King of Navarre (as Louis II) from 1610 to 1620, when the crown of Navarre was merged to the French crown. A few months before his ninth birthday, Louis became king of France and Navarre after his father Henry IV had been assassinated. His mother, Marie de' Medici, acted as regent during Louis's minority. Mismanagement of the kingdom and ceaseless political intrigues by Marie de' Medici and her Italian favourites led the young king to take power in 1617 by exiling his mother and executing her followers, including Concino Concini, the most influential Italian at the French court. Louis XIII, taciturn and suspicious, relied heavily on his chief ministers, first the Duke of Luynes then Cardinal Richelieu, to govern the kingdom of France. King and cardinal are remembered for the establishment of the Académie française and for putting an end to the revolt of the French nobility. The reign of Louis "the Just" was also marked by the struggles against Huguenots and Habsburg Spain.
---

Museums, Exhibits, Artists, Milestones, Digital Art, Architecture, Photography,
Photographers, Special Photos, Special Reports, Featured Stories, Auctions, Art Fairs,
Anecdotes, Art Quiz, Education, Mythology, 3D Images, Last Week,
.
---
Royalville Communications, Inc
produces: