Israel Museum in Jerusalem reunites rings Sigmund Freud used to bind students
Curator Morag Wilhelm holds signet rings that had been given by Sigmund Freud to close students, at the Israel Museum in Jerusalem on July 12, 2018. A new exhibition in Jerusalem is for the first time bringing together signet rings Sigmund Freud had bestowed upon chosen disciples, initially as part of a secret psychoanalytical society. MENAHEM KAHANA / AFP.
JERUSALEM
(AFP)
.-
A new exhibition in Jerusalem is for the first time bringing together signet rings Sigmund Freud had bestowed upon chosen disciples, initially as part of a secret psychoanalytical society. The six rings going on display at the Israel Museum in the "Freud of the Rings" exhibition opening July 20 illustrate his deep connection to mythology and archaeology. They also help illuminate the personality of the founding father of psychoanalysis, born in 1856 in present-day Czech Republic and who moved to Vienna aged four. The exhibition was conceived when Morag Wilhelm, a young assistant curator at the museum, came across a gold signet ring in a small cardboard box with the words "Freud Nike", the latter being the Greek goddess of victory. The ring's provenance grabbed her attention, and Wilhelm learned it was given by Freud to a student of his, Eva Rosenfeld, who later donated it to the museum. ...
More
The Best Photos of the Day
Clark Art Institute exhibition presents trailblazing women artists
Thai cave rescue site to become a museum
SFMOMA debuts Donald Judd furniture exhibition


Elizabeth Nourse (American, 1859–1938), Self-Portrait, 1892. Oil on canvas, 39 x 29 1/2 in. Private Collection. Courtesy American Federation of Arts.



WILLIAMSTOWN, MASS.- The Clark Art Institute's summer 2018 exhibition, Women Artists in Paris, 1850–1900, celebrates an international group of artists who overcame gender-based restrictions to make extraordinary creative strides, taking important steps in the fight for a more egalitarian art world. Featuring nearly seventy paintings drawn from prominent collections across the United States and abroad, the exhibition includes works by renowned artists including Berthe Morisot, Mary Cassatt, and Rosa Bonheur as well as their equally remarkable peers such as Anna Ancher, Lilla Cabot Perry, Louise Breslau, Eva Gonzalez, and Marie Bashkirtseff. Women Artists in Paris, 1850–1900 was organized by the American Federation of Arts and curated by Laurence Madeline. The Clark Art Institute is its final venue, where it is on view June 9 ... More



A Buddhist devotee walks down from the mouth of Tham Luang cave, at the Khun Nam Nang Non Forest Park in Chiang Rai province. Lillian SUWANRUMPHA / AFP.



MAE SAI (AFP ).- Rescuers who pulled a young Thai football team from deep inside a flooded cave were dismantling their worksite Thursday, as plans emerged to turn the spot into a museum in tribute to the daring operation. At least one film production house was already working on a scheme to make a Hollywood treatment out of the heroics of divers, cavers and medics who risked their lives to free the "Wild Boars". Stunning footage of that rescue was released Wednesday showing the youngsters -- aged 11 to 16 -- being stretchered to safety. They were also seen sitting cheerfully in their hospital beds, where they are being kept in isolation until doctors are sure they did not pick up any nasty diseases during more than two weeks in the dark. Workers were Thursday packing up the industrial water pumps, heavy-grade ... More



Architecture Studio, Judd Foundation, Marfa, Texas; © Judd Foundation; photo: Matthew Millman.



SAN FRANCISCO, CA.- Among the most important American artists of the 20th century, Donald Judd transformed the art world with his influential work in art, design and architecture. On view at the San Francisco Museum of Modern Art July 14 through November 4, 2018, Donald Judd: Specific Furniture looks beyond Judd's work in sculpture, which he called "specific objects," to examine his furniture design as its own practice, independent from his artworks. This exhibition also brings together Judd's furniture with designs he owned and admired, as well as newly fabricated Judd pieces that visitors can use outside the gallery. "Judd's rigorous research and exploration of form and scale in his artworks extended into his interests in design and architecture. Truly a spatial practice, Judd's holistic approach to the objects that he created and surrounded himself with is evident in his refined, if not nuanced, works," said Jos ... More
Nottingham Contemporary opens Pia Camil's first solo exhibition in the UK
P·P·O·W opens exhibition of installations by David Wojnarowicz
Burrell weaves its magic to enchant audiences in Paris and New York


Pia Camil, Fade into Black, 2018. Commissioned by the SCAD Museum of Art. Photo: Courtesy of the Savannah College of Art and Design.



NOTTINGHAM.- This summer, Nottingham Contemporary presents Pia Camil's first solo exhibition in the UK, including existing work and a series of new commissions. Pia Camil's work highlights the shortcomings of consumerism and globalization, exposing the traces it leaves on our our day to day and our built environment. Working with textiles, ceramics and video, Camil reconfigures these urban failures into works that are playful, interactive, yet socially critical. Conceived as an immersive installation across two of Nottingham Contemporary's galleries, Camil's exhibition features a series of textile installations, forming spaces for communal interaction within the gallery. A large curtain installation created from black and white t-shirts and presented for the first time in Europe, Fade into Black (2018) theatrically divides the exhibition, establishing a soft architecture that connects ... More



Cradle of Civilization, 1988-89. Mixed media, 73 x 40 x 22 inches. Courtesy of the Estate of David Wojnarowicz and P.P.O.W.



NEW YORK, NY.- P·P·O·W is presenting Soon All This Will Be Picturesque Ruins: The Installations of David Wojnarowicz. The exhibition opened in conjunction with Wojnarowicz's first major institutional traveling retrospective David Wojnarowicz: History Keeps Me Awake at Night at the Whitney Museum of American Art. In Soon All This Will Be Picturesque Ruins: The Installations of David Wojnarowicz, P·P·O·W brings Wojnarowicz's major installations together for the first time. While the artist's installation work spans the entirety of his artistic career, no major institutions or galleries have exhibited them posthumously, primarily due to their ephemeral nature and their use and re-use of independent artworks. Although challenging to replicate, the installations are key to fully understanding the depth of Wojnarowicz's oeuvre and the profoundness ... More



The Wagner Garden Carpet on display at The Metropolitan Museum, New York. The Burrell Collection. © CSG CIC Glasgow Museums Collection.



GLASGOW.- Two exhibitions opened this week featuring significant loans from the Burrell Collection. With a medieval tapestry depicting a mythical unicorn and one of the world's rarest carpets flying over 3,000 miles to the United States, the Burrell Collection, Glasgow, is set to enchant audiences this summer in Paris and New York. Magical Unicorns, at Musée de Cluny, Paris, 14 July 2018 – 25 February 2019, is the inaugural exhibition at the renowned museum. Exploring late medieval perceptions and depictions of unicorns, the Burrell's Hunt of the Unicorn, a tapestry originally from Switzerland dating from before 1592, is on display. The tapestry, purchased by Sir William on 6 February 1937 for £250 has not been shown in public since 1969. The tapestry depicts a white unicorn driven by the Angel Gabriel blowing a hunting horn and holding a leashed dog leaping onto the ... More
Exhibition celebrating history of humor in prints and drawings opens at National Gallery of Art
Tainted water exhibition roves around Beijing after initial shutdown
US Blues: Works by Paul D'Amato, Pamela Littky, Dotan Saguy, and Jay Wolke on view at Kehrer Galerie


Robert Crumb (artist, author), Apex Novelties (publisher), Zap #1, 1968. 28-page paperback bound volume with half-tone and offset lithograph illustrations in black and cover in full color. Sheet: 9 1/2 x 6 3/4 in. National Gallery of Art, Washington, Gift of William and Abigail Gerdts



WASHINGTON, DC.- Prints and drawings have consistently served as popular media for humor in art. Prints, which can be widely replicated and distributed, are ideal for institutional mockery and social criticism, while drawings, unmediated and private, allow for free rein of the imagination. Sense of Humor will celebrate the rich yet often overlooked tradition of humor in works on paper, ranging from the 15th to 20th century. On view in the West Building of the National Gallery of Art, Washington, from July 15, 2018, through January 6, 2019, the exhibition is organized broadly chronologically, tracing the variety of forms that comical prints and drawings have taken over time, from Renaissance caricature to British satire in the 18th century and counterculture comics of the late ... More



This photo taken on July 12, 2018 shows Chinese performance artist Nut Brother. GREG BAKER / AFP.



BEIJING (AFP).- At first glance, it may seem like just a black truck filled with bottles of water, but a closer look reveals a darker —- or rather murkier —- side to what's sloshing around inside. Its cargo of more than 500 bottles of Nongfu Spring, a ubiquitous Chinese brand, filled with contaminated drinking water from the village of Xiaohaotu in China's northwest Shaanxi province has been driven around Beijing as a reminder of the costs of the country's rapid economic development. The mobile exhibition, created by "Nut Brother" -- an artist known for advocacy work on environmental and social issues -- was created in defiance after his initial show was shut down. But an opening ceremony set to be attended by some 400 people Saturday was derailed by authorities, who told the artist the vehicle was parked illegally. The truck -- which had already toured the capital's 798 art district prior to Saturday -- is now off the road, although Nut Brother hopes to persevere ... More



Jay Wolke, Shoe Salesman, Reno«, 1991 (detail). From the series »Same Dream Another Time«. Inkjet Print, 32 x 39.3 cm. Ed. 6.



BERLIN.- Kehrer Galerie opened the group show »US Blues« that unites four different insights into very diverse microcosms in the United States of America. The series are connected by a certain melancholic view on these social structures. Paul D'Amato's series »here/still/now« (2004–2016) pictures Chicago's west side, representing conditions that are found in many African-American communities in the US. The empathetic portraits are characterized not only by a very gentle use of light, but more so by condolence with poverty and the recognition of the people in front of the camera. The American fairs in Pamela Littky's works depict a social and cultural fabric that has not changed much over the past century and celebrates nostalgic American ideals. »American Fair« (2017) unites idyllic portraits of farmers and rope-and-ride spectators as well as portraits and tableaux that evoke undertones ... More
Exhibition at Museum Ludwig focuses on Hungarian painter Sam Havadtoy's New York years
Largest retrospective of work by Jack Knox presented to date on view in Glasgow
Exhibition presents a unique selection of photographic portraits of artists


Sam Havadtoy: Repülős Mickey, 33x39x48 cm, talált tárgy, antik csipke, akril, fehér arany, 2017.



BUDAPEST.- The exhibition focuses on the New York years of Hungarian painter Sam Havadtoy. His work relations with the city's influential artists throughout the 1970s and '80s greatly affected his developing career as an artist. Having arrived in New York as a young man and working as an interior designer Havadtoy was often invited by Andy Warhol, Keith Haring, Yoko Ono and many others to participate in their art projects. His unique creative approach gained more and more room in these collaborations, which would also be the foundation of his future career as an independent artist. The exhibition draws a parallel between Sam Havadtoy's New York collaborations and his own later artistic endeavours. Born in London to a Hungarian family, Havadtoy arrived in New York in 1972 and began working as an interior designer, which was how he got acquainted with John Lennon and Yoko Ono, who ... More



Jack Knox: Concrete Block. Gallery of Modern Art, Glasgow. Image courtesy Max Slaven.



GLASGOW.- Glasgow's Gallery of Modern Art presents Jack Knox: Concrete Block, a solo exhibition by Scottish artist Jack Knox (b. 1936 d. 2015). This exhibition, which is the largest retrospective of work by the artist presented to date, focuses on paintings produced over a ten year period from 1968 to 1978 including many works that have never before been on public display. Alongside are images, on 35mm slides, of nearly every painting Knox produced from the 1950s onwards. What becomes apparent across the exhibition is the pleasure Knox took from simply looking; a joy in happenstance and an ability to capture and elevate the seemingly incongruous details of his everyday life. This is filtered through an appreciation and understanding of art history which manifests itself with a subtle sense of humor throughout. In this way Knox produced work that, at the same time, could reference source material ranging from Paolo Uccello or the No ... More



Diego Rivera and Frida Kahlo with Lucile and Arnold Blanch at Coyoacán, c. 1930, Peter A. Juley & Son, New York City , active 1910s - 1970s. Gelatin silver print, image and sheet: 9 1/2 x 7 1/2 inches. Philadelphia Museum of Art: Gift of Carl Zigrosser, 1975.



PHILADELPHIA, PA.- This summer, the Philadelphia Museum of Art presents a unique selection of photographic portraits of artists, from the French painter Henri Matisse to American writer Eudora Welty and the great jazz singer Ella Fitzgerald as well as many other figures in the world of the visual, literary, performing arts. Ranging in date from the late nineteenth century to the present, the compelling images in Face to Face reveal the expressive ways in which artists have used photography not only to portray their subjects but also to promote or shape their own celebrity. Many of the photographs in this exhibition represent artists whose work can be seen in Modern Times: American Art 1910 –1950, on view concurrently ... More
Celebrate Summer with Contemporary Prints & Multiples
Flashback
On a day like today, Dutch painter and etcher Rembrandt was born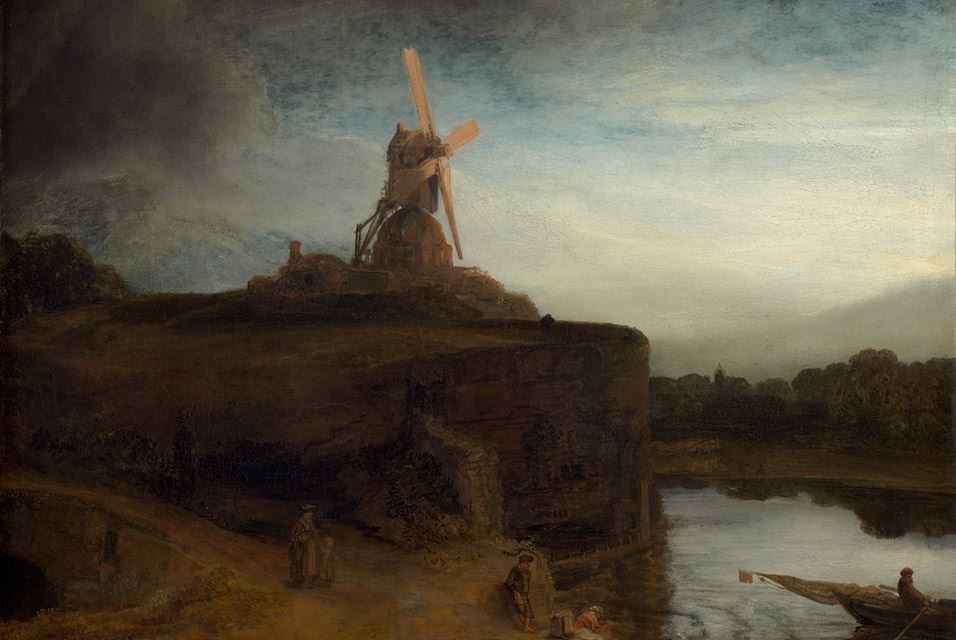 July 15, 1606. Rembrandt Harmenszoon van Rijn (15 July 1606 - 4 October 1669) was a Dutch draughtsman, painter, and printmaker. An innovative and prolific master in three media, he is generally considered one of the greatest visual artists in the history of art and the most important in Dutch art history. In this image: Rembrandt van Rijn (1606-69), The Mill, 1645/1648 (detail). Oil on canvas, 87.6 x 105.6 cm. Collection: National Gallery of Art, Washington, USA. Widener Collection.
---

Museums, Exhibits, Artists, Milestones, Digital Art, Architecture, Photography,
Photographers, Special Photos, Special Reports, Featured Stories, Auctions, Art Fairs,
Anecdotes, Art Quiz, Education, Mythology, 3D Images, Last Week,
.
---
Royalville Communications, Inc
produces: