Israel Antiquities Authority archeologists find glass liquor bottles from World War I
Pictures of the bottles showed several marked as "Gordon's Gin" and "Dewars Whisky". Researcher Brigitte Ouahnouna said it was the first such discovery in Israel.
JERUSALEM
(AFP)
.-
Israeli experts on Wednesday said they had unearthed hundreds of glass liquor bottles at the remains of a First World War British army barracks in the centre of the country. The Israel Antiquities Authority said in a statement that the camp, near the town of Ramle, was used by an expeditionary force under General Edmund Allenby for about nine months from November 1917 during a pause in the campaign against the Turkish army in Palestine. The statement quoted excavation director Ron Toueg as saying the bottles were found among crockery shards and broken cutlery in a rubbish tip. "About 70 percent of the waste that was discarded in the refuse pit were liquor bottles," Toueg said. "It seems that the soldiers took advantage of the respite given them to release the tension by frequently drinking alcohol." "The discovery of this site and the finds in it provide us with an opportunity for a glimpse of the unwritten part of history, and reconstruct for the first time the everyday life and leisu ...
More
The Best Photos of the Day
Dead dictators draw Hong Kong art crowds
Scientists uproot dinosaur family tree
Naked people slaughter a sheep at Auschwitz death camp


Shen Shaomin, Summit, (2010), silica gel simulation, acrylic and fabric, dimensions variable. Installation view of the 17th Biennale of Sydney (2010) at Cockatoo Island. Courtesy the artist and Osage Gallery. Photo: Sebastian Kriete.



HONG KONG (AFP).- A "breathing" Fidel Castro is among several ex-communist leaders gathered in Hong Kong this week -- one of the world's centres of capitalism -- as part of a cheeky exhibition at Art Basel. Lifelike replicas of Mao Zedong, Vladimir Lenin, Kim Il-Sung, Ho Chi Minh and the former Cuban leader are lying in state in the city's harbourfront convention centre, drawing curious, smartphone-snapping art enthusiasts. Made from acrylic and silica gel and dressed in their signature uniforms, all lie in glass coffins, except for Castro, who can be seen "breathing" almost imperceptibly on his deathbed. The installation, called "Summit", was created by Chinese artist Shen Shaomin who said the work was conceived as a response to the global financial crisis of 2008. It was ... More



Scientists have proposed a significant reorganisation of the dinosaur family tree, which alters our understanding of their origins and evolution.



PARIS (AFP).- For 130 years, dinosaurs have been classified as either bird- or reptile-hipped -- the first and all-important split in the trunk of an intricate family tree. On Wednesday, a "revolutionary" study threatened to upend what has long been taken as gospel by preschoolers and palaeontologists alike -- that a dinosaur's evolutionary history can be determined by the shape of its pelvis. "Our study overturns 130 years of dogma," said study co-author Paul Barrett of the Natural History Museum. "Our analysis suggests that animals like T. rex were actually more closely related to Stegosaurus" -- dinos once thought to be firmly on either side of the hip divide. A new dinosaur evolutionary tree, published in the journal Nature, proposes two new base groups, in which bird- and reptile-hipped lizards are now mixed. It also suggests that dinosaurs arose around 247 million years ago -- some 10 million years earlier ... More



People visit both parts of the former camp: Auschwitz I and Auschwitz II-Birkenau.



WARSAW (AFP).- Eleven men and women in their twenties on Friday slaughtered a sheep and took their clothes off at the former Nazi German death camp Auschwitz-Birkenau, according to police and the museum at the site in southern Poland. The individuals aged 20 to 27, whose identities and motives are unknown, then chained themselves together in front of the camp's infamous "Arbeit macht frei" ("Work makes you free") gate, the museum said in a statement. Regional police spokesman Sebastian Glen said the seven men and four women draped a white banner with the red text "love" over the infamous gate. They also used a drone to film the incident, according to local media. Museum guards at the site in the southern city of Oswiecim immediately intervened, and police said all those involved have been detained. They include six Poles, four Belarusians and one German, according to Glen, who told AFP that "a knife ... More
Lowest bidders threaten Nepal's quake-hit heritage
First exhibition of early printed textiles opens at the Art Museums of Colonial Williamsburg
Unearthed collection of photographs depicting life inside a World War II Jewish ghetto go on view


Trilokya Mohan Narayan temple caretaker Deepak Shrestha looks at artifacts during a interview with AFP. PRAKASH MATHEMA / AFP.



KATHMANDU (AFP).- Caretaker Deepak Shrestha padlocked shut the quake-ravaged remains of the Trailokya Mohan Narayan temple in Nepal's capital Kathmandu to keep out the contractors who are meant to be rebuilding it. The 17th century monument's three-tiered pagoda completely collapsed in a 7.8 magnitude earthquake that hit the Himalayan nation in April 2015, leaving the main statue standing exposed on a high plinth. Shrestha, whose family has looked after the Hindu temple for generations, is now on a mission to protect it from a government system that grants contracts to rebuild the quake-damaged heritage sites to the lowest bidder. "We had our doubts about the contractors but it was confirmed when they started digging the foundations haphazardly, disregarding the community's involvement and our sacred rituals," Shrestha, 56, told AFP. "We don't believe the cheapest contractors will rebuild our temple sincerely. We demand that the government dismiss such a system." ... More



Man's Banyan, East Indian textile. Worn in Britain, 1770-1790. Mordant-painted and resist-dyed cotton, trimmed with silk. Museum Purchase, 1954-1010. Photo: Courtesy of The Art Museums of Colonial Williamsburg.



WILLIAMSBURG, VA.- In the eighteenth and early nineteenth centuries, early printed textiles with their luminous colors and attractive designs were widely sought for fashionable clothing and home furnishings. Eighty examples of these stunning printed cottons and linens, many of which have never been exhibited before, will go on view in Printed Fashions: Textiles for Clothing and Home at the DeWitt Wallace Decorative Arts Museum, one of the Art Museums of Colonial Williamsburg, opening March 25, 2017. The exhibition will illustrate the design, history and techniques of printed textiles during this formative era; these objects played their own important role in history, not just for their obvious aesthetic qualities, but also for their economic importance as trade goods and as examples of technological advances. Printed Fashions will remain on view through March 2019. "Textiles are among the most fragile objects that survive ... More



Henryk Ross (Polish, born in 1910-1991), Men hauling a cart for bread distribution, 1942 (detail). Gelatin silver print. Art Gallery of Ontario. Gift from the Archive of Modern Conflict, 2007. © Art Gallery of Ontario. Courtesy Museum of Fine Arts, Boston.



In March 2017, the powerful exhibition Memory Unearthed: The Lodz Ghetto Photographs of Henryk Ross makes its US debut at the Museum of Fine Arts, Boston (MFA), presenting a moving and intimate visual record of the Holocaust through the lens of Henryk Ross (1910–1991). The Polish Jewish photographer was one of just 877 recorded survivors of the Lodz Ghetto's original population of more than 160,000 people, rounded up by the Nazi Germans and sealed off from the outside world. Previously a photojournalist for the Polish press, Ross was confined to the ghetto in 1940 and put to work by the Nazi regime as a bureaucratic photographer; his tasks included taking photographs for Jewish identification cards, as well as images that were used as propaganda to promote the efficiency of the ghetto's labor force. Unofficially—and at great risk—Ross took it upon himself to document the complex realities of life in the ... More
Five paintings donated by Imperial added to the National Gallery of Canada collection
Portland Art Museum presents full 14th-century altarpiece by Francescuccio Ghissi
Exhibition at Frans Hals Museum exhibits 17th century works from the Netherlands and China


Lawren S. Harris, Billboard (Jazz), 1921. Oil on canvas, 107.2 x 127.5 cm. National Gallery of Canada, Ottawa. Gift of Imperial Oil Limited, Calgary, 2016. © Family of Lawren S. Harris. Photo: NGC.



OTTAWA.- In honour of the 150th anniversary of Confederation, Imperial announced the launch of its largest-ever philanthropic art donation program at an event at the National Gallery of Canada. Forty-three paintings by prominent Canadian artists, worth an estimated $6 million, are being donated to 15 museums across the country. The Gallery received five paintings, which were unveiled this morning. Imperial's gift includes Billboard (Jazz) (1921) by Lawren S. Harris, a member of the Group of Seven painters; Paul Peel's Idle Dreams (1887); Prudence Heward's Miss Anne Grafftey (1944); Kathleen M. Morris's Birds Feeding (c. 1945); and A.J. Casson's Twilight Near Britt (1960). These paintings are now part of the Gallery's collection of Later Canadian Art. The paintings are available for public viewing at the NGC through March 26, 2017. It is the only occasion where all five paintings are being displayed together i ... More



Francescuccio Ghissi (Italian, active from 1345-1374), St. John Altarpiece, 1370s (detail). Tempera and gold leaf on wood.



PORTLAND, ORE.- The Portland Art Museum presents an exhibition that brings together eight dispersed 14th-century paintings, and a recreated missing panel, so that the altarpiece can be seen and appreciated as one magnificent work of art. This reunion allows visitors to see the Museum's Resurrection of Drusiana in its original context in the upper left corner. Donated by the Samuel H. Kress Foundation in 1961, the painting is one of the finest Early Italian narrative scenes in the Pacific Northwest. "This type of exhibition is staged very rarely, so visitors should take advantage of this special opportunity to see one of the Museum's early Renaissance paintings in its magnificent original context," said exhibition curator Dawson Carr, Ph.D., The Janet and Richard Geary Curator of European Art. Ghissi worked in the Marche, the mountainous Italian region between the Apennines and the Adriatic Sea. The St. John Altarpiece is m ... More



Zhang Rulin, Three Dutchmen with Red Hair, 1735, ink and pigment on silk, 122,6 x 101,5 cm, Rijksmuseum, Amsterdam.



HAARLEM.- Barbarians & Philosophers sheds light on the way China and the Netherlands formed images of one another in the seventeenth century. The Dutch were fascinated by the culture of the 'Celestial Empire'; the Chinese were astonished by the Dutch 'redheaded barbarians'. A selection of paintings, drawings, porcelain and models charts the cultural exchange. The exhibition in the Frans Hals Museum runs from 25 March to 20 August 2017. In the seventeenth century, the Netherlands was a key player in a worldwide network of trade relationships. This was reflected in what was sold, made, shown and experienced in the Dutch Republic. The Frans Hals Museum | De Hallen Haarlem invites you to take a comprehensive look at the Golden Age in Barbarians & Philosophers, which focuses on the first contacts between the Netherlands and China. In the sixteenth and seventeenth centuries, the Netherlands was one of the few European c ... More
"Erwin Wurm: Football-sized lump of clay on light blue car roof" opens at Kunsthaus Graz
JFK's 'Only' Diary for sale by his former research assistant at live auction in Boston
For her second solo exhibition at Capitain Petzel, Natalie Czech presents a new body of works


Erwin Wurm. Photo: Universalmuseum Joanneum/N. Lackner.



GRAZ.- Erwin Wurm has a number of connections with the city of Graz. It is where he grew up, it was formative in his artistic socialisation, and it was here also that he experienced his first successes at the beginning of the 1980s. He participated in various exhibitions at the Neue Galerie—run at that time by Wilfried Skreiner—under the label of 'New Sculpture', an offshoot of 'New Painting'. These were essential early steps towards an international career that has made Erwin Wurm one of the leading contemporary artists of our time. The most recent comprehensive show of the artist's work in Graz took place in 2002, also at the Neue Galerie. Peter Weibel curated this landmark exhibition as a positioning of his artistic oeuvre. Alongside many solo shows—from Sao Paolo to Vienna, Bangkok and New York—Wurm has been nominated for the Austrian pavilion at the 2017 Venice Biennale by former director of the Neue Galerie Christa Steinle, a further ... More



The diary was consigned by Deirdre Henderson, who began working for Senator Kennedy in 1959.



BOSTON, MASS.- As we near the 100th anniversary of John F. Kennedy's birth, Boston-based RR Auction announces the manuscript: Prelude to Leadership - JFK's Summer Diary of 1945 will be featured in an upcoming live auction on April 26, 2017. This 61-page diary, written as a Hearst newspaper war correspondent, captures a moment in time perhaps never before fully appreciated, and only now, 71 years later, officially being offered at auction. The diary is compromised of 61 loose-leaf pages, bound in a premium black leather cowhide binder. Twelve of the pages were handwritten by Kennedy and he typed forty-nine pages on his personal typewriter. The diary was consigned by Deirdre Henderson, who began working for Senator Kennedy in 1959 as his research assistant in his run for the Presidency. She worked closely with him and his academic advisory group on position papers for his campaign, and the President-elect asked her to stay ... More



Natalie Czech, "Camera / Fjällräven", 2016 (detail), 1 Archival Pigment Print, 1 frame, museum glass, 1 glued 3D form, framed: 72.6 x 100.8 x 4 cm, 28.6 x 39.7 x 1.6 inches, Edition of 5.



BERLIN.- For her second solo exhibition at Capitain Petzel, Natalie Czech presents to icon, a new body of works, alongside new works from her on-going series Poems by Repetition. In to icon, Czech introduces icons — simple graphic shapes such as a pen, a sheet of paper, a house, or a clock— that belong to the field of computing, software, digital applications, and social media, into the framework of photography and poetry. This new photographic series playfully demonstrate how much computer icons proliferate, and the way each icon produces multiple significations, superimposing layers of meaning. The title of this new series points to a verb, a specific act through which Czech finds the shape of an existing icon within pieces of clothing or other branded objects. She also introduces a text as poem, constituted by different possible meanings of the icon in different ... More
Redefining the Way We Experience Art
Flashback
On a day like today, John Lennon and Yoko Ono held their first Bed-In for Peace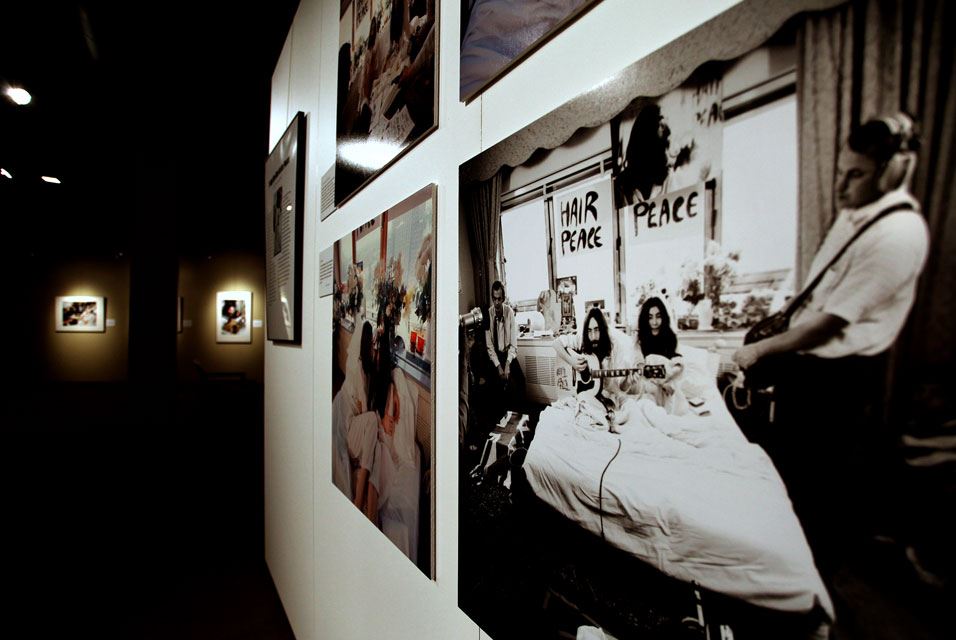 March 25, 1969. During the Vietnam War, in 1969, John Lennon and Yoko Ono held two week-long Bed-Ins for Peace in Amsterdam and Montreal, which were their non-violent ways of protesting wars and promoting peace. The idea is derived from a "sit-in", in which a group of protesters remains seated in front of an establishment until they are evicted, arrested, or their demands are met. In this image: Photographs showing John Lennon and Yoko Ono are displayed at a preview of "Give Peace A Chance: John Lennon and Yoko Ono's Bed-In For Peace" at The Museum at Bethel Woods in Bethel, N.Y. Thursday, June 11, 2009.
---

Museums, Exhibits, Artists, Milestones, Digital Art, Architecture, Photography,
Photographers, Special Photos, Special Reports, Featured Stories, Auctions, Art Fairs,
Anecdotes, Art Quiz, Education, Mythology, 3D Images, Last Week,
.
---
Royalville Communications, Inc
produces: