Exhibition at The O2 showcases over 300 artefacts direct from the Elvis Presley archives
US actress Priscilla Presley poses with Elvis Presley's Lincoln Continental car during a photocall for the 'Elvis at the O2' exhibition in in London on December 15, 2014. AFP PHOTO / BEN STANSALL.
LONDON
.-
Britain is getting personal insight into the life of Elvis Presley™, the King of Rock 'n' Roll™, through the largest Elvis™ retrospective ever mounted in Europe, Elvis at The O2: The Exhibition of His Life. On view at The O2, London, the nine month exhibition showcases over 300 artefacts direct from the Presley family's treasured Graceland Archives, some of which have never been exhibited outside of Graceland in Memphis. Elvis at The O2: The Exhibition of His Life chronicles the rise of the rock 'n' roll icon and how Elvis impacted popular culture around the world through his music, movies and personal style. From his humble beginnings to his meteoric rise to fame, the exhibition will explore Elvis mania that first swept America and then the world, ground-breaking recording sessions, record-breaking concert tours, his military service, Hollywood film career and influence on fashion. Most ...
More
The Best Photos of the Day
A rare London view by Canaletto to feature in Sotheby's New York Old Master Week
Tate launches world-wide access to unpublished archives of key British artists
'Paul Klee: Not a Day without a Line' opens at The Pushkin State Museum of Fine Arts, Moscow




Giovanni Antonio Canal, Called Canaletto, London, a View of the Old Horse Guards and Banqueting Hall, Whitehall Seen from St. James' Park (detail). Est. $4/6 million. Photo: Sotheby's.





NEW YORK, NY.- Sotheby's January 2015 Old Master Week in New York will feature a select group of highly important paintings assembled by noted collector J.E. Safra. The choice offering of 17 paintings presents a wide range of styles and genres of the period including the Dutch Golden Age, as well as 18th century Italian and French. The vast majority of the works have been off the market for at least 20 years and together the group is estimated to bring $22/34 million. The paintings will go on public exhibition, alongside Sotheby's Old Master Week sales, beginning 24 January. Leading a very strong group of Dutch works to be offered in Sotheby's January 2015 sales is Frozen River at Sunset, painted by Aert van der Neer in or shortly after 1660, a period that was a high point for Dutch landscape painting and for the artist himself (est. $4/6 million). The work embodies the artist's fascination with ... More





Graham Sutherland OM, Coloured study of the full-length figure of Christ, with both arms partly raised and outspread, the robe has a number of prominent folds. © The estate of Graham Sutherland.





LONDON.- Tate announced today that intimate love letters from Paul Nash to his wife, touching family photographs of Jacob Epstein, unpublished images revealing Eduardo Paolozzi's playful nature, 45 volumes of Barbara Hepworth's sculpture records and correspondence from William Nicholson to his son Ben are among the first batch of items to be made available on Tate's website for a world-wide audience as part of the Archives and Access project. The project draws on the world's largest archive of British Art - Tate Archive - and brings it together online with Tate's art collection, making this one of the richest and most comprehensive digital art and archival resources in Europe. It is generously supported by the Heritage Lottery Fund with a grant of £2 million. These items from Tate Archive can now be viewed online and include sketchbooks, drawings, family ... More





Paul Klee, Hoher Wächter, 1940, 257 Superior guard wax paint on canvas; original frame, 70 x 50 cm. Zentrum Paul Klee, Bern.





MOSCOW.- In partnership with the Pushkin State Museum of Fine Arts, Moscow, the Zentrum Paul Klee and the Fondation Beyeler are jointly organising the first ever Paul Klee exhibition in Russia. Around 130 works from all periods of Klee's oeuvre will highlight the most important aspects of his art. The fact that up until now only single works by him have been displayed in Russia is reason enough to organise an extensive retrospective. Moreover, the bicentenary of diplomatic relations between the two countries is a festive occasion for holding an exhibition in Russia of works by the Swiss artist loaned by museums in Switzerland. Paul Klee (1879 – 1940) is one of the most important artists of Classic Modernism. Born in Berne, where he spent his youth, Klee soon decided to move to Germany, where he became a successful avant-garde artist. Persecuted by the National Socialists, he was obliged to flee his adoptive country in 1933 and ... More
New documentary features unprecedented access to Bing Crosby's archives
Ancient Roman silver treasure on view for the first time following four year conservation project
World War I examined through paintings, sculptures, photographs at Nelson Atkins




Bing Crosby. Photo Credit: Universal.





NEW YORK, NY.- Bing Crosby (May 3, 1903-October 14, 1977) was, without doubt, the most popular and influential multi-media star of the first half of the 20th century. For more than three decades, through radio, film, television and records, he reigned supreme. The new documentary American Masters: Bing Crosby Rediscovered explores the life and legend of this iconic performer, revealing a man far more complex than his public persona. The film is available on DVD from PBS Distribution. A holiday encore presentation airs Friday, December 26 at 9 p.m. on PBS (check local listings). Crosby's estate, HLC Properties, Ltd., granted American Masters unprecedented access to the entertainer's personal and professional archives, including never-before-seen home movies, Dictabelt recordings, photos and more. Narrated by Stanley Tucci, the film features new interviews with all surviving members of Crosby's immediate family — wife Kathryn, daughter Mary and sons Harry and Nathaniel. The film rev ... More





Mercury, 175–225. Roman Silver and gold. Object: H: 56.3 x Diam.: 16 cm, Weight: 2772 g (22 3/16 x 6 5/16 in., 6.11 lb.) Bibliothèque nationale de France, Département des monnaies, médailles et antiques, Paris VEX.2014.1.1.





LOS ANGELES, CA.- Accidentally discovered by a French farmer plowing his field near the village of Berthouville in rural Normandy in 1830, the spectacular hoard of gilt-silver statuettes and vessels known as the Berthouville Treasure was an ancient offering to the Gallo-Roman god Mercury. Following four years of meticulous conservation and research in the J. Paul Getty Museum's Antiquities Conservation Department, the exhibition Ancient Luxury and the Roman Silver Treasure from Berthouville, on view at the Getty Villa November 19, 2014, to August 17, 2015, presents this unique collection of ancient silver in its full splendor and offer new insights about ancient art, technology, religion, and cultural interaction. The opulent cache – in the collection of the Cabinet des médailles (now the Department of Coins, Medals and ... More





Marsden Hartley, Himmel, ca. 1914-1915 (detail). Oil on canvas. Unframed: 47 1/4 x 47 3/8 inches. Gift of the Friends of Art.





KANSAS CITY, MO.- World War I, also called The Great War, was the first total war of the modern period. To commemorate the 100­th anniversary of the long and bloody conflict that began during the summer of 1914, The Nelson-Atkins Museum of Art in Kansas City gathered paintings, sculptures, drawings, prints, photographs and decorative arts by many of the most esteemed European and American modernists. World War I and the Rise of Modernism opens on December 17 and runs through July 19, 2015, walking visitors through the time period before, during and after The Great War. "Both Europe and the larger Western culture it represented were dramatically altered during World War I," said Julián Zugazagoitia, Menefee D. and Mary Louise Blackwell CEO & Director of the Nelson-Atkins. "This exhibition reveals the major shift in perspective brought on by The Great War, as well as the disillusionment of an entire ... More
All-original Ferrari 365 GTB/4 Daytona to be offered by its first and only owner at RM Auctions
Gatling Gun brings $395,000 in $3.1+ million Civil War/Arms & Armor weekend
Exhibition at the American Folk Art Museum highlights hidden American histories




1971 Ferrari 365 GTB/4 Daytona Berlinetta. Photo: Darin Schnabel ©2015 Courtesy of RM Auctions.





BLENHEIM, ON.- An all-original 1971 Ferrari 365 GTB/4 Daytona Berlinetta, which recently emerged from 25 years in storage, will make its auction debut at RM's Amelia Island, Florida sale, March 14. Offered on behalf of its first and only owner, this timewarp Daytona, chassis no. 14385, surfaced last month following two-and-a-half decades in a downtown Toronto parking garage. Affectionately dubbed "The Condo Find Daytona," or "the Disco Daytona," in reference to the eight-track tape of "Disco Rock" still stuck in its K-Tec player, the Daytona was an impulse buy for Toronto businessman, Patrick Sinn. A delayed flight from Geneva to Toronto in 1971 saw Sinn take the chance visit to the Geneva International Motor Show, where he instantly fell in love with the Ferrari. Such was his desire to purchase an example of his own that Sinn postponed his return trip and immediately travelled to the Ferrari factory, where he ... More





U.S. Colt Model 1877 Bulldog Gatling Gun.





DALLAS, TX.- A U.S. Colt Model 1877 Bulldog Gatling Gun, a limited production weapon tracked by its #207 serial number as a documented U.S. Army purchase, sold for $395,000 in Heritage Auctions' Dec. 14 Arms & Armor Signature Auction in Dallas. The auction capped a three-day, three-auction weekend of rare Civil War and Militaria collectibles which realized a combined $3.16+ million. "Collectors' demand for fresh-to-market firearms and Civil War relics with strong provenance always brings strong results," said Tom Slater, Director of Americana Auctions at Heritage. "All three auctions held something for every collector." A Confederate Griswold & Gunnison .36 Caliber Percussion Revolver sold for $22,500 to take top lot honors in Heritage's Dec. 12 Civil War & Militaria Signature Auction. The gun appeared at auction with its original Confederate brown leather holster in "untouched 'attic' condition." An extremely rare Civil War ... More





Attributed to Ammi Phillips (1788–1865), James Mairs Salisbury, Catskill, New York, c. 1835. Oil on canvas, 32 x 27" (39 11/16 x 34 5/8 x 3 1/8" with frame). Photo courtesy of the Barbara L. Gordon Collection.





NEW YORK, NY.- A century of U.S. history can be gleaned from the early American folk art on view in A Shared Legacy: Folk Art in America at the American Folk Art Museum, the first venue for a national touring exhibition. More than 60 artworks made between 1800 and 1920 are on view, including portraits; still-life, landscape, and allegorical paintings; commercial and highly personal sculptures; and distinctive examples of furniture. Imbued with beauty, skill, and meaning beyond their actual purpose, many of the works also capture and document little-known moments in American history from a unique first-person perspective. Dr. Anne-Imelda Radice, Executive Director, commented: "Self-taught artists, working in all corners of the country, brought news of importance to public attention through ... More
Exhibition of prints from 1999 to 2014 by Terry Winters opens at Pinakothek der Moderne
A life's passion: Incredible collection of vernacular antiques to sell at Bonhams Oxford
The world's greatest art comes to U.S. cinemas as Fathom Events presents 'Exhibition on Screen'




Terry Winters, Amplitude, 2000, Sugar lift aquatint and open bite etching, Plate: 108 x 85,1 cm, Sheet: 135,6 x 110,5 cm, Publisher: Universal Limited Art Editions (ULAE), Bay Shore, New York, Courtesy the artist and ULAE, New York, Colby College Museum of Art, Museum purchase from the Jere Abbott Acquisitions Fund, inv. 2002.205. Photo: ULAE © Terry Winters.





MUNICH.- For over thirty years now, the painter and draftsman Terry Winters (born in New York in 1949) has been one of the most inventive and productive printmakers of his generation. From the start, the imagination of this peintre-graveur has revolved around spaces and systems beyond the visible. In all of the media of which he is master, Winters has conducted an unbroken search for a metaphysics of hidden forces and energies whose forms transcend the creative process. The specific challenge represented by printmaking for Winters is due to the close relationship between the demands inherent to the medium, and to the unexpected liberties it again and again offers. It is not only ... More





A rare Elizabeth I oak joint stool, circa 1580-1600





OXFORD.- A fascinating selection of early vernacular furniture and works of art is to go under the hammer at Bonhams Oxford, in 'The Oak Interior: including the Collection of Roger Rosewell FSA of Yelford Manor, Oxfordshire', on 21 January 2015. An impressive oak and marquetry inlaid tester bed, dating to the late 16th/early 17th century and estimated at £8,000-12,000, is a highlight of the sale, and comes from a 130-strong collection of pieces from Yelford Manor, former property of the medievalist and writer Roger Rosewell. Other items from Yelford Manor include: • A rare and impressive James I oak panel-back open armchair, Somerset, circa 1625, £6,000-8,000 • A James I oak and inlaid court cupboard, circa 1620 and later, £3,000-5,000 • A large, finely cast and important Commonwealth leaded bronze mortar, dated 1659, made for Francis Keble of Burford, Mercer by Edward Neale of Burford, £8,000-12,000 (one of six ... More





Rembrandt, Portrait of an Elderly Man, 1667. Oil on canvas, 81.9 x 67.7 cm. © Royal Picture Gallery Mauritshuis, The Hague (1118).





NEW YORK, NY.- Fathom Events, in association with Arts Alliance and Seventh Art Productions, is bringing five of the world's most acclaimed art exhibitions to select U.S. cinemas with "EXHIBITION ON SCREEN," kicking off on January 13, 2015. The first film is "Matisse from MoMA and Tate Modern" based on the critically acclaimed exhibition Henri Matisse: The Cut-Outs, now on view at The Museum of Modern Art in New York. These premiere cinema events, featuring Matisse, Van Gogh, Rembrandt, and many more, will take audiences on a virtual guided tour of the exhibitions and offer an opportunity to explore centuries of art history through high definition filmmaking. Screening in more than 300 movie theaters around the country, each film will allow audiences to experience exclusive interviews with art experts and historical figures, ... More
West House: The Home of Lady Soames
---
Flashback
On a day like today, French artist Paul César Helleu was born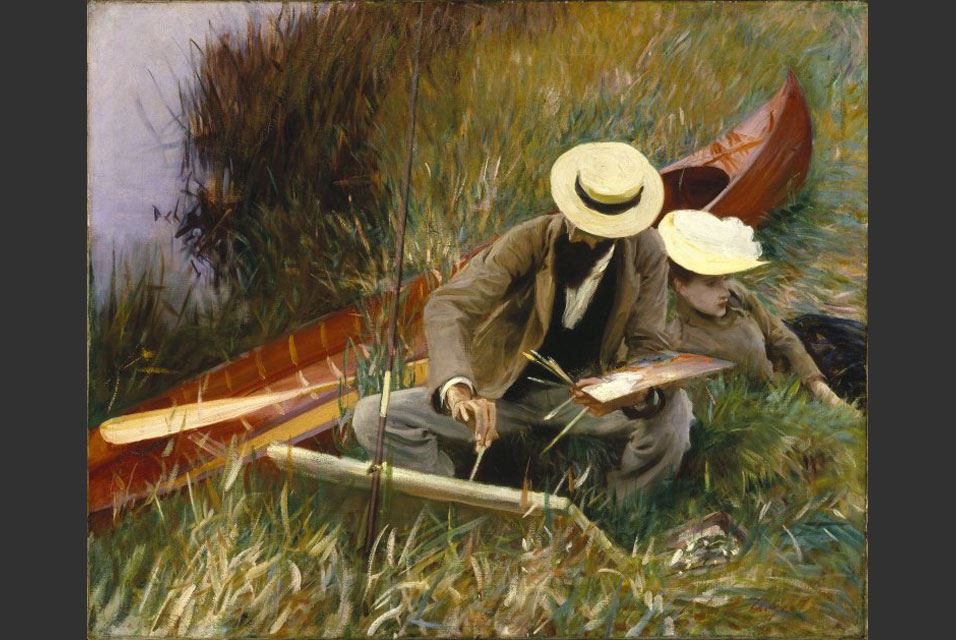 December 17, 1859. Paul César Helleu (17 December 1859 - 23 March 1927) was a French artist best known for his portraits of many of the most famous and beautiful women of his time including the Duchess of Marlborough, the Countess of Greffulhe, the Marchesa Casati and Belle da Costa Greene, librarian to J. P. Morgan and one of the sharpest and most powerful women buyers of her time. In this image: John Singer Sargent, Paul César Helleu sketching his wife Alice Guérin, 1889, The Brooklyn Museum, New York.
---

Museums, Exhibits, Artists, Milestones, Digital Art, Architecture, Photography,
Photographers, Special Photos, Special Reports, Featured Stories, Auctions, Art Fairs,
Anecdotes, Art Quiz, Education, Mythology, 3D Images, Last Week,
.
---
Royalville Communications, Inc
produces: