UK returns 3,000-year-old tablet looted during Iraq War
A gallery assistant poses with a Babylonian cuneiform kudurru (boundary stone) which was looted from Iraq on March 19, 2019 at the British museum in London. The kudurru which was seized at London's Heathrow airport in 2012 was handed over to representatives of the Iraq embassy today at the British museum. Tolga Akmen / AFP.

by James Pheby
LONDON
(AFP)
.-
A 3,000-year-old carved stone tablet from Babylonia, which promises a curse on those who would destroy it, is to be flown home from Britain after being looted during the Iraq War. British Museum boss Hartwig Fischer handed over the priceless work to Iraqi Ambassador Salih Husain Ali during a ceremony on Tuesday after museum experts had verified its provenance. "It is a very important piece of Iraq's cultural heritage," said Fischer, praising the "extraordinary and tireless work" of border officials. They spotted the object at London's Heathrow airport in 2012 and contacted the museum after being presented with fake documents. "They seized this item when they saw it at a British port and several years later, after a lot of legal work, we are able to effect this transfer," said Michael Ellis, Britain's Minister for Arts, Heritage and Tourism. "It's a very important and significant moment." ...
More
The Best Photos of the Day
HRH Duchess of Cambridge announced as Royal Patron of the Foundling Museum
Iraqi museum unveils 'looted' artefacts
Newly-discovered painting by Flemish Renaissance trailblazer Frans Floris unveiled at TEFAF Maastricht


Britain's Catherine, Duchess of Cambridge (L) reacts as she leaves after visiting the Foundling Museum, where young people are taught to use art in order to make a positive contribution to society, in central London on March 19, 2019. Niklas HALLE'N / AFP.



LONDON.- The Foundling Museum announced that Her Royal Highness The Duchess of Cambridge has become its Patron. This patronage recognises the Museum's unique work to transform the wellbeing and life chances of vulnerable children and young adults through creative collaboration with artists. Drawing on its landmark history, the Museum improves the skills, confidence and joy in life of young people at society's margins. The patronage is announced ahead of the Duchess' visit to the Foundling Museum later today, where she will learn more about the Museum's pioneering programmes, particularly its training programme for care-experienced young adults and creative projects with young psychiatric in-patients. The celebrated poet and Museum Trustee, Lemn Sissay MBE, has written and will recite a ... More



People visit one of the three newly opened galleries in southern Iraq's Basra museum, on March 19, 2019. Hussein FALEH / AFP.



BASRA (AFP).- Over 2,000 artefacts, including about 100 that were looted and found abroad, were unveiled Tuesday in a museum in Basra province on the southern tip of Iraq, authorities said. Basra is the most oil-rich province in Iraq but its heritage sites have long been neglected. On Tuesday between 2,000 and 2,500 pieces went on display in the Basra Museum, the second largest in Iraq, said Qahtan al-Obeid, head of archeology and heritage in the province. "They date from 6000 BC to 1500 AD," he told AFP, referring to the Assyrian, Babylonian and Sumerian periods. Obeid said about 100 artefacts -- most of which came from Jordan and the United States -- were given back to Iraq to be displayed in the museum, a former palace of deposed dictator Saddam Hussein. The heritage of Iraq, most of which was former Mesopotamia, has paid a heavy price due to the wars that have ravaged the country for nearly four decades. ... More



Frans Floris de Vriendt (called Floris, 1519/20-1570), Susanna and the Elders (detail). Photo: Carlo Orsi-Trinity Fine Art.



MAASTRICHT.- A large, newly-discovered and unpublished early work by the influential Antwerp painter, draftsman and etcher Frans Floris de Vriendt (called Floris, 1519/20-1570), who "radically transformed Netherlandish art" and was more renowned in his day than Bruegel the Elder, has been unveiled at TEFAF Maastricht 2019 by Carlo Orsi-Trinity Fine Art. This important painting depicting Susanna and the Elders forms the centrepiece of the gallery's stand. The work was completed shortly after Floris's return from a long visit to Italy, and it reveals the artist's careful study of Roman antiquities and the work of Italian Renaissance artists including Raphael. Floris was praised for his treatment of the nude, and in this substantial canvas, which shows the beautiful Susanna undressed and about to bathe, the artist displays a sensitivity to the handling of flesh which was exceptional in Netherlandish art at ... More
Exhibition is the first to focus solely on Motherwell's approach to large-format painting
Friedrich von Hayek's £1.1 million Nobel Prize sets online only auction record at Sotheby's
Sotheby's presents 150 years of photography in 5 April Photographs Sale in New York City


Robert Motherwell in his Provincetown studio, 1969, with Open No. 97: The Spanish House. © 2019 Dedalus Foundation, Inc. / Licensed by VAGA at Artists Rights Society (ARS), NY.



NEW YORK, NY.- Kasmin announces Sheer Presence: Monumental Paintings by Robert Motherwell, opening March 21, 2019, at the gallery's flagship space at 509 West 27th Street. This unprecedented exhibition will be the first to focus solely on Motherwell's approach to large-format painting and will be comprised of eight works spanning the 1960s - 1990, including a core group of paintings from the collection of The Dedalus Foundation. This will be the fourth exhibition on which Kasmin Gallery and The Dedalus Foundation have collaborated. As one of the most novel and confident mark-makers of the Abstract Expressionist era, Motherwell consistently turned to the monumental canvas to pursue his lifelong ambition of realizing "sheer presence, beingness, as such, objectivity and true invention" (R. Motherwell, quoted ... More



The Nobel Prize led Sotheby's 'White-Glove' online-only auction of 27 lots from Von Hayek's personal collection. Courtesy Sotheby's.



LONDON.- A new record for any item sold in an online-only sale at Sotheby's was set today when Friedrich von Hayek's Nobel Memorial Prize for Economic Science sold for £1.1 million / $1.5 million, almost triple its pre-sale low estimate (£400,000-600,000). The previous benchmark for the most valuable item ever sold in a Sotheby's online-only sale was $800,000, achieved the only complete archive of Supreme skate decks in private hands which sold to Vancouver Collector Carson Guo in January 2019. Von Hayek's Nobel Prize, awarded for "pioneering work in the theory of money and economic fluctuations", led Sotheby's online-only sale of 27 lots from his personal collection which together realised £2.04 million / $2.67 million, quadruple the pre-sale estimate (£445,000-670,000). The auction was a 'White Glove" sale, with each and every lot selling for many multiples of their high estimate ... More



El Lissitzky, Pelikan Tinte, 1924. 8¼ by 5¾ in. (21 by 14.6 cm.) Estimate: $300/500,000. Courtesy Sotheby's.



NEW YORK, NY.- Sotheby's spring auction of Photographs on 5 April in New York includes a fresh and wide-ranging selection of images from all decades, from 19th-century daguerreotypes to contemporary works by Mishka Henner, David Yarrow, Carrie Mae Weems and Hank Willis Thomas. Nearly 200 lots with estimates ranging from $1,000 to $500,000 will be on view in Sotheby's New York galleries beginning on 29 March. Anchoring the sale is an extremely rare print of Pelikan Tinte by El Lissitzky (estimate $300/500,000). Among the Russian-born artist's most famous works, Pelikan Tinte combines photogram and typography to stunning visual effect. The ghostly form of an ink bottle floats across the image with its stopper flying above. A fountain pen - its ink tank perhaps recently filled - is clearly delineated; its position is angled as if having just finished writing the word 'Pelikan' on its own. The bright, stenciled lettering ... More
Mike Nelson creates Tate Britain Commission 2019
Kestenbaum and Company announces highlights included in its Spring 2019 auction
Thomas Dane Gallery opens an exhibition of works by Cecily Brown


Installation view of The Asset Strippers at Tate Britain, 2019. Photo: Tate/Matt Greenwood.



LONDON.- Mike Nelson is the most recent artist to take on the Tate Britain Commission 2019. Unveiled on 18 March 2019, the annual commission invites artists to make a work in response to the unique architecture and history of the neo-classical Duveen Galleries at the heart of Tate Britain. Artists who have previously undertaken the Commission include Anthea Hamilton (2018), Cerith Wyn Evans (2017) and Pablo Bronstein (2016). The series builds on a long tradition of sculpture exhibitions in the prestigious Duveen Galleries, which has included memorable installations by Richard Long, Rebecca Horn, Richard Serra and Luciano Fabro. Mike Nelson constructs large-scale, site specific sculptural environments that often arise from a period of living and working in a particular location. His works fuse literary, filmic, socio-political and cultural references to create carefully orchestrated tableaux. For example, The Coral Reef 2000 (Tate Collection) ... More



All of the items have been thoroughly researched and expertly catalogued by a consultant, the Jerusalem-based scholar, Rabbi Dovid Kamenetsky.



NEW YORK, NY.- Kestenbaum and Company's Spring 2019 auction contains ten Hebrew incunabula and thirty-five important post-incunabula. Many are of distinguished provenance, stemming from such legendary collections as: Sassoon, Schocken, Mehlman, Gradenwitz, Adler- Wineman, Gaster, Valmadonna, Delmonico, London Beth Din, etc. Incunabula are Lot numbers: 31, 39, 55, 57, 59, 67, 72, 73, 79, 81. Upon instruction of the District High Court of Tel Aviv and following a break of eighteen months, Kestenbaum and Company continues their series of auctions from an entity that they have designated as "A Singular Collection." Included here are a further 25 exceptional Biblical and Rabbinic manuscripts, all of which have been thoroughly researched and expertly catalogued by a consultant, the Jerusalem-based scholar, Rabbi Dovid Kamenetsky. This auction also contains the second (and final) disbursement ... More



The Last Shipwreck, 2018 (detail). Oil on linen, 210.8 x 200.7 cm. 83 x 79 in.



NAPLES.- In We Didn't Mean to Go to Sea, the seventh book in Arthur Ransome's Swallows and Amazons series of children's books, an unexpected bank of fog flows across the river, leaving Goblin (the small sailing cutter) no option but to drift from the river into the North Sea. Narratively and aesthetically, fog marks a stage for improvisation, weighted by confusion and alarm. Such tensions coexist in Cecily Brown's first Naples exhibition, where paintings, pastels, and watercolours elaborate precisely on the significance of the "partial view", utilising the shipwreck as a socio-political, theatrical, and symbolic prism. As a painter of lush compositions, vibrant tones and sensual brushwork, Brown appears to echo the vivid history and vehemence of Naples, for her work and the city resonate with the same, rare ambiguity.Her paintings bridge the exalted and tumultuous styles of the French 'Romantiques', from Gericault's The Raft of the Medusa (1818-19)to Delacroix's The ... More
Strauss & Co shatters R100-million (£5.2 M) barrier with a 93% sale rate
Bonhams sale to include fine examples of 20th Century design and fine art
Soviet New Wave film-maker Khutsiev dies at 93


Irma Stern, The Mauve Sari. Estimate: R 13 000 000 - 17 000 000. Sold R 14 794 000. The Sol Munitz Collection.



CAPE TOWN.- A packed salesroom punctuated by enthusiastic applause acknowledged the fierce rivalry among collectors for top paintings, unseen in decades, at Strauss & Co's red-letter autumn sale. The sale culminated in a record-breaking tally of R106 million (£5.5M) in sales at a value sell-through rate of 93%. This performance is unrivalled in the marketplace. Irma Stern cemented her status as the most sought-after South African artist at auction when three paintings from her celebrated Zanzibar period (1939–45) sold for a combined value of R39 million (£2M). Adding to the buoyant mood was the sale of Alexis Preller's seminal cabinet painting Collected Images (Orchestration of Themes) for just over R10 million (£521,000), a new world record. Frank Kilbourn, Strauss & Co's chairman, said: "This the first-ever art auction in South Africa to achieve over R100 million in sales. The sell- ... More



Joseph Csaky (1888-1971) Figure Dite Aussi Cônes et Sphères, circa 1974, patinated bronze. Estimate: $40,000-50,000. Photo: Bonhams.



LOS ANGELES, CA.- Bonhams Los Angeles will present Modern Design | Art, an expertly curated sale featuring rare and important examples of 20th century decorative arts, paintings and sculpture to be held on April 24th at Bonhams Los Angeles showroom. Modern Design | Art is designed to appeal to both the Los Angeles and global collector and will be highlighted by superb pieces of furniture, decorative objects and art that showcase the Mexican Modernist design movement, many coming from the private collection of Los Angeles gallerist Robert Willson. Modern Design | Art was curated by Jason Stein, Director of Modern Decorative Art + Design at Bonhams Los Angeles incorporating the most fascinating design and fine art that underline how we live in today's modern environment. Several highlights include one of the largest collections of early American Bakelite radios; two dramatic Lalique cactus ... More



In this file photo taken on August 28, 2013 director Marlen Khutsiev attends the 'Venezia 70 Future Reloaded' on the first day of the 70th Venice Film Festival at Venice Lido. Renowned Soviet-era filmmaker Marlen Khutsiev, one of the country's most influential post-war directors, has died aged 93, the Russian Union of Cinematographers said on March 19, 2019. Tiziana FABI / AFP.



MOSCOW (AFP).- Renowned Soviet-era film-maker Marlen Khutsiev, one of the country's most influential post-war directors, has died aged 93, the Russian Union of Cinematographers said on Tuesday. A leading representative of the Soviet New Wave, "he lived a life full of drama and joy," spokeswoman Tatyana Nemchinskaya told AFP. The director's career spanned more than six decades and he worked into his 90s. President Vladimir Putin expressed condolences on the passing of the "distinguished" director, Kremlin spokesman Dmitry Peskov said. Georgian-born Khutsiev was famous for cult films in the mid 1950s and 1960s that captured the mood in Soviet society during Nikita Khrushchev's Thaw. ... More
Quote
The content of art is never its subject. Leo van Puyvelde
More News
---
Peter Finer @ TEFAF 2019 - A Wheel lock Musket from the Cabinet d'Armes of Louis XIII
---
Flashback
On a day like today, British painter Patrick Heron died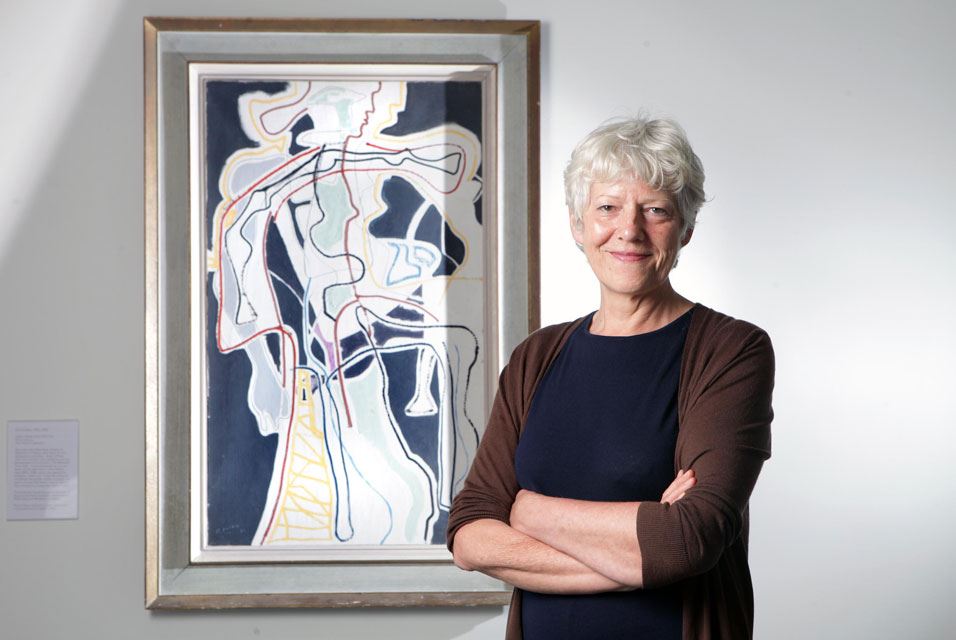 March 20, 1999. Patrick Heron CBE (30 January 1920 - 20 March 1999) was a British abstract and figurative artist, writer, and polemicist, who lived in Zennor, Cornwall. In this image: Patrick Heron's painting "Nude in Wicker"
---

Museums, Exhibits, Artists, Milestones, Digital Art, Architecture, Photography,
Photographers, Special Photos, Special Reports, Featured Stories, Auctions, Art Fairs,
Anecdotes, Art Quiz, Education, Mythology, 3D Images, Last Week,
.
Royalville Communications, Inc
produces:







Tell a Friend
Dear User, please complete the form below in order to recommend the Artdaily newsletter to someone you know.
Please complete all fields marked *.
Sending Mail

Sending Successful