Extremely rare Blue Period Picasso unveiling reveals hidden painting for first time
Picasso painted the stunning La Gommeuse (detail above) in 1901, emboldened by the success of his first exhibition in Paris. Photo: Sotheby's.
LONDON
.-
The finest Blue Period work by Pablo Picasso to come to auction in a generation and a seminal Waterlilies by Claude Monet will be offered in
Sotheby's
Evening Sale of Impressionist & Modern Art in New York on 5 November 2015. Both works are on offer from the remarkable collection of William I. Koch – American entrepreneur, collector and America's Cup winner. Picasso painted the stunning La Gommeuse in 1901, emboldened by the success of his first exhibition in Paris but reeling from his friend Carlos Casagemas's suicide. The work exemplifies the poignancy, introspection and sexual charge of this seminal moment in the history of Modernism (estimate upon request). Monet's exquisite Nymphéas, painted circa 1908, hails from the celebrated series depicting his lily pond at Giverny (estimate $30/50 million). The series dominated the artist's later years and is now ...
More
The Best Photos of the Day
Forgotten Whistler found in Dutch museum; Chemical analysis authenticates painting
Oldest-known fetal horse fossil is 48 million years old according to researchers
Christie's to offer a portrait of Lucian Freud's daughter Bella; On view in London during Frieze Week


Whistler's "Symphony in White. Girl in Muslin Dress".



THE HAGUE (AFP).- Forgotten for two decades, a dusty old canvas hidden in a corner of a small Dutch museum has been revealed as a painting by American artist James Whistler. "Thanks to chemical analysis and an examination of its origins, we have concluded that we have an authentic Whistler," museum curator Jan Rudolph de Lorm told AFP. The unsigned painting, called "Symphony in White. Girl in Muslin Dress," depicts a young girl with black hair dressed in a high-necked, ruffled white frock staring enigmatically straight out of the picture. The work was displayed in 1956 when the Singer museum in Laren, in the central Netherlands, opened its doors. But a specialist in the works of the 19th century American-born artist -- best known for his painting "Arrangement in Grey and Black No. 1" or "Whistler's Mother" -- cast doubts on the authenticity of the canvas and it was relegated to a store room. "I saw the picture in the depot and I just couldn't get her stare out of my mind," said Rudolph de Lorm. "A good ... More



Fetus in uteroplacenta © Senckenberg Research Institute Frankfurt, Germany.



WASHINGTON (AFP).- A 48-million-year-old fossil of a pregnant horse and fetus is the oldest of its kind known to science and contains unusually well-preserved evidence of tissue from the womb, researchers said Wednesday. The fossil was discovered in Germany in 2000, but the scientific analysis was only now completed and published in the open-access journal PLOS One. The animal was an early relative of the modern horse -- known as Eurohippus messelensis -- and would have been about the size of a small dog. The fetus is about five inches (12.5 centimeters) long and is mostly intact, except for a crushed skull. Scientists believe the mother may have died shortly before she was due to give birth, but that her death was not linked to her pregnancy. In addition to skeletal remains, researchers "found preserved soft tissue, like the uteroplacenta and one broad uterine ligament, which may represent the earliest fossil record of the uterine system of a placental ... More



Lucian Freud (1922-2011), Naked Portrait on a Red Sofa, 1989-91 (detail). Oil on canvas. 39. x 35.in. (99.5 x 90.7cm.) Estimate: $20,000,000-30,000,000. Photo: Christie's Images Ltd 2015.



LONDON.- Christie's announced the sale of Lucian Freud's, Naked Portrait on a Red Sofa, an intimate and poignant portrait of one of the artist's most personal subjects, his daughter Bella, which will be a centerpiece of the curated sale The Artist's Muse. Described by Bruce Bernard as 'a masterpiece of impulsive, speculative and judicious application of paint' and 'one of Freud's most audacious and sensitive works', the painting is the culmination of a major series of portraits of his daughters the artist painted in the 1980s. The upcoming sale this November marks the first time this portrait is appearing at auction. Carved out from layers of paint, her face sculpted by a rich impasto, Bella appears stretched across the now iconic red leather sofa, the setting for so many of his portraits and muses. Estimated $20,000,000-30,000,000, the painting will be presented in London from October 10 ... More
British artist Damien Hirst's Newport Street Gallery opens to share his diverse collection
Spain banker Jaime Botin accused of trying to smuggle Pablo Picasso painting
Etra Fine Art in the Wynwood Arts District presents Andrea Dasha Reich: The Fusion Series


Newport Street Gallery facade. ® Kioyar Ltd, Photo Prudence Cuming.



LONDON.- Newport Street Gallery opened this week (8th October) in Vauxhall, south London. The gallery is the realisation of Damien Hirst's long-term ambition to share his diverse collection – which includes over 3,000 works – with the public. Entry to the gallery is free. Inaugurating Newport Street Gallery is a major exhibition of work by John Hoyland (1934–2011), one of Britain's greatest abstract painters. 'Power Stations' presents 33 of Hoyland's large-scale paintings, dating from 1964 to 1982, drawn from Hirst's collection. Spanning a pivotal period in the artist's career, the works will be displayed throughout all six of the gallery's exhibition spaces until 3rd April 2016. Future exhibitions at Newport Street will vary between solo and group shows. Spanning five buildings, the gallery is situated close to the River Thames and a short walk ... More



Spanish Civil Guards unload a box containing Picasso's painting "Head of a Young Woman" at the Reina Sofia museum. AFP PHOTO / GERARD JULIEN.



MADRID (AFP).- Courts are prosecuting a prominent Spanish banker accused of trying to smuggle a 26 million-euro Picasso painting out of Spain on a yacht, sources said Friday. Jaime Botin, former head of Spanish lender Bankinter and a member of the family that founded giant lender Santander, has been trying to get the painting out of the country for months. French customs seized the work "Head of a Young Girl", worth the equivalent of about $30 million, on July 31 on board the yacht in Corsica. The Spanish state has taken possession of the painting and handed it to the Reina Sofia modern art museum in Madrid. Picasso painted it during his pre-Cubist phase in Gosol, Catalonia, in 1906. It was bought in London in 1977. A court in the affluent suburb of Pozuelo de Alarcon is investigating Botin, who ... More



Andrea Dasha Reich, Tess's Pardise Fusion, 2015. 30" x 38".



MIAMI, FLA.- The Fusion Series is an organic exploration of Reich's former paintings that have evolved into a new and exciting body of work, further defining the prolific nature of this artist. Inspiration drawn from the organic shapes, innate beauty, and magnificent power found in the elements of nature, helped Reich cultivate this new collection. Dedicated in staying true to her signature style, she has taken the DNA of her previous work and transformed it into something fresh, expressive and equally beautiful. The multiple layers are still evident along with the kaleidoscope of bold colors and expressive shapes – all magnified and enhanced by the use of a mixed media of paint, resin and resin pieces. One definition of fusion is "the process or result of joining two or more things together to form a single entity" – this description encompasses the very ... More
John Lennon fans mark 75th birthday with sing-in at Strawberry Fields in Central Park
'He's back': Hitler mockumentary by author Timur Vermes touches nerve in Germany
French justice system closes Louvre museum Israeli students discrimination case


Fans gather on the Imagine mosaic plaque in the Strawberry Fields section of Central Park, in New York, an area dedicated to the memory of John Lennon on October 9, 2015. New York joins several cities worldwide hosting events on Friday to commemorate what would have been John Lennon's 75th birthday. AFP PHOTO / TIMOTHY A. CLARY.



NEW YORK (AFP).- John Lennon fans on Friday marked what would have been the slain Beatle's 75th birthday with a sing-in of his greatest tunes in New York's Central Park. Accompanied by five guitars and a keyboard, fans sang some of Lennon's most identifiable songs including the anti-war anthem "Imagine" as well as "With a Little Help from my Friends" and "Working Class Hero." Fans who converged on an unusually warm autumn afternoon on Strawberry Fields, a corner of the park dedicated to Lennon, placed flowers, pictures and apples on a circular memorial inscribed with the word "Imagine." "I love The Beatles but John Lennon was always my favorite because of the love that he showed," said Cindy Sabo, from the southern US state of Mississippi. "I just have loved John ... More



German book writer Timur Vermes poses with his new book "Er ist wieder da" in his flat in Munich, southern Germany, on January 18, 2013. The film 'Er ist wieder da' (He's back) adapted from the Vermes' bestseller portrays Adolf Hitler waking up in contemporary Berlin.



BERLIN (AFP).- Imagine Hitler wakes up in today's Berlin, is mistaken for a hilarious impersonator of the Nazi leader and ends up a TV celebrity, widely cheered for voicing his demented worldview. That's the premise of "He's Back" ("Er ist wieder da"), a biting social satire by author Timur Vermes, the movie version of which premiered in German cinemas this week. In the bestselling what-if novel published three years ago, Hitler is baffled to find himself in a multicultural Germany led by a woman, Chancellor Angela Merkel. He discovers TV chefs, Wikipedia and the fact that Poland still exists before he ends up a small-screen star, in a social commentary on society, mass media and celebrity hype. The film, however, goes a step further and sprinkles the story with documentary-style scenes -- in the style of Sacha Baron Cohen's 2006 comedy "Borat" -- giving the screen version ... More



The Louvre had immediately defended itself against the accusation.



PARIS (AFP).- The French justice system on Friday closed an official investigation into allegations that the Louvre museum in Paris discriminated against Israeli students who wished to visit the world-famous museum, finding no proof to back the claim. The investigation was closed barring any new information, a judicial source confirmed. In June, François Heilbronn, president of the Association of "French friends of the University of Tel-Aviv," had expressed his suspicions about the way the Paris museum treated Jewish visitors. He made a formal complaint to the French judicial system. That month, a professor at the university had tried to make a group reservation for 12 art history students at the Louvre -- which receives nine million visitors per year -- and the Sainte-Chapelle chapel, an architectural marvel known for its 13th century Gothic style that sees one million visitors a year. His request was turned down. He later attempted to make similar reservations under fictitious non-Israeli names a ... More
Scottish National Gallery opens major exhibition devoted to the work of Arthur Melville
Georgia Museum of Art shows memorabilia that traces the history of early American concert bands
New Museum presents "Jim Shaw: The End is Here," First New York survey exhibition of the artist's work


Arthur Melville, The Sapphire Sea. Watercolour on paper, 120 x 80 cm. Private collection (On loan to the National Galleries of Scotland). Photo © private collection.



EDINBURGH.- A major exhibition devoted to the unique achievements of one of the most radical and exciting Scottish artists of the 19th century is to open at the Scottish National Gallery this autumn. Arthur Melville: Adventures in Colour will be the first museum survey of the artist's work for more than 35 years, and will bring together over 70 watercolours and oil paintings, including works that have not been seen in public for more than a century. Arthur Melville was one of the finest British watercolour painters of the Victorian – and indeed any – era. The audacity and drama of his compositions, his original, highly personal technique, and above all, his ability to evoke colour and light with the brilliance of stained-glass, mark him out as a painter of outstanding talent. This comprehensive ... More



Ophicleide, circa 1840-1850. David, Paris. 45 inches tall. Collection of George Foreman.



ATHENS, GA.- This October, the Georgia Museum of Art at the University of Georgia will present the exhibition "Before the March King: 19th-Century American Bands," a collection of items that trace the history of early American concert bands from their inception in the 1830s until their decline at the turn of the 20th century. The exhibition takes its name from the nickname of bandleader John Philip Sousa, known as "the March King," who is best known for composing "The Stars and Stripes Forever." Although many people believe Sousa is the whole story of 19th-century American band music, he had both predecessors and followers. The "Golden Age" of American bands began after the American Civil War and continued until the turn of the century. The bands of this era provided one of the most popular forms of entertainment, often touring the country and drawing great crowds ... More



Jim Shaw, Untitled (Distorted Faces series), 1979. Graphite, airbrush, and Prismacolor on paper, 14 x 11 in (35.6 x 27.9 cm). Collection the artist.



NEW YORK, NY.- The New Museum is presenting the first New York survey exhibition of the work of Jim Shaw (b. 1952). Over the past thirty years, Shaw has become one of the United States' most influential and visionary artists, moving between painting, sculpture, and drawing, with works that build connections between his own psyche and America's larger political, social, and spiritual histories. Shaw mines his imagery from the cultural refuse of the twentieth century, using comic books, record covers, conspiracy magazines, and obscure religious iconography to produce a portrait of the nation's subconscious. Although a recognized icon of the Los Angeles art scene since the 1970s, Shaw has never had a comprehensive museum show in New York. This exhibition, which encompasses three floors of the New Museum, reveals ... More
Quote
The reason for my painting large canvases is that I want to be intimate and human. Mark Rothko
---
A Few Things About Robert Irwin
---
Flashback
On a day like today, French painter Jean-Antoine Watteau was baptised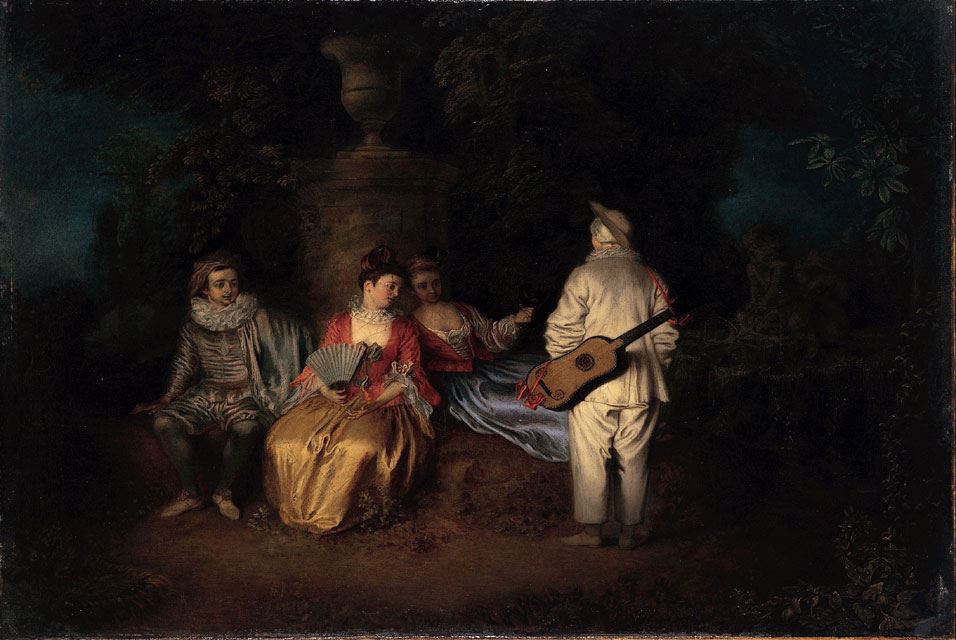 August 10, 1684. Jean-Antoine Watteau (baptised October 10, 1684 - died July 18, 1721), better known as Antoine Watteau, was a French painter whose brief career spurred the revival of interest in colour and movement, as seen in the tradition of Correggio and Rubens. He revitalized the waning Baroque style, shifting it to the less severe, more naturalistic, less formally classical, Rococo. Watteau is credited with inventing the genre of fêtes galantes, scenes of bucolic and idyllic charm, suffused with a theatrical air. Some of his best known subjects were drawn from the world of Italian comedy and ballet. In this image: Jean-Antoine Watteau (French, 1684 - 1721), The Foursome (La Partie quarrée), ca. 1714. Oil on canvas, 19 ½ x 24 ¾ in. (49.5 x 62.9 cm) Fine Arts Museums of San Francisco, Museum Purchase, Mildred Anna Williams Collection (1977.8)
---

Museums, Exhibits, Artists, Milestones, Digital Art, Architecture, Photography,
Photographers, Special Photos, Special Reports, Featured Stories, Auctions, Art Fairs,
Anecdotes, Art Quiz, Education, Mythology, 3D Images, Last Week,
.
Royalville Communications, Inc
produces: