Final show in France for looted Benin treasures
In this file photo taken on September 10, 2021 a royal seat of the 'Royal treasures of Abomey kingdom' (Œuvres des tresors royaux d'Abomey) is displayed at the Musee du quai Branly in Paris, part of 26 artworks set to be restituted to Benin later in the year. the Quai Branly museum in Paris, exhibited, on October 29, 2021 over a dozen colonial-era treasures taken from Benin, the last time they will be shown in France before being handed back in a landmark gesture. Christophe ARCHAMBAULT / AFP.

by Sandra Biffot-Lacut and Clare Byrne
PARIS
.-
A Paris museum on Tuesday exhibited over a dozen colonial-era treasures taken from Benin, the last time they will be shown in France before being handed back in a landmark gesture. The 26 pieces, from a trove of objects snatched by French forces in 1892, are being shown for just six days at the Quai Branly museum before being shipped to the West African country later this month. The decision to return them follows growing calls in Africa for European countries to return the colonial spoils from museums. The move is part of a drive by French President Emmanuel Macron to improve his country's image in Africa, especially among young people. The treasures are from the kingdom of Dahomey in the south of present-day Benin and include the throne of Dahomey's last king, Behanzin, as well as three totemic statues, four palace doors, several portable altars and three warrior dance staffs. Macron will visit the exhibition Wednesday afternoon. ...
More
The Best Photos of the Day
The Snite Museum of Art receives long-term loans of Spanish Colonial art
Dutch court rules Crimean treasures must go to Ukraine
National Museum of Women in the Arts lends collection highlights to National Gallery of Art


Gregorio Vásquez de Arce y Ceballos, Allegory of the Eucharist with the Virgin Mary and Saints, c. 1670s, Oil on canvas. Courtesy of the Carl & Marilynn Thoma Art Foundation. (photo: Jamie Stukenberg).



NOTRE DAME, IN.- The Snite Museum of Art installed recent loans from the internationally renowned Carl & Marilynn Thoma Art Foundation. Three paintings dating from the seventeenth and eighteenth centuries, drawn from the Foundation's extraordinary holdings, complement the Museum's existing collection of Spanish Colonial works to expand our understanding of the period. This new loan follows an earlier one from the Thoma Foundation of thirteen works that were shown in the 2020 exhibition Divine Illusions: Statue Paintings from Spanish Colonial Peru, organized by Professor Michael Schreffler of the University of Notre Dame's Department of Art, Art History & Design. In 2023 When the new Raclin Murphy Museum of Art debuts in 2023, the University will receive five different works from the Foundation to replace the three currently exhibited. Those loans are slated to extend through 2026. "The Thoma family have become very good, t ... More



The treasures have until now been kept in "safe storage" at the Allard Pierson museum, which is the archaeological museum of the University of Amsterdam.



AMSTERDAM.- Dutch appeals judges on Tuesday ruled that a priceless collection of Crimean gold "must be handed over to Ukraine," in a decision welcomed by Kiev but criticised by Russia. The pieces, dubbed "Scythian Gold" and loaned to the Allard Pierson Museum in Amsterdam just before Moscow annexed Crimea in 2014, have been subject to legal wrangling since four museums on the peninsula launched a joint challenge seven years ago to have them returned. In 2016, a lower Dutch court ruled that the treasures were part of Ukraine's cultural heritage and must be returned to Kiev -- not to the museums who launched the petition -- on the grounds that Crimea was not considered a sovereign state. The Crimean museums appealed the judgement. But on Tuesday, the Dutch court of appeal ruled that the gold should be held by Ukraine "pending stabilisation in the Crimea." On Tuesday, the lawyer for the Crimea museums ... More



Amy Sherald, They Call Me Redbone but I'd Rather Be Strawberry Shortcake, 2009, oil on canvas, National Museum of Women in the Arts, Gift of Steven Scott, Baltimore, in honor of the artist and the 25th Anniversary of NMWA, © Amy Sherald; Photo by Lee Stalsworth.



WASHINGTON, DC.- While the National Museum of Women in the Arts undergoes a comprehensive renovation to its historic building, 11 highlights from its collection will be loaned to the National Gallery of Art. Works by women artists including Lavinia Fontana, Eva Hesse, Frida Kahlo, Clara Peeters, and Amy Sherald have been installed throughout the National Gallery's iconic East and West Buildings. These special installations position NMWA's paintings and sculpture in conversation with works from the National Gallery's own permanent collection. "The National Museum of Women in the Arts' mission to champion women artists never stops. We're offering great virtual and off-site programming while our building is closed, and we're delighted that our partners at the National Gallery of Art are exhibiting NMWA collection works to share that inimitable in-gallery experience ... More
Dayton Art Institute promotes Elaine Gounaris to Interim Development Director
Works in marble lead the way in the auction of part 1 of the John Nelson Collection
The Studio Museum in Harlem marks milestone in construction of its new home


Prior to her time at the Dayton Art Institute, Gounaris was both the Campaign & Corporate Giving Manager and then promoted to Senior Development Officer at the Wexner Center for the Arts in Columbus.



DAYTON, OH.- The Dayton Art Institute has announced the promotion of Elaine Gounaris to Interim Development Director for the museum. Gounaris served as the DAI's Sponsorship & Special Events Manager for the past eight years. As Sponsorship & Special Events Manager, Gounaris has been the chief fundraiser for the museum's three signature events–Bourbon & Bubbles, Art Ball and Oktoberfest–and helped raise more than $1.9 million in sponsorships for those events. She has also overseen the event management for both Art Ball and Oktoberfest, as well as helping develop and launch the popular Bourbon & Bubbles event, which sold out each of its first three years. During her time at the DAI, Gounaris also helped create at-home fundraising events during the pandemic, including one to take the place of a traditional Oktoberfest in 2020 ... More



18th or 19th century Italian white marble torso of a youth ($35,000).



LOS ANGELES, CA.- Works in marble achieved marvelous results in Andrew Jones Auctions' October 24th auction of The John Nelson Collection, Part I, which more than doubled its presale estimate to realize $1.6 million. Leading the sale were two magnificent life-size Italian Carrara marble models of dogs, both from the19th century, that brought $62,500. All prices quoted in this report are inclusive of the buyer's premium. An Italian marble torso of a youth, circa 18th/19th century, achieved $35,000, while a pair of Roman marble lion head reliefs made $23,750 against an estimate of $2,000-3,000. Asian items featured a beautiful set of four Chinese hand painted wallpaper panels of birds amidst flowering branches ($12,500); and a Southeast Asian verdigris mixed alloy bust of the Buddha ($15,000). "I am beyond elated that the sale performed as fantastically as it did," said Andrew Jones, the president and CEO of Andrew Jones ... More



Taking its cues from the brownstones, churches, and bustling sidewalks of Harlem, David Adjaye's design provides the Studio Museum with a dynamic sculptural facade that contrasts strongly with the surrounding commercial buildings.



NEW YORK, NY.- The Studio Museum in Harlem, the preeminent institution dedicated to artists of African descent, today joined with civic leaders, trustees, artists, friends, patrons, and members of its vibrant community for Creating Space, a ceremony marking the next phase in the construction of the Museum's new home on West 125th Street. New York's Lieutenant Governor Brian Benjamin and New York City Mayor Bill de Blasio and First Lady Chirlane McCray joined Studio Museum Director and Chief Curator Thelma Golden, Sir David Adjaye (architect of the museum's new home, with Cooper Robertson), and artists Theaster Gates and Yaw Agyeman for the celebratory event, held on the plaza of the Adam Clayton Powell Jr. State Office Building, directly across 125th Street from the site where the new Studio Museum will rise. ... More
New arts complex aims to build community in Detroit
Christie's to offer The Collection of Dr. Thomas Chua including Design, Tiffany, Impressionist and Modern Art
Damascus bookshops disappear as crisis hits culture


McArthur Binion, an abstract painter, at Lehmann Maupin in New York on Jan. 17, 2019. Daniel Dorsa/The New York Times.

by Hilarie M. Sheets



DETROIT, MICH.- "If we knew how the gallery world worked, I don't know that we would have jumped into it," said JJ Curis, who, with her husband, Anthony Curis, founded an art gallery, the Library Street Collective, in 2012, in a once-derelict alleyway. But she feels their naïveté going into that first venture may have allowed them to conduct future business with an unconventional mindset. Now, hoping to contribute to the city's artistic renaissance, the Curises have bought and restored the Good Shepherd Catholic Church and rectory from 1912 and are self-funding the redevelopment of the structures and surrounding land into a new cultural arts complex. Expected to open in spring 2023, the Shepherd, as it is now called, is conceived as a hybrid of a commercial gallery space, institution and community center. While the rapid redevelopment of downtown Detroit during the past decade has led ... More



Gallé, Important and rare 'Wisteria' table lamp, circa 1920. Cameo glass, gilt bronze mounts, 30½ in. high; 20 in. diameter of shade. Estimate: $100,000-150,000. © Christie's Images Ltd 2021.



NEW YORK, NY.- Christie's presents Hidden Gems: The Collection of Dr. Thomas Chua to be sold across sales of Design, Jewels, and Impressionist and Modern Art. Dr. Thomas Chua established himself as a highly successful Medical Doctor who was deeply admired by his patients. As a devoted collector, Dr. Chua made time to develop his connoisseurship and curious eye for art. Dr. Chua aligned himself with a long history of Chicago-area collectors who were drawn to innovative examples of creative expression. Hidden Gems: The Collection of Dr. Thomas Chua illustrates the extraordinary vision of a collector who focused on the ethereal in nature, led by significant works of Design and Tiffany, to be sold in a series of live sales in December 2021 at Christie's New York. Captured in the medium of glass, Hidden Gems explores the luminous and sculptural effects of the medium, from historic exhibition pieces by Emilé Gallé ... More



Muhammad Salem al-Nouri, 71, blows dust off a book at the Dar al-Maarifa library, which was forced to close in 2000 because of poor sales and growing costs, in the Syrian capital Damascus on October 12, 2021. LOUAI BESHARA / AFP.

by Maher al-Mounes



DAMASCUS.- The Damascus bookshops and publishing houses that once stood as beacons of Syria's intellectual life are being replaced with shoe shops and money changers, as culture falls casualty to crisis. Syria is home to some of the Arab world's literary giants, and Damascus boasted an abundance of busy bookshops and publishing houses printing and distributing original and translated works. But the city's literary flare has faded. A decade-old civil war, a chronic economic crisis and a creative brain drain that has deprived Syria of some of its best writers and many of their readers, have compounded worldwide problems facing the industry, such as the growing popularity of e-books. "People can't afford to read and bookstores can't cover the expenses of staying open," said ... More
Tiancheng International announces highlights included in the Jewellery and Jadeite Autumn Auction
David Richard Gallery opens an exhibition of works by Sonia Gechtoff
Albanian artist offers 'therapy' with portraits painted in coffee


Very fine pair of jadeite and lavender jadeite bangles.



HONG KONG.- Tiancheng International's Jewellery and Jadeite Autumn Auction will be held on 26 November, offering a dazzling array of natural jadeite, coloured gemstones, precious diamonds, and distinctive pieces from prestigious jewellers and designers. Leading the sale is a pair of natural jadeite and lavender jadeite bangles that is of exceeding rarity. Also gracing the auction are coveted gemstones hailing from fabled mines, including an 18.18-carat natural unheated "pigeon's blood" ruby ring from Mogok, Burma and a 13.56-carat natural untreated Colombian Muzo emerald ring. Garnering a wide spectrum of treasures, the sale is set to be no doubt one to look out for. Connie Huang, Managing Director and Head of Jewellery Department of Tiancheng International, remarks, "Tiancheng International has always been sparing no effort in sourcing one-of-a-kind pieces for jewellery aficionados. This season, we are thr ... More



Installation View: Sonia Gechtoff, The 1960s In New York: A Series of Transitions. All Artwork Copyright © Sonia Gechtoff Estate, Courtesy David Richard Gallery.



NEW YORK, NY.- David Richard Gallery presents Sonia Gechtoff (1926-2018), The 1960s In New York: A Series of Transitions, an exhibition that looks critically into this pivotal and transformative period following the artist's move from San Francisco in 1958. Like the preceding decade, during the mid-1950s with Gectoff's arrival in the Bay Area, the 60s were full of change and experimentation in New York. This presentation maps several such transitions, including: changes in Gechtoff's painting medium and method of application; experimenting with collage and lithography; but most profound, the notable change of the imagery in her drawings and paintings. The presentation will include paintings and drawings, the mainstay of Gechtoff's repertoire from the 1950s and 60s. Both media share strong relationships to one another ... More



Painter David Kryemadhi chats with girls as he paints a portrait of one of them, in coffee in Durres, western Albania, on October 15, 2021. Gent SHKULLAKU / AFP.



DURRËS.- Albanian artist David Kryemadhi douses his brush with coffee and carefully sketches the face of a cafe customer, hoping the offer of a free portrait will bring cheer amid the anxiety of the pandemic. Many Albanians regard cafes as a vital institution and punctuate most days with caffeinated outings -- the country of 2.8 million reputedly has one of the highest numbers of cafes in the world per head of population. "Art and coffee help a lot of people," Kryemadhi told AFP in the seaside city of Durres. "The moment of calm and reflection while painting a portrait helps the other person gain self-confidence and see the world with a positive synergy, a more open eye." Kryemadhi uses coffee like watercolour paints, composing portraits with a rich, brown patina -- adding water to create different shades. In the cafes of Albania, he has found a natural ... More
Quote
Paint the essential character of things. Camille Pissarro
---
Forever De Young: A Judy Chicago Performance
---

Flashback
On a day like today, American painter Lee Krasner was born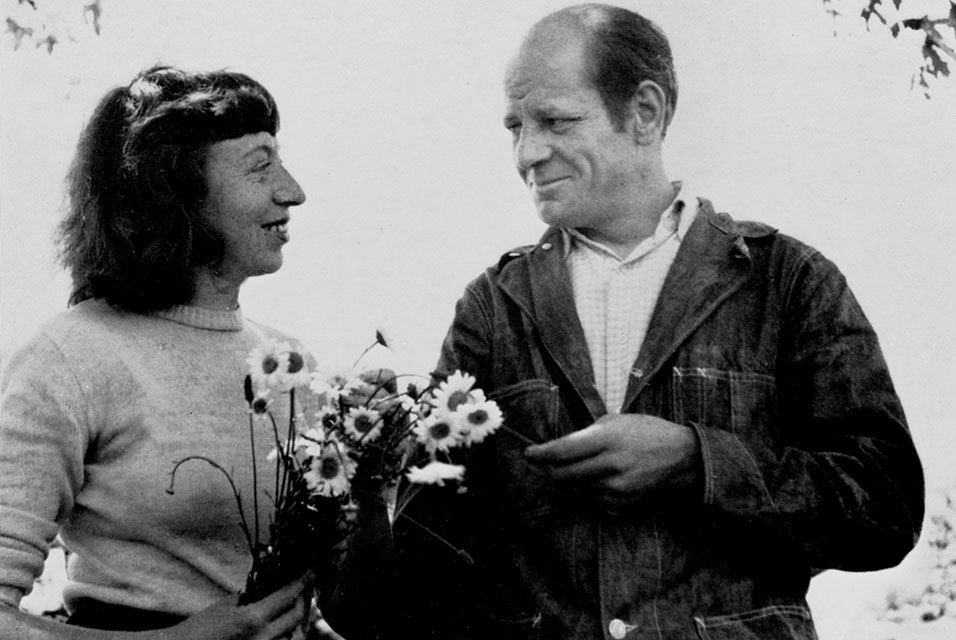 October 27, 1908. Lee Krasner (October 27, 1908 - June 19, 1984) was an influential American abstract expressionist painter in the second half of the 20th century. On October 25, 1945, she married artist Jackson Pollock, who was also influential in the abstract expressionism movement. In this 1949 photo provided by the Pollock-Krasner House and Study Center, artists Lee Krasner and Jackson Pollock are shown in their garden at their East Hampton, N.Y., home.
---

Museums, Exhibits, Artists, Milestones, Digital Art, Architecture, Photography,
Photographers, Special Photos, Special Reports, Featured Stories, Auctions, Art Fairs,
Anecdotes, Art Quiz, Education, Mythology, 3D Images, Last Week,

.
Royalville Communications, Inc
produces: