Exhibition reveals evidence of the last battle for Jerusalem from 2,000 years ago
Moran Hgabi, from the Israel Antiquities Authority and the Nature and Parks Authority, shows artefacts found at the 2,000 year old "Second Temple Period Street" discovered in the David City located in the Palestinian neighbourhood of Silwan, outside the southern part of Jerusalem's Old City, on May 25, 2017. Israel Antiquities Authority and the Nature and Parks Authority are unveiling evidence from 2,000 year ago of the battle of Jerusalem following the destruction of the Second Temple, at the City of David in the Jerusalem Walls National Park. MENAHEM KAHANA / AFP
JERUSALEM
.-
On the occasion of Jerusalem Day and the jubilee celebrations commemorating the reunification of the city, the
Israel Antiquities Authority
and the Nature and Parks Authority are unveiling evidence from 2,000 year ago of the battle of Jerusalem on the eve of the destruction of the Second Temple, at the City of David in the Jerusalem Walls National Park. Arrowheads and stone ballista balls were discovered on the main street that ascended from the city's gates and the Pool of Siloam to the Temple, which was excavated in recent years with funding provided by the City of David Society (Elad). These finds tell the story of the last battle between the Roman forces and the Jewish rebels who had barricaded themselves in the city, a battle that resulted in the destruction of Jerusalem. This battle is described by the historian Flavius Josephus: "On the following day the Romans, having routed the brigands from the town, set the who ...
More
The Best Photos of the Day
Burne-Jones, Bacon, Freud, Jonas, Albers, Schiele and Léger join Picasso and Heron as Tate highlights in 2018
Christie's sale of Latin American art totals $19.1 million
United States returns stolen artifacts to Italy


The new Tate Modern © Hayes Davidson and Herzog & de Meuron.



LONDON.- Tate today announced the forthcoming highlights of its 2018 programme across all four galleries which include exhibitions of work by ground-breaking figures in painting, performance, textiles, film and photography. A retrospective of the Pre-Raphaelite Edward Burne-Jones and a major show of figurative painting by, among others, Francis Bacon, Lucian Freud, R.B. Kitaj and Paula Rego, will be presented at Tate Britain. Joining Picasso at Tate Modern will be the work of two pioneering women: leading performance and video artist Joan Jonas, and one of the world's most important exponents of textiles in art, Anni Albers. Two further giants of the 20th century will go on display at Tate Liverpool as part of the gallery's 30th anniversary celebrations: Egon Schiele and Fernand Léger. In St Ives, the newly-opened spaces will be filled with work by Patrick Heron and a group show of women artists explored through the lens of the life ... More



Fernando Botero, Woman with an Umbrella and Man with a Cane Bronze. Executed circa 1977. $1,500,000-2,500,000 Price Realized: $1,807,500. © Christie's Images Limited 2017.



NEW YORK, NY.- The top lot of the sale was Francisco Zúńiga (1912-1998), Grupo de cuatro mujeres de pie from The Tuttleman Collection, which sold for $3,127,500, more than doubling its low estimate. Strong results were achieved for private collections including The Tuttleman Collection, which totaled $5,898,000, with all but one lot sold. Exceptional prices were realized for works by Claudio Bravo (1936-2011), with all works offered sold, totaling $1,420,000, and Fernando Botero (B. 1932), with all but one lot offered sold totaling $6,215,500. Notable results included Fernando Botero (b. 1932), Woman with an Umbrella and Man with a Cane, which realized $1,807,500 and Carmen Herrera (B. 1915), Verticals, which realized $751,500, more than doubling its low estimate. There were five world auction records set for artists including Nicolás García Uriburu, ... More



A Greek bronze Herakles holding the horn of Achelous, dating to the 3rd or 4th century B.C., and valued at $12,500.



NEW YORK (AFP).- The United States on Thursday returned to Italy stolen artifacts worth at least $90,000, dating back as far as the 8th century BC but looted and trafficked overseas, officials said. The items include a Sardinian bronze ox and Sardinian bronze warrior from the 8th century BC, a Greek bronze Heracles from the 3rd or 4th century BC and a 4th-century BC drinking cup depicting two goats butting heads. There was also a wine jug decorated with rams and panthers dated 650 BC, a 340 BC oil flask depicting a man holding a plate of fruit and a similar flask decorated with a man holding a lyre, dating back to 430 BC. Six of the items were seized from a Manhattan gallery in April as part of an ongoing investigation into international antiquities trafficking. The seventh object was seized from a different gallery in another part of Midtown Manhattan, US officials said. The antiquities were stolen in the 1990s from ... More
Margate's Turner Contemporary to host Turner Prize 2019
Barnebys.com Design Report: Vintage furniture in demand despite rising prices, good values abound
Hermann Historica spring sale is one of the most successful in the company's history


In 2019 the Turner Prize will be presented at Turner Contemporary.



MARGATE.- It was announced today that the host venue for Turner Prize 2019 will be Turner Contemporary in Margate. One of the best known prizes for the visual arts in the world, the Turner Prize aims to promote public debate around new developments in contemporary British art. Every other year, the prize leaves Tate Britain and is presented at a venue outside London. In 2019 it will be presented at Turner Contemporary which, since opening in 2011, has had a catalytic effect on social and cultural regeneration in Kent, and has established an international reputation. Victoria Pomery OBE, Director of Turner Contemporary said: 'We are thrilled to host the Turner Prize here at Turner Contemporary in 2019. This is a truly transformative opportunity for Margate to be part of something which invites conversations on an international scale, connecting our audiences to ... More



'Bibliotheque Maison du Mexique', by Charlotte Perriand, 1953. Sotheby's Paris. Design 22 November 2016. Estimate: $55,475 - $77,668 Sold for: $314,557.



NEW YORK, NY.- Furniture design is hot. A new Online Auction Report from Barnebys, the leading search service for arts, antiques and collectibles, explains how vintage furniture now rivals art as a collectible investment, no matter what the price range. What is shaping new interest in the market? "Buying design at auction is growing in popularity among interior designers and collectors, as well as in the mass market," says Pontus Silfverstolpe, co-founder of Barnebys, an international online service that helps people search for, compare and buy items from dealers and auction houses around the world. "Whether it is about finding vintage pieces at affordable prices or a one-of-a-kind item, interest has never been greater." Silfverstolpe points to five key trends in the vintage furniture design market: Elevating design - With budding interest from a ... More



A marble portrait of Emperor Hadrian (reigned from 117 - 138 A.D.). Sold for: 75000 Euros. © Hermann Historica oHG 2017.



MUNICH.- All specialist areas represented by Hermann Historica – antiquities, arms and armour, works of art, hunting antiques, orders and collectibles from all fields of history and military history – reported excellent results, with some lots fetching many multiples of their estimated price. A total of approximately 6,000 collectors' items came under the hammer at the Spring Auction from 24 April to 6 May 2017. One of the highlights of the antiquities catalogue was an expressive marble portrait of Emperor Hadrian (who reigned between 117 – 138 A.D.). Crafted during the early years of his reign, the larger-than-life portrait revealed a slight inclination of the head towards the left, as is characteristic of most busts of Hadrian. Equally typical was the arrangement of the magnificent head of hair, with the wavy locks combed forward onto the forehead, ... More
New-York Historical Society explores artists' responses to World War I
Howard Greenberg Gallery opens exhibition of photographs by Leslie Gill and Frances McLaughlin-Gill
May Fine Art Sales at Leslie Hindman Auctioneers realize over 4.6 million


Childe Hassam (1859–1935), The Fourth of July, 1916 (The Greatest Display of the American Flag Ever Seen in New York, Climax of the Preparedness Parade in May), 1916. Oil on canvas, 36 x 26 1/8 in. Photography, Glenn Castellano. Courtesy of New-York Historical Society.



NEW YORK, NY.- To honor the centennial of America's involvement in World War I, the New-York Historical Society presents a special exhibition examining this monumental event through the eyes of American artists. On view May 26 through September 3, 2017, World War I Beyond the Trenches explores how artists across generations, aesthetic sensibilities, and the political spectrum used their work to depict, memorialize, promote, or oppose the divisive conflict. Featuring more than 55 artworks from the recent exhibition World War I and American Art organized by the Pennsylvania Academy of the Fine Arts, the exhibition includes John Singer Sargent's masterpiece Gassed, which has never traveled to New York before; Childe Hassam's The Fourth of July, 1916, a recent gift from Chairman Emeritus Richard Gilder; and powerful works by George ... More



Frances McLaughlin-Gill, Untitled (Lisa Fonssagrives-Penn),c.1950s. Gelatin silver print; printed c.1950s, 10 7/8 x 10 inches. © Leslie Gill. Courtesy Howard Greenberg Gallery.



NEW YORK, NY.- Photographs by Leslie Gill and Frances McLaughlin-Gill are on view together for the first time at Howard Greenberg Gallery from May 25 – July 7, 2017. The Gills shared a passion for photography at the intersection of fashion, design, and fine art in the 1940s and 1950s. With a circle of famous friends and colleagues, they led glamorous careers in the rarified worlds of Condé Nast and Hearst. The exhibition presents images by Leslie Gill who was active from 1935-1957 and Frances McLaughlin-Gill who produced work from 1943-1993, as well as work by their close contemporaries Erwin Blumenfeld, Louise Dahl-Wolfe, Paul Outerbridge, Gordon Parks, Norman Parkinson, Irving Penn, and Man Ray. Lives & Still Lives: Leslie Gill, Frances McLaughlin-Gill, and Their Circle is curated by Elisabeth Biondi, an independent curator and former Visuals Editor for The New Yorker. When they married in 1948 in New York ... More



From a Missouri estate, Henri Le Sidaner's Vieilles maisons ŕ Chartres, 1921, estimated at $200,000 ­ 400,000 realized $413,000 and sold to a buyer in London.



CHICAGO, IL.- Leslie Hindman Auctioneers' May fine art sales featured highlights from numerous estates, which included three of the top selling lots by Rosemarie Trockel, Henri Le Sidaner and Thomas Hart Benton. The May 23 and 24 Post War and Contemporary Art, Fine Prints and American and European Art auctions realized over 4.6 million with nearly 25% of lots sold selling above high estimates. Top selling lots in the May 24 American and European Art auction agreed with the current uptick the Impressionist and Modern market has shown so far in 2017. Offered from an estate in St. Louis, Missouri was a Thomas Hart Benton still life from 1962 with a presale estimate of $100,000 ­ 200,000. With numerous bidders participating via phone, three bidders emerged who actively bid until the painting sold for $455,000. The winning bidder was from the Midwest, competing against bidders in California and New York. "Since the Benton still ... More
Christie's New York to offer fine wines and spirits featuring historic cognacs
Freeman's announces highlights from its Sale of American Art & Pennsylvania Impressionists
Taryn Simon's first exhibition in Hong Kong opens at Gagosian


Comandon & Co Reserve 1828 1 bottle per lot. Estimate: $4,500-5,500. © Christie's Images Limited 2017.



NEW YORK, NY.- Christie's New York Wine Department announces Finest Wines and Spirits, Featuring Historic Cognacs from the Collection of Graycliff Hotel & Restaurant. Following the Finest and Rarest Wines: A Journey Through the Vinkelläre of Staffan Hansson Single-Owner Live Auction on June 22nd, Christie's is delighted to further present a sale of Finest Wines and Spirits on June 23rd, which includes many exceptional collections including an offering of rare, historic wines and spirits from the world-renowned cellars of Graycliff Hotel and Restaurant. The highly sought-after cellar and spirits collection at Graycliff has been built by Enrico Garzaroli, during the course of half a century, with a cellar holding close to 250,000 bottles. Highlights from the cellar featured in this sale include mature Bordeaux, rare Burgundy from Joseph Drouhin, fine Italian wines from ... More



George William Sotter, Carversville at Night. Estimate: $70,000-100,000.



PHILADELPHIA, PA.- Freeman's June 4 American Art & Pennsylvania Impressionists sale features historically significant works from a number of highly regarded American artists. Freeman's is the only auction house with a specialty category in Pennsylvania Impressionism; as such, the well-curated group of important works by influential artists in this collecting genre should garner considerable attention. Perhaps one of the most significant pieces in the sale is "Lone Sycamore" (Lot 64) by leading Pennsylvania Impressionist, Daniel Garber. "Lone Sycamore" —one of four works in the sale by Garber— comes fresh to auction from a private Pennsylvania collection; it carries a pre-sale estimate of $400,000-600,000. The last in a series by Garber depicting the same tree, "Lone Sycamore" was exhibited at the Pennsylvania Academy of Fine Art in 1945, where it received the show's Popular Prize; it was ... More



Taryn Simon, Plastic guns with green BBs, Pocket Nine (illegal), 2010. Archival inkjet print © Taryn Simon. Courtesy Gagosian.



HONG KONG.- Gagosian is presenting "Portraits and Surrogates," Taryn Simon's first exhibition in Hong Kong. Simon draws from three key bodies of recent work, as well as a video self-portrait made in collaboration with a Russian news program, to examine the reciprocity between portraits and their surrogates. The technical, physical, and aesthetic realization of Simon's projects often reflects the control and authority that form the grist of her work. Simon is a multidisciplinary conceptual artist whose work has been the subject of many museum exhibitions across the world since her prescient debut with The Innocents in 2002 at MoMA PS1, New York. In 2013, her ambitious taxonomic series A Living Man Declared Dead and Other Chapters I–XVIII (2008–11) was presented at the Ullens Center for Contemporary Art in Beijing. Simon's research-driven approach has ... More
Quote
Painting is easy when you don't know, but very difficult when you do. Edgar Degas
More News
---
"Will Martyr | WanderLust"
---
Flashback
On a day like today, American photographer Dorothea Lange was born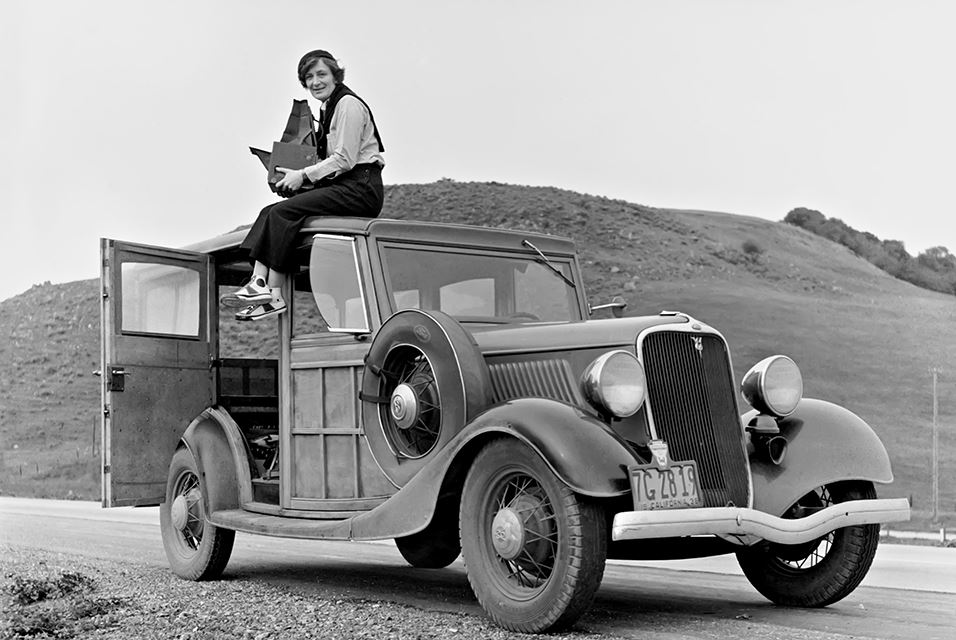 May 26, 1895. Dorothea Lange was an influential American documentary photographer and photojournalist, best known for her Depression-era work for the Farm Security Administration (FSA). Lange's photographs humanized the tragic consequences of the Great Depression and profoundly influenced the development of documentary photography. In this image: Dorothea Lange in 1936.
---

Museums, Exhibits, Artists, Milestones, Digital Art, Architecture, Photography,
Photographers, Special Photos, Special Reports, Featured Stories, Auctions, Art Fairs,
Anecdotes, Art Quiz, Education, Mythology, 3D Images, Last Week,
.
Royalville Communications, Inc
produces:







Tell a Friend
Dear User, please complete the form below in order to recommend the Artdaily newsletter to someone you know.
Please complete all fields marked *.
Sending Mail

Sending Successful