Exhibition details how Israel's Mossad tracked down and captured Adolf Eichmann
Curator and former Mossad agent Avner Avraham.
NEW YORK, NY
.-
The Nazi responsible for the murder of millions of innocent people might well have lived out his days in Argentina as "Ricardo Klement," if fate, a Holocaust survivor, and Israel's foreign intelligence service had not intervened. Featuring recently declassified artifacts and immersive multimedia presentations, the exhibition reveals the secret history behind the capture, extradition, and trial of one of the world's most notorious war criminals. Operation Finale: The Capture & Trial of Adolf Eichmann is having its New York premiere at the
Museum of Jewish Heritage – A Living Memorial to the Holocaust
in New York City from July 16 to December 22, 2017. "This powerful exhibition presents the incredible but true espionage story of finding the Nazi who planned the murder of millions of Jews during the Holocaust, how he was brought to justice, and how the world responded," said Museum President and CEO M ...
More
The Best Photos of the Day
"Brave New World: Australia 1930s" opens at the National Gallery of Victoria
Eminent global art gallery owner reveals "10 questions" that clients should ask their dealer
Chinese writers navigate censors to earn cash via apps


Douglas Annand, Australia 1903–76, Max Dupain, Australia 1911–92, Australia, (c. 1937), colour and process lithograph, 105.3 x 68.4 cm (image and sheet), Australian National Maritime Museum, Purchased, 1991 (00015603), © courtesy of the artist's estate.



MELBOURNE.- High-rise buildings, fast trains and engineering feats such as the Sydney Harbour Bridge jostled against the Great Depression, conservatism and a looming Second World War during the 1930s, one of the most turbulent decades in Australian history. A major exhibition at the NGV, Brave New World: Australia 1930s, explores the way artists and designers engaged with these major issues providing a fresh look at a period characterised by both optimism and despair. Tony Ellwood, Director, NGV, commented, 'Brave New World explores an important period of Australian art history during which Abstraction, Surrealism and Expressionism first emerged, and women artists arose as trailblazers of the modern art movement. It offers an immersive look at the full spectrum of visual and creative culture of the ... More



Global art expert Jan David Winitz opened Claremont Rug Company in 1980. The Gallery now has clients on five continents.



OAKLAND, CA.- In the 37 years since founding Claremont Rug Company, an art gallery that specializes in art-level antique Oriental carpets from the "Second Golden Age of Persian Weaving," eminent global art authority Jan David Winitz has fielded thousands of questions from connoisseurs and collectors seeking his advice about how to judge, value and select pieces to acquire. He observes that whether the work of art is an antique Oriental rug, a centuries-old oil painting, furniture or a piece of sculpture, the questions for a collector to ask a dealer are similar and extremely important to the decision to purchase a piece. "Every client brings a unique perspective and interest to the equation," he says, "but all are ultimately seeking to acquire objects of beauty that satisfy their desires and provide both emotional and intellectual fulfillment. "Since 1980 when I opened Claremont Rug Company, I have been listening ... More



This photo taken on July 21, 2017 shows writer and former professor Qiao Mu displaying one of his posts on a mobile phone at his home in Beijing. GREG BAKER / AFP.



BEIJING (AFP).- When outspoken professor Qiao Mu posted his resignation letter on a popular Chinese messaging app, sympathetic readers tapped their phone screens to send him money, leaving him with a 20,000 yuan ($3,000) payday. China's widely-used applications have given writers like Qiao an outlet to self-publish and make money -- as long as their words respect the boundaries set by online censors inside the country's "Great Firewall". With Facebook and Twitter blocked in China, they post their works on WeChat, a messaging service with over 900 million worldwide users, or Weibo, a microblogging website -- both monitored by the Communist authorities. "I'm a typical Chinese person. I love my country and I want to change it. To reach the majority of the Chinese people I need to stay inside the Great Firewall and write in Chinese," Qiao told AFP. Qiao, 47, quit his library job because he was fed ... More
"Chitty Chitty Bang Bang!" illustrations soar into New-York Historical Society's collection
DeCordova awards Rappaport Prize to Sam Durant
Thomas P. Campbell receives Getty Rothschild Fellowship


Barney Tobey (1906–1989). Study for pp. 16–17 of Ian Fleming's Story of Chitty Chitty Bang Bang! The Magical Car, 1968. Watercolor, gouache, and black ink on Bainbridge board. Gift of Mr. and Mrs. David M. Tobey, 2015.40.83.9



NEW YORK, NY.- The New-York Historical Society announced that Barney Tobey's whimsical original illustrations for Chitty Chitty Bang Bang! The Magical Car (Random House, 1968) have been donated to its collection. Tobey's watercolors illustrated the only children's book written by James Bond author Ian Fleming, which Al Perkins adapted for beginning readers. Twenty-nine preparatory works—exhibited for the first time—are paired with the book's page proofs with text in a special exhibition on view at New-York Historical until August 30. "We are grateful to Mr. and Mrs. David M. Tobey for donating his father's vibrant and enchanting illustrations to our collection," said Dr. Louise Mirrer, president and CEO of the New-York Historical Society. "Our visitors are in for a treat this ... More



Sam Durant. Photo by Sarah Waldorf/J. Paul Getty Museum.



LINCOLN, MASS.- DeCordova announced Sam Durant as the eighteenth recipient of the prestigious Rappaport Prize, an annual award of $25,000 given to a contemporary artist with strong connections to New England and a strong record of achievement. The Rappaport Prize, established in 2000, is one of the most generous contemporary art awards of its kind. In 2010, the Rappaport Prize was endowed in perpetuity by the Phyllis and Jerome Lyle Rappaport Foundation, assuring the ongoing support of contemporary art and artists in New England. "We are delighted to award the 2017 Rappaport Prize to Sam Durant," says deCordova Executive Director John Ravenal. "He has an impressive record of international and solo exhibitions and a substantial history of scholarly and critical attention. His thoughtful and timely exploration of social justice and civil rights aligns perfectly with the Rappaport Foundations' commitment to ... More



Fellowship provides housing and resources to one scholar each year.



LOS ANGELES, CA.- The Getty and the Rothschild Foundation today announced Dr. Thomas P. Campbell as the second recipient of the Getty Rothschild Fellowship. The fellowship supports innovative scholarship in the history of art, collecting, and conservation, using the collection and resources of both institutions. It offers art historians, museum professionals, or conservators the opportunity to research and study at both the Getty in Los Angeles and Waddesdon Manor in Buckinghamshire, England. As the ninth director of The Metropolitan Museum of Art from 2009 to 2017, Campbell pursued a groundbreaking agenda that combined scholarship with accessibility. He reinforced the Museum's excellence in its collections, exhibitions, publications and international engagement while reimagining the visitor experience both in the galleries and via an industry-leading digital presence. During his tenure, the museum increased ... More
Himalayan and Chinese art take centre stage in Saffronart's first Asian Art Auction
Cleveland Museum of Art extends agreement with Director William Griswold through 2024
Historians race to preserve dying memories of Partition


Gau, Tibet, 19th century. Parcel gilt silver and copper, 7.5 in. Saffronart, Asian Art, 9 – 10 August 2017. Image courtesy of Saffronart.



MUMBAI.- Chinese porcelain from the 17th – 20th centuries, Tibetan thangkas and Nepalese paubhas, and exquisite bronze sculptures are part of Saffronart's first Asian Art Online Auction, to be held on 9 – 10 August 2017 on saffronart.com. Among the Chinese porcelain pieces on auction is the collection of Dr. Harish Dhillon who was an educator, headmaster and writer. Dr. Dhillon developed an interest in Chinese art through extensive reading and interactions with fellow collectors and institutions worldwide. Over a lifetime of travel and research, he built up a fine collection of Chinese porcelain and artefacts, which are part of this auction. Among the pieces with a fascinating narrative is one from the Hatcher Cargo, one of the largest cargos of Chinese porcelain recovered from a 17th century shipwreck, around the port of Jakarta in 1983. Another piece from the Dhillon collection is from the famous Nanking Cargo, ... More



Griswold became the ninth permanent director in the museum's history in May 2014. Image courtesy of the Cleveland Museum of Art.



CLEVELAND, OH.- The Cleveland Museum of Art Board of Trustees has approved a seven-year agreement with William M. Griswold to continue serving as the museum's director through December 31, 2024. Griswold became the ninth permanent director in the museum's history in May 2014. Accomplishments under Griswold's leadership have included the successful conclusion of the capital campaign to raise funds for the museum's historic renovation and expansion; oversight of the museum's year-long centennial celebration in 2016 featuring a wide variety of engaging community events and outstanding special exhibitions; and strategic planning to chart the museum's future as it begins its next century of operation. Based on these notable accomplishments and its solid confidence in Griswold's long-term leadership of the museum, the Board of Trustees proposed an extension to the term of the original ... More



Sukhwant Kaur, 78, showing a photograph of her late father Sulkhan Singh in Amritsar. NARINDER NANU / AFP.



KARACHI (AFP).- Sitting in her Karachi home, Jamshed Jahan Ara looks straight into the camera as she explains in a trembling voice how her family fled India during Partition in 1947. Just six years old when she boarded an overcrowded train bound for the newly-created Muslim state of Pakistan, Ara recalls watching armed Sikhs approach -- then hearing her father tell her brother to kill the women of the family if the convoy was attacked. "One is my wife, another is my sister and one is my daughter," she recalls him saying. "So, dear, be a man. I can't shoot them. You must kill all three and we will fight (the Sikhs) till the last before we surrender.' "I asked, 'Why would Neeam kill me. I have done nothing wrong,'" the 76-year-old tells the camera, emotion flooding her face as she remembered her father's reply: "A bullet is better (than being captured)". On both sides of the border that divided the subcontinent 70 years ago, historians are racing ... More
The Best of Santa Fe auction to offer more than 800 lots of American Indian artifacts
Exhibition at C/O Berlin presents the varied work of German photographer Hans Hansen
Garvey Simon opens second annual exhibition featuring work by eight mid-career artists


Early-to-mid-1900s Southern Plains war shirt, a museum-quality beaded hide war shirt as picturesque as it gets and in very good shape (est. $20,000-$40,000).



SANTA FE, NM.- Over 800 pieces of American Indian artifacts, art and related collectibles, to include two major collections and other items in a variety of categories, will come up for bid at Best of Santa Fe, annual auction event hosted by Allard Auctions, Inc., based in Saint Ignatius, Mont. The auction will be held the weekend of Aug. 12-13, at the Santa Fe Scottish Rite Temple. This year's Best of Santa Fe is being held the week before Indian Market, giving collectors of American Indian items added incentive to be in town that weekend. For those who can't be there in person, online bidding will be provided by iCollector.com and LiveAuctioneers.com. Phone and absentee bids will also be taken. Santa Fe Scottish Rite Temple is at 463 Paseo de Peralta. One of the major ... More



untitled (Beirut), 1965, Lufthansa.



BERLIN.- C/O Berlin is presenting the exhibition Hans Hansen . Still Life from 13th July to 10th September, 2017. A VW Golf, built in 1988, neatly dismantled into around 7,000 pieces, graphically arranged glass blocks, the silhouette of a flower, or the captured image of a Japanese wooden mask—Hans Hansen's view of things is greatly reduced, linear, and simultaneously full of energy. He always treats industrially manufactured products, natural objects, and everyday objects with the same precision and dedication. Technical accuracy and graphic minimalism lend the objects a visual life. Since the 1960s hardly any other photographer in the profession has shaped our perception of the everyday world of things as decisively as Hans Hansen. Hansen was one of the first photographers to set new aesthetic standards in both independent and applied photography, and to this day, he has been able to combine both fields equally. ... More



Kim Carlino, Cosmological Formations, series VII, IX, 2015. Watercolor, ink and mixed media on tyvek, 56h x 56w in. 142.24h x 142.24w cm.



NEW YORK, NY.- Garvey Simon announces Select 2, the second annual exhibition featuring work by eight mid-career artists chosen by director Elizabeth K. Garvey from the gallery's innovative Review Program launched last year. This year's artists are: Pokey Alrutz, Kim Carlino, Kathy Levine, Shona Macdonald, Robert Stuart, Leonard Sussman, Kate Walker, and Sun Won Yun. Gallery Director Elizabeth K. Garvey established the Review Program to open a dialogue between artists and galleries, a practice that has long been anathema to gallery orthodoxy. Neither the past practice of artists drowning galleries in heaps of slides nor today's avalanche of emails is beneficial to either gallery or artist. Garvey believes that artists "need to have a working platform to engage with dealers who otherwise might not see their work." In the first phase ... More
Quote
This is either a forgery or a damn clever original! Frank Sullivan
More News
---
Evidence of Babylonian Destruction of Jerusalem Found at the City of David
---
Flashback
On a day like today, French painter Marcel Duchamp was born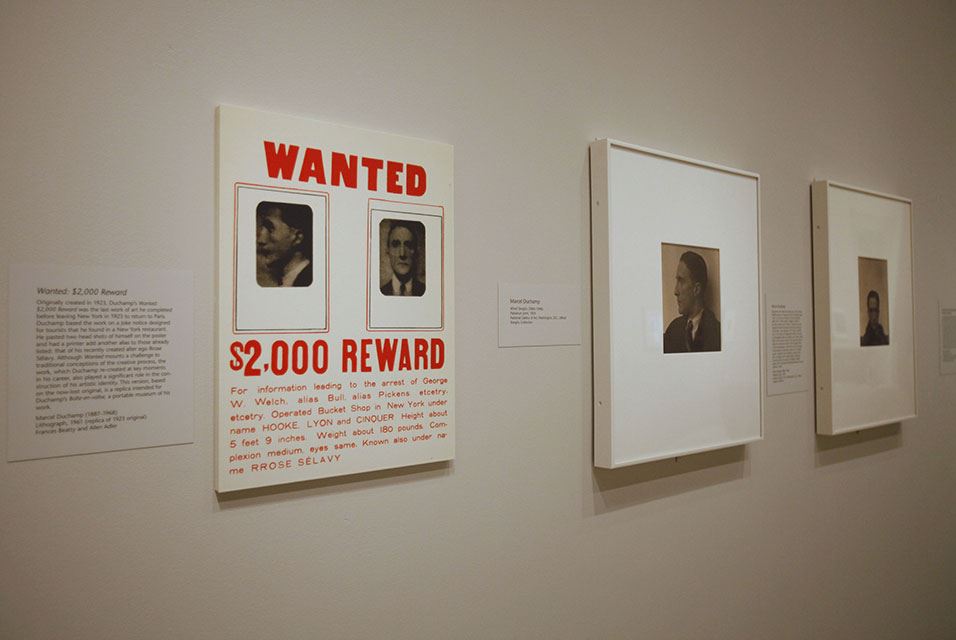 July 28, 1887. Marcel Duchamp (28 July 1887 - 2 October 1968) was a French artist whose work is most often associated with the Dadaist and Surrealist movements. Considered by some to be one of the most important artists of the 20th century, Duchamp's output influenced the development of post-World War I Western art. He advised modern art collectors, such as Peggy Guggenheim and other prominent figures, thereby helping to shape the tastes of Western art during this period. In this image: Marcel Duchamp's wanted poster is seen as part of the exhibit, "Inventing Marcel Duchamp:The Dynamics of Portrature," at the National Portrait Gallery in Washington, on Tuesday, March 24, 2009
---

Museums, Exhibits, Artists, Milestones, Digital Art, Architecture, Photography,
Photographers, Special Photos, Special Reports, Featured Stories, Auctions, Art Fairs,
Anecdotes, Art Quiz, Education, Mythology, 3D Images, Last Week,
.
Royalville Communications, Inc
produces:







Tell a Friend
Dear User, please complete the form below in order to recommend the Artdaily newsletter to someone you know.
Please complete all fields marked *.
Sending Mail

Sending Successful