Liebieghaus Skulpturensammlung exhibits works by artist William Kentridge
Exhibition view "William Kentridge. O Sentimental Machine".
FRANKFURT
.-
The Liebieghaus Skulpturensammlung
presents a very special guest from 22 March to 26 August 2018: William Kentridge (b. 1955) brings his works into dialogue with the collection of the Frankfurt museum, which spans five thousand years. Conceived as a comprehensive exhibition showing over eighty works and installations, "William Kentridge. O Sentimental Machine" exemplifies the whole range of the South African artist's oeuvre. Kentridge has made an international name for himself with his drawings, films, and theatre and opera productions. Already featured in solo exhibitions in the Museum of Modern Art in New York, the Albertina in Vienna, and the Louvre in Paris, as well as in opera productions at the Metropolitan Opera in New York, the Scala in Milano, the Salzburg Festival, or Documenta, his production as an artist is fundamentally interdisciplinary and combines different media and genres. Staged by Sabine Theunissen and ...
More
The Best Photos of the Day
The California African American Museum receives significant gift of art from Gordon W. Bailey
Brazil museum selling prized Jackson Pollock to stay afloat
Van Gogh, Léger, Chagall in Christie's Impressionist and Modern Art Sale this May in New York


Leroy Almon (United States, 1938–1997), Of Two Worlds, c. 1995 (detail), carved and painted wood, 72 x 22 1/2 in. (182.8 x 57.1 cm). Photo courtesy California African American Museum.



LOS ANGELES, CA.- The California African American Museum announced today a significant gift of thirty-two artworks from collector, scholar, and advocate Gordon W. Bailey. The paintings, sculpture, and mixed media works that comprise Bailey's gift to CAAM are by African American artists and include an important, circa-1980s work by the renowned, St. Helena, South Carolina artist Sam Doyle (1906–1985), whose expressive paintings chronicle America's unique Gullah culture, and more generally African American achievement. The documentary work, which includes the Gullah-speaking artist's hand-painted, phonetically spelled title, St. Helena's Black Merry Go Rond, declaratively elevates the ordinary to the extraordinary when viewed in a historical context. Other noted artists represented in the gift are Leroy ... More



This work of Jackson Pollock is part of the MAM-Rio collection since 1952 and was donated by Nelson Rockefeller.



RIO DE JANEIRO (AFP).- Rio de Janeiro's Modern Art Museum is selling one of its most prized works, a Jackson Pollock painting, to help stay afloat. The private, not-for-profit museum said a sale of this type has never been done before in Brazil, although it is common in Europe and the United States. The Pollock painting in question is titled "No.16" and was completed in 1950. Proceeds of the sale will be used to create a fund to keep the museum going for another 30 years, it said. The painting was donated by the late former US vice president Nelson Rockefeller in 1954, and is estimated to be worth around $25 million. The Brazilian Museum Institute called on the Modern Art Museum to reverse course and try to come up with another way to raise money at a time of financial struggle for many of the South American country's museums. But the Culture Ministry said it supports ... More



Marc Chagall, La Tour Eiffel. Estimate: $6-9 million. © Christie's Images Limited 2018.



NEW YORK, NY.- On May 15, Christie's Evening Sale of Impressionist and Modern Art will be underscored by exceptional works by the market's most sought after artists. Highlights will include paintings by Vincent Van Gogh, Fernand Léger and Mark Chagall, all of whom experienced breakthrough results in November 2017. Max Carter, Head of Department, Impressionist and Modern Art, Christie's Americas, remarked: "On the heels of record and near-record results for Léger, Chagall and Van Gogh in November we are thrilled to offer such fine examples by each artist this May. From Le grand déjeuner, among Léger's most celebrated motifs, to Chagall's pulsating 1920s La Tour Eiffel, entrusted to Christie's by the National Gallery of Canada, Ottawa, and Van Gogh's Vue de l'asile et de la Chapelle de Saint-Rémy, for decades the crown jewel of Elizabeth Taylor's art collection, these paintings represent the best of ... More
Immersive installation by Anthea Hamilton unveiled at Tate Britain
Sotheby's Auction of Important Chinese Art led by Shang Dynasty Archaic Bronze Ritual Wine Vessel and cover
Unknown historic blue diamond emerges onto the market for the first time in 300 years


Tate Britain Commission: Anthea Hamilton 'The Squash'. Tate Britain, 22 March – 7 October 2018. Tate / Seraphina Neville, 2018.



LONDON.- Tate Britain today unveiled The Squash, an immersive installation combining performance and sculpture by 2016 Turner Prize nominee Anthea Hamilton. The Squash has been created for the annual Tate Britain Commission, supported by Sotheby's, which invites contemporary British artists to create new artwork in response to the grand space of the Duveen Galleries. Anthea Hamilton has transformed the heart of Tate Britain into an elaborate stage for the continuous 6-month performance of a single character, dressed in a colourful squash-like costume. Over 7,000 white floor tiles have been laid to span the length of the Duveens and encase a series of large structures that serve as podiums for a number of works of art from Tate's collection, chosen by Hamilton for their organic forms and colours. The tiles create an immersive new environment within the neoclassical galleries. The artist is influenced by the early 20th century French ... More



An Extremely Rare and Important Archaic Bronze Ritual Wine Vessel and Cover (You) Shang Dynasty, Yinxu Period Sold for $1,935,000. Courtesy Sotheby's.



NEW YORK, NY.- Sotheby's Asia Week New York sale series continued today with the auction of Important Chinese Art. In front of a full crowd of collectors and admirers, 170 lots spanning millennia achieved $15.8 million in total – well in excess of its high estimate of $14.2 million, and with over half of the lots surpassing expectations. The top lot of today came in the afternoon session when an Extremely Rare and Important Archaic Bronze Ritual Wine Vessel and Cover from the Shang Dynasty, Yinxu Period, sold for $1.9 million. This strong price followed a robust morning session in which a seven minute-bidding battle between seven collectors elevated a Rare Pair of Famile-Verte 'Romance of the Western Chamber' Cups, Kangxi Period, far past its pre-sale estimate of $100/150,000 to a final price of $1.2 million; soon thereafter, five bidders chased a Rare and Large Celadon-Glazed Lobed Baluster-Form Vase to $1.2 million over doub ... More



The Farnese Blue – a historic 6.16-carat pear-shaped fancy dark grey-blue diamond. Estimate: CHF 3.5 - 5 million (US$ 3.7 - 5.3 million). Courtesy Sotheby's.



GENEVA.- One of the foremost historic diamonds – The Farnese Blue – will appear on the market for the first time in history this spring, after having remained in the same family for over three centuries. Given to Elisabeth Farnese, Queen of Spain (1692-1766), the legendary diamond has subsequently passed down through four of the most important royal families in Europe: Spain, France, Italy and Austria. Witness to 300 years of European history, from the aftermath of the Spanish succession War to the fall of the Habsburg Empire, the diamond has travelled across the continent for centuries. And all this time, it was kept secretly in a royal casket. Excepting close relatives, and of course the family jewellers, no one knew of its existence. The 6.16-carat pear shaped blue diamond will be offered in Sotheby's sale of Magnificent Jewels and Noble Jewels in Geneva on 15 May 2018 with an estimate of CHF 3.5 - 5 million (US$ 3.7 - 5.3 ... More
China Guardian Hong Kong Spring Auctions 2018 to be held from 31 March to 3 April
Philip and Kathy Power donate renowned Inuit art collection
Exhibition at Bauhaus Dessau Foundation focuses on radical architect Carl Fieger


Gustave Courbet (1819-1877), Roches et Cascade. Oil on canvas. Painted in 1866 62 × 43 cm. Estimate: HKD 1,500,000 – 2,500,00.



HONG KONG.- China Guardian Hong Kong Spring Auctions 2018 will take place from 31 March to 3 April at JW Marriott Hotel Hong Kong and Island Shangri-La Hong Kong. The sale series will present remarkable artworks from all around the globe. The auction series encompasses Chinese Paintings and Calligraphy, Asian 20th Century and Contemporary Art, Chinese Ceramics and Works of Art as well as Jewellery, Watches and Luxury Goods. The varied array of magnificent pieces at the upcoming auctions promises to be a splendid feast for all collectors. Ms. Hu Yanyan, President of China Guardian (HK) Auctions Co., Ltd, says, "In 2017, we have proudly unveiled the Guardian Art Center, our brand new headquarters at no. 1 Wangfujing Street in Beijing. Last autumn also marked the fifth anniversary of China Guardian (HK). Our Autumn Auctions held at the ... More



Kathy and Philip Power.



ANN ARBOR, MICH.- Ann Arbor community leaders Philip and Kathy Power have created the Power Family Program for Inuit Art at the University of Michigan Museum of Art, a program that will position the museum as a national leader in the curation, exhibition and understanding of Inuit art. Their transformative gift to UMMA includes the Power family's significant collection of Inuit art, numbering more than 200 stone sculptures and prints and valued at more than $2.5 million, as well as a $2 million gift to initiate and endow the program in perpetuity. Their contribution represents the largest gift to UMMA in the Victors for Michigan campaign and brings their total campaign giving to well over $5 million. "Inuit" characterizes what used to be called "Eskimo," namely indigenous people living in the Arctic. The Powers' Inuit collection, primarily from the mid-20th century, represents an important phase in the development of the carvings and prints from the p ... More



Walter Gropius und Adolf Meyer (Entwurf), Carl Fieger (Zeichnung), Bücherschrank für das Haus Sommerfeld, Berlin, 1922, Kohlezeichnung. Stiftung Bauhaus Dessau (I 2202 G) / © (Gropius, Walter) VG Bild-Kunst, Bonn 2018.



DESSAU-ROßLAU.- Carl Fieger made architectural history with his very first building. The circular house of 1924 remained an experimental building – but it set new standards for housing construction. Carl Fieger (1893–1960) is chiefly known as a draughtsman for the offices of Peter Behrens and Walter Gropius. He was substantially involved in work on iconic modern buildings such as the Bauhaus Building and the Masters' Houses in Dessau (Walter Gropius, 1925–26). But Fieger was more than Gropius's employee. He was an architect with his own signature style, characterised by his radical realisations of minimal flats and his bold colour designs and curves, as seen in the Kornhaus restaurant on the Elber river (1929–1930) and the Fieger House in Dessau (1926/27). ... More
Exhibition presents the largest collection of Viking artefacts to ever displayed in Melbourne
Leandro Erlich: Argentina's master of optical illusion
Horny dino's headgear borne of sexual selection: study


Vikings Beyond the Legend at Melbourne Museum. Photo: Caitlin Mills.



MELBOURNE.- Vikings have often been depicted in popular culture as a bunch of bearded, dirty, horn-helmeted barbarians. But recent archaeological discoveries have revealed a much more nuanced and refined people and culture. Viking tweezers, razors and combs have been uncovered by archaeologists, and much to our disbelief, there has been no evidence to suggest that their neatly brushed hair was ever covered by horned helmets. Combining the latest archaeological findings and more than 450 original artefacts from the Swedish History Museum in Stockholm, Vikings: Beyond the Legend removes the stereotypes and reveals Vikings and their rich, often-misunderstood culture in a fascinating, new light. Exploring six key themes, the exhibition provides insights into Viking people and their domestic life, religion, death rituals, craftsmanship, and raiding and trading culture. It more accurately portrays the Vikings as farmers, merchants, artisans, and explorers. Interactive ... More



Argentine conceptual artist Leandro Erlich (R) talks to Emiliano, one of the designers who works with him, at his studio in Buenos Aires. JUAN MABROMATA / AFP.



BUENOS AIRES (AFP).- Thousands of visitors have posed on his trompe-l'oeil facades, he made the pointed tip of the Buenos Aires Obelisk disappear and he even tricked visitors into thinking they were seeing others underwater in a giant pool. Argentina's Leandro Erlich is shaking up the art world with his wonderful world of illusions. The 44-year-old conceptual artist divides his time between his hometown Buenos Aires and Montevideo, the very livable capital of neighboring Uruguay. In his dream factory -- a three-story studio in the Villa Crespo residential area of Buenos Aires shielded from the road by a giant metal barrier -- Erlich creates his giant installations, which have earned cult status in London, Paris and New York. Erlich has managed to wow both art amateurs and discerning critics with his work. The biggest display of his work to date -- 44 pieces in total -- has drawn 400,000 visitors to the Mori Art Museum in Tokyo, where it will run until April 1. "Erlich stimulates ... More



Restoration of the head of Nasutoceratops. Photo: Andrey Atuchin.



PARIS (AFP).- Horned dinosaurs including Triceratops likely evolved their impressive head displays for the purpose of attracting a mate, rather than to recognise members of their own species, according to research published Wednesday. The elaborate frills and horns of such ceratopsians, a group of four-legged herbivores that lived between 150-65 million years ago, had previously been thought to help the animals distinguish one another and avoid inter-species breeding. But researchers at Queen Mary University of London now believe that the dinosaur's horns may have come in more handy when they were feeling, well... horny. They examined the diversity in head ornamentation of 46 species of ceratopsians from a time-span of roughly 15 million years. "We found no difference in ornament disparity between species that lived together and those that didn't," Andrew Knapp, a doctoral candidate from the School of Biological and Chemical Sciences and lead study author, told AFP. Instead, contributors to the re ... More
Quote
Painting is not merely the gratification of sight. Sir Joshua Reynolds
More News
---
Leandro Erlich on Dalston House
---
Flashback
On a day like today, Flemish painter Anthony van Dyck was born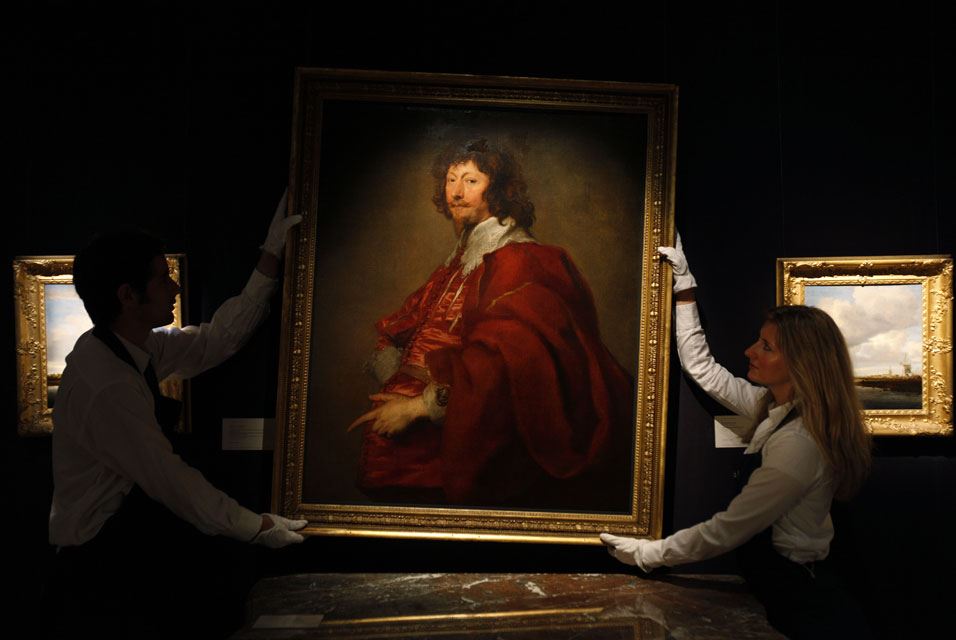 March 22, 1599. Sir Anthony van Dyck (22 March 1599 - 9 December 1641) was a Flemish Baroque artist who became the leading court painter in England. He is most famous for his portraits of Charles I of England and his family and court, painted with a relaxed elegance that was to be the dominant influence on English portrait-painting for the next 150 years. He also painted biblical and mythological subjects, displayed outstanding facility as a draftsman, and was an important innovator in watercolour and etching. In this image: Auction workers pose for photographers as they hold a portrait made by Anthony van Dyck, during a pre-auction photo-op for the 'Old Master Paintings and Early British Paintings, Drawings & Watercolours' sale in Sotheby's auction house in central London, Friday July 3, 2009.
---

Museums, Exhibits, Artists, Milestones, Digital Art, Architecture, Photography,
Photographers, Special Photos, Special Reports, Featured Stories, Auctions, Art Fairs,
Anecdotes, Art Quiz, Education, Mythology, 3D Images, Last Week,
.
Royalville Communications, Inc
produces:







Tell a Friend
Dear User, please complete the form below in order to recommend the Artdaily newsletter to someone you know.
Please complete all fields marked *.
Sending Mail

Sending Successful