Modernity ignites three-day Millea Bros Ltd auction on Bidsquare
This catalog will feature 27 Lots of Louis Vuitton's innovative designs in an exciting range of uses and shapes.
NEW YORK, NY
.-
A torch, a hammer, a paint brush or a camera; innovations in art and design can be forged on the tips of a fiery weld or developed and submerged in a tray of cold chemicals - it is often those who persist with the most passion and fervor that make their craft appear ever so simple. In the midsts of an auction, it's easy to forget the first block that these items passed; whether it be the midcentury drafting table of Mies Van Der Rohe or the industrial workbench of a young Louis Vuitton, a few minutes of bids can embody the significance of a lifetime's worth of achievements. On May 11-May 13th,
Millea Bros Ltd
. will host a their 3-Day Select auction on Bidsquare and offer a range of desirables from American Folk Art to French Avant-Garde photography and Couture & Luxury items. To power up this panoramic catalog, Millea Bros ignites Day 1 with Modern Art, Desig ...
More
The Best Photos of the Day
The National Gallery in Prague exhibits works by Gerhard Richter
Heritage Auctions offers Martin Luther King, Jr. audio recording undiscovered for 49 years on May 13
The Museum of Modern Art explores the provocative, shapeshifting career of Louise Lawler


German painter Gerhard Richter looks on prior a press conference on April 25, 2017 in Prague. Michal Cizek / AFP.



PRAGUE.- On April 26, the National Gallery in Prague opened the first retrospective of Gerhard Richter in Central and Eastern Europe, bringing together more than seventy of his works. The exhibition has been prepared in collaboration with the Goethe-Institut and the Embassy of the Federal Republic of Germany, and is part of the Czech-German Cultural Spring 2017. Gerhard Richter is one of the most widely recognized artists of the past decades. His works are also among the most highly prized by international auction houses. "Many art critics acknowledge Gerhard Richter as the greatest living artist. The exhibition at Kinsky Palace and the Convent of St. Agnes of Bohemia in Prague will survey his nearly sixty-year-long artistic career. Visitors will see his iconic works, ranging from photo-realistic paintings to expressive and geometric abstract compositions," says Jiří Fajt, General ... More



Dr. Martin Luther King, Jr.: Audio Tape Recording of His Last Full Staff Meeting on January 17, 1968.



DALLAS, TX.- A previously unknown audio recording of Dr. Martin Luther King, Jr's last staff meeting — which documents the first reading of his "See You in Washington" speech — has surfaced after 49 years and will be offered May 13 by Heritage Auctions in Dallas. An interesting mix of inspirational oratory based on the Bible and teachings of Christ, sports analogies and impassioned declarations of conviction, it is the first recording of its kind to come to auction in recent memory. "The talk is a combination of a sermon, pep talk and personal reflection, delivered in King's moving and inspirational style," said Don Ackerman, an Americana expert and consignment director at Heritage Auctions. "Be prepared to be inspired!" The historically important tape recording of King documents the civil rights champion addressing a full staff meeting of the Southern Christian Leadership Conference (SCLC) that took place at the ... More



Louise Lawler. Pollyanna (adjusted to fit). 2007/2008/2012. Dimensions variable. Courtesy the artist and Metro Pictures. © 2017 Louise Lawler.



NEW YORK, NY.- With Louise Lawler: WHY PICTURES NOW, The Museum of Modern Art presents the first major survey in New York of Louise Lawler (American, b. 1947), spanning the 40-year creative output of one of the most influential artists working in the fields of image production and institutional critique. On view from April 30 to July 30, 2017, in The Joan and Preston Robert Tisch Exhibition Gallery, sixth floor—along with one sound installation, Birdcalls (1972–81), presented in The Abby Aldrich Rockefeller Sculpture Garden—the exhibition takes its title from one of Lawler's most iconic works, Why Pictures Now (1981), a black-and-white photograph showing a matchbook propped up in an ashtray. Reminiscent of an advertising photograph or a film noir still, it asks the viewer to consider why the work takes the form of a picture, and why the artist is making pictures at this ... More
Musée de la Vie romantique exhibits works by the "Raphael of flowers"
me Collectors Room exhibits the complete editioned works of Sigmar Polke
Schirn Kunsthalle Frankfurt presents a spatial sculpture by the artist Lena Henke


Antoine Chazal (1793-1854) Hommage à Gérard Van Spaendonck, 1830 Roubaix, La Piscine, musée d'Art et d'Industrie André Diligent Photo © Musée La Piscine (Roubaix), Dist. RMN-Grand Palais / Alain Leprince / Service presse/ MVR.



PARIS.- Pierre-Joseph Redouté - often called the Raphael of Flowers - reached a zenith in flower painting, at the juncture between science and fine arts. He became a model, still celebrated today for the elegance and accuracy of his interpretation of the new flora that appeared in gardens between the end of the Ancien Regime and the first half of the 19th century. Thanks to the generosity of the Muséum national d'histoire naturelle, the Musée de la Vie romantique is organising the first exhibition in France dedicated to Redouté and his influence. The botanical painter contributed to the golden era of natural science and worked with the greatest botanists of his time. He responded to their requirement of classification and identification of the plants collected over five continents ... More



Sigmar Polke, Plakat Festival dAutomne a Paris, 1988 (detail) © The Estate of Sigmar Polke Cologne VG-Bild Kunst Bonn 2016. Photo: baumann fotostudio gmbh.



BERLIN.- The complete editioned works of Sigmar Polke, one of the most important contemporary artists, is on view from 28 April until 27 August 2017 at Berlin at me Collectors Room, featuring approximately 200 works from the collection Kunstraum am Limes. The artist's editioned works hold a special place within his oeuvre. For Sigmar Polke (b. 1941 Oels, now Oleśnica/Poland, d. 2010 Cologne), editions were a further opportunity for intensive and excessive variations on his experiments, allowing him to stage a confrontation without end between himself and the world. Like an alchemist, he expected different techniques to bend to the will of his creative ego and so his editioned works comprise objects, books, portfolios, photographs, photocopies, collages, and numerous prints. Polke never allowed technique to dictate the progression of his artistic work. In part, he transformed ... More



Lena Henke. Schrei mich nicht an, Krieger!, © Schirn Kunsthalle Frankfurt, 2017, Photo: Wolfgang Günzel.



FRANKFURT.- From April 28 to July 30, 2017, the Schirn Kunsthalle Frankfurt is presenting a spatial sculpture by the artist Lena Henke. In the work specially created for the Schirn Rotunda entitled Schrei mich nicht an, Krieger! (Don't Shout at Me, Warrior!), the sculptor reacts to the specific conditions of this freely accessible public space. Henke sees the Rotunda as a space in which interior and exterior merge in a very distinct way—as the entrance to the Schirn, as an exhibition space, and as an element of urban architecture between the Cathedral and the Römer. In her installation Henke concentrates on this ambivalent capacity of the space, thereby creating an awareness of the unique character of the location. In the two opposing entrances to the Rotunda, the artist positions two aluminium sculptures that are open at the top and filled with sand. It is not clear at first how this sand came to be in and on top ... More
Sprüth Magers Berlin opens solo exhibition of new work by Lucy Dodd
Simon Lee Gallery exhibits new paintings by Garth Weiser
Mexican culture, history and scientific wonders explored in two exhibitions in Dallas


Installation view, Lucy Dodd, 'Lake in the Sky', Sprüth Magers, Berlin, April 29 - June 17, 2017 Photography by Timo Ohler.



BERLIN.- Sprüth Magers is presenting a solo exhibition of new work by Lucy Dodd, her first with the gallery. In a practice driven by the possibilities of abstraction as a spiritual language, Dodd will present four paintings, works on paper, and a chair sculpture in a ritualised space in which both her work and their viewers will become protagonists in a highly complex theatre of signifiers. Framing the entrance to the exhibition is one 12-foot square canvas, almost reaching the ceiling, which functions both as a portal and grand entrance to the environment she has created beyond, asserting its status as a character in her drama. The surfaces of Dodd's canvases have a strong resemblance to geological formations, natural phenomena made two-dimensional, as though a cross section of the earth's crust. They belong in an alternate cosmos that ranges from the ... More



Garth Weiser, 5, 2017. Oil on canvas, 243.8 x 200.7 cm (96 x 79 in.).



LONDON.- Simon Lee Gallery announces an exhibition of new paintings by Garth Weiser, his second exhibition with the gallery and his first solo exhibition in London. Emergent images in Weiser's abstract paintings flicker in and out of focus like analogue TV static. Ghosts of cartoon-like figures puncture the surfaces, shape-shifting as the eye is teased through dense layers of dots and drips, scumbles and scrapes, peaks and troughs. Over the last six years, Weiser has been focused on a slow excavation of form and content through a process akin to the erosion of sedimentation. His paintings are built from layering unseen paintings, each representing a different history in terms of content, forms and materiality. The textured surface is then mined at the end of this long process to reveal a dynamic, fossilised slab. The resultant vascular surfaces of the paintings trigger chromatic vibrations and optical illusions. Multiple per ... More



Rosa Rolanda, Self-Portrait (Autorretrato), 1952 (detail). Oil on canvas. Overall: 34 x 43 in. (86.1 x 110.2 cm). Museo de Arte Moderno, INBA, Mexico City © Courtesy of El Instituto Nacional de Bellas Artes Y Literatura, 2017



DALLAS, TX.- Art and science come together as the Perot Museum of Nature and Science and the Dallas Museum of Art host two major exhibitions that explore the cultural and historic wonders of Mexico and Central America during the early 20th century and ancient times. Both exhibitions are bilingual, presented in English and Spanish. The Perot Museum of Nature and Science is presenting Maya: Hidden Worlds Revealed, the largest traveling Maya exhibition ever to tour the U.S., through Sept. 4, and the DMA, in collaboration with the Mexican Secretariat of Culture, is offering the exclusive U.S. presentation of México 1900–1950: Diego Rivera, Frida Kahlo, José Clemente Orozco, and the Avant-Garde, through July 16, 2017. "It's remarkable that North Texans and tourists will get a chance to explore two ... More
World's only Tiananmen museum returns to Hong Kong
Phillips unveils star lots for Jewels and Jadeite Auction in Hong Kong on 29 May
White Cube opens an exhibition of work by Jürgen Partenheimer


Museum organiser Lee Cheuk-yan speaks outside the June 4th museum, dedicated to remembering China's June 4, 1989 crackdown on pro-democracy protesters at Beijing's Tiananmen Square. Dale DE LA REY / AFP.



HONG KONG (AFP).- The world's first museum dedicated to China's Tiananmen Square crackdown will once again open its doors in Hong Kong after a months-long closure as the city prepares to mark the 20th anniversary of its handover to Beijing. The June 4th Museum closed its doors last July after organisers said they were being targeted for political reasons in the semi-autonomous city where concerns are growing that Beijing is tightening its grip. Tenants in the commercial building which housed the museum from 2014 said the museum breached regulations that said the premises could only be used for offices. The museum, now housed at a new temporary venue, will open to the public at a time when Hong Kong is revving up the fanfare for the 20th anniversary of its handover to China by Britain, with expectations of a high-profile visit by Chinese president Xi Jinping. Organiser Lee Cheuk-yan told AFP this was an especially important time ... More



The Secret Pink - A Spectacular Fancy Vivid Purplish Pink Diamond, Fancy Vivid Pink Diamond and Diamond Ring (estimate: HKD45,000,000 - 55,000,000). Image courtesy Phillips.



HONG KONG.- Phillips unveiled two star lots from the upcoming Jewels and Jadeite auction, taking place on 29 May at the Mandarin Oriental, Hong Kong. The leading lot is The Secret Pink, a Fancy Vivid Purplish Pink, Fancy Vivid Pink Diamond and Diamond Ring (estimate: HKD45,000,000 – 55,000,000), comprising two extremely rare vivid pink diamonds in a remarkable and unique design. Followed by our cover lot of this season, a Diamond and Emerald Ring, Monture Cartier, circa 1950 (estimate: HKD3,600,000 – 4,500,000). The Secret Pink, featuring to the top is a 4.23-carat internally flawless, antique Golconda-type Fancy Vivid Purplish Pink diamond, sheltered another 1.39-carat Fancy Vivid Pink diamond from the Argyle Mine underneath, an ingenious design showcasing a juxtaposition of old and new. The 4.23-carat Fancy Vivid Purplish Pink diamond purportedly comes from the renowned Golconda region in India, where the world's most impor ... More



Jürgen Partenheimer, Calliope I #3, 2012. Porcelain painted in polychrome enamels, 17 15/16 x 9 13/16 x 9 13/16 in. (45.5 x 25 x 25 cm) © the artist. Courtesy White Cube.



LONDON.- White Cube is presenting an exhibition of work by Jürgen Partenheimer at Bermondsey. This exhibition, his first in London, includes paintings, sculpture, unique ceramics and works on paper dating from 1975−2017. Partenheimer's abstract works are characterised by their variable, multidimensional language of forms, lightness of touch, striking use of colour and poetic approach. Following studies in fine art, art history and philosophy, he first showed at Richard Demarco Gallery, Edinburgh in 1979 and then gained international recognition following his participation in the biennials of Paris (1980), São Paulo (1981) and Venice (1986). He was the first artist-curator at Kunsthalle Düsseldorf from 1977−80 and the founding director of the Institute of Phenomenology. Partenheimer uses reduction, asymmetry and imperfection in his work to propose alternative modes of perception. These are partly the result of the artist ... More
Quote
Composition can't really be taught, it is a lifelong learning. Ellen Taaffe Zwilich
More News
---
Jeff Koons (b. 1954) Ice Bucket, 1986
---
Flashback
On a day like today, The Empire State Building was dedicated in New York City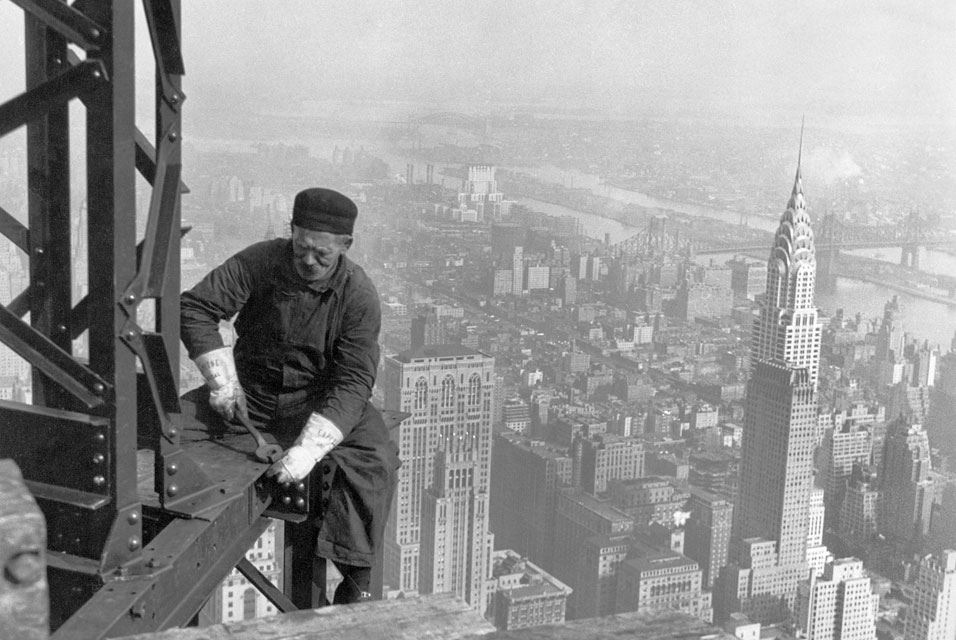 April 01, 1931. NEW YORK.- The Empire State Building is a 102-story landmark Art Deco skyscraper in New York City at the intersection of Fifth Avenue and West 34th Street. Its name is derived from the nickname for the state of New York, The Empire State. It stood as the world's tallest building for more than forty years, from its completion in 1931 until construction of the World Trade Center's North Tower was completed in 1972. Following the destruction of the World Trade Center in 2001, the Empire State Building once again became the tallest building in New York City and New York State. In this image: A worker bolts beams during construction; the Chrysler Building can be seen in the background.
---

Museums, Exhibits, Artists, Milestones, Digital Art, Architecture, Photography,
Photographers, Special Photos, Special Reports, Featured Stories, Auctions, Art Fairs,
Anecdotes, Art Quiz, Education, Mythology, 3D Images, Last Week,
.
Royalville Communications, Inc
produces:







Tell a Friend
Dear User, please complete the form below in order to recommend the Artdaily newsletter to someone you know.
Please complete all fields marked *.
Sending Mail

Sending Successful