Victoria & Albert Museum's Europe 1600-1815 galleries open to the public today
A museum assistant poses within a Parisian "cabinet" room from the reign of Louis XVI, within the Victoria and Albert museum's new "1600-1815" galleries in London on December 7, 2015. The V&A's seven new gallery areas hold nearly 1,100 objects and will open to the public on 9 December, 2015. AFP PHOTO / LEON NEAL.
LONDON
.-
The installation of nearly 1,100 objects has completed as the
V&A
opens its new suite of galleries dedicated to the arts of living in Europe between 1600 and 1815. Seven galleries transformed for the redisplay of the Museum's unrivalled collection of 17th- and 18thcentury European art and design will be open to the public from 9 December 2015. A major part of the V&A's ongoing redevelopment programme known as FuturePlan, the £12.5m project has been made possible thanks to lead support of £4.75 million from the Heritage Lottery Fund (HLF) and the generosity of a number of donors, private individuals and trusts. In its prominent position next to the V&A's grand entrance, Europe 1600-1815 continues the story of art and design that begins in the award-winning Medieval & Renaissance galleries (opened 2009) and completes the restoration of the entire ...
More
The Best Photos of the Day
Kiev opens probe into precious Dutch paintings reportedly held by Ukrainian fighters
Sotheby's becomes first major auction house to launch an app on the new Apple TV
New York's Metropolitan Museum launches season 4 of online series The Artist Project


Director of the Westfries Museum Ad Geerdink speaks during a press conference on artworks stolen from the museum in 2005 in Hoorn on December 7, 2015. The 24 works of art and 70 pieces of silverware surfaced in the hands of a far-right nationalist militia in Ukraine. All attempts to recover them have so far failed.



KIEV (AFP).- Ukraine on Tuesday launched a probe into precious Dutch paintings that were reportedly being held by a volunteer battalion fighting pro-Russian insurgents in the east of the ex-Soviet state. Foreign Minister Pavlo Klimkin said the case was "very important" for both countries in the runup to an April 6 Dutch referendum on whether to approve Ukraine's new free trade and political association agreement with the EU. Ukraine's assistant prosecutor general Vladyslav Kutsenko told AFP that he had issued an order for "checks and the required investigation" to be conducted in the dispute. The Westfries Museum in Hoorn said on Monday that two dozen 17th-century paintings that went missing a decade ... More



Through the Sotheby's App users will be able to experience the art world as never before via five channels. Photo: Sotheby's.



NEW YORK, NY.- Sotheby's has developed and launched an App that is now available on the New Apple TV device via the tvOS operating system. The Sotheby's App is available to users in eighty countries and offers an array of ways to go inside the world of art and luxury via the platform that has been dubbed 'the future of TV.' The broad range of video content ranges from HD streams of top auctions to videos focusing on the worlds most prized works of art, and insights from Sotheby's experts. The app's debut auction will be 'Driven By Disruption' – a sale of 31 automobiles that showcases the extremes of motoring history - taking place on 10 December in New York. The introduction of the app comes as part of a new online strategy that has seen Sotheby's rapidly expand its digital offerings, instigate collaborations with market leaders in ... More



Thomas Demand.



NEW YORK, NY.- The Metropolitan Museum of Art launched Season 4 of its online video series The Artist Project, in which artists respond to works from the Met's vast collection that spark their imagination. The collection spans more than five millennia and cultures throughout the world. Season 1 of the series launched in March 2015. The 60 videos currently posted have had a total of more than 1.2 million views online to date. Thomas P. Campbell, Director and CEO of the Metropolitan Museum, recently announced that a sixth season will be added to the series in late spring 2016, bringing the total number of artists participating in The Artist Project to 120. Since its founding in 1870, the Met has been a place where artists go to gain inspiration from the art of their own time, and across time and cultures. The Artist Project shares with the public what artists today see when they look at the Met. Viewers will encounter a ... More
New pinnacle for Freeman's: American Art & Pennsylvania Impressionists Auction totals $4 million
Robust market for modern design powers Palm Beach Modern's Nov. 21-22 sale to $1.5M finish
Germany, Italy and France urge action against Islamic State antiquities dealing


"The Mary Maxwell House" by Daniel Garber achieved the third highest price in the sale at $293,000.



PHILADELPHIA, PA.- The salesroom was packed for Freeman's American Art & Pennsylvania Impressionists auction. Exceeding expectations the sale realized $4,066,410 million, the highest total for this department at Freeman's since its inception in 2013. Drawing a great deal of attention during traveling exhibitions to London, New York and the Philadelphia area, the top lot of the day was Andrew Wyeth's painting "Winter Corn Fields" sold for $1,145,000. This impressive work, rarely seen since in public since its initial acquisition in the early 1940s, had never been brought to auction before. "We are delighted with the results of the sale-our highest total to date and the Wyeth is our first million dollar lot of American Art. There was a buzz in the saleroom and all of our top lots went to private collectors," said Freeman's vice chairman and head of fine art Alasdair Nichol. "I am very pleased with the 83% sell thro ... More



Harry Bertoia double-sided metal sculpture, one of 10 commissioned by First National Bank of Miami, $112,500. All images courtesy of Palm Beach Modern Auctions.



WEST PALM BEACH, FLA.- The market for modern art and design was put to the test in a two-session sale held Nov. 21-22 at Palm Beach Modern Auctions and came through with flying colors and a $1.5 million total. The 700 beautifully presented lots attracted more than 125 guests competing onsite against five constantly engaged phone lines and an Internet console that buzzed with activity from start to finish. In all, more than 1,200 online bidders from 15 countries signed up for the event, which was PBMA's largest ever. Afterward, purchases were shipped as far afield as Japan, Australia and Chile. "There were strong sell-through rates in virtually all categories, and prices realized were consistently high, both in the art and furniture sections of the sale," said PBMA auctioneer and co-owner Rico Baca. "In the ... More



A file picture taken on March 14, 2014 shows damage caused by shelling on a wall in the ancient oasis city of Palmyra. AFP PHOTO/JOSEPH EID.



BERLIN (AFP).- Germany, Italy and France called Tuesday for the European Union to crack down on the illegal trade in antiquities used to bankroll attacks by the Islamic State group. The culture ministers of the three countries wrote in a letter to the European Commission urging concerted measures against the illicit trade in cultural treasures for the benefit of the jihadist group. "By taking part directly or indirectly in the trade in cultural artifacts from archaeological digs, museums and libraries finance their (IS's) atrocities in the region and in Europe," Monika Gruetters, Dario Franceschini and Fleur Pellerin wrote. They said they had agreed at a meeting of EU culture ministers on November 24, in the wake of last month's deadly IS assault in Paris, that it was "high time for Europe... to take more effective action against these attacks on our cultural heritage and the trade in ... More
Charles Martignette collection of illustration art at Heritage Auctions, Final result: $21.68 million
Torture, terror and toilet paper: The Chapman Brothers open their online shop
Granby neighbourhood locals turn forgotten Liverpool streets into Turner art prize winner


Gil Elvgren, It's a Snap (Pretty Snappy; Snap Judgment), 1958. Oil on canvas, 30 x 24 in. Sold for: $215,100.00.



DALLAS, TX.- When the art world first learned in 2009 that the Charles Martignette Collection of Illustration Art was headed to auction, art circles speculated over how the market would respond to what was widely considered the most comprehensive and impressive survey of the genre ever assembled. As the very last of works finally crossed the block in late 2015, the Martignette Collection has realized more than $21.68 million during nearly six years of sales at Heritage Auctions. "We predicted this collection had the potential to set records and it certainly delivered," said Heritage Auctions Co-founder James Halperin, a one-time employer (in the early 1970s) and long-time friend of Martignette. "America's artistic history owes a great debt to Charles. I'm thrilled that ... More



Jake & Dinos Chapman Toilet Paper.



LONDON.- 'Toilet paper that reminds me of the inevitability of death' may not be an item on many people's Christmas lists, but it's still one of the emerging bestsellers at Jake & Dinos Chapman's newly launched store. The Chapman Brothers have been bringing their unnervingly twisted vision to modern British art for over 20 years, first coming to prominence in the YBA era of the 1990s and provoking the establishment ever since, with a grotesque blend of black humour, calculated perversity and mordant cultural critique. 'Even Charles Saatchi started off buying small – which is rich coming from a man who said that the "YBAs" would merely be a footnote to history... Mind you, he doesn't strike me as a man who reads books with footnotes… ' – Jake Chapman The new shop proudly continues this tradition. The culmination of a three-year project to make the brothers' work accessibl ... More



Empty buildings are seen on Cairns Street, part of the Granby Four Streets area in Liverpool, north west England on July 3, 2015. AFP PHOTO / PAUL ELLIS.



LIVERPOOL (AFP).- In Liverpool's Granby neighbourhood, proud residents and a group of architects have brought back to life the area's four remaining Victorian streets, earning them this year's prestigious Turner Prize for contemporary art. Once the vibrant heart of the city's black community, "after the (1981) riots, the area was closed down," explained Erika Rushton, Chair of Granby Four Streets Community Land Trust (CLT). With clubs and shops closing down, tenants being evicted and homeowners fleeing the area, its traditional Victorian houses were mostly demolished, to be replaced by ugly and discordant social housing. The last four blocks of terraced houses were saved in the 1990s thanks to a few dozen owners who refused to leave. But all successive renovation projects have ... More
American artist James Casebere's first solo exhibition in Milan on view at Lisson Gallery
Exceptional prices at Bonhams Hong Kong Chinese Art Sales show market still buoyant
Tornabuoni Art opens first group exhibition in its London space featuring works by Italian artists


James Casebere, Cloudy/Sunny Skies, 2013. Digital archival inkjet print. Print: 76.2 x 62.2 cm. Framed: 79.4 x 66 x 5.1 cm Print 30 x 24.5 in Framed 31.3 ed. 5 of 5+2 ap.



MILAN.- James Casebere's first solo exhibition in Milan presents recent bodies of work that take the natural world as their subject matter and iconic works of art as their starting points. The American artist's staged photographs – shot in the studio from models that have been intricately assembled and cinematically lit – present a pastoral that is permeated with culture. For over forty years Casebere has explored the fictional possibilities of photography, testing his medium's supposed truth-telling properties to document fabrications of reality. His pictures are both poetic and political, creating simulacra that usurp reality to expose what art historian Hal Foster considers "a psychopathology of everyday life". Casebere's works have progressively depicted a wider perspective: the surrealist domestic scenes and claustrophobic vistas of his early pieces gave way to hauntingly ... More



A rare Imperial puce-enamelled blue and white 'dragon' moonflask, bianhu, Qianlong seal mark and of the period (1736-1795), sold for £490,000. Photo: Bonhams.



HONG KONG.- Bonhams three Chinese Ceramics and Works of Art sales in Hong Kong last week made an impressive £6,400,000. The sales had been carefully curated to present collectors with select groups of high quality works sourced from important collections. The top lot – from the Fine Chinese Ceramics and Works of Art Sale – was an extremely rare Imperial celadon-glazed olive-shaped vase, Yongzheng seal mark and of the period (1723-1735) which sold for an exceptional £1,500,000 against an estimate of £260,000-430,000. The vase is an outstanding example of the innovation and remarkable technical perfection achieved by craftsmen working at the Imperial kilns in Jingdezen during the Yongzheng period. In the same sale, an exceptional finely-inlaid 'hundred-deer' zitan box and cover, Kangxi, estimated at £300,000-400,000 sold for a ... More



Alberto Burri, Combustione, 1960, mixed media and combustion on canvas, 100 x 70 cm / 39.37 x 27.55 in, Courtesy Tornabuoni Art.



LONDON.- Tornabuoni Art announces the first group exhibition in its London space presenting over forty works by Italian artists such as Afro, Boetti, Burri, Castellani, Fontana, Kounellis, Pistoletto, Scheggi and Zorio, to name but a few, who documented through their work the move away from the Italian artistic tradition of figuration after the 1930s. Curated by Sergio Risaliti, The Die is Cast explores through painting and abstract sculpture in particular, how these artists created a rift in the ever-conflicting and unresolved relationship between tradition and the avantgarde. Detachment from figurative and anthropomorphic representation was already close at hand in Italy at the end of the 1920s. To renounce the figurative reproduction of nature and reality seemed like a decisive and necessary step to discover a world of new inventions in which one could glimpse beyond tradition and towards the possibility ... More
Quote
No architecture is so haughty as that which is simple. John Ruskin
---
Installation Tour of Art of Native America 2/9: Polacca Polychrome Water Jar
---
Flashback
On a day like today, American photographer Berenice Abbott died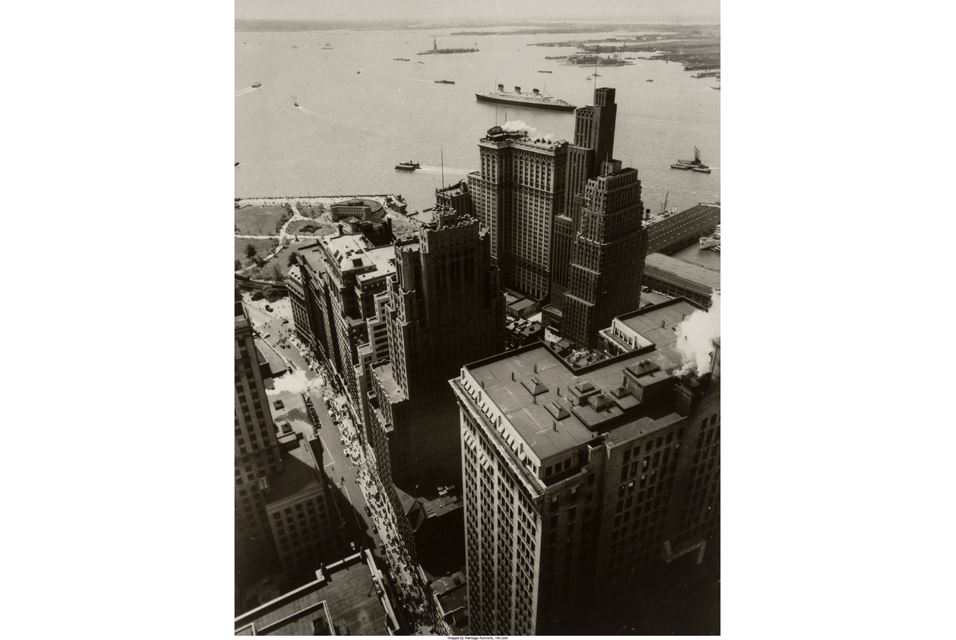 August 09, 1991. Berenice Abbott (July 17, 1898 - December 9, 1991), née Bernice Alice Abbott, was an American photographer best known for her portraits of between-the-wars 20th century cultural figures, New York City photographs of architecture and urban design of the 1930s, and science interpretation in the 1940s to 1960s. In this image: Berenice Abbott (American, 1898-1991), Broadway to the Battery, May 4, 1938. Gelatin silver, 9-1/2 x 7-1/4 inches.
---

Museums, Exhibits, Artists, Milestones, Digital Art, Architecture, Photography,
Photographers, Special Photos, Special Reports, Featured Stories, Auctions, Art Fairs,
Anecdotes, Art Quiz, Education, Mythology, 3D Images, Last Week,
.
Royalville Communications, Inc
produces: