Wildenstein art-dealing tax fraud trial in France suspended on technicality
Franco-American art-dealer Guy Wildenstein (L) and his lawyers Herve Temime (R) leave the Paris courthouse on January 4, 2016, after the first day in the trial of several members of the Wildenstein art-dealing dynasty on charges of tax fraud and money-laundering. Several members of the Wildenstein art-dealing dynasty went on trial in Paris on January 4 charged with stashing hundreds of millions of euros in inheritance money out of reach of the French taxman. Family patriarch Guy Wildenstein, 70, faces up to 10 years in prison for tax fraud and money laundering in a multi-generational inheritance squabble worthy of a soap opera. AFP PHOTO / ALAIN JOCARD.
PARIS
(AFP)
.-
A French court on Wednesday suspended a trial involving the Wildenstein art-dealing dynasty, accused of hiding hundreds of millions of euros in inheritance money from the taxman, on a legal technicality. Dynasty patriarch Guy Wildenstein, 70, faces up to 10 years in prison for tax fraud and money laundering in a multi-generational inheritance squabble worthy of a soap opera, which has been dubbed "Dallas-Upon-Seine". The trial opened in Paris on Monday, with Wildenstein's lawyers arguing there was a legal precedent which demanded the case be suspended. Franco-American Guy Wildenstein is the heir of three generations of wealthy art dealers and thoroughbred racehorse breeders. French tax authorities have demanded a tax adjustment, saying he owes them more than 550 million euros ($600 million) in family money hidden after the death of his father Daniel in 2001 and brother Alec in 2008. Lawyers for Guy and his late brother have argued that carrying out the tax ...
More
The Best Photos of the Day
Fashion designer Karl Lagerfeld suspected of hiding 20 mn euros from French taxman: report
Vintage gelatin silver exhibition prints by Christer Strömholm on view at Pace/MacGill Gallery
India's Mumbai, home to famous neighborhood in "Slumdog Millionaire, to get 'world's first slum museum'


This file photo taken on March 28, 2015 shows German fashion designer Karl Lagerfeld arriving for the annual Rose Ball at the Monte-Carlo Sporting Club.



PARIS (AFP).- Fashion designer Karl Lagerfeld is suspected of having hidden more than 20 million euros ($21.5 mn) from French tax authorities using complex transactions between various companies, L'Express weekly reported Wednesday. French authorities declined to comment citing the privacy of tax affairs. A spokesman for Lagerfeld, who is artistic director for fashion house Chanel as well as having his own label, also declined to comment when contacted by AFP. French tax authorities "suspect that in the space of six years the man with the ever-present black sunglasses omitted to declare 20 million euros" in France, wrote L'Express. Lagerfeld, also an artist and photographer, is known for his trademark dark shades. An investigation is focusing on the 7L bookshop in Paris, which Lagerfeld founded in 1999. According to L'Express, the bookstore houses a photo studio owned by a British-based company, ... More



Untitled, 1962. Vintage gelatin silver print mounted to Masonite image, paper and mount, 23 x 19 3/4 inches. © Christer Strömholm; courtesy Pace/MacGill Gallery, New York and Grundemark Nilsson Gallery, Berlin and Stockholm.



NEW YORK, NY.- Pace/MacGill Gallery presents Christer Strömholm, a selection of vintage gelatin silver exhibition prints by the Swedish photographer. Featuring portraits of the Parisian transgender community from Strömholm's signature series, Les Amies de Place Blanche (1958-68), alongside images from his expeditions to France and Spain, the exhibition marks the premier presentation of the artist's work at the gallery and will be on view from January 7 through February 20, 2016. Revered as the father of Scandinavian photography, Christer Strömholm (1918-2002) and his contributions to the history of the medium remain relatively unknown to audiences outside of Europe. Born in Stockholm, Strömholm discovered the expressive possibilities of photography via the graphic arts in the late 1940s and ... More



An Indian commuter climbs a flight of steps decorated with a colourful pattern in Mumbai on January 6, 2016. AFP PHOTO/ Indranil MUKHERJEE



MUMBAI (AFP).- The teeming Indian metropolis of Mumbai -- home to the neighbourhood made famous by the film "Slumdog Millionaire" -- is to get the world's first slum museum, organisers said on Tuesday. The museum will showcase some of the myriad of objects that are produced every year in Dharavi, one of Asia's biggest slums and the setting for Danny Boyle's hit 2008 movie. "It will be the first museum ever created in a slum," Spanish artist Jorge Rubio, who is behind the initiative, told AFP. The small mobile museum will open in February for two months and display everything from pottery and textiles to recycled items, Rubio added. The organisers of 'Design Museum Dharavi' say they want to challenge people's perceptions of slums by highlighting the creative talent that resides in them. More than a million people live in the maze of alleyways that make up Dharavi with many working in the area's mini- ... More
Chinese dissident artist Ai Weiwei to display bamboo, kites in first French exhibition
One of Italy's leading post-war cinema stars, Silvana Pampanini, dead at 90 according to local media
Music, film impresario Robert Stigwood, who produced "Saturday Night Fever", dies aged 81


Chinese activist and artist Ai Weiwei waits before a press conference in Athens on January 1, 2016. Chinese dissident artist Ai Weiwei paid on December 28, 2015 a holiday visit to refugees and migrants flocking to the Greek island of Lesbos, tweeting out photos and videos in appeals for their plight.



PARIS (AFP).- Chinese dissident artist Ai Weiwei will for the first time display his creations in France at the upscale Parisian department store Bon Marche, the emporium announced on its website Wednesday. The exhibition, dubbed "Er Xi, Air de Jeux" ("Child's Play") will run from January 16 to February 20 and will centre on the theme of childhood -- with pieces including huge bamboo structures, 3D dragons and kites. "Exhibiting at the Bon Marche is using a new medium, a big store, to meet a new audience, as large as a museum's, but which in principle does not come to see art," the Berlin-based artist said on the store's French web page. The Bon Marche website offers previews of the works -- with ... More



This 1953 photo taken at an unknown location shows Italian actress Silvana Pampanini and French actor Robert Lamoureux during the shooting of the film "L'Incantevole nemica"



ROME (AFP).- Silvana Pampanini, an Italian actress and beauty who was one of the country's leading post-war cinema stars, has died at the age of 90, local media reported on Wednesday. Pampanini, who had been hospitalised since October according to Corriere della Sera, starred in over 50 films during her 1950s heyday. She came to prominence as a Miss Italy contestant in 1946 (her failure to win caused a tabloid outcry) and went on to work with a long list of famous film figures, including Buster Keaton, Marcello Mastroianni, Alberto Sordi, Toto and Jean Gabin. With her voluptuous, wide-eyed looks, Nini Pampan, as she was nicknamed in France, became a symbol of Italian beauty around the world. The brunette was seen as having paved the way for fellow screen sirens ... More



Robert Stigwood produced the hit film "Grease".



LONDON (AFP).- Robert Stigwood, who managed bands including the Bee Gees and Cream and produced the hit films "Grease" and "Saturday Night Fever", has died aged 81, friends and his godson said Tuesday. Spencer Gibb, son of Bee Gees star Robin Gibb, reported Stigwood's death on Facebook. "I would like to share the sad news with you all that my godfather, and the longtime manager of my family, Robert Stigwood, has passed away," he wrote. He called Stigwood "a creative genius with a very quick and dry wit". "Robert was the driving force behind the Bee Gees' career, as well as having discovered Cream, and subsequently managing Eric Clapton," he said. "I would like to thank Robert for his kindness to me over the years as well as his mentorship to my family. 'Stiggy', you will be missed." Born in Adelaide in Australia in 1934, he moved to England in 1954 and started a small theatrical agency. He then got involved in m ... More
Oklahoma City Museum of Art receives 50 photos from Brett Weston Archive and Christian K. Keesee Collection
One-person exhibition of over 60 paintings and works on paper by Ilse D'Hollander opens at Sean Kelly
Survey of paintings by Beijing-based painter Zhu Jinshi opens at Blum & Poe


Brett Weston (American, 1911-1993). sculpture, Europe, ca. 1970. Gelatin silver print. Oklahoma City Museum of Art. Gift of the Christian Keesee Collection, 2015.025, © The Brett Weston Archive.



OKLAHOMA CITY, OKLA.- The Oklahoma City Museum of Art has received 50 gelatin silver prints by American photographer Brett Weston (1911-1993) from the Brett Weston Archive and Christian Keesee Collection. The photographs in the donation were taken between 1937 and 1980 and consist predominantly of the natural and material abstractions for which the artist became known. Photographs such as lily pad, water, Europe (1968), terraced fields, Mexico (1964), and sculpture, Europe (ca. 1970) reference Brett's extensive travels. He also spent a considerable amount of time in California and Hawaii, photographing images such as lava, Hawaii (ca. 1980) and desert landscape, California (ca. 1950). "Thanks to Mr. Keesee's vision and generosity, the Oklahoma City Museum of Art has one of the largest collections ... More



Untitled, 1996. Oil on canvas, 28 x 21 5/8 inches (71 x 55 cm) © The Estate of Ilse D'Hollander. Photo: Guy Braeckman. Courtesy: Sean Kelly, New York.



NEW YORK, NY.- Sean Kelly presents a one-person exhibition of over 60 paintings and works on paper by Belgian artist Ilse D'Hollander (1968 – 1997). This will be the first comprehensive solo exhibition of D'Hollander's remarkable body of work ever presented in the United States. An opening reception will take place on Thursday, January 7 from 6:00 to 8:00pm. Created during a very brief period, from 1989 until her early, unexpected and tragic death at the age of 29, D'Hollander's oeuvre exhibits a highly developed sense of color, composition, scale and surface, through the use of subtle tones and pared down compositions. An artist's artist, her canvases and works on paper favor abstraction, yet subtly allude to the everyday, hinting at nature and the landscape of the Flemish countryside where she spent the last and most productive years of her life. D'Hollander's subtly ... More



Zhu Jinshi, Dancing with the Devil 1 (detail), 2013. Oil on canvas, 63 x 55 1/8 inches. Courtesy of the artist and Blum & Poe, Los Angeles/New York/Tokyo.



NEW YORK, NY.- Blum & Poe presents a survey of paintings by Beijing-based painter Zhu Jinshi. This is Zhu's first solo exhibition in New York and his second solo presentation with the gallery. Zhu's painting practice is divided into two parts: all-over paintings which literally cover the canvases end to end with paint often the depth of the human hand, and what are known as Liu Bai paintings (direct Chinese translation: "leaving blank"). Liu Bai, a traditional aesthetic approach to compositional balance in Chinese painting, was conceived as a form of "blankness," rather than "emptiness," embodying great philosophical nuance. In parallel with works such as these, Zhu has recently explored the flat application of the black monochrome, with all of its minimalist and philosophical implications. One all-black painting, Kant (2015), will be on display, its one-inch deep surface scored by ... More
Christie's announces its annual Ski Sale – the only auction dedicated to ski posters worldwide
France's Pierre Boulez, world-renowned avant-garde composer who 'opened minds', dies
Hirschl & Adler Modern opens first comprehensive exhibition in America of works by Frank Walter


Alex Walter Diggelmann (1902-1987), GSTAAD. Lithograph in colours, 1934, printed by J.C. Müller, Zürich, condition A-/A; not backed, 40 x 25 in. (102 x 64 cm.). Estimate: £10,000-15,000.



LONDON.- On 21 January 2016 Christie's will host its annual Ski Sale – the only auction dedicated to ski posters worldwide. The Ski Sale continues to present collectors with colourful, decorative and skilful vintage poster designs, perfect for anyone looking to decorate their home or chalet. The 2016 auction features a superb selection of vintage posters advertising Europe's iconic ski resorts, as well as a striking group from the United States, Canada and New Zealand. There is a poster for every budget in The Ski Sale, with estimates ranging from £700 up to £25,000. During the early 20th century, the first resorts began competing against one another to be recognised as the most beautiful and glamorous, with some of the finest designers and artists commissioned to create stylish advertisements urging holiday-makers to visit. This resulted in a great range of ... More



Picture taken on October 17, 2008 shows French conductor and composer Pierre Boulez conducting the SWR Symphony Orchestra during the opening concert of the Donaueschinger Musiktage music festival in Donaueschingen.



PARIS (AFP).- World-renowned French conductor-composer Pierre Boulez, one of the most influential voices in modern classical music who was no stranger to controversy, has died aged 90, his family said Wednesday. A seminal figure in abstract music, Boulez constantly pushed the envelope by challenging the status quo, once suggesting: "We should burn down the opera houses." It was not that he disdained opera, but rather Boulez, who died Tuesday in Baden-Baden, Germany, felt that operatic productions had become too amateurish and catered too much to popular demand. "He helped open minds and hearts to new musical forms," said France's former culture minister Jack Lang. "He really invented a unique musical language." Intrigued by maths, Boulez composed around 30 often demanding works, notably "Le ... More



Red Sky Yellow Sunrise, Oil on paper (polaroid box cover), with metal cartridge, 3 3/4" x 3 3/16". Courtesy of Hirschl & Adler Modern, New York.



NEW YORK, NY.- The first comprehensive exhibition in America of works by the recluse artist, poet and philosopher Frank Walter (1926-2009) of Antigua will open at Hirschl & Adler Modern on Thursday January 7, 2016. More than seventy examples of painting and sculpture will be on view, many before the public for the first time. This self-taught artist spent years living in a small cabin without running water or electricity high above Antigua's remote Ding-a-Ding Nook. His death brought to light a remarkable trove of paintings, sculpture, photographs, and constructions, along with at least 25,000 pages of his writing, that reveal a talent and intelligence not fully appreciated or understood during his lifetime. Born to a family of both African and European origin, Walter's mixed ancestry complicated his sense of identity, a struggle that shaped both his art and life. He enjoyed an elite upbringing that nurtured his keen intellect a ... More
Quote
I would like not to reproduce but to reinvent the structure of light in a way pertinent to painting rather than to optics. Piero Dorazio
---
Is MoMA haunted? | GHOST STORIES
---
Flashback
On a day like today, English painter and educator Thomas Lawrence died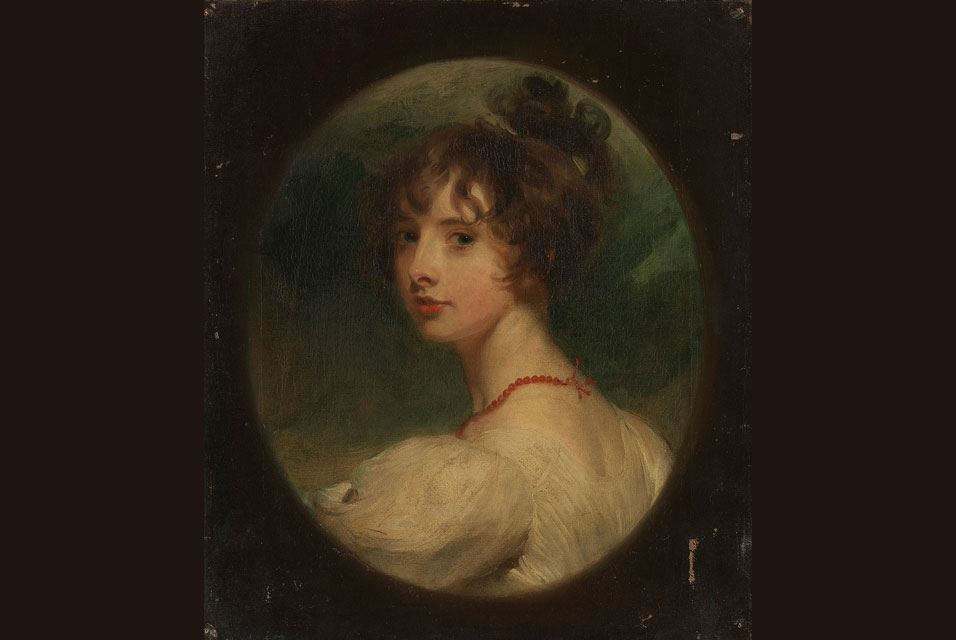 August 07, 1830. Sir Thomas Lawrence PRA FRS (13 April 1769 - 7 January 1830) was a leading English portrait painter and the fourth president of the Royal Academy. In this image: Sir Thomas Lawrence (1769 - 1830) Portrait of the Hon. Emily Mary Lamb (1787-1869), 1803. ©The National Gallery.
---

Museums, Exhibits, Artists, Milestones, Digital Art, Architecture, Photography,
Photographers, Special Photos, Special Reports, Featured Stories, Auctions, Art Fairs,
Anecdotes, Art Quiz, Education, Mythology, 3D Images, Last Week,
.
Royalville Communications, Inc
produces: