National Gallery of Canada acquires The Foursome (The Partie Carrée) by James Tissot
Anabelle Kienle Poňka, Acting Senior Curator of European and American art, National Gallery of Canada poses with James Tissot's The Foursome (The Partie Carrée), 1870. Photo: Andrew Van Beeken for The National Gallery of Canada.
OTTAWA
.-
A new acquisition for the
National Gallery of Canada
went on permanent display today. The Partie Carée (1870), by renowned French artist James Tissot (1836–1902) joins two other Tissot works in the collection, enriching the Gallery's important holdings from the French Second Empire period (1852-70). Purchased privately from the Estate of David R. Graham, The Partie Carée has been exhibited publicly only twice—including its world premiere at the Paris Salon in 1870. "The Partie Carrée ranks among the most refined and ambitious works from Tissot's first Paris period," says Anabelle Kienle Poňka, Acting Senior Curator of European and American art. "A masterpiece of his Directoire series, it embodies references to history and art history with visual intelligence, wit and humour. Large in scale and exquisitely painted, it is also an important example of the era's penchant for genre scenes that t ...
More
The Best Photos of the Day
Swiss, Modern & Contemporary art bring strong prices at Koller
Asia Week New York announces 10th anniversary dealer roster
Yalitza Aparicio: an indigenous Mexican woman captivates Hollywood


Emil Nolde, Doppelbild (Sie seltsames Licht). 1918. Oil on canvas. 60.6 x 56.2 cm. Sold for CHF 1 million.



LONDON.- "21,000 … 22,000 … 23,000 …" the bids called out by auctioneer Cyril Koller had clients in the packed saleroom checking and re-checking their catalogues – the first lot of Koller's Prints & Multiples auction on 8 December was estimated at CHF 1,500 – 2,500, and already the bidding was well into five figures. Despite its small format, the suite of ten small-format woodcuts by Felix Vallotton entitled "Les Petites Baigneuses" had become a must-have lot for several collectors. "45,000 … 46,000 … 47,000…" in increments of 1,000 francs, two collectors carried the bidding war on to a new auction record for any set of prints by the artist: CHF 168,000. The Swiss, Modern & Contemporary Art auctions at Koller on 7 and 8 December exhibited strong bidding across the fine art categories, with prices well exceeding pre-sale estimates overall. The Swiss Art auction f ... More



Ceramics (front to back) by Ogawa Machiko, Tashima Etsuko, Maeda Masahiro and Matsui Kōsei. Photo: Richard Goodbody. Courtesy of Joan B. Mirviss LTD.



NEW YORK, NY.- The Asia Week New York Association announces that forty-eight international galleries and six auction houses -Bonhams, Christie's, Doyle, Heritage Auctions, iGavel, and Sotheby's will participate in the 10th anniversary edition of Asia Week New York 2019, the ten-day celebration of Asian art and culture that spans the metropolitan region from March 13 through 23, 2019. "On the occasion of this 10-year milestone, we are pleased to announce the outstanding roster of international specialists," says Christina Prescott-Walker, chairman of Asia Week New York. "The breathtaking range of their expertise and offerings always impresses even the most seasoned patrons, which include collectors, curators, designers and world-renowned tastemakers." According to Ms. Prescott-Walker, Asia Week New York, in ... More



Mexican actress Yalitza Aparicio arrives for the Los Angeles premiere of "Roma" at the Egyptian theatre in Hollywood on December 10, 2018. Robyn Beck / AFP.



LOS ANGELES (AFP).- Yalitza Aparicio had just gone along with her sister to the casting call for Alfonso Cuaron's new film. She had no intention of trying out herself. But destiny put her in front of the camera and that was how the Mexican woman of indigenous origins, who had just graduated as a teacher but wasn't yet working, became the star of "Roma." She is likely now to spend the next few months learning how to handle Tinseltown red-carpet ceremonies -- Cuaron's latest film is a sensation, and her work is generating major buzz. "Roma" won the Golden Lion at the Venice Film Festival, has been nominated for three Golden Globes and is a strong favorite for the Oscars in February. "It wasn't something that I really wanted or had dreamed about," Aparicio, who turned 26 on Tuesday, told AFP. "Because of your socioeconomic ... More
Karl Marx 'Capital' contract makes a mint at Paris auction
Exhibition of works by Lawrence Weiner on view at Marian Goodman Paris
Saint Louis Art Museum acquires 'Sunburst in the Riesengebirge' by Caspar David Friedrich


The contract specifies that the book must be published at a price "which all can afford".



PARIS (AFP).- A contract signed by Karl Marx for the publication of the French version of "Capital", his ground-breaking study of capitalism, sold at auction in Paris for a record 121,600 euros ($138,145), five times the expected price. The contract, signed with editor Mauriche Lachatre ahead of publication of the first French tome of "Capital" in 1872, was originally expected to fetch no more than 25,000 euros, auction house Ader Nordmann said ahead of Tuesday's sale. The contract specifies that the book must be published at a price "which all can afford". Also sold were 23 letters written by Marx to his French editor, two of which were sold for a total of 160,000 euros. Most of the letters, dating from 1872, confirm that Marx translated the first tome of "Capital" himself from German into French as he was not satisfied with the original translation. "We knew that Marx had taken part in translating the work, but not that he had written such a large part of it," an expert said. The sale was ... More



Lawrence Weiner, NITER & BRIMSTONE KEPT APART, 1992. LANGUAGE + THE MATERIALS REFERRED TO. Photo: Rebecca Fanuele © and Courtesy of the artist and Marian Goodman Gallery, New York, Paris, London.



PARIS.- Galerie Marian Goodman is presenting FOLDED WAVES VAGUES PLIÉES, an exhibition of works by Lawrence Weiner at the gallery and at the bookshop. Lawrence Weiner has been using language as the primary medium for his works since the late 1960s. Presented in capital letters, his structures consisting of language, or text fragments, often accompanied by graphic marks and lines, are instantly and internationally recognizable as Weiner's. Each piece refers to Weiner's generic description of their content: LANGUAGE + THE MATERIALS REFERRED TO. The work often describes material components, colors, spatio-temporal delineations and interactions, allowing viewers to develop their own personal interpretation and experiences. One of the leading figures of the Conceptual art scene in the ... More



The Saint Louis Art Museum purchased "Sunburst in the Riesengebirge," a landscape painting by Caspar David Friedrich, at auction in London on Dec. 12, 2018.



ST. LOUIS, MO.- The Saint Louis Art Museum has acquired "Sunburst in the Riesengebirge," a landscape painting by the German Romantic painter Caspar David Friedrich. The museum purchased the painting today (Dec. 12) at auction at Sotheby's in London for a total price of $2.75 million, including buyer's premium. The painting will be on view in early 2019. Paintings by Friedrich seldom come on the market. In the United States, the artist is represented in the collections of only a small number of museums, including the Metropolitan Museum of Art, National Gallery of Art, Kimbell Art Museum, and J. Paul Getty Museum. Acquiring a strong work by Friedrich has been a strategic priority for several decades, said Brent R. Benjamin, the Barbara B. Taylor Director of the Saint Louis Art Museum. "As the leading German painter of the first half of the 19th century, Friedrich had an extraordinary ... More
Exhibition at Sean Kelly features two new 'solid-light' installations by Anthony McCall
Star Wars designs achieve top lot at Bonhams; World record for Judas Priest guitar
Exhibition of new works by Chiharu Shiota on view at Blain│Southern


Anthony McCall. "Doubling Back" (2003). Installation view, Museo d'Arte della Svizzera italiana, Lugano, 2015. Photograph by Stefania Beretta. © Anthony McCall. Courtesy: the artist and Sean Kelly, New York.



NEW YORK, NY.- Sean Kelly announces Split Second, Anthony McCall's sixth solo exhibition with the gallery. Occupying the entire space, the exhibition features two new 'solid-light' installations, McCall's seminal horizontal work Doubling Back, 2003, and a curated selection of black and white photographs, a number of which will be exhibited in the US for the first time. Anthony McCall is widely recognized for his 'solid-light' installations, a series he began in 1973 with the ground-breaking Line Describing a Cone, in which a volumetric form composed of projected light slowly evolves in three-dimensional space. In Split Second, McCall further expands the development of this series, creating a dialogue between two new works, Split Second and Split Second (Mirror). Split Second consists of two separate points of light emanating from the top and bottom of the gallery's back ... More



Ken (K.K) Downing/ Judas Priest: A Gibson Flying V guitar, 1967, sold for an astonishing £150,000 (Estimate £15,000-18,000), a world record result for a 'lead heavy metal guitar'. Photo: Bonhams.



LONDON.- A sketchbook showing the original hand-drawn costume designs for key characters in Star Wars - including Darth Vader, Chewbacca and the Stormtroopers - sold for an impressive £125,000 at Bonhams, New Bond Street, on Tuesday 11 December 2018. The sketchbook was part of the 73-lot sale: Designing an Empire: The John Mollo Archive, and in the collection belonging to the family of John Mollo, the double Oscar®-winning costume designer for Star Wars, Gandhi, Alien and Chaplin. Katherine Schofield, Head of Bonhams Entertainment Memorabilia department, said, "John Mollo's personal sketchbook provides a unique insight into the creation of the Star Wars universe. We are delighted that his historic work has been celebrated with bidders from around the globe eager to own this piece of cinematic history." The story began in 1975, when ... More



Chiharu Shiota, Me Somewhere Else, 2018, Installation view, Courtesy the artist and BlainSouthern, Photo Peter Mallet.



LONDON.- Blain|Southern London is presenting Me Somewhere Else, an exhibition of new works by Chiharu Shiota. The artist's first exhibition at the London gallery, Me Somewhere Else includes one of Shiota's site-specific installations, sculpture and works on canvas. Based in Berlin, Shiota (b. 1972, Osaka, Japan) is best known for her immersive installations, such as The Key in the Hand, with which she represented Japan at the Venice Biennale in 2015. Using thread to 'draw' in three dimensions, she weaves intricate networks of yarn into and across spaces. Personal experiences are the starting points for her works, which explore the relationships between the body, memory, life and death. The titular installation Me Somewhere Else continues Shiota's exploration of thread as a medium but here she utilises the material in a markedly different way, using her fingers to knot red yarn into a vast net. ... More
American Art & Pennsylvania Impressionists tops $3.2 million
Christie's France Asian Art sale achieves €7.1M
Exhibition at Galerie Miranda presents two different bodies of work taken in the same city by artists of two generations


Fern Isabel Coppedge, Looking Up the Delaware, sold for $59,375.



PHILADELPHIA, PA.- The second Sunday in December saw Freeman's winter auction of American Art & Pennsylvania Impressionists. Bidders crowded the first-floor gallery, filling every available seat and standing around the perimeter for the duration of the sale. Chairman Alasdair Nichol presided at the rostrum, taking bids from the phones, online and the room, for the nearly 160-lot auction. The sale totaled $3.22 million, including Buyer's Premium, with 81% of the lots sold. The undoubted highlight of the sale was a striking painting of a dramatic knife fight by N.C. Wyeth, "Back and Forth Across It We Went…" (Lot 94), which sold for $550,000, making it the most expensive work by Wyeth ever sold at Freeman's. The painting is an illustration for Vingie E. Roe's "The Virtue of Neils Hansen," a short-story published in Colliers Weekly in May 1915. The present lot was fresh to market, having never ... More



The sale offered a very rare and exceptional imperial cloisonné enamel Taotie vase and cover. Estimate: €150,000-200,000. Sold for €343,500. © Christie's Images Limited 2018.



PARIS.- The Asian Art sale totaled €7,175,000 selling 87% by value, a result far above the presale estimate. The top lot of the sale was an important Thangka representing the Mandala of Vajravarahi which sold for €607,500 against a presale estimate of €400,000-600,000. This piece was part of the exceptional collection of Lionel and Danielle Fournier which 74 lots realised a great total of €3,588,750. The afternoon session offered a beautiful group of 25 jades coming from a French collection. The combined total for these jades reached almost €1M. The top lot from this section is an impressive white jade "bridge" Brush rest and its spinach green jade "water" stand from the Qing dynasty which sold for €487,500 against a presale estimate of €80,000-120,000. Other Chinese highlights realised strong prices such as a massive imperial cloisonné ... More



André Kertész (1894-1985), August 17, 1981. Polaroid SX-70 Dated in pencil on verso. From the Estate of André Kertész, New York © The Estate of André Kertész / courtesy Stephen Bulger Gallery.



PARIS.- This exhibition takes its title from the first French publication of the Kertész Polaroid series: A ma fenêtre (Editions Herscher, 1981) and presents two different bodies of work taken in the same city by artists of two generations: André Kertész and Arne Svenson. New York city, 1979: aged 84, André Kertész was emotionally and physically exhausted after the recent death of his beloved wife and lifelong companion Elizabeth. To distract him from his grief, a friend offered him a Polaroid SX-70 camera and, for the next 6 years, the master of black and white photography used it to produce a last great body of work. Taken in his Manhattan apartment just north of Washington Square, many of the photographs were shot either from his window or on the windowsill. Arranging personal objects into delicate, crafted still lives that evoked ... More
Quote
Photography imitates everything and expresses nothing. Paul Gauguin
More News
---
Martin Creed Interview: Things that Don't Add Up
---
Flashback
On a day like today, Russian-French painter Wassily Kandinsky died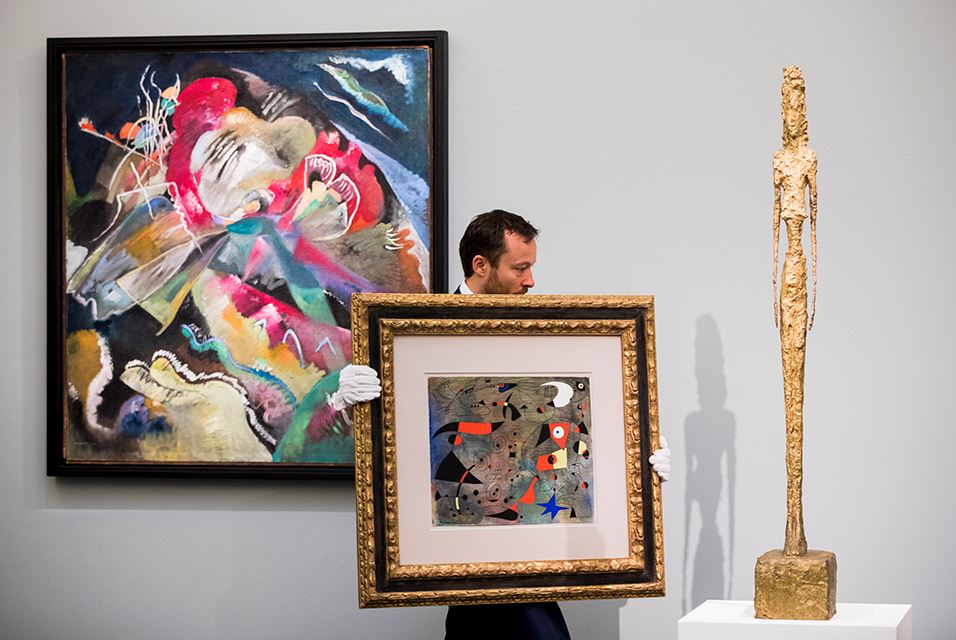 December 13, 2018. Wassily Wassilyevich Kandinsky (16 December [O.S. 4 December] 1866 - 13 December 1944) was a Russian painter and art theorist. He is credited with painting one of the first recognised purely abstract works.Born in Moscow, Kandinsky spent his childhood in Odessa, where he graduated at Grekov Odessa Art school. He enrolled at the University of Moscow, studying law and economics. Successful in his profession -- he was offered a professorship (chair of Roman Law) at the University of Dorpat -- Kandinsky began painting studies (life-drawing, sketching and anatomy) at the age of 30. From left to right: Wassily Kandinsky, Bild mit weissen Linien (Painting with White Lines), oil on canvas, 1913. Joan Miró, Femme et oiseaux, gouache and oil wash on paper, 1940. Alberto Giacometti, Grande figure, bronze, cast by the Alexis Rudier foundry in Paris in 1947. Courtesy Sotheby's.
---

Museums, Exhibits, Artists, Milestones, Digital Art, Architecture, Photography,
Photographers, Special Photos, Special Reports, Featured Stories, Auctions, Art Fairs,
Anecdotes, Art Quiz, Education, Mythology, 3D Images, Last Week,
.
Royalville Communications, Inc
produces:







Tell a Friend
Dear User, please complete the form below in order to recommend the Artdaily newsletter to someone you know.
Please complete all fields marked *.
Sending Mail

Sending Successful