Getty announces intention to acquire Renaissance painting by Parmigianino
In private hands for over 400 years, the painting is one of the finest surviving works by the leading Mannerist artist.
LOS ANGELES, CA
.-
The J. Paul Getty Museum
announced today its intention to acquire Virgin with Child, St. John the Baptist, and Mary Magdalene (about 1530-40) by Parmigianino (Italian, 1503-1540), one of the most celebrated painters of the Italian Renaissance. Extremely well-preserved, the painting is a supreme example of the artist's mature Mannerist style and represents sixteenth-century painting at its finest. The painting is documented in the famed Barberini collection in Rome in the mid-seventeenth century and was recently on loan to the Getty Museum where it was shown alongside works by Pontormo and Bronzino. Before that, the painting was on long-term loan to the National Gallery in London. The acquisition is subject to an export license being granted by the Arts Council England. The export application is being filed by the seller's representative, Sotheby's, on the Getty's behalf. "This is a rare opportunity for us to en ...
More
The Best Photos of the Day
'Willy Wonka' star Gene Wilder dead at 83
Works by Robert Mapplethorpe on view at Galerie Thaddaeus Ropac
Getty presents rare treasures of 19th-century French photography


This file photo taken on September 7, 1984 shows US actor and director Gene Wilder. Mychele DANIAU / AFP.



LOS ANGELES (AFP).- Gene Wilder, who delighted audiences with his comic turns in "Willy Wonka & the Chocolate Factory" and Mel Brooks classics including "Blazing Saddles" and "The Producers," died Monday at age 83. His nephew Jordan Walker-Pearlman said the actor died of complications from Alzheimer's, holding hands with family members and taking his last breath as Ella Fitzgerald's "Somewhere Over The Rainbow" played on a speaker. "It is with indescribable sadness and blues, but with spiritual gratitude for the life lived, that I announce the passing of husband, parent and universal artist Gene Wilder, at his home in Stamford, Connecticut," Walker-Pearlman said in a statement. "It is almost unbearable for us to contemplate our life without him." Wilder, whose third wife Gilda Radner died of ovarian cancer, was treated for lymphoma in 2000 and had worked only sporadically since. He was acclaimed for his turn as The ... More



Robert Mapplethorpe, Untitled, 1983. Mixed Media, 94 x 104 cm.



SALZBURG.- Galerie Thaddaeus Ropac presents the exhibition Objects, with unique pieces by Robert Mapplethorpe from his early years as young artist, ranging from collages to his first Polaroids. From 1963 to 1969, Mapplethorpe attended the Pratt Institute in Brooklyn, where he studied painting and sculpture, and majored in graphic art. During these formative years he produced numerous three-dimensional objects, drawings and collages using all kinds of mixed media. It was not until 1971, when he borrowed a Polaroid camera, that he introduced photography into his collages, along with cut-outs from books and magazine clippings. Back then everyone was taking Polaroid pictures. It was a very accessible medium for middle-class America. Mapplethorpe enjoyed using the instantaneity of the Polaroid camera, with which he elaborated a creative language to record the present moment, to play with the ... More



Jean-Louis-Marie-Eugène Durieu and Possibly with Eugène Delacroix, Draped Model, about 1854. Albumen silver print. Image: 18.6 × 13 cm. 85.XM.351.9. The J. Paul Getty Museum, Los Angeles.



LOS ANGELES, CA.- In the shadow of the political revolutions of 1848, an artistic revolution was also brewing in France within the young medium of photography. An unprecedented period of creativity and discovery among photographers emerged between the first French announcement of a paper negative process in 1847 and more mechanical processes for photographs in the 1860s, sparking debates about photography's prospects in the divergent fields of art and science. Organized around the Getty Museum's rich holdings of early French photography and supplemented with important international loans, Real/Ideal: Photography in France, 1847-1860, on view August 30-November 27, 2016 at the J. Paul Getty Museum, Getty Center, highlights the work of four pioneering photographers—Édouard Baldus ... More
Rare Meiji Period masterpieces to be revealed at the LAPADA Art & Antiques Fair
Sotheby's HK Gallery presents 'Ming Ma: The Artist Upstairs' selling exhibition
Magnum Photos and Canon present 'Exile" at Visa Pour L'Image in Perpignan


Silver and multimetal Koro signed Masayoshi Height: 14cm.



LONDON.- A rare opportunity to view works from the Japanese Meiji period (1868 – 1912) is brought to this year's LAPADA Art & Antiques Fair, Berkeley Square, Mayfair, London on 13th – 18th September 2016. The pieces will be shown by Kevin Page Oriental Art, one of the few UK dealers that specialises in the best examples of works from that era. Kevin Page comments, "The Meiji period is a particularly fascinating time in Japanese history, which appeals to collectors. However, someone with no prior knowledge can also appreciate the craftsmanship and artistic accomplishment displayed in Meiji artwork. A lot of the best works were created for the Great Expositions and so appeal to a wide range of people. In the late 19th century they were seen as exotic and mysterious, no one had seen anything like it, and this still rings true today as they remain underexposed. With the V&A's recent revamp of its Japanese gallery, howe ... More



My Faces, 2012. Oil on paper, 47.5 x 35.1 cm. Photo: Sotheby's.



HONG KONG.- Sotheby's Hong Kong Gallery is presenting the selling exhibition Ming Ma: The Artist Upstairs from 25 August to 2 September 2016. While Ming works with a variety of mediums, this exhibition highlights more than 50 portraits and illustrations. The artist thrives on the expression, in an abstract and minimal style, of the fine details of beauty and despair in our society, and is renowned for the exaggerated and unusual character profiles in his portraits. A long-time illustrator for filmmaker Yon Fan's publications and his magazine column, The Artist Upstairs, Ming Ma's collaborations with the filmmaker emphasise a particular scene and moment in time with Yon's poetic inscriptions completing each work as a unique backdrop. Ming's distinctive use of colour and line in his portraits add another dynamic to the compelling compositions of each figure portrayed. Jasmine Yan, Gallery Director, Sotheby's Hong ... More



Refugees In the desert. The Sha-alaan One camp, is the worst camp. They have orderly food lines with thousands of refugees waiting calmly for food distribution from the CHARITAS charity organization. Jordan, 1990 © Chris Steele-Perkins/Magnum Photos.



PERPIGNAN.- Exile, brings together work of 22 Magnum Photographers to present a visual representation of nearly 70 years of international migration and displacement. The exhibition, at Visa Pour L'Image Perpignan, is a collaboration between Magnum Photos and Canon, who will also be providing a free portfolio reviews for emerging photographers at the festival. Providing a historic context to the current migration crisis in Europe, Exile, includes images of civilians returning home following World War II by Robert Capa; Philip Jones Griffiths' Vietnamese woman fleeing a US bomb attack; and John Vink's documentation of the displaced in South Sudan. Presenting coverage of conflicts ranging from the Six Day War, Iraq, Rwanda and the Arab Spring the exhibition also includes work by Abbas, ... More
Allen Memorial Art Museum's fall 2016 exhibitions and programs focus on concept of time
New book captures the kitsch and nostalgic aesthetic of the mid-century modern motels
The Frans Hals Museum starts a new tradition: The biennial Frans Hals Lecture


Matthieu Platte-Montagne, Still Life with Skull, Pocket Watch, and Roses (Memento Mori), ca. 1650. Etching and engraving. Image: 11 7/16 × 8 3/8 in. Prints and Drawings Acquisition Fund, 2016.3.



OBERLIN, OH.- "Time" will be the focus of exhibitions, lectures, and other programs at the Allen Memorial Art Museum during academic year 2016–17. Questions about the politics of erasure and exclusion come to the fore in a site-specific installation by New York-based artist Fred Wilson. Using works primarily from the AMAM collection, Wilson makes juxtapositions that ask viewers to reconsider traditional social and historical narratives. His collaborations with museums and cultural institutions began in 1992 with his acclaimed exhibition Mining the Museum at the Maryland Historical Society. At the Allen, Wilson returns the museum's central gallery to its 1917 roots as a space for displaying classical sculpture, creating an illusory setting of ruin ... More



Through a rare combination of economics, geography and chance, the island of Wildwood contains a national treasure: the highest concentration of mid-century modern hospitality architecture in the United States.



NEW YORK, NY.- Out of Season: The Vanishing Architecture of the Wildwoods (September; $55; BoothClibborn Editions, distributed in the U.S. by Abrams) collects extraordinary color photographs by Philadelphia-based artist Mark Havens. The works illustrate the artist's ten-year exploration of the architecturally evocative motels of Wildwood, a small barrier Island located at the tip of southern New Jersey. The photographs are presented in a linear sequence, from morning to night, as if to echo the fading light of a once vibrant destination. Through a rare combination of economics, geography and chance, the island of Wildwood contains a national treasure: the highest ... More



Frans Hals Museum.



On 1 September 2016 it will be 350 years since Frans Hals was buried in Haarlem's the Grote or St. Bavo's Church. The Frans Hals Museum | De Hallen Haarlem is using that opportunity to start a new tradition: the biennial Frans Hals Lecture. This festive gathering will take place in the church where Hals lies buried. The lecture will be in two parts. The evening will start with a scholarly analysis of Frans Hals's work and importance put forward by a renowned academic. This will be followed by a fictional story about the life or a work of Frans Hals by a commissioned writer. Hals' oeuvre represents a major focus within the collections of the Frans Hals Museum | De Hallen Haarlem. The 'Regents' and 'Regentesses' by Hals - his famous last paintings - have been the subject of intensive study in the museum's restoration studio since 2013. These three group portraits, which rank as absolute highlights ... More
Center for Maine Contemporary Art's late summer exhibitions: Lauren Henkin and Don Voisine
SOFA CHICAGO: The City of Chicago's longest-running and most popular art fair returns
The Harley Gallery celebrates Year of the English Garden with new exhibitions


Lauren Henkin, Poppies, 2014, pigment on rag, 32 x 40".



ROCKLAND, ME.- The Center for Maine Contemporary Art announces its 2016 late summer exhibition schedule at the art center's new campus at 21 Winter Street, Rockland, Maine. CMCA's striking new building, designed by internationally acclaimed architect Toshiko Mori, opened on June 26, 2016. The new facility, located in the heart of downtown Rockland's burgeoning arts district, provides more than 5,500 square feet of exceptional exhibition space for the presentation of work by contemporary artists. The complex also includes a gift shop featuring the work of Maine artisans and designers, an ArtLab classroom, and a 2,200-square-foot public courtyard displaying a monumentally scaled sculpture, Digital Man, by Ogunquit-based artist Jonathan Borofsky. Late summer exhibitions at CMCA showcase the work of artists Lauren Henkin and Don Voisine. On view through ... More



University of Iowa's 2015 CONNECT entry. University of Iowa's 3D Design Department (Iowa City IA) and Pratt University (Brooklyn NY) were co-winners of CONNECT at SOFA CHICAGO 2015.



CHICAGO, IL.- SOFA CHICAGO, the City of Chicago's longest-running and most popular art fair returns to Navy Pier's Festival Hall November 3-6, with nearly 80 national and international galleries displaying the very best in Sculpture, Objects, Functional Art and Design. Last year, over 36,000 people attended SOFA CHICAGO, with major works exhibited by artists such as Pablo Picasso, Hunt Slonem, Tip Toland, John Chamberlain, Lino Tagliapietra, Sheila Hicks, Jonathan Boyd, and more. The 23rd edition of SOFA CHICAGO will once again showcase the best of the best, with more than 80 prestigious galleries with works by both emerging and established artists in ceramics, wood, glass, fiber, jewelry, metal, design, painting, photography and works on paper. Featured galleries include ... More



Julian Bray, Stable Court.



WORKSOP.- 2016 marks the 'Year of the English Garden', celebrating the splendour of the country's gardens and parks. In honour of the occasion, The Harley Gallery, on the historic Welbeck estate in north Nottinghamshire, brings the outside into the gallery with a triple bill of garden-themed exhibitions (27 August to 23 October 2016). Visitors can take a rare peek into the Edwardian gardens at Welbeck with an exhibition of extraordinary early colour images – in 3-D. Dating from 1911-1928 these stereoscopic autochromes capture the gardens on the ducal Welbeck estate in their Edwardian heyday. The exhibition is accompanied with a talk from Denis Pellerin, curator of musician Dr Brian May's collection of stereoscopic photographs, one of the largest collections in the country. Inspired by the autochromes, Julian Bray's exhibition captures the romance and beauty of the century old ... More
Quote
I start from something considered dead and arrive at a world. Joan Miró
More News
---
Tony Duquette's Big, Bold & Colourful Jewels
---
Flashback
On a day like today, Swiss painter and sculptor Jean Tinguely died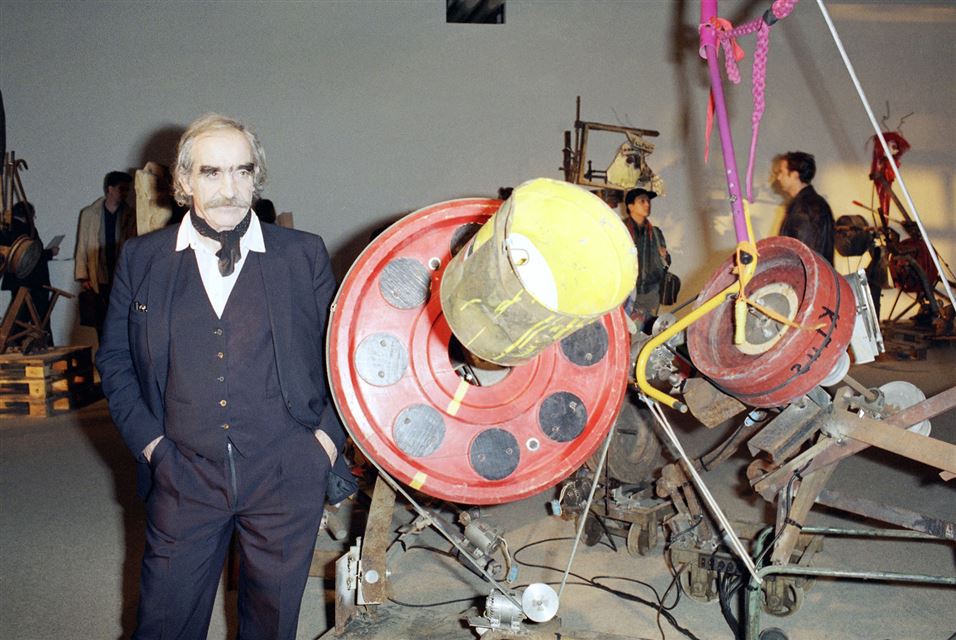 August 30, 1991. Jean Tinguely (22 May 1925 in Fribourg, Switzerland - 30 August 1991 in Bern) was a Swiss painter and sculptor. He is best known for his sculptural machines or kinetic art, in the Dada tradition; known officially as metamechanics. Tinguely's art satirized the mindless overproduction of material goods in advanced industrial society. In this image: Swiss painter and sculptor Jean Tinguely poses next to one of his sculptural machines at a retrospective exhibition of his kinetic art works on December 6, 1988 at the Centre Beaubourg (Centre Georges Pompidou) in Paris, France.
---
---

Museums, Exhibits, Artists, Milestones, Digital Art, Architecture, Photography,
Photographers, Special Photos, Special Reports, Featured Stories, Auctions, Art Fairs,
Anecdotes, Art Quiz, Education, Mythology, 3D Images, Last Week,
.
Royalville Communications, Inc
produces:







Tell a Friend
Dear User, please complete the form below in order to recommend the Artdaily newsletter to someone you know.
Please complete all fields marked *.
Sending Mail

Sending Successful