President Abdel Fattah al-Sisi reopens Egypt's Islamic museum damaged in bombing
People visit Cairo's Museum of Islamic Art after it reopened to the public on January 19, 2017, in the egyptian capital. The Egyptian president reopened the museum on January 18, three years after a car bombing partially destroyed the building. MOHAMED EL-SHAHED / AFP.
CAIRO
(AFP)
.-
Egyptian President Abdel Fattah al-Sisi reopened the Museum of Islamic Art in Cairo on Wednesday, three years after a car bombing partially destroyed the building. The museum, which boasts about 100,000 relics including a sword said to have belonged to the Prophet Mohamed, holds one of the largest Islamic civilisation collections in the world. The museum in central Cairo had been partially destroyed after a massive car bomb went off outside nearby police headquarters in January 2014, in an attack claimed by Egyptian jihadists. The blast damaged 179 relics including glass lanterns from the era of the Mamluks, the slave warrior caste that directly ruled Egypt from the 13th to the 16th centuries. Antiquities Minister Khaled el-Enany said 160 relics have been restored, at the reopening ceremony attended by Sisi and aired on television. ...
More
The Best Photos of the Day
Emily Dickinson in life and poetry is the subject of major exhibition at the Morgan
Passion & Desire from Antiquity to the Present Day at Sotheby's
Italy to return stolen Van Goghs to Dutch museum soon


Otis Allen Bullard (1816–1853), Emily Elizabeth, Austin, and Lavinia Dickinson, Oil on canvas, ca. 1840. Houghton Library, Harvard University.



NEW YORK, NY.- One of the most popular and enigmatic American writers of the nineteenth century, Emily Dickinson (1830–1886) wrote almost 1,800 poems. Nevertheless, her work was essentially unknown to contemporary readers since only a handful of poems were published during her lifetime and a vast trove of her manuscripts was not discovered until after her death in 1886. Often typecast as a recluse who rarely left her Amherst home, Dickinson was, in fact, socially active as a young woman and maintained a broad network of friends and correspondents even as she grew older and retreated into seclusion. Bringing together nearly one hundred rarely seen items, including manuscripts and letters, I'm Nobody! Who are you?—a title taken from her popular poem—is the most ambitious exhibition on Dickinson to date. It explores a side of her life ... More



Lucian Freud, Blond Girl, 1985 (est. Ł40,000-60,000). Photo: Sotheby's.



LONDON.- Across the centuries, art has always been intrinsically linked to expressions of passion and sensuality. 'Erotic: Passion & Desire' will encompass representations of love and sex from antiquity to the present day, exploring themes from the beauty of desire to representations of the male nude, to the carnal act itself, stripped of metaphor. Featuring over 100 extraordinary works comprising 19th-century furniture, design, fine art, photography and contemporary sculpture, the exhibition will open at Sotheby's New Bond Street Galleries on 11 February 2017 ahead of the auction on 16 February 2017. The catalogue introduction has been written by Rowan Pelling, who first achieved note as the editor of monthly literary erotic magazine, the Erotic Review, and has since written countless columns devoted to discussions around sex. "Art has always existed to tell a human story, and sex has always been a part ... More



Axel Ruger (R), Director of the Van Gogh museum poses next to Congregation Leaving the Reformed Church in Nuenen" (L) and "The Beach At Scheveningen During A Storm" (R) by Vincent van Gogh. MARIO LAPORTA / AFP.



THE HAGUE (AFP).- Two Van Gogh masterpieces stolen in Amsterdam 14 years ago will be returning to The Netherlands from Italy shortly after police recovered them from the house of notorious drug boss, a museum official said Thursday. The 1882 "Seascape at Scheveningen" and the 1884/5 "Congregation leaving the Reformed Church at Nuenen" will soon be on their way after an Italian judge cleared their return, Van Gogh Museum director Axel Rueger said. "We've just heard that the judge has ordered the release of the two recovered Van Goghs," Rueger said in a statement issued in Amsterdam. "The two canvasses will be formally handed over in the near future. Precise date hasn't been fixed yet, but it's expected to happen quickly," he said. Italian investigators in late September ... More
Exhibition turns back time to show how Western art became infused by Japanese aesthetics
Michael Werner Gallery opens an exhibition of works by the German painter Richard Oelze
Rare 1494 Christopher Columbus book containing his letter to King Ferdinand and Queen Isabella to be auctioned


L.A. Ring, At the French Windows. The Artist's Wife, 1897. Oil on canvas, 198,5 x 153,2 cm. Statens Museum for Kunst, © SMK Photo.



COPENHAGEN.- Mount Fuji covered in snow, cherry trees in blossom and "The Great Wave": in the second half of the nineteenth century a wave of enthusiasm for all things Japanese crashed across the Western world – a Japanomania. From January a major exhibition at The National Gallery of Denmark shows how Nordic art changed when Japan hit Europe. One of the best-known and best-loved paintings in the SMK collections is Laurits Andersen Ring's The Artist's Wife. L.A. Ring painted this declaration of love to Sigrid Kähler in 1897, and in addition to portraying the artist's wife in a moment of bliss the work also exemplifies how Japanese influences left their mark on Nordic art: the garden may be Danish, but shown full of decorative blossoming trees with gnarled branches as in Japanese art, and the woman herself is captured in ... More



Richard Oelze, Platz der Urnen (Place for the Urns), 1962. Courtesy Michael Werner Gallery, London and New York.



NEW YORK, NY.- Michael Werner Gallery announces an exhibition of works by the German painter Richard Oelze (1900-1980). A reclusive and visionary artist who participated in major international exhibitions of his time, Oelze is now lost to the broader art historical consciousness. This exhibition, with more than thirty paintings and drawings, is a rare opportunity to reconsider one of the forgotten masters of Surrealist painting. Richard Oelze's artistic career began in the 1920s, immersed in the Bauhaus in Weimar where his mentors included Oskar Schlemmer and Johannes Itten. Always a solitary and enigmatic figure, Oelze lived an eccentric and peripatetic existence, making numerous sudden trips by train to Berlin, Hamburg, Leipzig, Cologne and Düsseldorf. He lived in Dresden from 1926 to 1929, returned briefly to his studies ... More



Letter features Columbus' account of his discovery of the New World.



LOS ANGELES, CA.- A rare 1494 Basel edition of Christopher Columbus' letter to King Ferdinand and Queen Isabella entitled, "Christophorus Columbus, De insulis nuper in mari Indico inventis" will be auctioned by Nate D. Sanders Auctions on January 30, 2017. The 56-page book features Columbus' letter to King Ferdinand and Queen Isabella regarding his discovery of the new world. The March 1493 letter was penned by Columbus on the Nina while sailing back from the "Indian" isles and was addressed to Spain's king and queen, his patron Luis de Santangel and the Royal Treasurer Raphael Sanxis. Columbus confirmed the new lands he discovered justified the expensive and risky expedition. Leander de Cosco translated the letter into Latin for this 1494 Basel edition. Six woodcuts designed by famed German artist Albrecht Durer are included in the hardbound book. Th ... More
Detroit Institute of Arts welcomes a two new "guests of honor"
Lisson Gallery Milan provides a broad overview of Broomberg & Chanarin's work
Exhibition explores how artists have responded to light, its materiality, transience and effect


"John Barnard," 1744, John Michael Rysbrack, marble. Lent by The Metropolitan Museum of Art, Purchase, Gift of J. Pierpont Morgan, The Moses Lazarus Collection, Gift of Sarah and Josephine Lazarus, Bequest of Kate Read Blacque, in memory of her husband, Valentine Alexander Blacque, and Bequests of Mary Clark Thompson and Barbara S. Adler, by exchange, 1976 (1976.330).



DETROIT, MICH.- The Detroit Institute of Arts welcomes two new "guests of honor": a terracotta model and a marble bust of a young boy, John Barnard, by John Michael Rysbrack. The model is on loan from a private collector and the bust is on loan from The Metropolitan Museum of Art, New York. Shown together for the first time, these immaculately preserved portraits provide a rare glimpse of Rysbrack's creative process. The sculptures, both of which the artist signed and dated, showcase both Rysbrack's mastery of modeling terracotta, and his exceptional skill as a marble carver. They will be on view through summer 2018. Born and trained in Antwerp, Rysbrack moved ... More



Broomberg & Chanarin, Folly of disobedience, 2015, © Broomberg & Chanarin; Courtesy Lisson Gallery.



MILAN.- Broomberg & Chanarin's first solo exhibition at Lisson Gallery Milan provides a broad overview of the artists' work through eight different photographic series from 2006 to 2016, presented alongside a new work created especially for the show. Trace evidence is created when objects collide or connect and some material is transferred by friction between them. The term is associated with forensic science and the reconstruction of crimes, often describing how people, places and inanimate things interact with each other. An examination of Broomberg & Chanarin's work over the past decade unearths an approach to photography that is both anthropological and political in nature, characterised by an inherently investigative quality. The artists use photography as a form of conceptual ethnography, immersing themselves into spaces and situations that reveal evidence, residue or traces of past human ... More



Garry Fabian Miller, Year Two, Lead (1), December 2007/9. Courtesy of the Artist and Hacklebury Fine Art, London.



EASTBOURNE.- Towner Art Gallery presents A Certain Kind of Light: Light in Art Over Six Decades, a major new exhibition exploring how artists have responded to light, its materiality, transience and effect. Reflecting the relationship between light and a range of other themes, from brightness, colour and perception to transformation, energy and the passage of time, the exhibition brings together paintings, sculpture, video, photography, drawing and installations. Works by almost thirty leading artists including David Batchelor, Ceal Floyer, Raphael Hefti, Shirazeh Housiary, Gary Hume, Runa Islam, Anish Kapoor, L S Lowry, Julian Opie, Katie Paterson, Peter Sedgley, Mark Titchner, Rachel Whiteread and Cerith Wyn Evans are featured, selected from the Arts Council Collection, Towner's collection and private loans. As the basis for vision, light has long fascinated artists as both ... More
New proposals for Trafalgar Square's Fourth Plinth revealed
Aurel Scheibler opens solo exhibition by artist Jonathan Bragdon
Multidisciplinary installation by Mateo López on view at the Drawing Center


Damián Ortega, High Way. © James O Jenkins Courtesy of the artist.



LONDON.- A scoop of ice-cream covered in parasites, an empty white robe and a recreation of a sculpture destroyed by ISIS are among the new proposals for a work for Trafalgar Square's Fourth Plinth. Huma Bhabha, Damián Ortega, Heather Phillipson, Michael Rakowitz and Raqs Media Collective today unveiled maquettes of their proposed works. These will be on display in the Annenberg Court of the National Gallery until 26 March 2017. The two artists who have been selected will be announced in March 2017, and their works will be unveiled in Trafalgar Square in 2018 and 2020 respectively. The winning commissions will follow on from the current sculpture Really Good by David Shrigley, a 7m high thumbs up, that will be on the plinth until March 2018. The new proposals are: • Untitled by Huma Bhabha, an imposing figure, the scale reflecting a modern comic sci-fi movie. • High Way by Damián Ortega, a playful and precarious construction of a truck, ... More



Jonathan Bragdon, unfolding landscape, 1978 (detail). Ink and watercolour on paper, 45,5 x 60,5 cm / 17 7/8 x 23 7/8 in.



BERLIN.- On Friday, 20 January 2017 Aurel Scheibler opens The Path, the third solo exhibition by American-born, Amsterdam-based artist Jonathan Bragdon at the gallery. Following the comprehensive exhibition of his work from over the past five decades at the Kunstmuseum Appenzell in 2016, The Path will feature a selection of Bragdon's drawings, watercolours, and paintings spanning from the 1960s to the present. I found myself in a world divided. On one side the world as I experienced it, and on the other the world as it was explained by science. The division was forced, in the way freezing water splits rock, by the refusal of science to accept that the world as experienced by persons is also the world as it exists in fact. I began to draw in an attempt to put the world back together again, to draw it back together. Slowly I discovered that to be able to recover the world's coherence, I had to find a way of drawing that was al ... More



Mateo López, Serpentine, 2016. Wood, graphite on paper, 36 x 36 x 36". Courtesy of the artist and Casey Kaplan, New York. Photo: Jean Vong.



NEW YORK, NY.- The Drawing Center presents Mateo López: Undo List, a multidisciplinary installation that is the Colombian artist's first solo museum exhibition in the United States and that will feature works on paper, sculpture, performance, and projected film. Trained as an architect in his native Bogotá, López has long used drawing as a conceptual tool to cross disciplines and aesthetic categories. Drawing is more than an artistic medium for López; it is a way of conceiving and indeed inhabiting the world. Simple drawn constructions that can be manipulated in various ways; trompe l'oeil paper renderings of two- and three-dimensional objects (for example, near-exact replicas of lined sheets of paper); drawings made out of the leftovers produced by cutting into other works— these are just some of the devices López uses to reveal that, in his words, just as every manufactured object ... More
Quote
Architecture should produce true realisations of solified desires. Salvador Dalí
More News
---
Staging Americana Week with Hamilton's David Korins
---
Flashback
On a day like today, French painter Jean-François Millet, died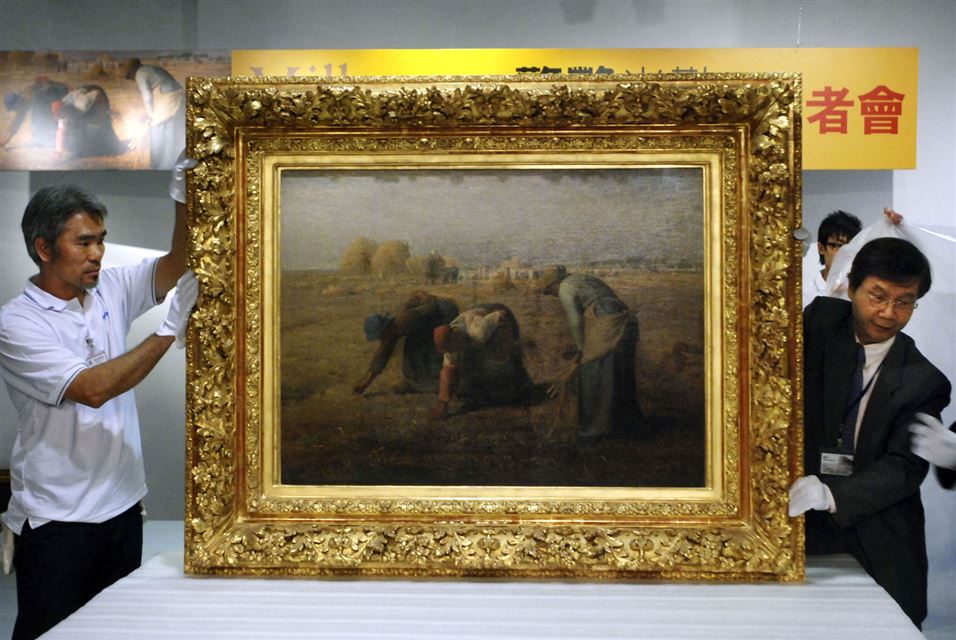 January 20, 1875. Jean-François Millet (October 4, 1814 - January 20, 1875) was a French painter and one of the founders of the Barbizon school in rural France. Millet is noted for his scenes of peasant farmers; he can be categorized as part of the naturalism and realism movements. In this image: "The Gleaners" by famed French painter Jean-Francois Millet during a media event to announce a special exhibition of the works of Jean-Francois Millet and other famed French painters on loan from Paris, Tuesday, May 27, 2008, in Taipei, Taiwan.
---

Museums, Exhibits, Artists, Milestones, Digital Art, Architecture, Photography,
Photographers, Special Photos, Special Reports, Featured Stories, Auctions, Art Fairs,
Anecdotes, Art Quiz, Education, Mythology, 3D Images, Last Week,
.
Royalville Communications, Inc
produces:







Tell a Friend
Dear User, please complete the form below in order to recommend the Artdaily newsletter to someone you know.
Please complete all fields marked *.
Sending Mail

Sending Successful