Ancient species of giant sloth that lived 10,000 years ago discovered in Mexico
This undated handout photog released on August 16, 2017 by Mexico's National Institute of Anthropology (INAH) shows what it is supposed to be the skull of a new species and genus of giant sloth that dates between 10647 and 10305 A.C. found in the bottom of a deep cenote in Quintana Roo, Mexico. HO / INAH / AFP.
MEXICO CITY
(AFP)
.-
Mexican scientists said Wednesday they have discovered the fossilized remains of a previously unknown species of giant sloth that lived 10,000 years ago and died at the bottom of a sinkhole. The Pleistocene-era remains were found in 2010, but were so deep inside the water-filled sinkhole that researchers were only gradually able to piece together what they were, the National Institute of Anthropology and History (INAH) said in announcing the find. Scientists have so far hauled up the skull, jawbone, and a mixed bag of vertebrae, ribs claws and other bones, but the rest of the skeleton remains some 50 meters (165 feet) under water, the INAH said. Researchers are planning to bring up the rest by next year to continue studying the find -- including to estimate how big the animal was. ...
More
The Best Photos of the Day
Blanton Museum of Ar acquires trove of Leon Polk Smith
Sotheby's integrates contemporary Latin American art into its New York Contemporary Art Sales
Exhibition at The Belvedere traces the impact of Maria Theresa's cultural commitment


Leon Polk Smith (Chickasha, OK, 1906 – New York City, 1996), Untitled, 1954. Collage, 25 3/4 x 19 3/4 in. Blanton Museum of Art, The University of Texas at Austin, Gift of the Leon Polk Smith Foundation, 2017.



AUSTIN, TX.- Director Simone Wicha of the Blanton Museum of Art at The University of Texas at Austin has announced that the museum has received a gift of seven works by the seminal American abstract painter Leon Polk Smith (1906–1996). The works come to the museum from the Leon Polk Smith Foundation and longtime Austin philanthropists Jeanne and Michael Klein. "We're honored that the Leon Polk Smith Foundation chose the Blanton as the steward of these paintings and drawings," Wicha said. "This concentration of works by Leon Polk Smith brings historical depth to our holdings of postwar American painting and allows us to highlight Smith's pioneering role in the development of abstract painting in the United States, from the new dynamism he brought to geometric abstraction to his prescient shaped canvases." "Three elements which have interested ... More



Mira Schendel, Untitled, from the series Droguinhas (Little Nothings). Estimate: 1,200,000 — 1,800,000. Sold for $1,512,500. Courtesy Sotheby's.



NEW YORK, NY.- Starting this fall, Sotheby's will present Contemporary Latin American Art within its New York Contemporary Art sales. This integration will expand the collector base for, and concentrate the broad appeal of, this dynamic and fast-growing area of collecting. Since pioneering the category in 1979, Sotheby's Latin American Art sales have helped to establish the markets for avant-garde movements such as: Geometric Abstraction, Kinetic Art, Conceptual Art, Concrete and Neo-Concrete Art. Going forward this material will be sold in New York Evening, Day, Curated, and Online Contemporary Art sales. Latin American Art specialists, who are part of Sotheby's Global Fine Arts Division, will collaborate with their Contemporary Art counterparts in the consignment and placement of these works in the marketplace while continuing to organize bi-annual Latin American Art Evening and Online auctions focused on 20th century ... More



Daniel Schmidely, Maria Theresa in Hungarian Coronationdress, 1742 © Galéria mesta Bratislavy. Oil on canvas, 237,5 x 157 cm.



VIENNA.- The Belvedere has seized Maria Theresa's 300th birthday as an occasion to elucidate her relationship to the visual arts. For the exhibition, curator Georg Lechner has brought to light a number of exciting details. For example, Maria Theresa was extremely openminded and unbiased in her approach to art. Comprising some 120 works, the show traces the impact of the Austrian sovereign's cultural commitment on posterity. Divided into six sections, the exhibition examines Maria Theresa's approach to the visual arts. The empress was well aware of her official responsibilities as the country's figurehead. As a tight budget only allowed her to acquire works by old masters to a limited extent, Maria Theresa concentrated above all on contemporary artists of all genres and disciplines. She had the courage to opt for unconventional solutions and an extremely progressive understanding ... More
Charles A. Riley II, Ph.D. named Director of Nassau County Museum of Art
'Polka dot queen' Yayoi Kusama to open museum in Tokyo
Serbia offers citizenship to Afghan 'Little Picasso'


Dr. Riley is a prolific arts journalist, reviewer and essayist and a celebrated public speaker.



ROSLYN HARBOR, NY.- Angela Susan Anton, president of the board of trustees of Nassau County Museum of Art, announced that Charles A. Riley II, Ph.D. has been named director of the Museum. Dr. Riley's long association with Nassau County Museum of Art includes having served as curator-at-large and popular presenter of many lectures offered for many exhibitions. He helped curate the Museum's Picasso, Surrealism and Abstract Expressionist exhibitions and recently curated the permanent installation of Western art at a major new private museum in Taiwan as well as several exhibitions in Berlin, Amsterdam, Lausanne, Manhattan and Long Island's East End. Dr. Riley is a prolific arts journalist, reviewer and essayist and a celebrated public speaker. His 32 books on art, business and public policy include the recently published Free as Gods: How the Jazz Age Reinvented Modernism, The Jazz Age in ... More



Installation view of Yayoi Kusama: Infinity Mirrors at the Hirshhorn Museum and Sculpture Garden, 2017; Life (Repetitive Vision), 1998, Photo: Cathy Carver.



TOKYO (AFP).- World famous Japanese artist Yayoi Kusama, known as "the queen of polka dots", will open a museum exhibiting her works in Tokyo in October, an official said. Kusama, 88, is known for her use of vivid colour in her works that often depict polka dots and spotted pumpkins. She often appears in a wheelchair and sporting her trademark red hair. The museum will hold exhibitions twice a year to "spread the message of world peace and love that Kusama has called for to the world in her works", the Yayoi Kusama Foundation said in a press release. The first exhibition at the museum, which begins on October 1, will feature her large painting series titled "My Eternal Soul". "Ms Kusama had a strong wish to open her own museum," Akira Tatehata, director of the new facility, told AFP on Thursday. "We hope as many people as possible come to see her works," ... More



10-year-old Farhad Noory from Afghanistan (C) poses for a photograph with his family during his first exhibition in Belgrade. OLIVER BUNIC / AFP.



BELGRADE (AFP).- Serbia on Wednesday offered citizenship to the family of a young Afghan refugee who has become known as "Little Picasso" for his artistic talent, the president's office said. Ten-year-old Farhad Noory has lived in a migrant camp in Belgrade with his parents and two younger brothers for eight months, during which time his paintings of famous people have made him a local media star. On Wednesday he and his family were invited to meet President Aleksandar Vucic, who offered them citizenship and the promise of a job for Noory's father. "We would be honoured if you accepted," Vucic told the boy and his relatives. About 4,500 migrants are staying in 18 state-run camps in Serbia after arriving in the huge wave of travellers from South Asia, the Middle East and Africa. They mostly intended to start new lives in western Europe but got stuck in Serbia ... More
LiveAuctioneers wins prestigious 2017 Stevie Award in international competition for Customer Service Team of the Year
Pop-up museum dedicated to examining the legacy of the disgraced sports superstar OJ Simpson to open
MoMA honors the legacy of Terry Adkins's multidisciplinary performance collective


NYC-based members of LiveAuctioneers' customer support team. Image provided by LiveAuctioneers.



NEW YORK, NY.- LiveAuctioneers has won a prestigious Stevie® Award in the 2017 International Business AwardsSM (IBAs) competition, in the "Customer Service Team of the Year" category. Nicknamed the "Stevies" for the Greek word meaning "crowned," the awards will be presented to winners at a gala awards banquet at the W Hotel in Barcelona, Spain on October 21. More than 3,900 nominations from organizations in 60+ nations or territories were submitted to this year's IBAs. Stevie® Award winners were determined by the average scores of more than 200 executives worldwide who participated on 12 juries. The stellar panel that adjudicated the Customer Service of the Year category included executives from such global powerhouses as Oracle Corporation, Barclaycard, ADP, Dubai Airport Freezone, and WP Engine, among others. "Customer service is the cornerstone of LiveAuctioneers' ... More



The show will feature dozens of artifacts dating back to the time of the trial.



LOS ANGELES, CA.- I was total O.J. trail junkie back in the day and hosting this show is a lifelong dream come true." An early issue of Gleason's published magazine Coagula Art Journal featured a cover story on the 1995 O.J. Simpson trial's effect on the artist and the art world. - Coagula Curatorial gallerist Mat Gleason, confesses! O.J. Simpson expert and creator of The O.J. Tour Adam Papagan is curating a temporary exhibit at Coagula Curatorial Gallery, located at 974 Chung King Road, in historic Chinatown, Downtown Los Angeles, dedicated to the alleged double-murderer and Heisman Trophy winner. The show will feature dozens of artifacts dating back to the time of the trial, a previously unseen collection of bootleg Simpson t-shirts, original artwork inspired by the case, and a 1994 Ford Bronco, which Papagan purchased with funds from a recent crowdfunding campaign. ... More



Terry Adkins. Last Trumpet. Performed as part of Performa 13, New York, November 18, 2013. Photo © Chani Bockwinkel. Courtesy Performa.



NEW YORK, NY.- The Museum of Modern Art presents Projects 107: Lone Wolf Recital Corps, featuring the multidisciplinary performance collective founded in 1986 by artist and musician Terry Adkins (American, 1953–2014). On view at the Museum of Modern Art from August 19 through October 9, 2017, Projects 107 is the first museum exhibition to reunite the Corps since Adkins's death; the exhibition will feature a display of Adkins's sculptures and a set of five live performances by the reconstituted Corps, in which a changing group of multigenerational artists will present new work and reprise selections from the group's repertoire. Projects 107: Lone Wolf Recital Corps is organized by Akili Tommasino, Curatorial Assistant, Department of Painting and Sculpture. Consisting of an accumulative, ... More
Phoenix Art Museum presents A Tribute to James Galanos, legendary American couturier
Sarah Charlesworth's first full-scale museum exhibition in Los Angeles opens at LACMA
V&A exhibition to re-imagine the golden age of ocean travel


James Galanos, Dress, 1966. Wool with bead and sequin embroidery. Collection of Tatiana Sorokko. Photo by Ken Howie.



PHOENIX, AZ.- Phoenix Art Museum will present A Tribute to James Galanos, a retrospective dedicated to the iconic American fashion designer known for the elegant craftsmanship and luxurious materials that characterized his work. Featuring more than 40 couture-quality, ready-to-wear ensembles and accessories, the exhibition will illuminate the designer's influence and legacy with objects from the 1950s through the 1990s. A Tribute to James Galanos will open August 19 in the Ellman Fashion Gallery, and remain on view through January 7, 2018. "Phoenix Art Museum is pleased to present the iconic work of one of the most significant American designers of the 20th century," said Amada Cruz, the Sybil Harrington Director and CEO of Phoenix Art Museum. "Along with works drawn from private collections, many of the objects are drawn from the Museum's extensive fashion design archive, which now numbers more ... More



Sarah Charlesworth, Vision of a Young Man, from the Renaissance Paintings series, 1991, dye destruction print, 59 3/4 × 45 3/4 in., courtesy the Estate of Sarah Charlesworth and Maccarone New York/Los Angeles, © 2017 The Estate of Sarah Charlesworth.



LOS ANGELES, CA.- The Los Angeles County Museum of Art presents Sarah Charlesworth: Doubleworld, the artist's first full-scale museum exhibition in Los Angeles. Sarah Charlesworth (1947–2013) was a highly influential artist whose work examined the role that photographic images play in contemporary culture. Charlesworth aligned closely with a group of artists in the 1980s known as the Pictures Generation, which included Jack Goldstein, Sherrie Levine, Richard Prince, and Laurie Simmons, among others. First identified by curator Douglas Crimp in his 1977 exhibition Pictures, at Artists Space in New York, these artists were concerned with how contemporary life is mediated and governed by pictures, specifically experienced through newspapers and magazines, on television, and in film. Over her 40-year career, Charlesworth ... More



Children's chair from the first-class playroom on the Normandie Designed by Marc Simon and Jacqueline Duché, France, c. 1934 © Miottel Museum, Berkeley, California.



LONDON.- In February 2018, the V&A will re-imagine the golden age of ocean travel with the major new exhibition, Ocean Liners: Speed & Style, sponsored by Viking Cruises. Co-organised by the V&A in London and the Peabody Essex Museum in Salem, Massachusetts, it is the first ever exhibition to explore the design and cultural impact of the ocean liner on an international scale. It will explore all aspects of ship design from ground-breaking engineering, architecture and interiors to the fashion and lifestyle aboard. Ocean Liners: Speed & Style will showcase over 250 objects, including paintings, sculpture, and ship models, alongside objects from shipyards, wall panels, furniture, fashion, textiles, photographs, posters and film. It will display objects never-before-seen in Europe, and reunite objects not seen together since on-board these spectacular vessels ... More
Quote
The reason for my painting large canvases is that I want to be intimate and human. Mark Rothko
More News
---
My passion: Buddhist bronzes
---
Flashback
On a day like today, French painter Gustave Caillebotte was born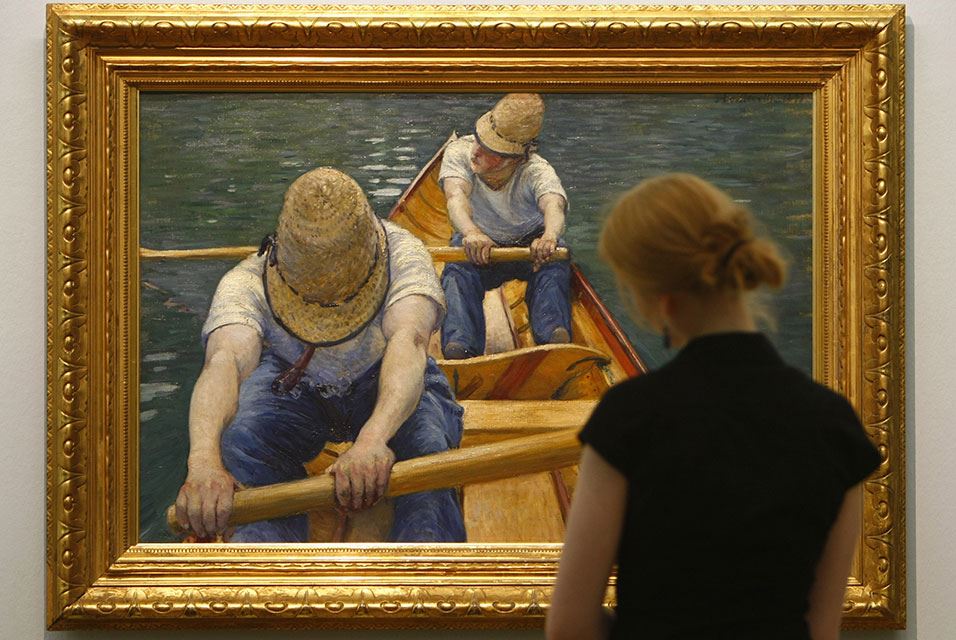 August 19, 1848. Gustave Caillebotte (19 August 1848 - 21 February 1894) was a French painter, member and patron of the group of artists known as Impressionists, though he painted in a much more realistic manner than many other artists in the group. Caillebotte was noted for his early interest in photography as an art form. In this image: An employee looks at a painting 'Oarsmen' of 1877 of French Impressionist Gustave Caillebotte (1848-1894) in the Kunsthalle Bremen, Germany, Thursday, June 26, 2008
---

Museums, Exhibits, Artists, Milestones, Digital Art, Architecture, Photography,
Photographers, Special Photos, Special Reports, Featured Stories, Auctions, Art Fairs,
Anecdotes, Art Quiz, Education, Mythology, 3D Images, Last Week,
.
Royalville Communications, Inc
produces:







Tell a Friend
Dear User, please complete the form below in order to recommend the Artdaily newsletter to someone you know.
Please complete all fields marked *.
Sending Mail

Sending Successful