Images of children in Spanish Romantic art on view at the Prado Museum in Madrid
Exhibition galleries © Museo Nacional del Prado.
MADRID
.-
The Museo del Prado
is showing a group of eight works painted between 1842 and 1855 which have been selected from the numerous portraits of children in its collection dating from the reign of Isabel II with the aim of emphasising two of the most important centres for Romantic art in Spain: Madrid and Seville. The display of this selection will also allow for the first public presentation of an almost unknown work by Esquivel that has recently been added to the Museum's collection. These portraits reveal different interpretations of childhood, a theme that became particularly popular among Romantic painters in a reflection of their clients' new interests. The idea of childhood as a period of life with its own merits rather than a mere preliminary to adulthood emerged in the Enlightenment and achieved its maximum expression with Romanticism, given that childhood embodied qualities highly appreciated by that moveme ...
More
The Best Photos of the Day
AGO brings rare masterpieces from Monet, van Gogh, Gauguin and more to Toronto this fall
Philadelphia sports owner Edward M. Snider's Collection to be Offered at Sotheby's
Exhibition pays tribute to one of the greatest art patrons of the early 20th century, Sergei Shchukin


Claude Monet, Water Lilies (Nymphéas), 1907. 80.98 x 92.07. Oil on canvas. Museum of Fine Arts, Houston. Gift of Mrs. Harry C. Hanszen. Courtesy Bridgeman Images.



TORONTO.- This fall, the Art Gallery of Ontario invites visitors to accompany some of the greatest artists of the 19th and 20th centuries on a spiritual journey of self-discovery. Organized in partnership with the renowned Musée d'Orsay in Paris, Mystical Landscapes: Masterpieces from Monet, van Gogh and more breaks new ground by exploring the mystical experiences of 36 artists from 15 countries, including Emily Carr, Paul Gauguin, Vincent van Gogh, Vassily Kandinsky, Piet Mondrian, Claude Monet, Edvard Munch, Georgia O'Keeffe and James McNeill Whistler. This major exhibition, which features close to 90 extraordinary paintings and 20 works on paper, debuted on Oct. 22, 2016 and runs to Jan. 29, 2017, before opening at the Musée d'Orsay in the spring of 2017. The years between 1880 and 1930 were marked by rampant materialism and rapid urbanization. Disillusioned with traditional religious ... More



Albert Bierstadt, Sunset In California, Yosemite. Oil on canvas, 28 ½ by 22 inches (72.4 by 55.9 cm). Est. $1/1,5 Million. Photo: Sotheby's.



NEW YORK, NY.- Sotheby's announced that it will offer property from the collection of Philadelphia sports owner and legend Edward M. Snider across a series of auctions beginning this fall and continuing into early 2017. Full proceeds from the collection will benefit The Edward M. Snider Youth Hockey Supporting Organization, a fitting tribute to the former owner of the Philadelphia Flyers. The works on offer span nearly four centuries, from Master Paintings to European, American and Impressionist & Modern Art. In addition to each auctions pre-sale exhibition, Sotheby's will travel select highlights from the collection to Los Angeles, Hong Kong and San Francisco this fall. Edward M. Snider, the son of a Washington, D.C. grocery store owner and one-time the Vice President of the Philadelphia Eagles Football team, transformed sports in the City of Brotherly Love when he convinced the National Hockey League to award him and a small group of ... More



Paul Cézanne, L'Homme à la pipe, 1890-1892. Courtesy Musée d'Etat des Beaux-Arts Pouchkine, Moscou.



PARIS.- Fondation Louis Vuitton presents the exhibition "Icons of Modern Art: The Shchukin Collection" from 22 October 2016, to 20 February 2017. The exhibition is part of the official programme of the France-russia year of cultural tourism 2016–17 and constitutes as one of its most prominent events. The exhibition pays tribute to one of the greatest art patrons of the early 20th century, Sergei Shchukin, the visionary Russian collector of French modern art. From 1898, Sergei Shchukin, a leading Moscow industrialist, quickly became an integral member of the Parisian arts milieu of the era, forging relationships with modern art dealers Paul Durand-Ruel, Ambroise Vollard, and Berthe Weill, then Georges Bernheim and Daniel-Henry Kahnweiler. His friendship with celebrated artists like Henri Matisse heavily influenced the formation of his collection, one of the most radical of its time. Thanks to the generous particip ... More
First major exhiibtion focused on Mark Leckey in the U.S. opens at MoMA PS1
The Baltimore Museum of Art opens first exhibition to show the influence of Henri Matisse on Richard Diebenkorn
Dickinson brings rare Gustave Caillebotte painting to TEFAF New York


Installation View, "UniAddDumThs." May 25 – July 16 , 2016, Gavin Brown's enterprise, Sant'Andrea de Scaphis, Rome. Image courtesy Mark Leckey and Gavin Brown's enterprise, New York/Rome. © Mark Leckey.



LONG ISLAND CITY, NY.- MoMA PS1 presents the first comprehensive U.S. survey of the pioneering British artist Mark Leckey. The largest exhibition of his work to date, Mark Leckey: Containers and Their Drivers will be on view from October 23, 2016 through March 5, 2017. Since coming to prominence in the late 1990s, Mark Leckey's dynamic and varied practice has combined formal experimentation with pointed explorations of class and history. His art has addressed the radical effect of technology on popular culture and art, and given form to the transition from analog to digital culture, powerfully influencing younger generations of artists. Occupying two floors of MoMA PS1, the exhibition brings together major bodies of Leckey's work in newly expanded iterations, featuring a broad array ... More



Henri Matisse. The Yellow Dress. 1929-31. The Baltimore Museum of Art. ©2016 Succession H. Matisse/ARS NY.



BALTIMORE, MD.- The Baltimore Museum of Art presents the first major exhibition to explore the profound influence of French artist Henri Matisse on the work of American artist Richard Diebenkorn. Co-organized with the San Francisco Museum of Modern Art (SFMOMA) and on view at the BMA October 23, 2016 – January 29, 2017, Matisse/Diebenkorn brings together 92 objects—including 36 paintings and drawings by Matisse and 56 paintings and drawings by Diebenkorn—drawn from museums and private collections throughout the U.S. and Europe. These extraordinary artworks reveal the lasting power of Diebenkorn's firsthand experiences of the French artist's work and present a new view of both artists. The BMA is the only East Coast venue for this ticketed exhibition. "While much has been written about Matisse's influence on Diebenkorn, this is the first major exhibition to illustrate ... More



Gustave Caillebotte, Voiliers sur la Seine à Argenteuil, executed in 1886.



NEW YORK, NY.- Dickinson is participating in the inaugural TEFAF New York, taking place from 21-26 October, where they are showcasing a range of Old Master, Impressionist and classical Modern paintings, drawings and sculptures. The highlight of their stand is Gustave Caillebotte's Voiliers sur la Seine à Argenteuil, executed in 1886, a celebration of the artist's passion for yachting. Caillebotte's paintings of sailboats were never exhibited during his lifetime and rarely come onto the market, making Voiliers sur la Seine à Argenteuil – hidden in a private collection for nearly half a century – a remarkable opportunity for collectors. Caillebotte remains one of the less widely-known members of the Impressionist group, liberated from any obligation to sell his work during his lifetime by his wealth and status as a gentleman. His paintings of sailboats on the Seine near his home at Petit Gennevilliers, across ... More
Jerwood Gallery opens the most-wide ranging Modern British show in years
Exhibition at Guggenheim Museum Bilbao presents a powerful artistic statement by Albert Oehlen
Sotheby's to offer some of the earliest photographs of Egypt


Dod Procter RA (1890-1972) Lilian, 1923 Jerwood Collection © The Procter estate / Bridgeman Images.



HASTINGS.- Curator James Russell is a man on a mission. A passionate advocate of 20th century British art, he has chosen more than a hundred works, spanning a hundred years, by a hundred different artists. Century: 100 Modern British Artists (23 October 2016 – 8 January 2017), isn't just the most-wide ranging Modern British show in years, it's an adventure in art - by turns funny and moving, quiet and boisterous, technically dazzling and delightfully simple. Century, at Jerwood Gallery in Hastings, brings together 100 artists from two of the country's finest private collections of 20th century British art, the Ingram Collection and Jerwood Collection. "I have selected what I feel to be the strongest works from each collection, focusing particularly on artists of historical importance and/or those who are well represented in one or both collections. I hope people will come away feeling that Modern British art is lively a ... More



Albert Oehlen, Untitled, 2004/1992. Silkscreen print and acrylic paint on canvas, 246 x 190 cm. Private collection. Photo: Archive Galerie Max Hetzler, Berlin/ Paris © Albert Oehlen.



BILBAO.- The Guggenheim Museum Bilbao presents Albert Oehlen: Behind the Image , a powerful artistic statement by one of the most influential painters of recent decades and one of the most controversial artists of postwar Germany. The contemporary pictorial style of Albert Oehlen (b. 1954, Krefeld, Germany) is an amalgam of methods borrowed from the advertising industry, Expressionist brushwork, Surrealist gesture, and computer-generated images. With his work Oehlen fuels the recurring debate begun in the second half of the 20th century about the death of painting, and he does so precisely by using painting as an expressive medium. In recent years, his paintings have attained what the artist defines as his main subject matter: artistic freedom. This liberty is evident in the way he fearlessly approaches each canvas, using ... More



A Rare Early Photobook of Egypt, including over 100 prints. Photo: Sotheby's.



LONDON.- Exceptional works relating to Egypt and the Middle East are set to be the highlight's of Sotheby's forthcoming sale of Travel, Atlases, Maps and Natural History in London on 15 November. The sale contains books, manuscripts, maps, and historical photographs from around the world, including the two greatest books on Egypt: David Roberts's Holy Land & Egypt, and a first edition of the monumental Description de l'Egypte. Egypt is also represented in a very scarce book, La Vallée du Nil, illustrated with over 100 original photographs taken in 1860 by Henry Cammas, the protégé of the Orientalist and explorer Koenig Bey, to whom this copy is inscribed. A Unique Extra-Illustrated Copy of Napoleon's Monumental Survey of Egypt La Description de l'Egypte. Paris, 1809-1822, 33 volumes. Est. £160,000-200,000. The Description de l'Égypte was the first scientific survey of all Egypt, from its ... More
Collection of Camille Pissarro works featured in Old Master-Modern Sale
Frick Collection announces launch of Acquisitions Fund
"Viktor & Rolf: Fashion Artists" opens at the National Gallery of Victoria


Albrecht Dürer, Ulrich Varnbüler, ciaroscuro woodcut, 1522. Estimate $40,000 to $60,000.



NEW YORK, NY.- On Thursday, November 3, Swann Galleries will hold an auction of Old Master Through Modern Prints, featuring section of the sale devoted to a collection works by Camille Pissarro: Impressionist Icon. The beginning of the auction offers works by renowned Old Masters, with impressive runs by Albrecht Dürer and Rembrandt van Rijn. Scarce engravings by Dürer include his 1514 Melencholia I, a well-inked impression estimated at $70,000 to $100,000, and Knight, Death and the Devil, 1513 ($60,000 to $90,000), as well as a very scarce chiaroscuro woodcut of Ulrich Varnbüler, 1522 ($40,000 to $60,000). Rembrandt's etching, engraving and drypoint Christ before Pilate: Large Plate, 1635-36, is estimated at $60,000 to $90,000, while one of earliest known impressions of Cottages Beside a Canal: A View of Diemen, circa 1645, is expected to sell for $50,000 to $80,000. The highlight of the sale is a private collection of prints and drawi ... More



Jean-Auguste-Dominique Ingres, Comtesse d'Haussonville, dated 1845, oil on canvas, The Frick Collection, New York; photo: Michael Bodycomb.



NEW YORK, NY.- The Frick's Board of Trustees introduces its Acquisitions Fund, established especially to help the museum continue to purchase objects that enhance and complement its holdings for the enjoyment of the public. Acquisitions have a long history at the Frick. Soon after the museum opened in 1935, Henry Clay Frick's daughter Helen wrote to members of the museum's acquisitions committee that "to cease buying works of art unless compelled to do so for financial reasons would be a great detriment to The Frick Collection," and that it "was the intent of the Founder that great works of art should be added from time to time…" Thanks to this far-sighted view, the permanent collection has nearly doubled since Mr. Frick's death through donations of art from private collections and select purchases including well-known and cherished works such as Ingres's Comtesse d'Haussonville, Memling's P ... More



Installation view of Viktor&Rolf: Fashion Artists at the National Gallery of Victoria. Photo: Wayne Taylor.



MELBOURNE.- The spectacular and avant-garde creations of international luxury fashion house, Viktor & Rolf, are showcased in this world-first exhibition developed in collaboration with the National Gallery of Victoria. Viktor & Rolf: Fashion Artists, running until February 2017 at the NGV, Melbourne, Australia, explores Viktor & Rolf's career-defining ethos of wearable art. As self-confessed outsiders of the fashion world, since forming their artistic partnership in 1992, fashion artists Viktor Horsting and Rolf Snoeren have gained critical acclaim for their rebellious approach to design, technical virtuosity, and deep knowledge of fashion and art history. Throughout their illustrious twenty-five year career, Viktor & Rolf have carved a contrary identity that pushes the boundaries between art and fashion, often juxtaposing contrasting elements, such as romance and anarchy, exuberance and control, classicism and rebellion. The duo have b ... More
Quote
The artist has to be a guardian of the culture. Robert Longo
More News
---
Matthew Collings on David Bowie's Desire for Raw Emotion
---
Flashback
On a day like today, Andy Warhol "superstar" Baby Jane Holzer, was born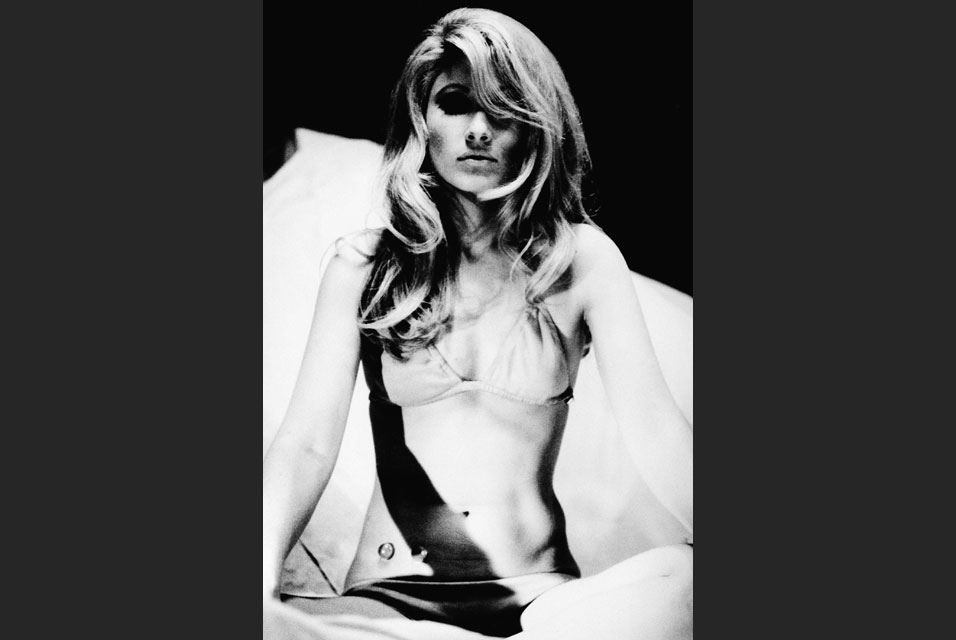 October 23, 1940. Jane Holzer (née Bruckenfeld; born 23 October 1940) is American art collector and film producer who was previously an actress, model, and Warhol superstar. She was often known by the nickname Baby Jane Holzer. Movies she appeared in included Soap Opera, Warhol's Couch (1964), and Ciao! Manhattan (1972). She co-produced the 1985 film Kiss of the Spider Woman. Holzer is the subject of "Girl of the Year" in Tom Wolfe's The Kandy-Kolored Tangerine-Flake Streamline Baby (1965) and is referenced twice in the 1972 Roxy Music song Virginia Plain from the album Roxy Music.
---
---

Museums, Exhibits, Artists, Milestones, Digital Art, Architecture, Photography,
Photographers, Special Photos, Special Reports, Featured Stories, Auctions, Art Fairs,
Anecdotes, Art Quiz, Education, Mythology, 3D Images, Last Week,
.
Royalville Communications, Inc
produces:







Tell a Friend
Dear User, please complete the form below in order to recommend the Artdaily newsletter to someone you know.
Please complete all fields marked *.
Sending Mail

Sending Successful