Giambologna, Michelangelo and the Medici Chapel explored in new exhibition
Giambologna after Michelangelo, The day, Florence before 1574. Alabaster, Skulpturensammlung © SKD, Photo: Wolfgang Kreische.
DRESDEN
.-
With his interior for the Medici Chapel in Florence, which he created between 1524 and 1534, Michelangelo achieved an unequalled climax in Renaissance sculpture. His monumental personifications of the Times of Day – Dusk and Dawn, Night and Day – are pairs of reclining figures on the sarcophagi of Giuliano and Lorenzo de' Medici. Almost shocking in their nudity and bold poses, these figures had an enormous impact on generations of artists. Among the numerous replicas of Michelangelo's Times of Day, the four statuettes held by Dresden's
Skulpturensammlung
hold a special position. According to the inventories of the electoral Kunstkammer of 1587 and 1640, the Tuscan grand duke Cosimo I de' Medici presented Elector August of Saxony with these figures as early as around 1560 or 1570. The exhibition "Shadows of Time. Giambologna, Michelangelo and the Medici Chapel" is shining a light on these master ...
More
The Best Photos of the Day
"Trevor Paglen: Sites Unseen" opens at the Smithsonian American Art Museum
LACMA opens 'To Rome and Back: Individualism and Authority in Art, 1500-1800'
Exhibition at Musée Matisse offers an extraordinary dialogue between Matisse and Picasso


Trevor Paglen, STSS-1 and Two Unidentified Spacecraft Over Carson City (Space Tracking and Surveillance System, USA 205), 2010, C-print. Smithsonian American Art Museum, Gift of Mike Wilkins and Sheila Duignan. Image courtesy of the artist; Metro Pictures, New York; Altman Siegel Gallery, San Francisco. © 2010, Trevor Paglen. Photo by: Gene Young.



WASHINGTON, DC.- Trevor Paglen is an award-winning artist whose work blurs the lines between art, science and investigative journalism to construct unfamiliar and at times unsettling ways to see and interpret the world. "Trevor Paglen: Sites Unseen" is the first exhibition to present Paglen's early photographic series alongside his recent sculptural objects and new work with artificial intelligence. The exhibition features more than 100 artworks, including the multimedia installation "The Last Pictures," prototypes of his non-functional satellites and the premiere presentation of his video work "Image Operations." This mid-career survey is on view at the Smithsonian American Art Museum's main building in Washington, D.C., from June 21 through Jan. 6, 2019. Inspired ... More



Ludovico Mazzanti, The Death of Lucretia, c. 1730, oil on canvas, 71 × 56 in., Los Angeles County Museum of Art, gift of The Ahmanson Foundation (M.82.75), photo © Museum Associates/LACMA.



LOS ANGELES, CA.- The Los Angeles County Museum of Art presents To Rome and Back: Individualism and Authority in Art, 1500– 1800. Assembled almost entirely from LACMA's permanent collection, this examination of Rome presents gifts from years of support to the museum's departments of Costume and Textiles, Decorative Arts and Design, Latin American Art, and Prints and Drawings, in addition to European Painting and Sculpture. The exhibition features 130 objects across a wide range of media, including painting, sculpture, paper, decorative arts (such as ceramics, glass, and cork), tapestries, and costumes. Collectively, these works reveal the importance of Rome to artists and audiences operating in a variety of contexts from the Renaissance to the Enlightenment. For more than 2,000 years, Rome has occupied a central place in the cultural imagination: as a proud republic, as a powerful then decadent empire, as the seat of Catholicism, and abo ... More



Henri Matisse, Marguerite, 1907. Huile sur toile Musée national Picasso-­‐Paris. Donation en 1973 © Succession H. Matisse. Photo: © RMN-­‐Grand Palais (Musée national Picasso-­‐Paris) / Mathieu Rabeau.



NICE.- Matisse et Picasso, la comédie du modèle is the leading exhibition in an impressive cultural line-up organized by the city of Nice in 2018, proof of the artistic dynamism put in place by Christian Estrosi, the Mayor of Nice, President of the Nice Côte d'Azur metropolitan area and Vice President of the Provence-Alpes-Côte d'Azur region. Thanks to its ambitious cultural policies, Nice offers an array of cultural activities all year round, including large-scale exhibitions, thereby establishing itself as a major arts centre, of national and international standing. This exhibition, Matisse et Picasso, la comédie du modèle, has received the prestigious 'National Exhibition of Interest' label for 2018, awarded by the Minister of Culture, Françoise Nyssen. Created by the Ministry of Culture, this label showcases and supports important and/or outstanding exhibitions organized by museums in France. It rewards an innovative museum offer and a previously unexplored ... More
Piramal Museum of Art opens the first major exhibition of Sayed Haider Raza since his death in 2016
Julien's Auctions announces results of the sale of property from the estate of Jerry Lewis
Fondation de l'Hermitage opens a major exhibition of the work of Henri Manguin


S.H. Raza, Still Life. 1949. Gouache on paper. Image courtesy Piramal Museum of Art.



MUMBAI.- Piramal Museum of Art presents ​S.H. Raza: Traversing Terrains, the first major exhibition of the artist since his death in 2016. One of the most significant artists in Indian Modernism and a founder member of the Bombay Progressives, ​S.H. Raza's diverse body of work is a unique amalgamation of his classical French training at École des Beaux-Arts, Paris, and his exposure to post-war American abstract expressionism. Raza's works are imbued with the Indian visual language of his heritage, celebrating the country's iconography, nature, philosophy, music and poetry. Curated by ​Vaishnavi Ramanathan​, curator and art historian, Piramal Museum of Art, and​ Ashvin E. Rajagopalan​, Director, Piramal Museum of Art, the exhibition will showcase five decades of Raza's work from the early 1940s to the late 1990s— his early days in Mumbai, his travels around India, to v ... More



A custom made tweed burgundy suit worn by Jerry Lewis in The Nutty Professor (Paramount, 1963).



LOS ANGELES, CA.- Julien's Auctions held its highly anticipated auction honoring the late "King of Comedy," Property from the Estate of Jerry Lewis, yesterday June 22nd at Planet Hollywood Resort & Casino in Las Vegas in front of an audience of his beloved fans and collectors bidding live on the floor, on the phone across the globe and online on juliensauctions.com. Top selling items of the auction were Lewis' stunning watch collection including his 18K yellow gold "Cartier London" oval maxi variation watch from Cartier's Baignoire collection that sold for $51,200, double its starting estimate of $25,000, a 14K yellow gold Le Coultre watch given to him by Dean Martin and inscribed "Jerry My Buddy/ and Pal/ I Love You/ Dino," that sold for $37,5000 well over its estimate of $4,000-6,000, a 18K yellow gold Patek Philippe given to him by Sammy Davis ... More



Henri Manguin, Saint-Tropez, le coucher de soleil, 1904. Huile sur toile, 81 x 65 cm. Collection privée. Photo: Fabrice Lepeltier © 2018, ProLitteris, Zurich.



LAUSANNE.- In the summer of 2018 the Fondation de l'Hermitage is presenting a major exhibition of the work of Henri Manguin (1874-1949), an artist who loved colour and whom the poet Apollinaire called the "voluptuous painter". The main focus will be on Manguin's early career and notably his Fauvist period, when he shared the audacity of his fellow artists in that group and sometimes outdid them in the quest for new means of expression through the use of colour. With their sumptuous chromatic harmonies, the paintings from this period reflect Manguin's rare talent and creativity. Manguin met Albert Marquet and Henri Matisse in Paris in 1892, while he was training at the Ecole des Arts décoratifs. In November 1894 the three young painters enrolled at the Ecole des Beaux-Arts, where they worked in Gustave Moreau's ... More
19th-century paintings by Mariano Fortuny and William Merritt Chase shine in first-time pairing
"Outliers" and the Avant-Garde intersect in major exhibition on view this summer at the High
Fonds Hélène et Édouard Leclerc pour la culture opens major Henry Moore exhibition


William Merritt Chase (American, 1849–1916), Idle Hours, c. 1894 (detail). Oil on canvas. Amon Carter Museum of American Art, Fort Worth, Texas, 1982.1.



DALLAS, TX.- The Meadows Museum, SMU, presents a focused summer exhibition pairing its recent acquisition Beach at Portici (1874), by Mariano Fortuny y Marsal (1838–1874), with a loan from the Amon Carter Museum of American Art, Idle Hours (1894), by William Merritt Chase (1849–1916). At the Beach: Mariano Fortuny y Marsal and William Merritt Chase explores Chase's admiration of Fortuny, through two key paintings, one by the American artist and one by his Spanish predecessor, displayed together for the first time June 24 through September 23, 2018. The depiction of leisure time at the beach was popular in late 19th-century painting, and both Fortuny and Chase used beach scenes to showcase their great skill at rendering light. In both paintings, the artists portray their respective families in fashionable white garments lounging near a curving coastline, Fortuny's in southern Italy and Chase's on Long Island, New ... More



Marsden Hartley (American, 1877–1943), Adelard the Drowned, Master of the "Phantom," ca. 1938–1939, oil on board. Frederick R. Weisman Art Museum at the University of Minnesota, Minneapolis, Bequest of Hudson D. Walker from the Ione and Hudson D. Walker Collection.



ATLANTA, GA.- Folk, naïve, vernacular, visionary, outsider, self-taught—over the past century, a range of rubrics has emerged to describe artists who rose to prominence in the mainstream art world despite a lack of formal training. The touring exhibition "Outliers and American Vanguard Art," on view from June 24 through Sept. 30 at the High, examines the shifting identity of American self-taught artists and offers an unprecedented overview of their profound impact on the evolution of modern and contemporary art. Organized by the National Gallery of Art and curated by Lynne Cooke, senior curator for special projects in modern art, the exhibition features more than 250 diverse works from the 1910s to the present by more than 80 trained and untrained artists. Together the works reveal ... More



Henry Moore, Figure, 1933-34. Collection privée. Photo Henry Moore archive.



LANDERNEAU.- Henry Moore was one of the most influential sculptors of the 20th century and the first British artist to become a global star during his lifetime. As the embodiment of post-war modernism, his art initiated the revival of sculpture in Great Britain, a movement that continues today. His sculptures are exhibited in many cities and museums throughout the world; their organic shapes continue to attract an ever growing audience and inspire new generations of artists. The exhibition at Landerneau traces his extraordinary life and career through a choice of emblematic works, most of which are on loan from the collection of the Henry Moore Foundation at Perry Green, where he lived and worked. In the early 1920s, Henry Moore studied at Leeds School of Art in the UK. This was where he learned drawing, but already his dream was to become a sculptor. At Moore's request, the school director opened a sculpture department and for some time he was the only student. The teaching was ... More
Gladstone 64 opens a group exhibition: SAFE
Crocker opens career-spanning exhibition by artist who advanced California's Chicano culture
The Center for Curatorial Studies, Bard College opens exhibition of works by Daniel Steegmann Mangrané


Installation view.



NEW YORK, NY.- Gladstone 64 is presenting SAFE, a group exhibition that reveals a series of foreboding narratives hidden beneath the mundane and banal facets of everyday life. Through a collection of painting, photography, sculpture and installation, the exhibition brings together works by artists including Richard Artschwager, Robert Mapplethorpe, Sam McKinniss, Bruce Nauman, Philippe Parreno, Marina Pinsky and Richard Prince. The exhibition's origin is built upon themes prevalent throughout 20th-century film and literature, including intangibility, ambiguity and loneliness brought about through an individual's reckoning with society, recurring throughout a variety of works such as Jean-Paul Sartre's La Nausée (1938), Don DeLillo's White Noise (1985) and Todd Haynes' film Safe (1995). In Haynes' movie, Julianne Moore, who plays a suburban California housewife, becomes ill in reaction to the quotidian aspects ... More



Eduardo Carrillo, American, (1937–1997), Self-Portrait, 1960 (detail). Oil on canvas, 29 1/2 X 27 3/4 inches. Private collection.



SACRAMENTO, CA.- On Sunday, June 24, the Crocker Art Museum will bring to Sacramento an expansive exhibition of works by Eduardo Carrillo, a painter, teacher, and social activist known for advancing recognition of Chicano art and culture in California. His large-scale oil paintings have been described as mystical, surreal, and visionary, while his intimate watercolors reflect the artist's daily life in self-portraits, still lifes, and images of people and places he held dear. Testament of the Spirit: Paintings by Eduardo Carrillo (Testamento del espíritu: Pinturas de Eduardo Carrillo) reflects on the artist's relationship to his native California as well as to his Mexican heritage, his early religious upbringing, and the European tradition of art. This bilingual exhibition features more than 60 paintings and watercolors spanning nearly four decades of the artist's production, from the ... More



Daniel Steegmann Mangrané, A Transparent Leaf Instead Of The Mouth, 2016-17. Glass, metal, ecosystem with stick and leaf insects, 250 x 500 x 500 cm. Exhibition view: A Transparent Leaf Instead Of The Mouth, Museu Serralves, Porto, 2017-18. Courtesy: the artist and Esther Schipper, Berlin Photo: © Andrea Rossetti.



ANNANDALE-ON-HUDSON, NY.- A Transparent Leaf instead of The Mouth is the first institutional solo exhibition of work by artist Daniel Steegmann Mangrané (b. 1977, Barcelona) in the United States. Based in Rio de Janeiro since 2004, Steegmann Mangrané is considered to be at the forefront of a generation of artists currently emerging from Brazil. A Transparent Leaf instead of The Mouth includes a cross section of his past work in 16mm film, drawing, holography, and installation, alongside newly commissioned sculpture and installation. The exhibition is being presented at the Center for Curatorial Studies, in the CCS Bard Galleries from June 23 to October 14, 2018 and is organized by Lauren Cornell, Director of the ... More
Quote
Velázquez, when all is said and done, he's the best. Pablo Picasso
More News
---
Lucian Freud -- The Master of the Nude
---
Flashback
On a day like today, American painter Stuart Davis died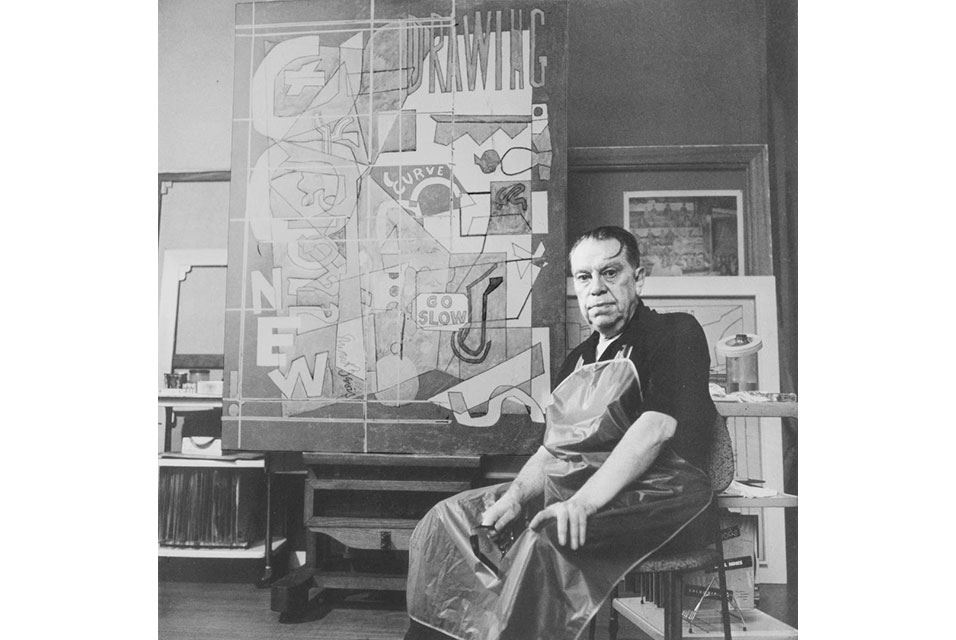 June 24, 1964. Stuart Davis (December 7, 1892 - June 24, 1964), was an early American modernist painter. He was well known for his jazz-influenced, proto-pop art paintings of the 1940s and 1950s, bold, brash, and colorful, as well as his Ashcan School pictures in the early years of the 20th century. © Estate of Stuart Davis/Licensed by VAGA, New York, NY.
---

Museums, Exhibits, Artists, Milestones, Digital Art, Architecture, Photography,
Photographers, Special Photos, Special Reports, Featured Stories, Auctions, Art Fairs,
Anecdotes, Art Quiz, Education, Mythology, 3D Images, Last Week,
.
Royalville Communications, Inc
produces:







Tell a Friend
Dear User, please complete the form below in order to recommend the Artdaily newsletter to someone you know.
Please complete all fields marked *.
Sending Mail

Sending Successful