First ever museum for sculptor Camille Claudel opens in Nogent-sur-Seine
The Musée Camille Claudel at Nogent-sur-Seine © Musée Camille Claudel. Photo: Marco Illuminati.
NOGENT-SUR-SEINE
.-
On the 26 March 2017 the
Musée Camille Claudel
will open to the public. This is an important and unique cultural event. The public will have access to the world's biggest collection of works by Camille Claudel. Camille Claudel's calling as a sculptor developed in Nogent-sur-Seine, while she was living there from 1876 to 1879, when her father was registrar of mortgages. At 12 years old, Camille Claudel discovered clay, and developed her artistic skills. On the advice of the sculptor Alfred Boucher, Camille Claudel then went on to prove herself, and to meet the best sculptor of her age, Auguste Rodin. Naturally, the mark left by Camille Claudel on Nogent-sur-Seine continued with the work of Alfred Boucher, who gave our town its first museum. Today, the museum takes on a whole new dimension. Visitors can become intimately acquainted with the work of Camille Claudel. Every room of this museum is in step with the re ...
More
The Best Photos of the Day
Two exceptional pieces of craftsmanship to lead Christie's Sale of Magnificent Jewels
Bidsquare launches themed auctions featuring a curated collection from top New York dealers
Art Basel celebrates a triumphant fifth edition in Hong Kong


The Jonker 5: A 25.27 carats D colour VVS2 clarity (Type IIa) rectangular-cut diamond ring by Harry Winston. Estimate: HK$17,500,000-28,000,000 / US$2,200,000-3,600,000. © Christie's Images Limited 2017.



HONG KONG.- In anticipation of the Hong Kong Spring auctions, Christie's Hong Kong Jewellery department will present two unique and extraordinary pieces of craftsmanship as early highlights. The famed jewels are world renowned for their extreme rarity, impeccable workmanship, and historical significance. It is without a doubt that this once-in-a- lifetime opportunity will stimulate passionate bidding from enthusiastic collectors around the world. The Magnificent Emerald and Diamond Necklace is created by the renowned designer Edmond Chin for the illustrious House of Boghossian. The exquisite design of unsurpassed craftsmanship features a delicate repeating palmette motif with white diamonds as spacers. Great lengths and difficulty were taken to carefully amass 11 perfectly matching no oil emeralds, and marks the ... More



Conceptual Aircraft from Elizabeth Street Gallery, asking bid $45,000.



NEW YORK, NY.- Bidsquare's inaugural themed auction Passport to the World features a curated collaboration of travel-inspired art, antiques and collectibles from the finest New York dealers. The themed auction is open for bidding, live on Bidsquare until March 30. Featured New York galleries include Barbara Israel Garden Antiques, Elizabeth Street Gallery, Combray Gallery and Burden among others. Take a trip while you browse the auction, all from the convenience of your device. First, decide where you're headed by spinning this vintage globe or consulting engraved or hand colored fabric maps from Rare Paper. Next, pack up your suitcase! Travel in style, or back in time with vintage Louis Vuitton suitcases and trunks from A Second Chance. The boutique has been supplying the Upper East Side with divine, luxury goods from their Lexington Avenue location since 1993. Choose your mode of transportation: planes, trains or ... More



In this picture taken on March 21, 2017, a Chinese visitor wearing a jacket with a design that says 'Art Comes First' looks at 'Nude' by Japanese–French painter and printmaker Tsuguharu Foujita at Art Basel in Hong Kong. ANTHONY WALLACE / AFP.



HONG KONG.- The fifth edition of Art Basel's show in Hong Kong closed today, Saturday, March 25, 2017, with strong sales recorded across all levels of the market, demonstrating continued demand for high-quality works by the world's leading international collectors and institutions. Attendance at this year's show, whose Lead Partner is UBS, rose to nearly 80,000 – due to the introduction of evening ticket sales and improved crowd control measures – and attracted leading members of the international art world. Many observers felt that this edition had built on the show's strong history to attain new levels – Art Basel in Hong Kong now not only stands as the premier fair in Asia, but also as one of the leading fairs worldwide. During the five show days, private collectors as well as directors, curators, trustees and ... More
Benin eyes return of colonial treasures from France
Exhibition at Pangolin London explores British sculpture in the sixties
Artist profile: Fernand Léger


Lawmakers and civil society groups from both countries have written to French President Francois Hollande. Tiziana FABI / AFP.



COTONOU (AFP).- Benin is asking for the return of treasures that were taken during French colonial rule from the end of the 19th century, re-opening a thorny diplomatic issue that resonates across Africa. Lawmakers and civil society groups from both countries have written to French President Francois Hollande, calling for the return of "colonial treasures", including royal thrones and swords. Many are now on display in French museums, including the Quai Branly in Paris, which exhibits indigenous art from across the world. Signatories to the open letter, which was published this week, described the objects as having "an exceptional spiritual and proprietary value for the Benin people". France ruled Dahomey until 1960, when it was granted independence and changed its name to Benin. Dahomey included the kingdom of the same name that dates back to about 1600. Most of the artefacts have not been ... More



Sir Anthony Caro, Table Piece VLII, 1967-8, Painted Steel, Unique. Images Courtesy of Pangolin London.



LONDON.- Reacting against and building upon the huge leaps and bounds British sculpture made in the 1950s with the so called 'Geometry of Fear' artists, the 1960s saw sculpture released from the confines of the plinth where it explored new materials, bright colours and introduced minimalism. With Anthony Caro leading the way, a new colourful abstract language began to be forged globally. Britain in particular played a potent role, with artists such as Phillip King and William Tucker being held in high esteem as key figures in what was soon to be known as the 'New Generation' of sculptors, a phrase coined at the Whitechapel Art Gallery exhibition of 1965. Experimentation of new materials saw more artists move away from the figurative form into abstraction. This, tied with bold and vibrant colour, became a trademark of this new wave of sculpture. Huge abstract forms suspended in mid-air which appeared to defy the weight of their materials were not only ... More



La Femme et la Fleur (1954). Available at a href="https://www.barnebys.com/auctions/lot/437973261/la-femme-et-la-fleur/" target="_blank">Barnebys.



LONDON.- Although Pablo Picasso and Georges Braque pioneered the early-20th-century Cubism movement, it was the actions of the Section d'Or - also known as the Puteaux Group - in 1911 which brought the movement to the attention of the general public. Amongst this group of artists was the 30-year-old Fernand Léger, who would later also play a crucial role in the Pop Art movement. Born in 1881, Léger was raised in Argentan, Normandy by a herdsman father. After working as an apprentice architect for a few years in Caen, the 19-year-old Léger moved to Paris to further his career. A brief period of artistic stagnancy followed, enforced by military service in Versailles from 1902 to 1903. Léger then returned to the capital to apply for a place at the prestigious École des Beaux-Arts; with his application to the school rejected, the young aspiring artist ... More
The Guennol Stargazer to be offered at Christie's Exceptional Sale
Anne Mosseri-Marlio Galerie exhibits works by Lars Christensen
Shia LaBeouf anti-Trump art project shut down after threats


An Anatolian marble female idol of Kiliya type, Chalcolithic period circa 3000-2200 B.C. © Christie's Images Limited 2017.



NEW YORK, NY.- Christie's announces that The Guennol Stargazer, one of the finest and largest preserved Anatolian marble female idols of Kiliya type, is the top lot of the Exceptional Sale on April 28 (estimate on request). The Guennol Stargazer is from the Chalcolithic Period, circa 3000-2200 B.C., and it is considered to be one of the most impressive of its type known in existence. The Guennol Stargazer is further distinguished by its exhibition history, having been on loan at The Metropolitan Museum of Art at various periods from 1966 to 2007. "The Antiquities department is thrilled to be offering the Guennol Stargazer in the Exceptional Sale, an iconic work of art and one universally recognized as the finest Kiliya idol in existence. This extremely rare work, though dating to the 3rd millennium B.C., is widely ... More



Lars Christensen, Untitled LC-P, 2017. 60 x 60.



BASEL.- Lars Christensen's (DK, 1972) new series of paintings, "Organic Abstraction", is a reaction to colors as energy, motion and matter. The organic structure is based on penetrated holes or slits in various sizes in the canvas where color, when pushed through, is allowed to "grow" and reproduce in many forms and shapes. The holes and colors appear as an endless pattern that tightens and expands the space, which establishes the transition between the physical and mental aspects of the images. The relativity of colors, how they interact with the surface and each other, as well as with the interaction of the light and space is explored in the paintings and works on paper. By applying the paint as form, a movable and manipulable substance and not just as coloring material, the process adds a three-dimensionality, creating a sculptural expression. The work is at the same time painting and sculpture. The square format allows the colors in the paintings ... More



US actor Shia LaBeouf(L) during his "He Will Not Divide Us" livestream outside the Museum of the Moving Image in Astoria. TIMOTHY A. CLARY / AFP.



NEW YORK (AFP).- An anti-Trump art project by actor Shia LaBeouf was shut down for a fourth time on Friday a day after it opened in its latest location, the British city of Liverpool. The project "He Will Not Divide US," by LaBeouf and two other artists, began the day of Donald Trump's January 20 presidential inauguration as a streaming video performance installation that aimed to provide a forum for anti-Trump expression outside New York's Museum of the Moving Image. The digital art project consisted of a microphone-equipped camera mounted on a wall, where visitors were invited to chant the words "he will not divide us." The footage was live-streamed on the project's website, intended to broadcast for the duration of Trump's four-year term. But the museum -- located in the city's Queens borough -- shut the project down, saying the ... More
Fairfield University Art Museum exhibits paintings and sculptures by H. A. Sigg
Exhibition highligts historical works by the artistic collective Information Fiction Publicité
Guggenheim opens first realization of work from series of Light, Space, and Sound Installations by Doug Wheeler


H. A. Sigg, Within the Red III, 1993. Acrylic on canvas, 24 x 46 inches, 66 x 117 centimeters.



FAIRFIELD, CONN.- The Fairfield University Art Museum presents a new exhibition, "H.A. Sigg: Abstract Rivers" on view from Friday March 24, 2017, through Saturday June 10, 2017, in the museum's Walsh Gallery, in the Quick Center for the Arts, on the campus of Fairfield University. The exhibition features over 25 paintings and sculptures by Abstract Expressionist Painter H. A. Sigg. Sigg was born in Switzerland in 1924 and studied in Zurich and later Paris, where he was especially captivated by the art of French Nabi painter Pierre Bonnard. Although his paintings of the 1950s adhere to a figurative idiom, he soon evolved a purely abstract style, whose graceful, atmospheric and minimalist forms and motifs were inflected by aerial views of Southeast Asia, a vantage point he was afforded in 1968 when he was invited by Swissair to fly as artist in residence in the sky. From his privileged, sweeping view from the cockpit, ... More



View of the exhibition Information Fiction Publicité at Perrotin Paris, 2017. Photo: Claire Dorn. Courtesy Perrotin.



PARIS.- Perrotin gallery is hosting an exhibition of the artistic collective Information Fiction Publicité on the occasion of the publication of their monograph by the Presses du Reel / Editions Perrotin. Following their solo shows at the MAMCO in Genève (2010) and at the MACVAL in Vitry sur Seine (2012), this exhibition highligts historical works. Created in 1984 by Jean-François Brun, Dominique Pasqualini and Philippe Thomas, IFP, the collective worked until 1994 (in 1985 Philippe Thomas quit the collective, embarking on a career of his own). Emmanuel Perrotin met Jean-François Brun and Dominique Pasqualini at the end of the eighties. One of his first exhibition was dedicated to IFP when his gallery was settled in his apartment, rue de Turbigo (1992). Between agency, brand and artistic collective, IFP questions the authorship of an artwork: Their works – in which ... More



Installation view: Doug Wheeler: PSAD Synthetic Desert III, Solomon R. Guggenheim Museum, New York, March 24-August 2, 2017. Photo: David Heald © Solomon R. Guggenheim Foundation.



NEW YORK, NY.- The Solomon R. Guggenheim Museum presents the first-ever realized work from a group of installations conceived by Doug Wheeler during the late 1960s and '70s: Doug Wheeler: PSAD Synthetic Desert III, on view March 24–August 2, 2017. Produced in close collaboration with the artist, the Guggenheim installation is developed from drawings executed in 1968 and is on view in the museum's Tower Level 7. In addition to the architectural modification of an existing room to achieve an optical impression of empty space, which is a familiar element in other works by Wheeler, PSAD Synthetic Desert III is also a semi-anechoic chamber: a space designed to suppress all but the lowest levels of ambient sound. Into this profound silence other sound is then introduced. The two elements—optical and acoustic ... More
Quote
Every time I paint a portrait I lose a friend. John Singer Sargent
More News
---
Important Design: 500 years of Fine Decorative Arts at Bonhams
---
Flashback
On a day like today, American fashion designer Halston died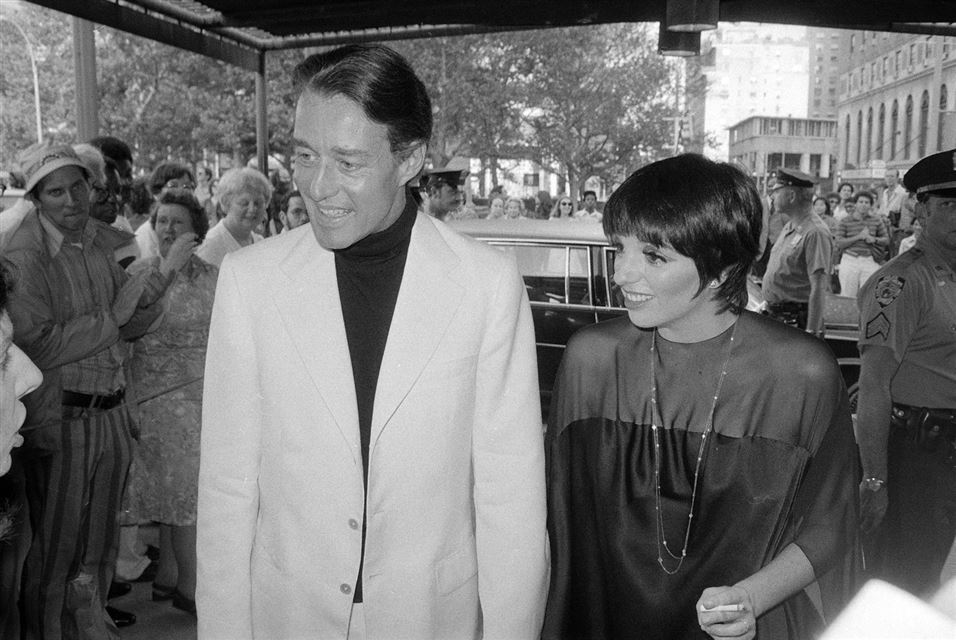 March 26, 1990. Roy Halston Frowick (April 23, 1932 - March 26, 1990), known as Halston, was an American fashion designer of the 1970s. His long dresses or copies of his style were popular fashion wear in mid-1970s discotheques. In this image: Clothing designer Halston and actress Liza Minnelli arrive for the gala opening of "Stop The World, I Want To Get Off," at the New York State Theater at Lincoln Center in New York, Aug. 3, 1978.
---

Museums, Exhibits, Artists, Milestones, Digital Art, Architecture, Photography,
Photographers, Special Photos, Special Reports, Featured Stories, Auctions, Art Fairs,
Anecdotes, Art Quiz, Education, Mythology, 3D Images, Last Week,
.
Royalville Communications, Inc
produces:







Tell a Friend
Dear User, please complete the form below in order to recommend the Artdaily newsletter to someone you know.
Please complete all fields marked *.
Sending Mail

Sending Successful