The Frick Collection exhibits two restored Renaissance paintings by Paolo Veronese
Paolo Veronese (1528–1588), St. Agatha Visited in Prison by St. Peter, 1566–67, oil on canvas, 65 1⁄2 × 81 1⁄2 inches, San Pietro Martire, Murano; photo: Ufficio Beni Culturali del Patriarcato di Venezia.
NEW YORK, NY
.-
This fall,
The Frick Collection
presents a focused exhibition on two important Renaissance paintings by the celebrated artist Paolo Veronese (1528– 1588), St. Jerome in the Wilderness and St. Agatha Visited in Prison by St. Peter. While the paintings are known to scholars, their remote location in a church in Murano, an island in the lagoon of Venice known today for its glassmaking studios and shops, has made them difficult to study. St. Jerome in the Wilderness has been exhibited outside the church only once—in 1939, in the Paolo Veronese exhibition at Ca' Giustinian, in Venice— while St. Agatha Visited in Prison by St. Peter has not left the church since being installed in the early nineteenth century. These two rarely seen canvases left Italy for the first time since their creation, over 450 years ago. And thanks to Venetian Heritage and the sponsorship of BVLGARI, they have been fully restored and returned to th ...
More
The Best Photos of the Day
Rediscovered Constable to highlight Sotheby's London Old Masters sale this December
S.M.A.K. opens first exhibition of work by Gerhard Richter in a Belgian museum since 1976
Christie's to offer works from the Collection of Nancy Lee and Perry R. Bass


John Constable, R.A. (1776 – 1837), Dedham Vale with the River Stour In flood from the grounds of Old Hall, East Bergholt (detail), oil on canvas 51 x 91.5 cm.; 20⅛ x 36 in. (est. £2-3 million). Courtesy Sotheby's.



LONDON.- John Constable (1776-1837) is one of Britain's best-loved and most significant landscape painters. A key figure in the British Romantic movement of the early 19th century, Constable, together with J.M.W. Turner, changed the course of European landscape painting forever. This winter, Sotheby's London will present a recently rediscovered landscape by the British artist which is without question one of the most exciting and important additions to Constable's oeuvre to have emerged in the last fifty years. Painted between 1814 and 1817, Dedham Vale with the River Stour in Flood belongs to a small group of Constable's early Suffolk paintings remaining in private hands. The work will be offered in Sotheby's Old Masters Evening sale on 6 December, with an estimate of £2-3 million. Julian Gascoigne, Senior Specialist, British Paintings at Sotheby's said: "Constable's views of Dedham Vale and the Stour ... More



Gerhard Richter, Küchenstuhl Keukenstoel, 1965. Öl auf Leinwand. Olieverf op doek, 100 x 80 cm. Kunsthalle Recklinghausen © Gerhard Richter 2017.



GHENT.- S.M.A.K. is presenting the first exhibition of work by Gerhard Richter in a Belgian museum since 1976. Richter is considered to be one of today's most important artists and as one of the postwar renewers of painting. Eight previously unseen works from 2017 are being shown together with works from the last 14 years – including landscapes, digital prints and abstract works – and grouped around the glass piece 7 Panes (House of Cards) (2013). This arrangement echoes and carries forward the presentation of the early works from the 60s and 70s around his first work in glass, 4 Panes of Glass (1967). Showing works mainly from these two periods links together fundamental aspects of Richter's work from the 60s with his present artistic practice. Richter has since the beginning used his oeuvre as a source of metaphors and structure for the creation of new work. It is for this reason that the exhibition is arranged chronologic ... More



Vincent Van Gogh (1853-1890), Laboureur dans un champ, St Remy, 1889 (detail). Estimate on Request. © Christie's Images Limited 2017.



NEW YORK, NY.- Christie's has been entrusted with The Collection of Nancy Lee and Perry R. Bass, which will be offered throughout Christie's 20th Century Week. The most substantial grouping will lead the specially retitled Impressionist and Modern Art Evening Sale Including The Collection of Nancy Lee and Perry R. Bass. Highlights will also be included in the Evening Sale of Post-War and Contemporary Art. Comprising 36 works in total, the collection is expected to realize in excess of $120 million. Max Carter, Head of Department Impressionist and Modern Art, New York, remarked: "It is our signal honor to have been entrusted with The Collection of Nancy Lee and Perry R. Bass. Quietly assembled over forty years and comprising the best of Impressionist, Modern and Post-War art, the collection is led by five museum-quality masterworks—Kees van Dongen's Fauve, larger-than-life Portrait de Madame Malpel, among the artist's ... More
Sotheby's to offer diamonds that witnessed one of the great love stories of the 19th century
Christie's to sell watches owned by Joe Dimaggio and Amelia Earhart
Over 40 works from the Collection of Betty and Stanley Sheinbaum to be sold at Phillips


These historical diamonds were acquired by the Legendary "La Païva", one of the most famous 19th-century courtesans in Paris and a leading figure of contemporary cultural and artistic society. Photo: Sotheby's.



GENEVA.- To mark ten highly successful years of dedicated Noble Jewels sales in Geneva, Sotheby's will offer at auction The Donnersmarck Diamonds, a pair of extraordinary Fancy Intense Yellow diamonds with impeccable aristocratic provenance. The superb diamonds, formerly in the Collection of the Princely Family von Donnersmarck, consist of a cushion-shaped diamond weighing 102.54 carats, and a pear-shaped diamond weighing 82.47 carats. The exquisite stones will be offered as a single lot during Sotheby's auction of Magnificent Jewels and Noble Jewels, to be held on 15 November at Mandarin Oriental, Geneva. The pair is estimated at $9-14 million. David Bennett, Worldwide Chairman of Sotheby's International Jewellery Division, said: "These stunning diamonds carry with them a fascinating story, full of romance and determination over adversity, ... More



Cresarrow Watch Co. Signed Tiffany & Co. A Fine Silver Travel Watch. Formerly Belonging to American Aviation Pioneer Amelia Mary Earhart. Estimate: $60,000 - 120,000. © Christie's Images Limited 2017.



NEW YORK, NY.- Christie's New York Watches announced two rare highlights to be sold in the New York evening sale of Exceptional Watches on Thursday, December 7 2017: The Joe DiMaggio Patek Philippe Reference 130 and The Amelia Earhart Tiffany & Co. Travel Watch. Joe DiMaggio is regarded as one of the most legendary baseball players to ever put on the famous Yankees pinstripes, famously known for his 56-game hitting streak from 1941. As one of the most respected sportsmen in American history, Christie's is honored to present the opportunity to own this iconic timepiece. (Estimate: $150,000 – 300,000). Made in 1947, DiMaggio's Patek Philippe Reference 130 offers the functional elegance of a Chronograph with desirable gold Breguet numerals beautifully set against the silvered dial. With a well-preserved case and manufacturer's signature, this represents a very rare opportunity for both ... More



Henri Matisse, Le Tiare. Bronze with dark brown patina, height 9 3/8 in. (24.6 cm.). Conceived in Nice, 1930 and cast in 1950, this work is number 4 from an edition of 10. Estimate: $500,000 - 700,000.



NEW YORK, NY.- Phillips announces the sale of works from the collection of Betty and Stanley Sheinbaum of Los Angeles. Married for over fifty years, the Sheinbaums devoted their lives to both the visual arts and political activism, dedicating themselves passionately to human rights, social justice, education, politics and world affairs, while also opening two galleries devoted to American craft. Over the course of their lives, they also amassed an acclaimed collection of 20th-century art, with works by Henry Moore, Robert Motherwell, Henri Matisse, Richard Diebenkorn, Marino Marini, Pablo Picasso, and Peter Voulkos, among others. In all, Phillips will offer over 40 works from their collection across the auction house's upcoming sales of 20th Century & Contemporary Art, Design, and Editions. Blake Koh, Phillips' Regional Director, Los Angeles, said, "Uniquely bringing together representative works of modern art and ... More
Columbus Museum of Art is the only museum in the U.S. to host "Beyond Impressionism"
Exhibition at Luxembourg & Dayan celebrates the semi-centennial of the Arte Povera movement
Canadian Biennial presents more than 100 recent acquisitions of Canadian and Indigenous contemporary art


Théo Van Rysselberghe, Le Moulin du Kalf à Knokke (Moulin en Flandre), 1894. Oil on canvas, 31 ½ x 27 9/16 inches. Private collection.



COLUMBUS, OH.- Columbus Museum of Art is presenting Beyond Impressionism – Paris, Fin de Siècle: Signac, Redon, Toulouse-Lautrec and Their Contemporaries, an exhibition organized by the Guggenheim Museum Bilbao, on view October 21, 2017 through January 21, 2018. Featuring more than 120 paintings, drawings, prints, and works on paper, the exhibition explores the Parisian art scene of the late 19th century. CMA, in partnership with the Guggenheim Museum Bilbao, is the only museum in the United States to host the exhibition. Beyond Impressionism focuses on some of the most important French avant-garde artists and also includes one of Claude Monet's Water Lilies paintings. "Columbus Museum of Art is delighted to be the only U.S. venue for this extraordinary exhibition," said CMA Executive Director Nannette V. Maciejunes. "Our partnership with the Guggenheim Museum Bilbao allows us a rare opportunity to bring to Columbus ... More



Michelangelo Pistoletto, Mobili capovolti, 1976, Leather armchair, mirror, 26 ¾ x 26 x 63 in. (68 x 66 x 160 cm.) © Michelangelo Pistoletto. Photo: Andrew Romer.



NEW YORK, NY.- Luxembourg & Dayan is celebrating the semi-centennial of the Arte Povera movement with Contingencies: Arte Povera and After, an exhibition placing select works by contemporary artists in dialogue with significant Arte Povera works from the 1960s and 1970s, crossing these historical moments in order to better understand the echoes between them. Amid the sociopolitical upheavals of the day, Arte Povera artists questioned the established languages of government, industry, and culture by proclaiming the porosity of the artwork, and exalting in its contingency: suddenly, a potential chemical reaction or simple transfer of energy could comprise the work itself. Contingencies considers the ways in which artists today similarly react to a world in turmoil by rejecting the autonomy of the art object in order to harness, engage, or interrupt systemic flows—whether those are organic, social, or technological— on a distinctly m ... More



Taryn Simon, Gdansk Agreement, Gdansk Shipyards, Gdansk, Poland, August 31, 1980, 2015. Ink jet print, 211.3 x 159.5 cm (approx.). National Gallery of Canada, Ottawa © Taryn Simon, Courtesy Gagosian Gallery. Photo : NGC.



OTTAWA.- The 2017 Canadian Biennial opened this past weekend at the National Gallery of Canada. The fourth of the Gallery's Biennial exhibitions that present selected recent acquisitions of Canadian and Indigenous contemporary art, the 2017 edition also includes international artworks for the first time. The exhibition features over 50 artists and more than 100 works covering a diverse spectrum of contemporary production from painting, sculpture, and photography, to drawing, print-making, video and large-scale mixed media installations. Running through March 18, 2018, the Biennial visualizes a current moment in art-making as viewed through the filters of the Gallery's national collection and the research, travels and dialogues of curators working in the departments of Contemporary Art, Indigenous Art, and the Canadian Photography ... More
Fahrelnissa Zeid's royal portraits lead Bonhams Middle Eastern Art Sale
Exhibition at Museum of Contemporary Art, Los Angeles features more than 50 LGBTQ and Chicano artists
World War II Enigma Machine highlights Doyle's November 7 Auction of Rare Books, Autographs & Maps


Fahrelnissa Zeid, Portrait of King Hussein of Jordan (Eternal Youth), 1973, estimated at £50,000-70,000. Photo: Bonhams.



LONDON.- Fahrelnissa Zeid's rare and compelling portraits of King Hussein and Princess Alia of Jordan lead Bonhams Modern and Contemporary Middle Eastern Art sale on 28 November at the New Bond Street saleroom in London. The works are each estimated at £50,000-70,000. The monumental portraits of King Hussein and Princess Alia are considered seminal works from Zeid's rich and dynamic career. Born in Istanbul in 1901, Zeid's passion for the arts led her to attend art schools in both Istanbul and Paris. This fascinating, cross-cultural trajectory allowed her to develop a unique painterly style fusing traditions of Byzantine icons and Persian painting with Modern Abstraction that she studied in Western Europe. An important aspect of Zeid's work is the way she conveys her most intimate and personal relationships, as highlighted in the stylized depictions of King Hussein and Princess Alia. The portraits, ... More



Installation view of Axis Mundo: Queer Networks in Chicano L.A., September 9–December 31, 2017 at MOCA Pacific Design Center, courtesy of The Museum of Contemporary Art, Los Angeles, photo by Zak Kelley.



LOS ANGELES, CA.- The Museum of Contemporary Art, Los Angeles, is hosting Axis Mundo: Queer Networks in Chicano L.A., organized by ONE National Gay & Lesbian Archives at the USC Libraries as part of Pacific Standard Time: LA/LA. The exhibition is being shown in two West Hollywood spaces, MOCA Pacific Design Center and the ONE Gallery. It features more than 50 LGBTQ and Chicano artists who created experimental artworks in a variety of media between the 1960s and early 1990s—a period bookended by the Chicano Moratorium, gay liberation, and feminist movements on one end, and the ravages of the AIDS crisis on the other. Axis Mundo is the result of extensive research by co-curators David Evans Frantz, Curator at the ONE Archives at the USC Libraries, and C. Ondine Chavoya, Professor of Art and Latina/o Studies at Williams College. While ... More



Three-Rotor Service Enigma Machine (Engima 1), [Heismoeth & Rinke]: 1940s. From a Private Minneapolis Collection. Est. $80,000-120,000.



NEW YORK, NY.- On Tuesday, November 7 at 10am, Doyle will hold an auction of Rare Books, Autographs & Maps. The sale offers a wide assortment of material ranging from early illuminated manuscripts to modern literary first editions. Among the highlights are a rare World War II era Enigma Machine, 19th century color plate books of the American West, and a fashion archive of Jacqueline Kennedy as First Lady. Other notable property includes Robert Thornton's folio edition of The Temple of Flora, a leaf from the printer's manuscript of Joyce's Ulysses, and the rare 1767 Montresor map of the City of New York. The Enigma 1 machine was used by the German Wehrmacht and Luftwaffe during World War II to encode orders and instructions, using a complex system of rotors and patch cables. The German High Command believed the Enigma cipher to be totally secure; British cryptographers at Bletchley Park under Alan Turing ... More
Quote
No art was ever less spontaneous than mine. What I do is the result of reflection and study. Edgar Degas
More News
---
The Collection of Nancy Lee and Perry R. Bass
---
Flashback
On a day like today, Italian artist Andrea della Robbia was born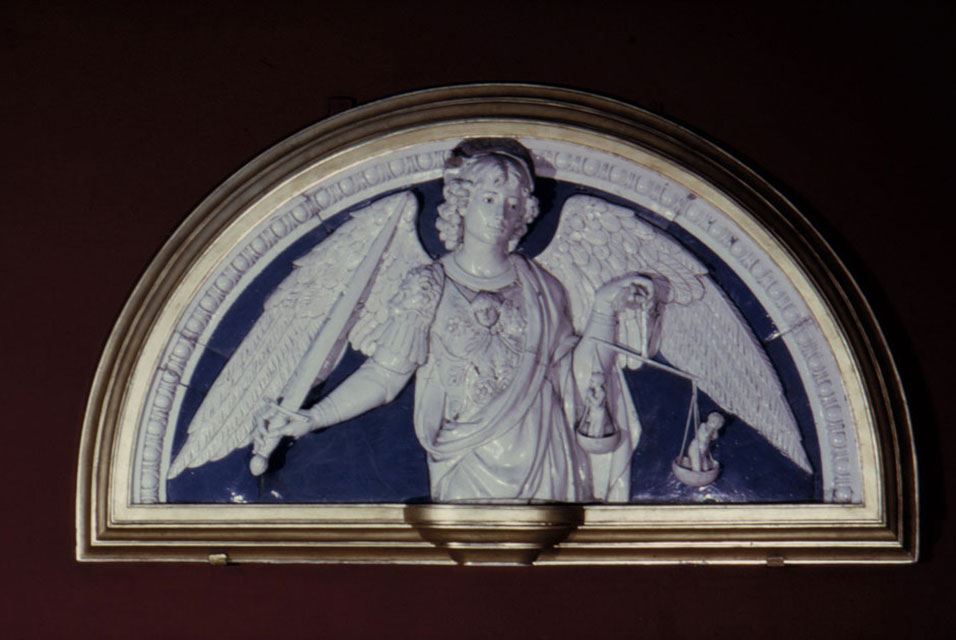 October 24, 1435. Andrea della Robbia (October 24, 1435 - August 4, 1525) was an Italian Renaissance sculptor, especially in ceramics. Born in Florence, Robbia was the son of Marco della Robbia, whose brother, Luca della Robbia, popularized the use of glazed terra-cotta for sculpture. Andrea became Luca's pupil, and was the most important artist of ceramic glaze of the times. In this image: Andrea della Robbia, 1435–1525, Saint Michael the Archangel Italian (Florence) 15th century (ca. 1475) 1470 – 1480. Glazed terracotta; Frame, wood 31-1/8 x 61-7/8 in. (79.1 x 157.2 cm) Harris Brisbane Dick Fund, 1960 60.127.2
---

Museums, Exhibits, Artists, Milestones, Digital Art, Architecture, Photography,
Photographers, Special Photos, Special Reports, Featured Stories, Auctions, Art Fairs,
Anecdotes, Art Quiz, Education, Mythology, 3D Images, Last Week,
.
Royalville Communications, Inc
produces:







Tell a Friend
Dear User, please complete the form below in order to recommend the Artdaily newsletter to someone you know.
Please complete all fields marked *.
Sending Mail

Sending Successful