Arrested former CIA agent was security guard at Christie's in Hong Kong
This picture taken on October 13, 2017, shows a man (R, wearing blue tie) identified by local Hong Kong media as former CIA agent Jerry Chun Shing Lee standing in front of a member of security at the unveiling of Leonardo da Vinci's 'Salvator Mundi' painting at the Christie's showroom in Hong Kong. The former CIA agent arrested in the United States earlier this week on suspicion of helping Chinese spies was a security guard at Christie's in Hong Kong, the auction house said January 18. Hong Kong resident Jerry Chun Shing Lee, a naturalised US citizen also known as Zhen Cheng Li, was arrested late Monday after he arrived at JFK International Airport in New York. Anthony WALLACE / AFP.
HONG KONG
(AFP)
.-
The former CIA agent arrested in the United States earlier this week on suspicion of helping Chinese spies was a security guard at Christie's in Hong Kong, the auction house said Thursday. Hong Kong resident Jerry Chun Shing Lee, a naturalised US citizen also known as Zhen Cheng Li, was arrested late Monday after he arrived at JFK International Airport in New York. His arrest was reportedly linked to Beijing's brutal dismantling five years ago of the CIA's network of undercover operatives and informants inside China. When asked whether Lee, 53, had worked at Christie's, the auction house said they had suspended a Hong Kong employee pending a criminal investigation, without naming him. ...
More
The Best Photos of the Day
Columbus State University College of the Arts' Bo Bartlett Center opens
Joan B Mirviss Ltd. announces highlights being shown at the 64th Winter Antiques Show
Gagosian opens an exhibition of nine monumental works by Tom Wesselmann


Installation view.



COLUMBUS, GA.- The Bo Bartlett Center, an ambitious project fifteen years in the making, opened today at CSU's Corn Center. Designed by Seattle-based architect Tom Kundig of Olson-Kundig, the 18,500 square foot facility will serve as a center for art and creativity that is at once a national arts institution and a community-based service organization, as well as exhibition space for both regional and national artists. In addition to featuring a retrospective of Columbus native and celebrated American Realist painter Bo Bartlett's large scale works, some of them never-before-exhibited, an ancillary group show opened titled Peers & Influences in the Center's Visiting Artist's Gallery that is adjacent to the Main Gallery. Bartlett, who is recognized as one of the leading figurative painters of his generation, reflects in his work his upbringing in a small, southern town where ... More



Tokuda Yasokichi III (1933-2009), Round platter with dark blue, emerald green, turquoise and yellow Kutani glazes, 1991 (Heisei 3) December. Glazed porcelain, 3 x 17 7/8 x 17 7/8 in.



NEW YORK, NY.- For her 37th year participating at the prestigious 64th Winter Antiques Show Joan B Mirviss is featuring a carefully selected group of significant Japanese ceramics work, both modern and contemporary that best exemplify the Japanese dual focus on function vs sculpture. Combining Japan's profound ceramic history with refined aesthetic design, the artists in this exhibition are visionaries who successfully transformed time-honored artistic traditions into widely acclaimed and collected art. Examining the often-fine line between these two general categories of ceramic production, this exhibition offers a diversity of material by post-war artists through the present day. Many of the works, while nominally utilitarian, stand as highly ... More



Tom Wesselmann, Still Life #59, 1972. Oil on shaped canvases, acrylic paint on carpet (five separate sections plus carpet, four free-standing), 105 1/4 x 190 3/4 x 83 inches © The Estate of Tom Wesselmann/Licensed by VAGA, New York. Courtesy Gagosian.



NEW YORK, NY.- Gagosian is presenting "Tom Wesselmann: Standing Still Lifes," an exhibition of nine monumental works made between 1967 and 1981. This is the first time that the complete series is being shown together. Each large-scale work comprises multiple canvases, both hanging and standing, shaped according to the outline of the commonplace objects that they depict. Wesselmann's spatial and pictorial innovation in the Standing Still Life paintings have precedents in his early work. His drawings of his wife and lifelong muse, Claire Selley—beginning in the 1950s when they met as students at Cooper Union—often ... More
The Courtauld Gallery opens first exhibition dedicated to the drawings of Antoine Caron
Meadows Museum acquires last painting by Mariano Fortuny
Experts give one in the eye to Bayeux Tapestry loan offer


Antoine Caron (1521 - 1599), Portraits of Henri II and Catherine de Medici, 1560 -1574, Louvre Paris.



LONDON.- This focused international loan exhibition, the first dedicated to the drawings of Antoine Caron (1521-1599), brings together a celebrated group of drawings executed for his patron Catherine de' Medici queen of France (1519-1589). Centred around the Valois series, a set of drawings of courtly pageantry here reunited for the first time, the display showcases the way in which the powerful and influential Catherine promoted herself and her dynasty through a series of lavish courtly events. Though not a court artist, Caron worked at the court of the Valois family, first at the Château de Fontainebleau, and then at the Château d'Anet where Henri II's mistress Diane de Poitiers lived. He also contributed to the designs of the ephemeral decorations for the ceremonial entry into Paris of the young King Charles IX in 1571, and two years later to the celebrations of the election of his brother Henri to the kingdom of Poland and Lithuania. In 1581, Caron was the official painter f ... More



Mariano Fortuny y Marsal (Spanish, 1838–1874), Beach at Portici, 1874 (detail). Oil on canvas, 27 x 51 ¼ in. (68.6 x 130.2 cm). Meadows Museum, SMU, Dallas. Photo by Robert LaPrelle.



DALLAS, TX.- The Meadows Museum, SMU, announced today that it has acquired Beach at Portici, the last painting of famed Spanish artist Mariano Fortuny y Marsal (1838-1874). The nearly finished painting—which is unusual for its large scale, relative to much of the artist's work—depicts the enjoyment of a summer day at the beach, and demonstrates Fortuny's hallmark ability to capture light in paint. Fortuny was an especially popular artist with 19th-century American collectors and audiences, as the particularly American provenance of this work reveals. Reflecting the high esteem in which Fortuny's works were held, Beach at Portici was featured prominently in the American Pavilion's "Loan Collection of Foreign Masterpieces Owned in the United States" at the 1893 World's Columbian Exposition in Chicago. Considered one of the most important international exhibitions of the ... More



Photo taken on October 2, 1990 in Bayeux shows a book written by Sylvette Lemagnen, curator at the Normandy museum, representing a scene of the Bayeux tapestry and a manuscript dated of 1476 describing the tapestry's scenes. Mychele DANIAU / AFP.



PARIS.- The Bayeux Tapestry will not be lent to Britain until major conservation problems are overcome, French experts said Thursday as they voiced their opposition to the historic treasure ever crossing the English Channel. While French President Emmanuel Macron was basking in the afterglow of British praise for his diplomatic masterstroke made on the eve of an Anglo-French summit near London, reactions back home were less enthusiastic to say the least. The former director of the museum in the Normandy town which houses the 68 metre-long (224 foot) embroidered account of the Norman conquest of England in 1066, hit out at the decision. Isabelle Attard said moving such a "fragile, near-1,000-year-old roll of wool and linen" even a few metres was risky, never mind transporting it overseas. "A ... More
Friedman Benda opens a survey of seminal architect-designed furniture
Costa Rica 'more complete' after recovering 200 artifacts from Venezuela
New York debut of Belgian artist Kasper Bosmans on view at Gladstone Gallery


Frank Lloyd Wright [American, 1867 -1959], Lounge chair from the Clarence Sondern House, Kansas City, MO, c. 1938. Cypress plywood, upholstery, 28 x 22 x 23 inches.



NEW YORK, NY.- Friedman Benda presents its annual guest-curated exhibition Inside the Walls: Architects Design, a survey of seminal architect-designed furniture curated by Mark McDonald. With representations spanning over a century, the exhibition will present a broad range of pivotal architects from the US, Latin America, Europe, and Asia—such as Luis Barragán, Lina Bo Bardi, Marcel Breuer, Charles and Ray Eames, Frank Gehry, Philip Johnson, Oscar Niemeyer, Charlotte Perriand, Warren Platner, Gio Ponti, Ettore Sottsass, Kenzō Tange, and Mies van der Rohe—with a focus on three groundbreaking figures—Gerrit Thomas Rietveld, Rudolph Schindler, and Frank Lloyd Wright, whose global reach continues today. Drawing on archival photographs of interiors and historical ephemera, this exhibition charts revolutionary developments in architecture and design across the 20th century. Testaments to the innovative use of new technologies b ... More



View of pre-Columbian pieces -which had been taken out of the country illegaly to Venezuela- and were now returned by the Venezuelan government, at the National Museum in San Jose, Costa Rica, on January 17, 2018. Ezequiel BECERRA / AFP.



SAN JOSE (AFP).- Costa Rica said it is "more complete" after recovering nearly 200 pre-Columbian artifacts from Venezuela, where they had been amassed by a wealthy Estonian art collector. The handover of the 196 stone and ceramic figurines to the National Museum in Costa Rica on Wednesday marked the biggest-ever return of archeological items to the Central American country. The figurines included representations of warriors and animals, as well as hand-crafted spheres and grinding stones made by indigenous people who had lived in different parts of Costa Rica for thousands of years before Christopher Columbus arrived in 1502. The head of the museum's heritage protection department, Marlin Calvo, told a news conference that the artifacts had been taken out of the country via "illicit trafficking." They ended up in the possession of Harry Mannil, an Estonian businessman who settled for most ... More



Kasper Bosmans, Log Drive, 2018. Aluminum, apples, and water, 6 5/8 x 90 1/8 x 5 7/8 inches (16.8 x 228.9 x 14.9 cm) © Kasper Bosmans. Courtesy the artist and Gladstone Gallery, New York and Brussels. Photo: David Regen.



NEW YORK, NY.- Gladstone Gallery is presenting the New York debut of Belgian artist Kasper Bosmans. Rooted in historical research, Bosmans disentangles the intersection of signs that create cultural meaning in both micro and macro registers. His interdisciplinary works include institutional intervention, installation, sculpture, and painting that parse and restructure the objects and symbols from varied political, artistic, and social orders. For this exhibition, entitled Chip Log, Bosmans investigates diverse cultural relics—taken from the realms of government, folk art, and technology—in order to establish new modes of reading the history of power and knowledge that linger in spaces between concept and material. Bosmans constructs his installation in rebus-like chapters evoking political artifacts and labor practices reified into material gestures: the famed Amber Room of Friedrich I and Star Chamber of ... More
Dix Noonan Webb builds for the future after a bumper year in the saleroom
18th-century slipware ceramics found during archaeological excavation exhibited for the first time
Waverly Rare Books to auction rare botanical & zoological prints on Jan. 25


Pierce Noonan (centre) becomes Managing Director and Chief Executive Officer at Dix Noonan Webb.



LONDON.- Dix Noonan Webb, the international coins, medals and jewellery specialists, is changing its management structure to build for the future after a successful 2017 which saw it become the top selling London numismatic auction house. Pierce Noonan, who at 46 is the youngest partner, becomes Managing Director and Chief Executive Officer, while company founder Nimrod Dix is now Executive Chairman. A new senior management team of eight Associate Directors has been appointed to reinforce Mayfair-based DNW's recent growth. "Now is the right time to put in place a management structure that will ensure the continuing growth of the company for many years to come," says Nimrod Dix. "I am incredibly proud that the business that I set up in 1991 as a small independent partnership with the idea of taking on the established auction houses has achieved such success. With ... More



Slipware. Courtesy of Robert Hunter.



PHILADELPHIA, PA.- A remarkable assemblage of 18th-century slipware ceramics uncovered during an archaeological excavation in Philadelphia has been revealed to the public for the first time. Nearly a dozen pieces of slipware, a form of decorative lead-glazed pottery, are on view at the 2018 New York Ceramics and Glass Fair from Thursday, Jan. 18 – Sunday, Jan. 21, 2018, at Bohemian National Hall in Manhattan. The display is called "Buried Treasure: New Discoveries in Philadelphia Slipware from the Collection of the Museum of the American Revolution." It is sponsored by Ceramics in America, which is published by the Chipstone Foundation of Milwaukee, Wisconsin, and the Museum of the American Revolution. After the exhibit, the items will be returned to the Museum for future display. The slipware was uncovered during excavations on the site of the new Museum of the American Revolution in Philadelphia, during which archaeologists from Co ... More



John Gould (British, 1804-1881), Henry C. Richter (British, 1821-1902), and William Hart (1830-1908), one of a group of 10 hand-colored lithographs from The Birds of Great Britain, London, 1862-73, 14.5 x 21.5in. Est. $800-$1,000.



FALLS CHURCH, VA.- On Thursday, January 25, the Waverly Rare Books & Prints division of Quinn's Auction Galleries will present the first on two sales devoted to prints reflecting the natural world in its many forms, with Part II to follow in May. The January sale selection consists of the best of several small private collections, including that of Virginian Jim Willis. The Willis collection contains highly significant antique prints of a remarkable and sweeping range. Many are beautifully framed. Animals, birds, botanicals, fish, amphibians and reptiles of all kinds are richly represented in the 375-lot sale, with all forms of bidding available including live online through LiveAuctioneers. In total, there are more than 2,700 auction items grouped into logical affinity lots. More than 60 plates from Alessandri and ... More
Quote
Art, like morality, consists in drawing the line somewhere. Gilbert K. Chesterton
More News
---
Ed Moses, Pioneer of West Coast art, Dies at 91
---
Flashback
On a day like today, French painter Paul Cézanne was born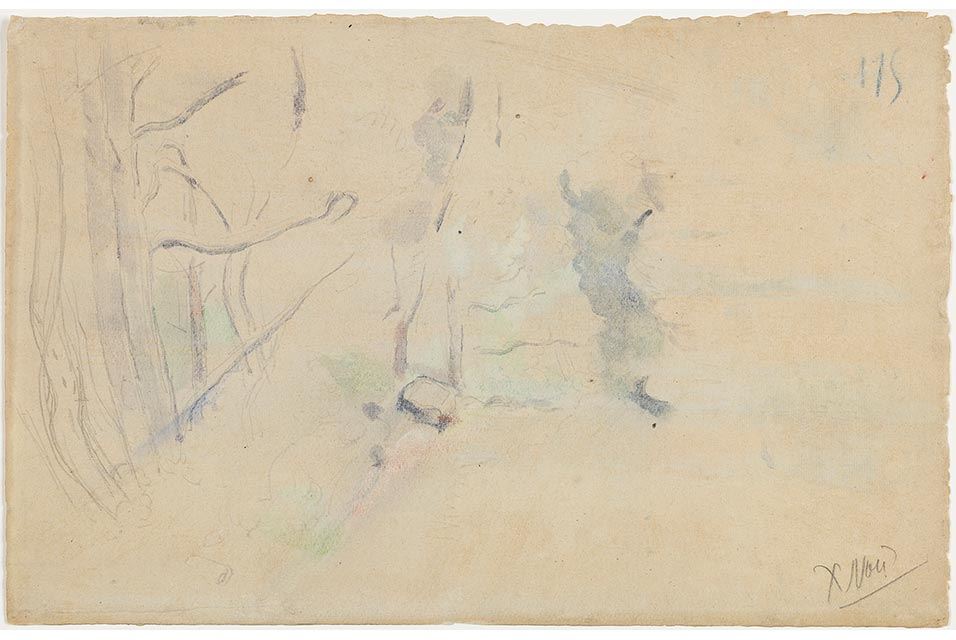 January 19, 1839. Paul Cézanne (19 January 1839 - 22 October 1906) was a French artist and Post-Impressionist painter whose work laid the foundations of the transition from the 19th-century conception of artistic endeavor to a new and radically different world of art in the 20th century. In this image: Paul Cézanne (French, 1839 - 1906). Recto: The Chaîne de l'Etoile Mountains (La Chaîne de l'Etoile avec le Pilon du Roi), 1885 - 1886. Watercolor and graphite on wove paper; Verso: Unfinished Landscape, undated. Watercolor and graphite on wove paper, Sheet: 12 3/8 x 19 1/8 in. (31.4 x 48.6 cm). BF650. Photo © 2015 The Barnes Foundation.
---

Museums, Exhibits, Artists, Milestones, Digital Art, Architecture, Photography,
Photographers, Special Photos, Special Reports, Featured Stories, Auctions, Art Fairs,
Anecdotes, Art Quiz, Education, Mythology, 3D Images, Last Week,
.
Royalville Communications, Inc
produces:







Tell a Friend
Dear User, please complete the form below in order to recommend the Artdaily newsletter to someone you know.
Please complete all fields marked *.
Sending Mail

Sending Successful