Exhibition examines the influence exerted by Bernd and Hilla Becher on their students
Exhibition view "Photographs Become Pictures. The Becher Class" Photo: Städel Museum.
FRANKFURT
.-
The Städel Museum
is staging a comprehensive survey on the Becher Class at the Düsseldorf art academy and the major paradigm shift in the medium of artistic photography with which the Bechers and their students are associated. With the aid of some 200 photographs by Volker Döhne, Andreas Gursky, Candida Höfer, Axel Hütte, Tata Ronkholz, Thomas Ruff, Jörg Sasse, Thomas Struth and Petra Wunderlich – a group of whom some enjoy international renown and others are due for rediscovery –, the exhibition examines the influence exerted by Bernd and Hilla Becher on their students at the Düsseldorf school. What unites the students' works with those of their teachers? How do they differ? Is there really such a thing as the "Becher School" or is it 'merely' a matter of several highly successful photographers who happened to be studying at the 'right place' at an especially propitious moment in his ...
More
The Best Photos of the Day
The last painting from Simon Hantaï's Mariale series to lead Evening Contemporary Art Auction
Christie's sale features twelve masterworks of African Art
Dorotheum auctions portrait of Empress-to-be Elisabeth of Austria for 1.5 million


Sotheby's has achieved the four highest prices for works from the Mariale series. M.D.4 is the fifth work from the Mariale series sold by Sotheby's since 2013. Photo: Sotheby's.



PARIS.- Sotheby's announced the sale, on 18 May at Sotheby's in New York, of a masterful work by Simon Hantaï, M.D.4 (Mariale), 1962, estimated at $2 to 3 million, from the artist's most iconic series. M.D.4 will be the fifth work in this cycle sold by the company since 2013. After the world auction record set by a Mariale in December 2016 at Sotheby's Paris (€4.4 million), M.D.4 is now entering the company's major evening sales in New York: a key date for leading international contemporary art collectors. Here, for the first time, a work by Simon Hantaï will be seen alongside others by great international artists of the post-war period. Works from the Mariale series, executed by the artist between 1960 and 1962, are extremely rare. There are only 27 of them, of which a third already belong to museums. The four paintings entitled M.D. belong to the last group of the series. M.D. 4 is ... More



A Grebo Mask, Maryland County, Area of Nyaake, Liberia. Wood with pigment, human teeth and hair. Estimate: USD 250,000 – 350,000. © Christie's Images Limited 2017.



NEW YORK, NY.- Christie's announces the sale Timeless: Masterworks of African Art will take place on May 19 in New York. This exceptional sale features twelve masterworks of African Art and the exhibition and auction will coincide with Christie's 20th Century Week sales. Celebrating the diversity of form and innovation of African artistry, from the West coast, to Central and to South Africa, these rare works are fresh to the market and maintain distinguished provenance, which is further enhanced by their exhibition histories and published literature. Susan Kloman, International Specialist, Head of Department, comments, "Timeless is a selection of twelve important works of traditional African art. Each work of art represented in this sale is powerfully resonant with subjects, which unite us as human - visions of prosperity, love, power, fear and order. From incarnations of ... More



Carl Theodor von Piloty (1826 - 1886) and Franz Adam (1815-1886) Elisabeth of Austria on a Horse in Possenhofen 1853, realized price €1,540,000.



VIENNA.- You could have heard a pin drop in Dorotheum's auction hall. After a prolonged sparring of bidders, a caller pledged €1,540,000 for an historic portrait of Sisi–and was met with a standing ovation. The painting by Carl Theodor von Piloty and Franz Adam of the newly engaged Elisabeth of Austria seated on horseback in front of Possenhofen Castle at Lake Starnberg was the top lot of the 27 April 2017 19th century paintings auction despite being restricted from export. Sisi, who would become Empress Elisabeth of Austria, gave the portrait to Francis Joseph of Austria for Christmas after the two were engaged to be married. The work had faded from the public eye after belonging to the Habsburg estate for over 150 years. It was one of Francis Joseph of Austria's most prized possessions, having hung on the wall above the emperor's bed in the Hofburg Imperial Palace for 60 years, until his death. The auction was t ... More
'Ariadne Abandoned by Theseus' to be loaned to the Royal Łazienki Museum in Warsaw
Art world expert Doug Woodham publishes book on buying, collecting, and selling art
Whitney Museum opens exhibition of works from its collection


Angelika Kauffmann, Ariadne Abandoned by Theseus, before 1782, oil on canvas, 88 x 70.5 cm Gemäldegalerie Alte Meister © SKD.



DRESDEN.- The Staatliche Kunstsammlungen Dresden will display the painting 'Ariadne Abandoned by Theseus' by Angelika Kauffmann at the Royal Łazienki Museum in Warsaw. The work will appear on loan there from 1 May to 30 July 2017 as the result of a partnership between the SKD, the Hamburger Kunsthalle, and the Royal Łazienki Museum. This exhibition of one painting was arranged under the honorary patronage of Rolf Nikel, German ambassador to Poland. Statement by Marion Ackermann, Director-General of the Staatliche Kunstsammlungen Dresden: 'Angelika Kauffmann embodies the idea of Europe quite early in the 18th century in an exceptional manner. She was one of the most sought-after female artists of her time, was fluent in four languages, and felt equally at home in multiple countries. The Staatliche Kunstsammlungen Dresden thus gladly accepted the invitation of the Royal Łazienki Museum and the German ... More



Pairing real-life stories with an astute understanding of the players and economics that shape the art world, Art Collecting Today: Market Insights for Everyone Passionate About Art – published April 4, 2017 by Allworth Press | Skyhorse Publishing, Inc – is the essential practical guide to today's art market.



NEW YORK, NY.- Art world authority Doug Woodham – former President, Americas for Christie's Auction House and Partner at McKinsey & Company – releases his first book, Art Collecting Today: Market Insights for Everyone Passionate About Art, which demystifies the art market. Drawing upon decades of experience across the worlds of art and finance, art industry expert Woodham provides clear, concise, and invaluable insights for collectors and market professionals into a lightly regulated industry with over 60 billion dollars of annual sales. Informed by close to 100 interviews with collectors, lawyers, art advisors, gallerists, and auction specialists in the United States and Europe, and the author's personal experiences, the book – published April 2017 – offers a lively and thought-provoking analysis of the day-to- ... More



Charles Demuth (1883 1935). Buildings, Lancaster, 1930. Oil and graphite pencil on composition board, 24 1/8 × 20 1/8in. (61.3 × 51.1 cm). Whitney Museum of American Art, New York; gift of an anonymous donor 58.63.



NEW YORK, NY.- Where We Are, a new exhibition of works from the Whitney's collection made between 1900 and 1960, went on view in the Museum's seventh-floor Robert W. Wilson Galleries. At a time when debate continues over what it means to be American, Where We Are proposes a framework of everyday relationships, institutions, and activities that form an individual's sense of self. Where We Are brings together some of the Whitney's most iconic works by Louise Bourgeois, John Steuart Curry, Edward Hopper, Jasper Johns, Jacob Lawrence, and Georgia O'Keeffe with rarely exhibited works by Elizabeth Catlett, Jay DeFeo, and Ellsworth Kelly, along with recent acquisitions by James Castle, Palmer Hayden, Archibald Motley, and PaJaMa. "Where We Are surveys six decades during which artists responded in complex and diverse ways to dramatic changes in American ... More
V&A Publishing presents Pink Floyd book
47 Berlin galleries participate in Gallery Weekend Berlin
Archives of American Art announces grant to expand its collections on African American art and artists


Pink Floyd: Their Mortal Remains from V&A publishing.



LONDON.- Today the V&A announces Pink Floyd: Their Mortal Remains from V&A publishing, a new book fully authorized by Pink Floyd, one of the world's most pioneering and influential bands. Comprising unseen images, archive material published for the first time and new essays, the book has been created with unprecedented access to the Pink Floyd archives. The beautifully produced hardback, with a lenticular cover inspired by the The Dark Side of the Moon album artwork, coincides with the exhibition The Pink Floyd Exhibition: Their Mortal Remains, opening at the V&A on 13 May, and marks the 50th anniversary of Pink Floyd's first album, The Piper at the Gates of Dawn. Pink Floyd and its members Syd Barrett, David Gilmour, Nick Mason, Roger Waters and Richard Wright continue to fascinate a global audience. The book Pink Floyd: Their Mortal Remains examines the many aspects of their far-reaching legacy: not only in ... More



Melvin Edwards, "Samora (For Samora Machel)", 1986. Courtesy Galerie Buchholz, Berlin/Cologne/New York.



BERLIN.- Gallery Weekend Berlin, which combines concentrated individual exhibitions, memorable Berlin experience and annual social event, celebrates with its visitors the engagement of the gallerists at the place where everything originates: at the gallery. From April 28-30, 2017, Gallery Weekend Berlin presents exhibitions by established and newly discovered artists in 47 Berlin galleries. Meanwhile, Gallery Weekend Berlin looks back at a thirteen-year success story, as reflected in this year's program: many galleries have decided to show artists with whom they have developed long-standing collaborations and who continue to represent important positions within artistic discourse. Painting holds a particularly visible presence in this year's program: a medium with a long history, multi-generational artists explore a range of negotiations with this artistic ... More



Alma Thomas working in her studio, ca. 1968 / Ida Jervis, photographer. Alma Thomas papers. Archives of American Art, Smithsonian Institution.



WASHINGTON, DC.- The Smithsonian's Archives of American Art announced that it has received a $575,000 grant from the Henry Luce Foundation to support a three-year African American Collecting Initiative. While the Archives has collected the papers and oral histories of important figures in African American art from its founding in 1954, the grant will advance the process of building and strengthening the collection. The Henry Luce Foundation is a long-time supporter of the Archives' mission to foster research by collecting, preserving and making available a diversity of primary source material documenting the history of the visual arts in the United States. Headquartered in Washington, D.C., with a second research facility in New York City, the Archives holds nearly 6,000 collections of archival material on ... More
MoMA paintings featured in Pop Art exhibition at Wadsworth Atheneum Museum of Art
Conceptual Installations of the 70s by Teresa Burga on view at Galerie Barbara Thumm
Exhibition of works by Miquel Barceló celebrates 800 years of Universidad de Salamanca


Andy Warhol, Water Heater, 1961. Casein on canvas. The Museum of Modern Art, New York, NY, Gift of Roy Lichtenstein, 706.1971. © 2017 The Andy Warhol Foundation for the Visual Arts, Inc. / Artists Rights Society (ARS), New York.



HARTFORD, CONN.- The Wadsworth Atheneum Museum of Art is exhibiting two special loans from the Museum of Modern Art in New York City as part of the exhibition "Hand-Painted Pop! Art and Appropriation, 1961 to Now." Andy Warhol's "Water Heater" and Roy Lichtenstein's "Girl with Ball," both painted in 1961 in New York as opening salvos in the Pop art movement, are on view alongside a selection of 14 Pop and Pop-inspired artworks belonging to the Wadsworth Atheneum and two private collections in this exploration of the development and legacy of Pop art. "Hand-Painted Pop!" is on view April 29–August 13, 2017. Evolving alongside Abstract Expressionism, epitomized by Jackson Pollock's signature drip process, early Pop art paintings were visibly hand-painted. "Water Heater" and "Girl with Ball" were both painted ... More



Teresa Burga, Works that disappears when the viewer tries to approach it, 1970-2017.



BERLIN.- Teresa Burga (*1935 Iquitos, Peru) is the most influential Peruvian female artist today. In the mid-sixties, Burga was a driving force in the renewal and transformation of art in Peru. Through her work with the Group Arte Nuevo (1966-1967) she also initiated the consolidation of of the diverse currents of the peruvian avant-garde. After studying at the Art Institute of Chicago for two years, the artist returned to Lima. From these formative years, she brought back her experience of the student movement and the civil rights movement of North America. She began producing work that makes use of experimental processes and new creative strategies such as information technology, scientific registers and engagement of "concepts". Her work often takes the shape of reports, descriptions and diagrams that document past actions or formulate proposals to be carried out in the future, using statistics to reread the environment. Sometimes her work entails translating reality and language i ... More



Piscifactoría abandonada (Abandoned fish farm), 2015. Mixed media on canvas, 190 x 240 cm. Courtesy Galerie Bruno Bischofberger & Tobias Mueller Modern Art, Switzerland. Photo: © Agustí Torres, 2017 © Miquel Barceló, VEGAP, Salamanca, 2017.



SALAMANCA.- Noah's Ark, a major exhibition by renowned artist Miquel Barceló, opened today as part of the commemoration of the 8th Centenary of the historic University of Salamanca in Spain. Featuring approximately 80 works, most of which were created in the last five years, the exhibition spans a diversity of media including painting, sculpture, ceramic, drawing and performance. Noah's Ark demonstrates the constantly evolving practice of the Majorcan artist, whose vast oeuvre is characterised by a surprisingly formal and iconographic richness. An emphasis on both the creation process, and on metalinguistic reflection are the defining traits of his latest works. The exhibition is curated in response to the spaces within the University, and the city that it occupies. In a chronological sense, it begins at the Patio de Escuelas ... More
Quote
America is a pioneer in throw away art. Brian O'Doherty when referring to Pop Art
More News
---
Groundbreaking Ceremony at the Art Museums of Colonial Williamsburg
---
Flashback
On a day like today, Indian painter Raja Ravi Varma was born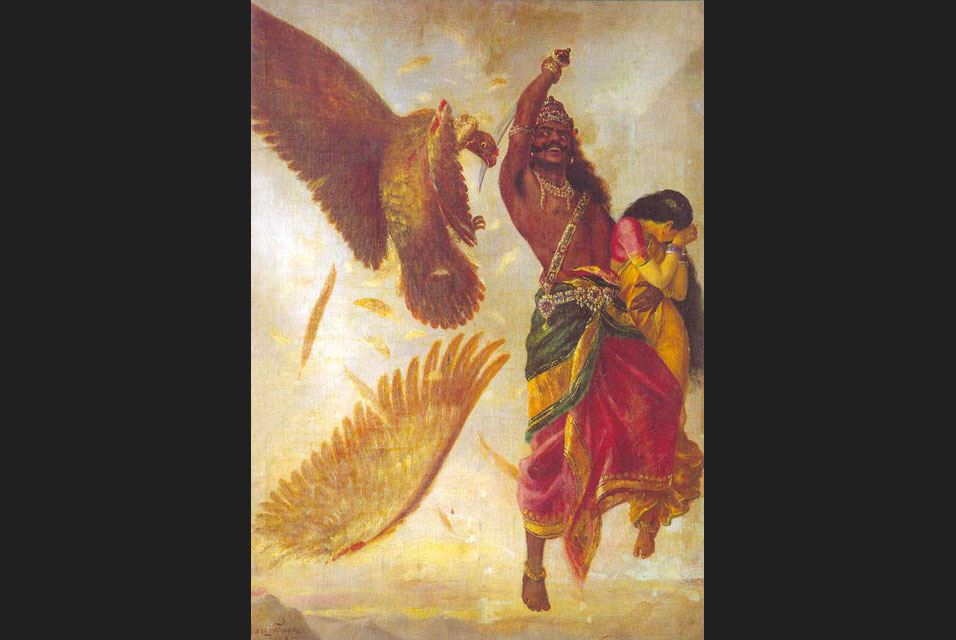 April 29, 1848. KILIMANOOR.- Raja Ravi Varma was an Indian painter from the princely state of Travancore who achieved recognition for his depiction of scenes from the epics of the Mahabharata and Ramayana. His paintings are considered to be among the best examples of the fusion of Indian traditions with the techniques of European academic art. Varma is most remembered for his paintings of beautiful sari-clad women, who were portrayed as shapely and graceful. His exposure in the west came when he won the first prize in the Vienna Art Exhibition in 1873. Raja Ravi Varma died in 1906 at the age of 58. He is considered among the greatest painters in the history of Indian art. In this image: The demi-god vulture Jatayu is struck down by the demon Ravana, as Jatayu attempted to intercede in the demon's kidnapping of Sita.
---

Museums, Exhibits, Artists, Milestones, Digital Art, Architecture, Photography,
Photographers, Special Photos, Special Reports, Featured Stories, Auctions, Art Fairs,
Anecdotes, Art Quiz, Education, Mythology, 3D Images, Last Week,
.
Royalville Communications, Inc
produces:







Tell a Friend
Dear User, please complete the form below in order to recommend the Artdaily newsletter to someone you know.
Please complete all fields marked *.
Sending Mail

Sending Successful