United Kingdom police makes second arrest in golden toilet theft
In this file photo taken on September 15, 2016, a fully functioning solid gold toilet, made by Italian artist Maurizio Cattelan, is going into public use at the Guggenheim Museum in New York. Thieves have stolen an 18-karat gold toilet from an exhibition of artworks at Britain's Blenheim Palace, police said Saturday -- causing significant flooding. The fully-functioning piece by Italian artist Maurizio Cattelan, dubbed "America", went on show at the southern English stately home on Thursday. William EDWARDS / AFP.
LONDON
(AFP)
.-
British police on Tuesday made a second arrest in their hunt for thieves who stole a functioning 18-carat gold toilet from Blenheim Palace, a UNESCO World Heritage Site. Designed by Italian artist Maurizio Cattelan and once offered on loan to US President Donald Trump, the toilet was stolen on Saturday -- just three days after it had been put on display. It has been valued at around $5 to $6 million and been a hit with tourists, who lined up to snap selfies of them sitting on its golden seat. Police in Oxford, the historic city on whose outskirts the palatial palace was built in the early 1700s, announced the arrest of a 36-year-old man who was then released pending an investigation. "We are continuing to investigate this incident and have made a second arrest in connection with it," investigative officer Steven Jones said in a statement. "Our priority is to locate the stolen item." The police have also arrested and releas ...
More
The Best Photos of the Day
Exhibition of sculptures and drawings by Giuseppe Penone opens at Gagosian San Francisco
Gladstone Gallery opens an exhibition of all new artworks by Swiss artist Claudia Comte
Mexico urges halt to pre-Columbian art sale in Paris


Giuseppe Penone, Pensieri di foglie (Thoughts of Leaves), 2017. Bronze, river stone, 71 5/8 x 77 3/4 x 37 1/4 in. 182 x 197.5 x 94.5 cm © 2019 Artists Rights Society (ARS), New York / ADAGP, Paris. Photo: © Archivio Penone. Courtesy the artist and Gagosian.



SAN FRANCISCO, CA.- Gagosian is presenting an exhibition of sculptures and drawings by Giuseppe Penone, his first in San Francisco. Penone uses objects from the natural world to document the intertwined relationship between humans and nature in evolution over a macroscopic, geological timeline. He was a proponent of the radical Arte Povera movement, beginning in Italy in the 1960s, which used "poor" and unconventional materials such as soil or plant matter to evoke a preindustrial age and subtly critique systems of industrialization, mechanization, and art. Penone's earliest works included site-specific sculptures situated in the woods around his Piedmont hometown—the start of ... More



Installation view, "Claudia Comte: The Cavern of Lost Dreams (nine characters)," at Gladstone Gallery, Brussels, 2019. Courtesy the artist and Gladstone Gallery, New York and Brussels Photo: Fabrice Schneider.



BRUSSELS.- Gladstone Gallery is presenting The Cavern of Lost Dreams (nine characters), an exhibition of all new artworks by Swiss artist Claudia Comte. Comprising sculptures, paintings, and site-specific works, this exhibition highlights the artist's multidisciplinary approach to artmaking and perceptive investigation of the materiality of both natural and fabricated elements. Using mediums such as wood, marble, bronze, ceramic, and paint, Comte creates imaginative forms and landscapes that question competing notions of industrial production verses handmade craftsmanship, high versus low culture, and fact versus fiction. For this exhibition, Comte expands her career-long interest ... More



Auctioneers Millon told AFP the sale would go ahead.



PARIS (AFP).- The Mexican government called for an auction of pre-Columbian art in Paris on Wednesday to be halted, insisting that 95 works going under the hammer are a part of its cultural heritage. Ambassador Juan Manuel Gomez Robledo also questioned the provenance of the pieces, warning some "could turn out to be imitations". But auctioneers Millon told AFP the sale would go ahead. Last week it agreed to withdraw a pre-Hispanic artefact from neighbouring Guatemala from the sale. At the Drouot auction house, Millon are selling 120 religious and cultural artefacts from several private collections, including sacral jewellery worn by a shaman. The works were expected to fetch between several hundred and 90,000 euros ($99,000). Under the government of Andres Manuel Lopez Obrador, Mexico has made the protection of its indigenous heritage a priority. ... More
Franz Marc painting unseen for 70 years at auction for first time at Bonhams London
Hindman Auctions announces grand opening of newest location in Scottsdale
Monumental Yoshitomo Nara canvas leads Sotheby's HK Contemporary Art auctions 2019


Detail of Pferd by Franz Marc. Estimate: €390,000-620,000. Photo: Bonhams.



LONDON.- Pferd, an important painting by the German Expressionist painter Franz Marc, is one of the leading works in Bonhams Impressionist and Modern Art sale in London on Thursday 10 October. Unseen in public for 70 years and never before offered at auction, it is estimated at £350,000-550,000. A large work on paper, Pferd depicts Marc's most defining and symbolic motif. The horse held a special place within the artist's iconography and was the animal he chose most often to convey his spiritual vision. The painting dates from 1912, a year after Marc's introduction to the Russian artist Vasily Kandinsky. The meeting proved pivotal to Marc's artistic development, igniting a dormant passion for colour and its symbolic effects that informed the rest of his short career; he was killed in World War I in 1916. In December 1911, he and Kandinsky founded Der Blaue Rieter movement, dedicated to a new approach to art that was anti-m ... More



The firm has served the area with Business Development Manager, Logan Browning, since 2016 and due to the success of the region has recently established a permanent location.



SCOTTSDALE, ARIZ.- Hindman, one of the nation's leading auction houses, will celebrate the opening of its newest location in Scottsdale, AZ. The Scottsdale office will service clients throughout the greater Southwest Region including Arizona, Nevada, Utah and Southern California. The firm has served the area with Business Development Manager, Logan Browning, since 2016 and due to the success of the region has recently established a permanent location. The Scottsdale office of Hindman is located at 15475 N Greenway Hayden Loop, situated near Kierland and the Scottsdale Quarter. The facility accommodates full-service resources for appraising property and participating in global auctions through the firm's main saleroom in Chicago as well as various salerooms strategically positioned throughout the country. Ms. ... More



Yoshitomo Nara, Knife Behind Back, 2000. Acrylic on canvas, 234 by 208 cm, 92⅛ by 81⅞ in. Estimate Upon Request. Courtesy Sotheby's.



HONG KONG.- Sotheby's Hong Kong is delighted to present an exceptional group of contemporary masterpieces this October, led by Yoshitomo Nara's monumental Knife Behind Back from 2000. Anchoring the Evening and Day Sales is a sensational group of works by leading international artists, including a selection curated from the prestigious collection of Marc Jacobs. As a prelude to the Evening Sale, Moutarderie Nationale: The Gillion Crowet Collection features definitive works by leading contemporary Chinese artists. Meanwhile, a special design project will spotlight French designer Jean Prouvé's iconic demountable house, which will be set up for the Hong Kong public exhibition. Showcased inside the house is a collection of modern French design furniture of a scale unprecedented in the history of Sotheby's in Asia. Together, the Contemporary Art Autumn Auction ... More
Cardi Gallery opens a solo exhibition of works by one of Korea's most acclaimed artists Ha Chong-Hyun
Dee Shapiro, "Snatched and Reworked", exhibition opens at David Richard Gallery New York
Ikon Gallery presents major survey of work by Barry Flanagan


Ha Chong-Hyun, Conjunction 18-12, 2018. Oil on hemp cloth, 227 x 182 cm. 89 3/8 x 71 5/8 in.



MILAN.- Cardi Gallery, Milan presents a solo exhibition of works by one of Korea's most acclaimed artists Ha Chong-Hyun. On view from 18 September – 20 December 2019, the exhibition features mainly works from his Conjunction series from 1972 to 2019. Ha Chong-hyun is one of the pioneering figures in the postwar art history and leading figure of Korea Dansaekhwa movement. Amid the extreme material deprivations and an authoritarian political system during the 1960s and 1970s, he explored the potential of unorthodox materials such as newsprint, scrap lumber, and barbed wire attached to canvas. Working with muted earth tones on burlap and hemp canvases while combining painting traditions from both the East and the West, Ha was instrumental in redefining the role of painting that challenged the strict delineation between sculpture, painting, and performance. In 1974, he began to focus on the materiality of paint and burlap as more th ... More



Dee Shapiro, Comfort Zone, 2011. Ink on paper. 30 x 22 inches © Dee Shapiro, Courtesy David Richard Gallery, LLC.



NEW YORK, NY.- David Richard Gallery is presenting a solo exhibition of paintings and collages by artist Dee Shapiro. The presentation debuts Shapiro's newest body of work, her first ever figurative paintings that examine female nudes in art history, but through the artist's unique lens of patterns and feminist discourse. Also included are earlier geometric paintings from the 1980s of antique Persian rugs that provide both cultural and historical context for the women figures as well as connecting the figures to Shapiro's love of patterns, textiles and sewing that influenced her career and work for five decades. The inclusion of the artist's exquisitely detailed paintings on paper of male and female genitalia shift the attention away from objectifying and essentializing the female body to more of a focus on playful and decorative depictions of genitalia as the functional and organic structures they are, with of cours ... More



Barry Flanagan, Hare and Helmet II, 1981. Bronze, © Tate, London 2019.



BIRMINGHAM.- This is a major survey of work by Barry Flanagan, one of Britain's most inventive sculptors, filling entirely Ikon's two floors of gallery space. It includes key pieces drawn from the Flanagan Estate, Tate, Arts Council Collection and Southampton City Gallery. Curated by Jo Melvin, it brings together a selection of Flanagan's iconic bronze sculptures (1980s – 90s) alongside earlier works, offering new insights into the interconnectedness of seemingly distinct aspects of his practice. Demonstrating an ongoing experimentation with materials and their properties and a symbiosis between abstraction and figuration, the exhibition challenges the supposition that Flanagan's later works represent a marked shift in his approach to art-making. Rather, they represent the distillation of his decades-long fascination with ontology, movement and the physicality of the various materials with which he worked. Flanagan ... More
Marianne Boesky Gallery announces representation of artist Ghada Amer
Hans P. Kraus Jr. Fine Photographs opens 'Creatures in Photographs' exhibition
Indar Pasricha Fine Arts opens an exhibition of works by Tobit Roche


Ghada Amer, The White Plate, 2017. Glazed ceramic with porcelain inlay, 25 x 34 inches 63.5 x 86.4 cm.



NEW YORK, NY.- Marianne Boesky Gallery announces representation of artist Ghada Amer, whose wide-ranging practice spans painting, sculpture, works on paper, and garden and mixed-media installations. To mark the new collaboration, the gallery will present Amer's work at the 2020 edition of Independent art fair, focusing in particular on the artist's ceramic sculptures. This will be followed, in spring 2021, with a solo exhibition of Amer's garden installations at the gallery's Chelsea locations. In addition to her work with Marianne Boesky Gallery, Amer will present new garden works at the Rabat Biennale in Morocco, in September 2019, and at the Museo de Arte Zapopan in Guadalajara, Mexico, opening on March 8, 2020 in conjunction with International Women's Day. She is also participating in residencies at the Jose Noe Suro Factory in Guadalajara and the Workhorse Bronze Foundry in Johannesburg, ... More



Martin Munkacsi, Hungarian, 1896-1963. Hippopotamus, circa 1929. Gelatin silver print, 33.8 x 27.0 cm.



NEW YORK, NY.- Animals have appeared in art for millennia as subjects of wonder, symbols of human triumphs and victims of man's rapacity. An exhibition of animals in photography from 1845 to 2009 is exhibited by Hans P. Kraus Jr. Fine Photographs from September 17 through November 15, 2019. The exhibition, By Hoof, Paw, Wing or Fin, explores some of the ways in which photographers have represented animals over the course of the medium's history and features an array of animal life, from birds, butterflies, and fish to lions, hippos, and elephants, in the work of Hill & Adamson, Alois Auer, Giacomo Caneva, J. D. Llewelyn, Martin Munkacsi, Edward Steichen, Adam Fuss, and others. Almost immediately after the introduction of photography in 1839, artists were documenting their homes, travels, and favorite leisure activities. Early ... More



Roche will be showing semi abstract Indian landscapes which are a blend of his memories and experiences.



LONDON.- David Bowie and Cate Blanchett are just two celebrity fans of the British artist with Bloomsbury Group connections, Tobit Roche, whose latest exhibition, Dreamscapes, A Mystic's View of India will be held at Indar Pasricha Fine Arts, Pimlico gallery. In Tobit's paintings, there is always a back story. Duncan Grant of the Bloomsbury Group, who was close to his father, gave him the following advice: that discipline is essential in any artistic endeavour. This advice has remained with him. Tobit began painting as a nine-year-old while living in Canada, and was influenced by the Group of Seven, which included the prolific landscape painter, Tom Thomson. At fifteen, Roche moved to India where he lived with his mother and stepfather. In India he was exposed to the cultural heritage of that country and it was at a time when the vestiges of empire were being forgotten. Roche recalls a ... More
Quote
Art is meant to disturb. Science reassures. Georges Braque
---
Charles Gaines: Evidencing Reality
---
Flashback
On a day like today, Dutch realist painter Anton Mauve was born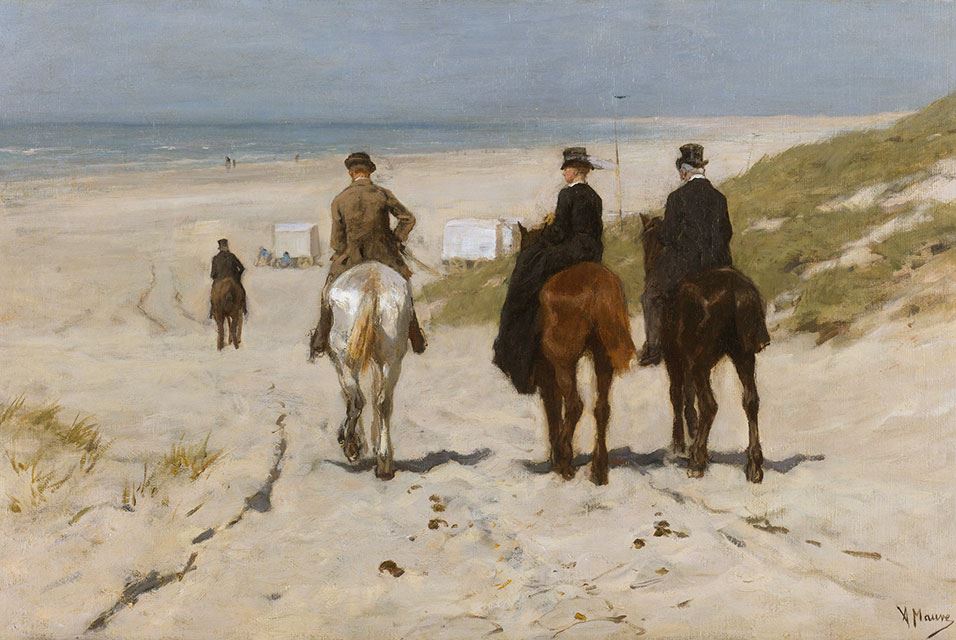 September 18, 1838. Anthonij (Anton) Rudolf Mauve (18 September 1838, Zaandam, North Holland - 5 February 1888, Arnhem) was a Dutch realist painter who was a leading member of the Hague School. He signed his paintings 'A. Mauve' or with a monogrammed 'A.M.'. A master colorist, he was a very significant early influence on his cousin-in-law Vincent van Gogh. In this image: Morning Ride on the Beach (1876), oil on canvas, Rijksmuseum.
---

Museums, Exhibits, Artists, Milestones, Digital Art, Architecture, Photography,
Photographers, Special Photos, Special Reports, Featured Stories, Auctions, Art Fairs,
Anecdotes, Art Quiz, Education, Mythology, 3D Images, Last Week,
.
Royalville Communications, Inc
produces: