Art meets history in Belgian hommage to legendary art dealer Paul Rosenberg
A person attends the inauguration of the exhibition "21 Rue de la Boetie" on Paul Rosenberg (1881-1959) at the Musee de la Boverie on September 21, 2016 in Liege. Legendary French art dealer Paul Rosenberg, who championed names such as Matisse, Picasso and Braque before being forced to flee Paris during the Second World War, is honoured in a new exhibition in Belgium. JOHN THYS / AFP.

by Catherine Bennett
LIEGE
(AFP)
.-
Legendary French art dealer Paul Rosenberg, who championed names such as Matisse, Picasso and Braque before being forced to flee Paris during the Second World War, is honoured in a new exhibition in Belgium. The exhibition is based on a book written by Rosenberg's grand daughter, the renowned French political journalist Anne Sinclair, telling the story of his gallery and the iconic artworks that passed through it. "My grandfather found himself at the crossroads of history," Sinclair told a press conference at the opening of the exhibition in the town of Liège on Wednesday. Rosenberg opened his gallery in Paris at 21 rue La Boetie in 1910. He was a great proponent of the avant-garde movement and signed exclusive contracts with many of the era's rising stars. ...
More
The Best Photos of the Day
Nationalmuseum lends leading fin de siècle art to museum in France
Online catalog of objects from Stone Age to Han Dynasty launches
Chinese outrage over 'ugly' restoration of Great Wall


Hugo Salmson, Picking Flowers, 1882 (detail). Photo: Erik Cornelius/Nationalmuseum.



STOCKHOLM.- Light and stillness – Scandinavian art at the turn of the 20th century opens on Saturday 24 September at the Musée Toulouse-Lautrec in Albi. The exhibition comprises some of the best examples of Scandinavian painting from the late 19th and early 20th centuries, all on loan from Nationalmuseum. The extensive list of artists on display includes Carl Larsson, Anders Zorn, Hanna Pauli, Vilhelm Hammershøi and Fanny Brate. The exhibition, which contains around 50 works by Swedish, Danish and Norwegian artists, shows the impact of France on the Nordic artists, as well as their mutual exchange. But while the importance of French inspiration is undeniable, the works in the exhibition have features of their own that are considered characteristically Nordic. Foremost amongst these are the light and the sense of stillness and quiet. The light in the plein air paintings of the 1880s certainly reflected the ... More



One-tier tube (cong 琮) with masks, Liangzhu culture (ca. 3300-2250 BCE), Late Neolithic period, ca. 5000-1700 BCE,China, Lake Tai region,Jade (nephrite), Gift of Charles Lang Freer, Freer Gallery of Art F1916.118.



WASHINGTON, DC.- The Smithsonian's Freer Gallery of Art and Arthur M. Sackler Gallery will launch a digital catalog, "Jades for Life and Death," from its extensive collection of one of the finest holdings of Chinese jades in the world Oct. 6. The first release, in a series of five volumes, will include more than 250 outstanding jades produced during the Chinese Stone Age (ca. 5000-1700 B.C.) drawn from the Freer and Sackler's collections, ranging from the Chinese Stone Age to the end of the Han dynasty (206 B.C.-220 A.D.). The online publication will be bilingual and incorporate research from the fields of art history, archaeology, geology and materials science, and take advantage of the rapidly evolving understanding of ancient China. The jades included in the first release ... More



A villager standing on a paved-over section of the Great Wall of China at Suizhong, in China's northeast Liaoning province. STR / AFP.



BEIJING (AFP).- Chinese social media users were in an uproar Friday over restoration of a 700-year-old section of the Great Wall that has been covered in cement, turning it into a smooth, flat-topped path. Known as one of the most beautiful portions of the "wild", unrestored wall, the eight-kilometre (five-mile) Xiaohekou stretch in northeast Liaoning province was built in 1381 during the Ming Dynasty. Photos posted online showed that its uneven, crumbling steps, jagged walls and plant growth had been replaced as far as the eye could see with a white, concrete-like cap. "This looks like the work of a group of people who didn't even graduate from elementary school," said one user of China's Twitter-like Weibo platform. "If this is the result, you might as well have just blown it up." "Such brutal treatment of the monuments left behind by our ancestors! How is it that people with low levels of ... More
Sotheby's "Contemporary Curated" features works by leading artists of the Post War and Contemporary periods
Galerie Perrotin opens Takashi Murakami's 12th solo exhibition with the gallery
Museum of Modern Art presents Nástio Mosquito in his first solo exhibition at a U.S. museum


Lee Krasner, Untitled, signed with the artist's initials and dated '62, oil on paper mounted on linen, 30 1/2 by 22 3/4 in. 77.5 by 57.8 cm. Estimate $120/180,000. Photo: Sotheby's.



NEW YORK, NY.- Sotheby's New York season of contemporary art auctions commences with Contemporary Curated, to be held on 29 September 2016. Carefully selected by tastemakers from the worlds of art, fashion and design, Contemporary Curated offers insight into the aspirations, affinities and creative processes of these curators. Led by the Robert Mangold masterpiece, Three Squares within a Triangle from 1975-1976 (estimate $800/1,200,000), works of varying mediums are offered at a range of price points, and from artists at different points in their career – works on paper by Willem de Kooning and Alexander Calder are bookended by impressive sculptures by Marisol Escobar and John Chamberlain. Other noteworthy artists represented in this sale include Ed Ruscha, Lee Krasner, Kenneth Noland, Gerhard Richter, John Currin, Damien Hirst and Anish Kapoor. The New York exhibition opens ... More



Takashi Murakami, "Ensō: At Our Side, Bending Space-time", 2015. Acrylic and platinum leaf on canvas mounted on aluminum frame, 66 15/16 x 56 15/16 inches / 170 x 144.7 cm © 2015 Takashi Murakami/Kaikai Kiki Co., Ltd. All Rights Reserved. Courtesy Galerie Perrotin.



PARIS.- Galerie Perrotin, Paris is presenting, from 10 September to 23 December, Takashi Murakami's 12th solo exhibition with the Gallery over more than 20 years. Spanning across the 3 spaces in Paris at 76 rue de Turenne & 10 impasse Saint-Claude, more than 40 recent and heretofore never seen artworks have been gathered for this special occasion. Some of the works were displayed until recently at Murakami's major solo retrospective "The 500 Arhats," which was on view at Mori Art Museum in Tokyo from 2015 to early 2016. These include a monumental multi-panel painting entitled "A Picture of Lives Wriggling in the Forest at the Deep End of the Universe" (2015), conceived as an anthology of iconic themes of Murakami's cosmology, from 727, Gerotan/Mr. Dob, Dragon, and Panda series to mythological animals, lion, elephant, ... More



Respectable Thief, 2016. Courtesy Nástio Mosquito © Live Performance at World Breakers (2016), Centrale Fies, Dro, photo by Alessandro Sala ©.



NEW YORK, NY.- The Museum of Modern Art presents Projects 104: Nástio Mosquito, the artist's first solo exhibition at a U.S. museum, from September 23 to October 30, 2016. Projects 104, part of the Elaine Dannheiser Projects series, features Mosquito's new work, Respectable Thief, which comprises three elements: a live performance in the Roy and Niuta Titus Theaters; a single-channel video installation on view on the Museum's third floor; and interventions into the digital display monitors in the Museum lobbies, the audio tour for kids, and the Museum's social media outlets. Initiated by MoMA in 1971 as a platform for new and experimental art, the Elaine Dannheisser Projects Series, now staged at both The Museum of Modern Art and MoMA PS1, provides a forum for the most urgent international voices in contemporary art. Projects 104: Nástio Mosquito is organized by Cara Manes, Assistant Curator, Department of Painting and Sculpture. Throug ... More
Annie Garnett's workshop, textiles and garden at Blackwell, The Arts & Crafts House
Felix the Cat installations by Turner Prize-winning artist on show at the Walker Art Gallery
Kunstmuseum St. Gallen opens comprehensive retrospective of artist Loredana Sperini


Annie Garnett by an unknown artist, 1904.



BOWNESS-ON-WINDERMERE.- This autumn, Blackwell, The Arts & Crafts House shows a new exhibition exploring the beautiful textiles and designs of Annie Garnett – a creative Arts and Crafts designer and entrepreneur who became a key figure in the revival of hand spinning and weaving in the Lake District. Annie Garnett (1864 - 1942) was a talented colourist, designer and keen businesswoman who established and managed the Spinnery at Bowness-on-Windermere, making beautiful textiles using traditional methods. Her work was influenced by the ideas of the writer, art critic and social reformer, John Ruskin. Her colours and designs were inspired by her beautiful garden in Windermere and the landscape and colours of the Lake District. Especially unique to The Spinnery, was the production of distinctive fabrics including rich wools, embroidered linens, and 'throwans' a mixture of flax and silk that changed ... More



Felix the Cat.



LIVERPOOL.- A huge, inflatable version of Felix the Cat is one of two installations by Turner Prize-winning artist Mark Leckey being displayed at the Walker Art Gallery as part of a new exhibition. ZOO LOGIC by Mark Leckey runnning until 26 February 2017. The Birkenhead-born artist is known for his long-standing interest in moving image and broadcast technology, and specifically in Felix the Cat; a Felix doll on a gramophone turntable was the first picture to be transmitted on TV in America in 1928. In addition to the ten-metre-high Inflatable Felix, the gallery display FEELINTHECAT, a 70th Anniversary Arts Council Collection commission. This major new installation invites visitors to enter a large dome, shaped to resemble Felix's head. Inside the dome, two screens play a looped film which shows Mark Leckey 'transforming into Felix', inspired by a photograph of a Disneyland cast-member in a Mickey Mouse ... More



Installation view. Photo: Sebastian Stadler.



ST. GALLEN.- From 24 September 2016 to 8 January 2017, the Kunstmuseum St. Gallen will present a comprehensive retrospective of the St. Gallen artist Loredana Sperini (*1970 in Wattwil). The exhibition was conceived in close collaboration with the artist and will offer an indepth look at her multilayered oeuvre for the first time ever. The solo exhibition in St. Gallen brings together works by the artist from recent years as well as works created especially for the exhibition, including large-scale installations and multipart sculptures. Loredana Sperini's working processes are experimental and technically sophisticated in their implementation, and the result has a special, aesthetic appeal. Her works, which oscillate between abstraction and figuration and occasionally call to mind grotesque, anthropomorphic figures, touch on essential themes of art such as physicality and transience and thus open up a ... More
Symbols of migrant plight to go on display in Germany
Kunsthaus Zürich presents 'Images of Architecture'
'Virtual orchestra' hits high notes in London


Bonn's Haus der Geschichte (House of History)'s conservator Betinna Klatt holds the wall painting made in 2015 by the Syrian refugee, W. Bordany, with the figure of the dead Syrian refugee child Aylan Kurdi. Arno Burgi / dpa / AFP.



BERLIN (AFP).- A people smugglers' car, a dinghy and a life jacket are among items related to Europe's migration crisis due to go on display at a German museum. One of the most powerful features of the forthcoming exhibition, according to Dietmar Preissler, head of collections at Bonn's Haus der Geschichte (House of History), will be a mural reproducing the most widely used image of the crisis -- the body of Syrian toddler Aylan Kurdi after the little boy was washed up on a Turkish beach. The mural was painted by a Syrian refugee in a former supermarket converted into a hostel for asylum-seekers. The photograph, which went viral in September 2015, brought home the horrors of the migrant crisis to the world. The museum, which is now collecting items for the exhibition, said one refugee family ... More



Francesco Guardi, Capriccio. Old House on the Lagoon, 1781. Oil on panel, 20.5 x 16.2 cm. Kunsthaus Zürich, The Betty and David Koetser Foundation.



ZURICH.- From 23 September to 11 December 2016 the Kunsthaus Zürich presents an exhibition on architecture as a subject for art. It comprises more than 20 works – from small 'vedute' to magnificent paintings, photographs and sculptures by Max Ernst, Bernardo Bellotto, Francesco Guardi, Vincent van Gogh, Nicolas de Staël, Thomas Struth and many others. The latest in the 'Picture Ballot!' series, in which works from the collection are chosen by members as the focus for an exhibition, the presentation begins by looking at classic cityscapes, which document the appearance of a place but can also evolve into an object of memory and longing for the viewer. It goes on to reveal how the construction of architecture in the image becomes a playground for utopias and visions. Over the centuries, artists have navigated between these twin poles of natu- ... More



A visitor adjusts a virtual-reality headsets at the Southbank Centre in London. JUSTIN TALLIS / AFP.



LONDON (AFP).- Music fans will be able to immerse themselves into the world of an orchestra thanks to a virtual reality experience launched in London on Friday. Visitors to the Virtual Orchestra at the Southbank Centre can don virtual reality headsets and experience how it feels to be among the performers as Esa-Pekka Salonen conducts the Philharmonia Orchestra in Sibelius's Fifth Symphony. With the headsets they are transported backstage at London's Royal Festival Hall and then into the centre of an orchestral performance conducted by the Finnish maestro. "You are sitting in the front row of the orchestra with the principal conductor Salonen conducting you," Luke Ritchie, the Philharmonia Orchestra's head of digital, told AFP. "We wanted you to hear what it's like to sit in the viola section in the front of an orchestra, (for) people to get an insight of the dynamics." Gillian Moore, director of music at the Southbank Centre ... More
Quote
Jackson Pollock is someone who knocked you flat with his arbitrariness. Clement Greenberg
More News
---
Thomas Schütte: Recasting the female nude
---
Flashback
On a day like today, Australian portrait artist Sir William Dobell was born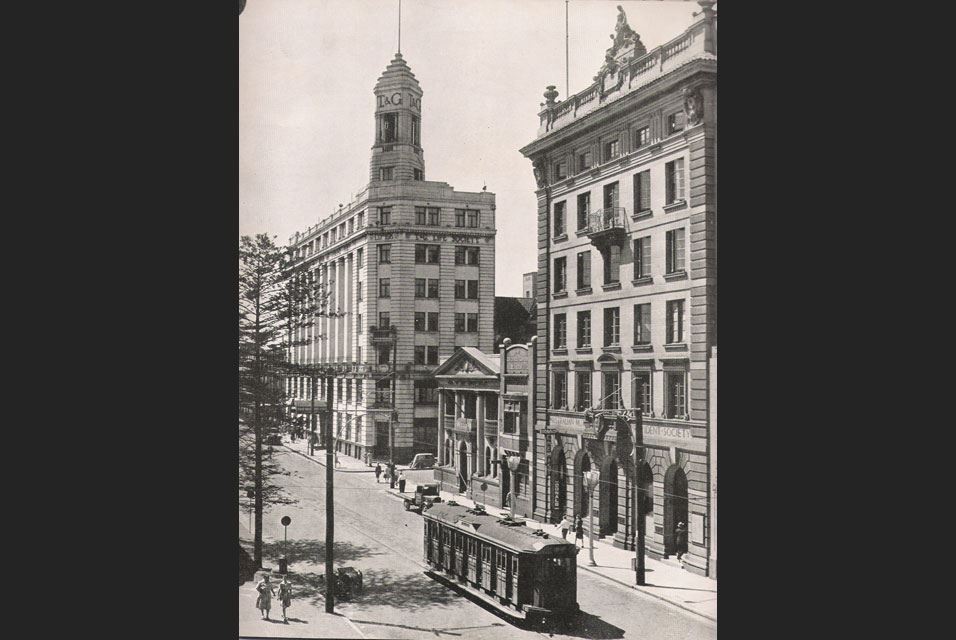 September 24, 1899. Sir William Dobell, OBE (24 September 1899 - 13 May 1970) was an Australian artist (sculptor and painter). The electoral Division of Dobell is named after him. Dobell's style is unique in being able to adapt to suit the character of his subject. This was best described by James Gleeson; "One of the astonishing things about Dobell's portraiture is his ability to adjust his style to the nature of the personality he is portraying ... If the character of his sitter is broad and generous, he paints broadly and generously. If the character is contained and inward looking, he uses brushstrokes that convey this fact. In his later portraits one has only to look at a few square inches of a painted sleeve to know what sort of person is wearing it." In this image: Newcastle in 1947.
---
---

Museums, Exhibits, Artists, Milestones, Digital Art, Architecture, Photography,
Photographers, Special Photos, Special Reports, Featured Stories, Auctions, Art Fairs,
Anecdotes, Art Quiz, Education, Mythology, 3D Images, Last Week,
.
Royalville Communications, Inc
produces:







Tell a Friend
Dear User, please complete the form below in order to recommend the Artdaily newsletter to someone you know.
Please complete all fields marked *.
Sending Mail

Sending Successful