Several shackled individuals, including a child, found by team of Inrap archaeologists
The archaeologists identified several shackled individuals among the deceased. Four of them are adults (three men and a one undetermined specimen) wearing shackles.
PARIS
.-
From September to November 2014, a team of
Inrap
archaeologists conducted a rescue excavation, under prescription of the State (Drac Poitou-Charentes), on a 613 m2 parcel in advance of the construction of a single-family home in the western quarter of Saintes. A prior excavation realized in 2013 on a contiguous parcel revealed the funerary vocation of this space during Antiquity. This year's operation resulted in the discovery of around one hundred burials. The excavated site is located around 250 m to the west of the Saintes amphitheater. It appears to be part of a large Gallo-Roman necropolis containing a few cremations and numerous burial graves. The excavation revealed several double burials: the individuals were placed next to each other in a "head to tails" position (the head of one next to the feet of the other), in a long, rectangular pit, resembling a trench, with ...
More
The Best Photos of the Day
George Eastman House to celebrate the 100th anniversary of Technicolor's incorporation
Dartmouth's Hood Museum of Art receives major gift of contemporary photography
Better than a gift card: Oxford's Bodleian receives Charles I's travelling library




The Dawn of Technicolor, 1915–1935 is the first detailed history of Technicolor's formative years.





ROCHESTER, NY.- From 1915, the Technicolor Motion Picture Corporation and its revolutionary color processes transformed cinema forever. To celebrate the one hundredth anniversary of Technicolor's incorporation, George Eastman House is curating a blockbuster exhibition, creating an online exhibition, and publishing a landmark book. In addition, an international retrospective of films from the museum's collection has been jointly curated by Deutsche Kinemathek, the Museum of Modern Art, and the Austrian Film Museum, and will premiere at the 65th Berlin International Film Festival in February. The exhibition In Glorious Technicolor, opening January 24, 2015, celebrates the vivid history of one of the most widely recognized names in the American film industry—a company whose revolutionary motion picture color process enabled such Hollywood masterpieces as The ... More





Bryan Schutmaat, Paul, Bozeman, Montana, 2010, archival pigment print. Hood Museum of Art, Dartmouth College: Gift of Nancy and Thomas F. O'Neil III, Class of 1979; 2014.66.32. © Bryan Schutmaat.





HANOVER, NH.- The Hood Museum of Art at Dartmouth College has announced a major gift of contemporary photography from Nancy and Tom O'Neil, a Dartmouth alumnus from the Class of 1979. This outstanding group of thirty-nine photographs by seventeen photographers substantially enhances the museum's growing collection of recent photography, a flourishing medium for creative expression and social activism across the globe. Reflecting trends in late-twentieth-century and early-twenty-first-century photography, including large-scale color work and the emerging field of environmental aerial imagery, the gift also presents traditional genres, such as portraiture, with non-traditional subjects, such as circus performers, refugees from civil wars, and adolescent students. Featuring the work of internationally ... More





Travelling libraries are believed to have become popular among wealthy bibliophiles in the 1600s.





OXFORD.- What has the Bodleian received for Christmas? A spectacular travel-sized library that once belonged to Prince Charles, later King Charles I. It has been bequeathed by John McLaren Emmerson, DPhil (Oxon), to mark the part played by the University and City in the English Civil War, and in grateful recollection of many enjoyable and informative visits to the Bodleian. This latest addition to the Bodleian Libraries collection is like a 17th century version of a Kindle. Two red leather cases, designed in the 1970s by Sangorski and Sutcliffe to look like two large books, open up to reveal 59 small volumes covering just about everything that a wealthy educated gentleman would want to read on his travels. Charles I's travelling library arrived at the Bodleian last week and was acquired through a bequest. The collection of tiny books have gold-tooled bindings and some are believed to have been signed by the ... More
'Chaplin, between wars and peace (1914-1940)' on view at the Musée de l'Elysée
The Morgan presents first major U.S. exhibition of drawings by Théodore Rousseau
Thomas Hart Benton's America Today mural 'rediscovered' at the Metropolitan Museum of Art




Hynkel, dictateur de Tomainie, Le Dictateur (The Great Dictator), 1939-1940 © Roy Export SAS, scan Cineteca di Bologna, courtesy Musée de l'Elysée, Lausanne





LAUSANNE.- Should Charlie Chaplin continue making films or enter the trenches? The controversy over the fact that the British actor was not fighting alongside his own people erupted in 1915. At the beginning of his fame, Chaplin already faced criticism. Twenty-five years later, it was his turn to question moral and political convictions at the dawn of the Second World War. In 1914, Americans discovered this young music-hall comedian in Keystone's burlesque films. Within a few months, Chaplin became one of their stars. His character was a hit with audiences, who loved his costume, movements and funny faces. Because of the First World War, distribution of his first short films to the old continent was delayed until 1915, but the Tramp became just as popular there, with both civilians and soldiers. Chaplin did not leave his second home, but bolstered the troops' morale with his comedies. Nevertheless he joined the war effort ... More





Théodore Rousseau, Waterfall in Thiers, 1830. Oil on paper, mounted on canvas. Private collection.





NEW YORK, NY.- Théodore Rousseau (1812–1867) was the leading figure of a group of nineteenth-century French artists who chose the wooded landscape of the Forest of Fontainebleau as their subject and would forever be known to art history as the Barbizon School. Decades before Impressionism, Rousseau and his peers developed new ways to observe, draw, and paint the natural world in studies made directly from nature and composed landscape pictures intended for exhibition. Deeply Romantic in approach, the work of Rousseau ultimately added an important chapter to the history of landscape art, and elements of the Barbizon School style were then reconfigured and transformed by the next generations of great French artists: the Impressionists and Post-Impressionists. The Morgan Library & Museum is presenting a groundbreaking exhibition devoted to Rousseau's drawings and oil sketches—the first ever at a major U.S. museum—that ... More





Thomas Hart Benton, City Activities with Dancehall from America Today, 1930–31 (detail). Mural cycle consisting of ten panels. Egg tempera with oil glazing over Permalba on a gesso ground on linen mounted to wood panels with a honeycomb interior. The Metropolitan Museum of Art, Gift of AXA Equitable, 2012.





NEW YORK, NY.- The exhibition Thomas Hart Benton's America Today Mural Rediscovered celebrates the gift of Thomas Hart Benton's epic mural America Today from AXA Equitable Life Insurance Company to The Metropolitan Museum of Art in December 2012. Missouri native Thomas Hart Benton (1889–1975) painted the 10-panel mural cycle in 1930–31 for New York's New School for Social Research to adorn the boardroom of its International Style modernist building on West 12th Street. It was commissioned by the New School's director, Alvin Johnson, who had fashioned the school as a center for progressive thought and education in Greenwich Village. Depicting a sweeping panorama of American life during the 1920s, America Today ranks among Benton's most renowned works ... More
Comprehensive retrospective to the works of Arik Brauer on view at the Leopold Museum
Imperfections by Chance: Paul Feeley retrospective on view at the Albright-Knox Art Gallery
Australia's National Portrait Gallery exhibits paintings, prints and drawings by Rick Amor




Arik Brauer, Self-Portrait, Paris, 1963. Oil on hardboard with acrylic base. Courtesy the artist.





VIENNA.- On the occasion of the artist's 85th birthday, the Leopold Museum is dedicating a comprehensive retrospective to the works of Arik Brauer (born 1929 in Vienna). Around 400 exhibits take visitors on a journey through Brauer's oeuvre, from his time at the Vienna Academy to the present, featuring more than 120 paintings, over 30 drawings, 25 sculptures, ceramics, jewelry and Gobelin tapestries. The presentation is complemented by documents, photographs of stage sets and architectural designs, film and TV clips (Brauer starred alongside Jean-Paul Belmondo!), as well as books and records, affording a comprehensive overview of the versatility of this universal artist. Arik Brauer, who celebrated his 85th birthday on the 4th of January 2014, is one of the main exponents of the »Vienna School of Fantastic Realism« inspired by Albert Paris Gütersloh. After the war, Brauer studied at the Vienna Academy of Fine Arts. In 1951 he ... More





Paul Terence Feeley, Homer, 1962. Oil-based enamel on canvas, 80 x 64 inches. Estate of Paul Feeley, Courtesy Garth Greenan Gallery.





BUFFALO, NY.- An exhibition at the Albright-Knox, Imperfections by Chance: Paul Feeley Retrospective, 1954–1966, takes a long overdue look at the influential work of Paul Feeley (American 1910–1966). The artist's first retrospective in more than fifty years, the exhibition explores the full spectrum of his creative output: early Abstract Expressionist–inspired paintings from the mid-1950s, organic figure–ground compositions from the late 1950s and early 1960s, and the idiosyncratic, diagrammatical compositions that preoccupied him from 1962 until his untimely death in 1966, which share a conceptual affinity with Minimalism and Op Art. The exhibition also includes a selection of the painter's fluid works on paper, as well as several painted sculptures, some of the last works he made. By the time of his death, Feeley had achieved a level of recognition that far exceeded the ... More





Rick Amor, Self-Portrait, 2005. Oil on canvas. National Portrait Gallery. Gift of Patrick Corrigan. Donated through the Australian Government's Cultural Gifts Program.





CANBERRA.- Rick Amor 21 Portraits brings together paintings, prints and drawings spanning Rick Amor's thirty year career, confirming his status as one of Australia's great portrait artists. Director Angus Trumble said 'It is wonderful to see the portraits of a single artist represented in an exhibition, especially one of Rick Amor's calibre.' Rick Amor (b. 1948) has been a quiet presence in the Australian art scene for three decades. Alongside his consistent portrait practice, Amor is known particularly for his skill as a painter, creating enigmatic, ominous landscapes and cityscapes. 21 Portraits evokes Amor's broader practice: his professional commissions, his artistic circle in Melbourne, his periods abroad, his stern self-analysis and his brooding visions of the natural and built environment. The exhibition includes portraits of artists, poets, writers as well ... More
Teresa Samala de Guzman named Chief Operating Office at the Museum of Contemporary Art, Chicago
Tibor de Nagy Gallery celebrates Rudy Burckhardt's centenary with survey exhibition
Records shattered for multiple midcentury designers at Palm Beach Modern auction




De Guzman served as Senior Associate Dean for Finance and Administration at the Darden Graduate School of Business at the University of Virginia.





CHICAGO, IL.- Madeleine Grynsztejn, Pritzker Director of the Museum of Contemporary Art (MCA), Chicago, announces that Teresa Samala de Guzman has been appointed the new Chief Operating Officer of the MCA, concluding a comprehensive national search.Prior to coming to the museum, de Guzman served as Senior Associate Dean for Finance and Administration at the Darden Graduate School of Business at the University of Virginia. She assumes her new responsibilities at the MCA on December 8, 2014 "Terry brings expertise in non-profit and corporate leadership and organizational management that will greatly benefit the MCA," says Grynsztejn, "and I am particularly impressed by her wide-ranging interests, stellar knowledge base, and exceptional strategic thinking." Of her appointment, de ... More





Untitled (Bird's Eye), 1945. Gelatin-silver print, 11 x 9 inches.





NEW YORK, NY.- The Tibor de Nagy Gallery celebrating Rudy Burckhardt's centenary with a survey of his photographs, paintings, and a selection of his films. There also are vitrines with his collages, his early photographic albums, and sketches. In addition, exhibited for the first time are a group of his otherworldly painted mushrooms. The show marks the first time the gallery has exhibited the artist's photographs and paintings side-by-side. It was a regular practice for Burckhardt to leave the house with his still camera around his neck and his film camera at his side. He would find images as he wandered the streets of the city and take still photographs and record the scene with film. Burckhardt noted that what he loved about New York is that "…It just grew up wildly. Everyone tried to make a bigger building than the guy before him, there was no design, it just happened." The exhibition presents ... More





Paul Evans mixed-metal cabinet/dry bar, $48,800. PBMA image.





WEST PALM BEACH, FLA.- Palm Beach Modern Auctions' autumn-themed Nov. 22 sale included the most expensive grouping of furniture ever to be offered by the company. Buyers signaled their approval of the carefully curated selection with bids that set records for many specific designers and resulted in an 85% sell-through rate (by lot). The 400-lot auction grossed $850,000, inclusive of 22% buyer's premium. "As we prepare for each auction, we analyze the market and study recent buying trends," said PBMA auctioneer and co-owner Rico Baca. "We do not use a pre-set formula in selecting what to include in our sales. Instead, we try to identify what collectors currently want, then pick pieces that are the best possible representations from categories that are trending positively. Based on the results we're seeing with some consistency, I'd say this method is working quite effectively ... More
Quote
Let no day pass over you without a line. Charles Alphonse Dufresnoy
More News
---
The Painting Techniques of Jackson Pollock: One: Number 31, 1950
---
---
Flashback
On a day like today, German astronomer Johannes Kepler, was born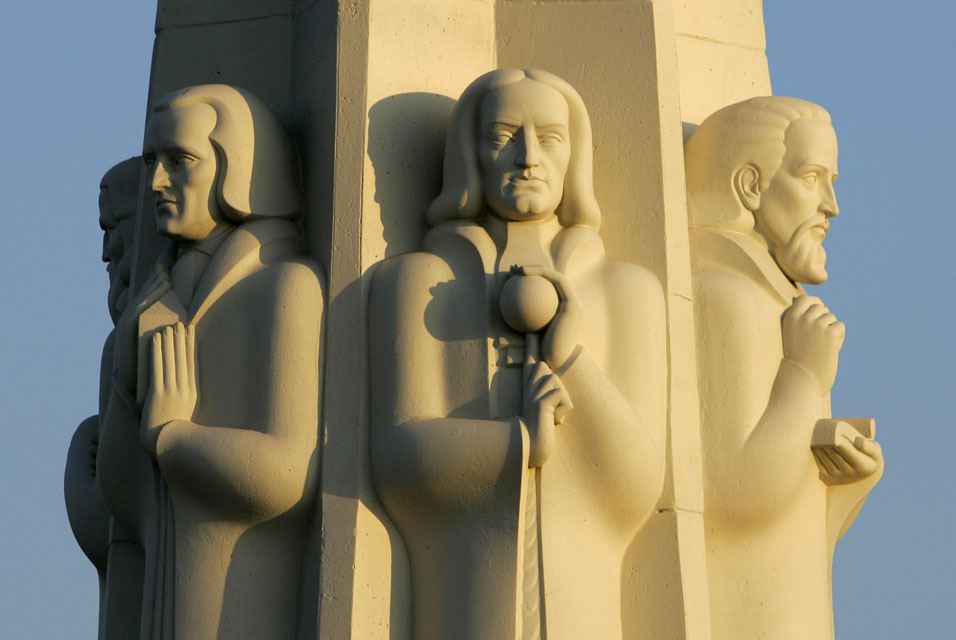 December 27, 1571. Johannes Kepler (December 27, 1571 - November 15, 1630) was a German mathematician, astronomer and astrologer. A key figure in the 17th century scientific revolution, he is best known for his eponymous laws of planetary motion, codified by later astronomers, based on his works Astronomia nova, Harmonices Mundi, and Epitome of Copernican Astronomy. These works also provided one of the foundations for Isaac Newton's theory of universal gravitation. In this image: A monument that sits in front of the Griffith Observatory shows British astronomer Sir William Herschel, left, Sir Isaac Newton, center and German astronomer Johannes Kepler at the Observatory's re-opening gala, Sunday night, Oct. 29, 2006, in Los Angeles.
---
---

Museums, Exhibits, Artists, Milestones, Digital Art, Architecture, Photography,
Photographers, Special Photos, Special Reports, Featured Stories, Auctions, Art Fairs,
Anecdotes, Art Quiz, Education, Mythology, 3D Images, Last Week,
.
Royalville Communications, Inc
produces: