Italian master Leonardo da Vinci's self-portrait in rare public exhibition in Turin
A woman visits the exhibition "Leonardo, and the Treasure of the King" at Biblioteca Reale on October 28, 2014 in the northern city of Turin. The exhibition opens on October 30 - January 15, 2015 and will show Leonardo da Vinci's self-portrait, Portrait of a young girl, the Codex on the Flight of Birds by and drawings by Raphael, Carracci, Perugino, Van Dyck and Rembrandt, illuminated manuscripts, charts and other graphic works from the collections of the Library. AFP PHOTO / MARCO BERTORELLO.
TURIN
(AFP)
.-
The only existing self-portrait by Italian master Leonardo da Vinci is making a rare appearance in a new exhibition in Turin in northern Italy, organisers said Tuesday. The fragile and fading chalk sketch, which has only been put on show for the public three times in the last century, is being displayed for two and a half months as part of "Leonardo and the treasures of the king", which opened on Thursday. The exhibition is made up of some 80 masterpieces conserved in the Royal Library in Turin, which was founded in 1839 by Charles Albert -- then King of Piedmont and Sardinia -- and is now part of a UNESCO world heritage site. "The library contains 4,500 manuscripts, 1,500 parchments and over 3,000 drawings by the greatest artists," Maurizio Cibrario, head of Consulta, an association which restores and promotes Turin's cultural heritage, told AFP. The exhibition, which runs until January 15, includes works by Renaissance artist Raphael, Baroque painter Carrache, Dutch master Rembrandt ...
More
The Best Photos of the Day
Exhibition of works on metal of the 1980s and 1990s by Robert Rauschenberg opens at Gagosian
First museum exhibition to explore Rubinstein's ideas opens at the Jewish Museum
Exhibition at Art Institute of Chicago includes 60 works never before seen in public




Robert Rauschenberg, Bush Socks (Borealis), 1992 (detail). Tarnishes on copper and acrylic, 96 13/16 x 48 13/16 in. © The Robert Rauschenberg Foundation 2014/Licensed by VAGA, New York.





BEVERLY HILLS, CA.- In collaboration with the Robert Rauschenberg Foundation, Gagosian Beverly Hills announced an exhibition of Robert Rauschenberg's works on metal of the 1980s and 1990s. This will be the first major presentation of his work on the West Coast since MOCA's acclaimed traveling exhibition of the Combines in 2006. Rauschenberg's protean outlook ushered in a new era of postwar American art in the wake of Abstract Expressionism with a free and experimental approach that drew inspiration from conceptual, materialist, and gestural precedents. His inventive use of discarded materials and appropriated images eviscerated distinctions between medium and genre, abstraction and representation, while his "flatbed picture plane," which absorbed found objects into the realm of paintings, forever changed the relationship between artwork and viewer. "Works ... More





Helena Rubinstein holding one of her masks from the Ivory Coast, 1934. Photograph by George Maillard Kesslere. Helena Rubinstein Foundation Archives, Fashion Institute of Technology, SUNY, Gladys Marcus Library, Special Collections.





NEW YORK, NY.- The Jewish Museum presents Helena Rubinstein: Beauty Is Power, the first museum exhibition to explore the ideas, innovations, and influence of the legendary cosmetics entrepreneur Helena Rubinstein (1872-1965). By the time of her death, Rubinstein had risen from humble origins in small-town Jewish Poland to become a global icon of female entrepreneurship and a leader in art, fashion, design, and philanthropy. As the head of a cosmetics empire that extended across four continents, she was, arguably, the first modern self-made woman magnate. Rubinstein was ahead of her time in her embrace of cultural and artistic diversity. She was not only an early patron of European and Latin American modern art, but also one of the earliest, leading collectors of African and Oceanic sculpture. On view through ... More





Pietro Berrettini, called Pietro da Cortona. A Female Figure Holding a Compass and an Astrolabe, c. 1630. Jean and Steven Goldman.





CHICAGO, IL.- The Art Institute of Chicago presents more than 80 masterpieces of Italian draftsmanship selected from the collection of Chicagoans Jean and Steven Goldman in the exhibition Strokes of Genius: Italian Drawings from the Goldman Collection, on view Saturday, November 1, 2014, through Sunday, February 1, 2015, in Galleries 124-127. Focusing on the periods of Mannerism and the early Baroque, the exhibition includes nearly 60 drawings never before seen in public. Recent acquisitions of works, ranging from a figure study by Baccio Bandinelli to a composition drawing by Salvator Rosa, are shown with two dozen significant drawings from the Goldmans' existing collection, including masterpieces by Pietro da Cortona, the Carracci, and Francesco Salviati. The exhibition features many of the Goldmans' promised gifts to the Art Institute alongside about 20 related works from the museum's Prints and Drawings Collection ... More
Exhibition at MoMA illuminates Dubuffet's radical experimentation with form and material
Iconic Cowardly Lion costume to reign over TCM and Bonhams' November auction
Major Symbolist work by Franz von Stuck to lead Sotheby's 19th Century European Art Sale




Jean Dubuffet, Soil Ornamented with Vegetation, Dead Leaves, Pebbles, Diverse Debris (Sol historié de végétation, feuilles mortes, cailloux, débris divers). 1956. Oil on cut-and-pasted canvas, on canvas, 35 1/8 x 30 3/8 in. The Museum of Modern Art, New York. Purchased from proceeds in the Mr. and Mrs. Ralph F. Colin Fund in honor of Ralph F. Colin with additional funds from a gift of Philip Johnson (by exchange), 1992. ©2014 Artists Rights Society (ARS), New York /ADAGP, Paris. Photo: Paige Knight.





NEW YORK, NY.- Jean Dubuffet (French, 1901–1985), whose work was marked by a rebellious attitude toward prevailing notions of high culture, beauty, and good taste, is a significant figure in MoMA's collection, with holdings numbering over 1,200 works. From the time Dubuffet committed himself to art-making in the early 1940s, he was a relentless innovator. Jean Dubuffet: Soul of the Underground illuminates Dubuffet's radical experimentation with form and material by focusing on the artist's work at a key span of his career, from the 1940s to the mid-1960s. Dubuffet mixed sand, gravel, and ... More





The sale will also feature a blue gingham "test" dress and pinafore worn by Judy Garland. Photo: Bonhams.





NEW YORK, NY.- The original Cowardly Lion costume worn by actor Bert Lahr in the beloved classic The Wizard of Oz (1939) is ready to be crowned "king of the forest" during TCM Presents: There's No Place Like Hollywood, a definitive auction of rare movie collectibles to be held at Bonhams in New York on Monday, Nov. 24. Fans can check out the Cowardly Lion costume and many other items from the auction during a pair of preview exhibitions to be held at Bonhams' locations in New York (Nov. 20-24) and Los Angeles (Nov. 6-9). In addition to the Cowardly Lion costume, the auction will feature Wizard of Oz memorabilia such as actor Bert Lahr's original script; the Witch Remover prop wielded by the Cowardly Lion in pursuit of the Wicked Witch; a Winkie spear head; and an assortment of memorable Munchkin, Flying Monkey and Emerald City costumes. As previously announced, the sale will also feature a blue gingham "test" dress and ... More





Franz von Stuck, Die Sünde (The Sin), oil on canvas. Est. $800,000/1.2 million. Photo: Sotheby's.





NEW YORK, NY.- Sotheby's sale of 19th Century European Art on 6 November 2014 will feature a significant selection of works by leading masters of the 19th century. The cover lot is Franz von Stuck's famed depiction of the temptation of Eve, Die Sünde (est. $800,000/1.2 million). Additional highlights include Orientalist subjects by Ludwig Deutsch and Frederick Arthur Bridgman, an extraordinary work by Ludovic Alleaume and major paintings by Jean- Baptiste-Camille Corot, Gustave Courbet, William Bouguereau and Sir Alfred Munnings. The exhibition is open to the public as of 31 October 2014 at Sotheby's New York headquarters. Franz von Stuck's Die Sünde promptly drew large crowds when first exhibited at the premiere exhibition of the Munich Secession in 1893 and maintains its popularity today as an icon of the Symbolist art movement. First conceived in 1889, Stuck's striking interpretation presents Eve emerging ... More
Museum of Contemporary Art Denver opens Mark Mothersbaugh career retrospective
Carnegie Museum of Art opens definitive retrospective of Duane Michals
Columbus Museum of Art acquires Andy Warhol and Trevor Paglen works of art




DEVO by Paul Natkin. Photograph by Paul Natkin.





DENVER, CO.- The Museum of Contemporary Art Denver announces the premiere of Mark Mothersbaugh: Myopia (October 31, 2014 to February 15, 2015). Organized by MCA Denver, this retrospective exhibition brings together the first comprehensive presentation of Mothersbaugh's art and music to date, from the beginning of his career in the early 1970s through the present. This nationally touring exhibition is accompanied by a major publication, Mark Mothersbaugh: Myopia, published by Princeton Architectural Press. Though well known around the globe as a founding member of the popular band DEVO, Mark Mothersbaugh has been a prolific artist since before the band's inception, and continues to produce work that makes the case for his position as an important figure in contemporary culture. From his popular music to his personal artwork, Mothersbaugh's unique artistic view constantly foregrounds the relationship between technology and individu ... More





Duane Michals; Andy Warhol, 1972; Gelatin silver print; The Henry L. Hillman Fund; Courtesy of Carnegie Museum of Art, Pittsburgh.





PITTSBURGH, PA.- Opening November 1, 2014, at Carnegie Museum of Art, Storyteller: The Photographs of Duane Michals is the definitive retrospective and the largest-ever presentation of this innovative artist's work, and is organized by Linda Benedict-Jones, curator of photography at CMOA. Drawing from select loans and the museum's holdings, which constitute the largest single collection of Michals's output, and spanning six decades, the works in Storyteller include classic sequences from the early 1970s as well as rarely seen images from later in his career. Born in 1932 and raised in a steelworker family in McKeesport, Pennsylvania, Michals broke away from established traditions of documentary and fine art photography in the 1960s when he added handwritten messages and poems to prints, produced multi-image narrative sequences, and experimented with ... More





Andy Warhol, Karen Lerner, 1972. Museum Purchase and Gift in Memory of Shirle Nesbitt Westwater by Angela King Westwater and David Meitus, Hugh Nesbitt Westwater, Cordelia Westwater Robinson, William Marc Westwater, and their families.





COLUMBUS, OH.- The Columbus Museum of Art today announced the recent acquisition of two extraordinary works of art: Andy Warhol's Karen Lerner and Trevor Paglen's Reaper in the Sun. "It's exciting to have our collection growing along with our building," said Nannette V. Maciejunes, CMA Executive Director. "We've added our first Warhol painting, which is an incredibly important moment in the development of our collection. That the painting was given in memory of Shirle Westwater and the multi-generational relationship her family has had with the Museum only magnifies the significance of this piece." Shirle Nesbitt Westwater wasa strong supporter of the Museum, the first woman to serve on CMA's board of trustees, and one of the founders of the Museum's Women's Board. ... More
Art Taipei opens 21sr edition with more than 500 artists and over 3,000 quality artworks
'Ernesto Neto: The Body That Gravitates on Me' on view at the Aldrich Contemporary Art Museum
Cincinnati Art Museum presents 'Beyond Pop Art: A Tom Wesselmann Retrospective'




Visitors walk past a melting ice cream made by US pop sculptor Desire Obtain Cherish ( D.O.C.) during the Art Taipei exhibition. AFP PHOTO / SAM YEH.





TAIPEI.- ART TAIPEI celebrated its 20th anniversary last year. After one year of rumination and reflection, it inaugurates a new chapter in a more steady and placid manner. ART TAIPEI is the most important art fair in Asia. This year, the grand event is being held from the 31st of October to the 3rd of November at Exhibition Hall 1 of the Taipei World Trade Center, featuring 145 galleries, about half of which are from overseas. The 78 foreign galleries are from 15 countries/regions, including Japan, Hong Kong, China, Philippines, Singapore, Israel, Germany, U.K. and U.S. Sections in the fair include ''Art Galleries'' which features the majority of exhibiting galleries, "Classic Art Galleries" that promotes works by senior Taiwanese artists, "New Media" that draws on the status of technology island and "Young Art Discovery" which aims at incubating young artists in the country and overseas. Furthermore, young artists from Japan, Malaysia, Phili ... More





Ernesto Neto, The Body That Gravitates on Me, 2006 (installation view at The Aldrich Contemporary Art Museum, 2014). Courtesy of the artist and Tanya Bonakdar Gallery, New York. Photo: Pamela Ruggio.





RIDGEFIELD, CONN.- Ernesto Neto, whose work was first exhibited at The Aldrich Contemporary Art Museum in 1996, has become internationally known for translucent organic sculptures that often take on architectural proportions, one of which is suspended from the ceiling of the Museum's two-story atrium from October 19, 2014, to April 5, 2015. Exhibitions director Richard Klein described how Neto's work frequently blurs the boundaries between inside and outside, weightlessness and gravitational pull. He says, "Neto's work exhibits both playfulness and a formal rigor that is often—literally—stretched to the extreme by his use of flexible synthetic fabrics, particularly those used in stockings and tights: nylon and polyamide." Neto's piece, The Body That Gravitates on Me, is juxtaposed with a work by Eva Hesse that was in founder Larry Aldrich's collection, Accession II (1968, 1969). Like Neto's art in ... More





Tom Wesselmann, Smoker, 1 (Mouth, 12), 1967. Oil on canvas, in two parts, 9' 7/8" x 7' 1". The Museum of Modern Art, New York. Susan Morse Hilles Fund, 1968. © Estate of Tom Wesselmann/Licensed by VAGA, New York, NY. Photo: Jeffrey Sturges.





CINCINNATI, OH.- The Cincinnati Art Museum hosts the exhibition Beyond Pop Art: A Tom Wesselmann Retrospective, Oct. 31, 2014 – Jan. 18, 2015. An American painter and Cincinnati native, Tom Wesselmann (1931-2004) is widely regarded as one of the leading figures of American Pop Art. Known for creating collages and assemblages of everyday objects and advertising, the Wesselmann retrospective catalogues more than four decades of the artist's work. His larger-than-life Still Life #60 already is a familiar sighting in downtown Cincinnati as the artwork has been captured as a mural – in all of its oversized glory – on the corner of 8th and Main Streets by ArtWorks, the award-winning nonprofit organization that enables youth apprentices and artists to turn bare walls into public masterpieces. The 25-foot-long mural is a great representation of the brightly colored, sculptural painting ... More
Quote
How much time we lose in seeking our daily bread! Paul Gauguin
More News
---
A Postwar Icon: Jasper Johns's 'Flag'
---
---
Flashback
On a day like today, American artist Richard Serra was born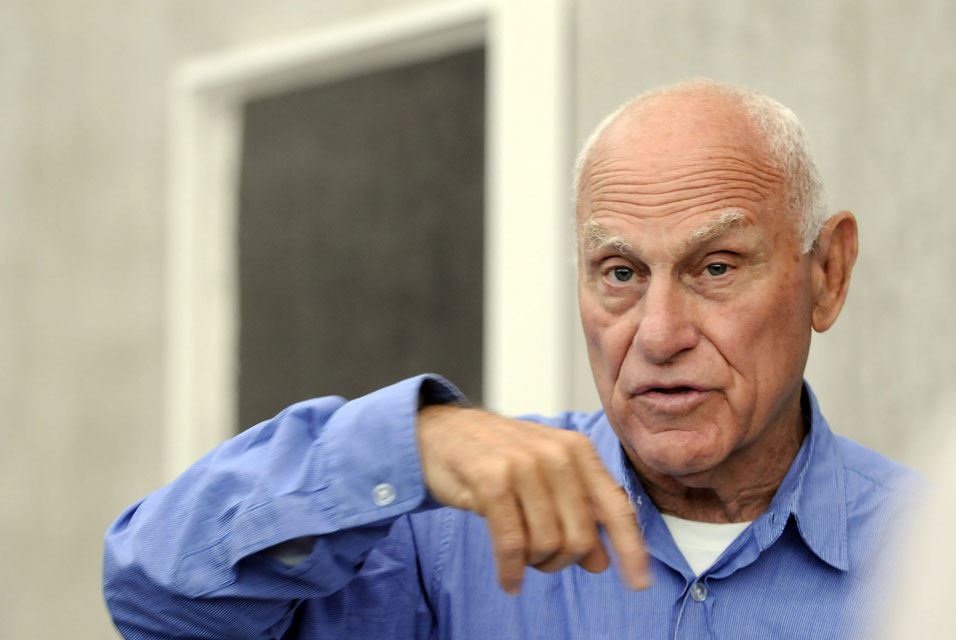 November 01, 1939. Richard Serra (born November 2, 1939) is an American minimalist sculptor and video artist known for working with large-scale assemblies of sheet metal. Serra was involved in the Process Art Movement. He lives and works in Tribeca, New York and on Cape Breton Island in Nova Scotia. In this image: U.S. artist Richard Serra gestures as he talks to journalists during a press preview for his exhibition "Drawings - Work Comes Out of Work" at the Kunsthaus in Bregenz, Austria, Thursday June 12, 2008
---
---

Museums, Exhibits, Artists, Milestones, Digital Art, Architecture, Photography,
Photographers, Special Photos, Special Reports, Featured Stories, Auctions, Art Fairs,
Anecdotes, Art Quiz, Education, Mythology, 3D Images, Last Week,
.
Royalville Communications, Inc
produces: