Dangerous Women: Electrifying new exhibition opens at the Frost Art Museum FIU
Kimberly Dennis (Rollins College), Jordana Pomeroy (Frost Art Museum FIU), and Mary D. Garrard (American University). Photo by Andrew Stankus/World Red Eye.
MIAMI, FLA
.-
Courageous heroines and deceptive femmes fatales abound in the Old and New Testaments, these women — perceived as dangerous to society — they shaped biblical history. Their power to topple the strongest of male rulers made them "dangerous," but their strength serves as an historical foundation for thinking about contemporary causes (including the "Me Too" movement): from Judith to Esther, Salome to Mary Magdalene, from Delilah to Lot's Daughters.
The Patricia and Phillip Frost Art Museum FIU
presents the world premiere of Dangerous Women, the timely new exhibition that explores shifting perceptions of these historic characters. While some of these famous women in biblical history were portrayed as saving their people and paragons of family goodness, others were depicted as harlots and hussies, purveyors of sin, deadly temptresses and seductresses. "Dangerous Women demonstrates how throughout histor ...
More
The Best Photos of the Day
The Duchess of Cambridge selects Victorian photographs for National Portrait Gallery exhibition trail
Hauser & Wirth opens first Los Angeles solo exhibition devoted to works by Louise Bourgeois
Goya exhibition at the Bilbao Fine Arts Museum presents new discoveries


HRH The Duchess of Cambridge at the National Portrait Gallery by Noah Goodrich, 2017 © Noah Goodrich.



LONDON.- The Duchess of Cambridge is to select photographs from the National Portrait Gallery's forthcoming exhibition Victorian Giants: The Birth of Art Photography as part of a Patron's trail, it was announced today, Friday 16 February 2018. The Duchess will visit the exhibition on the evening of Wednesday 28 February, prior to its opening on Thursday 1 March. As Patron of the National Portrait Gallery since 2012 and an enthusiastic, amateur photographer, The Duchess has written a foreword to the exhibition catalogue in which she discusses her interest in nineteenth-century photography, the subject of her undergraduate thesis while an art history student at the University of St Andrews. She also explains that photographs of children, which feature predominantly within the exhibition, are of particular interest to her. This is the first exhibition at the Gallery to include a Patron's trail in which The Duchess ... More



Louise Bourgeois, The Red Sky (Detail), 2009. Watercolor, ink, gouache, pencil, colored pencil and etching on paper, 11 panels. © The Easton Foundation/VAGA, NY. Courtesy Hauser & Wirth. Photo: Ben Shiff.



LOS ANGELES, CA.- Hauser & Wirth is presenting 'Louise Bourgeois. The Red Sky,' the gallery's first Los Angeles solo exhibition devoted to the legendary French-American artist whose remarkable life yielded what she once described as 'an exorcism in art.' 'The Red Sky' is an intimate presentation of never before exhibited works on paper from the final years of the artist's life: six multi-panel works on paper, created between 2007 and 2009, with words and images mining Bourgeois's central themes of memory, trauma, nature, and the body. Shedding new light on Bourgeois's creative process and the importance of working relationships to her practice in old age, the hybridized works on view combine printmaking, drawing, painting, and writing, but extend beyond the confines of each individual medium through the artist's intensive and ... More



Francisco de Goya. Muchachos trepando a un árbol, 1791-1792 (cartón para tapiz destinado al despacho de Carlos IV en el Real Sitio de San Lorenzo del Escorial. Museo Nacional del Prado.



BILBAO.- Having studied in Italy, Francisco de Goya (Fuendetodos, Zaragoza, 1746 – Bordeaux, 1828) moved to Madrid in 1775 and was first employed at the court of Charles III to work on the production of tapestry cartoons on hunting themes for El Escorial. Goya achieved recognition some years later when he was first appointed painter to the King (1786) then First Court Painter (1799). Despite this success at court, Goya maintained his connections with his native Zaragoza and his correspondence with his childhood friend Martín Zapater, offers proof of this ongoing relationship with his circle of friends and relatives while also providing crucial information on the progress of his career. The Prado's exceptional loan of 13 original letters offers the documentary counterpoint to Goya as court painter and this is in fact the essential argument of thE exhibition, which moves between Goya's success at the ... More
Tate Britain announces major Van Gogh exhibition for 2019
Exhibition spotlights significant works by American Conceptual titan Sol LeWitt
A new Lucian Freud exhibition at IMMA curated by Irish artist Daphne Wright opens in Dublin


Vincent van Gogh L'Arlésienne 1890. Collection Museum de Arte de São Paulo Assis Chateaubriand. Photo: João Musa.



LONDON.- Tate Britain today announced that it will open a major exhibition about Vincent van Gogh (1853-1890) in March 2019. Van Gogh and Britain will be the first exhibition to take a new look at the artist through his relationship with Britain. It will explore how Van Gogh was inspired by British art, literature and culture throughout his career and how he in turn inspired British artists, from Walter Sickert to Francis Bacon. Bringing together the largest group of Van Gogh paintings shown in the UK for nearly a decade, Van Gogh and Britain will include over 40 works by the artist from public and private collections around the world. They include L'Arlésienne 1890 from Museu de Arte de São Paolo, Starry Night on the Rhône 1888 from the Musée d'Orsay, Paris, Shoes from the Van Gogh Museum, Amsterdam, and the rarely loaned Sunflowers 1888 from the National Gallery, London. The exhibition will also feature late works including two painted ... More



Sol LeWitt, Yellow Grid, Circles and Arcs From Four Sides and Four Corners, 1972 (detail). Ink on paper, 18 5/8 x 18 9/16 x 1 5/16 inches. © 2018 The LeWitt Estate / Artists Rights Society (ARS), New York. Courtesy Paula Cooper Gallery, New York and Vito Schnabel Gallery, St. Moritz. Photo: Steven Probert.



ST. MORITZ.- Vito Schnabel Gallery is presenting 1 + 1 = 1 Million, an exhibition organized by artist Tom Sachs to spotlight significant works by American Conceptual titan Sol LeWitt (1928 – 2007), with whom Sachs enjoyed a close friendship in the final years of the elder artist's life. Through a large-scale wall drawing from 1978 and 19 luminous framed works on paper beginning from the 1970s, Sachs draws visitors into LeWitt's career-long exploration of authorship and the means by which it can be defined. The exhibition focuses on three of the thirty-five statements from LeWitt's 1969 Sentences on Conceptual Art,1 highlighting the ineffably poetic outcome of pursuing these ideas to their logical extreme. --Tom Sachs on Sol LeWitt January 2018 New York City The Greeks had it right. ... More



Minister Josepha Madigan T.D. previews The Ethics of Scrutiny, the second exhibition to be presented as part of the IMMA Collection: Freud Project, a five-year loan of 50 works by renowned artist Lucian Freud, opening in Dublin this week. Photo Justin Mac Innes.



DUBLIN.- Minister for Culture, Heritage & the Gaeltacht, Josepha Madigan T.D., was in IMMA this past week to launch The Ethics of Scrutiny curated by Daphne Wright, the second exhibition to be presented as part of the ground-breaking IMMA Collection: Freud Project - a five-year loan of 52 works by renowned artist Lucian Freud (1922-2011); one of the greatest painters of the 20th-century. In 2016 IMMA secured the loan of 50 works on a five-year loan to the IMMA Collection from a number of private lenders. The IMMA Collection: Freud Project 2016 - 2021 presented all 50 works in the first year, 30 of the artist's finest paintings alongside 20 works on paper, in a dedicated Freud Centre in IMMA's Garden Galleries. For the second exhibition in this unique project IMMA invited visual artist Daphne Wright to ... More
Fashion photographer Demarchelier accused of harassment
Exhibition at Jack Shainman Gallery focuses on some of Gordon Parks' most celebrated and iconic imagery
Hollis Taggart Galleries exhibits works by William Scharf


File photo taken on February 12, 2012 shows Patrick Demarchelier. Dimitrios Kambouris / GETTY IMAGES NORTH AMERICA / AFP.



NEW YORK (AFP).- The Boston Globe published a bombshell expose on Friday accusing more than two dozen professionals in the fashion industry, among them legendary photographer Patrick Demarchelier, of sexual misconduct. The paper's Spotlight team, which in 2002 unveiled widespread sexual abuse by Catholic priests in Boston, said more than 50 models had detailed alleged misconduct they had experienced, from touching to assault. Collectively, they made credible claims against at least 25 photographers, agents, stylists, casting directors and other industry professionals, the Globe reported. They include Demarchelier, fellow photographer Greg Kadel, who has worked for Victoria's Secret and Vogue, and stylist Karl Templer, who has worked with Coach, Zara, and Tommy Hilfiger. The Globe said all of those accused had denied the allegations against them. Nevertheless, glossy magazine empire Conde Nast, whose company includes ... More



Gordon Parks, The Invisible Man, Harlem, New York,1952. Gelatin silver print, 40 x 30 inches (print) 2/7. Jack Shainman Gallery, NY.



NEW YORK, NY.- Jack Shainman Gallery is showing Gordon Parks: I Am You | Part 2. As a photographer, film director, composer, and writer, Gordon Parks (1912-2006) was a multi-disciplinary artist whose art and advocacy for social justice still resonates in contemporary culture. In collaboration with the Gordon Parks Foundation, this second half of a two-part exhibition focuses on some of Parks' most celebrated and iconic imagery; demonstrating his abilities as a photographer and journalist who moved just as seamlessly documenting everyday life and injustice facing African American families across the country, framing his subjects with compassion amidst unvarnished reality. During the late 1940s through the 1960s, Parks produced some of his most renowned photographic essays on issues relating to civil rights. A stoic portrait of Red Jackson, from a 1948 series on the Harlem gang leader, reveals a man seemingly hemmed in by his options as he ... More



William Scharf (1927-2018), Untitled, circa 1970s. Acrylic on canvas, 12 x 15 3/8 inches. Inscribed on stretcher verso: "TOP".



NEW YORK, NY.- William Scharf's visual language is steeped in myth and mystery, equal parts surrealist, biomorphic, and something wholly his own. His darkly atmospheric canvases reveal jewel-toned or bone white forms that seem to float in a primordial ether or emerge from prehistoric darkness. Like many of his friends and contemporaries in post-war New York, Scharf tapped into universal ideas of mythology and symbolism to access foundational principles of visual experience. His organic forms bring to mind the actions of creation, destruction, and propagation -- actions common to all living things throughout history and yet uniquely shaded in mystery and wonder. Coming of age in the heyday of New York's Surrealist and Abstract Expressionist movements, Scharf developed interests in the careful paint handling, rich color, and heady symbolic language that characterized much of the art of his time. A close friendship with Mark Rothko in particular solidified ... More
Exhibition explores the world of art and culture in Italy in the interwar years
Candida Höfer receives Outstanding Contribution to Photography prize
Exhibition of Frank Thiel's newest photographs on view at Sean Kelly


Exhibition view of "Post Zang Tumb Tuuum. Art Life Politics: Italia 1918-1943" Photo: Delfino Sisto Legnani and Marco Cappelletti,18 February - 25 June 2018. Fondazione Prada, Milano. Courtesy Fondazione Prada.



MILAN.- Fondazione Prada presents "Post Zang Tumb Tuuum. Art Life Politics: Italia 1918–1943," at its Milan venue between 18 February and 25 June 2018. Conceived and curated by Germano Celant, the exhibition explores the world of art and culture in Italy in the interwar years. Based on documentary and photographic evidence of the time, it reconstructs the spatial, temporal, social and political contexts in which the works of art were created and exhibited, and the way in which they were interpreted and received by the public of the time. "Post Zang Tumb Tuuum. Art Life Politics: Italia 1918–1943" is presented with the patronage of the Italian Ministry of Cultural Heritage and Activities and Tourism. Between 1918 and 1943 Italy was marked by the crisis of the liberal state and the establishment ... More



Candida Hofer © Ralph Müller.



LONDON.- The World Photography Organisation announced celebrated contemporary artist Candida Höfer as the recipient of the 2018 Sony World Photography Awards' prestigious Outstanding Contribution to Photography prize. The artist will be presented with her award at a ceremony held in London on Thursday April 19, 2018. A personal selection of Höfer's works will be shown as part of the 2018 Sony World Photography Awards Exhibition at Somerset House, London from April 20 - May 6. German artist Candida Höfer (b. Eberswalde, 1944) is one of the world's foremost contemporary photographers. Renowned for her precise methodology and technique, Höfer's internationally recognized work often takes the form of large-format color photography. Her powerful portraits of vast, empty interiors are part of major collections around the world and are exhibited in leading museums worldwide. In celebration of Höfer's contribution to ph ... More



Melany Linares Díaz, La Habana, Playa, Miramar, La Puntilla, 2015 framed chromogenic print mounted to Alu-Dibond paper: 90 15/16 x 68 5/16 inches (231 x 173.5 cm) framed: 92 1/2 x 69 7/8 x 2 3/16 inches (235 x 177.5 x 5.5 cm) edition of 5 with 2 APs © Frank Thiel / VG Bild-Kunst, Bonn Courtesy: Sean Kelly, New York



NEW YORK, NY.- Sean Kelly is presenting 15 [Quince], an exhibition of Frank Thiel's newest photographs taken over a two-year period throughout the fifteen municipalities of Havana. In this body of work Thiel focuses on the first generation of millennials born in 2000 to celebrate their Quince, a ubiquitous rite of passage for young women in Latin American cultures. This is Thiel's first solo exhibition in New York since 2014 and his sixth with the gallery. Across most Latin communities, the Quince tradition recognizes a Quinceañera's transition from childhood to adulthood and is considered among life's most important events. An essential element of the celebration is having professional photographs taken of the Quinceañera often in elaborate ... More
Quote
The image... becomes, as it were, the soul's plastic embodiment. Oskar Kokoshka
More News
---
First Look: Peter Doig's Charley's Space and Snowballed Boy
---
Flashback
On a day like today, stained glass artist Louis Comfort Tiffany was born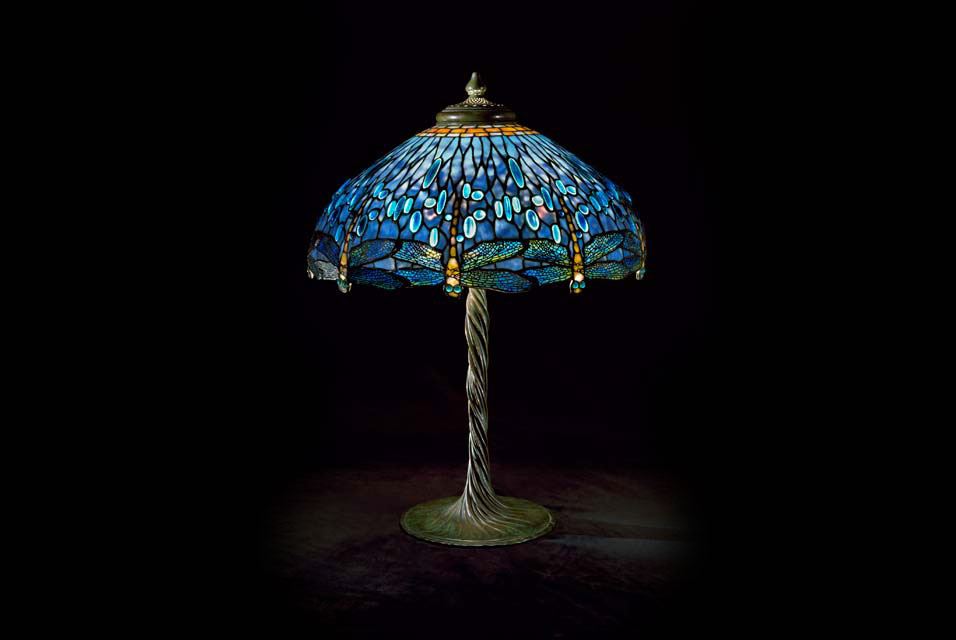 February 18, 1848. Louis Comfort Tiffany (February 18, 1848 - January 17, 1933) was an American artist and designer who worked in the decorative arts and is best known for his work in stained glass. He is the American artist most associated with the Art Nouveau and Aesthetic movements. In this image: Tiffany Studios (New York), Dragonfly Library Lamp, ca. 1905 - 10 Leaded glass; cast bronze Gift of Walter P. Chrysler, Jr.
---

Museums, Exhibits, Artists, Milestones, Digital Art, Architecture, Photography,
Photographers, Special Photos, Special Reports, Featured Stories, Auctions, Art Fairs,
Anecdotes, Art Quiz, Education, Mythology, 3D Images, Last Week,
.
Royalville Communications, Inc
produces:







Tell a Friend
Dear User, please complete the form below in order to recommend the Artdaily newsletter to someone you know.
Please complete all fields marked *.
Sending Mail

Sending Successful