We Call It Ludwig: Exhibition is high point of Museum Ludwig's landmark year
Georges Adéagbo during installation of We Call It Ludwig, 2016 © VG Bild-Kunst, Bonn 2016. Photo: Stephan Köhler.
COLOGNE
.-
The group exhibition We Call It Ludwig is the high point of the landmark year 2016 at the
Museum Ludwig
. The museum is celebrating three anniversaries: In 1946 Josef Haubrich donated his collection of modernist artworks to the city of Cologne and thus laid the foundation for a museum. In 1976 Peter and Irene Ludwig signed a donation agreement comprising some 350 works of contemporary art, and in 1986 the new museum building was opened. The theme of this wide-ranging show is the institution itself. For the anniversary exhibition, which was jointly conceived by the director and all the museum's curators, twenty-five international artists and artist collectives have been invited to engage in depth with the institution and to react to the question of what the Museum Ludwig means to them. The title We Call It Ludwig was purposely kept open-ended, since the exhibition is not intended to offer a concrete definition, but a vari ...
More
The Best Photos of the Day
KINDL: New centre for contemporary art to open in former brewery building
Exhibition celebrates 25 years of major acquisitions
Culture Minister steps in to prevent Queen Victoria's coronet from export


KINDL – Centre for Contemporary Art. Photo: Jens Ziehe, Berlin, 2014.



BERLIN.- On October 22, 2016, the KINDL – Centre for Contemporary Art will open the entire former brewery building with exhibitions spanning three floors in the Power House as well as the cafe in the Brew House. Now, after extensive renovations, regular exhibitions can begin throughout the building. The former Power House at the KINDL – Centre for Contemporary Art offers 1,200 square metres of space across three floors for monographic and thematic exhibitions of international contemporary art. The building will also include spaces for a wide variety of cultural events. As the first exhibitions in the Power House, the group exhibition How Long Is Now?, which deals with the theme of the contemporary, and an extensive exhibition by the Berlin-based artist Eberhard Havekost will be shown. The Brew House with its six giant copper vats—once the largest of their kind in Europe—will now be open to everyone. In the former Palac ... More



Henri Fantin-Latour. Self-Portrait, 1857. The Art Institute of Chicago, Regenstein Acquisition Fund.



CHICAGO, IL.- The Art Institute of Chicago presents 84 hitherto unexhibited masterful drawings carefully and thoughtfully acquired over the last quarter century in an exhibition titled Master Drawings Unveiled: 25 Years of Major Acquisitions. Building upon an established and world-renowned collection, these masterpieces range from the French and Italian schools of the 17th century to Swiss, German, and Austrian Romanticism, midcentury Realism, Belgian Symbolism and into the mid-20th century. The recent acquisitions are on display from August 27, 2016 to January 29, 2017 and provide visitors a full range of artistic achievement, featuring key works by François Boucher, Henri Fantin-Latour, Edgar Degas, Odilon Redon, Francis Picabia, Grant Wood, and other iconic figures. The exhibition is a culmination of the legacy and focus of curator Suzanne Folds McCullagh, who along with Mark Pascale, Martha Tedeschi, and ... More



The coronet is considered one of the most important jewels of Queen Victoria's reign.



LONDON.- Culture Minister Matt Hancock has placed a temporary export bar on Queen Victoria's sapphire and diamond coronet to keep it in the country. Queen Victoria's sapphire and diamond coronet designed by Prince Albert is at risk of being exported from the UK unless a buyer can be found to match the asking price of £5 million (plus £1m VAT). The coronet is considered one of the most important jewels of Queen Victoria's reign. It was designed by Prince Albert for her in their wedding year 1840. As a young queen, she loved coloured gemstones, an interest which notably faded following Prince Albert's death in 1861. The coronet matched the sapphire and diamond brooch that Albert gave to her the day before their wedding. She even noted in her journal "My dear Albert has such good taste and arranges everything for me about my jewellery." Most of the stones came from jewellery given to Victoria by King ... More
Façade Festival 2016 to transform the Vancouver Art Gallery's façade
American art as main feature of St. Moritz Art Masters
Three Addison Gallery of American Art shows explore American art


Eric Metcalfe, Leopard Realty, 2016, Courtesy of the Artist. Rendering created by Go2 Productions, 2016.



VANCOUVER.- FAÇADE FESTIVAL 2016, an immersive and dynamic projection mapping experience, is set to transform the Vancouver Art Gallery's Robson Street façade with the work of five Vancouver-based contemporary artists from August 30th to September 5th, 2016. Organized by the Burrard Arts Foundation in partnership with Microsoft and in collaboration with the Vancouver Art Gallery, this public art project features newly commissioned artworks by Eric Metcalfe, Barry Doupé, Rebecca Chaperon, Renée Van Halm and Chris Shier. Technical mentorship is provided by projection mapping specialists Go2 Productions. FAÇADE FESTIVAL 2016 is the second year of this unique annual festivity that aims to provide the City of Vancouver with a dynamic and interactive approach to place-making and visual art experience in the public realm, taking cues from renowned visual arts festivals such as VIVID in Sydney, Australia, Luminato and Nuit Blanche in Toront ... More



Jean Michel Basquiat, Untitled, 1981. Mixed media on canvas. Photo: Courtesy of Vito Schnabel Gallery.



ST. MORITZ .- St. Moritz Art Masters launched in its ninth edition. Once more the festival is the highlight of the summer program in St. Moritz, as it does not only offer an extensive art program, but also creates the opportunity for extraordinary encounters. The contemplative place in the Engadin was predestined for the project from the beginning: Situated in the geographical center of the dynamic economical region between Zurich, Munich, and Milan, St. Moritz with its breathtaking landscape setting has always been a meeting point for artists, intellectuals, economic decision makers and athletes, entrepreneurs and creatives from all over the world. Drawn to its rustic and cozy charm, many different visionaries and characters would meet, which allowed for unexpected encounters as well as an informal exchange of ideas and visions. For these reasons, Monty Shadow, founder and spiritus rector of the St. Moritz Art Masters, found the renown ... More



Joseph Whiting Stock (American, 1815–1855), Willard T. Sears (1837–1920) with a Horse Pull Toy, ca. 1843. Oil on canvas, 50 1/2 x 40 in. New-York Historical Society, Purchased from Elie Nadelman, 1937.452.



ANDOVER, MASS.- When the Addison Gallery of American Art, located on the campus of Phillips Academy in Andover, Massachusetts, opens its fall 2016 exhibitions in September, visitors will have an opportunity to explore decorative arts, textiles, sculpture, drawing, painting, and photography in four new exhibitions. Headlining the season, Making It Modern: The Folk Art Collection of Elie and Viola Nadelman, organized by the New-York Historical Society, opens on September 24 and runs through December 31. Widely recognized for his elegant and spare modernist sculpture, Elie Nadelman is less known for his pioneering interest in folk art. While he first started acquiring works after emigrating from Poland in 1914, his collecting started in earnest after his marriage to wealthy widow Viola Flannery in 1919. By 1924, the couple founded the Museum of Folk and Peasant ... More
Martin Bigum invites you into his universe
Galerie Gabriel Rolt opens exhibition of works by Peter Schuyff
Dumpster find reveals $150,000 scrapbook of early NFL president


Martin Bigum, Memory Lane, 2015. Photo: Anders Sune Berg.



SKOVVEJ .- I grew up not far away from here, at Brøndby Strand. We lived in a small detached house facing Køge Bay where the sudden construction of high-rise blocks of flats on the horizon changed my life for better or for worse – and my view of what is possible in the adult world. I decided to dedicate my life to something pointing in precisely the opposite direction of grey concrete. This exhibition is about the art that was to be found – and not found – south of Copenhagen in the 1970s. And what helped develop the artistic awareness that has been with me since childhood. So the exhibition starts with some memories from my childhood and youth that inspired me – or the opposite. The exhibition has lots of my own works from when the Berlin Wall fell in 1989 and onwards. Some of them have never been exhibited in Denmark before, and are being brought in from international collections. The exhibition – literally – flows into my ... More



Peter Schuyff, Untitled, 2016. Oil on canvas, 200 x 180 cm.



AMSTERDAM.- Galerie Gabriel Rolt announces Peter Schuyff, the artist's second solo exhibition at the gallery. Peter Schuyff has been key to the abstract art landscape for over more than 30 years. Rooted in the concepts of the New York 80's artistic movement Neo- Geo, the typical patterns of Schuyff's canvasses, consisting of geometrical and tridimensional shapes, persist in what seems to be an eternal movement. The use of primary forms, like squares and circles, suggests the existence of a primordial world, made by pure geometry. It's here, in this indefinable dimension, that these different lines and shapes meet light, the essential element which initiate their calm mobility. The strong suggestion of rotation and movement is the result, thus, of a light-geometry interplay, mixed with different nuances of colours and shadow tones: the colour white, together with the fundamental element of light, is what distingui- ... More



1930's Tim Mara Signed Photograph to Joe Carr from "The Joe Carr Find."



DALLAS, TX.- Found in a Columbus, Ohio, dumpster, the first offering of a $150,000+ trove of documents and memorabilia from the early years of the National Football League will be offered at a public auction of sports memorabilia held by Heritage Auctions' on Saturday and Sunday. Nicknamed by the hobby as "The Joe Carr Find" the discovery of an unknown family scrapbook sheds light on the man many credit as "The Father of Professional Football." The archive was discovered by a Columbus, Ohio, "junk picker" who wishes to remain anonymous. The man spotted the old scrapbook and loaded it in the back of his bicycle and rode home with what turned out to be an extraordinary discovery. "Whoever preserved these documents did so for nearly a century – unfortunately, we have no clue why or how they ended up in a dumpster," said Chris Ivy, Director of Sports Collectibles at Heritage Auctions. ... More
Opening of Aichi Triennale 2016, one of Japan's largest international art festivals
Exhibition by 6th laureate of the Carmignac photojournalism Award on view in Avignon
From Doodles to Pixels: MoMA to explore over a hundred years of Spanish animation


View of João Modé, NET Project, Aichi Triennale 2016, 2016. Photo: Chihiro Minato.



AICHI.- Aichi Triennale 2016 opened on August 11. This triennial contemporary art festival is organized under the initiative of Aichi Prefecture and is one of the largest of its kind in Japan. Held under the theme, Homo Faber: A Rainbow Caravan, the 3rd Aichi Triennale has venues spread across the three cities of Nagoya, Okazaki and Toyohashi, which is home to one of the country's largest expat Brazilian communities. The number of participating artists (individuals and groups) is the largest in the festival's history, with 119 artists hailing from 38 countries and regions. Of the 85 artists participating in the visual art section, 66—about 80%—are presenting new works. The festival is off to a good start with over 10,000 visitors (Nagoya, Toyohashi and Okazaki venues combined) attending on the first day. On Wednesday, August 10, the eve of the opening, was an opening performance by Dani Lima from Brazil, and a reception ... More



Christophe Gin, Illegal service station on the Surinamese bank of Maroni, June 2015 © Christophe Gin for the Fondation Carmignac.



AVIGNON.- Fondation Carmignac and Collection Lambert announce the exhibition of Christophe Gin, 6th laureate of the Carmignac photojournalism Award, at the Montfaucon Hotel, Avignon. Fondation Carmignac launched the Carmignac photojournalism Award in 2009 with the purpose to support a photographer to question areas of the world at the centre of geostrategic conflicts, where human rights and freedom of speech are often violated, by offering 50,000€ to complete his/her project, financing a monograph and curating a touring exhibition. For its 6th edition, the photographer Christophe Gin was awarded the prestigious grant for his report into France's lawless areas, specifically Guyana. Christophe Gin, a French photographer born in 1965, offers his viewer a complete immersion into the heart of a territory that usually remains outside the media spotlight – Guyana. He has been exploring ... More



Minotauromaquia: Pablo en el Laberinto (Minotauromachy: Pablo in the Labyrinth). 2004. Spain. Directed by Juan Pablo Etcheverry.



NEW YORK, NY.- This major retrospective of the little-known art and industry of Spanish animation comprises eight programs featuring historic work from 1908 through the end of the dictatorship, in 1975; commercial animation created in the shadow of Hollywood; Europe's first animated color feature, Garbancito de la Mancha (1945); and internationally celebrated 21st-century work inspired by personal cinema, music videos, and the graphic novel. Taking advantage of new scholarship and restoration initiatives organized by the Contemporary Culture Centre of Barcelona and Acción Cultual Española, the wide-ranging work in this series includes classic hand-drawn animation, stop-motion, and innovative digital works, and ranges from cultural and political themes and literary adaptations to adult fare, children's stories, and advertising. Among the distinguished artists, designers, ... More
Quote
Artists in England are paid too much. Prince Albert
More News
---
Inuit Art - Chedoke
---
Flashback
On a day like today, French painter Jean Auguste Dominique Ingres was born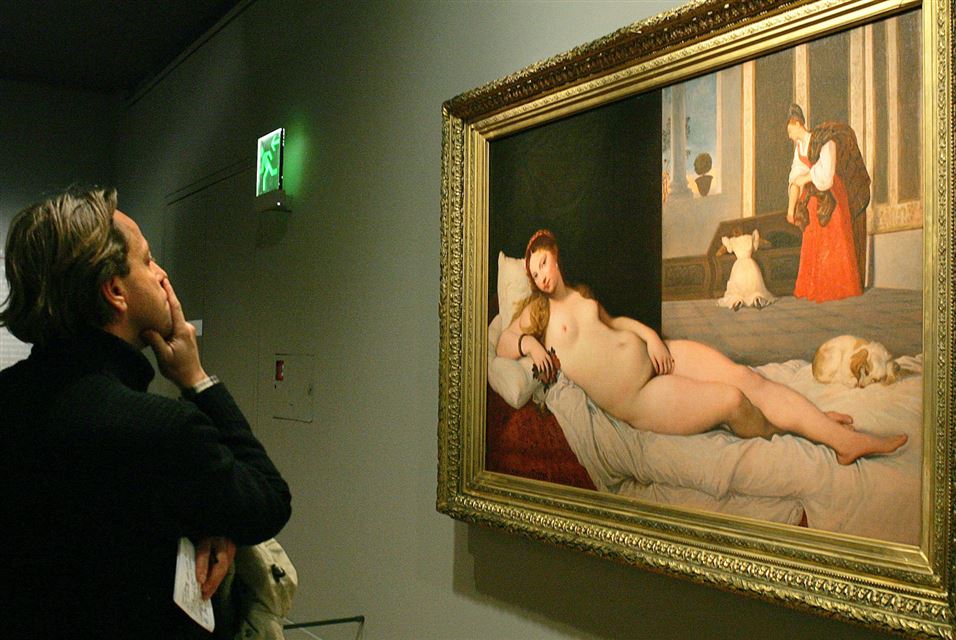 August 29, 1780. Jean-Auguste-Dominique Ingres (29 August 1780 - 14 January 1867) was a French Neoclassical painter. Although he considered himself to be a painter of history in the tradition of Nicolas Poussin and Jacques-Louis David, by the end of his life it was Ingres's portraits, both painted and drawn, that were recognized as his greatest legacy. In this image: A visitor looks at the painting " La Venus d'Urbino" (1822) at the Louvre Museum in Paris, Friday, Feb. 17. 2006. The museum presented the first restrospective in forty years of Jean Auguste Dominique Ingres (1780-1867).
---
---

Museums, Exhibits, Artists, Milestones, Digital Art, Architecture, Photography,
Photographers, Special Photos, Special Reports, Featured Stories, Auctions, Art Fairs,
Anecdotes, Art Quiz, Education, Mythology, 3D Images, Last Week,
.
Royalville Communications, Inc
produces:







Tell a Friend
Dear User, please complete the form below in order to recommend the Artdaily newsletter to someone you know.
Please complete all fields marked *.
Sending Mail

Sending Successful