Iraq reopens Baghdad museum 12 years after a third of its collection was looted
A man looks at an artefact displayed during the official reopening of Iraq's national museum on February 28, 2015 in the capital Baghdad. The national museum reopened after 12 years of painstaking efforts during which close to a third of 15,000 stolen pieces were recovered. AFP PHOTO / SABAH ARAR.

By: Karim Abou Merhi
BAGHDAD
(AFP)
.-
Iraq's national museum officially reopened Saturday after 12 years of painstaking efforts during which close to a third of 15,000 pieces looted during the US-led invasion were recovered. The reopening was brought forward in what officials said was a response to the destruction of priceless artefacts by Islamic State group jihadists in the northern city of Mosul. "We have been preparing to reopen for the past couple of months, the museum should be open to everyone," Qais Hussein Rashid, the deputy tourism and antiquities minister, told AFP. "The events in Mosul led us to speed up our work and we wanted to open it today as a response to what the gangs of Daesh did," he said, using an Arabic acronym for the IS group. ...
More
The Best Photos of the Day
Bechtler Museum of Modern Art presents exhibition of art books by modern master Henri Matisse
Complete retrospective of the work of Niki de Saint Phalle opens at the Guggenheim Museum Bilbao
The Courtauld Gallery presents a ground-breaking exhibition of Francisco Goya's later works




Henri Matisse, Le lanceur de couteax (The Knife Thrower), plate XV of XX from Jazz, 1947 (detail). Pochoir (stencil) on Arches paper, 16 3/4" x 25 3/5"© 2015 Succession H. Matisse / Artists Rights Society (ARS), New York.





CHARLOTTE, NC.- Widely regarded as one of the most important painters of the 20th century, Henri Matisse influenced a number of art movements, artists and schools of thought. The Bechtler Museum of Modern Art presents the exhibition The Art Books of Henri Matisse February 27 through September 7, 2015. Drawn from the Bank of America Collection, The Art Books of Henri Matisse features 80 framed original illustrations with text from four of Matisse's most significant artist books. "It's important to provide our communities with access to engaging cultural experiences," said Charles Bowman, North Carolina and Charlotte market president, Bank of America. "We are excited to share this exhibit from the ... More





Dolorès, 1966–95. Painted polyester on wire mesh, 550 cm high. Sprengel Museum, Hanover, Gift of the artist, 2000 © Niki Charitable Art Foudation, Santee, USA.





BILBAO.- The Guggenheim Museum Bilbao presents Niki de Saint Phalle , a complete retrospective of the work of Niki de Saint Phalle (Neuilly-sur-Seine, France, 1930 –San Diego, California, 2002), member of the Nouveaux Réalistes and known around the world for works like her powerful, exuberant Nanas , her impressive Shooting Paintings — Tirs — , and emblematic public artworks like the Tarot Garden in Tuscany. This exhibition, organized by the Guggenheim Museum Bilbao and La Réunion des Musées Nationaux–Grand Palais, Paris, with the participation of the Niki Charitable Art Foundation, is the first major retrospective of Niki de Saint Phalle's work ever held in Spain and takes a comprehensive and original look at the artist through over 200 works and archive documents, many of which ... More





Francisco Goya (1746- 1828), He can no longer at the age of 98, c. 1819-23, Brush, black and grey ink, 233 x 144 mm, J. Paul Getty Museum.





LONDON.- The Courtauld Gallery presents a ground-breaking exhibition which reunites for the first time all of the known drawings from one of Goya's celebrated private albums. At the age of 50, the great Spanish painter and printmaker Francisco Goya (1746 – 1828) suffered a near fatal illness that left him deaf and profoundly changed his life and work. Alongside his public role as court painter to the Spanish crown, Goya began to create albums of drawings. In these albums the artist recorded his private ideas and thoughts through drawings that often explore human nature at its most vulnerable - our dreams, nightmares, superstitions and mortality. The albums were never intended to be seen beyond a small circle of friends. This gave Goya the freedom to create images which range from the humorous, to the macabre and the ... More
'Warhol by the Book' to open at the Williams College Museum of Art in Massachusetts
'Monumental Miniatures: Joan Mitchell's Drawings' opens at Museum Folkwang
Clark Art Institute's 'Machine Age Modernism' exhibition explores groundbreaking printmaking




Andy Warhol, Andy Warhol's Index (Book), 1967 (pre-publication mock-up designer's copy). Williams College Museum of Art, Gift of Richard F. Holmes, Class of 1946. © 2015 The Andy Warhol Foundation for the Visual Arts, Inc. / Artists Rights Society (ARS), New York.





WILLIAMSTOWN, MASS.- The first US exhibition to concentrate on Andy Warhol's book work, Warhol by the Book opens at the Williams College Museum of Art March 7 and will be on view through August 16, 2015. Creating books was a vital part of Warhol's career. From his student days in the 1940s to his death in 1987, Warhol experimented wildly with form and content, turning traditional notions of media and authorship on their heads. Nearly 500 objects covering more than 80 book titles including unique and unpublished materials come together from WCMA and The Andy Warhol Museum in Pittsburgh. The exhibition showcases a range of material from Warhol's practice including paintings, drawings, prints, photographs, and artist's books. It also includes projections of sixteen Screen Test ... More





Joan Mitchell, Untitled, about 1967 (detail).© Estate of Joan Mitchell.





ESSEN.- In its exhibition Joan Mitchell: The Sketchbook Drawings (27 February– 31 May 2015), Museum Folkwang, Germany presents some 60 drawings by Joan Mitchell, on public display for the first time ever. Joan Mitchell (1925–1992) was one of the greatest artists of the latter half of the 20th century. She was an important figure in American Abstract Expressionism and enjoyed close ties with artists of the New York School, such as Franz Kline, Willem de Kooning, and Jackson Pollock. In 1955 Mitchell started dividing her time between New York and Paris, before permanently settling in France in 1959. Mitchell was thus an important mediator between American gestural painting and contemporaneous artistic currents in Europe. She was best known for her large-scale oil paintings, whose subjects were freely inspired by landscape and nature. Parallel to her many world-famous paintings, Joan Mitchell created an extensive body of works ... More





Sybil Andrews (English, 1898–1992), Speedway, 1934. Color linocut on paper, 14 5/8 x 11 in. Daniel Cowin Collection © Glenbow, Calgary, 2014.





WILLIAMSTOWN, MASS.- The Clark Art Institute considers the history and politics that inspired many artists working during and between World Wars I and II in the exhibition Machine Age Modernism: Prints from the Daniel Cowin Collection. Inspired by such prewar movements as Futurism and Cubism, and using innovative techniques developed by artists associated with London's Grosvenor School of Modern Art in the 1930s and 1940s, artists of the Machine Age defied aesthetic and technical conventions in order to convey the vitality of industrial society and changed printmaking in the process. Machine Age Modernism is on view in the Clark Center February 28–May 17, 2015. "The Clark is deeply grateful to Joyce Cowin for allowing us to present her late husband's collection, and I am especially appreciative of her enthusiasm for the project," said Michael Conforti, director of the Clark. "Daniel Cowin collected with an astute ... More
Exhibition of new paintings, drawings, and a film by Andrew Sendor opens at Sperone Westwater
Works crowd-sourced on Artstack to be auctioned at Christie's First Open/LDN
Details announced of Londonderry showing of Temple by Burning Man artist David Best




Andrew Sendor, Installation view: Cypress Society, Humdoulasky Flumzy Visits the Retrieval Room at Delicates, Performance, 2036; Aristod A. Sandoval, The Pluto Paradox, 2017, lenticular image mounted to black onyx and mixed media, dimensions variable, 2015. Oil on panel, 46 x 62 ½ in. Photo: Jeffrey Sturges. Courtesy the artist and Sperone Westwater, New York.





NEW YORK, NY.- Sperone Westwater presents Andrew Sendor: "Delicates," an exhibition of new paintings, drawings, and a film. This is the artist's second solo exhibition with the gallery. "Delicates" reveals a sprawling network of multi-layered narratives that exist in anachronistic space. The exhibition takes its name from Delicates, an esoteric shop that, in Sendor's mythology, plays host to an eccentric cast of characters involved in performances that evoke mysticism and the occult. Amongst these are the store's proprietor Boris Flumzy and Miss Ecstasy (aka Seda Mercedes), one of his spiritual advisors. These characters, many of whom operate outside of societal norms, inhabit a world of the artist's creation – moving between media and appearing ... More





Roman Liska, Untitled (Silver Dazzle Orange Mesh), 2012. Screenprint on reflective fabric, spray paint on mesh fabric, metal beaded chain, various eyelets on stretcher, 43½ x 31½ in. Estimate: £4,000-6,000.





LONDON.- Christie's and ArtStack are pleased to announce that eight artworks selected from the first crowd-sourced auction initiative will be offered in the First Open/LDN auction on 26 March at Christie's South Kensington. From 20 January - 2 February artists were given the opportunity to submit their work via theArtStack.com for an online competition and the public were invited to vote for their favourite artworks by 'stacking'. Almost 3,000 artists from over 100 countries submitted more than 11,000 works on this innovative social media platform. A high-profile panel of art world, fashion and media figures selected the eight works of art for the First Open/LDN auction after reviewing a shortlist of the most 'stacked' (voted for) works. The artists who created these artworks are appearing at auction for the first time. The panel that made the selection included: Bianca Chu, Head of First Open/LDN, Christie's; ... More





Temple of Grace, by David Best, Burning Man 2014. Photo by Luke Szczepanski.





LONDONDERRY.- Temple is the vision of Burning Man artist David Best, produced by Artichoke and supported by Arts Council of Northern Ireland and a raft of partners, sponsors and individual donors. This extraordinary edifice will be visible across the city and will be open to the public and free to visit for one week from 14th-20th March. Temple will be burned to the ground in a special ceremony on the evening of Saturday 21st March. The temple burn will be ticketed. Tickets are available in advance from Friday 27th February from the Millennium Forum, in person, online or by phone. Temple is Best's first major art project outside the US. It is a radical cross-community arts project that aims to demonstrate the transformative power of the arts. It will be built and raised by more than 100 individuals drawn from communities across the city, working together with Best and his American crew. Temple will acknowledge the strong tradition of bonfire burning in Northern Ireland, creating a powerful mom ... More
Exhibition at Lucy Bell Fine Art features images from 40 years of Rock portraits by Kevin Cummins
New York University Abu Dhabi Art Gallery presents 'Slavs and Tatars: Mirrors for Princes'
Stedelijk Museum Amsterdam presents recently acquired works by Steve McQueen




Kevin Cummins, Morrissey. ©Kevin Cummins.





EAST SUSSEX.- From his early work with his hometown bands such as Joy Division and The Smiths, to his later work with Rock legends such as Bowie and Jagger, Cummins has always been acutely aware of the mythological component of the images he created, "If I had simply produced the photos of Joy Division in the studio, it would not have had any meaning. What interested me was to show the environment in which they lived. I was probably more aware than the groups themselves of the myth that the pictures would convey." The moment the post punk music scene exploded in Manchester with Joy Division and the birth of Factory Records, Kevin Cummins became as integral a factor as any, in creating the legend that was to become MADCHESTER -Kevin Cummins was sometimes more important than the bands. Pete Shelley (Buzzcocks) As well as capturing the madness and majesty of performance, Kevin Cummins has always been able to access the vulnerability of the ... More





Hung and Tart (full cyan), 2014. Hand blown glass, 34 x 16 x 12 cm. Photo: Courtesy of the artists and The Third Line.





ABU DHABI.- New York University Abu Dhabi Art Gallery presents a major solo exhibition of the art collective Slavs and Tatars, titled Mirrors for Princes, on view February 28 through May 30, 2015. The exhibition is their most ambitious, immersive installation to date, with new work occupying the 7,000-square-foot exhibition space at NYUAD Art Gallery. The exhibition and accompanying book trace the current obsession with self-help to a medieval genre of political science, "mirrors for princes," shared among Christian and Muslim lands, with Machiavelli's The Prince being the most famous example. At NYUAD Art Gallery the artists look to these texts as an urgent precedent of generosity and critique, and as a case study of the balance between faith and state, issues that continue to resonate today across the Middle East, North America and Europe. In the exhibition, visitors traverse three environments, each ... More





Steve McQueen, Mees, After Evening Dip, New Year's Day, 2002, 2005. Collection Stedelijk Museum Amsterdam. Acquired with the support of the Titus Fund of the Rembrandt Association, the Mondrian Fund and the BankGiroLottery.





AMSTERDAM.- As of February 27, 2015, the Stedelijk Museum will exhibit two recently acquired works by British artist and film director Steve McQueen. The works, titled Running Thunder (2007) and Mees, After Evening Dip, New Year's Day, 2002 (2005) were acquired in 2014 and will be displayed in a museum for the first time. They will be shown along with the sculpture Broken Column (2014), on loan at the museum. Running Thunder is a silent film showing a motionless horse lying in a sunny meadow. Blades of grass shiver in the breeze. Nothing happens – and yet we are enthralled. Is the horse alive and sleeping? Is this scene one of tranquility, or one of unflinching disquiet? When finally a fly stops to rest on the eye of the animal and the horse doesn't blink, we realize it has been dead for quite a while. ... More
Quote
For Man Ray, photography was a kiss given by Time and Light. Sarane Alexandrian
More News
---
DAS NACKTE LEBEN - "Wie wenig Abstraktion verträgt die Kunst?" (2015)
---
---
Flashback
On a day like today, Austrian painter and poet Oskar Kokoschka, was born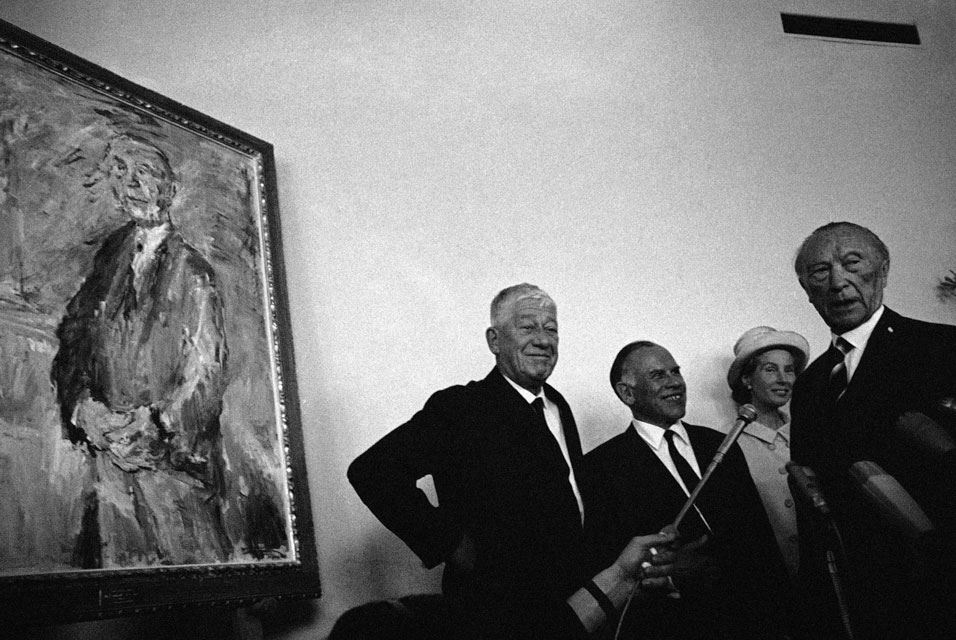 March 01, 1886. Oskar Kokoschka (1 March 1886 - 22 February 1980) was an Austrian artist, poet and playwright best known for his intense expressionistic portraits and landscapes. In this image: Ex-Chancellor Konrad Adenauer presents his latest portrait to the German Parliament (Bundestag) on May 17, 1966 in Bonn, Germany. From left are: the artist Oskar Kokoschka, Eugen Gerstenmaier, President of the Bundestag and Konrad Adenauer.
---
---

Museums, Exhibits, Artists, Milestones, Digital Art, Architecture, Photography,
Photographers, Special Photos, Special Reports, Featured Stories, Auctions, Art Fairs,
Anecdotes, Art Quiz, Education, Mythology, 3D Images, Last Week,
.
Royalville Communications, Inc
produces: