Dali and Lempicka paintings stolen from museum 'found after seven years'
Dali's 1941 surrealist work "Adolescence" featuring the Catalan artist and his beloved nanny and Lempicka's sensual 1929 tableau "La Musicienne" have been tracked down, detective Arthur Brand said via his Twitter account.
THE HAGUE
(AFP)
.-
Two renowned paintings stolen from a Dutch museum seven years ago, one by Salvador Dali and the other by Polish artist Tamara de Lempicka, have been recovered, a specialist art detective said Wednesday. Dali's 1941 surrealist work "Adolescence" featuring the Catalan artist and his beloved nanny and Lempicka's sensual 1929 tableau "La Musicienne" have been tracked down, detective Arthur Brand said via his Twitter account. "We recovered the #Dali and the #DeLempicka, stolen in 2009 from Scheringa museum," he wrote in a Tweet, posting two pictures of himself with the paintings. The two works of art were snatched from the Scheringa Museum of Realist Art in the northern town of Spanbroek in a daylight armed robbery on May 1, 2009. Several masked men threatened staff and visitors with a gun and then drove off in a car with the two tableaux, police told AFP at the time. Brand said the two paintings had then been given to a criminal gang in lieu of payment -- a transaction which is ...
More
The Best Photos of the Day
Solo exhibition by Daniel Buren opens at Museo Espacio
Malick Sidibé solo exhibition announced for 1:54 at Somerset House
Edinburgh Art Festival presents work by 250 artists


Como un juego de niño, 2016. Daniel Buren & ADAGP París / Cortesía Museo Espacio, ICA 2016 / Fotografía: Beto Gutiérrez.



AGUASCALIENTES.- Museo Espacio (ME) at MECA is presenting Como un juego de niño, a solo exhibition by Daniel Buren, on view July 21 – October 2, 2016. Opened in February 2016, Museo Espacio is a new contemporary art museum situated in former railway workshops, in the 200-acre Macro Espacio para la Cultura y las Artes (MECA), one of the largest and most important cultural projects in México, which is restoring and renewing the railroad tradition that for over a century was fundamental to life in Aguascalientes and the region. Como un juego de niño is an intervention into the nearly 6,000 square meters (64,600 square feet) of Museo Espacio, providing visitors a new perspective of the museum's industrial architecture. The exhibition is comprised of two parts that complement each other. Buren creates a veritable game of life-size constructions with more ... More



Malick Sidibé, Nuit du 31 Décembre, 1969. Tirage argentique baryté Papier: 50 x 60 cm Signé et daté © Malick Sidibé Courtesy Galerie MAGNIN-A, Paris.



LONDON.- 1:54 Contemporary African Art Fair has announced an expanded programme of exhibitions and special projects for the 2016 edition of the London fair, taking place in Somerset House, 6– 9 October 2016. 1:54 and Somerset House, in collaboration with MAGNIN-A Gallery, Paris, present Malick Sidibé (6 October–15 January 2017), the first major solo exhibition in the UK of the late Malian photographer. Sidibé is known for his black-and-white images chronicling the lives and culture of the Malian capital, Bamako, in the wake of the country's independence. The exhibition will present 45 original prints from the 1960s and 1970s around three defined themes: 'Au Fleuve Niger / Beside the Niger River', 'Tiep à Bamako / Nightlife in Bamako', and 'Le Studio / The Studio'. Sidibé was the first photographer, and first African artist, to receive a Gold Lion at the Venice ... More



Graham Fagen, A Drama in Time. Photo: Ross Fraser McLean, Studio RoRo.



EDINBURGH.- Edinburgh Art Festival opens today presenting work by 250 artists, in more than 40 exhibitions across 30 of Edinburgh's museums, galleries and artist-run spaces, including seven new commissions as part of the 2016 Commissions Programme. As the UK's largest annual festival of visual arts, the programme combines ambitious presentations of Scottish and international contemporary art alongside major solo and survey shows of artists from the 20th century and historic movements. The 2016 festival also features numerous performances, guided tours, workshops and talks by some of the world's leading artists and curators throughout the month of August. Highlights include: Seven new commissions across the city: • A major new work reinterpreting the depiction of the female nude in sculpture by Jonathan Owen, allowing access for festival visitors to the interior of the Burns Monument for the first time ... More
Photos from series by Anton Corbijn on view at Galerie Anita Beckers
Bruce Museum displays Muybridge's innovative stop-motion photos of 1887
Obamas pick presidential library site in Chicago: Source


Aimee Mann, Boston, 1992 (detail). © Anton Corbijn.



FRANKFURT.- For the first time in Europe, never before shown photo-prints from the series '1-2-3-4' from Anton Corbijn are being exhibited under the title '#5' at the Galerie Anita Beckers in Frankfurt am Main. The images, produced between 1972 – 2014, are exclusively of musicians, including David Bowie, Johnny Cash, Kurt Cobain, Nick Cave and Patti Smith. In order to show the complete comprehensive group of works, the gallery has been able to procure a second location at the studio and exhibition house ATELIERFRANKFURT. In the past twenty-five years, Anton Corbijn has, in addition to his music photography, photographed every artist he had interest in from the worlds of film, painting, writing and modelling. Besides photography he has taken up film direction in a very successful way, having made four feature films ("Control," "The American," "A Most Wanted Man," and "Life") ... More



Eadweard Muybridge (1830-1904), Plate 632, Animal Locomotion, 1887 (detail). Collotype, 12 x 19 in. Gift of Mr. and Mrs. T. Kirk Miles, Bruce Museum Collection 88.27.



GREENWICH, CONN.- Two experimental works by the innovative artist-photographer Eadweard Muybridge from the Bruce Museum's collection today came up from storage and are now on view. Does a running horse have all four feet off the ground at once? That is the question Eadweard Muybridge wanted to answer when he began his pioneering photographic work in animal movement in 1872 at the request of racehorse owner and former California governor Leland Stanford. Fifteen years later, Muybridge was still exploring the subject. His innovative approach to photography led to new methods in animation and improved stop-motion techniques. At an outdoor studio created for him at the University of Pennsylvania in Philadelphia, Muybridge equipped three batteries of twelve ... More



US President Barack Obama waves as he walks across the colonnade toward the Oval office July 27, 2016 in Washington, DC. Mark Wilson/Getty Images/AFP.



CHICAGO (AFP).- US President Barack Obama and First Lady Michelle Obama have reached a long-awaited decision on where exactly in Chicago to build their presidential library. The location is the city's historic Jackson Park, near the University of Chicago where the president taught law before being elected to public office, a source familiar with the decision making told AFP. A formal announcement will be made in the coming days. The 540-acre park, named after the seventh US president Andrew Jackson, was commissioned in 1869, according to the city's park district. It is nestled on Chicago's famed waterfront, overlooking Lake Michigan and is also the site of the Chicago Museum of Science and Industry. The newest addition to the US network of presidential libraries will ... More
Historic items from legendary director Frank Darabont make their way to the auction block
Wright's historic auction for The Four Seasons restaurant an unprecedented success
artnet Auctions' Contemporary Asian Art sale is live for bidding now through August 4


Frank Frazetta, Sea Witch (detail). Pre-sale estimate of $1,000,000 - $1,500,000.



CALABASAS, CA.- Profiles in History will offer a rare and historic multi-million dollar assemblage of comic and illustration art, including select works from the personal collection of legendary writer, director and producer, Frank Darabont. The auction will take place at the Profiles in History Headquarters in Calabasas, CA on Saturday, July 30th at 11:00am PST. Following the hugely successful sale of Frank Frazetta art from the collection of Dave Winiewicz, this unique auction will be presented in two sessions. Session One, The Frank Darabont Collection, includes original works by master artists Bernie Wrightson, Mike Mignola, Sanjulian, Jack Davis, Will Eisner, Eric Powell, Bob Peak, Rich Corben, Vaughn Bode, a bronze of the "Cyclops" creature by Ray Harryhausen, and rare movie posters including the only known Frankenstein 1941 Italian 4-fogli, ... More



Thousands of bidders participated in the auction.



NEW YORK, NY.- Wright's record breaking auction totals $4,105,873 over four times the original estimate. Buyer's participated from all over the world to buy every single lot in the 650 lot sale. Thousands of bidders participated in the auction, which began at 10 am and ended after midnight. Held at The Four Seasons restaurant, hundreds were in attendance and bidders remained in the landmarked Grill Room and Pool Room bidding until the early hours of the following morning. With active bidding lasting 10 minutes, the standing room only crowd watched the first lot of the sale, the bronze sign from the lobby entrance, sold for $120,000. Richard Wright, Founder and President of Wright, comments: "The response to this auction is a testament to the beloved icon that is The Four Seasons and to the owners, Alex von Bidder and Julian Niccolini, who have operated the restaurant for over 40 years. It was a pleasure to work with ... More



Yue Minjun (Chinese, b. 1962), Untitled, 2003. Oil on canvas. Estimate: 180,000—220,000 USD



NEW YORK, NY.- artnet Auctions' Contemporary Asian Art sale, live for bidding now through August 4 features artists from a diverse selection of Asian countries, including China, Japan, Korea, Philippines, Indonesia, and India. The sale includes a fresh selection of exceptional paintings, prints, and more by important Asian artists: Yoshitomo Nara, Yue Minjun, Yayoi Kusama, Takashi Murakami, Liu Ye, Maqbool Fida Husain, Toshimitsu Imai, Francis Newton Souza, Zhang Dali, and more. A stand out work in the sale and very characteristic of Yue Minjun's distinct style, Untitled is an exciting painting featuring two figures in an unknown space, both pink-skinned with disproportionately large mouths with thin red lips and wide toothy grins. As a leading figure in China's contemporary art scene, Yue Minjun's trademark laughing figures have received recognition across ... More
Project maintains original Art Deco stylings of building
Pioneering photographer and filmmaker Wendy Snyder MacNeil dies
Artcurial to sell the collection of the Normandy Tank Museum


NYIT College of Osteopathic Medicine at Arkansas State University.



COLUMBUS, OH.- One-hundred and fifteen medical students will join the Arkansas State University Jonesboro campus, Jonesboro, Arkansas, this fall when the new school of osteopathic medicine opens for its first class. Planned and designed by DesignGroup, a Columbus-based architectural design firm specializing in education, healthcare, library and other civic buildings, the school had a groundbreaking in June. The school is housed in Wilson Hall, the oldest building on the A-State campus and a centerpiece on the historic quad. "Located in the heart of the campus, Wilson Hall couldn't be a more appropriate location for the new school of medicine to showcase its importance and meaning to the communities of Arkansas," said Elliott Bonnie, AIA, who led the project at DesignGroup. The 86,000-square-foot hall required a major renovation to incorporate an osteopathic manipulative medicine lab, gross anatomy lab, simulated operating ... More



Untitled [MacNeil with her camera, standing with two men], from the series Haymarket, 1968-70. Gelatin silver print. Wendy Snyder MacNeil Archive, Ryerson Image Centre.



TORONTO.- The Ryerson Image Centre regrets to announce the passing of pioneering photographer and filmmaker Wendy Snyder MacNeil, who died at her home in Lincoln, Massachusetts on the afternoon of July 20, with her immediate family at her side. In 2007, the RIC became the custodian of MacNeil's archive, a donation the institution celebrated earlier this year with the exhibition and catalogue, The Light Inside: Wendy Snyder MacNeil, Photographs and Films. "Wendy was a restless experimentalist, pushing formal boundaries in search of a truer, more humanistic, more direct engagement with her subjects, and with viewers of her work," wrote Paul Roth, Director of the Ryerson Image Centre, in the RIC catalogue that accompanied The Light Inside. During her remarkably productive two decades as a photographer, MacNeil constantly strove to develop new approaches to ... More



M4 SHERMAN – 105 mm Howitzer, made by Chrysler in Detroit Tank Arsenal. «La Moskowa», char of the second armoured division of Maréchal Leclerc. Estimate: 200 000 – 400 000 € / 222 000 – 444 000 $. © Artcurial



PARIS.- On 18 September 2016, Artcurial Motorcars will auction a part of 20th century history with the collection of the Normandy Tank Museum. The D-Day Sale will take place in Catz in Normandy and represents the collection gathered by Patrick Nerrant and his two sons, Olivier and Stéphane over the past 35 years. Over 120 lots (tanks, armoured machines, automobile, trucks, bikes and planes from the US military army and Axis forces) will be offered at no reserve. Each piece traces key moments in the Second World War, from North Africa to the D-Day landings and the battle of Normandy, the Cobra operation to the liberation of Paris and the battle of the Ardennes. Highlights include a BMW R75 sidecar, Caterpillar D8, Citroën traction 38, M4 Sherman, M3A1 « Stuart », M5 Stuart, Dodge WC51/52, Dodge WC Command Car, Dodge WC-54 ... More
Quote
The pieces I make must have musical qualities, changes in rhythm, a series of climaxes, andan overall harmony. Shono Shounsai
More News
---
The Collection of Sam and Emily Mann
---
Flashback
On a day like today, Austrian painter Joseph Anton Koch was born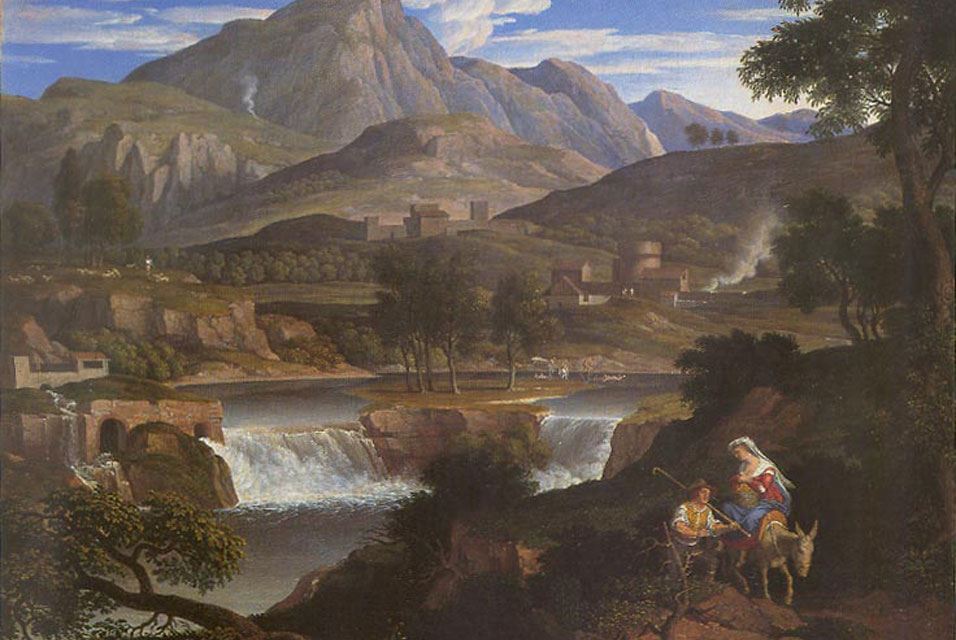 July 27, 1768. Joseph Anton Koch (27 July 1768 - 12 January 1839) was an Austrian painter of Neoclassicism and later the German Romantic movement; he is perhaps the most significant neoclassical landscape painter. In this image: Waterfalls at Subiaco (1812-1813).
---
---

Museums, Exhibits, Artists, Milestones, Digital Art, Architecture, Photography,
Photographers, Special Photos, Special Reports, Featured Stories, Auctions, Art Fairs,
Anecdotes, Art Quiz, Education, Mythology, 3D Images, Last Week,
.
Royalville Communications, Inc
produces:







Tell a Friend
Dear User, please complete the form below in order to recommend the Artdaily newsletter to someone you know.
Please complete all fields marked *.
Sending Mail

Sending Successful