Largest-ever Matisse exhibition in the Netherlands opens at the Stedelijk Museum
A visitor looks at La Perruche et la Sirene by French artist Henry Matisse at the previewing of the exhibition 'De Oase van Matisse' at the Stedelijk Museum, in Amsterdam, on March 25, 2015. The exhibit runs from March 27, to August 16, 2015. AFP PHOTO / ANP / SANDER KONING.
AMSTERDAM
.-
With over 100 works on loan from 35 leading international museums including the Tate, MoMA, Musée Matisse, Le Cateau-Cambrésis and the Pushkin State Museum in Moscow, the
Stedelijk Museum Amsterdam
presents the most comprehensive survey of Matisse ever shown in the Netherlands. The exhibition occupies half of the ground floor galleries, the hall of honor and the first floor gallery suite to the rear. Covering over 21,500 square feet The Oasis of Matisse is one of the largest-ever exhibitions in the Stedelijk's history. The Stedelijk conceived a unique exhibition concept for The Oasis of Matisse: the permanent collection on the ground floor is enriched with a selection of Matisse masterpieces, creating surprising combinations with the work of his contemporaries, teachers and followers. Visitors discover how, in 1914, Mondrian and Matisse were both pushing towards ...
More
The Best Photos of the Day
Collection of leading American businessman Jerome H. Stone to be offered at Sotheby's
Italian pensioner given $16 million Pablo Picasso painting 'for act of kindness'
Sotheby's Paris achieves highest total for a Sale of French Old Master Paintings in over 20 years




Alberto Giacometti, Buste de Diego (Aménophis). Inscribed with the signature Alberto Giacomett and with the foundry mark Susse Fondeur Paris, dated 1954 and numbered 3/8 twice. Bronze. Height: 16 ½ inches. Conceived in 1954 and cast before 1956. Est. $6/8 million. Photo: Sotheby's.





NEW YORK, NY.- Sotheby's will present the collection of noted Chicago businessman and philanthropist, Jerome H. Stone. Assembled by Mr. Stone and his wife, Evelyn, predominantly in the 1950s and '60s, the collection offers important modern works by artists including Fernand Léger, Alberto Giacometti, Joan Miró, Juan Gris and Marc Chagall, among others, which will be offered across a series of auctions this spring. Drawn exclusively from leading dealers of the day, including Pierre Matisse and Sidney Janis, and unseen in public for more than 40 years, the collection is estimated at more than $40 million, with the highlights to be offered in Sotheby's Impressionist & Modern Art Evening Sale on 5 May 2015. Select works will travel to Hong Kong and London for exhibition prior to the auction in New York. From ... More





Portrait of Pablo Picasso, 1908-1909, anonymous photographer, Musée Picasso, Paris.





ROME (AFP).- Italian police are trying to establish the true owner of a Picasso painting worth 15 million euros ($16 million) after confiscating it from a pensioner who says he was given it for free. The Rome resident, a former frame-maker, told detectives he received the work in 1978 as a thank you gift for an act of kindness towards a recently bereaved customer. A widower had come into his shop in a state of distress after breaking a photo frame in which he kept a picture of his lamented late wife. Touched, the frame-maker replaced the glass for free. Two days later, the elderly customer returned to the workshop and presented him with the Picasso, without giving any indication of its value or artistic significance. According to the frame-maker's story, it was only last year that he realised the 54 x 45cm oil on canvas could be a Picasso, police said. The painting is a representation of a violin and a bottle of Bass beer which police experts have authenticated as a 1912 work by the ... More





Anne Vallayer-Coster, Portrait of a violinist, 1773. Oil on canvas, 116 x 96 cm. Estimate: 300,000-400,000 € / 340,000-453,000 US$. Sold for: 903.000€. World record for the artist. Photo: Sotheby's / Art digital studio.





PARIS.- Yesterday's results for this collection sold at Sotheby's Paris in association with Artcurial, pay tribute to a refined collection of French paintings from the 17th and 18th centuries, built up over the past 20 years. The sale achieved €8.7 million ($9.5 million), 90% sold by lot and 93% sold by value, which represents the highest amount for a sale in this category for more than twenty years. Eric Turquin, expert in Old Master Paintings: "This was a gamble that paid off for this collector after twenty years of passionate search and for our three companies! This sale is a real landmark, because it demonstrates that when well-chosen, French 17th and 18th century paintings appeal to customers from across the world and can still unleash passions. The market has paid a special tribute to the bravery of Louis Grandchamp des Raux who often bucked the trend when making choices over the ... More
MoMA brings together 150 sculptures by Pablo Picasso for major survey this fall
Exhibition of new photography acquisitions opens at the Georgia O'Keeffe Museum
First comprehensive U.S. exhibition of Iranian artist Monir Shahroudy Farmanfarmaian on view in New York




Pablo Picasso, Baboon and Young. Vallauris, October 1951 (cast 1955). Bronze. 21 x 13 1/4 x 20 3/4″. The Museum of Modern Art, New York. Mrs. Simon Guggenheim Fund. © 2014 Estate of Pablo Picasso / Artists Rights Society (ARS), New York.





NEW YORK, NY.- The Museum of Modern Art announces Picasso Sculpture, a sweeping survey of Pablo Picasso's profoundly innovative and influential work in three dimensions, on view from September 14, 2015, to February 7, 2016. The largest museum exhibition of Picasso's sculptures to take place in the United States in nearly half a century, the exhibition brings together around 150 sculptures from Picasso's entire career via loans from major public and private collections in the U.S. and abroad, with the largest selection of works coming from the Musée national Picasso–Paris. With many works on view for the first time in the U.S., the exhibition provides an opportunity to explore a rarely seen aspect of Picasso's large and prolific career. Picasso Sculpture is presented by MoMA in collaboration ... More





Alfred Stieglitz, the avant-garde photographer and gallerist who later became her husband, created a series of more than 300 photographs of O'Keeffe during the course of his life.





SANTA FE, NM.- "New Photography Acquisitions" opened at the Georgia O'Keeffe Museum March 27, 2015. This exhibition presents a selection of the newest additions to the Museum's photography collection, many of which have never been published or exhibited at the Museum. "We are especially proud to offer the first look at these recent acquisitions, including photographs that span O'Keeffe's life from New York to New Mexico," says Robert A. Kret, director of the Georgia O'Keeffe Museum. "New Photography Acquisitions includes many rarely seen images of O'Keeffe, one of the most photographed women of the 20th century, by some of the most well-known photographers of her day." "It is wonderful to see these insightful images," says Carolyn Kastner, curator of the exhibition, "which include beautiful gelatin silver prints from Alfred Stieglitz, Philippe ... More





Portrait of the artist. Monir Shahroudy Farmanfarmaian: Infinite Possibility. Mirror Works and Drawings 1974–2014. Solomon R. Guggenheim Museum, New York, March 13–June 3, 2015. Photo: David Heald © Solomon R. Guggenheim Foundation.





NEW YORK, NY.- From March 13 to June 3, 2015, the Solomon R. Guggenheim Museum is presenting the first comprehensive exhibition in the United States of the celebrated Iranian artist Monir Shahroudy Farmanfarmaian (b. 1924). In recognition of a lengthy career, Monir Shahroudy Farmanfarmaian: Infinite Possibility. Mirror Works and Drawings 1974–2014 focuses on the faceted mirror sculptures and corresponding geometric drawings Monir has produced over the past forty years. The majority of the selected works in this exhibition are from the artist's own collection, and many have never been shown to the public. Monir's rich body of work references Persian architectural and decorative tradition, the mathematical basis of geometric forms in Islamic pattern, and Sufi cosmology. When considered along ... More
'Surreal Roots: From William Blake to André Breton' opens at Modern Two in Edinburgh
Georgia Museum of Art at the University of Georgia to present science-inspired exhibition
'Gaetano Pesce: One-of-a-Kind Iconic Works, 1967-2015' on view at Allouche Gallery




William Blake, The Lord Answering Job from the Whirlwind. Drawing (Pen and ink and watercolour over pencil on paper), 39.30 x 33.00 cm. Scottish National Gallery. Presented by the trustees of Mr Graham Robertson 1949 through the Art Fund.





EDINBURGH.- Rare copies of publications by revolutionary writers and artists William Blake, Lewis Carroll and the Marquis de Sade will go on show at Modern Two this spring, as part of a new display exploring the roots of the ground-breaking Surrealist movement. Surreal Roots: From William Blake to André Breton will combine 18th and 19th century publications, rarely shown to the public, with 20th century publications by key Surrealist figures such as Salvador Dalí. The Marquis de Sade (1740-1814), Blake (1757-1827) and Carroll (1832-1898) were controversial figures whose writings challenged the religious and sexual taboos of their time. Some of the Marquis de Sade's most controversial texts, including 120 Days of Sodom (1785) and Justine (1791), will ... More





Jay Robinson, Untitled abstract, n.d. Acrylic and India ink on papyrus, 24 x 17 inches. Georgia Museum of Art, University of Georgia; Extended loan from the artist. GMOA 2014.11E.





ATHENS, GA.- The Georgia Museum of Art at the University of Georgia will present the exhibition "Jay Robinson: Quarks, Leptons and Peanuts" from March 28 through June 21. The exhibition will feature the work Robinson has created since a fire destroyed his home and studio in the mid-1990s and is organized by William U. Eiland, director of the museum, and Todd Rivers, head preparator. After the fire, Robinson's work moved in a different direction and he reinvented himself as an artist, taking inspiration from science. He started studying molecular physics and constellations, moving toward abstraction from a previously realistic approach. Despite the fact that he will turn 100 this year, he continues to create work, painting in the burned studio that he later rebuilt. One painting, an untitled African scene, ... More





King Chair.





NEW YORK, NY.- "Gaetano Pesce: One-of-a-Kind Iconic Works, 1967-2015," an exhibition featuring maquettes, furniture, vases and drawings by the visionary architect, designer and artist is on view at Allouche Gallery from March 26-April 25 2015. Since the 1960s, Gaetano Pesce has been challenging the dogma of traditional aesthetics by creating a multidisciplinary practice that embraces an art, architecture and design of expressiveness that is a commentary on reality, color, figurative representation and political commitment. His poetic imagination and his continued use of humor and irony to attack the standardization of the mass-produced object and architecture set him apart from all other designers and architects. Hallmarks of Pesce's work are practicality, diversity and his use of contemporary materials such as foam, resin and urethane. "Art and design should be a service to the people," he says. "An object s ... More
Fine & decorative art, silver, jewelry, coins and currency to cross the auction block at Morphy's on April 4
Centro de Arte Contemporáneo de Málaga opens Adel Abdessemed's first solo show in Spain
Exhibition of new work by Korean artist Lee Ufan opens at Lisson Gallery in London




Wifredo Lam (Cuban, 1902-1982) pastel-on-paper, 27½ x 18¼ inches, est. $10,000-$15,000. Morphy Auctions image.





DENVER, PA.- The soft shine of old silver and the stunning artistry of stained and leaded-glass windows will greet bidders at Morphy's Saturday, April 4 Fine & Decorative Arts Auction. More than 600 lots will be offered, with all forms of bidding available, including absentee and live via the Internet through Morphy Live, LiveAuctioneers or Proxibid. Start time is 9 a.m. Eastern. Dozens of categories are listed in the catalog, including fine jewelry, pottery, silver, inkwells, coins, paintings, art glass, canes, clocks and historical ephemera. Additionally, there are antique telephones and a cast-iron selection that includes figural doorstops. "This is just the type of event that attracts collectors who like to buy 'off the grid,' and by that I mean auctions that aren't focused on just a single, specific category. You never know what you'll find in an auction with this much variety, and as is the case with all ... More





Installation view.





MALAGA.- The Centro de Arte Contemporáneo de Málaga hosts Adel Abdessemed's first solo exhibition at a Spanish museum. In the show curated by Fernando Francés, which the Algerian-born French artist has entitled Palace, three large-format sculptures, Le Vase abominable, and a small one featuring a stuffed pigeon will occupy the museum's central gallery. Themes like violence, politics and religion are openly explored in the oeuvre of this international and multidisciplinary creator using a wide variety of materials. Abdessemed's work delves into history and, through his intervention, draws it into the present, underscoring its relevance for today's world. Palace is a brand-new presentation that exposes the contrasts between different cultures while also portraying our individual fears and phobias. The artist immigrated to France in the 1990s, fleeing from the religious and political turmoil that had ravaged his homeland and put ... More





Installation view, Lee Ufan at Lisson Gallery, London, 25 March - 9 May 2015. Courtesy the artist and Lisson Gallery. Photo: Jack Hems.





LONDON.- This exhibition brings together a body of new work by Lee Ufan, famed as a founding member of the Japanese Mono-ha and Korean Dansaekhwa groups of the late 1960s and early '70s – both important modern and parallel art movements which have only relatively recently been feted by major shows in the West. Although his practice is widely regarded as minimalist, Lee believes in utilising an economy of gesture or representation in search of the maximum possible effect or resonance. His most recent series of Dialogue paintings and watercolours are economically composed of singular sweeps of paint, each built up over an extended period of time through an accretion of smaller strokes. The brush gradually unloads, the mark lightening towards immateriality as he drags it across the surface of the canvas or paper, each repetition being ritualistically controlled by Lee's held ... More
Quote
We must never forget that art is not a form of propaganda, it is a form of truth. John F. Kennedy
More News
---
---
---
Flashback
On a day like today, Russian painter Marc Chagall died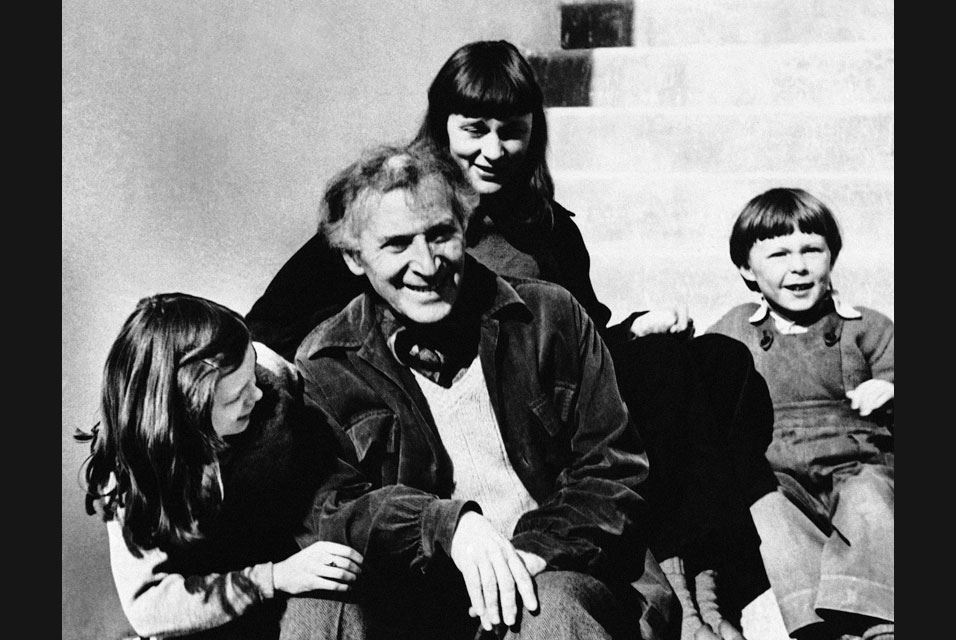 March 28, 1985. Marc Zaharovich Chagall (6 July O.S. 24 June] 1887 - 28 March 1985) was a Russian artist associated with several major artistic styles and one of the most successful artists of the 20th century. He was an early modernist, and created works in virtually every artistic medium, including painting, book illustrations, stained glass, stage sets, ceramic, tapestries and fine art prints. In this image: A picture of Marc Chagall with his family at their home in Vence in the south of France in April 1951. Behind him is his wife Virginian and their children David and Jane are at right and left. Chagall is one of the better-known modern artists. He was born in Witevsk, Russia, 7th July 1887.
---
---

Museums, Exhibits, Artists, Milestones, Digital Art, Architecture, Photography,
Photographers, Special Photos, Special Reports, Featured Stories, Auctions, Art Fairs,
Anecdotes, Art Quiz, Education, Mythology, 3D Images, Last Week,
.
Royalville Communications, Inc
produces: