Aronson of Amsterdam presents one of the earliest and unique pair of tulip vases at The Winter Show
The pair of blue and white flower vases were produced in the city of Delft around 1680. Each is marked LC in blue for Lambertus Cleffius, the owner of De Metaale Pot (The Metal Pot) factory from 1679 to 1691.
NEW YORK, NY
.-
A very early pair of so called tulip vases will be presented at the recently renamed Winter Show. Previously known as the Winter Antiques Show, the show is the leading art, antiques, and design fair in America, featuring 70 of the world's top experts in the fine and decorative arts boasts.
Aronson of Amsterdam
, who celebrate their 25th anniversary at the show will present the audience with a newly discovered pair of flower vases. The pair of blue and white flower vases were produced in the city of Delft around 1680. Each is marked LC in blue for Lambertus Cleffius, the owner of De Metaale Pot (The Metal Pot) factory from 1679 to 1691. The vases are 20.1 cm. (7.9 in.) high and each have eight spouts surrounding the large central spout. Although several types of vases with spouts are known, this model seems to be unique. Besides the present pair, only two other flower vases marked for Lambertus Cleffius are known to date. A larg ...
More
The Best Photos of the Day
Palmer Museum of Art hosts exhibition of teacher and abstract artist Robert Reed
Regen Projects opens an exhibition of new work by Glenn Ligon
Simon Lee Gallery opens a group exhibition of sculptures in metal produced between 1968 and 1990


Robert Reed, Le Relais Du Postillon, Florence Room 2012—Untitled #122, 2012 (detail), collage with ink, acrylic, and metal fasteners, 6 3/8 x 4 7/8 inches. Courtesy of the artist's estate.



UNIVERSITY PARK, PA.- On January 5, the Palmer Museum of Art at Penn State opened its first exhibition of the 2019 season, Subjective Spaces: Drawings and Collages by Robert Reed. The intimate retrospective features sixteen selections from Reed's drawings and collages that are rich in the geometric nonobjectivity, born almost exclusively within the imagination, that marked his entire career. Born in Charlottesville, Virginia, Robert Reed (1938–2014) served as a faculty member in Yale University's School of Art teaching painting and drawing for nearly fifty years. He was best known throughout the art world for his dedication to abstraction built from geometric shapes of personalized and abstract symbols, stark contrasts in colors and textures, and graphic and layered compositions. "Reed's innovative curriculum and his unique studio culture have influenced the teaching and creative practices ... More



Installation view of Glenn Ligon Untitled (America)/Debris Field/Synecdoche/Notes for a Poem on the Third World at Regen Projects, Los Angeles, January 12 - February 17, 2019. Photo: Fredrik Nilsen, Courtesy Regen Projects, Los Angeles.



LOS ANGELES, CA.- Regen Projects is presenting Untitled (America)/Debris Field/Synecdoche/Notes for a Poem on the Third World, an exhibition of new work by Glenn Ligon. For this exhibition, Ligon will present a new series of silkscreen paintings based on abstracted letter forms and several neon installations. This marks the artist's sixth solo presentation at the gallery. Glenn Ligon's wide-ranging multimedia art practice encompasses painting, neon, photography, sculpture, print, installation, and video. Perhaps best known for his monochromatic and highly textured text paintings that draw their content from American history, popular culture, and literary works by writers such as James Baldwin, Zora Neale Hurston, Ralph Ellison, Gertrude Stein, and Jean Genet, among others, his work explores issues of history, language, and cultural identity. ... More



Giovanni Anselmo, Cielo accorciato (Shortened Sky), 1969-1970. Incised iron, 140 x 4.6 x 4.6 cm. (55 1/8 x 1 13/16 x 1 13/16 in.). Courtesy the artist and Simon Lee Gallery, London.



LONDON.- Simon Lee Gallery, London is presenting Metal, a group exhibition of sculptures in metal produced between 1968 and 1990. The exhibition comprises works created by some of the most prominent and innovative artists of the twentieth century, pioneers of the Minimalist and Arte Povera movements. The exhibition links together artists working in industrial materials such as aluminium, iron, and steel, who challenge the viewer's relationship to space through various methods of intervention, proposing unexpected ways of seeing and interacting. Richard Serra's T with Two (1986), barricades one corner of the exhibition space by the most minimal means possible – two rolled plates of steel stacked to resemble a capital T from one perspective; from above, or inside the corner, however, the T-shape forms a new triangular enclosure. Elsewhere, Bruce Nauman's Triangle (1977-1980) constructs from cast ... More
Brazil museum holds first exhibition since fire
Max Bill Georges Vantongerloo Stiftung now represented by Hauser & Wirth
Transformed spaces create alternate reality at Moco Museum


Brazil's National Museum paleontologist Juliana Sayao speaks at a press conference on the expo "When Not Everything Was Ice: New Discoveries in the Antarctic Continent". Mauro Pimentel / AFP.



RIO DE JANEIRO (AFP).- Brazil's historic National Museum on Wednesday displayed fossils discovered in the Antarctic at an off-site venue in its first exhibition since the Rio-based institution was gutted by fire last year. Among the fossils on display at a sister museum -- the Palace of the House of Money -- was a bone from a pterodactyl, which the National says is the first evidence of a big reptile species from the Jurassic era being found in the continent at the southern pole. The bone, and a few other items being shown off at the money museum, had been undergoing scientific studies at the time of the September 2, 2018 blaze that wiped out most of the National Museum's collection. Eight pieces were recovered from the ashes. All the rest of the 160-piece exhibition had to be reconstituted using fossils collected from other areas. The director of the ... More



Max Bill, Transcoloration von Rot zu Grün (Transcoloration from red to green), 1972-1974. Oil on canvas, 80 x 80 cm. © Angela Thomas Schmid/ProLitteris.



NEW YORK, NY.- Iwan Wirth, Manuela Wirth, and Marc Payot, Partners of Hauser & Wirth, today announced that the gallery now represents the Max Bill Georges Vantongerloo Stiftung worldwide. As the inaugural collaboration with the Max Bill Georges Vantongerloo Stiftung, and in celebration of the Bauhaus centenary in 2019, Hauser & Wirth will mount a major exhibition devoted to the Bauhaus at Hauser & Wirth Zürich in June 2019. Max Bill (1908 – 1994) was a great Swiss polymath: an artist, architect, industrial designer, graphic designer, and teacher. He attended the Bauhaus where he was taught by Josef Albers, László Moholy-Nagy, Paul Klee, and Wassily Kandinsky. Bill remained closely associated with the Bauhaus school and was a key figure in developing and propagating its principles, especially through his ... More



Daniel Arsham, Amethyst Ball Cavern.



BOSTON, MASS.- From January 18th until September 30th 2019, Moco Museum in Amsterdam will be hosting New York-based artist Daniel Arsham's solo show 'Connecting Time'. Arsham's work draws on a range of disciplines, incorporating architecture, design, sculpture, film and performance. Moco Museum is the first museum in the Netherlands to present Daniel Arsham's work. Entering the installation spaces of this exhibition, such as Amethyst Ball Cavern and Eroded Wall Paper Room, feels like stepping into an alternate reality. The artist's fascination with pop culture objects, sports and the influence of archeology are apparent in these spaces. The show also includes Arsham's never before presented interactive installation Calcified Room, consisting of a domestic space furnished in mid-century style but created to appear strangely petrified. The calcified room is evocative of a cave interior scaled with minerals, or the city of P ... More
U.S. Premiere of Joan Jonas' acclaimed Venice Biennale commission at Fort Mason Center for Arts & Culture
Miyako Yoshinaga opens an installation of large format photographs by Lisa Ross
Exhibition of new sculpture and drawings by Paloma Varga Weisz opens at Gladstone Gallery


Joan Jonas, They Come to Us without a Word. Fish. Photgraph by Pei Ketron, 2019.



SAN FRANCISCO, CA.- Fort Mason Center for Arts & Culture announces the U.S. Premiere of They Come to Us without a Word, a major multi-media installation by American artist Joan Jonas. Originally commissioned for the U.S. Pavilion at the 2015 Venice Biennale, and awarded a prestigious "Special Mention" by the International Jury of the Biennale, the installation incorporates Jonas' iconic blend of performance, video art, drawing and sculpture to create an immersive, multipart journey that addresses the fragility of the natural world. They Come to Us without a Word will be on view at Fort Mason Center for Arts & Culture from January 17, 2019, through March 10, 2019, free and open to the public. Loan of the work and support for its presentation is generously provided by the Kramlich Collection. For five decades, Jonas has been at the vanguard of interdisciplinary art forms. Her pioneering integration of video, sculpture, ... More



Untitled (Rootop), 2007/2018 (detail). 40 x 60 in. (101.6 x 152.4 cm) ed. 1 of 3 + 2 A.P. Archival pigment print on cotton rag paper.



NEW YORK, NY.- Miyako Yoshinaga presents I Can't Sleep: Homage to a Uyghur Homeland, an installation of large format photographs by Lisa Ross, from January 17 – February 23, 2019. This is Ross's first solo exhibition at the gallery. Women and children – posturing, gazing, playing on bed frames – become "coincidental subjects," their vivid garments sharply accentuated against the muted earth tones of the vast Taklamakan Desert. This far west region of China (Xinjiang), home to the Uyghur people, is a place Lisa Ross has imaged and imagined for over 15 years. Recently, the Chinese state has amplified its efforts to forcibly assimilate minority populations, imbuing the artist with a sense of urgency to display these pictures. Behind the photographs, Ross has created a printed backdrop with monochromatic imagery of close friend and renowned ... More



Installation view, Paloma Varga Weisz at Gladstone 64. Photography by David Regen.



NEW YORK, NY.- Gladstone Gallery is presenting an exhibition of new sculpture and drawings by Paloma Varga Weisz. Her idiosyncratic, anachronistic, and thoughtful wood carvings utilize traditional techniques, used for centuries in the creation of ecclesiastical sculpture. Varga Weisz, however, works against the grain of tradition in subtle ways through figures that draw on obscure references to art history, current events, and medieval iconography. Endowing each of these figures with a palpable psychology, her hand manifests different interior states and affective postures. Seen together with her drawings, Varga Weisz's practice seems populated with repertory company of surreal players, akin to neo-platonic intermediaries moving between imagination's hinterland to our reality via her intuitive touch. For this exhibition, Varga Weisz creates fantastical animal-human hybrids that emerge from an imaginative terrain ... More
Nohra Haime Gallery opens exhibition of sculptures by Lesley Dill
Certified vintage video games make big debut at Heritage Auctions
Robischon Gallery opens its first first solo exhibition of works by Enrique Martinez Celaya


Lesley Dill, Copper Bird Little, 2014, copper, wire and organza on metal armature, 47 x 54 x 34 in. 119.4 x 137.2 x 86.4 cm.



NEW YORK, NY.- Sculpture: 1994-2018, Lesley Dill's second solo show with Nohra Haime Gallery, will be on view from January 18 - March 2, 2019. This survey of 18 works captures how Dill uses the power of written language to create art with a profusion of textures, forms and materials. In a NY Times review, Benjamin Genocchio has written: "Her art evokes an imaginative and emotional space, deftly balancing sure, concrete reference points with whimsical intimations of some other, larger, escapist universe." [1] Dills' materials in these works are many, including wood, bronze, fabric, copper, glass, horsehair, paper, feathers and thread. But the common ground drawing together her disparate images and materials is the written word: poetic texts entwined with image have long been the consistent and unique region of Dill's explorations. What began decades ... More



Competitive bidding drives the original release of The Legend of Zelda to $3,360.



DALLAS, TX.- Heritage Auctions took a first step into a new area of collectibles when its offering of 25 certified and graded collectible video games made its debut Jan. 13. "A lot of collectors are just as passionate about their childhood games, such as their trading cards or comics," said Heritage Vice President Barry Sandoval, about the results from the Sunday Internet Comics, Animation & Art Auction. "We thought these certified games would do well, and we weren't disappointed." The games are graded, certified and housed in protective cases by Denver-based Wata Games, offering consistency and objectivity that can be achieved only through an independent, third-party grader. More than 30 collectors pursued The Legend of Zelda (NES, Nintendo, 1987) Wata Games 9.4 B+ (Seal Rating) until it ultimately sold for $3,360 to claim top-lot honors. The Classic Series version marked the last release of the game on the ... More



Enrique Martínez Celaya, The Prince 2015. Oil and wax on canvas, 66 x 50 inches. Courtesy of Robischon Gallery.



DENVER, CO.- Robischon Gallery presents the gallery's first solo exhibition of highly acclaimed Cuban-born artist and author Enrique Martínez Celaya. The extensive presentation features painting, photography and sculpture investigating Martínez Celaya's re-emerging theme of a boy and the psychic or philosophical forces which surround. The new and earlier select works reflect a poetic exploration into the nature of vulnerability, power, confidence and fear, while allowing the physicality of each medium employed – oil and wax, bronze, watercolor, wood, tar and straw – to carry with it a sense of the ineffable. Martínez Celaya states, "Since the mid-90s I have been using the image of a boy coming of age, still moored in childhood, but already half-embarked on that journey to adulthood from which he will not return. This reference has appeared in my paintings, ... More
Quote
A man like Picasso studies an object as a surgeon dissects a corpse. Guillaume Apollinaire
More News
---
From Whistler to Gluck to Peter Blake - A Celebration of The Fine Art Society
---
Flashback
On a day like today, American stained glass artist Louis Comfort Tiffany died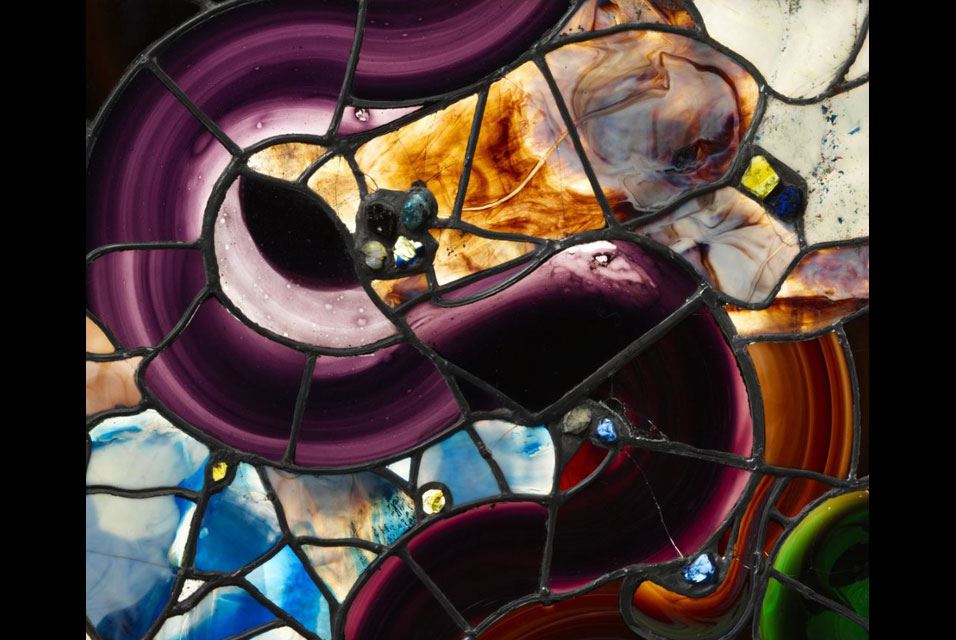 January 17, 1933. Louis Comfort Tiffany (February 18, 1848 - January 17, 1933) was an American artist and designer who worked in the decorative arts and is best known for his work in stained glass. He is the American artist most associated with the Art Nouveau[1] and Aesthetic movements. He was affiliated with a prestigious collaborative of designers known as the Associated Artists, which included Lockwood de Forest, Candace Wheeler, and Samuel Colman. In this image: Louis C. Tiffany, Fenętre du "Bella Apartment", c.1880. Verre, plomb. New York, The Metropolitan Museum of Art, Don de Robert Koch, 2002 ©Photo : The Metropolitan Museum.
---

Museums, Exhibits, Artists, Milestones, Digital Art, Architecture, Photography,
Photographers, Special Photos, Special Reports, Featured Stories, Auctions, Art Fairs,
Anecdotes, Art Quiz, Education, Mythology, 3D Images, Last Week,
.
Royalville Communications, Inc
produces:







Tell a Friend
Dear User, please complete the form below in order to recommend the Artdaily newsletter to someone you know.
Please complete all fields marked *.
Sending Mail

Sending Successful