Jennifer Angus' largest insect art installation dazzles at the MFA, St. Petersburg
Large-scale, Victorian dollhouses covered in melted beeswax tower in this garden-like gallery designed to give the viewer an insect's perspective of the world in Jennifer Angus' new installation at the MFA, St. Petersburg.
ST. PETERSBURG, FLA
.-
When you think of insects, art may not be the first word that comes to mind. Where many see nuisance pests and recoil, artist Jennifer Angus looks deeper and embraces their natural beauty — the rainbow colors of their giant wings and exoskeleton, the wispiness of an antenna, the jagged design of their legs. In her eyes, insects are not to be feared, but celebrated. Angus, one of the top contemporary installation artists in the country, hopes her latest project at the
Museum of Fine Arts, St. Petersburg
will rekindle a sense of discovery and respect for the importance and beauty of what she calls the "six-legged kingdom." 'The Grasshopper and the Ant' and Other Stories, as told by Jennifer Angus, on view through January 5, 2020, creates a wondrous environment where thousands of exotic, brilliantly-colored insects reign in the nearly 7,000-square-foot gallery space within the MFA's Hough Wing. ...
More
The Best Photos of the Day
Christie's to offer monumental canvas by Yves Klein
Major exhibition at MoMA displays over 100 important works by Latin American artists
Artist Huang Yong Ping dies at the age of 65


Yves Klein, Barbara (ANT 113), 1960 (detail). Estimate: $12-18 million. © Christie's Images Ltd 2019.



NEW YORK, NY.- Yves Klein's monumental Barbara (ANT 113), 1960 (estimate: $12-18 million) will highlight Christie's Evening Sale of Post-War and Contemporary Art on 13 November. A portion of the proceeds from the sale of this work will benefit The Water Academy for Sustainable and Responsible Development Foundation. The Water Academy SRD is an international initiative whose mission is to create a new Culture of Water to address these challenges and the ones related to the Sustainable and Responsible Development. Founded in 2016 and based in Switzerland, their activities help facilitate the establishment, advancement and exchange of scientific and cultural information addressing the issue of water resource access and management, as well to foster Higher Education in this domain; and to play a vital role in establish and promoting a new Culture of Water. The organisation helps fund Integrated Scientific Research, Higher Education and sho ... More



Alejandro Otero (Venezuelan, 1921–1990). Tablón de Pampatar (Pampatar Board). 1954. Lacquer on wood, 10′ 6″ × 25 5/8″ × 1 1/16″ (320 × 65.1 × 2.7 cm). The Museum of Modern Art, New York. Promised gift of Patricia Phelps de Cisneros through the Latin American and Caribbean Fund in honor of Adriana Cisneros de Griffin and Nicholas Griffin. ©2018 / Artists Rights Society (ARS), New York / AUTORARTE, Venezuela.



NEW YORK, NY.- The Museum of Modern Art opened Sur moderno: Journeys of Abstraction―The Patricia Phelps de Cisneros Gift, a major exhibition drawn primarily from the paintings, sculptures, and works on paper donated to the Museum by the Colección Patricia Phelps de Cisneros between 1997 and 2016. On view from October 21, 2019, through March 14, 2020, Sur moderno celebrates the arrival of the most important collection of abstract and concrete art from Latin America by dedicating an entire suite of galleries on the Museum's third floor to the display of artists from Brazil, Venezuela, Argentina, and Uruguay. The exhibition highlights the work of Lygia Clark, Gego, Raúl Lozza, Hélio ... More



Huang Yong Ping has been recognized as a major figure of avant-garde art in China and world-wide.



PARIS.- French contemporary artist of Chinese origin, Huang Yong Ping, has died suddenly on October 19, 2019 at the age of 65. Born in 1954 in Xiamen, Fujian, China, he is recognized as a major figure of avant-garde art in China and world-wide. Huang Yong Ping has been represented by kamel mennour (Paris/London) since 2009. In the mid-1980's in China, the artist undertook a combative practice aiming to achieve a new correspondence between art, culture and political consciousness. He developed new forms that, beyond their amazing plastic qualities, showed a rare philosophical depth. His work, represented in the world's greatest museums, is admired for reflecting his thoughts on humanity, art, history, politics, the relationship between East and West and between art and life. After the Cultural Revolution, from 1978 to 1982, he studied at the Zhejiang Academy of Fine Arts in Hangzhou. From 1985 to 1987, ... More
Ramsay Fairs add VOLTA to their portfolio of art fairs
Startled marmot and a fox lead the way at Wildlife Photography Awards
French architect Jean Nouvel workshop sues Paris concert hall


Victor Lope Arte Contemporaneo (Barcelona), with sculptures by Mario Dilitz and works on paper by Kepa Garraza.



NEW YORK, NY.- Ramsay Fairs, owners of PULSE Art Fair and Affordable Art Fair, is delighted to announce that VOLTA will join their portfolio with immediate effect. Ramsay Fairs has purchased VOLTA from Merchandise Mart Properties Inc (MMPI). MMPI acquired VOLTA in 2007 from the Founders: Amanda Coulson, Uli Voges, Friedrich Loock, and Kavi Gupta. VOLTA, the contemporary art fair known for its eclectic and dynamic presentations, celebrated its 15th anniversary in Basel this past June. Established originally to secure a platform for international galleries beyond young art fair Liste and market heavyweight Art Basel, VOLTA attracts serious collectors, and strong sales are reported year after year. Will Ramsay, CEO and Founder of Ramsay Fairs, explains: "As a regular visitor to VOLTA, I have always been impressed by the mix of dealers, the ascent of artists shown and ... More



Detail of The moment by Yongqing Bao, China. Joint Winner 2019, Behaviour: Mammals.



LONDON (NYT NEWS SERVICE).- Titled "The Moment," the picture shows a Tibetan fox about to pounce on an almost comically startled-looking marmot. The image earned Chinese photographer Yongqing Bao the wildlife photographer of the year award at the Natural History Museum in London. One of 19 photographs honored by the museum, the picture spread widely online after the awards were announced Tuesday. But while the image may have granted the marmot its 15 minutes of fame, the rodent did not survive its encounter with the fox, according to the BBC. The museum described the picture as "a powerful frame of both humor and horror" that "captures the drama and intensity of nature." "This compelling picture captures nature's ultimate challenge — its battle for survival," Michael Dixon, the director of the Natural History Museum, said in a statement announcing the winners. "Photographically, it is ... More



Jean Nouvel is responsible for the design of over 200 buildings the world over.



PARIS (AFP).- Top architect Jean Nouvel is suing one of his former clients, the Philharmonie concert hall in Paris, in a dispute over the cost of building the venue, which opened in 2015. In a complaint filed in the Paris court on October 14, his company Ateliers Jean Nouvel counters a 170-million-euro ($190-million) claim lodged by the Philharmonie de Paris against his company. The concert hall argues the architect's firm owes them the money because of budget overruns during the building of the hall, sources told AFP Monday. But the counter-claim filed by the architect's studio describes that demand as "exorbitant" and "unjustified", according to documents seen by AFP. The cost of the building rose from 173 million euros when the project was announced in 2006 to 386 million euros by the time it opened on January 14, 2015. Each side blames the other for having mismanaged the project. In April 2017, the body ... More
The Cleveland Museum of Art announces stellar group of new acquisitions
Kasmin opens 'James Rosenquist: Two Paintings'
Chisenhale Gallery Director Polly Staple appointed Director of Collection, British Art at Tate


Holy Family with the Mystic Marriage of Saint Catherine, c. 1560. Tommaso Manzuoli, called Maso da San Friano (Italian, 1531–1571). Oil on panel; 148 x 103 cm. The Cleveland Museum of Art, Leonard C. Hanna, Jr. Fund 2019.168.



CLEVELAND, OH.- Recent acquisitions by the Cleveland Museum of Art include a monumental 18th-century Chinese landscape painting; a 16th-century Mannerist painting by Maso da San Friano; 38 photographs of the Indian Rebellion; a selection of works on paper by influential Latin American artists; and a contemporary sculpture by celebrated artist Simone Leigh. Created by artist Yuan Yao, Cantilevered Road to Shu is among the largest and most successful landscape paintings produced by the Yuan studios in 18th-century Yangzhou. It's a pivotal and important work that represents China's last flourishing period in the arts before the modern era. Few other works by the Yuan masters present an equally monumental and continuous composition of such scale. Cantilevered Road to Shu depicts the trade of goods over long distances and through mountainous terrain. Travelers lead heavily loaded mules over ... More



James Rosenquist in his studio with Joystick (2002), Aripeka, Florida, circa 2002. Artwork © 2019 Estate of James Rosenquist / Licensed by VAGA at Artists Rights Society (ARS), NY. Used by permission. All rights reserved.



NEW YORK, NY.- Kasmin in cooperation with the Estate of James Rosenquist and Galerie Thaddaeus Ropac (London, Paris, Salzburg), announces an exhibition of two important paintings by James Rosenquist. On view at the gallery's flagship 509 West 27th Street location, both works—Joystick (2002) and The Geometry of Fire (2011)—reflect Rosenquist's lifelong fascination with space, real and imagined, and his turn in the last two decades of his career to a new kind of abstraction. Measuring 46 feet across and spanning the length of the gallery's wall, the monumental Joystick is an ode to Rosenquist's love of flying. Based on reflections from a mirrored cylinder, packed with gyrating forms that move at incredible speed, the space of Joystick is invented, abstract, and wholly optical. "The priority for me is visual invention and, really, content is secondary," Rosenquist told the late art historian Robert Rosen ... More



Staple will succeed Ann Gallagher in leading the development of the world's greatest collection of British art, managing the research and acquisition of works from 1500 to the present day. Photo: Mark Blower.



LONDON.- Polly Staple has been appointed Director of Collection, British Art, Tate. Taking up the post in January 2020, Staple will succeed Ann Gallagher in leading the development of the world's greatest collection of British art, managing the research and acquisition of works from 1500 to the present day. She will work with the curatorial team at Tate Britain, led by the gallery's Director, Alex Farquharson, and will work alongside her counterpart for Tate's international collection, Gregor Muir. Staple has been Director of Chisenhale Gallery in London since 2008. She was formerly Director of Frieze Projects (2002-06) and Editor at Large of frieze magazine (2003-08). Her extensive experience in contemporary art has seen her commission projects and curate exhibitions with a wide range of artists, as well as developing new partnerships and award-winning audience engagement programmes. At ... More
In Dijon, where mustard rules, you can also meet an ancient goddess
When Mary met Edgar: Exploring Cassatt and Degas
Blue-chip gallery shows and art fairs hit New York for October Art Week


Musée des Beaux-Arts de Dijon. © Musée des Beaux-Arts de Dijon/François Jay.



DIJON (NYT NEWS SERVICE).- Say "Dijon," and it is likely that the word mustard will spring to mind. You can enjoy free tastings and buy just about any flavor of mustard (from cassis to horseradish) in the pedestrian medieval center of this sleepy city in Burgundy wine country. But few know that most of the mustard seed now used in making Dijon mustard comes from Canada (the seed that grows here is mostly used to produce Moutarde de Bourgogne — mustard of Burgundy). What you will find in Dijon is a little-visited archaeological museum with rare treasures from the Celtic and Gallo-Roman world. The Musée Archéologique is housed in the main wing of what was once the St.-Bénigne Benedictine abbey, set in a garden next door to the St.-Bénigne Cathedral, the tallest building in the city. The museum is worth a visit just to see the grand stone hall with two rows of columns and high Gothic arches that once served as the abbey's dormitory. The museum itself, which I encountered as I ... More



Christopher Ward's "The Independents," which began performances Thursday at the Jerry Orbach Theater in Manhattan, explores the artists' relationship in the late 1870s.



NEW YORK, NY (NYT NEWS SERVICE).- There are love stories about kindred spirits. There are others about far-off admirers. This is a story of both. In 2014, Christopher Ward visited an art exhibit that explored the relationship between French Impressionist Edgar Degas and American artist Mary Cassatt. The two were inseparable in the late 1870s. They kept studios blocks from each other in Paris and met frequently when in town. Ward, a playwright, was captivated by the pair. "I looked at my wife and said, 'This is a play,'" he recently recalled. Ward's "The Independents," which began performances Thursday at the Jerry Orbach Theater in Manhattan, explores the artists' relationship in the late 1870s. "I've always loved Mary Cassatt," Ward said. Like writers before him, Ward was curious about the dynamic between the Cassatt and Degas. Cassatt, a single woman who moved to Paris in ... More



Jacques-Emile Blanche, Paris 1861-1942, Offranville, Autoportrait de l'artiste au salon de musique au Manoir du Tot, Offranville, oil on canvas, 42 x 34 cm. Courtesy: Richard L. Feigen & Co.,with W.M. Brady & Co.



NEW YORK, NY.- When 15 Upper East Side galleries open their doors on the evening of October 30 to celebrate October Art Week, art lovers of all stripes will be treated to an eye-dazzling array of fine art and jewelry. Organized to coincide with TEFAF New York FALL, Christie's Classic Art Week of auctions and selling exhibitions, and the AADLA Fine Art & Antiques Show, these pre-eminent fine art dealers add to the week's exciting round of activities by curating and hosting special exhibitions-all within walking distance of one another and open to the public from 5 to 9 p.m. Here are some of the prime highlights that deserve special attention: Didier Aaron, Inc., showcases The Grotto of Neptune in Tivoli by François-Marius Granet, executed in 1810.With the Grotto of Neptune as his subject, Granet positioned himself below the waterfalls of Tivoli, and used all his talent to transmit the atmosphere of the setting. 32 ... More
Quote
There is no progress in art. Ilia Ehrenburg
---
Tatiana Bilbao Interview: Architecture and Nature
---
Flashback
On a day like today, American artist Robert Rauschenberg was born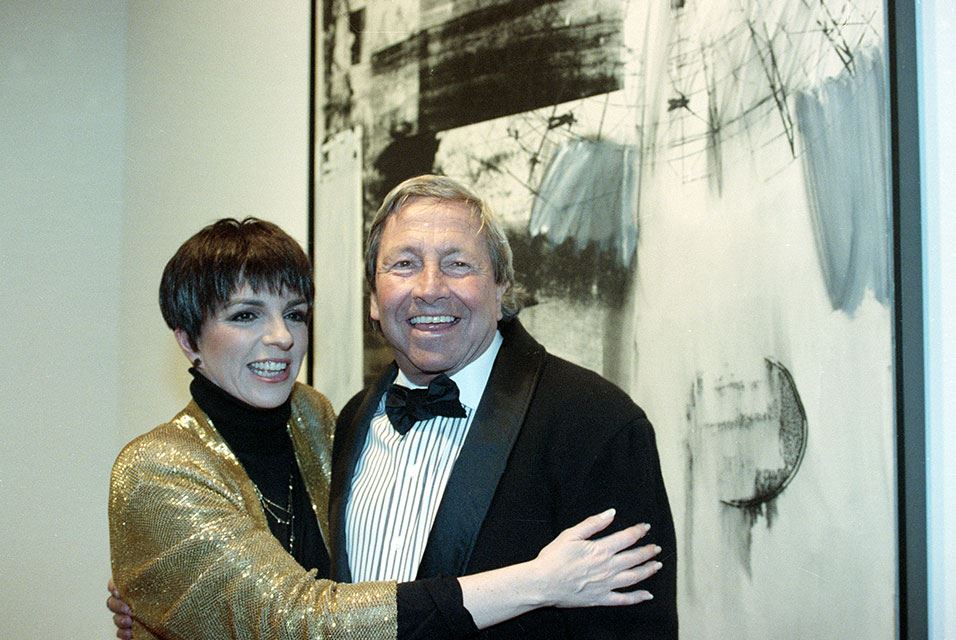 October 22, 1925. Robert Rauschenberg (October 22, 1925 - May 12, 2008) was an American painter and graphic artist whose early works anticipated the pop art movement. Rauschenberg is well known for his "Combines" of the 1950s, in which non-traditional materials and objects were employed in innovative combinations. Rauschenberg was both a painter and a sculptor and the Combines are a combination of both, but he also worked with photography, printmaking, papermaking, and performance. He was awarded the National Medal of Arts in 1993. In this image: Actress and singer Liza Minnelli poses with artist Robert Rauschenberg at the opening of Rauschenberg's silkscreen paintings at the Whitney Museum of American Art in New York City, Wednesday, Dec. 5, 1990.
---

Museums, Exhibits, Artists, Milestones, Digital Art, Architecture, Photography,
Photographers, Special Photos, Special Reports, Featured Stories, Auctions, Art Fairs,
Anecdotes, Art Quiz, Education, Mythology, 3D Images, Last Week,
.
Royalville Communications, Inc
produces: