Dutch art sleuth finds rare stolen copy of 'Prince of Persian poets'
A picture taken on January 16, 2020 at the apartment of Dutch art crime investigator Arthur Brand in Amsterdam shows a rare 15th-century book of poems by Shams-ud-din Muhammad Hafiz's "Divan". A stolen 15th-century book by the famed Persian poet Hafez has been recovered by a Dutch art detective after an international "race against time" that drew the alleged interest of Iran's secret service. The gold-leafed volume worth around one million euros ($1.1 million) was found to be missing from the collection of an Iranian antiques dealer after his death in Germany in 2007. Kenzo TRIBOUILLARD / AFP.

by Jan Hennop
AMSTERDAM
(AFP)
.-
A stolen 15th-century book by the famed Persian poet Hafez has been recovered by a Dutch art detective after an international "race against time" that drew the alleged interest of Iran's secret service. The gold-leafed volume worth around one million euros ($1.1 million) was found to be missing from the collection of an Iranian antiques dealer after his death in Germany in 2007. It sparked a decade-long search for one of the oldest surviving copies of the "Divan of Hafez" -- the collected works of the poet who remains extremely popular in Iran and has inspired artists worldwide. But Arthur Brand, dubbed the "Indiana Jones of the Art World" for tracing a series of lost works, finally tracked down the tome via the murky stolen arts underworld. "This is a hugely important find for ...
More
The Best Photos of the Day
France's Louvre shut by pension strikes
Oldest image of Venice discovered dating back to 14th century
Painting found in Italy wall is stolen Klimt


Members of the French forensic police hold a banner reading "A status for forensic police" in front of fake crime scene, with the Louvre in background, during a demonstration to demand "a real status" and consideration over the dangerous aspect of their work in Paris on January 15, 2020. STEPHANE DE SAKUTIN / AFP.



PARIS (AFP).- The Louvre museum in Paris shut down Friday after striking workers blocked the entrance, management said, in the latest protest against plans to overhaul France's pension system. Hundreds of disappointed visitors massed in front of the entrance to the world's most visited museum, some hurling insults at the striking workers, according to an AFP reporter at the scene. The blockade came as union leaders seek to widen opposition to the pension reforms, which have triggered the longest transport strike in France in decades. The unions are looking for a second wind as the movement starts to flag, with the proportion of workers at national railway operator SNCF falling to 4.6 percent on Friday. On Thursday, around 187,000 people took part in a sixth day of nationwide protests against ... More



Image of Venice supplied by the Florence, Biblioteca Nazionale Centrale, II.IV.101, fol. 1v. With permission of the Ministero per i beni e le attività culturali e per il turismo / Biblioteca Nazionale Centrale, Florence.



ROME (AFP).- A Renaissance historian has unearthed the oldest known image of Venice dating from the 14th century, showing how even then the city of canals gripped the imagination of visitors. Sandra Toffolo, a researcher at the University of Saint Andrews in Scotland, found the sketch in a manuscript describing Italian pilgrim Niccolo da Poggibonsi's 1346-1350 voyage to Jerusalem which took him through the bustling port city. "The discovery of this view of the city is of great importance for our understanding of images of Venice, because it shows that even from very early on, the city held great fascination for contemporaries," Toffolo said in a statement published by Saint Andrews earlier this month. The drawing in pen, while quite rudimentary and lacking the linear perspective which was only to be adopted in the following century during the Renaissance, shows what appears to be a crowded city with churches, palaces with parapets, ... More



The 55 by 65 cm (21 by 26 inches) expressionist work could be worth between 60 and 100 million euros ($67-111 million).



PIACENZA (AFP).- A painting found stashed inside a wall at an Italian museum has been confirmed as the stolen "Portrait of a Lady" by Austria's Gustav Klimt, prosecutors said on Friday, two decades after the artwork went missing. The century-old painting was discovered concealed in an external wall by gardeners at the Ricci Oddi Gallery of Modern Art in Piacenza, northeast Italy, last month. The museum estimates that the 55-by-65-centimetre (21-by-26-inch) expressionist work could be worth between 60 and 100 million euros ($67-111 million), but notes the difficulty in estimating the work as it has never been sold on the market. "It is with no small emotion that I can tell you the work is authentic," prosecutor Ornella Chicca told reporters. Museum officials had initially said they could not immediately determine whether the painting was indeed the stolen Klimt until scientific tests were undertaken. Painted in 1916-1917, the expressionist work d ... More
Style legend Jean-Paul Gaultier retires from fashion
Ed Ruscha: He up and went home
Lorenza Mazzetti, wartime survivor and seminal filmmaker, dies at 92


In this file photo taken on January 29, 2007 French designer Jean-Paul Gaultier waves to the crowd at the end of his show in Paris. Martin BUREAU / AFP.

by Fiachra Gibbons



PARIS (AFP).- French designer Jean-Paul Gaultier shocked the fashion world Friday by saying his next Paris haute couture show will be his last. The flamboyant creator said he would be bowing out Wednesday with "a big party" to mark his 50 years in the business after his latest collection hits the catwalk. His brand told AFP that his high-end fashion and perfume business would live on, but that 67-year-old Gaultier was stepping back from designing clothes himself. "Rest assured, haute couture will continue with a new concept," said the designer, who made pop history by putting Madonna in a conical bra, invented the "man skirt" and brought body diversity to the runway. American singer Beth Ditto and the bearded Austrian drag queen Conchita Wurst were among the atypical models whom he charmed into his party-like shows. The eternal enfant terrible dropped his bombshell in a typically jokey video message, shot as if he was giving an exclusive interview ... More



Ed Ruscha and his dog, Dexter, at his art studio in Culver City, Calif., Dec. 18, 2019. Carmen Chan/The New York Times.

by M.H. Miller



LOS ANGELES (NYT NEWS SERVICE ).- Artist Ed Ruscha has been based in Los Angeles since 1956, and has spent the better part of the past 60 years exploring that city's iconography in a deadpan style that wavers between mundane and philosophical. He has documented — sometimes in black and white photographs, but mostly in oil on canvas — gas stations, parking lots, swimming pools, the apartment blocks of struggling actors, the Hollywood sign (which on clear days he used to be able to see from his old studio) and, in his large body of text-based paintings, the kind of transactional language one could imagine overhearing at a power lunch at any point in the last half-century, such as: "That was then this is now," "Honey, I twisted through more damn traffic today," "Pay nothing until April" and the iconic "Oof." Aside from this city, its landmarks and their place in a kind of extreme version of Americana symbolism, the odd evolutions of contemporary ... More



A photo from 2013 by Eva Krampen Kosloski of Lorenza Mazzetti at her home in Rome. Eva Krampen Kosloski via The New York Times.

by Shelley Boettcher



NEW YORK (NYT NEWS SERVICE ).- Lorenza Mazzetti, who as a child in Italy survived the wartime killings of her caretaker family by German soldiers and went on to help create an influential British film movement and write a prizewinning novel based on her experiences, died on Jan. 4 in Rome. She was 92. The death was confirmed by her twin sister, Paola Mazzetti. Mazzetti's work spanned film, television, painting and book-writing; she even ran a popular puppet theater in Rome's Campo de' Fiori neighborhood in the 1980s. Her searing experience in World War II shaped her most acclaimed book, "Il Cielo Cade" (1961), a bestseller that won Italy's prestigious Viareggio Prize. It was published in English the next year as "The Sky Falls." As children, she and her sister were placed in the care of her aunt Cesarina Mazzetti and her husband, Roberto Einstein, a cousin of the physicist Albert Einstein. The cousins had grown up together in Germany. When Albert fled ... More
Painter resurrects a vanished Creole culture
Blanc sur Blanc: A group exhibition opens at Gagosian
Museum Ludwig exhibits a complete collection of Blinky Palermo's editions


The painter Andrew LaMar Hopkins at his home in New Orleans on Jan. 10, 2020. Akasha Rabut/The New York Times.

by Elizabeth Pochoda



NEW ORLEANS (NYT NEWS SERVICE ).- Dressed as his alter ego, the modish matron Désirée Joséphine Duplantier, artist Andrew LaMar Hopkins is a familiar presence on this city's arts scene. His paintings, faux naïf renderings of 19th-century life in the city — particularly the vanished culture of New Orleans' free Creoles of color — also keep good company. You can see these works in Nadine Blake's gallery on Royal Street in the French Quarter, on the art-filled walls of Dooky Chase's Restaurant in Treme, and in the rooms of collectors like designer Thomas Jayne and food stylist Rick Ellis. When a dozen of Hopkins' paintings appear at the Winter Show at New York's Park Avenue Armory on Jan. 24, they will be making their first foray north. Placed alongside 18th- and 19th -century portrait miniatures in the booth of Elle Shushan near the entrance of the show, these ... More



Lucio Fontana, Concetto spaziale, Attese, 1966. Water-based paint on canvas, 24 x 19 11/16 inches, 61 x 50 cm. © Fondation Lucio Fontana, Milano / by SIAE / Adagp, Paris, 2020. Courtesy Gagosian.



PARIS.- Gagosian is presenting Blanc sur Blanc, a group exhibition. A century ago, Kazimir Malevich's Suprematist paintings heralded a revolutionary new interpretation of white, in which total abstraction suggests the utopian and the infinite. Since then, artists have deployed the achromatism of whiteness in an endless range of formal and symbolic ways, evoking states of emptiness and effacement, and summoning the raw potential of the blank page. Working in different contexts and with different ends in mind, the artists in Blanc sur Blanc find unexpected power and substance in what appears at first to be an absence or lack. In 1946, Lucio Fontana and his students drafted the Manifesto Blanco, a vision for a fundamentally new method of artistic production that demanded that artists engage with the real-world physicality of their materials instead of treating the canvas as an illusory, self-contained space. It was ... More



Flipper, [Pinball], 1970. Two silkscreen prints, two color (white/red) and three color (white/red/blue), as a diptych on offset card, je 85,5x66 cm. Museum Ludwig, Cologne, Ulrich Reininghaus Donation 2017/2018 © VG Bild-Kunst, Bonn, 2019. Photo: Rheinisches Bildarchiv, Cologne.



COLOGNE.- The German artist Peter Heisterkamp (1943–1977), who named himself after the mafioso Frank "Blinky" Palermo, is known for his objects, installations, and above all for the bright color fields of his fabric and metal pictures, which supposedly directly illustrate what they conceptually question: the sensual qualities of contemporary painting. Less well known yet no less clever and stimulating are works he created in editions: screen prints and offset prints, lithographs, objects, and a template for painting. Palermo made these editions throughout almost his entire career. They not only reflect his development from the 1960s to his early death in 1977, but also represent a deliberate expansion of his work. In the medium of reproduction, Palermo radicalized two fundamental questions: doubts ... More
Brazil's top culture official sacked over speech evoking Nazi propaganda
Puerto Rican graphic design leads Vintage Posters at Swann
Exhibition showcases an array of contemporary designer bookbinding artistry


In this file photo taken on July 18, 2019 Brazilian theater director Roberto Alvim gestures during an interview with AFP in Sao Paulo, Brazil. NELSON ALMEIDA / AFP.

by Ernesto Londoño



RIO DE JANEIRO (NYT NEWS SERVICE ).- President Jair Bolsonaro's top culture official was dismissed Friday over an address in which he used phrases and ideas from an infamous Nazi propaganda speech while playing an opera that Adolf Hitler regarded as a favorite. The address by Roberto Alvim, the culture secretary, set off a furor across the political spectrum as Brazilians reacted with exasperation and incredulity. The outcry was the latest flash point in a broader debate over freedom of speech and culture in the Bolsonaro era. The president campaigned on a promised course correction after an era of rule by leftist leaders, whom he accused of trying to impose "cultural Marxism." Critics say that he and his allies are taking a dogmatic approach to the arts, the public education system and to sexuality and reproductive ... More



Collection of over 350 Puerto Rican graphic design posters, including prints and serigraphs, 1960-2013. Estimate $20,000 to $30,000.



NEW YORK, NY.- Swann Galleries's biannual offering of Vintage Posters on Thursday, February 13 presents a banquet of designs, ranging from Art Nouveau works of the late-nineteenth century to Puerto Rican graphic design from the 1960s to mid-2010s. The sale includes premier examples of sporting posters, cycling advertisements, as well as ski and winter destination images. Leading the sale is a collection of over 350 Puerto Rican posters by a veritable who's who of Puerto Rico's most renowned painters, designers and graphic artists. Showcasing works by Rafael Tufiño, Lorenzo Homar, José Rosa, Analida Burgos, and Antonio Matorell among a bevy of others, the collection was amassed by a studio assistant of Tufiño, Homar and Rosa in the 1970s and features posters dedicated to a number of subjects, and a spectrum of typographic, geometric and figurative styles. The offering is expected to bring $20,000 to $30,000. Following up on the ... More



Michael Wilcox, designer and binder of "The Poet of Them All": William Shakespeare and Miniature Designer Bindings from the Collection of Neale and Margaret Albert, edited by Elisabeth Fairman (New Haven: Yale Center for British Art, 2016), bound in 2019 (detail). Collection of Margaret and Neale Albert, Yale JD 1961, photo by Richard Caspole.



NEW HAVEN, CONN.- The Yale Center for British Art presents Contemporary Designer Bookbindings from the Collection of Neale and Margaret Albert, an exhibition that explores the vast array of approaches to bookbinding techniques and materials. Featuring the work of the multifaceted designer and maker George Kirkpatrick, the exhibition also includes exemplars by more than thirty notable designer bookbinders working today, including Susan Allix, Hannah Brown, Gabrielle Fox, Michael Wilcox, and Robert Wu. All the works on display are a promised gift to the Center. The designer bindings in this exhibition have been selected from the collection of Neale and Margaret Albert. A longtime supporter of this vibrant aspect of the book arts, Neale Albert (Yale JD 1961) was elected in 2014 as ... More
Quote
All these painters steal from one another. Marie Bashkirtseff
---
The Curse of the Lady of Shalott | TateShots
---
Flashback
On a day like today, English fashion designer and photographer Cecil Beaton died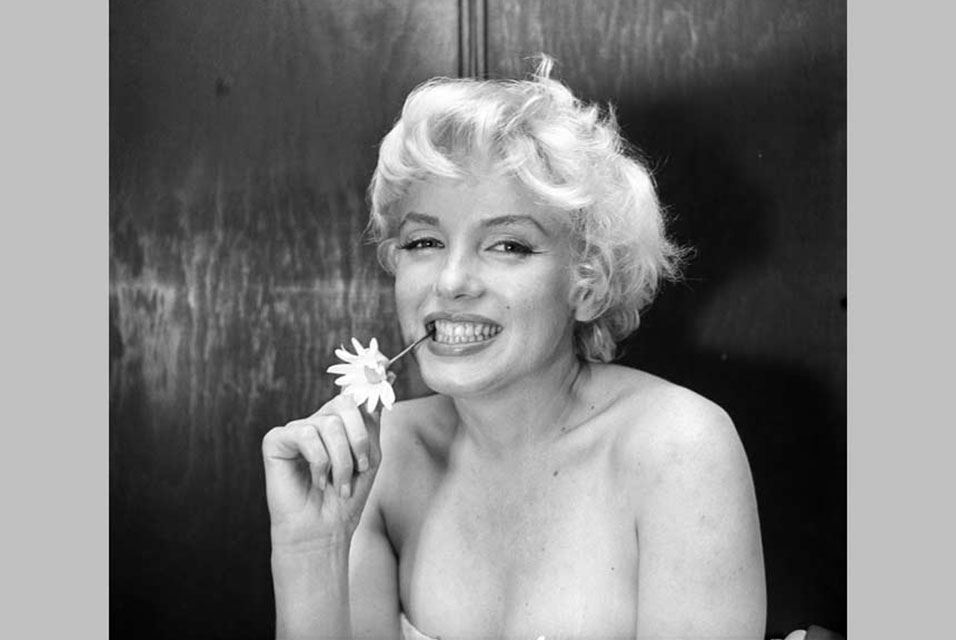 January 18, 1980. Sir Cecil Walter Hardy Beaton CBE (14 January 1904 - 18 January 1980) was an English fashion, portrait and war photographer, diarist, painter, interior designer and an Academy Award–winning stage and costume designer for films and the theatre. In this image: Marylin Monroe. © Sotheby's Cecil Beaton Archive.
---

Museums, Exhibits, Artists, Milestones, Digital Art, Architecture, Photography,
Photographers, Special Photos, Special Reports, Featured Stories, Auctions, Art Fairs,
Anecdotes, Art Quiz, Education, Mythology, 3D Images, Last Week,
.
Royalville Communications, Inc
produces: