'Gold and Ivory. Paris, Pisa, Florence, Siena 1250-1320' opens at the Louvre-Lens
Statues are displayed as part of the exhibition "Gold and Ivory. Paris, Pisa, Florence, Siena 1250-1320", on May 26, 2015 at the Louvre-Lens museum in Lens. 125 works are exhibited to explore the artistic relationships between Paris and Tuscany in the latter half of the 13th century. AFP PHOTO DENIS CHARLET.
LENS
.-
The 2015 summer exhibition at the
Louvre-Lens
highlights the wealth of artistic exchanges between the capital of the Kingdom of France and what is now Tuscany, in the latter half of the 13th century. Thanks to exceptional loans from around twenty prestigious European museums, the exhibition lifts the veil on the relationships between the major centres of artistic creation of the period: Paris, Florence, Siena and Pisa. The exhibition brings together more than 125 exquisite works: monumental statuary, gold background paintings, illuminated manuscripts, fine enamels and ivories. In particular, these works reveal the influence of French exponents of High Gothic style on the Tuscan sculptors and painters of the late 13th century, within a cultural area that would become the cradle of the early Renaissance. This exhibition at the Louvre-Lens will be the first to examine this phenomenon, ...
More
The Best Photos of the Day
Sotheby's Evening Sales of Latin American Art in New York total $16.2 million
SANAA selected to design landmark new building for Art Gallery of New South Wales
Christie's to offer important works by Tissot, Rossetti, Holman Hunt and Millais




La Familia (detail) by Rufino Tamayo sells for $3 million. Photo: Sotheby's.





NEW YORK, NY.- Yesterday's evening auctions of Latin American Art in New York brought the strong total of $16,247,000, well within the pre-sale estimate of $13,230,000/18,585,000. Opening the evening was the dedicated themed sale Latin America: The Legacy of Abstraction, which totaled $6,713,000, was 89% sold, and saw Joaquín Torres-García's Estructura ocre constructive soar over its high estimate to sell for $970,000 (est. $400/600,000). Other highlights included Jesús Rafael Soto's Salon de Mai, which sold for $880,000, becoming one of the top prices for the artist at auction (est. $600/800,00), and Concetto Spaziale, from the peak of Argentine artist Lucio Fontana's illustrious career, which fetched $598,000 (est. $400/600,000). Immediately following, the first session of the Latin American Art Modern & Contemporary auction brought a total of $9,534,000 and was led by La Familia, the last and definitive ... More





Left to right: Ryue Nishizawa and Kazuyo Sejima.





SYDNEY.- Award-winning architectural practice Kazuyo Sejima + Ryue Nishizawa / SANAA has been selected to work with the Art Gallery of New South Wales to design the Sydney Modern Project, following an international architectural competition that commenced in September last year. Art Gallery of New South Wales Director Dr Michael Brand said the international jury unanimously selected SANAA, an architectural firm based in Tokyo, Japan, founded twenty years ago by internationally renowned and highly respected architects – Kazuyo Sejima and Ryue Nishizawa. SANAA's body of work includes art museums in Japan, France and the United States. In 2010 Sejima and Nishizawa were awarded the Pritzker Architecture Prize, architecture's highest honour. Of Sejima and Nishizawa the Pritzker Prize jury said, "The architects hold a vision of a building as a seamless whole, where the physical presence retreats and forms a sensuous b ... More





William Holman Hunt, O.M., R.W.S. (1827-1910), The Birthday. Estimate: 600,000 - 800,000 British pounds. Photo: Christie's Images Ltd 2015.





LONDON.- Christie's announced details of the Victorian, Pre-Raphaelite & British Impressionist Art sale which will take place on 16 June 2015. The auction presents stellar examples of 19th and 20th century British painting including James (Jacques) Joseph Tissot's Les Demoiselles de Province, which has remained unseen for over a century (estimate: £1.2–1.8 million). Other revered artists of the Victorian and Edwardian eras include Edward Burne-Jones, William Holman Hunt, John Everett Millais, Alfred James Munnings and E.J. Poynter. The sale comprises a beautiful private collection of Pre-Raphaelite and Victorian drawings and paintings, led by one of eight works by Dante Gabriel Rossetti, Beatrice: A Portrait of Jane Morris (estimate: £700,000-£1 million). There are a rich array of opportunities for new and established collectors alike to acquire works at a wide range of price ... More
Morris Everett's vast 196,000+ collection of vintage movie posters and other ephemera to be auctioned
Margaret Crane's prototype for first home pregnancy test, the Predictor, appears at auction
Hermann Historica reports excellent results in its sale from all fields of history and military history




The Wizard of OZ (1939).





LOS ANGELES, CA.- Profiles in History has announced today that it well be selling the Morris Everett Jr. Collection in a series of auctions set for the next few years, with the first one scheduled to take place June 29 and 30, 2015. Amassed for over 53-years, The Morris Everett Jr. collection features lots from over 196,000+ vintage movie lobby cards, posters and other memorabilia being offered in the auctions. The announcement was made jointly by Joe Maddalena, CEO and President of Profiles in History and Morris Everett Jr., the owner of the one-of–a-kind collection. "Sold in separate auctions, some of Morris' exceptional and most valuable pieces, such as the 1927 silent movie and science-fiction epic Metropolis lobby card are certain to procure substantial offers. Nearly as valuable, is the poster of Babe Ruth from the 1927 Babe Comes Home. There are many other rarities including lobby ... More





Original prototype and finished consumer product for Predictor, the first home pregnancy test, invented by Margaret Crane, 1968. Est. $6,000 – 9,000. Photo: Bonhams.





NEW YORK, NY.- The June 16 Voices of the 20th Century sale at Bonhams will present the prototype for the first home pregnancy test, invented in 1968 by graphic designer and illustrator, Margaret Crane. It is estimated at $6,000 – 9,000. The auction is a special, themed sale that encompasses the political, cultural, and scientific shifts that took place during the tumultuous years between 1900 and 2000. In 1967, Margaret Crane was hired by Organon Pharmaceuticals to work as a freelance graphic designer on a line of cosmetics. On a visit to the Organon laboratory, she saw rows of test tubes that turned out to be pregnancy tests. After carefully examining the tests, and learning that a woman could wait up to two weeks to get her results, Crane ... More





South German Maximilian style close helmet for a fluted suit of armour 1530. HP: 30000 Euros.





MUNICH.- All specialist areas represented by Hermann Historica – antiquities, arms and armour, works of art, hunting antiques, orders and collectibles from all fields of history and military history – reported excellent results, with some lots fetching many multiples of their estimated price. A total of approximately 6,000 collectors' items came under the hammer at the Spring Auction from 28 April to 12 May 2015. The demand for well preserved early bronze helmets has remained unabated for many years; here again, the antiquities section, held several veritable rarities in store. One particular highlight, in outstanding condition and dating from the second to the early first century B.C, was an extremely rare bronze Roman helmet of the Hagenau type. With its characteristic mushroom-shaped finial and the neck guard sloping slightly downwards, the ... More
Career-spanning exhibition of Balthus's paintings, drawings, and photographs opens at Gagosian
New sculptures in bronze, wood and stone by Tony Cragg on view at Lisson Gallery Milan
Matthew Barton Ltd. announces Decorative Works of Art Auction on 2 June




Balthus, Jeune fille à la mandoline, c. 2000–01 (detail), oil on canvas, 74 13/16 × 98 7/16 inches (190 × 250 cm).





HONG KONG.- Following "Balthus: The Last Studies" at Gagosian New York (2013–14) and "Balthus" at Gagosian Paris (January–February 2015), Gagosian Hong Kong announces a career-spanning exhibition of Balthus's paintings, drawings, and photographs. Prepared in collaboration with the artist's estate, this will be the first exhibition of his work in Hong Kong in twenty years. Balthus was the reclusive painter of charged and disquieting narrative scenes, whose inspirative sources and embrace of exquisitely rigorous technique reach back to the early Renaissance, though with a subversive modern twist. Working independently of avant-garde movements such as Surrealism, he turned to antecedents including Piero della Francesca and Gustave Courbet, appropriating their techniques to represent the physical and psychic struggles of adolescence. Casting viewers as ... More





Tony Cragg, First Person 2014. Stone (white marble, 165 x 104 x 165 cm. © Tony Cragg; courtesy Lisson Gallery, photo: Michael Richter.





MILAN.- Tony Cragg's first exhibition at the Lisson Gallery Milan consists of several new sculptures in bronze, wood and stone. Alongside these are a number of works on paper. The upright sculptures in the gallery are the result of complex internal formal constructions and geometries that give rise to outer forms that we can recognise, have associations with and give names to. Cragg's complex polymorphic sculptures reveal aspects of the relationship between the rational internal dynamic of materials and our subjective response to material forms. For Cragg this is not only the essence of all sculpture, but of all our experiences in the world as well. His work is full of movement, growth, dynamism and a sense of wonder at the seemingly unlimited possibilities of sculptural form. Cragg exhibits two larger bronze and marble works – Over the Earth and First Person, the latter outside the ... More





A portrait miniature of Georgina Elizabeth Bridgeman, Countess of Bradford, English School, circa 1830. 14.6 x 10.5cm. Estimate: £200-300.





LONDON.- At 25 Blythe Road – a hub of specialists mainly from Sotheby's – there will be another treasure trove of objects in various disciplines in the forthcoming Decorative Works of Art Auction on the 2nd June, run by Matthew Barton. The auction which takes place twice a year, will include English and Continental ceramics, Chinese and Japanese Works of Art, European Works of Art, English and Continental Silver, Objects of Vertu, and Jewellery. A group of twenty four portrait miniatures from the descendant of a British collector, who built his collection during the early 20th century is one of the highlights of the auction. They represent an interesting cross section of 17th – 19th century portrait miniaturists' work, including paintings by the great John Smart (circa 1740-1811), Samuel Cooper (1609-1672) and George Englehart (1750-1829). The estimates range from £200 - £9,000. The collection includes this c ... More
Korean artist Park Seo-Bo opens exhibition at Galerie Perrotin in New York
Unique Lincoln banner breezes past record, sells for $106,250 at Heritage Auctions
Ex Christie's International Director of Asian Art, Hugo Weihe, joins Saffronart as CEO




Park Seo-Bo. Photo: Claire Dorn Courtesy Galerie Perrotin.





NEW YORK, NY.- Galerie Perrotin, New York presents the second exhibition dedicated to Korean artist Park Seo-Bo, following his first solo show at Galerie Perrotin, Paris last November. Born in 1931, Park Seo-Bo is a seminal figure in Korean contemporary art and one of the founding members of the Dansaekhwa monochrome movement, a synthesis between traditional Korean spirit and Western abstraction, which emerged in the early 1970s in post-war Korea and has gained international recognition since. An official collateral event in this year's 56th Venice Biennial, "Dansaekhwa", is currently held at the Palazzo Contarini-Polignac (until August 15) and on the occasion of the Year of Korea in France (2015-2016), a major exhibition dedicated to Korean artists in France - including Park Seo-Bo, will take place at the Cernuschi Museum in Paris: "From Lee Ungno to Lee Ufan: Korean Artists in France" ... More





Americana & Political auction steamrolls to $1.1 million on the shoulders of tobacco store figure group.





DALLAS, TX.- A rare and unusual political banner, created in 1864 to kick off Abraham Lincoln's presidential re-election campaign, steamrolled its $40,000 opening bid to sell for $106,250 in Heritage Auctions' Americana & Political auction May 18 in Dallas. The auction was carried to $1.1+ million on the shoulders of an important group of trade store figures, including four "cigar store Indians," and a collection of items relating to President John F. Kennedy and his family including personally-owned objects and rare political campaign artifacts. "This was by far one of our most diverse auctions in recent memory," said Tom Slater, Director of Americana Auctions at Heritage. "The Lincoln banner is truly one of a kind and now holds the price record for a Lincoln portrait flag at auction." The previous auction record stood for eight years: an 1860 Lincoln portrait flag sold for $83,650 in a February 2007 Heritage a ... More





Hugo Weihe was International Director of Asian Art at Christie's.





NEW DELHI.- Hugo Weihe, former International Director of Asian Art at Christie's, joins Saffronart as its Chief Executive Officer from July 1, 2015. Weihe will oversee Saffronart's presence in Mumbai, New Delhi, New York and London in building a market for Indian art and antiquities globally. Weihe has been a longstanding advisor and friend to prominent private collectors worldwide. He has appeared as a panellist and moderator for discussions on South Asian Modern and Contemporary Art, including conducting interviews with artists and collectors, at various international venues and art fairs. Weihe has a Ph.D. in art history from the University of Zurich, and has authored a book, Die Ware Kunst (Art as Commodity), in 1989. In the early 1990s, he was the publisher of Artibus Asiae, an important scholarly journal in the field of Asian art, based at the Museum Rietberg Zurich, in collaboration with the Arthur M. Sackler Gallery ... More
Quote
Oil colors will not do. William Blake
More News
---
Highlights from Sotheby's upcoming Contemporary Art auction in Paris
---
---
Flashback
On a day like today, The Golden Gate Bridge was officially opened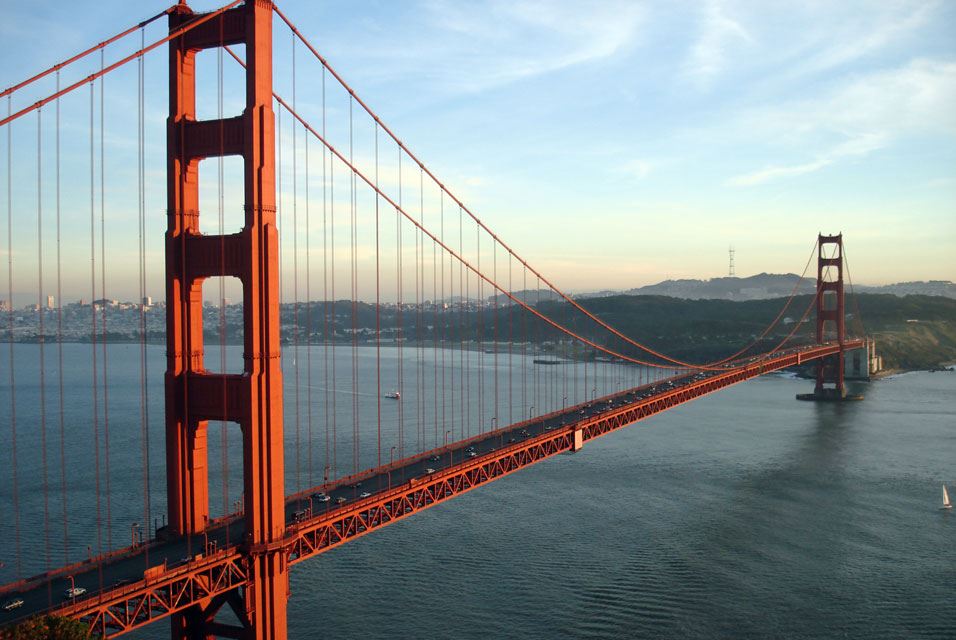 May 28, 1937. SAN FRANCISCO.- The Golden Gate Bridge is a suspension bridge spanning the Golden Gate, the opening of the San Francisco Bay into the Pacific Ocean. As part of both U.S. Route 101 and California State Route 1, it connects the city of San Francisco on the northern tip of the San Francisco Peninsula to Marin County. The Golden Gate Bridge was the longest suspension bridge span in the world when it was completed during the year 1937, and has become one of the most internationally recognized symbols of San Francisco, California, and of the United States. Since its completion, the span length has been surpassed by eight other bridges. It still has the second longest suspension bridge main span in the United States, after the Verrazano-Narrows Bridge in New York City.
---
---

Museums, Exhibits, Artists, Milestones, Digital Art, Architecture, Photography,
Photographers, Special Photos, Special Reports, Featured Stories, Auctions, Art Fairs,
Anecdotes, Art Quiz, Education, Mythology, 3D Images, Last Week,
.
Royalville Communications, Inc
produces: