Prado opens exhibition dedicated to one of the most significant Renaissance masters
Photo of the exhibition galleries. © Museo Nacional del Prado.
MADRID
.-
The Museo del Prado
is presenting 'The Divine Morales', an exhibition intended as a testament to the work and life of Luis de Morales the 'Divine' practically a century after the Prado hosted the first monographic exhibition devoted to the artist. Although Morales's most representative creations were widely disseminated thanks to the existence of his own studio and through the versions produced by other painters and followers, this show brings together a careful selection solely of works that display the high quality standards of Morales's extraordinary painting technique, including a sculpture by Alonso Berruguete from the Museo Nacional de Escultura in Valladolid which is closely linked to Morales's Passion themes on account of the spirituality it conveys and the sculptural values found in this master's painting. This selection of works by Morales, mostly small-format ...
More
The Best Photos of the Day
Exhibition of modern German art in the Weimar Republic opens at Los Angeles County Museum of Art
Major exhibition of over 20 large-scale light-based works on view at the Sharjah Art Foundation
Exhibition of sculptures and paintings by Urs Fischer on view at Gagosian Beverly Hills




Otto Dix, Portait of the Lawyer Hugo Simons (Porträt des Rechtsanwalts Hugo Simons), 1925. Tempera and oil on plywood, 100.3 × 70.3 cm. Montreal Museum of Fine Arts © Otto Dix, by SIAE 2015.





LOS ANGELES, CA.- The Los Angeles County Museum of Art presents New Objectivity: Modern German Art in the Weimar Republic, 1919–1933, the first comprehensive show in the United States to explore the themes that characterize the dominant artistic trends of the Weimar Republic. Organized in association with the Museo Correr in Venice, Italy, this exhibition features nearly 200 paintings, photographs, drawings, and prints by more than 50 artists, many of whom are little known in the United States. Key figures—Otto Dix, George Grosz, Christian Schad, August Sander, and Max Beckmann— whose heterogeneous careers are essential to understanding 20th century German modernism, are presented together with lesser known artists, including Herbert Ploberger, Hans Finsler, Georg Schrimpf, Heinrich Maria Davringhausen, Carl Grossberg, and Aenne Biermann, among others. Special attention is devoted to the juxtaposition ... More





David Batchelor, Magic Hour, 2004/2007. Installation view, Light Show Hayward Gallery, 2013. © the artist 2015. Photo by Marcus J Leith.





SHARJAH.- Sharjah Art Foundation presents Light Show, a major exhibition of light-based works, organised by Hayward Gallery, London, in association with Sharjah Art Foundation. Light Show includes over 20 large-scale installations and sculptures by artists David Batchelor, Jim Campell, Carlos Cruz-Diez, Bill Culbert, Olafur Eliasson, Dan Flavin, Ceal Floyer, Nancy Holt, Jenny Holzer, Ann Veronica Janssens, Brigitte Kowanz, Anthony McCall, François Morellet, Iván Navarro, Katie Paterson, Conrad Shawcross, James Turrell, Leo Villareal and Cerith Wyn Evans. Curated by Dr Cliff Lauson, Curator, Hayward Gallery in association with Hoor Al Qasimi, Sharjah Art Foundation, this expansive exhibition is on view at SAF Art Spaces from 19 September through 5 December. Light Show explores the experiential and phenomenal aspects of light, bringing together sculptures and installations that use light to sculpt and shape space in different ways. The exhibiti ... More





Urs Fischer, TBD, 2015. Aluminum panel, aramid honeycomb, two-component polyurethane adhesive, two-component epoxy primer, galvanized steel rivet nuts, acrylic primer, gesso, acrylic ink, acrylic silkscreen medium, acrylic paint, 96 x 76 3/4 x 7/8 inches. ©Urs Fischer. Photography by Mats Nordman. Courtesy of the artist and Gagosian Gallery.





BEVERLY HILLS, CA.- Gagosian Beverly Hills is presenting an exhibition of sculptures and paintings by Urs Fischer. Constantly searching for new sculptural solutions, Fischer has an uncanny ability to envisage and produce objects undergoing psychic transformation in a bewildering range of materials. Compacting the real with the mimetic, order with disorder, he combines daring formal adventures in space, scale, and material with a mordant sense of humor. In recent years, Fischer has been exploring the genres of classical art history (still lifes, portraits, nudes, landscapes, and interiors) at the intersection with everyday life in cast sculptures and assemblages, paintings, digital montages, spatial installations, mutating or kinetic objects, and texts. As its title suggests, this ... More
Auction house Artcurial announces new annual Urban Art sale during the FIAC in Paris
Olafur Eliasson's first major museum presentation in Stockholm opens at Moderna Museet
"Colour Unleashed: Modern Art in the Low Countries 1885-1914" opens at Gemeentemuseum Den Haag




Love in the air, 2003, BANKSY, stencil and aerosol painting on card (estimate : 80 000 – 120 000 € / 88 000 – 132 000 $).





PARIS.- On 27th of October 2015, at 8.00pm, Artcurial will, for the first time, be offering an Urban Art sale during the FIAC. This new annual auction aims to present a selection of works, still under represented at the FIAC, while major French and international collectors of contemporary art are in Paris. Entitled The Beautiful Winners, it follows the success of the Urban Art sale, held on 4th of February this year, which totalled almost 2 M€ / 2,25 M$ (+ 40 % compared 2014), with 86 % of lots sold and auction records for several artists. Arnaud Oliveux, director of Artcurial's Urban Art department, explained: « For a long time sidelined, forgotten or ignored, contemporary urban artists have, over the last few years, gained in popularity, as much in the general market place as in international auctions. The Beautiful Winners, echoing the American travelling exhibition Beautiful Losers: Contemporary Art and Street Culture ... More





Olafur Eliasson, Room for one colour, 1997 © 1997 Olafur Eliasson. Photo: Anders Sune Berg. Installation view, Moderna Museet/ArkDes, Stockholm 2015.





STOCKHOLM.- On 3 October, 2015, Moderna Museet and ArkDes, the Center of Architecture and Design opened their extensive exhibition on Olafur Eliasson, one of the most influential contemporary artists today. Although Eliasson's work has been exhibited all over the world, this is the first time his oeuvre has been featured in a major museum presentation in Stockholm. Eliasson explores the spaces in which we dwell, with works ranging from unassuming sculptures to larger architectonic structures. Olafur Eliasson's works are in dialogue with ecology, architecture and urban spaces, but also with philosophy and science. Thus, it is only natural for the neighbouring institutions Moderna Museet and ArkDes to present Eliasson's unusually expansive artistic output, letting his installations fill both museum buildings. "I strongly believe that it isn't necessary to polarise the fields of art and architecture. Rather, it's ... More





Piet Mondriaan, Molen bij zonlicht, 1908, Olieverf op doek, 114 x 87 cm, Gemeentemuseum Den Haag.





THE HAGUE.- In the brief period between 1885 and the outbreak of war in 1914 painting in the Low countries experienced a modern Renaissance. Colour was liberated from the chains of visual reality. Suddenly, grass could be a cool blue, a face could be bright purple, and trees turned red. Colour had become an autonomous means of expression. This was one of the most important developments in modern art history. The inspiration came from the French Impressionists and Neo-Impressionists, but the artists of the Low Countries added their own flavour. Gemeentemuseum Den Haag brings these Dutch and Belgian masters together to reveal the interaction between the two countries, which included both pronounced differences and similarities. This unique exhibition has been made possible thanks partly to the current renovation of the Royal Museum of Fine Arts in Antwerp, as a result of which some of the top items in its collection can ... More
Thames & Hudson publishes powerful photographic portrait of Louise Bourgeois in the final years of her life
Comprehensive showcase of Joan Miró's work opens at Galerie Gmurzynska
Survey: Fourteen historical projects in focus at Art Basel's show in Miami Beach in December




As reflected in Van Gelder's portraits, the art of Louise Bourgeois was confessional, psychological, fraught with ferocious and delicate passions.





LONDON.- Mumbling Beauty is an intimate, uncompromising portrait of Louise Bourgeois in the final years of her life. From 2008 to 2010 the artist allowed Alex Van Gelder into her private world – her studio and home – and indulged his lens while she worked, rested and waited, mischievous or lost in thought, weary of decrepitude, raging, defiant to the end. She fills the camera with her presence. As reflected in Van Gelder's portraits, the art of Louise Bourgeois was confessional, psychological, fraught with ferocious and delicate passions. One of the last surviving artists of the high modernist era, her early work anticipated what would come in the late modern and postmodern eras, including minimalism, installation art and body art. However, she did not achieve fame until after her seventieth year, discovered and heralded by a new generation. Once discovered, her reputation grew in ... More





Joan Miro, Métamorphose (1936), courtesy Galerie Gmurzynska.





ZURICH.- Galerie Gmurzynska commences the fall season with a comprehensive showcase by one of the unequaled frontrunners of the historical avant-garde: Joan Miró. The focus of this unique survey is the multifaceted body of work Miró created in Paris in the circle of surrealist mastermind André Breton as well as in Barcelona; in the artist's beloved native Catalan countryside; and on the island of Majorca, spanning several periods from the mid-1920s all the way to the late yet continuously explorative works in a staggering breadth of media from the 1970s. The exhibition comprises early, radically abstract-surrealist museum-works such as the 1925 "Circus Horse" or the beautifully-hued 1927 "Peinture" – paintings that form one of the foremost series of Miró's oneiric oeuvre, exemplars of which today are held in major collections in Europe and the US. The exhibition further includes rarely seen ... More





Charles Burchfield, Tile Roof, 1930-43 (detail). Courtesy of DC Moore Gallery, New York.





MIAMI FLA.- Following its successful debut last year, Survey will return with 14 exhibitions of work made before 2000 brought by leading galleries from Brazil, China, Germany, Italy, Japan, Spain, Switzerland, the United Kingdom and the United States. The sector will include works by Charles Burchfield, Peter Campus, Gianni Colombo, Roy DeCarava, Rosalyn Drexler, Dorothy Iannone, Wang Jinsong, Heinz Mack, Roberto Burle Marx, Shinjiro Okamoto, Miguel Ángel Rojas, Peter Saul, Keith Sonnier and Ettore Spalletti. The 14th edition of Art Basel's Miami Beach show, whose Lead Partner is UBS, will take place at the Miami Beach Convention Center from December 3 to December 6, 2015. Nine of the 14 international galleries in Survey this year will be entirely new to the show. Castelli Gallery will mark its debut at Art Basel in Miami Beach with a selection of iconic sculptural works by the Post-Minimal American artist Keith Sonnier (b. 1941, ... More
Orlando Museum of Art announces new goals, vision for its future in Central Florida
Large-scale survey of work by the late Moustafa Fathi opens at Ayyam Gallery Dubai
Major exhibition of the work of Puerto Rican painter Francisco Oller opens at the Brooklyn Museum




OMA looks to develop a new museum to serve the community.





ORLANDO, FLA.- The Orlando Museum of Art has announced the completion of a one-year strategic planning process that examined the Museum's history, its present standing, and where it should aspire to go as a 21st century cultural institution in service to the Central Florida community, Director and CEO Glen Gentele said at a press conference today [Tuesday, September 29]. As such, the Forward to 100 report formally adopted by the Orlando Museum of Art's Board of Trustees two weeks ago suggest that OMA look to develop a new museum to serve the community, and that the target location of such an institution be in the urban core of Orlando. To do so and understand the potential for such an initiative, the Orlando Museum of Art has entered into a development agreement with Tavistock Development Company. Tavistock will assist OMA with their technical and ... More





Untitled, 2005, Mixed media on paper, 112 x 75 cm.





DUBAI.- Ayyam Gallery Dubai (Alserkal Avenue, Al Quoz) presents Towards the Absolute of Nature, a large-scale survey of work by the late Moustafa Fathi. Organised under Ayyam Gallery's custodianship, the exhibition serves as the first posthumous retrospective of the pioneering Syrian painter. Featuring a diverse selection of paintings and works on paper, Towards the Absolute of Nature highlights Fathi's theoretical treatment of abstraction through several periods of his oeuvre. Archival materials and the artist's tools are also on display, including examples of the intricate 'stamps' he used in later works. During the second half of his career, Fathi developed a painting style based on a system of signs that he adapted from a variety of sources, such as the motifs of Bedouin textiles. Beginning in 1987, the artist researched traditional folk art throughout Syria then produced a series of carved woodblocks based ... More





Francisco Oller (Puerto Rican, 1833–1917). Colonel Francisco Enrique Contreras, 1880. Oil on canvas, 59 5/8 x 41 1/2 x 1 3/8 in. (151.4 x 105.4 x 3.5 cm). Museo de Arte de Ponce, The Luis A. Ferré Foundation, Inc., Ponce, Puerto Rico.





BROOKLYN, NY.- Eighty-four paintings and works on paper by Oller, his predecessors, and his contemporaries in the Caribbean, Europe, and the United States are on view from October 2, 2015. through January 3, 2016, at the Brooklyn Museum. This exhibition brings together masterpieces from the Museum's collection and paintings from private collectors and museums in Paris, Puerto Rico, Miami, Washington, D.C., and the New York City area. The exhibition examines the exchange between Europe and the Caribbean in the eighteenth century and presents the Caribbean as a region of intense creativity (where local artists intermingled with those from abroad) from the eighteenth to the twentieth century. The European and North American ... More
Quote
The spectacle of the sky overwhelms me. Joan Miró
More News
---
---
---
Flashback
On a day like today, German painter Lucas Cranach the Younger was born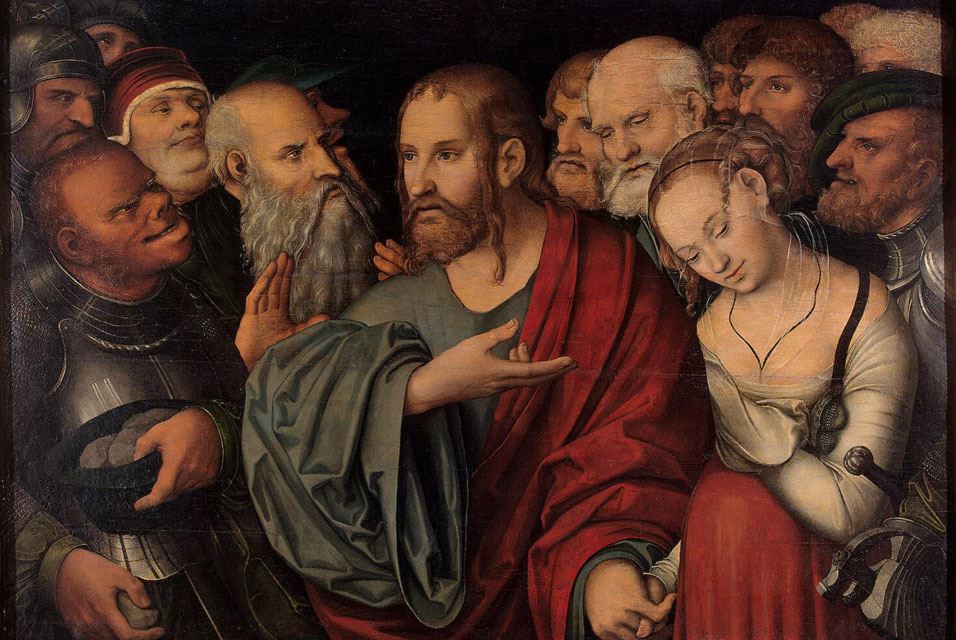 October 04, 1515. Lucas Cranach the Younger (October 4, 1515 - January 25, 1586) was a German Renaissance artist, known for his woodcuts and paintings.He was the youngest son of Lucas Cranach the Elder and Barbara Brengebier, and began his career as an apprentice in his father's workshop alongside his brother Hans. Henceforth, his own reputation and fame grew. After his father's death, he assumed control over the workshop. They lived in the city of Kronach, in Franconia (in Germany). In this image: Christ and the Woman Taken in Adultery. Hermitage Museum, Russia
---
---

Museums, Exhibits, Artists, Milestones, Digital Art, Architecture, Photography,
Photographers, Special Photos, Special Reports, Featured Stories, Auctions, Art Fairs,
Anecdotes, Art Quiz, Education, Mythology, 3D Images, Last Week,
.
Royalville Communications, Inc
produces: