Whitney Museum of American Art opens last Biennial at Madison Avenue building
A general view of atmosphere at the 2014 Whitney Biennial press preview at The Whitney Museum of American Art on March 4, 2014 in New York City. Ben Gabbe/Getty Images/AFP.
NEW YORK, NY
.-
The 2014 edition of the Whitney Biennial—the country's best known survey of the latest developments in American art—will take place March 7–May 25, 2014. It will be the last Biennial in the
Whitney Museum of American Art
's building at 945 Madison Avenue at 75th Street before the Museum moves downtown to its new building in the spring of 2015. This is the 77th in the Museum's ongoing series of Annuals and Biennials begun in 1932 by Gertrude Vanderbilt Whitney. The 2014 Biennial takes a bold new form with three curators from outside the Museum offering their unique perspectives on the state of contemporary art in the United States. The curators have selected 103 participants. While past Biennials have been organized collectively by multiple curators, for this edition each curator will oversee one floor of the exhibition. To curate the Biennial, the Museum ...
More
The Best Photos of the Day
Rare depiction of the young Hercules leads Christie's Sale of Antiquities in April
Exhibition exploring 1960s art related to the Civil Rights Movement debuts at the Brooklyn Museum
The National Gallery expands Research Centre through the acquisition of Agnew's archive




A rare statue of the young Hercules, formerly in the Roger Peyrefitte (1907-2000) Collection in Paris. Estimate: £100,000-150,000. Photo: Christie's Images Ltd 2014.





LONDON.- The Christie's sale of Antiquities in London on 2 April 2014 comprises 199 carefully selected lots with exceptional provenance which span the ancient world from the 3rd Millennium B.C. to the 11th Century A.D. Leading the sale is a rare statue of the young Hercules, formerly in the Roger Peyrefitte (1907-2000) Collection in Paris (estimate: £100,000-150,000, illustrated above). Peyrefitte was a French diplomat and noted novelist, whose collection, including this piece, was published in 1972. Further highlights include a pair of Egyptian alabaster canopic jars for Tau-Iert-Iru (estimate: £50,000 - 70,000) and a Roman marble Fortuna, previously in the collection at Harewood House (estimate: £25,000 - 35,000). With estimates ranging from £1,000 to £150,000 the sale is expected to realise in excess of £2 million. A playful nod to his exploits to come, the statue of the young Hercules shows him wearing the ... More





Robert Indiana (American, born 1928). The Confederacy: Alabama, 1965. Oil on canvas, 70 x 60 in. (177.8 x 152.4 cm). Miami University Art Museum, Oxford, Ohio, Gift of Walter and Dawn Clark Netsch. © 2013 Morgan Art Foundation / Artists Rights Society (ARS), New York.





BROOKLYN, NY.- Activism and artistic practice intersect in Witness: Art and Civil Rights in the Sixties, a presentation of 103 works by 66 artists that is among the few exhibitions to explore how painting, sculpture, graphics, and photography not only responded to the political and social turmoil of the era but also helped to influence its direction. Debuting at the Brooklyn Museum, where it will be on view from March 7 through July 6, 2014, the touring exhibition marks the fiftieth anniversary of the passage of the Civil Rights Act of 1964, the events leading to this historic moment, and the aftermath of the legislation. During the dramatic and often violent social and cultural upheaval of the 1960s, many artists—working in all media and representing all races and ethnicities—aligned themselves with ... More





The National Gallery has acquired the archive of art dealers Thomas Agnew & Sons Ltd. Photo © The National Gallery, London.





LONDON.- The National Gallery has acquired the archive of art dealers Thomas Agnew & Sons Ltd following the firm's decision to close its Albemarle Street gallery in 2013. The archive, which dates back to the 1850s, consists of detailed stockbooks, daybooks, diaries and huge leather-bound account ledgers that give unprecedented insight into the activity of one of the world's most important international art dealers. It complements the National Gallery's own rich archive and establishes the Gallery as a centre of research for the study of collecting, the art market, taste and provenance. Researchers will benefit from improved access to an outstanding and little-studied collection spanning more than 150 years of history. Agnew's archive provides a remarkably detailed record of the activities of the firm, which during its history has had branches in London, Manchester, Liverpool, Paris, New York and Berlin. It inclu ... More
Midnight Sun Antique Auction Co. to offer 'Amarna' necklace exhibited at Metropolitan Museum
Exhibition at the McNay Art Museum offers an insider's look into the world of theatre design
Exhibition of ten "mitt pictures" made between 1988 and 1992 by Jules Olitski opens at Paul Kasmin Gallery




'Amarna' comes from a specific archeological site in Egypt called Tell el-Amarna which dates back to the 18th Dynasty, specifically 1352-1336 BCE.





LOS ANGELES, CA.- This 'Amarna' necklace will be sold at public auction on March 15th 2014 in Los Angeles, California as part of Mr. & Mrs. Goddard & Josephine Dubois' collection of necklaces, jewelry and artifacts acquired during their excursions in Egypt at the turn of the 20th Century. This 'Amarna' necklace among others was exhibited at Metropolitan Museum of Art (New York) from 1920 for the opening of the Egyptian Jewel Room. 'Amarna' comes from a specific archeological site in Egypt called Tell el-Amarna which dates back to the 18th Dynasty, specifically 1352-1336 BCE, during the reign of Pharaoh Akenaten. He moved the capitol of Thebes to this site for worship and radically changed the religion from many gods to one supreme god Aten. The excavations here show a very unique style of art moving to more realistic depictions of the natural world. The ring bezels on this necklace are very colorful and are made of glazed composition also called 'faience' and were probably strung together ... More





The exhibition provides a rare opportunity to re-experience, in ½-inch scale, the delight or shock of audiences when lights rose on stage.





SAN ANTONIO, TX.- Currently on view at the McNay Art Museum until June 1, the exhibition Constructing the Stage: Artists from the Theatre Collection highlights the increasing importance of maquettes (stage models) as scenery moves from two dimensions to three. More than 20 maquettes for operas, musicals, and plays feature work from artists who made their mark in the 1970s and 1980s: Ralph Koltai, Timothy O'Brien, Adrianne Lobel, and Tony Straiges. The exhibition provides a rare opportunity to re-experience, in ½-inch scale, the delight or shock of audiences when lights rose on stage. Visitors discover how stage models are made and how they are used in production, from blocking movement and plotting lighting to actually building and painting the set. Designs by Steve and Sam Gilliam, legends of San Antonio theatre, provide an engaging counterpoint to the maquettes with Remaking Tradition in Fiddler on the Roof, also on view at the McNay. The exhibit ... More





Jules Olitski, Beauty of the Queen of Sheba, 1989, water-based acrylic on canvas, 56 1/4 x 56 inches, 142.9 x 142.2 cm. © Estate of Jules Olitski/Licensed by VAGA, New York NY.





NEW YORK, NY.- Paul Kasmin Gallery presents Jules Olitski: Mitt Paintings, March 6 – April 19, 2014 at 515 West 27th Street, New York. The exhibition is comprised of ten "mitt pictures" made between 1988 and 1992 that showcase Olitski's groundbreaking, tactile approach to painting. Many of the works have never been exhibited. Olitski created his mitt pictures by using his hands to spread paint across canvases in fluid movements that blended colors and created textural imprints that recorded his active gestures. Known throughout his career for exploring new materials and techniques in painting, Olitski began making his mitt paintings in the late 1980s when Golden Artists Colors sent him a new kind of paint they had recently developed. Using painter's mitts left in his Bear Island studio by his wife Kristina he mixed the new paint with thick acrylic gels, and the mitt pictures were born. Much like the brooms, squeegees, ... More
The conservation of The Penitent Mary Magdalene by a pupil of Caravaggio on view at Nationalmuseum Sweden
Phoenix Art Museum purchases large early 17th century Dutch Delft Vase and Cover from Aronson Antiquairs
Hauser & Wirth New York presents its debut exhibition for Mira Schendel, landmark artist of Post War Brazil




Cecco del Caravaggio (Francesco Boneri), The Penitent Mary Magdalene. Photo: Anna Danielsson/Nationalmuseum.





STOCKHOLM.- The Penitent Mary Magdalene has not been on view for a long time due to the painting's poor condition. Last year thorough conservation work was carried out to remove layers of dirt and discolourations. After 200 hours of work, it is once again possible to enjoy the many exquisite details. The painting is on view as part of the exhibition The Masters of Darkness until March 30. The painting The Penitent Mary Magdalene has been in the museum's collection for a long time, but has not been on view in the museum for decades due to the poor condition it was in. It was hidden under thick layers of dirt and yellowed varnish and there were older, discoloured retouches from earlier restorations. In the course of a research project involving the museum's Italian paintings collection, the work was examined in 2011 by Britta Nilsson, an art conservator at Nationalmuseum. After an initial cleaning test it was clear that the ... More





The Phoenix Art Museum bought this c. 1660 Delft Vase and Cover from Aronson Antiquairs, 23 inches Dutch Delft.





AMSTERDAM.- On the eve of the opening of The European Fine Art Fair (TEFAF) in Maastricht, his largest exhibition of the year, Amsterdam specialist Delft dealer Robert Aronson of Aronson Antiquairs, has announced that The Phoenix Art Museum has purchased a large Blue and White Dutch Delft Vase and Cover dating to 1660-70. According to Robert Aronson, "I have been working with The Phoenix Art Museum for a number of months to identify a piece of early Delft that met their needs. I presented three options to the committee in January and The Phoenix Art Museum committee decided to pursue one particular large Delft Vase and Cover, dating to 1660-70. I was delighted when James Ballinger, the director of the museum, told me today that the committee had convened and with acclamation voted to acquire the covered jar. "The cooperation and enthusiasm by the museum was impressive and Mr. ... More





Mira Schendel, Untitled, 1972. Rice paper, Ecoline watercolour, acrylic glass, 14.5 x 14.5 cm / 5 3/4 x 5 3/4 in. Photo: Genevieve Hanson. Courtesy Mira Schendel Estate and Hauser & Wirth.





NEW YORK, NY.- Hauser & Wirth presents Mira Schendel, the gallery's debut exhibition of works by one of the most significant Latin American artists of the 20th century. Spanning two decades of the artist's career, from the 1960s to the 1980s, works on view reveal the artistic, intellectual, and spiritual development of a woman who, with her contemporaries Lygia Clark and Hélio Oiticica, reinvented the language of European Modernism in Brazil. Through her pensive, delicate, and breathtaking art, Schendel – painter, poet, sculptor – created a new lexicon. Her work was described by late Brazilian poet Haroldo de Campos as 'an art of voids, where the utmost redundance begins to produce original information; an art of words and quasi-words where the graphic form veils and unveils, seals and unseals...a semiotic art of icons, indexes, symbols which print on the blank of the page their luminous ... More
Constable's Salisbury Cathedral from the Meadows 1831 masterpiece goes to Cardiff
Silver bowl ordered by the Japanese imperial household 108 years ago for sale at Bonhams
Celestial Deities: Early Chinese Buddhist Sculpture Ca. 500-1100 CE on view at Throckmorton Fine Art




John Constable (1776 – 1837), Salisbury Cathedral from the Meadows, 1831 (detail). Photo: © Tate, London 2013.





CARDIFF.- One of the greatest masterpieces of British art, John Constable's Salisbury Cathedral from the Meadows 1831, will be on display at National Museum Cardiff from 7 March – 7 September 2014 as part of a UK wide tour of galleries and museums. The famous Salisbury Cathedral from the Meadows 1831 was secured for the British public though the Heritage Lottery Fund, The Manton Foundation, the Art Fund and Tate Members. Shown at National Museum Cardiff, the loan will complement Wales' existing art collections which include outstanding examples of landscape art by some of our best known artists, from Tudor times to the modern day. It will be accompanied by Amgueddfa Cymru's own Constable painting A Cottage in a Cornfield as well as works by Turner, Wilson and Van Gogh from the national collection. The display, which will be accompanied by a series ... More





Bowl gifted to Baron Komura for his role in ending the Russo-Japanese War. Photo: Bonhams.





LONDON.- A large silver bowl dated from approximately 1906, commissioned by the Household of the Taisho Emperor and created by Hirata Shigemitsu VII (a famous Imperial craftsman), is to be sold at the Fine Japanese Works of Art sale at Bonhams, New York on March 19th. Estimated at $30,000-40,000, this masterpiece will be sold by the famous international auction house at its auction on Madison Avenue. Taisho, 123rd Japanese Emperor, reigned from 1912 until his death in 1926. The Emperor's personal name was Yoshihito and he was the 3rd son of Emperor Meiji. This fantastic bowl of double-walled construction was presented in appreciation for Baron Komura's part in the negotiations and ratification of the treaty of Portsmouth, signed in 1905, which effectively ended the Russo-Japanese War (1904-1905). Baron Komura Jutaro (1855-1911) was a statesman from a Samurai family, and a graduate of ... More





Tang Period Buddha seated on lotus blossom supported by horses, sandstone 31. Photo: Throckmorton Fine Art.





NEW YORK, NY.- To coincide with Asia Week in March, 2014 Throckmorton Fine Art is presenting a special exhibition titled, " Celestial Deities: Early Chinese Buddhist Sculpture CA 500 – 1100 CE". A detailed catalogue has been published to accompany this New York show which will remain on view through April 26th. According to Spencer Throckmorton, "The thirty-one Early Buddhist Sculptures are rare survivors of Buddhist purges in the past; many were buried for centuries. They have been carefully cleaned, revealing their sublime beauty and refined elegance. Each piece has been carefully studied by Chinese scholars, with photographs and analyses included in an accompanying catalogue prepared under the guidance of Dr. Qing Chang and Dr. Elizabeth Childs-Johnson. "This monumental group, collected over the past twelve years, suggests the diversity of Chinese Buddhist sculptures from the Northern Wei through the ... More
Quote
I live on the fringe of society. Tamara de Lempicka
More News
---
The conservation of The Penitent Mary Magdalene
---
---
Flashback
On a day like today, Dutch painter Piet Mondriaan, was born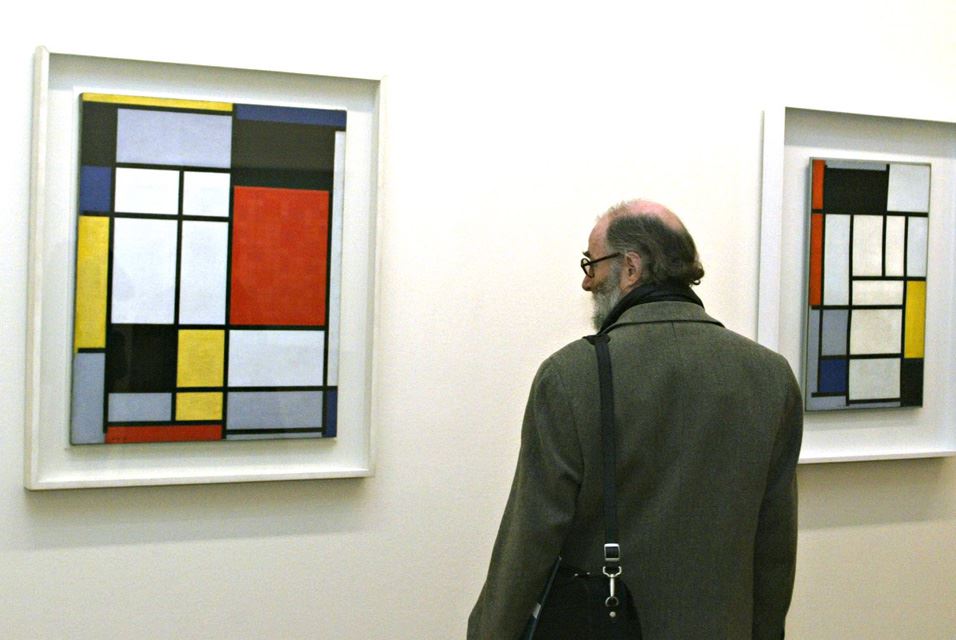 March 07, 1872. Pieter Cornelis "Piet" Mondriaan, after 1906 Mondrian (March 7, 1872 – February 1, 1944) was a Dutch painter. He was an important contributor to the De Stijl art movement and group, which was founded by Theo van Doesburg. He evolved a non-representational form which he termed Neo-Plasticism. This consisted of white ground, upon which was painted a grid of vertical and horizontal black lines and the three primary colors.
---
---

Museums, Exhibits, Artists, Milestones, Digital Art, Architecture, Photography,
Photographers, Special Photos, Special Reports, Featured Stories, Auctions, Art Fairs,
Anecdotes, Art Quiz, Education, Mythology, 3D Images, Last Week,
.
Royalville Communications, Inc
produces: