Pop-Up Centre Pompidou opens to the public in Málaga for a minimum of five years
Paris' Pompidou Centre president Alain Seban (L), French Culture Minister Fleur Pellerin (3rdR), Spanish Prime Minister Mariano Rajoy (C) and mayor of Malaga Francisco de la Torre (4thR) attend the inauguration of the Pompidou Art Centre of Malaga, in Malaga on March 28, 2015.
MALAGA
.-
The first "Pop-Up Pompidou" opened to the public in Málaga, Andalusia, on March 28 2015. The "Centre Pompidou Málaga" will be staying for a minimum of five years in the Cubo, a cultural centre built on the city's habour in 2013 and adapted to host the Pop-up Pompidou. It will offer a very wide public a chance to experience the Centre Pompidou through its large and varied collection, its excellent programme, its mix of artistic disciplines and its innovative mediation programmes. Málaga, Picasso's native city, has made culture and museums the focus of a new era in its development. The city's current dynamic thrust is based on the creation and establishment of top-quality cultural events and museums. Málaga possesses a wealth of cultural assets: the third largest offer in Spain after Madrid and Barcelona. In Málaga, the Pop-Up Pompidou will provide a permanent circuit of ...
More
The Best Photos of the Day
Exhibition of works from Roberto Longhi's collection opens at the Jacquemart André Museum
Portraits of Lincoln among 'jewels' of newly acquired photography collection by Yale University
The only sculpture by Michelangelo to be found in Spain goes on view at the Prado Museum




Michelangelo Merisi, kown as Caravaggio (1571 - 1610), Boy bitten by a Lizard, 1594. Oil on canvas, 65,8 x 52,3 cm. Florence, Fondazione di Studi di Storia dell'Arte Roberto Longhi © Firenze, Fondazione di Studi di Storia dell'Arte Roberto Longhi.





PARIS.- The exhibition presents the great names in Italian painting, from the 14th to the 17th century, rediscovered by one of the major figures in the history of Italian art, Roberto Longhi (1889/1890-1970). Giotto, Masaccio, Masolino, Piero della Francesca, Ribera, and Caravaggio are among the leading artists highlighting the exhibition. Alongside the works from the Roberto Longhi Foundation, presented for the first time in France, are works loaned by the biggest French and Italian museums. This exhibition is an unprecedented dialogue between a great connoisseur and his artistic passions. The passions of Roberto Longhi are being celebrated from 27th March to 20th July 2015 at the Jacquemart André Museum by an exhibition of selected masterpieces from the Roberto Longhi Foundation (Florence) and exceptional works from Italian and ... More





This photograph of Lincoln by Alexander Gardner was taken on Feb. 5, 1865. The president's haggard, careworn appearance shows the toll wrought by four years of war.





NEW HAVEN, CONN.- Yale's Beinecke Rare Book & Manuscript Library and the Yale University Art Gallery are acquiring the Meserve-Kunhardt Collection, one of the nation's most historically significant photographic collections and the definitive assemblage of portraits of Abraham Lincoln. "With this remarkable acquisition, Yale has secured its place as the premier institution for the study of American photography from the Civil War to the Gilded Age," says Yale President Peter Salovey. "I am delighted that faculty, students, and scholars from around the country and around the globe will have the opportunity to study this collection, learn from it, and share that knowledge." Amassed by Frederick Hill Meserve (1865-1962) with the help of his daughter Dorothy Meserve Kunhardt (1900-1978), the collection contains more than 73,000 items, including 57,000 ... More





Michelangelo Buonarroti, The young Saint John the Baptist, ca. 1495 - 1496. Original pieces in marble and reconstruction in resin, 140 x 40 x 43 cm Fundación Casa Ducal de Medinaceli.





MADRID.- For three months, the Museo del Prado will be exhibiting The Young Saint John the Baptist, the only sculpture by Michelangelo in Spain. It can now be seen in Room 47 of the Museum's Villanueva Building. This is an early work by the artist dating from prior to the Vatican Pietà and the Sistine Chapel frescoes. It was given by the Duke of Florence, Cosimo I de' Medici, to Francisco de los Cobos, secretary to the Emperor Charles V. Cobos had it sent to his villa in Sabiote (Spain) then after his death it adorned the funerary chapel that he had built in his native city of Úbeda. On display in the chapel of the Salvador in Úbeda (Jaén) from the 16th century, it was published in 1930 as a work by Michelangelo. A few years later at the outset of the war in 1936 it was seriously damaged and was reduced to pieces. The Fundación Casa Ducal de Medinaceli-Sevilla, which owns the work, commissioned its restoration ... More
Christie's South Kensington announces a sale of European Noble & Private Collections
Politics, piety and propaganda: Archaeologists discover fine devotional panel
Tracey Emin's iconic 'My Bed' returns to Tate Britain for first time in fifteen years




Follower of Sir Joshua Reynolds, Portrait of King George III (1738-1820), oil on canvas, 94 ½ x 58 ¼ in. Estimate: £15,000-25,000. Photo: Christie's Images Ltd 2015.





LONDON.- On 30 April Christie's South Kensington presents a sale of European Noble & Private Collections, which brings together an impressive selection of works of art all linked by noble and private provenance. The sale celebrates the collecting traditions of aristocratic dynasties across Europe, exploring the development of styles and tastes, ranging from Old Masters and 19th century paintings to furniture, European and Chinese works of art and porcelain to books, tapestries and silver. Leading the sale is a remarkable town coach made by Royal coachbuilder Carl Heinrich Gläser (1831-1903), commissioned by the Royal House of Saxony and proudly bearing the family's coat-of-arms (estimate: £20,000-40,000). The auction also features ... More





Liz Goodman, MOLA archaeological conservator with the Thomas Earl of Lancaster panel.© Museum of London.





LONDON.- A rare devotional panel went on display at the Museum of London from 28 March 2015. Depicting the capture, trial and execution of Thomas, Earl of Lancaster, political rebel turned martyr, the object was discovered by archaeologists, from MOLA (Museum of London Archaeology), whilst excavating by the River Thames. A fascinating piece of political propaganda and religious art, the panel is one of the largest and the finest examples of its kind. Cast in metal, the scenes are a cautionary tale for ambitious politicians, yet the production of the object reveals another story; that, in death, Lancaster was elevated to an almost saintly status. Lancaster was a cousin of King Edward II and one of a group of barons who tried to curb the king's power. Having caused huge political unrest, in 1322 Lancaster was defeated ... More





Tracey Emin, My Bed, 1998. Tate. © Tracey Emin.





LONDON.- Tracey Emin's My Bed 1998 is a highlight of Tate Britain's newly rehung displays, opening to the public on 31 March 2015. One of Britain's most celebrated works of modern art, My Bed became famous when it was shown in the 1999 Turner Prize exhibition, for which Emin was shortlisted. Over fifteen years later, it has now returned to Tate Britain where visitors will be able to see it for free as part of the BP Displays. It will be shown alongside a refresh of the galleries showing art from the 1970s to the present day, featuring major works by Gilbert & George, Anish Kapoor, Nicholas Pope and John Gerrard. To mark the occasion, Tracey Emin has gifted six of her recent figure drawings to the nation. The drawings are shown alongside My Bed together with two paintings by Francis Bacon, Study of a Dog 1952 and Reclining Woman 1961. The two works by Bacon were selected by Emin from Tate's ... More
York Art Gallery to reopen on 1 August 2015 following an £8 million transformation
National Museum of American Jewish History only U.S. venue for 'Richard Avedon: Family Affairs'
Michael Rush, founding Director of Eli and Edythe Broad Art Museum at MSU, dies




William Etty, 'Preparing for a Fancy Dress Ball' 1833. Image courtesy of York Museums Trust (York Art Gallery)





YORK.- York Art Gallery will reopen on Saturday 1 August 2015 after an £8 million development by international architects Ushida Findlay in partnership with leading conservation specialists Simpson & Brown, which will increase exhibition space by 60 per cent and see the launch of the Centre of Ceramic Art (CoCA). The development of the 19th century Grade 2* listed building will create a new cultural destination and artistic hub for the region, firmly establishing York Art Gallery as a must-see destination and one of the best regional galleries in the country. New gallery spaces will be equipped to host exhibitions showcasing more of the gallery's nationally significant collections than ever before, as well as major touring exhibitions and blockbuster loans. The gallery's collections include the renowned Lycett Green collection of Italian Old Masters from the 14th to 18th century. ... More





Walter Annenberg, publisher, Radnor, Pennsylvania, May 10, 1976.





PHILADELPHIA, PA.- The National Museum of American Jewish History in Philadelphia will be the only U.S. venue to feature Richard Avedon: Family Affairs, from the collection of the Israel Museum, Jerusalem. The exhibition, on view from April 1 through August 2, presents a compelling collective historical portrait of American cultural and political life during the late 1960s and 1970s. Richard Avedon was born to a Jewish family in 1923; his father was a Russian-born immigrant and his mother from New York. Working until his death in 2004, he shaped America's image of beauty, celebrity, and politics for over a half century. Famous at an early age, he was well-known for challenging conventions and exploring the boundaries between high art and social commentary. Family Affairs features two monumental projects by Avedon, both illustrating his highly innovative approach to portrait photography. The first is a set of four group portraits, including a ... More





Before coming to MSU, Rush served as the director of the Rose Art Museum at Brandeis University near Boston.





EAST LANSING, MICH.- Michael Rush, the founding director of the Eli and Edythe Broad Art Museum and award-winning curator, author and critic, died March 27 after a courageous two-year battle with pancreatic cancer. Rush began his tenure at MSU in 2010 and was instrumental in the completion of the visionary 46,000-square-foot contemporary art museum, which opened in November 2012. "On behalf of the MSU community, I would like to express my deepest condolences to the family and friends of Michael Rush," President Lou Anna K. Simon said. "In the short time we were fortunate enough to call Michael a colleague, he had a profound impact on the university through his work with the Broad museum and in the art community. The future accomplishments of the museum staff will always reflect the foundation he built." Rush was key to establishing the museum's dedication to exploring ... More
Organic Sculpture: Group exhibition including works by fifteen artists on view at Alison Jacques Gallery
As 'Mad Men' launches into its final season, Palm Beach Modern prepares an April 11 tribute auction
Art historian Arturo Galansino is the new Director General of Palazzo Strozzi in Florence




Takuro Kuwata, Sky slipped gold decorated stone-burst egg, 2011. Porcelain, Stone, 88.5 x 67 (diameter) cm. Photo: Michael Brzezinski.





LONDON.- Alison Jacques Gallery presents Organic Sculpture, a group exhibition including works by fifteen artists made over the past fifty years. Whilst some sculptures question the differentiation between geometric and organic forms, others address the relationship of the form to the body or the form to the whole. The artists participating span four continents: Janine Antoni (American, b.1964); Maria Bartuszova (Czech, b. 1936; d.1996); Camille Blatrix (b. French, 1984); Pier Paolo Calzolari (Italian, b.1943); Lygia Clark (Brazilian, b. 1920; d. 1988); Fernanda Gomes (Brazilian, b.1960); Zarina Hashmi (Indian, b.1937); Sheila Hicks (American, b.1934); Paolo Icaro (Italian b. 1936); Takuro Kuwata (Japanese b. 1981); William J. O'Brien (American b. 1975); Anthony Pearson (American, b. 1969); Alina Szapocznikow (Polish, b. 1926; d.1973); Erika Verzutti (Brazilian, b.1971) and Hannah Wilke (American, b. 1940; d.1993). The ceram ... More





Andy Warhol (American, 1928-1987), 'Mao,' 40.25 by 29.5-inch screenprint created for 1974 exhibition at Musee Galliera in Paris, hand-signed/inscribed by Warhol. Est. $20,000-$30,000. Palm Beach Modern Auctions image.





WEST PALM BEACH, FLA.- Captivated followers of AMC's Mad Men knew the time would come that they'd have to bid farewell to moody Don Draper and the rest of the dysfunctional crew at Sterling Cooper Draper Pryce. In recognition of the smash-hit TV series' last season, Palm Beach Modern Auctions is hosting an April 11 auction that embodies the sophisticated interior-design style favored by Mad Men of the 1960s. In toasting the spirit of postwar modernity for their 550-lot auction, PBMA co-owners Rico Baca and Wade Terwilliger have chosen a selection of classic midcentury art and furniture by the most sought-after designers of Italy, France, Denmark and the United States. A pair of matched Philip & Kelvin Laverne Etruscan tables that combine to form a dining table will be offered with an estimate of $30,000-$40,000. ... More





Aged 38, his impressive career has already taken him to the Musée du Louvre in Paris and the National Gallery and Royal Academy of Arts in London.





FLORENCE.- After spending almost ten years abroad, Arturo Galansino is returning to Italy to take up his post as Director General of the Fondazione Palazzo Strozzi in Florence. Aged 38, his impressive career has already taken him to the Musée du Louvre in Paris and the National Gallery and Royal Academy of Arts in London. Mr. Galansino was educated in Milan and subsequently in Turin, where he gained a research doctorate in Art History and Criticism. The new director was chosen in the course of a selection process for which numerous Italian and foreign candidates applied. Their curricula were examined by an assessment panel which chose the most promising profiles. Mr. Galansino finally landed the post thanks to his competence, specialisation and experience together with his enthusiasm, determination and commitment. "Our choice of Arturo Galansino – stressed Lorenzo Bini Smaghi, who chairs the Fondazione Palazzo Strozzi – reflect ... More
Quote
Abstract art? Made by the untalented, sold by the unprincipled to the utterly bewildered. Al Capp
More News
---
On a day like today 70 years ago, Eric Clapton was born
---
---
Flashback
On a day like today, Bulgarian painter Pascin was born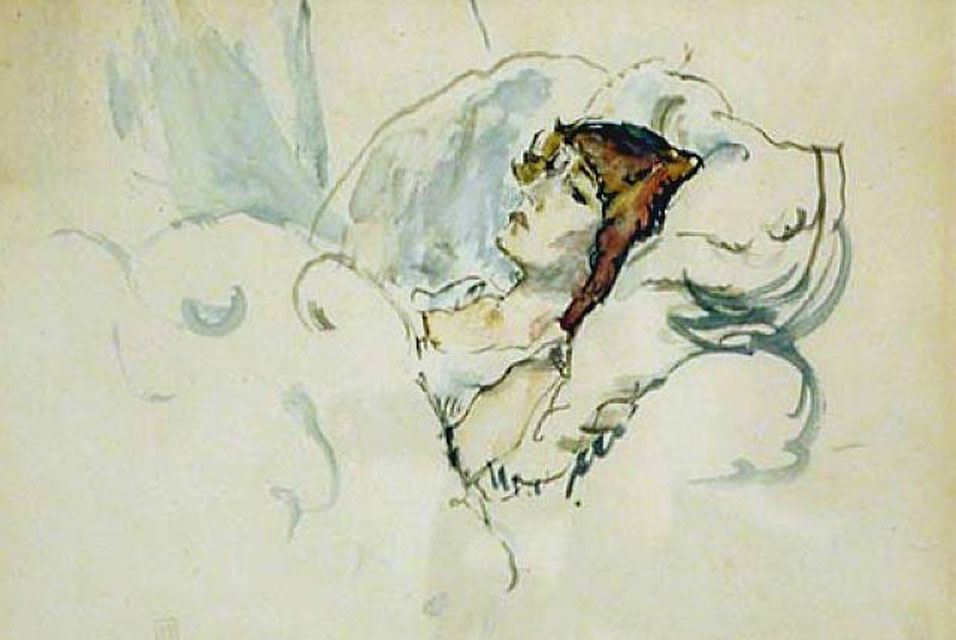 March 31, 1885. Julius Mordecai Pincas, (March 31, 1885 - June 5, 1930) known as Pascin, Jules Pascin, or the "Prince of Montparnasse", was born in Bulgaria. During World War I, he worked in the United States. He is best known as a painter in Paris, where he was strongly identified with the Modernist movement and the artistic circles of Montparnasse. Having struggled with depression and alcoholism, he committed suicide at the age of 45. In this image: Jules Pascin, Hermine in bed.
---
---

Museums, Exhibits, Artists, Milestones, Digital Art, Architecture, Photography,
Photographers, Special Photos, Special Reports, Featured Stories, Auctions, Art Fairs,
Anecdotes, Art Quiz, Education, Mythology, 3D Images, Last Week,
.
Royalville Communications, Inc
produces: