Mauritshuis is proud new owner of a flower still life by Ludger Tom Ring the Younger
A museum employee hangs the painting "Narcissi, calamine violets and periwinkle in a facon-de-Venise ewer, on a ledge with a sprig of rue" (1562) by German painter Ludger Tom Ring II (1522-1584) at the Mauritshuis art museum in The Hague, the Netherlands, on April 16, 2015. The painting was bought during an auction of the Friends of the Mauritshuis Foundation. AFP PHOTO / ANP / REMKO DE WAAL.
THE HAGUE
.-
As of today, the
Mauritshuis
is the proud new owner of a special flower still life: Narcissi, Periwinkle and Violets in a Ewer (ca. 1562) by German painter Ludger Tom Ring the Younger (1522-1584). The Mauritshuis has obtained the painting on permanent loan from the Foundation Friends of the Mauritshuis, which recently purchased it at an auction in New York. The panel is an unusually early example of an independent flower still life, making it extremely rare. Emilie Gordenker, director of the Mauritshuis: "An early sixteenth-century painted flower still life such as this acquisition is a first for the Mauritshuis and for any Dutch public collection. The Mauritshuis has been seeking to add such a painting to its collection for some time. Ludger tom Ring's works have not been represented in any Dutch collection – until today. We are extremely thankful to our Friends for acquiring this ...
More
The Best Photos of the Day
The Robert Rauschenberg Foundation announces new global gallery representation
Sotheby's Geneva announces Sale of Magnificent Jewels and Noble Jewels on 12 May
American Impressionist and Ashcan masterworks go on view at Smithsonian American Art Museum




Robert Rauschenberg, 1969. Photo: Sidney B. Felsen. Courtesy of the Robert Rauschenberg Foundation.





NEW YORK, NY.- The Robert Rauschenberg Foundation announces new gallery representation as part of a strategic plan to advance the legacy of Rauschenberg's life, work, and artistic philosophy. Since acquiring the assets of Rauschenberg's estate in 2012, the Foundation has successfully expanded the public's access to Rauschenberg's artwork by placing seminal pieces in the collections of major museums across the United States, including the Guggenheim, the Metropolitan Museum of Art, the Museum of Modern Art (MoMA), and the San Francisco Museum of Modern Art (SFMOMA). In concert with a 2016/17 retrospective co-organized by Tate Modern and MoMA, which travels to SFMOMA, the Foundation has selected three international galleries to represent the artist's work: Pace Gallery (New York, London, Hong Kong, and Beijing); Galerie Thaddaeus Ropac ... More





The sale features the historic Pink Diamond. Photo: Sotheby's.





GENEVA.- Sotheby's auction of Magnificent Jewels and Noble Jewels in Geneva this spring promises a breath-taking array of stunning and important jewels, whose breadth and variety represents a veritable treasure chest of exceptional jewels. The auction, to be held on 12 May, includes 'The Historic Pink Diamond', an extremely rare and highly important Fancy Vivid Pink diamond of 8.72 carats, alongside 'The Sunrise Ruby', a superb and extremely rare Burmese ruby weighing 25.59 carats with outstanding depth of colour. In addition to diamonds and gemstones of the very highest quality, the event will showcase signed jewels and historic pieces with exemplary provenance, including a stunning private collection of jewels by Cartier and no fewer than five exquisite tiaras – three of them formerly in the collection of Mary, Duchess of Roxburghe. Looking ahead to the sale, David Bennett, Worldwide ... More





Mary Cassatt, Reading "Le Figaro," about 1877-78, oil on canvas, Collection of Thelma and Melvin Lenkin.





WASHINGTON, DC.- Nineteen major paintings lent from the private collection of Thelma and Melvin Lenkin of Chevy Chase, Md., are on view at the Smithsonian American Art Museum from April 17 through Aug. 16. Mary Cassatt's renowned "Reading 'Le Figaro'" is joined by major oil paintings by George Bellows, Martin Johnson Heade, John Singer Sargent, John Sloan, William Glackens, John La Farge, Everett Shinn and others. These artworks have been installed on the second-floor galleries of the museum within the chronological flow of the museum's permanent collection to create a narrative around the excitement of the late 19th and early 20th centuries in America, a "coming-of-age" period in American art. Many of the works are on public view for the first time. "We are deeply grateful to Thelma and Melvin Lenkin for lending such treasures to the museum, an ... More
Exhibition of recent work by Anselm Kiefer on view at White Cube Sao Paulo
Museum of the City of New York Director Susan Henshaw Jones to retire
30 masterpieces from St. Petersburg shown in UK for the first time as part of 'Francis Bacon and the Masters'




Installation view of Anselm Kiefer's exhibition at White Cube São Paulo. Photo: Vinicius Assencio.





SAO PAULO.- White Cube São Paulo is presenting an exhibition of recent work by Anselm Kiefer. The paintings in this exhibition explore themes of history, politics and landscape and, in particular, the vision of 'The Morgenthau Plan'. 'The Morgenthau Plan', proposed in 1944 by United States Treasury Secretary Henry Morgenthau, Jr., was conceived to transform post-war Germany into a pre-industrial, agricultural nation in order to limit its ability to wage war. A polarising political act that in the artist's words 'ignored the complexity of things', it sought to divide Germany into two independent states, annexing or dismantling all German centres of industry. Although 'The Morgenthau Plan' was never realised in its original form, it represented an alternative rural future, whereby the country would potentially be occupied more by farmland and plant-life than industry. In this exhibition, Kiefer retur ... More





Ms. Jones has been the director of the Museum since February 2003.





NEW YORK, NY.- Susan Henshaw Jones, Ronay Menschel Director of the Museum of the City of New York, will retire in December 2015, announced James G. Dinan, the Chairman of the Museum's Board. Ms. Jones has been the director of the Museum since February 2003. She has presided over a $97 million expansion and renovation of the 83-year-old landmark building located on Fifth Avenue and 103rd Street, and a mission-driven institutional transformation seen in the breadth of changing exhibitions; public programs; school programs via the newly created Frederick A. O. Schwarz Children's Center; in collection management; and in financial growth. "Susan has been the guiding force behind the City Museum's growth for more than a decade," said Mr. Dinan. "Her energy and intelligence have helped us remake the institution into a popular and respected cultural attraction in New York City for ... More





Alonso Cano (1601, Granada – 1667, Granada), The Crucifixion. Oil on canvas, 265 x 173 cm. The State Hermitage Museum, St Petersburg.





NORWICH.- From 18 April, 30 masterpieces on loan from the State Hermitage Museum in St Petersburg will go on display in the UK for the first time as part of Francis Bacon and the Masters at the Sainsbury Centre, Norwich (18 April – 26 July). The major loan includes important works by Picasso, Velazquez, Rodin, Titian and Matisse, as well as outstanding examples of antique Greek, Roman and Egyptian sculpture. Francis Bacon and the Masters is a ground-breaking exhibition in which Bacon's obsession with the art of the past will be brought into full focus. A major body of works by the artist will be juxtaposed with masterpieces by some of the greatest painters and sculptors in the history of art, in a spectacular exploration of Bacon's working methods and ideas. The exhibition comes to Norwich following its internationally ... More
Artist Chris Ofili and musician Björk make list of the 100 Most Influential People in the World
Kröller-Müller Museum acquires futurist works by Alexander Bogomazov
Warhol, Indiana, Basquiat featured in Swann Galleries' auction of contemporary art




The TIME 100 features often-surprising pairings of the list members and the guest contributors TIME selects to write about them.





NEW YORK, NY.- TIME revealed the 2015 TIME 100, its annual list of the 100 most influential people in the world. The issue features five separate covers, each featuring a member of the TIME 100: Kanye West, Misty Copeland, Bradley Cooper, Ruth Bader Ginsburg and Jorge Ramos. Each appear individually on five different covers and each issue contains all five covers. The TIME 100 features often-surprising pairings of the list members and the guest contributors TIME selects to write about them. The twelfth-annual list includes: Elon Musk on Kanye West, Oprah Winfrey on Lee Daniels, Laurene Powell Jobs on Hillary Clinton, Barack Obama on Narendra Modi, Tilda Swinton on Amy Schumer, Antonin Scalia on Ruth Bader Ginsburg, Archbishop Desmond Tutu on Pope Francis, John Lewis on Tim Cook, Chris Rock on Kevin Hart, Hillary Clinton on Elizabeth Warren, Rupert ... More





Alexander Bogomazov, Tramlijn, Lvovskaya ulitsa (straat), Kiev /Tramway, Lvovskaya Street, Kiev, 1914.





OTTERLO.- The Kröller-Müller Museum has acquired four futurist drawings by the Ukrainian painter and theorist Alexander Bogomazov (Jampol 1880-Kiev 1930). The works were put up for sale at the TEFAF 2015 by the London art dealers James Butterwick. The acquisition for a total of € 250,000 was made possible by the participants of the BankGiro Lottery. The museum regards the works by Bogomazov as an important supplement to those of the Italian futurists in the collection; Giacomo Balla, Umberto Boccioni and Gino Severini. They will be on display in a special Summer presentation from 25 April. Bogomazov was among the Russian avant-garde. He studied with Alexander Archipenko and Alexandra Exter and exhibited with Natalia Goncharova and Mikhail Larionov. Like many artists of his generation, he worked in many different styles consecutively, such as symbolism, pointillism and fauvism. His work from the period between 1913 and ... More





Helen Frankenthaler, Bilbao (detail), color lithograph, 1998. Estimate: $5,000 to $8,000.





NEW YORK, NY.- On Tuesday, May 12, Swann Galleries will conduct an auction of Contemporary Art, which is replete with cutting-edge prints, paintings, drawings and sculptures by the biggest names in contemporary art. Extraordinary unique works include Robert Indiana's The Mother of Us All, a mixed-media collage on board from 1976, which was the original maquette for the same-titled poster for a 1976 production of the pop opera about suffragist Susan B. Anthony. Indiana also designed costumes and sets for the show. This piece was a gift from the artist to the current owner and is estimated at $40,000 to $60,000). Also estimated at $40,000 to $60,000 is a circa 1955 watercolor with pen and black ink on paper of a Tattooed Woman by Andy Warhol, which is related to the artist's offset lithograph Tattooed Woman Holding a Rose. Additional Warhol highlights include Liz, offset color lithograph, 1964; Grapes (Special ... More
Replica of French General Lafayette's historic US independence ship sails again
Circus posters, Coca-Cola, country store & aviation relics in Mosby & Co. May 16 Toy, Historical & Circus sale
Private collectors launch pioneering educational website devoted to supporting British Photography




The captain Yann Cariou of the frigate Hermione poses inside his cabin. AFP PHOTO / XAVIER LEOTY.





LA ROCHELLE (AFP).- A replica of the French navy frigate Hermione which brought General Lafayette to America to rally rebels fighting Britain in the US war of independence, will set sail for the United States again on Saturday, 235 years after the original crossing. French President Francois Hollande is expected to be on hand to wish the ship and crew godspeed on the journey from France's Aix island to the US east coast, a trip exciting sailing and history fans on both sides of the Atlantic. Some 80 crew members will sail the three-masted 65-metre (213-feet) ship along the route to Boston made by French General Gilbert du Motier -- the Marquis de Lafayette -- to bolster revolutionaries fighting for an independent United States. Back in 1778 Hermione took a mere six months to build. The new replica took a painstaking 17 years to construct, mobilising hundreds of craftspeople from around the world. The crew plans ... More





1906 Coca-Cola tip tray. Mosby & Co. image.





FREDERICK, MD.- Buyers of rare, early circus sideshow banners had a field day when Mosby & Co., auctioned Part I of an advanced collection that was started in the late 1970s. Now it's time for Part II to take its place in the spotlight, which it will do on May 16th at Mosby's gallery in suburban Washington, D.C. The banner collection is a special highlight of the 300- to 400-lot sale and is the source for 11 of the 14 banners entered in the sale. Three additional sideshow banners were consigned by other private collectors. The hot ticket within the banner offering is a 46-foot-long example that Mosby's owner, Keith Spurgeon, says is the largest one Fred G. Johnson (American, 1892-1990) ever painted. "Fred Johnson was the Picasso of sideshow banner artists. His work was even shown at the World's Fair of 1933. Today, his art is in high demand," said Spurgeon. "The art on this particular banner is all clowns. It's immense and would have covered the entire front of ... More





Grace Robertson, Pub Outing, Vintage Gelatin Silver Print, 1954. Courtesy Hyman Collection, London.





LONDON.- britishphotography.org is a new, free, public resource for British photography. Providing access to a comprehensive range of British photography through the privately-owned works in the Hyman Collection, the site also serves as a portal to other British photography websites and resources. Established over a period of 20 years by Claire and James Hyman, the Hyman Collection currently consists of over 3,000 artworks, with an emphasis on photography from the 19th century to the present day. As well as housing major works of art, the Collection also seeks to support British photographers through acquisitions and commissions, research, online exhibitions and through britishphotography.org. Functioning as an access point to the most important and compelling photography to emerge from the UK, and with a particular focus on conceptual documentary practice, britishphotography.org will profile established masters of the ... More
Quote
Sculpture, for me, means the block. Aristide Maillol
More News
---
Variations: Conversations with LA artists
---
---
Flashback
On a day like today, French painter Gustave Moreau died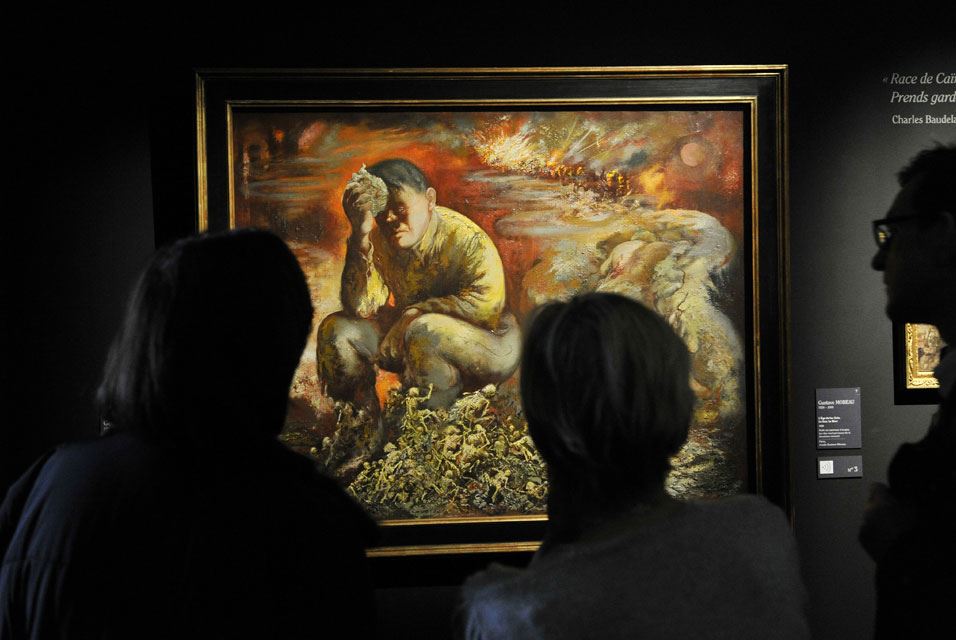 April 18, 1898. Gustave Moreau (6 April 1826 - 18 April 1898) was a French Symbolist painter whose main emphasis was the illustration of biblical and mythological figures. As a painter of literary ideas, Moreau appealed to the imaginations of some Symbolist writers and artists. In this image: Visitors look at the painting 'L'Age de Fer, Cain, Le Soir, La Mort' by French artist Gustave Moreau on display during the exhibition 'Crime and Punishment' at the Musee d'Orsay in Paris, France, 15 March 2010. The exhibition is based on a project of Robert Badinter, a French lawyer who succeeded in abolishing the death penalty in France while being Minister of Justice, and includes paintings, sculptures and other works of art or artifacts related to the subject.
---
---

Museums, Exhibits, Artists, Milestones, Digital Art, Architecture, Photography,
Photographers, Special Photos, Special Reports, Featured Stories, Auctions, Art Fairs,
Anecdotes, Art Quiz, Education, Mythology, 3D Images, Last Week,
.
Royalville Communications, Inc
produces: