Remains of a 900 year old estate that has a fountain in its garden were exposed in Ramla
Pictures of the plumbing. Photographic credit: Assaf Peretz; courtesy of the Israel Antiquities Authority.
JERUSALEM
.-
Remains of an affluent estate that had a fountain in its garden were recently unearthed during the course of excavations in Ramla. The excavations were conducted south of Highway 44 as preparatory work by the Netivei Israel Company, prior to the construction of a graded separation over the railroad tracks and along the existing route where drivers suffer from a bottle neck and very long delays during rush hour. A bridge and ramps will be built above the Lod–Na'an railway line in the region where the excavations took place. They will link Highway 44 with the cities of Ramla and Lod, while eliminating the traffic lights in the area of the project. A spokesperson for the Netivei Israel Company explains that the archaeological excavations there were part of the preparatory work within the framework of which traffic was detoured outside the area of the project and will include the construction of a new road and a bridge above an existing road and an active railway line. Approxima ...
More
The Best Photos of the Day
French culture minister snubs Google at major Paris event presenting cultural hub
Solo exhibition of Maurits Cornelis Escher's work opens at Moscow Museum of Modern Art
Dazzling success for the Fourth Russian Art Sale at Hôtel des Ventes in Geneva




Founder of the Google Art Project and Google cultural hub the Lab's director Amit Sood delivers a speech during the launch ceremony of the Google cultural hub. AFP PHOTO/JOEL SAGET.





PARIS (AFP).- France's culture minister on Tuesday cancelled her attendance at the Paris launch of a Google cultural hub at the last minute, in a snub to the US giant over data protection and other issues. The French government is at loggerheads with Google over privacy and its controversial tax arrangements, but the cancellation prompted a last-resort scramble at the presidency and prime minister's office, which asked Innovation Minister Fleur Pellerin to go to the afternoon event instead. Culture Minister Aurelie Filippetti's office told AFP she had decided not to go as planned to the launch of the "Lab" -- which Google Vice President Vint Cerf was also to attend -- so as not to be seen as fully backing the tech firm "despite the quality of the project". "At this stage, we do not have enough assurances on a certain number of issues," one aide said, adding Filippetti wanted Google to "commit ... More





Ascending and Descending, March 1960. Lithograph© The M.C. Escher Company B.V. -Baarn-Holland. All rights reserved. www.mcescher.com





MOSCOW.- Moscow Museum of Modern Art presents a solo exhibition of Maurits Cornelis Escher (1898-1972), one of the key figures in the art of the XX century. The exhibition occupies the 2nd floor of the MMOMA's main building at 25 Petrovka Street and it contains more than 100 artworks. Among them there are lithographs, woodcut and linocuts of the artist's different periods. The show also presents archival photos and films from collections of the M.C. Escher Foundation in the Netherlands. Escher's oeuvre can be divided into three periods. The main part of the artworks belongs to the Italian period which is based on landscapes, images of insects and plants, created during Escher's tours of Italy, Corsica and Malta. The next part of the works belongs to the Dutch period. It was the peak of his powers, when he created the most celebrated artworks. Viewers can also enjoy works of Escher's early period and his first printed e ... More





An exceptional Russian two-color gold, enamel and diamond imperial presentation snuff-box by Keibel set with a portrait miniature signed D. Bossi. Estimate: CHF 80000-120000. Sold for: CHF 522'000.





GENEVA.- Dazzling success for the fourth Russian Art sale at Geneva's Hôtel des Ventes. Bidders from Europe, the United States and Russia gathered in the saleroom and busied the telephones all to take part in this exceptional auction presenting many objects of global importance. The total sale result surpassed CHF 3.8 million, constituting a record result for a Russian Art sale at Hôtel des Ventes. It was in the midst of a full and captive saleroom that the fierce battle ensued between multiple bidders seated around the room and on the telephones resulting in 100% of the letters from Tsars Nicholas I, Alexander II and their families being sold for a total of CHF 743,000. Almost the entire collection of 230 letters was sold to a Swiss Russophile collector, the same person who acquired the majority of the photographs from the Thormeyer collection in 2011 and who has a connection to Russian ... More
The definitive portrait of Jane Austen by James Andrews sells for £164,500 at Sotheby's London
Sotheby's announces Alfredo Gangotena to join company as Chief Marketing Officer
Christie's concludes 2013 with Masters of 20th Century Design sale in New York




James Andrews, Jane Austen, watercolour over pencil, 1869, est. £150,000-200,000. Photo: Sotheby's.





LONDON.- A short time ago at Sotheby's in London, one of the best-known images in British cultural history - the definitive portrait of Jane Austen was sold for £164,500 (est. £150,000-200,000). The watercolour, by James Andrews, an engraving of which will appear on the Bank of England's new £10 note from 2017 (the author's bicentenary) was purchased over the telephone on behalf of an anonymous private collector. Rarely seen in public, the portrait had been offered for sale directly from the Austen family. It was commissioned in 1869 by Jane Austen's nephew, Rev. James Edward Austen-Leigh to illustrate his Memoir of Jane Austen, the hugely influential first full-length biography which was crucial in transforming her from a novelist into a national figure. Best-selling author Joanna Trollope, whose Sense & Sensibility is a reworking of Austen's famous novel commented: "This portrait was commissioned half a centu ... More





Mr. Gangotena joins Sotheby's from MasterCard Worldwide, where he most recently was the Chief Marketing Officer.





NEW YORK, NY.- Sotheby's today announced that Alfredo Gangotena, a veteran marketing executive with an accomplished record of creating, managing and promoting global brands, has been named Chief Marketing Officer of the Company. Mr. Gangotena joins Sotheby's from MasterCard Worldwide, where he most recently was the Chief Marketing Officer. During his tenure, MasterCard was the #1 global brand in terms of ranking growth from 2009-2013, according to Millward Brown BrandZ. Mr. Gangotena joined MasterCard in 2004 as General Manager for the Asia/Pacific, Middle East and Africa Region, and was then appointed General Manager for Continental Europe and Global Products & Solutions lead for Europe. Previously, he was Chief Executive Officer of Hutchison-Priceline in Asia/Pacific, the internet travel joint-venture company of the Hutchison Group and Priceline.com. ... More





Tiffany Studios, A 'Clematis Table Lamp', circa 1910. leaded glass, bronze shade stamped TIFFANY STUDIOS NEW YORK 365, base stamped TIFFANY STUDIOS NEW YORK. Estimate: $80,000 - $120,000. Photo: Christie's Images Ltd 2013.





NEW YORK, NY.- Christie's concludes 2013 with the sales of Important 20th Century Decorative Art & Design and Magnificent Tiffany, on December 19. Encompassing a combined 143 lots, these sales offer a sweeping representation of the category. The Important 20th Century Decorative Art & Design sale is led by a breadth of examples from the masters of French Art Deco, including Emile-Jacques Ruhlmann, Armand Albert Rate au and Jean-Michel Frank. The Modern section features a wonderful scope of objects, including a unique pendant/brooch from 1972 by Louis Nevelson (estimate: $15,000-20,000) and a particularly strong group of Italian Glass. Highlighting the contemporary section is a 'Cartoon Chair,' circa 2007 by Humberto and Fernando Campana (estimate: $25,000-35,000). The ... More
Rijksmuseum welcomes two millionth visitor; Visitor numbers continue to exceed expectations
Le Mois de la Photo à Montréal announces Chuck Samuels leaves his post as Director General.
Hermann Historica oHG's autumn auction closes with one of the best results in its entire history




Netta Maman and Verdit Aftabi, two young tourists from Israel, visited the Rijksmuseum on the last day of their holidays. Photo: Erik Smits.





AMSTERDAM.- After having welcomed its one millionth visitor in August, the Rijksmuseum received its two millionth visitor on 3 December. Netta Maman and Verdit Aftabi, two young tourists from Israel, visited the Rijksmuseum on the last day of their holidays. 'We heard that after the renovation the Rijksmuseum is a must-see, so we decided to come immediately!' said Netta. She and her friend were welcomed by General Director Wim Pijbes and Sales Manager Nikki Smeets with flowers and a goody bag full of items from the museum shop. Since the official opening by the former Queen Beatrix on 13 April of this year, visitor numbers are still between 7,000 and 10,000 a day. In general, the peak times to visit are at the weekend and between 11:00 and 15:00. Really gratifying is the fact that for the first time in years, the number of Dutch visitors exceeds the number of foreign visitors. Over a quarter of the ... More





Since 2002 Chuck Samuels has been the director of Le Mois de la Photo à Montréal and the organization has had many accomplishments during his tenure.





MONTREAL.- Le Mois de la Photo à Montréal announces that Chuck Samuels is leaving his post as Director General. After managing 6 successful editions of the biennale of contemporary photography, Mr. Samuels looks forward to new challenges within the cultural milieu including focusing more on his own work as an artist. For the time being he will stay on as Interim Director with a mandate to ensure a smooth transition for the organization. Since 2002 Chuck Samuels has been the director of Le Mois de la Photo à Montréal and the organization has had many accomplishments during his tenure. These achievements include putting into place dynamic and distinctive artistic approach, producing 6 publicly and critically acclaimed editions of the event (including the exhibitions, the publications, the public programs and other activities) that have collectively attracted more than ... More





Breastplate, Nuremberg 1510/20 part of a group of Maximilian armour parts. HP (Group): 49,000 Euros.





MUNICH.- This year's Autumn Auction of Hermann Historica oHG saw approximately 8,000 objects come under the hammer from all specialist areas of history and military history, including pieces from the Historical Firearms Museum of the Überlingen Arsenal – the Friedrich Hebsacker Collection. Once again this autumn, the antiquities section offered a multitude of early bronze helmets in outstanding condition, which enjoyed great popularity among the specialist international bidders. The helmets included lot numbers 2037 and 2038; both characteristic examples of their kind. Opening at 8,000 euros, an Illyrian helmet dating from the seventh to the sixth century B.C., particularly impressive due to the exquisite dark green patina of its heavy skull, was finally sold to a bidder for 12,000 euros. Meanwhile, a Greek Chalcidian helmet dating from the fourth century B.C, with its full-faced tin-plating and the characteristic movable cheek ... More

Snowy auction day fit for Pennsylvania Impressionists brings $2.1 million & sets auction records
Ray Kass, Sandy Litchfield, and J. Ivcevich open group exhibition at Garvey/Simon Art Access
A rare unmounted modified pear brilliant-cut diamond sells for $2.6 million at Bonhams New York




Edward Willis Redfield, "Winter Harmony" (Winter Evening). Sold for: $187,000.





PHILADELPHIA, PA.- A surprise snowstorm didn't keep collectors from attending Freeman's American Art & Pennsylvania Impressionists auction on December 8. The sale saw robust competition from a packed room and bids streamed in from the phones and online. The 183 lot auction achieved $2.1 million in sales--up $700,000 from the inaugural American Art & Pennsylvania Impressionists auction in June 2013--and registered twice as many bidders. "Winter Harmony" by Pennsylvania Impressionist Edward Willis Redfield was the top lot of the day fetching $187,000--a fitting highlight for a snowy Sunday afternoon--while Fairfield Porter's "Morning After a Storm" more than doubled its estimate resulting in $158,500. In addition, new auction records were set for two artists and a private collection of Western art generated fresh interest from buyers. "This was a strong showing for Pennsylvania Impressionists with nearly half of the sale's total coming from this ... More





Sandy Litchfield, "Scrap Paper Woods #3" 2012, gouache, paper, archival inkjet print, collage|; 24x33".





NEW YORK, NY.- Garvey|Simon Art Access presents FRAGMENTS, a group exhibition featuring works by J. Ivcevich, Ray Kass and Sandy Litchfield. The show will run from December 10, 2013 – January 11, 2014, with an opening reception on December 12, 6-8pm. This exhibition explores the way three different contemporary artists interpret fragmentation, both literally and figuratively. Grammatically, "fragments," can be both noun and verb. An artist fragments the picture plane into several related shards, layers or pieces. These fragments can be either physical (pictorial space, literal subject matter) or metaphorical (depicting fragments of memory, or symbolic remnants of our subconscious). J. Ivcevich extracts fragments of urban deterioration and grit in much of his work. Taking inspiration from the abstract forms and layered beauty unexpectedly found in shredded advertisement posters around New York, Ivcevich photographs many of thes ... More





A rare unmounted diamond. The modified pear brilliant-cut diamond, weighing 17.82 carats. Sold $2,629,000. Photo: Courtesy of Bonhams.





NEW YORK, NY.- An extraordinary type IIa diamond sold for $2,629,000 at Bonhams Fine Jewelry sale on December 9, the pinnacle of the day's two jewelry sales which achieved $8,912,188 in total. The unmounted stone weighed 17.82 carats and was a modified pear brilliant-cut. Consigned from a private collection, the diamond more than doubled its pre-sale estimate after a lengthy bidding war. "Less than 2% of the world's diamonds are type IIa, meaning they contain little - if any - nitrogen. They are considered the most chemically pure of all diamonds, and are renowned for their limpid appearance. This particular diamond was almost like a droplet from a sparkling waterfall," explained Susan Abeles, Bonhams Head of US Jewelry, and Virginia Salem, the Director of the Jewelry Department in New York. "It was a pleasure to offer the diamond after decades in a private collection." Hundreds of bidders representing almost two dozen ... More
Quote
Every artist was once an amateur. Emerson
More News
---
| | | |
| --- | --- | --- |
| | | New Horizons for Old Master & British Paintings |
---
---
Flashback
On a day like today, American photographer Louise Dahl-Wolfe, died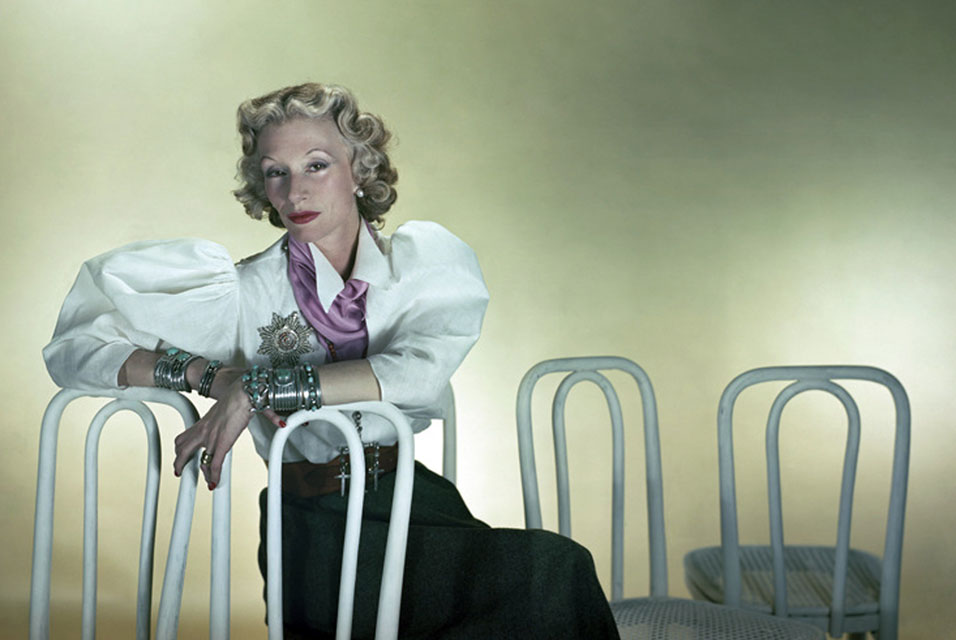 December 11, 1989.- Louise Emma Augusta Dahl (November 19, 1895 December 11, 1989) was a noted American photographer. She is known primarily for her work for Harper's Bazaar, in association with fashion editor Diana Vreeland. This undated image provided by the Millicent Rogers Museum shows Rogers, the Standard Oil heiress, posing for a photograph. Rogers is one of the women being recognized as part of a yearlong celebration in Taos, N.M., called the Remarkable Women of Taos.
---

Museums, Exhibits, Artists, Milestones, Digital Art, Architecture, Photography,
Photographers, Special Photos, Special Reports, Featured Stories, Auctions, Art Fairs,
Anecdotes, Art Quiz, Education, Mythology, 3D Images, Last Week,
.
Royalville Communications, Inc
produces: