Death Becomes Her: British royalty headlines Metropolitan's Costume Center exhibition
Mourning garments are displayed during a press preview October 20, 2014 as the Metropolitan Museum's Costume Institute opens "Death Becomes Her: A Century of Mourning Attire." The Costume Institute's first fall exhibition in seven years, explores the aesthetic development and cultural implications of mourning fashions of the 19th and early 20th centuries. The exhibition is organized chronologically and features mourning dress from 1815 to 1915, including mourning gowns worn by Queen Victoria and Queen Alexandra. AFP PHOTO / Timothy A. Clary.

By: Jennie Matthew
NEW YORK
(AFP)
.-
The Oscar-winning Hollywood comedy "Death Becomes Her" has lent its name to a New York exhibition that reveals nothing was more becoming to a 19th century widow than black crepe. With dozens of dresses, jewelry, hats, accessories and magazine prints, the exhibition, which opened Tuesday, looks back on a time when European and American women had to conform to rigid norms of outward grief. But not all mourning garb was created equal: from matronly black silk taffeta worn by Queen Victoria to the French sequined gowns of her daughter-in-law Queen Alexandra, the collection explores the crossover between grief and fashion. The exhibition at the newly renovated Costume Institute at the Metropolitan Museum of Art -- the institution's first for fall in seven years -- also makes play of the sexual allure of an attractive young widow, unburdened by marital obligations but at risk of predatory male advances. "Black is becoming and young widows, fair, plump, and smiling, with their roguish eyes sp ...
More
The Best Photos of the Day
Léger National Museum in Biot presents an exhibition on Fernand Léger and the Great War
Gagosian Paris presents exhibition including more than twenty monumental sculptures and paintings
Masterworks from the Collection of Lorenzo H. Zambrano at Sotheby's New York




Fernand Léger, Le Pot à tisane © ADAGP- Paris, musée national d'Art moderne - Centre Georges Pompidou - Photo© Centre Pompidou, MNAM-CCI, Dist. RMN-Grand Palais / Philippe Migeat.





BIOT.- Called up to the Engineering corps in 1914, Fernand Léger remained a simple soldier until 1917, when he was hospitalised and discharged. Initially a sapper and then a porter, he was posted to Argonne and Verdun. The exhibition shows the war through the eyes Fernand Léger but also the impact it has had on his work in the early twenties. The exhibition opens with the vibrant colour painting entitled Le 14 juillet (July 14) painted before he was called up. Then the artist spentfour years producing colourless sketches in his notebooks. Given that it was impossible to paint, the artist produced numerous drawings, including a recent acquisition Paysage en Argonne(Argonne Landscape), which is given pride of place in this exhibition. These drawings in a geometric style, embody the Cubist world view which emerged in 1910 and is adapted here to a unique iconography: the ravaged landscapes ... More





Carsten Höller, column one , 2014. Cast bronze, 89 x 28 x 31 1/2 inches. © Urs Fischer. Photo by Melissa Christy. Courtesy Gagosian Gallery.





PARIS.- Gagosian Paris presents "Le Jardin Décomposé / Decomposed Garden." Comprising more than twenty monumental sculptures and paintings, "Le Jardin Décomposé" evokes an overlapping of city and nature, a place akin to botanist and writer Gilles Clément's characterization of the Third Landscape as "the space left over by man to landscape evolution--to nature alone." Clément places swamps, roadsides, railroad embankments and other peripheral spaces within a category of "genetic reservoirs" where unattended plant life mixes with the urban environment and its detritus, sometimes to extraordinary effect. Works such as Richard Prince's Untitled (tire planter) (2007), a bright orange, tire-shaped vessel containing a tuft of weeds, and Carsten Höller's Giant Triple Mushroom (2014), a mixed-media fungal hybrid created for this exhibition, allude to the gradual commingling that might take place in ... More





José Clemente Orozco, Autorretrato, 1938. Photo: Sotheby's.





NEW YORK, NY.- On 24 November 2014 Sotheby's New York will present the most important collection of Latin American Art ever to appear at auction with A Vision Of Grandeur: Masterworks From The Collection Of Lorenzo H. Zambrano. The prestigious single-owner evening sale will offer outstanding works by many of the most famous names in 20th Century Mexican art, including Diego Rivera, Rufino Tamayo, Francisco Toledo, and Leonora Carrington. The collection was assembled by Lorenzo H. Zambrano, a leading businessman, visionary collector, and generous patron of the arts who meticulously put the group together over several decades. Reflecting the significance of the works being offered, the sale is expected to fetch $30/40 million, by far the highest estimate ever placed on a Latin American Art auction. Highlights will be exhibited in Mexico City, Los Angeles, Miami and New York in the lead up to the sale. Axel Stein, Head of Latin American Art a ... More
High Museum of Art presents rarely exhibited masterpieces by Cézanne, van Gogh, Degas and Modigliani
Twenty-eight new Routemaster bus sculptures designed by artists presented in London
Isabella Stewart Gardner Museum presents sculptor's drawings from Renaissance Italy




Amedeo Modigliani, Léon Indenbaum, 1916. Oil on canvas, 21 1/2 x 18 in. The Henry and Rose Pearlman Foundation, on long-term loan to the Princeton University Art Museum.





ATLANTA, GA.- The High Museum of Art presents "Cézanne and the Modern: Masterpieces of European Art from the Pearlman Collection," a major traveling exhibition organized by the Princeton University Art Museum featuring 50 modern masterworks, many of which are rarely exhibited. On view Oct. 25, 2014, through Jan. 11, 2015, the exhibition will offer visitors the chance to view exceptional masterpieces by Cézanne, van Gogh, Manet, Modigliani, Degas, Gauguin, Toulouse-Lautrec and others. Featured works showcase the extraordinary vision of Henry Pearlman (1895-1974), a modest American entrepreneur who amassed an astonishing collection of modern art from the late 19th and early 20th centuries, including perhaps the greatest collection of watercolors by ... More





Year of the Bus Sculpture Trail.





LONDON.- Twenty-eight New Routemaster bus sculptures, painted and adorned by well-known and aspiring artists were this unveiled against the iconic backdrop of Trafalgar Square. The sculptures form a collection of up to 60 bus sculptures, commissioned by Transport for London, which have been placed across London on four walking trails as part of the Year of the Bus. The first three trails have been installed for the public to enjoy from Monday 20 October with a fourth following before Christmas. The walking trails - the first three of which are "Around Westminster", "Around the River" and "Around Queen Elizabeth Olympic Park" - are being delivered with creative events company Wild in Art. The fourth sculpture trail will be in Croydon. The Bus Sculpture Trail project is part of TfL's celebrations to mark the Year of the Bus and aims to promote walking, to highlight the vital role the bus plays in the capital and to raise money for charity. ... More





Baccio Bandinelli, Self-Portrait, about 1545, Isabella Stewart Gardner Museum, Boston.





BOSTON, MASS.- The Isabella Stewart Gardner Museum opened a new exhibition titled Donatello, Michelangelo, Cellini: Sculptors' Drawings from Renaissance Italy, on view from October 23, 2014, through January 19, 2015, in the Museum's Hostetter Gallery. This international loan exhibition brings together 39 drawings and a number of related sculptures by renowned Renaissance masters, including Michelangelo, Donatello, Cellini, Bandinelli, Giambologna, and Della Robbia, many exhibited for the first time in the United States. This exhibition—inspired by the self-portrait of Florentine artist Baccio Bandinelli and in the Gardner Museum's collection—is the first one to do an in-depth study of the multi-faceted relationship between drawing and sculpture in Renaissance Italy. Collected throughout the centuries, drawings by Renaissance masters have been widely praised and admired. ... More
Paris Tableau announces loan exhibition of masterpieces from the Centraal Museum in Utrecht
Exhibition of new prints, works on paper, and sculpture by the artist Zarina opens at Luhring Augustine
'Eyes Wide Open: 100 Years of Leica Photography' opens at Hamburg's Deichtorhallen




Dirck Van Baburen (Wijk circa 1595 – Utrecht, 1624), Shepherdess with Turtle Doves, circa 1625.





PARIS.- The 4th edition of Paris Tableau will take place in the elegant setting of the Palais Brongniart on 13-16 November, and will bring together 26 international Old Master dealers. Each year, Paris Tableau Fair holds a symposium and loan exhibition to showcase the role the trade plays in the conservation and attribution processes, and the strong relationships the participating dealers have forged with the world's key art institutions. This year, the subject for the exhibition will be Three Collections, a Single Passion; Masterpieces from the Centraal Museum in Utrecht, the P. & N. de Boer Foundation and AXA ART, which will examine the art of collection, whether for a private foundation, a public institution or a corporate collection. The Centraal Museum, Utrecht has loaned The Young Man Playing a Jew's Harp, 1621, by Dirck Van Baburen (Wijk circa 1595 – Utrecht, 1624), Shepherdess with Turtle Doves, circa 1625 by G ... More





Zarina, Aleppo, 2013. Collage of Indian handmade paper dyed with Sumi ink and punched gold leaf paper on Arches Cover buff paper, 15 x 12 1/2 inches. © Zarina; Courtesy of the artist and Luhring Augustine, New York.





NEW YORK, NY.- Luhring Augustine presents Descending Darkness, an exhibition of new prints, works on paper, and sculpture by the artist Zarina. For nearly half a century, Zarina has explored the notion of home, be it the space between four walls, the familiar script of a mother tongue, or the constancy of the horizon line. Her life and the places that define it are the subject of her art, and her particular story – that of an immigrant, a traveler, and a citizen of the world – is one that resonates widely. Best known as a printmaker, Zarina also creates sculptural installations, collages, and other unique works on paper. Her compositions are precise and refined, yet never austere by virtue of carefully chosen materials such as handmade paper, gold leaf, and sumi ink. Paper is fundamental to her practice and, as ... More





Alfred Eisenstaedt, VJ Day, Times Square, NY, 14. August 1945 © Alfred Eisenstaedt, 2014.





HAMBURG.- The exhibition Eyes Wide Open: 100 Years of Leica Photography illuminates across fourteen chapters various aspects of recent small-format photography, from journalistic strategies to documentary approaches and free artistic positions, spanning fourteen chapters. Among the artists whose work is being shown are Alexander Rodchenko, Henri Cartier-Bresson, Robert Capa, Christer Strömholm, Robert Frank, Bruce Davidson, William Klein, William Eggleston, René Burri, Thomas Hoepker and Bruce Gilden. Following its premiere in the House of Photography at the Deichtorhallen Hamburg, the exhibition will travel to Frankfurt, Berlin, Vienna and Munich. Some 500 photographs, supplemented by documentary material, including journals, magazines, books, advertisements, brochures, camera prototypes and films, recount the history of small-format photography from its beginnings to the present day. The exhibition, ... More
First survey of Giovanni Battista Moroni's work to be held in the UK opens at the Royal Academy of Arts
Bullock Museum exhibit of ship that sank more than 300 years ago reveals early Texas history
'Haunted Screens: German Cinema in the 1920s' on view at the Los Angeles County Museum of Art




Giovanni Battista Moroni, Young Lady, c.1560-65. Oil on canvas, 51 x 42 cm. Private collection. Photo: Private collection.





LONDON.- This exhibition of outstanding works by Giovanni Battista Moroni (c .1520-1579), widely regarded as one of the greatest painters of the sixteenth century, will be the first comprehensive survey of his oeuvre to be held in the UK. In the autumn of 2014, the Royal Academy of Arts will gather a selection of over 40 works to present Moroni not only as a distinctive portraitist but also as a fine religious painter, a role for which he is lesser known. For the first time, a number of altarpieces from the churches of the Diocese of Bergamo, northern Italy, will be displayed alongside examples of Moroni's portraiture, chronologically charting his rise to the summit of Italian sixteenth-century painting. From works influenced by Lotto and Moroni's master Moretto, to later commissions earned as the leading painter of Bergamo, Giovanni Battista Moroni will offer viewers the chance to discover Moroni as an ... More





La Belle one-twelfth scale model. Ship model by Glenn Greico, Texas A&M University.





AUSTIN, TX.- One of the most significant exhibitions on European colonization in the United States will open today at the Bullock Texas State History Museum. Beginning Oct. 25, 2014, one of French explorer Robert Cavelier, Sieur de La Salle's ships that sank along the Texas coast more than 300 years ago, is set to be reassembled in the museum's gallery and visitors will see a centuries-old international story of cultural conflict unfold. "La Belle: The Ship That Changed History," brings together for the first time the 17th-century ship timbers, more than 120 of the 1.6 million artifacts excavated with La Salle's ship, newly edited video footage, and a 4D film that tells this important Texas narrative. "The exhibition of the shipwreck 'La Belle' is the culmination of nearly 20 years of work by dozens of experts in the fields of archaeology, marine conservation, history, and exhibition design," Bullock Museum Director Dr. Victoria Ramire ... More





Unknown artist, poster design from Paramount Studios press book for Metropolis, c. 1927. Offset lithograph. Directed by Fritz Lang. Photo: Cinémathèque française.





LOS ANGELES, CA.- The Los Angeles County Museum of Art, in collaboration with La Cinémathèque française, presents Haunted Screens: German Cinema in the 1920s (September 21, 2014–April 26, 2015), an exhibition that explores the height of German Expressionist film history through nearly 250 objects. Augmenting a vast collection of set design drawings—on loan from the Cinémathèque— an array of film clips, photographs, posters, documents, and cameras represent 25 films, 20 artists, and 14 directors. In addition to significant loans from the Cinémathèque, objects featured in Haunted Screens draw from the rich collections of LACMA's Robert Gore Rifkind Center for German Expressionist Studies, the Academy of Motion Picture Arts and Sciences' Margaret Herrick Library, and Los Angeles-based private collectors. Britt Salvesen, Department ... More
Quote
Oil colors will not do. William Blake
More News
---
After Dark at Tate Britain
---
---
Flashback
On a day like today, Russian oil magnate and art collector Roman Abramovich was born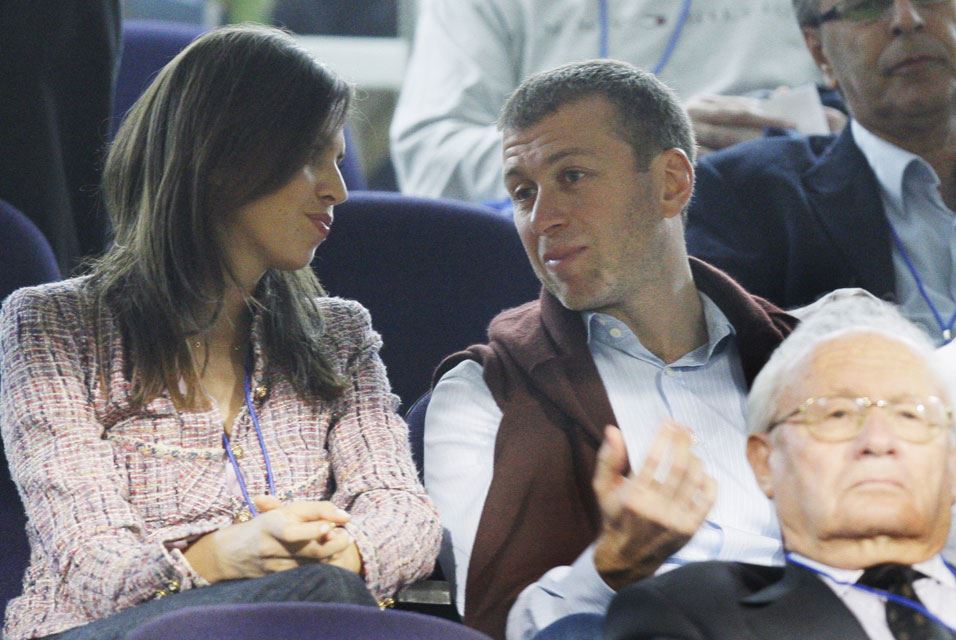 October 24, 1966. Roman Arkadyevich Abramovich (born 24 October 1966) is a Russian business tycoon and the main owner of the private investment company Millhouse LLC. In this image: Roman Abramovich, second from left, the owner of England's Chelsea soccer club sits, next to an unidentified woman during the Euro 2008 group E qualifying soccer match Israel vs Russia at the Ramat Gan stadium outside Tel Aviv, Israel, Saturday, Nov. 17, 2007.
---
---

Museums, Exhibits, Artists, Milestones, Digital Art, Architecture, Photography,
Photographers, Special Photos, Special Reports, Featured Stories, Auctions, Art Fairs,
Anecdotes, Art Quiz, Education, Mythology, 3D Images, Last Week,
.
Royalville Communications, Inc
produces: