A rare 2,000 year old inscription dedicated to the Emperor Hadrian was found in Jerusalem
An Israel's Antiquities Authority staff displays a 2,000-year-old commemorative stone inscription dedicated by the Roman army to Roman Emperor Hadrian, in east Jerusalem's Rockefeller museum, on October 21, 2014. The stone, which measures a metre by a metre-and-a-half(three feet by five feet)and weighing a tonne, was found near Jerusalem's Old City's Damascus Gate and has been called "among the most important Latin inscriptions" discovered in the Holy City as it sheds light on the ancient Jewish revolt against the Roman Empire. AFP PHOTO/MENAHEM KAHANA.
JERUSALEM
(AFP)
.-
Israeli archaeologists on Tuesday unveiled a 2,000-year-old commemorative stone inscription dedicated to Roman Emperor Hadrian, which researchers say sheds light on the Jewish revolt against the ancient empire. The stone, which measures a metre by a metre-and-a-half (three feet by five feet) and weighs a tonne, was found near the Damascus Gate entrance to Jerusalem's Old City, with Israel's Antiquity Authority (IAA) calling it "one of the most important Latin inscriptions" discovered in the Holy City. The six lines in Latin, engraved in the hard white limestone, are a dedication from the Roman army honouring Emperor Hadrian, who visited the city in 130 AD and whose many building projects included the wall named after him in Britain to demarcate a border of the Roman empire. The IAA said the stone may have originally been set into a gateway. It was found on top of a deep cistern, with a semi-circle cut through the lower part of the inscription to allow access to the water. ...
More
The Best Photos of the Day
New York's Metropolitan Opera defies protests to stage 'The Death of Klinghoffer' opera
King of Evening: Legendary fashion designer Oscar de la Renta dies at age 82
Artemis Gallery opens doors to Old World with auction of antiquities, Pre-Columbian and tribal art




Protestors yell at counter-protestors and opera attendees at the Metropolitan Opera at Lincoln Center. Bryan Thomas/Getty Images/AFP.





NEW YORK (AFP).- Defying picketers and audience disruptions, New York's Metropolitan Opera has opened "The Death of Klinghoffer," which explores the psyche of Palestinian hijackers who killed a wheelchair-bound US Jew. Leading US composer John Adams operatized the 1985 seizure of the Achille Lauro cruise-liner as a way to explore the dueling grievances of Israelis and Palestinians. But "The Death of Klinghoffer" has outraged some Israel supporters who say it unduly humanizes murderers. In an unusually tense display at the normally placid Lincoln Center, police stood guard in the lobby and set up barricades outside the entrance where picketers sat in wheelchairs in remembrance of Leon Klinghoffer, who was shot and thrown overboard by Palestinian hijackers demanding that Israel release prisoners. The first act was briefly halted as an audience member repeatedly ... More





This file picture taken on March 19, 1991 in Paris shows designer Oscar de la Renta posing with two models. AFP PHOTO/ PIERRE GUILLAUD.





NEW YORK (AFP).- Legendary fashion designer Oscar de la Renta, whose beautiful clothes defined American elegance for generations and were beloved by first ladies and Hollywood stars, died Monday. He was 82. As condolences poured in from the fashion world, his company website bore only his trademark signature in white against a navy blue background. US media reported his death at his home in Kent, Connecticut, quoting family members. He was diagnosed with cancer in 2006. Earlier this month, his luxury brand announced that British-born designer Peter Copping would take over as creative director although that he would work closely with de la Renta on designing the next collection. Twitter lit up with messages of condolence and praise for de la Renta. "Oscar created a whole world of luxury, style, and elegance all his own," wrote designer Vera Wang. "The 'King of ... More





Exceptional Palmyran limestone bust of a prince, Syria, circa 2nd to 3rd centuries AD.  Est. $30,000-$40,000. Artemis Gallery image.





BOULER, CO.- Once in a great while, an auction house is blessed with an "embarrassment of riches." That may very well describe the offerings in Artemis Gallery's Oct. 23-24 absentee/online auction of antiquities, Pre-Columbian and tribal art, featuring the collection of career diplomat William N. Dale. "This is surely one of the finest selections of ancient art we've ever had the privilege to present at auction," said Artemis Gallery's executive director, Teresa Dodge. "Day one is devoted to the collection of William Norris Dale, a US diplomat who was stationed in Turkey in the early 1960s. While living there, he amassed a wonderful collection of classical, Greek, Roman and Anatolian art." Among the classic antiquities are superb examples from cultures far less commonly seen at auction, including four Viking objects, and pieces from the Neolithic Vinca people (Baltic), the ... More
'Paul Strand: Master of Modern Photography' opens at the Philadelphia Museum of Art
Manfred Sellink is new Director and Head Curator of Royal Museum of Fine Arts Antwerp
Swiss photographer Rene Burri, who photographed Che Guevara and Picasso, dies at 81




Toward the Sugar House, Vermont, 1944 (negative); 1944 (print). Paul Strand, American, 1890 - 1976. Gelatin silver print, Image and sheet: 9 5/8 × 7 5/8 inches (24.4 × 19.4 cm). Philadelphia Museum of Art, The Paul Strand Collection, purchased with funds contributed by Barbara B. and Theodore R. Aronson, 2010. © Paul Strand Archive/Aperture Foundation.





PHILADELPHIA, PA.- The Philadelphia Museum of Art is presenting the first major retrospective in nearly fifty years to be devoted to Paul Strand (American, 1890–1976), one of the greatest photographers in the history of the medium. It explores the remarkable evolution of Strand's work spanning six decades, from the breakthrough moment when he brought his art to the brink of abstraction to his broader vision of the place of photography in the modern world. This exhibition examines every aspect of Strand's work, from his early efforts to establish photography as a major independent art form and his embrace of filmmaking as a powerful medium capable of broad public impact to his masterful extended portraits of ... More





Manfred Sellink is currently General Director of the Bruges Museums (Musea Brugge).





ANTWERP.- Manfred Sellink will succeed Paul Huvenne as the new General Director and Head Curator of the Royal Museum of Fine Arts Antwerp. He is currently General Director of the Bruges Museums (Musea Brugge). The Dutchman Manfred Sellink (born 1962) was elected after an extensive recruitment procedure. Sellink holds a PhD in Art History (Vrije Universiteit Amsterdam). His dissertation focused on the engraver and print publisher Philips Galle (1537-1612). Sellink is widely renowned as a specialist in several art historical issues such as the life and work of Pieter Bruegel the Elder, prints and drawings in the Low Countries in the second half of the 16th Century, and landscapes in the 16th Century in the Low Countries. Manfred Sellink also is a professor at the University of Ghent. On many occasions, Sellink was invited to speak at universities and conferences worldwide. He is a member of national and international ... More





Swiss photographer Rene Burri signing authographs on a book about revolutionary leader Ernesto 'Che' Guevara. AFP PHOTO / Adalberto ROQUE.





GENEVA (AFP).- Swiss photographer Rene Burri, celebrated for his portraits of Che Guevara and Pablo Picasso, died Monday in Zurich aged 81, the Magnum agency said. Burri, who lived between Zurich and Paris, had been suffering from a long illness, according to the photo agency. "Not only was he one of the great post war photographers, he was also one of the most generous people I have had the privilege to meet," Martin Parr, president of Magnum Photos, said in an online statement. Burri started working for Magnum in 1956 and covered major political events around the world. Among his most famous works are an iconic portrait of the revolutionary Che Guevara smoking a cigar, as well as portraits of Fidel Castro and hundreds of pictures of the architect Le Corbusier, and artists Giacometti, Klein and Picasso. He later said that Guevara was "an arrogant man, but he had charm ... More
Smithsonian announces $1.5 billion fundraising campaign; Largest in history for a cultural institution
Julian Shoolheifer joins classic vehicles auctioneers H&H Classics as Private Sales Principal
Frieze London 2014: Strong presentations and new design make an energetic 12th edition




The Space Shuttle Discovery has earned a place of honor in the collection of national treasures preserved by the National Air and Space Museum. Photo: Dane Penland.





WASHINGTON, DC.- The Smithsonian today announced plans to raise $1.5 billion in its first organization-wide fundraising campaign, the largest in history for a cultural institution. The early or "quiet" phase of the campaign began in October 2010; the campaign will continue through 2017. The Smithsonian has raised more than $1 billion, or two-thirds of its overall goal, through gifts from individuals, foundations, corporations and other donors. The campaign's four themes focus on the Smithsonian's contributions in the fields of history, science, art and culture—Spark Discovery, Tell America's Story, Inspire Lifelong Learning and Reach People Everywhere. These messages were chosen by the campaign to highlight the Smithsonian's strengths and address issues relevant in today's world. Three well-known philanthropists serve as co-chairs of the Smithsonian Campaign's steering committee and leaders of the fundraising e ... More





For the last 10 years he has been running a successful classic car consultancy, advising private clients, collectors, museums, the legal profession, investment companies, the police and major car manufacturers.





LONDON.- H&H Classics, one of Europe's leading specialist auctioneers of classic vehicles, has appointed Julian Shoolheifer to the role of Private Sales Principal. The senior position will be based in a new office in the south of England, and Shoolheifer will bring a wealth of experience gained over 18 years at the top end of the British collectors' car scene. After gaining an Honours Degree in Fine Art Valuation, Shoolheifer went on to head Sotheby's Vintage & Classic Cars department and then held a similar position at Cheffins auctioneers. For the last 10 years he has been running a successful classic car consultancy, advising private clients, collectors, museums, the legal profession, investment companies, the police and major car manufacturers. On behalf of H&H Classics, Shoolheifer will continue to guide individual collectors and institutions as well as handling H&H's successful Private Sales division. "My new ro ... More





A man looks at a work of art by English artist Reg Butler entitled "Bending Girl" displayed at the Frieze Masters exhibition in London on October 14, 2014. AFP PHOTO/BEN STANSALL.





LONDON.- At the close of the 12th edition of Frieze London, participating galleries and visitors gave praise for the fair's energy and applauded Universal Design Studio's intelligent approach to the new layout. This year, Frieze London brought 162 galleries from 25 territories under one roof with visitor numbers in the region of 60,000 during the five days of the fair. The 2014 fair also marks the eleventh year of the partnership between Frieze and main sponsor Deutsche Bank. London-based design consultants Universal Design Studio created new interiors and lighting for the 2014 edition of the fair, with a new layout that radically altered the fair experience for exhibitors and visitors alike. This year also saw the introduction of 'Live', a new section sponsored by Alexander McQueen and dedicated to ambitious performance-based installations, dispersed throughout the fair. For the third year, Frieze Masters, a fair dedic ... More
Horace Panter of The Specials releases 'Art': A compendium of his famous, icon-inspired works
Matias Faldbakken and Leander Djonne unveil their sculpture as part of FIAC's Hors Les Murs art programme
Master Drawings in New York announces highlights at the 2015 edition




'Art' by Horace Panter is published on 14th November by Foruli Codex.





LONDON.- Horace Panter first rose to fame as the bassist of one of Britain's defining bands of the '80s, The Specials, but has since gone on to enjoy a celebrated career as an artist. Combining his music and art heritage he has created 'Art', a collection of his best work from across the past five years, ranging from the 'Blues' series in 2009 to the renowned 'Cassette' series in 2014. His iconographic creations are infused with pop art sensibilities and have featured the biggest stars of the 20th and 21st century, including 'The King' himself Elvis Presley, Specials fan Amy Winehouse, '90s grunge icon Kurt Cobain and punk rockers The Clash. Horace's art has earned him high profile fans including Nile Rogers and Cerys Matthews who both own pieces, as well as artist, musician and actor Goldie, who has written the book's foreword. 'Art' from Horace Panter and Foruli Codex is published on 14th November and is available for just ... More





Matias Faldbakken & Leander Djønne, Void to void, 2014. Trench boxes. Dimensions variable. Presented by Simon Lee Gallery, London and Hong Kong, and Galerie Eva Presenhuber, Zürich.





PARIS.- Simon Lee Gallery announced Matias Faldbakken and Leander Djonne's inclusion to FIAC's renowned outdoor art programme, Hors Les Murs, installed in the Jardin des Tuileries in Paris. An ensemble of outdoor works, performances, video, film projections and talks will be presented with the FIAC Hors les Murs artistic programme, in the Jardin des Tuileries, the Jardin des Plantes and the National Museum of Natural History, on the banks of the Seine, on the Place Vendôme, the wharf of the Cité de la Mode et du Design, the Louvre Museum and the l'Ecole nationale supérieure des beaux-arts de Paris (ENSBA). Faldbakken and Djonne present Void to Void, a major new sculptural work consisting of vertically stacked trench boxes. By taking the trench boxes out of their normal context and installing the sculpture in a outdoor above-ground environment, ... More





Joshua Reynolds, Dionysius Aeropagites. Oil on canvas, 30 x 25 inches, circa 1772. Photo: Courtesy of Lowell Libson.





NEW YORK, NY.- The tenth edition of Master Drawings in New York January 24 – February 1, 2015 promises to be the best ever. More than thirty of the world's leading dealers are coming to New York City to offer for sale master art works in pencil, pen and ink, chalk and charcoal, as well as oil on paper sketches and watercolours, created by iconic artists working in the 16th to 21st centuries. Each exhibition is hosted by an expert specialist and many works on offer are newly discovered or have not been seen on the market in decades, if at all. In addition, Margot Gordon and Crispian Riley-Smith, co-founders of Master Drawings in New York, announced that John Marciari, the new head of the Department of Drawings and Prints at the Morgan Library & Museum in New York, will provide the introduction for the 2015 Master Drawings in New York brochure. Highlights at the 2015 edition of Master Drawings ... More
Quote
Artists in England are paid too much. Prince Albert
More News
---
Leonard A. Lauder on Collecting Cubism
---
---
Flashback
On a day like today, American painter and graphic artist Robert Rauschenberg was born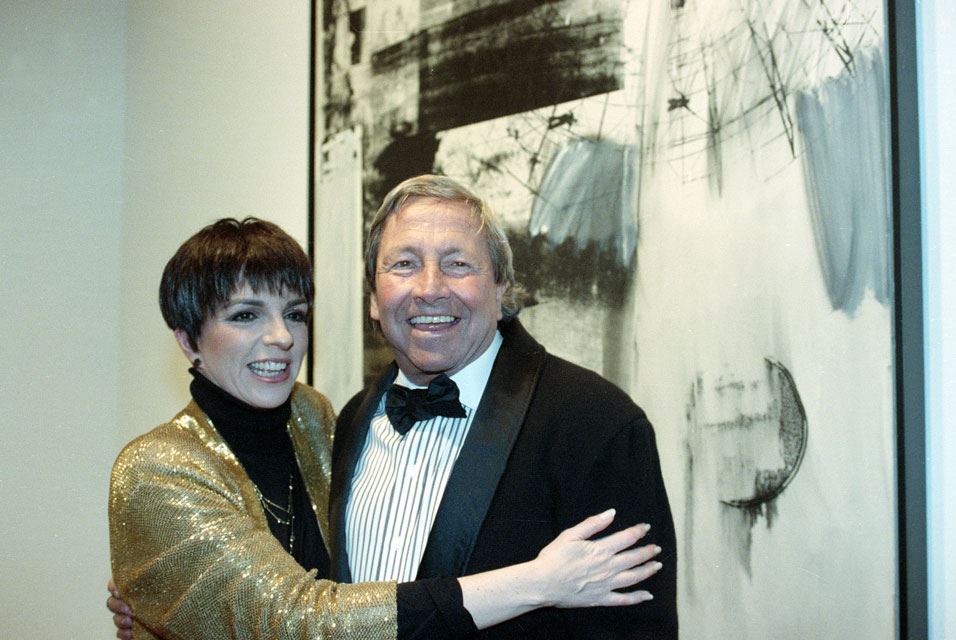 October 22, 1925. Robert Rauschenberg (October 22, 1925 - May 12, 2008) was an American painter and graphic artist whose early works anticipated the pop art movement. Rauschenberg is well known for his "Combines" of the 1950s, in which non-traditional materials and objects were employed in innovative combinations. Rauschenberg was both a painter and a sculptor and the Combines are a combination of both, but he also worked with photography, printmaking, papermaking, and performance. He was awarded the National Medal of Arts in 1993. In this image: Actress and singer Liza Minnelli poses with artist Robert Rauschenberg at the opening of Rauschenberg's silkscreen paintings at the Whitney Museum of American Art in New York City, Wednesday, Dec. 5, 1990.
---
---

Museums, Exhibits, Artists, Milestones, Digital Art, Architecture, Photography,
Photographers, Special Photos, Special Reports, Featured Stories, Auctions, Art Fairs,
Anecdotes, Art Quiz, Education, Mythology, 3D Images, Last Week,
.
Royalville Communications, Inc
produces: