"The Music Lesson" by Johannes Vermeer returns to the Netherlands
The painting "The Music Lesson" by Dutch artist Johannes Vermeer is hung during the installation of the exhibition "At Home in Holland: Vermeer and his Contemporaries from the British Royal Collection" at the Mauritshuis Museum in The Hague on September 23, 2016. The renowned collection of the British royal family, managed by Queen Elizabeth II, contains unique highlights from the oeuvres of famous painters such as Gerard ter Borch, Pieter de Hooch, Gabriel Metsu and Jan Steen. Koen van Weel / ANP / AFP.
THE HAGUE
.-
"The Music Lesson" by Johannes Vermeer returns to the Netherlands this autumn for the first time in twenty years. This masterpiece, part of the British Royal Collection, was last on display in the
Mauritshuis
in 1996, as part of the major Johannes Vermeer exhibition. The painting will be the highlight of this autumn's exhibition At Home in Holland: Vermeer and his contemporaries from the British Royal Collection. The exhibition opens to the public on the 29th of September. "The Music Lesson" is one of the rare 36 surviving works by Johannes Vermeer. This painting dates from 1660-1662, and shows a woman and a gentleman beside a virginal. Above the instrument hangs a mirror, which reflects the foot of Vermeer's easel. The The painting was acquired by King George III of England in 1762, when it was attributed to Frans van Mieris the Elder. Only later was it recognised as a masterpiece by Vermeer. Mauritshuis itself has three wo ...
More
The Best Photos of the Day
Van Gogh Museum announces new acquisition: "Farm in Brittany" by Paul Sérusier
Petit Palais opens first major exhibition in France devoted to the famous writer Oscar Wilde
Installation tells the story of iconoclastic businessman and art collector


The work the museum has purchased is a fine example of Sérusier's Breton style, in which he was influenced by the older Gauguin.



AMSTERDAM.- The Van Gogh Museum has added a characteristic painting by Paul Sérusier (1864-1927) to its important collection of works by contemporaries of Van Gogh. Farm in Brittany (c. 1890), a recent purchase, complements the group of works by the Pont-Aven School. The work has hung on the second floor, where other paintings in this collection are also on display, since 18 September. Paul Sérusier is the best-known and most important artist of the Pont-Aven School, save for Paul Gauguin. The Van Gogh Museum has a small but significant collection of works by this French artists' group, which was active around Pont-Aven, their base in Brittany, between 1886 and 1894. The artists of the Pont-Aven School wanted to capture Brittany's rugged landscape and simple folk. In this they had much in common with Van Gogh, who also often chose unspoilt countryside ... More



The Cameron Studio, Portrait de Constance et Cyril Wilde, 1889. © © Collection particulière.



PARIS.- The Petit Palais is presenting the first major exhibition in France devoted to the famous writer Oscar Wilde (Dublin 1854 – Paris 1900). Although Wilde died in the French capital, the centenary of his death was not celebrated here; London, on the contrary, honoured him with two large-scale exhibitions in 2000, one – mainly literary and biographical – at the British Library, and the other at the Barbican Centre, focusing on his connections with the artists of his time. For this landmark event the Petit Palais retraces the life and work of this ardent francophile and speaker of perfect French through more than 200 remarkable exhibits, some never shown before: manuscripts, photographs, drawings, caricatures and personal effects; as well as paintings borrowed not only from Ireland and England, but also from the United States, Canada and Italy, from French institutions including the Musée d'Orsay and ... More



Gerald L. Brockhurst (English, 1890–1978), Portrait of J. Paul Getty, 1938. Oil on canvas. Unframed: 73.7 x 61 cm (29 x 24 in.) The J. Paul Getty Museum, Los Angeles © Richard Woodward 67.PA.2.



LOS ANGELES, CA.- The J. Paul Getty Museum opened today a new permanent installation that tells the story of its founder J. Paul Getty (1892-1976), the iconoclastic businessman and art collector who used the bulk of his fortune to create the global arts institution that bears his name. "Through his generosity, J. Paul Getty had a vast and far-reaching impact on the worlds of art, culture and philanthropy. With J. Paul Getty Life and Legacy, we explore the background and achievements of this fascinating man, and highlight the extent of his influence on the visual arts and cultural heritage around the world," said Timothy Potts, director of the J. Paul Getty Museum. "More than two million visitors come to the Getty each year and many of them ask questions about who he was and what he accomplished. This installation ... More
British Museum display focuses on rock art
Iconic Lawren Harris canvas up for auction after starring in museum show
Portugal to keep Miro collection


Group of kudu, Mashonaland, present-day Zimbabwe; ochre pigment on pink quartzite © The Trustees of the British Museum.



LONDON.- This Asahi Shimbun Display Rock art: power and symbolism in southern Africa focuses on a piece of San|Bushmen rock art from Zimbabwe. San|Bushmen describes groups of hunter-gatherer-fishers living in southern Africa. The object depicts two human figures and three antelope on a quartz base. Particular animals such as eland and kudu had symbolic importance for San|Bushmen, relating to their cosmology and rituals. Rockart images often depict shaman (or spiritual leaders) together with eland or kudu. Shamans entered trance-like states while dancing, believing that the spirit of an animal was inhabiting their bodies. This gave them the power to heal the sick, overpower evil spirits and summon rain. Although rock art is not practiced today, the display will show how the images they left behind can provide a glimpse into the lives and belief systems of the people that made them. The display draws on The African Rock Art Image Project which has catalogued ... More



Heffel will offer the outstanding Mountain Forms canvas by Group of Seven founder, Lawren Harris at its upcoming fall live auction on November 23.



TORONTO.- Heffel Fine Art Auction House is thrilled to share that its upcoming fall live auction will see one of the finest examples of 20th century painting hit the auction block. Mountain Forms, an iconic 1926 Rocky Mountain canvas by Group of Seven founder Lawren Harris, will make its way into new hands this November in Toronto. Estimated to achieve between $3 million and $5 million, the masterwork will unquestionably attract collectors from around the world (all prices are in Canadian dollars and are according to conservative estimates). Mountain Forms is a large-scale masterpiece by Harris, commanding in scale and rich in colour, standing at five feet tall and nearly six feet wide. The work depicts Mount Ishbel located in the Sawback Range in the Rocky Mountains. Consigned from the prestigious Imperial collection, the fall auction offers collectors an incredible opportunity to own a rare-to-the-market Harris canvas, very few of which are i ... More



Personnage dans un paysage, 1970, gouache, pastel and pen and India ink on paper. Estimate: £40,000-60,000. Photo: Christie's Images Ltd 2013.



LISBON (AFP).- The Portuguese government said Tuesday it had decided to keep 85 works by famed Spanish artist Joan Miro in the country after an uproar over their proposed sale to foreign buyers. The paintings, estimated to be worth around 35 million euros ($39 million), came under state ownership in 2008 when the government nationalised the failed bank BNP which had built up the Surrealist collection. The former centre-right government put them up for auction in London in 2014 to raise cash, but they were withdrawn after an outcry and a legal challenge from political opponents and activists. Centre-left Prime Minister Antonio Costa announced Tuesday that the government had "finally decided to keep the famous collection of Miro works in the city of Porto." It is unclear if they will remain state-owned or be sold to private collectors, but a government official said any private buyer would have to accept keeping them in Porto. The paintings will go on display for ... More
Netflix to release "Sky Ladder: The Art of Cai Guo-Qiang"
Exhibition outlines the relationship between Fontana and Melotti
Pierre Huyghe chosen as recipient of the 2017 Nasher Prize


Cai at Tom Sachs' Space Program exhibition, Fifth Avenue Armory, New York 2012. Photo: Courtesy of Wen-You Cai/Netflix ©.



NEW YORK, NY.- The first feature-length documentary on Chinese artist Cai Guo-Qiang, directed by acclaimed filmmaker Kevin Macdonald, will be released on Netflix on October 14. Told through the artist's own words and those of family, friends and vigilant observers, Sky Ladder: The Art of Cai Guo-Qiang tracks the artist's meteoric rise and examines how and why he engineers artworks that stretch as far as the eye can see and wow millions, such as a six mile-long gunpowder fuse stemming from the Great Wall into the Gobi Desert or the astounding opening and closing ceremonies of the 2008 Beijing Summer Olympics. With the documentary's ambitious namesake — a 1,650 foot ladder of fire climbing into the skies about his hometown — the film captures Cai's work, which unites Eastern philosophy with contemporary social issues. SKY LADDER: THE ART ... More



Lucio Fontana (1899 – 1968), Concetto Spaziale, Attese, 1967. Waterpaint on canvas, 59.9 x 51.1 cm. Courtesy Mazzoleni © Fondazione Lucio Fontana, Milan.



LONDON.- Mazzoleni announces an exhibition outlining the influential relationship between two major Post-War Italian artists, Lucio Fontana (1899–1968) and Fausto Melotti (1901– 1986). Curated by Daniela Ferrari, art historian and curator at the Museum of Modern and Contemporary Art of Trento and Rovereto (MART), Italy, 'Angelic Spaces and Infinite Geometries' explores the parallels in the theory and practice of both artists, focusing on their later work and the ways in which both artists conceived of and responded to notions of space and geometry. The exhibition highlights the role that the two artists had in creating a new type of Italian art, particularly sculpture, that presented an innovative way of interpreting space, emptiness and infinity. 'I make holes, the infinite goes through them, light passes through them, there is no ... More



Pierre Huyghe. Photo: Philippe Quaisse.



DALLAS, TX.- The Nasher Sculpture Center announces French artist Pierre Huyghe as the recipient of the 2017 Nasher Prize. In its second year, the Nasher Prize is the most ambitious international award in sculpture, established to honor a living artist who elevates the understanding of sculpture and its possibilities. Pierre Huyghe has profoundly expanded the parameters of sculpture through artworks encompassing a variety of materials and disciplines, bringing music, cinema, dance, and theater into contact with biology and philosophy, incorporating time based elements that vary in intensity, as diverse as fog, ice, parades, rituals, automata, computer programs, video games, dogs, bees, and microorganisms. Huyghe has consistently sought new ways to bring together unconventional and heterogeneous materials into a practice exceeding the sum of its multifarious parts. Pierre Huyghe was selected for his extraordinary work by an ... More
The Fine Art Society stages first posthumous exhibition of British Pop artist and sculptor Gerald Laing
Throckmorton Fine Art exhibits works by one of Mexico's most important and admired photographers
New outdoor sculpture installed at Tulane's Newcomb Art Museum


Sandra (Baby Baby Wild Things), 1968.



LONDON.- The Fine Art Society is presenting the first posthumous exhibition of British Pop artist and sculptor Gerald Laing (1936 - 2011) on the fifth anniversary of his death. Featuring over 70 paintings and sculptures, including many of his most important works, the exhibition traces the entire trajectory of the artist's career. Part of the original wave of British Pop artists, Gerald Laing helped to define the visual language of the Sixties, producing some of the most significant works of the movement including Brigitte Bardot (1962). Also a figurative sculptor of great distinction, Laing continues to hold his place as one of the most important artists of his generation. The Fine Art Society's exhibition reflects all phases of Gerald Laing's career starting from the early Pop paintings he produced while he was still a student at St Martins School of Art in London including the monum ... More



Héctor Garcia, Diego Rivera, 1950s. Gelatin silver print, 7 x 5.



NEW YORK, NY.- Throckmorton Fine Art is presenting a major show of more than forty photographic images by the acclaimed Mexican photographer and photojournalist Héctor Garcia (Aug 23, 1923 – June 2, 2012) from September 22 to November 26 at its New York gallery. Spencer Throckmorton says, "Some people are defeated by the desperate nature of early childhood poverty, but Héctor Garcia was not one of them. His strength and determination not only allowed him to break out of the confines of his youth but to master both the challenges of an award-winning career as a star photojournalist, and the artistry needed to produce critical social documentary portraits that became a signature over more than six decades of work." Among images for which Héctor Garcia was best known are those that expressed his social consciousness ... More



TRUTH BUBBLE SIGN TREE is the work of celebrated American artist Hank Willis Thomas.



NEW ORLEANS, LA.- A curious tree now stands amid the historic live oaks of Tulane's uptown campus, thanks to the Newcomb Art Museum. Fifteen-feet tall and painted a shiny deep black, TRUTH BUBBLE SIGN TREE is the work of celebrated American artist Hank Willis Thomas, known for his thought-provoking works on race, representation, and consumer culture. The work incorporates individual cartoon-like speech balloons that, like leaves, ornament the six jagged branches. Each bubble, rendered in white-painted steel with heavy black outlines, features a solitary word or punctuation mark. One will see, in no certain order, truth, !, you, I, is, love, the, ?. Upon closer inspection, viewers may see the exclamatory phrase "the truth is I love you!" or, instead, inquires such as "the truth is?" or "is love the truth?" The meaning of the ... More
Quote
True artists are almost the only men who do their work for pleasure. Auguste Rodin
More News
---
Must-see autumn 2016 exhibitions
---
Flashback
On a day like today, American fashion designer Geoffrey Beene died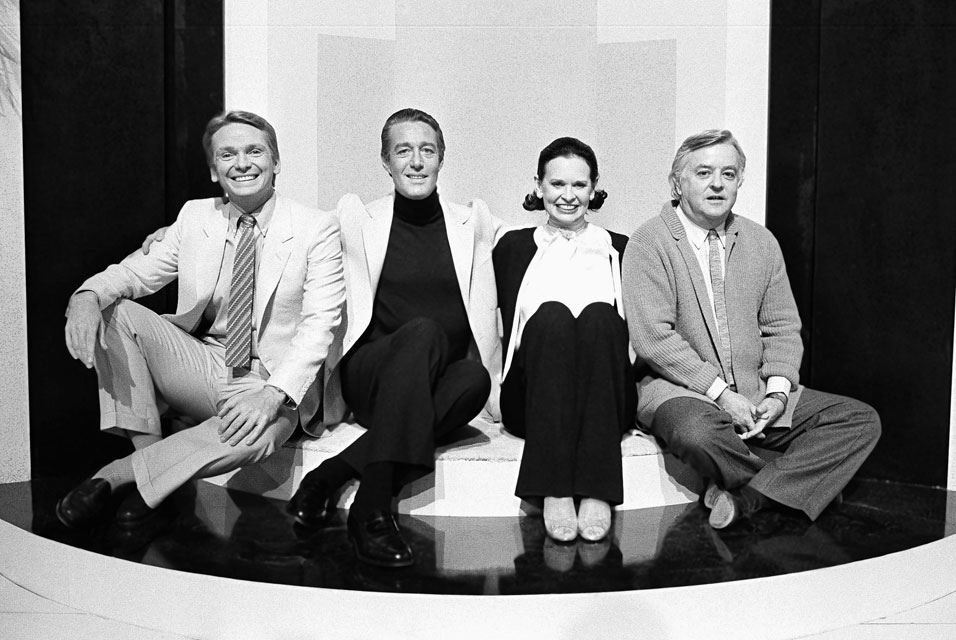 September 28, 2004. Geoffrey Beene (August 30, 1927 - September 28, 2004) was an American fashion designer. In this image: America's foremost fashion designers get together Tuesday, February 4, 1981 for a taping of an episode of ABC-TV's "Love Boat" in which the elite group will appear, portraying themselves. The designers, from left, Bob Mackie, Halston, Gloria Vanderbilt and Geoffrey Beene, will appear on the show, to be aired in May, accompanied by models showing styles most closely identified with each designer.
---
---

Museums, Exhibits, Artists, Milestones, Digital Art, Architecture, Photography,
Photographers, Special Photos, Special Reports, Featured Stories, Auctions, Art Fairs,
Anecdotes, Art Quiz, Education, Mythology, 3D Images, Last Week,
.
Royalville Communications, Inc
produces:







Tell a Friend
Dear User, please complete the form below in order to recommend the Artdaily newsletter to someone you know.
Please complete all fields marked *.
Sending Mail

Sending Successful