A new exhibition at Buckingham Palace brings together nine generations of royal children
A member of staff poses for photographers with a miniature James Bond DB5 presented to Britain's Prince Andrew by the Aston Martin company in 1965, at Buckingham Palace in central London on July 24, 2014, during a preview for the forthcoming exhibition exploring 250 years of royal childhood. A special exhibition on childhood in the British royal family is to open at Buckingham Palace on Saturday, featuring well-loved toys spanning 250 years including a gadget-laden miniature James Bond supercar. AFP PHOTO / CARL COURT.
LONDON
.-
An exhibition featuring well-loved toys, treasured family gifts and tiny outfits belonging to nine generations of royal children opens at Buckingham Palace on Saturday, 26 July 2014 at the annual Summer Opening of the State Rooms. Royal Childhood brings together more than 150 objects relating to 25 children, from the future George IV to Prince George of Cambridge, set against a backdrop of previously unseen photographs and private film footage. It gives an unprecedented glimpse into life as a young member of the royal family over 250 years. Buckingham Palace has been a royal family home since George III purchased Buckingham House for his new wife Queen Charlotte in 1762. In 1845 Queen Victoria commissioned a fourth wing to be added to the Palace to provide 'accommodation for our little family, which is fast growing up' – she had nine children. In 1936, at the age of ten, Princess Elizabeth moved into the Palace with her parents, King George VI and Queen Elizabeth, ...
More
The Best Photos of the Day
For the third year in a row, Metropolitan Museum announces more than 6 million annual attendance
Amon Carter Museum of American Art acquires masterpiece by Raphaelle Peale
Previously unseen archive of Jimi Hendrix photographs on view at Snap Galleries




Facade, The Metropolitan Museum of Art. Image ©The Metropolitan Museum of Art.





NEW YORK, NY.- The Metropolitan Museum of Art announced today that 6.2 million people—from New York City, the tri-state area, across the United States, and 187 foreign countries—visited the Museum during the fiscal year that ended on June 30. For the third year in a row, attendance at the Museum has exceeded six million—the highest levels of visitorship since the Museum began tracking admission statistics more than 40 years ago. The number includes attendance at both the main building on Fifth Avenue and The Cloisters museum and gardens in upper Manhattan, the branch of the Metropolitan devoted to the art and architecture of the Middle Ages. The Cloisters experienced a remarkable 50% increase in attendance in the past fiscal year, attracting nearly 350,000 visitors. "We are proud to announce that, for the third year in a row, we have welcomed more than six million visitors to the Museum," said Thomas P. Campbell, Directo ... More





Raphaelle Peale (1774-1825), Peaches and Grapes in a Chinese Export Basket, 1813 (detail), oil on panel, Amon Carter Museum of American Art, Fort Worth, Texas, acquisition in memory of Ruth Carter Stevenson, President of the Board of Trustees, 1961-2013, with funds provided by the Ruth Carter Stevenson Memorial and Endowment Funds.





FORT WORTH, TX.- The Amon Carter Museum of American Art announced today the acquisition of the painting Peaches and Grapes in a Chinese Export Basket (1813) by Raphaelle Peale (1774–1825). The first work by Peale to enter the collection, the still life painting was purchased in memory of the museum's founder Ruth Carter Stevenson (1913–2013). The painting is on view beginning July 29 in the main gallery. "Raphaelle Peale is considered the first American still-life artist," says Andrew J. Walker, director of the Amon Carter. "His paintings established the tradition in this country, and they remain among the most magnificent images of their kind ever created. Adding this superb painting by Peale ... More





This exhibition presents previously unseen Jimi Hendrix images by renowned portrait photographer Donald Silverstein.





LONDON.- Jimi Hendrix by Donald Silverstein is the world's first exhibition of work from this incredible, previously unseen archive of Jimi Hendrix photographs. It seems incredible that an archive of such historical significance has never been the subject of a gallery exhibition before now, but we are putting that right, and some. This exhibition presents previously unseen Jimi Hendrix images by renowned portrait photographer Donald Silverstein (1932-75). Running from 26 July to 23 August 2014, the exhibition celebrates Silverstein's iconic images of the incendiary musician, taken in London in 1967. Incredibly, only two of the photographs from the extensive session have been released officially, (both in conjunction with Jimi Hendrix albums), and so the exhibition unlocks the amazing treasure-trove of previously unseen / unpublished images contained within the Silverstein family's ... More
The Paris of Toulouse-Lautrec features over 100 prints and posters from MoMA's collection
Over There! Exhibition of posters from WWI opens at the Museum of Fine Arts, Boston
Early paintings and woodcuts by Vasily Kandinsky on view at the Guggenheim Museum




Henri de Toulouse-Lautrec (French, 1864–1901). La Loge au mascaron doré (The Box with the Gilded Mask), program for Le Missionnaire (The Missionary) at the Théâtre Libre. 1894. Lithograph, sheet: 12 1/16 x 9 7/16 in. (30.6 x 24 cm) The Museum of Modern Art, New York. Johanna and Leslie J. Garfield Fund, Mary Ellen Oldenburg Fund, and Sharon P. Rockefeller Fund, 2008.





NEW YORK, NY.- The Museum of Modern Art presents The Paris of Toulouse- Lautrec: Prints and Posters, an exhibition dedicated to Henri de Toulouse-Lautrec and drawn almost exclusively from MoMA's collection of posters, lithographs, printed ephemera, and illustrated books, on view from July 26, 2014, to March 22, 2015. A preeminent artist of Belle Époque Paris, Henri de Toulouse-Lautrec (1864–1901) brought the language of the late-19th- century avant-garde to a broad public through his famous posters, prints, and illustrations for journals and magazines. His work allows entry into many facets of Parisian life, from politics to the rise of popular entertainment in the form of cabarets and café-concerts. Organized thematically, the exhibition explores ... More





James Montgomery Flagg, I Want You For U.S. Army, 1917. Poster, color lithograph. Photo: © Museum of Fine Arts, Boston.





BOSTON, MASS.- Timed to coincide with the 100th anniversary of the outbreak of WWI, Over There! Posters from World War I (on view July 26, 2014—May 25, 2015) at the Museum of Fine Arts, Boston, features more than 50 wartime posters from the United States and Europe. Many of the posters were used to encourage enlistment in the US Army, Navy, Marines and Air Service, while others appealed to the American public to buy war bonds, conserve food, support the Red Cross and other relief agencies, and maintain a strong work ethic on the home front. On view in the Mary Stamas Gallery and Frances Vrachos Gallery, this exhibition is the first time since 1938 that many of the posters have been on view, and marks the first time that the newly acquired I Want You For U.S. Army (1917) by James Montgomery Flagg has been on view at the MFA. The works are organized by theme––American and British recruitment posters are displayed with a selection of Europ ... More





Singer (Sängerin), 1903. Woodcut on Japanese paper, mounted on paper, 35.9 x 24.8 cm. Solomon R. Guggenheim Museum, New York 72.2003 © 2014 Artists Rights Society (ARS), New York/ADAGP, Paris.





NEW YORK, NY.- The Guggenheim Museum presents Kandinsky Before Abstraction, 1901–1911 in the museum's Kandinsky Gallery on Annex Level 3. The exhibition features an intimate presentation of sixteen early paintings and woodcuts by Vasily Kandinsky (b. 1866, Moscow; d. 1944, Neuilly-sur-Seine, France), highlighting pictorial themes that preceded the artist's known nonobjective style. This exhibition is organized by Tracey Bashkoff, Senior Curator, Collections and Exhibitions, and Megan Fontanella, Associate Curator, Collections and Provenance. Kandinsky launched his artistic career in 1895, abandoning a legal profession to become the art director of a printing firm in Moscow. One year later Kandinsky left for Munich, where he formed associations with the city's leading avant-garde groups, realized his talent for working with three classic printmaking techniques (etching, lithography, and woodcut), and began to evolve as an arti ... More
Forgotten painter Rudolf Bauer to be resurrected in new play, TV documentary, and gallery exhibition
The FLAG Art Foundation in New York opens two new exhibitions this summer
Joseph Bellows Gallery opens 'Victor Landweber: American Cameras' and 'Summer Selections II'




Rudolf Bauer, Spiritual Pleasure (detail), 1935-38. Oil on canvas, 51 1/4 x 51 1/4". Photo by Nick Pishvanov. Courtesy Weinstein Gallery.





NEW YORK, NY.- A new play, public television documentary special, and gallery exhibition will resurrect the life and work of modernist artist Rudolf Bauer, one of the 20th century's most important, yet nearly forgotten, painters. The astonishing paintings. The multiple affairs. The deception. The treachery. And the non-objective art that offered a new way of looking at the world. Bauer,a new play by Lauren Gunderson, will have its New York premiere at New York City's 59E59 Theaters on September 2, after an acclaimed production at the San Francisco Playhouse, and "Betrayal: The Life and Art of Rudolf Bauer," a documentary narrated by Linda Hunt, will be broadcast on THIRTEEN, the public television station serving the New York metropolitan area, on Monday, August 25th at 9:00 p.m. In addition, the German Consulate General (871 United Nations Plaza) will host an exhibition of Rudolf Bauer's masterpieces from September 2-19. Born in Germany in 1889, Bauer h ... More





Maquette for House 1, 1996. Painted and patinated bronze, 13 5/8 x 22 ½ x 5 3/16 inches© Estate of Roy Lichtenstein.





NEW YORK, NY.- The FLAG Art Foundation is presenti two exhibitions: Roy Lichtenstein: Intimate Sculptures, organized in cooperation with the Roy Lichtenstein Foundation, and East Side to the West Side, an exhibition featuring three Lower East Side galleries: Brennan & Griffin, James Fuentes, and Rachel Uffner. Roy Lichtenstein: Intimate Sculptures presents a selection of the artist's sculptures and maquettes, works that playfully and pointedly blur the boundaries of drawing, sculpture, and painting. Comprised of everyday and mass-produced objects - a mirror, water glass, and coffee cup - as well as the artist's signature brushstrokes, the works highlight Lichtenstein's ability to elevate the everyday to the iconic. Presented in a gallery space populated with furniture, the exhibition encourages engagement, inviting audiences to view historic works in an intimate setting. Concurrent with the exhibition at FLAG, Lichtenstein's monumental ... More





Victor Landweber''s American Cameras series depict a visually seductive group of vintage cameras isolated on a black background.





LA JOLLA, CA.- Joseph Bellows Gallery announces two new exhibitions, Victor Landweber American Cameras and Summer Selections II. An opening reception will be held for both exhibitions on Saturday July 26 from 6-8pm. The exhibitions will continue through September 6th. Victor Landweber's American Cameras series depict a visually seductive group of vintage cameras isolated on a black background. The large-scale luminous Cibachrome prints included in the exhibition present their subjects directly, and ask the viewer to contemplate the object pictured, as well as the nature of the medium of photography itself. Artists working in media other than photography, especially late Modernist painters, surrealists, Dadaists and conceptual artists, whose work have suggested possibilities for addressing perception and its representation in a photograph, have been influential to Landweber. Victor Landweber was born in Washington DC in 1943. He h ... More
CAC Málaga presents TV Channel: Philippe Parreno's first solo exhibition in Spain
Museum of Fine Arts, St. Petersburg commemorates the centennial of the Panama Canal
'L'Art Brut dans le Monde' exhibition opens at Collection de l'Art Brut in Lausanne




Seven films by Parreno, produced between 1987 and 2007, are on view at CAC Malaga.





MALAGA.- TV Channel, Philippe Parreno's first solo exhibition in Spain curated by Fernando Francés, is a collection of seven films by Parreno, produced between 1987 and 2007 - Fleurs; No More Reality, la manifestation; Anna; Anywhere Out Of The World; El Sueño de Una Cosa; Alien Season; and The Writer. During the 90 minute loop humans, vegetables, animals and miscellaneous objects appear at intervals, all of them existing on the edges of being, seeming part automaton, part alive. The work is a soliloquy, an exhibition within an exhibition space. TV Channel is an apparatus. It is presented on a huge LED panel, used mainly in stadiums in the late 1990s. The screen is both solid and translucent with the resolution and sound in transient states, shifting and disintegrating depending on the vantage point of the viewer, the spectators and what they watch are in turn phantasmagorical and real. The title of the work itself also shifts. 'Channel' can be taken to mean both TV station a ... More





Ernest "Red" Hallen (American, 1875-1947), Operation of Gatun Locks. S.S. Allianca leaving upper-west chamber and entering Gatun Lake (June 8, 1914). Gelatin silver print. Gift of Dr. Robert L. and Chitranee Drapkin from The Ludmila Dandrew and Chitranee Drapkin Collection.





ST. PETERSBURG, FLA.- Building the Panama Canal—Photographs by Ernest Hallen, on view from Saturday, July 26, through Sunday, November 9, in the second-floor Works on Paper Gallery, reveals a fascinating story. This technological marvel changed the world's system of transportation and would have far-reaching economic and political implications. The canal, an impressive achievement completed in 1914, also became a lightning rod. The works in this exhibition date from 1904 to 1915. Curatorial Assistant Sabrina Hughes is the curator of Building the Panama Canal. The Margaret Acheson Stuart Society is the Major Sponsor of all Museum exhibitions and educational programs. Bill Edwards Presents, Inc. is the 2014 Exhibition Title Sponsor, and the Tampa Bay Times is the Media ... More





Antonio Roseno de Lima, Artur Bernardes, 1989. Synthetic paint on paperboard fastened onto a plaster- reinforced wood frame, 27 x 19.4 x 2.8 cm. Photo : Arnaud Conne, Atelier de numérisation - Ville de Lausanne Collection de l'Art Brut, Lausanne.





LAUSANNE.- "One of our civilization's most awkward facets is the total separation operated between the order of the rational and the order of the poetic, whereas in all the so-called primitive civilizations [...], these are two closely united orders," asserted the ethnologist Claude Lévi Strauss. The seven creators whose works have been assembled for this exhibition have maintained the original alliance enabling the two orders, the rational and the poetic, to live together. Their creations—recently discovered or rediscovered in Bali, Brazil, Benin, India, the Far North Arctic, Sicily and Germany—testify to a cosmopolitan Art Brut immersed in poetry. Some of them cultivate sensitive links with nature and the cosmos, bending an attentive ear, in the manner of a Zen archer. Others assert that the celestial or astral powers accompany them, that they are ... More
Quote
Classicism is health, romanticism is sickness. Johann Wolfgang von Goethe
More News
---
SEEING YOURSELF SEEING: OLAFUR ELIASSON
---
---
Flashback
On a day like today, German painter George Grosz, was born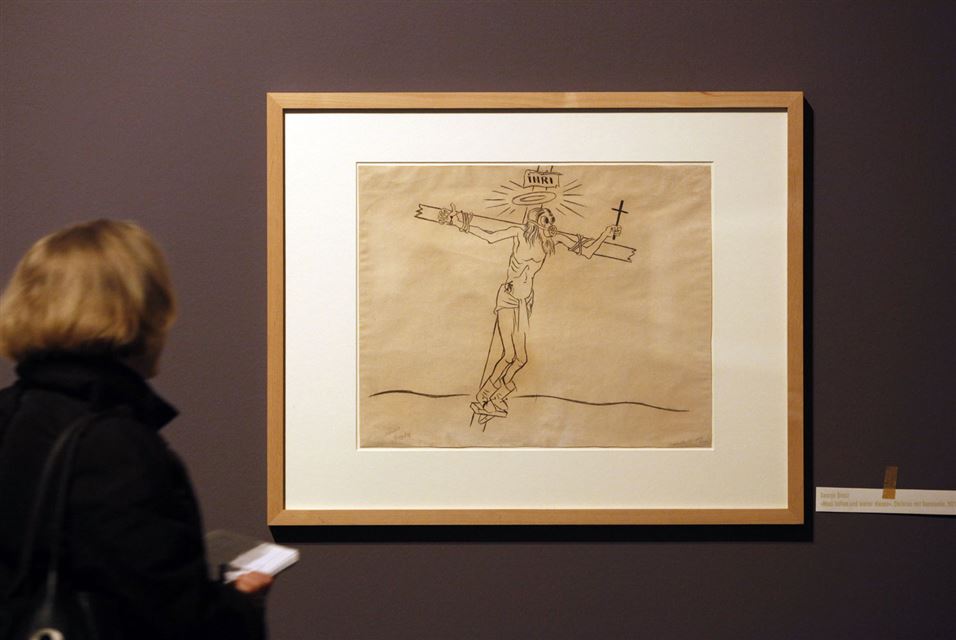 July 26, 1893. George Grosz (July 26, 1893 - July 6, 1959) was a German artist known especially for his savagely caricatural drawings of Berlin life in the 1920s. He was a prominent member of the Berlin Dada and New Objectivity group during the Weimar Republic before he emigrated to the United States in 1933. apn Photo/Franka Bruns.
---
---

Museums, Exhibits, Artists, Milestones, Digital Art, Architecture, Photography,
Photographers, Special Photos, Special Reports, Featured Stories, Auctions, Art Fairs,
Anecdotes, Art Quiz, Education, Mythology, 3D Images, Last Week,
.
Royalville Communications, Inc
produces: