Three exhibitions devoted to war, threat, and destruction open at museums in Dresden
Installation view of Conflict, Time, Photography at the Albertinum. Photo: David Pinzer/Staatliche Kunstsammlungen Dresden.
DRESDEN
.-
The Staatliche Kunstsammlungen Dresden
are presenting, at three separate venues, three exhibitions devoted to war, threat, and destruction in the medium of photography. Photographs of military force, destruction, and devastation shape our cultural memory. They have left an indelible mark on the stock of epoch-defining images of the 20th and 21st century and range, for instance, from pictures of the protective measures taken by Venetians in WWI to protect the most important monuments of their suddenly vulnerable city against aerial attacks, to the stylized shots taken in the thick of the action by Robert Capa, the 'inventor' of modern war photography, and up to the short- and long-term effects of violence, revealed by photographers as in "Conflict, Time, Photography". Conceived by Tate Modern, this exhibition illustrates how the events of war and their ...
More
The Best Photos of the Day
Bodleian Libraries invite scholars, teachers and the public to explore its digital collections on new online portal
Russian revolutionary Leon Trotsky's house on an island off Istanbul for sale for a mere $4.4 million
Artcurial announces its first sale ever in Hong Kong to be held October 5th & 6th




Members of the public can now explore the Bodleian Libraries' extraordinary collection of digitized books, manuscripts, maps, art and other materials through a single website.





OXFORD.- The Digital.Bodleian website, launched in July, includes more than 100,000 images covering everything from beautifully illustrated manuscripts and centuries-old maps to Victorian board games and Conservative Party election posters from the last 100 years. For the first time the public can view digital versions of library materials, many of which were only previously accessible by obtaining an Oxford University Bodleian Libraries' readers card. At digital.bodleian.ox.ac.uk visitors can view a diverse range of stunning images, find out more about the Bodleian's incredible historic collections, and even curate their own customized image collections Image of Jumbo the children's friend from Bodleian Libraries collections within the website. Digital ... More





Trotsky Portrait by Published by Century Co, NY, 1921. Licensed under Public Domain via Wikimedia Commons.





ISTANBUL (AFP).- It has 18 rooms, five bathrooms and is spectacularly located on an island off Istanbul. And all the more, it was once the refuge of the exiled Russian revolutionary Leon Trotsky. This one-and-a-half century old grand pile could also be yours, after it was put on sale. The asking price -- a mere $4.4 million (4.0 million euros). Turkish media this week first noted that a standard sales notice had been put out by local estate agents for the property, which was said to have three floors and a total area of 3,600 square metres (38,750 square feet). The building is on the island of Buyukada off Istanbul in the Sea of Marmara, one of the four Princes Islands that are popular day trips by ferry from the city centre. The island has traditionally been a place of refuge for exiles, intellectuals, as well as Istanbul's ... More





Pablo Picasso, Buste de femme, 1967. © Artcurial.





PARIS.- For the first time in its history, Artcurial will organise an auction in Hong Kong, in collaboration with Spink, on 5th and 6th October 2015, organized by Isabelle Bresset, a Director of Artcurial, France. This auction is part of the international development strategy of the auction house, the growth of which has been significant over the past few years with the opening of several offices in Europe. "Right from its start, Artcurial has been an integral part of the Paris art scene and a keen supporter of the city as one of the world's most important art hub. We are thrilled to collaborate with Spink on our debut sale in Hong Kong, presenting to Asian collectors a taste of Paris… our art, our culture, and our Parisian touch." explains Isabelle Bresset, Director at Artcurial. Spearheaded by Hong Kong, Asia has become the world's second-largest art market after the US, as China continues to challenge ... More
United Kingdom grants Chinese artist Ai Weiwei a six-month visa, reversing decision
Augmented reality app 'Refrakt' features paintings from the Gemäldegalerie
New generation of tall, skinny and expensive skyscrapers alters New York skyline




Chinese artist Ai Weiwei leaves the Franz-Josef-Strauss airport in Munich, southern Germany, after his arrival from China on July 30, 2015. Chinese dissident artist Ai Weiwei was flying to Germany on his first overseas trip since he was arrested nearly four years ago, a week after receiving a new passport. AFP PHOTO / CHRISTOF STACHE.





LONDON (AFP).- Britain's interior minister ordered officials Friday to grant Chinese dissident artist Ai Weiwei a six-month visa, reversing a decision to restrict him to a short trip that had prompted condemnation from rights groups. Home Secretary Theresa May "was not consulted over the decision to grant Mr Ai a one-month visa", a spokeswoman for her department said. "She has reviewed the case and has now instructed Home Office officials to issue a full six-month visa. We have written to Mr Ai apologising for the inconvenience caused." Campaigners noted that the previous visa would have allowed Ai to attend an exhibition of his work at London's Royal Academy from September but meant he would not be in Britain for Chinese President ... More





By moving through the gallery with the app and pointing the smartphone camera at one of the 82 selected pictures, visitors can call up 3D installations.





BERLIN.- This June, young digital artists Carla Santana and Alexander Govoni unveiled their project for the master class in visual communication at the UdK (University of the Arts) Berlin. Participation in the master class was open to only a handful of students who have completed their degree with distinction. The project sees itself as an intervention in the museum space. Refrakt consists of a specially developed augmented-reality smartphone and tablet app that the artists have used to enliven selected works in the Gemäldegalerie's collection, creating a virtual space for their own digital works. By moving through the gallery with the app and pointing the smartphone camera at one of the 82 selected pictures, visitors can call up 3D installations, interactive artworks, and a variety of perception experiments on their devices' displays. The result is a crossover between the old masters and digital art, which allows the visitors to experien ... More





A view of the under-construction 432 Park Avenue building taken from the Top of the Rock Observation Deck on July 24, 2015 in New York. Super tall, super skinny and super expensive: a new generation of New York skyscrapers, some taller than the Empire State building, are altering the world's most famous skyline. AFP PHOTO/WILLIAM EDWARDS.





NEW YORK (AFP).- Super tall, super skinny and super expensive: a new generation of New York skyscrapers, some taller than the Empire State building, are altering the world's most famous skyline. And it's not just the masonry that's soaring to new heights. The prices have also gone stratospheric: three apartments sold recently for more than $100 million a piece. Half a dozen buildings are planned or under construction in Central Park south, affording views across the park. Others are concentrated around Madison Square Park, or still further south. "There really is a new type in skyscraper history that is just beginning to appear," said Carol Willis, historian, founder, director and curator of The Skyscraper Museum. They "will proliferate in the next five to 10 years ... More
York Art Gallery acquires Grayson Perry's Melanie with help from the Art Fund
Build Your Own Pavilion: Serpentine searches for the UK's Young Architects
V&A commissions Havana-based artist collective Los Carpinteros for Europe 1600-1815 galleries installation




Curatorial assistant Lorna Frost with Grayson Perry's Melanie. Photograph by Kippa Matthews.





YORK.- A ceramic collection that celebrates the best of British studio ceramics would be unthinkable without Grayson Perry. He is one of the most renowned contemporary artists in the UK and the first ceramic artist to be awarded the Turner Prize. Hence, the York Art Gallery wanted to acquire Melanie, one of Perry's Three Graces, for its new Centre of Ceramic Art (CoCA). Perry created the Three Graces series during the Channel 4 documentary, Who Are You? It is based on three ladies, Melanie, Georgina and Sarah, who were contestants for the Miss Plus Size International competition. Filmed attending their boot camp, Perry was interested in their struggle for acceptance as larger-sized women. "Grayson Perry is arguably the best-known potter in the UK today and, as such, we felt that his work should be represented in CoCA." --Helen Walsh Curator of ceramics, York Museums Trust With help from the Art Fund, York Art Gallery has acqu ... More





In this first year of Build Your Own Pavilion, young people aged 8 to 14 are invited to submit their Pavilion designs online and at workshops across the UK during the summer of 2015.





LONDON.- This summer, in celebration of the 15th birthday of the Serpentine Pavilion commission, the Serpentine launches Build Your Own Pavilion: Young Architects Competition - a digital platform and nationwide campaign to celebrate and promote architecture and to educate and encourage young architects everywhere to engage in the challenge of designing Pavilions of the future. Since 2000, the Serpentine has commissioned some of today's most renowned architects to create their first built structures in England. Open to the public throughout the summer months, the Serpentine Pavilion offers a pioneering way for audiences to physically experience world-class architecture. After 15 years of ambitious projects, the Serpentine Pavilion has become established as one of the most anticipated events in the global design calendar. ... More





Marco Valdes and Dagoberto Sanchez inside their commission 'The Globe' for the V&A's new Europe 1600-1800 galleries. © Victoria and Albert Museum, London.





LONDON.- The V&A has commissioned the artist collective Los Carpinteros to create a contemporary installation for the Museum's new Europe 1600-1815 galleries, opening to the public in December 2015. Established in 1992, Los Carpinteros have received international acclaim for their sculptural pieces. The duo work between Madrid and Havana, and this will be their first major project for a London museum. Charged with devising a large-scale, imaginative and thought-provoking piece that would sit within the gallery examining the Enlightenment, Los Carpinteros proposed The Globe. It is a curved architectural sculpture made from a lattice of engineered beech that will form a 'room within a room' at the heart of the new Europe displays. Occupying a pivotal space – both architecturally and in terms of the narrative of the galleries – it will offer ... More
In the exhibition gallery at Boscobel, 'Every Kind of a Painter: Thomas Prichard Rossiter'
Interactive installation by Studio Job on view at Faena Art Center Buenos Aires
'Landscape: Transformation of an Idea Art from 1800 to the Present Day' on view at Neue Galerie Graz




Thomas Prichard Rossiter, A Picnic on the Hudson, 1863 (detail). Collection of the Julia L. Butterfield Memorial Library.





GARRISON, NY.- For its 2015 exhibition season, Boscobel House and Gardens will host Every Kind of a Painter: Thomas Prichard Rossiter (1818-1871) -- the first retrospective of the work of an important American artist long overdue for reappraisal. Rossiter was a peer and friend to many better-known Hudson River School contemporaries such as John Frederick Kensett, Thomas Cole and Asher B. Durand. Rather than limit himself to landscapes, Rossiter painted a diverse range of subjects. Approximately 25 paintings and works on paper from public and private collections will demonstrate the deftness with which he approached portraits, still lifes, landscapes, genre scenes and history paintings. Particular attention will be given to the years that he spent in Europe, as well as Connecticut, New York City and the Hudson Valley. Boscobel is the ideal venue for this exhibition, as ... More





Studio Job transformed the windows and floor of the Sala Molinos into an alternative cathedral of light and color.





BUENOS AIRES.- Faena Art presents the story of four years of collaboration between Faena and the renowned Antwerp- and Amsterdam-based design duo Studio Job with an immersive exhibition that takes over the Sala Molinos, the main exhibition space of Faena Art Center Buenos Aires (FAC), and features highlights from the collaboration, including never-before-seen process drawings and renderings. For "Futopia Faena by Studio Job," which opened to the public at FAC on July 23, 2015, Studio Job transformed the windows and floor of the Sala Molinos into an alternative cathedral of light and color that also serves as a roller-dancing installation, with celebration and revelry at its heart. Concurrently with the interactive floor installation in Sala Molinos, Studio Job has intervened with the triple-height, cathedral-style windows of FAC and created stained-glass designs that demonstrate ... More





Installation view, Photo: Universalmuseum Joanneum/N. Lackner.





GRAZ.- Journeys were undertaken in the 19th century for the cultural 'conquest' of the landscape, but also interpretation through painting was one of the key patterns of appropriation. The media of photography, film and computer led to a new perception of reality in the 20th century: maps do not represent land but rather construct it. The Neue Galerie Graz traces this development as its contribution to the Universalmuseum Joanneum's thematic focus on 'landscape' – with works from the in-house collection by Thomas Ender, Friedrich Gauermann, Michael Schuster and Herbert Brandl among others. The notion of landscape refers not only to the depiction of nature, but also to the shifting reshaping of nature through effects of our imagination and perception. Landscape as the external home of man is experienced by him as something to be taken for granted, seeming only to penetrate his consciousness more acutel ... More
Quote
Basel is contemporary art's most influential trade fair. Newsweek.
More News
---
Sotheby's On... The Legendary Jacqueline Kennedy Onassis Auction
---
---
Flashback
On a day like today, English painter Thomas Gainsborough died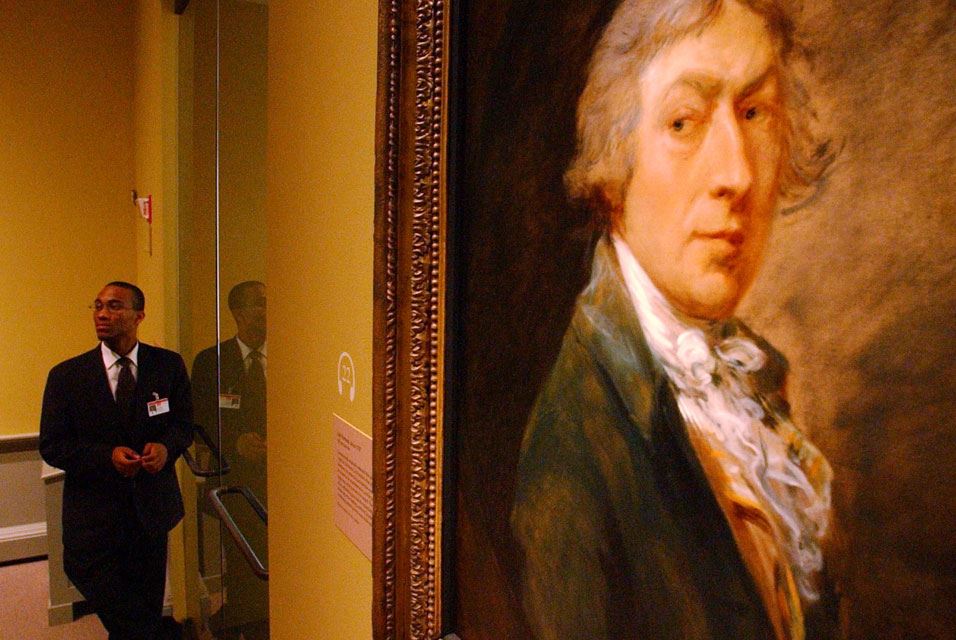 August 02, 1788. Thomas Gainsborough (christened 14 May 1727 - 2 August 1788) was an English portrait and landscape painter. He was born the youngest son of John Gainsborough, a weaver in Suffolk, and, in 1740, left home to study art in London with Hubert Gravelot, Francis Hayman, and William Hogarth. In 1746, he married Margaret Burr, and the couple became the parents of two daughters. In this image: A self-portrait of British painter Thomas Gainsborough, painted about 1787, is seen to the right as a security guard watches over paintings in the Thomas Gainsborough exhibit at the Museum of Fine Arts, Monday, June 9, 2003, in Boston.
---
---

Museums, Exhibits, Artists, Milestones, Digital Art, Architecture, Photography,
Photographers, Special Photos, Special Reports, Featured Stories, Auctions, Art Fairs,
Anecdotes, Art Quiz, Education, Mythology, 3D Images, Last Week,
.
Royalville Communications, Inc
produces: