Pakistani-American artist Huma Bhabha brings politics to New York's Met rooftop
People look at the new installation by artist Huma Bhabha for the Metropolitan Museum of Art's Roof Garden titled "We Come in Peace" on April 18, 2018 in New York City. The installation's title derives from the 1951 sci-fi film "The Day the Earth Stood Still" and features two figures on the large outdoor patio. Spencer Platt/Getty Images/AFP.

by Jennie Matthew
NEW YORK
(AFP)
.-
A Pakistani-American sculptor brings dark times, science fiction and a desire to provoke to New York's famed Metropolitan Museum of Art for this year's rooftop installation overlooking the Manhattan skyline. Huma Bhabha's "We Come in Peace" depicts a towering 12-foot (3.6-meter), five-headed figure weighing 1.5 tons and an 18-foot long prostrate figure covered in a trash bag and called Benaam, or "without name" in Urdu. The installation, which opened Tuesday, is the sixth annual commission at the illustrious US museum's roof garden, a popular summer spot that draws nearly half a million visitors every year. Karachi-born Bhabha, who lives in New York state's Hudson Valley, is the first Pakistani American selected for the honor. Imran Qureshi, based in Pakistan, was the first Pakistani artist to present work for the commission, in 2013. ...
More
The Best Photos of the Day
Exhibition of paintings by Jane Freilicher opens at Paul Kasmin Gallery
Steven Kasher Gallery opens a major exhibition of artist Wendy Ewald's collaborative photographic projects
Kazimir Malevich Landscape to star in Christie's Impressionist and Modern Art Evening Sale


"Untitled (11th Street)", ca. 1964, oil on linen, 20 1/8 x 16 inches, 51.1 x 40.6 cm. Courtesy the Estate of Jane Freilicher and Paul Kasmin Gallery.



NEW YORK, NY.- Paul Kasmin Gallery is presenting its debut exhibition of paintings by Jane Freilicher (1924 - 2014), whose estate the gallery now represents. The presentation is the first to focus on Freilicher's paintings from the 1950s; a body of work that critic Fairfield Porter termed "traditional and radical." It includes early still lifes, portraits and the studio views that elucidate her characteristically deft balance of interior and exterior. Hailing from the 1950s and painted within various studios in lower Manhattan, the works are evocative of a downtown milieu that has since come to represent the period's golden age of spirited, improvisational artistic freedom. They articulate Freilicher's enduring influence: her steadfast observation and intuitive realism are detectable within the work of a number of painters working today. Over a six-decade career, Freilicher quietly painted in direct contrast t ... More



Wendy Ewald, "I am dead" - Palesa Molahloe, South Africa, 1992. Vintage gelatin silver print, printed ca. 1992. Image size: 12 x 10 in; Paper size: 14 x 11 in. Courtesy Steven Kasher Gallery, New York.



NEW YORK, NY.- Steven Kasher Gallery presents a major exhibition of artist Wendy Ewald's collaborative photographic projects. The exhibition features over 70 black and white vintage prints from seven of Ewald's earliest projects. It begins with her first extended collaboration in Kentucky in 1975 and includes projects from Mexico (1991), India (1989-1991), the Netherlands (1996), Colombia (1982-1985), South Africa (1992) and Morocco (1995). For over 40 years, Ewald has traveled the globe as part of a sustained and evolving artistic and educational project. In each new location, Ewald begins by addressing the conceptual, formal, and narrative aspects of photography with her students, as well as making portraits of them. She teaches them to use the camera, many for the first time. Leaving the subject matter open, ... More



Kazimir Malevich, Landscape, 1911 (detail). Gouache on paper laid down on board, 41 3/4 x 41 3/4 in. (106 x 106 cm.). Estimate: £7,000,000-10,000,000. © Christie's Images Limited 2018.



LONDON.- Kazimir Malevich's Landscape (1911, estimate: £7,000,000-10,000,000) will be a major highlight of Christie's Impressionist and Modern Art Evening Sale on 20 June 2018, part of '20th Century at Christie's', a series of auctions taking place from 15 to 21 June 2018. The monumental, square-format landscape is from 'The Red Series', a group of works characterised by gestural brush strokes and an expressive use of colour, referencing both Fauvism and Cubism, and anticipating Malevich's move towards Suprematism. Landscape was first exhibited in the 'Moscow Salon' in February / March 1911. It was subsequently shown the following year in St. Petersburg as part of 'The Union of Youth', where Malevich represented a radical collective known as 'Donkey's Tail'. In 1927, he was invited to Germany to show his ... More
Jorge Blanco: SOLO BLANCO opens at Alfstad& Contemporary
Striking boom in visitors at Palmer Museum of Art after impact of Plastic Entanglements
World's largest chess piece unveiled at the World Chess Hall of Fame in Saint Louis


This is Blanco's first solo exhibition in Sarasota.



SARASOTA, FLA.- Jorge Blanco, renowned for his colorful sculpture installations with the lyricism and grand proportions that heighten a viewer's sense of imagination, presents SOLO BLANCO at Alfstad& Contemporary, April 19 – May 19. This is Blanco's first solo exhibition in Sarasota, where the Venezuela-born artist has lived and worked for two decades. "It brings me much joy to finally have my first solo exhibition in my adopted hometown of Sarasota," says Blanco. Jorge Blanco is celebrated for the geometric, often representational, and always playful, industrial-inspired sculptures he first fabricated from thick flat slabs of painted wood, bronze, and most recently aluminum. Playing off of Alexander Calder's Stabile's of the 20th Century, Blanco's stationary abstract sculptures can portray figures, and everyday objects, with few simple forms—a semi-circle and hole become a Picassoesque face on top of shapes perhaps pulle ... More



The exhibition includes 60 works by 30 renowned, contemporary artists from all over the globe.



UNIVERSITY PARK, PA.- Since the opening of the dynamic Plastic Entanglements: Ecology, Aesthetics, Materials eight weeks ago at the Palmer Museum of Art, attendance to the museum has ballooned by as much as 32%. The record-breaking visitor numbers – more than 1,000 per week, which is hundreds more than the usual average - have soared as people of all ages come to explore the innovative, interdisciplinary exhibition that examines humanity's past, present, and future relationship to plastic. "When attendance is up, engagement is up," said Erin Coe, Director of the Palmer Museum of Art. "The numbers also reflect the extent to which the exhibition topic, and its message of sustainability, has resonated with our audiences, both old and new alike." The Palmer typically welcomes around 35,000 visitors each year and averages 8,750 per quarter, but this year ... More



The new Guinness World Record for the world's largest chess piece, a Staunton King measuring 20 feet tall, sits outside its home at the World Chess Hall of Fame in Saint Louis, MO. Photo by Austin Fuller.



ST. LOUIS, MO.- The World Chess Hall of Fame unveiled the newest world record for the largest chess piece, certified by Guinness World Records. The record-breaking king chess piece stands 20 feet tall with a base of 9 feet, 2 inches, and is an exact scale replica of the black Staunton King piece used in the inaugural Sinquefield Cup held at the Saint Louis Chess Club annually since 2013. "This year marks the 10th anniversary of the Saint Louis Chess Club and one of the finest decades in American chess history," said Shannon Bailey, Chief Curator of the World Chess Hall of Fame. "There's no better way to celebrate this anniversary, and our city's role as a global chess destination, than to return the title of Largest Chess Piece to its rightful home in Saint Louis." Saint Louis, ... More
Christie's announces highlights from the Audrey Hepburn: The Personal Collection Part III online sale
Marlborough Fine Art opens a solo exhibition of new works by Peter Sacks
Phillips to offer contemporary Chinese and modern Asian art from the esteemed collection of Nick Scheeres


A novelty brooch, by Cartier, circa 1960. Estimate: £6,000-10,000. © Christie's Images Limited 2018.



LONDON.- Christie's online sale Audrey Hepburn: The Personal Collection Part III will open for bidding on 2 May, closing on 9 May, 2018. Comprising 212 lots, the sale is now available to view online www.christies.com/audreyhepburn. Following the success of Part I and II in Autumn 2017, Part III continues Christie's celebration of this globally renowned and adored film and stage actress, fashion legend and humanitarian, in what would have been her 90th year. Not to be missed, the sale will provide a further opportunity for fans, collectors and admirers to delve in to Audrey Hepburn's personal world, both on and off screen, through the objects she collected, used and loved; from jewellery, fashion and accessories, to correspondence, film memorabilia and professional photography by leading photographers of the day. Luca Dotti and Sean Hepburn Ferrer ... More



Peter Sacks, False Bay 1, 2015, mixed media, 56 x 76 cm. Courtesy of the artist and Marlborough Fine Art.



LONDON.- Marlborough Fine Art is presenting a solo exhibition of new works by South African-born, US-based artist Peter Sacks. This first London showing follows on from Sacks' solo show at Marlborough Gallery, New York, in spring 2017. Sacks' approach to painting utilises the most intimate material residues of life — textiles, texts, and traces of objects — all transformed into active fields of energy, empathy and history. Each work by Sacks is a striking accretion of material, meaning, and emotion. In addition to wood, metal, cardboard, batting and quilting, the rhythmic surfaces are made up of pieces of fabric from around the world, embroidery, fishing nets, buttons and burlap, as well as fragments of garments. The works are handmade, some taking years to make, overt in their physicality and materiality in an increasingly digital world. This ... More



Yue Minjun (b. 1962), Penguin, 1999. Estimate: HKD 1.5 – 2 million. Image courtesy Phillips.



HONG KONG.- Phillips announced the sale of Pioneers of Modernism: A Selection from the Scheeres Collection as a leading highlight of its 20th Century & Contemporary Art and Design Evening Sale in Hong Kong on 27 May 2018. Over the course of nearly three decades, Nick Scheeres has amassed an acclaimed collection of works from the 1930s to the early 2000s by some of Asia's greatest modern and contemporary artists. The collection is representative of Scheeres' discerning eye and refined tastes and passion for modern and contemporary Asian art, culminating in an assemblage of works that narrates the transformation and varieties of Asian art across six decades. Comprising 20 lots estimated in excess of HKD 40 million, the collection includes seminal, historically important contemporary Chinese works by celebrated artists such as Zhang Xiaogang, ... More
The Museum of Modern Art appoints Amanda Hicks as Director of Communications and Public Affairs
Deaf culture project launches at Nelson-Atkins
Rutgers-Camden professor's new book explores impact of emerging technologies on art


Ms. Hicks comes to MoMA as an established communications professional with more than 15 years of experience in arts, cultural, and mainstream media, most recently as Executive Director of Communications at the Art Institute of Chicago. Courtesy of The Museum of Modern Art.



NEW YORK, NY.- The Museum of Modern Art announces the appointment of Amanda Hicks as its Director of Communications and Public Affairs. She has joined the Museum to lead and oversee the execution of a comprehensive communications plan to deepen and expand MoMA's connections with visitors from New York and around the world and to create and share new stories about art, artists, exhibitions, scholarship, and programming with global audiences. As a member of the Museum's external affairs team, Ms. Hicks will collaborate closely with Director of Marketing and Creative Strategy Rob Baker and Director of Editorial and Content Strategy Leah Dickerman on an integrated strategy that advances the Museum's mission ... More



IMLS grant provides new position, funding for three years. Photo: Alaina Abplanalp.



KANSAS CITY, MO.- A groundbreaking initiative to provide high quality, accessible, and inclusive programming for visitors who are Deaf or hard of hearing is underway at The Nelson-Atkins Museum of Art in Kansas City. "One of the core principles of the Nelson-Atkins strategic plan is attracting all our constituents with focused and effective communications and outreach," said Julián Zugazagoitia, Menefee D. and Mary Louise Blackwell CEO & Director of the Nelson-Atkins. "Engaging our visitors who are Deaf or hard of hearing will deepen and broaden our mission, building relationships and expanding involvement." The Institute of Museum and Library Services (IMLS) awarded the Nelson-Atkins a three-year grant to research and implement a rich array of public offerings through the Deaf Culture Project, as well as to hire a Coordinator for the Deaf Culture Program. In her new position, Lucy Crabtree will deepen existing ... More



Tan ventures where many are still reluctant or skeptical to go in his new book Singularity Art: How Technology Singularity Will Impact Art (China Machine Press, 2018).



CAMDEN, NJ.- Sculptures that morph telekinetically with a sculptor's thoughts. Moving gallery images that interact with viewers. "Living art" that merges living organisms with inanimate materials. While it all might sound make-believe, says LiQin Tan, it's actually closer to reality than you think. In the art world, affirms the Rutgers University–Camden researcher, "future leads today" – so, like it or not, we'd better get used to the idea. For the past several years, the artist and art professor has been busy telling anyone willing to listen that the future of art is – and will continue to be – invariably impacted by technological singularity – the notion that artificial superintelligence will trigger runaway technological growth, resulting in previously unforeseen changes to human civilization. "The concept of singularity is already ... More
Quote
Bernini's design for the Louvre I would have given my skin for. Sir Cristopher Wren
More News
---
"A Few Things About Robert Irwin." (2016). Directed by Lisanne Skyler
---
Flashback
On a day like today, Italian painter Paolo Veronese died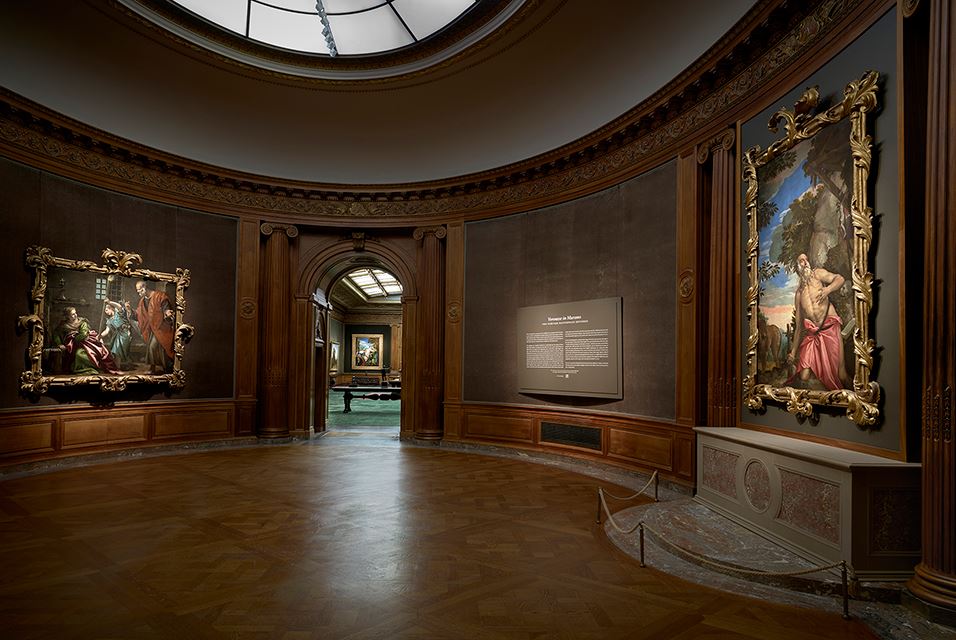 April 19, 1588. Paolo Caliari, known as Paolo Veronese (1528 - 1588), was an Italian Renaissance painter, based in Venice, known for large-format history paintings of religion and mythology, such as The Wedding at Cana (1563) and The Feast in the House of Levi (1573). Included with Titian, a generation older, and Tintoretto, a decade senior, Veronese is one of the "great trio that dominated Venetian painting of the cinquecento" and the Late Renaissance in the 16th century. In this image: Left: Paolo Veronese (1528 - 1588), St. Agatha Visited in Prison by St. Peter, 1566 - 67, oil on canvas, 65 1/2 × 81 1/2 inches, San Pietro Martire, Murano; photo: Ufficio Beni Culturali del Patriarcato di Venezia. Right: Paolo Veronese (1528 - 1588), St. Jerome in the Wilderness, 1566 - 67 Oil on canvas, 91 × 57 1/4 inches, San Pietro Martire, Murano; photo: Ufficio Beni Culturali del Patriarcato di Venezia.
---

Museums, Exhibits, Artists, Milestones, Digital Art, Architecture, Photography,
Photographers, Special Photos, Special Reports, Featured Stories, Auctions, Art Fairs,
Anecdotes, Art Quiz, Education, Mythology, 3D Images, Last Week,
.
Royalville Communications, Inc
produces:







Tell a Friend
Dear User, please complete the form below in order to recommend the Artdaily newsletter to someone you know.
Please complete all fields marked *.
Sending Mail

Sending Successful