Chinese artist Zeng Fanzhi re-creates Van Gogh in stirring exhibition
Zeng Fanzhi and Axel Rüger (Director of the Van Gogh Museum) in front of Zeng's version of Wheatfield with Crows.

by Jo Biddle
AMSTERDAM
(AFP)
.-
It's hard to imagine that any artist would take on the daunting task of re-inventing some of Vincent Van Gogh's most iconic self-portraits and paintings. But in a new exhibition opening Friday in Amsterdam, one of China's best known contemporary artists, Zeng Fanzhi, has done just that, and in a unique fusion presents a series of striking paintings that lend fresh energy and vibrancy to the Dutch artist's works. "Many of the works by Vincent Van Gogh have become so iconic that you always feel that you know them, and we tend not really to look at them anymore," said Axel Rueger, the director of the Van Gogh museum. "That an artist really dares to enter into that confrontation again, and look at Vincent's work afresh, and ... do his own thing with it. That is for us of course, really interesting and really inspiring," he told AFP at a press preview on Thursday. For the exhibition "Zeng Fanzhi/Van Gogh" which runs until February 25, the Chinese artist has recreated six masterpieces b ...
More
The Best Photos of the Day
Lebanese police says seized stolen Dali
Gagosian opens first exhibition dedicated to Picasso's diverse portrayals of his eldest daughter, Maya
"Soutine's Portraits: Cooks, Waiters and Bellboys" opens at The Courtauld Gallery, London


The 1954 painting, named "Portrait de Mrs Reeves", dates from his classical period and is not considered one of his most important works.



BEIRUT (AFP).- The Lebanese police has seized what it said was "probably an original" painting by surrealist master Salvador Dali and arrested four people suspected of attempting to sell it. The 1954 painting, named "Portrait de Mrs Reeves", dates from his classical period and is not considered one of his most important works. The police said in a statement late Wednesday that it could fetch millions of dollars if confirmed to be an original, but records from the global auction house Christie's show it was sold for a more modest 89,500 British pounds 20 years ago. The painting is a full-length portrait of a high-society woman from the time during which the extravagant Spanish artist lived in the United States and painted many commissioned works of limited value. The police said the painting had been stolen "from a country neighbouring Lebanon" and added it had detained three Syrians and ... More



Pablo Picasso, Maya a la poupee et au cheval, 1938. Oil on canvas, 28 3/4 x 23 5/8 in. Succession Picasso 2017. Photo: Rob McKeever. Courtesy Gagosian.



PARIS.- Gagosian is presenting "Picasso and Maya: Father and Daughter," the first exhibition dedicated to the artist's diverse portrayals of his eldest daughter, Maya. Maria de la Concepción, known as Maya, was born on September 5, 1935. During the first ten years of her life she was a constant subject in her father's drawings and paintings, who observed with fascination and tenderness her physical and mental development. Her mother, Marie-Thérèse Walter, was the artists' most iconic model. After meeting in 1927 at the Galeries Lafayette in Paris, Picasso and Marie-Thérèse began a long lasting love affair, resulting in Picasso's first daughter Maya. Following Maya's birth, Picasso chronicled intimate details of their private life together en famille, exploring the archetypal theme of maternity. Maya's portraits reflect the great joy that she brought into the artist's life, even ... More



Chaim Soutine, Butcher Boy (Le Garçon boucher) c.1919-1920. © Courtauld Gallery, Private Collection.



LONDON.- This major international loan exhibition of works by Chaïm Soutine (1893-1943) is the first show on the artist in the United Kingdom in 35 years. Soutine was one of the leading painters in Paris in the 1920s and 1930s, part of the influential 'School of Paris' and seen by many as the heir to Van Gogh. The exhibition focuses on a group of remarkable modern portraits that helped establish Soutine's name and reputation. Soutine's progress is the ultimate rags-to-riches story. Born in Russia (modern-day Belarus), Soutine arrived penniless in Paris in 1913 and lived in poverty in Montparnasse alongside other immigrant artists, including his closest friend Amedeo Modigliani (1884-1920). In the early 1920s, Soutine became fascinated by the cooks and waiting staff of French hotels and restaurants, attired in boldly coloured uniforms. Over the next decade, these humble figures sat for the artist in Paris ... More
Henry James and American Painting opens at Isabella Stewart Gardner Museum
Alberto Giacometti's Grande Femme II sells for $29,390,850 at Christie's Paris
Christie's to offer the finest collection of sporting and ornithological art to come to auction in over 20 years


John Singer Sargent (American, 1856-1925), Henry James, 1913. Oil on canvas, 85.1 x 67.3 cm (33 1/2 x 26 1/2 in.) © National Portrait Gallery, London.



BOSTON, MASS.- This fall, Henry James and American Painting, an exhibition that is the first to explore the relationship between James' literary works and the visual arts, opened at the Isabella Stewart Gardner Museum in Boston. On view from Oct. 19 to Jan. 21, 2018, it offers a fresh perspective on the master novelist and the significance of his friendships with American artists John La Farge, John Singer Sargent, and James McNeill Whistler, and close friend and esteemed arts patron, Isabella Stewart Gardner. Originating this summer at the Morgan Library and Museum, the exhibition includes a rich selection of more than 50 oil paintings, drawings, watercolors, photographs, manuscripts, letters, and printed books from 24 museums and private collections in the US, Great Britain, and Ireland. The Gardner Museum also pays special attention to James's enduring relationship with Gardner ... More



Alberto Giacometti, Grande Femme II. Sold for: €24,907,500/ £22,167,675 /$29,390,850. © Christie's Images Limited 2017.



PARIS.- Christie's FIAC week sales opened with the second edition of Christie's Paris Avant-Garde auction which realised a strong €38,6M/£34,4M/$45,6M. Christie's France's President, François de Ricqlès, held the hammer in a packed room selling 27 lots to international buyers from 12 countries. The highly-expected Grande Femme II by Alberto Giacometti achieved an impressive €24,907,500/£22,167,675/$29,390,850, becoming the most expensive work of art sold in France in 2017. This sculpture was first conceived by Giacometti in 1960 when he was asked to realise a project for the Chase Manhattan Bank's public plaza in New York. Pierre Martin-Vivier, Director, Chairman's Office: "We are thrilled with the very good results achieved tonight and especially for the new high for any work of art sold in France in 2017 with Grande Femme II and ... More



A cock and a hen pheasant (detail). © Christie's Images Limited 2017.



LONDON.- Christie's will present The Astor Collection from Tillypronie, the finest collection of sporting and ornithological art to come to the market in over 20 years, as part of December Classic Week 2017. The auction will reflect the Astor family's thoughtful collecting interests and includes one of the most comprehensive selections of works by ornithological artist Archibald Thorburn, along with a younger generation of artists such as Claire Harkess, Steven Porwol, Darren Woodhead and Jonathan Sainsbury, many of whom have been hosted at the historic Tillypronie estate in Scotland. The collection also presents sculpture, furniture and decorative arts and will be offered at Christie's London on 15 December 2017, along with an online-only sale that will be open for bids from 9 to 18 December 2017. Harriet Drummond, International Head of Department, British Drawings & Watercolours at ... More
Galerie Max Hetzler Paris opens exhibition of recent works by Bridget Riley
Käthe Kollwitz and Marlene Dumas: Three exhibitions at the Staatliche Kunstsammlungen Dresden
The Morgan Library & Museum acquires important collection of works by French Avant-Garde writer Alfred Jarry


Installation view. © Bridget Riley 2017. All rights reserved. Photo: Charles Duprat.



PARIS.- Galerie Max Hetzler Paris announces an exhibition of recent works by Bridget Riley. This is her second solo show in the Paris gallery, and her third show in Paris counting her survey exhibition in 2008 at the Musée d'Art Moderne de la Ville de Paris. The exhibition focuses upon Bridget Riley's most recent works, the Disc series. Two wall paintings and eight canvases with muted colours are on view. Internationally acclaimed artist Bridget Riley has radically pursued an inquiry into the constituent elements of painting for over 50 years, exploring the active role of perception in art. The British artist started her experimentations at the very beginning of the 1960s with a series of black and white paintings in which she ingenuously arranged elementary abstract shapes - such as circles, curves, stripes - so as to create a feeling of depth and movement that would cause disorientation to the viewer's eye. In 1965, Riley was ... More



Marlene Dumas, Rejects, seit 1994 fortlaufende Serie lavierte Tusche und Mischtechnik auf Papier © Marlene Dumas, Repro: Peter Cox, Eindhoven.



DRESDEN.- To honour the legacy of one of the 20th century's most significant artists, the Staatliche Kunstsammlungen Dresden's major autumn exhibition in the Kupferstich-Kabinett is dedicated to the work of Käthe Kollwitz (1867–1945). Around 70 masterpieces of graphic art from the SKD's collections are being showcased to mark the 150th anniversary of her birth. The exhibition presents a comprehensive view of her early work, supplemented by works by Max Klinger, Eugène Carrière, Edvard Munch and Ernst Barlach, as well as loans from the Käthe Kollwitz Museum in Cologne, the Kupferstichkabinett Berlin and the Akademie der Künste in Berlin. Kollwitz's works represent perfect examples of the experimentation with new graphic forms of expression that was taking place around 1900. In view of its quality and particular correlation between ... More



Alfred Jarry (1873-1907), Chanson du décervelage (tudé), chantée par Jacotot, au 5e. acte d'Ubu roi. Music by Claude Terrasse. Paris: Mercure de France, 1898. The Robert J. and Linda Klieger Stillman Pataphysics Collection.



NEW YORK, NY.- The Morgan Library & Museum announced the acquisition of one of the most important private collections of material related to the life and work of avant-garde French writer Alfred Jarry (1873-1907). Assembled by Dr. Robert J. Stillman and Dr. Linda Klieger Stillman, of Potomac, Maryland, the gift totals some three hundred items, including books, magazines, correspondence, musical scores, and ephemera, encompassing every significant appearance of Jarry in print, as well as modern and contemporary publications that reflect his ongoing legacy. The formal name of the gift is the Robert J. and Linda Klieger Stillman Pataphysics Collection. Jarry was a ground-breaking pioneer of the early modernist movements of the turn of the twentieth century. His unusual ... More
Sikkema Jenkins & Co. opens exhibition of recent paintings and works on paper by Josephine Halvorson
Bidding with bitcoin, a world first at Italian auction
Exhibition of important paintings and works on paper from the 1960s by Lee Mullican opens at James Cohan


Josephine Halvorson, Jagged, 2017. Oil on linen, 23 x 20 inches (58.4 x 50.8 cm) © Josephine Halvorson, courtesy of Sikkema Jenkins & Co., New York.



NEW YORK, NY.- Sikkema Jenkins & Co. presents As I Went Walking, an exhibition of recent paintings and works on paper by Josephine Halvorson. On view from October 19 through November 22, the exhibition is Halvorson's fourth solo show with the gallery. A catalog accompanies the exhibition with an essay by Erin Yerby. As I Went Walking includes a series of life-sized oil paintings made in the western Massachusetts town where Halvorson lives and votes. The exhibition's title is borrowed from the first line of a missing stanza from Woody Guthrie's anthem, This Land Is Your Land, rediscovered in the 1990s. As I went walking I saw a sign there / And on the sign it said "No Trespassing." / But on the other side it didn't say nothing, / That side was made for you and me. The lyrics echo Halvorson's artistic practice and subject matter. Wandering the woods near her home, she encounters signs of neighbors, ... More



This file photo taken on July 04, 2017 shows an image of Bitcoin and US currencies displayed on a screen. ROSLAN RAHMAN / AFP.



ROME (AFP).- Italian auction house Sant'Agostino said Wednesday bidders at its next sale will be able to settle up in bitcoin, a world first according to the auctioneers. Early next week, around 600 Italian and foreign design objects, mostly pieces of furniture, will go under the hammer at Sant'Agostino and "bitcoins will be accepted as payment", it said in a statement. Paying with the crypto currency will also be allowed at the following auction at the end of November which will feature paintings, jewelry and watches. Bitcoin is not generally recognised as a proper currency -- lacking a home country, central bank or treasury -- although its real world use is constantly increasing. It is traded through blockchain technology, which publicly records transaction details including the unique alphanumeric strings that identify buyers and sellers -- technology which is gaining increasing currency among ... More



Flying, 1965. Oil on canvas, 50 x 40 in. Courtesy of the Estate of Lee Mullican and James Cohan, New York.



NEW YORK, NY.- James Cohan is presenting an exhibition of important paintings and works on paper from the 1960s by Lee Mullican at the gallery's Chelsea location, on view from October 19 through December 21, 2017. A fully illustrated catalogue with an essay by art historian Andrianna Campbell accompanies the exhibition. During the late 1940s and 1950s, Lee Mullican, along with fellow painters Wolfgang Paalen and Gordon Onslow Ford, constituted the short-lived but influential Dynaton collective, which culminated in a 1951 exhibition at the San Francisco Museum of Art. After the group disbanded in the mid-1950s and his connection with Paalen and Onslow Ford waned, Mullican's aesthetic shifted but his spiritual concerns remained unchanged. Drawing inspiration from the natural world, Mullican developed a practice of mapping both a quasi-mystical internal landscape and an external topography which he expanded in the decade ... More
Quote
Velázquez, when all is said and done, he's the best. Pablo Picasso
More News
---
Château La Mission Haut-Brion Direct From The Cellars
---
Flashback
On a day like today, Dutch painter Aelbert Cuyp was born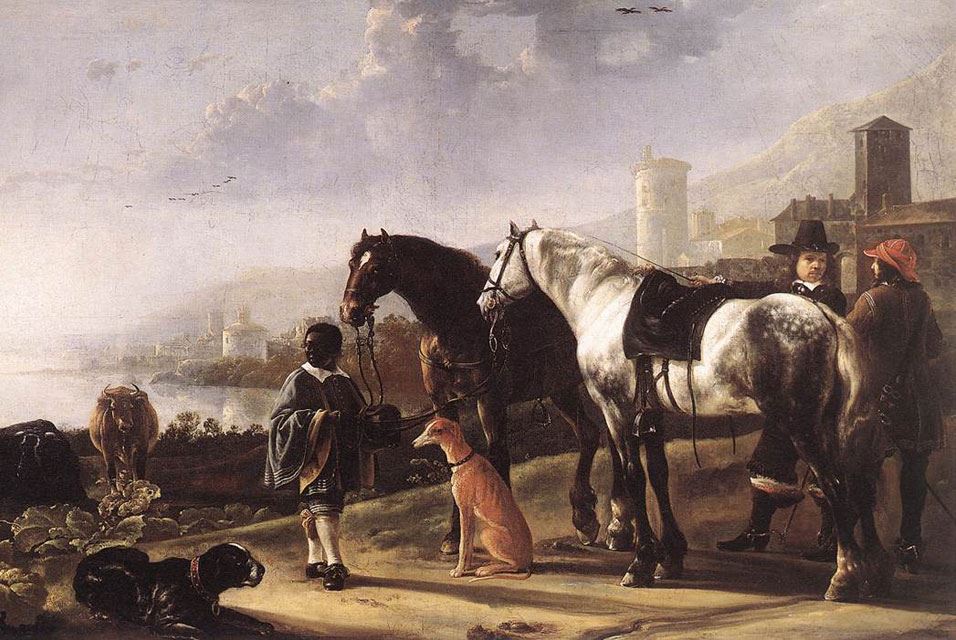 October 20, 1620. Aelbert Jacobsz Cuyp (October 20, 1620 - November 15, 1691) was one of the leading Dutch landscape painters of the Dutch Golden Age in the 17th century. The most famous of a family of painters, the pupil of his father Jacob Gerritsz. Cuyp (1594–1651/52), he is especially known for his large views of the Dutch countryside in early morning or late afternoon light. In this image: The Negro Page circa 1652, oil on canvas; Royal Collection.
---

Museums, Exhibits, Artists, Milestones, Digital Art, Architecture, Photography,
Photographers, Special Photos, Special Reports, Featured Stories, Auctions, Art Fairs,
Anecdotes, Art Quiz, Education, Mythology, 3D Images, Last Week,
.
Royalville Communications, Inc
produces:







Tell a Friend
Dear User, please complete the form below in order to recommend the Artdaily newsletter to someone you know.
Please complete all fields marked *.
Sending Mail

Sending Successful