World's largest solar boat on Greek prehistoric mission around the Franchthi cave
The world's largest solar-powered boat, "MS Turanor PlanetSolar" sails through the Corinth Canal near the town of Corinth on July 28, 2014. The boat arrived to Greece as part of a joint archaeological project focused on underwater exploration off one of Europe's oldest human occupation sites, the Franchthi cave in the Argolid, southeast Peloponnese. The project is taking place in one of Greece's richest archaelogical areas, the Argolid, known for its major palatial complexes in the Bronze Age that include Mycenae and Tiryns and later, classical-era city-states and sites like Argos and the ancient-theatre site of Epidaurus. AFP PHOTO / VALERIE GACHE.
ATHENS
(AFP)
.-
The world's largest solar boat, the catamaran PlanetSolar, will embark on a Greek mission to find one of the oldest sites inhabited by man in Europe, an organiser said Monday. Starting on August 11, a team of Swiss and Greek scientists will seek a "prehistoric countryside" in the southeastern Peloponnese peninsula, University of Geneva researcher Julien Beck told AFP. The month-long mission, jointly organised with the Swiss school of archaeology and the Greek culture ministry, will search around the Franchthi cave in the Argolic gulf, where early Europeans lived ...
More
The Best Photos of the Day
Wine cup used by Classical Greek statesman Pericles found in commoner's grave: report
Fitzwilliam Museum bids to acquire weeping Virgin by Spanish sculptor Pedro de Mena
Artist Tracey Emin's 'My Bed', bought by German art collector Christian Duerckheim, to return to Britain




The Greek national opera singers perform at the archaeological site of the Olympion Zeus in Athens during a free open air concert on July 8, 2014. AFP PHOTO/ LOUISA GOULIAMAKI.





ATHENS (AFP).- A cup believed to have been used by Classical Greek statesman Pericles has been found in a pauper's grave in north Athens, Greece's top daily reported Wednesday. The ceramic wine cup, smashed in 12 pieces, was found during building construction in the northern Athens suburb of Kifissia, Ta Nea daily said. After piecing it together, archaeologists were astounded to find the name "Pericles" scratched under one of its handles, alongside the names of five other men, in apparent order of seniority. Experts are "99 percent" sure that the cup was used by the Athenian statesman, as one of the other names listed, Ariphron, is that of Pericles' elder brother. "The name Ariphron is extremely rare," Angelos Matthaiou, secretary of the Greek Epigraphic Society, told Ta Nea. "Having it listed above that of Pericles makes us 99 percent sure that these ... More





Pedro de Mena (1628-1688), The Virgin of Sorrows (Mater Dolorosa), about 1670-5.





CAMBRIDGE.- A remarkably realistic painted wood bust of the Mater Dolorosa (Virgin of Sorrows) by Pedro de Mena (1628-1688), one of the most celebrated sculptors of the Spanish Golden Age, has gone on display at the Fitzwilliam Museum, Cambridge as part of an appeal to acquire the sculpture. Mesmerisingly beautiful and just under life size at 33.6cm tall, the Virgin of Sorrows' gently furrowed brows, natural flesh tones, glass eyes and teardrops and eyelashes made from human hair, still elicit a powerful response from the viewer 350 years after it was made. It was most likely created for the private chapel, study or bedchamber of a devout patron, and would almost certainly have been protected under a glass dome and originally paired with a similarly-sized bust of the Ecce Homo (Christ as the Man of Sorrows). The Virgin of Sorrows is on show in the Museum's Spanish & Flemish Gallery, alongside other masterpieces by contemp ... More





British artist Tracey Emin sits on her iconic art installation, "My Bed". AFP PHOTO/NIKLAS HALLE'N.





LONDON (AFP).- British artist Tracey Emin's controversial "My Bed" is to be exhibited in Britain as part of a long-term loan to the Tate group of museums, its new owner said on Tuesday. German art collector and industrialist Christian Duerckheim, who bought the controversial work for $3.8 million at auction earlier this month, will lend the unmade bed to the Tate group for a period of at least 10 years. "I always admired the honesty of Tracey, but I bought 'My Bed' because it is a metaphor for life, where troubles begin and logics die," Duerckheim said. Among the most well-known works of the Young British Artists generation, the rumpled bed surrounded by intimate debris of cigarettes, condoms and empty bottles caused controversy when it was shortlisted for the 1999 Turner Prize. The artwork is considered to be an unusual self-portrait of Emin, now 51, in a chaotic period of her life when she has said she was suffering ... More
Exhibition that takes a satirical look at the way society obsesses over food opens at Pace London
Philbrook Museum of Art announces receipt of the Hyatt collection of Hopi art
Major works by renowned Spanish artists acquired by Meadows Museum in Dallas




Vik Muniz, Karl Marx, 2004. Chromogenic print, 101.6 cm x 76.2 cm (40" x 30"). Edition 4 of 10. Edition of 10 + 5 APs.





LONDON.- Pace London presents Today's Specials, an exhibition that takes a satirical look at the way society represents, consumes and obsesses over food. Presented on the ground floor of 6 Burlington Gardens by Abdullah AlTurki, the group exhibition features installation, sculpture, and video works, and places a strong emphasis on photography. From the photographs of Yto Barrada, Roe Ethridge, Elad Lassry, and Sarah Lucas, to the carefully orchestrated video work of Song Dong and intricate collages of Vik Muniz, the exhibition presents works of established
luminaries alongside younger talents. With the multiplication of food imagery in today's media - whether it be the growing number of cuisine blogs, cooking television programmes and amateur gastronomic social media channels - Today's Specials explores the relationship between contemporary artists and ... More





The Hyatt family began traveling to the Hopi reservation in northern Arizona in the late 1980s.





TULSA, OK.- Philbrook Museum of Art announced the important gift of 364 works of Hopi art, including katsinas, basketry and other media from Atlanta and Santa Fe-based collector, Wayne S. Hyatt. Featuring works by more than 160 artists, the Hyatt Collection both expands and strengthens the impressive survey of 20th and 21st century Native American art within the Philbrook holdings. The Hyatt family began traveling to the Hopi reservation in northern Arizona in the late 1980s, quickly becoming friends with many artists representing several Hopi communities. With the encouragement and involvement of his late wife Amanda, as well as the continued interest and support of his current wife Margaret, the Hyatt collection now includes a broad range of works spanning the late 1980s to 2013. "The Hopi Collection I am giving to Philbrook consists of far more than cottonwood and plant fibers, carvings and baskets," said ... More





Juan Muñoz (Spanish, 1953-2001), Seated Figure Looking Backwards, 1996. Bronze. Meadows Museum, SMU, Dallas. Gift of The Barrett Collection, Dallas, Texas, in honor of Dr. Mark A. Roglán, MM.2014.06. Photo courtesy of The Barrett Collection.





DALLAS, TX.- The Meadows Museum announces the acquisition of three works by noted Spanish artists as part of its ongoing initiative to further enhance its collection and role as a leader in the study and presentation of Spanish art. The works acquired by the Meadows are by the artists Raimundo de Madrazo y Garreta, Miquel Barceló, and Juan Muñoz. As the Meadows prepares for its 50th anniversary in 2015, the Museum has continued its robust acquisition initiative, focusing on pieces that complement, unify, and expand the Museum's existing collection. These new works—which are currently on view at the Museum—strengthen the Meadows' permanent collection as a whole, and particularly its 19th- and 20th-century holdings, as well as its growing collection of contemporary ... More
For its 8th year in London, PAD returns to its elegant home on Berkeley Square from 15 to 19 October
Sam Hunter, Rose Art Museum's first director, dies in Princeton, New Jersey at age 91
Christopher Scoates named Director of Cranbrook Academy of Art and Art Museum




Alexander Calder, Red and blue on black and white, 1969. Photo: Courtesy of Mayoral Galeria d'Art.





LONDON.- The leading fair for 20th century art, design and decorative arts, PAD returns to its elegant home on Berkeley Square from 15 to 19 October. For its 8th year in London, PAD will welcome 62 galleries from 10 countries worldwide, each recognised as authorities in their field. With the addition of 17 new exhibitors, the fair will offer a fresh and inspiring presentation of iconic and innovative pieces across all genres. Modern art will be well represented with the addition of Daniel Blau (London/Munich) who will showcase a group of rediscovered drawings by Andy Warhol from the mid-1950s, and Robilant + Voena (London/Milan), whose highlights will include Concetto Spaziale Attese 1968, one of the final works by Lucio Fontana. Three prominent galleries specialising in Tribal Art are also amongst the newcomers this year. Alain de Monbrison (Paris) and Galerie Flak (Paris) will present a broad spectrum of pieces ... More





Sam Hunter at left, at the opening of Hans Hoffman's exhibition in 1964. Photo: Courtesy of The Rose Art Museum/Brandeis University.





Sam Hunter, founding director of the Rose Art Museum, whose keen insights into the art of his day allowed him to build the museum's acclaimed collection of modern and contemporary art, died on July 27 in Princeton, N.J. He was 91. Financed by a $50,000 gift from Leon Mnuchin and his wife, Harriet Gevirtz-Mnuchin, Hunter made acquisitions in the early 1960s that established the Rose as a major force in the art world. The works he collected, masterpieces by Jasper Johns, Robert Rauschenberg, Roy Lichtenstein, Andy Warhol and other leading artists, form the core of the Rose's beloved collection and continue to set the tone for the museum's collecting and exhibition practices. "Sam Hunter played an integral role in the early days of the Rose Art Museum, and his prescient purchases propelled the museum into the consciousness of the art world just a few years after its ... More





Most recently he served as Director of the University Art Museum at California State University Long Beach, a position he has held since 2005.





BLOOMFIELD HILLS, MICH.- The Cranbrook Educational Community Board of Trustees announced today that after a comprehensive one-year search, Christopher Scoates has been named Director of Cranbrook Academy of Art and Art Museum. He begins his tenure August 1. Scoates is a graduate of Cranbrook Academy of Art, having received his Master of Fine Arts degree in Photography in 1986. Most recently he served as Director of the University Art Museum at California State University Long Beach, a position he has held since 2005. Scoates succeeds Reed Kroloff, who is stepping down after seven years in the position. "Christopher Scoates has a creative vision and eagerness to embrace new ideology and technology which make him the ideal choice to provide leadership and management during the next phase of the Academy's and Museum's evolution," said Dominic ... More
The Serralves Foundation in Portugal celebrates two major anniversaries this year
New Museum announces limited edition skateboard in the shape of the museum's iconic building
Display of 1836 Constitution offers Bullock Texas State History Museum visitors a rare opportunity




Serralves Park Sculpture Plantoir by Claes Oldenburg and Coosje Van Bruggen. ©All rights reserved.





PORTO.- The Serralves Foundation, a major cultural institution in Porto, is thrilled to announce the celebration of two important milestones in 2014: the 25th anniversary of the Serralves Foundation, founded in 1989, and the 15th anniversary of the opening of the Serralves Museum of Contemporary Art in 1999, designed by Portuguese Pritzker prize-winning architect Álvaro Siza Vieira. Over the past 25 years, the Serralves Foundation has raised the public's awareness about contemporary art and how it reflects the current issues of our contemporary societies. The celebration of this double anniversary underlines the intimate relationship that Serralves has forged with audiences from Portugal and around the world. Luís Braga da Cruz, President of the Serralves Foundation, explains "These anniversaries represent a remarkable moment in Serralves' long history, creating a distinct dialogue between Portuguese artists and their foreign ... More



The Chapman x New Museum Skateboard is available for purchase for $125 in store or at newmuseumstore.org.



NEW YORK, NY.- From prohibition comes invention. When skaters are kicked off one street, they find another. Artists like Larry Clark, Harmony Korine, Ari Marcopoulos, and Ed Templeton have looked to skate culture—a culture where the body's action propels it forward at breakneck speeds and where the city becomes a concrete labyrinth reduced to its simplest geometry—as a source of inspiration. It attracts the new, and the young gravitate toward its unrelenting momentum, creating a space for innovation where convention breaks on the pavement. Inspired by a 2012 New Museum Store window installation by Canyon Castator and Richard Duff, the New Museum Store is proud to contribute to the continually expanding intersection of art and skate culture with the release of a limited-edition skate deck in the shape of the New Museum's iconic building on the Bowery designed by Pritzker ... More





Experts at the General Land Office believe the document is highly significant because it may be the first time the words "Republic of Texas" were committed to paper.





AUSTIN, TX.- A page of the very first draft of the Republic of Texas Constitution is on display at the Bullock Texas State History Museum. Visitors have a rare opportunity to view the fragile 178-year-old document that is on loan from the Texas General Land Office, Archives and Records Program. The document is believed to be part of the first full working draft of the Texas Constitution crafted by the state's founding fathers who gathered at Washington-on-the-Brazos in the closing days of the Texas Revolution. "We're extremely excited for Bullock Museum visitors to have this rare opportunity," Deputy Director Margaret Koch said. "The ideals that were instrumental in shaping our state governance during its earliest beginnings make this one of the most significant documents in existence." Experts at the General Land Office believe the document is highly ... More
Quote
Blessed are they who see beautiful things in humble places where other people see nothing. Camille Pissarro
More News
---
Flight of the Stories - Our New First World War Galleries
---
---
Flashback
On a day like today, French painter and sculptor Jean Dubuffet was born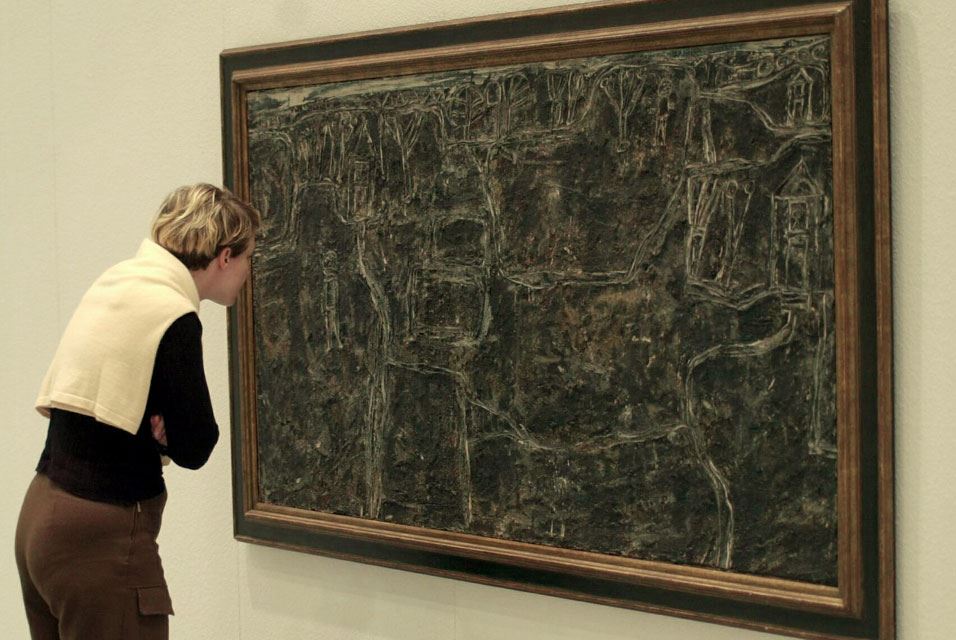 July 31, 1901. Jean Philippe Arthur Dubuffet (31 July 1901 - 12 May 1985) was a French painter and sculptor. His idealistic approach to aesthetics embraced so called "low art" and eschewed traditional standards of beauty in favor of what he believed to be a more authentic and humanistic approach to image-making. In this image: A young lady looks at "Paysage charbonneux" by French artist Jean Dubuffet dated 1946, and valued at 3.5 million Marks (1.5 million Dollars) at the 34th International fair for modern art "Art Cologne" in Cologne, Germany, Friday, November 3, 2000.
---
---

Museums, Exhibits, Artists, Milestones, Digital Art, Architecture, Photography,
Photographers, Special Photos, Special Reports, Featured Stories, Auctions, Art Fairs,
Anecdotes, Art Quiz, Education, Mythology, 3D Images, Last Week,
.
Royalville Communications, Inc
produces: