Largest overview presentation of Louise Bourgeois' Cell series opens at Haus der Kunst
Louise Bourgeois, Spider, 1997. Steel, tapestry, wood, glass, fabric, rubber, silver, gold and bone, 449.6 x 665.5 x 518.2 cm. Collection The Easton Foundation. Photo: Frédéric Delpech, © The Easton Foundation / VG Bild-Kunst, Bonn 2015.
MUNICH
.-
Over her long career as an artist, Louise Bourgeois (1911-2010) developed concepts and formal inventions that later became key positions in contemporary art; these included the use of environmental installation and theatrical formats, and the engagement with psychoanalytic and feminist themes. Both her distinctive sculptural forms and her outstanding drawings and graphic works are second to none. Among the most innovative and sophisticated sculptural works in her extensive Œuvre are the Cells, a series of architectural spaces that deal with a range of emotions. Created over a span of two decades, the Cell series presents individual microcosms: each Cell is an enclosure that separates the internal world from the external world. In these unique spaces, the artist composes found objects, clothes, fabric, furniture and distinctive sculptures into emotionally charged, theatrical sets. If one includes the five precursor works to the Cells that first emerged in 1986 with "Articulated La ...
More
The Best Photos of the Day
Sotheby's to offer complete set of Nicholas Nixon's Brown Sisters photographs
Leonard Nimoy, Spock on 'Star Trek' and accomplished photographer, dead at 83
Graffiti artist Banksy releases an online video; Leaves his mark in war-ravaged Gaza




Nicholas Nixon, Brown Sisters, 1978 (detail). Photo: Sotheby's.





NEW YORK, NY.- On 1 April 2015 Sotheby's New York will offer a complete set of The Brown Sisters by Nicholas Nixon - one of the most remarkable continuing photographic series of the 20th and 21st centuries. Nixon shot the first portrait of his wife Bebe, then 25, Heather 23, Laurie 21, and Mimi 15 in 1975, and has subsequently recreated a version of the portrait every year since using an 8 x 10-inch view camera. The result is a highly detailed and captivating work of conceptual art documenting the four sisters' evolution through the years. This body of work comes directly from the collection of Mrs. Mary Robinson who, along with her late husband David, is known not only as one of the West Coast's most important art collectors but also benefactors, having donated a significant collection of 150 early photographs to the National Gallery of Art in 1995. The set of 40 photographs here are offered as a single lot and are estimated to fet ... More





Leonard Nimoy, played the role of Spock in the original Star Trek television series and was an accomplished photographer. AFP PHOTO/Frederic J. BROWN/FILES.





WASHINGTON (AFP).- Actor Leonard Nimoy, who won fans worldwide for his generations-spanning role as the pointy-eared half-human half-Vulcan Mr Spock in the "Star Trek" television and film franchise, died Friday at age 83. Nimoy, who suffered from chronic obstructive pulmonary disease, died at his home in Los Angeles. His granddaughter Dani announced the death on his Twitter account. "He was an extraordinary man, husband, grandfather, brother, actor, author -- the list goes on -- and friend. Thank you for the warm condolences. May you all LLAP. Dani," she wrote, using the acronym for one of Spock's most famous sayings -- "Live long and prosper." In his last tweet, posted Monday under his handle @TheRealNimoy, Nimoy himself said: "A life is like a garden. Perfect moments can be had, but not preserved, except in memory. LLAP" Tributes quickly poured in from ... More





A mural of a kitten, said to have been painted by British street artist Banksy. AFP PHOTO / MOHAMMED ABED.





GAZA CITY (AFP).- World-renowned graffiti artist Banksy has caused a stir in the Gaza Strip, apparently secretly travelling to the Palestinian territory and painting murals on buildings ruined by the latest conflict. The artist, whose chooses to remain anonymous, released an online video entitled "Make this the year YOU discover a new destination", that purports to show him travelling to Gaza by commercial flight and then through smuggling tunnels -- possibly underneath the Egyptian border. Banksy's latest works were a damning critique of Israel's bombardment of Gaza in July and August as it fought against Islamist militants of Hamas, destroying or damaging more than 100,000 homes and killing nearly 2,200 Palestinians, most of them civilians. The murals include what appears to be Greek goddess Niobe, weeping in the doorway of a destroyed building, and a giant cat painted on the last remaining wall of a Gaza home playing ... More
Iconic artist Auguste Rodin comes to the James A. Michener Art Museum in Pennsylvania
Atlanta's High Museum of Art explores iconic design of Coca-Cola bottle in exhibition
Career-spanning exhibition of Richard Avedon's work opens at Gagosian Rome




Auguste Rodin, The Thinker, Modeled 1880, reduced in 1903, this example cast at a later date, bronze, 14 ¾ x 7 ⅞ x 11 ⅝ in., Gift of the Iris and B. Gerald Cantor Foundation in honor of Governor Michael F. Easley and Mary P. Easley.





DOYLESTOWN, PA.- The James A. Michener Art Museum announces the highly-anticipated opening of Rodin: The Human Experience — Selections from the Iris & B. Gerald Cantor Collections – on Saturday, February 28, 2015 in the Paton | Smith | Della Penna-Fernberger Galleries. The exhibition, comprised of 52 bronze sculptures by French artist Auguste Rodin, will run through Sunday, June 14, 2015. Auguste Rodin (1840-1917) was one of the greatest sculptors of the late nineteenth and early twentieth centuries. Rodin: The Human Experience not only includes a stunning installation of bronzes featuring work that spans the artist's long career, it is also especially rich in portraiture. Included are Rodin's famous depictions of writer Victor Hugo and Honoré de Balzac; the musician ... More





Andy Warhol (American, 1928–1987), Three Coke Bottles, 1962, silkscreen, ink, and graphite on linen, The Andy Warhol Museum, Pittsburg; Founding Collection, Contribution The Andy Warhol Foundation for Visual Arts, Inc., 1998.1.20. © 2015 The Andy Warhol Foundation for the Visual Arts, Inc. / Artists.





ATLANTA, GA.- An exhibition exploring the iconic design and creative legacy of the Coca-Cola bottle opens at the High Museum of Art in Atlanta this month. "The Coca-Cola Bottle: An American Icon at 100" features more than 100 objects, including more than 15 works of art by Andy Warhol and more than 40 photographs inspired by or featuring the bottle. Opening Feb. 28 and on view through Oct. 4, 2015, the exhibition provides visitors the opportunity to view original design illustrations, historical artifacts and a century of experimentation with the CocaCola bottle, which has become one of the world's most recognized icons since its inception in 1915. "The High is honored to present this exhibition celebrating an iconic American design that has influenced ... More





Jacqueline Kennedy, socialite, New York, January 14, 1958.





ROME.- Gagosian Rome presents "Avedon: Beyond Beauty," a career-spanning exhibition that includes nearly every editioned fashion photograph from Richard Avedon's highly distinctive and influential oeuvre, as well as a number of his iconic portraits of female subjects. As a young photographer's assistant in the U.S. Merchant Marine during WWII, Avedon was given the job to make identity photographs. He commented "I must have taken pictures of one hundred thousand faces before it occurred to me I was becoming a photographer." Subsequently, from the outset of his professional career as a photographer, his command of composition, situation, and circumstance, and his erasure of the distinction between "art" and "commercial" photography resulted in a highly impactful body of work, whether celebrity portraiture, brand-defining commercial work, or gritty cultural and political documentary concerning race relations, ... More
The Bronx Museum of the Arts appoints José A. Ortiz as new Deputy Director
Reflective celebration of Lehmann Maupin's history offered in new exhibition
Catherine Futter named to new leadership position at the Nelson-Atkins Museum of Art




Mr. Ortiz comes with a wealth of experience in arts management, most recently as the Founding Director of Artisphere.





BRONX, NY.- The Bronx Museum of the Arts announced today that José A. Ortiz will become the organization's new Deputy Director, partnering with Executive Director Holly Block in the management of the Museum's staff and assisting in the implementation of the Strategic Plan in conjunction with the Museum's anticipated programmatic, operational, and fiscal growth. Mr. Ortiz comes with a wealth of experience in arts management, most recently as the Founding Director of Artisphere—the D.C.-region's newest visual and performing arts center—and previously as Deputy Director of the Harvard Art Museums, where he oversaw the daily operation of the university's three art museums—the Arthur M. Sackler Museum, Busch-Reisinger Museum, and Fogg Museum. Ortiz's extensive background also includes serving as the Deputy Director/Chief of Finance and Administration at the Smithsonian Institution's Hirshhorn Mu ... More





Lee Bul, Untitled, 2014. Crystal, glass and acrylic beads, mirrors, stainless-steel, aluminum and black nickel rods, steel and bronze chains, stainless-steel, and aluminum armature, 78.74 x 74.8 x 59.06 in. Courtesy the artist and Lehmann Maupin, New York and Hong Kong.





NEW YORK, NY.- Lehmann Maupin presents Future Seasons Past, a reflective celebration of its history and a look forward to its future. The gallery has garnered a reputation for supporting international artists at various stages of their careers and presenting work that reaches across disciplines, bringing forward new and challenging forms of creative expression. Known for its long relationships with artists, Lehmann Maupin has had a lasting impact on individual careers as well as on contemporary art and culture. To commemorate the opening of the gallery's new Chelsea location, Manuel E. Gonzalez has curated a group exhibition highlighting artists that have helped shape the gallery program throughout its nearly 20-year history, including Richard Artschwager, Kutlug Ataman, Kader Attia, Hernan Bas, Ashley Bickerton, Ross Bleckner, Billy Childish, ... More





In addition to her new role as head of a large curatorial division, Futter is currently steering the museum's wider discussion of a cultural district. Photo: Mark McDonald.





KANSAS CITY, MO.- During opening week for two special exhibitions at The Nelson-Atkins Museum of Art, the museum has announced that Catherine L. Futter – responsible for both exhibitions – has been promoted to the Louis L. and Adelaide C. Ward Senior Curator of European Arts. The new title reflects a greatly expanded role for Futter as she heads a newly created division overseeing three existing departments: Arts of the Ancient World, European Paintings and Sculpture, and Architecture, Design and Decorative Arts, which includes American Decorative Arts. "Catherine has grown tremendously through the years, and I have seen how she has both the leadership skills and talent to take on new challenges," said Julián Zugazagoitia, the Menefee D. and Mary Louise Blackwell CEO & Director of the Nelson-Atkins. "In this new role, she is responsible for an integrated curatorial division inspired by the origins of this museum. Our ... More
'Art Nouveau, Continental Design & Sculpture' on view at the Fine Art Society in London
Lyman Allyn Art Museum presents exhibition exploring the rich heritage of New England gardens
Exhibition at the Art Gallery of South Australia presents a selection of works by Bill Viola




Hector Guimard, Plaque for Paris Metro, 1899-1900, Cast iron, with original paint.





LONDON.- The Fine Art Society presents an important exhibition of Art Nouveau and Continental design, alongside sculpture from the late 19th and early 20th centuries from The John Scott Collection. The exhibition includes works by both British and European pioneers of the period including Hector Guimard, Emile Galle, Archibald Knox and Gustave Miklos. Highlighting the vitality and seductiveness of forms developed in decorative arts and sculpture during the epoch, the exhibition includes furniture, architectural pieces, glass, ceramics, metalwork and sculpture. Art Nouveau was a brief but highly significant movement in art and design at the turn of the 20th century. Characterised by sinuous lines and flowing organic shapes based on plant forms, this new visual language was brought about by a group of artists and designers who self-consciously sought to find a style appropriate to the modern age. ... More





Medford Garden, Courtesy of Historic New England.





NEW LONDON, CONN.- The Lyman Allyn Art Museum presents Lost Gardens of New England, an exhibition exploring the rich heritage of New England gardens, great and small. Lost Gardens of New England will be on view from March 1 through July 31, 2015. Featuring more than forty images of New England gardens from Historic New England's extraordinary Library and Archives, Lost Gardens of New England is rich in evocative documentary evidence of major themes of American landscape history. The exhibition presents this material to depict several New England gardens, great and small, that no longer exist or only partially survive. The show includes watercolors, historic photographs, prints, stereo view cards, garden supply catalogues, and even a mid-nineteenth-century nurseryman's bill with a list of plant materials. Landscape drawings provide insight into how these gardens were conceived and visualized by their creators, either amateur or ... More





Bill Viola, United States of America, born 1951, The Encounter, 2012, colour HD video on plasma display mounted on wall, 19.19 mins, Performers: Genevieve Anderson, Joan Chodorow. Photo: Kira Perov.





ADELAIDE.- The Art Gallery of South Australia is one of three venues to host the Adelaide Festival exhibition Bill Viola: Selected works –the broadest selection of Viola's works ever curated in Australia. Bill Viola, a pioneer of video art in the 1970s, is now considered one of the great masters of the medium and is among the most significant contemporary artists of our time. His work is renowned for its atmospheric purity and haunting beauty. Visitors to the Gallery will experience themes of birth, death, transformation and transcendence and will have the opportunity to see four of Viola's mesmerizing works said Curator of European and North American Art, Jane Messenger. Among the works to be exhibited is the celebrated installation The crossing, 1996, through which Viola brings together the two opposing forces of fire and water. On ... More
Quote
William Blake is damned good to steal from! Henry Fuseli
More News
---
Islamic State destroys ancient idols in Mosul Museum
---
---
Flashback
On a day like today, Spanish painter Joaquín Sorolla, was born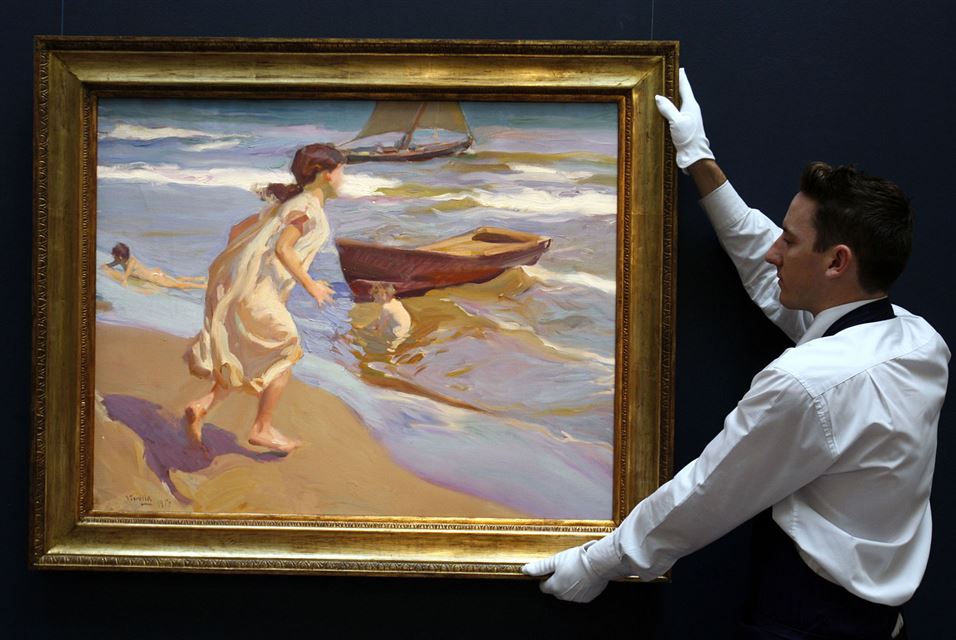 February 27, 1863. Joaquín Sorolla y Bastida (27 February 1863 - 10 August 1923) was a Valencian Spanish painter. Sorolla excelled in the painting of portraits, landscapes, and monumental works of social and historical themes. His most typical works are characterized by a dexterous representation of the people and landscape under the sunlight of his native land. In this image: A technician adjusts 'The Bathing Hour' a painting by Spanish artist Joaquin Sorolla on display at Sotheby's auction rooms in London, Friday, May 29, 2009.
---
---

Museums, Exhibits, Artists, Milestones, Digital Art, Architecture, Photography,
Photographers, Special Photos, Special Reports, Featured Stories, Auctions, Art Fairs,
Anecdotes, Art Quiz, Education, Mythology, 3D Images, Last Week,
.
Royalville Communications, Inc
produces: