Israeli archaeologists unveil 'oldest' Hebrew mention of Jerusalem
A picture taken on October 26, 2016 shows an ancient papyrus manuscript from the time of the First Temple during a press call in Jerusalem. The rare find was exposed in an enforcement operation initiated by the Israel Antiquities Authority Unit for the Prevention of Antiquities Robbery. The document written on papyrus and dating back to the time of the First Temple (seventh century BCE) bears the name of the city of Jerusalem and is the earliest extra-biblical source to mention Jerusalem in Hebrew writing. MENAHEM KAHANA / AFP.
JERUSALEM
(AFP)
.-
Israeli archaeologists Wednesday unveiled a 7th century BC text they said contains the earliest mention in Hebrew of Jerusalem outside the Bible, prompting officials to stress the Jewish connection to the city. "For Israeli archaeology, this is the first mention in Hebrew of the city of Jerusalem outside the New Testament," Amir Ganor of Israel's antiquities authority told AFP as the papyrus was presented in Jerusalem. The antiquities authority said the papyrus, found near the Dead Sea, was seized from traffickers after a lengthy investigation as it was about to go on sale on the black market. It proved that "Jews were in this city 2,700 years ago," said Ganor. He said the timing of the announcement, amid a row with the United Nations Educational, Scientific and Cultural Organisation, was a coincidence as it had been held up by the trafficking investigation. ...
More
The Best Photos of the Day
Photorealist masterwork by Gerhard Richter to lead Phillips Evening Sale of 20th Century & Contemporary Art
National Geographic 'Afghan girl' arrested in Pakistan
Works from William Eggleston's monumental project The Democratic Forest on view at David Zwirner


Gerhard Richter (b. 1932), Düsenjäger, 1963 (detail). Oil on canvas, 51 1/8 x 78 3/4 in. (130 x 200 cm.). Estimate: $25,000,000-35,000,000. Image courtesy of Phillips.



NEW YORK, NY.- Gerhard Richter's masterful photorealist painting Düsenjäger will lead Phillips' Evening Sale of 20th Century & Contemporary Art on 16 November. One of the earliest of Richter's recognized works, Düsenjäger was completed as part of the artist's small and celebrated group of warplane pictures and was included in the artist's landmark retrospective at The Art Institute of Chicago in 2002. The painting, estimated at $25-35 million, was last sold at auction in 2007 and set a record auction price for the artist of $11.2 million. Jean-Paul Engelen, Phillips' Worldwide Co-Head of 20th Century & Contemporary Art, said, "We're honored to include Düsenjäger from Gerhard Richter's series of warplanes in our sale, which is easily the most important work by the artist to have ever been offered by Phillips. His photorealist paintings, especially those of such high quality, are rare to the market and t ... More



The haunting image of Sharbat Gula, taken in a Pakistan refugee camp by photographer Steve McCurry in the 1980s, became the most famous cover image in the magazine's history.



PESHAWAR (AFP).- An Afghan woman immortalised on a celebrated National Geographic magazine cover as a green-eyed 12-year-old girl was arrested Wednesday for living in Pakistan on fraudulent identity papers. The haunting image of Sharbat Gula, taken in a Pakistan refugee camp by photographer Steve McCurry in the 1980s, became the most famous cover image in the magazine's history. Her arrest highlights the desperate measures many Afghans are willing to take to avoid returning to their war-torn homeland as Pakistan cracks down on undocumented foreigners. Pakistan's Federal Investigation Agency (FIA) arrested Gul for fraud following a two-year investigation on her and her husband, who has absconded. Investigators, who have uncovered thousands of fraud cases over the last decade, launched a probe into her application shortly after she procured the card.
"FIA arrested Sharbat Gula, an ... More



Untitled from The Democratic Forest, c. 1983-1986 (detail). © Eggleston Artistic Trust. Courtesy David Zwirner, New York/London.



NEW YORK, NY.- David Zwirner presents its first exhibition with William Eggleston since having announced the gallery's exclusive worldwide representation of the artist. On view at 537 West 20th Street in New York will be works from Eggleston's monumental project The Democratic Forest. Over the course of nearly six decades, Eggleston has established a singular pictorial style that deftly combines vernacular subject matter with an innate and sophisticated understanding of color, form, and composition. His photographs transform the ordinary into distinctive, poetic images that eschew fixed meaning. His 1976 solo exhibition at The Museum of Modern Art, New York, curated by John Szarkowski, marked the first presentation of color photography at the museum. Although initially criticized for its unfamiliar approach, the show and its accompanying catalogue, William Eggleston's Guide, heralded an important moment in the medium's acce ... More
India's 'Dinosaur Princess' keeps watch over rare remains
Apple designer's chest of drawers sells for over $1m
Doyle to auction the Eileen & Herbert C. Bernard Collection


"Dinosaur Princess" Aaliya Sultana Babi holding a fossilised dinosaur egg at her palace in Balasinor. SAM PANTHAKY / AFP.



BALASINOR (AFP).- One of princess Aalia Sultana Babi's most prized possessions is a fossilised dinosaur egg she found an unsuspecting villager using to grind spices on her ancestral lands, an area billed as "India's Jurassic Park". Babi rescued the egg and it now has pride of place among her collection of prehistoric fossils, part of a lifelong legacy of protecting the dinosaur remains on the land her family once ruled over. "She didn't know it was a dinosaur egg!" said Babi, 42, who has been dubbed the Dinosaur Princess for her work. "I lovingly call it my masala (spice) egg," she added of the rare find, a complete Titanosaurus egg belonging to the late Cretaceous period, around 99-65 million years ago. It now sits in her home, in pride of place, wrapped in white silk inside a red velvet jewellery box. Researchers found the 72-acre (29-hectare) sprawling family estate of Balinsor was littered with dinosaur fossils during a routine ... More



Marc Newson, « Pod of drawers », 1987, made from cut aluminium panels, riveted to a fiberglass structure. Sold for 1 019 800 € / 1 111 582 $ including premium (estimation : 600 000 – 700 000 €).



PARIS.- A chest of drawers by the star Australian designer Marc Newson has sold at auction in Paris for more than one million euros, more than twice its estimate. The piece called "Pod of drawers" by the creator who has worked for Apple for the past decade, was bought for 1.019 million euros ($1.1 million) by an Asian buyer, the auction house Artcurial said Tuesday. Newson, 53, made the shiny aluminium drawers by hand in 1987 while he was at art school having earlier trained as a jeweller. The creator of the Lockheed Lounge chair has said he was inspired to take up furniture design by the European decorative art magazines his Greek-born grandfather left lying around the house in Sydney. The piece was inspired by French Art Deco designer Andre Groult's famous body-shaped "Chiffonnier Anthropomorphe", Artcurial said. "Entirely made by hand, the chest of drawers shows the fusion between European decorative arts ... More



Fernand Leger, La Belle Equipe (detail). Brush, India ink, watercolor and gouache over pencil on Arches paper, 22 1/4 x 29 3/4 inches. From the Eileen & Herbert C. Bernard Collection. Estimate: $200,000-400,000.



NEW YORK, NY.- Doyle has announced the sale of works of art from the Eileen & Herbert C. Bernard Collection. This remarkable collection was assembled by Eileen (1916-1999) and her husband Herbert (1912-2016) during the course of their 65-year marriage. Its significance lies in the wide-ranging view and refined eye of a drawings collector, rarely seen today; as well as in the freshness of material not on the market in many decades. Doyle's auction of Impressionist & Modern Art on Tuesday, November 1 will feature a number of works from the Collection, comprising lots 57 through 77. Highlighting the offerings is an exceptional Alberto Giacometti bronze bust of Diego, the sculptor's faithful brother, whose features are instantly recognizable (est. $1,000,000-2,000,000). Diego became the artist's alter ego, and the vehicle ... More
Exhibition at British Museum explores 100,000 years of South African art
Sotheby's London exhibits books & manuscripts from The Pierre Bergé Library
Staley Wise opens exhibition of photographs by Slim Aarons


Esther Mahlangu (b. 1935), detail of BMW Art Car 12, 1991. © Esther Mahlangu. Photo © BMW Group Archives.



LONDON.- This autumn the British Museum will host the first major UK exhibition on South African art that explores a 100,000 history through archaeological, historic and contemporary artworks, which look at the long and rich artistic heritage of the country. South Africa: the art of a nation is sponsored by Jack and Betsy Ryan and will use art to tell the story of the region's deep history, the colonial period, apartheid, the birth of the 'rainbow nation' and South Africa today. Objects from the British Museum's own South African collections will be displayed alongside contemporary acquisitions. There will also be significant loans in the exhibition, including objects coming to the UK for the very first time, thanks to the exhibition's logistics partner IAG Cargo. The exhibition will shed light on the varied artistic achievements of South Africa with around 200 objects arranged chronologically across ... More



Gustave Flaubert, Par les champs et les grèves (Voyage en Bretagne). No place Croisset, 1847] - 3 January 1848. Autograph manuscript, signed, folio, 140 leaves (i.e. 277 pages), mounted on Stubbs and numbered by Flaubert himself. Modern green morocco by Aussourd. Estimate: 400.000 – 600.000 €. Photo: Sotheby's.



LONDON.- From today until Sunday, Sotheby's London is exhibiting books and manuscripts from the exceptional personal library of Pierre Bergé, the French businessman and art patron, also known as Yves Saint Laurent's partner in business and life. Last year, Pierre Bergé decided to auction his entire personal library: 1,600 books and manuscripts, spanning, in incredible depth, all the great cultural, literary and philosophical landmarks, from the 15th through to the 20th century. A long-kept secret, his collection is estimated at around €40 million, making it the most valuable library ever to come to the market. Following the great success of the first sale in December 2015, a further ... More



Slim Aarons, Jacqueline Kennedy at the April in Paris Ball, 1959.



NEW YORK, NY.- Slim Aarons made a career, in his words, "photographing attractive people doing attractive things in attractive places." His subjects were the beautiful and the celebrated, the rich and the powerful, high society and aristocracy. Slim Aarons captured their image for the picture magazines throughout the second half of the twentieth century. In doing so he defined the image of the Beautiful People, the international Jet Set who strode the world's stage in the postwar decades. As a chronicler of the good life, as lived by the upper classes and aristocracy in the 1950's, 60's, and 70's, Slim Aarons has no peer. He was a classic outsider looking in, and as such he idealized the rich. The women are beautiful and exquisitely dressed, the men handsome and poised. The houses, shown in detail, range from European palazzos and castles to Palm Beach palazzos to suburban and Southhampton castles. Though ... More
The Canadian Photography Institute inaugurates its new permanent space
Exhibition of works by artists of the New York School opens at Allan Stone Projects
Exhibition at Paul Kasmin Gallery embodies the collaborative atmosphere of the Impasse Ronsin


Unknown Photographer, The Globe and Mail librarian in original library 1939. Gift of The Globe and Mail Newspaper to the Canadian Photography Institute of the National Gallery of Canada.



OTTAWA.- The National Gallery of Canada's Director and CEO, Marc Mayer, and the Director of the Canadian Photography Institute, Luce Lebart, officially opened the Institute's dedicated galleries today in the presence of representatives from Scotiabank – the Institute's Founding Partner – and the National Gallery of Canada Foundation. Three unique exhibitions marked the inauguration of the Institute: The Intimate World of Josef Sudek, featuring a selection of contemplative photographs from the Czech pioneer of modernist photography, Cutline: The Photography Archives of the Globe and Mail, and PhotoLab 1, an essay exhibition on the theme of windows in photography. The public is invited to meet the curators and view the exhibitions free of charge tonight from 6 pm to 8 pm. The Canadian Photography ... More



Joseph Cornell, Untitled (Yellow Sand Fountain), 1959. Mixed media box construction, 12 3/4 x 8 7/8 x 5 in.



NEW YORK, NY.- Allan Stone Projects presents Artists of the New York School, on view from October 27 – December 23, 2016. Selected from the Allan Stone Collection, the exhibition highlights paintings, sculptures, and works on paper by a loosely associated group of mid-twentieth century European and American artists centered around New York. Mr. Stone's engagement with one of the most important periods in the history of American art began with founding members such as Willem de Kooning and Franz Kline and evolved to include a diverse range of successors. Though broad in definition and membership, the New York School artists were initially influenced by European Modernism, Surrealism, and Cubism. Some of the earliest inspirations for founding Abstract Expressionist artists such as de Kooning, Kline, and Arshile Gorky were introduced via John Graham, a highly influential artist immersed in these European ... More



Le Petit Parisien.



NEW YORK, NY.- Paul Kasmin Gallery announces the forthcoming exhibition, Impasse Ronsin, which will be on view at 515 West 27th Street from October 28th – December 23rd, 2016. Taking as its focus the historic Parisian alley once home to the studios of Constantin Brancusi, William N. Copley, Max Ernst, Yves Klein, Les Lalanne, Larry Rivers, Niki de Saint Phalle, Jean Tinguely and numerous other seminal 20th-century artists, the exhibition will include work by these artists in an elaborate installation designed to embody the collaborative atmosphere of the Impasse Ronsin. At the heart of the original Impasse Ronsin complex, as well as in this exhibition, stands Constantin Brancusi, who moved into the Impasse in 1916 and would remain there until his death in 1957. During those forty-one years, countless seminal artists made the pilgrimage to the Impasse Ronsin in hopes of meeting the artist, whom Marcel Duchamp famously referred to as ... More
Quote
We artists are mythmakers, and we participate with everybody else in the social constructionof reality. Helen Mayer Harrison
More News
---
Frank Lloyd Wright: Conserving St. Mark's Tower Model
---
Flashback
On a day like today, American painter Lee Krasner was born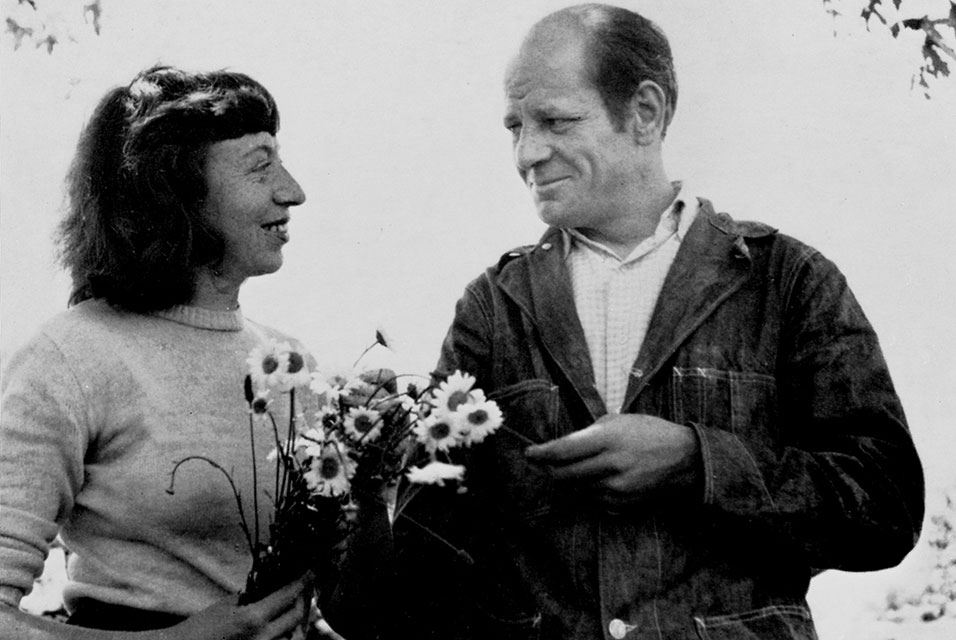 October 27, 1908. Lee Krasner (October 27, 1908 - June 19, 1984) was an influential American abstract expressionist painter in the second half of the 20th century. On October 25, 1945, she married artist Jackson Pollock, who was also influential in the abstract expressionism movement. In this 1949 photo provided by the Pollock-Krasner House and Study Center, artists Lee Krasner and Jackson Pollock are shown in their garden at their East Hampton, N.Y., home.
---
---

Museums, Exhibits, Artists, Milestones, Digital Art, Architecture, Photography,
Photographers, Special Photos, Special Reports, Featured Stories, Auctions, Art Fairs,
Anecdotes, Art Quiz, Education, Mythology, 3D Images, Last Week,
.
Royalville Communications, Inc
produces:







Tell a Friend
Dear User, please complete the form below in order to recommend the Artdaily newsletter to someone you know.
Please complete all fields marked *.
Sending Mail

Sending Successful