Musee des Confluences: New science centre and anthropology museum opens in Lyon
Austrian architect Wolf Dieter Prix who designed the "Musee des Confluences" science centre and anthropology museum in Lyon, central-eastern France, poses, on December 18, 2014 ahead of its opening. The museum was designed by Austrian architecture firm Coop Himmelb(l)au and will open on December 20, 2014. AFP PHOTO / JEFF PACHOUD.
LYON
.-
The museum's cultural project is based on its collection, which has been gradually enriched by donations, acquisitions, archaeological excavations and long-term loans that have transformed it into a veritable 21st-century cabinet of curiosities. Ranging from paleontology, mineralogy and zoology to entomology, ethnology, Egyptology and prehistory, its rich catalogue is exceptional in its sheer size (some 2.2 million items), but also in its diversity and rarity. Divided into four major sections – the earth sciences, the life sciences, the social sciences and science and technology – it will be deployed in totally new presentations and exhibition designs. The museum's origins can be traced back to the curiosities amassed in Lyon by two brothers, Gaspard de Liergues and Balthasar de Monconys, in the 17th century. In the 18th century, Jérôme-Jean Pestalozzi, a doctor at the Hôtel-Dieu, acquired this collection and enriched it before donating it to the City of Lyon, which in 1777 opened a pu ...
More
The Best Photos of the Day
Masterpieces of rarity and historical significance to be offered at Christie's Americana Week 2015
The Institute of Contemporary Art/Boston announces largest gift in museum's history
Skeleton from Greek mystery tomb to be identified next month: Officials from culture ministry




Leading the sale is American painter John Singleton Copley's 1764 Portrait of Samuel Phillips Savage (estimate: $500,000 - 700,000). Photo: Christie's Images Ltd 2014.





NEW YORK, NY.- Christie's announced that Americana Week 2015, a series of auctions, viewings and events, will be held from January 16-26. The week of sales is comprised of Important American Silver on January 22, Important American Furniture, Outsider and Folk Art on January 23, and Mandarin & Menagerie: The Sowell Collection and Chinese Export Art from Various Owners on January 26. These sales are driven by important private collections, and include Property from the Estates of Jane Supino, Eric Martin Wunsch, and Victor Gail and Thomas H. Oxford as well as the Sowell Collection of Chinese Export Art. In all, Americana Week 2015 will offer over 520 lots and is expected to realize upwards of $6 million. In conjunction with the sales, Christie's will also host the third annual Eric M. Wunsch Award for Excellence in the American Arts on January 21, honoring Arnold Lehman ... More





Barbara Lee and Jill Medvedow. Photo: Liza Voll Photography.





BOSTON, MASS.- In the largest gift of art ever made to the museum, the Institute of Contemporary Art/Boston (ICA) has acquired 43 major works of 20th- and 21st-century art from political activist and philanthropist Barbara Lee, announced Jill Medvedow, Ellen Matilda Poss Director of the ICA. The Barbara Lee Collection of Art by Women represents three decades of collecting by Lee, and brings together painting, sculpture, and photography by iconic modern and contemporary artists whose work and ideas have changed the course of art history. Comprised of 43 works of art by 25 artists from eight different countries, the gift deepens the ICA's holdings of works by Louise Bourgeois, Tara Donovan, Marlene Dumas, Mona Hatoum, Cindy Sherman, and Lorna Simpson, and adds seminal works by artists who are part of the ICA's exhibition history including Sandra Cinto; Rachel Harrison; Eva Hesse; Jenny Holzer; Roni Horn; Louise Lawler; Ana Mendieta; Doris Salcedo; Joan Semmel; Amy Sillman; ... More





Marble pieces found outside the tomb dating back to the Alexander the Great era (356-323 BC) at the ancient Amphipolis archeological site. AFP PHOTO / GREEK MINISTRY OF CULTURE.





ATHENS (AFP).- Details on the identity of a mystery skeleton found in a massive tomb dating from the era of Alexander the Great in Greece are to be revealed next month, the culture ministry said Friday. "The result of macroscopic study of the bone tissue (identifying) sex, age and height will be announced in January," the ministry said in a statement, adding that the research will be conducted by universities in Thessaloniki and Thrace. The discovery in November of the skeleton inside the huge fourth century BC structure -- the largest tomb ever unearthed in Greece -- added to the excitement over the excavation which had made global headlines in the summer. The tomb, measuring 500 metres (1,640 feet) in circumference and dug into a 30-metre hill in Amphipolis, northern Greece -- was found to contain sculptures of sphinxes and caryatids, intricate mosaics and coins ... More
Albert Bloch painting donated by KU alumni represents artist's early work in Lawrence
National Gallery of Australia Council establishes independent review of Asian art collection
Susan L. Talbott to retire as Director and C.E.O. of Wadsworth Atheneum Museum of Art




Albert Bloch, Summer, 1929 (detail), oil on Masonite™, Gift of Dr. Eric and Michelle Voth.





LAWRENCE, KS.- It may be cold outside, but the Spencer Museum's 20/21 Gallery has some added warmth with the newly acquired Albert Bloch painting Summer. The painting, donated this fall by KU alumni Dr. Eric and Michelle Voth, adds to the Spencer's strong holdings by Bloch and represents a unique period in the artist's work. The left half of the painting portrays a still-life of a vibrant yellow flower in a vase, while on the right half a woman and a clown share a quiet and somewhat mysterious interaction. Eric Voth said his family felt the Spencer Museum was the right home for the painting because of their three generations of loyalty to the University. The gift is also to honor Voth's father, Harold, who began collecting Bloch's work more than 50 years ago. "I thank the administration of the Spencer who have been absolutely pivotal in helping us place our gift where our hearts are," Voth said. ... More





Residents of Heysen St in Canberra enjoy a complimentary tour of the Hans Heysen exhibition. Photo: NGA Imaging Services.





CANBERRA.- The National Gallery of Australia today announced plans to address provenance issues in relation to its Asian art collection. Following a meeting of the National Gallery of Australia Council in November the following actions are being taken: Appointment of an independent reviewer to report to Council on the interpretation of relevant cultural laws (Australian and country of origin) in this area as well as chain of ownership and provenance. Additional support of the NGA Asian Art Provenance research team increasing to three staff members from late January. NGA website provenance project – listing the full number of imaged sculptures from South Asia which the Gallery is researching and seeking further information about. In the New Year research will extend to works from Southeast Asia. Revision of the existing NGA due diligence ... More





Talbott took over the museum in 2008.





HARTFORD, CONN.- Susan L. Talbott announced Friday she will retire as Director and C.E.O of the Wadsworth Atheneum Museum of Art after completing a $33 million renovation-the keystone of her transformation of one of Connecticut's historic treasures into a welcoming 21st-century art museum. Talbott, who took over the museum in 2008, told the Board of Trustees that in order to ensure a smooth transition for the institution she will leave after upgraded and expanded galleries reopen Fall 2015. "I've experienced great professional and personal satisfaction in advancing the nation's oldest art museum and bringing its world-renowned collection to the next level," Talbott said. "Looking ahead, I am eager to explore a different chapter in my life and career, and can do so assuredly, knowing the museum is stronger and poised for continued success in the future. I am proud of all we have accomplished." Taking ... More
Calligraphers cry foul as Vatican shuts down scrollmakers amid reports of fakes
First solo exhibition of Gretchen Bender's work in the UK on view at Tate Liverpool
California priest's 25-year vow to church will be fulfilled when collection is sold at Don Presley's Jan 1 auction




Tiziana Sereni looks at papal parchment in the Rino Pensa workshop in Rome. AFP PHOTO / ALBERTO PIZZOLI.





ROME (AFP).- Rino Pensa and son have been making papal parchments for decades, crafting hand-painted blessing scrolls in Italy which are purchased by the faithful around the world to celebrate marriages, baptisms and anniversaries. But with the Vatican cracking down on the business amid reports of fake parchments being peddled to unwitting tourists for pricey sums, the family studio in the heart of Rome is being forced to close -- with hundreds of artisans at risk of losing their jobs. Calligraphers and painters will have to lay down their tools on December 31, as Pope Francis tries to ensure the Church's apostolic benedictions, which were first issued about 100 years ago under Pope Leo XIII, raise as much money as possible for the poor. Instead of being made by hand, the parchments will be computer prints produced by the Vatican's Office of Papal Charities, which the pope's almoner, ... More





Gretchen Bender, Untitled (The Pleasure is Back) 1982© Estate of Gretchen Bender. Image courtesy of The Mint Museum, Charlotte, NC.





LIVERPOOL.- Tate Liverpool presents the work of American artist Gretchen Bender (1951–2004). Bringing together a focused selection of works including Total Recall 1987, a monumental 24-monitor multi-projection screen installation, the exhibition is the first solo exhibition of Bender's work in the UK. Bender came to prominence during the 1980s and was closely associated with the 'Pictures Generation' of artists whose work appropriated mass media imagery and its clichés for critical ends. In response to an increase of political and corporate ideologies being embedded into mass media, Bender developed a coherent and critically acclaimed body of work becoming especially renowned and celebrated for her large-scale video theatre installations and screen prints on tin signs. Her practice extended further to include works for commercial broadcast including music videos, often ... More





Francis Picabia (French, 1879-1953), watercolor portrait of woman, est. $35,000-$45,000. Don Presley Auction image.





SANTA ANA, CA.- In 1989, Father Alfred Baca, a priest at St. Cecilia Catholic Church in Tustin, California, vowed that on the 25th anniversary of his priesthood, he would divest himself of his tangible assets to benefit his parish financially. On New Year's Day, with the help of auctioneer Don Presley and art and antiques buyers everywhere, "Father Al's" pledge will be fulfilled. Presley will feature 350 of Father Al's artworks and Teplitz, Pickard and Amphora ceramics as the special highlight of his New Year's Day auction of fine art and antiques from upscale Southern California estates and residences. "Father Al has been an admirer of art and antiques since childhood. His mother was, and still is, a collector of decorative ceramics – in particular Pickard – and provided expert guidance to her son when he decided to start his own collection," said auctioneer Presley. "She also gave him many ... More
Former Chief Curator at Museum of Modern Art, to join the Princeton University Art Museum
Major retrospective of Martin Schoeller's photographs on view at Hasted Kraeutler
Definitive book on the complete collections of the Hermitage Museum published by Booth-Clibborn Editions




Celebrated art historian will serve as the first Allen R. Adler, Class of 1967, Distinguished Curator and Lecturer, starting Feb. 1, 2015. Photo © 2010 Scott Rudd.





PRINCETON, NJ.- James Steward, director of the Princeton University Art Museum, today announced the appointment of John Elderfield, chief curator emeritus of painting and sculpture at The Museum of Modern Art, New York, as the first Allen R. Adler, Class of 1967, Distinguished Curator and Lecturer on Feb. 1, 2015. This new curatorship was made possible by a $4.5 million gift from Allen Adler, a member of Princeton's Class of 1967, and his wife, Frances Beatty Adler. The gift, bestowed in 2012, facilitated the endowed curatorship and an accompanying program fund at the Princeton University Art Museum. The Adler Distinguished Curatorship will increase the Museum's leadership in European art from the medieval to modern periods – already a significant strength – as well as further enrich the tradition of object-based study at Princeton, including ... More





George Clooney with Mask; Brooklyn, NY, 2008. Photo: Courtesy of Martin Schoeller/AUGUST.





NEW YORK, NY.- Hasted Kraeutler is presenting a major retrospective of Martin Schoeller's photographs, organized to coincide with the release of Portraits (teNeues, 2014), a monumental monograph spanning 15 years of his illustrious career, running through January 3, 2015. Featuring a written introduction by Jeff Koons, the latest monograph is a cause for celebration and a true milestone moment for the artist. The exhibition includes a range of images of varying scale that Schoeller made over the past decade and a half, all of which confirm his position as a maestro of his craft. Viewed cumulatively in both black-and-white and color, the photographs on view prove that he has more than earned his reputation as today's preeminent portraitist, consistently capturing characters we think we know in ways we couldn't predict. Renowned portraitist Martin Schoeller knows how to make a globally recognized face captivate viewers ... More





Paul Gauguin, Eu Haere ia oe (Woman with Fruit), 1893. Oil on canvas; 92 x 73.5 cm© 2014 the State Hermitage Museum. Courtesy Booth-Clibborn Editions.





LONDON.- The State Hermitage: Treasures from the Museum's Collections is the definitive book on the complete collections of the Hermitage Museum, one of the great museums of the world. This year marks the museum's 250th anniversary and The State Hermitage: Treasures from the Museum's Collections is the official publication for this prestigious occasion. The span and variety of the collections at the Hermitage is unparalleled, from prehistory to the 20th century and is illustrated in full-colour in this two-volume survey. It includes palaeolithic artifacts of the 22nd millennium BC; Egyptian antiquities; Roman portrait busts; Byzantine coins; Scythian gold; Chinese prints; 19th-century Tibetan art; paintings by da Vinci, Picasso, Matisse, Rembrandt, Giorgione, and Rockwell Kent; Sèvres porcelain; Gobelins tapestries; the Soviet porcelain collection from the Lomonoso Porcelain Museum; ... More
Quote
Abstract art was for us (the Dadaists) tantamount to absolute honor. Richard Huelsenbeck
More News
---
$26M gift to the University of Melbourne
---
---
Flashback
On a day like today, Dutch painter Pieter de Hooch was born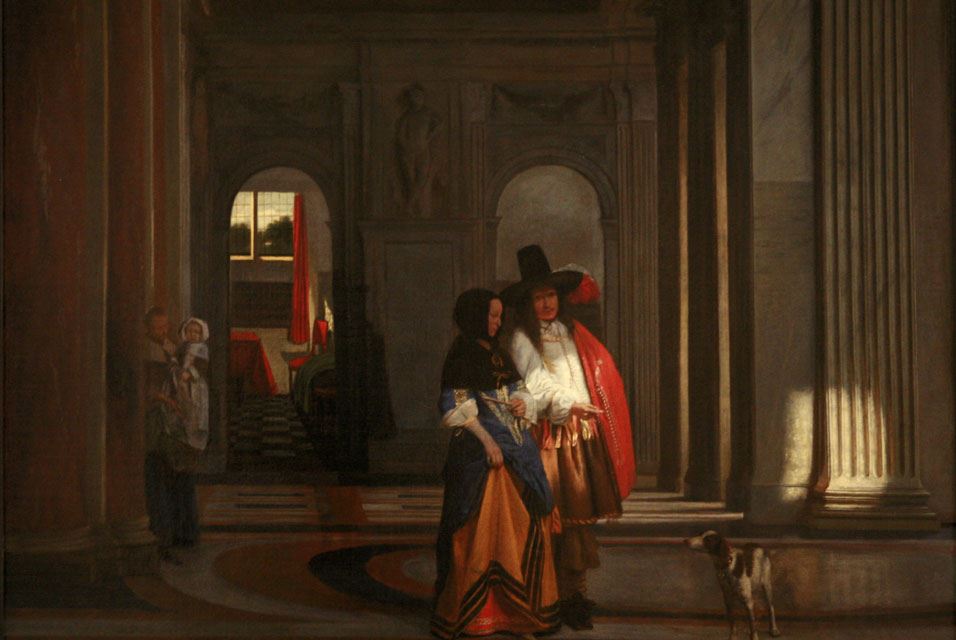 December 20, 1629. Pieter de Hooch, also spelled "Hoogh" or "Hooghe" (baptized December 20, 1629 - 1684) was a genre painter during the Dutch Golden Age. He was a contemporary of Dutch Master Jan Vermeer, with whom his work shared themes and style. Most scholars believe that de Hooch's work after around 1670 became more stylized and deteriorated in quality. It may be that his distress (at age 38, with a young family) at the death of his wife (in 1667) affected his work. In any case, his health was now deteriorating, and he died in 1684 in an Amsterdam insane asylum, though the direct cause of his admission there is unknown. In this image: A Couple Walking in the Citizens' Hall of Amsterdam Town Hall (aka Départ pour la promenade) - circa 1663-65 oil on canvas, Musée des Beaux-Arts de Strasbourg.
---
---

Museums, Exhibits, Artists, Milestones, Digital Art, Architecture, Photography,
Photographers, Special Photos, Special Reports, Featured Stories, Auctions, Art Fairs,
Anecdotes, Art Quiz, Education, Mythology, 3D Images, Last Week,
.
Royalville Communications, Inc
produces: