Exhibition at the Victoria & Albert Museum re-examines the work of John Constable
An employee poses next a painting by British artist John Constable entitled "The Opening of Waterloo Bridge seen from Whitehall Stairs" during a photocall at the Victoria and Albert Museum in London on September 17, 2014, to highlight the forthcoming exhibition 'Constable: The Making of a Master' . AFP PHOTO / CARL COURT.
LONDON
.-
The V&A
's major autumn exhibition will re-examine the work of John Constable (1776-1837), Britain's best-loved artist. It will explore his sources, techniques and legacy and reveal the hidden stories behind the creation of some of his most well-known paintings. Constable: The Making of a Master will juxtapose Constable's work for the first time with the art of 17th-century masters of classical landscape such as Ruisdael, Rubens and Claude, whose compositional ideas and formal values Constable revered. On display will be such celebrated works as The Hay Wain (1821), The Cornfield (1826) and Salisbury Cathedral from the Meadows (1831), together with oil sketches Constable painted outdoors directly from nature, which are unequalled at capturing transient effects of light and atmosphere. The exhibition will bring together over 150 works of art including oil sketches, drawings, ...
More
The Best Photos of the Day
Contest to design Helsinki Guggenheim museum draws 1,715 entries from 77 countries
MoMA and MoMA PS1 to release an album that pays tribute to John Cage's 4'33"
Egypt denies claims oldest pyramid damaged in restoration by 'unqualified' company




Elevated view of the competition site from Restaurant Palace building, looking southeast. Photo: Tuomas Uusheimo.





HELSINKI (AFP).- The Guggenheim Foundation said Wednesday that it had received a huge response to an open competition to design the future Guggenheim Museum in the Finnish capital Helsinki. "We are awed and humbled by the tremendous response to the call for entries, and we look forward to engaging in a full and public exploration of the submissions in the coming months," the director of the US-based foundation said in a statement. In what is its first-ever open call for museum design proposals, the Solomon R. Guggenheim Foundation has received 1,715 entries from 77 countries. The Guggenheim Helsinki is due to join other Guggenheim art museums -- famed for their cutting-edge architecture -- in New York, Bilbao and Venice and the world's largest which is planned for Abu Dhabi. The design proposals -- submitted mainly by architects in the United States, United Kingdom, France, Italy, Japan and Finland -- will be judged anonymously. ... More





Cover of There Will Never be Silence available on MoMA/MoMA PS1 Record label. Image courtesy of Marek Polewski.





NEW YORK, NY.- The Museum of Modern Art and MoMA PS1 will release There Will Never Be Silence, an album that pays homage to both John Cage and the MoMA exhibition There Will Never Be Silence: Scoring John Cage's 4'33" (2013–14). The album will launch on September 27 at the New York Art Book Fair at MoMA PS1 in a uniquely designed edition of 500. In a 1954 letter that Cage wrote regarding his so-called "silent piece" 4'33" (1952), he stated "the piece is not actually silent (there will never be silence…)." Sixty years following Cage's letter, the debut album from the newly created MoMA/MoMA PS1 Records reconsiders silence, the lack of silence, and the status of recorded sound. Organized by David Platzker, Curator, Department of Drawings and Prints, MoMA, and Jenny Schlenzka, Associate Curator, MoMA PS1, the double LP features four compositions presented as artistic answers to Cage by artists Kevin Beasley, Lizzi Bougatsos, Sabisha Friedberg, ... More





Egypt's Minister of Antiquities, Mamdouh al-Damati (C), gestures to reporters inside the Djoser step pyramid. AFP PHOTO/ MOHAMED EL-SHAHED.





CAIRO (AFP).- Egypt's antiquities minister denied Tuesday claims that the Djoser pyramid, the country's first, had been damaged during restoration work by a company accused of being unqualified to do such work. Addressing journalists who had been allowed inside the 27th century BC pyramid near Cairo, Mamdouh al-Damati said: "You have seen the inside of the pyramid. It has not been destroyed; it is not in danger." "Restoration work is underway without a problem," the minister added in his remarks to the journalists, who had been invited to see for themselves so that they did not spread "rumours". But Marwa al-Zeiny, a specialist in the restoration of antiquities, claimed that the company hired to do the work, Al-Shurbagy, does not have the experience for such projects, and she criticised what has already been done. "There is an enormous visual difference between the part (of the pyramid) already restored" and the rest of the structure, she told AFP. "The part that has been restored ... More
Christie's announces sale of the second part of the Frances R. Dittmer Collection
David Hockney original 'fax art' sent from his Malibu beach home to be auctioned in York
Bill and Camille Cosby loan private collection to the Smithsonian's National Museum of African Art




Brice Marden (B. 1938), Untitled charcoal on paper with incised lines 20 x 22 in. Executed in 1966 Estimate: $300,000-400,000. Photo: Christie's Images Ltd 2014.





NEW YORK, NY.- Christie's presents the second part of the Frances R. Dittmer Collection, dedicated to her primary passion, Works on Paper. Throughout her life, Frannie actively participated in many of the nation's most prestigious arts organizations, including the Aspen Art Museum, the Dia Art Foundation, The Art Institute of Chicago and was especially dedicated to The Drawing Center in New York. The collection of works on paper reflects Frannie's radiant personality and spirit, and the important relationships that she developed with artists. Significant works by Mark Bradford, Vija Celmins, Marlene Dumas, Roni Horn, Ellsworth Kelly, Willem De Kooning, Sol Lewitt, Brice Marden, Agnes Martin, Albert Oehlen, Richard Prince, Robert Rauschenberg, Edward Ruscha, Robert Ryman, Thomas Schütte, Richard Serra, Rudolf Stingel, Rachel Whiteread and Christopher Wool among others will ... More





The fax, framed, is one of about 30 pieces of art donated to the charity for the auction.





YORK.- A genuine original piece of David Hockney fax art, 'DH at the beach', sent by the artist from his Malibu beach home in California to a Bradford childhood friend on 10 November 1988, is to be auctioned along with about 30 other pieces of art at a charity auction in York (at York St John University) on the evening of Saturday 11 October. The donor of the Hockney work, Michael Powell, believes it to be unique and it is one of a series of eight faxes, the others in possession of the donor's brother and other family members. The date and time sent can be clearly seen on the fax. The auction is arranged by York charity, the Wilberforce Trust, which as York's oldest charity has been supporting people with sight loss in York since 1833. The fax, framed, is one of about 30 pieces of art donated to the charity for the auction, most pieces being either by artists with sight loss or other disabilities or artists local to York. Hockney, who sent 'art' faxes ... More





Gerard Sekoto, Boy and the Candle, 1943. Oil on canvas. Photo: Franko Khoury.





WASHINGTON, DC.- One of the world's preeminent private collections of African American art will have its first public viewing later this year at the Smithsonian's National Museum of African Art. "Conversations: African and African American Artworks in Dialogue" brings together artworks from two world-class collections: the National Museum of African Art and the William H. and Camille O. Cosby Collection. The exhibition, which opens at the museum Nov. 9 and remains on view through early 2016, is a major part of the museum's 50th anniversary, celebrating its unique history and contributions toward furthering meaningful dialogue between Africa and the African diaspora. "Conversations" presents selected pieces from the Cosby collection, including works by Romare Bearden, Elizabeth Catlett, Beauford Delaney, Loïs Mailou Jones, Jacob Lawrence, Keith Morrison, Faith Ringgold, Augusta Savage, Henry Ossawa ... More
Andreas Schulze presents a large-format, fluorescent wall painting at the Schirn Kunsthalle
Exhibition of recent works by Spanish-born artist David Rodríguez Caballero opens at Marlborough
Indian paintings sell for significantly more than their pre-auction upper estimates




Schulze's "Pea Roads" will span a total of 400 square meters on two floors.





FRANKFURT.- Andreas Schulze is one of the most interesting German painters of his generation. He creates artificial worlds filled with apparently ordinary everyday objects in his distinctive spatial installations and large-format, vividly colored paintings. Tables, chairs, wing armchairs; potted plants, porcelain, colorful blankets; wooden beams, buttons, and peas – besides the amorphous and spiral-shaped objects, these are the protagonists in his deserted, unreal pictures. The artist, born in 1955, has developed a large-format, extensive new wall painting especially for the Rotunda of the Schirn. Beginning on September 18, Schulze's "Pea Roads" will span a total of 400 square meters on two floors. For his new work, the painter stylizes the eponymous peas, which time and again populate his pictures, ... More





02.marzo.2014, 2014. Brass, 36 1/4 x 18 7/8 x 19 5/8 inches. Image © 2014 David Rodríguez Caballero, courtesy Marlborough Gallery, New York.





NEW YORK, NY.- Marlborough Gallery announced an exhibition of recent works by Spanish-born artist, David Rodríguez Caballero. The exhibition opened on Tuesday, September 16 at their 57th Street location and will remain on view until October 18, 2014. The recent works that are showcased in the exhibition explore a range of materials and spatial constructs; these explore the incorporation of light as matter, an element of the first order in abstraction and geometry. The exhibition includes approximately 40 works constructed in the three materials used by the artist: aluminum, bronze and copper. David Rodríguez Caballero's abstract body of work expresses a strong awareness of its structural and surrounding space. While some of the ... More





A painting by Indian artist Gaitonde is seen on display at the Bonhams auction house in New York. AFP PHOTO/Jewel Samad.





NEW YORK (AFP).- Paintings by one of India's most important modern artists went under the hammer in New York on Wednesday, selling for more than expected at over $3.7 million, auction houses said. Three untitled oils on canvas by pioneering Indian abstract artist Vasudeo Santu Gaitonde, who in 1964 based himself in New York, were by Christie's and Bonhams. The Bonhams canvases, signed and dated 1961 and 1963, came from the artist's "non-objective" series, and fetched $1.08 million and $1.68 million respectively, Bonhams told AFP. Both sold for significantly more than their pre-auction upper estimates, and in the case of the 1961 canvas more than double. The auction house did not identify the buyers further than describing them as international. ... More
Two rare etchings steal the limelight at Rosebery's September Quarterly Fine Art Auction
The National September 11 Memorial Museum welcomes more than one million visitors
Frame Publishers releases a new title to celebrate the 40 years of collecting art at ING




Walter Richard Sickert ARA, "Femme de Lettres" (small plate), 7.5 x9.8cm (image), Sold for £3,000 including premium.





LONDON.- Two rare etchings, one by John Constable and the other by Walter Sickert, stole the limelight in Roseberys' September Quarterly Fine Auction. Coming just a month before the auction house's first standalone modern and contemporary print auction, the strong results for these two prints further establishes Roseberys' name as a specialist in this area. An extremely rare Constable etching was privately consigned and hotly contested across three telephone lines before being secured by a private bidder in the saleroom. Two examples of this etching are held by the British Museum and it is believed to be based on one of four drawings of the Ruins of Netley Abbey in the collection of the Victoria and Albert Museum. Constable and his wife, Maria Bicknell, visited Netley Abbey in Hampshire, during their honeymoon in 1816. Constable evidently returned to this subject in his watercolour, "Netley Abbey by Moonlight ... More





Visitors have traveled to the Museum from all 50 states and more than 130 countries from around the world. Photo: Amy Dreher.





NEW YORK, NY.- The National September 11 Memorial & Museum announced today that more than one million visitors have come to the 9/11 Memorial Museum since opening on May 15. Visitors have traveled to the Museum from all 50 states and more than 130 countries from around the world. The nations represented in the greatest numbers include the United Kingdom, Canada, Germany and Australia. "To achieve this milestone after being open for just four months is truly remarkable," 9/11 Memorial President Joe Daniels said. "We have been honored to welcome thousands of people who are so closely part of the history we present, from 9/11 families, first responders, recovery workers, and survivors, to some of the world's most important political and cultural leaders. Our visitors are demonstrating that the 9/11 Memorial Museum is a place that every American, and people from around the world, simply must see when visiting New ... More





The book springs to life with videos and interviews via Layar technology for smartphones.





AMSTERDAM.- Art is an essential part of ING's corporate identity. The ING Collection was founded in 1974 to create a stimulating working environment. Over the years, the collection has grown to become an extensive and internationally renowned collection of artworks, with a focus on contemporary art by professional artists. In 2014, to celebrate 40 years of the Art Collection, this milestone is marked with an exhibition and the publication of this book. Re: Society shows a selection of artworks that ING has collected over the past 40 years. The book explains what ING has meant for and will mean for society in the future, and how art reflects on society. The history and tradition of ING makes for an art collection that is diverse. The works in this publication are presented by theme. This was a conscious choice in order to create a dialogue between works that seem unrelated at first. Although covering different ground, all te ... More
Quote
Let no day pass over you without a line. Charles Alphonse Dufresnoy
More News
---
Theodore J. Flicker (1930-2014)
---
---
Flashback
On a day like today, Dutch realist painter Anton Mauve was born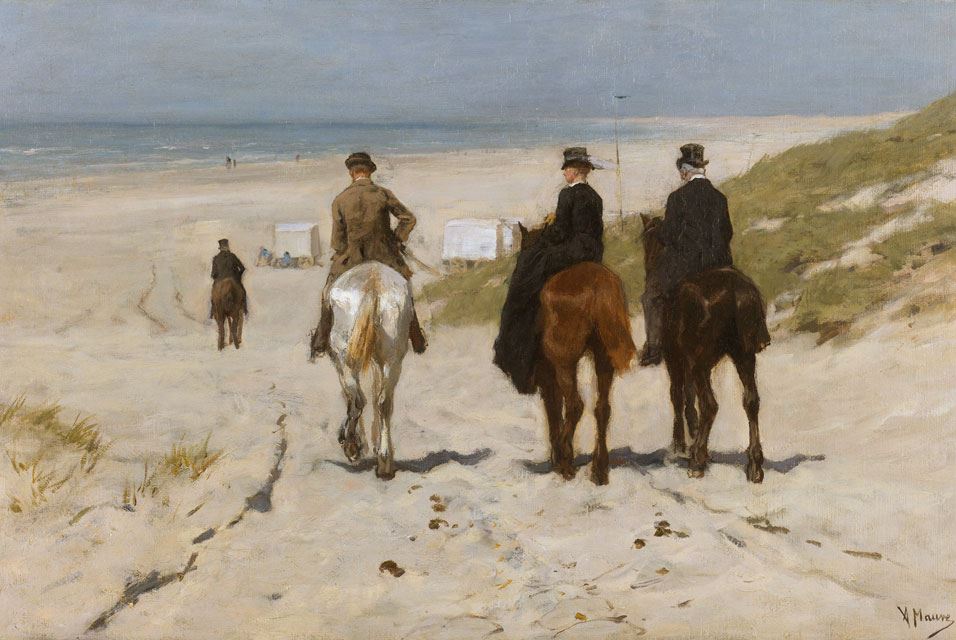 September 18, 1838. Anthonij (Anton) Rudolf Mauve (18 September 1838, Zaandam, North Holland - 5 February 1888, Arnhem) was a Dutch realist painter who was a leading member of the Hague School. He signed his paintings 'A. Mauve' or with a monogrammed 'A.M.'. A master colorist, he was a very significant early influence on his cousin-in-law Vincent van Gogh. In this image: Morning Ride on the Beach (1876), oil on canvas, Rijksmuseum.
---
---

Museums, Exhibits, Artists, Milestones, Digital Art, Architecture, Photography,
Photographers, Special Photos, Special Reports, Featured Stories, Auctions, Art Fairs,
Anecdotes, Art Quiz, Education, Mythology, 3D Images, Last Week,
.
Royalville Communications, Inc
produces: