Archaeologists reveal 1.800-year-old secrets of the Temple of the Feathered Serpent
One of the stone sculptures found at the Temple of the Feathered Serpent (Serpiente Emplumada) at the Teotihuacan complex in Mexico City, taken on August 8, 2014. Archaeologist Sergio Gomez announced in a press conference in Mexico City on October 29, 2014 that new discoveries were made recently at the temple. The discovered offering is located at 103 metres from the entrance of the temple and contains thousands of items including 4 stone sculptures and jade ornaments. AFP PHOTO /INAH.

Translated by: Cristina Perez Ayala
MEXICO CITY
.-
With the announcement that the most recent explorations of the Tlalocan Project have led to the discovery of the threshold of three chambers located under the Temple of the Feathered Serpent in Teotihuacan, Teresa Franco, director of the
National Institute of Anthropology and History
(INAH), expressed that this and other investigations under development by the institution create the unique opportunity to understand in depth the cultures in Mesoamerica and Aridoamerica. The Tlalocan Project: A Path Under the Earth and the incentives of other spaces and structures in Teotihuacan have become the evidence of systematic studies that have been made in these archaeological zones, enabling researchers to analyze data, revise hypothesis and even calculate the chronology of a metropolis that was developed during eight centuries. ...
More
The Best Photos of the Day
Exhibition of Maurizio Cattelan's work opens at Venus Over Manhattan and Sotheby's S/2 Gallery
Duane Hanson's 'Security Guard' from 1990 on view at Gagosian Gallery in New York
Warhol's women: Selection of seven paintings to be offered at Sotheby's New York




HIM. Wax, garment and polyester resin, 39 ¾ by 16 ¼ by 20 ¾ in. 101 by 41 by 53 cm. Executed in 2001. Photo: Sotheby's.





NEW YORK, NY.- From 30 October to 26 November 2014 Sotheby's S|2 and Venus Over Manhattan will present Cosa Nostra, the first major exhibition of Maurizio Cattelan's work since Maurizio Cattelan: All, the 2011/12 Guggenheim retrospective, and the artist's subsequent retirement. Curated by collector and gallerist Adam Lindemann, this selling exhibition will showcase a range of works from Cattelan's career, including many of the artist's most recognizable iconography that has made him one of the most idiosyncratic and unique of his generation. A direct response to All, Cosa Nostra will utilize a distinct and dramatic exhibition design in each presenting venue, highlighting the artist's works as powerful, individual objects. At Venus Over Manhattan, the works will exist in isolation; at S|2, the viewer will be immersed in their images. Drawn from important private collections, the works range in value from $30,000 to $20 mill ... More





Duane Hanson, Security Guard, 1990. Autobody filler, polychromed in oil, mixed media, with accessories , 71 x 26 x 13 inches. ©The Estate of Duane Hanson. Photography by Robert McKeever. Courtesy Gagosian Gallery.





NEW YORK, NY.- Gagosian New York presents Duane Hanson's Security Guard (1990). In his hyper-realistic sculptures portraying working-class Americans, Hanson eschewed the predominant Expressionist and Minimalist concerns of the 1950s and 1960s for an unflinching investigation of the human condition. Early life-size tableaux depicting soldiers killed in action, police brutality, and the homeless confronted viewers with devastating truths largely overlooked in the art of the time. Throughout his forty-year career, Hanson's uncanny sculptural likenesses of blue-collar workers—repairmen, waitresses, and bricklayers—inhabited exhibition spaces eliciting surprise, embarrassment, amusement, and sympathy from unsuspecting viewers. Although his world-weary figures owe something to Pop and Photorealism, their veracity ... More





Andy Warhol, Liz #3 (Early Colored Liz), 1963. Silkscreen ink and acrylic on canvas, 101.6 by 101.6cm.; 40 by 40 in. Estimate upon request.





NEW YORK, NY.- On 11 and 12 November Sotheby's New York Contemporary Art sales will present an unprecedented line up of Andy Warhol's most iconic female stars. The selection of seven paintings is headlined by Liz #3 (Early Colored Liz) from 1963, a luminous portrayal of the silver screen goddess on a mint green background (est. in the region of $30 million). The sales will also include one of the very best Warhol portraits of Brigitte Bardot that were commissioned by her former husband Gunter Sachs (est. $10/15 million), Marilyn Monroe, Jacqueline Kennedy, Judy Garland, Debbie Harry and São Schlumberger. Highlights from the group will be on view in London from 12-16 October before the New York exhibition opens on 7 November. Alexander Rotter, Co-Head of Sotheby's Worldwide Contemporary Art Department, commented: "With his portraits of Elizabeth Taylor, Brigitte Bardot, and other female stars, Andy Warhol brilliantly ... More
The Frick Art & Historical Center presents 'Charles Courtney Curran: Seeking the Ideal'
A majestic sunset by Félix Vallotton to lead Sotheby's Auction of Swiss Art on 2 December
High Museum of Art Director Michael E. Shapiro to step down in August 2015




Charles Courtney Curran (American, 1861-1942), The Golden Profile, 1913, oil on canvas, 30 ½ x 20 1/8 inches. Norton Museum of Art, West Palm Beach, Florida, Gift of Mr. and Mrs. Wiley R. Reynolds, Sr., 59.12





PITTSBURGH, PA.- On Thursday, October 30, the exhibition Charles Courtney Curran: Seeking the Ideal opens at the Frick Art & Historical Center in Point Breeze. Even if his name is unfamiliar, Curran's work is likely known by many Americans. Particularly recognizable are his early painting, Lotus Lilies (1888), and his later work On the Heights (1909). Celebrated for his sparkling canvases of women in outdoor settings, Curran brought the broken brushstrokes and sun-drenched palette of Impressionist painting to a distinctly American landscape, capturing the dappled sunlight, deep shadows, and scudding clouds of locations on Lake Erie and in the mountain hamlet of Cragsmoor, New York. Curran was popular with American collectors at the turn of the ... More





Cuno Amiet, Still Life with Flowers. Est. CHF 300,000 – 500,000 / € 248,000 – 413,000. Photo: Sotheby's.





ZURICH.- Sotheby's Auction of Swiss Art will be led by a captivating sunset demonstrating the exceptional talent of Félix Vallotton, who uses the technique of "paysage composé", to give this natural landscape a universal feel. Works depicting the theme of sunset, very close to Vallotton's heart, rarely appear on the market and are therefore highly sought after. The auction in Zurich on 2 December 2014 will also showcase emblematic top-quality works by some of Switzerland's most influential artists, including Cuno Amiet, Alice Bailly, Jean Tinguely and Max Bill. Sotheby's autumn auction of Swiss Art will include 121 works, with an overall estimate in excess of CHF 5 million. Looking ahead to the sale, Urs Lanter, head of Sotheby's Swiss Art department commented: "Sunset compositions by Félix Vallotton appear only very rarely on the market, and as such are very much in demand. His wider oeuvre ... More





Shapiro led the High for 15 years, overseeing unprecedented growth of its collections, endowment and audiences. Photo: Chip Simone.





ATLANTA, GA.- The High Museum of Art announced today that Michael E. Shapiro, the Museum's Nancy and Holcombe T. Green, Jr. Director since 2000, will leave the position next year, after 15 years as director. Shapiro has been part of the High's leadership team for two decades, during which he oversaw unprecedented growth of the Museum's collections, endowment, and audiences, as well as the completion of a 177,000-square-foot, three-building expansion. Shapiro's last day as director will be July 31, 2015. "It has been a privilege to be at the helm of the High for the past 15 years, and to help shape the vision and future of Atlanta's art museum," said Shapiro. "From leading the expansion and transformation of our campus in 2005 to developing groundbreaking collaborations, such as 'Louvre Atlanta,' the High has been transformed ... More
Exhibition of hanging works by French-American sculptor Louise Bourgeois opens at Cheim & Read
For the first time in Russia: Moscow Museum of Modern Art exhibits works by Salvador Dalí
Los Angeles's new contemporary art museum, The Broad, to open in fall 2015




Louise Bourgeois (1911 - 2010), LEGS, 2001. Fabric. 76 x 34 x 22 1/2 inches 193 x 86.4 x 57.2 centimeters. ©The Easton Foundation.





NEW YORK, NY.- Cheim & Read presents an exhibition of hanging works by renowned French-American sculptor Louise Bourgeois (1911-2010). The exhibition will be accompanied by a full-color catalogue with a text by Robert Pincus-Witten. The sculptures in this exhibition all hang from the ceiling. Along with a group of drawings from the 1940s, in which pendulous forms are delineated in black ink, the selection of works traces the theme of suspension throughout Bourgeois's long career. Spanning more than forty-five years – from the organic Lair forms of the early 1960s and the Janus series of 1968, to the cloth figures of the 1990s, the hanging heads of the 2000s, and the torqued spirals of shining aluminum made in the last years of Bourgeois's life – they demonstrate the myriad ways in which she approached material, form, and scale. They also affirm the various readings of Bourgeois's work, ... More





Photo Monde, 02/1954. Image Rights of Salvador Dalí reserved. Fundació Gala-Salvador Dalí, Figueres, 2014.





MOSCOW.- The Moscow Museum of Modern Art together with the Gala-Salvador Dalí Foundation presents Salvador Dalí and Media exhibition. For the first time in Russia, artworks by one of the most well- known provokers in the 20th-century art will be shown in the light of media. The exhibition partner is the Spanish jewelry design house Carrera y Carrera, which will present a special project in one of the halls at 10 Gogolevsky boulevard. The project is an imaginary result of the collaboration between Dalí and Carrera y Carrera glossy publications. Salvador Dalí's artworks are traditionally divided into periods, directly related to the geopolitical situation in the world. However, the exhibition in the MMOMA will not be arranged chronologically. Viewers can choose the way they go through the exhibition themselves. The show is divided into two parts, inextricably connected with each other. The first one will demonstrate Dalí at work. Covers ... More





Construction worker at The Broad.





LOS ANGELES, CA.- The Broad, the new contemporary art museum under construction on Grand Avenue in downtown Los Angeles, is set to open in fall 2015 with free general admission, offering local residents and visitors from around the world access to a renowned collection of more than 2,000 works of contemporary art set in a new architectural landmark designed by the acclaimed firm Diller Scofidio + Renfro. The Broad is the initiative of longtime art collectors and philanthropists Eli and Edythe Broad, who have been at the center of the civic and cultural development of downtown Los Angeles for more than three decades through Eli Broad's leadership of and involvement in projects such as the Museum of Contemporary Art and Walt Disney Concert Hall. The couple have spent more than five decades assembling one of the world's most admired collections of postwar and contemporary art, with the aim of creating a widely accessible public collection. Am ... More
Early working model of Eli Whitney's cotton gin may sell for $10,000+ at Heritage Auctions
Earth's most vibrant natural wonders featured in Morphy's Nov. 8 Mineral Auction
A new way to buy unique gifts at Christie's: Explore Christie's Buy or Bid




Cotton Gin: A Rare Early 19th Century Example of the Invention Which Revolutionized the South.





DALLAS, TX.- A rare and early working model of Eli Whitney's revolutionary Cotton Gin, a cornerstone of museum exhibits from Michigan to Georgia, is expected to sell for $10,000+ in Heritage Auctions' Nov. 8 Americana & Political Signature Auction in Dallas. From a direct rice paper printing of The Declaration of Independence (est. $12,000+) to an original blueprint for Frank Lloyd Wright's masterpiece "Fallingwater" (est. $12,000+), the auction spans 200 years of American ingenuity, politics, and culture. "The phrase "museum quality" is tossed around quite liberally these days, so we are pleased to present items that have quite literally been displayed in museums for decades," said Tom Slater, Director of Americana for Heritage. The evocative cotton gin dates to the early 1800s and spent more than 60 years in the Atlanta Museum before appearing in the important exhibition "Slavery on Trial-the Long Road to Freedom" ... More





Tanzanite crystal, Merelani Hills near Arusha, Umba Valley, Tanzania; 257 grams, from a private collection. Est. $100,000-$125,000. Morphy Auctions image.





DENVER, PA.- Geological treasures of every imaginable color and origin will take the spotlight on Saturday, November 8, as Morphy's presents an eye-filling 116-lot auction of rare minerals. In addition to gallery bidding, all forms of remote bidding will be available, including absentee, phone and live via the Internet. The anticipated top lot of the sale is Lot 10, a spectacular 257-gram Tanzanite crystal. Found in the Merelani Hills region near Arusha, Umba Valley, Tanzania, the intense blue-purple specimen is a true rarity with perfect proportions culminating in a sharp, chiseled determination. Previously in a private collection assembled by a gem broker in Arusha, this crystal was sold to an investor a few years ago. "Tanzanite crystals only come from one place in the world, a mine complex that is already past the 1.5-kilometer depth mark," said Morphy Auctions president, Dan Morphy. "The mine is still going, ... More





An Electro-Mechanical Star Jet Pinball Machine made by Bally, 1962. Buy - Purchase Price: £10,400. Bid - Auction Estimate: £6,000-8,000. Photo: Christie's Images Ltd 2014.





LONDON.- Christie's announces a new approach to buying: Christie's Buy or Bid. This November, alongside the usual auction calendar, Christie's South Kensington presents a hand selected group of items that will be available to purchase at a fixed price for a fixed period. Shoppers have the opportunity to acquire their Christmas presents in the Old Brompton Road saleroom or online between 14 November and 3 December. Anything which is not snapped up during this initial period will go into the 9 December Interiors auction where they will be priced with auction estimates. Christie's Buy or Bid will showcase a unique and eclectic collection of 42 lots, handpicked by our specialists to make for personal presents or simply a new addition to the home. Fixed prices for the Christie's Buy or Bid selection start at £1,040, ranging up to £13,000, and ... More
Quote
Do not think that it is possible to repeat another period. Pierre-Auguste Renoir
More News
---
---
---
Flashback
On a day like today, Anglo-French artist Alfred Sisley was born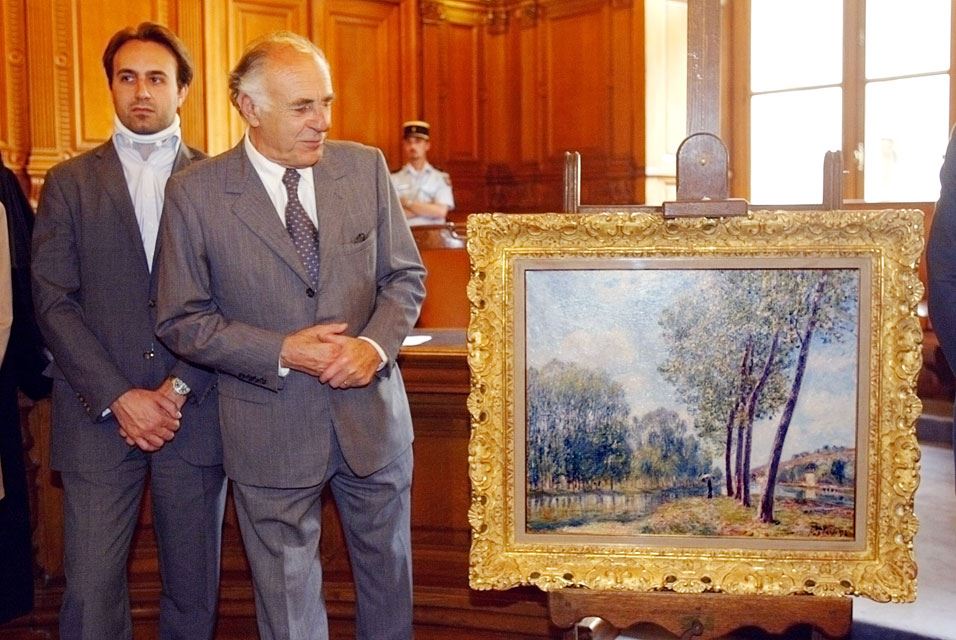 October 30, 1839. Alfred Sisley (30 October 1839 - 29 January 1899) was an Impressionist landscape painter who was born and spent most of his life in France, but retained British citizenship. He was the most consistent of the Impressionists in his dedication to painting landscape en plein air (i.e., outdoors). He never deviated into figure painting and, unlike Renoir and Pissarro, never found that Impressionism did not fulfill his artistic needs. In this image: French businessman Pierre de Gunzbourg, flanked by his son Vivien, left, looks at the painting, "Soleil de Printemps, Le Loing, " (Spring Sun, Le Loing) by impressionist Alfred Sisley at the Paris courthouse, Friday, June 18, 2004.
---
---

Museums, Exhibits, Artists, Milestones, Digital Art, Architecture, Photography,
Photographers, Special Photos, Special Reports, Featured Stories, Auctions, Art Fairs,
Anecdotes, Art Quiz, Education, Mythology, 3D Images, Last Week,
.
Royalville Communications, Inc
produces: