In and out of storage: Mauritshuis exhibits rarely seen works from its collection
People look at paintings on February 2, 2016 at the Mauritshuis art museum in The Hague during the exhibition "In and out of storage" which presents paintings that are usually kept in the museum's depot.
THE HAGUE
.-
The store rooms of the museum are off limits to the public. This might make you curious. What paintings are stored there? How did they end up there? Why aren't they hanging in the museum? And do they really hold unknown treasures, as is often thought to be the case? The exhibition In and Out of Storage answers these questions and, for the first time, acquaints visitors with this invisible part of the collection of the
Mauritshuis
. The collection of the Mauritshuis is not only coherent and manageable in size, but also quite visible. Of the approximately 850 pieces in the collection, some 250 are on permanent display in the Mauritshuis itself, another 150 are exhibited in the Prince William V Gallery, and an additional 150 are on long-term loan to museums in the Netherlands and abroad. Only 300 artworks – not many, in comparison with other collections ...
More
The Best Photos of the Day
Artcurial achieves record price for a car sold at auction; Ferrari sells for 35,711,359
Norton set to break ground on transformative expansion designed by Foster + Partners
Magnificent yet little-known work by Eugène Delacroix on long-term loan to the Clark Art Institute


Lot 170. 1957 Ferrari 335 Sport Scaglietti • Châssis n°0674 • From the Pierre Bardinon Collection.



PARIS.- Friday 5 February 2016, shortly after 18h50, at the Retromobile Salon, Artcurial Motorcars, the collectors' car department at Artcurial achieved the world record for a car sold at auction, under the gavel of Maitre Hervé Poulain. The iconic 1957 Ferrari 335 S Scaglietti, from the Pierre Bardinon Collection was bought by an international bidder for 32 075 200 M€ / 24 693 782 M£ / 35 711 359 M$, including premium. Matthieu Lamoure, Managing Director of Artcurial Motorcars declared, as the car left the stage: «This exceptional Ferrari 335 S Scaglietti #0674 has achieved the highest auction price in international history (in euros and sterling), here in France, the home of the automobile, and in Paris, the world's capital for collectors' cars during the winter season. My team and I are very proud to have put Artcurial Motorcars on the top step of the podium for auction houses worldwide ! Our hard work, ... More



The New Norton South Dixie Highway Façade designed by Foster + Partners. Image courtesy of Foster + Partners.



WEST PALM BEACH, FL.- The Norton Museum of Art will launch its transformational expansion project, designed by architecture firm Foster + Partners, with a ceremonial groundbreaking on February 6, 2016. The groundbreaking precedes the evening's annual Gala celebrating the Museum's 75th anniversary. Pritzker-Prize winning architect Lord Norman Foster, Norton Executive Director Hope Alswang, and Norton Board of Trustees Chairman Harry Howell will be joined by an audience of invited guests for this momentous event, which kicks off construction of the new West Wing. "As the Norton celebrates its 75th anniversary, we applaud founder Ralph Norton's generosity and foresight, while looking toward the future," Alswang said. "With design development complete, I am excited that the Norton Museum of Art is set to break ground on the Foster + Partners-designed ... More



Eugène Delacroix (French, 1798–1863), The Martyrdom of Saint Sulpicius, c. 1847-50. Private Collection. Photo courtesy Clark Art Institute.



WILLIAMSTOWN, MASS.- The Clark Art Institute has received a long-term loan of a magnificent oil study by Eugène Delacroix (French, 1798–1863). The study, The Martyrdom of Saint Sulpicius (c. 1847–50), is relatively unknown, having only been exhibited once in 1930. The painting shows Saint Sulpicius kneeling with arms outstretched as his executioner wields his sword. The Roman captain who ordered the execution is depicted on horseback, while a veiled standing figure depicts Saint Domitilla, whose prayers had led Sulpicius to convert to Christianity. The only known published reference to the study appeared in The Adolph Lewisohn Collection of Modern French Paintings and Sculptures (1928), a limited edition catalogue published by the Lewisohn family. While the canvas exhibits all of the dramatic, loose brushwork and vibrant color characteristic of Delacroix, ... More
Guggenheim Museum presents "Peter Fischli David Weiss: How to Work Better"
The Crawford Art Gallery exhibits works by the maestro of the Georgian miniature: Adam Buck
First major international presentation of Pierre Bonnard's work on the West Coast opens in San Francisco


Peter Fischli / David Weiss, The First Blush of Morning, 1984 (from Equilibres [A Quiet Afternoon], 1984–86). Chromogenic print, 30 x 24 cm. Jumex Collection, Mexico City © Peter Fischli and David Weiss.



NEW YORK, NY.- From February 5 to April 27, 2016, the Solomon R. Guggenheim Museum presents Peter Fischli David Weiss: How to Work Better, the first comprehensive survey in a New York museum of the remarkable 33-year artistic partnership between Peter Fischli (b. 1952) and David Weiss (1946–2012). Gathering more than three hundred sculptures, photographs, slide projections, and videos, the presentation encapsulates and culminates the dynamic collaboration between the Swiss artists, bringing into focus the generative and incisive dialogue they sustained over the course of their joint career. Through its simultaneously witty and profound appropriation of cultural genres—from low-budget Hollywood flicks and picture-postcard views to the art historical trope of the readymade and the kind of amateur philosophy found in self-help books— ... More



Adam Buck, Lady Alicia Lambart. Miniature watercolour on ivory. Private collection. Image courtesy Crawford Art Gallery.



CORK.- Born in 1759 into a family of silversmiths in Cork, Adam Buck trained as an artist from an early age. Subtle, refined and often saucy, his watercolour portraits depict the literary, theatrical, social and political stars of the Regency period. He was also alive to the political issues of his day, and several of his early sitters were members of the United Irishmen, including John Sheares. Among the celebrities he painted were the actor John Kemble, Mary Anne Clarke, mistress of Frederick, Duke of York, and John Burke, an enterprising publisher from Tipperary who founded Burke's Peerage. Adam Buck is described by Turtle Bunbury as a 'maestro of the Georgian Miniature'. The exhibition brings to life scenes reminiscent of those described by Jane Austen in her novels Pride and Prejudice and Sense and Sensibility. An exhibition of work by Buck, organised by the Ashmolean Museum in Oxford, is being shown at the ... More



Pierre Bonnard, "Woman with a Cat, or The Demanding Cat," 1912. Oil on canvas. 78 x 77.5 cm. Musée d'Orsay © 2015 Artists Rights Society (ARS), New York / ADAGP, Paris.



SAN FRANCISCO, CA.- The Fine Arts Museums of San Francisco announce Pierre Bonnard: Painting Arcadia, the first major international presentation of Pierre Bonnard's work to be mounted on the West Coast in half a century. The exhibition will feature more than seventy works that span the artist's complete career, from his early Nabi masterpieces, through his experimental photography, to the late interior scenes for which he is best known. The exhibition celebrates Bonnard as one of the defining figures of modernism in the transitional period between impressionism and abstraction. Several themes from Bonnard's career will emerge, including the artist's great decorative commissions where the natural world merges with the bright colors and light of the South of France, where windows link interior and exterior spaces, and where intimate scenes disclose unexpected ... More
The Harvard Art Museums present "Everywhen: The Eternal Present in Indigenous Art from Australia"
Rare candid snapshots of Marilyn Monroe in Heritage Auctions' Entertainment & Music Memorabilia
European master paintings, decorative arts, Columbus documents, and more at the Frist Center for the Visual Arts


Judy Watson, Bunya, 2011. Pigment, acrylic, and watercolor pencil on canvas. Private collection, Australia. Image courtesy of the Artist and Tolarno Galleries, Melbourne, Australia © 2015 Artists Rights Society (ARS), New York/VISCOPY Australia.



CAMBRIDGE, MASS.- The Harvard Art Museums present Everywhen: The Eternal Present in Indigenous Art from Australia, on display in the museums' Special Exhibitions Gallery from February 5 through September 18, 2016. The exhibition has been guest curated for the Harvard Art Museums by Indigenous Australian Stephen Gilchrist, of the Yamatji people of the Inggarda language group of Western Australia. Gilchrist has shaped the exhibition to ensure that it centers around the authentic perspectives and experiences of Indigenous people from Australia. The exhibition takes its title from the concept of "the Everywhen," a term coined by Australian anthropologist William Stanner in the 1960s to describe his comprehension of Indigenous people's understanding of time, which ... More



A Marilyn Monroe Signed Black and White Photograph, 1955. Estimate: $2,000 - up.



DALLAS, TX.- A trove of rare snapshots, some of which have never been seen before, of Marilyn Monroe, taken by an teen fan during the peak of her career in the mid-1950s, will make their auction debut in Heritage Auction's Entertainment & Music Memorabilia Auction Feb. 20 in Dallas. The snapshots come from the personal collection of James Collins, a star-struck fan who was a member of what became known as "The Monroe 6," a group of fellow teenagers who obsessively followed the movie star — paparazzi-style — around New York City. "During Marilyn's time in New York, I and the others photographed her in various locations around the city. We would then run to the drugstore to get our snapshots developed in multiples so that all of us could have all the shots we had taken of her (thus the reason for the different shapes and sizes of the photos my collection)," Collins said. "In the era before Google and GPS and TMZ and ... More



Anthonis Mor (North Netherlandish, 1516/20–1575/76). The Grand Duke of Alba, 1549. Oil on canvas, 39 3/4 x 32 11/16 in. Dukes of Alba Collection, Liria Palace, Madrid, inv. P.2.



NASHVILLE, TN.- Featuring works by Dürer, Goya, Murillo, Ribera, Rubens, and more from the splendid palaces of the Alba dynasty in Spain, Treasures from the House of Alba: 500 Years of Art and Collecting will make its second and final stop in the U.S. at Nashville's Frist Center for the Visual Arts from February 5 through May 1, 2016. Co-organized by the Meadows Museum and the Casa de Alba Foundation, the exhibition brings together more than 130 works of art, dating from antiquity to the twentieth century, drawn from one of the oldest and most impressive private collections in Europe. Exhibition highlights include masterpieces of Dutch, Flemish, German, Italian, and Spanish painting, such as Francisco Goya's The Duchess of Alba in White (1795), along with four other major portraits by the great Spanish master, ... More
First full-scale gallery exhibition dedicated to Ana Mendieta's filmworks opens in New York
Delectable sweets and savory foods featured in new exhibition of works by Peter Anton
Philadelphia Museum of Art announces curatorial promotions and a new appointment


Ana Mendieta, Butterfly, 1975. Still from super-8mm film transferred to high-definition digital media, color, silent. © The Estate of Ana Mendieta Collection, LLC Courtesy Galerie Lelong, New York.



NEW YORK, NY.- Ana Mendieta: Experimental and Interactive Films is the first full-scale gallery exhibition dedicated to Mendieta's filmworks in New York. Revealing aspects of Mendieta's practice that are not as widely known as her ritualistic investigations of body and landscape, the exhibition demonstrates Mendieta's technical innovations and her singular approach to the medium. The fifteen filmworks comprising the exhibition—nine of which have never been seen before—are newly transferred from their original media to digital formats. These transfers reveal detail and a vibrancy of color and contrast, while preserving these critical works for future generations. Though Mendieta was a prolific filmmaker, creating more than 100 films in her short lifetime, this aspect ... More



Peter Anton, "I love you". February 4 -March 20, 2016.



NEW YORK, NY.- UNIX Gallery presents I Love You, a visual affirmation of the connection between art and our emotional needs and desires by artist Peter Anton. Featuring new sculptural works inspired by delectable foods I Love You marks the first solo exhibition at UNIX Gallery Madison, 1015 Madison Ave. New York, NY, on view from February 4 – March 9, 2016. Peter Anton is known for his uncanny ability to create art that can lure, charm, tease, disarm and surprise. He uses new sculpture techniques and materials to alter and overstate foods to give them new, delicious meanings. Anton employs humor, scale, irony, and intensity to make foods aesthetically pleasing and seductive in atypical ways. Viewers are faced with concepts of necessity and desire, stimulated by his subject matter. "The gallery will be enveloped and embraced by a red, velvety cocoon of love and fanciful candies," says Anton, whose larger-than-life, ... More



Alexandra Kirtley, the Montgomery-Garvan Associate Curator of American Decorative Arts, has also been promoted to full curator.



PHILADELPHIA, PA.- The Philadelphia Museum of Art announced today two promotions and a new appointment to key curatorial positions. Jennifer Thompson has been promoted to head the Museum's Department of European Paintings, succeeding Joseph J. Rishel, who retired in 2015 and is now serving as Curator Emeritus. Jessica Todd Smith, currently Chief Curator of American Art at The Huntington Library, Art Collections and Botanical Gardens in San Marino, California, will become Curator of American Art and Manager of the Center for American Art, effective July 1, and Alexandra Kirtley, the Montgomery-Garvan Associate Curator of American Decorative Arts, has also been promoted to full curator. Timothy Rub, The George D. Widener Director and CEO, stated: "These appointments reflect the ... More
Quote
Christ was the greatest of all artists. Vincent van Gogh
More News
---
A Portrait of Passion: Lucian Freud's 'Pregnant Girl'
---
---
Flashback
On a day like today, Austrian painter Gustav Klimt, died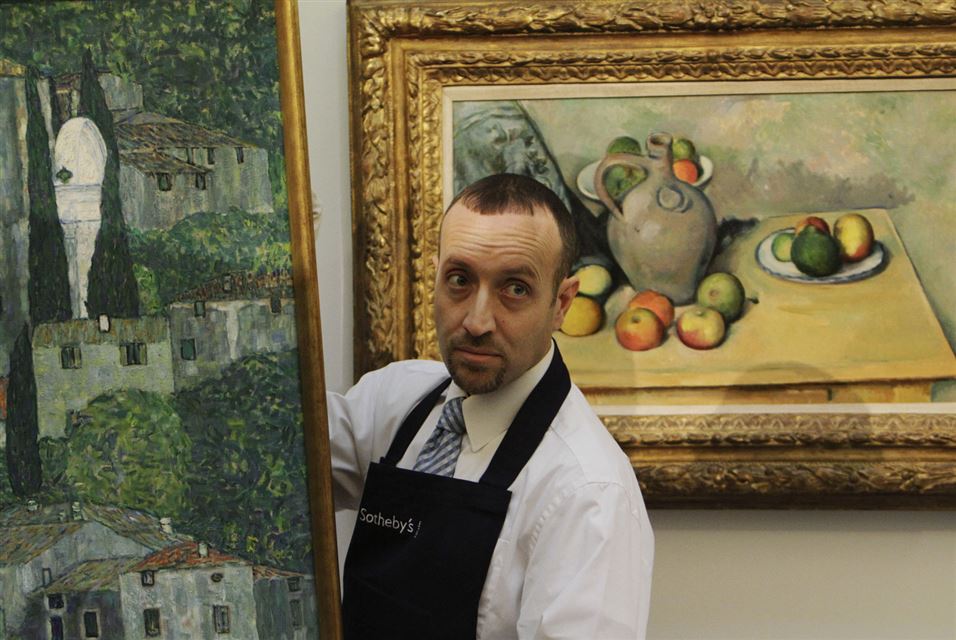 February 06, 1918. Gustav Klimt (July 14, 1862 - February 6, 1918) was an Austrian symbolist painter and one of the most prominent members of the Vienna Secession movement. Klimt is noted for his paintings, murals, sketches, and other art objects. Klimt's primary subject was the female body; his works are marked by a frank eroticism. In this image: An auction house worker carries a painting by Gustav Klimt, left, next to a still-life painting by Paul Cezanne, right during a photo call in central London, Tuesday Jan. 12, 2010.
---
---

Museums, Exhibits, Artists, Milestones, Digital Art, Architecture, Photography,
Photographers, Special Photos, Special Reports, Featured Stories, Auctions, Art Fairs,
Anecdotes, Art Quiz, Education, Mythology, 3D Images, Last Week,
.
Royalville Communications, Inc
produces:







Tell a Friend
Dear User, please complete the form below in order to recommend the Artdaily newsletter to someone you know.
Please complete all fields marked *.
Sending Mail

Sending Successful