The Royal Academy of Arts opens a landmark exhibition of works by Jasper Johns
Jasper Johns, Regrets, 2013. Oil on canvas. 127 x 182.9 cm. Collection of Marguerite Steed Hoffman c Jasper Johns / VAGA, New York / DACS, London 2017. Photo: c Jerry L. Thompson.
LONDON
.-
The Royal Academy of Arts
is presenting a landmark exhibition of the Honorary Royal Academician, Jasper Johns. This is the first comprehensive survey of the artist's work to be held in the UK in 40 years. The exhibition comprises over 150 works including sculpture, drawings and prints, together with new work from the artist. Johns is recognised as one of the most significant and influential artists of the twentieth and twenty-first centuries and the exhibition spans over 60 years from his early career, right up to the present time, bringing together artworks that rarely travel from international private and public collections. The title of the exhibition comes from a statement by Johns in 2006: 'One hopes for something resembling truth, some sense of life, even of grace, to flicker, at least, in the work.' Widely known for his iconic images of flags, targets, numbers, maps and light bulbs, Johns has occupied ...
More
The Best Photos of the Day
Exhibition at Galerie Alexis Pentcheff looks at Maurice Utrillo's legacy
Exhibition at Kewenig brings together works by Jannis Kounellis, El Anatsui and Anish Kapoor
Exhibition at Hauser & Wirth presents works by three generations of Brazilian artists


Maurice Utrillo, Rue Saint-Vincent sous la neige, Montmartre, circa 1955, oil on cradled board, signed lower right Maurice, Utrillo, V, 38,10 x 42,60 cm.



MARSEILLE.- Galerie Alexis Pentcheff celebrates Maurice Utrillo's prominent position within the School of Paris and announces his first retrospective in Marseille, from 22nd September to 04th November 2017. Since 2009, Galerie Alexis Pentcheff has been highly involved in Marseille's cultural scene, showcasing the finest of Impressionist and Modern Art. Today, the gallery is honored to invite you to its forthcoming exhibition, "UTRILLO, URBAN SOLITUDE". From 22nd September to 04th November, the gallery will display an extremely rare collection of thirty-nine original works that will highlight Utrillo's greatest achievements and influence on the 20th century art scene. All of the works come from private collections and will be available to buy. This new show will look at Utrillo's legacy through the prism of a contemporary and novel interpretation, bringing into ... More



Jannis Kounellis, Senza titolo, 2007. Shells on canvas, wooden cross Dimensions variable: 430 x 240 cm | 169 3/10 x 94 1/2 in. Courtesy Kewenig Berlin | Palma Photo: Stefan Müller.



BERLIN.- Kewenig is presenting the unique exhibition "A Journey", in which - for the first time - these three international artists with strong reputations are united together. In close collaboration with El Anatsui and Anish Kapoor, whom the gallery is showing for the first time, the exhibition is a composition in itself, and also a journey into the future. The show includes a large-scale installation by Jannis Kounellis, surrounded by four new sculptures by Anish Kapoor, and three 'fabrics' by El Anatsui. Ghanaian El Anatsui (*1944) has until now been an artist mainly shown in the context of so called 'African Art', although his work contains far more universal aspects. The shimmering metallic woven fabrics made of bottle tops, interrogate the history of colonialism and draw connections between consumption, waste, and the environment. But at the core ... More



Installation view, 'Building Material: Process and Form in Brazilian Art', Hauser & Wirth Los Angeles, 2017. Courtesy Fortes D'Aloia & Gabriel, Lora Reynolds and Hauser & Wirth. Photo: Mario de Lopez.



LOS ANGELES, CA.- In conjunction with the Participating Gallery Program of Pacific Standard Time: LA/LA, Hauser & Wirth Los Angeles is presenting 'Building Material. Process and Form in Brazilian Art.' The exhibition presents works by three generations of artists, emphasizing affinities between the materials, processes, and forms they have embraced since the Concrete and Neo-Concrete movements of the 1950s and 1960s. 'Building Material' takes as its point of departure the work of pioneering artist, photographer, and industrial designer Geraldo de Barros (1923 – 1998), a central figure in the evolution of Brazilian art from mid-20th century onward. From his participation in the first Bienal de São Paulo in 1951, de Barros interpreted and reworked tenets of the European avant-garde to achieve a uniquely ... More
Contemporary African art conquering the continent
Julien's Auctions 'Icons & Idols' salutes world leaders and legends
Exhibition at Kings College London takes the writings of W.G. Sebald as a starting point


Exterior at dusk. Photo: Iwan Baan.



JOHANNESBURG (AFP).- Contemporary African art has long been beloved by collectors in Europe and North America. But now, such works are enjoying a renaissance among experts and the public on the continent itself. The opening of the largest museum of African contemporary art in the world in Cape Town on Friday is seen as a game-changer for the continent's arts scene. "Anything that is high profile and promotes really excellent contemporary African art is a really good idea and we'll all benefit from it," said Danda Jaroljmek, director of Nairobi's Circle Art gallery and founder of Art Auction East Africa. "It can only help all of us in what we're doing." Set in a 6,000 square metre former grain silo converted to premium gallery space at a cost of 31 million euros ($37 million), the Museum of Contemporary Art Africa's (MoCAA) collection will offer visitors a glimpse of hundreds of African pieces. The museum's opening also heralds the arrival of a much- ... More



Judy Garland's gown in Meet Me in St. Louis.



LOS ANGELES, CA.- Julien's Auctions has announced its highly anticipated event Icons & Idols: Hollywood and More to take place on November 17, 2017 at their pop up auction gallery 805 North La Cienega Blvd., Los Angeles, CA and live online. This November's event offers an unparalleled selection of pieces by leaders and legends, who commanded and transformed the worlds of arts, entertainment, science, politics and history, as well as a number of never-before-seen, auction firsts including the largest costume collection amassed of one of Hollywood's greatest screen stars, a Nobel Prize medal, a Presidential rocking chair and a wedding cake souvenir from the 45th President of the United States. One of the most iconic and enduring entertainers of all time, Judy Garland's remarkable life and career during Hollywood's Golden Age was marked by triumphs and tragedy. Loved by millions and generations of fans around the world, h ... More



Albrecht Dürer (1471-1528), Melencolia I. Engraving, 1514. British Museum.



LONDON.- Melancholia: A Sebald Variation, presented by Kings College London, takes the writings of W.G. Sebald (1944-2001) as a starting point for an exploration of melancholia in European art and culture. Curated by John-Paul Stonard and Lara Feigel, the exhibition opened this autumn at the Inigo Rooms at Somerset House East Wing. Inspired in particular by Sebald's 1997 publication On The Natural History of Destruction – 20 years old this year – Melancholia sees works by international contemporary artists set alongside images documenting the destruction of Germany in the Second World War, as well as W.G. Sebald's own manuscripts and peculiar photography collection. Tracing the theme back to the roots of European cultural identity, it opens with an impression of Albrecht Dürer's famous print Mel e ncolia I (1514), on loan from the British Museum. Highlights include: • Never before exhibited photographs ... More
New Art Centre opens exhibition of works by Toby Ziegler
Capitain Petzel opens solo exhibition of work by New York artist Amy Sillman
Exhibition showcases the magnificent food still lifes of the Golden Age


Toby Ziegler, installation view.



SALISBURY.- Toby Ziegler's second exhibition at the New Art Centre continues his investigation into the ways in which objects both gather and shed narratives. The art historical motifs that Ziegler chooses to work with have complex layered histories of their own, but also have autobiographical significance for the artist. The new sculpture, painting and screen prints in this exhibition all overtly refer to the work of Henri Matisse. For Ziegler, Matisse is a complicated figure. While discovering painting as a child, Ziegler was drawn to him, though found the jubilant, decorative nature of Matisse's work bizarre; given that it was made against the backdrop of two world wars. This exhibition's title, Slave comes from one of the exhibited sculptures: a life-size standing figure with pronounced contrapposto, cast in aluminium. The sculpture is influenced by Matisse's bronze 'Madeleine I' (1901), but both sculptures ... More



Amy Sillman, "ein Paar", September 15 – November 11, 2017 © the artist, Courtesy Capitain Petzel, Berlin. Photo: Jens Ziehe.



BERLIN.- Capitain Petzel is presenting the second solo exhibition of New York artist Amy Sillman at the gallery's Berlin space. Entitled »ein Paar«, the exhibition is on view from September 15 to November 11, 2017. Drawing is the starting point and method for this exhibition, an expanded material investigation that moves from painting to animation. Compelled by the implications of the German phrase »ein Paar«, (a couple or a few), the artist has realized pairs and groups of works, including a large diptych on canvas, a series of works on paper utilizing both printmaking and gestural drawing, and a video animation combining digital and hand-made layers. Keenly attuned to language itself, Sillman is interested in generating mismatches, disjunctions, and parapraxis from the materiality of the calligraphic ... More



Jan Davidsz de Heem, Still Life with Moor and Parrot, 1641 (detail). Oil on Panel. Hotel de Ville (Broodhuis), Brussels.



HAARLEM.- A Global Table runs in the Frans Hals Museum and De Hallen Haarlem from 23 September 2017 to 7 January 2018. This unique exhibition featuring old and new art showcases the magnificent food still lifes of the Golden Age. It offers an alternative reading of these works as documents from an eventful history. What does the food we see tell us about the Netherlands' colonial and trade relations in the sixteenth and seventeenth centuries? Curatorial Fellow Abigail Winograd (Israel, 1983) initiates dialogues between some thirty exquisite still lifes and works by contemporary artists who are interested in world trade and the effects of colonialism. As quinoa and the avocado have changed European cooking over the last few decades, so, from the fifteenth century onwards, 'new' foodstuffs like coffee, sugar and ... More
The International Center of Photography opens 'Generation Wealth' by Lauren Greenfield
Parrasch Heijnen Gallery opens exhibition of works by legendary Los Angeles artist Billy Al Bengston
George Nakashima to lead Freeman's Design Auction


llona at home with her daughter, Michelle, 4, Moscow, 2012. © Lauren Greenfield.



NEW YORK, NY.- The International Center of Photography opened its fall exhibition, Generation Wealth by Lauren Greenfield. This exhibit—an extraordinary visual record and thematic investigation of wealth obsession—is on view at the ICP Museum (250 Bowery) from September 20, 2017 through January 7, 2018. Generation Wealth is a mixed media presentation composed of 25 years of work by photographer and documentary filmmaker Lauren Greenfield. The first major retrospective of Greenfield's work, the exhibition features over 200 photographs, numerous first-person interviews, and documentary film footage. Weaving together stories about affluence, beauty, body image, competition, corruption, fantasy, and excess, Greenfield's project questions the distance between value and commodity in a globalized consumerist culture. "ICP recognized early on that ... More



Billy Al Bengston, Fighting Kentuckian, 1966. Lacquer and polyester resin on aluminum, 28 x 27 inches.



LOS ANGELES, CA.- Parrasch Heijnen Gallery presents Billy Al Bengston: Dentos, 1965 - 1970, the gallery's first solo exhibition of this legendary Los Angeles artist. Billy Al Bengston (b. 1934, Dodge City, KS) first began using automobile lacquers on dented and/or punctured aluminum in 1965 to challenge the limitations of painting. He initially called these works "Canto Indentos", which he later shortened to "Dentos". Channeling the "no rules, no rules" mantra of Bengston's friend and mentor Peter Voulkos, the "Dentos" expanded the potential of the picture plane. It was in the late 1950s that Bengston originated his trademark inclusion of single, centralized icons in his work, primarily referencing three appropriated images: "Chevrons" (sergeant stripes haloed within an orb within a rectangle), "Draculas" (flowers illustrated on Iris brand sugar packets), and hearts (of the Valentine's Day variety). In ... More



Freeman's Design auction features one of the most diverse collections of family-owned works by architect and master woodworker George Nakashima.



PHILADELPHIA, PA.- Reflecting market confidence in George Nakashima as a seminal figure in the history of American Studio Craft and emphasizing the importance of Pennsylvania Craft and Design, Freeman's sale is anchored by a large collection of over 20 Nakashima pieces assembled by Arnold and Corinne Roth. While notable works in this private collection include a pair of Conoid cushion chairs with cantilevered seats (Lot 27) and a rare pair of special-order small bookcases with two shelves (Lot 39), the undoubted highlight is the Conoid bench (Lot 28), one of the finest examples of the form, featuring an unusually large and spectacularly grained slab of American black walnut. Arnold and Corinne Roth favored modern design and sought to furnish their Brooklyn, New York and then Livingston, New Jersey homes in that fashion, particularly with the warmth ... More
Quote
The nature of the work is to prepare for a good accident. Sidney Lumet
More News
---
Important photographs from MoMA's illustrious exhibition history
---
Flashback
On a day like today, Australian portrait artist Sir William Dobell was born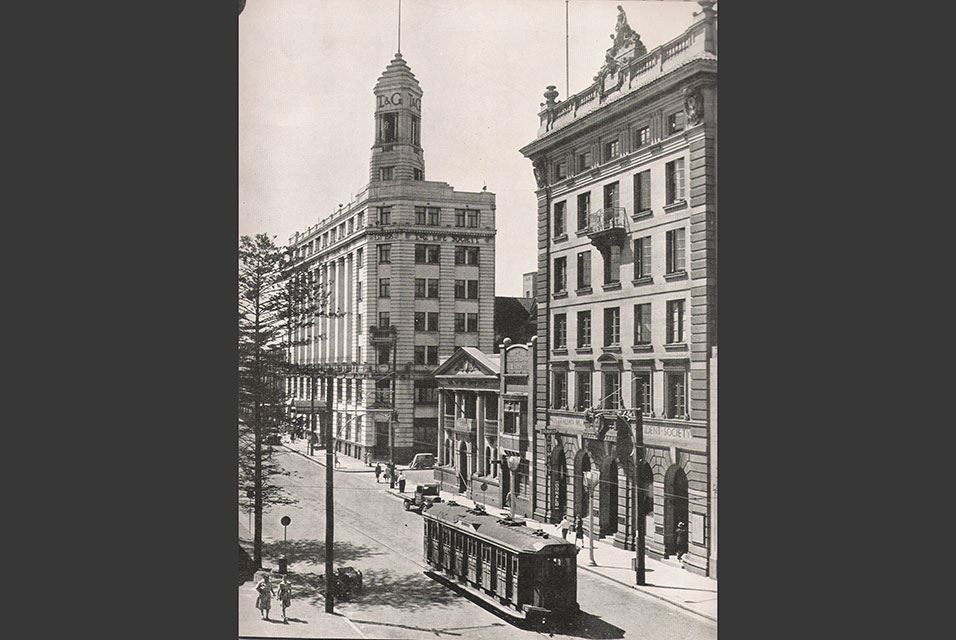 September 24, 1899. Sir William Dobell, OBE (24 September 1899 - 13 May 1970) was an Australian artist (sculptor and painter). The electoral Division of Dobell is named after him. Dobell's style is unique in being able to adapt to suit the character of his subject. This was best described by James Gleeson; "One of the astonishing things about Dobell's portraiture is his ability to adjust his style to the nature of the personality he is portraying ... If the character of his sitter is broad and generous, he paints broadly and generously. If the character is contained and inward looking, he uses brushstrokes that convey this fact. In his later portraits one has only to look at a few square inches of a painted sleeve to know what sort of person is wearing it." In this image: Newcastle in 1947.
---

Museums, Exhibits, Artists, Milestones, Digital Art, Architecture, Photography,
Photographers, Special Photos, Special Reports, Featured Stories, Auctions, Art Fairs,
Anecdotes, Art Quiz, Education, Mythology, 3D Images, Last Week,
.
Royalville Communications, Inc
produces:







Tell a Friend
Dear User, please complete the form below in order to recommend the Artdaily newsletter to someone you know.
Please complete all fields marked *.
Sending Mail

Sending Successful