Brazil recovers ancient human fossil fragments from burnt Rio museum
Fragments of the oldest human fossil found within today's Brazilian borders, known as "Luzia", which were found among the rubble of Rio de Janeiro's National Museum after a fire caused the destruction of the building, are displayed during a press conference in Rio de Janeiro, Brazil on October 19, 2018. Fragments of the 11,500 year old skeleton were recovered after a large scale fire destroyed most of the exhibits and the structure of Rio's 200-year-old National Museum on September 3, 2018. CARL DE SOUZA / AFP.
RIO DE JANEIRO
(AFP)
.-
Brazilian officials said Friday they have recovered pieces of a 12,000-year-old fossil of a neolithic woman that was among the prized artifacts in Rio de Janeiro's burnt down National Museum. "We found almost all of the skull and 80 percent of its fragments have been identified," museum director Alexander Kellner said, adding that fragments of a femur were also uncovered from the ashes. The fossil, nicknamed "Luzia," was discovered in 1970 in the southeastern state of Minas Gerais by a French-led expedition. A Manchester University team later did a digital face reconstruction based on the skull, which was used to model a sculpture of the ancient woman. That sculpture went up in flames on September 2 along with most of the museum's 20 million artifacts. But the original skull fragments, kept in a metal urn in a closet, were found a few days ago. ...
More
The Best Photos of the Day
Exhibition at Compton Verney showcases new research on James McNeill Whistler's technique
Banksy admits shredding stunt didn't go as planned
Christie's to offer two masterworks by Alberto Giacometti


James McNeill Whistler, The Bathing Posts, Brittany, 1893 (detail) © The Hunterian, University of Glasgow.



STRATFORD-UPON-AVON.- This autumn sees Compton Verney casting a new light on the work of the great late-Victorian master, James McNeill Whistler (1834-1903), with an exhibition exploring his relationship with nature. Curated in partnership with The Hunterian at the University of Glasgow, Whistler and Nature explores the artist's revolutionary attitude towards the natural world, as expressed in works ranging from his celebrated London Nocturnes to his Dutch and French coastal and pastoral scenes. This fascinating exhibition of around 90 oil paintings, works on paper and objects - such as the Whistler's sketchbook - shows how his singular vison was underpinned by his enduring kinship with the makers of railroads, bridges and ships - the cornerstones of Victorian wealth and trade. "Iconic portraits such as 'Whistler's Mother' are ... More



Love is in the Bin. Courtesy Sotheby's.



LONDON (AFP).- Banksy has admitted that one of his biggest pranks yet didn't really go according to plan. The British street artist created an art world sensation by sending one of his paintings through a shredder hidden in a frame moments after it sold at auction for £1,042,000 ($1.4 million, 1.2 million euros). Experts say the "Girl with Balloon" is now probably worth even more because the stunt created a media stir that made many reassess their understanding of performance art. But there was always a nagging question: Why did only half the painting slip through the frame? Was there a deeper meaning? Did Banksy -- whose identity is known only to a select group of loyal friends -- try to tell us something we were still failing to grasp? The secretive artist admitted on a video posted on his Instagram account this week that the real answer was much simpler. ... More



Alberto Giacometti, Femme assise, bronze with brown and green patina. Conceived in 1949-1950 and cast in 1957 | $14-18 million. © Christie's Images Limited 2018.



NEW YORK, NY.- In its November 11 Evening Sale of Impressionist and Modern Art, Christie's will present two consummate examples by Alberto Giacometti: Femme assise, conceived in 1949-1950 and cast in 1957 ($14-18 million) from a Distinguished Private Collection, and Le Chat – "The Lambert Cat" – conceived in 1951 and cast in 1955 ($14-18 million), which was Formerly In The Johanna Lambert Collection. These works come to auction on the heels of Giacometti's widely celebrated retrospective at the Solomon R. Guggenheim Museum, New York. Adrien Meyer, Co-Chairman, Impressionist and Modern Art, Christie's, remarked: "Giacometti created Femme assise during 1949-1950, at the height of a breakthrough period of ... More
Turner Contemporary exhibits never before seen late gouaches by Patrick Heron
Sculptor Richard Hunt fuses diverse influences
ISAW presents largest and best preserved hoard of ancient silver ever unearthed


Patrick Heron, Square Green with Orange, Violet and Lemon: 1969, 1969 (detail) © estate of Patrick Heron. All rights reserved, DACS 2018.



MARGATE.- Turner Contemporary is exhibiting a group of never before seen late gouaches by Patrick Heron (1920-99), as part of the retrospective exhibition on view now in Margate. The group of seven gouaches on paper were produced in February and March 1999, in the last weeks of Patrick Heron's life, and have never been exhibited publicly before. These vividly coloured paintings were produced in an extraordinary burst of creativity in the year following Heron's major retrospective at Tate, after which he struggled to paint for some time. Encouraged by his daughters to begin painting again by making small works on paper, Heron returned to gouache, a medium he had used earlier in his career, most notably in the group of over forty topographical abstractions evoking the light and colour of the Sydney Botanical gardens during a residency at the Art Gallery of New South Wales in 1989/90. Between November 1998 and ... More



Richard Hunt (American, b. 1935), Minor Monument #1, 1963. Welded chromed steel, 50 x 32 x 18 inches. Courtesy of the artist and Kavi Gupta. Photographer: John Lusis.



ATHENS, GA.- Art and experimental zoology aren't the most obvious of pairings, but sculptor Richard Hunt worked in an animal lab at the University of Chicago as a teenager, earning money to pay for college. The result was an influence that has spanned his six-decades-long career, which is on view in "Richard Hunt: Synthesis." This exhibition organized by the Georgia Museum of Art at the University of Georgia is on view from October 20 through February 3. Hunt has created more than 130 large-scale public commissions and helped change the role of public sculpture in the late 20th and early 21st century. He got his start in Chicago, where he was born. His father was a barber from rural Georgia and his mother a librarian, who encouraged his early interest in the arts by taking him to museums. When he was 13, Hunt began attending the Junior School of the Art Institute of Chicago, ... More



Statuette of Mercury. Roman, 175–225 CE. Findspot: Berthouville, France. Silver and gold. H. 56.3 cm; Diam. 16 cm. Bibliothèque nationale de France, Paris: Inv. 56.1 Photo: Tahnee Cracchiola © Getty-BnF.



NEW YORK, NY.- The Institute for the Study of the Ancient World presents Devotion and Decadence: The Berthouville Treasure and Roman Luxury, bringing a spectacular cache of ancient silver, discovered in 1830 in northern France, together with a rich selection of additional Roman luxury objects, all drawn from the unparalleled collections of the Cabinet des Médailles (now the Department of Coins, Medals, and Antiques), of the Bibliothèque nationale de France. With approximately 160 works, the exhibition offers insight into the rich cross-cultural exchange that characterized the Roman province of Gaul, as well as the cultural significance of Roman luxury arts. Highlights include two important silver statuettes of the Roman god Mercury; superbly worked Late Antique missoria (silver platters); drinking cups, offering bowls, and other vessels; cameos; intaglios; jewelry; figurines; and ... More
Exhibition at Oxford University Museum of Natural History seeks to rehabilitate the reputation of bacteria
Immersive exhibition explores five centuries of the artistic and cultural heritage of the city of Jodhpur and its people
Ketterer Kunst announces highlights from its Auction of Rare Books, Manuscripts, Autographs, and Decorative Prints


A giant inflatable E. coli sculpture created by renowned artist Luke Jerram.



OXFORD.- As soon as we hear the word 'bacteria' most of us think of illness and disease, but a fascinating and enlightening new exhibition at Oxford University Museum of Natural History breaks this long-held myth. This autumn, Bacterial World seeks to rehabilitate the reputation of bacteria and counter the popular misconception that they are all bad, or to be feared. Incorporating more than 55 exhibits – spanning monumental art, geological and deep-sea specimens, film, and digital interactives – Bacterial World demonstrates how these tiny organisms wield huge influence over us, shaping the past, present and future of life on our planet. The exhibition features items generously loaned from institutions including the Wellcome Collection, Yale Peabody Museum of Natural History, the Pitt Rivers Museum, and the Natural History Museum, London. Bacteria were ... More



Portrait of Maharaja Jaswant Singh II, 1895, Bert Harris, Jodhpur, oil on canvas, 59 7/8 × 48 3/8 in., Umaid Bhawan Palace, photo: Neil Greentree.



SEATTLE, WA.- The Seattle Art Museum presents Peacock in the Desert: The Royal Arts of Jodhpur, India (October 18, 2018–January 21, 2019), showcasing five centuries of artistic creation from the kingdom of MarwarJodhpur in the northwestern state of Rajasthan. Organized by the Museum of Fine Arts, Houston, in partnership with the Mehrangarh Museum Trust of Jodhpur, the exhibition features 250 objects from the 16th to the mid-20th century including intricate paintings, decorative arts, elaborate tents, canopies, textiles, jewelry, and weapons, presented with photos and videos that evoke the impressive setting of the Mehrangarh Museum. Peacock in the Desert presents a vision of a cosmopolitan court culture that relies on art as an essential aspect of its rule. Established in the 15th century, ... More



418001136-4_Stundenbuch. Frankreich um 1500_



HAMBURG.- They were created by grand masters: the books, manuscripts, prints and miniatures that will be called up in the auction of Rare Books at Ketterer Kunst in Hamburg on 26 November. Here is a small preview of the precious gems: Historically unique is what accounts for the 'Buch der Chroniken und Geschichten': The first German edition of the "World Chronic" by Hartmann Schedel, made in Nuremberg in 1493, is one of the most richly illustrated incunabula of all. The well-preserved copy in old coloring and a 16th century pigskin binding is the auction's top lot and will be called up with an estimate of € 120,000. Hourly, was the intended usage rate of the splendidly colored Latin and French Book of Hours manuscript that was made at Troyes around 1470. The marvelously illuminated parchment script is particularly captivating for its 15 full-page miniatures, it has been estimated at € 25,000. Additional ... More
Liz West installs ambitious outdoor work made entirely from luminous fluorescent acrylic
The Museum of Contemporary Art Australia opens major exhibition by South African photographer David Goldblatt
Exhibition at Ubuntu Art Gallery looks back on three decades of works by Hassaan Ali


Aglow consists of one hundred and sixty-nine hemispherical fluorescent coloured acrylic bowls arranged on the ground in a hexagon shape. © Aglow by Liz West, 2018. Image courtesy Nemozena | Julien Philippy.



PARIS.- Liz West's new installation work Aglow has been created in partnership with luxury clothing brand Nemozena. This ambitious outdoor work made entirely from luminous fluorescent acrylic launched at the Musée Nissim de Camondo for Paris Fashion Week. Aglow consists of one hundred and sixty-nine hemispherical fluorescent coloured acrylic bowls arranged on the ground in a hexagon shape. The edges of these multiple unplugged fluorescent bowls in six neon colours will glow as if charged with electricity. These 'live' edges and choice of material embodies West's interest in the relationship between colour and light and their ability to enhance the viewers perception of the work. Liz West comments about the new work; "The acrylic bowls offer a highly reflective concave surface ... More



David Goldblatt, Young man at home, White City, Jabavu, Soweto, 1972, silver gelatin photograph on fibre-based paper, image courtesy Goodman Gallery, Johannesburg and Cape Town © The David Goldblatt Legacy Trust.



SYDNEY.- The Museum of Contemporary Art Australia is presenting a major retrospective of internationally-renowned South African photographer David Goldblatt. With a career spanning over six decades, photographer David Goldblatt is one of the greatest living photographers of our time, noted for his portrayal of South Africa during the rise and dismantling of Apartheid. With their intense human focus, his photographs offer powerful reflection and insight into South Africa's turbulent history. This exhibition comes hot on the heels of this year's Sydney International Art Series exhibition at the MCA, Pipilotti Rist: Sip My Ocean, which attracted over 110,000 attendees – the largest crowd for a Sydney International Art Series exhibition that the MCA has held since the re-opening ... More



This long-awaited retrospective spans thirty years of a critical phase in the artist's work.



CAIRO.- Ubuntu Art Gallery is presenting the first monographic show of works by Nubian artist Hassaan Ali. This long-awaited retrospective spans thirty years of a critical phase in the artist's work - from the 1980s to the present day – and examines his versatile and expressive signature style by presenting seminal works executed in various media on a variety of substrates and surfaces. The contemporary landscape of Sudanese art would be incomplete without mentioning a significant figure like Hassaan Ali. A self-taught artist with a thoroughly academic background toiling away quietly yet assiduously in his Cairo studio, far from the frenzy of the commercial and "commodified" art world outside; he has remained loyal to his artistic vision and carried on regardless with his own distinctive creative process. Free, emotive and a highly personal visual vocabulary tackling questions about exile, absence and solitude al ... More
Quote
It's not what you see that is art, art is the gap. Marcel Duchamp
More News
---
Bruce Nauman: Disappearing Acts | MoMA LIVE
---
Flashback
On a day like today, Italian painter Domenichino was born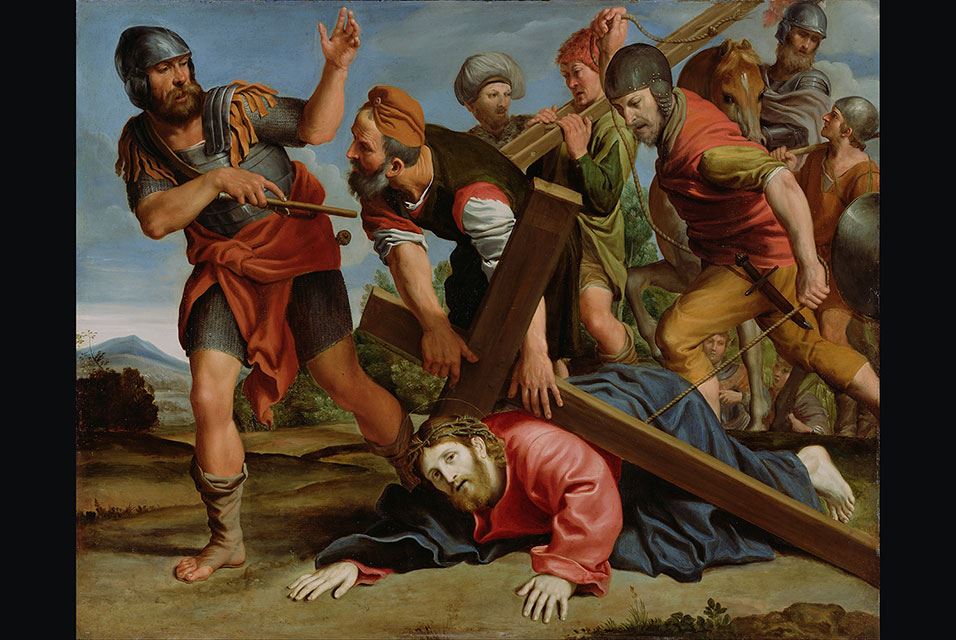 October 21, 1581. Domenico Zampieri, known as Domenichino for his shortness (October 21, 1581 - April 6, 1641), was an Italian Baroque painter of the Bolognese or Carracci School of painters. Domenichino was born in Bologna, son of a shoemaker, and there initially studied under Denis Calvaert. In this image: Domenichino (Domenico Zampieri) The Way to Calvary.
---

Museums, Exhibits, Artists, Milestones, Digital Art, Architecture, Photography,
Photographers, Special Photos, Special Reports, Featured Stories, Auctions, Art Fairs,
Anecdotes, Art Quiz, Education, Mythology, 3D Images, Last Week,
.
Royalville Communications, Inc
produces:







Tell a Friend
Dear User, please complete the form below in order to recommend the Artdaily newsletter to someone you know.
Please complete all fields marked *.
Sending Mail

Sending Successful