'Pre-historic' animal shell found in Argentina by a man walking on Christmas Day
View of a glyptodont shell found in Carlos Spegazzini, Buenos Aires Province, Argentina, on December 29, 2015. AFP PHOTO/EITAN ABRAMOVICH.
CARLOS SPEGAZZINI
(AFP)
.-
A passer-by on Christmas Day found a meter-long shell on a riverbank in Argentina which may be from a glyptodont, a prehistoric kind of giant armadillo, experts said Tuesday. A local man thought the black scaly shell was a dinosaur egg when he saw it lying in the mud, his wife Reina Coronel told AFP. Her husband Jose Antonio Nievas found the shell beside a stream at their farm in Carlos Spegazzini, about 40 kilometers (25 miles) south of the capital Buenos Aires. "My husband went out to the car and when he came back he said, 'Hey, I just found an egg that looks like it came from a dinosaur," she said. "We all laughed because we thought it was a joke." Nievas told television channel Todo Noticias he found the shell partly covered in mud and started to dig around it. Various experts who saw television pictures of the object ...
More
The Best Photos of the Day
Museum of Fine Arts, Boston acquires "Desk and Bookcase" from the Ann and Gordon Getty Collection
Exhibition at Zentrum Paul Klee features the tree as a model for creative processes
International collaborations lead National Galleries of Scotland's exhibitions in 2016


Desk and bookcase. Mid 18 century. Mexico. Inlaid woods and incised and painted bone, maque, gold and polychrome paint, metalhardware. Courtesy, Museum of Fine Arts, Boston.



BOSTON, MASS.- The Museum of Fine Arts, Boston, has acquired a rare and important "Desk and bookcase" (mid-18th century, Mexico) from the Ann and Gordon Getty Collection. Originally made in Puebla de los Ángeles, this work is a remarkable piece of furniture that displays influences from Europe, Asia, Africa and the Americas. The striking geometric exterior looks toward Europe with its wood-and-bone Mudéjar designs—a Hispano-Moresque style popular during the era. Opening the doors reveals a dramatic interior of chinoiserie-style painting in gold on a red background. The inside recalls early colonial mapping traditions of Nahuatl-speaking artists, showing views of an extensive hacienda in Veracruz drawn in an indigenous style. The estate, once owned by a wealthy Spaniard, was the site of one of the earliest free ... More



Ugo Rondinone (*1964), wisdom? peace? blank? all of this?, 2007. Aluminiumguss, weiss lackiert, 471 x 403 x 360 cm. Sammlung Maja Hoffmann, Schweiz © Ugo Rondinone.



BERN.- The exhibition «About Trees» is interested in trees as a symbol and embodiment of the principles in the contemporary world. The artists allow them to "speak" through their works. In all cultures, since time immemorial, the tree has been seen as a symbol of life in general and as the world tree, and as such is the starting-point for many myths and fairy tales. The tree can also be seen as an image of a human being: roots, trunk and crown correspond to the feet, the body and the head. Last of all, the tree is a vegetable creature that has a different concept of time from our own. Trees live much longer than humans. Trees can be climbed, but they can also be felled, defeated, exploited, for example as firewood, which is to say that they are a precious raw material and provide energy. And in our contemporary world ... More



René MAGRITTE (1898-1967). La reproduction interdite (Not to be Reproduced), 1937. Museum Boijmans Van Beuningen, Rotterdam © Beeldrecht Amsterdam 2007. Photographer: Studio Tromp, Rotterdam. © ADAGP, Paris and DACS, London 2015



EDINBURGH.- The work of a hugely influential forerunner of the Impressionists, 400 years of artists' self-portraits, and the story of four legendary collections of Surrealist art are among the subjects to be explored in a programme of major exhibitions at the National Galleries of Scotland in 2016, it was announced today. Next year has an international flavour at the National Galleries, with the three summer exhibitions all being organised in collaboration with major European and American institutions, including the Van Gogh Museum in Amsterdam and the Hamburger Kunsthalle. Each of these exhibitions - Inspiring Impressionism: Daubigny, Monet, Van Gogh; Surreal Encounters; and Facing the World: Self-Portraits from Rembrandt to Ai Weiwei - will have its only UK showing in Edinburgh. Among the other highlights of the programme, and closer to home, autumn 2016 will see the opening of a fascinating new exhibition which ... More
Museum Geelvinck, keeper of the Sweelinck Collection of historic pianos, relocates
The final volume in prestigious British sculpture series addresses the work of Francis Derwent Wood
"Stray Birds": Chinese Rabindranath Tagore translation pulled for sexual embellishment


The Chinese Room of the Geelvinck Hinlopen Huis (Amsterdam).



AMSTERDAM.- After a quarter of a century at the 'Geelvinck Hinlopen Huis' in Amsterdam, Museum Geelvinck relocates to Huis 'De Wildeman' in Zutphen. The Amsterdam Museum Geelvinck is keeper of the Sweelinck Collection of historic pianos. It has been a long cherished wish to create a music museum around this collection of playable fortepianos. The municipality of one of the oldest and best-preserved historic cities of the Netherlands, Zutphen, now grants Museum Geelvinck the opportunity to establish a music museum for the development of the piano and its music. Till about a century ago, Zutphen, the capital city of the county of the same name in the Eastern part of the Netherlands, was thought to be the possible place of birth of Ludwig van Beethoven in 1772. In 2014, the bi-annual Beethoven Festival Zutphen was established. The permanent exhibition at the Geelvinck Music Museum Zutphen ... More



A student of Edouard Lanteri at the Royal College of Art, Derwent Wood's early artistic career was distinguished.



LONDON.- The final volume in the prestigious British Sculptors and Sculpture series published by Lund Humphries, in partnership with the Henry Moore Institute, addresses the work of the important but neglected British sculptor Francis Derwent Wood RA (1871 – 1926). 'Withey demonstrates Derwent Wood's artistic development, underlining his observant eye and attention to detail that led him to become recognised as 'the first English sculptor of his time' in 1919''– Lisa Le Feuvre, Head of Sculpture Studies, Henry Moore Institute. A student of Edouard Lanteri at the Royal College of Art, Derwent Wood's early artistic career was distinguished. His reputation grew rapidly and a period as Director of Modelling at the Glasgow School of Art saw him working on public commissions with many of the city's most important architects. Simultaneously, he built his London practice, perfecting ... More



This picture dated between 1932 and 1940 shows Bengali poet Rabindranath Tagore. AFP PHOTO / HO / BERTHET SAMUEL / Alain Daniélou.



BEIJING (AFP).- The Chinese translator of Indian Nobel laureate Rabindranath Tagore's poetry collection "Stray Birds" defended himself Tuesday after his publisher pulled the work from bookstores following controversy over its unusually sexual content. The poems and epithets, originally in Bengali, were first published in 1916, three years after Tagore won the Nobel literature prize for "his profoundly sensitive, fresh and beautiful verse", the first non-European to do so. The new translation by Chinese novelist Feng Tang, known for his racy depictions of Beijing youth in the 90s, was released earlier this year but its content raised eyebrows in recent weeks. In Feng's version the original line "The world puts off its mask of vastness to its lover" became "The vast world opened the crotch of its trousers before its lover." Online commentators have been scornfully comparing ... More
Exhibition at Museo Reina Sofia features the work of self-taught artist Juan Giralt
Lyman Allyn Art Museum receives federally funded grant to support a major upcoming exhibition
New Percent-for-Art commission at MIT to feature a site-specific sculpture by artist Antony Gormley


Sin título (Untitled), 1994. © Juan Giralt. VEGAP, Madrid, 2015.



MADRID.- Juan Giralt (Madrid, 1940-2007) was a self-taught artist whose beginnings were inscribed within the informalism reigning in the Spanish art of the fifties. During a brief stay in the Netherlands at the end of that decade, he came into contact with the CoBrA group and started to define a more personal pictorial vocabulary that was susceptible to a new interpretation of figuration. From then on his work was characterized by a combination of languages and interests, and he became one of the leading figures in Madrid's New Figuration movement during the seventies and eighties. In his last years, he gradually reincorporated abstraction without wholly abandoning figurative elements, which remained present in his constant use of collage and the painted word. The debate on figuration and abstraction, traditionally posited as a dilemma, was overcome by Giralt by means of an extremely personal synthesis of both languages, ultimately resulting in ... More



The Spring House, Windham, c. 1910-1919. J. Alden Weir. Estate of William B. Carlin.



NEW LONDON, CONN.- The National Endowment for the Arts and the National Park Service (NPS) announced $797,500 in support of 33 grants in 16 states, including an award of $30,000 to the Lyman Allyn Art Museum. 'Imagine Your Parks' is a new grant initiative from the National Endowment for the Arts to support projects in which the arts engage people with memorable places and landscapes of the National Park System. NEA Chairman Jane Chu said, "As the National Endowment for the Arts celebrates its 50th anniversary and the National Park Service observes its Centennial, we want people to remember that our cultural and natural treasures are part of what makes America great. 'Imagine Your Parks' projects from the Grand Canyon in Arizona, to downtown Atlanta, Georgia will inspire the imagination of people across the country. We are proud to support projects from organizations like the Lyman Allyn Art Museum to offer more opportunities t ... More



This picture shows a sculpture (R) of the human form, modelled on British sculptor Antony Gormley's 188cm (6ft 2in) frame. AFP PHOTO / ISAAC LAWRENCE.



CAMBRIDGE, MASS.- The MIT List Visual Arts Center announced that artist Antony Gormley has been awarded a new Percent-for-Art commission for MIT. Gormley's proposed work, a spiral sculpture composed of irregular polyhedra connecting the floor to the skylight in the staircase of Building 2, will be the latest of the artist's large-scale, site-specific works. The work will play on the movement of living bodies and the geometry of the stair itself, giving a counterpoint that animates the experience of ascending and descending the building. Building 2—which houses the Department of Mathematics and parts of the Department of Chemistry—is currently under renovation by Ann Beha Architects. Upon his selection, Gormley said, "I am delighted to have the opportunity to make a physical manifestation of geometry for the staircase of the Mathematics Department at MIT. This is a helical polyhedral column, an unsteady tower of space- ... More
Six cutting-edge artists whose works are not to be missed at the New York Ceramics & Glass Fair
'Active Blur' with Tsherin Sherpa and Tulku Jamyang at Rossi & Rossi London
Landing is Tiring: A Blue and Joy exhibition on view at Galleria Ca' d'Oro in Rome


Tereza Pirscova Brichtova and Daniel Pirsc. Cher. Porcelain Vase, 2015. Photo: Pirsc Studio.



NEW YORK, NY.- At the same time the New York Ceramics & Glass Fair opens its doors on January 20 to 24, a half-dozen contemporary glass and ceramic artists will debut their masterworks side by side with renowned galleries from the world over. Here is more about these up-to-the-minute artists: Based in Berkshire County in Massachusetts, Michael Boroneic says that one of his primary goals as a ceramics sculptor is to re-introduce substance and craftsmanship to the world of fine art. "Art is not just about an object or concept," Boroneic maintains. "It is a conversation between an object and idea. And for me, ceramic art is about having a conversation with the clay. It's about the hands-on relationship of the artist and the medium that makes for a piece that is more than just beautiful. It is an expression of the human soul." Classes outside her ... More



Tsherin Sherpa, Contemplation, 2015, gold leaf, acrylic and ink on cotton, 122 x 98.5 cm (48 x 38 in).



LONDON.- Active Blur spotlights works by two Nepalese artists of Tibetan descent that blur the line between the sacred and the mundane. Melding religious and secular images and philosophies to create vibrant pieces, brothers Tsherin Sherpa and Tulku Jamyang produce art from different vantage points: Sherpa identifies as 'an ordinary artist', having apprenticed from a young age under his father, Urgyen Dorje, a renowned thangka painter. Jamyang, on the other hand, is a tulku, the recognised reincarnation of a lama, or spiritual leader, whose works are inspired by his monastic background. Jamyang's works incorporate rice paper, incense and colour, and are the result of burning paper, a process that leaves no room for mistakes. His interest lies in the dichotomy of the process itself—the simultaneous constructive (or positive) element of creating a collage and the destructive (negative) ... More



Blue and Joy also show two massive rose windows made of empty capsules and candies.



ROME.- After the recent success of the solo show in New York City, ironically and prophetically entitled "An inevitable success", blue and Joy come back to Rome after 5 years, and they do it at the Galleria Ca' d'Oro. The exhibition, curated by Maria Letizia Tega, is entitled "Landing is tiring" and opened to the public on the 17th of December. In the historical rooms of the roman gallery, where history was written by art giants such as De Chirico and Guttuso, it is up to Blue and Joy to ignore the weight of the past and unload the future with their irony and lightness. Among the artworks a fleet of paper planes (actually made out of metal) is on display in the show. These works, which became a trademark of the recent Blue and Joy production, literally flew all over the planet during the collaboration between fashion powerhouse Fendi and the italian artist duo. The title of the exhibition refers ... More
Quote
Art is for all. David Hockney
---
Joey Yu x noiamreiss on Illustration and the Internet
---
Flashback
On a day like today, Russian photographer and architect El Lissitzky died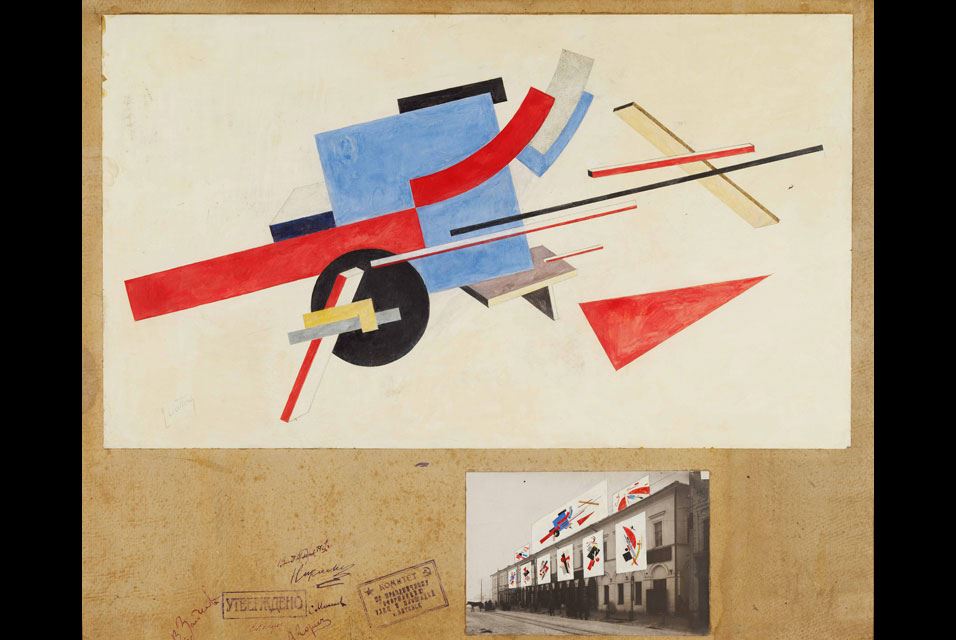 August 30, 1941. Lazar Markovich Lissitzky (November 23 [O.S. November 11] 1890 - December 30, 1941) was a Russian artist, designer, photographer, typographer, polemicist and architect. He was an important figure of the Russian avant-garde, helping develop suprematism with his mentor, Kazimir Malevich, and designing numerous exhibition displays and propaganda works for the Soviet Union. In this image: El Lissitzky, "Proun, Street Decoration Design", 1921. Photo Peter Cox.
---

Museums, Exhibits, Artists, Milestones, Digital Art, Architecture, Photography,
Photographers, Special Photos, Special Reports, Featured Stories, Auctions, Art Fairs,
Anecdotes, Art Quiz, Education, Mythology, 3D Images, Last Week,
.
Royalville Communications, Inc
produces: