Portraits of artists from Rubens to Freud on display at The Queen's Gallery in London
Assistant Curator of Paintings Lucy Peter admires Rembrandt's Self-Portrait in a Flat Cap, on display at The Queen's Gallery, Buckingham Palace in Portrait of the Artist. Royal Collection Trust / © Her Majesty Queen Elizabeth II 2016.
LONDON
.-
Some of the finest portraits of artists, collected by monarchs since Charles I, are on display in an exhibition at The Queen's Gallery, Buckingham Palace. Portrait of the Artist explores the changing image of the creative genius from the 15th century to the present day through more than 150 works from the
Royal Collection
. It includes paintings and drawings by, and of, some of the world's greatest artists, including Rembrandt van Rijn, Sir Peter Paul Rubens and Leonardo da Vinci. For centuries images of artists have been a valuable commodity. Charles I was one of the first European monarchs to acquire them, including Artemisia Gentileschi's extraordinary Self-Portrait as the Allegory of Painting (La Pittura) (c.1638–9). Produced at the height of his fame, Rubens' self-portrait (1623) was given to Charles I by the artist as an apology for sending the King a work by studio assistants two years earlier. The painting h ...
More
The Best Photos of the Day
Dia Art Foundation opens two new installations at Dia:Chelsea
British singer George Michael dies aged 53: publicist
Tragedy-hit Red Army Choir a fabled symbol of USSR and Russia


Kishio Suga, installation view, 541 West 22nd Street, New York City. Photo: Bill Jacobson Studio, New York. Courtesy Dia Art Foundation, New York.



NEW YORK, NY.- Dia Art Foundation is presenting two new installations at Dia:Chelsea. Kishio Suga is on view until April 2, 2017 and Hanne Darboven's Kulturgeschichte 1880–1983 (Cultural History 1880–1983, 1980–83) is on view until July 30, 2017. These new programs continue to demonstrate Dia's commitment to presenting artworks that invite sustained interest and contemplation from visitors, scholars, and artists alike. Additionally, they trace relationships, formal dialogues, and conceptual parallels among international artistic practices that are historically and intellectually linked to Dia's focused collection of art from the 1960s and 1970s. Dia is presenting an exhibition of Kishio Suga's work at Dia:Chelsea at 541 West 22nd Street in New York City. Suga is a founding member of Mono-ha ... More



This file photo taken on May 8, 2007 shows British pop star George Michael (L) arriving at Brent Magistrates Court in west London. CHRIS YOUNG / AFP.



LONDON (AFP).- British pop singer George Michael, who rose to fame with the band Wham! and sold more than 100 million albums in his career, has died aged 53, his publicist said on Sunday. "It is with great sadness that we can confirm our beloved son, brother and friend George passed away peacefully at home over the Christmas period," his publicist said in a statement. "The family would ask that their privacy be respected at this difficult and emotional time. There will be no further comment at this stage," the publicist said. Thames Valley Police said the ambulance service had attended a property in Goring in Oxfordshire, where the singer lived, at 1342 GMT on Sunday, the BBC reported. They said they were treating the death as unexplained but there were no suspicious ... More



This file photo taken on April 19, 2006 shows the Red Army Choir performing in Rabat at the Mohammed VI theatre. ABDELHAK SENNA / AFP.



MOSCOW (AFP).- The acclaimed Red Army Choir, which lost 64 members in a plane crash Sunday, has been a potent symbol for projecting Moscow's military and artistic prowess to millions across the globe. Founded in 1928, the military Alexandrov Ensemble, more widely known as the Red Army Choir, has for decades showcased its repertoire of famed Russian folksongs and spiritual music on the global stage. The booming baritones and melodies of the all-male choir -- performing in their pristine army uniforms -- presented a human face to many beyond the Iron Curtain of the Soviet Union's fearsome Red Army that swept across Europe as part of the victory over Nazi Germany in World War II. During the Cold War period, when the USSR and the West were locked in a nuclear standoff, the ... More
Gagosian Paris exhibits two floor sculptures and a set of related drawings by Walter De Maria
60 paintings, watercolors, and drawings by Hans Hofmann on view at Kunsthalle Bielefeld
Art Gallery of New South Wales exhibits nude art from the Tate Collection


Installation views Gagosian Le Bourget October 17, 2016 – February 11, 2017 © The Estate of Walter De Maria. Courtesy Gagosian. Photo by Thomas Lannes.



PARIS.- Gagosian is presenting two floor sculptures and a set of related drawings by Walter De Maria. This is the first solo exhibition of De Maria's work at Gagosian Paris, and it has been prepared in collaboration with the estate of Walter De Maria. A vanguard force within four major art historical movements—minimalism, conceptual art, land art, and installation art—De Maria's oeuvre uses mathematical absolutes and elements of the sublime to push the boundaries of the traditional white cube. In the early 1990s, De Maria conceived of, and partially constructed, Truth / Beauty, a series of fourteen sculptures in seven pairs. Completed after De Maria's death by the Estate according to his vision, the series expands upon his use of permutations of rods, polygons, and numerical sequences intended to be viewed in a counterclockwise progression. Each pair consists of two arrangements of four rods placed ... More



Hans Hofmann, Ecstasy, 1947. Öl auf Leinwand, 173,4 x 152,4 cm. University of California, Berkeley Art Museum und Pacific Film Archive. Schenkung von Hans Hofmann, 1963 © JPMorgan Chase Bank, N.A., and Patricia A. Gallagher, Trustees of the Renate, Hans and Maria Hofmann Trust.



BIELEFELD .- The exhibition Creation in Form and Color: Hans Hofmann is a collaborative project by the Berkeley Art Museum, the Pacific Film Archive at the University of California (BAMPFA), and the Kunsthalle Bielefeld. It is based on a precise selection of approximately 60 paintings, watercolors, and drawings that span the artist's entire career from the 1920s to the early 1960s. The show includes works on loan from the Berkeley Art Museum, as well as from prominent American and European museums and private collections. One of the exhibit's particular goals is to examine Hans Hofmann before the backdrop of his European tradition in his role as an important artist and teacher of 20th century American modernism. Additionally, the show weighs his exploration ... More



Cindy Sherman (B 1954), Untitled 1982. Chromogenic colour print 114.3 x 76.2 cm Tate: Purchased 1983 © Courtesy Cindy Sherman and Metro Pictures Image © Tate, London 2016.



SYDNEY.- Nude: art from the Tate Collection at the Art Gallery of New South Wales tells the story of the nude through more than 100 powerful artworks spanning two centuries, as part of the Sydney International Art Series 2016-2017. The evolution of the nude in Western art is a story of beauty and desire, eroticism and tenderness as well as scandal. From the history paintings of the 19th century to the body politics of contemporary art, Nude: art from the Tate collection brings together the works of renowned artists who have depicted the naked body including JMW Turner, Sir Hamo Thornycroft, Auguste Rodin, Pierre Bonnard, Pablo Picasso, Henri Matisse, Louise Bourgeois, Barkley Hendricks, Rineke Dijkstra, John Currin, Sarah Lucas and Ron Mueck. Many of the works, loaned from the distinguished collection of Tate, London are being exhibited in Australia for ... More
Exhibition of works by Santiago Montoya on view in Washington
Lisson Gallery will bring the first major solo exhibition by Julian Opie to China
Cinthia Marcelle's first solo exhibition in New York on view at MoMA PS1


Latitude IV, Paper money on stainless steel, 2014, 150 cm x 206 cm x 6.5 cm – Museum of Fine Arts, Boston. (detail).



WASHINGTON, DC.- The Organization of American States (OAS) AMA | Art Museum of the Americas in collaboration with the Halcyon Gallery, London present The Great Swindle: Works by Santiago Montoya, an exhibition curated by José Luis Falconi as part of AMAs temporary exhibitions program showcasing contemporary artists of OAS member countries. AMA is part of the OASs Secretariat for Hemispheric Affair, and its work is based on the principle that the arts are transformative for individuals and communities, as visual components reflecting the four pillars of the OAS: democracy, human rights, security and development. Colombian artist Santiago Montoya (b. 1974) uses paper currency as the base for his work, re-contextualizing one of our most basic and intimate relationships: the relationship with money. Comprised of works that Montoya has made over the last ten years, The Great Swindle exhibition at ... More



Julian Opie, Julian, 2012. Mosaic tiles © Julian Opie; Courtesy Julian Opie and Lisson Gallery London.



SHANGHAI.- Lisson Gallery, in collaboration with Fosun Foundation, brings the first major solo exhibition by British artist Julian Opie to China. Opening in March 2017, the exhibition will be the held at the new Fosun Foundation building, co-designed by Foster + Partners and Heatherwick Studio, located in the Bund Financial Center (BFC) in Shanghai. The exhibition covers two floors of the Fosun Foundation, featuring over 50 works, many made especially for the exhibition, including paintings, sculptures, mosaics, tapestries, wall drawings and LED and LCD films. With public commissions from Seoul to New York, Luxembourg to Zurich and an uninterrupted flow of large museum exhibitions internationally, the work of Julian Opie is known throughout the world. Opie's distinctive formal language is instantly recognisable and reflects his artistic preoccupation with the idea of representation, and the means by which images are perceived and understo ... More



Study for Education by Stone (Educação pela pedra) (detail). 2016. Chalk.



LONG ISLAND CITY, NY.- Projects 105: Education by Stone (Educação pela pedra, 2016), is a site-specific installation by Cinthia Marcelle (b. Brazil, 1974). It is the artist's first solo exhibition in New York. Marcelle is known for her installations, performances, and videos, which stage forms of labor emptied of productivity. Through this engagement with everyday activities that constitute labor she examines the forms that work can take in a given economic system and its role in the process of producing art. To create the work presented in MoMA PS1's Duplex Gallery, Marcelle collaborated with a team of installers to lodge 20,000 sticks of chalk into the fissures in the grout of the towering brick walls of the gallery in the former school building. When brick and cement collide with chalk, a material once used to teach students, the result is a fragile and unstable composition that transforms the uneven openings on the gallery walls into allegories of th ... More
David 'Chim' Seymour's 'Children of Europe' series on display for the first time in the UK
Immersive installation by Nick Cave on view at MASS MoCA
North Carolina Museum of Art installs two sculptures by Mark di Suvero in Museum Park


Italy, 1948 © David Seymour/Magnum Photos.



LONDON.- Vintage photographs from David 'Chim' Seymour's 'Children of Europe' series are on display for the first time in the UK. Chim was commissioned by UNICEF following World War II to document the conflict's impact on children and the resulting photographs drew attention to war's most vulnerable victims. Also on show are rare vintage prints by Inge Morath, Henri Cartier-Bresson, David 'Chim' Seymour and Elliott Erwitt from the 1954 project 'Children's World', displayed alongside caption sheets and magazine spreads from the project. Magnum Photos was founded to allow photographers the freedom to pursue their own interests and causes, but alongside this the agency has consistently explored innovative collaborative projects with a global reach. One such project was 'Children's world' published in Holiday magazine in three parts in 1955 and 1956 examined the lives of children in Uganda, Lapland, France, Cuba, Italy, Engl ... More



View of Nick Cave, Until, MASS MoCA, North Adams, Massachusetts, 2016. Photo: Douglas Mason.



NORTH ADAMS, MASS.- Nick Cave, the Chicago-based artist celebrated for his wearable sculptures called "Soundsuits," turns expectations inside out at MASS MoCA in a new immersive installation titled Until. Using MASS MoCA's signature football field-sized gallery, Cave creates his largest, most complex, and politically poignant installation to date. "This is me putting you into the belly of a Soundsuit," he told The New York Times. "It's me grabbing you by the hand and saying, 'Let's jump into the Soundsuit.'" Often seen as celebrations of movement and material, Cave's first Soundsuit, made out of twigs, was a direct response to the Rodney King beating, a visual image about social justice that was both brutal and empowering. Until—a play on the phrase "innocent until proven guilty," or in this case "guilty until proven innocent"—addresses issues of gun ... More



Mark di Suvero, Ulalu, 2001, stainless steel, painted steel, 26' 7" h x 30' w x 15' d, © 2016 Mark di Suvero. Photo courtesy of the North Carolina Museum of Art.



RALEIGH, NC.- "We're thrilled to install not one but two of Mark di Suvero's striking, vibrant, and imaginative sculptures at the NCMA," says Linda Dougherty, the Museum's chief curator and curator of contemporary art. "These sculptures—appearing to defy gravity with a tremendous sense of dynamism, energy, and movement—will be a perfect addition to the Park, engaging with both the landscape and our visitors." Internationally renowned for the monumental steel sculptures he has created for over five decades, Di Suvero employs the industrial tools of cutting and welding torches and cranes to create massive, architectural works out of steel I-beams. The improbable angles and sharp lines of his constructions, like giant 3-D drawings, activate the landscapes they are placed in with enormous, forceful, sweeping gestures. Playing with ... More
Quote
Whoever wishes to devote himself to painting should begin by cutting out his own tongue. Henri Matisse
---
Journals from Captain Scott's Polar Expedition
---
Flashback
On a day like today, French painter Maurice Utrillo was born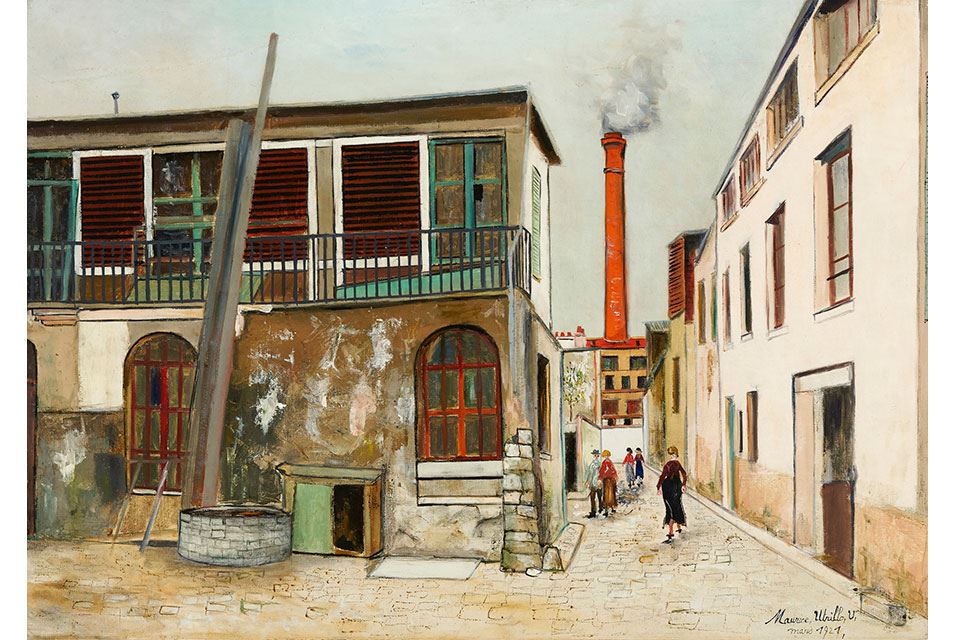 August 26, 1883. Maurice Utrillo (26 December 1883 - 5 November 1955), was a French painter who specialized in cityscapes. Born in the Montmartre quarter of Paris, France, Utrillo is one of the few famous painters of Montmartre who was born there. In this image: Maurice Utrillo, Ruelle des Gobelins à Paris, 1921, oil on canvas, signed and dated lower right Maurice, Utrillo, V, Mars 1921, signed, dated and titled on the reverse Maurice Utrillo, V, Mars 1921, 65 x 92 cm.
---

Museums, Exhibits, Artists, Milestones, Digital Art, Architecture, Photography,
Photographers, Special Photos, Special Reports, Featured Stories, Auctions, Art Fairs,
Anecdotes, Art Quiz, Education, Mythology, 3D Images, Last Week,
.
Royalville Communications, Inc
produces: