Exhibition in Melbourne explores the significant influence of Ai Weiwei and Andy Warhol
Ai Weiwei at National Gallery of Victoria exhibition Andy Warhol | Ai Weiwei, 11 December 2015 – 24 April 2016. Ai Weiwei artwork © Ai Weiwei. Photo: John Gollings.
MELBOURNE
.-
A major international exhibition featuring two of the most significant artists of the twentieth and twenty-first centuries – Andy Warhol and Ai Weiwei – opened at the
National Gallery of Victoria
, Melbourne, on 11 December 2015. Andy Warhol | Ai Weiwei, developed by the NGV and The Warhol, with the participation of Ai Weiwei, explores the significant influence of these two exemplary artists on modern art and contemporary life, focussing on the parallels, intersections and points of difference between the two artists' practices. Surveying the scope of both artists' careers, the exhibition at the NGV presents over 300 works, including major new commissions, immersive installations and a wide representation of paintings, sculpture, film, photography, publishing and social media. The exhibition explores modern and contemporary art, life and cultural politics ...
More
The Best Photos of the Day
Ukraine invites Netherlands to help probe stolen art being held by a volunteer battalion
Sotheby's Paris Sale of Contemporary Art totals $27.9M; Auction records for Riopelle and Reigl
Metropolitan Museum signs memorandum of understanding with Korea's Ministry of Culture


Jacob Waben Schilderij, Vrouw Wereld, 1622 (detail). Olieverf op doek, 151 x 131 cm. Invnr. 00237.



KIEV (AFP).- Ukrainian investigators on Thursday called on the Netherlands to help probe the fate of a batch of precious Dutch paintings reportedly being held by a volunteer battalion fighting pro-Russian insurgents in the east of the ex-Soviet state. "We are waiting - and they are welcomed here in Ukraine - the official investigators who can investigate this material", Ukraine's police chief Khatia Dekanoidze told a press conference. She said the Dutch experts could work together with their Ukrainian counterparts. "Our doors are opened, we are transparent", she said. The Westfries Museum in the Dutch town of Hoorn said on Monday that two dozen 17th-century paintings that went missing a decade ago had been found in a villa in a Ukrainian-controlled part of Donbass - a splintered zone of a conflict that has already killed more than 9,000 people since April 2014. Two men claiming to represent the Organisation of ... More



Sotheby's Paris confirms leadership in France for Contemporary Art in 2015. Photo: Sotheby's.



PARIS.- Sotheby's Contemporary Art in Paris concluded today with a total of €25.5 million / $27.9 million / £18.5 million, one of the company's highest totals for a Contemporary Art sales series in France. Stefano Moreni, Head of Contemporary Art, Sotheby's Paris: "It's been an outstanding week for Contemporary Art at Sotheby's in France. The market for works defined by a classical French postwar aesthetic is truly alive and kicking. It was a privilege to offer two masterpieces by Jean Dubuffet, who is scaling new heights at auction, and there was a strong appetite for 'School of Paris' artists. Collectors responded to the exceptional quality and freshness of the work we sourced, reflected in the depth of bidding from around the world." CONTEMPORARY ART, 9 & 10 December 2015 Sale Total: €25,545,900 / $27,857,548 / £18,523,538 Pre-sale estimate €18.2-26.1m / $19.8-28.4m / £13.2-18 ... More



Seated bodhisattva (left attendant of a triad), ca. mid-17th century. Joseon dynasty (1392–1910). Korea. The Metropolitan Museum of Art, New York, Mary Griggs Burke Collection, Gift of the Mary and Jackson Burke Foundation, 2015.



NEW YORK, NY.- The Metropolitan Museum of Art in New York and the Ministry of Culture, Sports and Tourism of the Republic of Korea signed a memorandum of understanding today at the Museum, establishing a long-term relationship of cooperation in the area of Korean art and culture. The agreement was signed on behalf of the Metropolitan Museum by Daniel H. Weiss, President, and on behalf of the Ministry by Seung Je Oh, Director of the Korean Cultural Service of New York. On this occasion, the Ministry further announced a gift of approximately $1 million (KRW 1,250,000,000) to the Metropolitan Museum, where the gift will fund initiatives over a three-year period, 2016–2018, including a major exhibition in 2018, enhancement of the presentation of Korean art in the ... More
Sotheby's London sets auction record for a hardstone inlaid table top at £3.5 million
Exceptional stones & historic designs drive Sotheby's $52.3 million Auction of Magnificent Jewels
First exhibition in London of A.R. Penck's rarely seen early works opens at Michael Werner Gallery


An Italian pietre dure table top inlaid with the arms and symbols of the Grimani Family, probably to a design by Bernardino Poccetti (1548-1612) Grand Ducal Workshops, Florence, circa 1600 - 1620. Est. £400,000- 600,000. Sold for £3,509,000. Photo: Sotheby's.



LONDON.- Today, at Sotheby's London, The Grimani Tables, two of the greatest inlaid hardstone and antique marble table tops ever made sold for a combined total of £5,134,000. Made in Florence circa 1600-1620, the first table top set a world auction record for any hardstone inlaid top table top at £3,509,000 / $5,323,855 / €4,839,252. Five bidders competed for this highly unique piece of art in a 10-minute bidding battle, driving the final price high above its pre-sale estimate (est. £400,000-600,000 / $620,000-930,000 / €565,000-845,000). This magnificent pietre dure top with the arms and symbols of the Grimani Family was probably a gift from a member of the Medici family to the Grimanis. No fewer than four bidders vied for the second table top which sold to a private ... More



Exceptional Cushion-cut Sugarloaf Cabochon Kashmir Sapphire and Diamond Ring, 25.87 carats. Estimate $3,500,000 / 4,500,000. Sold for $5,122,000 ($197,990 per carat). Photo: Sotheby's.



NEW YORK, NY.- Propelled by top prices for important diamonds, exceptional colored stones and historic designs, Sotheby's final jewelry auction of 2015 concluded last night in New York with a $52.3 million total, raising the Company's annual worldwide sales of jewelry to $571 million. Below is a look at the jewels that drove Sotheby's results both last night and throughout 2015: • An Exceptional Platinum, Kashmir Sapphire and Diamond Ring. Set with a sugarloaf cabochon sapphire of 25.87 carats, and with no indications of heating. Sold for $5,122,000 ($197,990 per carat) (estimate $3.5/4.5 million) AUCTION RECORD PRICE-PER-CARAT FOR A SUGARLOAF CABOCHON KASHMIR SAPPHIRE. This Kashmir sapphire hails from three generations of one of America's most prominent families: that of Thomas Fortune Ryan (1851-1928), who stands alongside J.P. Morgan, Andrew ... More



"Standart", 1969. Dispersion on canvas, 50 x 38 3/4 inches, 127.5 x 98.5 cm. RP 30/A.
Courtesy Michael Werner Gallery, New York and London.



LONDON.- Michael Werner Gallery, London presents an exhibition of early works by German artist A.R. Penck. This is the first comprehensive exhibition in London of Penck's rarely seen early works. Featuring important paintings and sculptures created in Dresden in the 1960s and early 1970s, the exhibition presents unique insights into the artist's distinctive style and sensibility. A.R. Penck's mature style, characterised by brusquely painted signs and symbols rendered with an intense graphic impact, is by now recognisable to anyone familiar with the art that emerged in Europe during the post-war period. Penck's reductive pictorial vocabulary and determinedly unfussy painterly style have made it all too easy for unsympathetic viewers to dismiss the artist as primitive or neo-expressionist. The exhibition at Michael Werner, focused entirely on important early paintings and the ... More
Berlin thanks residents for refugee relief with museum, zoos, operas and theatres open-day
Waterhouse & Dodd hosts Michael J. Fox Foundation benefit exhibition featuring works by 5 artists
Eight new paintings, drawings, color studies by Mark Ryden on view at Paul Kasmin Gallery


Adolph Menzel: Gähnender Herr im Eisenbahncoupé, 1859. Pastell auf braunem Tonpapier, 23 x 18 cm. © bpk / Staatliche Museen zu Berlin, Kupferstichkabinett / Jörg P. Anders.



BERLIN (AFP).- Berlin's parliament on Thursday voted to open the doors of museums, zoos, operas and theatres for free on January 31, 2016, to thank the capital's residents for their mobilisation in the country's biggest refugee relief drive since World War II. "With open arms and with an infinite energy, Berliners welcomed thousands of refugees to Berlin," the city state's parliament said. "Without the unconditional help of thousands of Berliners in the refugee shelters, and the donations of clothes, toys, medicine and food... Berlin would not have been able to cope with this exceptional situation," it added. The institutions which would offer free entry for the day would be listed on a website called "Berlin says thanks" or berlin-sagt-danke.de. Further details of the programme were not yet available. The decision came as the capital's ... More



Jay Zukerkorn, Parallel, 2015 (detail). Archival pigment print, 50.8 x 50.8 cm.



NEW YORK, NY.- Waterhouse & Dodd presents an exhibition benefitting the Michael J. Fox Foundation, which has supported the fight against Parkinson's so dynamically since 2000 by raising over $450 million. A portion of all sales from the exhibition will contribute to the Foundation. Paintings, drawings and photographs of 5 artists represented by Waterhouse & Dodd are being featured. Two of these artists – Tom Shannon and Jay Zukerkorn – have Parkinson's. Jay Zukerkorn was diagnosed in 2004. Born in Hawaii, Zukerkorn has been a successful commercial photographer for 25 years and Waterhouse & Dodd is the first gallery to showcase his fine art endeavors. Zukerkorn's first series Movement Disorder began as a response to his initial diagnosis, as he accentuated his condition by deliberately blurring the images in bright, colorful beach scenes. In his new series, The Road I Am On, the photographs ... More



Mark Ryden, Quantum Entanglement, 2015 (detail). Oil on panel, 14 x 11 inches.



NEW YORK, NY.- Paul Kasmin Gallery announces Dodecahedron, Mark Ryden's second exhibition at the gallery, on view at 293 10th Avenue from December 10, 2015 - January 23, 2016. Dodecahedron features the Los Angeles-based artist's first-ever bronze sculpture, along with eight new paintings, drawings, color studies and a new porcelain edition. The vocabulary of images in Ryden's new body of work remains consistent with his pervasive distortion of scale and his iconic fairytale-like creatures set against seductive landscapes of untouched beauty. However, the subject of his latest series is informed by the geometric structure "dodecahedron," a solid figure bearing twelve sides whose perfect symmetry has been the source of extensive query by mathematicians and scientists since antiquity. Drawing upon the form's mystery and divine connotations as a source of inspiration, Ryden explores the bridge between ... More
Jorge Rivas Pérez named Denver Art Museum's Frederick & Jan Mayer Curator of Spanish Colonial Art
Blue-colored gemstones and sapphires sweep Bonhams New York's Fine Jewelry Sale
Comprehensive survey of German post-war and contemporary art on view at Ben Brown Fine Arts Hong Kong


Most recently, Rivas has worked as an independent curator in New York City and as the associate curator of Latin American Art at LACMA.



DENVER, CO.- The Denver Art Museum announces Jorge Rivas Pérez as the new Frederick & Jan Mayer Curator of Spanish Colonial Art. The announcement comes today as the museum celebrates the longstanding dedication and generous contributions of the Mayers at its annual Collectors' Choice fundraising event. Beginning in February 2016, Rivas will oversee the DAM's world-renowned Spanish Colonial art collection, and continue the museum's commitment to acquiring works with a broad, Pan-American focus. He joins the New World department alongside Margaret Young-Sánchez, the museum's Frederick & Jan Mayer Curator of Pre-Columbian Art. As a Venezuelan native, Rivas cultivated extensive experience during his 14 years as the curator of Spanish Colonial art at the Colección Patricia Phelps de Cisneros (CPPC). Based in New York City and Caracas, Venezuela, the ... More



Rare Kashmir sapphire ring sets world-record at Bonhams Fine Jewelry. Photo: Bonhams.



NEW YORK, NY.- A rare sapphire and diamond ring achieved U.S. $1.35 million, including premium, at Bonhams New York's Fine Jewelry auction on Dec. 8, setting a world-record for a Kashmir sapphire under 10 carats ($172,000 paid per carat). A stunning turn-of-the-century Tiffany & Co. ring centered by an oval-cut sapphire, the stone is of rare quality—deep and rich blue—and flanked by beautiful European-cut diamonds, weighing 7.84 carats. "On the heels of three world-records at our recent Bonhams London jewelry sale, Bonhams New York sets another world-record in price per carat for a Kashmir sapphire under 10 carat," said Senior Director of International Jewelry Daniel Struyf. "It's been a successful week for Bonhams' international jewelry department and a sign that colored gemstones are on the rise." Other top lots include: • AN IMPORTANT SAPPHIRE AND DIAMOND RING, cushion-shaped ... More



Ernst Wilhelm Nay (1902-1968), Schwarz mit gelbem Band, 1966. Signed and dated; signed, titled and dated on the reverse. Oil on canvas, 162 x 131 cm; (63 3/4 x 51 5/8 in.).



HONG KONG.- Ben Brown Fine Arts Hong Kong is presenting Aspects of German Art (Part One) - Revisited, a comprehensive survey of German post-war and contemporary art, featuring works by some of the most important and pioneering artists working in Germany during this period. The exhibition brings together seminal paintings, photographs and installations that provide an overview of the artistic, socio-economic and political concerns of post-war Germany, a time period when these artists were reconciling with the trauma of war, finding a national identity and constantly pushing the limits of modern and contemporary art, through to the present day. Georg Baselitz (b. 1938) Georg Baselitz, a pioneer of the Neo-Expressionist movement in Germany, has spent his career exploring the post-war German identity, creating ... More
Quote
All painting is abstract, it must be organised. David Hockney
---
Ugo Rondinone - Liverpool Mountain
---
Flashback
On a day like today, American-Swiss painter Mark Tobey was born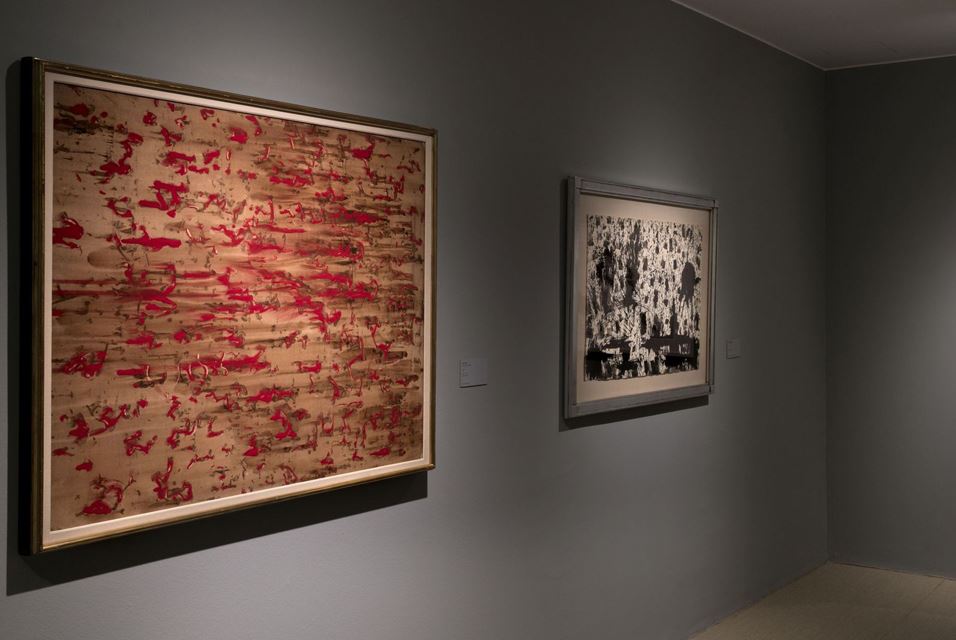 August 11, 1890. Mark George Tobey (December 11, 1890 - April 24, 1976) was an American painter. His densely structured compositions, inspired by Asian calligraphy, resemble Abstract expressionism, although the motives for his compositions differ philosophically from most Abstract Expressionist painters. His work was widely recognized throughout the United States and Europe. In 1921, Tobey founded the art department at The Cornish School in Seattle, Washington.
---

Museums, Exhibits, Artists, Milestones, Digital Art, Architecture, Photography,
Photographers, Special Photos, Special Reports, Featured Stories, Auctions, Art Fairs,
Anecdotes, Art Quiz, Education, Mythology, 3D Images, Last Week,
.
Royalville Communications, Inc
produces: