First exhibition in the UK to feature Australian Impressionists opens in London
John Russell, Antibes, about 1890-2. Oil on canvas, 16.5 × 24 cm. Art Gallery of New South Wales, Sydney. Gift of the Margaret Hannah Olley Art Trust 2012 © AGNSW.
LONDON
.-
This will be the first exhibition in the UK to focus solely on Australian Impressionists, presenting 41 paintings including important masterpieces never previously shown in the UK. For the first time at
the National Gallery
, visitors will have the opportunity to discover the impact of European Impressionism on Australian painting of the 1880s and 1890s, and explore how the art that emerged was both referencing the work of the European masters and yet was distinct from it. The exhibition focuses on four major Australian Impressionists: Tom Roberts (1856–1931), Arthur Streeton (1867–1943), Charles Conder (1868–1909), and John Russell (1858–1930) and will show how their work epitomised a growing sense of national identity as Australia approached Federation in 1901. All of the artists featured in the exhibition either studied or worked in Europe at different stages of their careers. Inspired by their count ...
More
The Best Photos of the Day
Sotheby's announces the acquisition of Orion Analytical and appoints James Martin as Director
David Hockney's A Bigger Book on view at the TASCHEN Gallery in Los Angeles
First UK solo exhibition of the New York-based artist Lucy Raven opens at the Serpentine


Over four decades, James Martin has developed a unique and peerless skillset as a scientist, art conservator and teacher. Photo: Sotheby's.



NEW YORK, NY.- Sotheby's announced the establishment of a Scientific Research Department led by renowned scientist James Martin, who will join Sotheby's this week following the acquisition of his firm, Orion Analytical. Employing state-of-the-art technical and scientific methods, the new department will complement the world-class expertise and provenance research behind the works of art, objects and wine offered by Sotheby's. Bringing scientific expertise in-house mirrors a trend seen in the world's great museums and places Sotheby's in a position to provide even greater service to collectors. "Sotheby's has had the pleasure of working with Jamie for the better part of the past two decades, and over time it became increasingly clear that rather than work on a one-off basis we could create something unique within Sotheby's that would further distinguish us in the marketplace and at the same time help to ma ... More



David Hockney and Benedikt Taschen in front of the original artwork Garden with Blue Terrace, 2015. © Amy Graves.



LOS ANGELES, CA.- TASCHEN announced the opening of David Hockney – A Bigger Book at the TASCHEN Gallery in Los Angeles, an exhibition celebrating more than 60 years of work by our greatest living painter and the release of his new limited edition SUMO-sized monograph, A Bigger Book. The exhibition presents a unique opportunity to dive head first into this extraordinary publication and the dazzling Hockney universe. 498 original pages from the SUMO book and 600 pages from the accompanying chronology have been displayed across the gallery's 6,000-square-foot space, transforming it into an immersive and energetic showcase of the SUMO project. A Bigger Book, TASCHEN's SUMO-sized David Hockney monograph, is as spectacular in format as it is in scope. In it, the artist takes stock of more than 60 years of work, from his teenage days at the Bradford School of Art, through his breakthrough in 1960s Swinging ... More



Lucy Raven: Curtains, 2014 Anaglyph video installation, 5.1 sound, 50 mins, looped; image courtesy and © 2016 Lucy Raven.



LONDON.- This winter, the Serpentine presents the first UK solo exhibition of the New York-based artist, Lucy Raven (born 1977, Tucson, Arizona). Raven's work focuses on the marginal spaces at the edges of image production, what happens behind the camera or between the frames of a film or animation. She follows the production of copper wire from an open pit mine in the American West to a smelter in southern China in China Town (2009). She observes post-production technicians converting Hollywood films to 3D in Chennai, India, linking the digitally created illusion of depth to ancient Indian bas-reliefs in The Deccan Trap (2015). She describes spaces and people on the outskirts of Kingston, New York in the hand-drawn animation I Felt As If I Had Actually Been To China (2007). This shift of focus from the image to its production encourages interrogation of the kind of imagery ... More
Major exhibition of the Birmingham-born, international artist Roger Hiorns opens at Ikon
Art auction bidding trends this year show massive change is underway say Barnebys
J. Paul Getty Museum begins reinstallation of antiquities collection at the Getty Villa


Roger Hiorns, Untitled, 2012, Adapted freezer, youth, Installation view at De Hallen Haarlem, Haarlem, 1 Decmber 2012 - 24 February 2013.



BIRMINGHAM.- Ikon presents a major exhibition of the Birmingham-born, international artist Roger Hiorns, whose influential work will show at the gallery from 7 December 2016 until 5 March 2017. Through the transformation of materials and found objects, Hiorns focuses on various aspects of modern life, closely analysing what is assumed or taken for granted. He explains, "You always have to think about materials and objects in terms of being malleable – you have to cut them off from what their established use is, to directly interfere with their world-ness, it becomes a process of human empowerment to re-use and re-propose the power of objects simply left lying in the street." Jet engines often occur in Hiorns' work. By injecting a US military aircraft engine with anti-depressants, he toys with the possibility of affecting some kind of robotic nervous system, reflecting his ongoing interest ... More



The table by the Danish designer Peder Moos, from 1952, that was made for Villa Aubertin in Rosnaes, Nakskov Fjord i Norway. The estimate was £150,000- £200 000, but it was sold for £602,500 at Phillips.



LONDON.- Barnebys, the leading search engine aggregator for art and antique auctions – covering 1,600 auction houses and carrying half a million objects at any one time – has taken a snapshot of the year, highlighting trends. There are the most notable trends this year: 1. The increasing importance of online bidding. Anecdotal as well as researched evidence with the leading international auction houses shows that on average some 35% of bids now come in over the internet. 2. The widening of users of online bidding to include younger wealthy buyers. A new generation is logging on to buy instead of searching the high street, having discovered auction salerooms. So we can expect growth among the millennials. When it comes to the volume market they will be central to its growth, motivated in party by quality and ... More



Once completed, the new display will allow visitors to follow the historical development of classical art.



LOS ANGELES, CA.- Beginning January 3, 2017, the process of reinstalling the antiquities collection at the Getty Villa will start, shifting from its current thematic organization to a largely chronological, art historical presentation. The Villa will remain open with normal operating hours throughout the reinstallation, which has been planned so that at least half the galleries will stay on view at any given time. The reinstallation will be complete in spring 2018. Regular public programming and gallery, garden and architecture tours will continue throughout the reinstallation, and be adjusted as needed to accommodate the work. Beginning in March, the Museum will offer special daily events and activities highlighting life in ancient times. Once completed, the new display will allow visitors to follow the historical development of classical art, and understand the evolution of styles within and interactions between the Etruscan, Greek, ... More
Golden Netanyahu statue put up secretly as protest
Japanese navy veteran recalls Pearl Harbor 75 years on
HSBC's rainbow lion statues spark row in Hong Kong


Israeli artist Itai Zalait poses for a picture with a statue of Israeli Prime Minister Benjamin Netanyahu. JACK GUEZ / AFP.



TEL AVIV (AFP).- A four-metre-high golden statue of Israeli Prime Minister Benjamin Netanyahu was raised secretly in a Tel Aviv square in a free speech protest Tuesday, sparking political debate and online humour. It was put up overnight illegally in the centre of the Israeli commercial capital in a square named after former premier Yitzhak Rabin, who was assassinated in 1995 by a Jewish extremist. Israeli artist Itay Zalait claimed responsibility, saying he wanted to spark a debate on freedom of speech by replicating the kind of statue erected by dictatorial regimes. Passers-by gathered out of curiosity on Tuesday morning, with some taking selfies in front of the statue depicting Netanyahu in a suit. "I did it to check one thing: can I do it?" Zalait told AFP. "Will this work be allowed and will there be sanctions?" Culture Minister Miri Regev hit back on Facebook. "How an artist can be disconnected from reality!" ... More



Japanese Kuniyoshi Takimoto, who was a Japan Navy aircraft mechanic during Pearl Harbor attack on December 7, 1941, talks on his mobile phone at his home. Behrouz MEHRI / AFP.



OSAKA (AFP).- Navy aircraft mechanic Kuniyoshi Takimoto watched as Japanese planes roared off the aircraft carrier Hiryu to attack Pearl Harbor on December 7, 1941. The shock assault 75 years ago Wednesday in Hawaii sparked patriotic celebration in Japan but left Takimoto feeling uneasy. "I wondered if such a poor country would be all right fighting such a big one," the former real-estate agent, now 95 and one of the few Japanese participants still alive, told AFP at his home in Osaka. This attack brought America into World War II -- though it was already well underway for Europe, and China. This year's anniversary comes after President Barack Obama's visit in May to Hiroshima, the Japanese city pulverised by a US atom bomb in the closing days of the conflict. Japan's Pearl Harbor blitz fired up resolve in the US, with president Franklin Roosevelt declaring the day ... More



A man poses in front of a lion (R) painted in rainbow stripes displayed next to a sculpture of a lion head (L). Anthony WALLACE / AFP.



HONG KONG (AFP).- A pair of rainbow-painted lions displayed in front of one of Hong Kong's most iconic buildings has been slammed as "disgusting" by anti-gay campaigners who condemned the show of support for the city's LGBT community. The multi-coloured art piece has been placed in front of the HSBC's landmark building in the business district, beside two famous bronze lions that the bank first installed in 1935. An important symbol of power in Chinese culture, the bank's bronze guardians have come to represent prosperity in Hong Kong. The rainbow installation, painted by local artist Michael Lam for HSBC's "Celebrate Pride, Celebrate Unity" campaign, drew the ire of conservatives, with some groups launching a petition to have the artwork removed. The petition said that the rainbow colours, symbolic of the LGBT community, are emasculating and deprive "all the strength and stamina of the original lions". It ... More
Morton Subastas announces its Traditional Christmas Sale
Auctionata / Paddle8 offers rare fasting Buddha sculpture
Exhibition of works from the MOCAK Collection on view in Rome


Anton Batsch (Germany, 19th century), Drop Leaf Table. German Renaissance Revival style. Carved wood and stone, with red, black and golden ink details. Est: $34,300 - $49,000 USD.



MEXICO CITY.- Morton Subastas, one of the top auction houses in Latin America, announces its Traditional Christmas Sale. For this special event, one of the last auctions of a remarkable year, Morton has gathered quite a unique selection of pieces from many countries around the world; comprising lots from the 18th century to the early 20th century. Among the pieces to be auctioned there will be high skilled paintings from European masters, such as German traveler artists August Löhr and Paul Fischer. Magnificent landscapes that provide impressive views of the American continent, its locations and customs. Mexican 19th century masters are well represented though the unique talent of German Gedovious, Felix Parra and Manuel Ocaranza, rather extraordinary painters that were influenced by Symbolism and Decadentism. Also ... More



Rare Schist Figure of Fasting Buddha, Gandhara, 2nd-4th C.



NEW YORK, NY.- Auctionata, the leading online auction house, presents its Asian Art Day on December 16, 2016, featuring extremely rare and exceptional works of Asian Art via livestream auctions on www.auctionata.com. In a three-part auction series, rare sculptures, fine porcelain and exquisite paintings will be offered to bidders worldwide. A highlight of the series will be the auction "Important Gandhara and Early Buddhist sculptures from a European Collection" at 4:00 pm CET. This collection originates from a single European family and was founded in the 19th century. Since the 1930s, the collection has been anchored by 39 early Buddhist sculptures including sought-after treasures of Gandharan art as well as Chinese works tracing the transformation of early Buddhist art. A highlight of the sale is a Rare Schist Figure of Fasting Buddha, Gandhara, c. 2-4 CE, ... More



Krzysztof M. Bednarski, Lenin's Missing Arm, 1995, installation, 195 × 130 × 53 cm.



ROME.- The exhibition of works from the MOCAK Collection at the MAXXI National Museum of 21st Century Arts in Rome will take place at the end of 2016 and the beginning of 2017. This will be the first such large‑scale and comprehensive presentation of works from the collection of the Museum of Contemporary Art in Cracow, MOCAK, to be presented in Italy. We will be presenting over 50 works including paintings, photographs, video, installations, and objects. The MOCAK Collection was first presented outside Poland at the exhibition Art Is Freedom which was shown at the Palace of Art in Lviv in 2014. The selection included a few dozen video works and photographs of Polish and international artists. The exhibition organized by the MOCAK, and coproduced with MAXXI will be an opportunity to become acquainted with the canon of Polish contemporary art represented by artists such as: Paweł Althamer, Krzysztof ... More
Quote
Art that is not in the present will never be. Pablo Picasso
---
Let Me Introduce to You…The Alternative Sgt. Pepper Art Work
---
Flashback
On a day like today, Italian artist Gian Lorenzo Bernini was born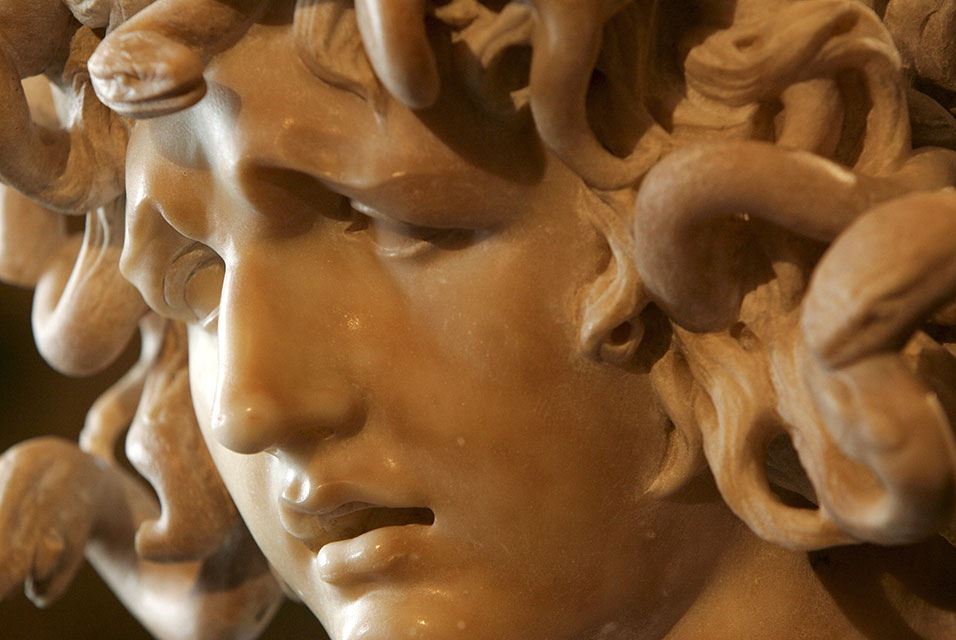 August 07, 1598. Gian Lorenzo Bernini (also spelled Gianlorenzo or Giovanni Lorenzo) (Naples, 7 December 1598 - Rome, 28 November 1680) was an Italian artist who worked principally in Rome. He was the leading sculptor of his age and also a prominent architect. In addition he painted, wrote plays, and designed metalwork and stage sets. In this image: After a long restauration, the head of the Medusa by Italian sculptor Gian Lorenzo Bernini was displayed in Rome, on Wednesday 22 November 2006. The sculpture was exhibited in the Capitol museum in Rome until January. The work of restoration emphasized the lights and the shadows on the sculpture.
---

Museums, Exhibits, Artists, Milestones, Digital Art, Architecture, Photography,
Photographers, Special Photos, Special Reports, Featured Stories, Auctions, Art Fairs,
Anecdotes, Art Quiz, Education, Mythology, 3D Images, Last Week,
.
Royalville Communications, Inc
produces: