Gilbert & George's first exhibition in Australasia opens at the Museum of Old and New Art
Gilbert & George: The Art Exhibition, on display at Mona until March 28, 2016. Photo: Mona/Rémi Chauvin. Image Courtesy Mona, Museum of Old and New Art, Hobart, Tasmania, Australia.
HOBART
.-
Two people, but one artist: the legendary Gilbert & George's first ever exhibition in Australasia, Gilbert & George: The Art Exhibition, is now open at the
Museum of Old and New Art
in Tasmania, Australia, until March 28, 2016. Gilbert & George: The Art Exhibition is a major retrospective, including pictures spanning five decades; dating from 1970 to most recent pictures of 2014. Curated by Gilbert & George with organising curators, Mona's Co-Directors of Exhibitions and Collections, Olivier Varenne and Nicole Durling, the pictures are installed across the entirety of Mona's touring galleries, 14 metres underground. Our pictures deal with the great universals: death, hope, life, fear, sex, money, race and religion. Seeing is believing. See for yourself: Gilbert & George: The Art Exhibition. This is your very first – and last – chance to see one hundred of our pictures, ...
More
The Best Photos of the Day
The Whitney Museum of American Art in New York debuts "Frank Stella: A Retrospective"
Ringo Starr auction at Julien's Auctions breaks world records and raises nearly $10 million
Artcurial announces second annual auction dedicated to Asian Art to be held in Paris


Frank Stella, East Broadway, 1958 (detail). Oil on canvas. 85 1/4 x 81 in. (216.5 x 205.7 cm). Addison Gallery of American Art, Phillips Academy, Andover, Massachusetts; gift of the artist (PA 1954) 1980.14. © 2015 Frank Stella/Artists Rights Society (ARS), New York.



NEW YORK, NY.- The most comprehensive U.S. career retrospective to date of the work of Frank Stella, co-organized by the Whitney Museum of American Art and the Modern Art Museum of Fort Worth, debuted at the Whitney. Frank Stella: A Retrospective brings together the artist's best-known works installed alongside lesser known examples to reveal the extraordinary scope and diversity of his nearly sixty-year career. Approximately 100 works, including icons of major museum and private collections, are being shown. Along with paintings, reliefs, sculptures, and prints, a selection of drawings and maquettes have been included to shed light on Stella's conceptual and material process. With the close collaboration of the artist, Frank ... More



This specific drum kit has not been seen in public for more than 50 years and sold for the record price of $2.2 million to Indianapolis Colts owner Jim Irsay.



BEVERLY HILLS, CA.- Julien's Auctions, the auction house to the "Starrs" closed the three day auction of The Collection of Ringo Starr & Barbara Bach by setting more world records. The Collection of Ringo Starr & Barbara Bach auction began on Thursday, December 3, 2015 and ended today, Saturday, December 5, 2015. The once-in-a-lifetime collection curated by Ringo & Barbara themselves included extraordinary memorabilia. The auction raised nearly $10 million. Among the seven of Starr's personal drum kits in the auction was the iconic musician's first 1963 Ludwig Oyster Black Pearl three-piece drum kit. The kit was used by Starr in more than 200 performances between May of 1963 and February of 1964 and used to record some of The Beatles biggest hits including: "Can't Buy Me Love," "She Loves You," "All My Loving," "I Want to Hold Your Hand," "Money, ... More



Buddha head made from grey stone, China. Beginning of the Tang dynasty, 7th century. From an ancient collection belonging to Marianne Densmore, Paris (Estimate 60 000 – 80 000 € / 66 000 –88 000 $)



PARIS.- On December 15th, Artcurial will organise its second annual auction dedicated to Asian Art. Presenting 230 lots, composed of a fine selection of objects, furniture, sculptures and textiles, the sale will include a rich panorama of both Chinese and Japanese creation. The auction will open with a set of small, precious objects including eleven snuffboxes made from rare stones (agate, jade and rock crystal.) The consummation of tobacco in China increased when the Manchu conquerors, who founded the Qing dynasty in 1644, came to power. Just like in Europe, tobacco leaves were snorted and the snuffboxes were used to protect the tobacco against humidity. As this practice was reserved for an elite class, the objects are refined and decorated with paint or finely sculpted. Sometimes the decoration can entirely ... More
From Modern to Contemporary Art: Record auction realizes around €24 million
More than 500 Greek artifacts from the collections of 21 museums exhibited at the Field Museum
Gianguan Auctions opens new gallery with collections of Buddhist art and scroll paintings


With € 825,000 for Otto Piene's "Dynamisches Volumen", auctioneer Robert Ketterer set a new world record.



MUNICH.- It was a very good auction. "We booked numerous records and top results. In total, more than 70% of all objects were sold with an average increase of above 60% each", says Robert Ketterer. He continues: "The € 100,000 line was crossed 30 times, 19 times more than in the Dec. 2014 auctions. The top result of around € 24 million in our Dec. auctions even topped last year's figures from the same period by more than 2 million. This section was led by Erich Heckel's oil painting "Hügellandschaft" (lot 231). A Swiss collector granted the result of € 750,000 for the atmospheric painting from the artist's best period of creation. He relegated a Northern German competitor on the phone to second place and made for almost twice the starting price of € 440,000. This result reflects the great atmosphere in the full saleroom and on the phones. Called up a little later, ... More



The exhibition contains more than 500 magnificent artifacts, many of which have never been displayed outside of Greece.



CHICAGO, IL.- The Greeks—Agamemnon to Alexander the Great draws from the collections of 21 museums throughout Greece, making it the largest exhibition of its kind to tour North America in 25 years. Spanning 5,000 years of Greek history and culture, the exhibition presents stories of individuals from its origins in Neolithic villages through its expansion during the conquests of Alexander the Great. The Greeks is making the first of two U.S. stops at The Field, and its appearance is the result of a first-of-its-kind partnership between The Field Museum and co-presenter, the National Hellenic Museum. In addition to The Greeks at The Field Museum, the National Hellenic Museum will host related programming and exhibitions in its Greektown home. An exhibition developed by the Hellenic Ministry of Culture, Education and Religious Affairs (Athens, Greece), The Field Museum (Chicago, ... More



A silver Vajrasattva decorated with gems. Qing Dynasty. $6,000-$8,000.



NEW YORK, NY.- Gianguan Auctions will inaugurate its new Manhattan gallery at 39 W. 56th Street with a holiday sale of Buddhist art, Chinese porcelains and fine Chinese paintings, ancient to modern. Collections of stone seals, teapots and carved jades also come to the podium on Saturday, December 19th, beginning at 11:00 a.m. The Chinese porcelains include Famille Rose, Caledon, Zisha, and Blanc de Chine from the Yuan Dynasty through the Ming, Glazes run from copper red to wood grain, flambé and purple splash, creating a compelling inventory for collectors. The marquee item is Lot 138, a Yuan dynasty dragon jar with a rare copper red underglaze that depicts a three-clawed dragon among flames chasing a flaming pearl. Standing 12 ¾ inches tall, the pear-shaped vase is $200,000-$400,000. Meanwhile, mid-level collectors will be well pleased with Lot 234, a Ming Dynasty bovine blood- ... More
Yale Center for British Art to complete interior conservation of its landmark building designed by Louis I. Kahn
Sneakers take the floor at Toledo Museum of Art: The Rise of Sneaker Culture opens
Master framers Eli Wilner & Company acquires rare California frame, circa 1850


Installation team removing a George Stubbs painting from the Yale Center for British Art Library Court prior to construction, photograph by Richard Caspole.



NEW HAVEN, CONN.- The Yale Center for British Art will reopen to the public on May 11, 2016, after completing the third phase of a major building conservation project. Visitors to the renovated building will experience a stimulating new installation of the Center's unparalleled collection of more than five centuries of British art, largely the gift of the institution's founder, Paul Mellon (Yale College, Class of 1929). The Long Gallery, located on the fourth floor, will be wholly reconfigured, returning to the architect Louis I. Kahn's original conception of a study gallery, with over two hundred works installed from floor to ceiling across seven bays. Adjacent to this gallery, in a space that formerly served as an office, will be a new seminar room for faculty, students, and visiting scholars to engage in the close study of collection objects. In addition to the reinstallation of the collection, which ... More



Nike. Air Jordan I, 1985. Nike Archives. Photo: Ron Wood. Courtesy American Federation of Arts/Bata Shoe Museum.



TOLEDO, OH.- Sneakers have evolved from sportswear to fashion statement and cultural signifier. The Rise of Sneaker Culture, an exhibition on view at the Toledo Museum of Art, traces that evolution from the 1830s to today. Approximately one-hundred and sixty sneakers – from an 1860s spiked running shoe to contemporary sneaker collaborations with such artists and designers as Damien Hirst, Jeff Staple and Kanye West – went on display Dec. 3 in the Levis Galleries (Galleries 28 A-C). It is the first time the exhibition has been seen in Ohio after popular runs at the Bata Shoe Museum and Brooklyn Museum. "The Rise of Sneaker Culture is an exhibition that everyone connects with, because we all wear sneakers – even if we call them tennis shoes," said Brian Kennedy, director of the Toledo Museum of Art. "We're delighted to present an exhibition that's as fun as it is informative and ... More



Corner detail of Eli Wilner & Company period frame, California circa 1850, 41 3/8 X 59 ½ inches.



NEW YORK, NY.- Eli Wilner & Company announced their acquisition of a highly important California Gold Rush-era Jones & Wooll picture frame, circa 1850, gilded with applied ornament. The 1850s was an era of exploration and adventure when Americans fully recognized the diversity of the country's landscape. The California Gold Rush was at its peak and the city of San Francisco enjoyed rapid growth as fortunes were being made. At this time David Jones and John Wooll owned a store located on Market Street where they sold picture frames and mirrors. Decorated with floral sprays and foliage, this exquisite frame features finely detailed molded ornament in the cove and elaborate projecting corners. The frame features a stamped label on the verso "Jones & Wooll's Mirror and Picture Store 643 Market Street," and retains its original finish in near perfect condition. In terms of 1850s frames this is a wonderful example ... More
Sobey Art Foundation and the National Gallery of Canada usher in new era for the Sobey Art Award
Exhibition at MOT International draws upon the visual language and humour of the cartoon
Tiancheng International Jewellery and Jadeite Autumn Auction 2015 realises over US$31.4 million


The presentation of works of art from short-listed artists will alternate between the National Gallery and institutions across the country.



OTTAWA.- The Sobey Art Foundation and the National Gallery of Canada announced a new partnership in which the Gallery, starting in 2016, will become the organizing institution for the Sobey Art Award, Canada's prestigious contemporary art prize. Building on the success achieved by the award's founding partner institution, the Art Gallery of Nova Scotia, the new partnership will chart an ambitious new global course for contemporary Canadian art. "Since its inception in 2002, the Sobey Art Foundation has aspired to enhance the role of contemporary art in Canadian culture," said the Chair of the Sobey Art Foundation, Rob Sobey. "We are tremendously grateful to the Art Gallery of Nova Scotia for its efforts in highlighting and celebrating the best of Canadian contemporary art. For over thirteen years, our founding partner helped raise the award's profile to achieve remarkable success. We look forward to working with t ... More



The Funnies, 2015. Exhibition view, MOT International, Brussels.



BRUSSELS.- Taking its title from the comics section of twentieth century American newspapers, The Funnies draws upon the visual language and humour of the cartoon. From Philip Guston and Oliver Osborne to George Condo and Anne Speier, the exhibition brings together eighteen artists whose work celebrates humour and shares an incontestable taste for exaggeration, derision and slapstick. Particularly popular throughout the 1950s and 1960s, 'the funnies' continue to punctuate the spaces between the Politics and Sport sections in Sunday magazines and newspapers. Billed as light entertainment, they distill the news and incisively translate them into satyrical jokes. Within the exhibition, Werner Büttner's collages and Rose Wylie's painting encapsulate the conventional format of 'the funnies' in which the short and direct narrative contained within the picture is often augmented by an amusing caption acting as a punchline. Favouring figuration over abstraction ... More



Top Lot of The Evening: Pair of Jadeite, Icy Lavender Jadeite, Coloured Diamond and Diamond Pendent Earrings╱Ring╱Pendent Necklace, Alessio Boschi sells for HK$ 25.96 million╱US$ 3.33 million.



HONG KONG.- Tiancheng International Jewellery and Jadeite Autumn Auction 2015 concluded with triumph today, realising over HK$245 million╱US$31.4 million. Together with the spring auction, Tiancheng achieved HK$540 million╱US$69 million in 2015. With 87% of total value sold and nearly 80% of lot sold, the sale was led by eight lots soaring above HK$10 million. The Mikimoto Collection was all sold, over one-fifth of lots were sold above the estimate and a world auction record for colour-changing spinel was set. The top lot of the auction belongs to the Pair of Jadeite, Icy Lavender Jadeite, Coloured Diamond and Diamond Pendent Earrings╱Ring╱Pendent Necklace. Beginning at HK$16 million and after 7 intense bids, the magnificent piece was hammered at HK$22 million, which was eventually sold to a phone bidder for HK$ 25.96 million╱US$ 3.33 million ... More
Quote
What impassions me most is the portrait, the modern portrait. Vincent van Gogh
---
Let Me Introduce to You…The Alternative Sgt. Pepper Art Work
---
Flashback
On a day like today, Italian artist Gian Lorenzo Bernini was born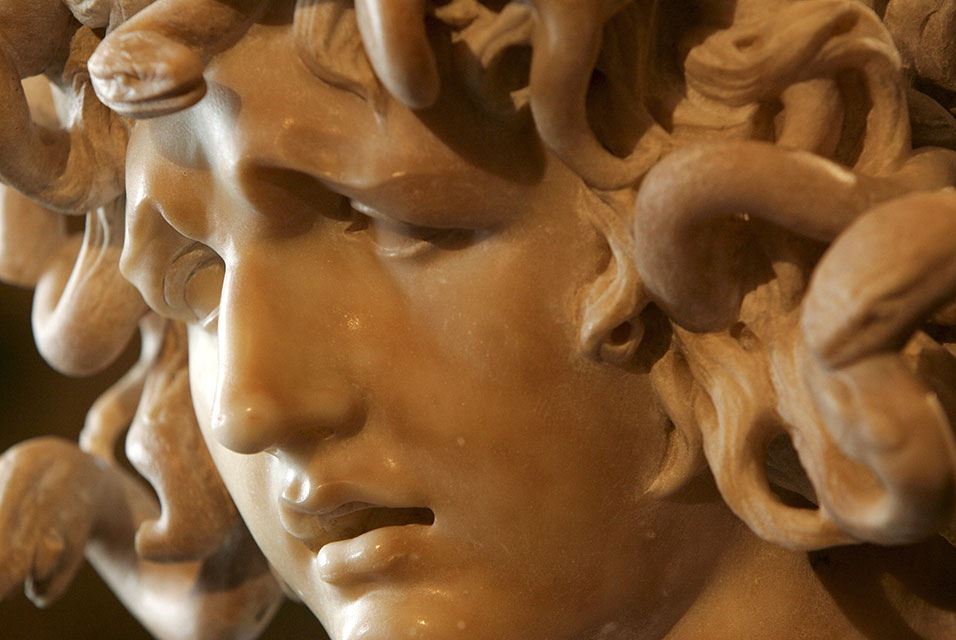 August 07, 1598. Gian Lorenzo Bernini (also spelled Gianlorenzo or Giovanni Lorenzo) (Naples, 7 December 1598 - Rome, 28 November 1680) was an Italian artist who worked principally in Rome. He was the leading sculptor of his age and also a prominent architect. In addition he painted, wrote plays, and designed metalwork and stage sets. In this image: After a long restauration, the head of the Medusa by Italian sculptor Gian Lorenzo Bernini was displayed in Rome, on Wednesday 22 November 2006. The sculpture was exhibited in the Capitol museum in Rome until January. The work of restoration emphasized the lights and the shadows on the sculpture.
---

Museums, Exhibits, Artists, Milestones, Digital Art, Architecture, Photography,
Photographers, Special Photos, Special Reports, Featured Stories, Auctions, Art Fairs,
Anecdotes, Art Quiz, Education, Mythology, 3D Images, Last Week,
.
Royalville Communications, Inc
produces: