Antique Persian and Tribal Rugs for the Home Office
The understated elegance and Tuscan color palette of the rare Hadji Jallili Tabriz carpet in this Claremont Rug Company client's home office adds incomparable refinement and gentility to a lushly appointed environment. Decor: SFA Design.
OAKLAND, CA
.-
With business executives increasingly working from home offices, those with a discerning eye have selected highly-regarded antique Persian and tribal rugs to create an environment conducive to business and pleasing to look at. Because of the nuanced color patterns and the intricate pattern language of individual weaving groups, those seeking an antique Oriental rug as an office statement piece or simply to provide a high degree of ambience can find pieces that work in modern, contemporary spaces as well as those that are antique themed. As in the non-office areas of a residence, rugs are often hung as wall art. And they need not be of the same type or color palette as the rest of the home. "Using collectible antique Oriental rugs in your home office," says Jan David Winitz, president/founder of ...
More
The Best Photos of the Day
Hefner's 'Viagra Ring', first Playboy issue sold at auction
Judy Chicago survey opens at the Institute of Contemporary Art, Miami
With its 77th Auction, Hermann Historica concludes its most successful auction and the most profitable year


A carved Briar pipe with custom Playboy Bunny logo is displayed as part of Julien's Auctions sale of late Playboy publisher Hugh Hefner's belongings on November 26, 2018 in Beverly Hills, California. Robyn Beck / AFP.



LOS ANGELES (AFP).- Playboy founder Hugh Hefner embraced a hedonistic lifestyle of smoking jackets, multiple "girlfriends" and lavish parties at his legendary mansion. Now, hundreds of fans have paid big bucks for a piece of the myth. Items from the late publisher's personal collection -- from his typewriter to the first issue of his iconic magazine featuring Marilyn Monroe -- went under the hammer in Los Angeles in a two-day sale that ended Saturday. The typewriter, which Hefner used at university and to write copy for the 1953 debut issue of Playboy, sold for $162,500. His personal copy of that issue went for $31,250, according to Julien's Auctions, which organized the sale. Lucky collectors will soon be able to lounge like the Hef: one of his bespoke red silk smoking jackets sold for $41,600, and his "Viagra Ring" ... More



Judy Chicago, Heaven is for White Men Only, 1973 (detail). Sprayed acrylic on canvas. Courtesy the artist.



MIAMI, FLA.- The Institute of Contemporary Art, Miami culminates its 2018 season with a major solo survey dedicated to pioneering feminist artist Judy Chicago, opening on December 4 during Art Basel Miami Beach. Judy Chicago: A Reckoning connects seven important bodies of work produced by the artist between the 1960s and 1990s, including historic and lesser-known works that will be on public view for the first time in decades. Chicago will also debut a new, site-specific smoke piece, A Purple Poem for Miami, in ICA Miami's sculpture garden on February 23, 2019, revisiting her iconic performance works from the 1960s. In keeping with ICA Miami's commitment to expanding narratives in contemporary art and developing new scholarship, Judy Chicago: A Reckoning examines ideas and works not commonly associated with the iconic artist. The exhibition is presented by Italian luxury fashion brand Max Mara. In conjunction with the ... More



An excellent Milanese etched armour for the field, Italy, circa 1570/80. HP: 80000 Euros. © Hermann Historica GmbH 2018.



MUNICH.- From 5 to 23 November, this year's Autumn Auction at Hermann Historica GmbH offered buyers the usual wide range of high quality, precious objects from numerous eras and from every corner of the globe. Achieving superlative prices in every section, almost 7,600 lots from all specialist areas represented by the auction house came under the hammer. The antiquities section presented a variety of beautifully worked, even unique, objects that were crafted by the highly skilled smiths of yesteryear. The early bronze helmets on offer again included several veritable rarities, such as a splendid Illyrian helmet, embellished with cheek pieces and a neck guard, which had been forged in one piece during the seventh to the early sixth century B.C. Featuring an ornate, continuous border of rivets, its obvious appeal tempted a collector to part with 15,000 euros, although it had been valued at 10,000 euros. However, the artisan metalwo ... More
Rare copy of the first translation of the bible in English - The Tyndale Bible sells for £37,500
Chris Domenick's first solo exhibition in Germany on view at 14a
De Niro, Scorsese discuss future of film at Morocco festival


Tyndale's Bible.- Bible, English. [The Newe Testament yet once agayne Corrected by Willyam Tyndale], black letter, 228 ff. only, of 276, separate title for 'Epistles' in woodcut architectural border, many woodcut text illustrations and initials, 4to in 8s, (c.195 x 130 mm.), [Antwerp, M. Crom?, or Widow of C. Ruremond], 1536.



LONDON.- The translation was made by William Tyndale (c. 1494-1536), a linguist and leading figure in Protestant reform, greatly influenced by the work of Luther and Erasmus. Tyndale was called by his great opponent Thomas More "the captain of our Englysh heretikes". He has been studied as a translator of the Bible and a representative of moral and doctrinal reformation. Tyndale made political use of his vernacular English translations of the Bible to win the common people of Renaissance England to the Protestant cause. His translations were appealing because made more intelligible the mystical holy word. They reformed the Scriptures in the image of men. The 1534 edition outraged the clerical establishment by giving the laity access to the word of God, in print in English ... More



The Open, 2018. Screenprint and whiteout on paper, with oak case, 26 Pages Edition of 2. Bound by Hudson River Bindery.



HAMBURG.- 14a is presenting The Porch The Open, Chris Domenick's first solo exhibition in Germany. Chris' particular subjectivity may seem like it has no part in this work, and as his lover, I am in no place to assert objectively that it should. But it just does. While Chris' parents were busy working, he spent a lot of time at his grandmother's house in Valley Forge, PA, where she lived with his aunt. Valley Forge, once home to the starved soldiers of the Continental army during the American Revolutionary war, is a symbol of patriotism in the United States. It was Chris' backyard. The walls of the house were cluttered with family pictures and the clashing tastes of the two women that lived there; a repressed German Protestant and a retired gay elementary school teacher. Their house, its land, its knick-knacks—have always been an important referent in Chris' visual lexicon. The surfaces, forms and frames ... More



US film director Martin Scorsese reacts during the award tribute ceremony for US actor Robert de Niro as part of the 17th Marrakech International Film Festival on December 1, 2018. FADEL SENNA / AFP.



MARRAKECH (AFP).- US director Martin Scorsese and actor Robert de Niro on Sunday discussed the changing nature of cinema in the age of streaming services on the sidelines of the Marrakech film festival. "The cinema of the past is gone, things are changing," Scorsese said during a meeting with the public at the Palais des Congres. "I don't know what the future will be." "Movies have to be shown on a big screen," De Niro said during a news conference. Their remarks come with the ninth collaboration between Scorsese and double Oscar winner De Niro -- gangster movie "The Irishman" -- expected to be released next year by streaming giant Netflix. Based on true events, it stars De Niro as mob hitman Frank Sheeran and co-stars Al Pacino as the infamous American labour union leader Jimmy Hoffa who he allegedly killed. Scorsese told his audience that Netflix stuck its neck ... More
Almine Rech opens an exhibition of works by Todd Bienvenu
Fondation Vincent van Gogh opens exhibition of works by James Ensor & Alexander Kluge
Bonhams to offer a collection of rare Murano glass designs


Installation view of Todd Bienvenu's 'Slapstick'. Photo: Melissa Castro Duarte / Courtesy Todd Bienvenu and Almine Rech.



LONDON.- In Slapstick, Todd Bienvenu's new show at Almine Rech, comedy springs from the physical world failing human ambition. His scenes teem with raucous energy, feeding off the kind of ugly emotions usually swept under the carpet by art world good manners. Humiliation, embarrassment and loss crash-land into his canvases like uninvited guests. Bienvenu's eye is compulsively drawn to moments of comic deflation and thwarted hope. His acrylic is applied with a deceptively crude unruliness, yet his subjects remain curiously static, as if photobombing scenes from their own lives. They're drinkers, idlers, eloquent bums lounging in dive bars. It's a working-class world usually exiled from the stuffy confines of the art gallery: chipped teeth and bad tattoos, hellraisers living for a good time. Yet, cast outside the bourgeois politics of identity, these louche characters are more than just the dog-eared flipside of the Ameri ... More



James Ensor, Death Chasing the Flock of Mortals (or The Triumph of Death), 1895. Etching printed in black (2/3), 230 × 175 mm ; 238 × 181 mm. Private collection / © Adagp, Paris, 2018 ©Ensor Foundation Ostend.



ARLES.- The exhibition James Ensor & Alexander Kluge: Dark Centuries consists of an unprecedented convergence of engravings by the Belgian artist James Ensor and a selection of previously unseen films by the German film-maker, media theoretician and writer Alexander Kluge. More than thirty prints by James Ensor, produced between 1886 and 1904, map out a route along which we encounter scenes of crowds, by turns petrified and riotous, and a society in masks, parading in the guise of its demons. If Ensor castigates, on the altar of the copper plate, a society entirely prey to its inner madness, Kluge seeks to militate, as the inventive heir of the critical theory of the Frankfurt School, against the baleful influence of the entertainment industry. Nurturing differing degrees of defiance in the face of mass logic and the upheavals of their centuries, the two artists produce ... More



Vetreria Gino Cenedese (Founded 1946), Unique Sommerso Vase, 1963 (estimate: $4,000-6,000).



NEW YORK, NY.- On December 14, Bonhams will offer Fire and Light: A Selection of Highlights from the Cenedese Archive, a collection of over 150 glass designs from the Cenedese workshop of Murano, Italy with many of the works never seen in public and at auction for the first time. This sale presents an excellent opportunity for new and established collectors alike, with estimates ranging from $3,000 to $20,000. The company was founded by Gino Cenedese in 1946, and it went on to become one of the leading workshops in the island of Murano's creative renaissance, bringing the firm international acclaim. Cenedese initially set up the firm in partnership with glass maestros, Alfred Barbini, Gino Fort, Angelo Tosi and Pietro Scaramal and produced some of the most engaging works of their careers and achieved both commercial, as well as international critical acclaim. The firm quickly earned accolades, beginning in 1948 at the XXVI Venice Biennale that ... More
Tiancheng International Jewellery and Jadeite Autumn Auction 2018 achieves over US$16.03 million
New experimental space in Berlin introduces contemporary art from China
Berkshire Museum art sales are complete, needed building maintenance will begin


The star lot of the sale was a 29.53-Carat D Colour Internally Flawless Type IIa Excellent Polish Diamond Ring.



HONG KONG.- Tiancheng International Jewellery and Jadeite Autumn Auction 2018 concluded today, totalling over HK$125 million/US$16.03 million, with four lots sold for over HK$10 million, over 63% total sold rate and over 90% jadeite sold rate. Together with the spring auction, Tiancheng International achieved HK$270 million/US$34.62 million in 2018. The star lot of the sale was a 29.53-Carat D Colour Internally Flawless Type IIa Excellent Polish Diamond Ring. Bidding opened at HK$ 12 million and after spirited biddings, the piece was eventually sold to a telephone bidder for a spectacular price of HK$ 27 million/US$ 3.46 million. Apart from the most desirable colour and clarity grading, this magnificent Type IIa quality diamond also boasts the highest chemical purity and transparency. Meticulously cut into a classy pear shape, the centre stone is ... More



Chen Shaoxiong. Ink Media, 2013. Video still, courtesy of Ms. Luo Qingmin. © Chen Shaoxiong.



BERLIN.- Times Art Center Berlin, a new experimental space for contemporary art from China, opened to the public on November 30, 2018. In recent years, art created in China, by artists both from China and abroad, has become a major part of the global art scene. Now, the time has come to reflect this progression in Berlin. As an associated organisation of the renowned Guangdong Times Museum, Guangzhou in southern China, TACB has been established with that mission in mind. Times Art Center Berlin will introduce a part of the Chinese art world which is critically important but remains lesser known in the West and underrepresented in the global art market, namely, the experimental art scene from the Pearl River Delta. The three-part inaugural exhibition, The D-Tale, Video Art from the Pearl River Delta is curated by HOU Hanru and TACB's Artistic Director, XI Bei. As a non-profit art institution, Times Art Center ... More



Berkshire Museum Facade. Courtesy the Berkshire Museum.



PITTSFIELD, MASS.- Art sales by the Berkshire Museum are complete, as the Board of Trustees voted Monday (11/26) that there will be no further sales, though additional sales were permitted under an agreement between the Museum and the Office of the Attorney General (AGO) and approved by the Massachusetts Supreme Judicial Court. The Board also approved work beginning on needed repairs to the Museum's more than 100-year-old building. The agreement with the AGO allowed the Museum to sell up to 40 works approved for deaccession in groups or tranches, to raise up to $55 million for the museum's endowment and needed repairs and improvements to the building. With the final works in the second tranche purchased at auction in November, a total of 22 works were sold raising $53.25 million. There are more than 40,000 pieces in the Museum's collection. "We are moving forward having ... More
Quote
The spectacle of the sky overwhelms me. Joan Miró
---
Chris Ofili - No Woman, No Cry | Art Close Up
---
Flashback
On a day like today, French painter Pierre-Auguste Renoir died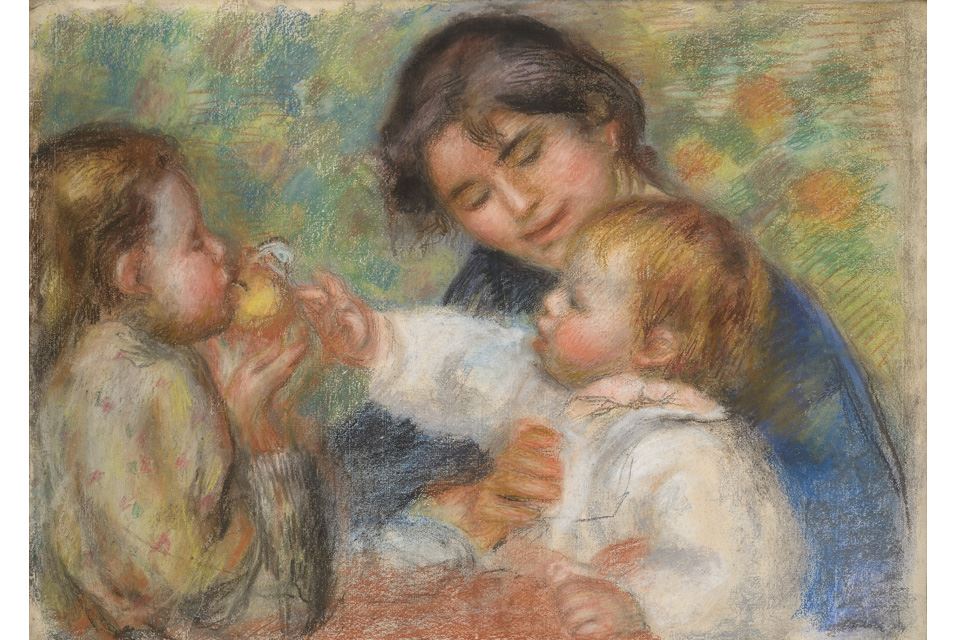 August 03, 1919. Pierre-Auguste Renoir, commonly known as Auguste Renoir (25 February 1841 - 3 December 1919), was a French artist who was a leading painter in the development of the Impressionist style. In this image: Pierre-Auguste Renoir, Child with an Apple or Gabrielle, Jean Renoir and a Little Girl, circa 1895-1896. Pastel on paper. 560 x 760 mm. Mrs. Léone Cettolin Dauberville.
---

Museums, Exhibits, Artists, Milestones, Digital Art, Architecture, Photography,
Photographers, Special Photos, Special Reports, Featured Stories, Auctions, Art Fairs,
Anecdotes, Art Quiz, Education, Mythology, 3D Images, Last Week,
.
Royalville Communications, Inc
produces: