Black Death burial pit found by archaeologists at English 14th-century abbey
The bones were carbon-dated to the mid-1300s when the Black Death -- one of the most deadly pandemics in human history -- is estimated to have wiped out up to 60 percent of Europe's population. Photo: University of Sheffield.
LONDON
(AFP)
.-
An "extremely rare" mass grave containing 48 victims of the Black Death has been found at the site of a 14th-century monastery hospital in northeast England, archaeologists said Wednesday. The grim discovery by the University of Sheffield at Thornton Abbey in Lincolnshire included the skeletons of 27 children, as well as men and women. The bones were carbon-dated to the mid-1300s when the Black Death -- one of the most deadly pandemics in human history -- is estimated to have wiped out up to 60 percent of Europe's population. DNA tests revealed the presence of Yersinia pestis, the bacterium responsible for the disease, previously only identified at two 14th-century cemeteries in London set up to bury large numbers of urban dead, the university said. "Despite the fact it is now estimated that up to half the population of England perished during the Black Death, multiple graves associated with the event are extremely rare in this country," said Hugh Willmott from the University of Sheffi ...
More
The Best Photos of the Day
A visitor's guide to Art Basel Miami Beach and beyond
Sotheby's to offer one of the most valuable English books to appear at auction
Director of Spain's Prado museum to leave post after 15 years


A general view of atmosphere at the Art Basel Miami Beach VIP preview on November 30, 2016 in Miami Beach, Florida. Daniel Zuchnik/Getty Images/AFP.



MIAMI, FLA.- As someone who was born & raised on Miami Beach (went to high school across the street from the convention center) and who has attended Art Basel events since the early days, I often end up fielding questions & offering tips on how to get the most out of the experience. So, in no particular order, here is a collection of information and suggestions. Art Basel Miami Beach is one of the world's most prestigious art events bringing modern and contemporary art to South Florida from over 31 different countries and 250 galleries. Held inside the Miami Beach Convention Center, the art fair attracts a diverse and international group of collectors, gallerists, artists, celebrities and spectators to the sub-tropical paradise. Art Basel is part of Miami Art Week which has helped transform the region into a year round home for modern art. There are more satellite art fairs popping up every year and it is impossible to attend them all. So, I suggest you start with Art Basel and then plan to vi ... More



The Bute Hours. An Extraordinary Medieval English Books of Hours. Estimated at £1.5 - 2.5 million. Photo: Sotheby's.



LONDON.- The Bute Hours, one of the most extraordinary Medieval English Book of Hours in existence, is to be auctioned at Sotheby's London on 6 December 2016, with an estimate of £1.5 to 2.5 million, making it one of the most valuable English books to appear at auction. The manuscript comes to sale from The Berger Collection Educational Trust, set up by the Denver-based collectors William M. B. Berger and Bernadette Berger, who amassed one of the most important collections of British Art in America, spanning over 600 years. The proceeds will go to benefit future philanthropy. English Books of Hours are extremely rare on the market, and the richness of the illustration of this particular manuscript is unparalleled - a reflection of the significant social status of its patron. Including more than 50 large miniatures, it was most likely made for a nobleman of the royal household who is depicted with a double chain of office, his wife, chi ... More



From left to right: Gabriele Finaldi, Director of the National Gallery in London and curator of the exhibition; Anabel Morillo, General Director of the Fundación Focus; and Miguel Zugaza, Director of the Museo del Prado. © Museo Nacional del Prado.



MADRID (AFP).- Spain's Prado art museum said Wednesday its director Miguel Zugaza will leave his post in 2017 after a 15-year run that included the biggest expansion of the world-renowned gallery. Zugaza, 52, has decided to return to his previous job as director of Bilbao's Fine Arts Museum, which he held between 1995 and 2001, the Prado said in a statement. The Madrid museum, the home of masterpieces by Francisco Goya and Diego Velazquez, said Zugaza had told the culture ministry that he had achieved his goals and is "grateful for the all the support he received". Zugaza took charge of the Prado in 2002, vowing to double the number of visitors to the museum. Under his watch visitor numbers jumped from 1.7 million in 2002 to nearly 2.7 million last year. The museum hosted several blockbuster exhibits, including a display last year of the most and best works ... More
PULSE Miami Beach returns to its oceanfront home at Indian Beach Park
Pérez Art Museum Miami receives $15 million gift from philanthropist and patron of the arts Jorge M. Pérez
Art Miami returns for its 27th installment


Andrew Schoultz, Shining Eye, 2016, acrylic on canvas over panel, 72 x 48 x 3 inches. Photo: Courtesy Hosfelt Gallery.



MIAMI, FLA.- PULSE Miami Beach returns to its oceanfront home at Indian Beach Park from Thursday, December 1 through Sunday, December 4, 2016. The twelfth edition of PULSE in Miami will welcome a diverse community of established and emerging galleries across five continents presenting the latest cuttingedge artwork and current practices. Opening with its signature Private Preview Brunch on Thursday, December 1 from 10am-1pm, PULSE looks forward to introducing its vibrant audience of art collectors and enthusiasts to a dynamic overview of today's contemporary art market. Following last year's successful expansion, PULSE will return with over 70 galleries and 200 artists welcoming an array of national and international exhibitors. With first time exhibitors making up 25% of the fair's roster, PULSE will showcase new works from galleries from Colombia, Spain, ... More



Pérez has been one of the city's leading advocates for contemporary art.



MIAMI, FLA.- Pérez Art Museum Miami announced today that business leader and long-time museum supporter Jorge M. Pérez will continue his patronage of the museum with a new $15 million donation. The contribution, which will be gifted over the next 10 years, will consist of $5 million in funds for the acquisition of works by Latin American artists, $5 million in endowed funds for procurement of additional works and an immediate bestowment of over 200 pieces from Pérez's personal collection of Cuban artworks. The donated works will be featured in a new exhibition celebrating this momentous donation in the fall of 2017. "This tremendous gift is another affirmation of Jorge and Darlene Pérez's commitment to Miami's museum," said PAMM Director Franklin Sirmans. "This gift significantly improves upon the museum's holdings and adds depth to a vitally important area of the collection that Pérez has always championed since c ... More



This year's fair kicked off on Tuesday evening with a VIP Private Preview to benefit Pérez Art Museum Miami.



MIAMI, FLA.- Art Miami, returning for its 27th installment during Art Week in Miami, opening November 29 and continuing through December 4, has announced its 2016 exhibitor list. One of the nation's leading international contemporary and modern art fairs will showcase an array of iconic and exemplary works, dynamic projects and special installations from more than 130 international exhibitors. This year's fair kicked off on Tuesday evening with a VIP Private Preview to benefit Pérez Art Museum Miami (PAMM) in the Art Miami Pavilion (3101 NE 1st Avenue, Miami, FL), sponsored by Christie's International Real Estate. As one of the top ranked international art fairs for attendance in the U.S. and second most attended globally, Art Miami attracts more than 85,000 new and established collectors, curators, museum professionals, members of the press and art world luminaries annually to its 200,000 square foot pavilion ... More
Gun that nearly killed poet Rimbaud fetches 435,000 euros
Trump could 'inspire a 'disaster movie' says Spain's Almodovar
Cuba's rumba, Belgian beer join UNESCO's 'intangibles'


The revolver with which French poet Paul Verlaine tried to kill his lover Arthur Rimbaud is displayed at Christie's auction house before the most famous gun in French literature goes under the hammer in Paris on November 30, 2016. Thomas SAMSON / AFP.



PARIS (AFP).- The most famous gun in French literary history, the revolver with which Paul Verlaine tried to kill his lover and fellow poet Arthur Rimbaud, sold for 434,500 euros ($460,000) at auction in Paris on Wednesday. The staggering price for the 7mm six-shooter -- which almost changed the course of world literature -- was more than seven times the estimate, auctioneers Christie's said. Verlaine bought the weapon in Brussels on the morning of July 10, 1873, determined to put an end to his torrid two-year affair with his teenage lover. The 29-year-old poet had abandoned his young wife and child to be with Rimbaud, who would later become the symbol of rebellious youth, idolised by 1960s singers like Jim Morrison. But after an opium- and absinthe-soaked stay in London, which would inspire Rimbaud's "A Season in Hell", Verlaine wanted to go back to his wife. ... More



Director Pedro Almodovar attends a screening of Sony Pictures Classics' "Julieta" hosted by The Cinema Society, Avion and GQ at Landmark Sunshine Cinema on November 30, 2016 in New York City. Neilson Barnard/Getty Images/AFP.



NEW YORK (AFP).- Donald Trump would be the perfect protagonist for a disaster film, said Spanish director Pedro Almodovar, as a retrospective of his movies got underway in New York. "I think that Trump is going to provide a lot of creative inspiration, especially for comedians," said Almodovar at an event late Tuesday marking the launch of the film series at Manhattan's Museum of Modern Art. The MoMA exhibition, encompassing every movie made by Almodovar, coincides with the release of "Julieta," his 20th feature-length film, which was also previewed at MoMA Tuesday. The movie opens in US theaters on December 21. Almodovar, Spain's most celebrated living movie director, made it clear that he is no fan of the US president-elect, but said Trump's larger-than-life persona is the stuff of filmmaking lore. "He seriously would inspire a disaster movie," Almodovar said. "This kind of ... More



Beers served at the Belgium guild of brewers on Grand Place in Brussels.. EMMANUEL DUNAND / AFP.



ADDIS ABABA (AFP).- Cuba's sensual rumba dance and Belgium's thriving beer culture brought a new exuberance to UNESCO's prestigious list of "intangible" heritage on Wednesday. The UN body gave the nod to the rumba, which it said evokes "grace, sensuality and joy", while it said "making and appreciating beer is part of the living heritage... throughout Belgium," which has more than 1,500 types. The Cuban delegation to UNESCO talks in the Ethiopian capital Addis Ababa dedicated the rumba's selection to longtime leader Fidel Castro, who died on Friday aged 90. UNESCO said the rumba sprang from poor communities where the dance is an enduring "expression of resistance and self-esteem". Belgium meanwhile toasted the recognition, with French-speaking culture minister Alda Greoli noting that the country's beer culture "has been handed down from generation to generation since time immemorial". Belgian beer's "communal identity resulted in... an explosion of artisanal creativity ... More
Belle Époque masters headline Heritage Auctions' Fine European Art Auction Dec. 7
Barjeel Art Foundation presents "Hurufiyya: Art & Identity" at Bibliotheca Alexandrina
New world record for Tibetan sculpture at Bonhams Images of Devotion Sale in Hong Kong


Jean Béraud (French, 1849-1935), Sur les Champs Élysées, 1892 (detail). Oil on canvas, 25-1/2 x 32 inches. Estimate: $250,000 - $350,000.



DALLAS, TX.- The vitality and excitement of Belle Époque France, with its emphasis on elegance and fashion, modernity, urbanization, consumerism, color and creativity, is expressed in a host of masterworks by a fine array of blue-chip artists represented in Heritage Auctions' Fine European Art Auction Dec. 7 in Dallas. "Whether it's the urban landscape with its dramatic boulevards, sophisticated portraits or depictions of daily life in Paris, Heritage Auctions' Fine European Art auction has something for every collector," said Ariana Hartsock, Consignment Director for European Art at Heritage Auctions. "The energy of this lively time in the 'City of Light' between the Franco-Prussian War and the beginning of World War I can be seen in the auction's top lots by Louis Marie de Schryver, Jean Béraud, Paul Helleu and Edgar Degas." De Schryver's tour de force (est. $200,000-$300,000) is an astonishingly naturalistic scene ... More



Kamal Boullata, La Ana Illa Ana (There is No 'I' But 'I'), 1983 (detail). Silkscreen, 60 X 40 cm. Courtesy Barjeel Art Foundation.



ALEXANDRIA.- Barjeel Art Foundation announces details of Hurufiyya: Art & Identity, opening at Bibliotheca Alexandrina, a major library and cultural centre located on the shore of the Mediterranean Sea in the Egyptian city of Alexandria, on 30 November 2016. The exhibition explores the impact that Hurufiyya, an art form that re-emerged in the mid-20th century, has had in the last century. Marking a break from a previous era of creative output, Hurufiyya (loosely translated as 'letterism') was one of the most significant movements in modern Arab art history. Through various aspects of the style and its expression throughout the region, the exhibition introduces different moments, approaches, and artists, and their concerns over the 20th and 21st century. Hurufiyya: Art & Identity explores the origins of the movement and its route to the present, illustrated through snapshots by artists who pioneered the movement ... More



Figure of Canda Vajrapani achieved HK$49,260,000, a new world record price for a Tibetan sculpture. Photo: Bonhams.



HONG KONG.- An imposing brass Figure of Canda Vajrapani from the collection of Ulrich von Schroeder set a new world record price for a Tibetan sculpture at auction when it sold for HK$ 49,260,000 (US$ 6,351,479) at Bonhams Images of Devotion Sale in Hong Kong on 29 November. After a nine- minute bidding battle in a packed auction room, the figure was sold to an Asian collector. In total, the sale made more than HK$ 110,000,000 (US$ 14,182,275). At more than a metre tall, the monumental Figure of Canda Vajrapani (in English, 'fierce holder of the thunderbolt') is one of the great masterpieces of 13th-century Tibetan sculpture and the most important surviving Tibetan brass sculpture of any period. It had an estimate of HK$ 22,000,000-28,000,000 (US$2,800,000-3,600,000). Another masterpiece from Schroeder's collection, a copper Composite Figure of Vajrapani and Kubera by the Tenth Karmapa ... More
Quote
The sky is the source of light in Nature and it governs everything. John Constable
---
"Contact Warhol" opening
---
Flashback
On a day like today, American architect Minoru Yamasaki was born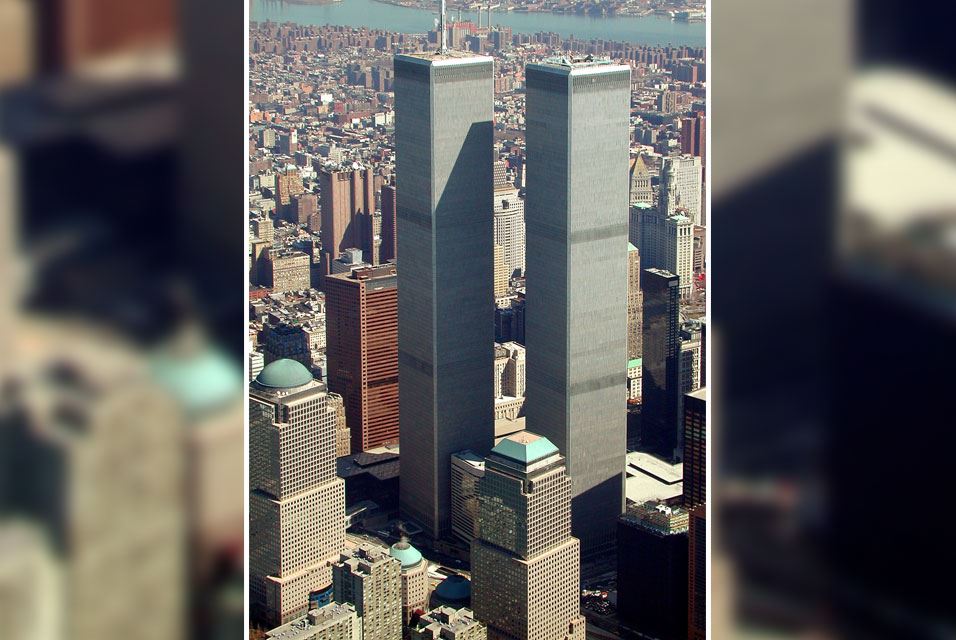 August 01, 1912. Minoru Yamasaki (December 1, 1912 - February 6, 1986 was an American architect, best known for designing the original World Trade Center in New York City and several other large-scale projects. Yamasaki was one of the most prominent architects of the 20th century. He and fellow architect Edward Durell Stone are generally considered to be the two master practitioners of "New Formalism". In this image: The original complex in March 2001. The tower on the left, with antenna spire, was 1 WTC. The tower on the right was 2 WTC.
---

Museums, Exhibits, Artists, Milestones, Digital Art, Architecture, Photography,
Photographers, Special Photos, Special Reports, Featured Stories, Auctions, Art Fairs,
Anecdotes, Art Quiz, Education, Mythology, 3D Images, Last Week,
.
Royalville Communications, Inc
produces: