Aviation pioneer Charles Lindbergh's lost flying hat could turn up a fortune
This file photo taken on May 21, 1927 shows US aviator Charles Lindbergh posing in front of his monoplane Spirit of St-Louis at Paris-Le Bourget, after having achieved the first solo non-stop transatlantic flight New York - Paris Le Bourget. The flying hat aviation pioneer Charles Lindbergh lost while doing loop-the-loops over Paris after becoming the first person to fly solo across the Atlantic is to be auctioned in the French capital. The leather and sheepskin cap which Lindbergh managed to lose twice in the space of a week after making history in May 1927, could make 80,000 euros ($88,000), Hotel Drouot auction house said on November 7, 2016. STRINGER / AFP.
PARIS
(AFP)
.-
The flying hat aviation pioneer Charles Lindbergh lost while doing loop-the-loops over Paris after becoming the first person to fly solo across the Atlantic is to be auctioned in the French capital. The leather and sheepskin cap which Lindbergh managed to lose twice in the space of a week after making history in May 1927, could make 80,000 euros ($88,000), Hotel Drouot auction house said Monday. The "Lone Eagle" first lost the hat when he was mobbed after his plane, the Spirit of St Louis, landed at the Bourget airstrip near the French capital on May 21, 1927. A mechanic handed the hat in to the US embassy that evening only for Lindbergh to lose it again seven days later when he was given special permission to perform aerobatic feats over the city in a borrowed French fighter. The next morning a woman near Bourget found it in her vegetable patch. The hat, which will go under the hammer on November 16, has been kept by the same family since. It wasn't actually identified as Lindbergh's ...
More
The Best Photos of the Day
Dominique Lévy presents solo exhibition of Pat Steir's Waterfall paintings in London
Félix Vallotton's stunning painting "Au Marché" leads Sotheby's Swiss Art / Swiss Made sale
Heather James Fine Art announces Lawrence Schiller's Marilyn Monroe photographs auction


Pat Steir, Vibrating Blue and Red Waterfall, 1993 (detail). Oil on canvas, 48 x 48 inches (121.9 x 121.9 cm) © Pat Steir, 2016. Courtesy Dominique Lévy, New York / London.



LONDON.- Dominique Lévy presents an exhibition of Pat Steir's paintings in London, marking the artist's first solo exhibition in the city in twenty-six years. A selection of works from 1990 to 2011 will be on view, including canvases from her celebrated Waterfall series. The Waterfall paintings, which bridge the sensibilities of Conceptual art and Eastern philosophy, are contemplative investigations of space and chance. In this series, which the artist began in the 1980s and continues to produce today, Steir explores the technical possibilities available in paint, pouring and flinging it onto the canvas. This technique constituted an influential breakthrough in her style. To make the Waterfall paintings, Steir first applies oil pigment to canvases using thick brushes and slow, methodical strokes, ... More



Félix Vallotton, Au Marché. Oil on canvas. Est. CHF 1.5 – 2 million. Photo: Sotheby's.



ZURICH.- This November, the return of Swiss Art / Swiss Made at Sotheby's will feature Félix Vallotton's stunning painting "Au Marché", leading a group of exceptional works from the highly sought-after Nabi movement. Alongside this masterwork, the sale will include Vallotton's exquisite interior scene, "La cuisinière" and a beautifully evocative portrait by Cuno Amiet, "Schlafende Bretonin". Sotheby's Swiss Art team also celebrate 100 years of Dada and Switzerland's take on surrealism with a selection of works – led by Le Corbusier - exploring the development of these key movements in Switzerland's art history. The contemporary era is highlighted thanks to fascinating Constructivist works by Swiss artists including Max Bill, Fritz Glarner and Camille Graeser. Once again with Swiss Art / Swiss Made, Sotheby's is delighted to bring together a broad variety of works illustrat ... More



These brilliant limited edition photographs by Lawrence Schiller capture the eternal spirit of a true icon.



PALM DESERT, CA.- Heather James Fine Art offers special Lawrence Schiller Marilyn Monroe photography auction benefitting FIND Food Bank. Lawrence Schiller, renowned photographer, director and author, famously photographed Marilyn Monroe multiple times near the end of her life. Hollywood starlet. Sex symbol. American icon. Marilyn Monroe's status as an enduring figure of glamour made her one of the most famous women in American history. Of all the images shot of the incomparable movie star, the most iconic were those taken by Schiller. Printed from film that was lost for decades, Schiller made only 75 editions of these breathtaking photographs, and none will ever be created again. From the 1960 candid image shot during the filming of Let's Make Love, to the legendary poolside photoshoot on the set of Something's Got To ... More
Palestinians to open museum to longtime leader Arafat
Rediscovered Rembrandt masterpiece displayed in London for the first time
Schindler factory to host Holocaust memorial


Yasser Arafat at 'From Peacemaking to Peacebuilding' at the Annual Meeting 2001 of the World Economic Forum. © World Economic Forum. Photo: Remy Steinegger.



RAMALLAH (AFP).- A museum dedicated to Yasser Arafat, including the room where the Palestinian leader spent much of his final years under Israeli siege, will open on Wednesday ahead of the anniversary of his death. Current Palestinian president Mahmud Abbas will formally open the Yasser Arafat Museum next to the gravesite of the fighter-turned-statesman in Ramallah in the occupied West Bank. The museum, which cost $7 million, is the first of its kind dedicated to the longtime leader, according to the Yasser Arafat Foundation. The opening comes two days before Palestinians commemorate the 12th anniversary of his death in a hospital near Paris on November 11, 2004 from unknown causes. On display over two floors are a range of Arafat's possessions, including the famous sunglasses he wore when addressing the United Nations in 1974. The interactive museum also features videos and photographs of key moments in ... More



Rembrandt Harmensz van Rijn, Self-portrait, wearing a Feathered Bonnet, 1635, National Trust, Buckland Abbey, gift from the estate of Edna, Lady Samuel of Wych Cross.



LONDON.- Am I Rembrandt? (8 Nov – 5 March 2017), the final display in Dulwich Picture Gallery's Making Discoveries series brings the Dutch Master's flamboyant Self-Portrait, Wearing a Feathered Bonnet, 1635, (on loan from Buckland Abbey, National Trust) to London for the first time. The display also delves deeper into the Gallery's own works by the painter with Girl at a Window, 1645, shown for the first time with its surviving preparatory study. The status of the self-portrait as an authentic work by Rembrandt has been questioned in the past, but following extensive technical analysis and investigative work by the National Trust and leading Rembrandt specialists, it was firmly attributed to the Master in 2014. The self-portrait inspires a wider display, exploring how curators and conservators worked together to authenticate the painting. It also examines the authorship of other works by Rembrandt, acquired by ... More



Visitors walk past a portrait of the German industrialist who saved more than a thousand Jews. GALI TIBBON / AFP.



PRAGIE (AFP).- A disused factory in the Czech Republic where German industrialist Oskar Schindler employed more than a thousand Jews to save them from the gas chambers is to host a Holocaust memorial, officials said Tuesday. Parts of the complex in Brnenec (Bruennlitz in German), close to Schindler's birthplace in Svitavy (Zwittau), were given the status of cultural monument earlier this month, according to the Czech culture ministry. Built in the 19th century, the laboratory, mill, chemical depot, front door and a square used for roll call "have close historical links... to the Gross-Rosen concentration camp in Brnenec," the ministry's spokeswoman, Simona Cigankova, told AFP. During World War II, Schindler (1908-1974), saved the lives of 1,200 Jews by employing them in his enamelware and munitions factories in Nazi-occupied Poland and Czechoslovakia. His tale was enshrined in the bestselling 1982 novel "Schindler's Ark" and its ... More
Sotheby's London announces highlights from its dedicated Design Sale
UK's first exhibition devoted to the Bruegel dynasty includes newly discovered paintings
Sworder's Fine Art auctioneers sell 400-year-old Chinese Ming Dynasty cup for £200,000


Gerrit Thomas Rietveld, 'Zig Zag' Chair, 1939. Oak, brass. Estimate: £15,000-20,000. Photo: Sotheby's.



LONDON.- The market for important works of design has gone from strength to strength in recent months, with outstanding results at Sotheby's design sales in New York and Paris in 2016. The May sale at Sotheby's Paris, led by 18 works by Alberto and Diego Giacometti, achieved €7.8 million (est. £4.15.7m), the highest-ever total for a Design auction in France. The second-edition of a dedicated Design sale for London is underpinned by pioneering works of Post-war Scandinavian, Italian, French, American and Contemporary Design, including superb examples by Studio Job, Nacho Carbonell, Gio Ponti, Arne Jacobsen and Gerrit Rietveld. The sale takes place just days ahead of the landmark opening of a major new home for London's Design Museum, further evidence of the city's evergrowing status as an influential hub for the international design scene. Designed the same year as his iconic 'Ant' chair, the ... More



Pieter Brueghel the Younger, Wedding Dance in the Open Air, 1607-1614 (detail), oil on oak panel. © The Holburne Museum.



BATH.- The Holburne Museum announces the UK's first exhibition devoted to the Bruegel dynasty, including recent attributions for two paintings from the Museum's own collection. Bruegel: Defining a Dynasty will unravel the complex Bruegel family tree, revealing the originality and diversity of Antwerp's famous artistic dynasty across four generations through 35 works, including masterpieces from the National Gallery, Royal Collection Trust, the National Trust, the Fitzwilliam Museum, the Ashmolean Museum and the Barber Institute of Fine Arts. Jennifer Scott, the Holburne's Director and co-curator of the exhibition notes, 'This exciting new exhibition not only shines a light on the quality of the Holburne Museum's Flemish paintings, but also on the wealth of paintings by the Bruegel dynasty in the UK.' A key work in the exhibition will be Wedding Dance in the Open Air, an oil ... More



Chinese buyer wins out against ten phone bidders for prize.



STANSTED MOUNTFITCHET.- This highly carved c.1600 late Ming Dynasty libation cup has sold for £200,000 hammer at Sworders Fine Art auctioneers of Stansted Mountfitchet. An exceptional design for such a piece, the 7½ wide by 5½in high (19 x 14cm) cup sold to a Chinese buyer in the room battling it out against ten phone bidders on Tuesday (November 8). Made from rhinoceros horn, the 400-year-old carving is subject to strict international laws, drawn up to protect endangered species, that allow for the sale and export of such pieces under highly restricted conditions. The sale at Sworders, which included a number of other highlights, is part of a wider celebration of works of art from China, Japan, Korea and India that has grown up the ten-day Asian Art in London festival of auctions, gallery shows, museum exhibitions and talks that bring in collectors and academics from all over the world. Sworders' ... More
Important Morris Louis and Sean Scully works highlight Modern & Contemporary Art auction in New York
Pook & Pook and Noel Barrett to launch new collaboration with Dec. 2-3 auction
The 11th Shanghai Biennale: "Why Not Ask Again: Arguments, Counter-arguments, and Stories"


Sean Scully (b. 1945), Barcelona, 1999. Oil on canvas, 20 x 16 inches. Estimate: $200,000 - $300,000.



NEW YORK, NY.- Fresh to market consignments of works by Morris Louis and Sean Scully, and a rare collection of works on paper by Fernand Léger and George Grosz headline Heritage Auctions' two-session Modern & Contemporary Art Auction Nov. 11 in New York. The auction's morning and afternoon sessions span paintings, works on paper, sculpture and three important single-owner collection of Post War Contemporary Art. "We've spent the season consulting with single-owner collections and the amount of fresh-to-market discoveries we're offering is truly impressive," said Frank Hettig, Director of Modern & Contemporary Art at Heritage Auctions. "It is a career highlight to bring personal, family-owned items from three different yet equally impressive, collections to market." Starting at 11 a.m. Eastern ... More



Elaborate craftsman-made model of a circa-1900 horse-drawn fire pumper with hoses, steam gauges on boiler, steel-rimmed wood wheels, and maker's plate reading 'F.W. Balcom, 1955,' est. $12,000-$18,000.



DOWNINGTOWN, PA.- Pook & Pook, in association with Noel Barrett Antiques and Auctions, will conduct their first joint toy auction on December 2-3, 2016. The sale will be held at Pook & Pook's gallery in suburban Philadelphia, with phone, absentee and Internet live bidding available on both days. The Friday session, which starts at 6 p.m. Eastern Time, includes an array of Schoenhut wood toys, dolls, china dish sets, dollhouses, and beautifully outfitted antique European shops. The bulk of the sale will be offered during the Saturday session, starting at 10 a.m. The widely varied selection includes trains, high-quality mechanical and still banks; automotive toys, European and ... More



Tomas Saraceno, Sonic Cosmic Webs, 2016.



SHANGHAI.- Power Station of Art announced the complete list of 92 participating artists and artist groups for the thematic exhibition of 11th Shanghai Biennale. Details were also revealed for key sections extended from the thematic exhibition, including 'Infra-Curatorial Platform', '51 Personae' and the 'City Projects' as well as 25 additional artworks. Curated by the Delhi-based artist group Raqs Media Collective, the 11th Shanghai Biennale will run from 11 November 2016 through 12 March 2017. Titled "Why Not Ask Again: Arguments, Counter-arguments, and Stories," the Shanghai Biennale thematic exhibition will occupy the first three floors of Power Station of Art, exhibiting works by 92 international artists and artist groups from 40 countries worldwide, including 27 Chinese artists,32 female artists, 48 male artist and 12 artist groups. "Terminals" are an important feature of the 11t ... More
Quote
For Man Ray, photography was a kiss given by Time and Light. Sarane Alexandrian
---
Wim Delvoye: This Shit is Art
---
Flashback
On a day like today, Swiss-American photographer Robert Frank was born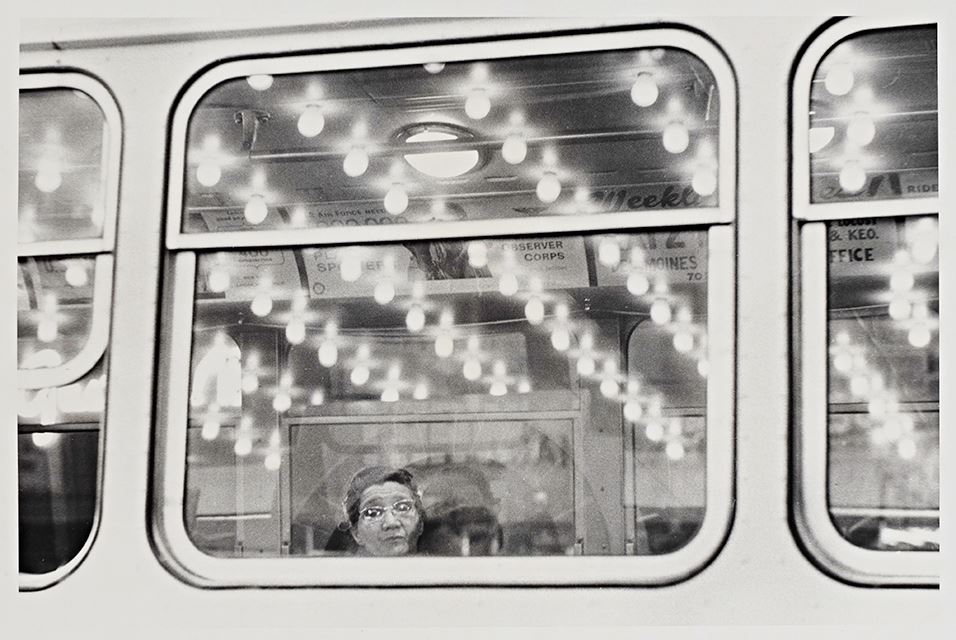 July 09, 1924. Robert Frank (born November 9, 1924) is a Swiss-American photographer and documentary filmmaker. His most notable work, the 1958 book titled The Americans, earned Frank comparisons to a modern-day de Tocqueville for his fresh and nuanced outsider's view of American society. In this image: Robert Frank (U.S.A., b. Switzerland, 1924), Iowa, 1956. Gelatin silver print. Gift of Bowen H. McCoy, 1984.493.38 © Robert Frank.
---

Museums, Exhibits, Artists, Milestones, Digital Art, Architecture, Photography,
Photographers, Special Photos, Special Reports, Featured Stories, Auctions, Art Fairs,
Anecdotes, Art Quiz, Education, Mythology, 3D Images, Last Week,
.
Royalville Communications, Inc
produces: