Sotheby's sets record for any Post-War work of Italian art with Fontana's "La Fine di Dio"
Oliver Barker, Deputy Chairman of Sotheby's Europe, fields bids at Sotheby's London Frieze Week Evening Sales. Photo: Sotheby's.
LONDON
.-
This evening's combined total brings
Sotheby's
sales of Contemporary Art in London this year to £402.2m – over £100 million more than the same period last year. "Over 10,000 visitors crowded our galleries for our Frieze Week exhibitions - and this excitement carried through into a packed saleroom. When we first introduced a dedicated Italian Sale to London in 1999, the entire sale made £5.2m, tonight we've seen a single work make three times this amount. The energy we saw in the room for both sales; the bidding from every corner of the globe; the appetite for both young and established artists - it all came together here in London tonight." -Alex Branczik, Head of Contemporary Art, Sotheby's London. ...
More
The Best Photos of the Day
Rare Mozart letter written in German sold for $217,000 at Boston-based RR Auction
Cornelia Parker named artist for the Met Museum's 2016 Roof Garden Commission
"Titian to Canaletto: Drawing in Venice" opens at the Ashmolean Museum


Letter to his close friend, the great Austrian botanist Nikolaus Joseph von Jacquin, asking him to return three musical scores by way of messenger.



BOSTON, MASS.- A rare letter written by Mozart sold for $217,000 according to Boston-based RR Auction. The one-page signed note in German, undated but likely circa July–August 1786. Letter to his close friend, the great Austrian botanist Nikolaus Joseph von Jacquin, asking him to return three musical scores by way of messenger. "I ask you to send me by the bearer of this, the Quartet in g minor, the Sonata in Eb and the 'New Trio in g.' The pieces Mozart refers to are his Piano Quartet No. 1 in G minor (K.478, 1785), Violin Sonata No. 33 in E-flat major (K.481, 1785), and Trio for Piano, Violin and Cello in G Major (K.496, 1786). This last 'new trio in g' was completed on July 8, 1786, and thus this letter probably dates to shortly thereafter. While K.478 was published as early as December 1785, the other two would see publication in 1786; the edition of Mozart's 'Briefe und ... More



Cornelia Parker. Photo: Courtesy the Artist and Frith Street Gallery, London.



NEW YORK, NY.- Thomas P. Campbell, Director and CEO of The Metropolitan Museum of Art, announced today that British artist Cornelia Parker has been selected to create a site-specific installation atop the Met's Iris and B. Gerald Cantor Roof Garden. The installation will be on view from May through October 2016, and will be the fourth in a series of site-specific commissions for the outdoor space. Mr. Campbell said, "The Roof Garden should always be a space that makes us think beyond its spectacular views. It is a unique source of inspiration for the artists who create site-specific works there, and I am excited to see what Cornelia Parker will create. Her work is remarkable for the ways in which she looks at things we think of as familiar, and up-ends our perception of them in the process." Sheena Wagstaff, the Museum's Leonard A. Lauder Chairman of Modern and Contemporary Art said, "In her large-scale installations ... More



Giovanni Battista Piazzetta (1682‒1754), Head of a Youth (detail). Black and white chalks on brownish paper, 31.5 x 29.9 cm © Ashmolean Museum, University of Oxford.




OXFORD.- Featuring a hundred drawings from the Uffizi, the Ashmolean, and Christ Church, Oxford, Titian to Canaletto is a groundbreaking exhibition based on new research. Venetian art has long been associated with brilliant colours and free brushwork, but drawing has been written out of its history. This exhibition highlights the significance of drawing as a concept and as a practice in the artistic life of Venice. It reveals the variety of purposes and techniques in drawing from Bellini, Titian and Tintoretto to Tiepolo and Canaletto. In a parallel exhibition, Jenny Saville Drawing, one of the UK's most celebrated contemporary artists, Jenny Saville, has produced new work on paper and canvas in response to the Venetian Old Masters. Putting the words 'drawing' and ... More
Adam Aronson Fine Arts Center at Laumeier Sculpture Park opens with Raqs Media Collective exhibition
A Visual Odyssey: Selections from LAC (the Lambert Art Collection) achieves $22,867,015
Renzo Piano Building Workshop to design new art site in Moscow for the V-A-C Foundation


Raqs Media Collective, If the World is a Fair Place Then..., 2015. Photo by Jeanine Chan.



ST. LOUIS, MO.- Laumeier Sculpture Park announced Raqs Media Collective: Art in the Age of Collective Intelligence as the inaugural exhibition in the Whitaker Foundation Gallery of the new Adam Aronson Fine Arts Center. Zlatko Ćosić + Ashley McQueen: Harmony in 3, a short film that is part of the 2015 Kranzberg Exhibition Series, will be presented in the lobby of the building. Both exhibitions, plus an outdoor commission by Raqs entitled If the World is a Fair Place Then…, will run Friday, October 16, 2015, through Sunday, February 14, 2016. The Raqs Media Collective (pronounced rux) consists of three media practitioners—Jeebesh Bagchi, Monica Narula and Shuddhabrata Sengupta—based in New Delhi, India. Art in the Age of Collective Intelligence consists of a large series of photographs and a constructed library of books expanding on the Collective's ongoing ... More



Christopher Wool, Untitled. Enamel on aluminium, 83 7/8 x 59 7/8in. Executed in 1995. Estimate £3,000,000-5,000,000. Price Realized £4,898,500. Photo: Christie's Images Ltd 2015.



LONDON.- 'A Visual Odyssey: Selections from LAC (Lambert Art Collection)' achieved £14,975,123 with sell-through rates of 89% by lot and 95% by value. Bidders from 42 countries and five continents showed their strong appreciation for objects across the centuries and demonstrated an appetite for the spirit and flair of cross-category collecting as exemplified by the Lambert Art Collection. Together Christie's and de Pury brought a completely new approach to the auction combining an exhibition at Ely House, Dover Street, with a radical online presence with specially commissioned content and photography. The success of this bold collaboration has been proven by the stand-out prices throughout the sale and the huge response from over 5,000 visitors ... More



Rendering View of the Entrance Piazza, RPBW, 2015.



MOSCOW.- V-A-C Foundation announced plans to develop a new site for contemporary arts and culture in Moscow. The main building to be revived and redesigned is the GES2 power station, situated in the popular Red October district of the city. Built between 1904 and 1907, the GES2 power station, once a supplier of energy to the city, will now be re-imagined to supply energy of a different kind; that of ideas and creativity. GES2 will become an exciting cultural destination, offering new opportunities for artists and audiences on a local, national and international level and the first major venue in the city of Moscow for V-A-C. The Renzo Piano Building Workshop (RPBW) have been commissioned to design the new GES2 and surrounding area, with plans to recuperate the original structure of the power station and to insert a fluid and visible, web-like building-scale device into it. The entire site will be reconfigured into a legible ... More
Last electric guitar ever made by Paul Bigsby highlights Heritage Auctions event
Important watches at Sotheby's Geneva: Led by the Schmid & Muller Collection
Elaborately-carved, significant collection of samurai arrowheads to auction at Bonhams New York


1956 Bigsby Natural Solid Body Electric Guitar, Serial # 121556.



BEVERLY HILLS, CA.- A 1956 Bigsby Natural Solid Body Electric Guitar — extraordinary for being the last of its kind ever produced by Paul Bigsby himself — could sell for as much as $400,000 when it headlines Heritage Auctions' Vintage Guitars & Musical Instruments Signature Auction Oct. 24 in Beverly Hills. "It's no overstatement that this is one of the most important vintage musical instruments in the world," said Isaiah Evans, Operations Manager of Vintage Guitars at Heritage Auctions. "It's impeccably provenanced and represents a true period in the development of the electric guitar as a cultural object and a cultural milestone." The 1956 Bigsby, serial # 121556, was created at the request of Luke Charpentier, Jr., the remarkably skilled Louisiana guitarist. Even more so, he was a player of exacting taste. In 1954, he contacted Paul Bigsby about constructing this very guitar, the final ... More



Patek & Cie. A fine and very rare yellow gold open-face watch with an enamel miniature portrait, made in 1845. Estimate CHF 12,000 – 18,000 / US$ 12,300 – 18,400. Photo: Sotheby's.



GENEVA.- This autumn, the auction of Important Watches at Sotheby's Geneva will be led by the exceptional Schmid & Muller Collection which chronicles the earliest days of Swatch design. This truly remarkable collection was created and assembled during the 1980s by Marlyse Schmid and Bernard Muller, the two designers who played a critical role in the artistic development of the celebrated Swiss brand. The auction on 10 November will also offer a selection of rare and important timepieces reflecting fascinating moments in the history of watchmaking. These include prestigious manufacturers Rolex, Patek & Cie and Bovet Fleurier. Commenting ahead of the sale, Pedro Reiser, Department Manager for Sotheby's Watch Department in Geneva, said, "The pieces which make up the Schmid & Muller Collection are of huge ... More



Important Umetada School Sukashi Presentation Arrowheads (Yanone), by Umetada Motoshige, Edo period (17th century), valued at U.S. $8,000-$12,000. Photo: Bonhams.



NEW YORK, NY.- Bonhams New York will hold the first of a series of sales from The Paul Goodman collection of Japanese arrowheads, swords and fittings on Tuesday, October 20 at 10 a.m. The Goodman Collection of arrowheads boasts not only extensive variety but also numerous examples of the finest quality, featuring no fewer than seven examples made by the master smith, Umetada Motoshige, as well as what is thought to be the largest arrowhead ever forged in Japan. Jeff Olson, head of Bonhams' Japanese department, said, "The collection is not only breath-taking in quantity but also in quality, material and subject matter. It is simply one of the most comprehensive and finest single-owner collections of arrowheads ever to have been offered at auction." Although the samurai are renowned as swordsmen, it was ... More
Australian Surrealism and its echoes explored in new exhibition at the National Gallery of Victoria
Royal Barge now on display again at The National Maritime Museum in Amsterdam
Legacies of Degas and Toledo Ballet celebrated with special exhibition at Toledo Museum of Art


Loudon Sainthill, The actress 1947. Watercolour, pen and ink and coloured inks over pencil (60.0 x 48.0 cm) (image). National Gallery of Victoria, Melbourne. Purchased, 1947, 1770-4 © Loudon Sainthill.



MELBOURNE.- A provocative new NGV exhibition, Lurid Beauty: Australian Surrealism and its Echoes, for the first time explores the Australian story of the 20th century's most revolutionary art movement and its powerful influence on contemporary art and popular culture. Radical and shocking, Surrealism shook up the Australian art world when it first reached our shores in the 1930s. Inspired by the psychological theories of Sigmund Freud, Surrealist artists sought to challenge artistic conventions, often exploring experimental and playful approaches designed to liberate the unconscious mind. From the Dali-esque dreamscapes of James Gleeson to the hauntingly beautiful photographs of Max Dupain, Lurid Beauty presents more than 230 works traversing painting, drawing, collage, sculpture, fashion, film and ... More



The Royal Barge, also referred to as the 'Golden Coach of the water,' was given a thorough overhaul.



AMSTERDAM.- After an eight-year absence, the Royal Barge is once again on display at Het Scheepvaartmuseum. At a spectacular opening event on Wednesday evening, framed by the pipers and drummers of the Marine Corps, the Royal Barge was presented to more than 300 guests. Just one week before this event, the 200-year old barge and its new boathouse were transported across land and water. In the home port of Amsterdam, the doors will be opened to visitors every morning. The director-general of Het Scheepvaartmuseum, Pauline Krikke, is overjoyed at the return of the crown jewel of the museum's collection. 'It is a momentous occasion to celebrate the return of the barge after such a long absence,' she says. 'The Royal Barge is restored and seaworthy. The museum is incredibly grateful to all the people who helped to make this possible.' The Royal Barge, also referred to as the 'Golden Coach of the water,' ... More



Edgar Degas (French, 1834–1917), Little Dancer Aged Fourteen. Bronze with gauze tutu and silk ribbon, on wooden base, modeled 1879–81, cast 1919–21. H. 39 in. (99 cm). The Sterling and Francine Clark Art Institute, Williamstown, Massachusetts, 1955.45.



TOLEDO, OH.- The lasting appeal and impact of ballet and a great Impressionist artist are celebrated in Degas and the Dance, a new Toledo Museum of Art exhibition opening in October. In 1928 the Toledo Museum of Art (TMA) made its first acquisition with endowed funds from its founder, Edward Drummond Libbey. It was a vibrant pastel of ballerinas by French Impressionist artist Edgar Degas (1834-1917). Thirteen years later, the Museum hosted the Toledo Ballet's presentation of the first excerpts of the "Nutcracker" by an American dance company in the United States. This year the Toledo Ballet marks the 75th anniversary of having the oldest continuously running annual "Nutcracker" in the country. These historical events inspired the Museum to organize Degas and the Dance, an ... More
Quote
Painting is nothing but an imitation of human actions. Nicolas Poussin
---
Why Study Art? | TateShots
---
Flashback
On a day like today, Italian sculptor Rembrandt Bugatti was born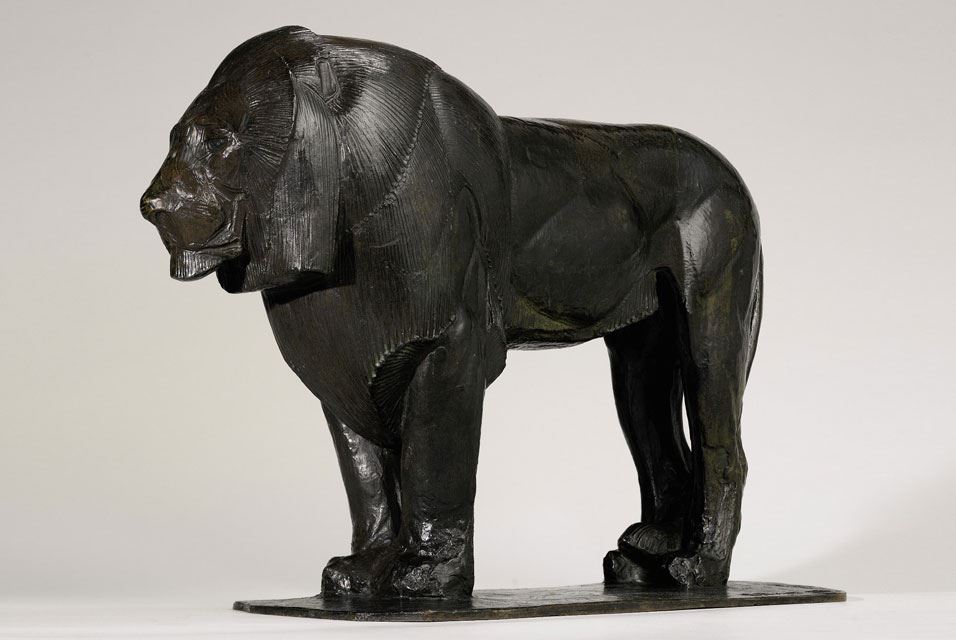 August 16, 1884. Rembrandt Bugatti (16 October 1884 - 8 January 1916) was an Italian sculptor, known primarily for his bronze sculptures of wildlife subjects. During World War I he volunteered for paramedical work at a military hospital in Antwerp, an experience which triggered in Bugatti the onset of depression -- aggravated by financial problems -- which eventually caused him to commit suicide on 8 January 1916 in Paris, France. He was only 31 years old. In this image: Rembrandt Bugatti, Lion de Nubie. Bronze. Conceived circa 1909-10 and cast between 1909 and circa 1934 in an edition of only 3 examples. Length 26 1/4 in., 66.8 cm. Est. $1.5/2 million. Photo: Sotheby's.
---

Museums, Exhibits, Artists, Milestones, Digital Art, Architecture, Photography,
Photographers, Special Photos, Special Reports, Featured Stories, Auctions, Art Fairs,
Anecdotes, Art Quiz, Education, Mythology, 3D Images, Last Week,
.
Royalville Communications, Inc
produces: